A red bridal lehenga is one of the most classic silhouettes a bride can choose for her wedding day. Indian brides have been veering towards red for a long time. Although, with the advent of pastels and pink bridal lehengas, they have taken a small step backward. Just a small one. Red still remains one of the most popular bridal lehenga colors and continues to enjoy the reigning throne in the wedding realm. Take hints from the popular Bollywood wedding that have happened in the past few years. Besides Anushka, Priyanka, Deepika, and Katrina, all opted for a classic red lehenga bedecked with intricate handwork designed by (no points for guessing!) Sabyasachi. Red is such a classic color that you can embrace details and embellishments as per your preferences in the wedding lehenga. For inspiration, we have listed 65 red bridal lehenga designs for every style, personality, and budget. 
#1 An Orange Touch
Orange was a common addition to red bridal lehengas earlier and their timelessness sure got lost somewhere. We love how designer Tarun Tahiliani added this classic touch to her glimmering wedding lehenga so flawlessly. You can browse his red bridal lehenga online here.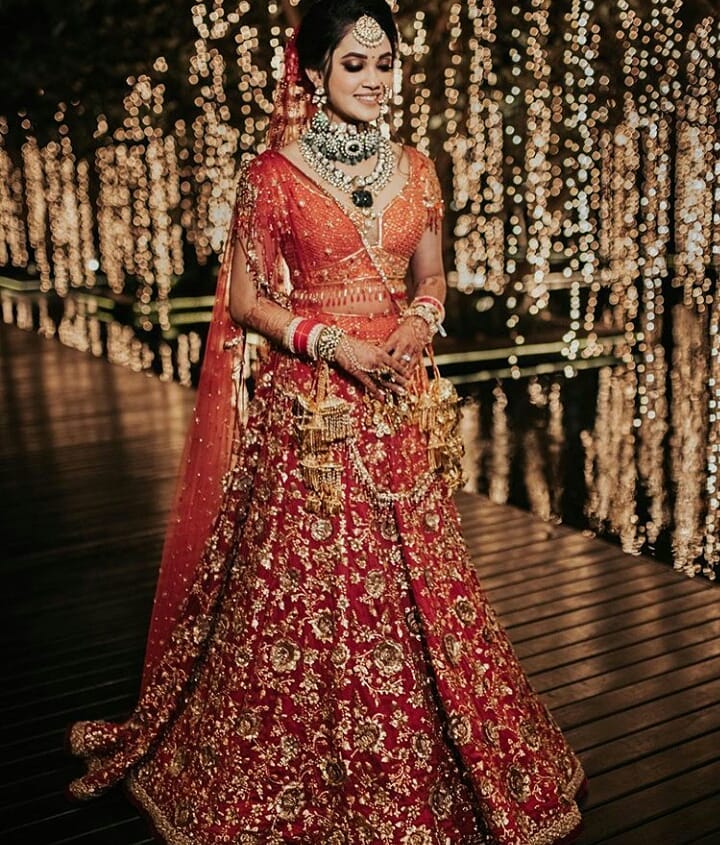 #2 Red Wedding Lehenga With Blue Dupatta
For brides looking to add a touch of uniqueness to their classic red lehengas, play safe by adding a contrasting dupatta to their ensemble. Here's an idea on how to nail the style. Adding on to the classic zari work lehenga, the bride added a net blue dupatta to the ensemble and gave all the whimsical vibes for her day's wedding ceremony.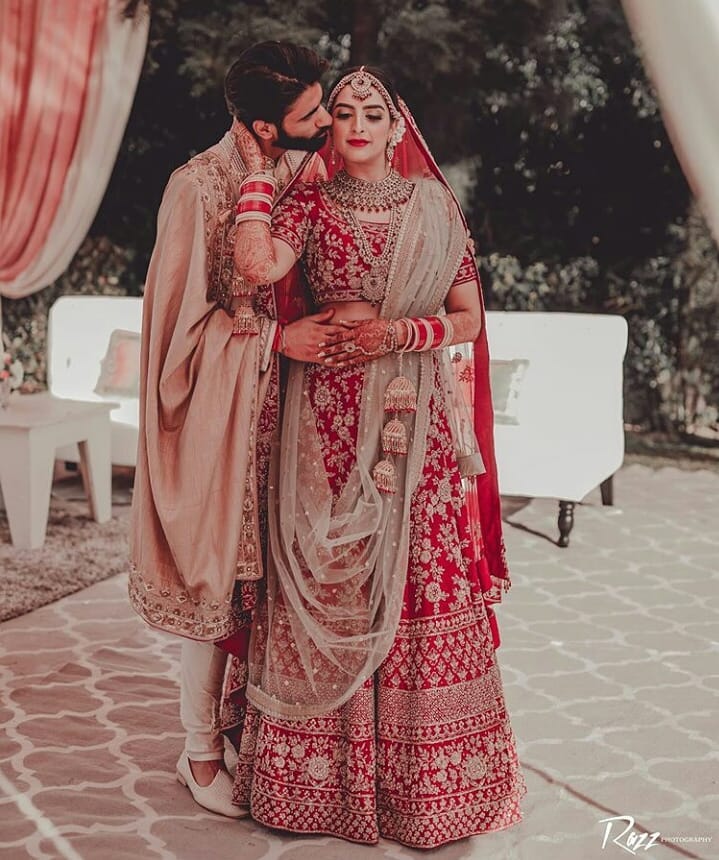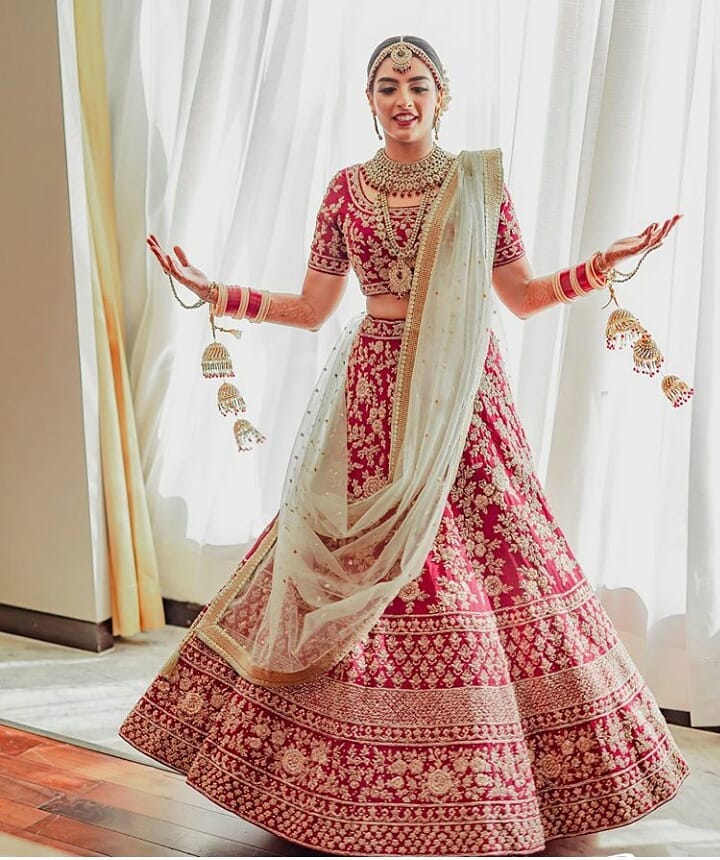 Courtesy: Razz Films & Photography
#3 Royal Red Lehenga With Green Dupatta
Yet another red bridal lehenga with contrast dupatta, this time, green's the color. For Muslim brides, green is often considered a sacred color and it's recommended to add the same to your red lehenga. If your heart's stuck on a red hue attire though, don't worry, you can still add the meaningful color by adding a handwoven dupatta in the shade and giving your wedding ensemble a standalone touch.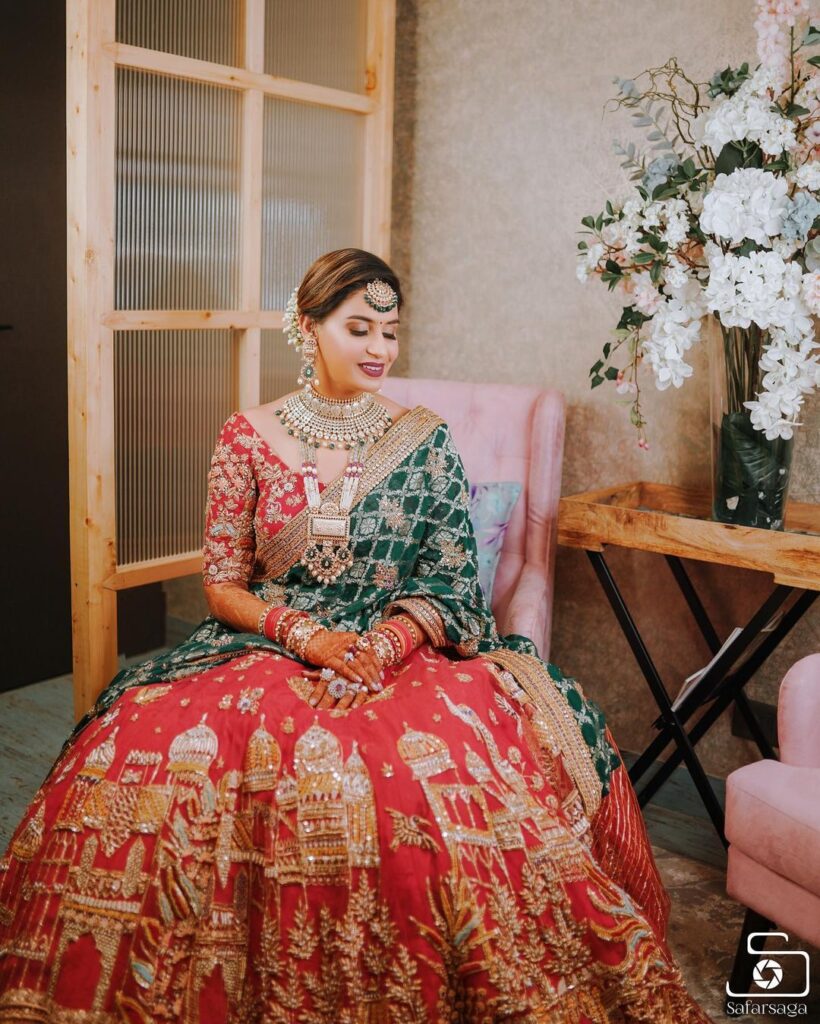 Courtesy: Safarsaga Films
#4 A Classic Piece
Get your glitz on with this golden work red bridal lehenga design. With florals and leaves designed all over and matched alongside the double dupattas, we adore how the bride went all monochrome with her look and complemented it by wearing green emeralds kundan jewelry set.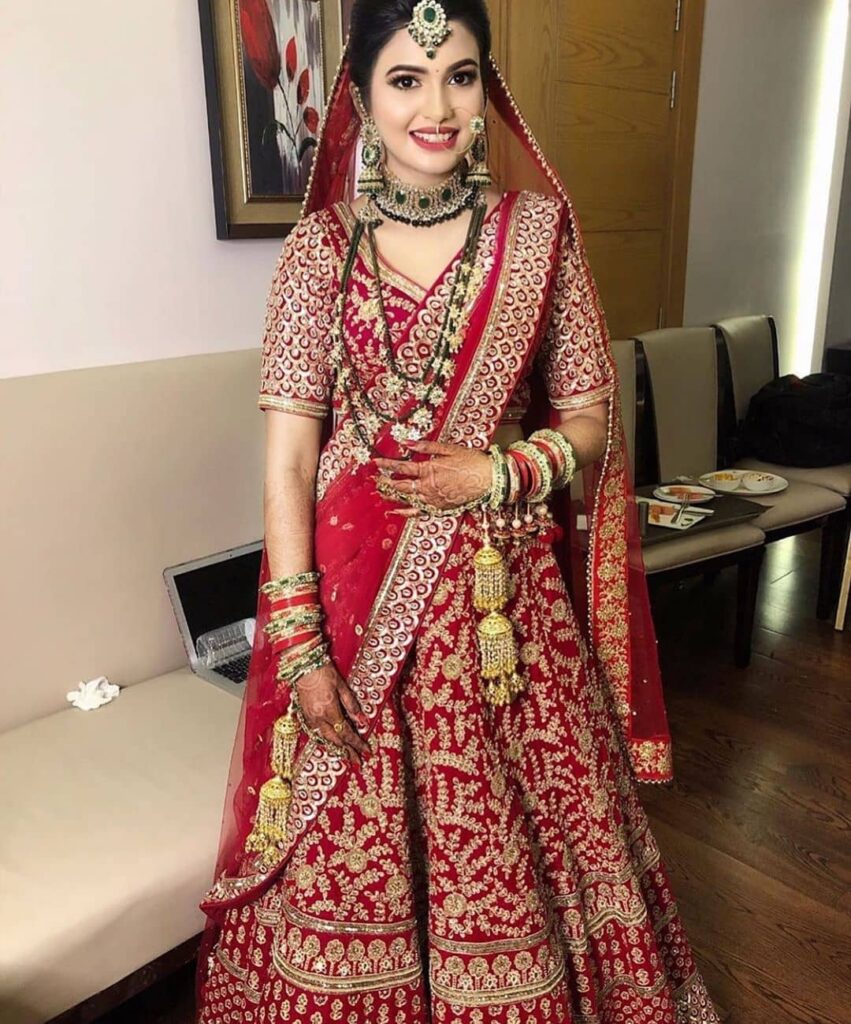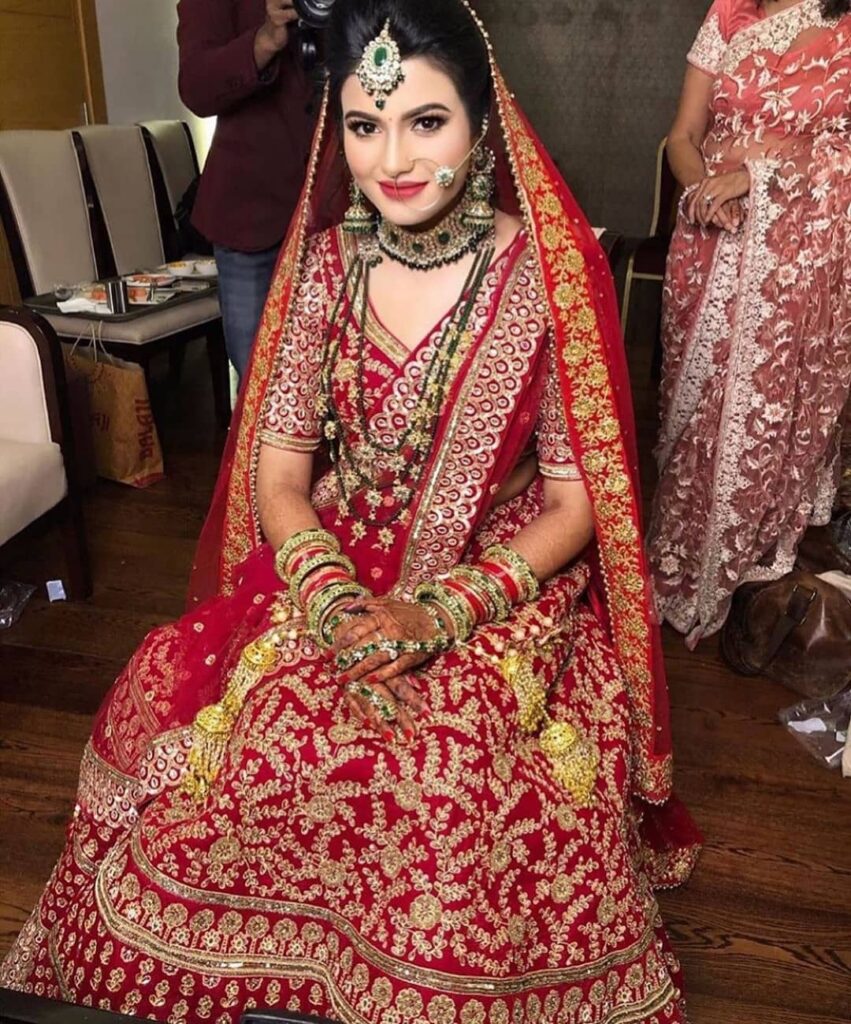 Courtesy: Shruti Sharma Makeup
#5 Timeless Red Bridal Lehenga & Golden Jewellery 
Another thing that we absolutely love about red lehengas is they can be paired alongside any kind of jewelry. Be it kundan, polki, meenakari, diamonds, or pure gold. If you're wearing a pastel lehenga, options are limited. For girls who love gold jewelry and red bridal dresses, here's proof that your choice will look drop-dead gorgeous on a special day.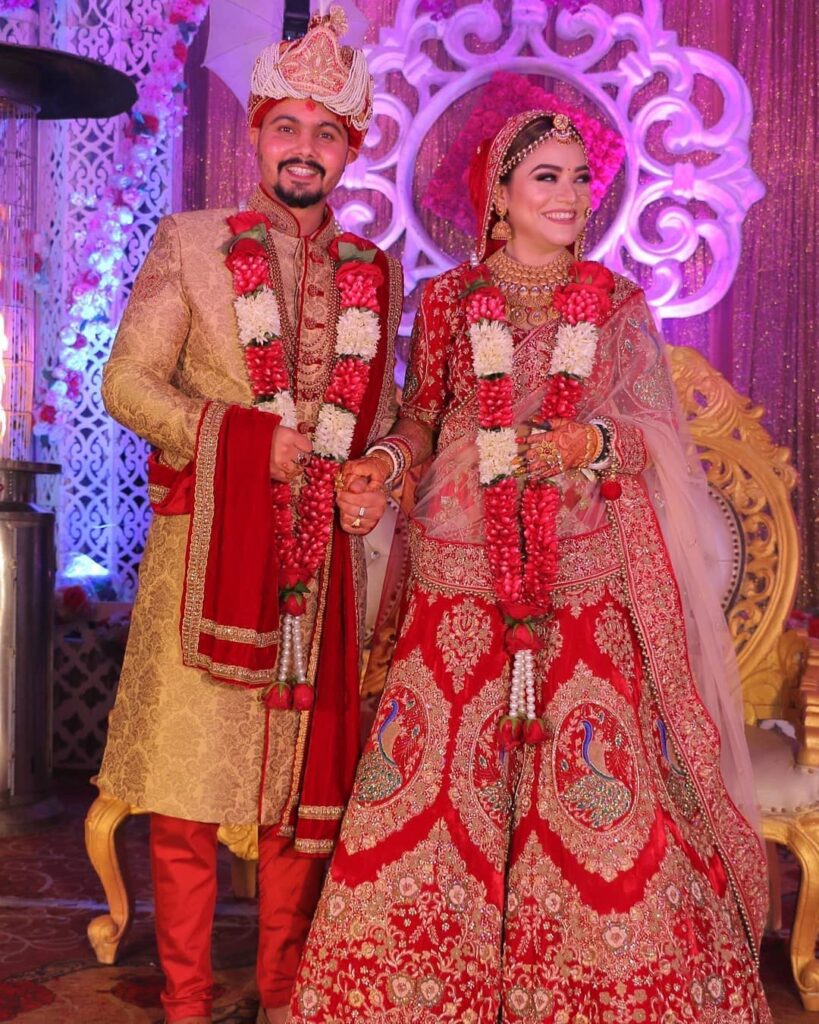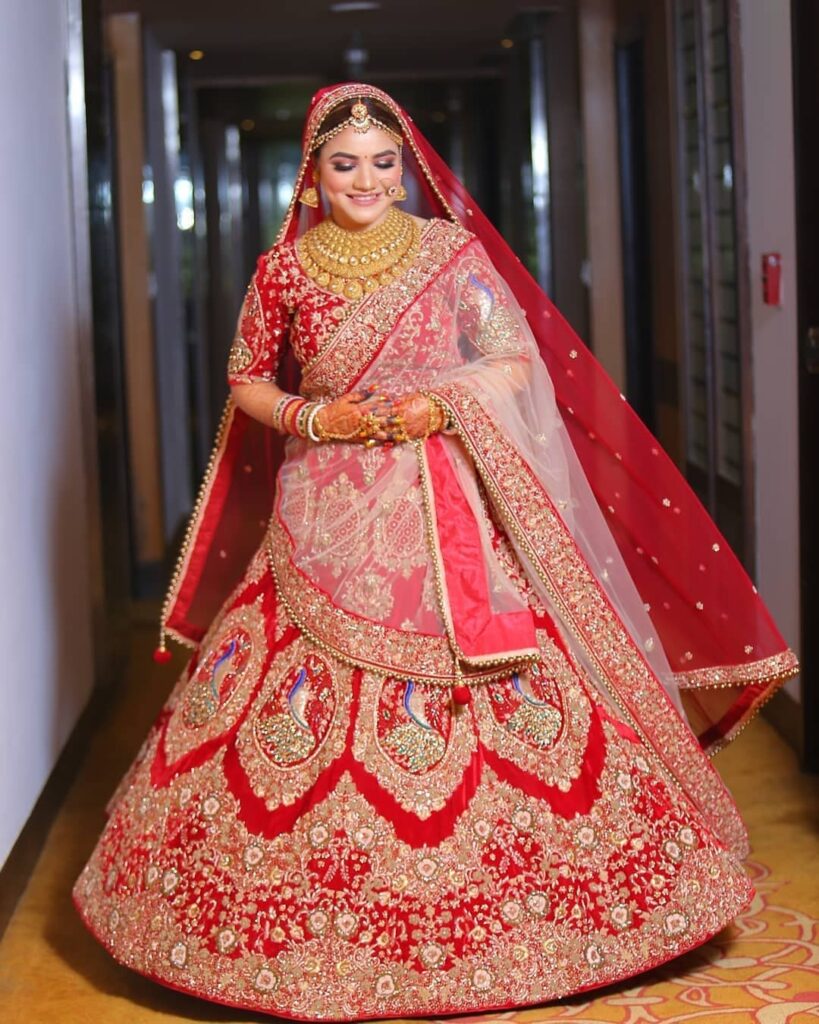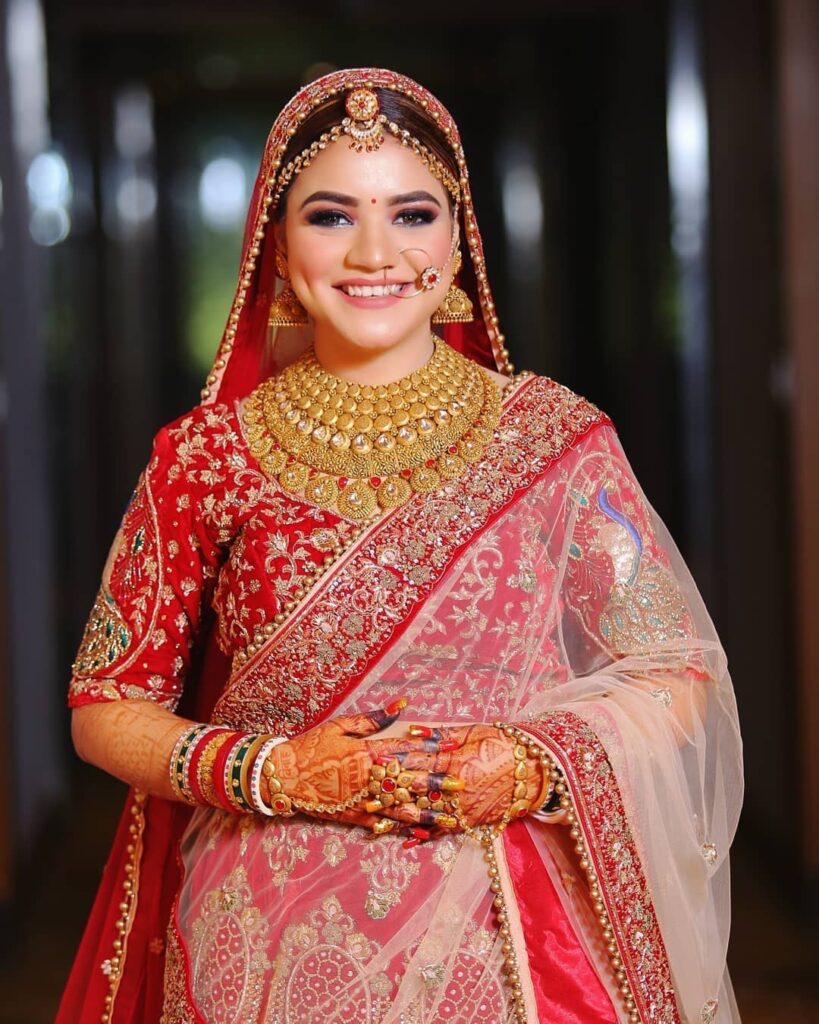 Courtesy: Arvind Kaur MUA
#6 A Red Manish Malhotra Lehenga With Contrast Dupatta
If there's one thing you can be assured for a Manish Malhotra lehenga to be, it's ultra-glamorous and far away from simplicity. That's not to say they can't look elegant and royal. See how bride Aachal dons an exquisite red bridal lehenga with silver work and styles it with a contrasting blue dupatta. The minimal lehenga trails add to the princess vibe and make the entire ensemble scream royalty and enchanting.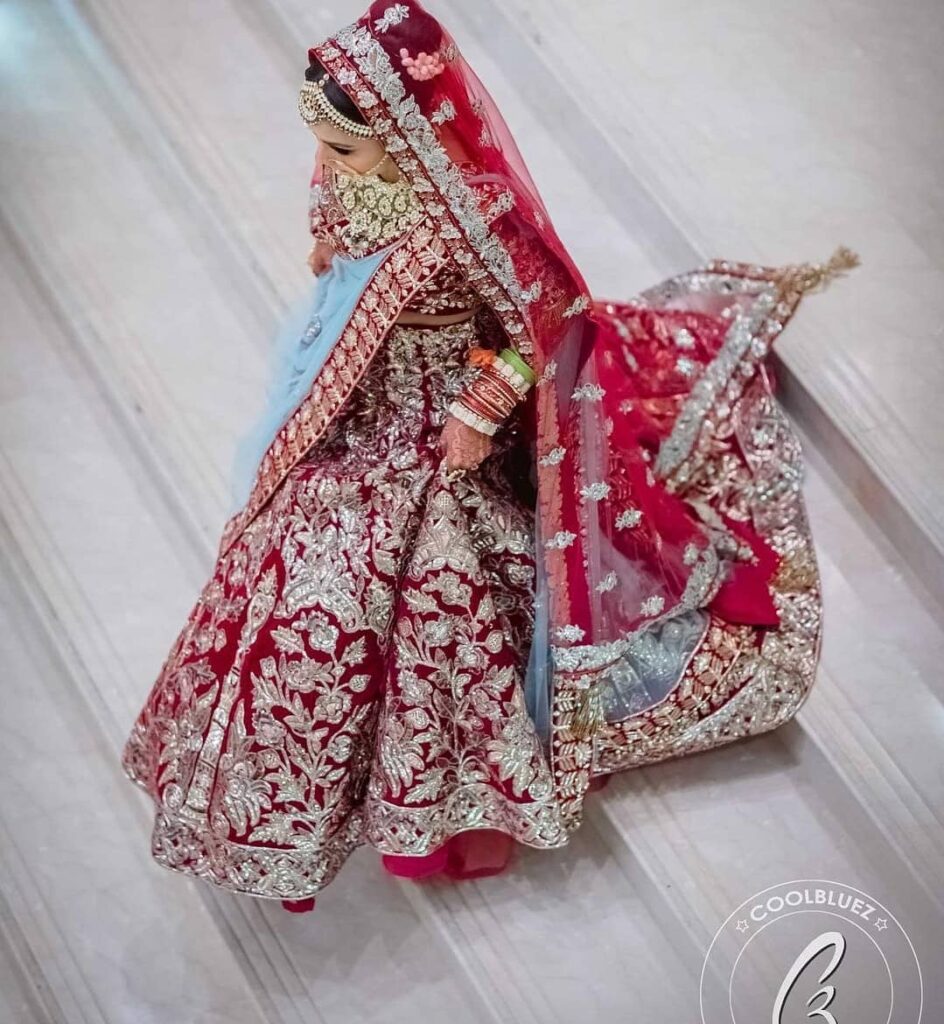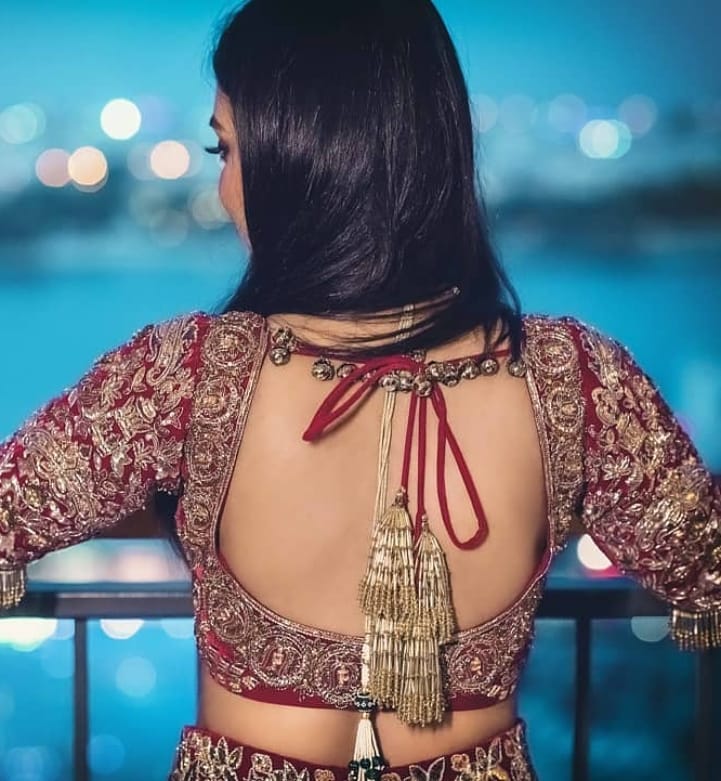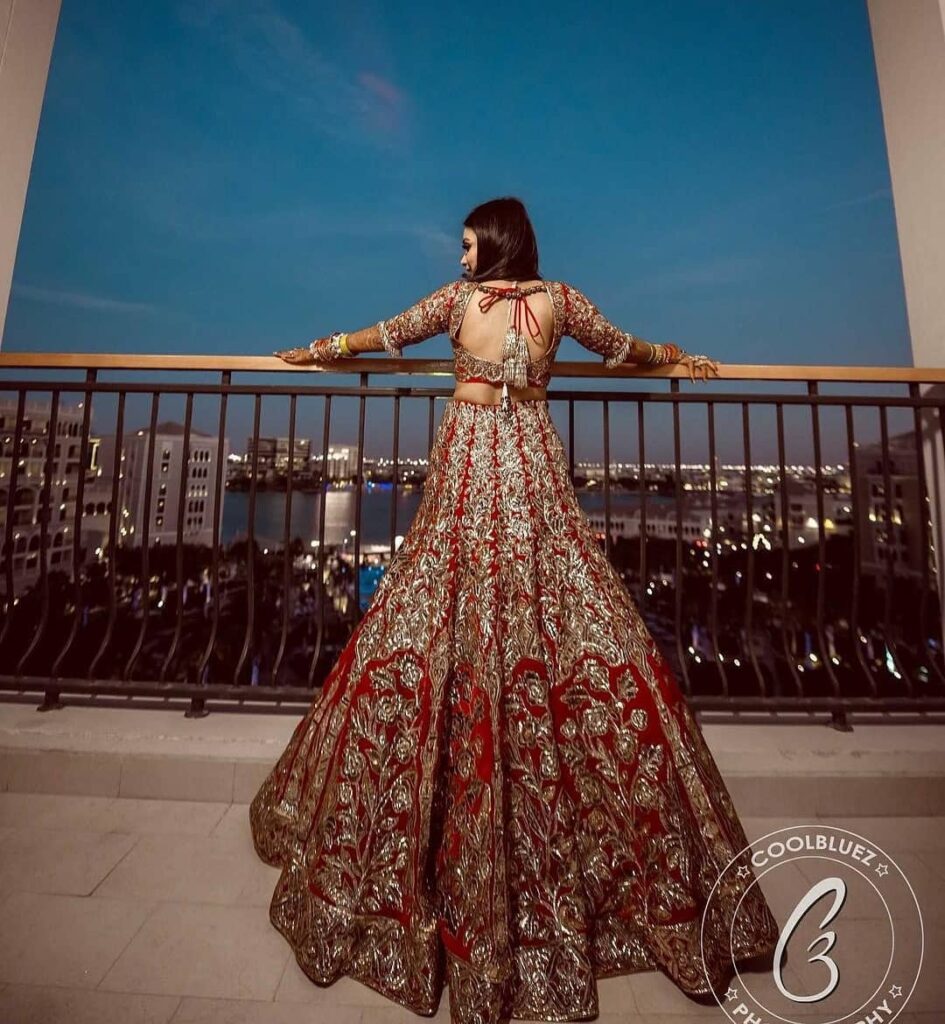 #7 A Heavy Lehenga Design For The OTT Bride 
When it comes to the world of red lehengas, there are plenty of options. Although, if you're veering towards the extravagant element, it clearly is a superb idea. This bride opted for an exquisitely embellished red bridal lehenga with golden jewelry and looked like an absolute dream on her special day.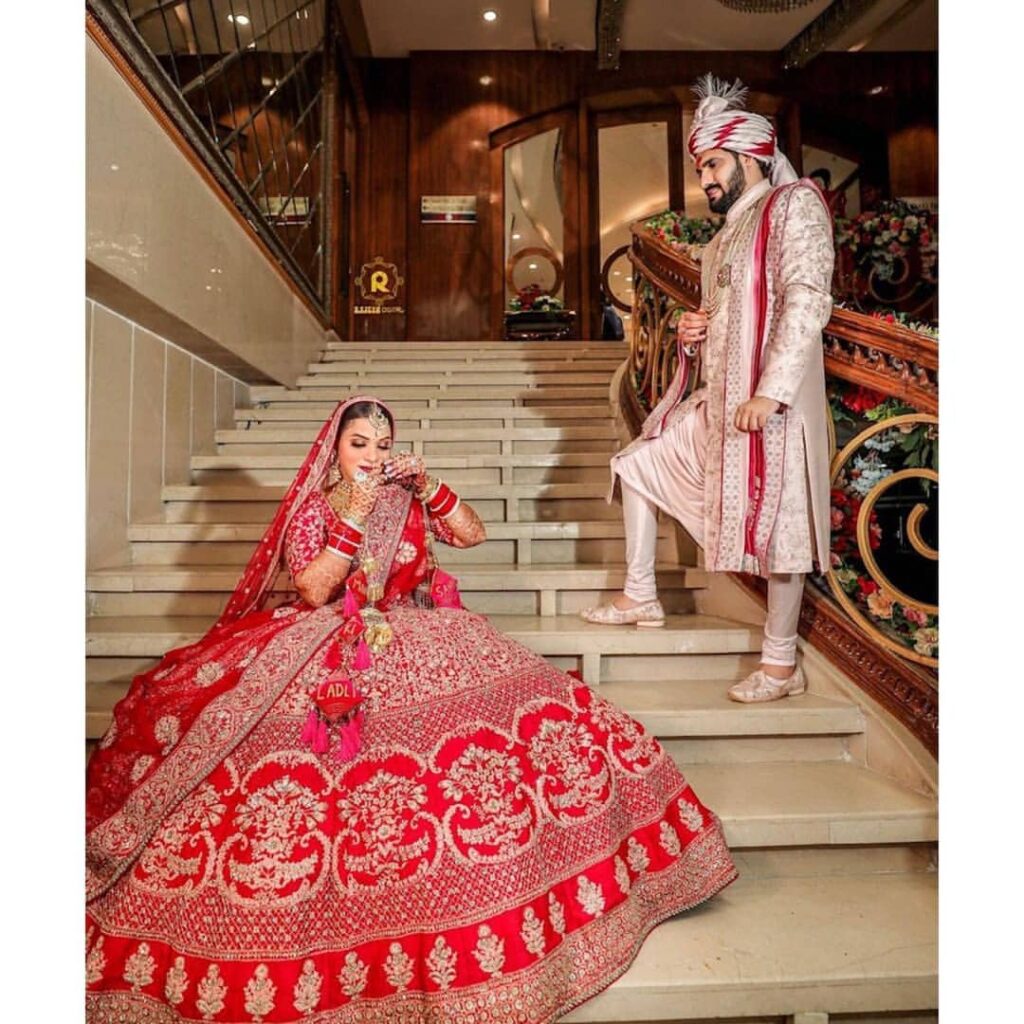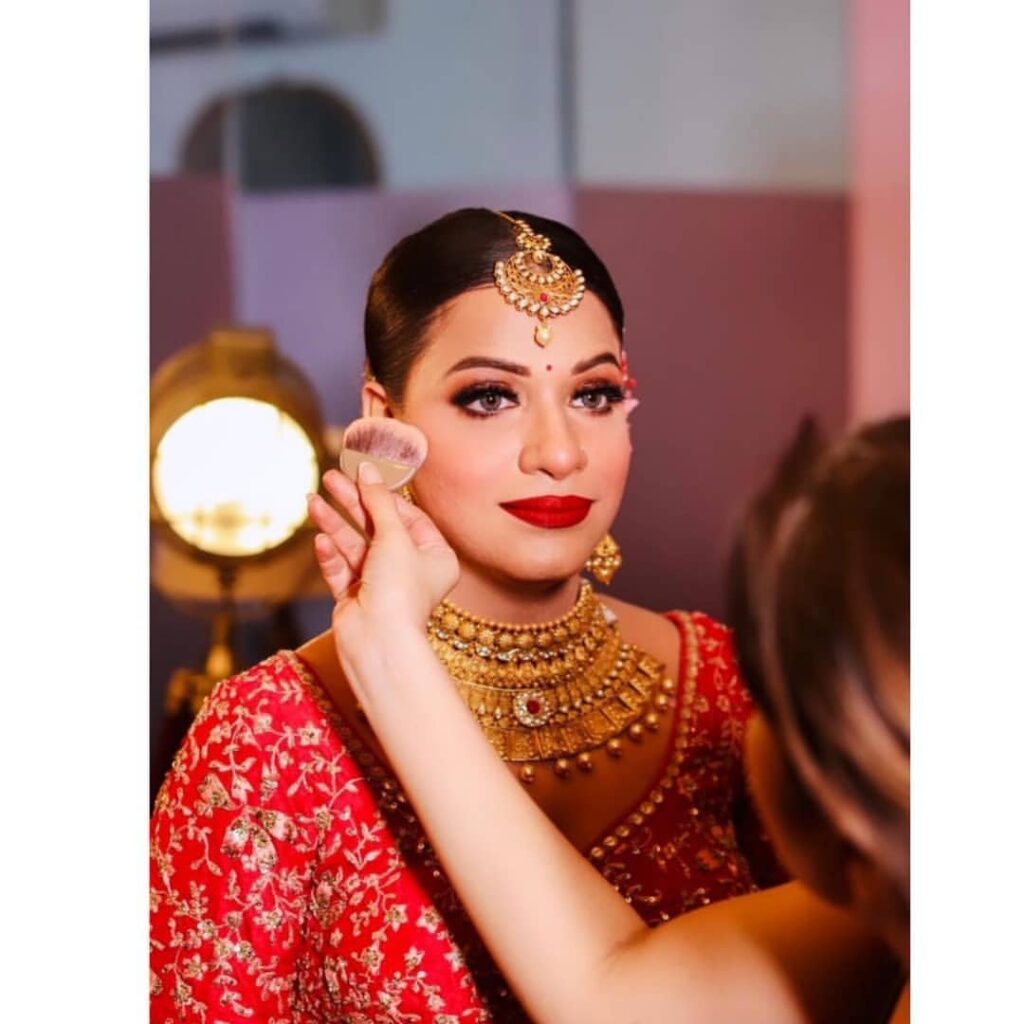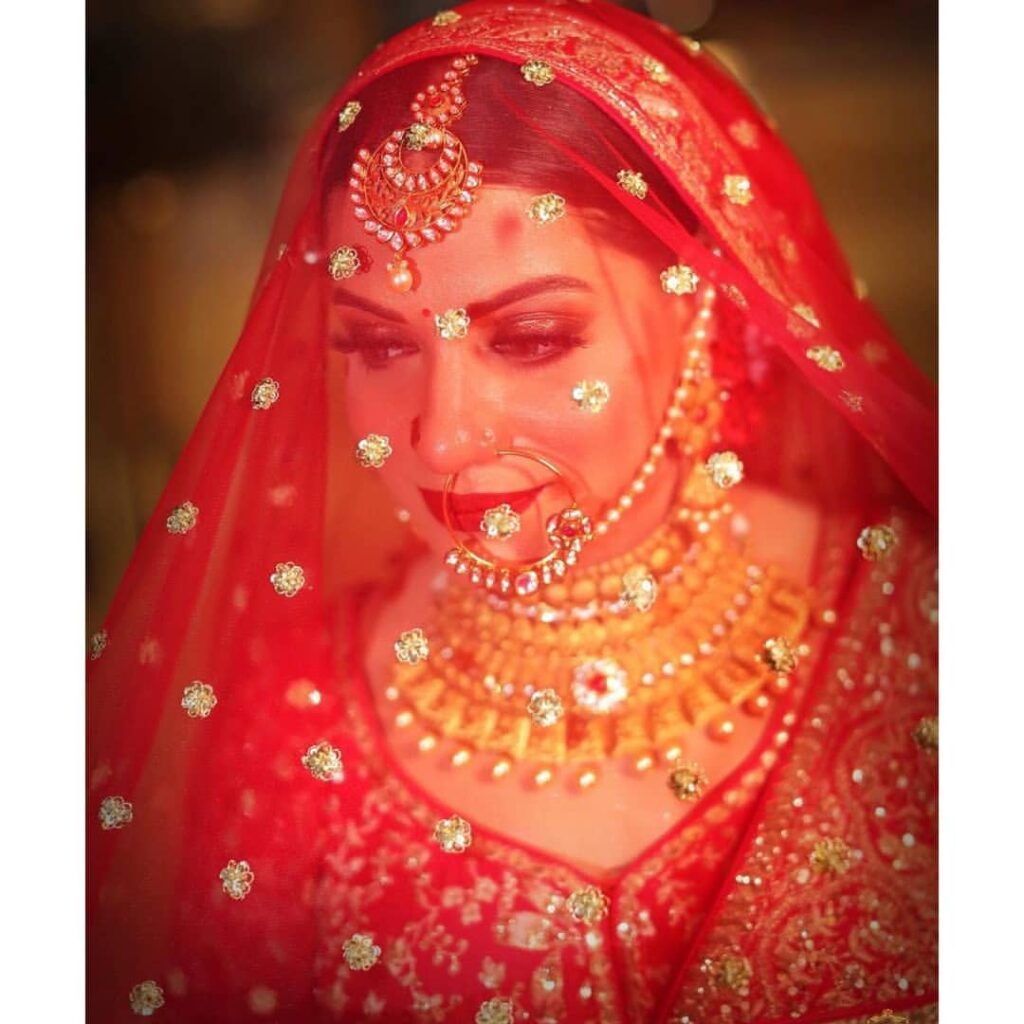 Courtesy: Leena Bhushan
#8 Banarasi Red Lehenga For Handloom Lovers
Not all brides want to be bogged down by the heaviness of handwork on the wedding day, some want to revel in the breeziness of handloom fabrics. If you're the latter one, prepare to be mesmerized by the next bride on our list. Clad in a gorgeous benarasi lehenga, she is the definition of what simplicity and elegance look like.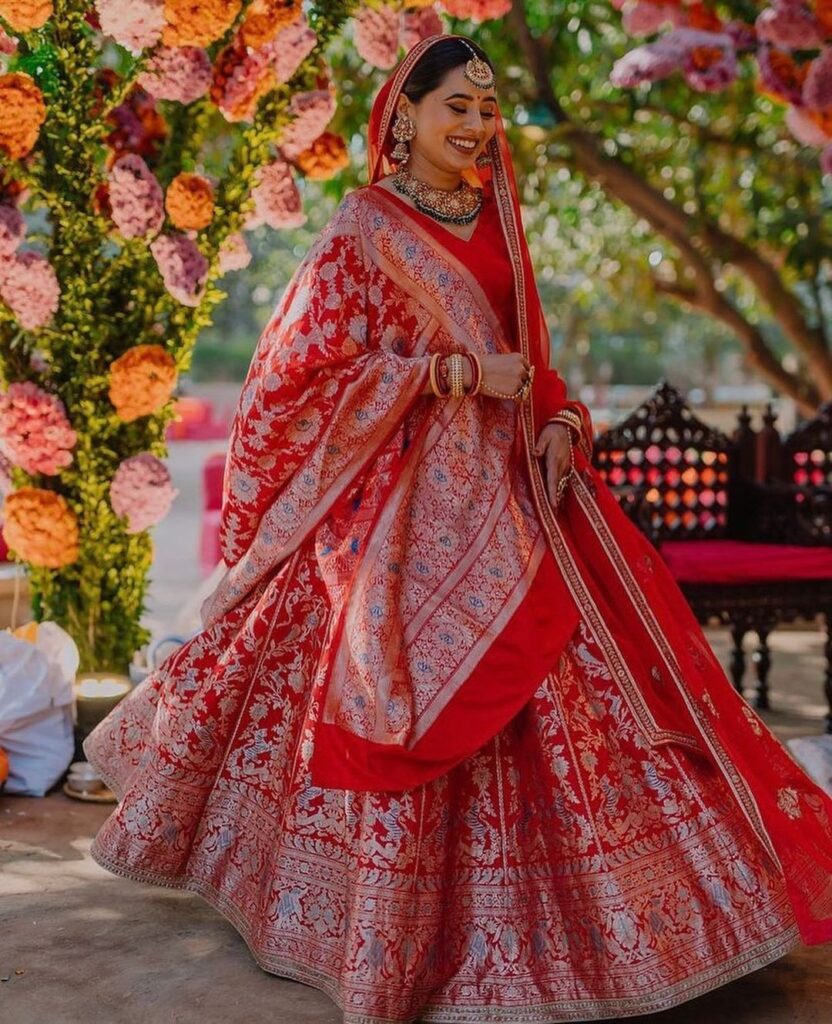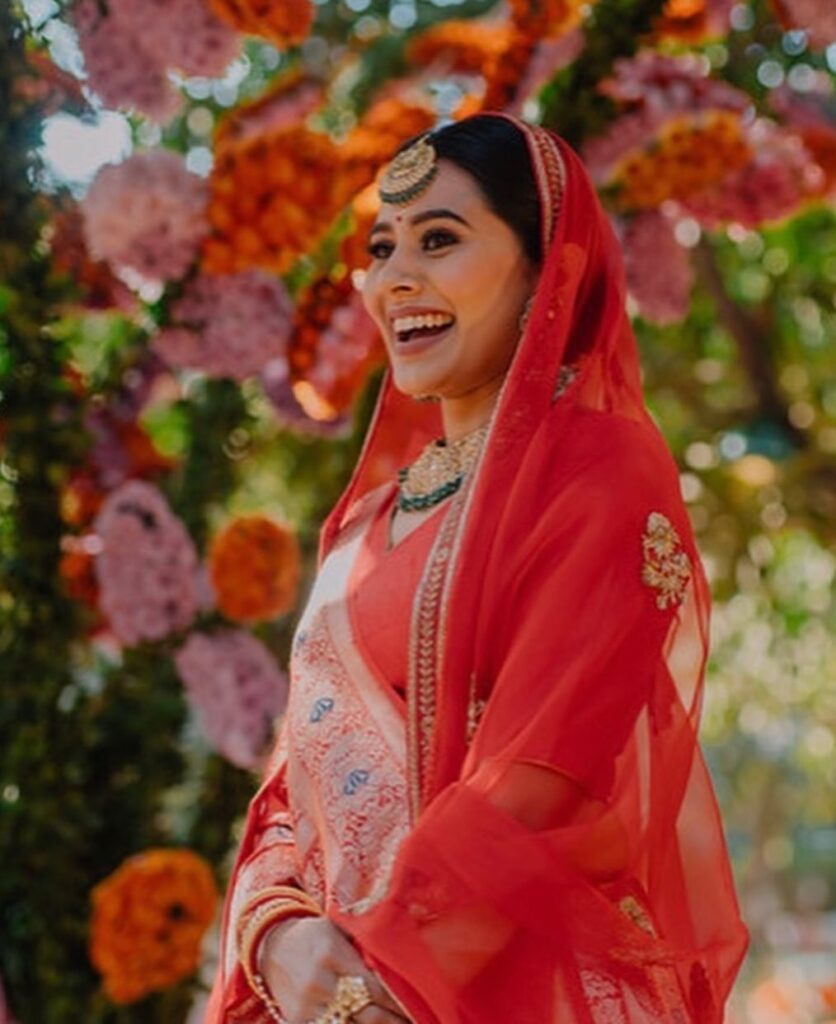 Courtesy: Ulupi Parikh, Raw Mango
#9 Simple Red Wedding Lehenga Design
A silk red wedding lehenga design with silver work is a chic style for millennial brides. This attire is ideal for brides who can't seem to work around the idea that it will be difficult to wear thousands of worth of dresses for just one day. With a seemingly simple skirt, this is an easily re-wearable designer wedding lehenga that you won't regret purchasing.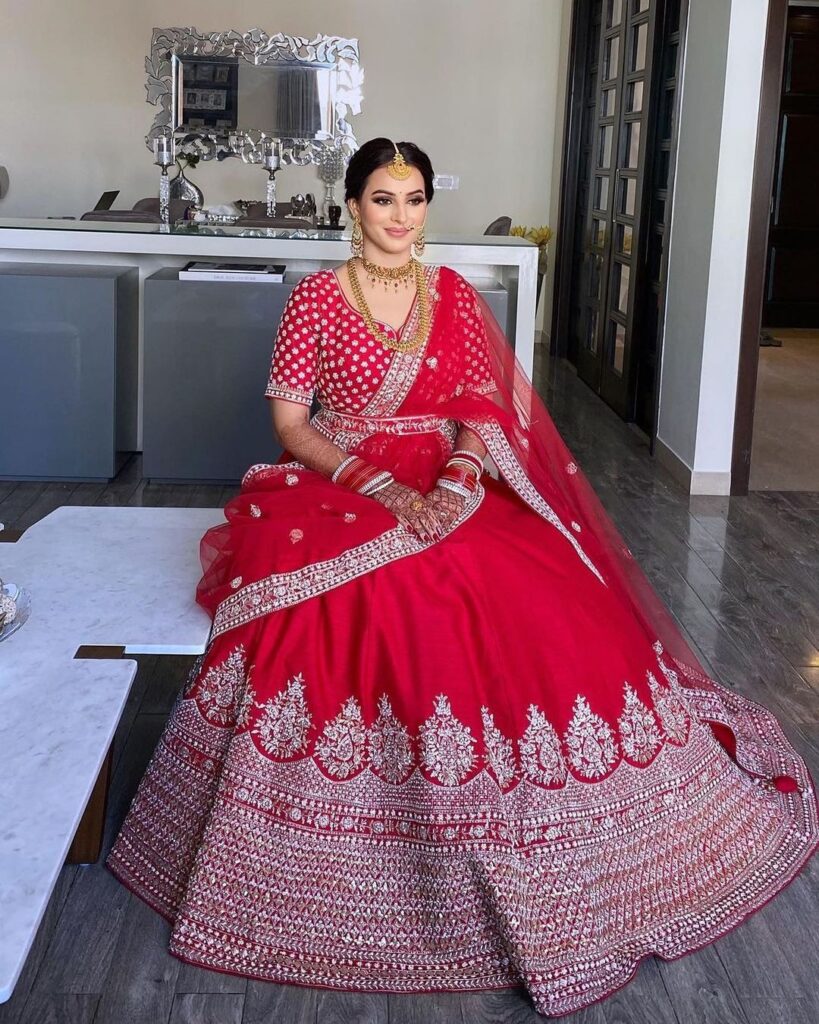 Courtesy: Archana Rautela
#10 Designer Red Bridal Lehenga
Besides Sabyasachi and Manish Malhotra, if there's one bridal lehenga designer who'll pop a few times on this list, it's Tarun Tahiliani. His designs are all about weaving handlooms, handwork, and style all in one. The gorgeous flare is because of the kali design, and not the can-can in lehenga. Do visit his store during your bridal shopping spree. You will not regret it, surely. 
#11 Red Bridal Lehenga With Golden Dupatta
We'd be twirling this gleefully too if we'd be wearing a lehenga this pretty! The golden gota patti work all over the lehenga covers the skirt but doesn't look messy, a common occurrence in heavily bedecked lehengas. The golden dupatta just enhances the beauty of the lehenga.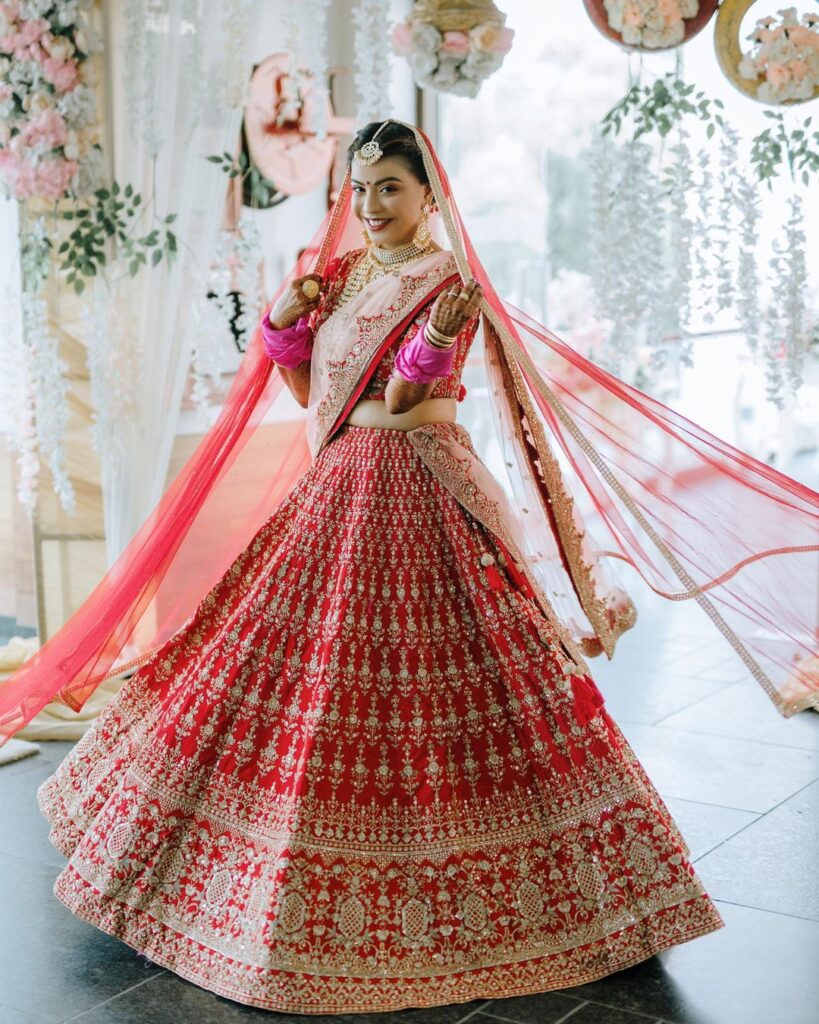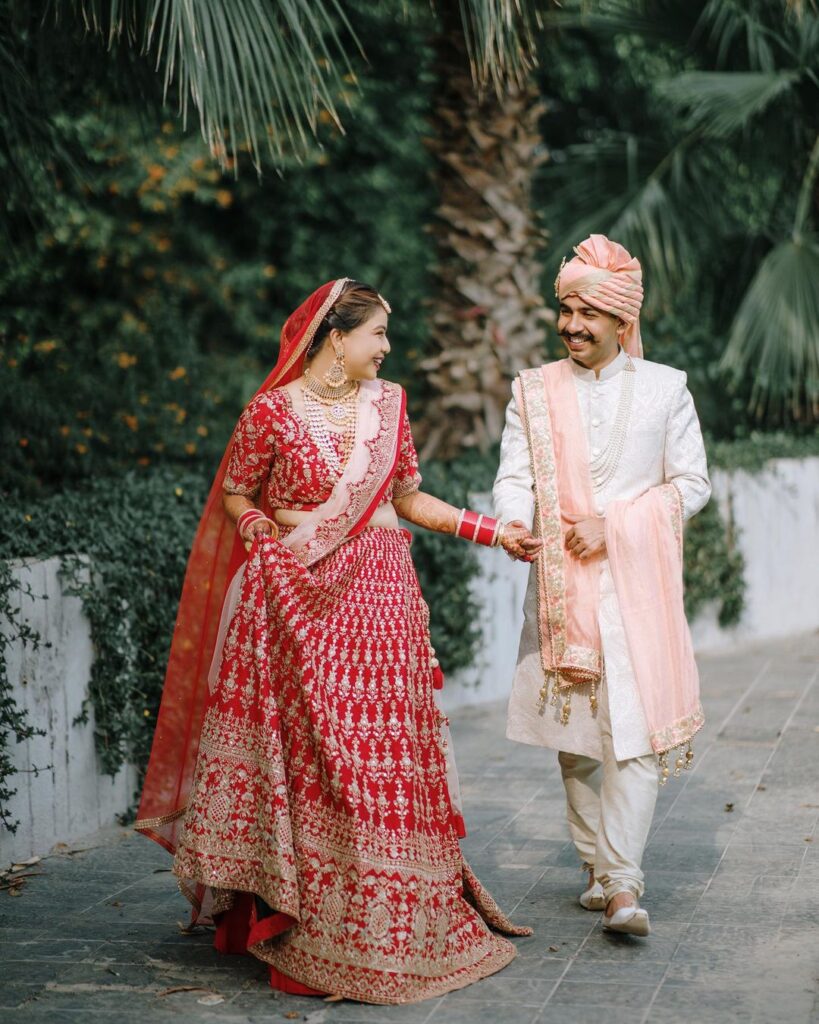 Courtesy: Safarsaga Films
#12 Simple Yet Gorgeous 
If there's one place you can trust to create impeccable Sabyasachi replica designs, then it has to be a Chandni Chowk lehenga shop. Sudhir Bhai Saree Wala recreates the common Sabyasachi lehenga, which we can say looks as gorgeous as the real one! MUA Punya Sharma gives her a smokey eye-nude base makeup to complement the ethereal element of the dress.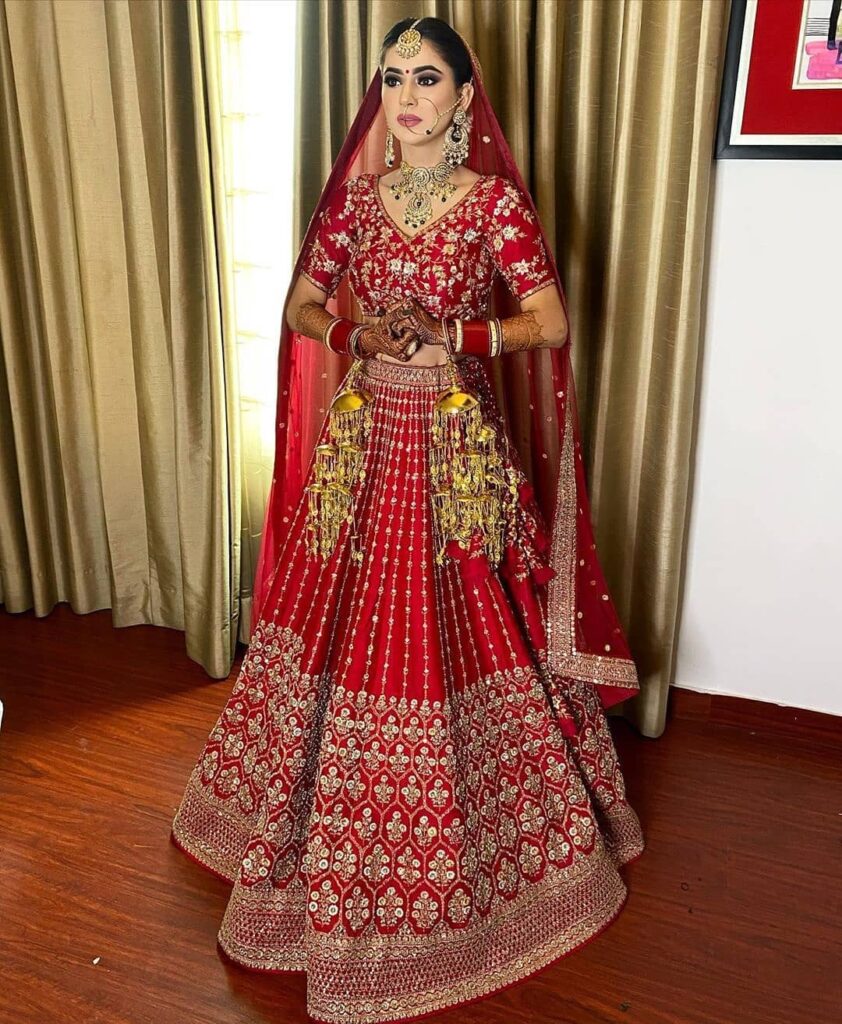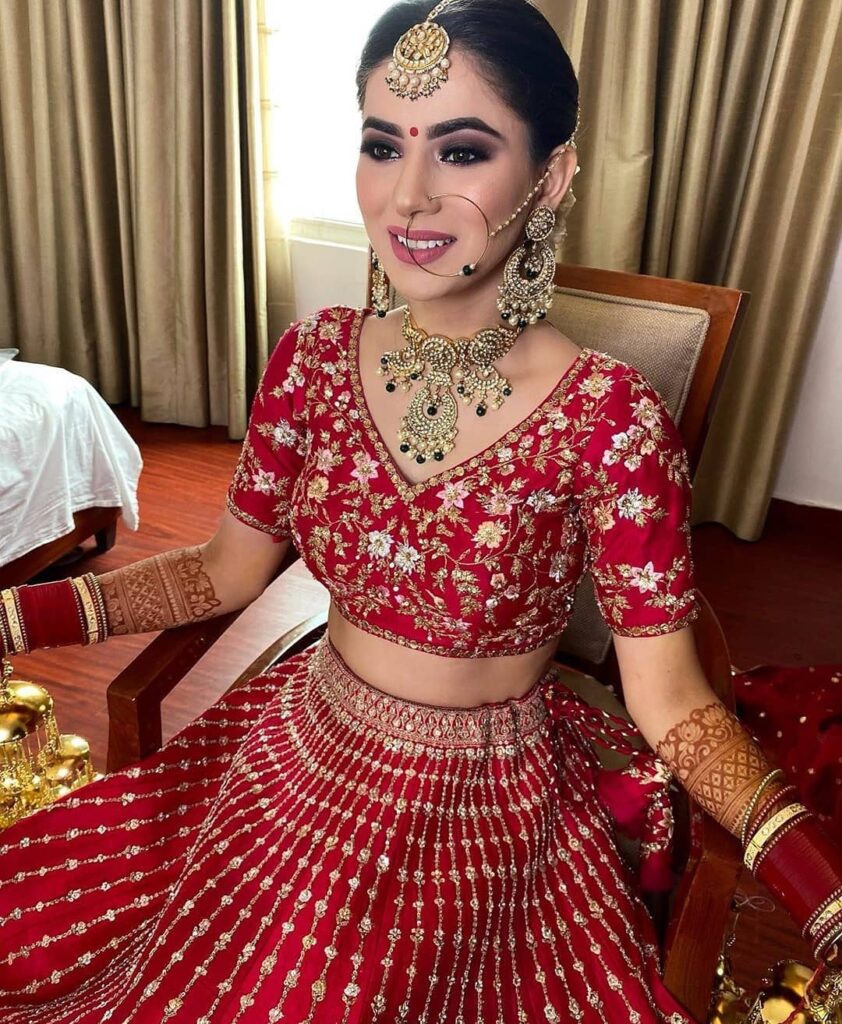 #13 Intricacy At The Finest
There's a reason why Sabyasachi red lehengas gained so much momentum in the wedding world. This is one of the major designs in Sabya's earliest years which many brides sported a few years back. The timeless piece definitely justifies all the love for him – then, and now.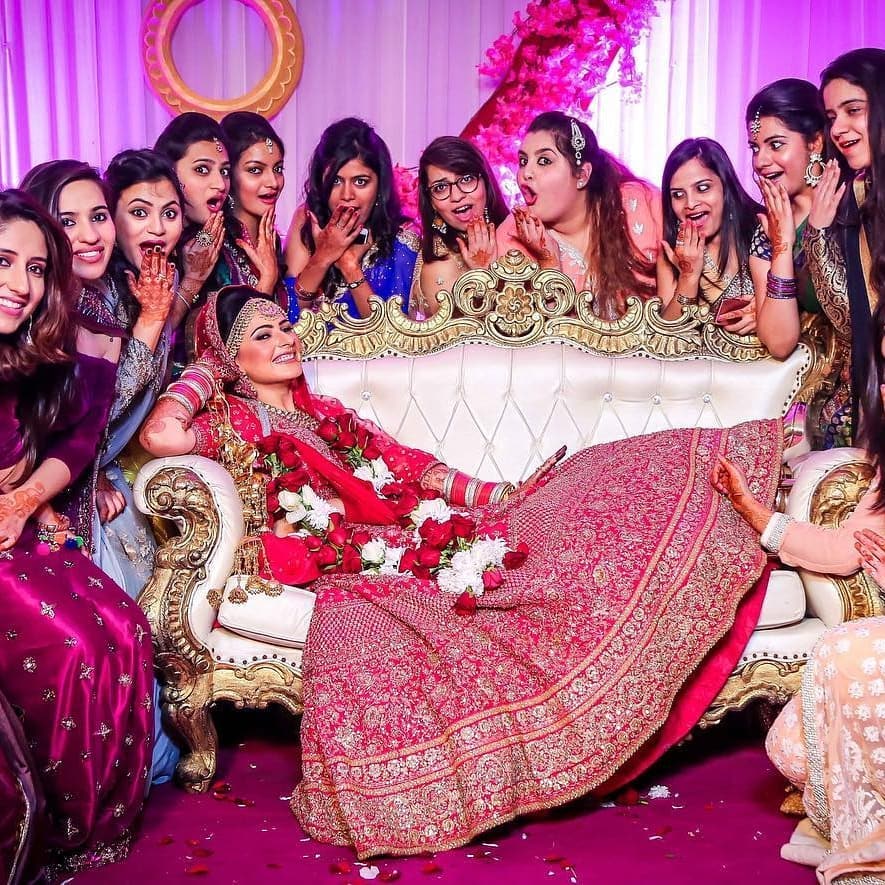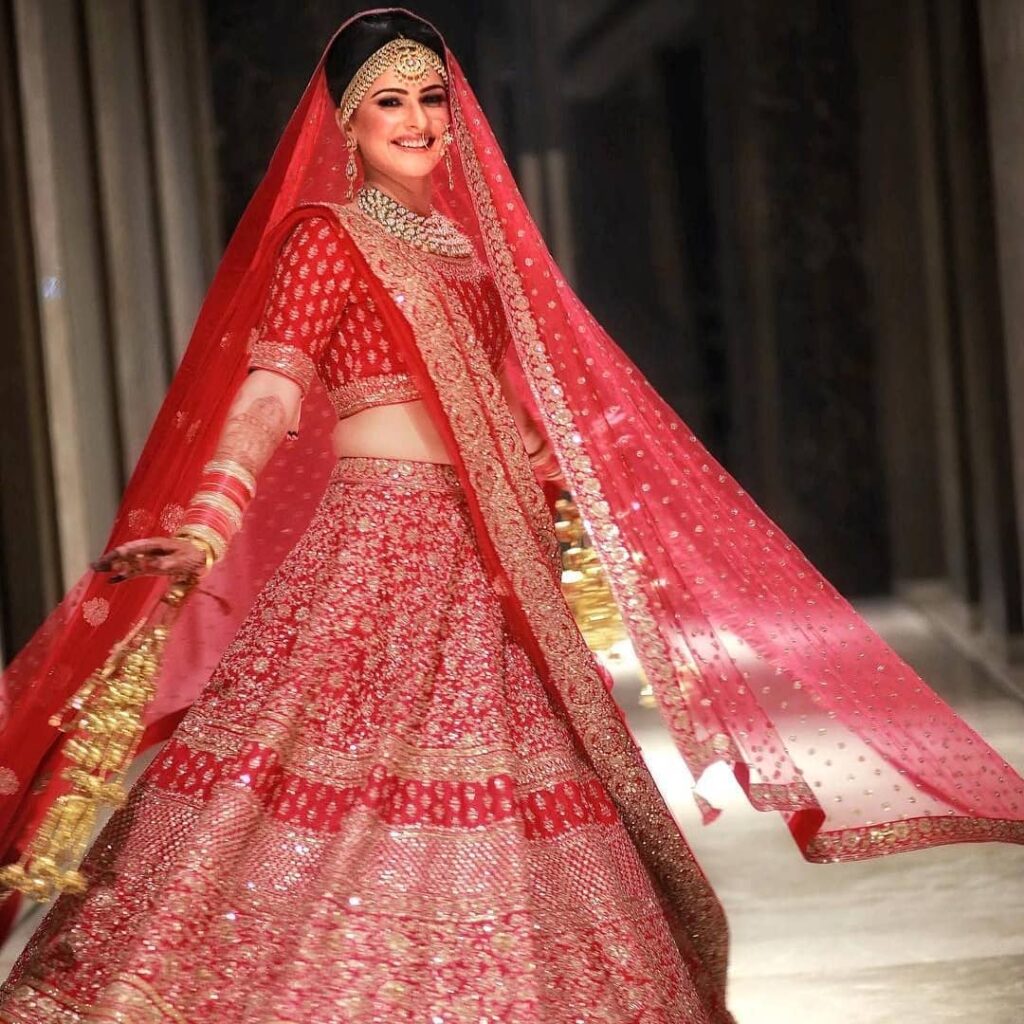 Courtesy: Happy Frames
#14 Gorgeous Maroon
Maroon is an alluring shade to opt for on your wedding day. Taken from the red palette, the hue is often preferred by winter brides but can suit your summer wedding as well, given it's styled keeping the summer freshness in mind. Swooning over how bride Aishwarya Bharadia carried the maroon bridal look for her Rajasthan wedding.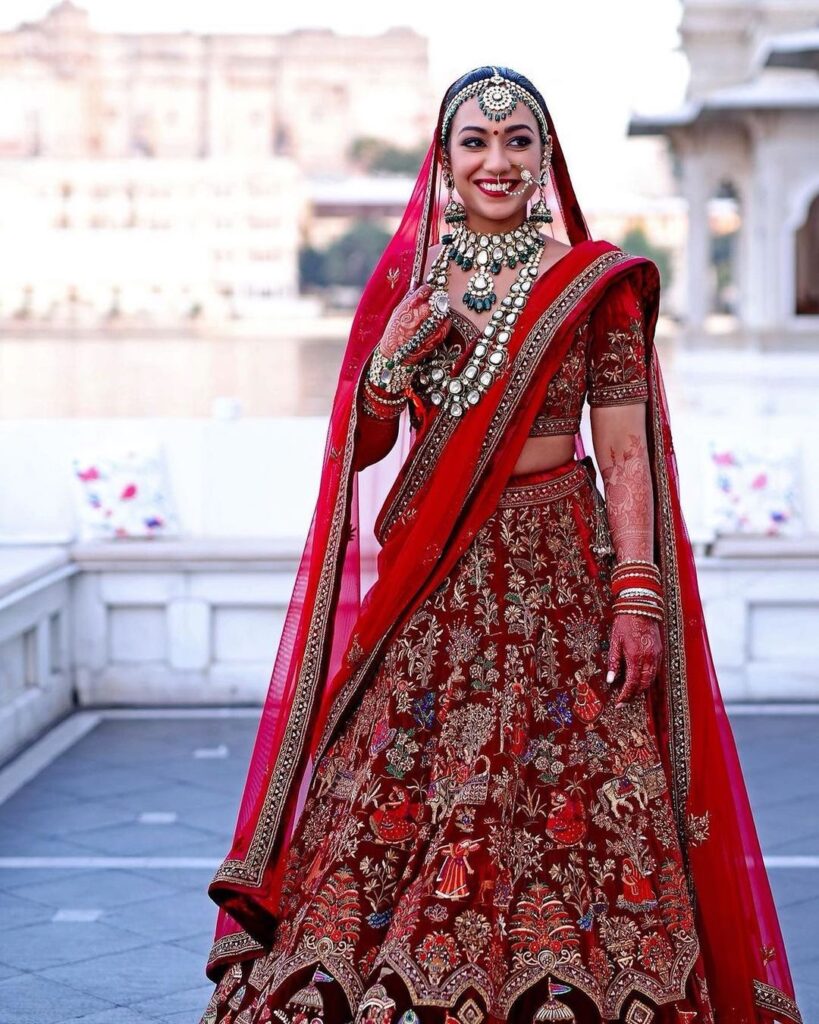 #15 Dripping With Royalty
Shalini's royal red bridal lehenga has been seen by almost everyone who follows wedding content. Her regal attire paired with chunky jewels and glamorous bridal makeup win everyone's hearts and serve as constant inspiration. Bookmark if you're a lover of royal wedding looks.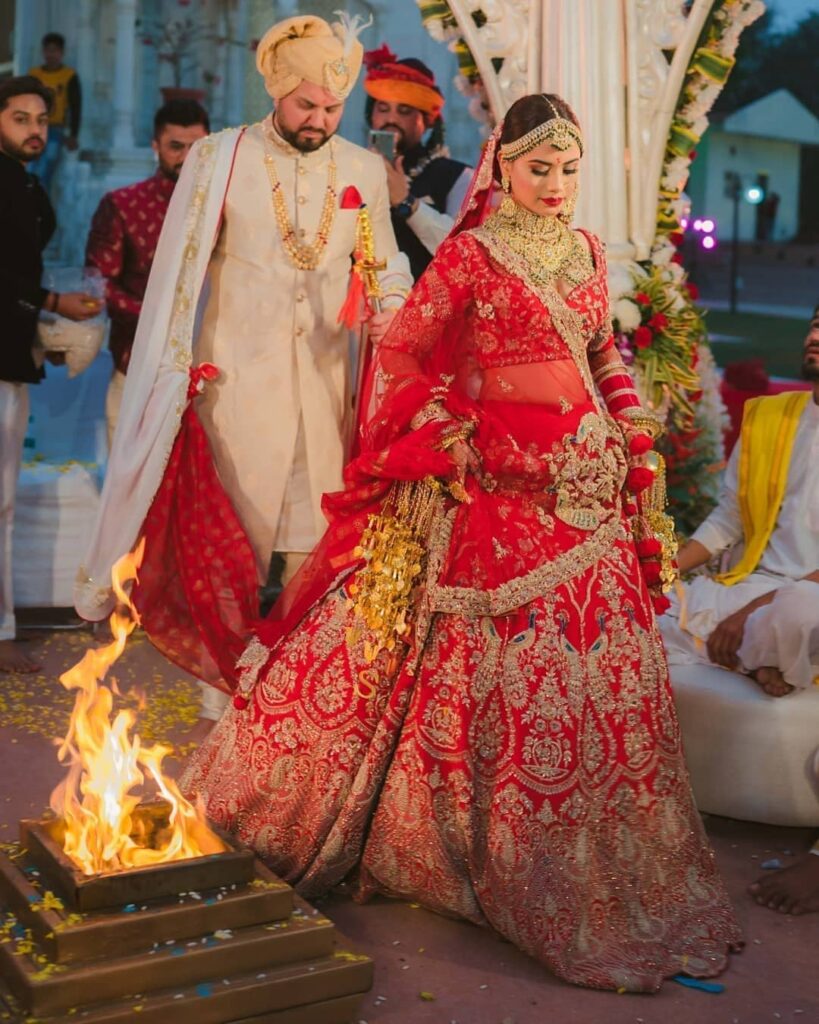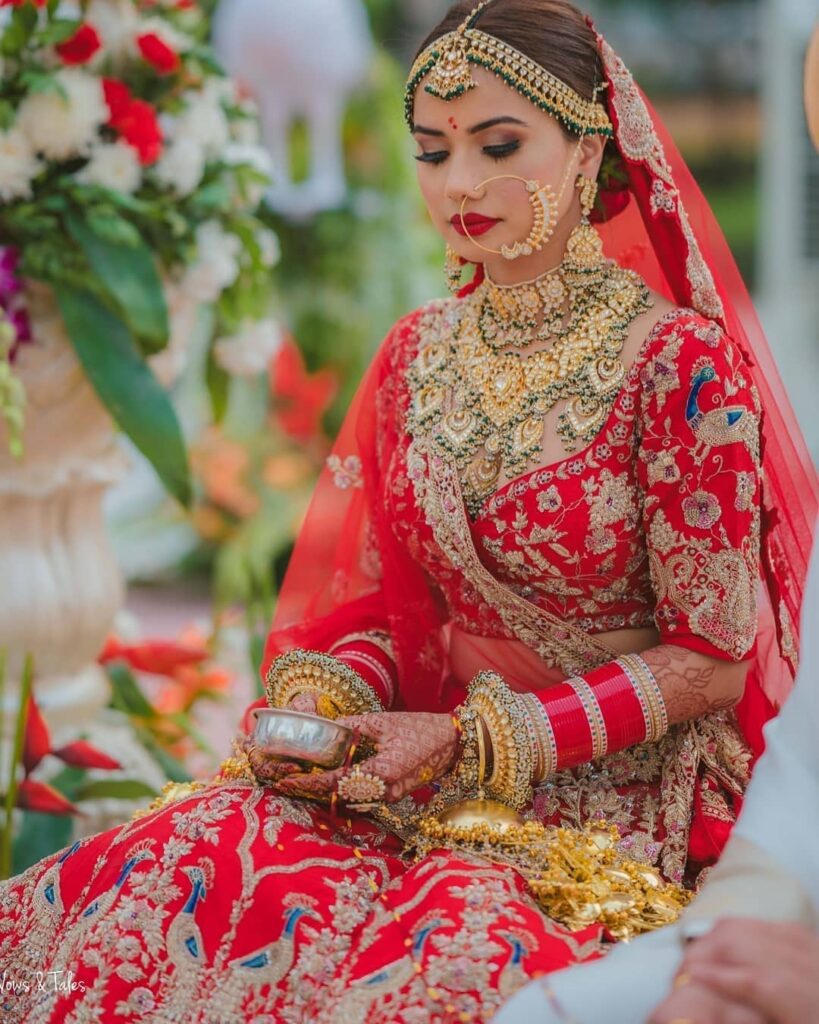 See her wedding blog here.
#16 Just A Simple Red Lehenga
Who said red is just to wear on the wedding day? You can flaunt a red bridal lehenga on your mehendi day as well. In fact, if you aren't wearing red on the wedding day, it's best to incorporate it on some other wedding function so you don't miss out on the color.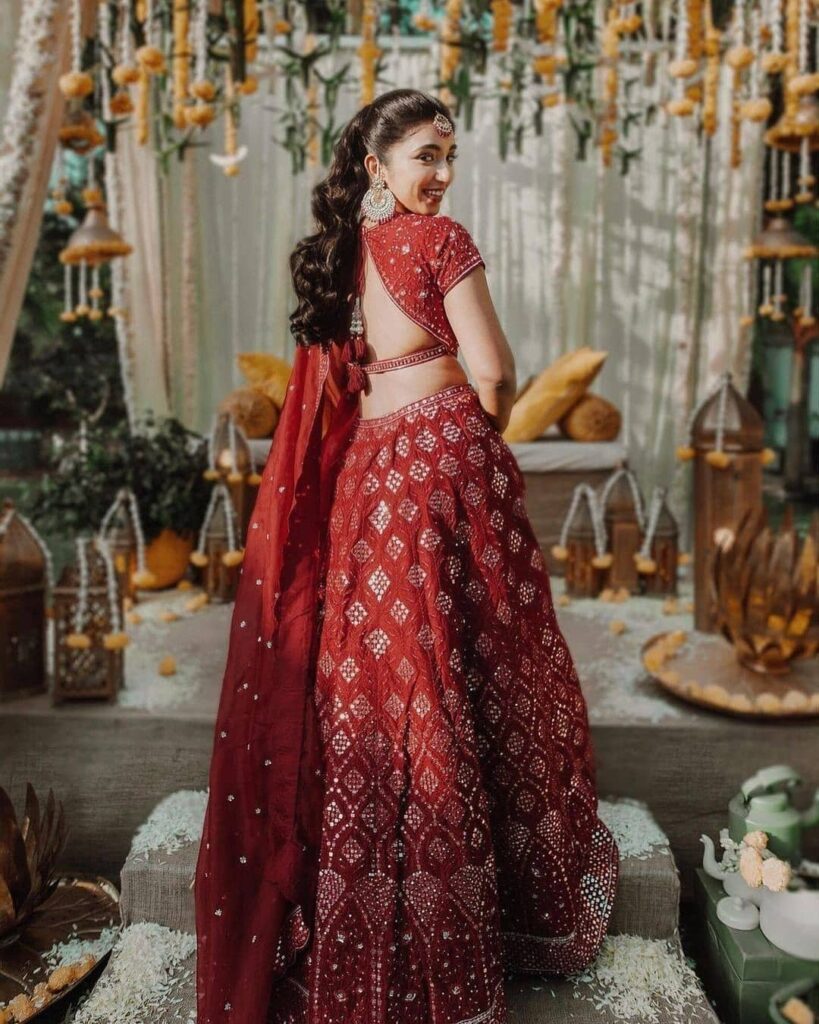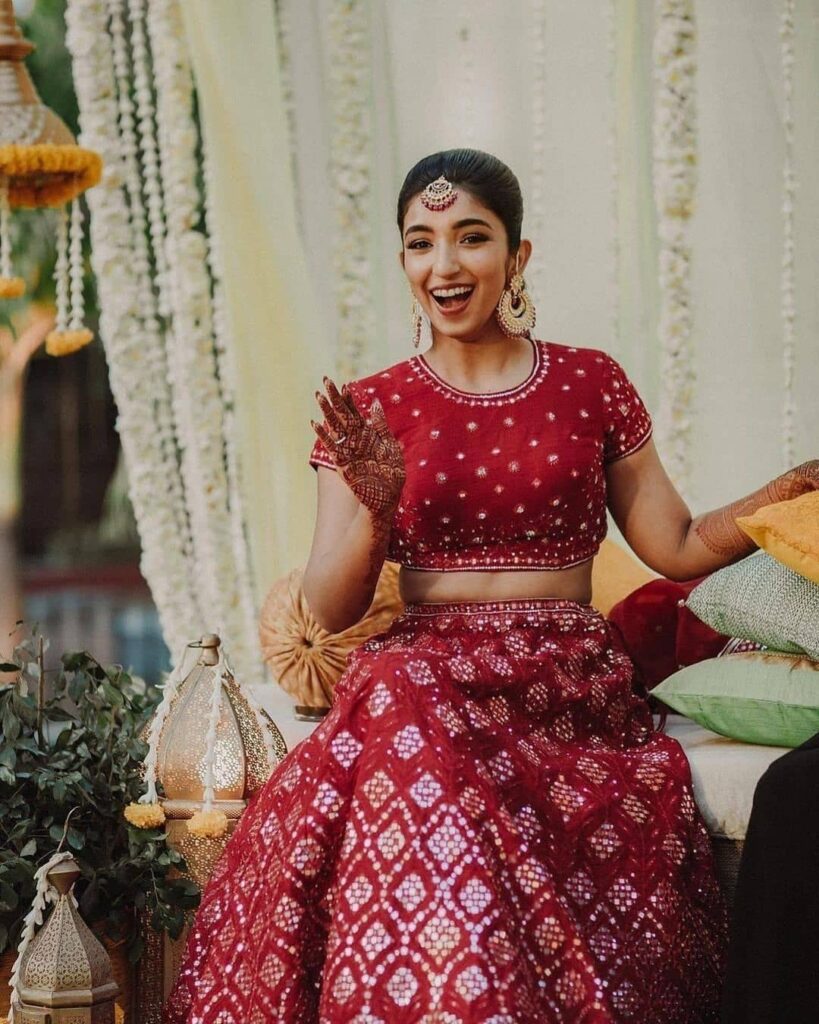 Courtesy: Shades Photography India
#17 Latest Red Bridal Lehenga Design!
Amidst the hustle of the wedding revelries, ensure to take time out for your bridal shoot. Sometimes you'll be too tired or just working under pressure, but it's important to capture all moments. Here, the bride flaunts her red wedding lehenga – all because she took the time out for the shoot.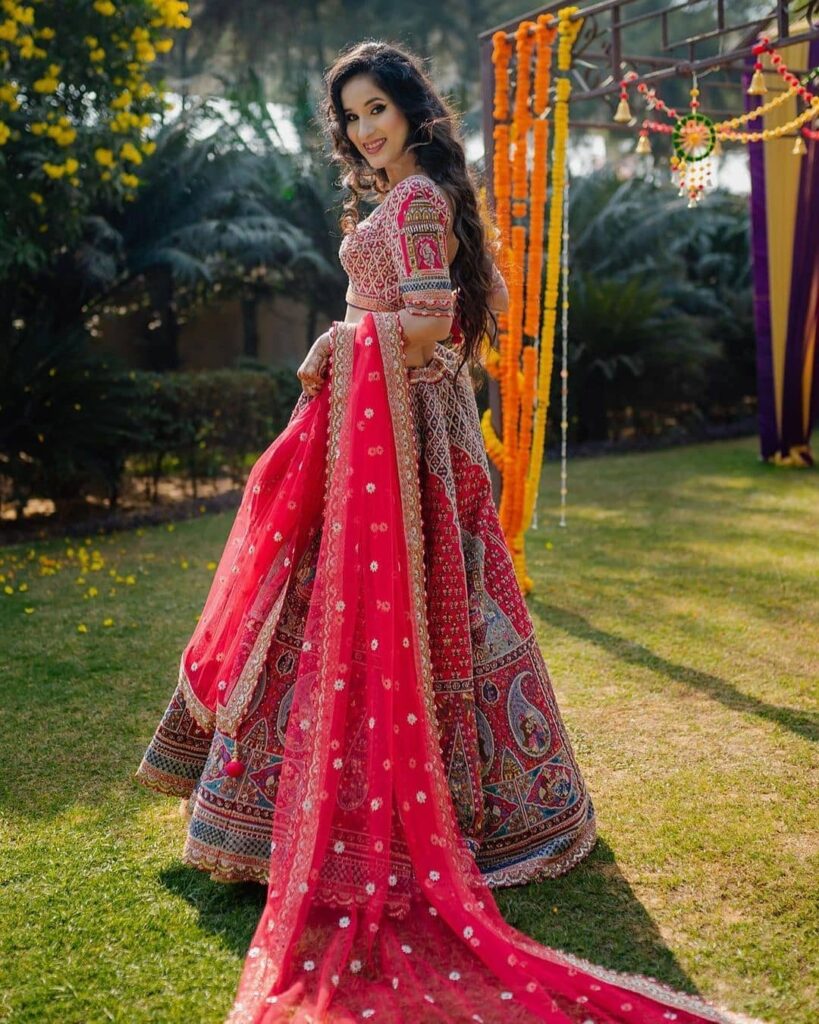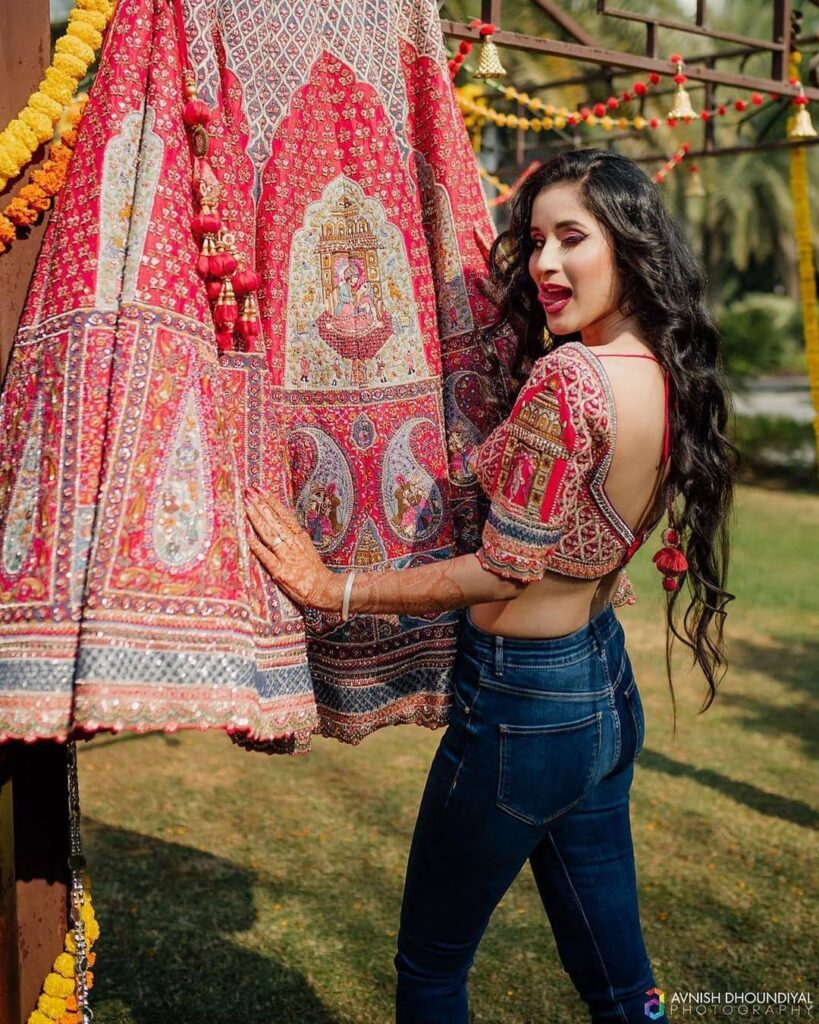 Courtesy: Avnish Dhoundiyal
#18 A Starry Affair
A zero-neck blouse design is seldom a pick for brides on their wedding, but she completely nailed the look and proved that touch of distinctness in your bridal look can make all the difference for it to stand out. The pose beside the fairy lights adds an ultra special touch.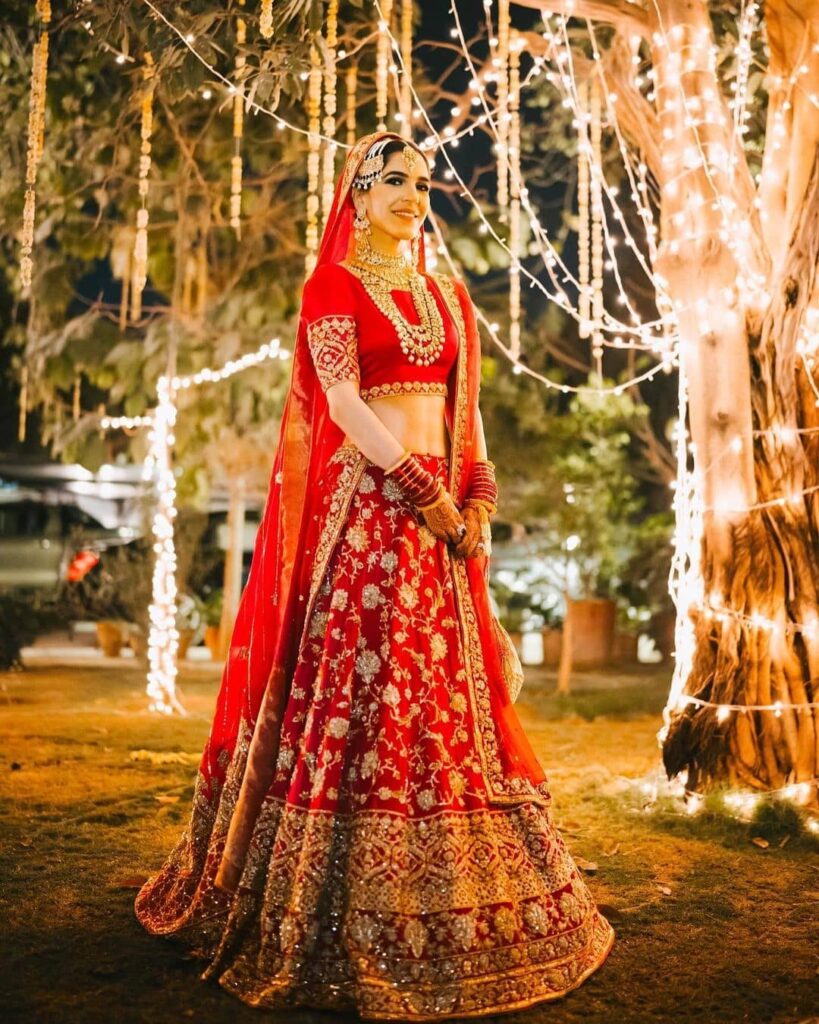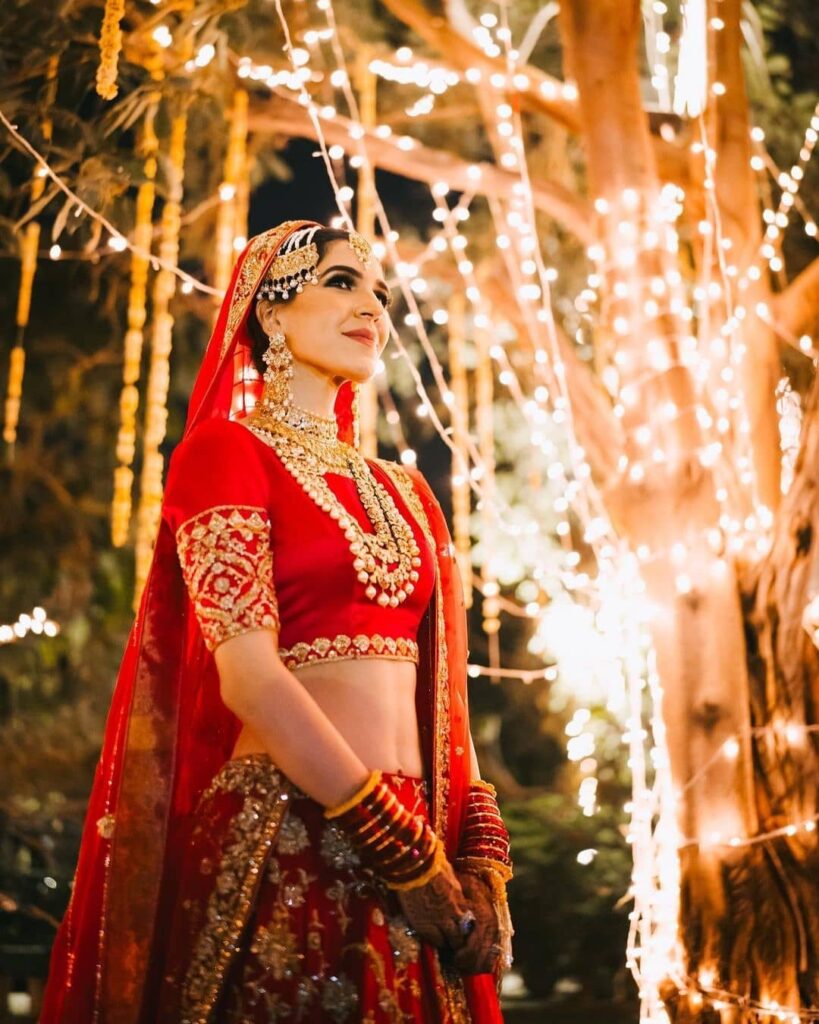 Courtesy: Izzah Shaheen Malik
#19 Peecee Inspired Red Bridal Lehenga
A Priyanka Chopra-inspired red monochrome lehenga is an idyllic pick for Neha's desert wedding. The trail added glitz & glam to her bridal look. With her hair slicked back in a low bun, the bride finished her look with a red lip and kundan jewels.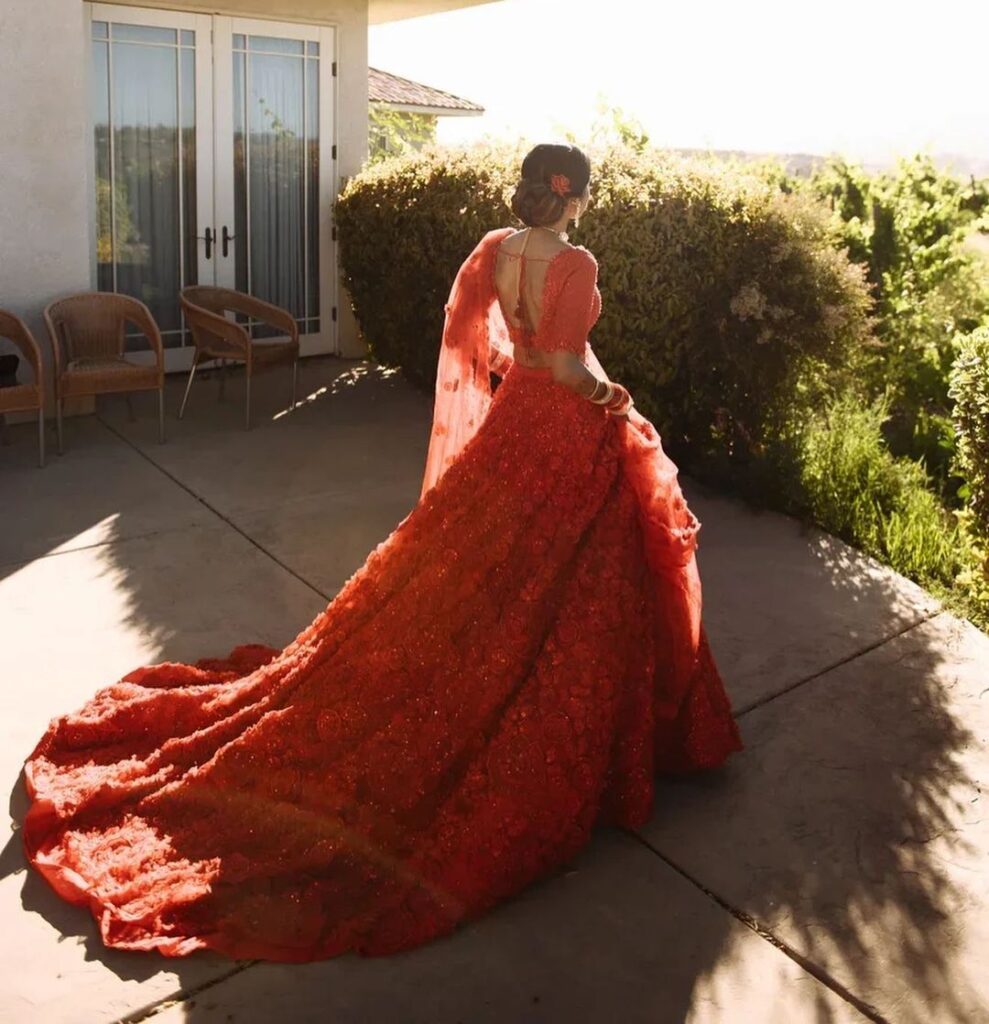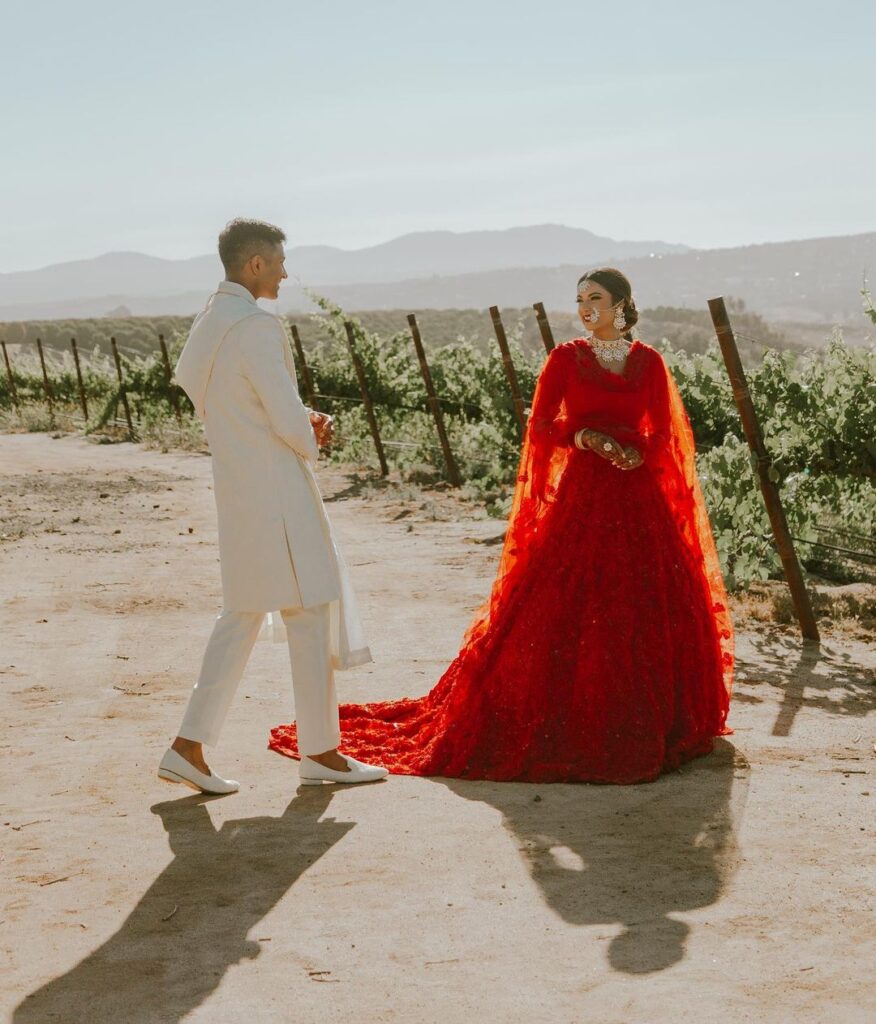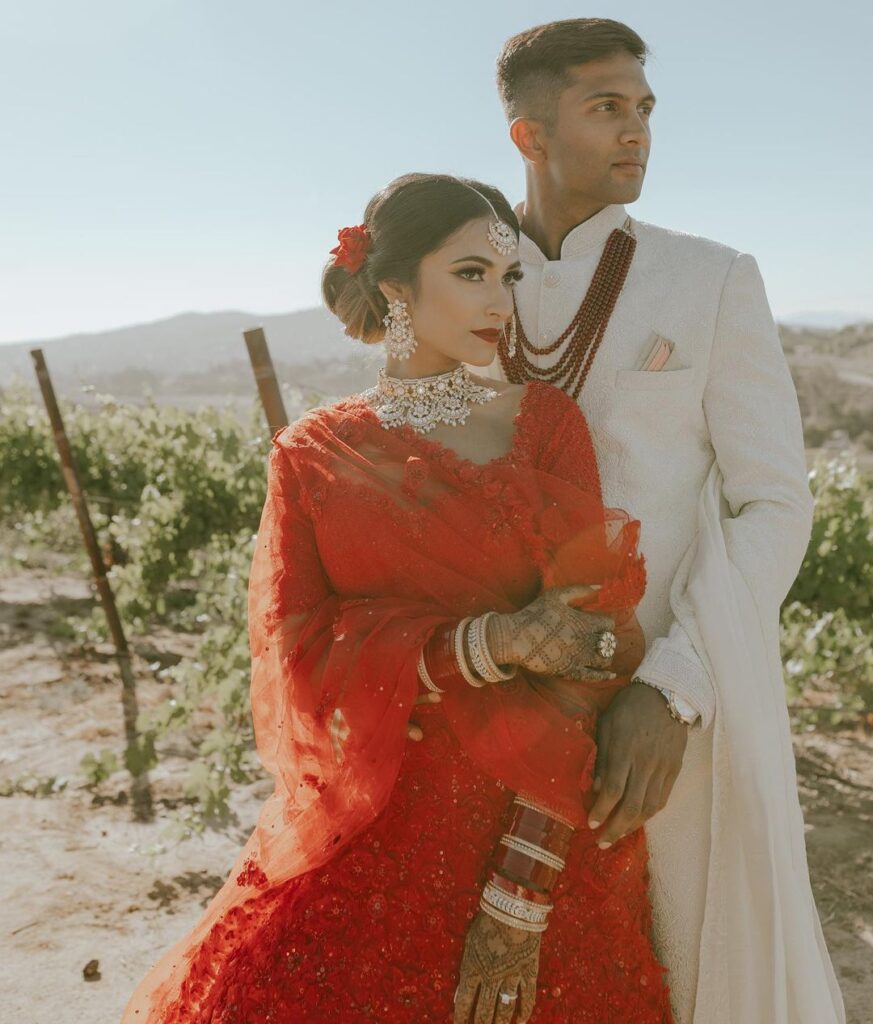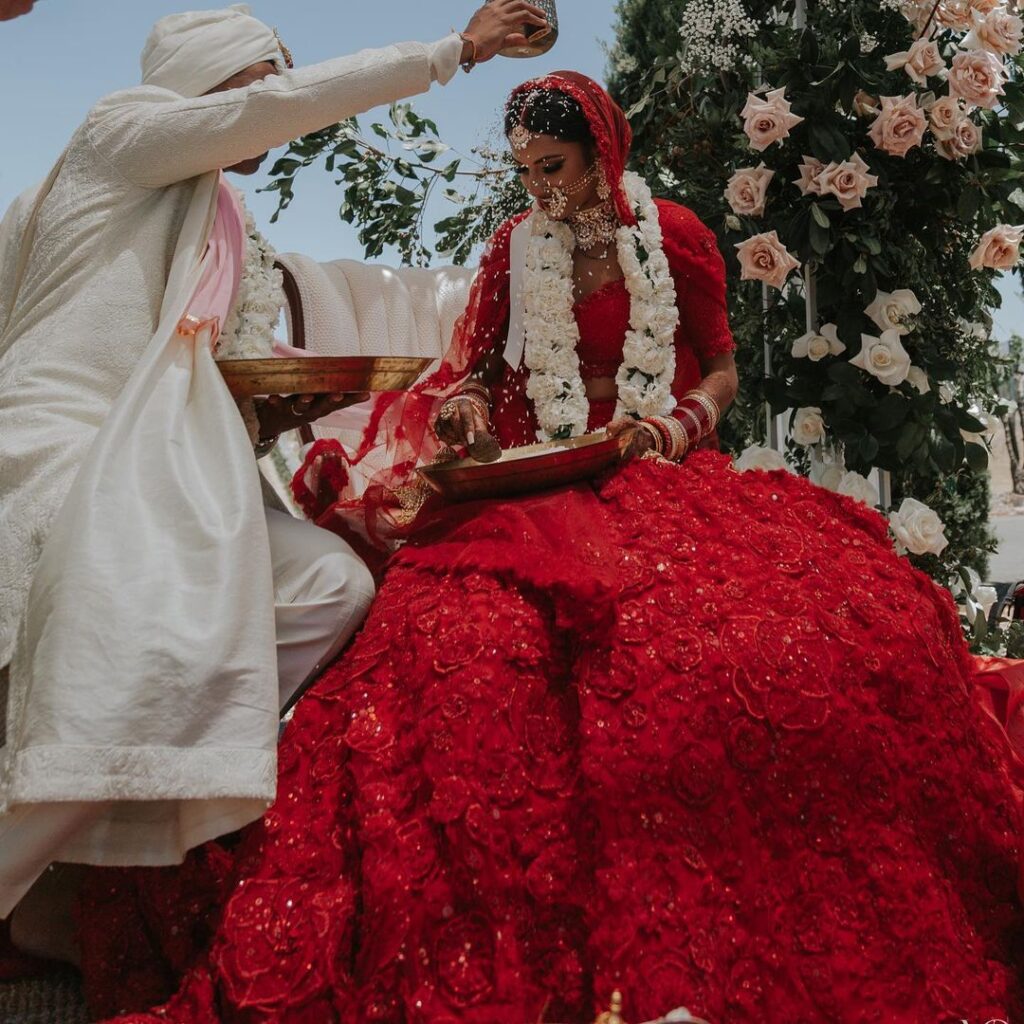 Courtesy: Neha Varma
#20 Simplicity At It's Best! 
Given the smaller scale of celebrations, some brides have chosen to go simplistic with their wedding look. If you're also veering towards minimalism, check out this gorgeous Anita Dongre designer red bridal lehenga to don on your wedding day. To keep up with the minimalism, the bride paired the lehenga with nothing but some gorgeous golden jewelry pieces. With just a single dupatta, she combined modernism with traditionalism perfectly.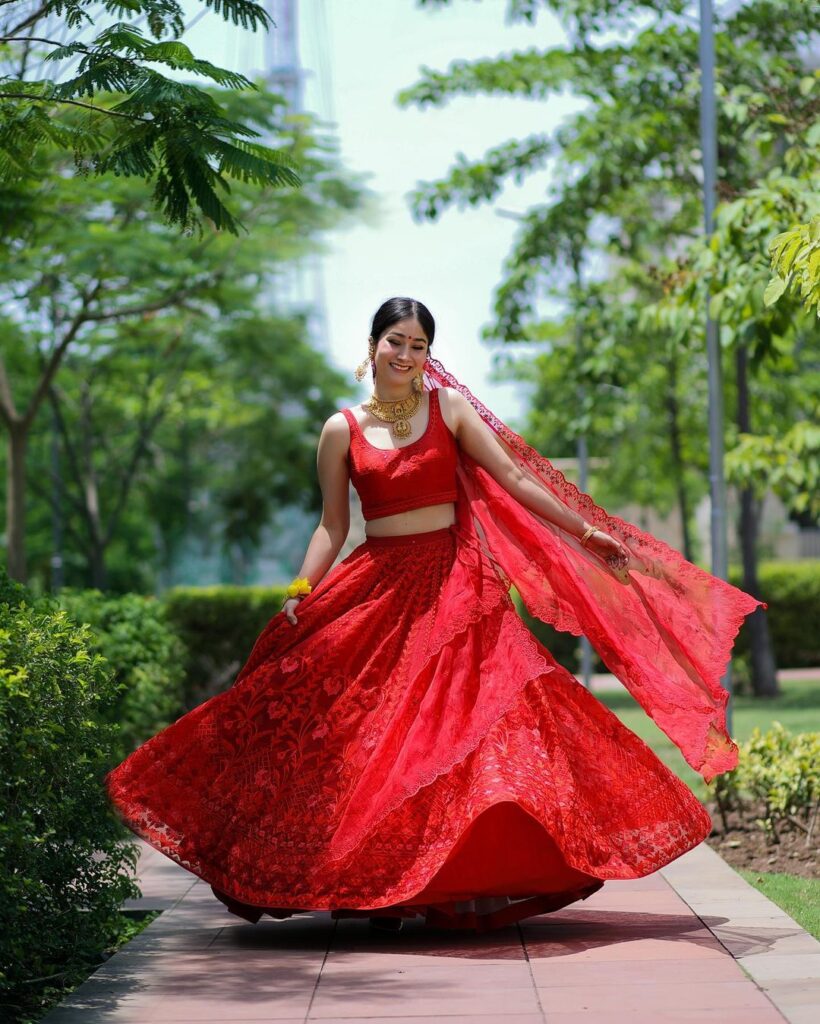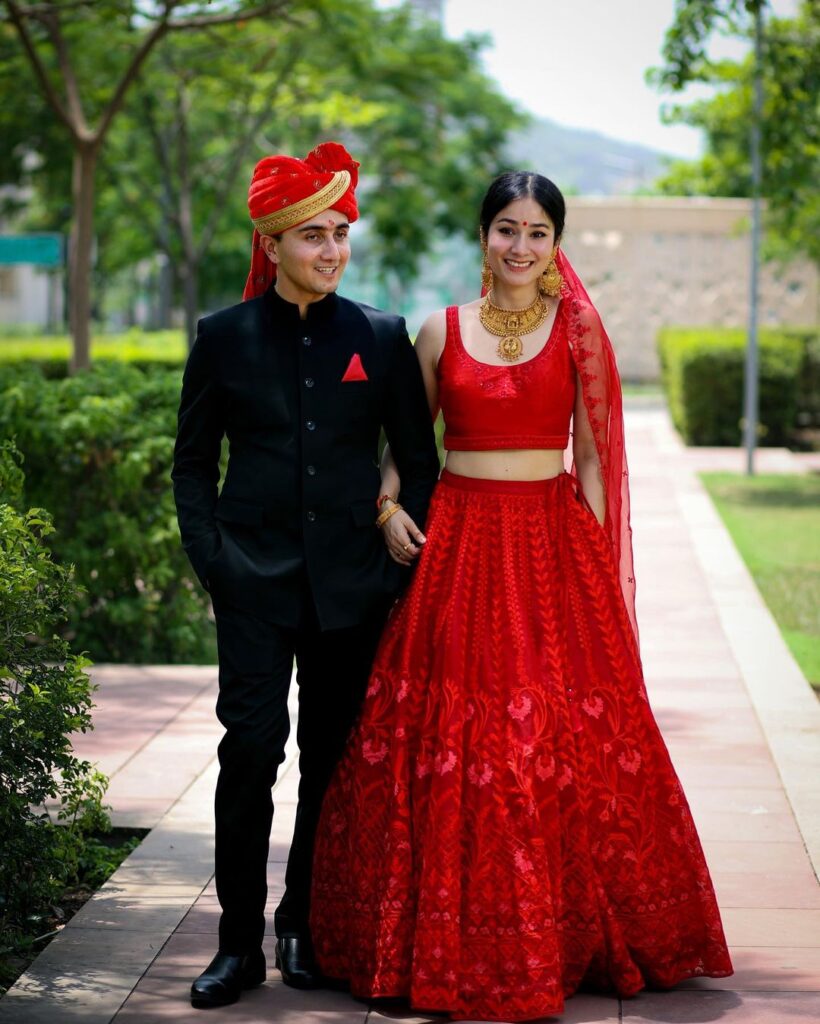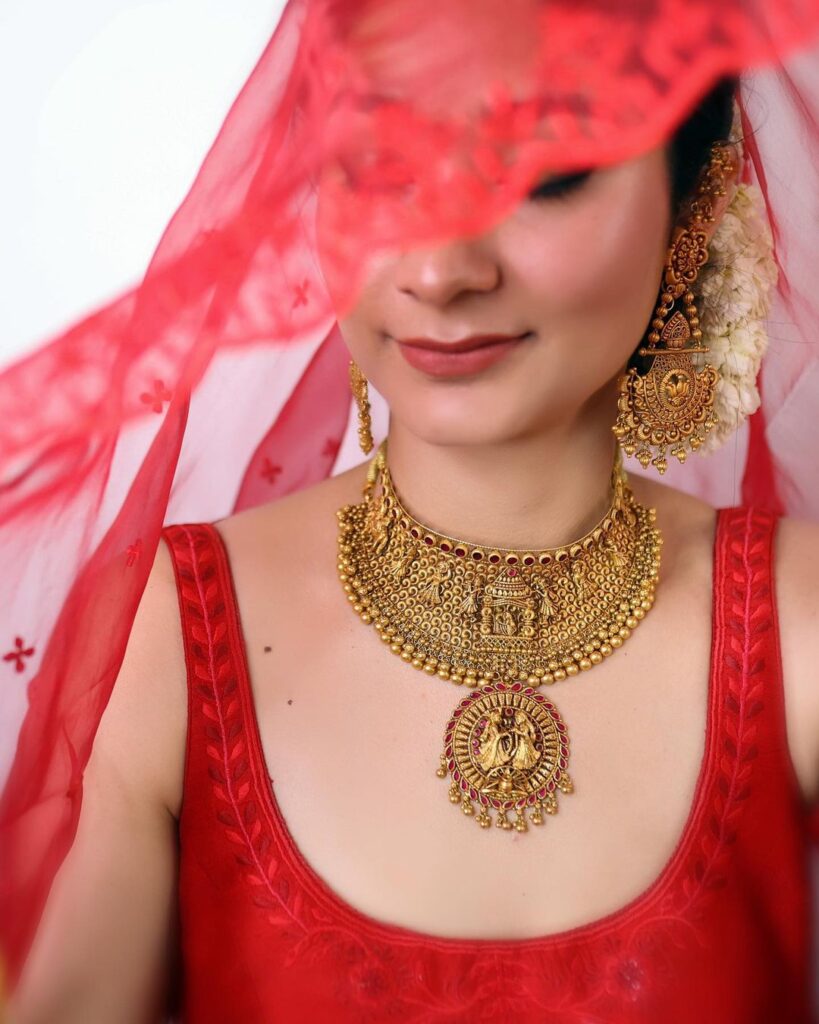 Purchase here for Rs.1,35,000/-
#21 Heavy Red Bridal Lehenga With Silver Work
A heavy red wedding lehenga with silver work is often a modernistic touch to the usual golden ones. See how bride Malvika Singh looked like a perfect millennial bride completely in touch with traditions with her styling.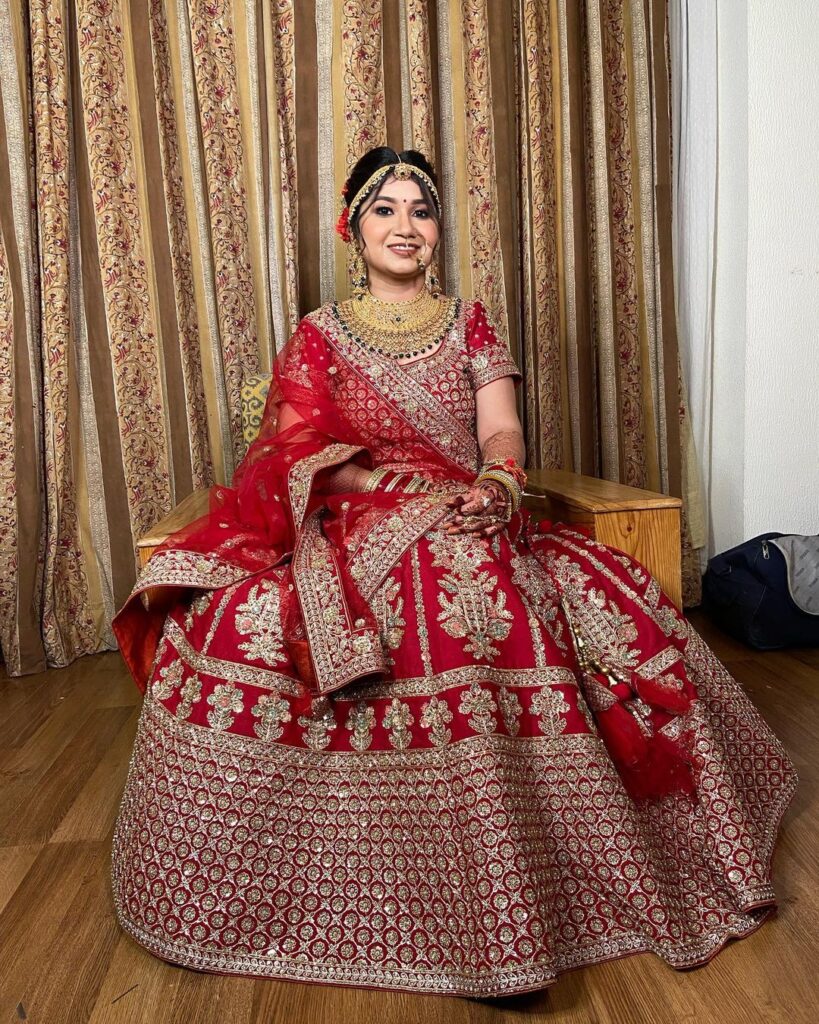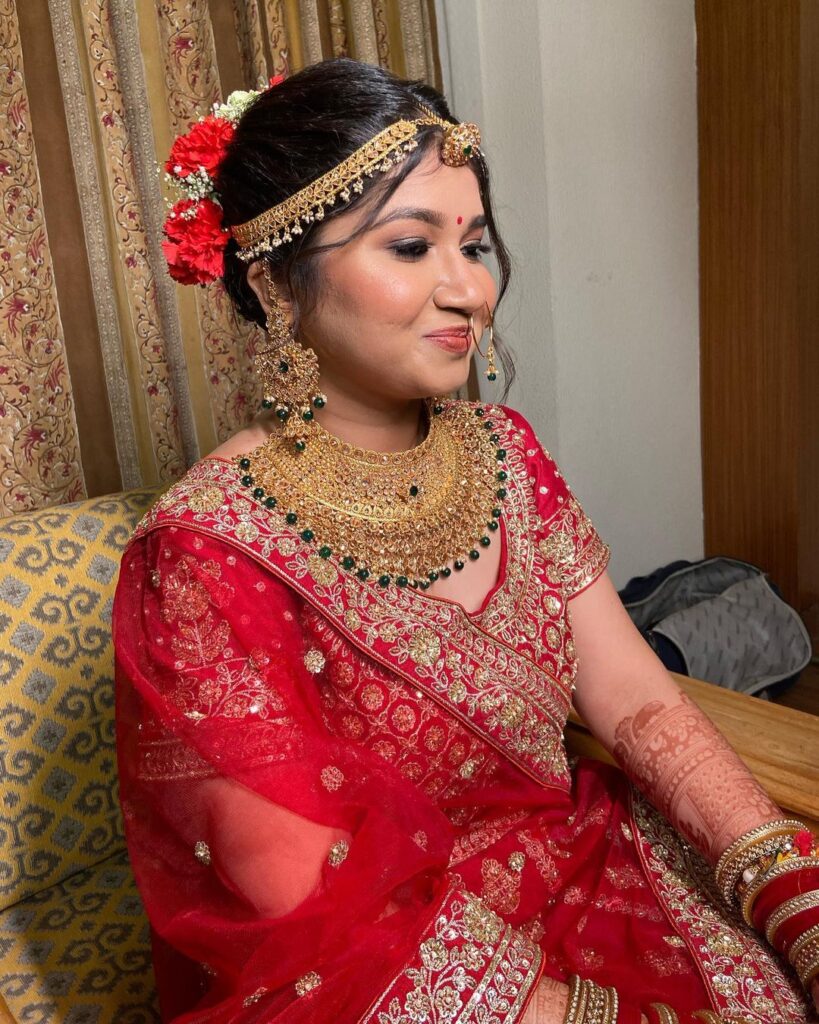 Courtesy: Vasudha Biyani
#22 A Simple Touch
After her pastel day wedding look, Aman opted for a minimalistic Sabyasachi lehenga for her night reception party. The subtle zari embroidery on the sides and the newly-wed red elements make the entire styling pin-worthy and a perfect inspiration for minimalistic brides.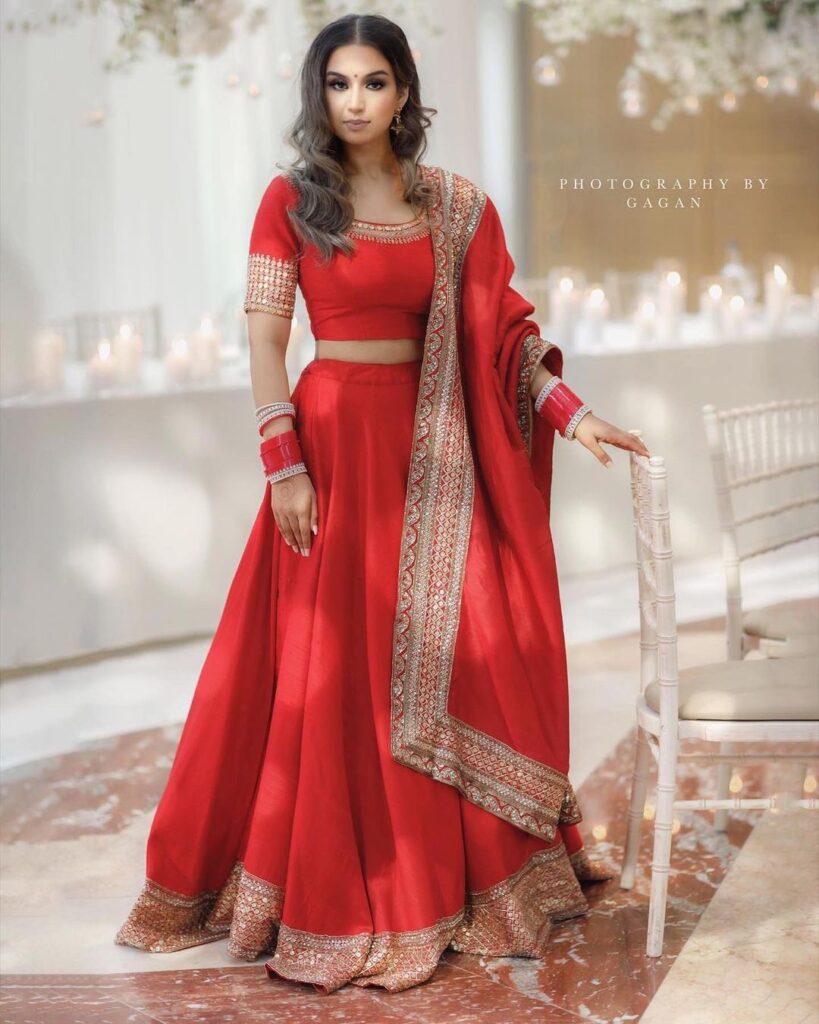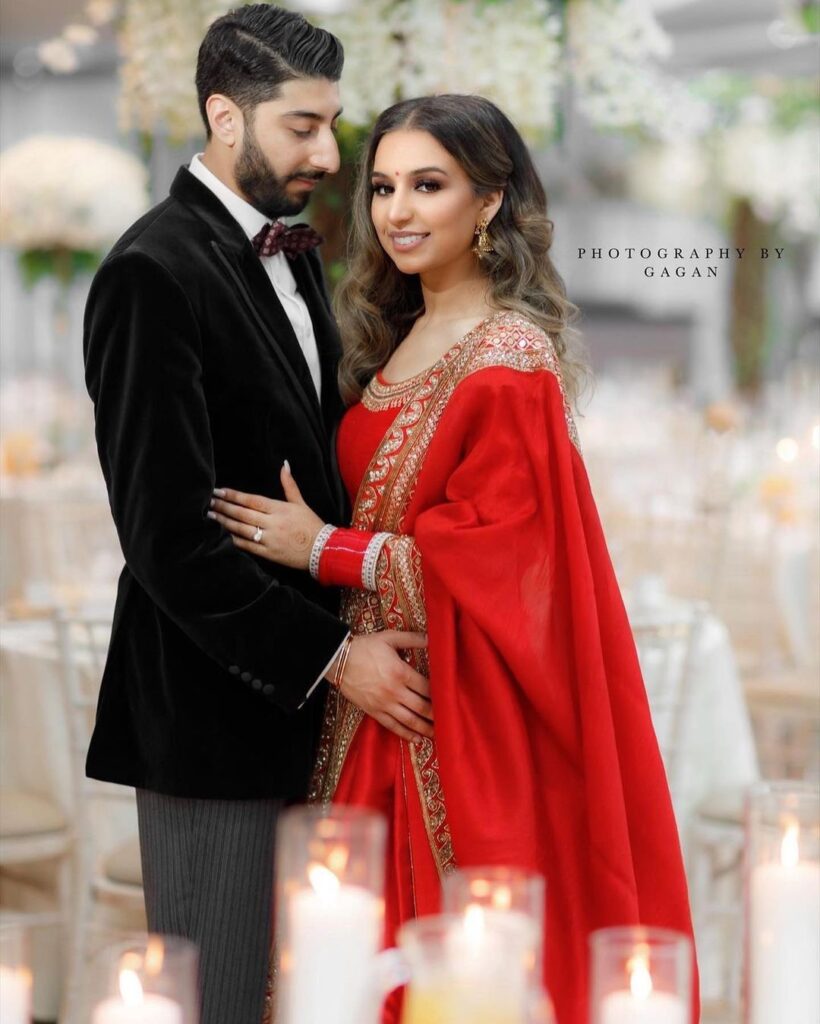 Courtesy: Photography by Gagan
#23 The Beautiful Ombre Effect
To add a gorgeous aesthetically pleasing effect to your wedding lehenga, go for an outfit that features an artistic mix of colors, like this one. Further, take cues from this bride's ethereal sunny portraits and save them to give ideas to your wedding photographer.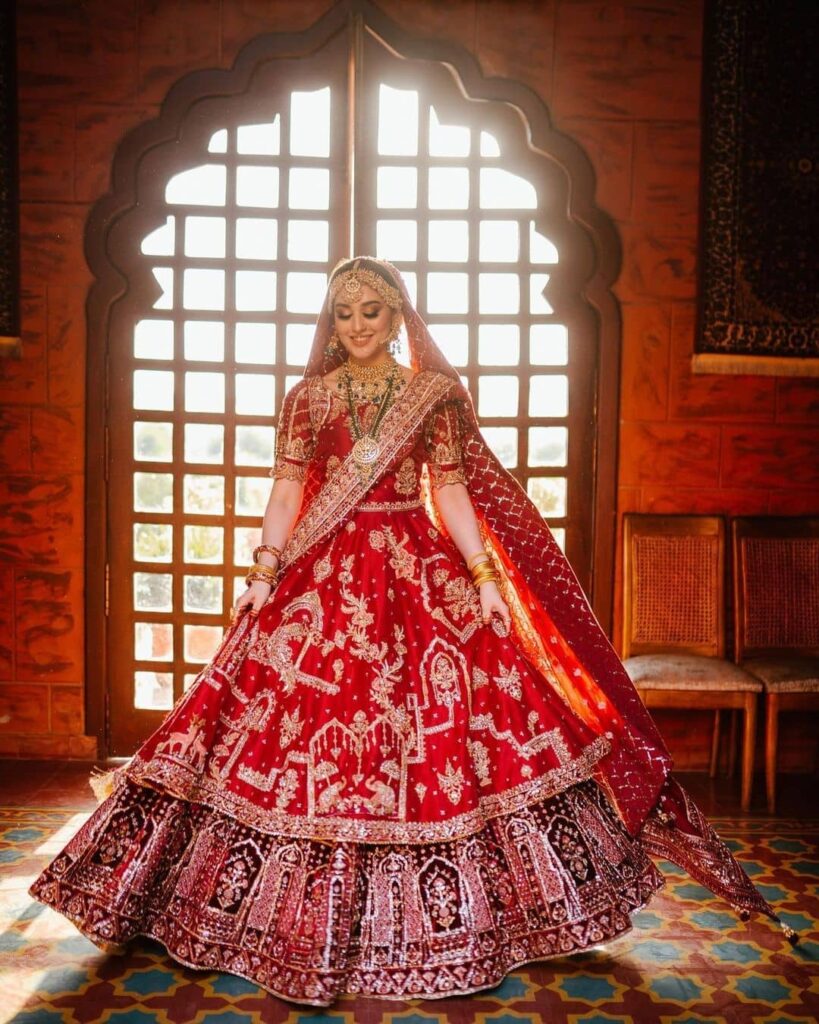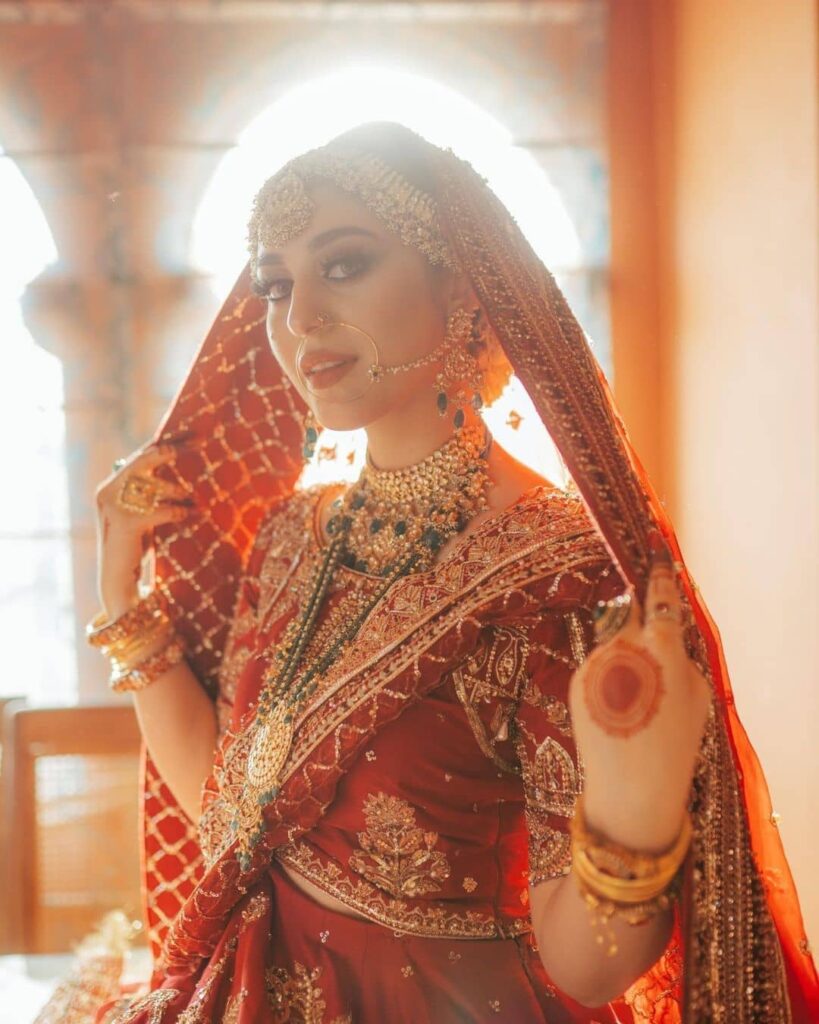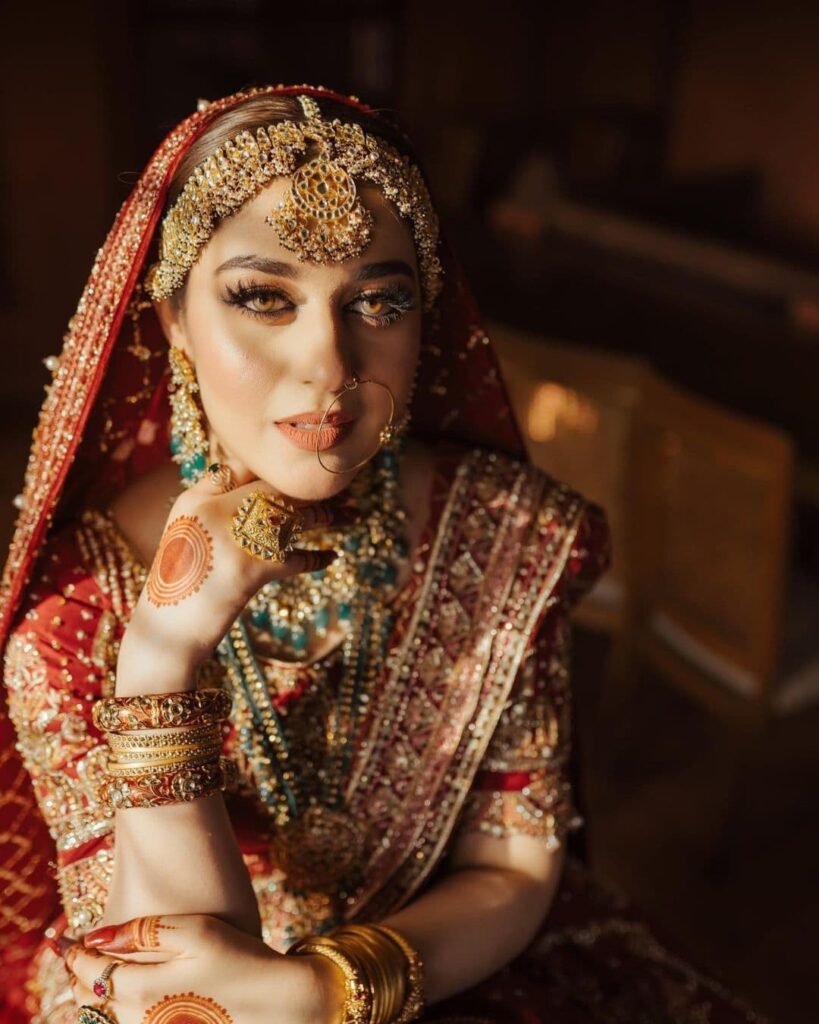 Courtesy: Izzah Shaheen Malik
#24 Red Bridal Lehenga With Pink Dupatta
When it comes to hunting for wedding inspiration, we often turn to celebrities. Here, you can see Dia Mirza turning as a perfect muse for your red bridal lehenga inspiration in bandhani. The pearl jewelry and a maroon red lip enhance the style to suit any tradition-loving yet modern bride.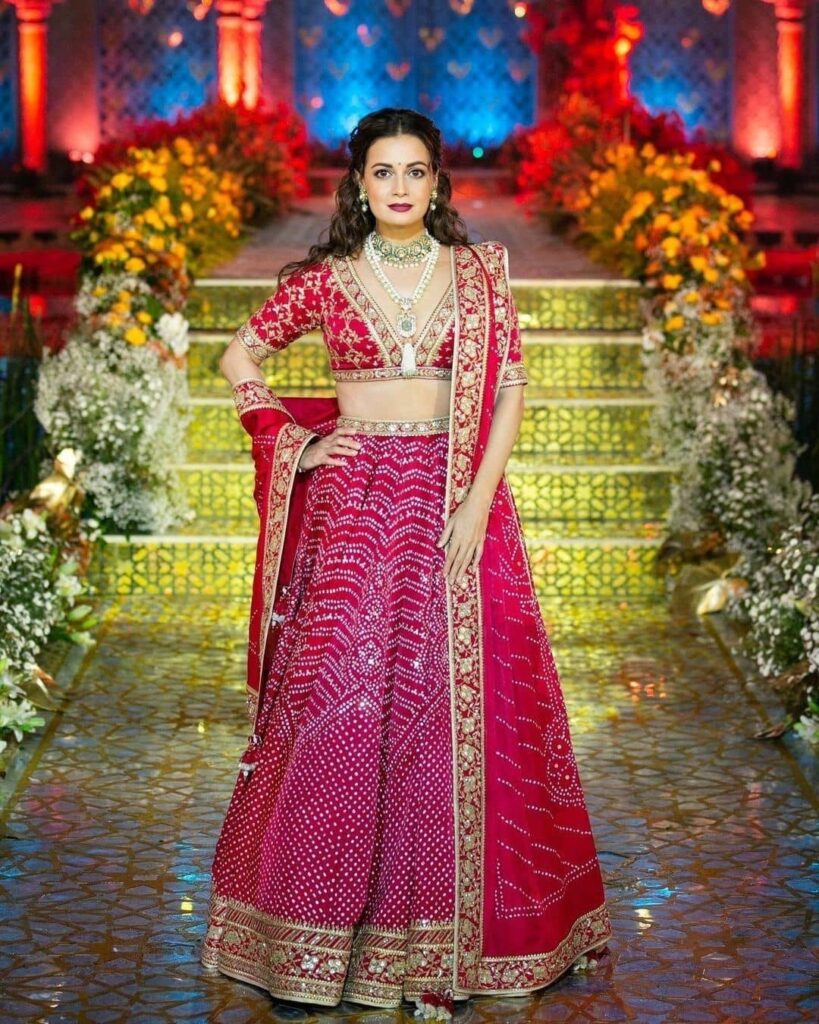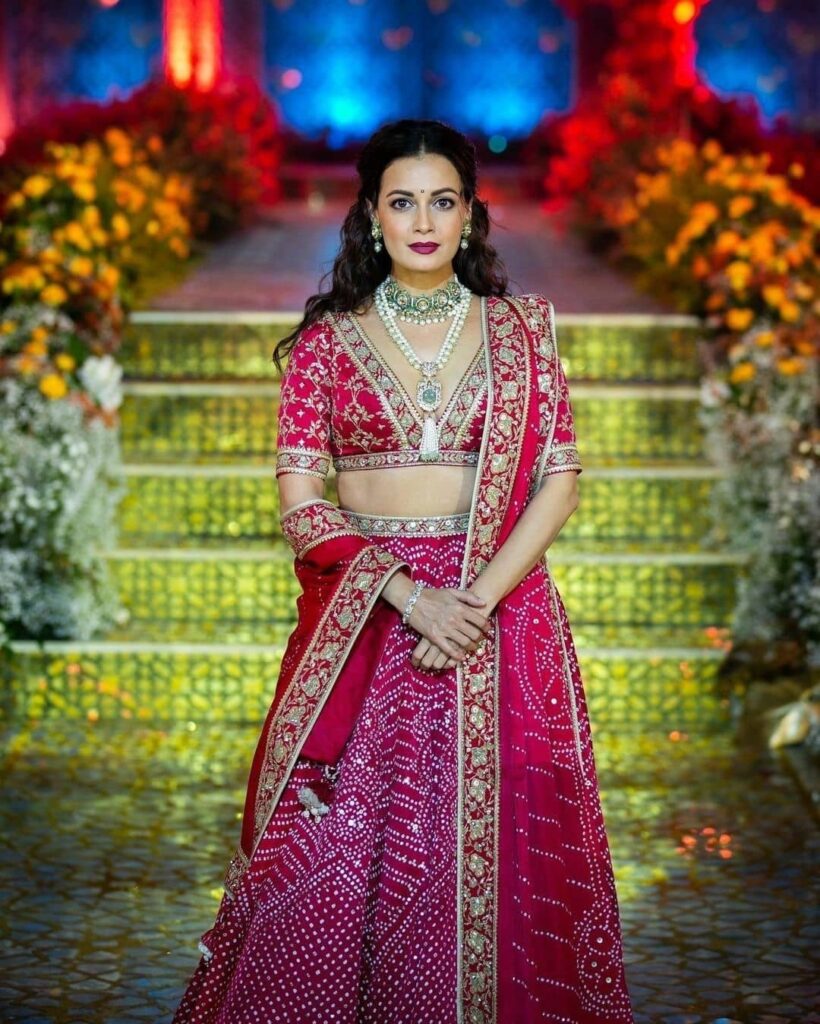 Purchase this lehenga set here for ~ 3 lakhs. 
#25 The Splendid Sequins
Red can make for a great color for any of your wedding revelries, including roka. Opt for an all-over monotone sequin lehenga to make it look modish and chic, without the touch of traditional, which you'd want to save for the wedding day anyways. Enhance the glam by wearing an ensemble with a simple train and dazzle everyone.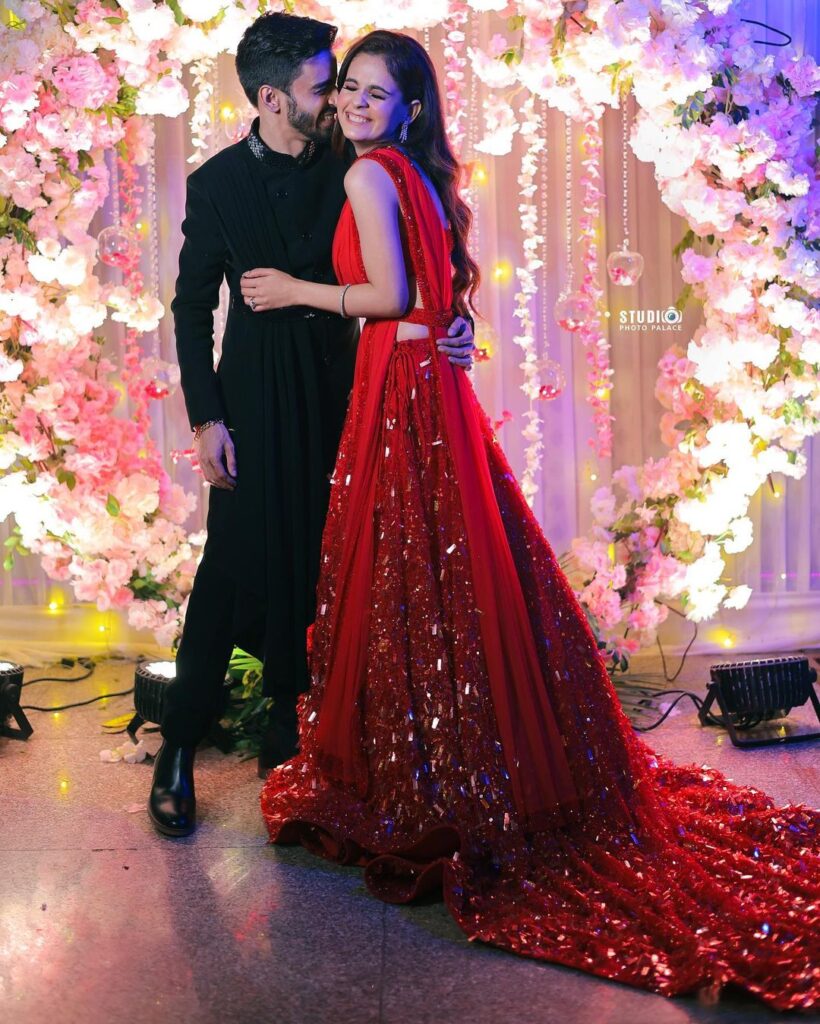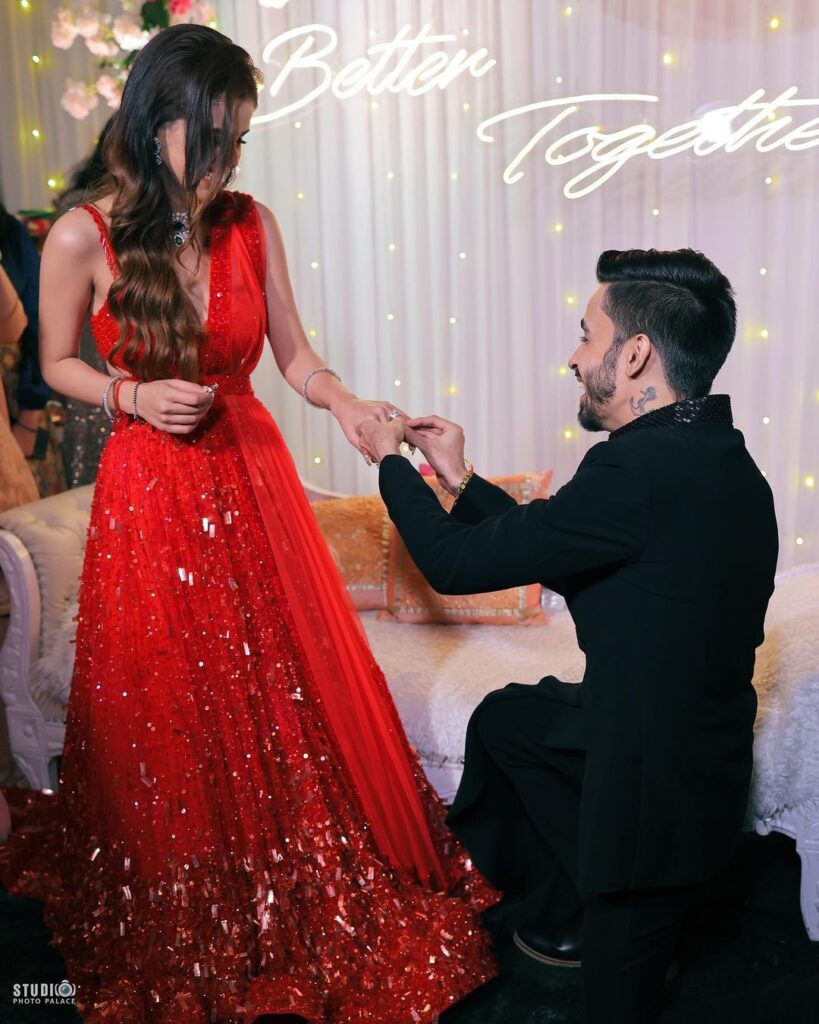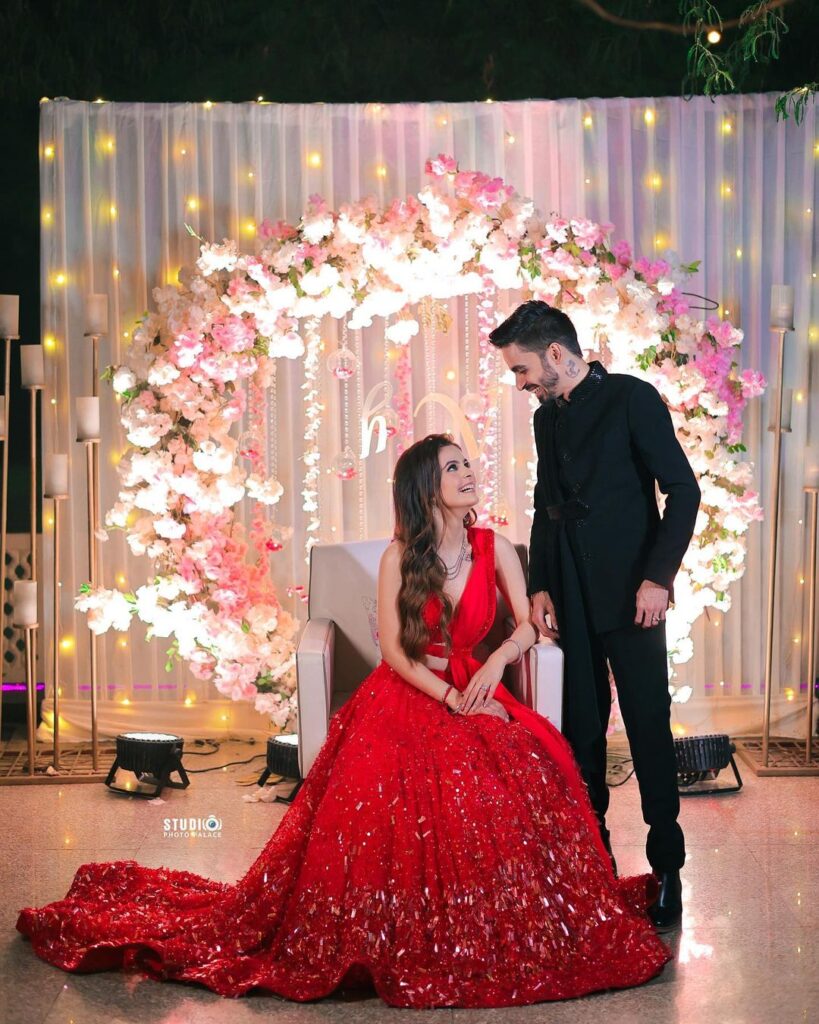 Courtesy: Vanshika Gaba
#26 Simple & Aesthetic
Her red lehenga has no over-the-top flare or quirky work but still manages to stand out with the usual simple touch. The red bridal lehenga with pink dupattas acts as a beautiful counterbalance to her remarkably minimalistic and gorgeous wedding look.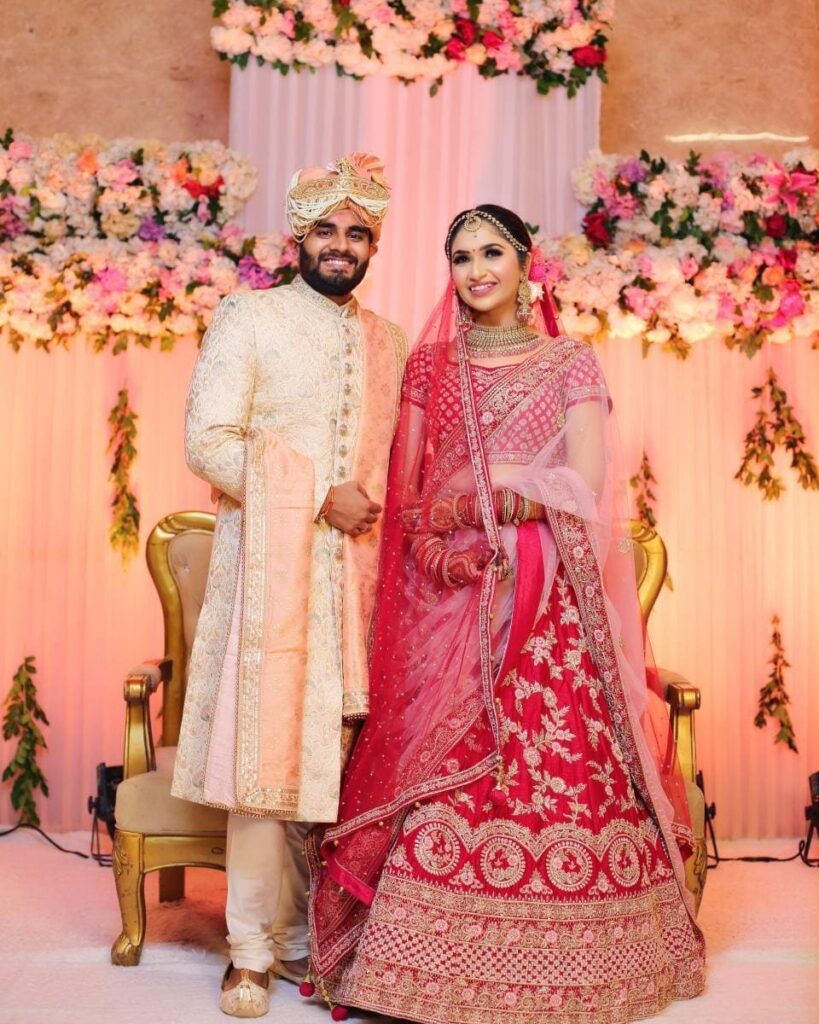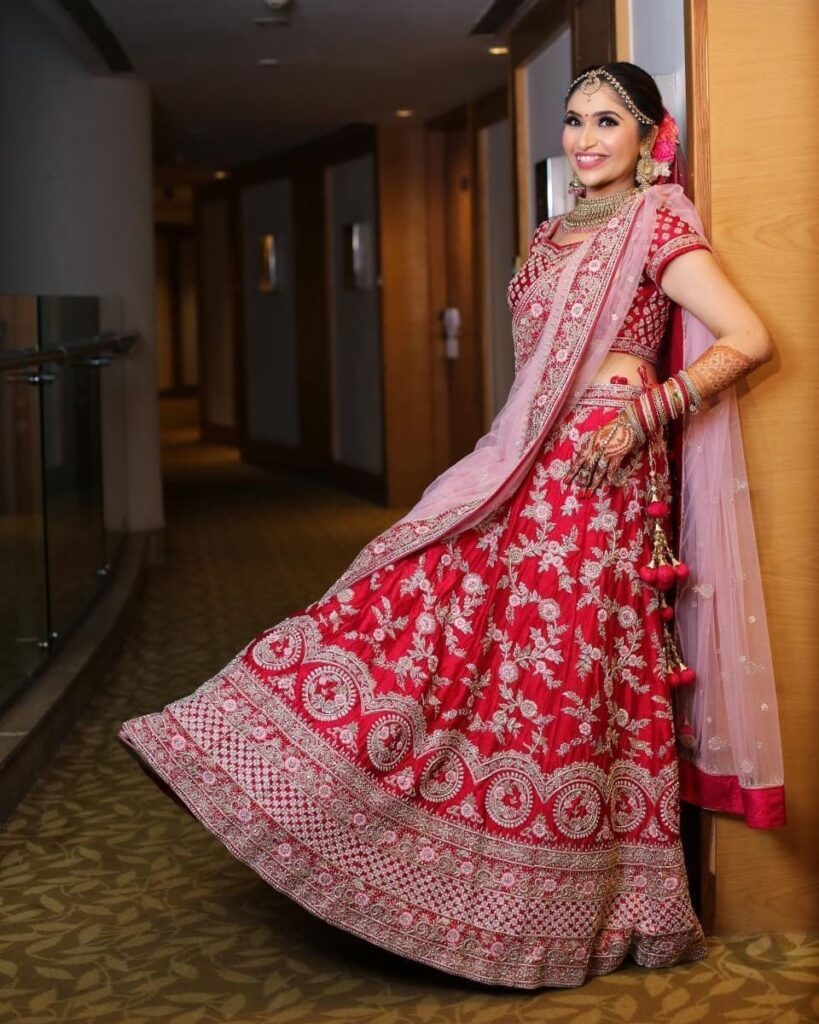 Courtesy: Surbhi Arora
#27 Saree-Style Red Bridal Lehenga
A saree-style lehenga combines the elegance of a saree with the glitz of a lehenga design, and it's definitely hard to not fall in love with the convincing allure of this design type. For an ethereal touch, a kamarbandh cinches the entire outfit and adds to the comfort & neatness of the entire outfit.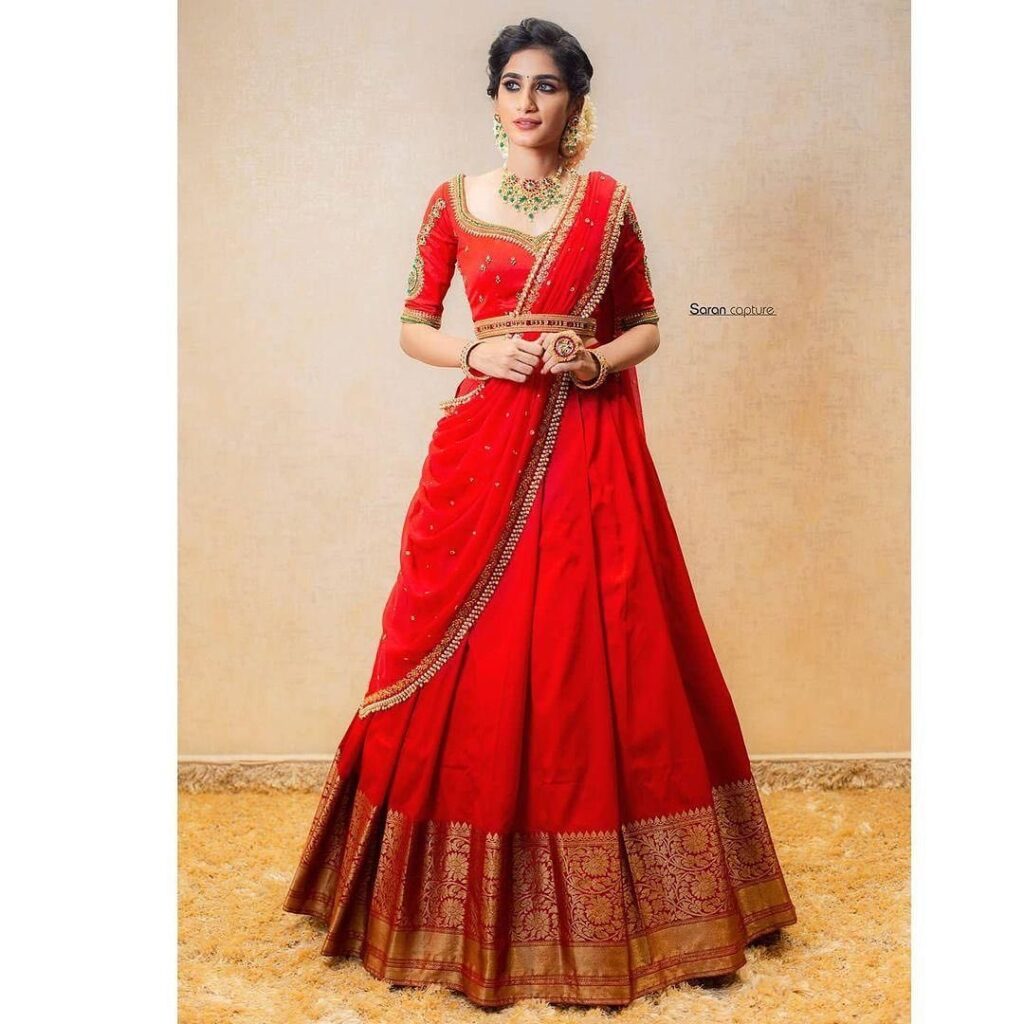 Courtesy: Saran Capture
#28 The Paneled Look!
You might have thought of different designs on different panels looking messy, here's a bride posing in her lehenga proving that's not the case. With peacocks, concentric circles, jaal work, and frozen motifs, there's utter beauty in this blend of patterns.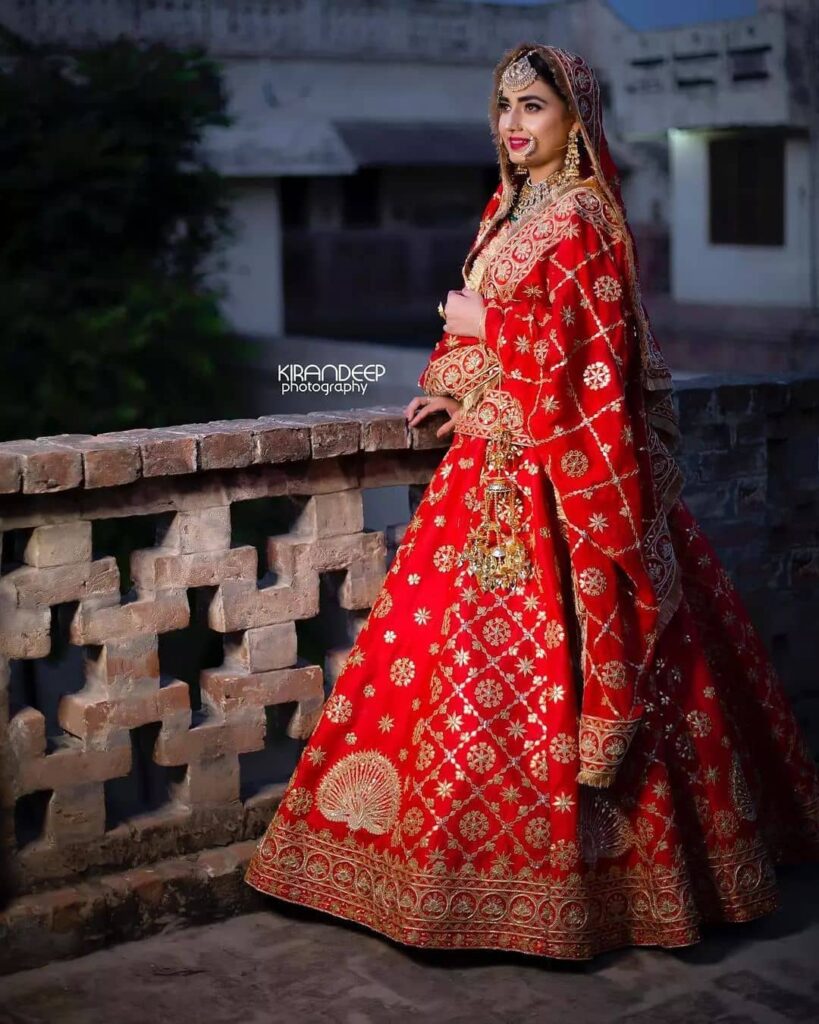 Courtesy: Kirandeep Photography
#29 Latest Sabyasachi Wedding Lehengas!
The paneled lehengas by Sabyasachi have always been a trend-setter. This one here features the golden work done in panels and etched with lines 'sukhmati indumati roopmati taramati" on the lehenga as well as the blouse and dupatta. Bride Sanam Marwaha Rochlani finished her look with polki jewelry, statement eyes, and a contoured face.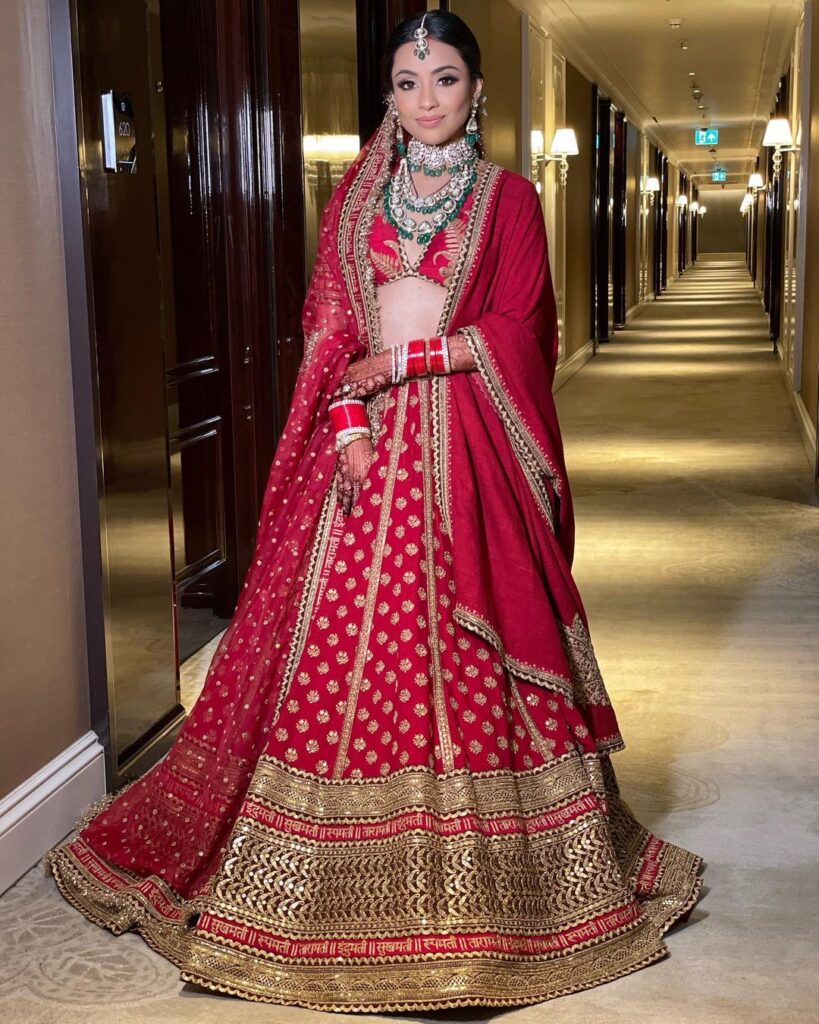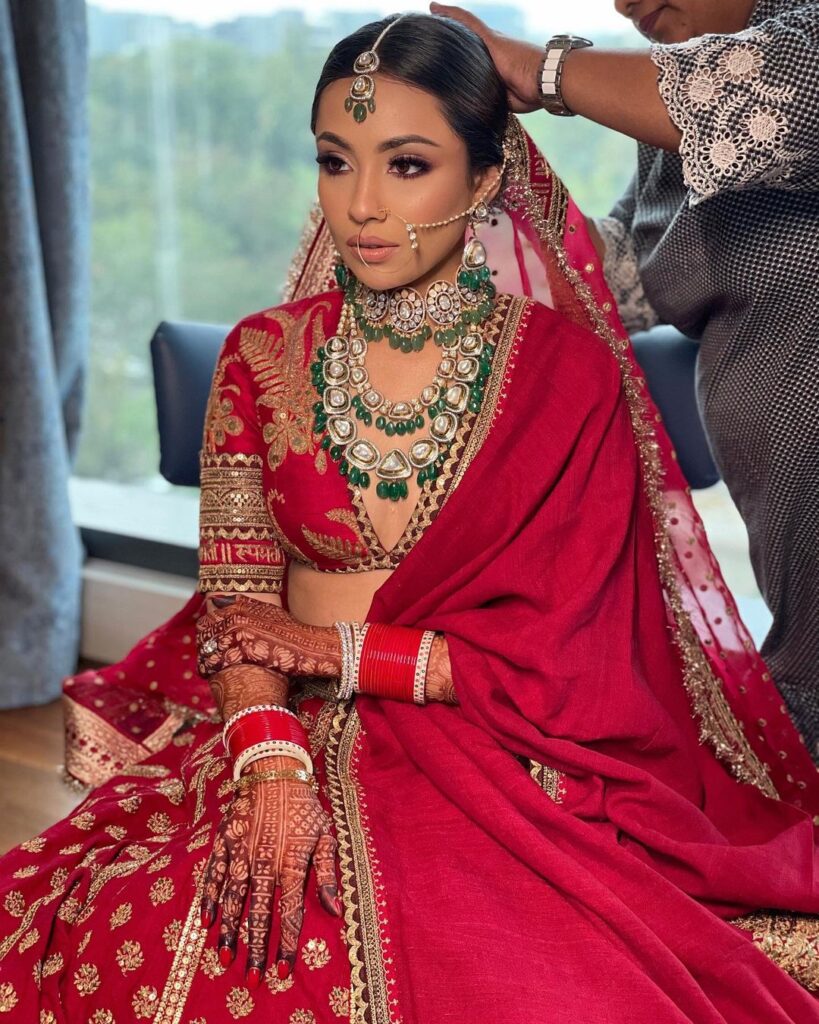 #30 That Styling & Outfit Though! 
Featuring the intricate zari embroidery in the usual leaves & florals all over, this lehenga is minimalist and statement-making all in one. Bride Karnika Sharma styles the attire with the usual emerald stones kundan jewelry and elegant makeup for a timeless and chic look.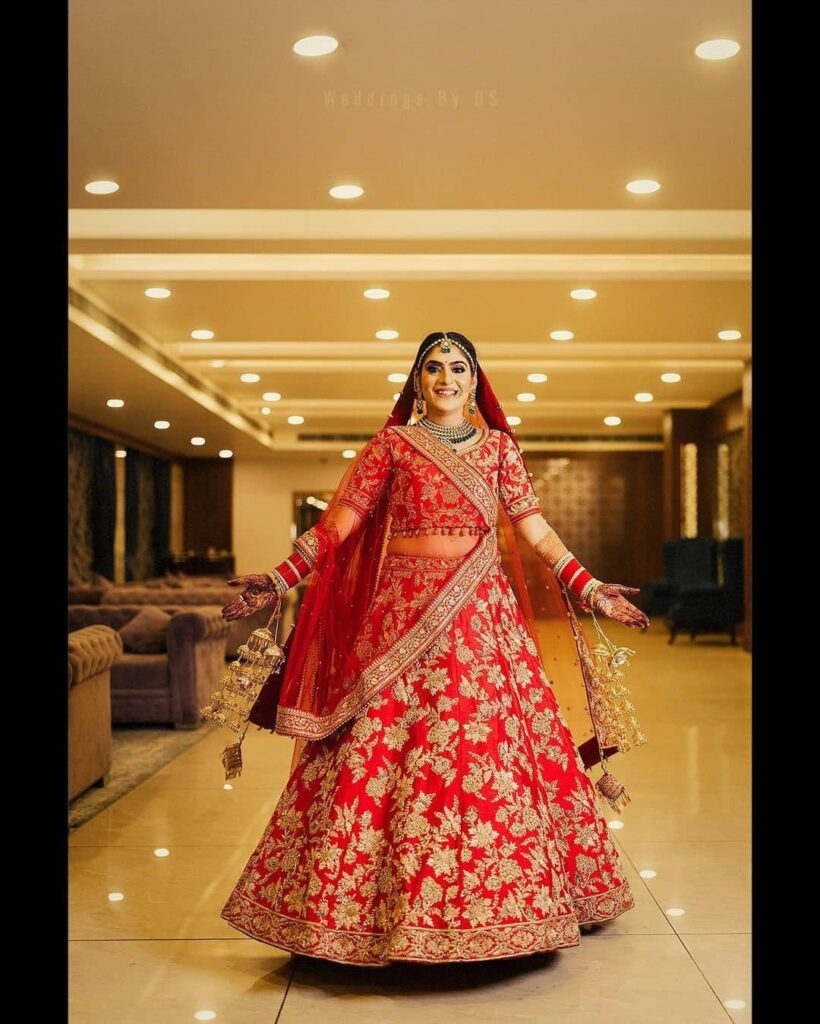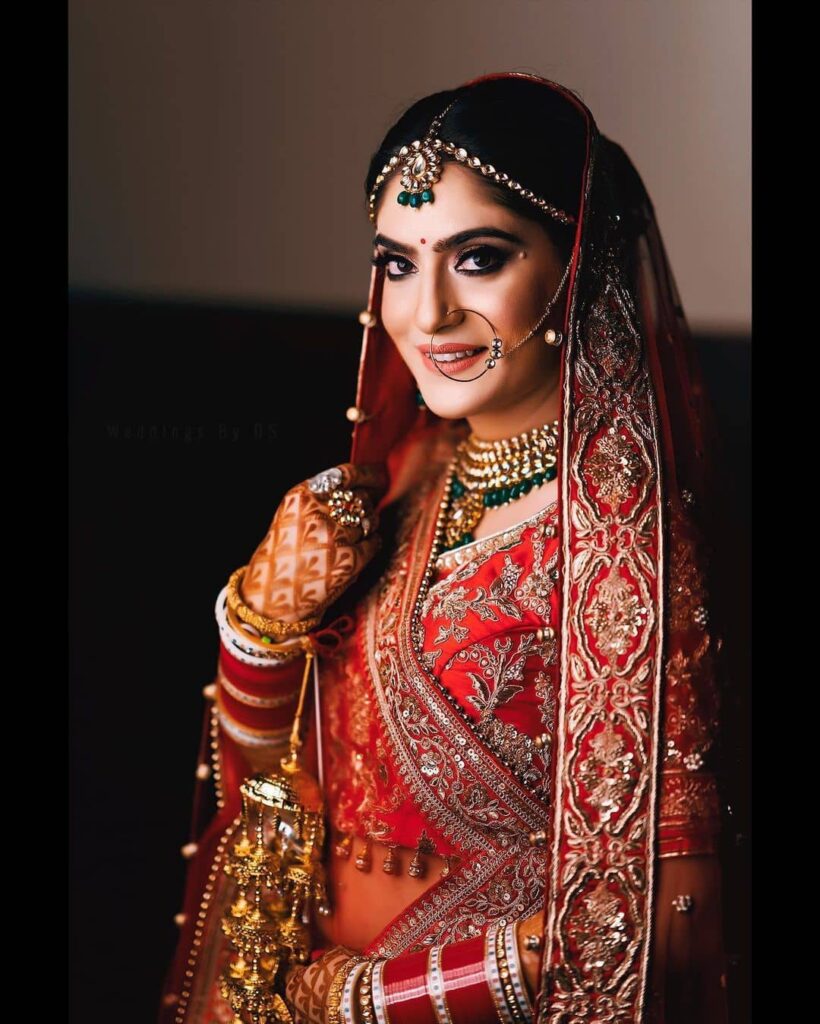 #31 The Exquisite Tarun Tahiliani Charm 
The maestro Tarun Tahiliani does it again with this exquisitely curated designer red wedding lehenga. The intricate hand embroidery alongside varied designs lends a subtle uniqueness to the ensemble, certainly hard to take your eyes off. By adding chunky jewels, she's absolutely ready to shine at her destination wedding.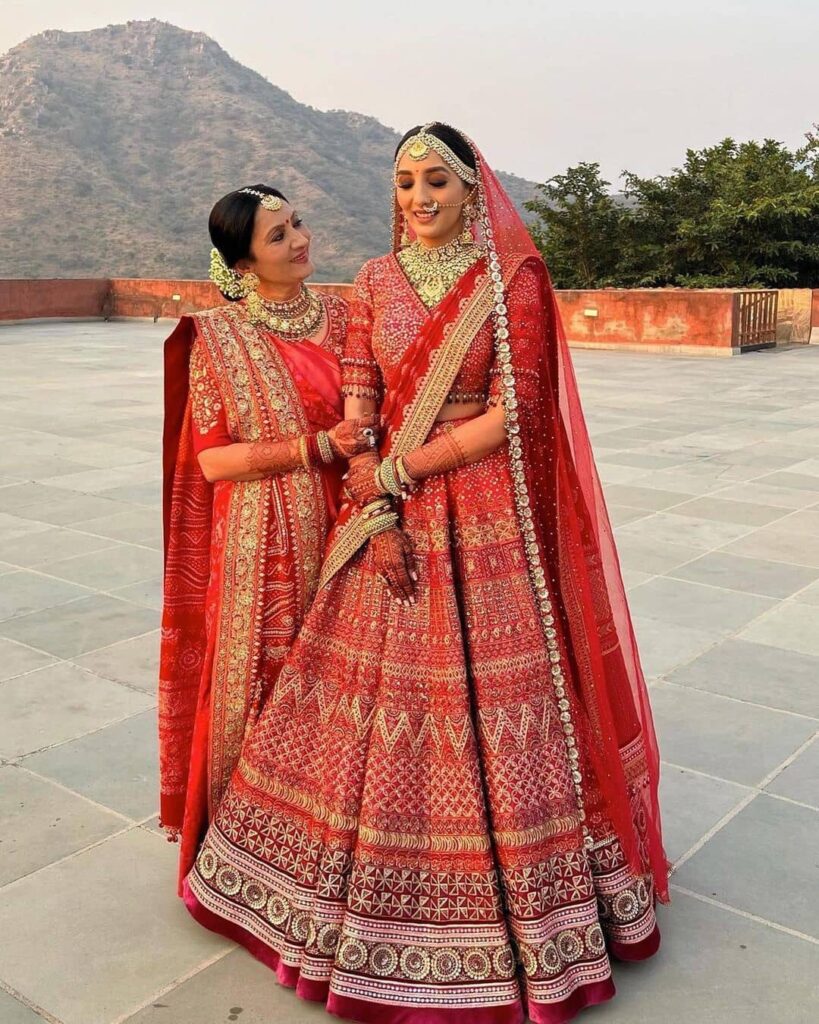 Courtesy: Shradha Luthra
#32 Ethereal Embroidery
Jade by Monica & Karishma took out some serene monotone red lehengas, inspired by Peecee's wedding dress, but at a much lower price. This drove a lot of brides to wear these lehenga sets and immerse in the beauty of Priyanka's wedding looks without shelling out the excess bucks. See how this bride carries off the monotone look with pure elegance on her reception.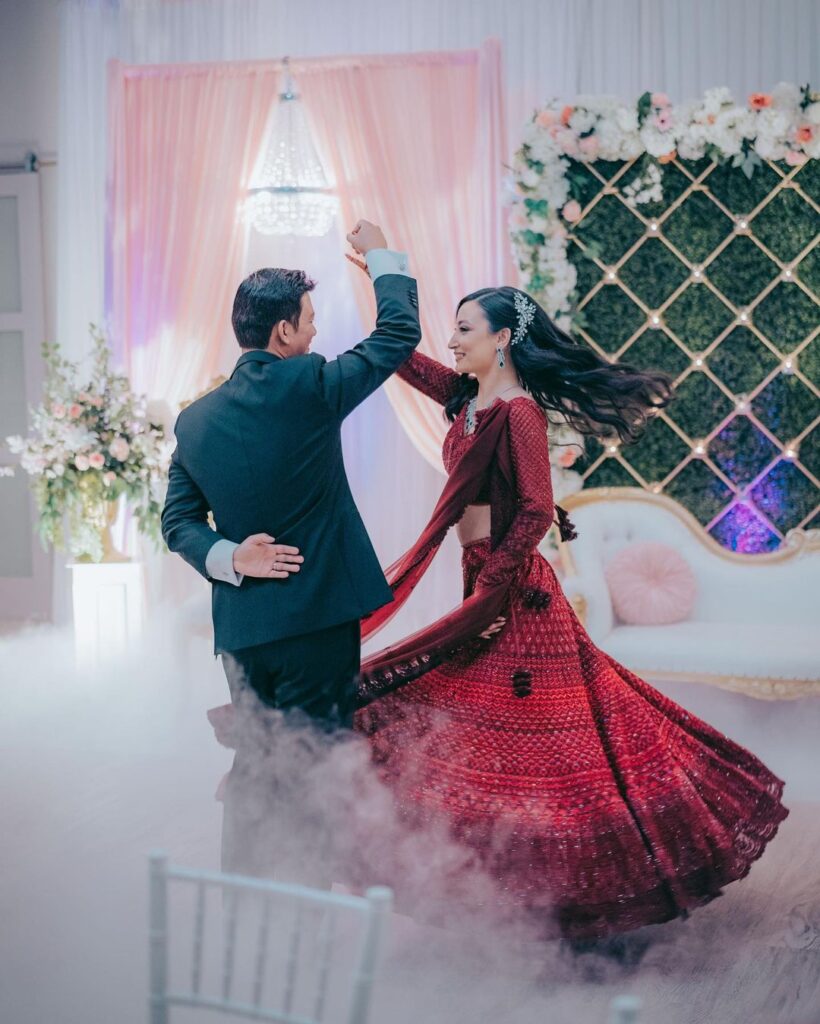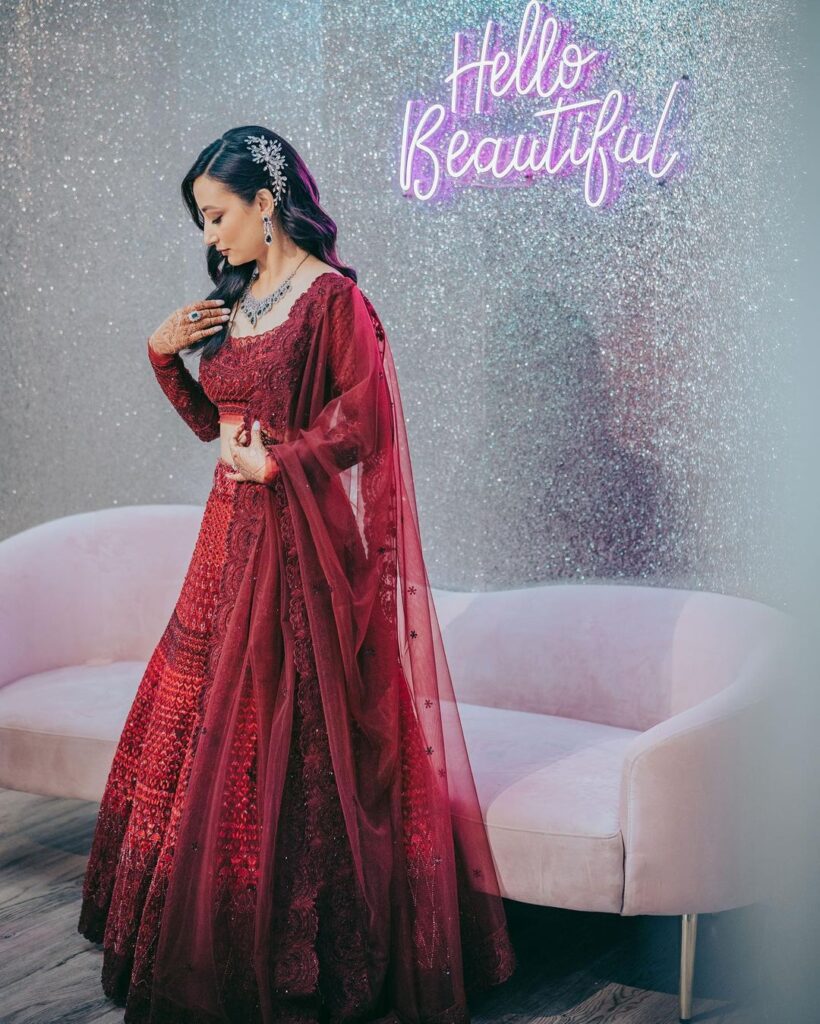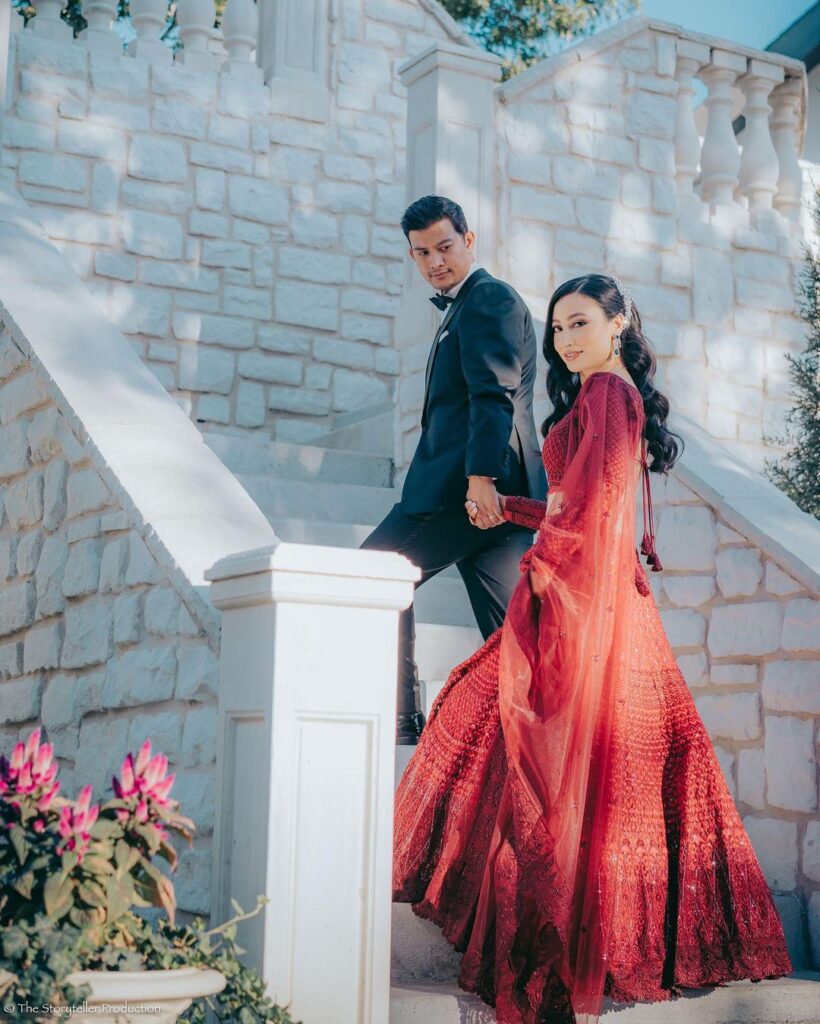 #33 The Royal Indian Bride
A royal red bridal lehenga look doesn't get any better than this. A beautifully bedecked lehenga is paired with heavy kundan choker set, smokey eyes, glamorous base makeup, and chunky kaleerei. If you want a royal wedding look, certainly going minimal won't help. Instead, choose elements that flawlessly complement the others.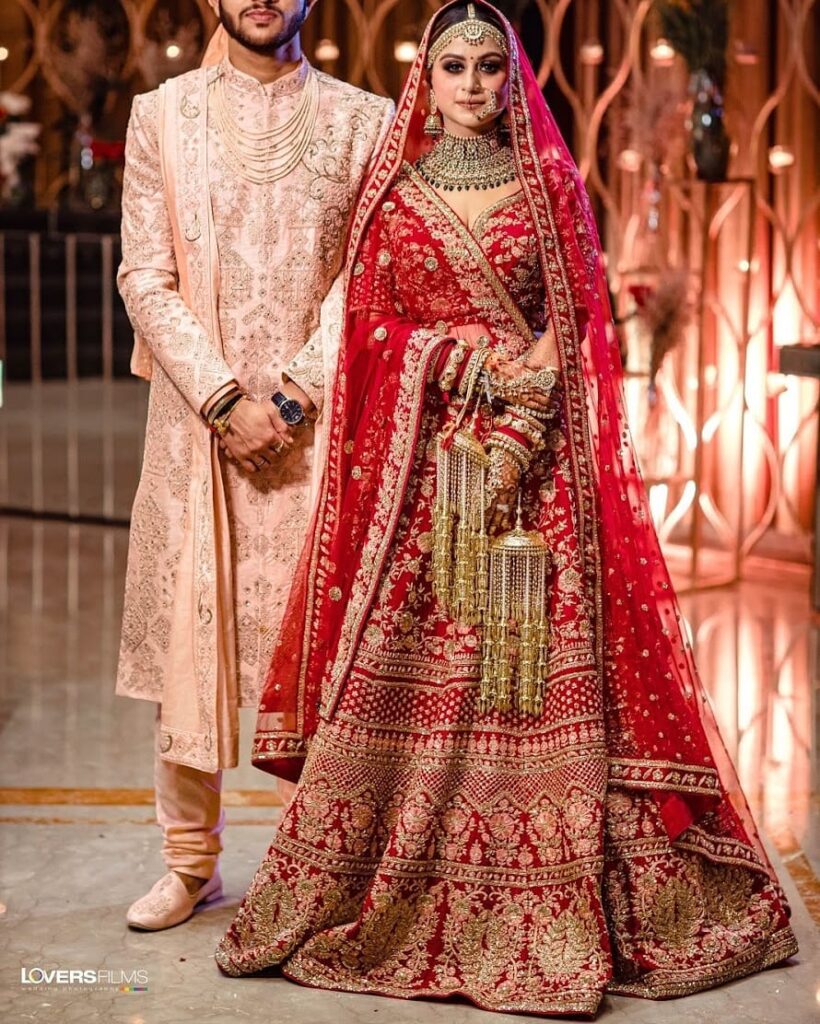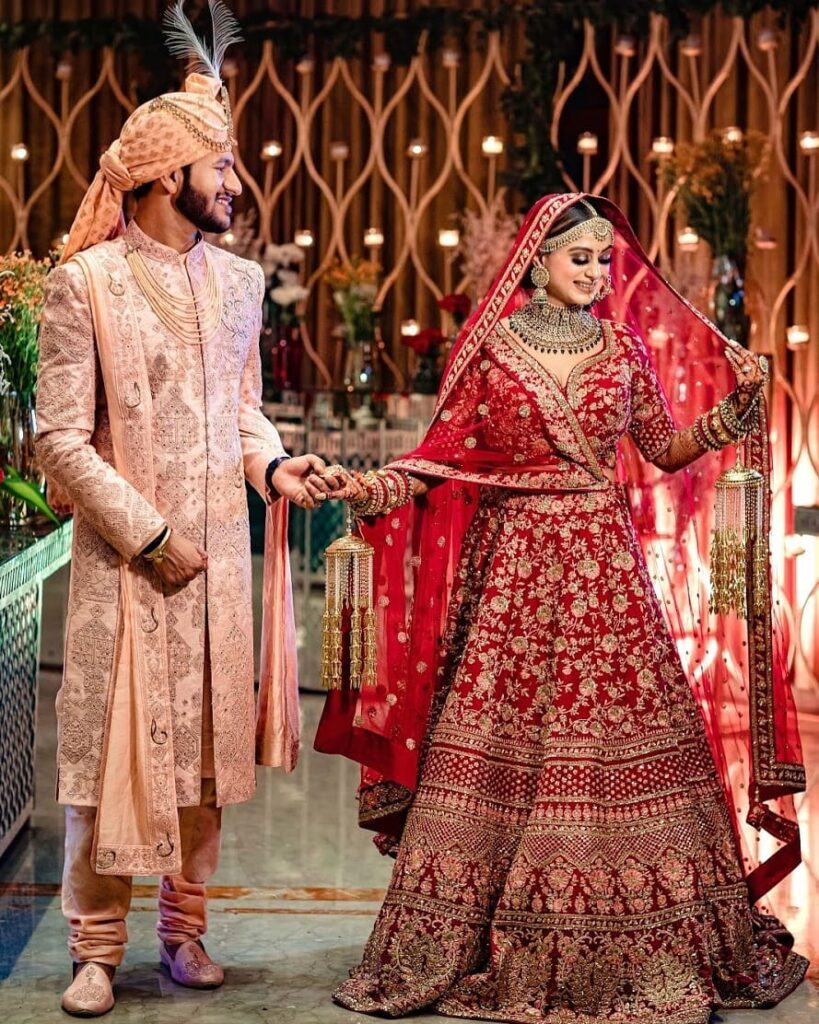 Courtesy: Garima Gupta, Lovers Films
#34 One For The Bridesmaids
For bridesmaids wanting to wear red on the wedding day, or brides looking to add a simple red lehenga to their trousseau, here's a superb option. The printed lehenga with different colors adds an attractive touch without overpowering the design. Wear alongside a low bun and chunky jewels for a graceful style.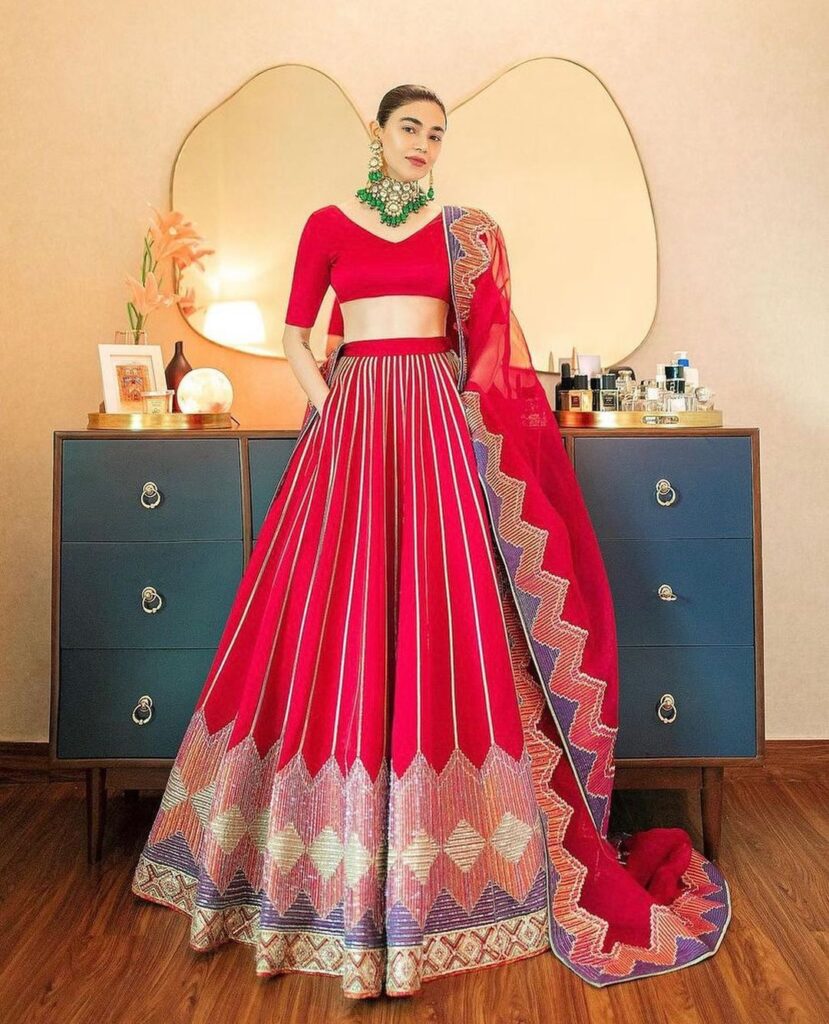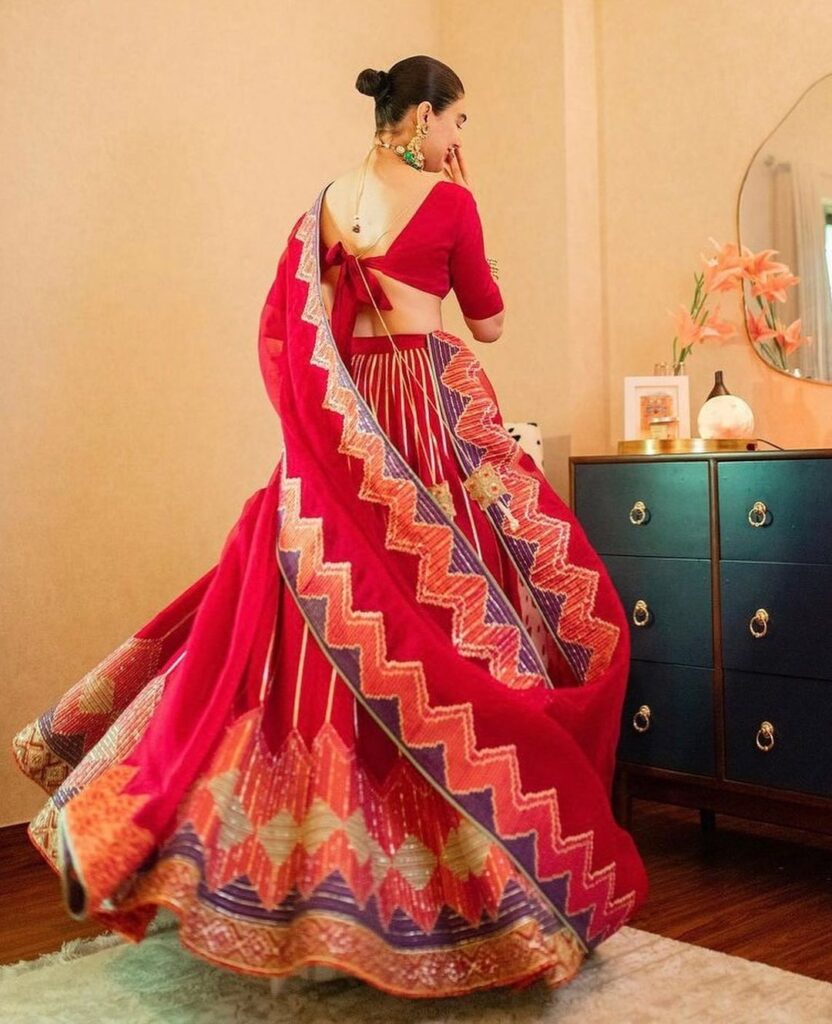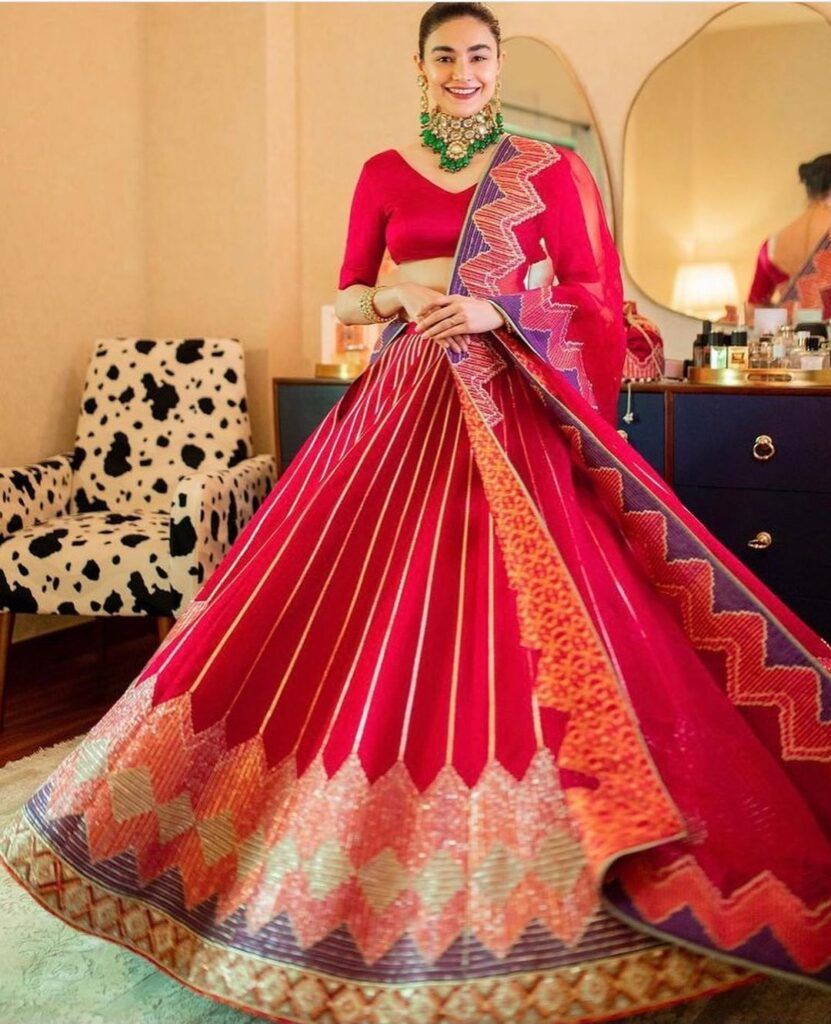 Courtesy: Hussain Rehar
#35 Red Bridal Lehenga With Golden Dupatta
Juhi & Alok's wedding received much love on our blog. After being together for more than 13 years, the duo tied the knot in a hearty Mumbai wedding. For the wedding day, Juhi opted for a stunning red lehenga with golden dupatta. Out of all the elements in her bridal look, it was her smile that stole everyone's hearts. Really the best accessory to carry on your wedding day.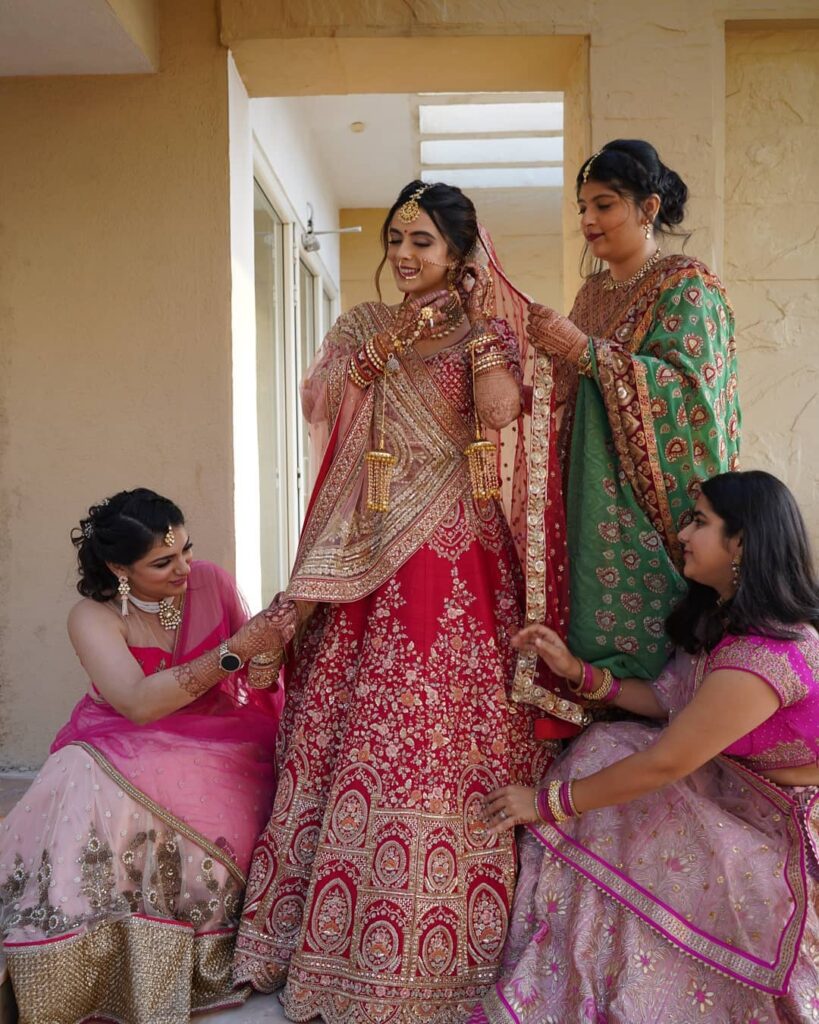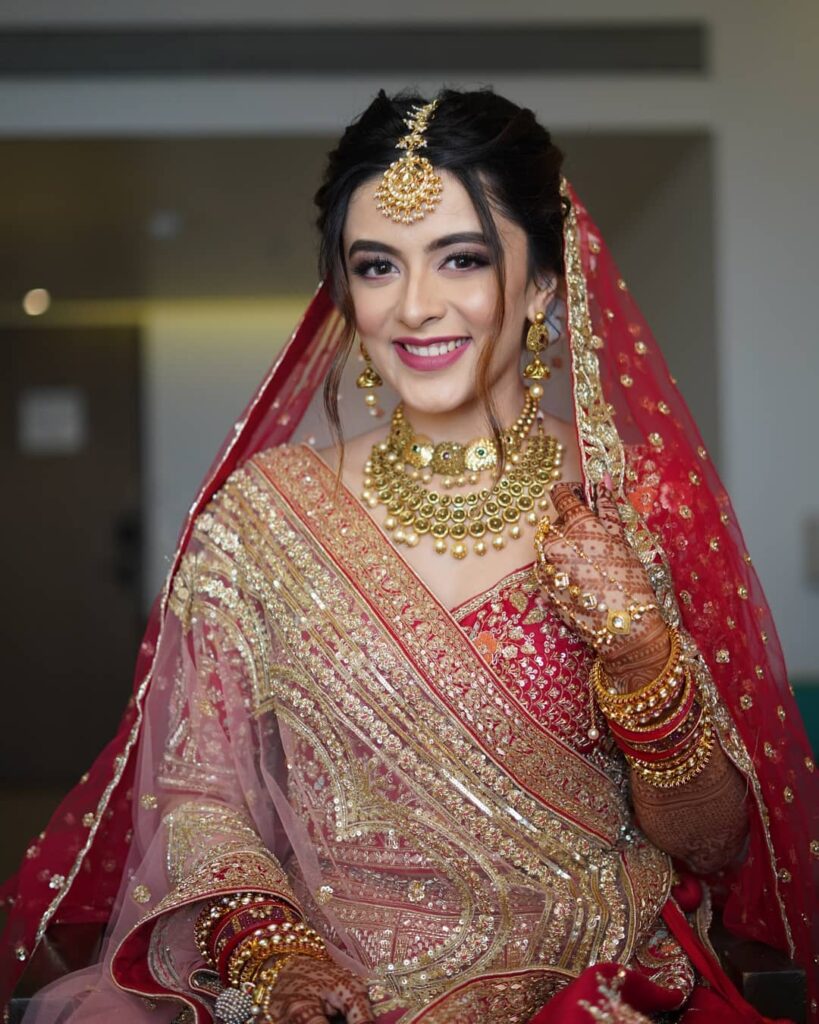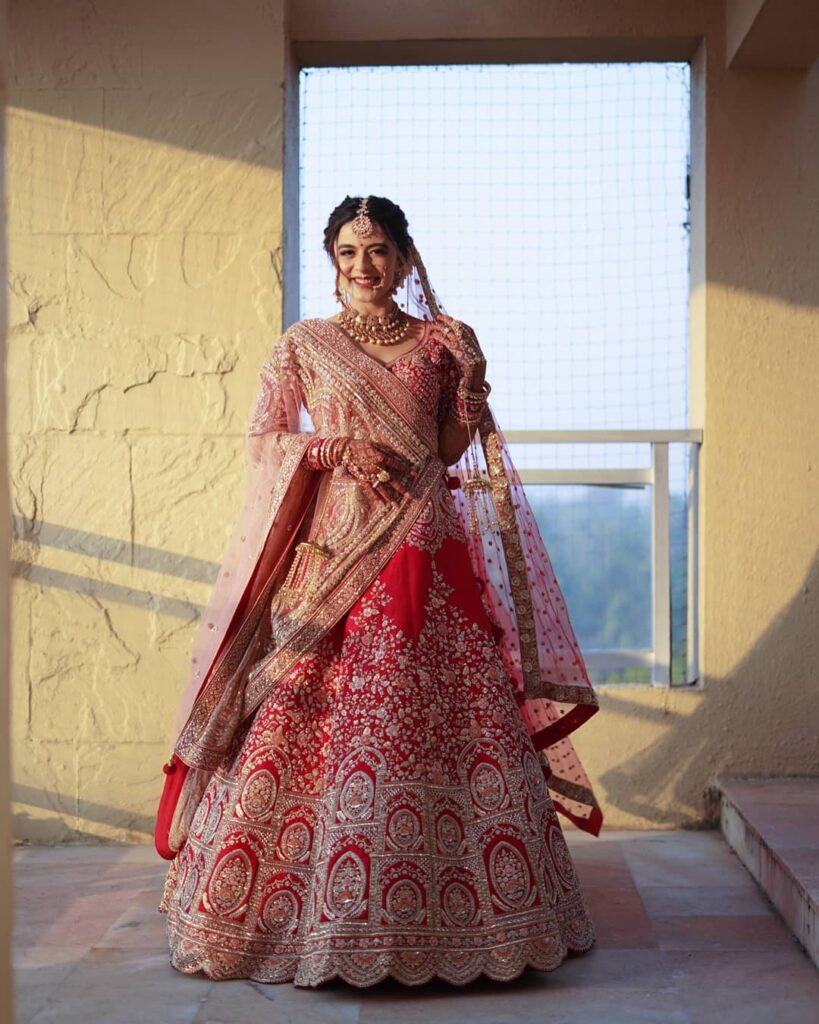 #36 Rajasthani Queen!
If you're going to be a Rajputi bride, bride Pooja, who designed her own bridal outfit btw and has a store called Posheeda, will awe you. The satlada haar, borla, minimal makeup, ivory chooda, etc. are all the standalone elements of a Rajasthani bride and we love how she incorporated each element to give a traditional and royal vibe. On top of that, she chose the rustic Mundota Palace for the nuptials. The picturesque backdrop certainly added a gorgeous old-world charm to her bridal portraits.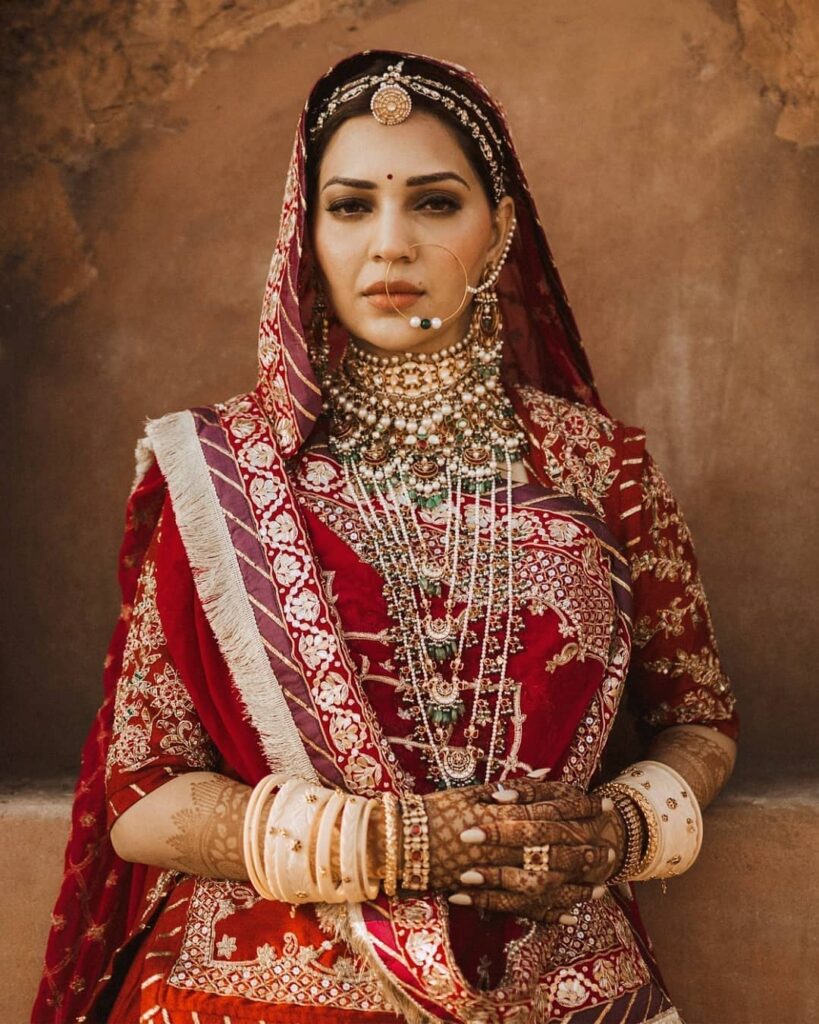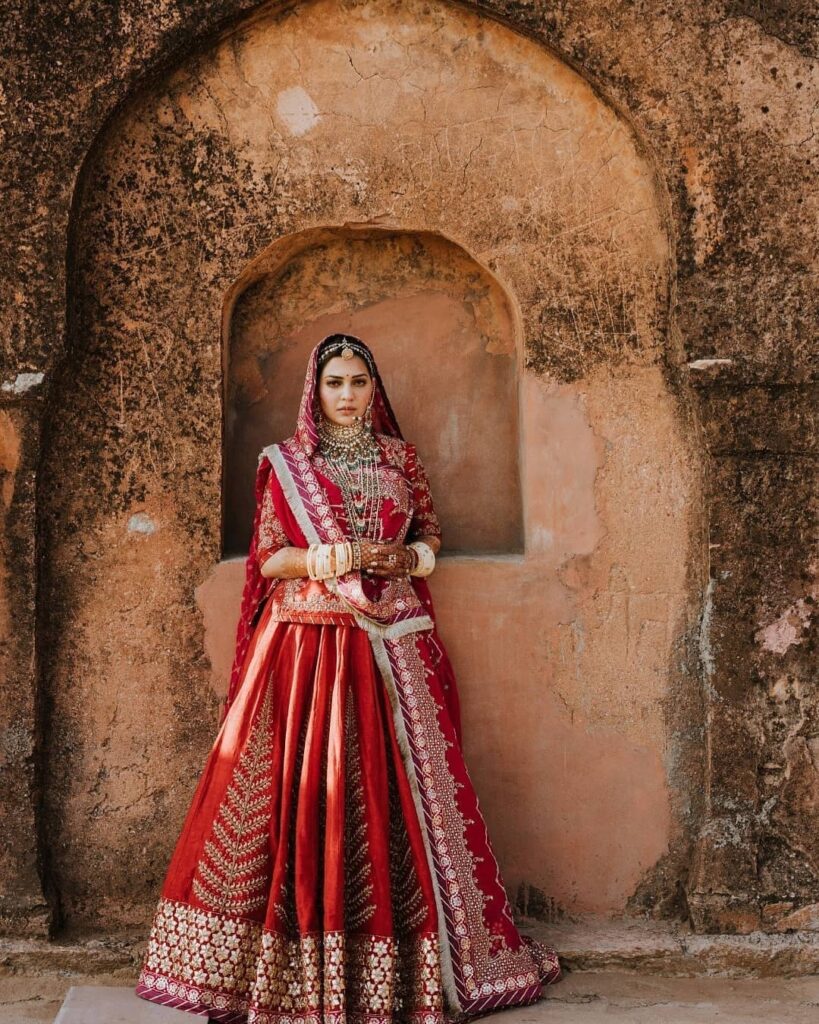 #37 Perfect For Sangeet
Simran & Jatan married in a Jaipur wedding, celebrations full of love, laughter, and happily ever after. See their wedding blog here. While Simran wore a golden lehenga for her wedding, on the sangeet day, she dazzled in a monotone Falguni Shane Peacock lehenga. The subtle shimmer sure looks amazing on the stage while performing and adds superb glitz to your wedding look.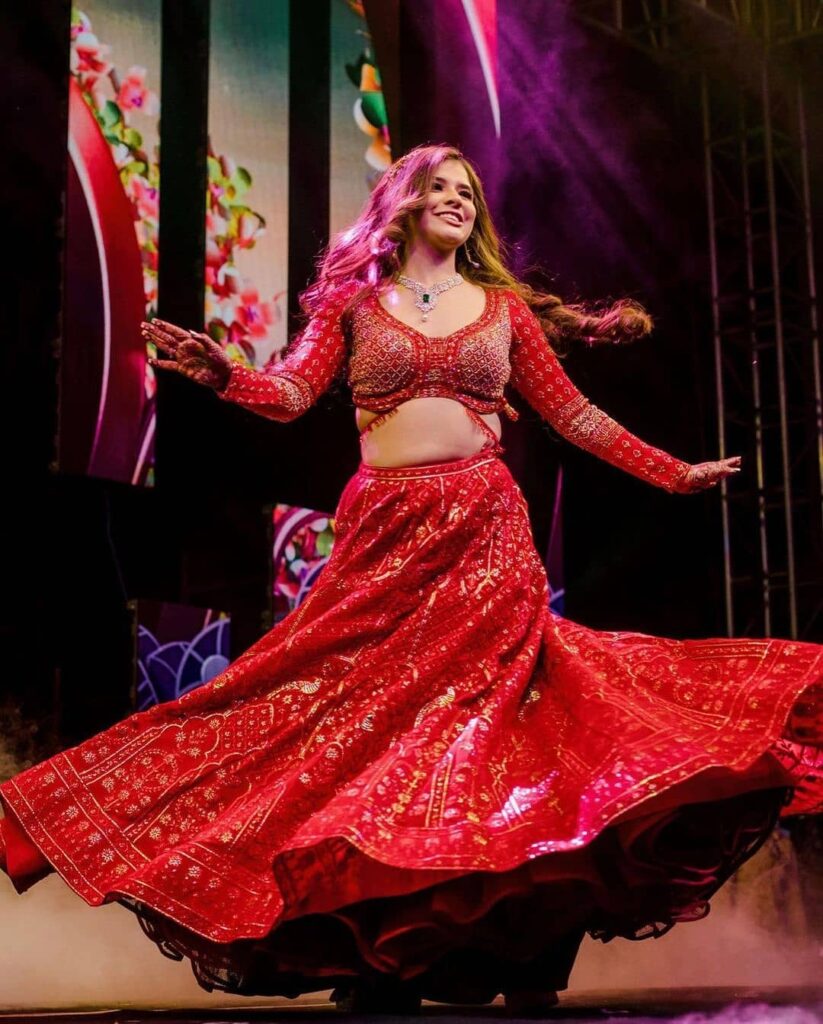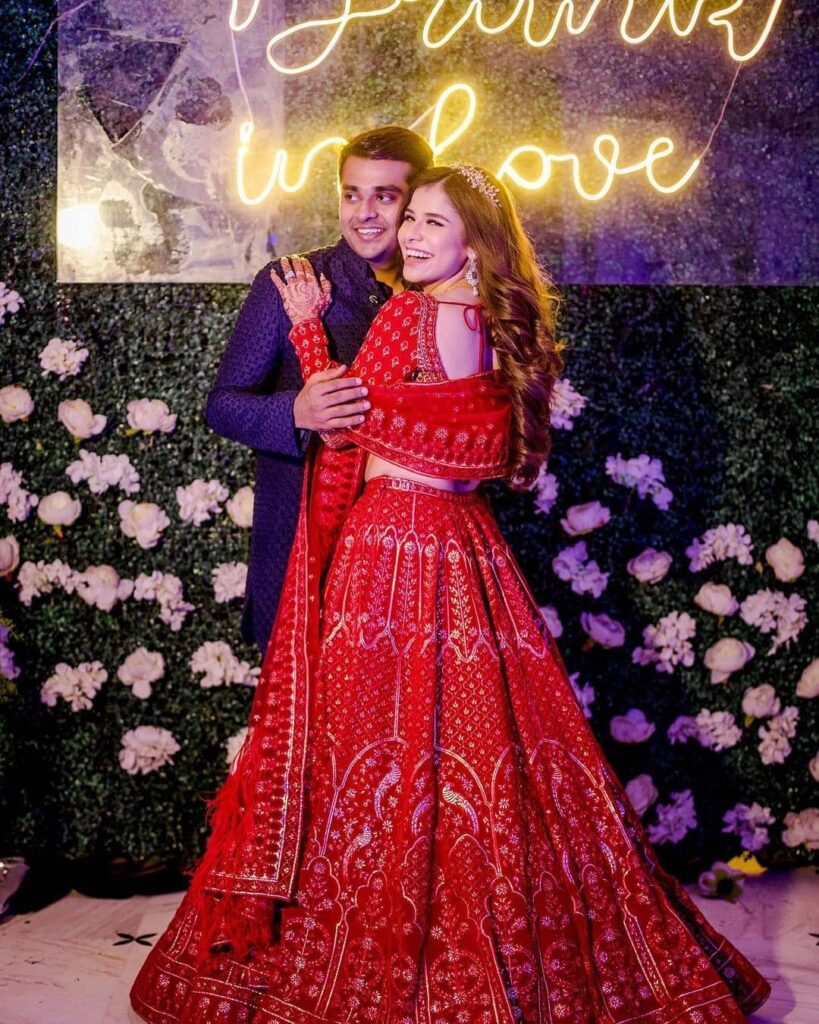 #38 A Modish Red Wedding Lehenga Design
An exquisitely bedecked wedding lehenga seldom makes for a functional pick for any other event down the road, although a simple red wedding lehenga can easily be re-worn again. Loving the easy-to-wear element of this Debyani & Co attire and how it would look amazing in any kind of styling you want – from glamorous to minimalistic.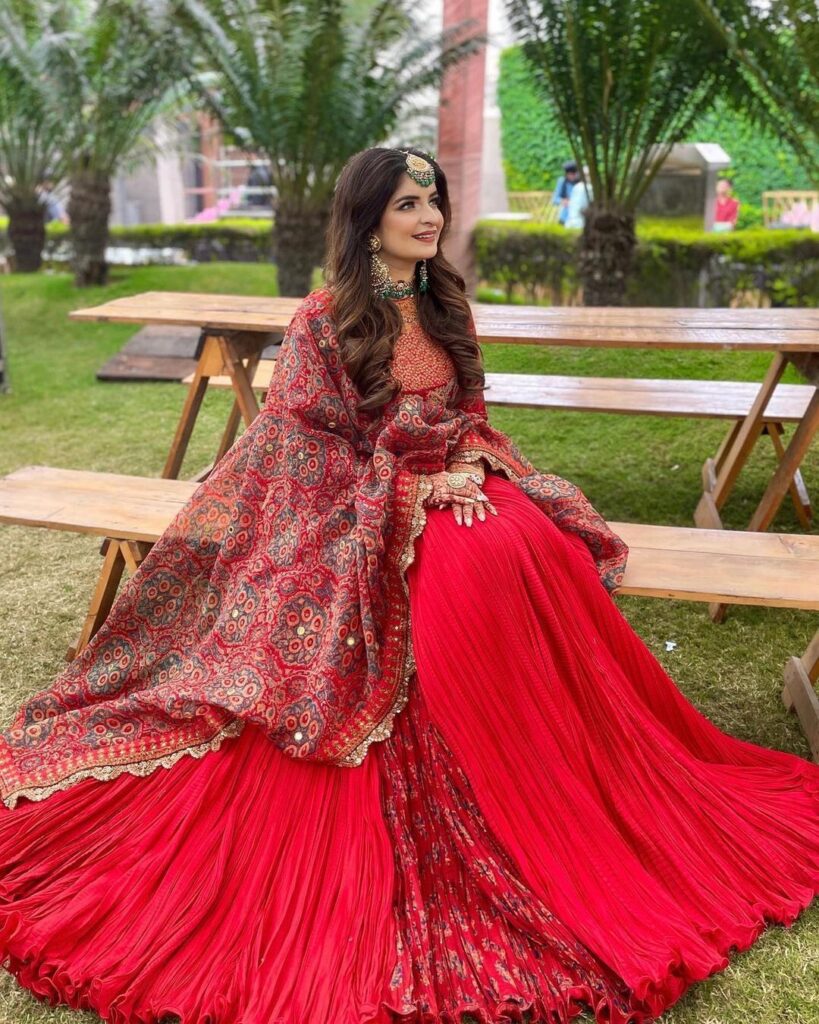 #39 Gorgeous Designer Red Bridal Lehenga
Disha Parmar married Rahul Vaidya in Mumbai just a few months ago! For their wedding, Disha trusted Abu Jani Sandeep Khosla to curate her wedding look and he did utter justice to her beauty. The actress' designer red wedding lehenga came with his classic foil work and looked flawless on her. Scroll to see pictures.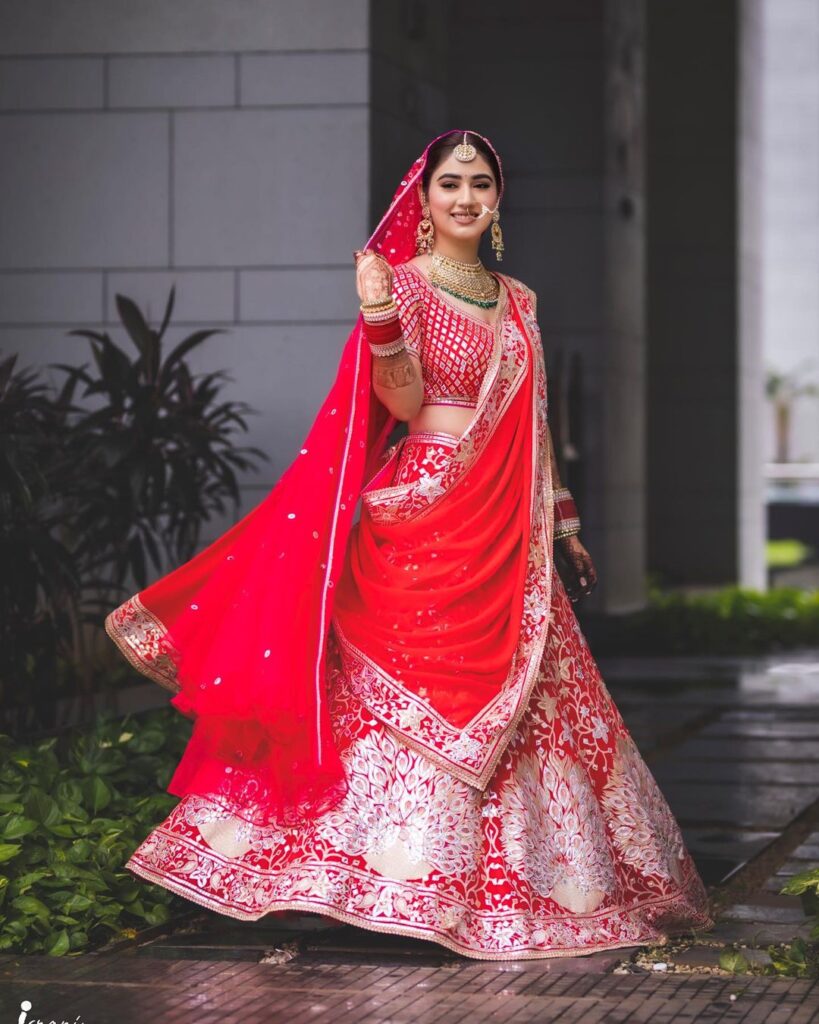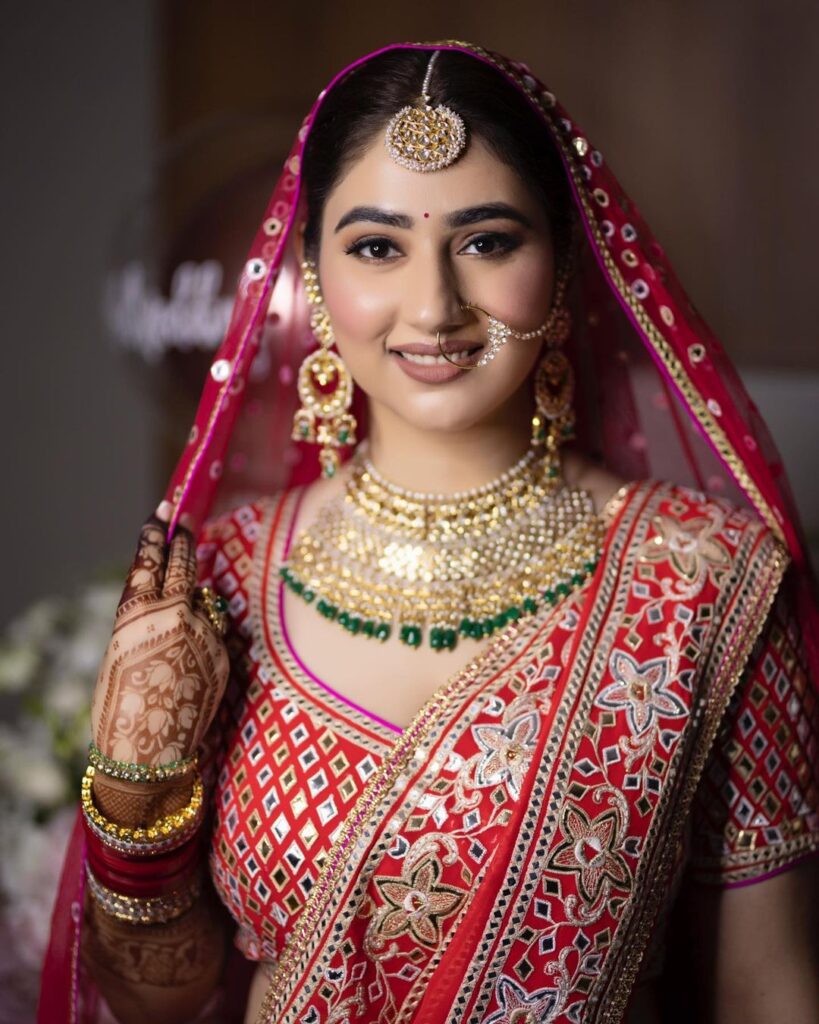 #40 Burst Of Colors
Ah! Those gorgeous blends of colors. If you want to ever test the creativity of the designer, we'd always recommend seeing how amazingly does he blend colors in his clothing. Anyone can curate monotone lehengas, but the complimentary mix of colors is difficult. Here, bride Surbhi smiles gleefully as she poses in her red bridal lehenga infused with colors of blue, green, and silver.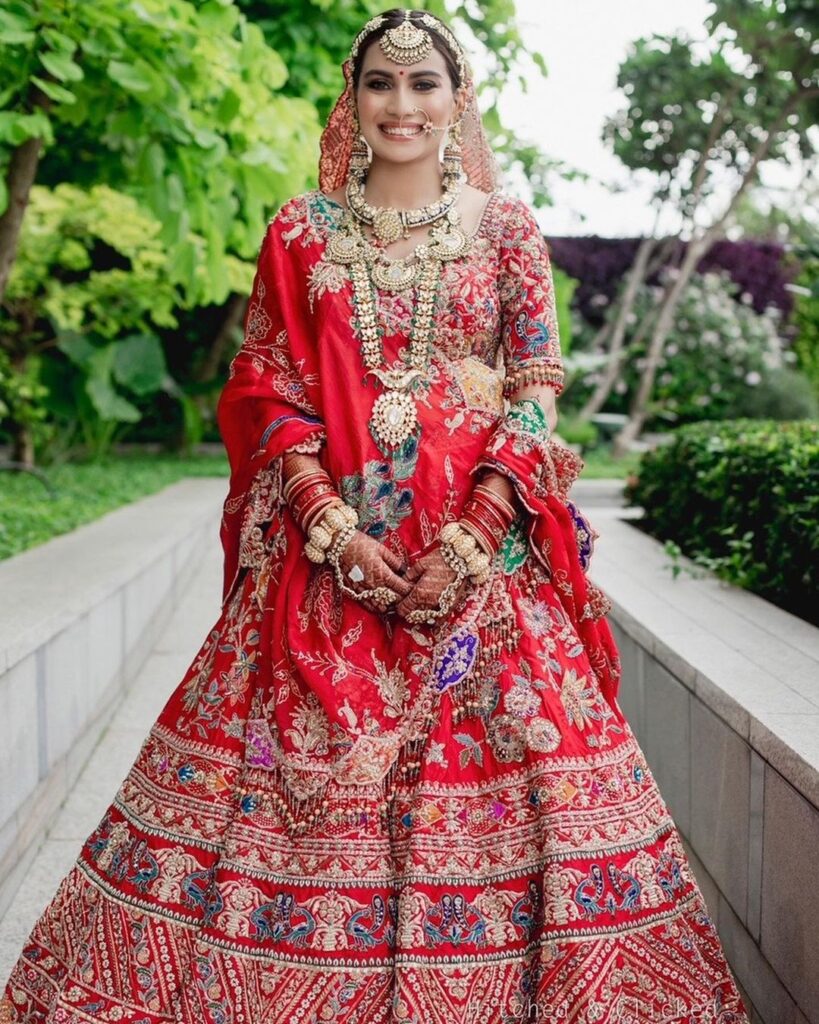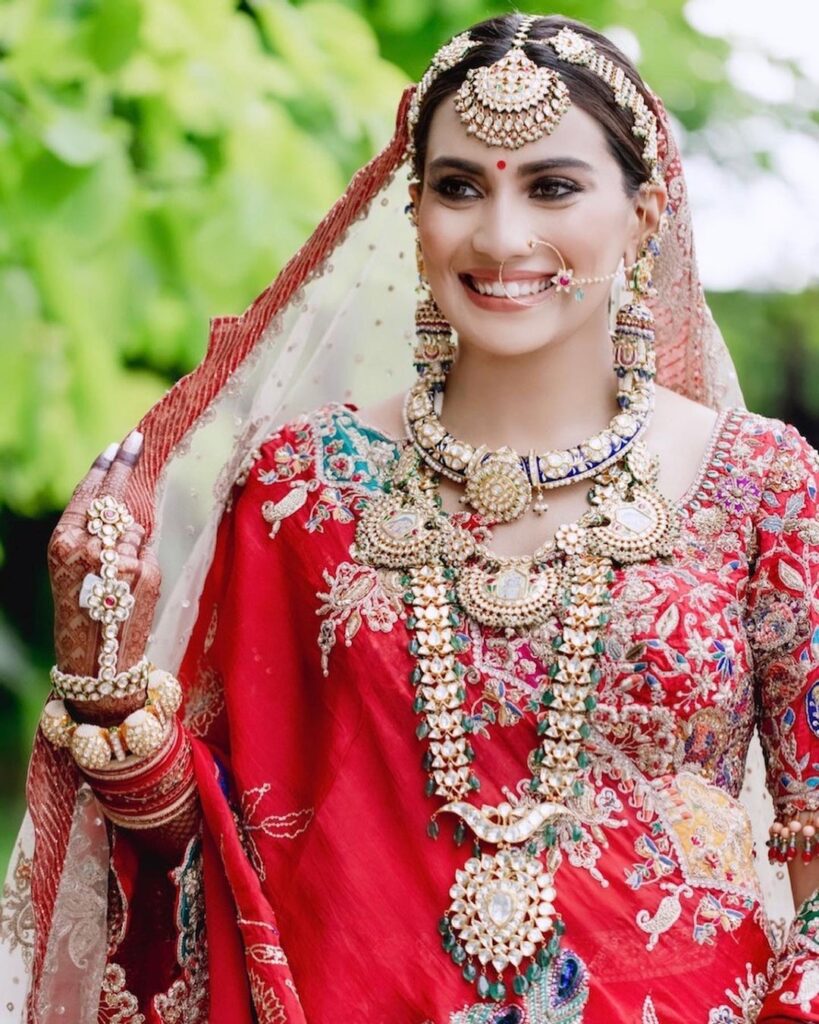 Courtesy: Bianca Louzado, Rimple & Harpreet
#41 Full Sleeves & A Single Dupatta
The double dupatta trend is overtaking the red bridal lehengas 2022, but for brides looking to add a standalone element in their wedding ensemble, opt for a single dupatta. That alone will help you stand out. Take inspiration from this bride on how to play it safe with experimentation and yet give the classic vibes.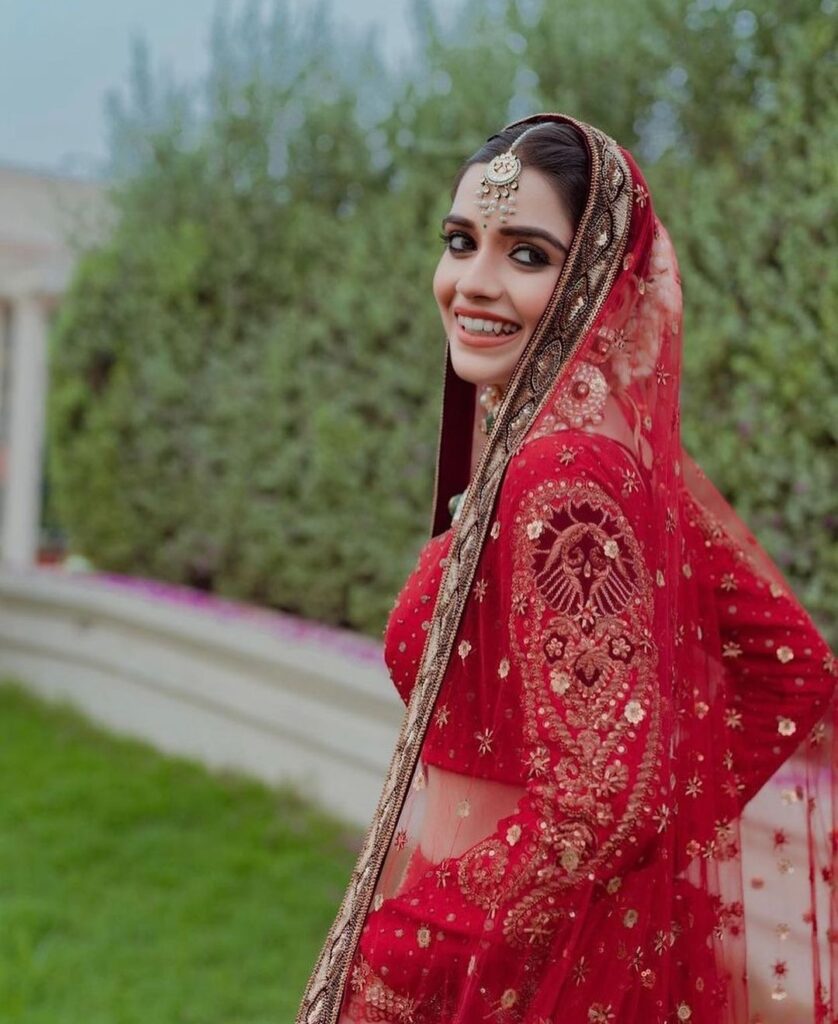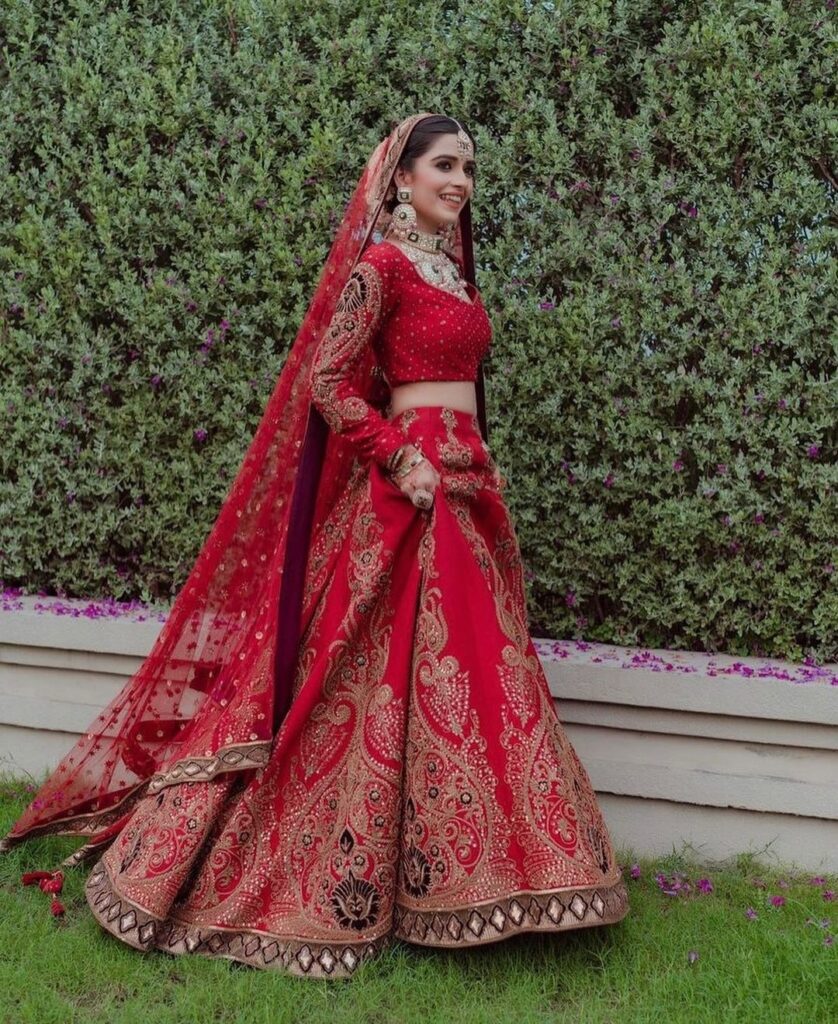 #42 Those Ethereal Peacocks
Disha Kohli stuns here in a red Anita Dongre lehenga, decorated in pretty peacock and floral motifs. The bride elevated the wedding look with gold jewelry and soft makeup to let the styling take the center stage. The low gajra bun finished the look with traditions and grace.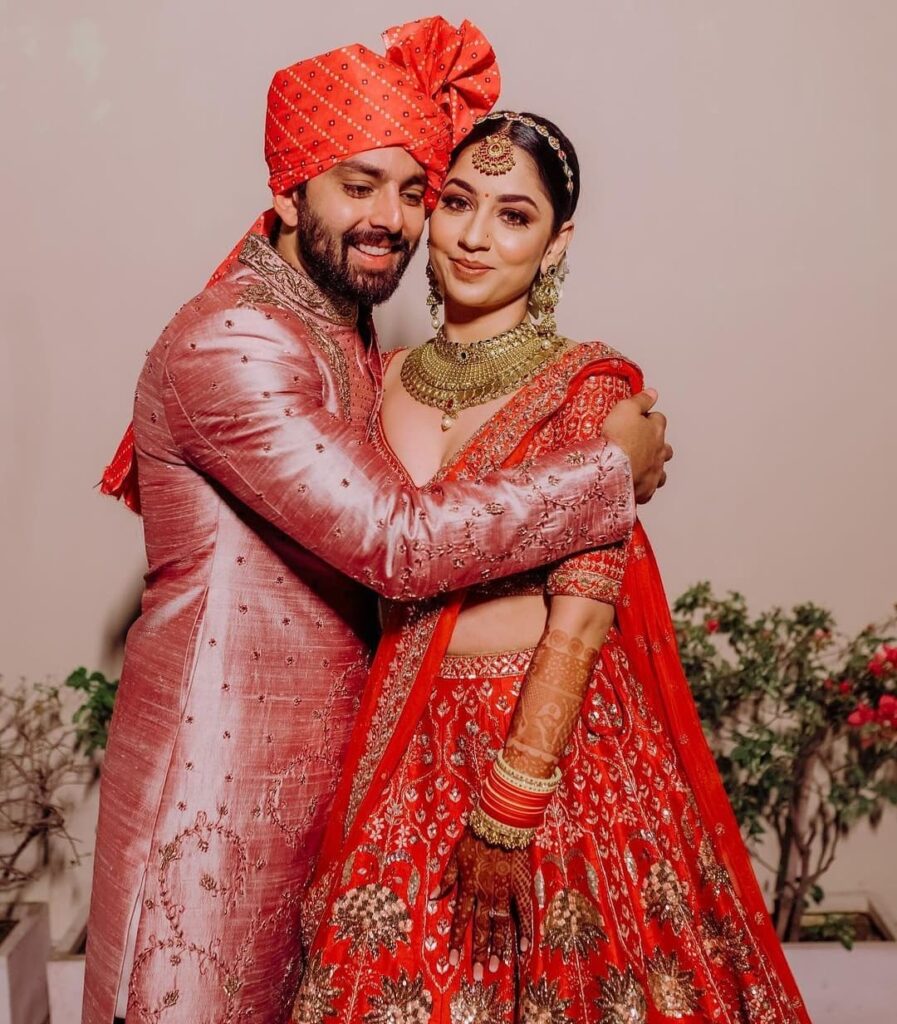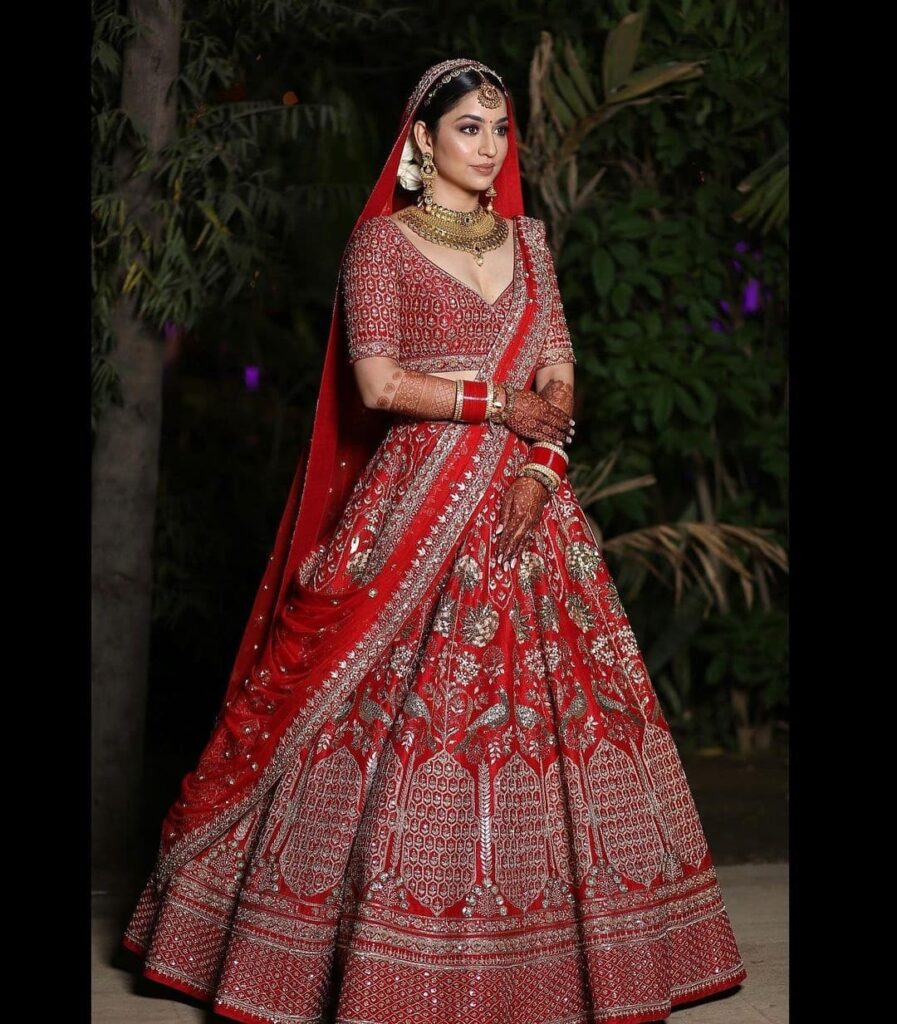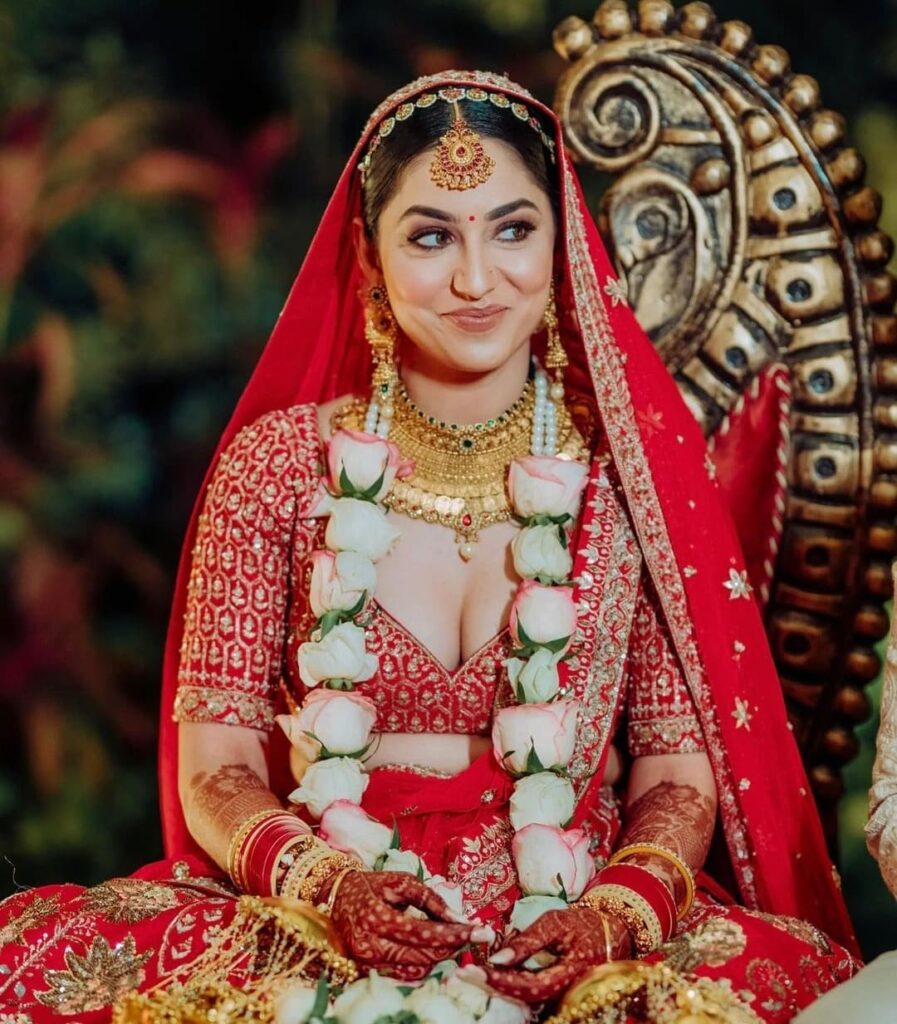 #43 Golden & Gorgeous! 
We just absolutely love how bride Meghna Kaul Tanejaa not just wore a lehenga that was adorned in gorgeous gold embellishments, but also paired it with golden jewelry for a beautiful golden princess look. Take cues on how to nail this monotone look from the pictures featured below.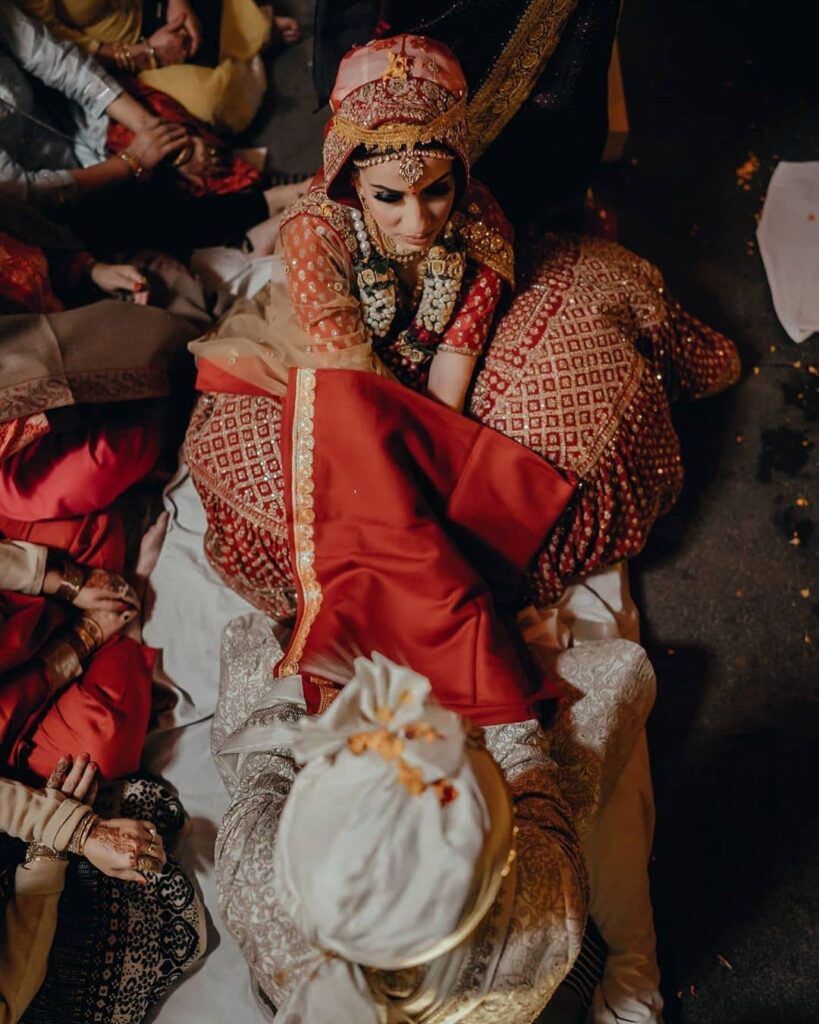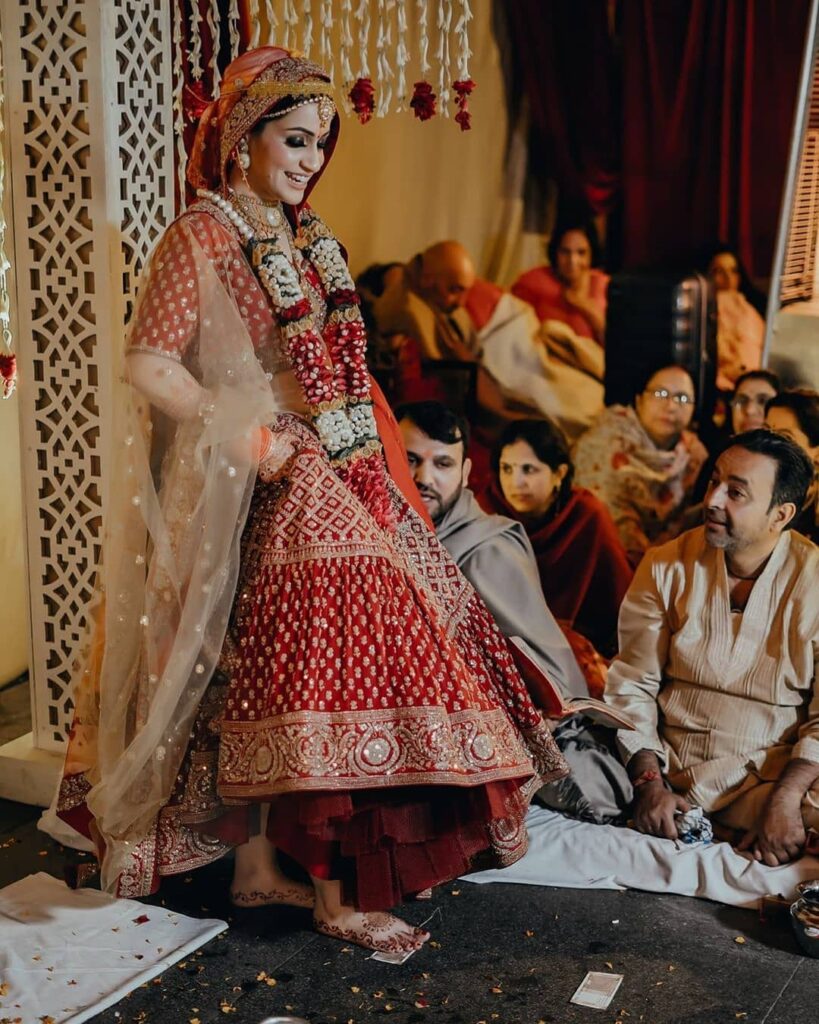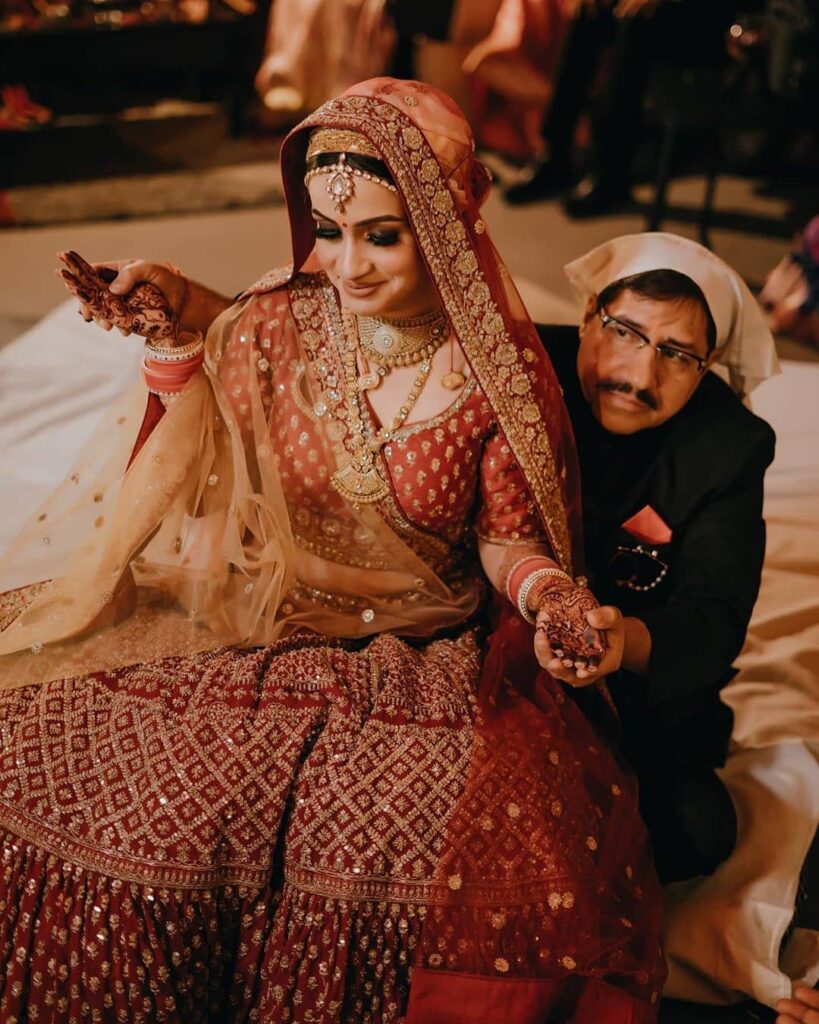 #44 Printed Red Bridal Lehenga
Bride Sejal Kumar wore the latest red bridal lehenga design for the first of her events during her destination wedding. The ensemble is lightweight, functional, and gives ease of movement. Clearly a smart choice for brides looking to wear red on any of their revelries, besides the wedding.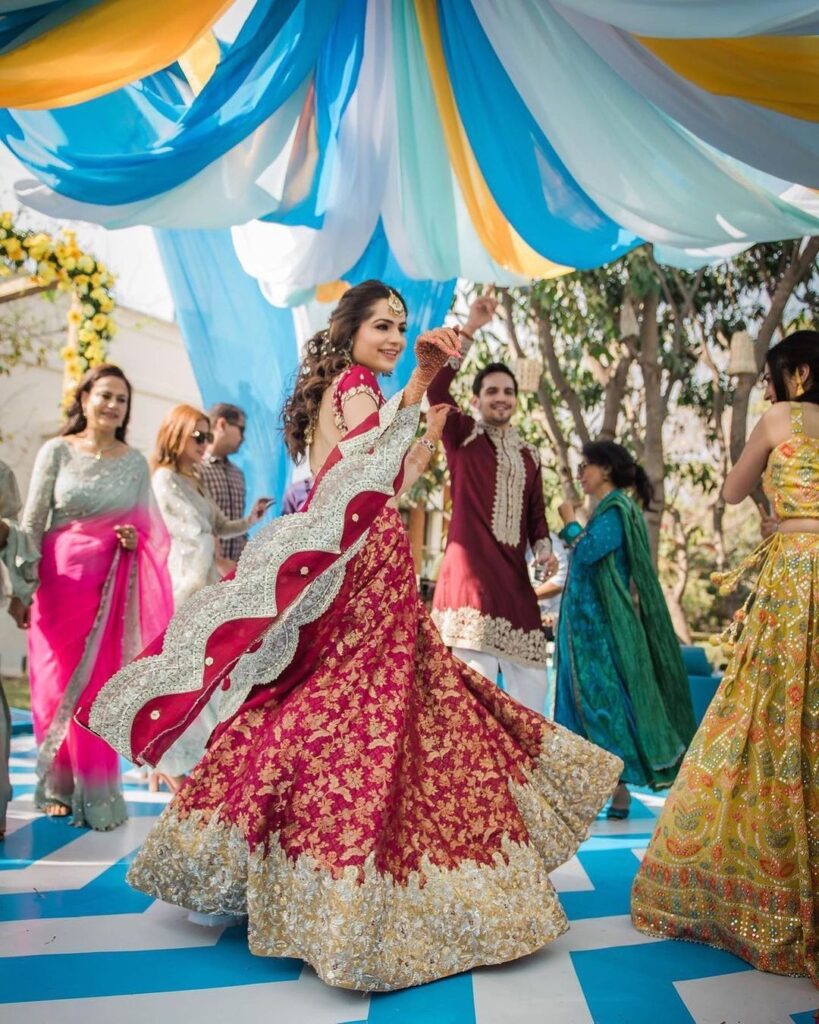 #45 Heavy Red Bridal Lehenga
Bride Shivangi got all her lehengas custom-designed from a boutique called Lustre in New Delhi. For the D-Day, she opted for the classic red wedding lehenga bedecked in ethereal handmade work and featuring peacock and floral motifs. To accentuate, she opted for the double dupatta red bridal lehenga for a traditional and poised look.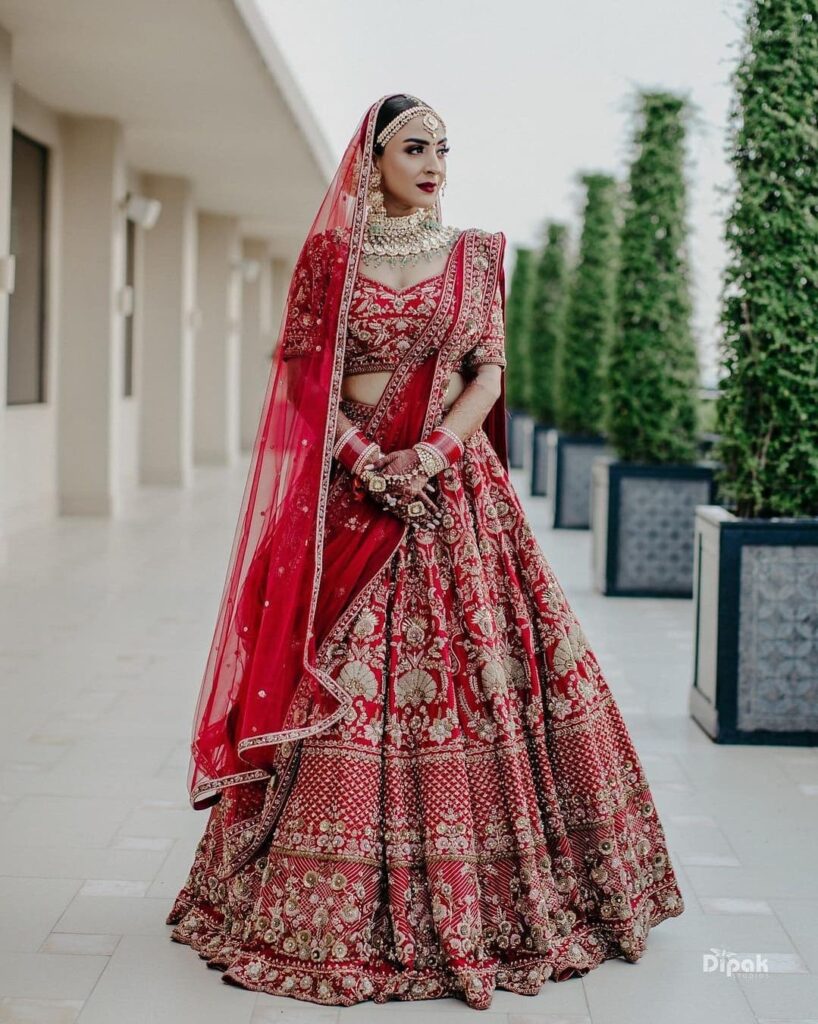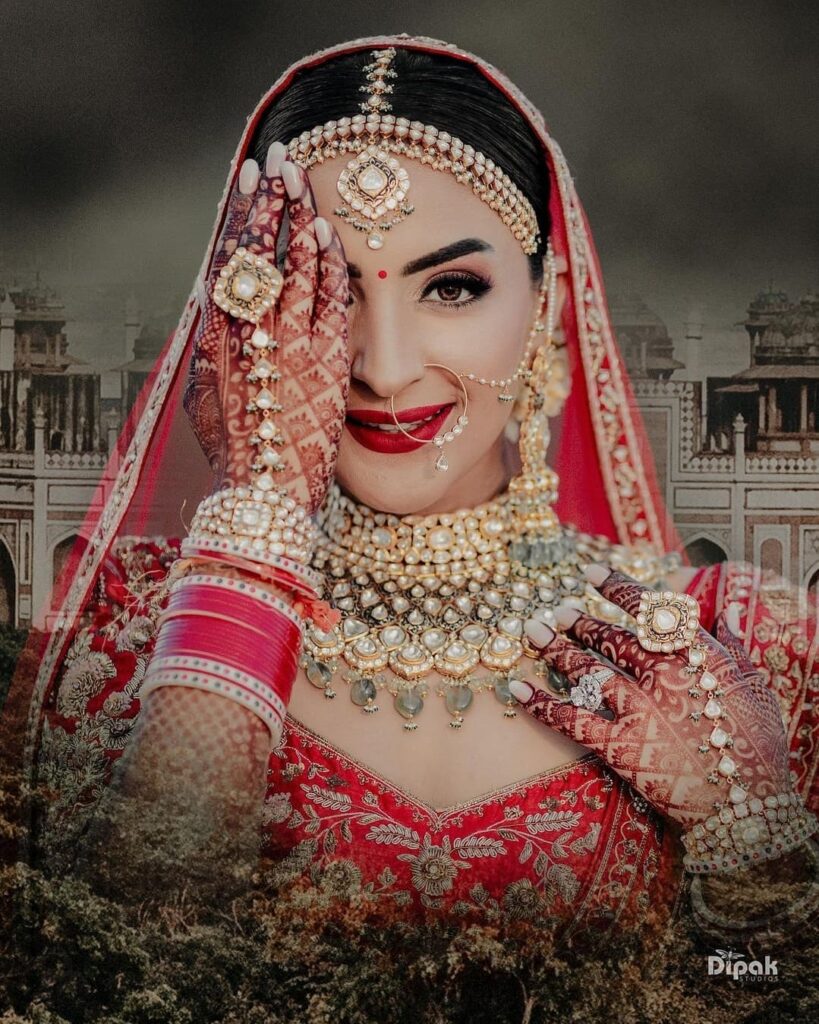 #46 The Classic Sabyasachi Red Lehenga
The 2022 Sabyasachi winter wedding collection features some timeless lehenga designs for brides and we have been spotting brides everywhere donning them in their unique style. We love how Disha Bajaj sported a minimal lehenga skirt with heavy silk dupattas and jewelry to balance off the glitz in her bridal look.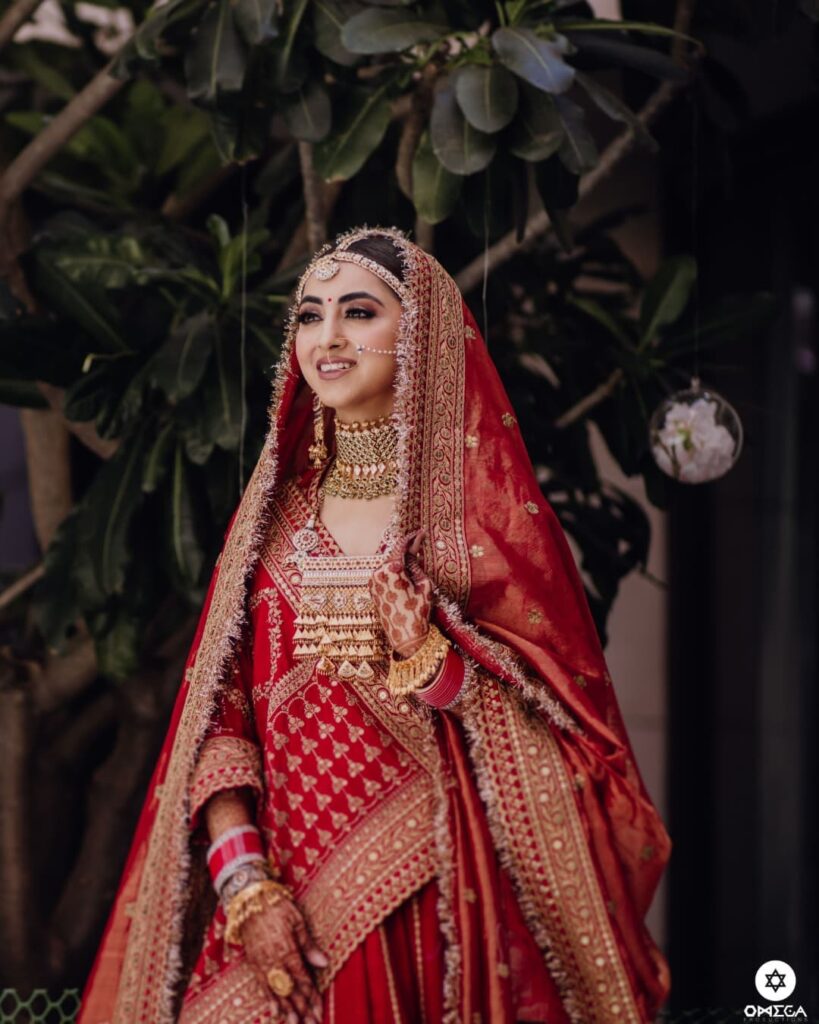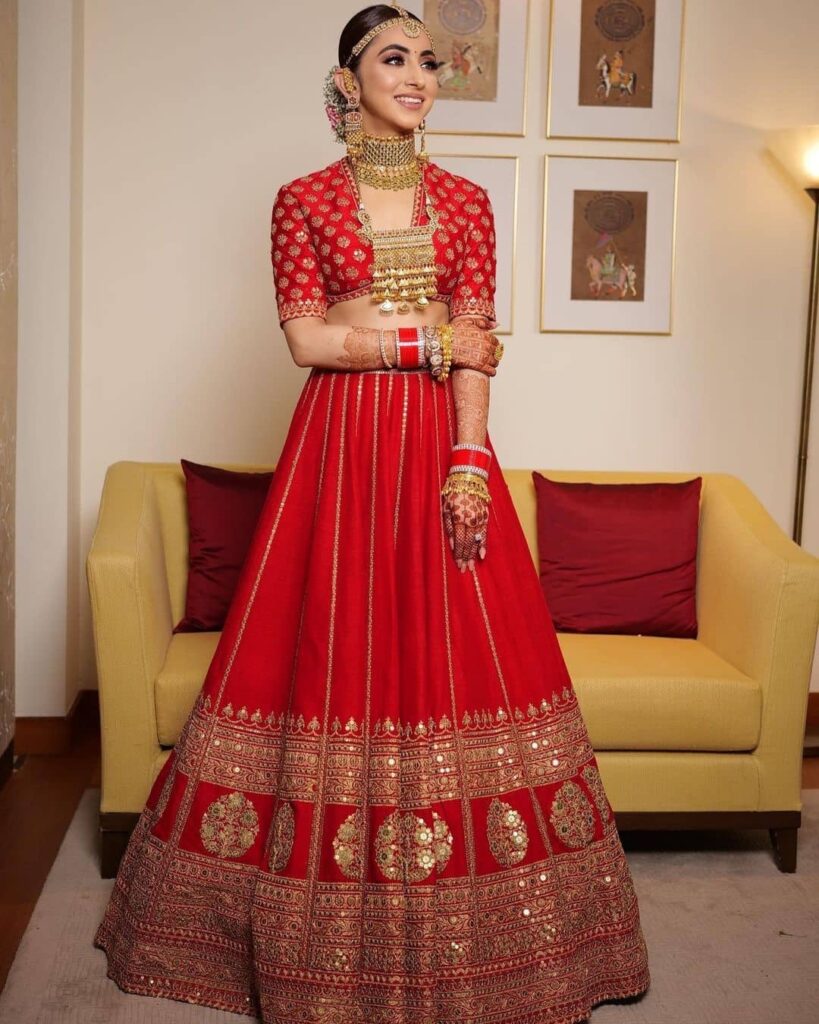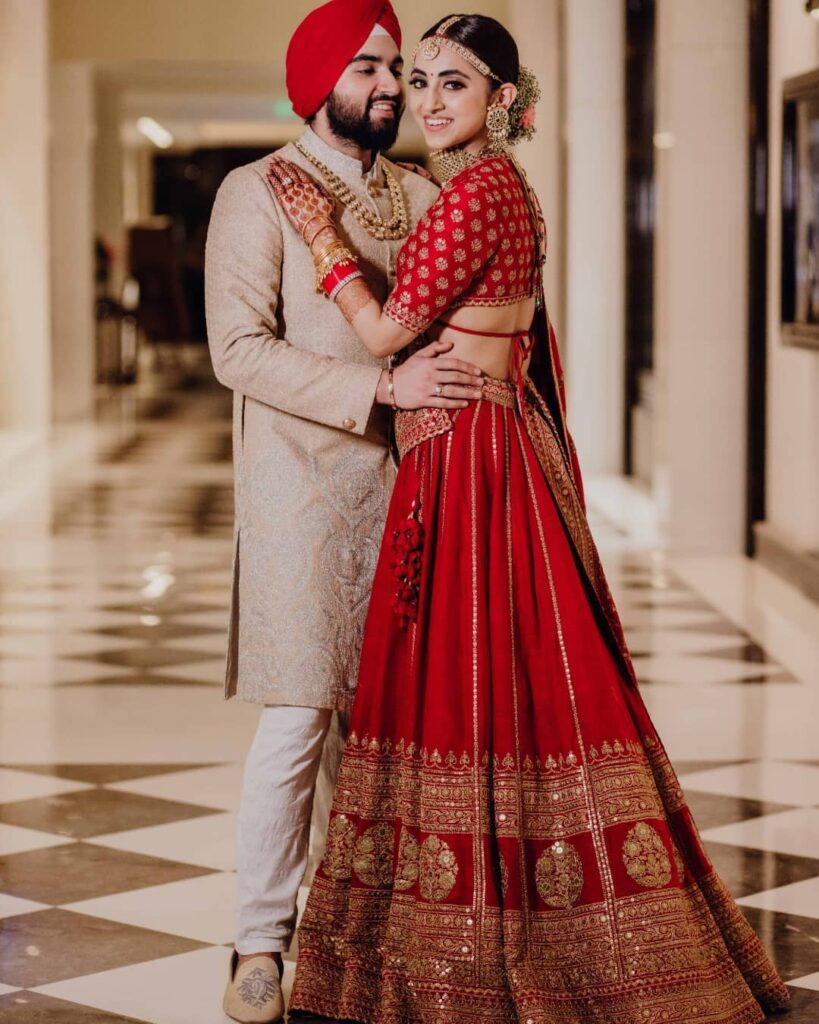 #47 Minimal & Aesthetic
A smile really is the best accessory a bride can wear. We know you'll be too tired till the pheras and forging a smile would be tough, but remember that your wedding day is one-of-a-kind and you don't want to miss enjoying each moment. We adore the bride's hearty portraits, but also the orangish-red bridal lehenga with jewelry for her D-Day.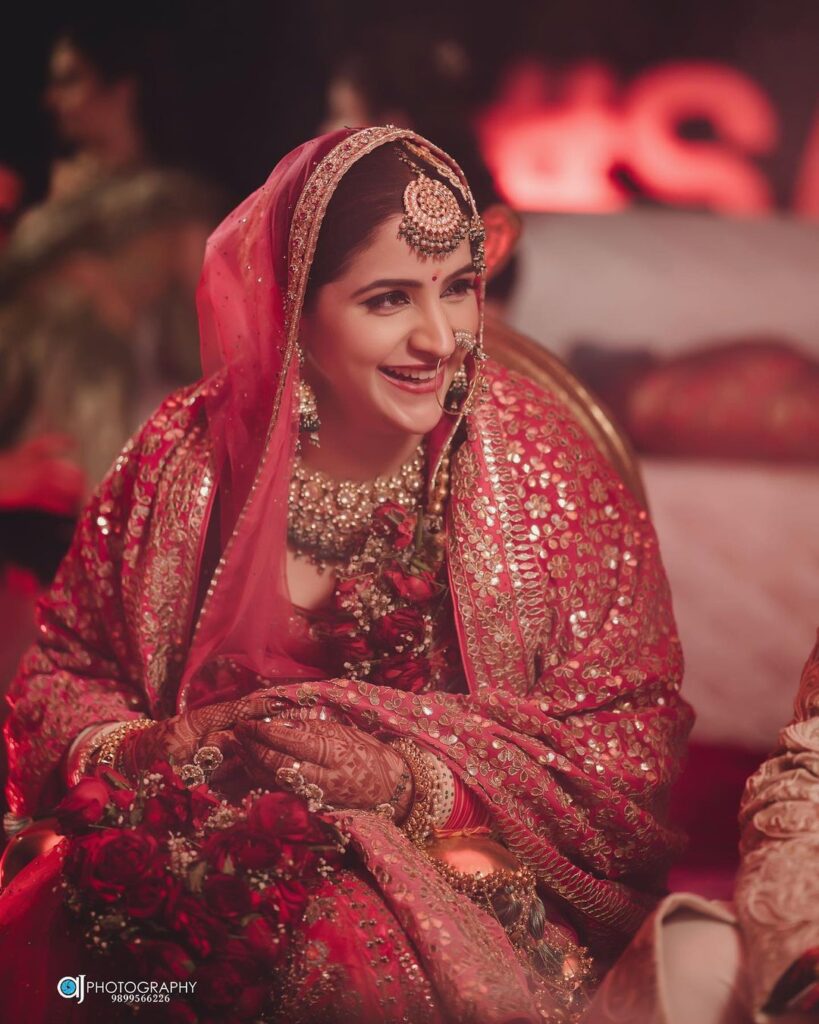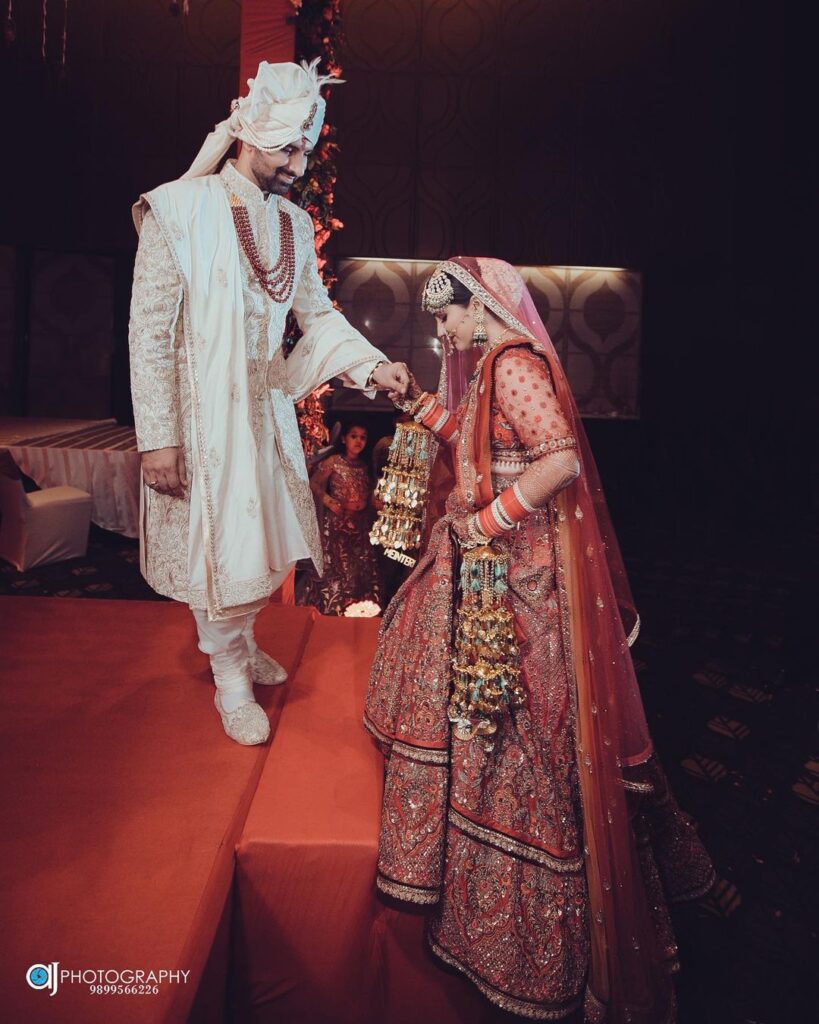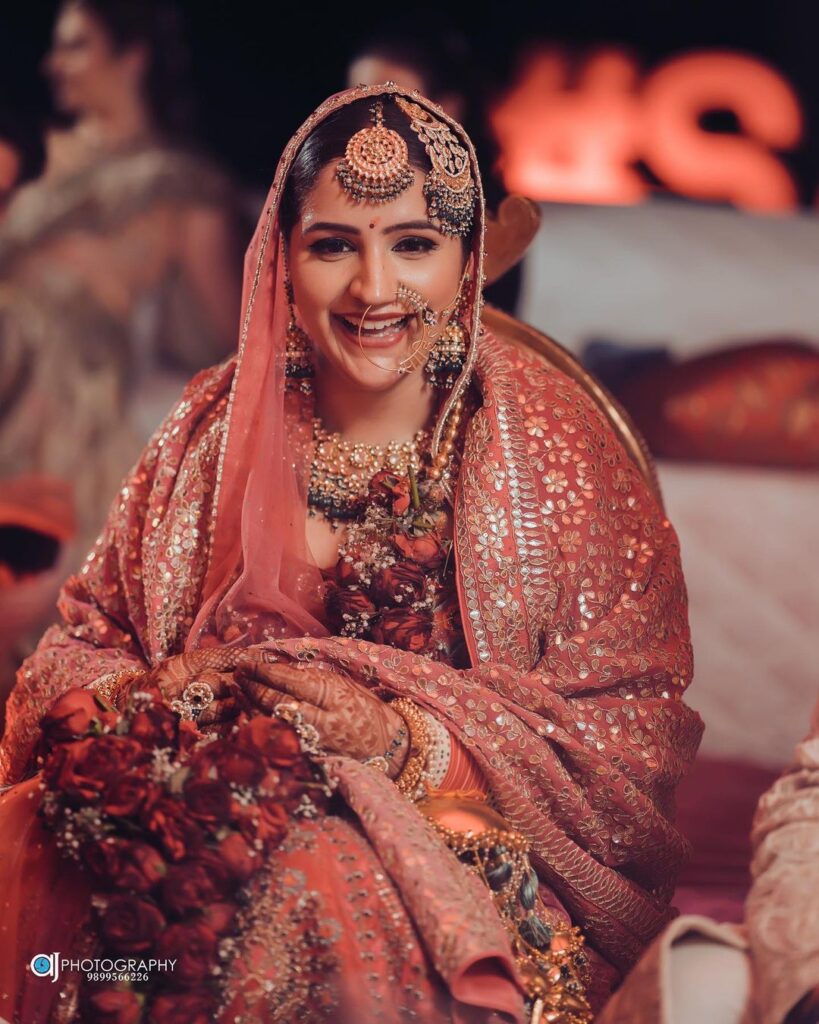 Courtesy: Arjuninder Singh Photography
#48 The One For After The Wedding!
Opting for a lehenga that's monotone gives you the option to style it later in your life without exuding too much of the glitzy vibes on someone else's main event. Here's how Erica Fernandes nailed the monotone red lehenga look and gives you inspiration for re-wearing the wedding outfit again.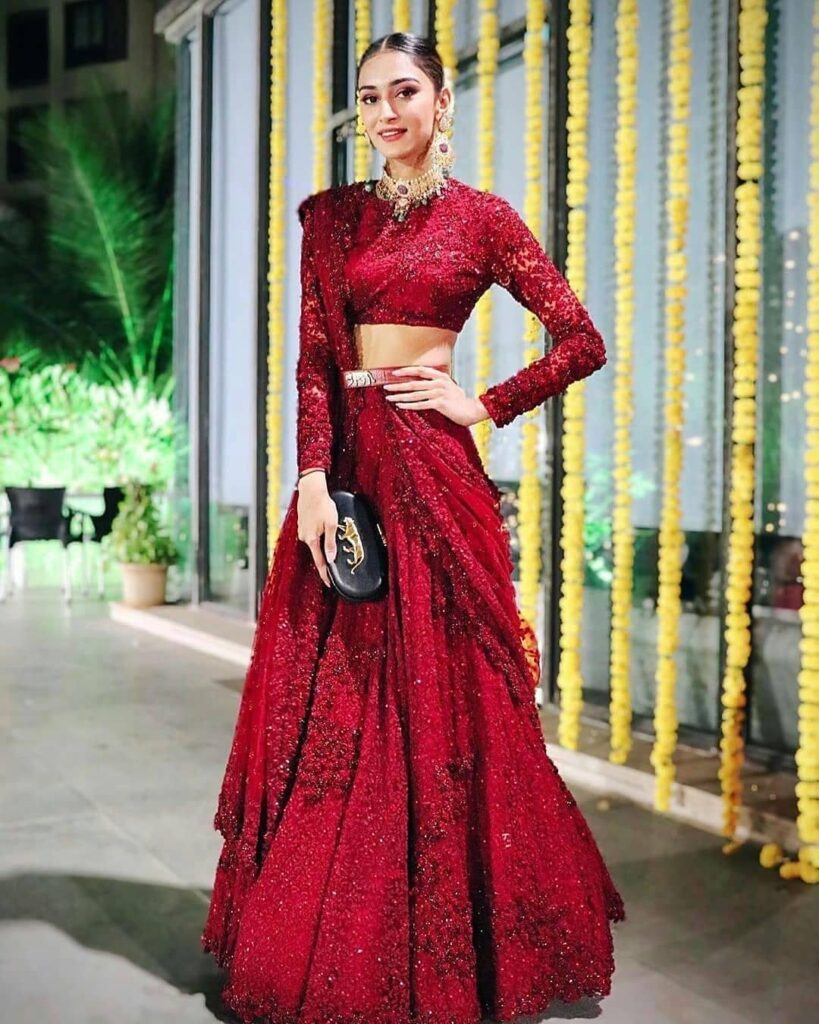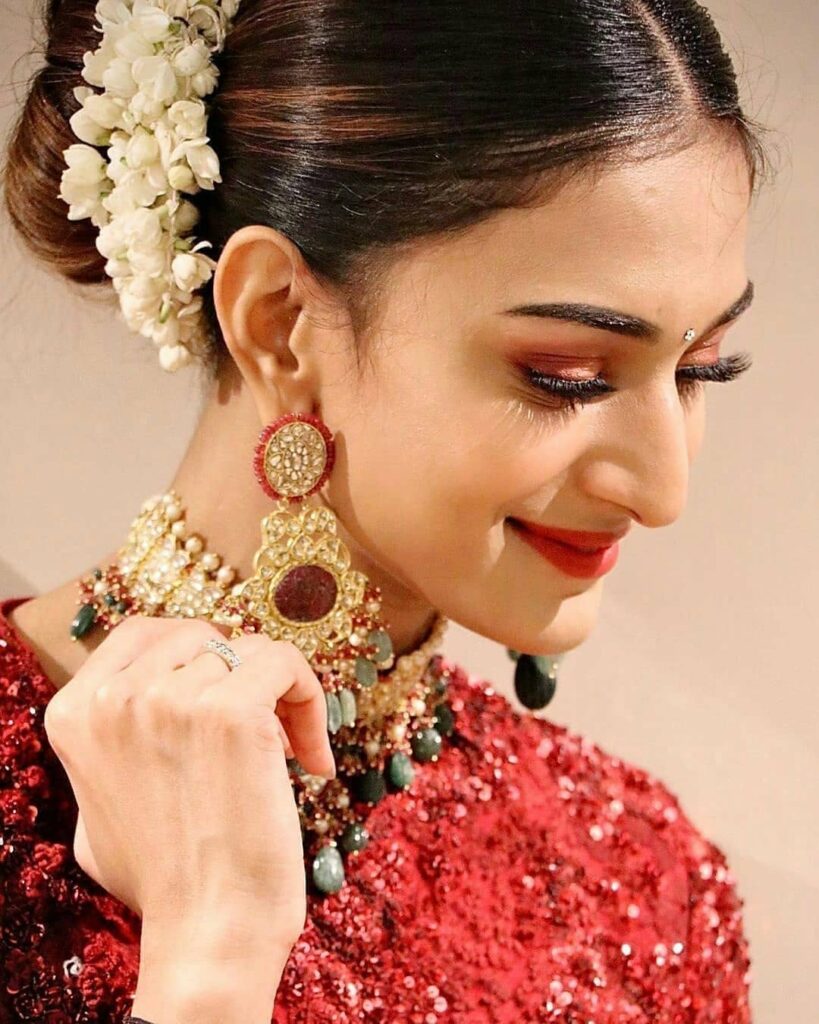 49 Katrina Kaif Red Wedding Lehenga
Katrina Kaif's red bridal lehenga has been talk of the town recently and we love the exquisitely curated design by Sabyasachi. To complement her stunning lehenga, Kaif wore a heavy choker set, mathapatti, and Punjabi kaleerie. She kept her look minimal, elegant, and drop-dead gorgeous.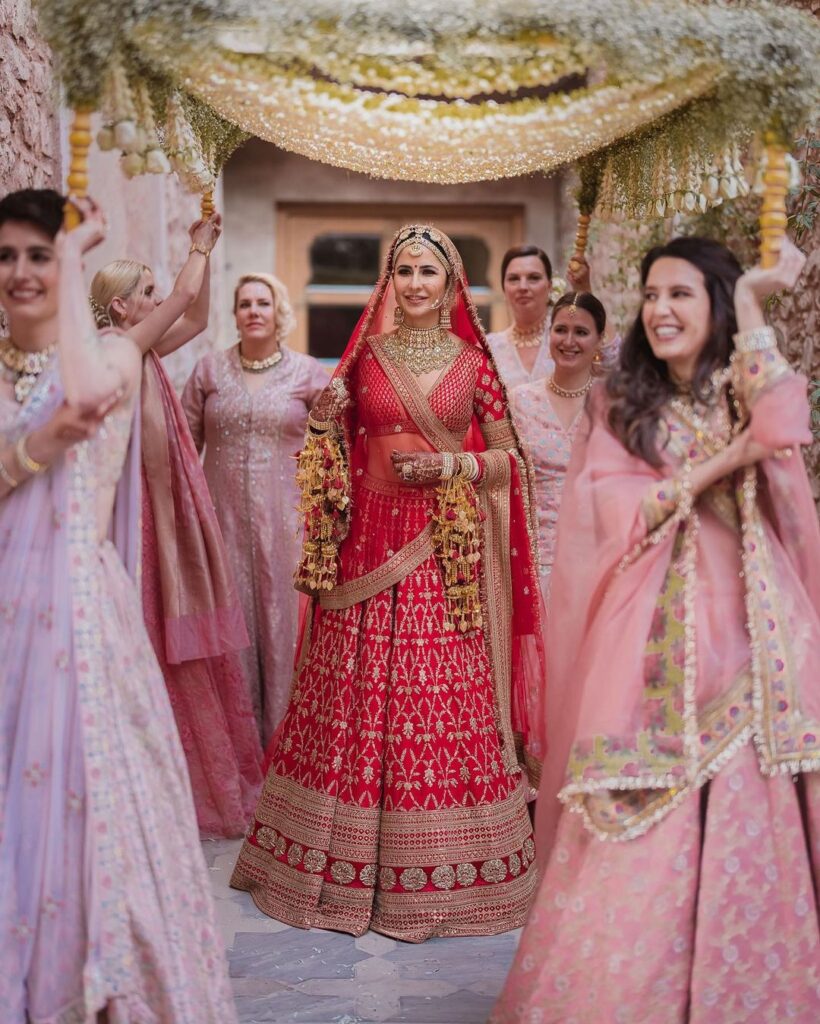 #50 Trail Red Bridal Lehenga
Yashika's stunning bridal look is another one that went instantly viral on Instagram. Not only did she opt for a soft trail on her lehenga, but managed to wow us all in some stunning portraits. Bookmark to show to your photographer.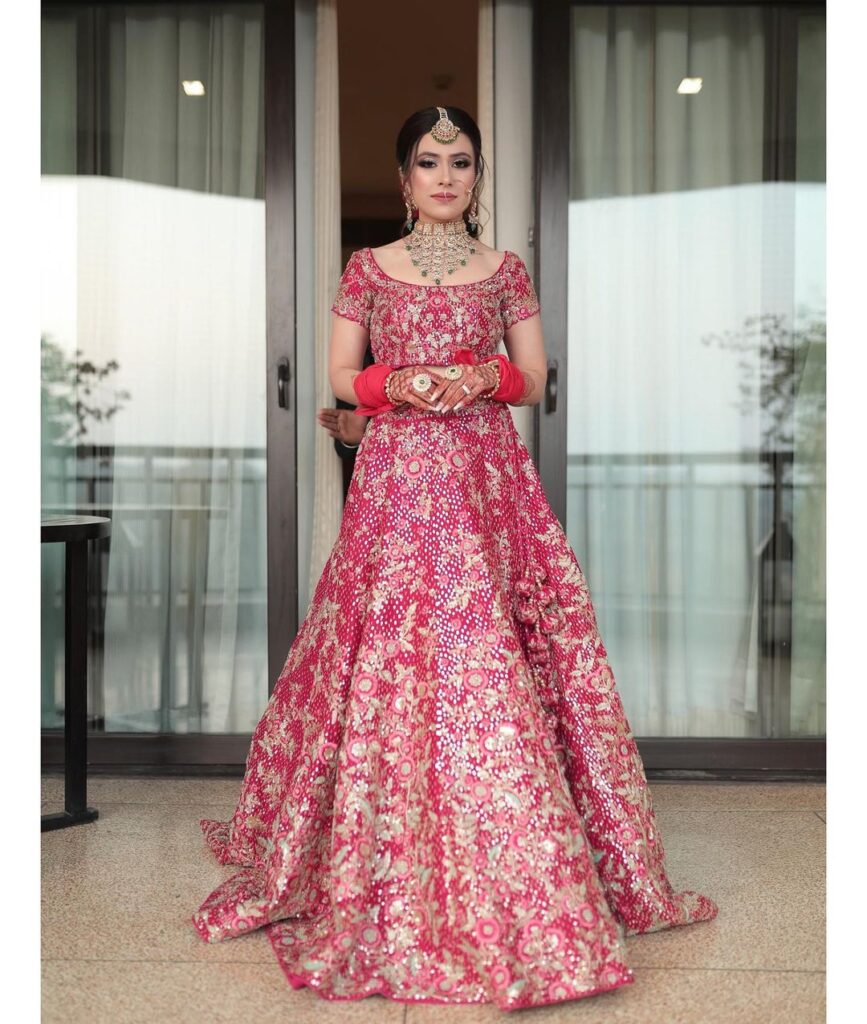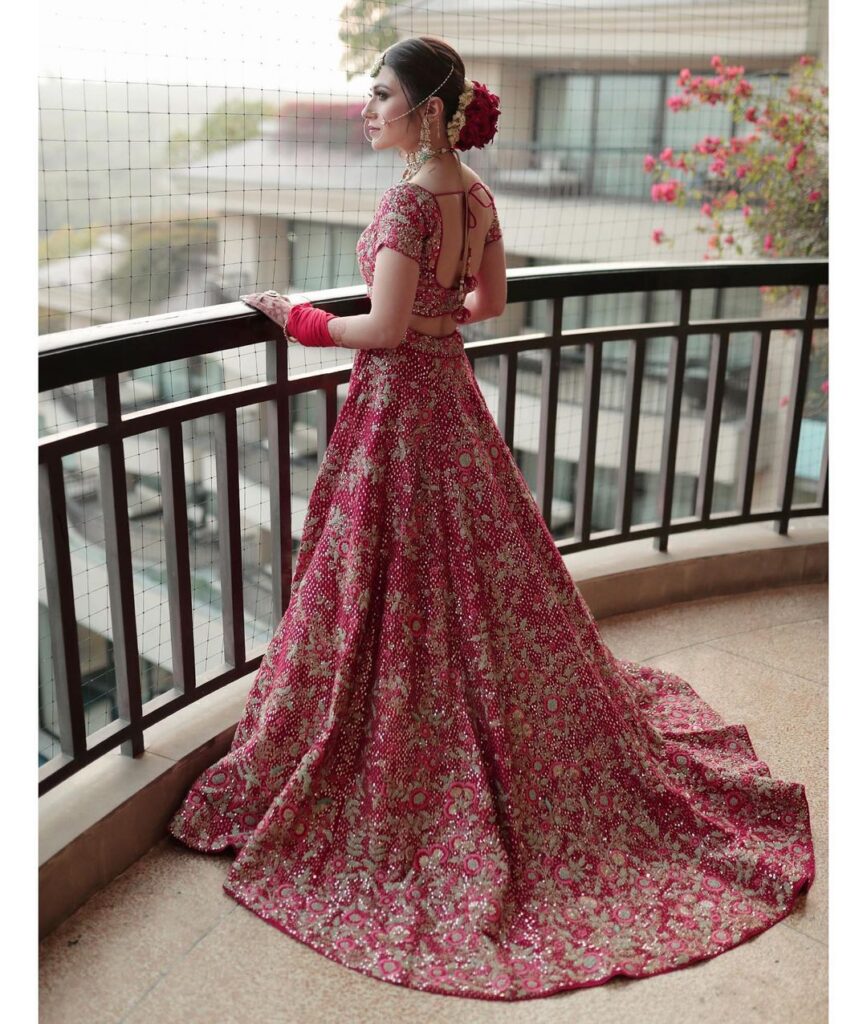 #51 White Embroidery On Red Bridal Lehenga Design
White embroidery on a red lehenga isn't a common occurrence, and that's what makes this design a standalone one on this list. For brides looking to make a statement, sometimes choosing a different kind of work on a lehenga is all you need.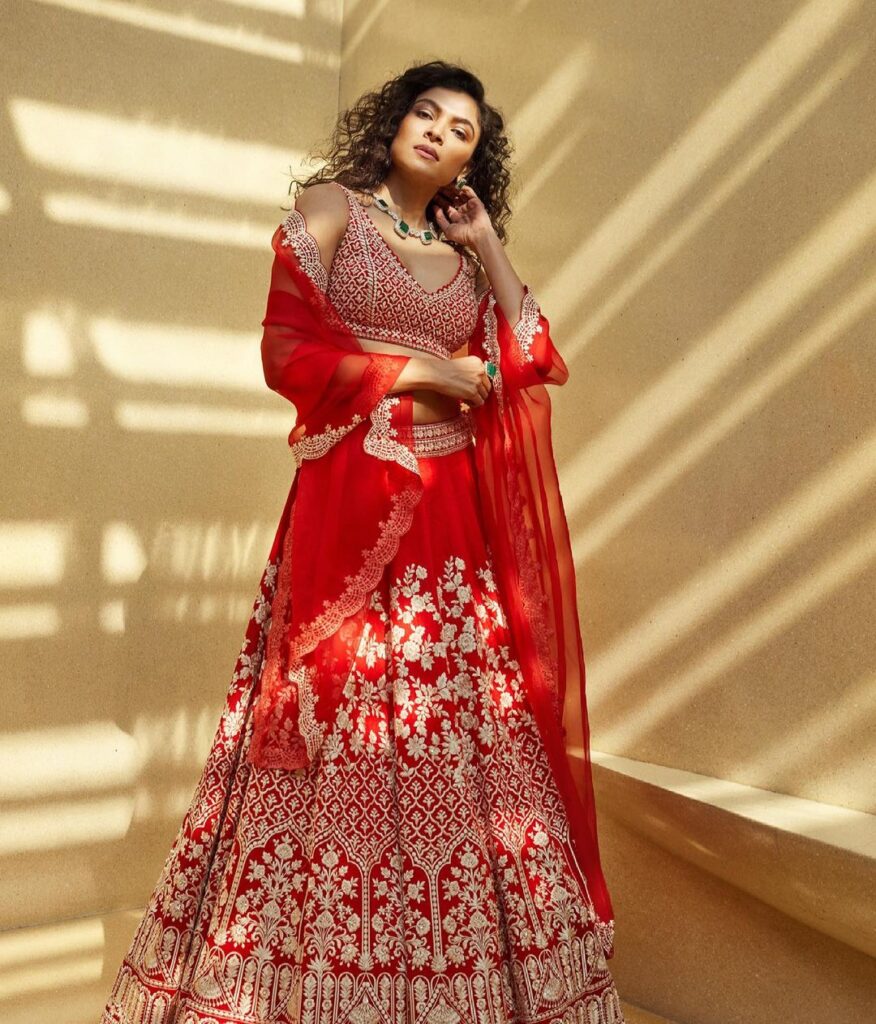 Buy this lehenga set here for Rs.84,000/-
#52 Red Bridal Lehenga With Meenakari Jewelry
Another stunning red wedding lehenga design which we're absolutely swooning over. Love how the bride complemented the ensemble with blue meenakari jewels and deeply kohled eyes for a gorgeous look.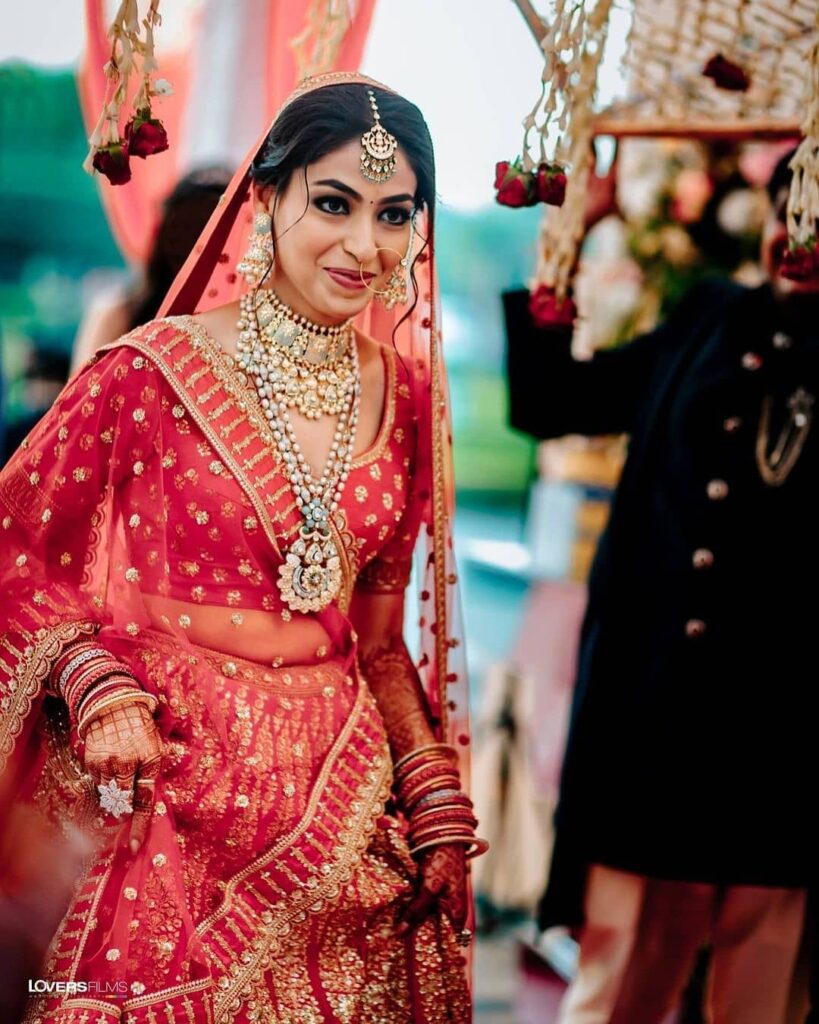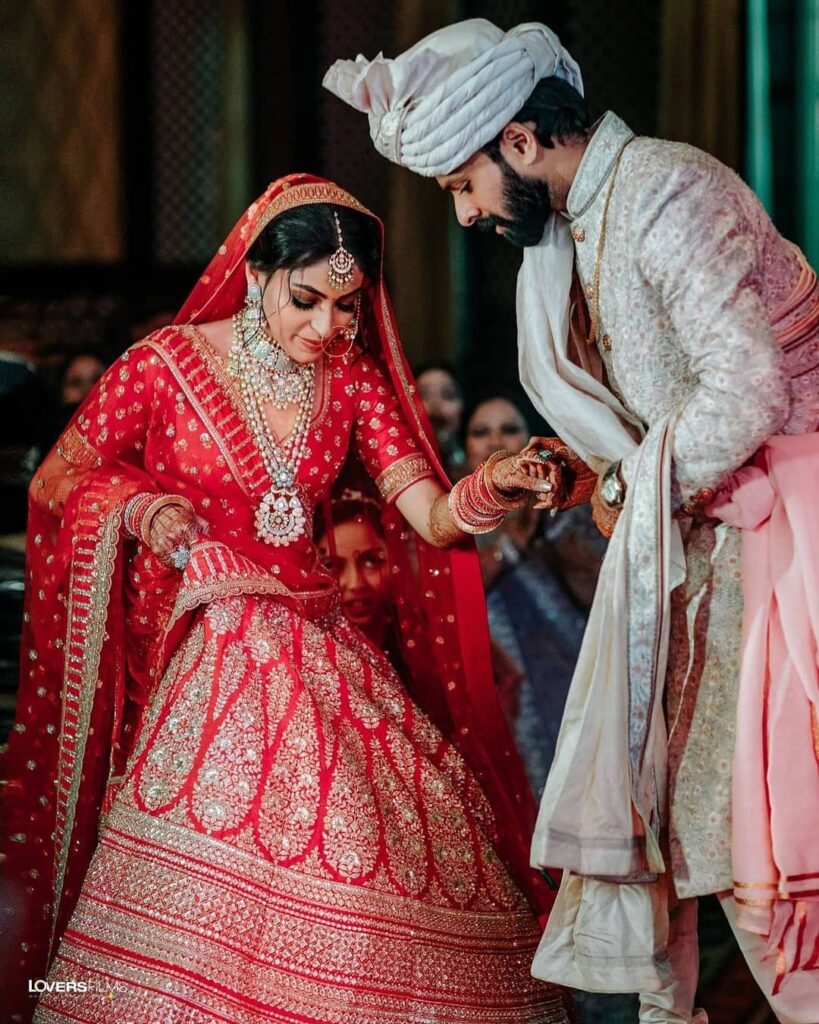 Courtesy: Lovers Films
#53 Maroon Bridal Lehenga Set
Incorporating a velvet dupatta is the best way to keep yourself warm during winter weddings. Plus, velvet has an unmatchable elegance and poise attached to it, which will certainly reflect in your entire ensemble. For winter brides 2022, take inspiration on how to be comfortable and gorgeous at the same time.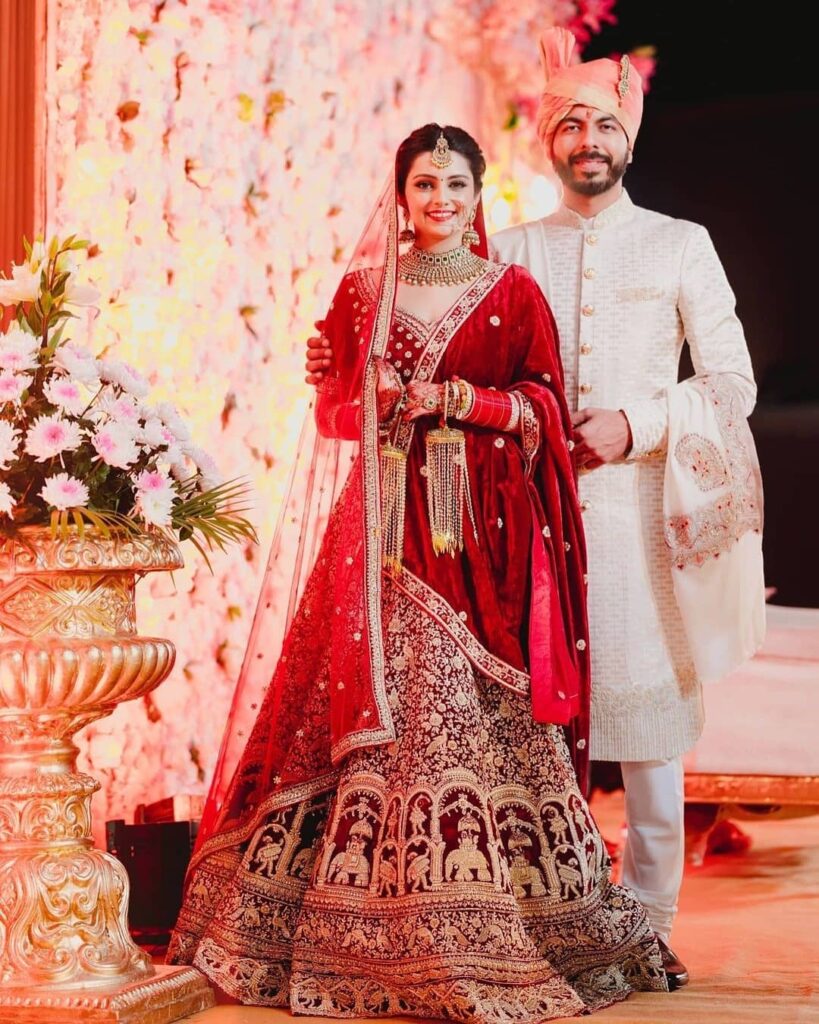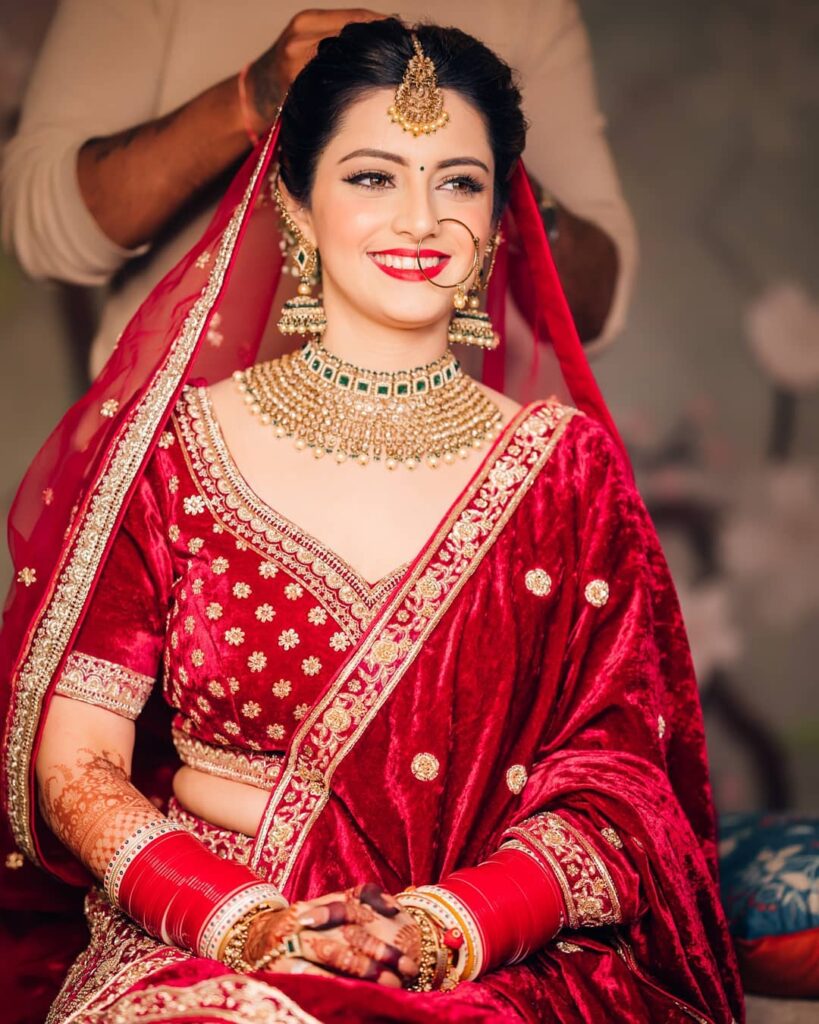 Courtesy: Manleen Puri || Paran Singh Photography
#54 A Classic Piece
If you're a minimalistic bride who'd want to indulge in subtle glam on her wedding day, then here's a lehenga to woo you. The double dupatta red bridal lehenga style certainly is going strong, and you can try different drapings for a stunning ensemble look.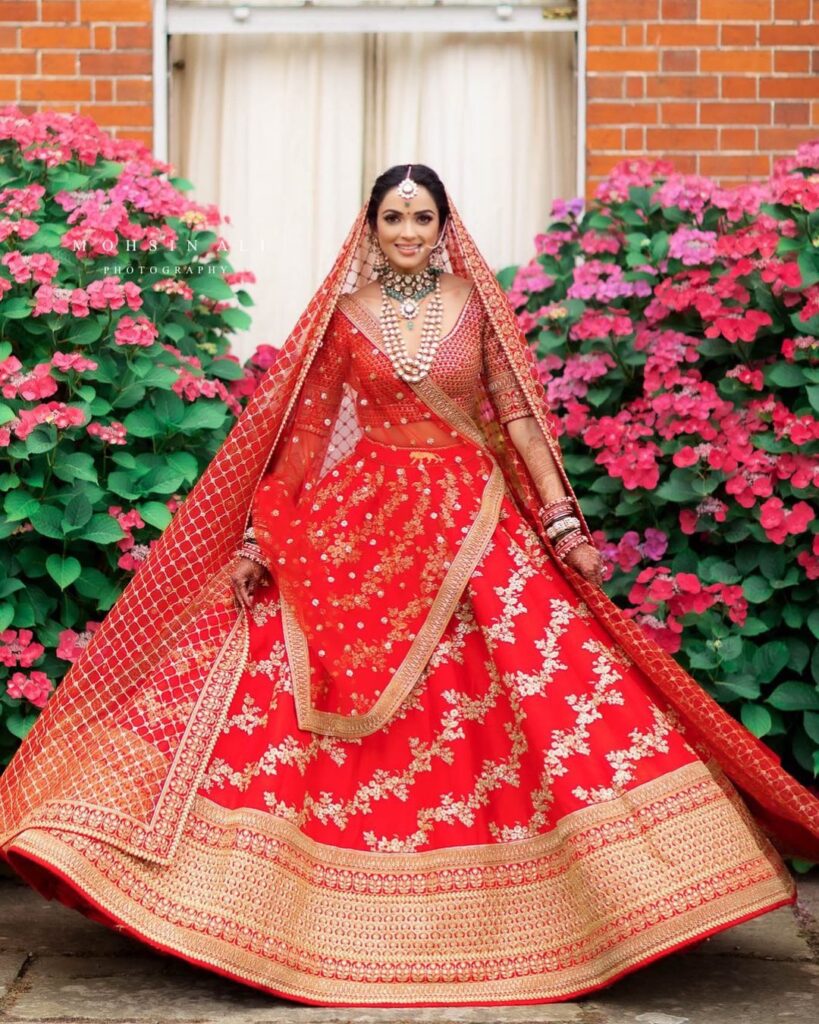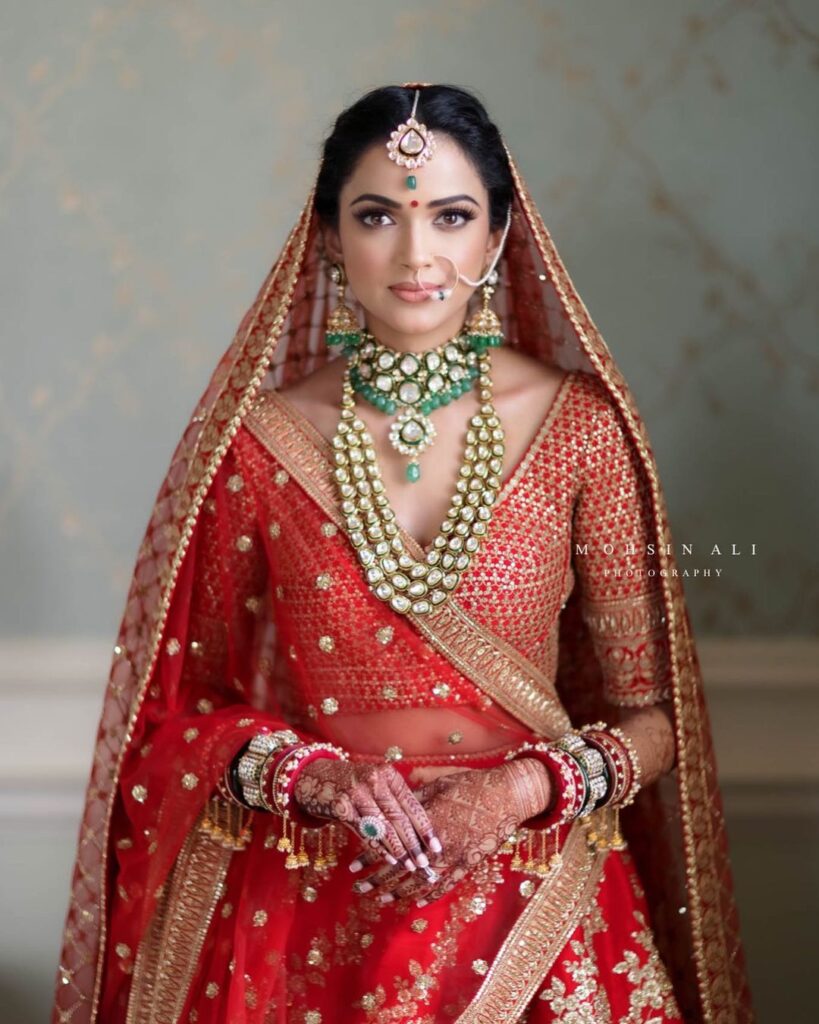 Courtesy: Mohsin Ali Photography
#55 Allure In Each Element!
Sabyasachi lehengas are popular for a reason. Not just the designer's original lehengas, but the replicas of his designs are rampant in any popular lehenga shopping store, like Chandni Chowk lehenga market or Calcutta lehenga stores. Anyways, looking at another one of the epic designs from his collection, there's no doubt why! Scroll to see.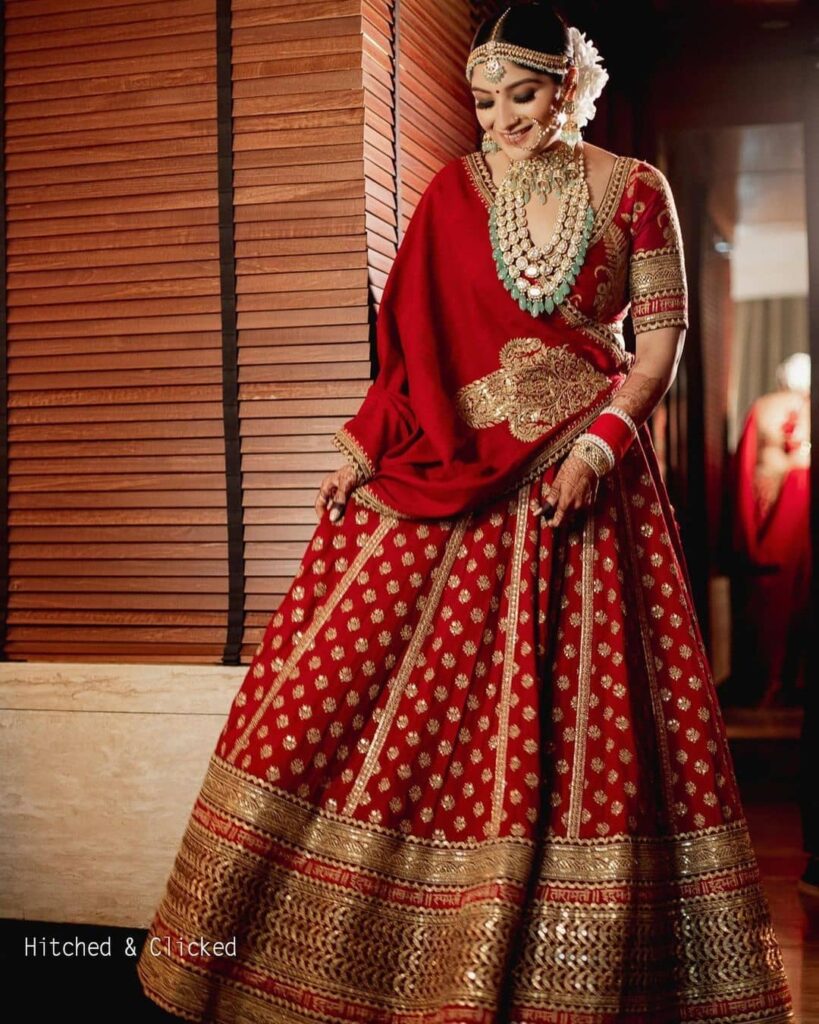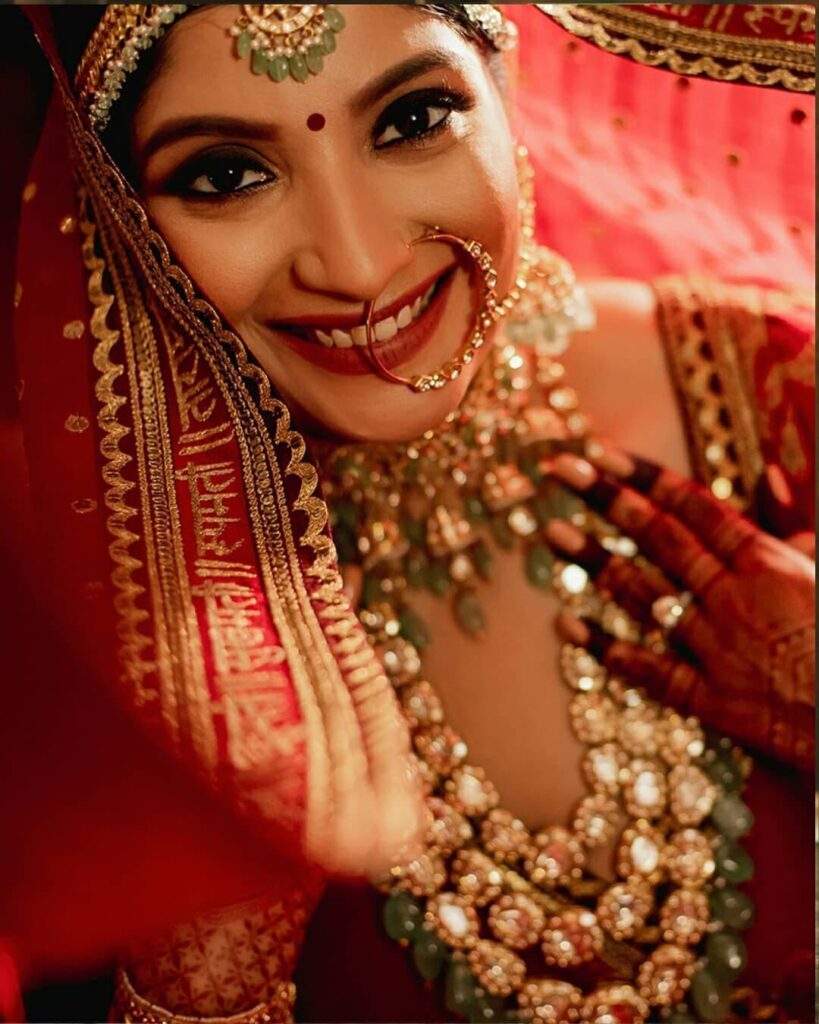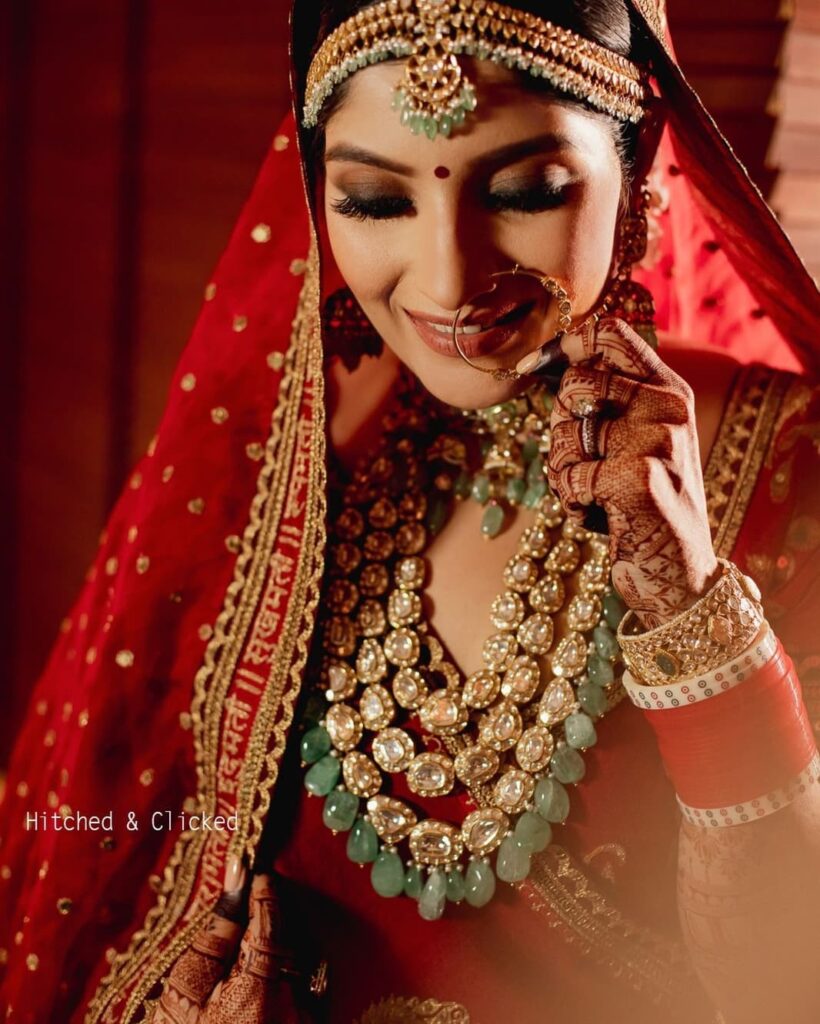 #56 Something Different
While her red wedding lehenga stands uniquely on its own, what we also love about this bridal look is the standalone haar worn by the muse. The haars are generally paired with a small choker or necklace, but to add a statement element, you can surely wear it on its own for a stunning wedding look.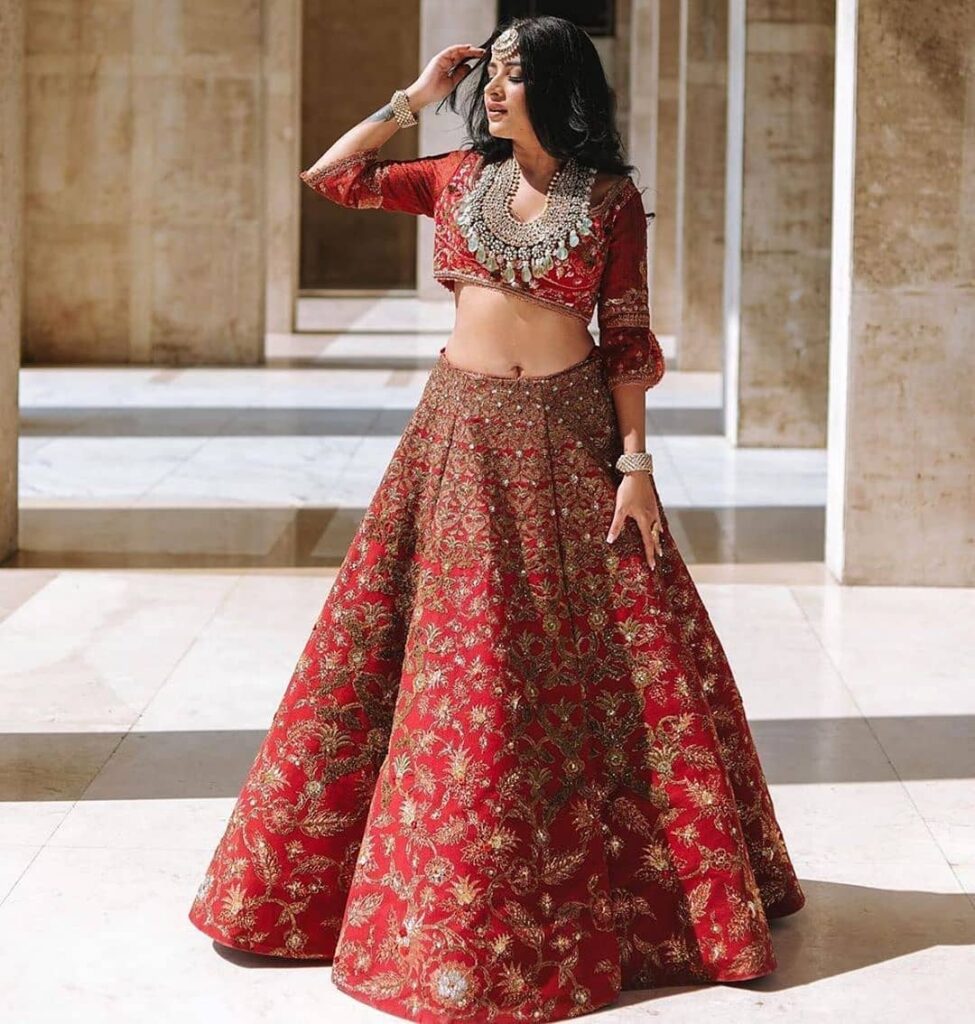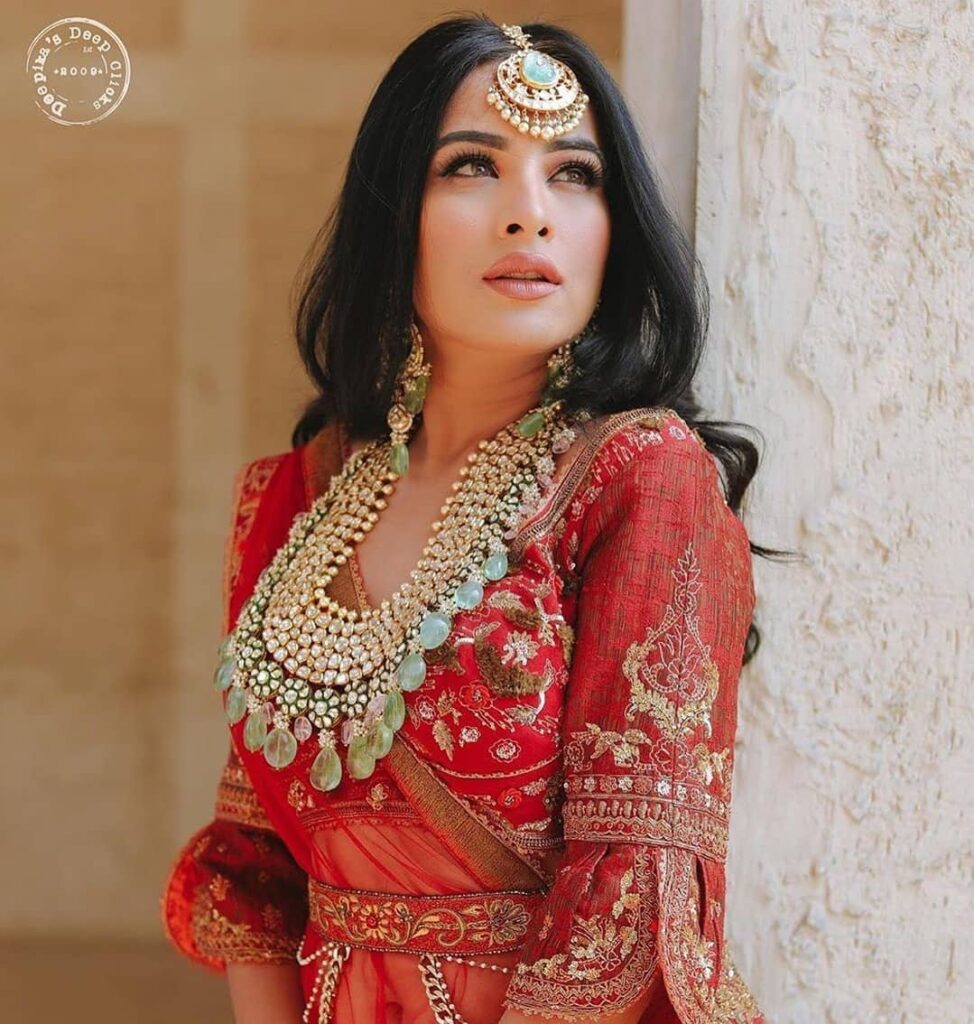 Courtesy: Shahid Naar
#57 The On-Point Styling
We love everything about this time-honored, elegant red bridal lehenga design, and how flawlessly this bride styled the dress with kundan jewelry and a nude makeup look. The touch of glitter on the eyes is a gorgeous addition to your red attire. You can even go with smokey eyes for the same graceful element.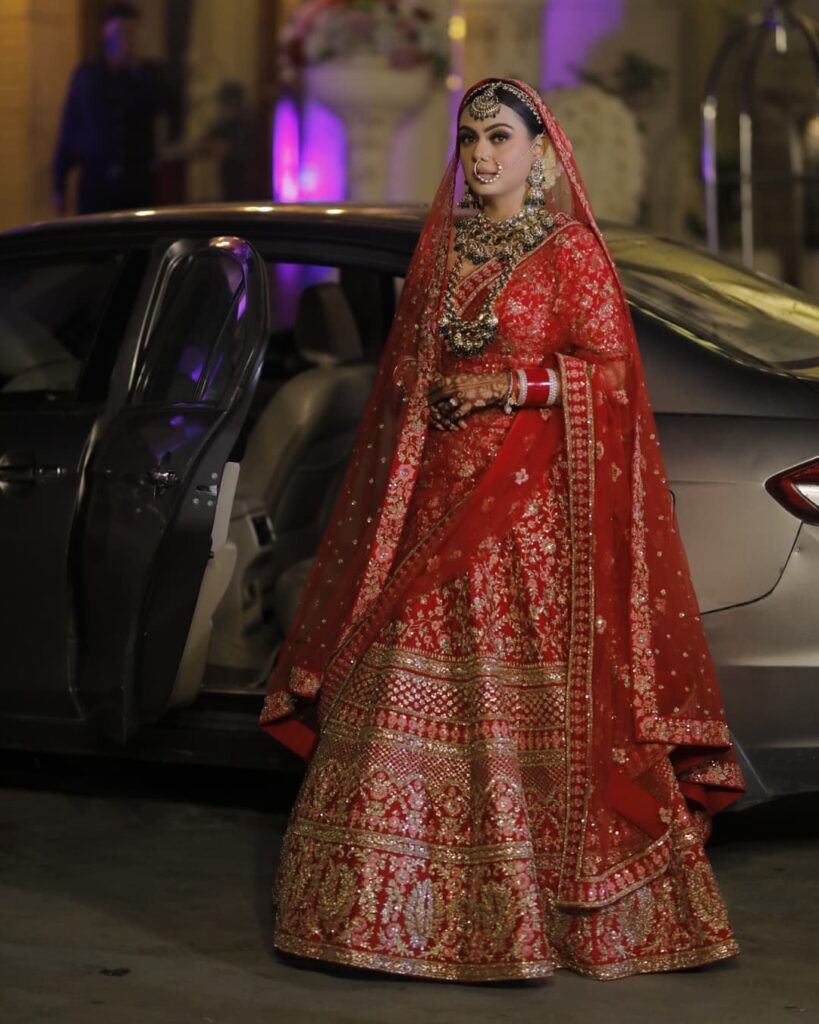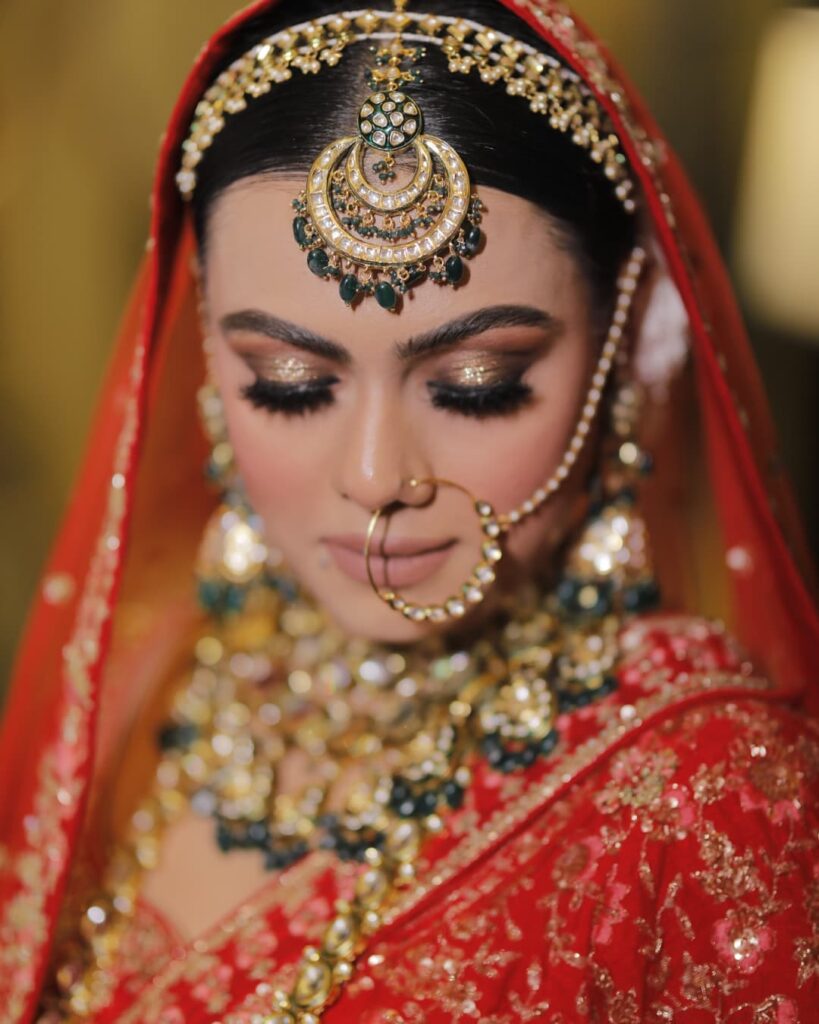 Courtesy: Nikhita Arora Aggarwal
#58 Stunning & Royal Red Bridal Lehenga
If there's one bridal designer in India who can curate a unique, royal, and luxurious outfit for you, then it's Rimple & Harpreet. The husband-wife duo sure knows how to infuse regality into their outfit with exquisite designs. They also make sure that their lehengas have a huge range so brides don't fear copying anyone's lehenga or look. Every design has its own unmatchable remarkability.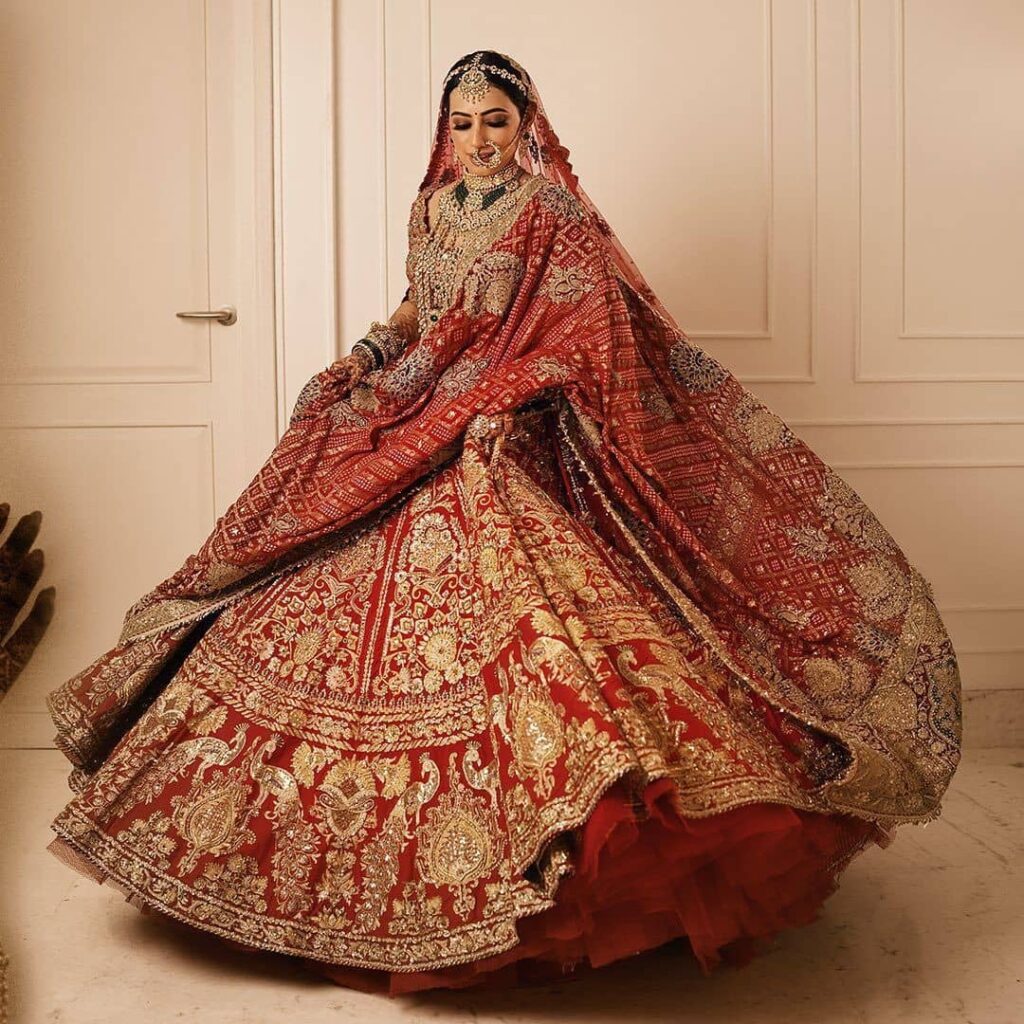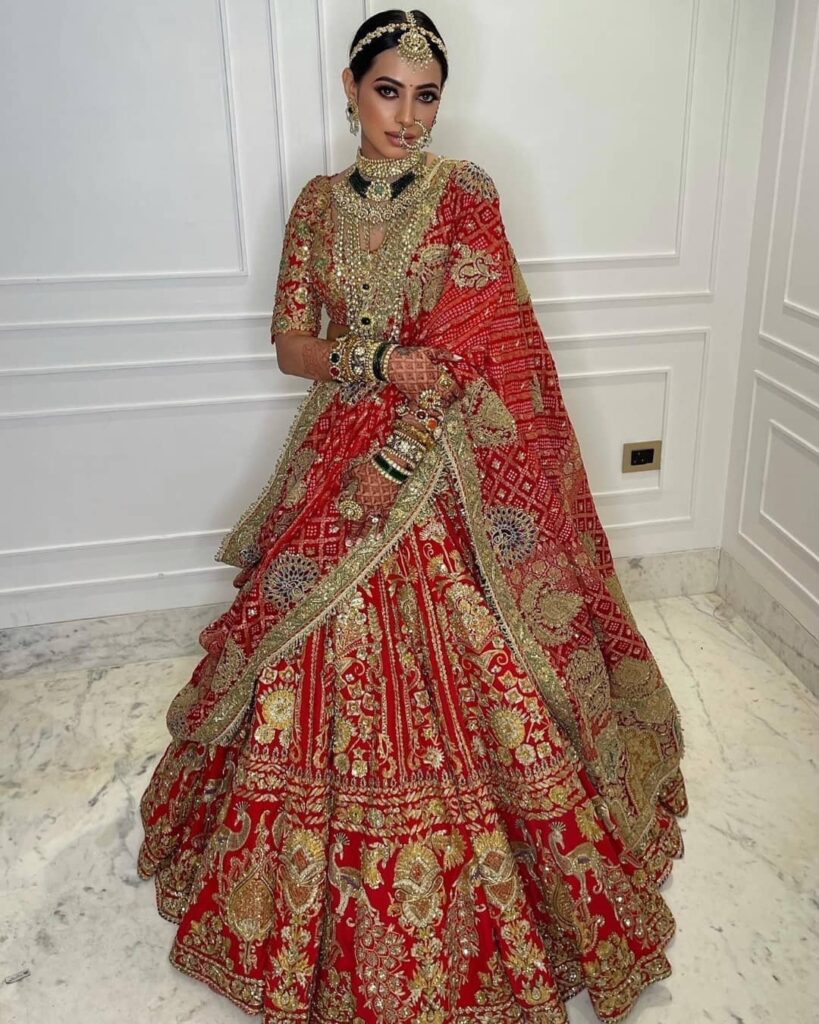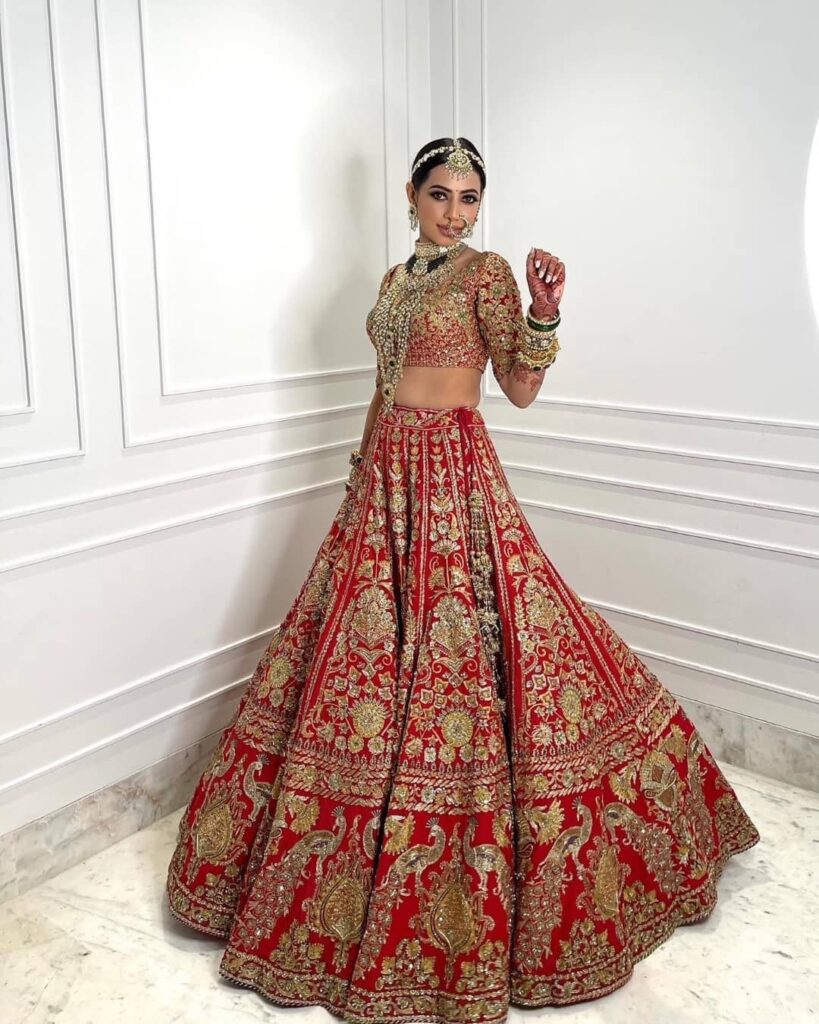 Courtesy: Deeksha Rawat Singh
#59 Walking Like A Queen! 
This viral bridal snap showcases a gorgeous bride wearing a traditional red bridal lehenga in gold and paired with kundan jewelry, red chooda, and kaleerei. If you want to be a timeless and classic red bride, incorporate all these styling elements in your ensemble as well.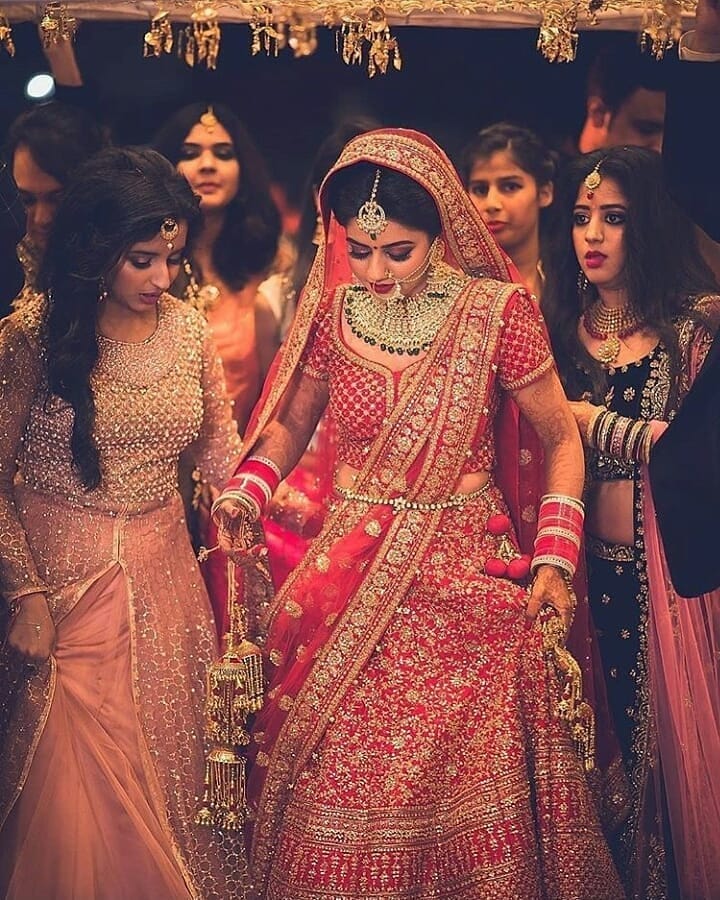 Courtesy: Dhruv Narang Photography
#60 The One With The Bridesmaids
While you take time out for your bridal portraits, don't forget to strike a few poses with your loved ones, like your parents, siblings, and bridesmaids. For the last one, just happy, hearty pictures like this work too. Sometimes, a memorable picture requires you to feel the love and warmth without creating any inventive poses.  
Courtesy: Wedding Nama
#61 Gorgeous & How! 
As a newlywed, you'll obviously be drawn towards the color red! And honestly, there's no other color that can take over the charm of a gorgeous red. Clad in a red bridal lehenga with jewelry defined by minimalism and the newly-wed elements, we love the bride's style and sass in this snap.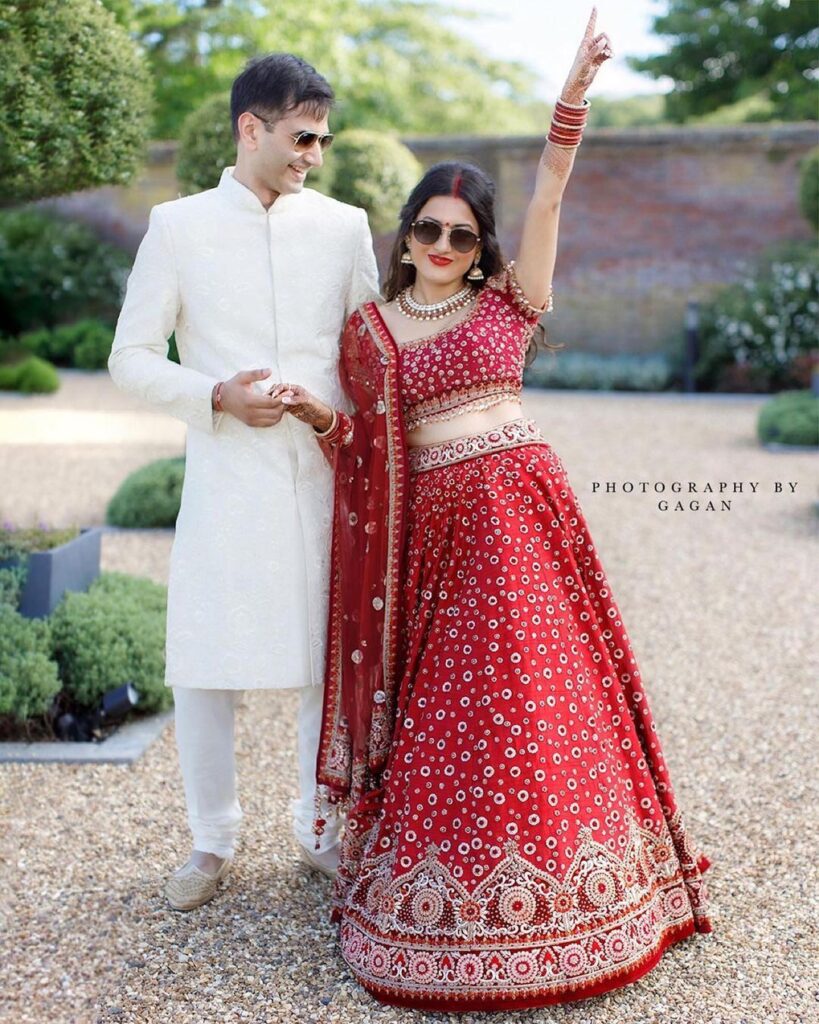 Courtesy: Photography by Gagan
#62 Monotone Red Bridal Lehenga Design
Yet another bride wore a monotone red bridal lehenga for her roka. She donned this popular red wedding lehenga design 2022 even before Priyanka Chopra made it popular. Clearly, we love her distinct choice and how she pairs the dress alongside diamond jewelry, glowing makeup, and a classic red lip.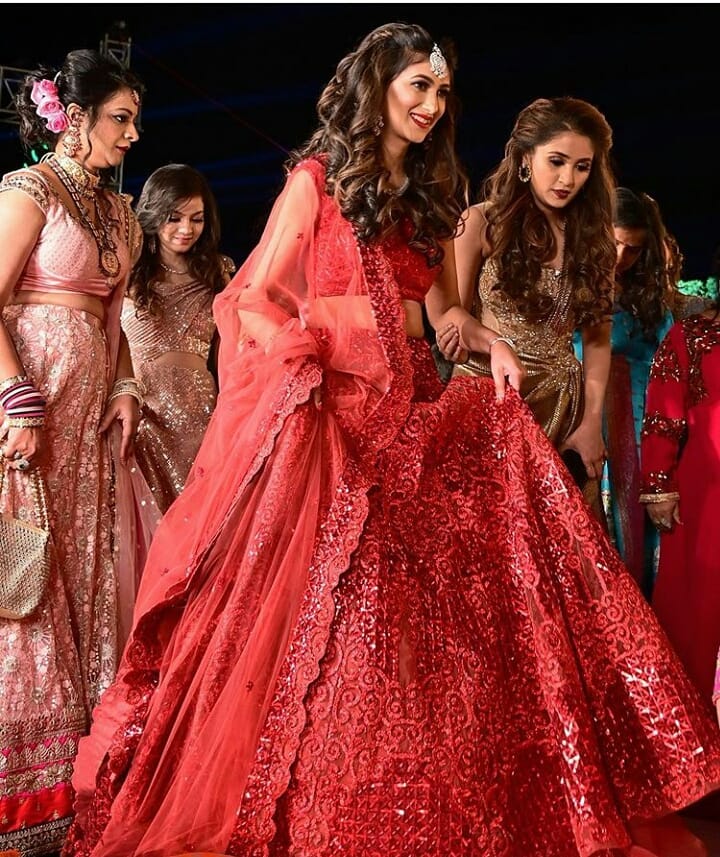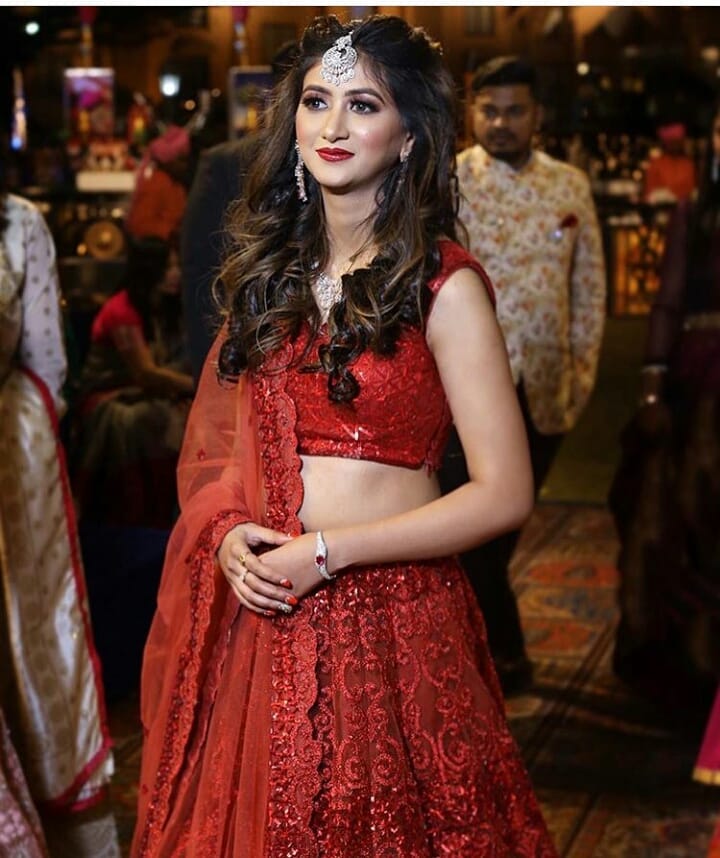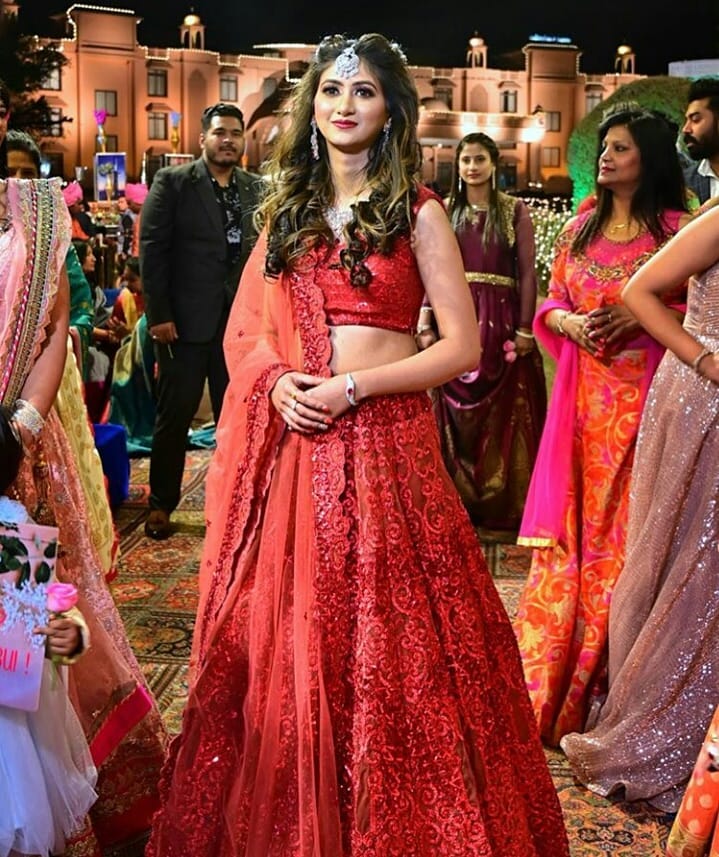 Courtesy: Manpreet Kamal Production
#63 Latest Red Wedding Lehenga
Shradha Arya's heavily bedecked red lehenga was the talk of the town when it made an appearance on social media. The traditional lehenga looked gorgeous on her and complimented her bubbly personality beautifully.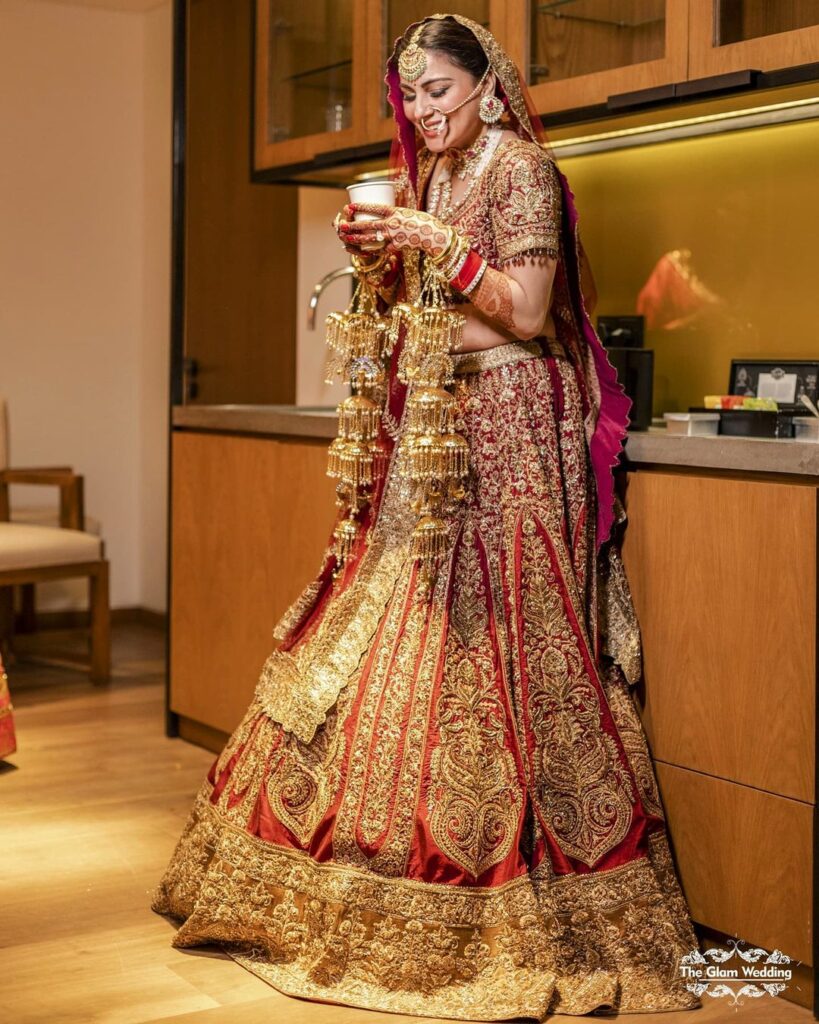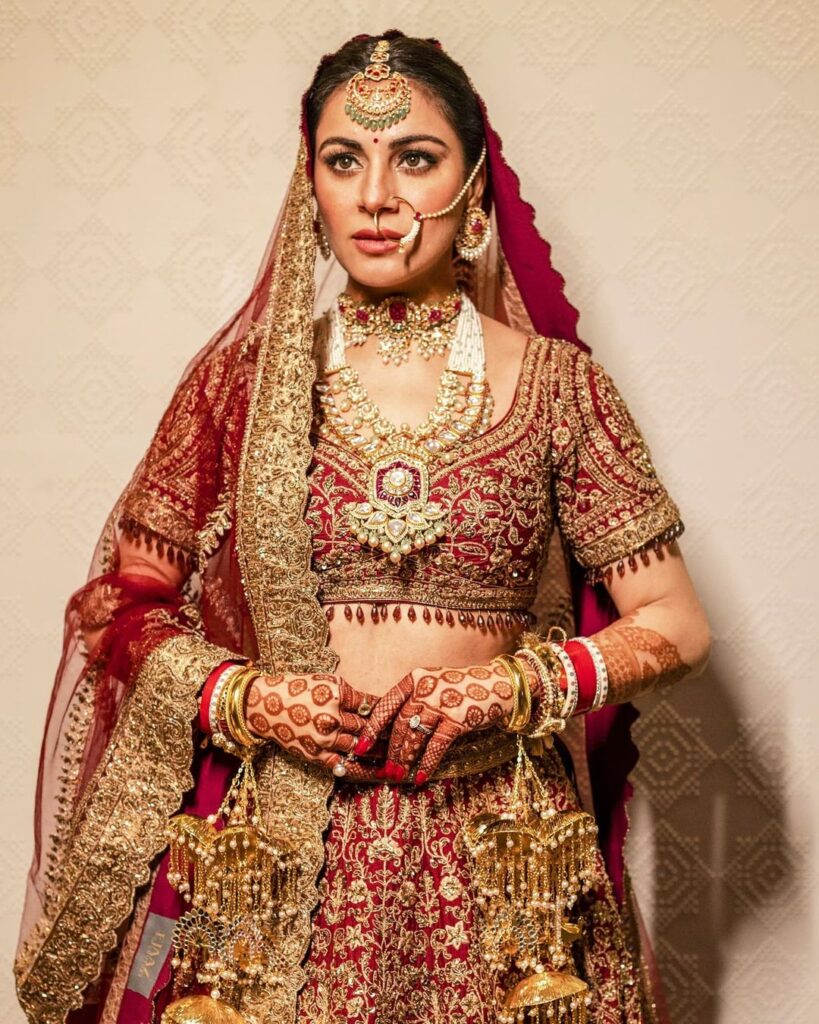 #64 Designer Red Wedding Lehenga
Her red bridal lehenga with silver work shines bright as she walks into her reception party. The lehenga is a sweet balance between a glamorous and minimalistic choice, and the bride strikes the same balance with her styling. The choker set, glowing makeup, and statement hair flawlessly finish the wedding look.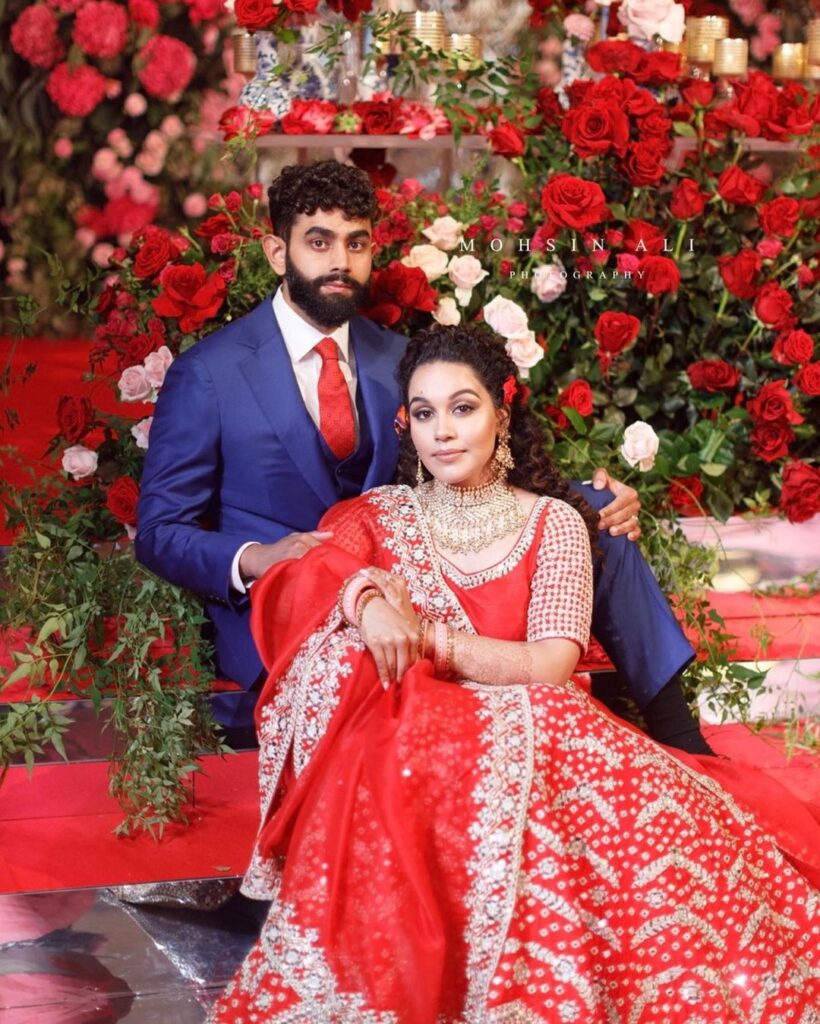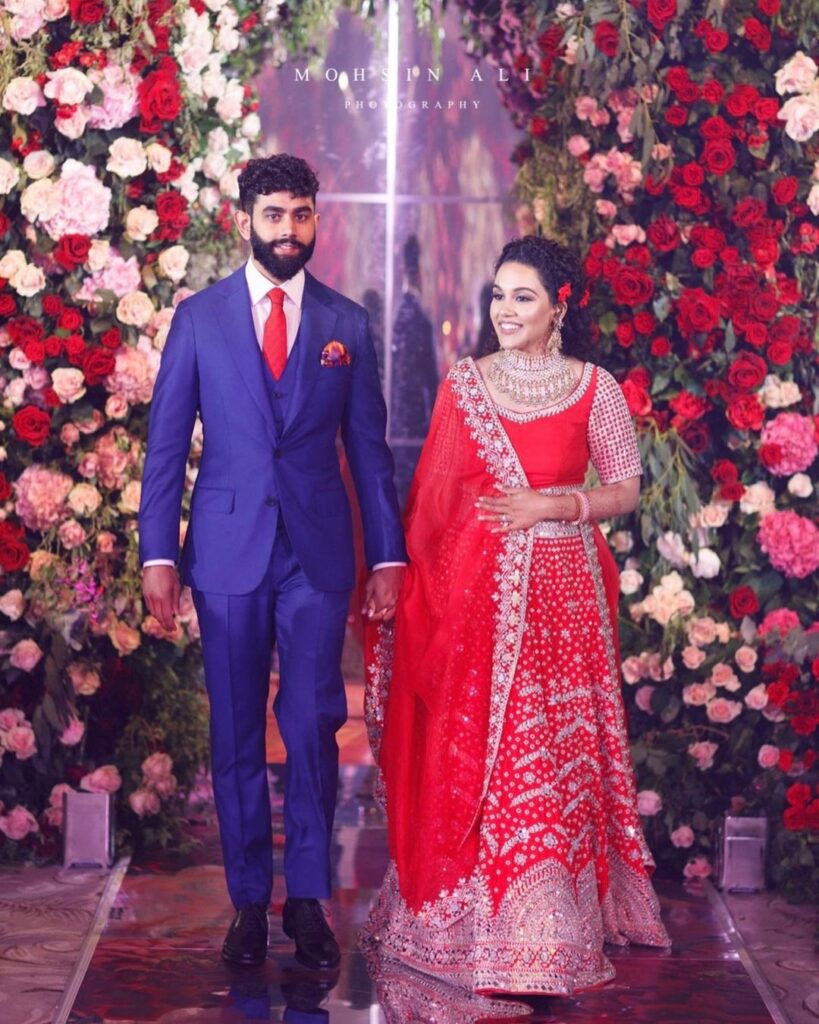 Courtesy: Mohsin Ali Photography
#65 Red Bridal Lehenga With Pink Dupatta
This red wedding lehenga is unique in its own right. The embellished details and design are elevated with blue accents on the lehenga in the form of a peacock, belt, and other motifs. To flaunt the complete allure of her attire, we love how the bride poses with sass before walking down the aisle.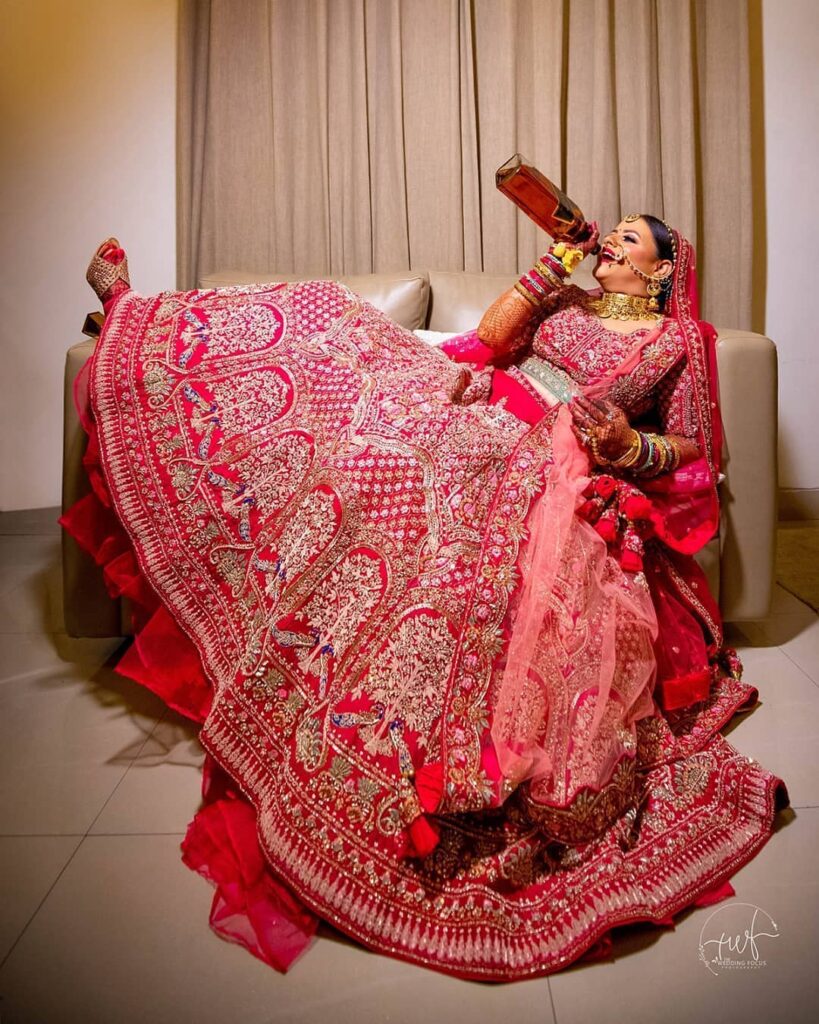 Courtesy: The Wedding Focus
#66 Royal Red Bridal Lehenga
Priyanka Chopra's all-red bridal lehenga has inspired many brides to follow the suit. But while Peecee's lehenga didn't spread much to the ground, hers form small trails on all sides for a truly royal look. She paired her red bridal lehenga with green jewelry that's studded with diamonds and surrounded by gold. The black smokey eyes with nude makeup served as the ideal bridal makeup for the attire.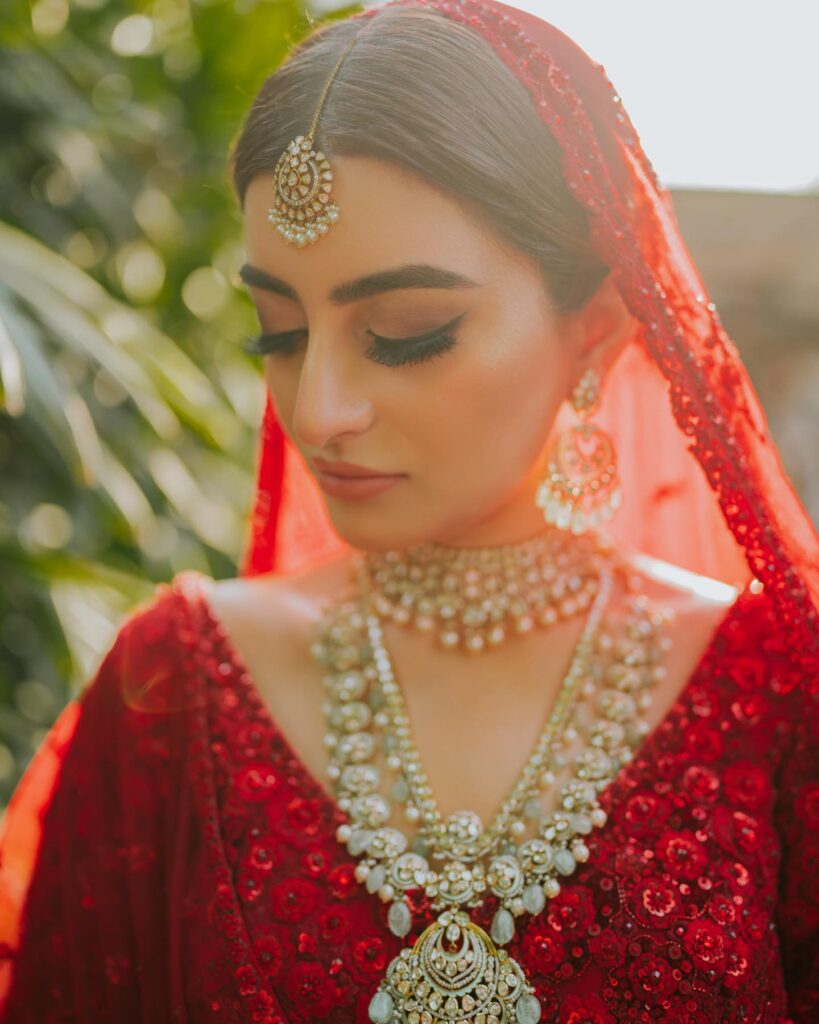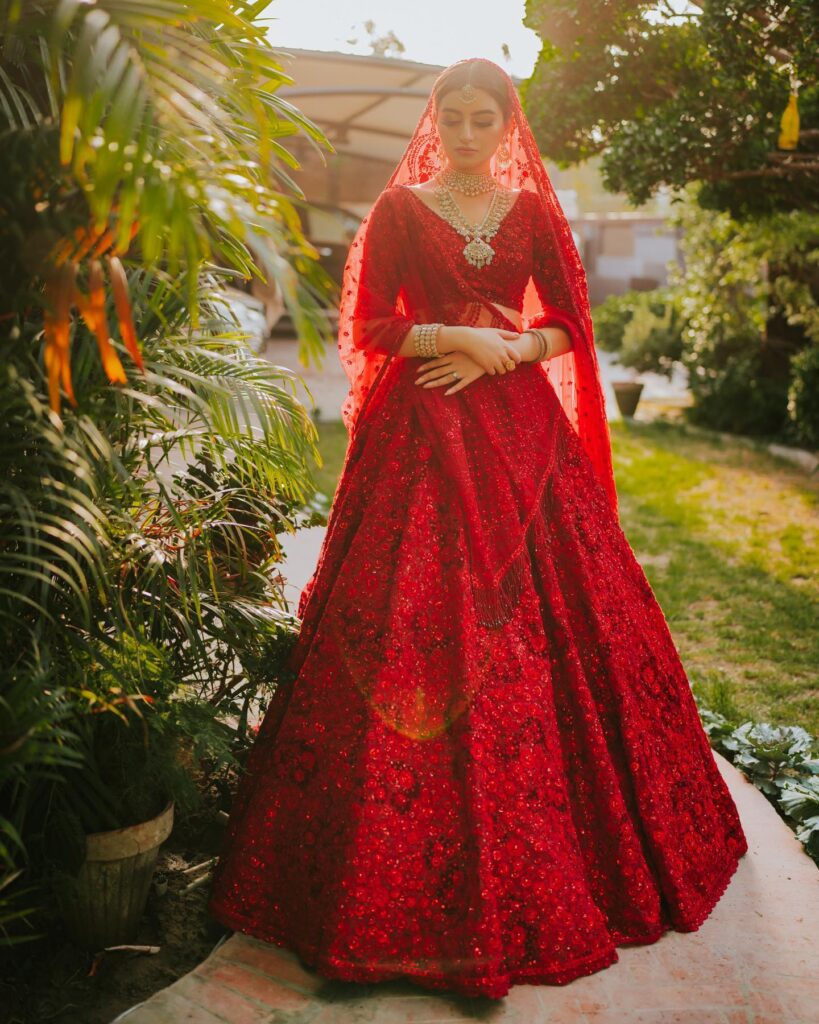 Shot by Sara Idrees
#67 The Ideal After-Wedding Look!
Komal not only inspired us with her stunning wedding looks, but she is still giving us some major Indian wear inspiration with her blogger account. She wore a captivating creation by Aditi Gupta whose designer red lehenga prices lie in the mid-budget range and are priced at around 40k to 75k. The red bridal lehenga with green jewelry is also a great combination for red lehengas in general and perfect styling for those who don't have much fashion knowledge or are still exploring the Indian fashion sense.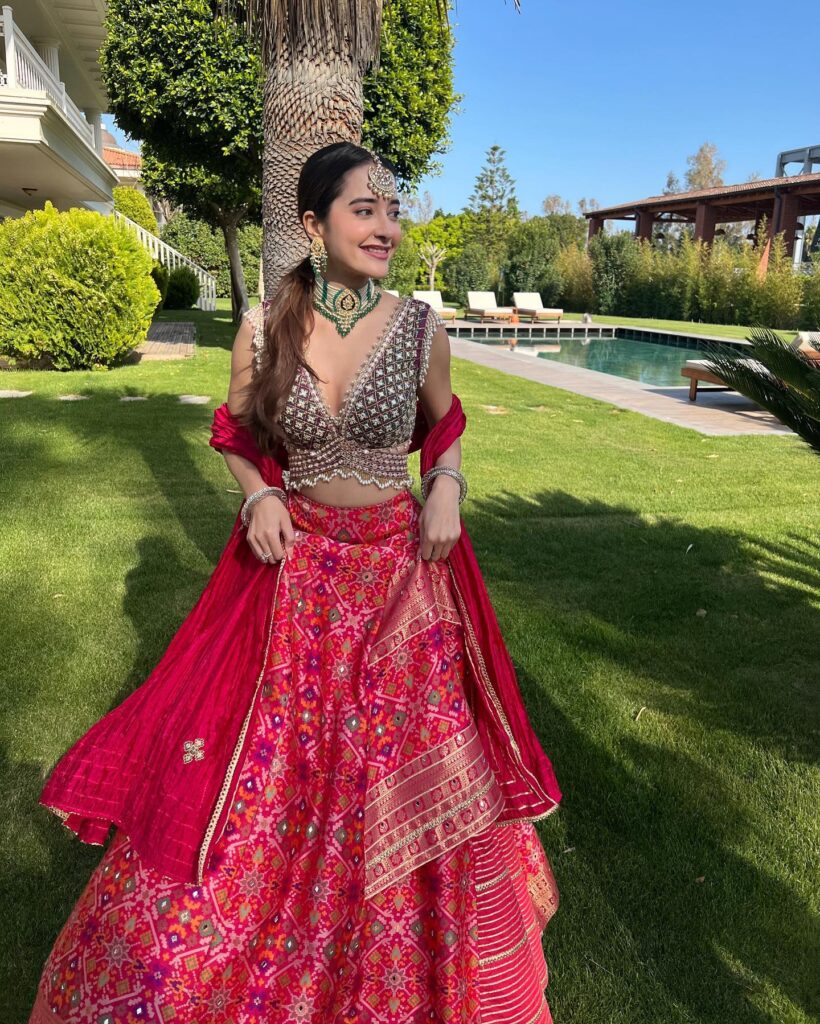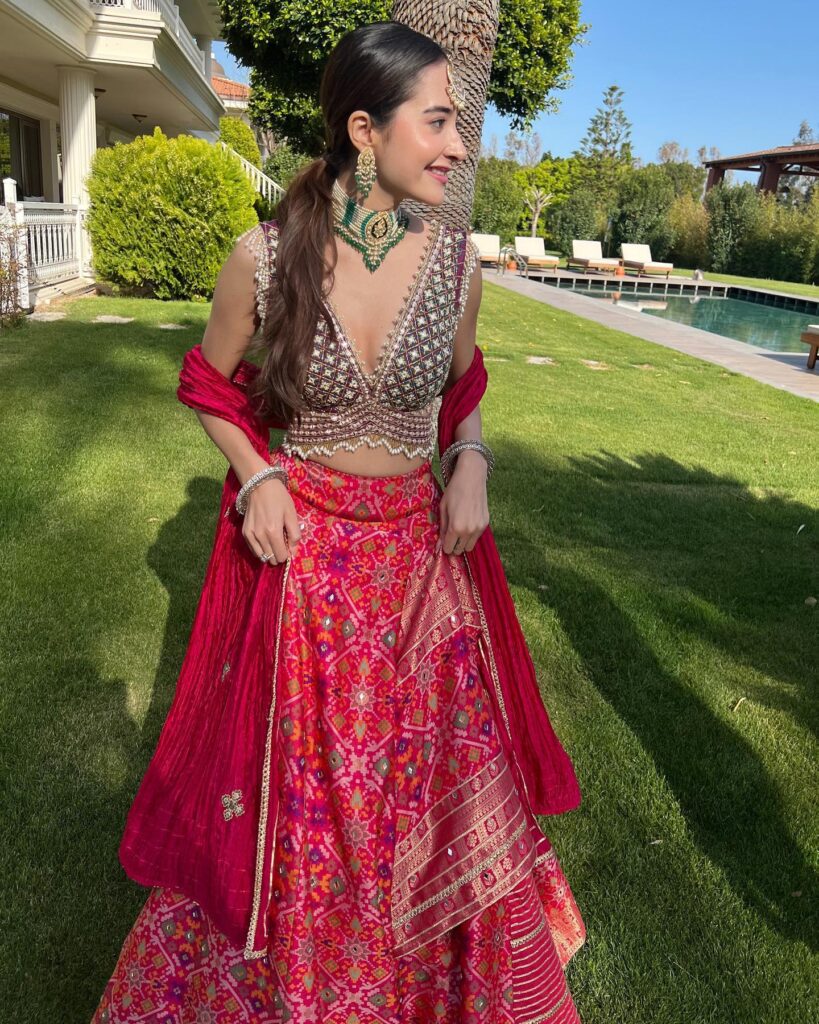 #68 Royal Red Bridal Lehenga In Velvet
If you're looking for a royal red bridal lehenga, then opting for velvet cloth in the lehengas is a superb option. Velvet generally exudes regality and requires minimal styling to complete the look. You can complement your velvet bridal lehenga with Kundan pieces for a ravishing look. The mogra bun flowers are also an excellent addition to this wardrobe.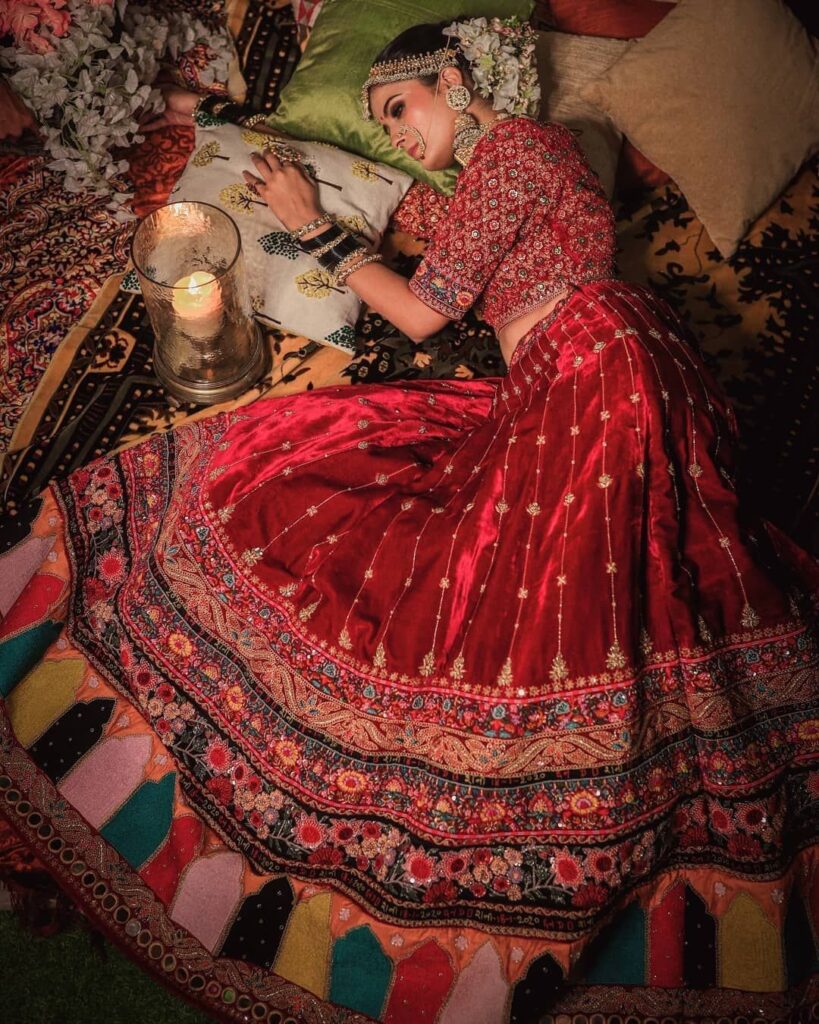 Courtesy: Sejal Savaliya
#69 A Red Lehenga That's Modish & Girlish
Red is often associated with brides and unmarried women or bridesmaids steer away from the hue because of the narrative around it. Although, fashion influencer Shereen slashed that narrative in this wonderful attire. You can always trust fashion influencers to give you advice that amps up your fashion quotient and build looks that will make you stand out from the crowd.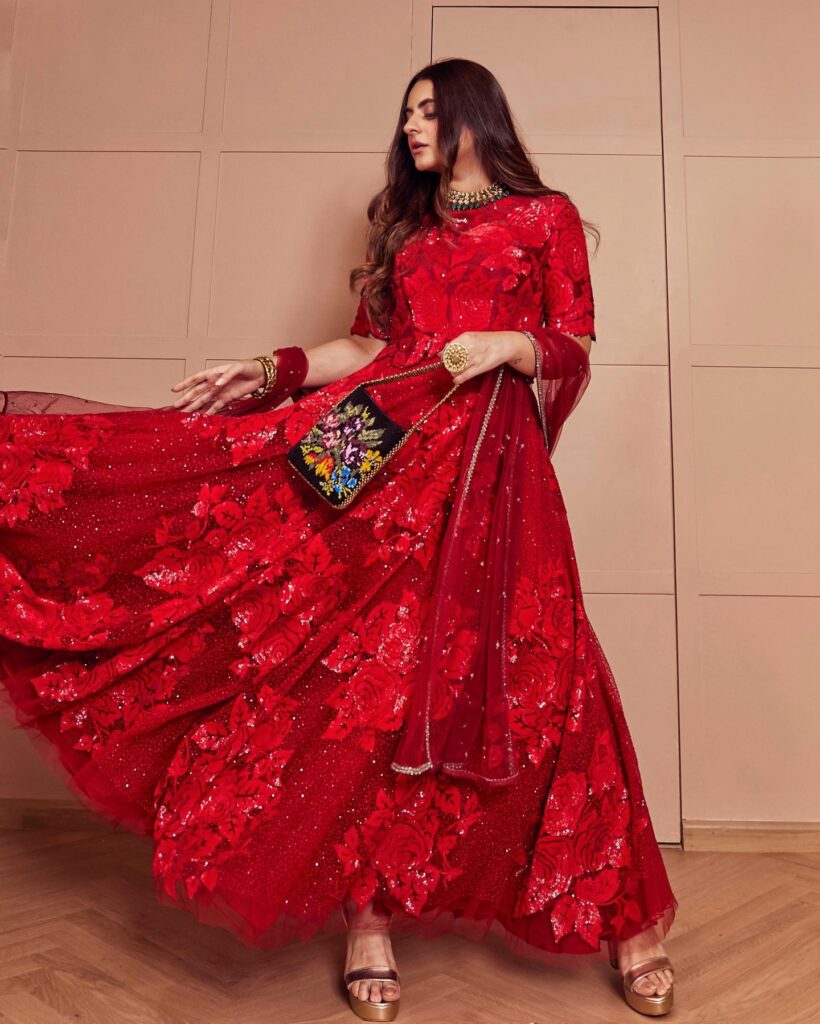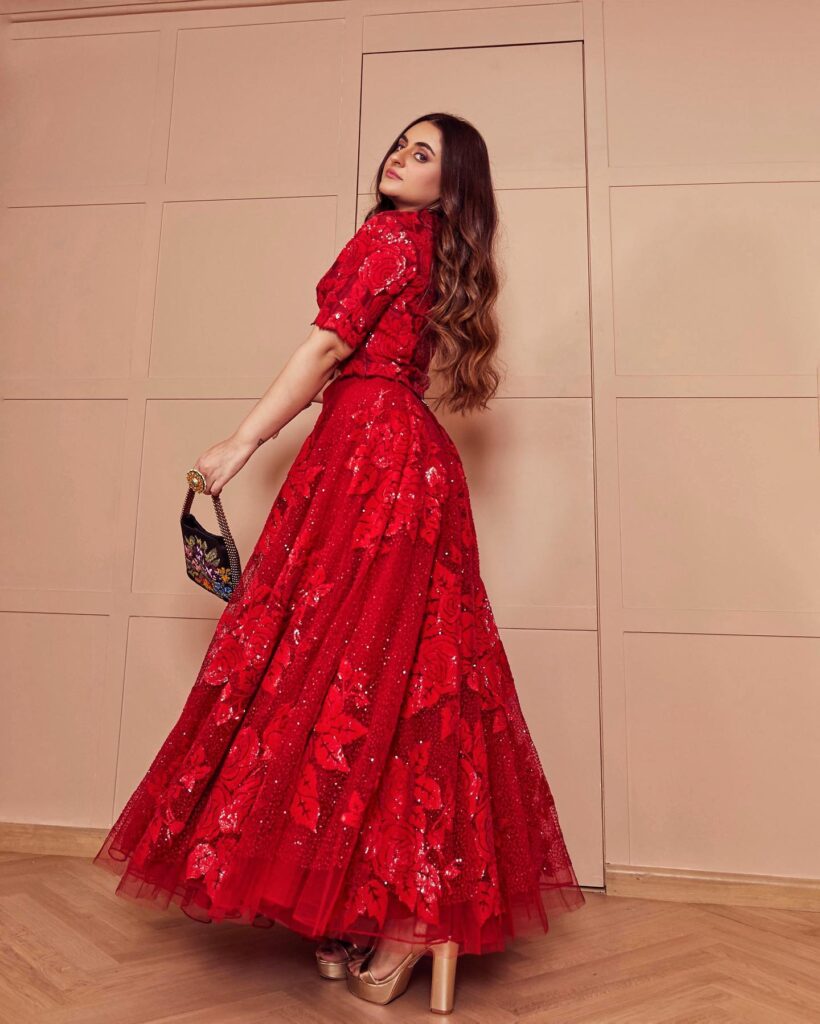 #70 A Classic Red Lehenga With Pink Dupatta
Besides red, pastels and pinks are also common colors worn by brides on their special day. If not included as the main lehenga color, pink is often the hue of one of the double dupattas, like in this case. The bride smartly took her pink dupatta and draped it around one side to cinch at the waist. This dupatta draping style is perfect for brides who want to enhance their waist and accentuate their figure.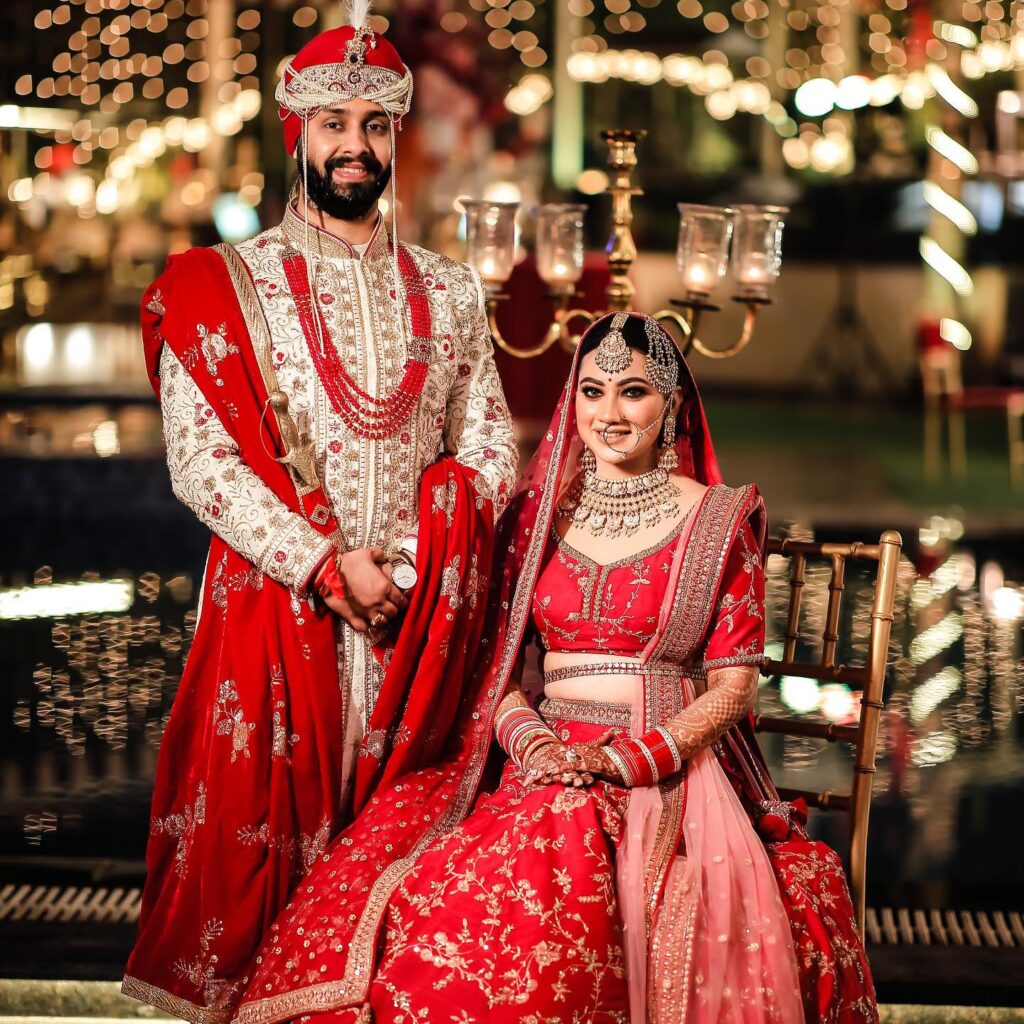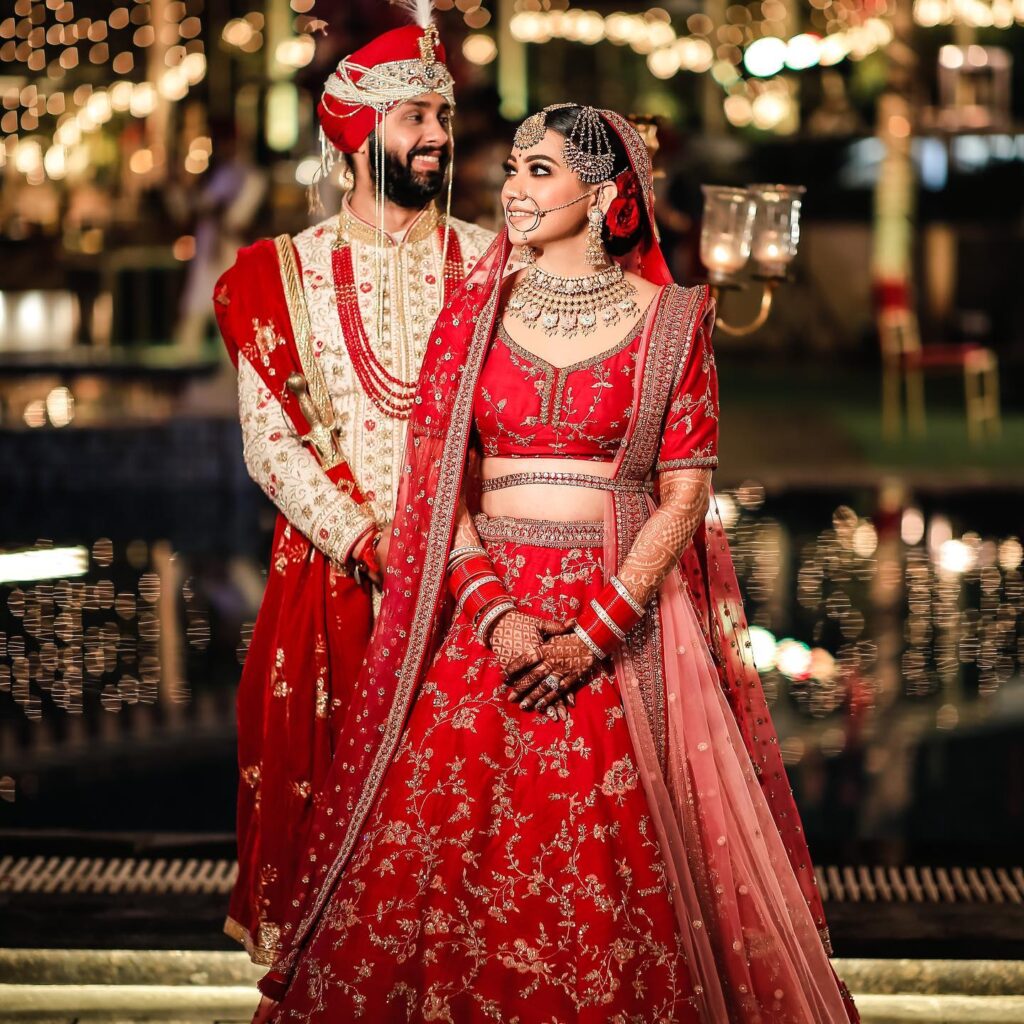 Courtesy: Leena Bhushan
#71 Heavily-Sequined Lehenga For Cocktail Night!
For brides who aren't donning red at their wedding and yet want to include the color in their trousseau, opt for the hue on some other event. Heavy bridal lehengas in sequins are quite versatile and can be worn on a special day or cocktail night depending on how you style the attire. Like in this case, the bride paired the attire with side-swept hair, heavy makeup, and diamond jewelry to give it the ideal cocktail styling.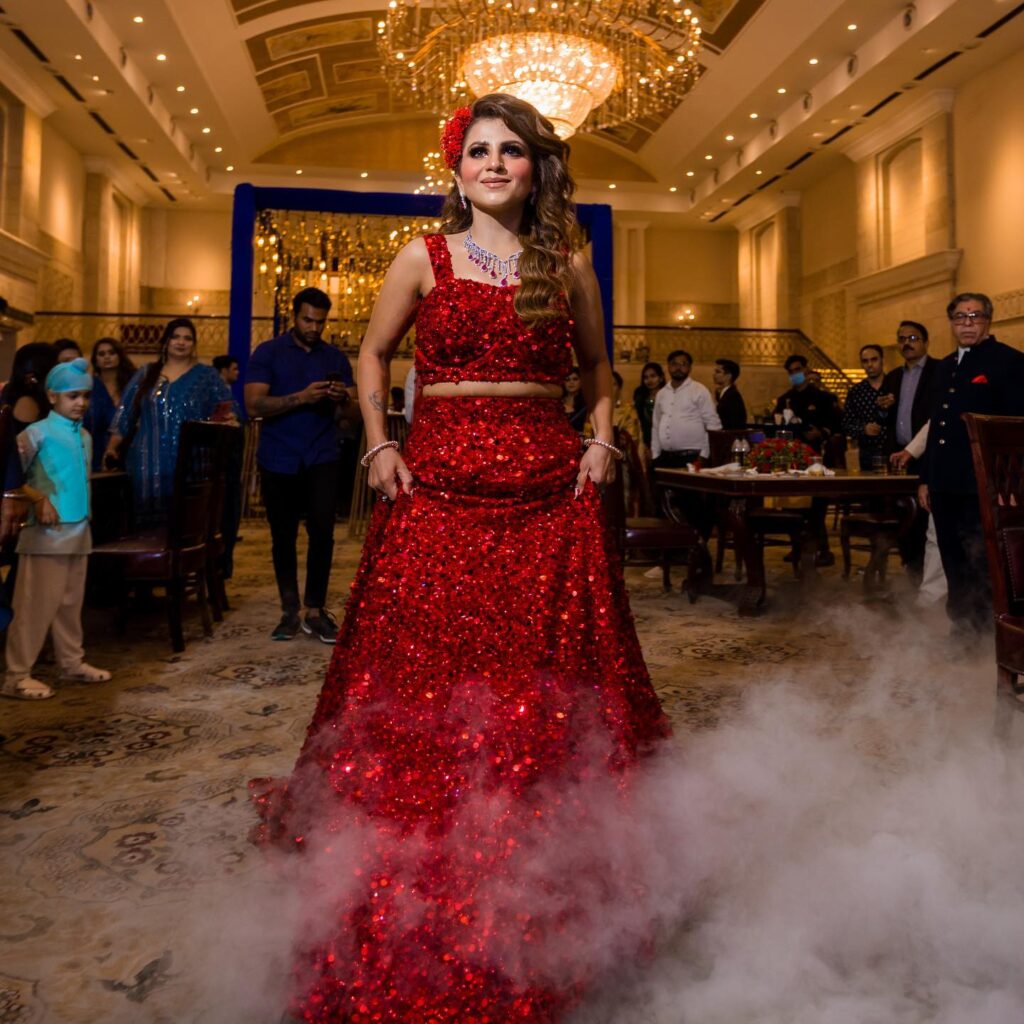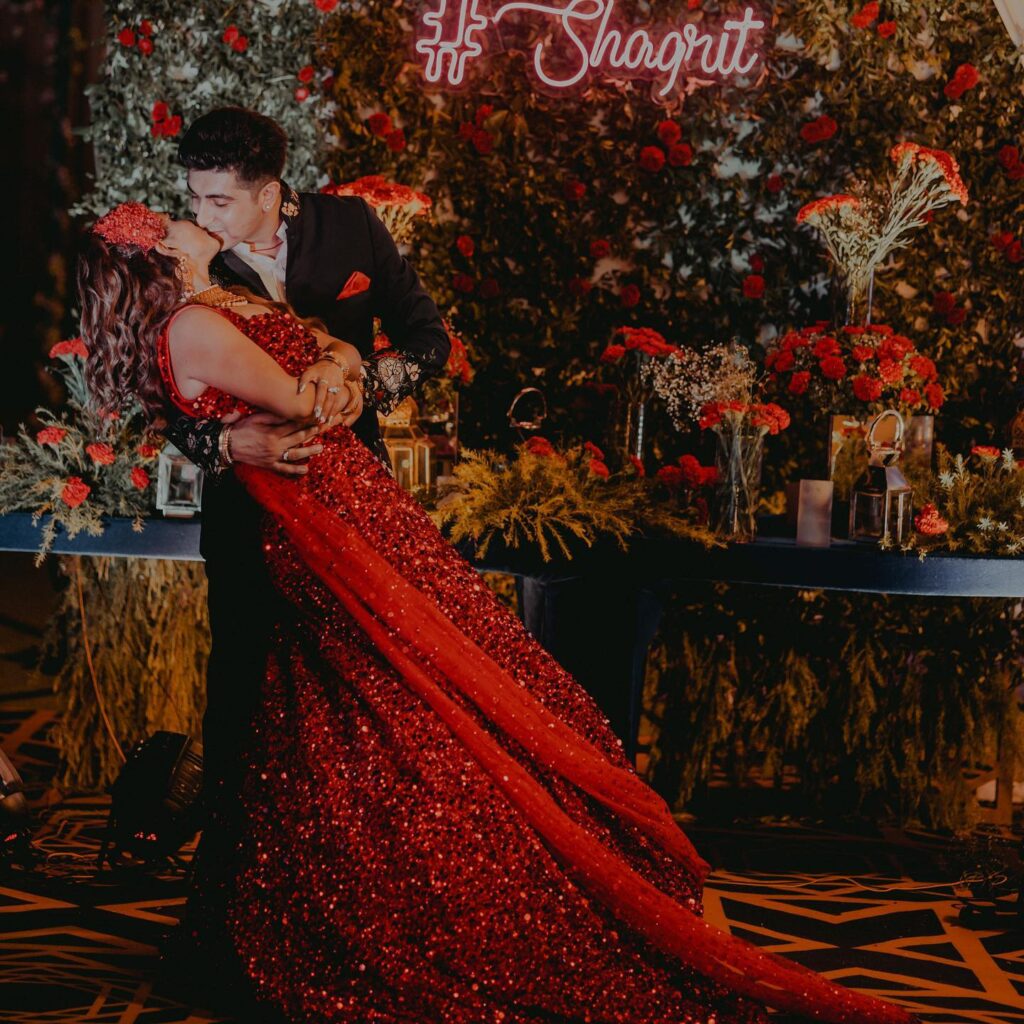 Courtesy: Leena Bhushan, Suneet Varma
#72 Combination of Gorgeous Colors! 
Confused between red & pink bridal lehenga colors? This paneled lehenga in alternated pink & red colors solves the problem well. Each panel is also embellished with unique and intricate work so it beautifully compliments the design. This red bridal lehenga with double dupatta is unique and phenomenal, and a classic one you will cherish for the years to come.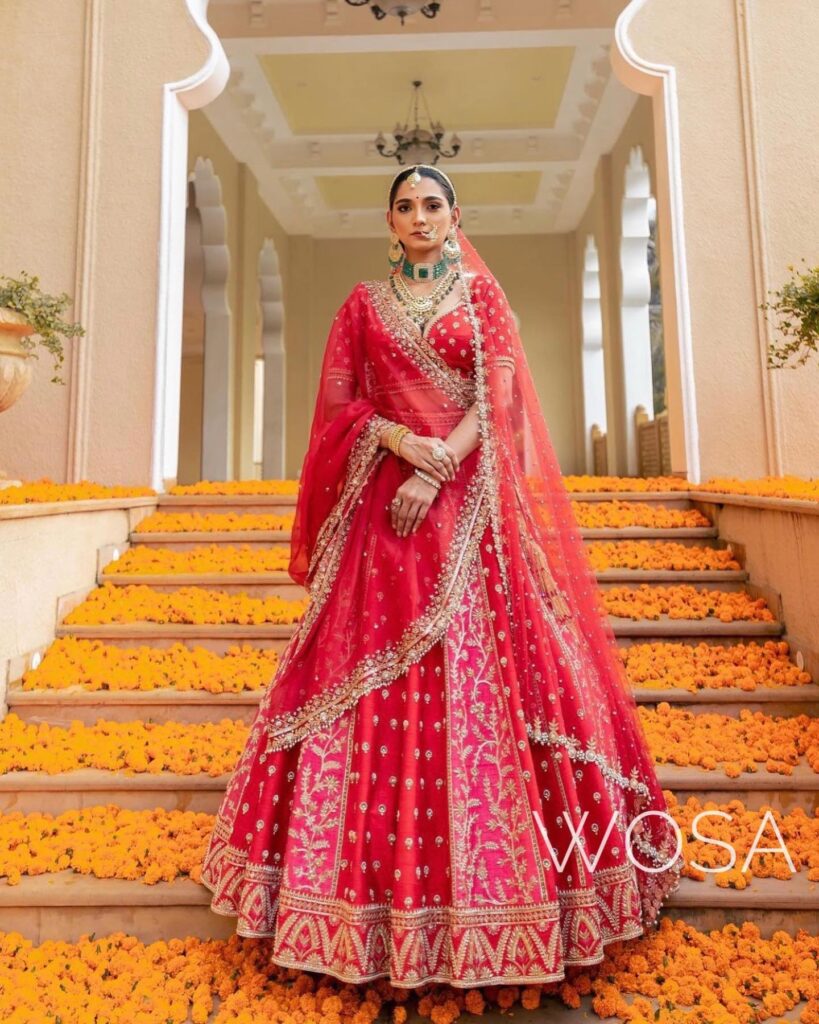 Courtesy: @wosa_np
#73 The Intricacy Of This Mirror-Work Is Jaw-Dropping
Seema Gujral's lehengas are popular for their arresting mirror-work and threadwork embellishments. While famous for her sangeet and cocktail lehengas, she has recently released a few red lehengas – all meant to woo the millennial brides in her signature work. The one featured below has some dazzling mirror work and surely forms a part of heavy red bridal lehengas. This red bridal lehenga's price is Rs.1,68,000/- and you can buy it here.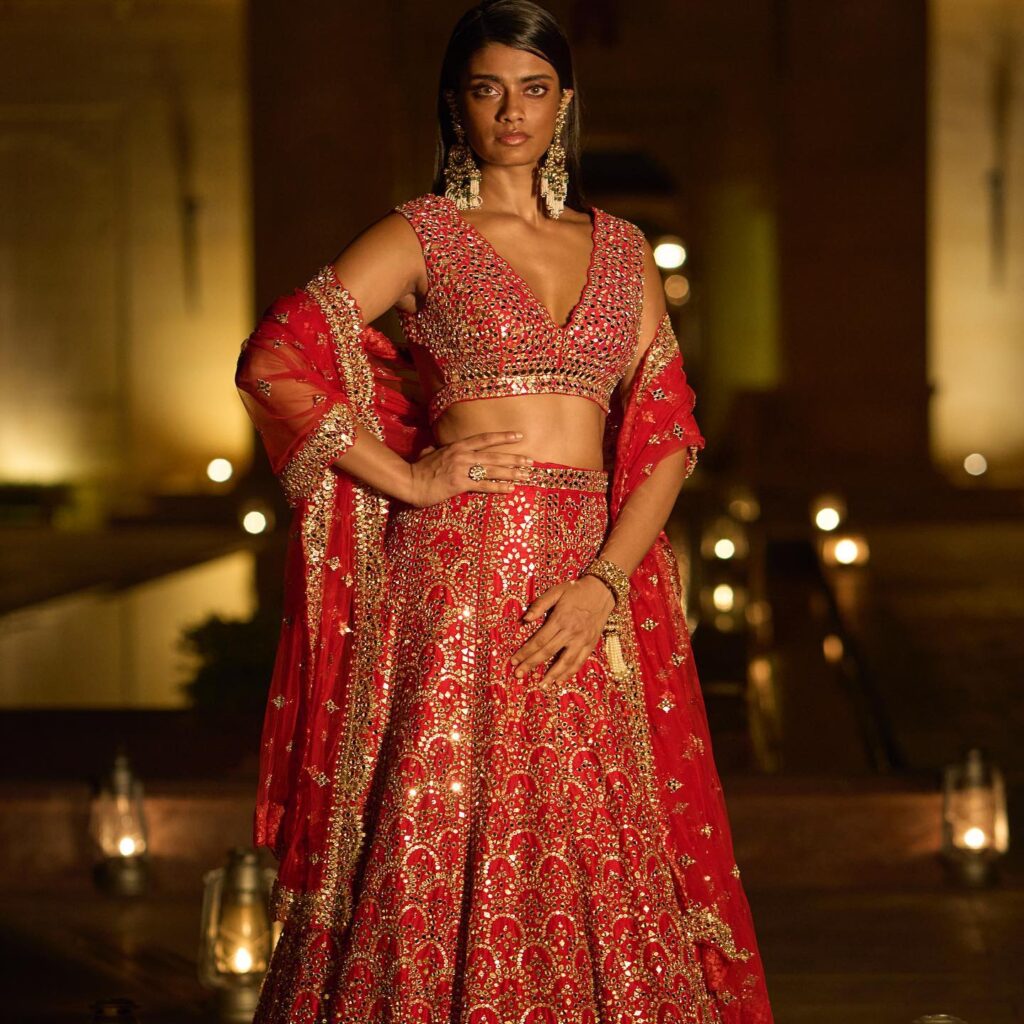 #74 A TradItional Blouse Design To Accompany The Red Lehenga Skirt
In Punjabi & Sikh culture, a blouse that extends to the mid-thighs is quite common. For Anand Karaj, many brides still wear this design and are even seen in gorgeous anarkalis from time to time. If you're looking for inspiration for the former (because we understand it's hard to find), then consider this magnificent attire with intricate embroidery.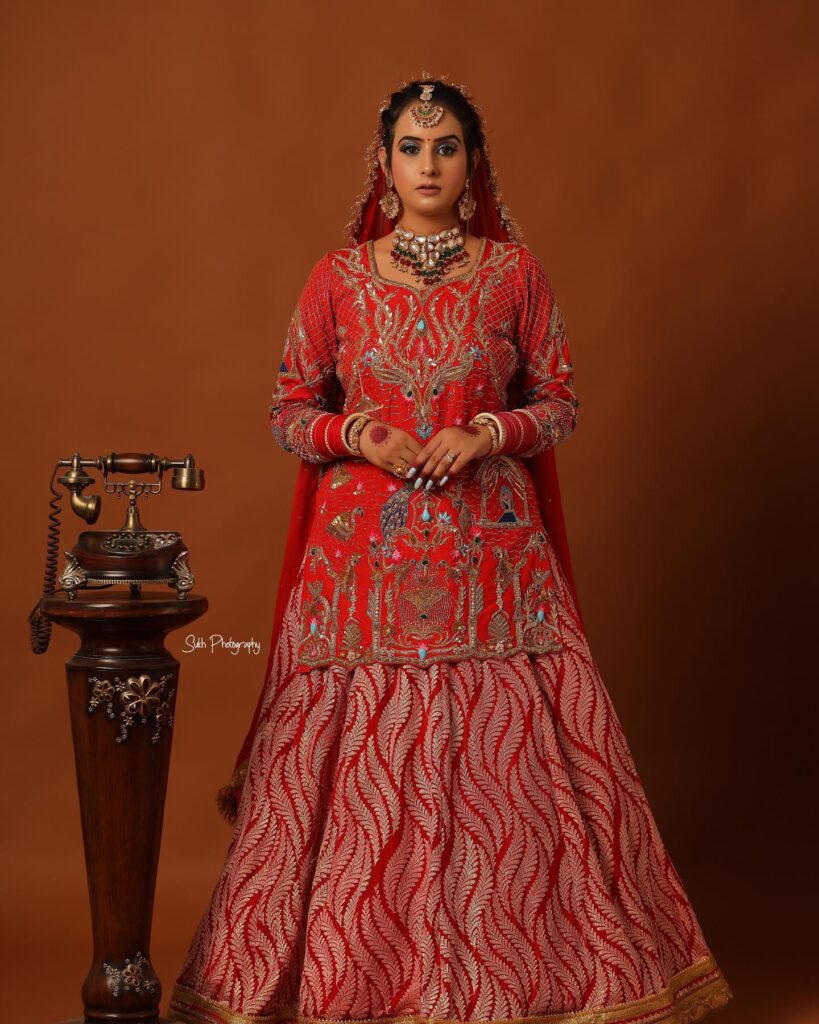 Designer: Aman Walia
#75 Blood Red Royal Red Bridal Lehenga
When your idea of being a bride is all about going OTT, then, of course, choosing a lehenga that exudes those attributes makes sense. Take inspiration from this bride on how to nail the OTT bridal look with a heavy red bridal lehenga with green jewelry and a stunning makeup look.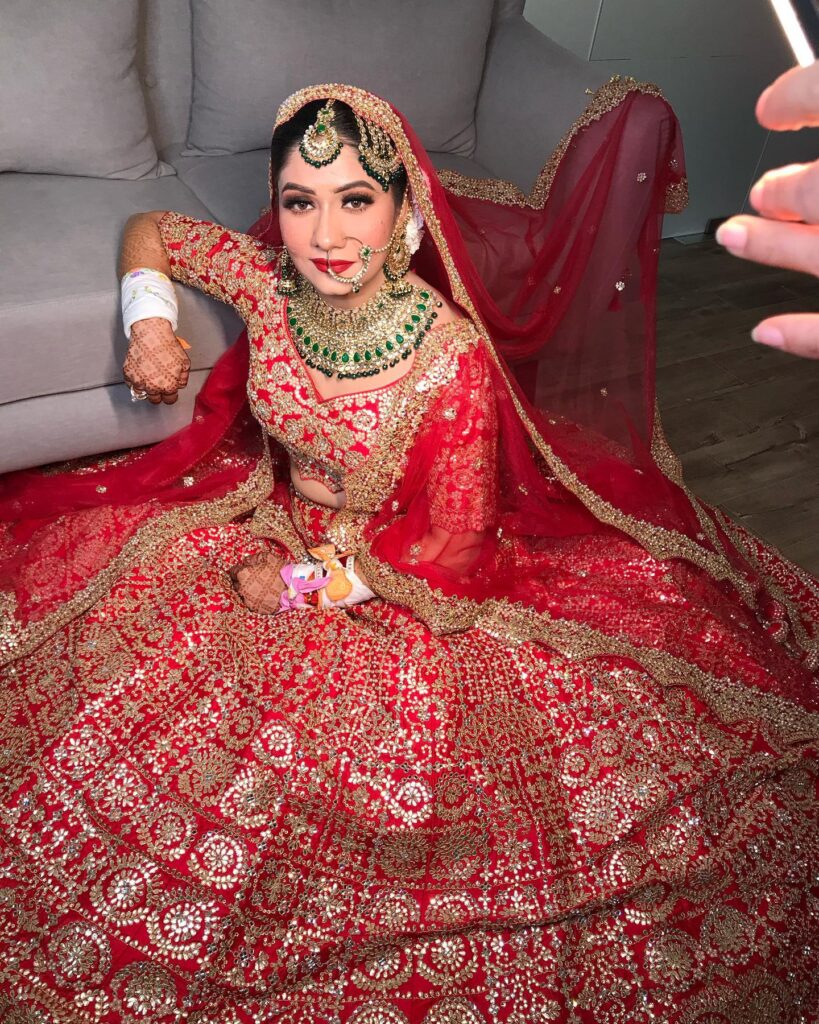 Courtesy: Leena Bhushan
#76 An Exquisite Attire For Your Beach Wedding
Pastels are generally chosen by brides to match the aesthetic element of the beach, but clearly, you can also wear red and look flawless in it. Bride Tosha chose a Manish Malhotra lehenga for her beach wedding. The lehenga has a dramatic flare & alluring work on the hem. Her styling further amped up the subtle beauty of the bridal attire.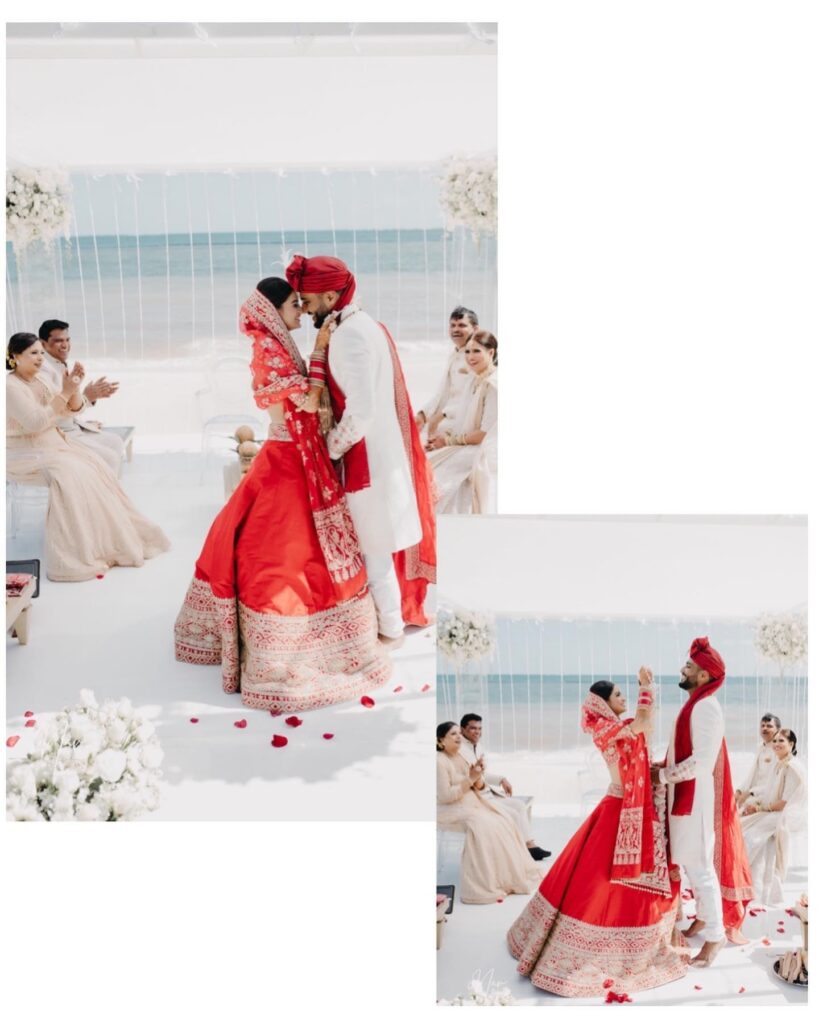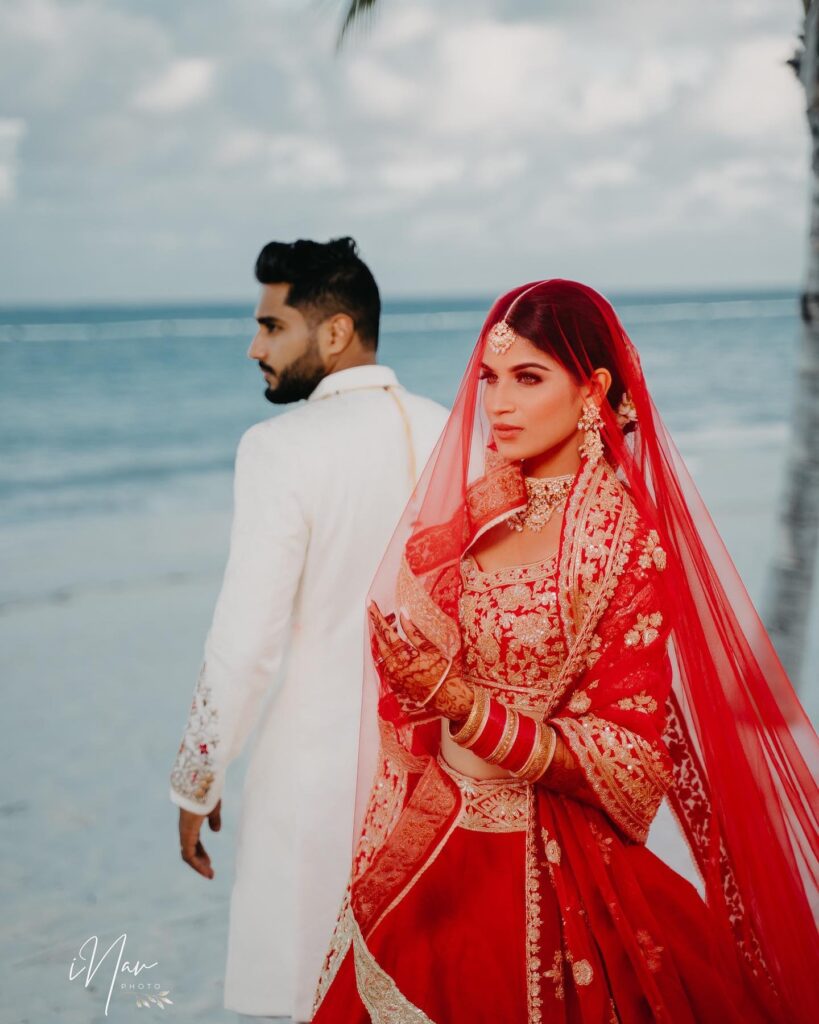 #77 Even Celebrities Love Red For Their D-Day! 
Besides Anushka, Bollywood's leading ladies Deepika, Priyanka, and Katrina all opted for a designer red bridal lehenga by Sabyasachi on their wedding day. Katrina Kaif's wedding attire featured elaborate embellishments and the dupatta was encrusted with hand-beaten gold. She made her entry with her sisters under a traditional phoolon ki chaadar and we loved the patriarchal standards she broke by having her sisters, not her brothers carry the chaadar around her.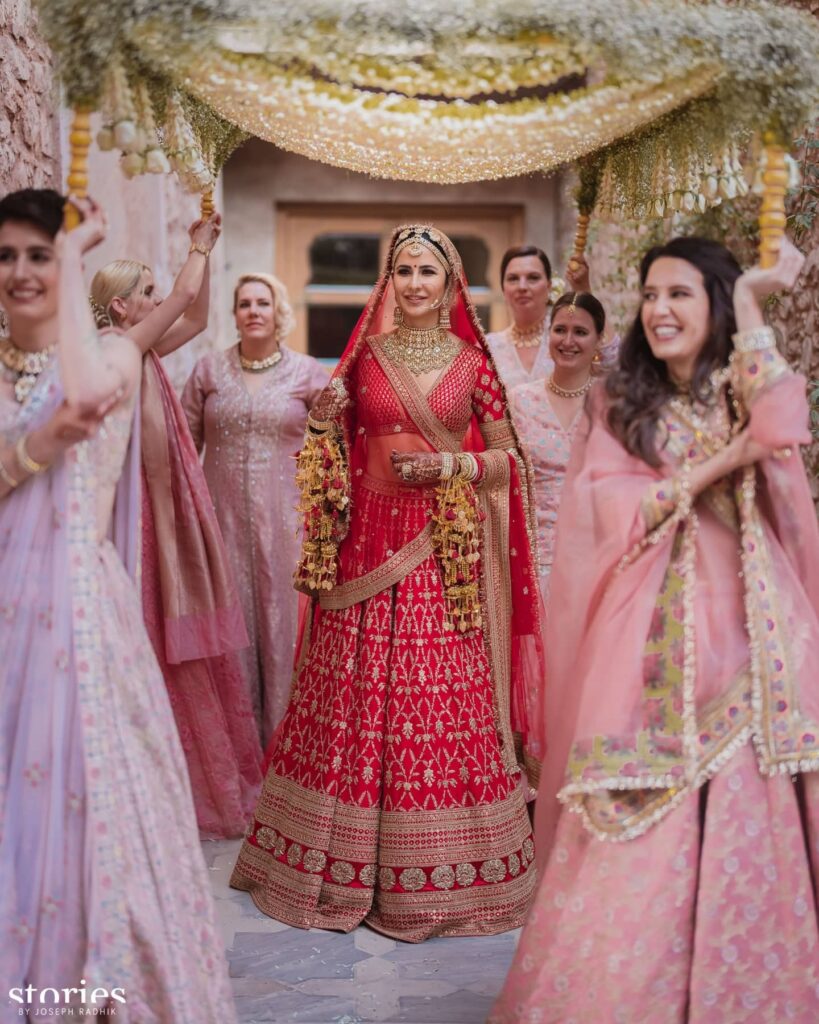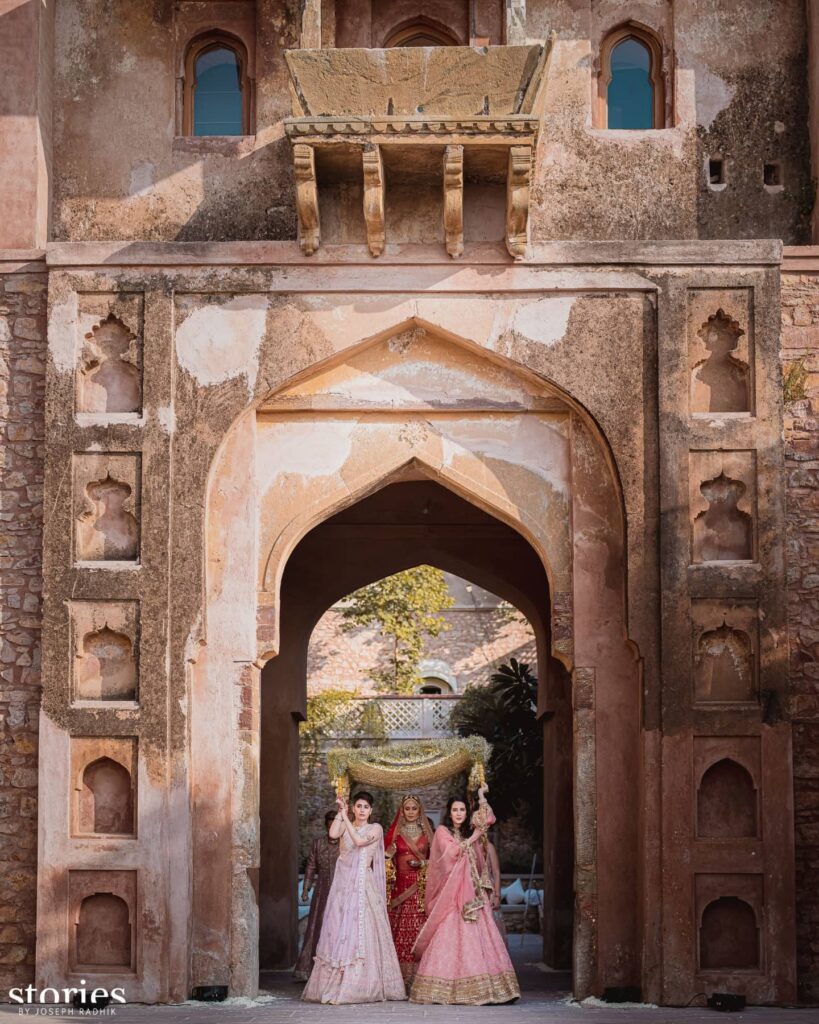 #78 A Royal Red Bridal Lehenga In Red & Golden Color
While the bride's royal red bridal lehenga is stealing some attention, we can't take our eyes off her blissful smile and the candid portraits. This is the kind of happiness that makes all the wedding planning stress worth it in the end. Save these amazing pictures for the attire as well as the candid photo inspiration on your wedding day.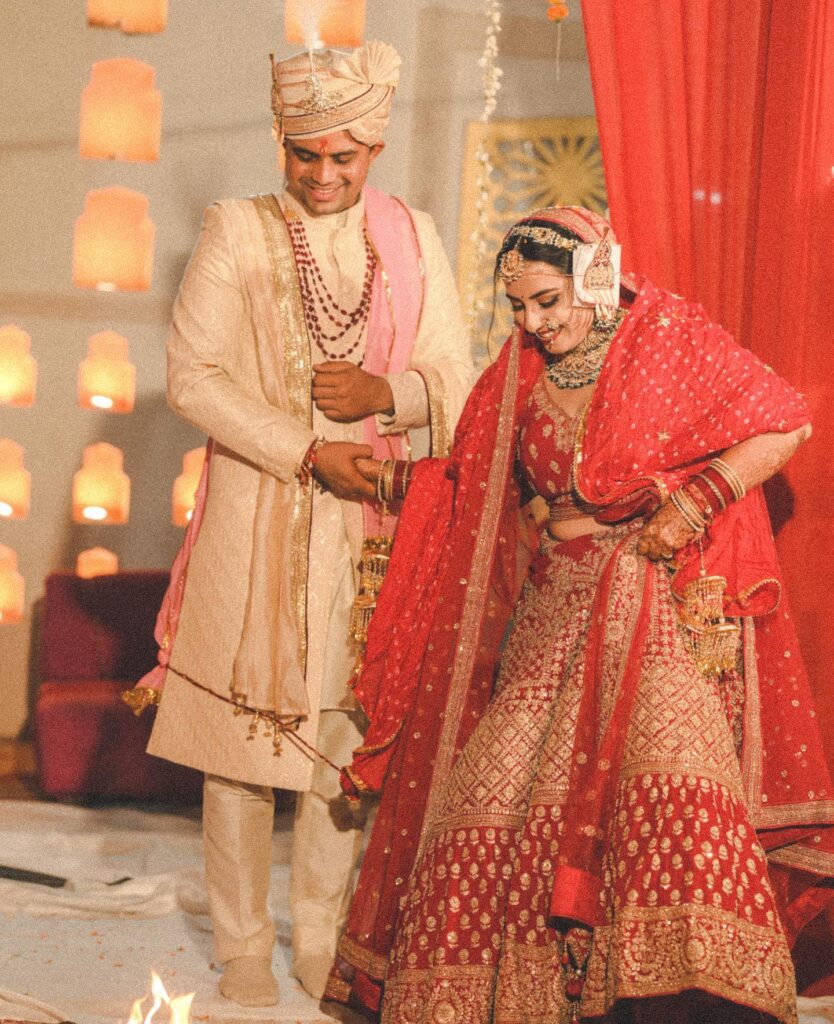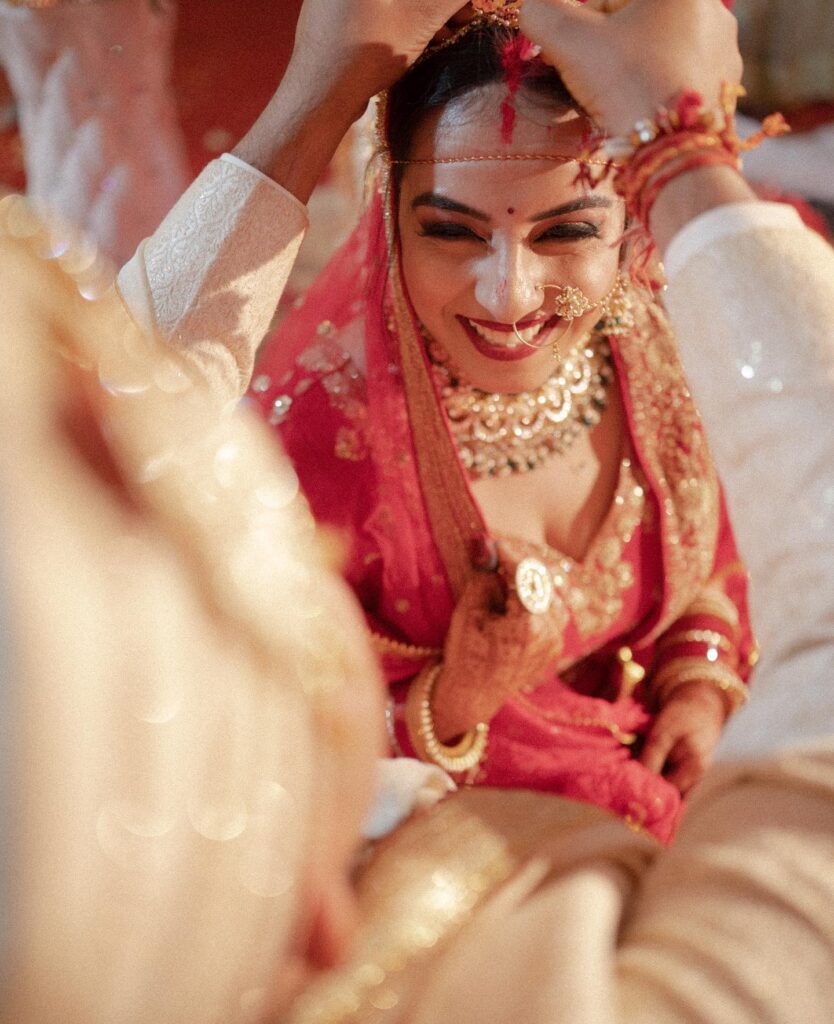 Courtesy: Sandhya Maan
#79 Maroon Lehenga With Intricate Work!
When you're picking a red bridal lehenga with double dupatta, we often resort to net cloth options. However, if you want a royal look on the D-Day, then opt for a double dupatta that's heavy and features a handloom dupatta. This bride, for example, chose benarasi and patola dupattas to complement her blood-red color bridal lehenga in handwoven work by Anita Dongre.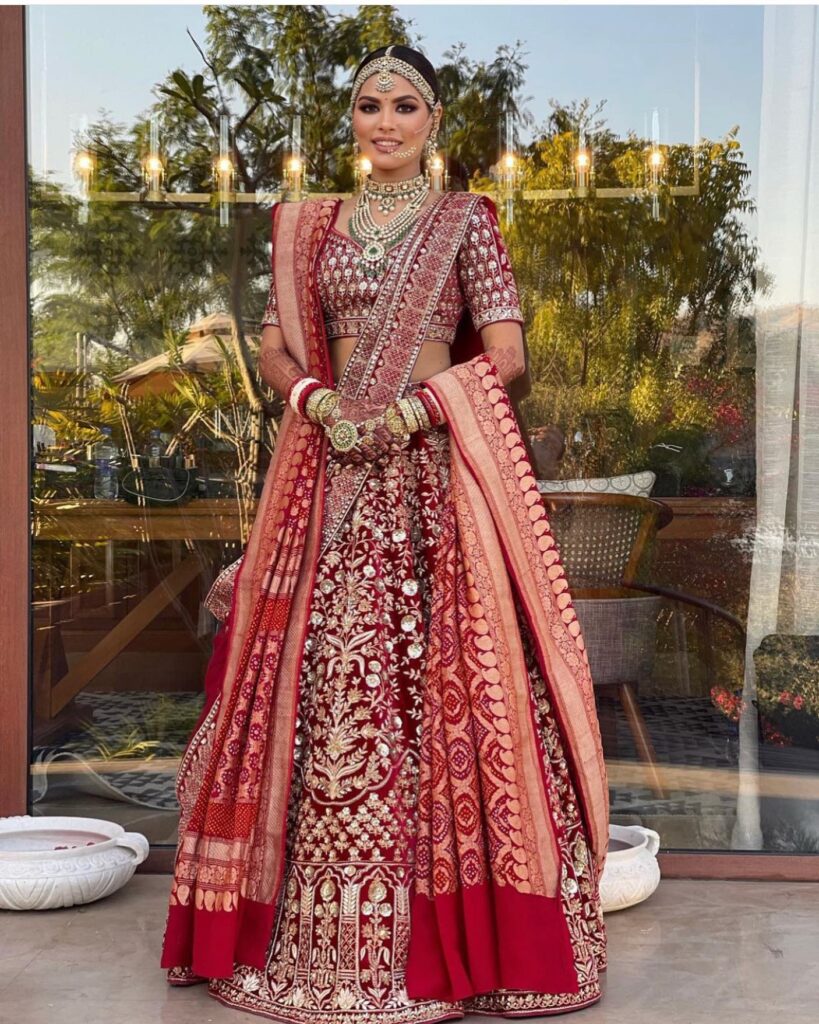 Lehenga: Anita Dongre, Makeup: SP Eastland
#80 A Simple Wedding Red Bridal Lehenga
Some brides want functionality and movement at their wedding, and hence, printed lehengas with light work make for an ideal pick. Silk lehenga with zari, pearls, and threadwork are popular, but they add to the weight of the lehenga quickly, especially if there's a lot of work on the lehenga. Scroll to see the pearls on her kaleerei and how ravishing they look!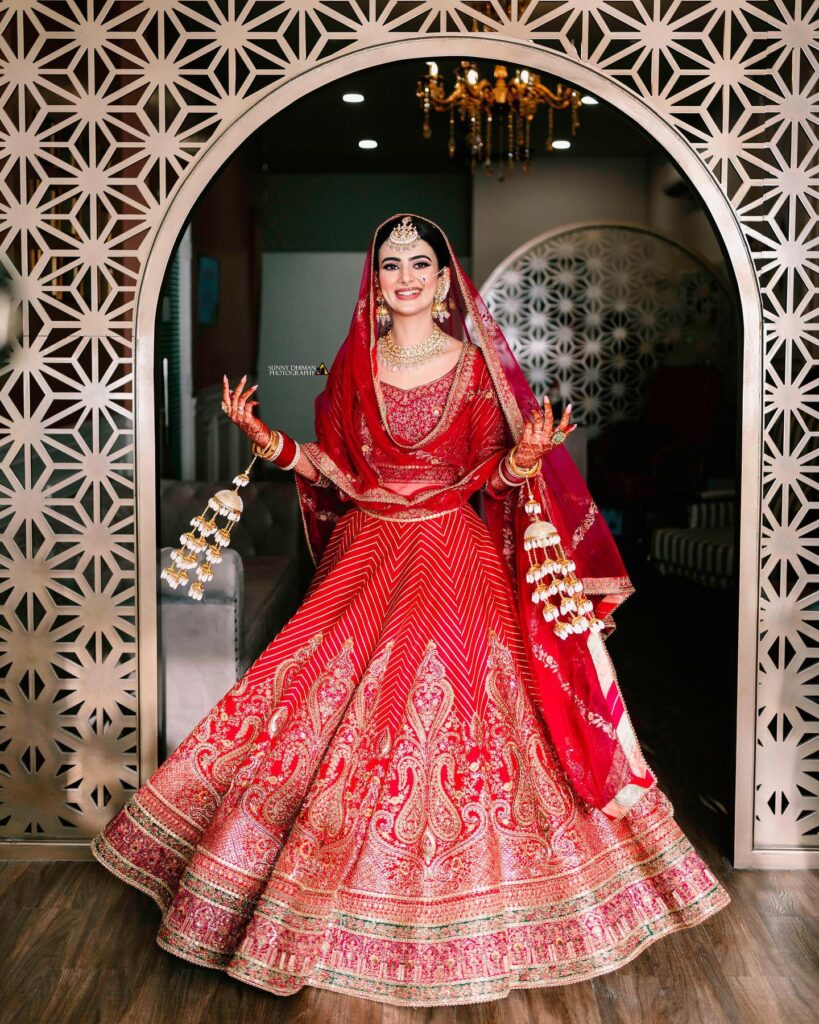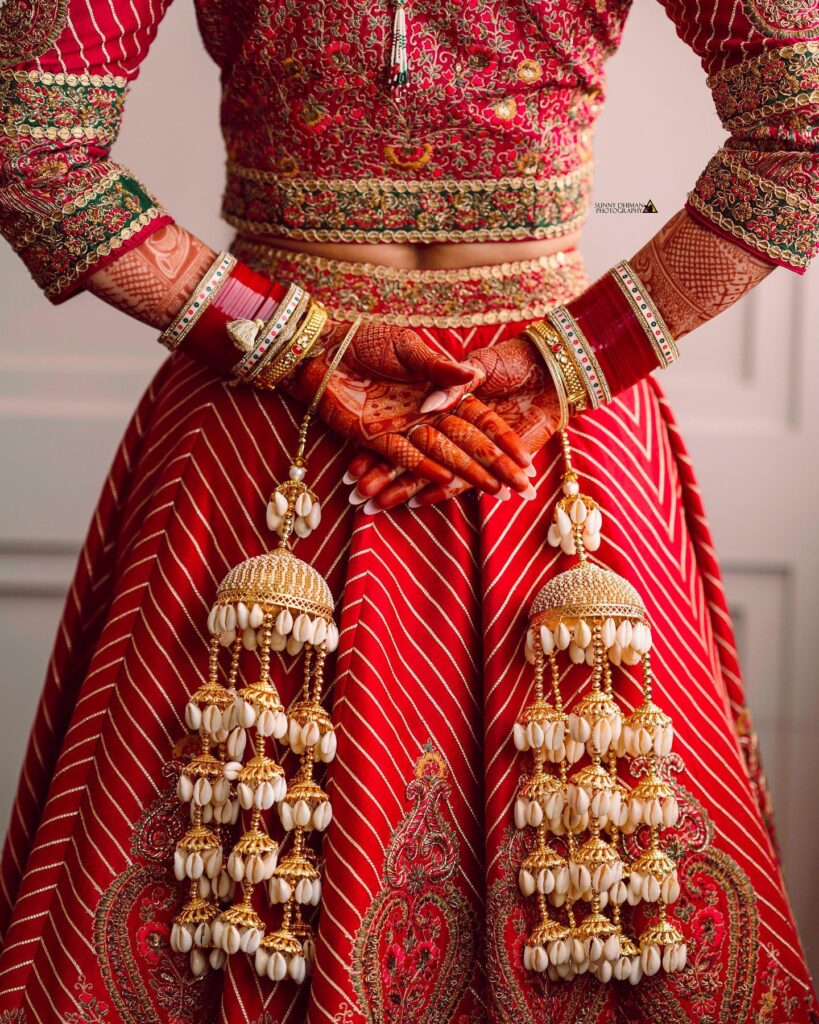 Courtesy: Sunny Dhiman Photography
#81 An Intricate Lehenga & A Beautiful Bride
This bride's exquisitely designed lehenga with intricate work is absolutely stunning, but also we also love her second portrait where her smile & eyes are grabbing all the attention. We love how she opted for a small choker set, when the norm is to go for a heavy set when you have a deep neck. It's a fresh styling pick and looks gorgeous. Surely when it comes to designing your wedding look, pick the elements which work for you, and not what's generally accepted or considered fashionable.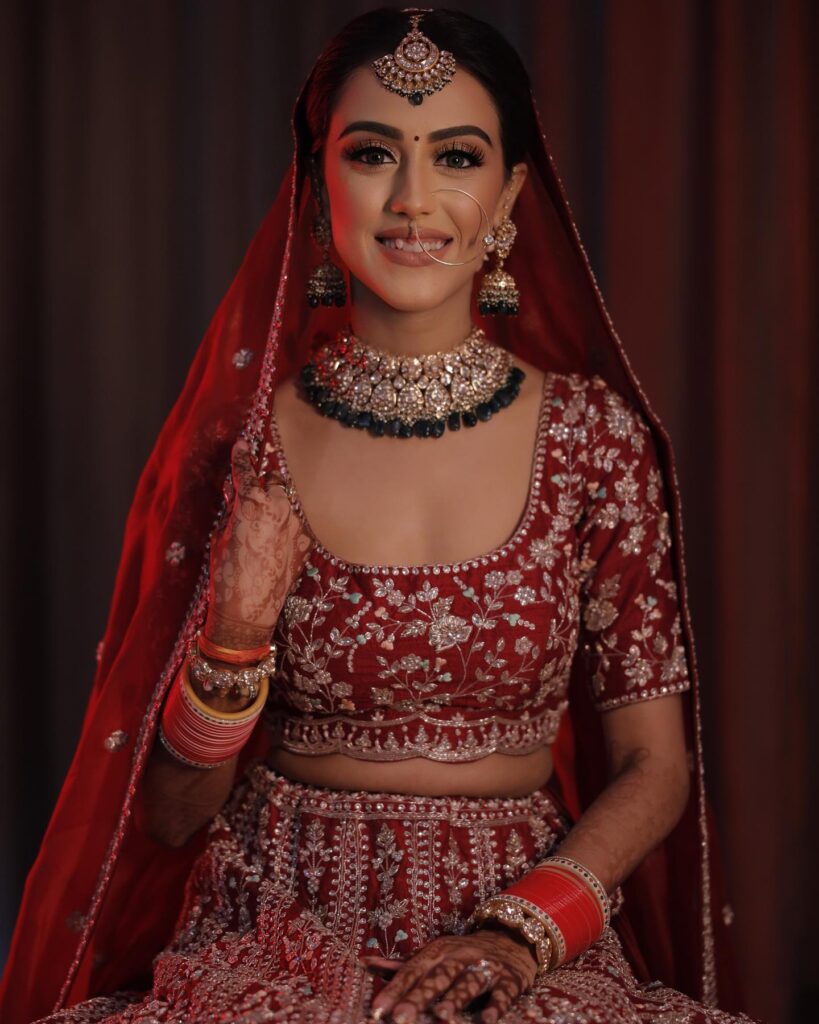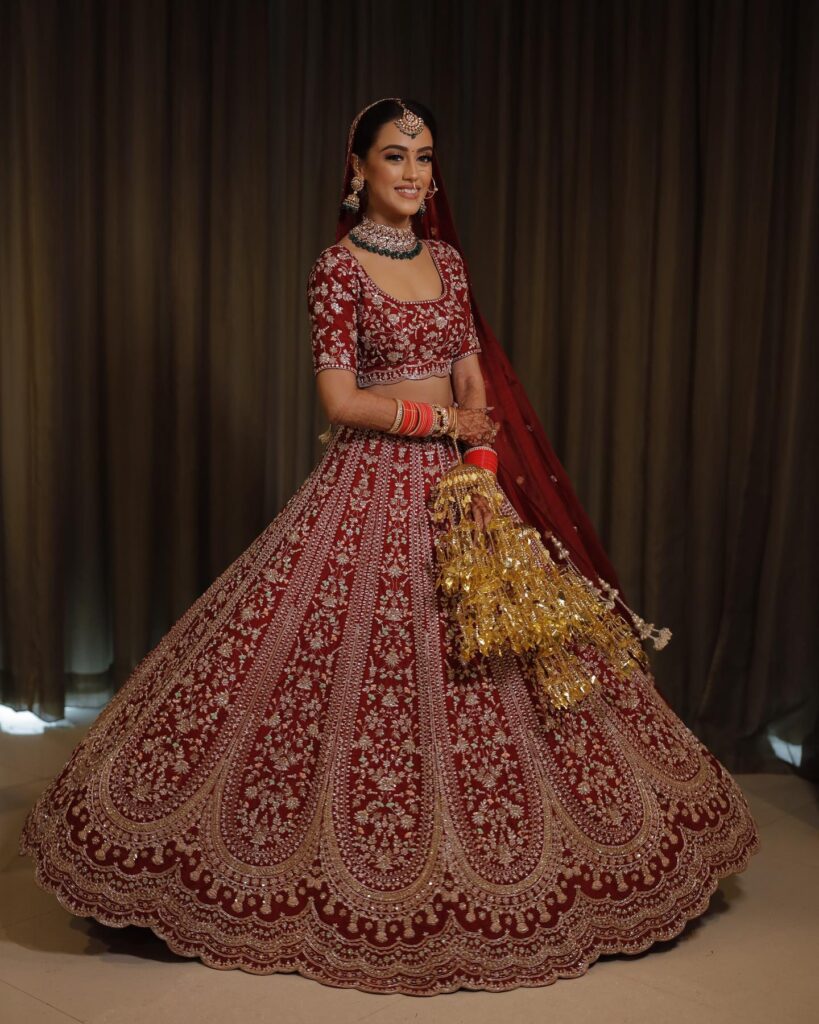 Courtesy: Ridhi Verma
#82 Simplicity & Perfection
This bride went the simple way and chose a simple yet royal red bridal lehenga for her wedding. She styled it with minimal jewelry pieces, dewy makeup, and red choora. For brides who want to radiate minimalistic elegance on their wedding day, this look is just the inspiration you need to achieve the same.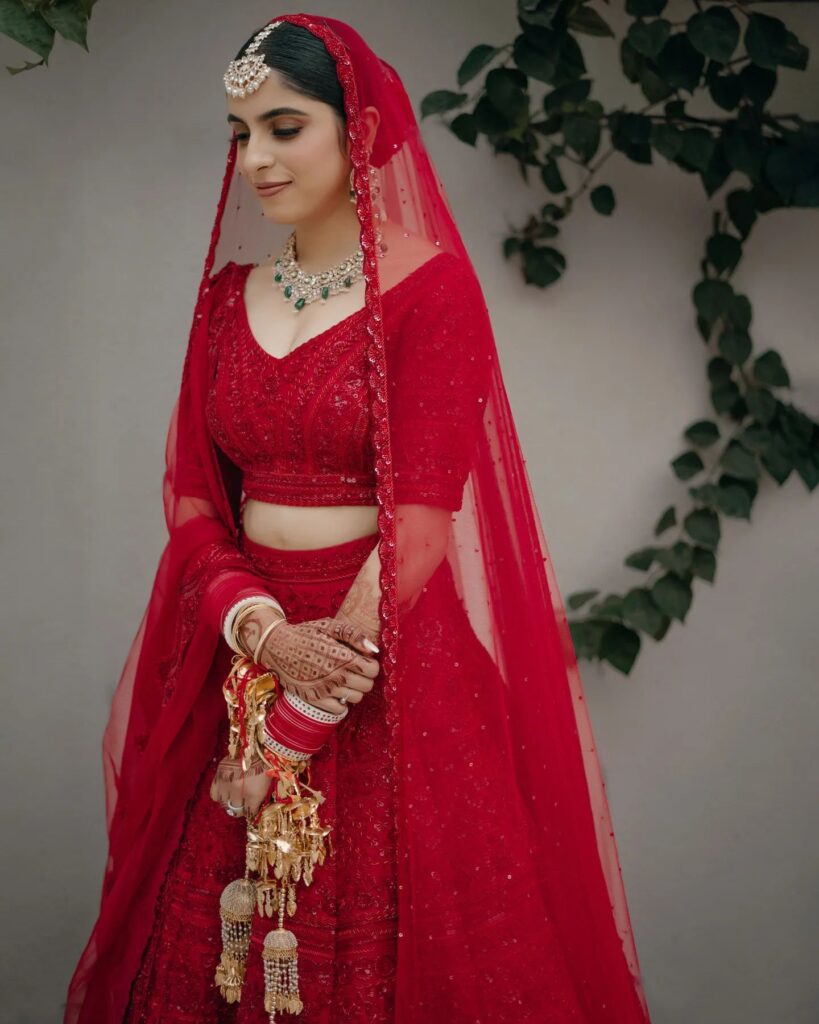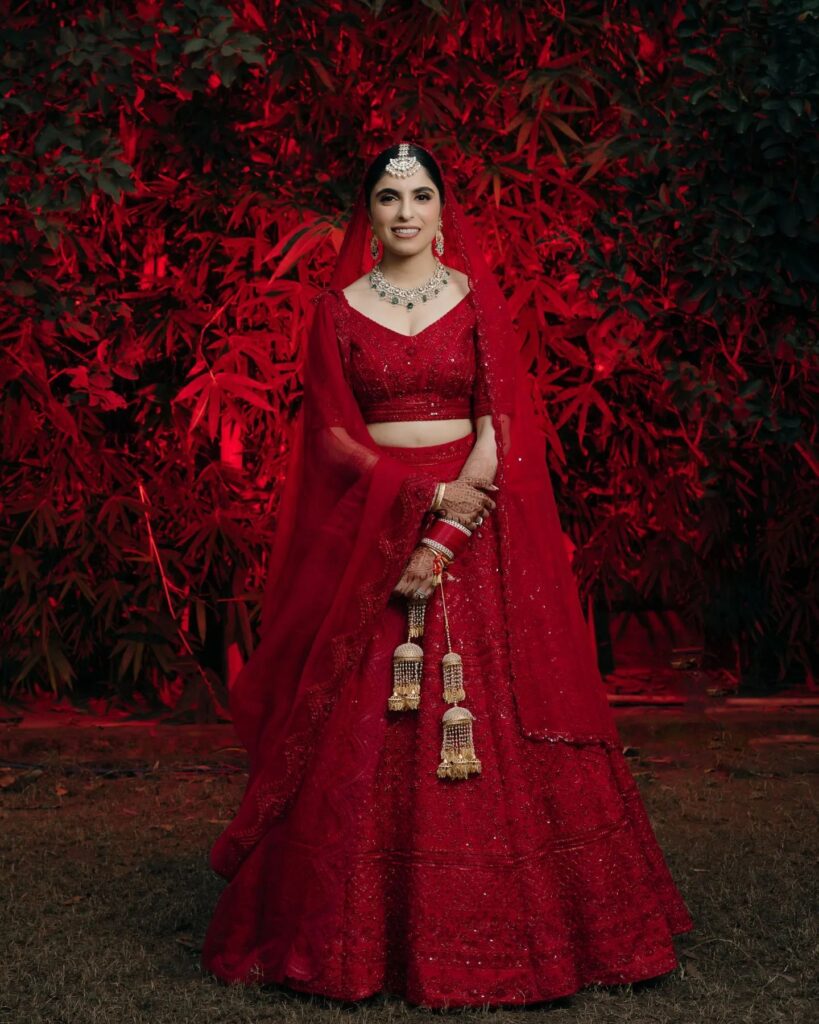 Lehenga: Riantas Official, Shot by Delhi Velvet
#83 The Classic Sulakshana Monga Design
This Sulakshana Monga lehenga in raw silk & net and graced with beautiful play of embroidery and motifs of the tree of life which signifies peace, prosperity, and healthy life is a popular designer bridal lehenga graced by many brides. This red bridal lehenga price is ~ 4 lakhs and you can purchase it directly from their site.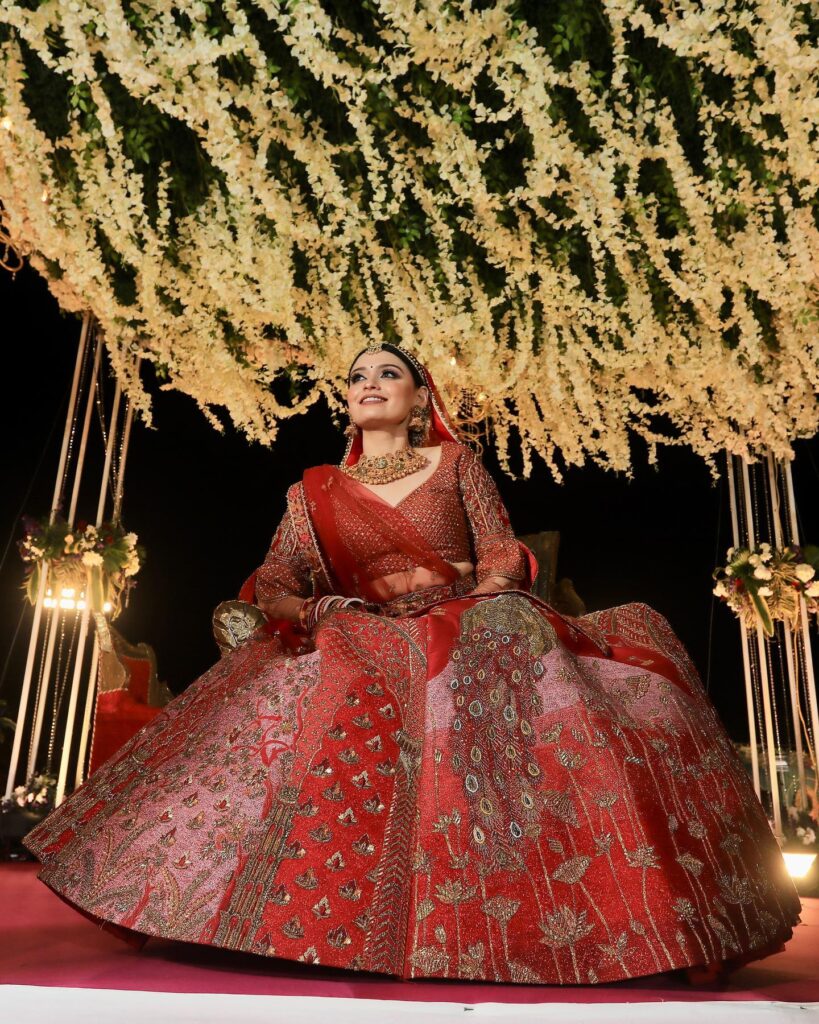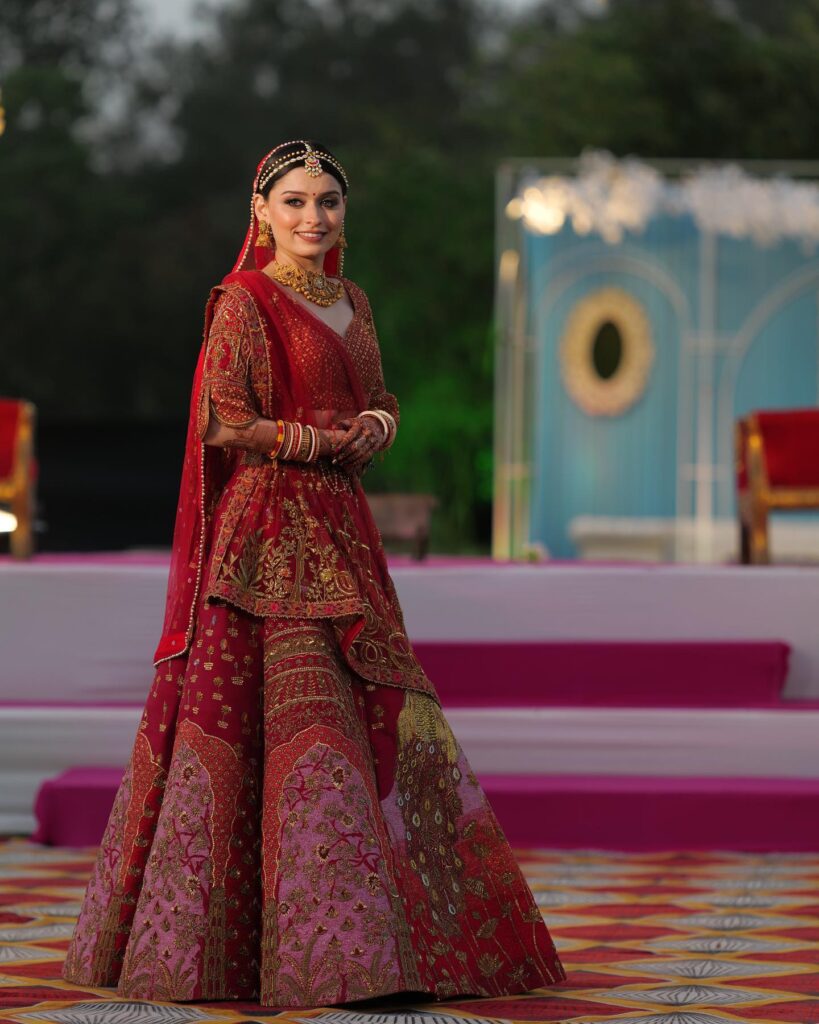 #84 Abhinav Mishra's Signature Sequin Work
Abhinav Mishra's signature sequin work is often done on neutral colors or bright colors like pink or yellow, but the wedding lehenga color, red only seldom makes appearance in his collection. This time around though, he has released many lehengas and men's kurtas in red to appeal to the mass crowd who still prefers to wear red on their wedding.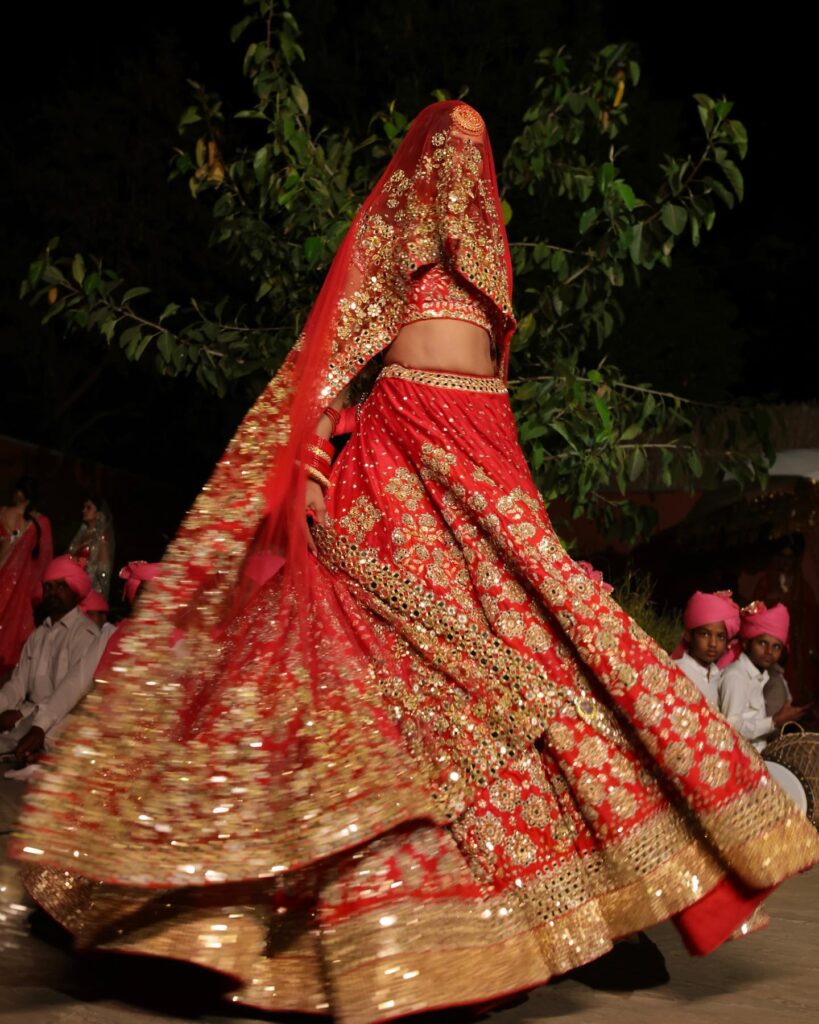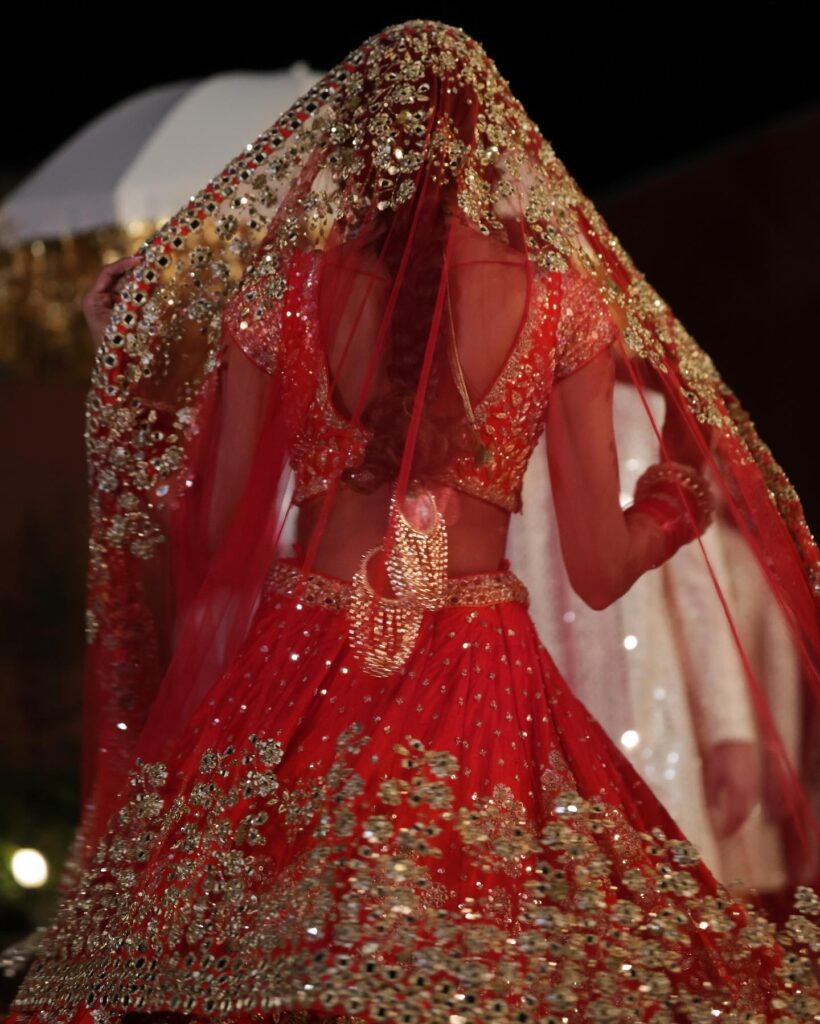 #85 Red Bridal Lehenga With Sea Green Dupatta
Want to experiment with colors on your wedding day? Here's a combination that you already know will look captivating – red and sea green. Absolutely admire how the groom also wore the same color sherwani to complement his bride, making their color combination aspect completely on-point. The bride paired her red wedding lehenga with kundan jewels encrusted with the same color emeralds. She also kept her hair open to further amp up the uniqueness and style quotient of her bridal look.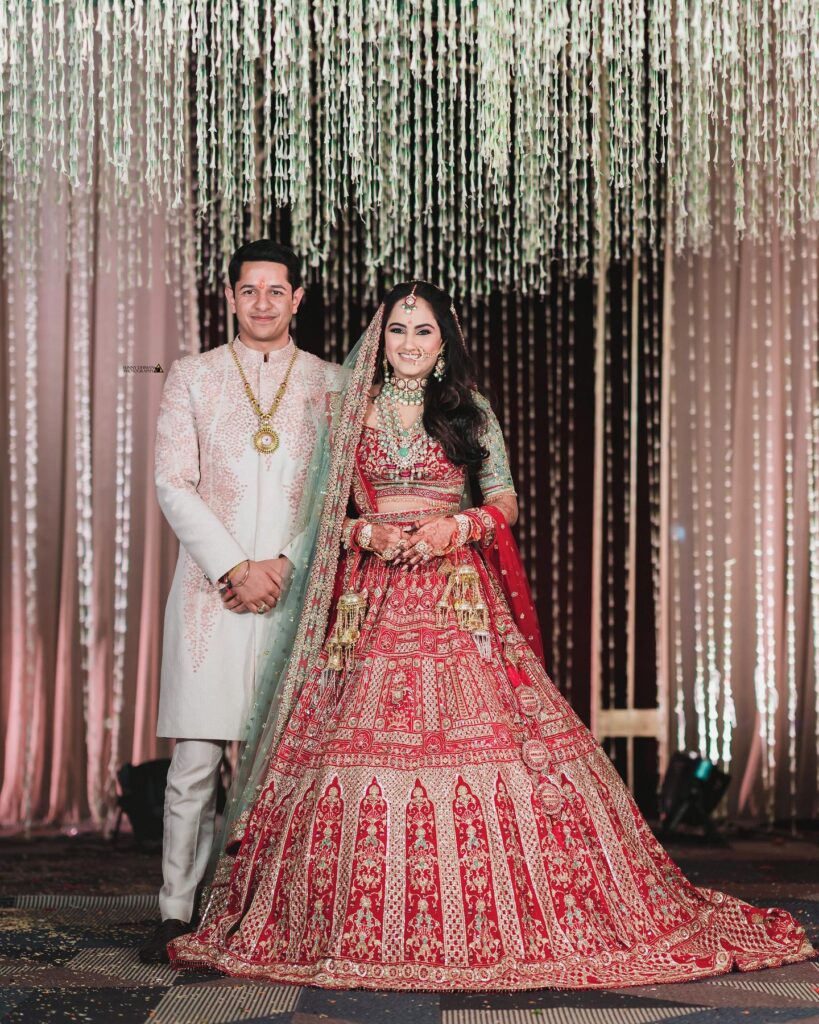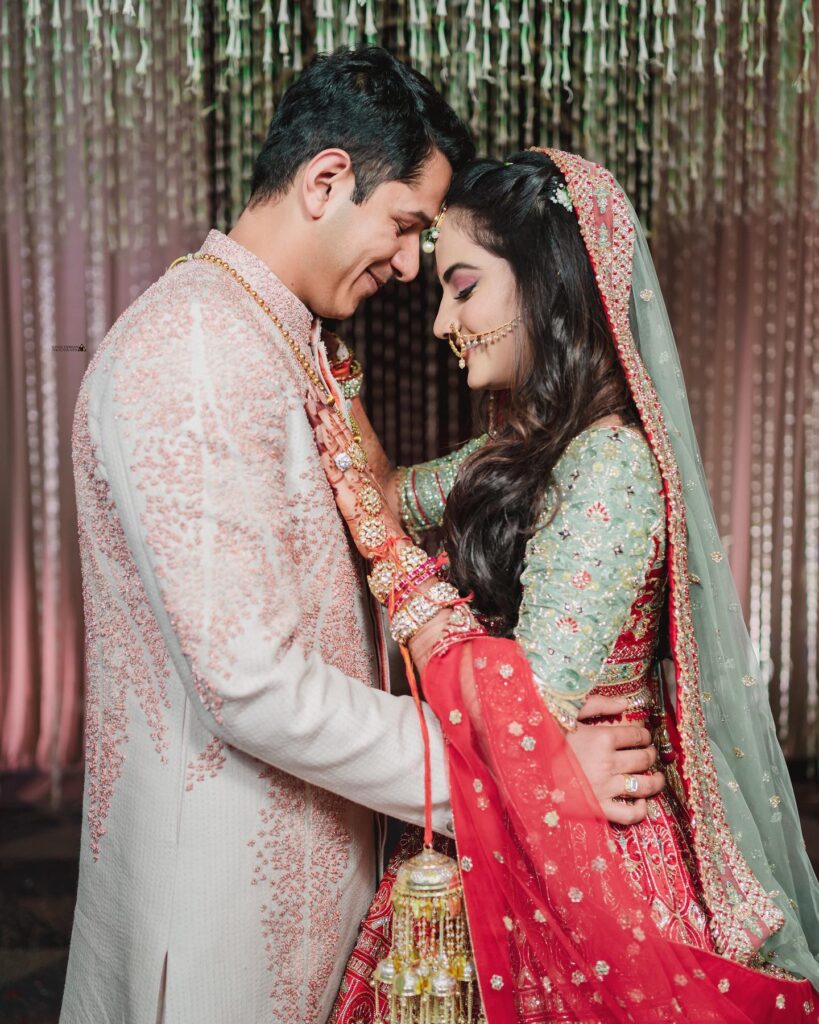 Courtesy: Sunny Dhiman Photography
#86 A Simple Red Bridal Lehenga
Minimalism has its own way of winning hearts and bride Suvanya is stealing those hearts with her unique and utterly minimalistic wedding look in a simple satin silk lehenga. We have also included details of her look because clearly she stuck to the minimalism theme with every element of her wedding look.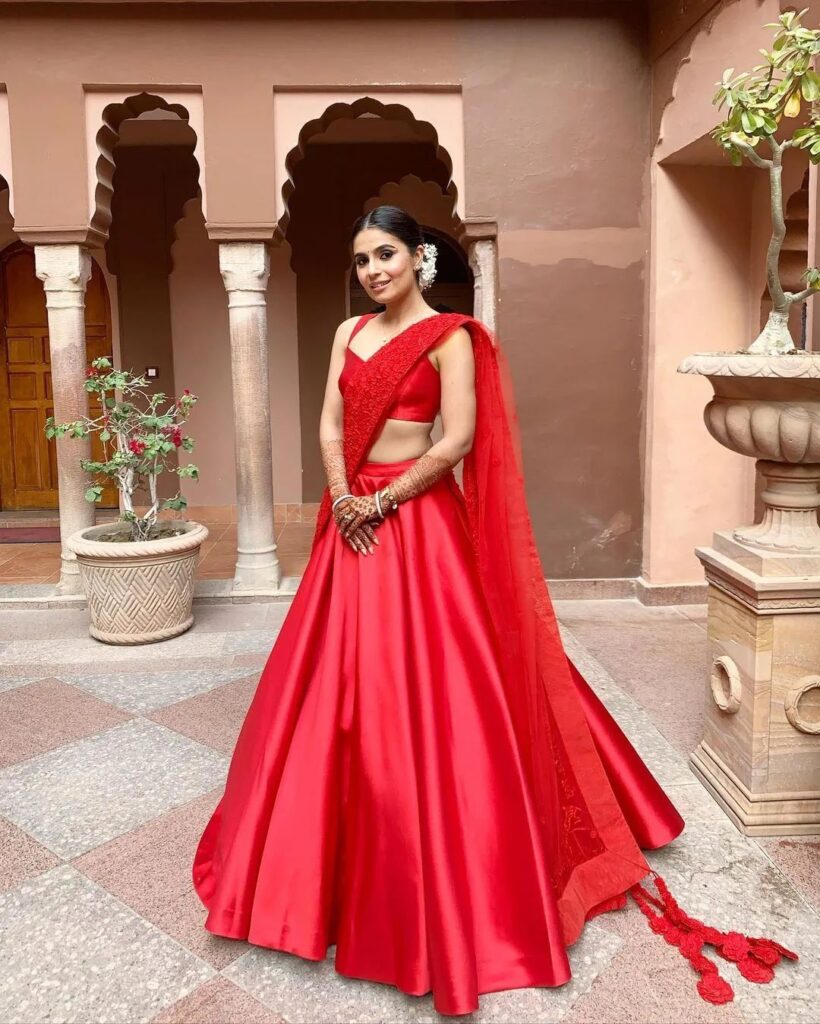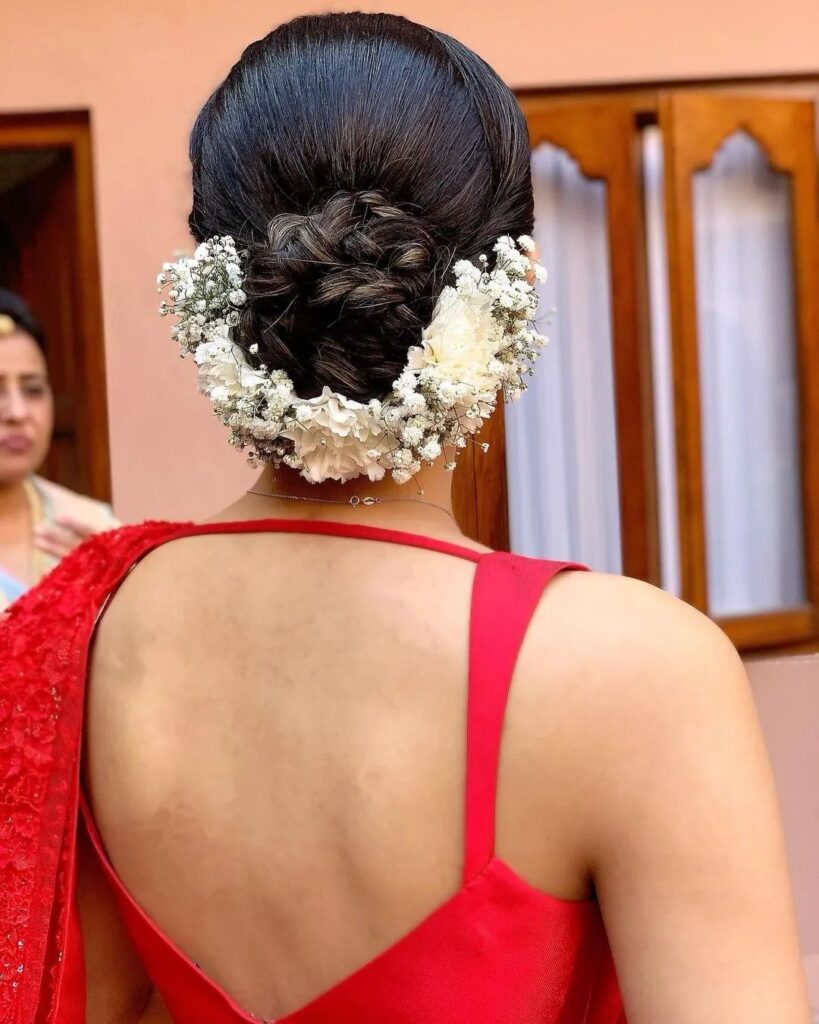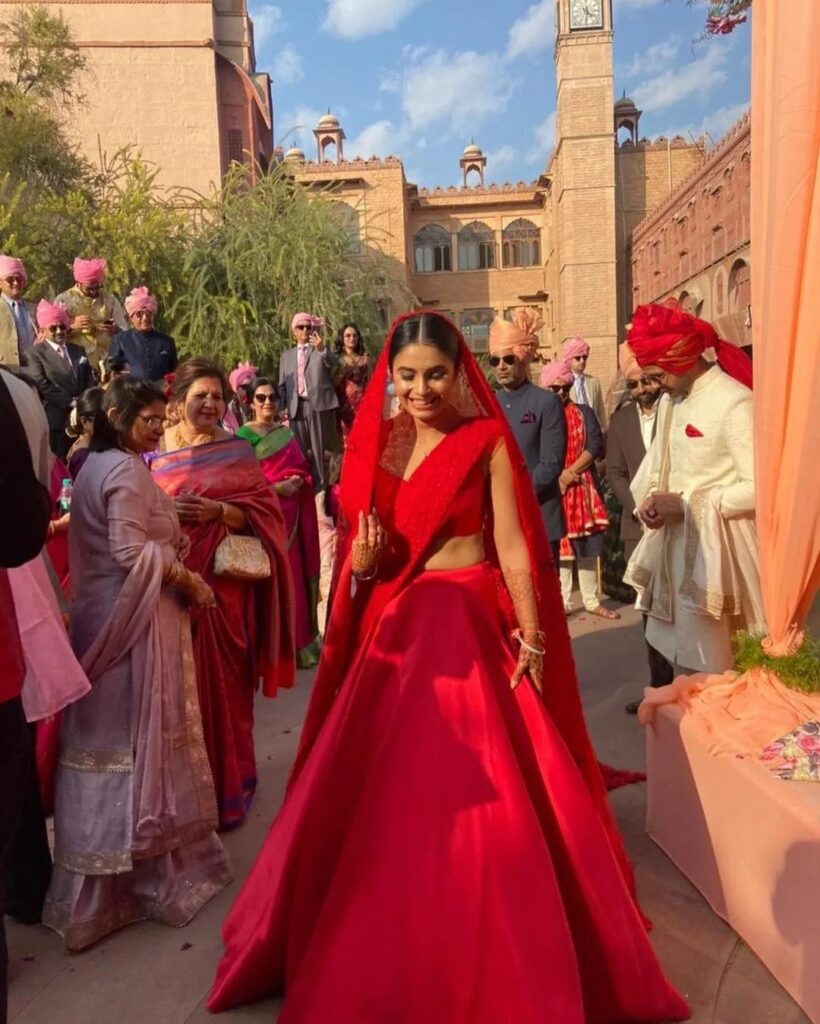 #87 Sabyasachi Red Bridal Lehenga
The latest Sabyasachi bridal lehengas 2022 features modish designs and the classic Sabyasachi red color, which was also donned by Katrina on her wedding day. Here's one of those exquisite designs where the bride complements her red bridal lehenga with green jewelry for a gorgeous artistic effect on her special day!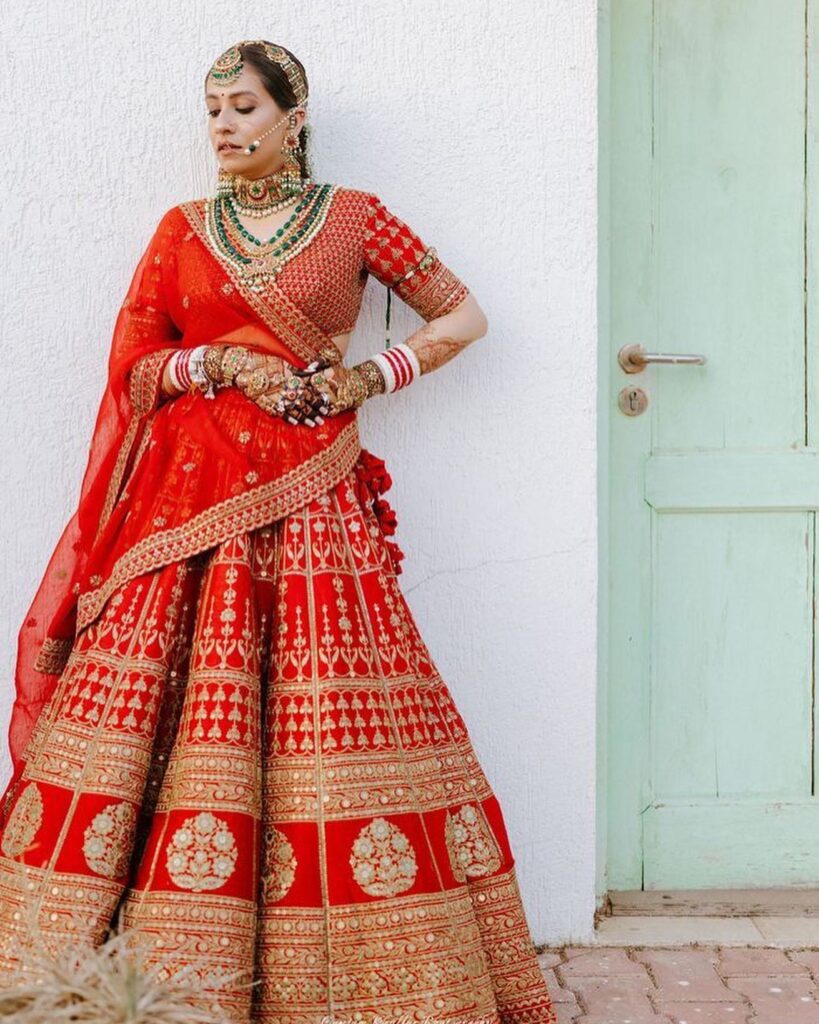 In-Frame Tanishq Malhotra
#88 Another Velvet Bridal Lehenga By Sabyasachi
Sabyasachi's red bridal lehengas in velvet are popular in their own right and have a gorgeous appeal in winter weddings. If you're getting married in winter 2022-23, then definitely consider them to wear on your big day. Keep in mind though that velvet lehengas are more expensive than normal Sabyasachi red bridal lehengas. Normally, Sabyasachi lehenga prices start from 4 lakhs and can go till 18 lakhs.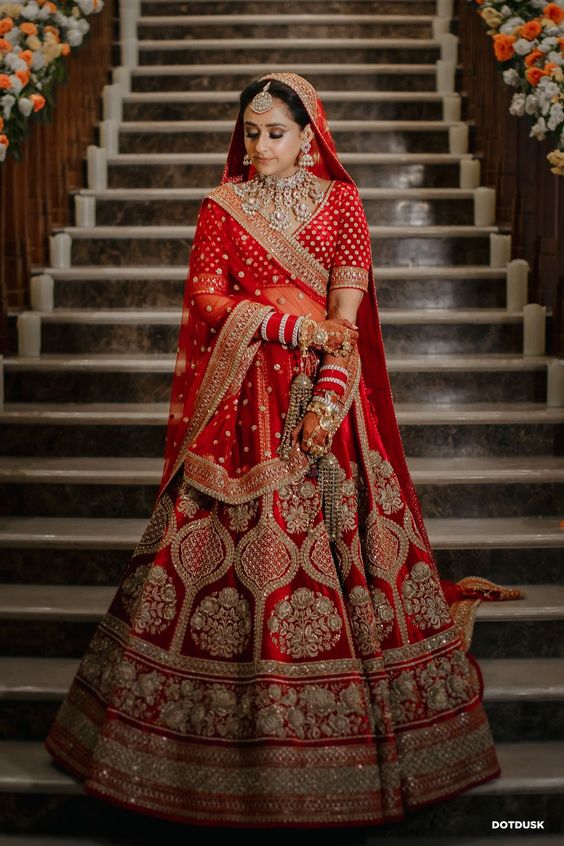 #89 Such A Gorgeous Bride & Alluring Lehenga
Varnika wore a winsome red lehenga with golden jewelry for her wedding day and the heavy work on it is absolutely eye-catching. We love how she let the royalty of her lehenga shine by just wearing simple golden jewelry with her outfit.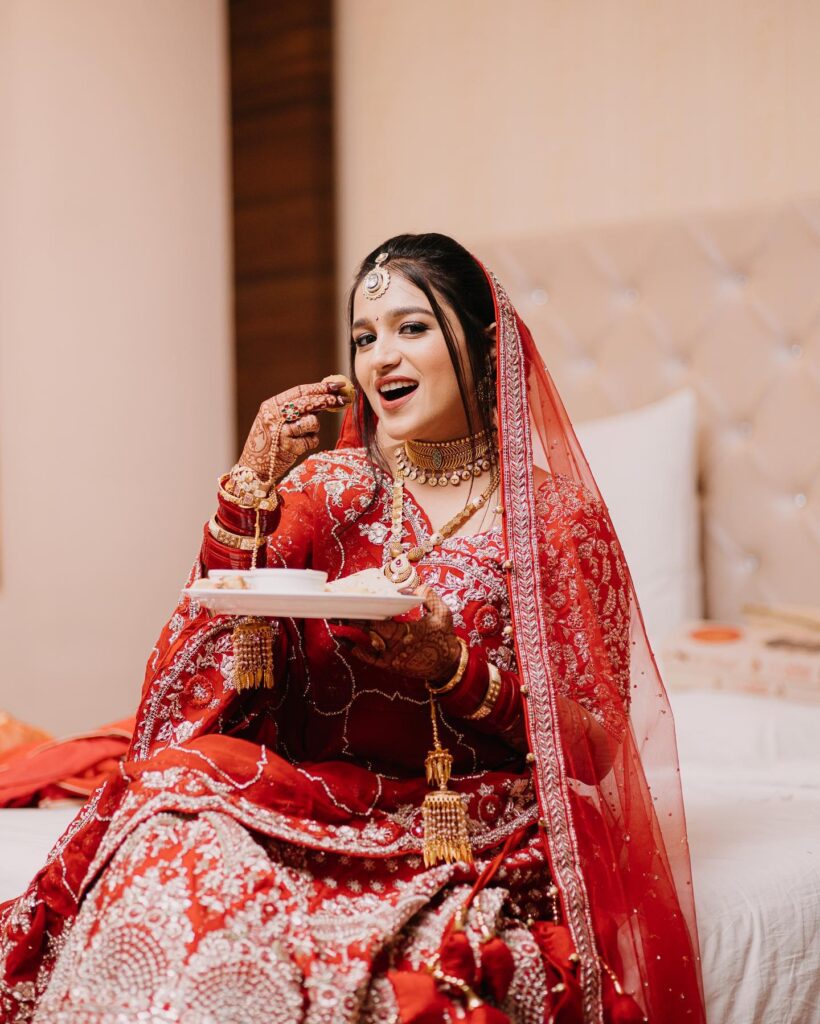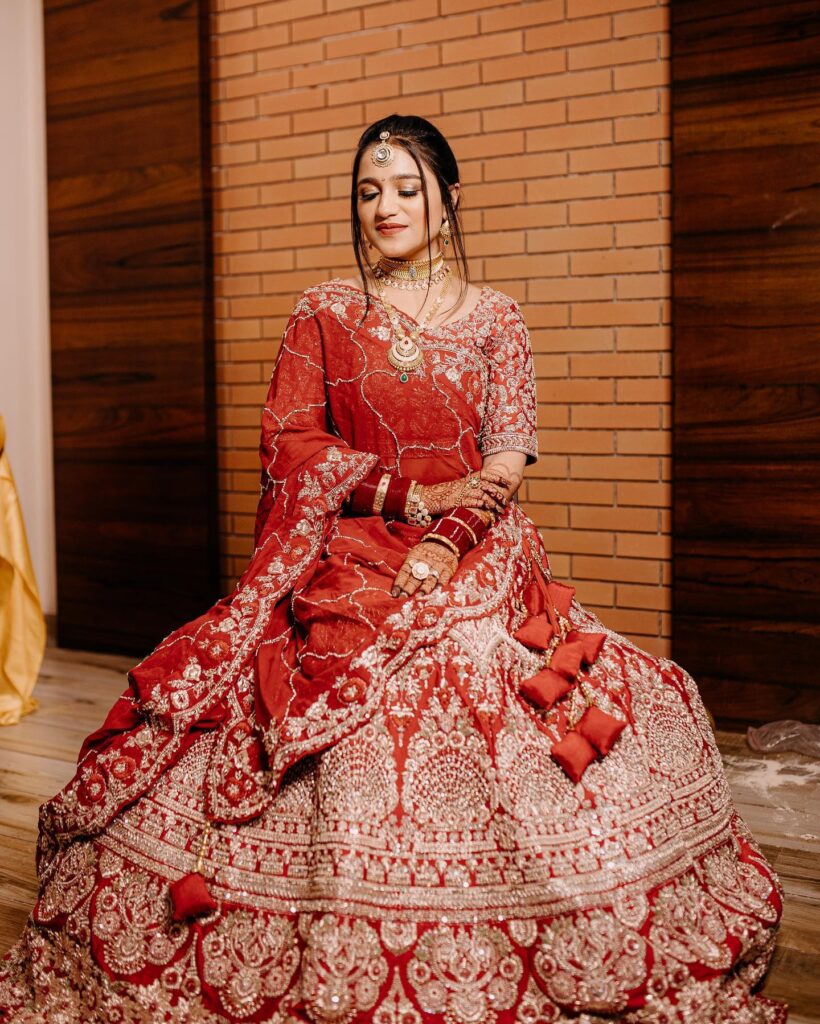 #90 The Royal Wedding Red Bridal Lehenga
Rimple & Harpreet are Indian designers who will assure you a look full of royalty and unique design when you don their creations on your wedding day. This paneled lehenga is enriched with elaborate designs. The bride pairs the lehenga with heavy jewelry to add regality to her wedding look even more.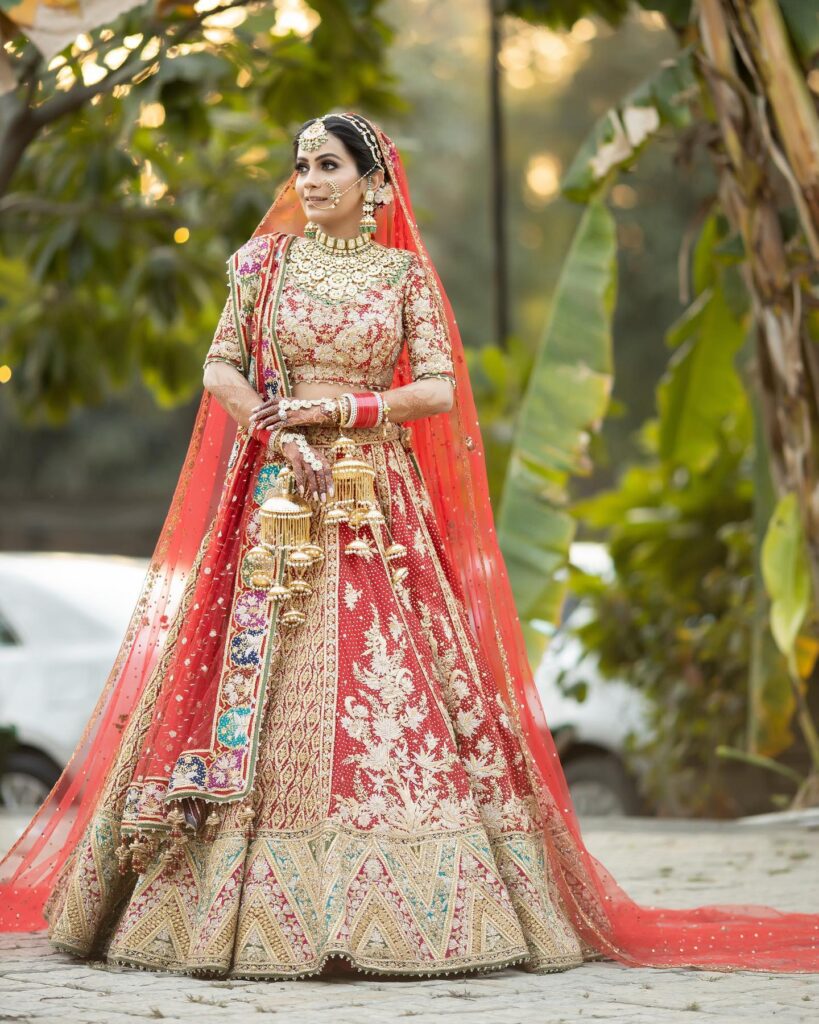 #91 Red Bridal Lehenga With Yellow Dupatta
This Sabyasachi red bridal lehenga priced at Rs.5,00,000/-.comes with a yellow dupatta and green accents is a perfect outfit for a day wedding because the bright colors with shine brighter in the Sun's glorious rays. See how beautiful they look with the picturesque palatial setting of Jai Mahal Palace – a stunning hotel for your Rajasthan destination wedding.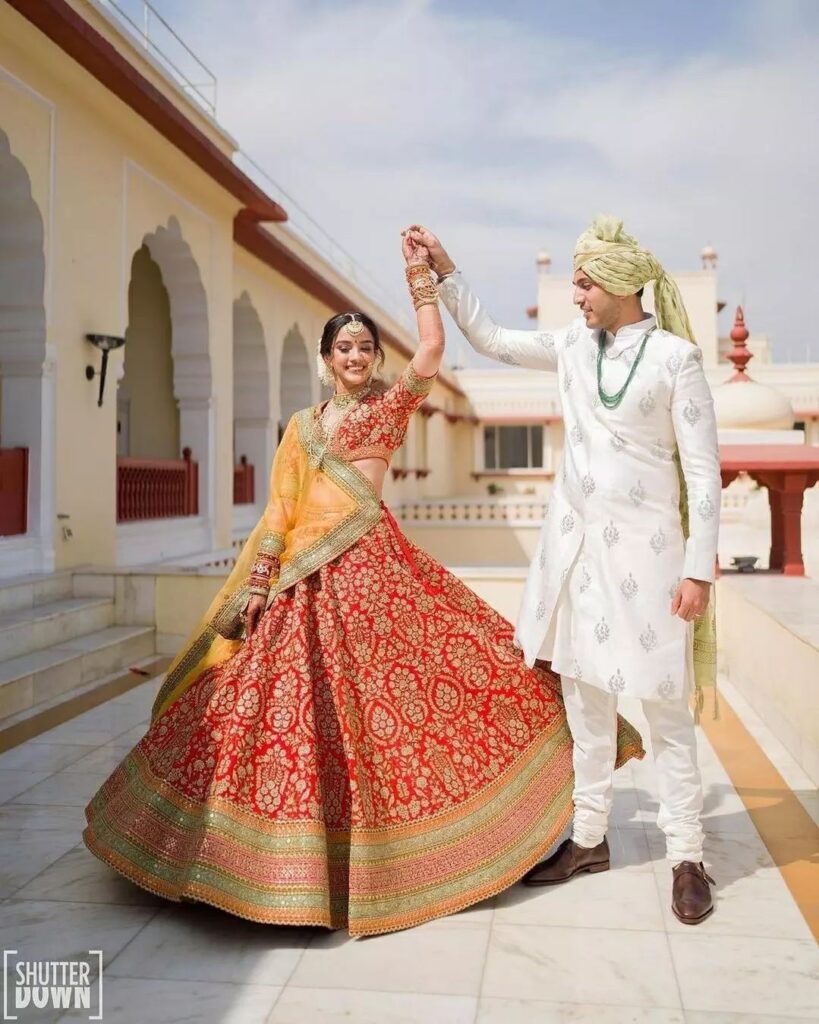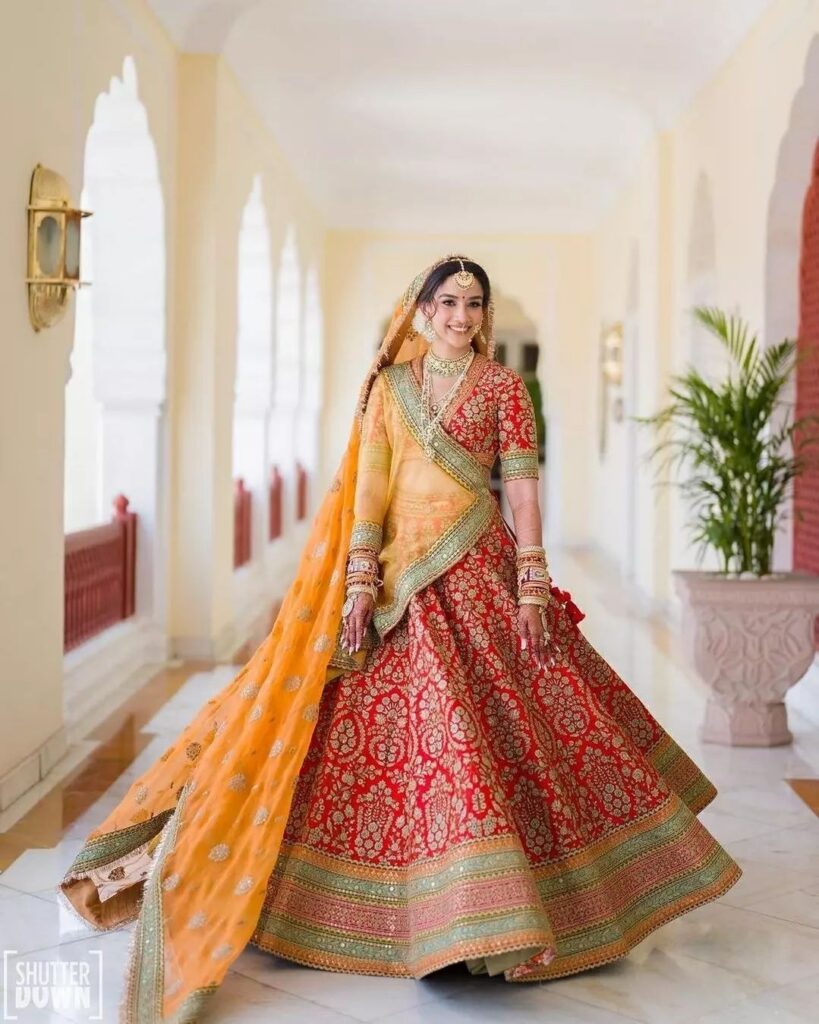 #92 Dreamy One!
A wedding held in naturally beautiful surroundings brings a certain kind of bliss, peace, and aesthetic element hard to match by any decor. See how the outfits, decor, and photos all look just wonderful in these pictures only because of the picturesque background.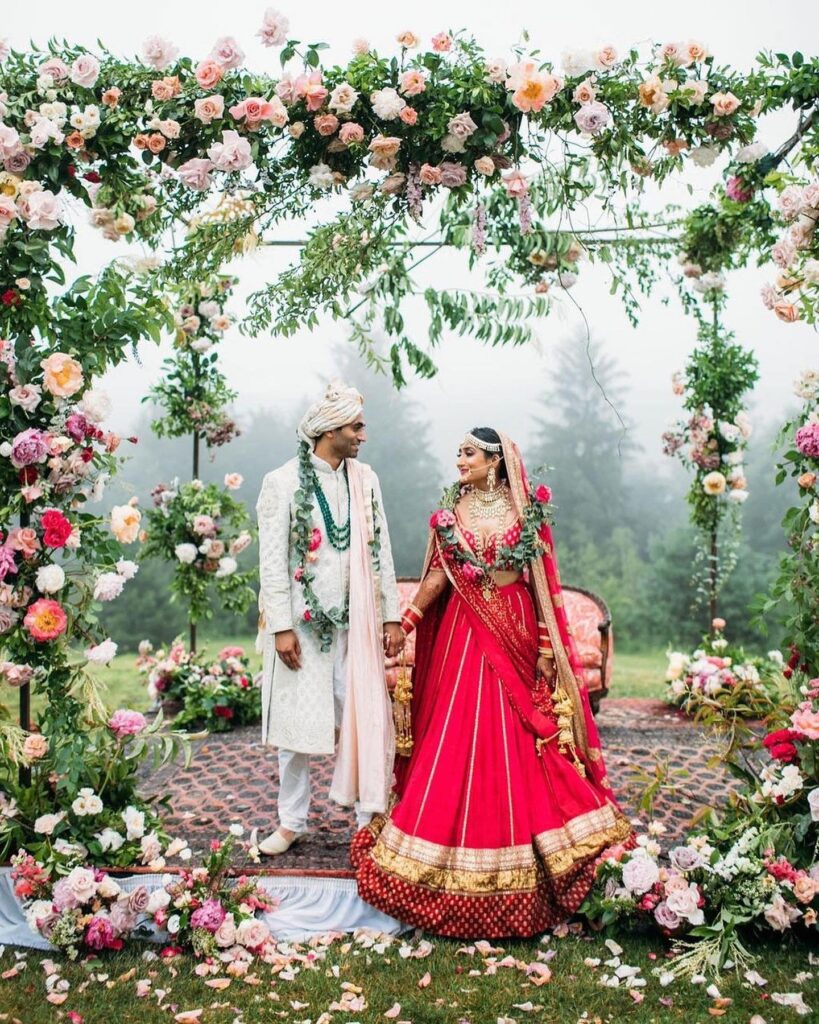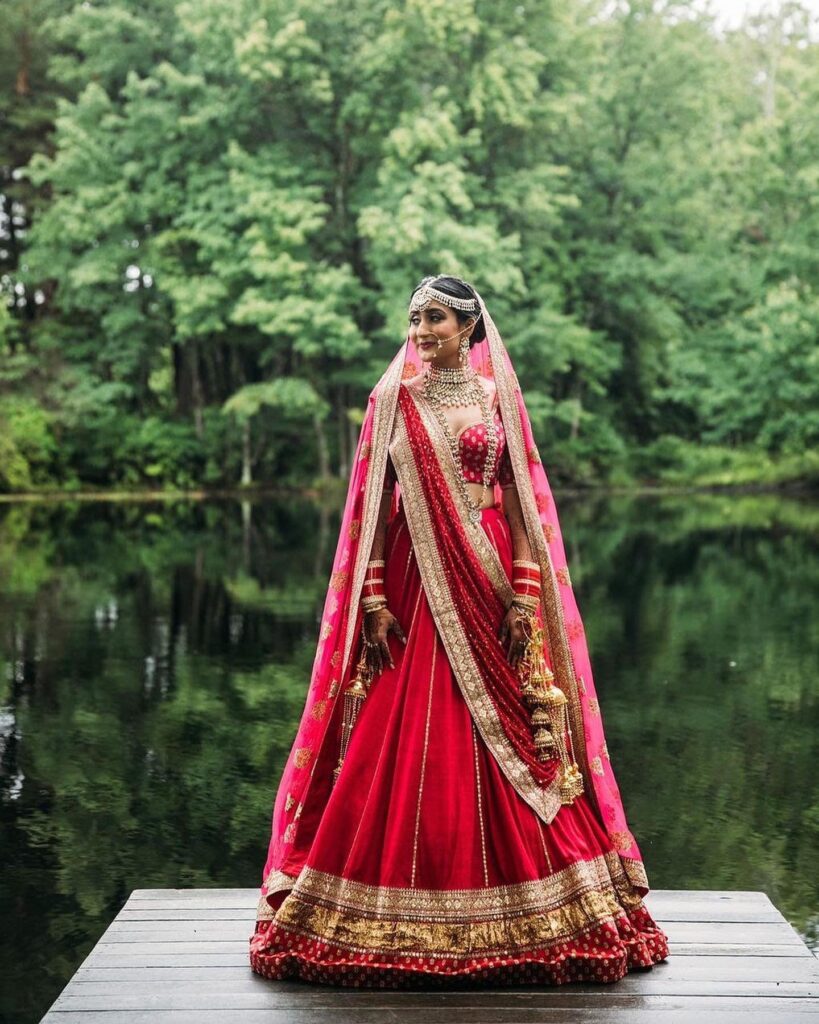 Courtesy: Scott Clark Photo
#93 Sun Adding Beauty To Her Lehenga
While a red wedding lehenga with golden work is common, one with silver work looks magnificent as well. The work of the skirt is heavy, intricate, and artistic. What we love more is the outdoor shots. Since many Indian weddings are held in the evening or afternoon, bridal solo shots are held either in the morning or evening – when the Sun isn't shining this bright. However, if you can sneak in some shots in the sunny weather, take the chance and do it! As portrayed, they look wonderful.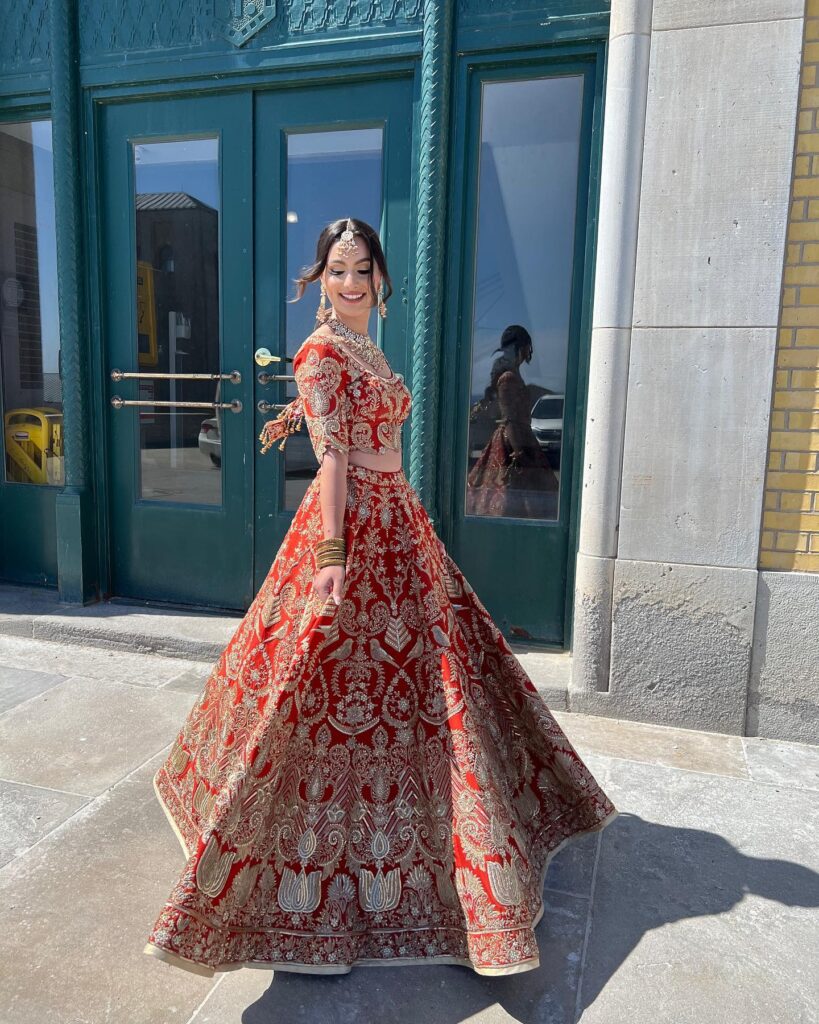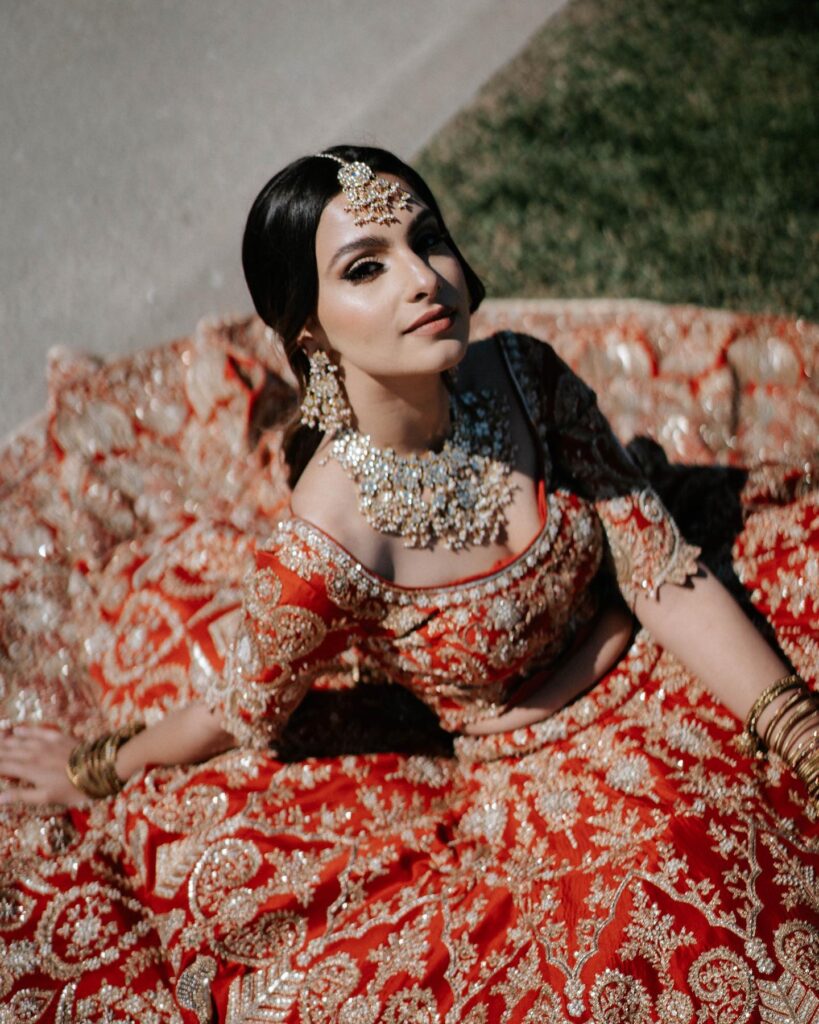 Courtesy: Touch N Glow Studio
#94 Royalty Redefined 
A royal red bridal lehenga with jewelry is on the wedding vision board of many brides. To achieve that, many elements have to come together but none is as important as the lehenga. Here's a heavy red lehenga with double dupatta in golden to inspire you. We love the bride's heavy earrings and full sleeves blouse for an extraordinary touch to the wedding look.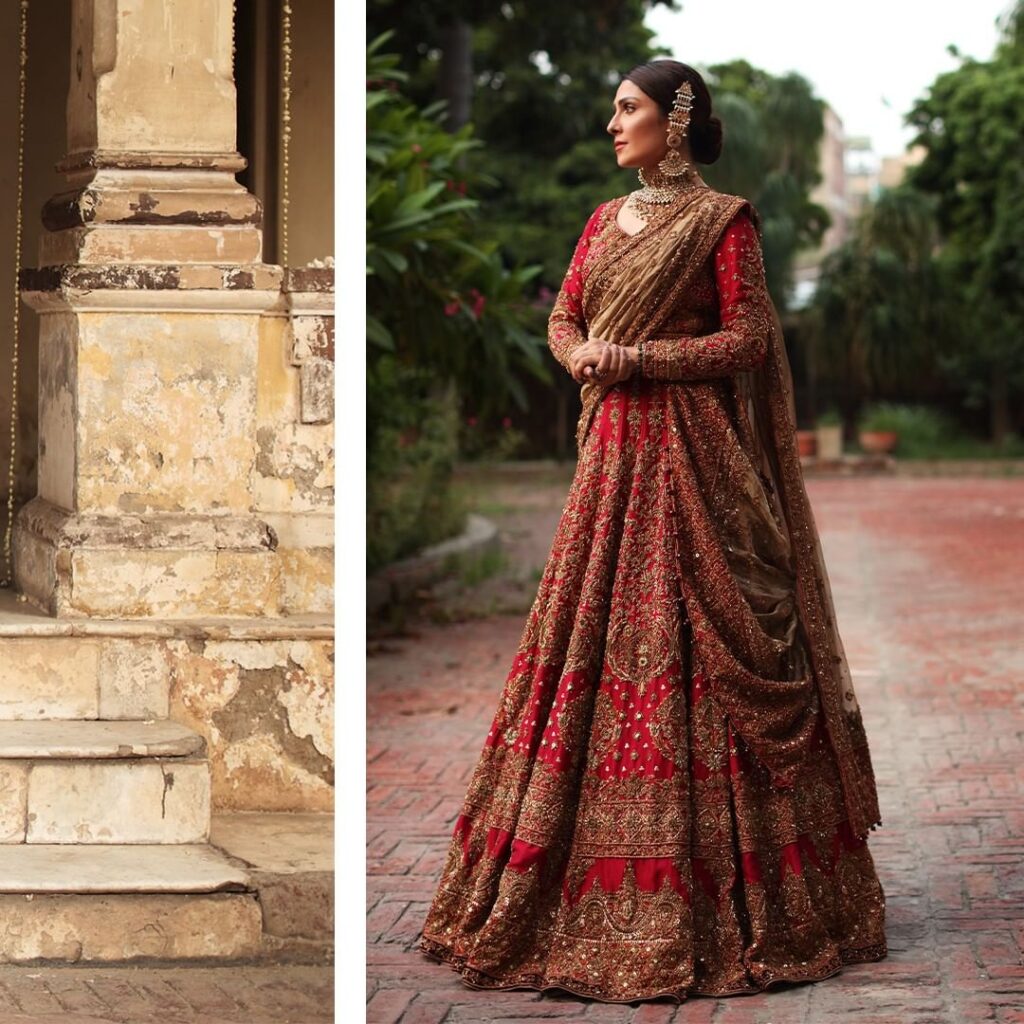 Courtesy: Aisha Imran
#95 Love For Handloom Weaves! 
If you want a traditional lehenga that resonates the bygone era without compromising with the fashionable aspect, then Ritu Kumar's red bridal lehenga in red & golden color are your best bet. The designer is popular for her signature handloom weaves designed beautifully into a time-honored yet gorgeous design. Swooning over this bride's lehenga with hints of black for a unique touch.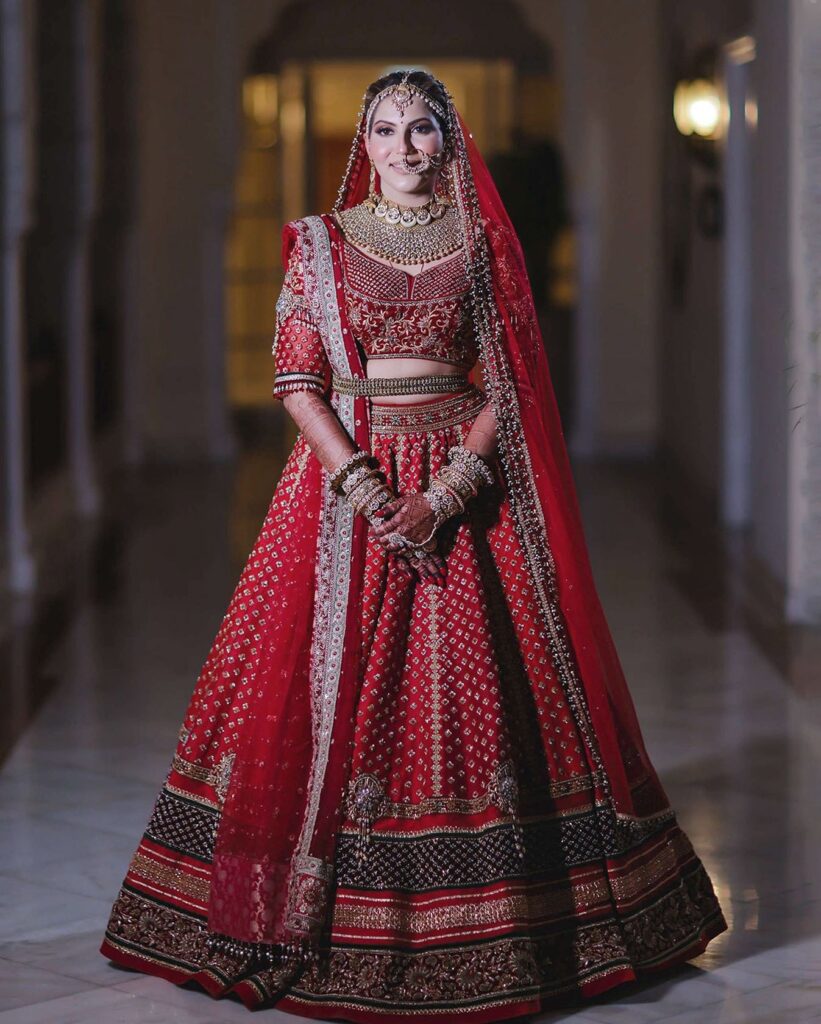 #96 Sargun Mehta's Sequinned Red Lehenga
Just one of the many gorgeous Indian wear looks you can find on Sargun Mehta's Instagram here.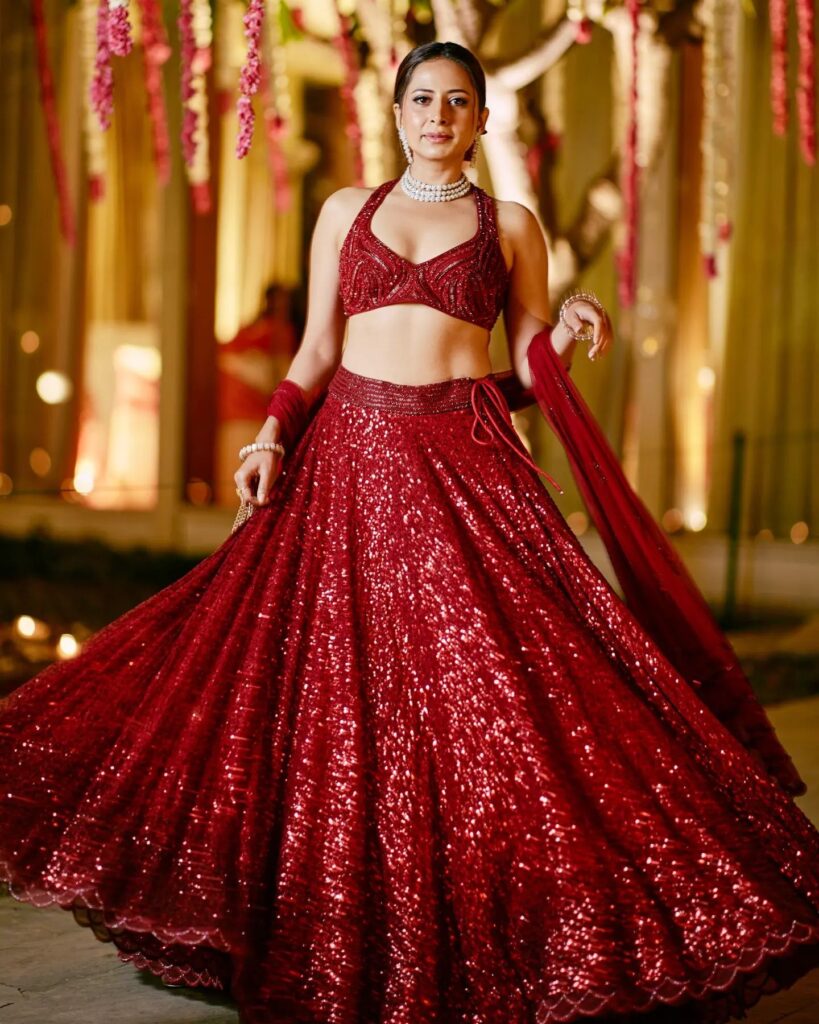 #97 Bewitching! 
Bride Salonie Patel wore red lehenga for her roka ceremony and we can't take out eyes off the subtle simplicity in the lehenga which is contrastly complemented by the shiny mirror work and a sexy blouse design. The Hollywood waves further added to her stunning bridal look.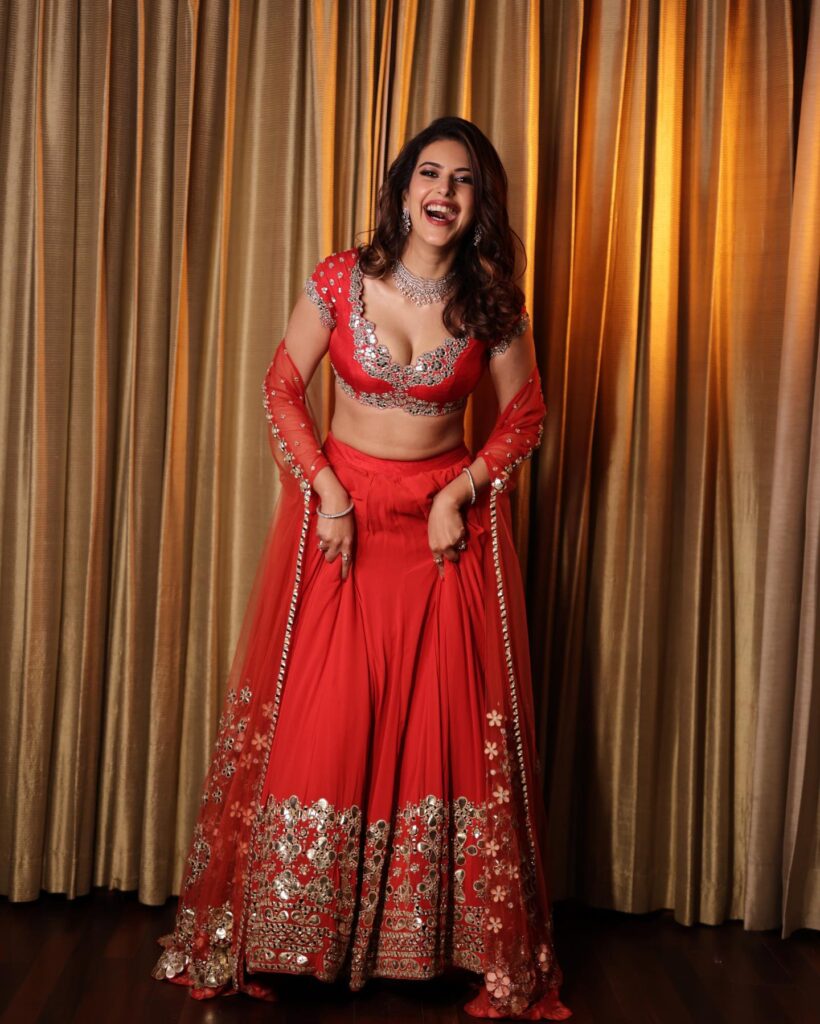 #98 Red Bridal Lehenga 2022
You think beach weddings call for pastel lehengas, but that's certainly not the only option. Your dream of wearing red lehengas can come true even if you're having a beach wedding. Although, look for minimalistic designs and free-flowing prints because movement on the beach is tougher and you'd want functional lehenga so you can easily move to get portraits or socialise.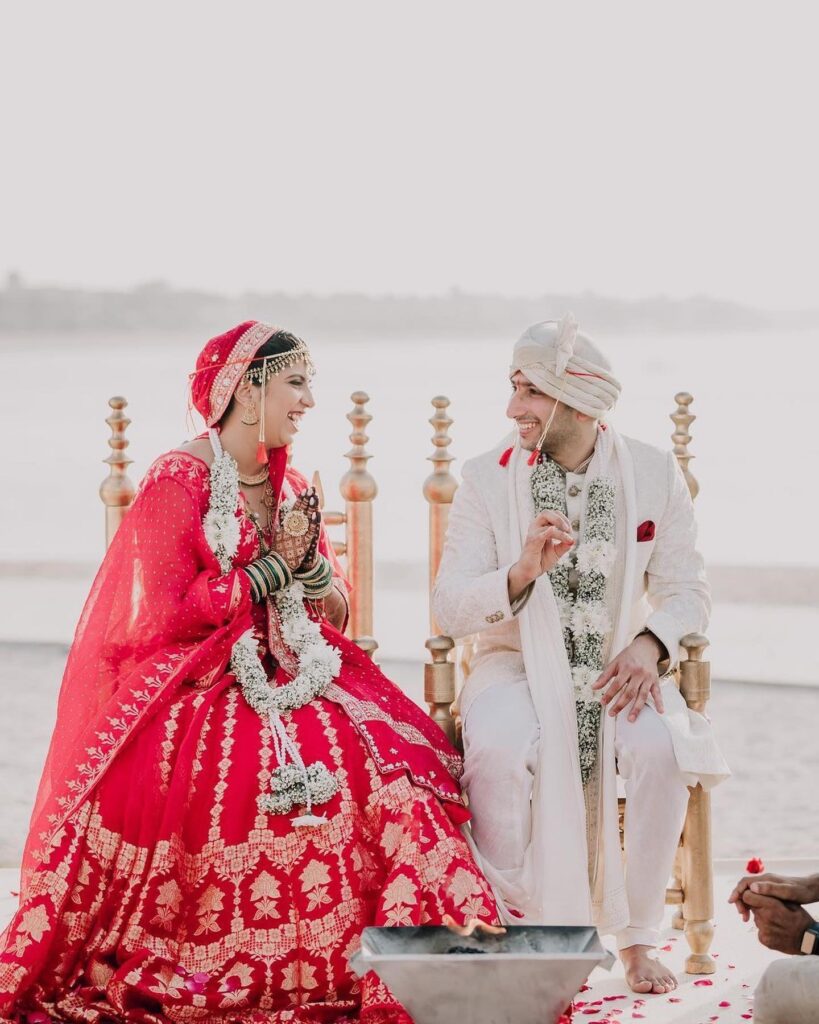 Via Light Chamber
#99 Latest Red Bridal Lehenga Design
Peacocks motifs are a part of many elements of an Indian wedding. These animals represent pride, love, luxury, and nobility, and are often used as symbolic motifs in Indian weddings. This is a gorgeous red bridal lehenga 2022 to get inspired from, and is quite versatile as many kinds of jewelry will go with this outfit.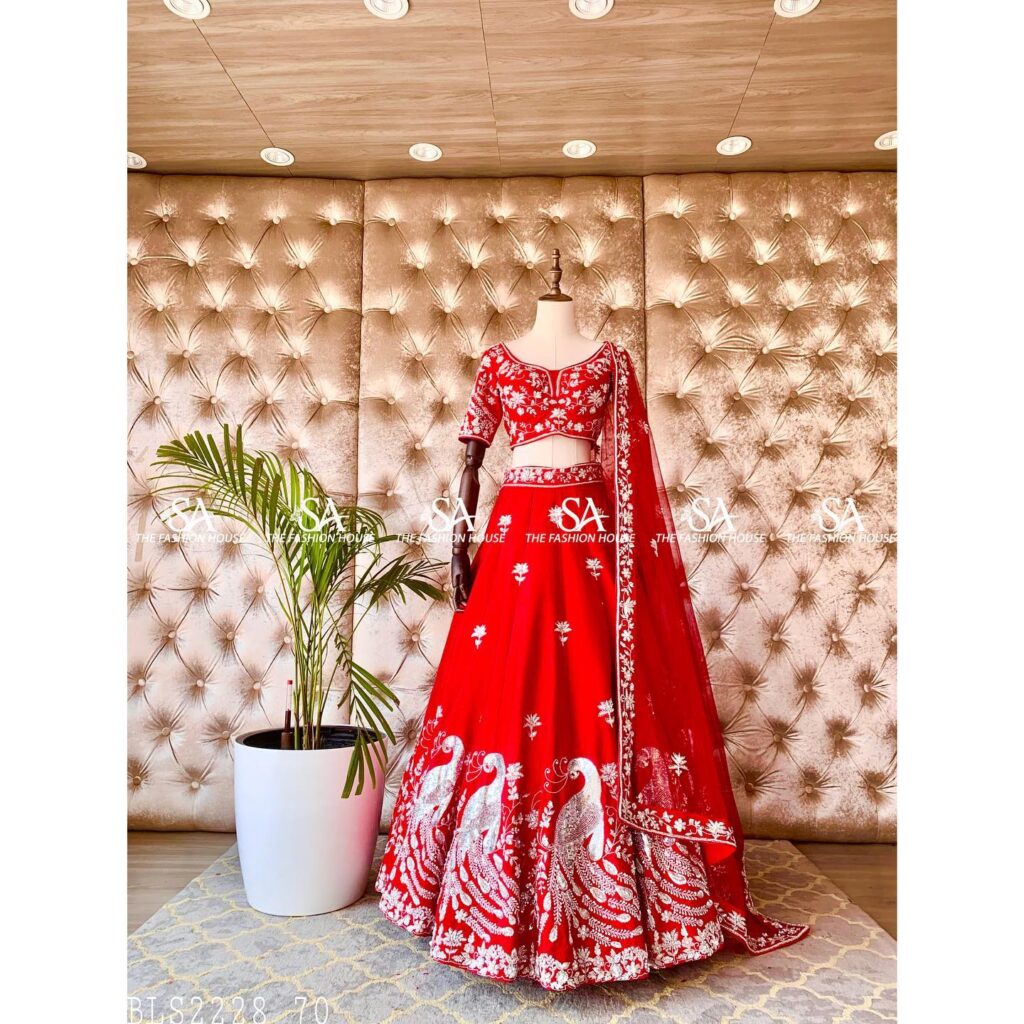 Courtesy: Sweta Acharya Fashion Boutique
#100 Wedding Red Bridal Lehenga
A bridal lehenga with orangish tone to add a hint of versatility into the usual red dulhan lehengas. We love how the waist of the lehenga skirt is covered in gorgeous embroidery which is generally left bare in the majority of wedding lehengas in red color.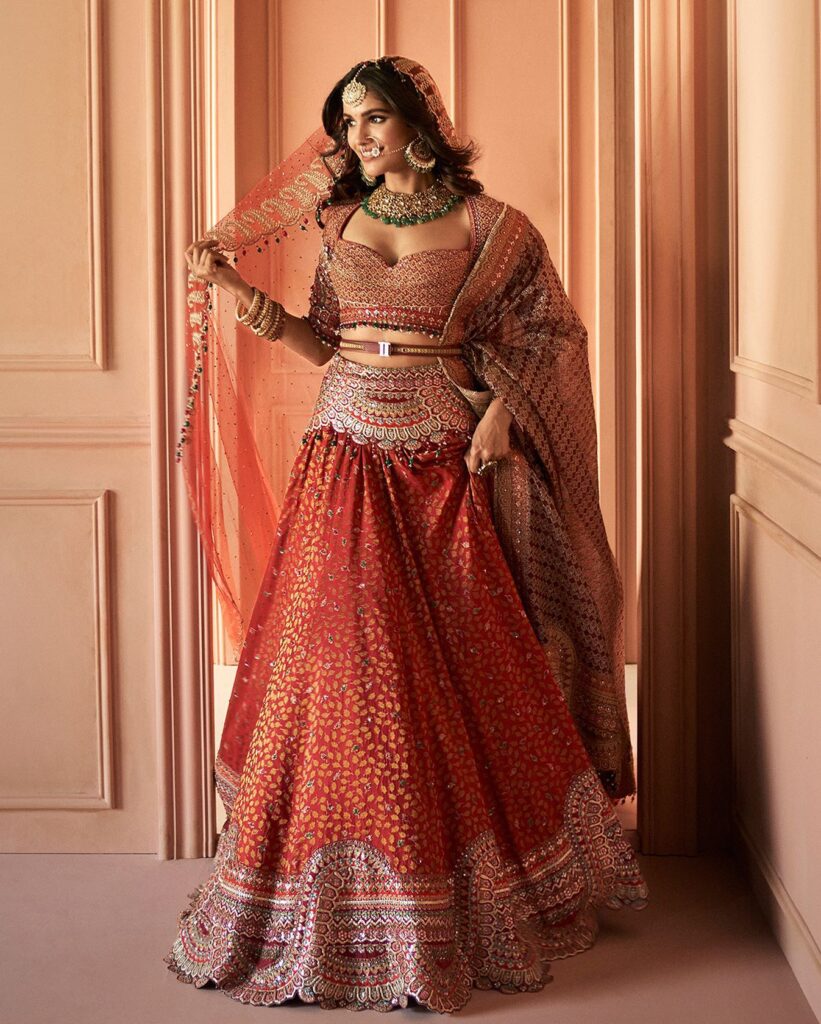 Courtesy: Tarun Tahiliani
#101 An Influencer's Take On Red Lehenga! 
Masoom Minawala is an Indian influencer who is best known for her traditional fashion statements. She recently attended Cannes Film Festival and didn't fail to represent our culture there as well. Here, she gives us inspiration on a simple red bridal lehenga which can be worn in a small function on your wedding or afterwards as well!