The moment we have all been eagerly waiting for is here! The first official pictures from Katrina Kaif & Vicky Kaushal's wedding were released on 9th December 2021 evening, the same day as the couple's Punjabi wedding ceremony. Just a few hours before their blurry pictures also became viral and a video from the duo's varmala was also widely circulated. However, the latter was never confirmed to be from their wedding. Given the bride looks wearing pink in the video and the ceremony takes place at night when the couple's official pictures are from the daytime, it's definitely dubious to call the video of the #Vickat wedding. Although the blurry pictures featuring Katrina in a red & golden lehenga and Vicky Kaushal in ivory is definitely from their wedding – as was confirmed from their official pictures just 2 hours later. Here are the snaps we are talking about.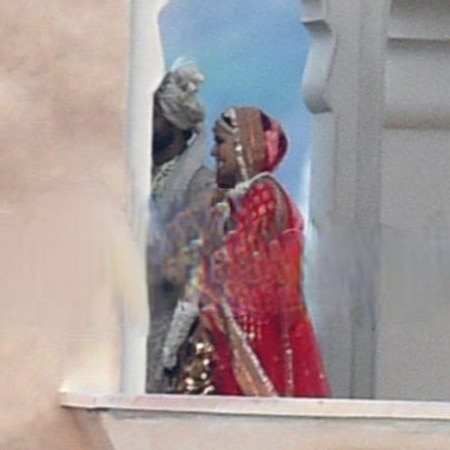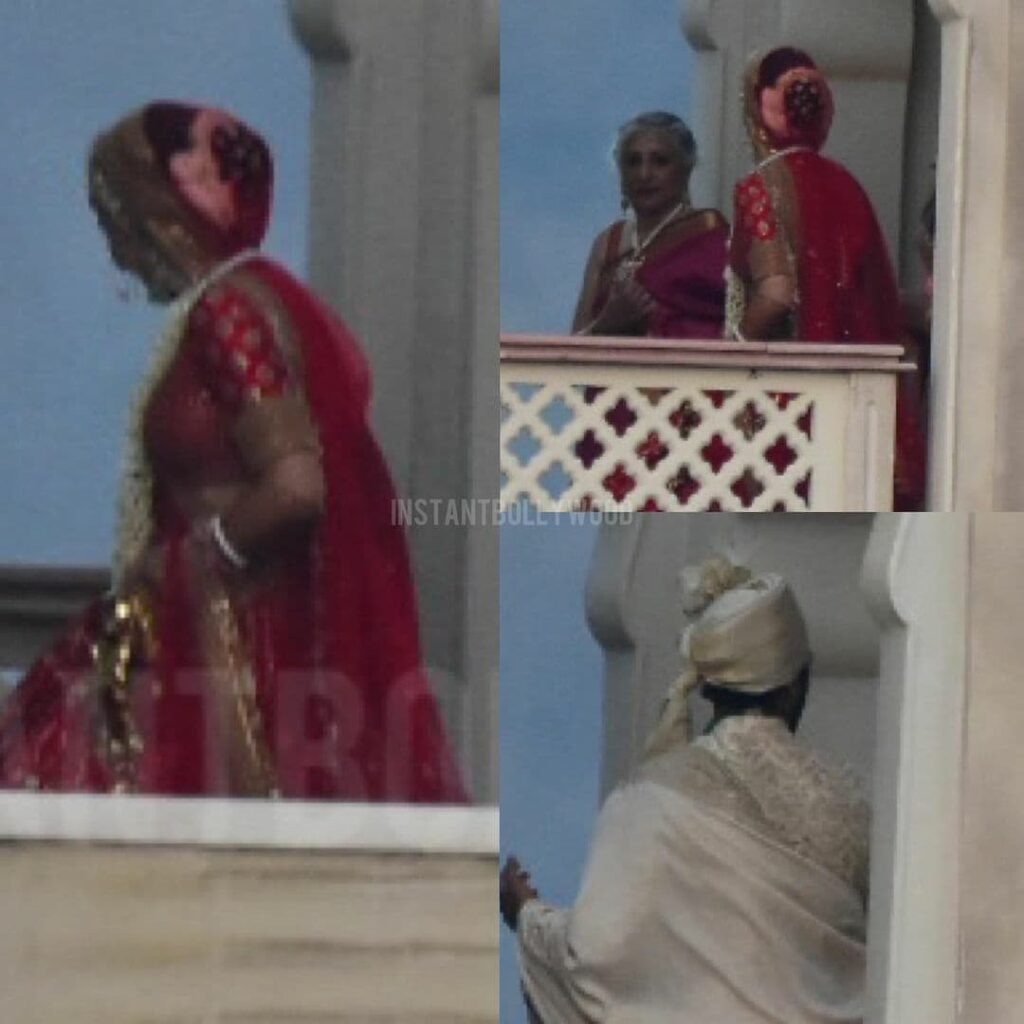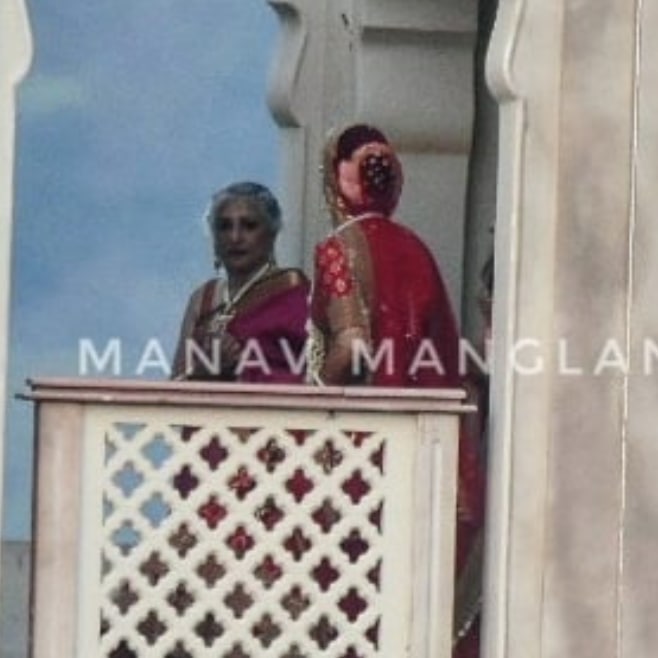 Courtesy: Manav Manglani, Instant Bollywood, Delhi Times
And just around 8 PM yesterday, both Vicky & Katrina heeded to their fans immense love (and desperation) as they released the first official pictures from their wedding together. They trusted Sabyasachi to design their special day outfits and he didn't fail to mesmerize us yet again. Katrina's lehenga ensemble was in a vermillion red hue or the classic Sabya red. While we didn't get the full peek of the lehenga skirt, the blouse is a popular V-cut design and both dupattas are in sheer organza with intricate handloom work. Groom Vicky Kaushal also wore a sherwani by Sabyasachi with classic marori embroidery.
Katrina Styled Her Look With Exquisite Sabyasachi Jewels
Both Katrina & Vicky paired their customized outfits with ornamental Sabyasachi jewelry. While Katrina wore a chunky choker set, sheeshpatti, kundan bangles, and simple nath – all made in 22k gold and uncut diamonds, Kaushal wore a multi-string emerald necklace with rose-cut diamonds, quartz, and tourmalines to complement his sherwani. The couple wed in a revived 14th-century fortress, now a Six Senses Hotel, that overlooks the famous Chauth Mata temple in Barawara, Rajasthan. Their beaming smiles and in-love glances captured everyone's heart in no time.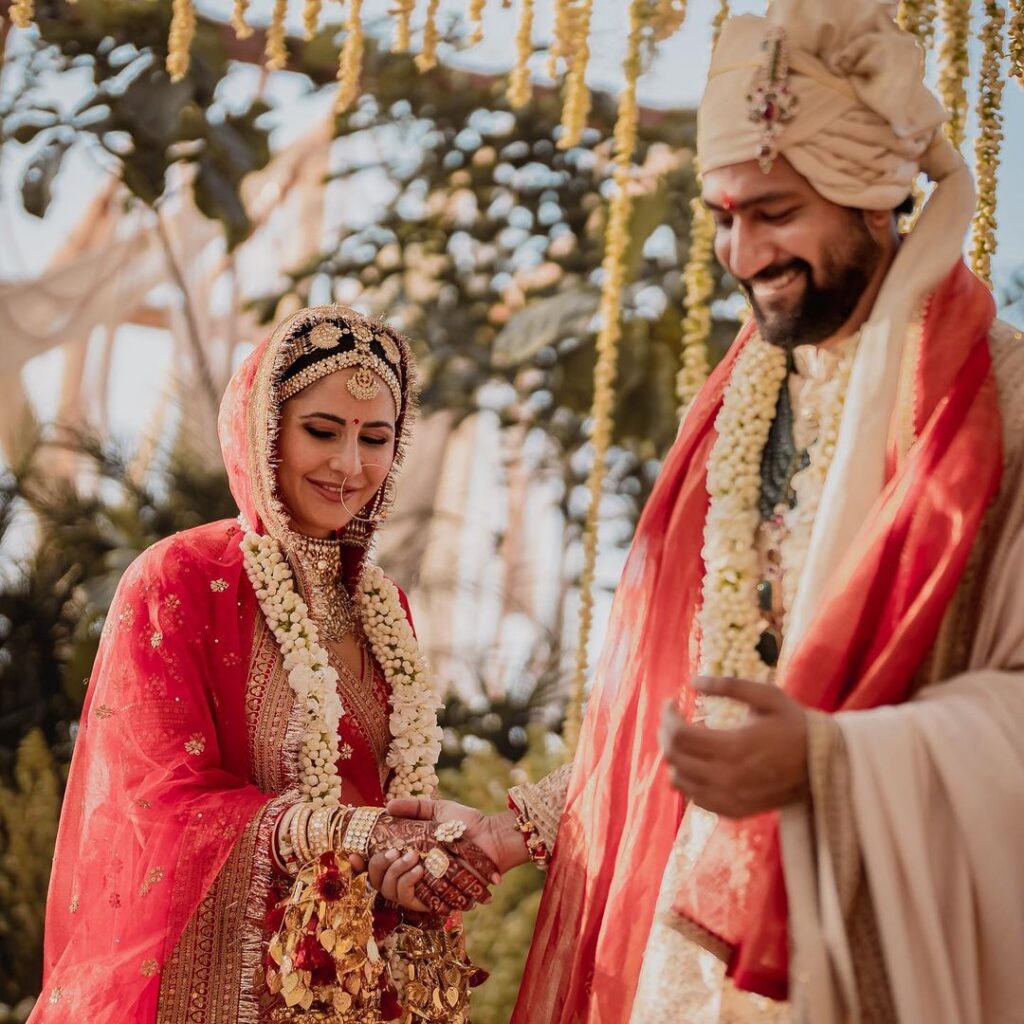 Katrina's Engagement Ring Is A Memsering Sapphire With Diamond Halo
Not long after the release of official pictures, the eagle-eyed fans (that includes us!) caught the glimpse of Katrina's gorgeous sapphire engagement surrounded by small diamonds in a double halo setting. Right after the official pictures were released, celebrity fashion decoder & Instagrammer A Fashionista's Diary revealed the ring is from Tiffany's collection and is priced at $8000 (you can see & BUY it here). The brand Tiffany sent her the information, so it's confirmed news. Groom Vicky Kaushal also wore the Tiffany Classic wedding band ring priced at $1700 (see here).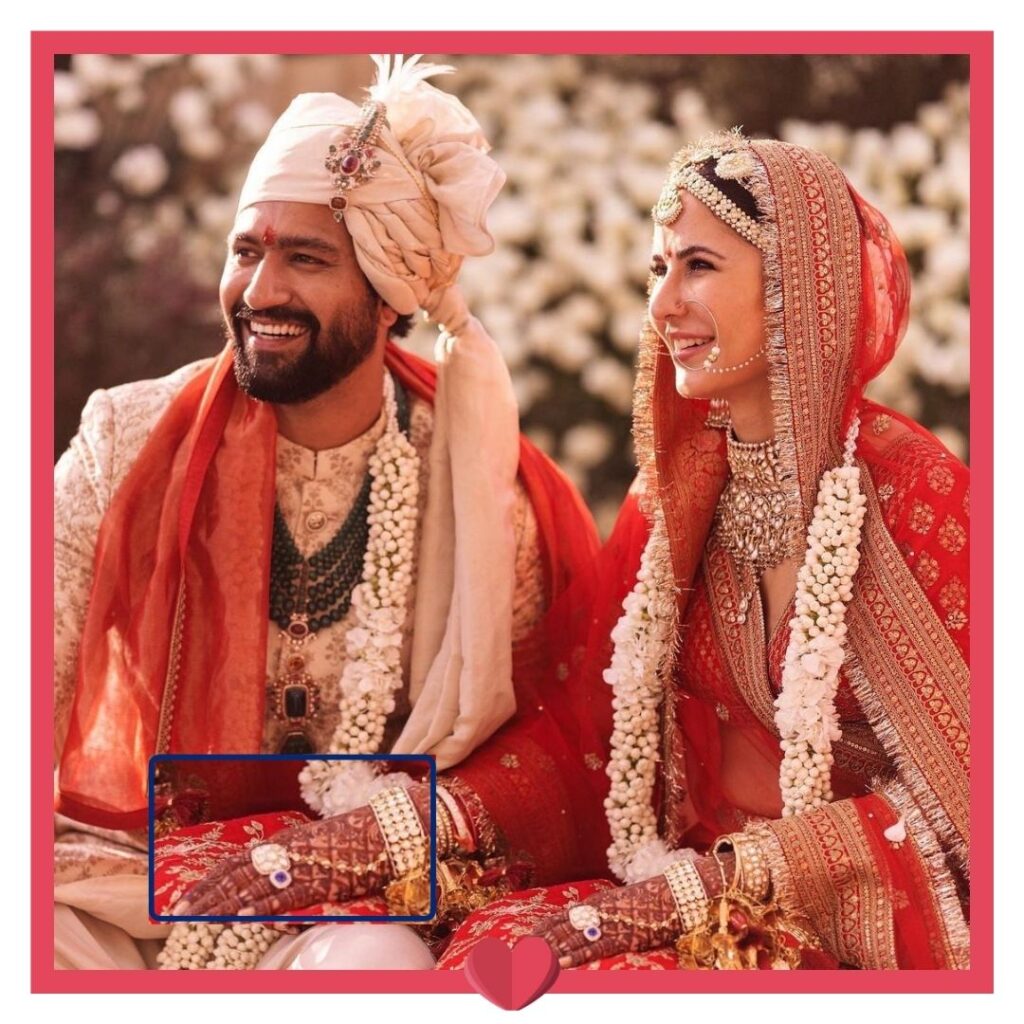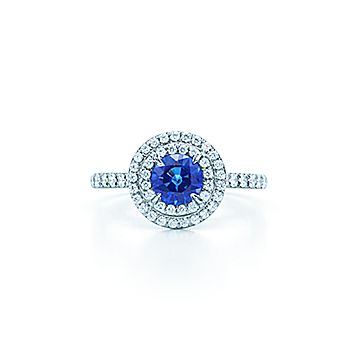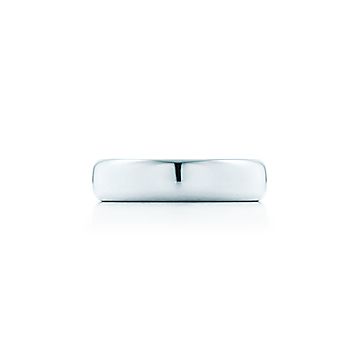 Katrina's wedding ring is inspired by the late Princess Diana's engagement ring, which her daughter-in-law, Kate Middleton, now wears. The People's Princess picked the trinket herself in 1981 and it still is the most sought-after style in engagement rings. The popular ring features a 12-carat Ceylon sapphire in the middle and 14 solitaire diamonds on the sides.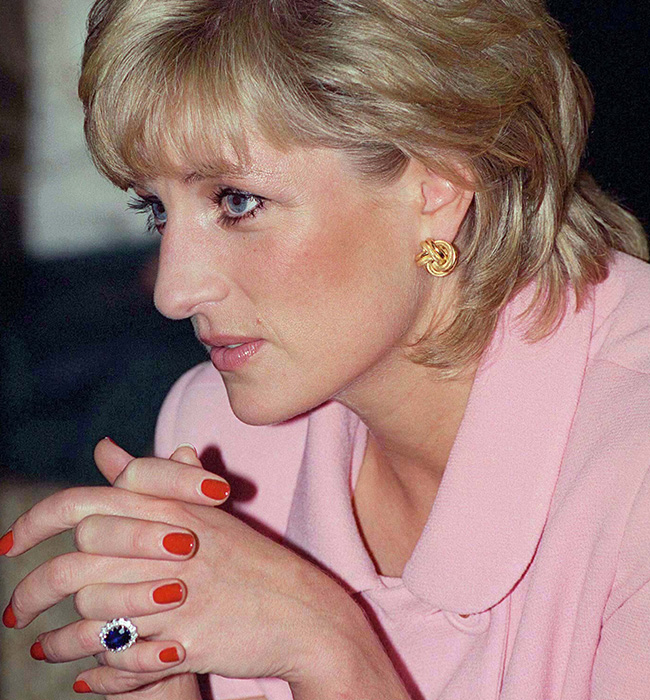 The Fringe Details Of Her Veil Are An Ode To Kaushal's Punjabi Roots
Another detail of the bride's wedding look which stood out was the fringe details of the bridal dress veils, which is also called "kiran lace" in handlooms. They're quite popular in Punjabi outfits and dupattas. Since Kaushal is Punjabi, Katrina honored his roots by including this handloom weave into her wedding attire. Sabyasachi detailed the clothing as he posted the couple's hearty pictures and wrote that the handmade kiran is done with hand-beaten silver, further electroplated with gold.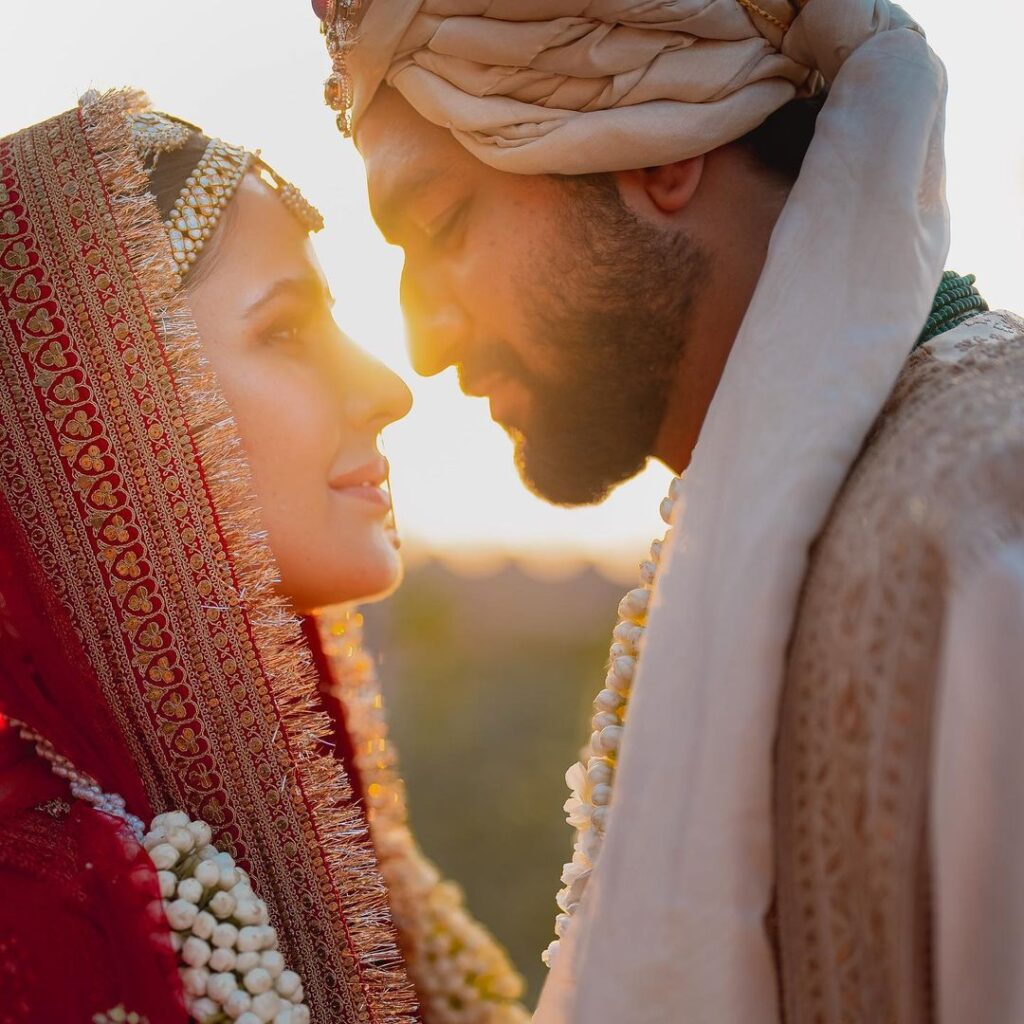 The All-White Mogra & Hydrangea Varmalas Are Gorgeous 
For their varmalas, the duo opted for an all-white design made of mogra flowers and hydrangeas. Varmalas is the first of the traditions groom & bride perform when they first see each other. They also wear it till the end of all the other functions and they officially become husband & wife. It's imperative you'd want to spend some time googling the best of the designs. If you're color-coordinating in the same palette as Vickat, then do consider going all white with the varmala design and matching the gorgeous aesthetic of this beautiful couple.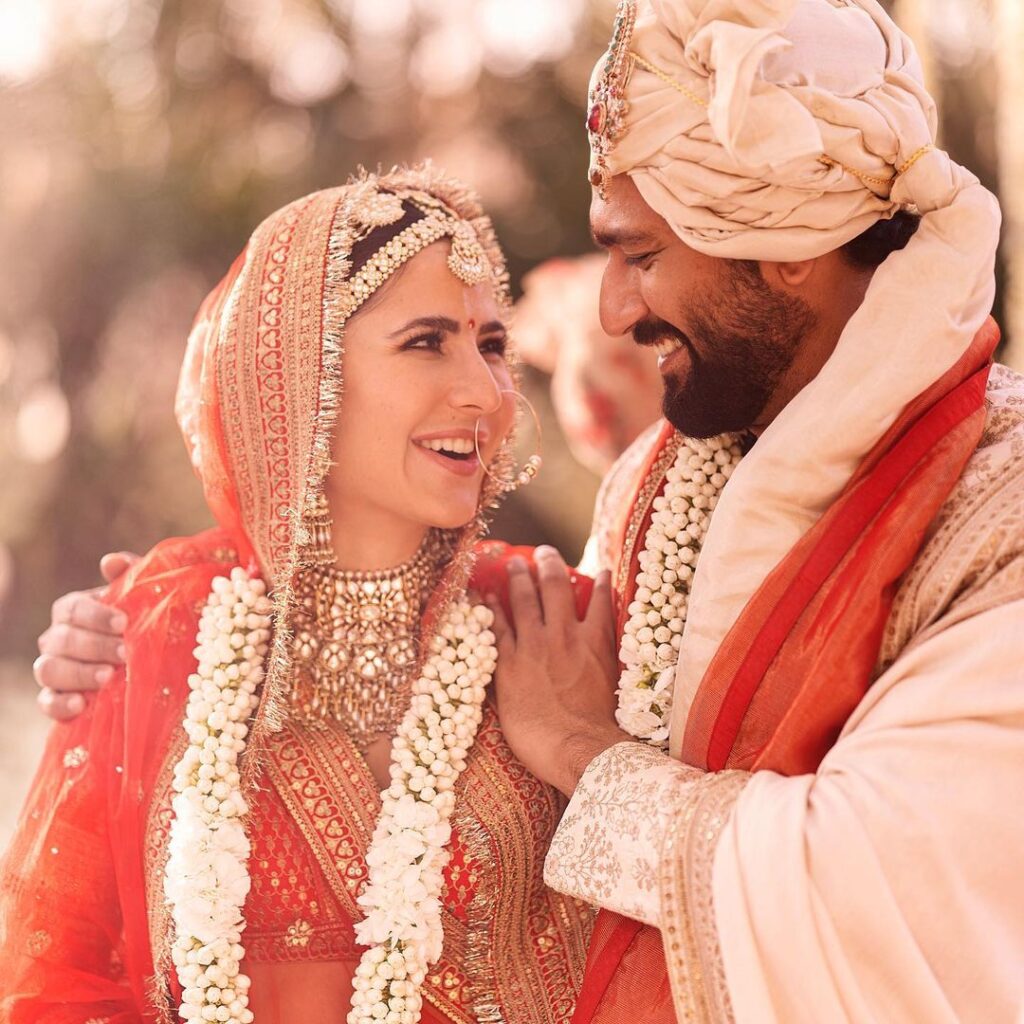 Katrina-Vicky Nature-Inspired Wedding Cake & Local Delicacies
While we wait for more pictures from the wedding, Vickat's wedding cake and menu details were revealed by bakers and caterers themselves. Their 3-tier wedding cake is inspired by nature and has some vivid florals as decor alongside a buttercream base. With a cute "happily ever after" topper, this cake can easily serve as an inspiration for your own nuptials. Besides the cake though, Katrina-Vicky's wedding guests were served special delicacies from the state like mawa kachori, pyaaz kachori, kheer mohan, and kaju paan. According to a report by the Times of India, a local halwai has been set up inside the hotel premises and has been preparing mithais for three days regularly. These delectable sweets are served at all times, even during breakfast.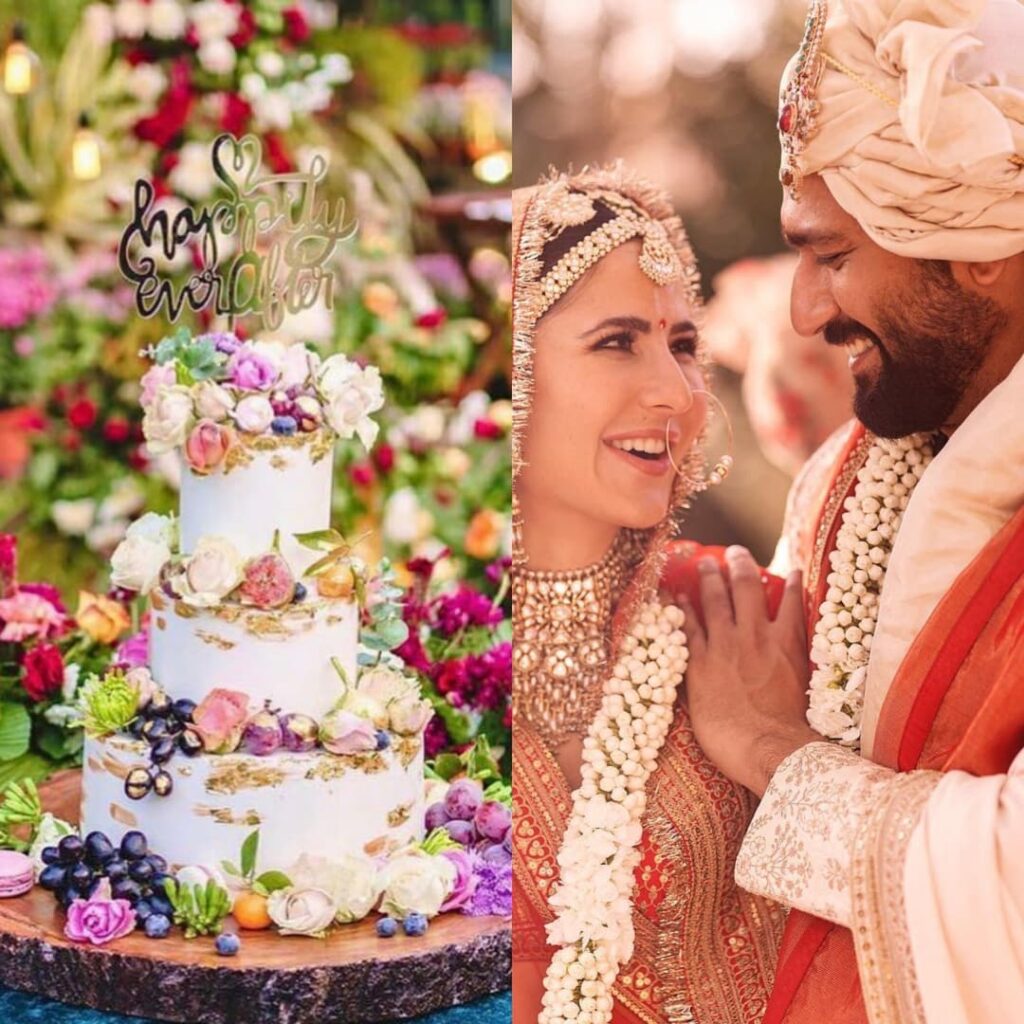 Courtesy: Bombay Times, Cake by Caramel Patisserie Delhi