Deepika Padukone & Ranveer Singh recently celebrated their 3-year anniversary in a quaint hillstation town called Almora. Unlike other hush-hush weddings of Bollywood celebrities, Ranveer & Deepika announced their wedding on social media and closed all speculations. Despite the announcement, tight security and a limited guest list made sure no one could catch a glimpse of the inside affair until the official pictures were released by the couple just a few hours post their nuptials. The duo released multiple photographers from their multi-cultural wedding. One was an Anand Karaj ceremony to honor Singh's heritage and the other was a Konkani wedding to honor Padukone's South Indian heritage. While a lot of their wedding details were reported, analyzed, and copied; none has received as much attention as the intricate wording on the bride's crimson red overhead dupatta "Sada Saubhagyavati Bhava".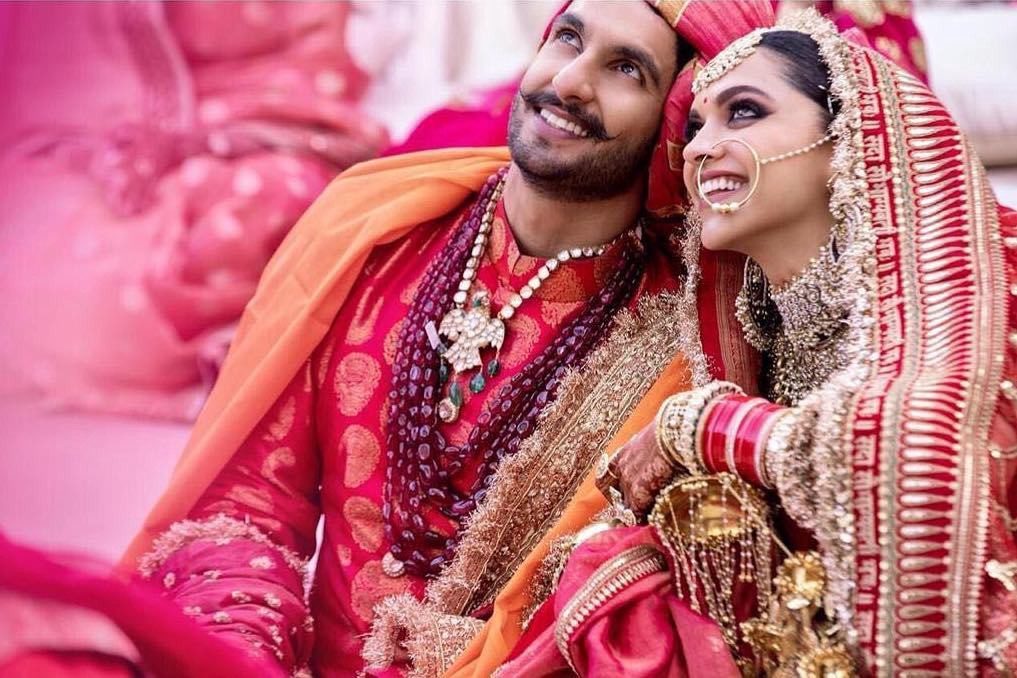 The image of that gorgeous dupatta must have already come to your mind. For Deepika & Ranveer's Sindhi wedding, the couple trusted Padukone's go-to designer Sabyasachi to design their outfits. 
#1 Overhead "Sada Saubhagyavati Bhava" Dupatta
Embroidering "Sada Saubhagyavati Bhavah" on a dupatta is the safest and a beautiful option for brides. This would also make the inscription show clearly in all pictures and make the hefty price of the embroidered dupatta pay off. Besides, there's something beautiful about indulging in traditions on the big day. That giddy feeling when you know you'll be a married woman soon and the sindoor, mangalsutra, and the color red all seem like a bit closer to you. By carrying these meaningful wishes with you, it will just make the wedding day a little bit special. And also, if you're a sucker for details, then this idea will woo you almost right away.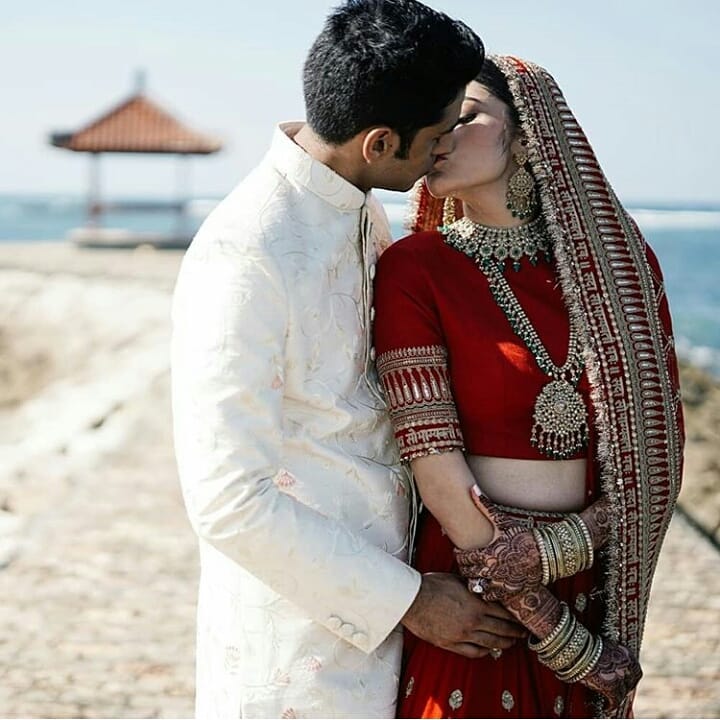 Besides the "Sada Saubhagyavati Bhavah" lace embroidery, Sabyasachi has included various other sayings on his bridal lehengas recently. These include "Sukhmati Roopmati Taramati Indumati", "Vaibhav Shalini Bhavah", "Ayushmati Bhavah" and not to forget Patralekha's Bengali verse that translates to "I give you my soul filled with love". Check them all out below.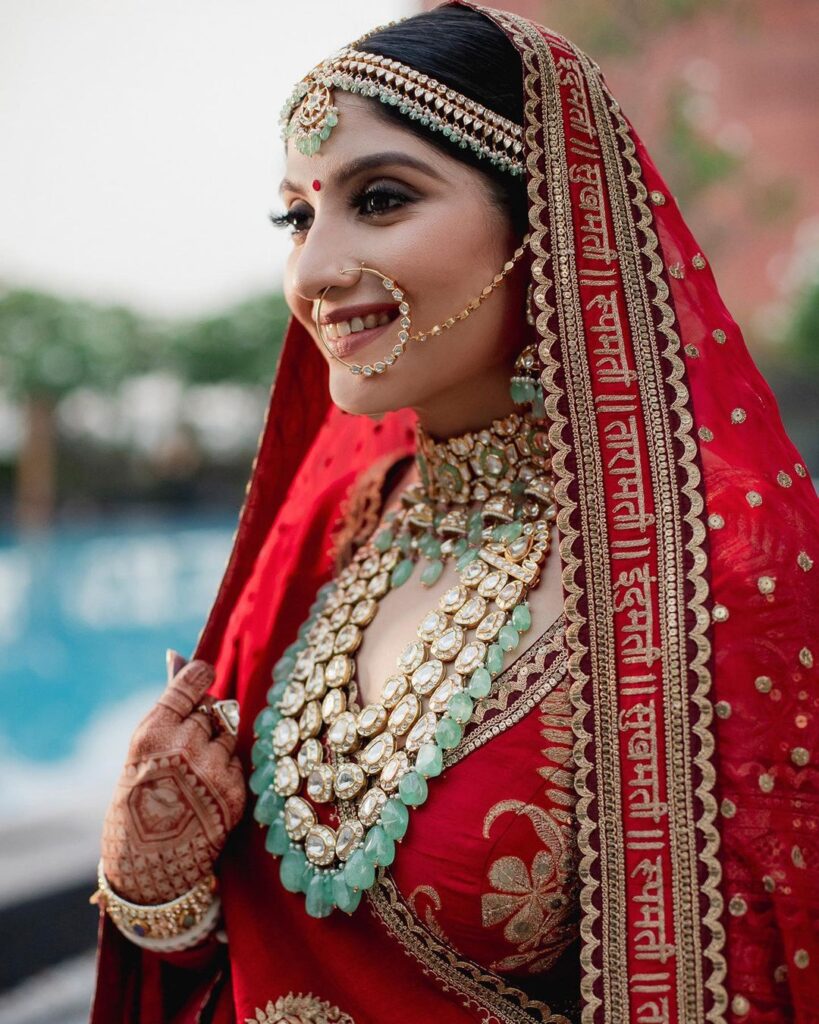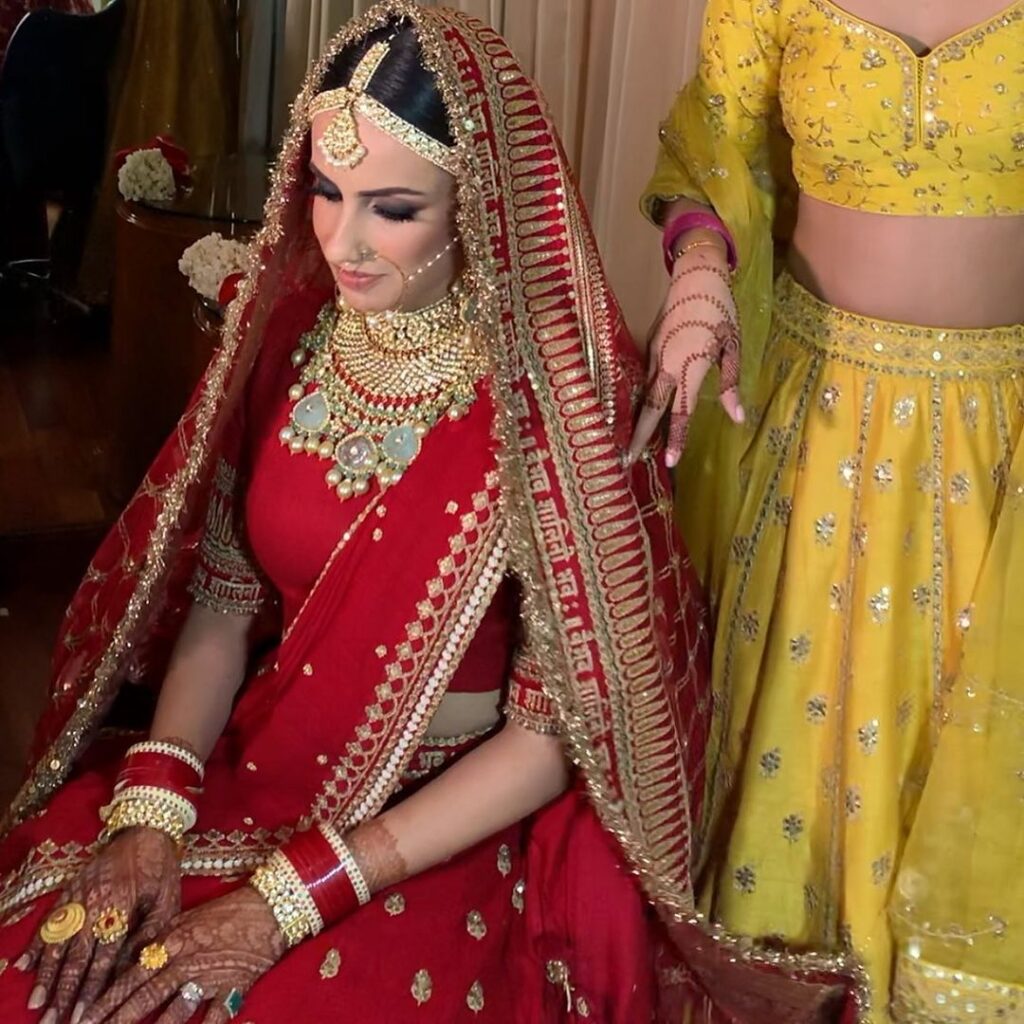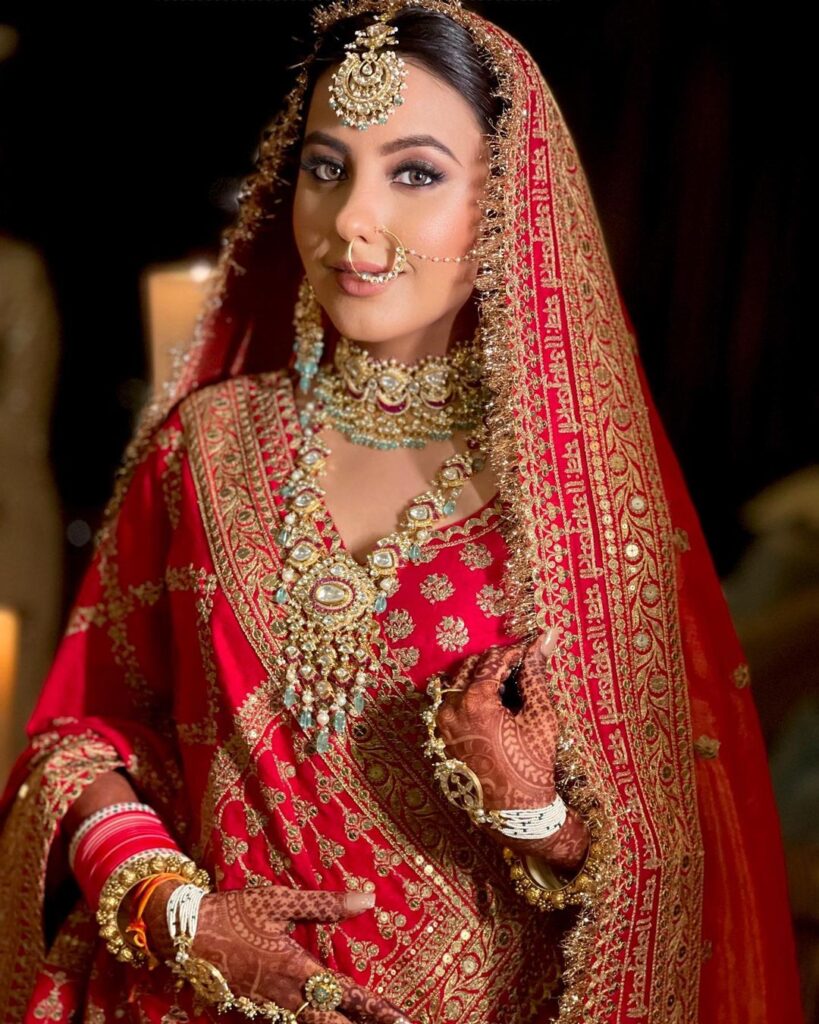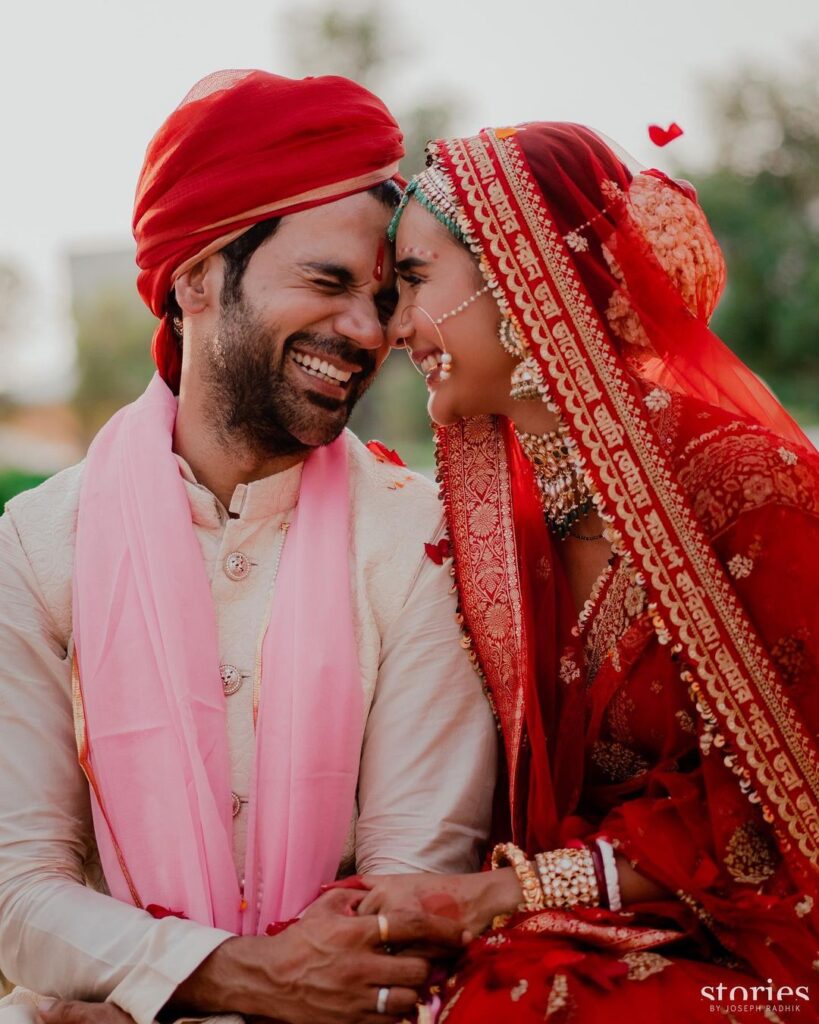 #2 On the blouse sleeves
Next, this saying can be easily embroidered on the lace of your blouse sleeves. Some Sabyasachi lehengas come with this style already. If you're also bored with the dupatta "Sada Saubhagyavati Bhava" lace, then, of course, getting it done on the blouse is a beautiful idea as well. Even on the blouse, it will be peeking through pictures just as much as the dupatta, so you don't have to worry about getting a good glimpse of this detailing in your wedding portraits.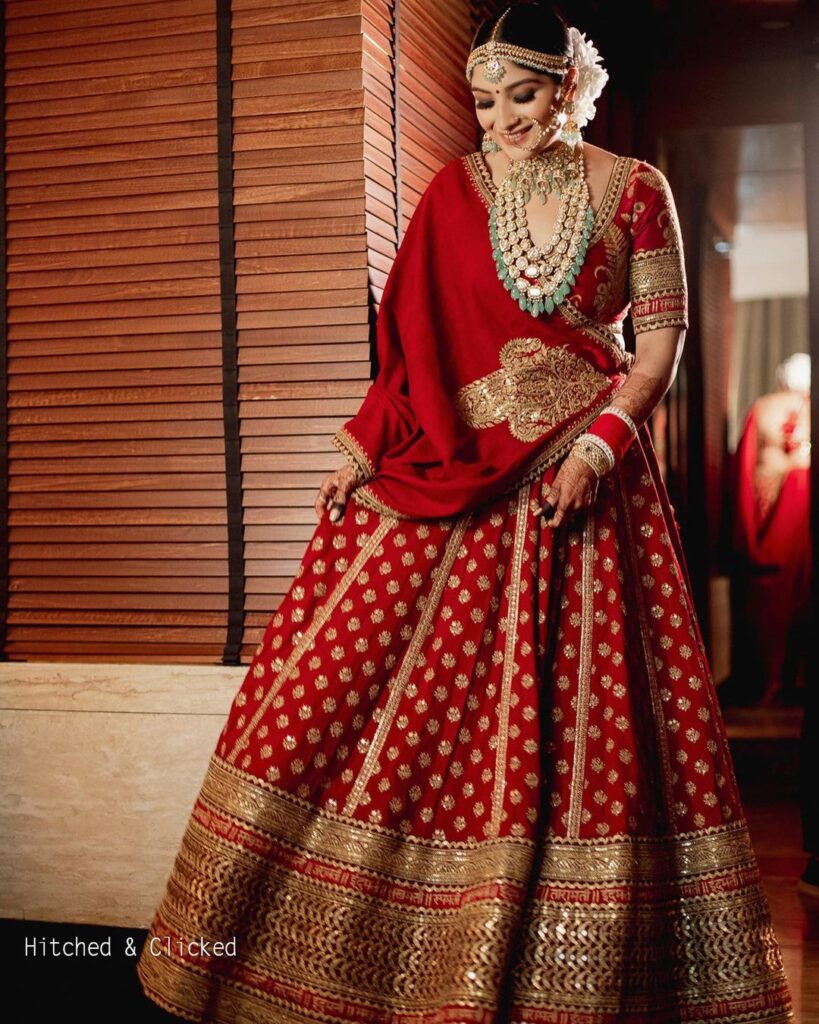 #3 "Sada Saubhagyavati Bhava" mehandi 
You can also get "Sada Saubhagyavati Bhava" mehandi on your hands. Get it on the back of your hands though, because that's when it will show the best – in pictures and in real life. You can get this saying etched on one hand, and another significant saying on another side of the hand.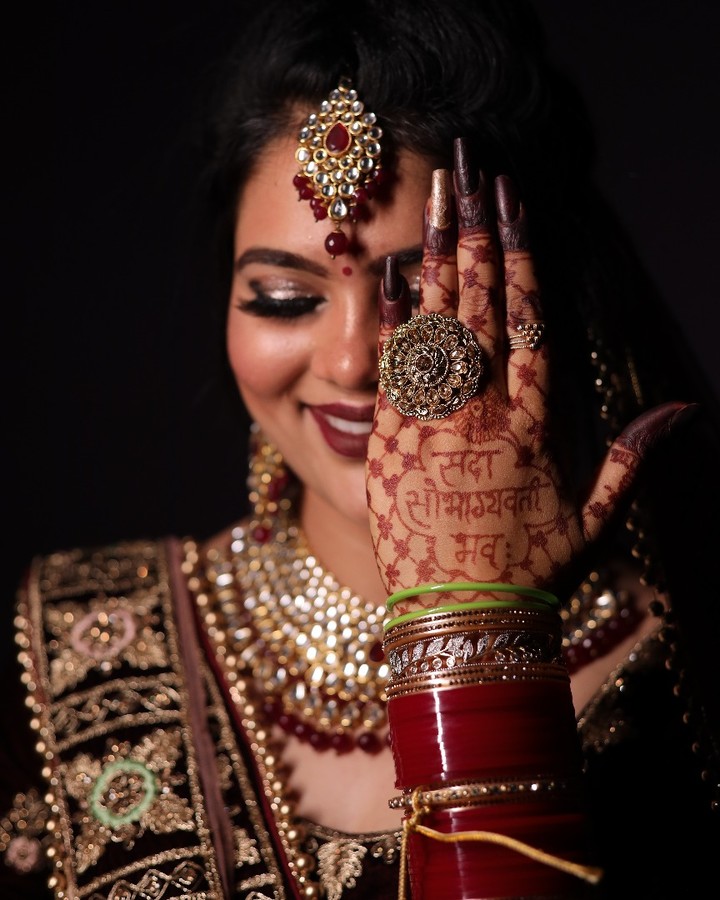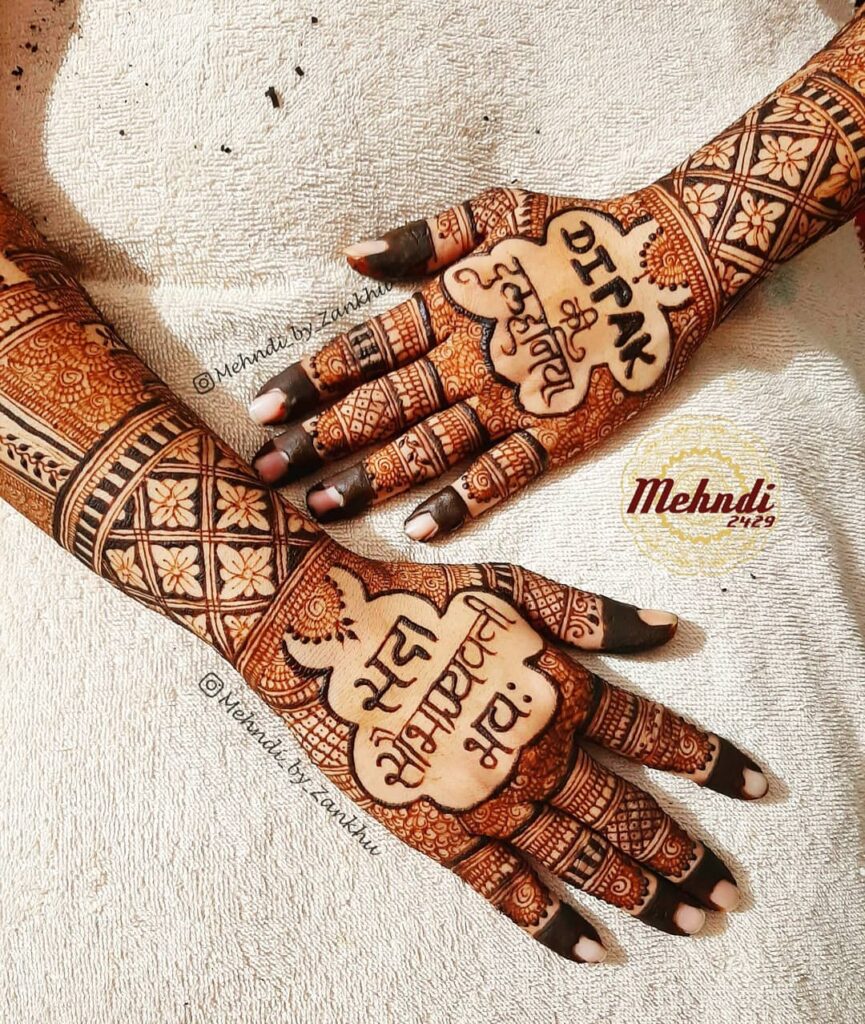 Lastly, you can get this "Sada Saubhagyavati Bhava" inscription on the blouse borders, waist lace, and even on the latkans. Not just Sabyasachi, many other designers have come up with their own ideas on how to include this lovely saying in their attire, and other meaningful sayings as well. Let your creative juices flow when trying to include more ways of including this gorgeous detail, and who knows? You might be the next trending bride.