Given the wide range of mehendi outfits on social media and designer stores, it can be a task to figure out what you want to wear at your own mehandi event. A good piece of advice is to first sort out in your mind what you want your mehendi look to be like. It can be an easy, functional ensemble in saree/ sharara/ printed lehenga and minima floral jewelry or a glamorous bedecked lehenga set paired alongside metal jewelry. Alternatively, it can be a mix of both worlds. No matter the choice though, make sure it's comfortable. The bridal henna application requires close to 6 to 8 hours. During the application, you'd have to be stiff and even when you get up, you need to make sure the wet henna doesn't touch anyone or anything. To ease this unavoidable situation, we'd suggest getting leg henna done the previous day. This will help with the long timing and comfort. 
From pastel lehengas to ruffle sarees and shararas, there's all kind of mehendi dresses on this list. Scroll through for a comprehensive board selection to sift & sort the mehendi look you love the most. 
#1 Given the trend of intimate celebrations, sarees have become a go-to choice for brides for their many prominent events, including weddings. Saree mehendi outfits have also become popular. Since mehandi calls for style, ruffle concept sarees are often given a preference. Decked up in a ruffle green saree and a pair of statement earrings, there's practicality and beauty in her mehendi look to inspire your own.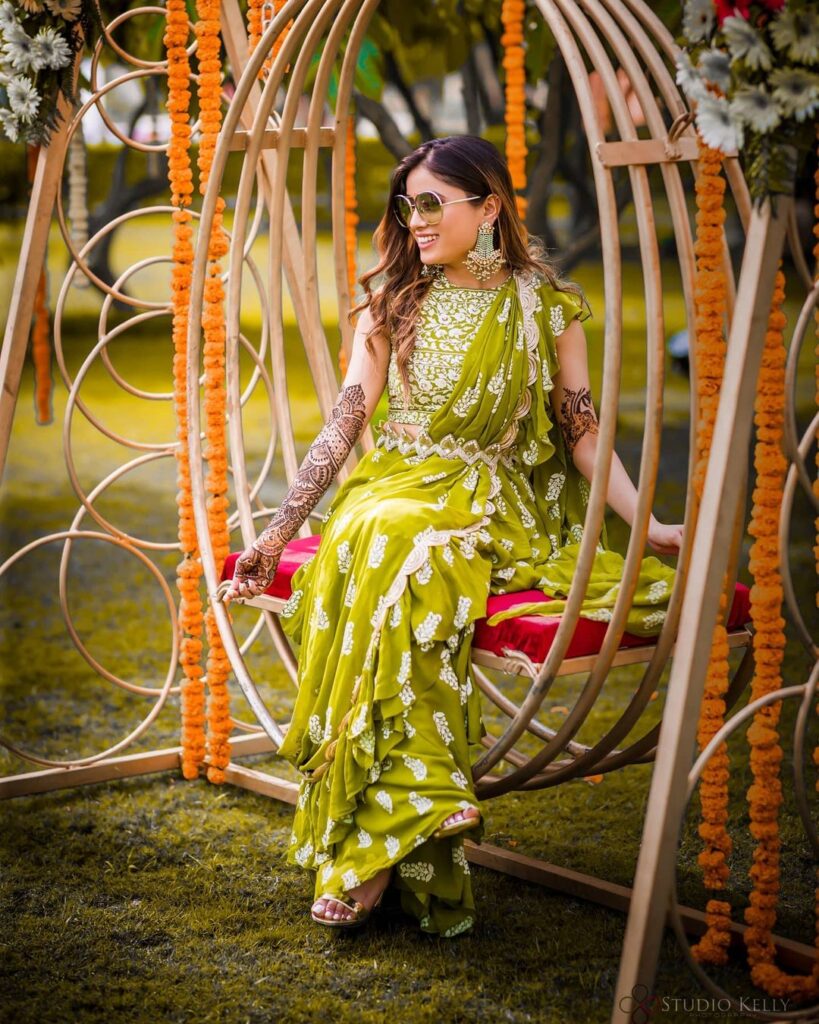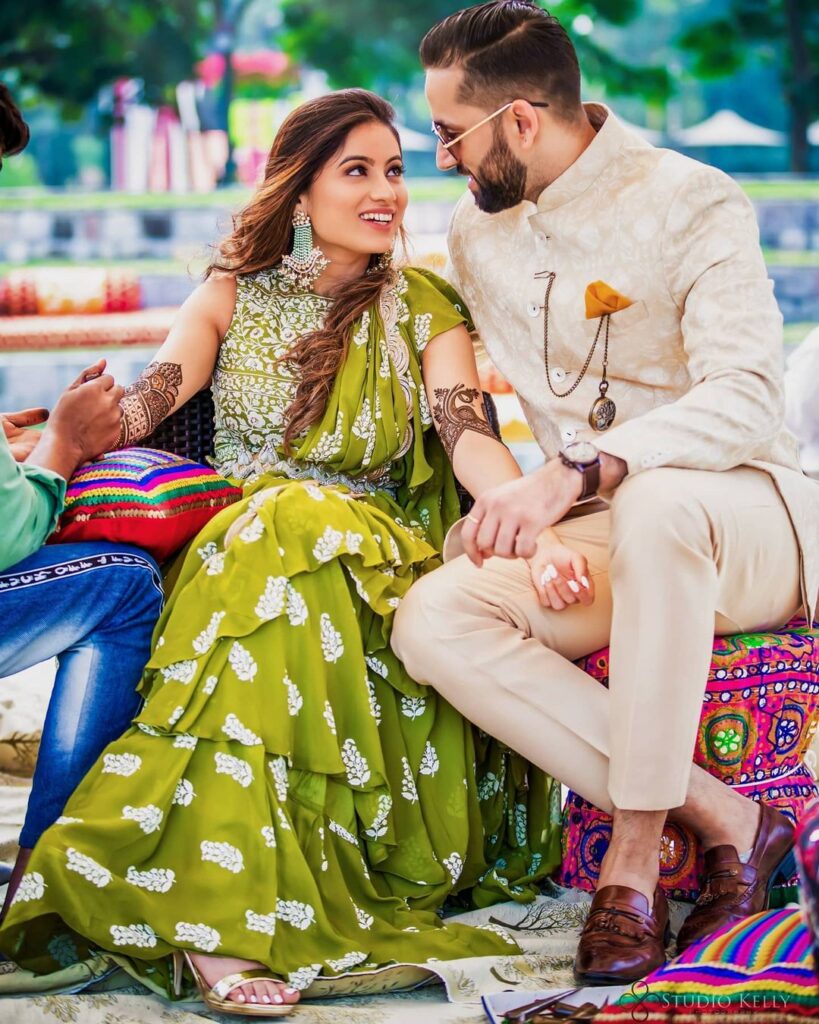 Courtesy: Studio Kelly Photography
#2 Shradha Arya's Delhi wedding created a buzz in the wedding world recently and so did her bridal looks. She opted for a yellow mehendi lehenga which was infused with shades of green and purple. When you can't decide on the color palette, multicolor is always the way to go! Plus, a multicolor lehenga also gives you varied color options for floral jewelery designs. You can pick any color to match the attire and look on-point.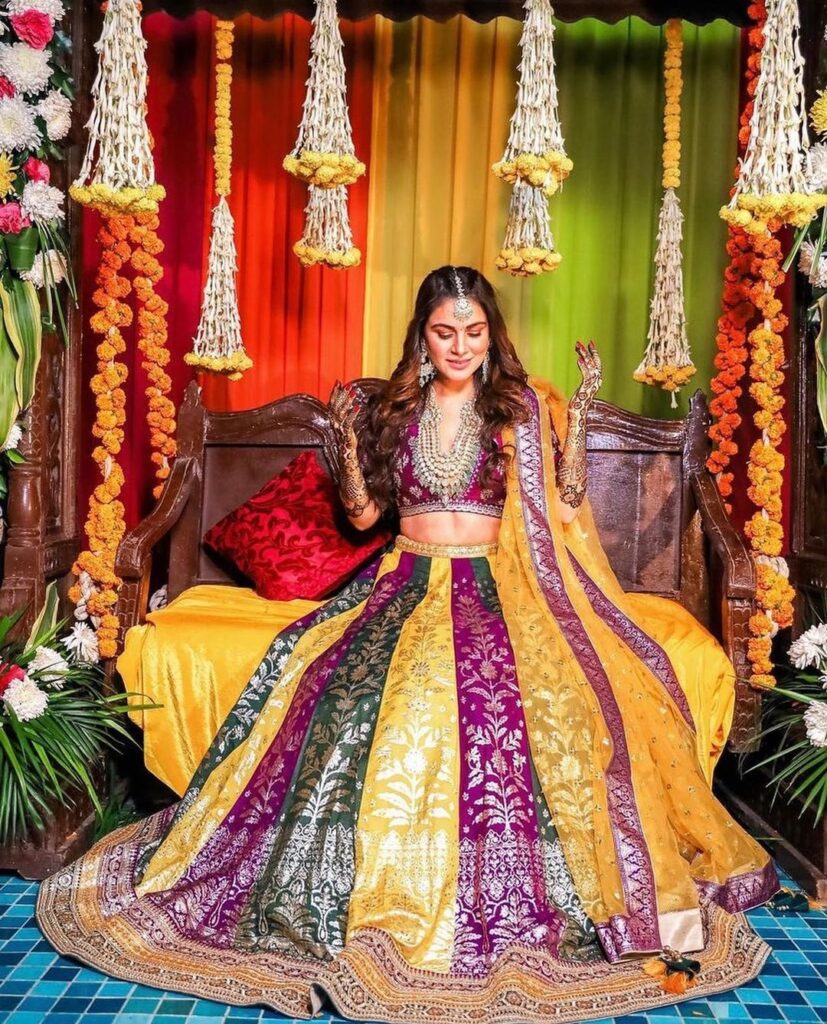 #3 Another TV actor, Aish Sharma, recently got married and wore quite a pragmatic mehendi outfit for her henna application. It was a green mehendi sharara suit with dupatta tucked well behind for fuss-free styling. She also tied her hair in a braid to not let anything come in between the comfort of hours of henna application. With just a few tendrils on the face, a contoured bridal Indian makeup looks, and a green bindi, Sharma redefined the practical mehendi look with her simple ensemble.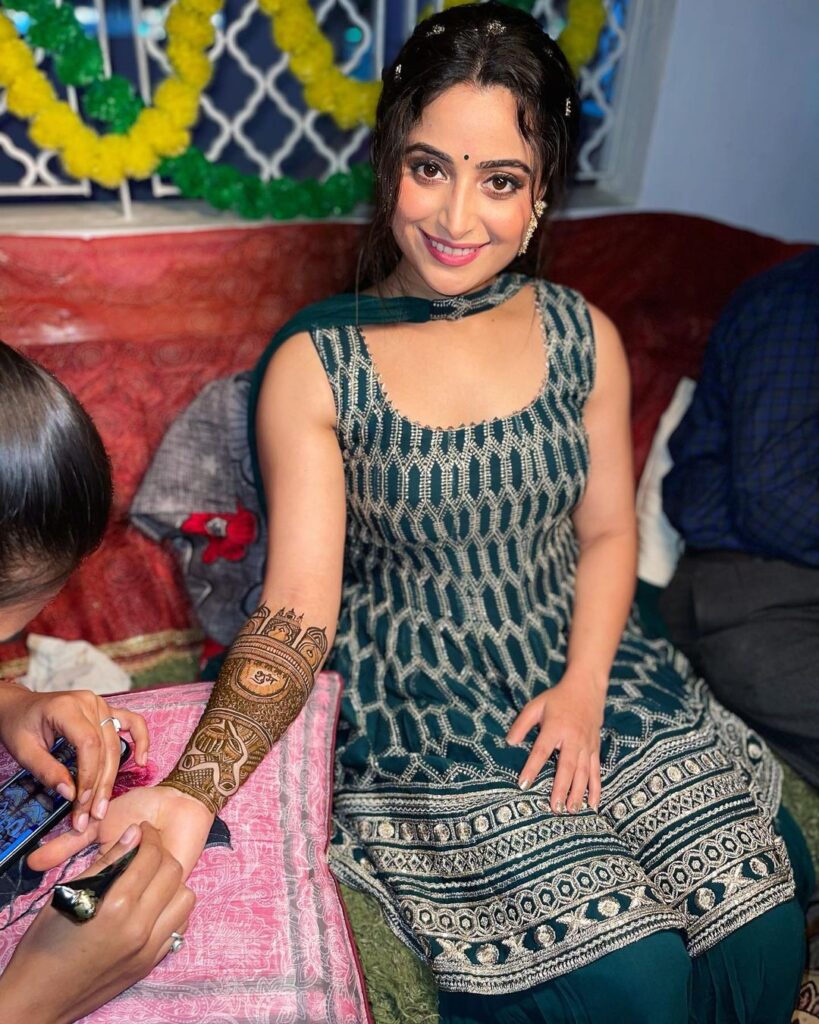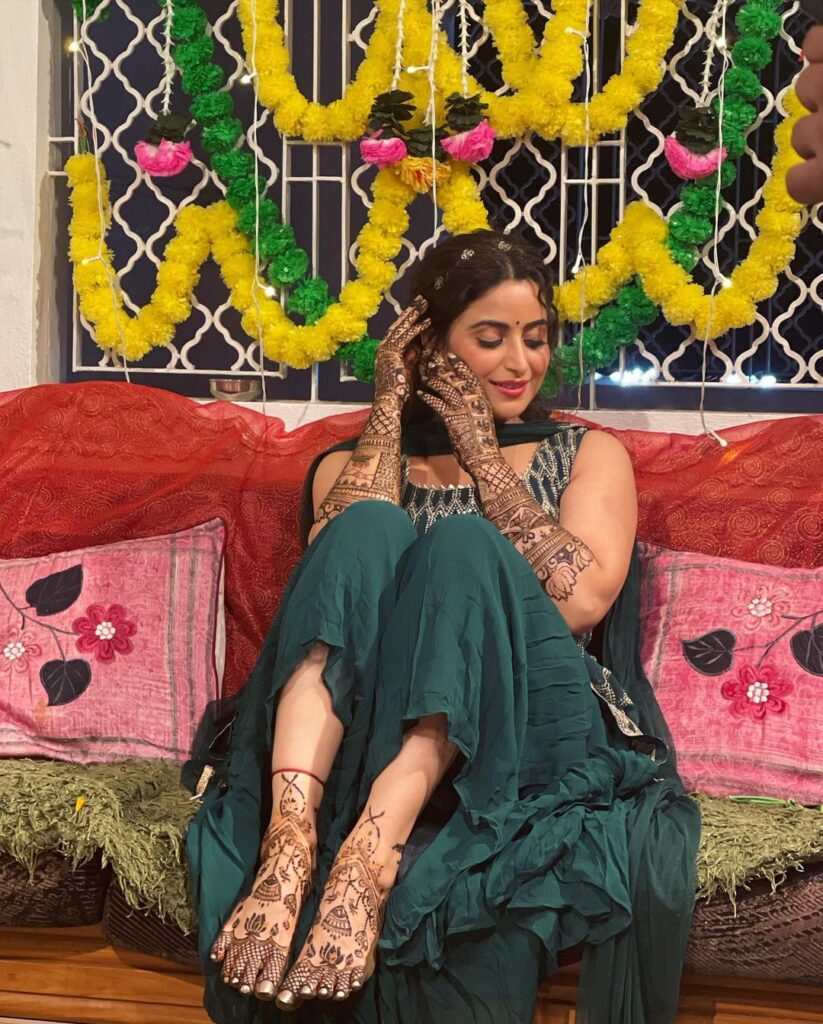 #4 For brides who don't want to give up on the allure of the lehenga for their mehendi outfits and still want to feel breezy at the event, opt for printed lehengas. Both Sabyasachi & Anita Dongre designer lehengas have ethereal printed ensembles to woo women. This bride here dons a gorgeous printed green lehenga for her sunshine mehendi ceremony coupled with a low-neck blouse, benarasi dupatta, and kundan set encrusted with multi-color stones.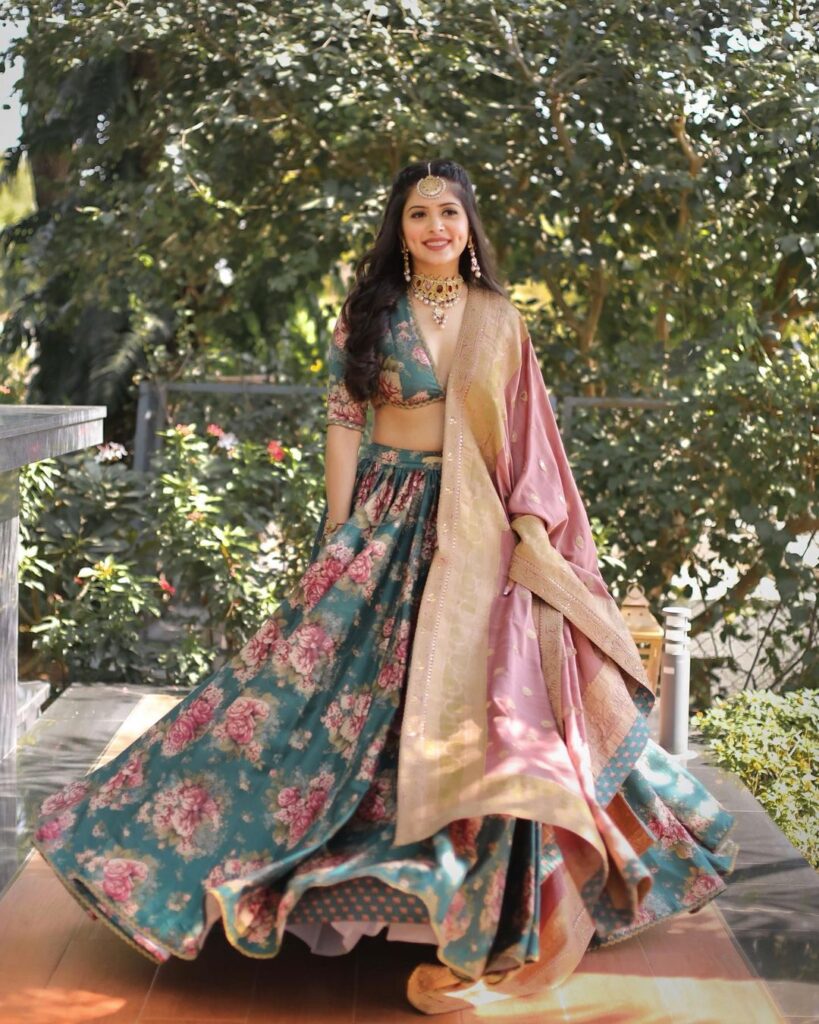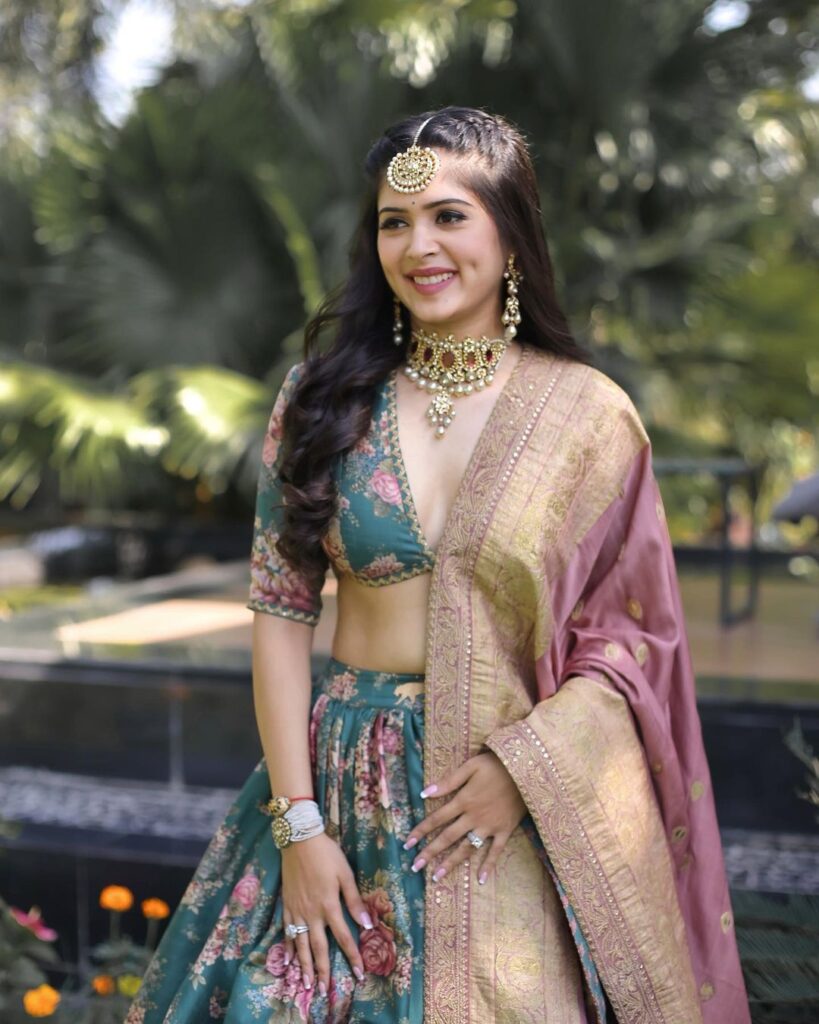 Courtesy: Shradha Luthra
#5 When you think of mehendi outfits, the first color that pops in our mind is pistachio green or emerald green. If you're someone who'd want to try on these customary colors, wear this stunning lehenga set by Gazal Gupta couture. Not just brides, but the designer has some tasteful attires for mehendi outfits for wedding guests as well. So, take your sisters & mothers along for the shopping.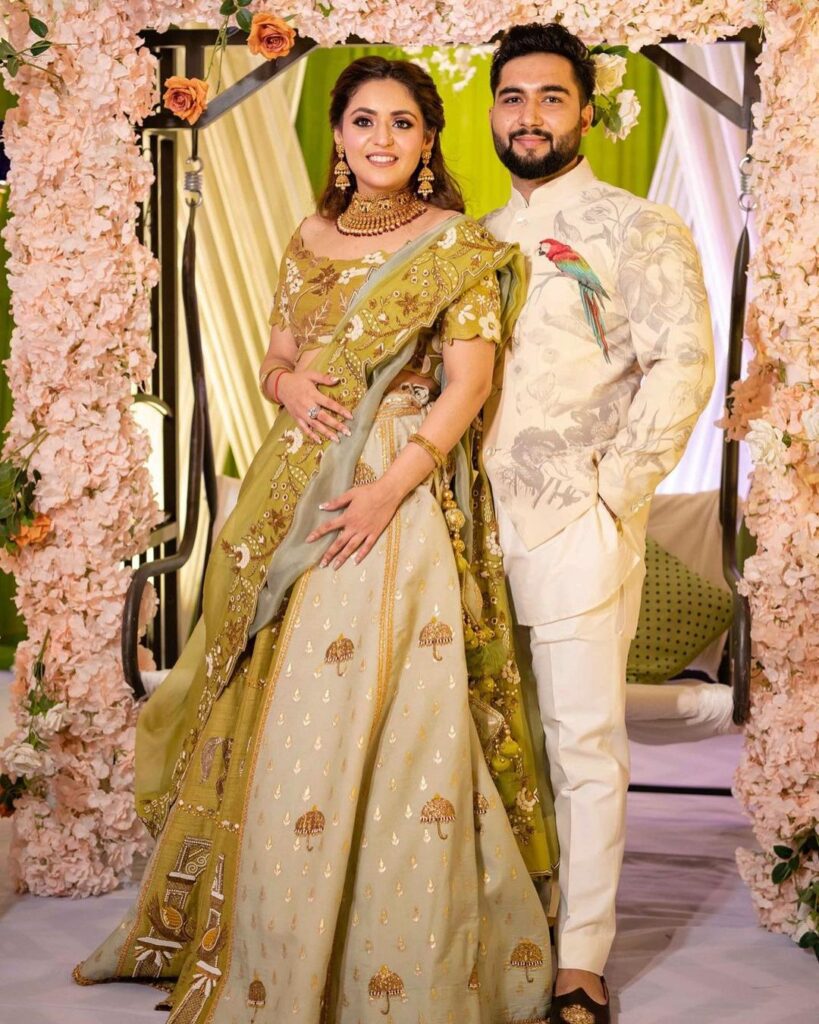 Courtesy: Kanika S.
#6 As we said, the six-yard of elegance really is gaining traction in the wedding world as the major dress idea for the main celebrations. They can make for simple mehendi outfits and still add grace and poise to your look. Take ideas from the bride featured below. Satin silk lehenga-style saree, a heavy blouse, wavy bridal hair, and meenakari jewelry come together for a classy mehendi bridal look. This can also work for mehendi outfits for sisters and mothers, given the bride is going a little more glamorous than this look.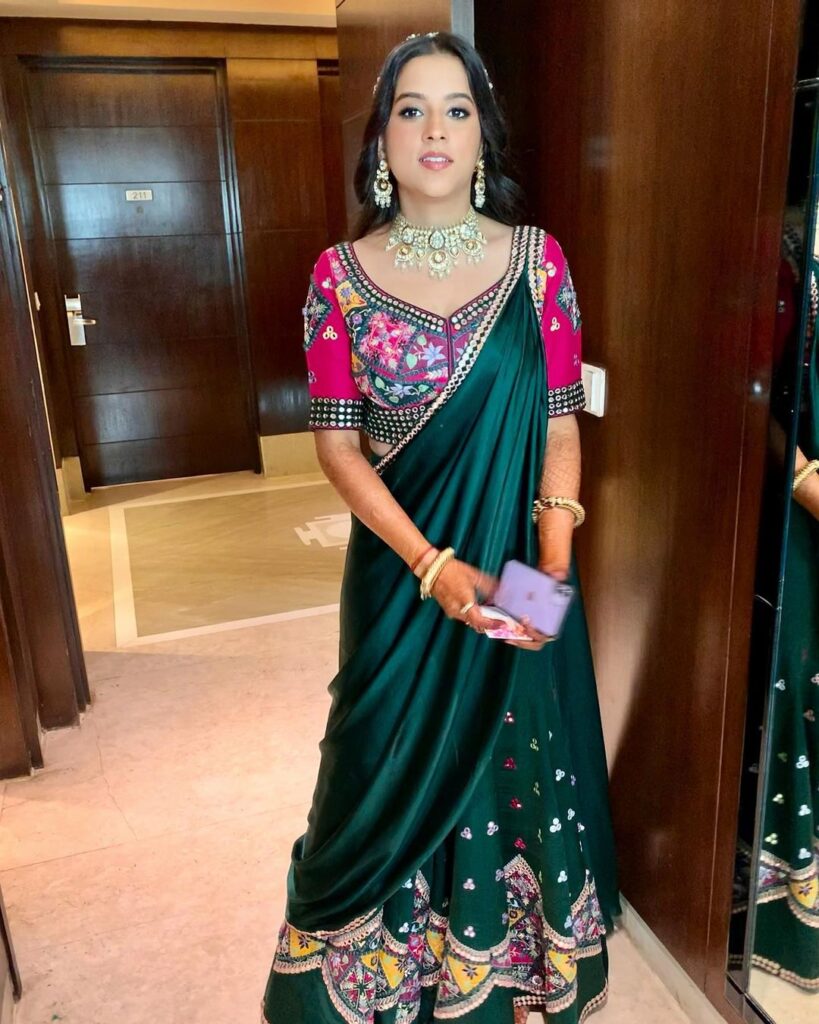 Courtesy: Makeovers by Saloni Patni
#7 A golden sharara suit with gota patti jewelry and minimal makeup creates a minimalistic mehendi outfit for the bride to look whimsical and feel comfortable at the same time. Pastels have clearly made their way into mehandi too! And we can't help but rejoice in their gorgeous subtle charm that can be carried at any event. If you're looking for a mehendi outfit for the groom, swipe to see how the groom coordinated in a deeper shade of blue with the bride.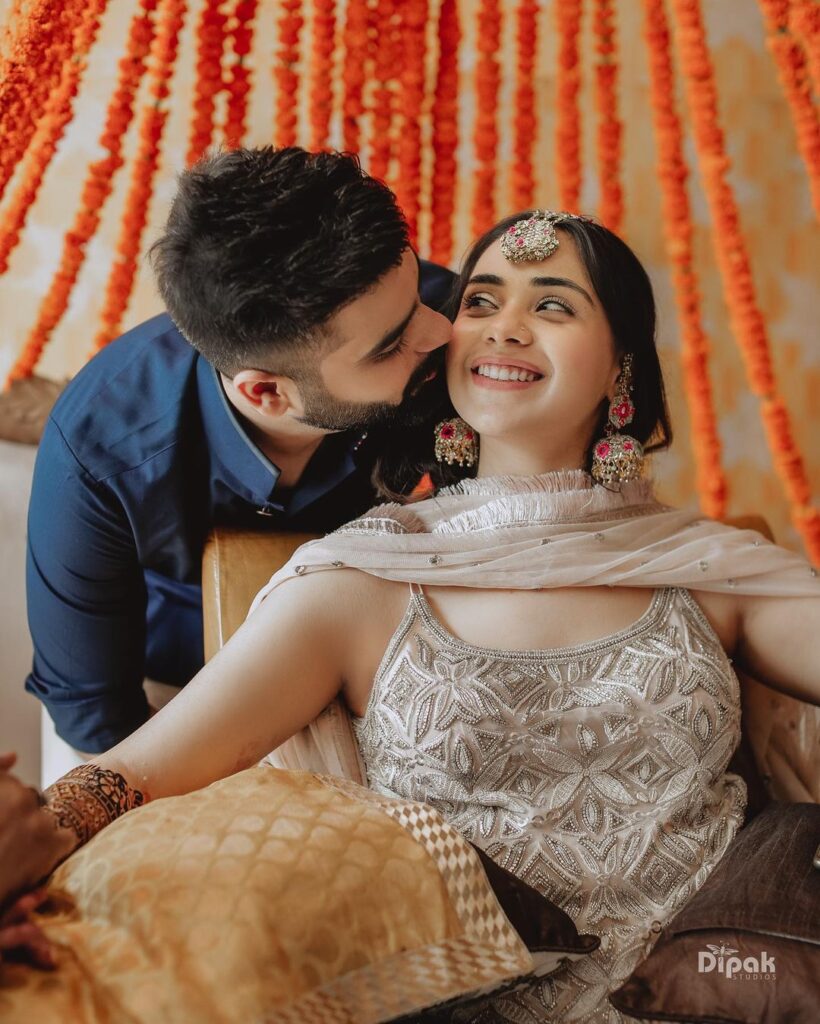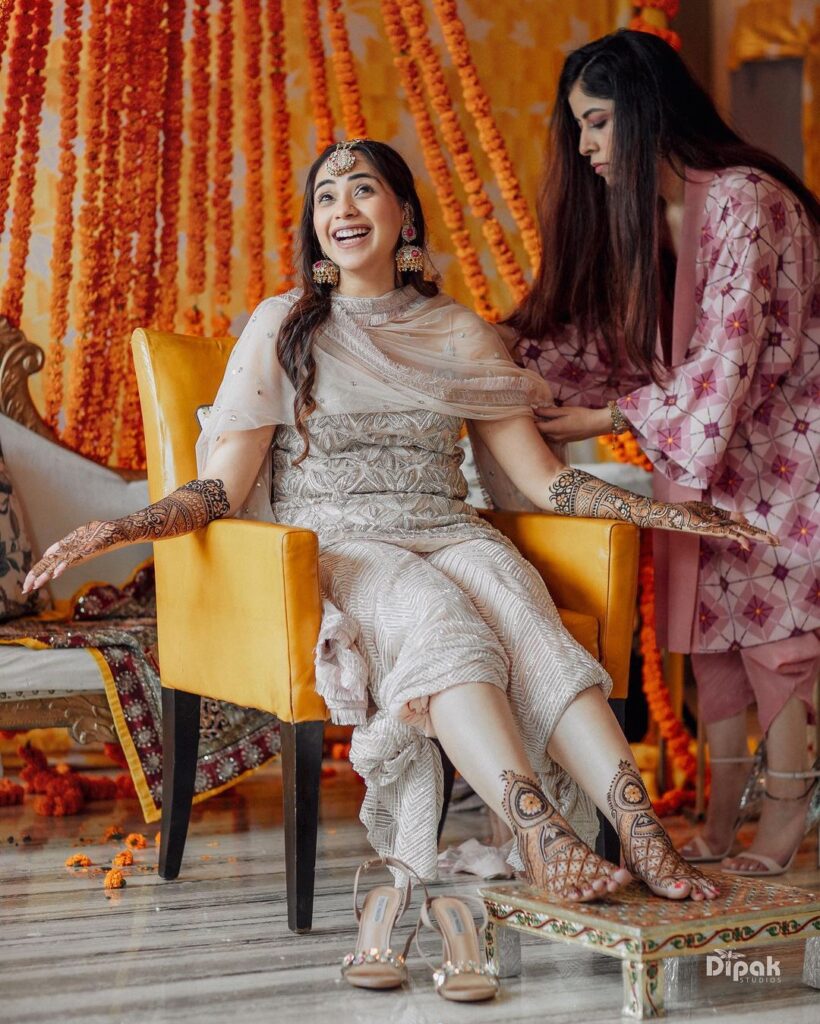 Courtesy: Dipak Studios
#8 Who said you can't wear sky blue to the wedding? Actually, no one. But the customary colors for the mehandi outfits are yellow, green, and pastels. However, brides love experimenting, and the big day is often reserved for playing safe. It's the mehendi dress planning when you can don your favorite color with no qualms. So, if blue is on your mind, let the color be your pick for this fun day.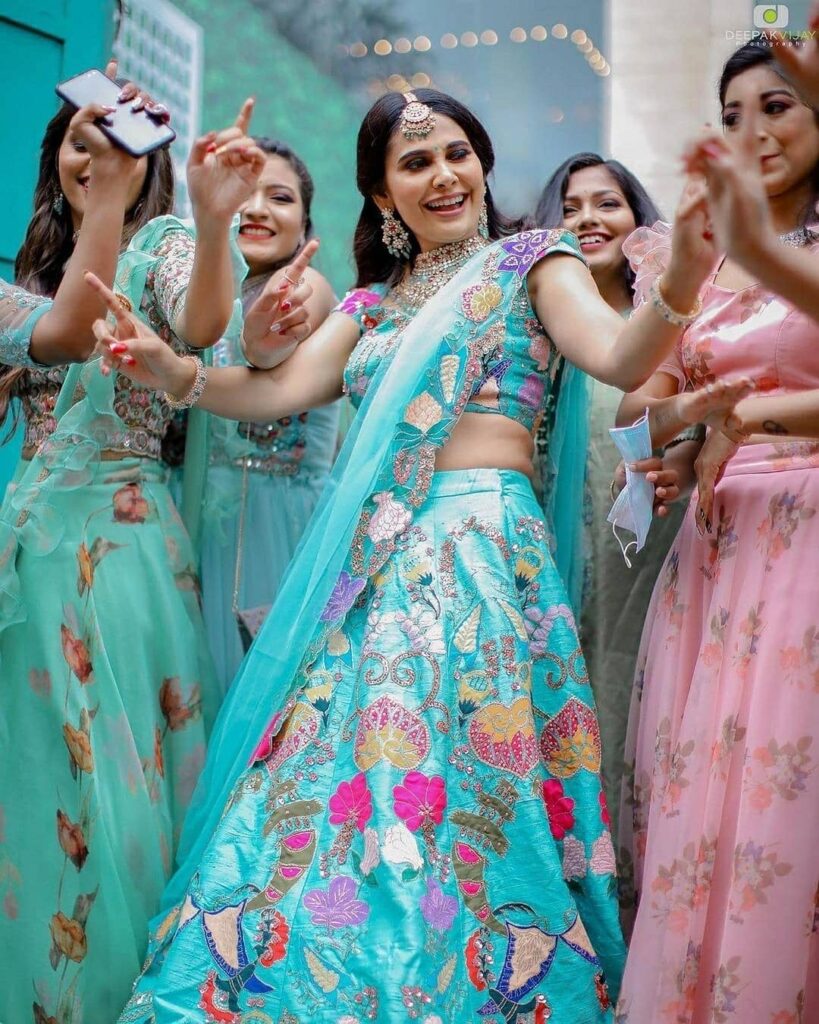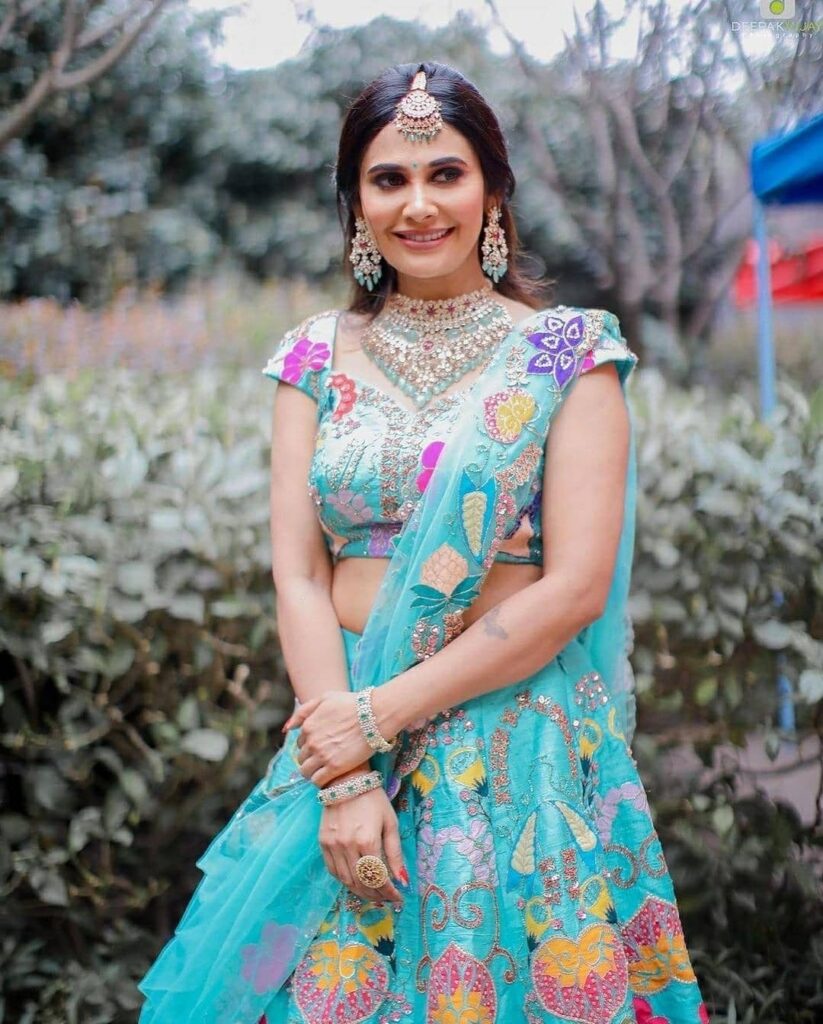 Courtesy: Kavya Venkatesh
#9 As mentioned above, there are no hard & fast rules for the attire color for a bridal mehendi dress. Lines are increasingly blurring for the customary and new colors, and this bride wore a deep brown shade and made the line even more balanced. Nimarta wore a mocha color mehendi lehenga and paired it with a heavily embellished blouse design and a kundan hairband. There are so many unique elements in her bridal mehendi look that you can't help but save her picture to your mehendi inspiration board.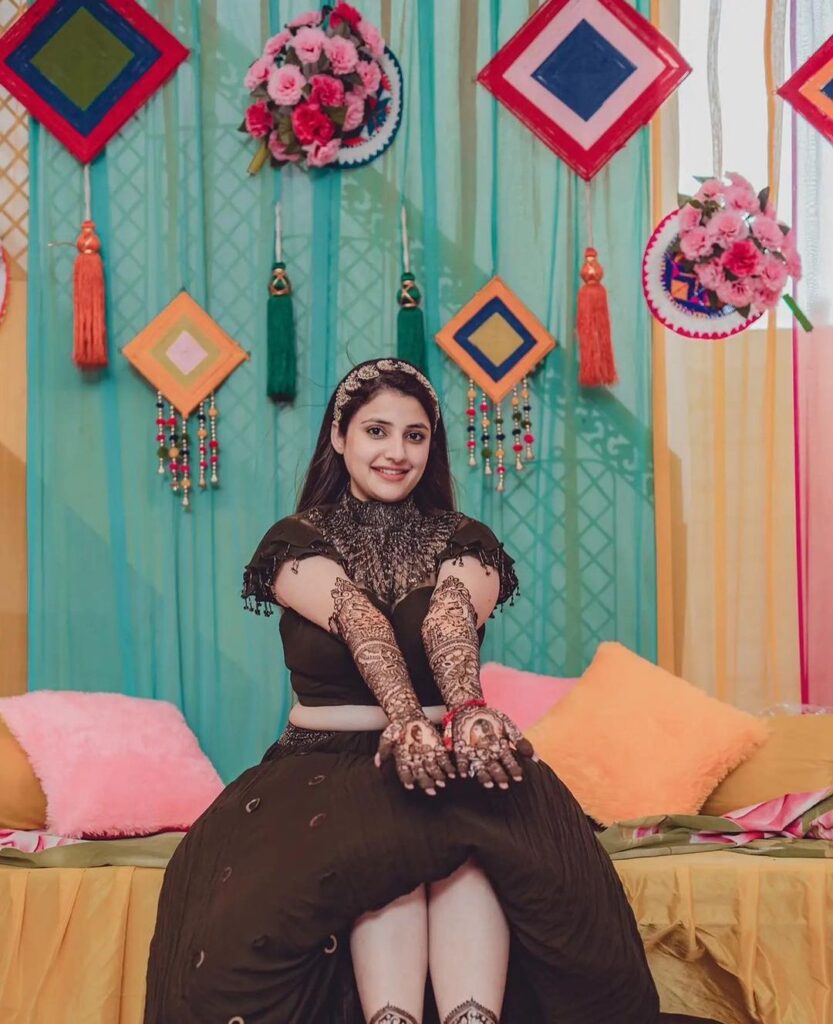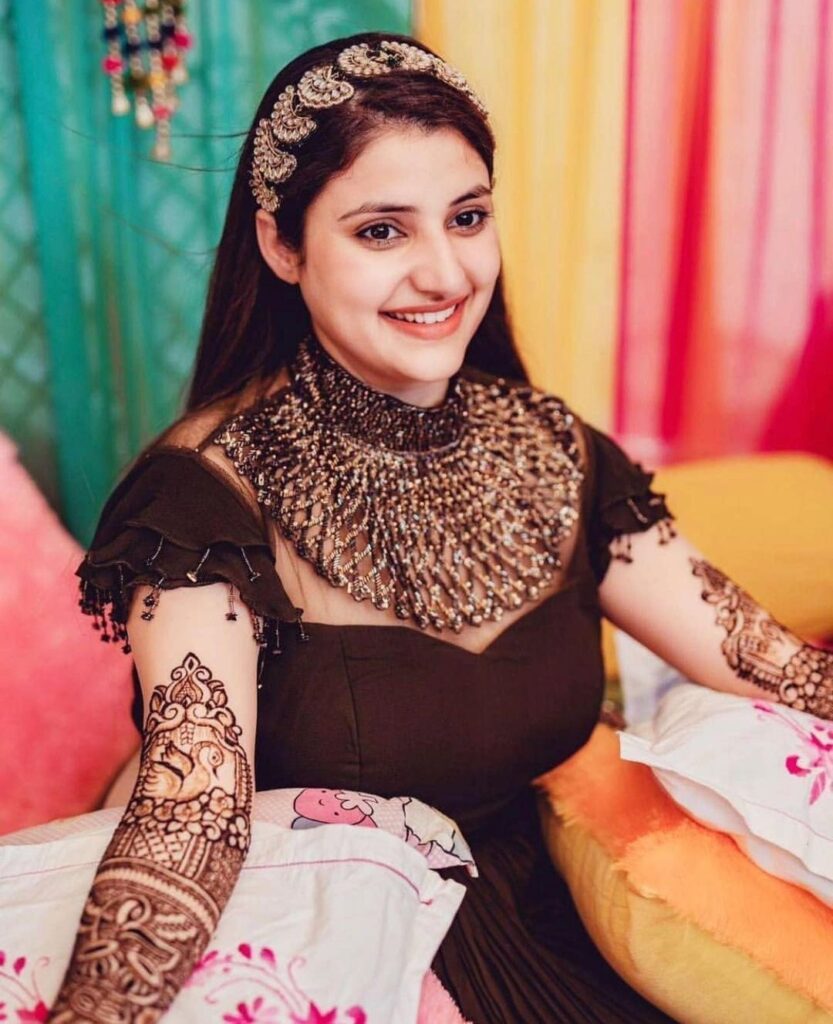 Courtesy: Nimarta Kaur
#10 A multi-color lehenga always shines through the lot. The smooth and aesthetic blending of colors catches the attention and always exudes a lovely appeal. Aisha Rao designed the applique lehenga using the brightest color matching the cheery vibe of mehendi. An alluring mehendi lehenga doesn't get any better than this.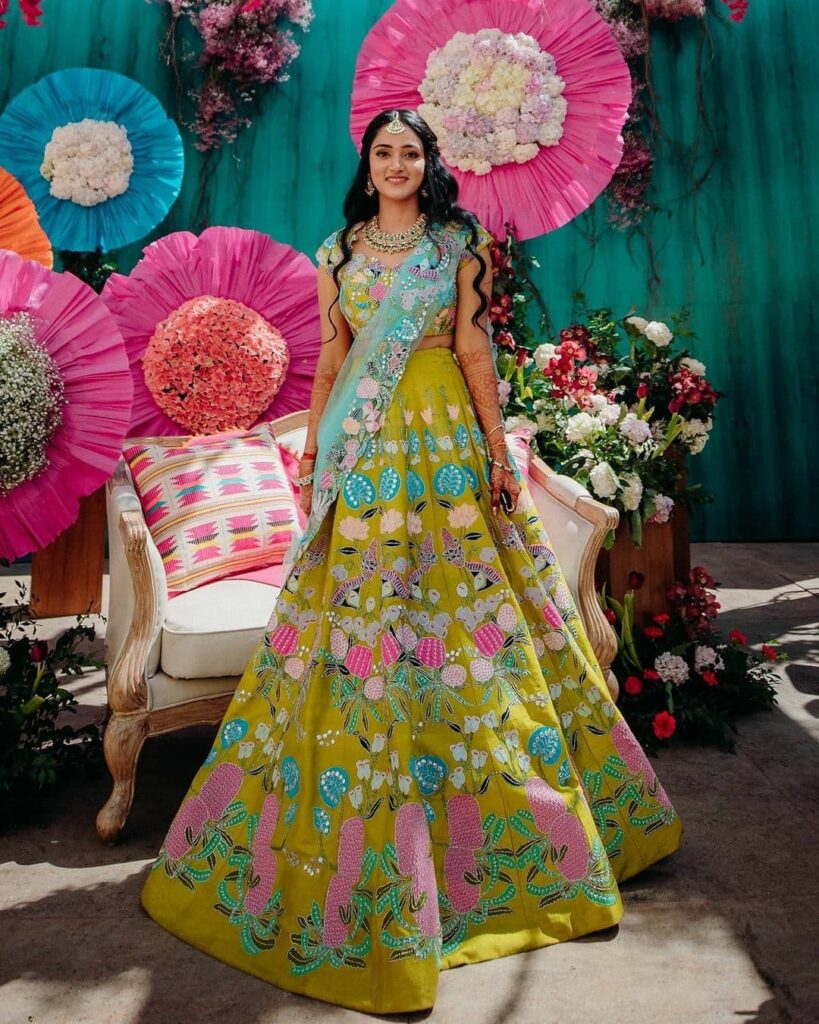 Buy a similar pistachio lehenga for 1,66,000 here. 
#11 Looking for inspiration for mehendi outfits for bride & groom? Take clues from this picture on how to coordinate perfectly with your other half on mehandi day. The bride looks resplendent in a combination of pastel colors in her lehenga and the groom coordinates in an ivory kurta-pyjama and a floral blue kurta set.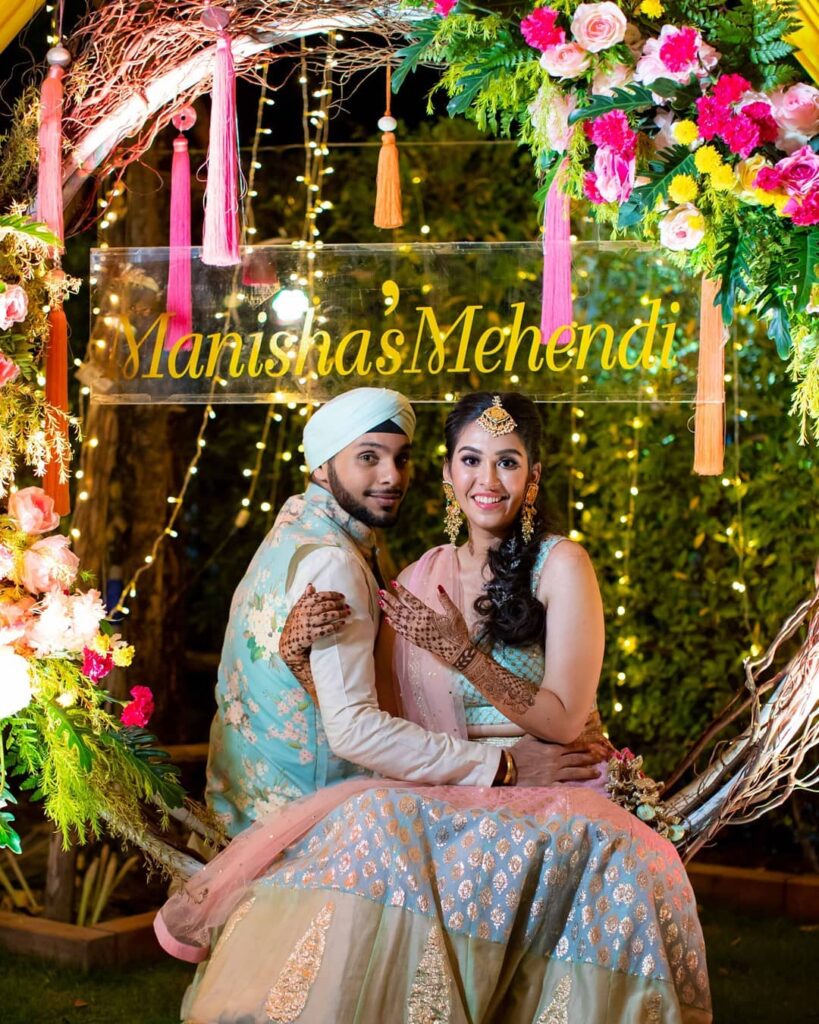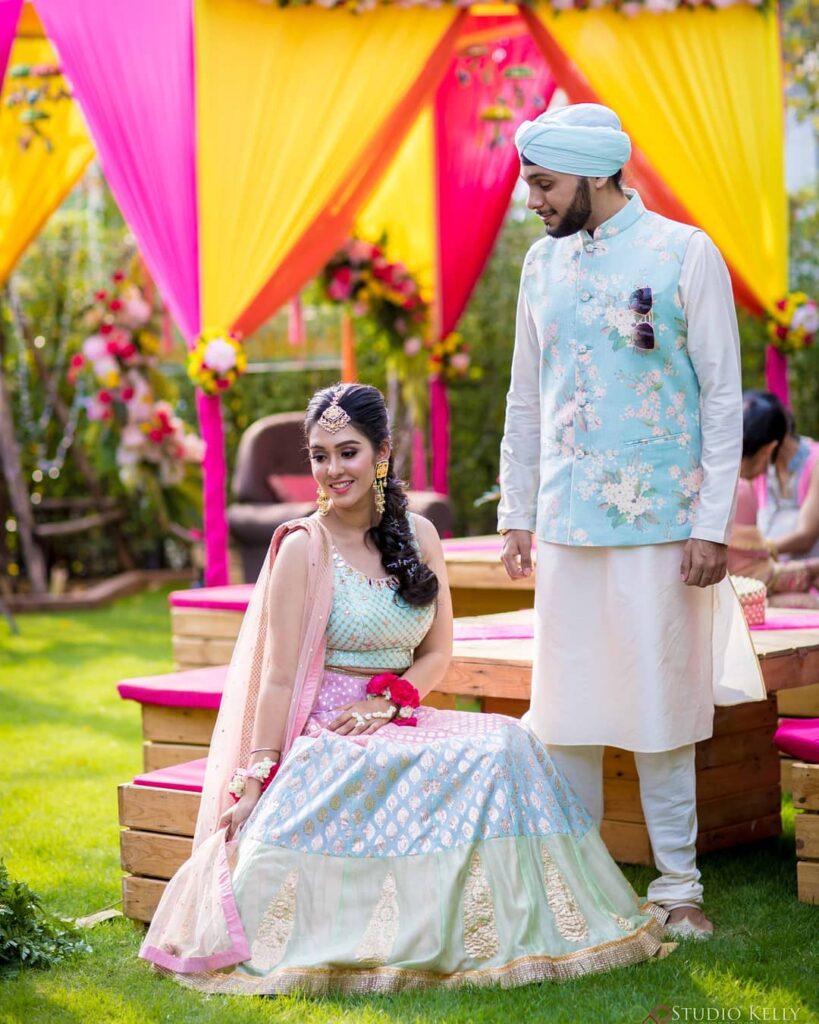 Courtesy: Jida Makeup Artist
#12 Ruffles are clearly the next big thing in the wedding market. They can be widely spotted on traditional wear, especially sarees, but also in lehenga dupattas and sharara pants. Bride Mansi took it a step ahead and introduced ruffles in her lehenga, blouse, and dupatta to add a glamorous effect to her otherwise simple blue lehenga set. And we also love how the mehendi outfit for the groom is also monochromatically complementing the bride.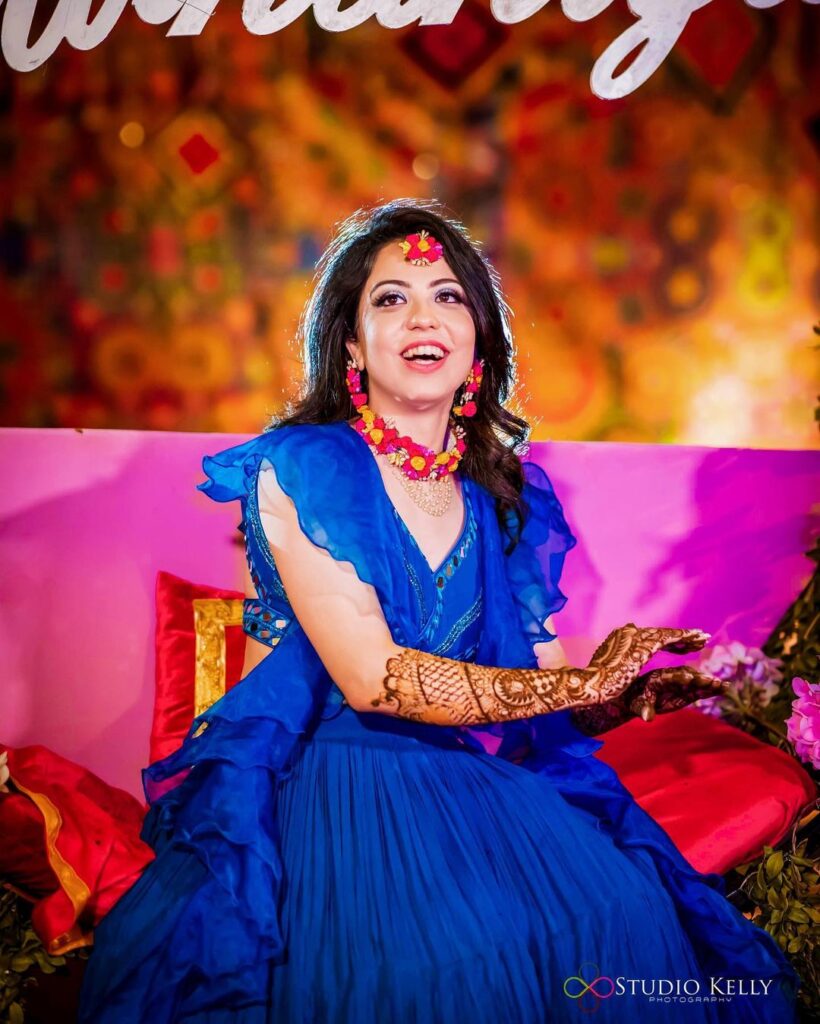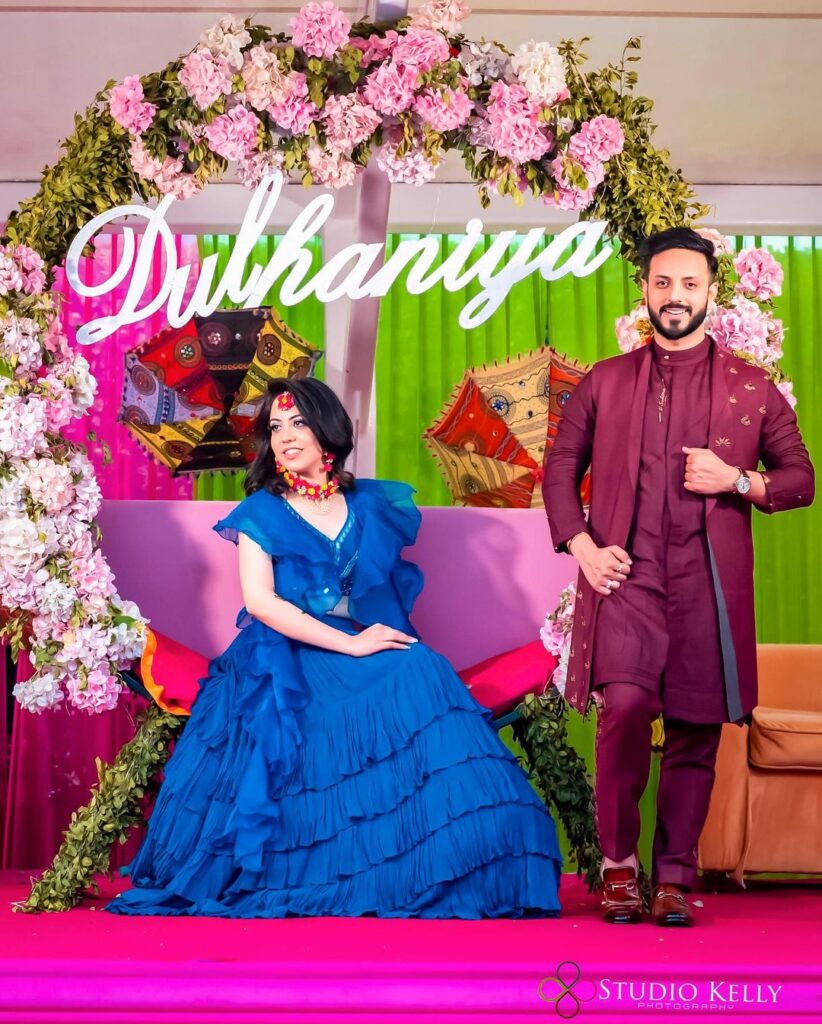 Courtesy: Studio Kelly Photography
#13 From mehendi outfits for brides to mehendi dresses for bridesmaids, you can find inspiration for all on this list. This gray ruffle saree matched alongside pink jewelery can work well for brides, but also can make for a great mehendi outfit for wedding guests. Keeping her hair back in voluminous braids, it's always a good idea to keep your mehandi look as fuss-free as possible.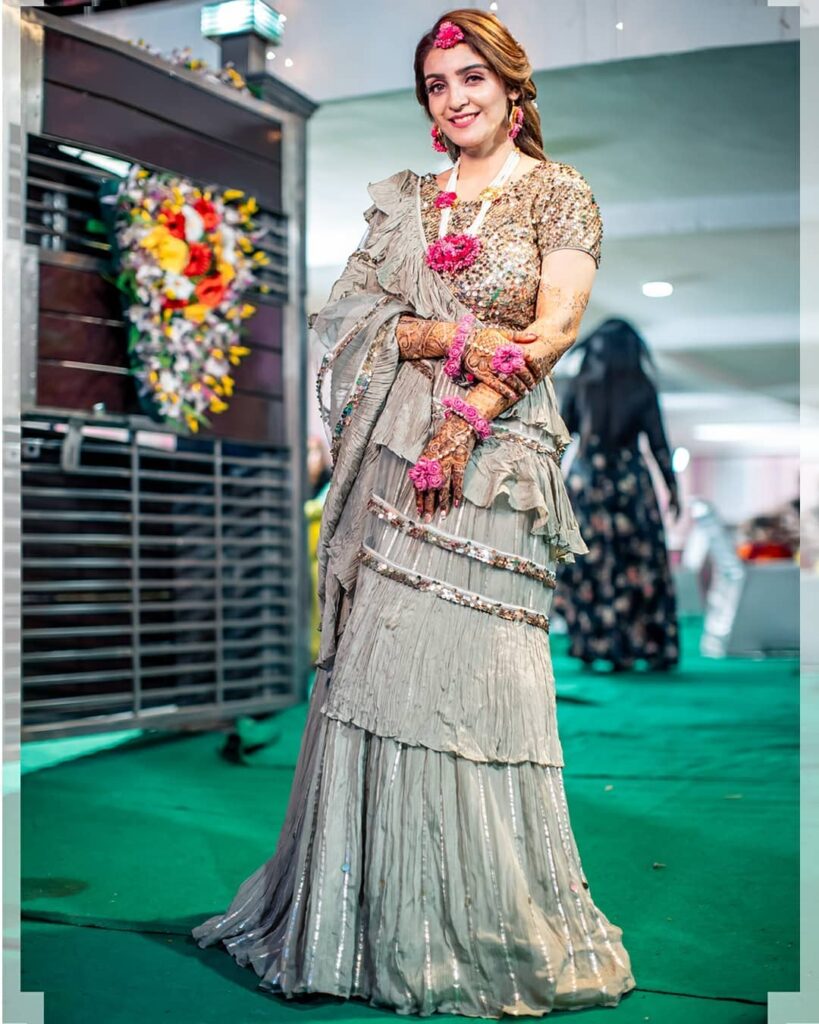 Courtesy: Harsheen Narula
#14 The allure of Banarasi handloom makes it a must-have in every bridal trousseau. From lehengas to sarees and suits, they have made an impact on every traditional wear, and rightfully so! There's hardly anyone who'd doubt the grace of banaras weaves and if you want to explore them at the wedding, try getting a banarasi lehenga made for the mehendi event and let their grace shine through your look.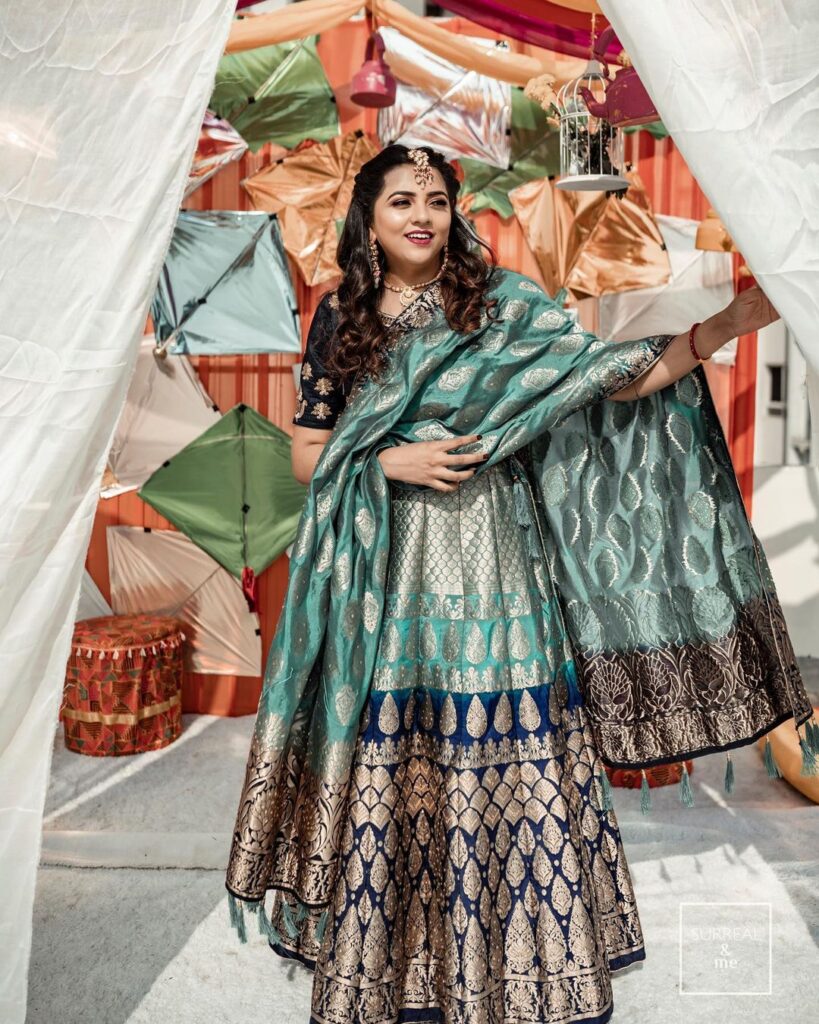 Courtesy: Surreal & Me
#15 For brides looking for stylish & latest mehendi dresses, a pant-lehenga hybrid is an unusual but appealing silhouette to consider. Bride Shivangi wore lime green wide pants, blouse, alongside a jacket dupatta for a stylish look. She further paired her comfortable and functional look with a half pony hairstyle and kundan-emerald jewelry. As for the mehendi outfit for the groom, he complemented his bride-to-be in a cinnamon silk kurta pajama set alongside a floral jacket.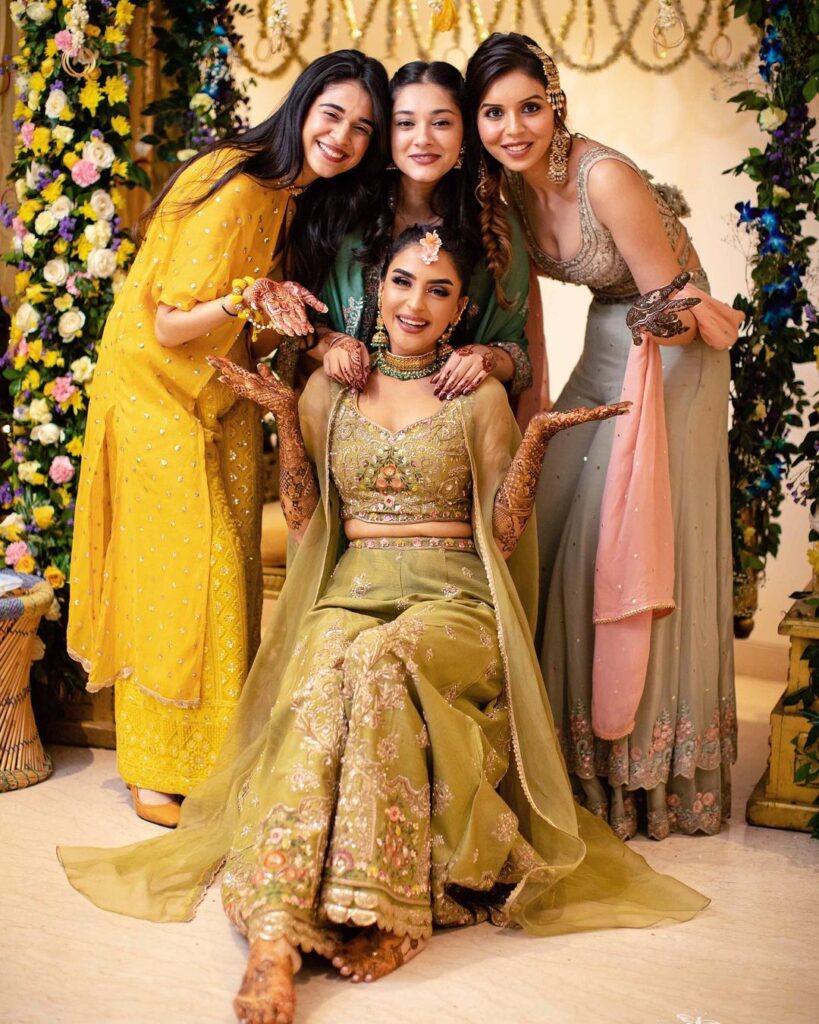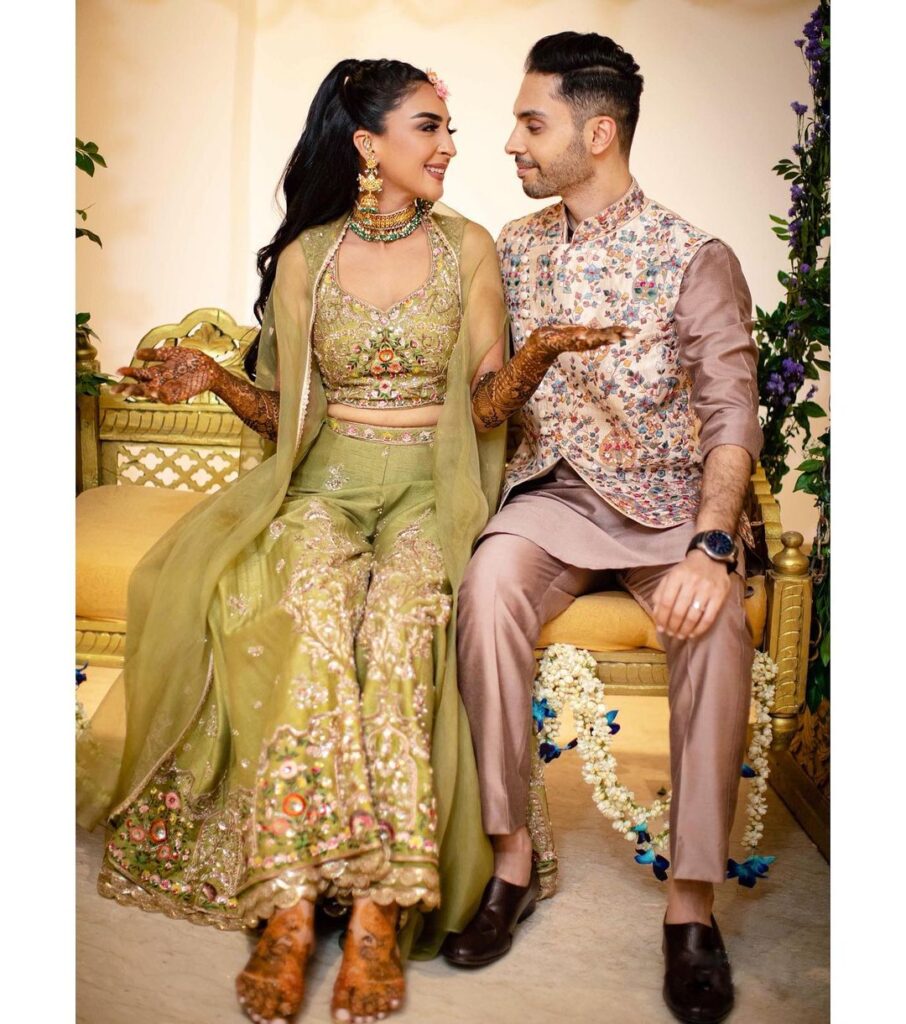 Courtesy: Shivangi
#16 Here's yet another latest mehendi dress for the stylish brides-to-be. A strappy glittering blouse and a body-hugging lower with a thigh-high cut sure is a daring option, but we'd advise going with it only if you have tonnes of confidence. With the groom in a matching blue mehendi outfit, we love the coordination and the modish look of the couple.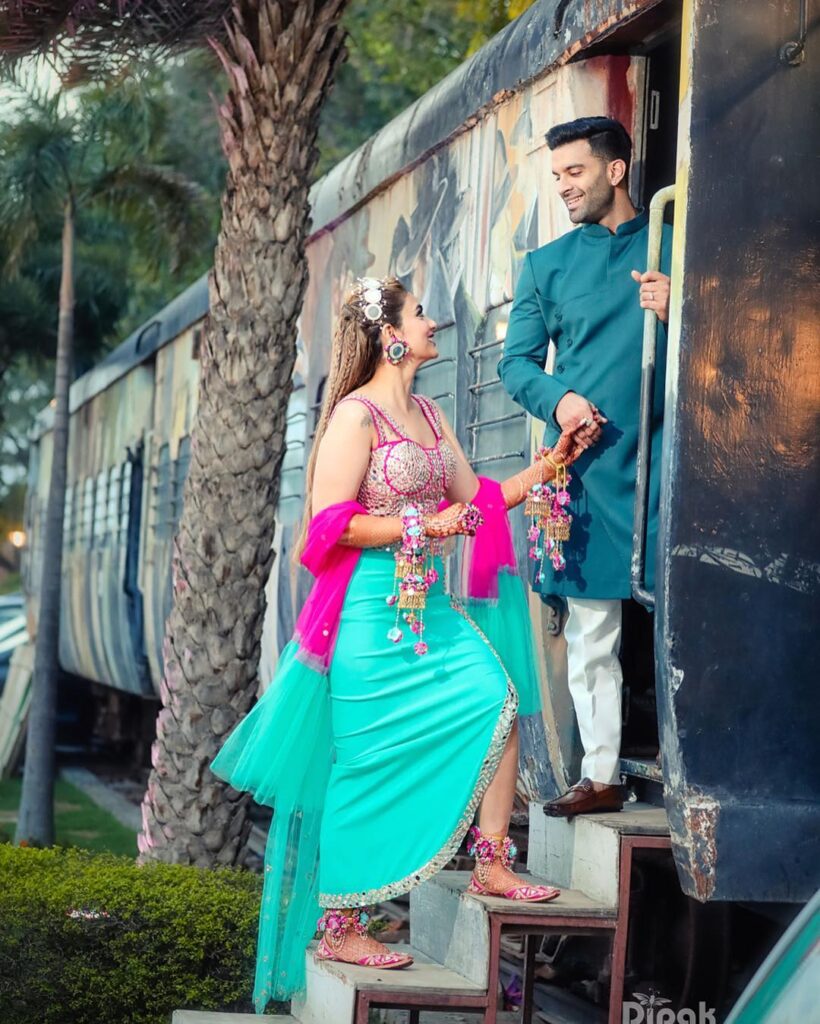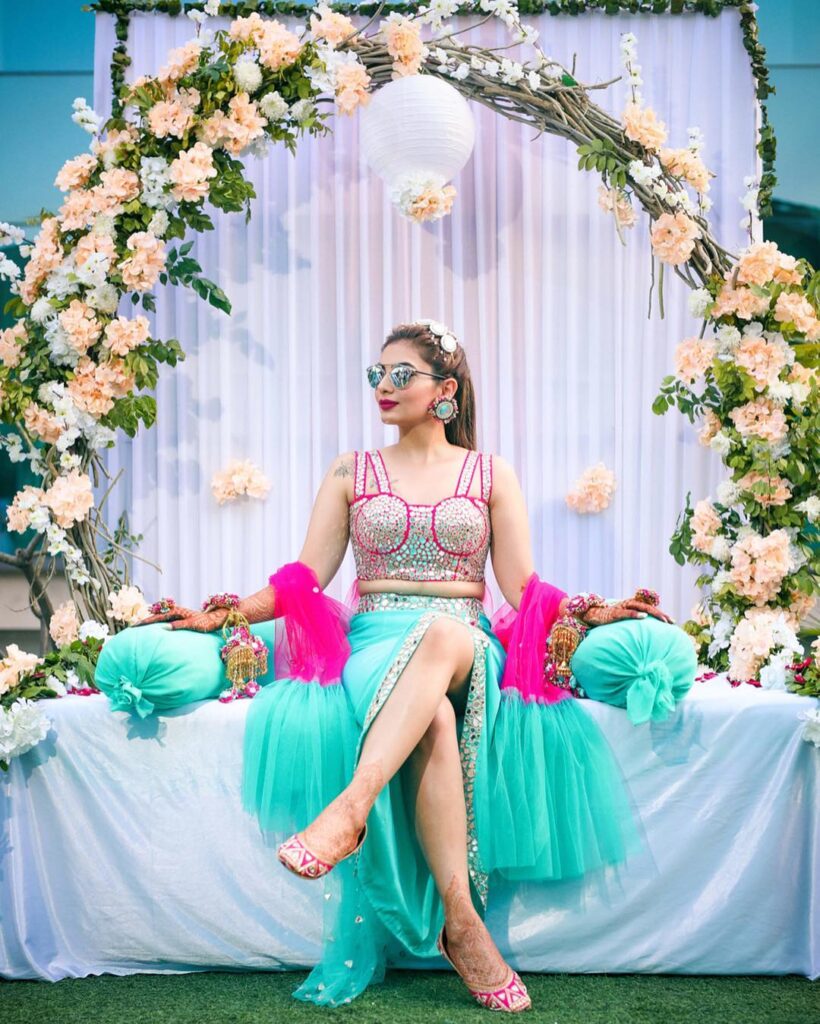 Courtesy: Dipak Studios
#17 Avani's mehendi sharara dress went viral almost instantly. The aesthetic pairing of bright, bold colors and a standalone design balances comfort and allure in one. She didn't forget to snap some sassy photos whilst donning her outfit as well, including the customary glasses one. Brides, in the hustle of weddings, don't forget to pose away and smile because it will all pass away sooner than you expect.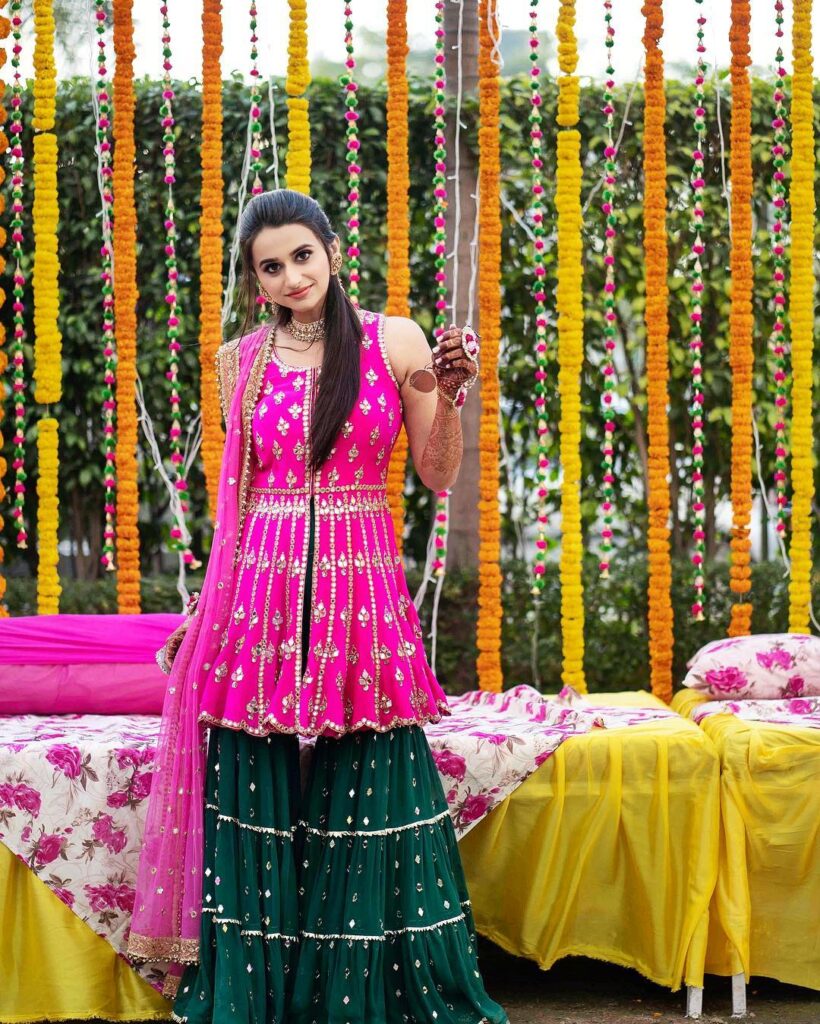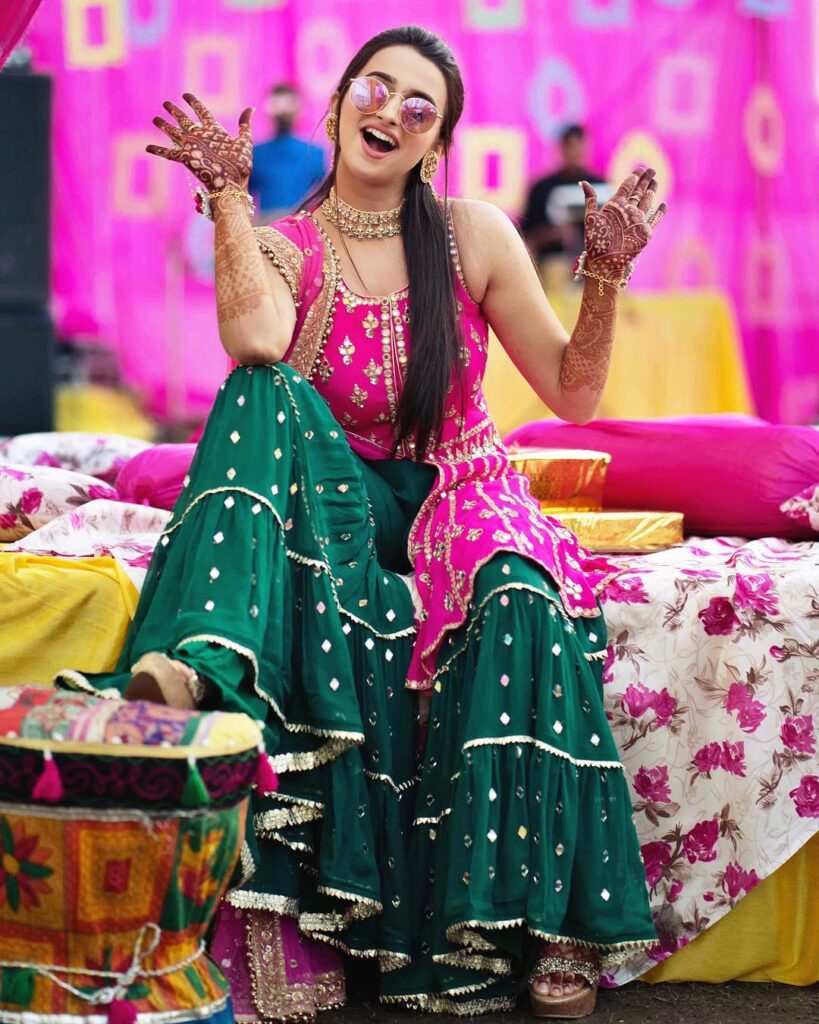 Courtesy: Anavi Kalia
#18 Bandhani lehengas with gota patti work are the local handlooms of Rajasthan & Gujarat. We certainly don't need to make a case why the handloom weaves make for the elegant option in your trousseau. Besides the common banarasi, try including some bandhani weaves in your trousseau too. Better, wear one as one of your bridal outfits.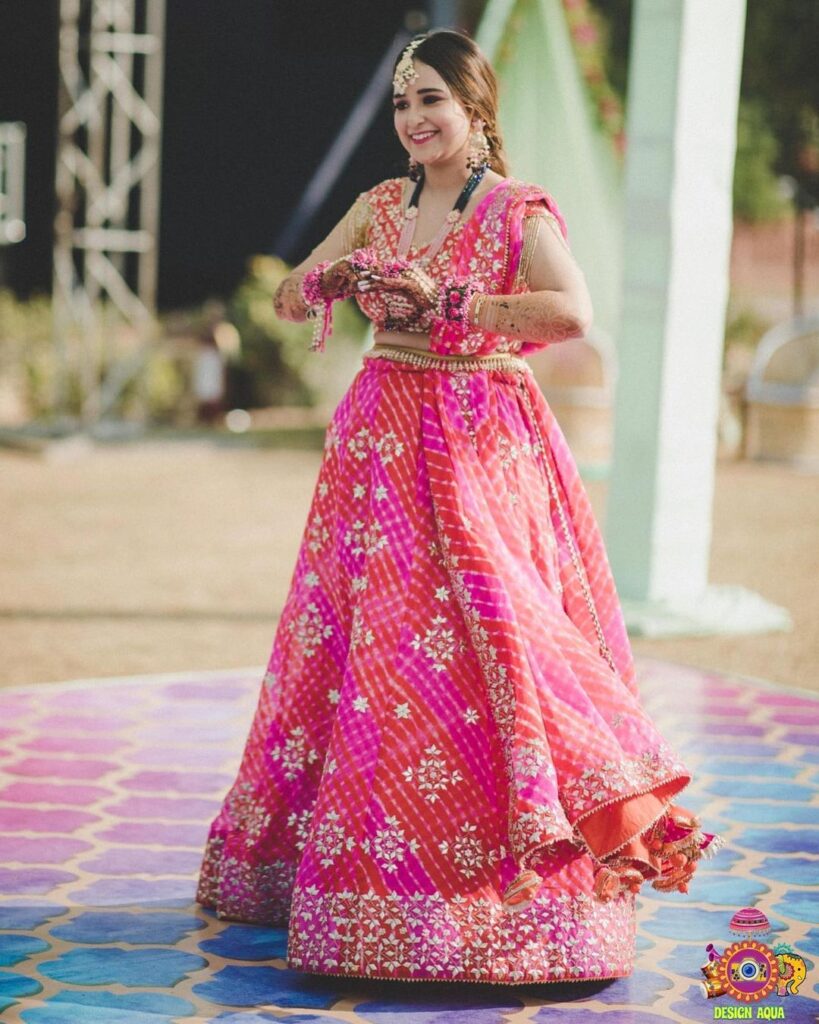 Courtesy: Priyanka Kamboj Chopra
#19 Sachet & Parampara Tandon's Delhi wedding witnessed the couple clad in gorgeous outfits and a hearty smile (always!). For the mehendi outfits for bride & groom, the bride wore an emerald green satin silk emerald saree and the groom donned a floral kurta pajama set. While picking complementary outfits, you don't have to always match the same color or even the print. Sometimes palette matching looks incredible too!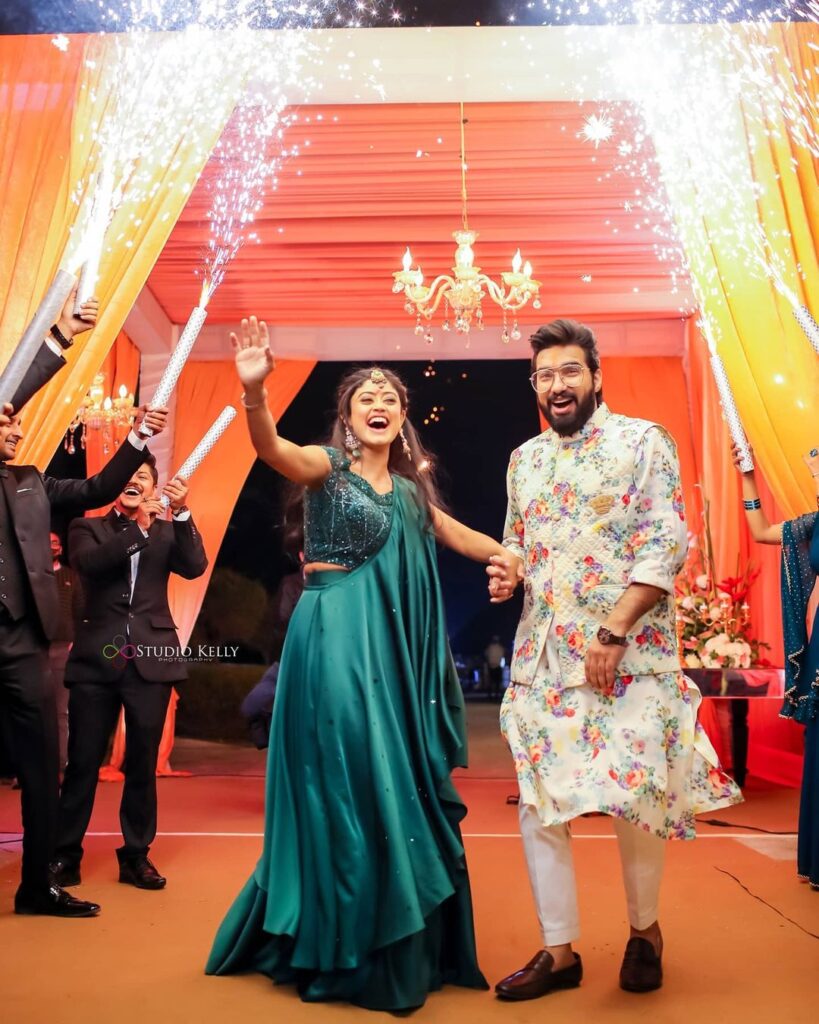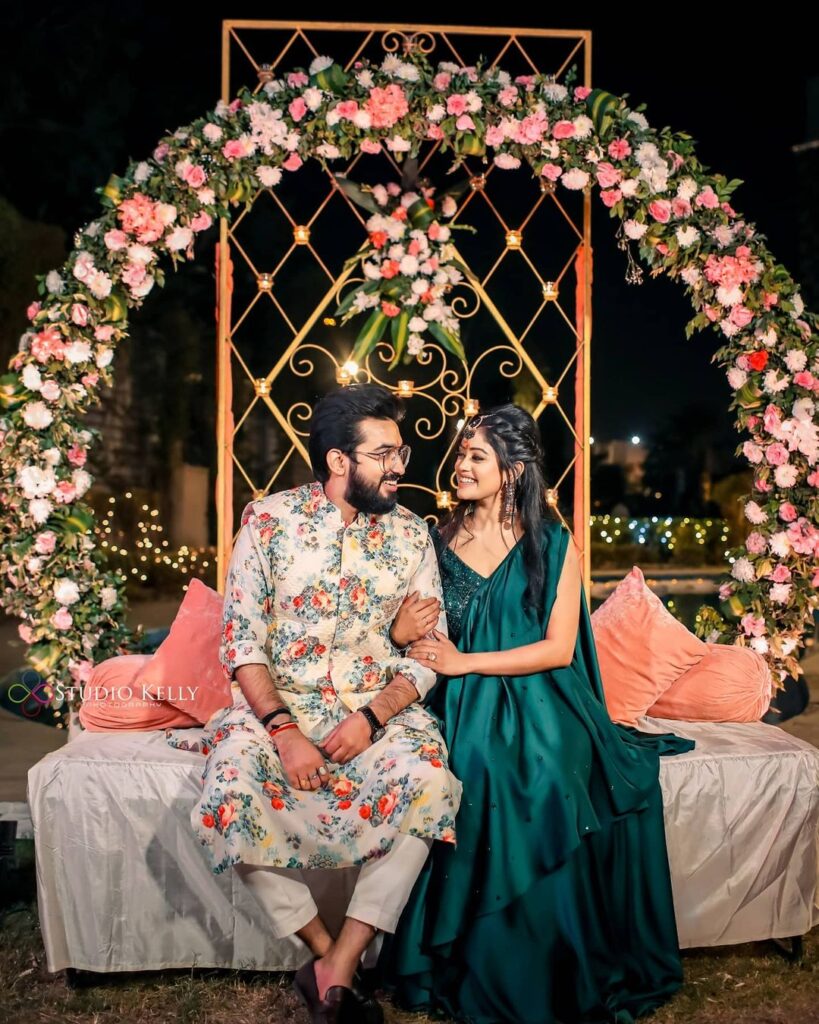 #20 This green shade must have caught your eyes, it caught ours too! It certainly is one-of-a-kind on this list, but also not what we see mehendi brides wearing. Sometimes, when you want to make a statement with your outfit, explore different color ranges, just that one element can make you stand out. As for the mehendi dress for the groom, he was seen complementing his bride in a pastel mint shades jacketed kurta pajama set.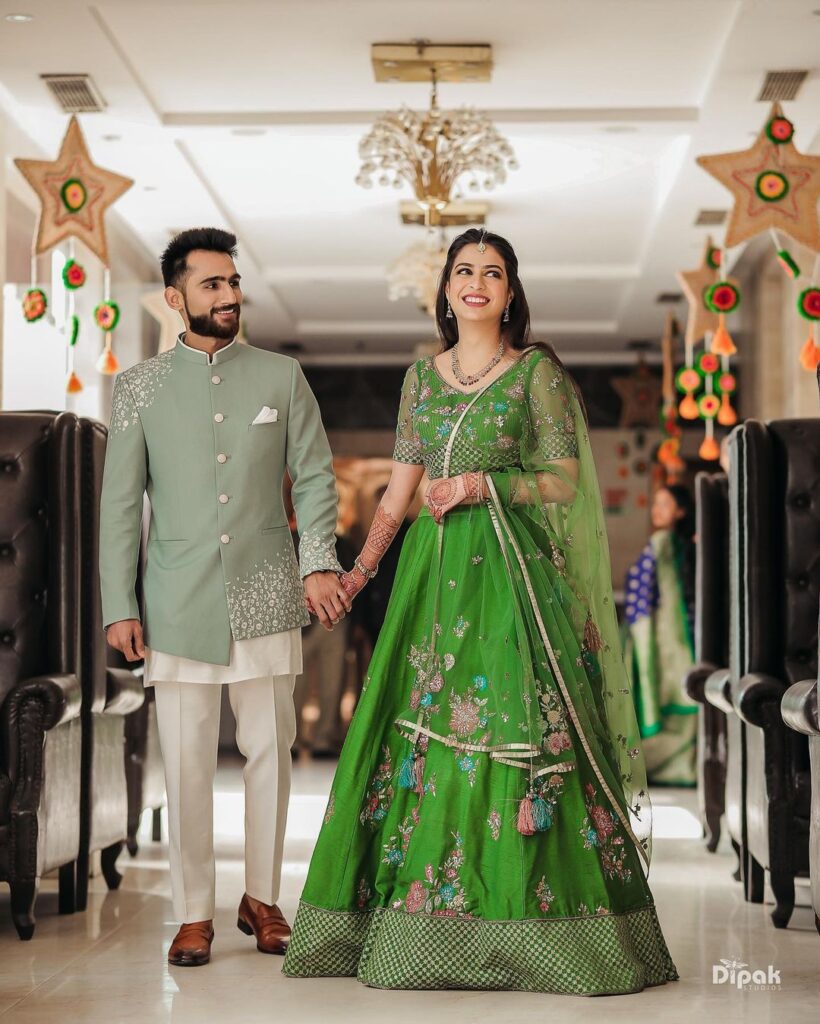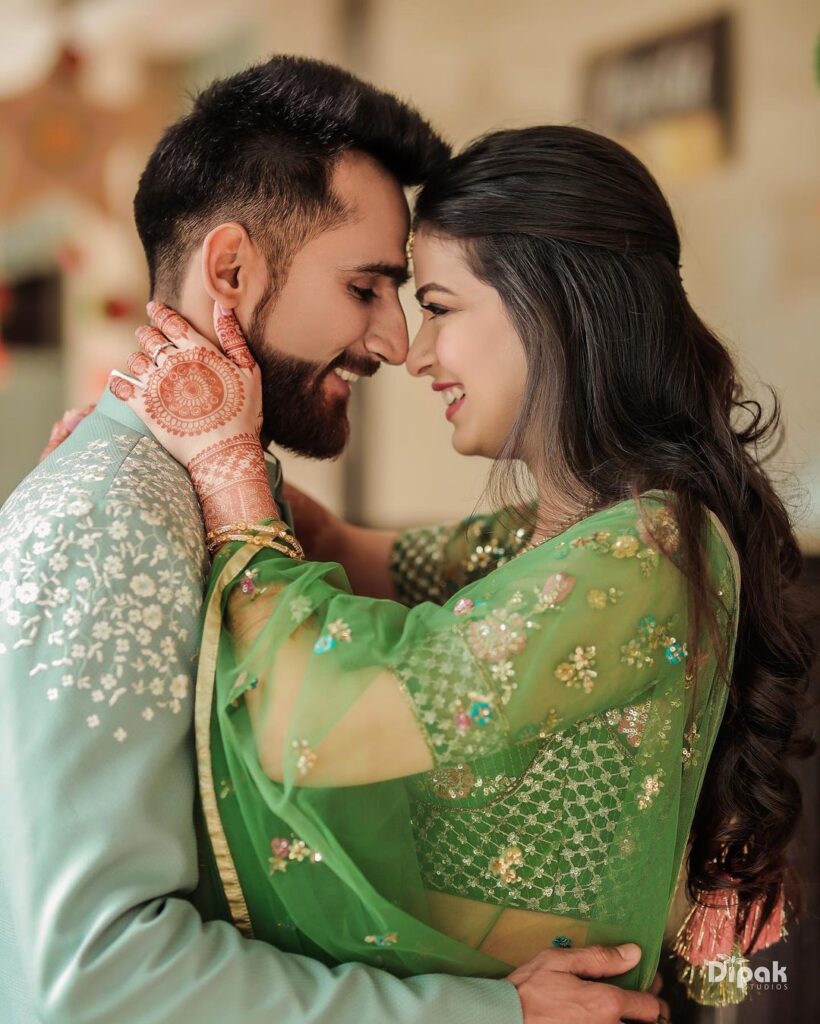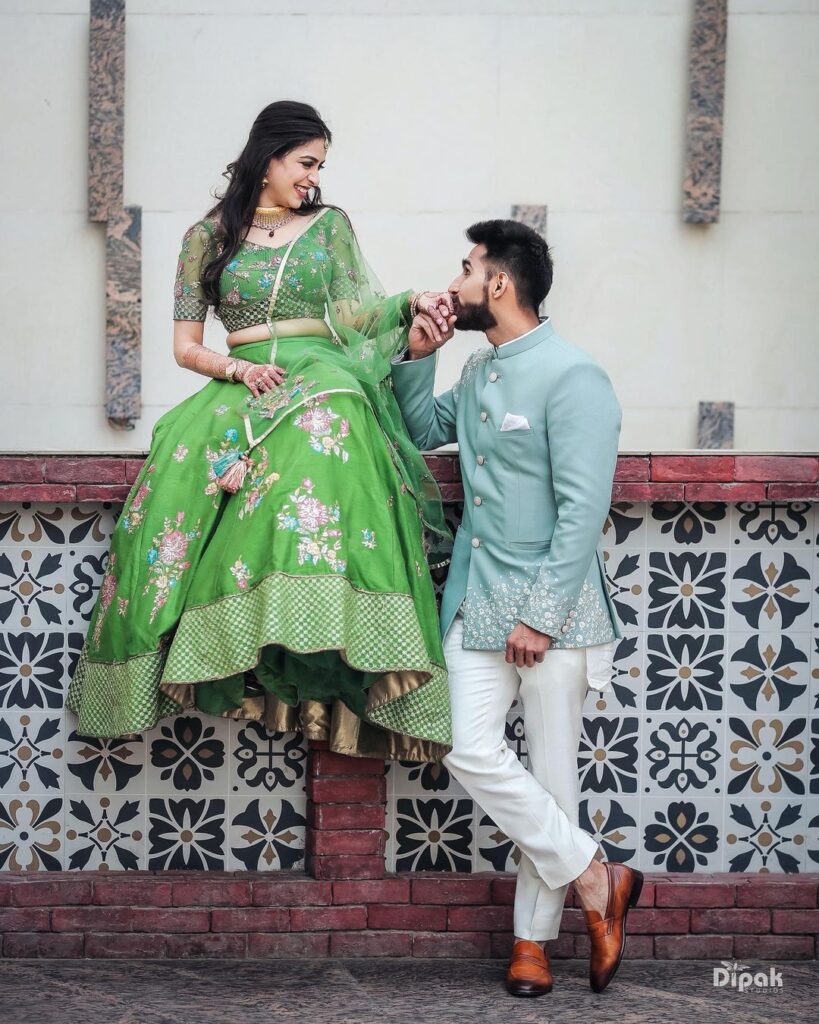 Courtesy: Dipak Studios
#21 Pooja Mundhra, fashion & beauty influencer, got married last year and left us with tonnes of wedding inspiration. For her low-key, intimate mehendi ceremony, she wore a sharara suit set in emerald green. The suit had subtle prints on the kurta and a flowing attribute to the sharara for the glam element in the bridal mehendi outfit. Keeping in line with her minimalistic ensemble, she paired her attire with only a pearl jewelry set and simplistic makeup.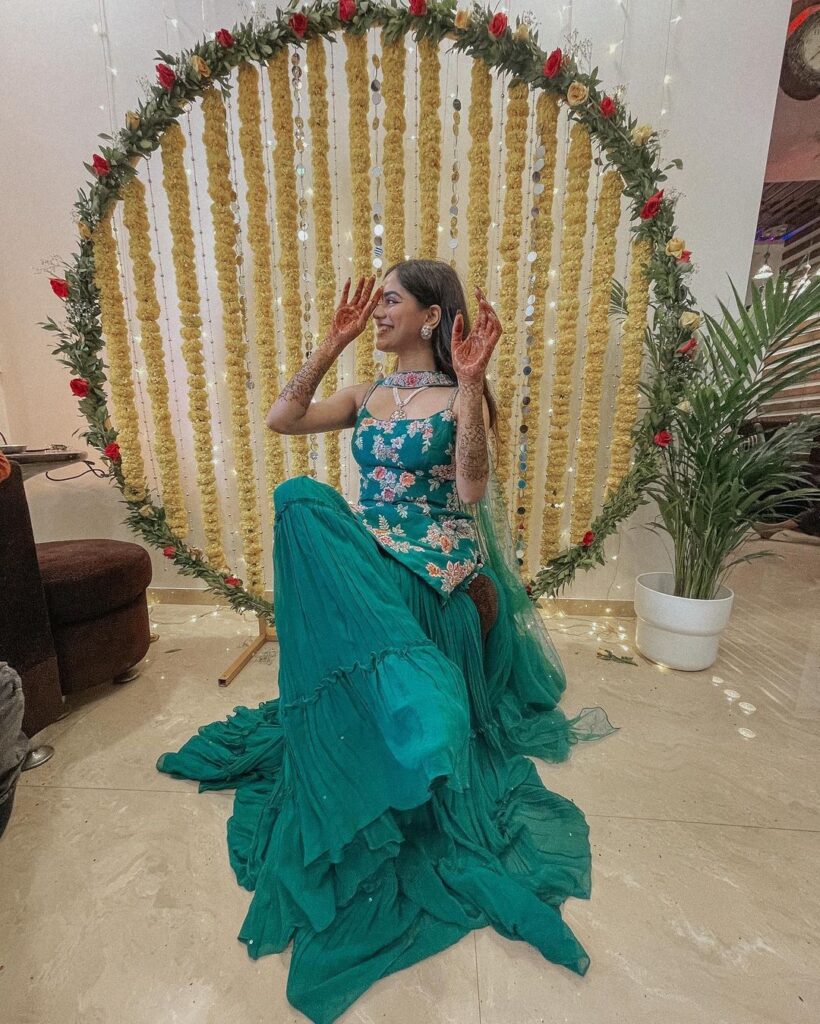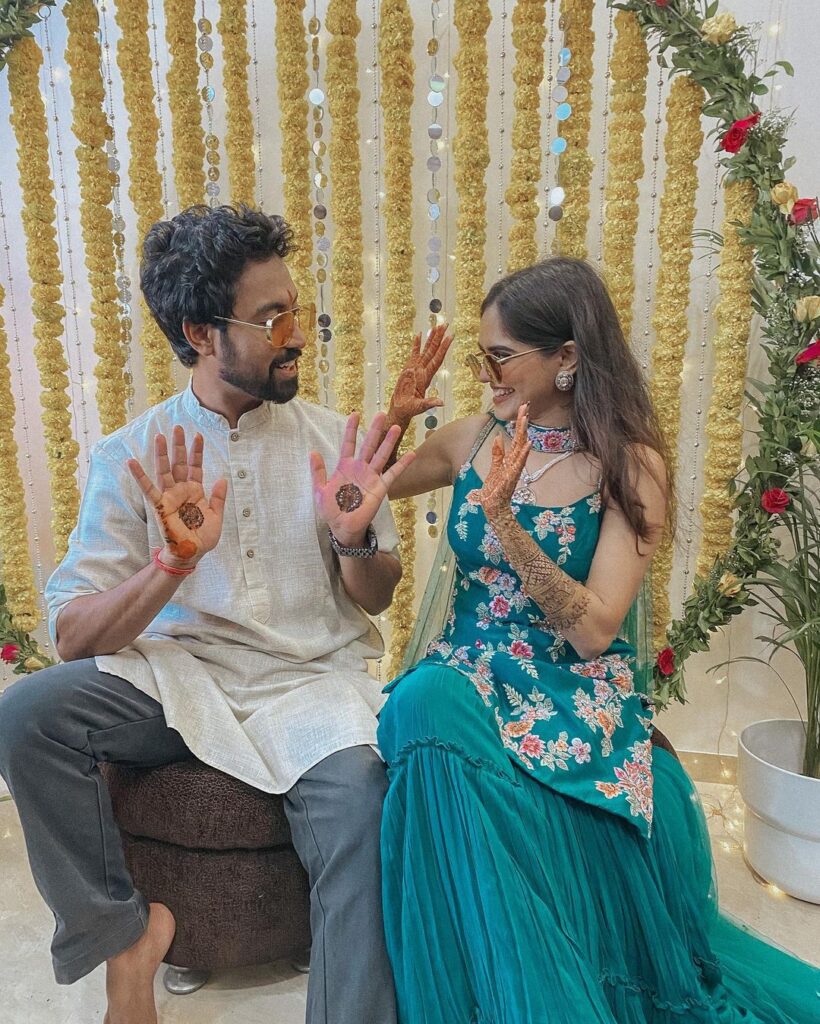 Order the same sharara set for ~ Rs.36,000 here. 
#22 A net lehenga with exquisite gota work and vivid colors looks amazing when donned and appealing in the pictures clicked with sun rays too! Alongside the bright decor, this outfit design will not fail you. We love how the bride skipped floral jewelry completely, and instead styled it with green bangles, kundan sets, and long wavy hair.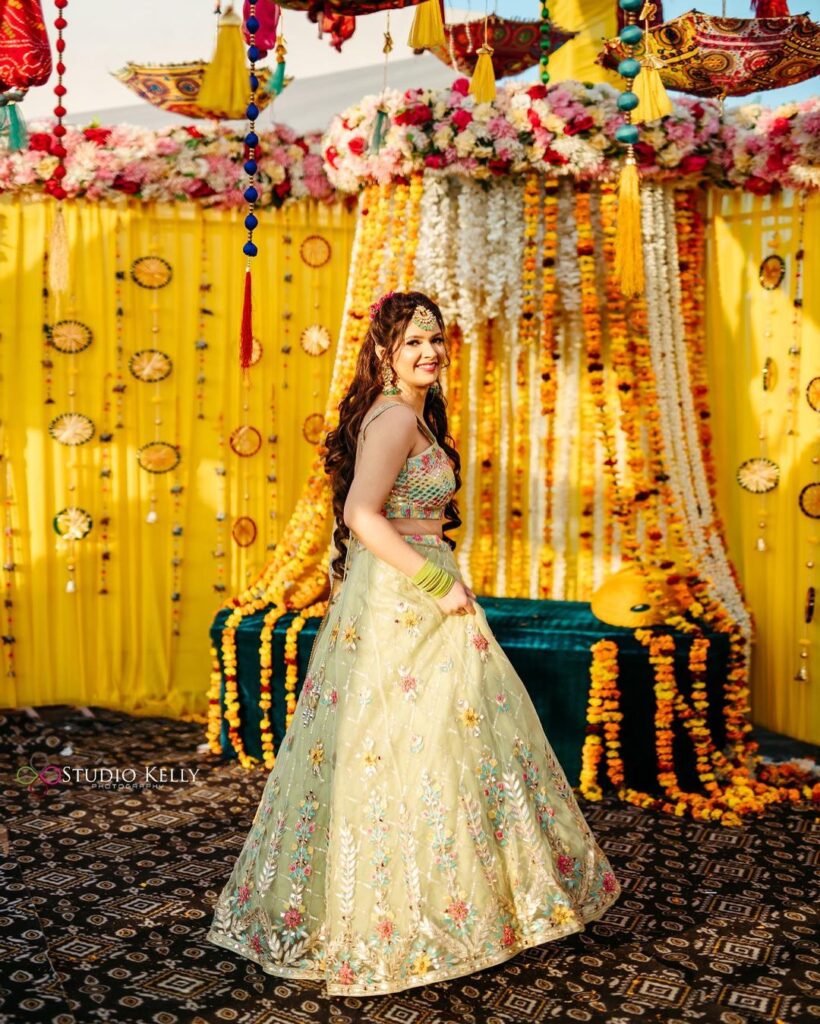 Courtesy: Studio Kelly Photography
#23 Paneled lehengas have been trending for a long time. Sabyasachi has often used the concept of paneled layers in his outfits and since then, it has been spotted in various designers' stores. This bride combines the many shades of mehendi attire into one – yellow, orange, green, and yellow. The groom's mehendi outfit in silver further adds a subtle color balance to the couple's outfits.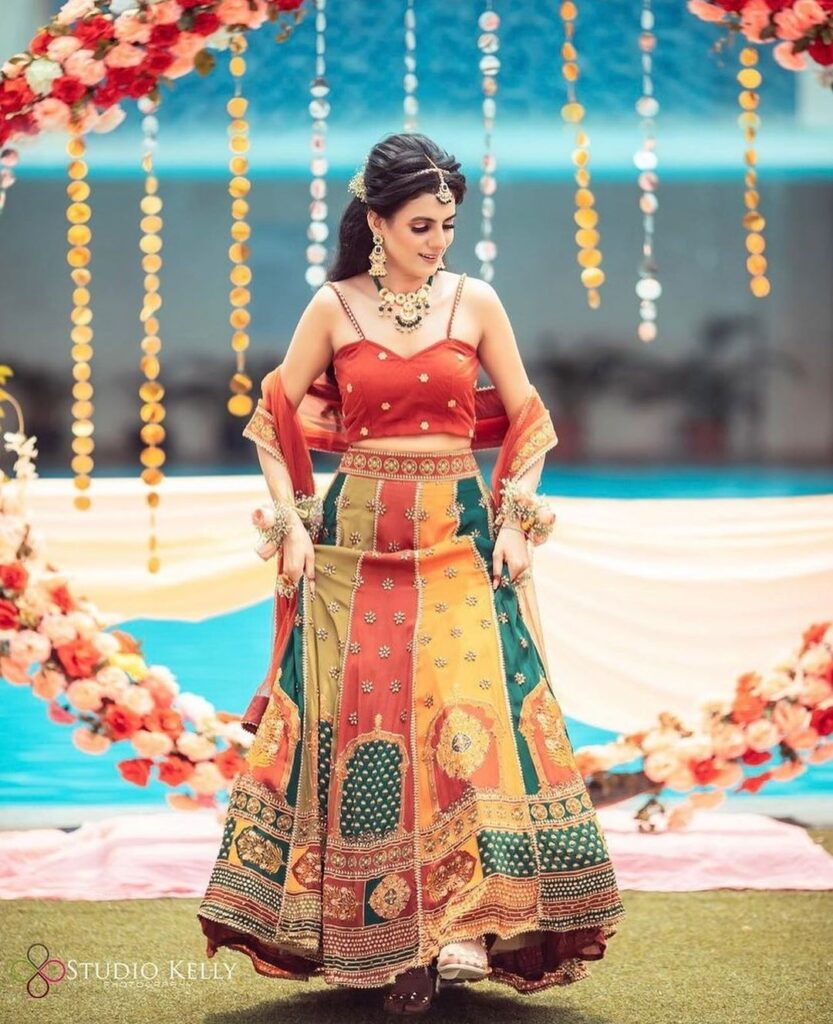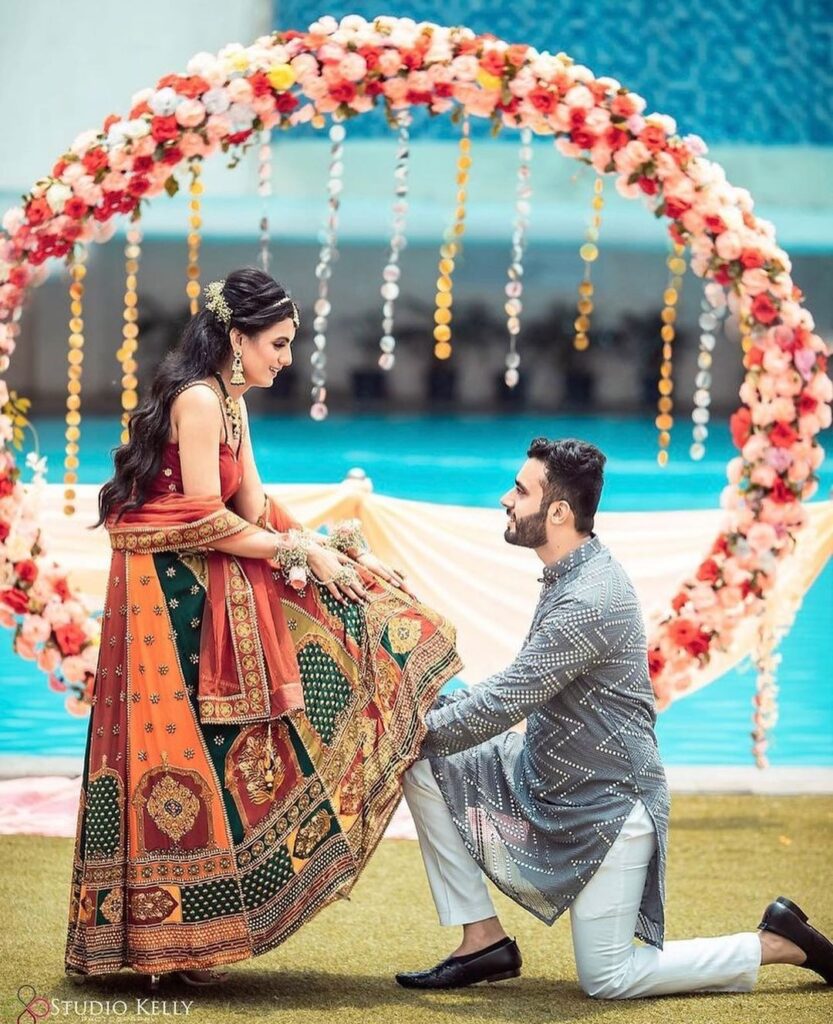 Courtesy: Studio Kelly Photography
#24 If you have your heart & mindset on wearing a lehenga for your mehandi, but want it to be lightweight, here's the right inspiration for you. The mint-green lehenga in organza alongside embroidered blouse and dupatta draped in cape style, there's whimsy and practicality in her outfit. The minimal Kundan-emerald jewels go amazingly well with her minimalistic ensemble.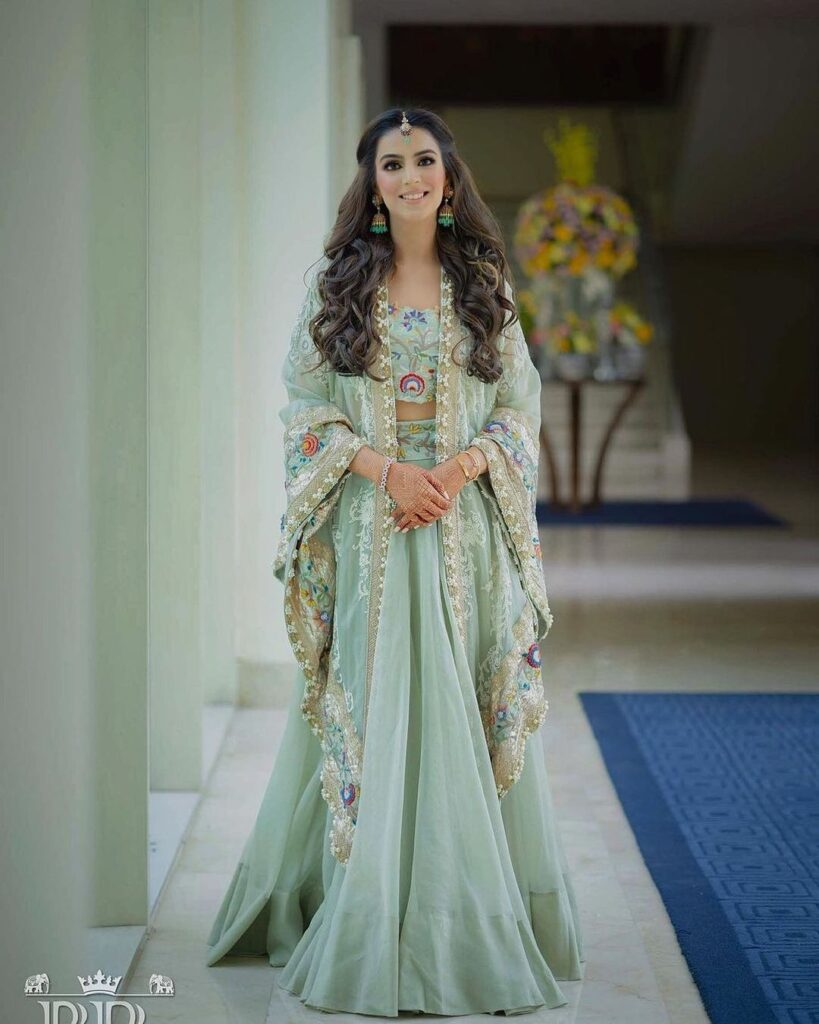 Buy the same outfit right here for ~ Rs.1,70,000/-.
#25 Anushka Sharma's bridal outfits created a wave of pastel lehenga trends and two-color mehendi lehengas that are still quite relevant to this day. Bride Drishti wore a stunning combination of mint and leaf green in the same design as Anushka's and infused colors of pink in a blouse and dupatta for an aesthetic outfit.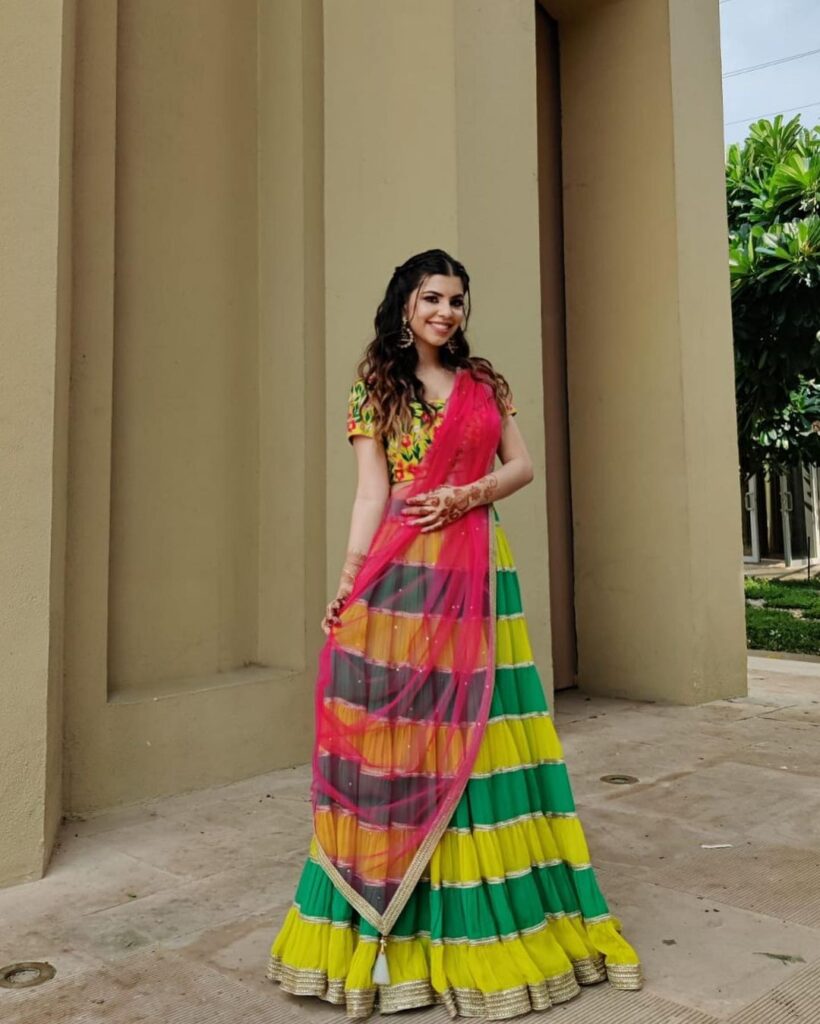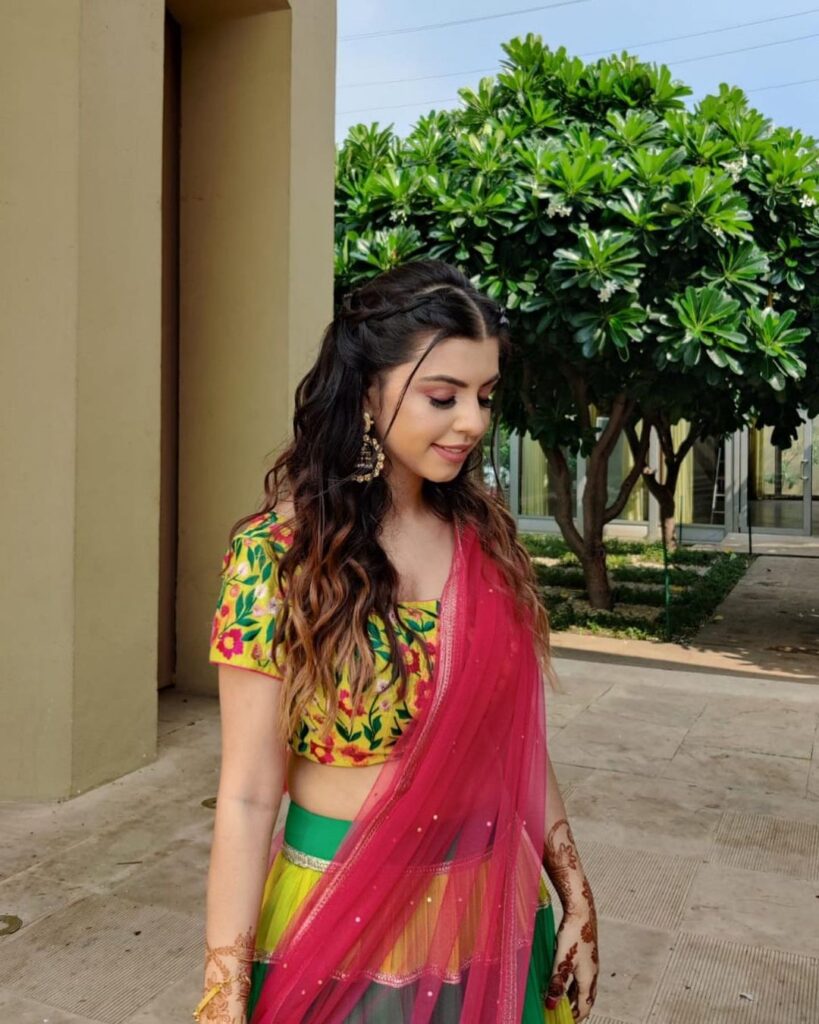 Courtesy: Sadhvvi Nanda
#26 For brides looking for traditional mehendi outfits, here's one to inspire your own. Doused in gorgeous conventional hues of green and red, and heritage banarasi weaves, there's more beauty to her green mehendi lehenga than we can put into words. To complement the poise of her lehenga, she wore simple diamond jewelry set with her outfit and let the glowing, natural makeup shine the minimalistic nature of the attire.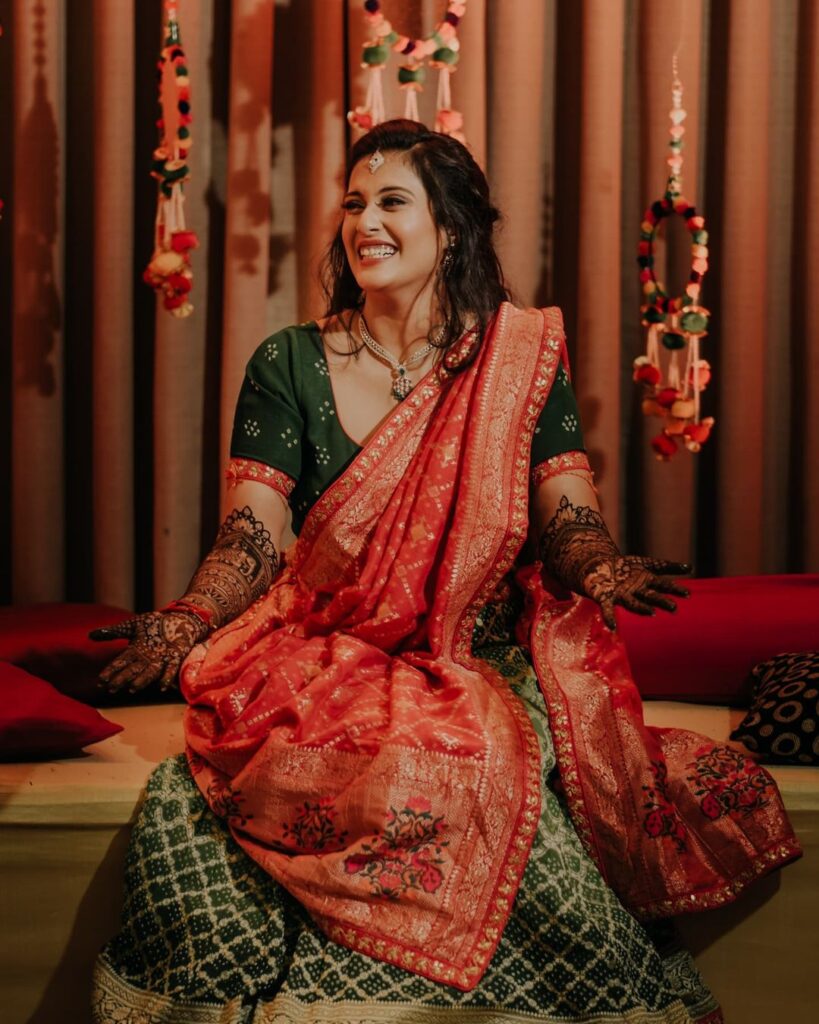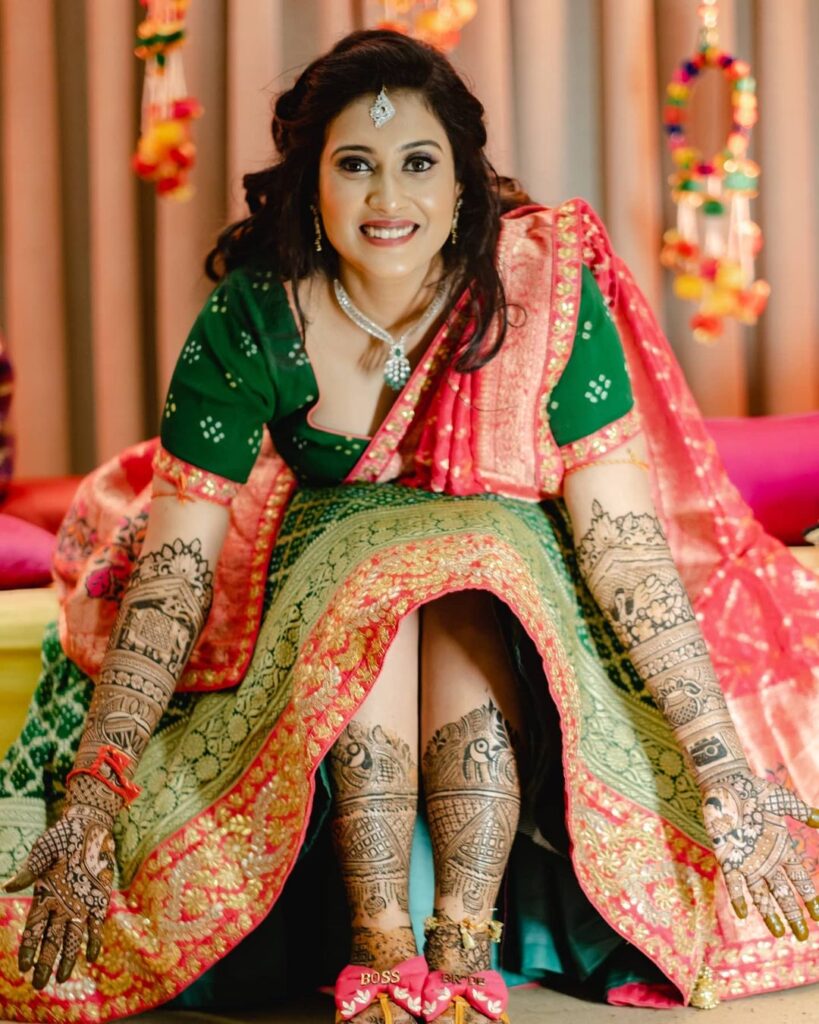 Courtesy: Richa Thakkar
#27 Simrat skipped on the traditional wear and instead, opted for an intricately embellished jumpsuit by Papa Don't Preach by Shubhika. If you're looking for the latest mehendi outfit idea, then this jumpsuit can be an ideal option. Instead of accessorizing using floral jewelry sets, opt for metal jewelry instead to keep the modish element of the mehendi look alive.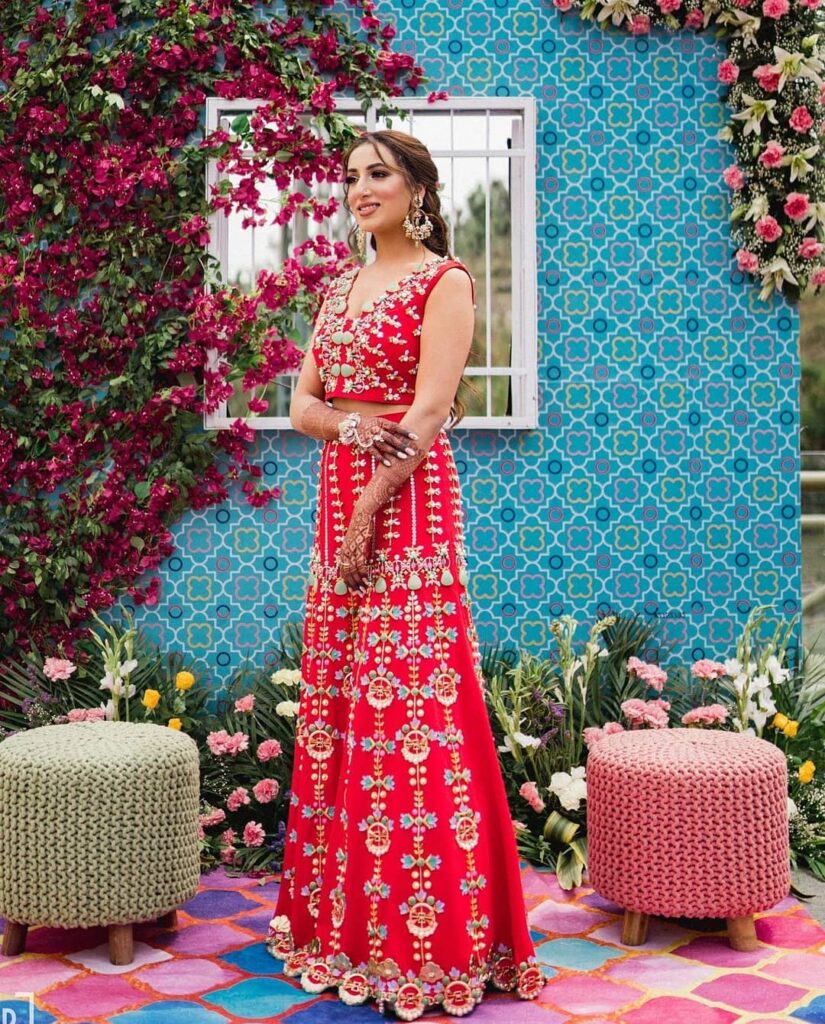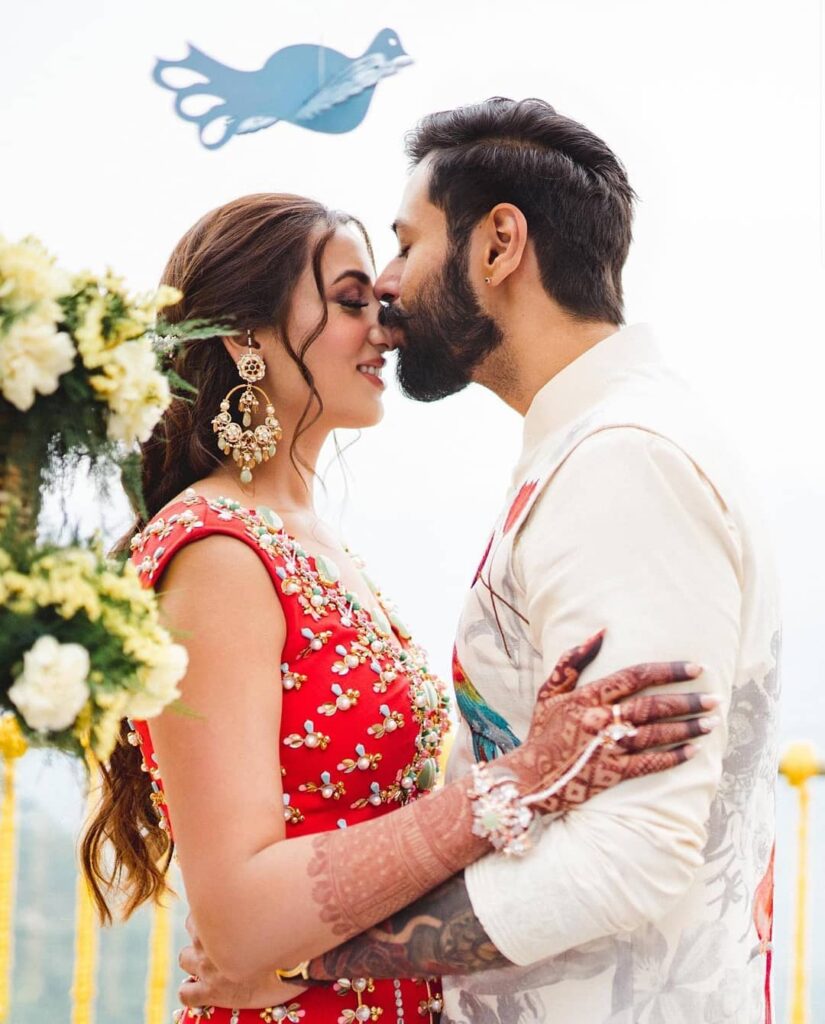 Buy the same jumpsuit here for Rs.1,68,000/-
#28 Purple took an upswing in 2018 as the mehendi color and hasn't looked back since. Here's a bride in a shimmering purple lehenga for her mehendi event. Glitter can look good any time of the day. Plus, you don't need to change for the night party because the glimmer already keeps your ensemble game strong. Also, see how the bride pinned the dupatta on the side because the last thing you want to struggle with while having wet mehandi on your hands is keeping the dupatta in place. Go ahead and ask your MUA to pin it nicely.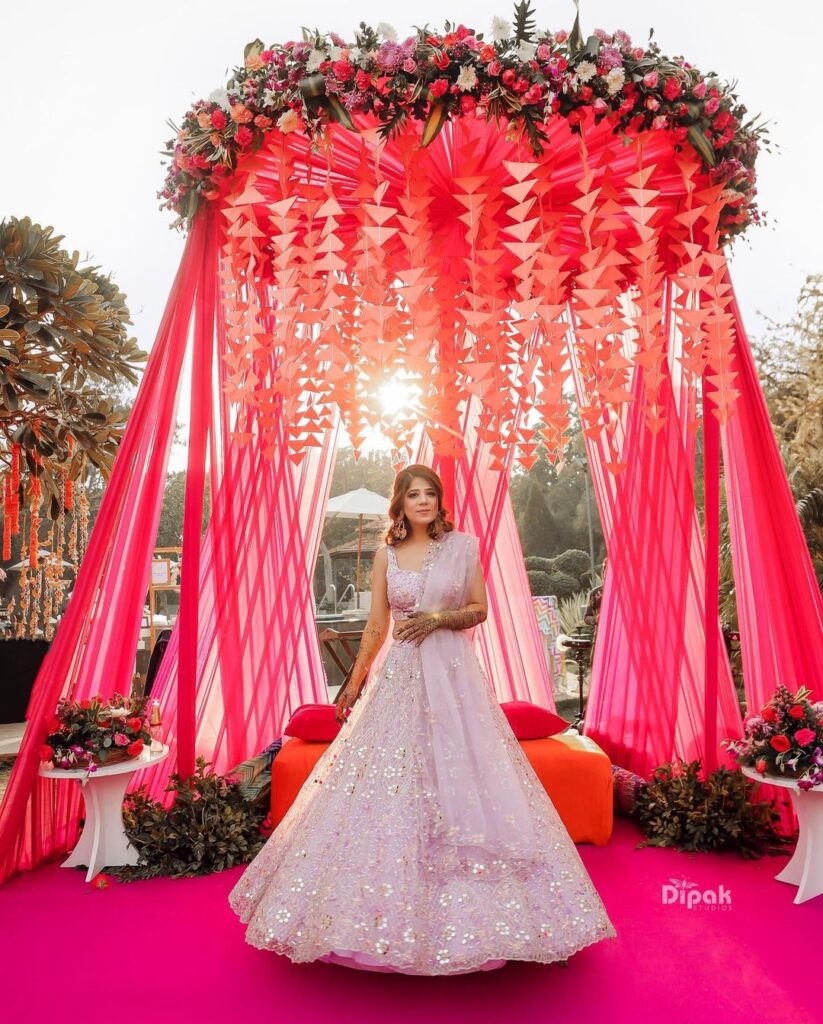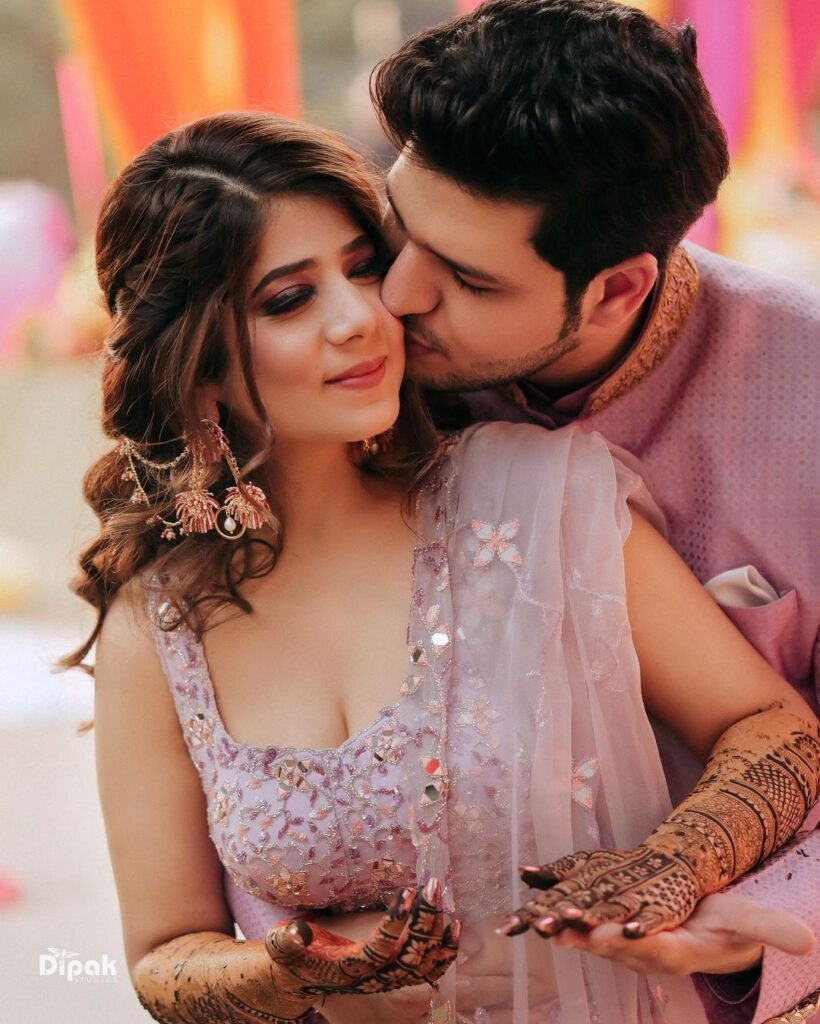 Courtesy: Dipak Studios
#29 Anita Dongre printed and crop-top lehengas are yet another simplistic, glamorous, and comfortable choice for mehendi outfits. The bride smartly pairs the gorgeous lehenga with a waist bag, half-up half-down hairstyle, and dewy makeup look. Grooms can coordinate with this lehenga in emerald green traditional wear, which can be used easily for any other events they have to attend down the line.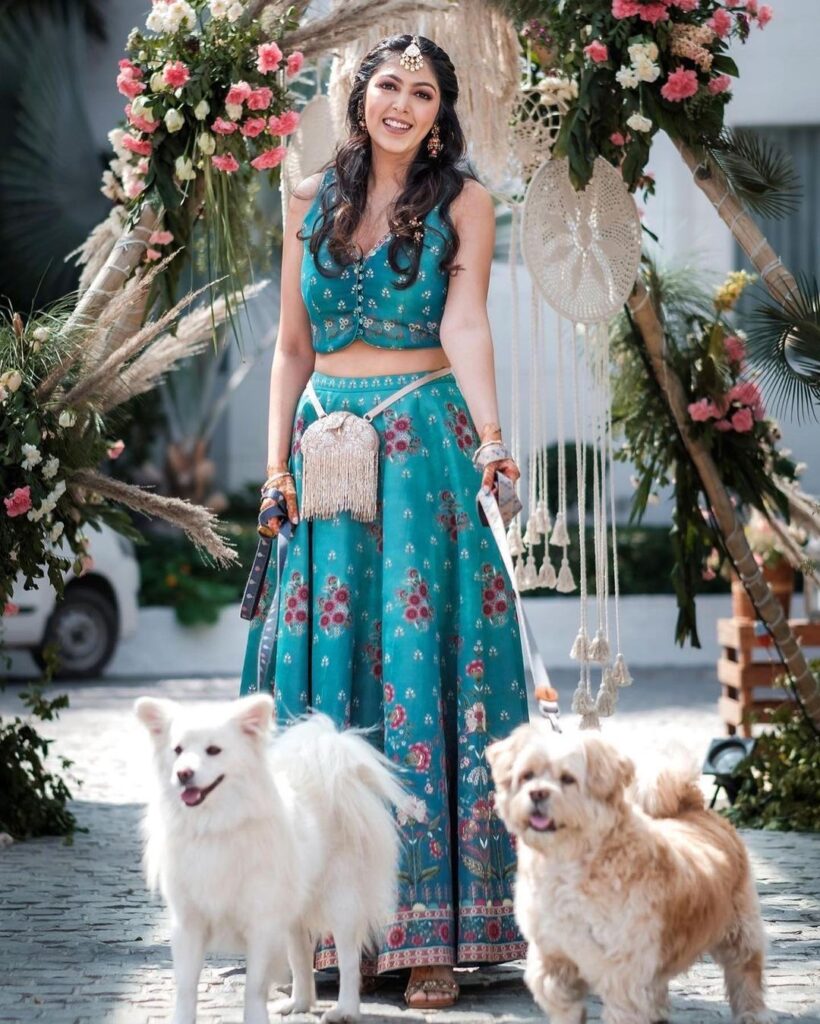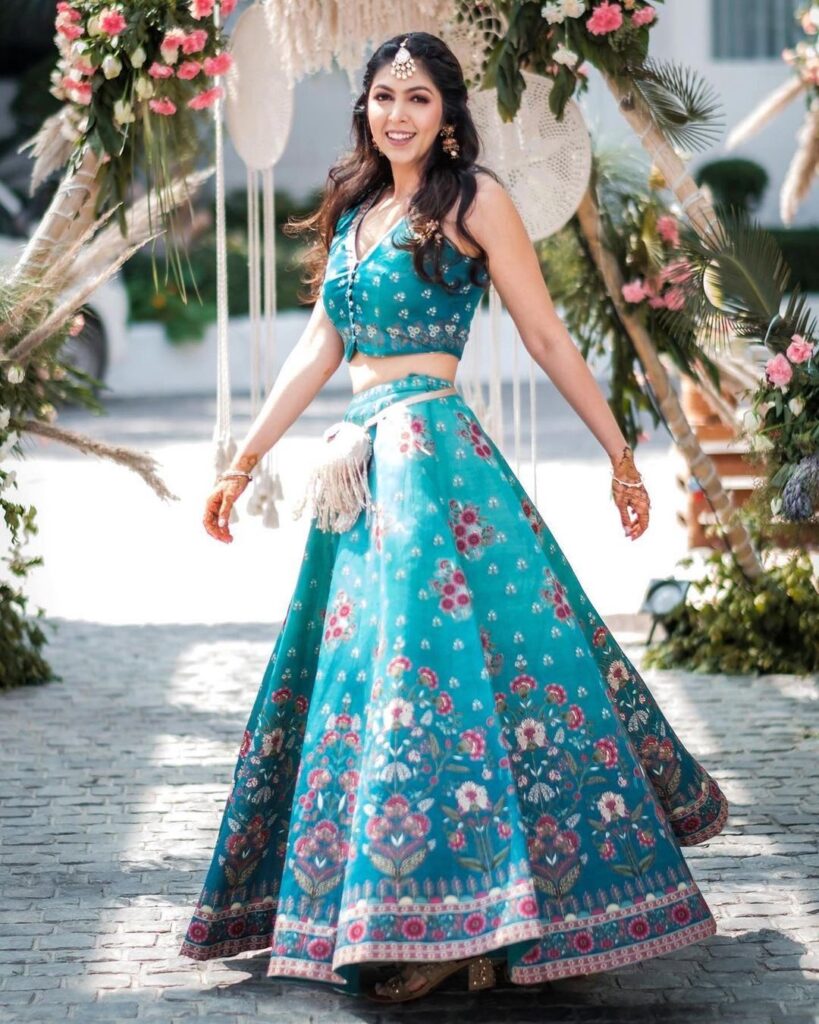 Buy the same lehenga here for ~ Rs.35,000/-
#30 Enter with a burst of colors on your mehandi with this multi-color lehenga mixing in such vivid colors that the eyes can't help, but stop and stare. This mehndi dress is for brides who don't believe in going simple but explore the glamorous bride vibes through her ensembles. Her blushing makeup look and colorful jewelry further anchored the look. It's the smile, however, that matched the vivacity of the ensemble.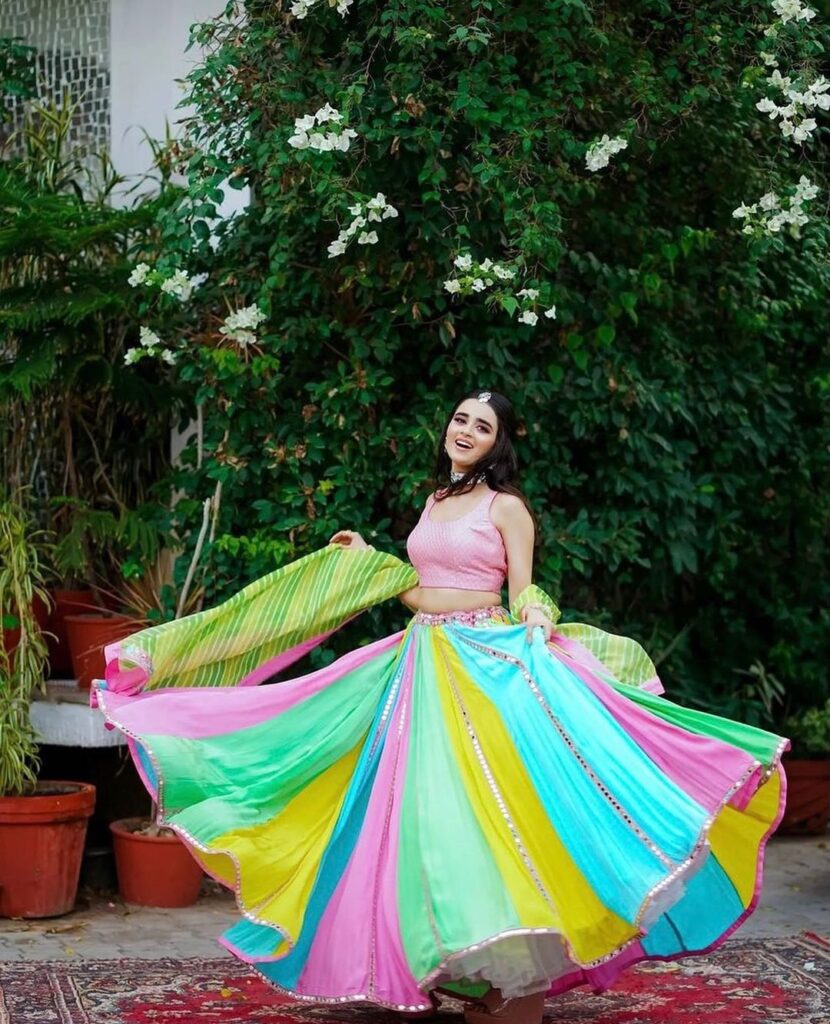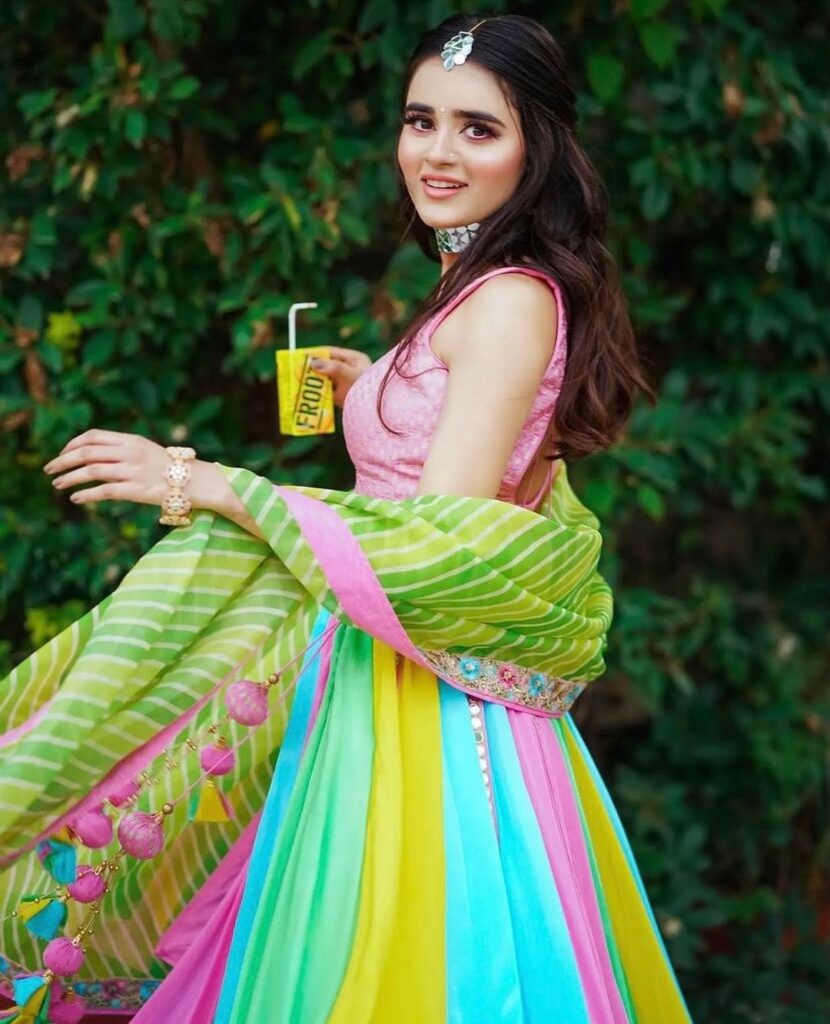 Courtesy: Orange The Salon
#31 Pulling the last series of our mehendi outfits inspiration is this metalwork lehenga set alongside a tie-dye lehenga skirt. Bride Raunika herself designed the lehenga and she also runs a boutique online store if you want to place orders. To complement her stylish bride, the groom wore a mirror-work kurta pajama set himself and the duo looked stunning for the start of their wedding events.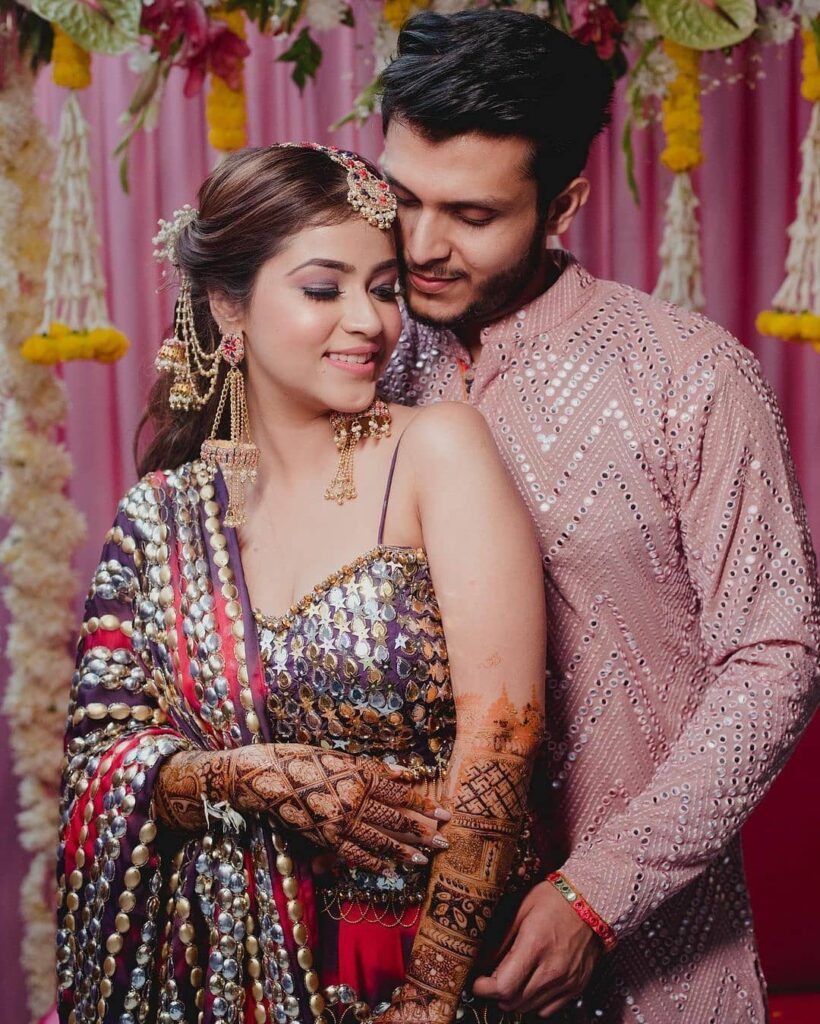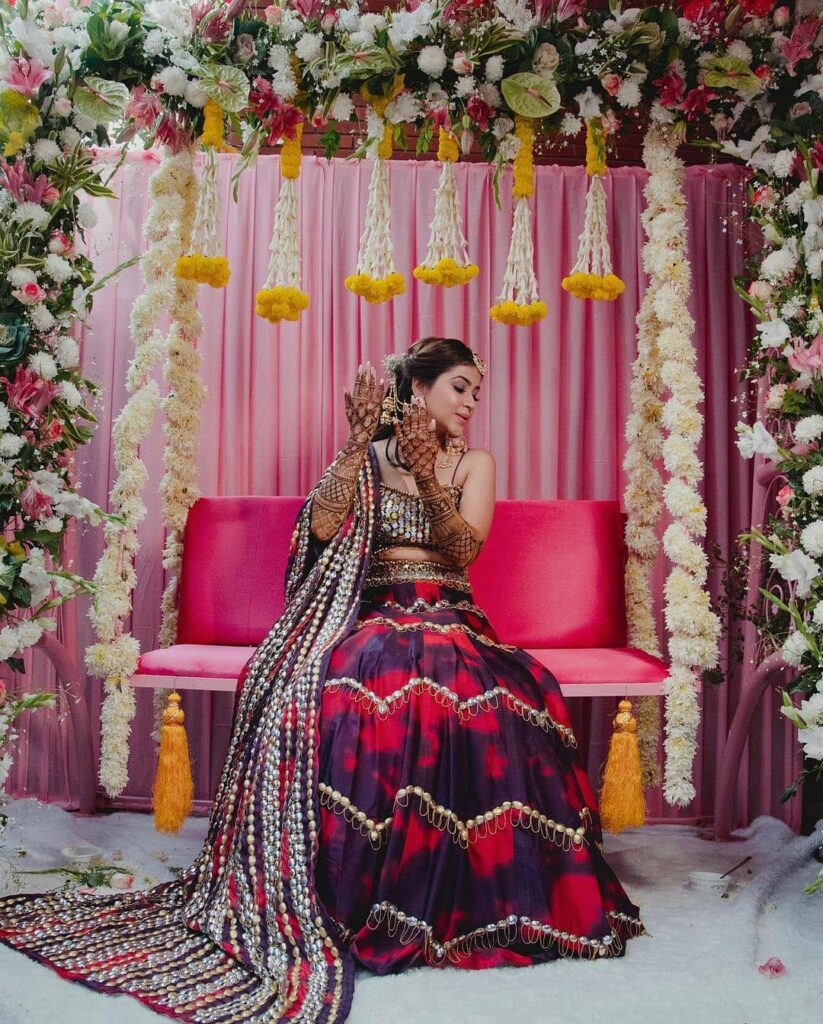 #32 We haven't seen such a unique blend of soft colors in a lehenga and the way they complement each other is mind-blowing. And if you're in search of some seating decor for the mehendi, this picture is serving that as well. Bookmark to get inspired and curate a Pinterest-worthy look for yourself.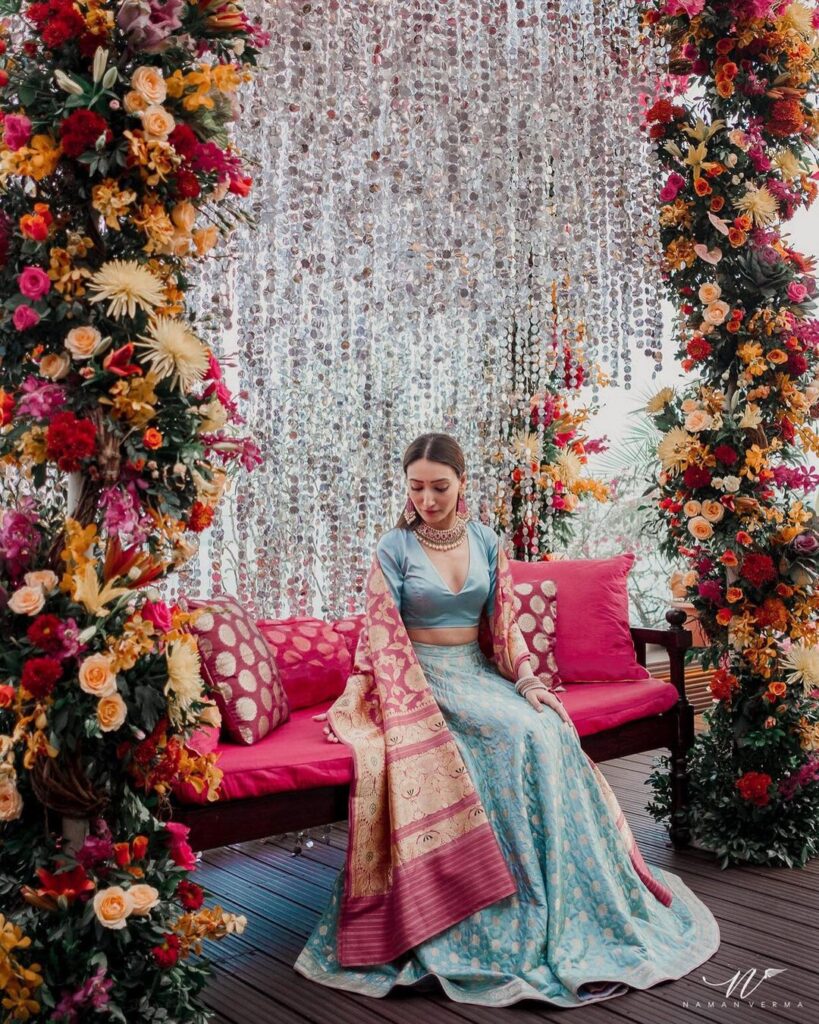 Courtesy: Naman Verma
#33 Don't want to deal with the hassle of moving the lehenga up for the leg mehndi, why don't you already pick a lehenga that's short? Bride Priyanka understood the assignment and wore a knee-length lehenga skirt for her mehendi ceremony. Curated using a combination of mint green and orange, we love how the colors reflect in the day's wedding ceremony. She further elevated the ensemble with pink floral jewelry.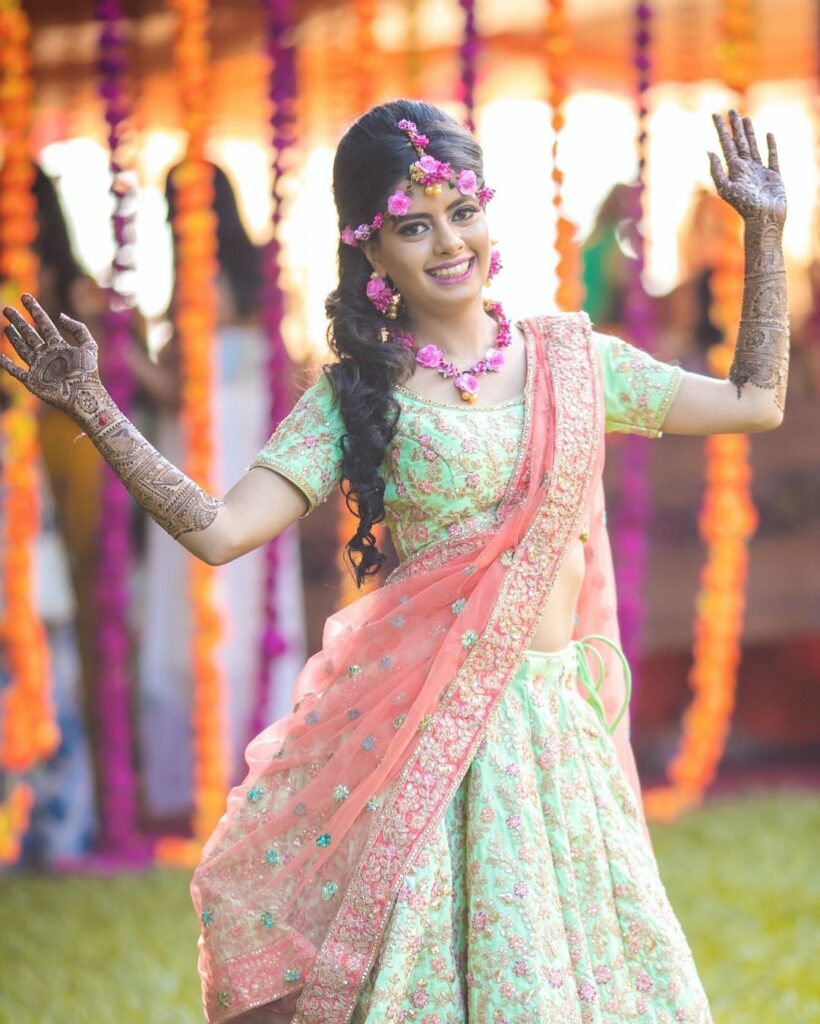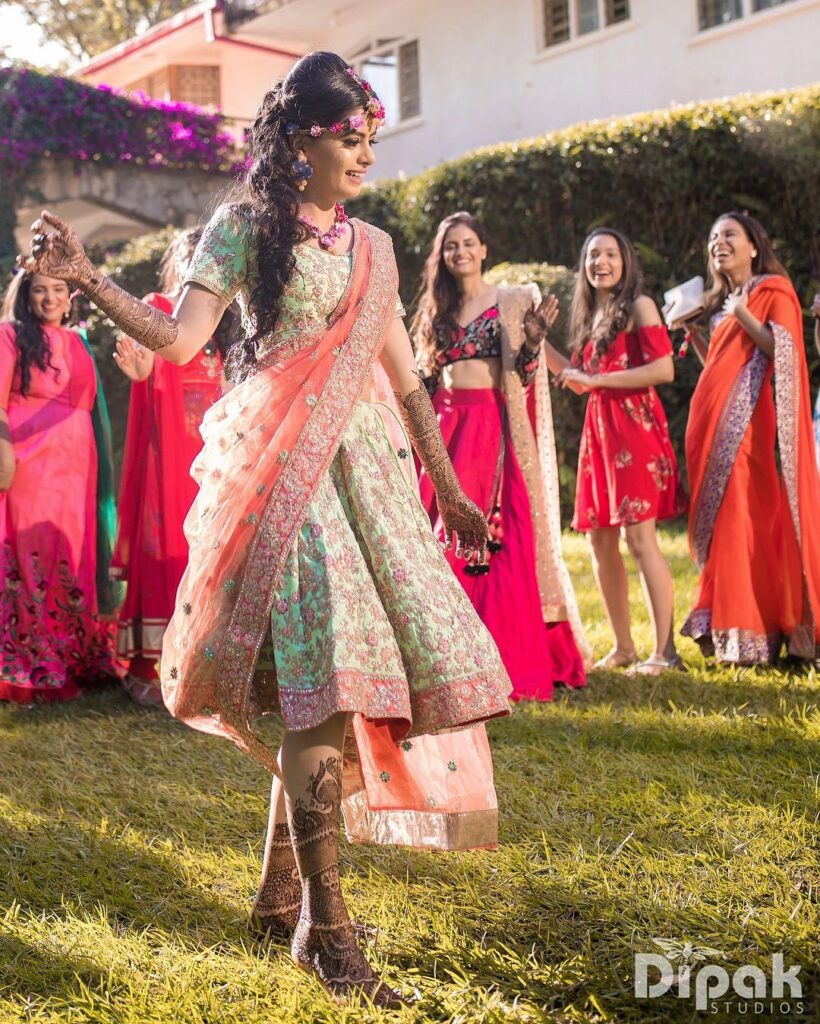 Courtesy: Dipak Studios
#34 Here's another bride who wore an Anushka-inspired mehendi lehenga on her henna event. She picked a combination of emerald green & yellow and wore a pink blouse to complement the vibrant colors. The groom complimented the bride in a brown sherwani with golden yellow pajama and stole. If you also want to wear this design on your mehendi, go ahead, it's still relevant.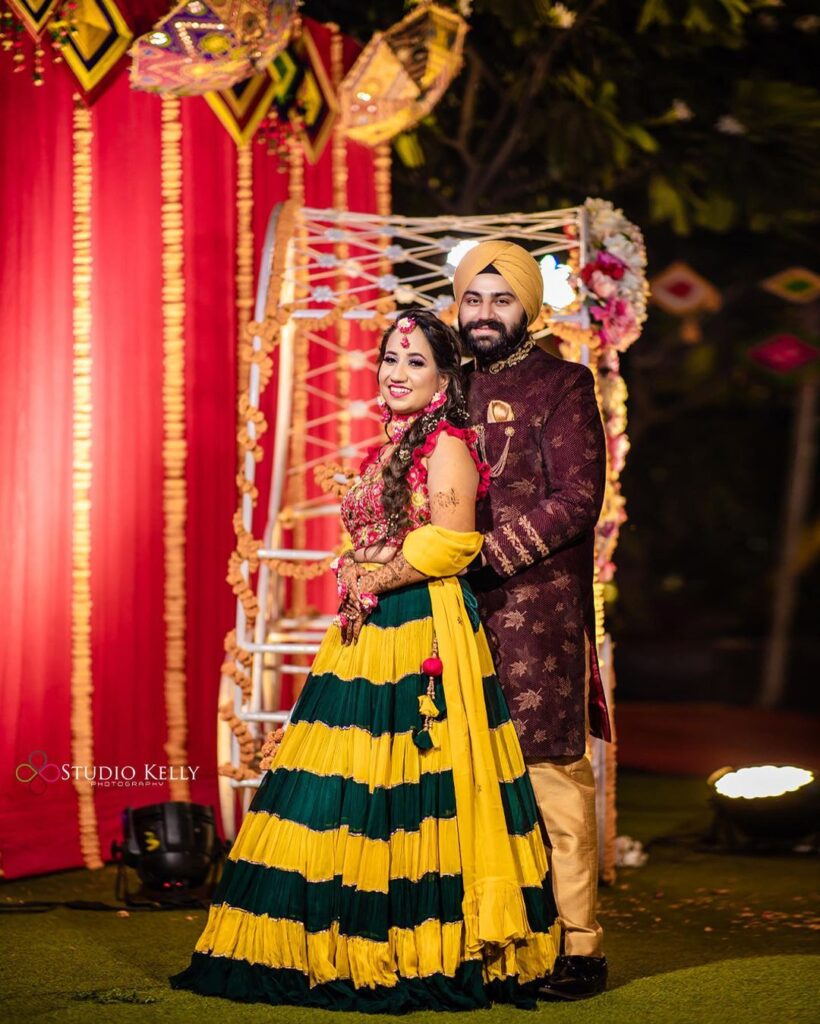 Courtesy: Studio Kelly Photography
#35 A yellow mehendi lehenga is a super choice for the bride. Blend it with pink and you've got yourself an aesthetic ensemble combination. Other notes to take from this bride are the chunky baby's breath floral jewelry and sheeshpatti for a magnificent look. Florals do add an ethereal charm to any outfit, so don't shy away from exploring them while planning your wedding ensembles.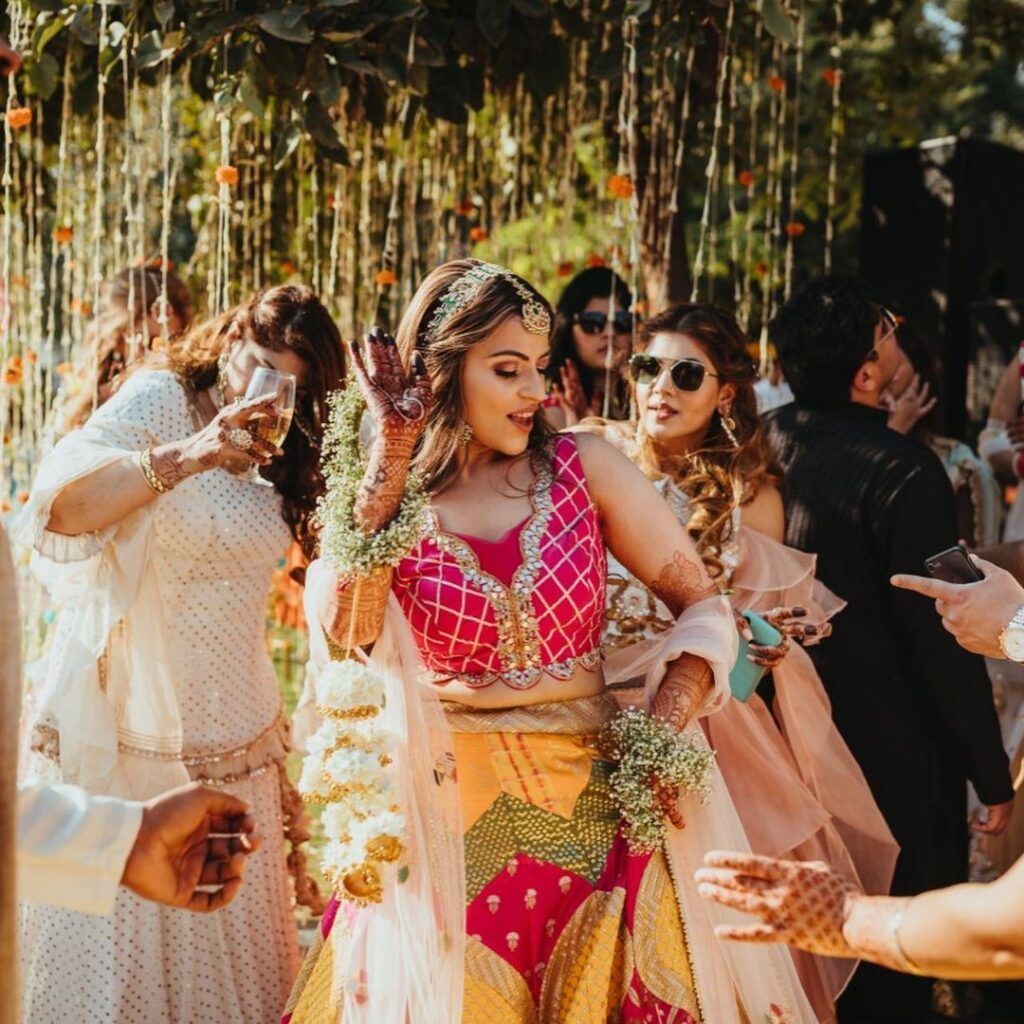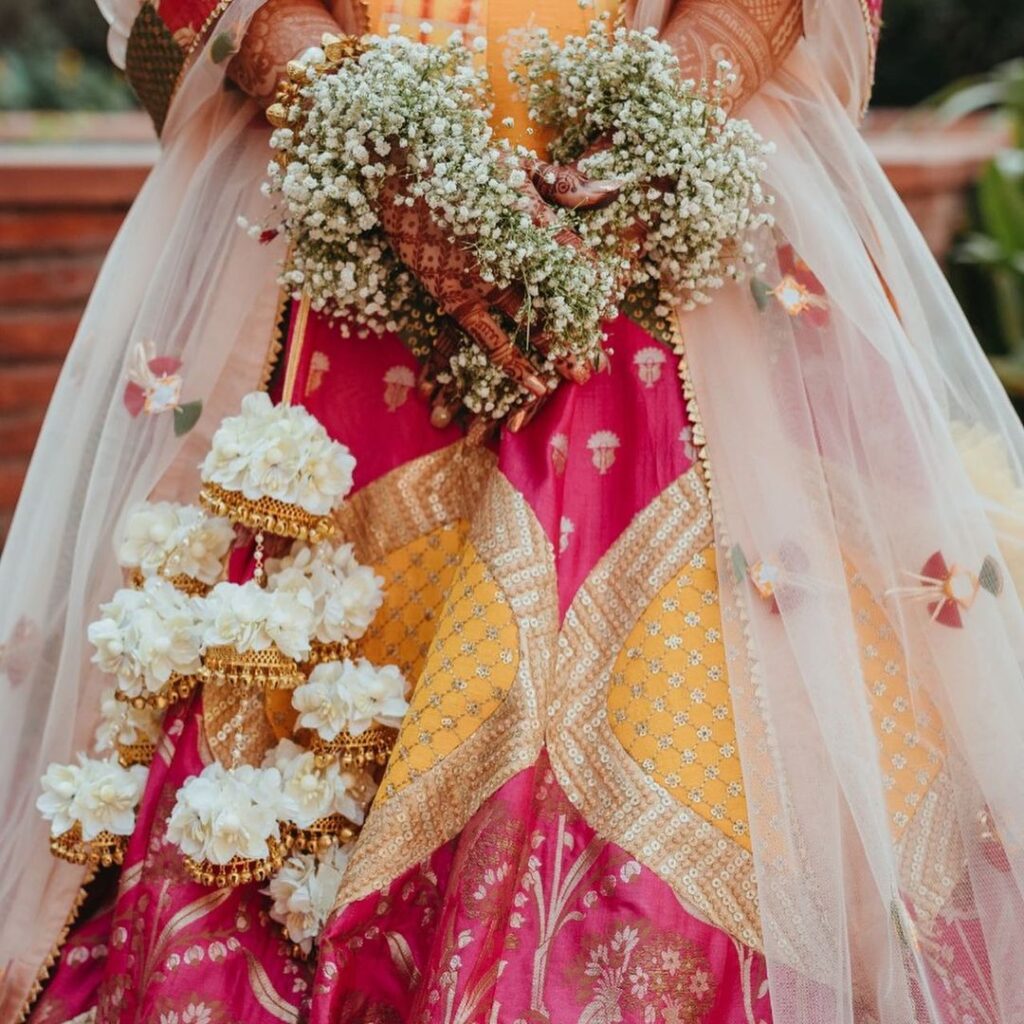 Courtesy: Sadhvvi Nanda
#36 Gray is another unique color entry into the bridal mehendi look. Bride Nehal opted for a bluish-gray lehenga for her henna and paired it with a red blouse and standalone kundan jewelry. She kept her hairstyle in a fuss-free side braid and posed like a doll for her bridal portraits.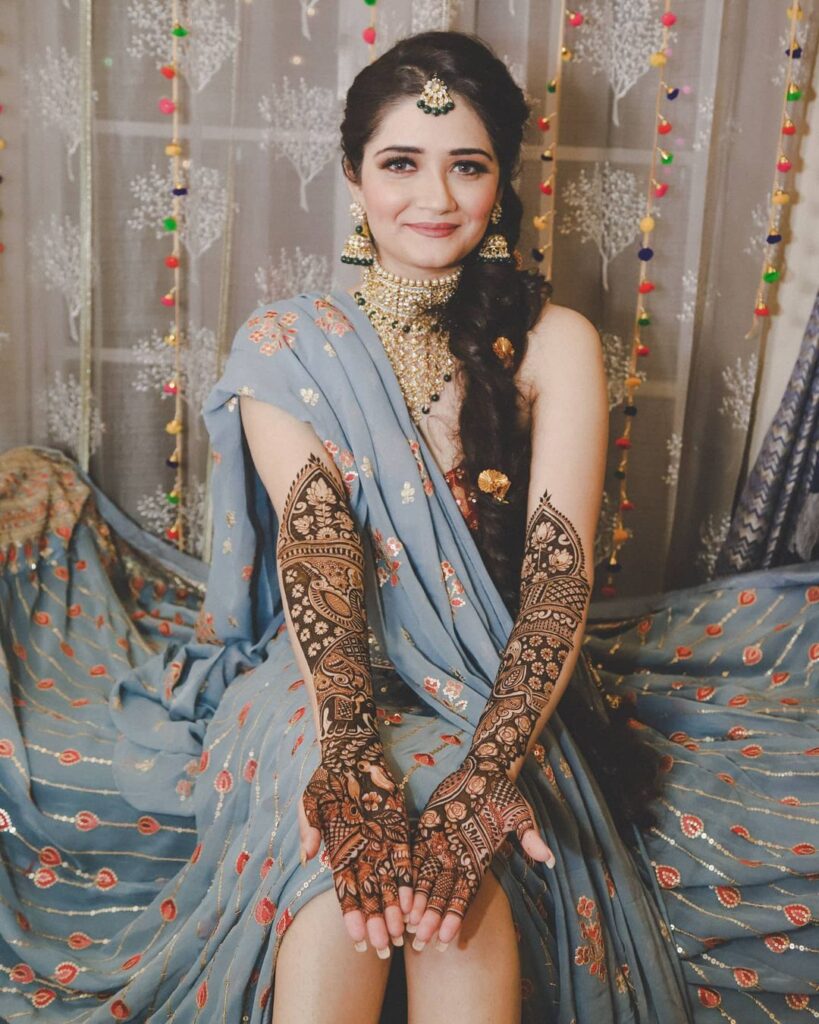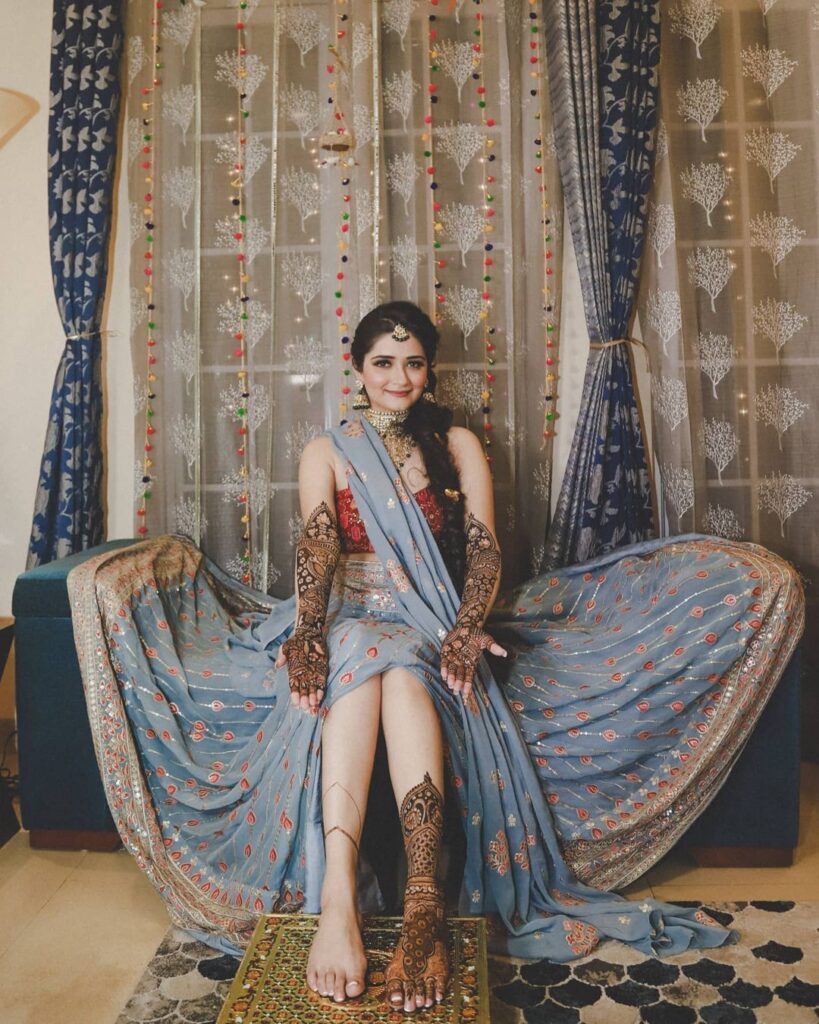 #37 For her Jaipur destination wedding at Fairmont, Jaipur, bride Ashmit wore a neon green lehenga. The 3-piece lehenga skirt comprised of a flowy lehenga, intricately embellished blouse, and a dupatta labeled Anamika Khan's signature AK-OK phrasing. Scroll to see the perfect mehendi outfits for the bride & groom.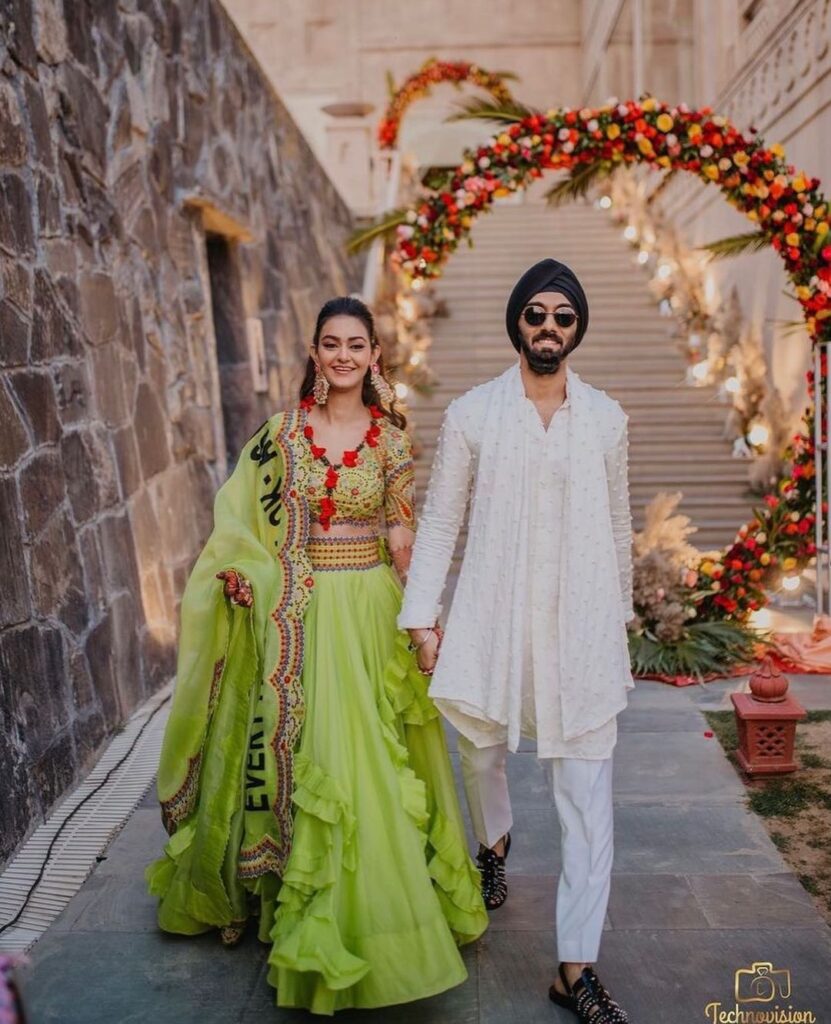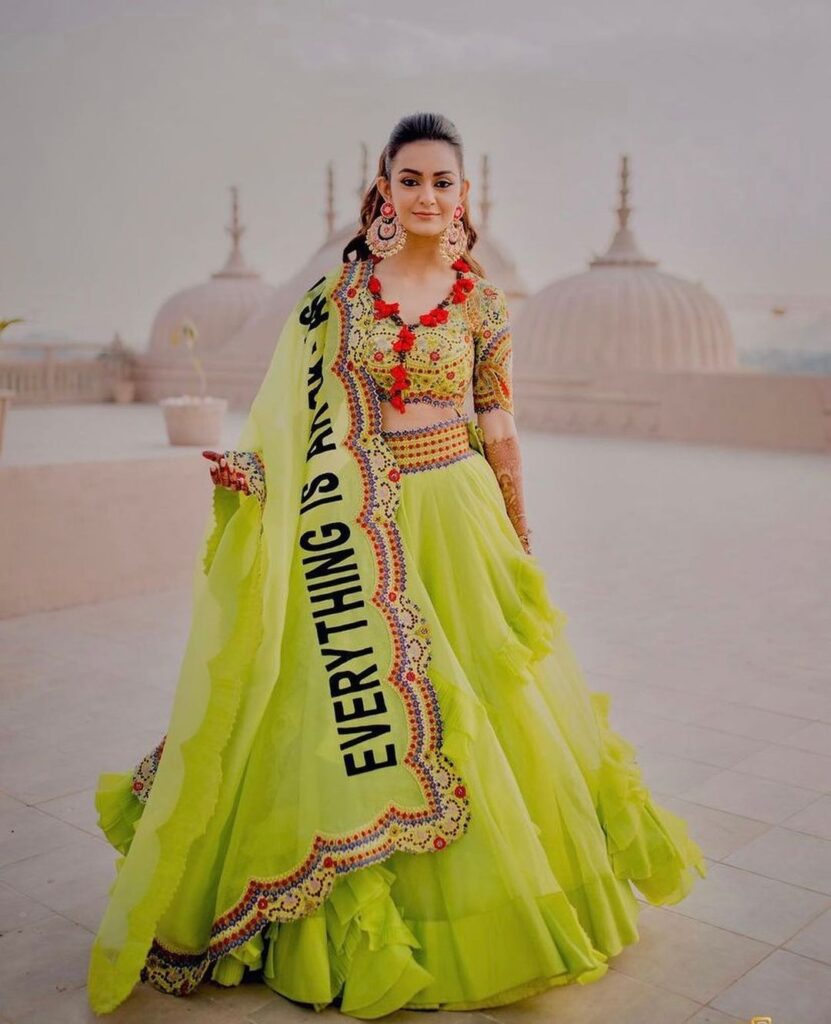 #38 If you've been sold on the idea of benarasi weaves for your wedding then look no further than this banarasi lehenga and crop-top blouse set. Not only does this ensemble just perfect for the glam a bride needs, but it's also quite comfortable through the lengthy mehendi application and the after-party.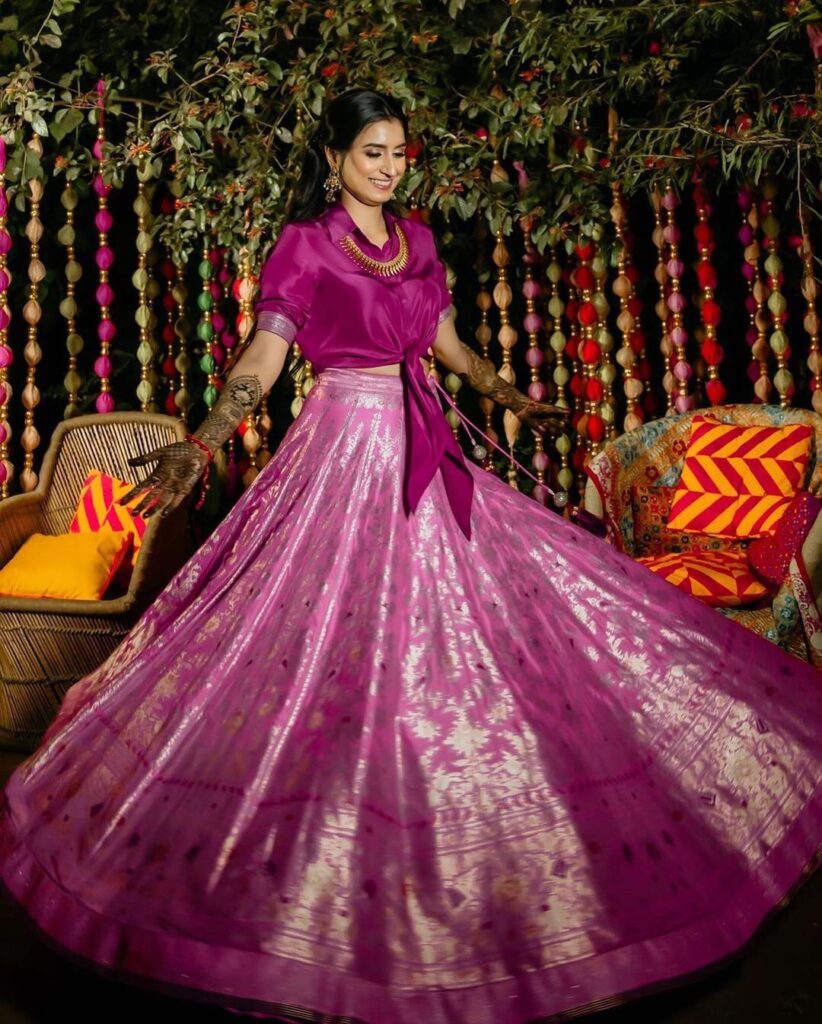 Courtesy: Photo Paparazzo
#39 Raw Mango is a luxurious brand that curates handloom weaves and benarasi traditional wear is the one their collection reflects the most! Bride Monjari wears an emerald green kurta sharara set for her home mehendi, whilst the groom's mehandi outfit also reflects hints of traditional Indian weaves.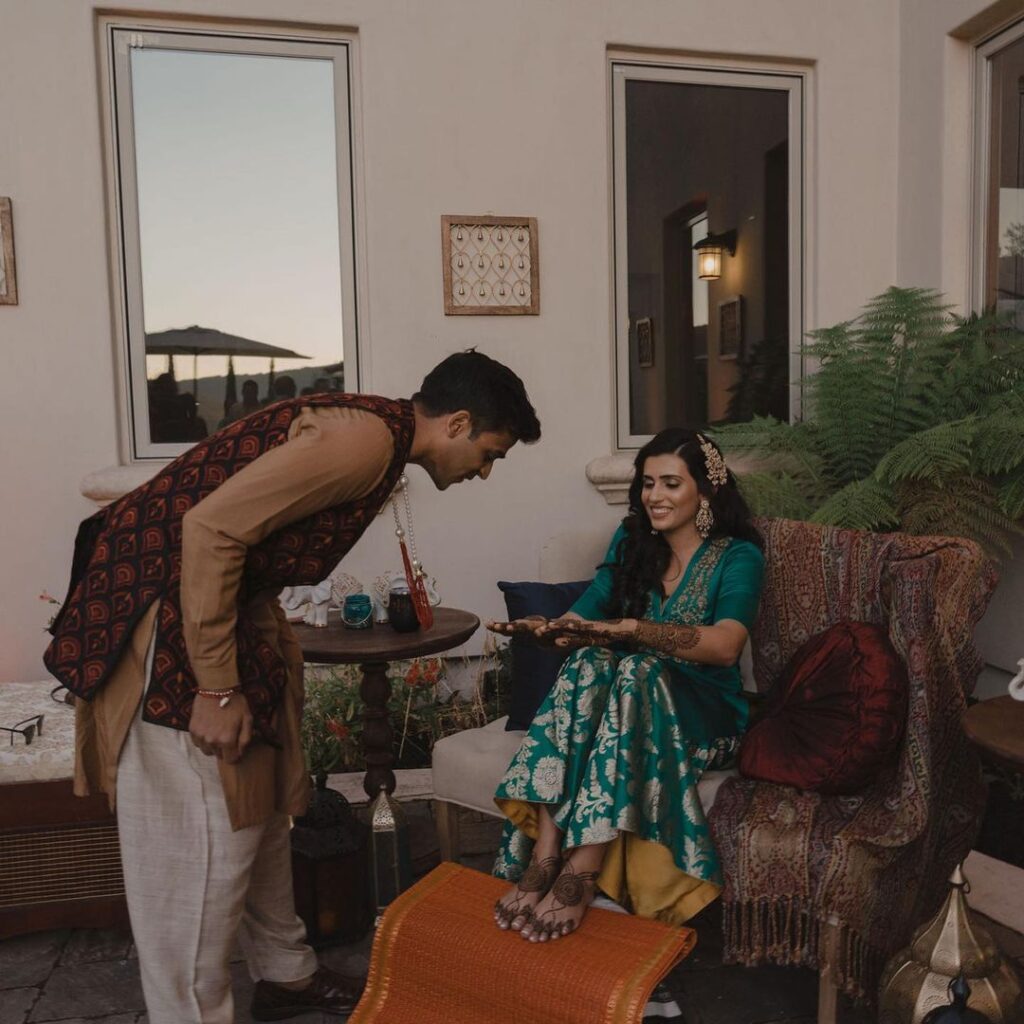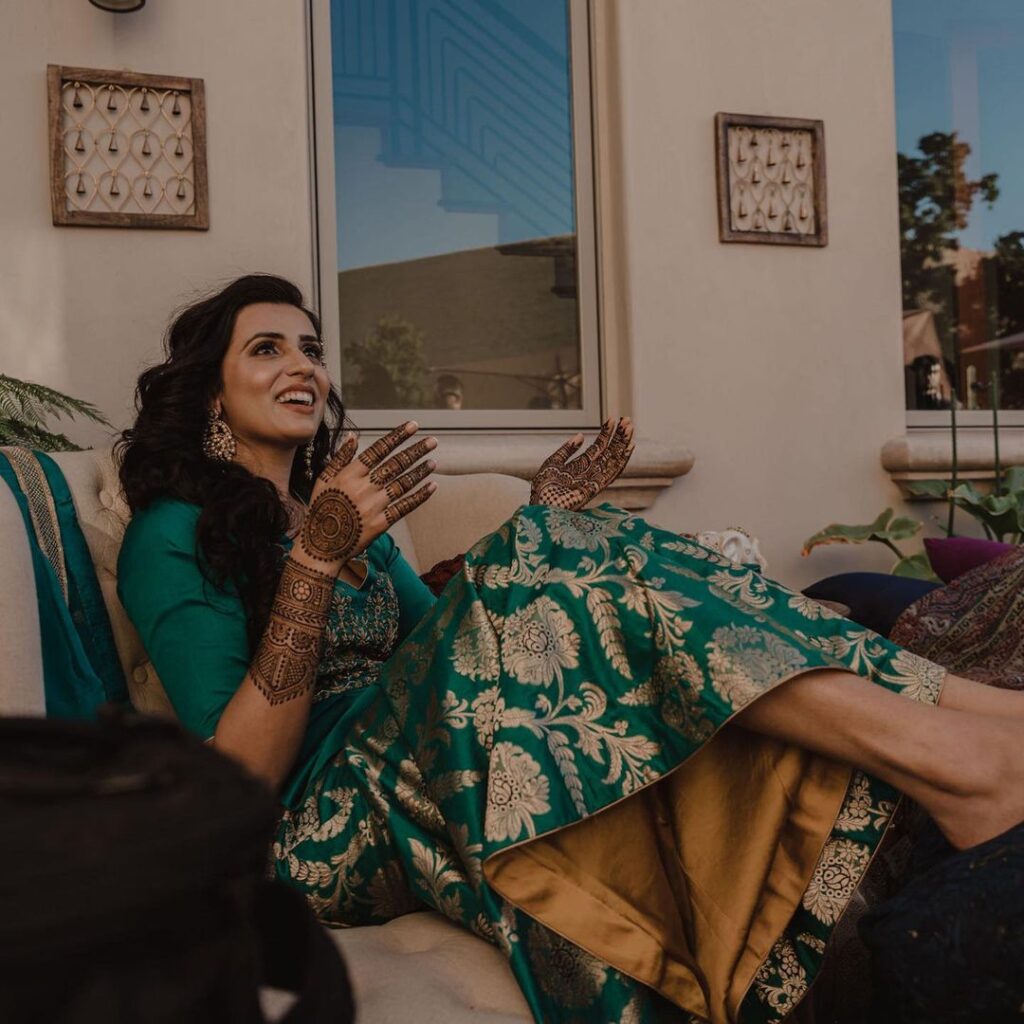 #40 Pastels have made their way into the mehendi event and we are excited about this gorgeous color making its entry into another event and the epic styling brides will pair it with! We love the chunky floral and kundan jewels bride paired the lehenga with too!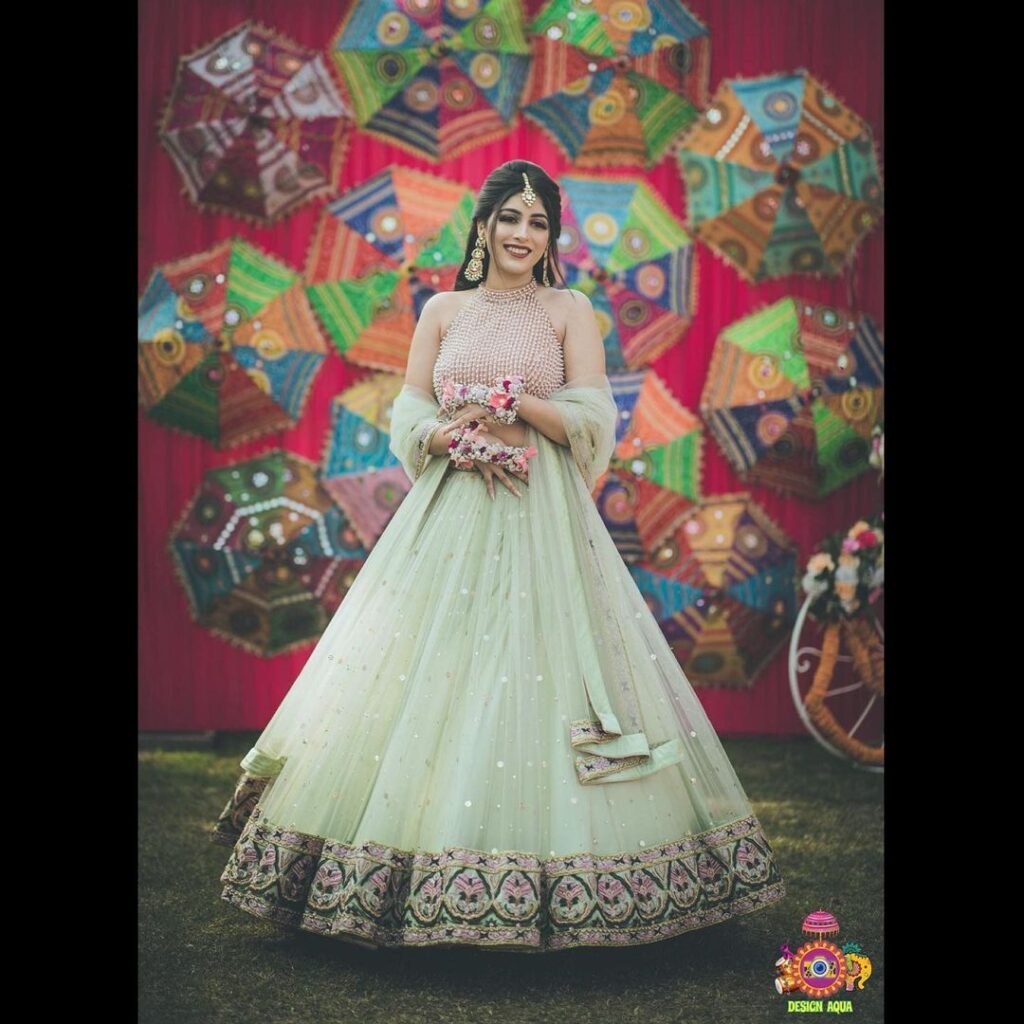 Courtesy: Priyanka Kamboj Chopra
#41 Ending these mehendi outfits ideas blog with this printed green lehenga by Sabyasachi. If you're someone who really wants to wear a Sabya lehenga for the wedding, but doesn't have the budget, goes for a simple Sabyasachi lehenga like this one that comfortably costs around 2 lakhs. Bridal Sabyasachi lehengas are priced above 4 lakhs and can't be a convenient option for most brides. This one can fit the bill though.