When it comes to planning a destination wedding in India, Jaipur is the foremost choice. With its breathtaking picturesque architecture, regal aura, and all-inclusive accommodations, the Pink City has become a hub for destination weddings. The region is always brimming with tourists and is one of the most visited cities in India. So if you've your heart & mindset on a Jaipur destination wedding, we have some of the most common FAQs answered for you below. 
How much does a destination wedding in Jaipur cost?
A destination wedding in Jaipur can cost anywhere between Rs.15 lakhs to 2 crores. This pricing includes accommodation, wedding decor, mehendi artists, sound, photographer, and travel and food expenses. It doesn't include wedding shopping and makeup artist charges. The major chunk in a destination wedding goes to accommodation and food. 
So, let's do the calculations. Say you pick a hotel that charges Rs.5000/- per night and have a guest list of 100 and are planning a 2-day destination wedding in the pink city. You'd need around 40 rooms and the cost of accommodation is 5000 X 2 X 40 = 4,00,000. For 2 days of food, and considering the per plate cost for lunch/ dinner is Rs.1000/-, and let's add 1000 more for breakfast. Many hotels offer packages for food as well. But on average, in a hotel that charges Rs.5000/- per night, the cost for food per person can add to Rs.2500/- per day. So, 2 X 3000 x 100 = 6,00,000. So, you can add 9 lakhs for food and accommodation. 
A wedding photographer's average cost for a 2-day photo & video is 1.5 lakhs, decor, sound and DJ can be around 3 lakhs more and mehendi artists can charge 50k to 75k for a wedding, inclusive of bride and groom. Travel charges can vary a lot depending on where you're coming from, but let's say you're coming from Delhi, which is a 4-hour drive away from Jaipur, you'll have to rent 2 deluxe AC buses, costing you around 20k to 30k. This brings the total cost of an average budget Jaipur destination wedding to around 16 lakhs. Even after adding charges for makeup artists and other additional expenses, the cost for a 100 guests, 2-day wedding in an average budget accommodation shouldn't go above 20 lakhs. And you can adjust the calculations for any number of guest lists and accommodation. Just increase/ decrease the charges for food based on the kind of wedding venue you choose. 
There have been a lot of questions on how much does a Fairmont Jaipur wedding cost? 
Let's answer that for a 100 people guest list and 2-day wedding revelries!
Fairmont charges Rs.13,000/- on average for one room for a night. So, 12000 X 2 X 40 = 10,40,000. Since it's a 5-star hotel, food can easily be Rs.2,000/- per plate for one main meal, which brings the cost of meals for a wedding party of 100 to around 30 lakhs to 40 lakhs, since it will be offered in a package. Adding the decor, sound, and photography, the cost for a destination wedding in Fairmont Jaipur can easily reach Rs.60,00,000/-. Additional expenses include travel, guest entertainment, makeup artists, and gifting. 
Why should you consider a Jaipur destination wedding?
Jaipur is replete with palatial hotels that offer an old-world charm, superior hospitality, and delectable food for their guests. When you're planning a destination wedding, it's imperative you want a 360-degree experience since it will be a new city and you wouldn't want any kind of hassle on your big day. Fortunately, Jaipur venues and vendors are experienced and used to hosting guests from other cities and provide them with helpful advice throughout their trip. From rich culture to authentic food and architectural marvels, the city is full of opulence, grandeur, and traditions you'd want your big day to immerse in. 
The city's main area hosts some grand hotels, but just on the brink, where the city life ends and the gorgeous Aravalli hill range starts, you can find many other properties with breathtaking views and relaxing sernity. 
For how long does a destination wedding last? 
An Indian destination wedding can consist of a series of functions. In general, a destination wedding in India lasts for about 2 to 3 days. Some couples prefer to have a ceremony, like mehendi or reception, back at home, so they can invite guests who don't get invited to the destination wedding. Sangeet and wedding are the main two events that definitely take place at the chosen destination. The rest can be moved around according to your convenience. 
Destination Wedding Venues In Jaipur
Luxury Destination Wedding Venues in Jaipur
Rambagh Palace, Jaipur (~40,000 per night)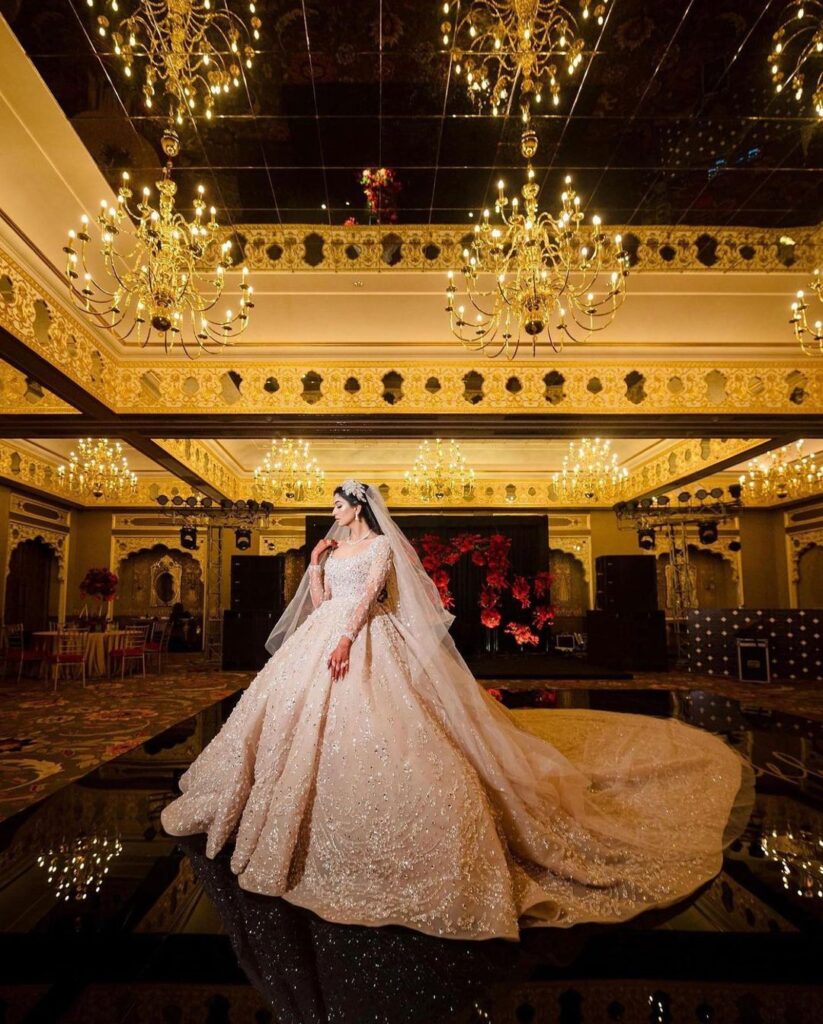 When it comes to speaking of a luxury wedding venue, or a luxury resort, in general, in Jaipur – Rambagh Palace is unbeatable. The property is ranked as a luxurious hotel not just in Jaipur, but also in India. Obviously, that comes with a price. A good hack to have a wedding here, without paying for accommodation and food is to arrange the stay in a nearby hotel, host other events there, and just have the pheras in Rambagh. Hotels like Holiday Inn, Hilton, Shakun Hotel & Resorts, etc. are budget ones to consider and they're all within 4 km of Rambagh. A wedding at Rambagh palace for 100 people can cost you around 5 lakhs. 
Check current ratings and reviews here.
Oberoi Rajvilas (~25,000 per night)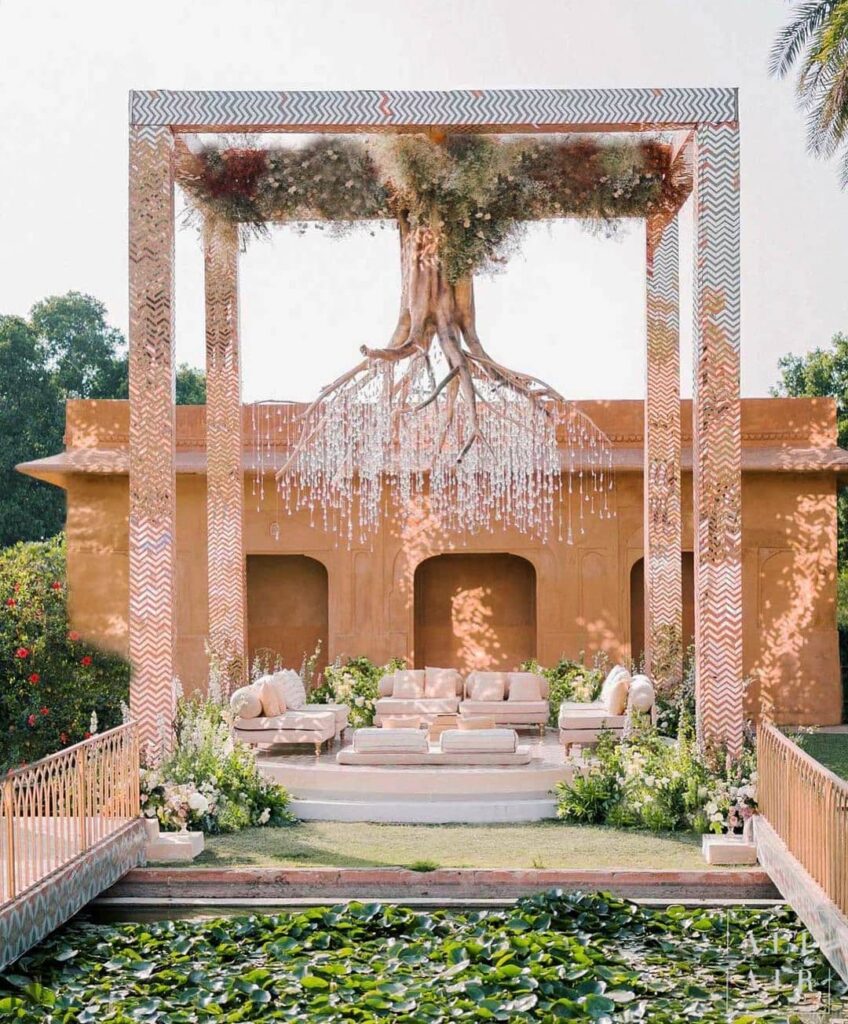 Located in the outskirts of Jaipur, this tranquil luxurious resort is everything a couple could ask for to host their destination wedding. Spanning over 32 acres of land, with traditional architecture, lush gardens, and splendid rooms and tents, Oberoi Rajvilas is known for its opulent feel and sincere hospitality. It's built around 18th century Shiva temple, so for those who value spirituality and faith the most, this place can be a perfect pick for you! Oberoi is best for intimate weddings with both the courtyard and hall built with a capacity of 200 people. 
Check current ratings and reviews here.
Leela Jaipur (~16,000 per night)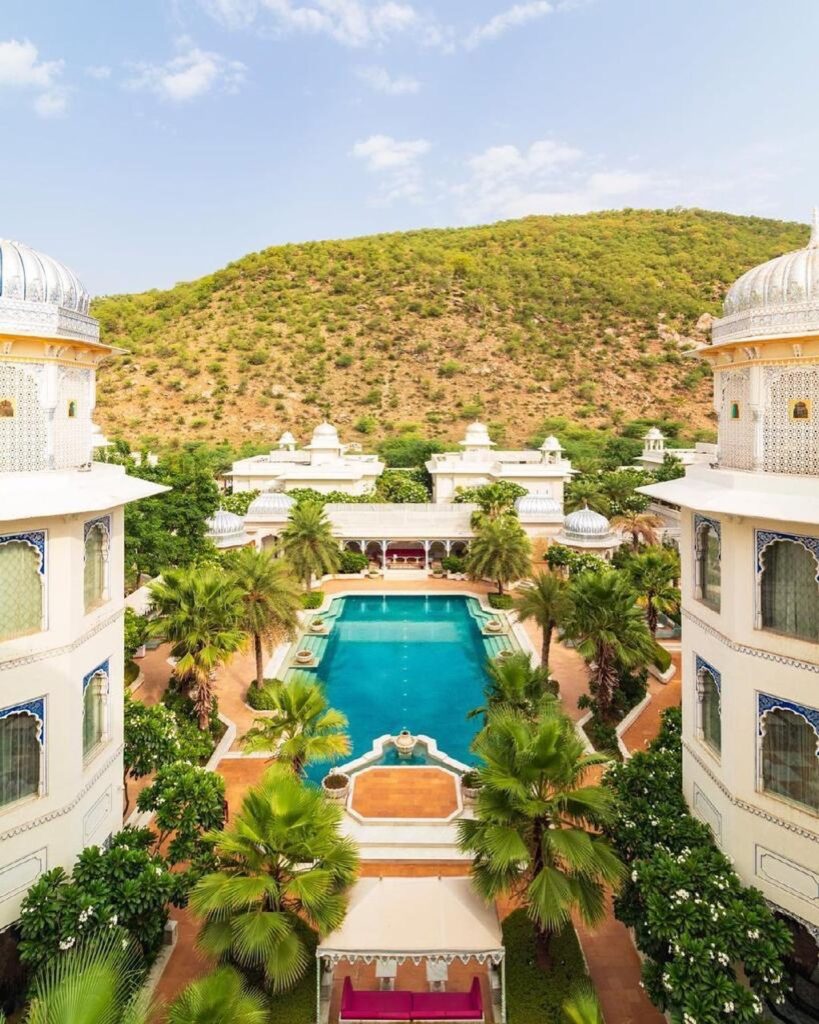 We just did a blog on a couple who hosted a Jaipur destination wedding in Leela Palace. Whilst planning, they toured 7 properties in Jaipur, but when they entered Leela, they knew it was a done deal on the spot. Leela's striking traditional architecture and vibes blended with modernism well to provide a unique experience and that's something not every wedding venue can offer! Overlooking the picturesque hills and surrounded by opulent design – this stunning resort is surely a superb pick to start your happily-ever-after. 
Check current ratings and reviews here.
Sujan Rajmahal Palace (~18,000 per night)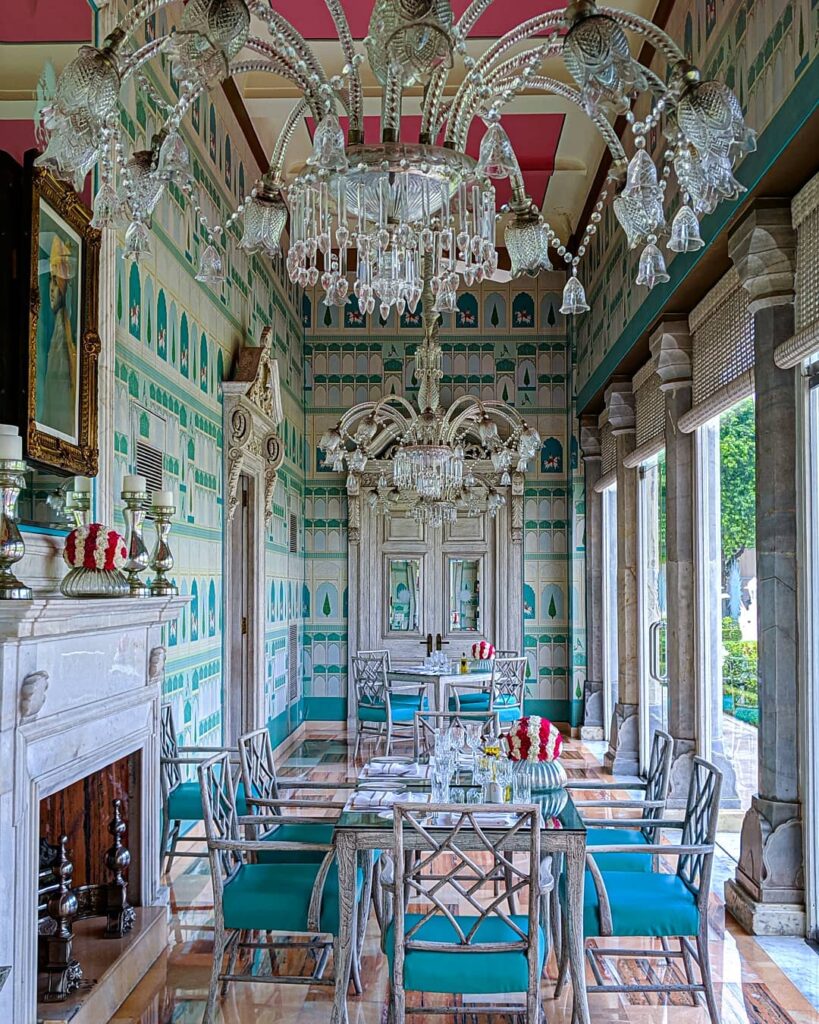 An opulent property of Rajasthan's Royal family, Sujan Rajmahal Palace is a hidden palace in the bustling market of Jaipur. The 130-year old mansion houses beautiful rooms and remarkable design. For your nuptials, there's a spawning lawn that can accommodate more than a 1000 guests. The management are trained and experienced to plan each one of your wedding details to perfection. The standalone backdrop and royal elegance will serve as a perfect backdrop for your unforgettable celebrations. 
Check current ratings and reviews here.
Devi Ratn Jaipur (20,000 per night)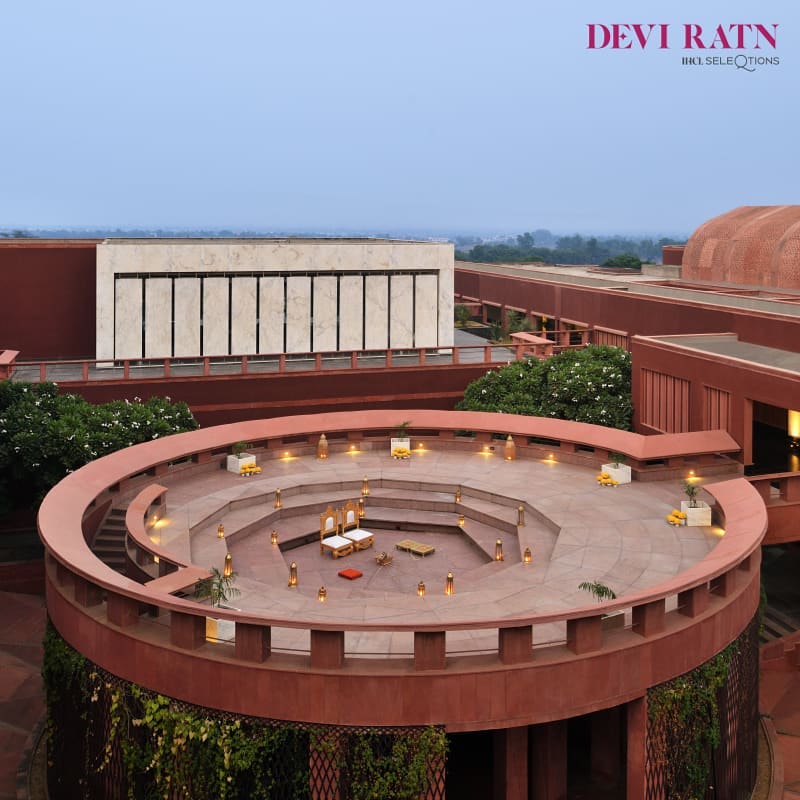 A new addition among the luxurious hotels of Jaipur is Devi Ratn. Stretched 20 acres across the foothills of Aravallis, the hotel with a picturesque red brick exterior, lush gardens, and exquisite architecture can be the hidden gem you're looking for, for your Jaipur Destination wedding. With its elegantly decorated interiors and modern facilities, the hotel's charm will make you and your guests will fall in love with one look. The property also has special wedding packages running, which are different at every point. You can contact the management here for more details. 
Check current ratings and reviews here.
JW Marriott Kukas (~16,000 per night)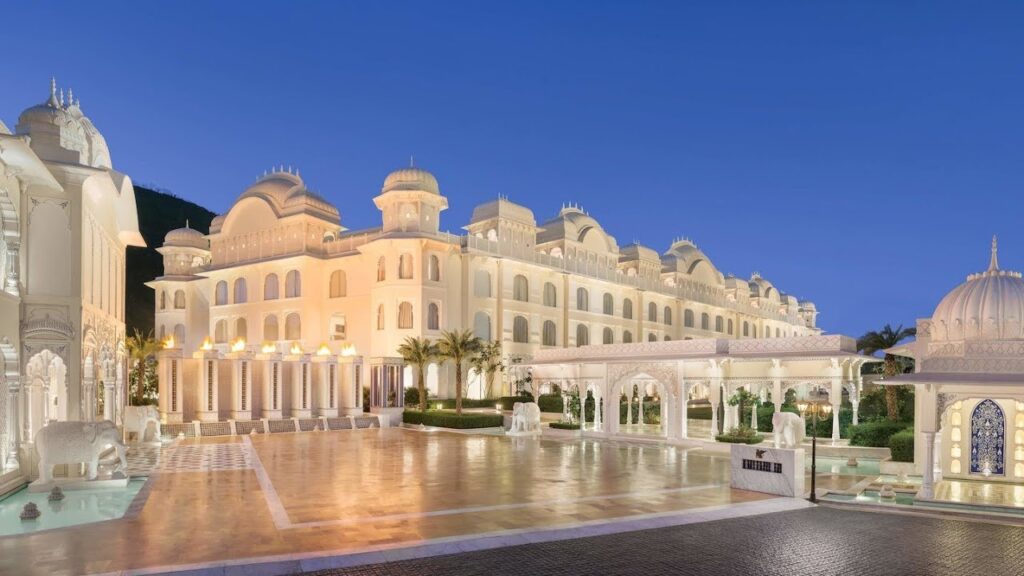 A luxurious hotel with a gorgeous white marble exterior and Rajasthani-style interiors, JW Marriott promises you a memorable celebration with every key element of the wedding day designed to perfection. The property offers 4 stunning event areas – a spawning lawn, poolside, ballroom, and a hall. With supportive staff and a warm ambiance, you can have a stress-free wedding at JW Marriott Jaipur. 
Check current ratings and reviews here.
Fairmont Jaipur (~14,000 per night)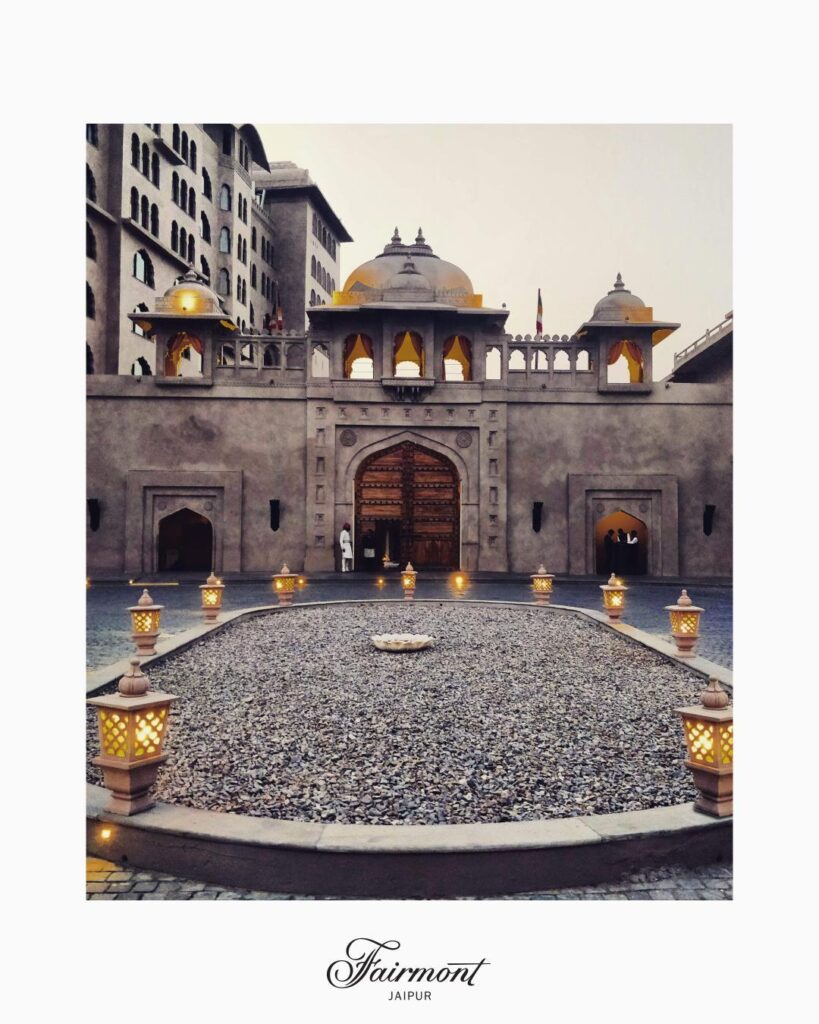 Probably the most googled Jaipur destination wedding venue – Fairmont Jaipur's striking aesthetic, world-class luxury, and aesthetic scenery has made it a favorite among locals and visitors alike for stay and events. Located on the outskirts of Jaipur and just opposite Le Meridien, Fairmont weddings are one of a kind. They're great at helping you plan the wedding too! Like decor, sound, mehendi artists, etc. Just book them and sit back while they pull off the magical celebration for you! 
Check current ratings and reviews here.
Mid-Budget Destination Wedding Venues in Jaipur (Tariff b/w 5000 to 10,000 per night)
ITC Rajputana (~10,000 per night)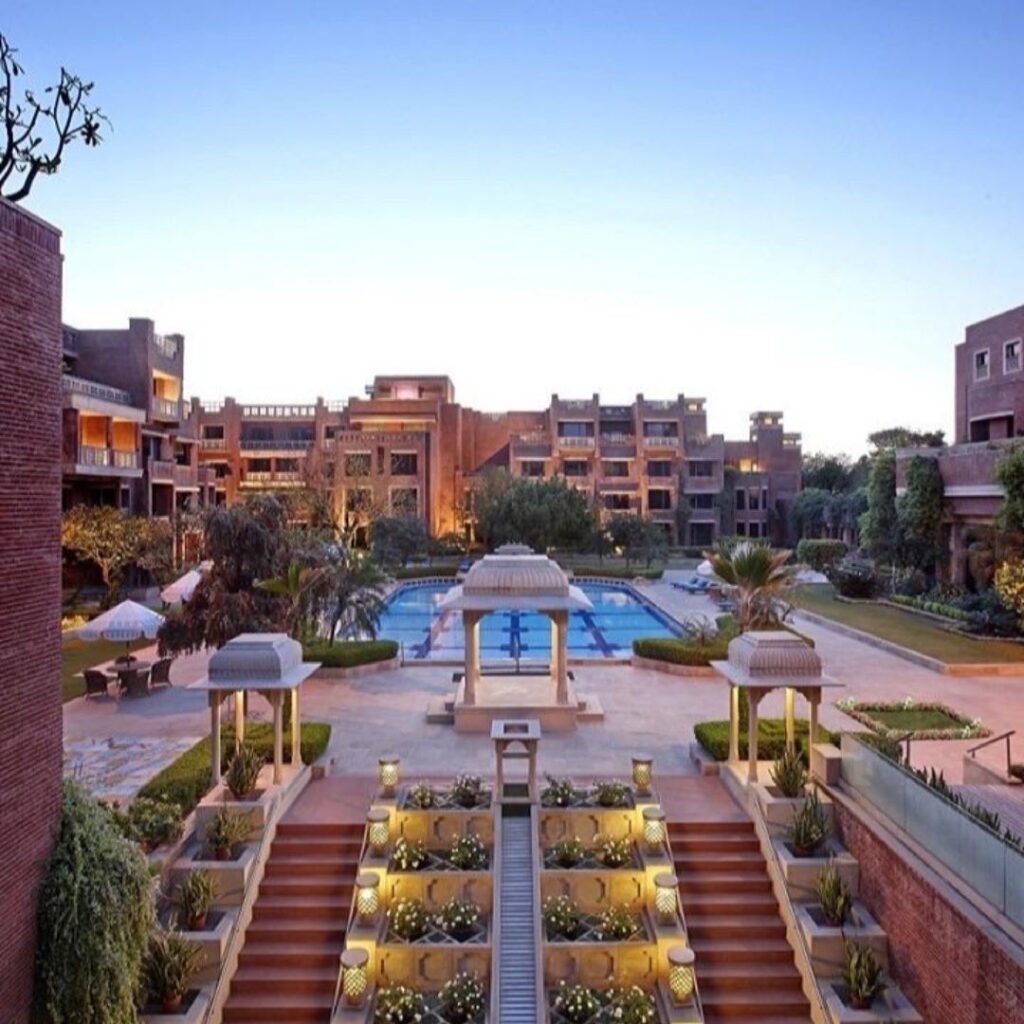 A stunning luxury hotel made with Rajasthani architecture in mind, ITC Rajputana is located in the heart of Jaipur and offers a world-class experience to its guests. An impressive pink stone exterior catches the eyes, while the interiors with a central atrium, long corridors, and secluded courtyards offer the luxurious feel. With a stunning banquet hall and a majestic poolside event arena – the hotel is, without a doubt, one of the most gorgeous wedding destinations in Jaipur. 
Check current ratings and reviews here.
Doubletree by Hilton (~4000 per night)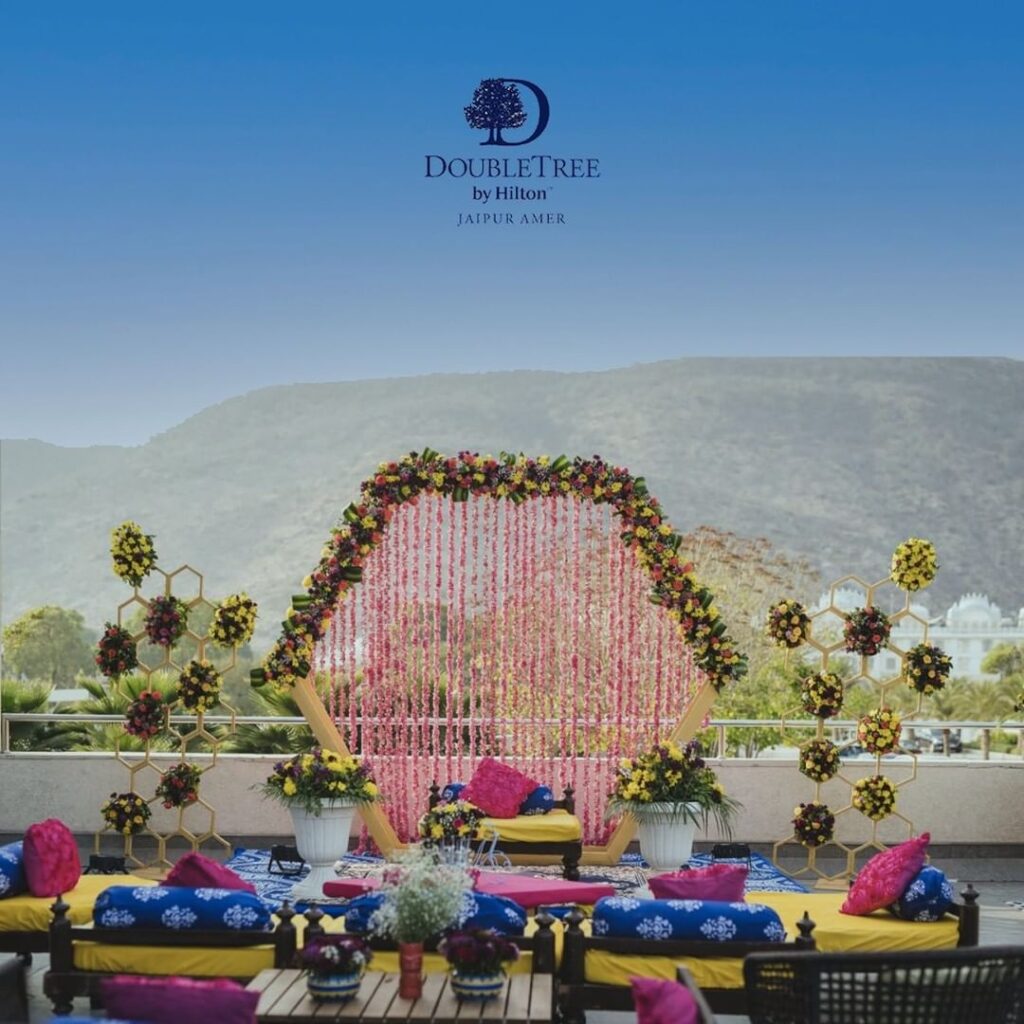 This wonderful hotel is built right next to the Aravallis hills range on one side and has lush greenery on all the other sides to give you remarkable scenery throughout your stay. The comfort, luxury, and peace at this resort are unmatchable. If you have always dreamt of getting married outdoors, in the lap of nature, this property will be your dream come true. 
Check current ratings and reviews here.
Le Meridien (~6000 per night)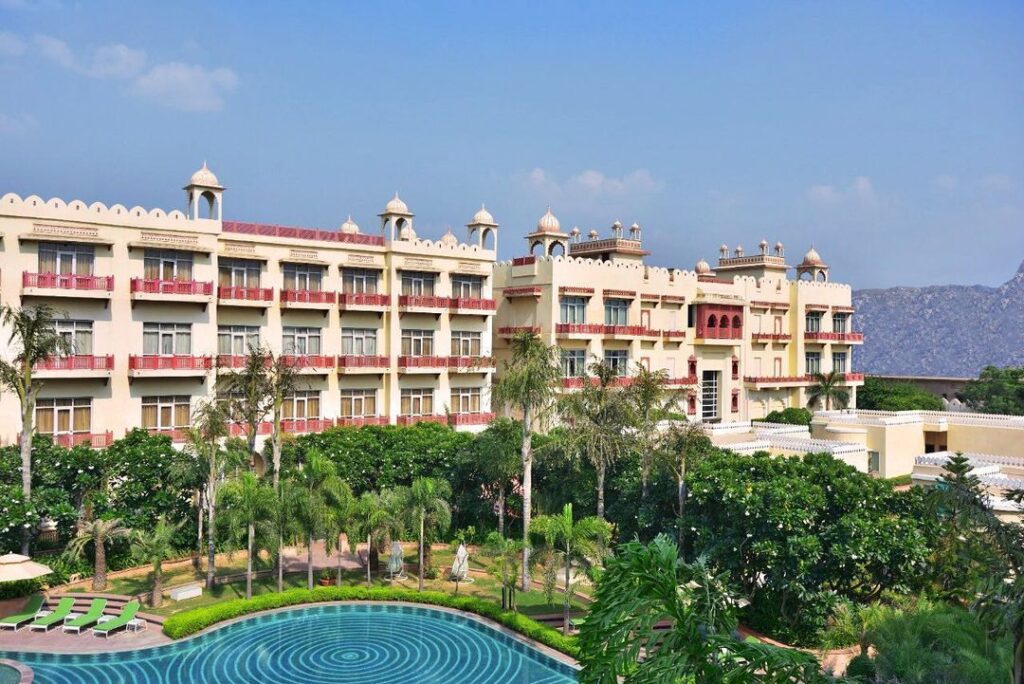 An upscale accommodation on the outskirts of Jaipur, Le Meridien promises its visitors quaint luxury and a memorable stay. Owing to its picturesque landscape, many weddings are held throughout the year and the hotel management can help you to plan yours too! With more than 4500+ positive reviews, this mid-budget resort in Jaipur can be a superb choice for the comfort wedding you wanted with a side of luxury and a unique experience. 
Check current ratings and reviews here.
Samode Haveli (~8000 per night)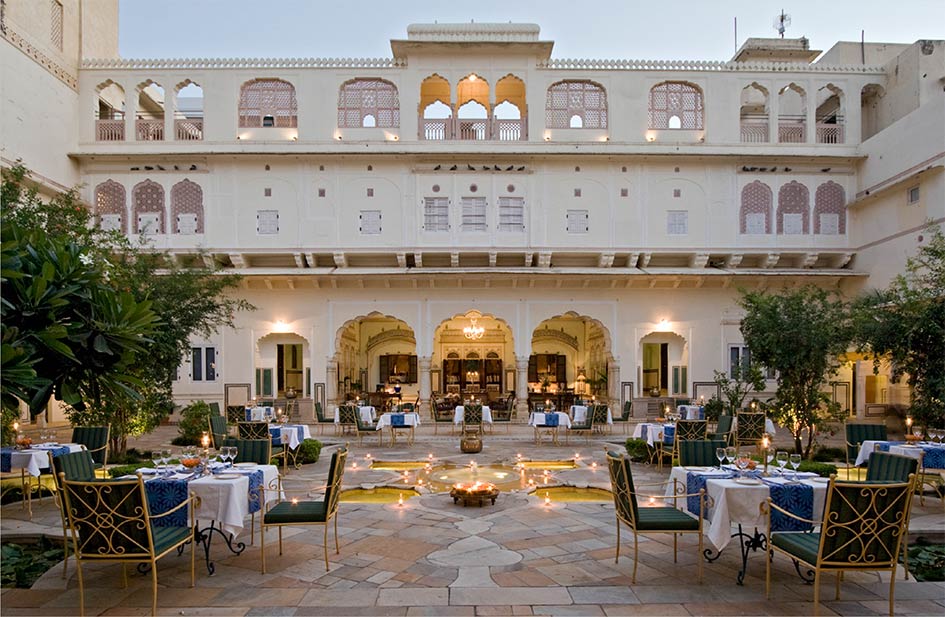 Built 225 years for the rulers of Samode, a portion of this historic palace has been turned into a luxury hotel, while the other half remains occupied by the descendants. The hotel retains the style, elegance, and grace of the royals, and several movies and TV shows like Splitsvilla have been shot here. From indulgent food, comfortable rooms, and gorgeous event areas (lawns, rooftops, and halls) – your Jaipur destination wedding at Samode Haveli will be the dream nuptials you've always wanted! 
Check current ratings and reviews here.
Shiv Vilas Resort (~9500 per night)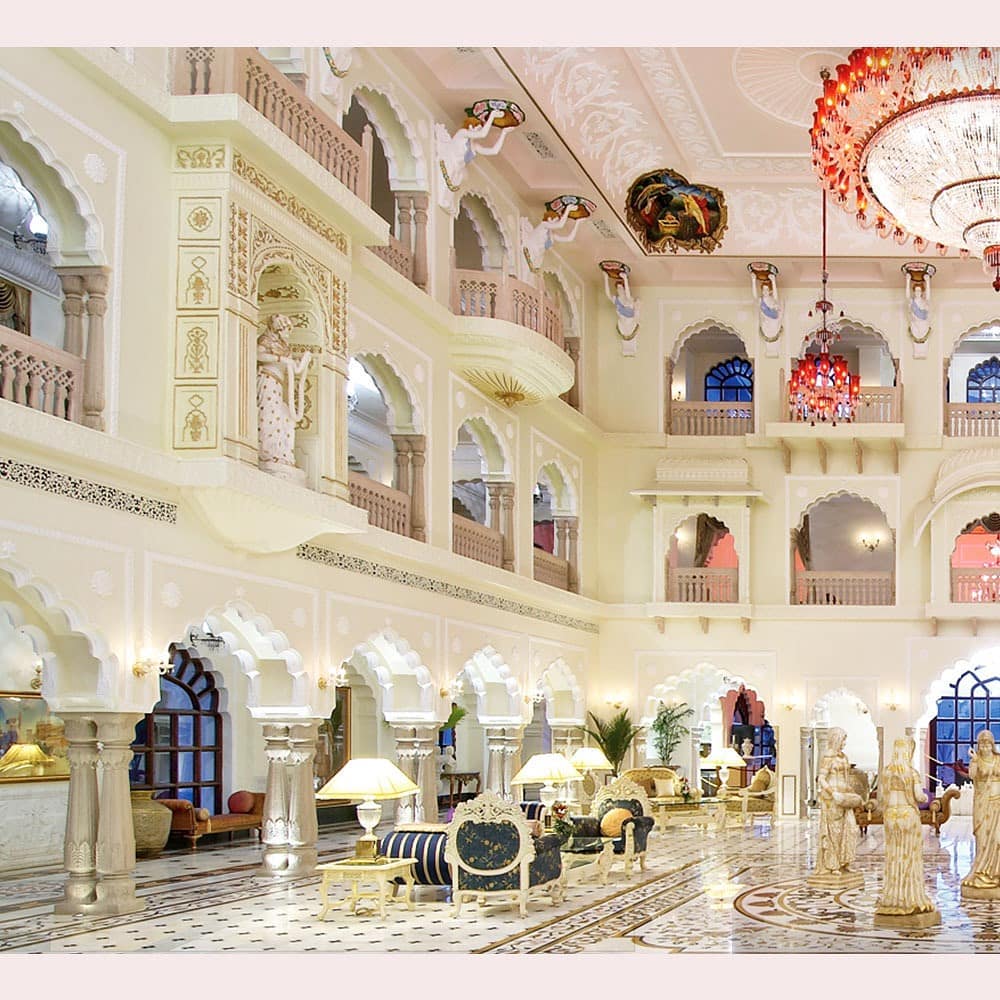 Combining Mughal, Persian, and Victorian architecture into their hotel's design, the Shiv Vilas resort offers a majestic backdrop for a truly royal experience. The rooms and suites feature elements reminiscent of Rajasthani palaces like frescoes, pink sandstones, and hand-carved white marble. Having a wedding here will be a memorable experience and one you'll never forget! The resort is quite popular as a destination wedding location, and it's best you contact them as soon as possible for bookings. 
Check current ratings and reviews here.
Rajasthali Resort & Spa (~6000 per night)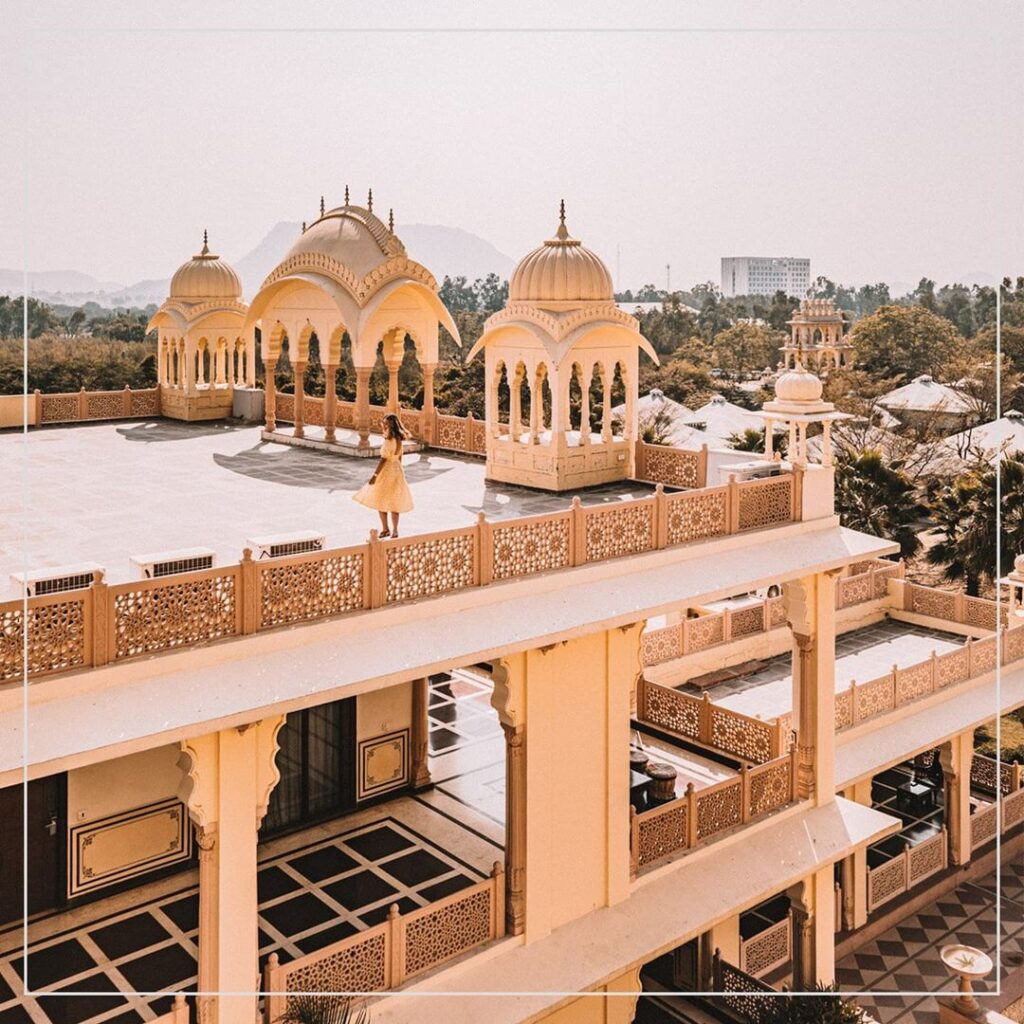 With the spectacular views of Aravallis, your dream of having a mandap on the hillside will come true at Rajasthali Resort & Spa. Located in Kukas, and near to other luxury resorts like JW Marriott, Le Meridien, and Doubletree by Hilton, Rajasthali is a new addition, nevertheless one that offers the amenities like other competitors nearby. As the name suggests, the resort offers you typical Rajasthani feels and has dining, experiences, and architecture exuding the same. Plus, they also have luxury tents for a truly spectacular experience for you and your guests. 
Check current ratings and reviews here.
Trident Hotel, Jaipur (~4000 per night)
Located on the outskirts of Jaipur, Trident Hotel is located near to some of the iconic Jaipur attractions, like the Jal Mahal Palace, Amber Fort, and Man Sagar Lake. Since the location is on a highway, the property offers a serene and relaxing atmosphere for your nuptials. The rooms and suites are elegant and spacious, plus the staff is kind and helpful. Just like other properties in Jaipur, the hotel management can help you with the decor and other amenities easily. With 2 spawning laws, a banquet hall, and a poolside area – there's no dearth of a varied aesthetic to match each one of your wedding events. 
Check current ratings and reviews here.
Budget Destination Wedding Venues in Jaipur (Tariffs > 5000 per night)
Narain Niwas Palace (~5500 per night)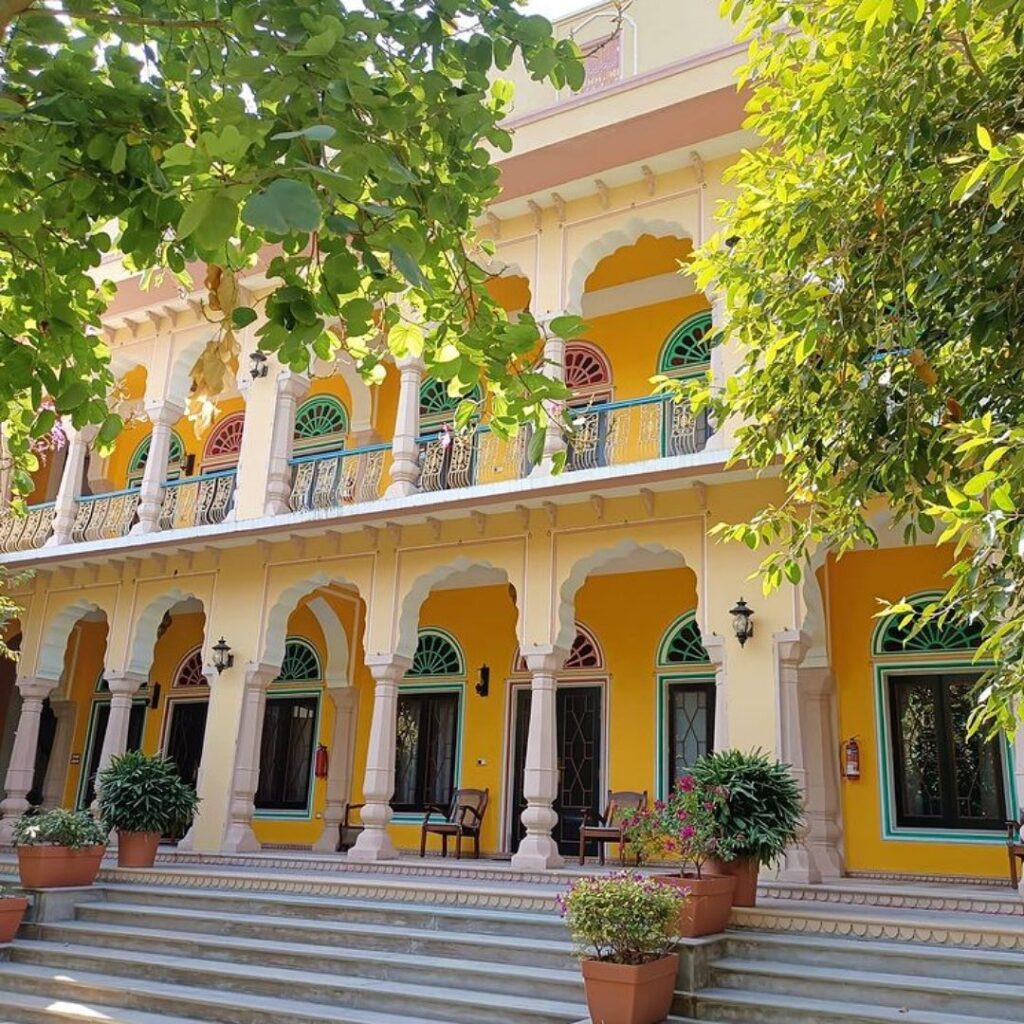 A palace-turned-hotel, Narain Niwas Palace was built in 1928 by General Amar Singh, Thakur of Kanota. Designed with Victorian architecture and infused with the royalty of Rajasthan, this hotel is the perfect wedding venue for you if you're all about having regal nuptials. The hotel has 52 air-conditioned rooms – each one designed uniquely with rich paintings and prints. Plus, the property always has great wedding packages running. Like right now, there's an offer valid till 31st September 2021 to accommodate 50 persons for 2 days in 25 rooms (all meals included) for 6 lakhs, and 80 persons for 2 days in 40 rooms (meals includes) for 10 lakhs. Decor charges are extra, but they can arrange that as well! I am sure they will have an offer whenever you're in need of it. Just contact the management for the same here. 
Check current ratings and reviews here. 
Holiday Inn Jaipur (~3500 per night)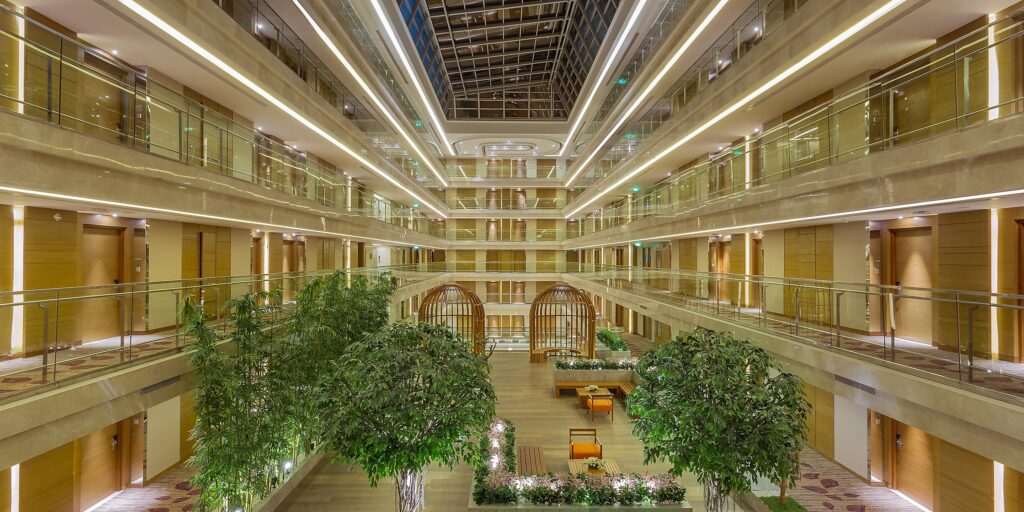 Both Holiday Inn and the next hotel – Hilton Jaipur are located just 2 km away from each other. Right next to them is Jaipur's popular mall – MGF, you know, just in case, you missed something at home or your guests need some entertainment – Problemo Solved! The property has a rooftop party area with a pool, a banquet hall, and a lawn area with a capacity of 800. Holiday Inn also offers lucrative destination wedding packages in Jaipur, so you can contact them from the same. A budget affair certainly doesn't get any better than this! 
Check current ratings and reviews here. 
Hilton Jaipur (~3000 per night)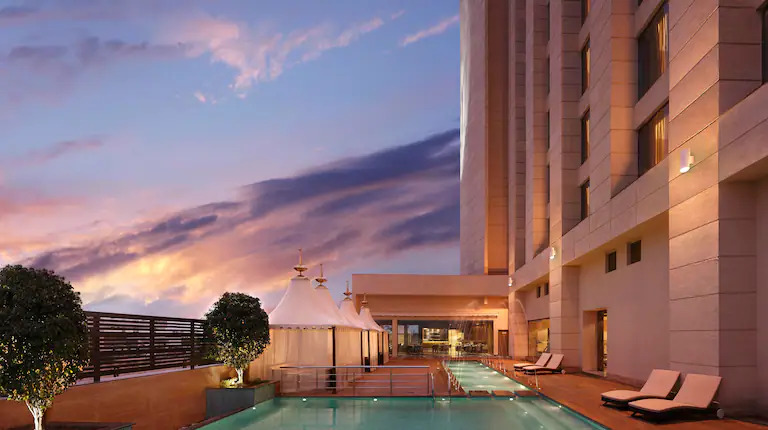 Yet another amazing budget destination wedding venue in Jaipur is Hilton. I've personally been to this hotel for weddings and events, and it's just amazing! The food, the halls, the services, nothing disappoints. If you're planning a budget Rajasthan wedding with 200 guests or less, Hilton can be an ideal venue for you! Coming to the event spaces, Hilton has two – one is an indoor banquet hall, and another one is an open space on the rooftop. Even if you aren't there, the management staff can help you with wedding planning online. 
Check current ratings and reviews here. 
Lalit Jaipur (~4000 per night)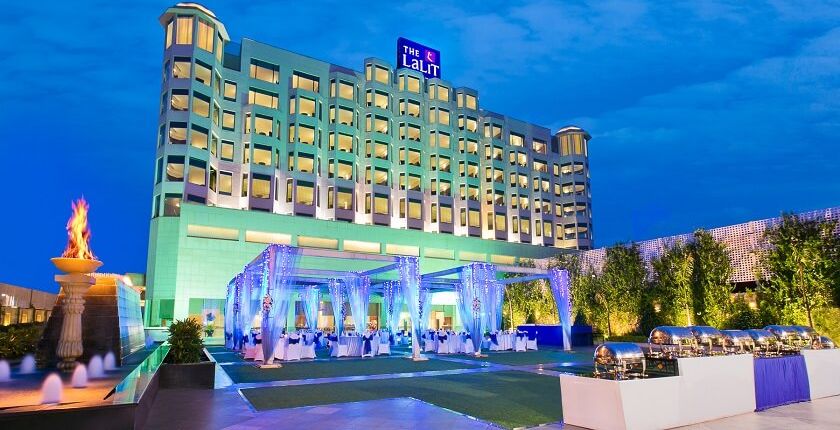 Located in the heart of the city, The Lalit Jaipur offers a luxurious, top-class wedding experience and will serve as an amazing backdrop for your special day. The hotel is just 2 km away from the airport, and 15 minutes away from the train station – giving you and your guests proximity for travel purposes. Boasting a spectacular ballroom and outdoor lawn with a capacity of 500, this stunning venue doesn't disappoint your guest count and owing to hosting weddings regularly, can also help you with decor and planning arrangements. 
Check current ratings and reviews here. 
Four Points by Sheraton Jaipur (~4500 per night)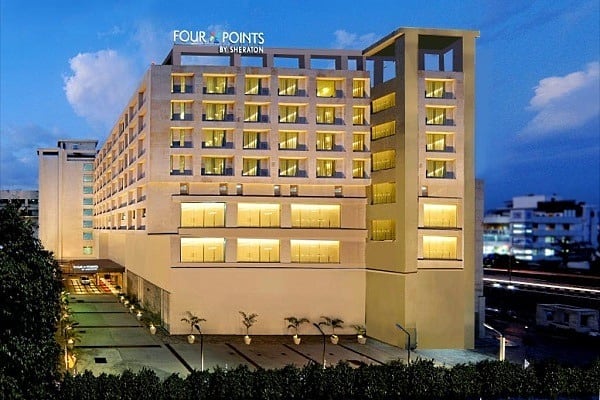 Located in the midst of the city, but spanning in a large area so as to offer you privacy and keeping all the amenities close by, Four Points by Sheraton is a high-class, stunning accommodation for your wedding. With 2 halls offering a capacity of 150, you can have an intimate destination wedding of your dreams here. Plus, the property offers spectacular views of the Jaipur hills on one side, and you can set a mandap on the terrace overlooking this picturesque view. 
Check current ratings and reviews here. 
Crowne Plaza (~3000 per night)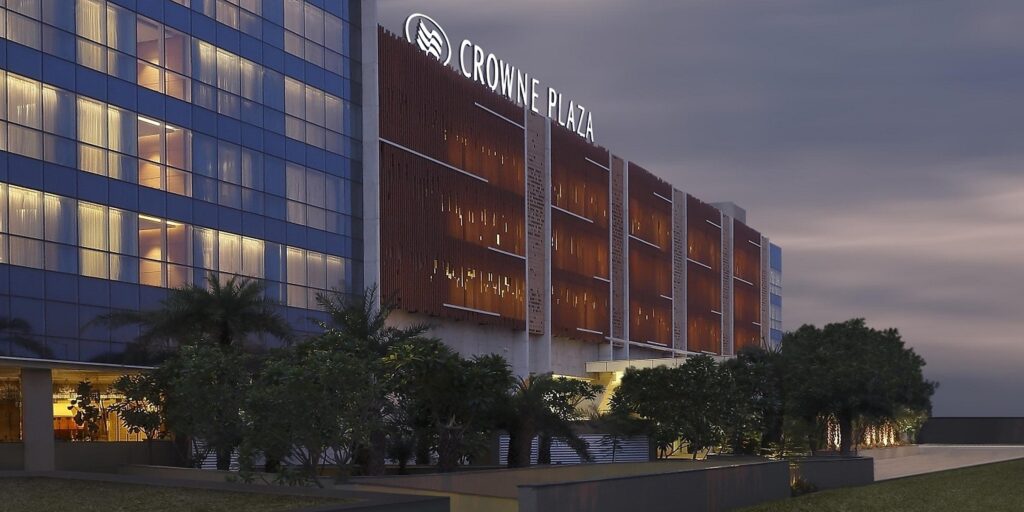 Located in one of the finest areas of Jaipur, Crowne Plaza is always brimming with guests. The venue has 2 banquet halls with a capacity of 100-200 and a lawn with a capacity of 500. So, you can have an intimate wedding or a grand one if you'd like! With its modern elegance, superb interiors, and unmatched hospitality – you can be assured of a royal affair that you will remember for your entire life. 
Check current ratings and reviews here. 
Clarks Amer, Jaipur (~3000 per night)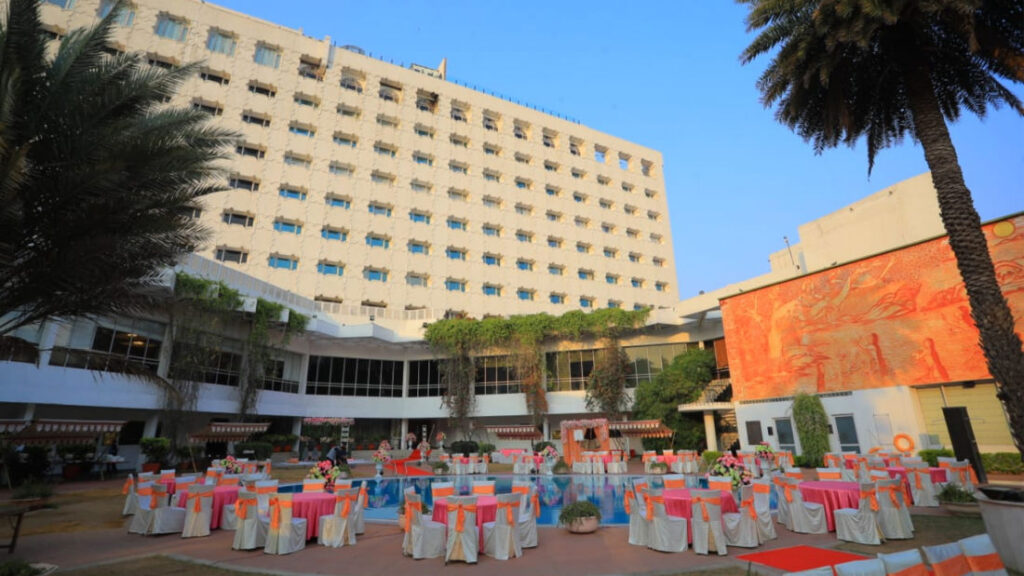 If there's one thing the Clarks Amer chain of hotels is known for, it's their amazing hospitality and personally attending to every guest. So, you can be assured that each one of your guests will have an amazing time and you & your close ones can enjoy this special time without any additional worries. The property offers so many options for event hosting with 5 indoor halls, 2 lawns, and a poolside location. You have so much flexibility to have a different aesthetic for all the wedding revelries. 
Check current ratings and reviews here. 
Shakun Hotels & Resorts (~2000 per night)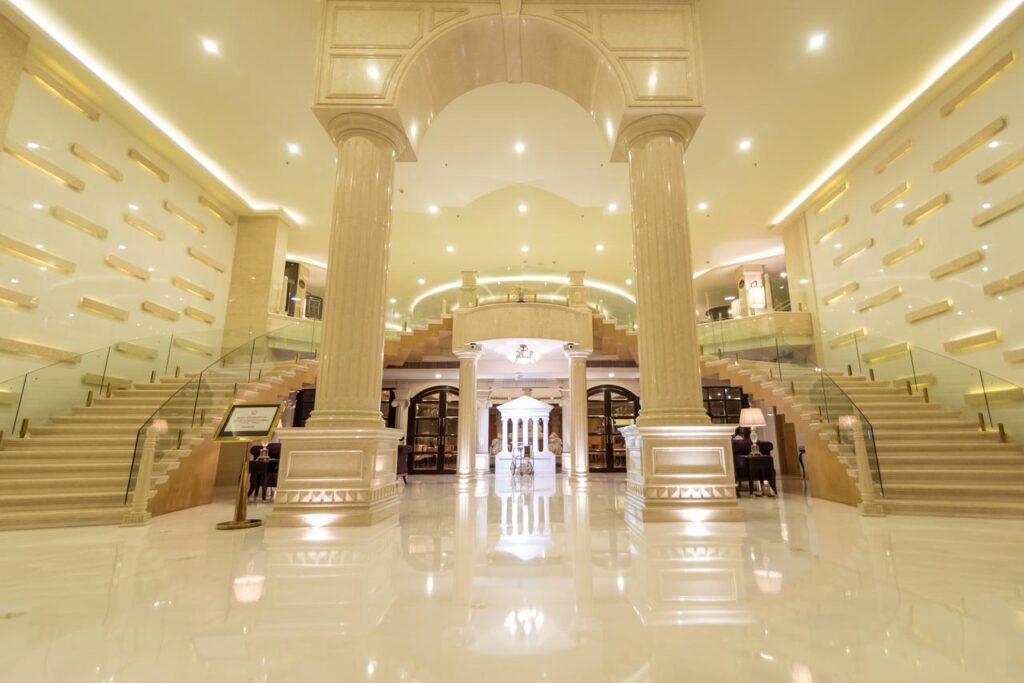 Shakun Hotels & Resorts is a pure vegetarian hotel in the posh area of Jaipur. The hotel is newly built but offers such amazing architecture and facilities. Their 2 halls can accommodate around 200-300 guests and are just absolutely beautiful. However, they don't have an outdoor wedding arena, and so is an ideal match if you're planning a destination wedding in Rajasthan during summers. 
Check current ratings and reviews here. 
Alsisar Haveli (~3500 per night)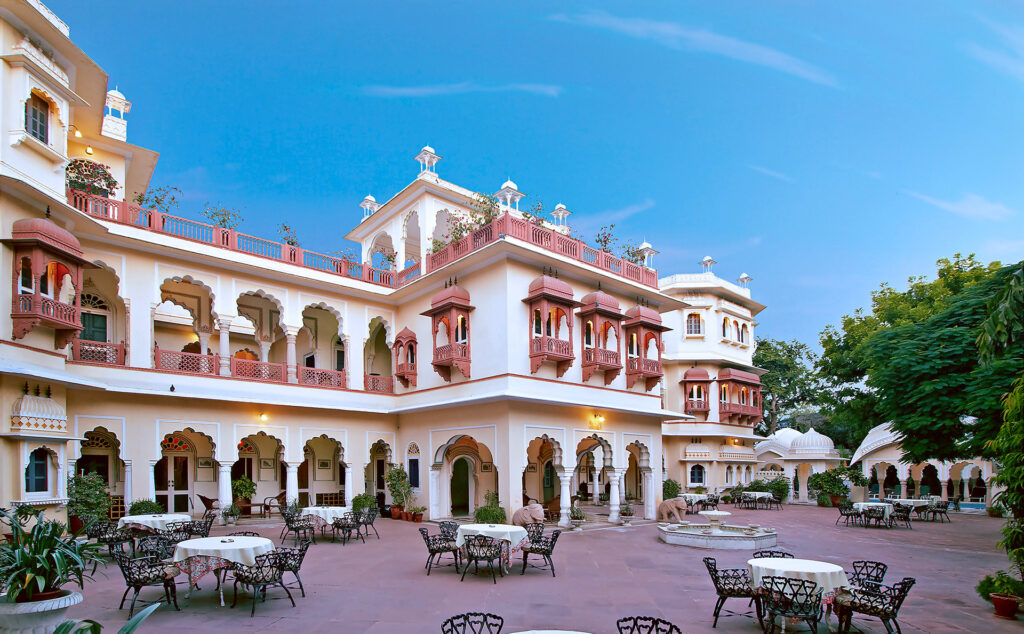 The majestic mansion of Thakurs of Alsisar, this palatial hotel offers an exquisite experience with its splendid Rajasthani architecture and indulgent royal charm. The place offers tranquility with its long-spanned space and spawning courtyards. You can find rugged hills on three sides of the palace and an array of quaint lawns around. The venue has both indoor and outdoor locations and can accommodate up to 500 guests with ease. 
Check current ratings and reviews here. 
Hotel Chomu Palace (~3300 per night)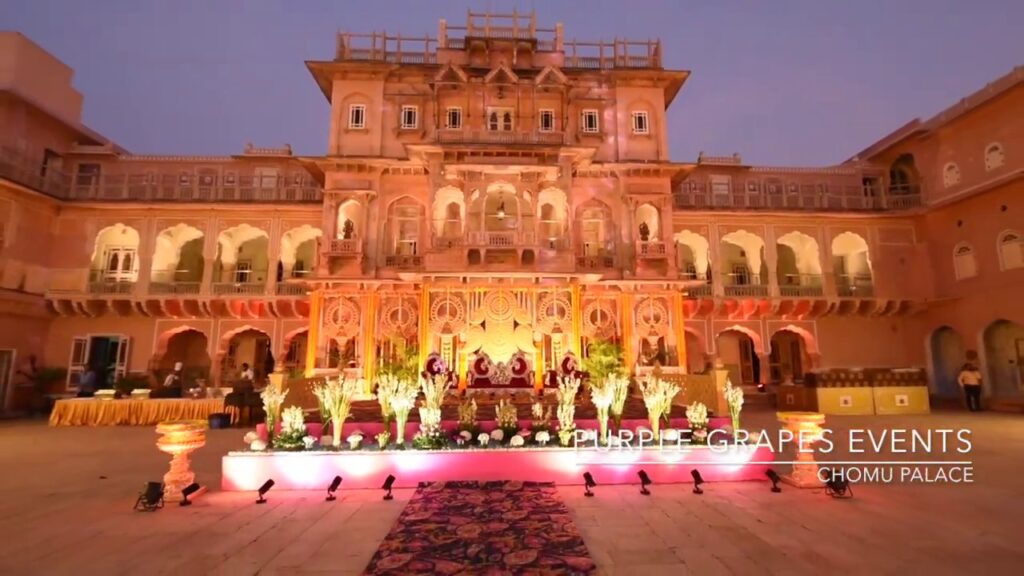 We've personally blogged about a Mumbai couple who hosted a Jaipur destination wedding at Chomu Palace and they can't stop admiring this amazing hotel. The venue gave them different arenas for different ceremonies, has amazing hospitality, exudes an old-world charm with a side of grandiose, and serves delectable food. But to book Chomu Palace, you have to act sooner. Given the price, this wedding place gets booked well in advance. 
Check current ratings and reviews here. 
Shahpura House (~3500 per night)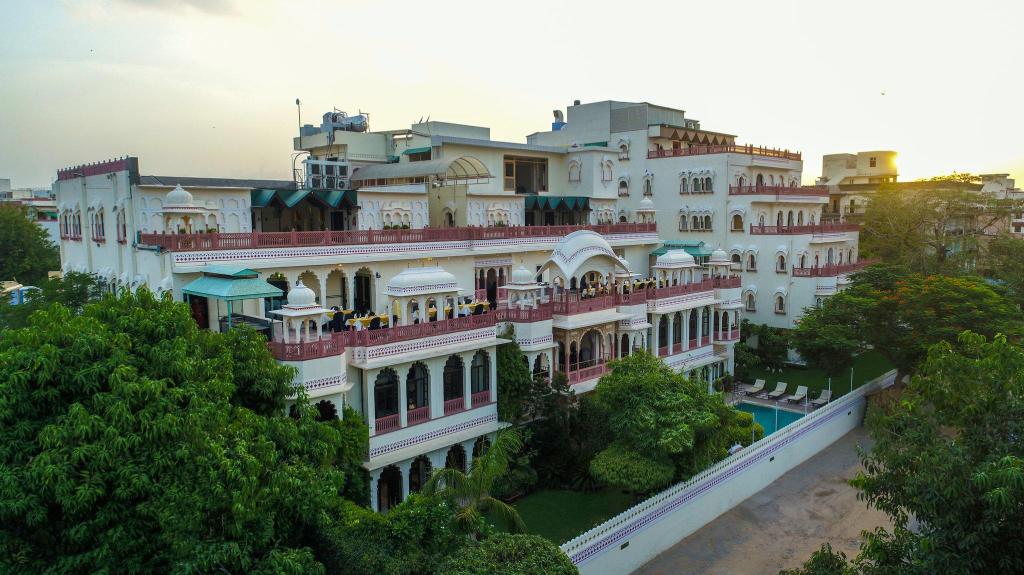 A palace-turned-hotel of the royal family of Shahpura, the Shahpura House offers state-of-the-art facilities for unforgettable weddings, and they are conscious about the environment as well. Yes, it's an eco-friendly hotel that aims to foster a sustainable environment and reduce carbon footprint. If having a palatial Jaipur wedding that speaks to the environmentalist in you is on your mind, Shahpura House is the perfect venue for you. 
Check current ratings and reviews here. 
Jaipur Destination Wedding Planning Tips: 
#1 Take into account seasonal changes. Jaipur's temperatures soar to around 40 degrees Celsius during the summer months of May to July. The rain in July makes the area humid too! So, if you're planning a summer wedding, please don't let it be outdoors. Owing to the temperature, not many couples plan the wedding in the summer in Rajasthan. And this can be a HUGE SAVING tip for you! Jaipur's properties come with amazing halls and rooms to host a wedding, and you can plan the events there, instead of outdoors. 
#2 Go LOCAL. Not only will bringing your own vendor cost you more in terms of travel, accommodation, but the outstation vendors also charge more! That's because they lose the business of other clients during the time they spend on traveling and cater to just one client. This is true for makeup artists more than anyone else. MUA's generally have 2 clients in a day, sometimes even 3. They divide their time between the local clients easily. Plus, they will not be here for around a day or more because they'd be traveling to your location. Both makeup and hair artists double their charges when they go for outstation weddings. The same is true for mehendi artists as well, but not to a similar level since they can cater to only one wedding at a time. The same goes with a photographer. They only document one wedding at a time and don't dramatically increase the charges for destination weddings. 
Go LOCAL, not just in terms of vendor, but also in terms of decoration. This helps support the local artisans and is great for the environment as the decision massively reduces carbon footprint. 
To help you, please find our list of preferred vendors in Jaipur:
#3 Hire a wedding planner familiar with the city. If you're planning a Jaipur destination wedding, you'd certainly not want to miss the authentic traditions and food is a part of your special day. To ensure the same, you need someone who is either a local wedding planner or has experience planning weddings in the region. 
#4 Take the WHOLE PACKAGE. Ask the property you're looking to do the arrangements for you. Many offer lucrative Jaipur destination wedding packages in around 20 to 30 lakhs, molded as per your convenience, that includes accommodation, food, decor, and sound. All you need to arrange are photographers, HMUA's, and mehendi artists. 
To revisit this blog anytime for inspiration and planning advice, tap the *bookmark now* button on your upper right-hand side. You can then find it in *your bookmarks* section. No need to login, just a tap would do!