"We were kids when we met and even then, there was never a place for another soul," says Srishti Doshy of her epic love tale with Rushabh Shah.
Srishti and Rushabh have 'literally' known each other for their entire lives. Their families were friends, so they used to hang out together as kids. "He and I would always pair and play together. In a way you could say this story is as old as time", says Srishti.
This was in 2000. Cut to the year 2010, when the couple hadn't seen each other for over 10 years because you know, life takes over you sometimes. Playing cupid, Rushabh's parents invited Sristhi's family to a housewarming party, and guess who opened the door when Srishti arrived: Rushabh. "For me, it was love, at first sight, the minute I saw her all grown up and beautiful," recalls Shah. And in his smitten kitten being, he forgot to ask Srishti for her phone number. "I also tried looking for her on Facebook but no luck," adds Rushabh.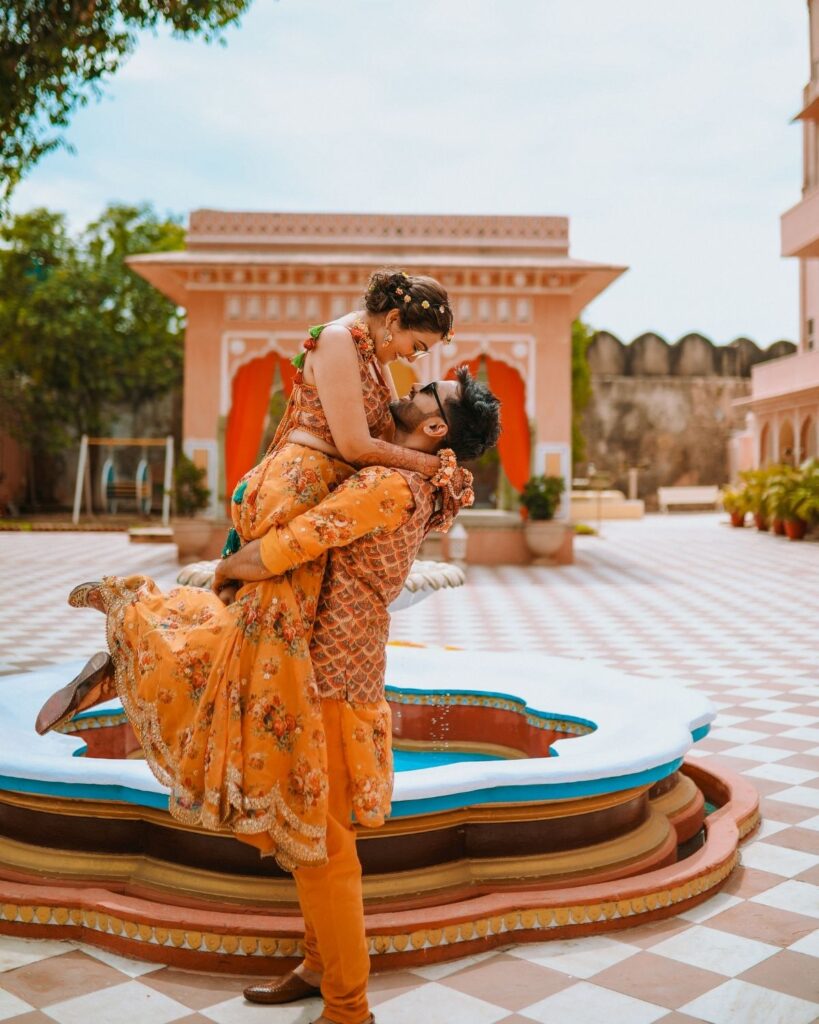 But it was written in the stars. And 2 months later, Srishti and Rushabh met again and this time he made sure to ask for her phone number. And that's how a decade long sweet connection began to form into a strong friendship. "Our mutual interests in bike rides and the fact that our schools were nearby made sure that we hung out all the time," Srishti says.
Rushabh's considerate self wanted to wait till the 12th boards for a formal proposal. "I couldn't wait. It seemed like a lifetime away. So I proposed to her on 2nd December 2010 to be my girlfriend," shares Rushabh.
And a decade later they got married. "We are still so in love. We have definitely faced our fair share of highs and lows. But what kept us going was our love for each other. To put it into words, we'd say we're chalk and cheese. So different yet so similar" shares the couple.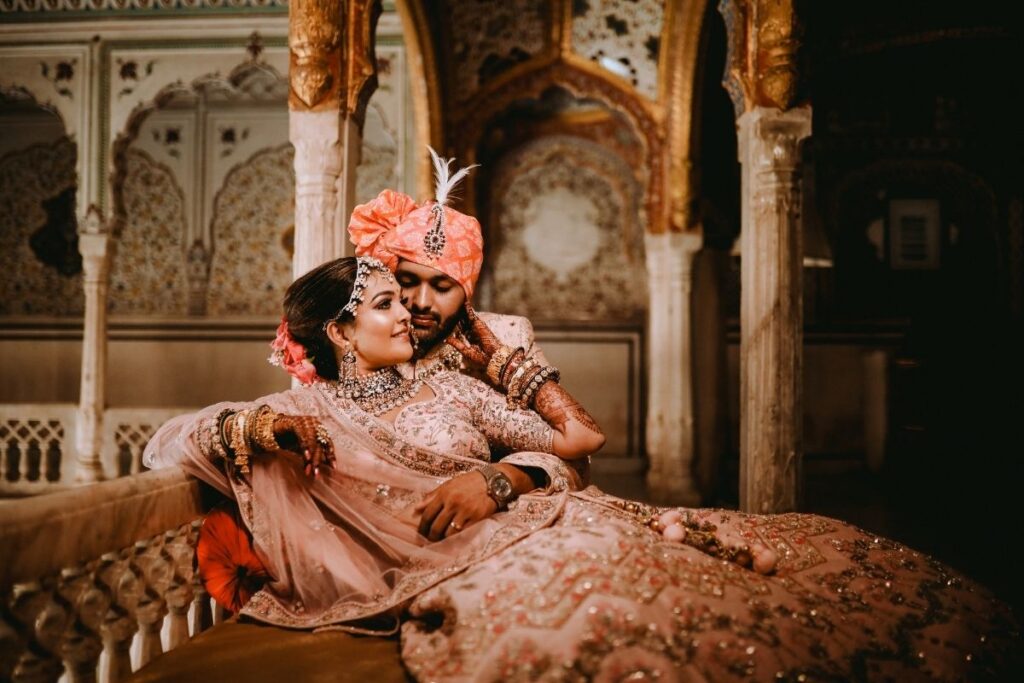 Ahead, you can find the complete gallery of their surreal Jaipur destination wedding and scroll till the end to hear their wedding planning experience and vendor reviews.
Mehendi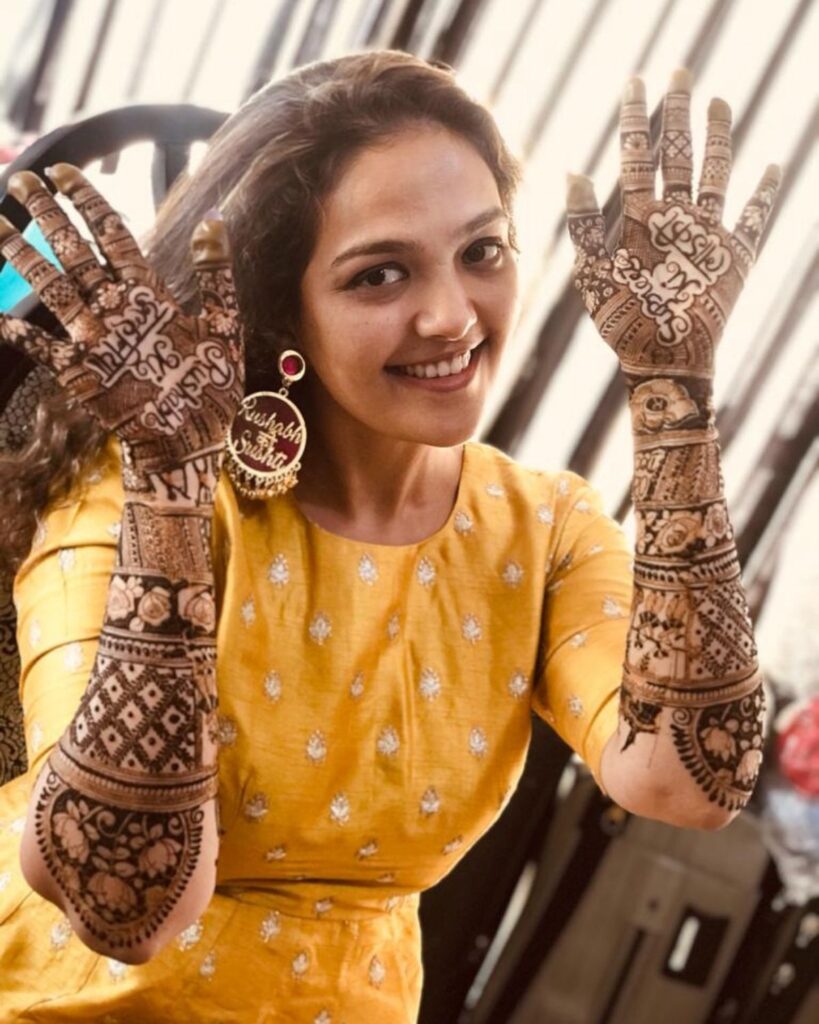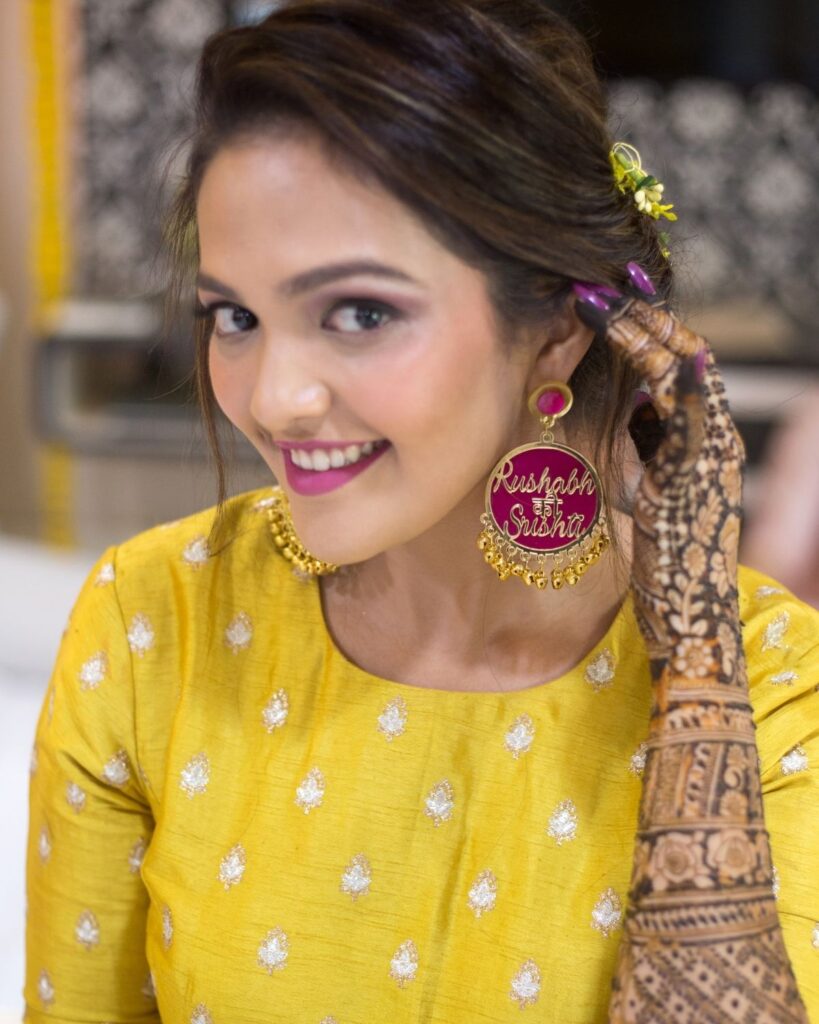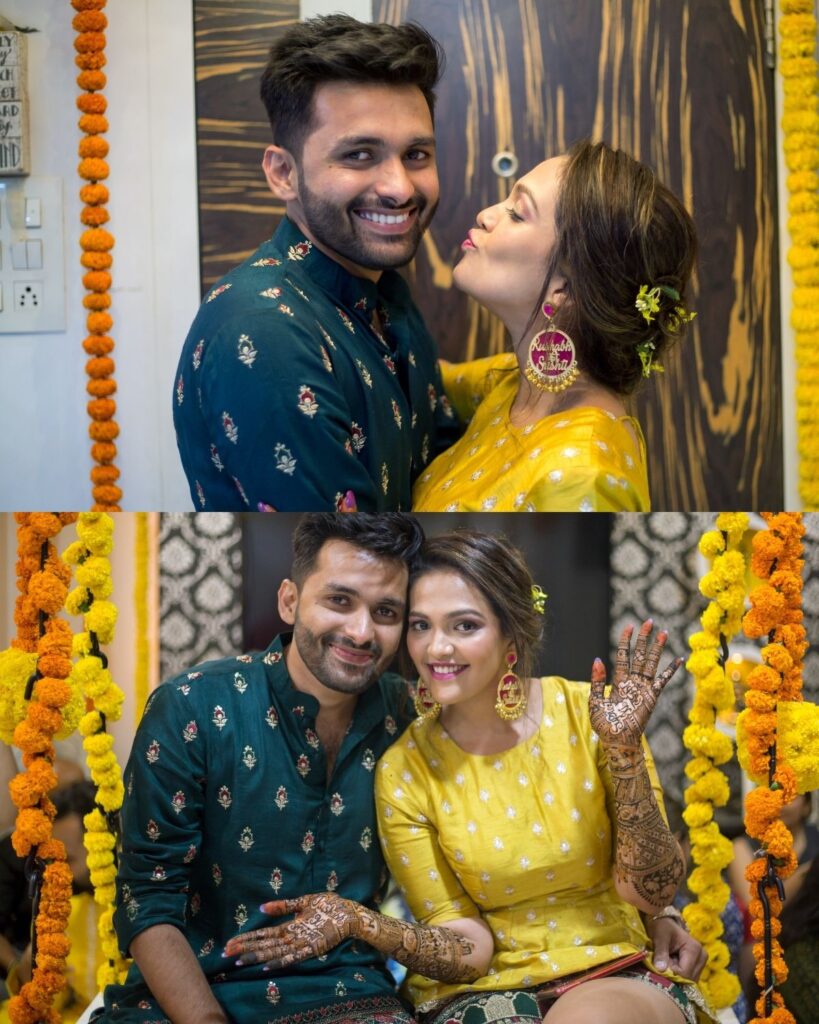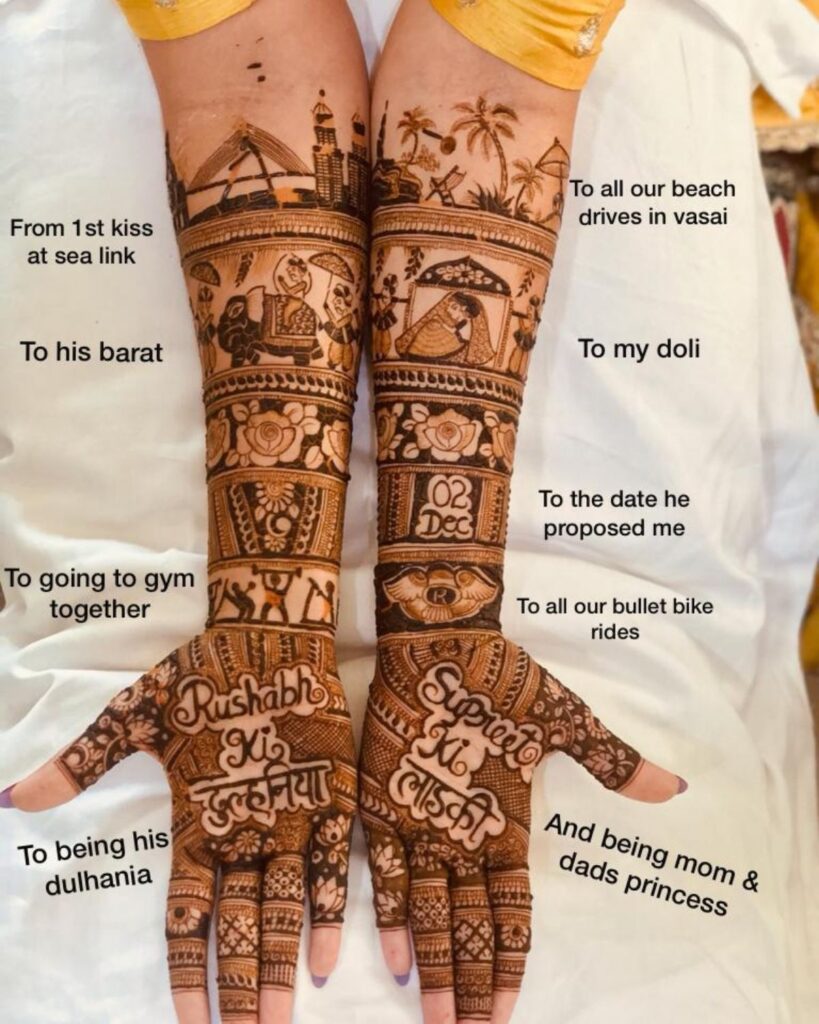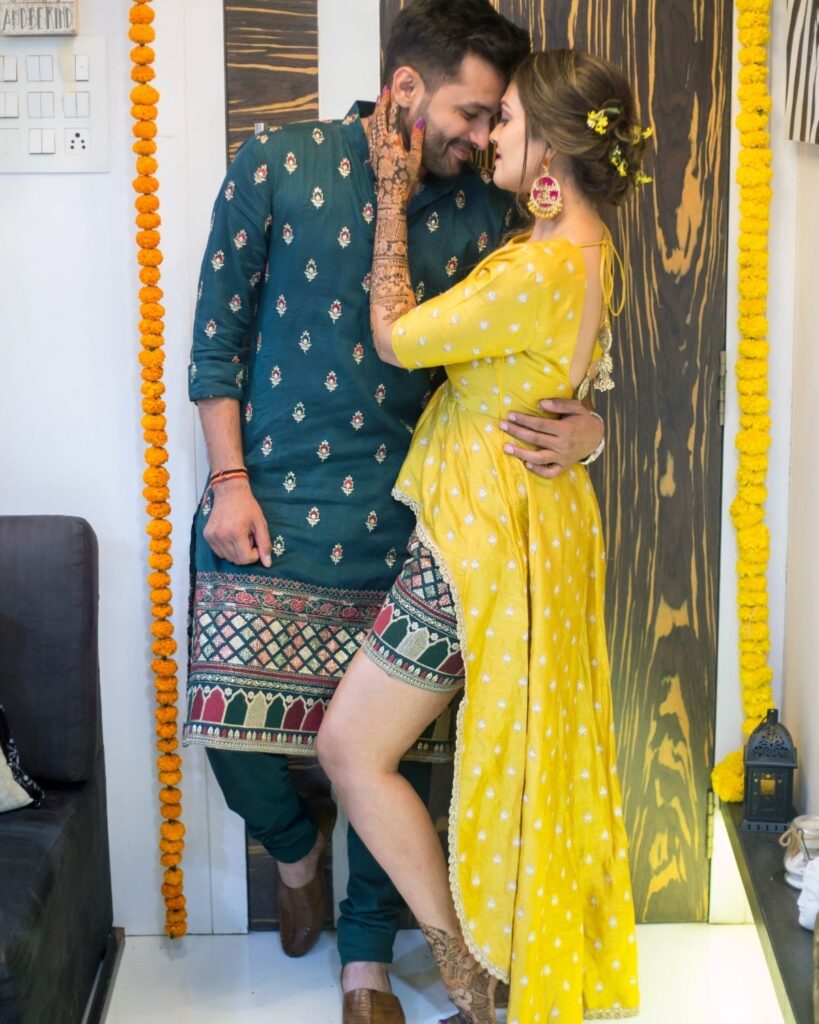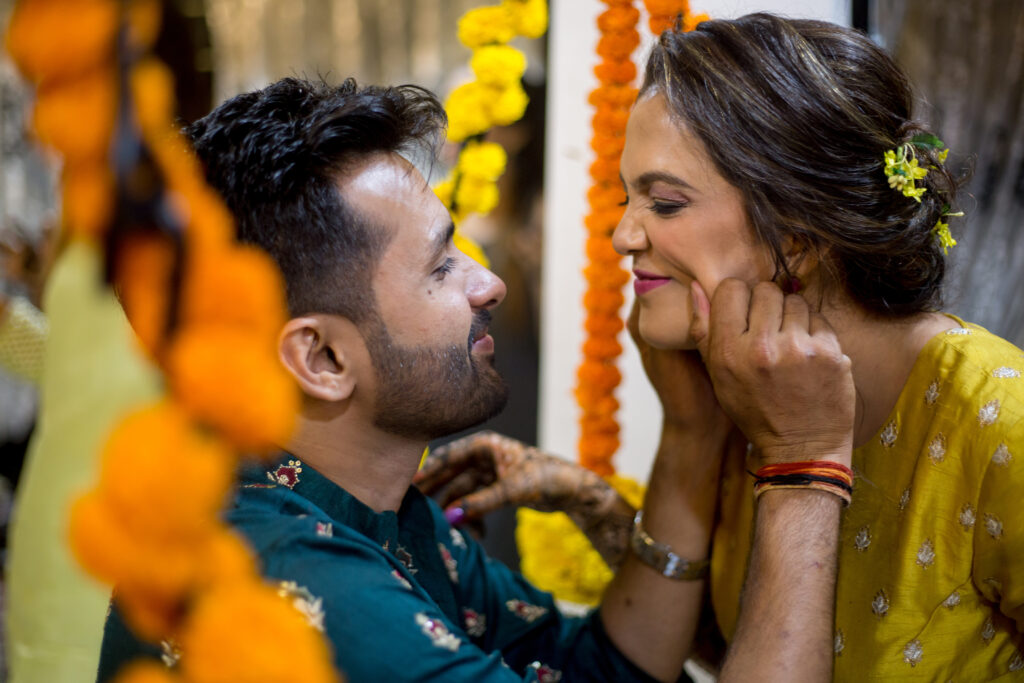 Sangeet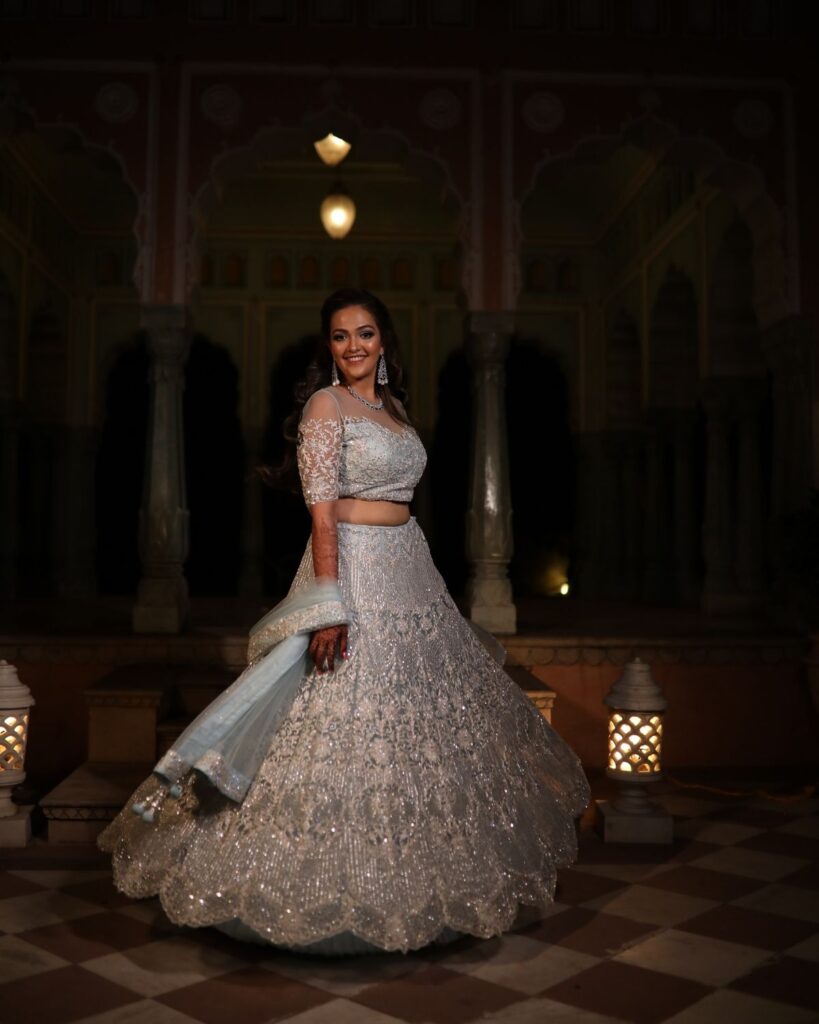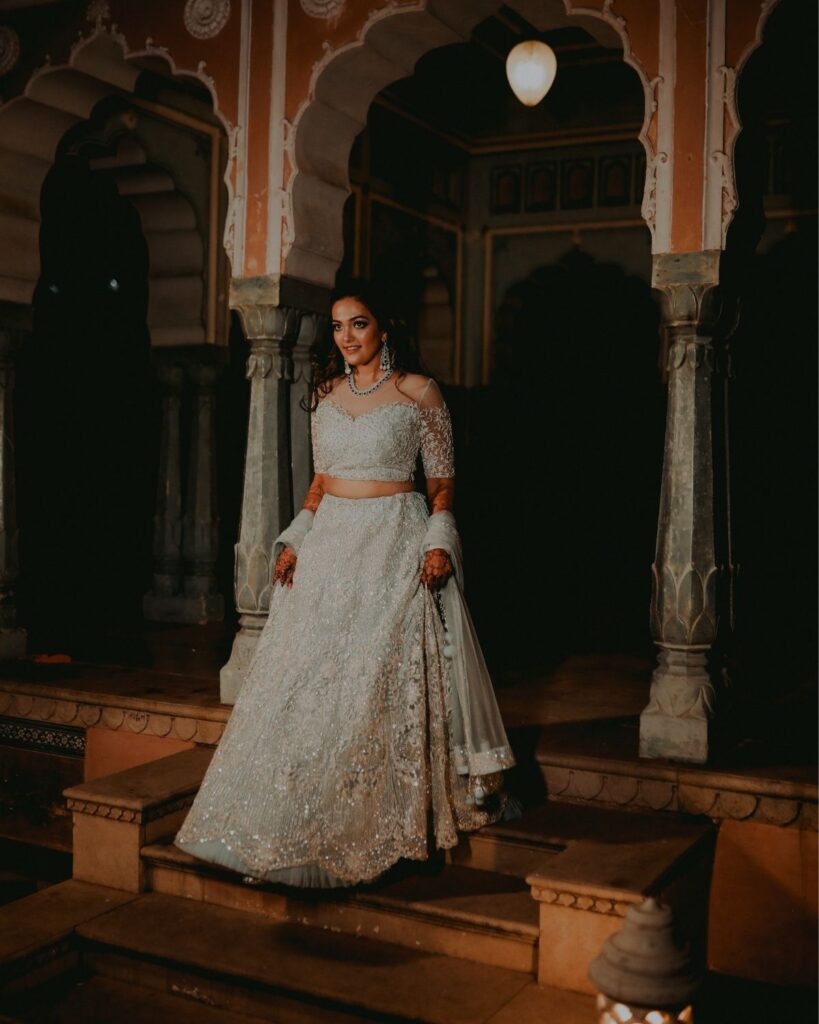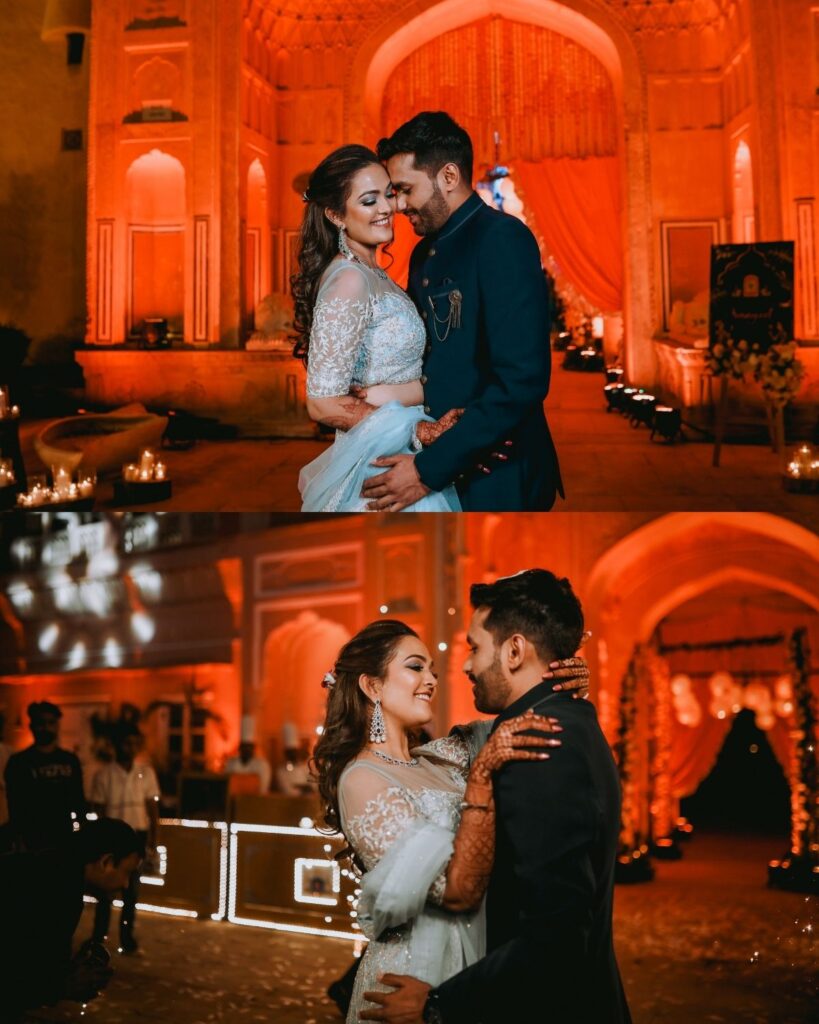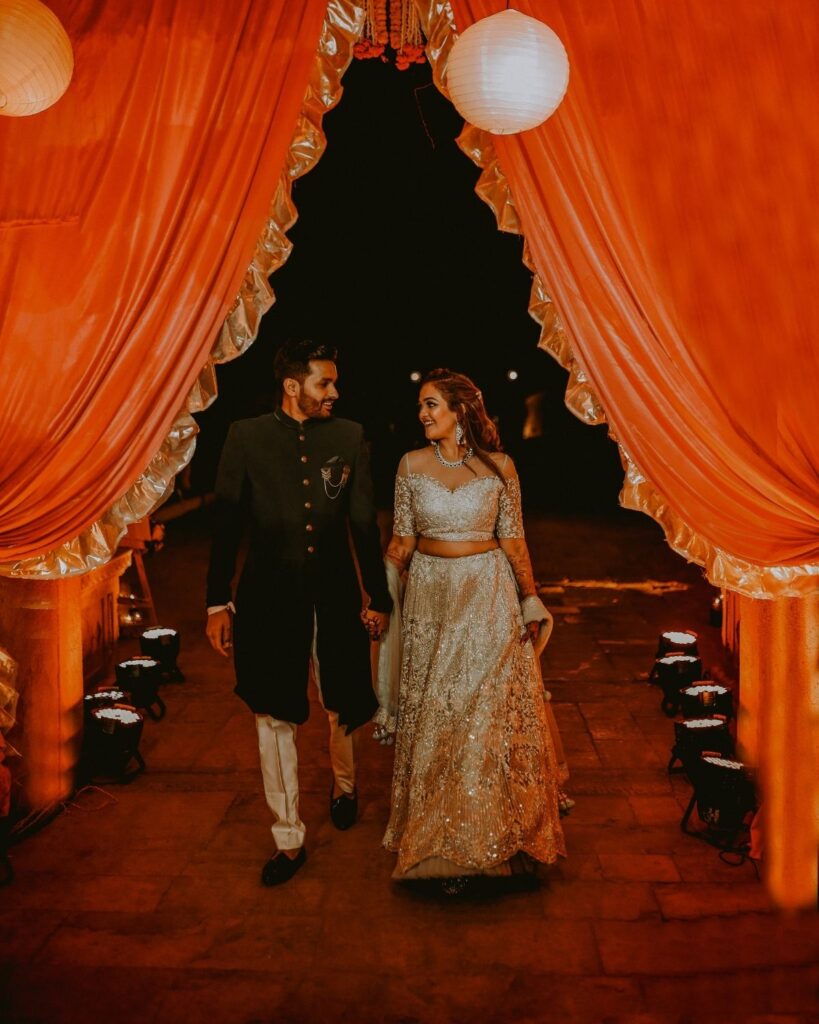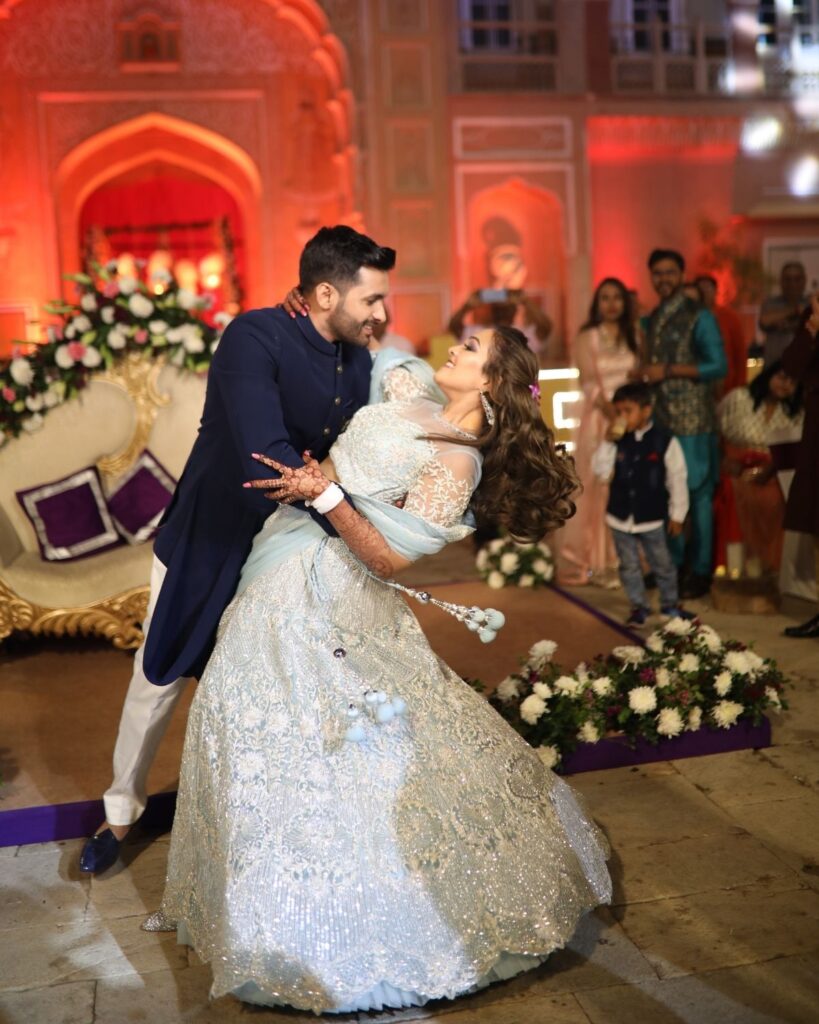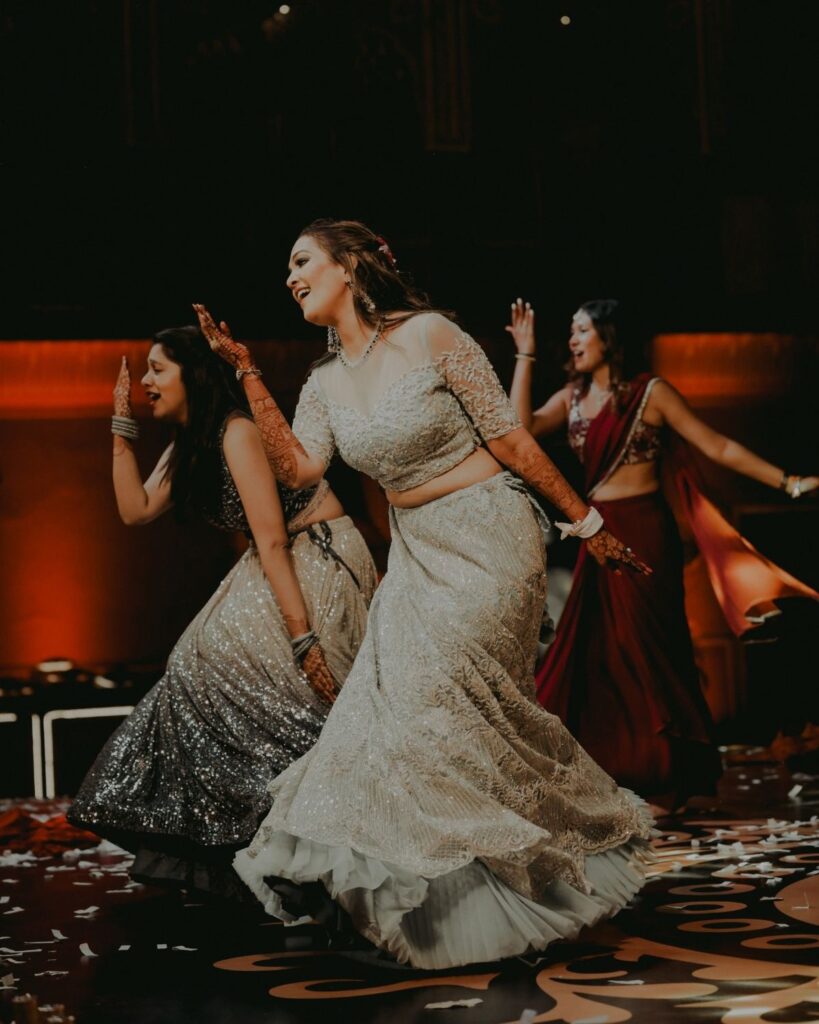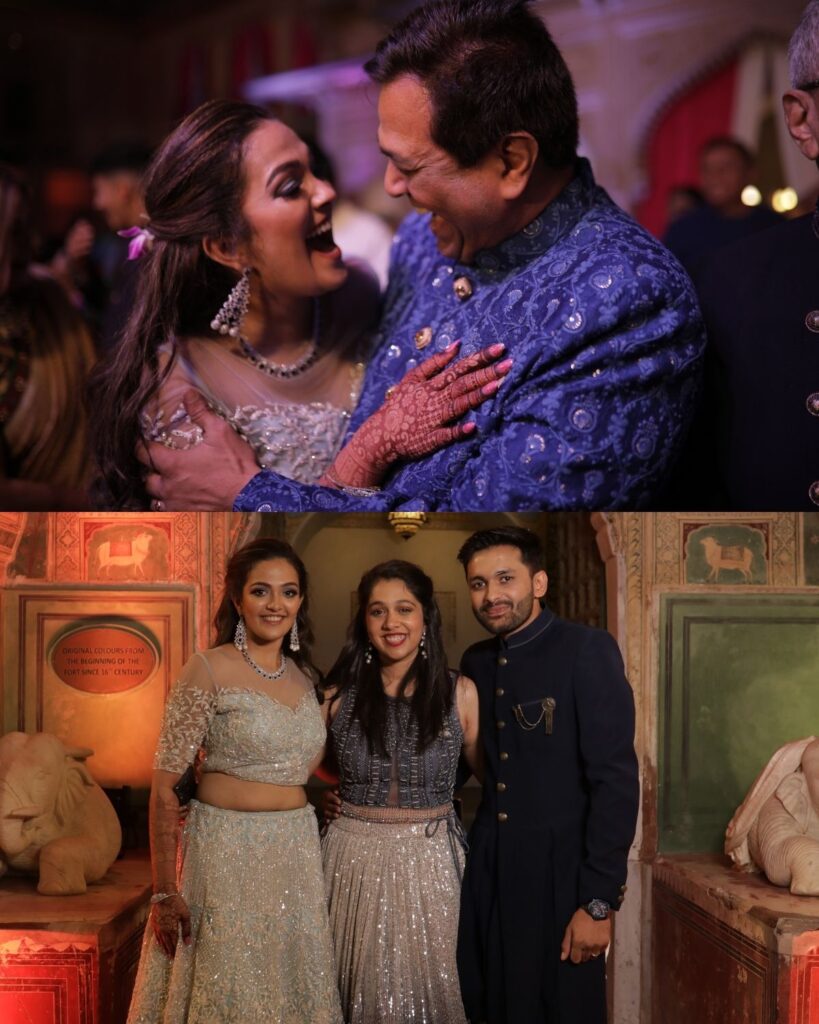 Haldi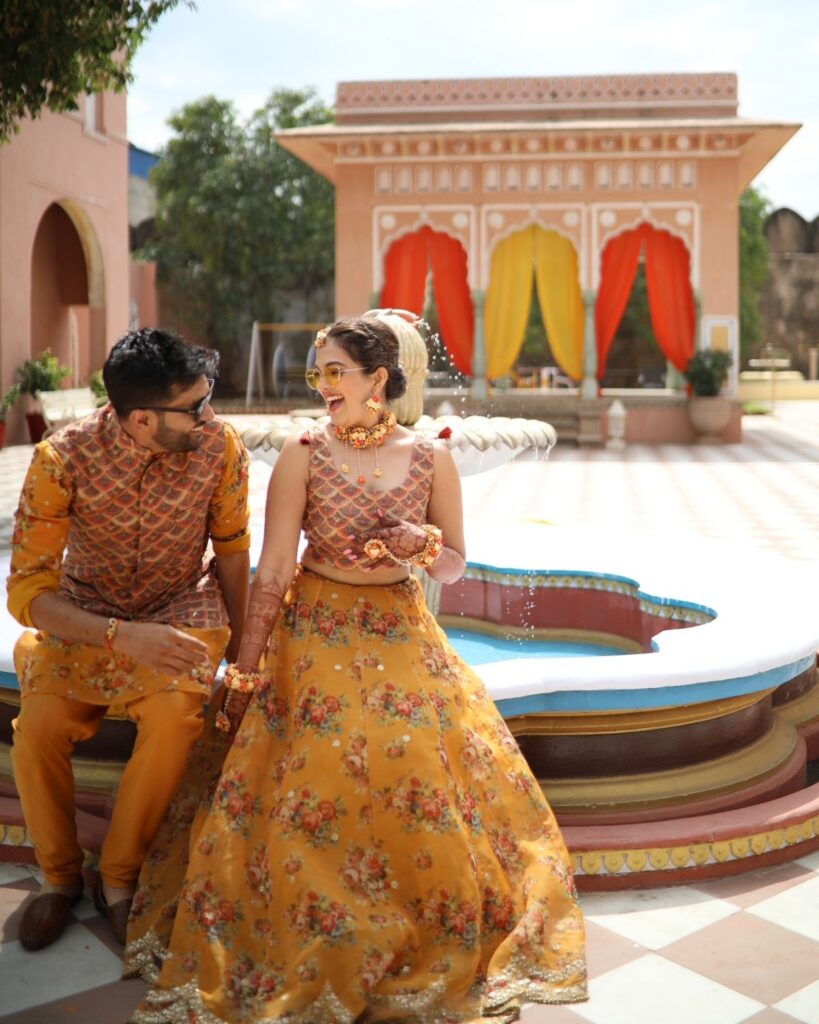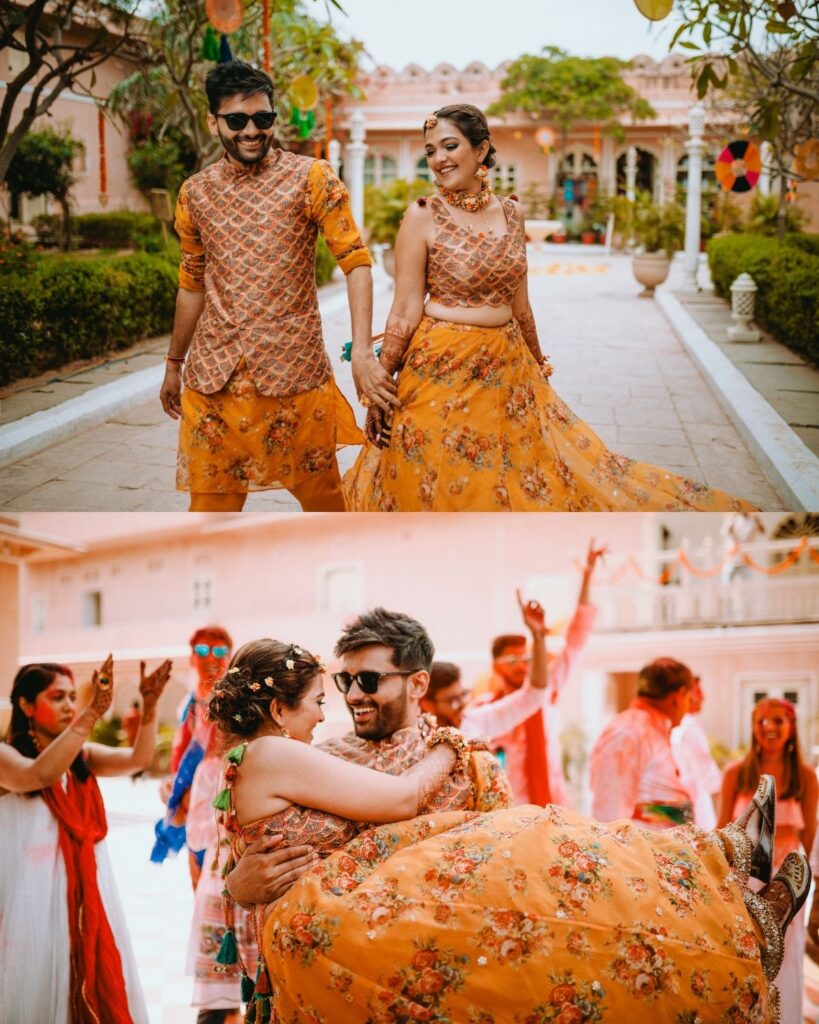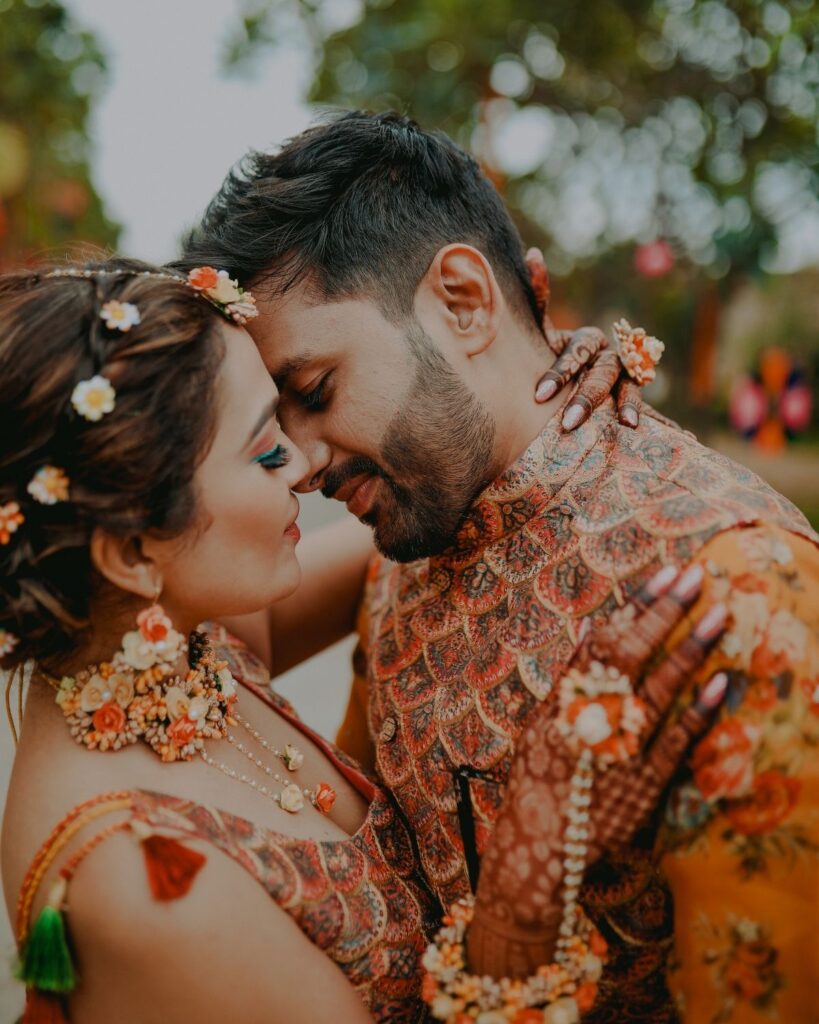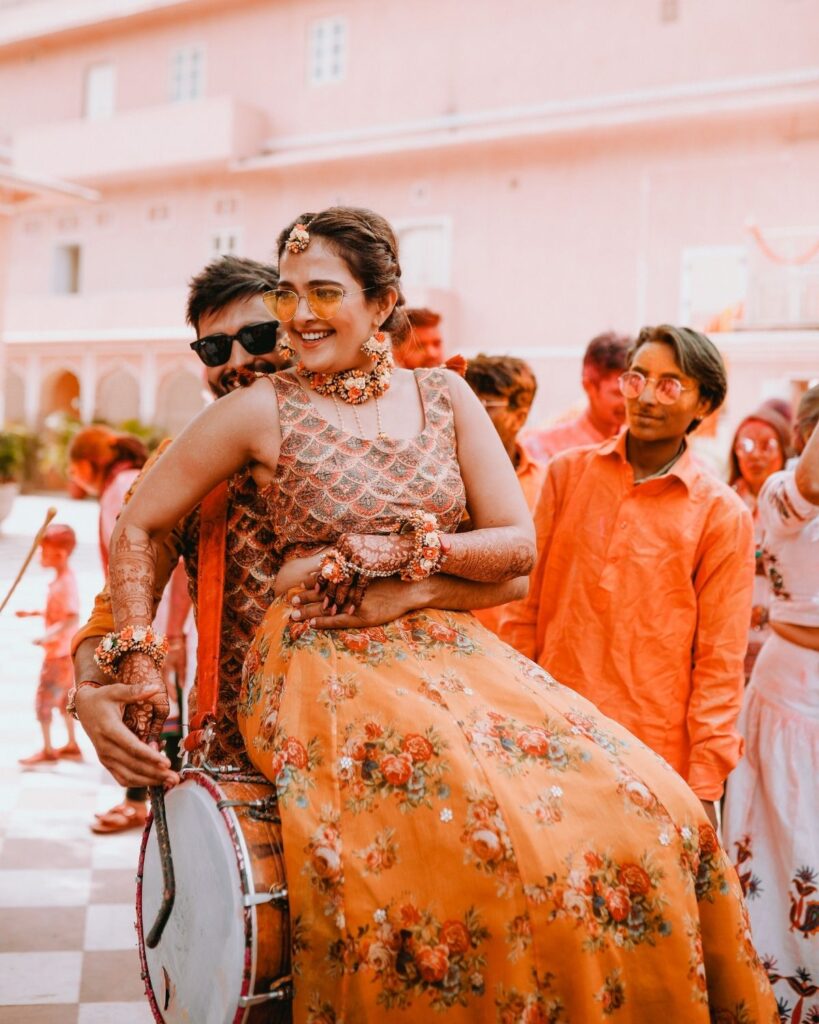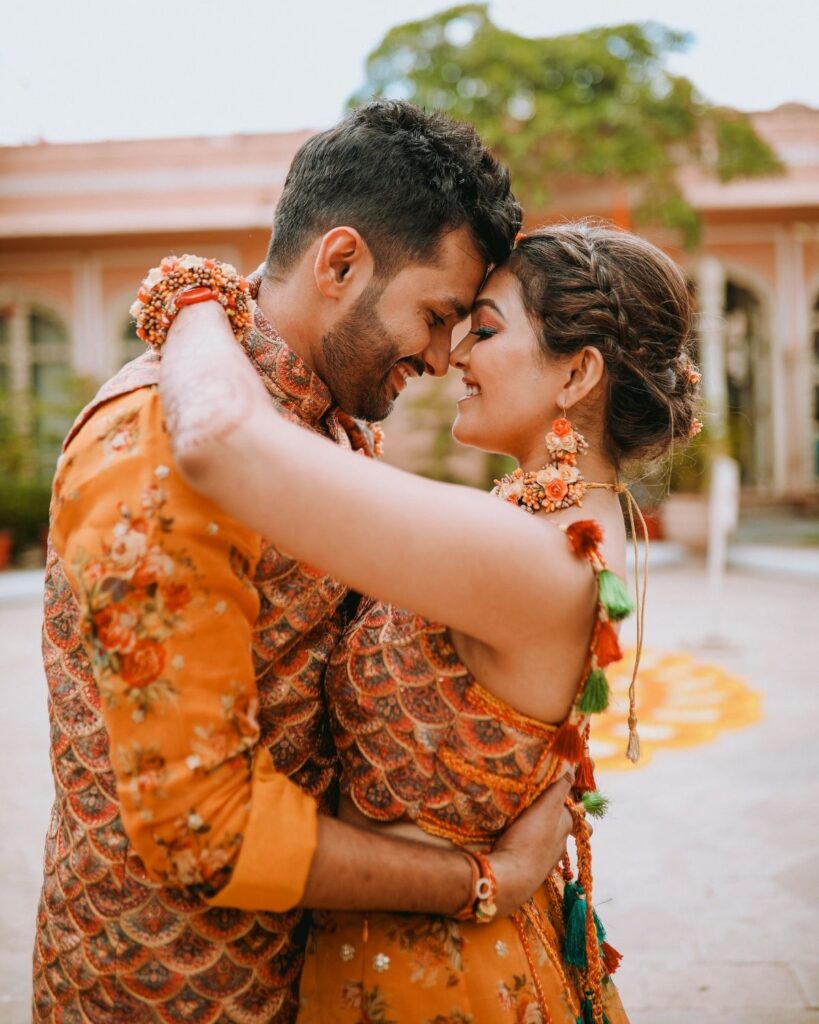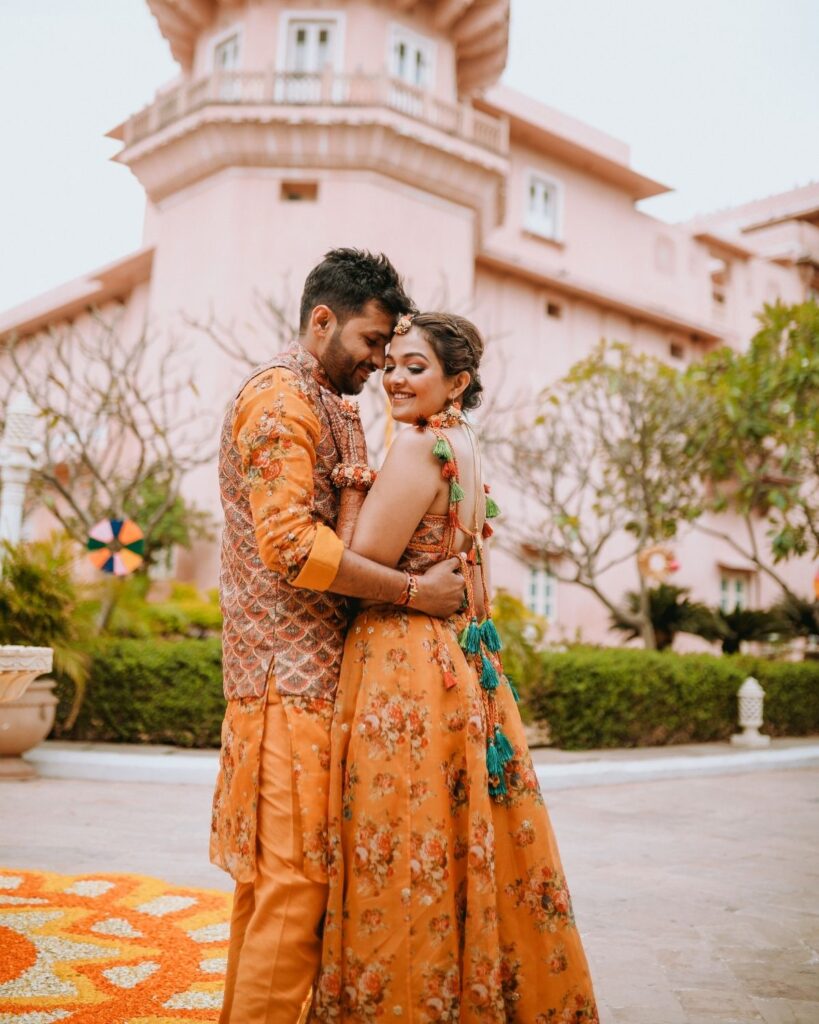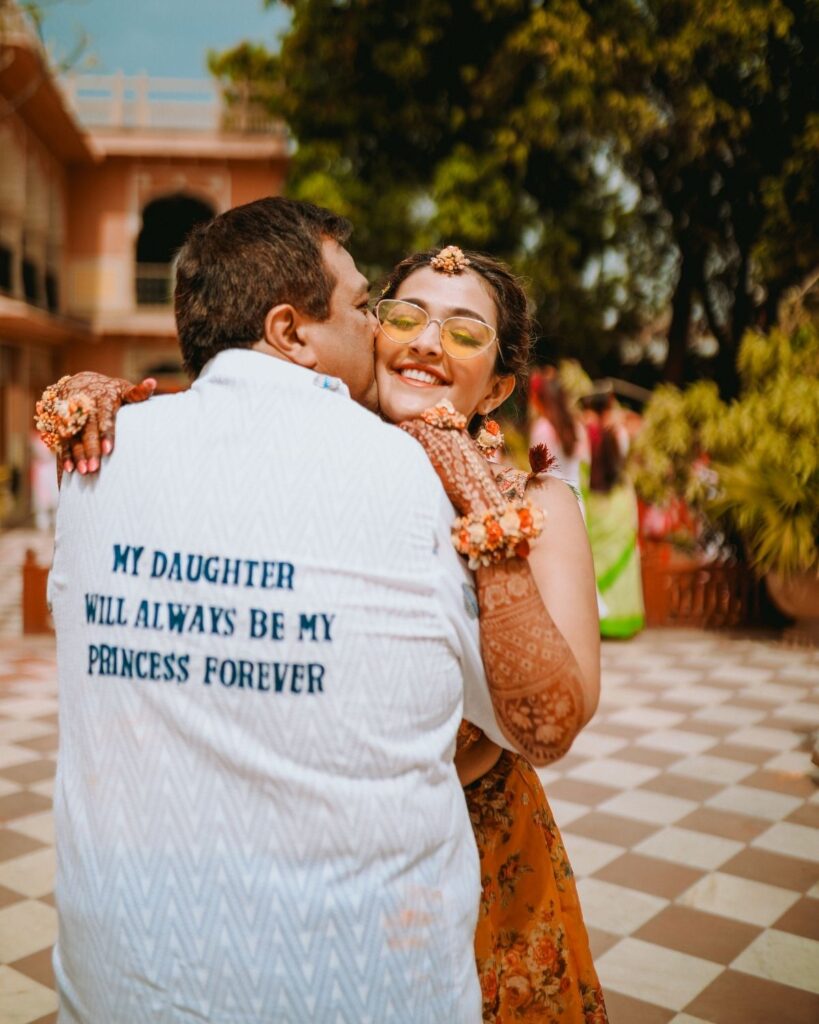 Wedding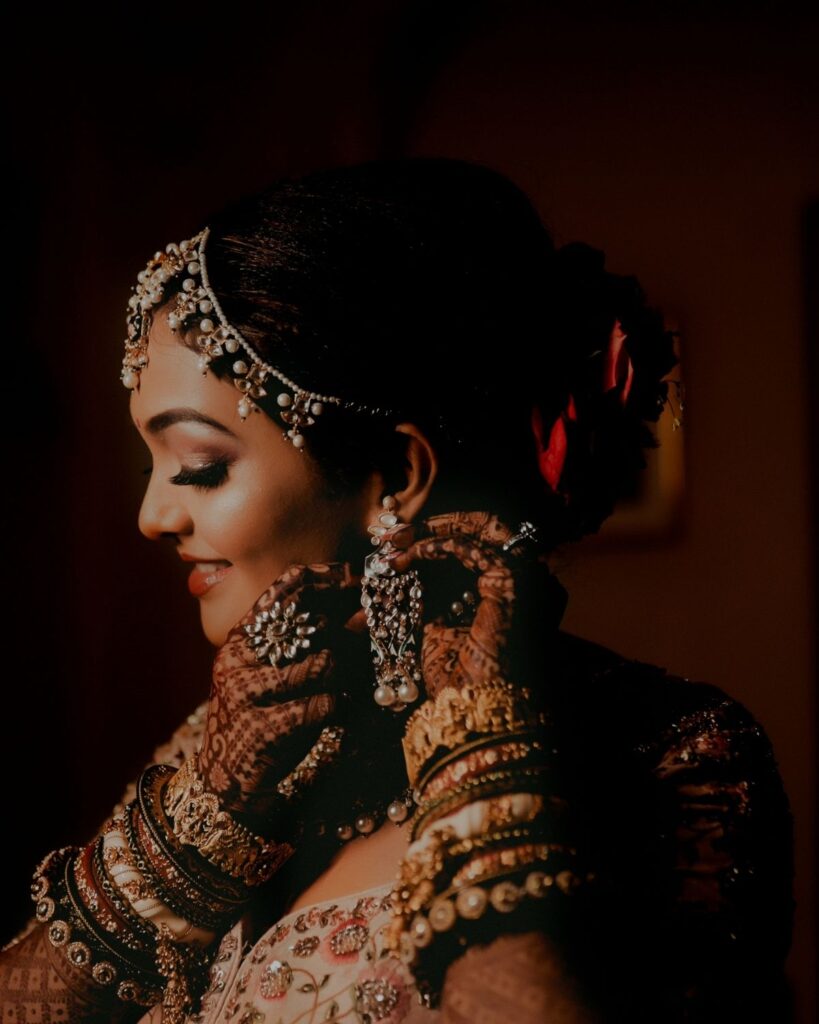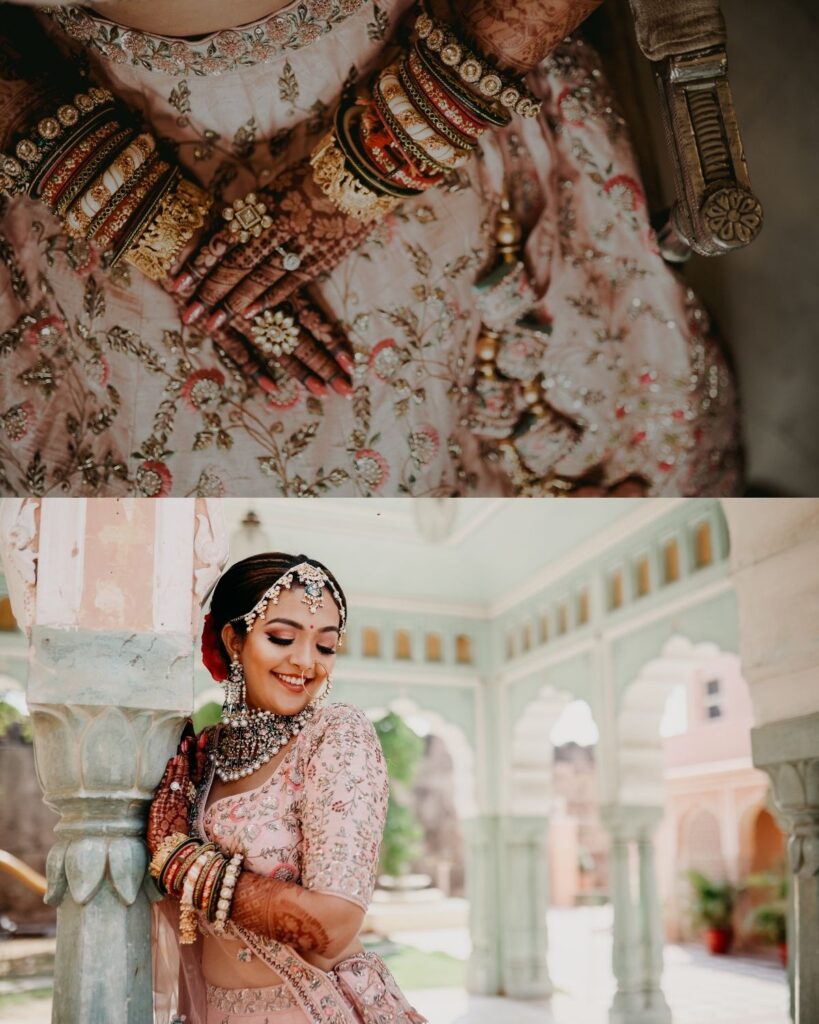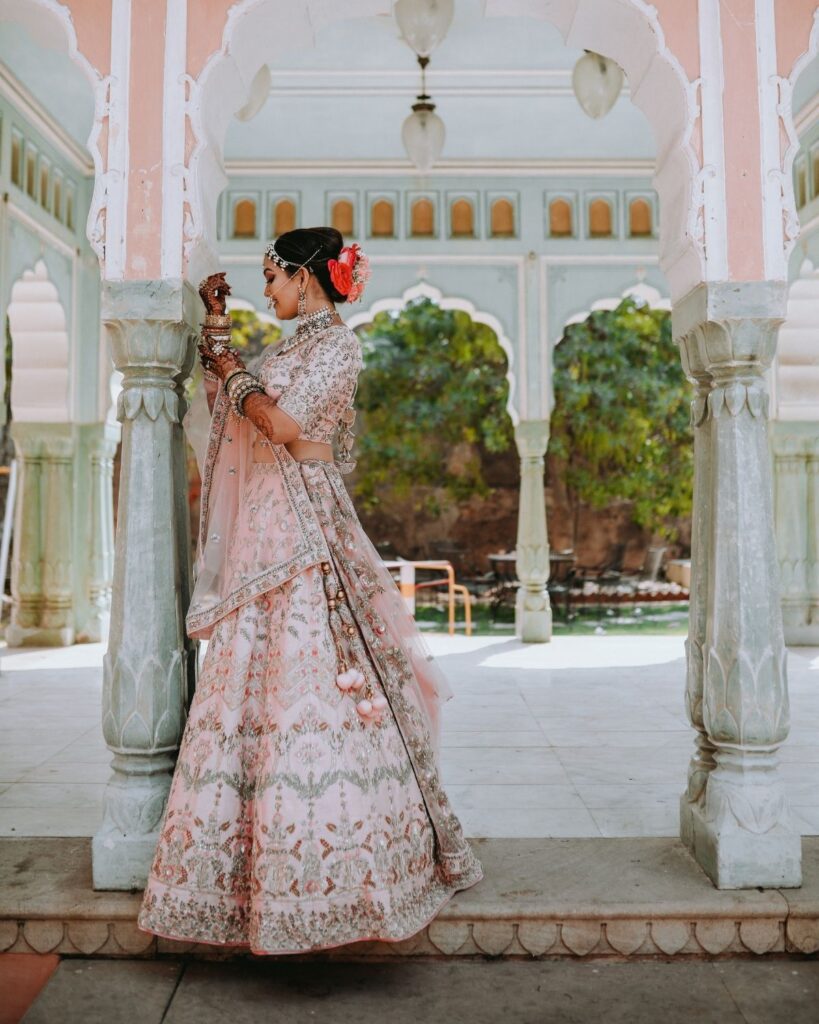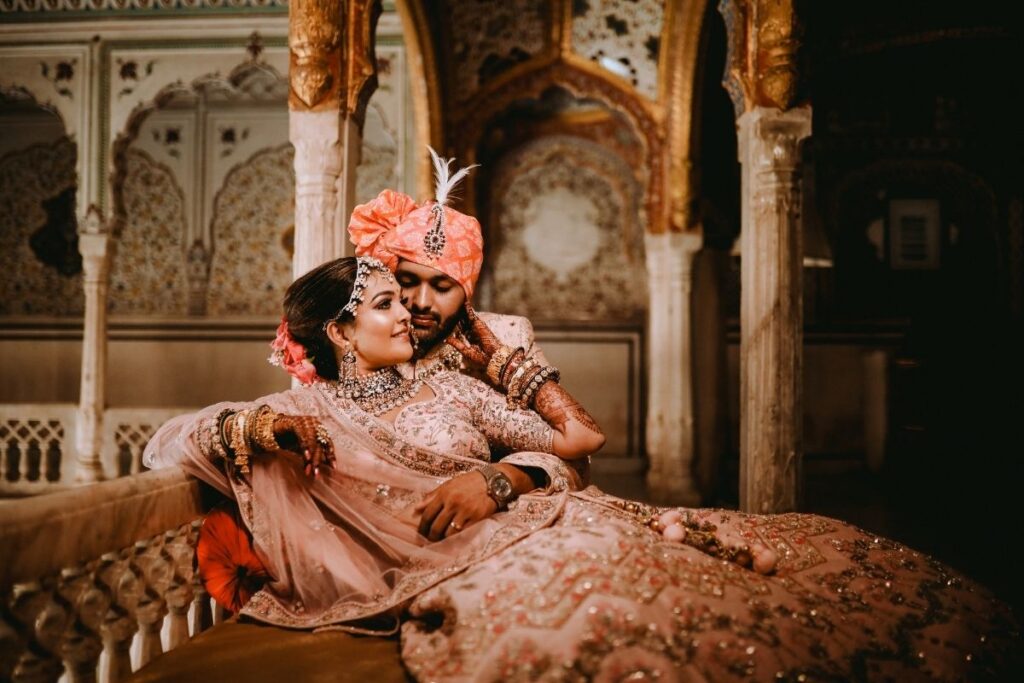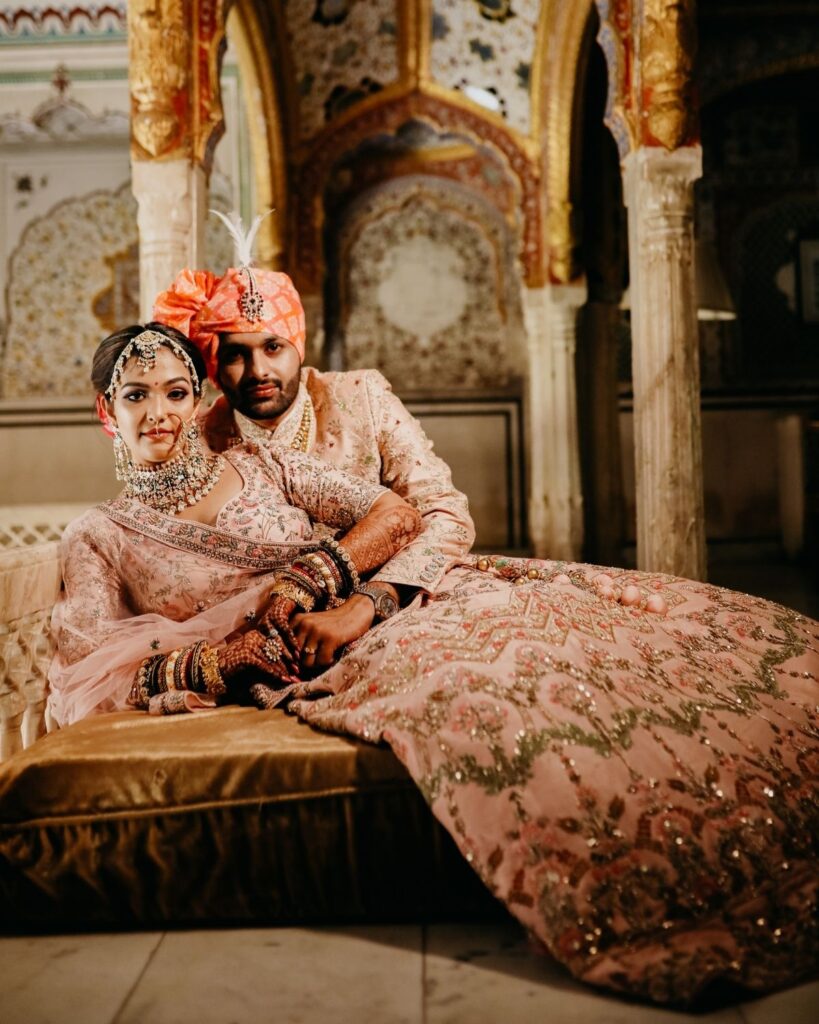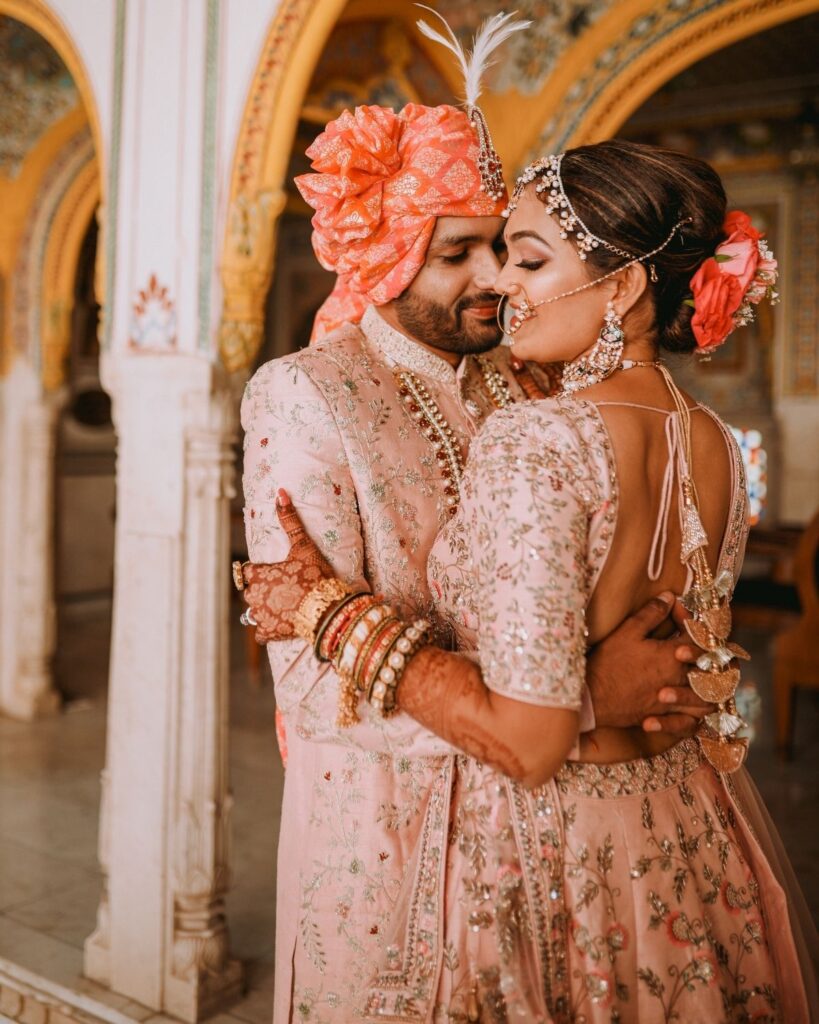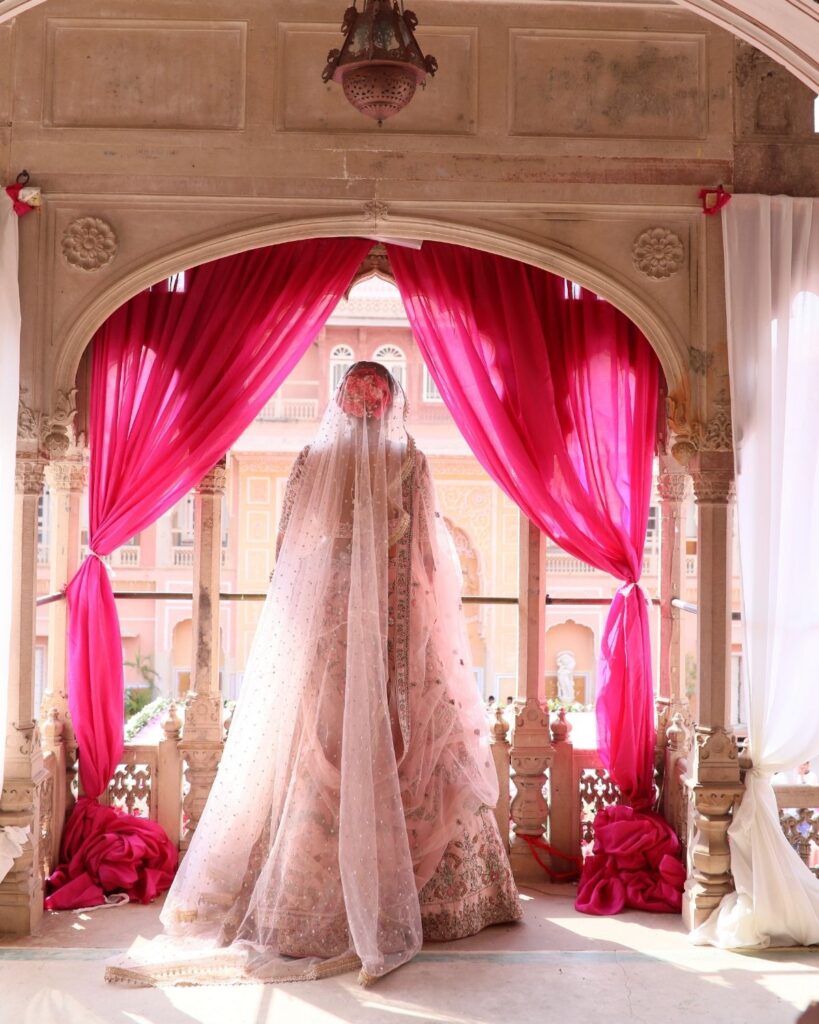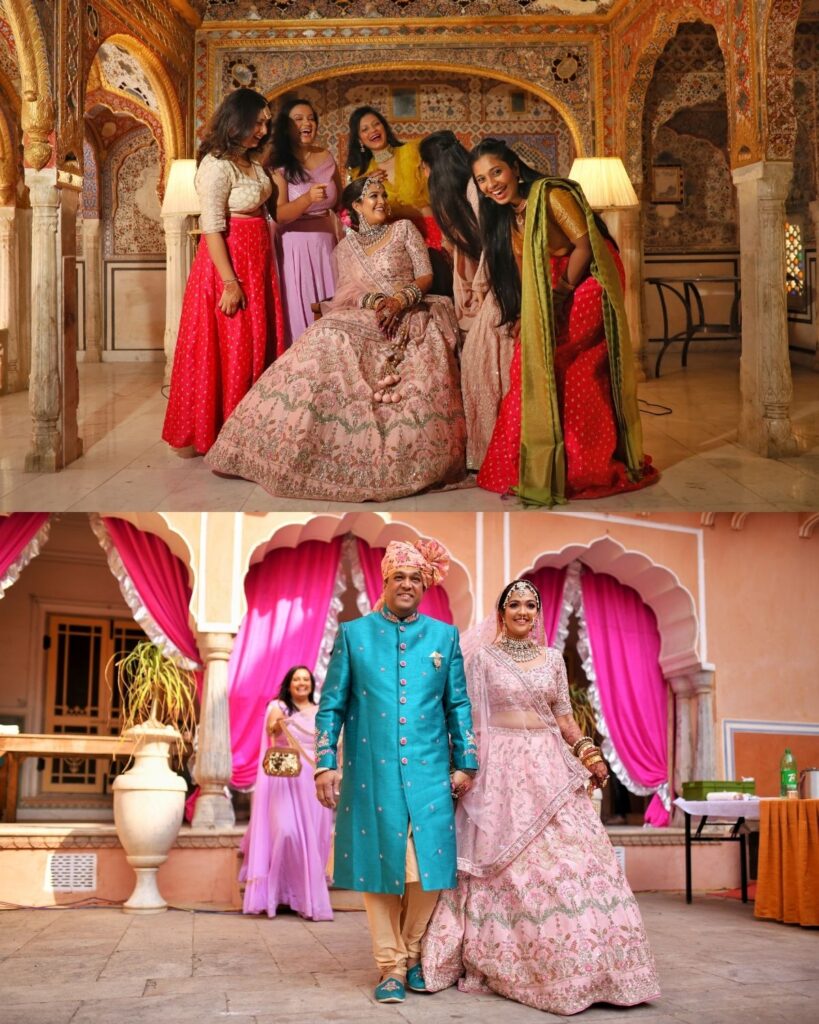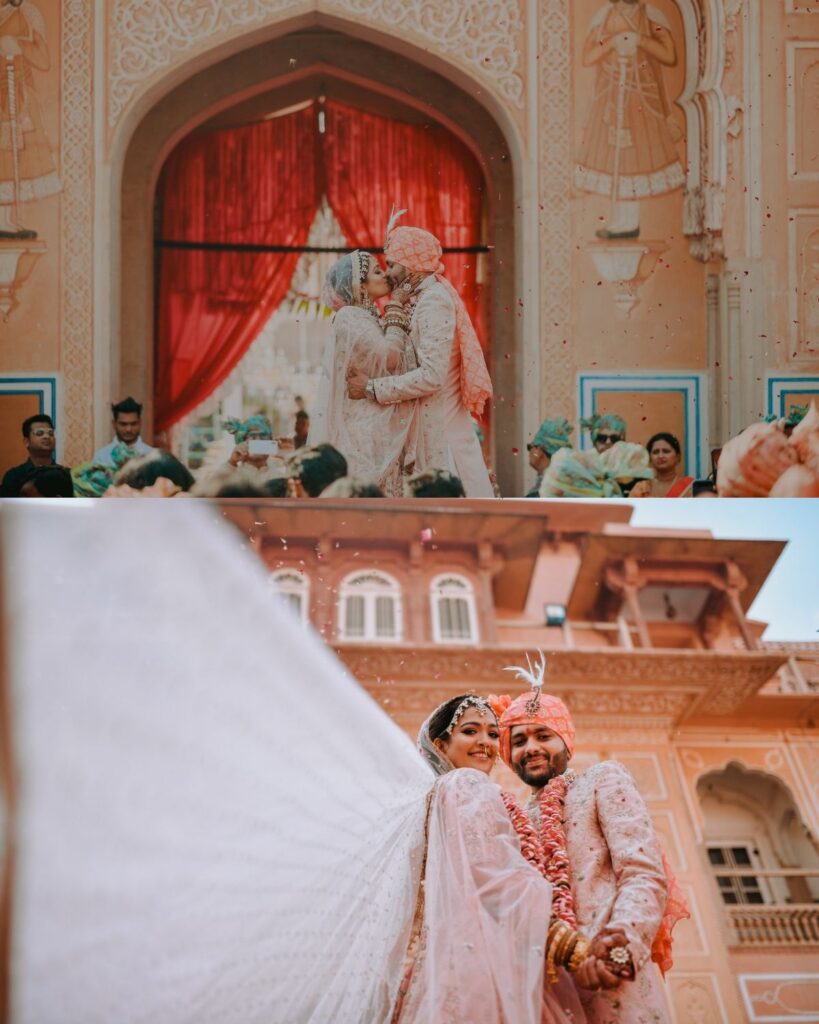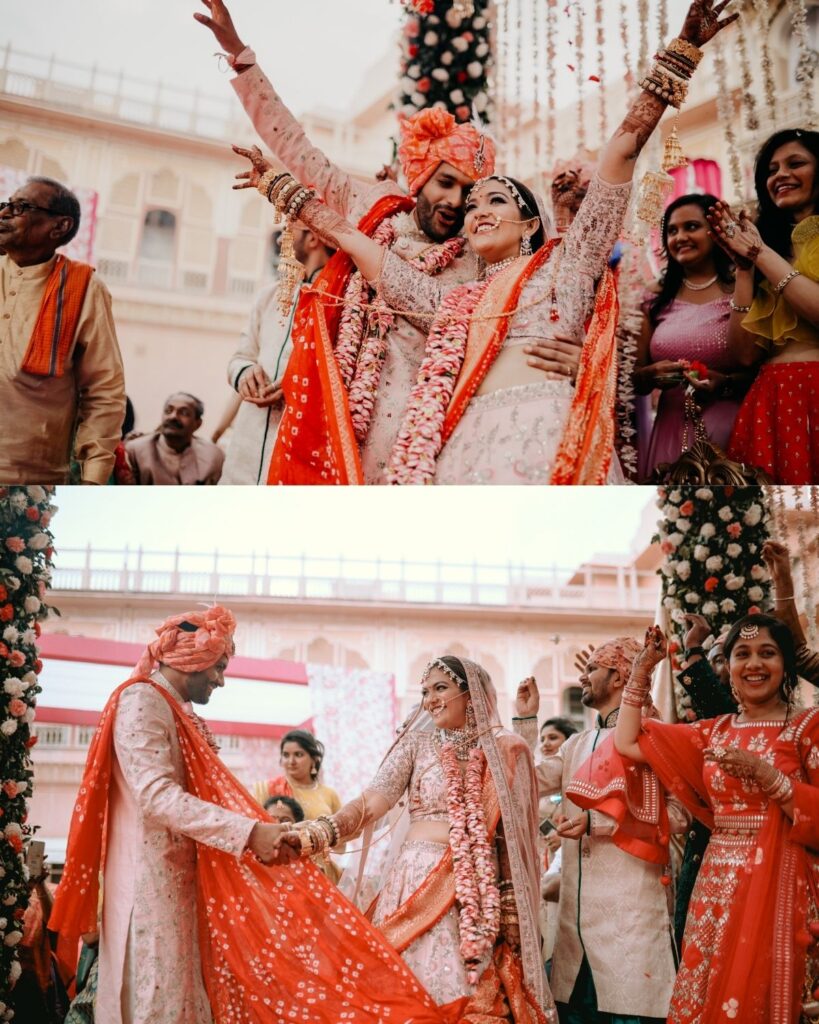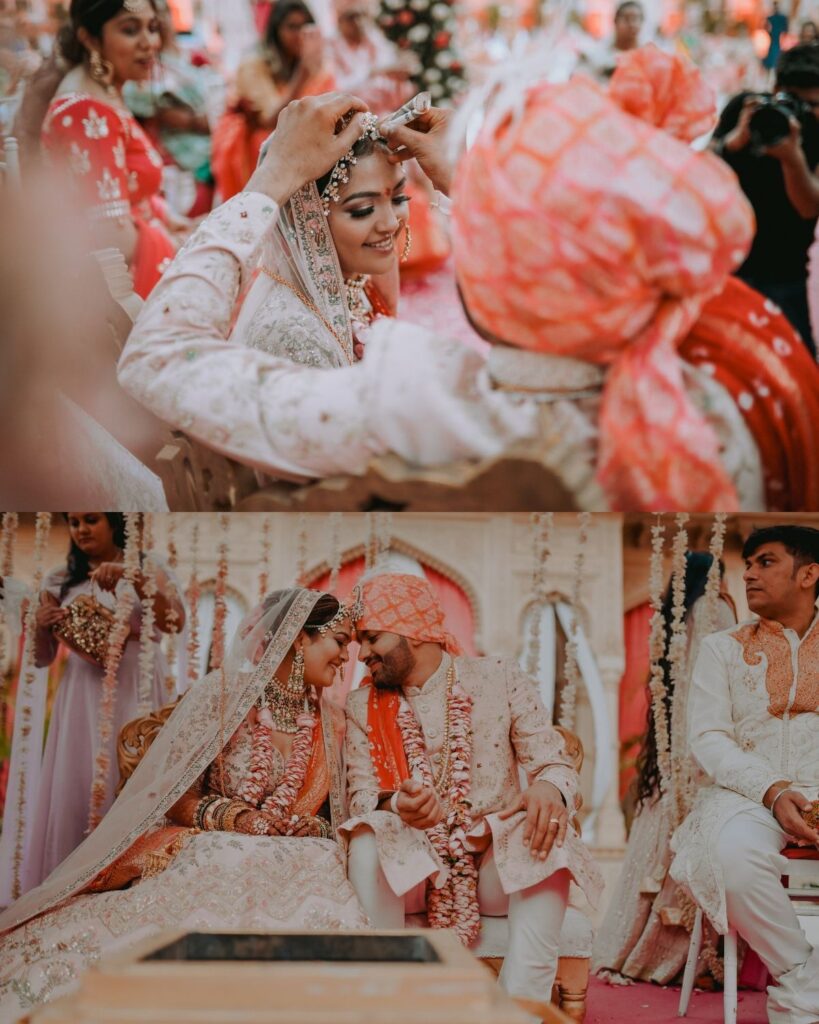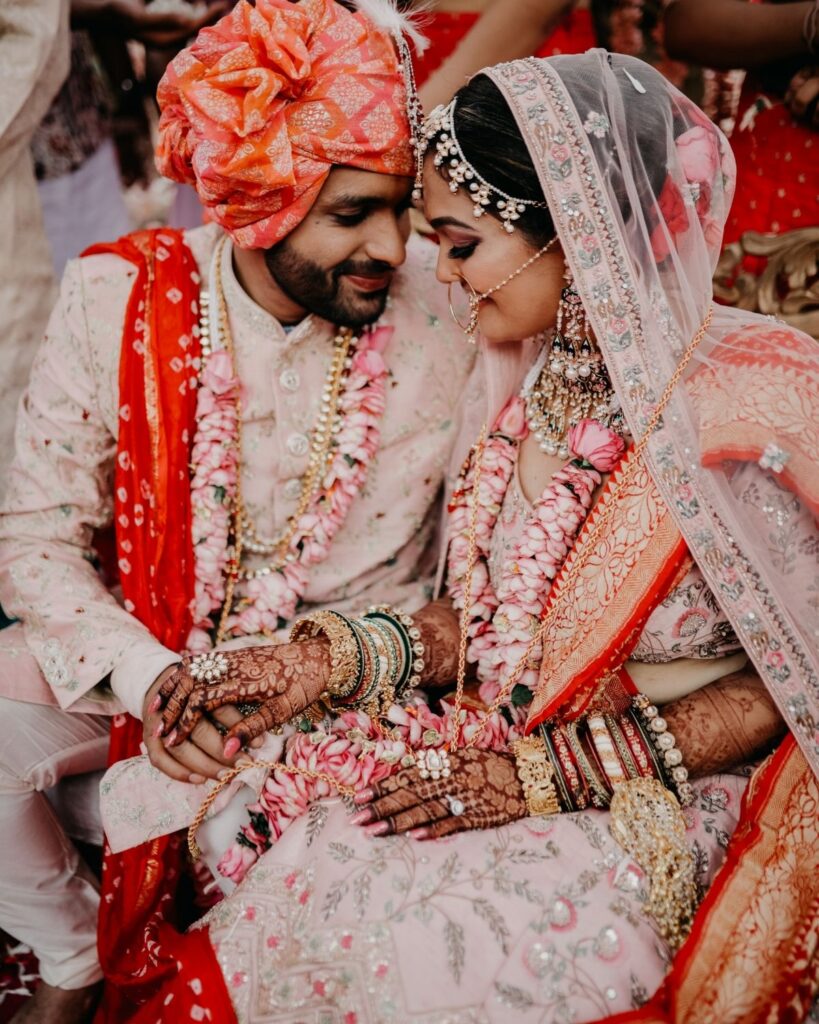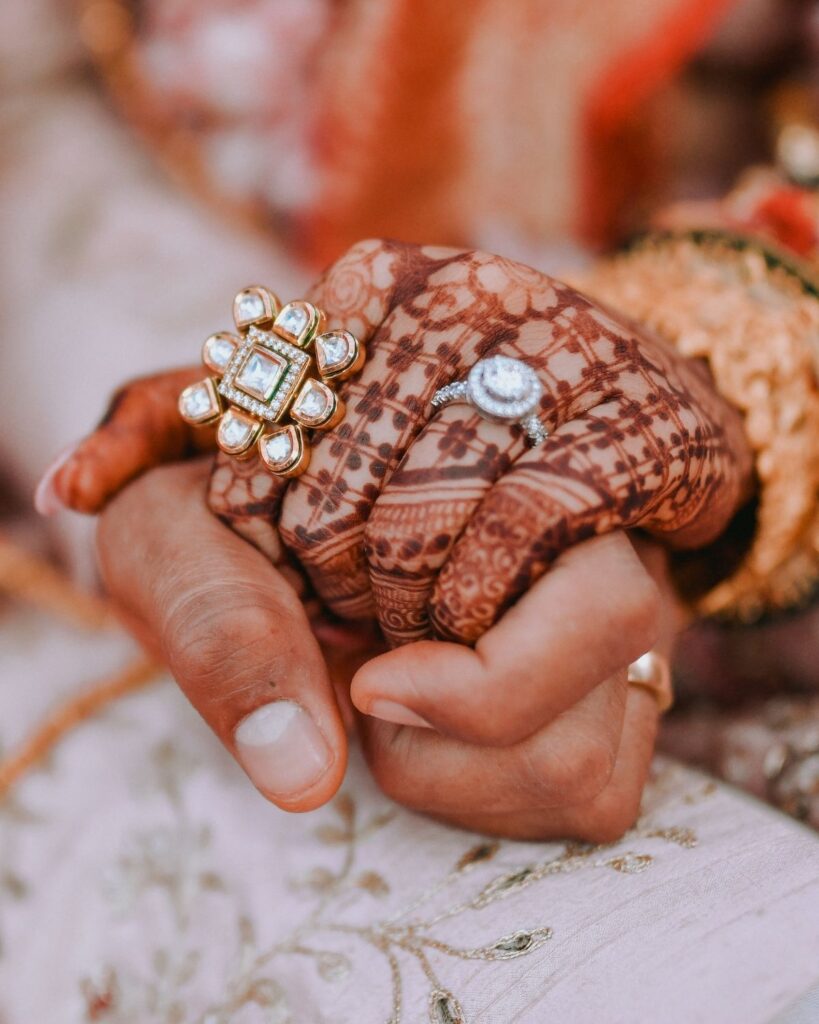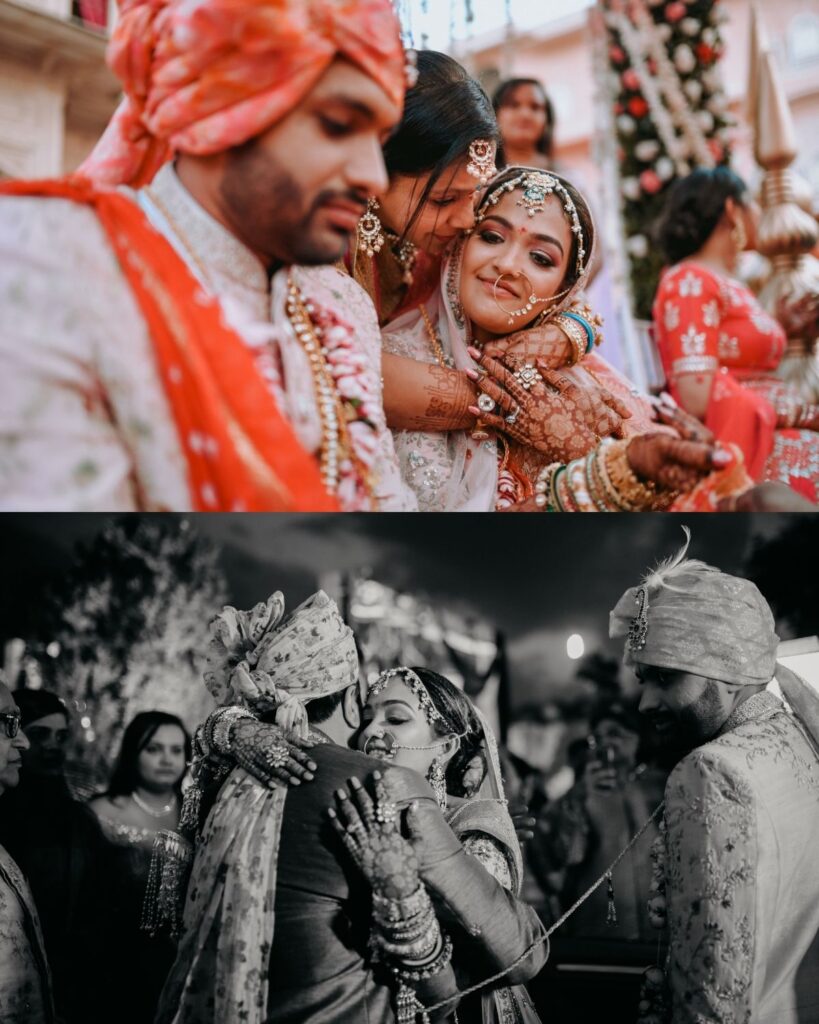 After Party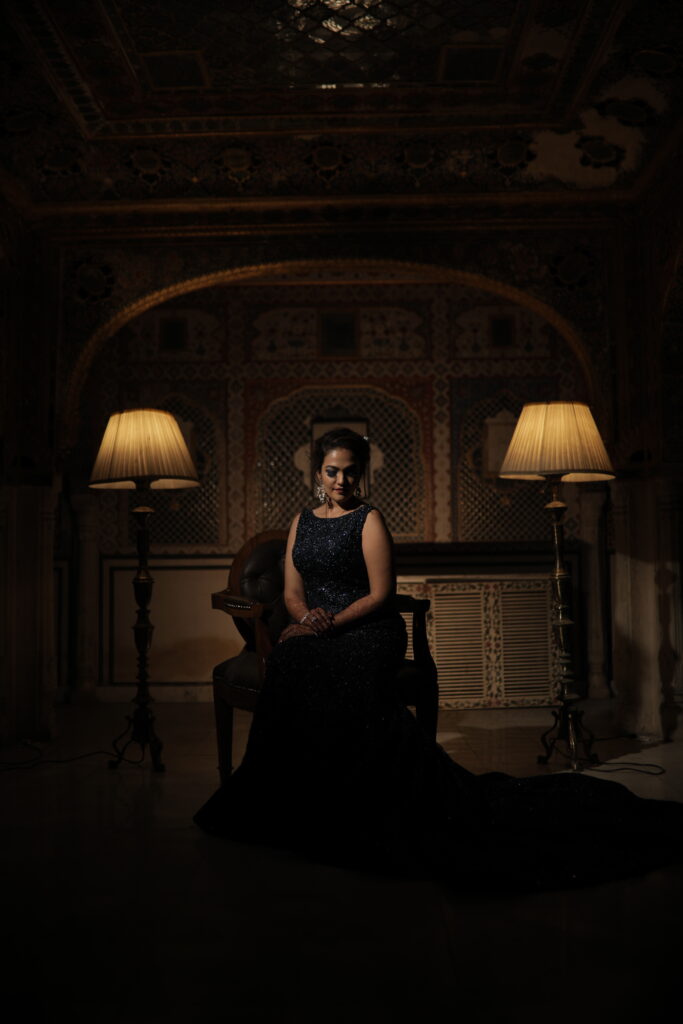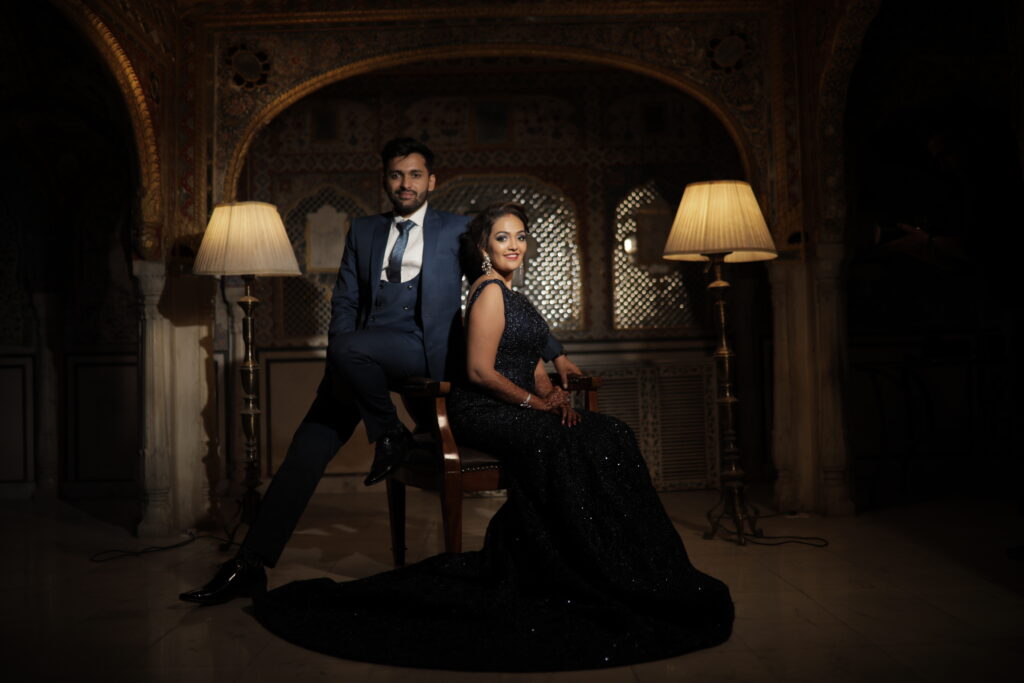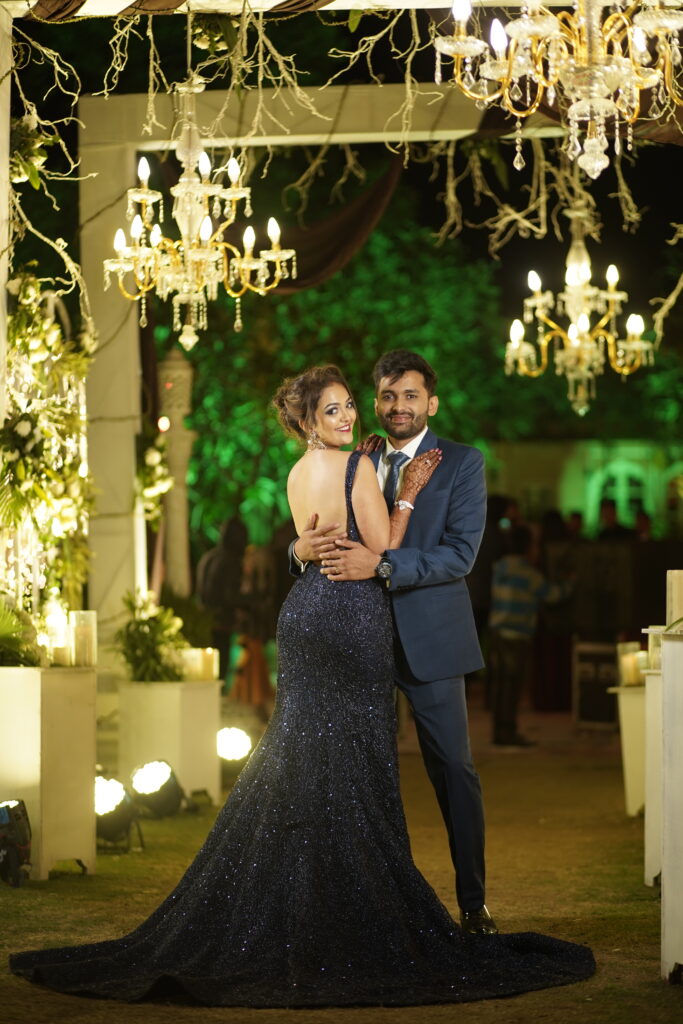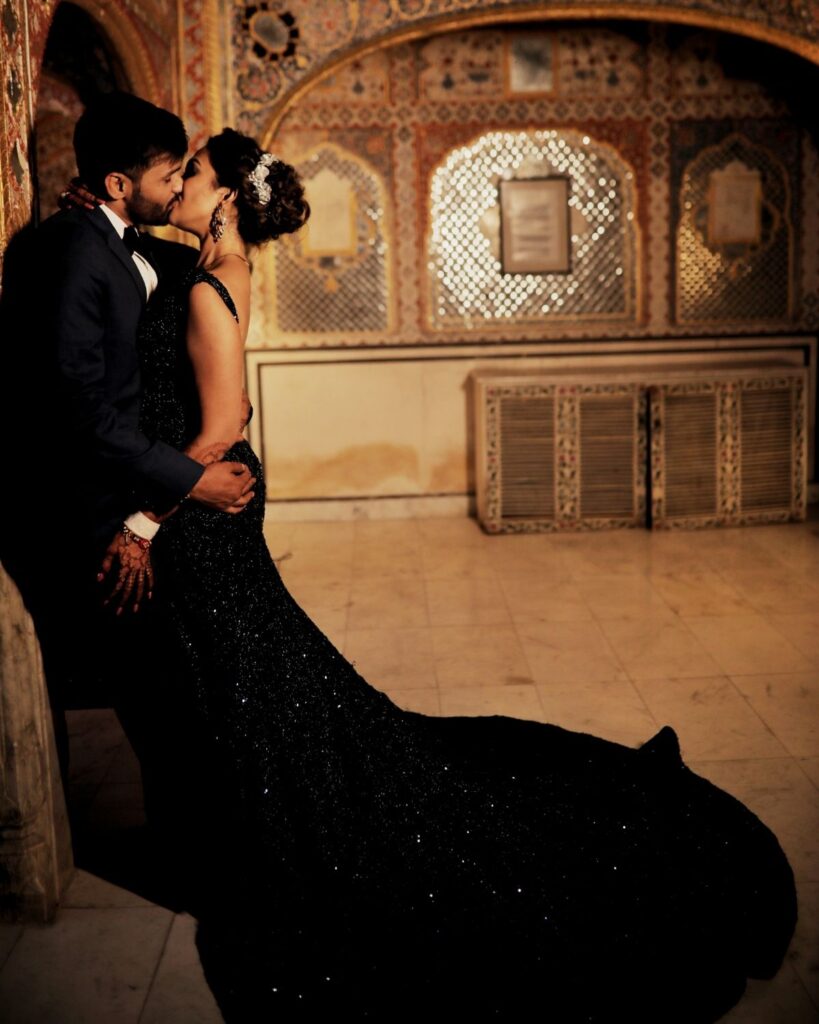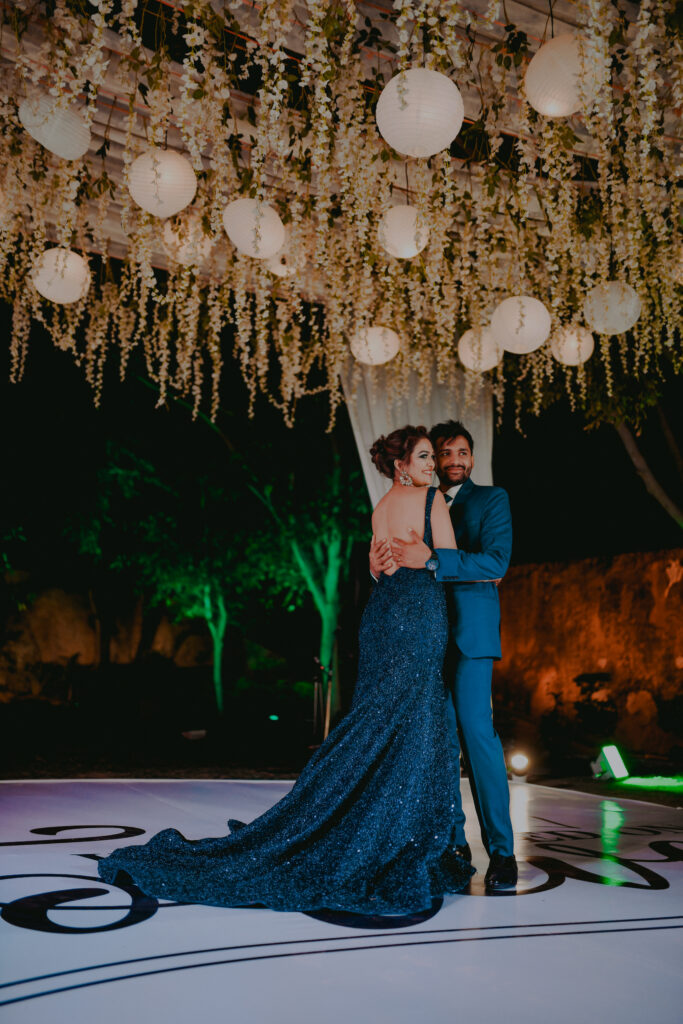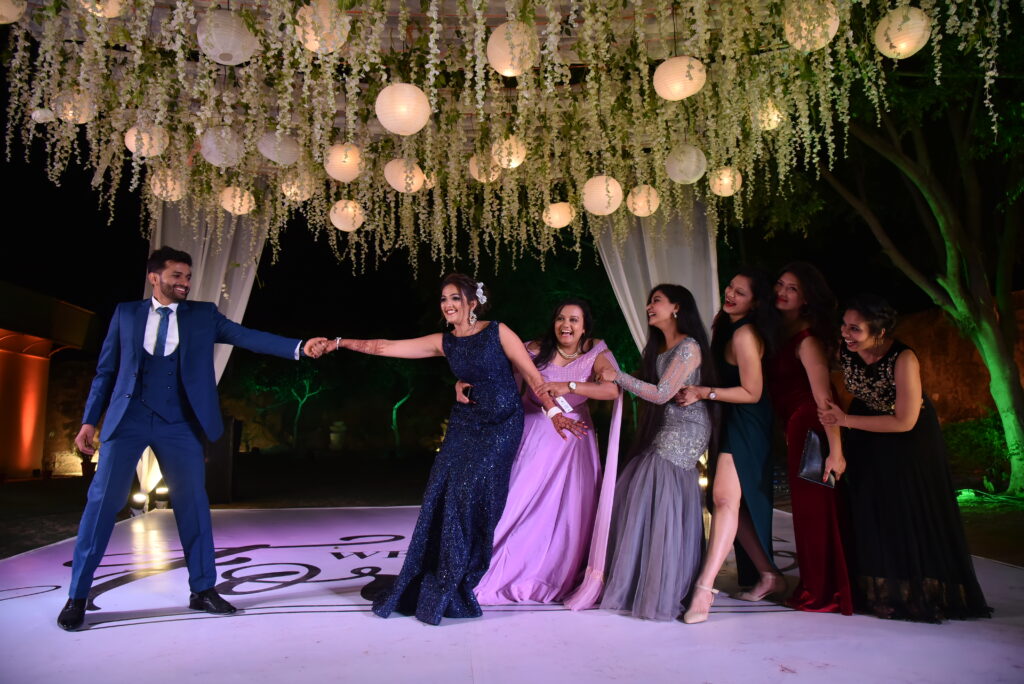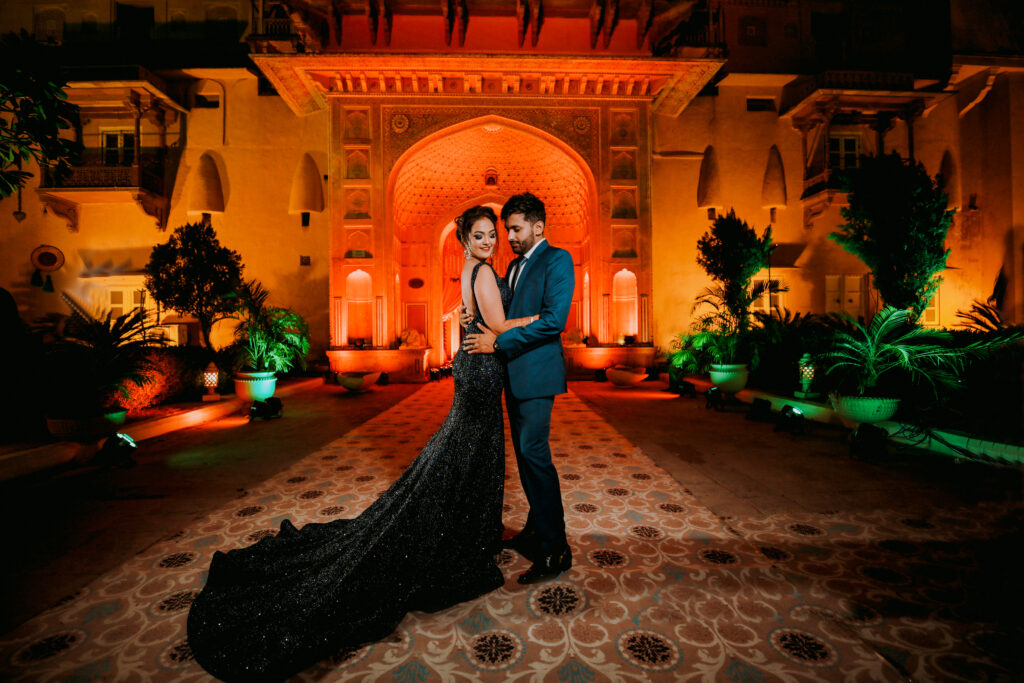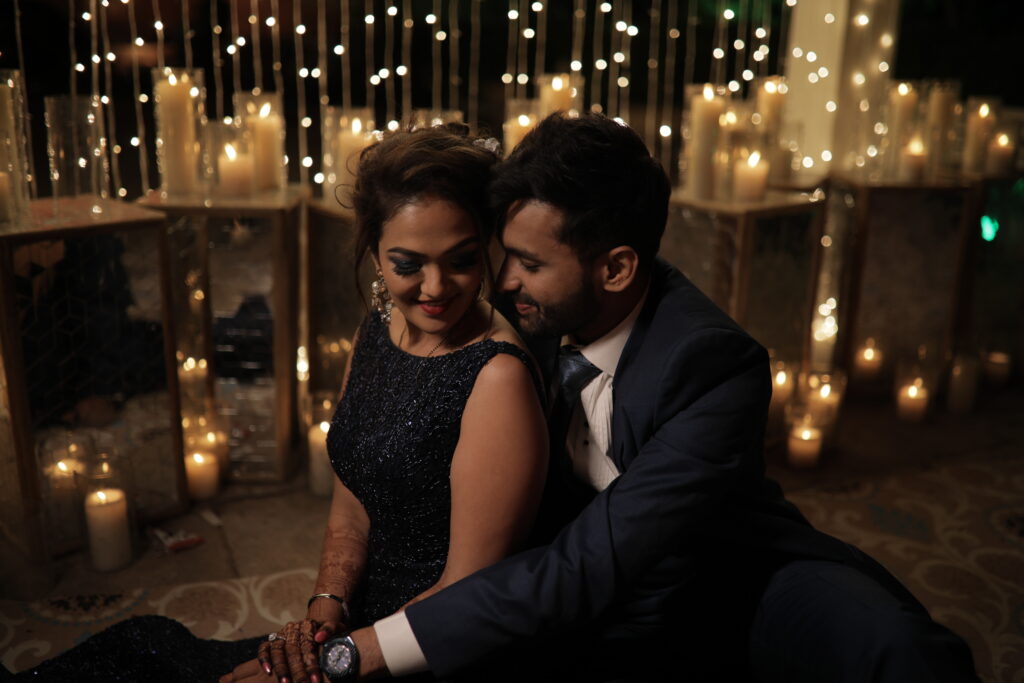 About the wedding in the bride's own words:
Rushabh and I always wanted "A Big Fat Indian Wedding." And so when it came down to planning the wedding, we were sure of three things – we wanted it to be grand but intimate, we wanted it to be traditional & contemporary, and we wanted lots of drama & fun (basically a wedding that embodies our personality). We went through 6 different hotels in Rajasthan before we settled on Chomu Palace in Jaipur.
One of the primary reasons was the fact that we could hold different ceremonies in different venues in the palace without feeling that it is the same location. Chomu was a heritage palace and had an old world's charm and grandiose about it. We did a tasting of their food and absolutely loved it. And finally, we visioned to use the different spaces for the different events and we knew that photographs would just be elevated with this royal background which was a big big plus.
Vendor Reviews
Mehendi Artist – I decided to go a bit unconventional for my bridal mehendi. I did not want any traditional motifs so I penned down our whole love story and @mehendibyhansagajra flawlessly sketched it all out with mehendi. I try to bring a personal touch to everything and this beautiful Mehendi totally nailed that feeling and emoted highlights of the last 10 years of #Srishabh
Makeup Artist – @aditimakeupartist I personally feel your makeup artist is one of the things that can make or break your wedding because you could love your look but in the camera, it could look very different. I live in Mumbai and was having my wedding in Jaipur so I trialed Aditi, and went through her work in-depth. When I met her, I just felt we vibed and she understood what I wanted. The final outcome is for you to see. I love her finesse and minimalistic flawless look in each and every function.
Photographer – @memoirs_jaipur I found them through Instagram and instantly fell in love with their Photography and perspective. I met many prospective photographers but finally got them on board as I knew they could be the ones to turn our grandiose vision into reality. They were continuously on their feet, running from pillar to post to capture any drama/ moment that was happening. Special shout out for the beautiful Joota Chori scene that they captured – it felt straight out of the movie. Even the wedding film, it has turned out so beautiful, screams of cheesy romance!
Wedding Planner – @shaadinamaa I found them through Instagram too and their work depicts perfection. What I loved about them in the preparation stage was that they were very honest in their opinion and executed exactly what they had promised and what I had visioned for my final D Day! I am a crazy perfectionist and it's not easy to work for me but they delivered 100% and were on their toes throughout being the pillar supporting us with everything. In fact, during the wedding, they went out of their way on a couple of things to make the wedding smooth for us without any hiccups.
Bridal Outfits – I am a fashion designer by profession and have been working in the industry for 7 years. So, while every aspect of the wedding required detailed attention, planning of outfits was something that just came to me naturally.
Mehendi and Haldi – I designed the Mehendi and Haldi outfits. I knew I wanted twinning outfits for me and Rushabh but also wanted the outfits to be different and contemporary while keeping the traditional values intact. As for the wedding, I picked my outfit from Vasansi Jaipur. I knew what I wanted so it took just 2 days to finalize my outfits and jewelry.
Which look of Srishti's are you loving the most? Let us know in the comments below.