While you might have spent countless hours scouring the ideal Sangeet outfit from your favorite designer stores, there's still planning needed to get that picture-perfect Sangeet look in place. Aside from the jewelry, a dance-proof makeup and hairstyle is a Sangeet ensemble must-have. Thankfully, the hairstylists today have upped their game well and almost all hairdos you've your eyes on can be maneuvered into a Sangeet hairstyle look. Scroll down to see 5 trending hairstyles ideal for your sangeet event.
Sangeet Hairstyle Ideas
Half-Up, Half-Down Sangeet Hairstyle
Half-up, half-down hairstyles are practically everywhere. They've become a go-to hairstyle look for brides for mehndi, sangeet, or even cocktail events. But it's not just brides who're favoring this versatile look, bridesmaids are equally loving them too. These hairstyles take little effort to put together and can be jazzed up based on your creativity. For an effortless structure, using a puff maker should suffice. While for a more glam look, you can bedeck your waves with embellishments and accessories. And for a sophisticated, formal version, adding side-swept curls or small buns is an ideal choice. Scroll to see some swoon-worthy half-up, half-down hairstyles to take inspiration from.
Buy hair accessories for women here.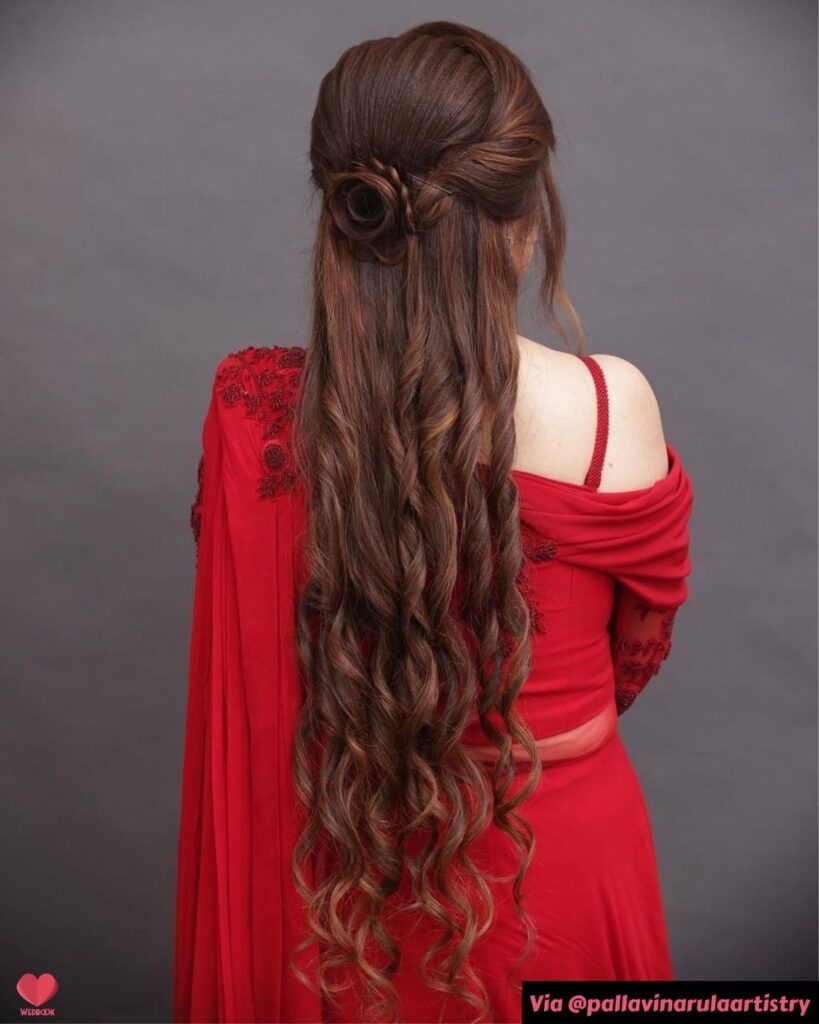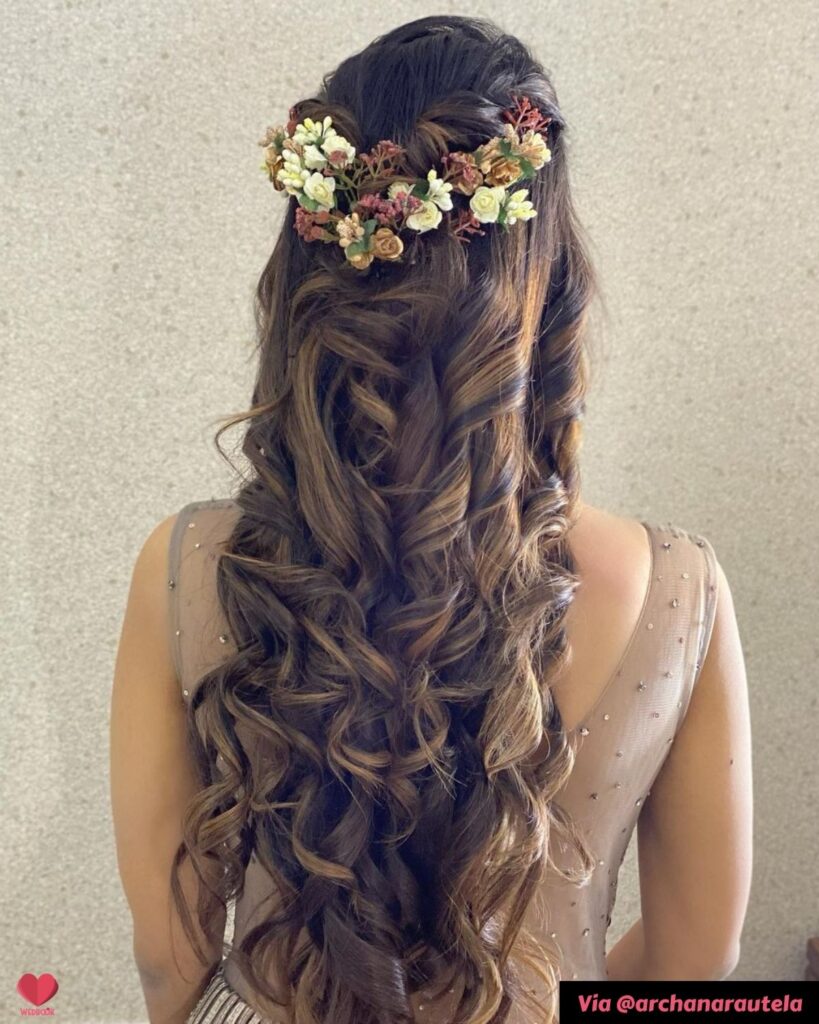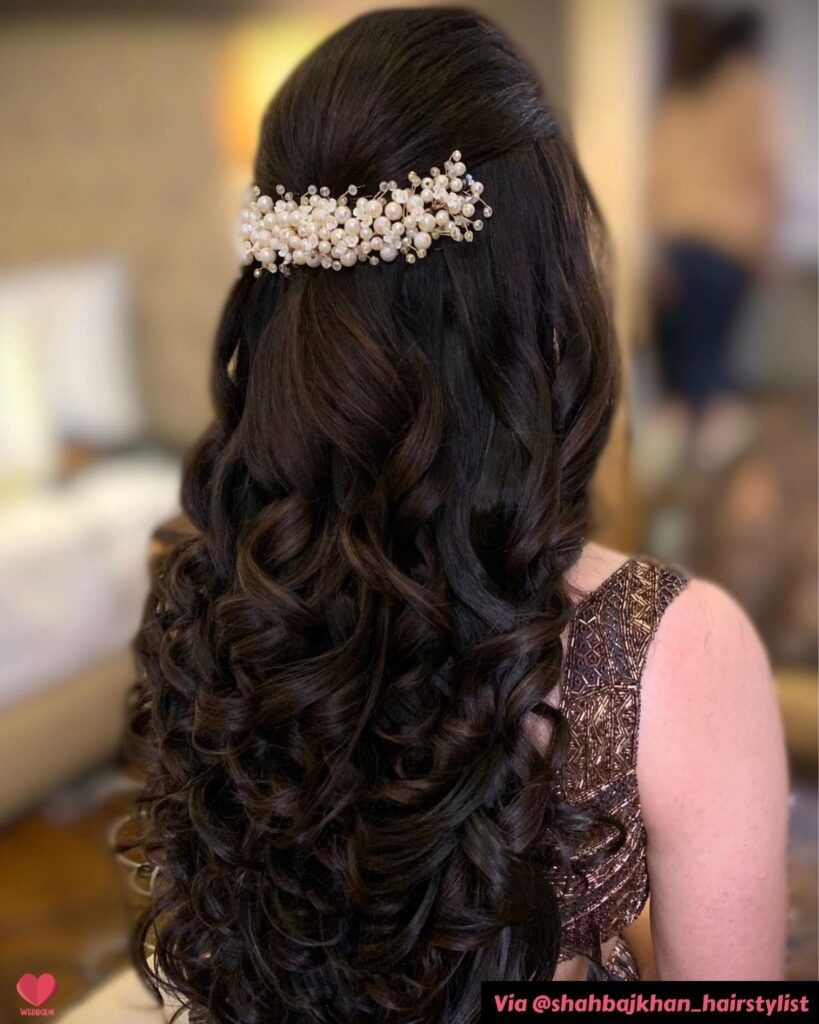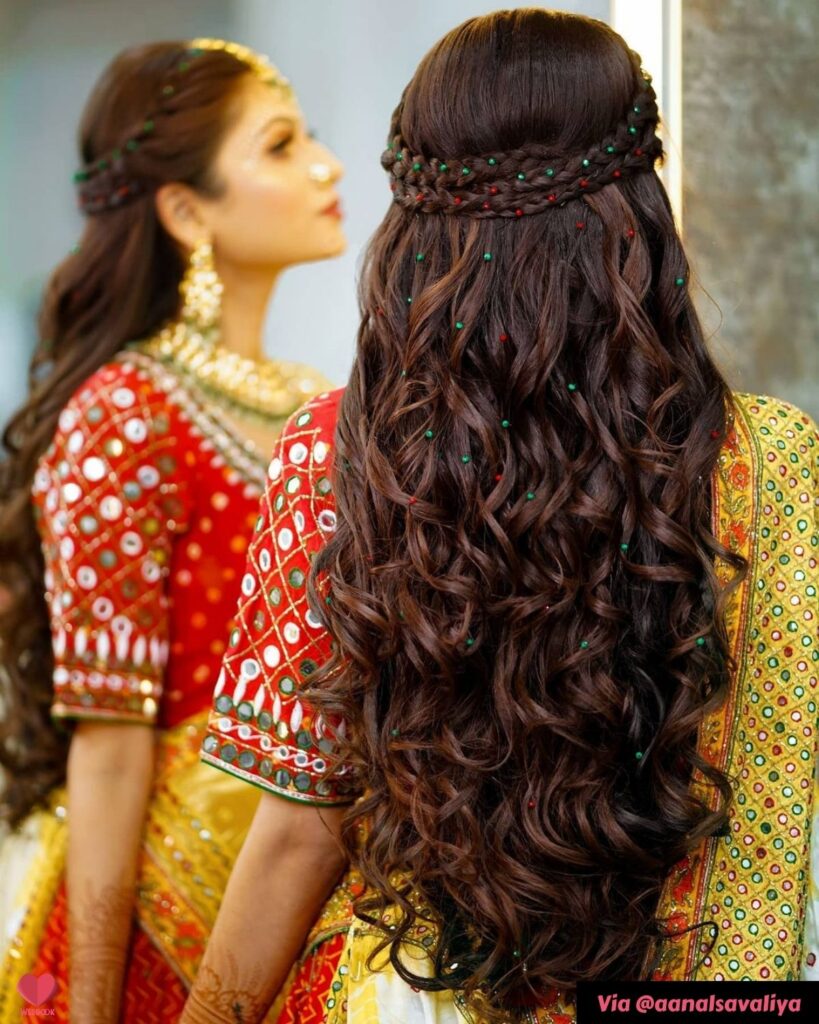 Open Waves
A Sangeet night is all about dancing away. And if you aren't the shy or the coy bride, the dance floor will call out to you and you need to make sure you're ready when it does. Wearing your hair down in waves is an amazing way to make your hairdo dance-friendly. But at the same time, ensure the waves stay intact by asking your stylist to put generous amounts of hair spray and leave-in cream. Of course, you can further amp up your waves by topping them off with accessories or fresh flowers. It's all up to you. Here are a few open wave hairstyles that are pretty enough for your sangeet night and beyond.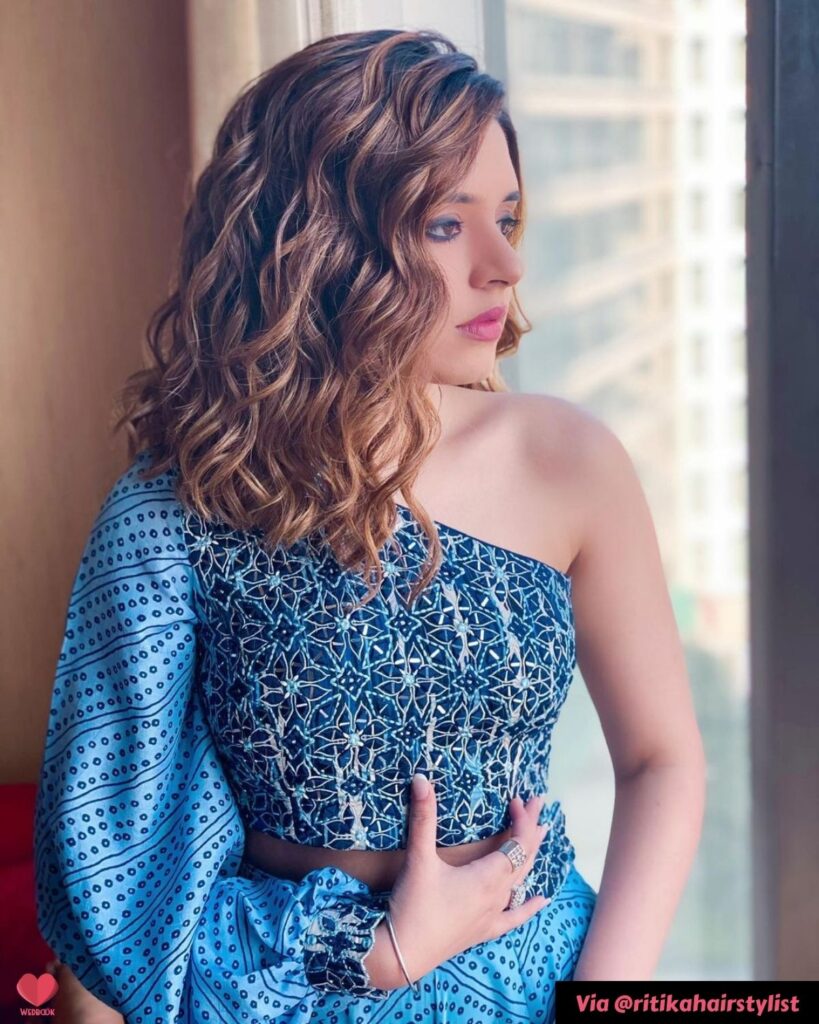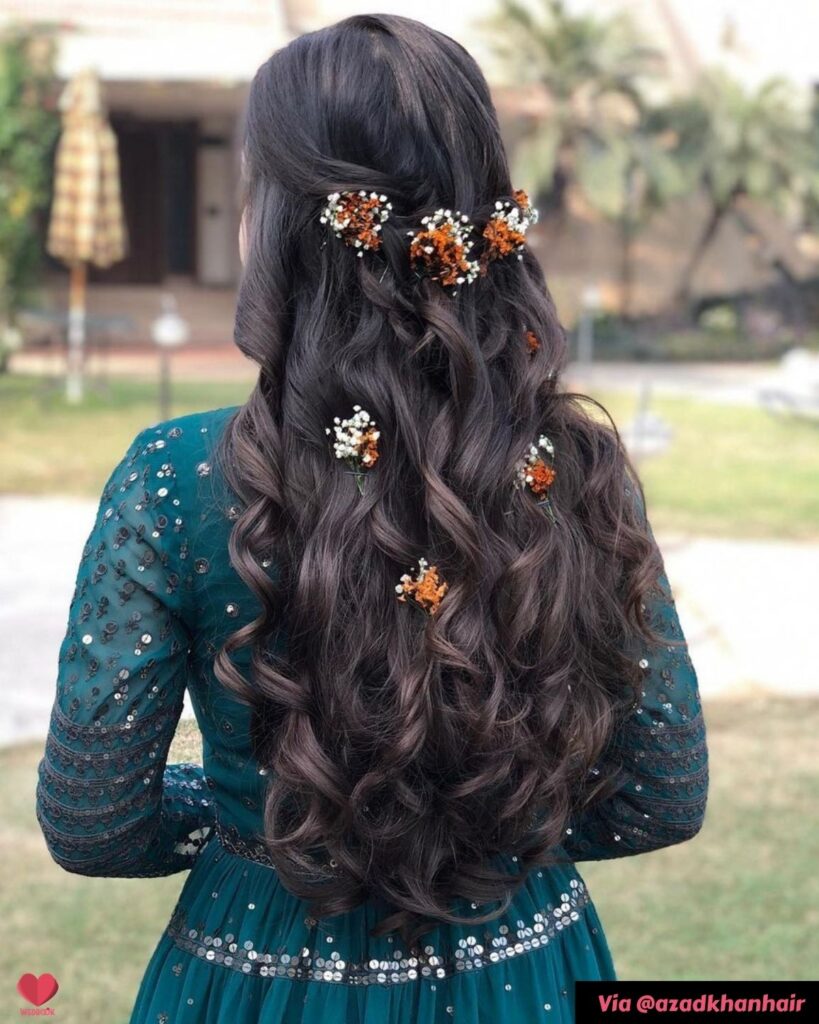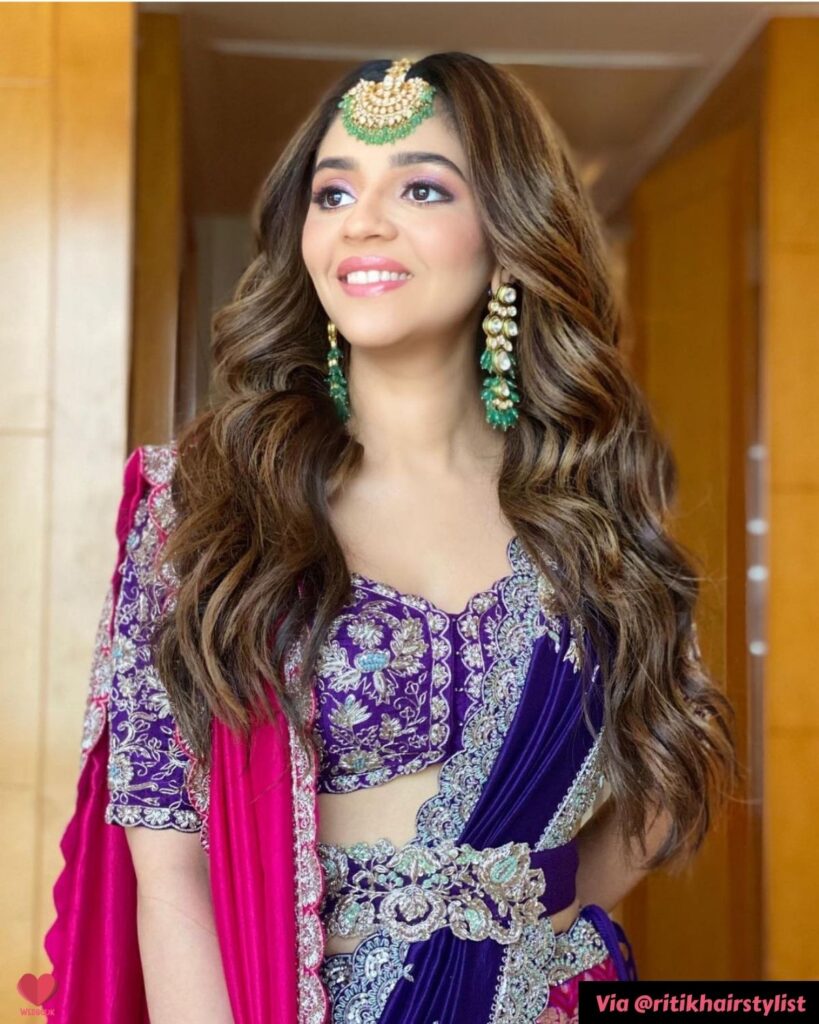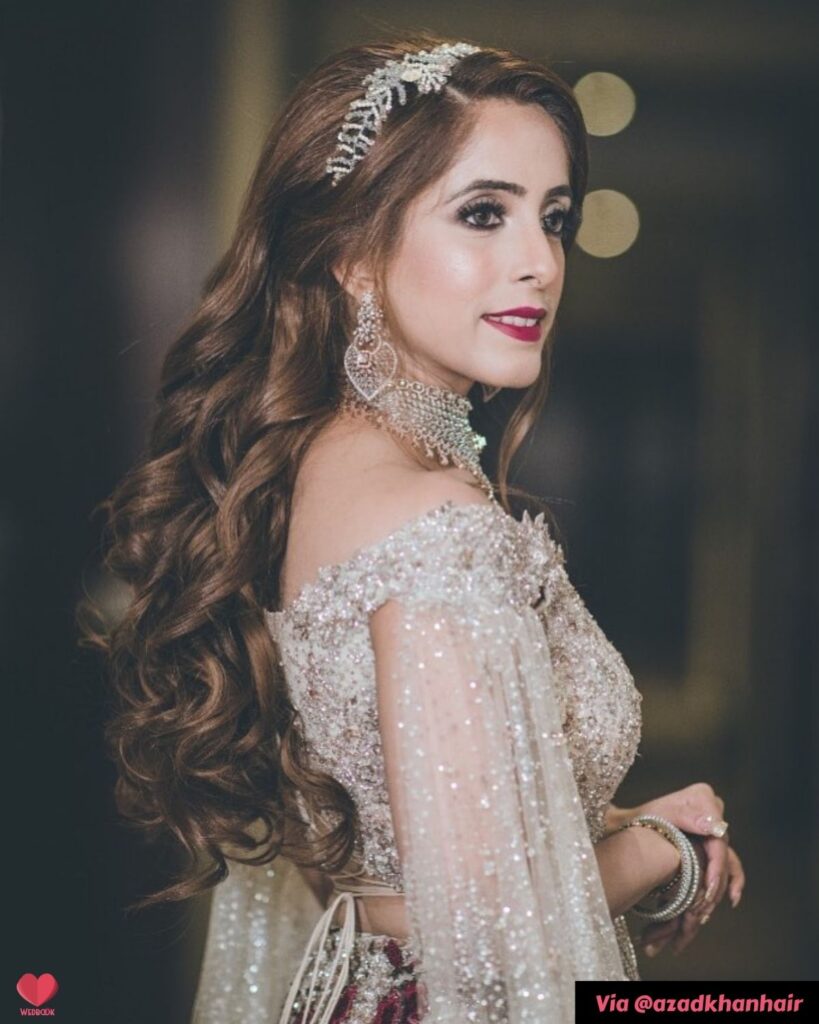 Puffy Ponytails Sangeet Hairstyle
Our basic, lazy-day ponytails have received a flashy upgrade to puffy, voluminous ponytails and we're swooning, for sure. These puffy ponytails work well to keep the hair away from your face, like regular ponytails, and still add a glam quotient to your look. Now, isn't that all that defines an ideal Sangeet hairstyle? We think so. And if you're unsure about these effortless hairstyles being wedding-appropriate, we have pictures to prove it. Once you'd be done scrolling, we're sure you'd ask your wedding hairstylist to add a puffy ponytail hairstyle to your wedding look as well. Just don't forget to bookmark one(s) you like so you can use them for inspiration on D-Day.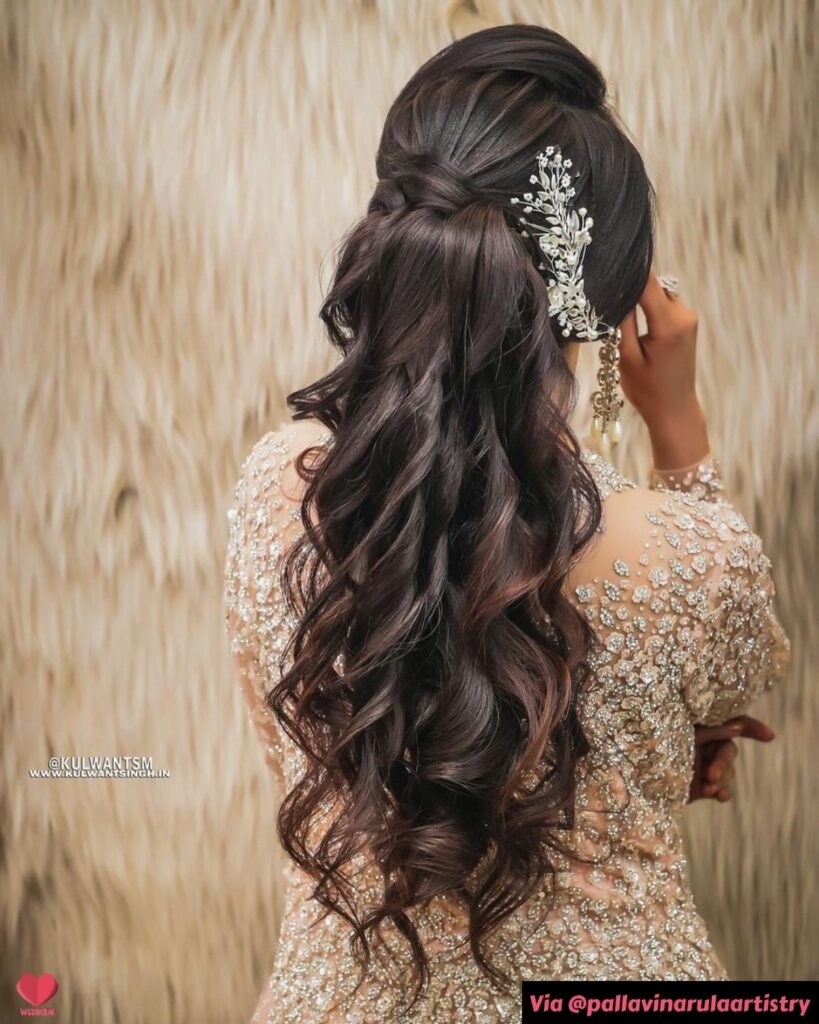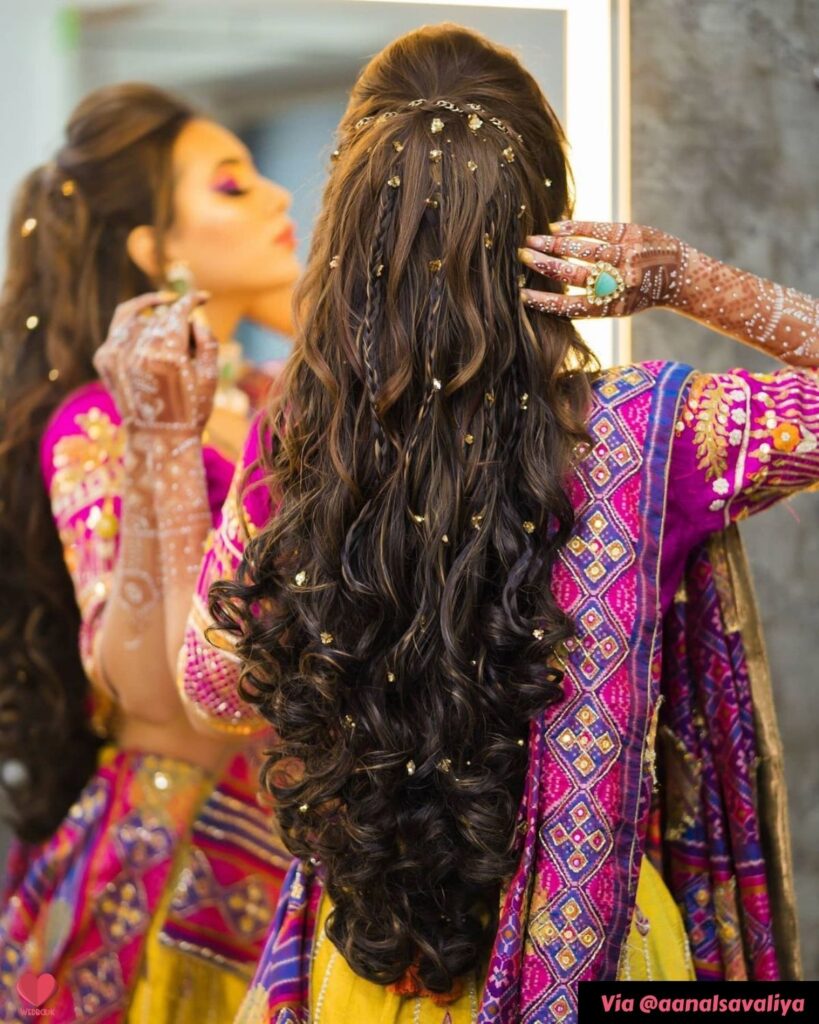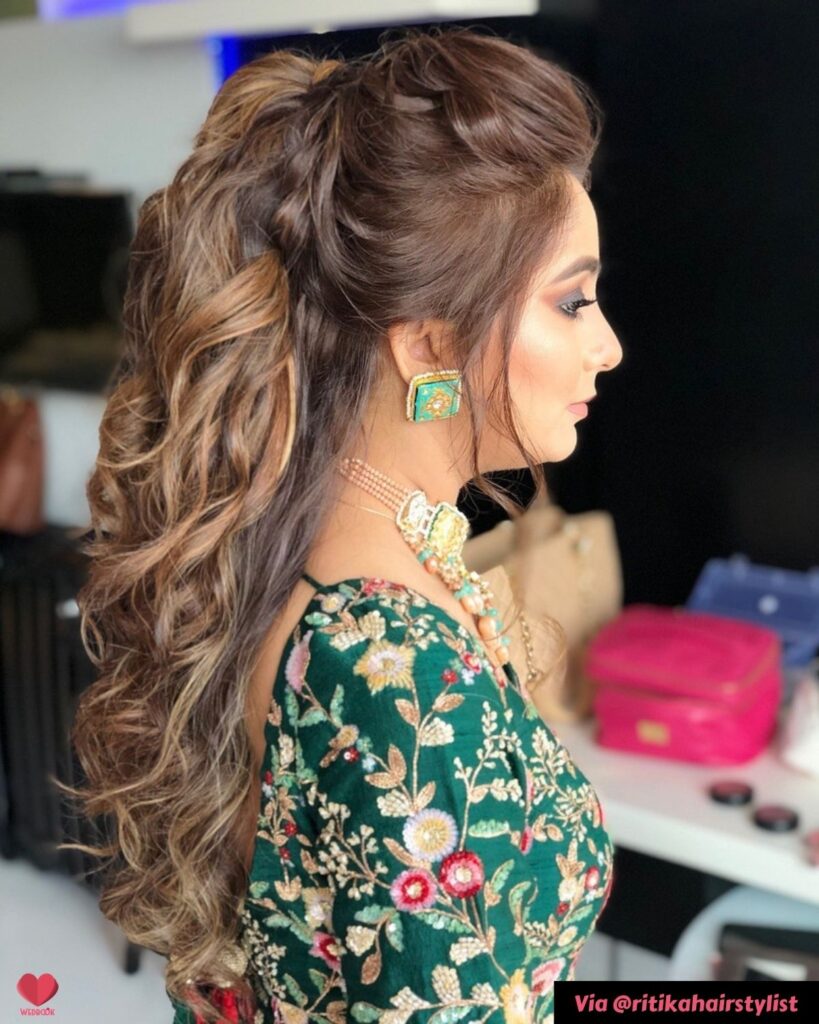 Braids
You really can't beat the simple charm and comfort of a bridal braid. Over the recent years, they have undergone a style resurgence with Instagram flooded with all kinds of braids – from soft and romantic to detailed, glamorous ones. No matter what style you'd want to resonate with your bridal look, you can find a braid that aligns with the same. Plus, they are totally timeless. You can look back at your photos 20 years from now and won't regret braiding your hair. For a sangeet ensemble, it adds the perfect less-is-more, and fuss-free style you'd want to carry. Here are some prettiest braid hairstyles to look out for.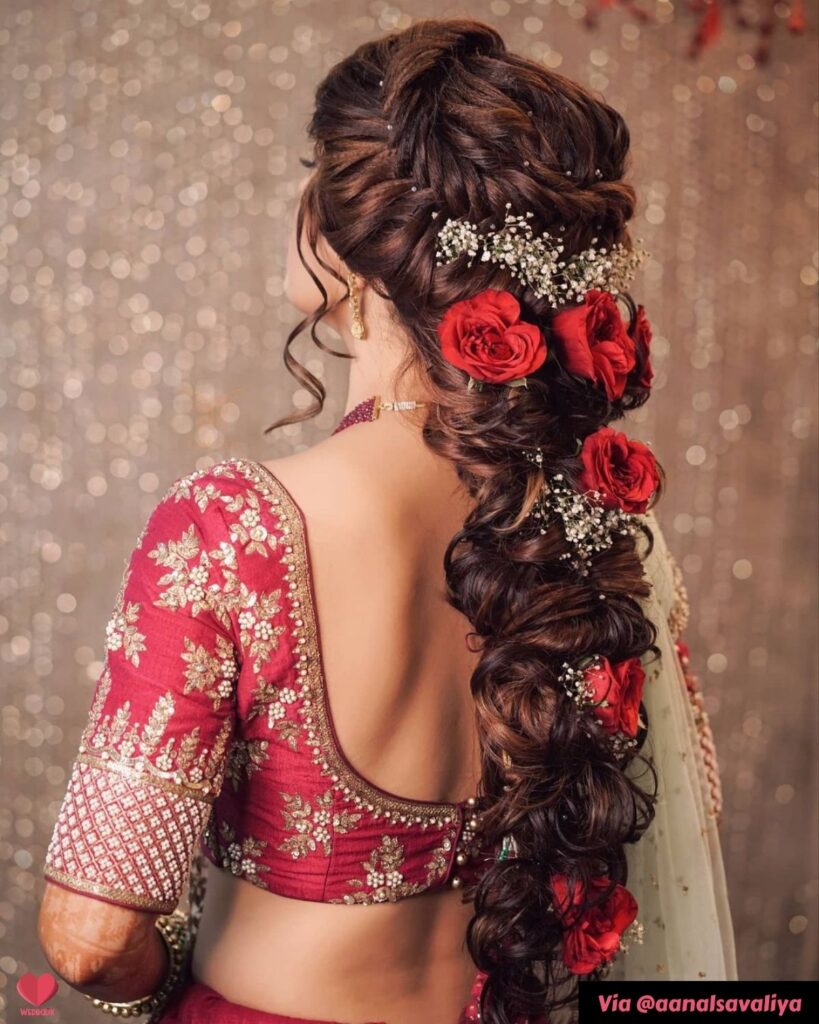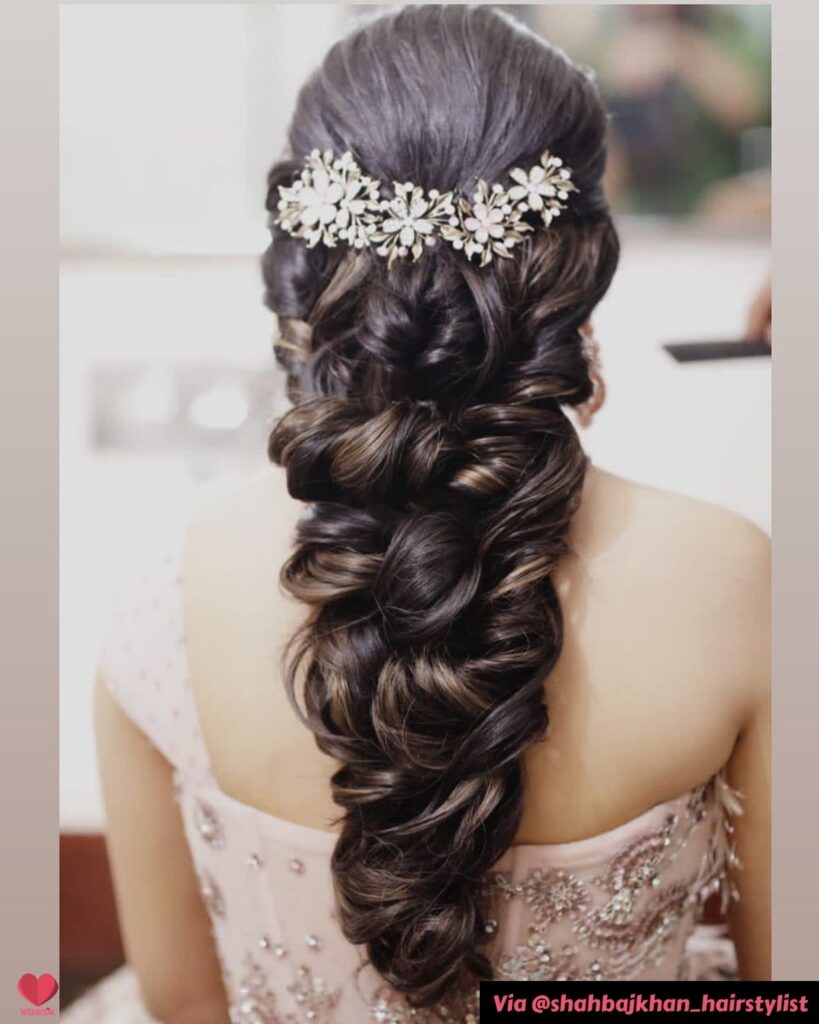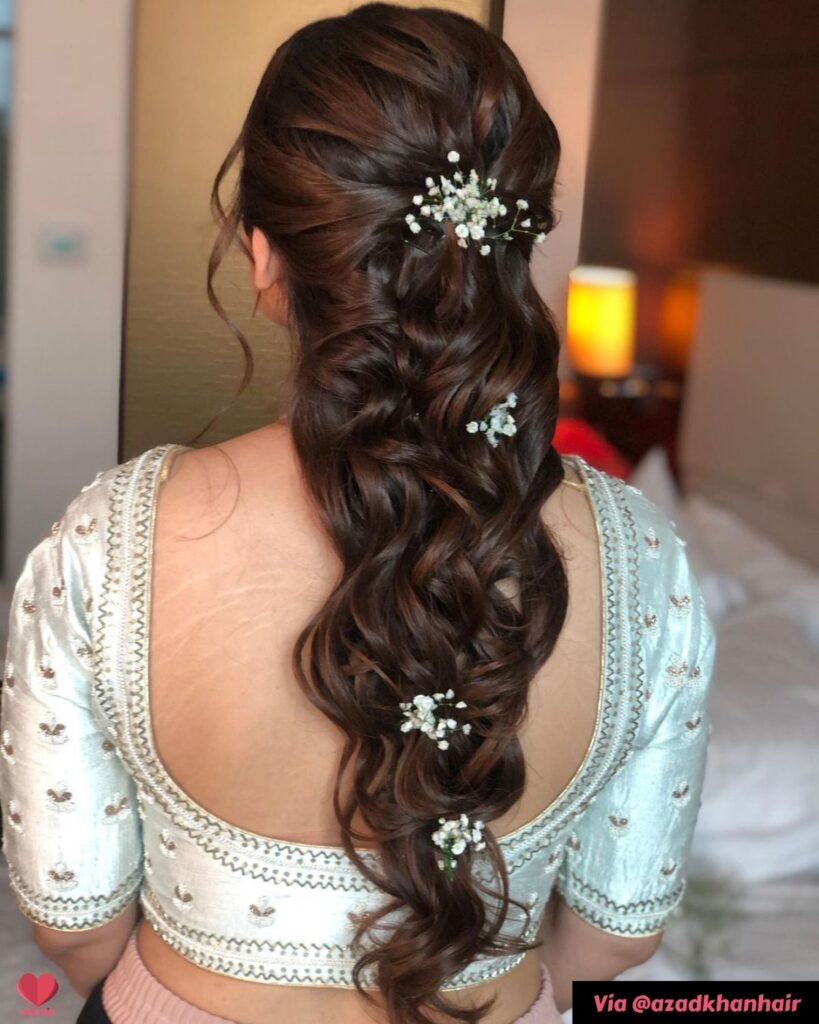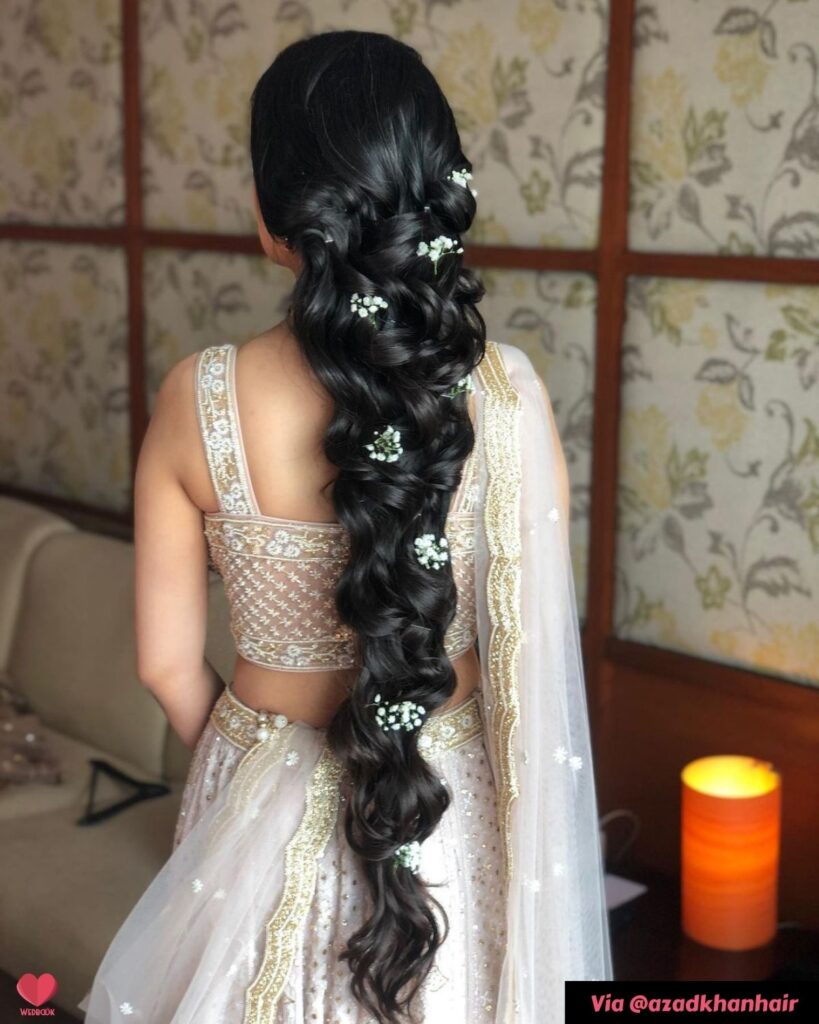 Bridal Updo Sangeet Hairstyle
The realm of a bridal bun is far too wide to not consider it for any of your pre-wedding revelries. From boho and chic to classic and glamorous, a wedding updo can find a place with almost any wedding ensemble. Keep in mind though, when you pick it for a sangeet attire, it has got to be pinned up properly, especially if you're opting for a sleek and classic chignon. Although, if messy and relaxed is your choice, dancing wouldn't perturb it as much. Other reasons to go for a wedding updo: show off that sexy backless blouse, stay away from the sweats, and look amazing in photos, from every angle. We've gathered some images of this classic hairstyle, keep scrolling.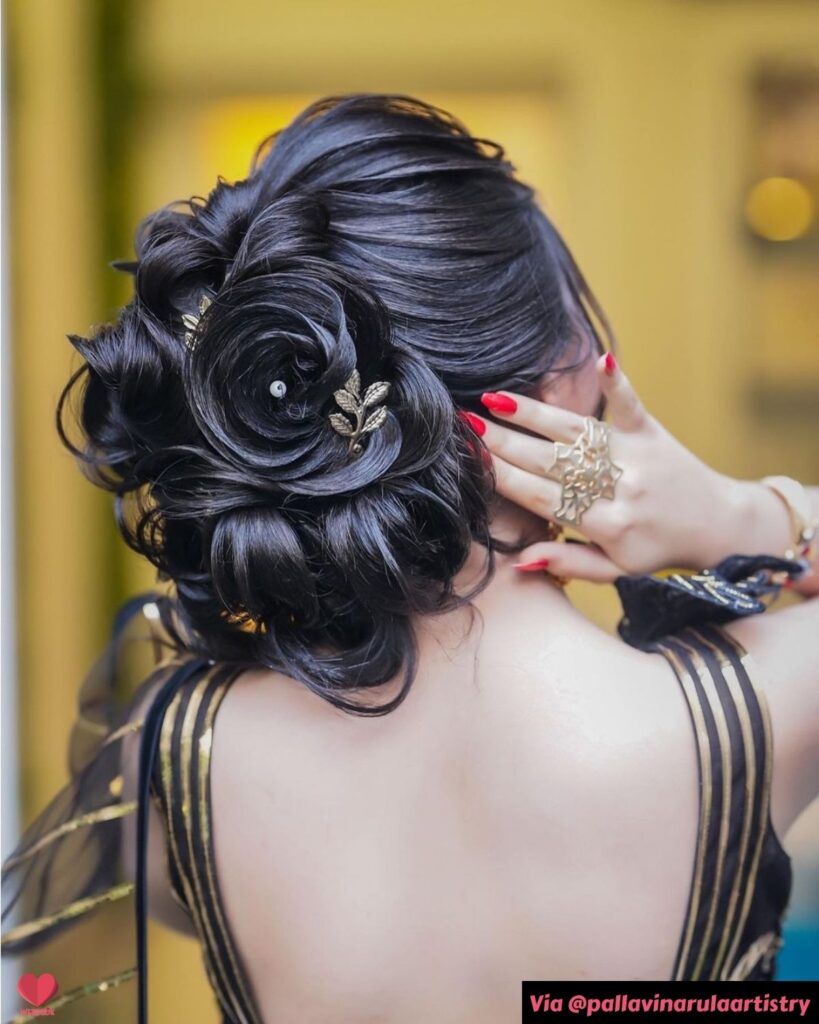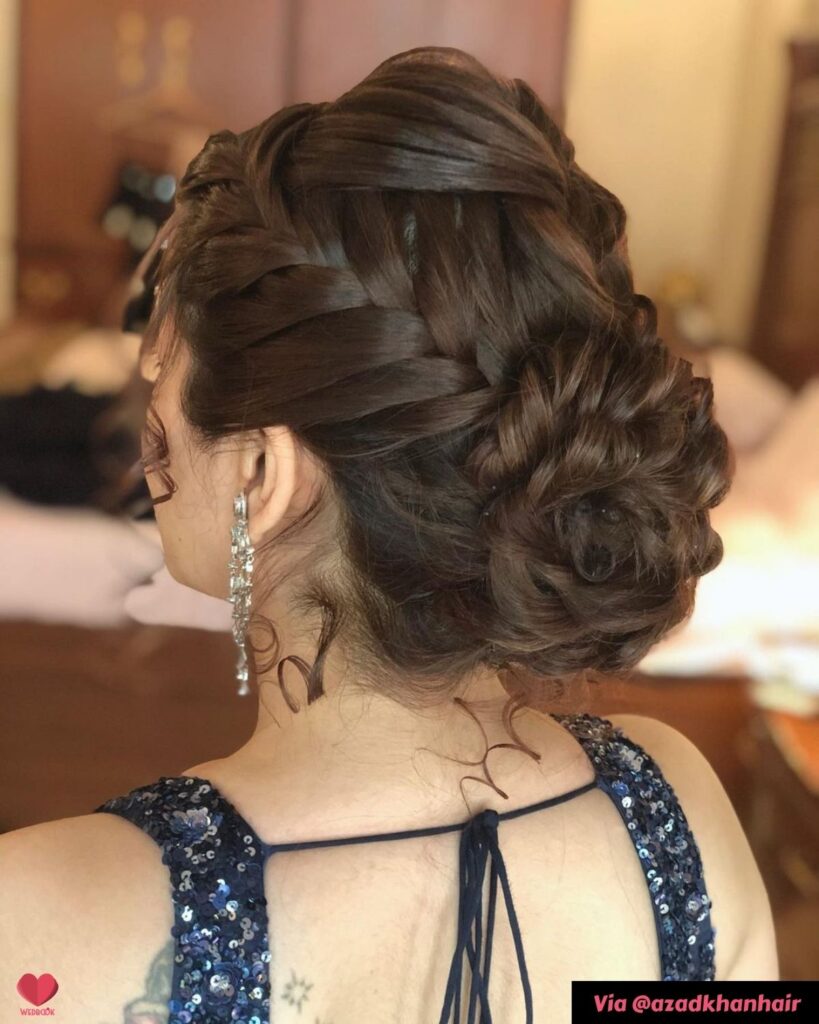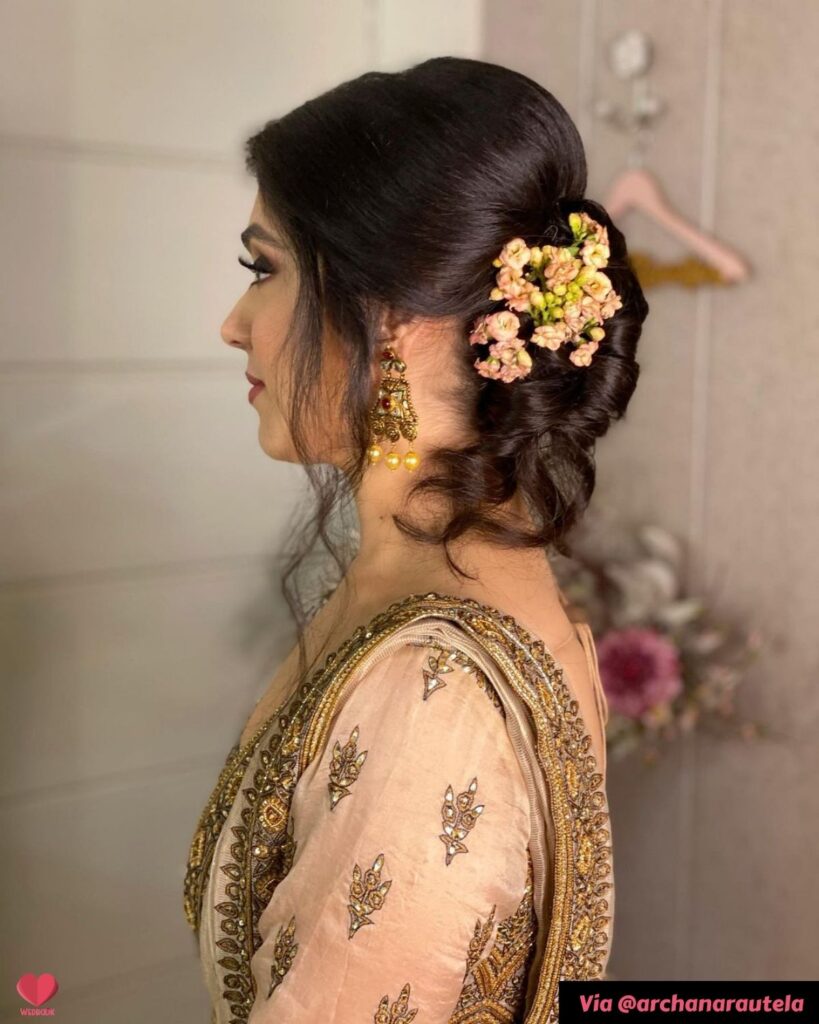 Related: