Mark Twain once said, "Benares is older than history, older than tradition, older even than legend, and looks twice as old as all of them put together." So it's natural for the handloom practiced in this place to hold a traditional elegance hard to match. Varanasi, also known as Benaras, is known for its legendary handloom drape – a Benarasi saree. Garnering favor from Bollywood actresses and real brides alike, this luxurious weave continues to earn the hearts of women in India. Decoding its origins, types, and benefits in this blog with an expert in this realm – Anuj Poddar.
Anuj is the founder of Silk Kothi, a Varanasi based label operating in the city for more than 50 years. He gives us a 101 insight into the fabric so you can make an informed buying decision, as a bride or otherwise. Below are excerpts from the interview.
How are Benarasi sarees made? And how have you preserved the traditional making technique of a Benarasi saree over the years?
An extensive process goes behind making a benarasi saree. Here's a brief outline of the making process. First, jacquard cards are created, which are basically rectangular sheets exhibiting the design of the saree. Next, the silk yarns are dyed, before the threads go into the traditional warp and weft process or the weaving stage. Lastly, the loom is set up and the fabric is made with warp beams loaded and weft thread loaded onto spindles. The warp thread is stationary and holds the structure of the saree in place, while weft threads are the ones that add character and patterns to your cloth.
By employing 6000+ weavers in the city who are skilled at practicing and following age-old traditions of creating a benarasi saree from scratch, Silk Kothi team is proud to say each saree in our store reflects the true handloom heritage of Varanasi. By sticking to our traditional values in the world where people are looking to make quick bucks by selling machine-made sarees, Silk Kothi is able to preserve the technique while offering our customers exactly what they come to us for.
How much time does it take to make a Benarasi saree?
After reading Anushka's Sabyasachi Benarasi saree took 6 months to finish – from designing to finishing, I was curious to know if that's really how long a benarasi saree takes for completion, and according to Silk Kothi, it does. "Depending on the design and weaving technique employed, a banarasi weave can take anywhere between a week to 6 months for completion, some with weaving complexities can even take a year to complete," shares Anuj. Apart from the weft technique, jacquard cards and weave detailing also determines the time-lapse of a saree to completion.
Can you briefly get into the history of benarasi sarees?
The roots of Benaras can be dated back to the era of Ramayana and Mahabharat. The handwoven heritage also has mentions in Rig Veda written in 2000 B.C. While the technique was revived and retracted a number of times, it finally rejoiced during Islamic rule in the 14th century. Mughal emperors donned intricate weaves made of gold and silver handcrafted in Benaras. The city's handloom craft bolstered further with the famine in Gujarat in the 16th century which led to migration of silk weavers to Benaras. From there onwards, the art of banarasi weave making in Varanasi developed to excellence and gained immense popularity.
The East India Company did affect our markets by incorporating machine-made fabrics to boost profits, but the weavers somehow held on to their artists' spirit. And their persistence is the reason why we're still able to adorn and cherish our elegant Banarasi weaves.
What are the different types of benarasi sarees available in the market?
Banarasi Sarees can be segregated on the basis of fabric and the techniques or patterns.
On the basis of Fabric:
#1 Katan – One of the softest and finest silks created by twisting together filaments of silk to create a sturdier and durable fabric. For brides, this is our favorite recommendation.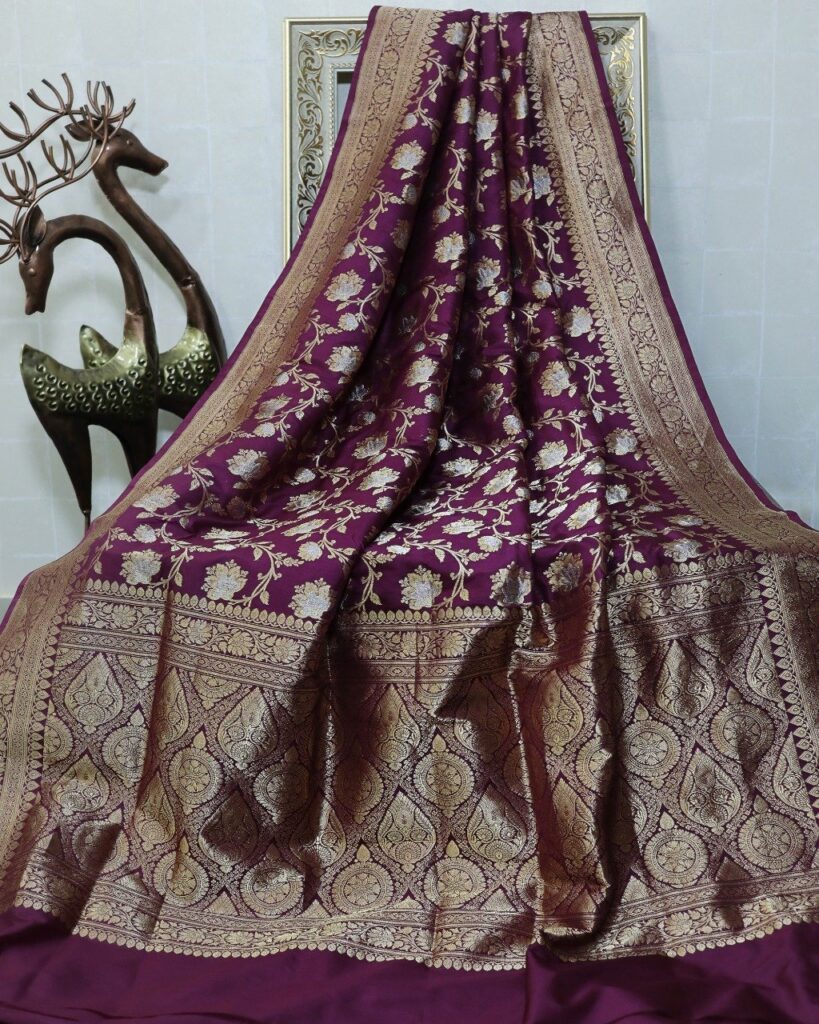 #2 Kora Organza – A thin plain weave of silk fabric that is weaved by our craftsmen from silkworm consisting of thin spun threads. The almost see-through nature of this fabric lends it an effortless characteristic when worn.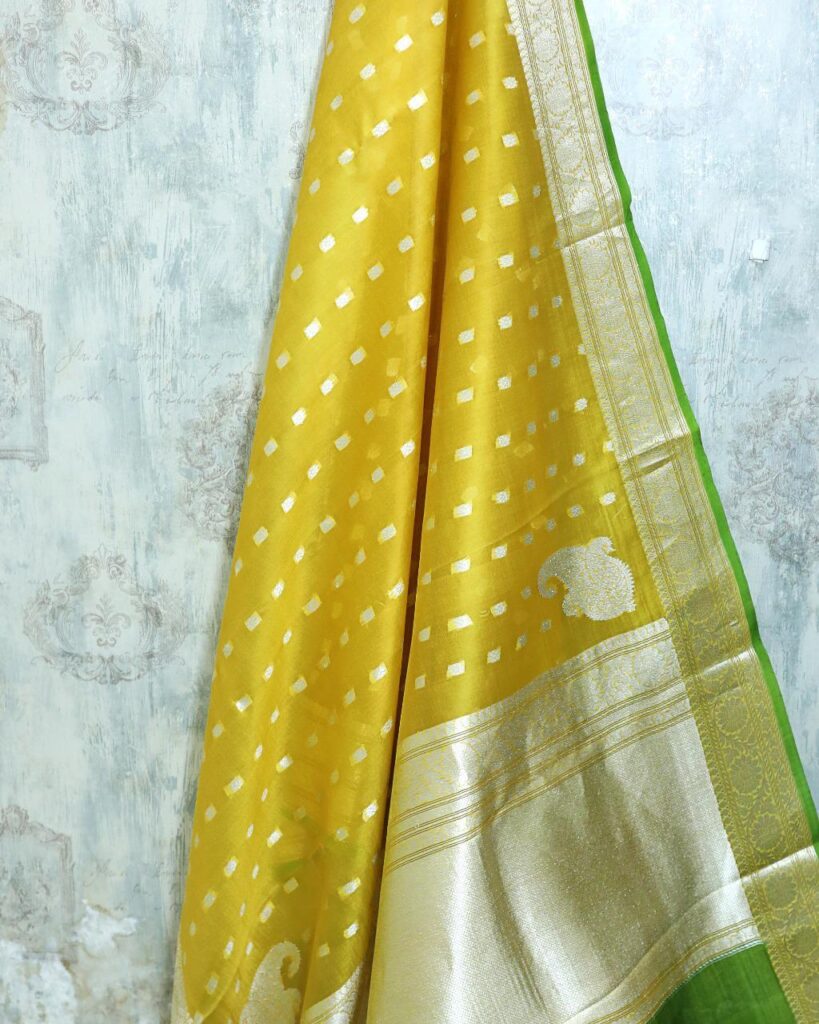 #3 Khaddi Georgette/ Chiffon – A lightweight, sheer crepe fabric named after early 20th century French dressmaker Georgette de la Plante. It has a wrinkled surface and is known for its rich zari and lovely dyes.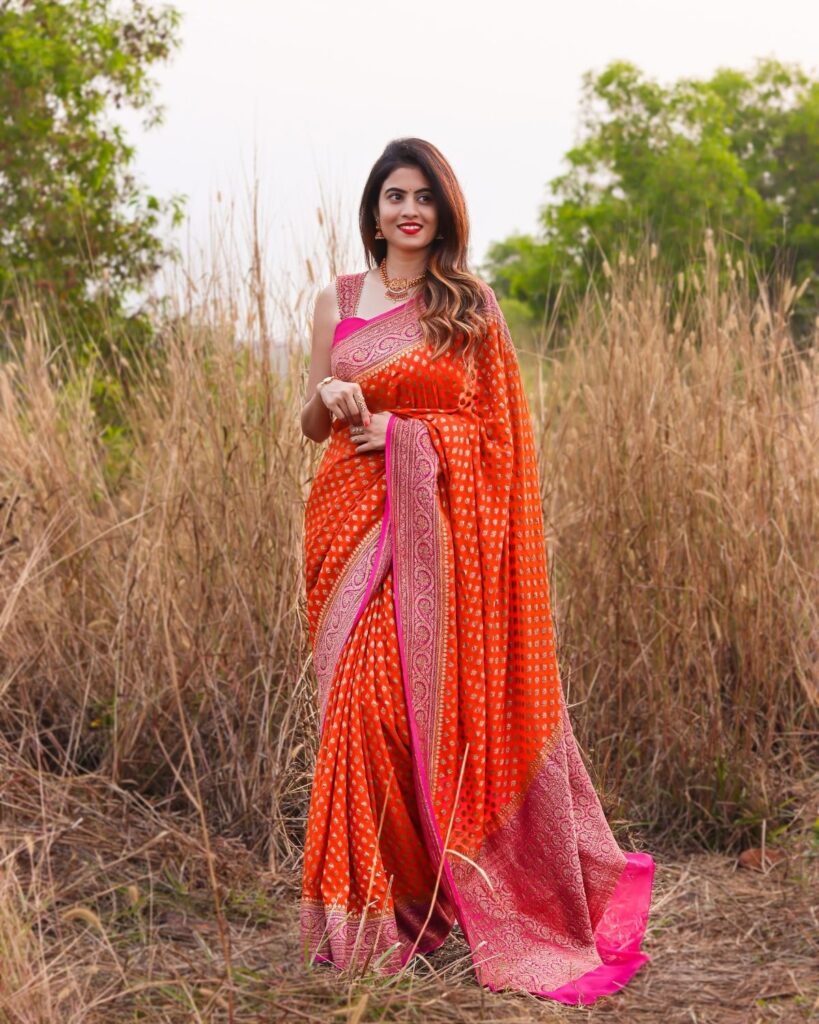 #4 Tussar – Commonly known as Ghicha Silk, an undyed form of Tussar silk. It is produced from the larvae of several species of silkworms and is valued for its natural deep gold color. Quite popular for its breathable fabric, a saree made from tussar silk can make an excellent option for everyday use.
#5 Dupion – A fabric noted for its shimmery crisp texture and lightweight. The double-thread nature of this silk is what makes it sturdy and long-lasting. It is often referred to by people as khadi silk.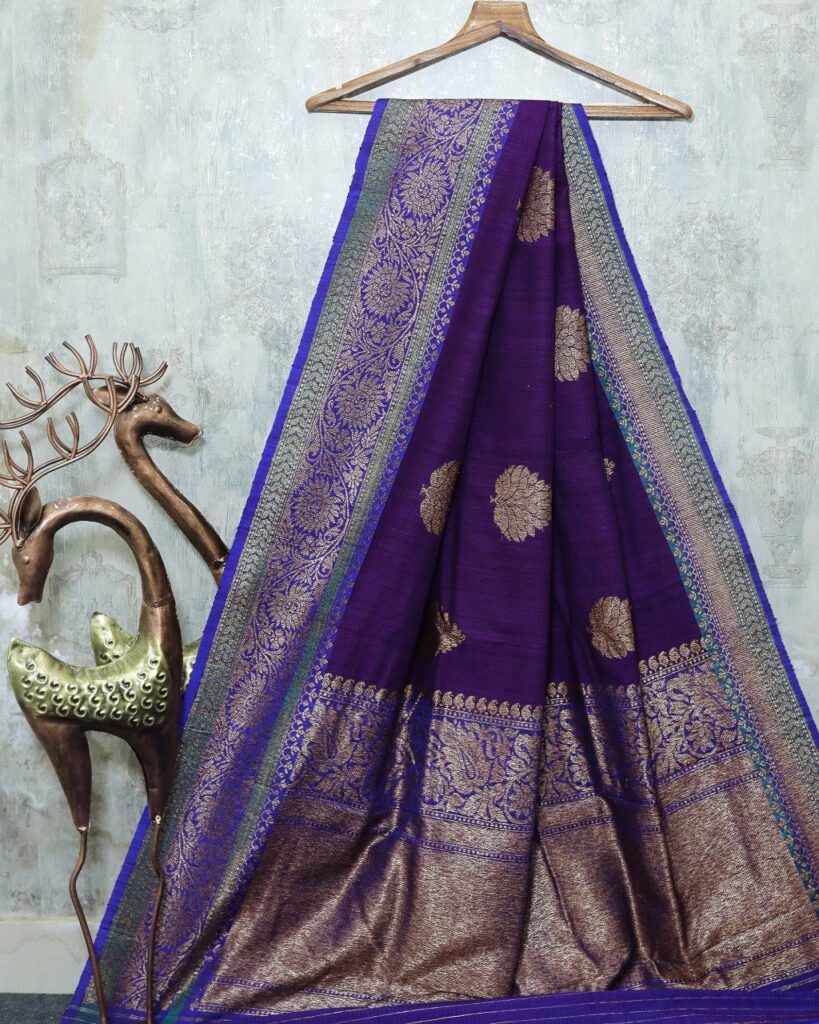 #6 Chanderi – It is produced with the best quality silk in the warp and cotton in the weft. Therefore, also named as SICO i.e, Silk by Cotton. A common fabric recommended for summers because of its cooling nature.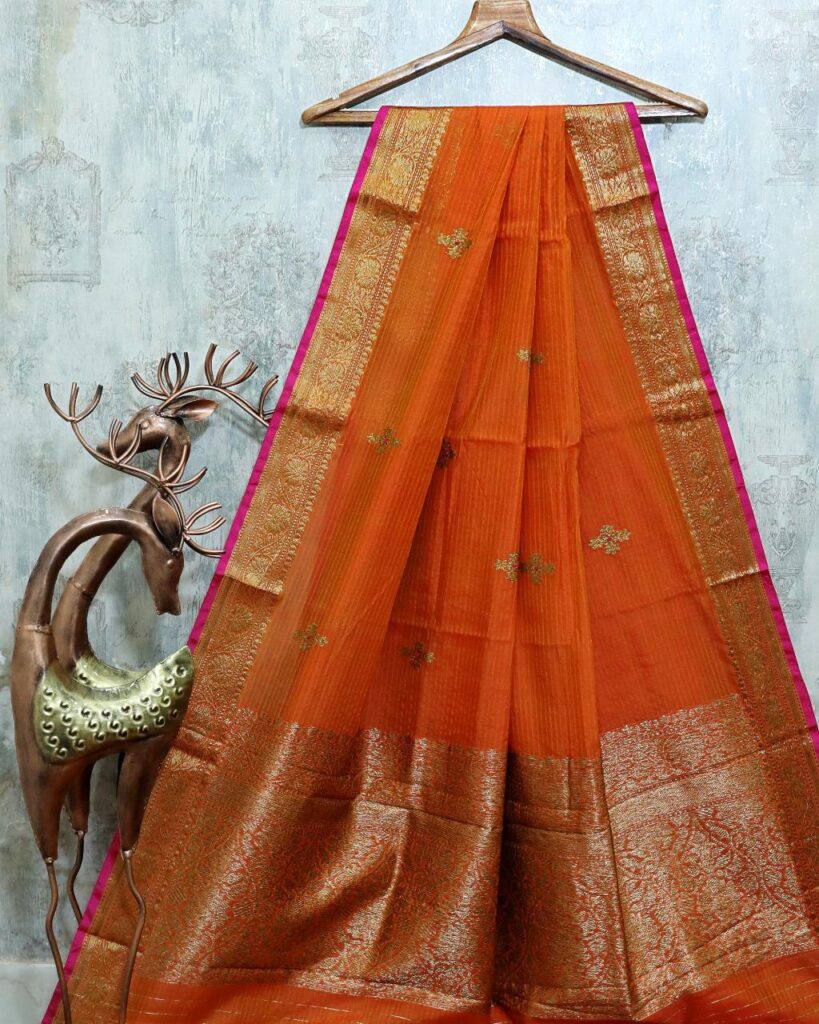 #7 Monga – A benarasi saree fabric earlier favored by royals because of its elegant yellowish golden tint and durable nature. It is woven from Muga silk yarns that are prominently found in the north-eastern parts of India.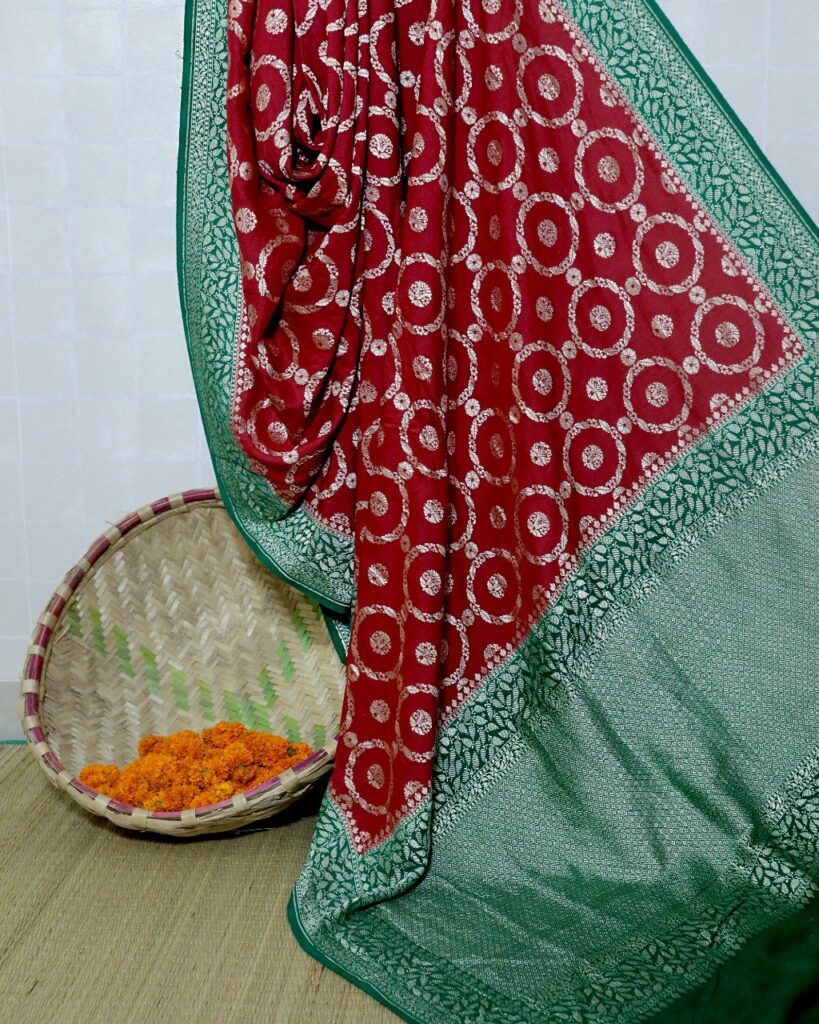 #8 Tissue – Tissue silk saree has recently become a favorite of brides and can make an excellent addition to your trousseau as well. It is made by combining metallic thread in the weft with colored silk yarns in the warp, the technique that gives it the classy translucent fabric it's popular for.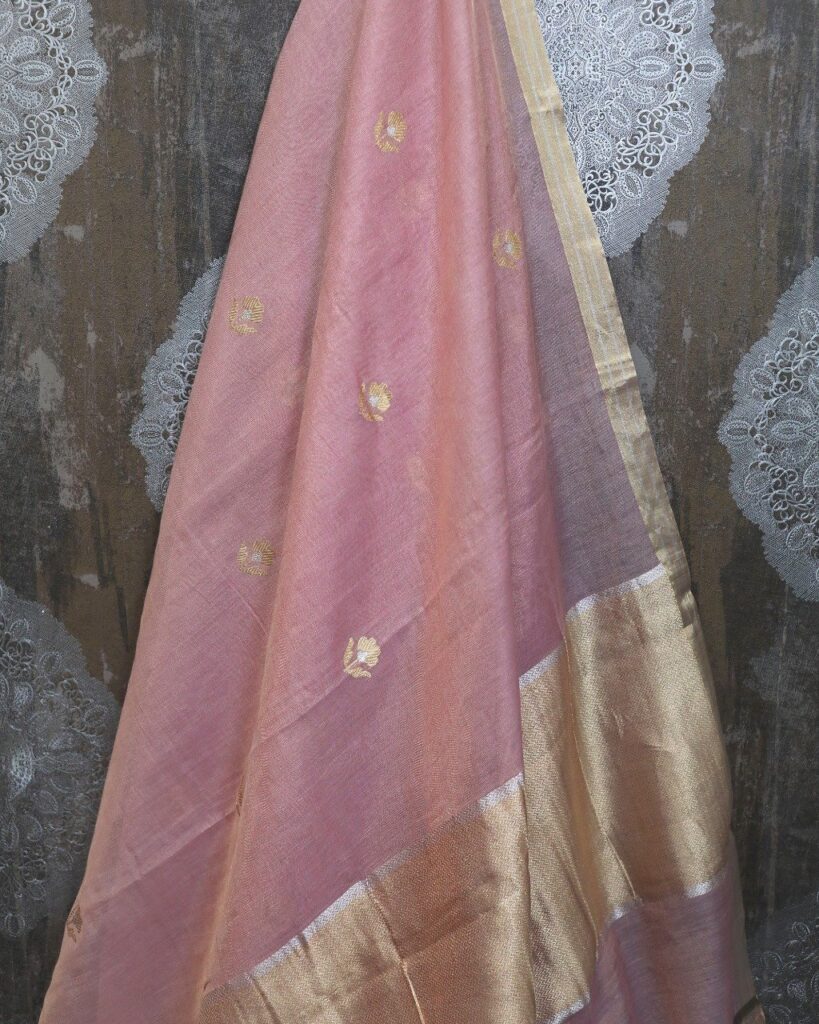 #9 Linen – One of the oldest textiles obtained from linseed. It has a high absorbing quality and dries faster than cotton because of which it is preferred during summers.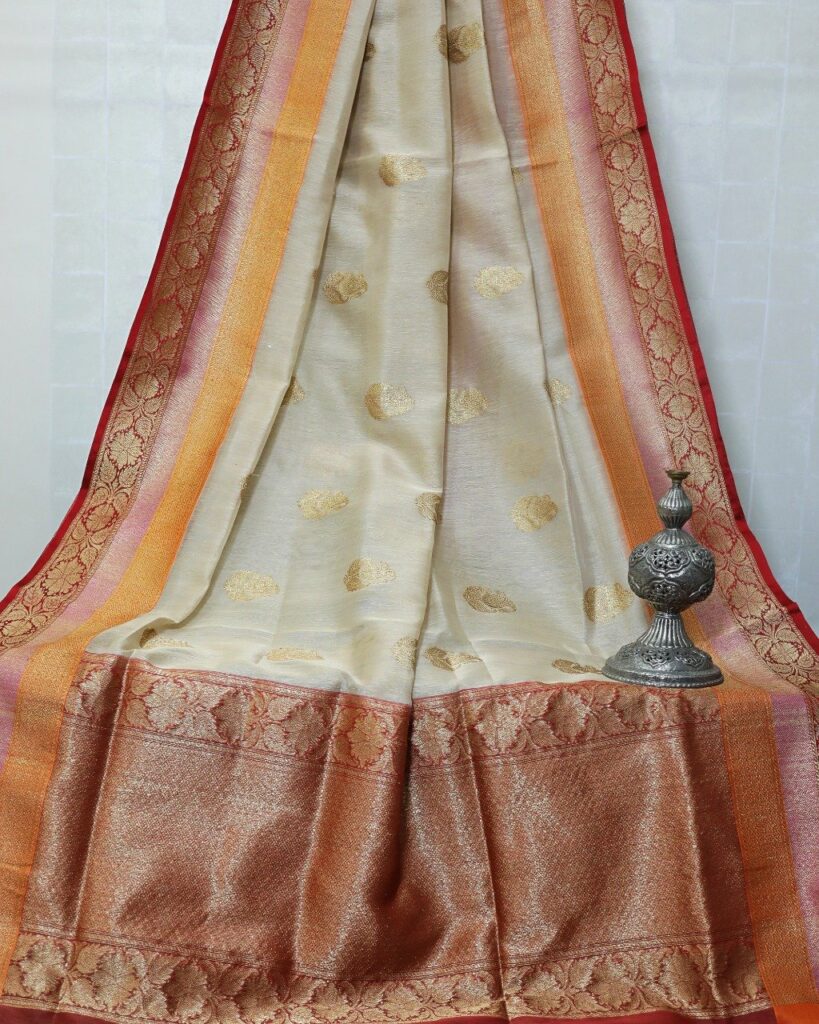 #10 Raw Silk – Raw Silk contains sericin. It is basically untreated silk fibers and can be easily transformed into versatile garments. India is the second-largest manufacturer of this heritage silk handloom.
On the basis of Techniques & Pattern
#1 Kadhwa – Also known as Kadwa/Kadhua. It is one of the most laborious techniques. Many sizes, colors, design,s and textures can be woven on a single saree through this technique. Unlike the cutwork technique, no cutting work is required at the back as all the motifs are separately woven.
#2 Cutwork/ Phekwa – It is a widely used weaving technique that takes lesser time to craft a saree as the motifs are weaved together. These sarees are made using all types of silk yarns and in all patterns.
#3 Tanchoi – A complex weaving that uses one or two warp threads and multi-colored wefts. They are usually weaved in small and complex patterns resulting in a very soft fabric.
#4 Kadiyal – This is a technique to make the border of the saree contrast with body-color through the incorporation of multi-color silk yarns in the warp.
#5 Butidar – It is weaving of small individual motifs all over the saree. Popularly received as Angoor Bail, Buti, latiffa Buti, Mehrab Anchal, etc.
#6 Meenakari – This design is weaved with the use of different color silk threads and zari in the weft resulting in multi-colored motifs.
#7 Jangla – It is weaved through Kadhwa technique and is one of the oldest designs weaved into floral, meenakari jaal and other patterns using thread and zari.
#8 Jamawar – These sarees are known for their sophisticated paisley motifs and are also referred to as tanchoi. They have intricate small designs with no cutting work at the back.
What is the significance of a benarasi saree to your bridal trousseau?
From a home puja ceremony to the main event like reception and even down the road for major occasions, Benarasi sarees are a foolproof pick for brides. Marriage is considered to be a sacred bond and this handloom attire comes from one of the holiest cities in India, giving yet another reason why brides favor them frequently. Further, a handwoven benarasi saree can make an excellent heirloom piece that can be passed onto generations. "Apart from their versatility, benarasi sarees lend an opulent and graceful look to any woman who dons them. Something that, according to me, has taken a hit these days. And what's better than a banarasi weave to exude elegance with your attire," the team elaborates.
How to maintain a benarasi saree?
"Well, it's pretty simple. All you need is a bit of patience. Keep saree wrapped in a soft cotton cloth in a cool, dry place. Don't wash it at home, only give it for a dry clean, please. Use a muslin cloth bag to hold it or let it hang in your cupboard. Lastly, just make sure you change the folds every now and then," small valuable advice from the team at Silk Kothi.
Get Your Authentic Benarasi Saree At Silk Kothi
With so many stores launching their business online, it becomes hard to zero on in an authentic one. But if your search is for an authentic benarasi saree, we've found one that aligns with your needs. Silk Kothi is a Varanasi based handloom saree store that has just launched its business online. They have been serving in the city for more than 50 years. With over 5000+ weavers employed, they have preserved the heritage of a pure handloom banarasi saree, and the same is reflected in their quality sarees as well.
With machine looms taking over the Indian handloom industry, they have persevered to thrive the tradition of a benarasi saree handloom and will continue to do so in the future. For anyone looking to add a Benarasi saree into their wardrobe, this is the place to go. Head over to their Instagram (@silkkothi) & website (silkkothi.com) to check out their full collection and pick one(s) which resonate with your style the most.