Most people are still not over the horror that was 2020, but not Sabyasachi Mukherjee, who has already had a pretty exciting year so far. The designer's eponymous label entered a much-awaited partnership with Aditya Birla Fashion and Retail Limited (ABFRL), worth Rs.398 crores. And before the world was over this grand investment deal, Sabyasachi announced an exciting venture. He is collaborating, for a second time, with NY-based luxury department store Bergdorf Goodmans to sell a collection that's Indian in every sense.
More than jewellery for the second innings
Last year, in January, before the world shut down and Covid-19 took over, Sabyasachi presented his first collaboration collection at Goodman. The 65-piece Haute Joaillerie collection featured strong, vibrant, statement pieces made with uncut diamonds, rubies, pearls, emeralds, sapphires, and amethysts. Designed with European style in mind, but staying true to the authenticity of Indian history, Mukherjee was able to attract plenty of audience during the first round. "We had a very good first session at Bergdorf where we sold close to million-dollar of jewellery," the designer revealed in an interview with Vogue.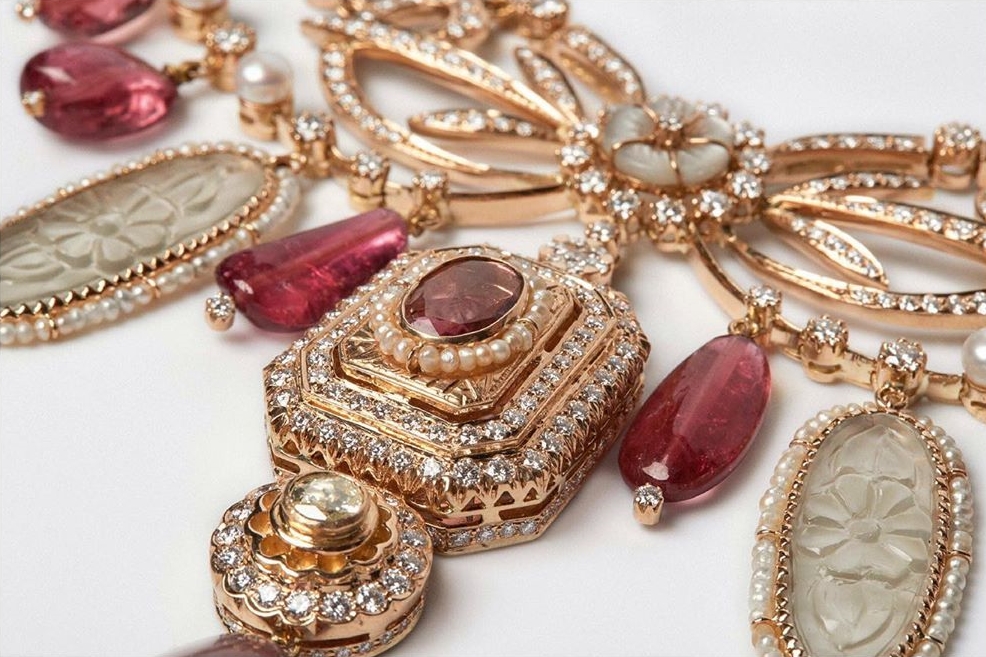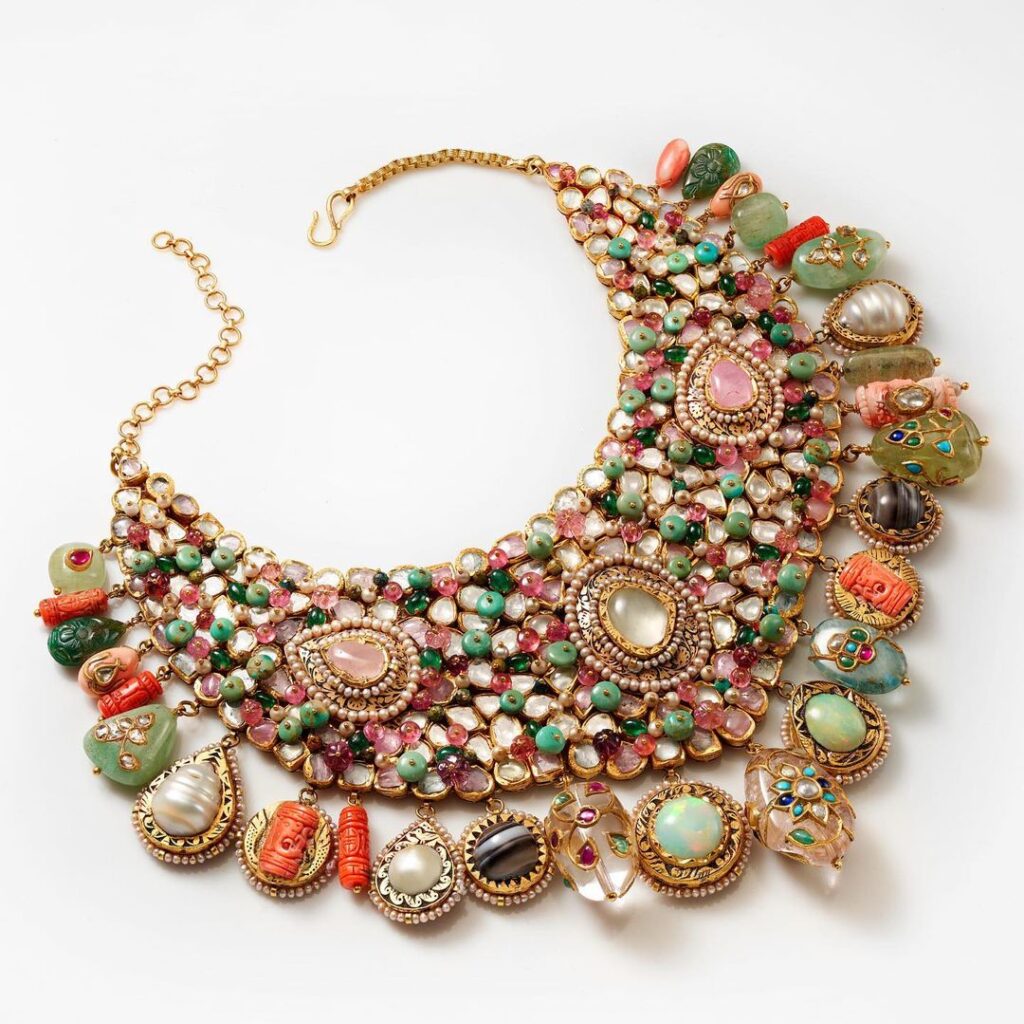 His second innings will go on the floor at Bergdorf's on February 18, but he has already launched the collection on Instagram, where else. The new line includes sarees, lehengas, kurtas, handbags, belts, shawls, and of course, jewellery. This is a historic moment for the designer, and our country, as it's the first time Indian clothes will hit the international luxury retail store. And the timing couldn't be better. Kamala Harris just broke the glass ceiling and there are many other Indians in Biden's cabinet as well. Honestly, if we had to pick a designer to sell the Indian-ness through couture in the Western market, we'd pick Sabyasachi too. So, good choice, Bergdorf.
Coming to the campaign, the clothes, shawls, and bags are an exciting mix of vibrant colors with just a few pieces portraying his signature monochromatic designs. You could say this is his most vibrant and breeziest collection to date. Replete with floral prints and intricate karigari, the attires are a true testament to India's crafts and heritage.
However, the part Sabyasachi is most excited about are the bags, and the jewellery, as reported by Vogue. "There are exciting new shapes and they're a collaborative effort of three cities – Calcutta, Milan and Florence. Leather and production are done in Italy and embroideries and hardware are sourced from Calcutta," he shares.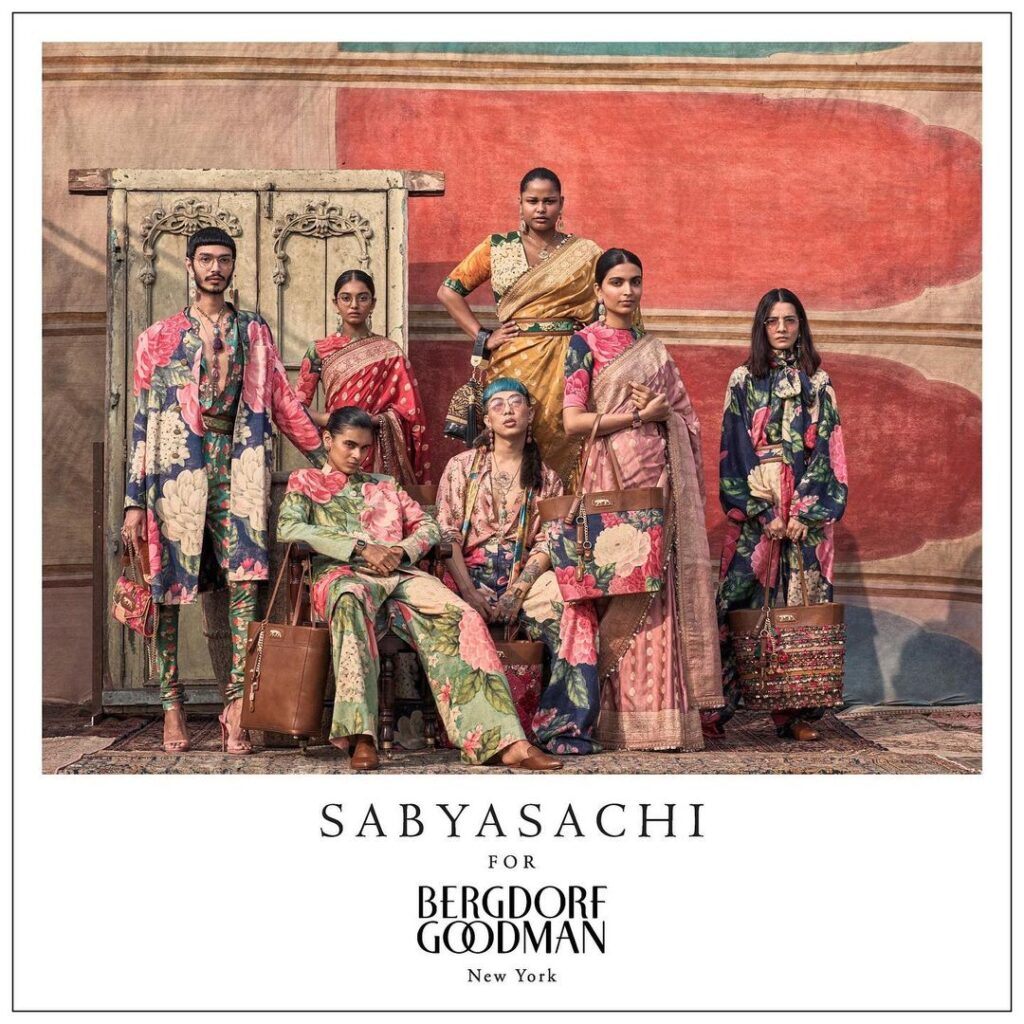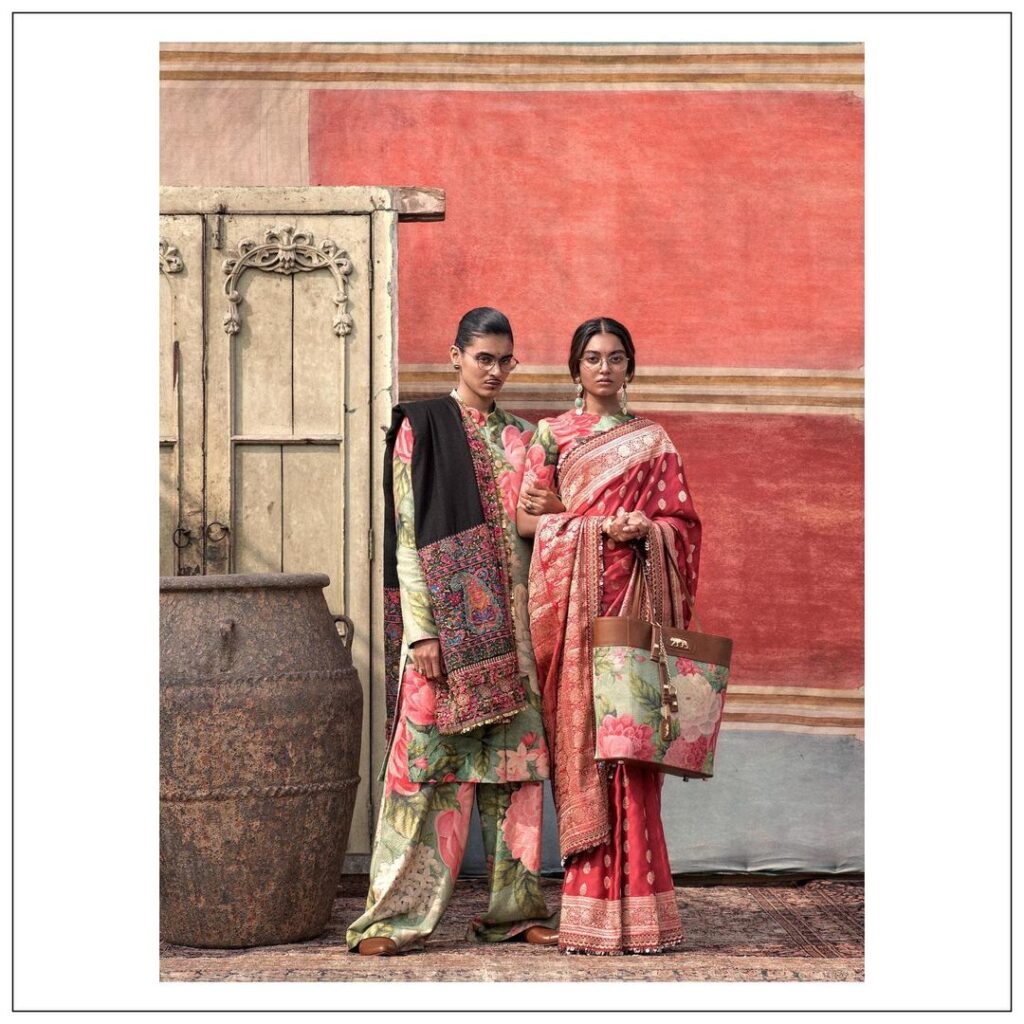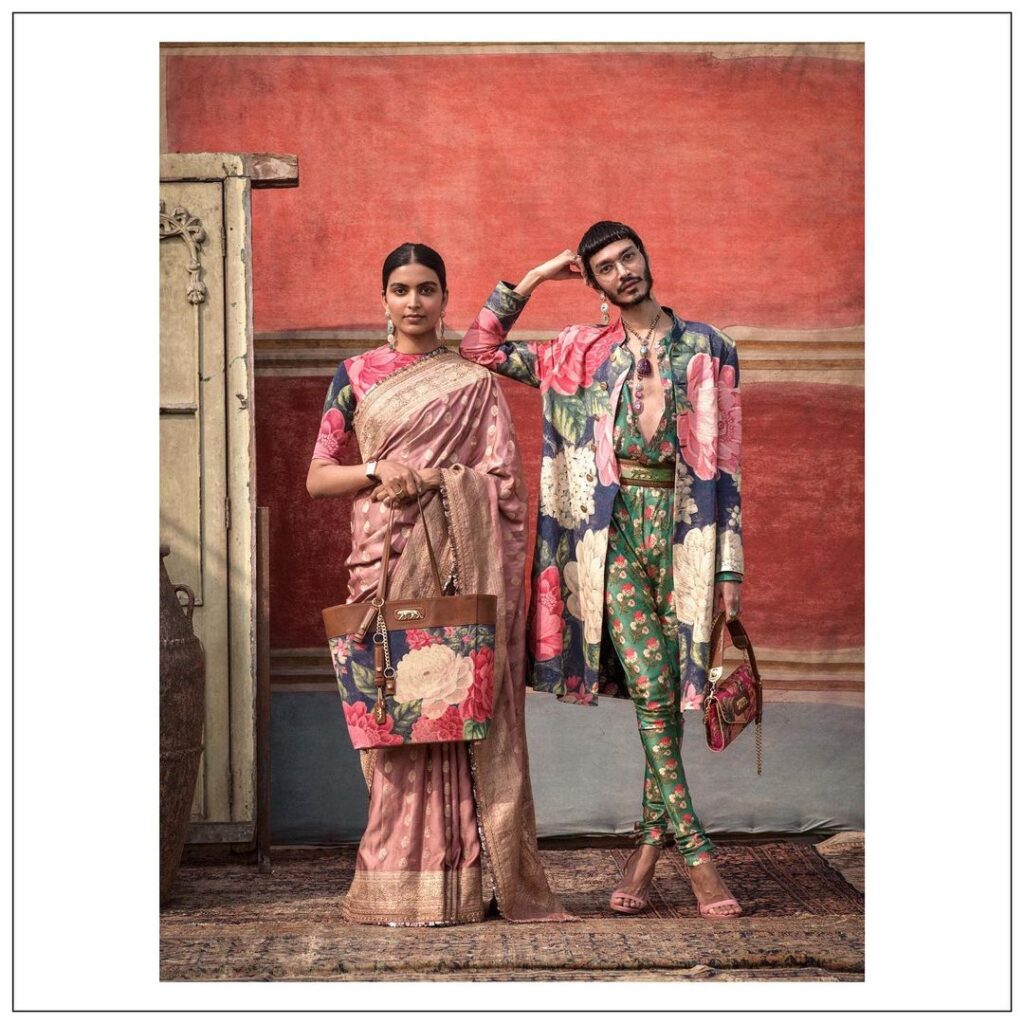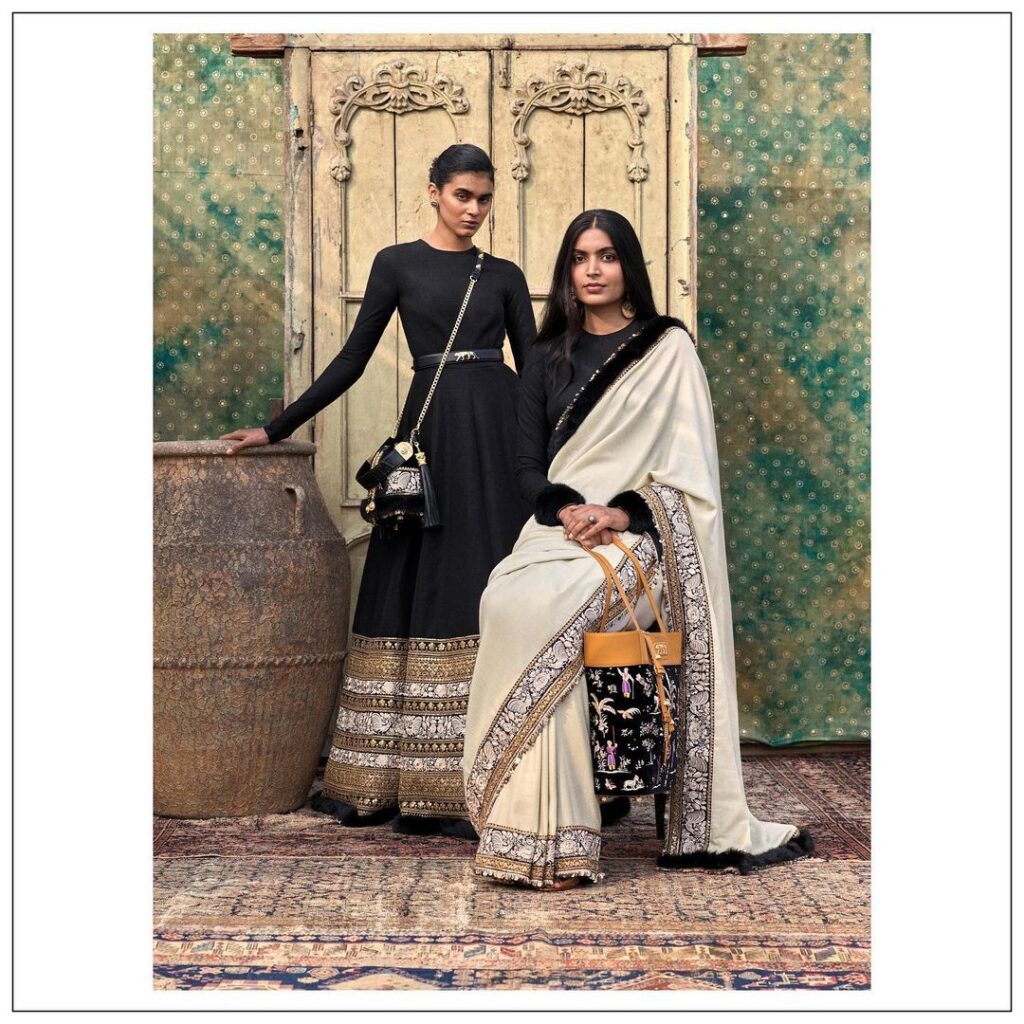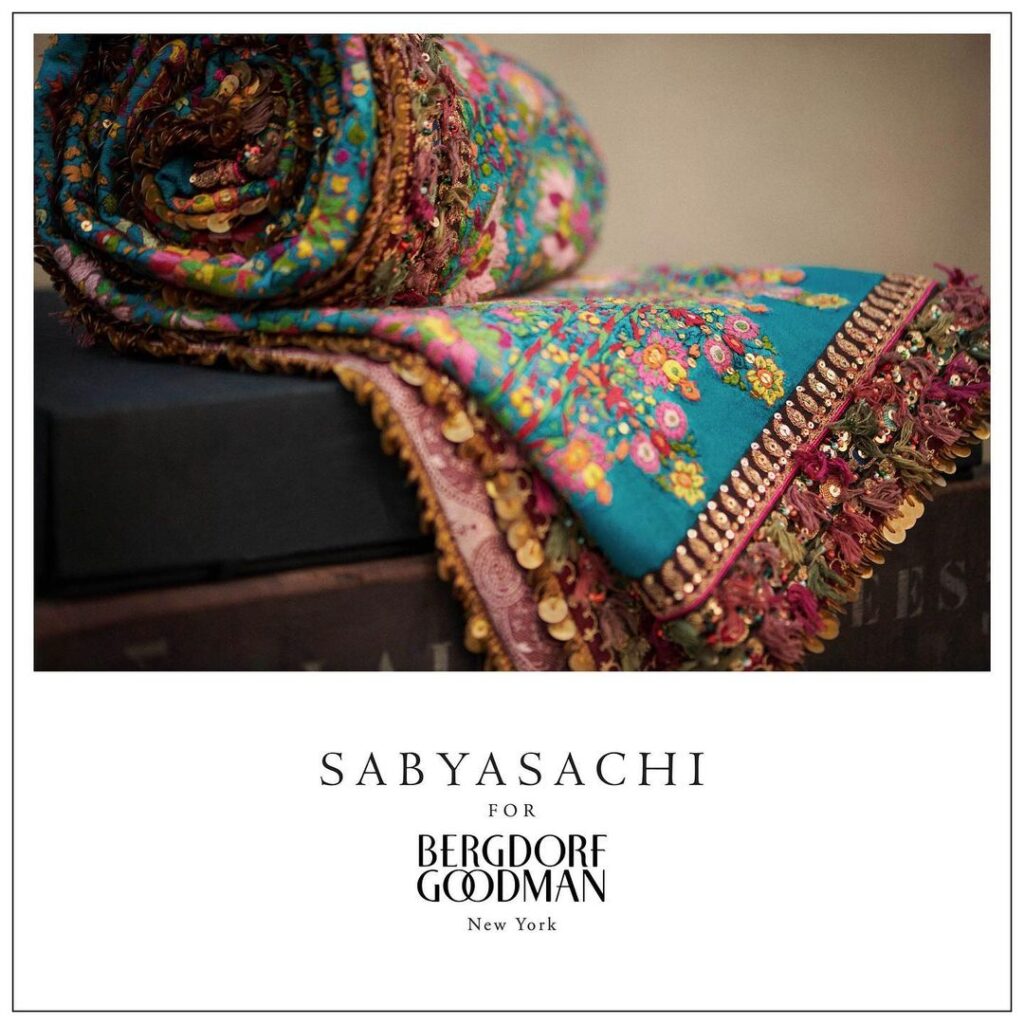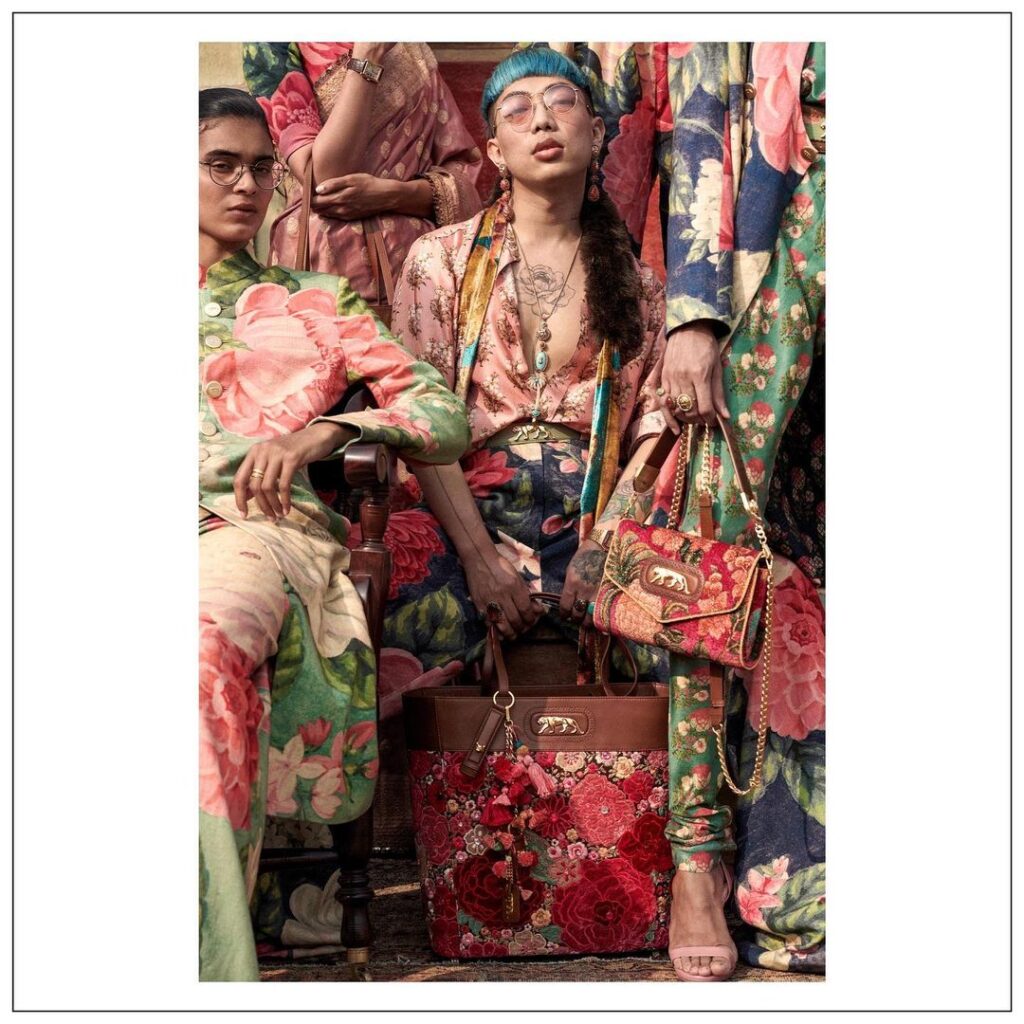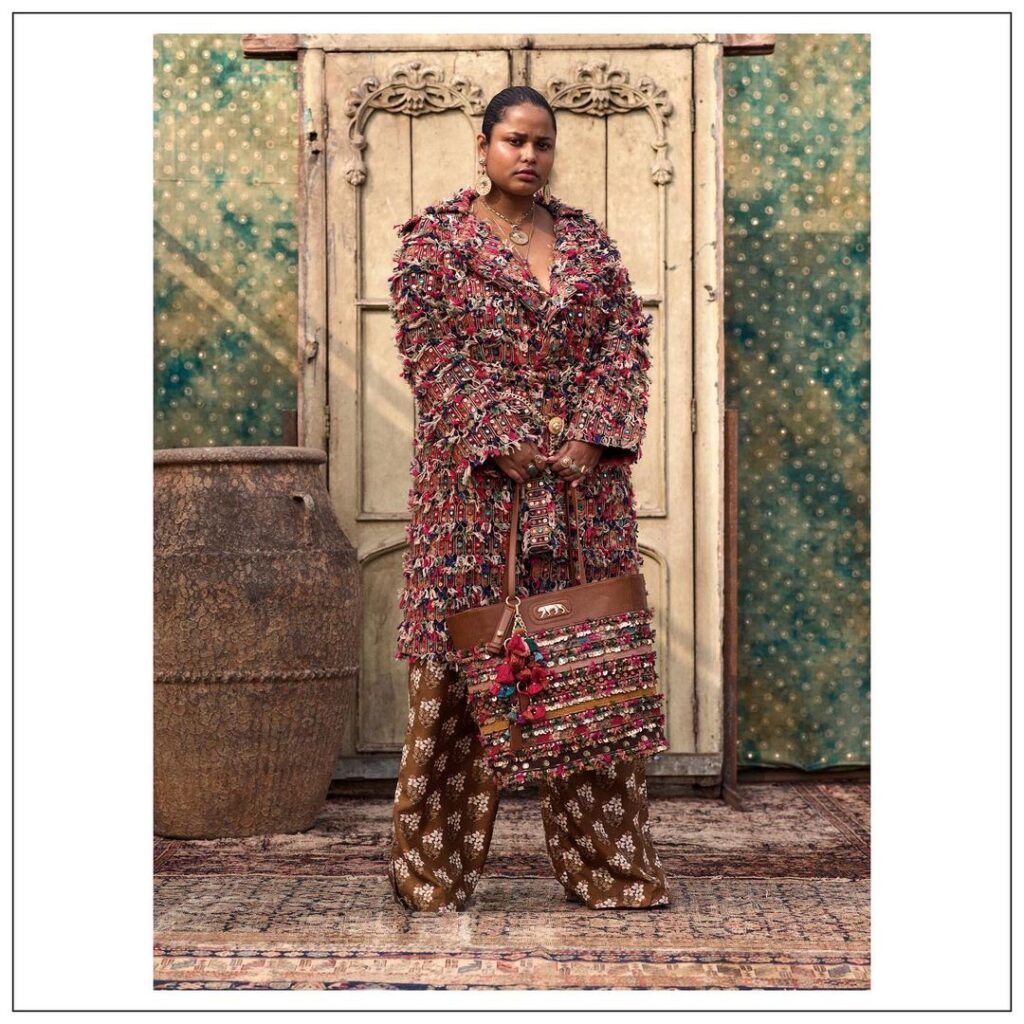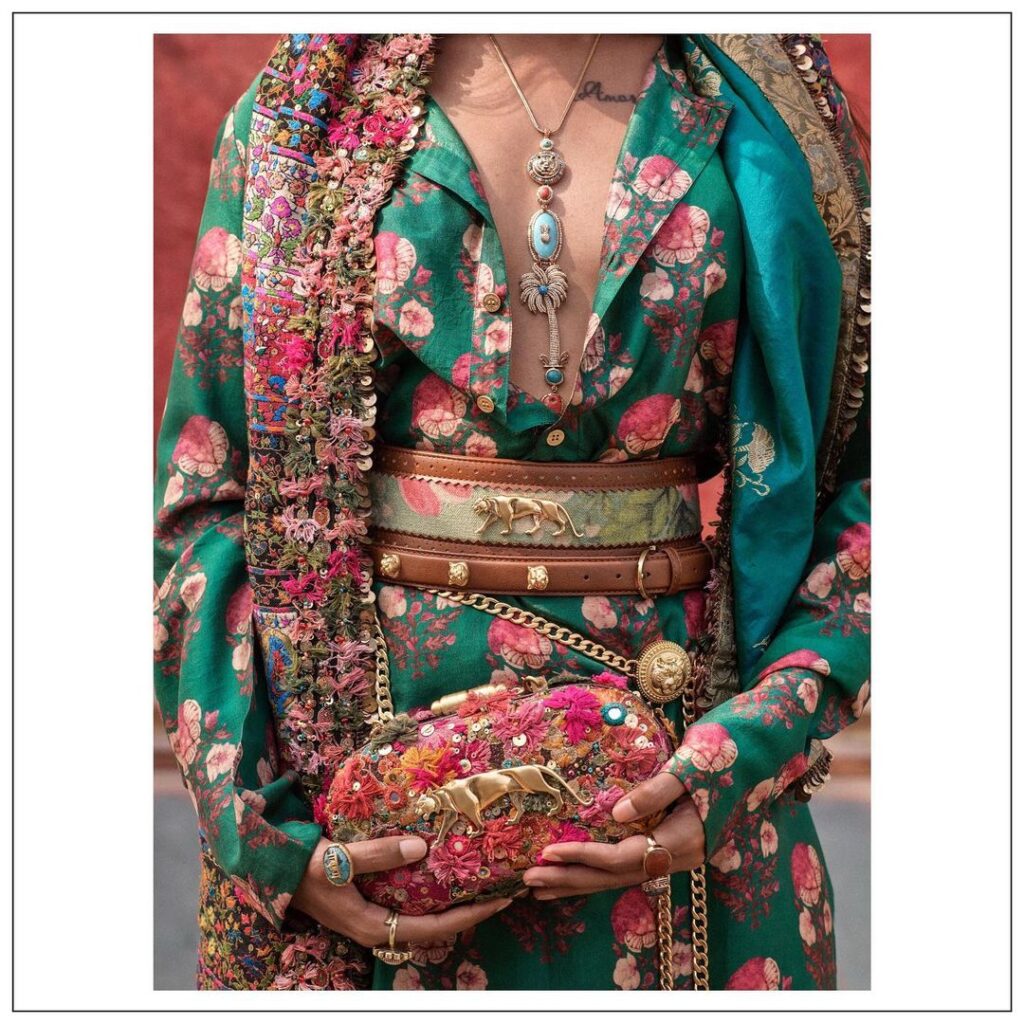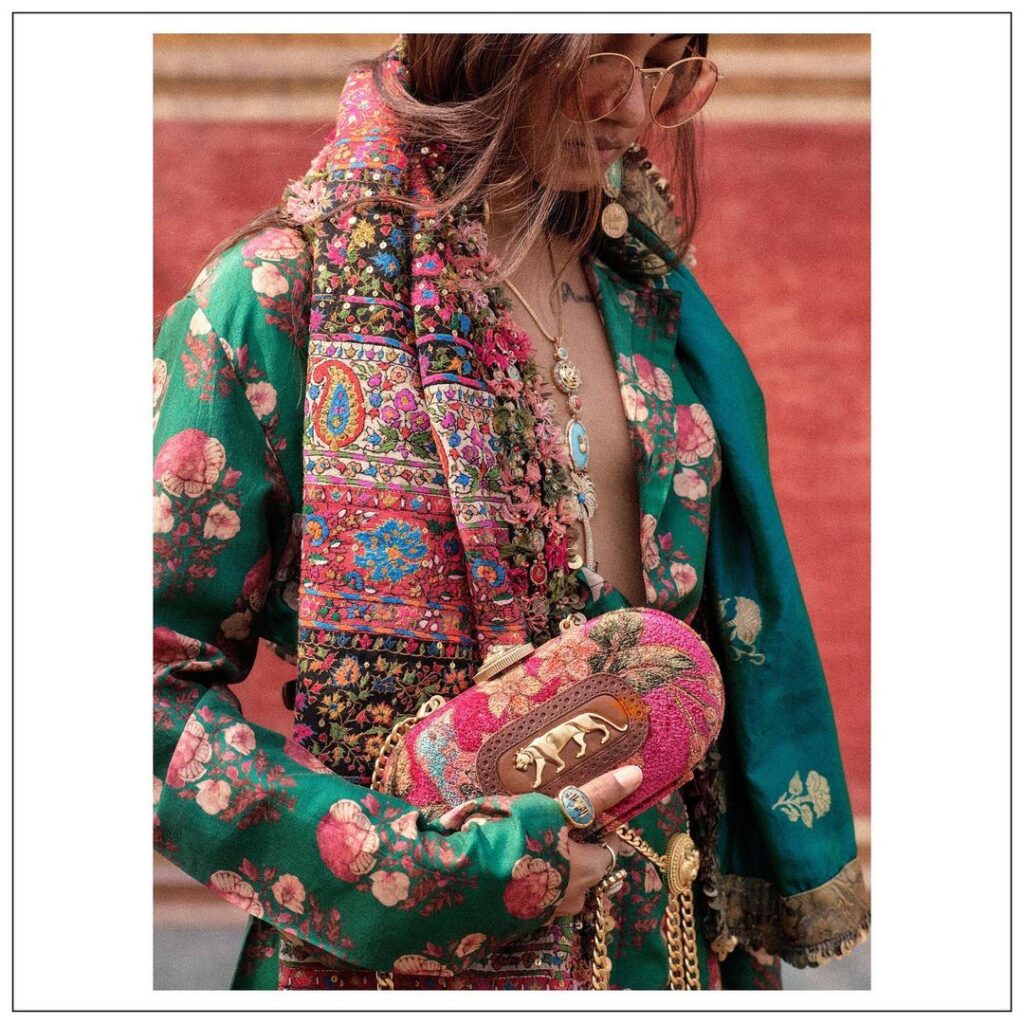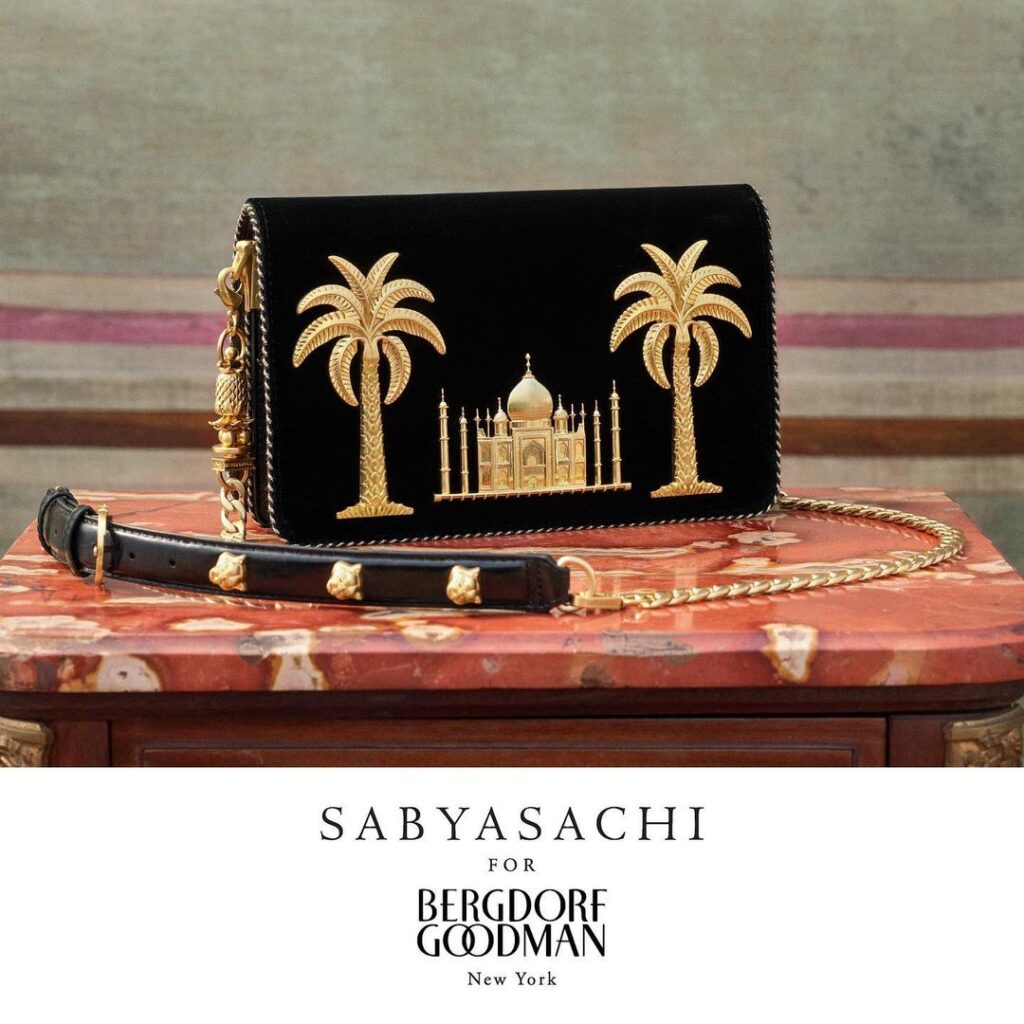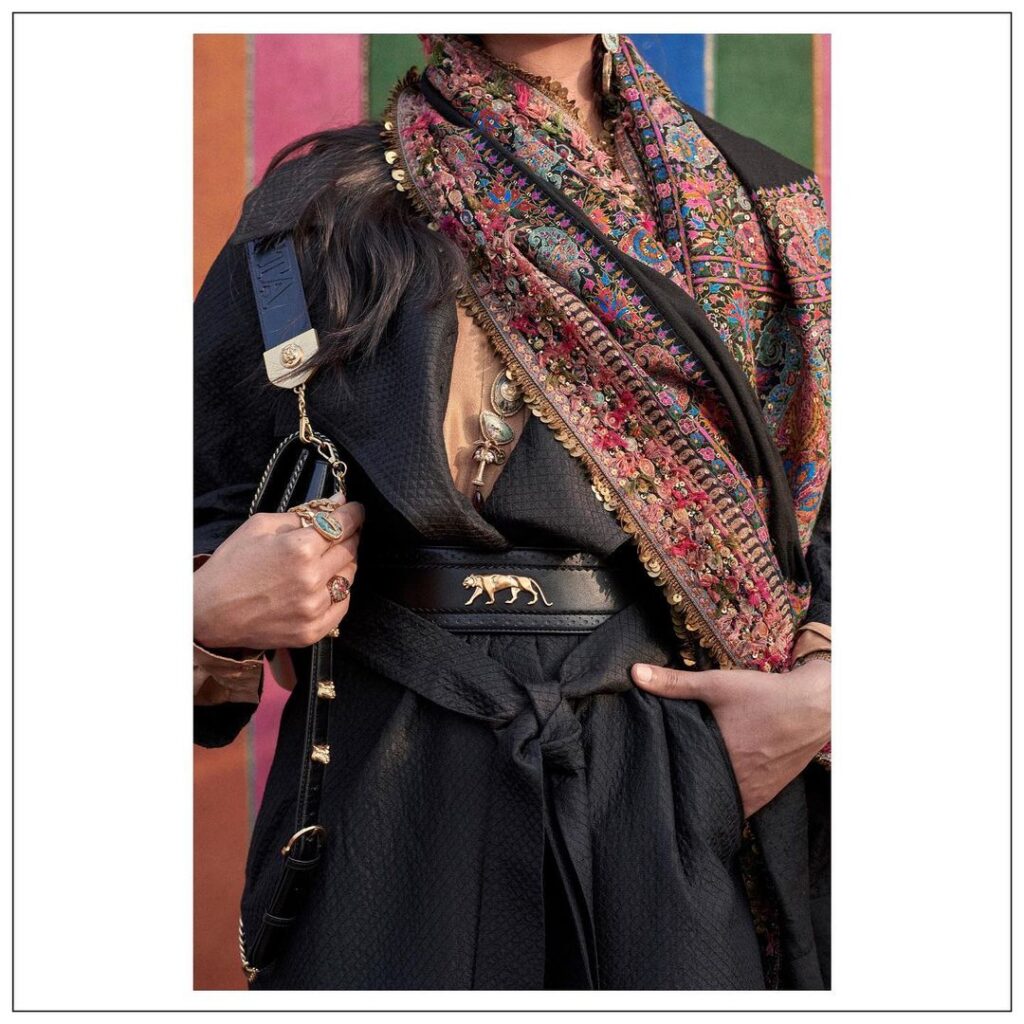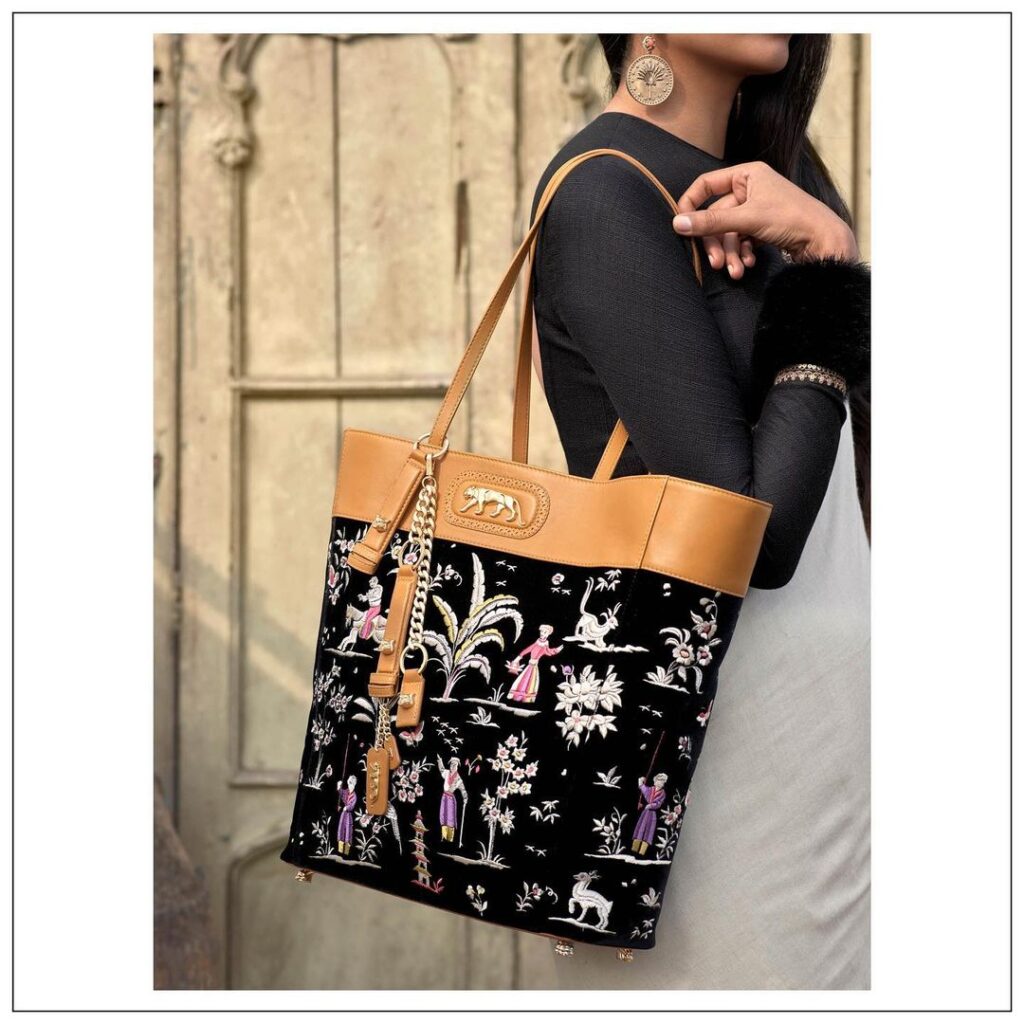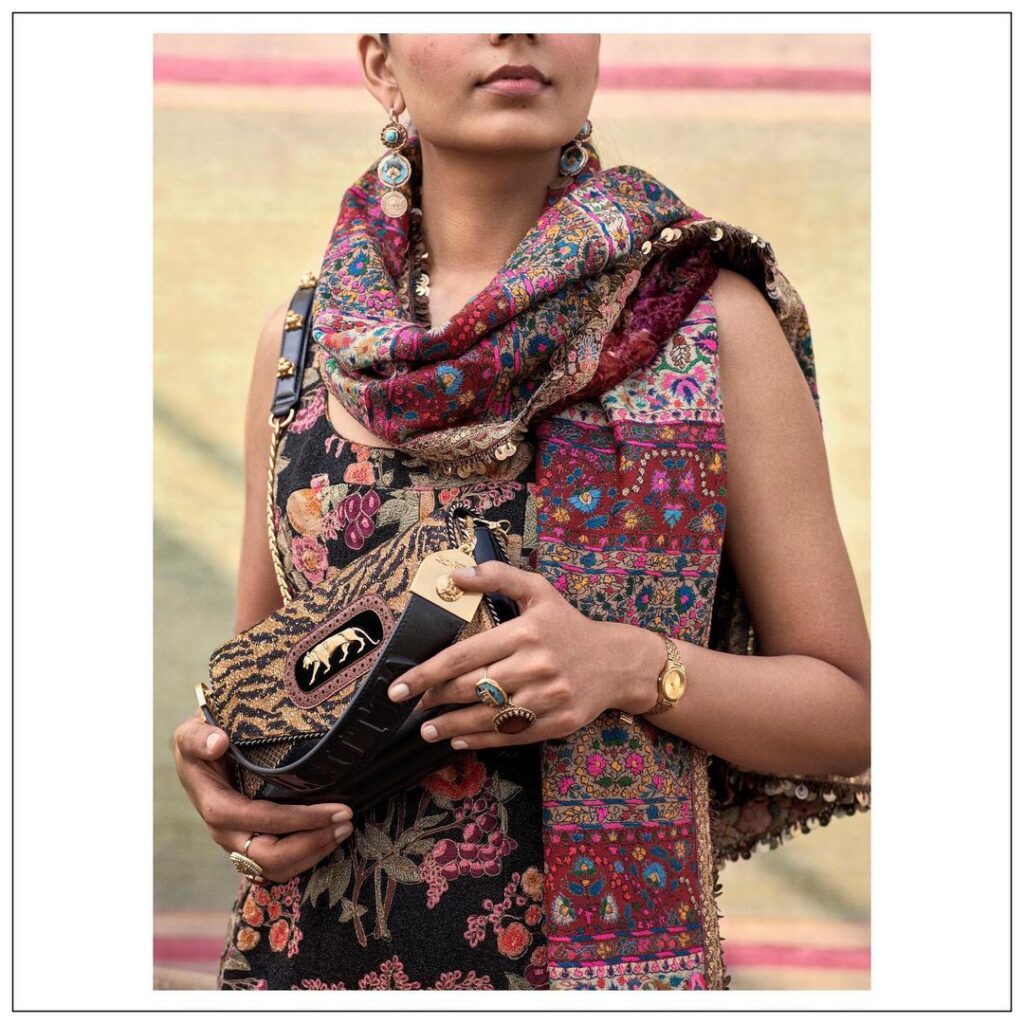 Estimated Prices Please?
We always stay ahead of the curve and answer all the questions brides might have. One being the pricing because sticking to a budget is a reality for most of us. If you've gone through our Sabyasachi saree prices and Sabyasachi lehenga prices blogs, your estimated prices for most Sabyasachi products will be correct. The shawls, scarves, and belts are approximate Rs.48,000/- to 1.3 lakhs, bags will start from the same point and might go till 2 lakhs. Floral kurta sets will be between 75k to 1.5 lakhs, while the benarasi sarees can go up to 2.5 lakhs. The jewellery edit will be the most expensive, costing anywhere between 4 lakhs to 2.5 crores. The entire collection will be available to shop only at the Bergdorf Goodman store, but you can place orders for shipping to India.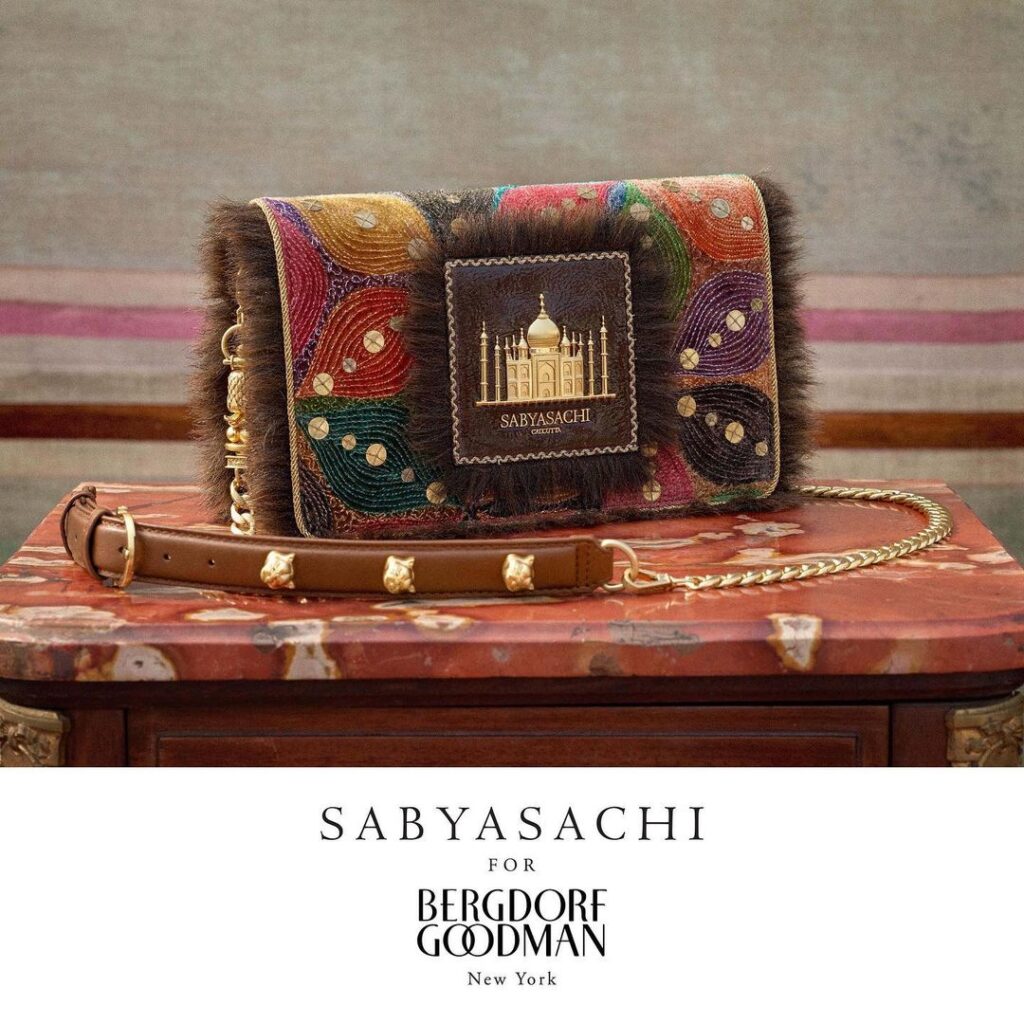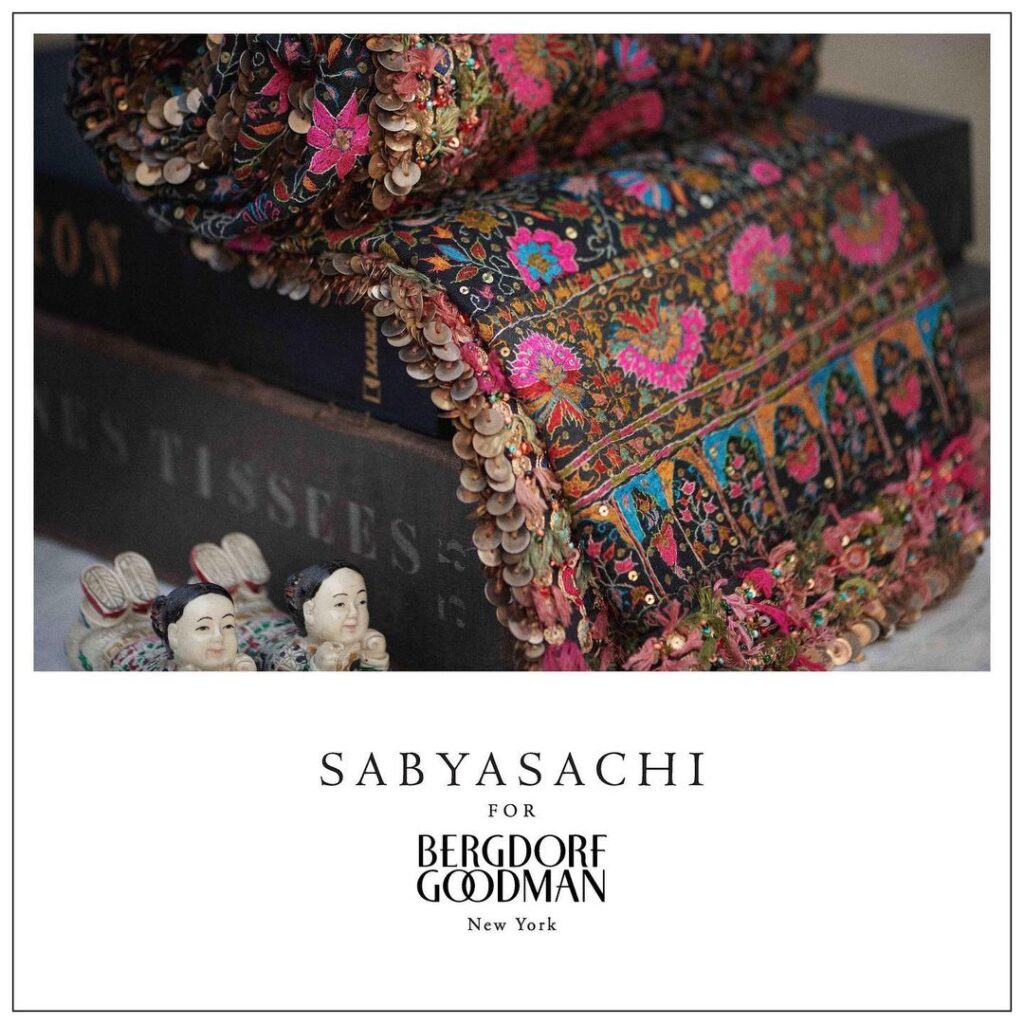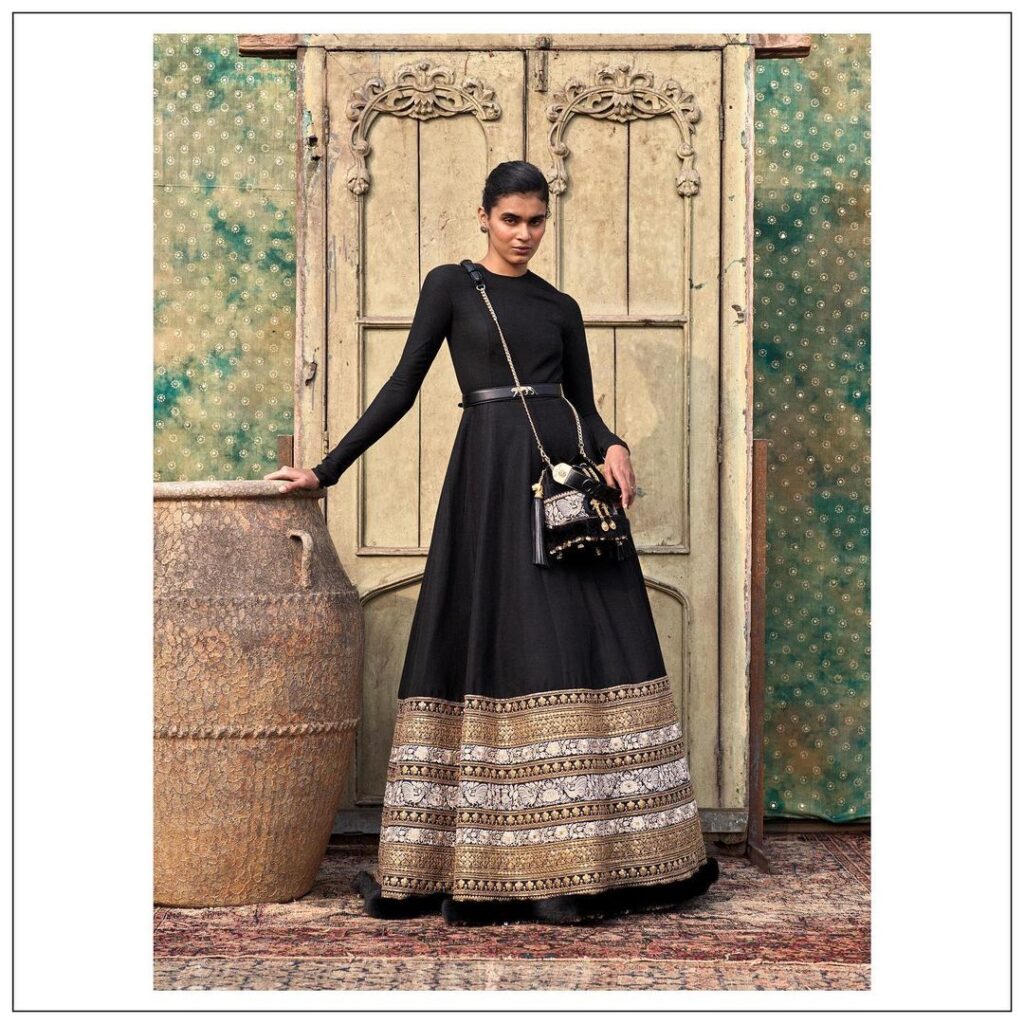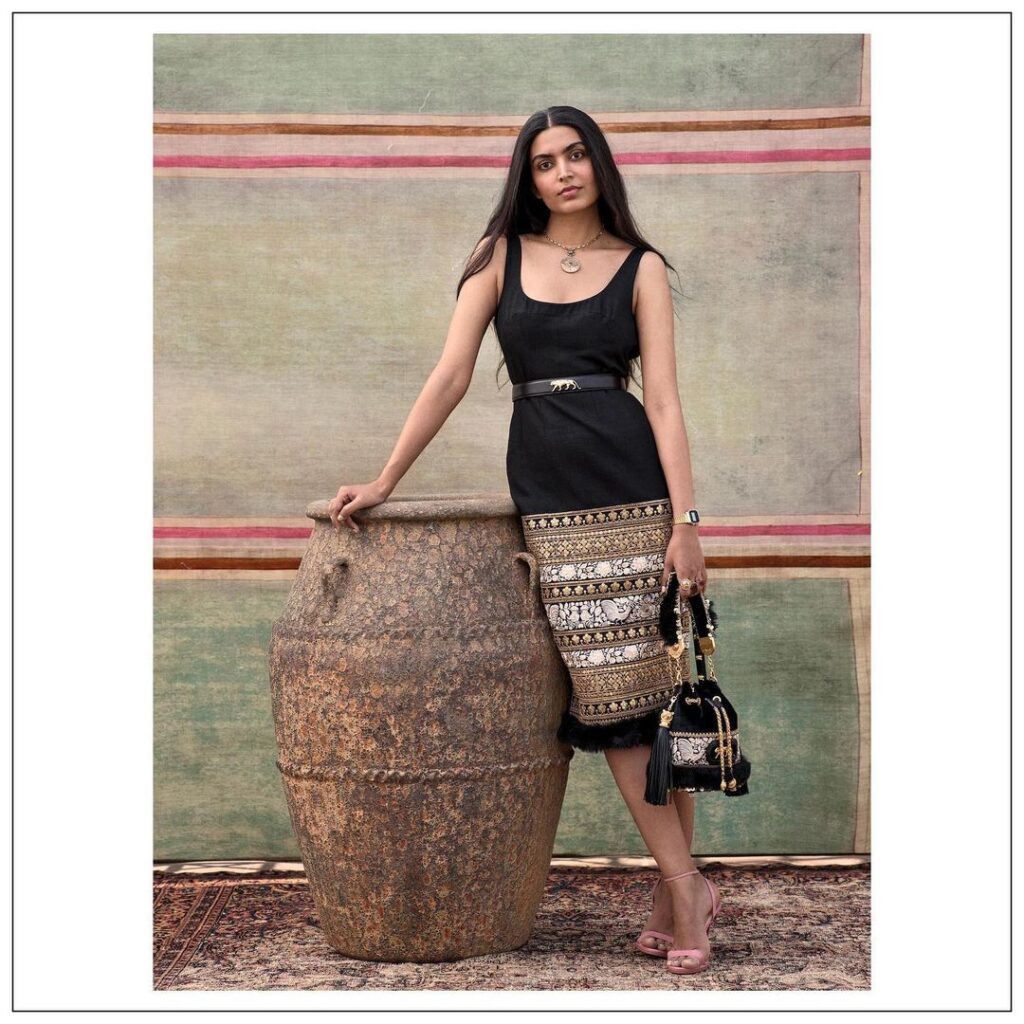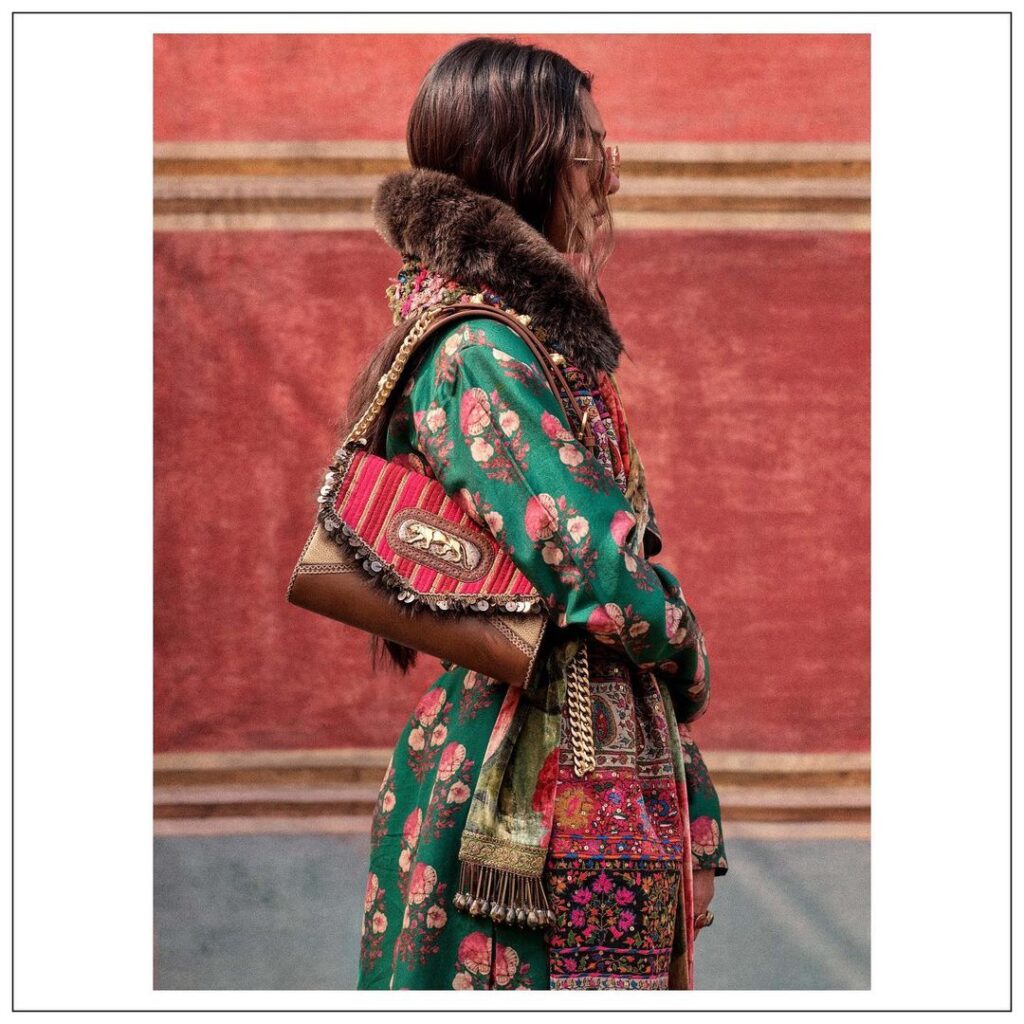 Sabyasachi & his international collaborations
Mukherjee has previously collaborated with Pottery Barn, Thomas Goode & Co., and Christian Louboutin. An H&M collaboration is under-way too. With these international collaborations, he wants to bring the power of local Indian karigaris to the outside world. And he wants other Indian designers to follow suit as well. Although, there's a personal wish-fulfillment behind the Bergdorf alliance and the New York obsession. The designer revealed the same on Instagram before displaying the campaign imagery. Here are some excerpts from the post:
"My first time showing at the New York Fashion Week was in 2006. Fern Mallis from IMG had given me the opportunity. We sold to many stores, and I should have been grateful for the reception, but somehow I was not feeling centered. It seemed as though everyone wanted a piece of Indian, as long as it wasn't too Indian. I was quickly disillusioned and learned another big lesson. To be a global voice, I must use a language that is my own. Unapologetically so. And my language was grand, celebratory, and very Indian," he writes on Instagram.
He started working on a collection that was 'everything Indian' soon after and the response was overwhelming. "Taking an Indian story international was great from my ego, but celebrating and nurturing it with my fellow Indians was even better for my soul. I found my path and never looked back. And today, after 15 years, I return to New York on my own terms, exactly as I had promised myself, as an Indian," he concludes.
Bergdorf is a big seal of approval for any designer worldwide. But Indian clothes meandering in the store shows the power of an Indian consumer and the company's efforts towards inclusivity. Sabyasachi will be launching his own NYC store in 2022, and this just serves as a strong opening step.
Let's talk about the ABFRL partnership
We couldn't end this blog without divulging a few details from the ABFRL acquisition. In late January, Aditya Birla Fashion and Retail acquired a 51% stake in Sabyasachi, and according to Mukherjee, it was the right step taken at the right time. "Most designers enter partnerships as a result of distressed sales or when they get too old. I wanted to transition the company at the peak," he says. "The brand has a lot of potential and I'm not getting any younger. It was time to make it a more organized corporate," he adds.
As for the coming months, his plate is quite full. The to-do list includes a giant jewellery exhibition, a store opening in the Middle East, and New York alongside preparing for a summer collection launch. "There are some exciting collaborations that are going to be announced and I'm raring to go," Mukherjee tells Vogue.
India at the core, always
If there's one thing we can all attest to Sabyasachi and his label is the India-first ideology. He's placing India among the world's best luxury brands, and not just as a back-end production or labor source. A direct result of staying true to Indian heritage and roots over the years. Beyond the glamorous campaigns, his clothes reflect the elaborate work of karigars and an old-worldly aesthetic. So you can enjoy their regal factor now, and also pass it onto future generations. Indian women have long witnessed and experienced the Sabyasachi magic and now it's time for the world to savor the same.