Your bridal makeup is the last lap to your dream wedding look and the one that plays a major role in bringing it all together. While you're already stock-piled with plenty of makeup inspiration in your mood board, how about a list that includes every kind of wedding makeup and gives you an idea of what's trending? Luckily, you've come to the right place. Below, we have curated a list with 55 Indian bridal makeup ideas to suit every kind of bridal style. Scroll to see. 
(Bookmark the list by tapping the signage on your top right corner and open this blog directly in the *your bookmarks* section whenever you need this aesthetic list to save the day!)
#1 Simplistic Elegance
With just a thin stroke of eyeliner, one layer of mascara, defined pinkish nude lips, and neutral dewy makeup, this look is perfect for brides who're all about the simplistic approaches on their wedding day. Coupled with striking kundan jewels, she looks gorgeous & graceful at the same time.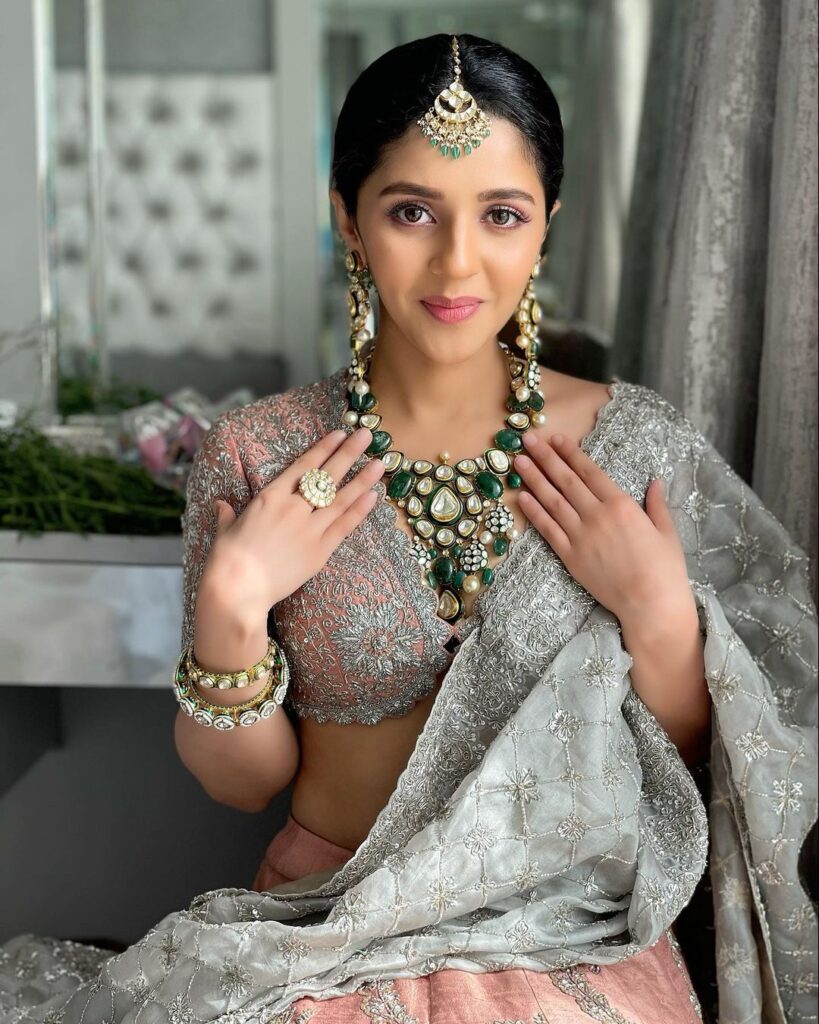 Courtesy: Vardan Nayak
#2 Smokey Eyes With Matte Base
A well-blended smokey eye paired with matte, brown undertones and lips gives this bride an alluring look. Before going for a smokey eye though, make sure your MUA is skilled at the art – because when not done right, smokey eyes can lose their charm completely.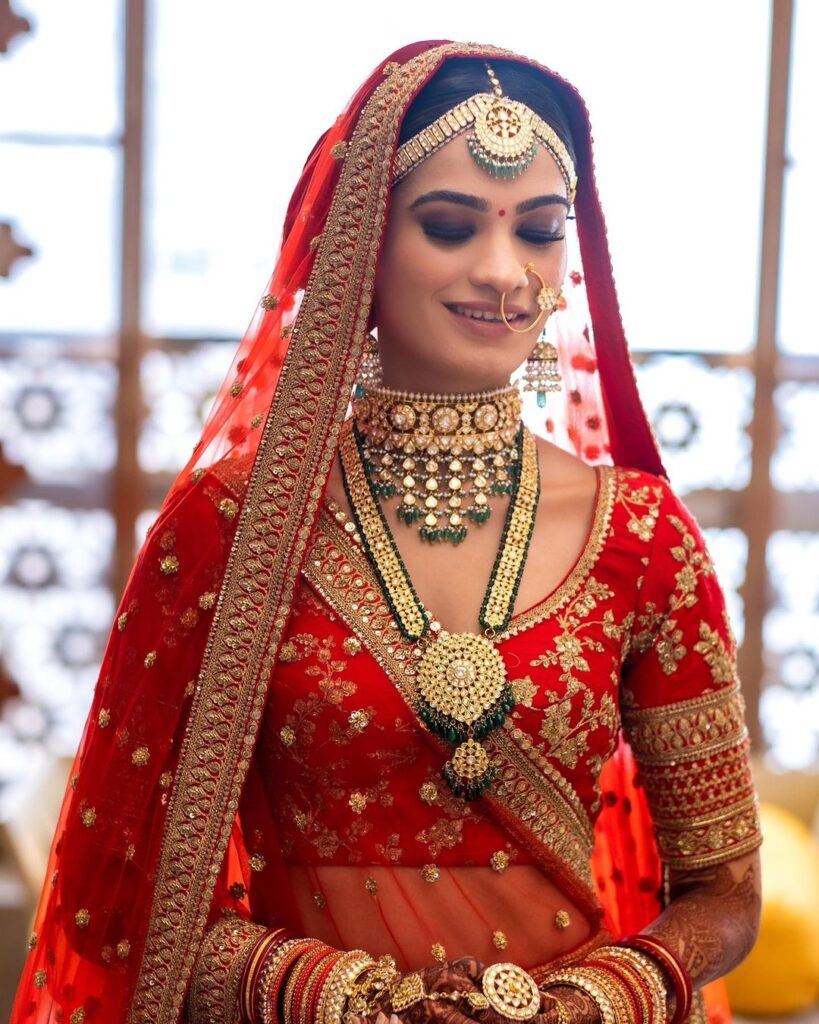 Courtesy: Simran Shah
#3 Full Smoked Out Eyes With Highlighted Cheekbones 
Well, haven't you found the perfect bridal makeup look for your cocktail night? Armed with smoked-out eyes brilliance with highlighter strategically placed to amp up the glamour, we love this bride's aesthetic.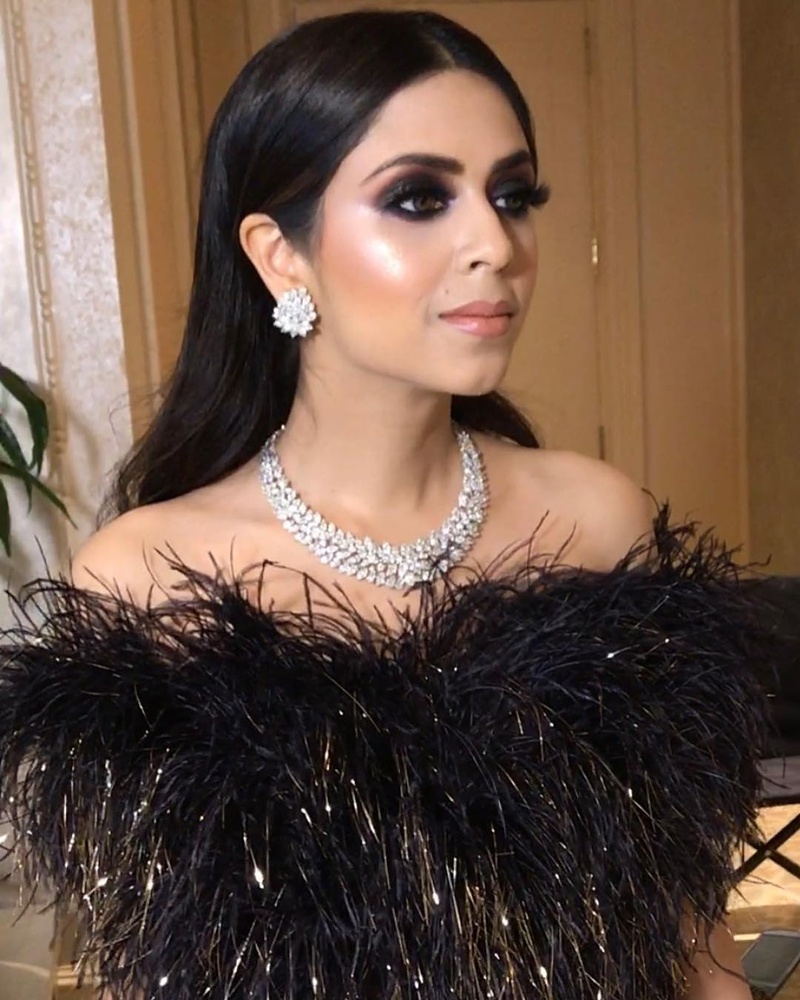 Source: Unknown
#4 Deepika Padukone's Kohled Eyes, Neutral Base Wedding Makeup
Our Bollywood diva Deepika Padukone is a big fan of smudged kohl eyes – having carried it in many events throughout her career. Even at her wedding, she opted for her favorite makeup look – smudged eyes, nude lips, and a dewy makeup base.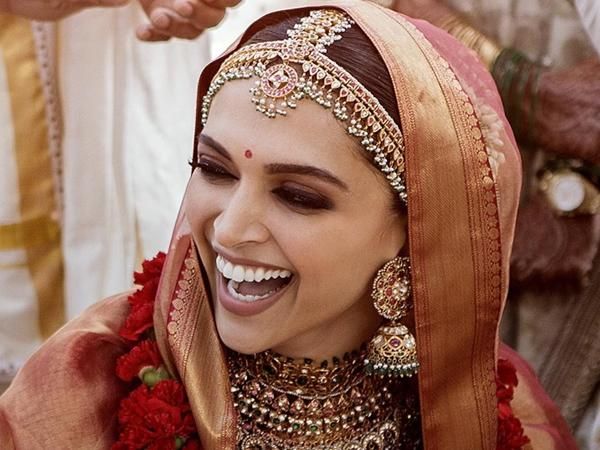 Courtesy: Sandhya Shekhar
#5 Meghan Markle's Understated Bridal Elegance In A No-Makeup Makeup Look!
When Meghan Markle married Prince Harry in 2018, her makeup look garnered its fair share of attention. The Duchess went minimal with her makeup to an extent that it was all but exuding her natural beauty in a radiant way. Given that she has amazing skin, it was all but a safe choice. She only accented her skin with some luminous foundation, shell pink lips, and fluffy lashes.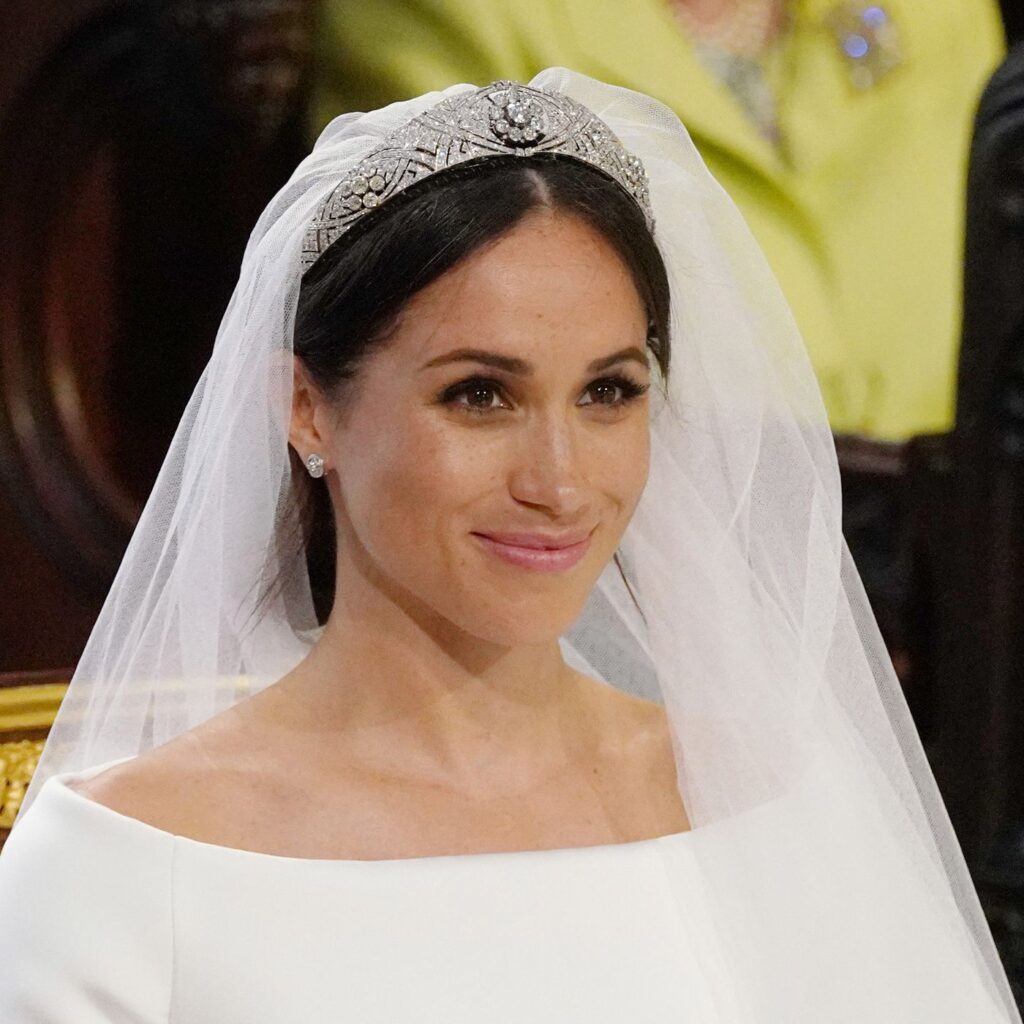 Courtesy: Daniel Martin
#6 A Subtle Glow & A Red Lip 
While neutral pinks and matte nudes have taken over the bridal lip colors, red remains a staple in many bride's beauty looks. Like this one. Pair this timeless lip hue with a subtle sheen on your face & dramatic lashes on your eyes to create a gorgeous night-time wedding makeup look.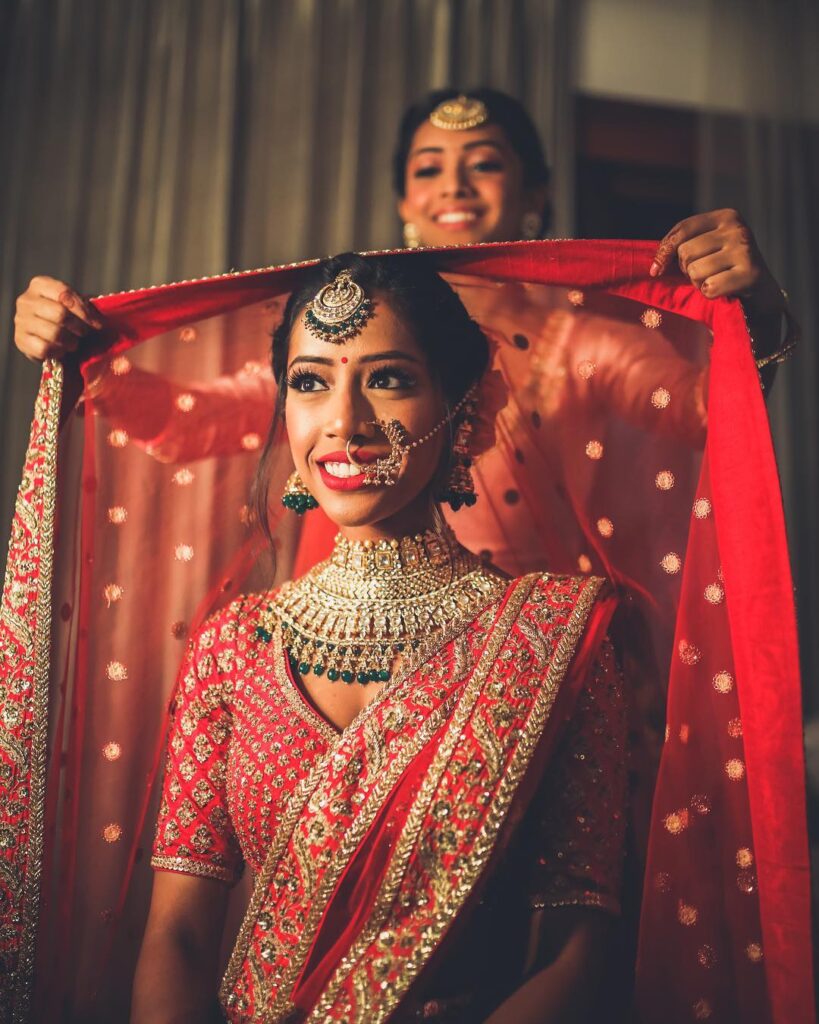 Courtesy: Jasmeet Kapany
#7 Glitter Eyes With A Bold Lip
Bride Samriddhi went maximal with all her wedding choices. From her jewelry, lehenga to the HD bridal makeup. Glitter eyes, fluffy lashes with a red lip, and big bindi, this Indian bridal makeup look came together flawlessly.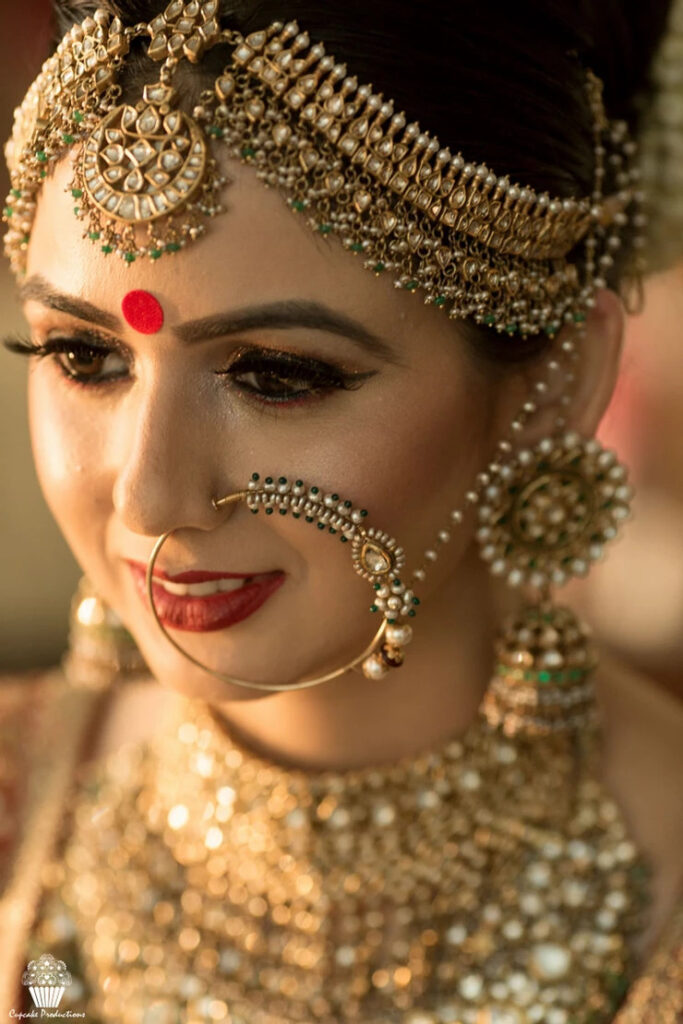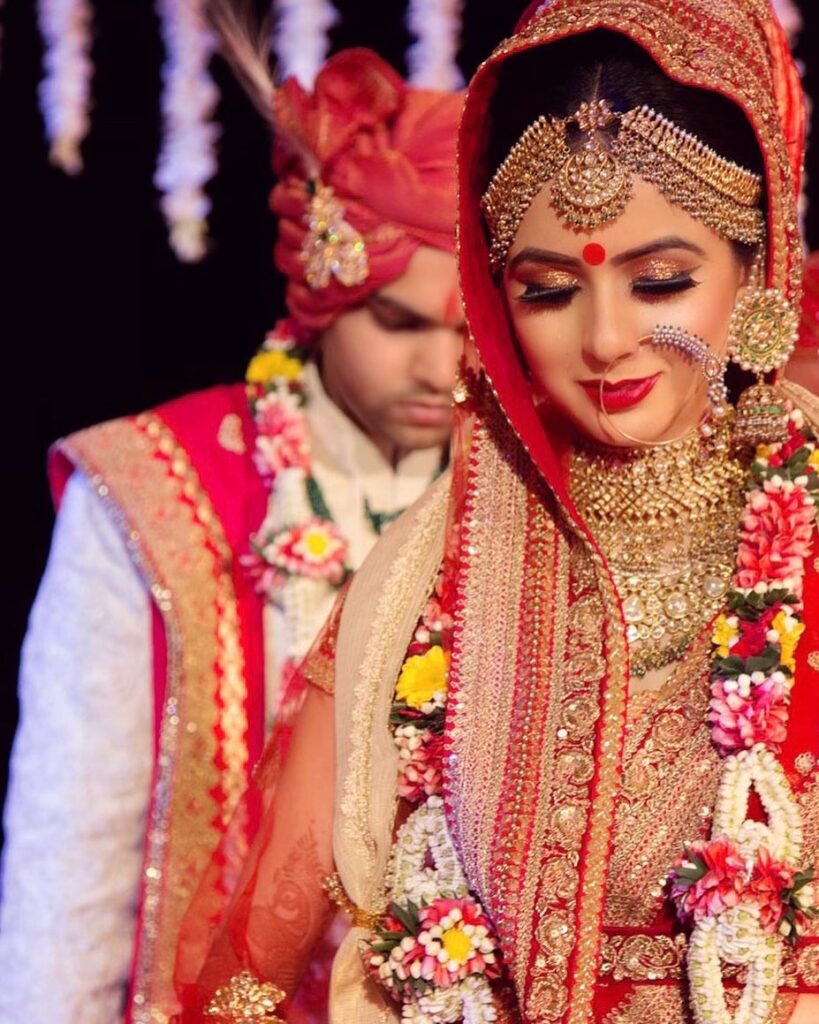 Courtesy: Kavita Verma
#8 Dark Matte Eyes With Glossy Pink Lips
To complement her pastel pink wedding outfit, she opted for subtly shaded eyes and an airbrush simple bridal makeup look that pairs beautifully with a glossy pink lip. The bold brows add definition to the entire look exquisitely.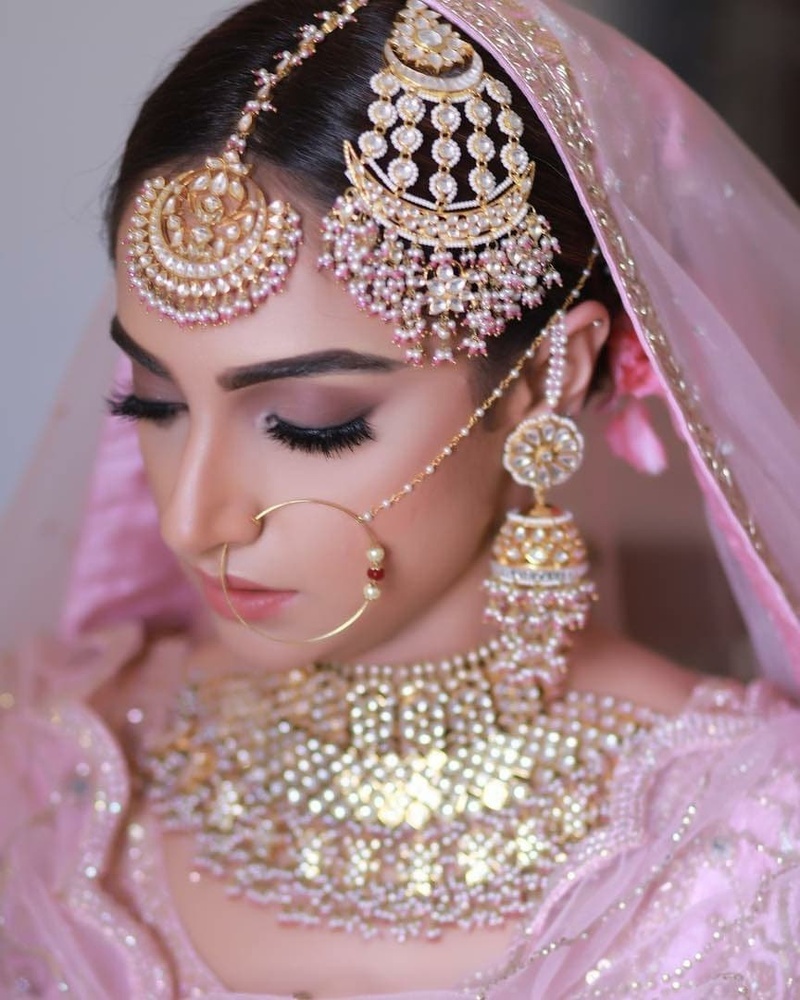 Courtesy: Shubhdeep Gill
#9 The Poised Au-Naturale Effect
In 2017 when Anushka & Virat surprised us with their happy wedding pictures, the former's pastel pink ensemble caught the utmost attention. Sharma's look led to an explosion in pastel wedding looks with many brides opting for the hue for their own big day. Besides the lehenga, Sharma's natural makeup caught attention too. Light blush tones were infused in the base, eyes, and lips to go with her lehenga so subtly that the appeal was simply just stunning.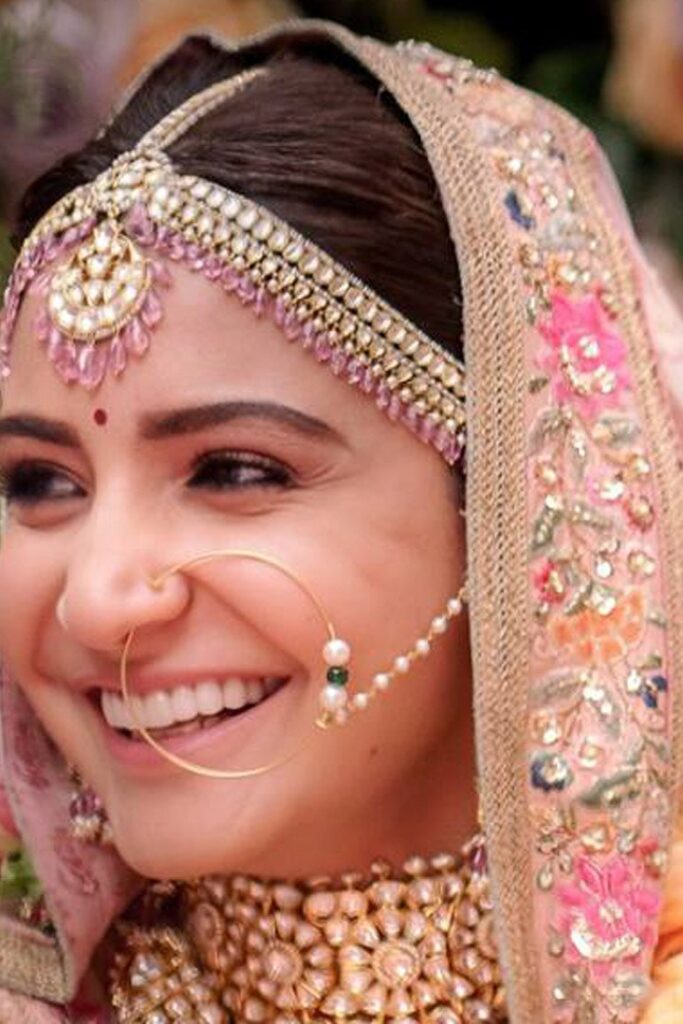 Courtesy: Puneet B Saini
#10 Soft Nude Bridal Makeup Look
Taking the natural wedding makeup look to next level is our next bride on this list. With nude matte elements as the base and just a touch of kohl on her lash lines, the finished face is fabulously flawless.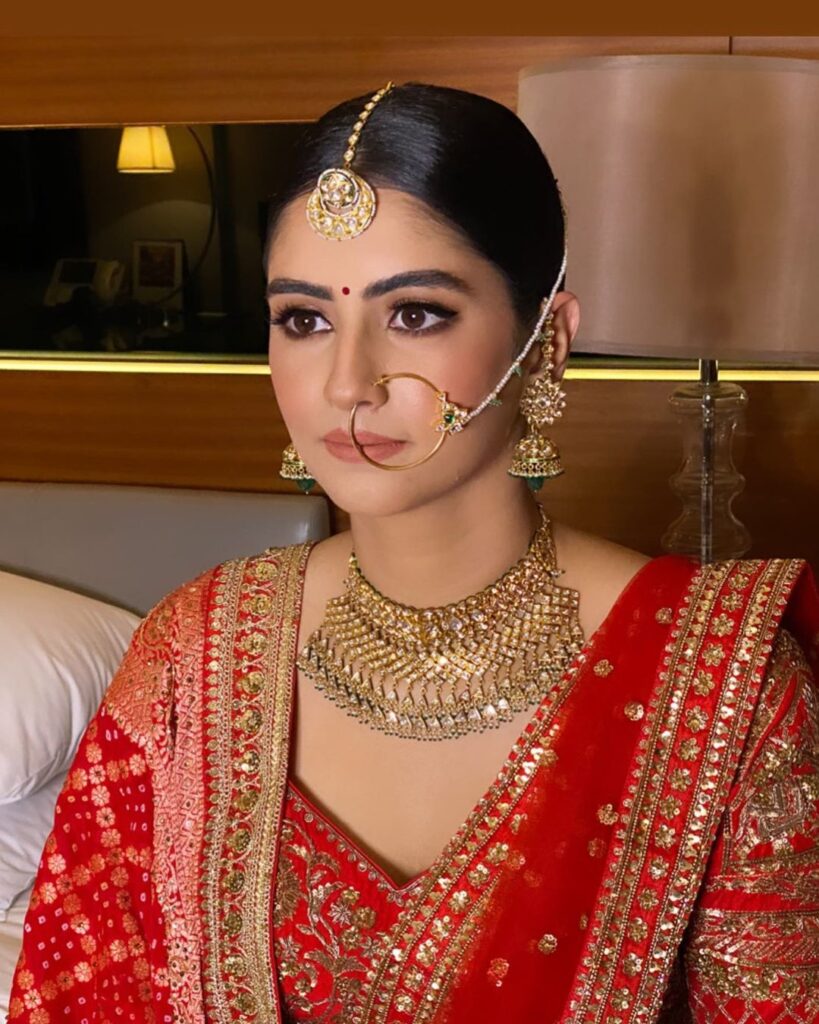 Courtesy: Jasmeet Kapany
#11 Blush Pink All The Way! 
A simple, radiant makeup replete with blush tones to complement her summery outfit looks so perfect. Complete with sultry waves, this bride's mehendi makeup look is sheer gorgeousness.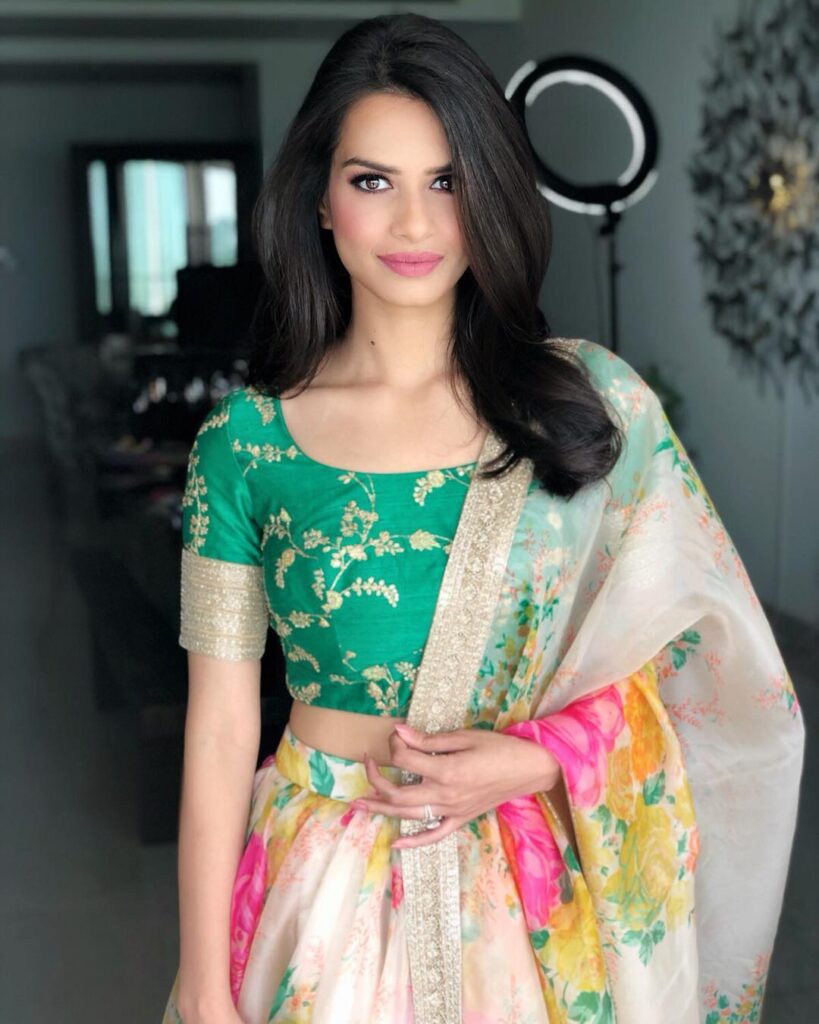 Courtesy: Jasmeet Kapany
#12 Pink Lids, But Make It Smokey
If a full-blown smokey eye sounds like too much drama to you, then this bridal makeup with pink lids smoked out just one of the sides will impress you the most. Complete with blush pink cheeks and perfectly lined lips, the final look is nothing less than elegance and charming in one frame.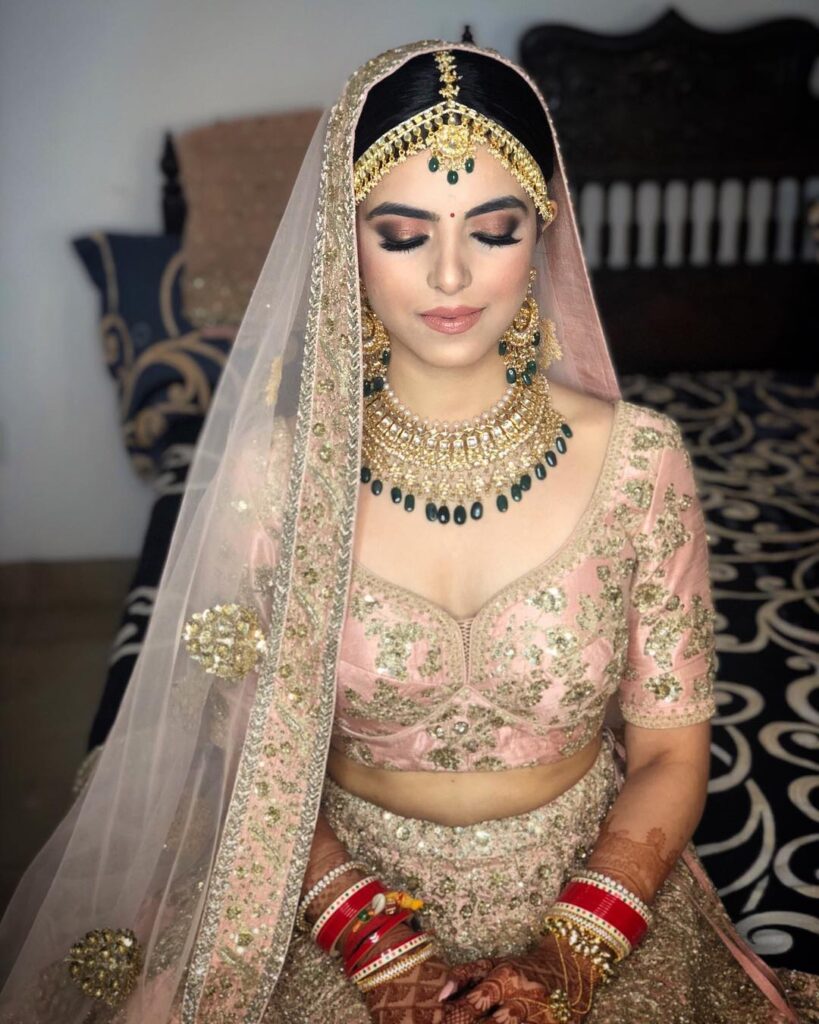 Courtesy: Jasmeet Kapany
#13 Berry Pout & Winged Eyeliner
Sofia Vergara's grand wedding featured her wearing bridal makeup resonating her sassy and classy style. We love the berry lips, winged eyes, and a fresh face on her. If you notice, you can see a swipe of nude eyeliner pencil to accent the eyes further and create a subtle yet gorgeous look.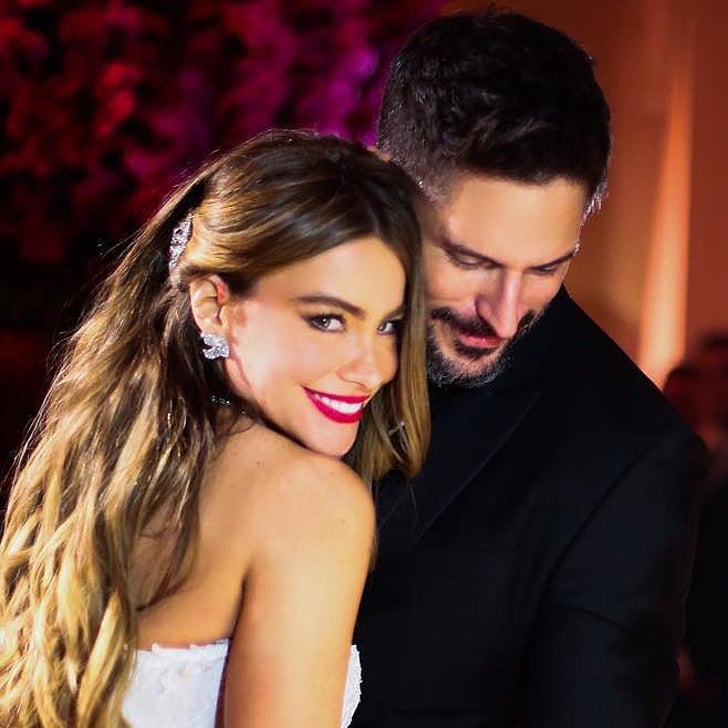 Courtesy: Kayleen McAdams
#14 Glamorous Vibes With Sharp Contours
A glamorous bridal makeup looks beg for some drama with heavy contour techniques and defined eye tones. This bride's silver glitter eyeshadow lets her incredible eyes take center stage while the heavy cheek & nose contour adds to the glitzy feel.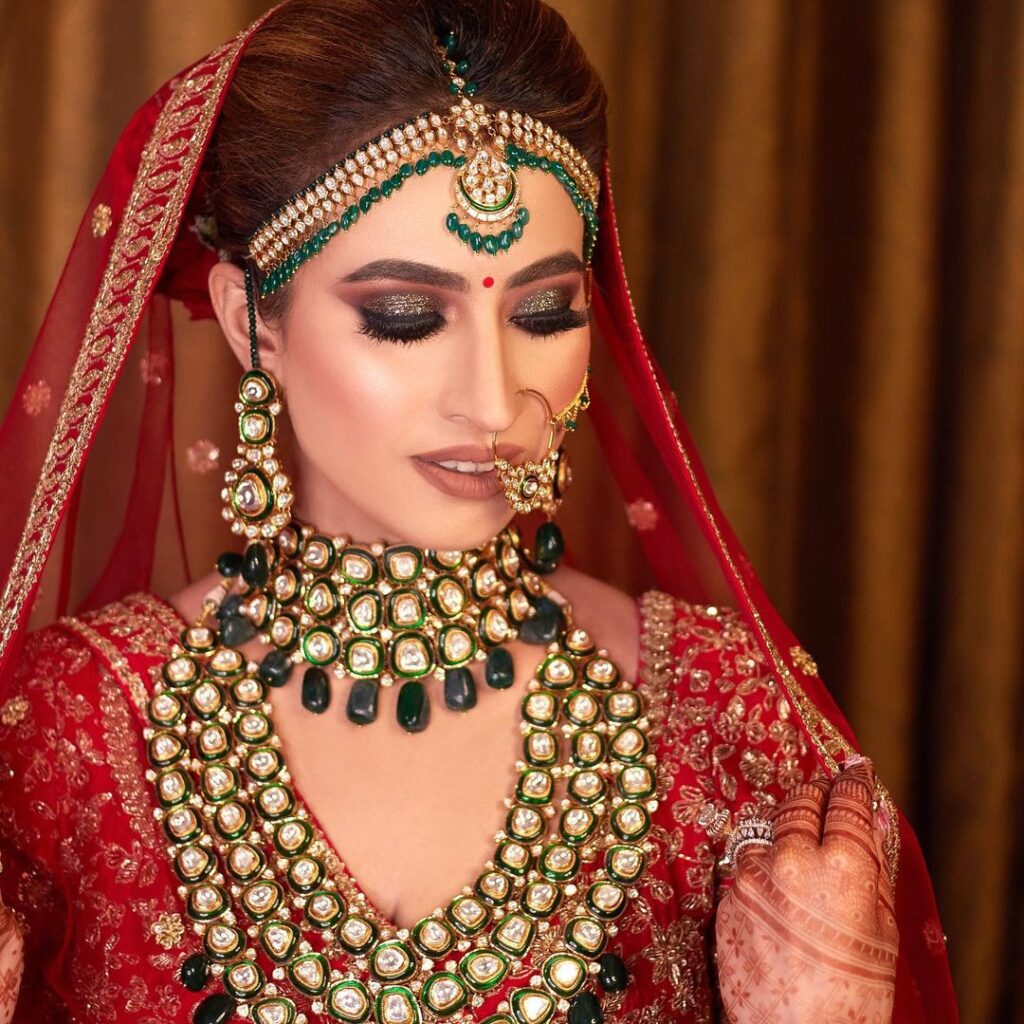 Courtesy: Amrit Kaur Artistry
#15 Full Brows With Enhanced Eyes & A Retro Red Lip
A South Indian bridal makeup look that goes well with the bride's silk saree and the rich jewels. Deeply kohled eyes and the deep red lips come together exquisitely with her opulent ensemble.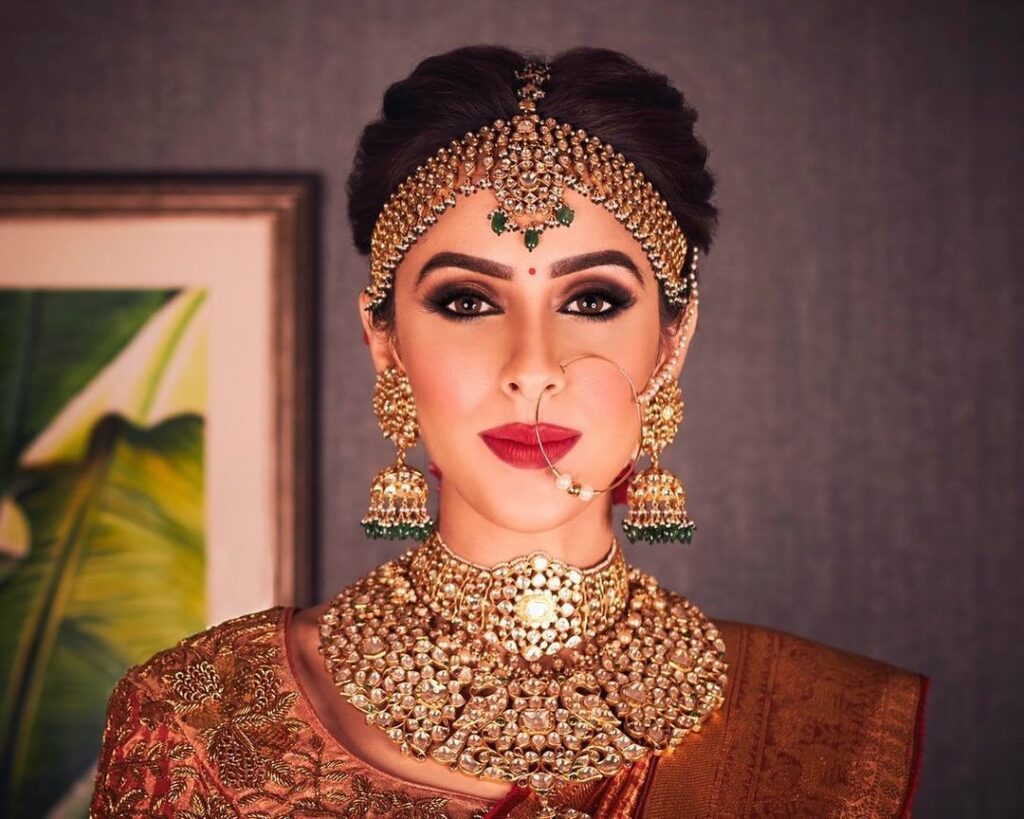 Courtesy: Amrit Kaur Artistry
#16 Subtle Glam Bridal Makeup 
This bride's feminine vibes effortlessly come out with her makeup look and the other elements of the ensemble. Glitter on the eyes, flushed cheeks, and a rich pink lip give a vivacious flair.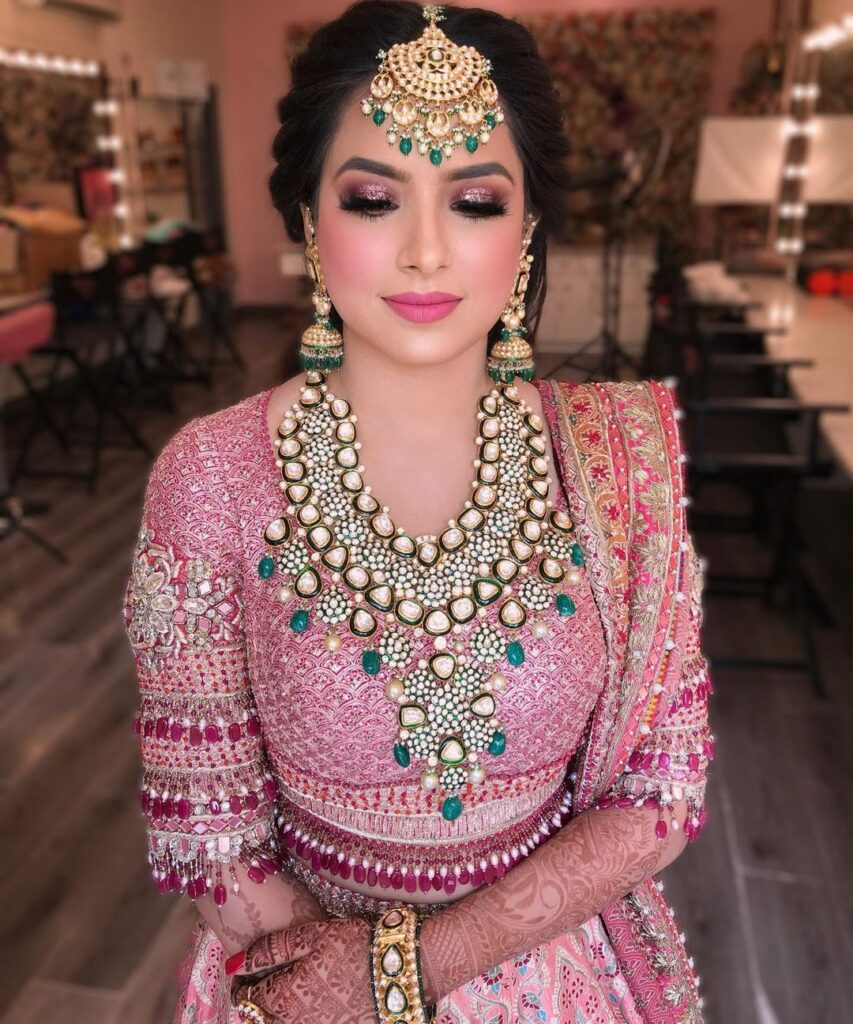 Courtesy: Aarushi Oswal
#17 Soft Tones & A Sheer Lip
The soft, highlighted tones in her entire base makeup complement the diamonds in her bridal look wonderfully. That's why it's important to hire the right bridal makeup artist, so she can work with your vision, but also understand what would complement the ensemble the best, just like Meera Sakhrani did right here.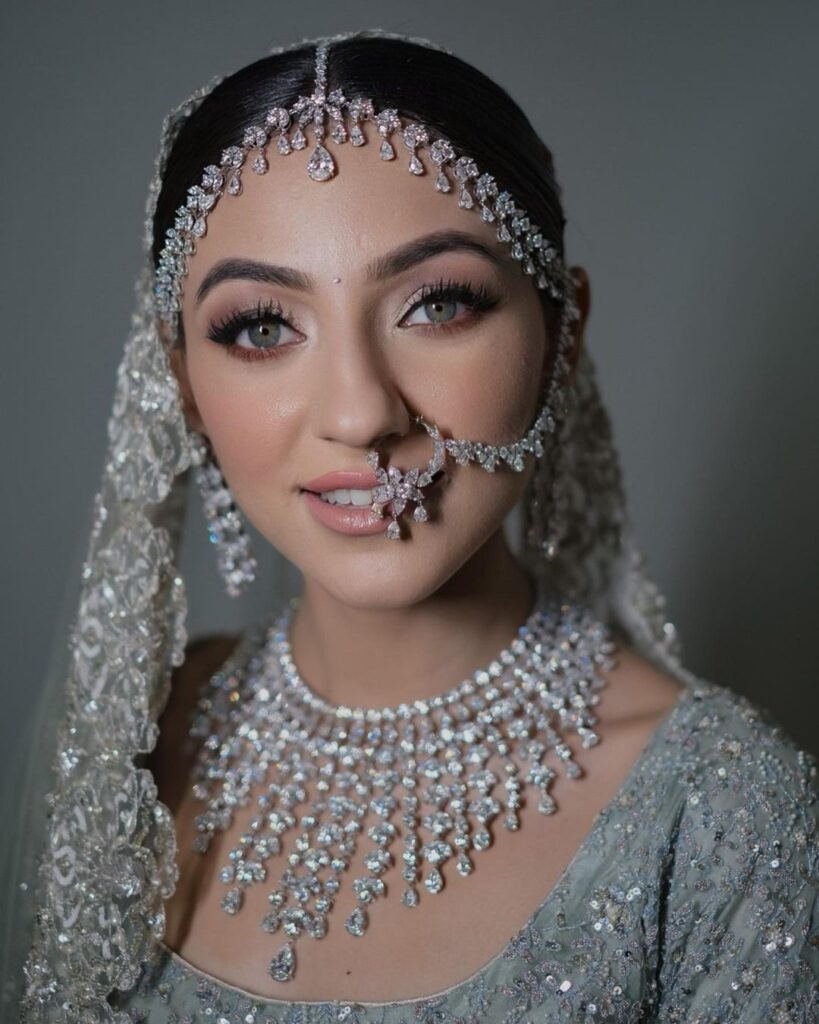 Courtesy: Meera Sakhrani
#18 Natural Composition With Black-Rimmed Eyes
A minimalist style doesn't always require going easy on makeup products. Sometimes, it requires using the right tools in the right places to enhance the facial features and make brides look their best. The subtle palette on her eyes and the sheer lip is a gorgeous option for night weddings.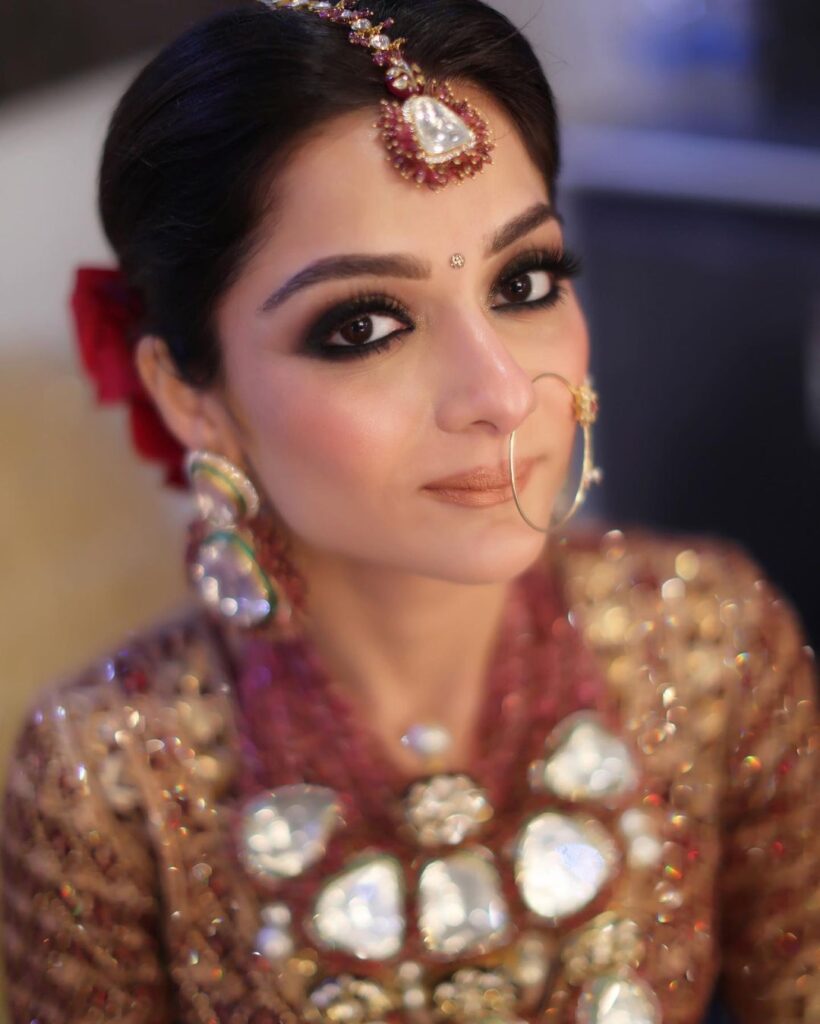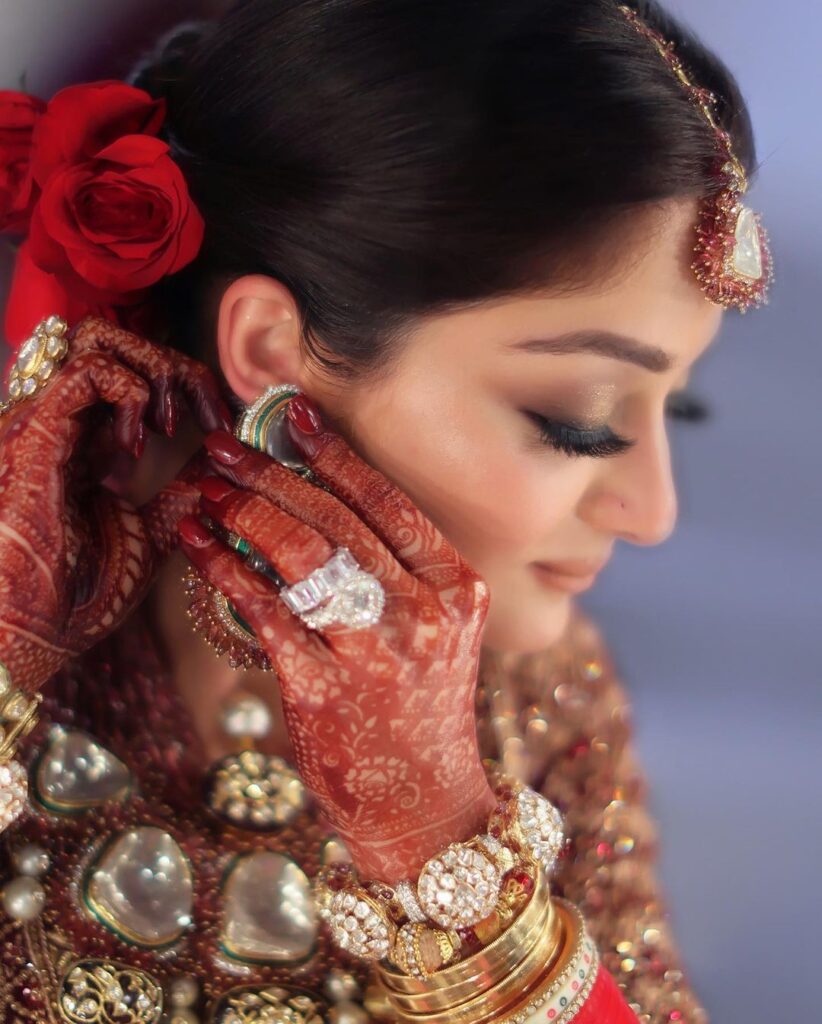 Courtesy: Meera Sakhrani
#19 A Natural Approach Accompanied With Bright Lipstick
Soft eyes, even base, and a bright deep red lip give this beauty a complete retro-glam vibe. The red added the much-needed vividness to her glitzy golden outfit and gave off a sizzling warmth to the entire look.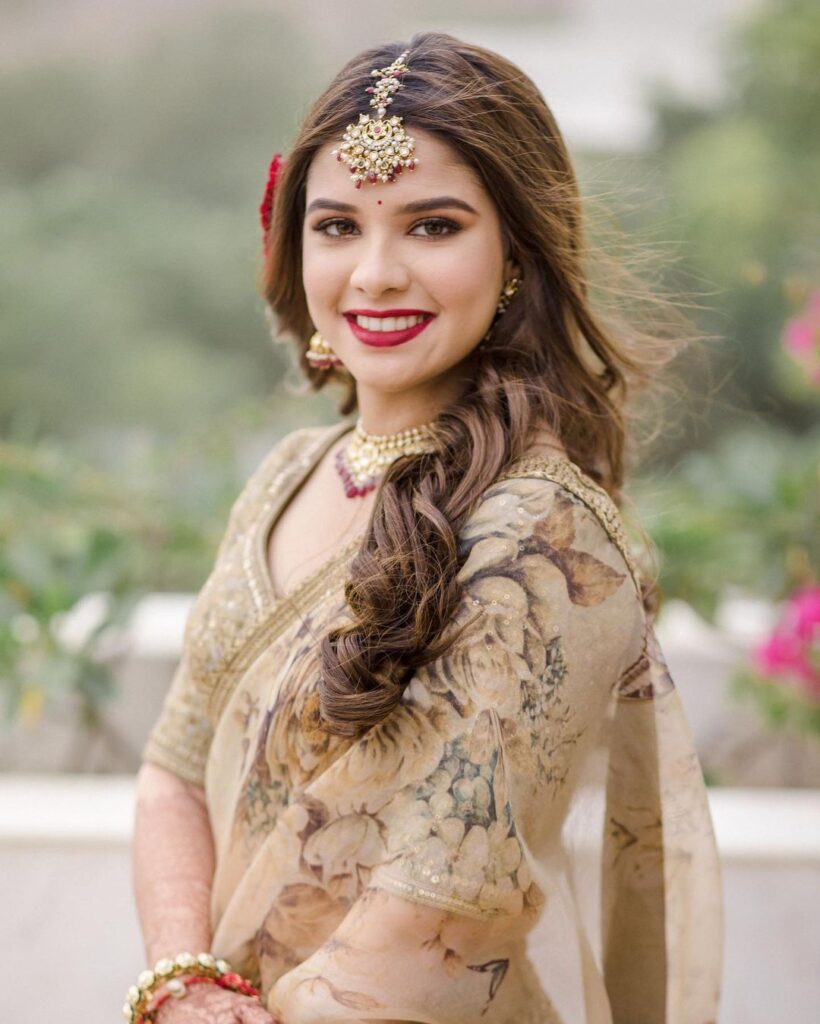 Courtesy: Shradha Luthra
#20 A Smooth Gradient 
A royal palatial wedding calls to incorporate some glam vibes into the bridal makeup. And what's a better way to do the same than infuse the drama in the eye makeup. Popular bridal MUA Shradha Luthra packs some black shadow on her glittery brown lids and pairs it with radiant flushed cheeks and a glossy pink lip to create a timeless, elegant look.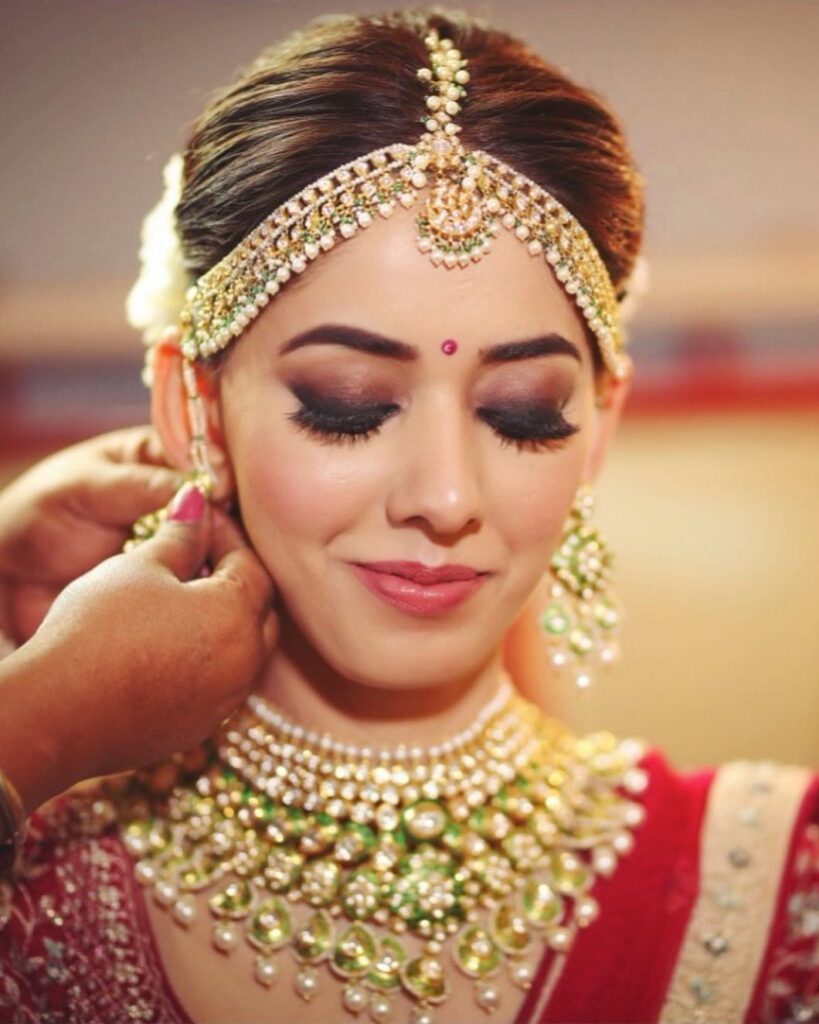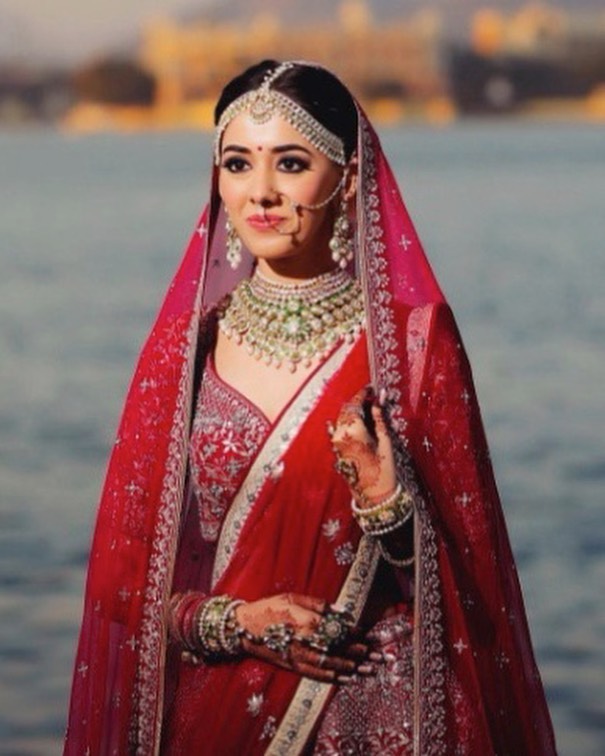 Courtesy: Shradha Luthra
#21 A Traditional Indian Bridal Makeup Look
In Rajasthan, Gujarat, Calcutta, and some other parts of North India, these dotted red & white bindi above eyebrows are a traditional part of the bridal makeup look. If you want to soak yourself in the traditional vibes too, then here's an inspirational makeup idea for the same.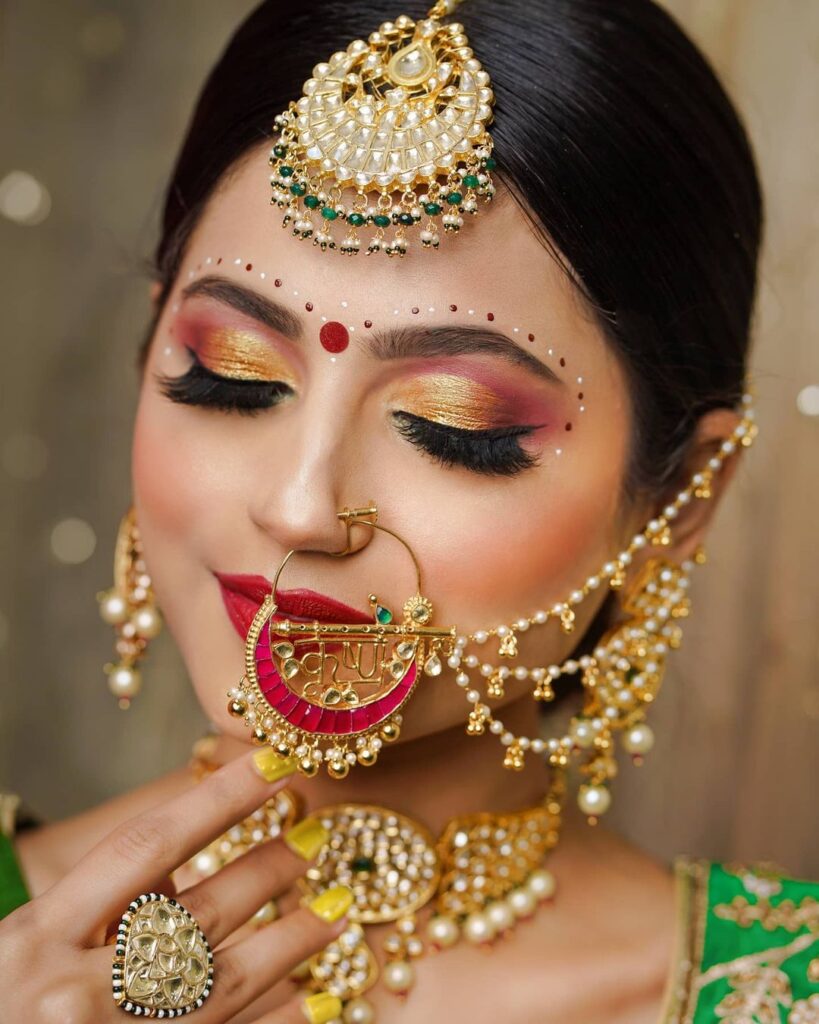 Courtesy: Orange The Salon
#22 What A Gorgeous Blend Of Colors
We love this unique yet aesthetic eye makeup look for wedding revelries. The shades blend well with the hues of her lehenga and the glossy lips plus glimmering cheeks create a heavenly match for the noteworthy bridal eye makeup.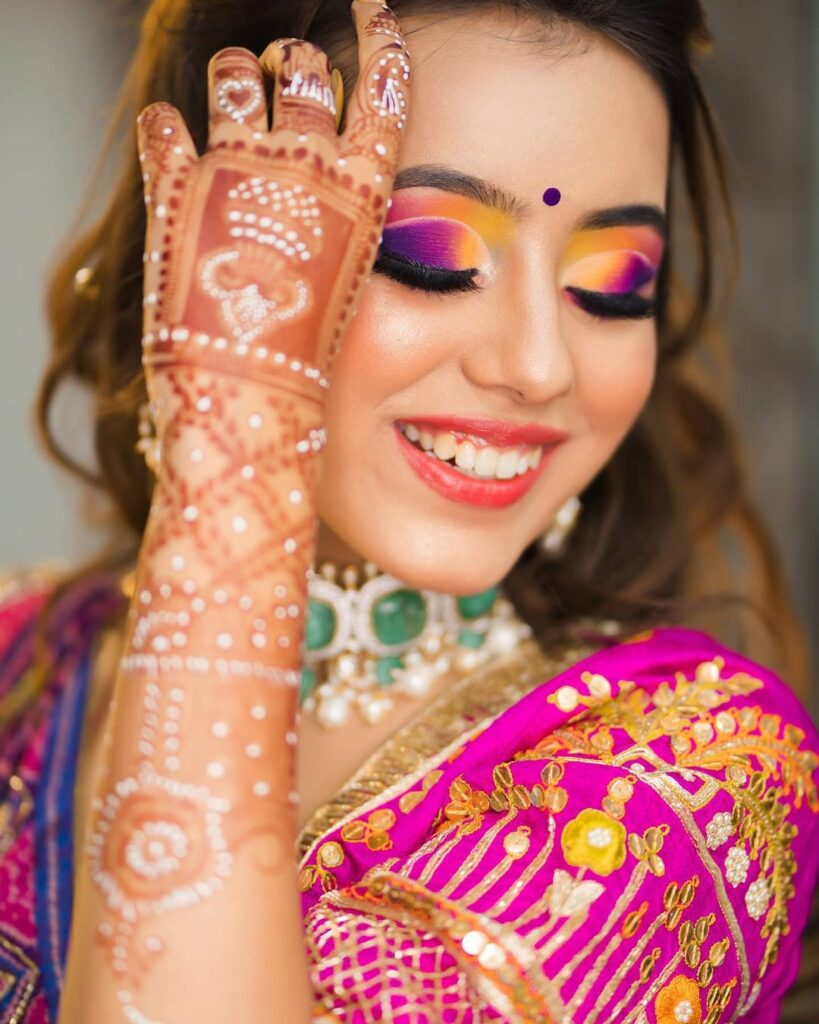 Courtesy: Orange The Salon
#23 Golden Eyes & A Glowy Base
This bride is emanating an ethereal glow with golden eyes and an HD makeup base. The thick lashes and the red lip completed the look.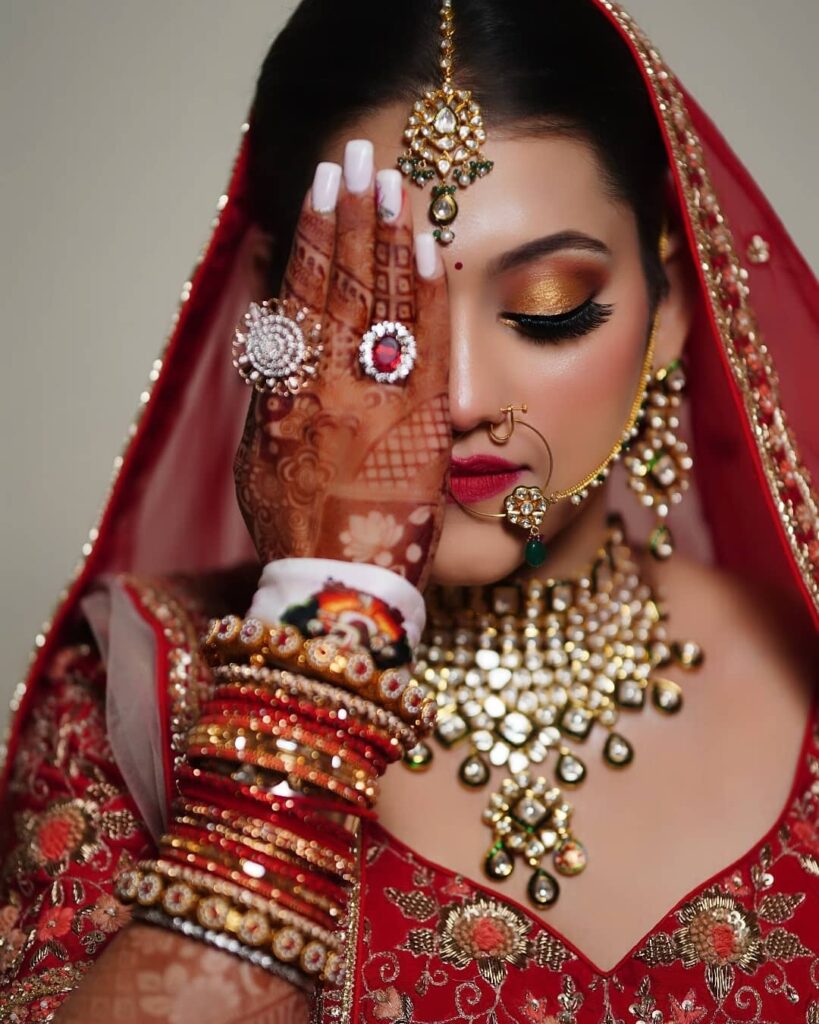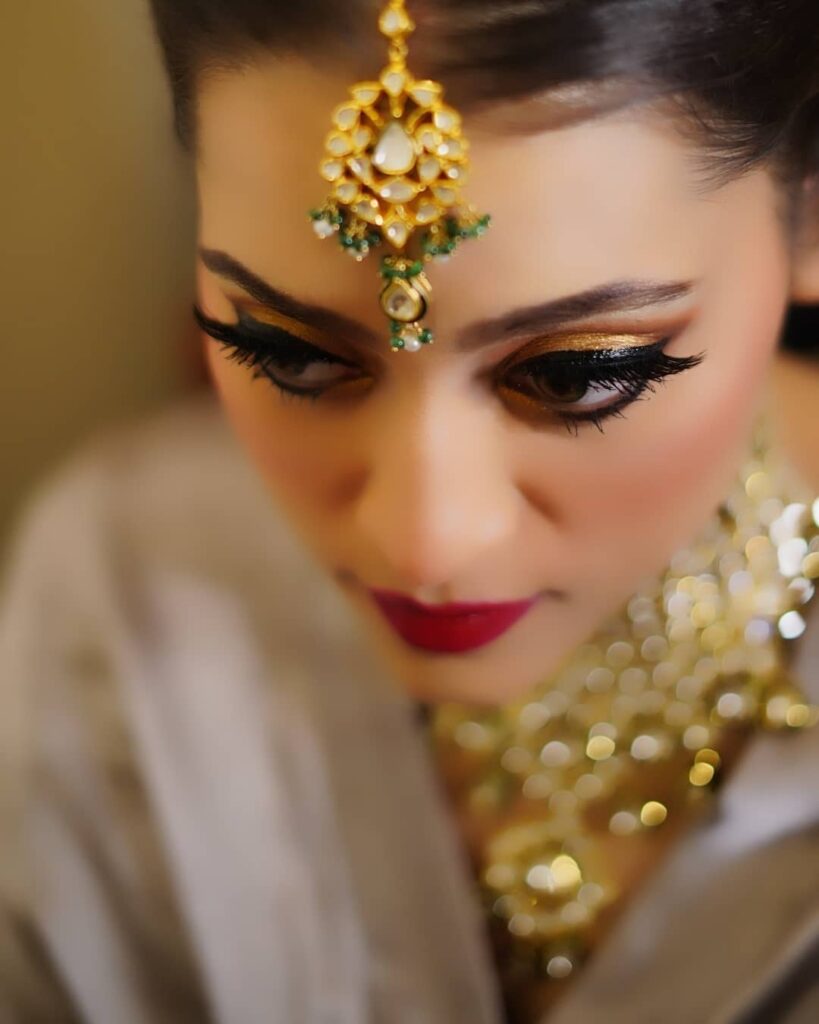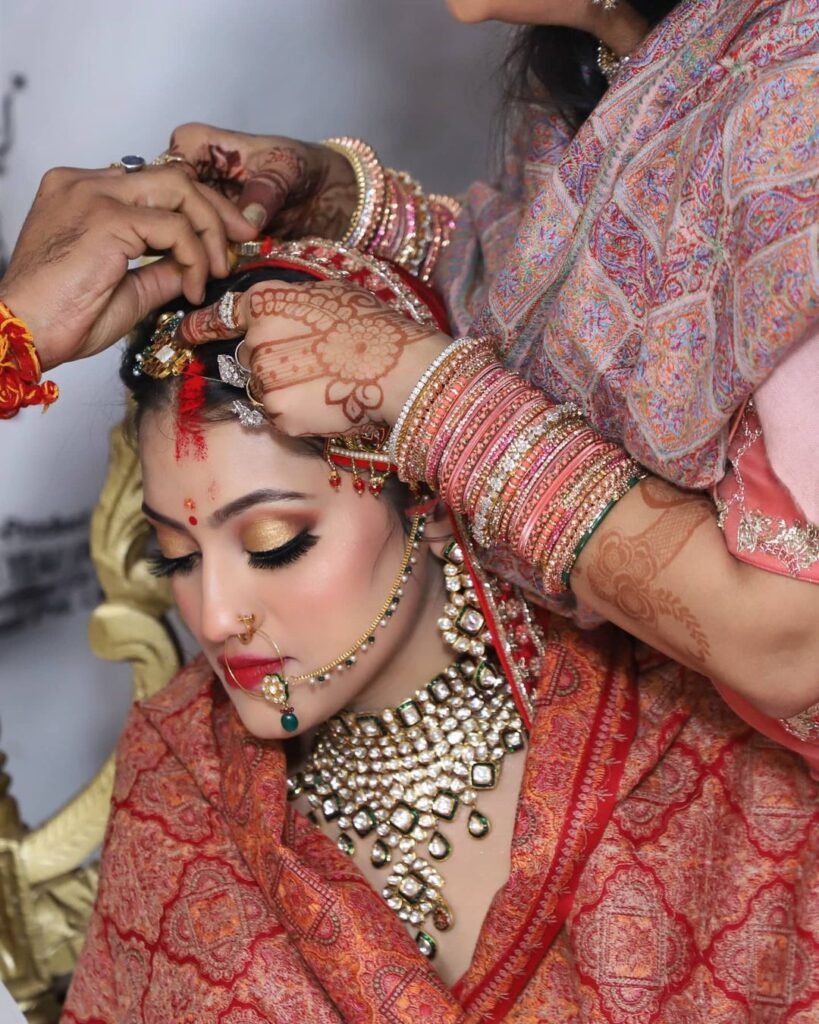 Courtesy: Indu Singh
#24 Cut-Crease Eyes With Glass Skin
The cut-crease eye makeup takes center stage for this wedding makeup look like the sheer base blends with the new-age trend well. Check out how those long lashes make the bride's eyes pop.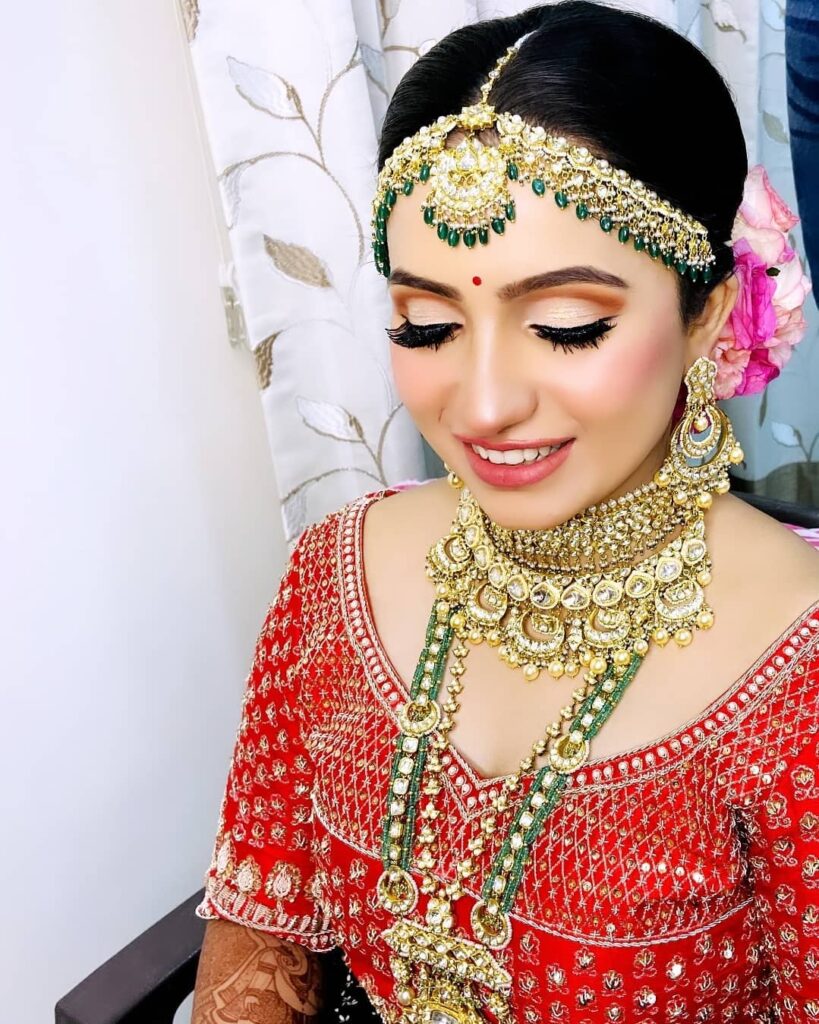 Courtesy: Indu Singh
#25 Pink Undertones Create For A Minimal Bridal Makeup
An Indian wedding makeup look that's radiating minimalistic elegance with just one splash of color in all the elements. The monochromatic pink palette is refreshing and romantic and ideal for her daytime pheras.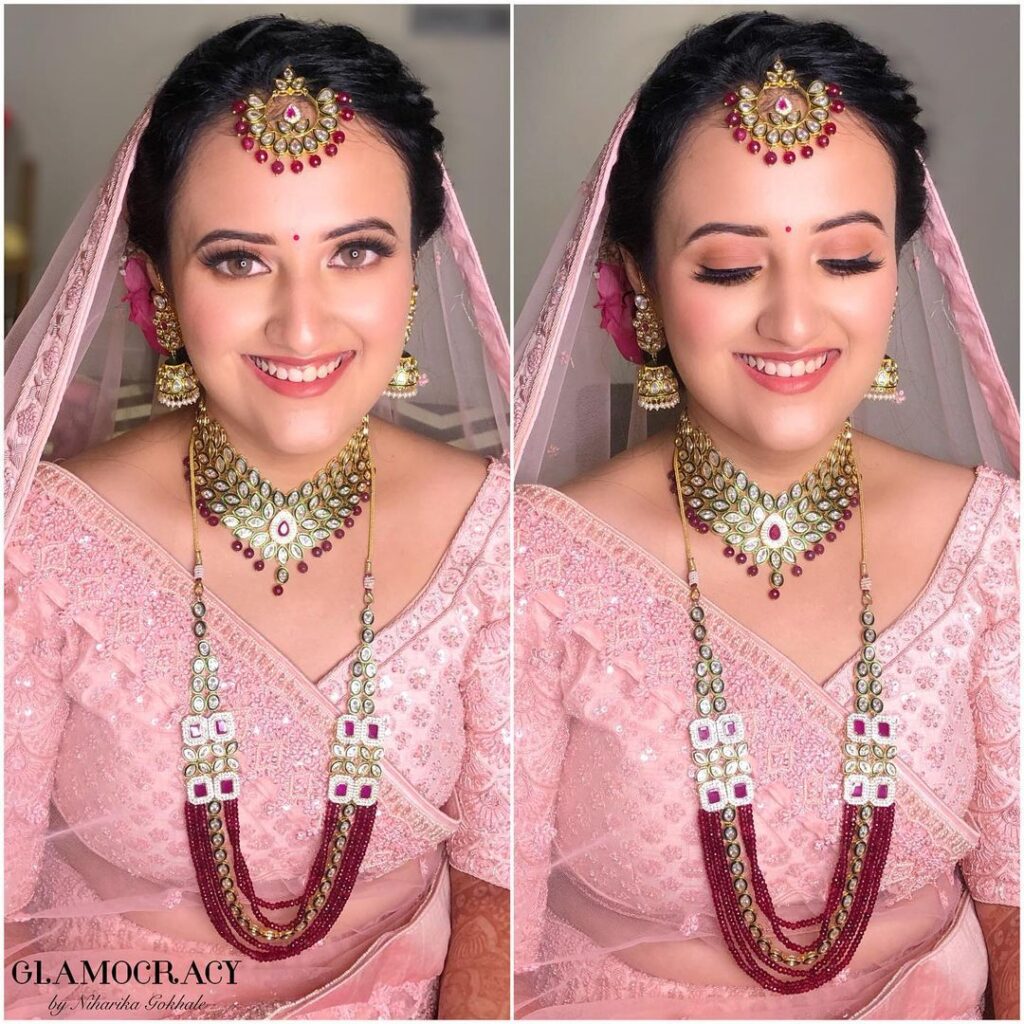 Courtesy: Glamocracy
#26 A Timeless Look
A nude lip and base makeup combined with accentuated eyes are always a classic. Combined with puffy curls on the side just enhances the aesthetic of the entire look.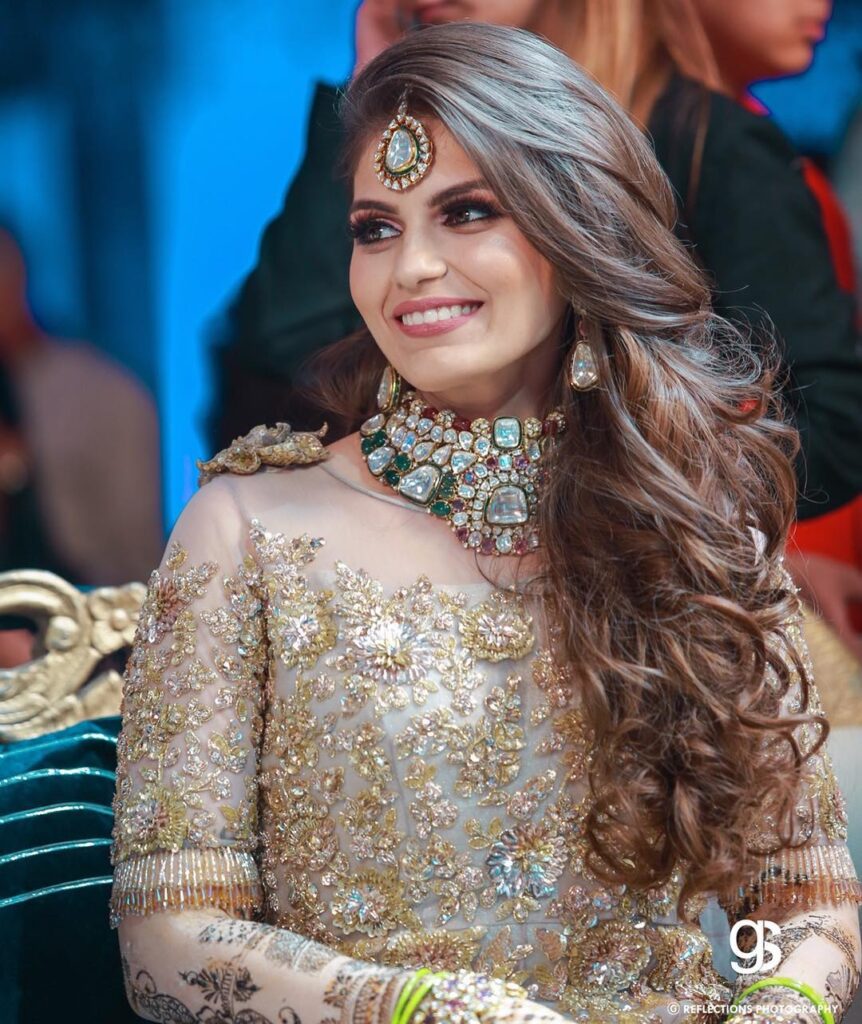 Courtesy: SP Eastland
#27 Defined Brows & Classic Neutrals
Popular wedding makeup artist Bianca Louzado creates the magic with her wands on another bride. Glossy lips and radiant skin ensures this bride is the star of the show right as she walks into the ceremonial area.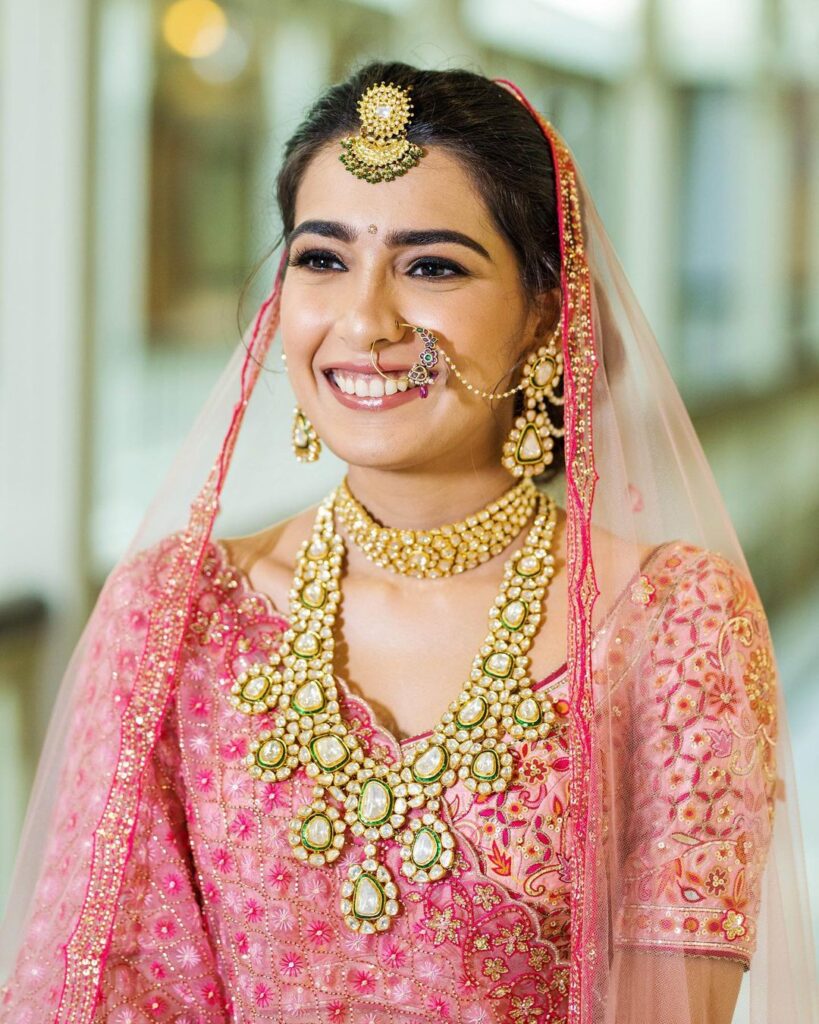 Courtesy: Bianca Louzado
#28 Bronze Eyes & A Subtle Base
It's hard to point out what makes this raw bridal portrait so unique. The diamond mathapatti design, the bride in making, and the flawless airbrush bridal makeup are all coming together to create an unparalleled aesthetic. Definitely a timeless choice for any time of the day.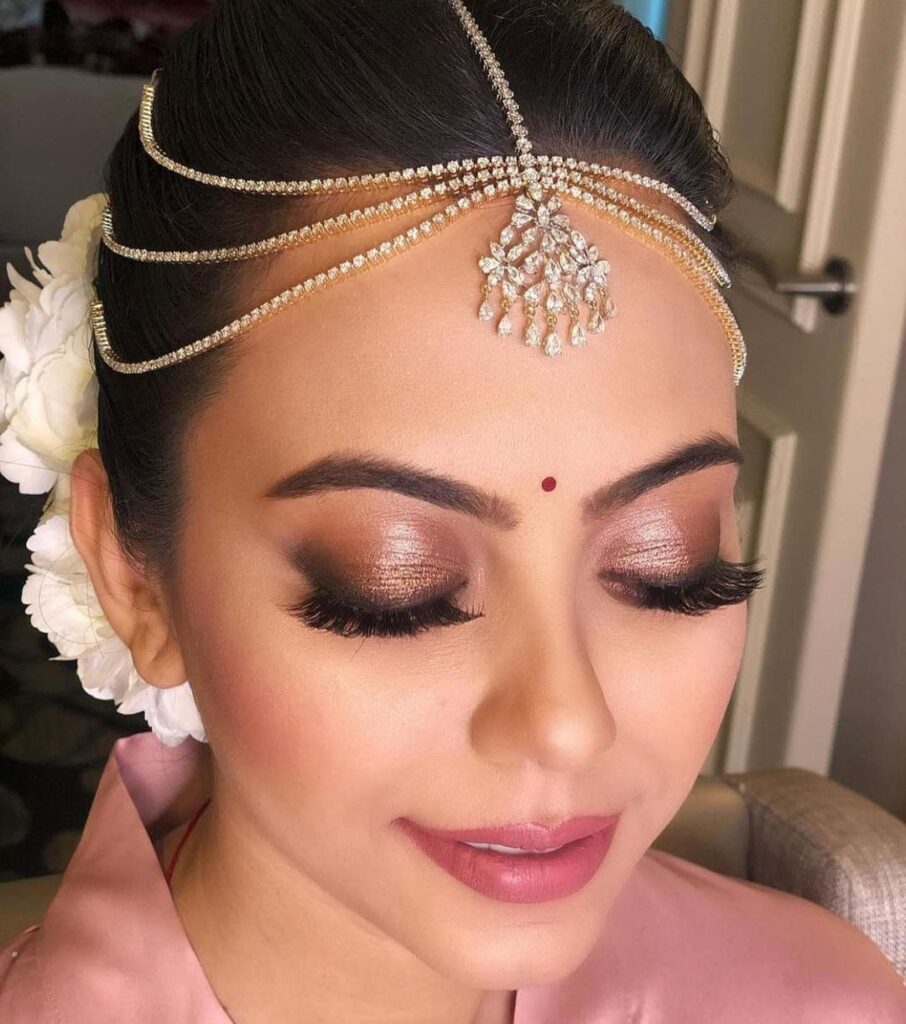 Courtesy: Namrata Soni
#29 Contoured Radiance
Her HD bridal makeup look is enhanced with contoured cheeks and a pop of color in the eyes. Matching the eye makeup with the attire is a fool-proof way to achieve some glam in your ensemble. Isn't she looking like a diva all set to turn heads on her cocktail night?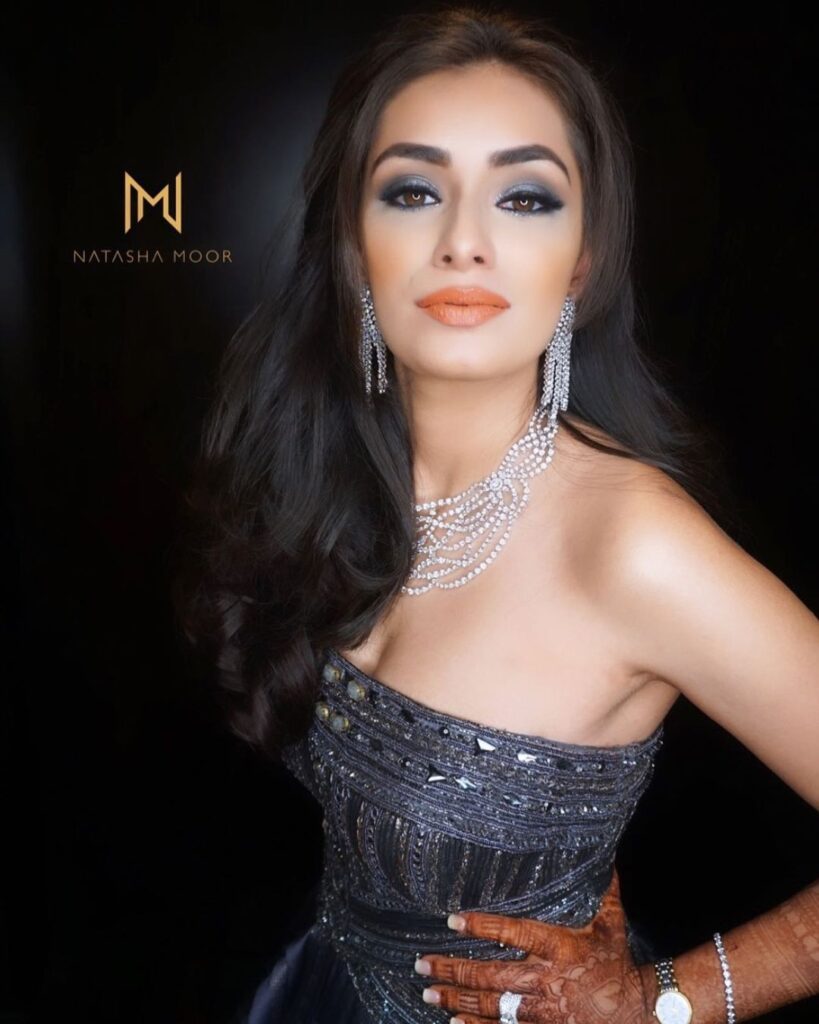 Courtesy: Natasha Moor
#30 Classy & Gorgeous 
Her perfectly contoured cheeks with a pop of highlighter create a captivating radiance. What added more allure is the fire-red lipstick that let her natural sparkle shine through – quite literally.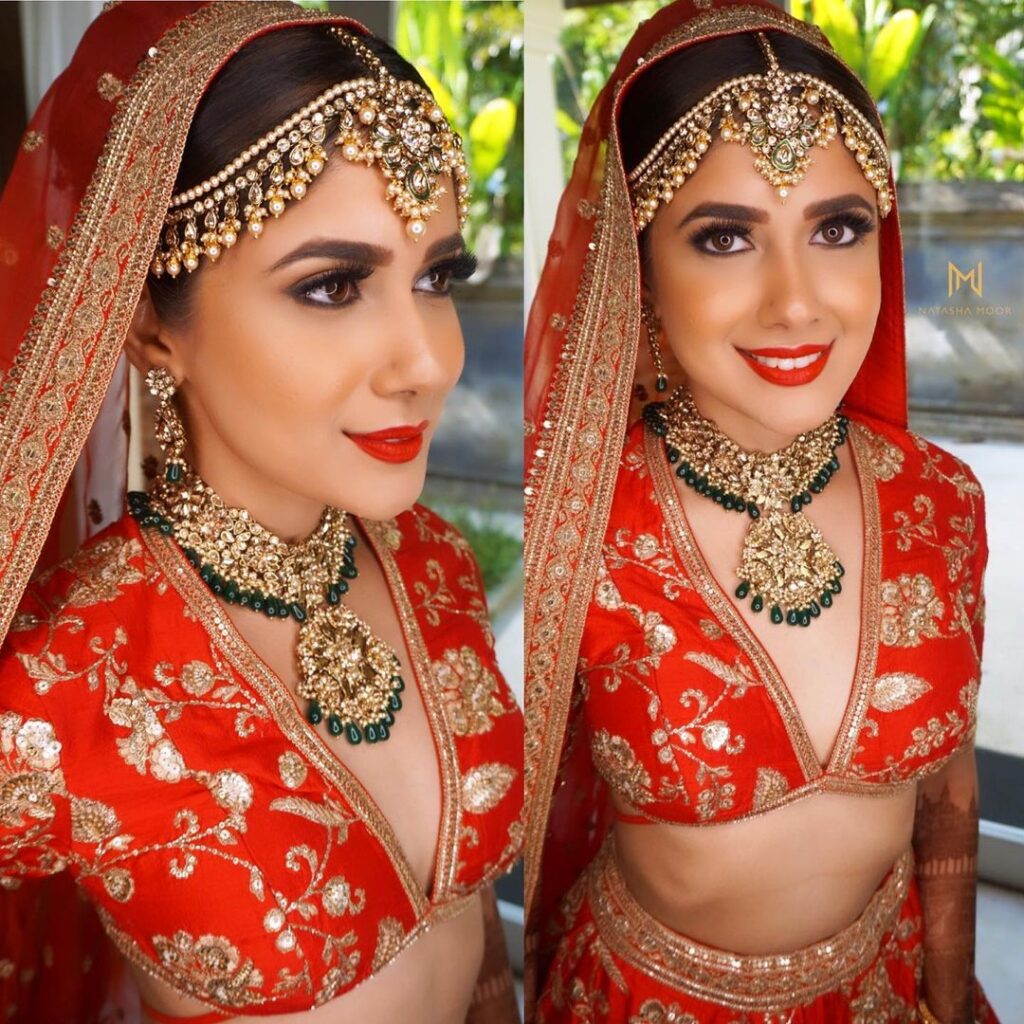 Courtesy: Natasha Moor
#31 A Bright Pink Lip
This bride paired her floral lehenga with a bright pink and a creamy eyeshadow look to die for! We love the way her pristine mehendi makeup look shines in this photograph.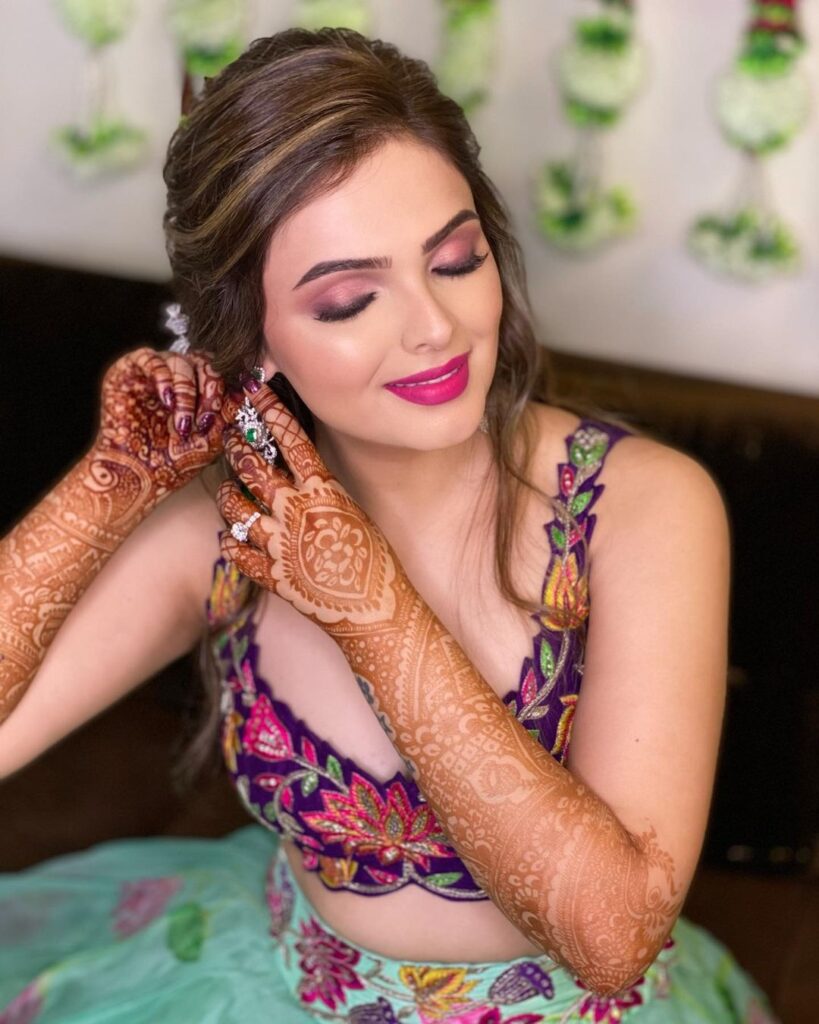 Courtesy: Varsha Gidwani
#32 Sangeet Bridal Makeup Idea For 2021 Brides!
While you're on the sangeet stage, shaking the leg and grabbing all the eyeballs, you need to make sure you're at your personal best. Makeup plays a pivotal role in the same. For brides on the lookout for a classic glam sangeet makeup idea, here's one of our favorites to draw inspiration from.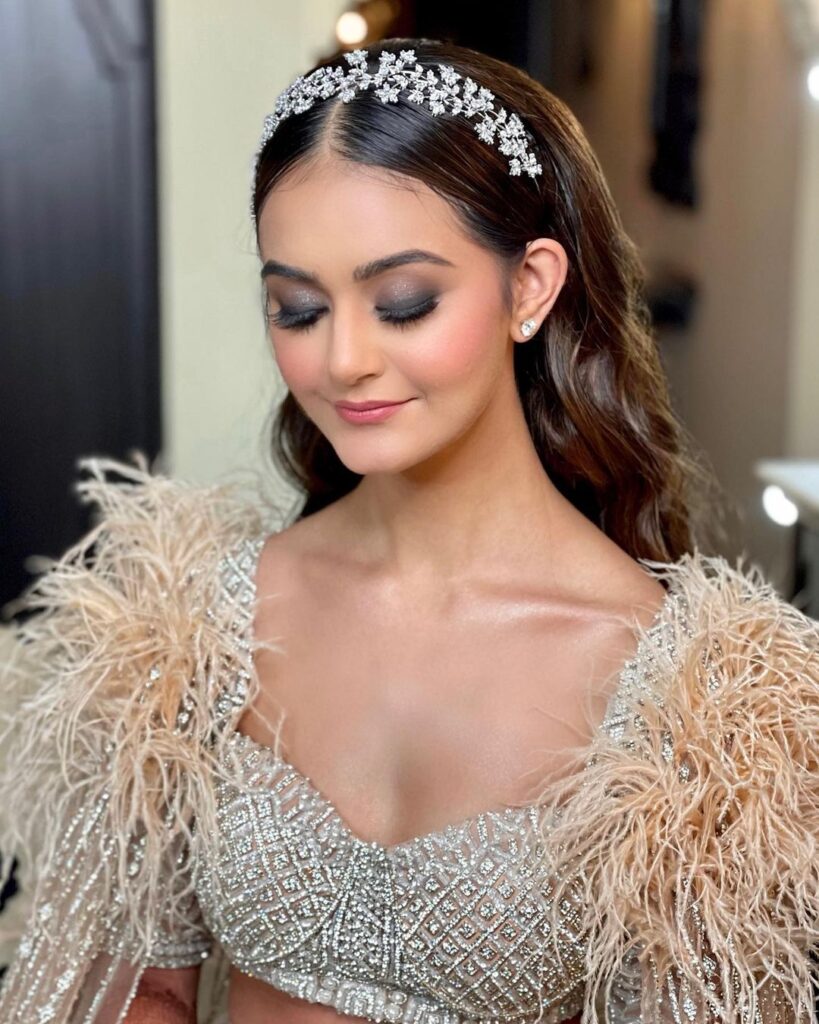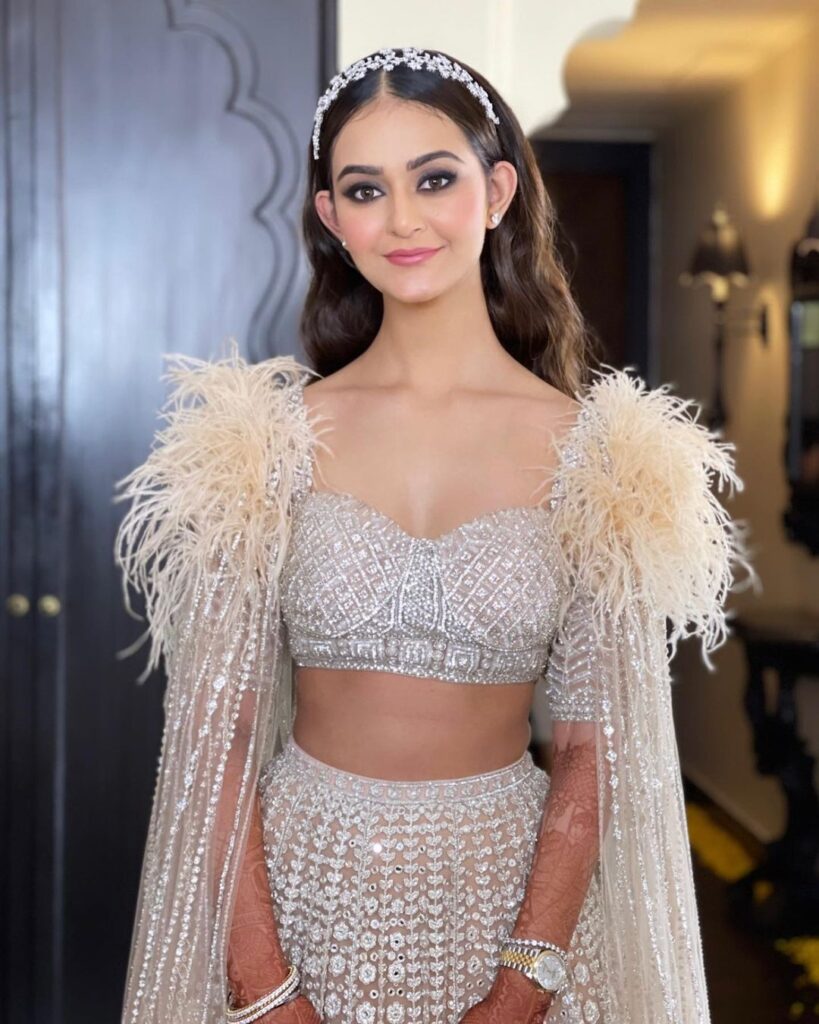 Courtesy: Varsha Gidwani
#33 Flawlessly Beautiful
The pinkish glow on her face matches the printed Sabyasachi lehenga beautifully. The halo eyes take center stage and create a natural sunkissed appearance for a day mehendi ceremony.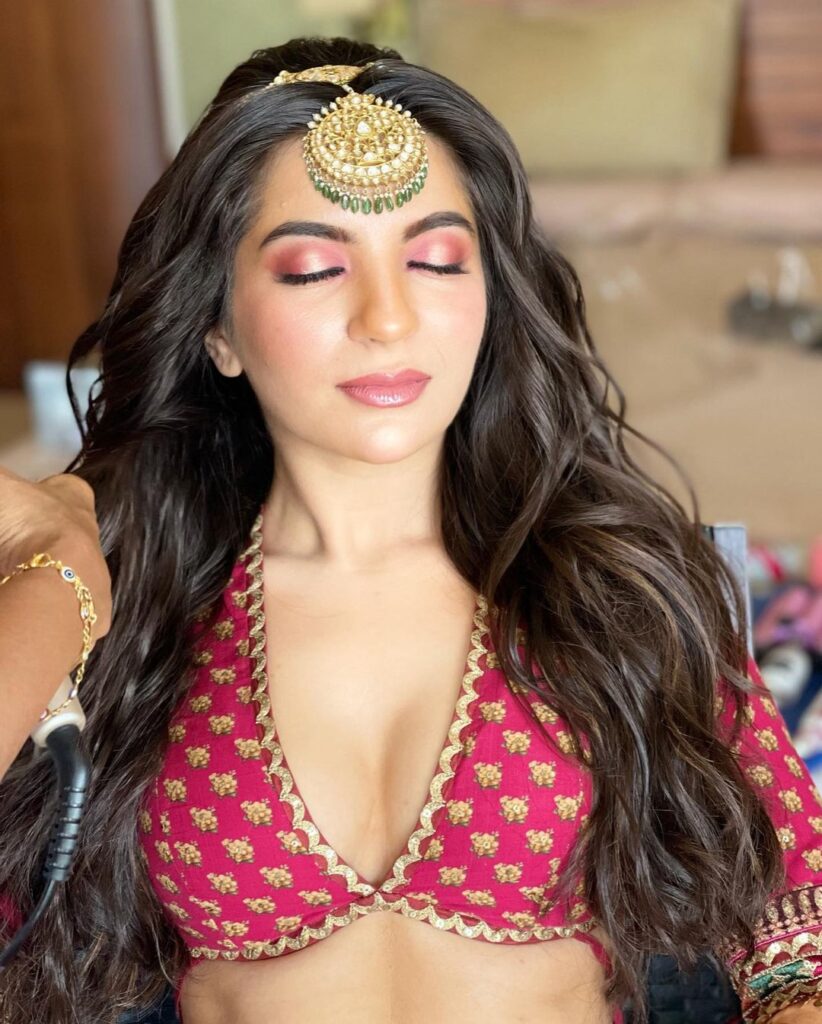 Courtesy: Vardan Nayak
#34 Accentuated Eyes With A Brown Lip
Eyes are the mirror to your soul. And this bridal MUA harnessed this saying smartly by giving her bride accented eyes with a nude liner, dramatic lashes, and kohled eyes. Brown lips and satin skin further completed this beauty's look.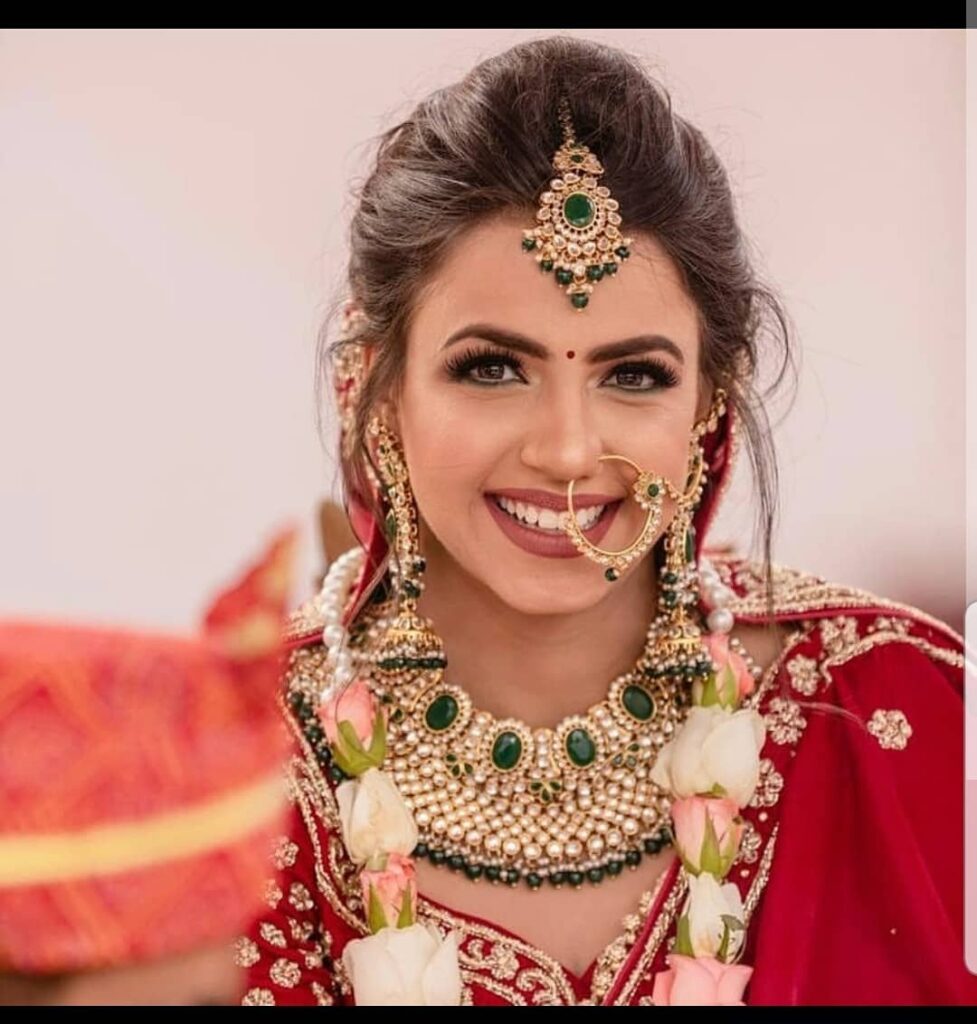 Courtesy: Sheetal Dang
#35 Winged Eyeliner With A Radiant Base
We love how bride Sana stuck to a simple winged eyeliner and rather enhanced her bridal makeup with a red lip and highlighted base to create a stunning wedding day look. Not overdoing things just led to an effortless flair.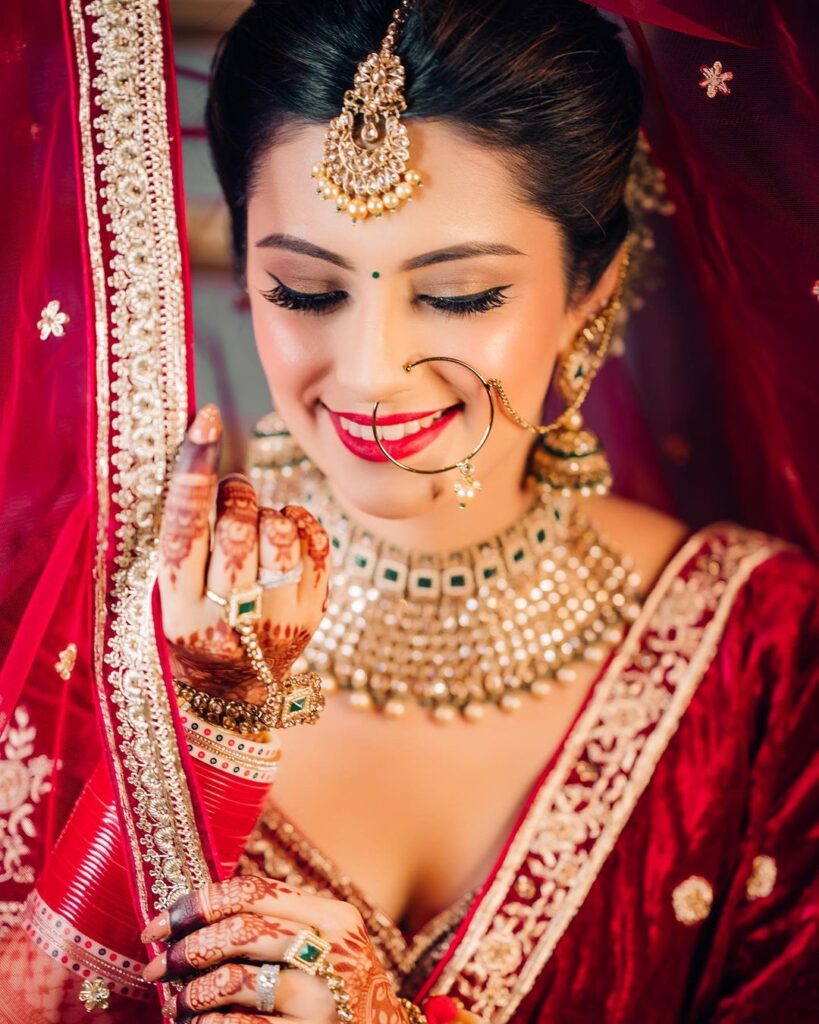 Courtesy: Makeover by Manleen
#36 Satin Skin With A Unique Lip Color
An intimate, modern wedding is the perfect occasion to experiment and go with the flow. Satin base with neutral undertones pairs well with unique lip color to create a stunning combination.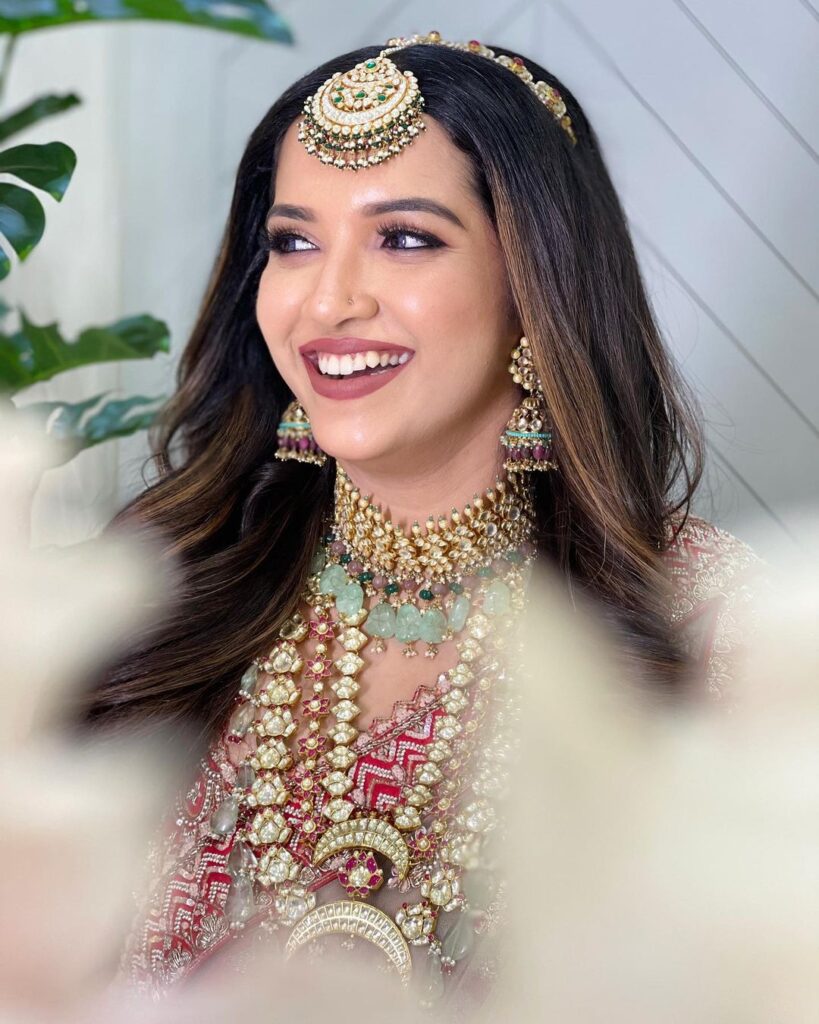 Courtesy: Kajol R Paswwan
#37 When Gloss Reigns Supreme
While matte remains the center of many bridal makeup looks, this one featured below lets the gloss effect take over her wedding makeup and shone brightly among the rest of the brides. A Kerala Christian wedding makeup you'll love to bookmark and use as an inspiration.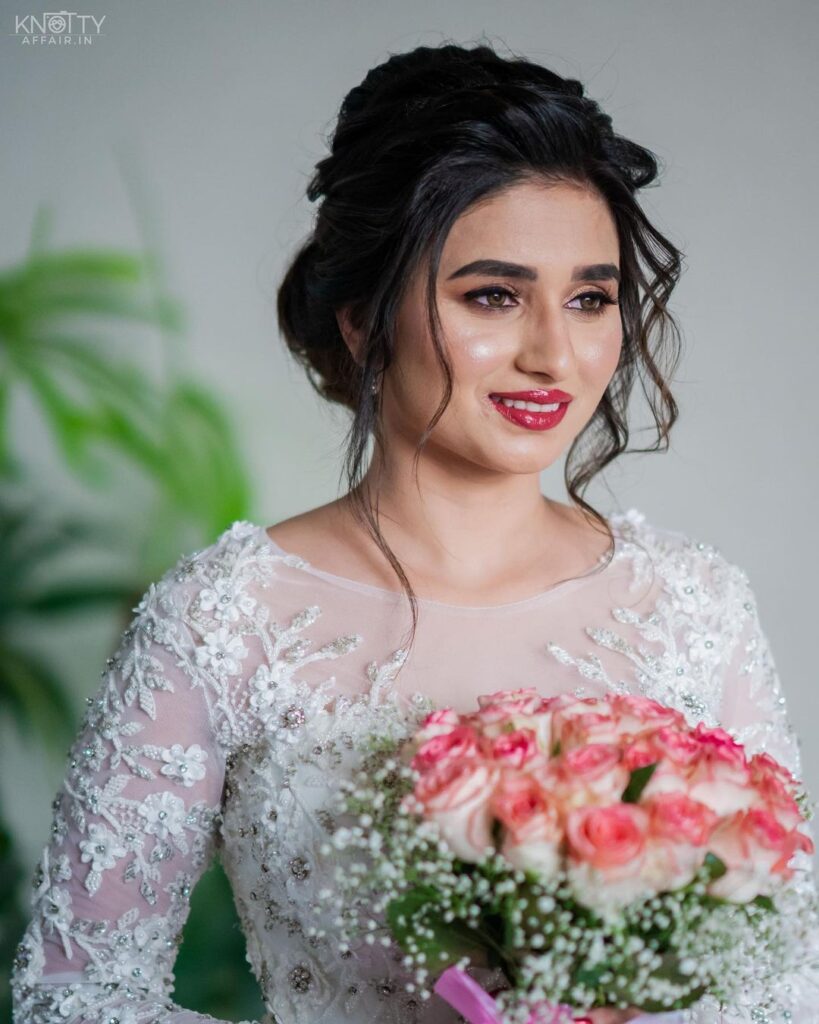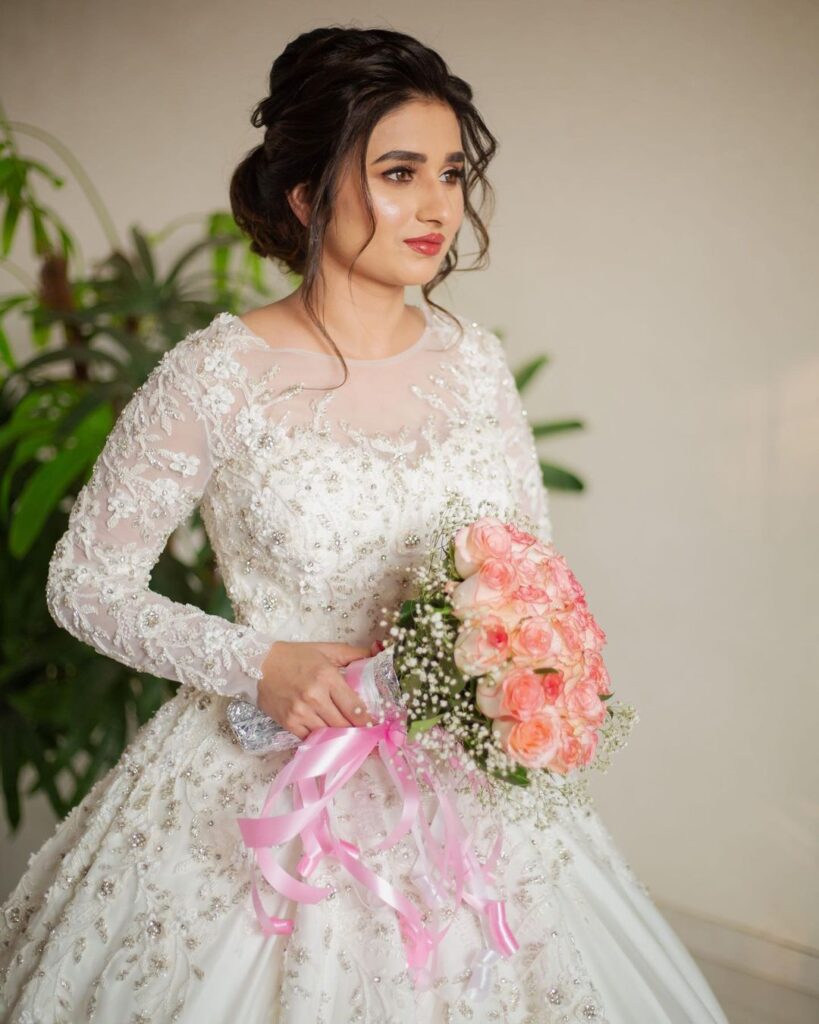 Courtesy: Kajol R Paswwan
#38 Thick Liner & A Skin-Like Base Makeup
A natural look with subtly shaded eyes and a highlighted base pairs beautifully with a nudish pink lippy. The bold brows bring together all the elements beautifully.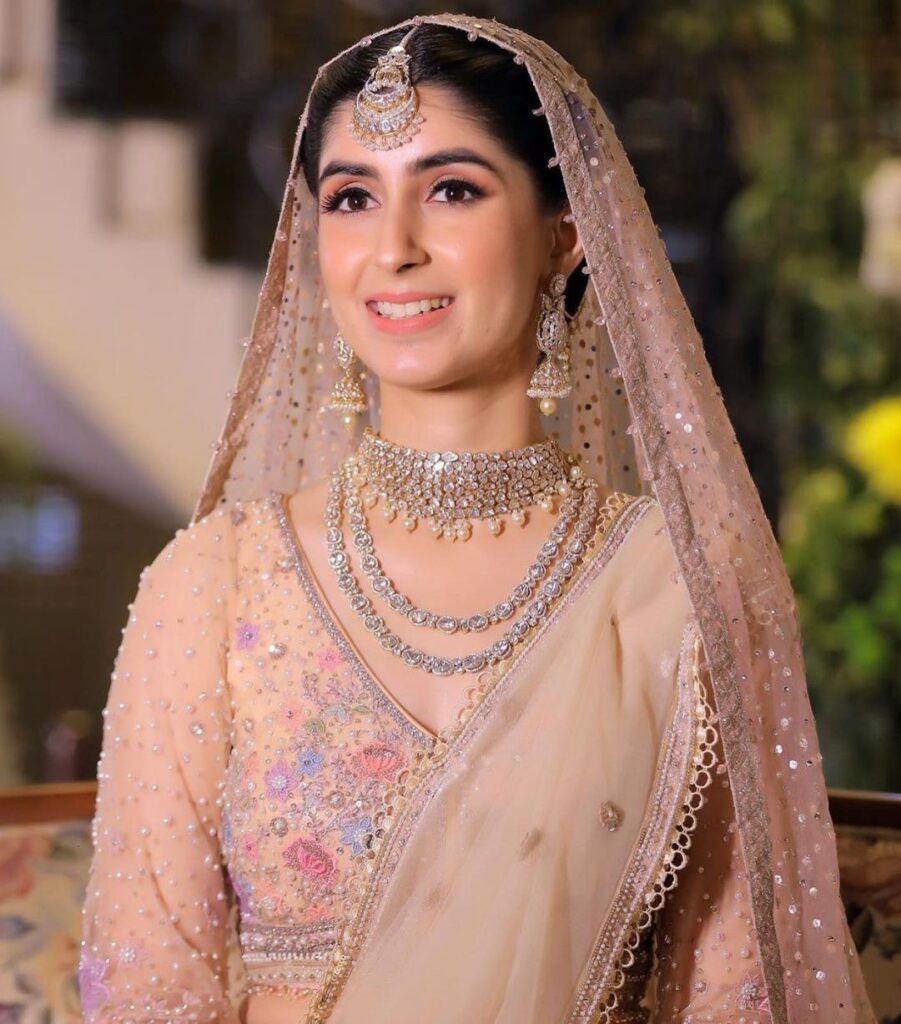 Courtesy: Paveena Rathour
#39 Dramatic Colored Eyes Bridal Makeup
A dramatic colored eye shadow adds drama & flair to her mehendi makeup while complementing her attire. We love the way this bride opted for rosy cheeks & nude lips to balance the glam of her eye makeup with subtlety.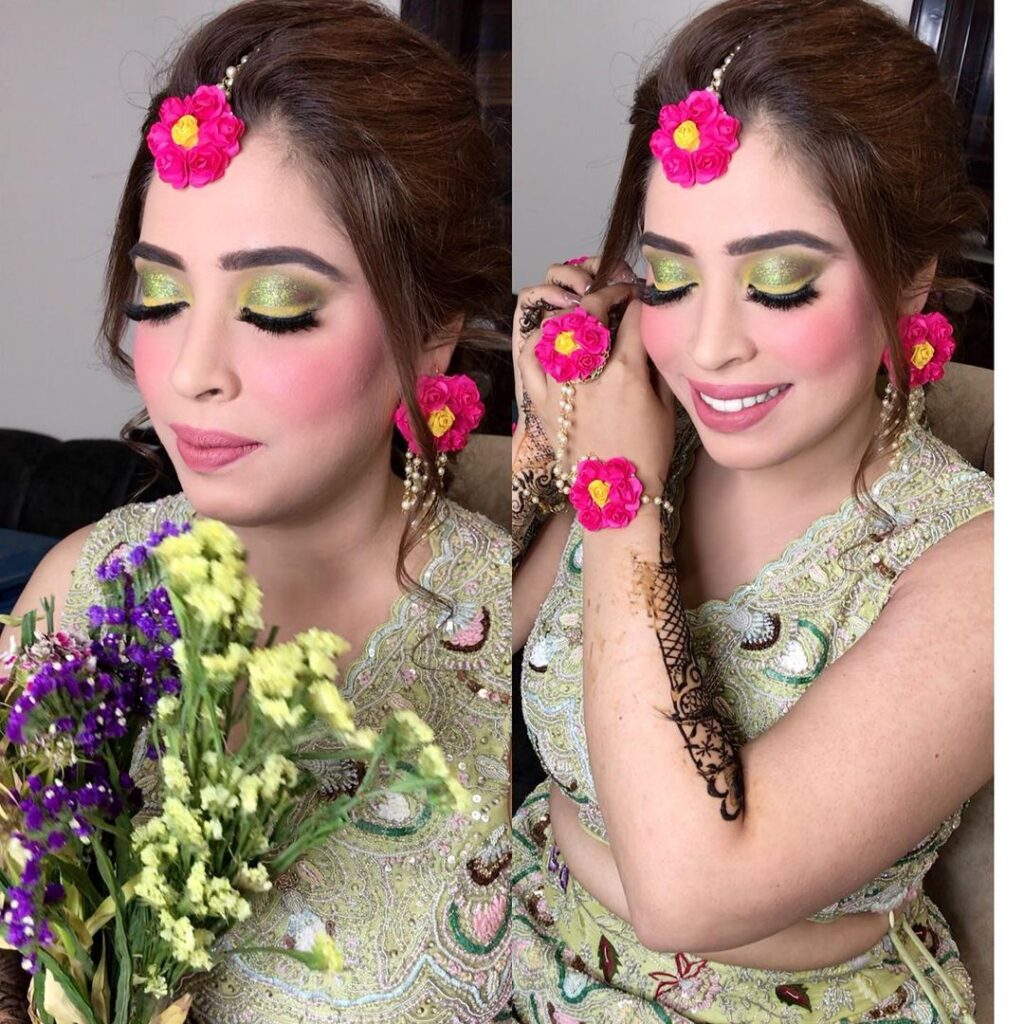 Courtesy: Makeup by Sonal
#40 Strategically Contoured Look
It's true that contour can actually act as a botox when done skillfully. Here, you can find a bride with enhanced facial features alongside a bold lip to curate a finished face dripping with makeup magic.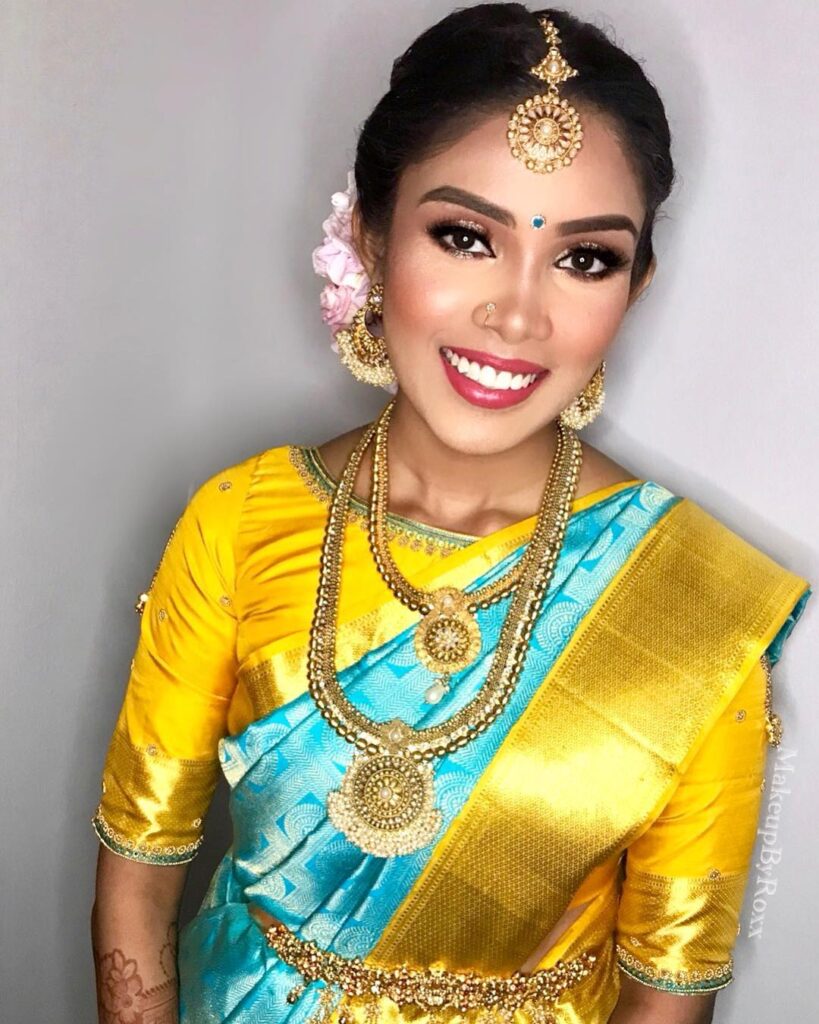 Courtesy: Makeup by Roxx
#41 Luscious Lashes With A Pink Lip
We love a simple, natural palette for an Indian Christian wedding ceremony. The accentuated eyes go well with the baby pink lips and the sheer base makeup for the brides' outdoor ceremony.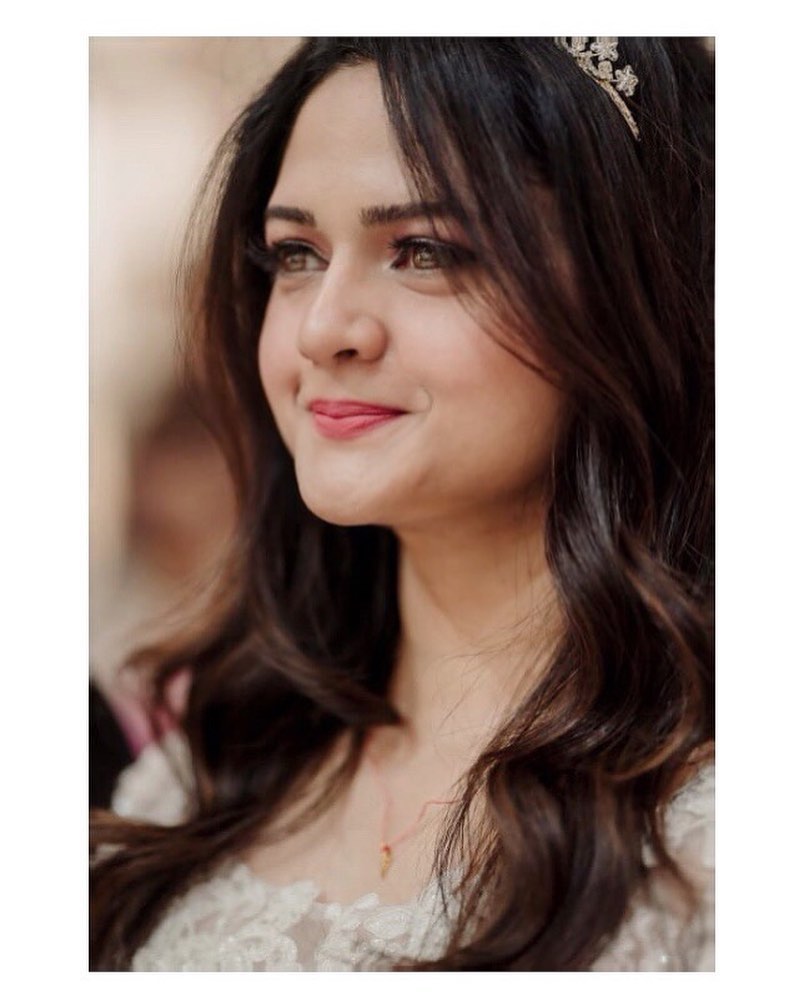 Courtesy: Anurita Chandrappa
#42 Dramatic Lids With A No-Makeup Makeup Look
A day traditional ceremony implicitly calls for a minimalistic look that looks gorgeous in sun rays. Soft shadows on lids alongside neutral hues on the face and lips are simply stunning.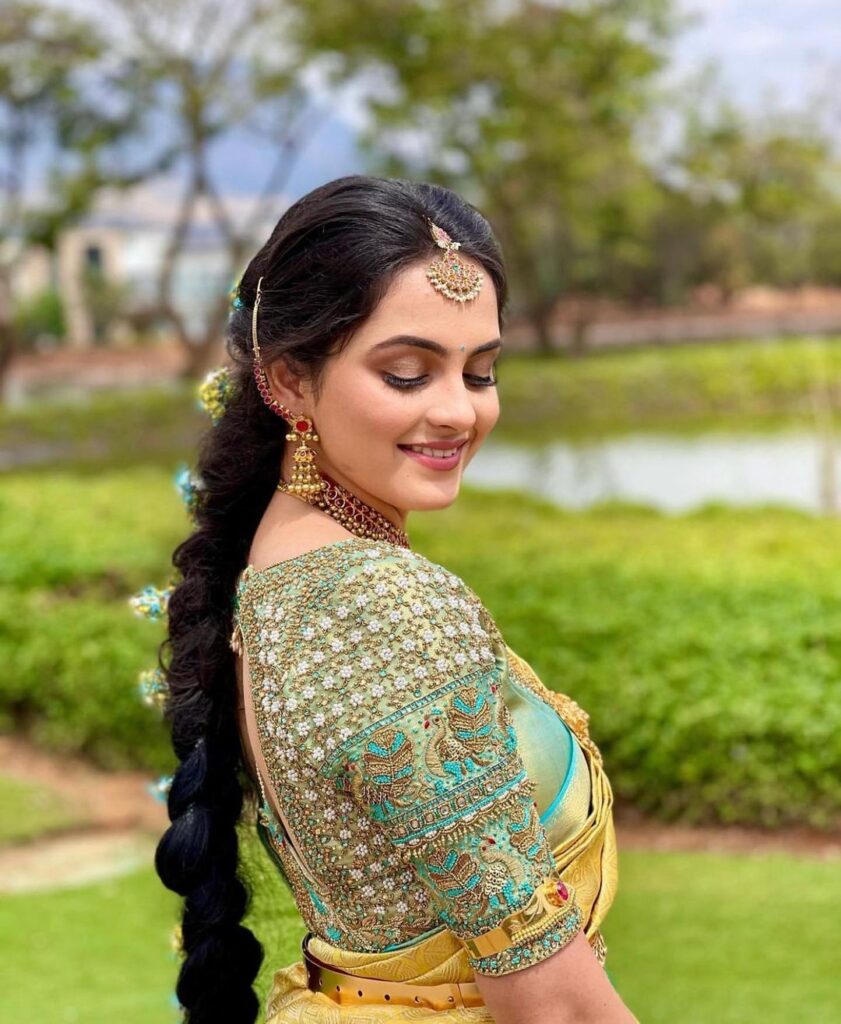 Courtesy: Neha Chinnappa
#43 Glowing Base & A Red Lippy
No words needed to express that this bride's ear-to-ear smile is infectious. The crimson hearty smile with a glowing base just reflects her effervescent personality.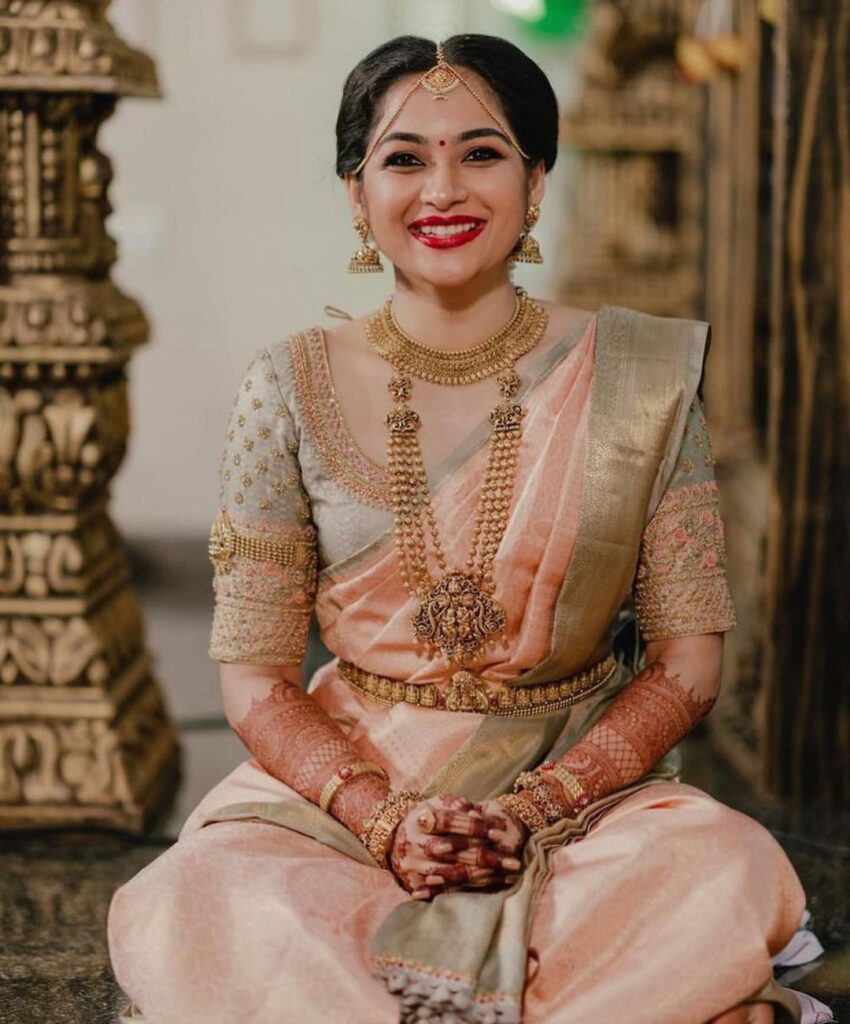 Courtesy: Tamara Makeup Studio
#44 Mauve Eyes & A Smooth Base
Her mauve smokey eyes ties in perfectly with the pastel pink outfit and the kundan jewels. Gorgeous lashes and an impeccable foundation base created a gorgeous pairing for the stunning eyes.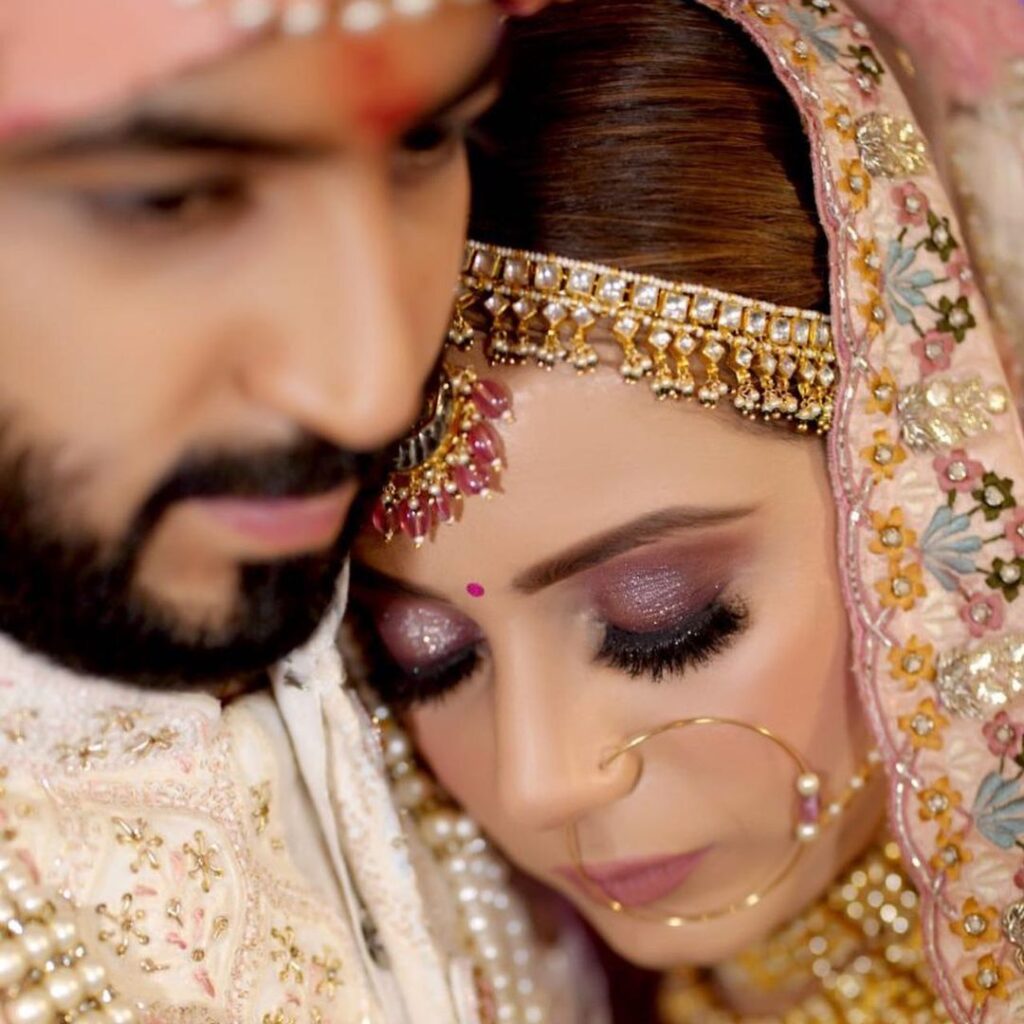 Courtesy: Samiksha Jai
#45 Resplendent 
While her high cheekbones with a pop of blush & highlight take the attention, the thick eyeliner pulls the whole look together magnificently. For a mehendi function, a radiant base that shines in the natural light is always a superb option – and here's proof.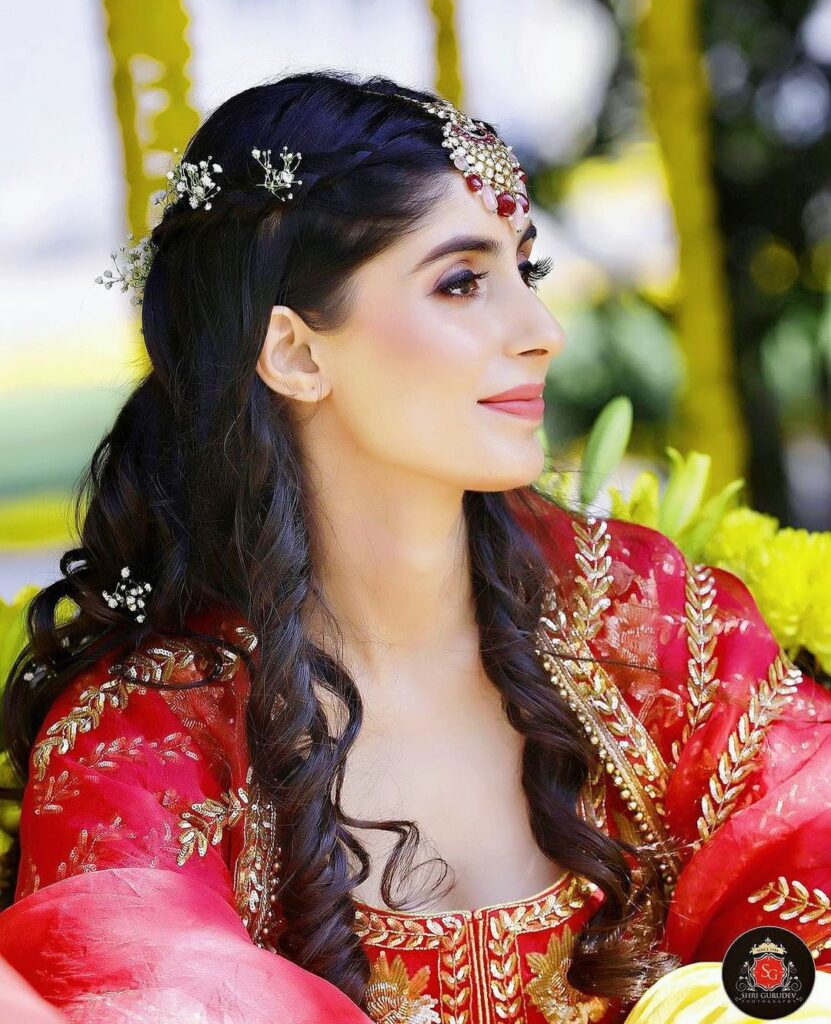 Courtesy: Paveena Rathour
#46 Purple Eyes & A Bold Red Bindi
To match her purple Jayanti Reddy lehenga, Indian makeup artist Simran Takkar created a smooth purple base on her lids and paired it with dramatic lashes for a dramatic effect. To add the traditional hint of red, she opted for a crimson bindi on her forehead creating a gorgeous harmony of colors.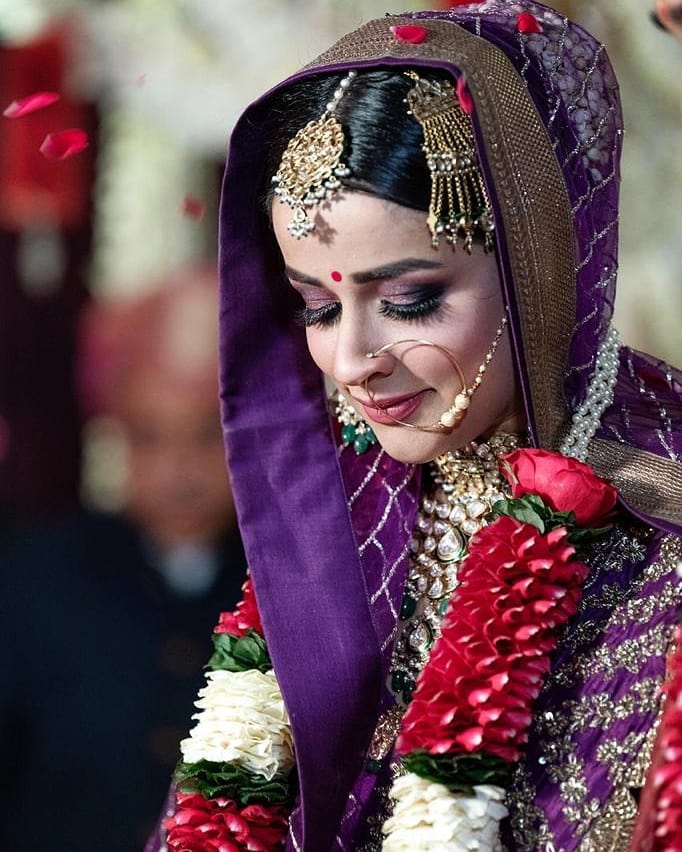 Courtesy: Simran Takkar
#47 Light Smokey Eyes & A Ruby Lip
Adding a pop of ebony on the eyelids and a ruby red lip adds a gorgeous charm to this otherwise monochromatic pastel look. A clear bindi and a pale blush complete her bridal makeup look for the destination wedding in Thailand.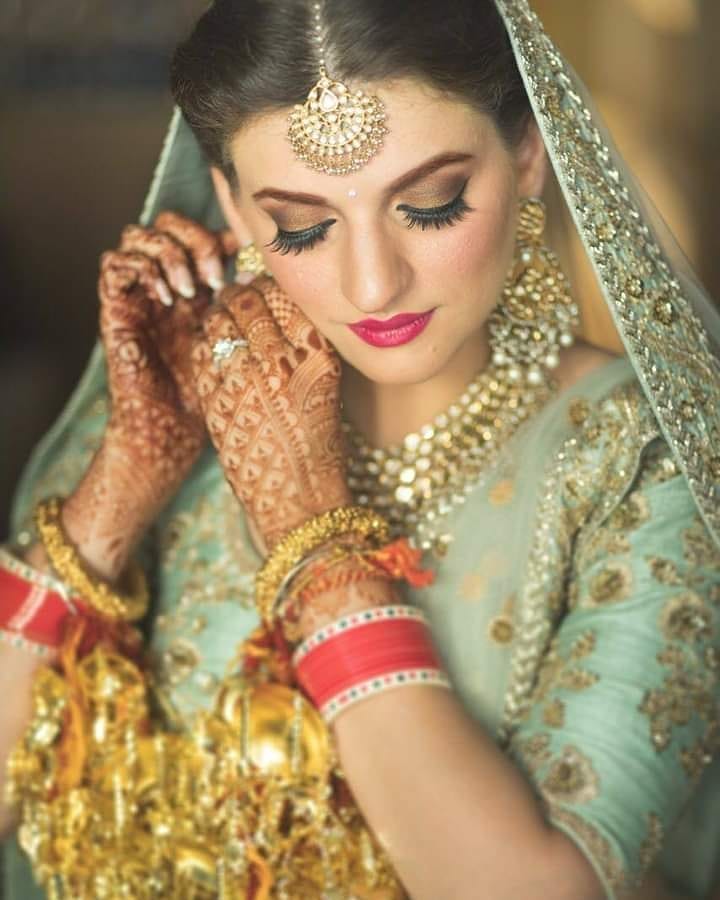 Courtesy: Simran Takkar
#48 That Golden Glow! 
Those creamy golden palette colors on her lids with a strong liner and luscious lashes are enough reasons to swoon over this wedding makeup idea. Chiseled cheeks and a bronze glow fit perfectly with a defined brick-red pout.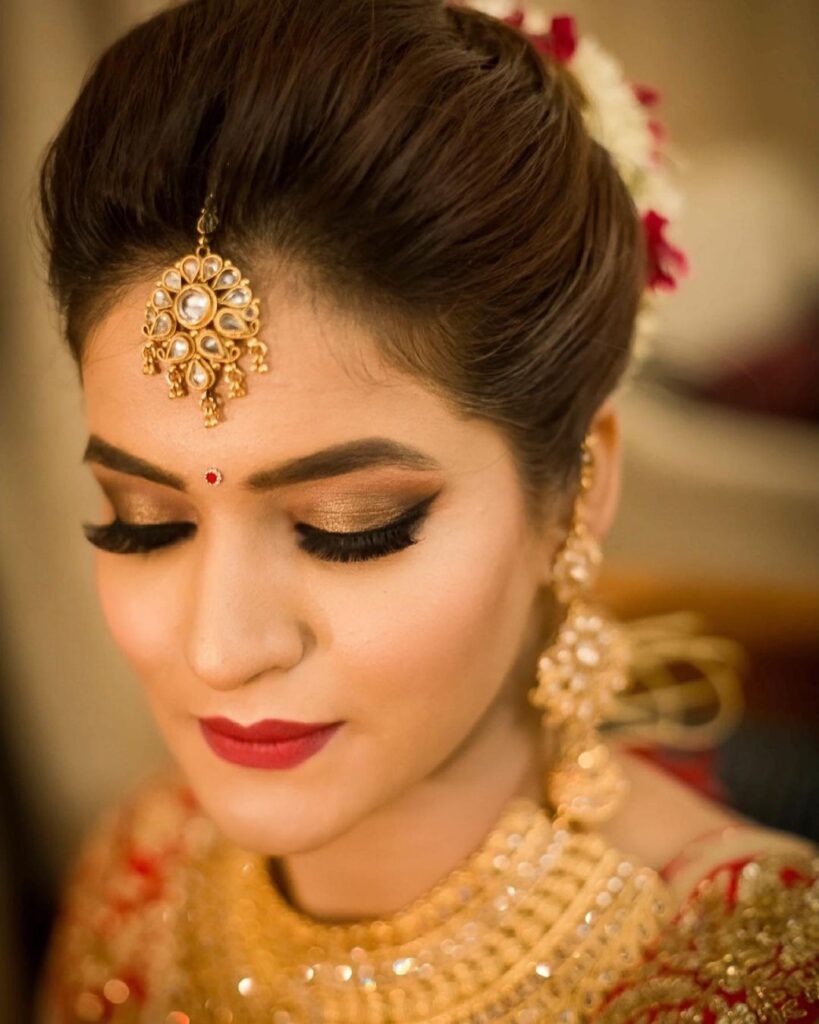 Courtesy: Shruti Sharma
#49 Multi-Hued Eyeliner To Add The Oomph 
If you're wearing a neutral outfit on any of your events and want to add a pop of color, infusing those hues in your makeup is a superb idea. See how bridal makeup artist Urmi Kaur lined this bride's lashes with a blue palette and included the same in her eyeshadow. The blush tones add an incredible touch to the entire look.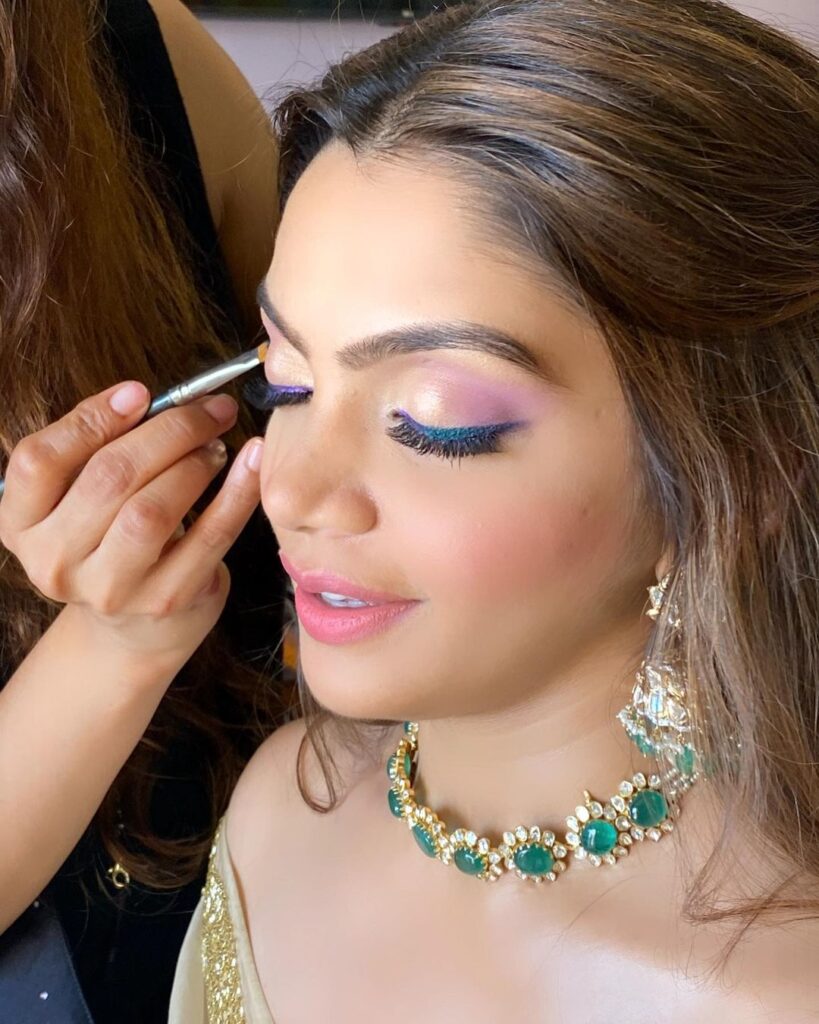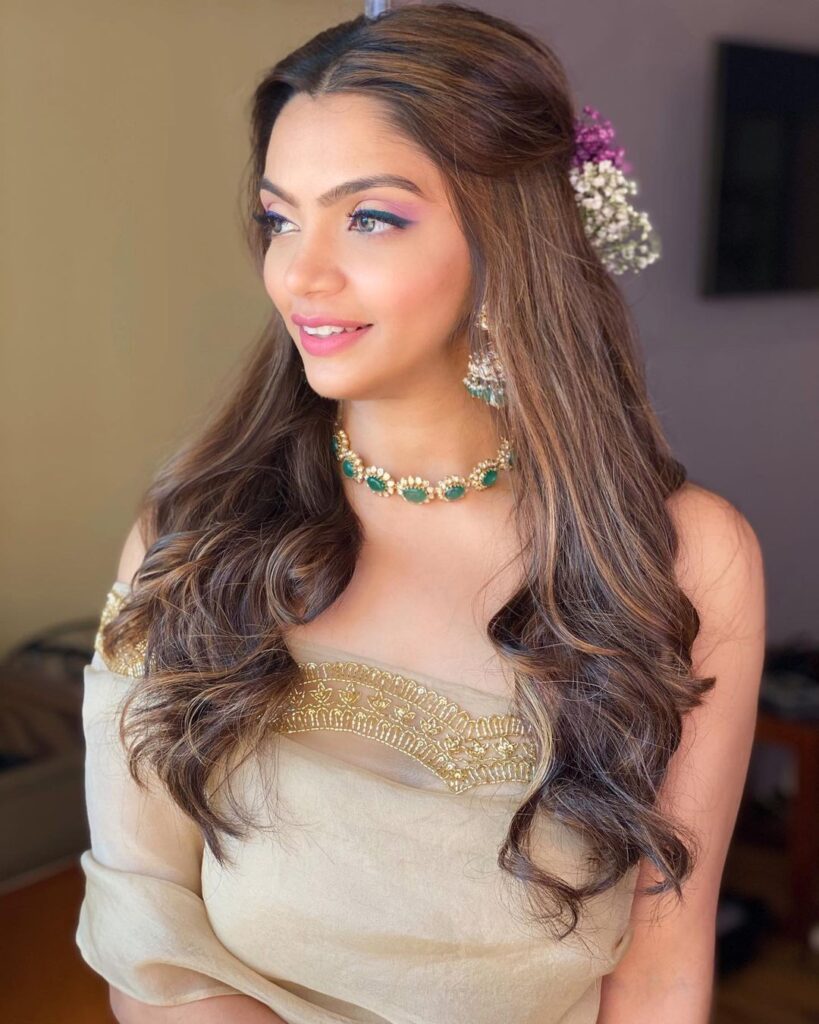 Courtesy: Urmi Kaur
#50 Pastel Poise Infused In Her Bridal Makeup
Admiring how she infused her entire ensemble with just one color – pink – and left us all with a resplendent monochromatic bridal look inspiration. From jewels and makeup to flowers in her hair – the coordination in the aesthetic is brilliant.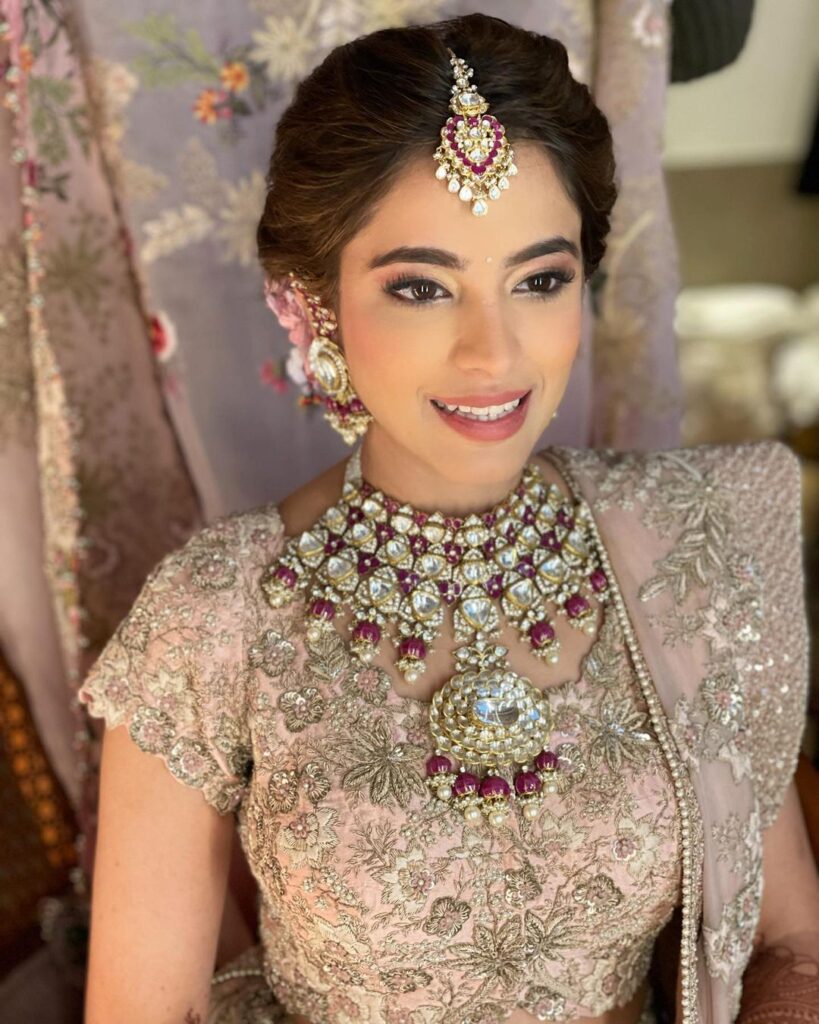 Courtesy: Urmi Kaur
#51 Radiant Goddess! 
Strategically putting the highlighter in the right places can do wonders to achieve that bridal glow in your makeup. By imparting a gliding sheen in her lids and lips, the MUA did an amazing job creating a subtle glam makeup for this mehendi bride.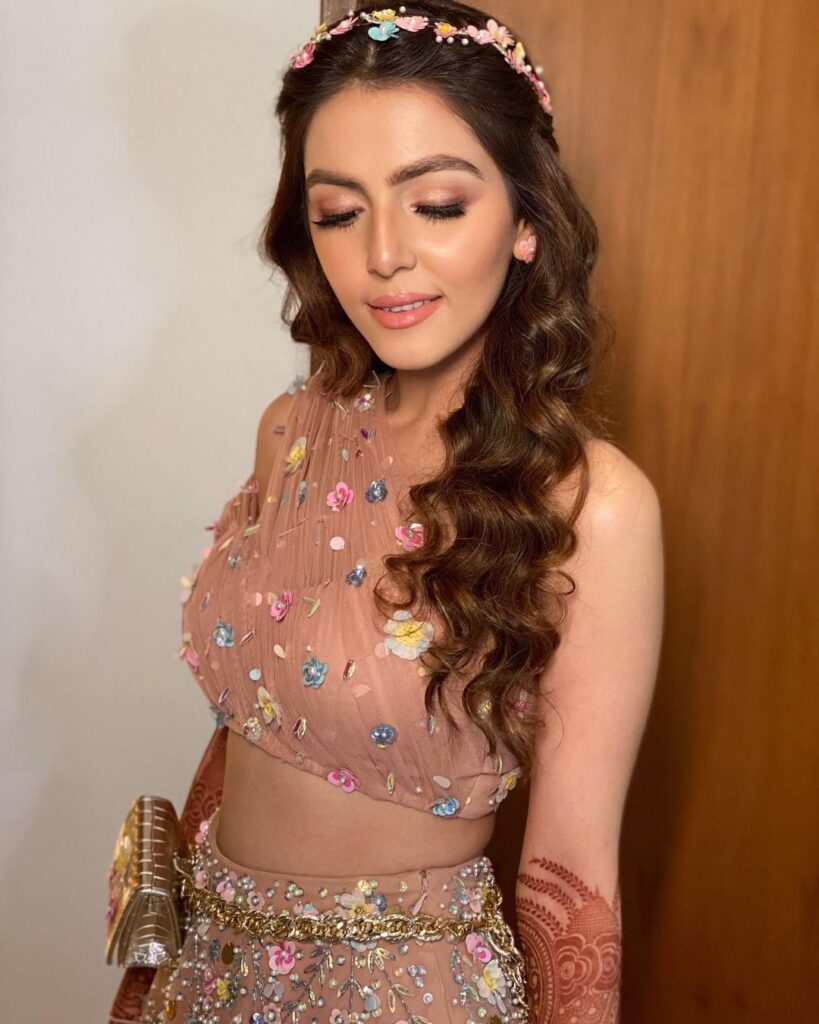 Courtesy: Meraki by Ritika
#52 Flawless & Timeless Bridal Makeup
Pink seems to be a staple color in a bride's makeup, considering it's also a vibrant hue that's popular in Indian weddings. A neatly curated eyeshadow look and corals make a fitting combination for a newlywed bride.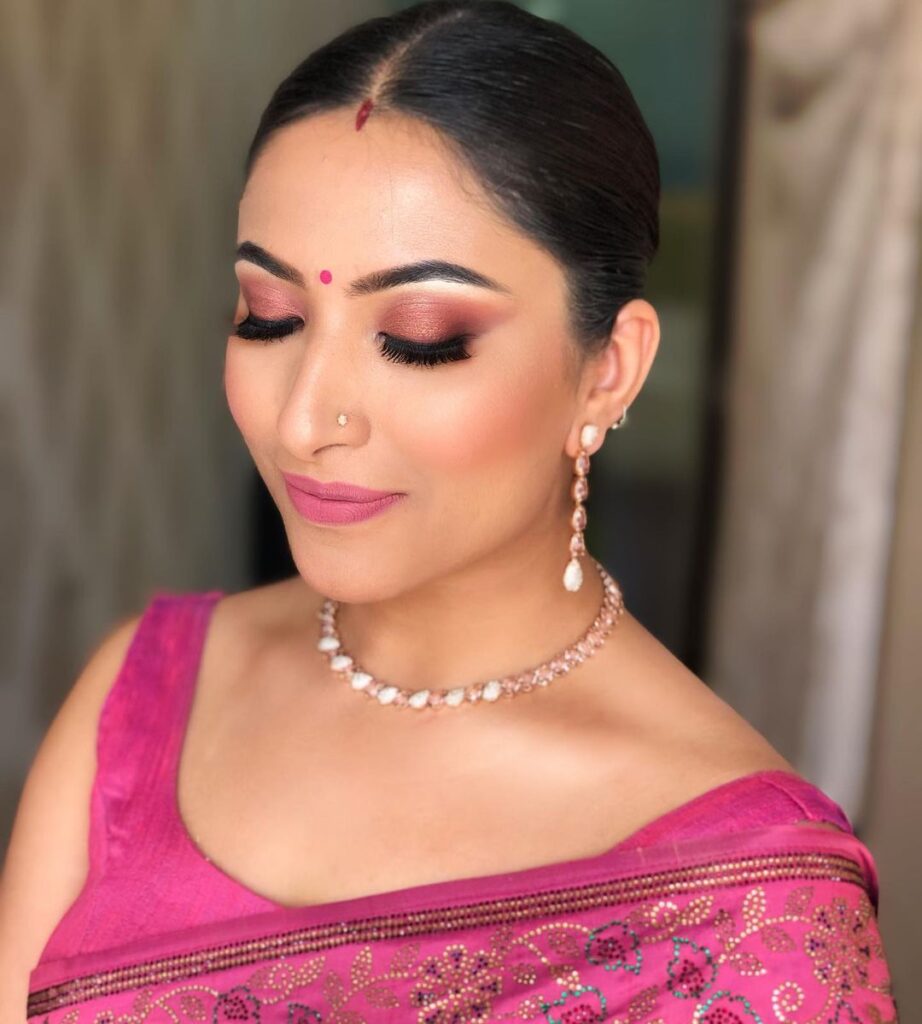 Courtesy: Pooja Sonik
#53 An Ethereal Aura
Switch up things and opt for metal gray shadows on your eyes alongside a pinkish glowy base. Pair with defined brows, glossy lips, and perfectly shaped brows for a dazzling sangeet entrance.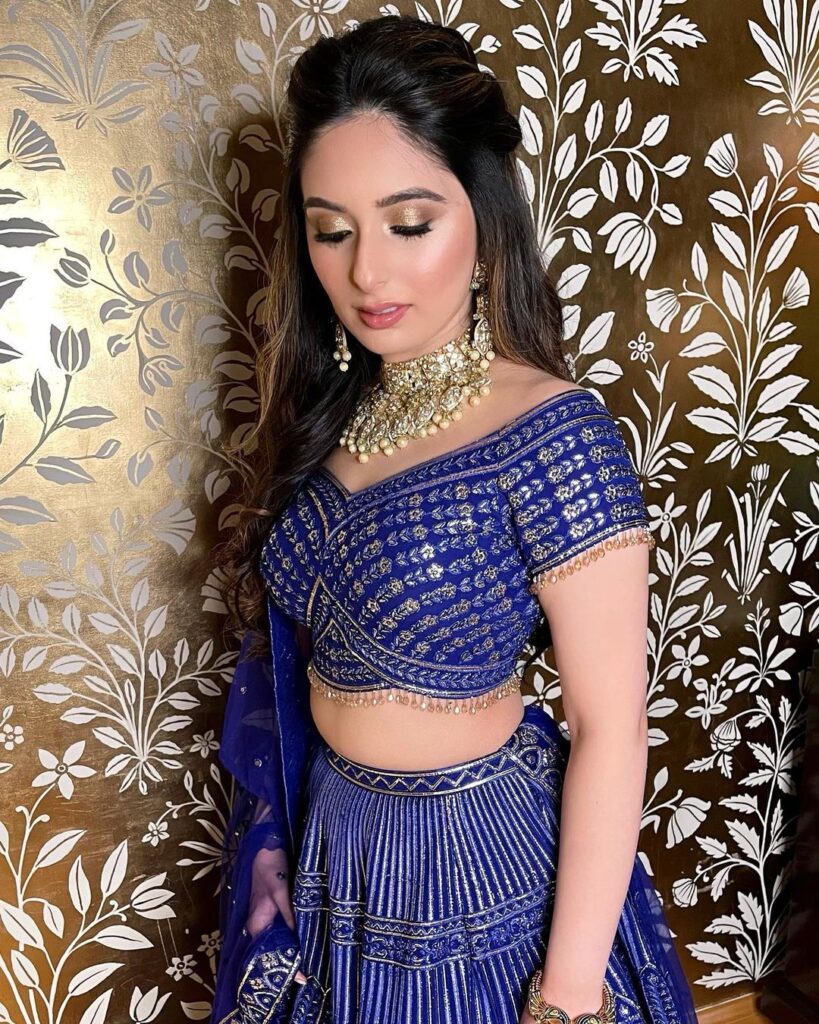 Courtesy: Pooja Khurana
#54 A Romantic Palette With Cut-Crease Eyes
Just look at her sheer gorgeousness! The cut-crease glitter eyes blend seamlessly with her HD bridal makeup base and are deftly combined with a satin nude lippy and salmon cheeks.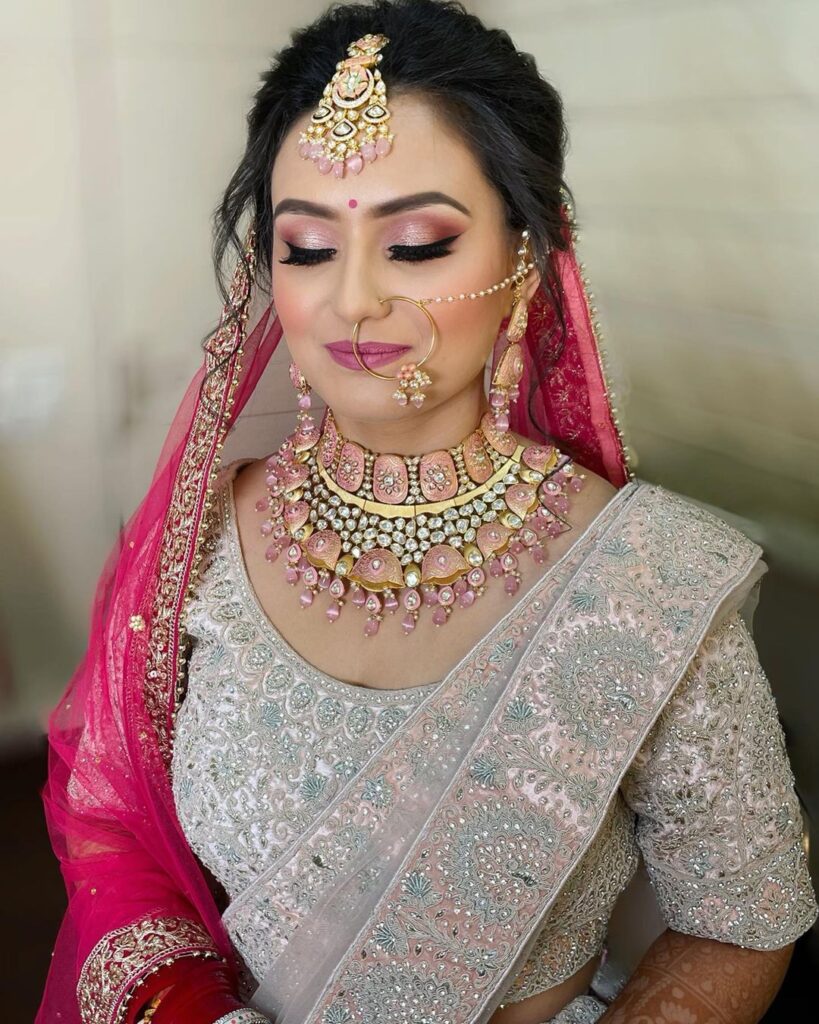 Courtesy: Pooja Sonik
#55 Unique Orangish-Red Approach To Bridal Makeup
Those wearing red on their wedding day, take note: her eyes are practically set ablaze with a unique orangish-red eyeshadow hue topped with thick eyeliner. A matching lipstick with blush undertones finishes off the face.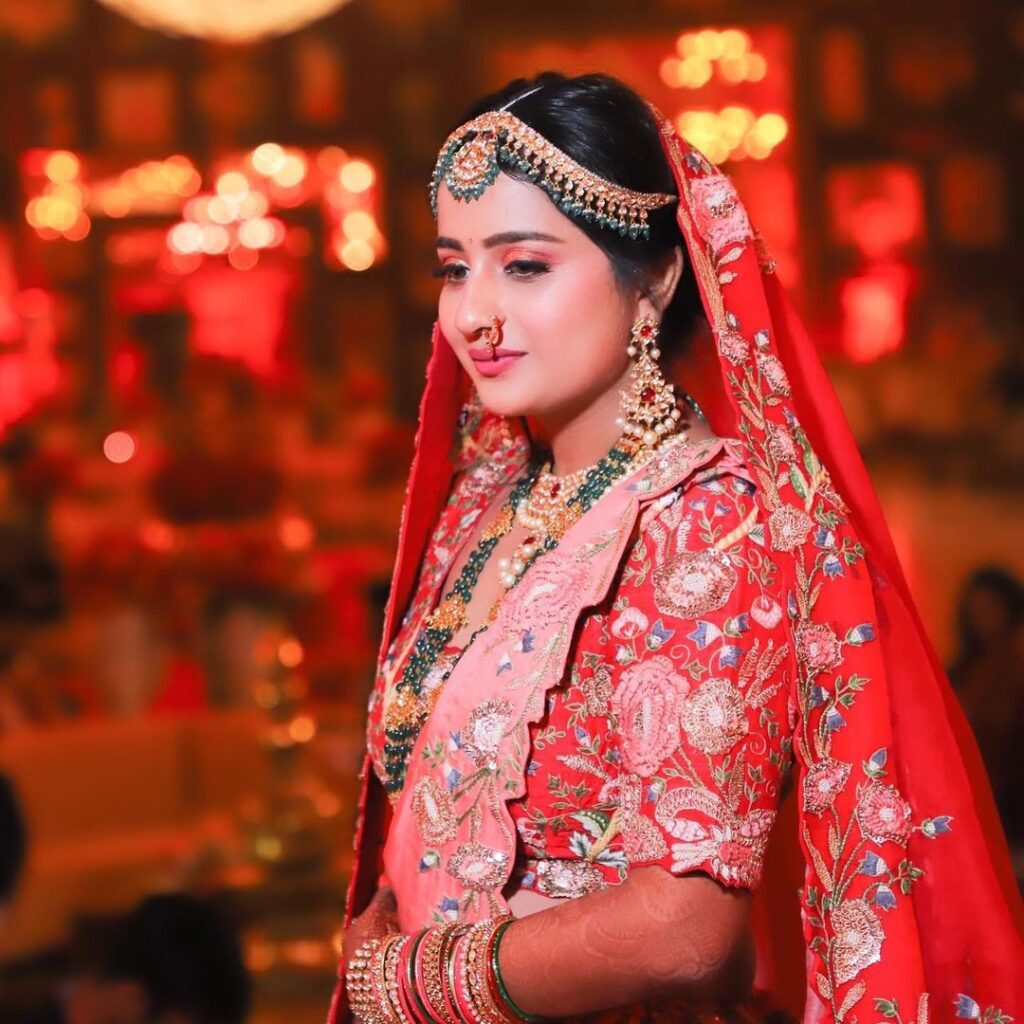 Courtesy: Misha Vig
Related: