As we move towards the 2021/ 2022 wedding season, the trend of intimate weddings has dialed down the maximalist style on the big day. But the one thing that it hasn't changed is the brides' staying true to their individualistic style. While picking elements for their bridal look, they're holding their vision to the highest standards. From the wedding dress to jewelry to makeup, each component matters. And if you want to spruce up your D-Day look, the one element that can do that perfectly is a bridal mathapatti. 
The traditional headgear not only adds a dramatic, old-world charm to your ensemble but goes with all kinds of bridal styles – from elegant, minimalistic, to OTT. Don't believe us? These 47 mathapatti designs will change your mind. We've fished out the most gorgeous ones from the Internet to serve you some inspiration and help you sort out your big day look better. 
At the end of the blog, find some links to purchase this theatrical headgear online. 
#1 Starting off the list with this viral bridal look which remains relevant to this day.
Samridhi's
OTT bridal jewelry came with an exquisite mathapatti design that added the perfect glam to her maximal bridal style. Paired with a bold bindi and a red lehenga, a timeless, elegant wedding ensemble doesn't get any better than this.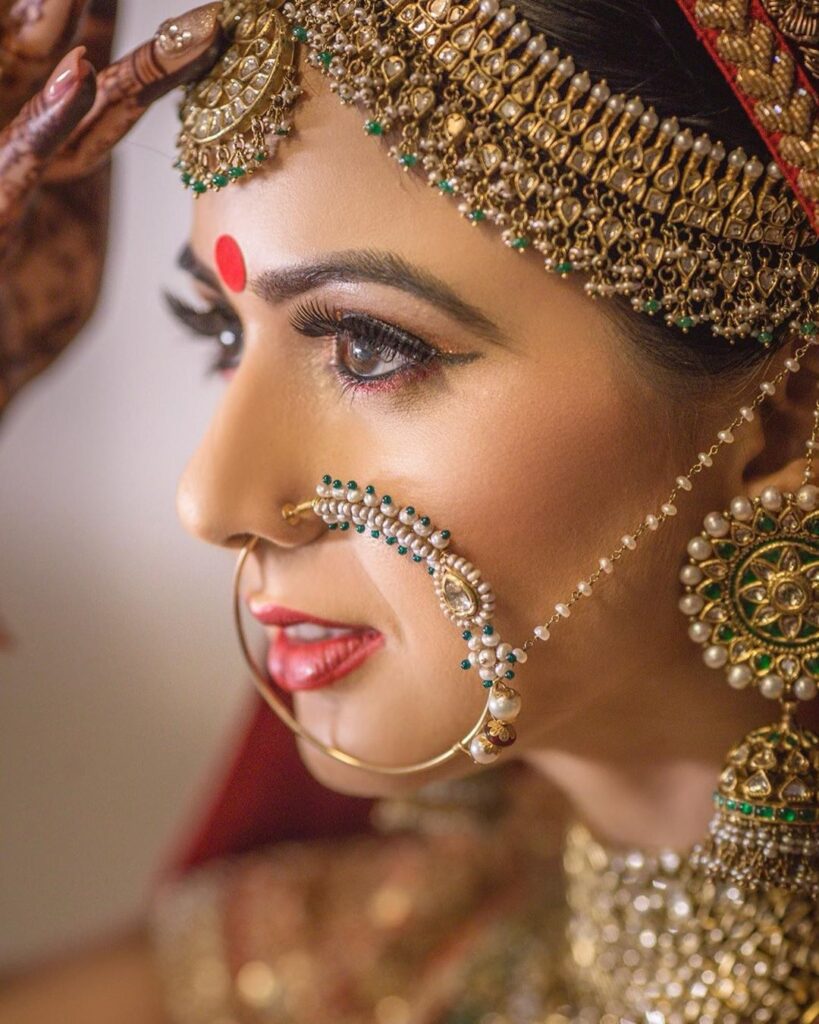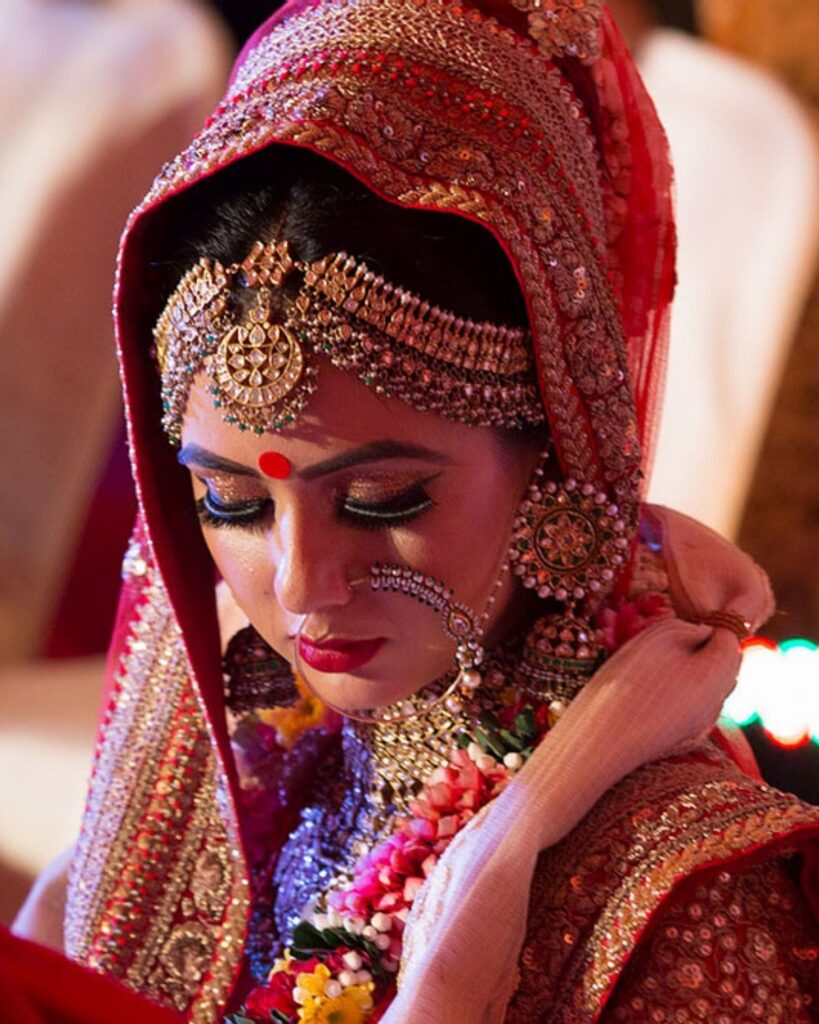 Courtesy: Cupcake Productions
#2 If the golden kundan mathapattis doesn't quite radiate your style, then this fuss-free polki one will awe you. The key is to balance your wedding jewelry to create the look you want. In this case, the bride opted for simple headgear to let her dramatic choker & rani haar set stand out. We recommend the same if you want your neckpiece to be the crowning glory of your ensemble.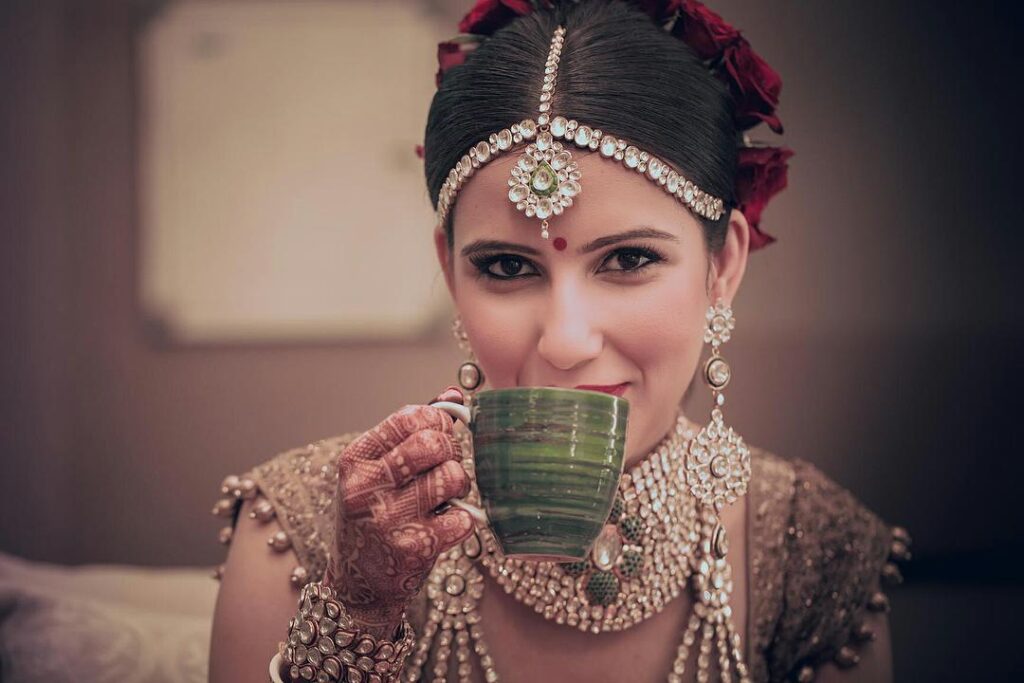 Courtesy: Cupcake Productions
#3 Shining bright like a diamond on her D-Day with blingy elements. From her golden heavily-sequined lehenga to the shining polki set, every part of her bridal look screams that she is a glitter lover and embracing the same. Owing to the repeated details of the headpiece, your jeweler would be able to replicate this piece well too.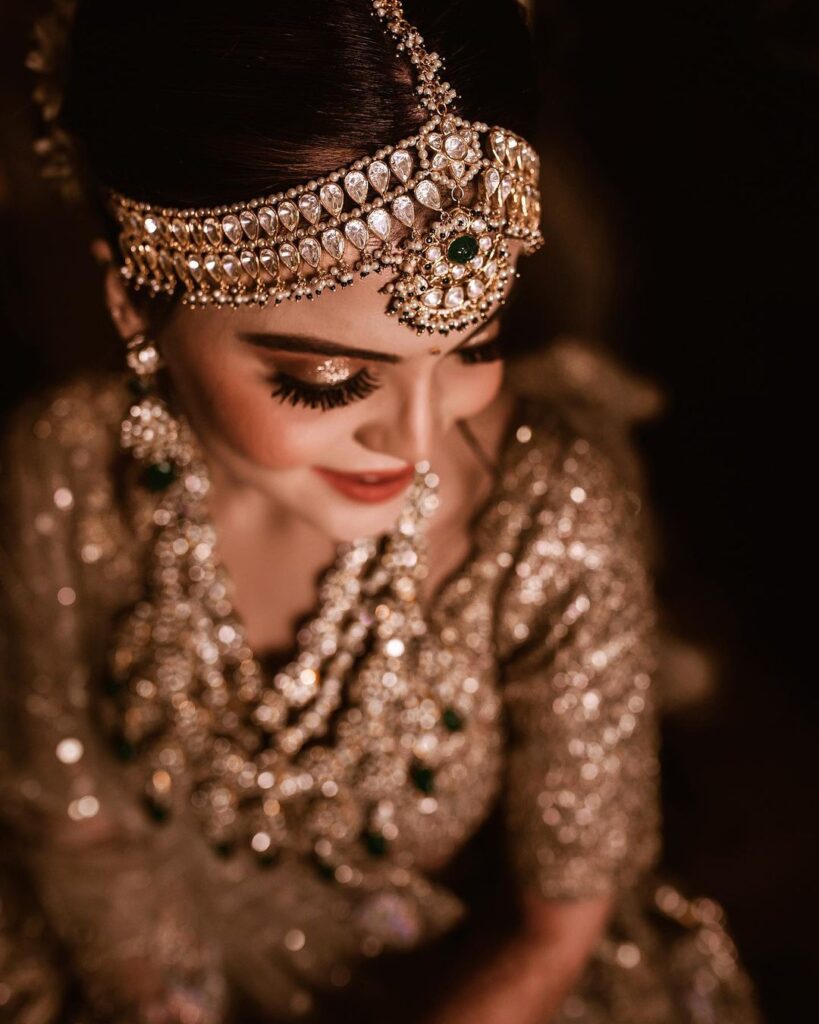 Courtesy: Neha Baweja
#4 Unlike what the popular notion says that there's a mathapatti for a certain face shape, we believe you can find your preferred style no matter what face shape you have. All you have to do is hunt down your favorite stores and try them in person. Like this bride picked a traditional Rajputi style mathapatti for her pheras, complementing her royal Rajasthani look well.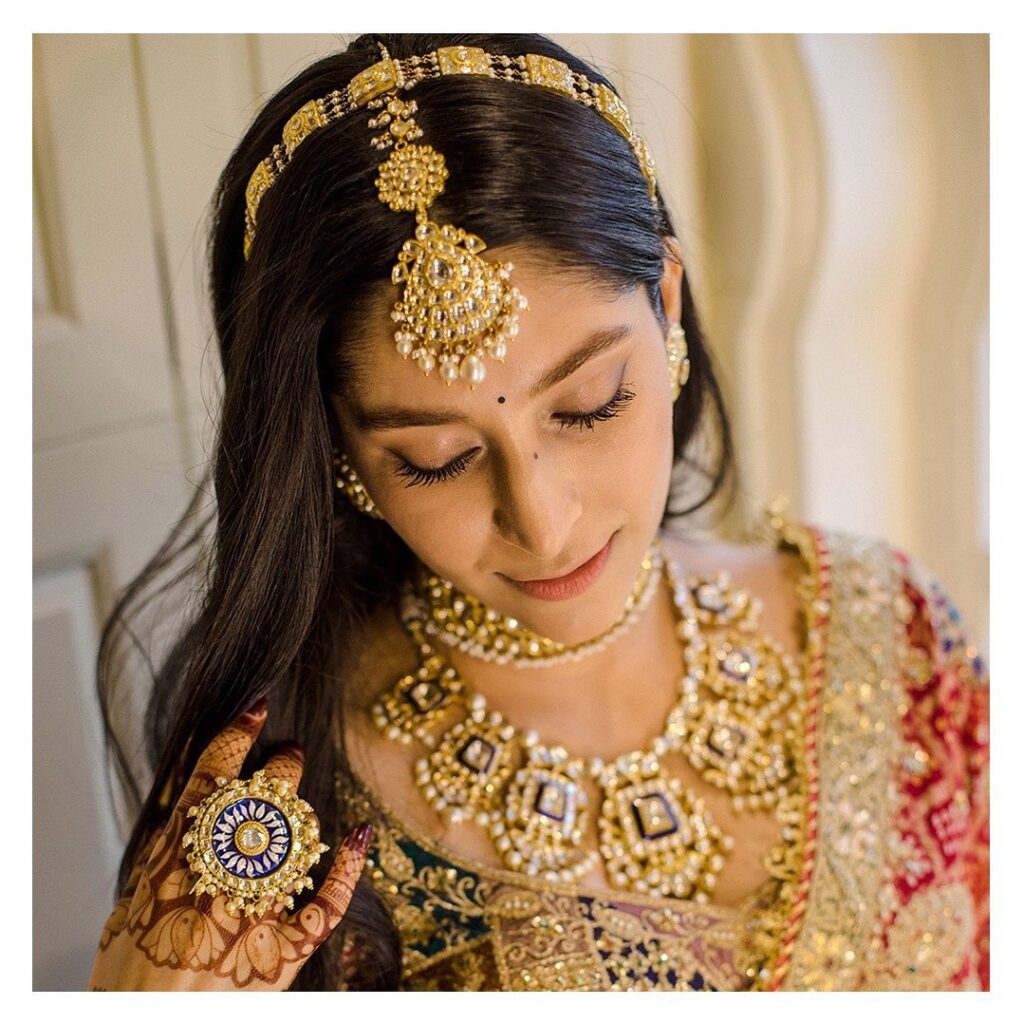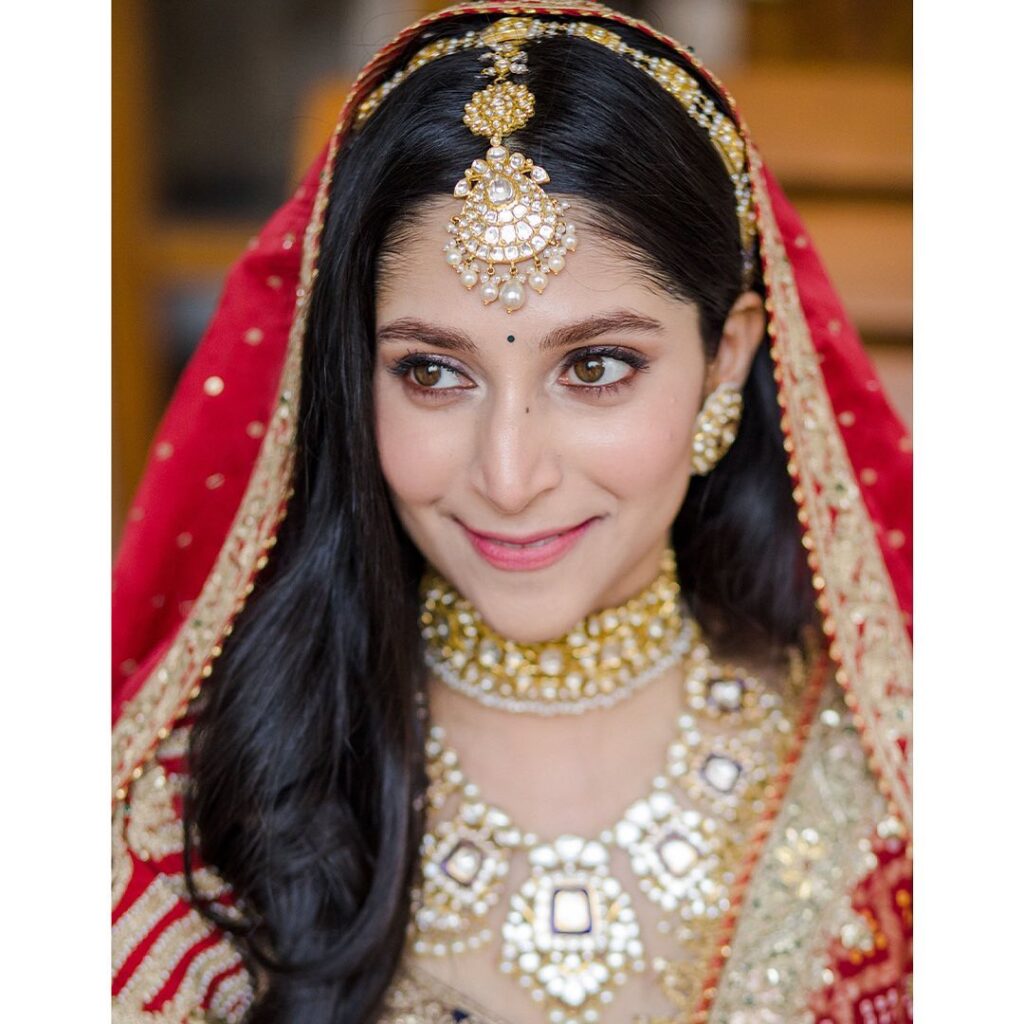 Courtesy: Sunita Shekhawat Jaipur
#5 A ghungroo-style mathapatti with pearl hangings looks gorgeous always. And no matter what lehenga hue you're wearing, it will complement the shade well. Here's a bride in the traditional red wedding getup to inspire those who love the conventional style more than anything. And yes, Deepika's Sada Saubhagyavati Bhavah dupatta is still trending and can add a celebrity charm on your wedding day.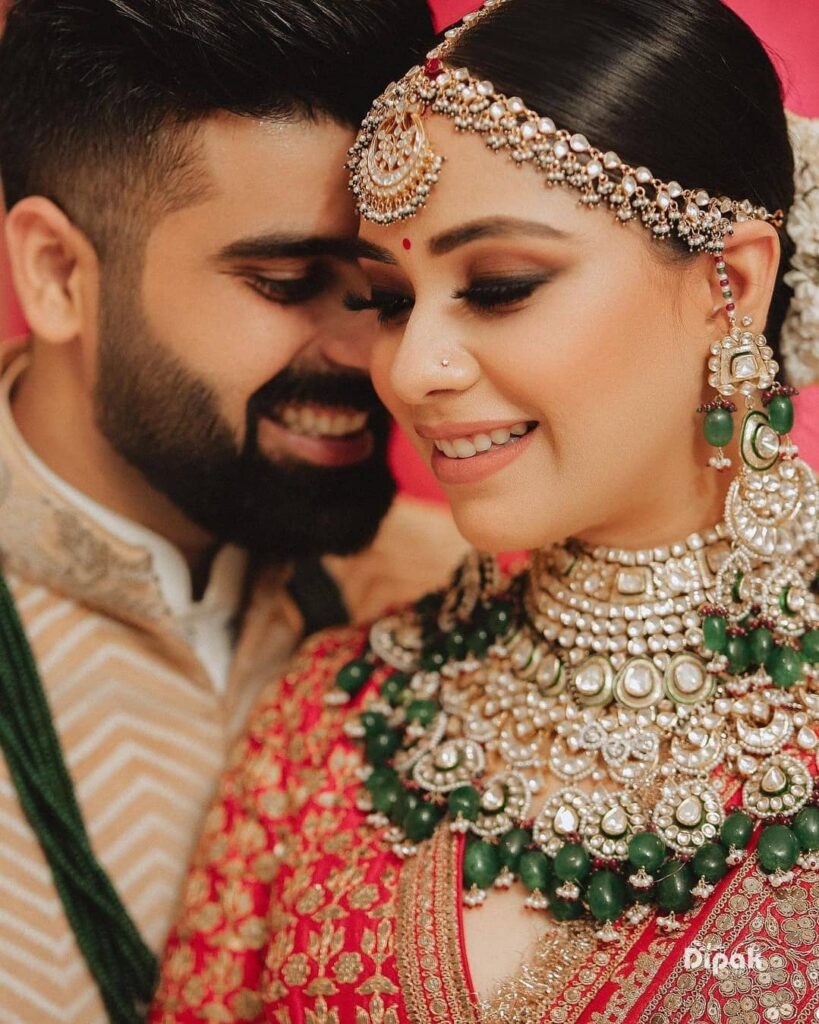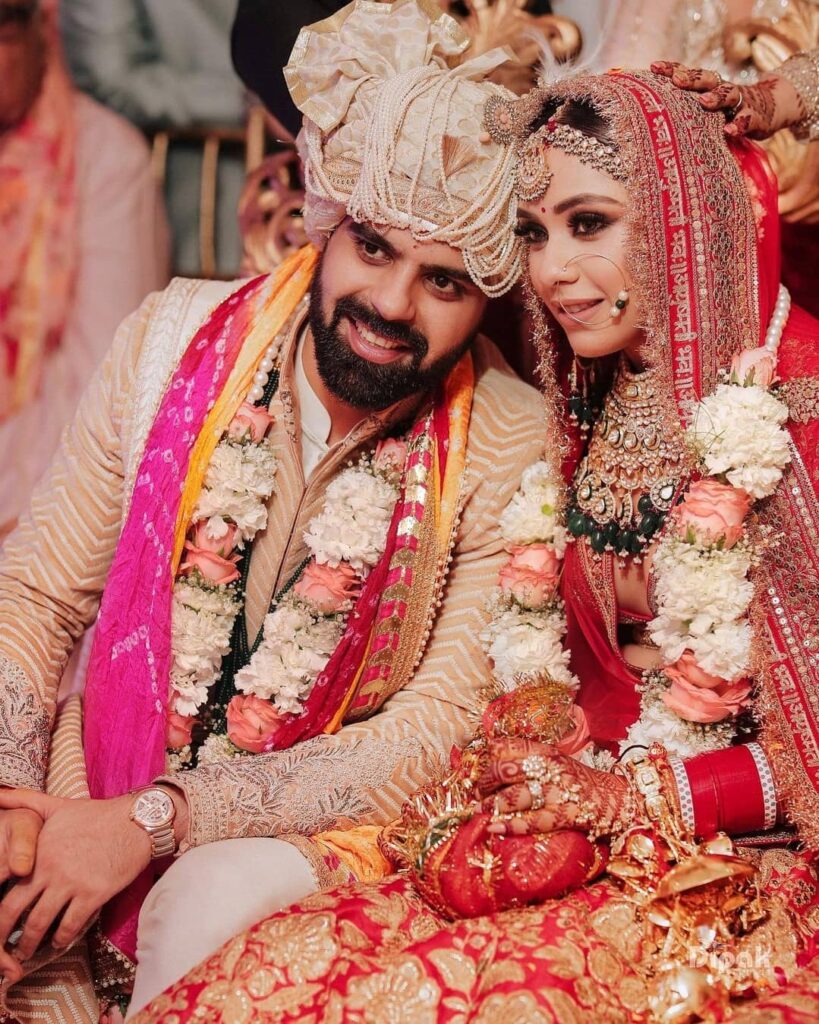 Courtesy: Dipak Studios
#6 A Rajputi-style mathapatti consists of a band that goes in the middle of the crown of your head rather than around the hairline. While this style is common in Rajasthan, it's catching up in other parts of India too (it was a part of Deepika's Sindhi wedding look as well). If you're fascinated by this style, here's a pearl-style Rajputi Mathapatti or
sheeshpatti
to inspire your own wedding headpiece.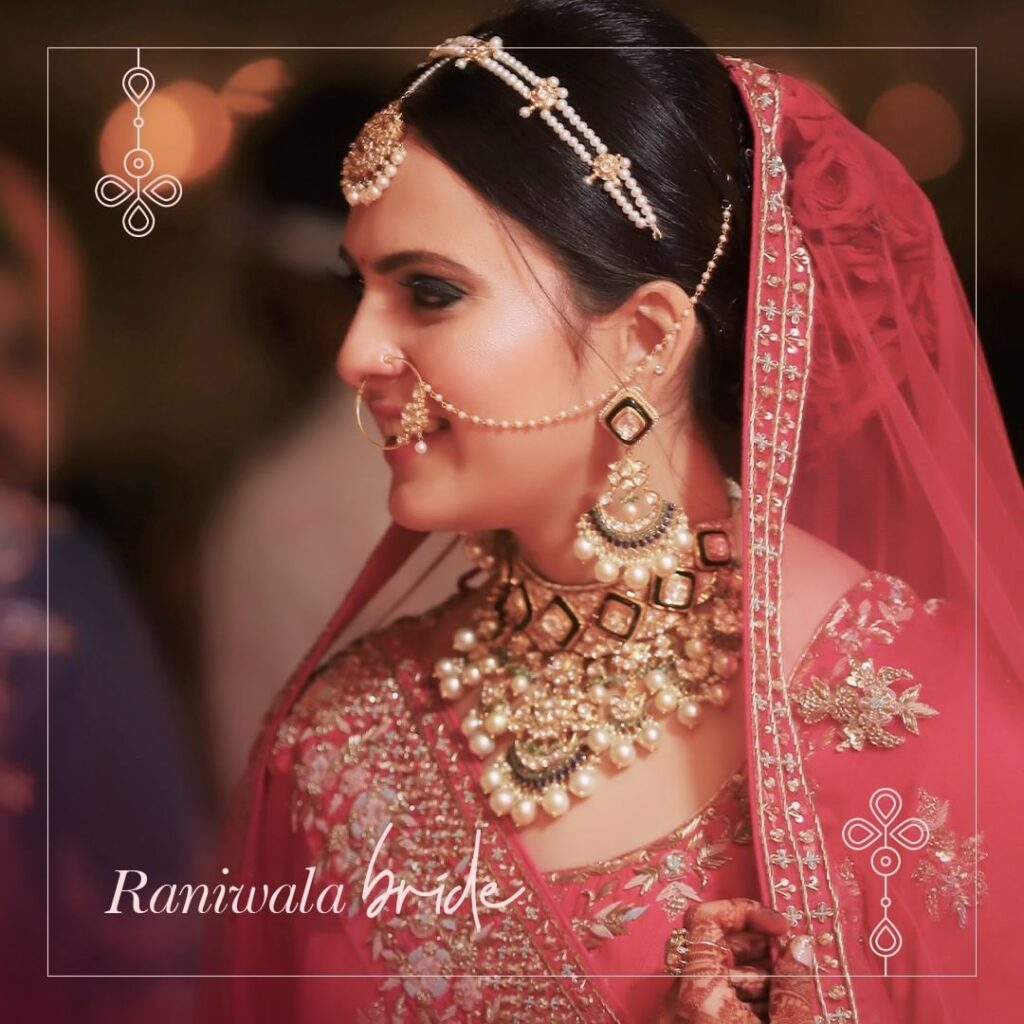 Courtesy: Raniwala 1881
#7 While there's no dearth of dramatic elements to add to an Indian bridal look, elaborate headgear certainly can make for a great one. Love how this bride added an ornate one to her otherwise simple styling choices and left us all with a winsome wedding look.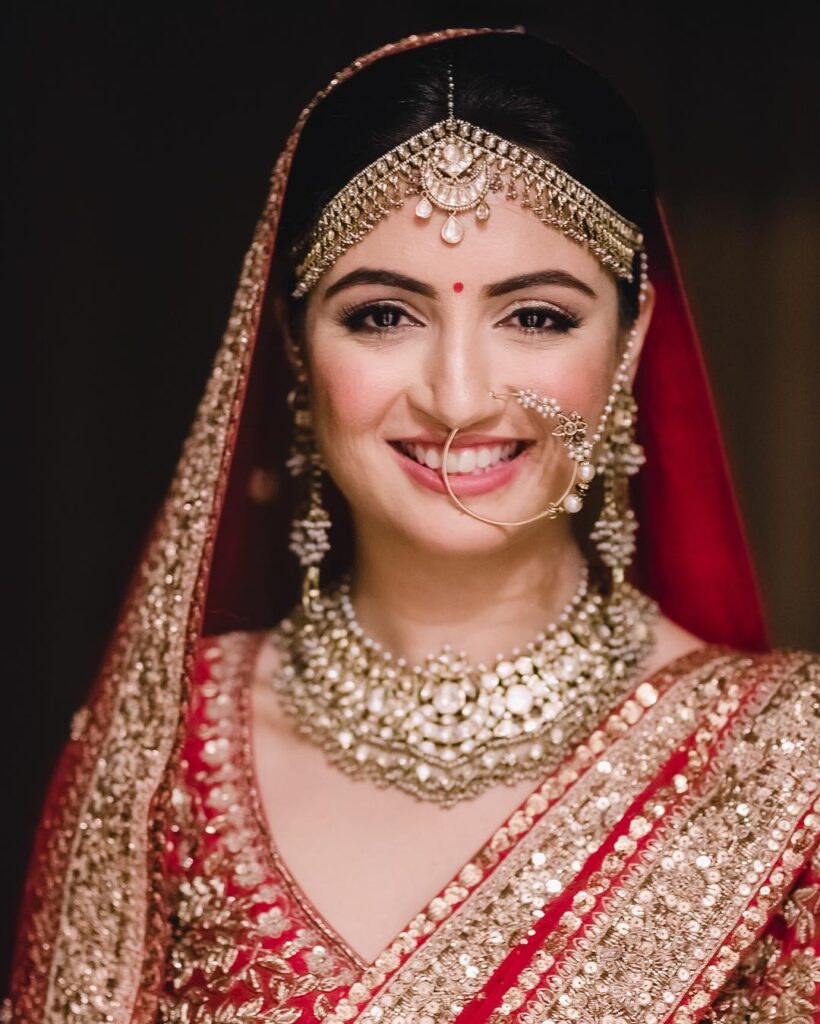 Courtesy: Joseph Radikh
#8 The debate that a maangitkka or a mathapatti suits a certain face shape better is the one we don't agree with. According to us, brides with any face structure can carry any of these headgears elegantly. Take a look at our heart-face-shaped beauty sporting an embellished mathapatti with utter grace. Keep scrolling and you'll know that a mathapatti can look amazing with any face structure.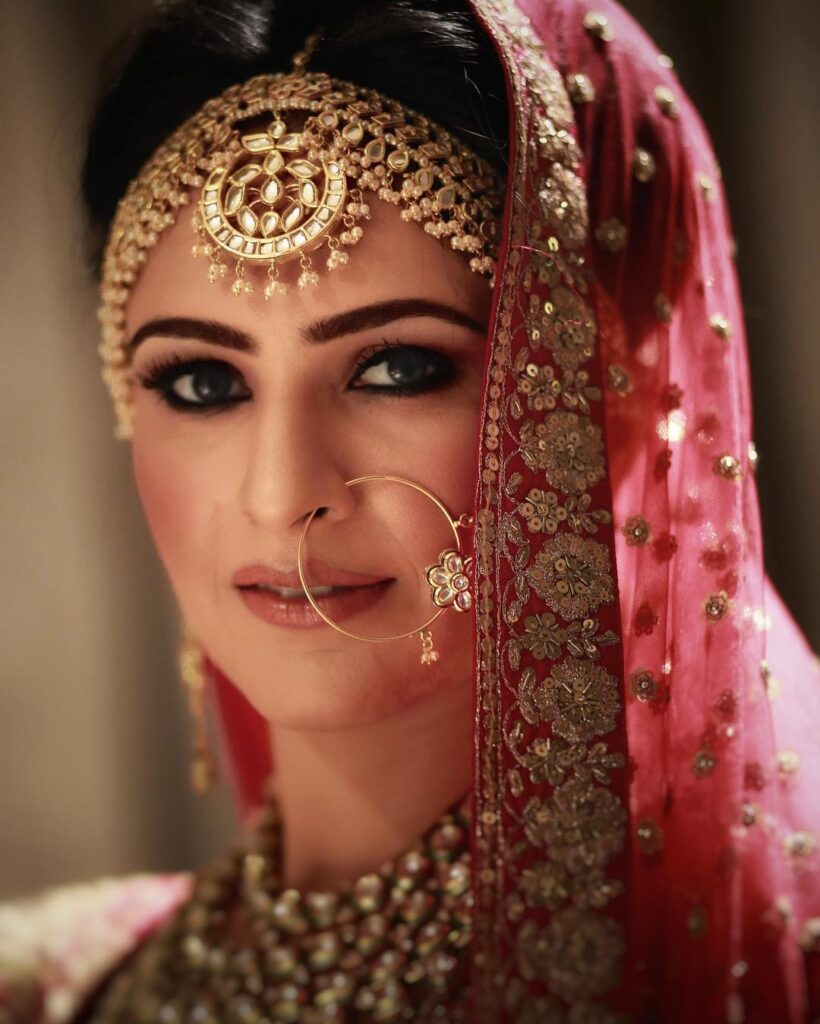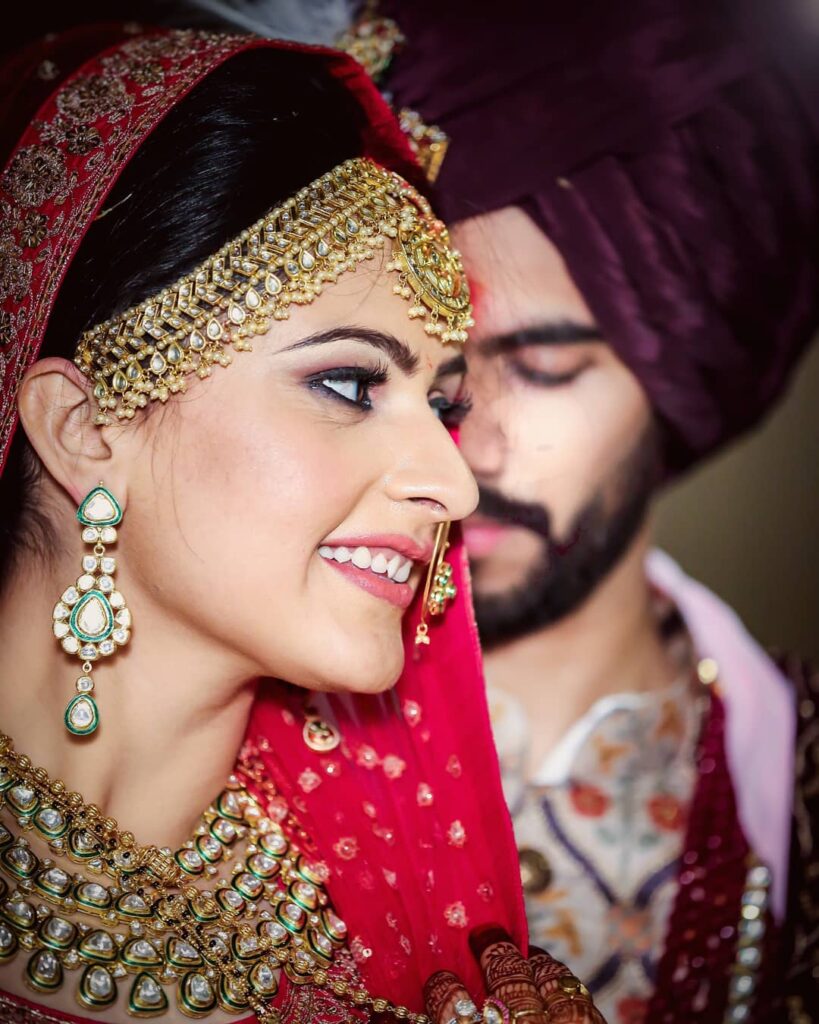 Courtesy: Happy Frames
#9 An OTT gold mathapatti design that enhances the soothing pastel colors of her dress and creates a statement bridal look. The pink hues infused in the jewellery complements the attire shade while the gold lends a perfect contrast to the monochrome ensemble.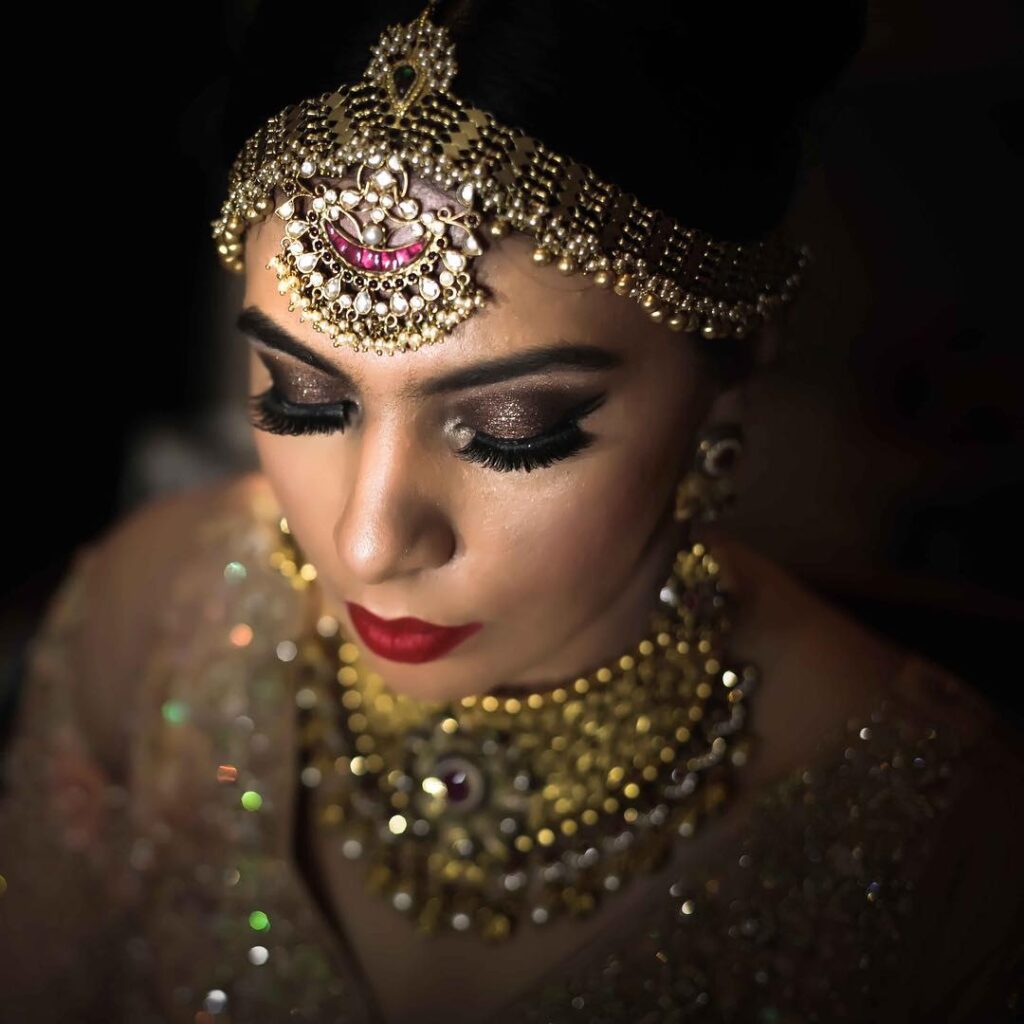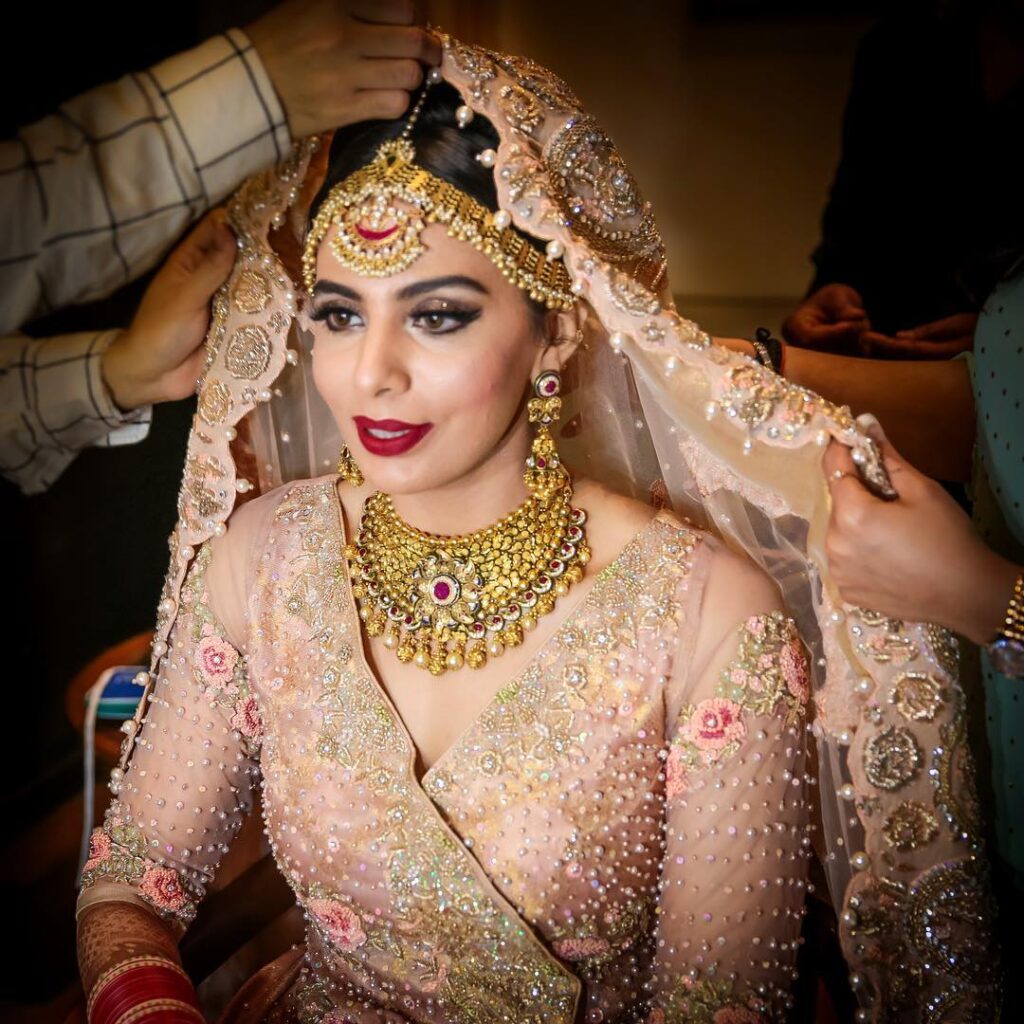 Courtesy: Happy Frames
#10 The pretty pearls in her jewellery are a gorgeous addition and adds a charming elegance to the otherwise kundan bridal set. Besides the headgear, this bridal portrait is also pin-worthy because of the winsome
simple nath design
and
charming bridal makeup
.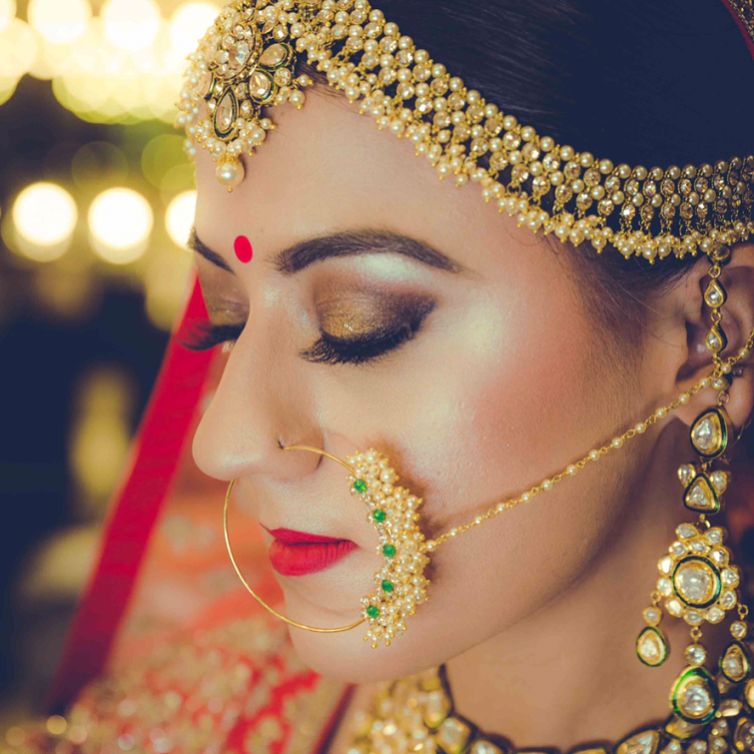 Courtesy: Happy Frames
#11 This gorgeous bride punctuated her zardozi embroidered lehenga with a kundan bridal mathapatti. The chunky strands with an oversized jadau tikka look gorgeous in this side portrait. Don't forget to get a shot like this to commemorate your classic bauble picks.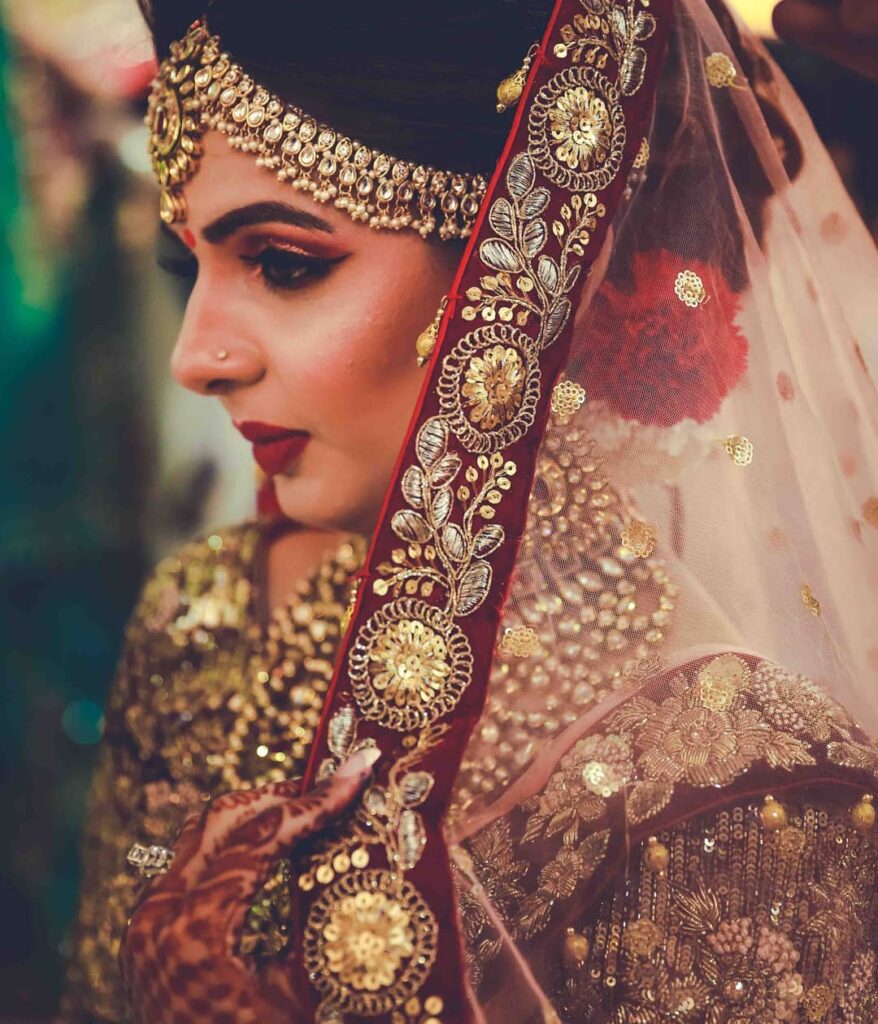 Courtesy: Happy Frames
#12 We know you're distracted by the appealing neckpiece in her portrait (we are too!), but that polki mathapatti design sure takes some attention too. The blue in her jewelry adds a romantic touch to the monochrome golden lehenga. Who knew this color combination would look so perfect? If you're wearing golden too, definitely consider this striking pairing.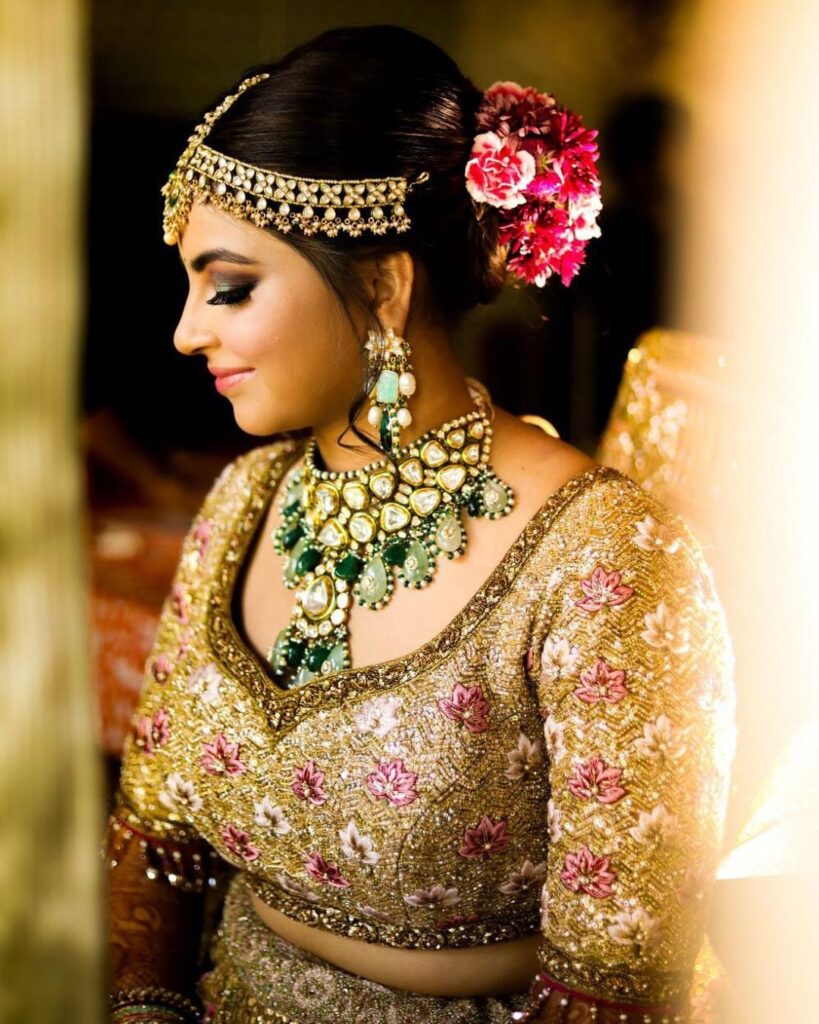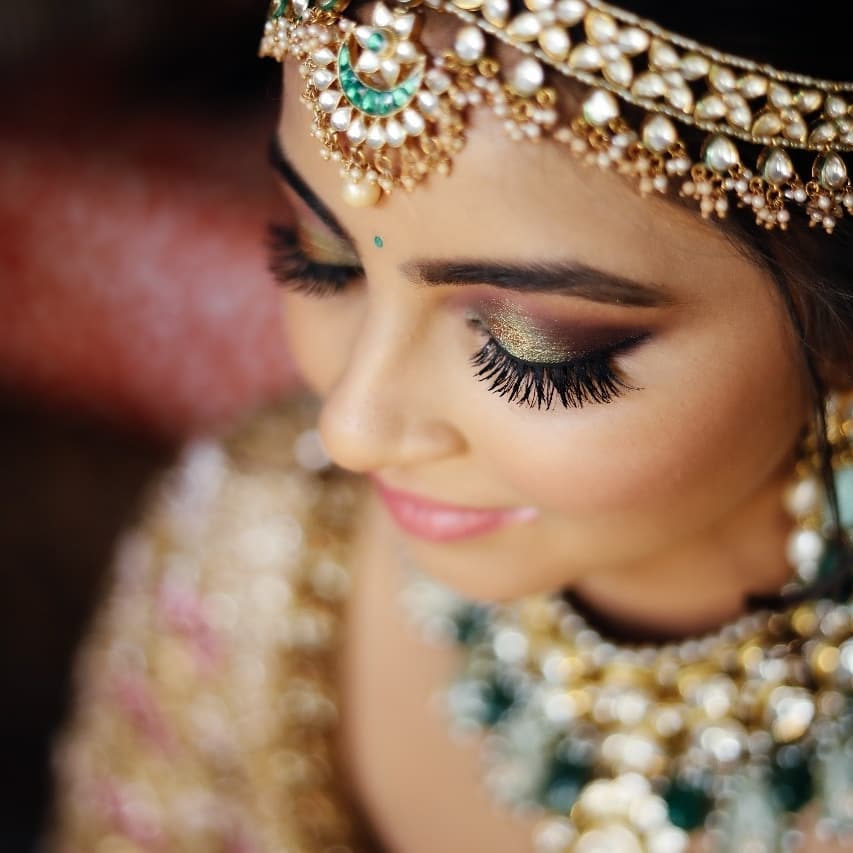 Courtesy: Happy Frames
#13 An intricately designed headpiece that reminds us of Anushka's bridal headgear – simple, aesthetic with little pearls hanging. Just the kind of inspiration a Bollywood follower needs.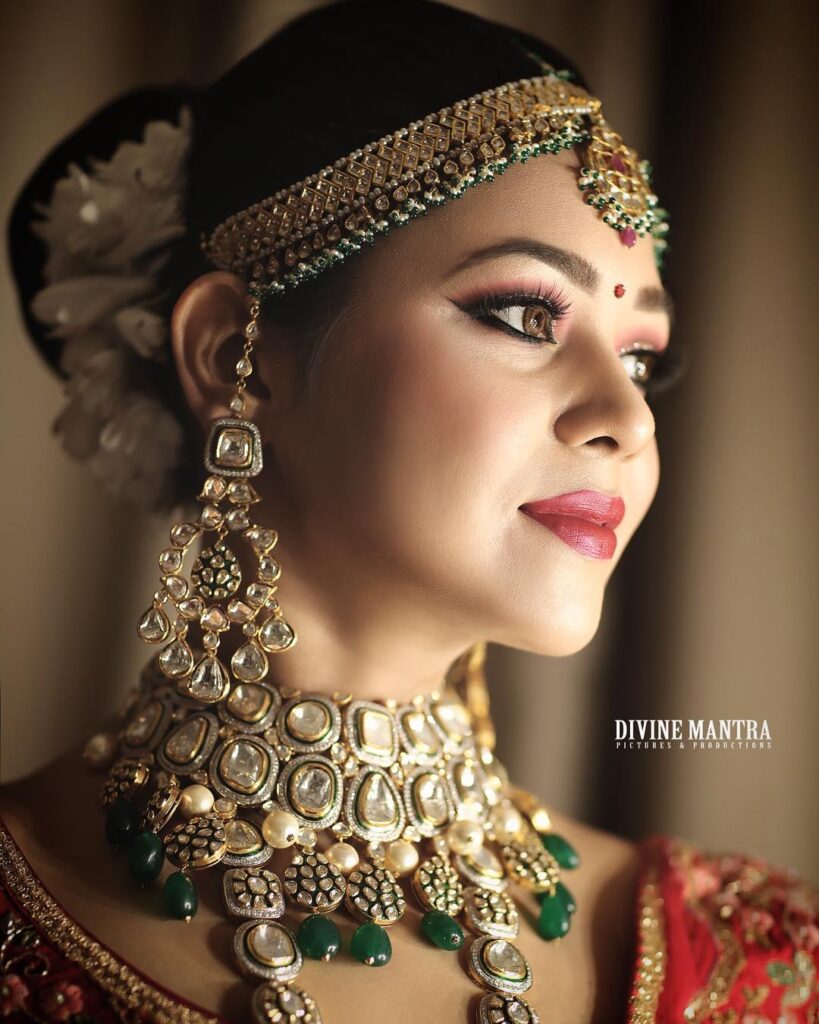 Courtesy: Divine Mantra
#14 The one thing we love the most about South Indian weddings is the traditional temple jewelry with pure gold and intricate meenakari work. Here's the perfect representation of how magnificent these pieces look.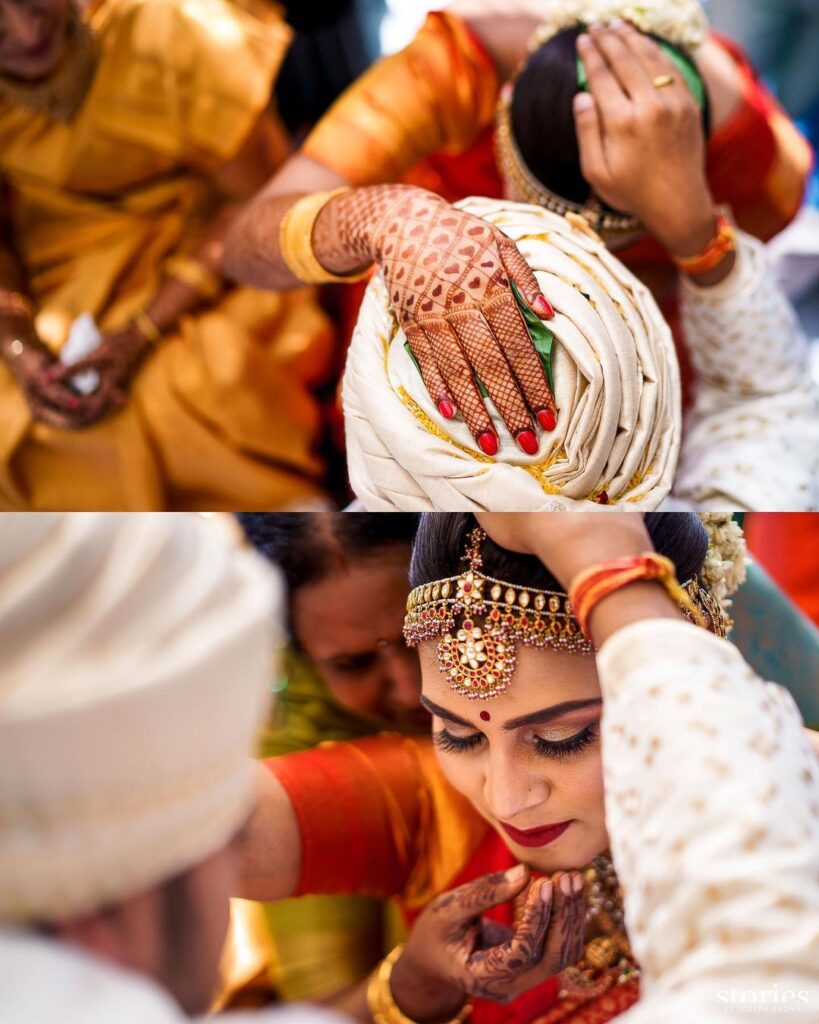 Courtesy: Joseph Radikh
#15 A multi-strand bridal mathapatti design is a modish wedding headgear for brides and bridesmaids alike. With dazzling pearls, it just elevates the entire aesthetic of the jewelry pieces as well as the bridal avatar. Just like in this picture.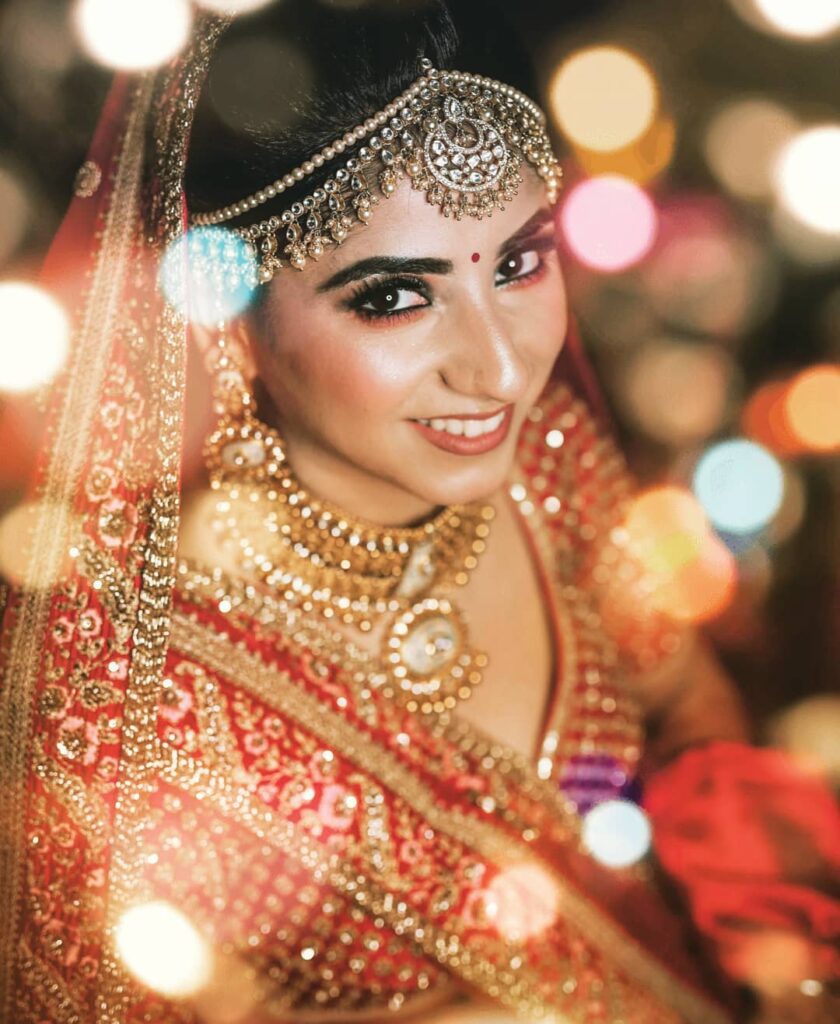 Courtesy: Happy Frames
#16 A simple mathapatti design with a thin strand bedecked with ghungroo pearls and a kundan tikka in the middle is an ideal one for minimalistic brides or those who want to keep it fuss-free for their intimate wedding.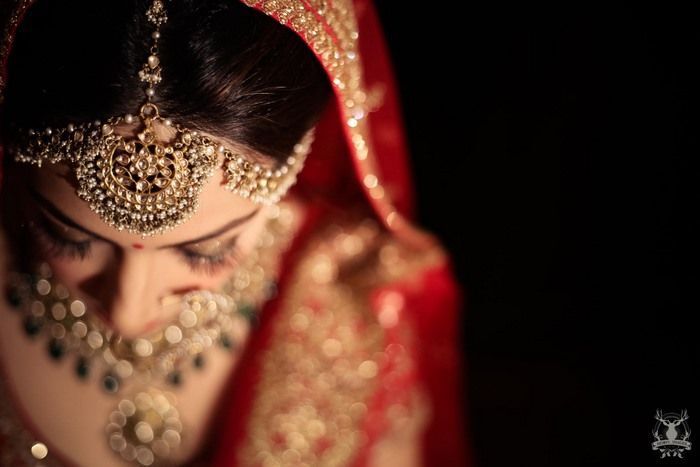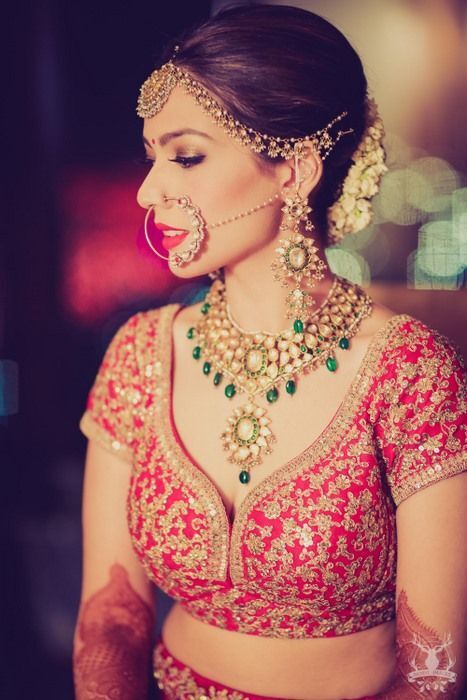 Courtesy: Morvi Images
#17 Staying true to her roots, this bride opted for a borla mathapatti with strands a few inches above the hairline. The sheeshpools in the middle alongside a braid with a scalloped hairline completed her traditional look. A complete portrait is included below because we know you'd want to see that.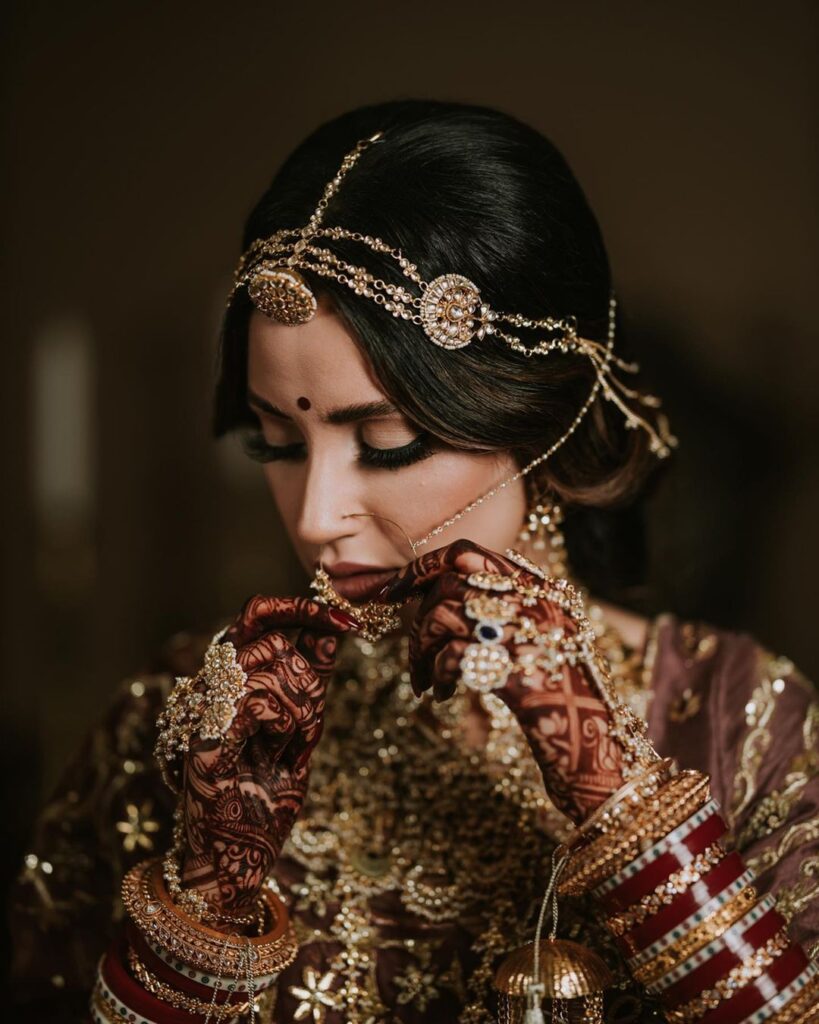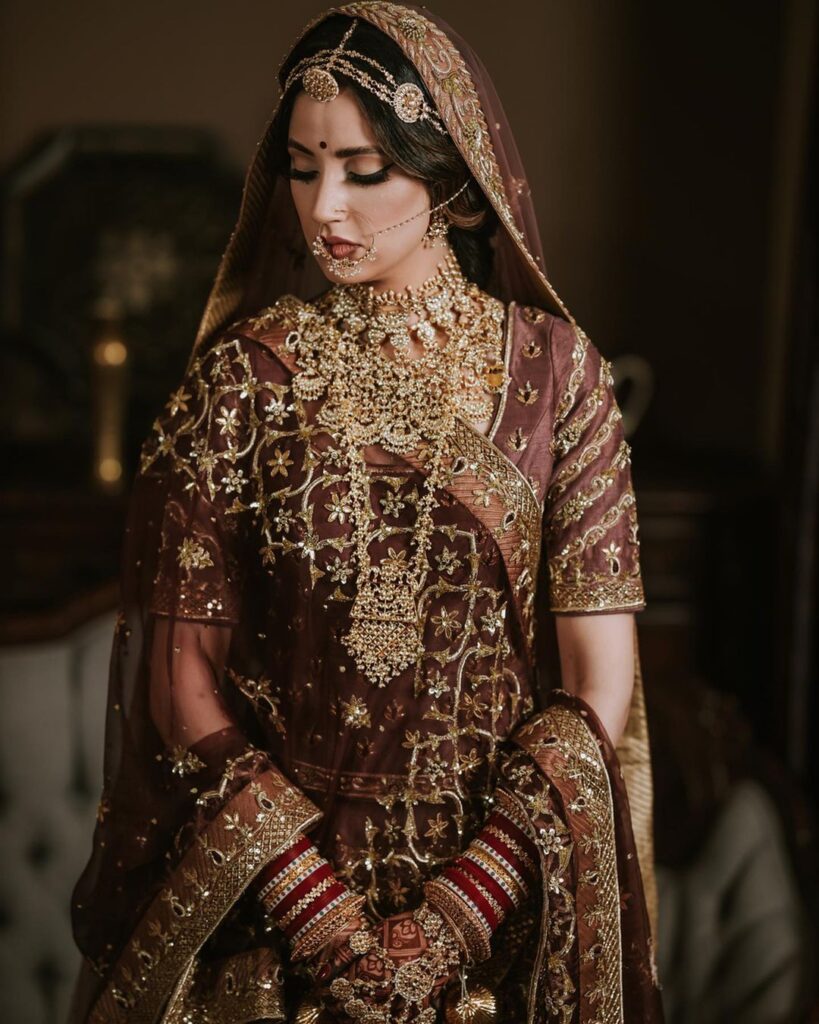 Courtesy: Njewels, Jag Photo Studios
#18 A mathapatti for a haldi look isn't a common choice, but a good one nonetheless. Look at how bride Rashi paired her yellow Abhinav Mishra lehenga with a distinctive mathapatti made with chunky pearl strands. A superb pick for brides who want to experiment with their bauble choices on the wedding revelries.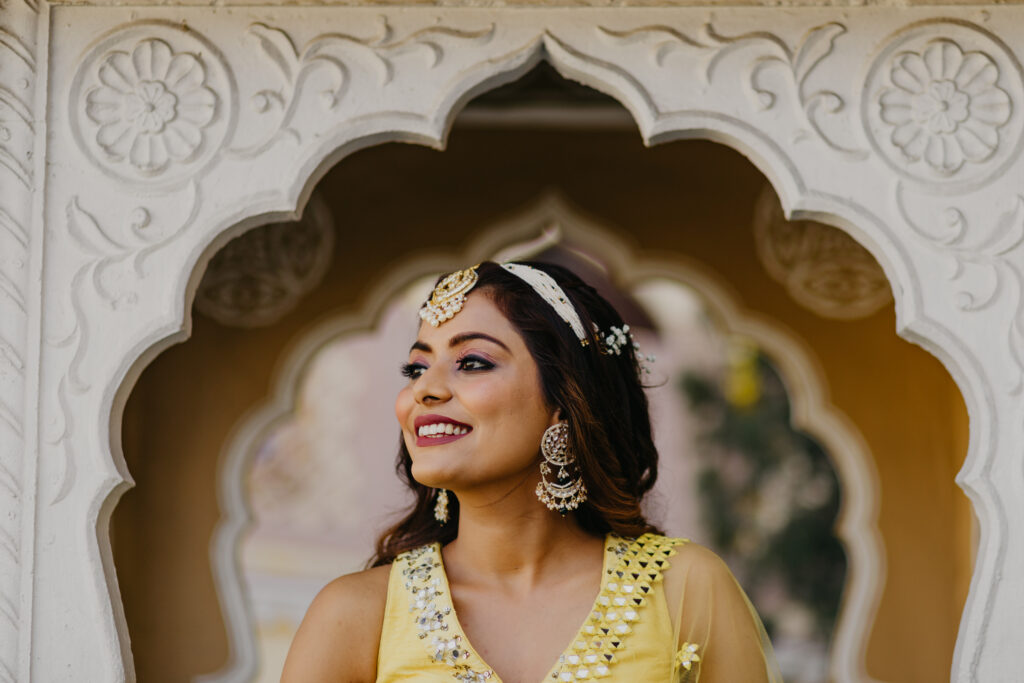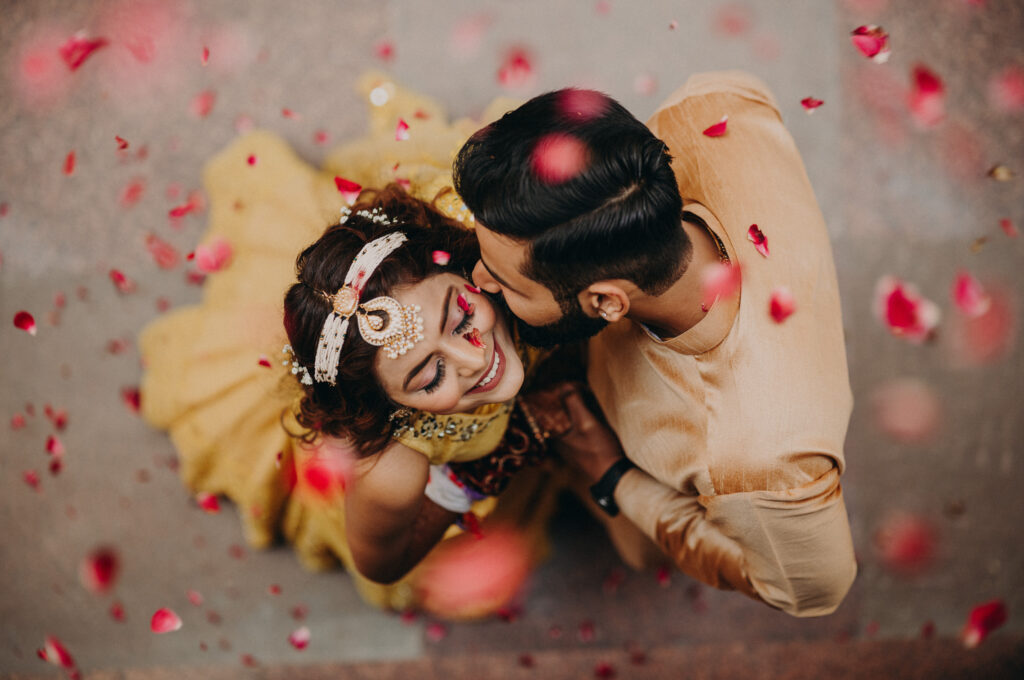 See Anshika's wedding blog here.
#19 An
ivory lehenga
decked up with pastel work needed just the striking jewelry this bride wore to enhance its beauty. If you're donning an ivory lehenga on the big day too, here's a foolproof bridal jewelry inspiration you'll need.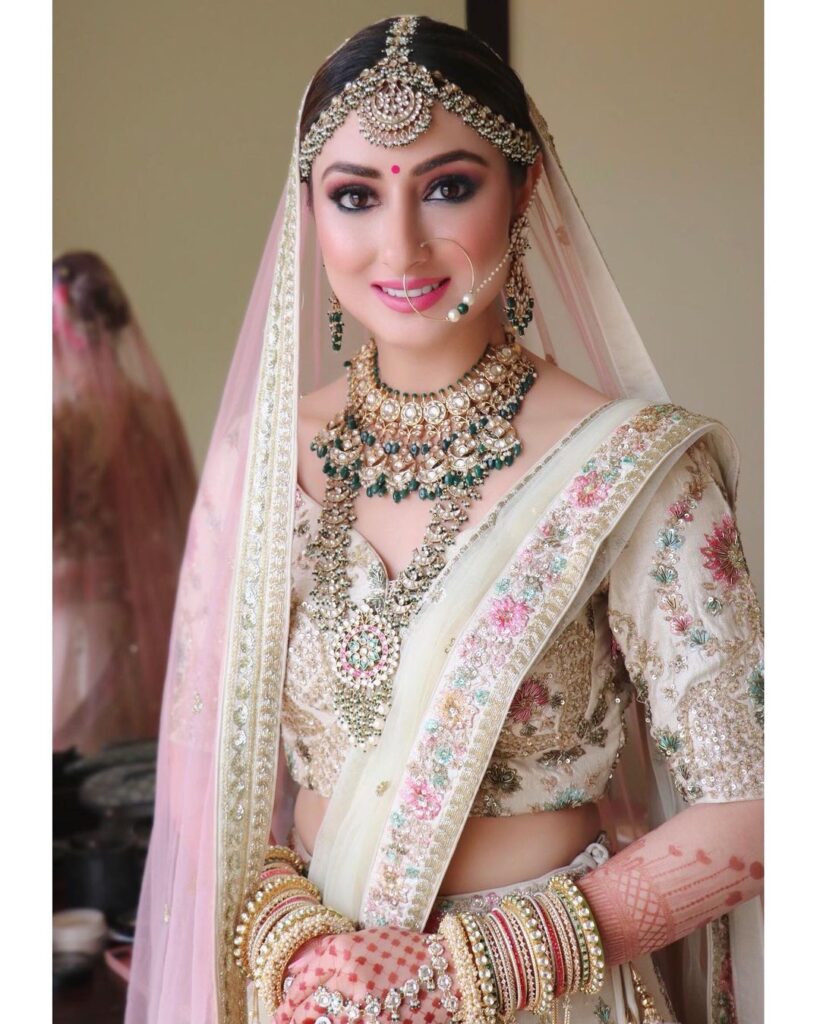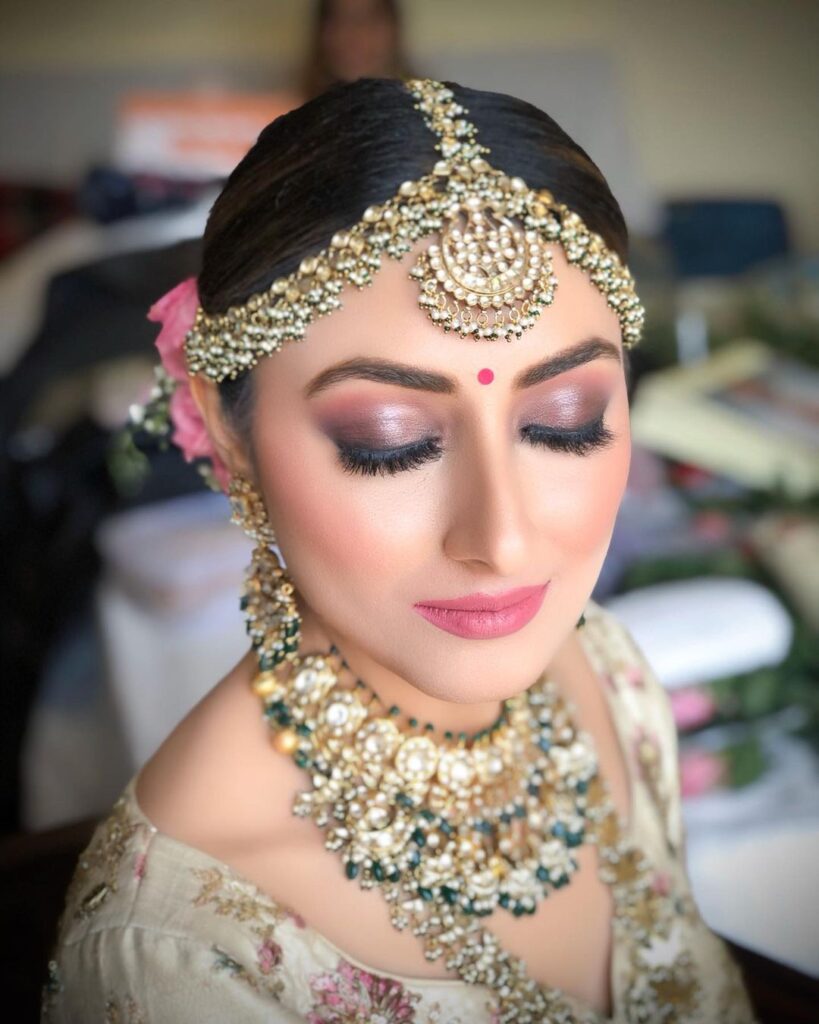 Courtesy: Rashi Sehgal
#20 The endearing flower design in her mathapatti strand is a unique pattern to replicate for your own bridal jewelry to stand out. The eye-catching motifs paired with smudged eyes, kundan nath, and an elaborate choker is just the way to enrich the beauty of your bridal look.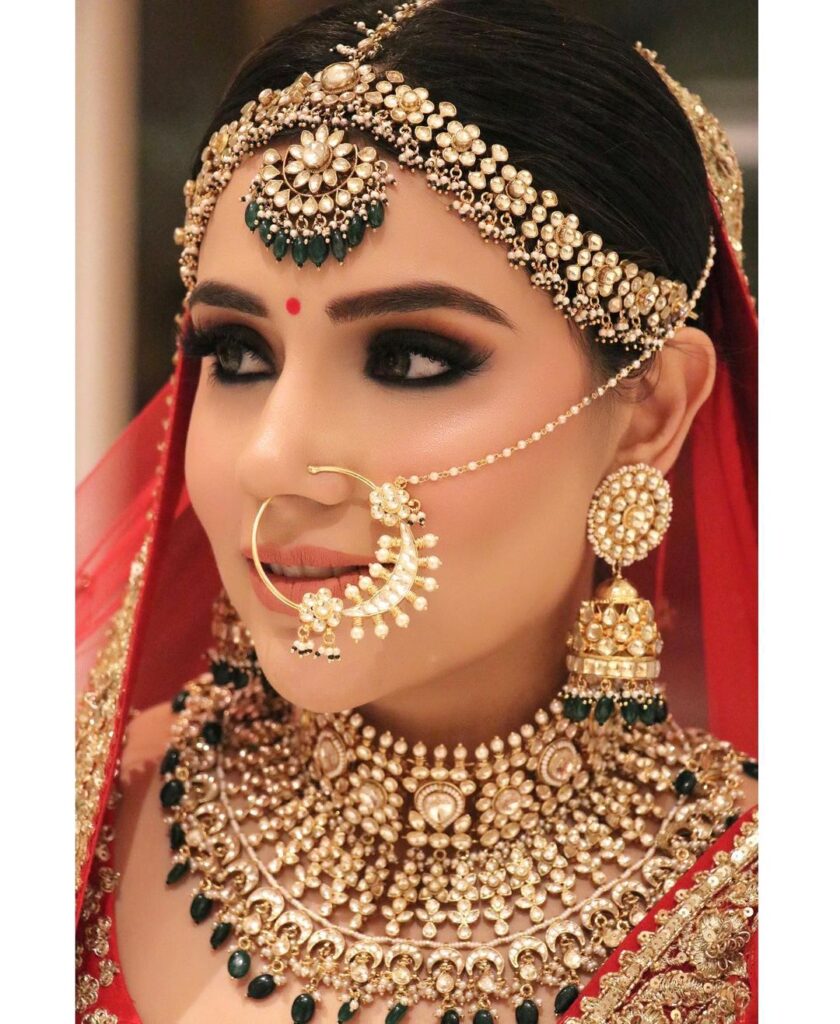 Courtesy: Rashi Sehgal
#21 A captivating bridal headpiece encrusted with pear-shaped polki diamonds and ghungroos captures attention at first sight. Scroll to see a sneak-peek into her full bridal look – because we know you'd want to.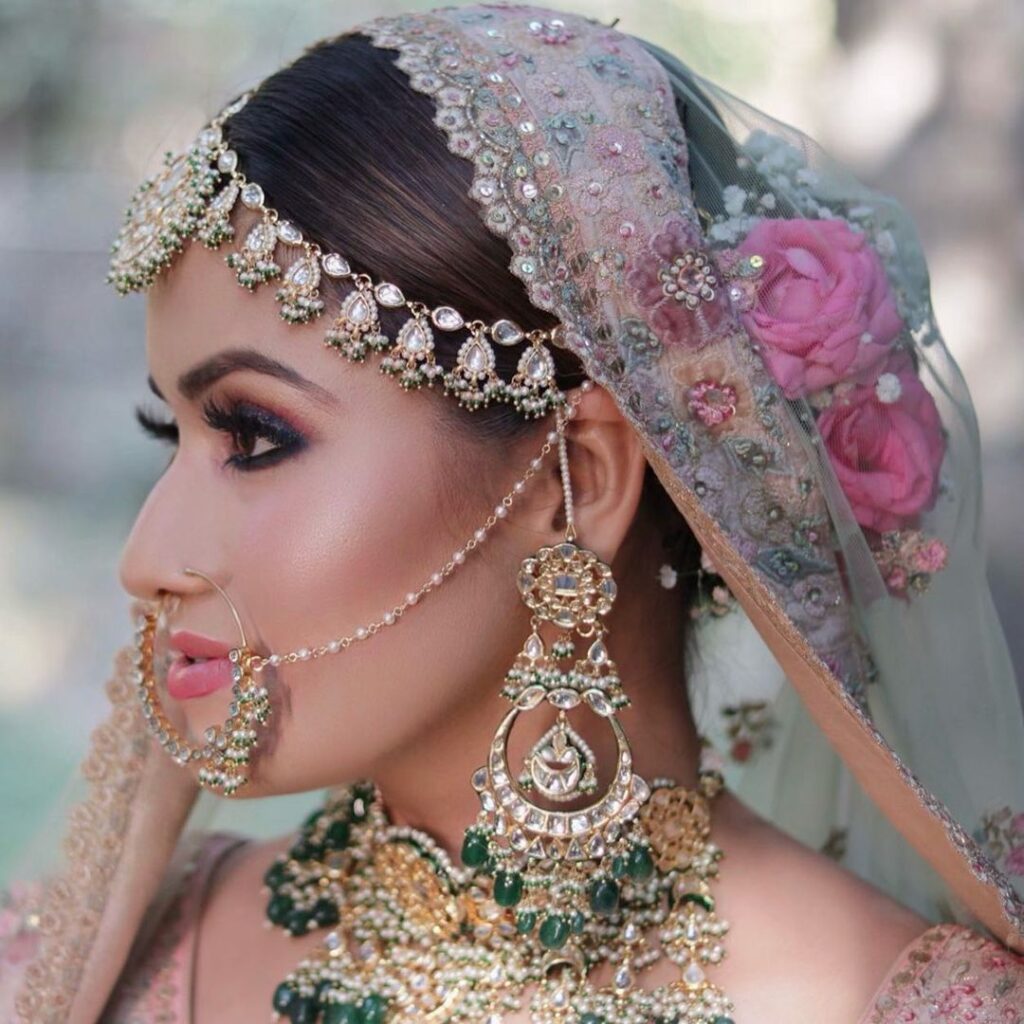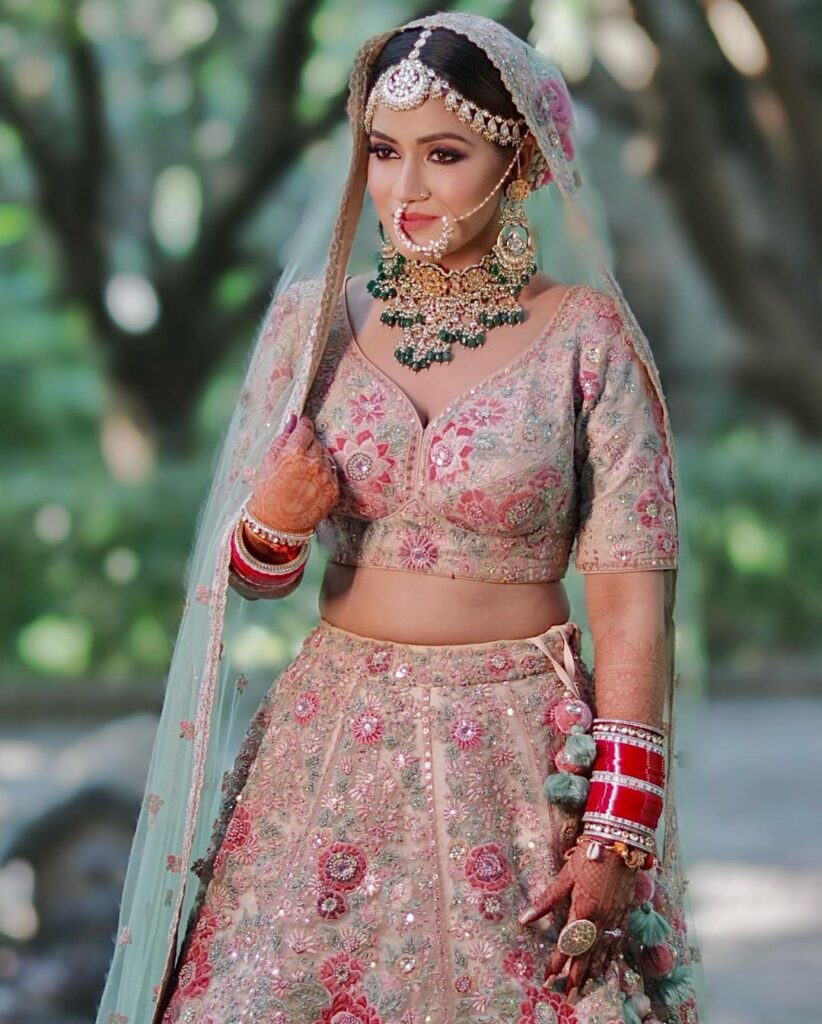 Courtesy: Rashi Sehgal
#22 Personifying elegance with her graceful bridal portrait showcasing her dewy bridal makeup, pastel choker set, and a radiant kundan mathapatti. If you're confused between a mathapatti and maangtikka till the last moment, we say you keep them both in your trousseau. On the big day, pick the one your heart says YES to right at the moment.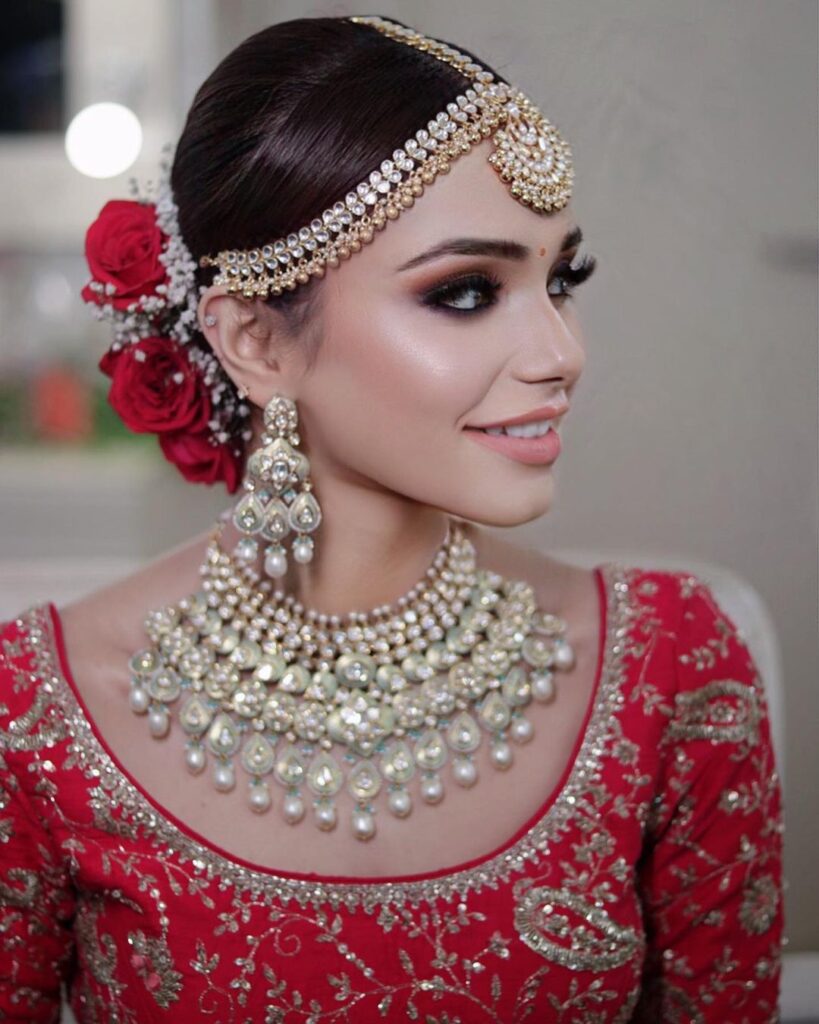 Courtesy: Rashi Sehgal
#23 A simple mathapatti design can still add a theatrical touch to your wedding look. See how she let her extravagant necklace grab all the attention by keeping her headgear fuss-free. A smart move if you've invested a lot in your neckpiece as well.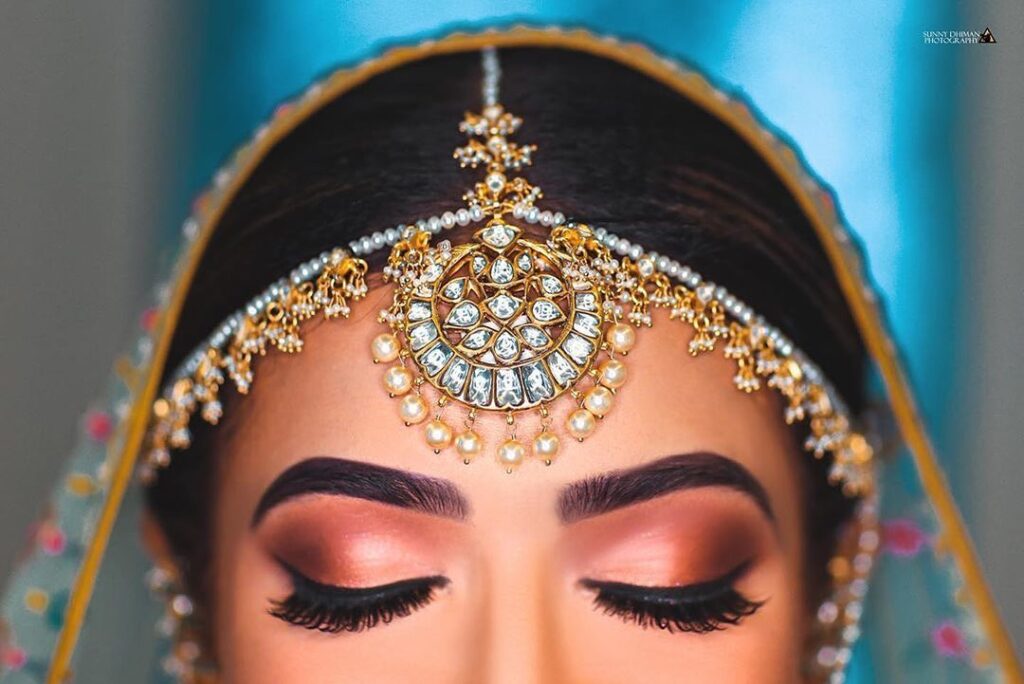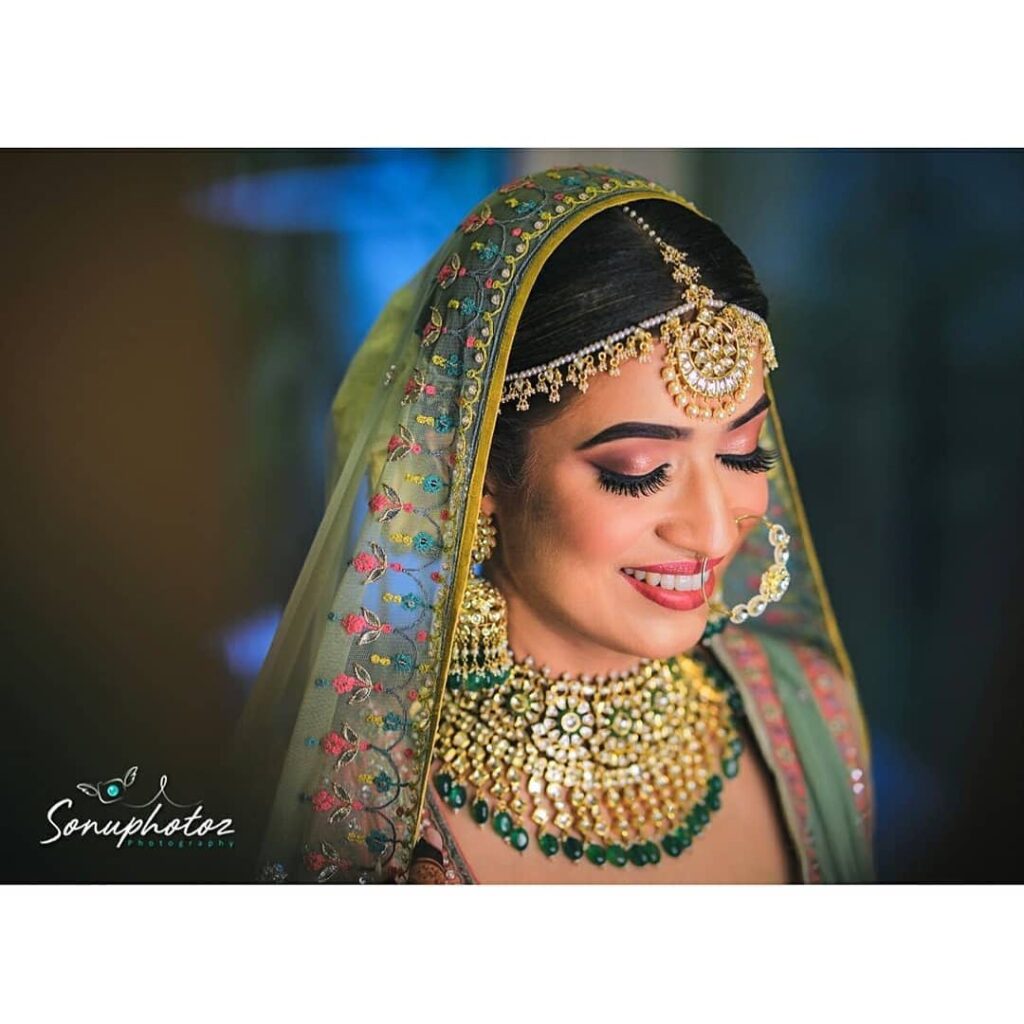 Courtesy: Sunny Dhiman Photography
#24 It's your wedding day – your most special day and it deserves all the over-elaborate attributes you can possibly infuse. The bride pictured here did that with a gorgeously embellished blue meenakari mathapatti with an equally elaborate tikka. A superb inspiration for brides who'd want to go overboard with their baubles but still play safe.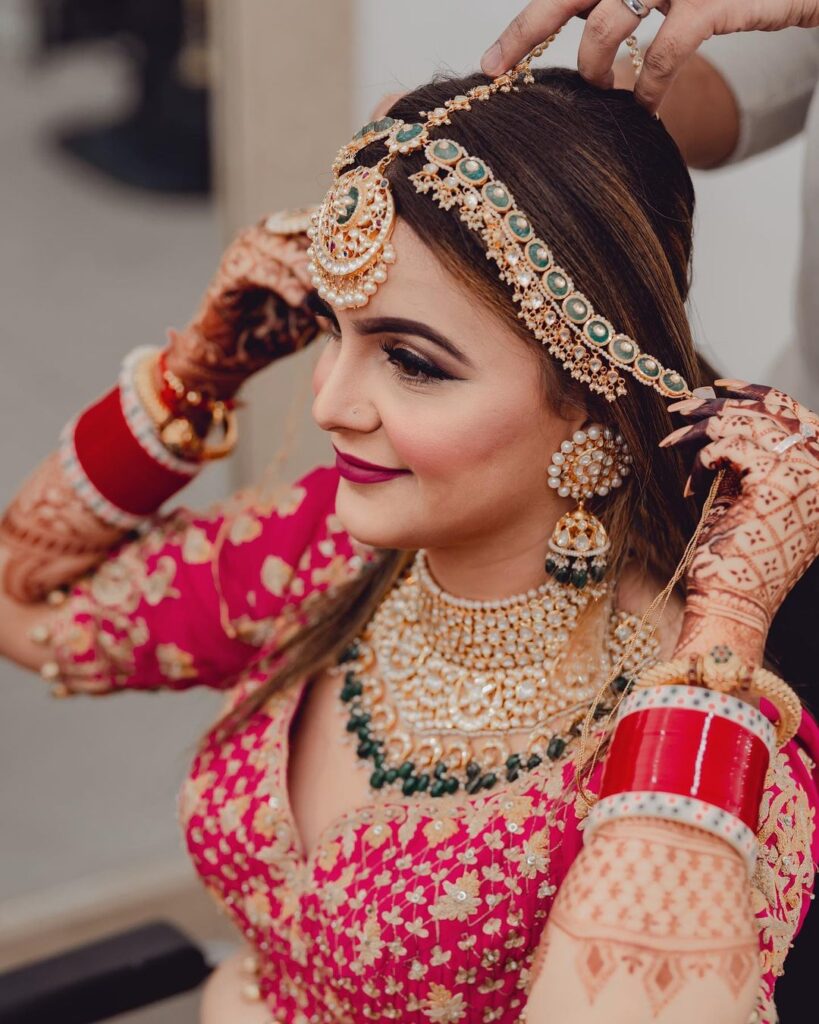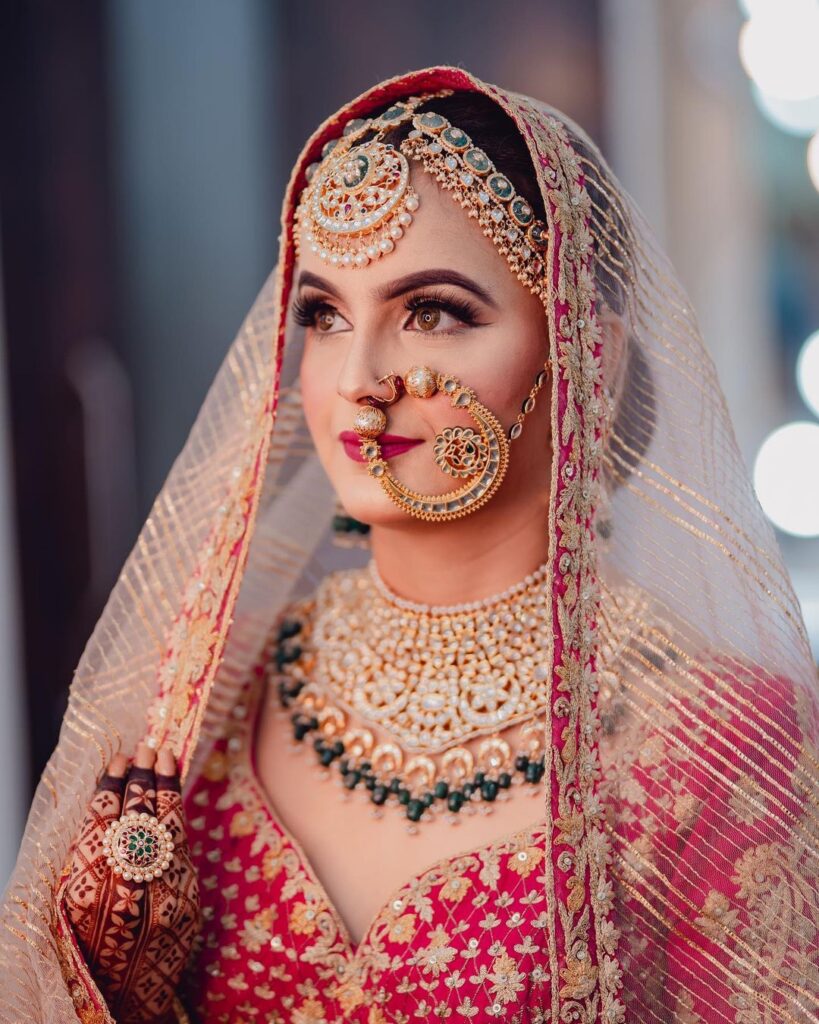 Courtesy: Shahid Naar, Jagdish Jewellers Chandigarh
#25 There's no beating the timelessness and poise of an authentic red bride wearing traditional kundan jewelry. We'll let the pictures do the talking here.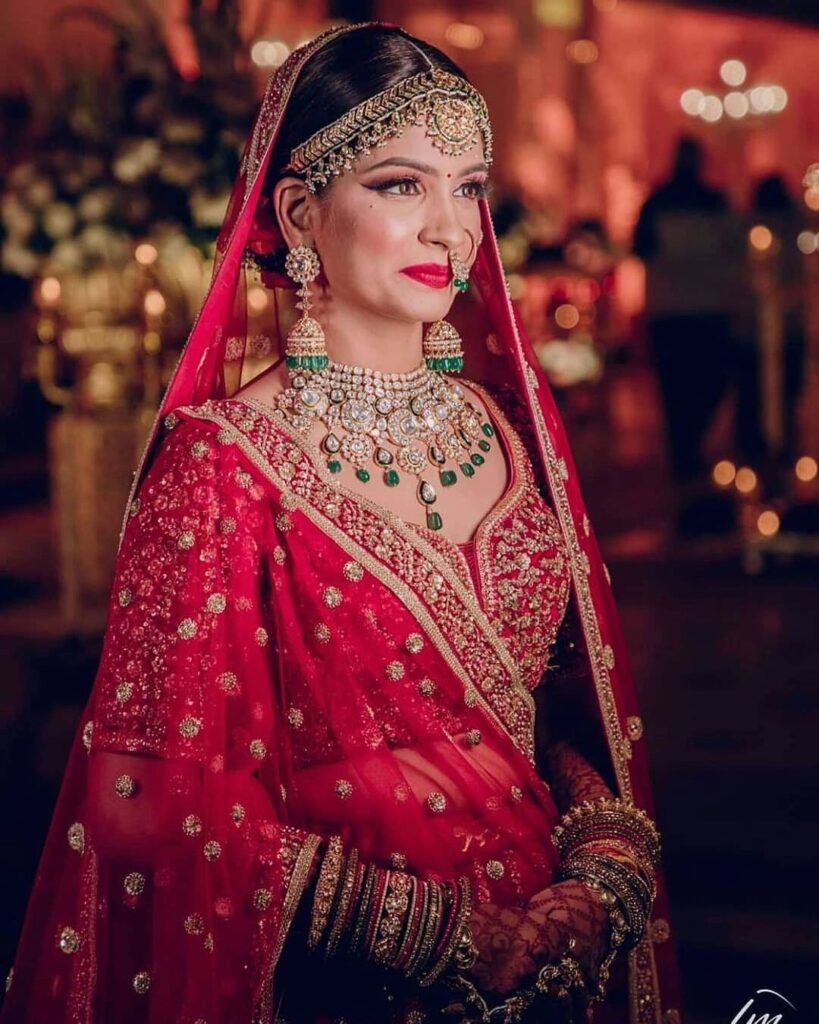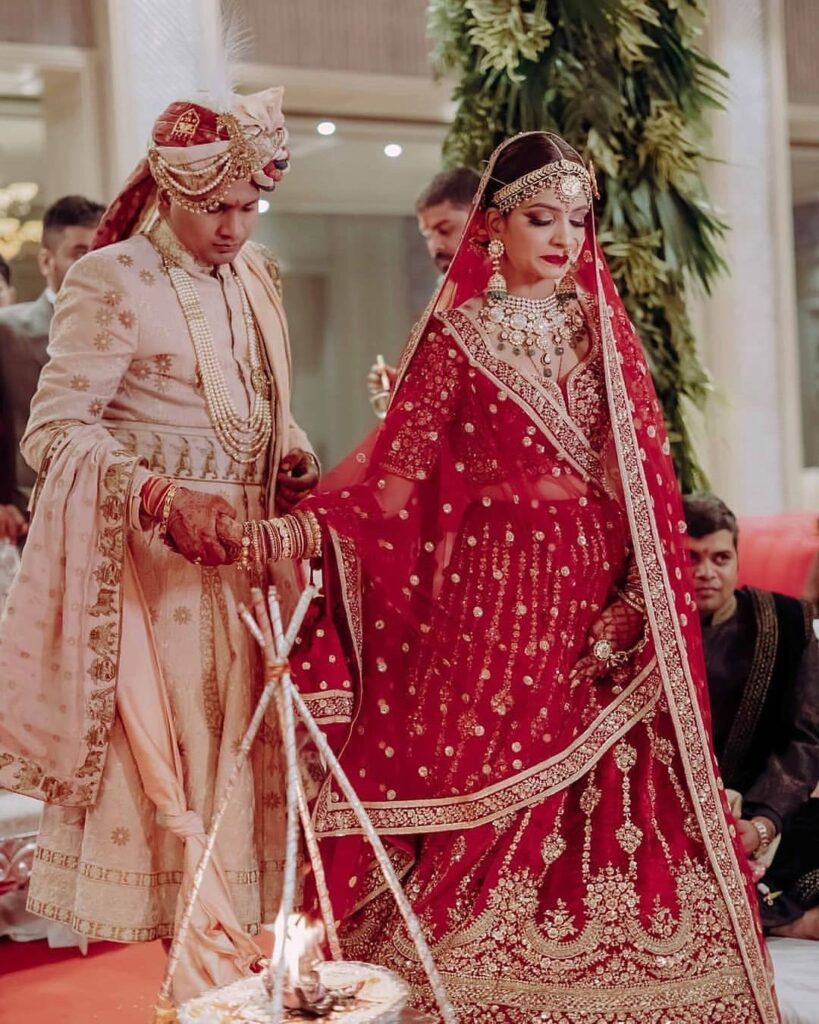 Courtesy: Infinite Memories, House Of Rambhajos
#26 A uniquely designed borla mathapatti with strands attached separately from the tikka so you can pair it up with others after the big day. This is such an amazing idea to reuse your bridal jewelry.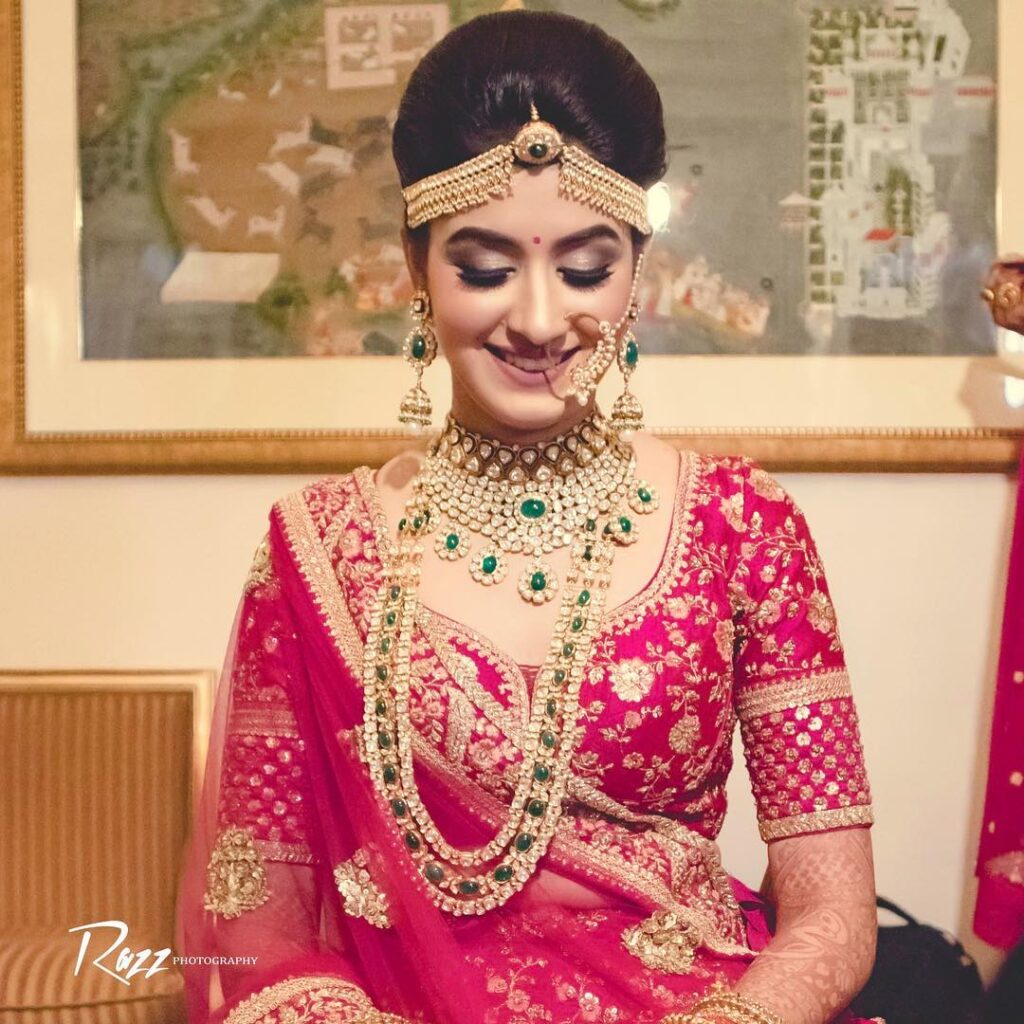 Courtesy: Razz Films & Photography
#27 Chances are, you'll be wearing
floral jewelry
for your mehendi and haldi. Why not amp up the grace of those trinkets with captivating headgear? Adding the pearl strings to the tikka is a superb way to do the same.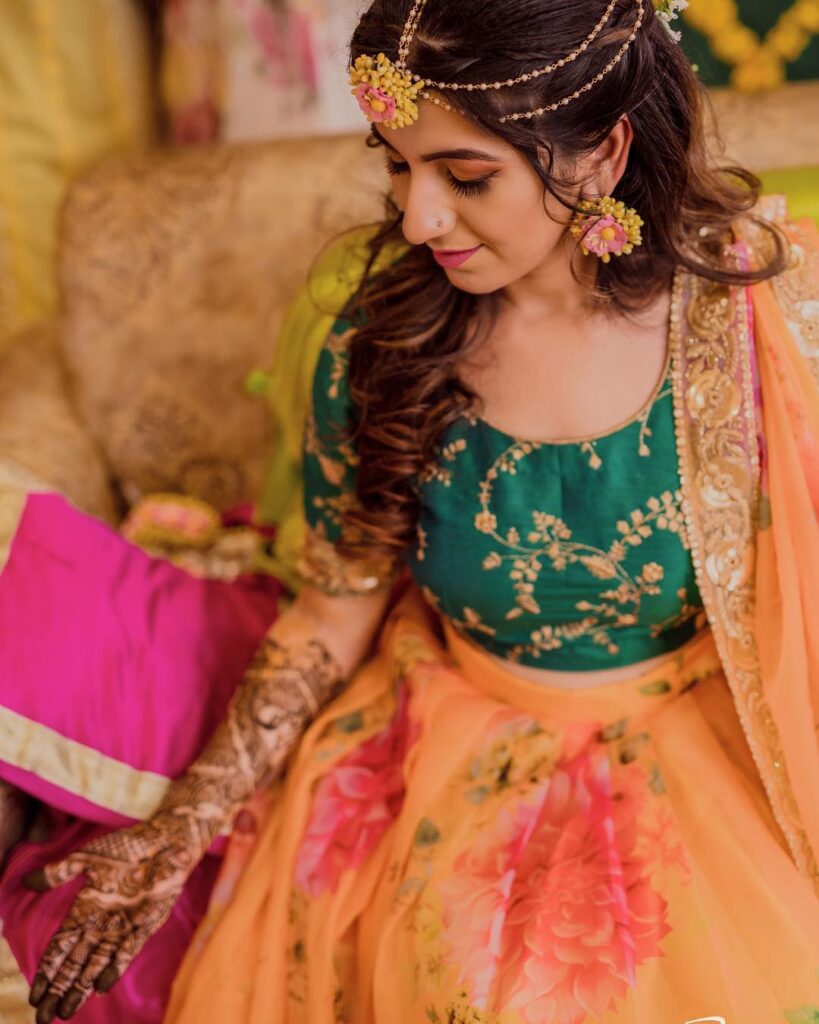 Courtesy: Razz Films & Photography, Prune India
#28 While the emerald pearl drops often take up the center of attention in wedding jewelry these days – this bride went with red ones to blend with her attire shade instead. The pearls alongside the intricately cut polki diamond make this headpiece worth staring at!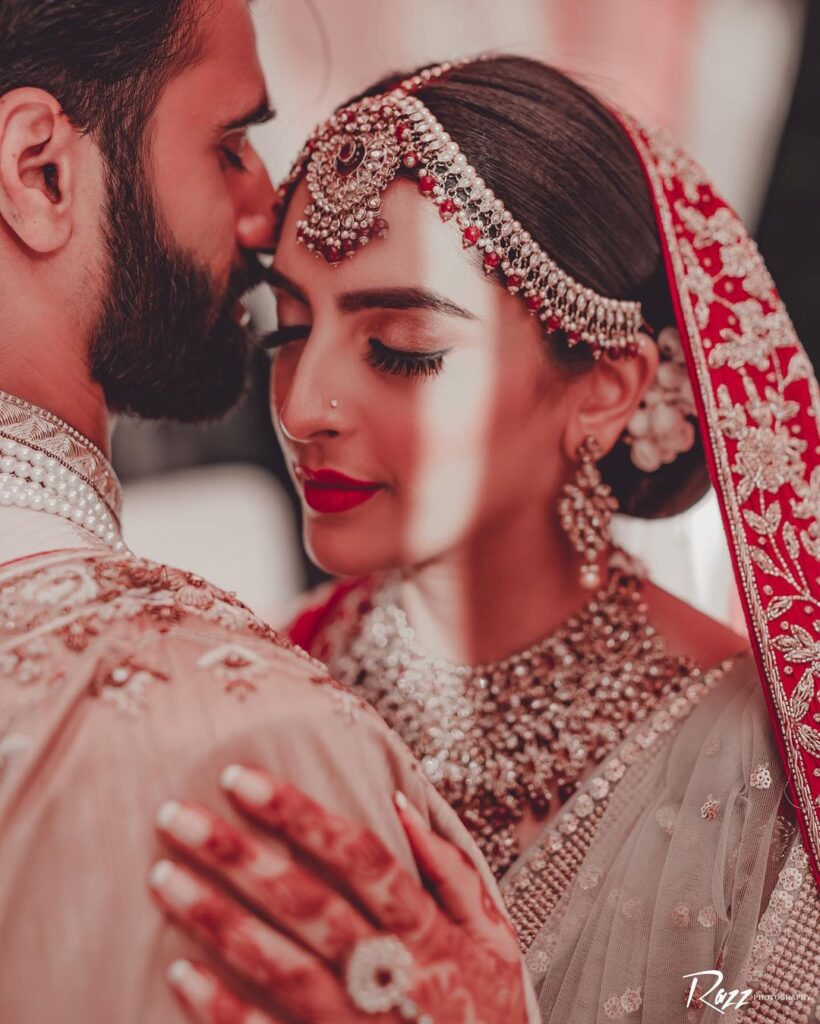 Courtesy: Razz Films & Photography
#29 A heavy kundan mathapatti gracing the hairline well and aligning with other trinkets is just the inspiration a bride-to-be needs. To let the piece really stand out, pair it with a sheer veil and attach it a few inches above the top of your head.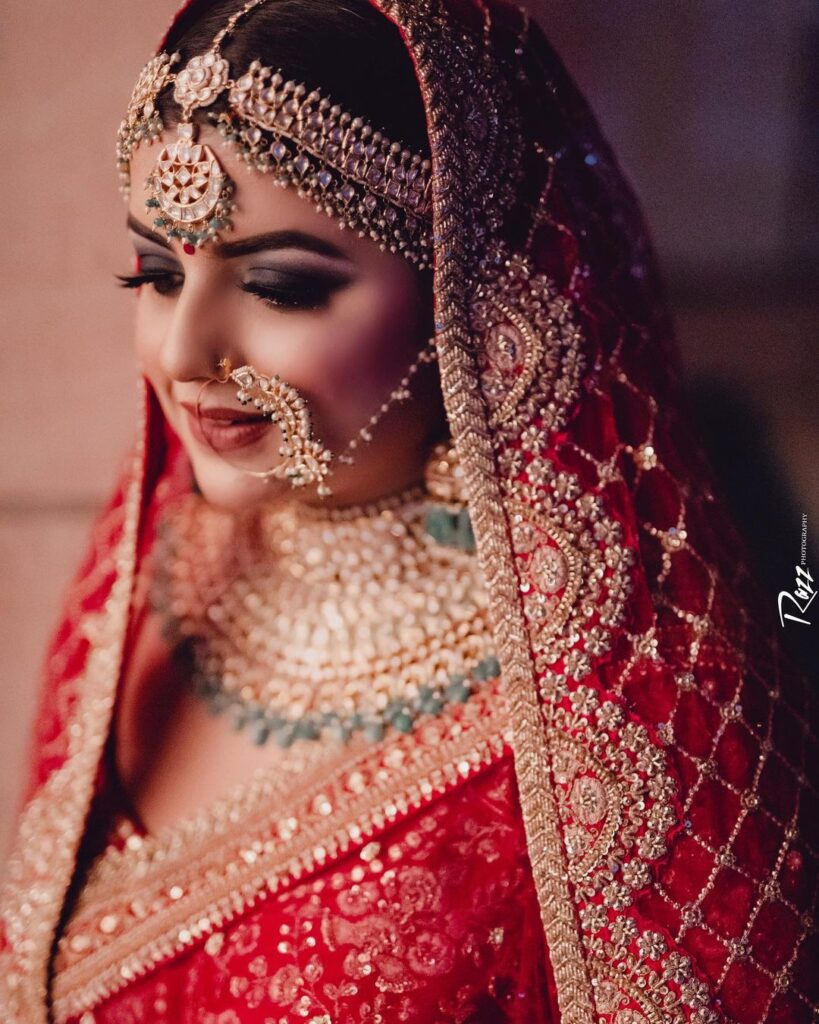 Courtesy: Razz Films & Photography
#30 A simple Rajasthani mathapatti design for brides who want to explore the world of this statement headgear but in a safer way. The lovely pearl string enhances the entire look while complementing her minimalistic style. We love the green
bridal bindi
that uniquely blends in with the ensemble and adds a subtle charm to it.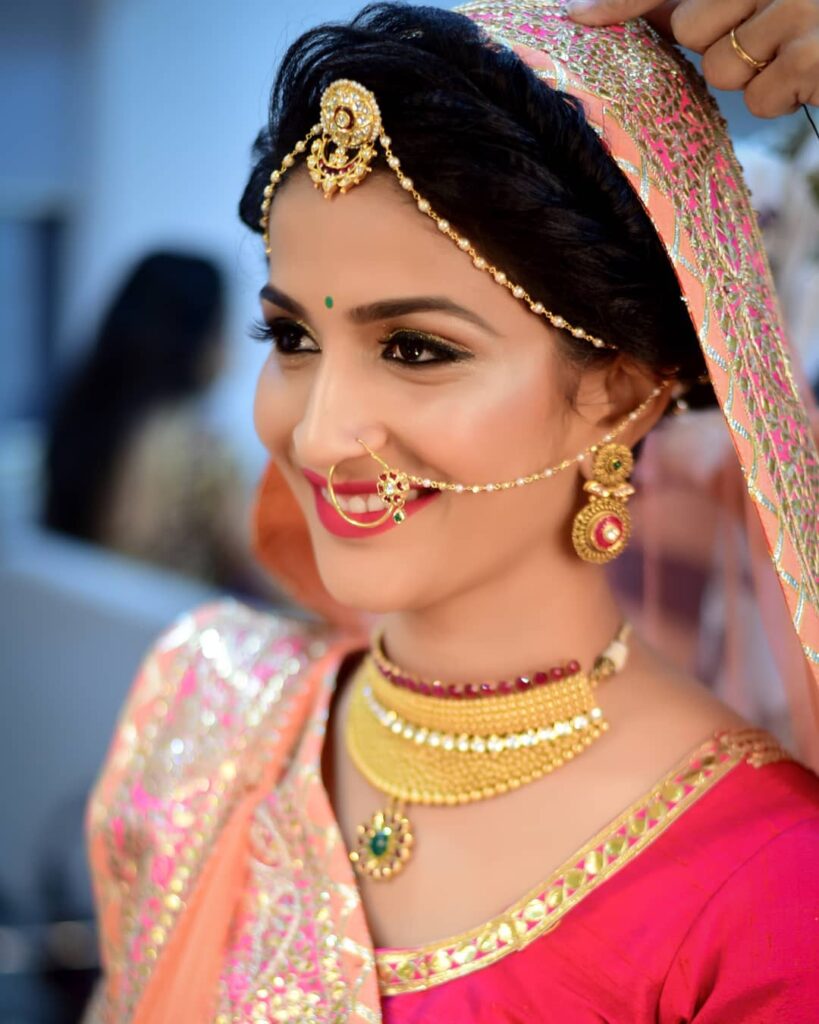 Courtesy: Orange The Salon
#31 For our OTT brides going through this list, we know you're looking for something that speaks to your maximalist style, and we think your search ends here. The distinctive floral pattern and the colored stones in this bridal headgear make it statement-worthy and OTT at the same time. It'll also match your lehenga well and look lovely on the voluminous
bridal bun
.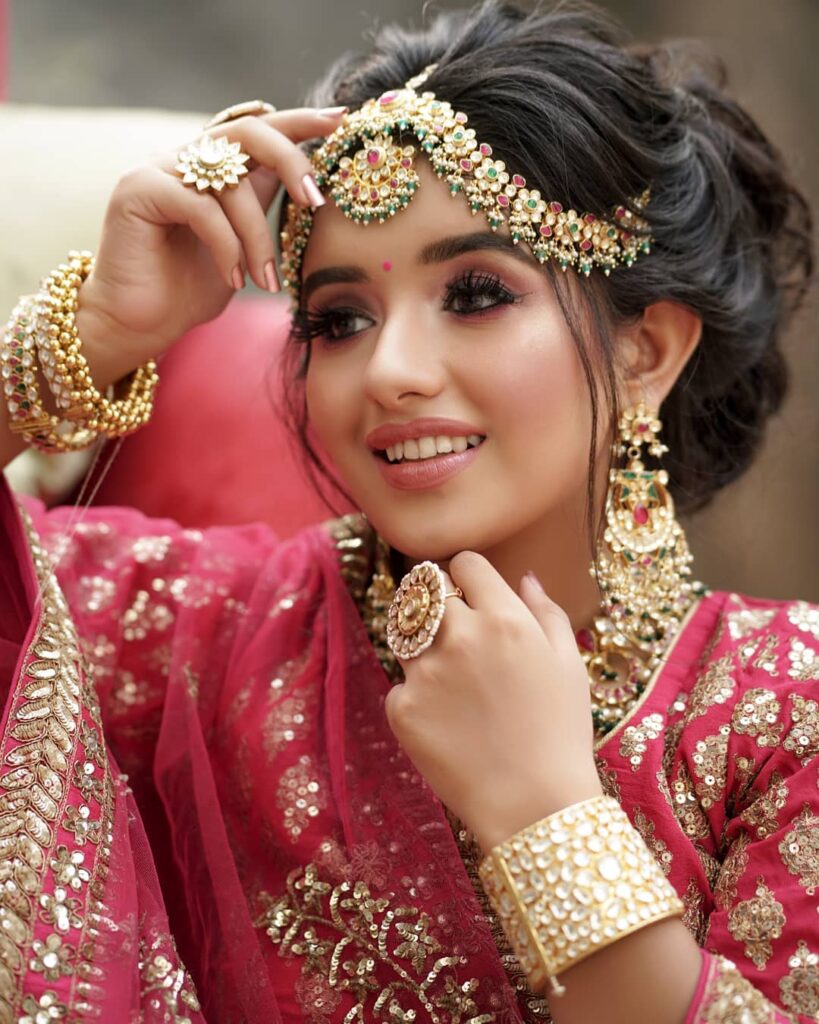 Courtesy: Orange The Salon
#32 The eye-catching bridal portrait and the stunning editing is the reason why choosing a wedding photographer is a decision to ponder on well. The right one can capture all the parts of your bridal elements (which you've spent months planning) beautifully, just like what we can see here.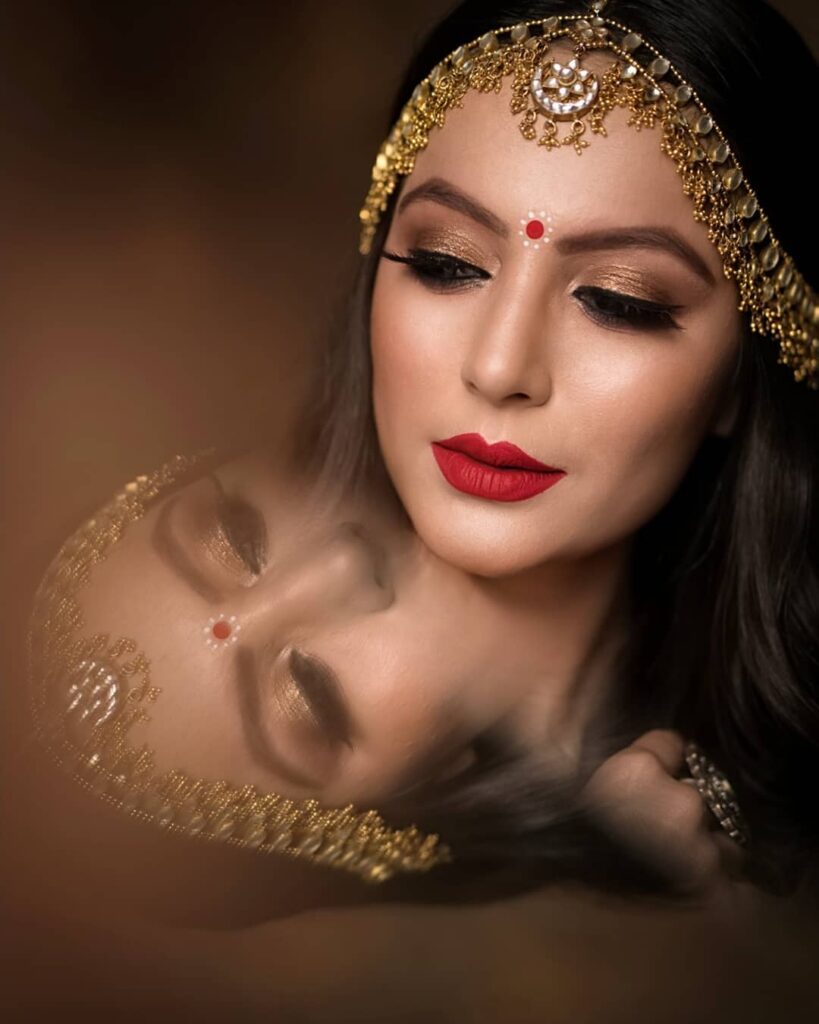 Courtesy: Orange The Salon, Mortantra
#33 Noteworthy and winsome bridal headgear idea for you right here! Who knew mogra flowers could make for such a stunning use on D-Day?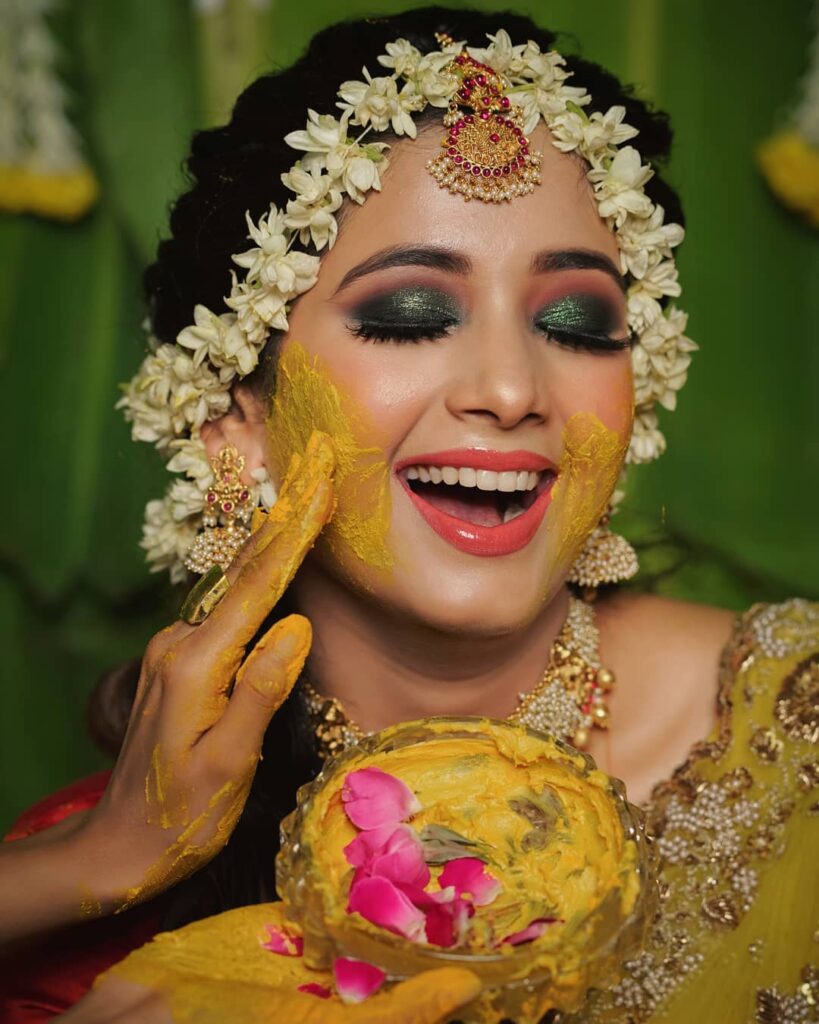 Courtesy: Orange The Salon
#34 A voluminous, messy bun is an unusual choice on the big day, but if you're all up for it then why not enhance its charm with a borla and dainty pearl strings attached on both sides? Its minimal design complemented her temple jewelry, red lips, and defined eyes well.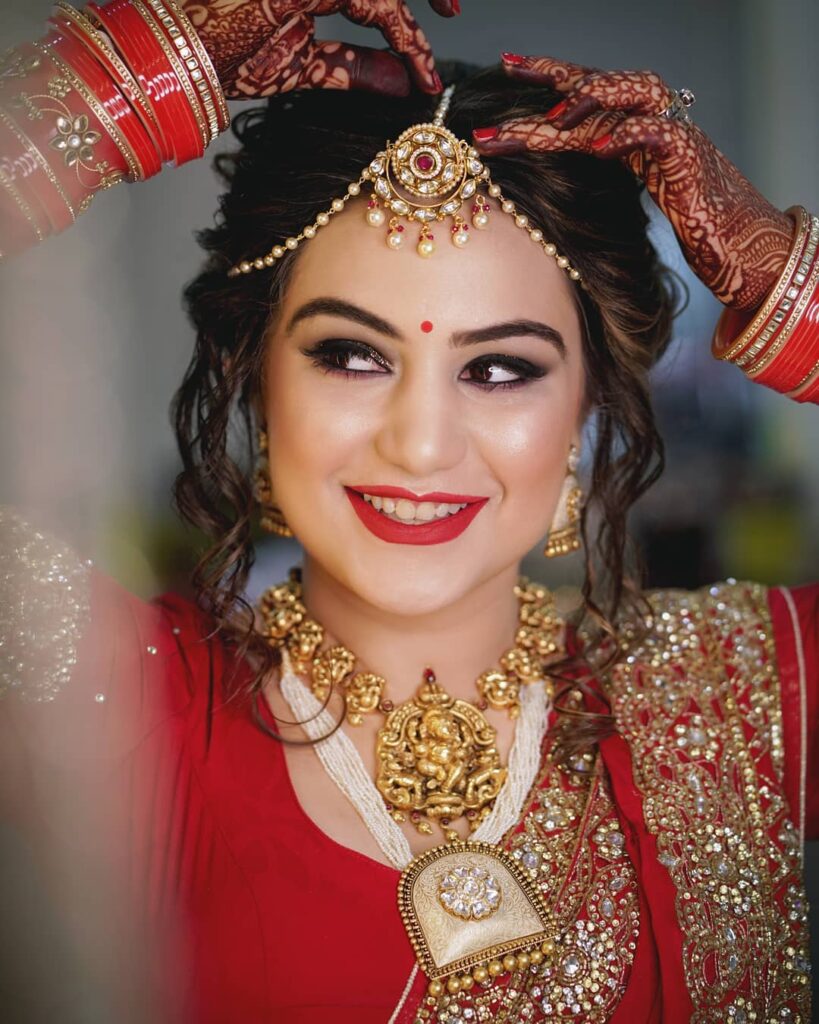 Courtesy: Orange The Salon
#35 Taking the maximalist style to next level is our upcoming bride. She didn't shy away from letting this dramatic headgear be the crowning glory of her D-Day look and doesn't she look just remarkable?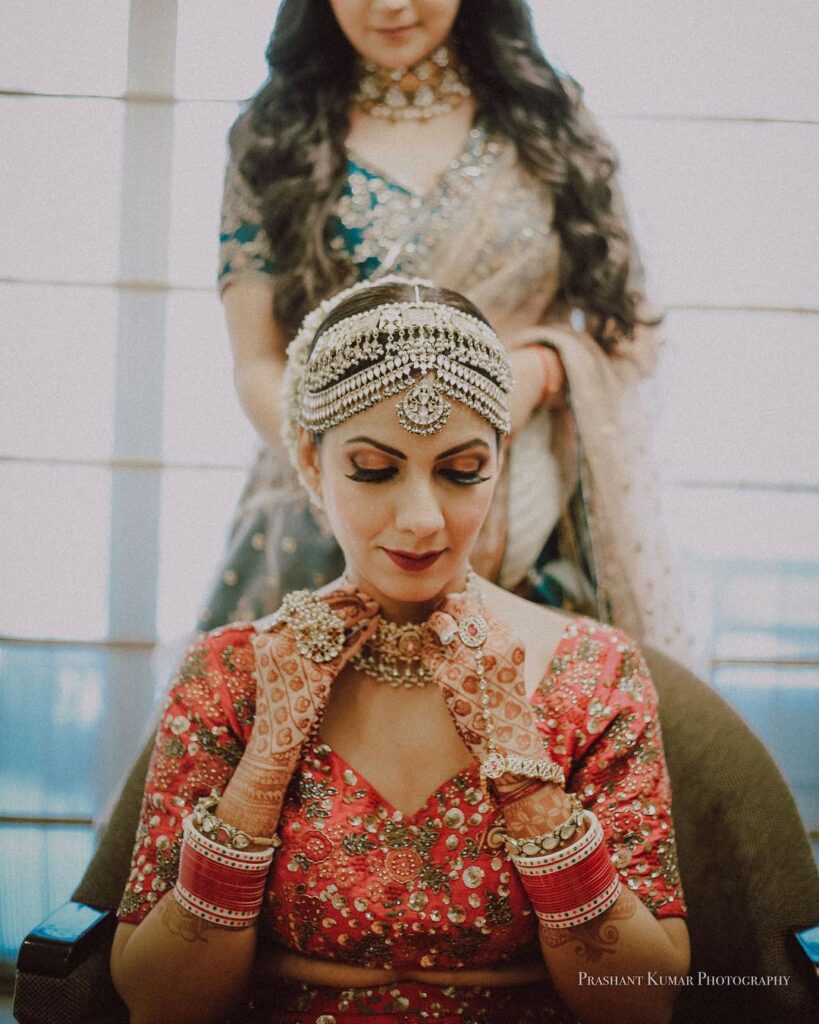 Courtesy: Prashant Kumar Photography, Noorah by Juhiie Agarwal
#36 And if you're a little skeptical of trying this discrete style on your wedding, why not opt for the same on your mehendi instead? Adding a statement accessory to an otherwise effortless outfit is always a superb wedding styling choice and it will never fail you.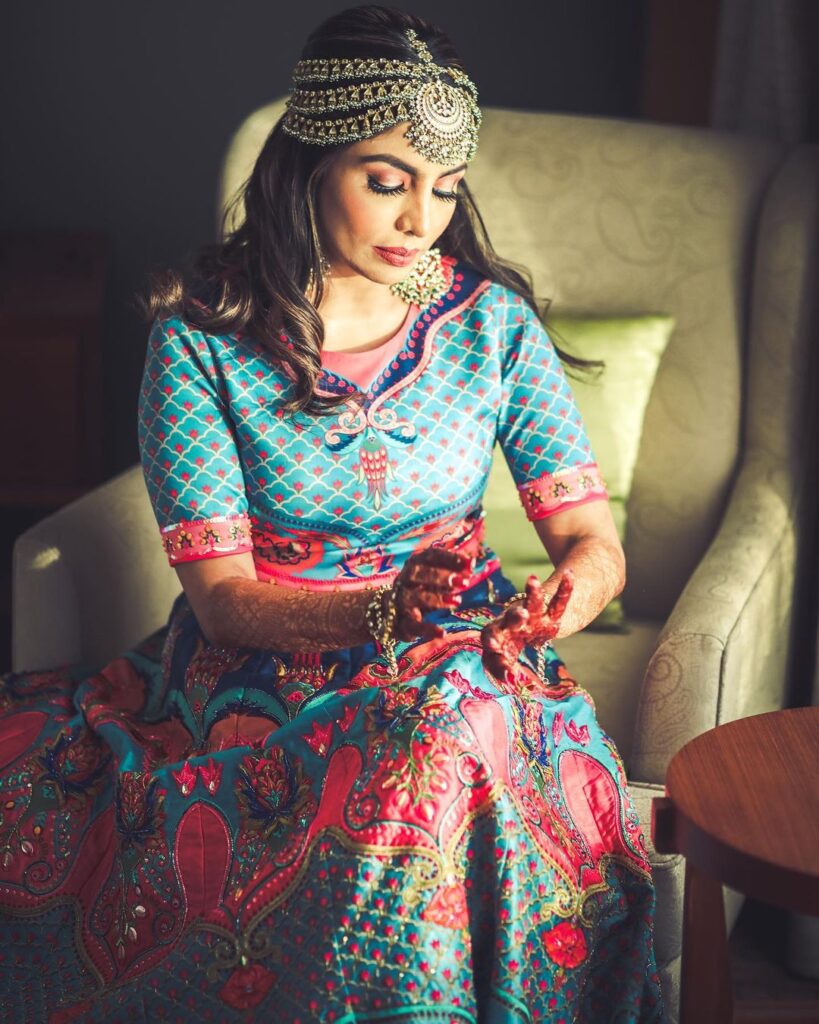 Courtesy: Prashant Kumar Photography, Nayirah Official
#37 Getting to you exclusive ideas & inspiration is our utmost priority and doesn't this outstanding matha patti design fulfills our precedence? The three-strand headpiece was a charming addition to her open hair bridal hairstyle.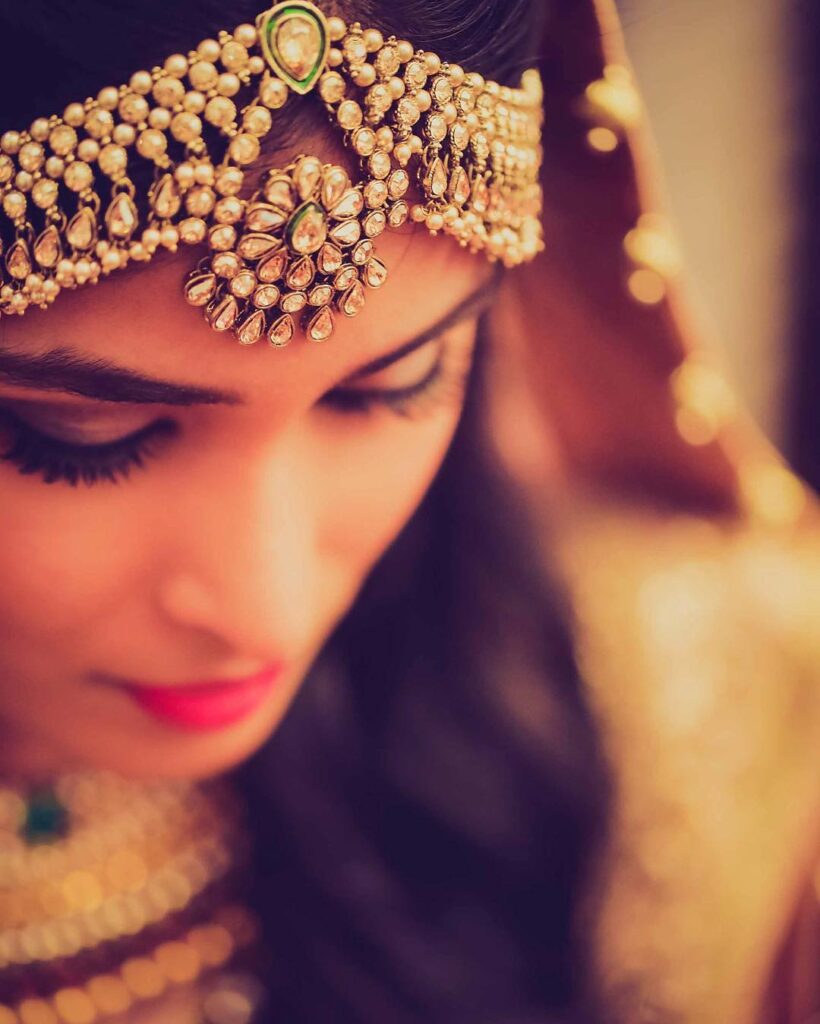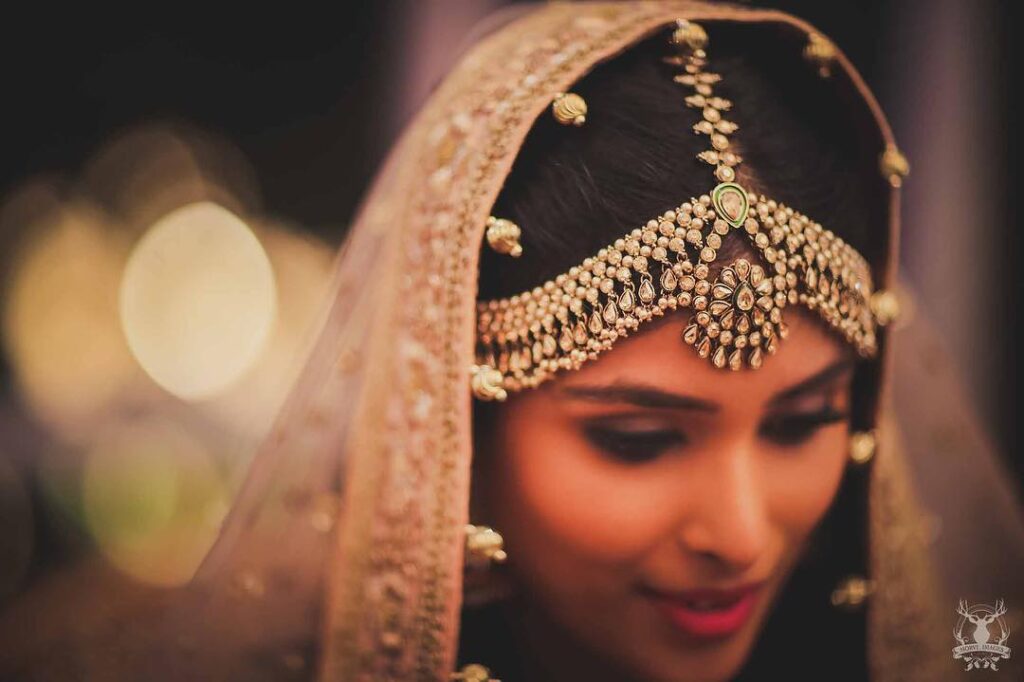 Courtesy: Morvi Images
#38 When
Anushka Sharma
revolutionized the world of pastel lehengas, she did that with utter grace and impressive styling. Her headgear with uncut diamonds, pale pin spinels, and Japanese pearls was a befitting adjunct to her Sabyasachi lehenga. We aren't getting over her alluring wedding look anytime soon, are you?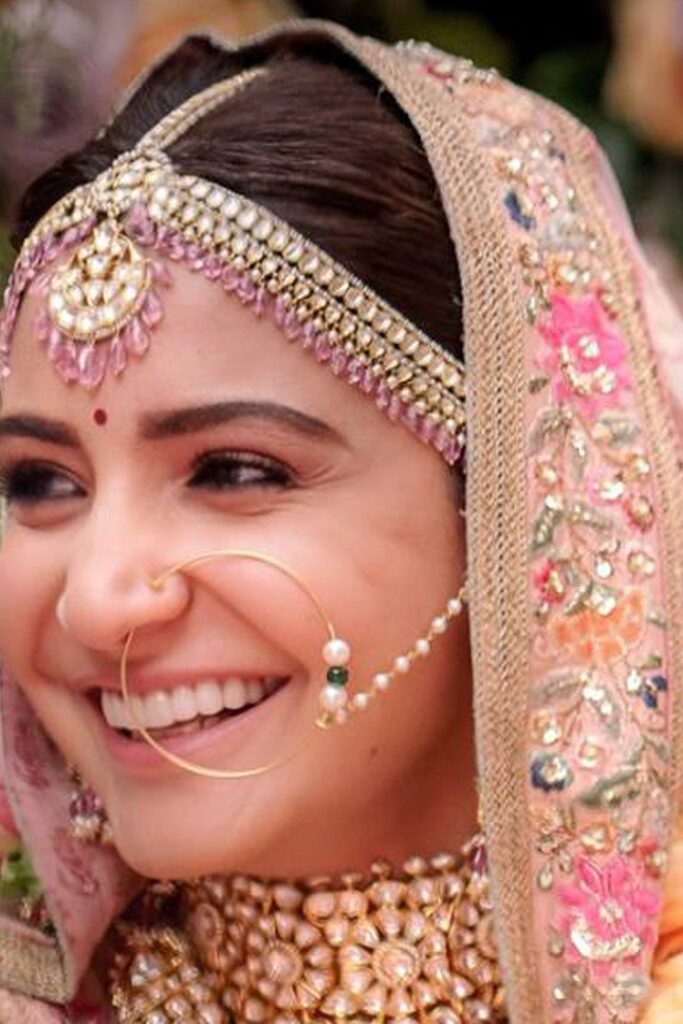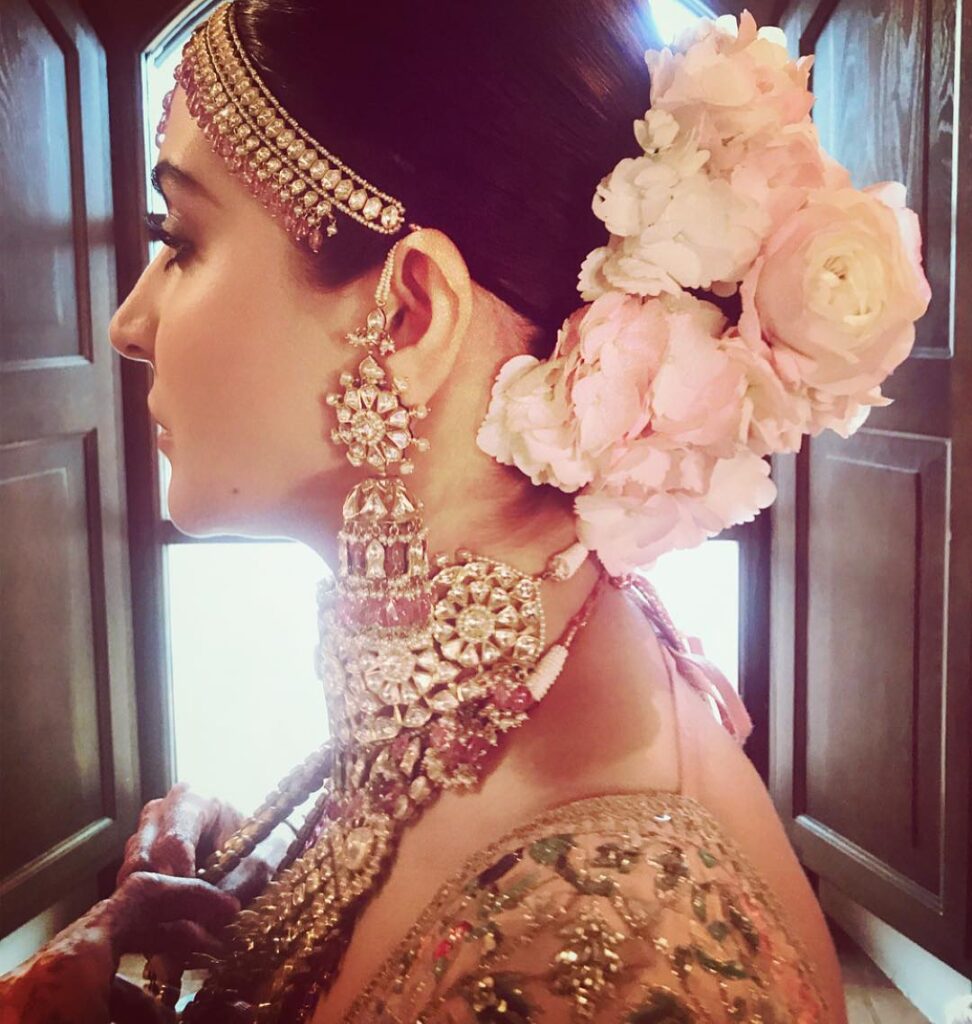 See 40+ Pictures From Virat & Anushka's Tuscany Wedding
#39
Deepika Padukone and Sabyasachi
are a match made in heaven. Some of her most memorable looks have a Sabyasachi-designed attire, including both her wedding celebrations. Here's a 2016 Sabyasachi X Nilaya shoot where Deepika was clad head-to-toe in Sabya creations and left us stunned yet again.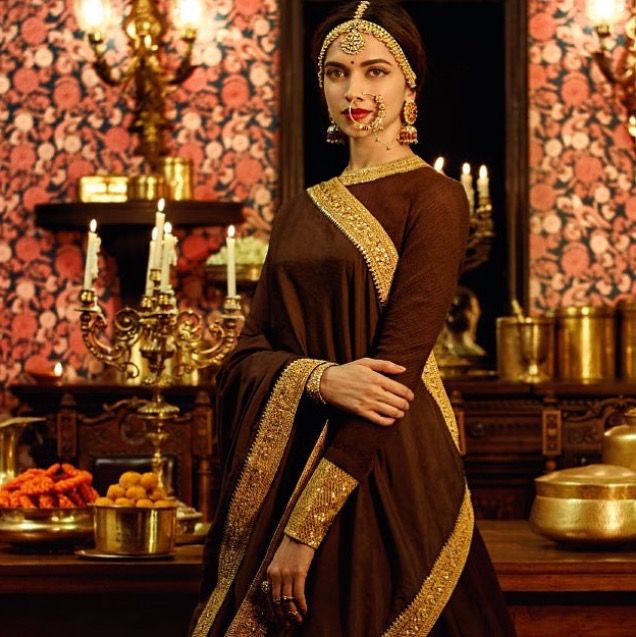 See: Deepika Padukone Is Always A Slayer In Sabyasachi
#40 A matha patti is the kind of Indian jewelry that will enhance a bridal look as much as the bridesmaid look. So, if you're the sister of the bride/ groom wanting to wear this stunning trinket, here's proof that it will be a good idea through and through.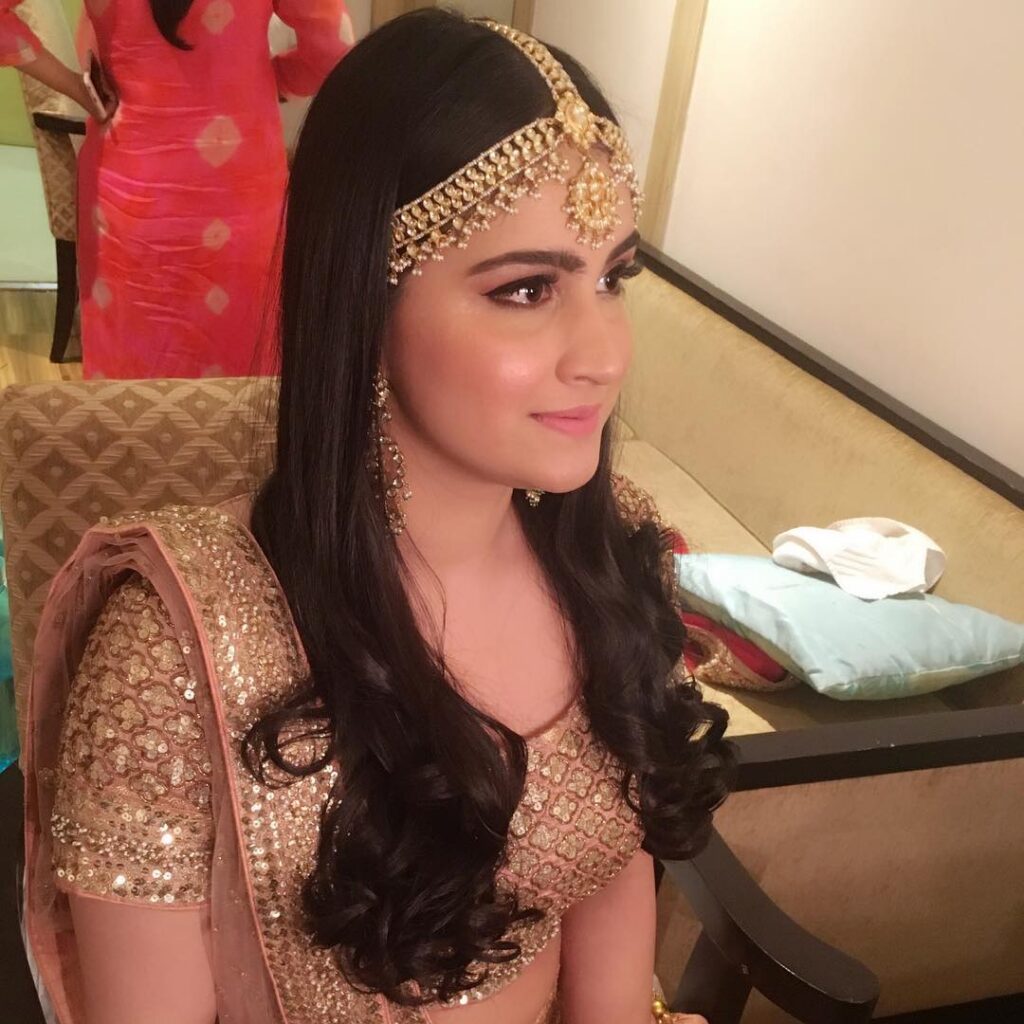 Courtesy: Jasmeet Kapany
#41 An elaborate golden mathapatti design with pearls, uncut diamonds, and meenakari work all in one is a superb inclusion in her orange-hued wedding look. Jasmeet Kapany did a great job keeping the makeup tones neutral to complement & enhance her bright-colored outfit well.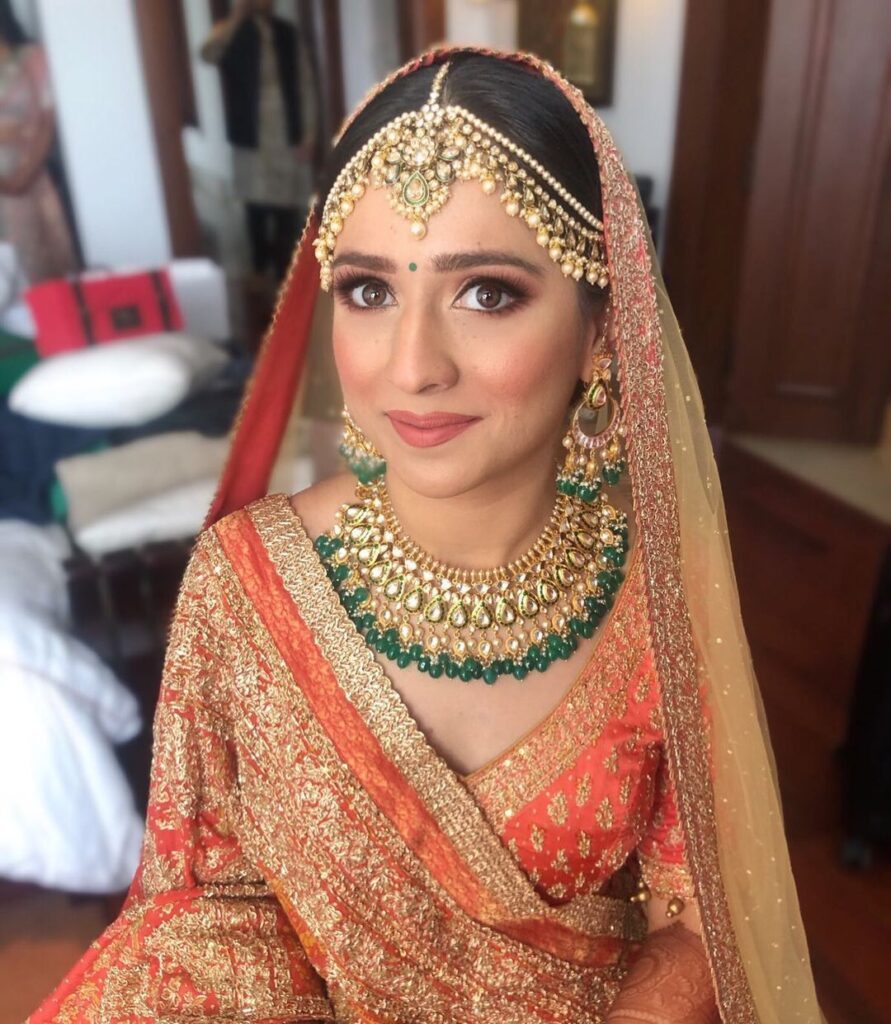 Courtesy: Jasmeet Kapany
#42 The little phools in her headgear strings are definitely a design takeaway for brides wanting to create a unique & latest mathapatti design. Love how she paired it up with a simple nath and let the headpiece shine on in all its glory.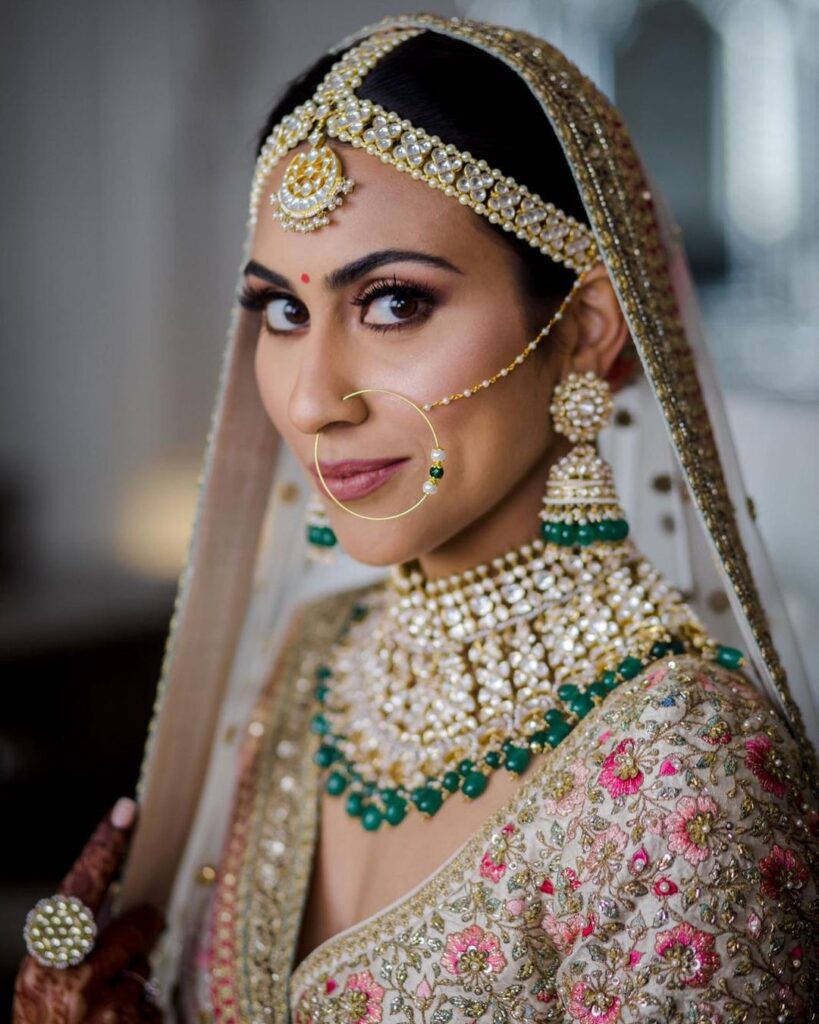 Courtesy: Jasmeet Kapany, Raabta by Rahul, Smiti Mittal
#43 A typical South-Indian ensemble calls for brides to wear a gorgeous mathapatti on their heads. Look at all the celebrity brides – from Deepika Padukone to Aishwarya Rai Bachan and Shilpa Shetty – all of them wore a statement headgear on their big day. If you come from the same roots, here's a stunning South Indian mathapatti jewelry design to inspire you.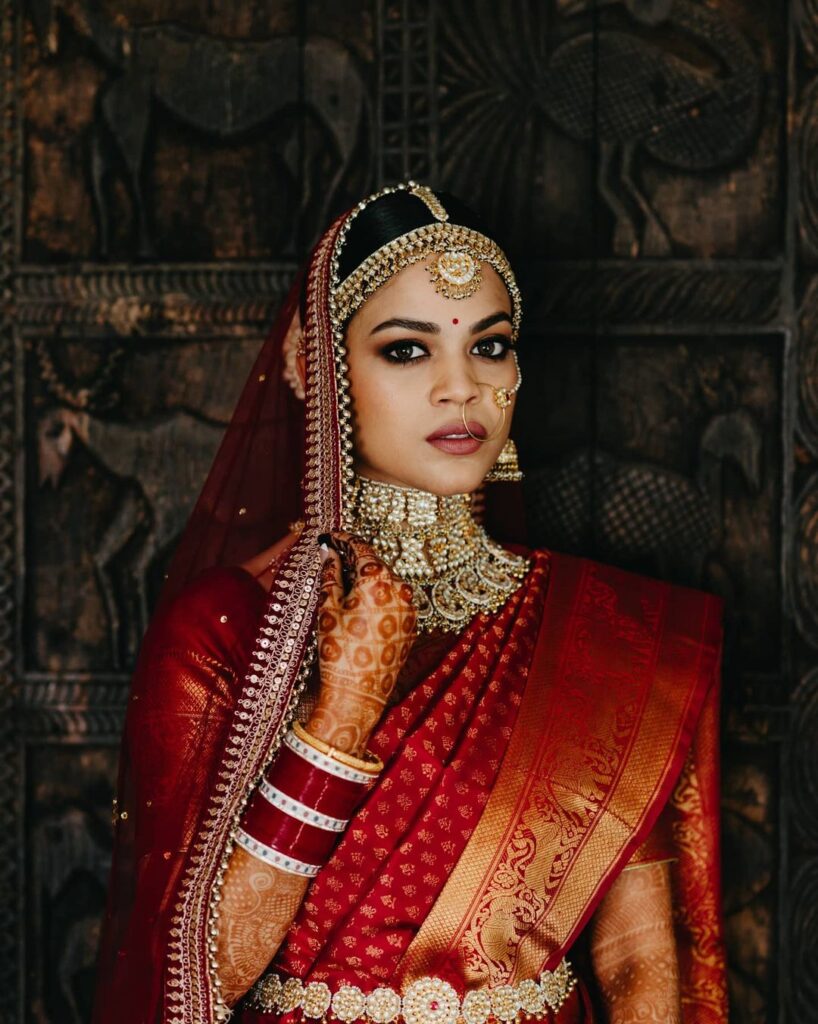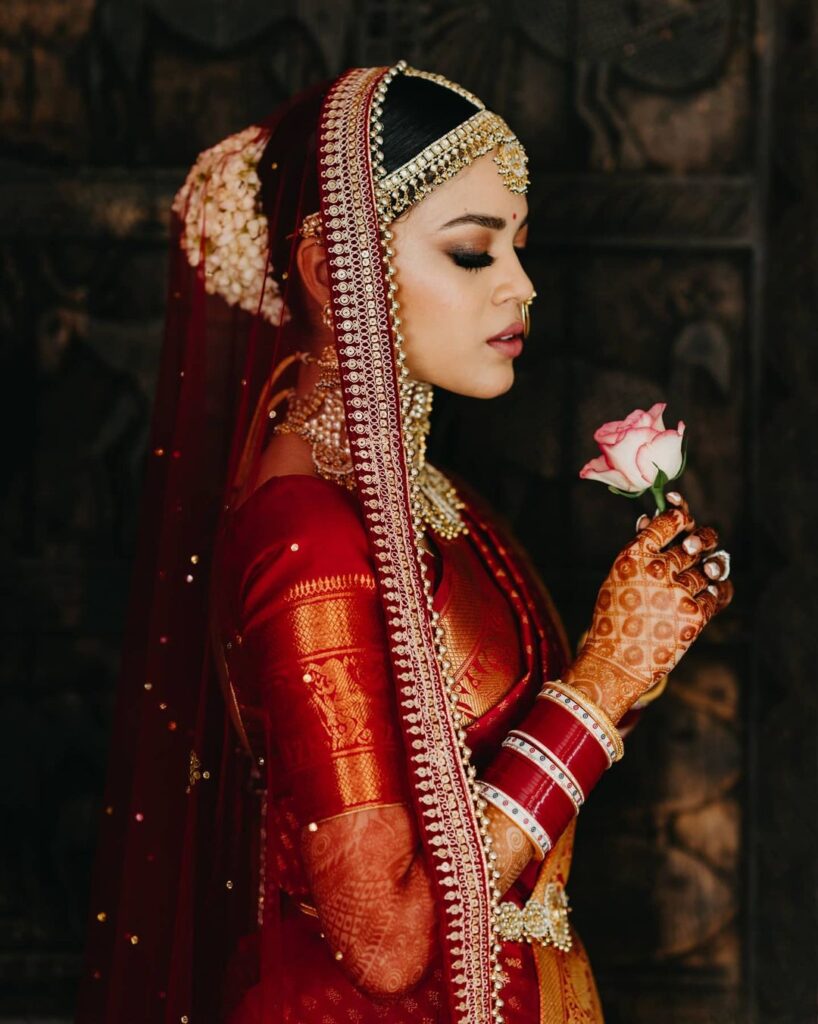 Courtesy: Delhi Velvet
#44 Her eyes are shining with the dreams of the future and the happiness beaming on her face is utterly gorgeous. And also, jewelry goals for winter brides who'd be wearing a maroon lehenga on their big day. Right?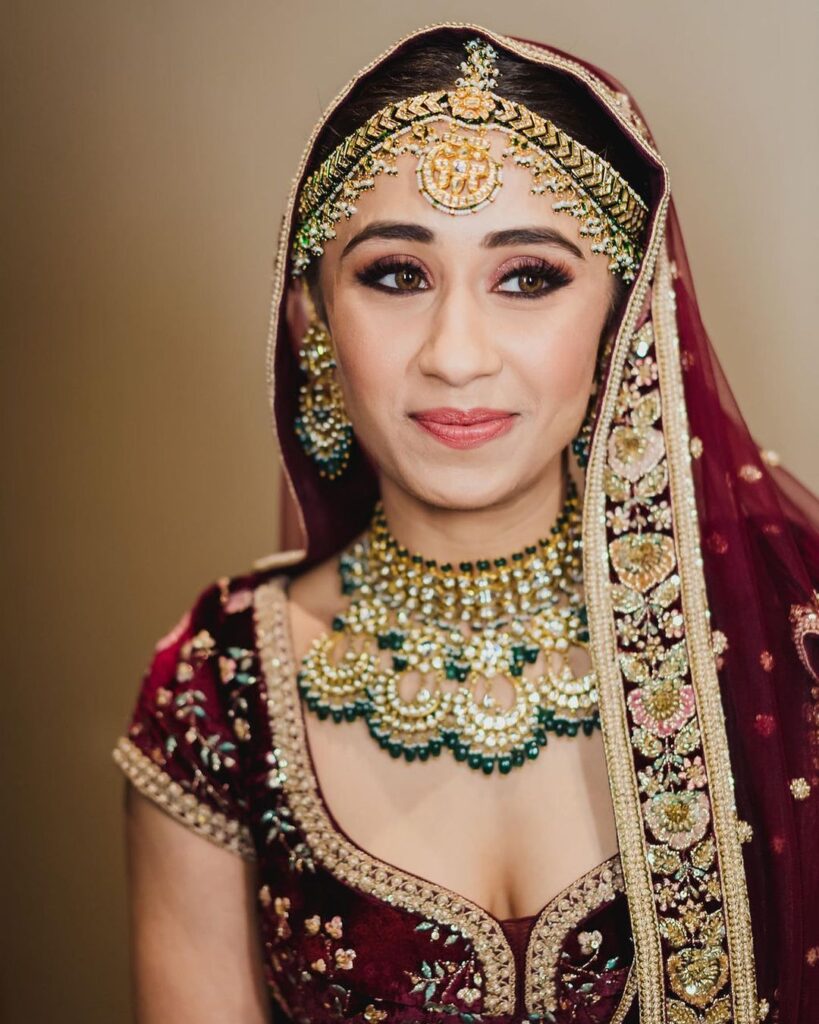 Courtesy: Reels & Frames
#45 While golden jewelry isn't a common choice on the big day, its timelessness and charm can't be denied. Just look at this bride carrying her all-gold jewelry with sheer perfection.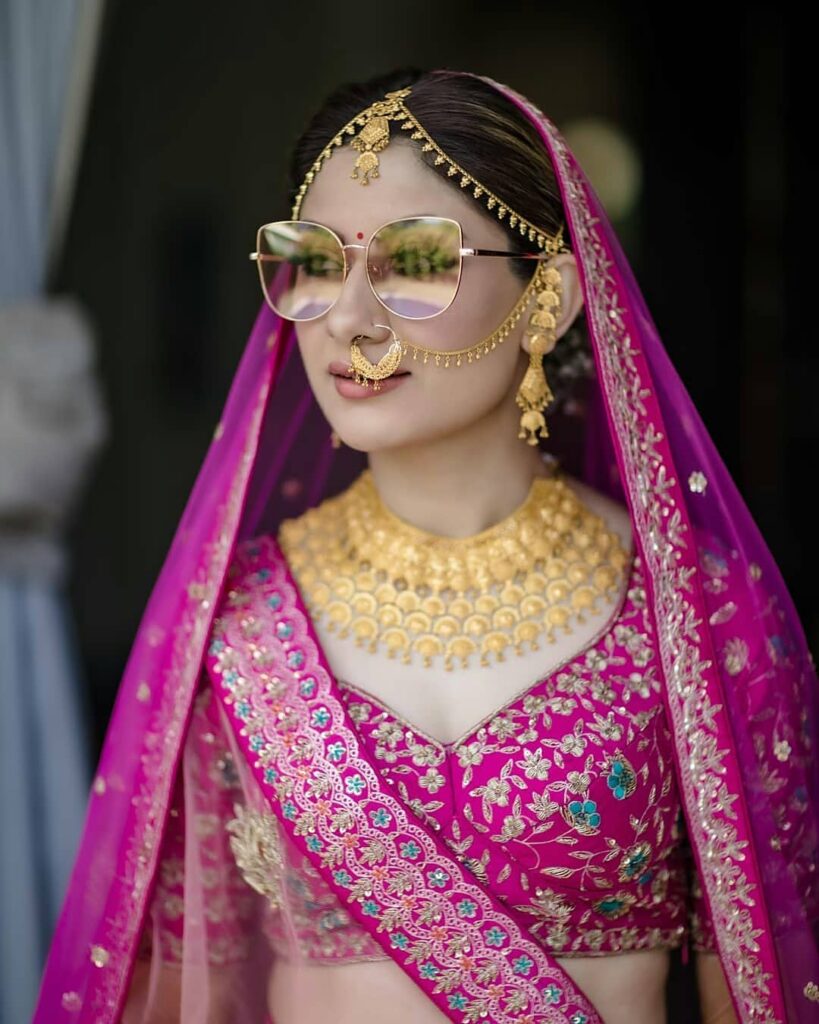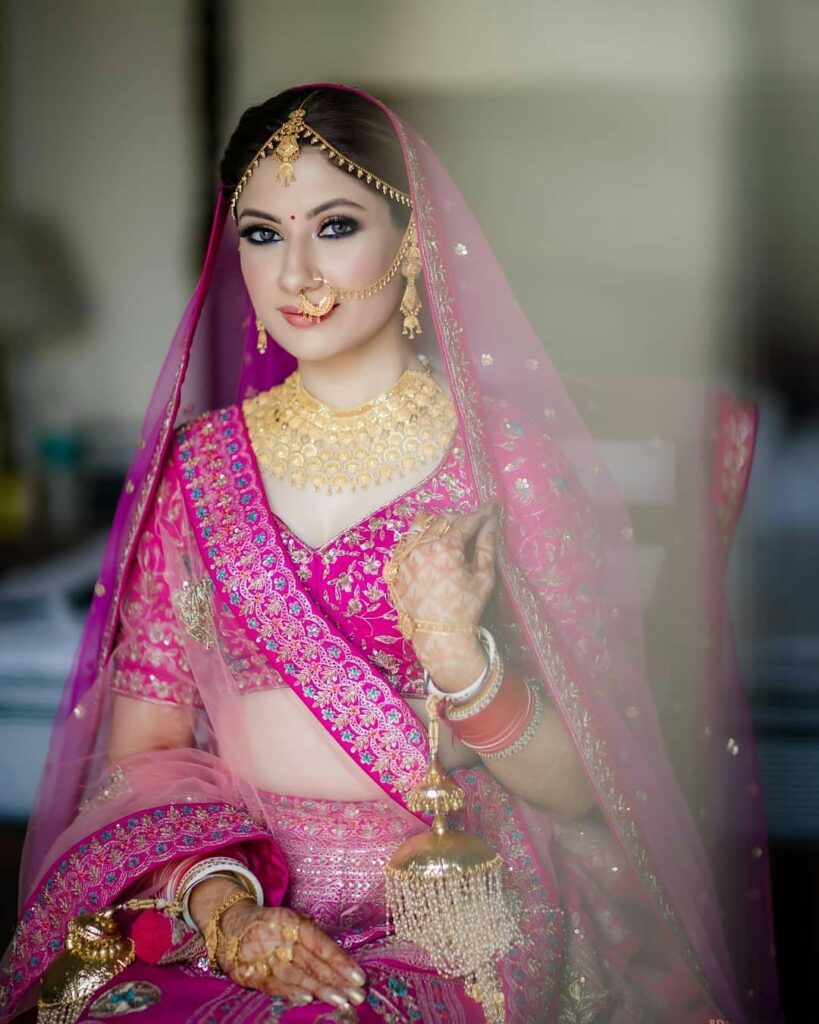 Courtesy: The Wedding Files
#46
Ridhima
has become a part of a lot of our blogs lately. Certainly, her extraordinary trinket choices offer unique inspiration to brides and her multi-string mathapatti with pearls is surely a gorgeous choice to wear at your wedding.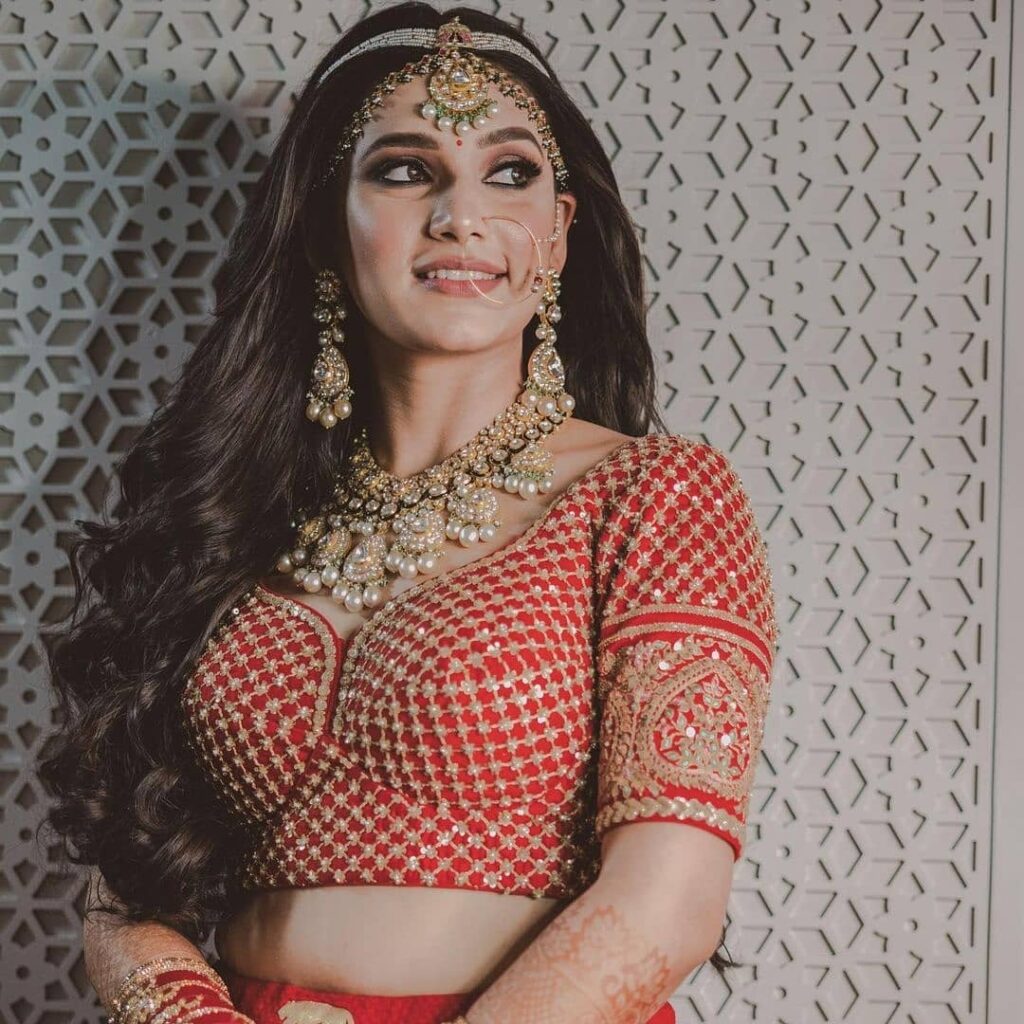 #47 Exquisitely crafted temple jewelry adds a classic, elegant, and refined touch to a South Indian bridal look like no other piece of baubles. And if you're looking for design inspiration for the same, here's a uniquely crafted design to wear on your special day.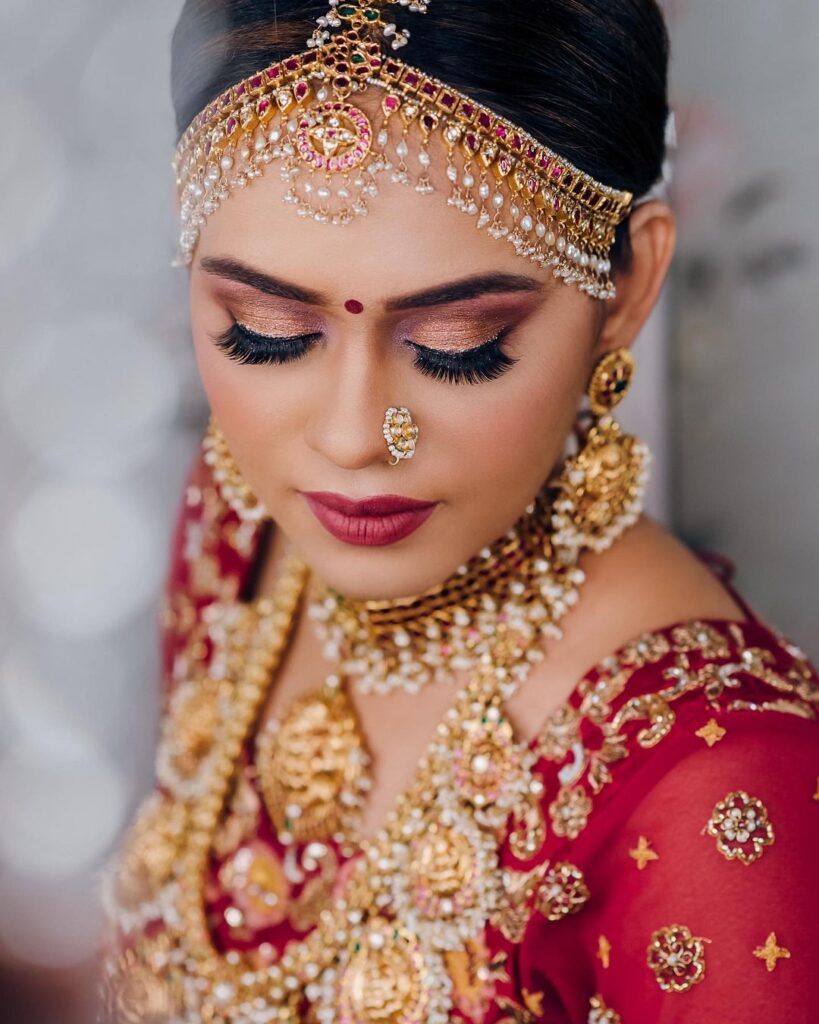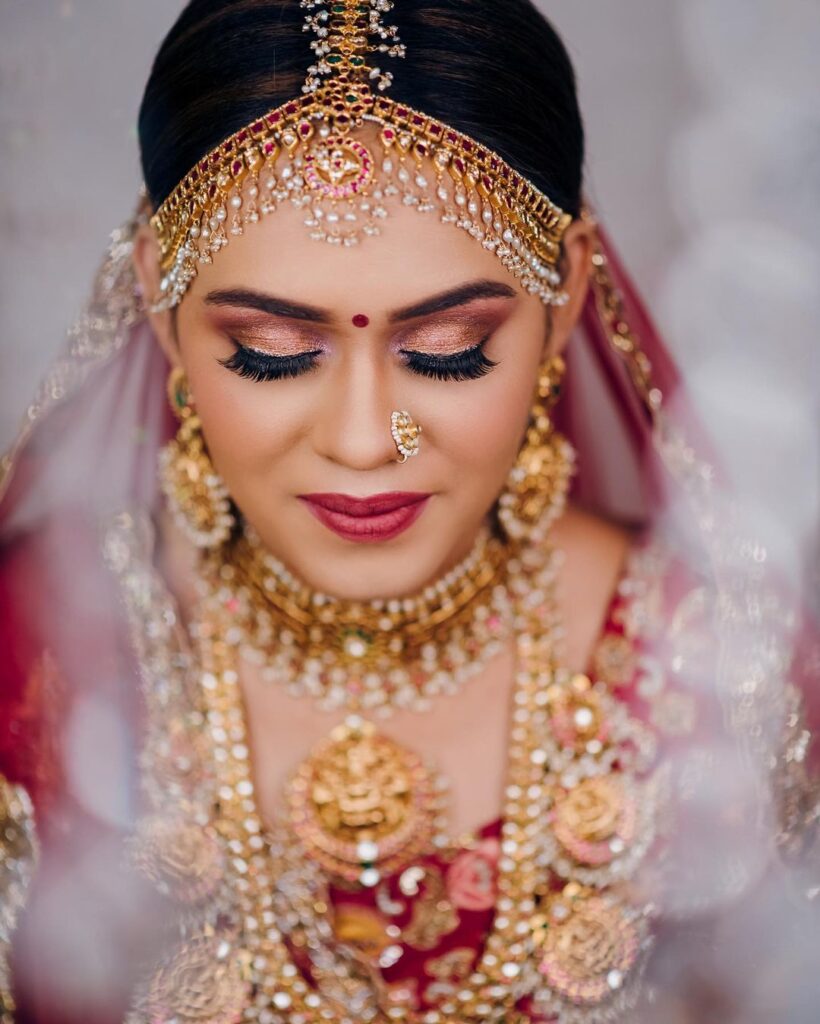 Courtesy: Noopur Chokshi Ami Chokshi, Sabyasachi Jewellery, Chiaroscuro
10 Mathapatti Designs You Can Purchase Online 
#1 A gorgeous kundan one with emerald pearl drops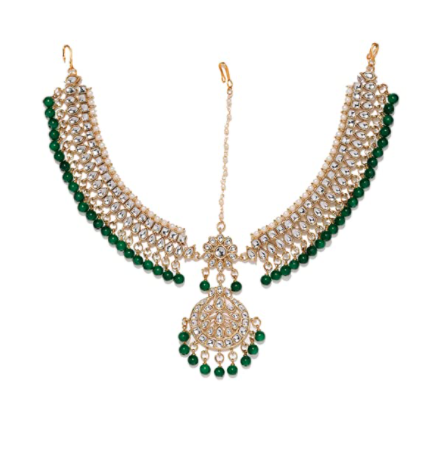 #2 Borla with multiple strings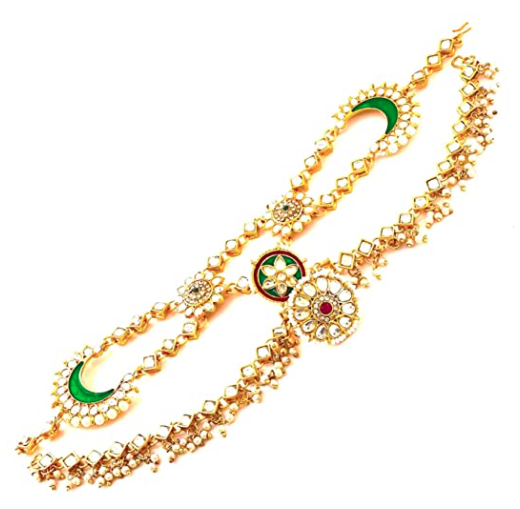 #3 A simple one with pearls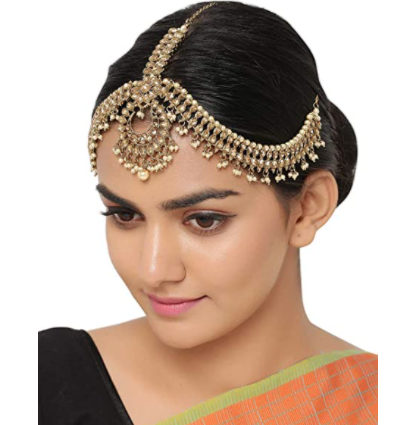 #4 Stylish one with ghungroo pearls and shining polki diamonds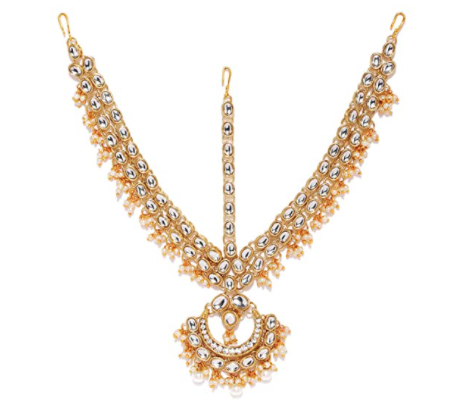 #5 Multi-string mathapatti perfect for mehendi or haldi too!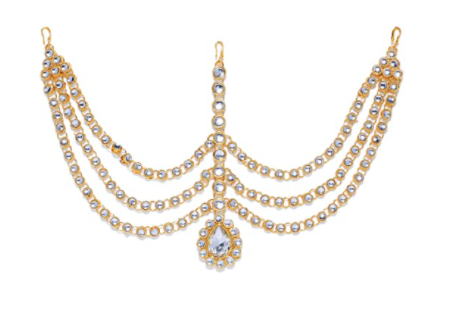 #6 When ghungroos take the center of attention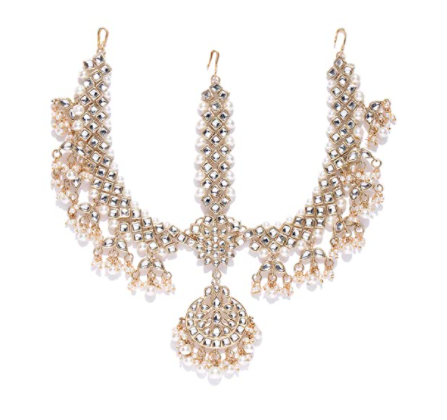 #7 A perfect one to go with any lehenga shade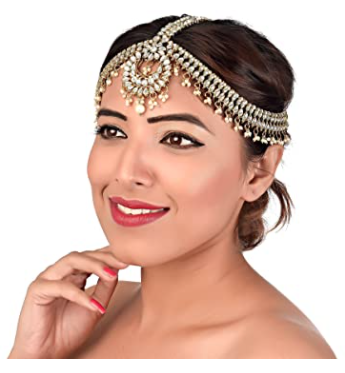 #8 Borla mathapatti with dainty strings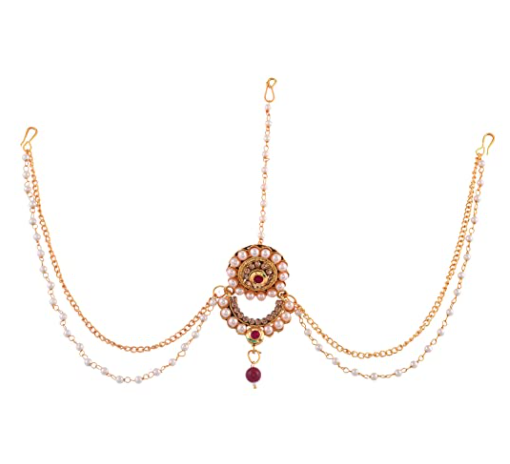 #9 An elegant one with intricate work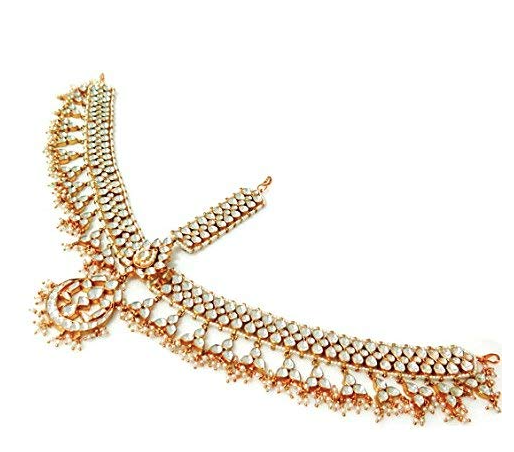 #10 Rajasthani heavy mathapatti for traditional brides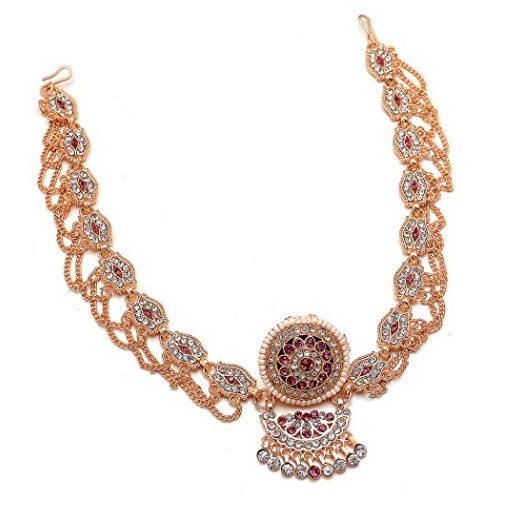 Ending this blog with a pro-tip. Before zeroing in on your mathapatti, try different styles in person. This will help you in better understanding which one suits your personality & ensemble better. And please don't fall for the common advice that mathapattis just suit a certain face shape, because you can find a style that's made just for you! We hope this blog helped you sort one aspect of your wedding planning well. Keep visiting our website wedbook.in for more such wedding ideas, inspiration, etiquette tips, and buying guides.