Consider it the celebrity effect or the desire to radiate an old-world charm – a nath has now become indispensable of a bridal look. And like any other part of your trousseau – the options in the market are endless and sometimes, confusing. From hoops to studs, and kundan to diamond, there are plenty of styles & designs for every kind of bride. However, if you're the minimalist bride who wants effortless options for your nathni – you've come to the right place. Find below 21 simple nath designs in this specially curated list for your convenience. Scroll & bookmark. 
In the end, find a few online buying options for a simple nath design. 
#1 A simple nath design that includes a kundan gold work in the restricted circumference and a delicately encrusted string is a surefire pick for brides who want an effortless nathni to go with other heavy bridal jewelry pieces. It's definitely inspirational how she balanced out the pieces of her baubles and created a regal & timeless bridal look for herself.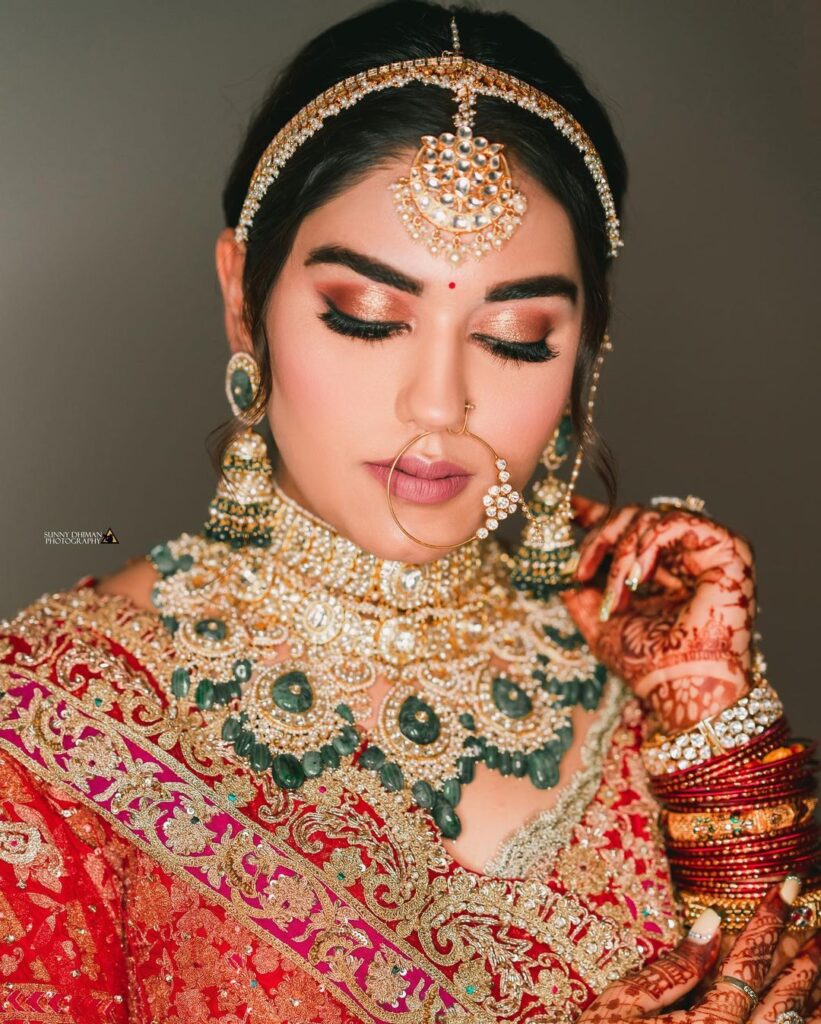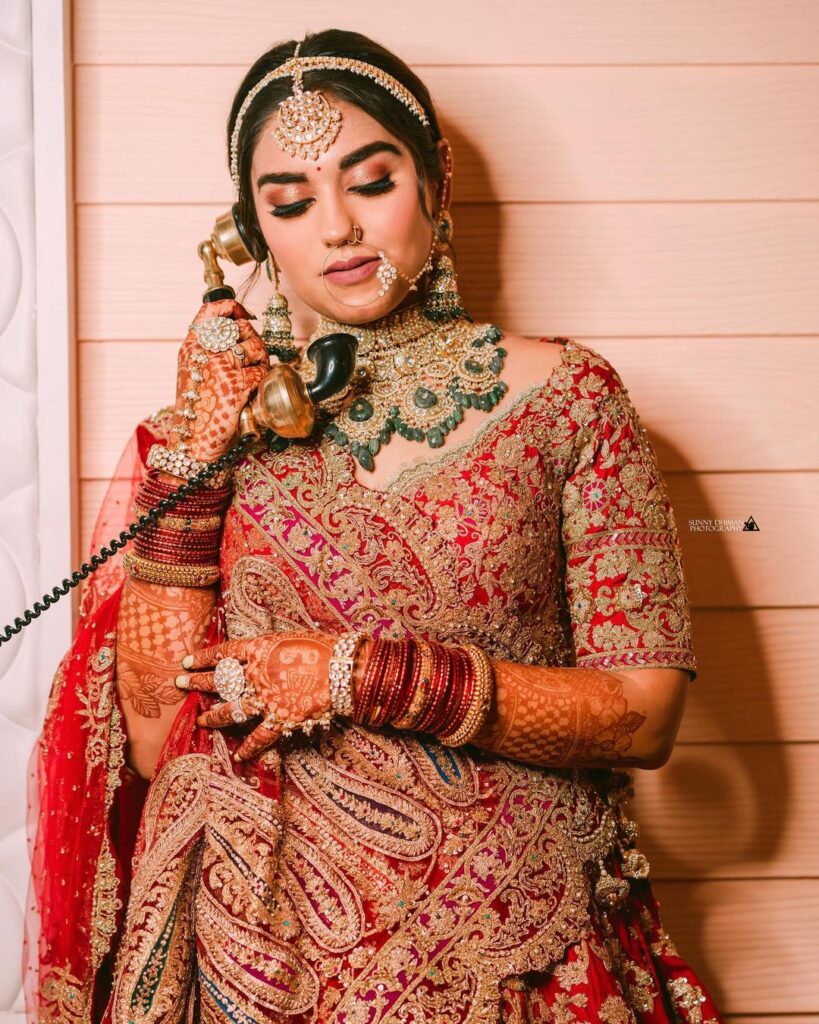 Courtesy: Sunny Dhiman Photography, Shradha Luthra
#2 Pastels & pink have become a go-to for brides whose big day style is all about radiating a whimsical elegance. Here's how this gorgeous reinstated the same – and paired her basic style with a gold nath design. Take cues on how she didn't forget to get it captured as well. A striking portrait which she can have as a keepsake forever.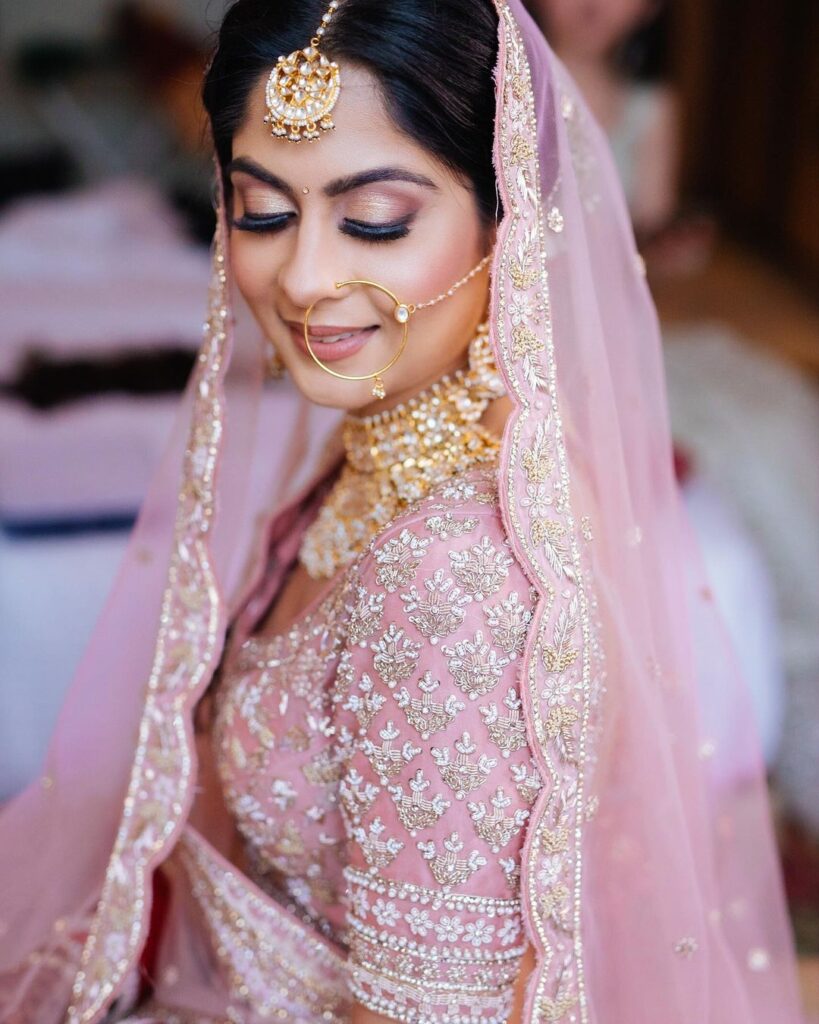 Courtesy: Simran (Beginnings For You), Neha Grover
#3 If you're bored of the usual big hoop minimal nath options – then here's an alternative for you! A smaller hoop daintily decorated with asymmetrical kundan stones. While the nathni in her ensemble caught our eyes, we're also eyeing how she let her hair down on the big day and completely rocked it. A soothing balance of going the offbeat way while keeping it modest & gracious.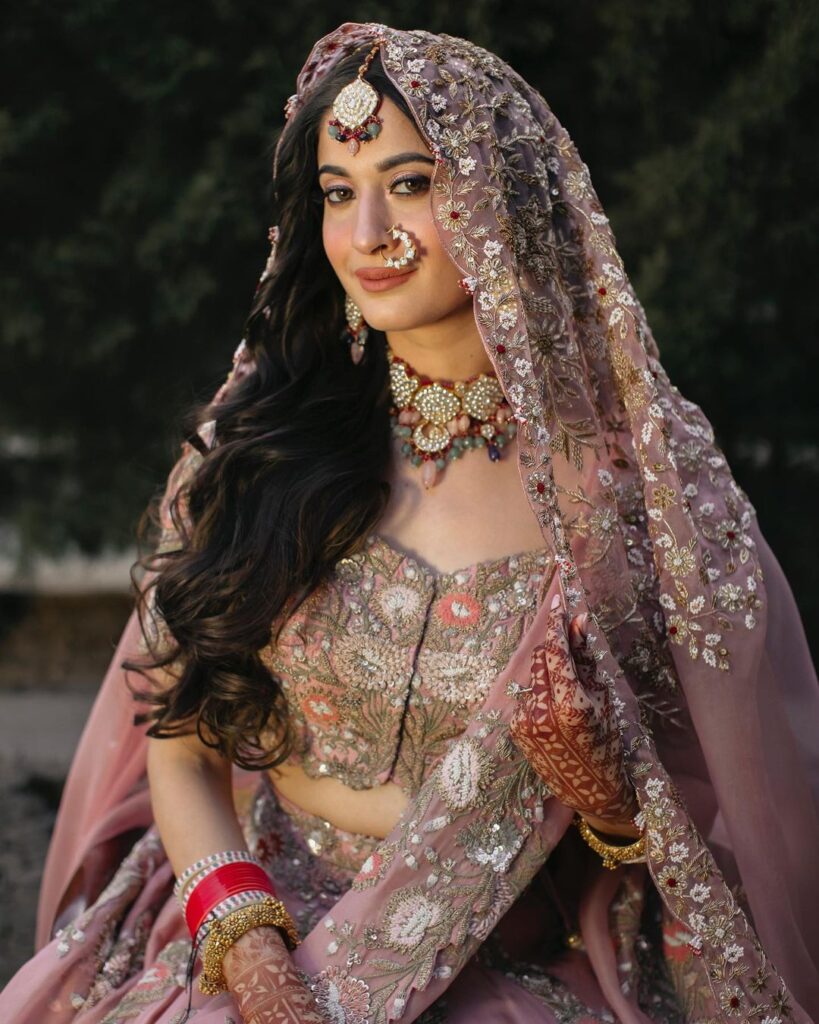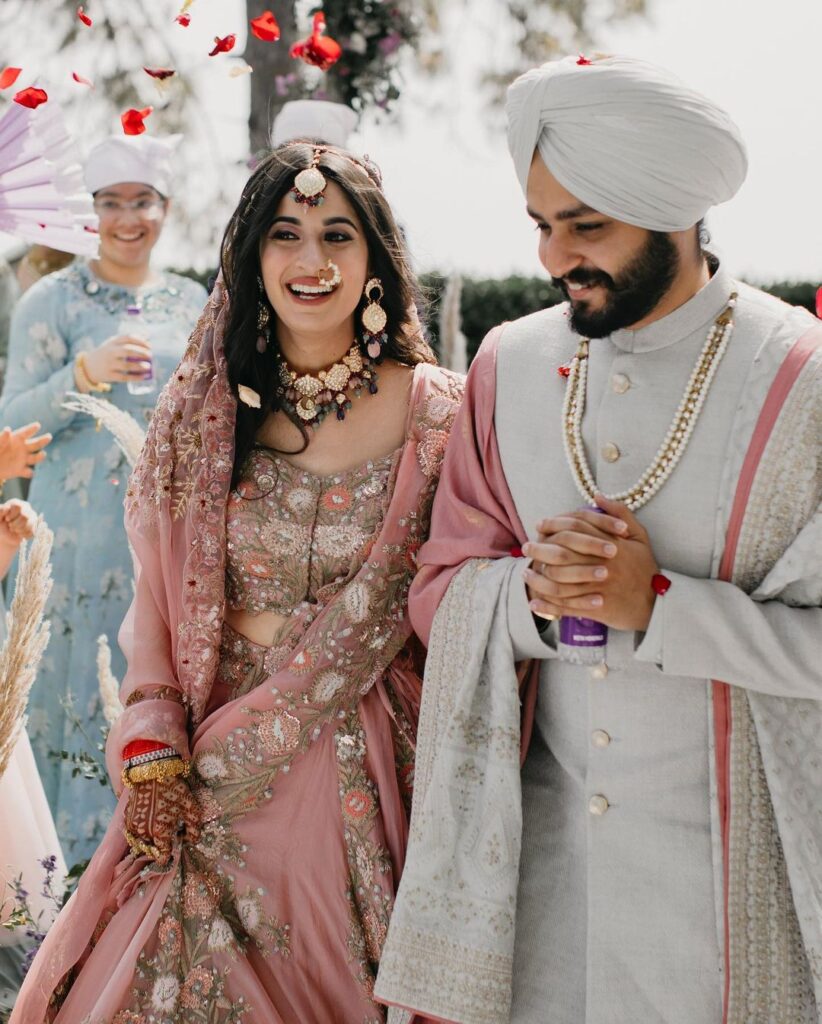 Courtesy: Dot Dusk
#4 The viral Sabyasachi bride who impressed us all with her stunning look & delightful portraits gave us so much inspiration. Her simple nathiya design with pearls and delicate meenakari work is one of them. The elaborate design matched the rest of her jewelry and her multi-color
Sabyasachi lehenga
well. Those big polki-kundan earrings have our heart too, and yours too if you're looking for options other than chaandbali and jhumka bridal earrings.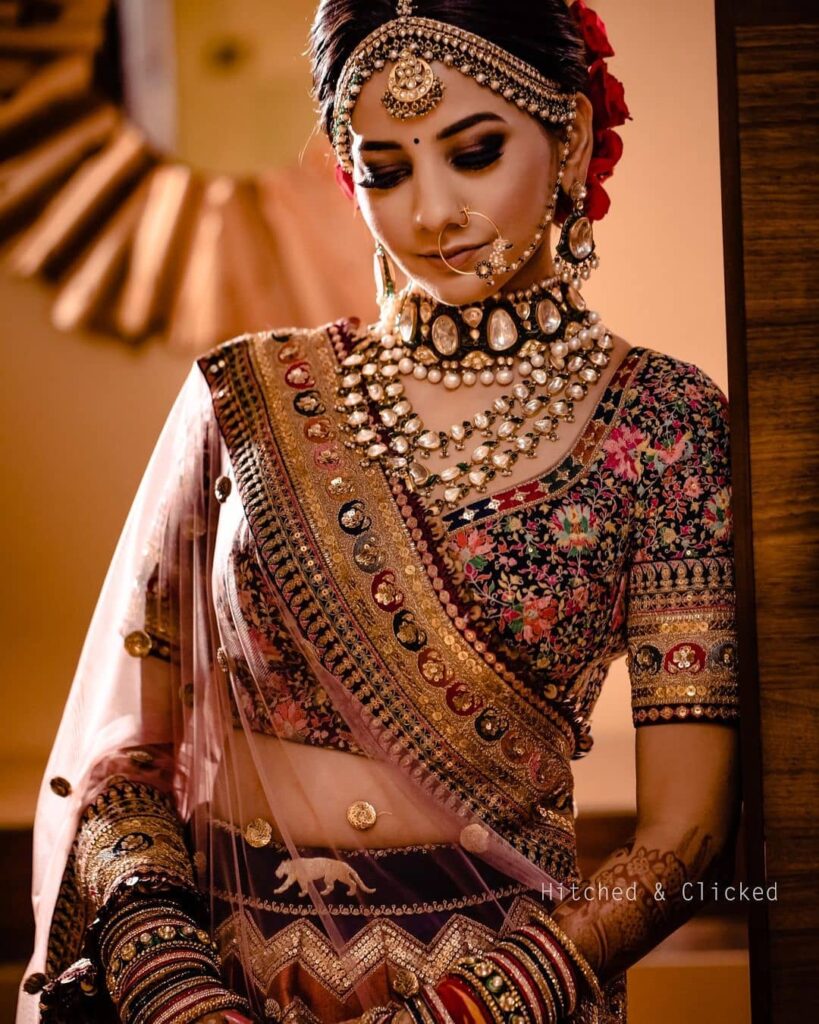 Courtesy: Hitched & Clicked
#5 Infusing colors into her baubles with rubies in mathapatti, pearls & meenakari in the necklace, and pink stone in nath is an amazing accent to her
golden lehenga
. For brides picking this popular color for their wedding lehenga, this is a good way to add some vivid hues to your look. Of course, doing them subtly is important to create a soothing color palette- just like this bride. Don't forget to save these pictures so you've got the perfect examples for your bridal portraits.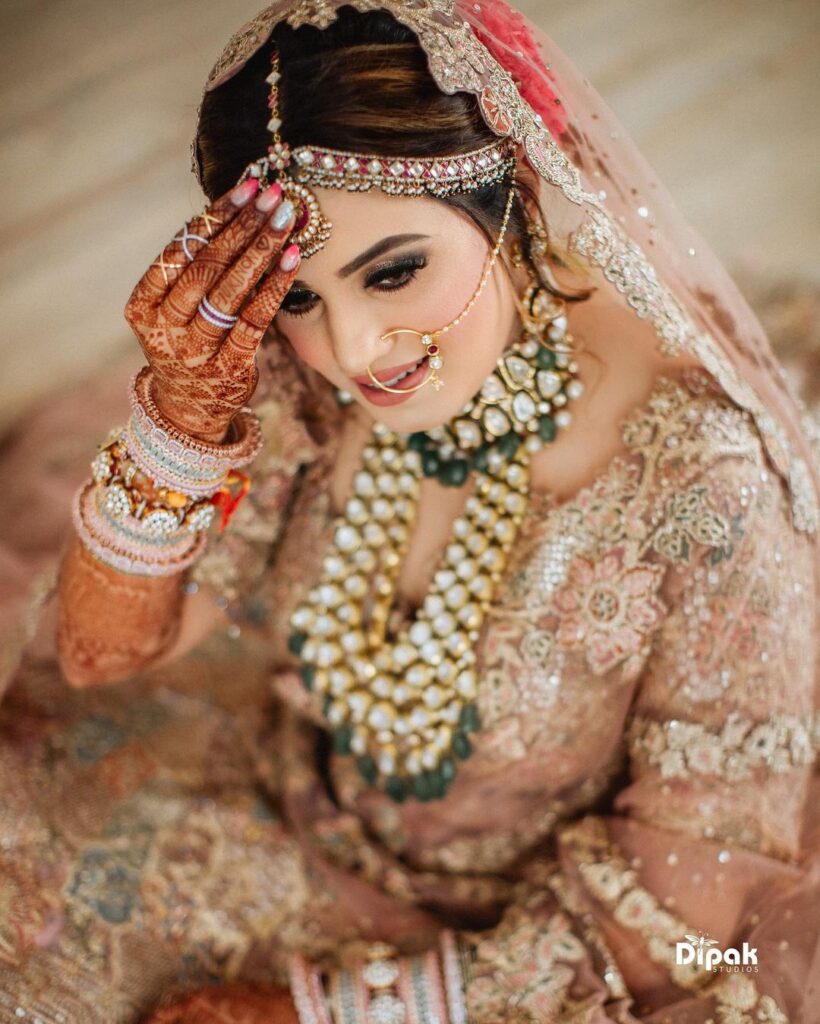 Courtesy: Dipak Studios
#6 Enhancing her golden jewelry pieces is the kundan simple nath design along with a golden string. From her glittery eye makeup to a poofy bun and eye-catching attire – there's nothing to not love of this bride's look. The snapshots by
Dipak Studios
definitely took out the beauty of her bridal look perfectly.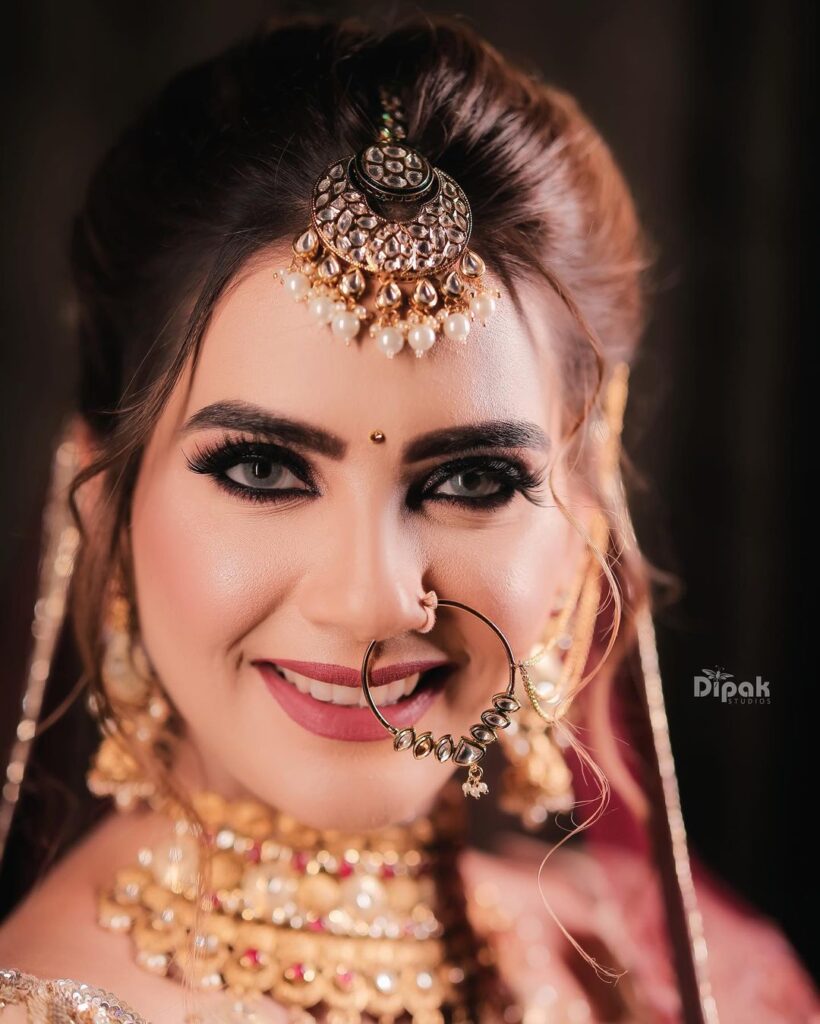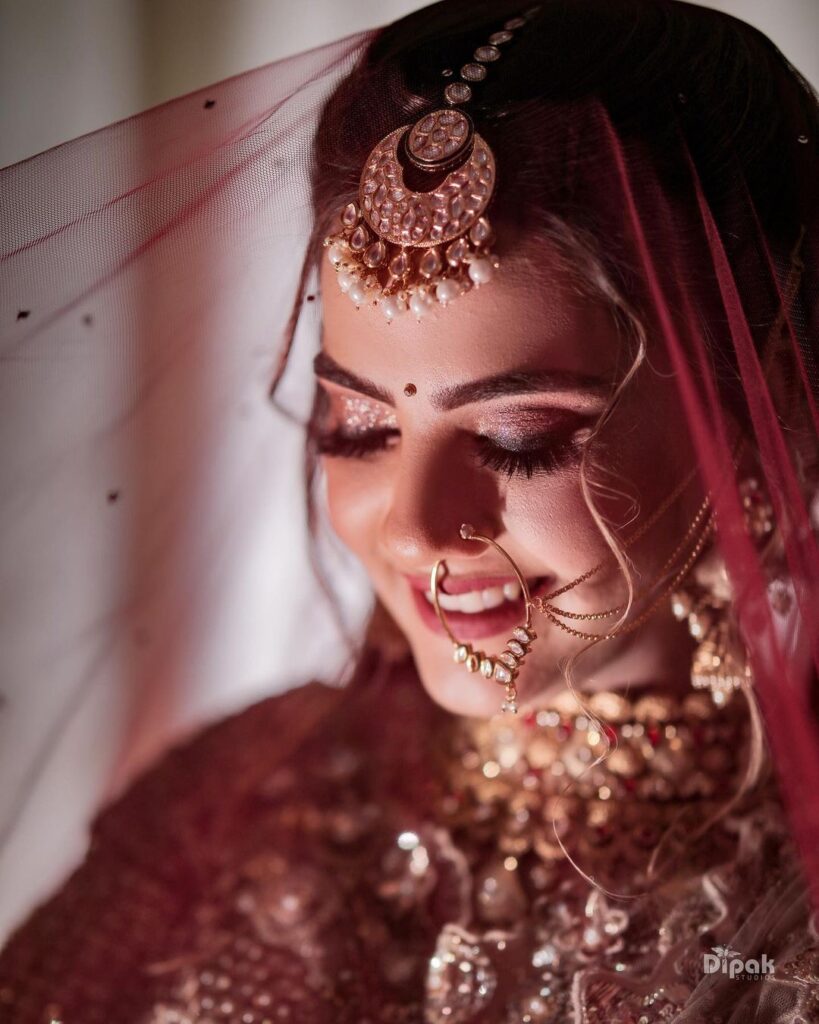 Courtesy: Dipak Studios
#7 While her pearl-embellished baubles steal the show, the minimal gold hoop nath design unilaterally ties the whole bridal look together. The intricately embroidered blouse and double-strapped mathapatti also add a charming attribute to her look. And yes, yet another bride who let her hair down on the wedding day. We guess that's a new trend entering the Indian wedding industry.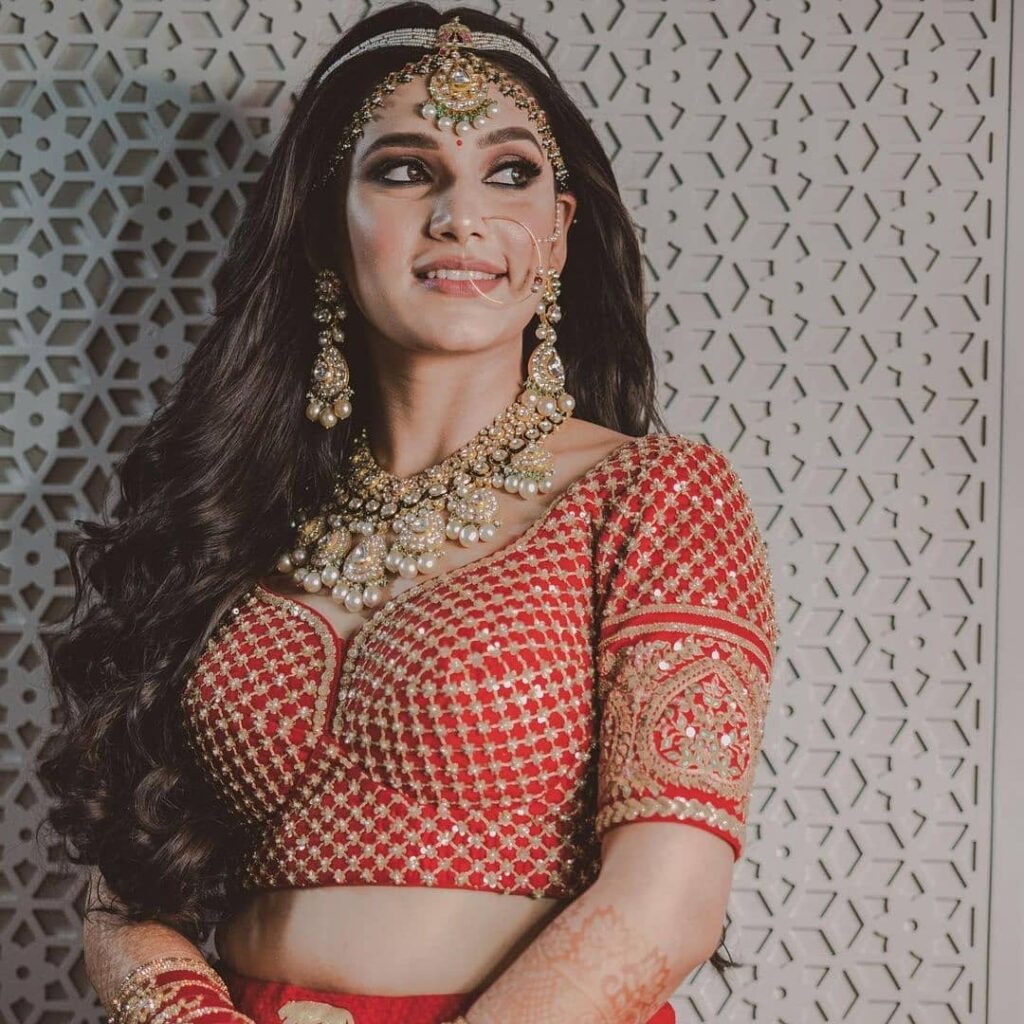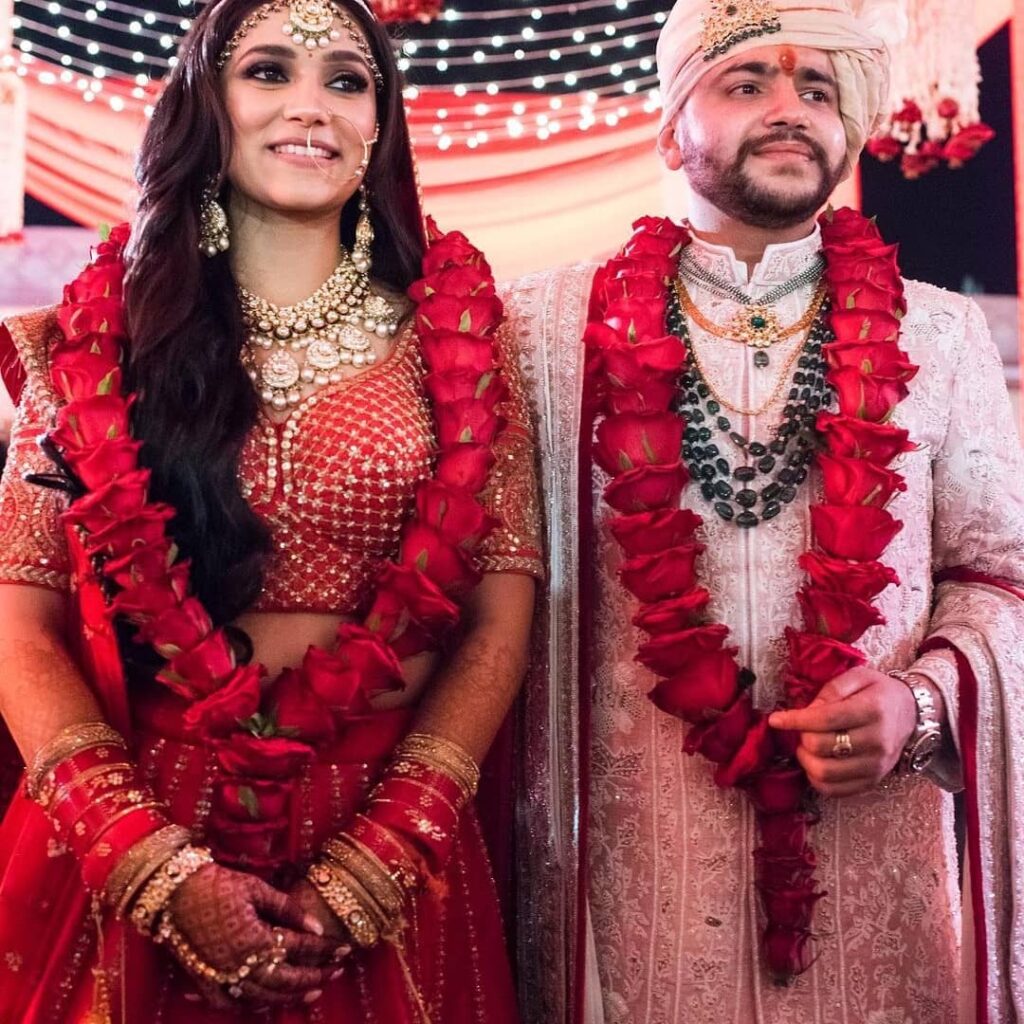 Courtesy: Rihima Vashisht
#8 Aren't their smiles melting your heart? That's why we always recommend couples to let stress & perfection go on their big day. Only when that happens, their hearty smiles & happy soul will take over to create such winsome pictures. Anyways, coming to the point of the blog isn't her daintily embellished simple nath design adding an endearing factor to the wedding ensemble and the exuberant photography? We surely think so!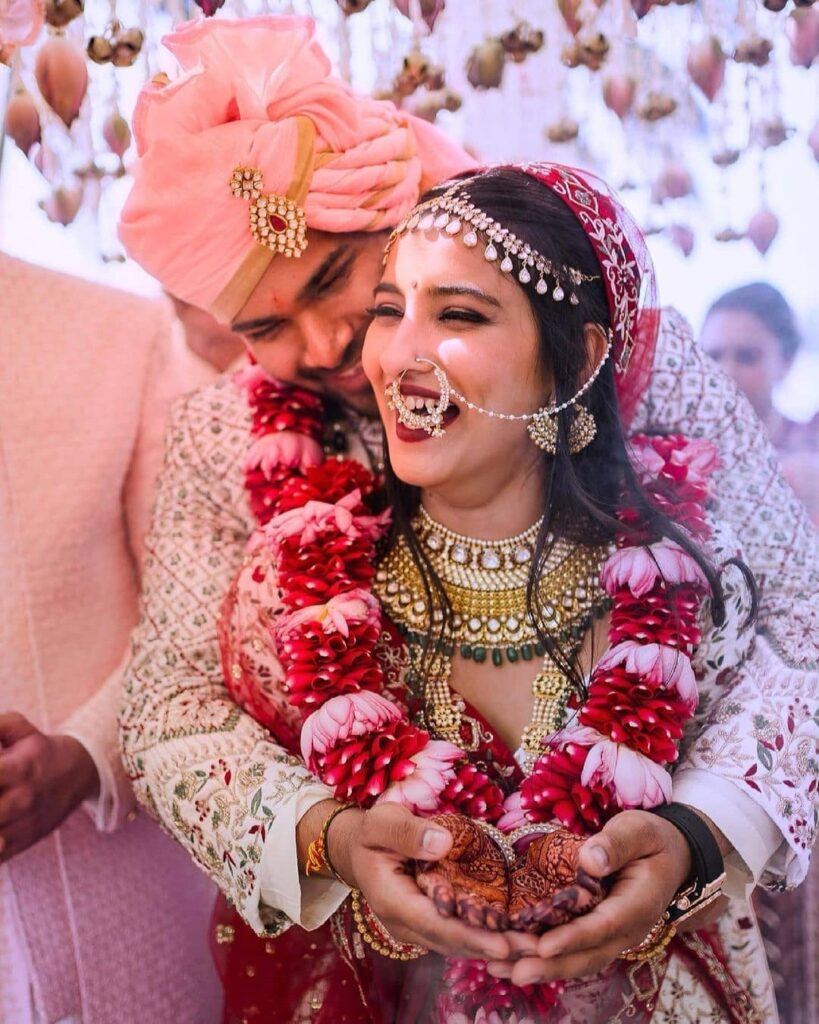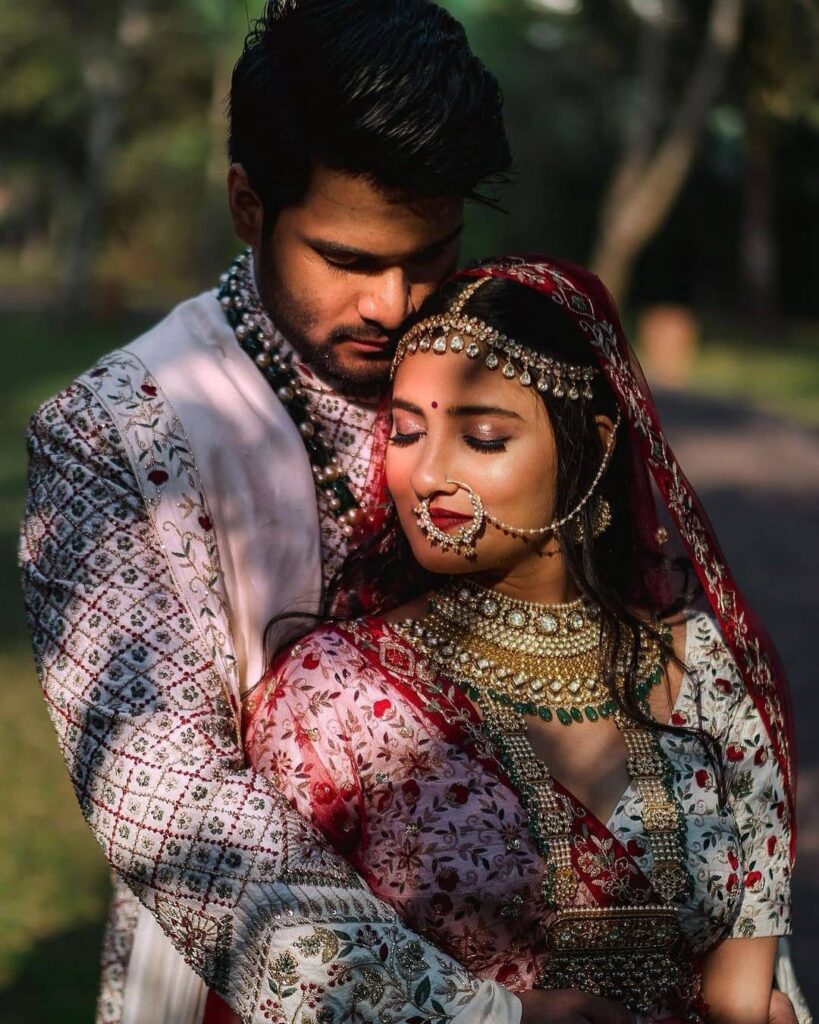 Courtesy: Nilofer Makeup
#9 Every part of Shriya's bridal look came out so well. From the pastel pink sequined Sabya lehenga to the
polki-meenakari
jewelry and the dewy glam bridal makeup – we're swooning over her bridal avatar. Of course, one of the show-stealers is her simple gold dulhan nath design. The minimalistic jewelry piece completely her look and added an old-world charm hard to define in words.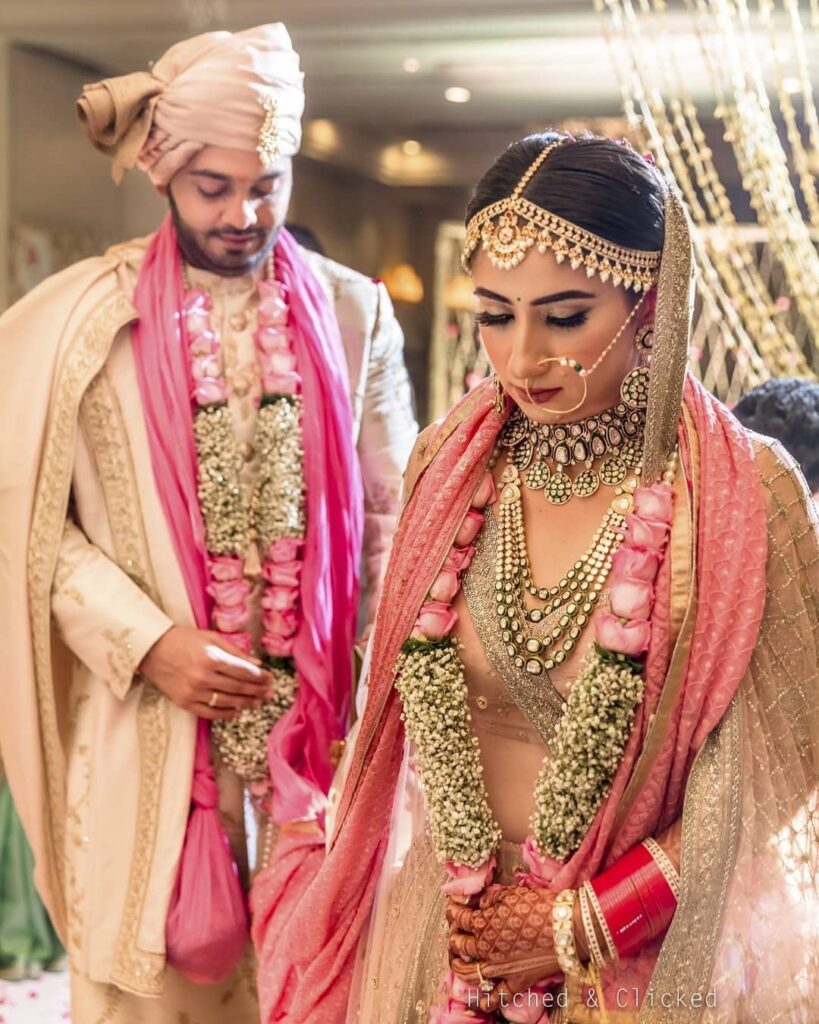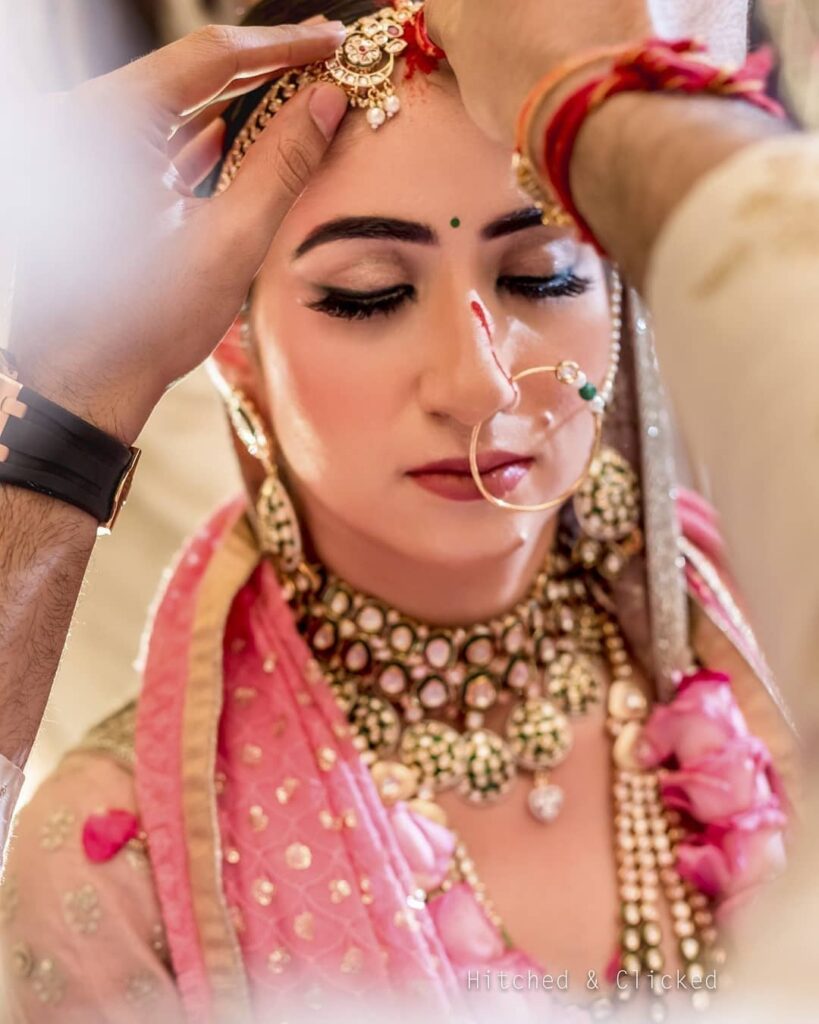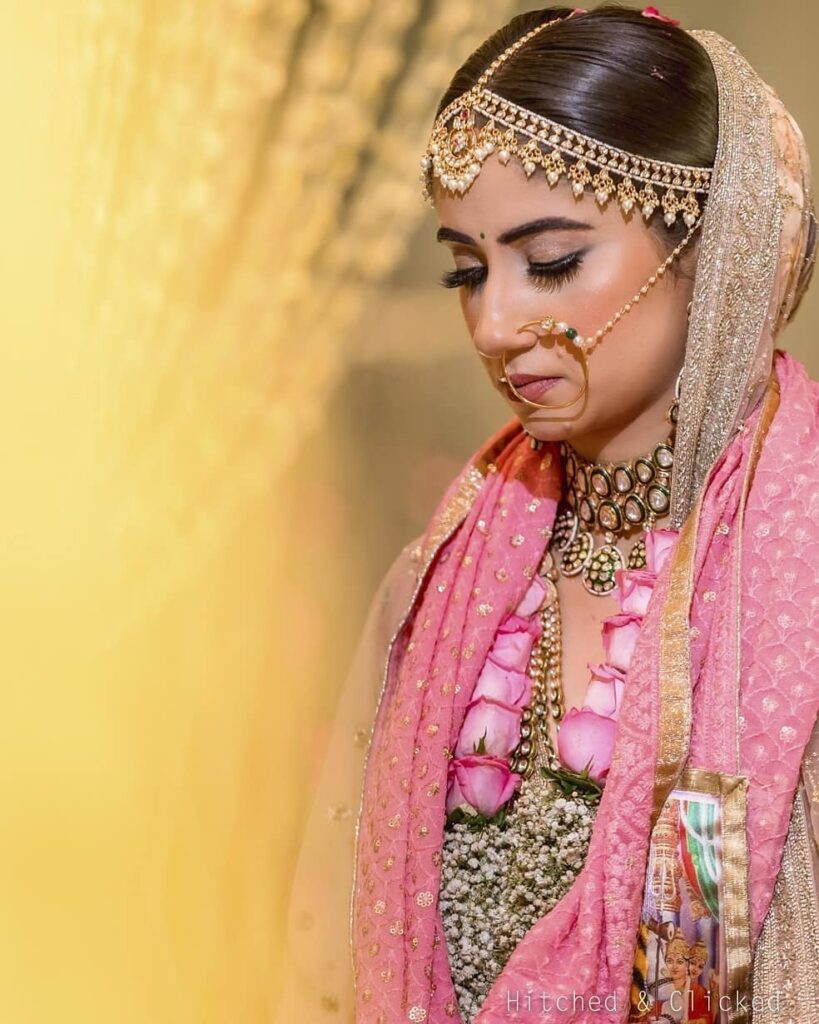 Courtesy: Hitched & Clicked
#10 We know you're distracted by her blushing glowy makeup – but take a moment to appreciate her small hoop nath too! Isn't it such a refreshing take to all the big ones brides can't get enough of? The basic nathni can easily be re-worn after the wedding day. It would go amazingly well with a saree or sophisticated lehenga attire.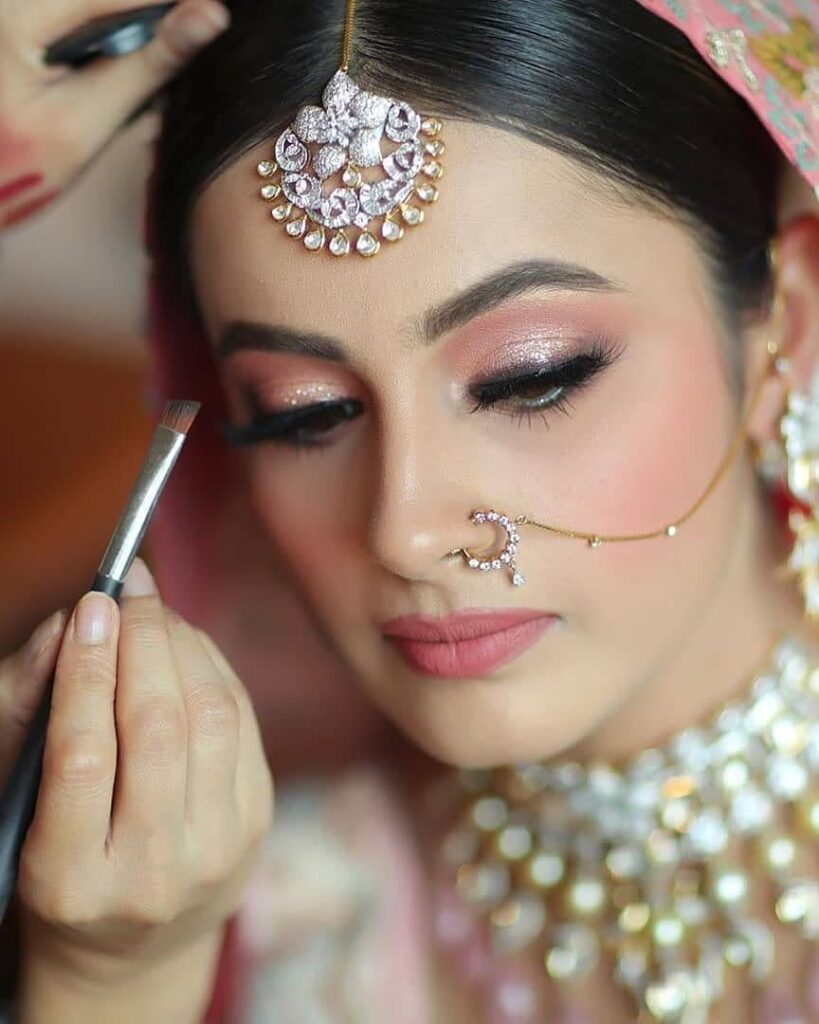 Courtesy: Leena Bhushan
#11 While
Delhi makeup artist
Rashi Sehgal
is known to infuse her brides with a subtle glam and naturalistic aura – this time her bride had another inspiration to give us. The minimalistic bridal nath design attached to the back of the ear with a string of pearls. Surely, the simple trinket pulled her whole look together. Also loving how she opted for the trending
sheeshpatti design
to add a millennial edge to her wedding ensemble.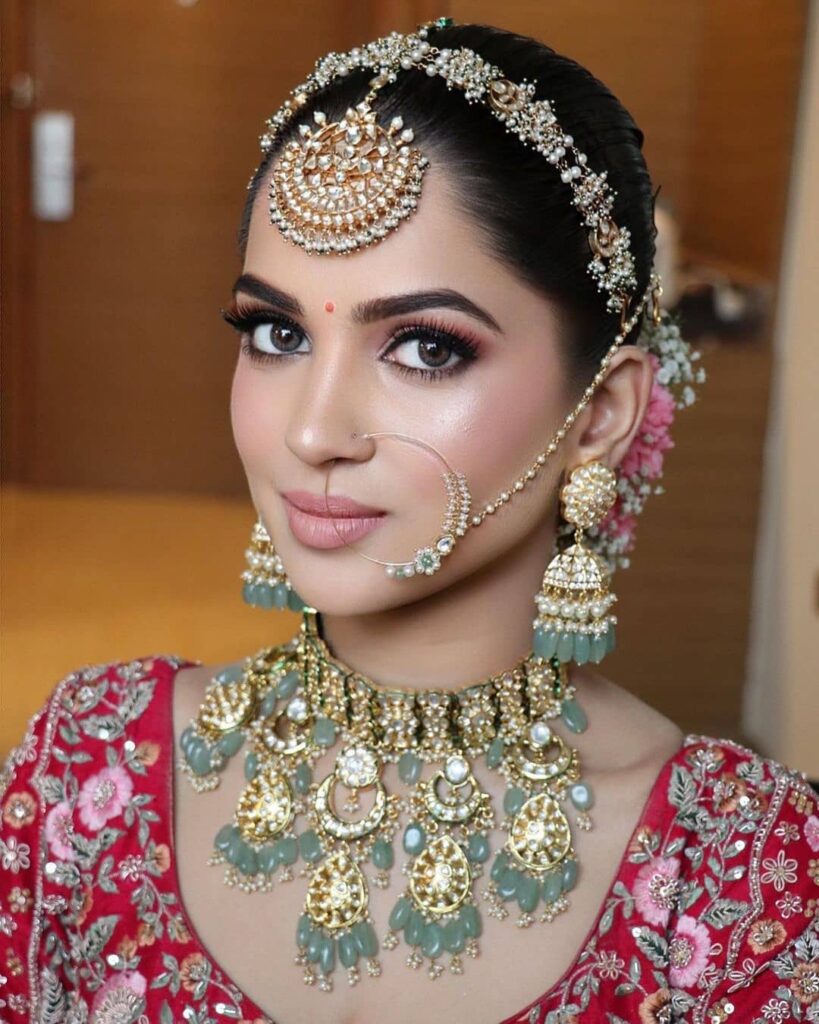 #12 To balance out her elaborate diamond necklace, this bride opted for a simple mang tikka and nath pin for her bridal look. If you've chosen an elaborate neckpiece for your bridal jewelry too and want to balance it out with simplistic trinkets, then here's assurance that all the components will blend well to curate your dream bridal look.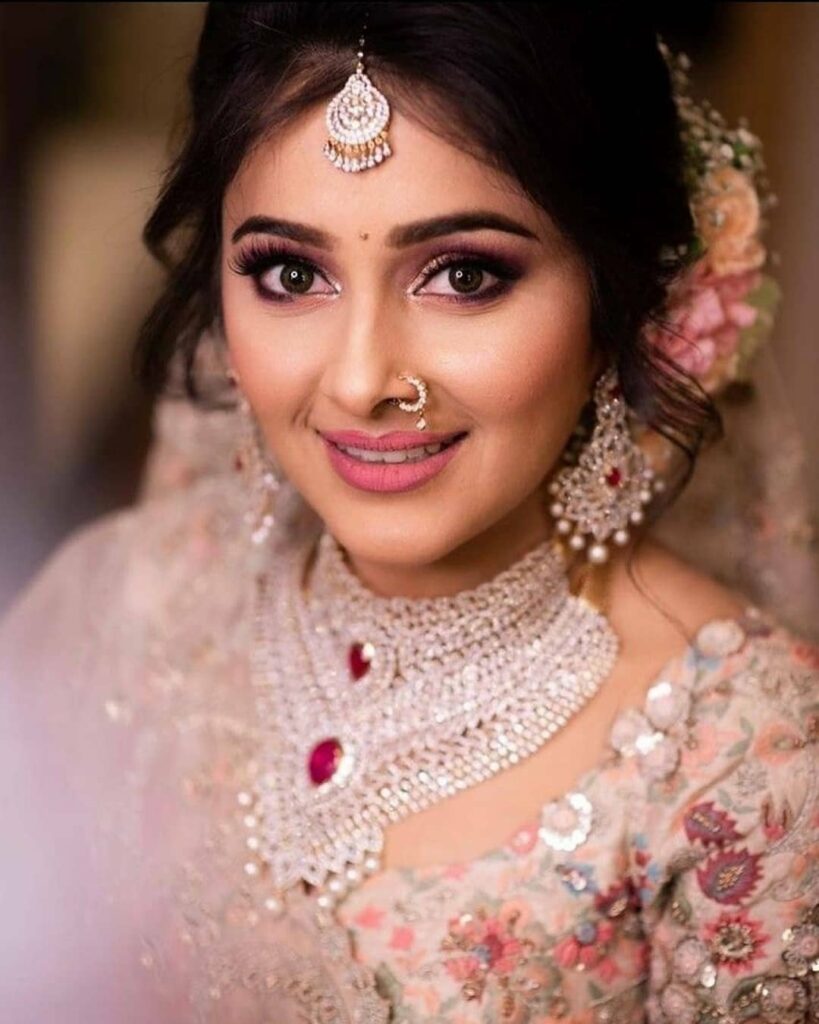 Courtesy: Tamanna Rooz
#13 Golden pearls act as a beautiful accent to her bridal nath design, which further blends in well with the pastel wedding outfit. Scroll to see the appealing couple coordination and a lovely portrait of the bride.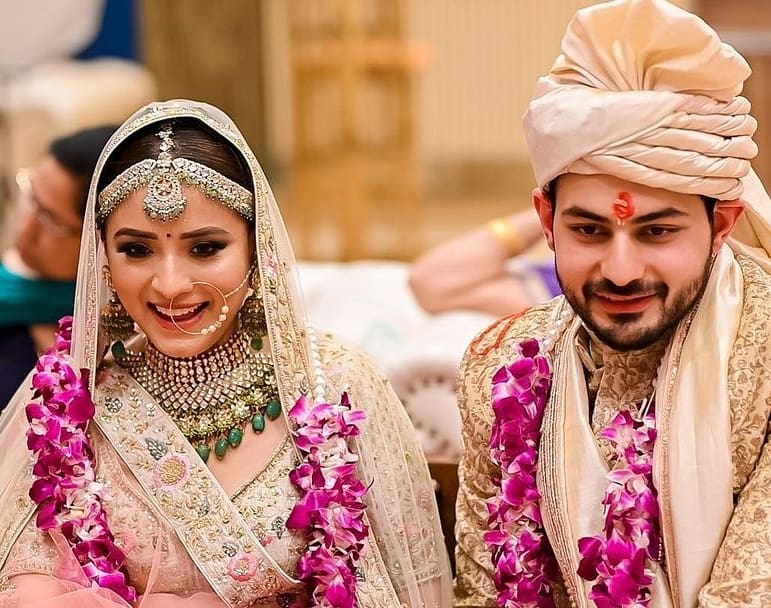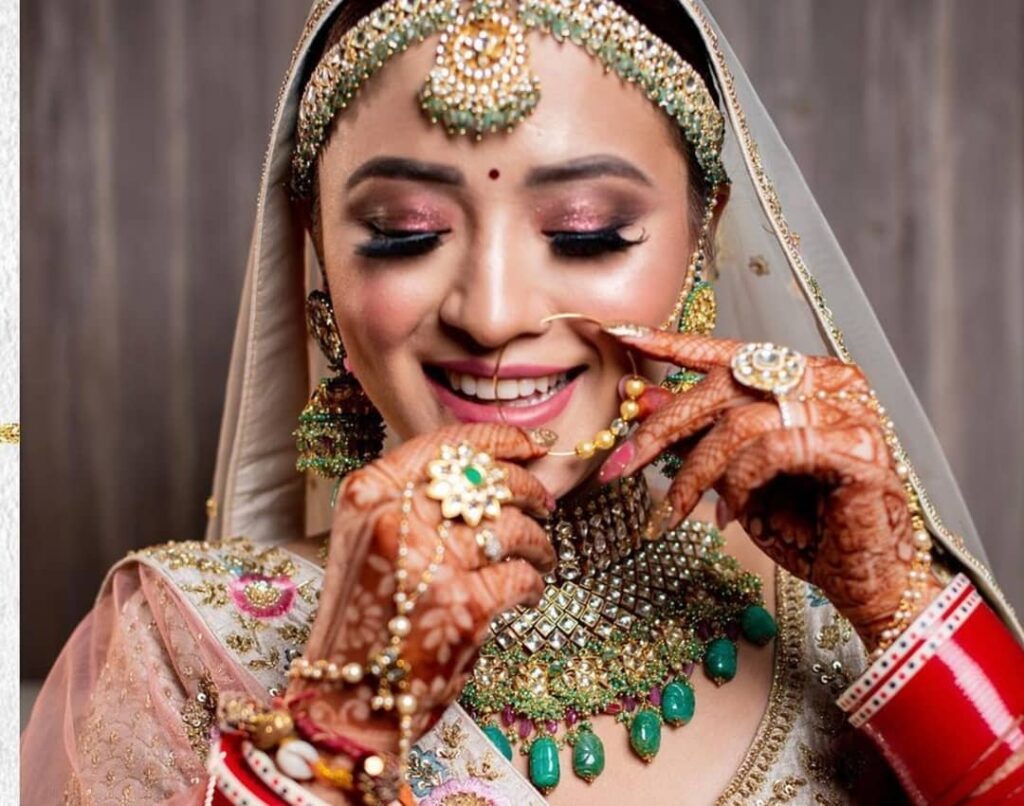 Courtesy: Sahil Malhotra
#14 Yet another bride in pretty pink lehenga, kundan jewels with emerald pearls, and a pearl-encrusted simple nath design to woo you. We think all parts of her bridal look are perfect for anyone looking to create a safe, elegant, and pastel wedding day avatar. From the deeply kohled eyes, dewy face, pretty pink palette, and a beautiful smile – she has all the elements needed to create a gracious wedding look.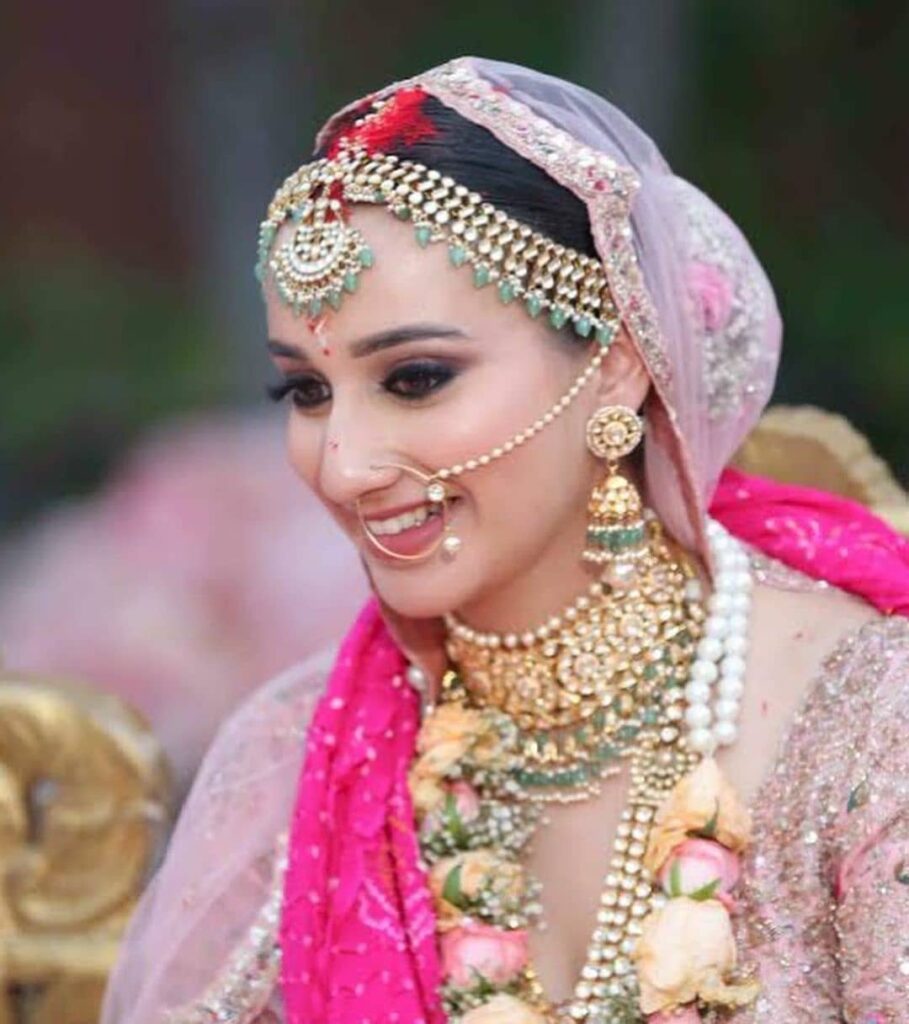 Courtesy: Shubhdeep Gill
#15 A traditional Rajputana bride always exudes loyalty – like the one pictured below. Snapped at Jaipur's prestigious
Mundota Palace
(see best
destination wedding hotels in Rajasthan
), bride Pooja's authentic pictures radiating traditional roots went viral instantly. If you're someone who'd like to keep the traditions very much alive on your big day, here's bride proving that it's an idea that shouldn't even be thought about twice – just do it!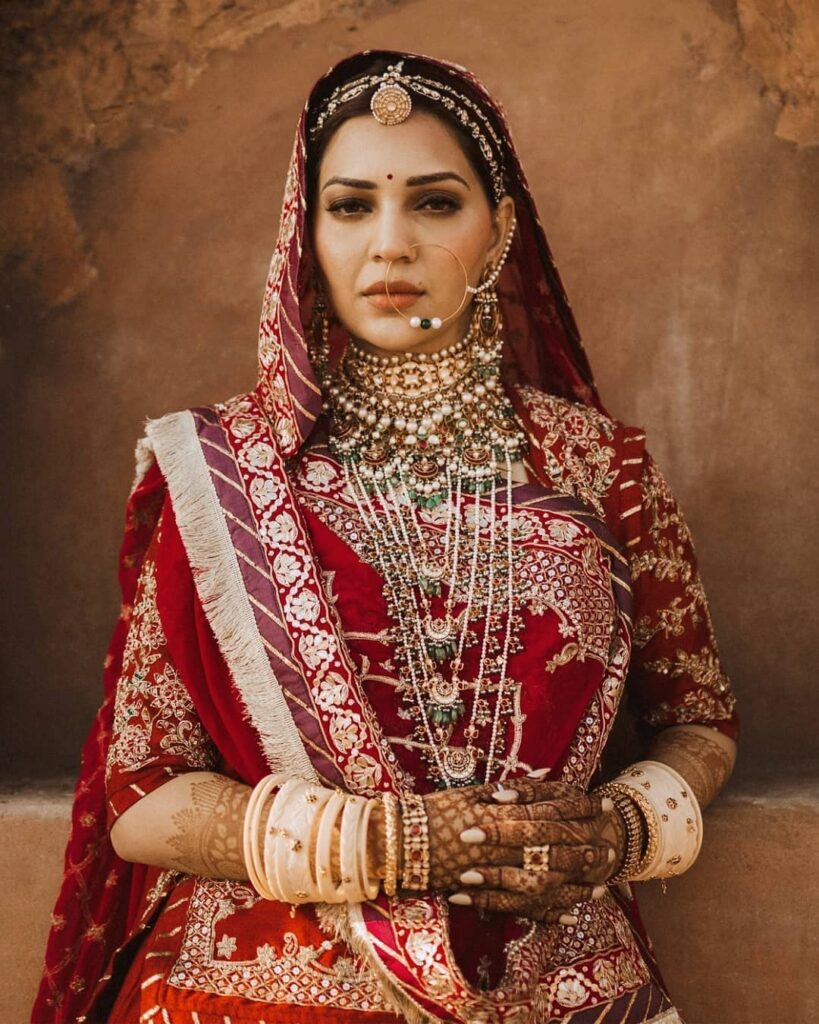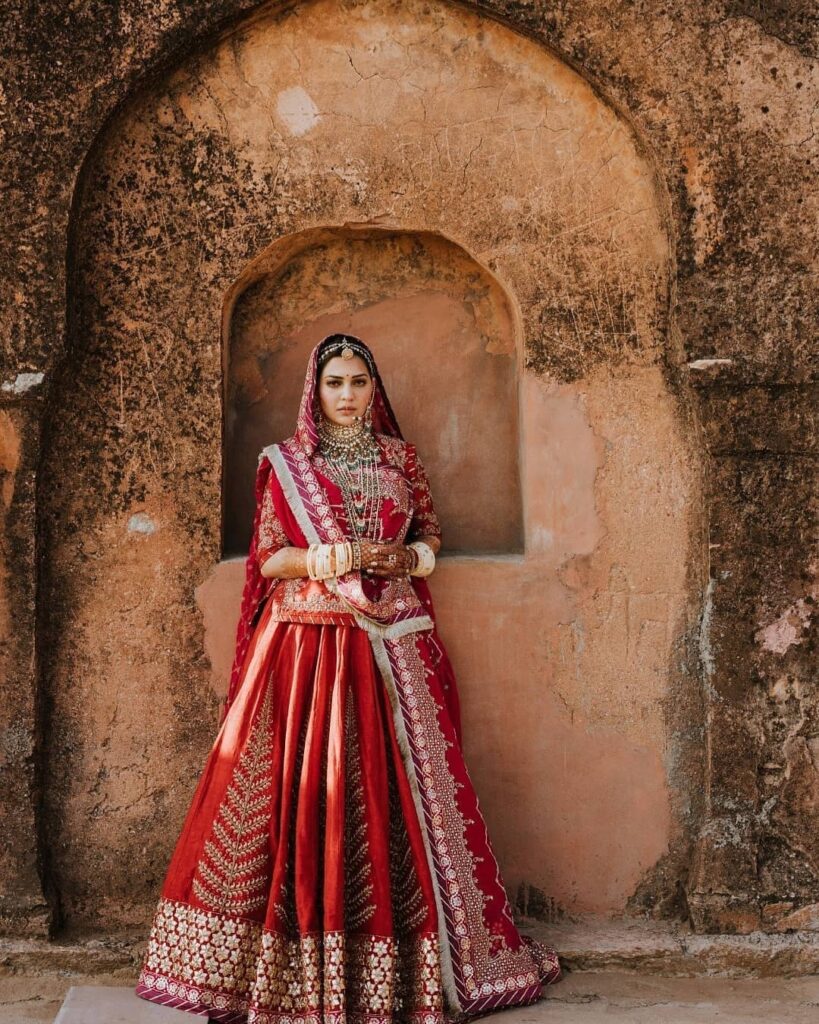 Courtesy: Gautam Khullar Photography
#16 A dupatta bridal portrait has become omnipresent in any wedding album – and this one right here is also giving us the nath inspiration we're looking for. Clearly, her brilliantly polished Kundan jewels caught everyone's eyes and added a feminine touch to the whole ensemble. While the big hoop bridal nath brought the whole look perfectly together.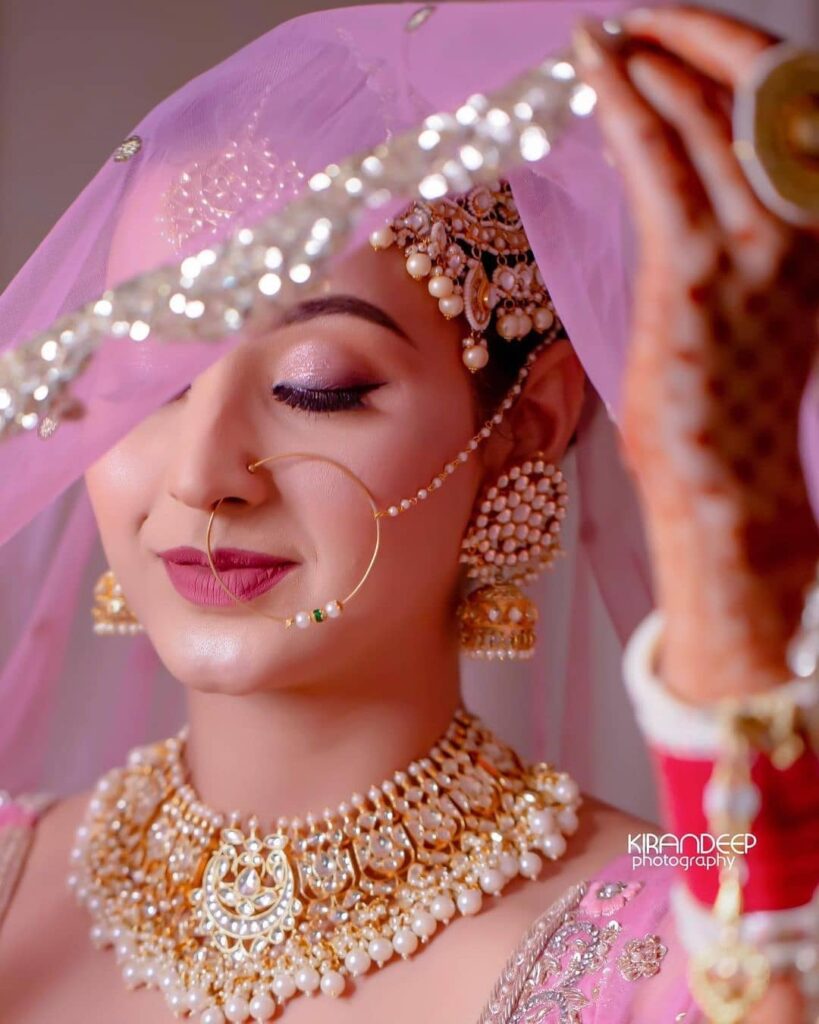 Courtesy: Kirandeep Photography
#17 Next up on this aesthetic list is yet another bride who wore pearl decorated nath design, however, added a green striking one to the line to match the emerald hue in the other jewels well. Impressive, isn't it?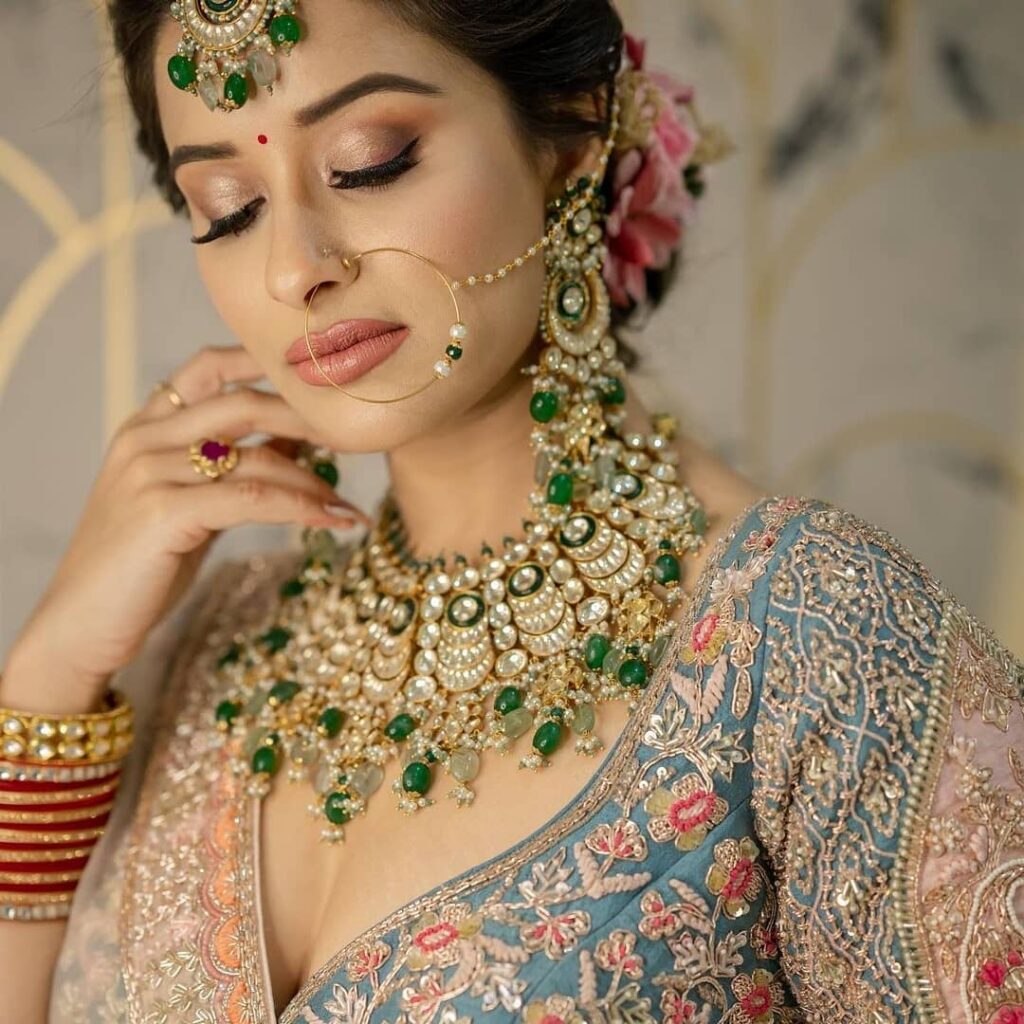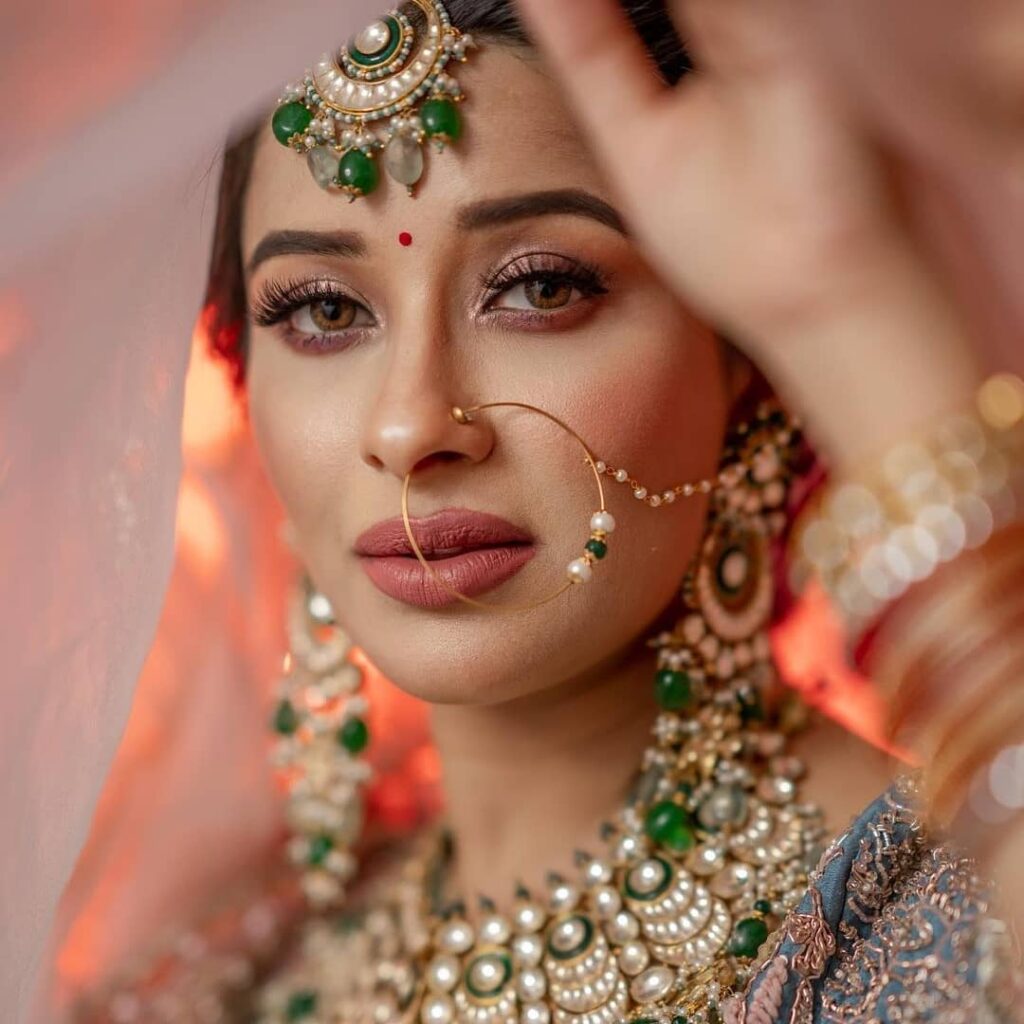 Courtesy: Kajol R Paswwan
#18 A golden kundan simple nath design with green emeralds and a chain to go behind the ear is an attention-worthy attribute of this lovely portrait, surely! But, just in case you were curious we've included a picture showcasing her entire bridal attire. Doesn't she look timeless, elegant, and stunning all in one? The orange-pink
lehenga color combination
is definitely an attractive pairing. Although, not the one that all designers can blend well.
Ritu Kumar's
creation certainly stands out here.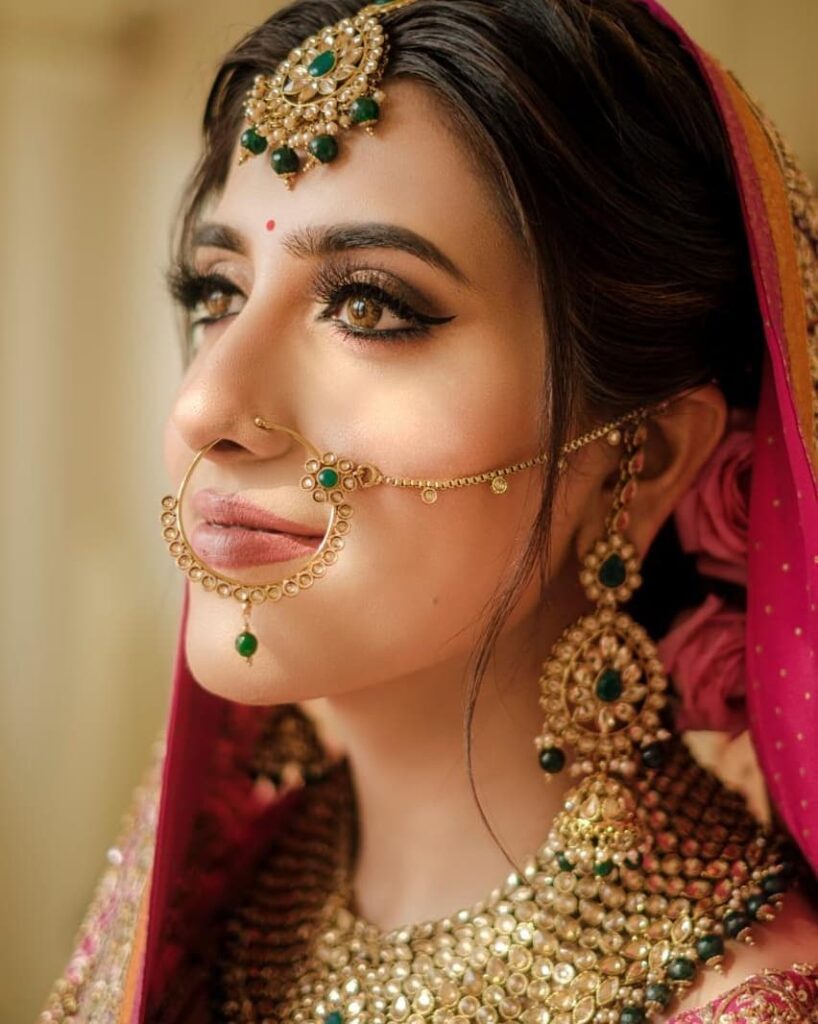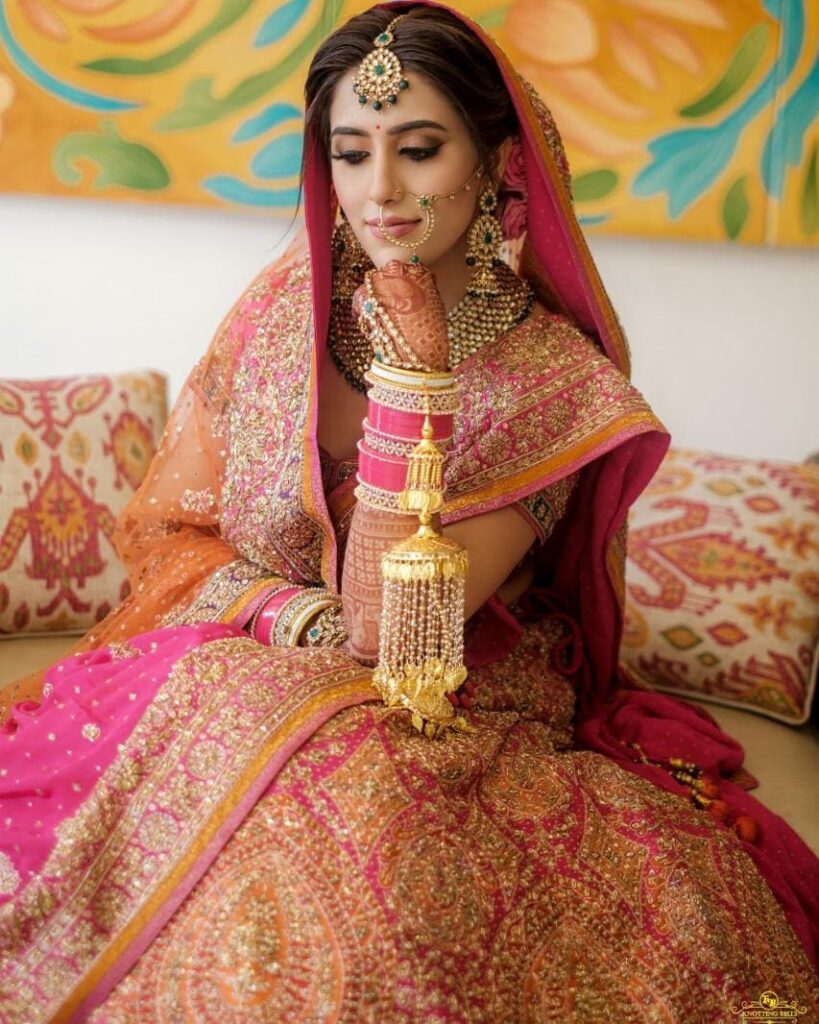 Courtesy: Kajol R Paswwan
#19 The side fringes hairstyle is an unpopular choice for the big day. But who says you can't carry it if you want to? Look at how gorgeous this bride looks with them. Besides, she kept her lehenga the usual red and went with minimal jewelry pieces to complement her paasa headgear. The simple nathni design went with the styling well and let her eye-catching flair shine.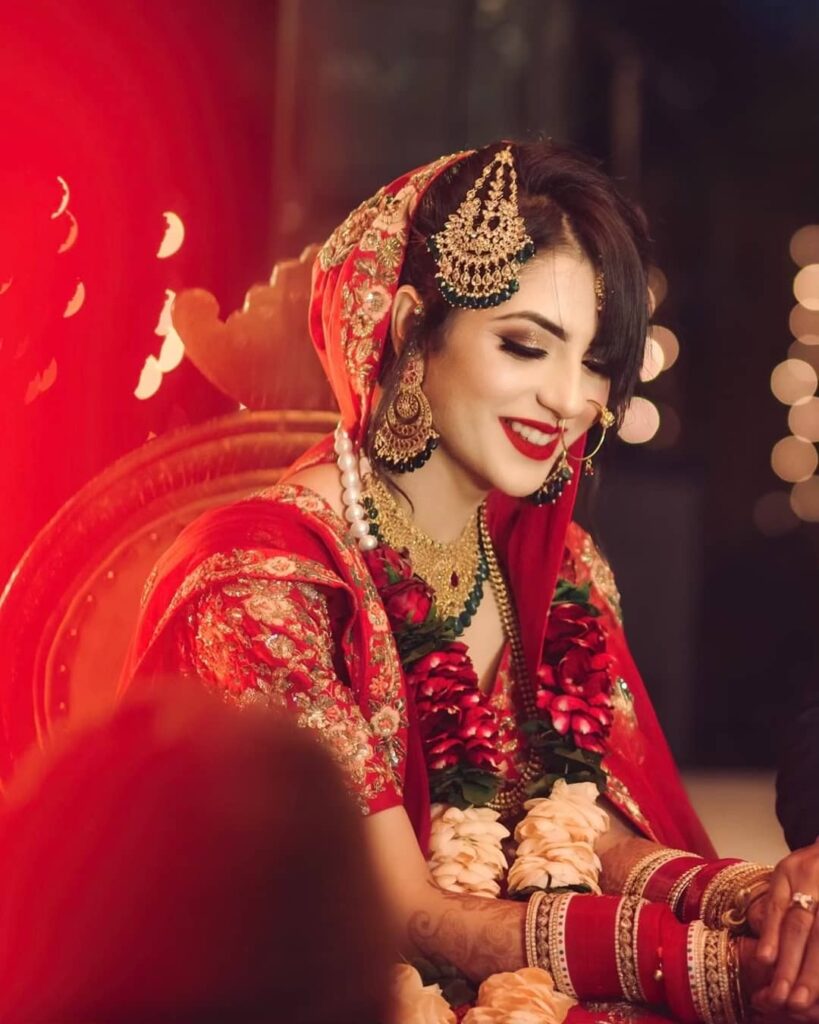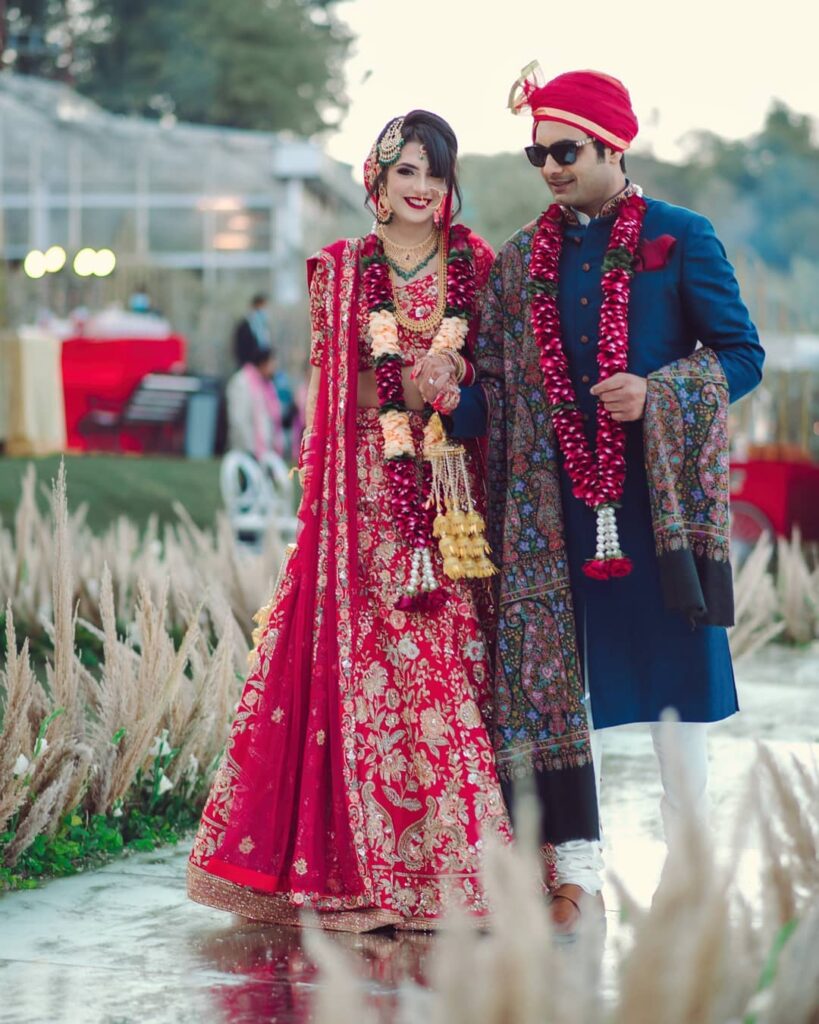 Courtesy: Punya Sharma, Colorblind Production
#20 With her big baubles, Jasleen infused a chic balance to her bridal look with a golden bridal nath design and captured its charisma well with a striking bridal portrait. Bookmark this if you're a fan of chunky jewelry too, but when it comes to nath – minimalism becomes your friend.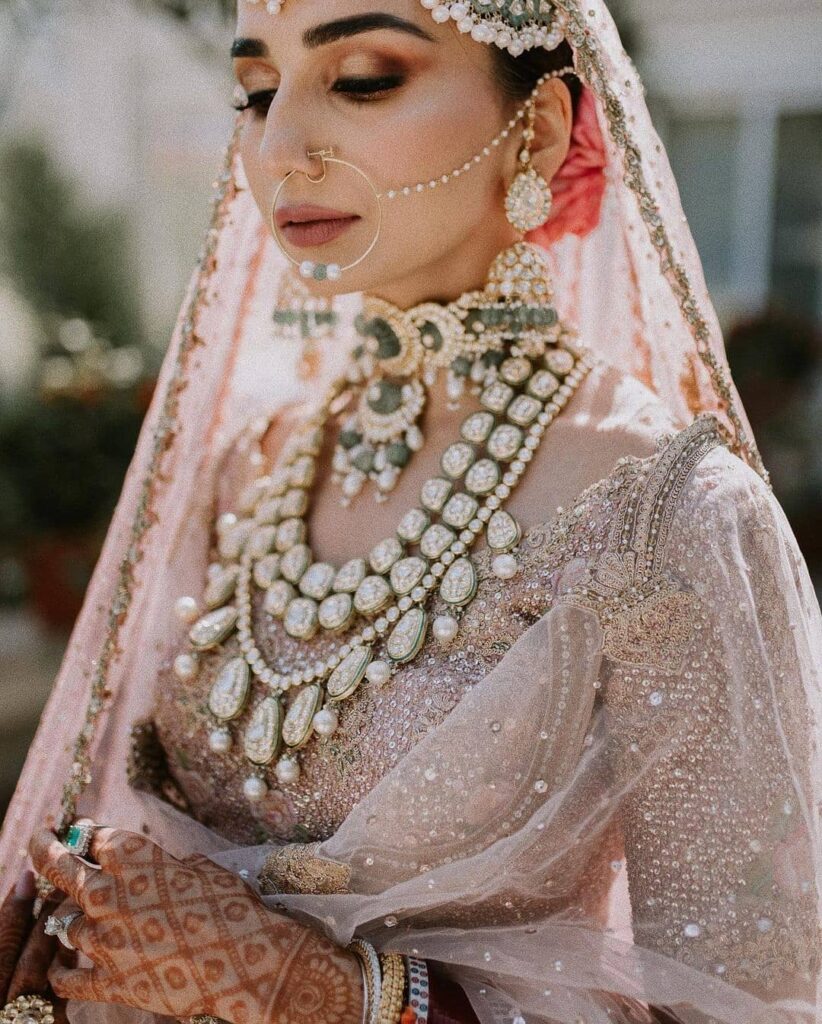 See her wedding blog here.
#21 Her poised and gullible beauty captured our hearts and what caught out attention a little more was the brilliantly created nath with little diamonds. What better way to end this list than this breathtaking bride right here!?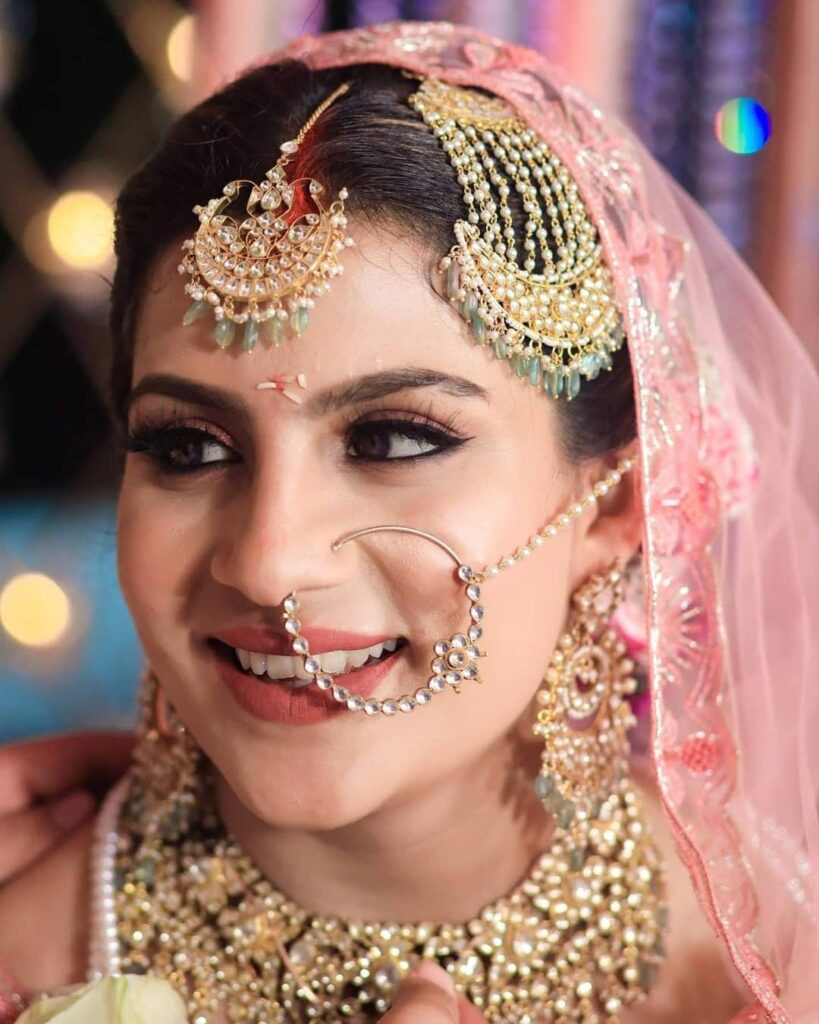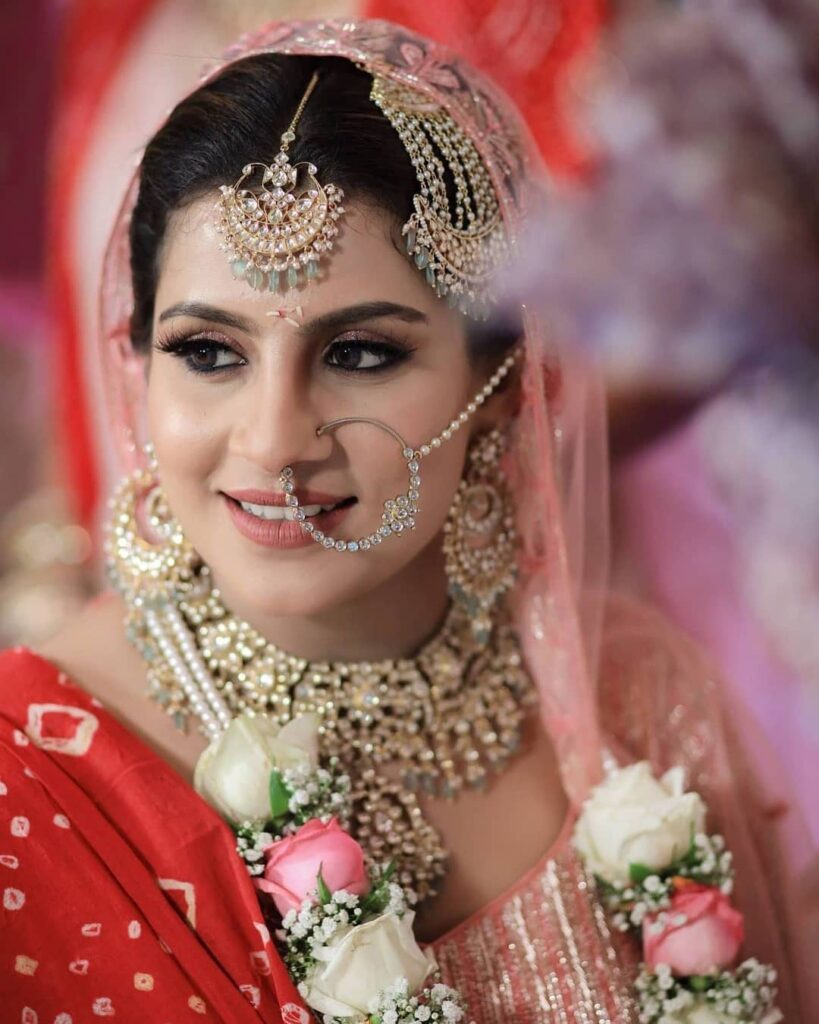 Courtesy: Kajol R Paswwan, Israni Photography
Simple Bridal Nath Designs You Can Purchase Online
#1 A Simple Stud Nath With Pearl String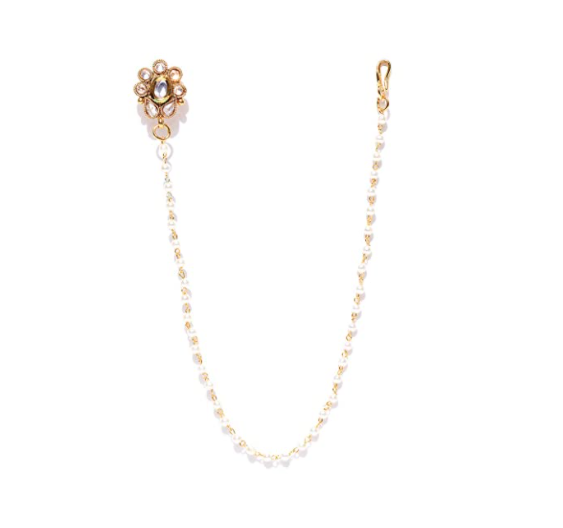 Purchase here.
#2 A Small Hoop For Less-Is-More Bride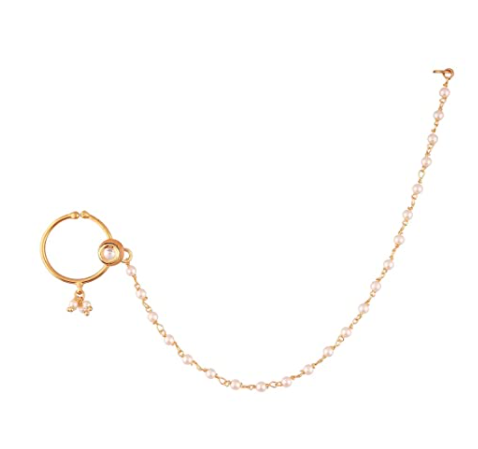 Purchase here.
#3 A Basic One To Go With Any Jewellery Set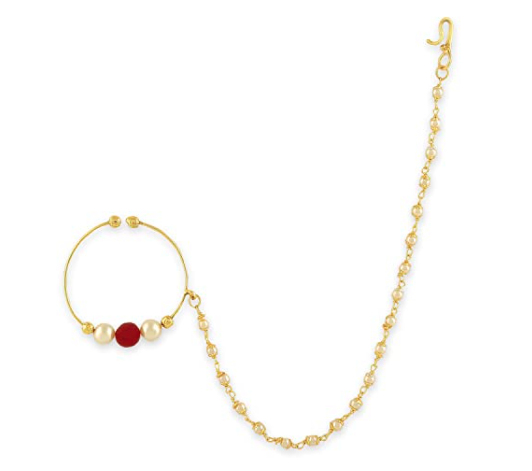 Purchase here.
#4 Golden One With Dripping Pearls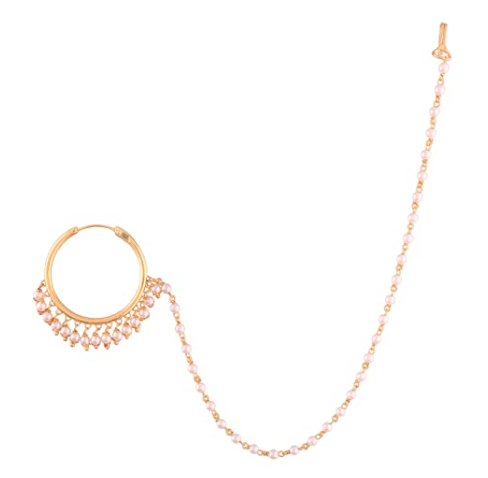 Purchase here.
#5 Daintily Embellished To Enhance Your Bridal Look
Purchase here.
Keep visiting our website wedbook.in to read/ bookmark more wedding-related ideas, tips, inspiration; basically everything you need to plan your dream day & beyond! 🙂