Three years ago, today, power couple Virat Kohli and Anushka Sharma gave us all a pleasant surprise and released their hushed wedding pictures on social media. The idyllic nuptials took place in a countryside Tuscany villa, Borgo Finocchieto. On the wedding day, the entire property was bedecked with gorgeous pastel flowers, and Virat and Anushka themselves coordinated in pastel pink Sabyasachi outfits. To say the wedding details left us all in awe is an understatement.
Virat & Anushka: From ad shoot, trolls, breakup, public PDA, wedding and soon, a baby
Virat and Anushka first met in 2013 for shooting a shampoo ad together. The advertisers certainly played the cupid, because their adorable chemistry was obvious since then. The cricketer eventually asked the Bollywood diva out and rumors of their relationship started swirling in full swing, despite their efforts of keeping it under wraps.
The couple were spotted together multiple times in public – Anushka was seen sitting in the stands for several of Kohli's matches and Kohli visited Anushka on her movie sets. Although, the one event that confirmed their affair was when Virat blew a kiss with his bat after scoring half a century, during a match against Sri Lanka in Hyderabad.
With their soaring popularity came the nasty trolling, with many people blaming Anushka for Virat's performance on the field. The Indian skipper wouldn't let it pass and took to social media to defend the actress.
"Shame on those people who have been having a go at Anushka for the longest time and connecting every negative thing to her. Shame on those people calling themselves educated. Shame on blaming and making fun of her when she has no control over what I do with my sport. If anything she has only motivated and given me more positivity." – Virat Kohli on Instagram.
This was in early 2016 when the couple had reportedly broken up for a while. They had unfollowed each other on social media and didn't make any public appearances for the longest time. But after this sweet 'standing up for the person you care for' gesture, who wouldn't melt? Virushka was soon seen out and about again by the end of 2016.
And within a year of getting back together, the couple were married.
Virat and Anushka started planning their wedding 4-5 months ago in 2017. They started by picking out the wedding venue and finalized Borgo Finocchieto in Tuscany, Italy. The boutique property dates back to the 13th century and features 22 suites and rooms – perfect for Virat and Anushka's 50-people wedding list.
Once the place was finalized, they started planning other details. The couple put extreme measures in place so that no details were leaked. For instance, fake names were given to caterers, and meetings with Sabyasachi, the couple's couture designer, were held privately.
Virat Anushka Wedding Pictures
Virat and Anushka kicked off their wedding celebrations with an engagement ceremony, followed by a Sangeet party. The entire venue setting was decked up with foliage-inspired decor. For the event, Anushka donned a maroon velvet saree and Virat complemented her in a blue suit. The bride topped off her saree look with nude makeup, subtle smokey eyes, a low floral bun, and uncut jewelry pieces.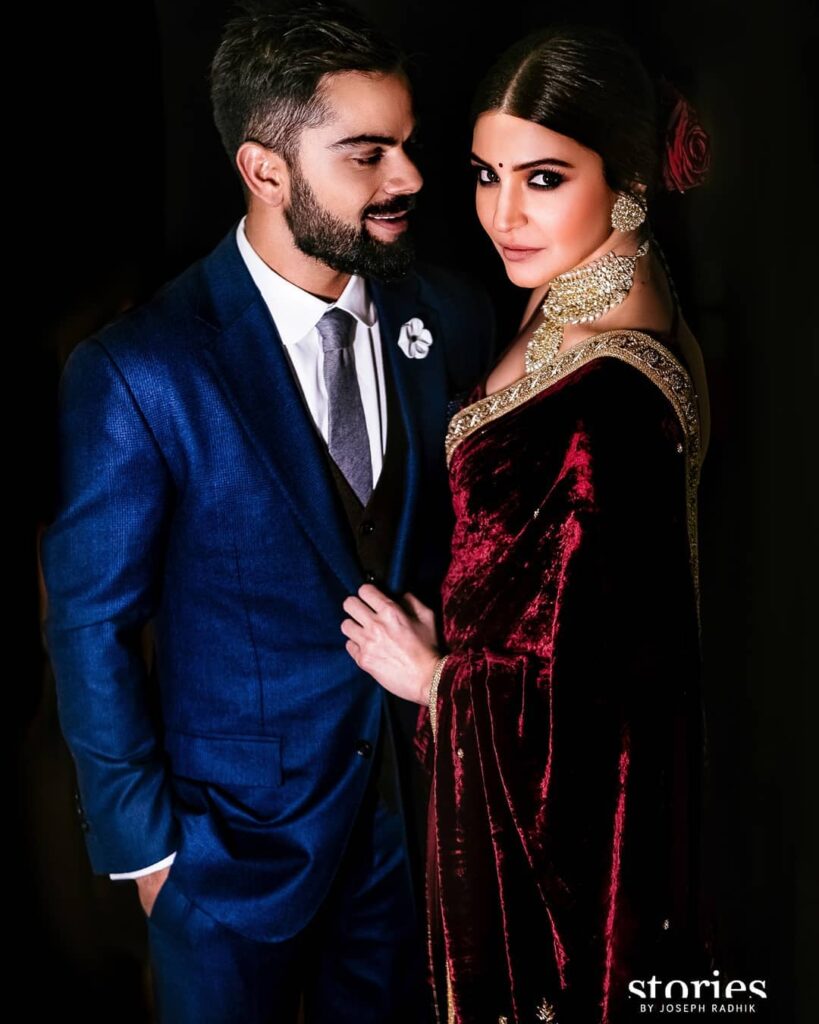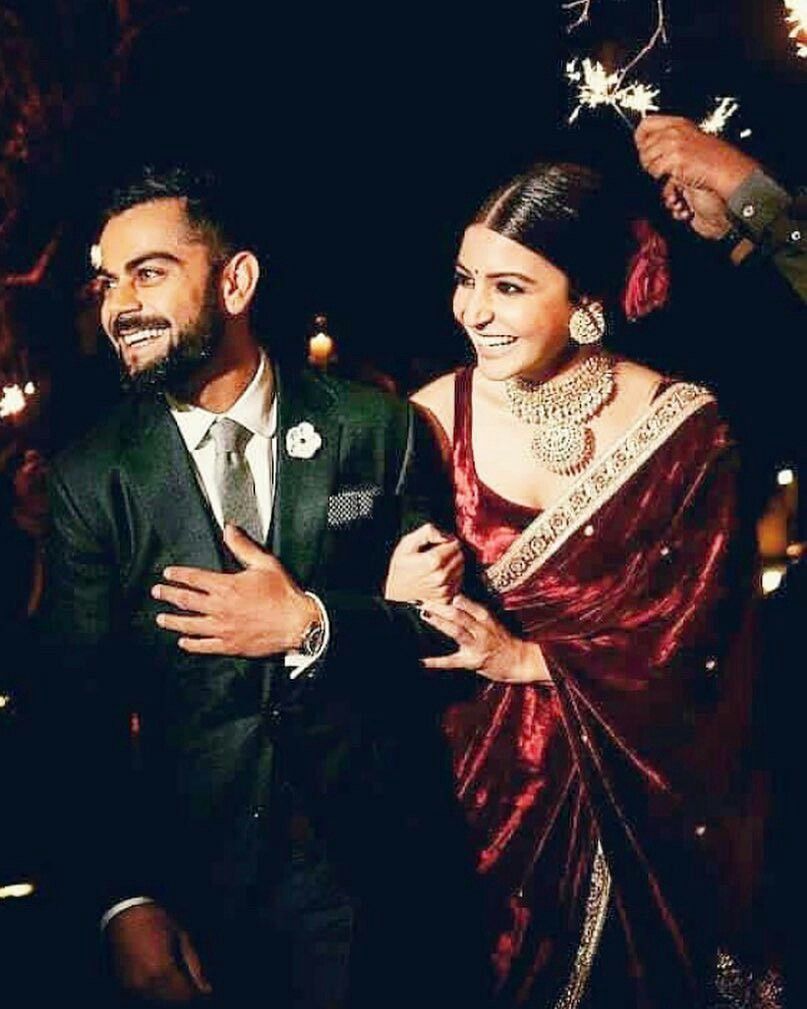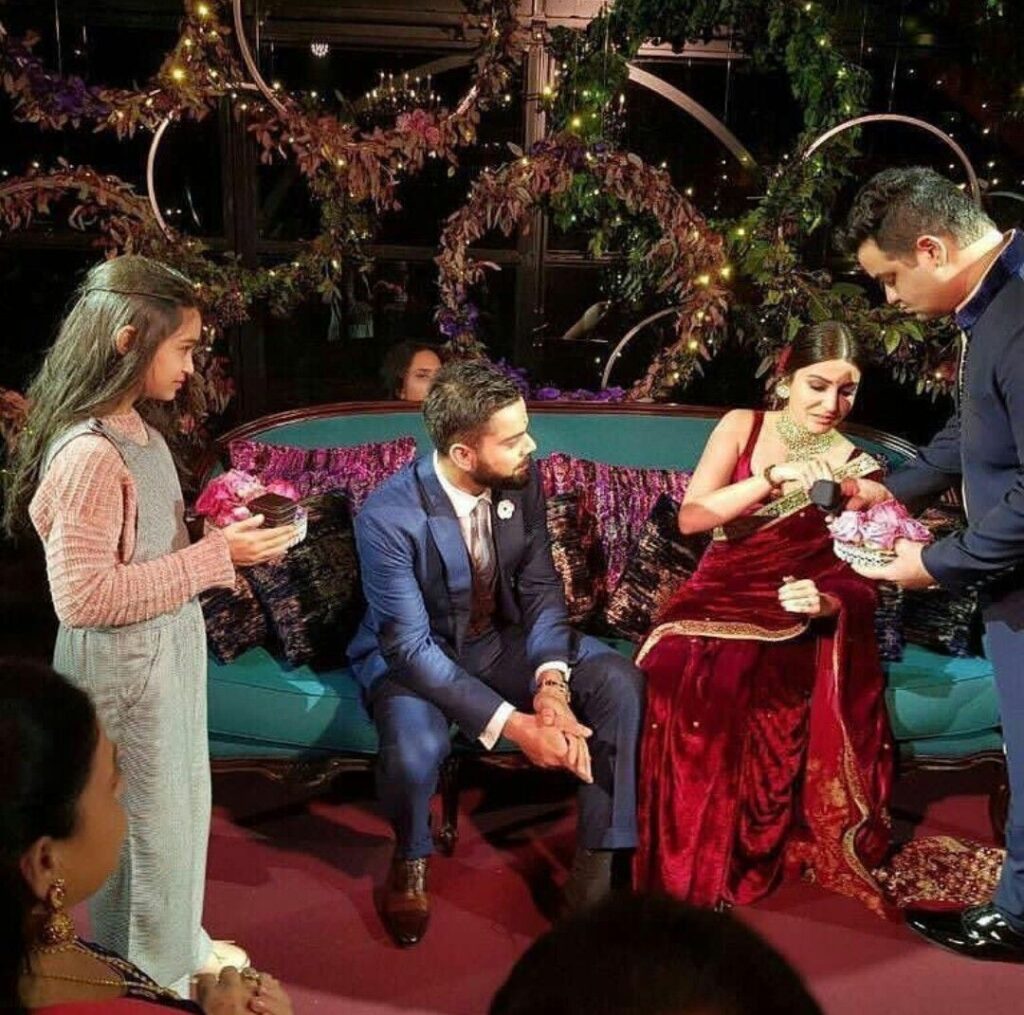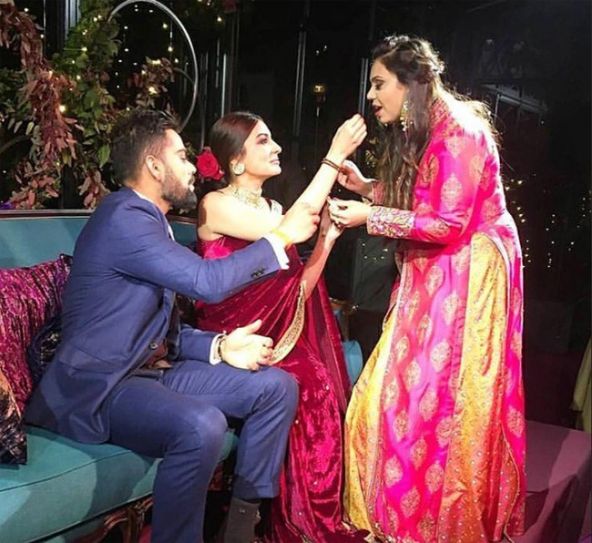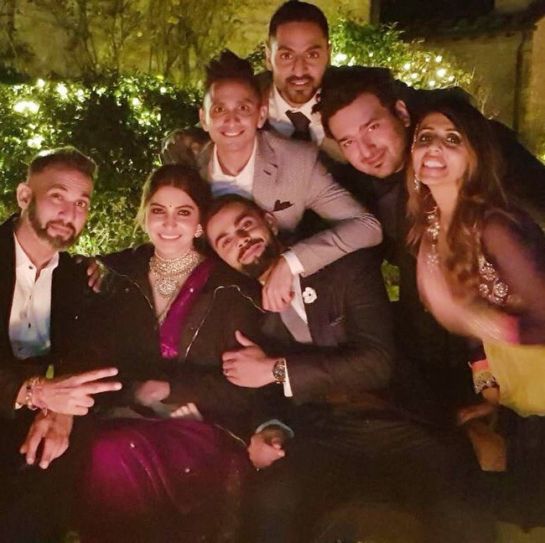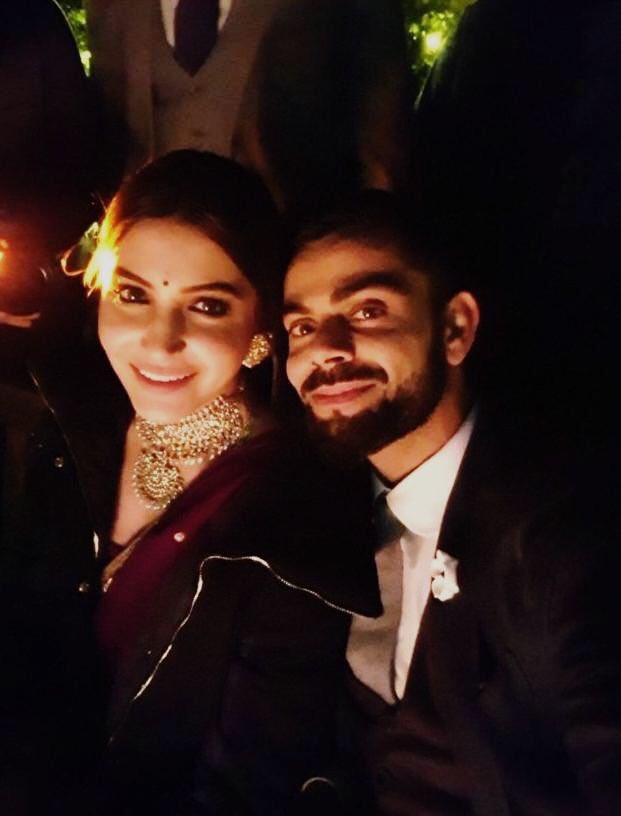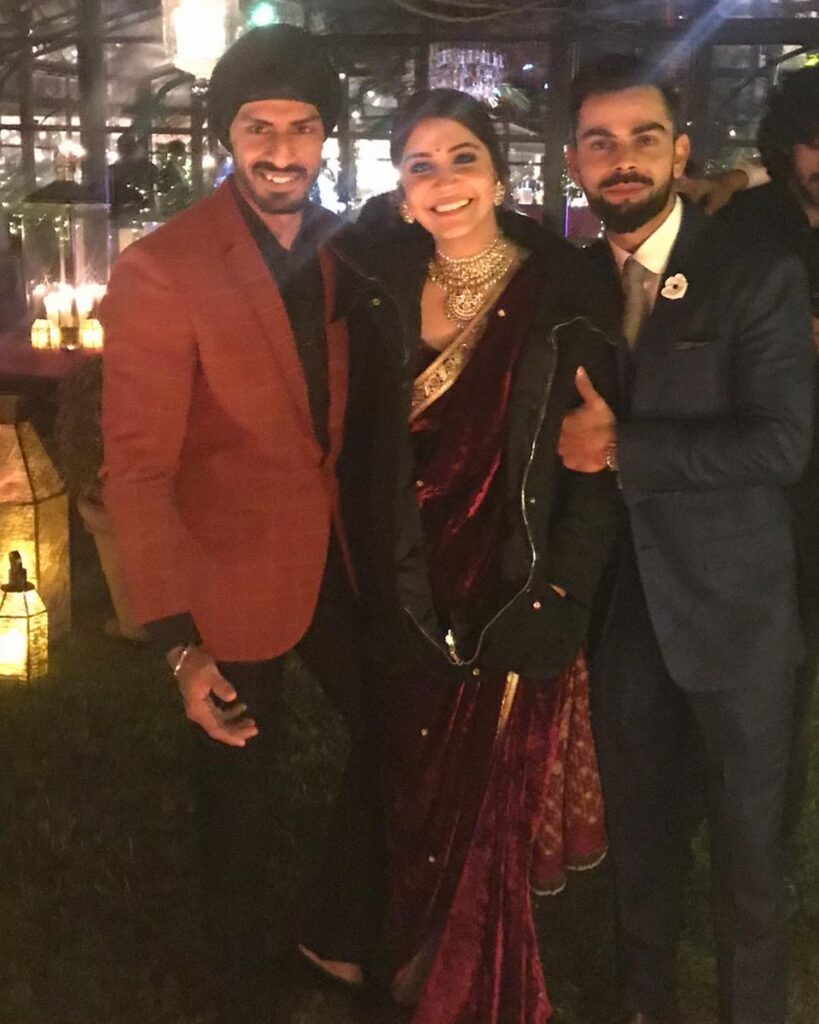 The following day was the mehendi ceremony. Anushka went minimal with her mehendi design, and so did Virat. "Anushka wanted a boho look with bright colors. Hot pink was her favorite," revealed Sabyasachi of his idea behind the outfit. The gorgeous bride wore a multi-hued lehenga handcrafted by artisans at Sabyasachi. Virat, on the other hand, was seen in an ivory kurta set with a fuchsia red Nehru jacket.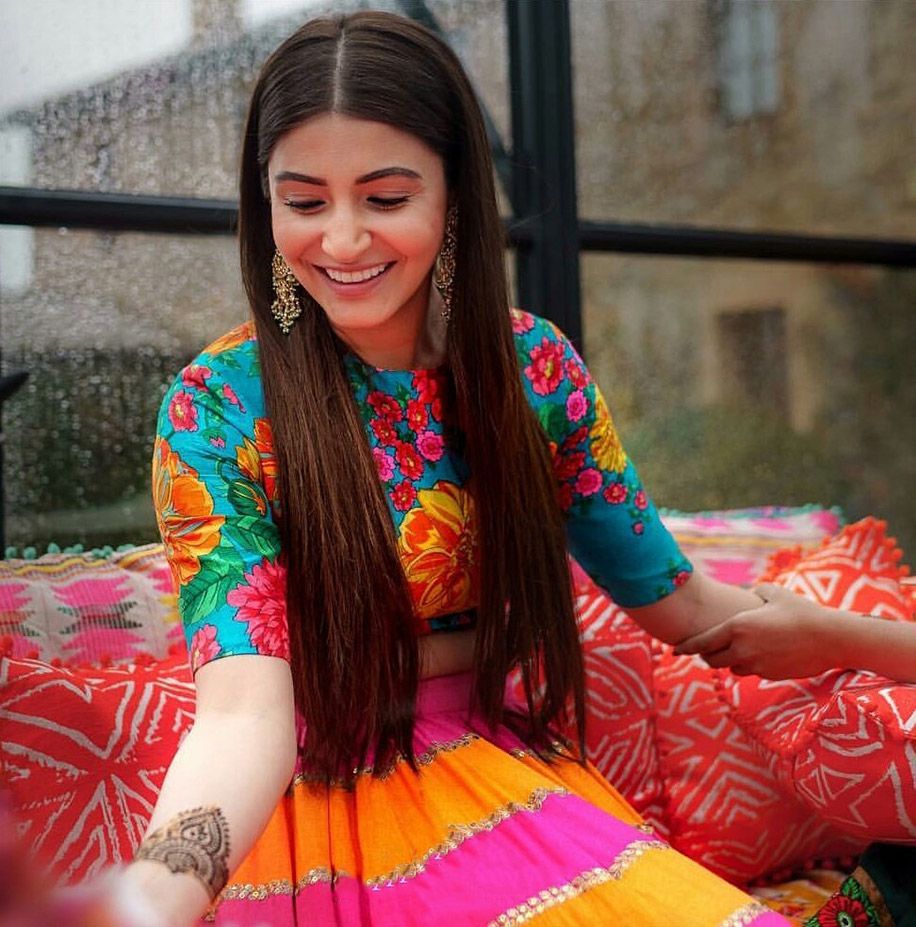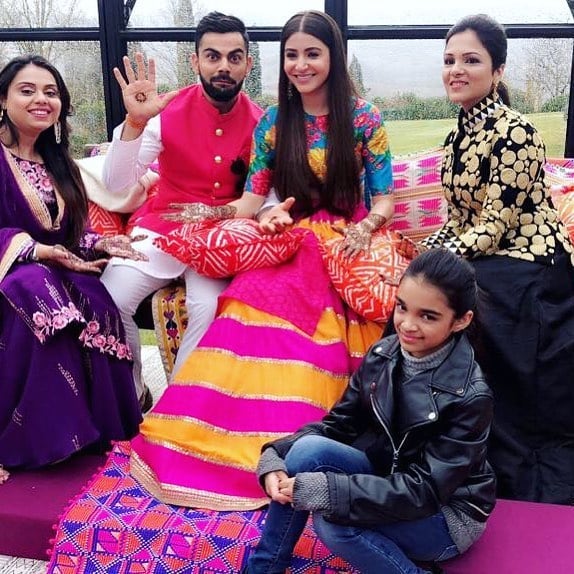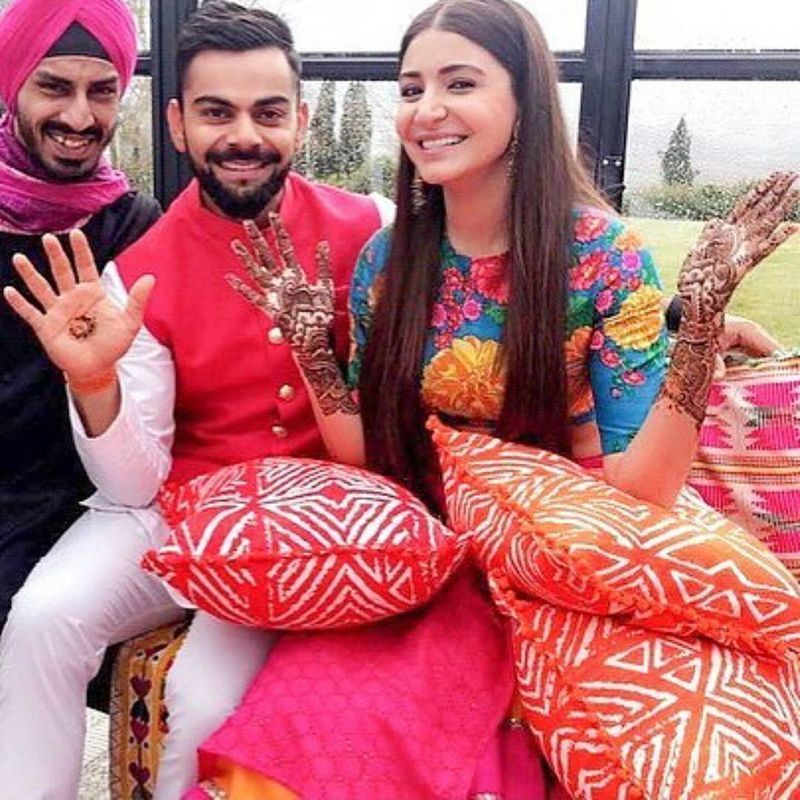 Virat and Anushka's picturesque wedding day was a sight to behold. The entire wedding arena was adorned with florals in palettes of lavender, soft pink, and powder blue. The setting was inspired by the idea of growth and prosperity and designed like an overgrown garden. Our teams worked tirelessly for 45 days with flowers flown in from Holland and intricate fabrics from India to create this magical wedding," said wedding designer Devika Narain.
Sharma walked down the aisle graced with gorgeous pastel flowers. It was her blush pink Sabyasachi lehenga though that stole the show. Besides the time taken to design it, 67 karigars worked tirelessly for 32 days to complete her show-stopping outfit. Going with the pastel theme, Anushka studded her floral bridal bun with hydrangeas and makeup look in a romantic palette. To complete her look, the bride wore mathapatti, layered necklaces, and jhumkas in a polki-kundan setting. Feast your eyes on their perfect wedding album: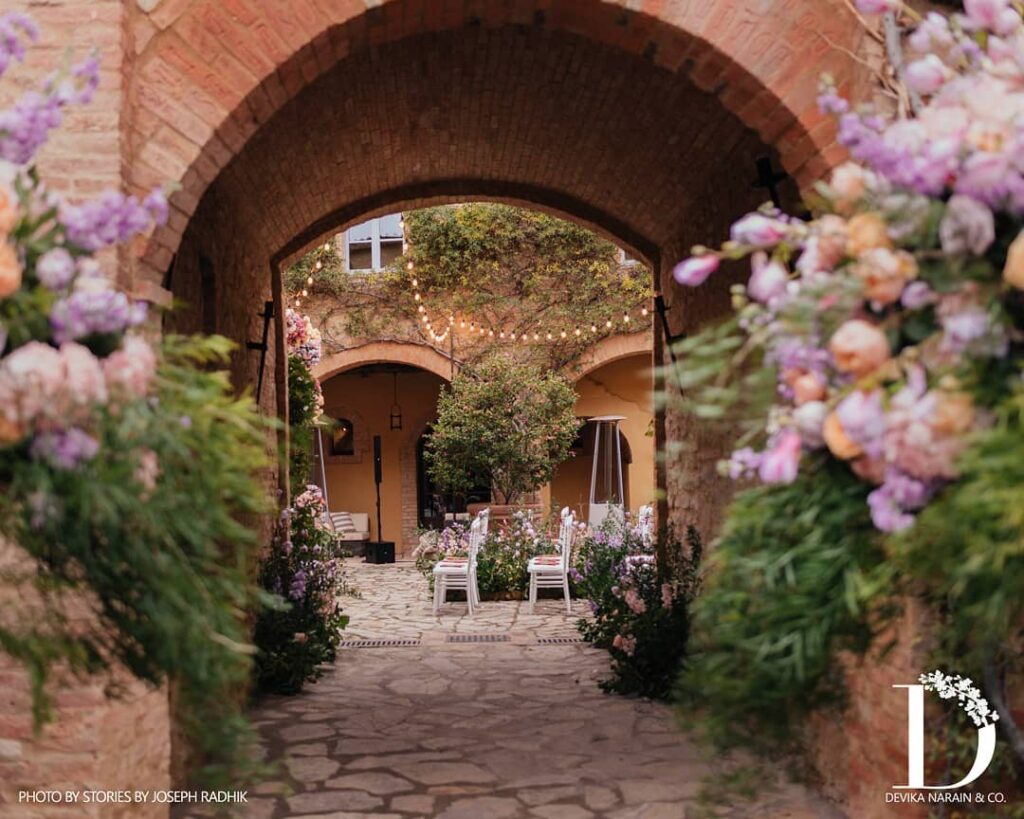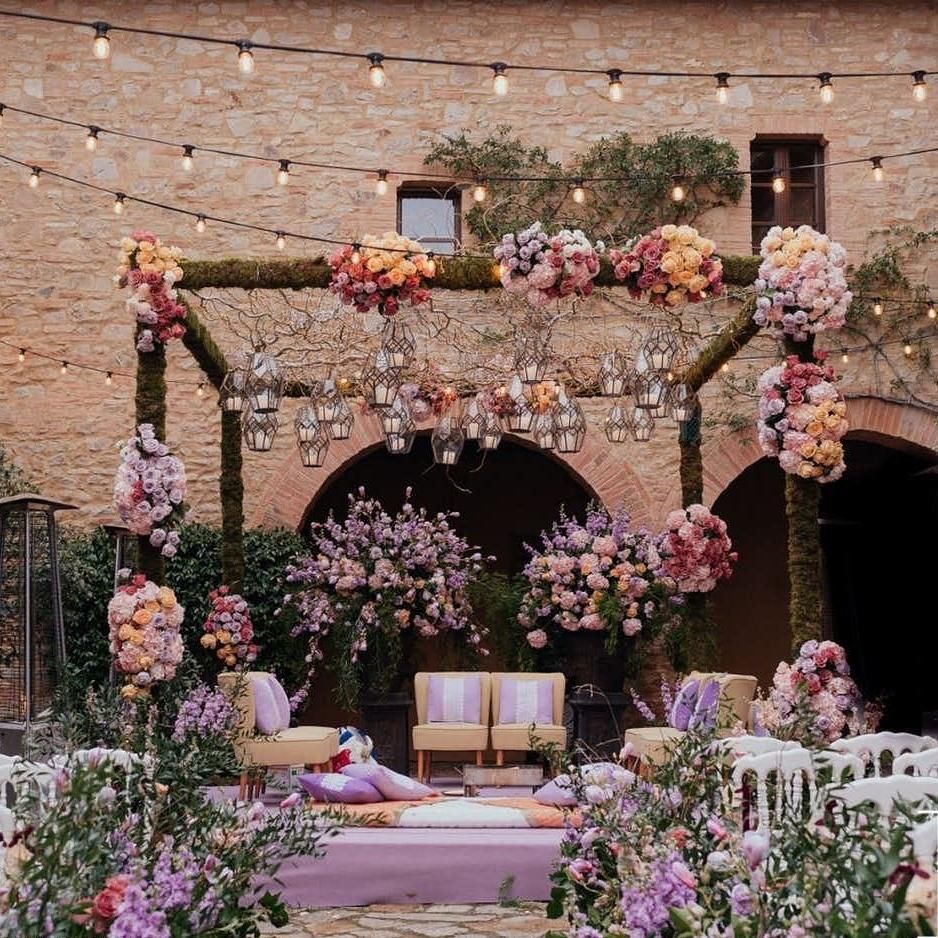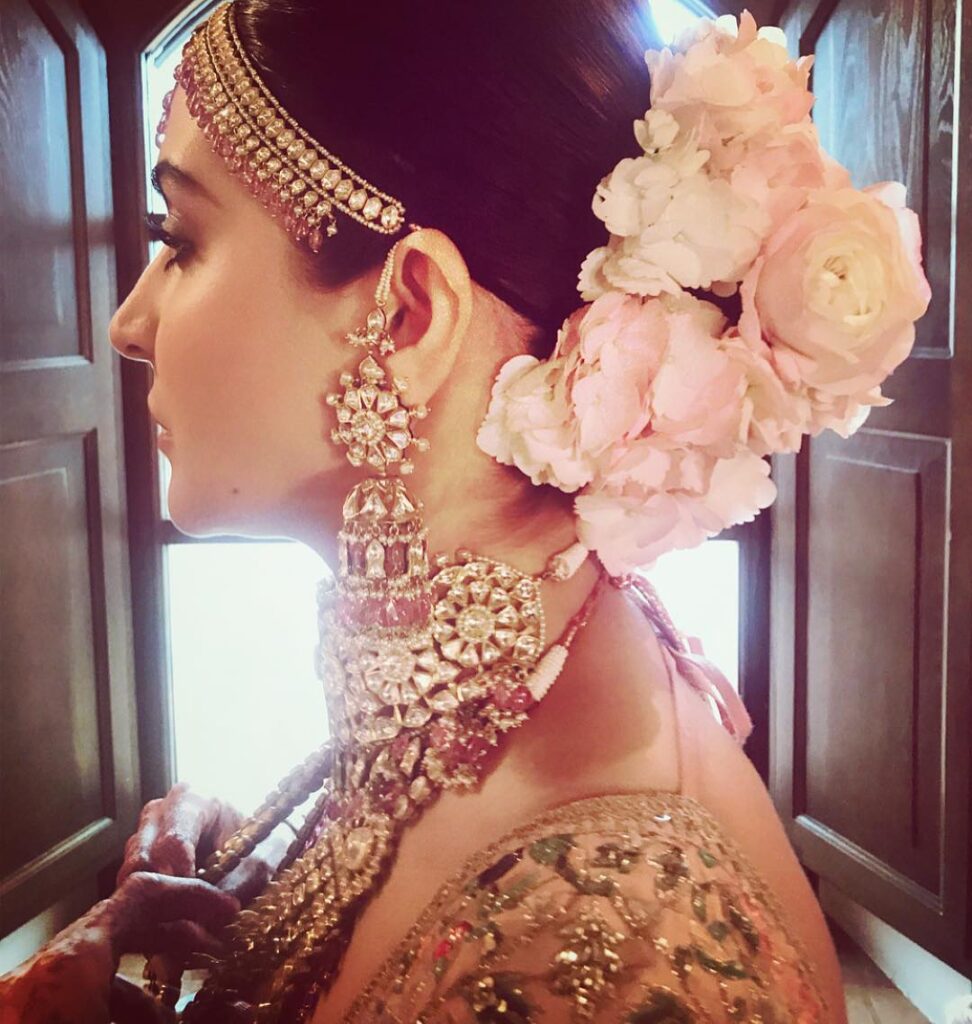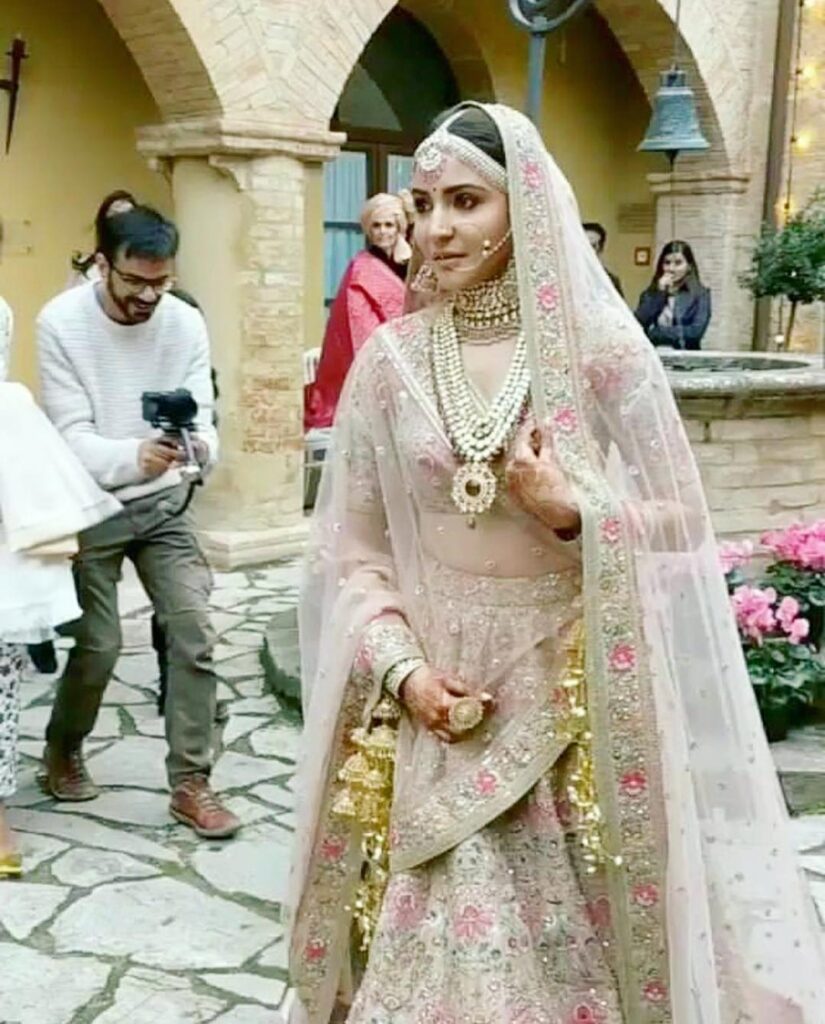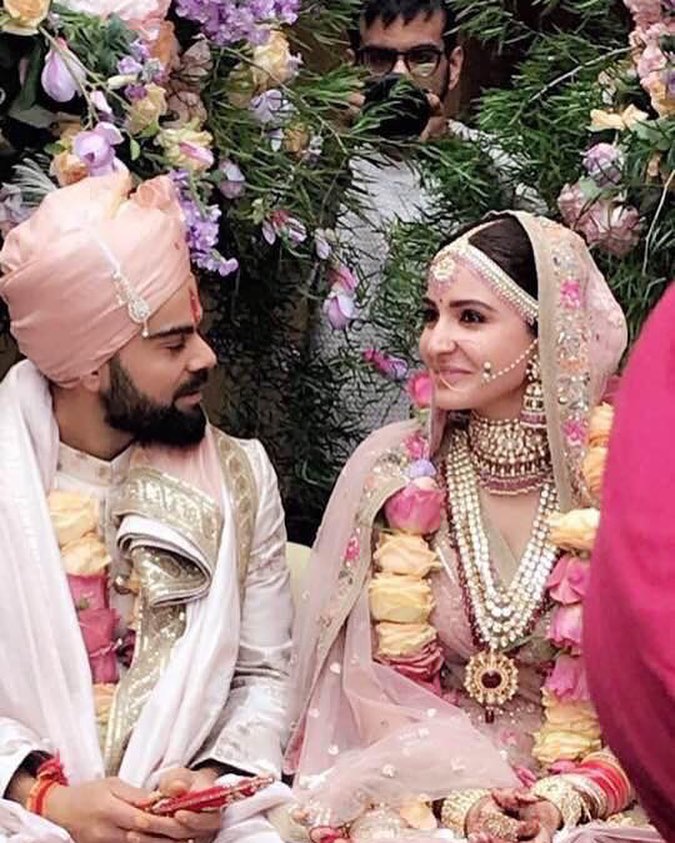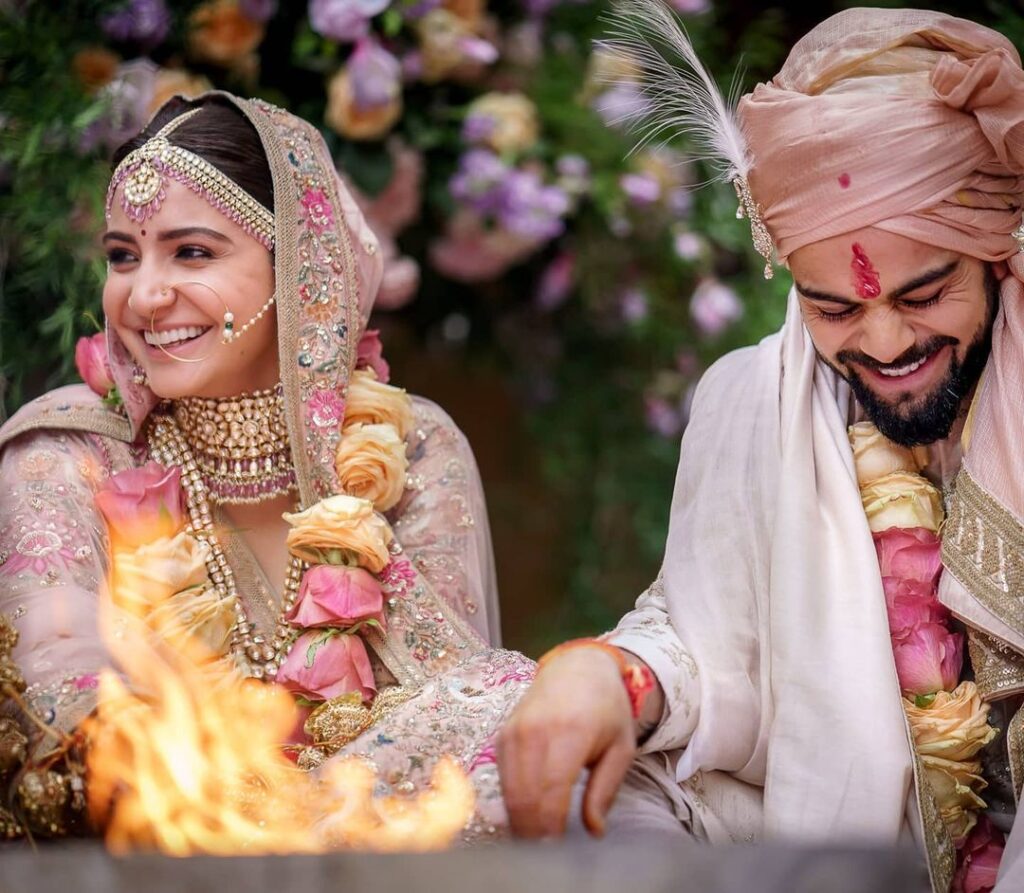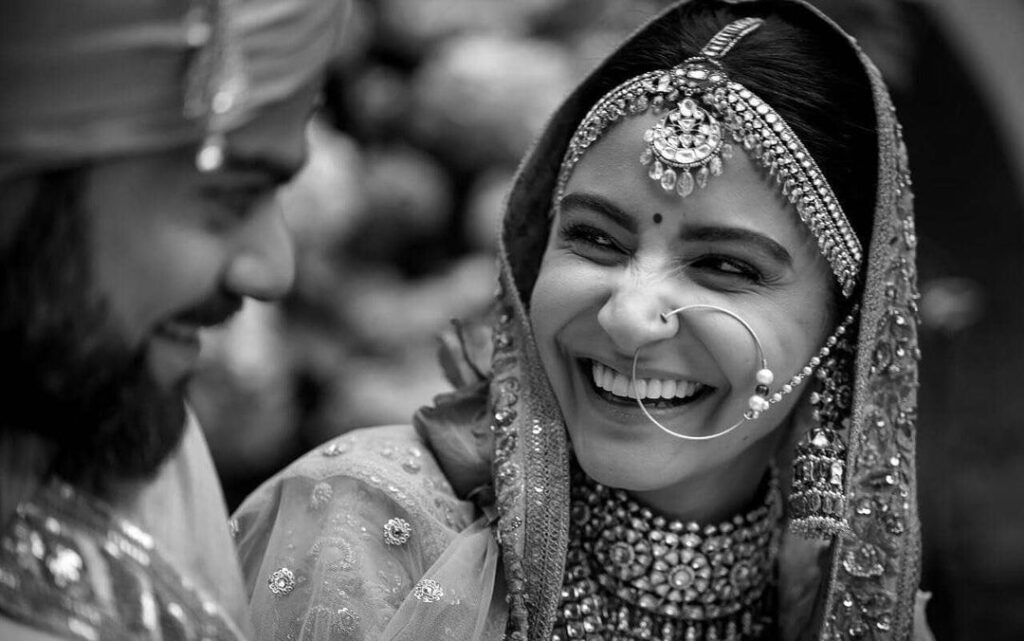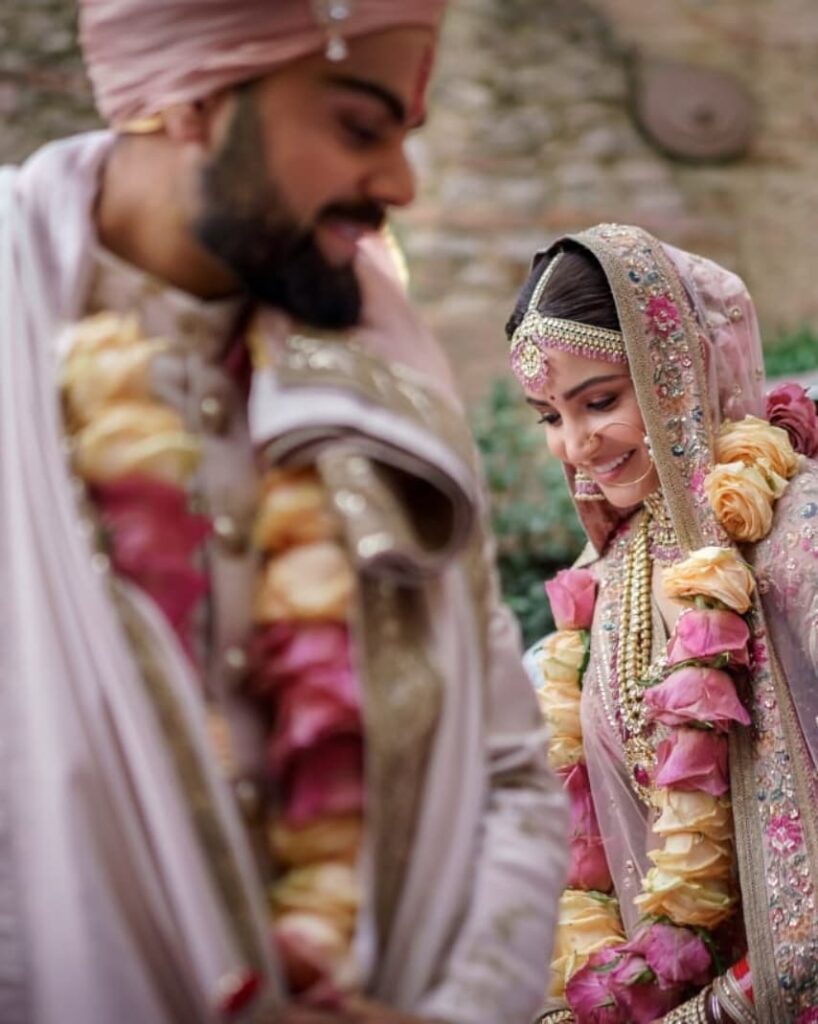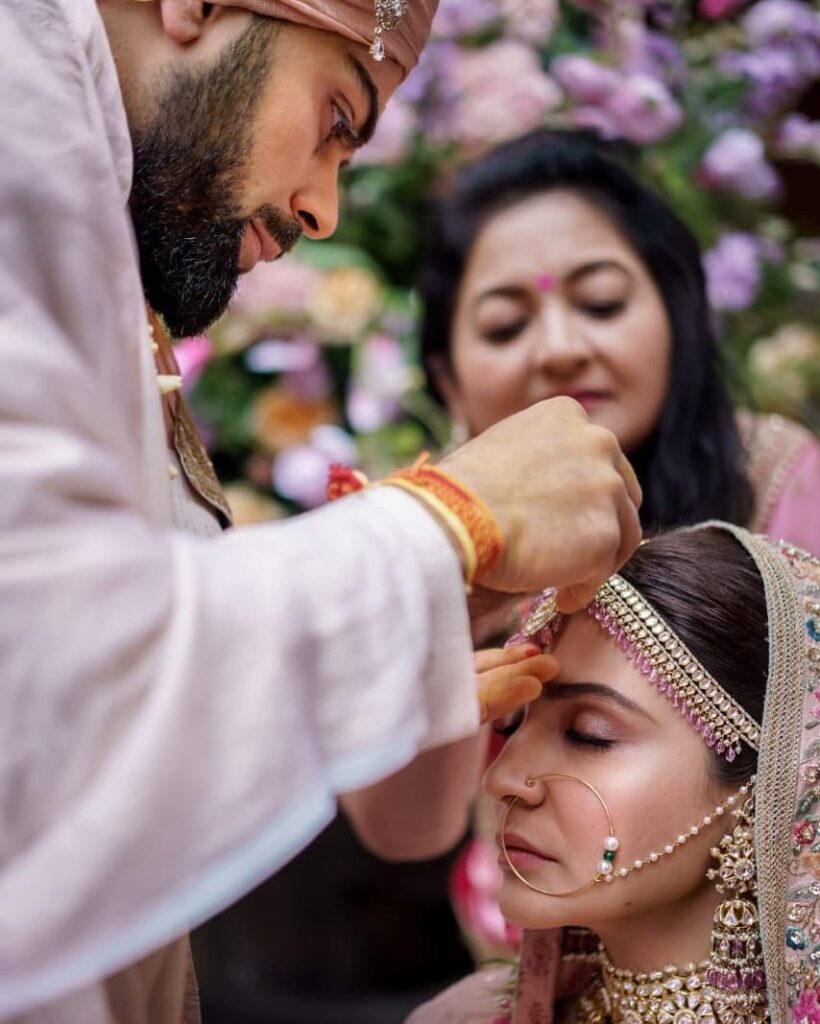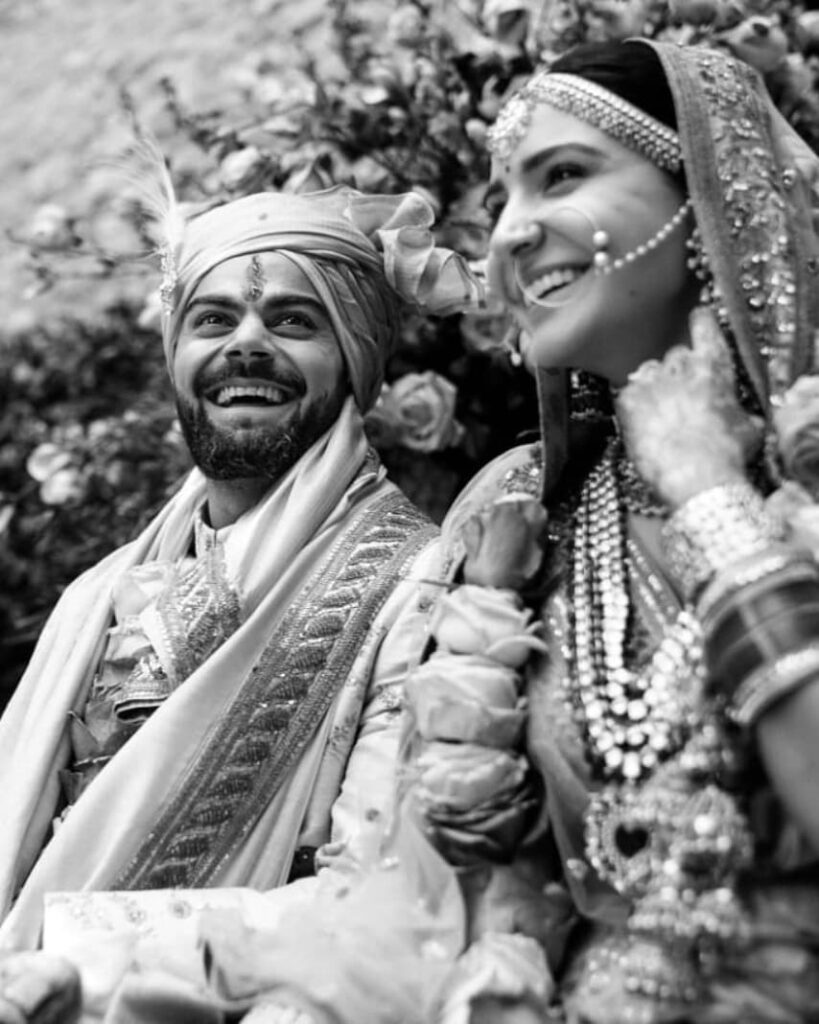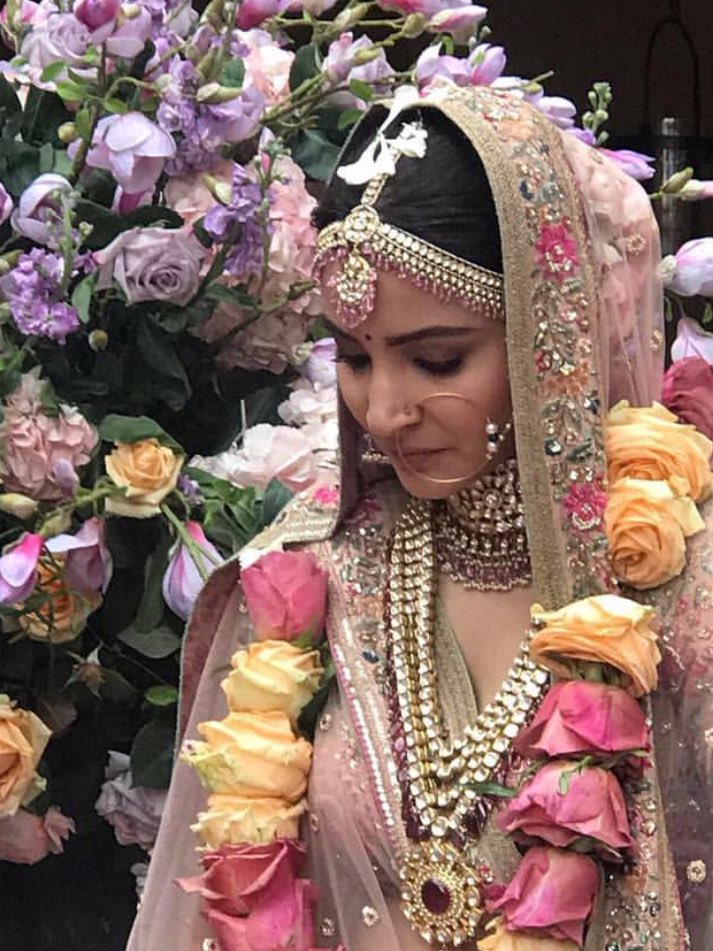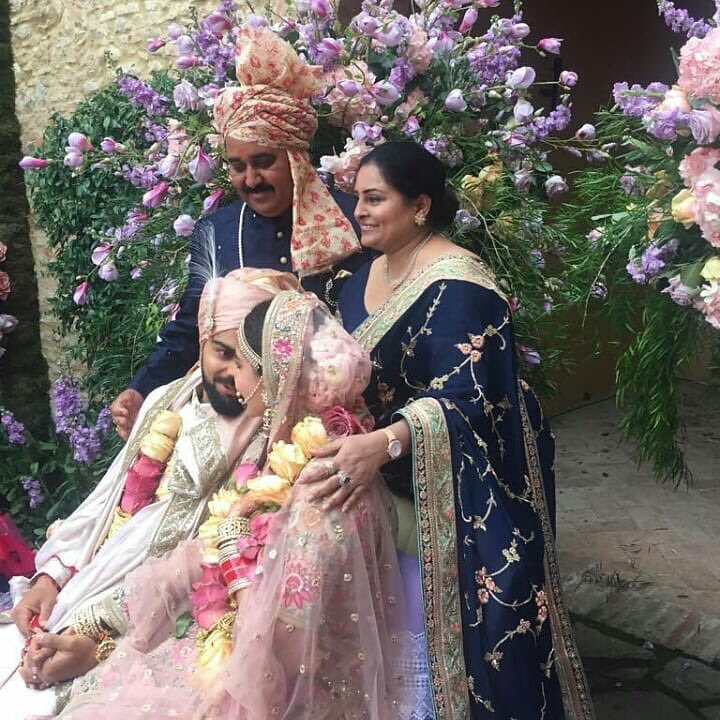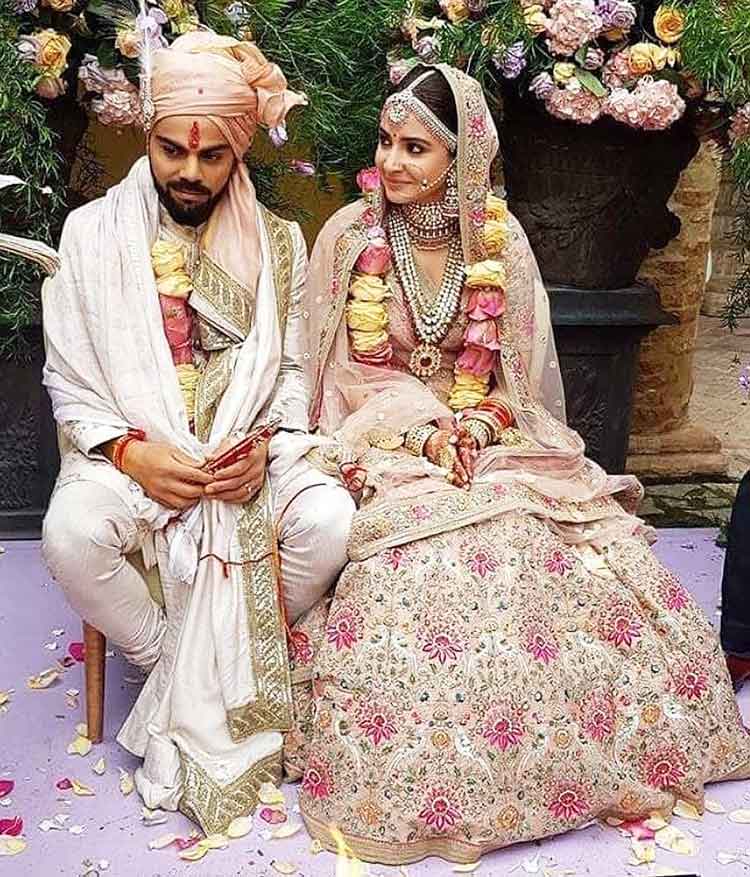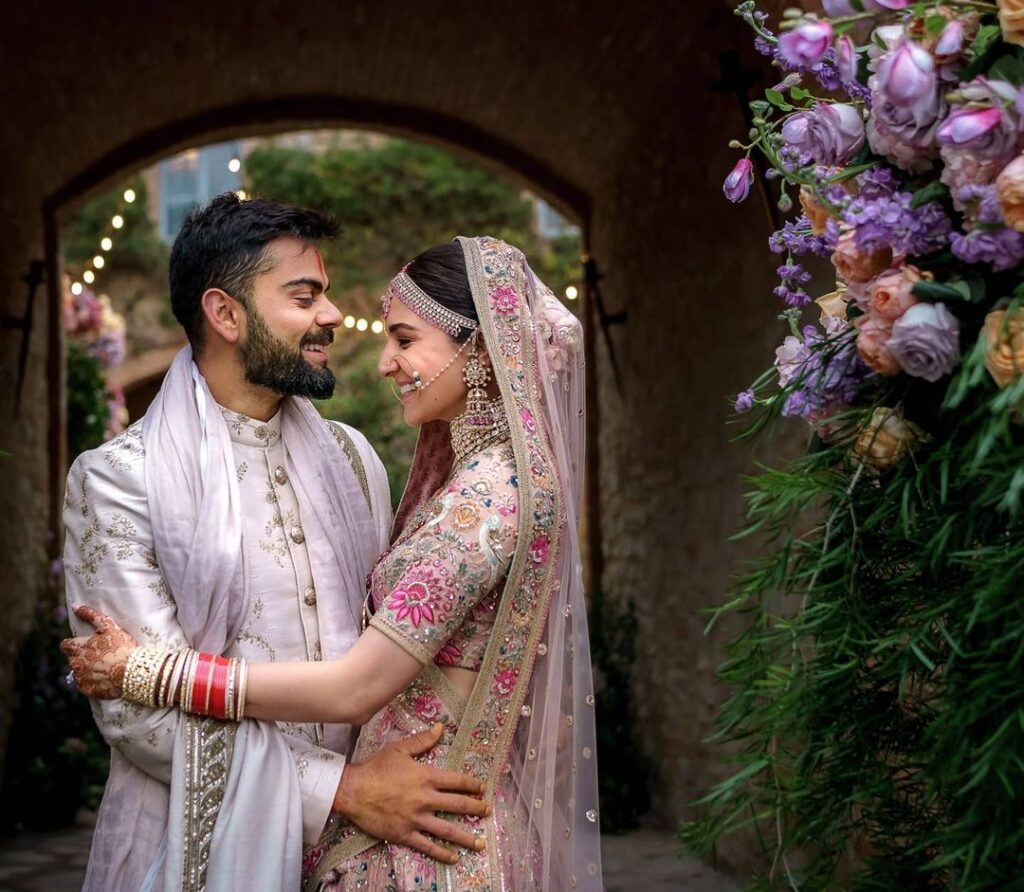 Virat Anushka Reception Pictures
Right after they got married, the couple went on a mini-honeymoon, and then flew to India for their grand reception(s) – first one in Delhi, and then Mumbai. For the Delhi reception, Anushka picked a bright red Benarasi saree – kicking off the trend of saree as a favored outfit for the reception. Virat Kohli on the other hand chose a black kurta set with a Kashmiri shawl. The newlyweds dripped with regality on their reception night.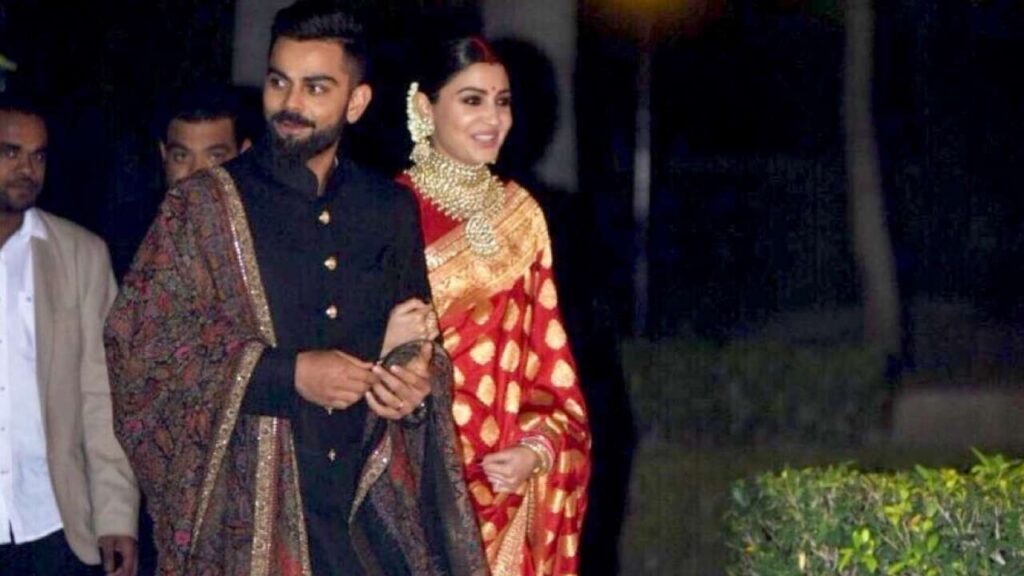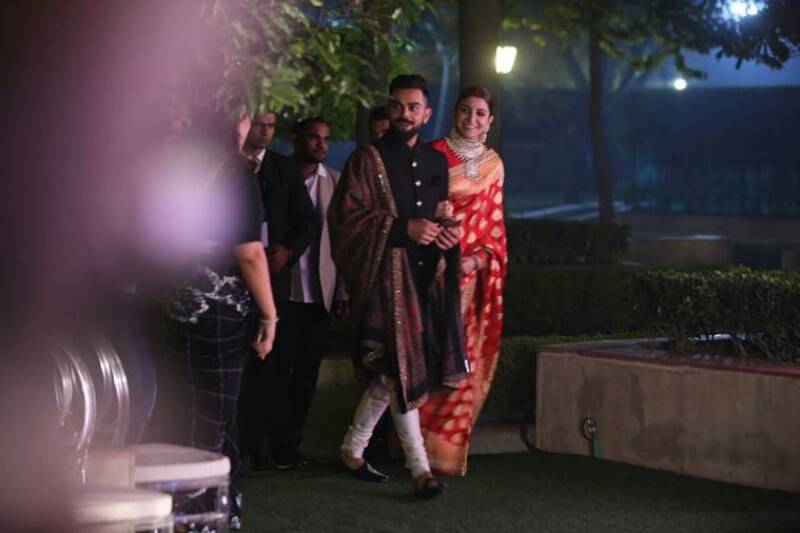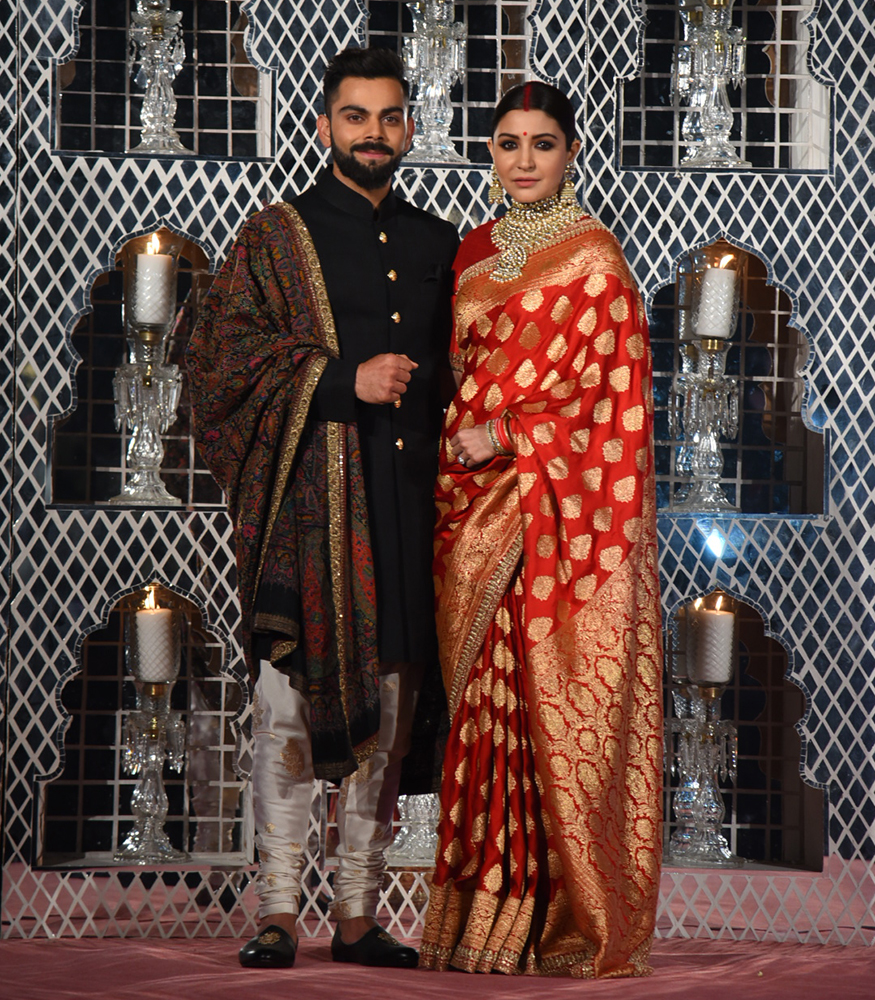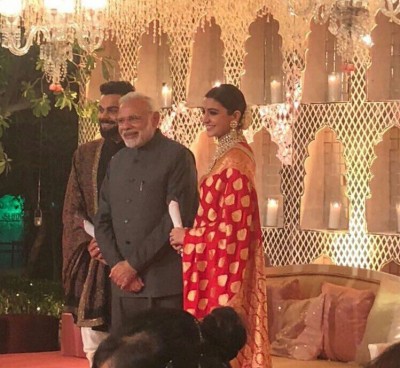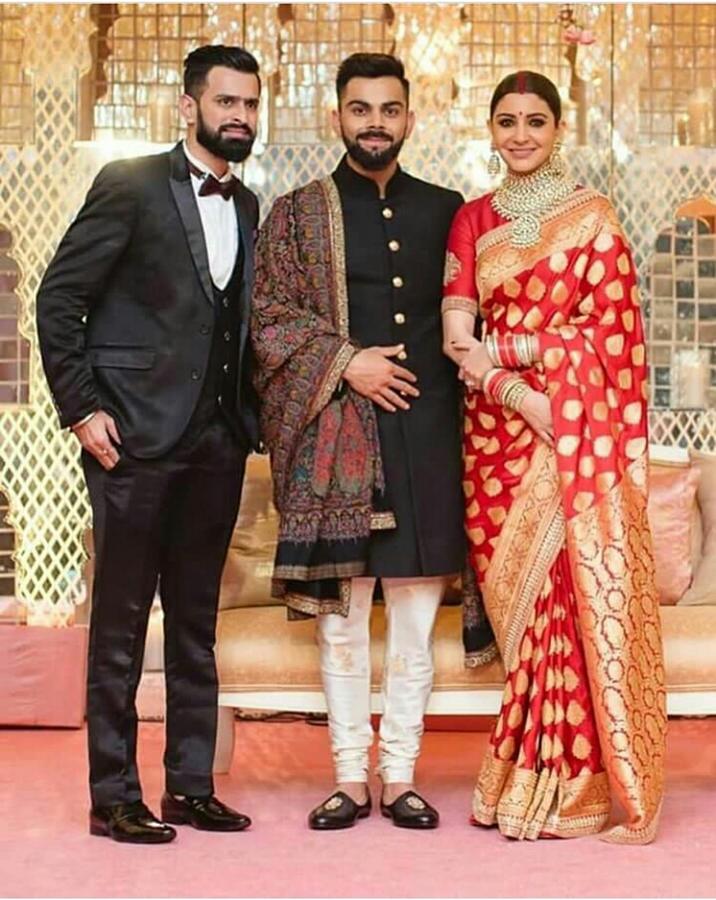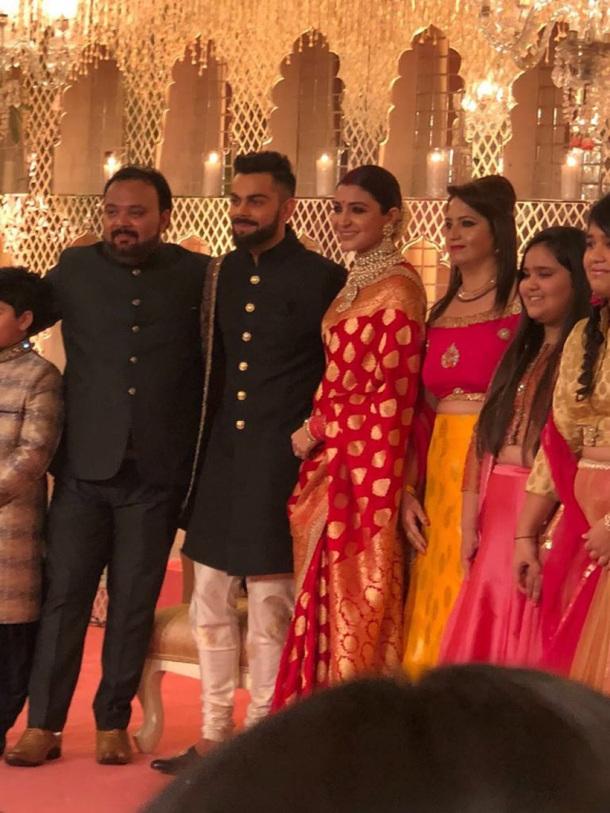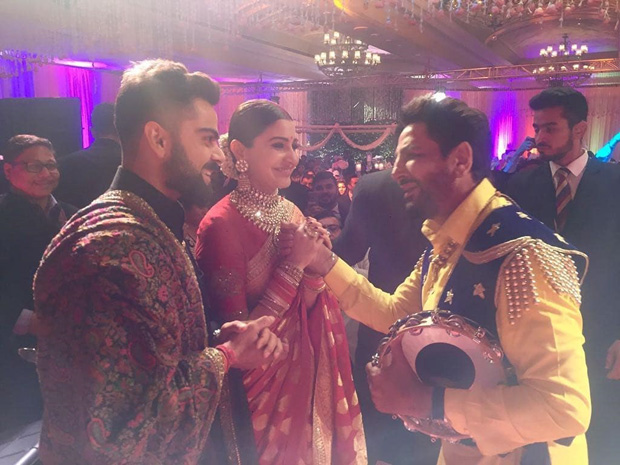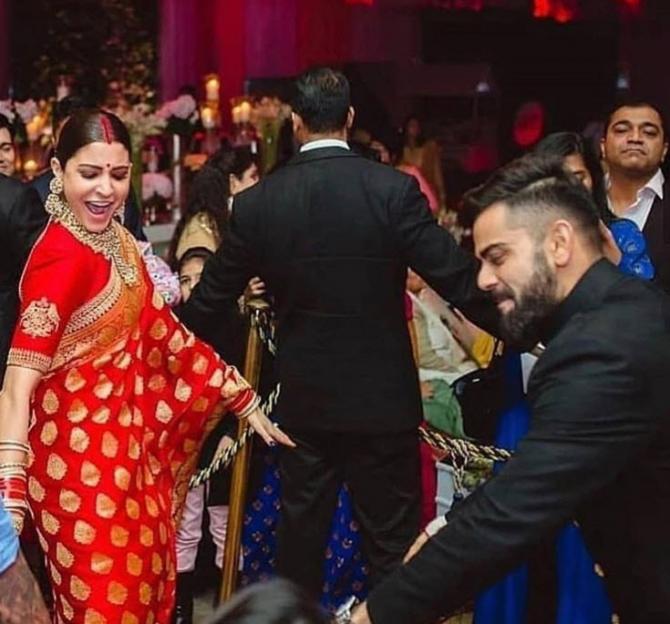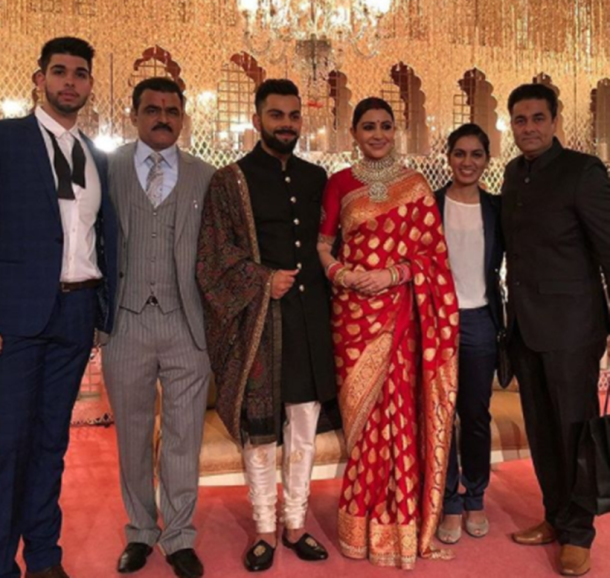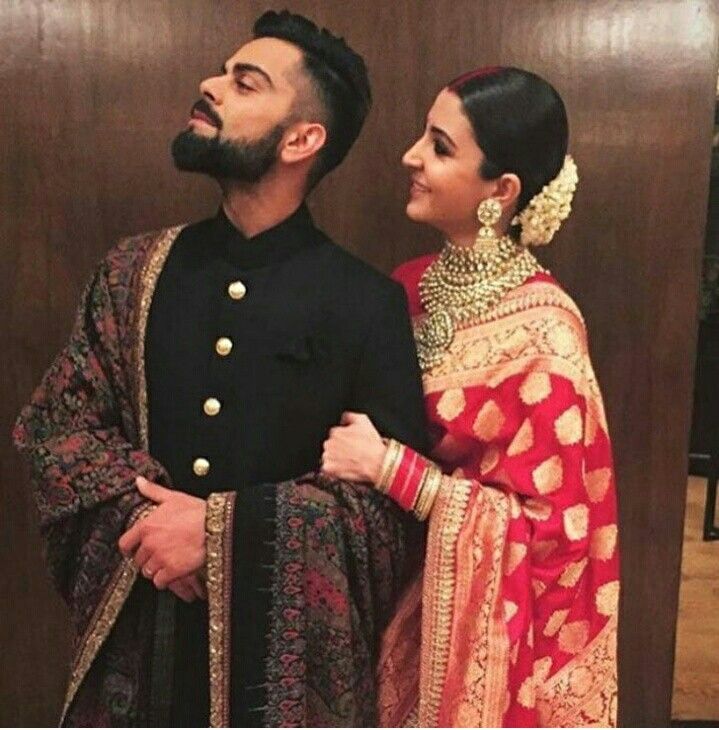 Few days after their Delhi reception, Virat and Anushka hosted a Mumbai reception for their Bollywood family. Moving on from the subtle hues at her wedding, Anushka picked loud and bright outfit hues for her reception parties. After the red saree, she picked a golden embellished lehenga for her Mumbai reception, while Virat was seen in a black and white short kurta set. Scroll through to catch the gorgeous hosts on the last event of their wedding revelries.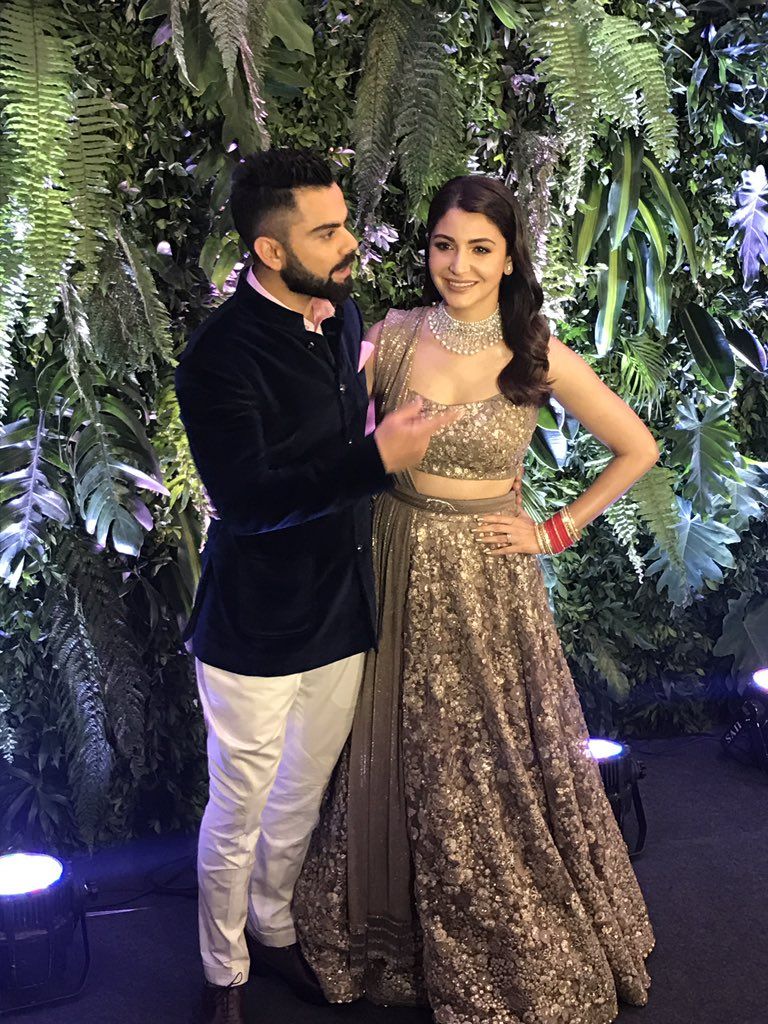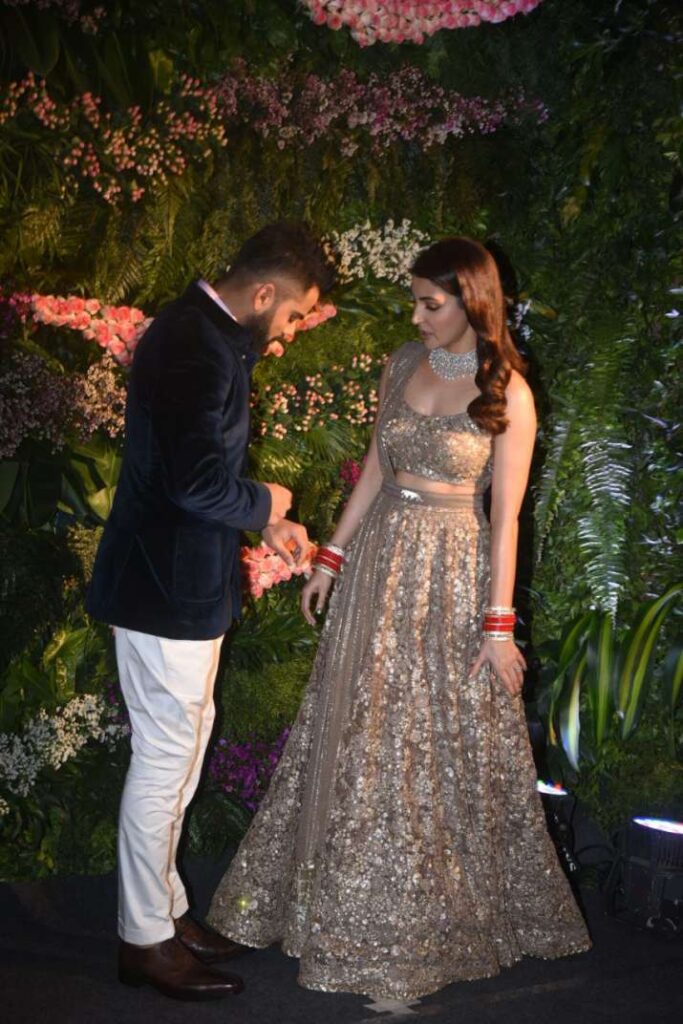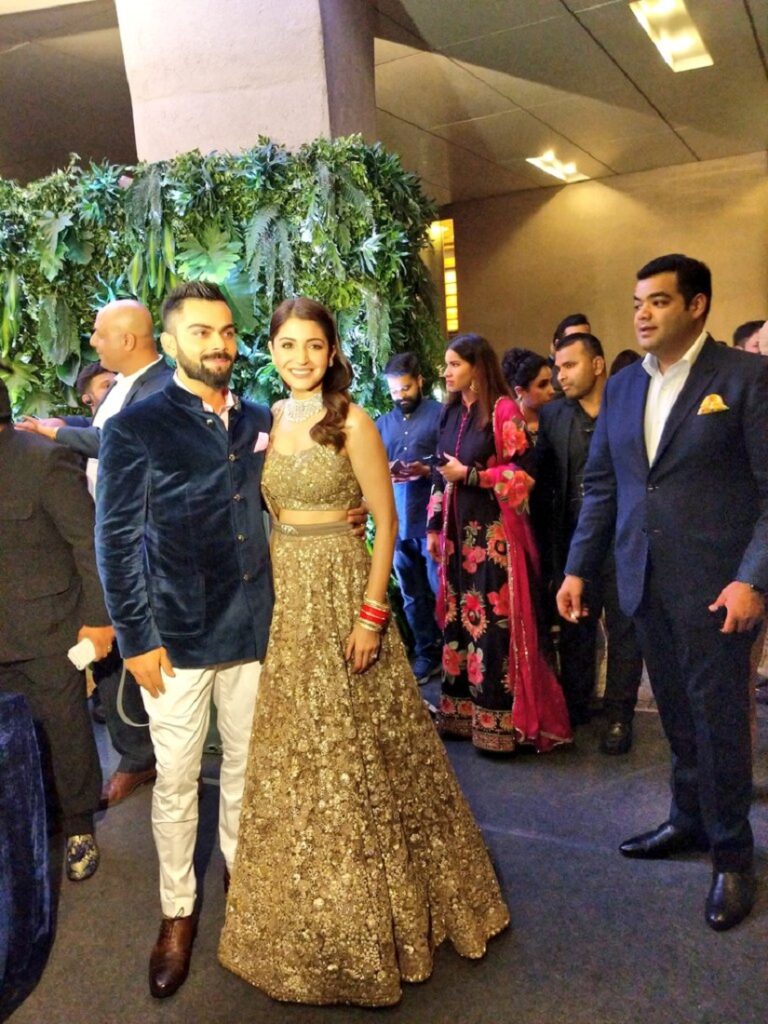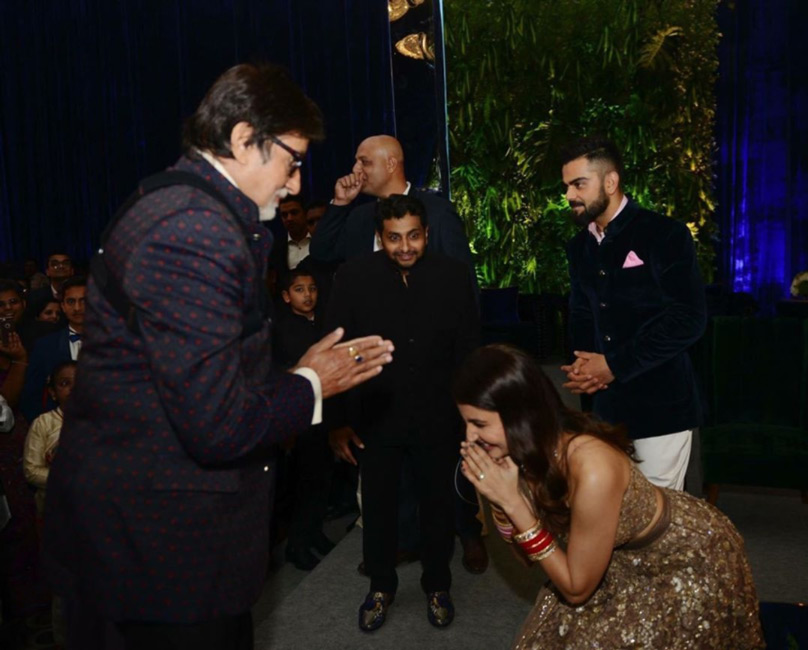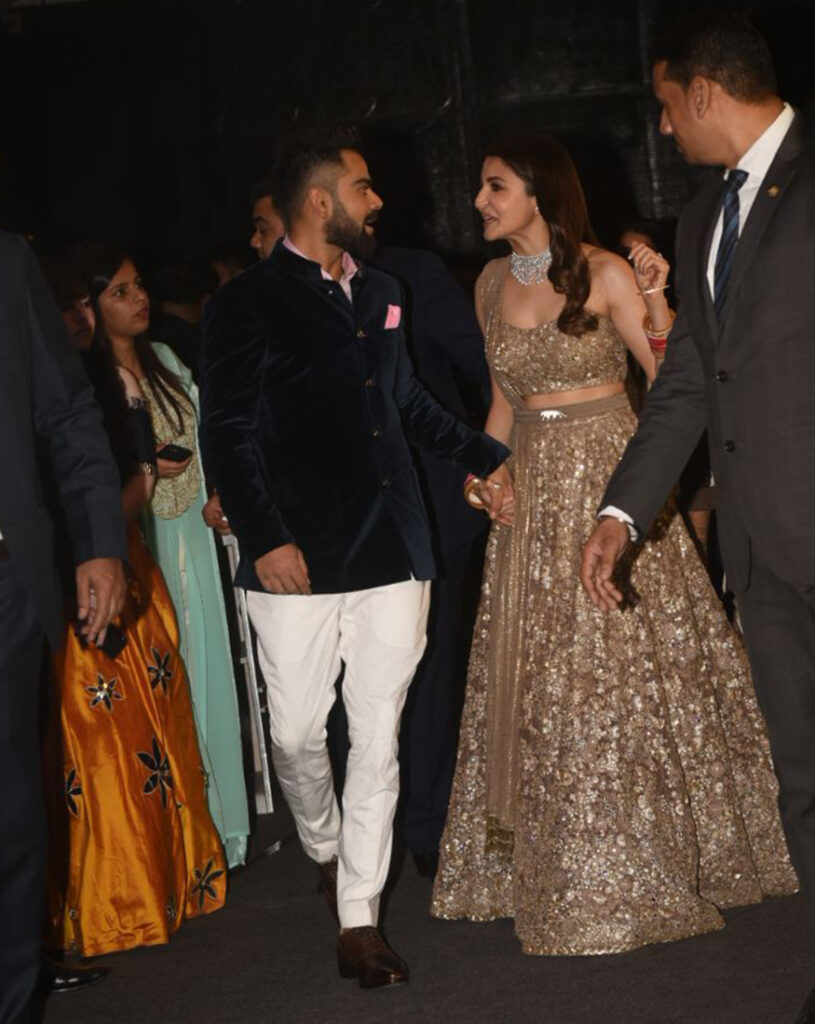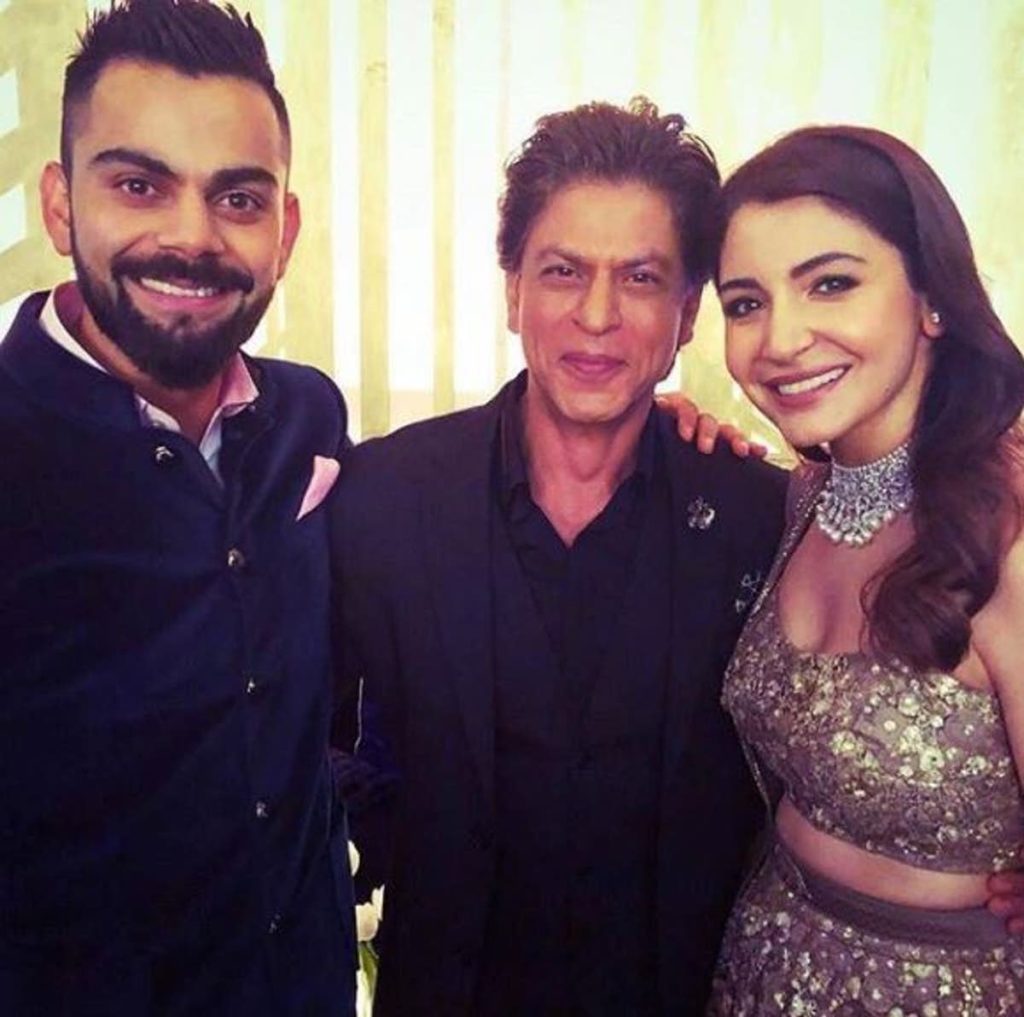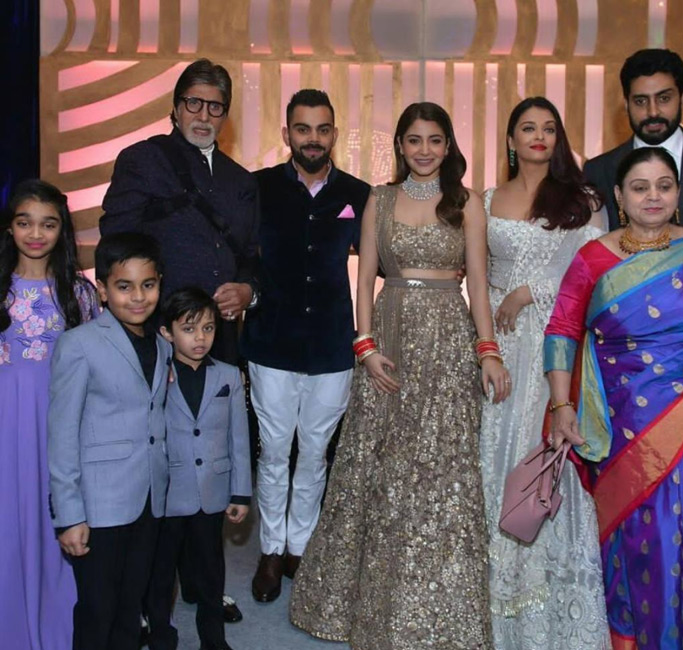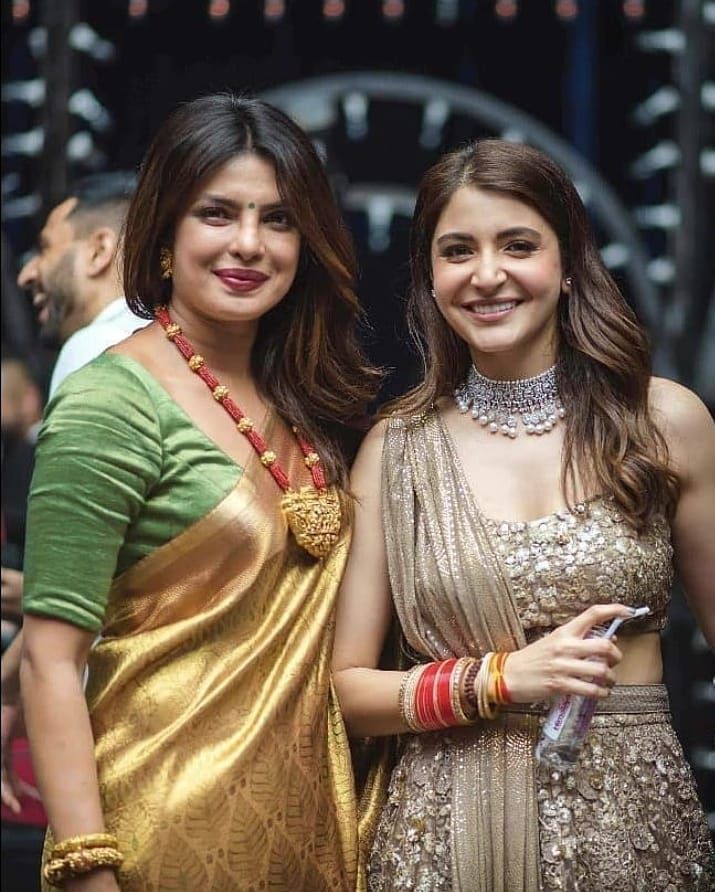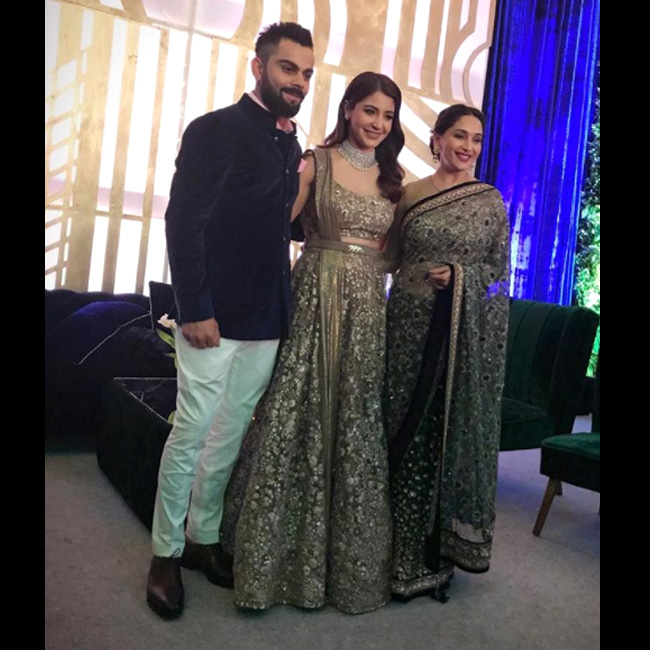 Wedding Vendors: Outfits & Jewellery: Sabyasachi|| Photographer: Stories by Joseph Radikh ||
Videographer: The Wedding Filmer|| Planner: Shaadi Squad || Decor: Devika Narain