You're all clad in your favorite traditional outfit – makeup is done, hair is done and you're putting on your accessories. In the end, you flip open the packet of your favorite bindi design, and slowly while rolling your eyes, you apply that little dot on your forehead. In an instant, it brightens up your whole look without doing much. That's the magic of a perfect bindi. This winsome part of the bride's solah shringar is the topic of our blog today.
What is the importance of 'bindi' in our culture?
Bindi is placed at Agya Chakra, one of the seven chakras in our body, that is connected to the mind and is considered to be the center of wisdom and knowledge. Bindi uplifts the powers of this chakra and helps you see things based on truth, rather than ego or false bias. A red bindi on a bride's forehead also symbolizes the prosperity, love, and compassion of an Indian woman.
Wearing it on a daily basis is your personal choice, but for brides, a bindi is one of the key elements of their whole look. So here are some gorgeous bindi designs for you to choose from & bookmark from.
Stunning Bindi Designs For Your Wedding
Bold & Beautiful Bindis:
This one is for brides who want a full-on traditional look for their wedding day. It always looks amazing on brides. Don't worry about having a small forehead, in fact, with proper contouring, it can make your forehead look bigger and better. Also, if you are going for a simple bridal look, and you feel like your look is a little incomplete, just add a big bindi and see the magic happen.

Via @samridhidhillon


Via @kanakjha


Via Riana Jewellery

Via @infinite_memories09


Via @meerasakhrani


Via @rashisehgalofficial


Via @artinayar
Tiny Bindi Design:
Many brides are opting for a tiny bindi, especially the ones who have a drooping maang tikka or matha patti on their forehead. It just enhances the look without clumsily jamming your face. They complement the entire look and can be worn on any function. All our minimalistic brides out there, a tiny bindi design is perfect for you.

Via @jasmeetkapanyofficial


Via @kritids


Via @smitimittal

Via @fm_wedding_photography


Via @artinayar


Via @guneetvirdimua
Stud/ Stone Bindis:
Adding glam to the bindi world, here's stud/ stone bindi design. They are utterly feminine and elegant. I bet you've tried one of these when you were little as well. The stone bindis come in various shapes and sizes, and if you want to wear them on your big day, here is some inspiration to awe you.

Via @kritids


Via @shrutisharmamakeup


Via @studiokellyphotography

Via @shrutisharmamakeup


Via @jasmine_beauty_care
Modified Stone Bindis:
Just another version of stone bindis, modified ones come in many shapes as well. The common ones spotted on brides are circular with stones on the border. This one's great to pep up your entire bridal look without increasing the size of the bindi.

Via @movieingmoments


Via @finepixelstudio


Via @intocandidphotography

Via @shadesphotographyindia


Via @kirtijotwanimua


Via @meerasakhrani


Via @deepikasdeepclicks


Via @dipak_studios

Via @shivamduaphotography, @aishwaryagunani
Colored/ Contrasted Bindi Design:
You know how brides are always experimenting with their look, this is the result of experimentation with bindis. Straying away from the usual 'reds', these brides opted for colored bindis and some even went ahead and contrasted them entirely. Like the bride who wore a green bindi with her yellow lehenga or a striking purple bindi with her multihued outfit.

Via @twogetherstudios.in


Via @royalaffairweddings


Via @makeupaddict_jazz

Via @rashisehgalofficial


Via @lensman.the, @shahid_naar


Via @rashisehgalofficial


Via @jasmeetkapanyofficial

Via @rashisehgalofficial


Via @rashisehgalofficial
Maharashtrian Bindi Design:
Every state in India has a beautiful culture of its own. And as you move from one state to another, even the wedding rituals change. Bindis aren't an exception to this ritual change. A few cultures in India have their own bindi design for brides and the next few sections will cover those! One of them is Maharashtrian bindi or chandrakor bindi design, that's common not only for the brides but also native people of Maharashtra. You can purchase your set of chandrakor bindi here.

Via @photizostudio

Via @the.virendra.photographs_
Tilak-style Bindi, common in Andhra-style weddings:
Tilak-style bindi is common in Andhra-style weddings and is called 'Kalyana Tilakam' traditionally. It's generally drawn by makeup artists using sindoor or lipstick, and regional makeup artists are quite quick & subtle while outlining it.

Both via @makeupartisttamanna
Bengali Bindi Design:
A bengali bindi design is worn by most bengali women on their big day. Even Bipasha Basu reveled in this tradition when she got married to her beau Karan Singh Grover. A traditional Bengali bride considers it a symbol of their bridal look & would rarely decide to forego it. It's usually made with big bindi in the center and little dots of red & white over your eyebrows.

Via @estasbella_makeupstudio


Via @bipradip_chakraborty


Via @sheetalsmakeover

Bride @moushomisen
Rajasthani/ Gujarati Eyebrow Bindi Design:
Just like in Bengali bindis, a similar kind of bindi can be seen on many Rajasthani and Gujarati brides. It's not that popular nowadays here, like in Bengal, but some brides do opt for it. Being from Jaipur, I remember my mother wore it on her wedding day, now I rarely spot it. As for brides, who would still want to bask in this tradition, here are bridal looks to inspire you.

Via @aanalsavaliya

Via Sanjay Leela Bhansali Films
Best Bridal Bindi Online
#1 Colored Stone Bridal Bindi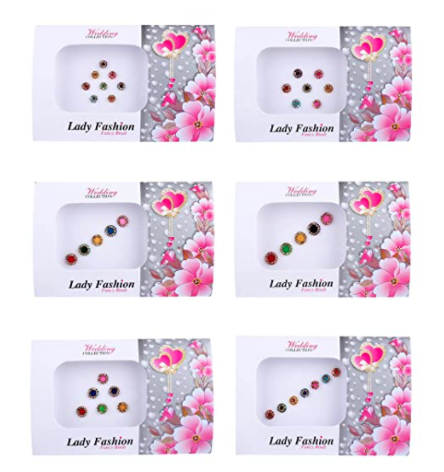 #2 Velvet Red Bold Bridal Bindi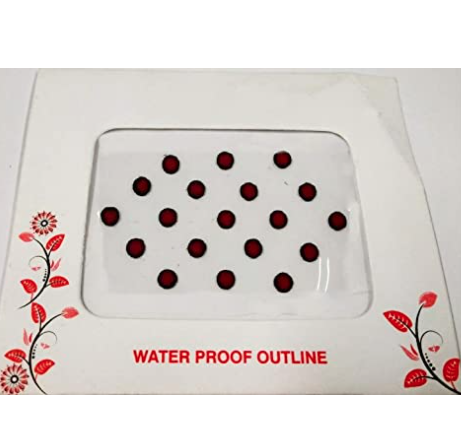 #3 Gold-Diamond Bridal Bindi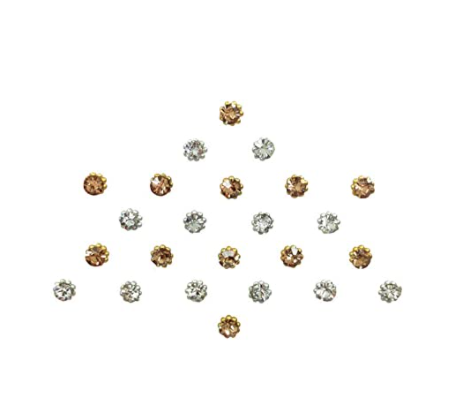 #4 Red Small Bindi With White Stones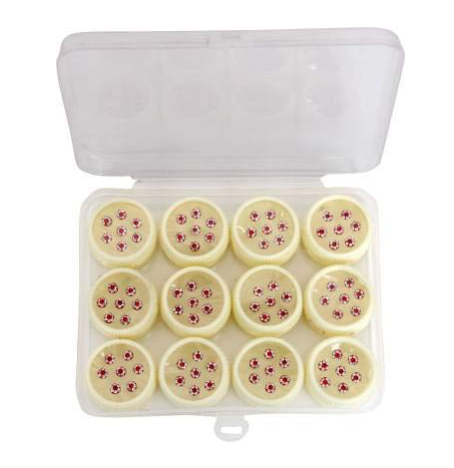 So, which bindi style will you go for on your big day?
Related: