Your bridal makeup is like the backbone of your bridal avatar. Minor slips in jewelry, lehenga, or any other aspect of a bride are still manageable. But when it comes to your D-Day makeup, even the slightest of blunder becomes noticeable to anyone around you. All parts of wedding makeup matter, from the perfect base to ideal lip color and a statement bridal eye makeup. Each and every part should be in perfect harmony with each other. And for that to happen, you should be aware of the latest wedding trends going on in the makeup industry to make an informed decision. 
The wedding industry is always evolving. This means that what was a trend in 2019 may not be so in vogue. Sometimes, trends change from one wedding season to the next. A while back, brides weren't even thinking about experimenting with their bridal eye makeup. Now, considering the many options beauty gurus have offered, it's hard to ignore their presence in the wedding industry itself. 
We, at Wedbook, are always on the go to decipher and simplify the things for our brides-to-be. The Internet is flooded with so many eye-catching bridal makeup images that it becomes hard to decide which one you want. In this blog, we will be listing down 7 major types of bridal eye makeup that the Indian wedding industry is loving lately. Go through each one of them and we promise you will have some clarity on the kind of bridal eye makeup you want. Once that's decided, it's easier to make up one's mind on how the rest of the makeup will turn out like. 
 Bridal Eye Makeup Trends For 2021/ 2022!
Natural/ Slightly Tinted
For brides who believe simplicity is the best way to go on their D-Day, this bridal eye makeup will surely impress you. This kind of eye makeup involves putting on subtle, skin-like colors on your lids with a pop of mellow color here and there. The key is to form a good foundation and eye base so that the makeup blends in perfectly with your natural skin. It might look easy to nail, but ask the makeup artists who do it. Sometimes the simplest makeup looks to take the longest time. 
Another pro-point about this sort of eye makeup is it doesn't need as many touch-ups and tends to last for a longer time than others mentioned in this list.
#1 A slight tint of brown to match her ivory lehenga with beige accents created a gorgeous aesthetic. Enhanced using a highlighter on the lash line, and strong lashes – this
bridal eye makeup
is a must-have on the Pinterest board of minimalistic brides.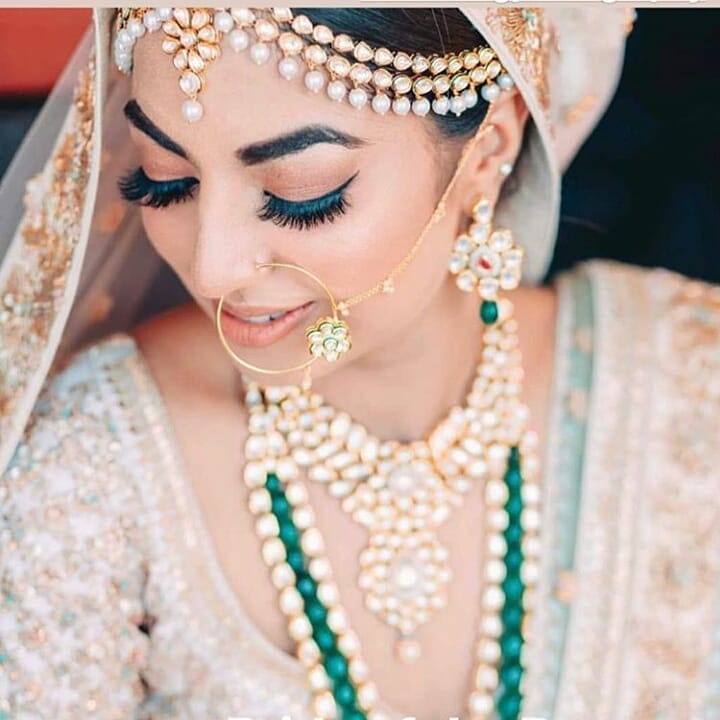 Via @simran.takkar

#2 A soft, creamy eyeshadow just augments the beauty of her minimal, glowy bridal makeup. A smooth blend of smoked-out colors on the side is a smart way to add drama to otherwise simple wedding makeup.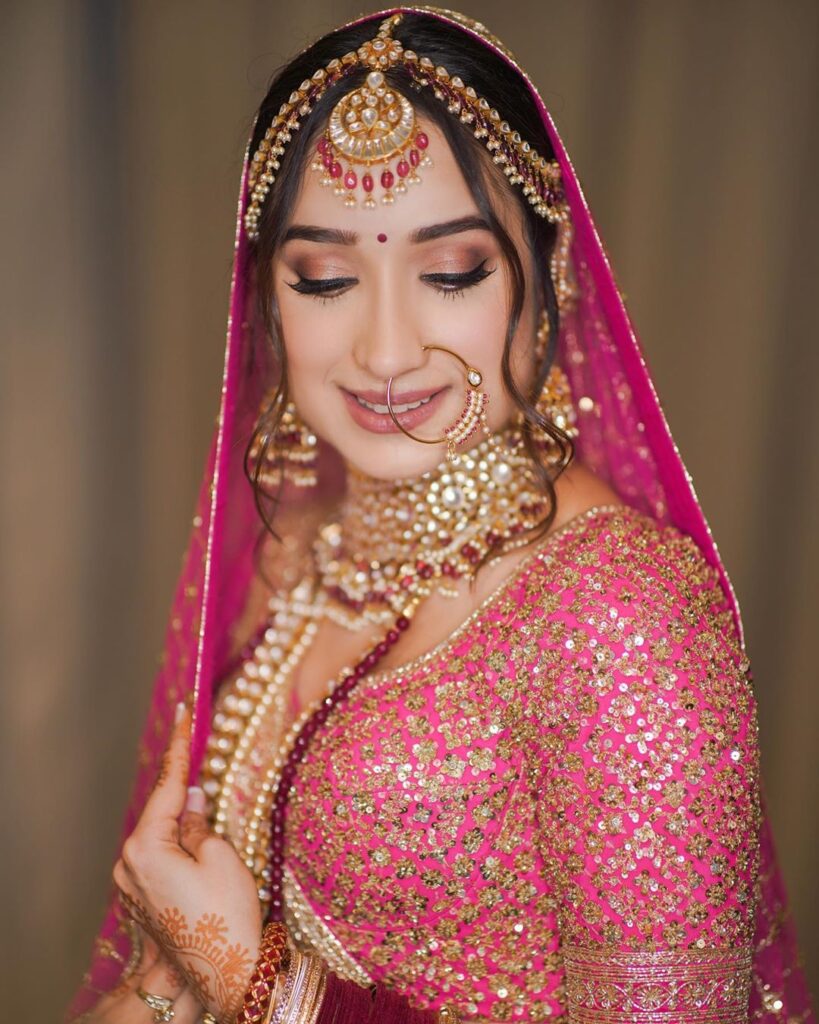 Via @dollyyouup_bys
#3 Keeping in line with the
bridal eye makeup
trends 2021, this HD makeup look topped off with a subtle hint of glitter and sheen on the eyes is a superb one for brides-to-be. Take cues on how this bride let the simplicity take over by going easy on the lashes and winged eyeliner.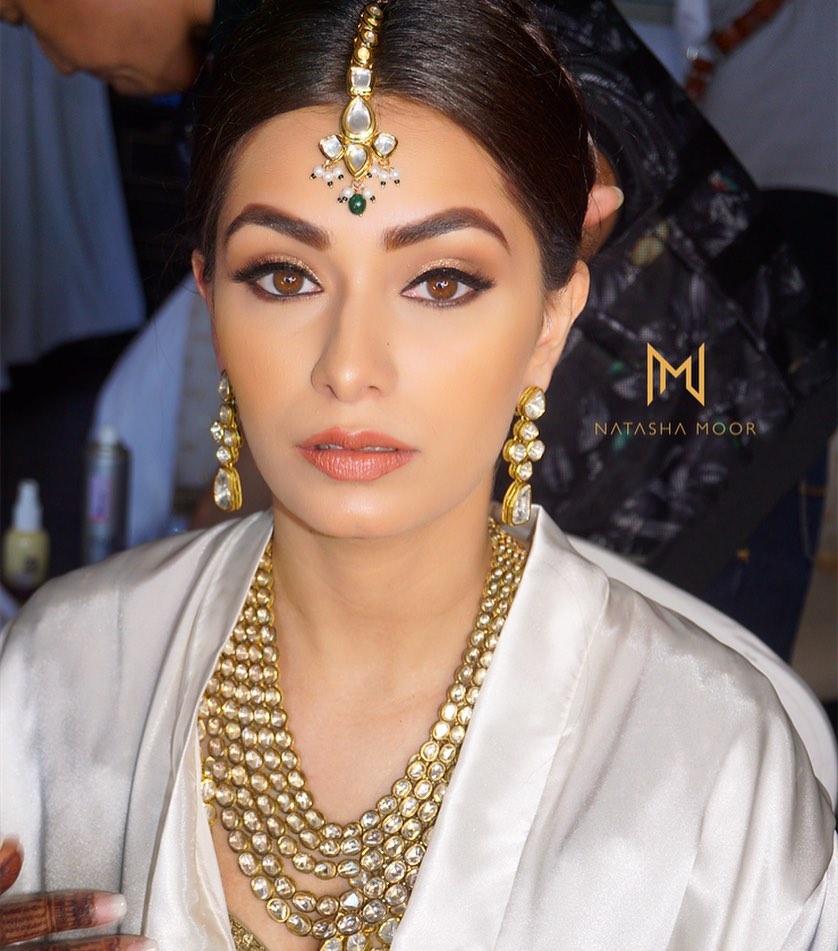 Via @natasha.moor
#4 If you're not the dramatic kind, then a slight tint as your eyeshadow is exactly what you want. This bride paired her gracefully straightforward makeup with elements that went with her simplistic aesthetic. So, a minimal bridal eye makeup with nudish blush shades it was.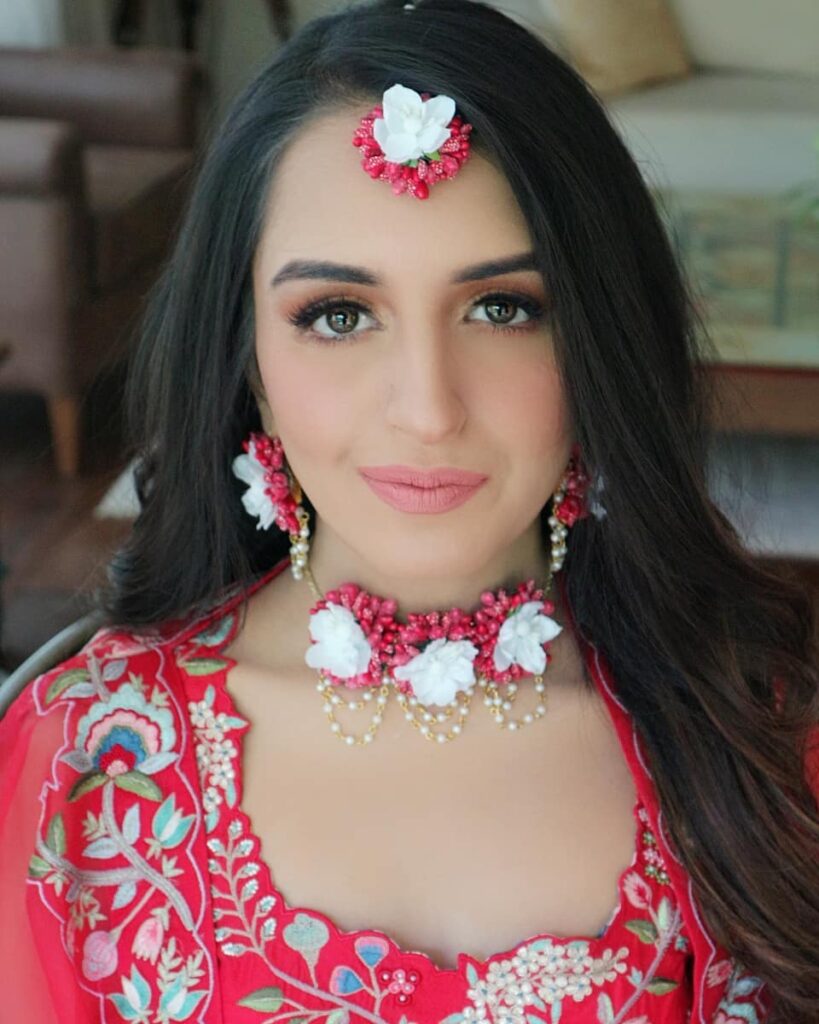 #5 To match the sunshine event and her vibrant dress, this bride went light on her makeup and put just some gorgeous chocolate-colored shades on her eyes. Teamed with a hint of blush, brownish nude lips, and a matte base, she looks like a ray of sunshine on her wedding day.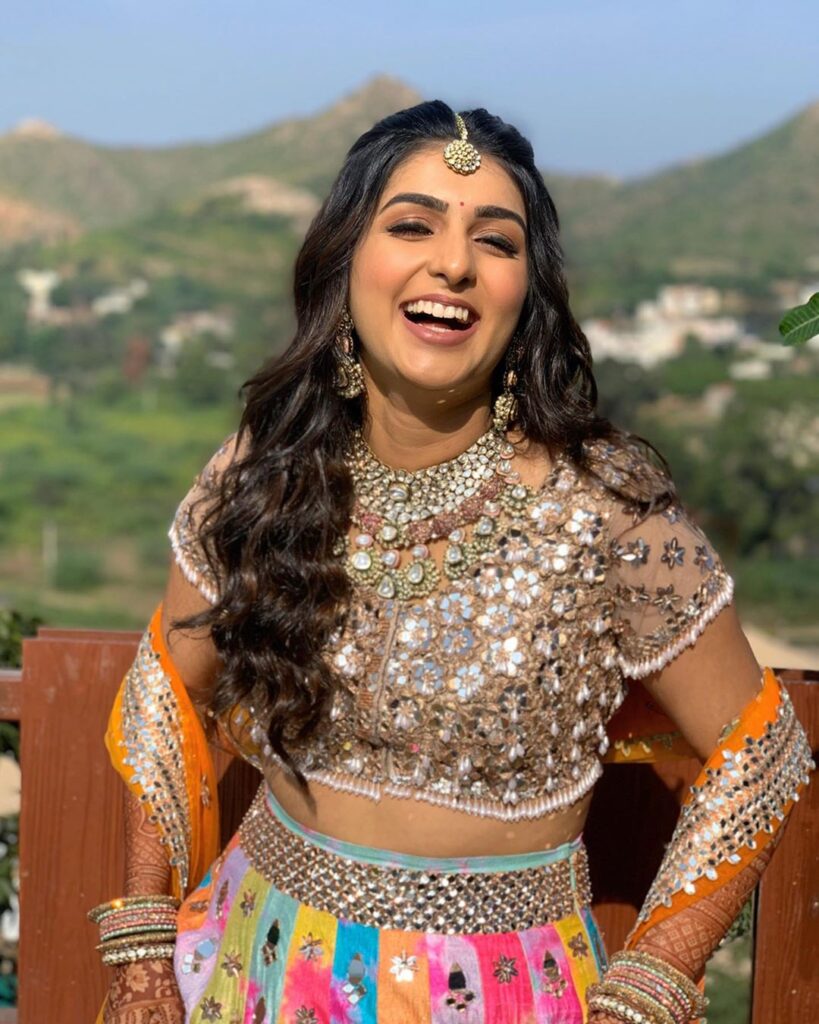 Via @dollyyouup_bys
#6 A hint of pink on her lids to match the blush pink of her lehenga worked out beautifully for her wedding day. By keeping the brow & lash game strong, this eye look turns out to be perfectly balanced without being more on the lighter or heavier side. 
Via @simran.takkar
#7 The blush nude shades on her face complements the orange, gold, and green of her ensemble amazingly well. Lining the eyes with an increasingly thicker liner style makes her eyes pop out and gives her a timeless bridal look.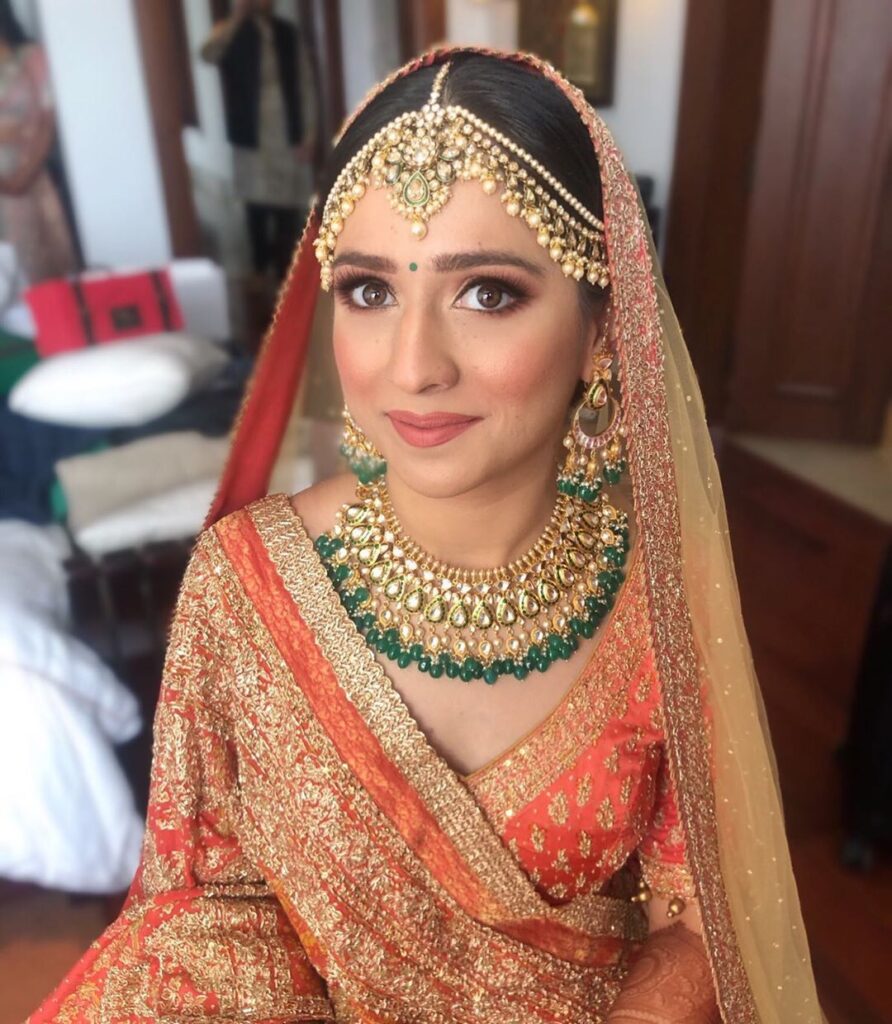 #8 Walk down the aisle in this stunning attire & jewelry combination paired with the perfect blush pink makeup. The tinted golden lids coordinated with simple lashes let the hue stand out and also give much-needed attention to her OTT jewelry.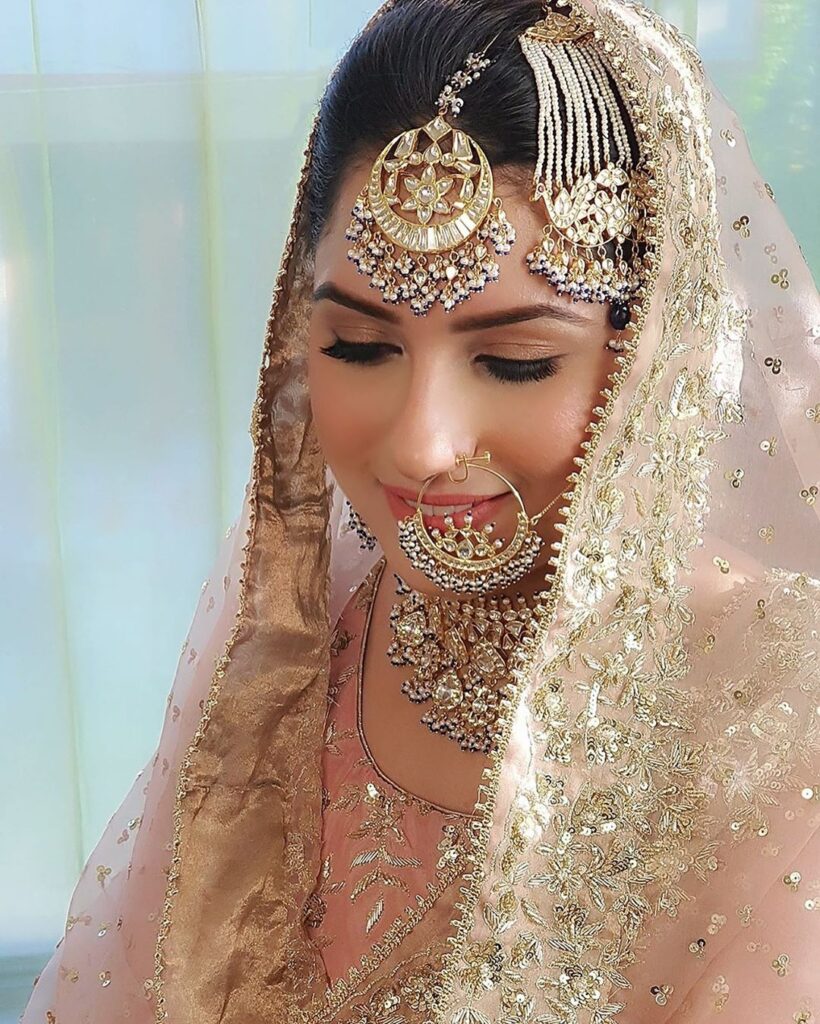 Via @paveena.rathour
Monotone Bridal Eyes: 
A monotone bridal eye, like its namesake, is done using one color only. The color used generally matches the outfit the bride is seen wearing. Some usual variations to it include adding a pop of glitter of the same color, creating a gradient, or glam it up by slyly adding another color. Its bigger sister is what became famous as a monochromatic makeup look – which basically means using the same kind of shade on your eyes, lips, and cheeks. 
We recommend going for this with an outfit that's the same shade all over. Carrying a single tone of color through all parts of your bridal avatar does give it a very interesting look. 
#9 It's easy to add glamour to your bridal eye makeup, just add a pop of color to your eye shadow. Here, the bride chose to color her lids with the same pigment as the shade of her lehenga. Perfectly smoked out and paired with a red bindi, this look is definitely one-of-a-kind and will make you stand out!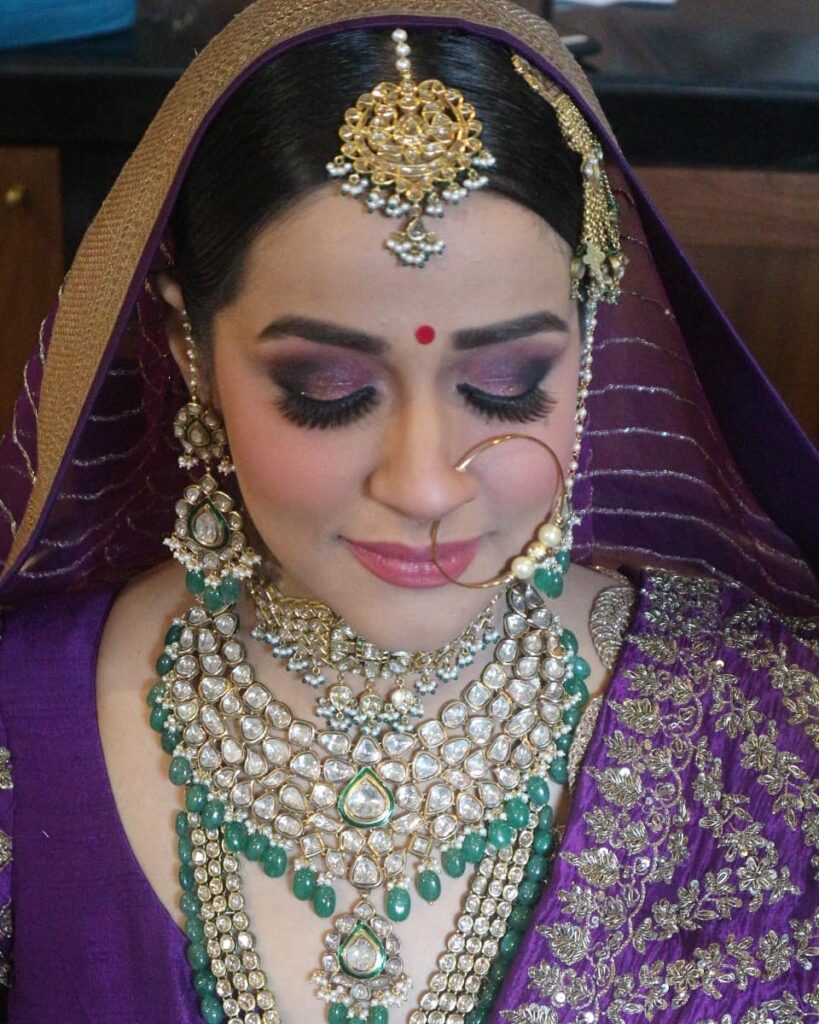 Via @simran.takkar
#10 Here's yet another colored bridal eye makeup look – but in this case, the color is contrasted with the shade of the lehenga. The metallic green with a hint of black adds depth to her lids and gives her a glamorous diva look for the Haldi ceremony.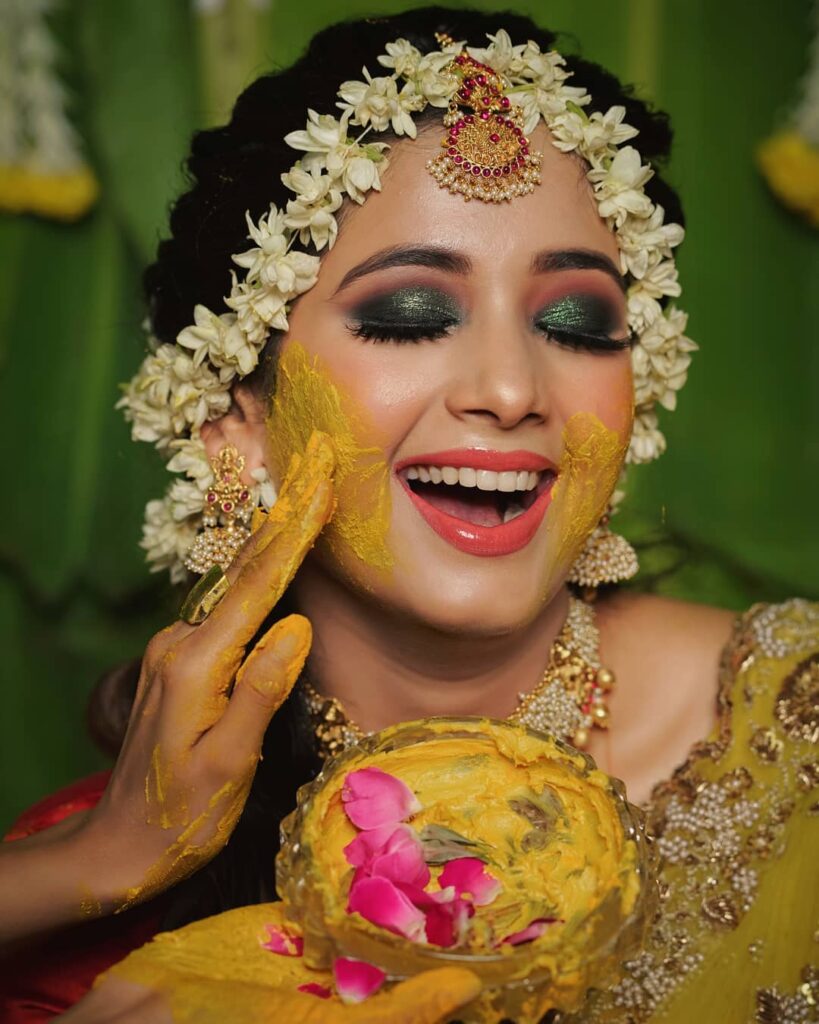 #11 While it's common for makeup artists to mix & blend different colors on the lids, this one right here decided to go full monochrome on the lids with a gorgeous pink shade. And doesn't it just look fantastic with her yellow outfit and multi-colored embroidery?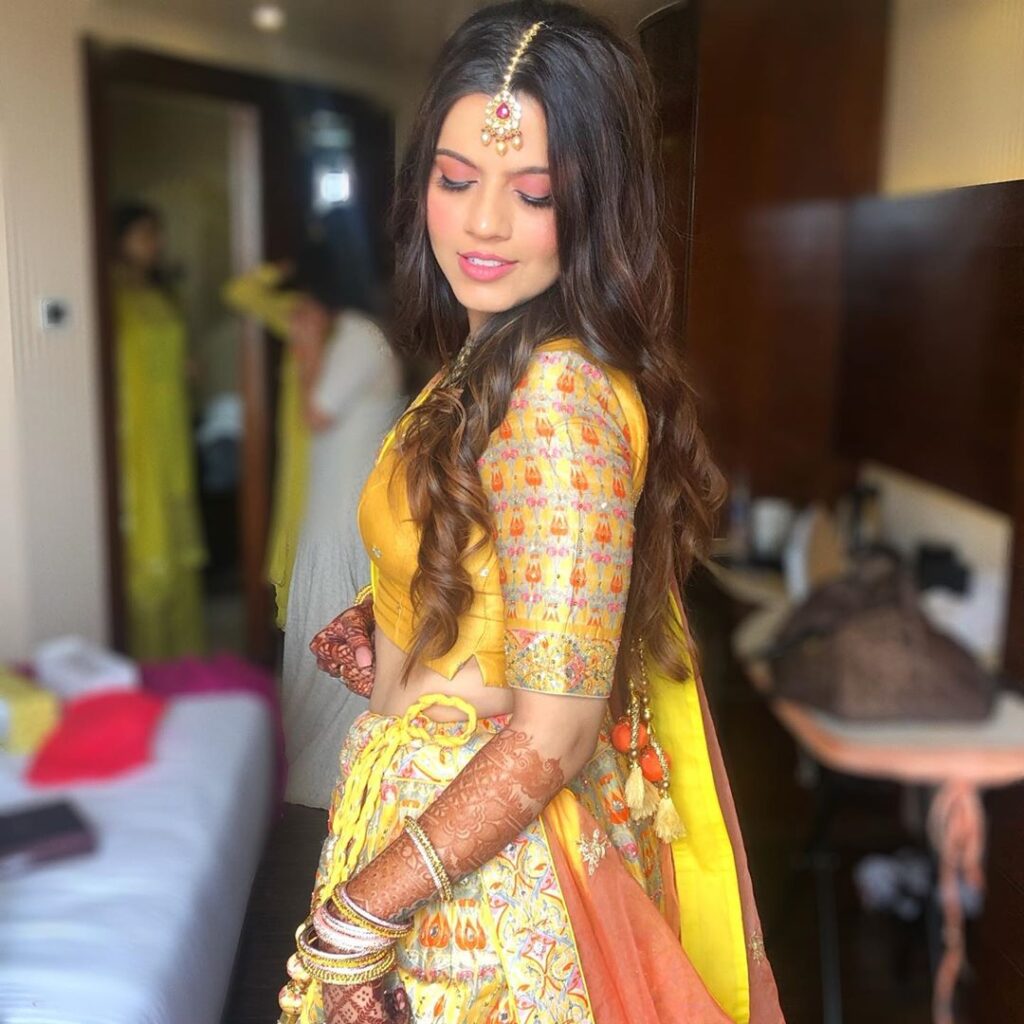 Via @glamocracy
#12 Pastel brides where you at? If you're wearing a pastel lehenga – which will be
in trend the next wedding season
by the way – here's the latest bridal eye makeup idea that will go completely with your outfit. It's a halo eye look but done very subtly and in a sleek manner. The sheen and big lashes add a beautiful depth and are a good idea for bridal eye makeup for small eyes.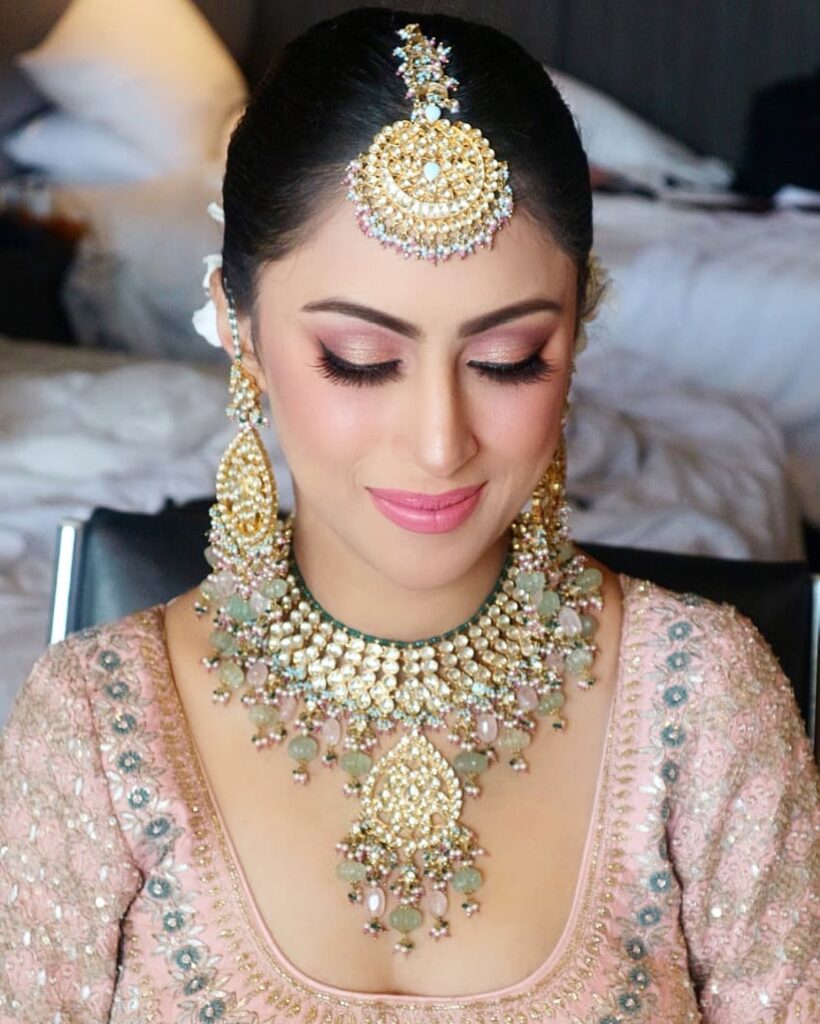 Via @simran.takkar
#13 Add the golden-bronze touch to your lids and amp up the stunning aesthetic of your
golden lehenga
even further. Blend the black shadow just a little bit on the outer corner to make the eyes further pop.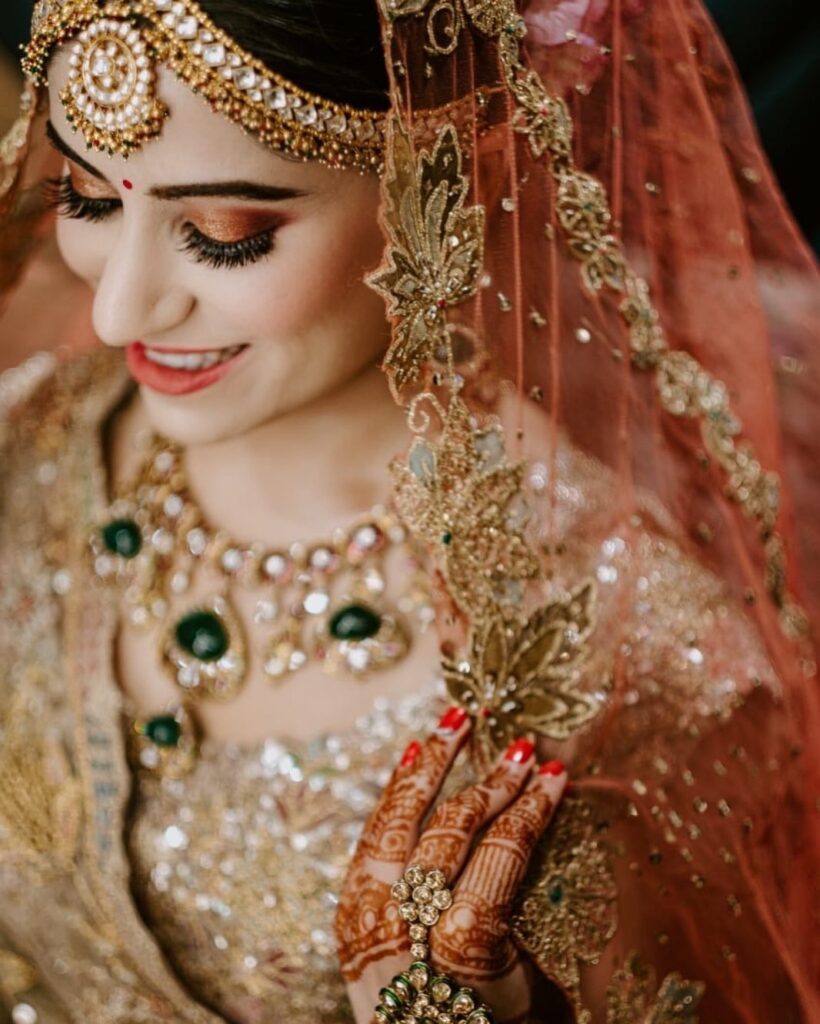 #14 Glitter eyes are the favorite among brides and are the trending & latest bridal eye makeup for 2021/ 2022 brides. If you're looking for inspiration for the same, here's a pink glitter eye look that's beautiful in so many ways. We love how all the elements radiate the pretty pink color – from the lehenga, bindi to the lip color – this is just how you create a breathtaking monochromatic look.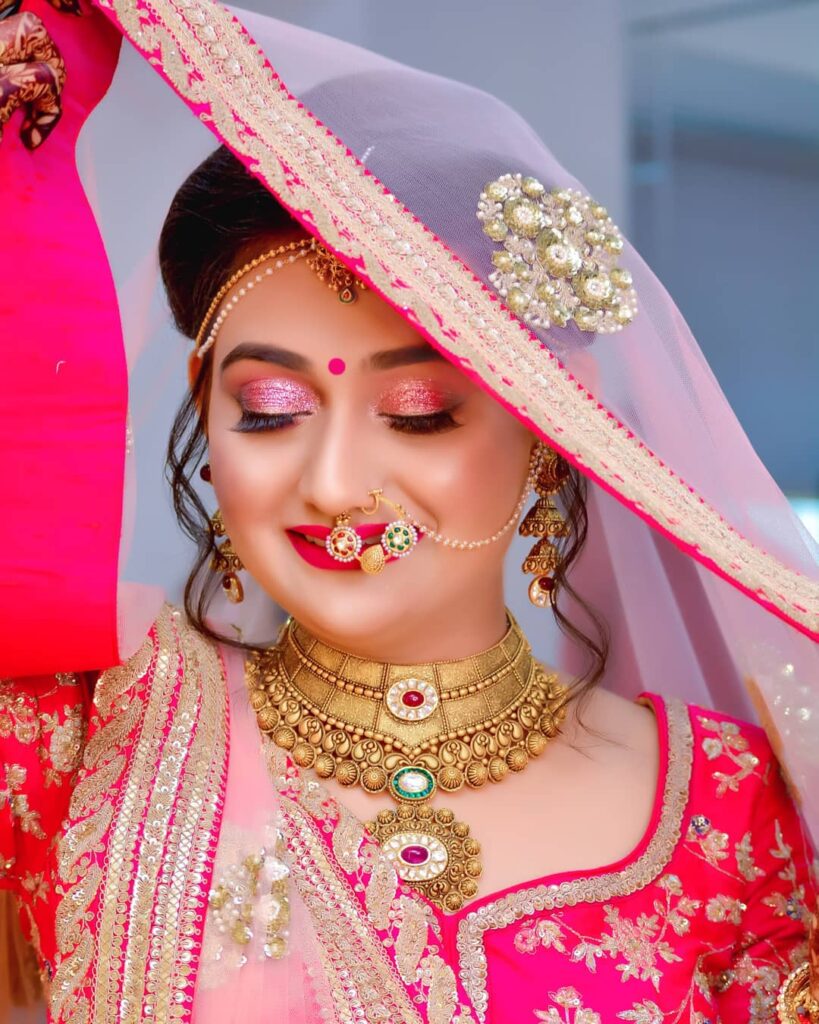 Via @aanalsavaliya
Brown/ Bronze Look:
An eye makeup look that suits the Indian skintone the best. Besides, it works best with brown eyes, which most Indians possess. A brown bridal eye makeup goes with all kinds of lehenga colors. If you are the kind of bride-to-be that wants a natural look but tinted eyeshadow, this eye makeup is the way to go! In addition, brown eye makeup also makes the natural beauty of your eyes pop out. Probably why Deepika opted for brown as a base shade for her wedding eye makeup!
#15 A brown eyeshadow is just the sultry, posh eye makeup look that will not fail you no matter the occasion is! On your big day, this proves to be an elegant choice and one that's timeless. However, having an MUA on board that does the blend & color-mixing flawlessly is crucial. This shadow look will only hold the appeal when done right.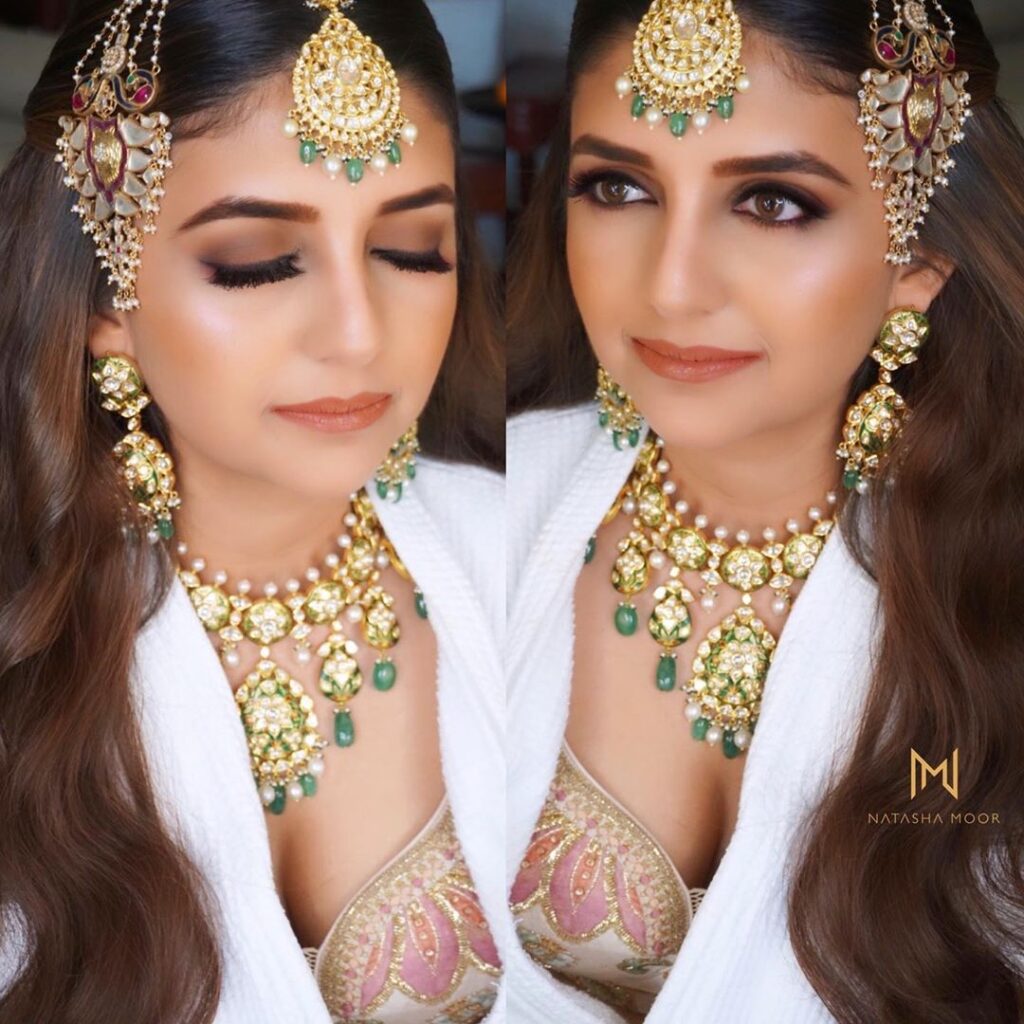 Via @natasha.moor
#16 With blending game strong, love how International makeup artist Simran Takkar created a look that's cut-crease yet doesn't look dramatic or over-the-top. With just a slight glitter shadow around the inner corner of her eyes and a very slight smoked-out look on the edges, we love how her elegance stands out in the frame.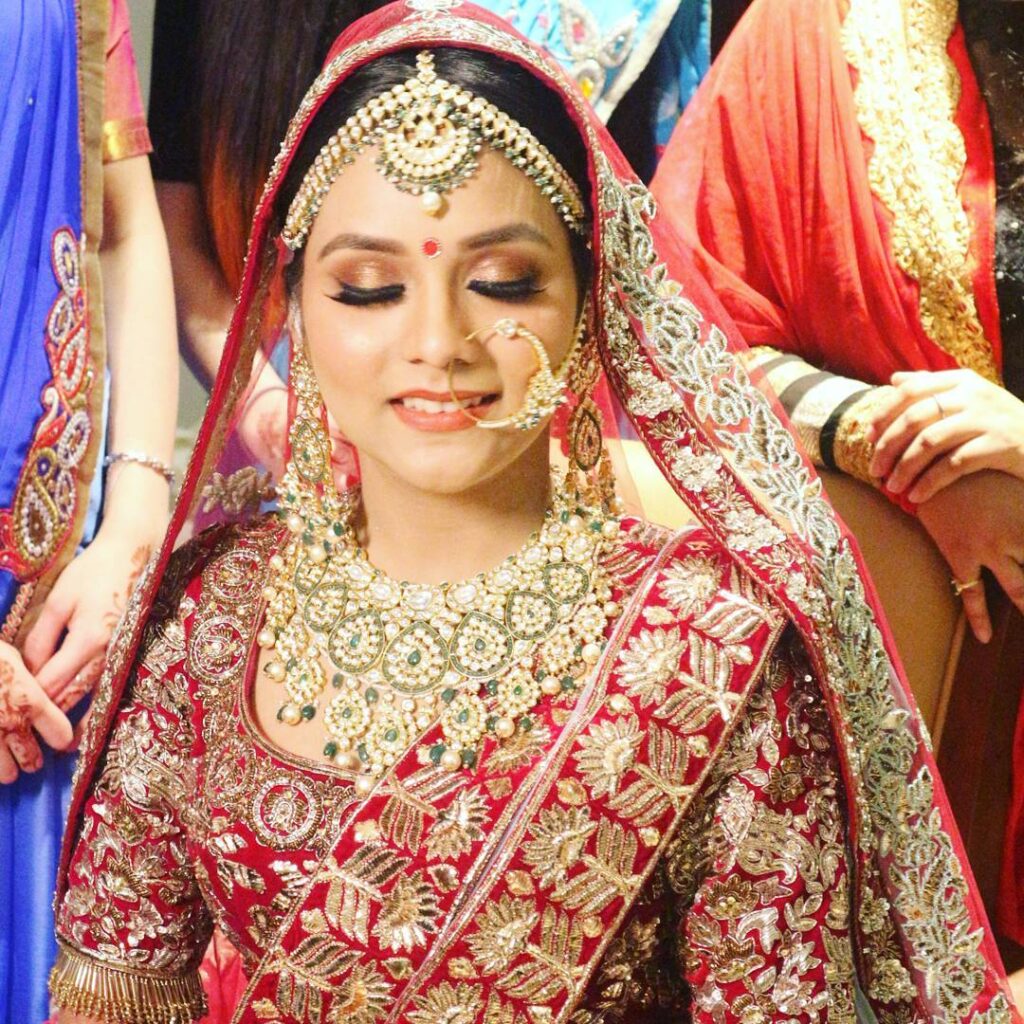 Via @simran.takkar
#17 If your idea of bridal makeup look is a full matte base with no shimmer, highlight, or extra accents, here's a bride to awe you! The matte brown shadow on her lids alongside a natural flush on the cheeks and the same shade on the lips oozes minimalistic elegance at the best.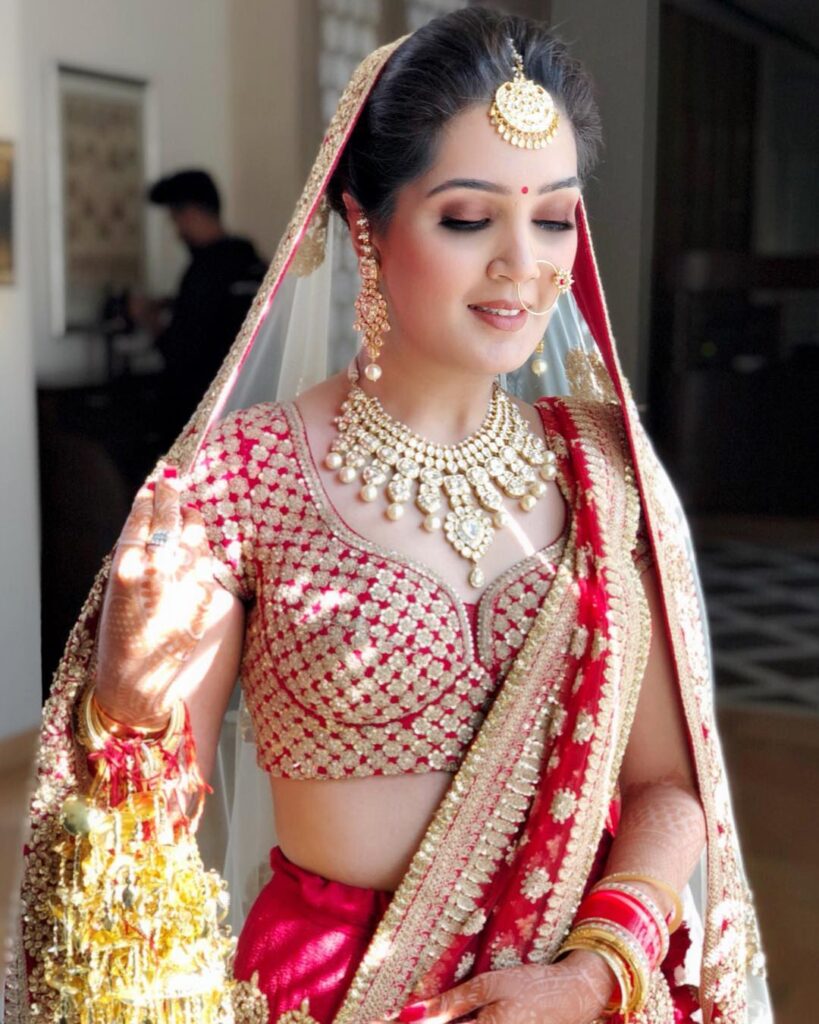 #18
Isha Multani's wedding day
look comprised of a golden
Sabyasachi lehenga
and to complement the color – her MUA added the perfect dark brown accents on her face. From the chocolate shade lipstick to the same hue on the lids with just a touch of gold glitter – there's so much to admire from her big day look.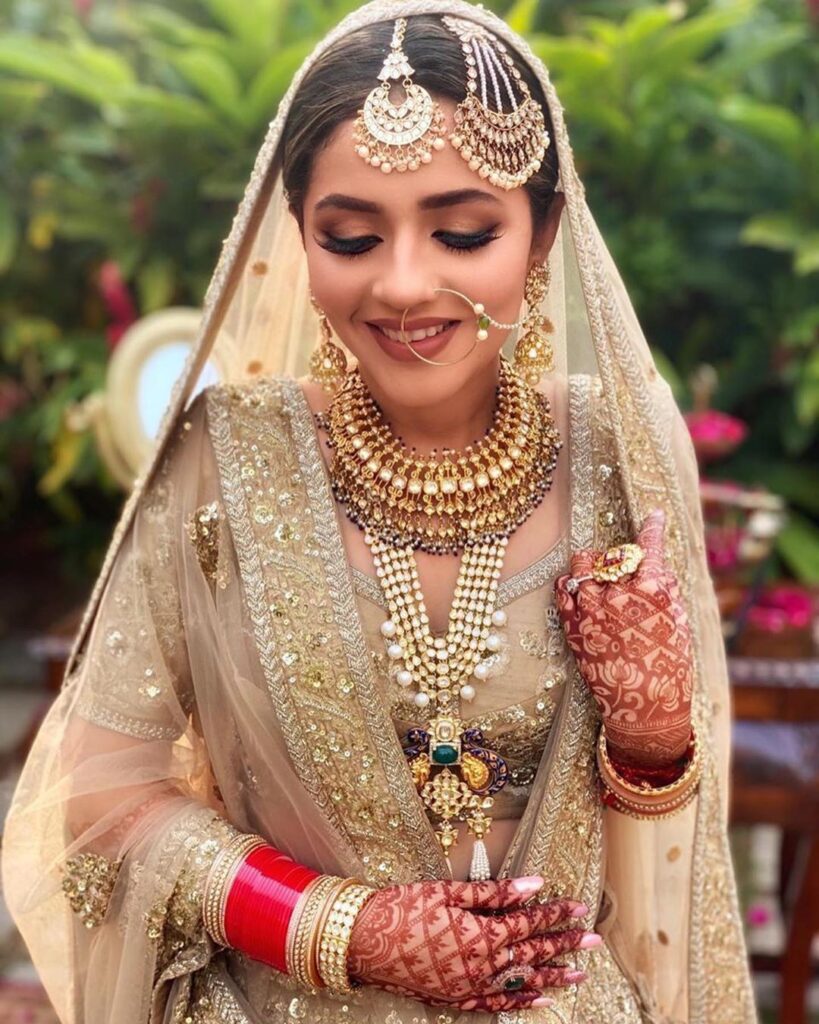 Via @dramaeinbaaz
#19 For winter wedding season 2021/ 2022, the maroons and deeper tones of reds will make a massive comeback. To be ready with all the inspiration, here's a makeup look with a beautiful balance of glitter and bold neutrals that will go with these lehenga colors well and make your bridal look a dream in every sense.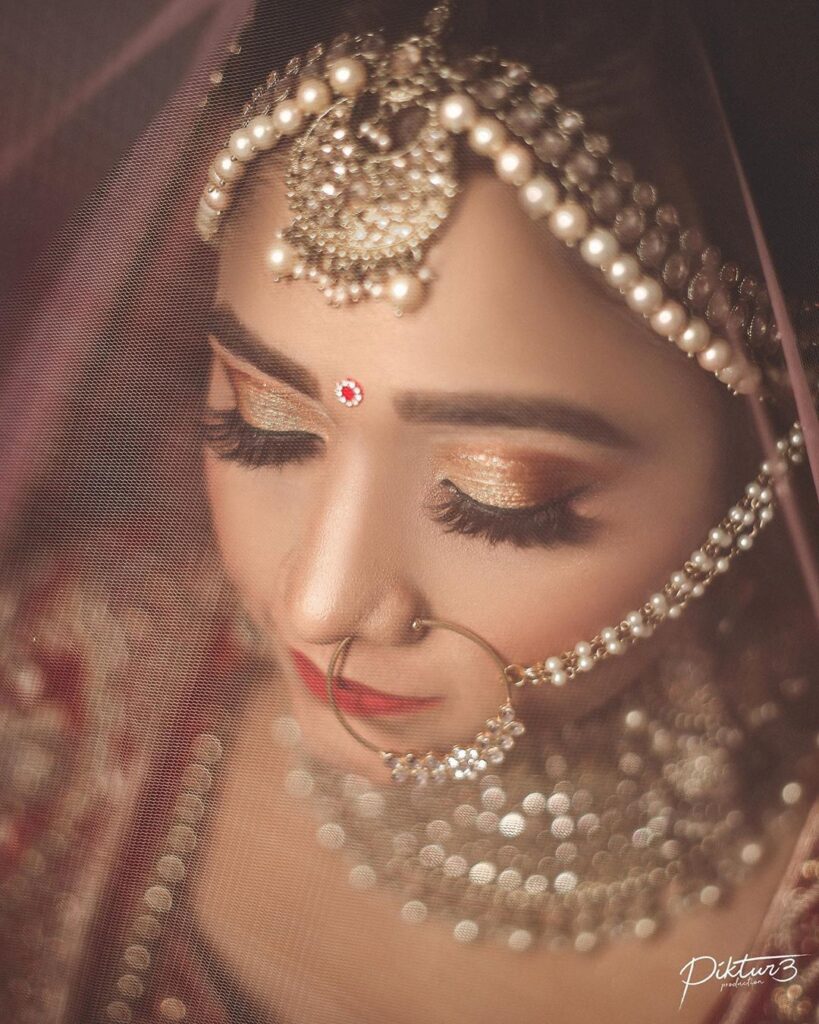 #20 Teamed with a gorgeous
bridal red lipstick
, this South Indian bridal eye makeup makes for a perfect pick for your muhurutam. Save this portrait because you'd want to remember your flawless wedding makeup with a stunning picture.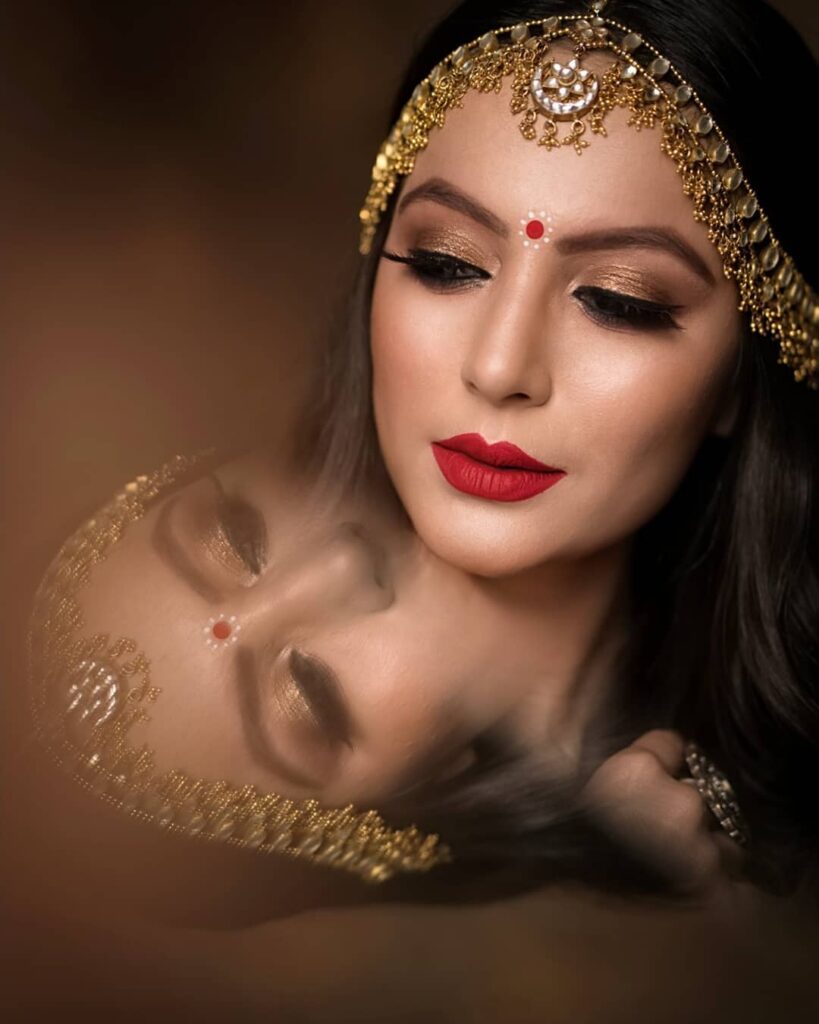 Via @aanalsavaliya
Smokey Eyes:
The classic smokey eyes have found their way into the world of bridal eye makeup as well! They look classy, sultry, and downright tempting. Probably the most sought-after eye looks of all time – both inside the wedding industry and outside. And we love it a lot too! We think all brides should go for it – if not for the big day then some other function. However, acing the perfect smokey eyes is not all MUA's cup of tea, so we do advise you do proper research on the makeup artist's skills and their previous brides before booking! 
#21 The perfect smokey eye makeup doesn't exi— we're as stumped as you after seeing this ravishing cut-crease eye makeup. Blended with hues of white & silver, we're swooning over this classic with a touch of contemporary eye look.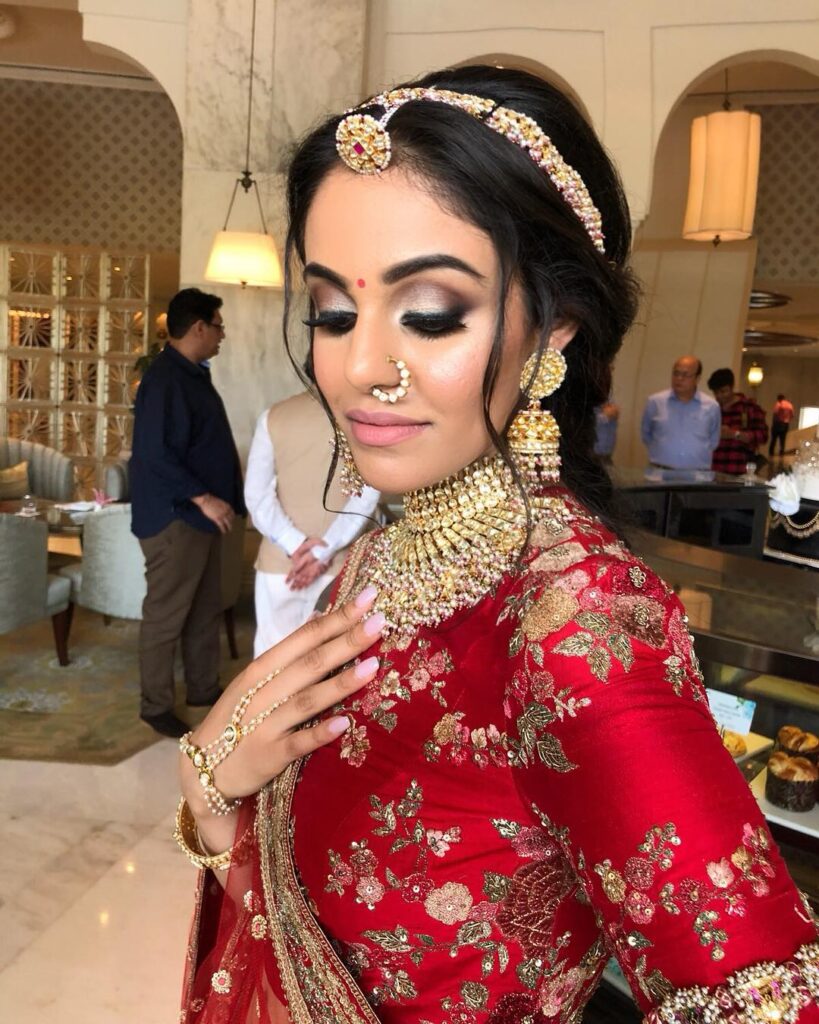 Via @meerasakhrani
#22 Her chocolate-colored bridal eye makeup topped with golden glitter is serving us with major inspiration. Paired with a fresh face and a highlighter placed in the right places – the entire wedding makeup comes out to be impeccable.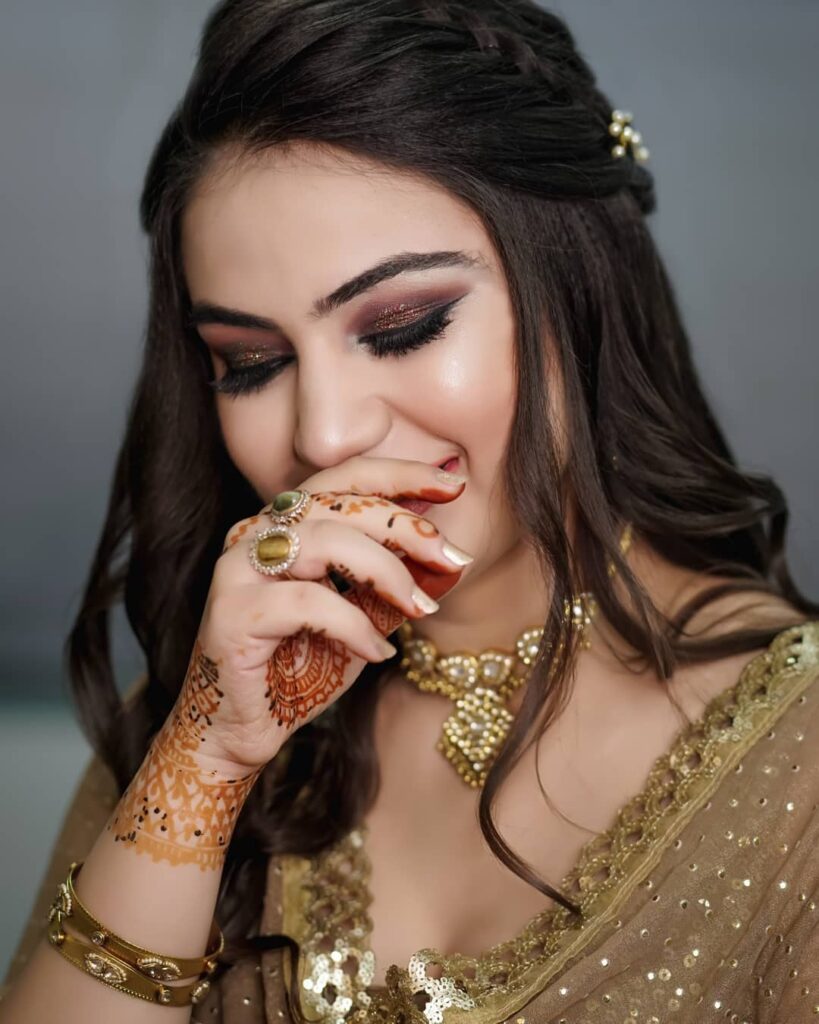 Via @aanalsavaliya
#23 Do you remember this viral wedding makeup look? Well, we do. Not just the pink smokey eye makeup, but the perfect matte base with a subtle contour, pink cheeks, and defined lips come together to create a timeless pink wedding look this bride will cherish for years. A tiny red
bridal bindi design
just lets the makeup shine through even better. 
#24 An overdramatic eye look with a flawless base and a nude lip is a superb idea to keep it natural but adding that unique touch to your wedding makeup. After all, what other time would you be able to get ready with a professional by your side, might as well use that to your advantage now. 
Via Instagram
#25 Bride Bhavna created a buzz in the Indian wedding inspiration market when she stepped out on her big day in a neon yellow lehenga with a groom dressed in the same shade. The stunning pictures, on-point styling, and the couple's chemistry won our hearts instantly. And not to forget, the bridal smokey eye look she paired with her bridal lehenga – which deserves some attention for its own.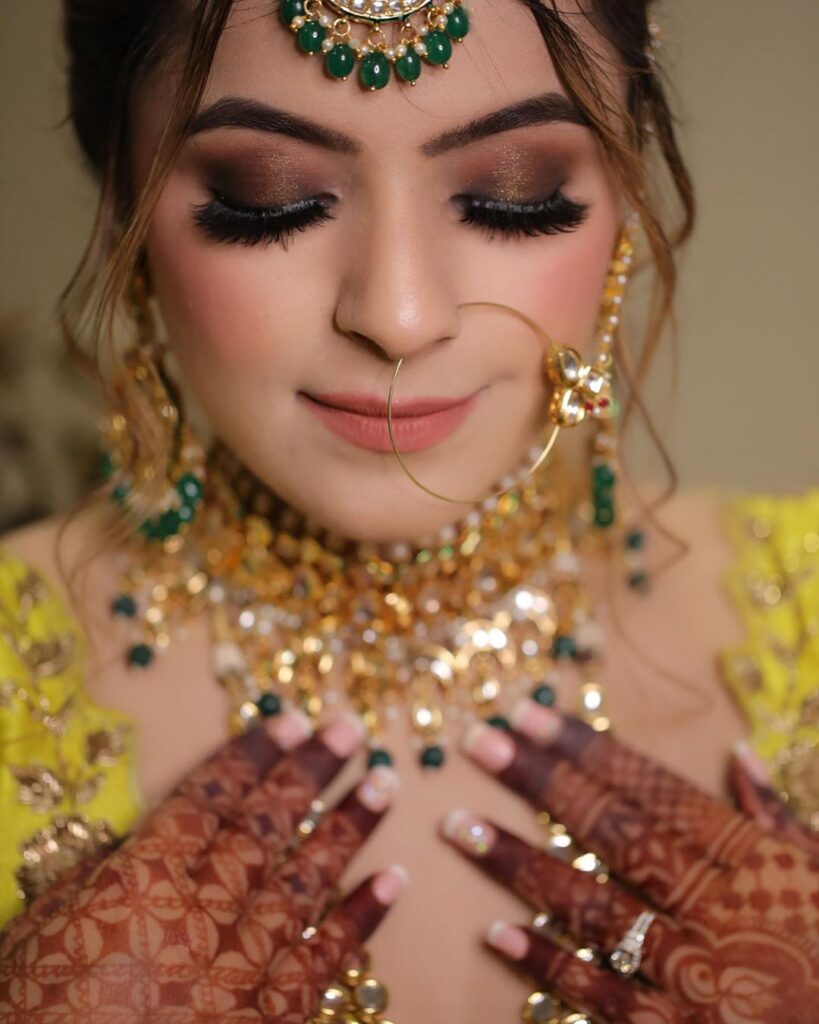 Via @makeupbysonal
#26 Smokey eye with a splash of glitter! When you're going for a full-blown smokey eyes, it's best to keep the other elements on a neutral side to balance the drama. Just like how this bride did.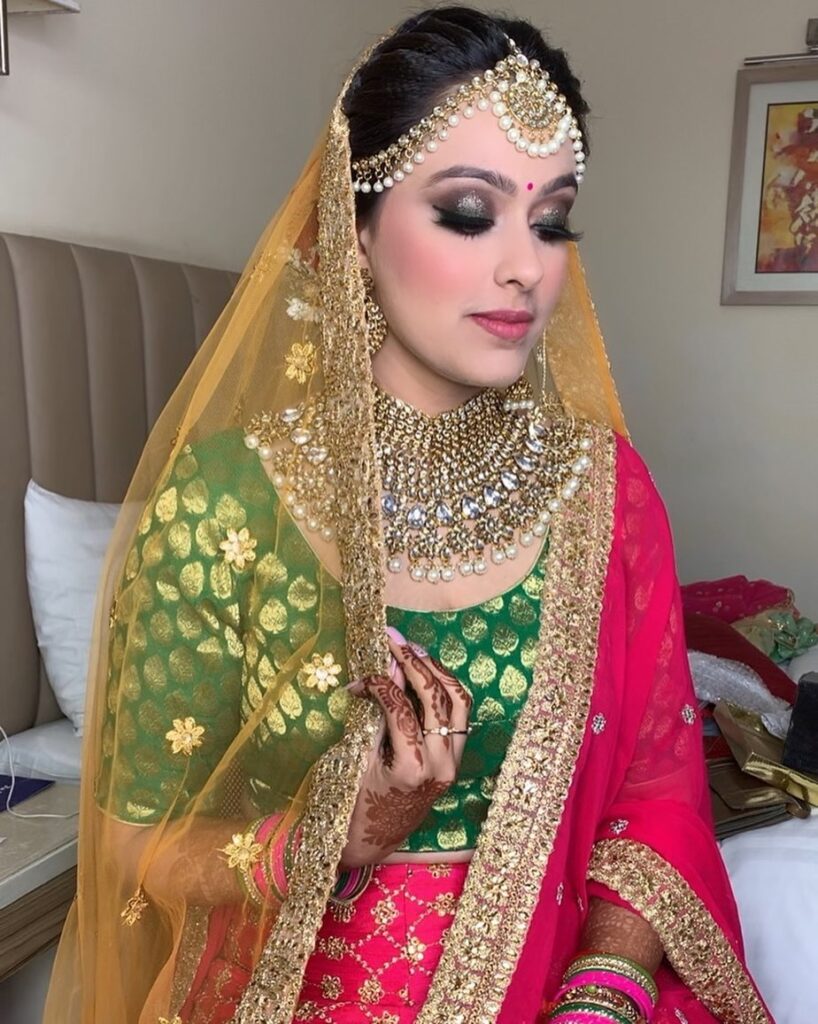 Via @makeupbysonal
#27 Grey-white halo bridal eyeshadow look with a red lip, highlighted base, and a defined contour exudes royalty and charm in every way. It's a beautiful neo-traditional look for brides who want to ooze out an old-world appeal with their wedding ensemble.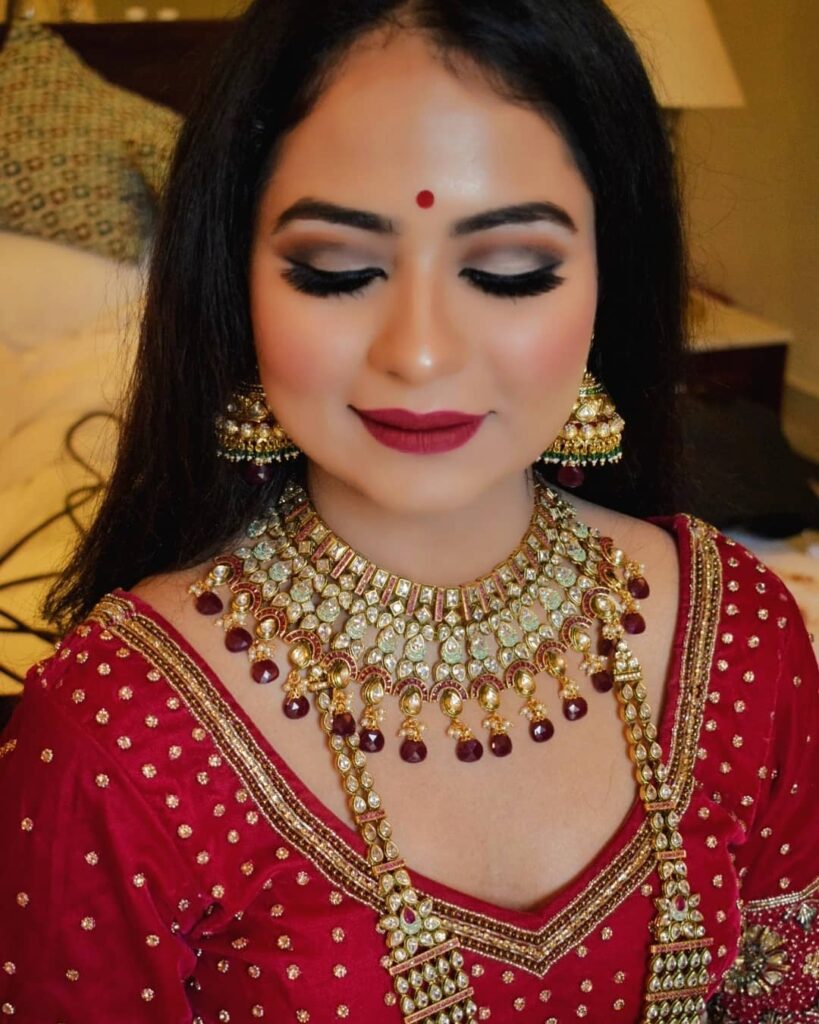 Via @makeoverbyindu
Halo/ Cut-Crease Eye Makeup:
The most glamorous out of all! Halo and cut-crease eyeshadows are the latest fads in the makeup industry. They are so alluring that some makeup artists take a separate course on them to master them flawlessly. Halo eyes are also known as 'spotlight eyes' are basically blending in the eyeshadow properly and placing a lighter, brighter (generally glitter) shade in the middle of the eyes to create an intense eye look. Cut-Crease is an eye makeup in which the crease of the eyelids is cut using a different color eyeshadow with little to no blending. This adds depth to the eyes and makes them look more open. Have a look!
#28
Halo eyeshadows
are super popular right now and to infuse them in your wedding look will help you stay on the trend and looking gorgeous at the same time. Here's a bride rocking purple halo eyes on her big day!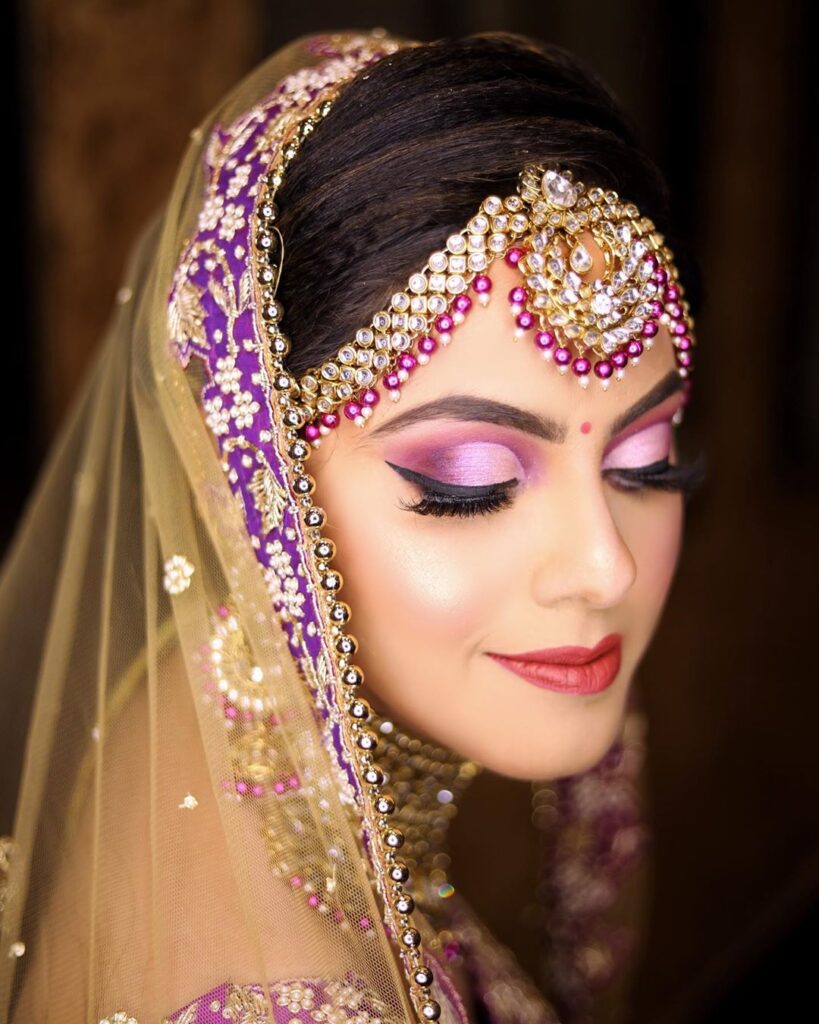 Via @kirtijotwanimua
#29 Just a subtle version of the above makeup look! If you're opting for a simpler dress on your wedding revelries, keep the makeup contemporary and glamorous to feel those bridal center-of-attention vibes on the D-Day.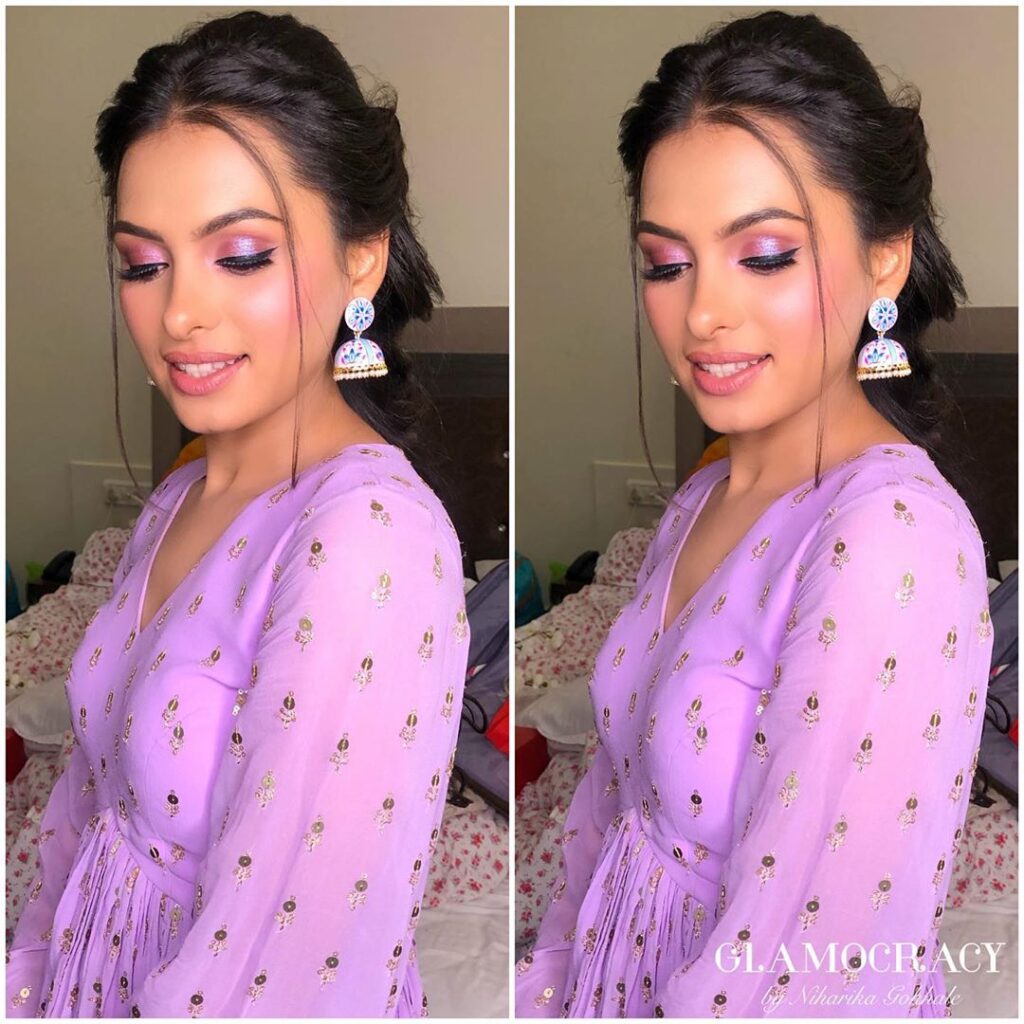 Via @glamocracy
#30 Purple is a favorite addition for brides in their trousseau. If you have a lehenga color that's purple as well, then opt for this amazing glitter plus mauve eye look on your Pinterest wedding board right away!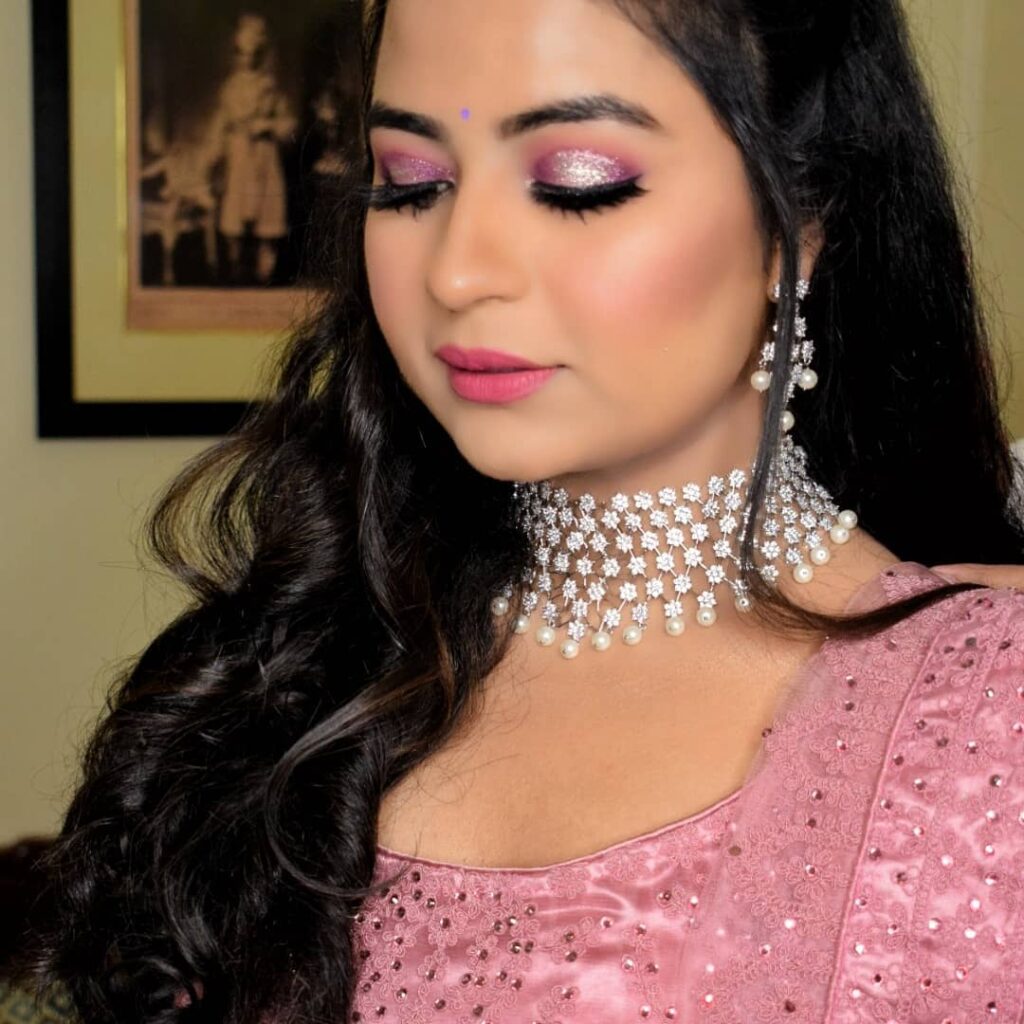 Via @makeoverbyindu
#31 Haven't we found the perfect cocktail makeup look for you? I guess we have! Just look at those beautiful blends of purple shades complemented with pink and highlights to give a gorgeous wedding makeup you'll be proud to see down the line.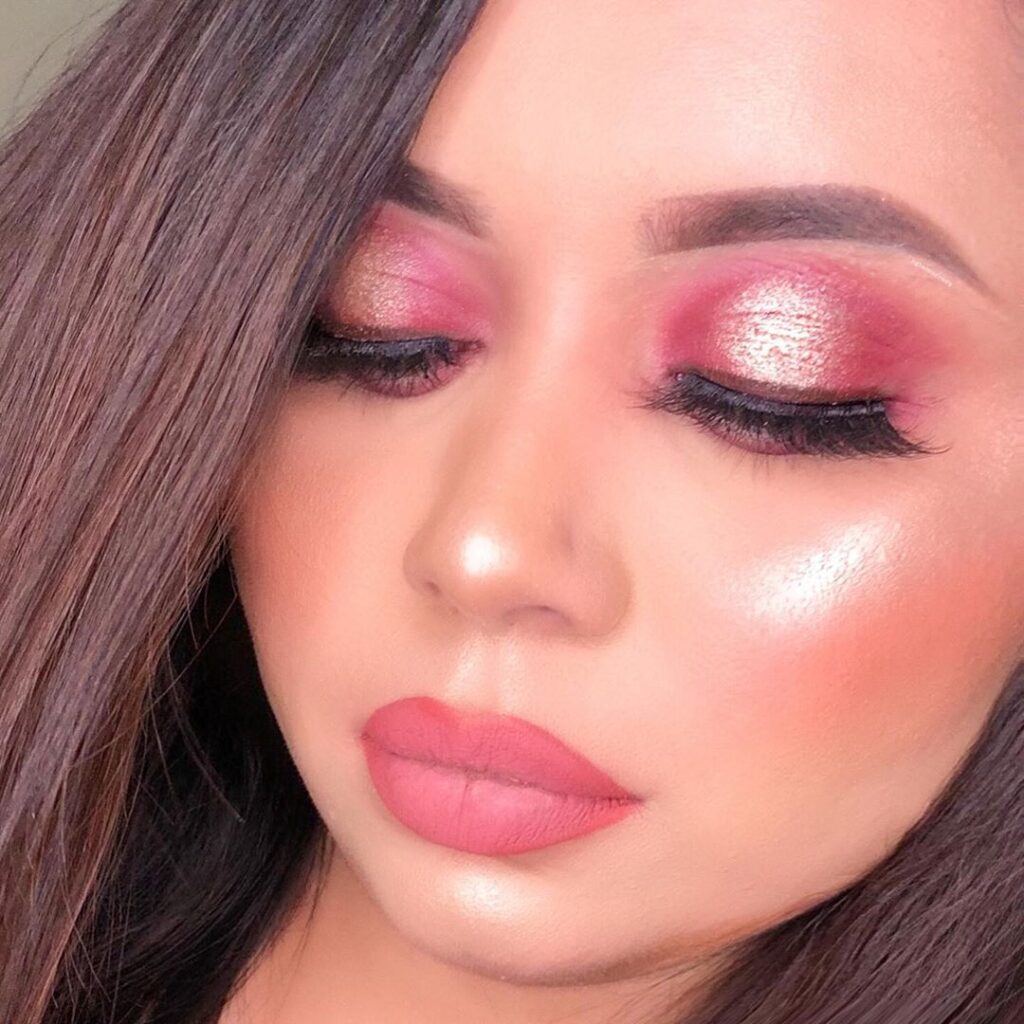 Via @glamocracy
#32 There are many versions of halo eyes to try on your wedding day. This one right here creates the halo in the lower mid-section. The trick adds depth to your shadow while giving that big-eye effect. Just add a good pair of thick lashes to complete the look flawlessly.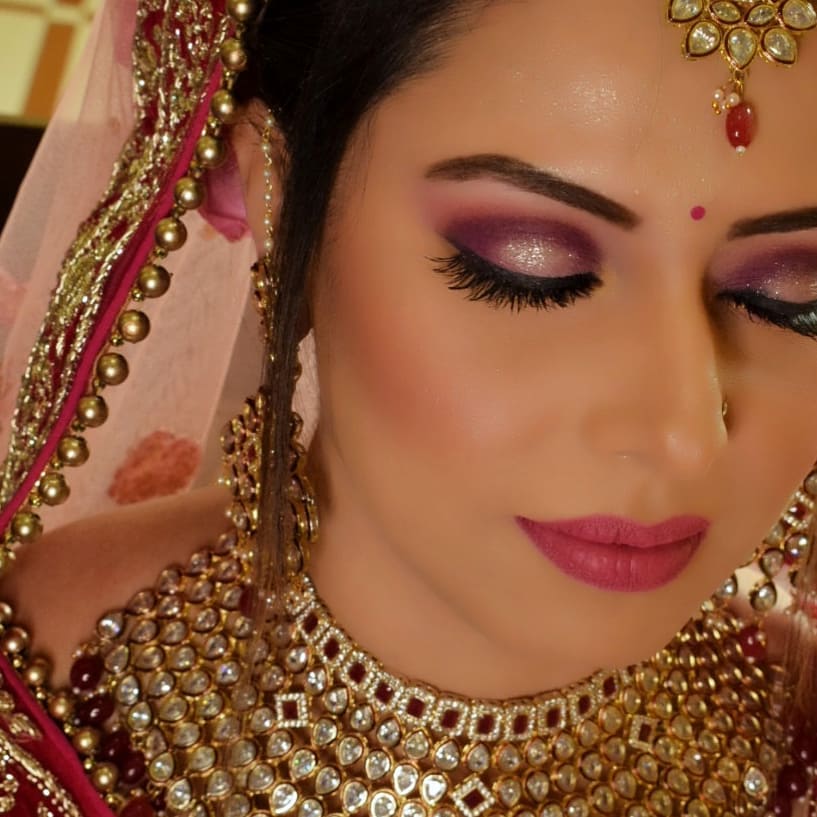 Via @makeoverbyindu
#33 A glitter bridal eye makeup with a halo in the middle gives an illusion of brighter, bigger eyes. If you have small eyes and looking for an idea to counter the same, go for halo eyes on the big day and pair them with any kind of base makeup you'd like.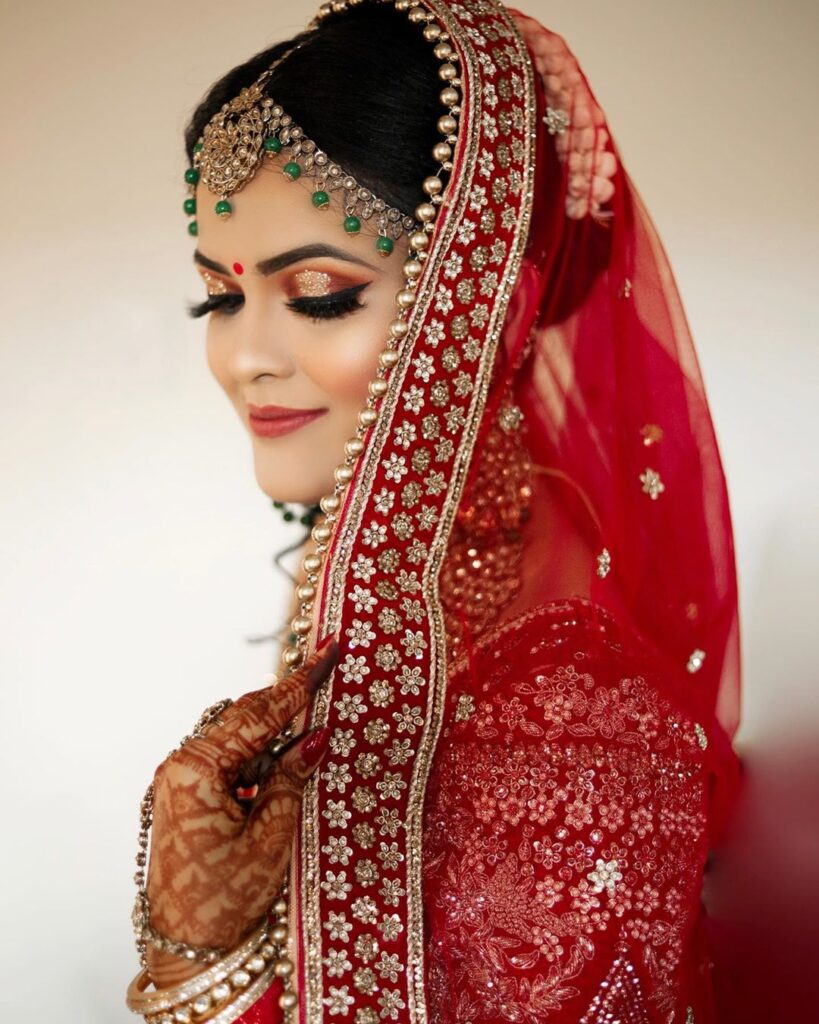 Via @kirtijotwanimua
#34 While a cut-crease and halo eye shadow conjures up an image of an over-dramatic eye, here's
Mumbai-based makeup artist
Varsha Gidwani proving that doesn't always have to be the case. She smartly played with soft shades on her makeup which color-contrasted well with the same palette on her ensemble. The purple bindi was the perfect topping on her vivid makeup look.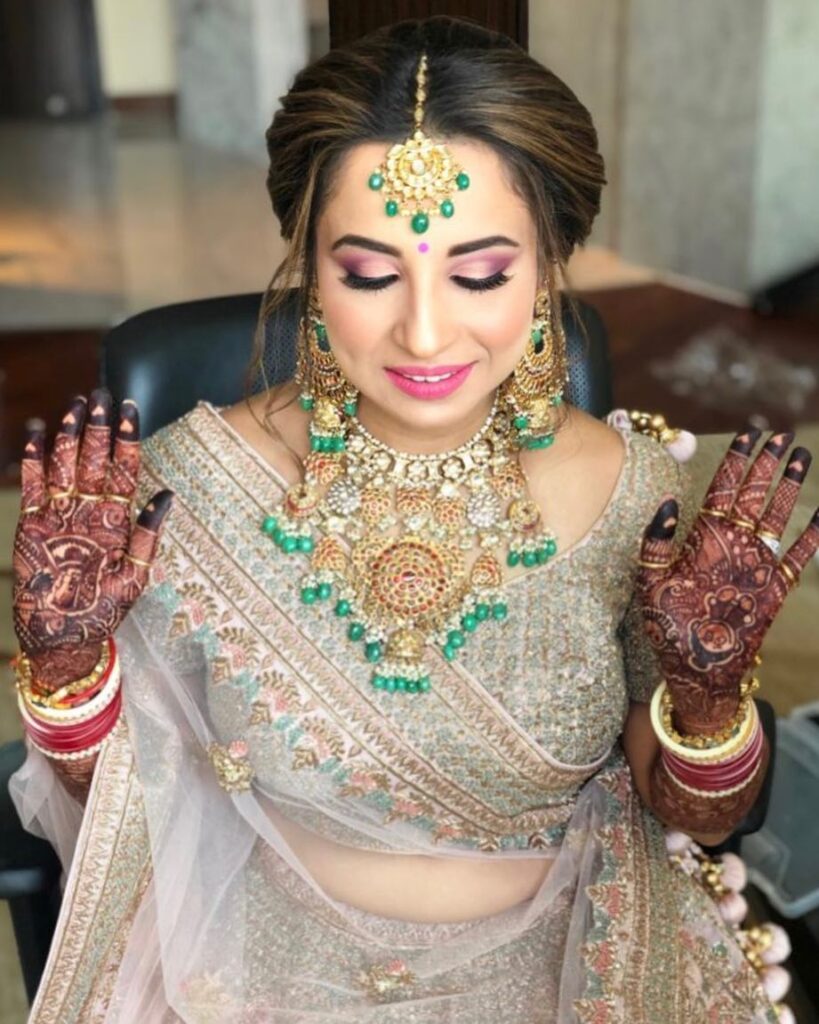 Via @dramaeinbaaz
Shimmery Eyes:
As a bride-to-be, you deserve to shine in all your glory. How about making your eyes shine a little brighter too. Shimmer or glitter eye makeup is ideal for brides who want to add a graceful oomph to their full look. There are so many ways to add glitter eye makeup – from dabbing just a bit to daubing it all over your eyes. Go for the one that suits your personality the best. You can hardly go wrong with glitter bridal eye makeup. 
#35 Subtle sheen on the eyes with smokey look on the outer corners is a match made in heaven. For brides who want to radiate romance from their wedding ensemble, going all pink is a beautiful way to do the same.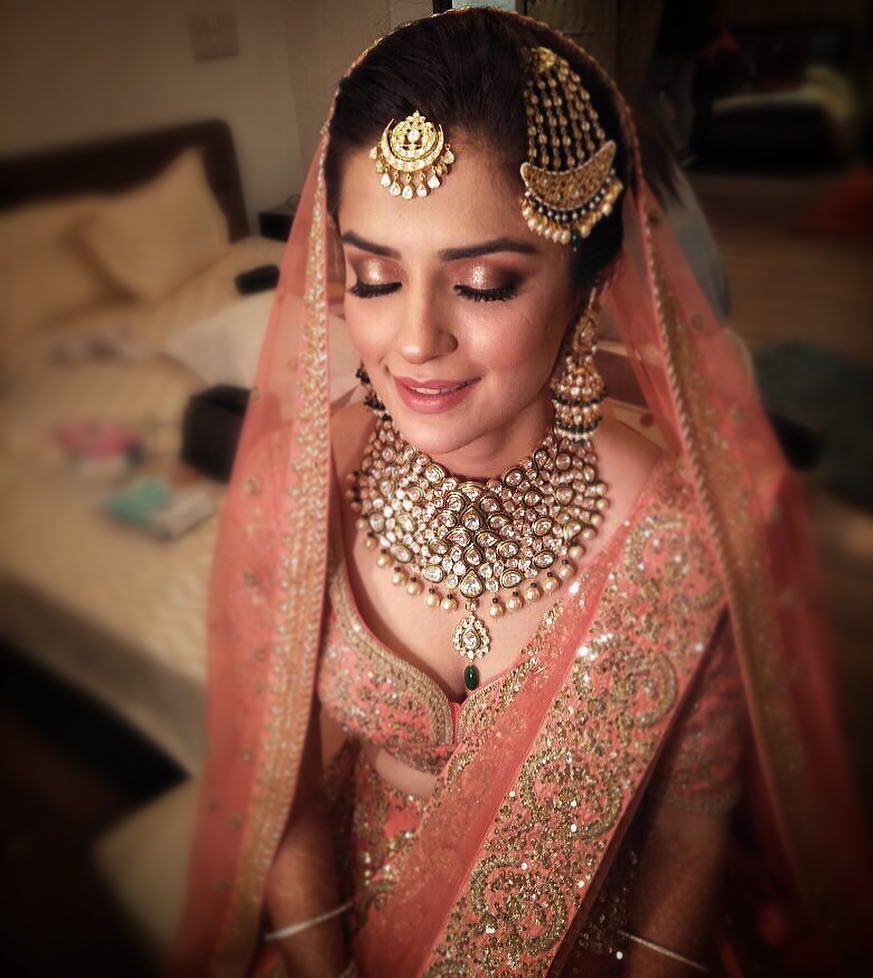 #36 A golden glitter bridal eye is a fool-proof choice for your makeup because most of the work done on bridal lehenga is also golden, and so is the jewellery. No doubt you'll shine with this wedding makeup idea on your big day!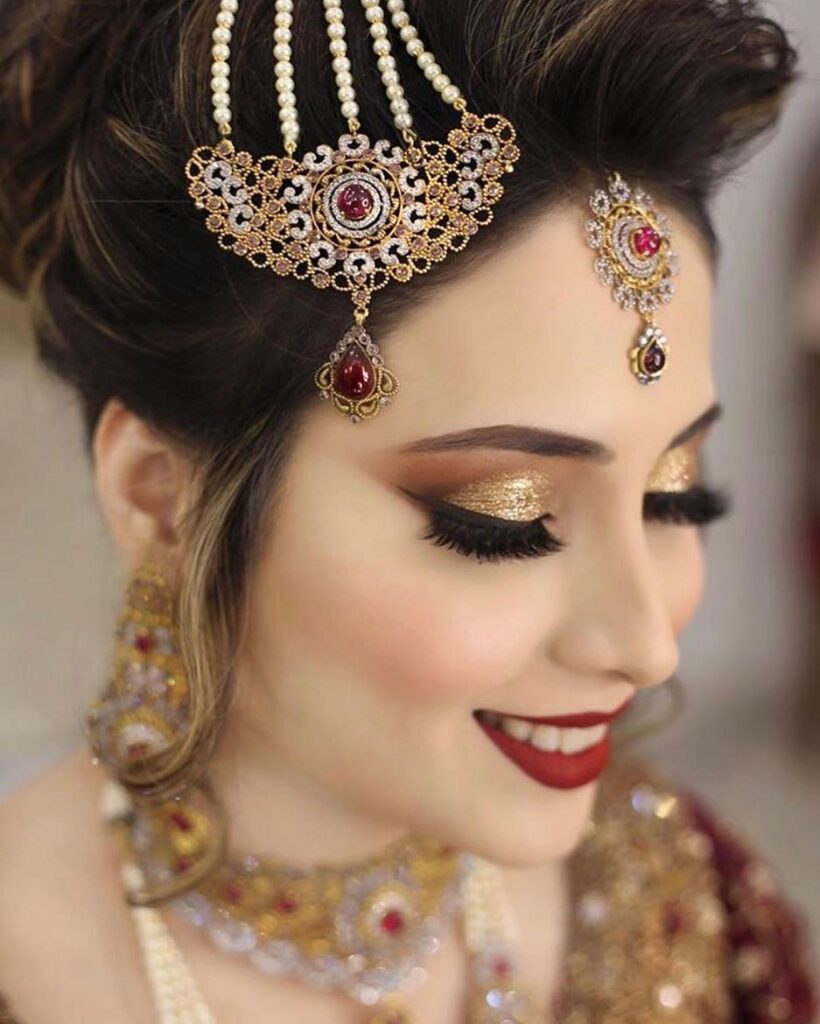 Via @natashasalon
#37 A soft pink shimmer on her eyes complements the color of her lehenga and the diamond jewels well. Blending the same shade of shadow on the lids before putting on the glitter adds a beautiful dimension to the eye makeup. When going for glitter eyes, it's best to do them before the base so you can clear the fall out on your under eyes and around the nose well.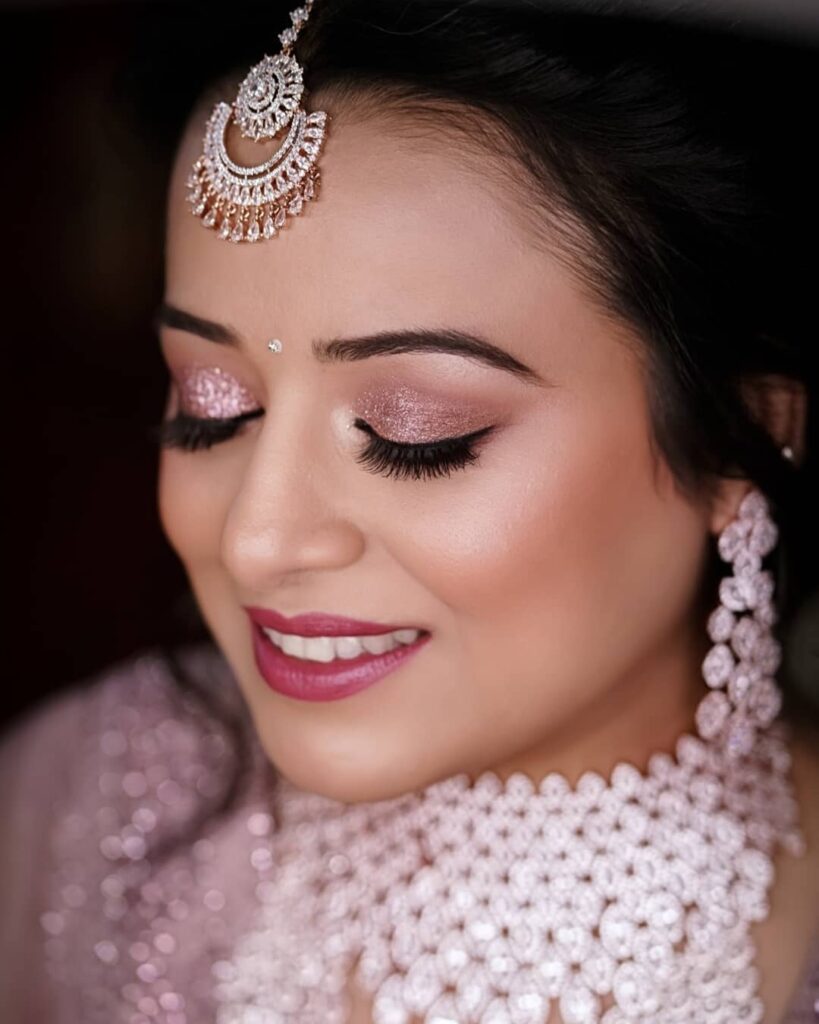 Via @aanalsavaliya
#38 Picking a makeup artist who's creative and loves her work pays off on the wedding! She can create an artistic look for you that's based on your needs, face shape, and ensemble. Take the example of this bride right here. The MUA was able to give her glamorous eye makeup by mixing in the smokey eye look, silver shades, and glitter – something that only happens when you're skilled at your craft and passionate about your work. The pop of glitter on the inner corner and smooth brows just adds a superb accent to the entire eye look.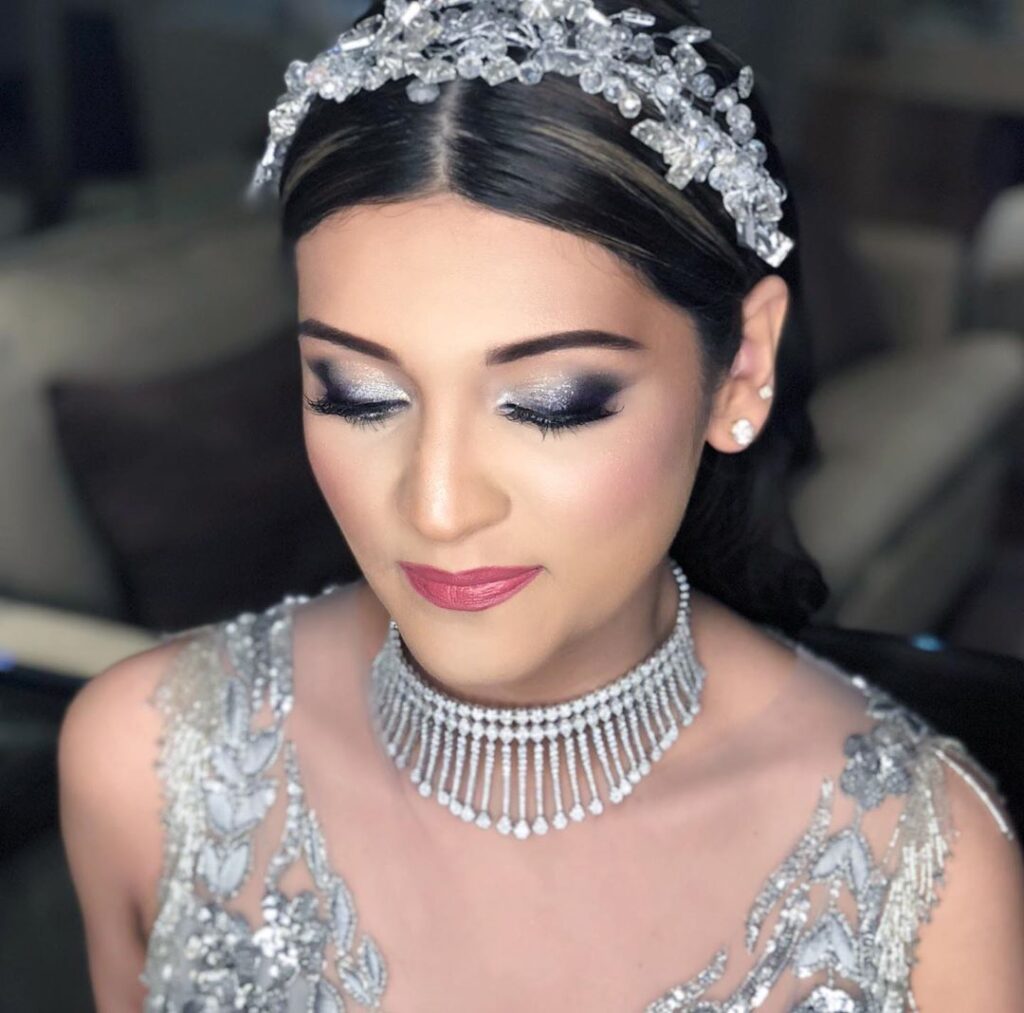 Via @dramaeinbaaz
#39 The plum color of her gown complements the same palette shades in the makeup well. The purple smokey eyes add an enchanting appeal while the flare-up lashes work well with the glam quotient of her ensemble.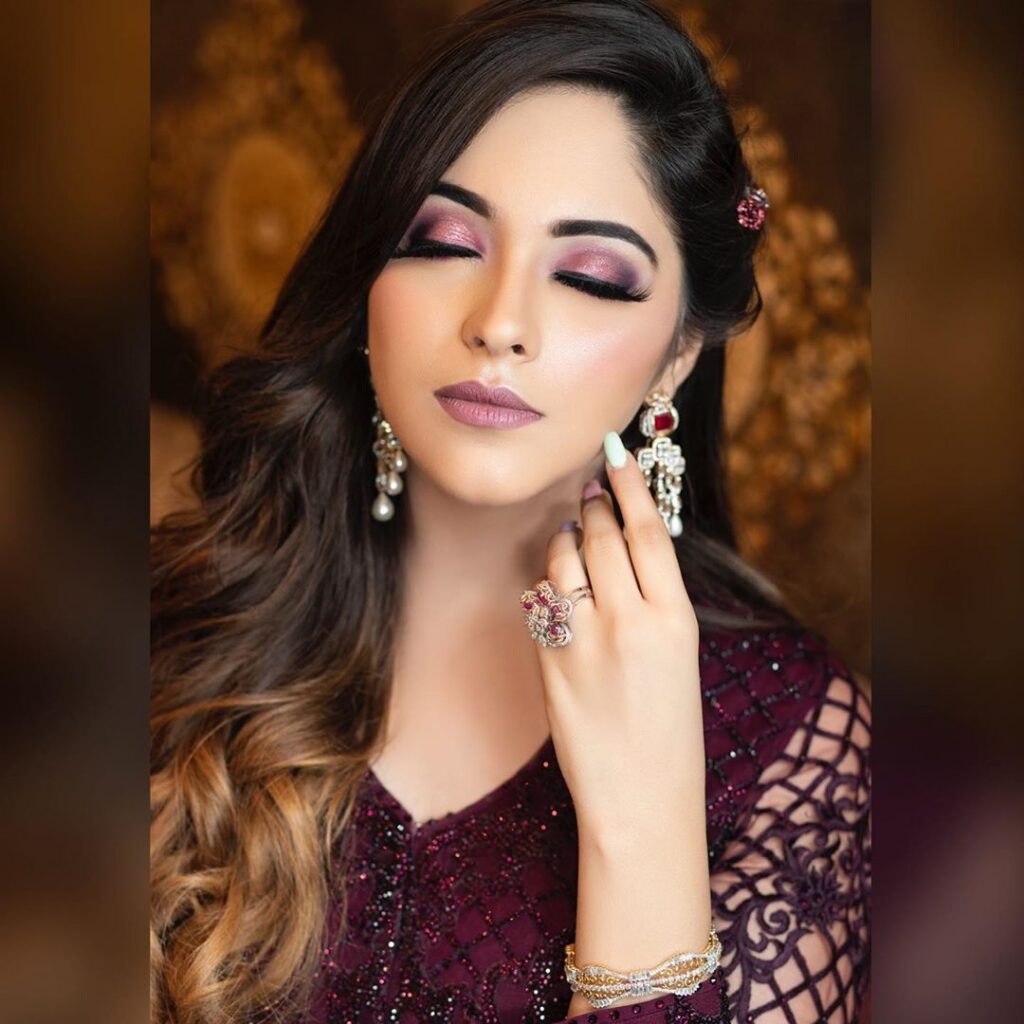 #40 Who said you can only work glitter bridal eye makeup at night? If you were of the same impression, here's a bride that proves it can work either way. Dab some generous glitter on your lids to literally shine on your wedding revelries.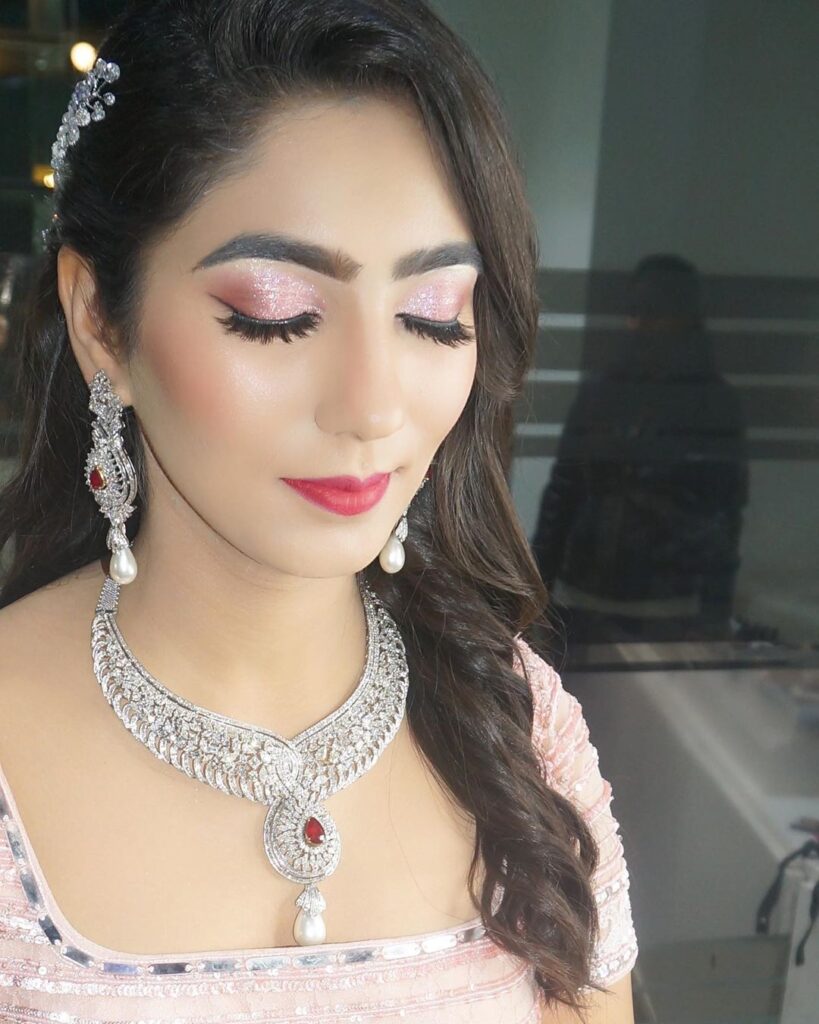 Via @mishavigmakeupstudio
Deep Kohled Eyes:
An intense kohled eye looks uber-chic and fits into the diary of a millennial, contemporary bride. It's also Bollywood's favorite kind of eye look and all the actresses carry it quite frequently. Lining both the lower and upper waterline of eyes is what Indians have been doing for ages. And for a good reason. This technique makes the eyes look bigger, brighter, and more attractive. We absolutely admire this kind of eye makeup and after looking at these brides, you will too!
#41 For brides with big, beautiful eyes, going for deeply kohled eyes on your big day is gorgeously flattering. Also, make sure to put thick lashes on – because kohl does hide the natural lashes, and eyes just pop out with beautiful lashes.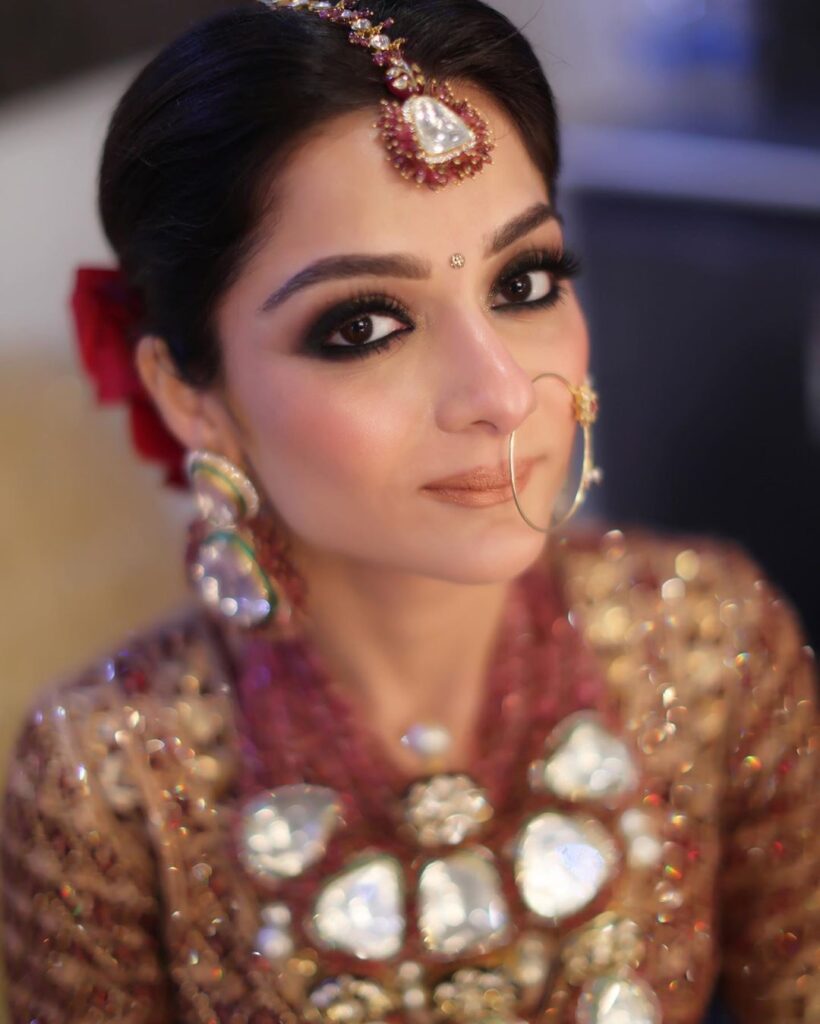 Via @meerasakhrani
#42 Go for a classic intensely kohled eyes on your big day – which is also a favorite of Bollywood divas like Deepika Padukone & Kareena Kapoor. This bridal eye makeup works well with neutral elements on other makeup parts and will not make you look back in regret with your choices. It's a timeless, lovely pick for sure.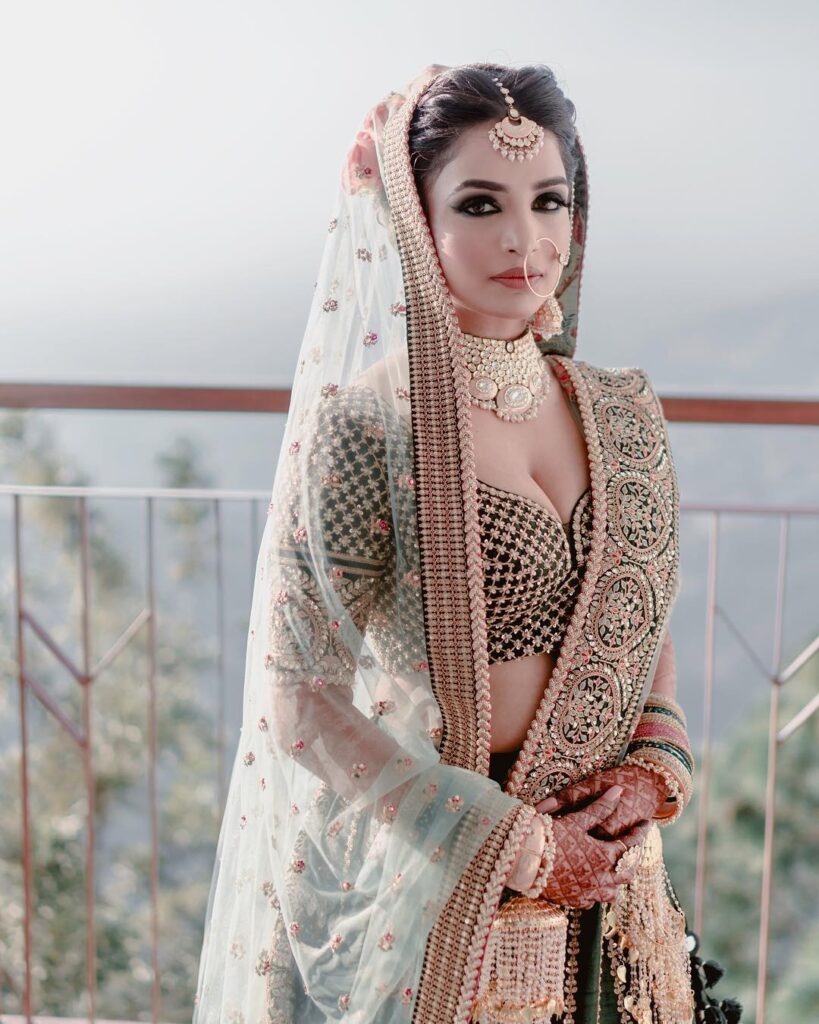 Via @shahid_naar
#43 Yet another intense kohl eye look but with a red lip. Swooning over how this bride complemented her pastel pink attire with dramatic makeup to balance out her wedding ensemble.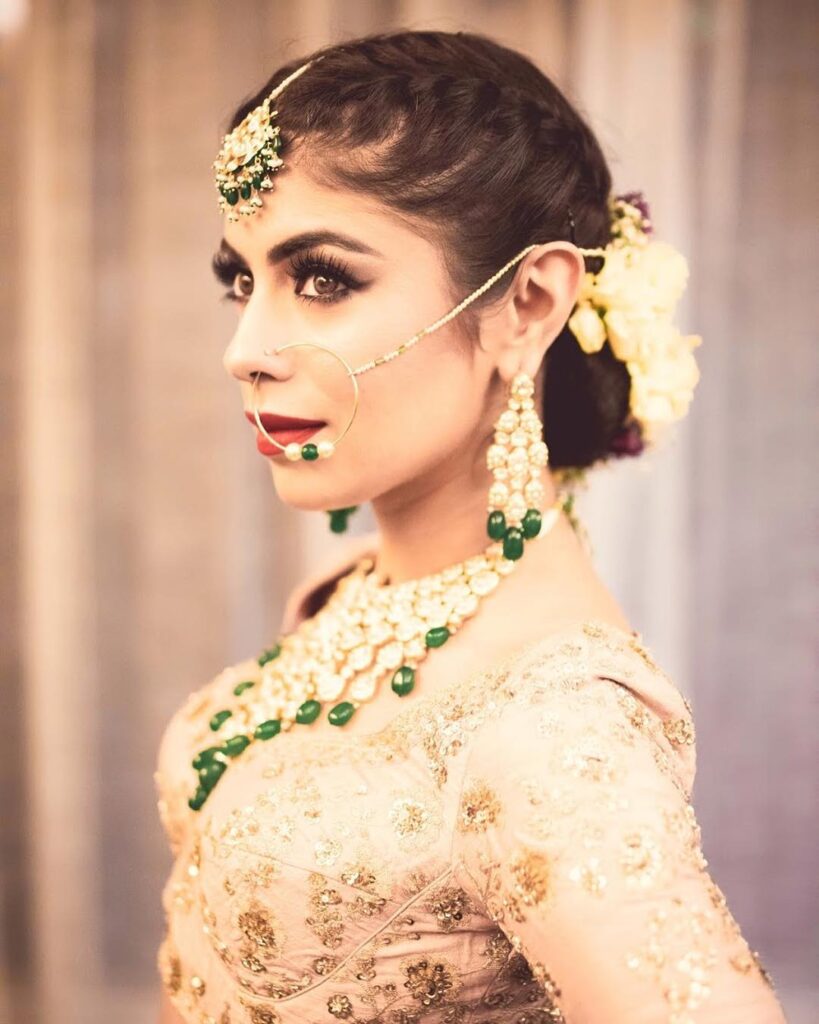 Via @shahid_naar
#44 To make your kohl-rimmed eyes stand out, apply a nude eyeliner on the lower lash line and just smudge out the black kohl on the bottom. This gives a beautiful doe-eyed effect and you can even try this if you have small eyes. This is a superb way to give your eyes a bigger, fuller effect and as a result, a memorable bridal makeup look.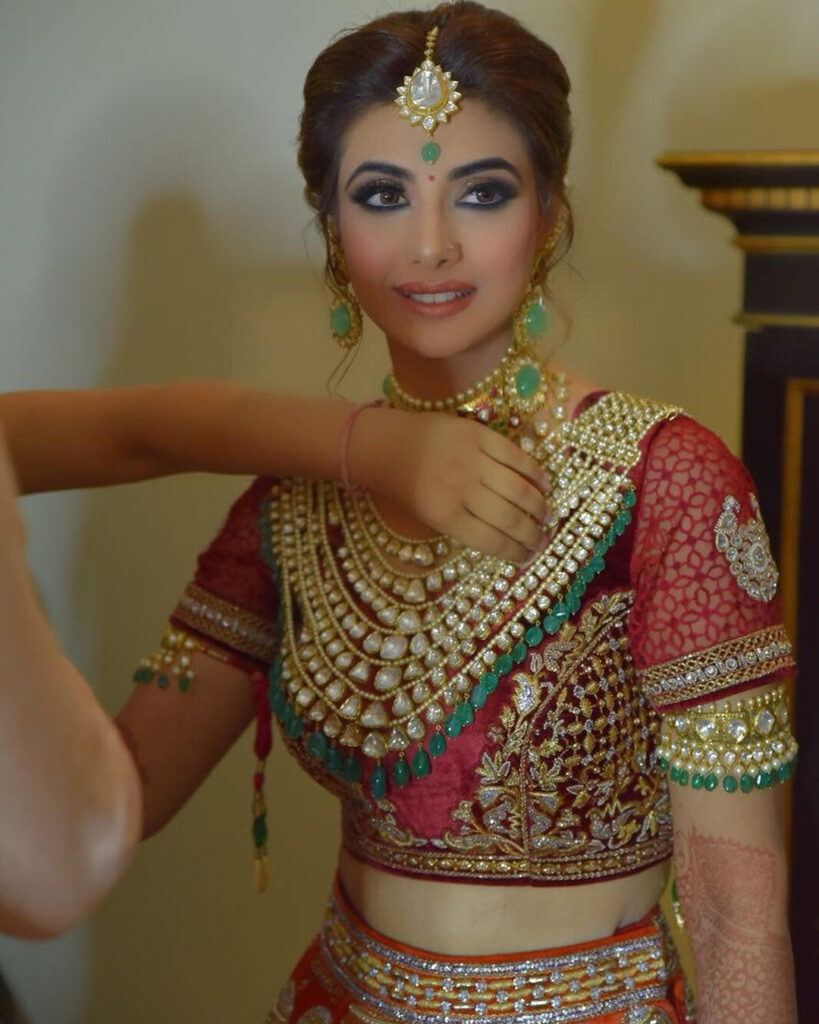 Via @meerasakhrani
#45 MUA Shahid Naar has done a great job accentuating her eyes and pairing them with balmy lips and dewy skin to truly make the eyes stand out. Styling with no hair accessories or enhancements, she looks simple yet graceful and can be your inspiration if your style resonates with the same idea.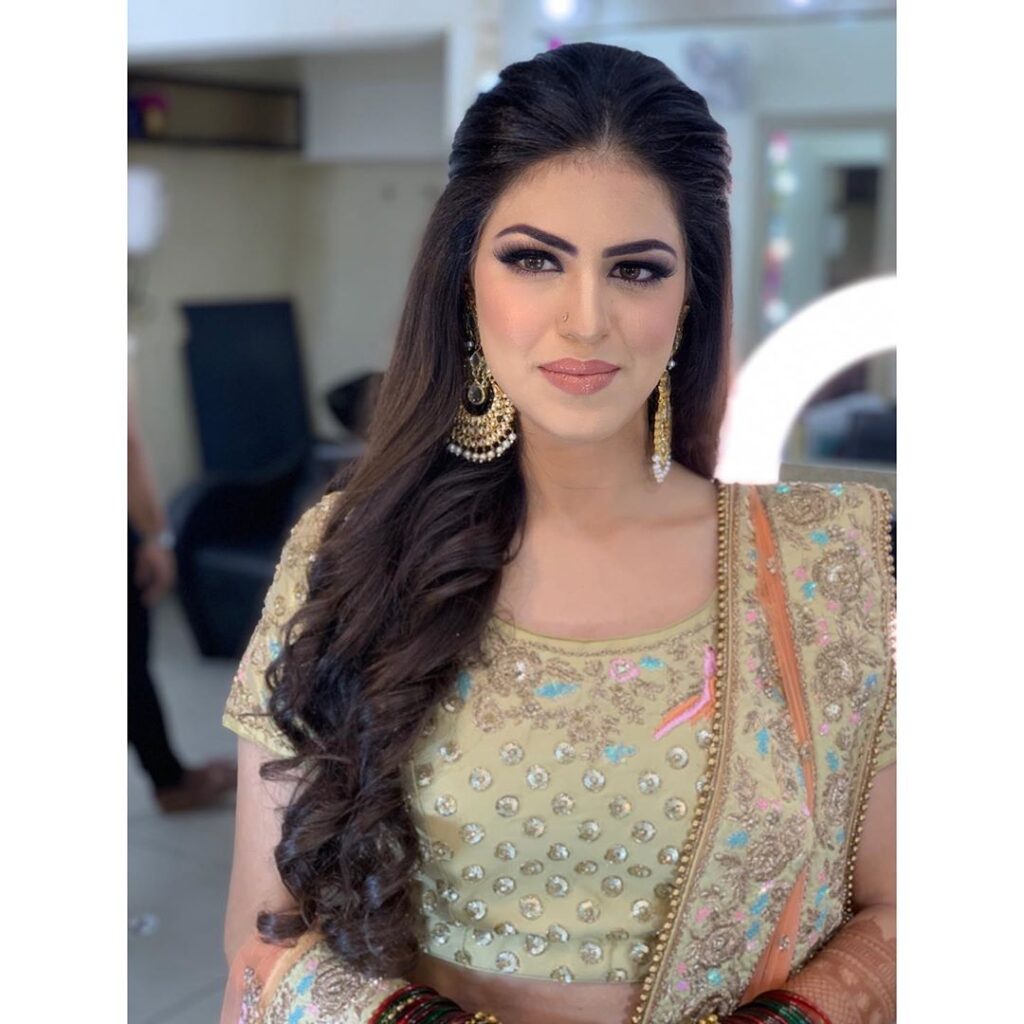 Via @shahid_naar
#46 A sundowner wedding plays well with a smudged eye look and a hint of color on the lids. The bushy brows with flushed cheeks and lips ensure you'll be glowing all night long.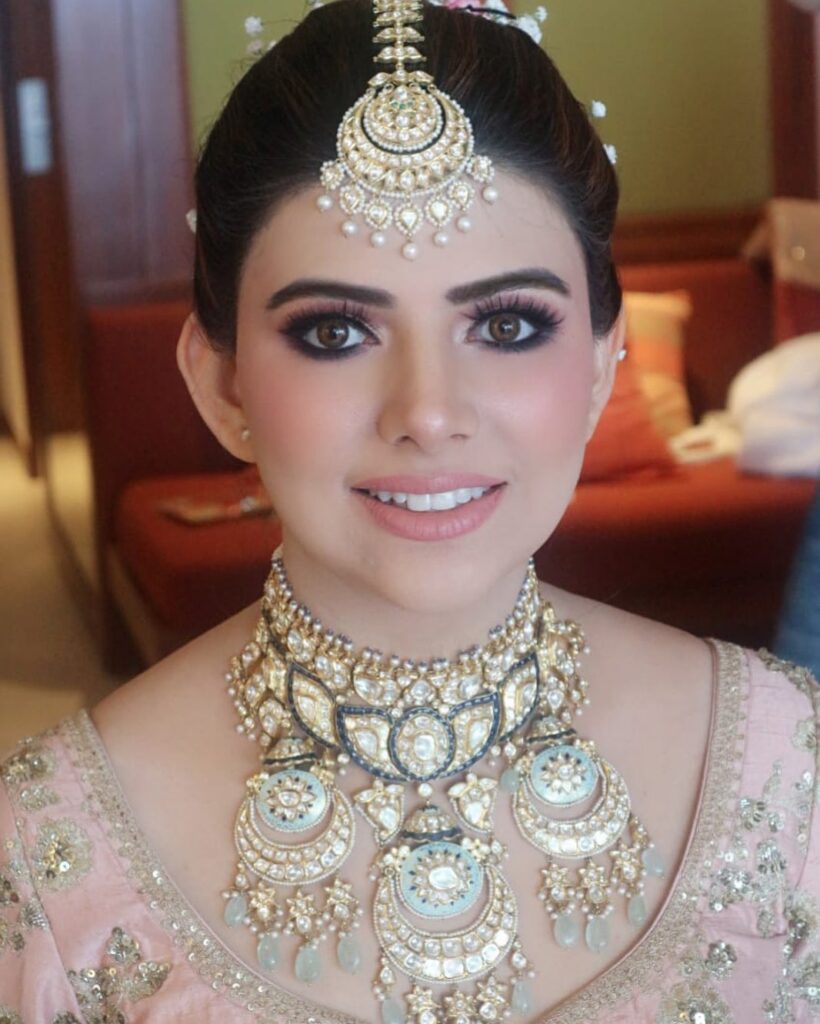 Via @simran.takkar
#47 Ending our curated bridal eye makeup list with this regal bride in red. Replete with elements that add royalty to her look, we love how the deep kohl just adds the glitz & glam required in a dulhan's makeup.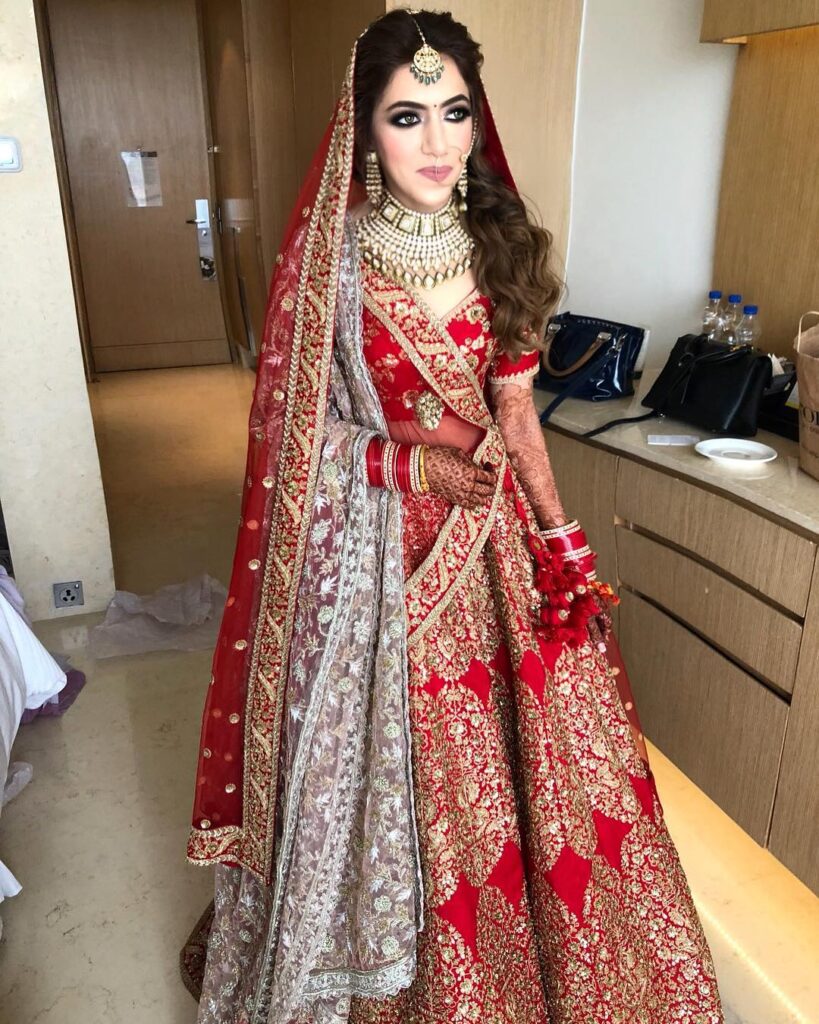 Via @meerasakhrani
What kind of bridal eye makeup impressed you the most? Let us know!
Related: