Your dream lehenga is ready, the jewellery is all set, the wedding vibes are on in full swing, and you're feeling the nerves as you get ready to walk down the aisle. But before that happens, there's one person who'd be a game-changer in walking you through the last stride of your perfectly envisioned bridal look. You guessed it right – your chosen bridal makeup artist will be a key vendor to make you look (& feel) your best on your special day. Clearly, the decision should be contemplated well. To help you, we have narrowed down the top 20 bridal makeup artists in Mumbai in a mid-budget range who'll be an ideal pick for your wedding. Scroll through to see their detailed reviews, what their ex-brides have to say about them, and a quick look into their portfolio. 
P.S.: If you're a Mumbai-based MUA who wants to be a part of this
list, please send us an email at hello@wedbook.in.
#1 Sheetal S Tripathi – Rs.15,000/-
Instagram: https://www.instagram.com/sheetalstripathi/?hl=en
For someone whose review column is overflowing with praises, Sheetal's bridal makeup charges comfortably lie on the lower end of the spectrum. Although, don't misconstrue it to be a judgment of her makeup skills. Her Instagram has 400+ pictures of happy brides flaunting a D-Day makeup look showcasing radiant skin, beautiful eyes, and a defined lip. "What an amazing makeup artist in Mumbai. I hired her for my wedding, and she did a fabulous job. My makeup & hair stayed intact during the function. Not only is she talented, but is warm, friendly, listens to you, and understands your requirements. Highly satisfied and highly recommended," – says one reviewer. 
We must add that her friendly nature has been revered by many brides, including many recommending her without any second thought. On her Instagram, you'll find gorgeous brides on their sangeet, wedding, mehendi, so you can be assured she's an ideal pick for any wedding revelry. Also, if you're looking for a Mumbai makeup artist for a Maharashtrian bridal look – Sheetal can do that too! Take a look at some of the picture-perfect brides on her feed.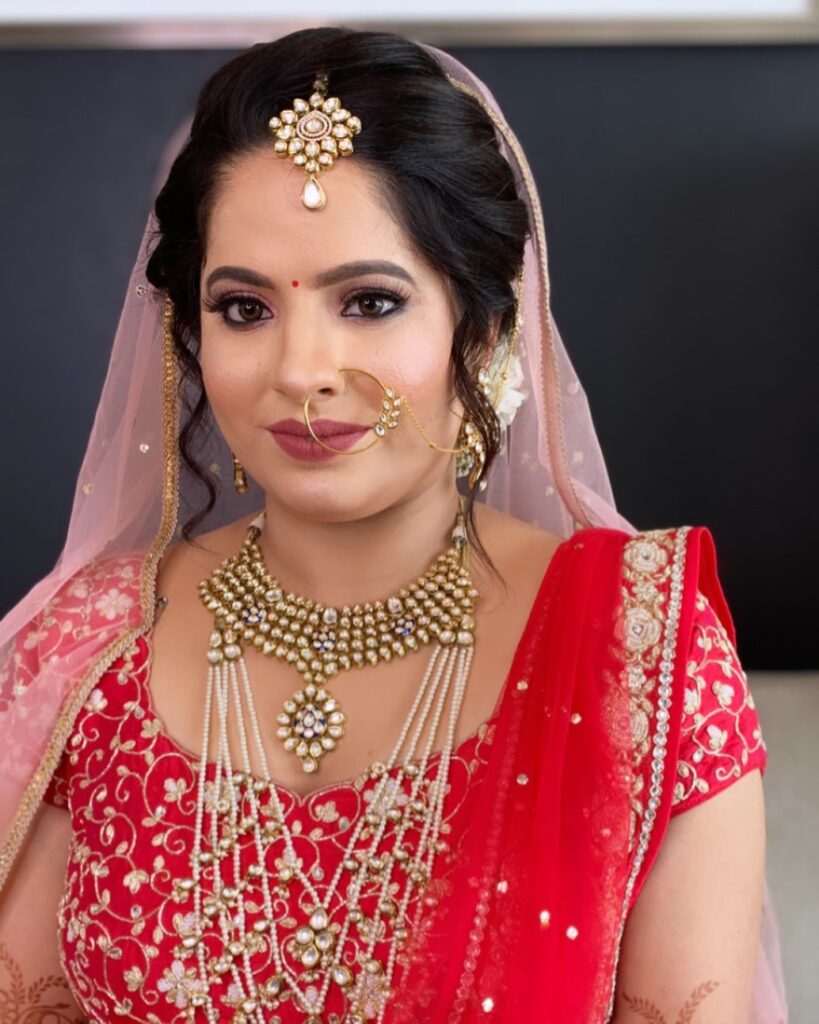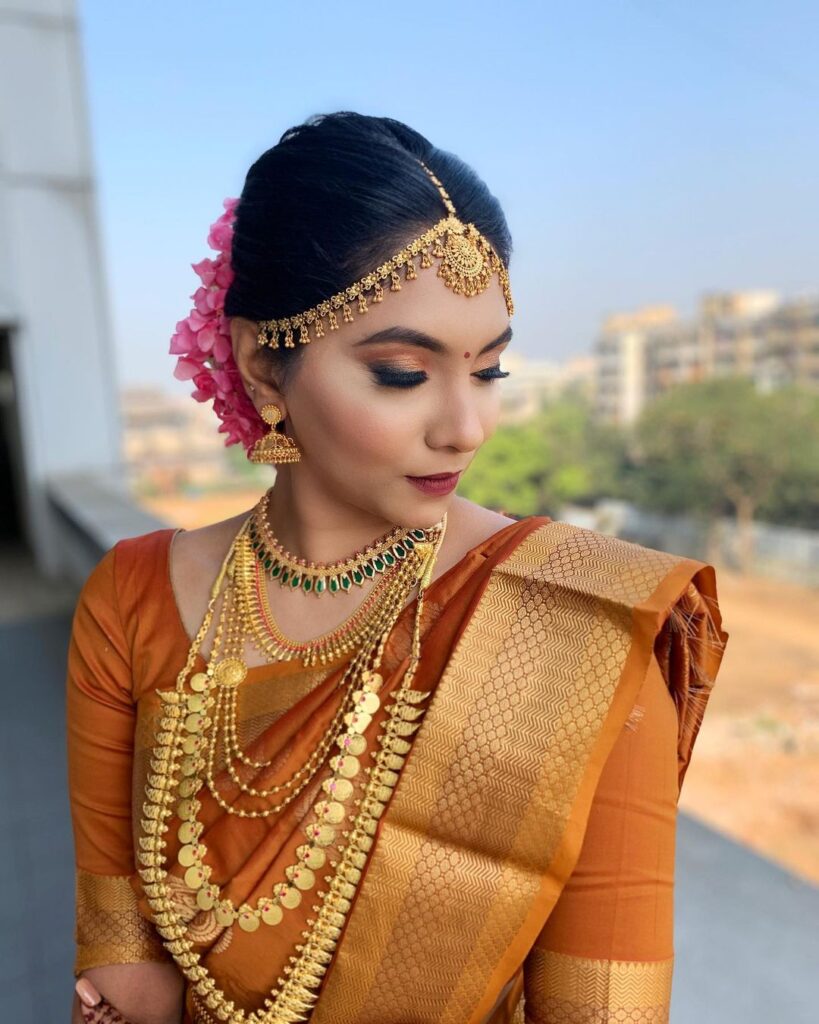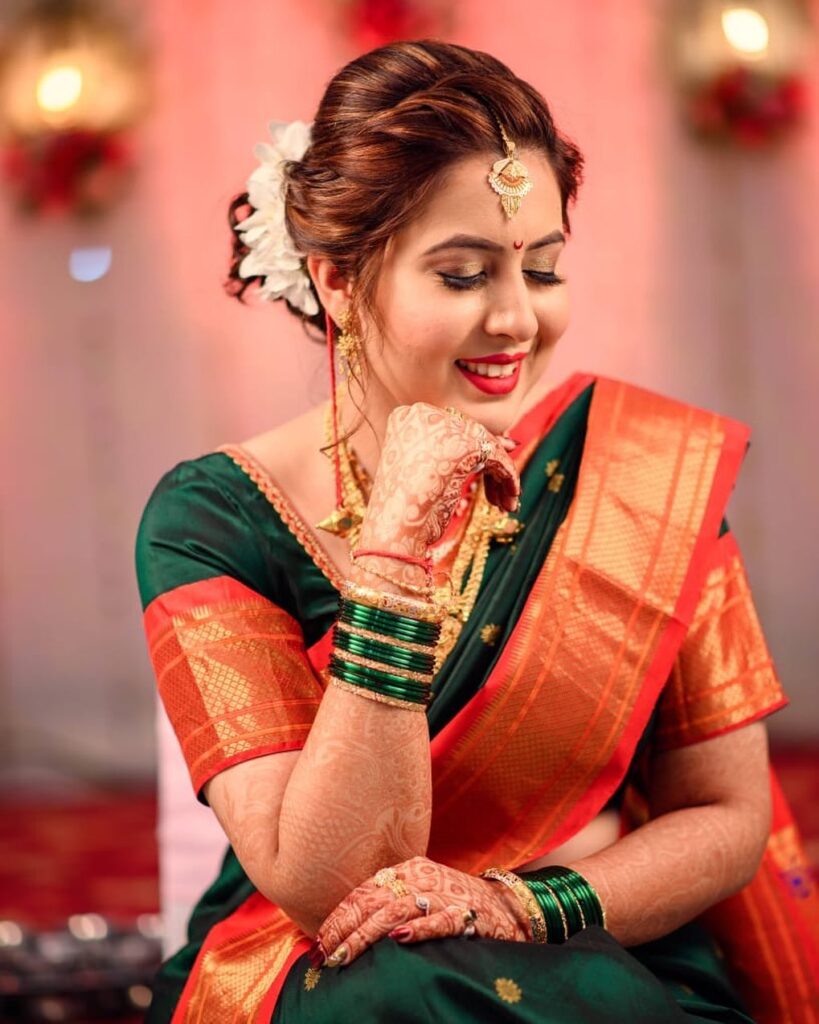 #2 Simran Shah – Rs.35,000/-
Instagram: https://www.instagram.com/simua_996/?hl=en
A celebrity makeup artist in Mumbai – Simran Shah has worked her way into the wedding world too. Certified by IED, Barcelona, and London College of Fashion, Simran spills magic from her brushes straight onto her bride's faces. Don't believe us? Just a 10-second scroll through her Instagram account will make you want to contact her for your wedding makeup! Her go-to makeup look for brides is simple – fresh, supple skin, statement eyes, and a complementary lip color. She also caters to South Indian bridal makeup in Mumbai and you can see a South Indian beauty in the images attached below.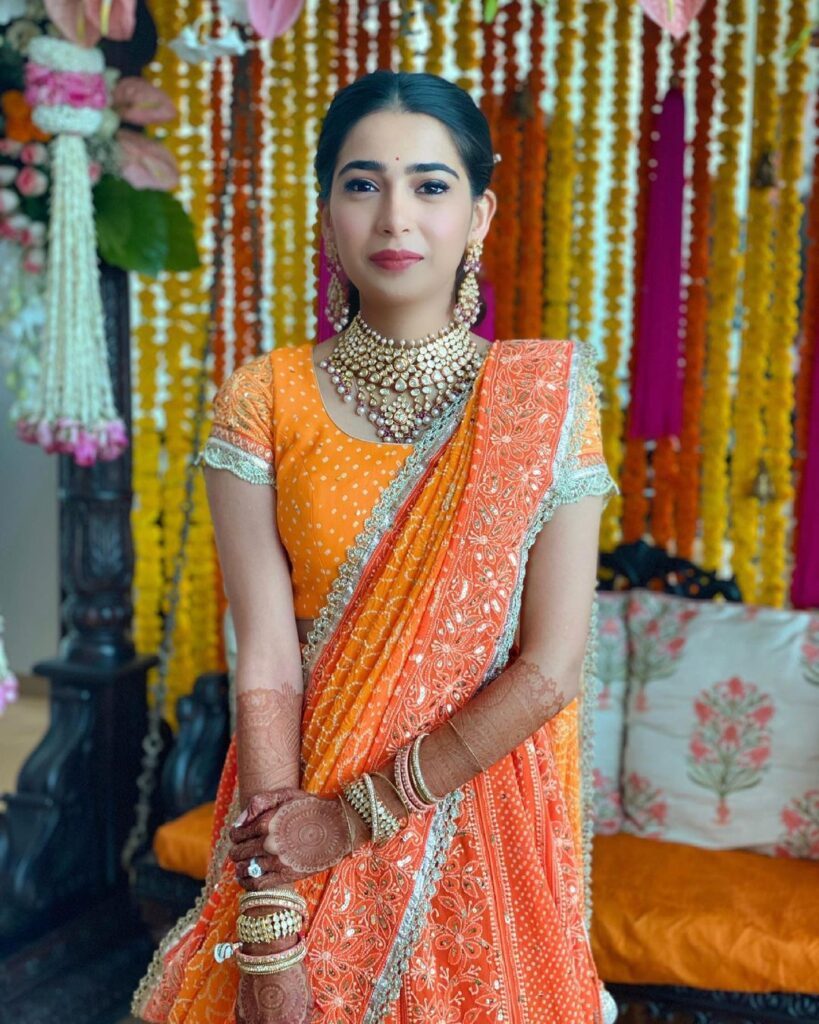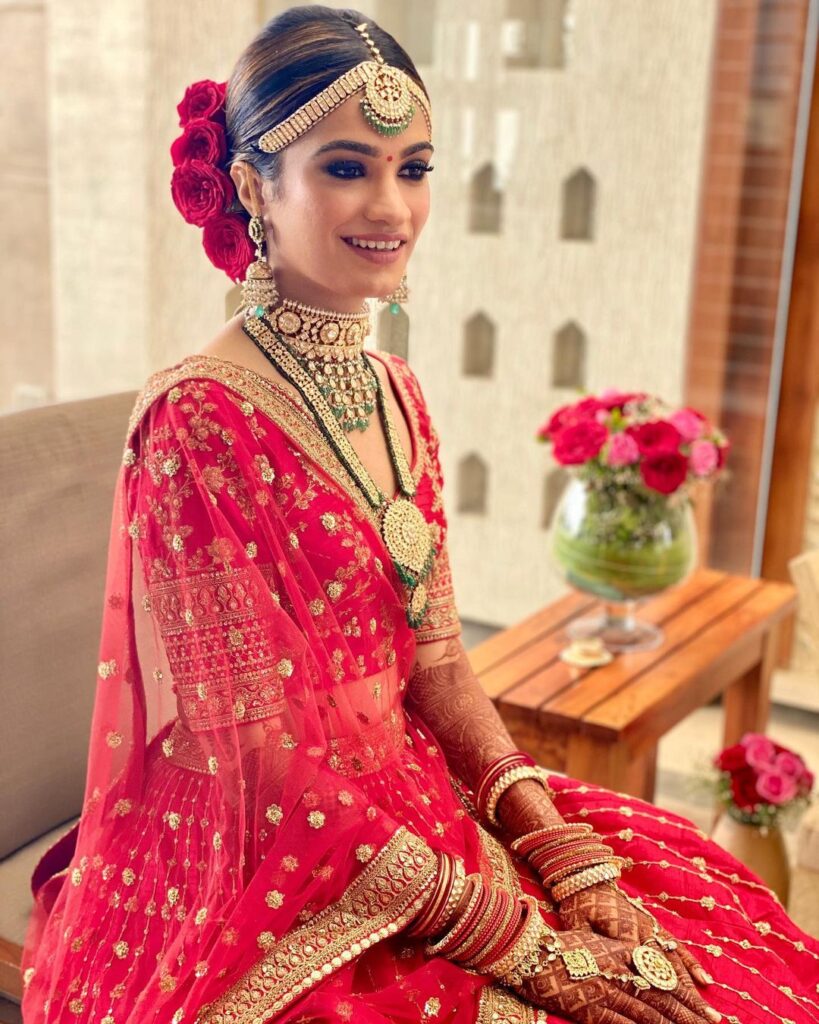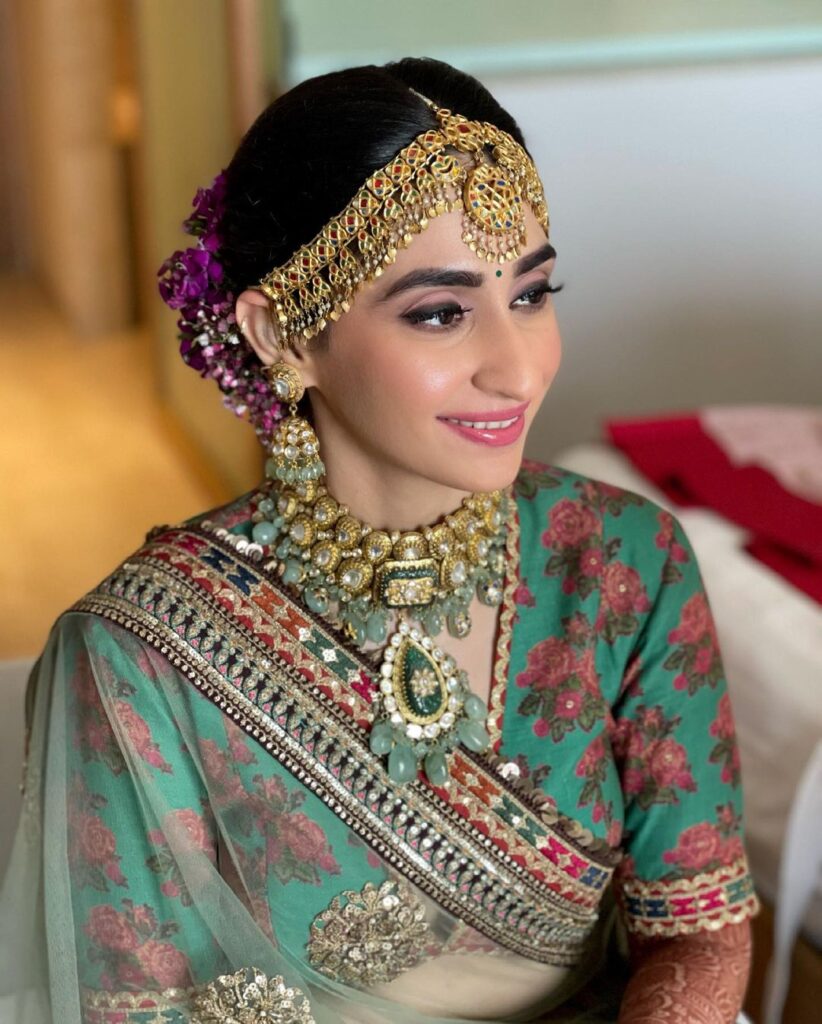 #3 Ritika Bhatia – Rs.30,000/-
Instagram: https://www.instagram.com/merakibyritika/?hl=en
One of the experienced makeup artists in Mumbai – Ritika Bhatia's brides boast of one thing – beautifying elegance. If you get dolled up by Bhatia, you're assured of a timeless, feminine, and graceful look. One that you can look back at after 10 years and not be like 'what was I thinking?'. While the base of her makeup is flawless, we also love how she strategically places the highlighter in all the right places to give you a glowing look. Dreamy, right? Thanks to her consistent delivery and passion for the industry, many of her brides have gone viral and won the hearts of people all over. From mehendi, traditional South-Indian, sultry cocktail makeup, and glowy sangeet – her feed is a bridal dream.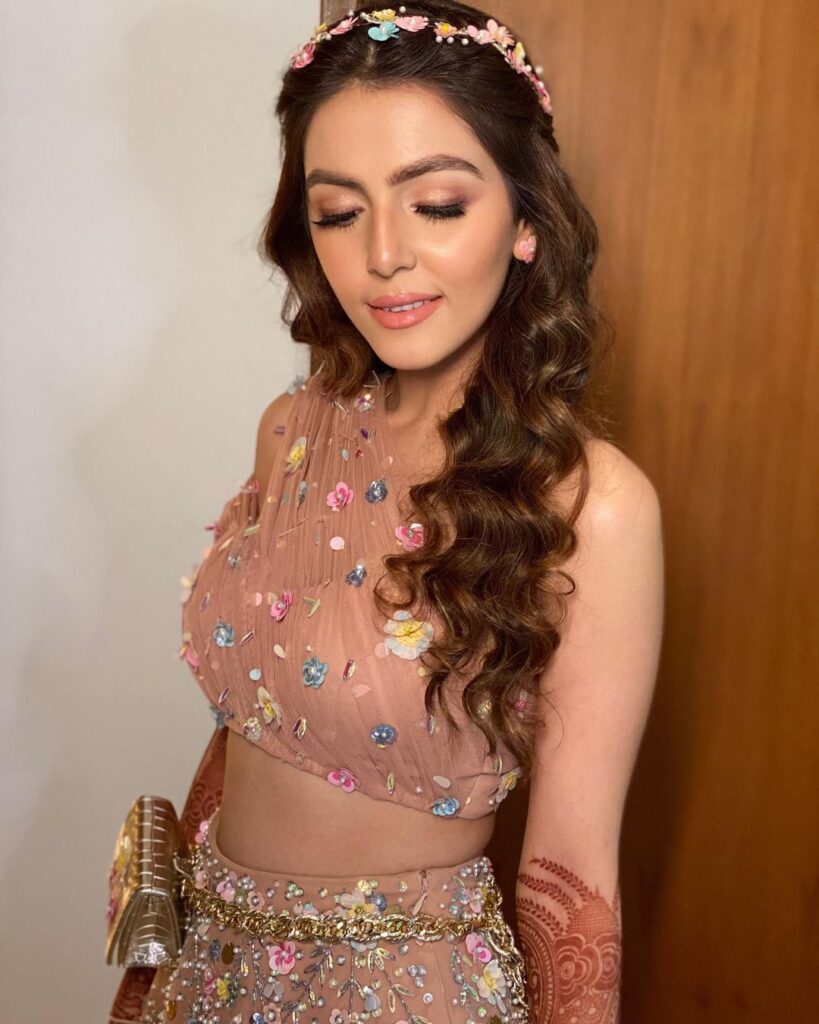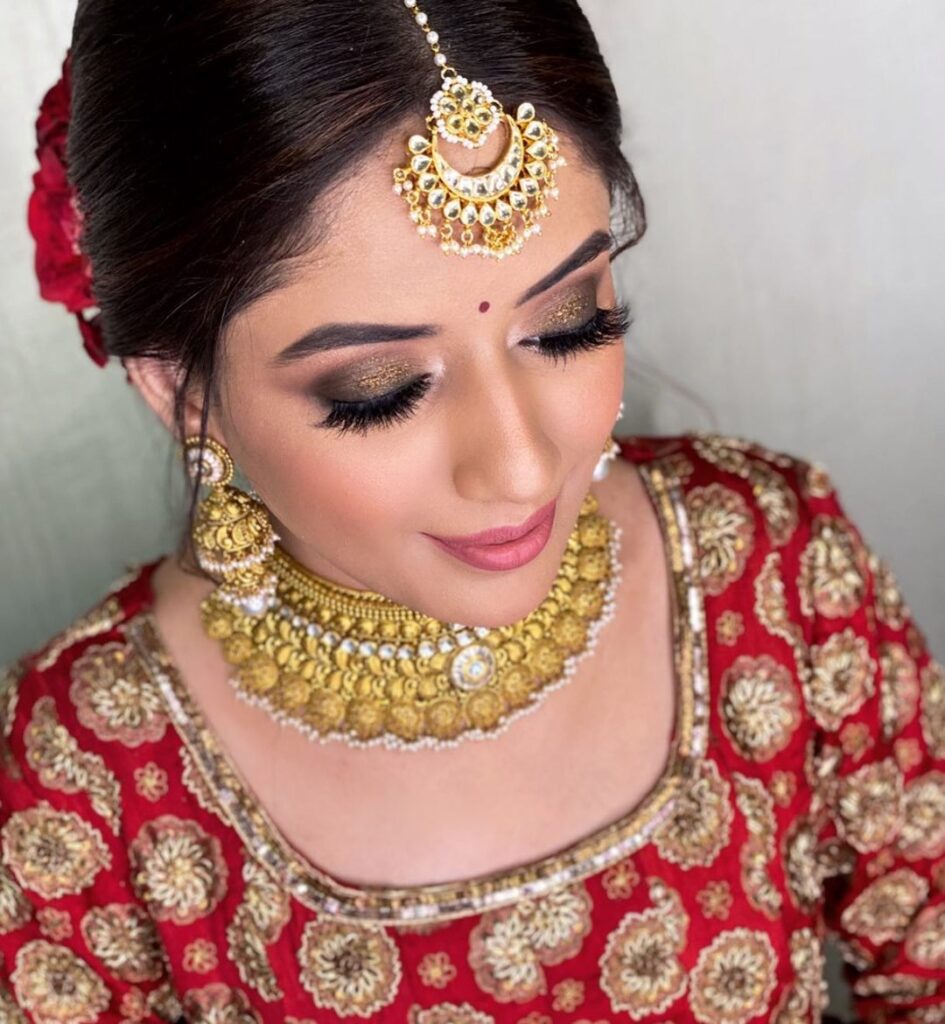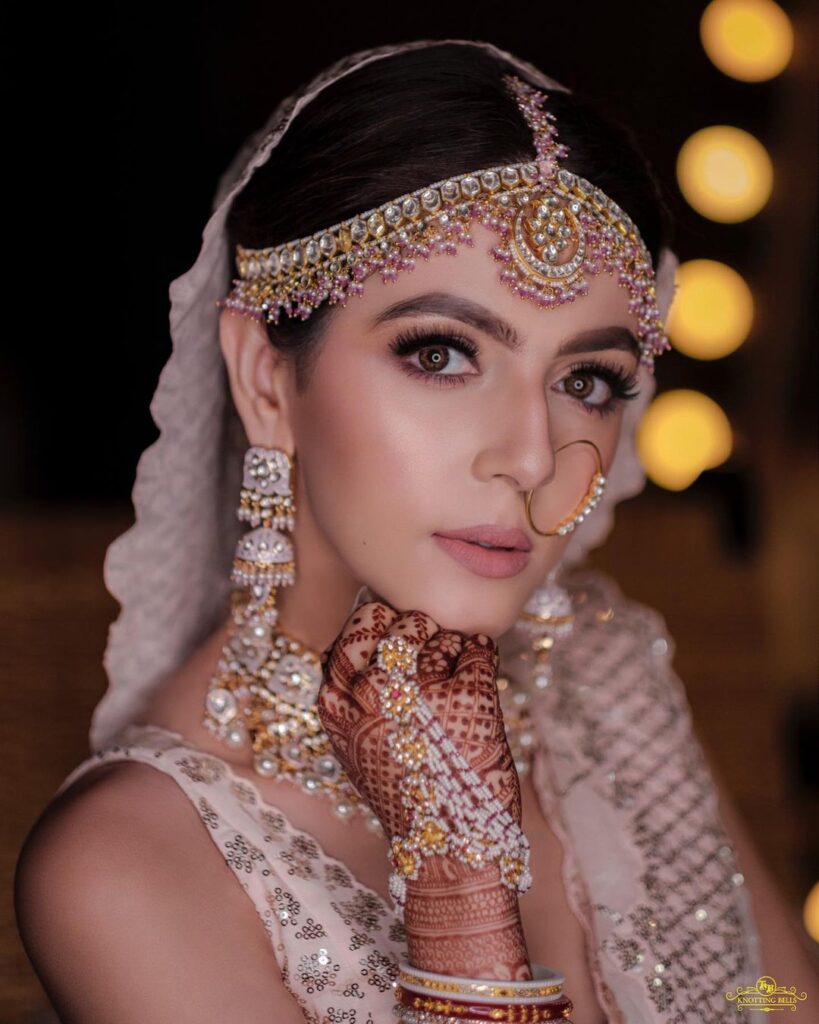 #4 Lekha Shah – Rs.30,000/-
Instagram: https://www.instagram.com/lekha_thecutcollective/?hl=en
Lekha is a self-taught makeup artist who is also the owner of full-service salons in Mumbai, The Cut Collective. Her mantra for any makeup look is simple – enhance the best features, pay attention to details, and understand the bride's ideal choices. "I hired Lekha's services for wedding and sangeet. It was a lovely experience. She is a friendly person who understands the brides' needs well. The products used were great. She took her time and the final result was amazing. Good experience. I'd recommend Lekha to everyone." – wrote one of her ex-brides in the review. Don't worry if you've fallen in love with your makeup and are not based in Mumbai, she travels to different destinations to cater to her brides. From simple to dramatic, you can rely on her for any kind of bridal makeup.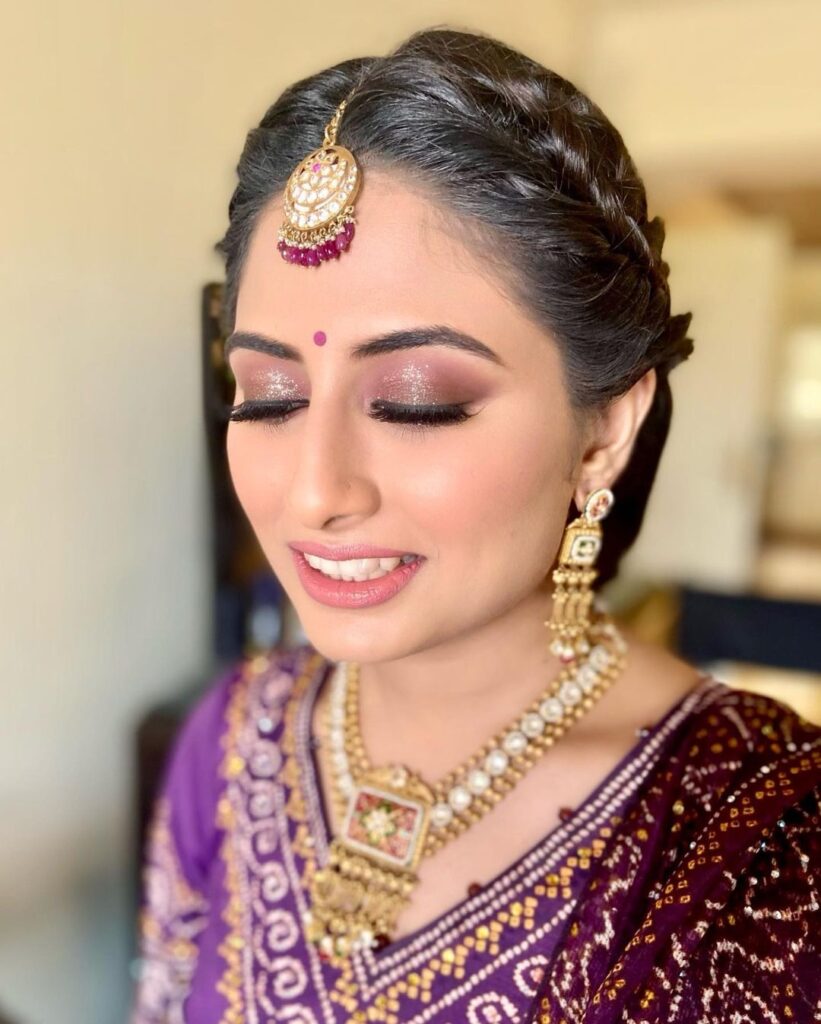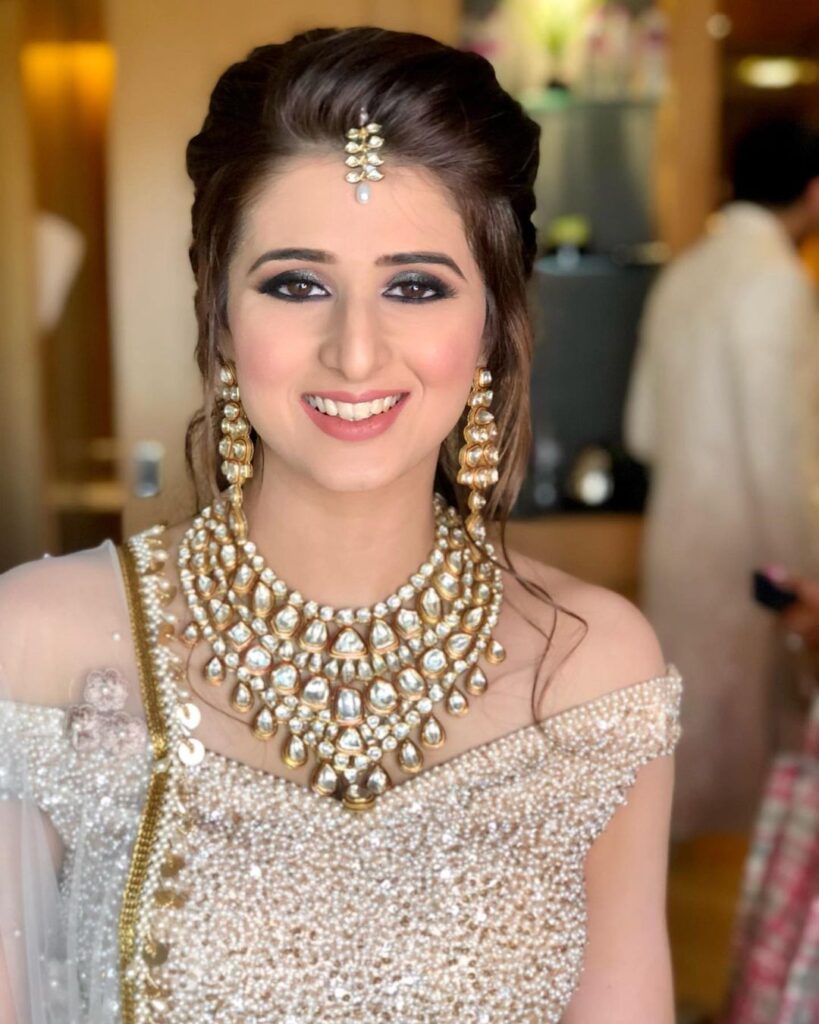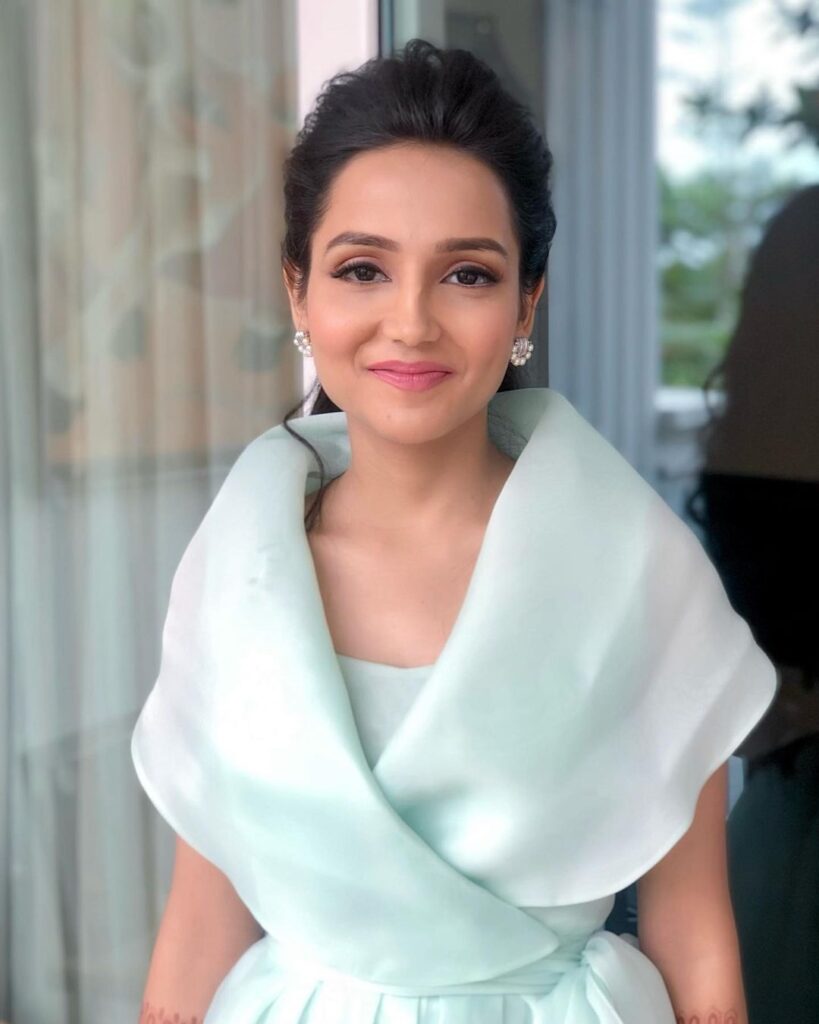 #5 Deepal Haria – Rs.25,000/-
Instagram: https://www.instagram.com/deepalharia/?hl=en
You know when someone does their own makeup for their wedding, that's how much confidence they feel in their makeup skills. Deepal's wedding looks not only went viral but showed her belief in her art and the ability to impress people with her passion. Since then, her career as one of the makeup artists in Mumbai has only risen up exponentially. You'll find plenty of bridal looks on her feed that radiate a glow-from-within base, gorgeous, blended eye makeup, and a strong lip (even if it's just the nudes). "So glad to hire Deepal for my wedding. She uses high-end products and creates a look suited to your needs. Very professional & understanding," wrote one reviewer. "We had Deepal for my sister's wedding and all my family was so happy with her makeup. She dolled us up too! Highly recommend this artist." wrote another bride. 
Further, if you're on the hunt for a makeup artist course in Mumbai – Deepal is offering some amazing makeup classes online. Scroll to see some of her beautiful brides.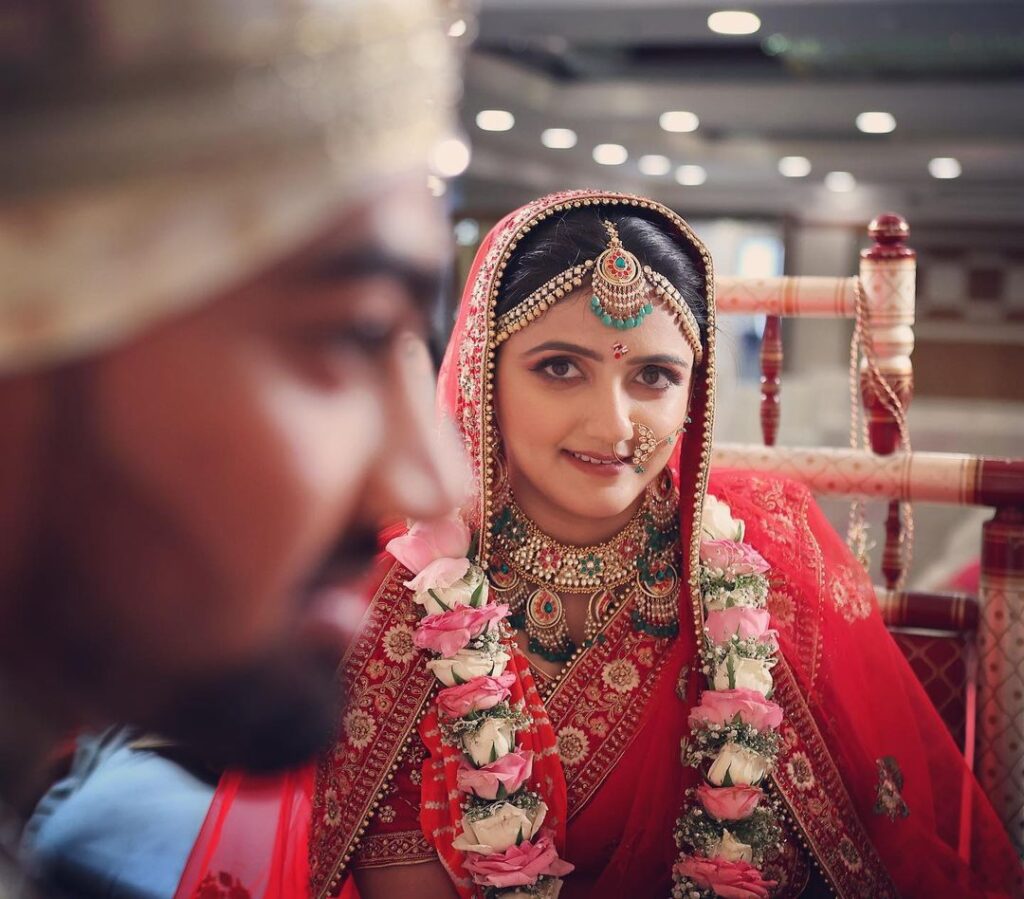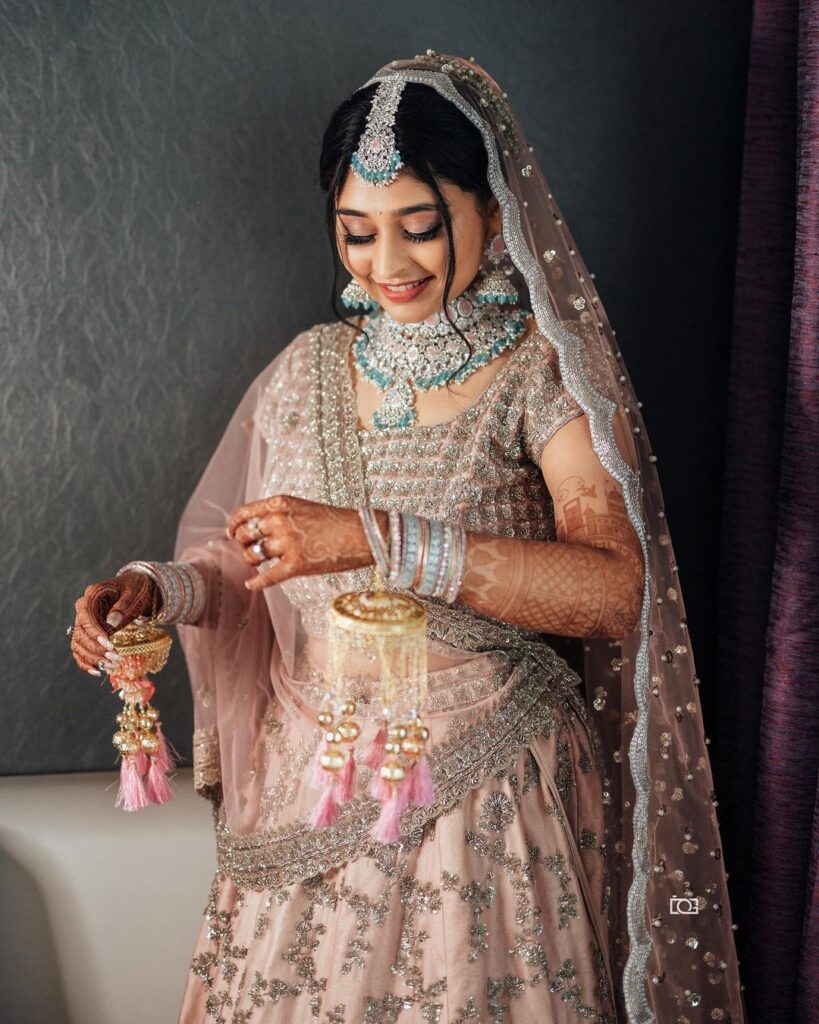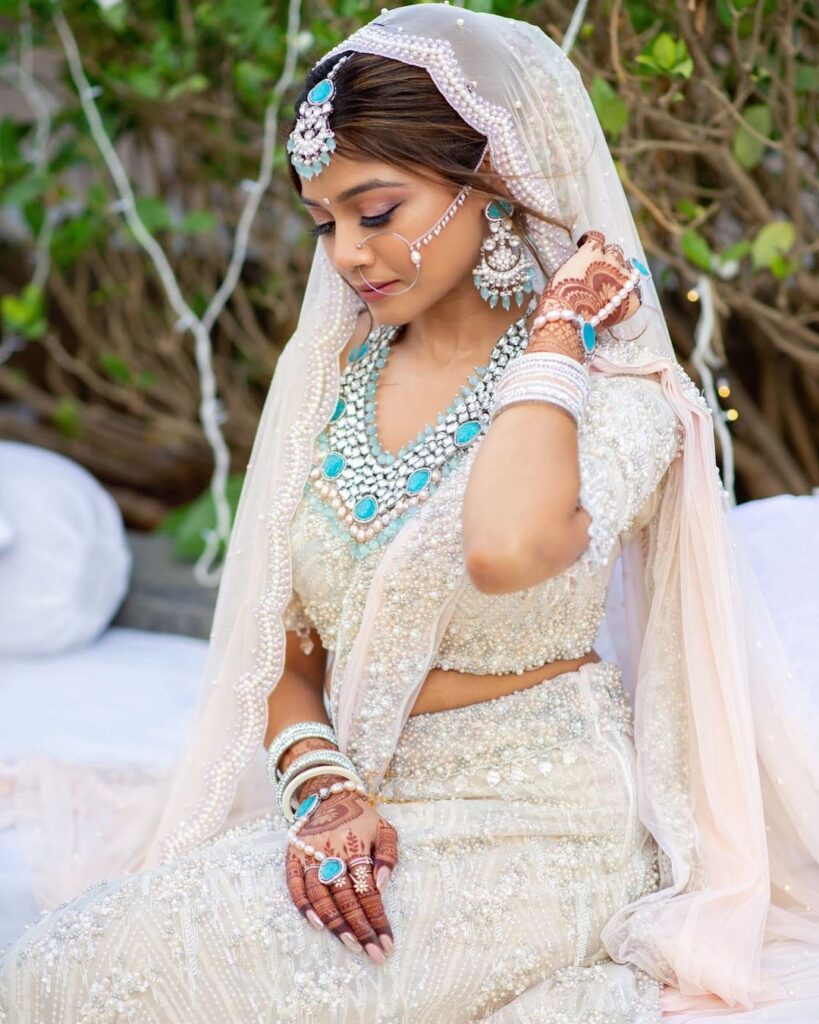 #6 Mausam Gandhi – Rs.40,000/-
Instagram: https://www.instagram.com/makeupbymausam/?hl=en
Mausam Gandhi caters to influencers, editorial shoots, brides, and all kinds of party makeup in Mumbai. The dewy, skin-like finish is something all her clients radiate and she never fails to stun us with her daily dose of makeup looks. With a total of 950+ posts, each one presenting her art in their own way, you'll find that she can give your dream bridal look while making you look like the best version of yourself. Apart from being considered as one of the finest bridal makeup artists in Mumbai, she's renowned for covering destination weddings too. Here's what one of her ex-clients wrote, "Mausam was definitely the best wedding vendor. She was quick amidst the wedding rust, understanding, and has amazing skills. Worth the money." In the past, Gandhi has collaborated for editorial shoots with India's finest designers like Neeta Lulla, Abu Jani Sandeep Khosla, Kresha Bajaj, and Shane Peacock.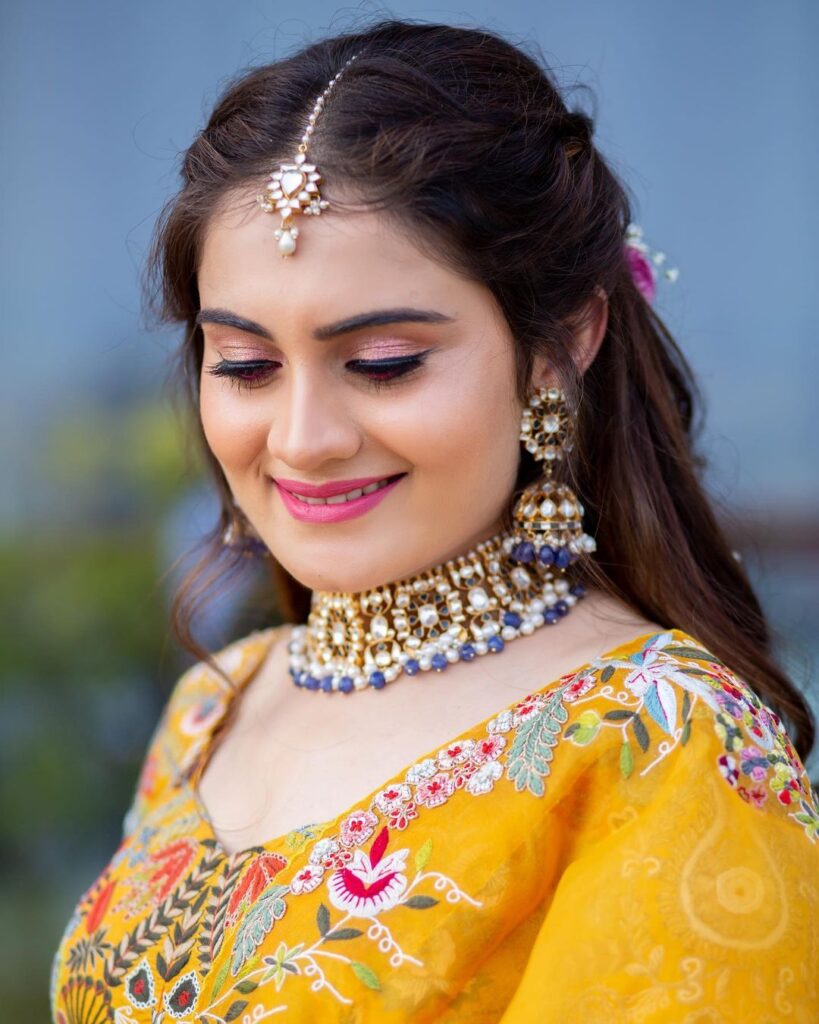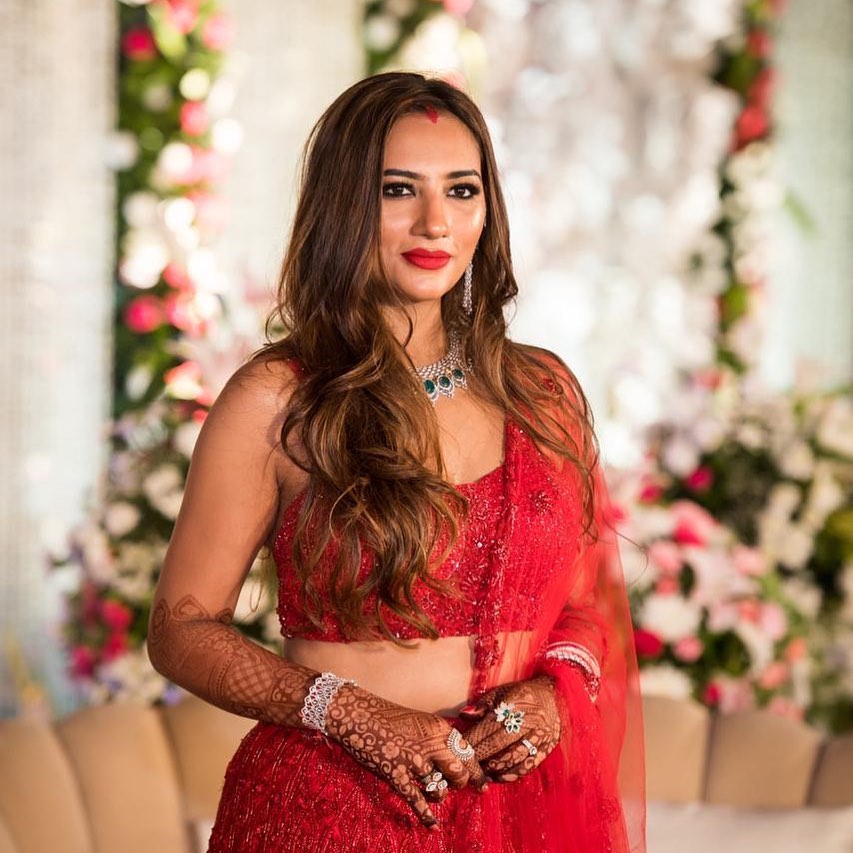 #7 Priya Todarwal – Rs.25,000/-
Instagram: https://www.instagram.com/priyatodarwal/
Skin-like dewy makeup and brides who look like themselves is Priya's specialty as a makeup artist. In the 1000+ images on her profile, if there's one thing you can be assured of seeing in every makeup look – it's simplistic elegance. Although, while she loves to keep the base makeup simple, there's a hint of drama in the eyes to add the glam to your ensemble. With no reviews less than 5 stars, she is certainly the BFF vendor you need to nail your dream bridal look. "Priya is truly a magician. She engages with clients and gets to know their needs first. She made me feel so comfortable and the finale look turned out to be superb. Just do yourself a giant favor, contact her, and get one thing off your to-do list." – writes one bride.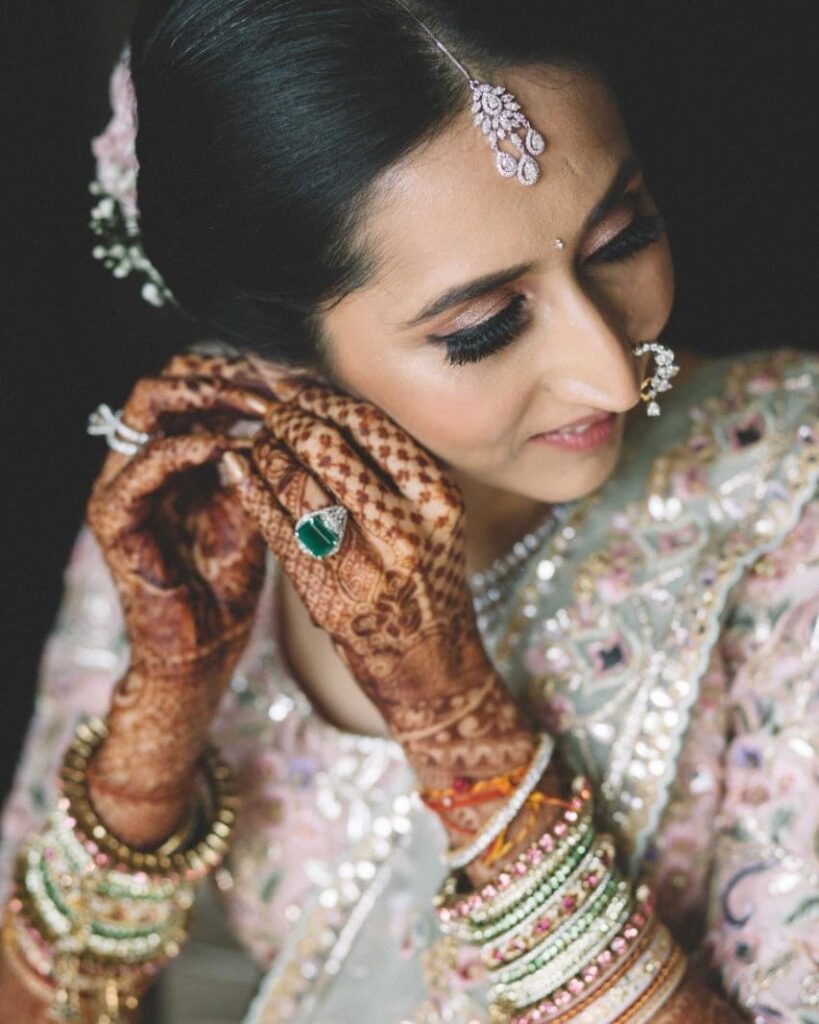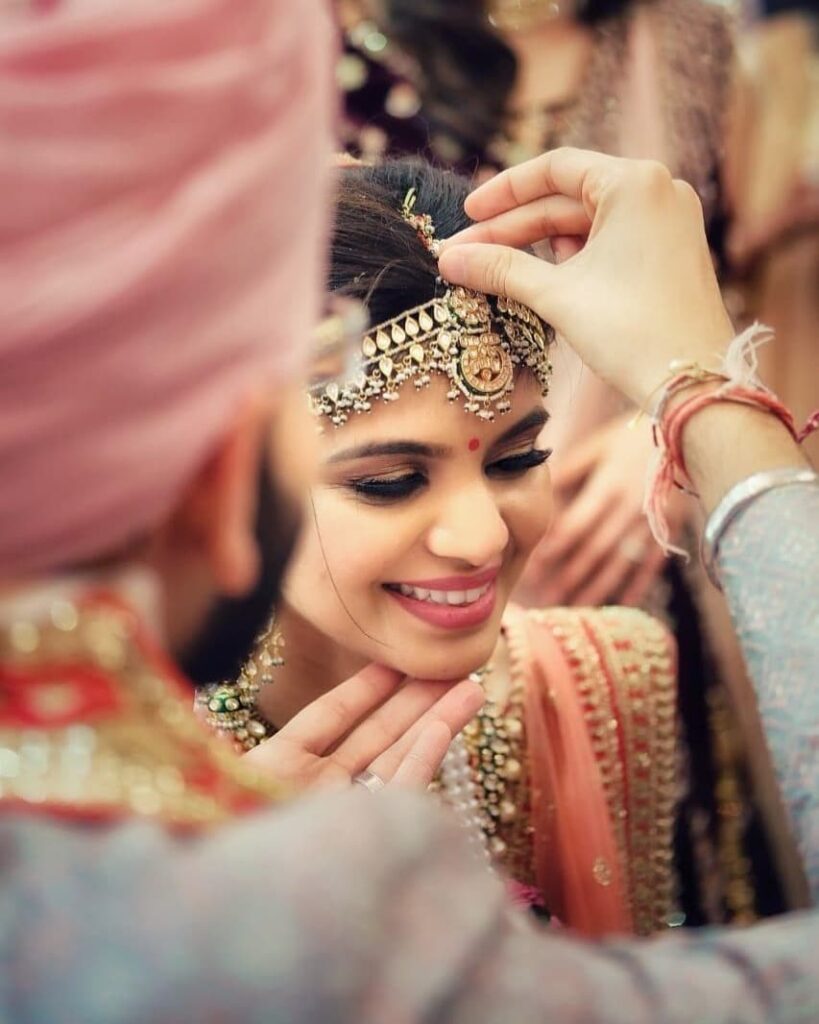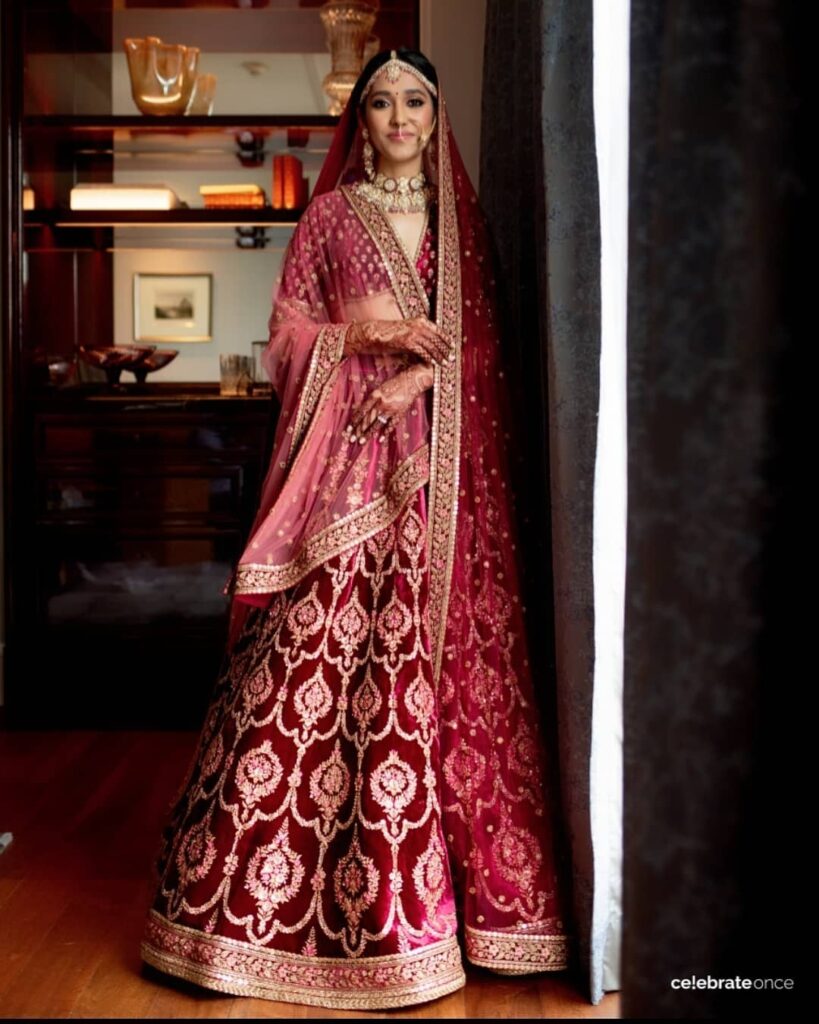 #8 Neha Adhvika Mahajan – Rs.35,000/-
Instagram: https://www.instagram.com/nehaadhvikmahajan/
A celebrity makeup artist in Navi Mumbai who's generally found wielding her brushes on a TV actress or an editorial shoot – Mahajan is a revered bridal makeup artist in Mumbai too! She believes in elevating the bridal look by doing her statement eye makeup. It can be anything from smudged kohl eyes to a soothing mix of colors – all done with utter intricacy and neatness. The rest of the face is kept dewy, nudish with a bit of a highlight. "For my wedding, I had a very specific look in mind and Neha was able to execute it flawlessly. Clearly shows how much one knows their art. Definitely one of the finest bridal makeup artists in Thane," writes one of her ex-bride.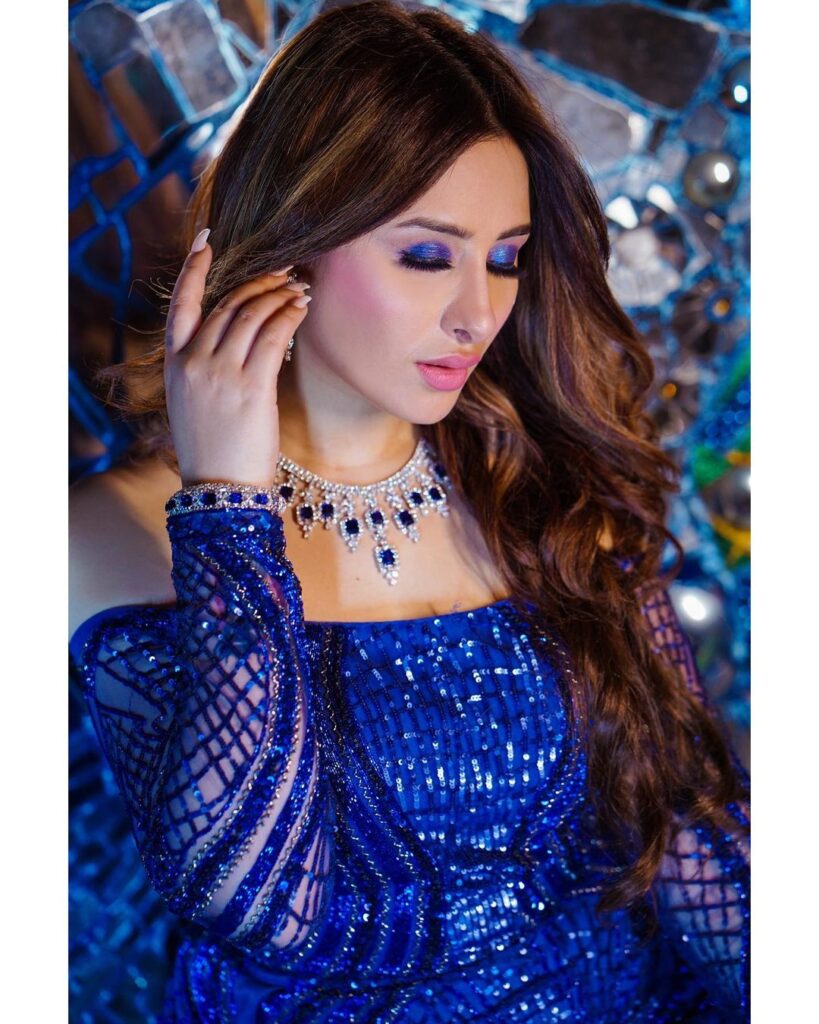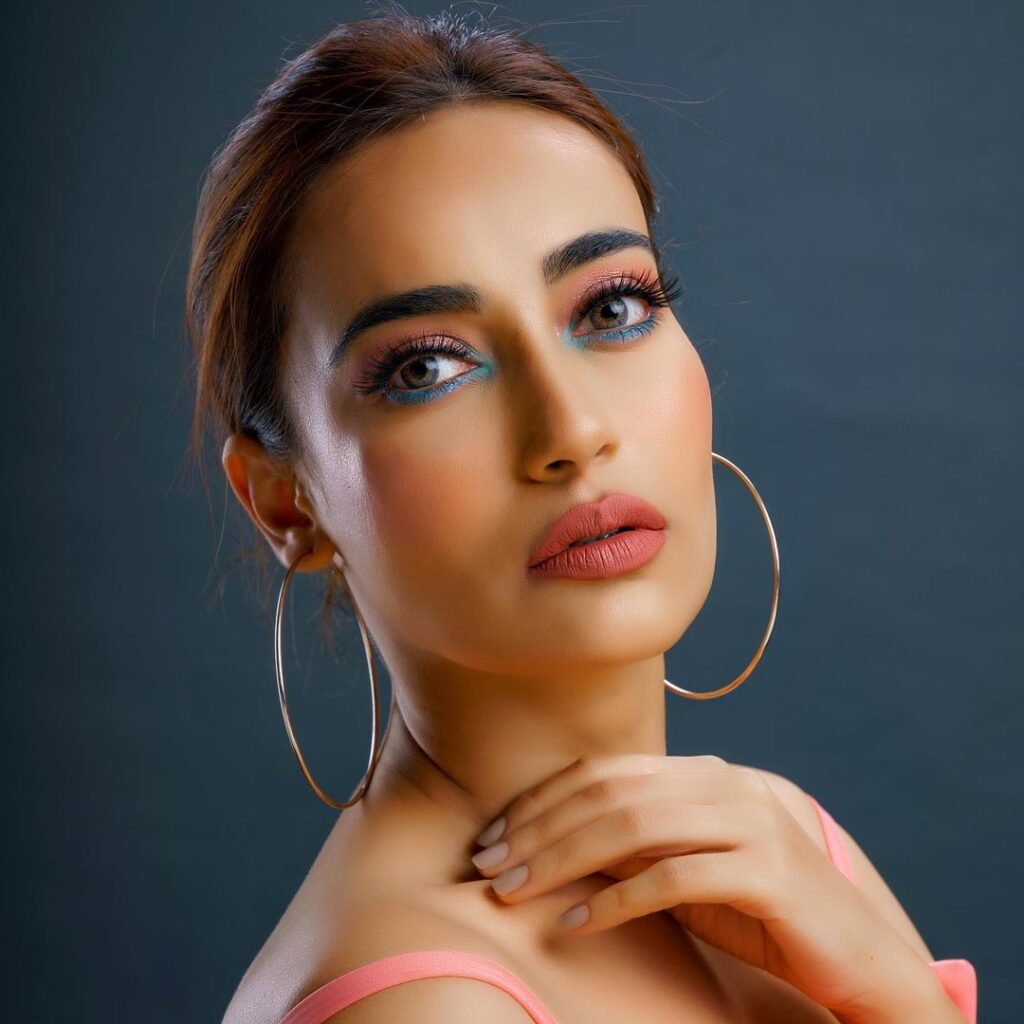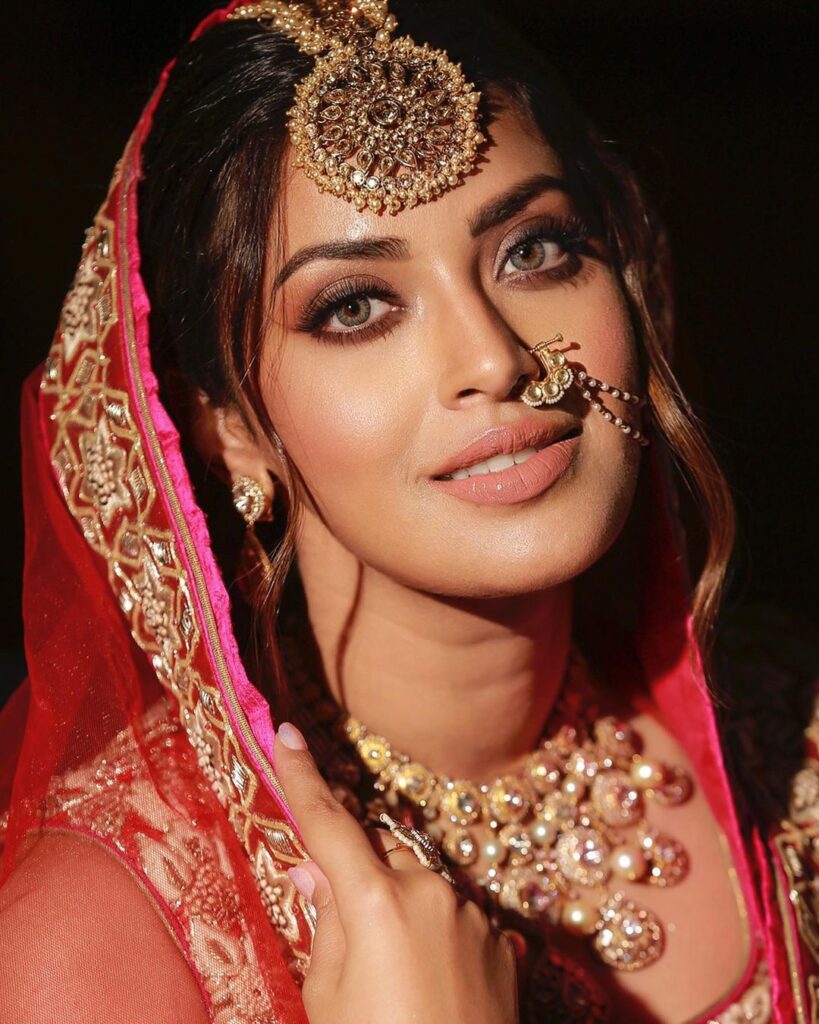 #9 Reema Patil – Starts at Rs.20,000/-
Instagram: https://www.instagram.com/makeupbyreemapatil/
Brides radiating subtle femininity, understated elegance, and perfect glow are a common occurrence on Reema Patil's Instagram account. She has a flair to work with the bride's features, ensemble, and preferences to create a look just perfect for your big day. Her clients are full of praise too. "Reema is incredibly skilled at her job – nailing different looks with ease. She's polite, easy-going, and gave me so many tips to look fabulous as a bride. My makeup lasted for hours with no need for a touch-up. Thank you Reema!," writes one bride. "The artist is sweet, polite, and made me look like a dream. Everyone was asking me about my makeup. Will definitely hire again for any future purposes," writes another one. Besides her work as an MUA, Reema is also the owner of cruelty-free, vegan, and organic makeup brand Arem Beauty.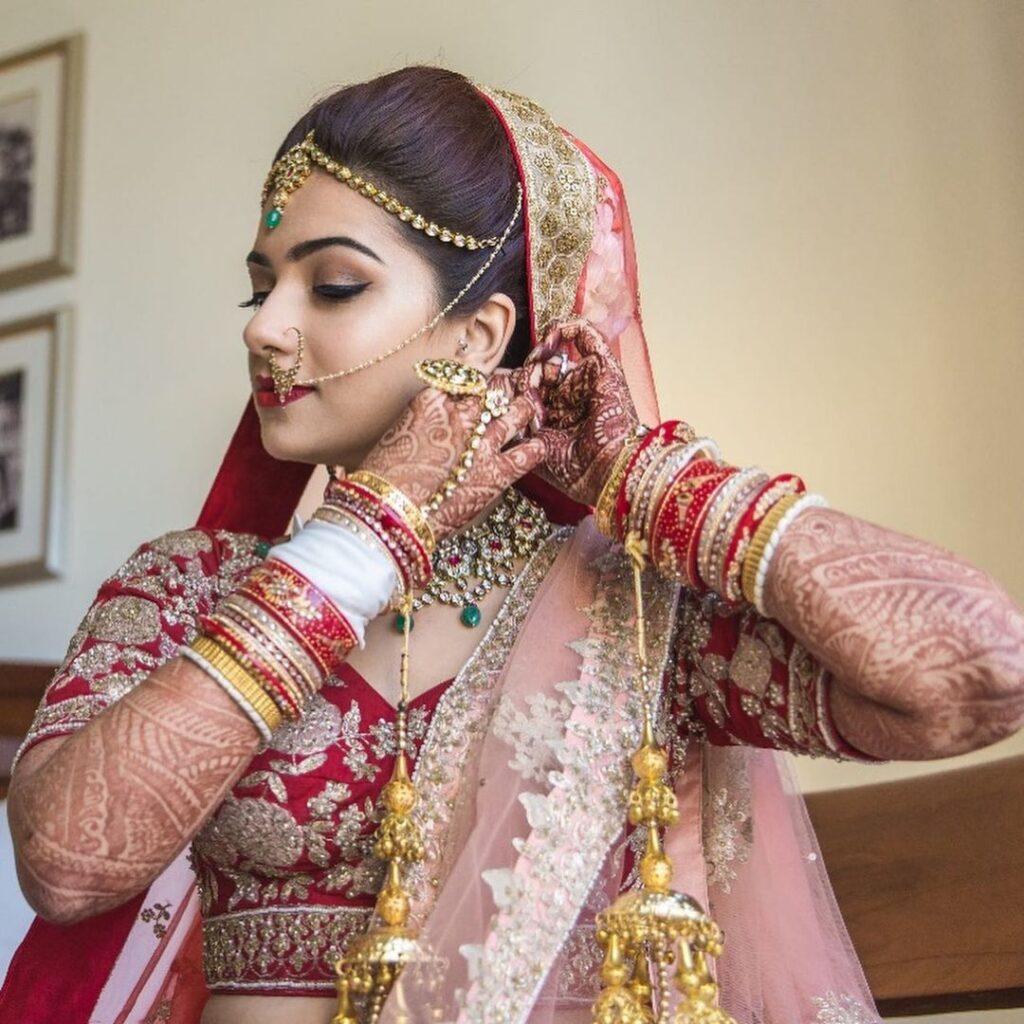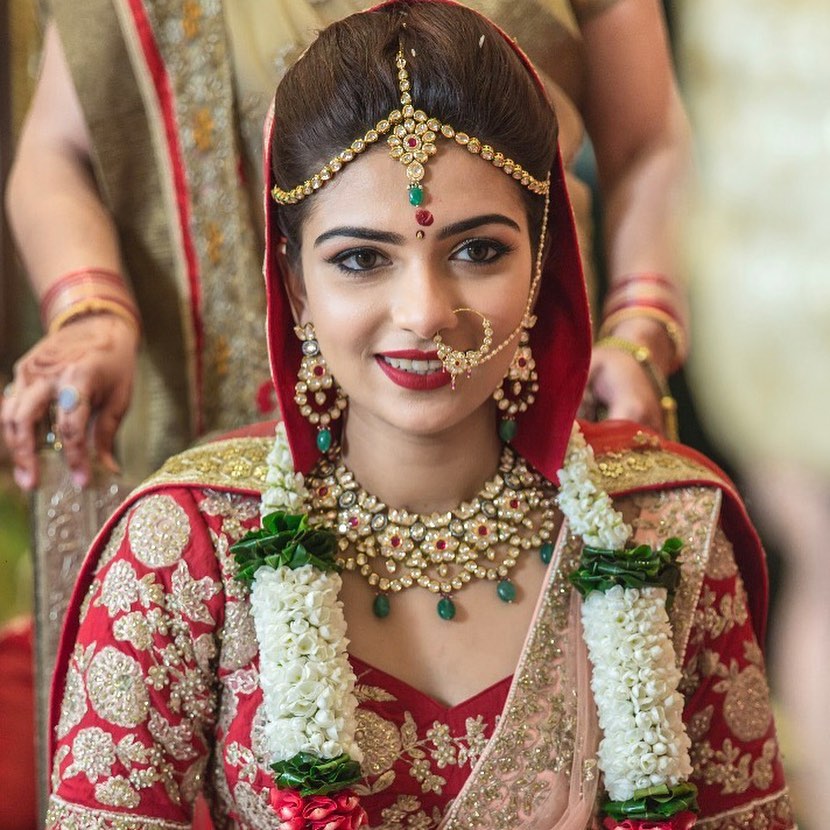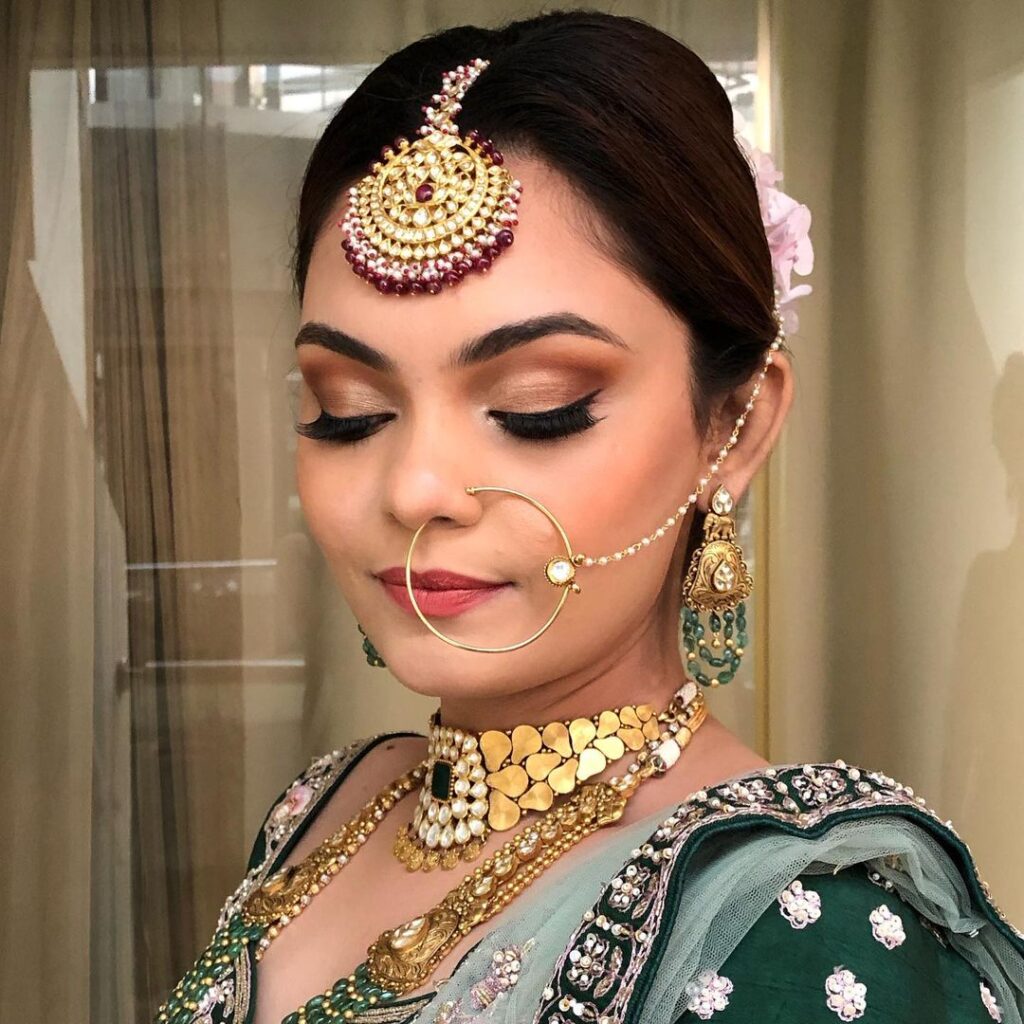 #10 Shailee Bharatia – Rs.30,000/-
Instagram: https://www.instagram.com/makeupbyshailee/
Shailee is an incredibly talented makeup artist who divides her time between New York & Mumbai for her bookings. She became Insta-popular when her proposal went viral, and her skills as a makeup artist soon caught the attention of many brides-to-be. Her 800+ posts are replete with pure makeup bliss and every bride is unique in her own way. To showcase the confidence in her art, Shailee puts many no-filter pictures & reels on her profile. As clear from the images, for her, blending really is cardio. You can reach her via Instagram DM's and ask for availability – she gets booked well in advance, so act fast!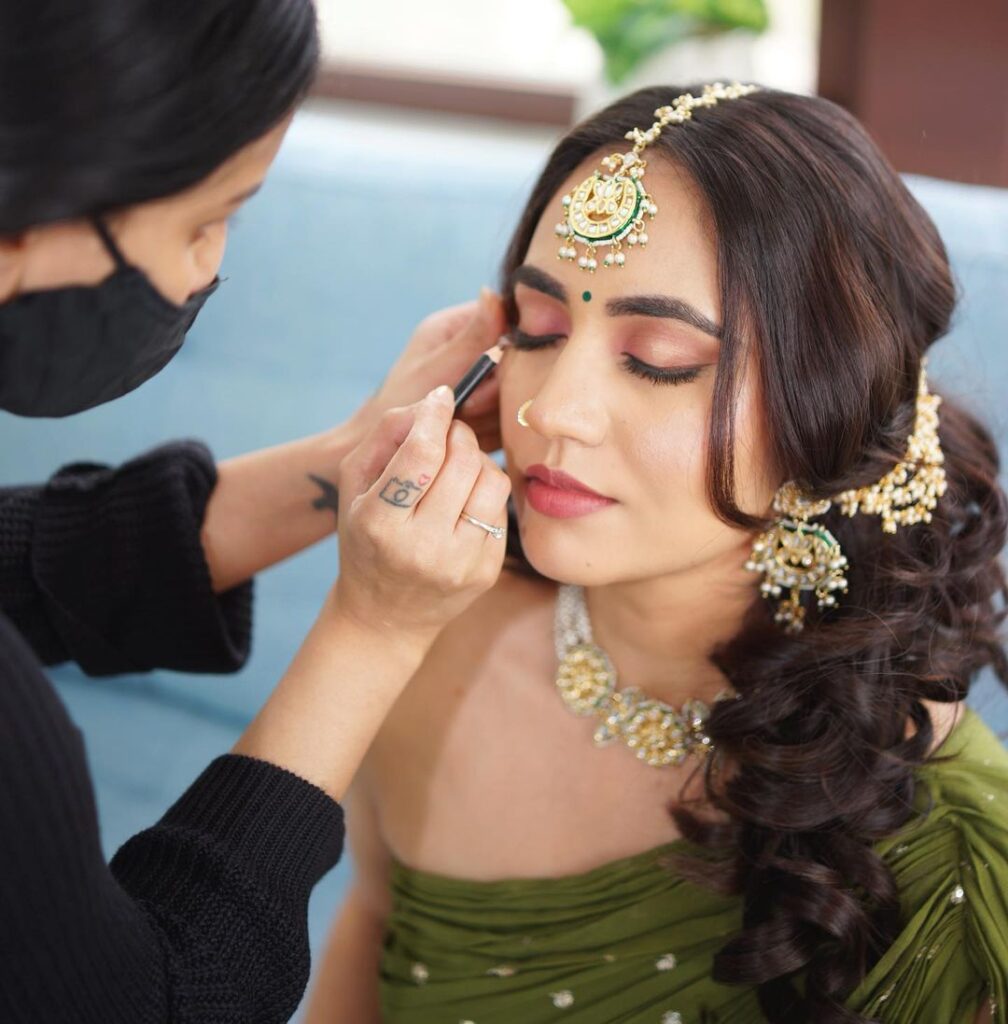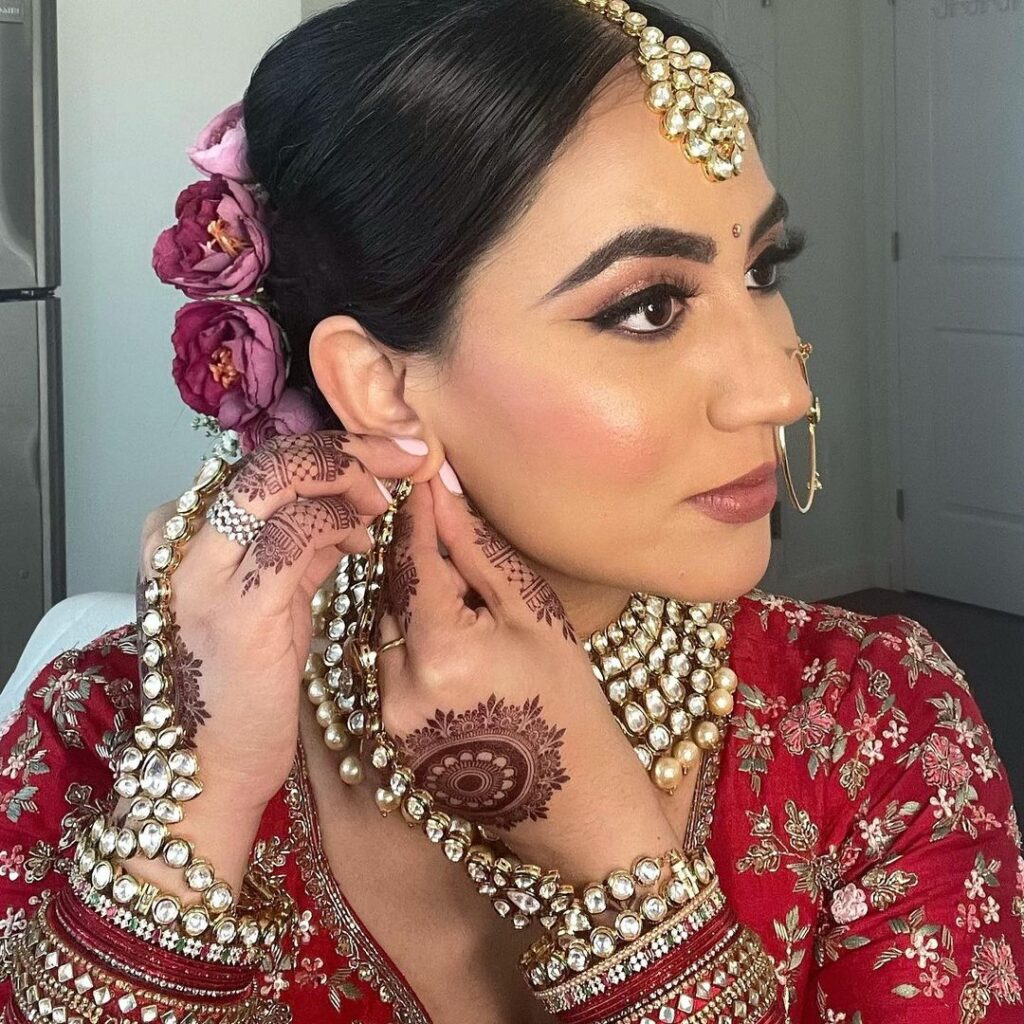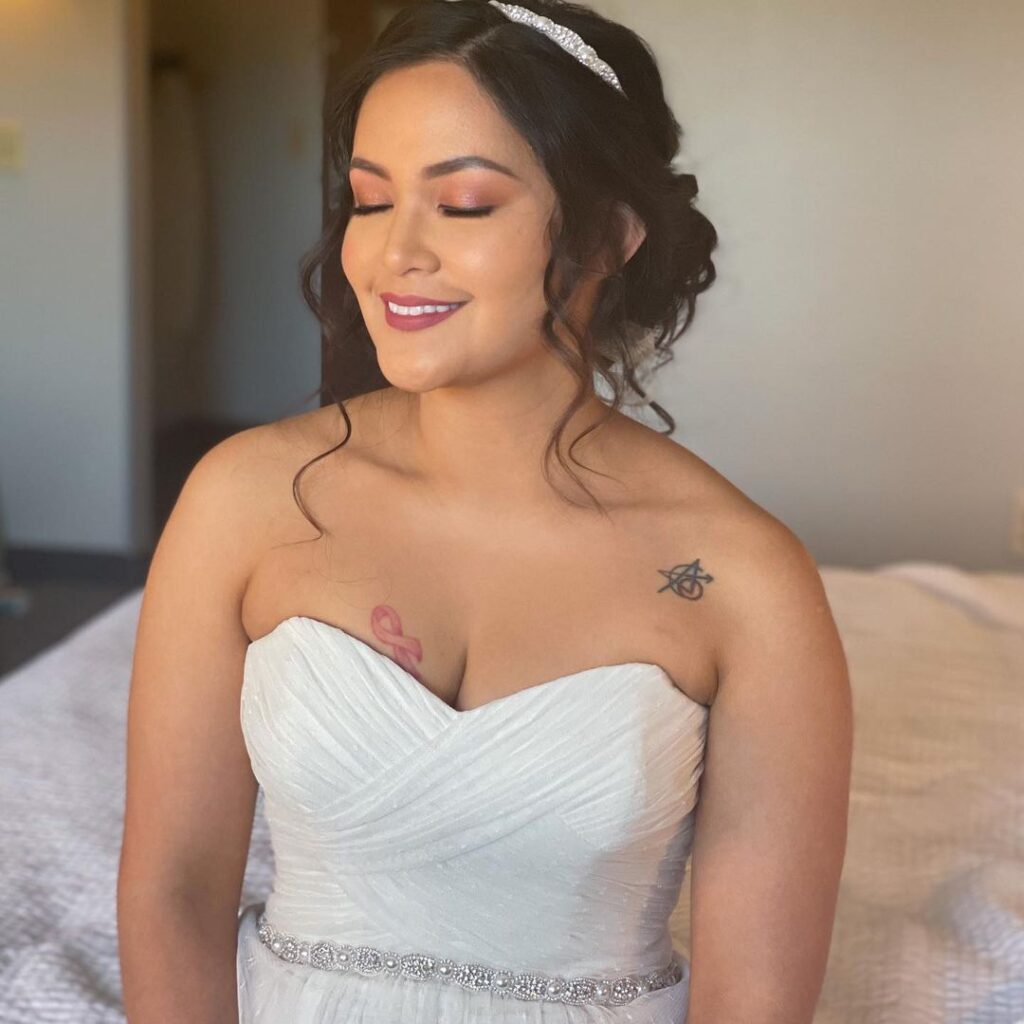 #11 Aanchal Bahl – Rs.35,000/-
Instagram: https://www.instagram.com/makeupbyaanchal/
Brides radiating a glam quotient too gorgeous to ignore are most likely Aanchal Bahl brides. She has perfected the art of subtly infusing the bridal glam in the bride's ensemble without going over the top. Mind you, that takes some serious skill and passion to achieve the same. Plenty of Bahl's brides have gone viral in the past – considering her talent that's not shocking at all! She posts no-filter bridal getting-ready looks on her feed and you'll love the appeal her clients radiate in natural light. Isn't that the kind of confidence you need while hiring an MUA too? Besides the makeup art, her ex-clients are also all praises for her professional and punctual attributes – and you'd definitely need them to get all ready on time during the wedding rush. Swipe to see a glimpse of Aanchal's work.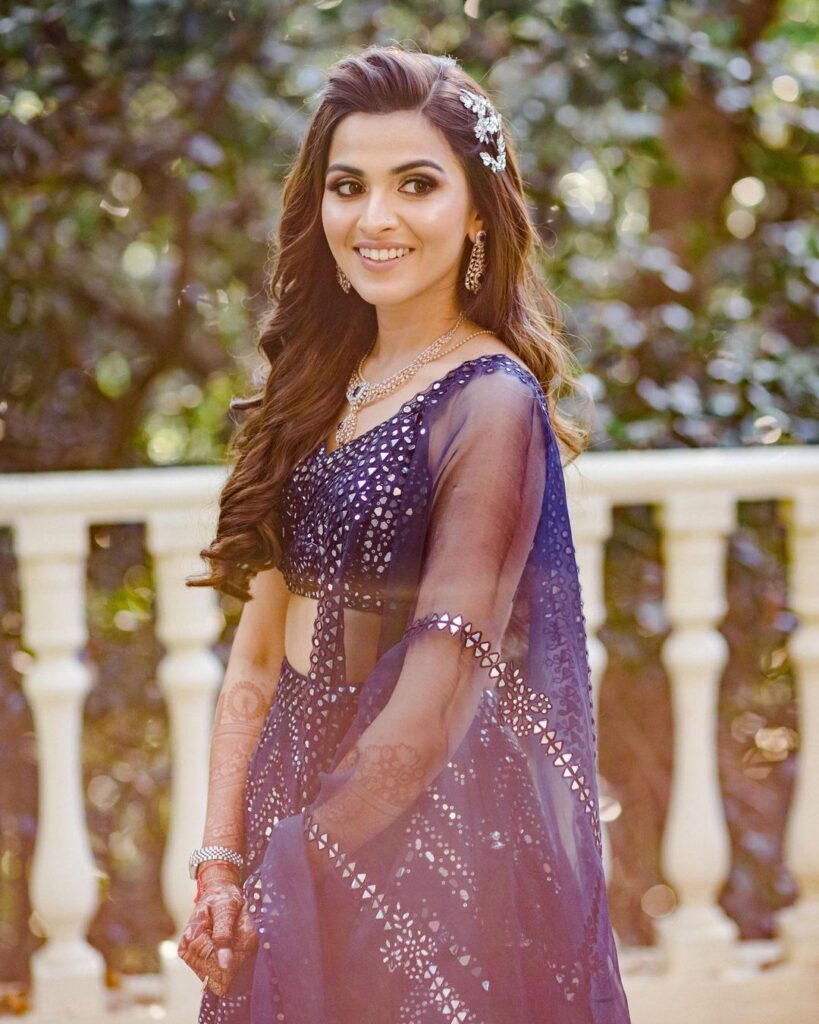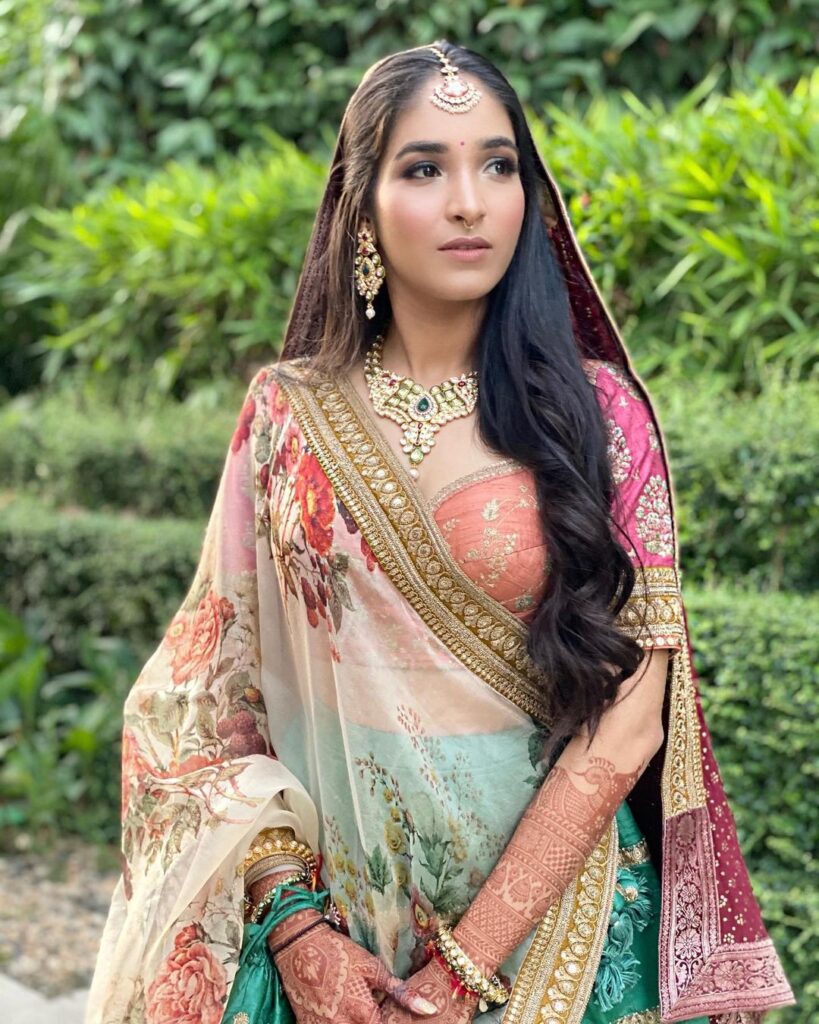 #12 Vishal Kadam – Rs.35,000/-
Instagram: https://www.instagram.com/makeupbyvishalk/
An internationally-certified makeup artist who basically is a master of versatility when it comes to bridal looks. He can give you a glamorous makeup look with statement eyes, a clean base with clean smokey eye makeup, or a fresh face with soothing nudes. No matter what bridal look is saved on your Pinterest mood board – you can trust Vishal to bestow you with the same. Having catered to over 100+ brides,  Vishal is a trusted makeup and celebrity beauty expert in Mumbai.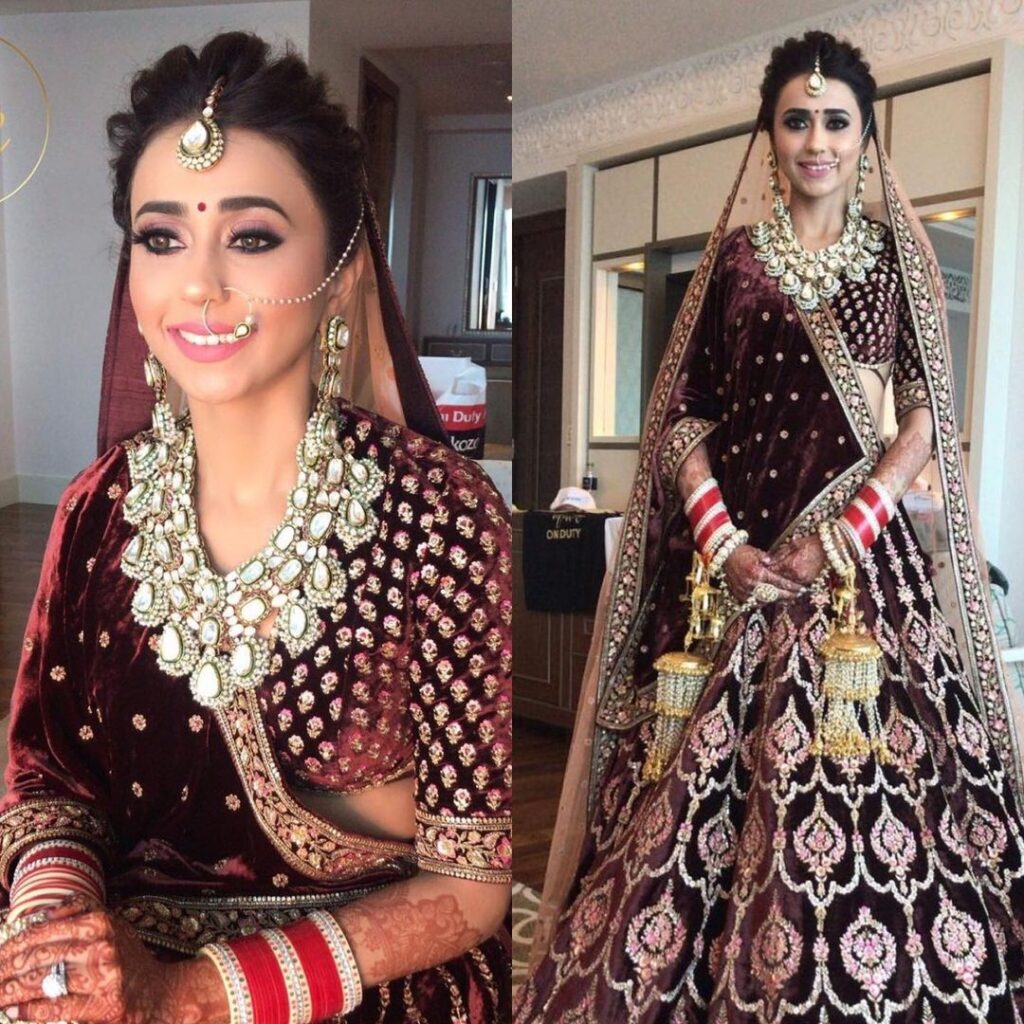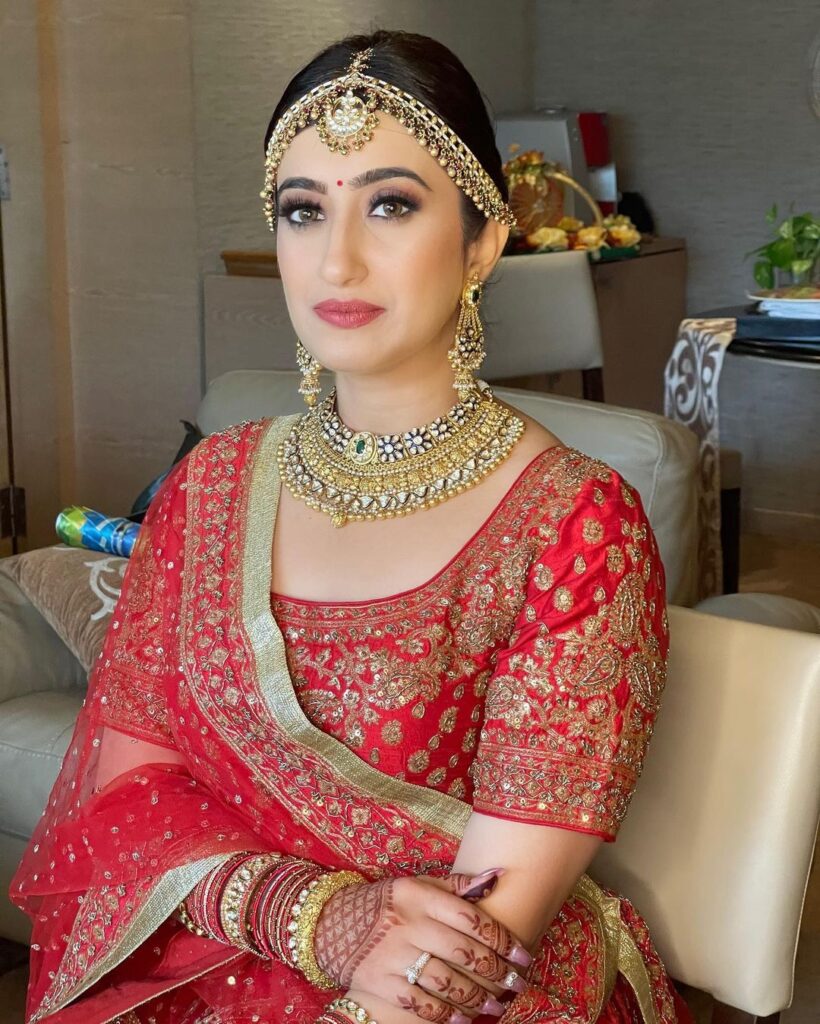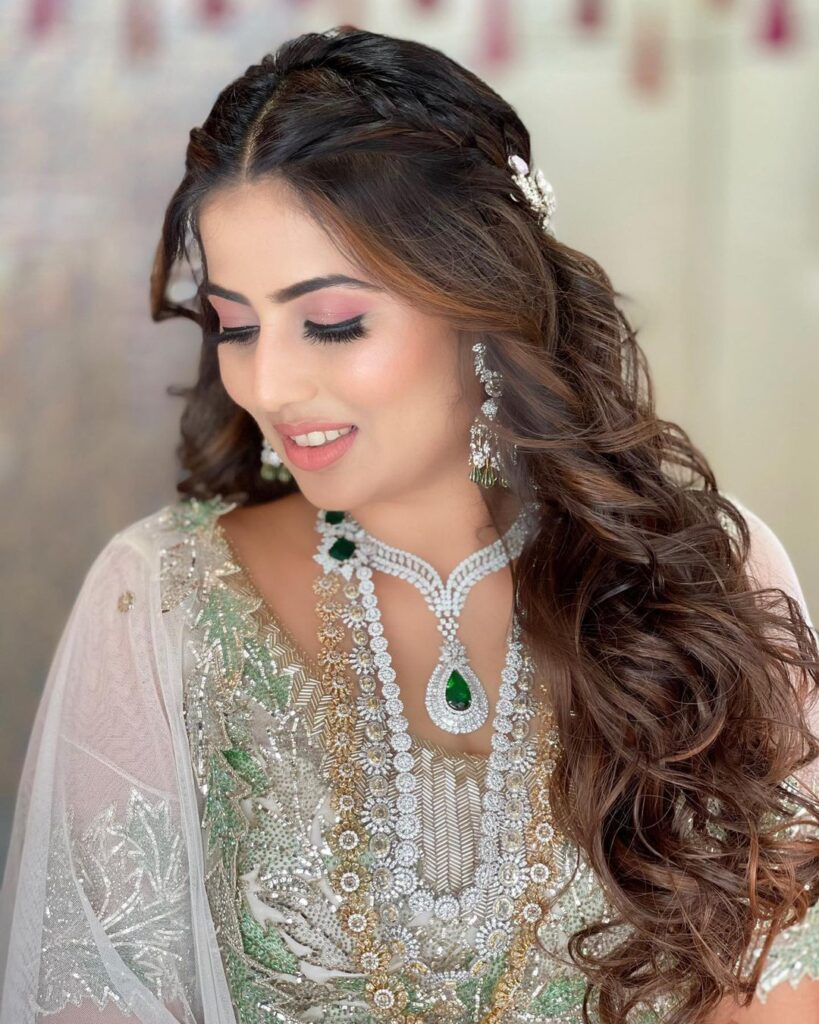 #13 Khushnuma – Rs.15,000/-
Instagram: https://www.instagram.com/khush.mua/
Khushnuma is an amazing makeup artist in Mumbai who can cater to any traditional bridal look you want – from Maharashtrian to South Indian and usual North Indian – she has done it all! Having a history of being trained with MAC Cosmetics India, Khushnuma has worked on the ground with many Indian skin tones and knows how to keep it real and fabulous with makeup. When she's not working with a bride, you'll most likely find her working her makeup magic on an influencer or a blogger. And oh, she brings along her full team. So, don't worry about hair and draping – she will take care of it all! Find below some of the beautiful brides dolled up by her.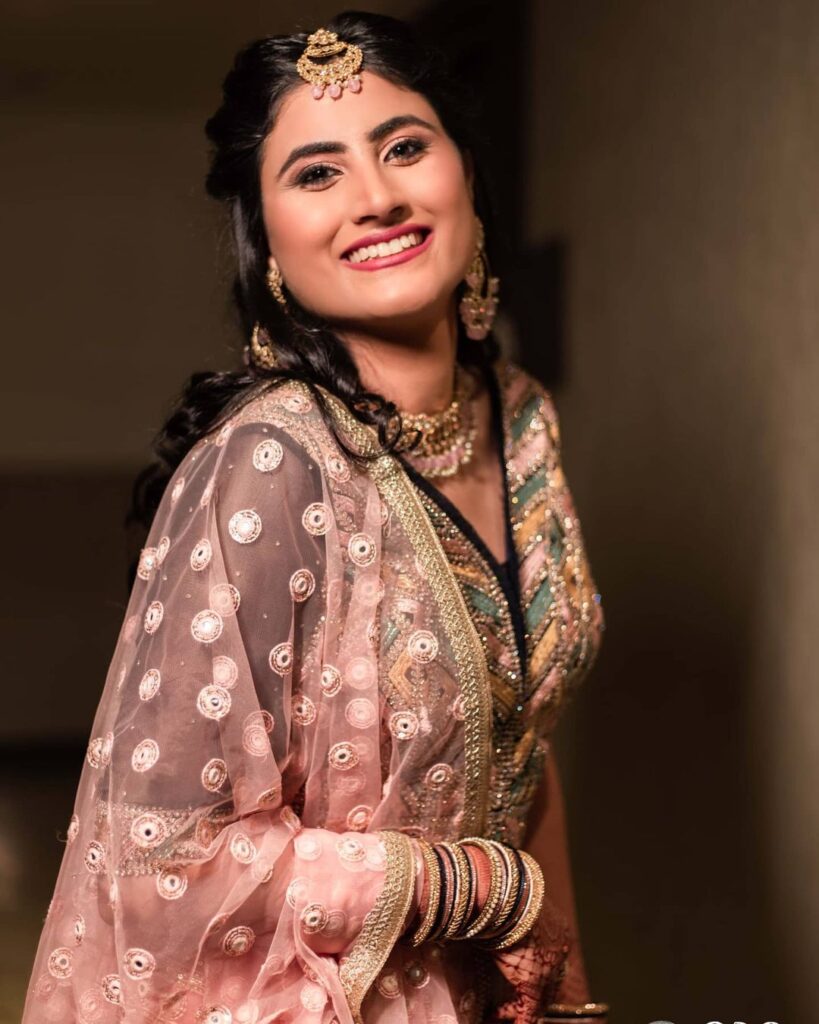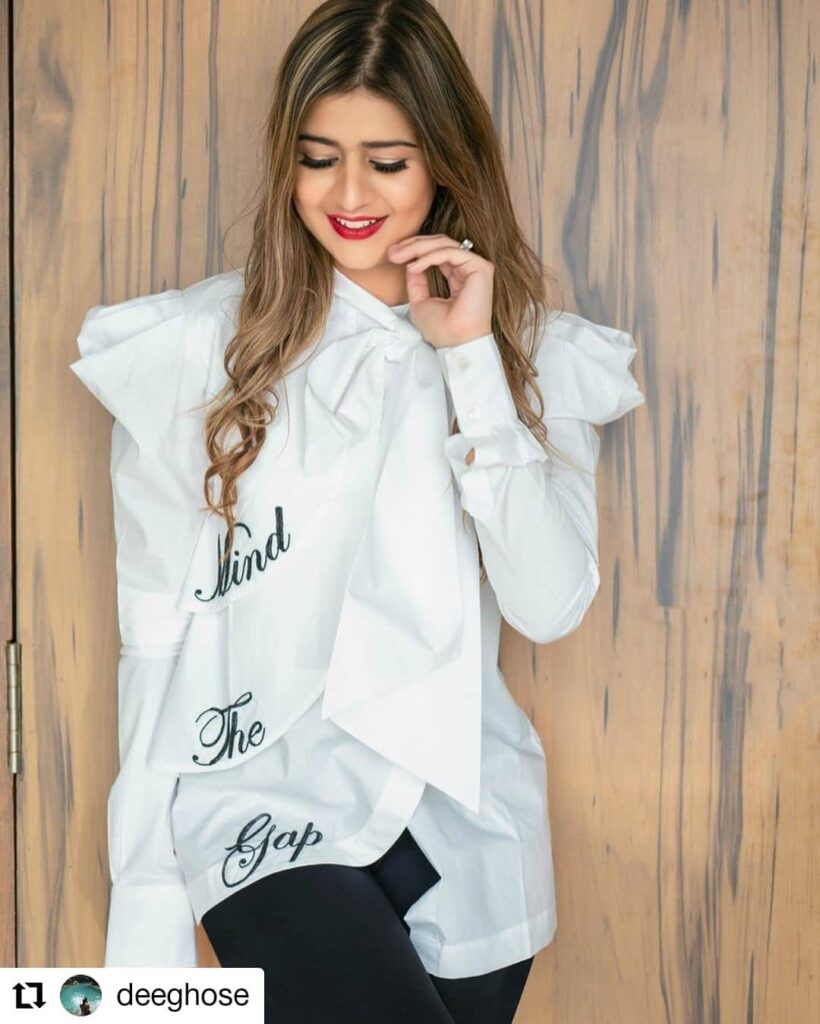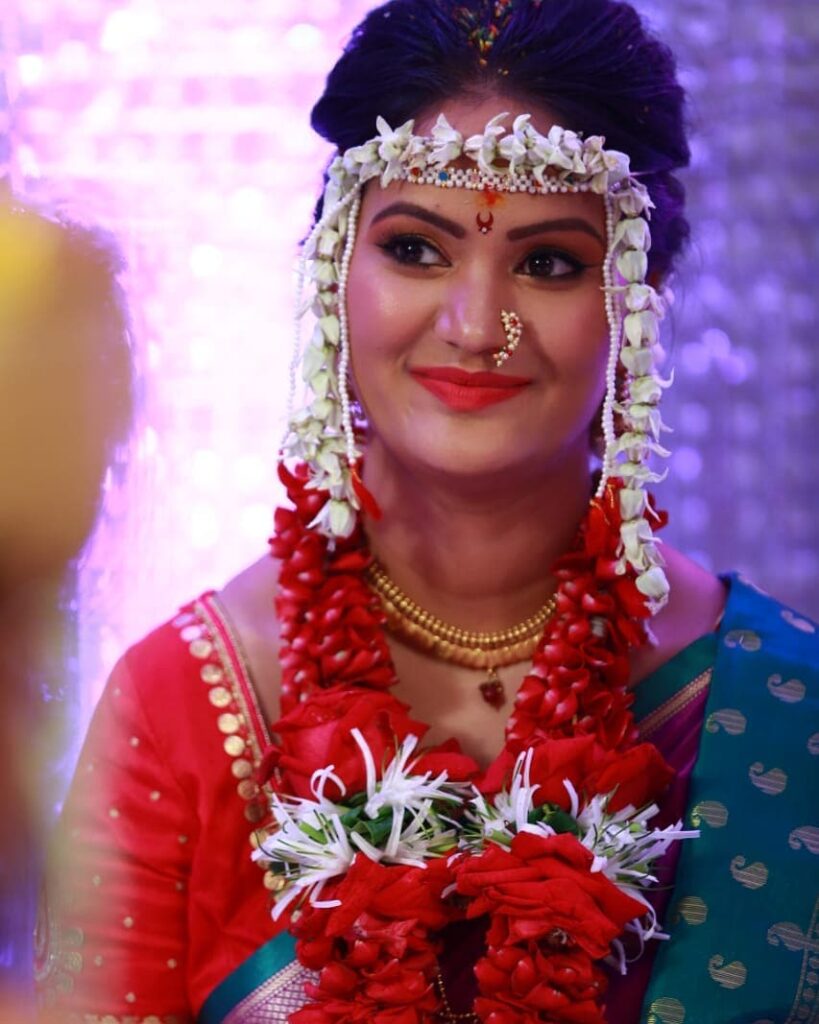 #14 Rhea Nagpal – Rs.30,000/-
Instagram: https://www.instagram.com/makeupbyrheanagpal/
From a fresh-faced and elegant mehendi makeup to a glamorous yet subtle sangeet look – Rhea Nagpal's feed has it all curated in one. Her makeup mantra is simple – spend time on blending so the makeup lasts long and doesn't get cakey, and once the base is set move on to other parts of the look. Depending on your styling and preferences, Nagpal creates a makeup look straight out of your bridal mood board. "My best wedding vendor decision made. Her makeup was natural & dewy, which was exactly what I was looking for. More so, she is kind to take your taste into consideration, making sure the bride feels her best on the big day," writes one of her ex-clients. The best part about Rhea? She's also a pro hair artist, so you don't have to pay extra for a hairstylist. And she also offers a makeup artist course in Mumbai, so if you're looking to become an MUA, she can be an ideal teacher.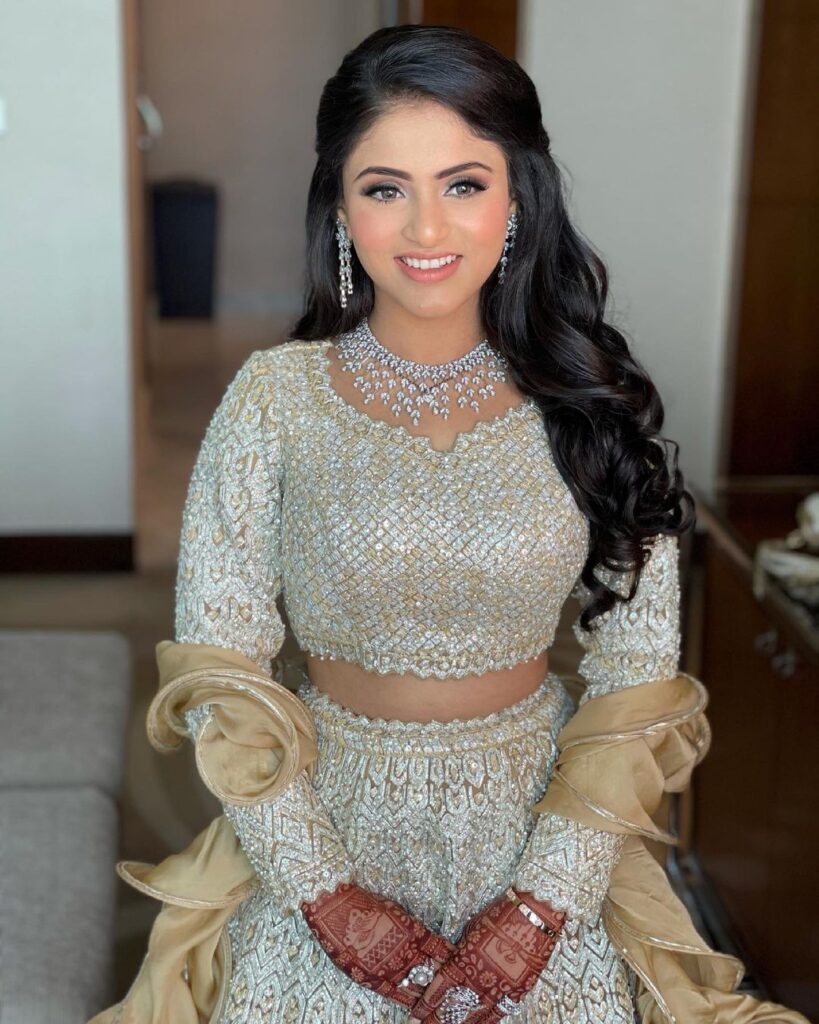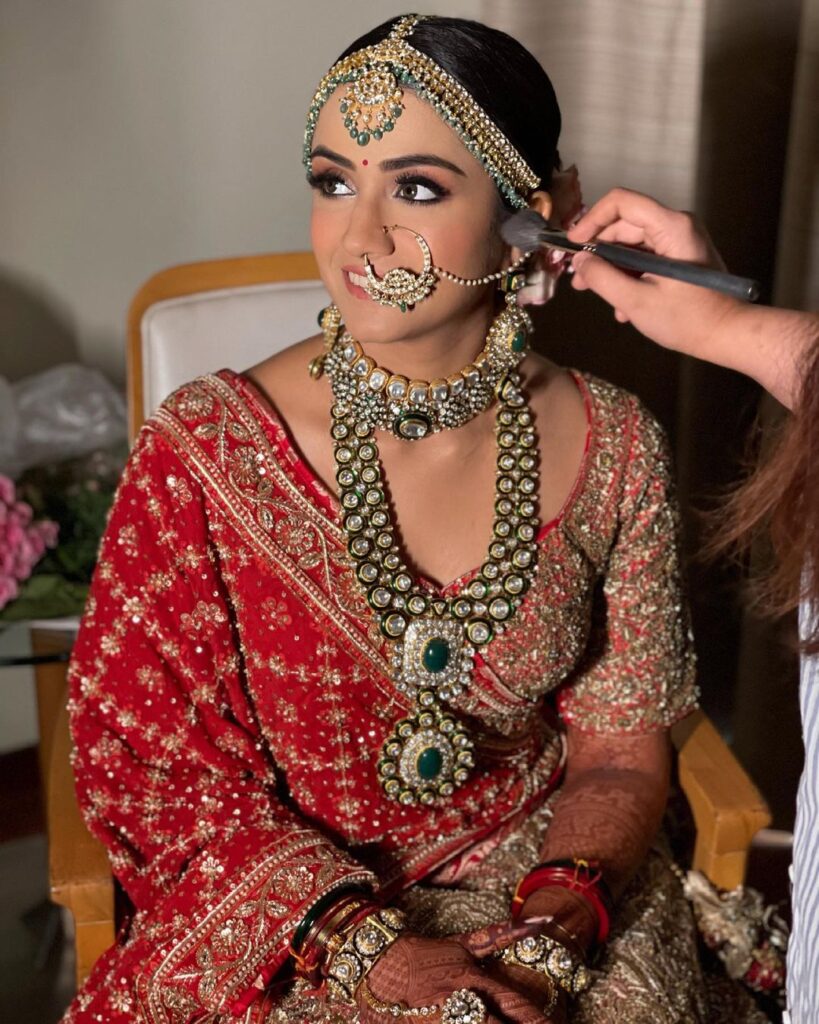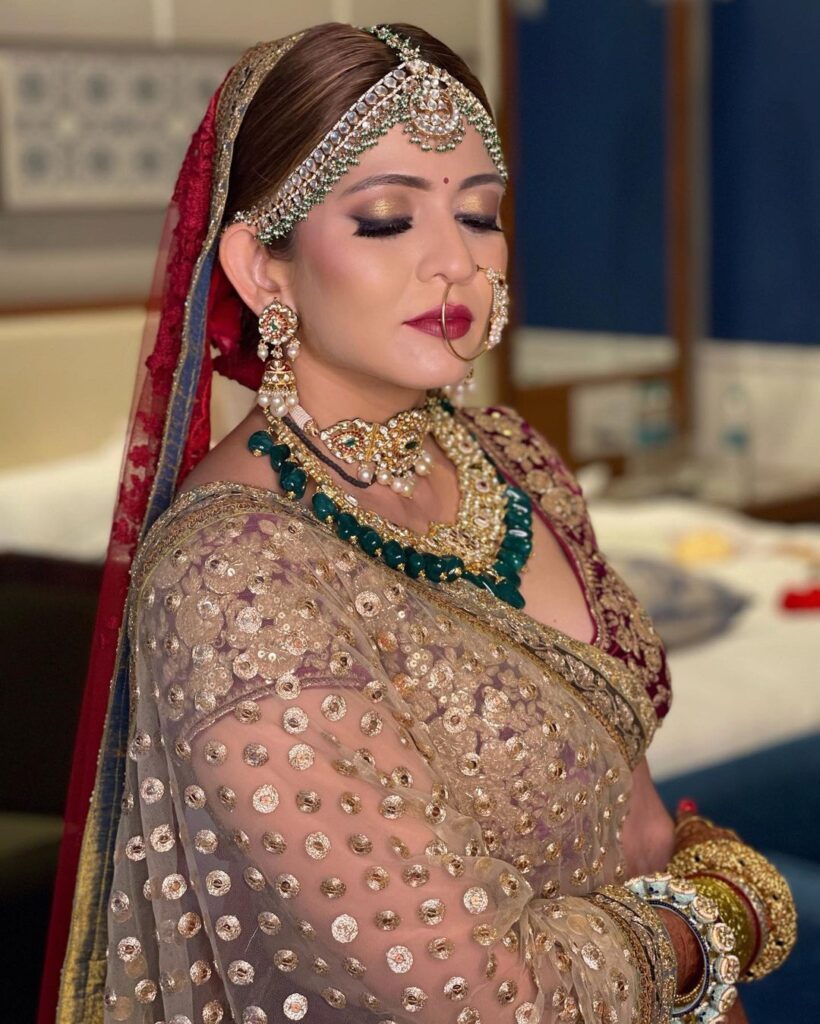 #15 Swapnil Bhosale – Rs.25,000/-
Instagram: https://www.instagram.com/makeupbyswapnil_220713/
Brides exuding a glamorous aura while looking like themselves isn't a balance any MUA can achieve – but thankfully the next Mumbaikar makeup artist on our list is a pro at this skill. In fact, do you remember the recent wedding of Alia Bhatt's close friend Rhea Chatterjee? – which went quite viral on Instagram; Bhosale served as the MUA for two main events there as well. He has 8 years of experience in the industry and has catered to over 700+ clients during this time. With bridal pictures displayed with no-filter and just after he displayed his makeup magic, his Instagram feed will surely convince you to hire him as your bridal MUA. 
#16 Chaitali Patel – Rs.25,000 – Rs.30,000/-
Instagram: https://www.instagram.com/chaitalipatelmakeup/
With 5+ years of experience and more than 700+ posts later, Mumbai-based makeup artist Chaitali Sen Gupta's go-to makeup look remains the same. Think luminous skin, accentuated eyes, defined cheekbones, and complimentary lip color. While keeping her signature makeup strong, she does customize each wedding look to justify the dream vision of the bride. "Absolutely loved all my makeup looks done by Chaitali. She gave me a different look for each function – I booked her for 3 functions. She understands your taste and skin well and gives you a makeup look that'll make you look the best. I'd recommend her to anyone looking for a good bridal MUA.," writes one of her ex-brides. "Being a no-makeup person, Chaitali really made sure I found comfort in whatever she was doing. One of the most soft-spoken people I have met. If you want to be a stress-free bride, blindly go for her." shares another bride of hers.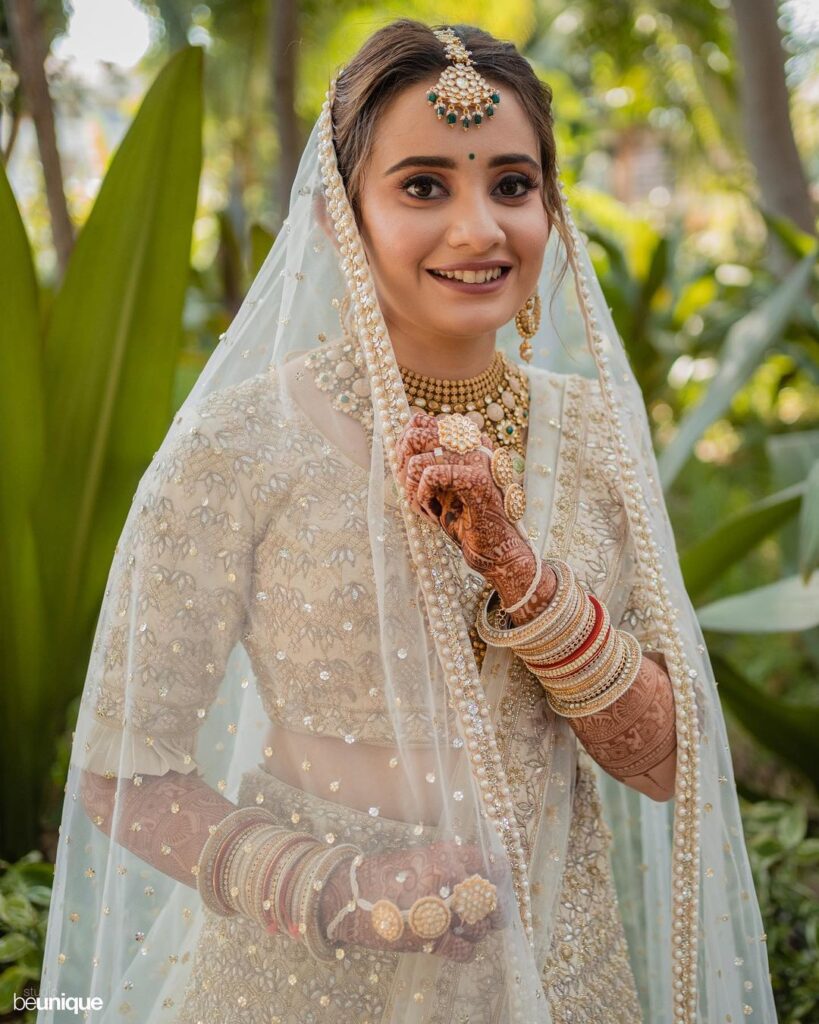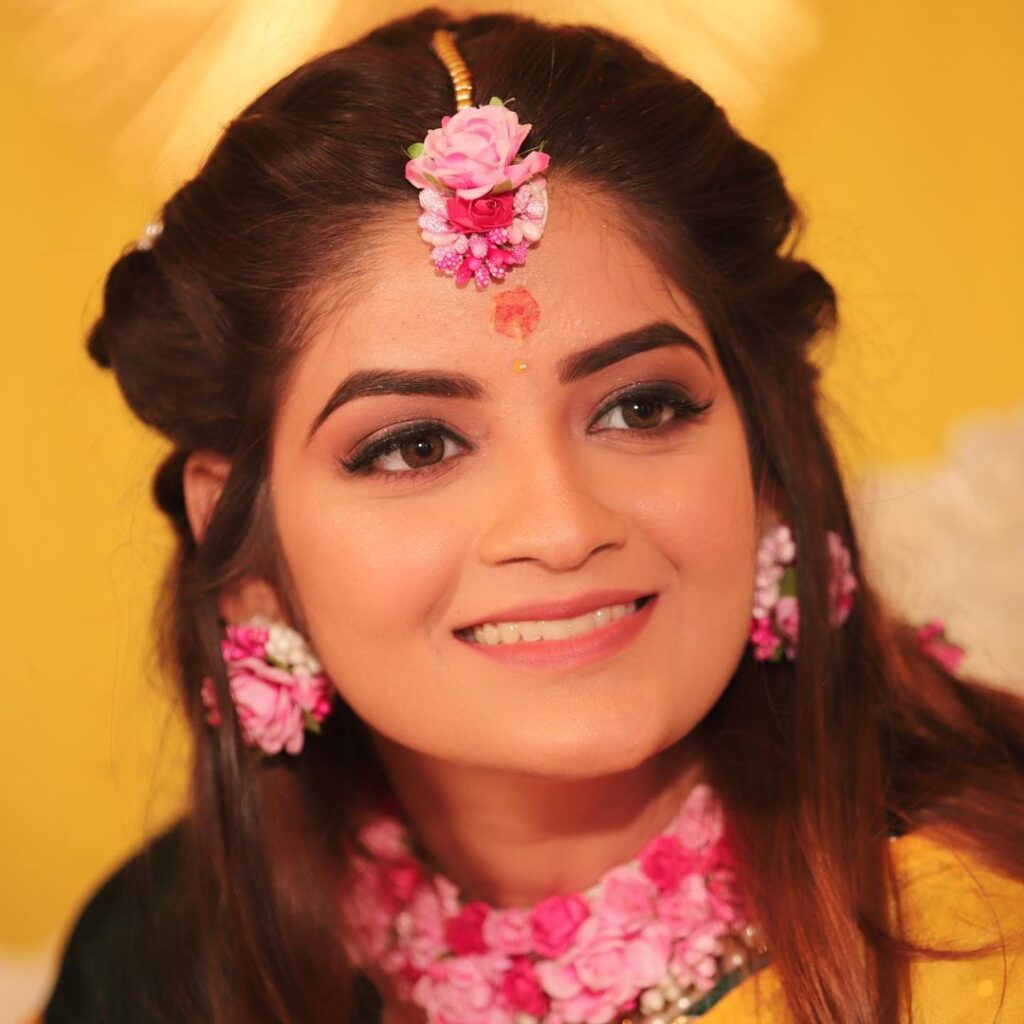 #17 Aanchal Chugh – Rs.20,000/-
Instagram: https://www.instagram.com/makeupstudio_byaanchalchugh/
Trained from the London School of Makeup, Aanchal Chugh runs a makeup studio in Mumbai but also travels to the location for makeup. If there's one thing you'll find on all of Chugh's brides, it's a wide smile straight from the heart. Of course, who wouldn't be grinning if their final look turned out to be exactly as they imagined it to be? With kohled eyes and a touch of shimmer on the lids, radiant skin, and a lip shade that doesn't overpower the base makeup – Aanchal blesses her brides with a look that'll look good in real and in pictures. Here's what one of her brides wrote as the review, "Thank you Aanchal for creating such a stunning look for my wedding. It went well with my jewellery and face shape. My husband couldn't stop complimenting me. Thank you so much for your perfection. Lots of love and wishes to you!."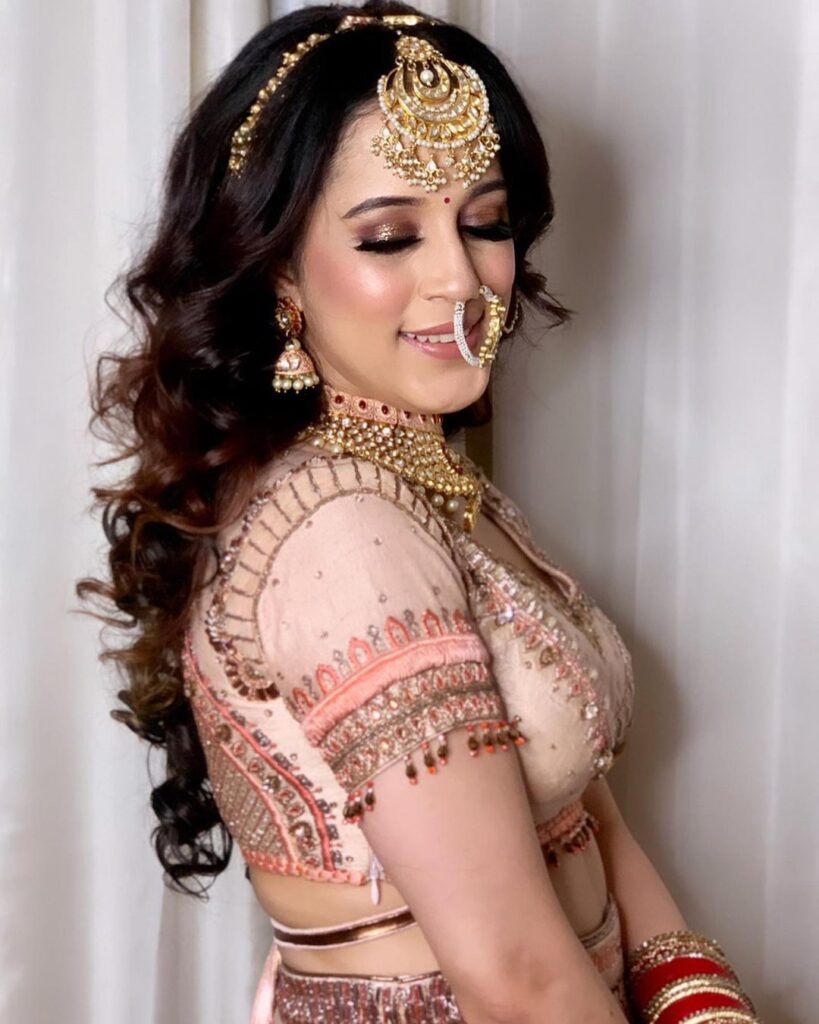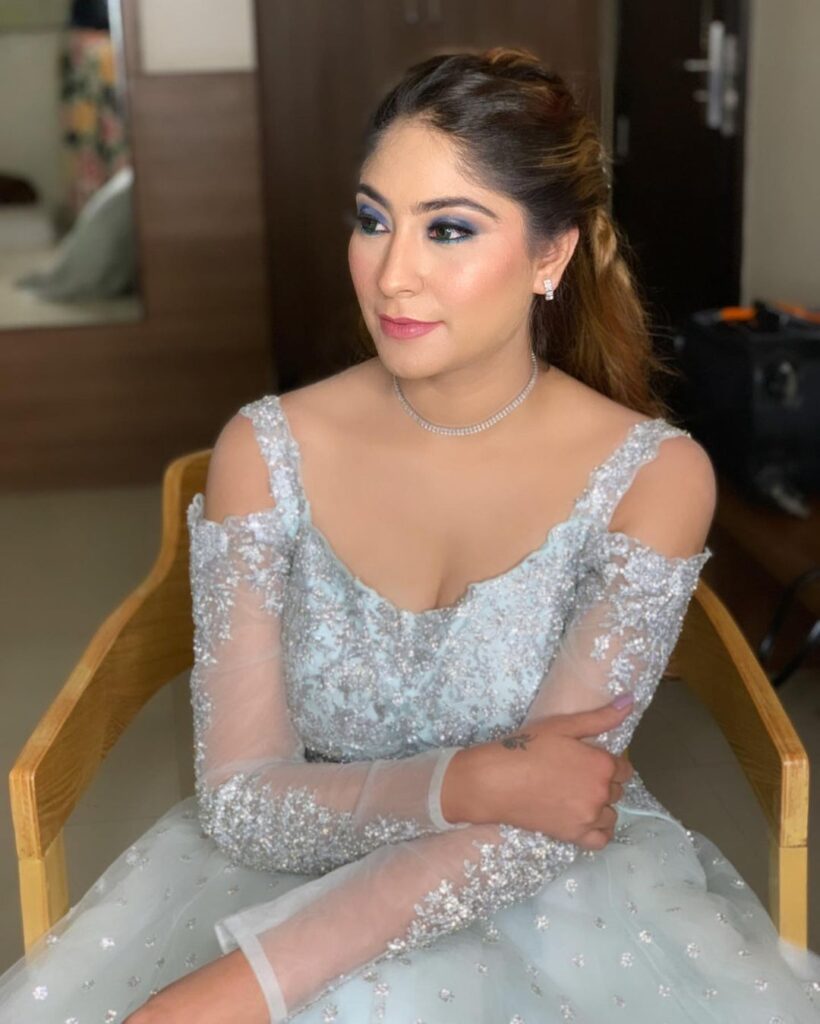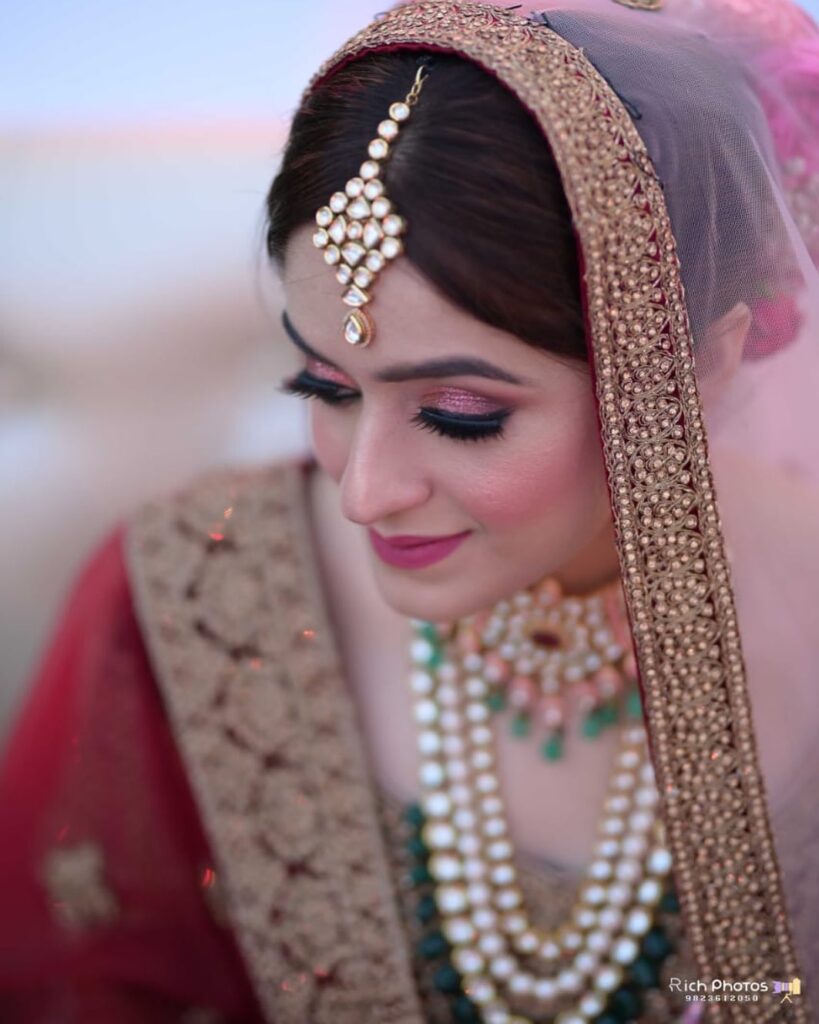 #18 Preeti Jain – Rs.30,000/-
Instagram: https://www.instagram.com/makeupmissile/
Preeti is clearly a fan of giving her brides a timeless, elegant look – something she'll feel confident and happy with. And a quick scroll on her feed replete with beautiful brides will prove the same. You'll find plenty of looks that exemplify a glow-from-within base with just blended contour, sharp eyes, and a pop of smooth blush. From mehendi, roka, sangeet to traditional bridal looks of all regions, there's all kinds of assurance you need on her feed. Here's what her ex-client says about her – "Preeti is a rockstar! She'll make you look like YOU & is also a great support system amidst the Indian weddings chaos. Her makeup & expertise is amazing. In fact, she starts giving tips for skincare and planning the makeup looks beforehand. I am so glad I chose her! Believe me, girls, she is the best!."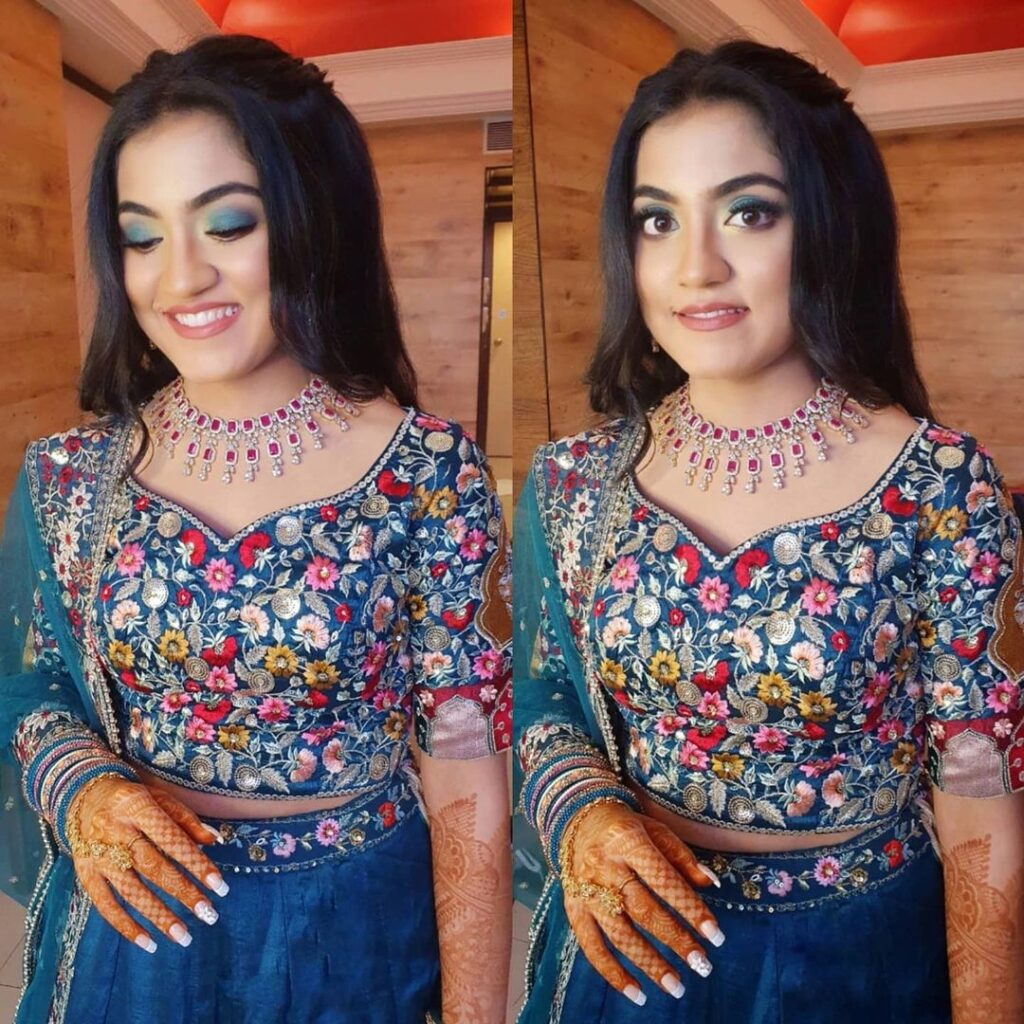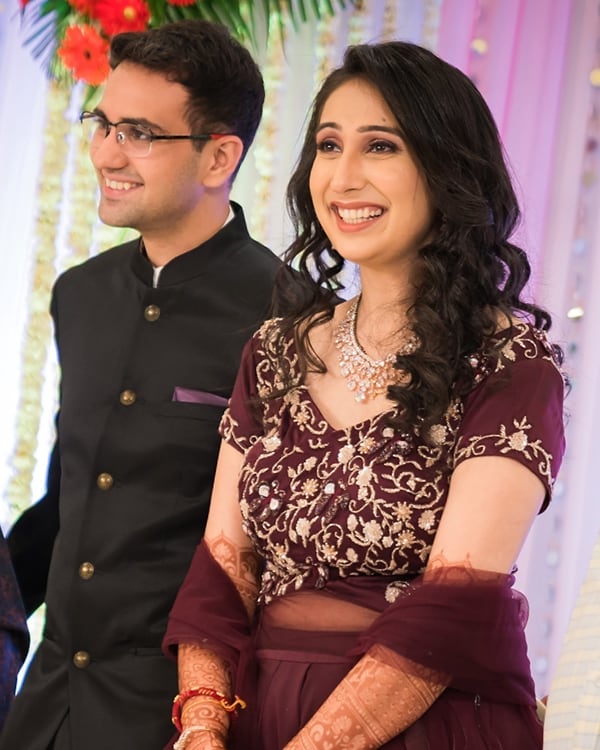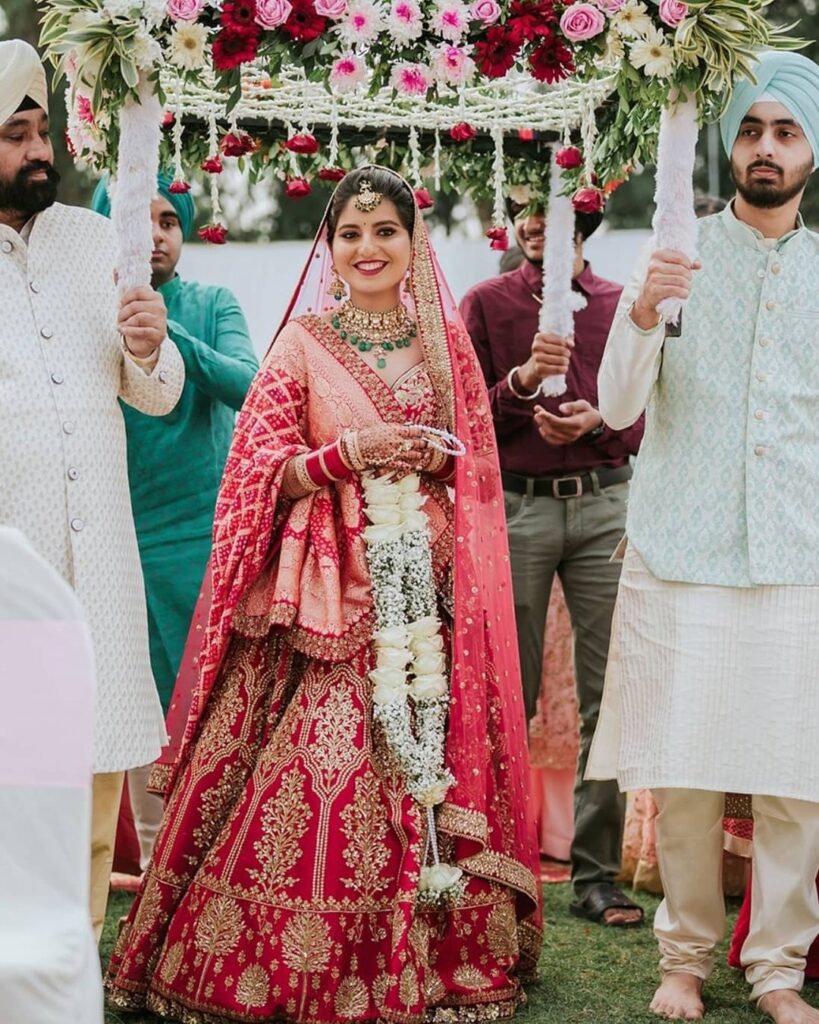 #19 Shamita Gogia – Rs.28,000/-
Instagram: https://www.instagram.com/shamitag/
A Mumbai-based bridal makeup artist who has had quite a few viral brides up her sleeves, Shamita Gogia is a surefire consideration for anyone looking for an MUA in the city. On her Instagram, you'll find spectacular brides demonstrating on her behalf, the skills of contouring the perfect cheekbones, creating neat, flawless eye makeup, and achieving that flawless finish (all brides dream of!). Of course, her reviews are full of admiration for her work too! "What a talented MUA! She gave me 3 different looks for different wedding functions. And also dolled up my mother (who never liked or has done makeup in life). I was stress-free throughout. She did a great job!." No matter if you want a South Indian bridal look in Mumbai or a traditional Maharashtrian bridal look, she can help you achieve it with perfection.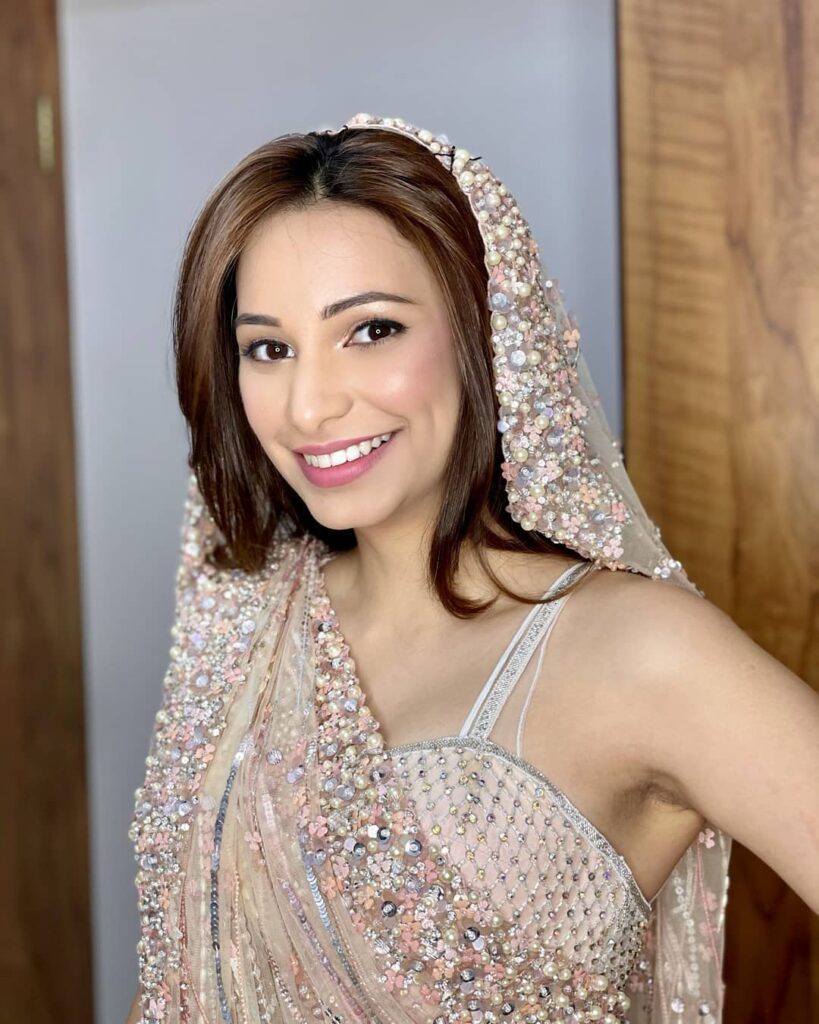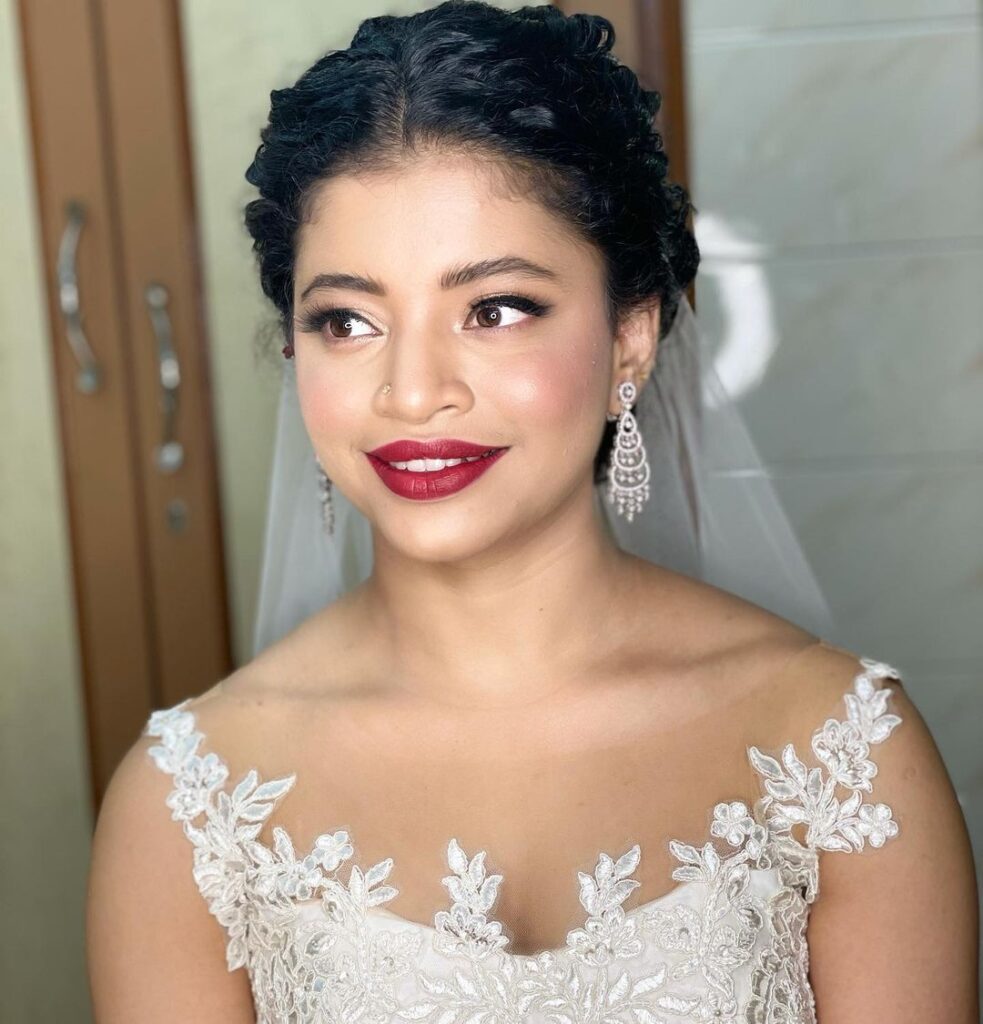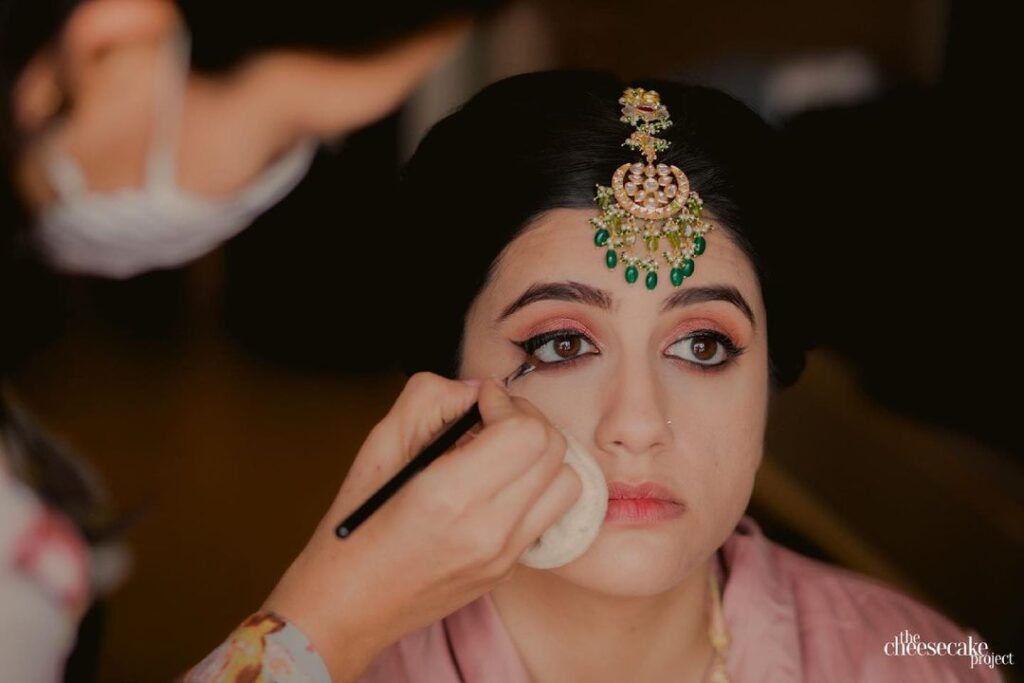 #20 Dr.Keysha – Rs.30,000/-
Instagram: https://www.instagram.com/mumbaimakeupartist/
This Mumbai Makeup Artist's Instagram is overflowing with gorgeousness, thanks to all the bridal pictures posted. With over 2500+ bridal posts, from mehendi to D-Day, from a Muslim bridal makeup to a traditional North Indian, from dramatic to demure, she has a portfolio to convince any kind of bride to give her a shot on her special day. "Kisha is very professional, polite, and punctual. Since I'm a makeup artist myself, I hired her for my wedding to be stress-free. She did the job amazingly well and my makeup lasted for hours in the Mumbai heat. I recommend her to everyone." – writes one of her brides as a review. Besides, Kisha is also a cosmetology dermatologist, so she can help you achieve flawless, glowing bridal skin too! Find below some of the most spectacular brides dolled up by her.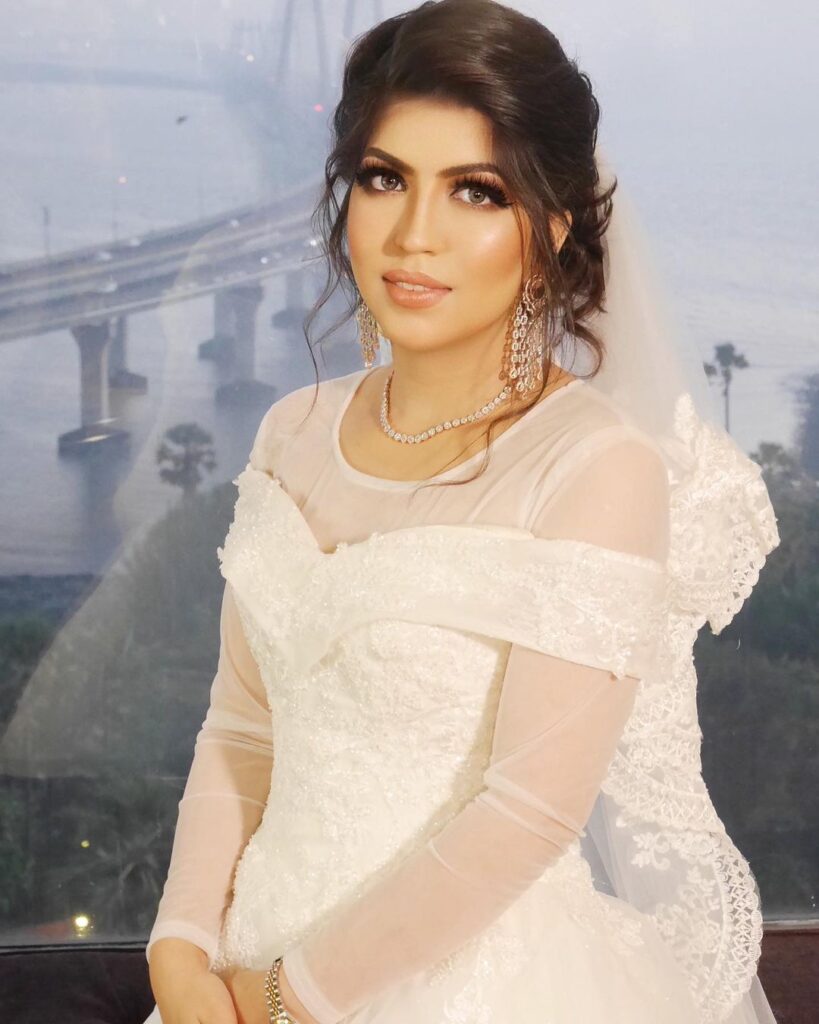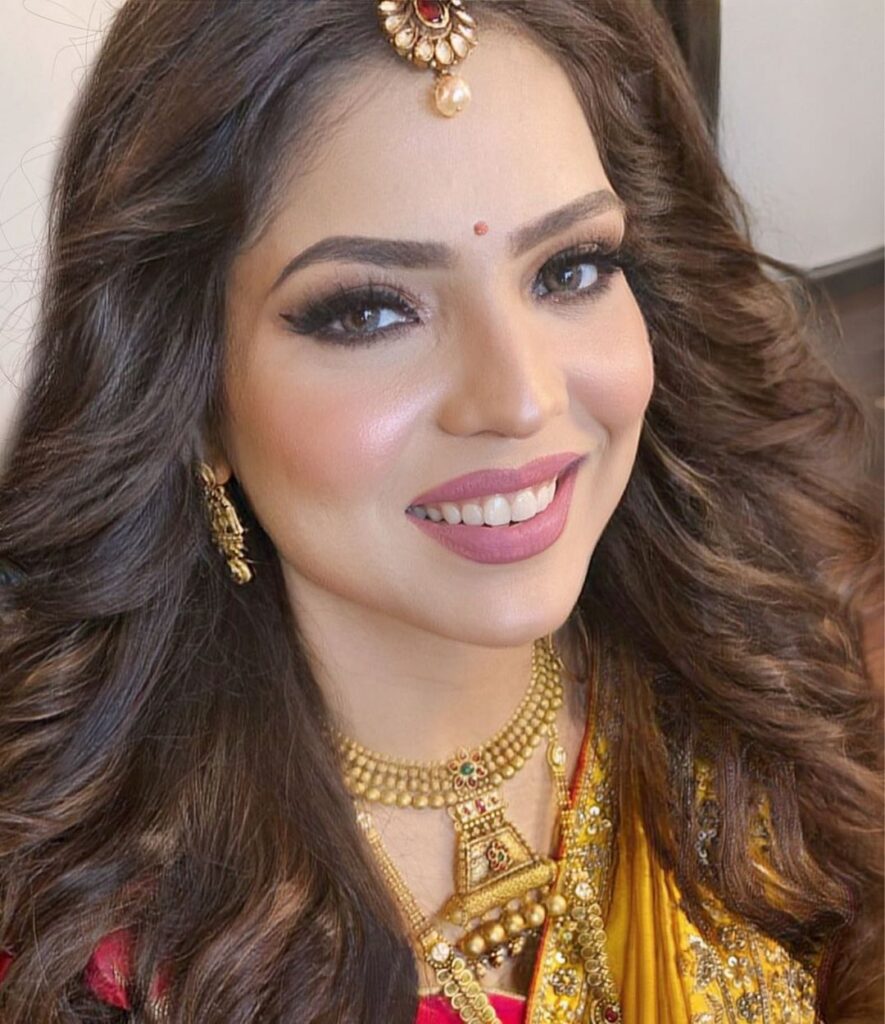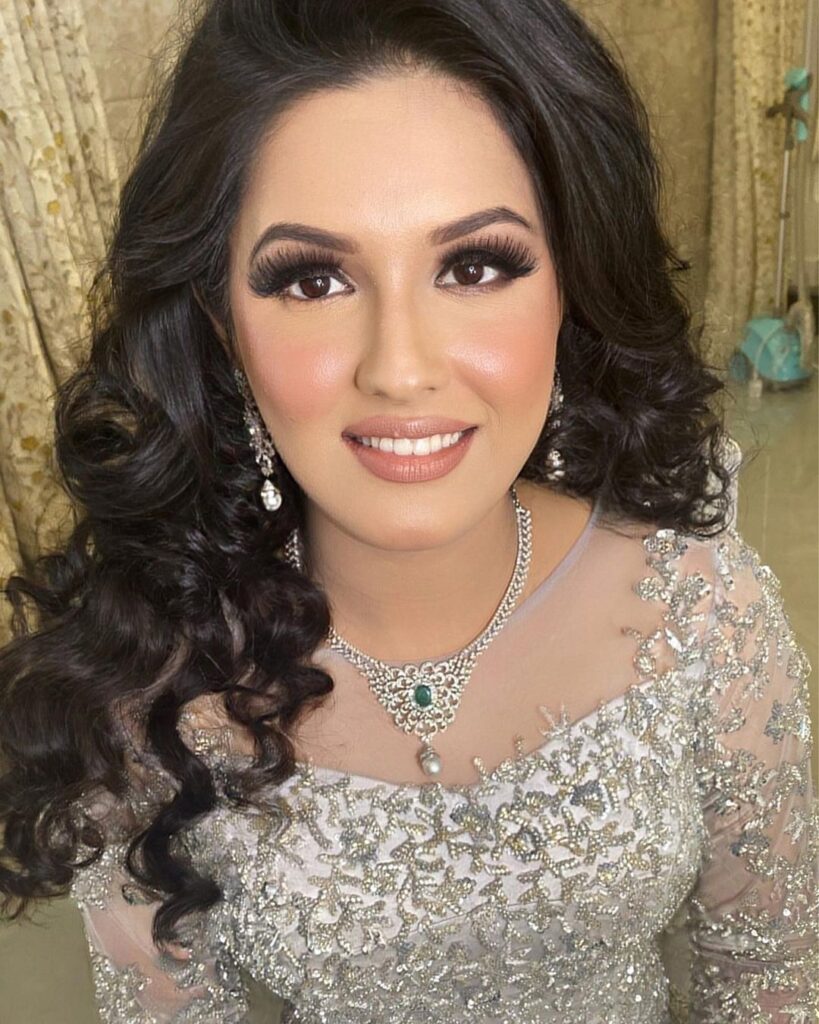 FAQ's 
How much does bridal makeup cost in Mumbai?
Bridal makeup can cost anywhere between Rs.15,000/- to Rs.50,000/- in Mumbai. Some celebrity makeup artists, like Namrata Soni & Vardan Nayak, can charge anywhere between a lakh to 2 lakhs for each makeup session. Some makeup artists do have a package for 3 or more makeup for different functions, so you can request them to offer the same. In general, the prices for sangeet & wedding remain the same, but it can be on the lower side for mehendi & haldi. 
How much does a makeup artist charge for bridal makeup?
In general, a makeup artist charges anywhere between Rs.15,000/- to Rs.35,000/- for bridal makeup. It includes hair, makeup, draping, lashes, and in some cases, nails. Makeup artists on the higher end can charge anywhere between Rs.40,000/- to Rs.60,000/-. 
What are some high-end MUA's in Mumbai?
Here are some high-end celebrity makeup artists in Mumbai. 
Shradha Luthra

Namrata Soni

Vardan Nayak

Daniel Bauer 

Ojas Rajani

Kajol R Paswann 
What things should I take care of before booking a bridal makeup artist? 
These are the 5 things to take care of before booking a bridal makeup artist: 
Make sure she matches your dream bridal vision

Get a test run so you're sure of this key vendor

Get her on board as early as you can (some MUA's get booked as early as an year in advance)

Meet her outside and see if you can vibe together. 

Ask for what products they use and what services they will include in the given price. 
A professional makeup artist will be a godsend on your big day! So, pick wisely. Check out our top choices from Delhi & Jaipur here: