While you've saved some endearing couple portraits and timeless bridal pictures for your wedding, in this blog, we'd be covering you for yet another important portrait for your wedding – the father-daughter wedding photos. The relationship between a father and a daughter is hard to put into words. A daughter is an important part of a father's heart and life; the one he protects, loves, and cherishes. For the daughter, her father is her first love and a superhero sent from heaven. Their bond is truly special and to honor it, we've included some amazing father-daughter wedding photos below as must-have clicks on your big day and keep them as a keepsake forever. 
#1 Walking down the aisle with her first love and sharing the sweetest moments on the way. These candid moments are always a special capture. And aren't you loving this bride's eco-friendly approach to her wedding? Printed lehenga with flora & fauna, aisle decorated with white flowers & pampas grass, and varmala made with lush green leaves – definitely an inspiration if you're an avid environment lover too!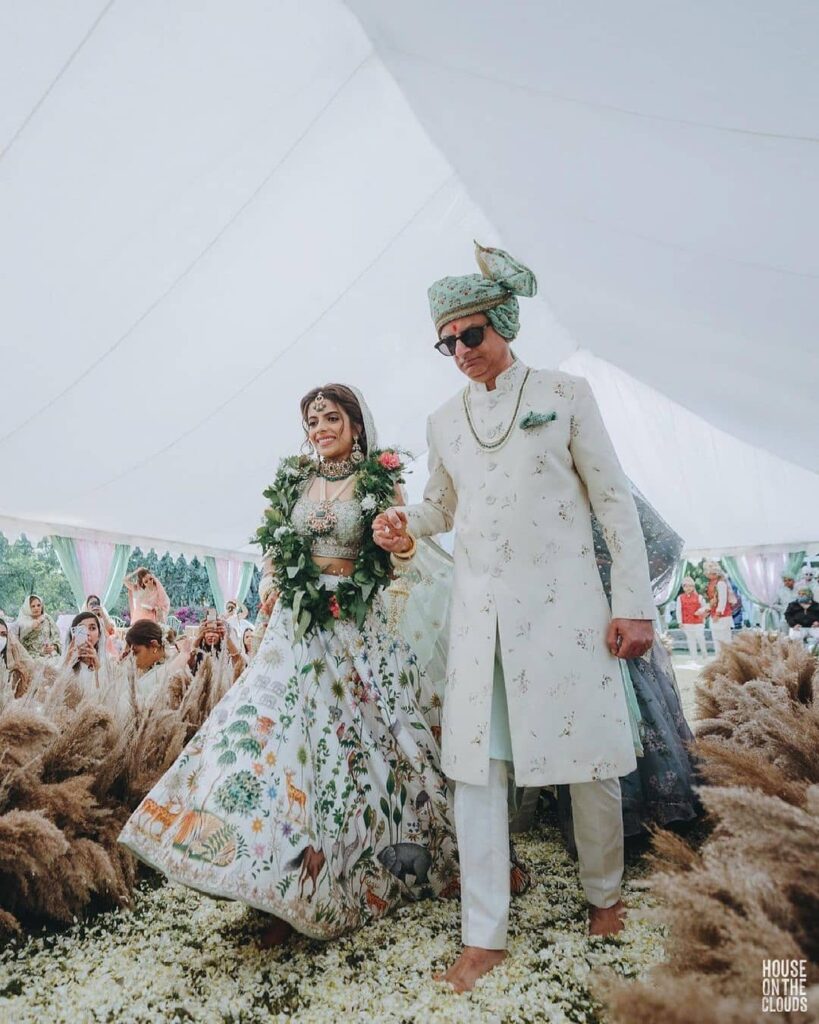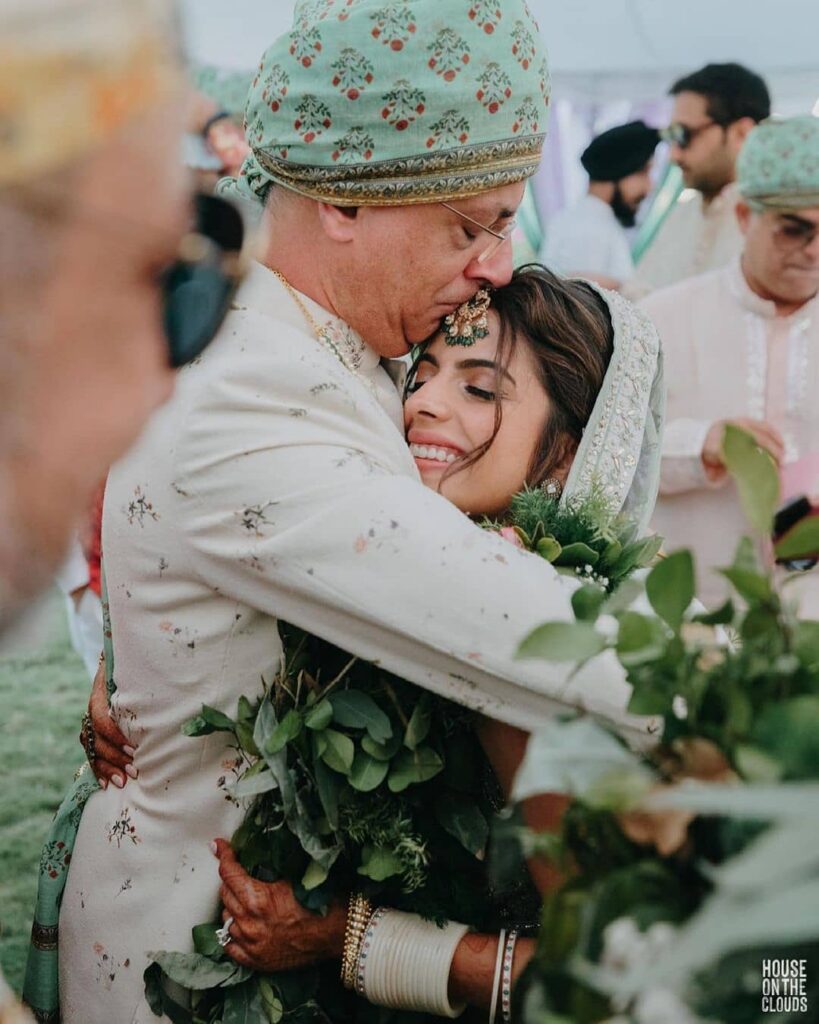 Courtesy: House on the Clouds, Rhea Chhabria
#2 Having the first dance with your father after you're wedded is always special. Here's the bride & her father sharing & relishing this moment. Their happy smiles say it all!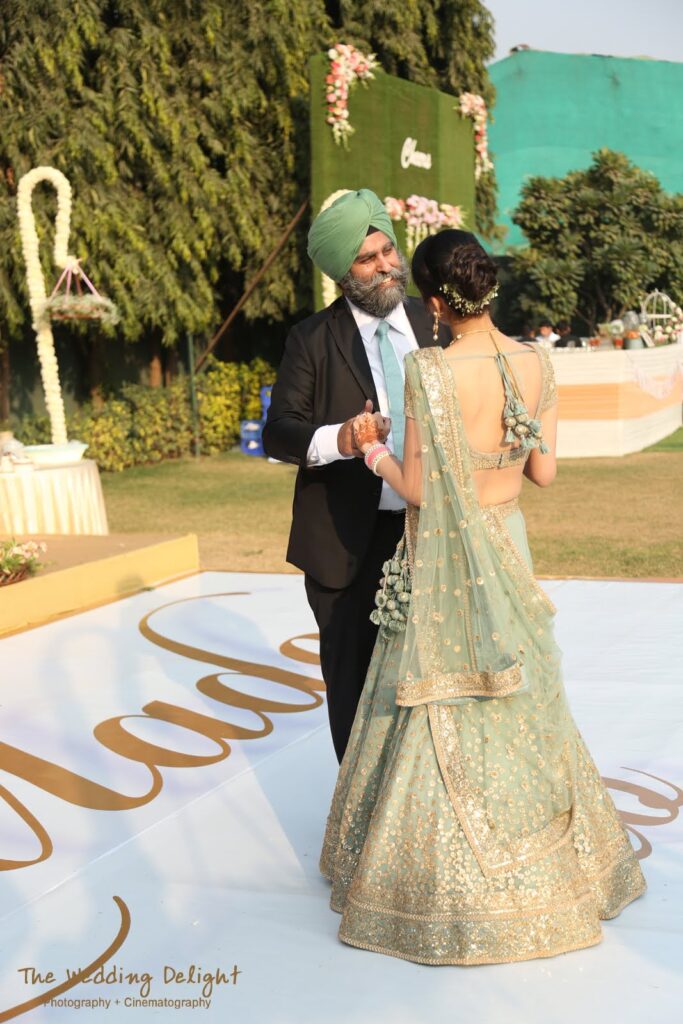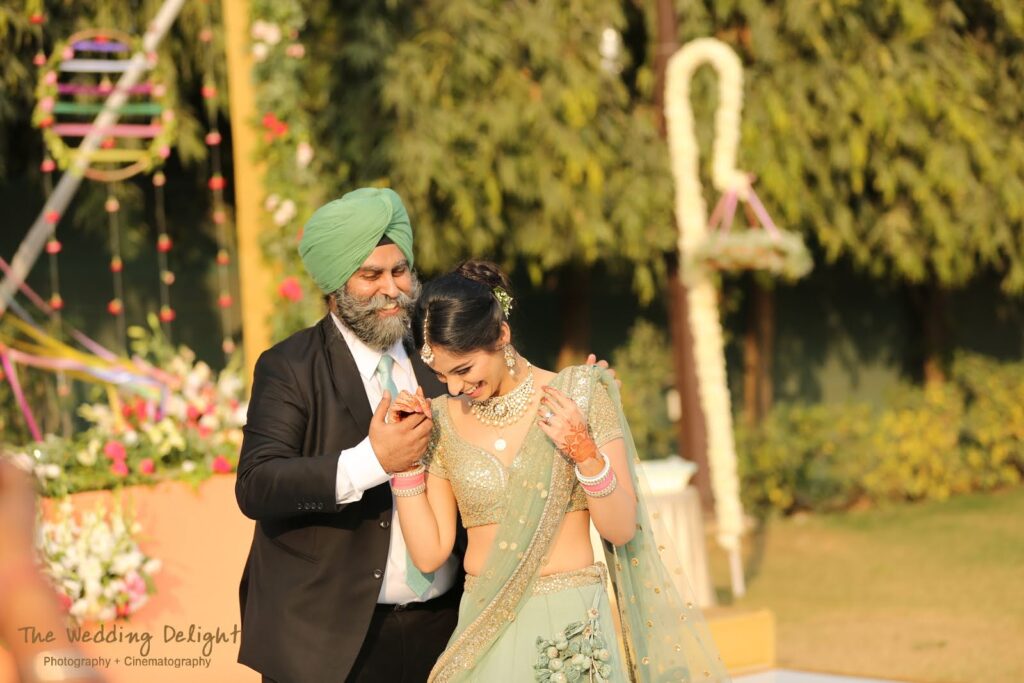 Courtesy: Mansha Kaur Anand
#3 Bride Shalini's wedding has been reposted numerous times by wedding blogs – and she made a spectacular, timeless bride for sure. Here's a moment she shared with her father during Vidaai, capturing the emotions of this ceremony well.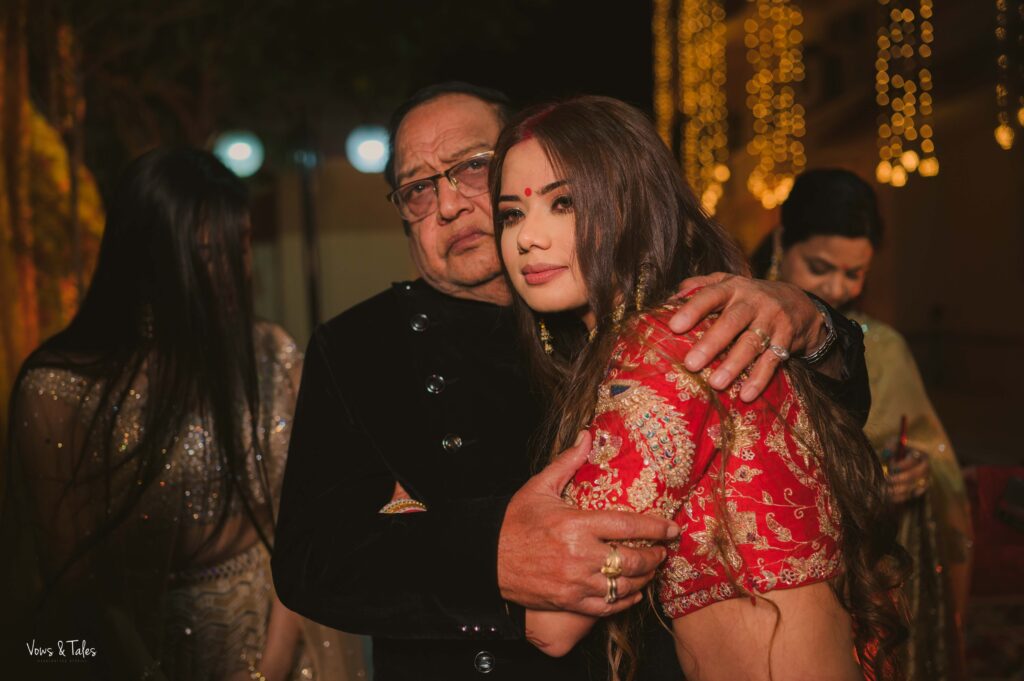 See Shalini's wedding blog here.
#4 Sakshi's wedding was replete with stunning outfits, perfect styling, happy smiles, and a few sentimental tears. Here are some touching moments of the bride and her father. We'd definitely recommend snapping the happy moments as much as the emotional ones – just like Hitched & Clicked did.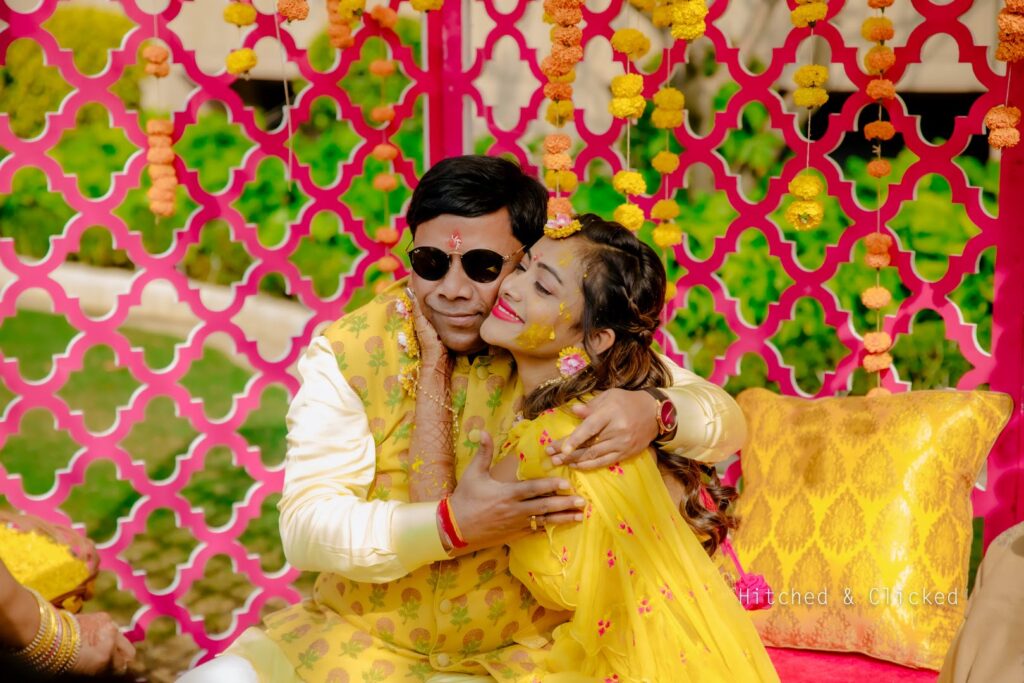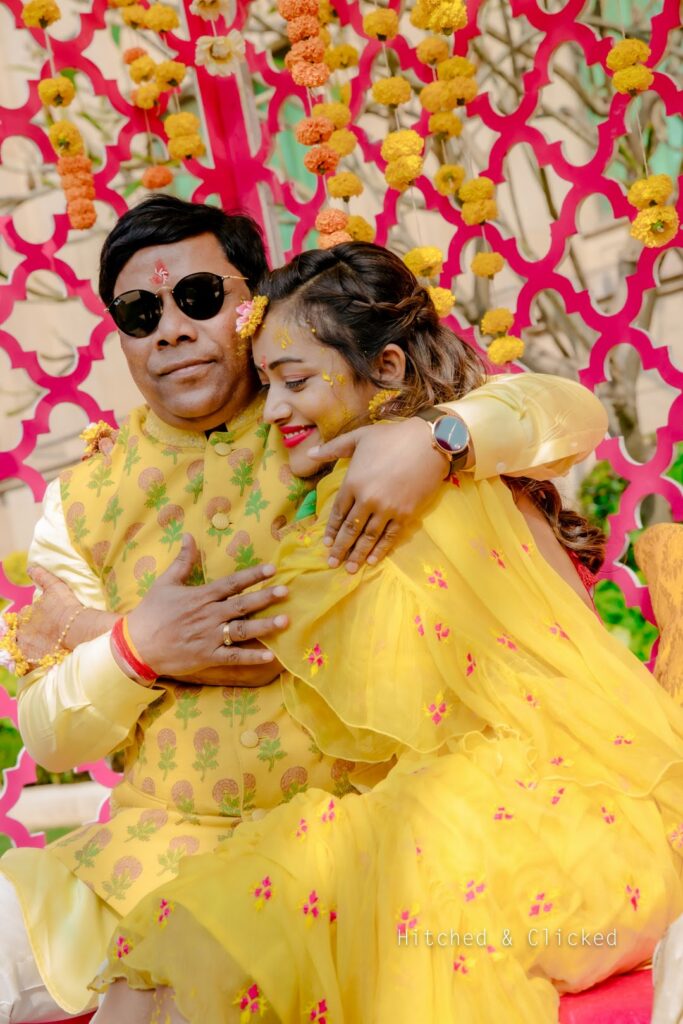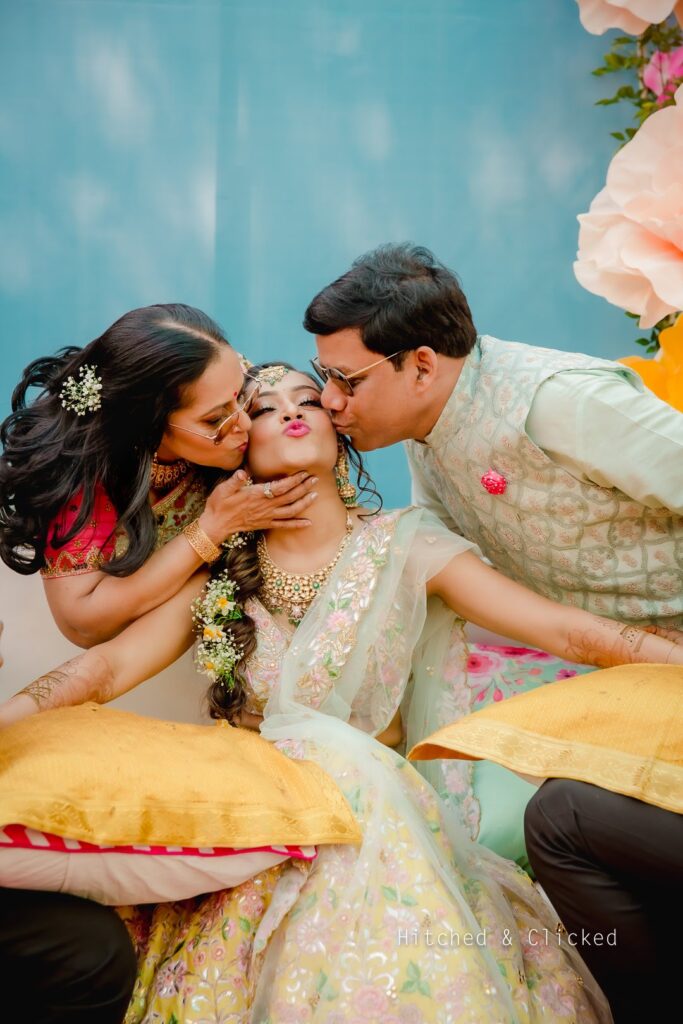 See Sakshi's wedding blog here.
#5 Because sometimes no matter how much we try to control our tears, they come out anyway. Bride Inayat clicked with her father, trying to keep her strong and cheer him up, but you know how fathers are. Captured beautifully though, by Sunny Dhiman Photography.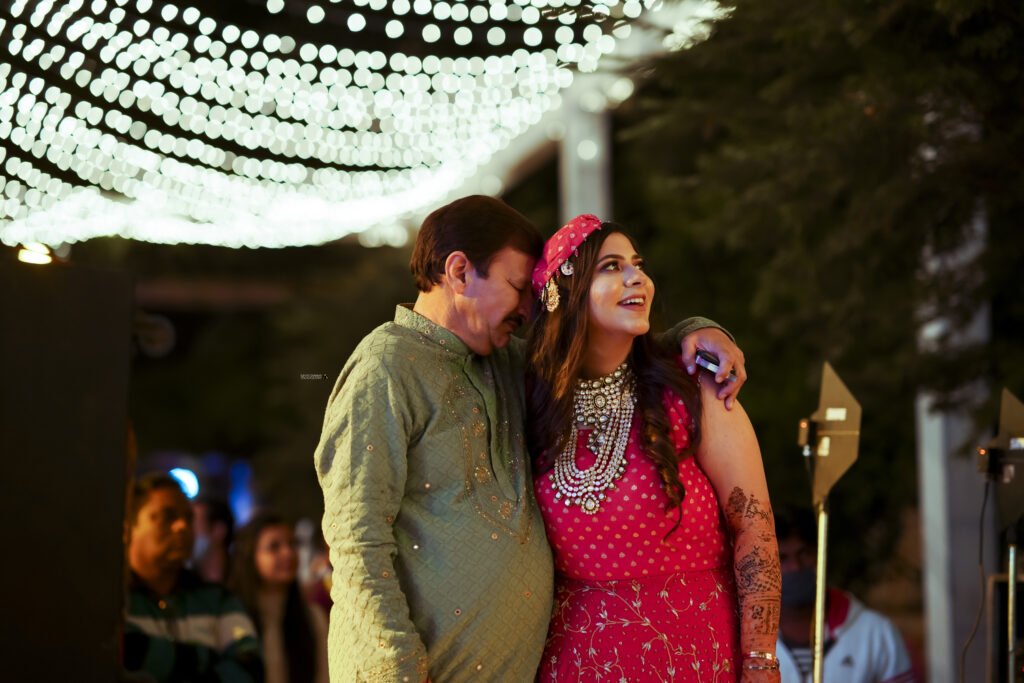 See Inayat's wedding blog here.
#6 Just moments before you're about to walk down the aisle and busy clicking your bridal solo portraits – we suggest calling in your parents for a few shots too. This is the best time to get those rehearsed shots in because the ceremonial time takes over afterward. Here's a cute pose to strike with your father and mother. 
See Anne's wedding blog here.
#7 In Kashmiri weddings, brides are seated on the laps of their father during pheras signifying him passing her on from his house to her husband's. Here's this traditional ritual being snapped in all its glory.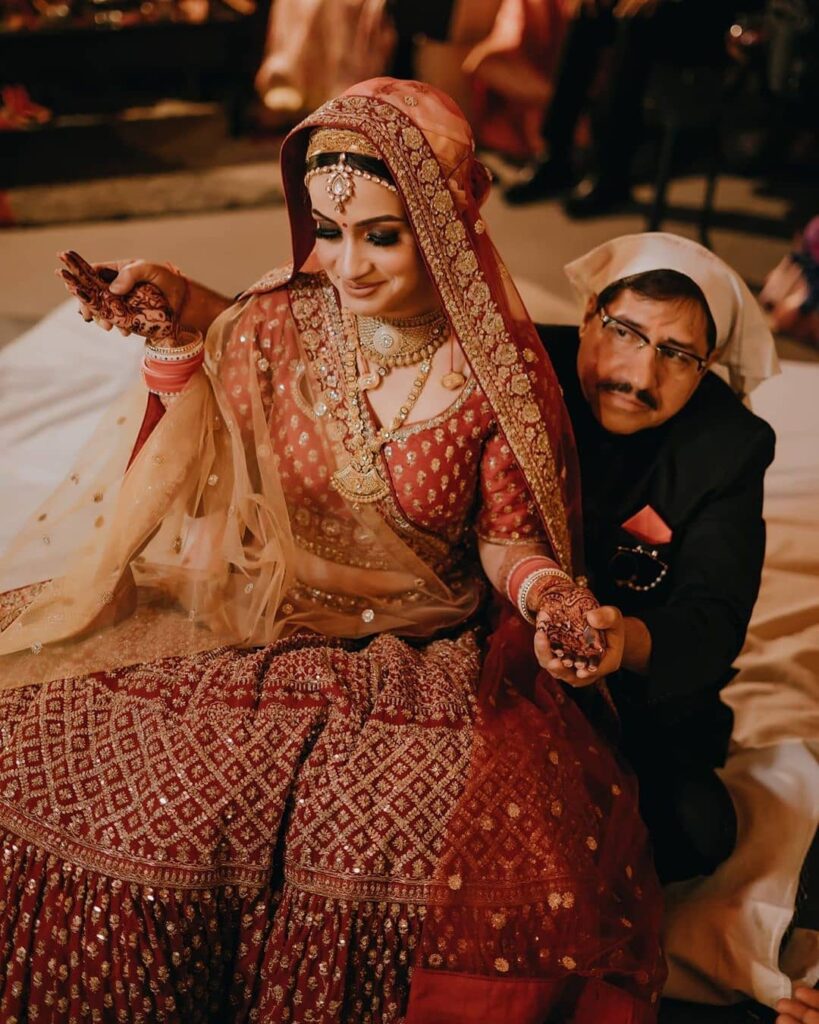 Courtesy: Meghna Kaul Taneja
#8 Just like in Kashmiri weddings, kanyadaan rasam in Tamil Brahmin weddings are done with the bride seated on her father's lap. Captured here, within this traditional ritual, is the sweet moment between the bride & her father.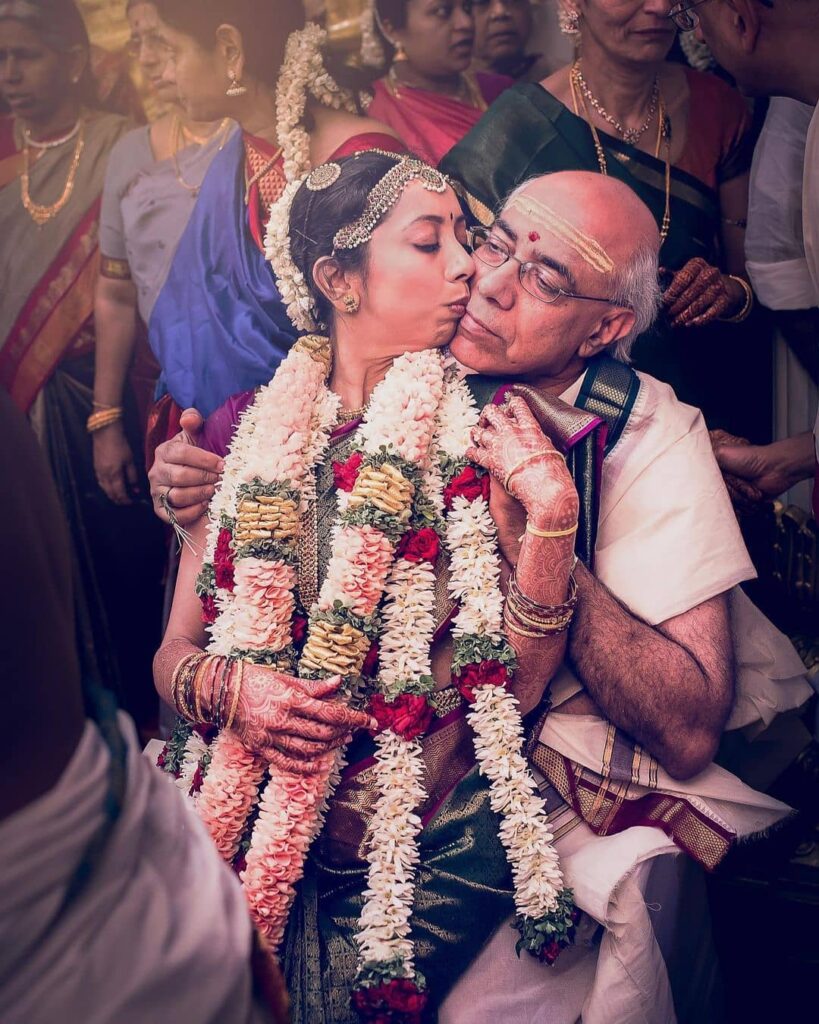 Courtesy: Photo Tantra
#9 Most brides' prefer their bridal entry to be alongside her parents and beneath a gorgeously bedecked phoolon ki chaadar. Bride Anisha Khanna was no different. Not only was her bridal look appreciated heavily on the gram, but the candids from her wedding went viral too! Here's a glimpse of a sweet father-daughter wedding photo captured by Shivam Dua Photography.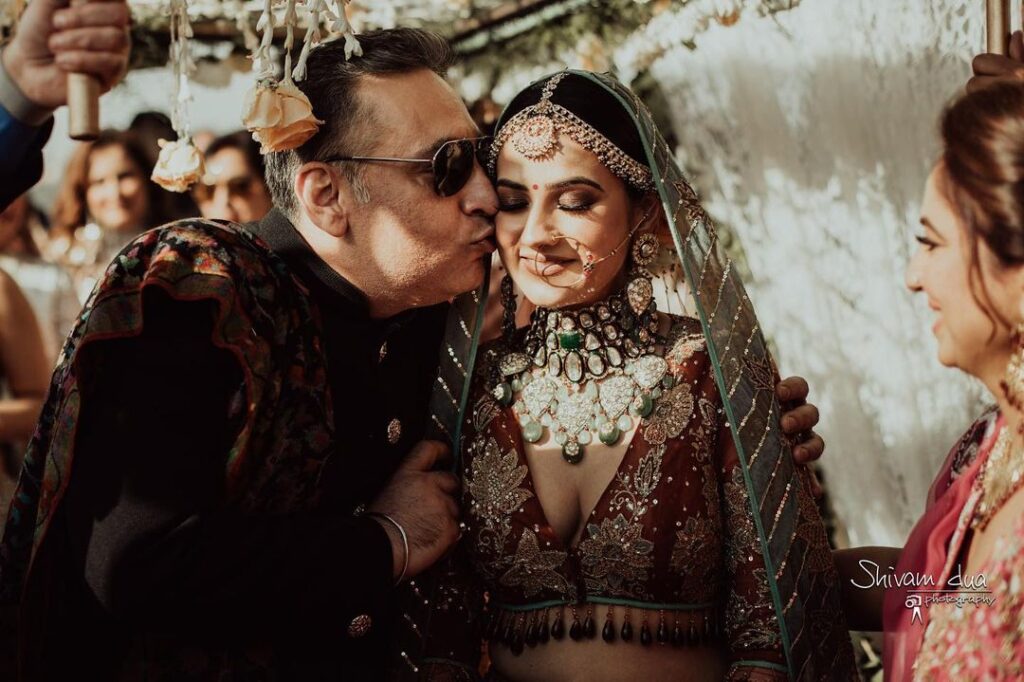 Courtesy: Shivam Dua Photography
#10 Someone rightly said," The heart of a father is a masterpiece of nature." Every day when we come across heart-melting father-daughter wedding photos, this quote is deepened in meaning further. Featured in the picture below, Isha Multani with her father just a few moments post her varmala ceremony.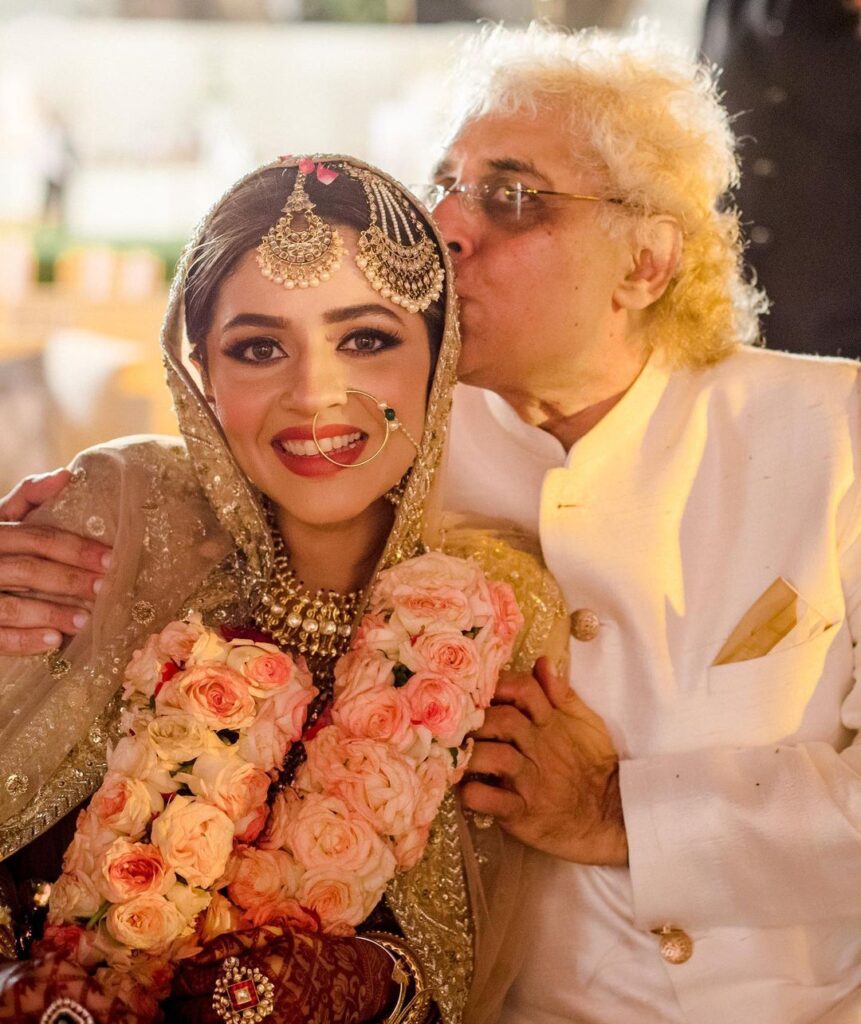 See Isha's wedding blog here.
#11 While we often spot mothers getting their daughter ready by gracing the dupatta on her head, here's how you can get your father in these trending pictures too! From fastening the earrings, necklace, to making you wear the bangles or putting the flowers in your bun lightly – there are so many creative ways to re-create this moment.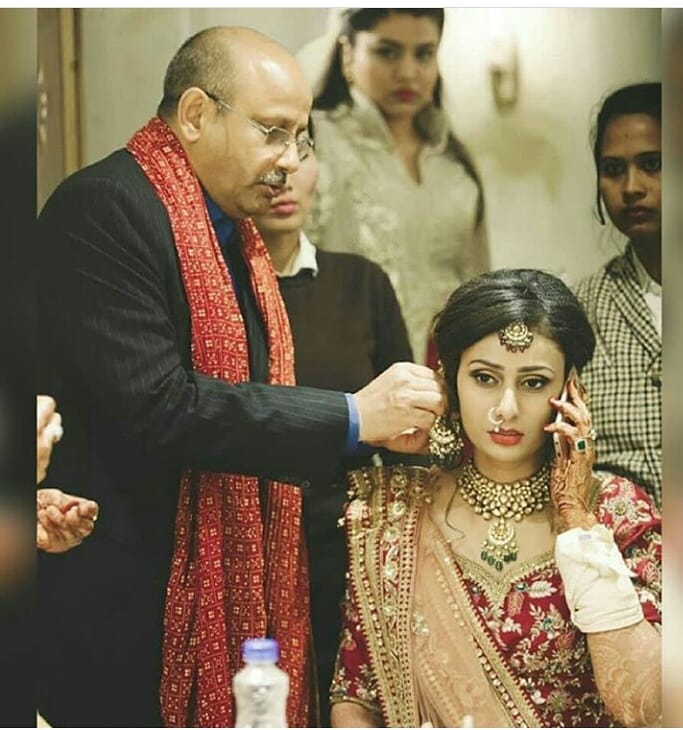 Credits: Unknown
#12 Jasleen's wedding pictures were full of love, cheeriness, eye-catching bridal ensembles, and a few emotional moments. Here's the endearing picture of father-daughter just a few moments after he ties the knot of bride's pallu with groom's sherwani dupatta.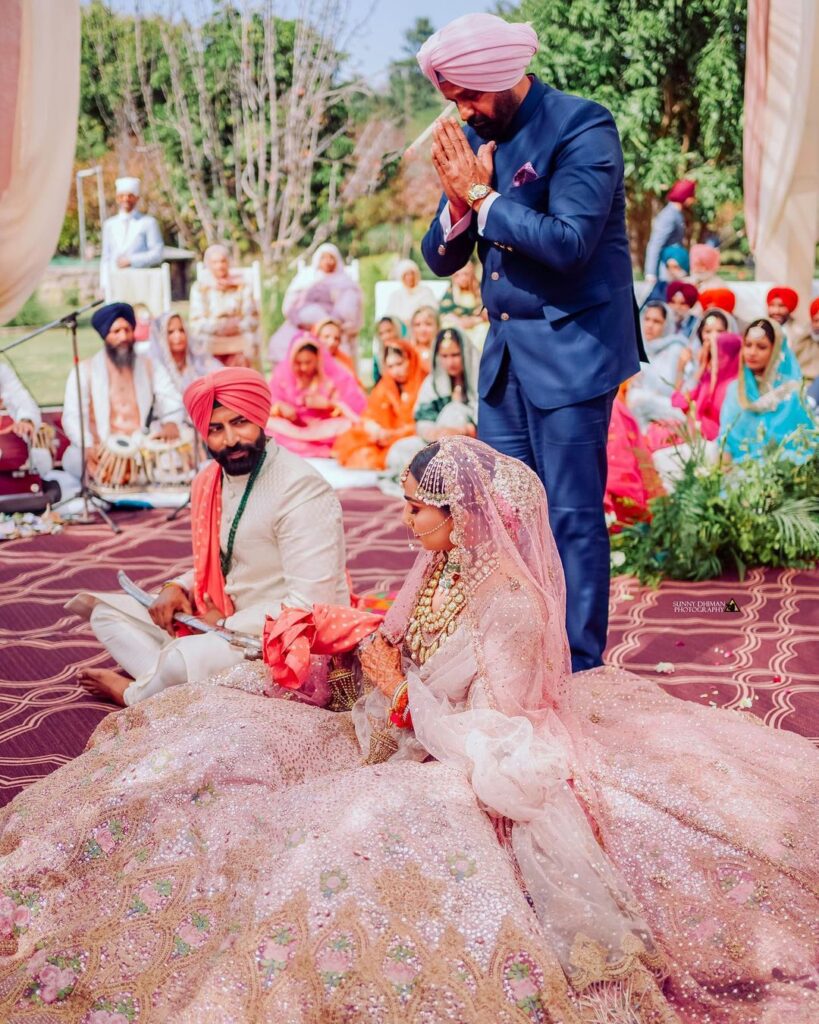 See Jasleen's wedding blog here.
#13 The eternal, unmatchable love of a father can't be compared to anyone. Showering his love on his daughter – here's an adorable picture of a bride with his father that's timeless and cherishable for years to come.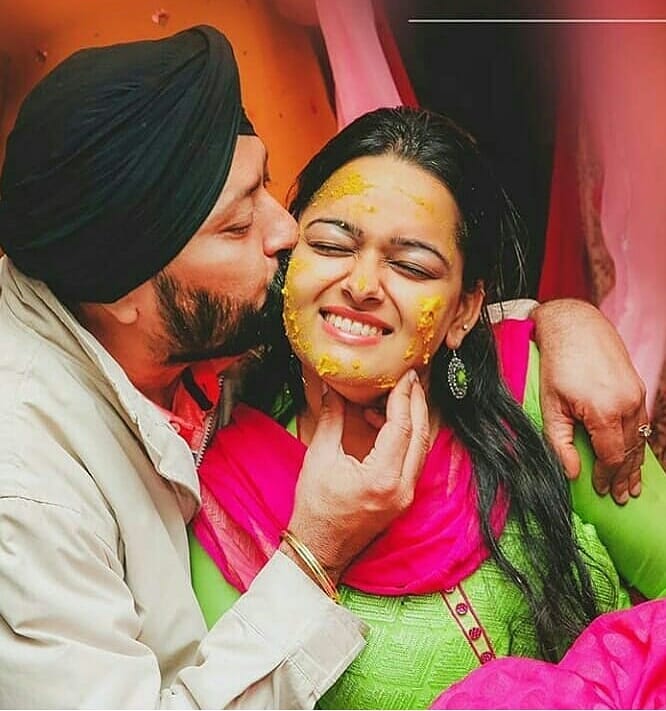 Courtesy: Dipak Studios
#14 Vidaai is the hardest part of Indian weddings. When the bride bids farewell to her parents as she goes to start a new phase in her life, the change is bound to get her and her family emotional. Father embracing the daughter in these pictures shows the raw emotions of this bidding wedding ceremony.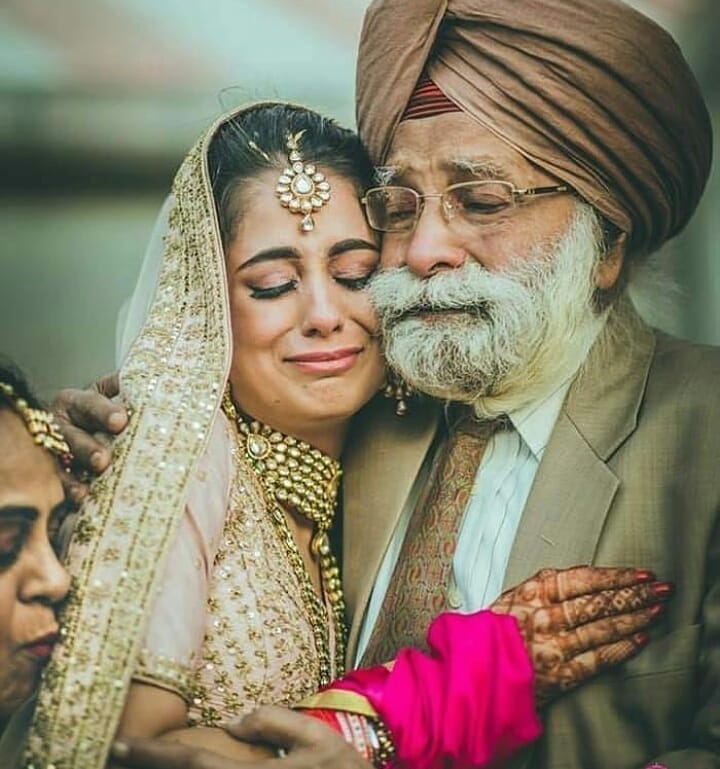 Credits: Color Blind Production
#15 A beautiful, loving portrait with your father will surely accentuate the memorable attribute of your wedding album. If you've got time, go out and get the snap during sunset just like this beautiful one featured in the image below.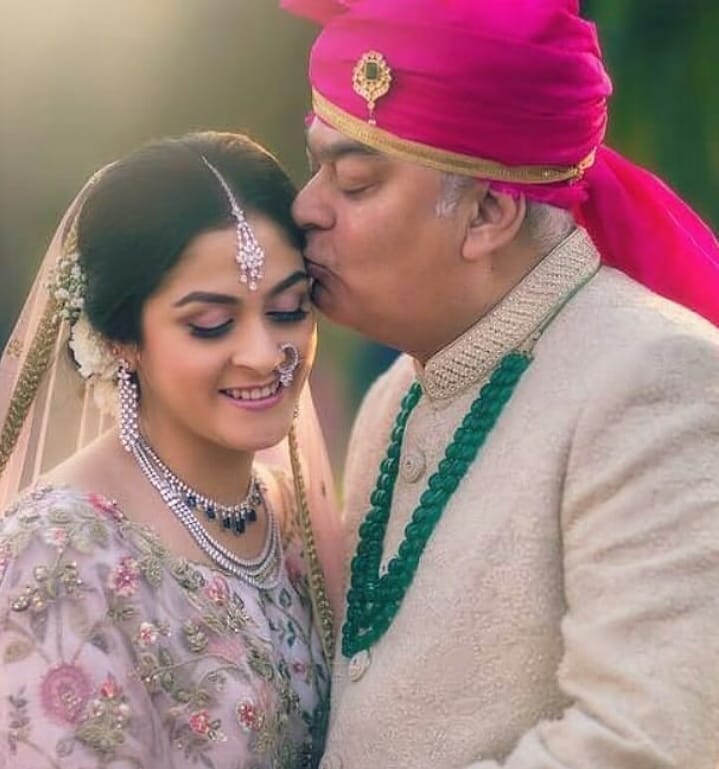 Courtesy: Reels & Frames
#16 While this over-the-head dupatta pose is generally for mothers, here's a bride who did it with her dad too. In fact, you can do a single shot with each parent and then, do one with both of them in it. The idea is to get a good amount of creative inspirational shots with your closed one so you don't regret getting clicked with them as much as you wanted to.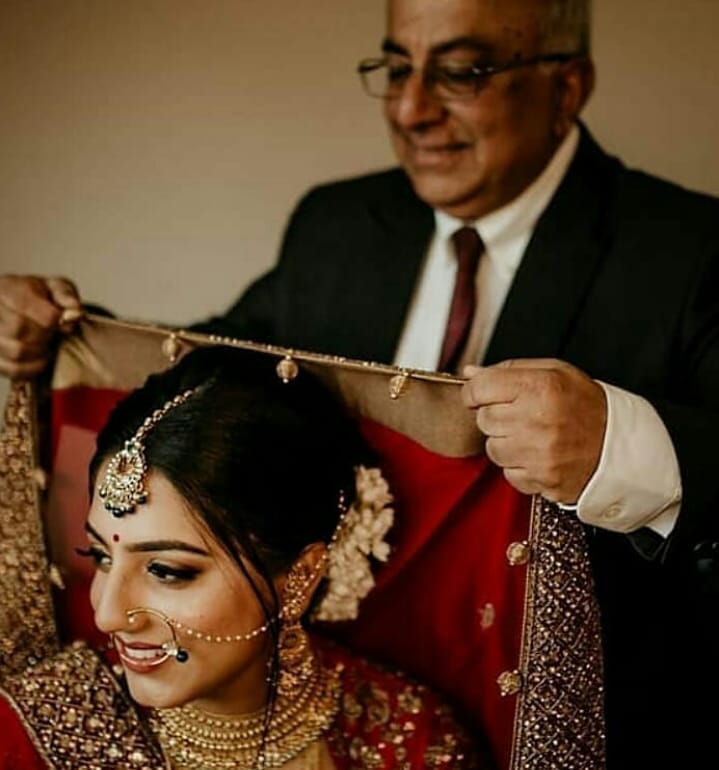 Credits: Unknown
#17 Entering with her superhero with fireworks gracing her presence as she enters – isn't this beautiful bridal entry shot love at first sight? If you want to enter with your parents too, and don't want to go for the usual 'phoolon ki chaadar', then this bridal entry idea is the perfect option for you!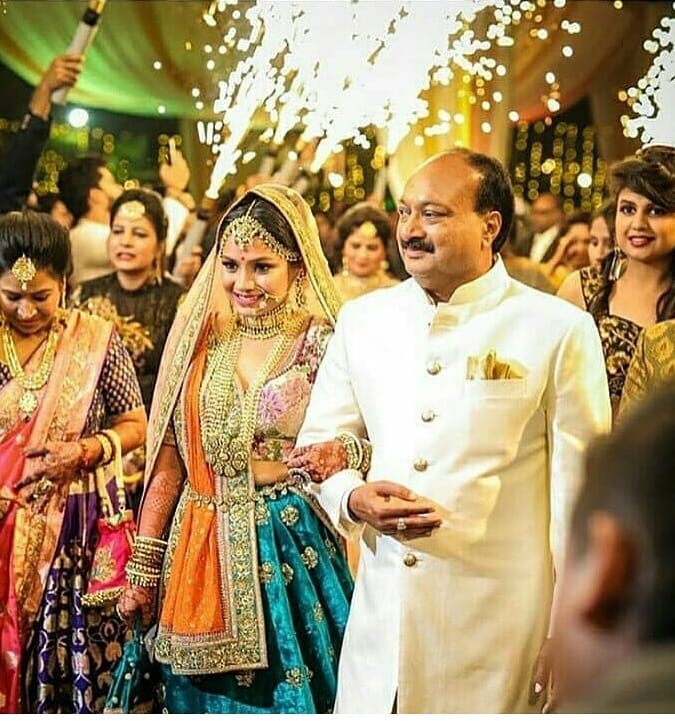 Courtesy: Dipak Studios
#18 Brb while we go and cry. This sentimental father-daughter wedding photo always gets us emotional.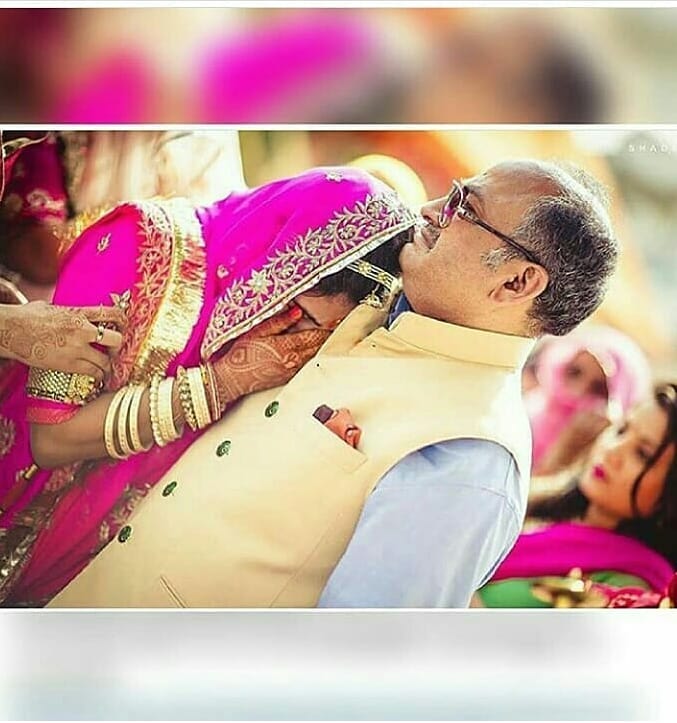 Courtesy: Shades Photography India
#19 Yet another candid capture of the bride and her father at the vidaai ceremony.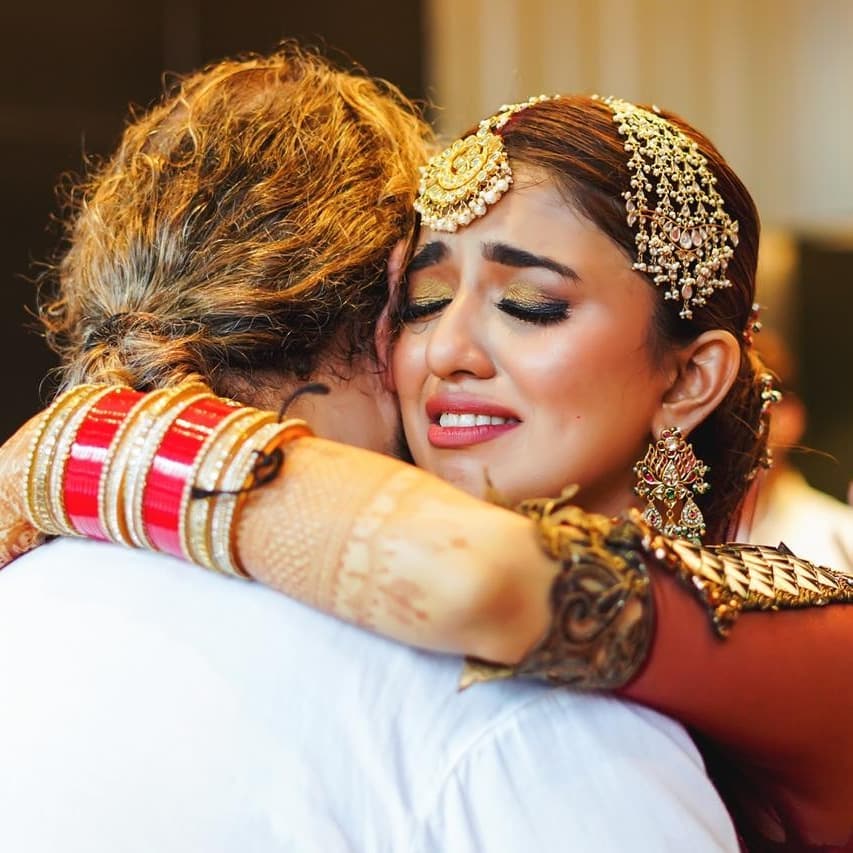 Courtesy: Trishala Shinde
#20 Entering the start of her new life with people who mean the world to her! Love this sweet candid capture of bride Vidhi with her parents.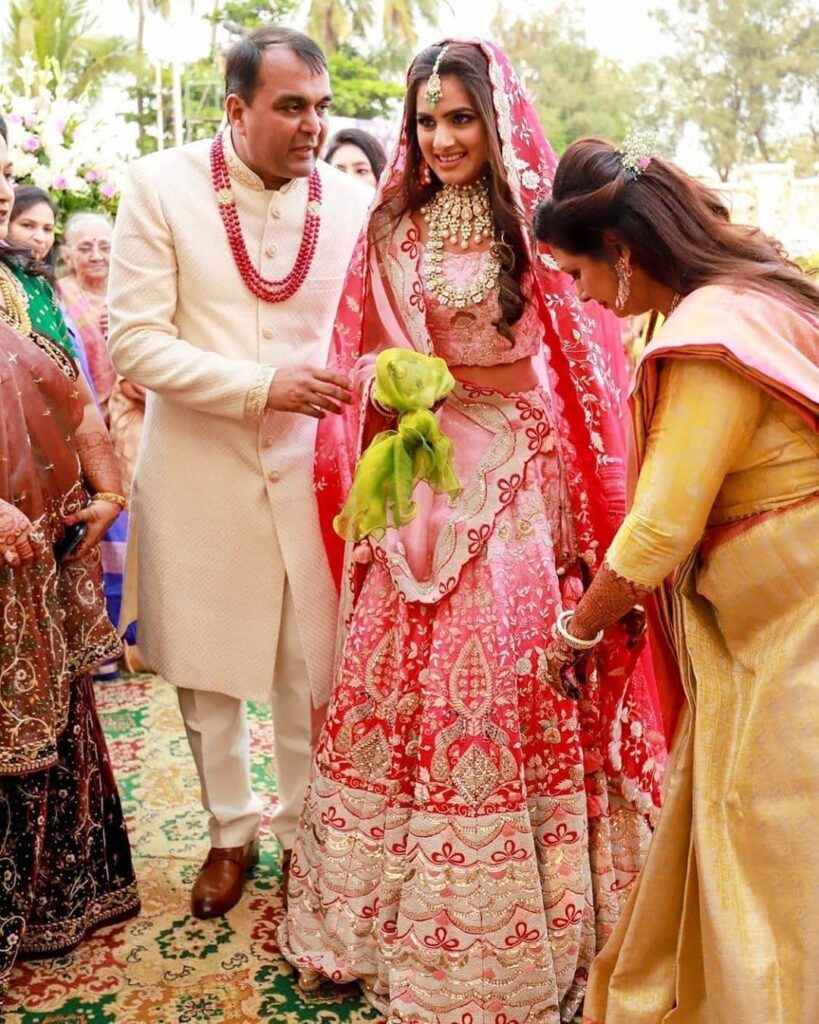 Courtesy: Vidhi Chheda Savla
#21 Now, this is something different. In the sea of father-daughter wedding portraits, this one does come out to be something different. Bookmark it straight away if you're looking for some unique poses to strike with your father.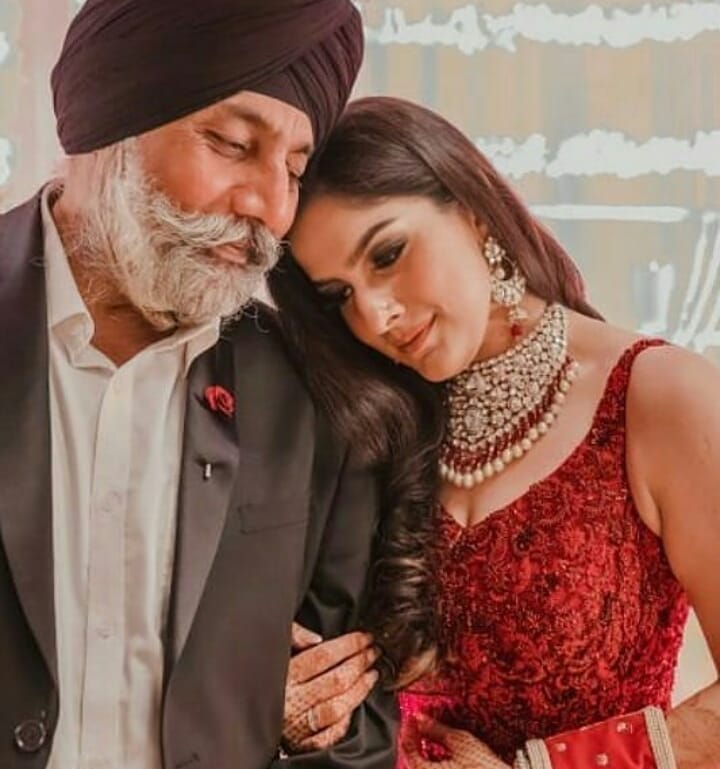 Credits: Unknown
#22 Brides getting clicked with shades on has become the go-to picture. But what if you get your father to coordinate on the fad too? Sounds amazing? Well, it looks amazing too! See. We love this father-daughter duo just casually strolling down the aisle hand-in-hand and giving a pose full of swag and charm.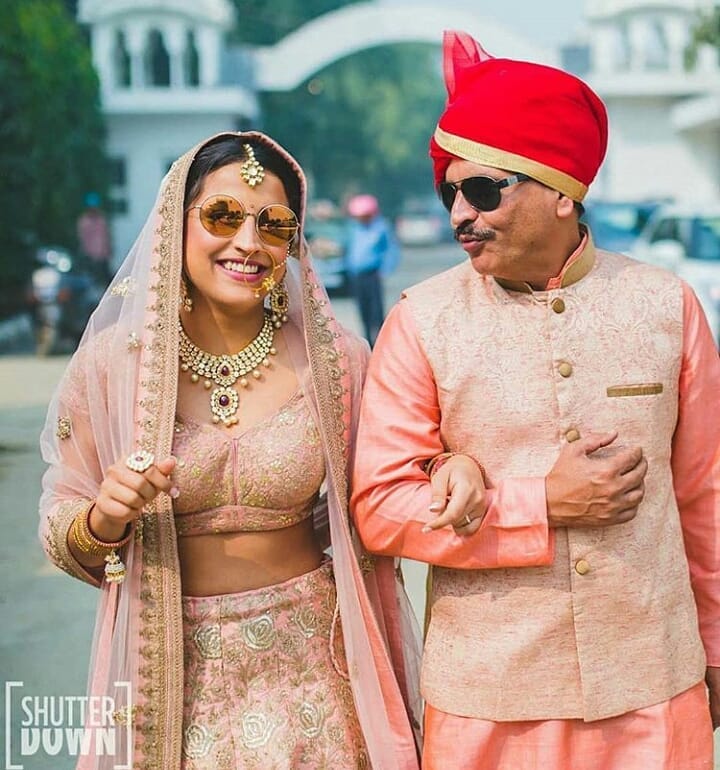 Courtesy: Shutter Down Photography
#23 Ending this list with this emotional picture of the father hugging his daughter as he bids goodbye to her at the vidai ceremony.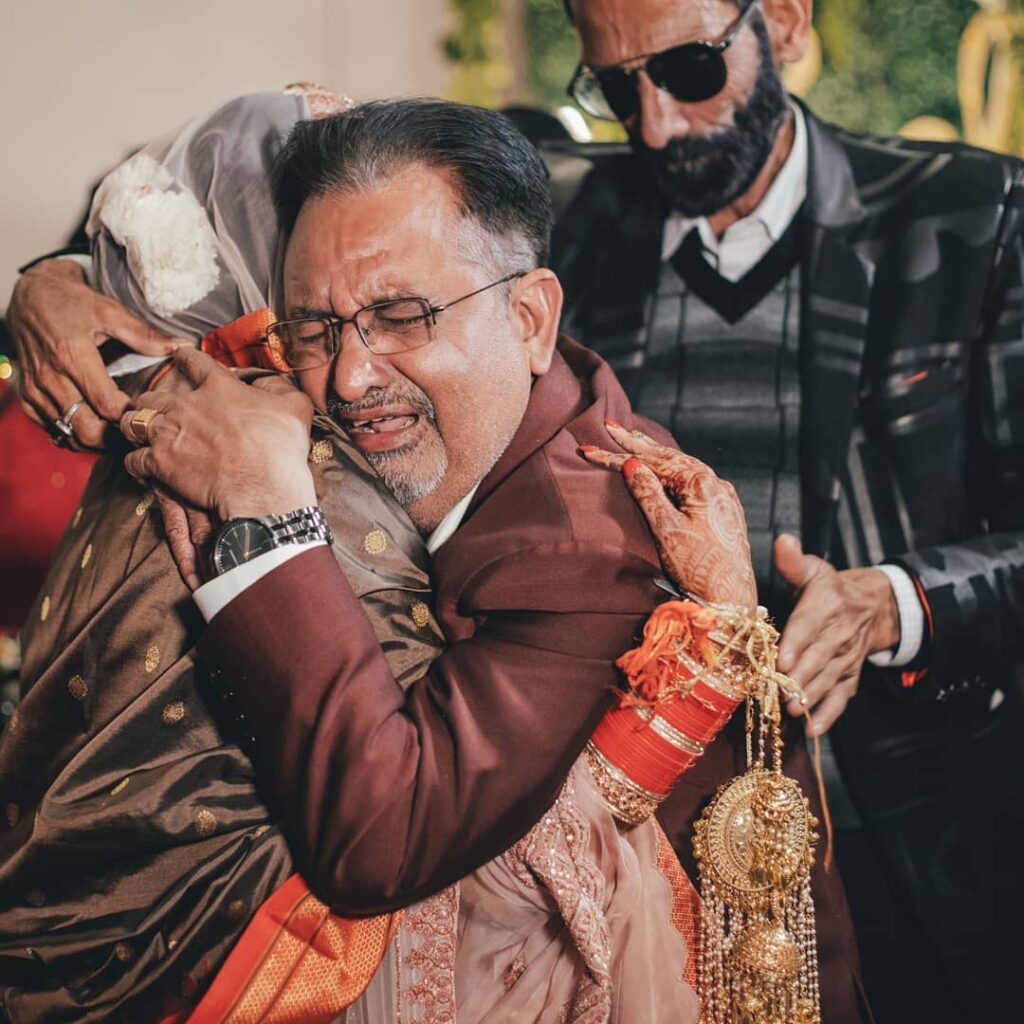 Courtesy: Ruchi Saini
A daughter's wedding is an emotional time for fathers. Sure, he's on cloud-nine to see marrying the love of your life and finding someone who holds the same love & respect as he does. But, at the same time, he feels sad about sharing your time & special role in your heart with someone else. The emotions, tears will run crazy but it's important to cherish these times too! We suggest getting some happy father-daughter wedding photos clicked as well and let the happiness run in full swing as well. No matter what though, you'd be holding these moments close to you forever – so celebrate well!