Year after year, wedding ensembles create their own trends and style. Some of them remain (like the pastel lehenga trend), others wane away (like ditching the dupatta) and others that have been going on for years (our beloved red palette) still stay strong. In the 2020 lockdown, many brides resorted to home weddings where they were seen clad in a heritage saree and taking pheras in the comforts of their own homes. Although, that didn't last long. The maximalist style of Indian weddings didn't wane, even during the pandemic. In fact, if anything, it only took a full-on traditional with a hint of millennial turn. Brides opting for comfortable, printed lehengas with a puffy cancan skirt or embellished lehenga with equally decorated dupattas were seen in plenty during 2021 weddings. And if our safe assumptions are to be believed, they will be carried on to the winter wedding season of 2021/ 2022 and the spring/ summer wedding season post that. To know more about the wedding lehenga trends in 2021 and 2022, keep scrolling. 
#1 Anarkali Silhouette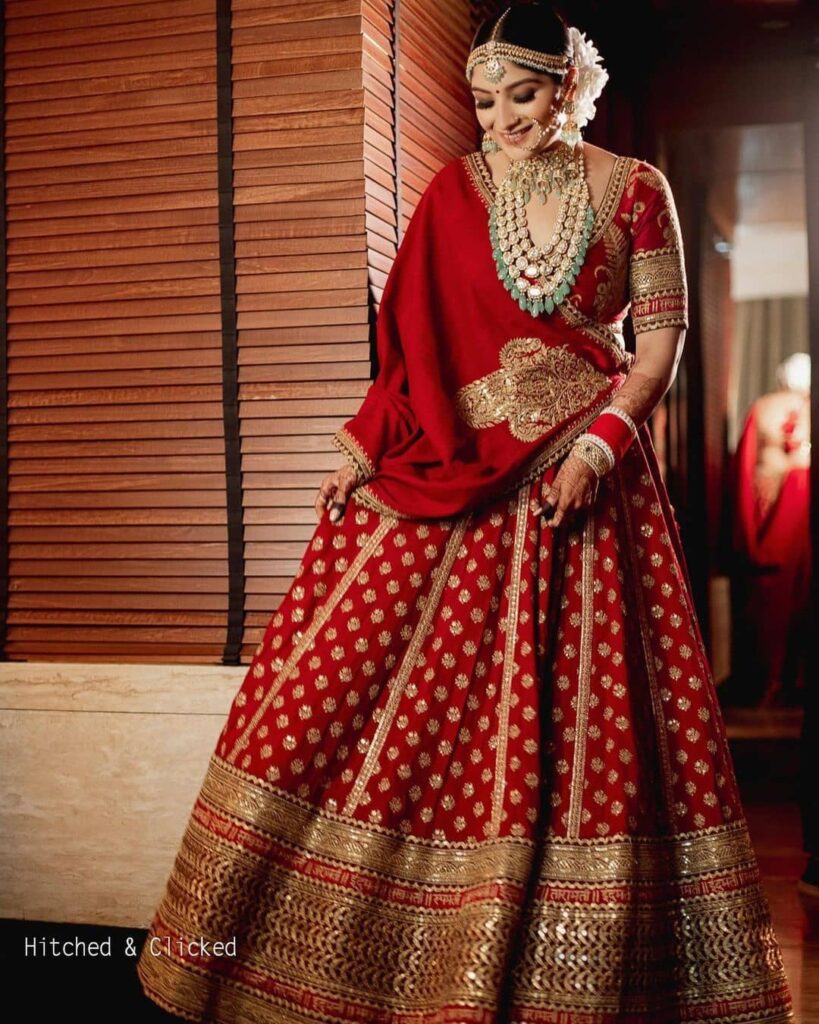 A few designers have introduced lehengas with asymmetrical hems, having tea length, and a sheer covering that adds a millennial touch, and while these new, unconventional styles have been popular among bridesmaids, brides are sticking to the customary anarkali silhouette for their lehenga skirt. The same will be reflected in the lehengas added for the upcoming wedding season. The flair can be enhanced with cancan and umbrella cut, but the general disposition of the anarkali in the lehenga will remain the same. 
#2 Printed Lehengas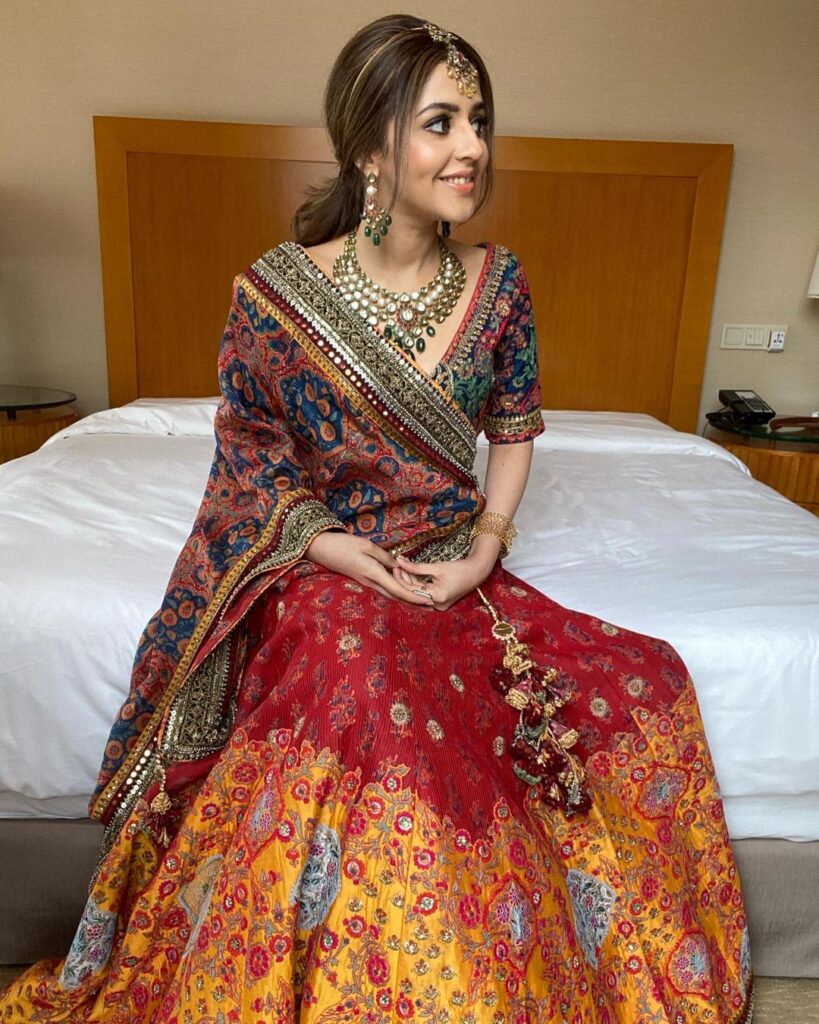 When it comes to choosing between comfort and style, brides are opting for the former more than the latter. The same is reflected in the lehenga trends of the season. From comfortable silhouettes to printed fabrics and taking a conventional route, everything winds down to the side of relaxed rather than rage. So, the world of printed lehenga is enjoying the attention of its own. The range is vast (digital prints, hand block prints, etc.) and there's a pick for any event theme. It's hard to go wrong with the elegance and style of a printed lehenga set anyways.  
#3 Traditional Fabrics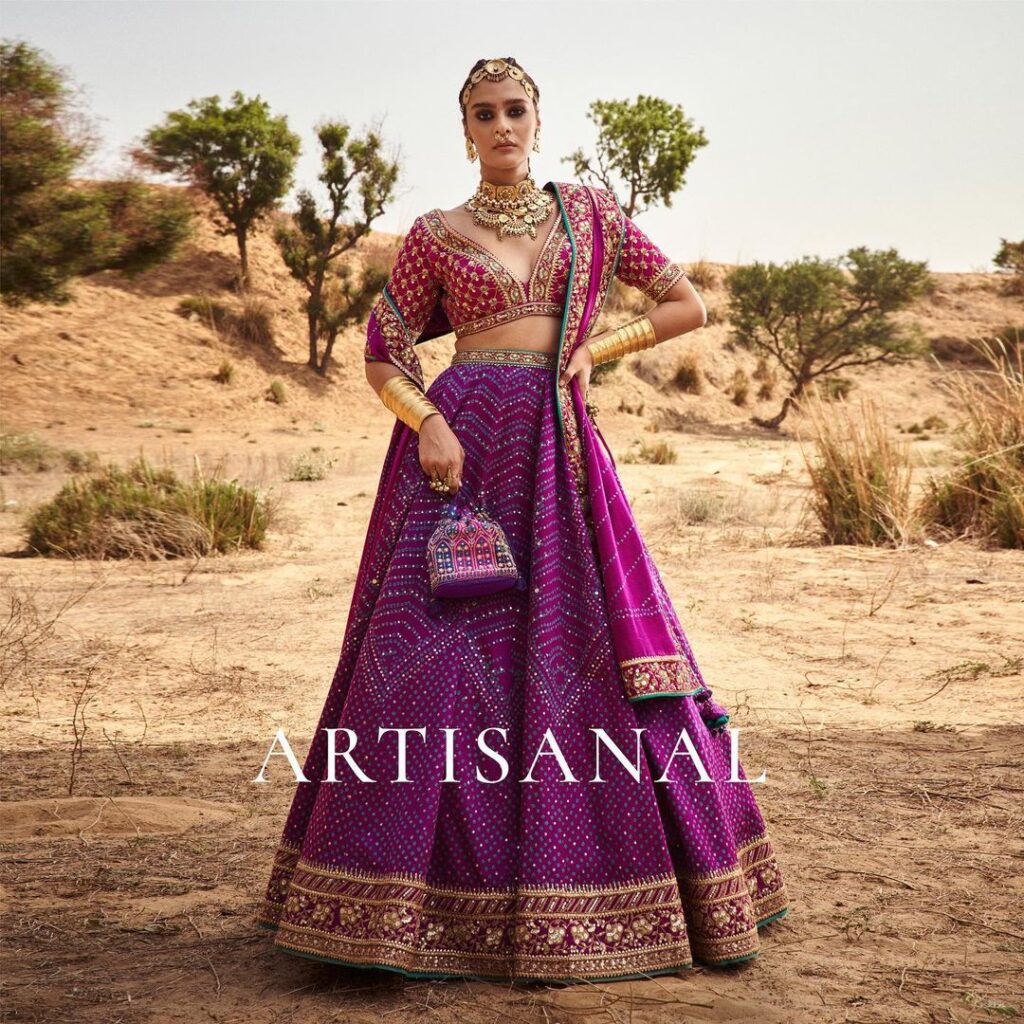 With the pandemic, Indians have been putting their money where their mouth is by acknowledging the traditional Indian crafts and purchasing from designers who support and encourage them. This helps in protecting & supporting the livelihood of traditional Indian weavers and artisans. Given the consumer purchase curve, scores of designers have taken advantage of the situation and included hand-embroidery, benarasi, block prints, bandhani, etc. into their collection. The recent one being Anita Dongre's latest "An Ode To Bhuj" collection. 
#4 Cape-Style Dupattas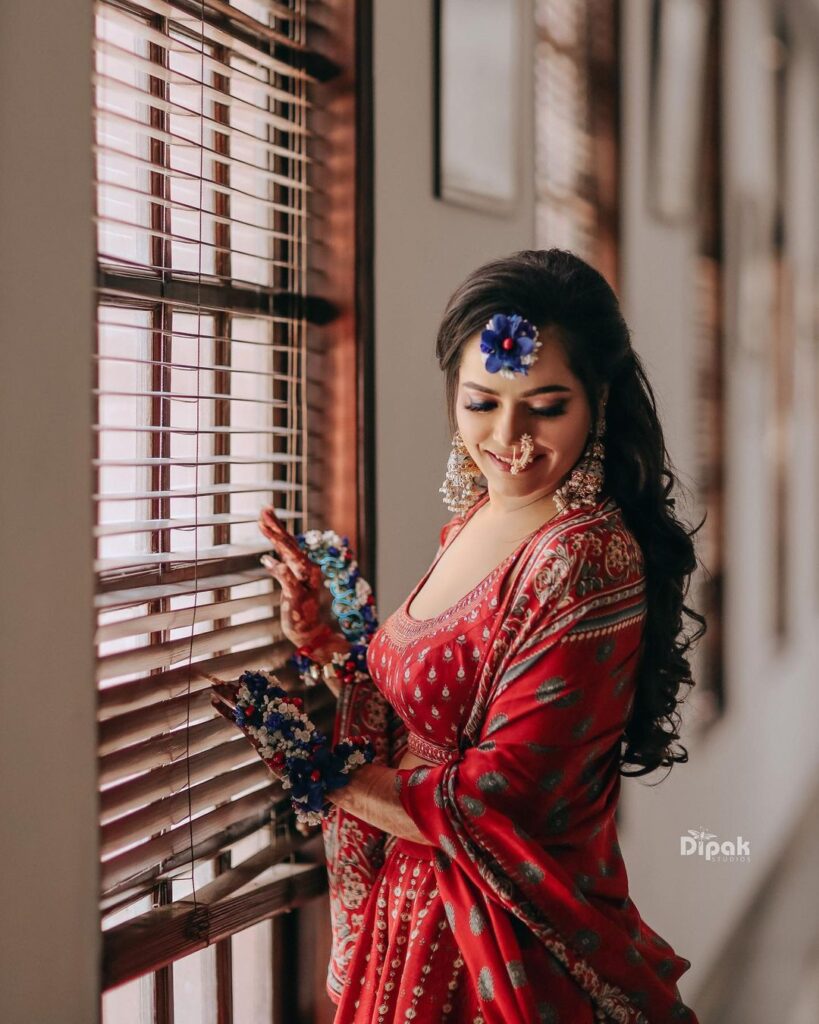 The new dupatta draping style in town is the cape style dupatta. The best thing about dupattas, in general, is not only do they add a graceful touch to your lehengas and anarkalis, but the draping style can change the look of the entire ensemble. One such trending drape – the cape style – helps keep the dupatta woes away while lending your outfit a modish vibe. Also, what better way to channel your Wonder Woman?
#5 Statement Blouse Pieces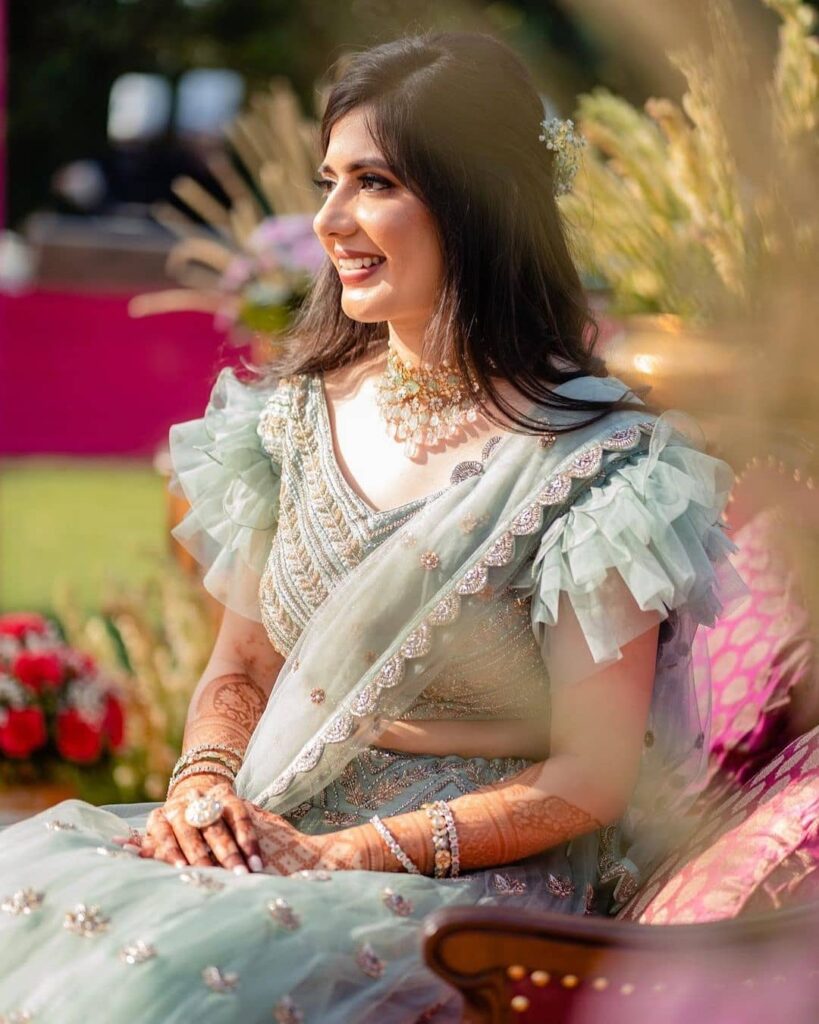 The rest of this year and next year will see tonnes of blouse styles and designs. While brides are sticking to the usual, conventional lehenga skirts with minimal experimentation, the blouse design will be completely revamped with frills, exaggerated sleeves, head-turning back design, and heavy embellishments. It will be the blouse that will add the vogue to the lehenga skirt, to say the least. 
#6 Deep V-Neck
When Sabyasachi came out with his 2019 wedding collection, the deep V-necks formed the center stage of the collection, with almost every lehenga paired with one. Since then V-necks have become a common occurrence in every bridal designer's collection. Given its versatility of being paired with any kind of lehenga skirt or any occasion, it has become a bridal favorite. It's best you team this blouse with a statement bridal necklace to amp up the beauty of both while radiating a stunning styling vibe. 
#7 Shimmer Stays Strong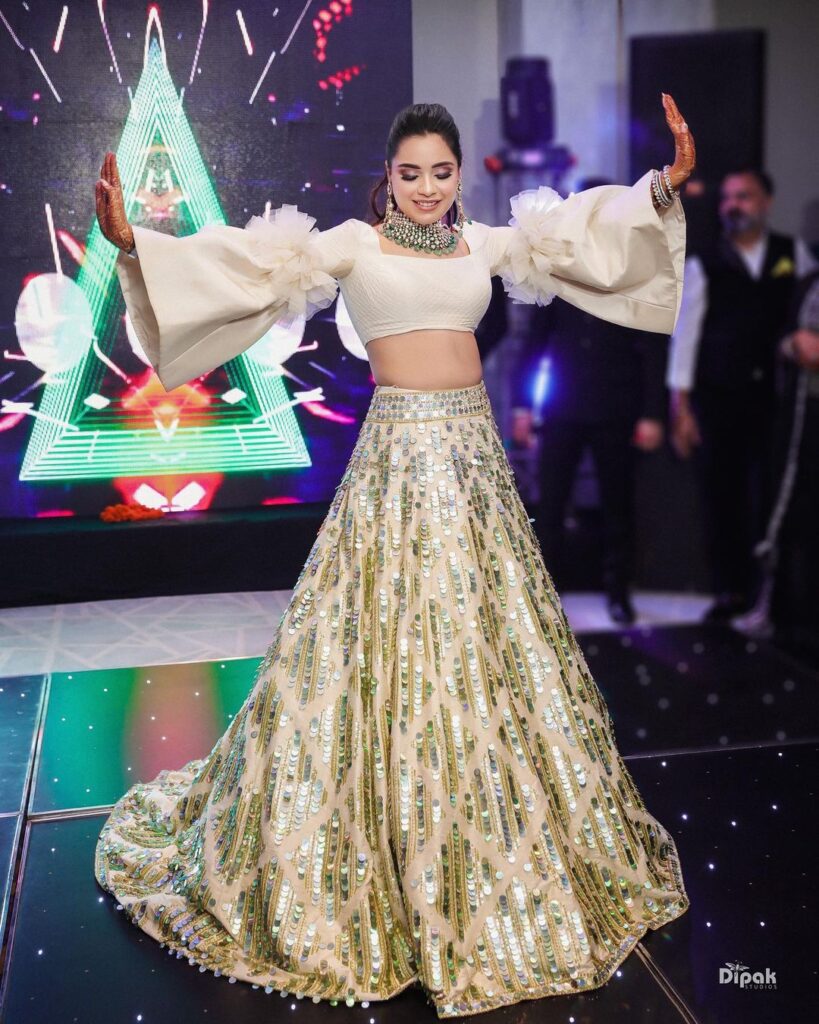 Shimmer, in the form of mirror work, sequins, and metallic work, will be a popular option among brides in the winter wedding season 2021/ 2022. Of course, the go-to designer for mirror work lehengas is Abhinav Mishra, but there are others as well, we have listed them all here. Shimmer lehengas literally make you shine on your wedding day, and isn't that USP enough to make them one of the hottest lehenga trends? We think so! 
#8 Traditional Reigns Supreme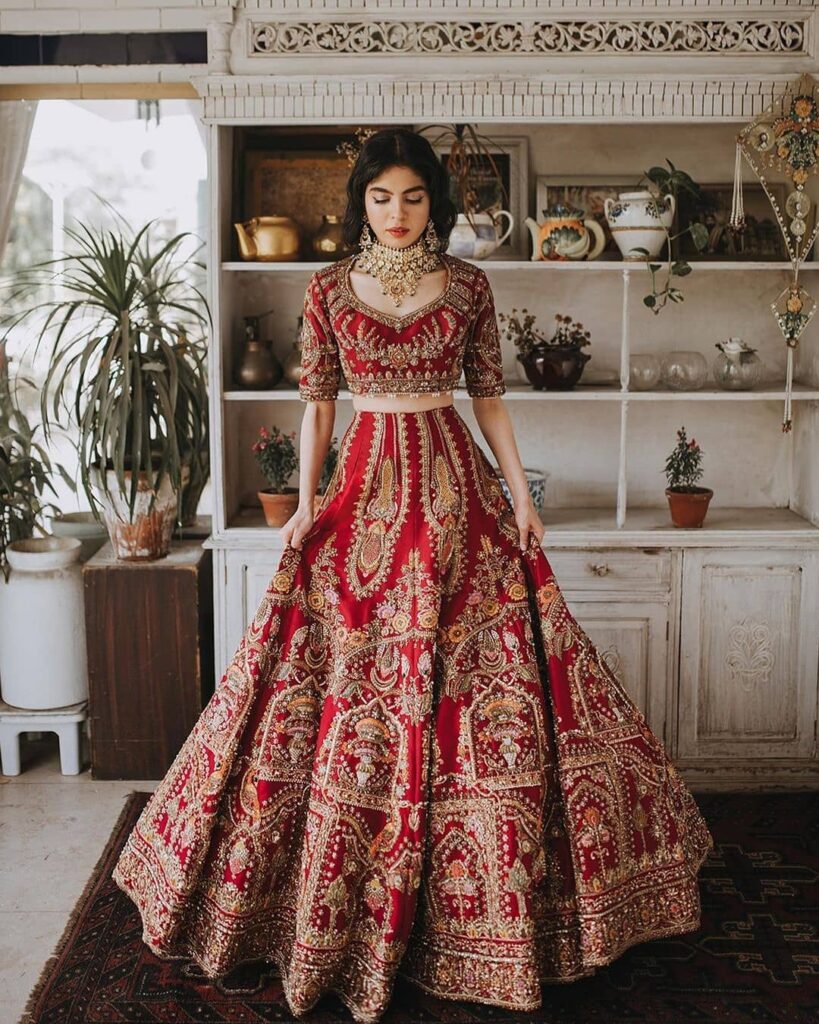 Reds in bridal lehenga still reign supreme, so do the custom of wearing a double dupatta. Brides are experimenting with lehenga trends, sure, but when it comes to planning an ensemble for their special day, they are taking the conventional route. Get ready to see gorgeous red lehengas with intricately embellished zardozi, gota patti, embroidery, applique designs, and mirror work when you step out for wedding shopping. And if you want to include playfulness in the look, an unconventional colored over-the-head dupatta or a stylish blouse will do the job. 
#9 Heavy Can-Can For The Princess Look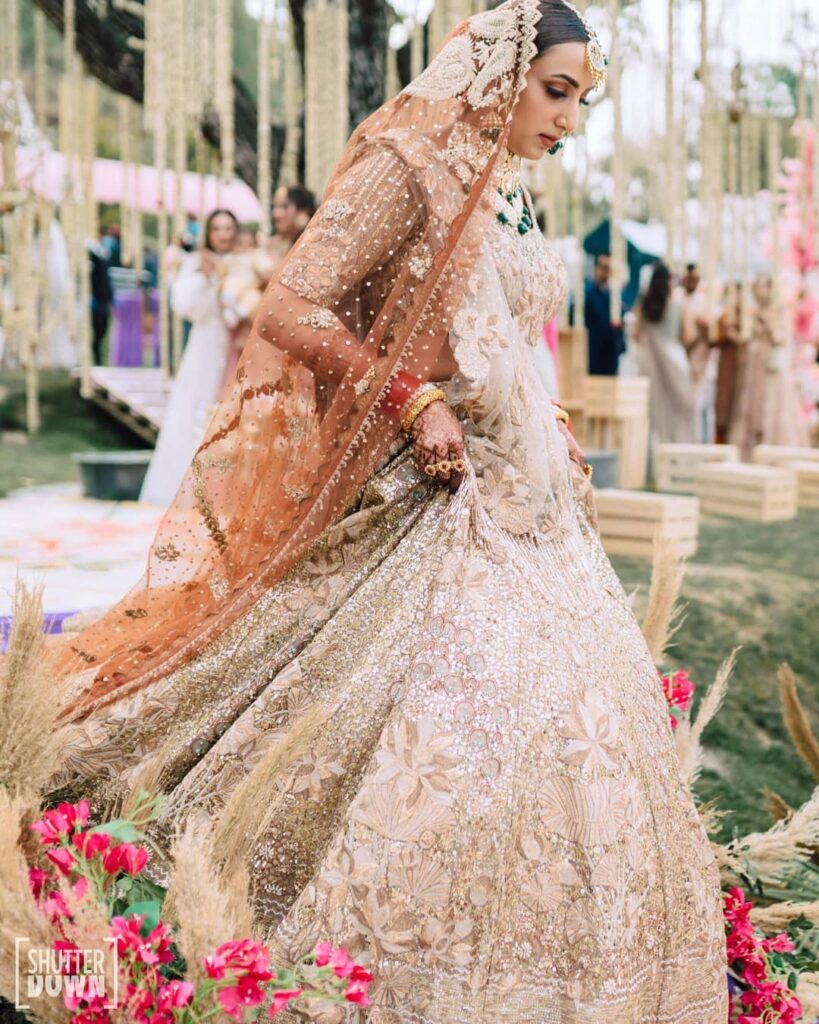 What's a bridal lehenga without tonnes of can-can stuffed beneath it! The simple net stuffing does add a fairytale aesthetic and flair to a normal lehenga, something all brides desire on their special day. While this lehenga trend seems exhilarating for some events, like the D-Day or mehendi when you don't have to move around much, for sangeet or cocktail, getting a heavy cancan might not be such a good idea. It's best if you pick a flowy fabric for these events, like georgette or chiffon, so there's an ease in movement, utter comfort, and the satisfaction of being able to enjoy every moment to the fullest. 
#10 Pastel Is Still A Hit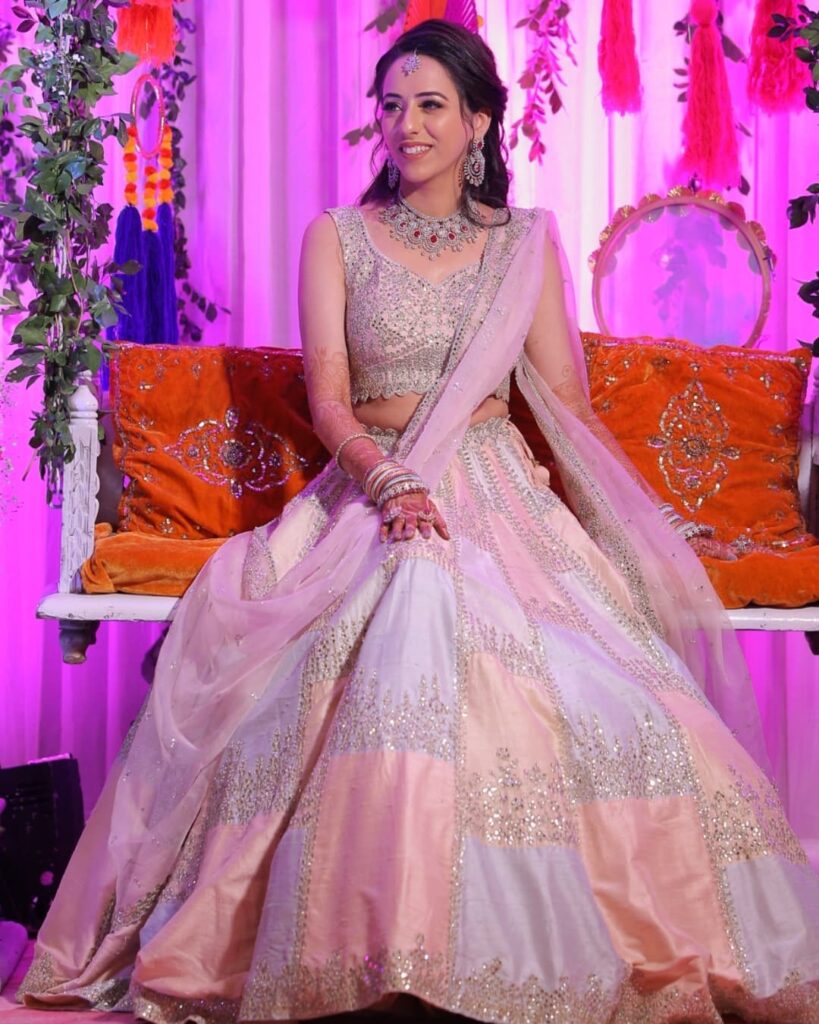 When Anushka Sharma debuted her pastel pink bridal look, the color took a massive upsurge in Indian weddings. Along with pastel pink, both blue and mint green in the pastel shade became a hit. And they aren't backing down. We will be seeing plenty of pastels in the 2021/ 2022 wedding season. For brides planning romantic, chic celebrations, a pastel lehenga would look spectacular. Coordinate with your groom, with him clothed in an ivory sherwani with dupatta and safa the same color as yours or the opposite. The shade synchronization would look amazing in pictures, just like that of Virat & Anushka's. 
#11 Whites Are Making An Entry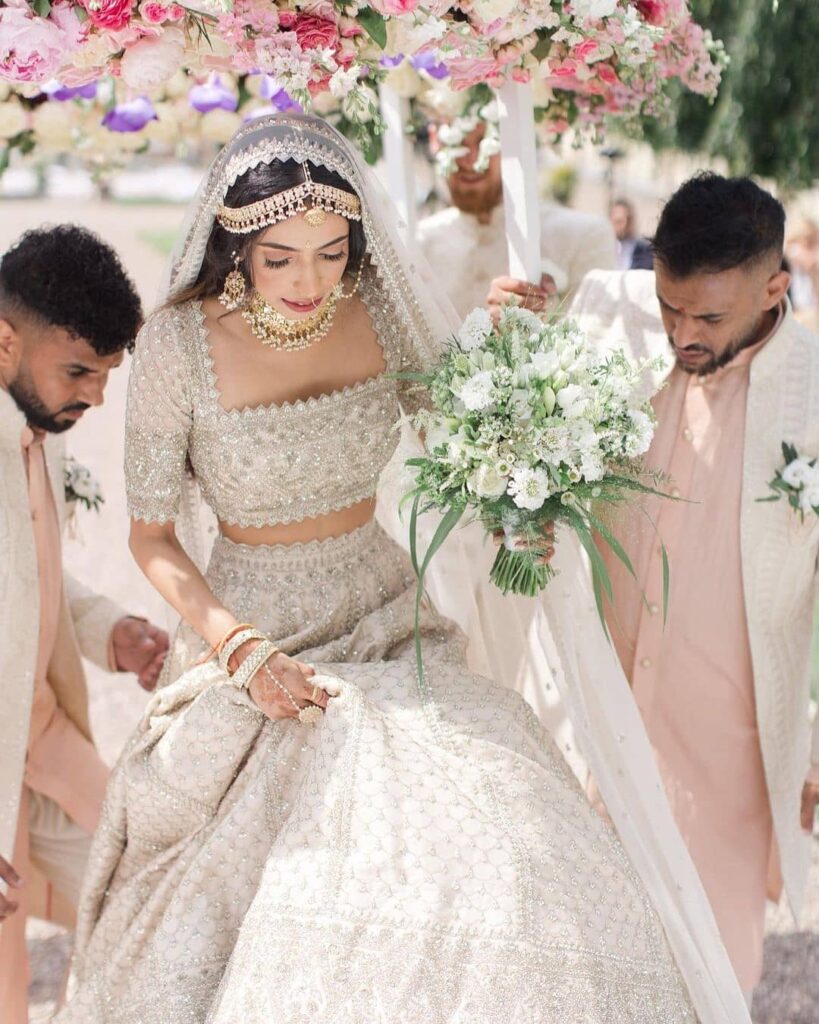 Indian traditions generally don't consider it auspicious for brides to wear white because it's associated with widows. Although, in South India, and few parts of Gujarat and Assam, white is the mainstay hue for the bride. This normalcy of white in some cultures, along with an influence of Western weddings, a white wedding lehenga is making a frequent appearance as the bride's big day lehenga. The best part is a pristine white lehenga would look amazing in daylight, but also at night, shining its impeccability in a whimsical, modern night phera setup.  
#12 Purple Obsession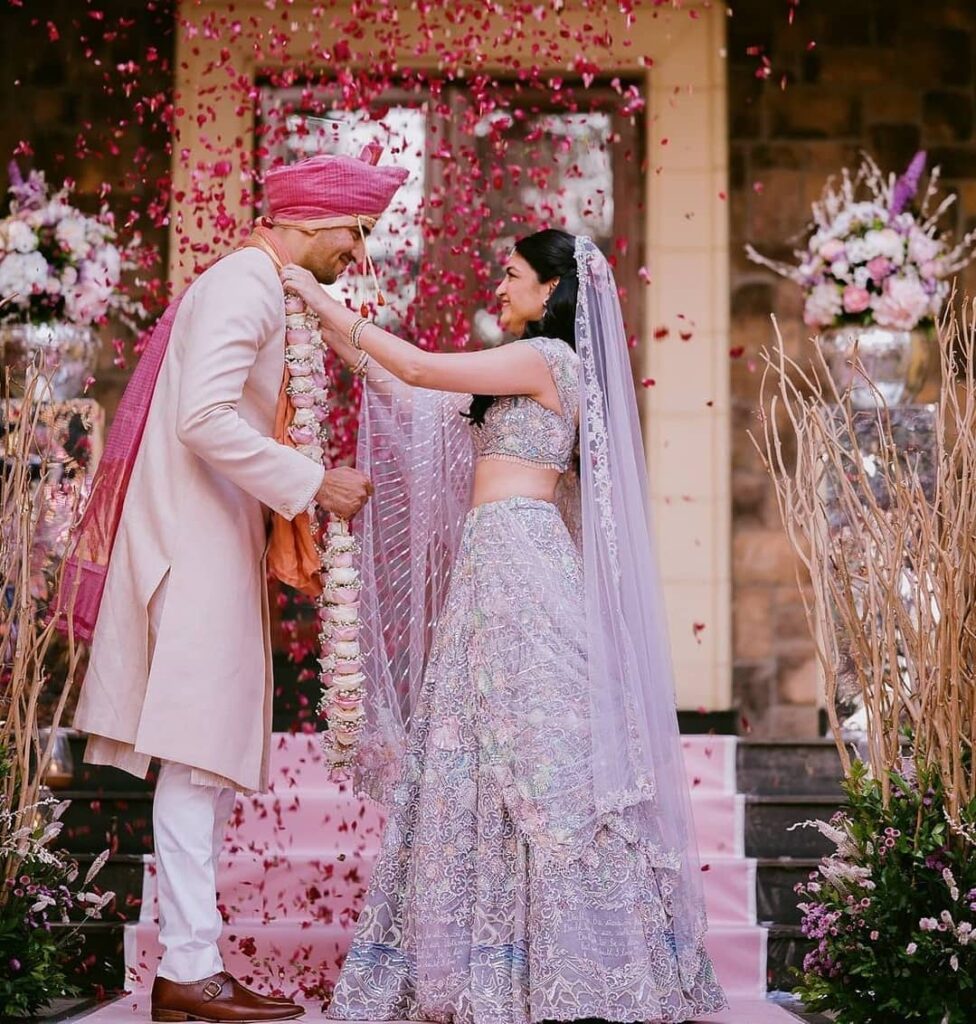 Purple was a huge obsession among brides in 2017. Every other bride was donning a lehenga in this color palette and styling it with their own unique statement. Although that sudden craze for the color has waned off, it still remains a staple shade in the wedding lehenga world. Given the reduction in function size and number, purple is also considered a versatile shade that can look good for a day function but will also carry you well for the after-party. Another plus? This romantic hue will work amazingly for festivities as a newlywed afterward. 
#13 Clean Lehenga Design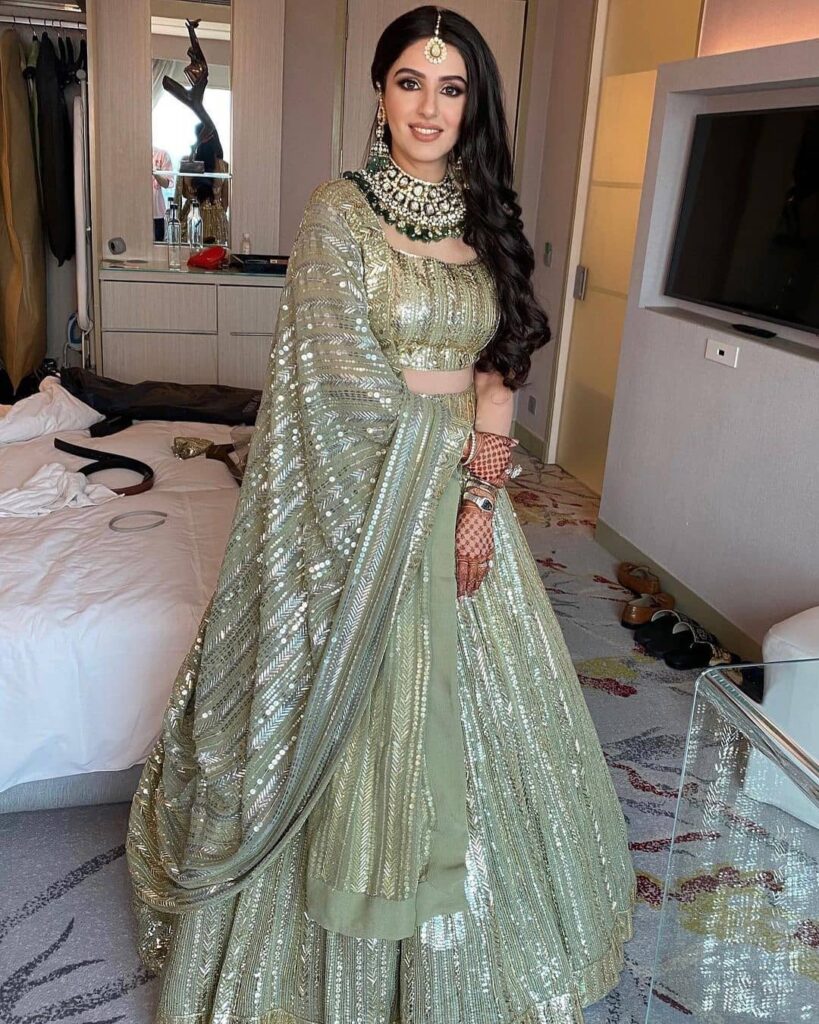 While ruffles did pick up the momentum as a lehenga trend, it soon slowed down and brides went to their usual clean, routine lehenga cutting. Tea-length lehengas, a sheer covering over the prints, etc. are still making an appearance here & there, but the classic lehenga style that touches the floor and has an A-line flare reigns supreme. On the wedding day, brides rarely like to experiment. When we think about it, there's hardly anyone who has worn a stylish version (like ruffles, low length, layered skirt) of lehenga on their big day. If you'd like to wear an offbeat rendition of our classic lehenga – go for it on some other of your wedding functions, like mehendi or perhaps, a cocktail. It's the best way to test the waters while playing safe. 
#14 Belts Are Popular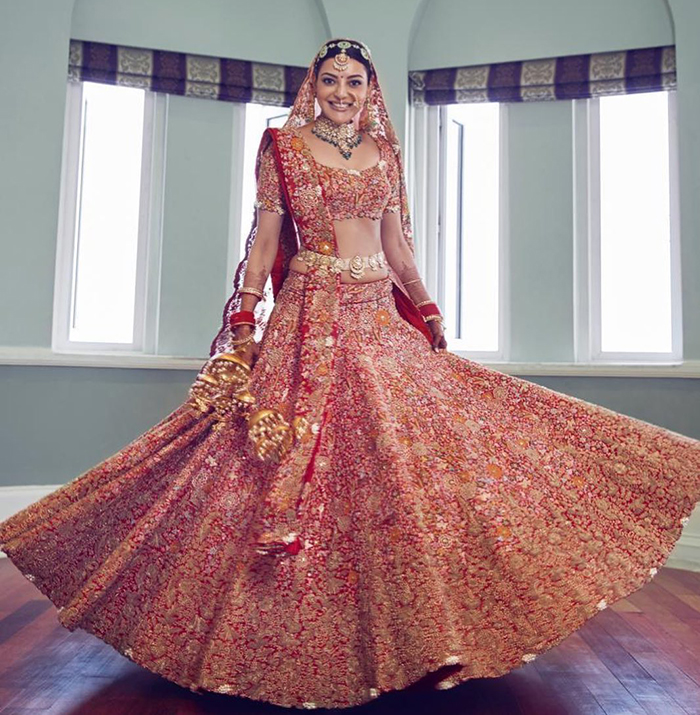 Cinch your lehenga with a kamarbandh to stay on trend this season. Dated back to 4000 years, this feminine Indian accessory is just what you need to add oomph to your bridal avatar. And there are many benefits to donning it. Right from holding your dupatta in place for easy mobility to adding a soft, womanly touch – there's no reason why belts shouldn't make way into your trousseau. Even Priyanka Chopra's sindoori lehenga had a diamond belt – so the style is celebrity-approved and makes for an impressive addition. 
#15 Bollywood Effect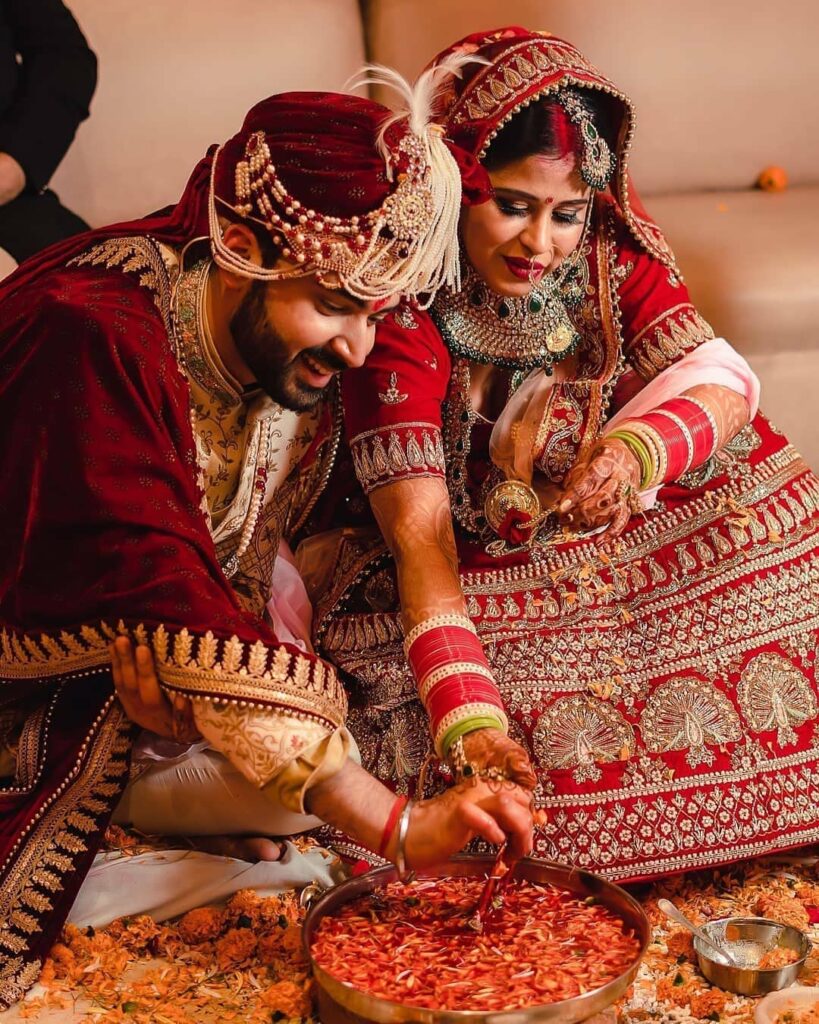 When the B-town's reel traditional look is enough to influence the sartorial choices of the next generation of brides, we can only imagine the ripple effect of their real-life wedding looks. Without a doubt, Anushka Sharma, Priyanka Chopra, and Deepika Padukone made for picture-perfect brides at their respective weddings and the influence of their wedding ensemble can be seen till today. Whether it's by incorporating just one of their wedding elements like Deepika's sada saubhagyavati bhavah dupatta or taking inspiration from their entire wardrobe like Anushka's pastel lehenga with subtle embroidery – there are multiple ways brides are playing with the Bollywood trends. If you're still swooning over their bridal looks, you can definitely consider a wedding ensemble inspired by our beloved B'wood actresses. 
#16 Lehenga Trails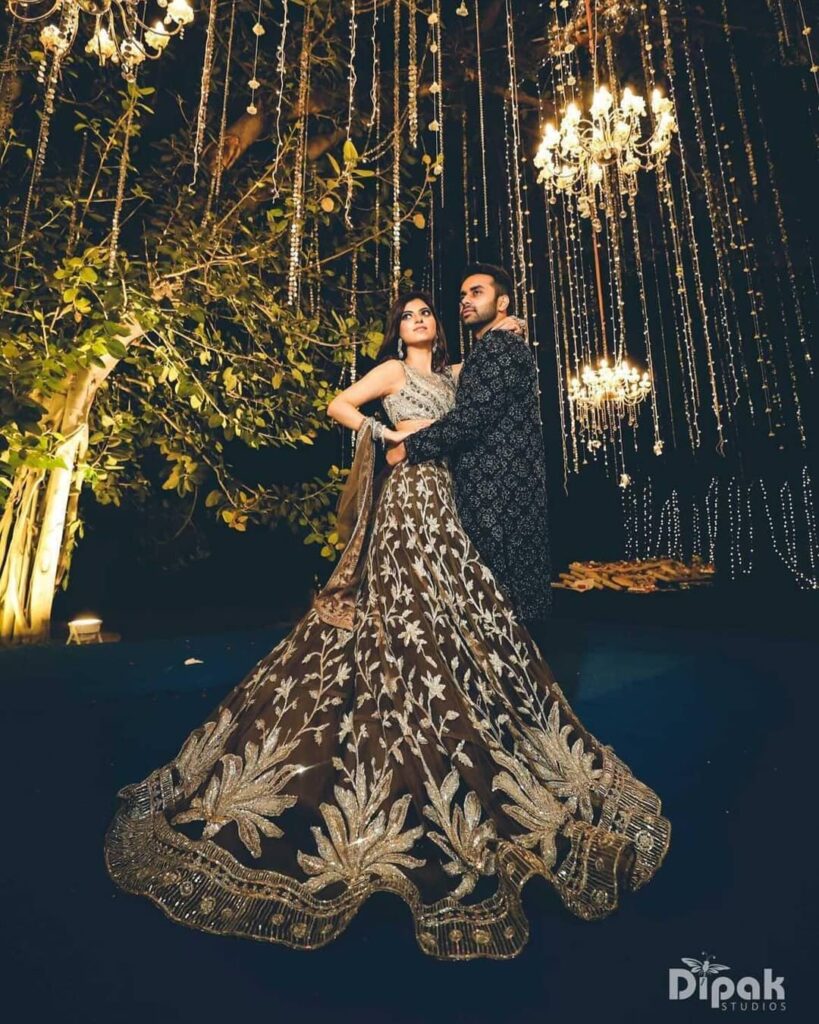 A sweeping lehenga trail, no matter the length, can add a beautiful princess vibe to your wedding look. Manish Malhotra is popular to add these sweeping trails in his lehenga designs and many of his brides act as a spectacular muse for this bit of his collection. Besides Malhotra, Delhi's Chandni Chowk lehenga stores like Sudhir Bhai Sareewala, Asiana Couture, are also giving budget brides the benefit to relish in this stunning element. Else, you can ask your favorite designer to custom-made your favorite lehenga piece with a trail – it will be a little pricier, but they can definitely accommodate the request. 
#17 Unconventional Colors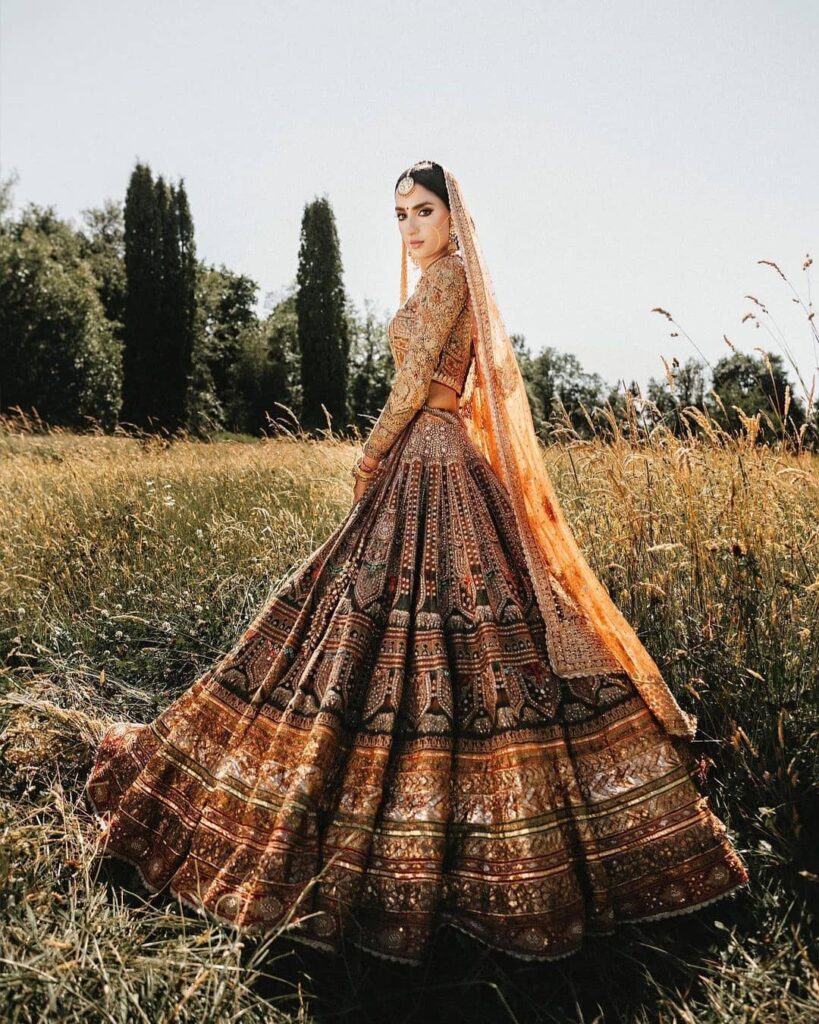 Brides are either opting for the traditional crimson red or a hue that's completely out of the box – there's no in-between. The two designers who have been doing commendable work to cater to these expectations of the bride are Rimple & Harpreet and Payal Keyal. They aren't only mixing up color artistically, but also giving a royal designer look to the bridal lehenga. If you're tired of neutrals, reds, and pastels, the rainbow is your limit in the nearing wedding season. 
#18 Dramatic Silhouettes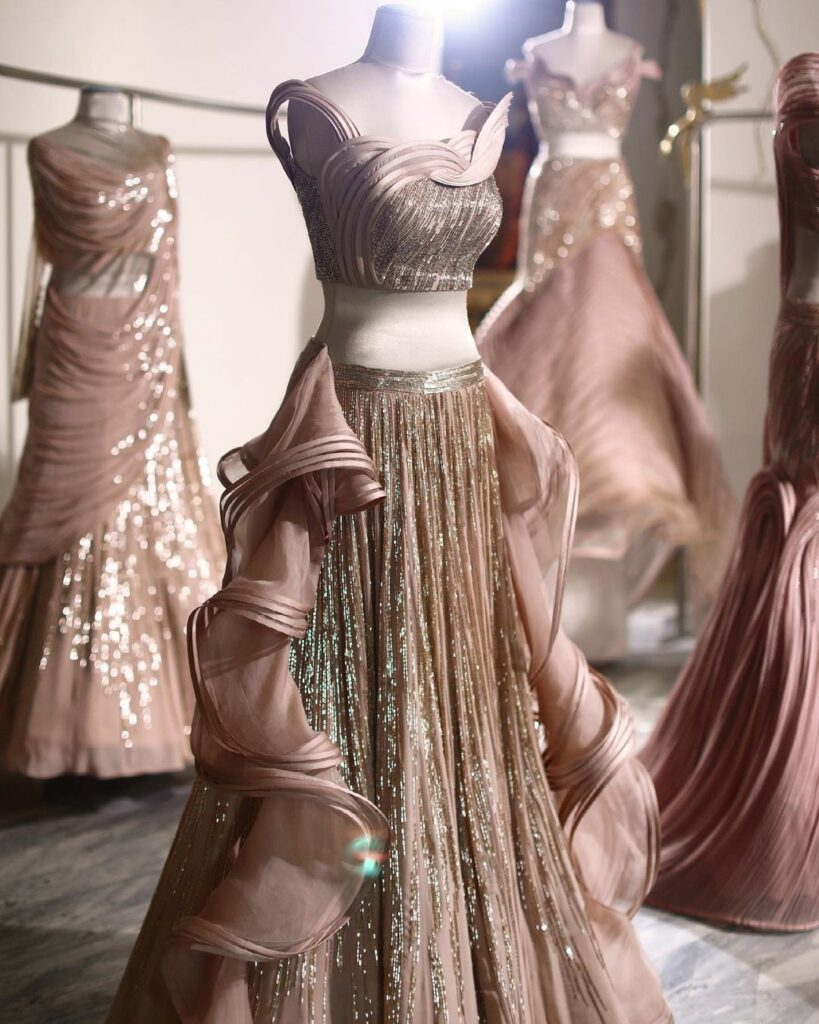 Dramatic silhouettes with rich fabrics that look flowy yet elegant and exude a ballgown effect are going to be big in 2022. It's likely that you're thinking of the designer we're thinking of as well stating this – Gaurav Gupta. His lehengas create a beautiful sculpture effect and are generally monotoned to let the gorgeous silhouette take the center stage. Prepare to see more of GG's inspired ensembles in other wedding lehenga stores as well. They'd make a great addition to your trousseau and will look lovely on a sangeet night or a cocktail party! 
#19 Dupatta Love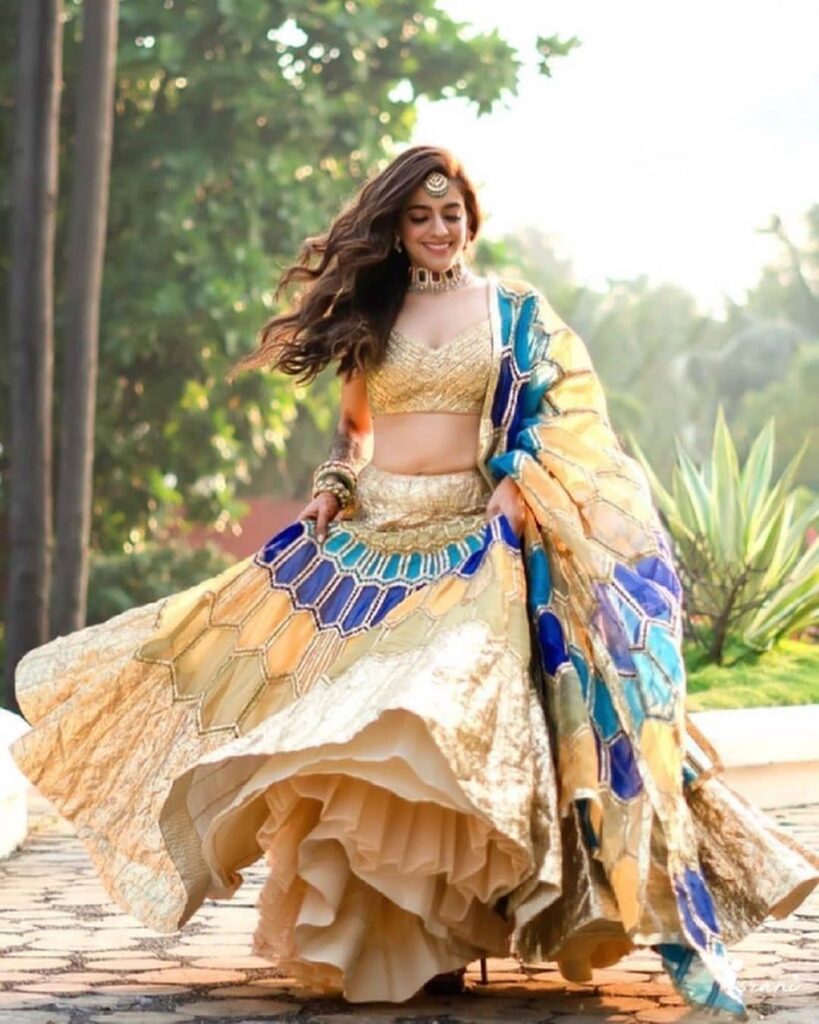 In the past few wedding seasons, brides were seen ditching the dupattas completely or attaching them to their blouses for a fuss-free look. This wedding season and the upcoming will be in sharp contrast to this fleeting fad. Dupattas – embellished, demure, traditional weaves – will be a favorite of brides and will be one of the major lehengas trends for 2022 brides. In fact, draping dupattas in the form of a shawl or made of velvet fabric can be a smart hack to keep you safe from the chilly winters of impending winter weddings. Prepare to see tonnes of dupatta styles and try to incorporate them in your ensemble for a traditional and fashionable look.
#20 Exciting Color Combinations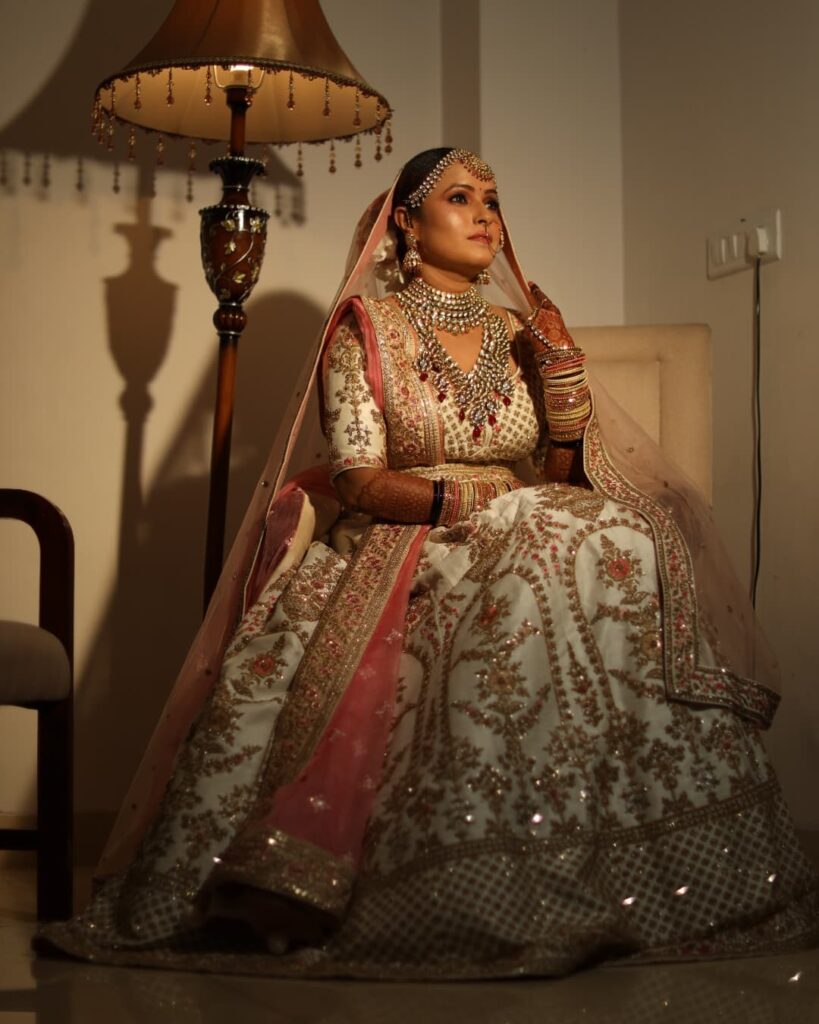 If there's something brides plan before heading out for their shopping, it's the lehenga colors. In Indian weddings, colors do matter – with a specific one meant for every function (yellow for haldi, green for mehendi, and red for the main day). This usual color listing has changed though – of course. Brides are experimenting with exciting new lehenga color combinations this season. Light gold & orange, mint green & baby pink, yellow, and marmalade are just some imaginative and picturesque colors of the season. But we are sure you can find many others in any designer's collection this season. For brides who'd want to jump in on the trend on their wedding day, we'd suggest trying an unusual color combination with the help of your dupatta. It's what we're going to see a lot in the upcoming 2022 wedding seasons. 
#21 Maximalist Reigns In Lehenga Trends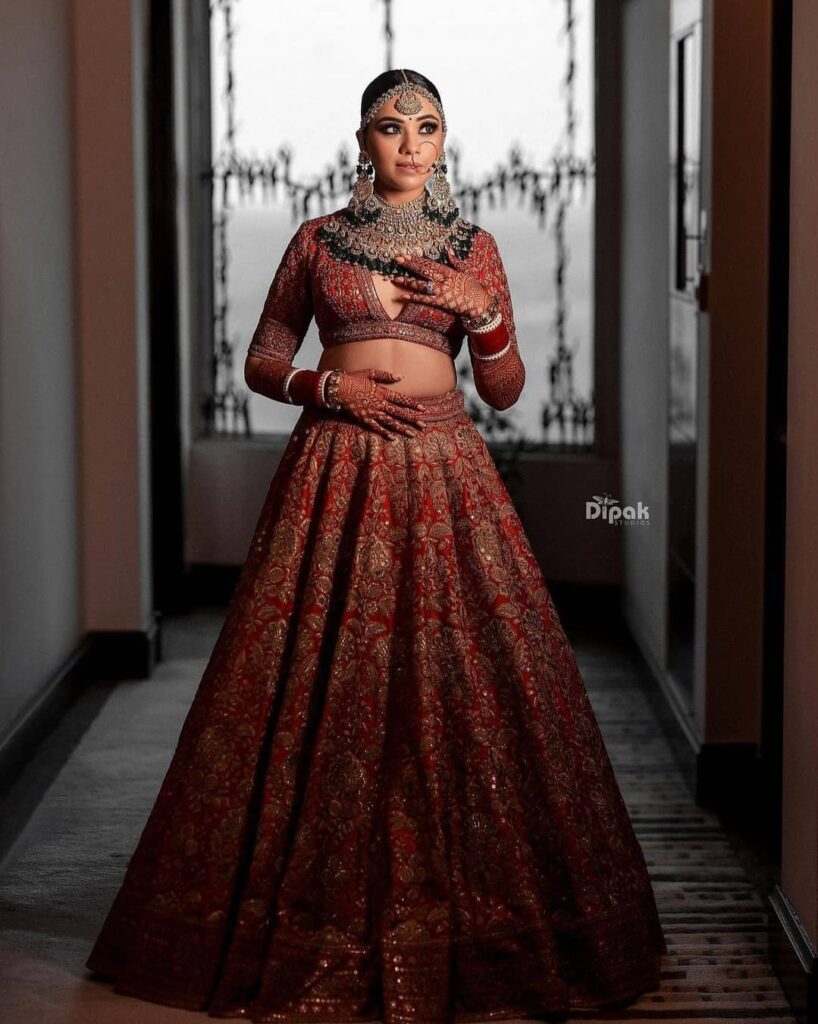 The minimal trend never has and never will apply to Indian brides. With the pandemic, the guest list has shrunk and the decor and the theme of the weddings have humbled down, but the lehengas are all about showing off the maximalist style of Indian culture. Take the vibrancy of the color palette or the gorgeous embellishments or the ball gown silhouettes – there's nothing minimal about an Indian lehenga. Even the lehenga blouses are all about radiating a stylish grace. That's why ruffled sleeves, long net sleeves, fashionably elegant blouse back, and scalloped hems are a common occurrence in bridal wear. If your style is minimalistic though, we'd suggest easing down on jewelry and makeup, and take lehengas as they're meant to be – make the maximum heads turn in the room.