Nineteen Indian designers portrayed their latest collection at the FDCI's digital India Couture Week (ICW) 2021. The most awaited fashion show sets the trends and tones for the 9-month-long wedding season before a hiatus of 3 months. Brides are actively looking forward to the collection because that's when the wedding shopping also begins and they want to stay up & above the current trends. As the fashion show wraps up, we're here to showcase the best of the designs from each designer's collection in our latest blog. 
Scroll to see the details in the order they unveiled their collection at India Couture Week 2021: 
FDCI ICW 2021
Manish Malhotra 
The pandemic-safe digital show for ICW started with our maximalist bridal designer Manish Malhotra showcasing his resplendent collection Nooraniyat featuring actress Kirti Sanon. The couturier went with the traditional colors – regal reds, sparkling golds, and gorgeous peaches for the outfits. As for the work, it was an intricate embellishment with golden zari, embroidery, and applique. Speaking of his collection with TOI, Malhotra said, "My bridal edit is an amalgamation of moods and emotions of the brides and over the years of creating their dream outfits and interacting with them, I inadvertently got drawn into those intriguing memories and decided to capture it all – from their enthusiasm and joy to the heartfelt and compassionate, there's a myriad of emotions and sentiments that are so heart-warming yet unsettling moments before she turns the page onto her new chapter."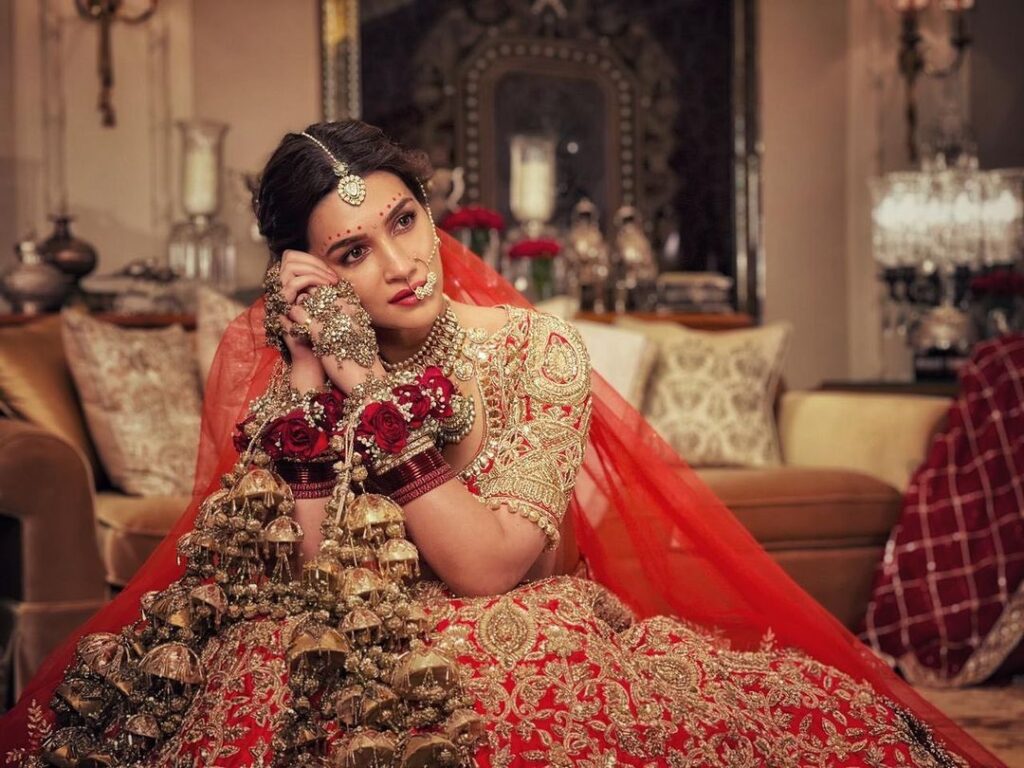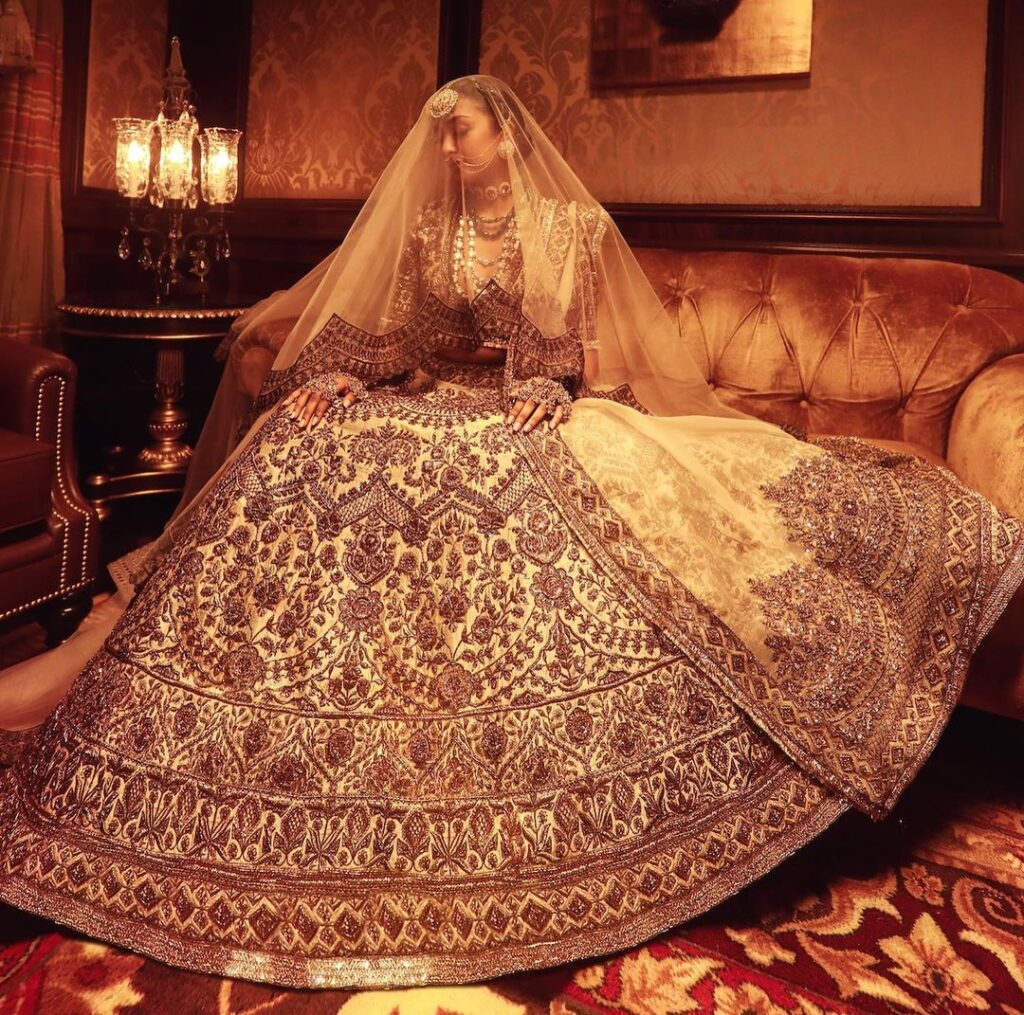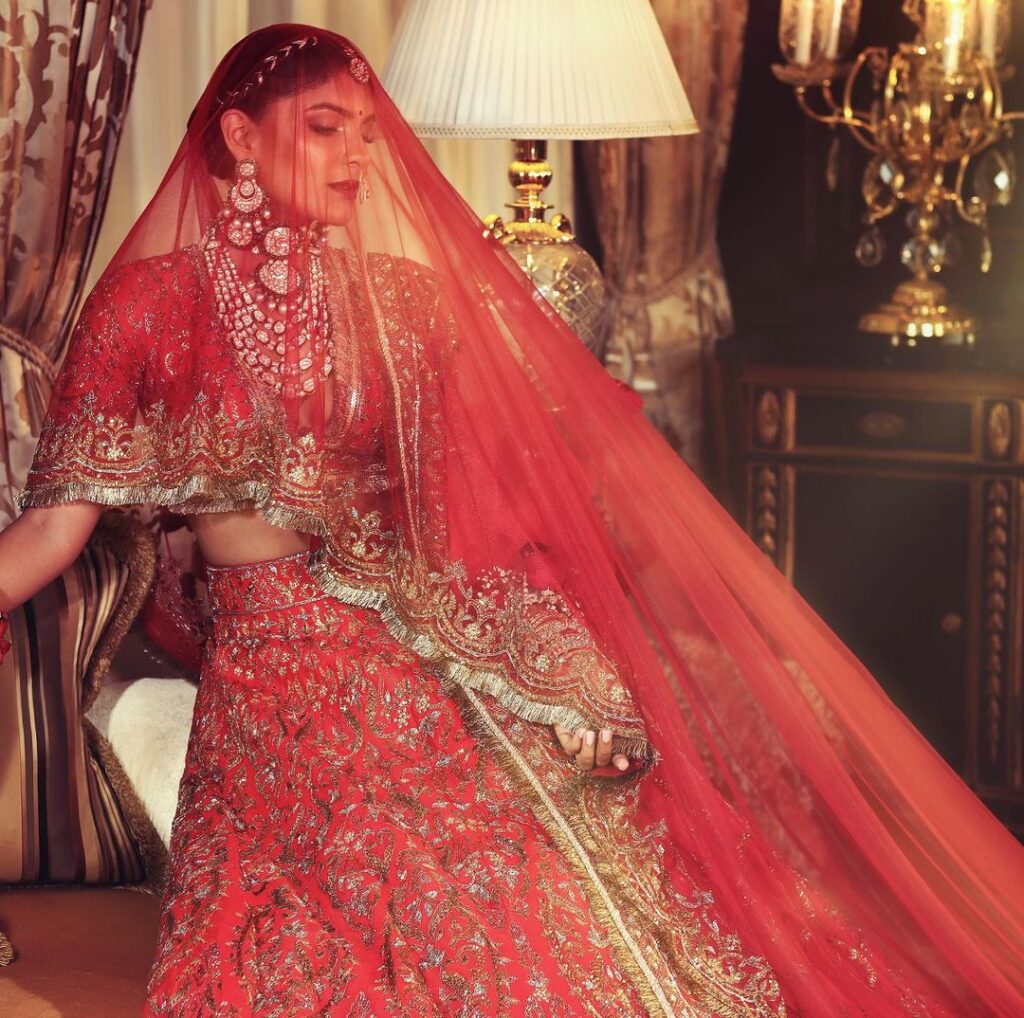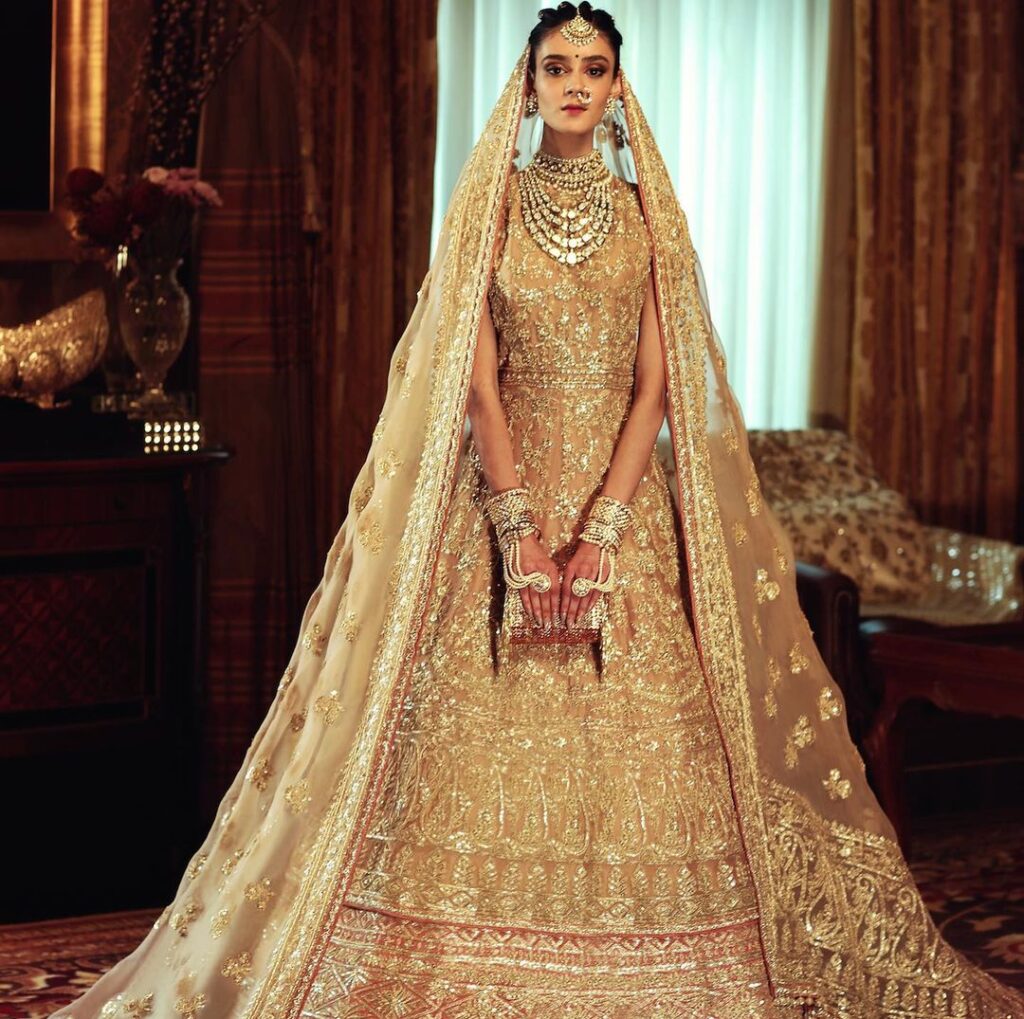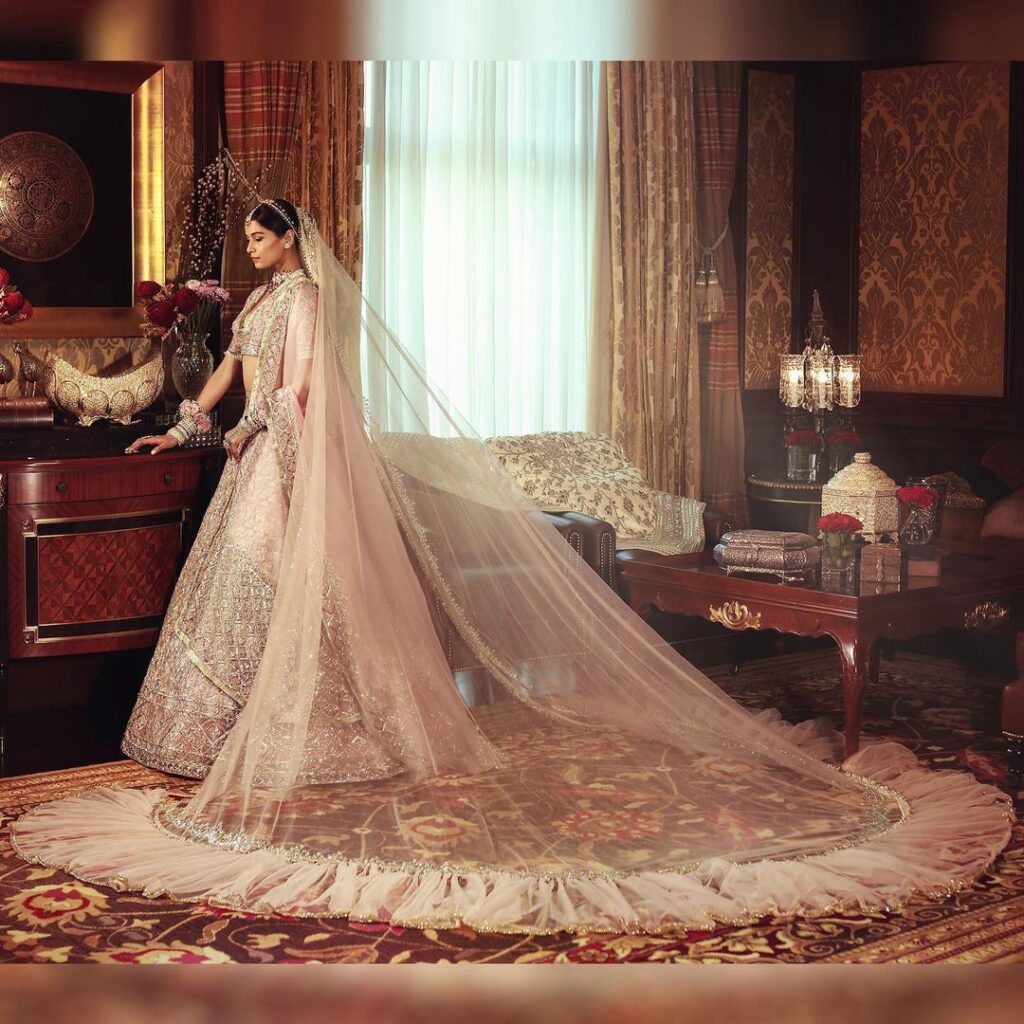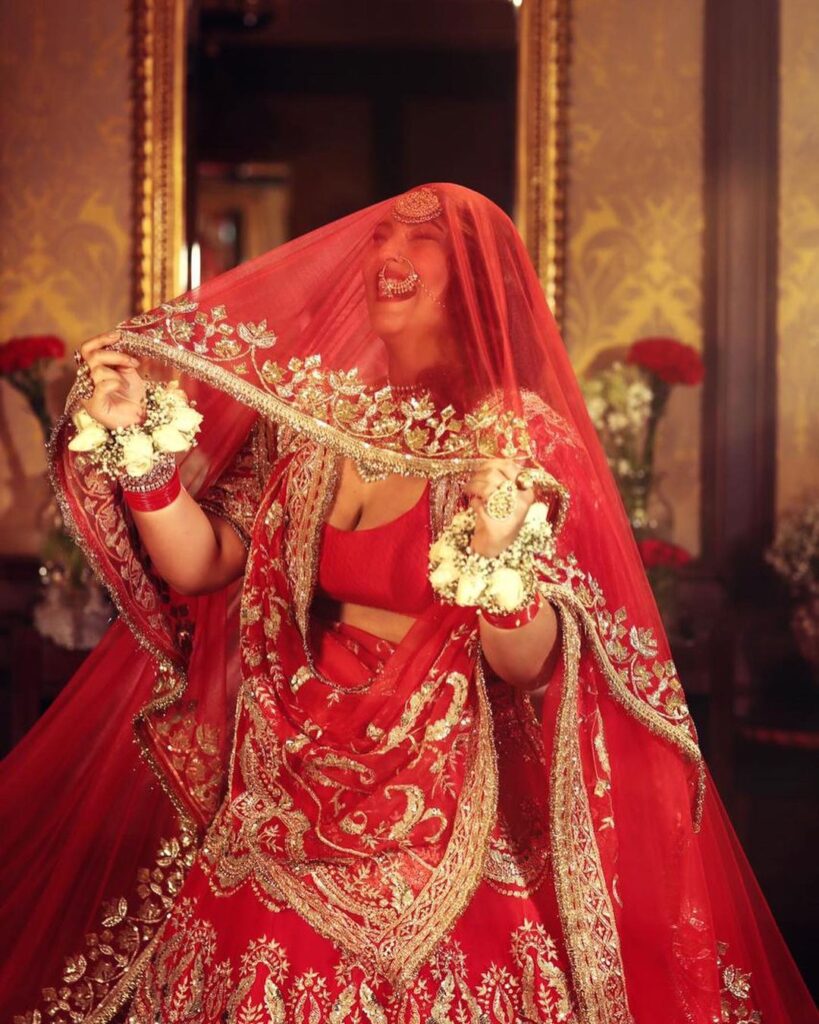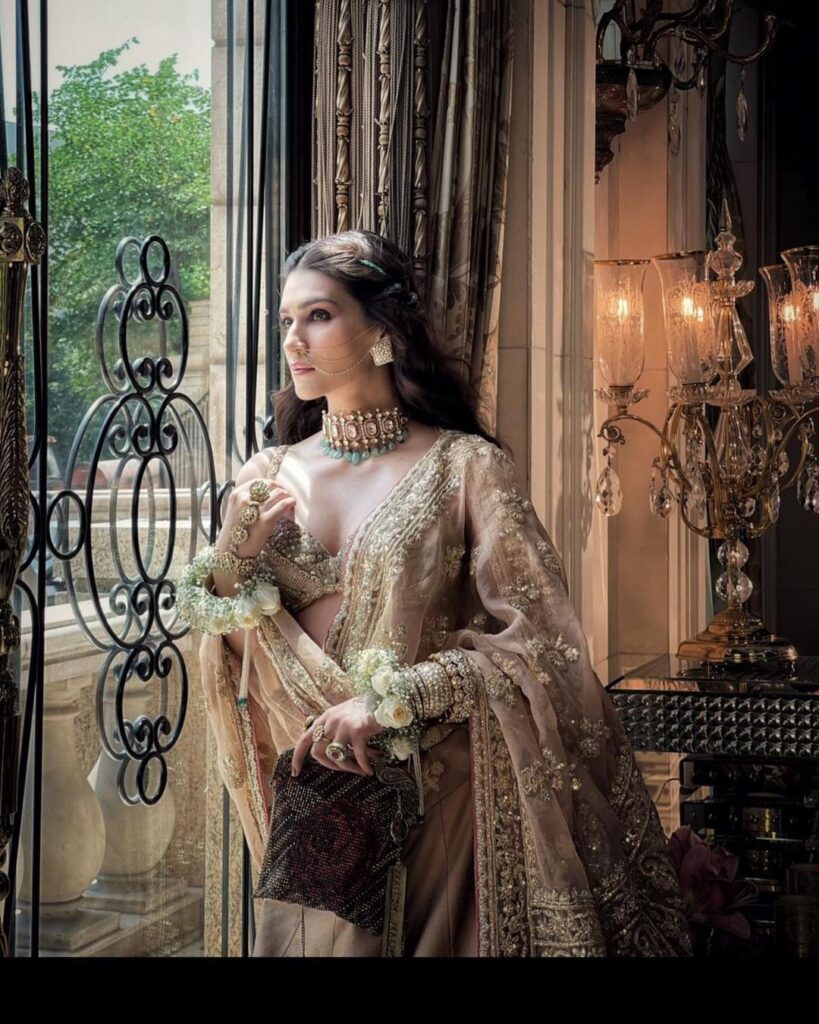 Siddhartha Tytler 
On Day 2 of ICW 2021, three designers launched their collection on the platform. The first one was Siddhartha Tytler who claimed the minimalism vibe of 2020 pandemic weddings with his latest launch. He used the color palette of whites and gold to create outfits that exude finesse, elegance, and purity. Another laudable element of the collection is the usage of only organic fabrics to create the attires. It's definitely high time we start taking care of Mother Nature, and Tytler's sustainable clothing work towards a better future for generations to come.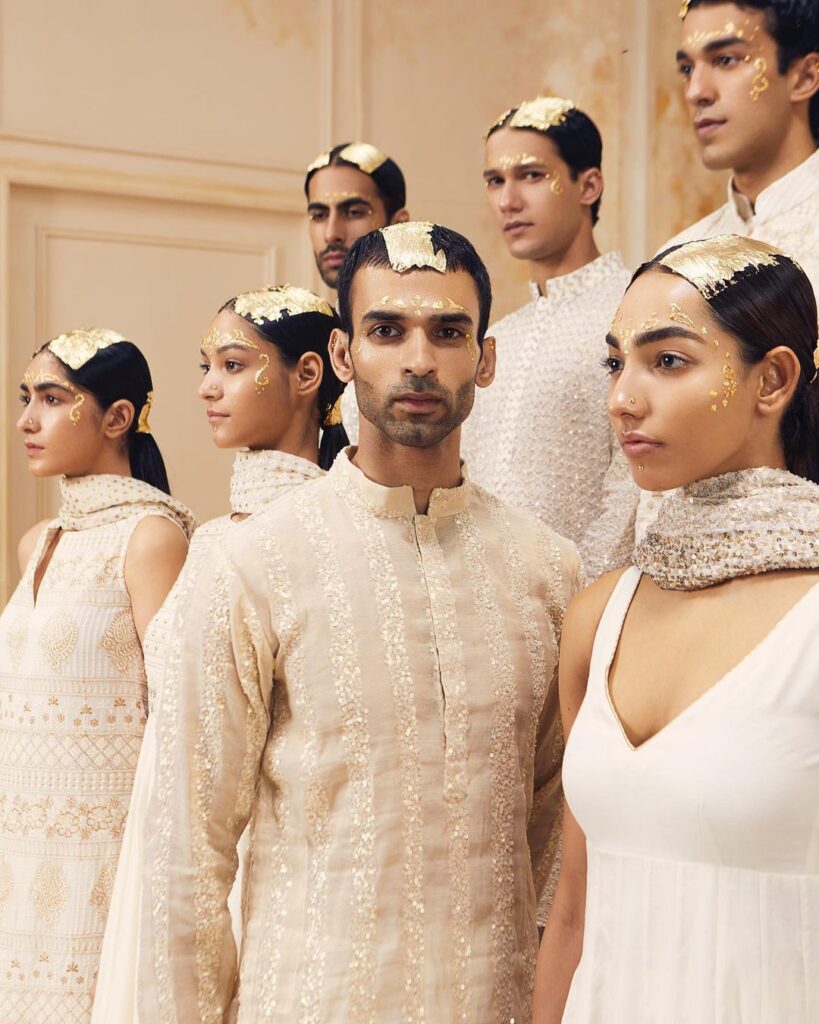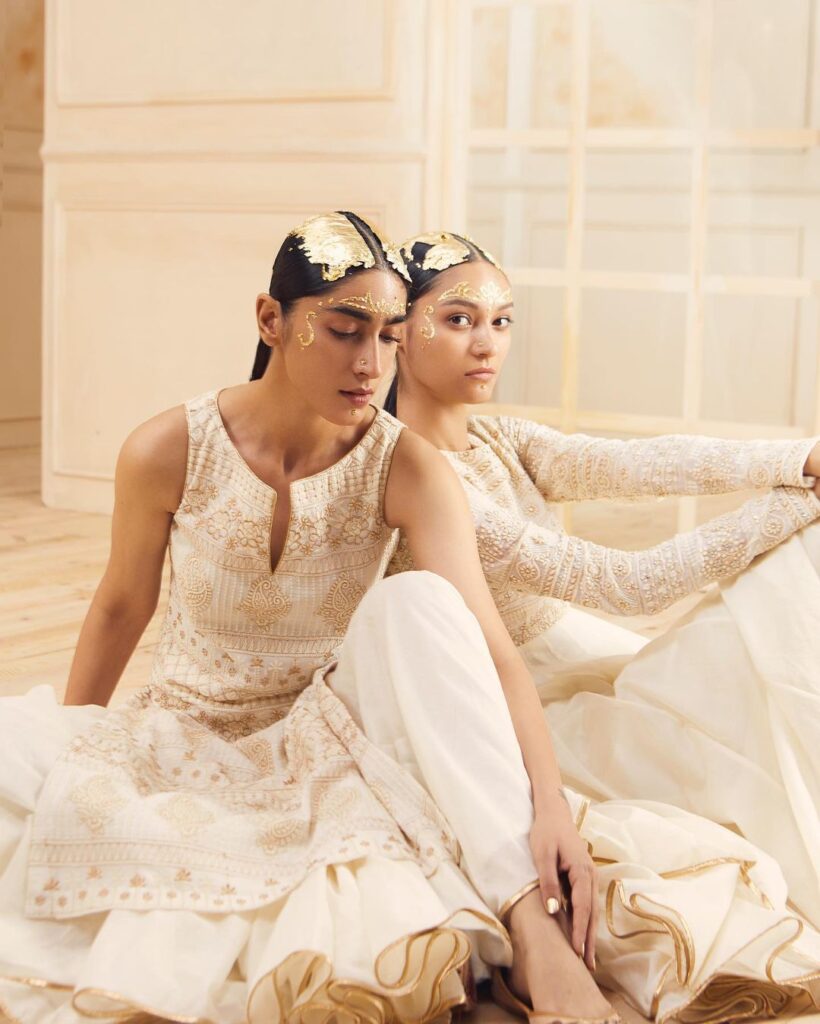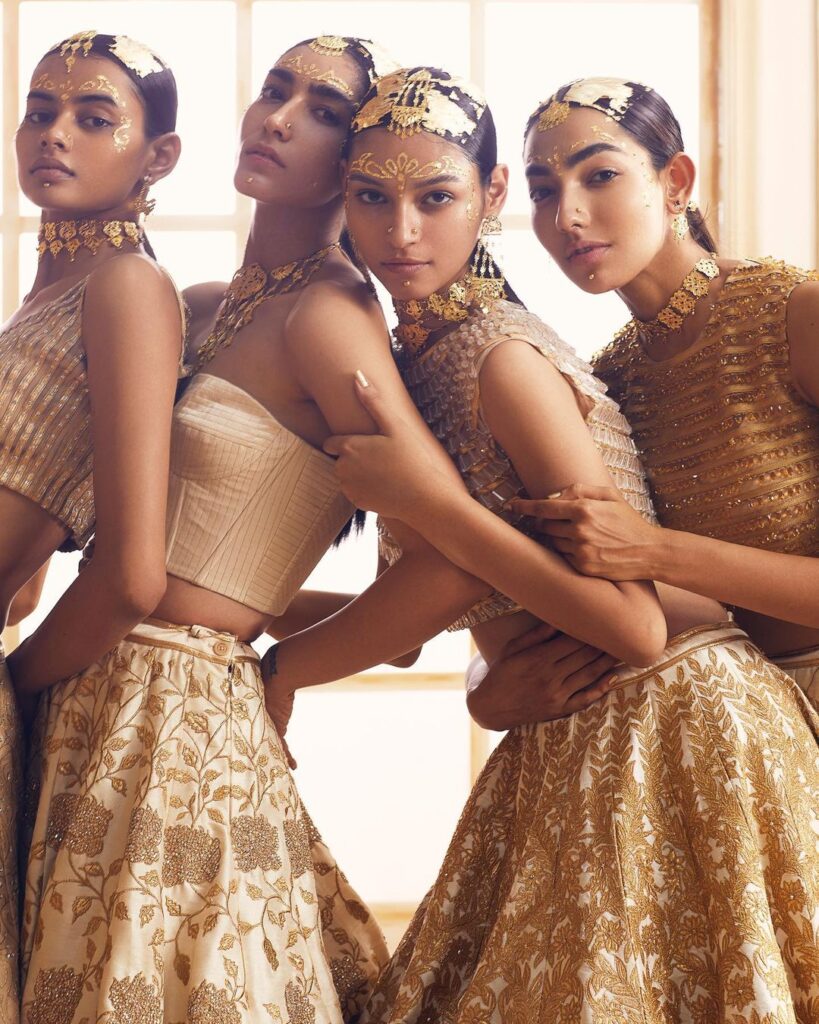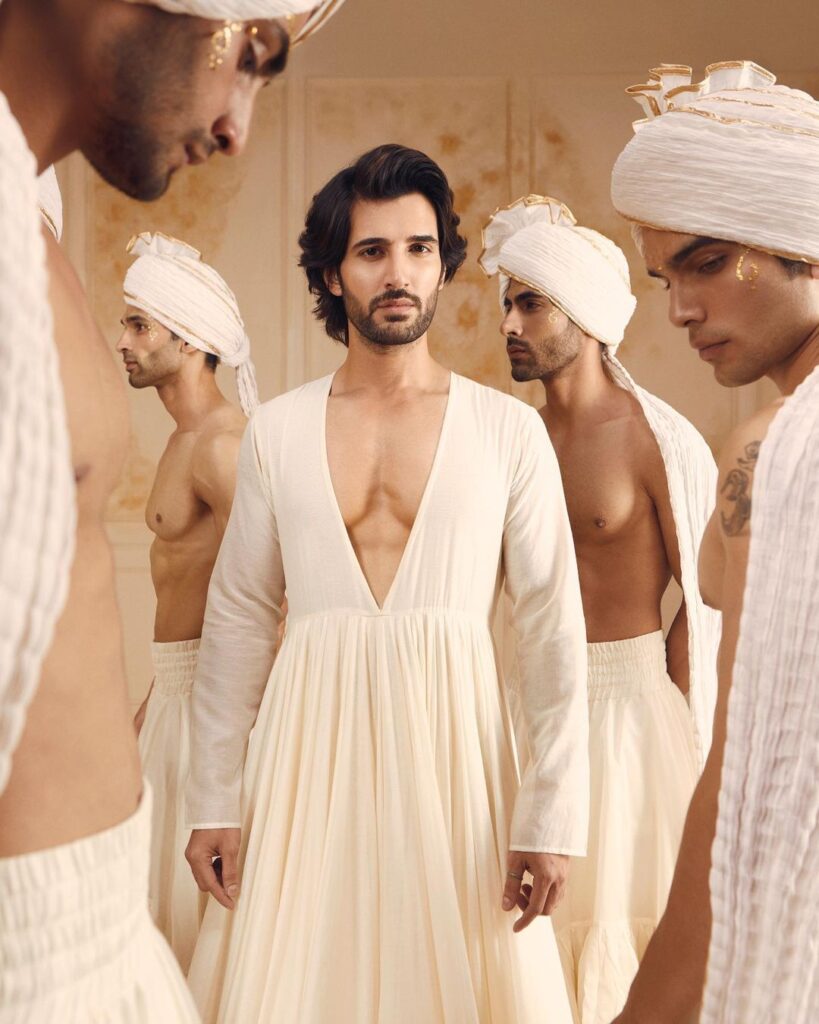 Suneet Varma
Known for his striking mirror-work on lehengas, this time around Varma played with zari, embroidery, and cut-outs in his collection and let his signature work take a backstep. Titled 'Noor', the collection shows a beautiful amalgamation of pastels, sienna reds, and soothing ivories for both men & women. The ensembles make for a perfect pick for the ongoing intimate celebrations. With ethereal shades and elaborate designs, Varma's ICW 2021 collection appeals to the modern groom and bride equally.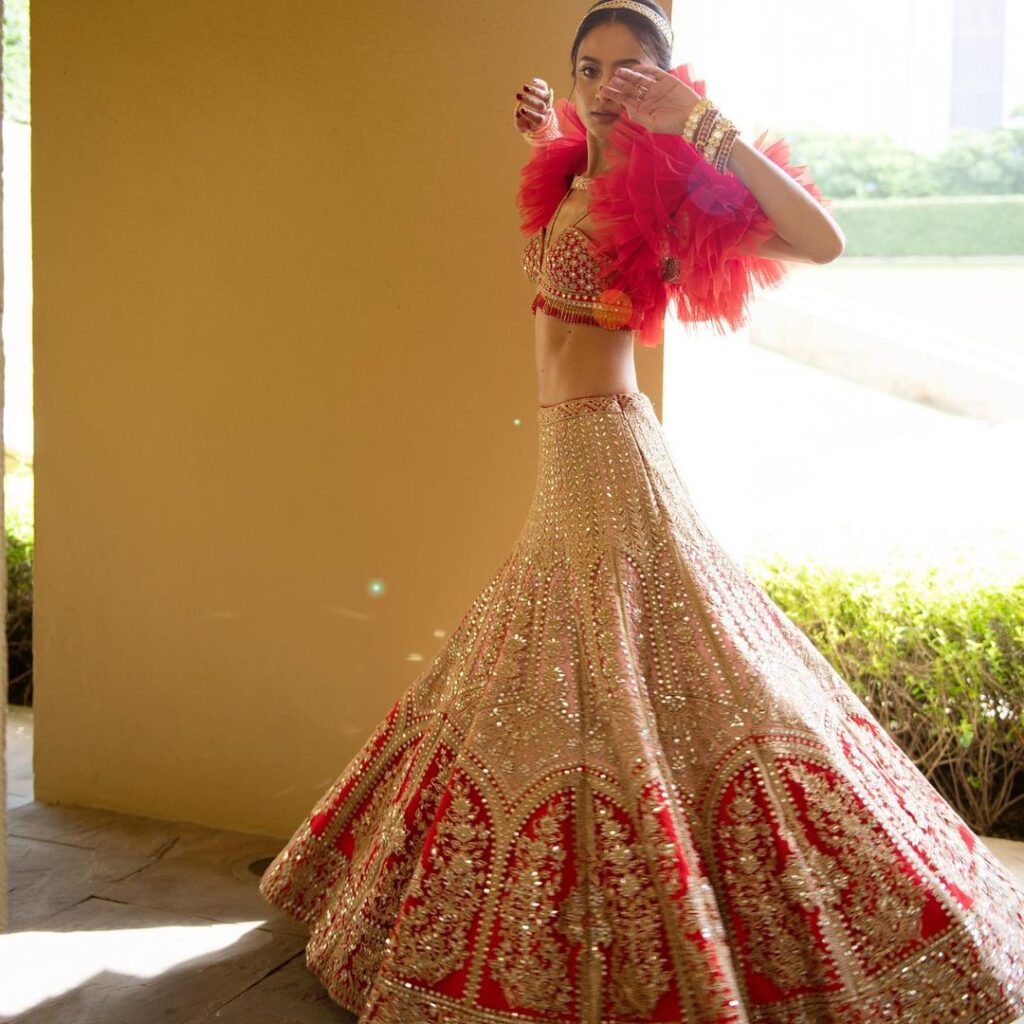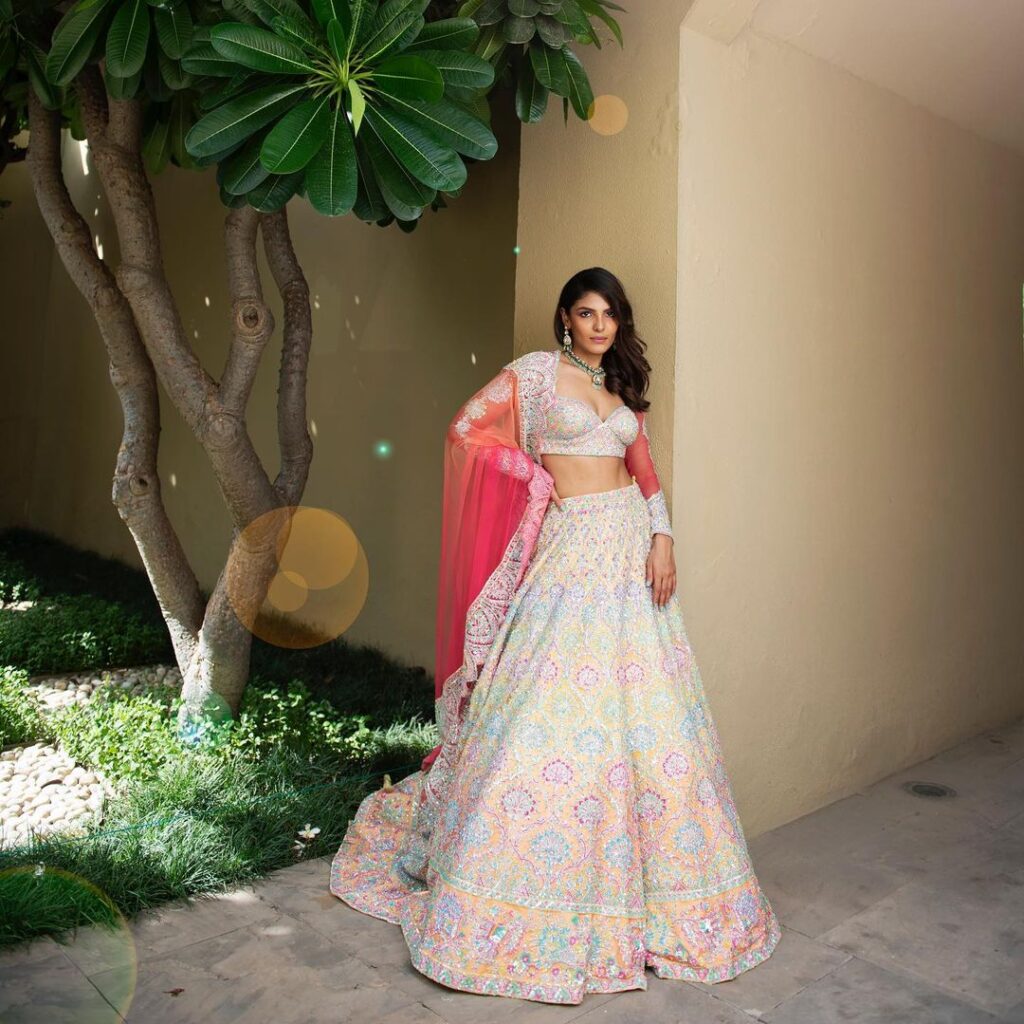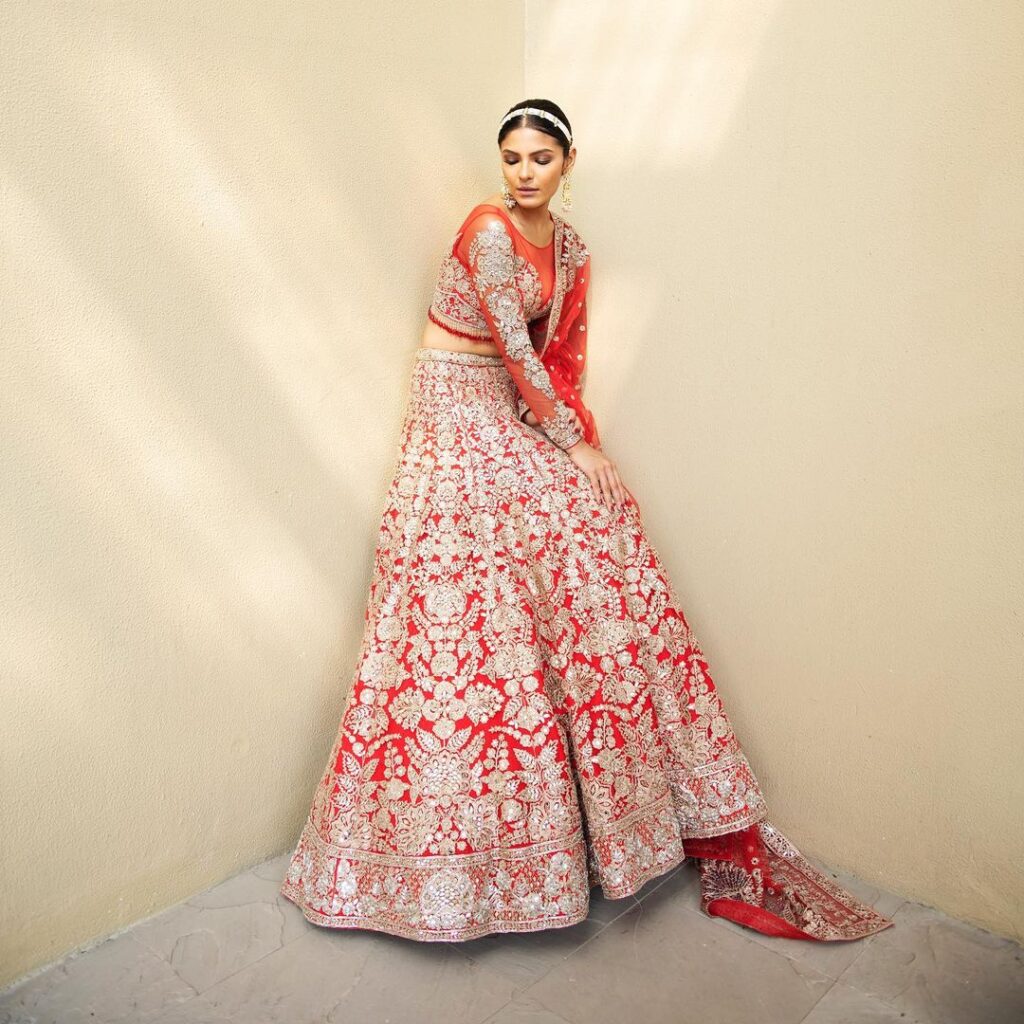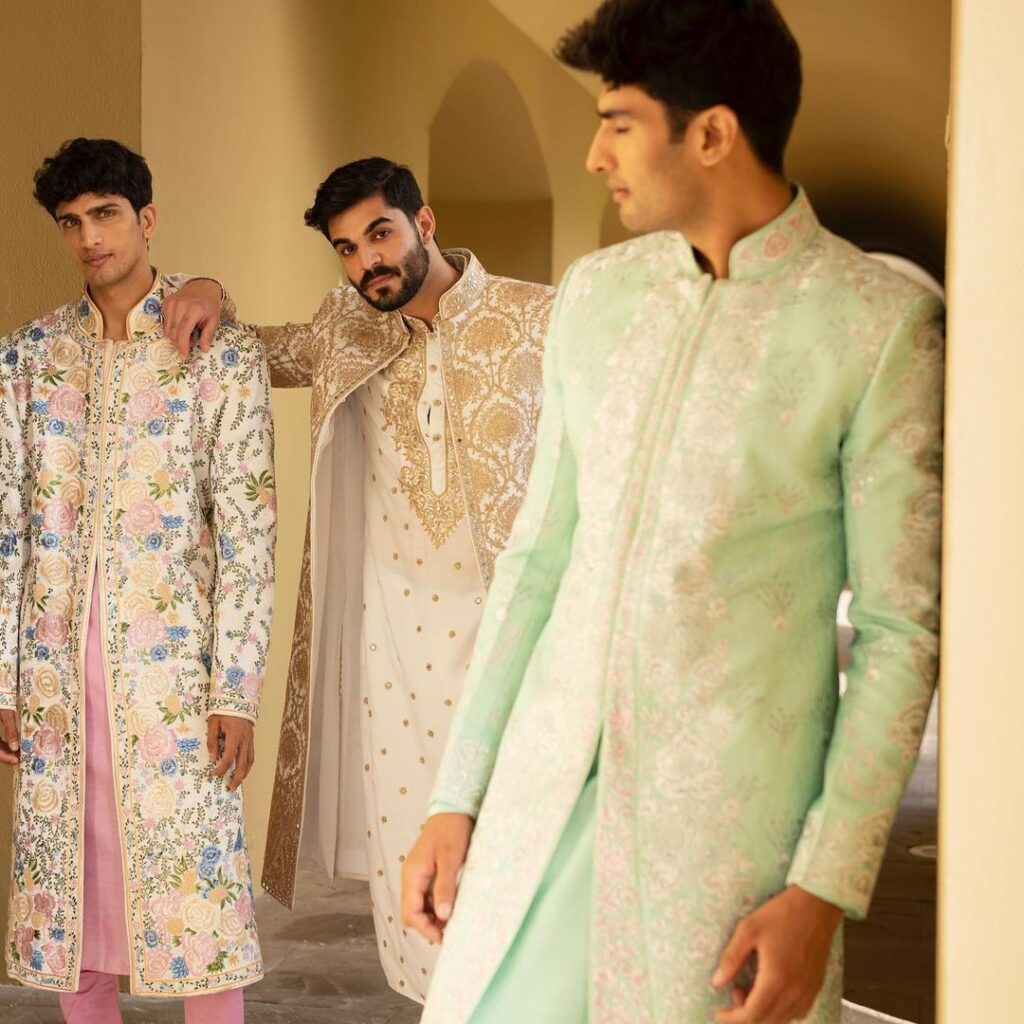 Gaurav Gupta 
Drenched in monochromes (yet again!), Gaurav Gupta's splendid outfits with dramatic & creative silhouettes have won many hearts. His classic designs are what sheer elegance is made of! And the timelessness of them is surreal. You can don his outfit 20 years from now, and it will still be relevant. Talking of his collection with The Hindu, Gupta said, "the bride now wants to make an even bigger statement — be it in terms of color, shape, form, or embroidery. While she picks a lightweight lehenga for her engagement, she'll opt for a larger-than-life, sculpted gown for her sangeet, cocktail. Everything has become more glamorous, more dramatic, but with a sustainable heart". Taj Falaknuma Palace served as the background for the 2021 launch of GG's collection.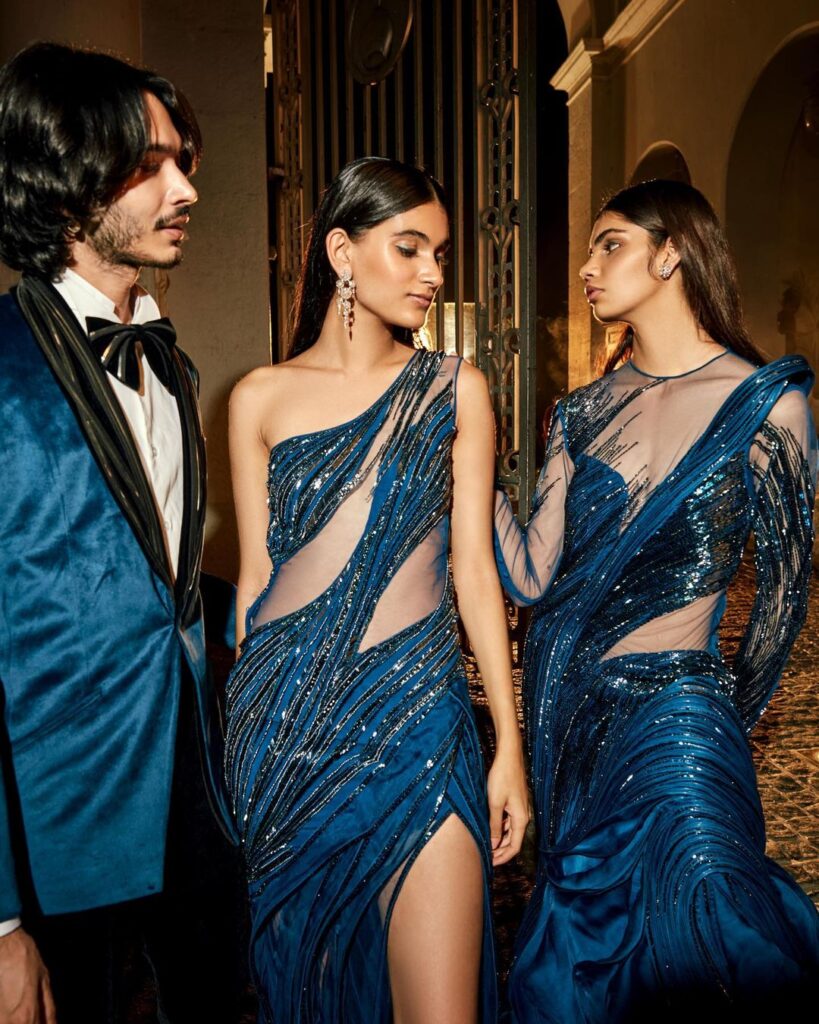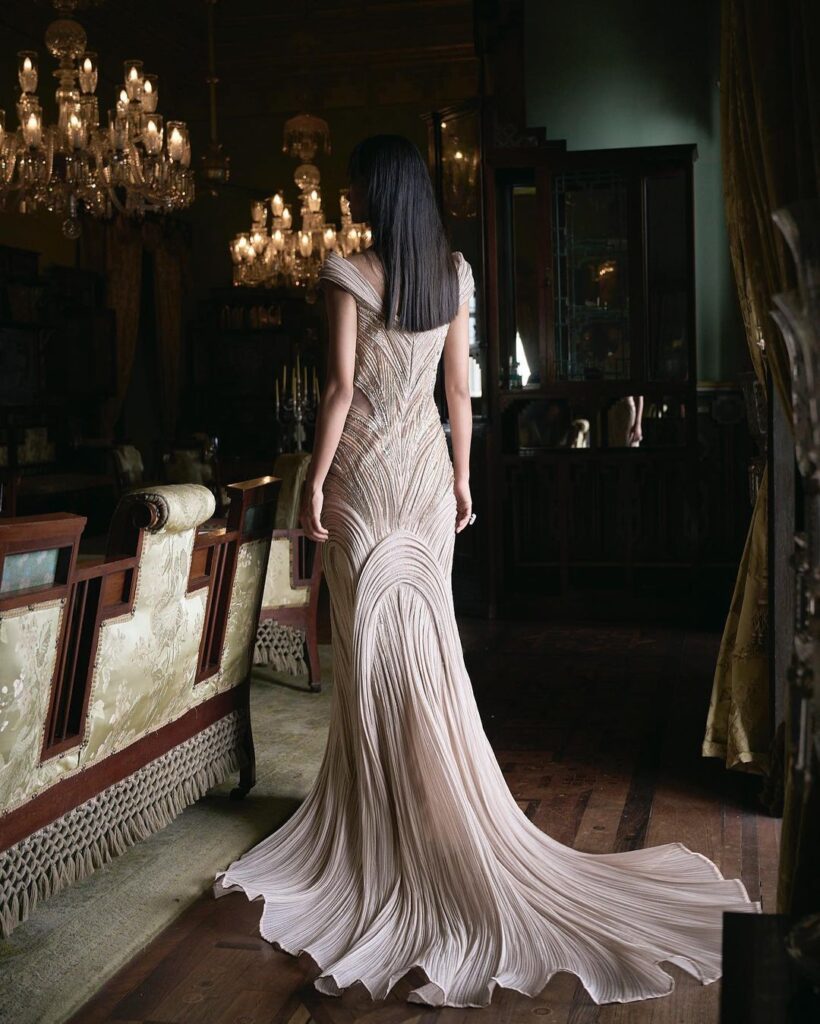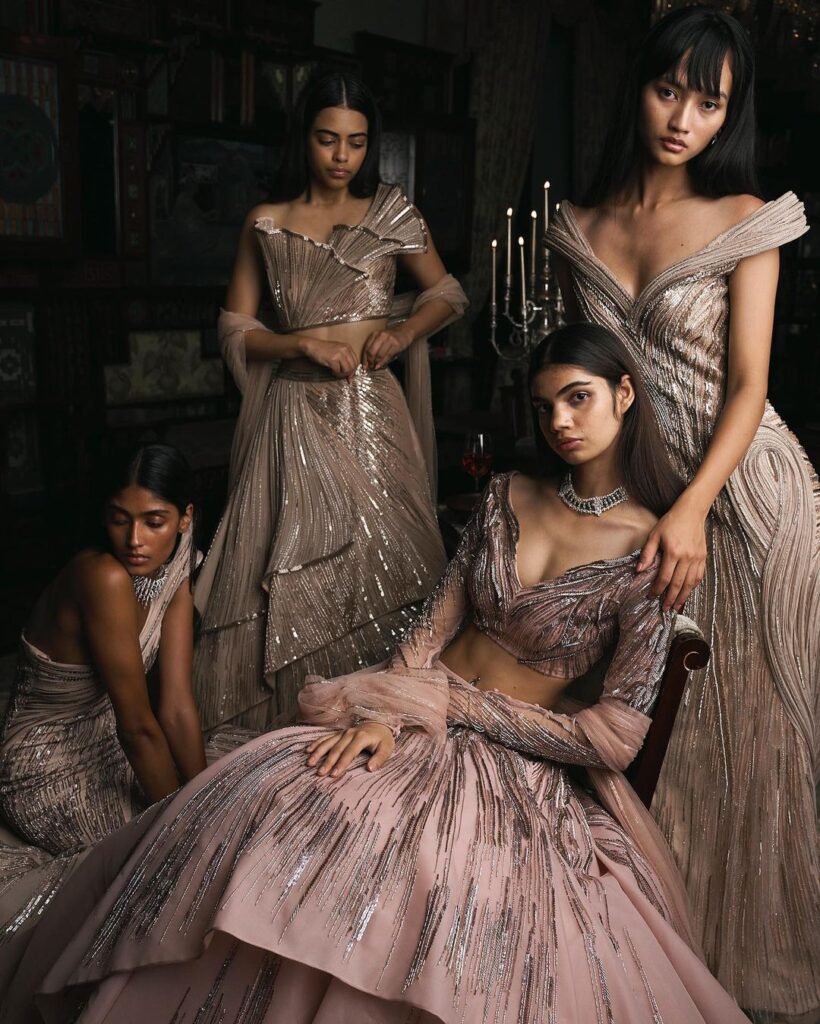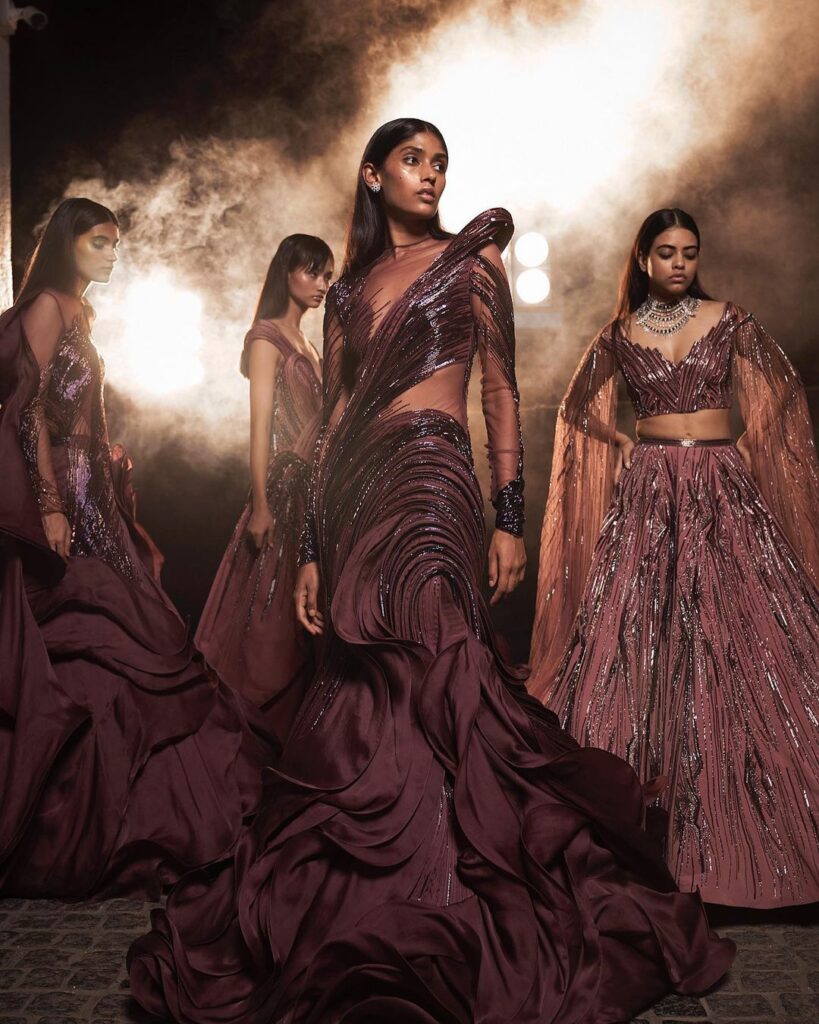 Pankaj & Nidhi
It's definitely raining maximalist style in ICW 2021. Pankaj & Nidhi went all in to showcase the big fat Indian wedding element in their collection. From exaggerated sleeves to heavily embellished shimmer work and trailing capes and skirts, there's nothing simplistic about their newest designs. The designer's basis of the collection was simple. Hope for a brighter future that's better for all of humanity. They created outstanding clothing to radiate a bride's effervescent beauty while also staying planet-conscious. Most of the materials used to decorate the designs are made in-house from the waste generated as part of the creation. The collection is rightfully titled "Afterglow" and is filmed at designer aggregator store The Kila.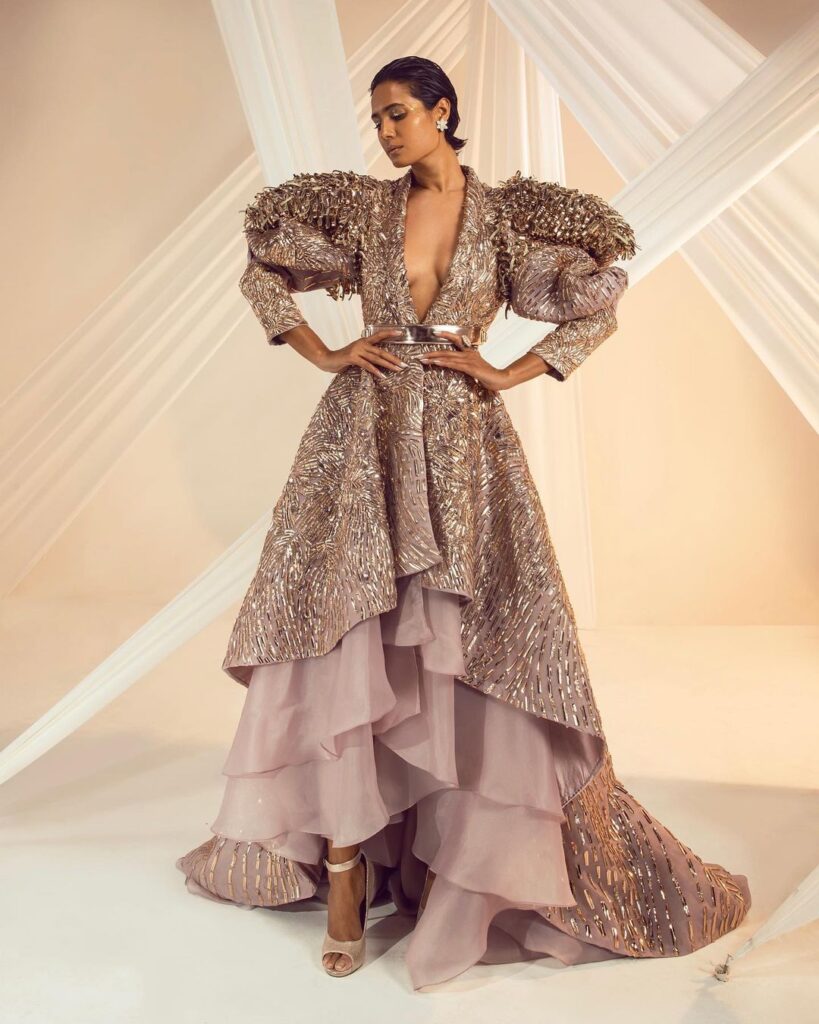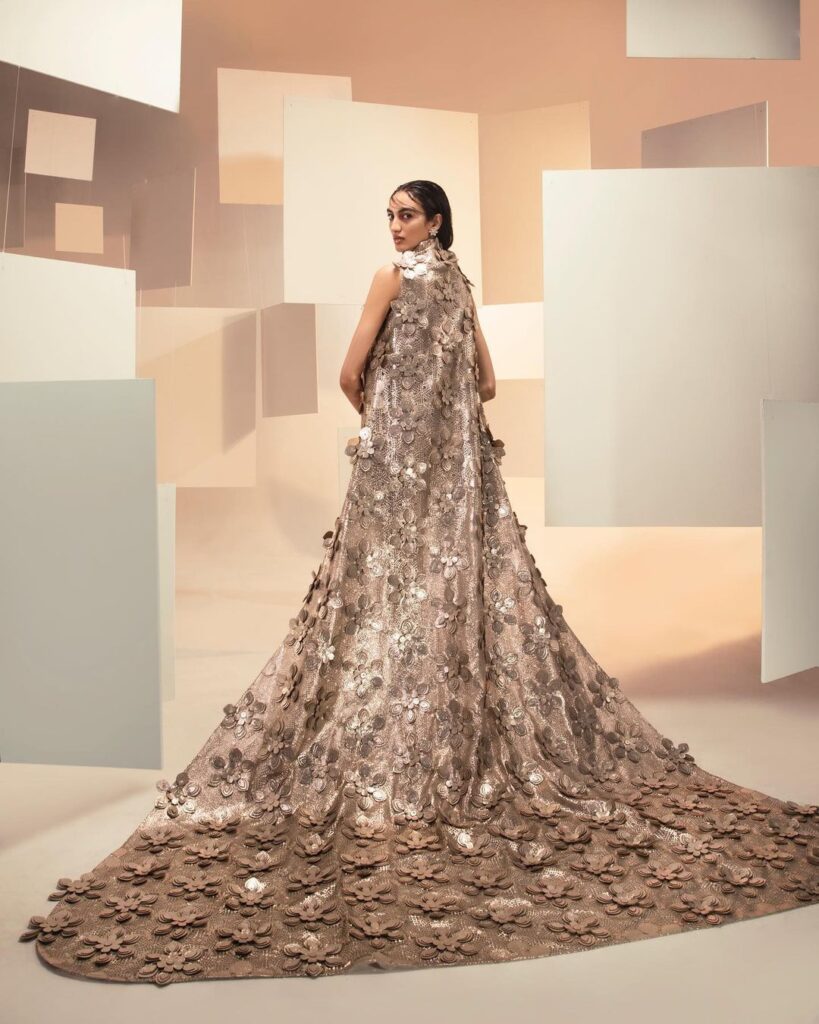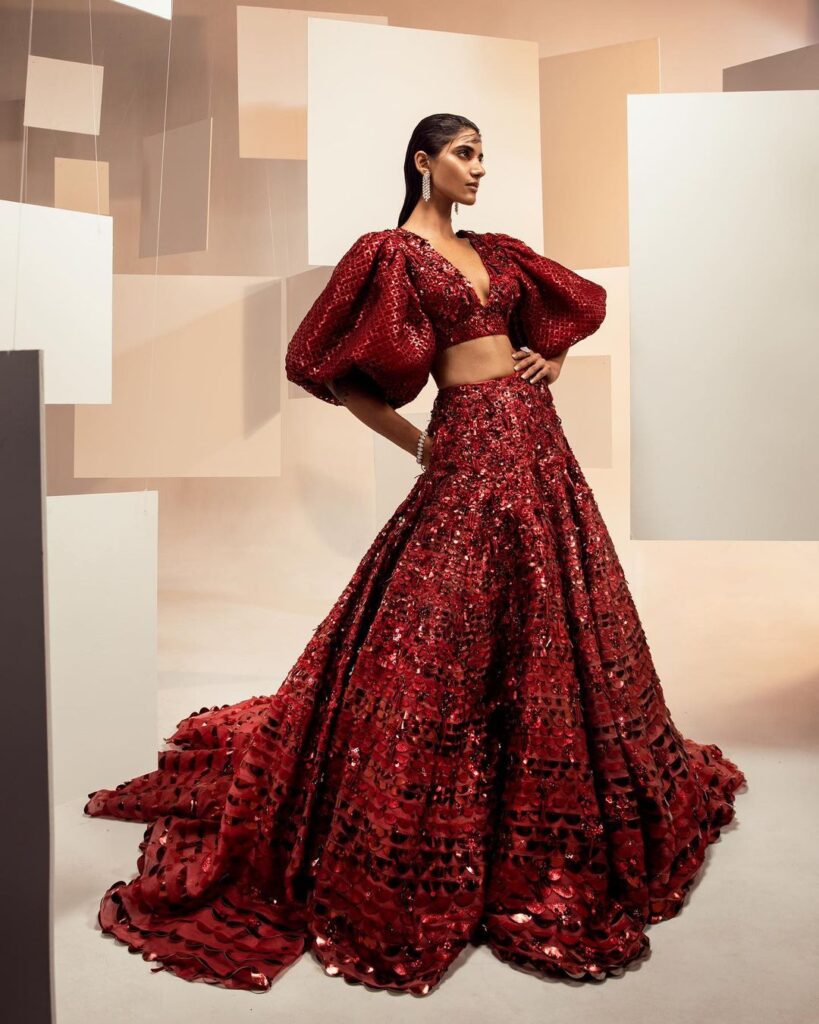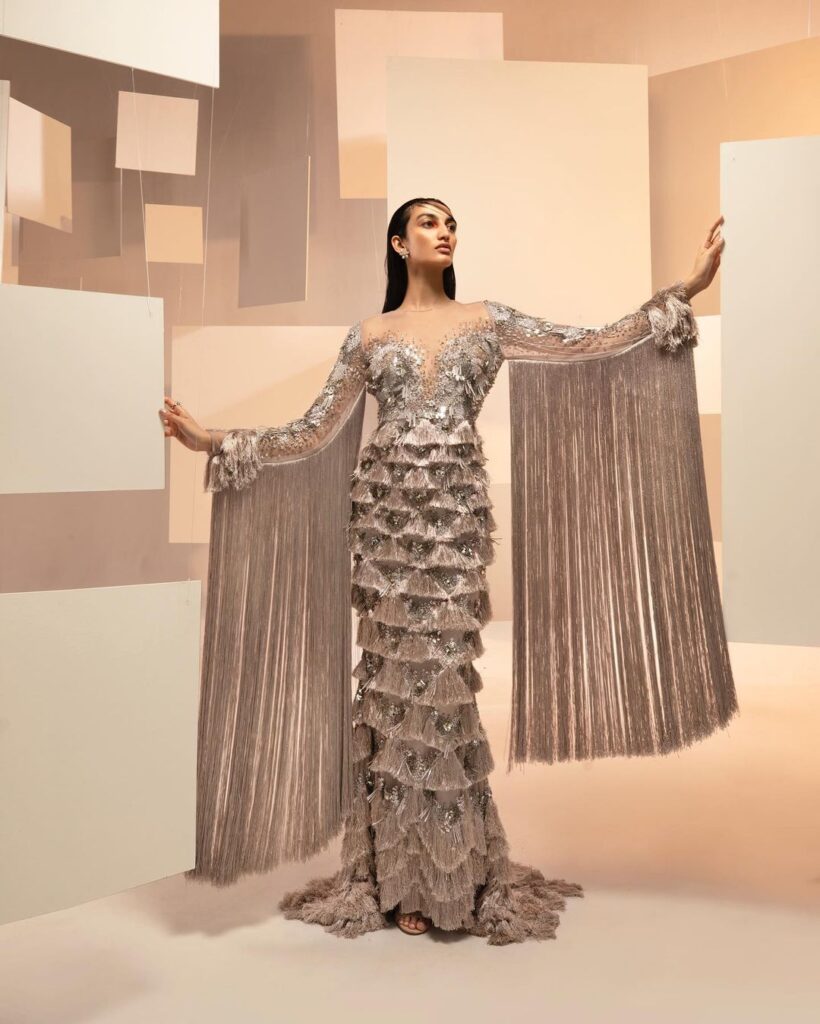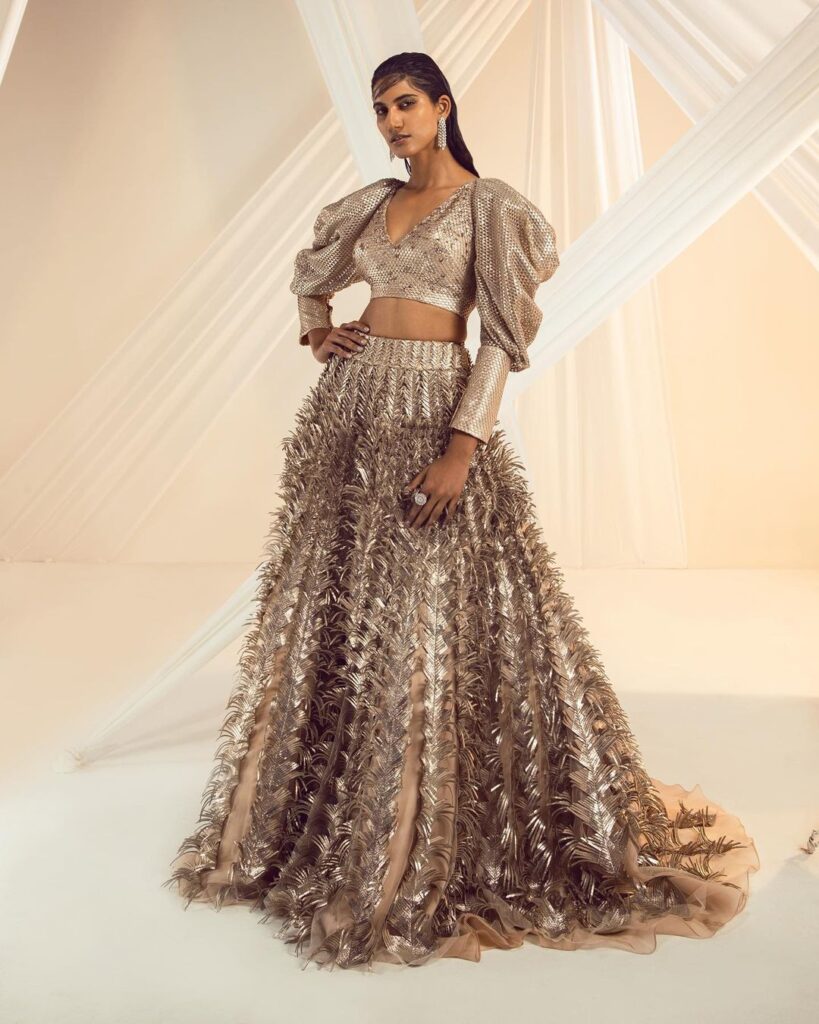 Dolly J Studio 
Look who just professed their top contender stand as the best bridal gown designer in India – Dolly J Studio. Replete with impressive A-line gowns in dazzling hues of metallic tones, pastels, and ivories, Dolly is certainly your go-to stop for a gorgeous gown dress. Titled "Ah-Lam", models strutted in her latest couture line that's creatively designed and embellished with silver and gold threads, beads, crystals, and stones. Jhunjhunwala's extravagant attire is ideal for weddings, but also for other special occasions.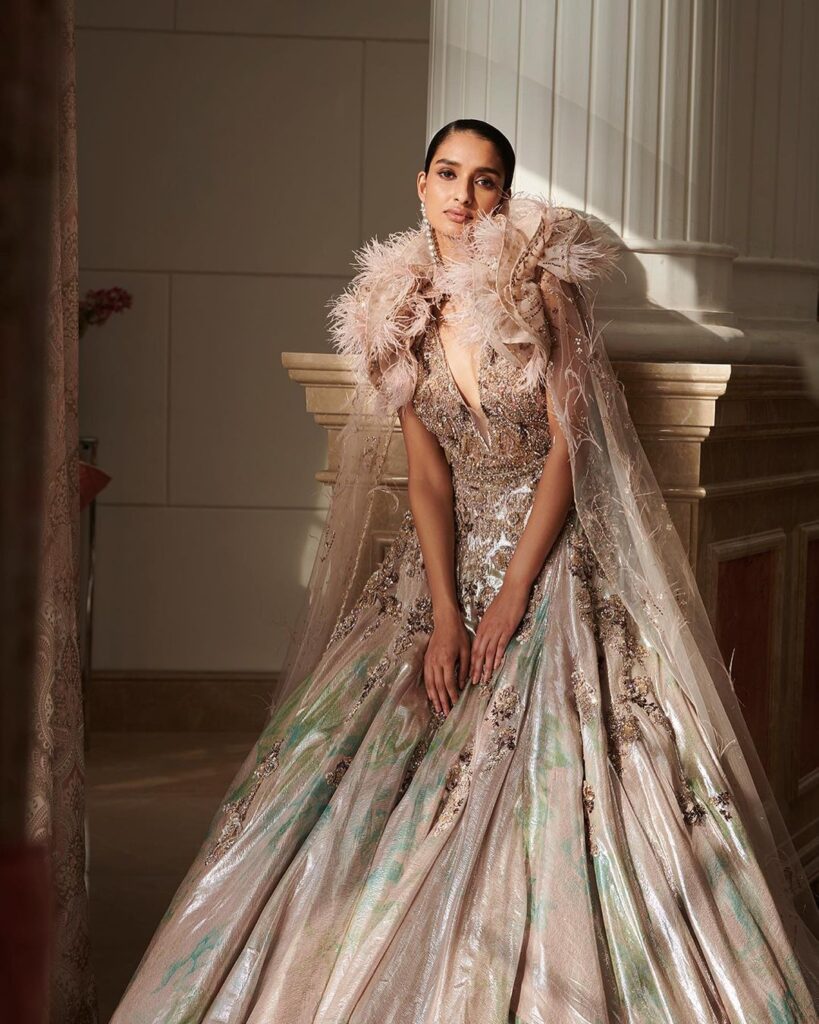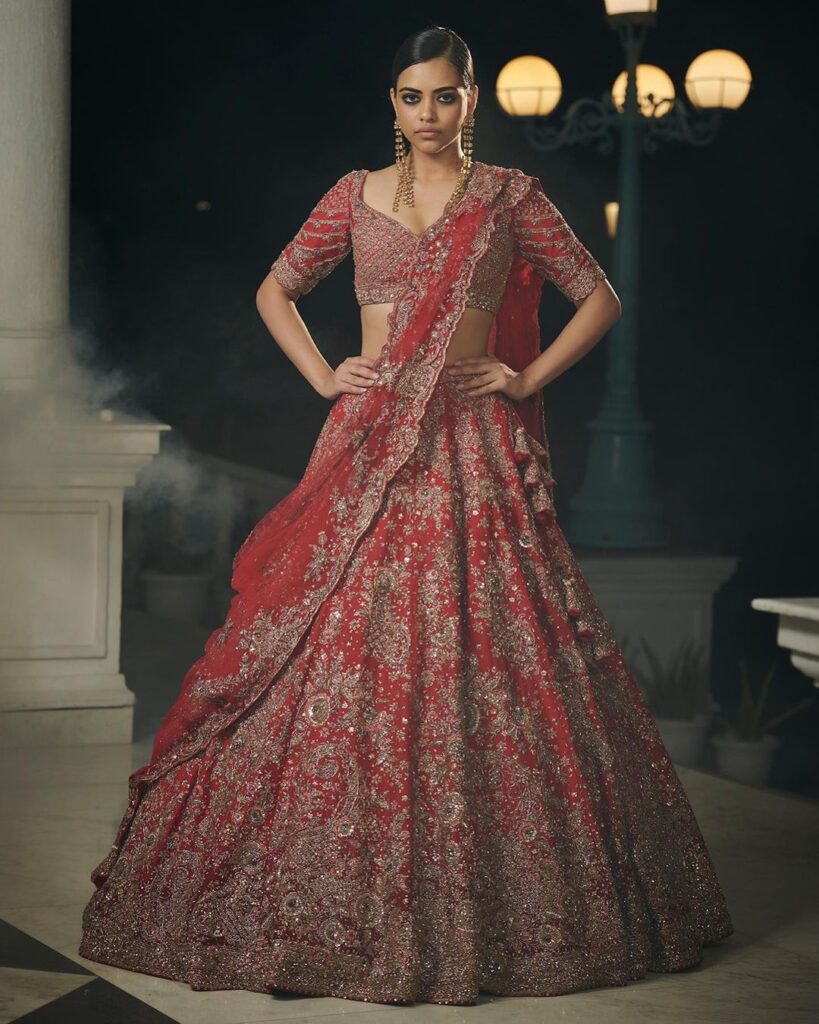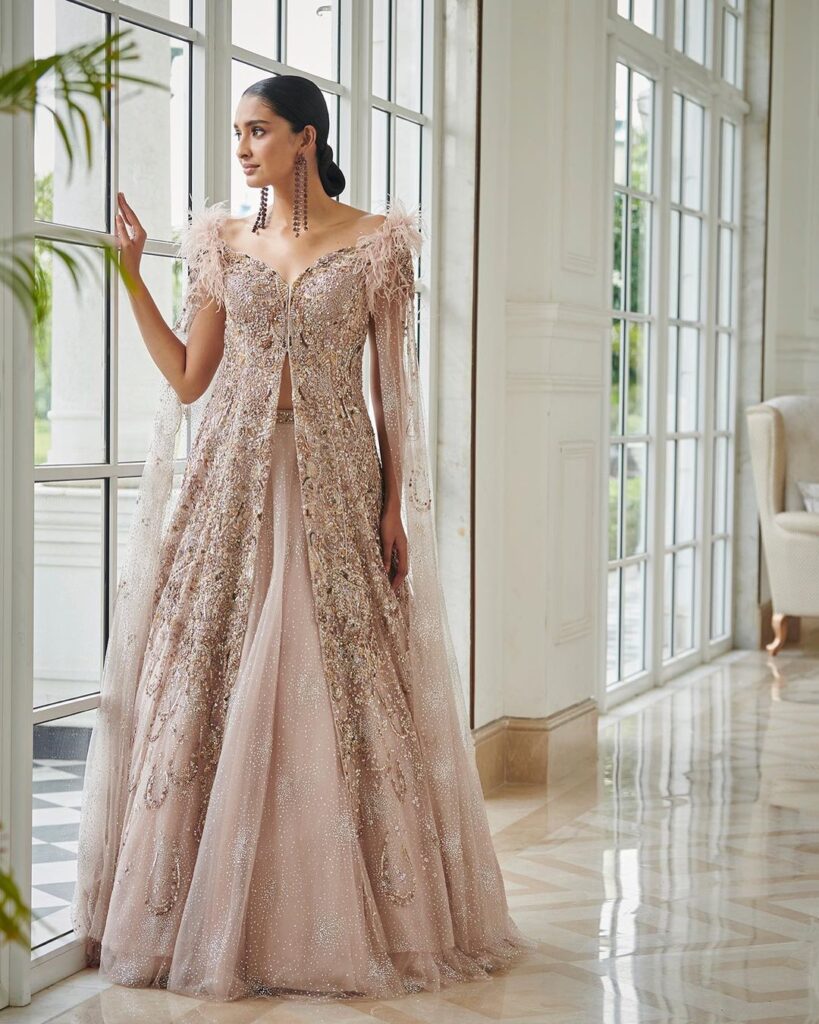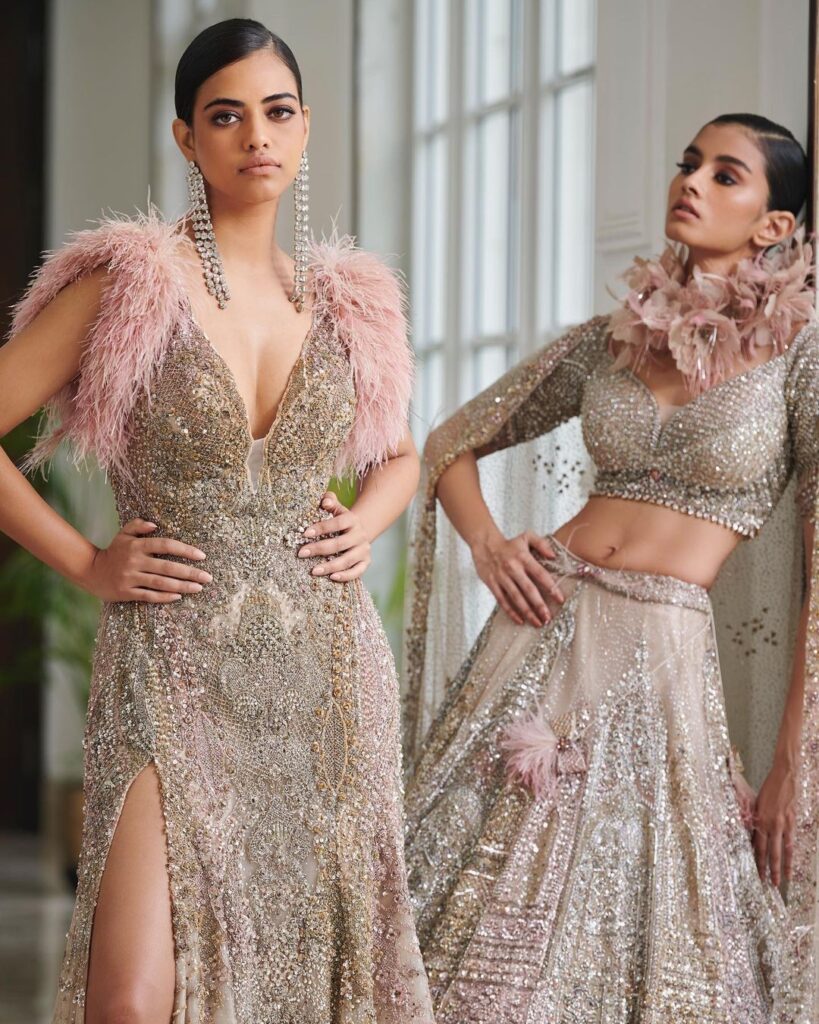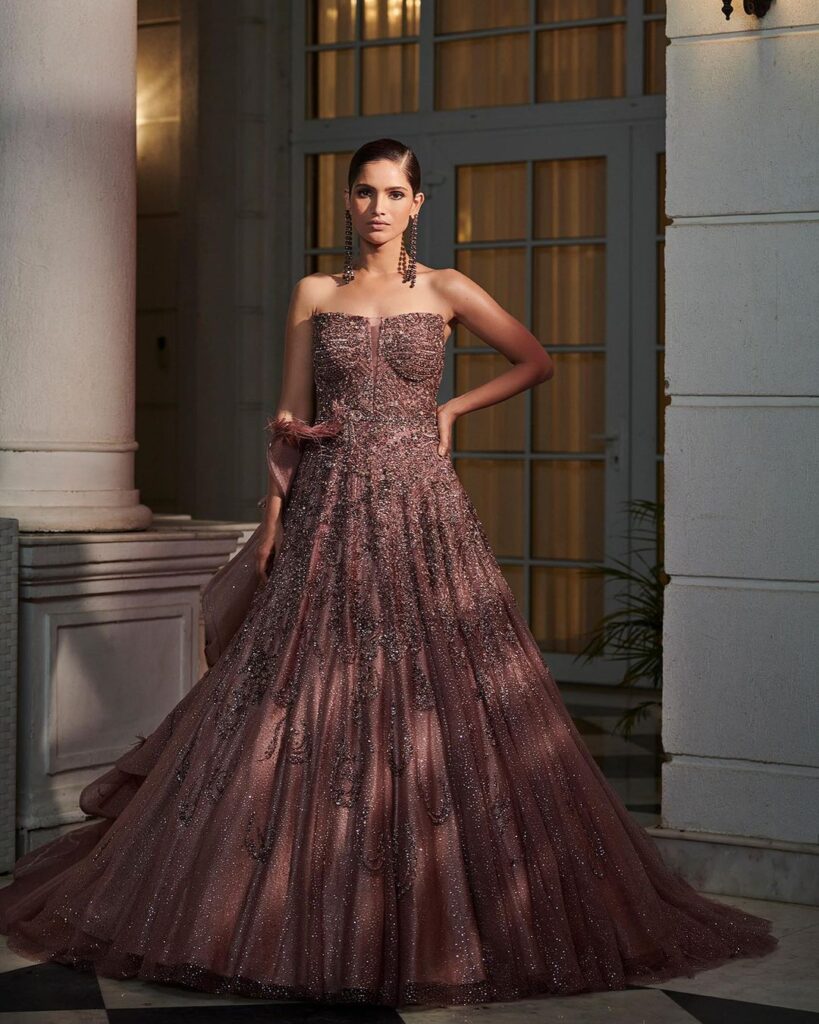 Amit Aggarwal
If sustainability and planet protection matters the most to you, meet the designer who does that better than anyone else – Amit Aggarwal. His outfits are made by marbling patterns on discarded PVC and handwoven polymer. Talk about sustainable creativity. Aggarwal also has an interesting take on how brides pick outfits. "Brides don't look for embroideries or embellishments anymore, but at intelligent design. They look at the overall understanding of beauty and value in the product they are investing in, so it's not about the number of hours spent on embroidery, but on the thought, that's gone behind creating the ensemble. The choice of the outfit has to resonate with their personality," the designer said in an interview with Times of India. Here are a few stunning pieces from his ICW 2021 collection "Metanoia".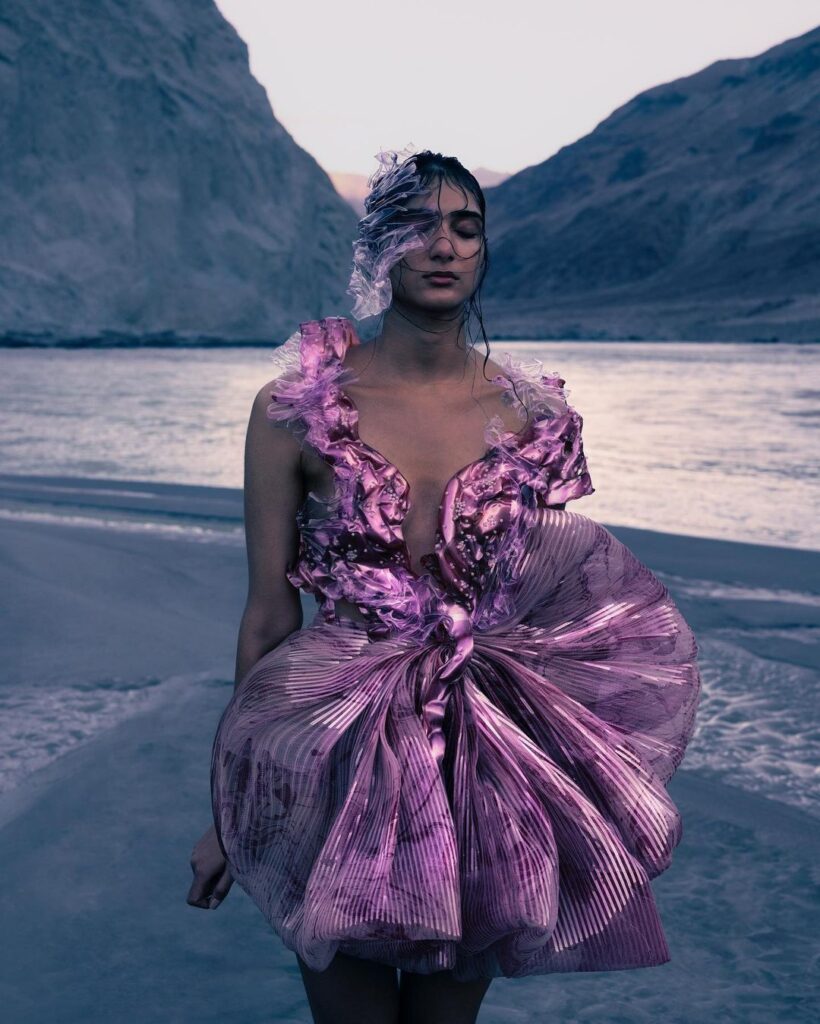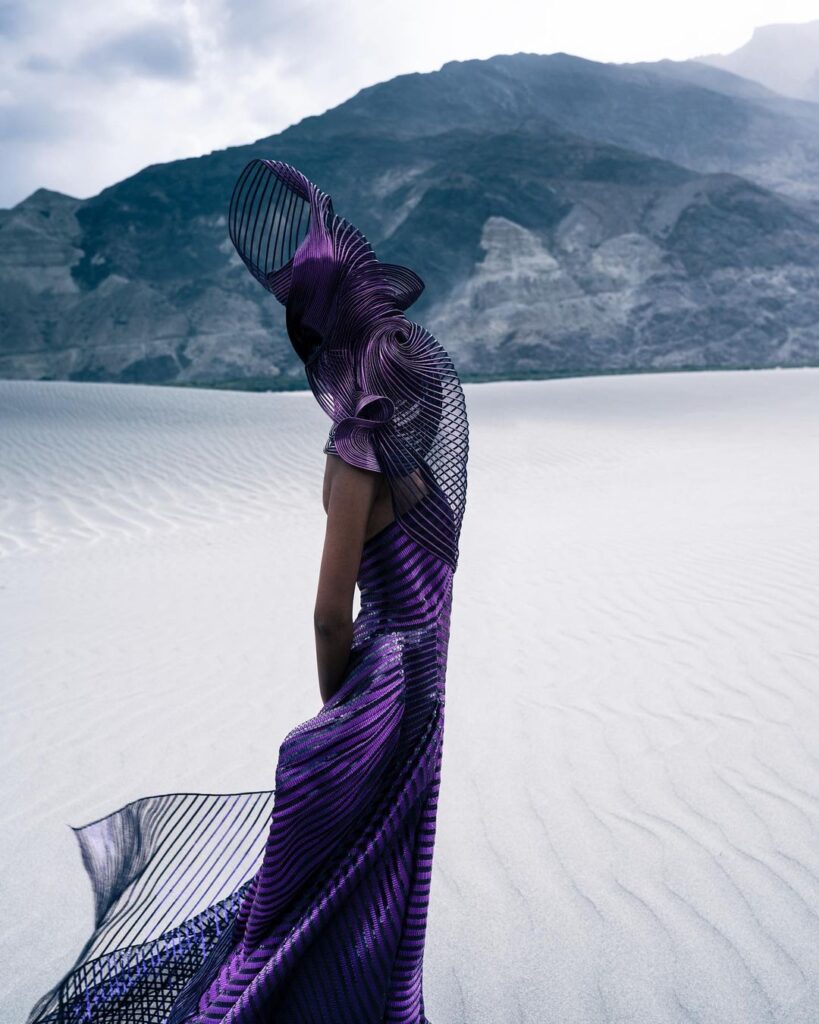 Ashima Leena
Handwoven sarees and lehengas bedecked with traditional handicrafts and sourced from Rajasthan's royalty, Ashima Leena's ICW 2021 collection is titled "Nazm E Mahal". The line depicts a day in the life of a modern maharani who values old-world charm, grace, and timeless element in her dresses more than anything else. The collection blends different heritage weaves to create shades and designs unique on their own. "Weddings might have become intimate but they are not understated, there's no compromise when it comes to ensembles for the bride and groom, and their immediate families. For this collection we have very traditional silhouettes with a touch of modernity," Leena told Manorama TV.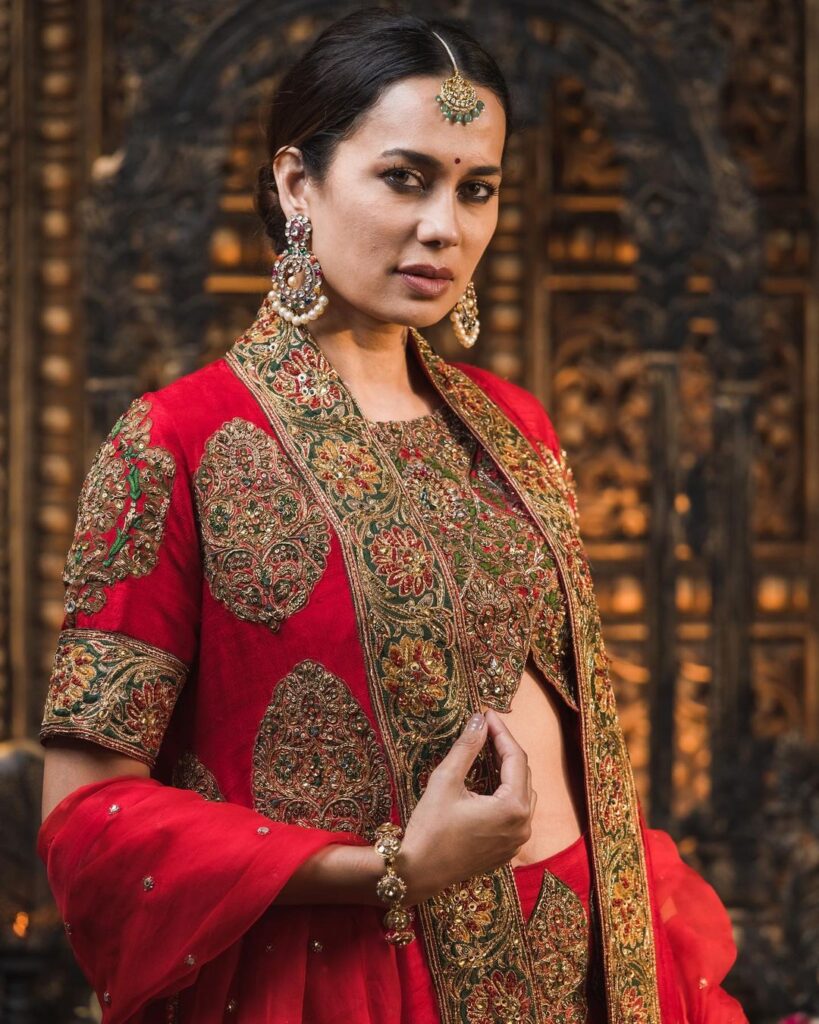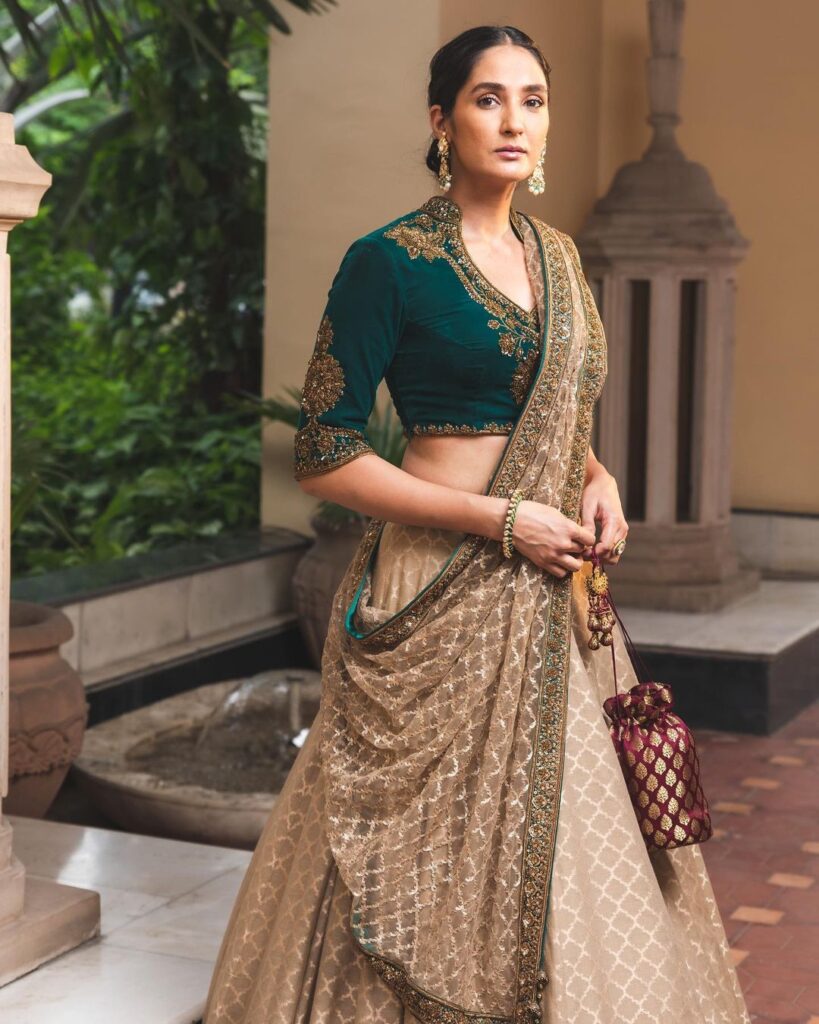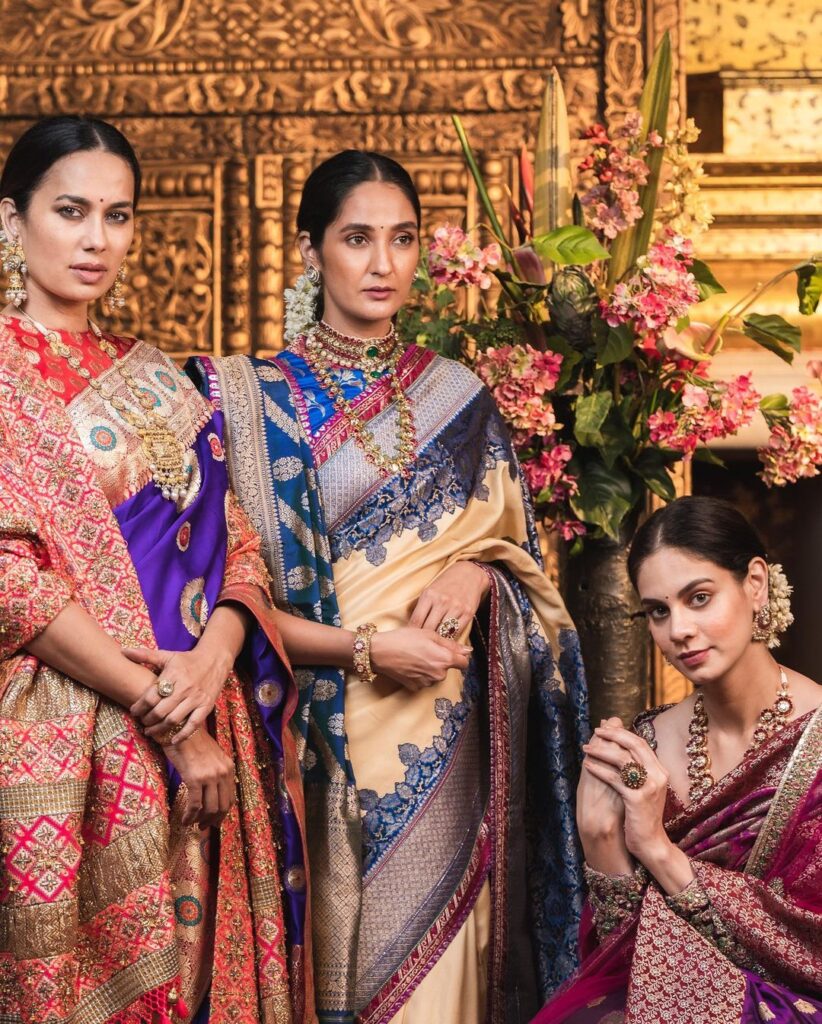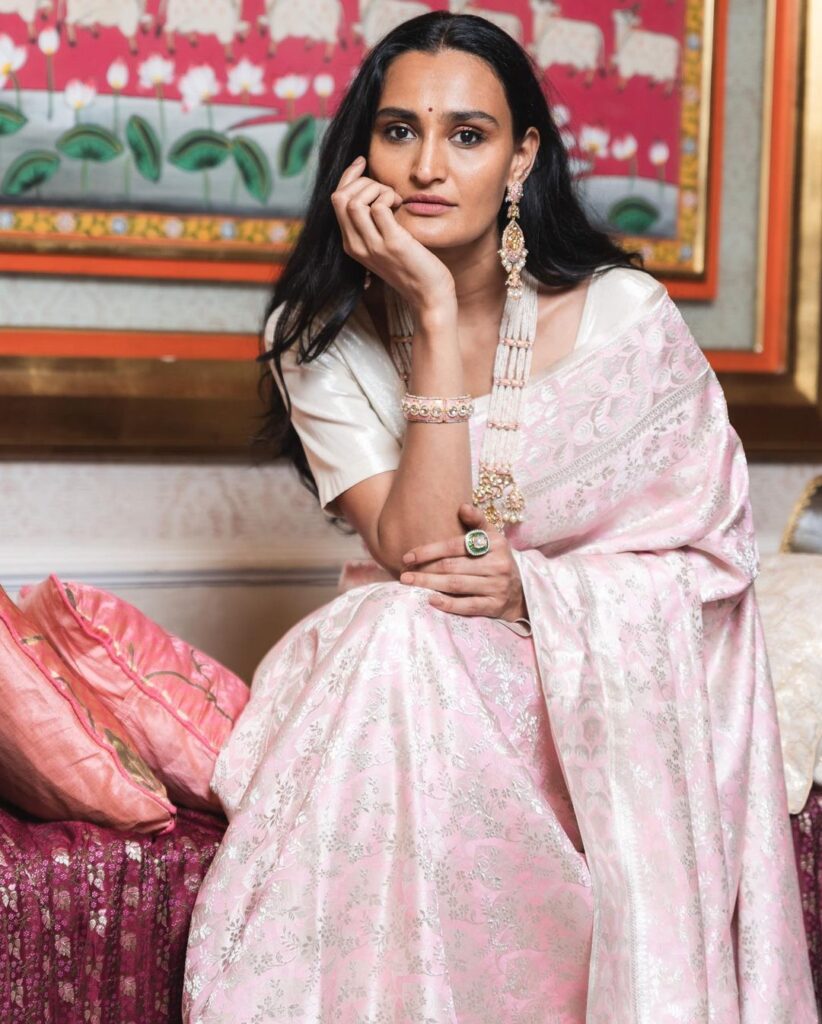 Amit GT Couture
Photographed at the scenic Oberoi Udaivilas, Amit GT's fresh launch titled "Scintilla" is an attempt to capture nature's fine colors and fit them right into your wardrobe. Both the hues and the work on the dresses are an ode to nature's beauty. Beautiful blues reminisces of dewdrops and the metallic silver reflects the luminous cosmos. Birds, blooms, and constellations take the front seat as the hand embroidery done on the dresses. With impressive trails and ornate detailing, any bride would look like the queen walking down the aisle in Amit GT's couture.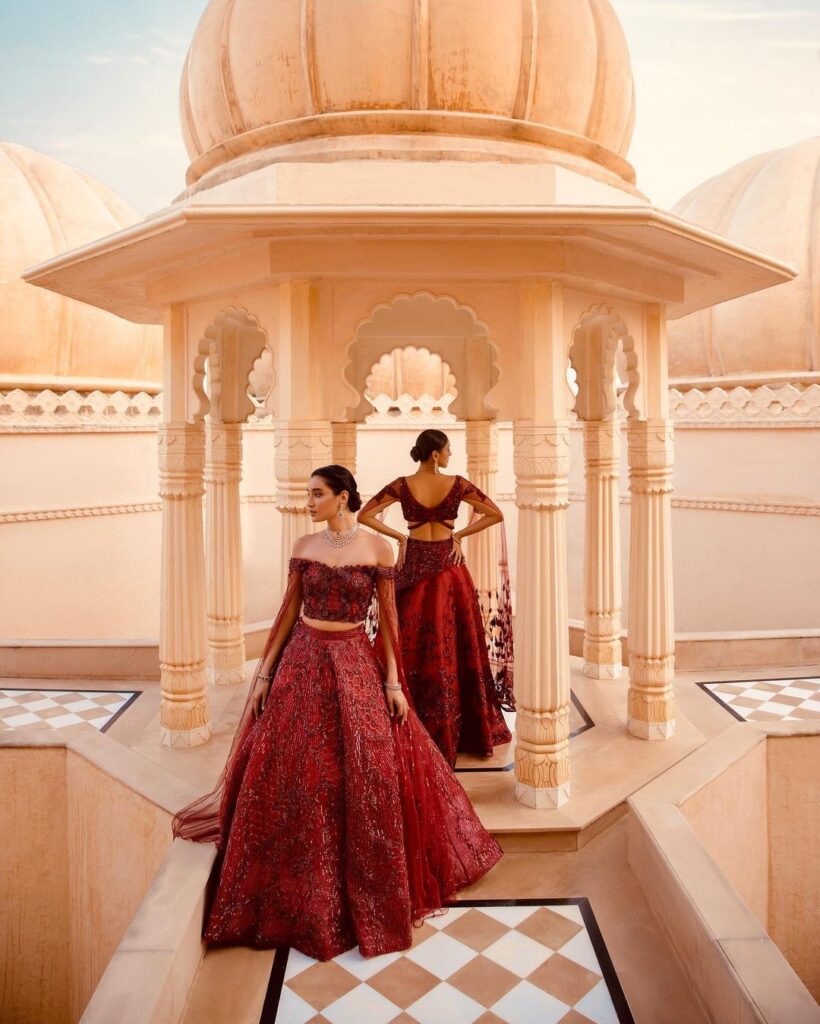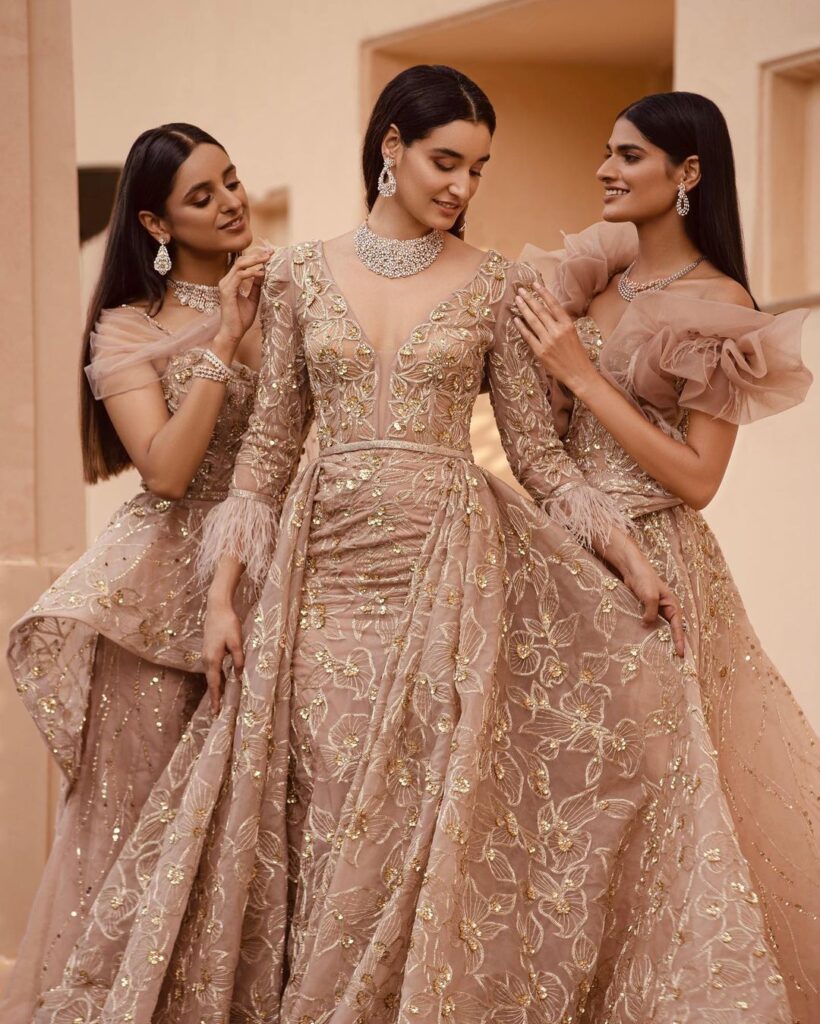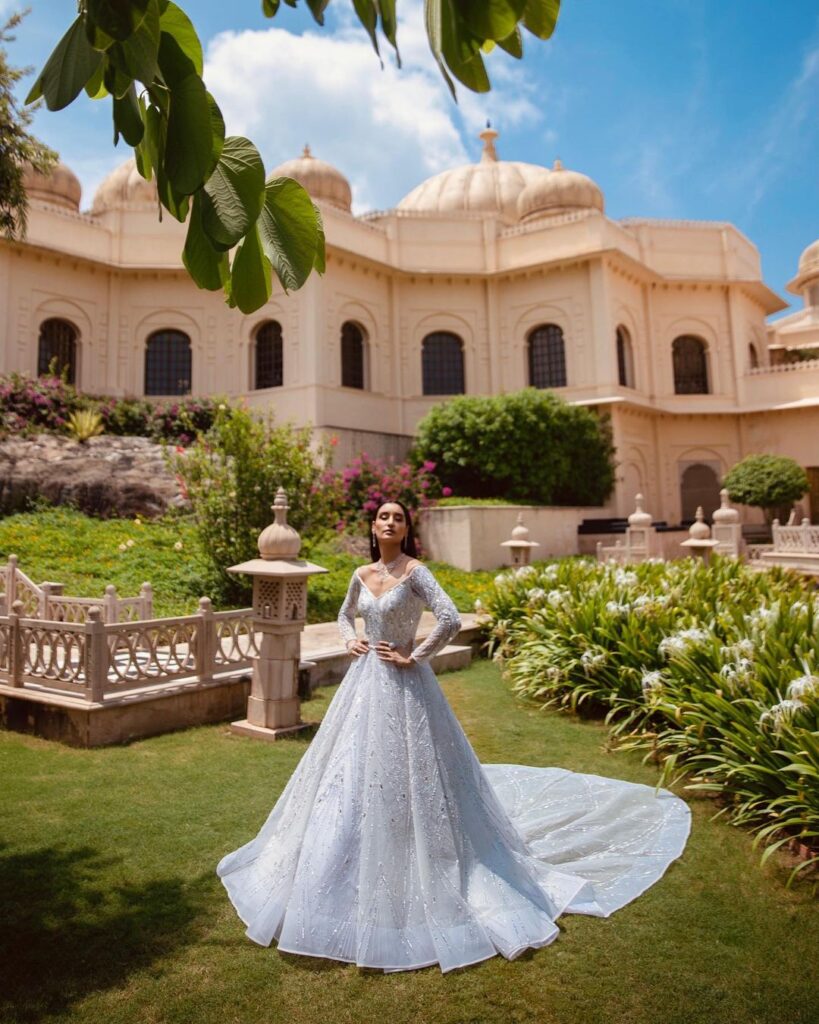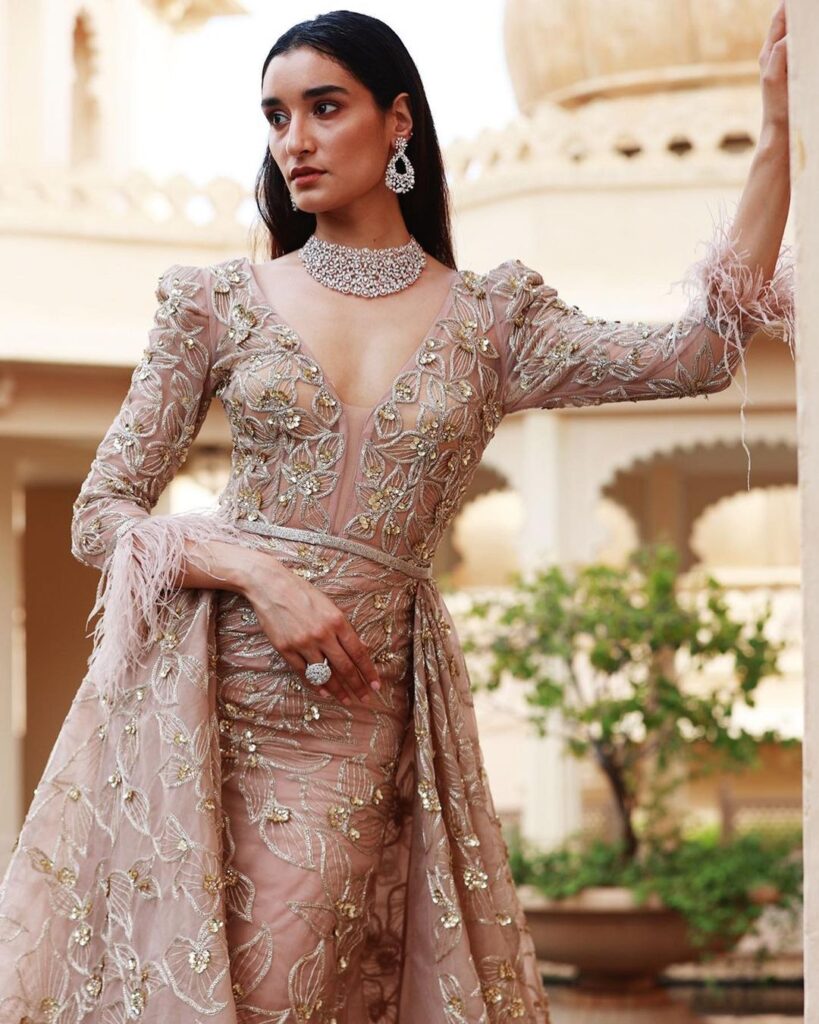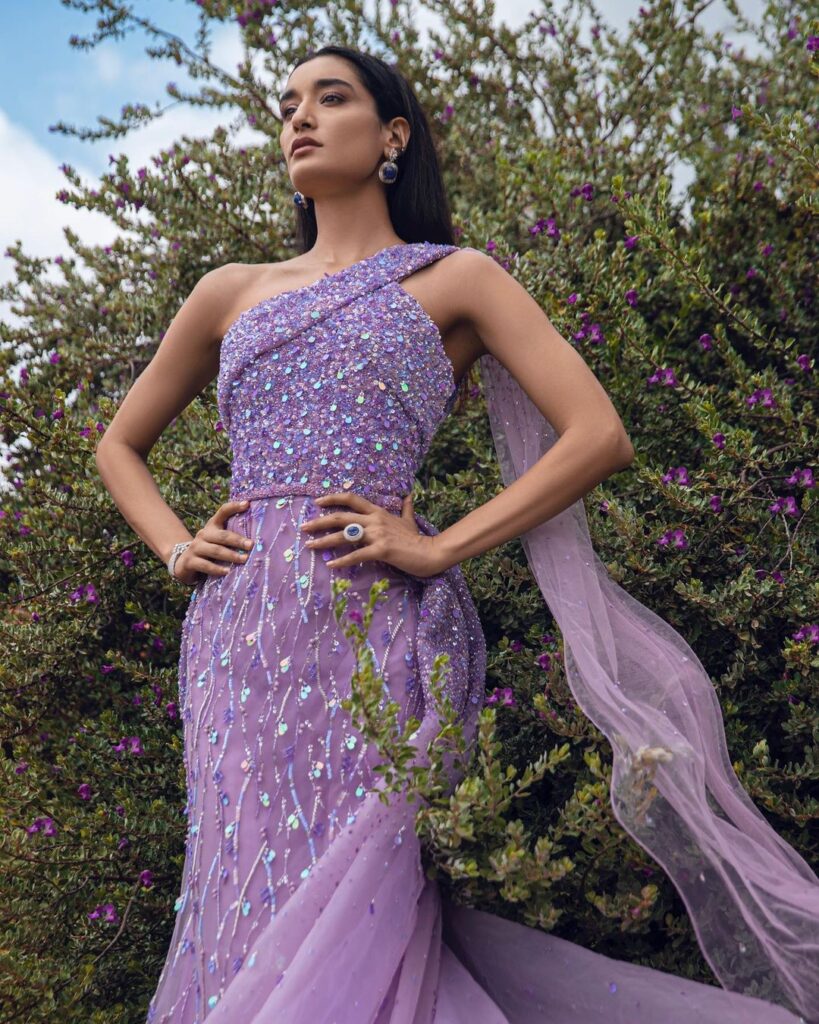 Shantanu & Nikhil
Grooms, don't feel left out just yet! Shantanu & Nikhil's ICW 2021 collection features 70% menswear and only they key womenswear. Masked in their signature timeless drapes with flowy fabrics and clean designs, S&N's "Oasis" collection is all about owning up to modernism with a side of individuality. The unique cuts and designs of outfits make a statement on their own though. For men, you can find digital prints which are breath of fresh air from traditional embroidery, military-detailing bandhgalas, slightly embellished bundi jackets with silk bottoms, and a selection of safa that adds the debonair vibes to the groom's aura. For women, it was all about the classic silhouettes that are comfortable yet timeless. The entire photography was done at the fortress hotel Suryagarh Jaisalmer.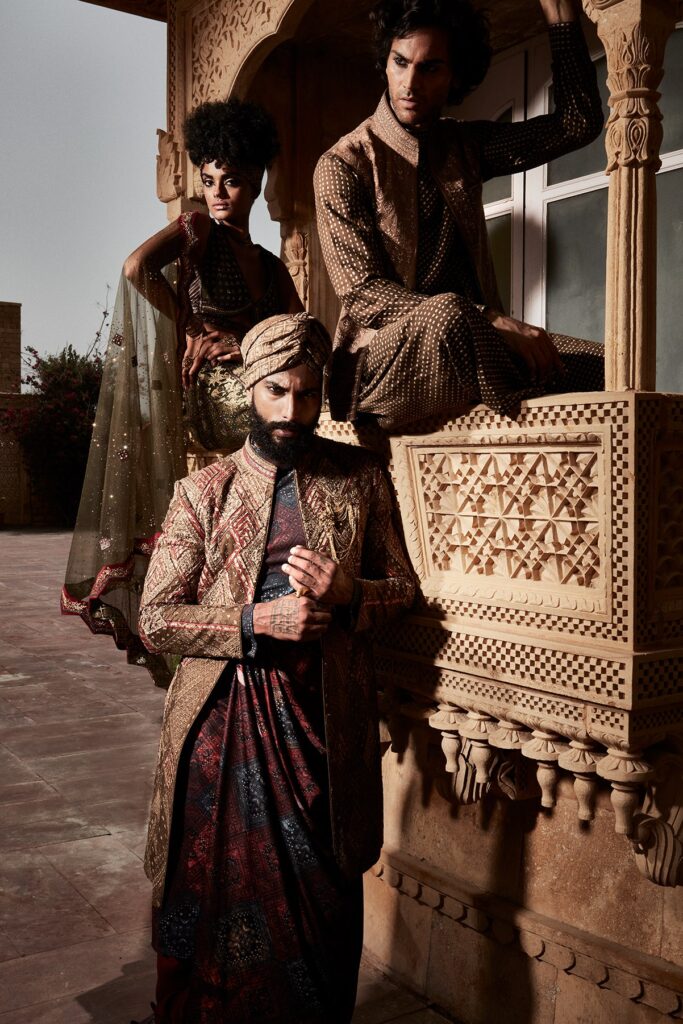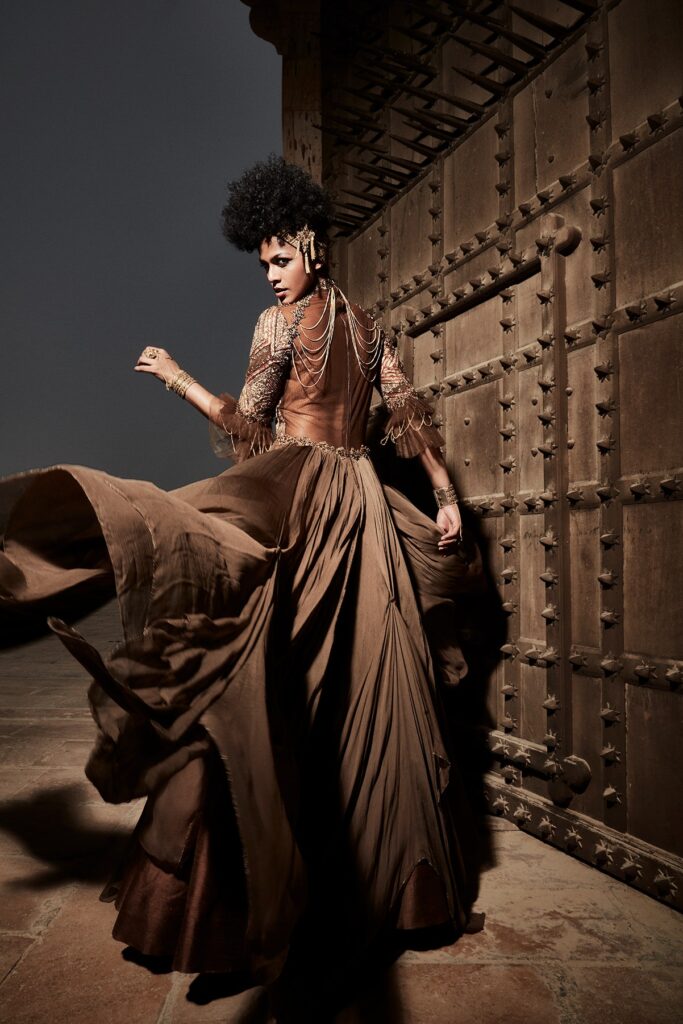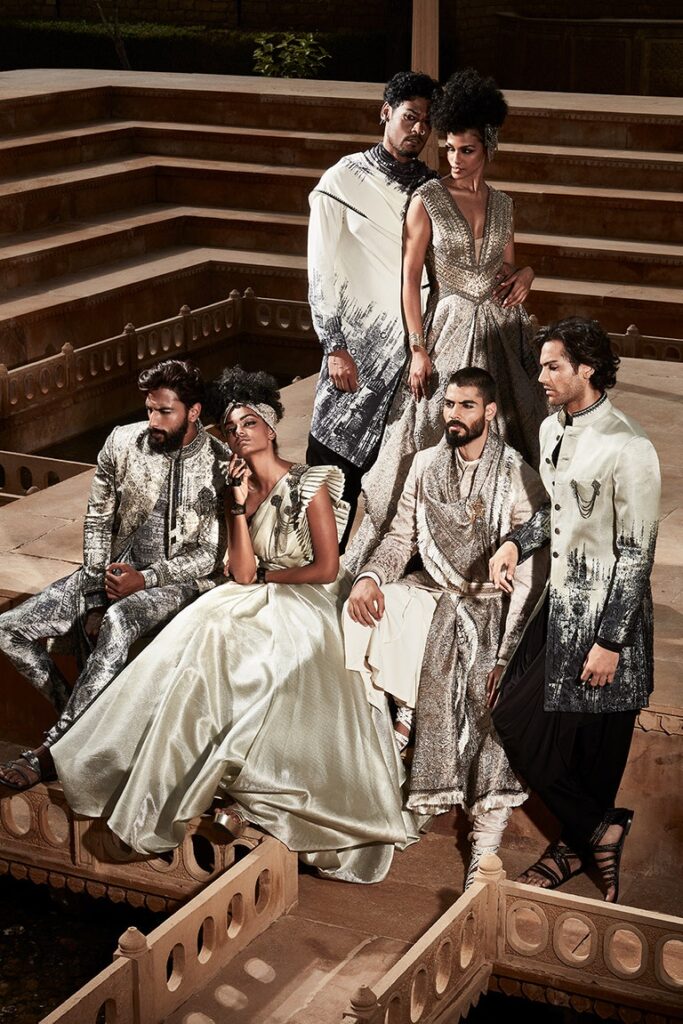 Reynu Taandon
Bold blouse back designs, fluffy net lehenga skirts, and elaborate detailing on outfits are just some strong elements reflected in Reynu Taandon's ICW 2021 collection "Zuri". The collection is divided into three parts based on the colors – greens, pinks, and nudes. For Taandon this season is all about whimsical surrealism and brides glowing with their femininity while creating a statement. The experienced designer roped in designer Chitraganda Singh to represent the collection inspired by our ecosystem. And unlike other designers, Taandon created a set with decadent flowers and lush greenery representative of her idea and didn't depend on the aesthetic of an outdoor location.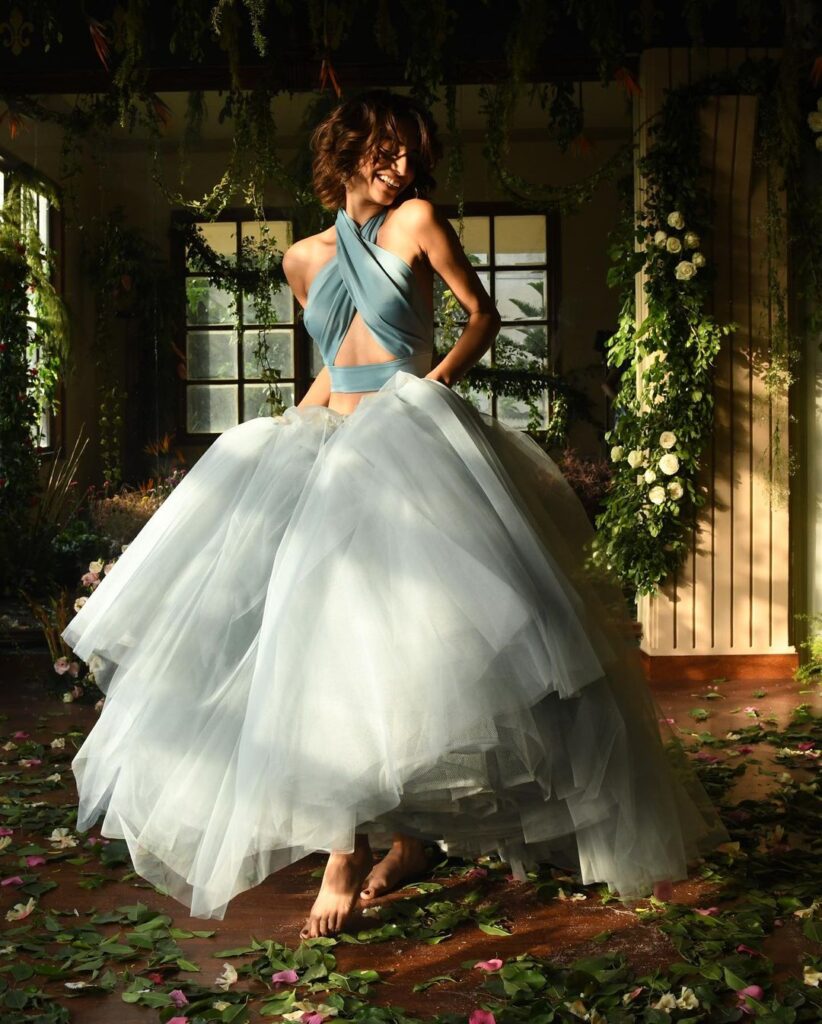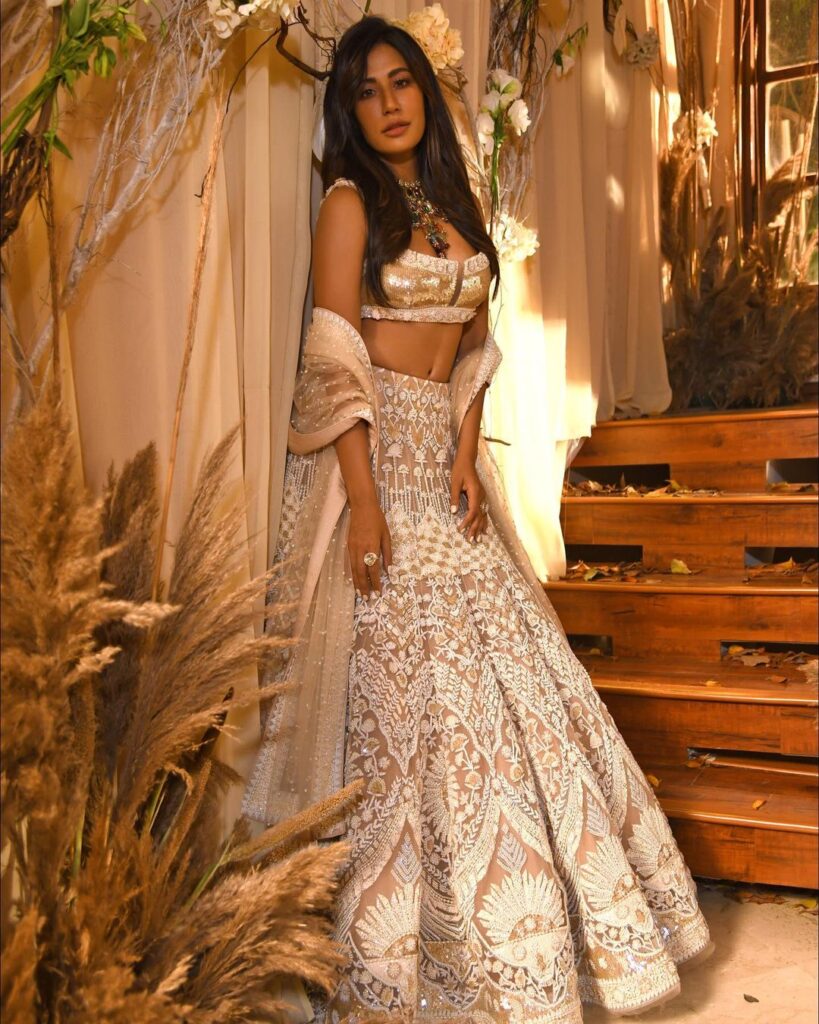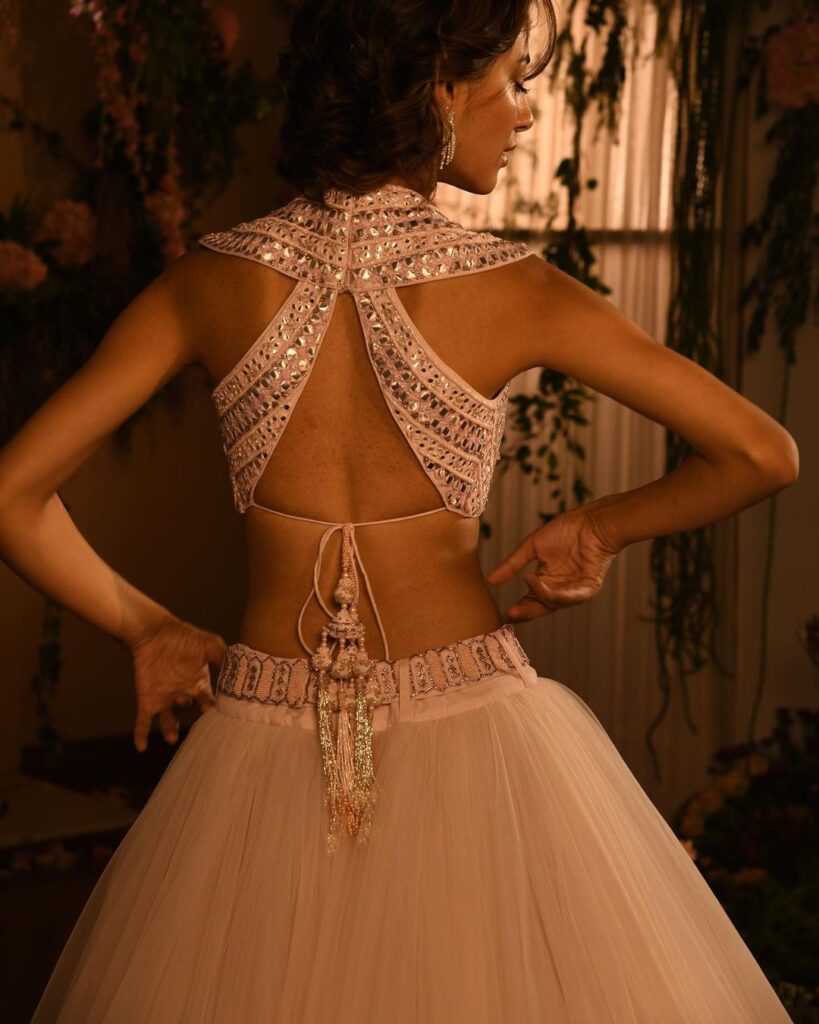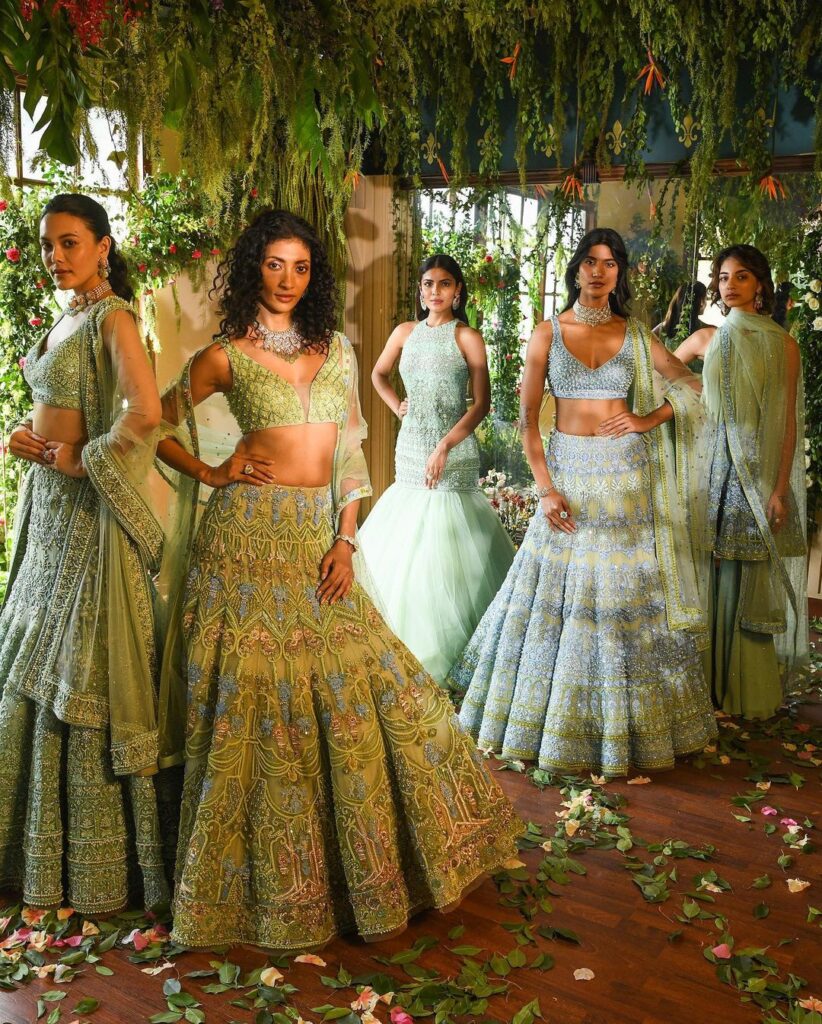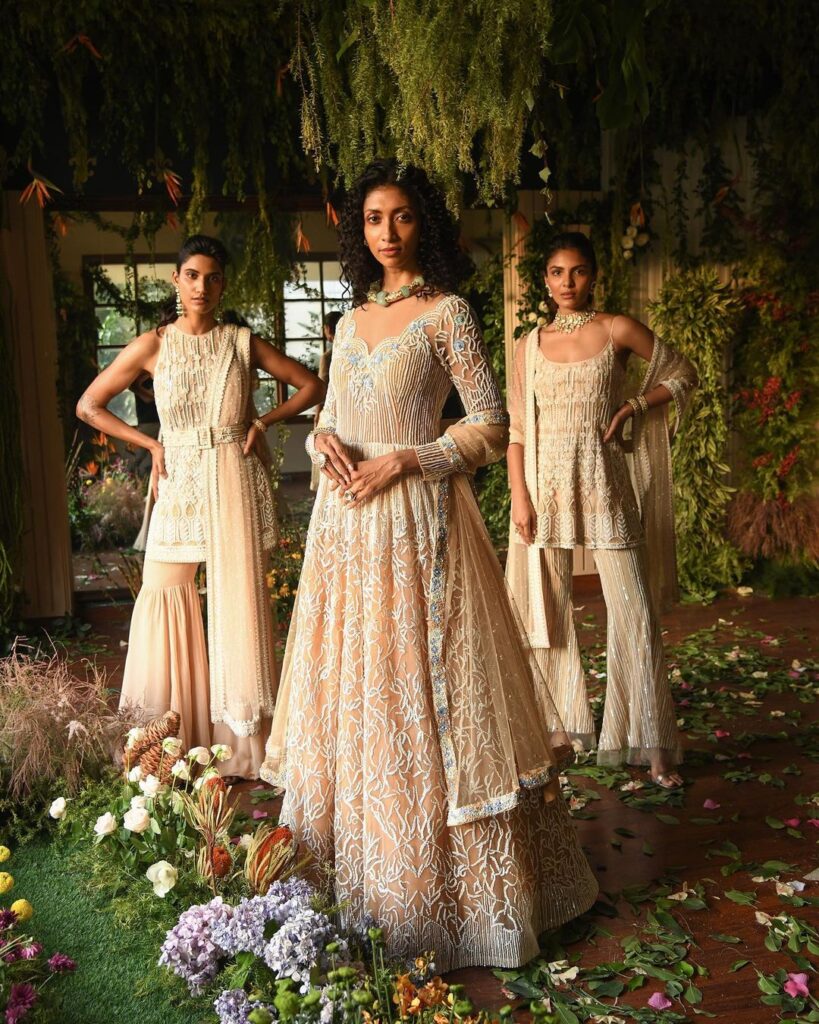 Varun Bahl
A beautiful culmination of modernism and tradition – Varun Bahl's "Memory/ Mosaic" collection is a powerful nod to India's master artisanship and today's style-conscious consumer. The outfits are a testament to the designer's exceptional mastery of embroidery, which he practiced long before his eponymous label launch. Crafted with Bahl's older designs, upcycling them, using mosaic techniques and elaborate floral prints – lending meaning to the designer's haute couture collection. Filmed in a thoughtfully designed hotel in New Delhi – Andaz, the entire launch set such a unique luxurious mood board for brides to sought inspiration from!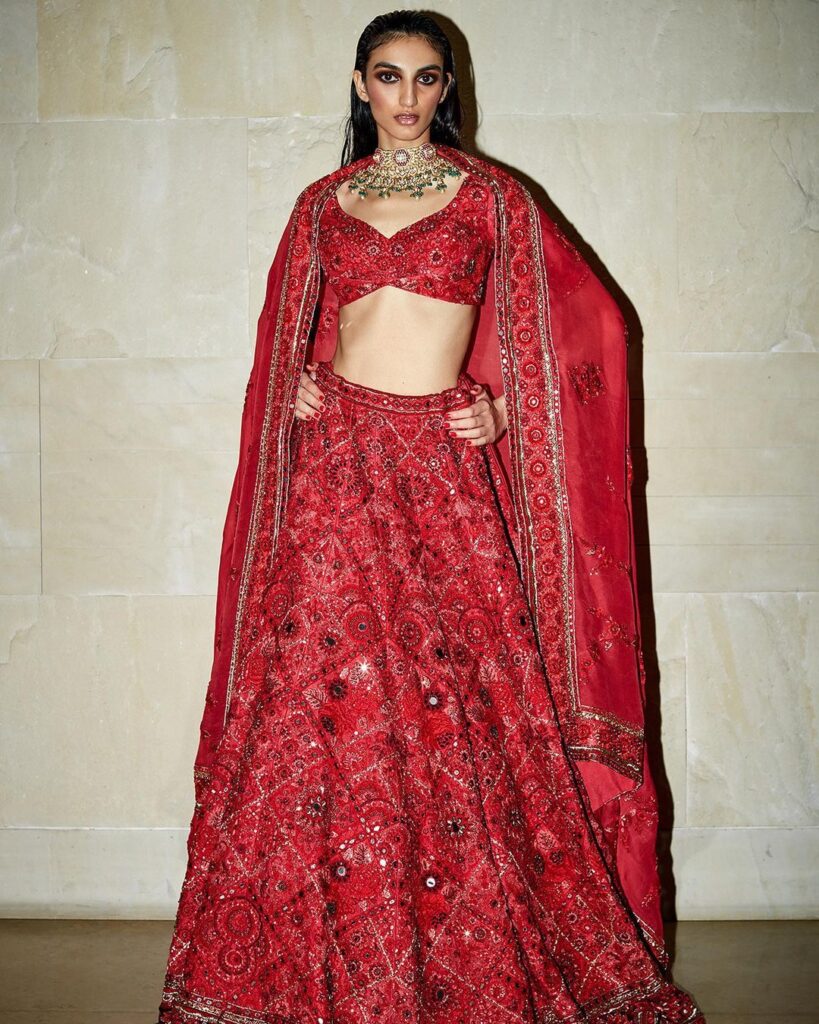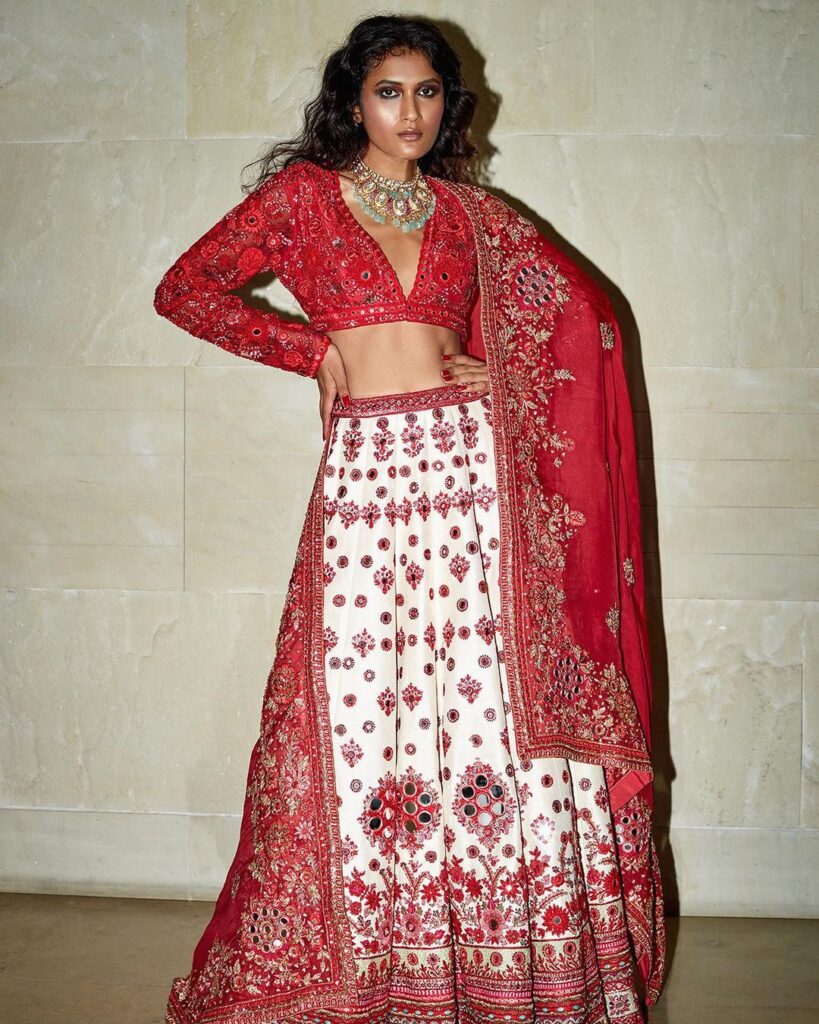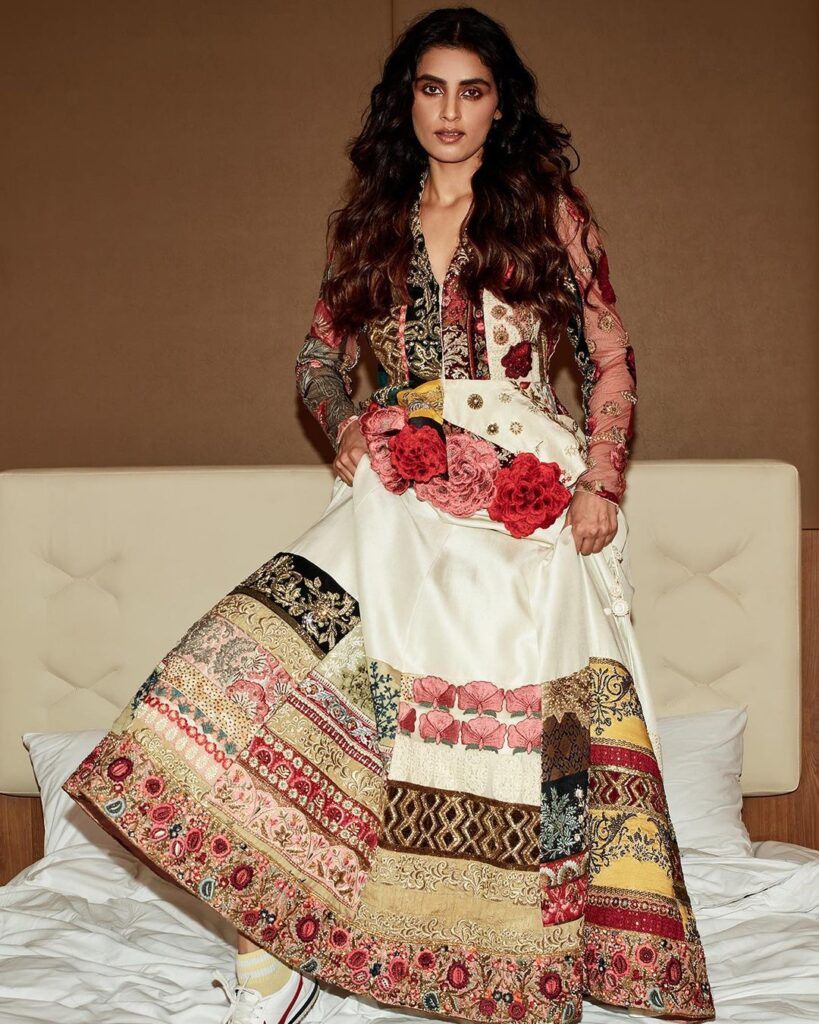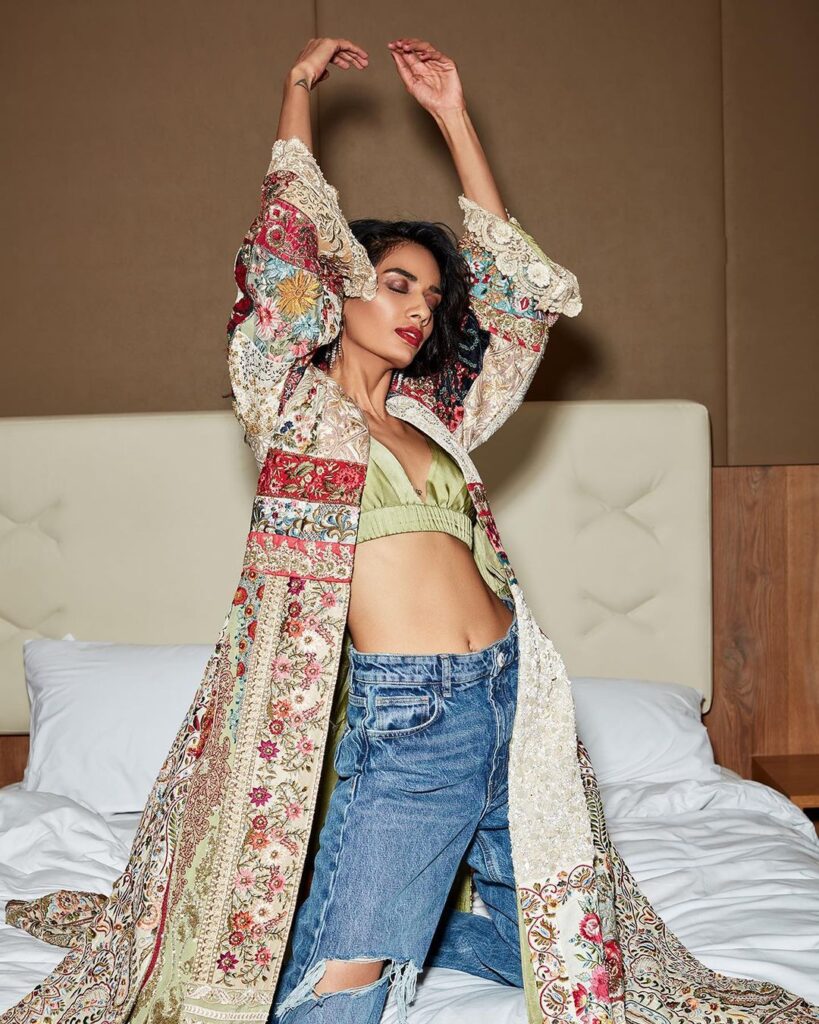 Falguni Shane Peacock
Falguni Shane left us all astounded and created history when they revealed their 2021 collection *Love Is* at the Taj Mahal. They are now the world's first and only designers (till now) who have done a fashion shoot in the precincts of Taj. For their iconic moment, FSP roped in actress Shradha Kapoor who dazzled in a gorgeous red lehenga in the photoshoot. With their latest launch, the husband-wife duo depicted the visionary saga of love by borrowing from the beauty of the true symbol of love – the Taj Mahal. Find below some gorgeous pieces from their launch.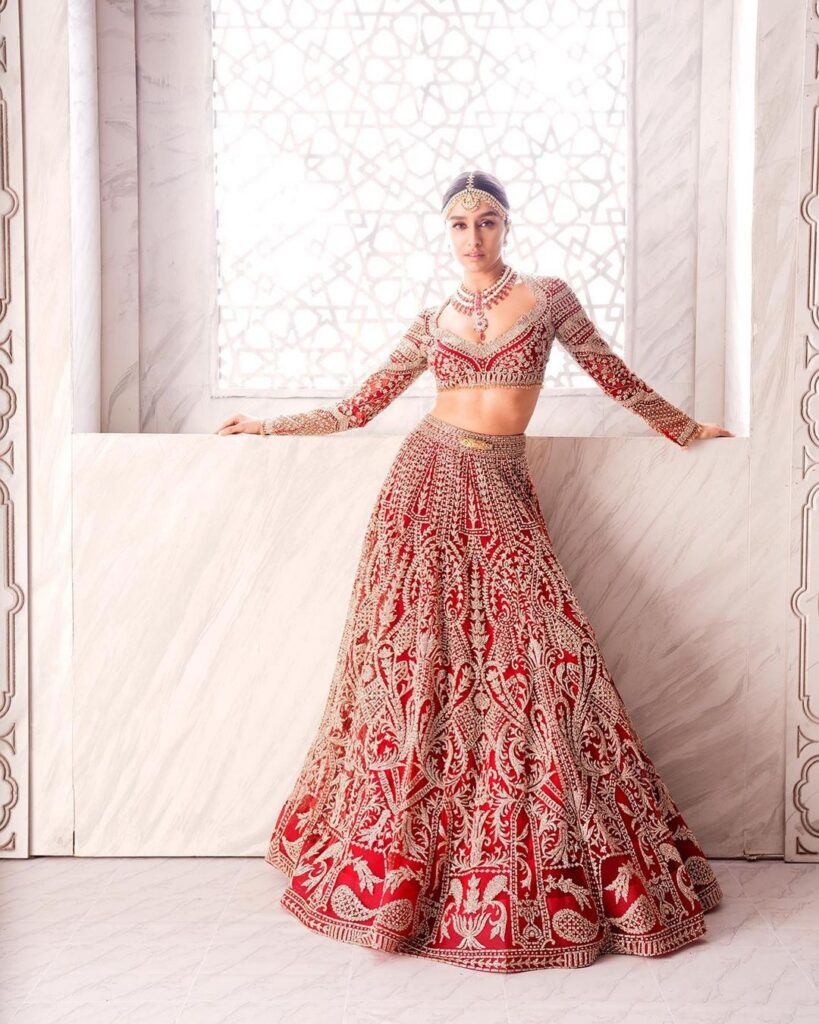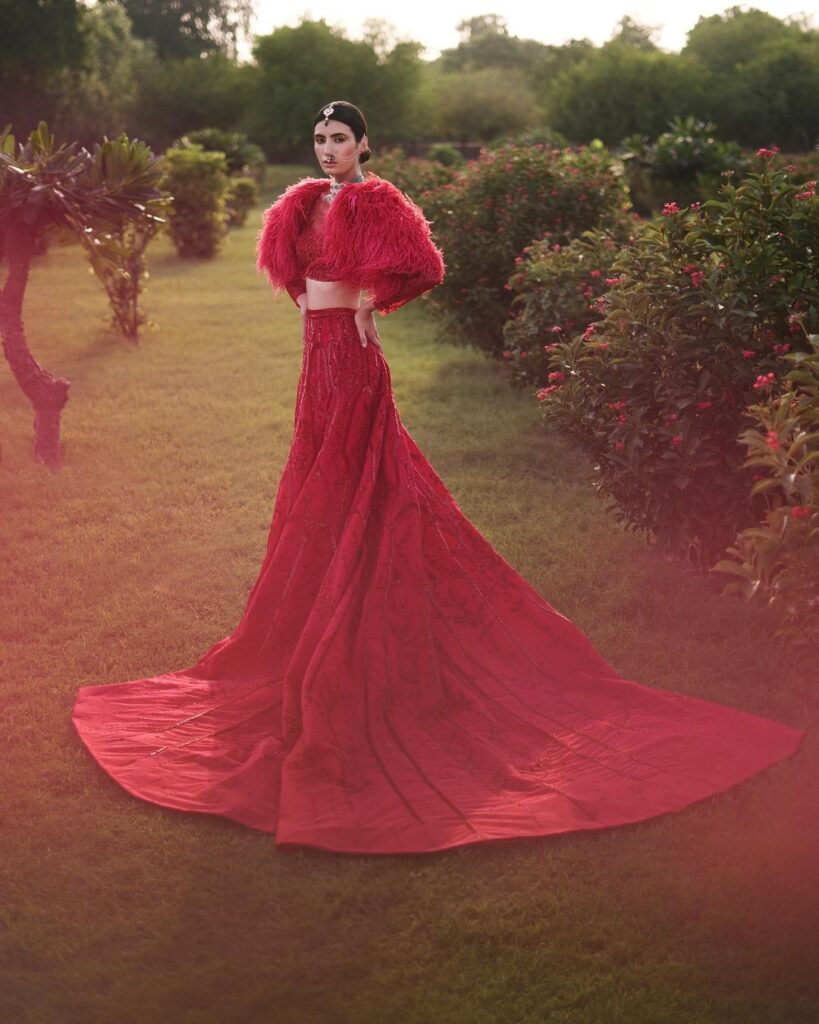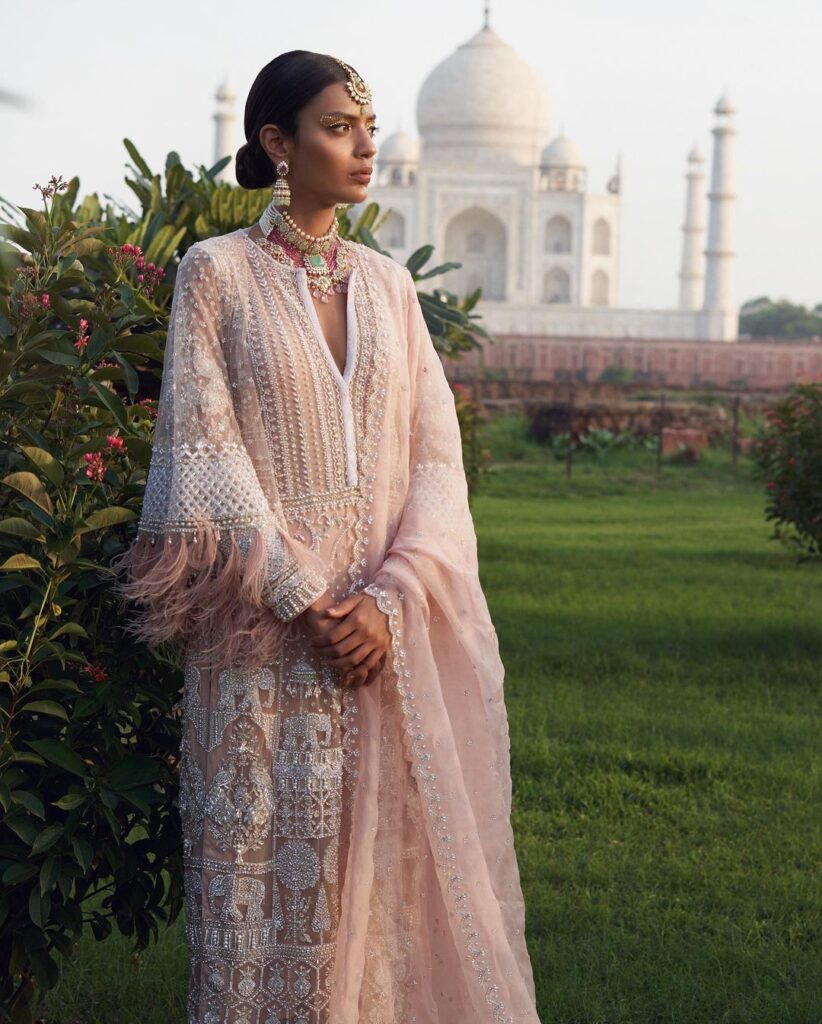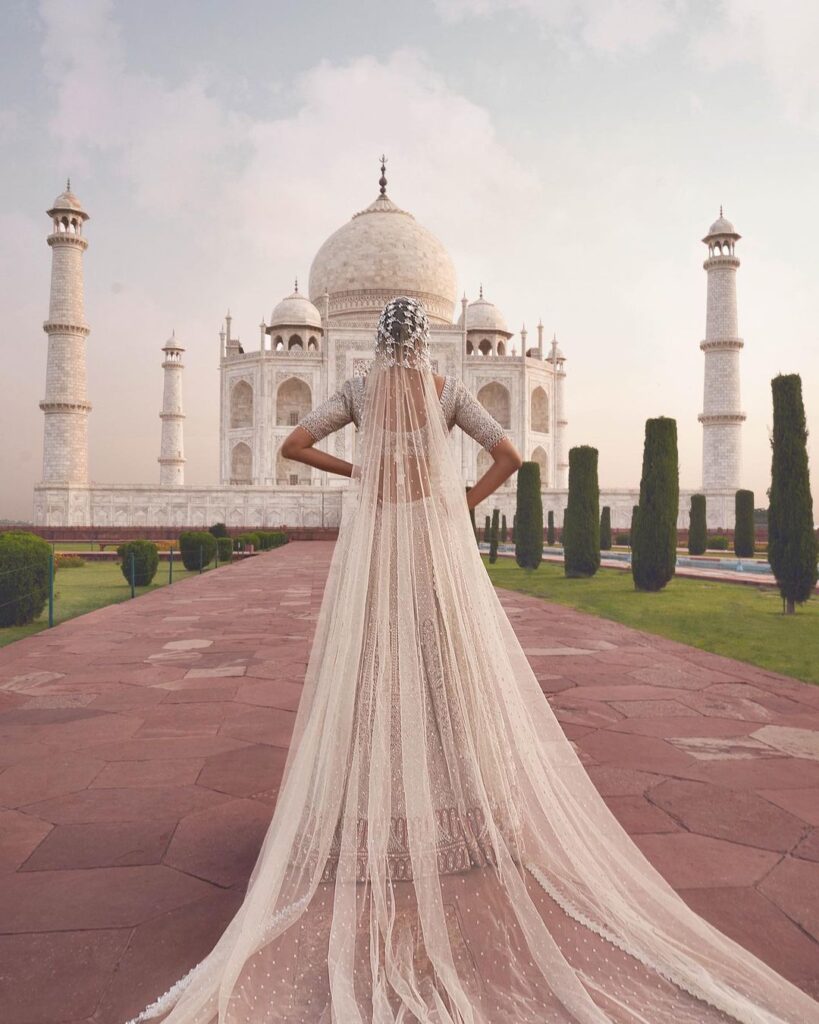 Rohit Gandhi + Rahul Khanna
On day 6 of ICW 2021, traditional craftsmanship took centerstage with Rohit Gandhi + Rahul Khanna tapping into men's and women's wear with a transformational rather than an entirety alteration approach. "Alchemize. It's defined as the seemingly magical process of transformation, creation, or combination of taking something usual and turning the same into extraordinary, sometimes in a way that can't be explained." they wrote while describing their "Alchemice" 2021 collection. Dripping with sculpted silhouettes, minimal embellishments, and quality fabrics – this is the couture you need to stand out on your wedding day.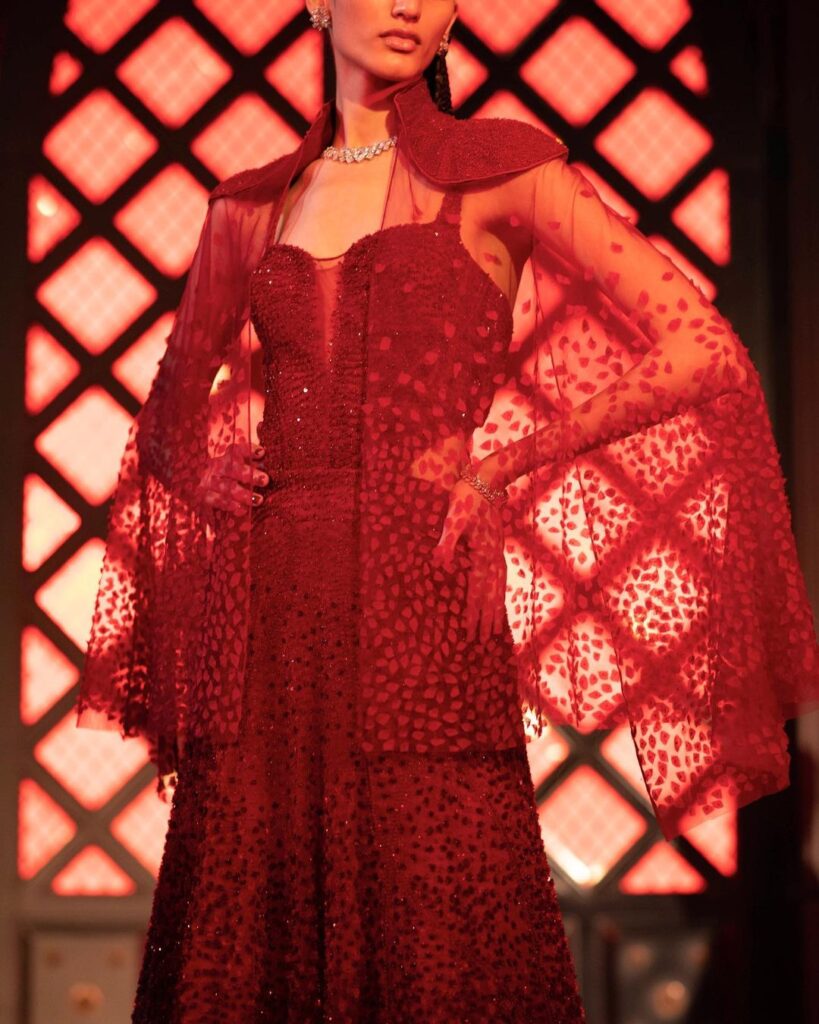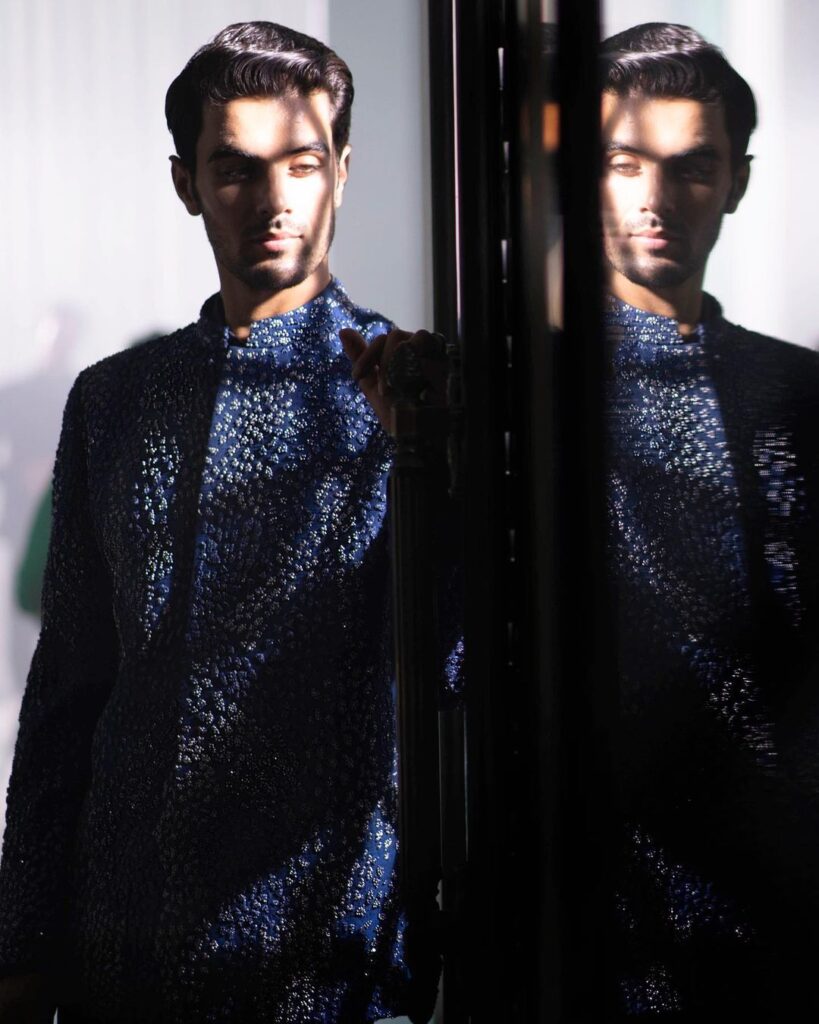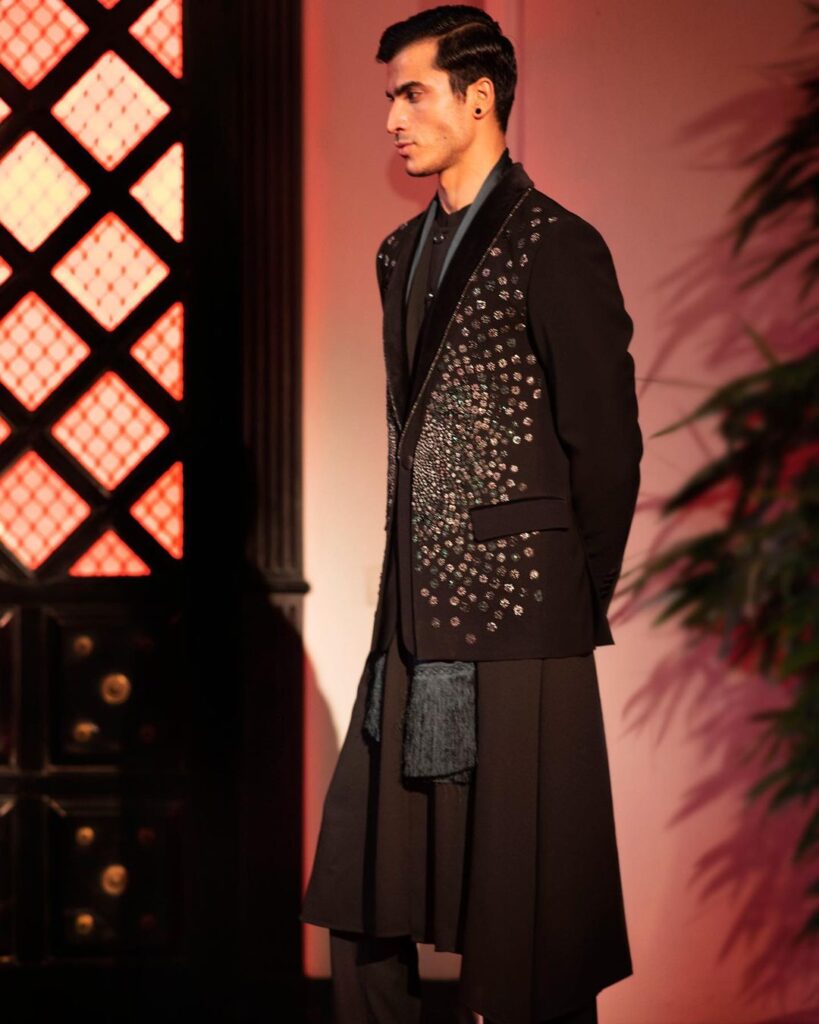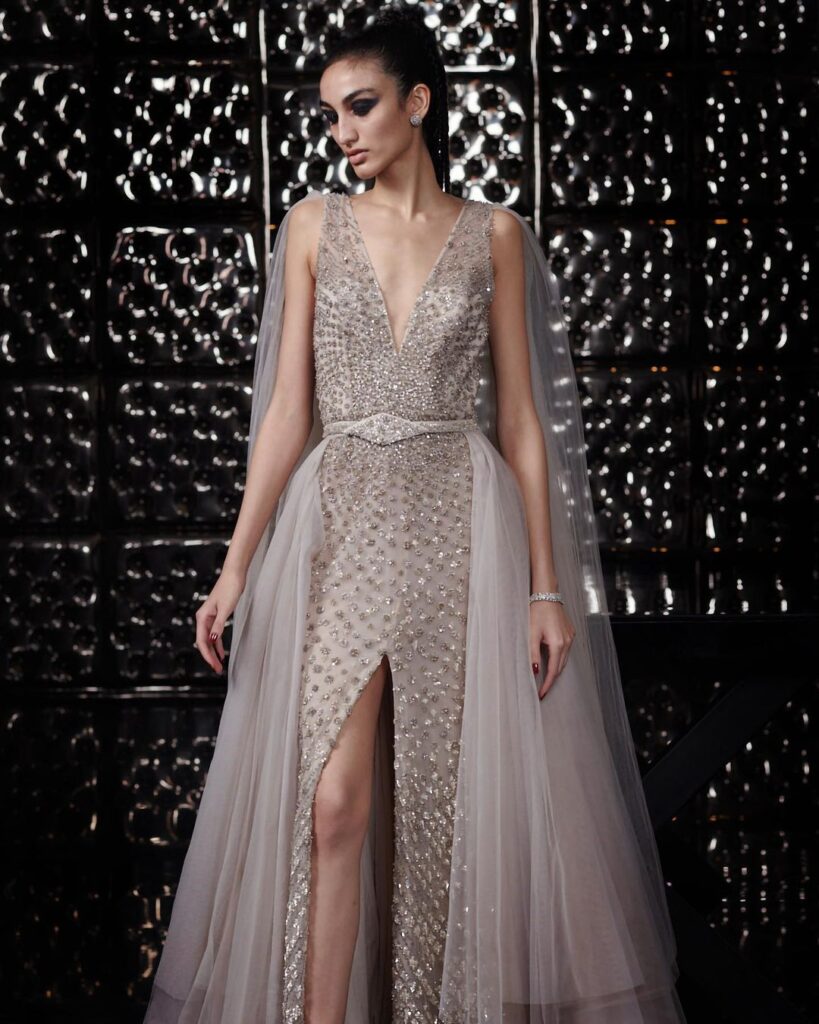 Tarun Tahiliani
"The Artisinal Couture" collection of Tarun Tahiliani is presented in 6 parts with each one paying homage to a traditional textile of India. These parts are chikankari, pichwai, rangrez, cocktail goddess, pakeezagi, and bridal. All of them have their own separate techniques, story and designs to appeal to certain events or consumer preferences. Designed with Tahiliani's signature embellishments, jadau, gota patti, pearls, brocade, sleek embroidery, and resham flowers – his latest launch has our full support and heart all because it showcases gratitude to India's artisans and craftsmanship.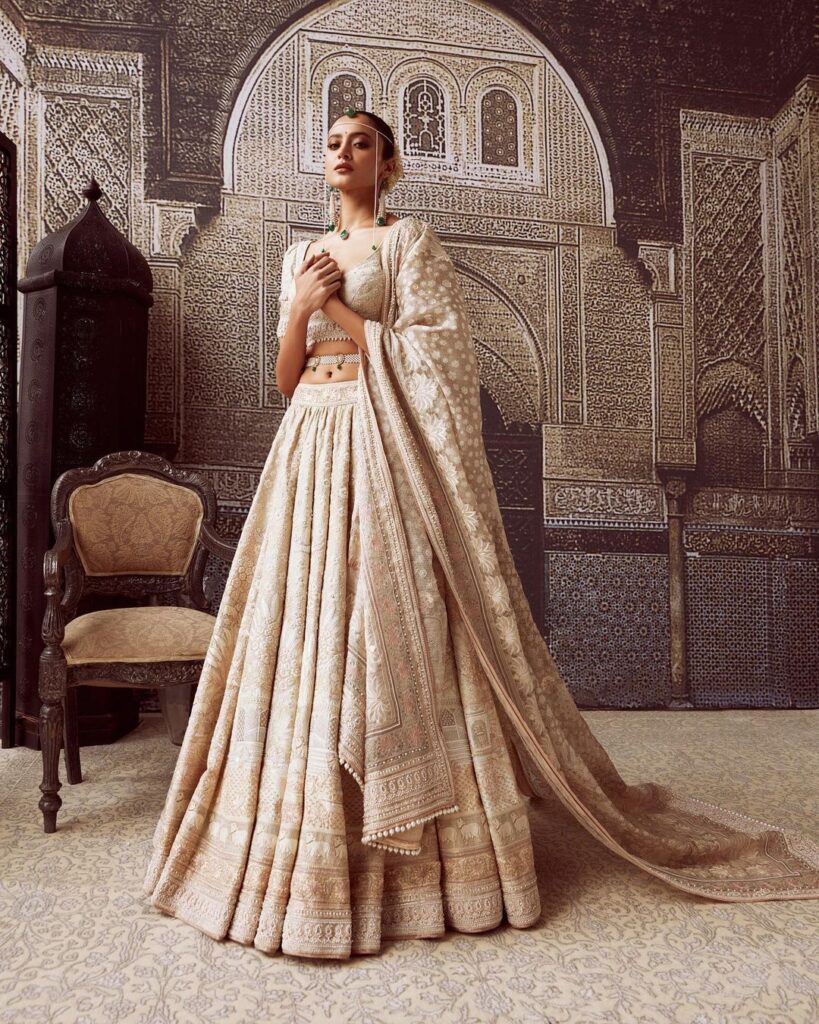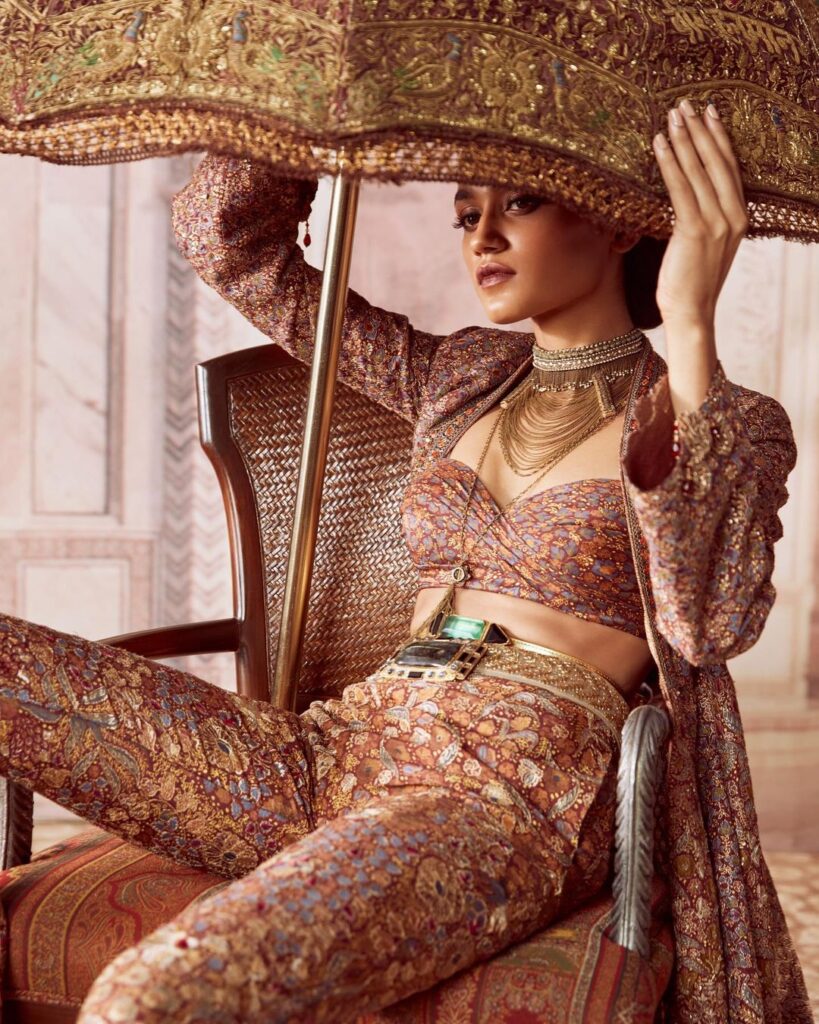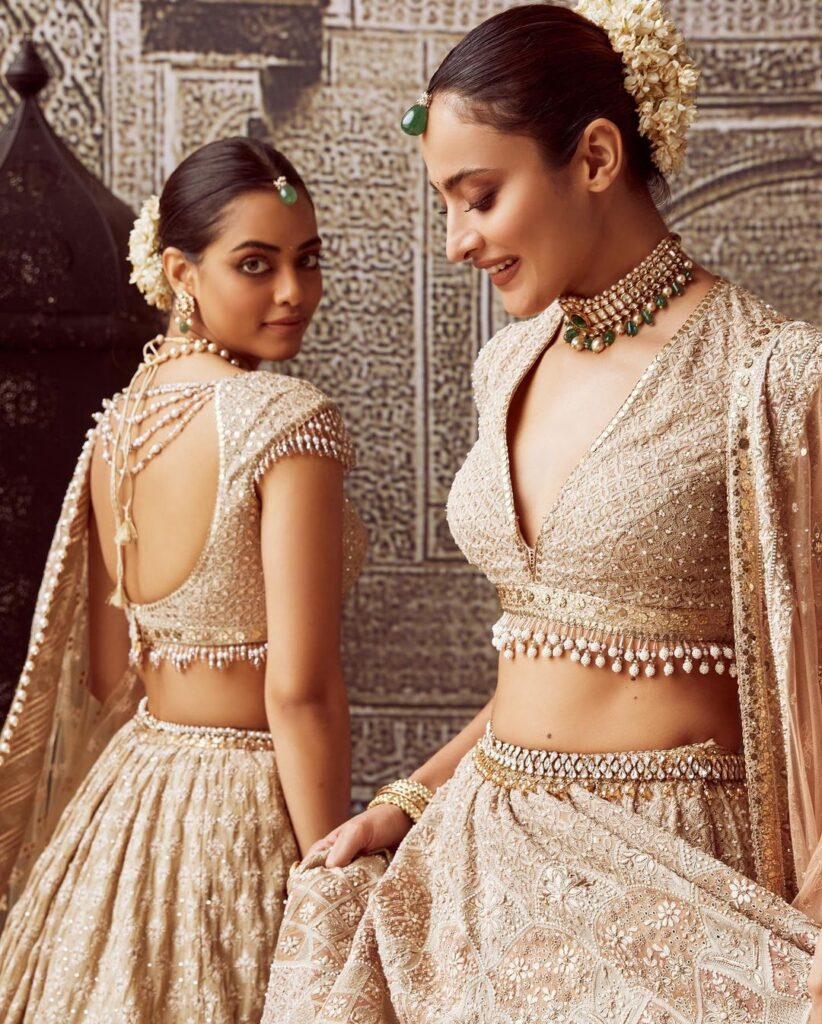 Anamika Khanna
Ending Day 6 of ICW 2021, Anamika Khanna was all set to wow us all with her untitled couture collection that's "a way of rejoicing beauty." Featuring Khanna's classic ability to fuse traditional Indian textiles with contemporary styling, the launch portrays usual wedding colors alongside plenty of whites. It also has the ensemble from Rhea Kapoor's wedding, designed exclusively by Anamika. Describing the thought process behind her 2021 range, Khanna wrote on Instagram, "It is an acceptance of what is and a celebration of what we are given. This way, we pay homage to the most intricate crafts of India, take from there, the spirit of what was and what will be for eternity." Swipe to see a glimpse from her ICW filming.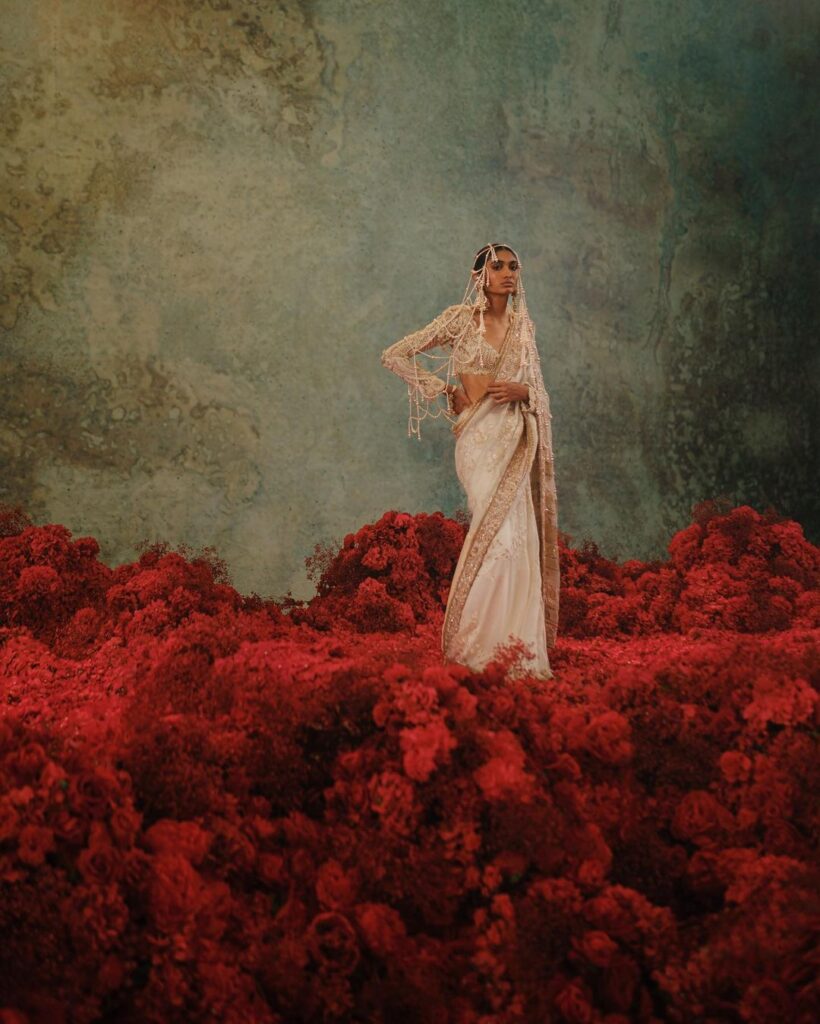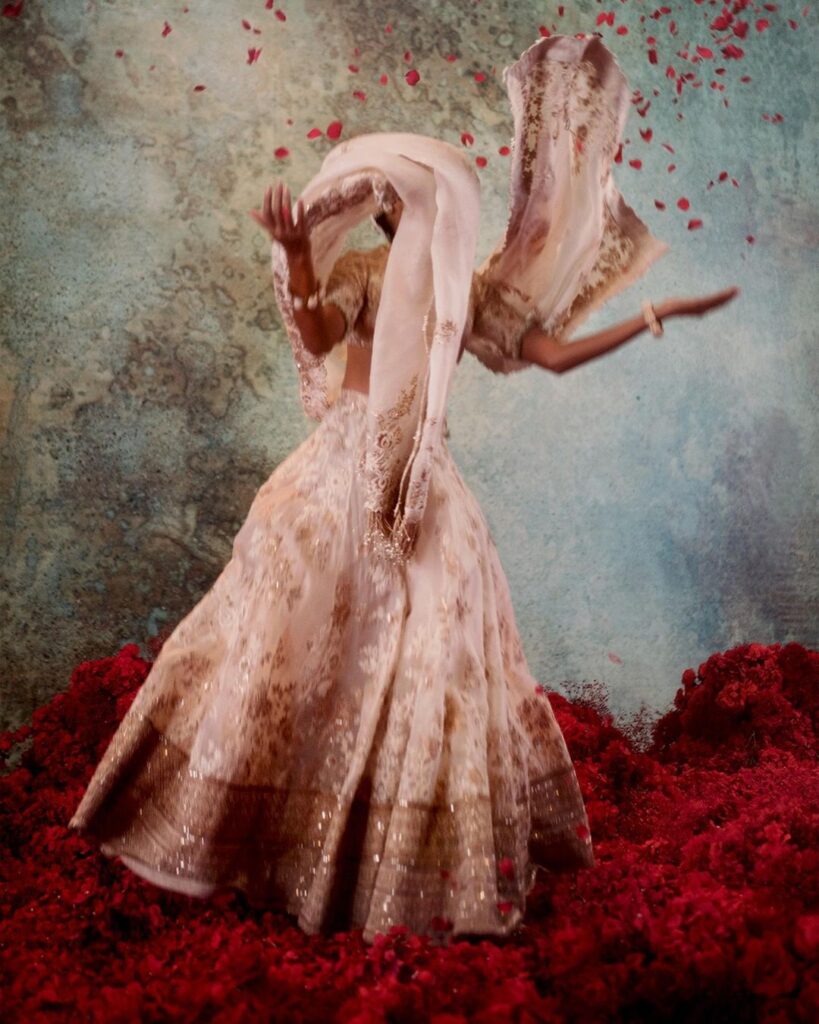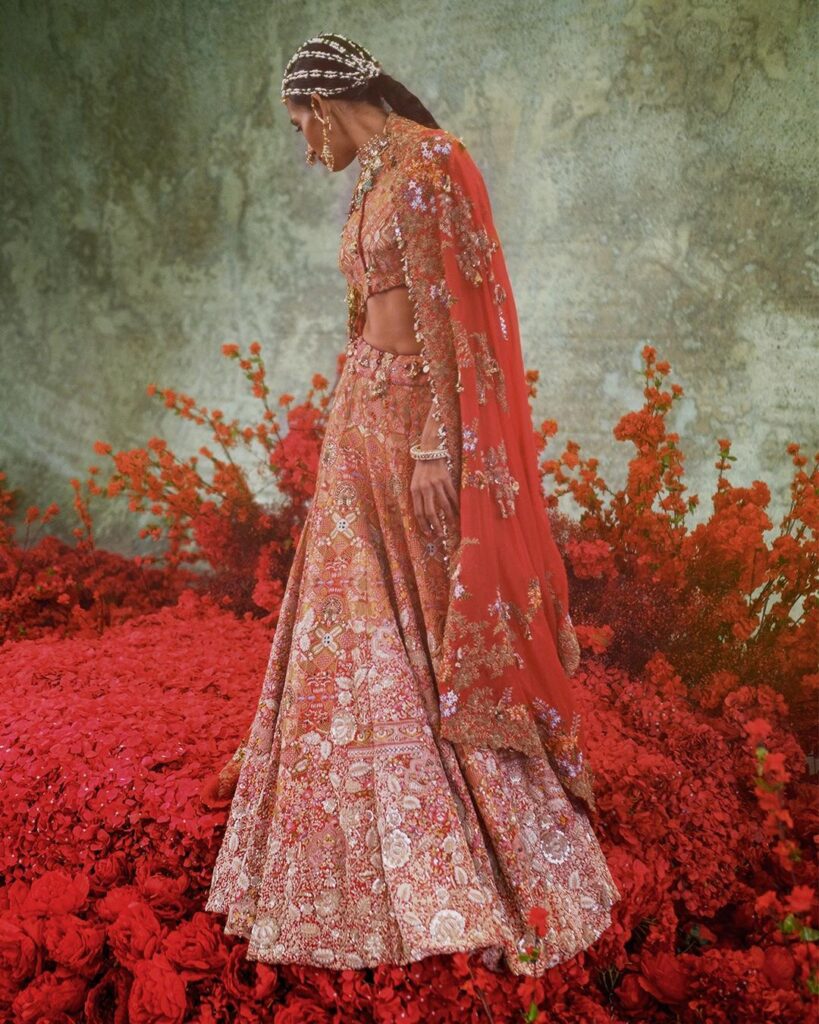 Kunal Rawal
Kunal Rawal's "Vision Quest" is a collection that asks us to embrace our vulnerability and individuality and enjoy it with a full heart. Clean lines, intricate handwork, contemporary silhouettes, and a fresh take on undertones take the center stage in his designs. While there's a subtle palette of lilacs, greens, pastels, and silver, it was ivory and gold that took the maximum attention. The entire film was shot at Bombay's Ballard Estate, and as the film receded to the end, lights dimmed, and we saw a glimpse of Rawal's long-time friend Sonam Kapoor Ahuja wearing a champagne-ivory number from his collection. The actress definitely stole the show and bolstered the designer's stance on individuality and supporting gender neutrality.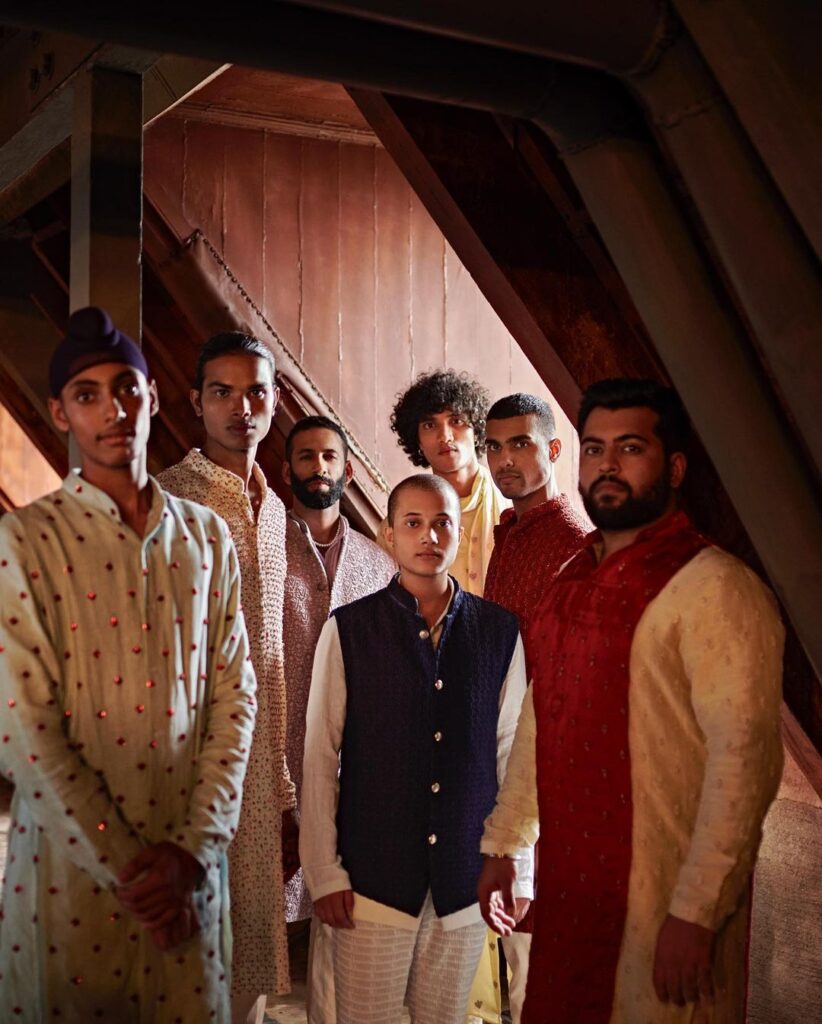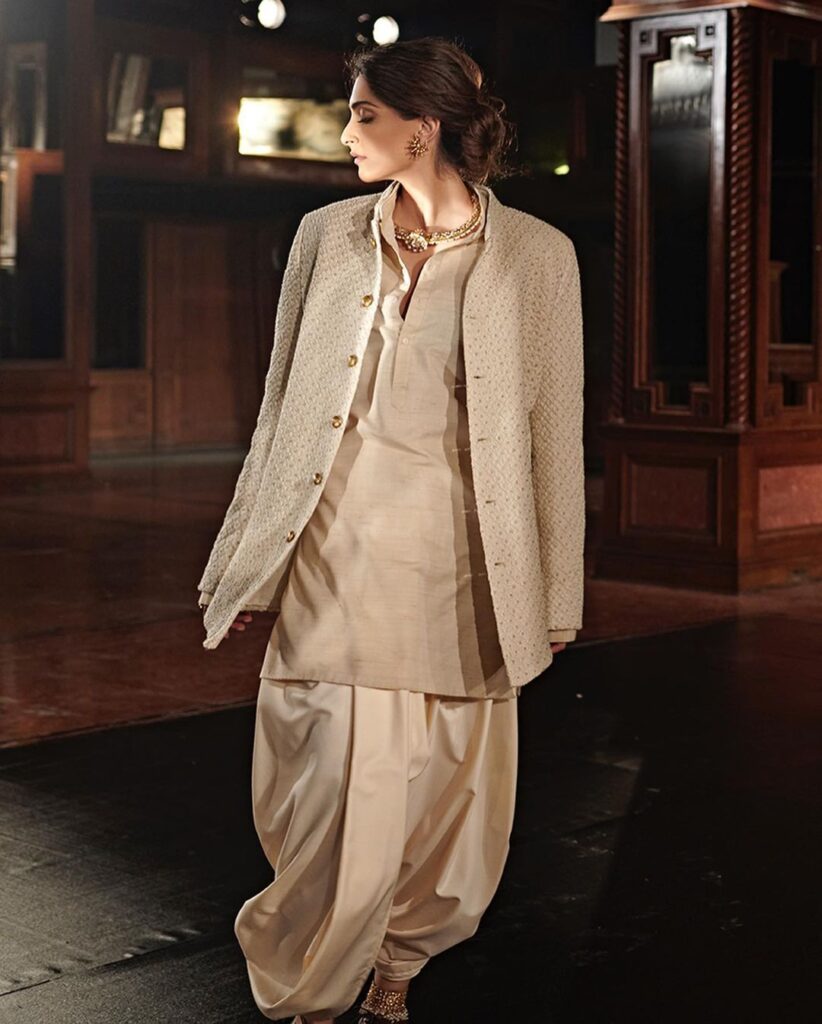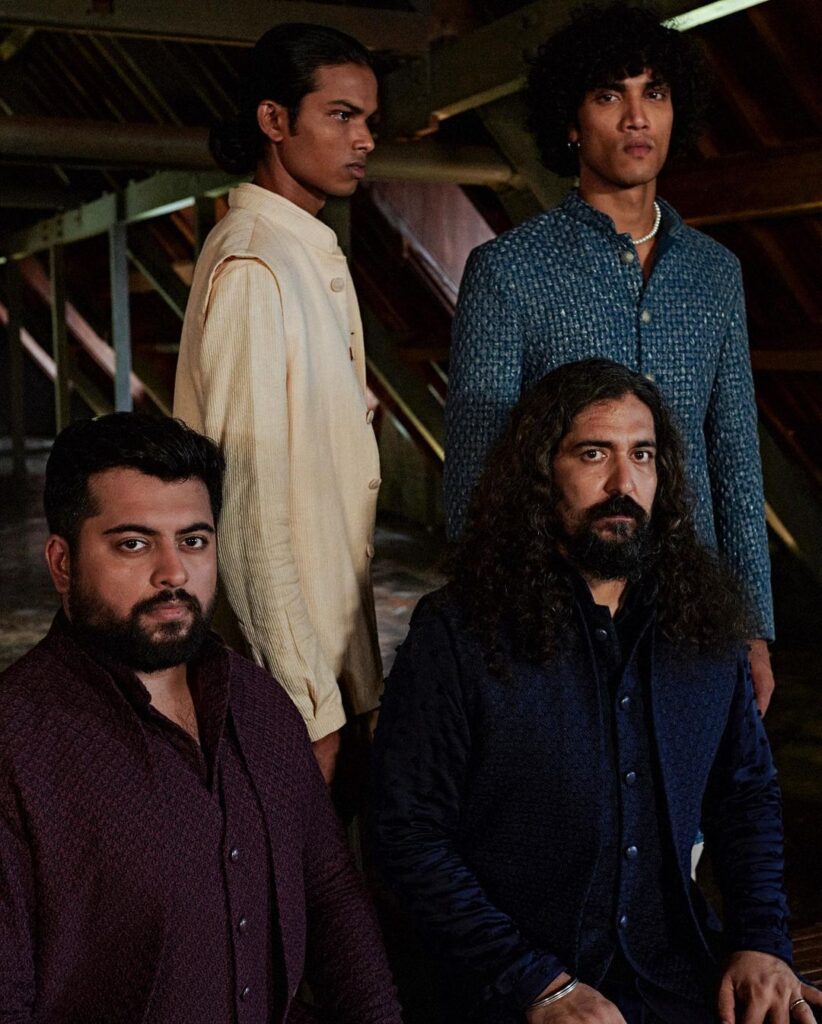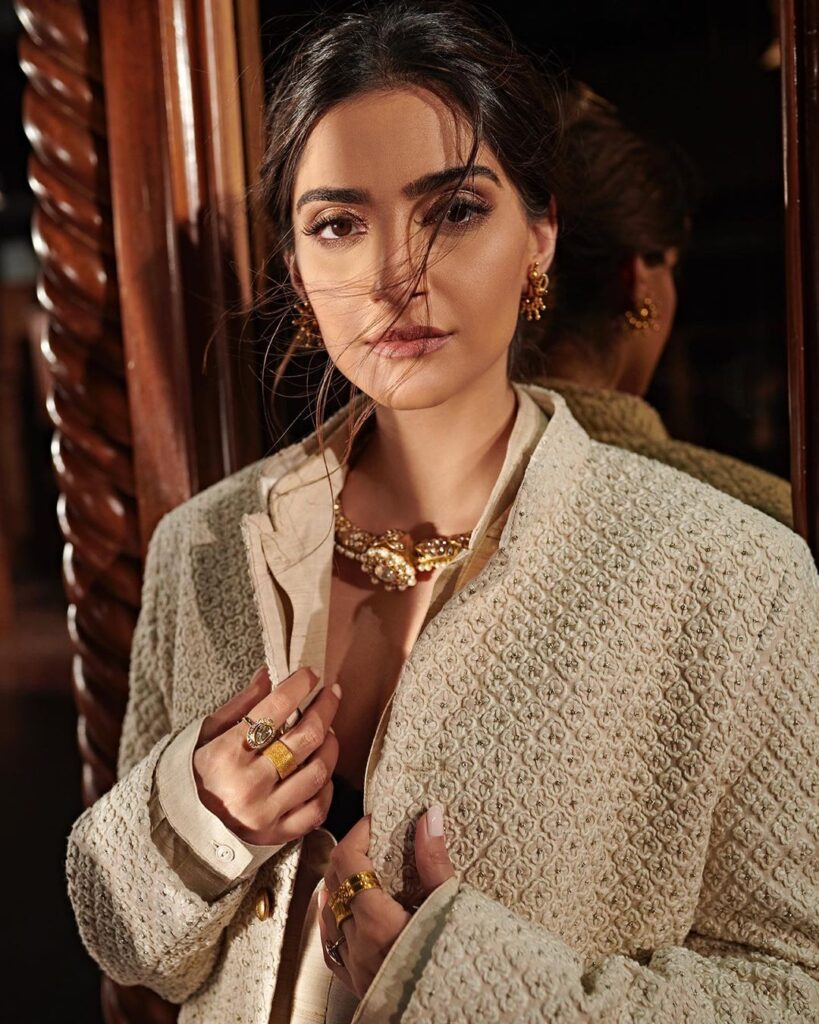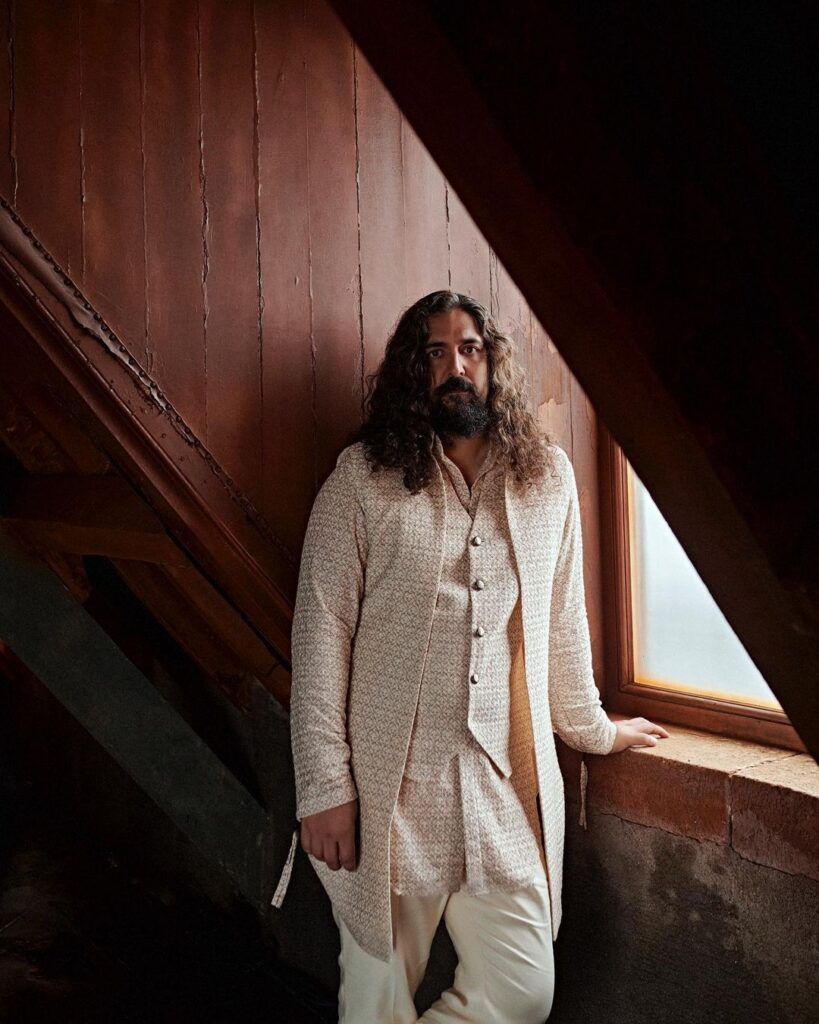 Anju Modi
If you love the bright colors in your Indian outfits a little too much, trust Anju Modi to give you a combination that's aesthetical and functional at the same time. On the closing day of ICW 2021, Anju Modi showcased her "The Eternal Story" range that takes you through the Indian wedding revelries – Haldi, Mehendi, Sangeet, Wedding, and Reception. The yellow, orange, purple, and green goes for the daytime festivities, and pastels and block color work well for a sangeet night. On the wedding day, the designer showed brides relying on the usual sindoori red with a clean design and intricate embellishments. The story aggregates to show that a wedding outfit should be a part of an heirloom to be passed on for generations to come.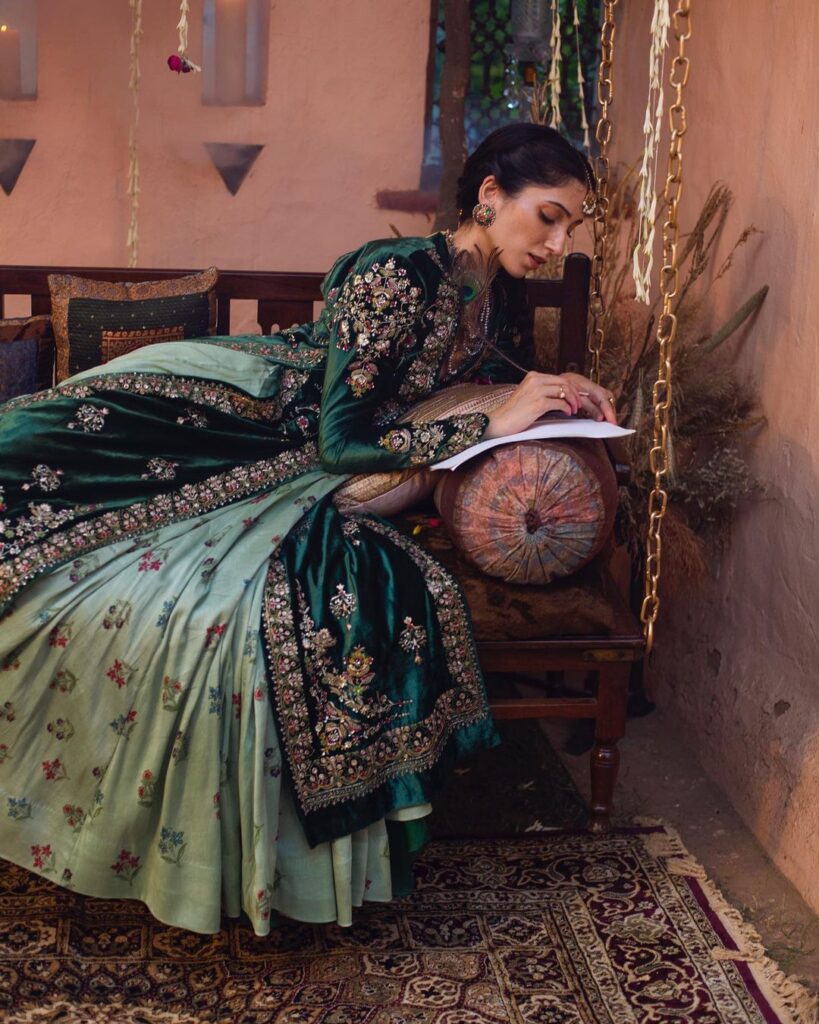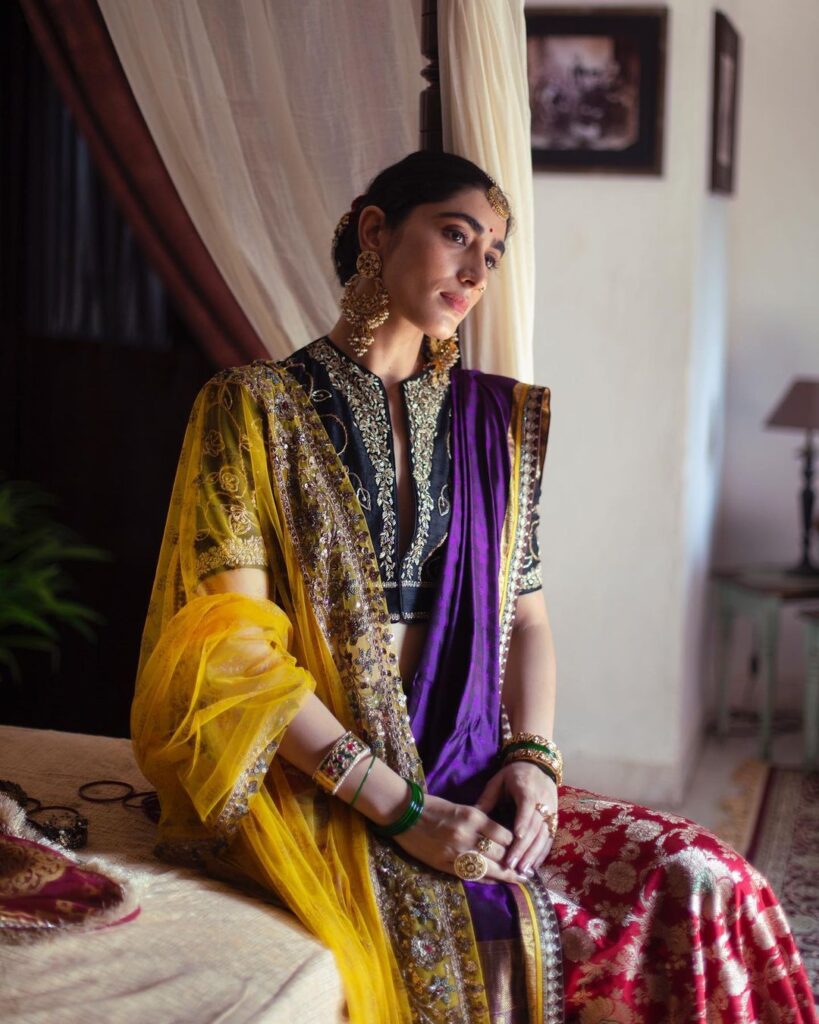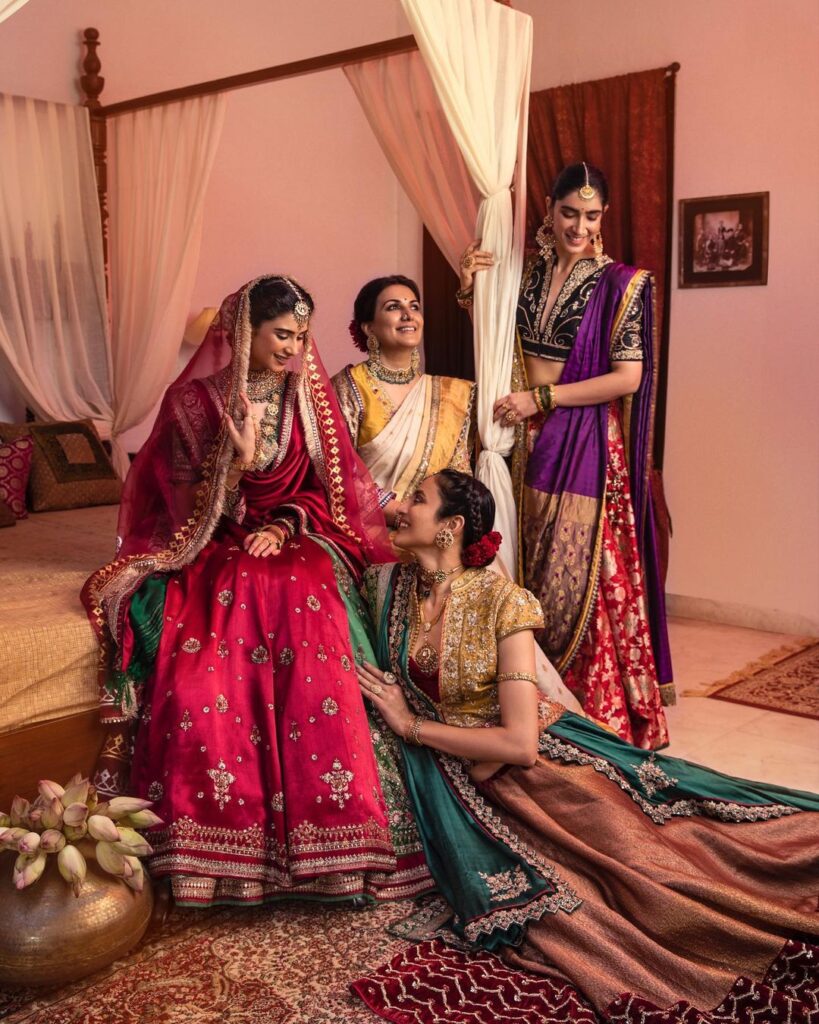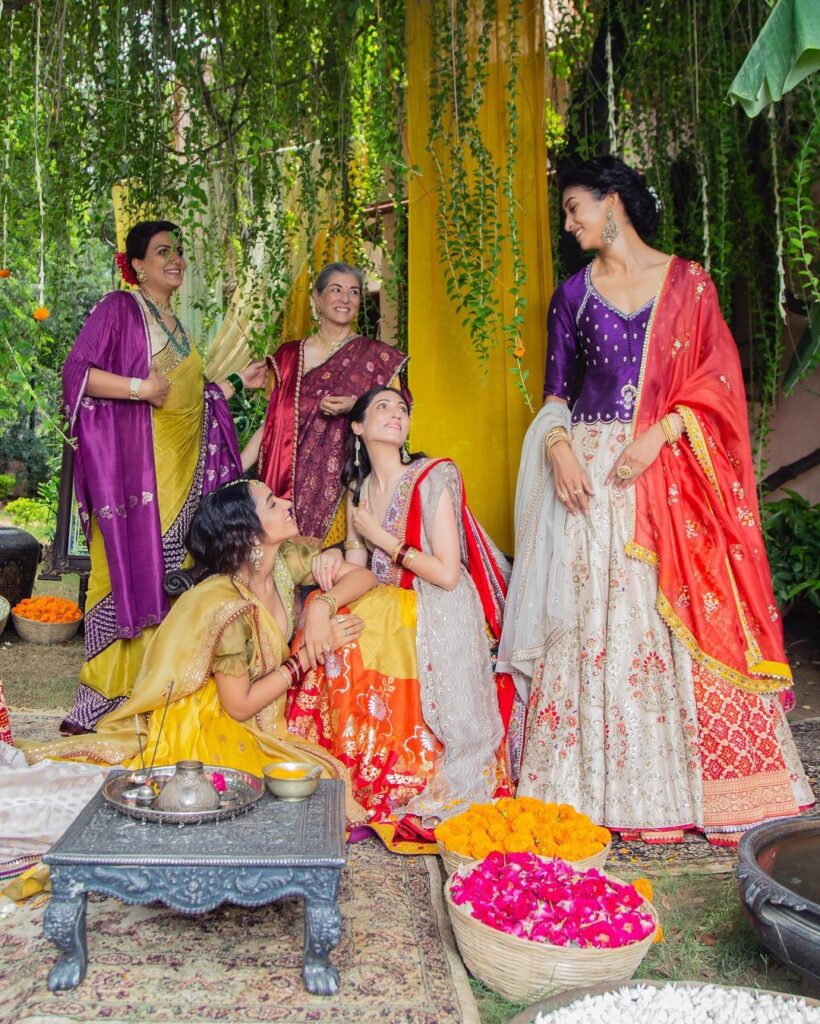 Rahul Mishra 
Closing the ICW 2021 was Rahul Mishra with his "Kam-Khab" couture collection. Champion of slow fashion with his heritage crafts, his latest line is a work of two lockdowns. Equating his collection to "creating a bouquet of flowers", the outfits portray Mishra's signature floral work alongside embroidery, Banarasi cutwork, and 3D threadwork. They're crafted on fabrics like silk organza, crepe, tissue, silk, and georgette. The film displays the collection at its finest, but also shows the in-house artisans at work, giving them the attention and gratitude they deserve. Besides taking an exponential leap in the Indian bridal wear this past year, Mishra has also become the first Indian to showcase at the Paris Couture Week.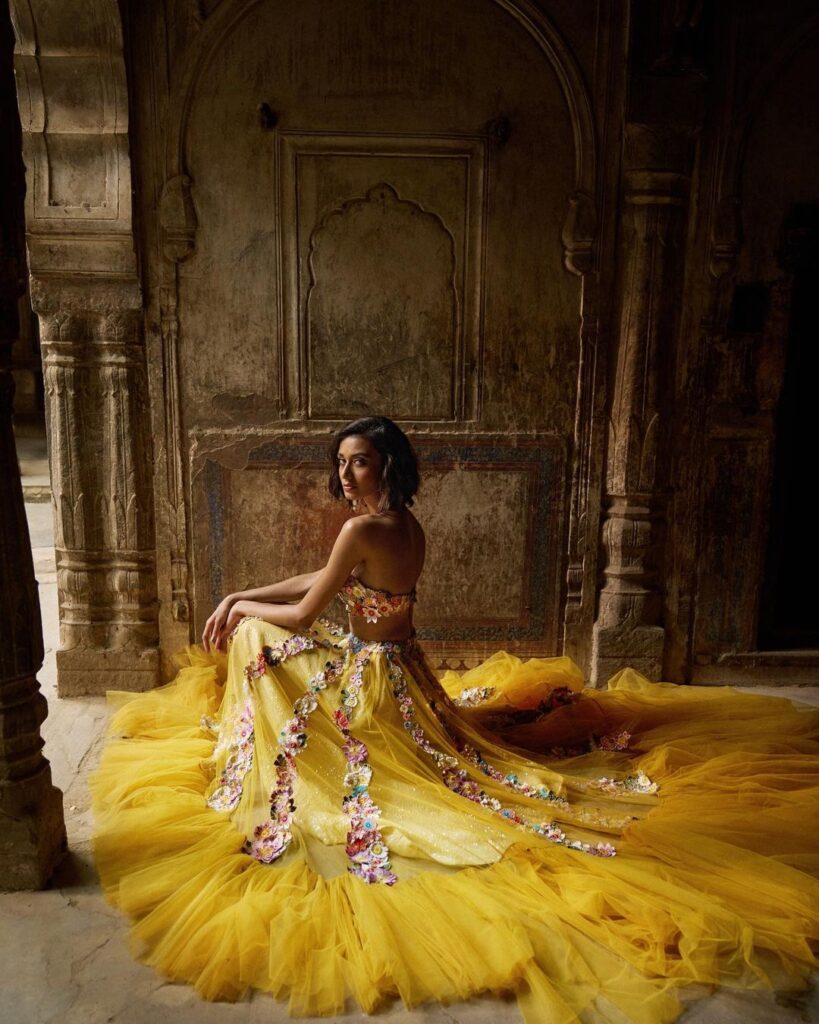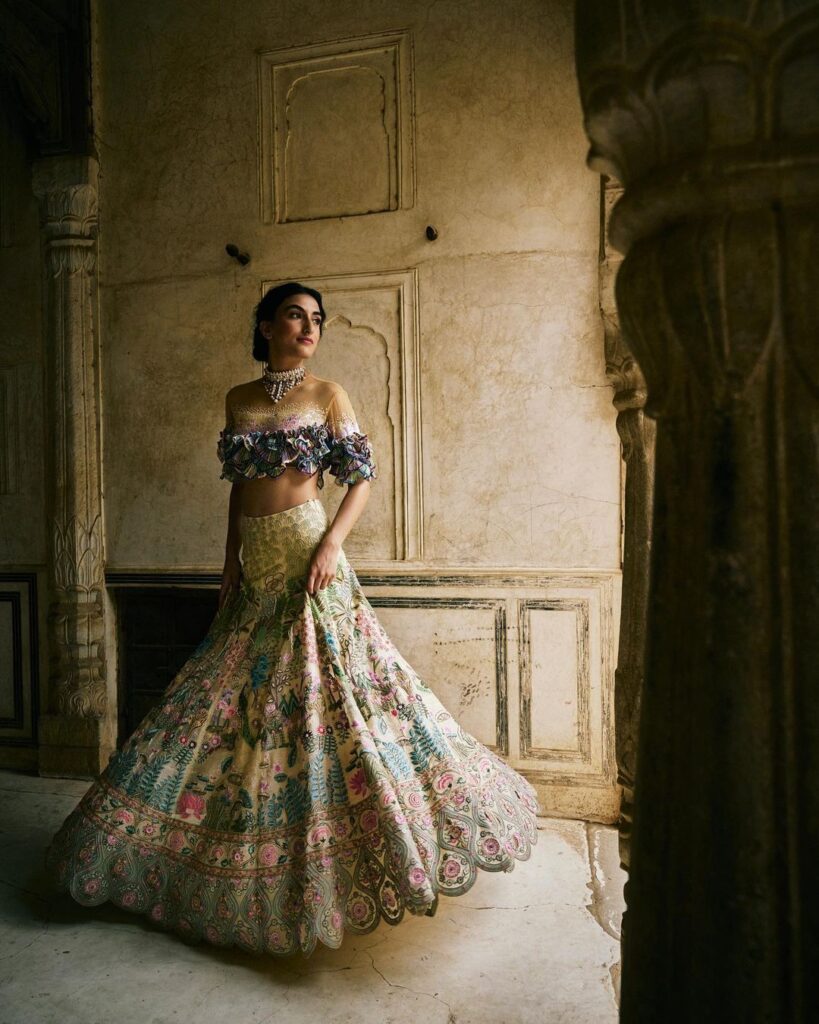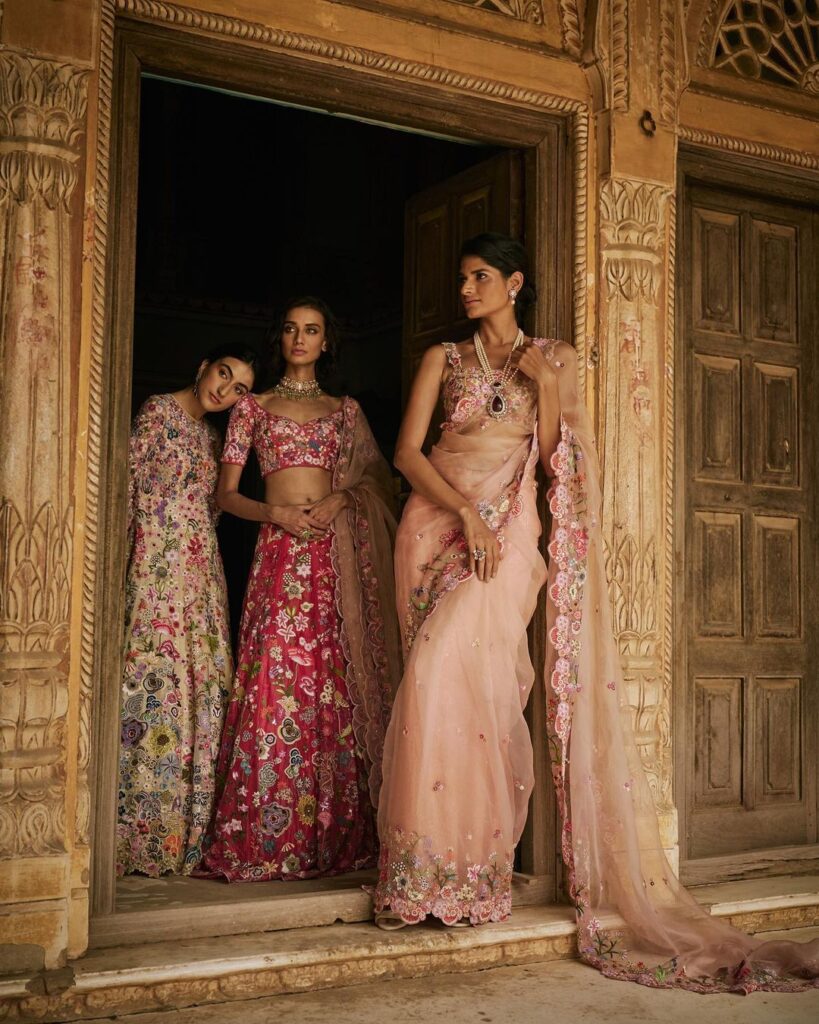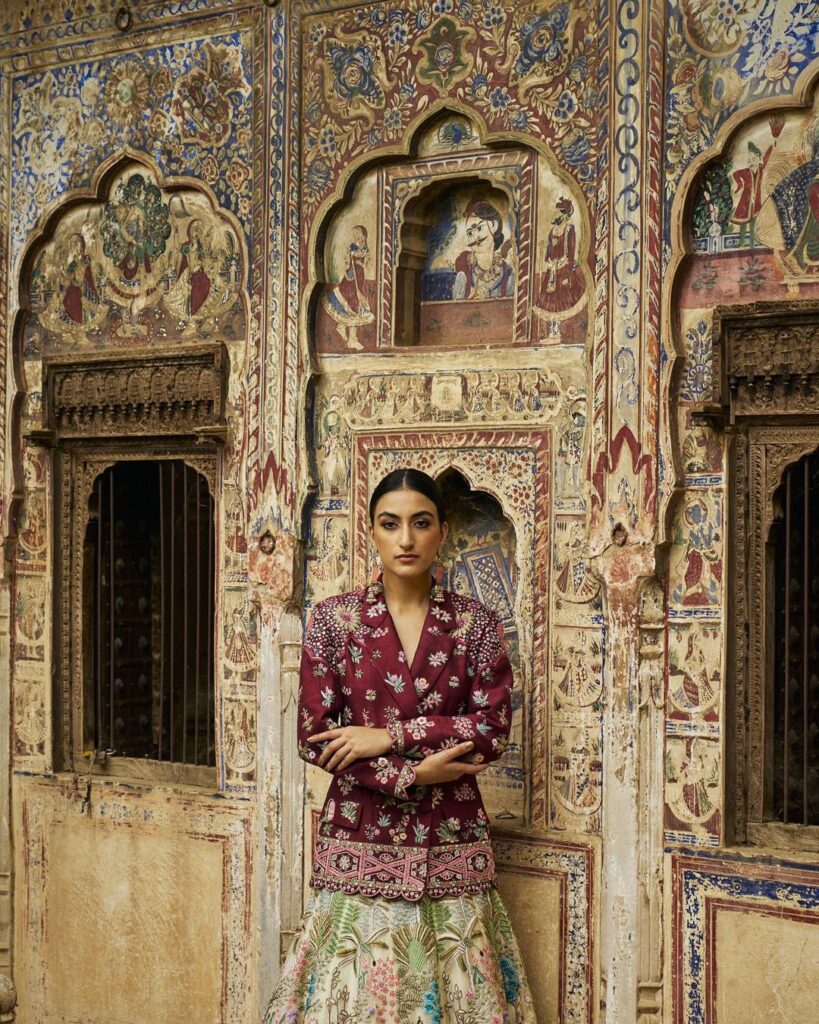 From the conventional A-line lehenga flare to the dramatic blouse designs, traditional textiles, and a ball-gown silhouette – the ICW 2021 definitely conforms to our listicle blog decoding lehenga trend of 2021/ 2022 wedding season. Check them out so you're fully armed with the latest styles in the lehenga market before heading out for shopping.