A wedding is all about the celebration of a lifetime for the couple and their families. It signifies the glorious union of two souls into holy matrimony and wishing them well for what's to come! But in the process, Mother Nature shouldn't be ignored. In fact, that's the time when the environment should be given a top priority. The reason is simple. Weddings are a source of huge wastage and carbon emissions in the world. In fact, they top any event that occurs on a global level. To quote the data, weddings produce 1 billion lbs of trash each year, and emissions of what 4 people produce in a year in one single day, as reported by Botanical Paperworks. If that sends chills down your spine, we'd like to inform you that all this can be prevented. With just a few tweaks here & there, committing to have eco-friendly celebrations, and hiring people who align with your idea can reduce the environmental impact of your wedding by more than 75%. And that's an amazing number to live by! 
If you're looking into the basics of how you can get this change? We have got an amazing inspirational Anand Karaj ceremony for you that will help to achieve the same. Bride Rhea, an environmentalist, and ecopreneur herself made a conscious effort to have a wedding that's carbon neutral (the calculations were made online). From having e-invites, wrapping the wedding favors in cloth bags, using locally sourced flowers for decor, and cutting down the use of confetti and lighting – she endeavored to go as sustainable as she can in her wedding celebrations. Of course, she also had a wedding planner on board – Wedding Duo who shared the same vision and helped her out to curate an eco-friendly experience. Below, you can find all the details from her wedding revelries and complete wedding album. But, first, let's start with how Rhea met her now-husband Divish and the series of events that culminated into their wedding. 
A Love Story 10 Years In The Making
"We met 10 years ago in London at a mutual friend's birthday party. She actually introduced us knowing we were both single and ready to mingle. What started off as a casual college fling turned into something real fairly quickly," says Rhea. After they both graduated, they moved back to their respective cities – Divish to Delhi and Rhea to Mumbai. "We realized this was something we didn't want to let go of. We did a long-distance relationship for a bit and that was a difficult time where we felt disconnected from each other. After a while, Divish moved to Mumbai to set up a business while I moved to Gurgaon for some work. Despite being broken up, Divish's family would look after me in Delhi and my family did the same for him in Mumbai," adds Chhabria. 
The duo met and got back together after reconnecting at Divish's sister wedding in Mumbai. There was no looking back after that. Over the years, the couple became best of friends and grew really fond of each other's families. And their families bonded well too. "For the past two years, our parents decided to gang up and coax us into getting married to each other. We were both overwhelmed and confused with changing of status and the idea of marriage. After months of convincing, we realized that our parents are right and we're so lucky to be marrying our best friend," says Rhea. 
Behind the scenes, Divish was already planning a surprise proposal for Rhea. The beautiful proposal was to take place during sunset in a hotel room balcony in Agra overlooking the Taj Mahal. "He asked me to get dressed for an early dinner and had told me that he had a surprise for me – the hotel was delayed and we walked into them decorating the place. Divish panicked about running the surprise and forgot his speech. He didn't even ask me to marry him, just went down on one knee, took my hand, and put the ring on it. Call it his confidence or optimism but that's something we will never know and always look back and laugh at," says Rhea. 
"We have been married for 5 months now and we've realized that our society amplifies and exaggerates the concept of marriage when it's simply a change of address," she adds. 
Being An Environmentalist & Ecopreneur, Rhea Was Sure Of Having An Eco-Friendly Affair
Rhea is an active environmentalist who conducts workshops to educate people on how to make eco-friendly switch in their daily life. See here. Additionally, she also has an e-commerce business called Suckin, selling reusable, eco-friendly, made-in-India products like straws, cutlery, and bamboo toothbrush. Check out their website here. Already conscious of the fact that weddings can produce huge waste, she knew she'd have an eco-friendly or a carbon-neutral wedding. "I knew to achieve the same I'd need vendors who think on the same lines. My husband's family had worked with Wedding Duo in the past and had loved their aesthetic sensibility, their experience in designing eco-friendly weddings, quick and easy communication, helpful staff, and the fact that they also had a sister company for hospitality which made the execution and production much smoother," says Rhea. Here are a few things she worked on to plan her sustainable celebrations. 
E-wedding invites.

Limitation in use of single-use plastic, be it either in terms of water bottles or unnecessary plastic packaging. 

Included decor elements that can be rented, upcycled or reused.

All the flowers and foliage were mostly dry over fresh. The fresh flowers used were not imported, rather sourced locally. 

Our varmalas were made of leaves with very few flowers.

The confetti to shower us was made with a combination of dried leaves and recycled paper.

Sunboards, used in wedding signages, were kept to a bare minimum.

In-room hampers were kept in a reusable cloth bag with a note to carry it back.

Unopened food was collected and distributed to a local orphanage in Udaipur on the day of checkout. 

No animals were used at the wedding. We opted for cars and electric buggies to ferry the baraatis. 

The gifts were also given in reusable cloth packaging (Japanese style) for the first families. 

Gifts for other guests were also given without single-use plastic wrappers and most were sourced locally to support local artisans. 

The carbon footprint was calculated and the balance was offset.

Water was served in glass, glass bottles, large jugs to minimize plastic waste and water waste (people decided how much water they wanted instead of being served a certain quantity).

Cloth masks were distributed instead of resorting to single-use disposable masks.

Dance floors were lit or carpeted instead of using flex or vinyl.

There were no fireworks at the wedding. Only eco-friendly cold pyros were used to welcome the baraat – the only one thing groom requested. 

Preference was given to hire local vendors to prevent adding any carbon footprint. Only vendors who couldn't be sourced locally were sourced from nearby places. 
"We were very happy that the wedding duo and arm hospitality teams resonated and shared the same respect for the environment as we did. People have this silly belief that eco-friendly weddings can't look glamorous or classy but I think together we busted that myth and created a trend for the Indian wedding industry to follow," says the bride. 
Her Lehengas Were Tribute To Her Conservationist & Animal Lover Self Too! 
Rhea and her family just recovered from Covid and had precisely 6 days to get everyone's clothes sorted. We didn't want to expose ourselves beyond that. "I had done some prior research online and had a vague idea of what I wanted to wear for a day Anand Karaj wedding. It's be something light, comfortable, and attire that has repeat value vs something that would sit in my wardrobe. I also wanted to support the designers who shared my love for the preservation of the planet, hence Anita Dongre and Amit Aggarwal were my preferences. To my luck, I walked into the Anita Dongre Qutub store and noticed this hand-painted pichwai lehenga from the 'forest of Sunderbans' collection. It was the only piece they made with the entire forest painted vs the others that had only a few animals and trees; it was love at first sight. On inquiring why it wasn't available online they mentioned that they had only ever made one piece of it. No one believes me when I narrate this story as they think I got it custom made – that's how perfect it was for the conservationist and animal lover in me," narrates Rhea of her experience finding the perfect bridal lehenga.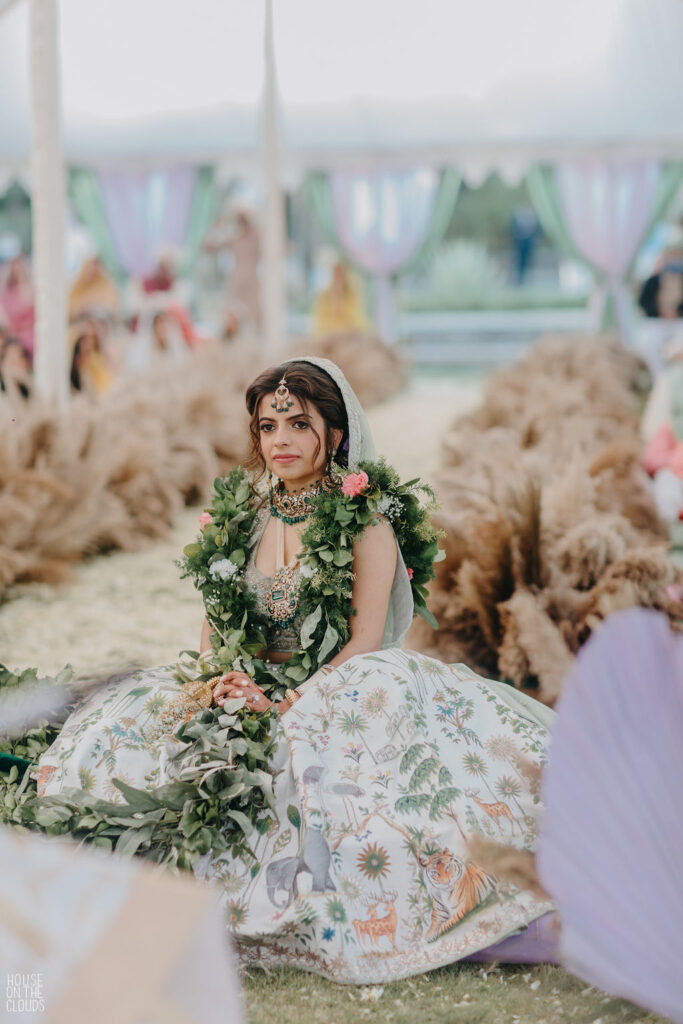 Although, ivory with hand-painted creatures isn't exactly what Indian families approve of. Still, the idea of brides is resonated with someone walking down wearing red with heavy work like zardozi or gota-patti. Rhea received her fair share of reservations from her family too. "My family members were hesitant, but I knew I wanted to wear something true to my taste and pick a lehenga I was comfortable with rather than coming under the pressure from society. The same doubts came up with the Amit Aggarwal lehenga I wore to sangeet – it had to be light enough so I could enjoy myself. Plus, the fact that it was made with recycled plastic made it a no-brainer for me. Both lehengas are truly works of art and I can't wait to re-wear them again," says Rhea.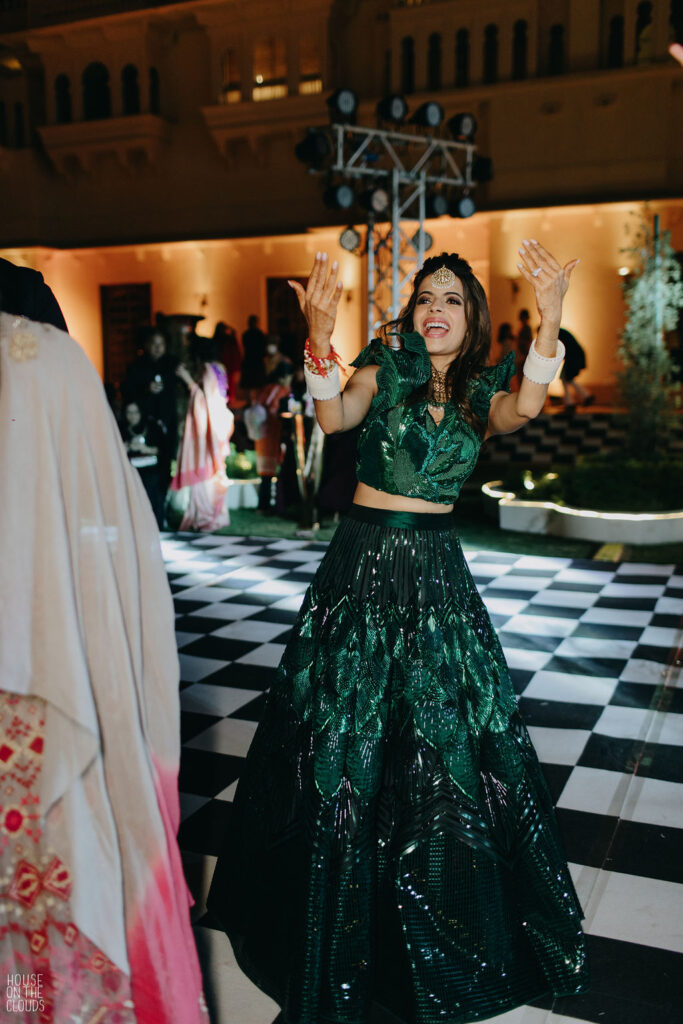 Find below pictures from all her wedding ceremonies:
Pre-Wedding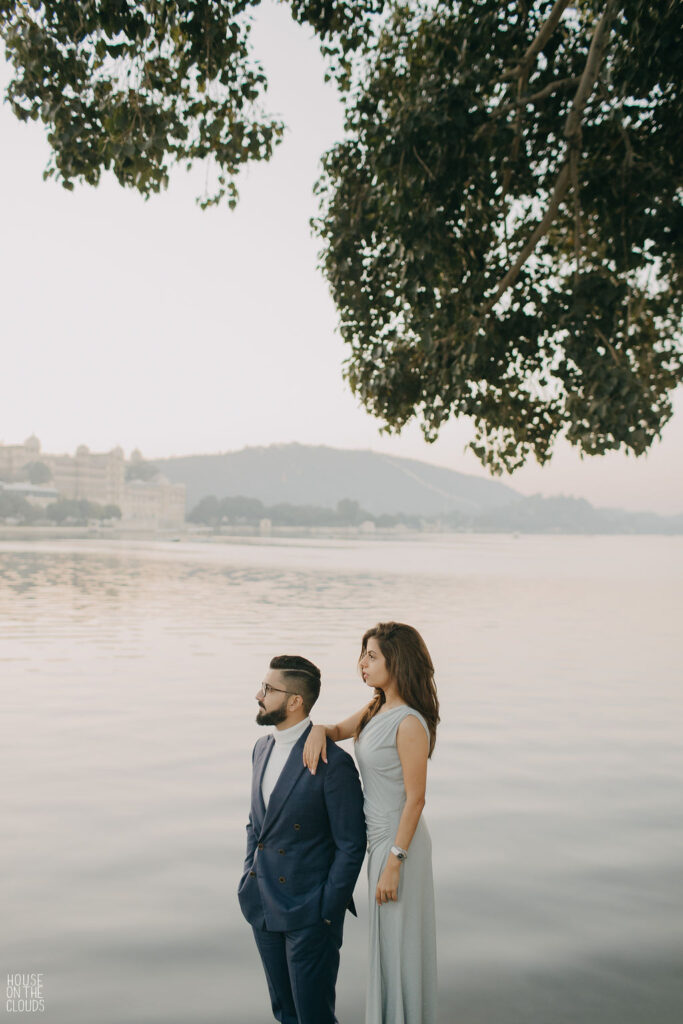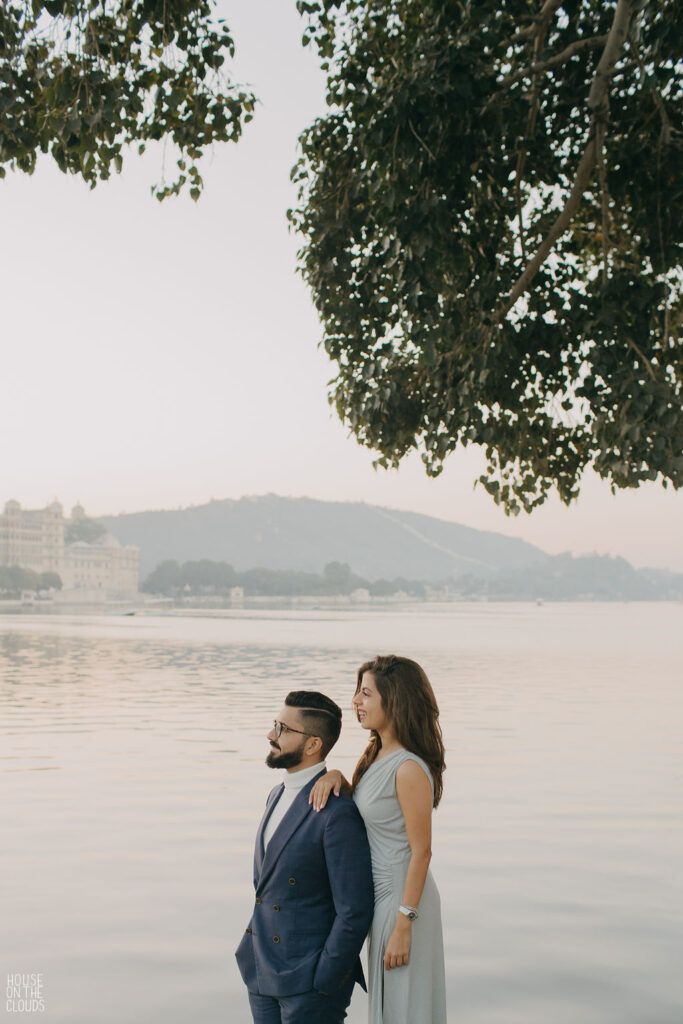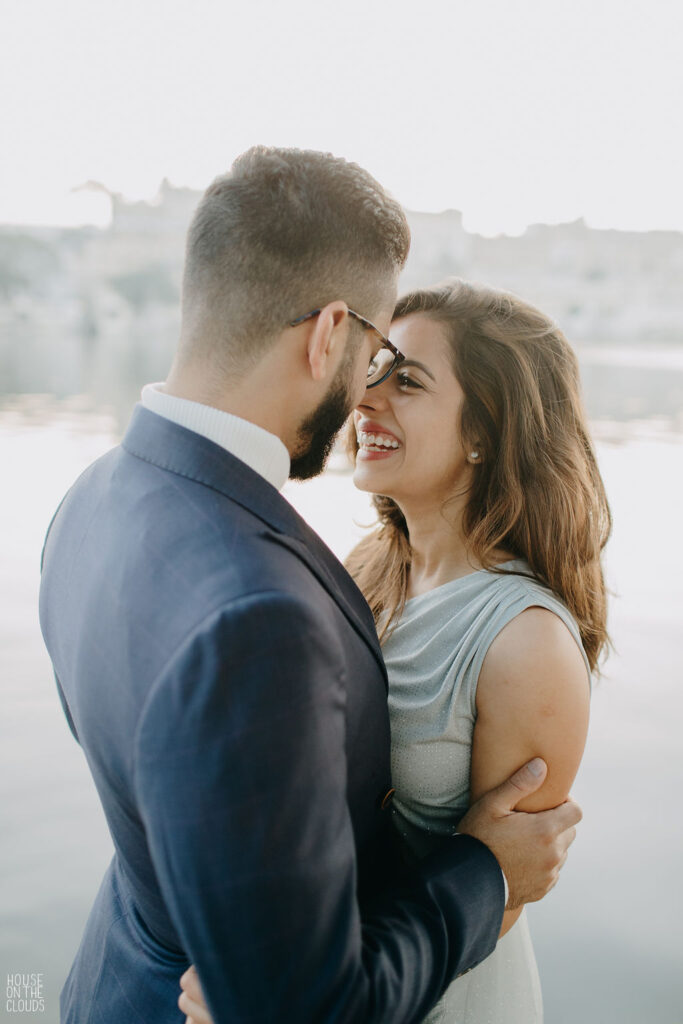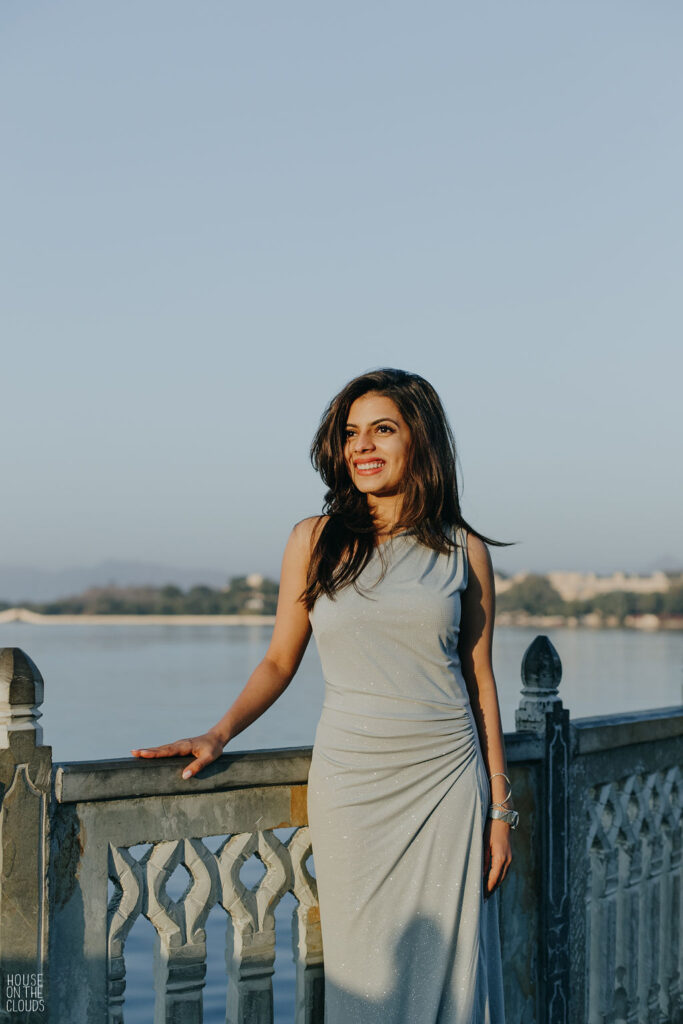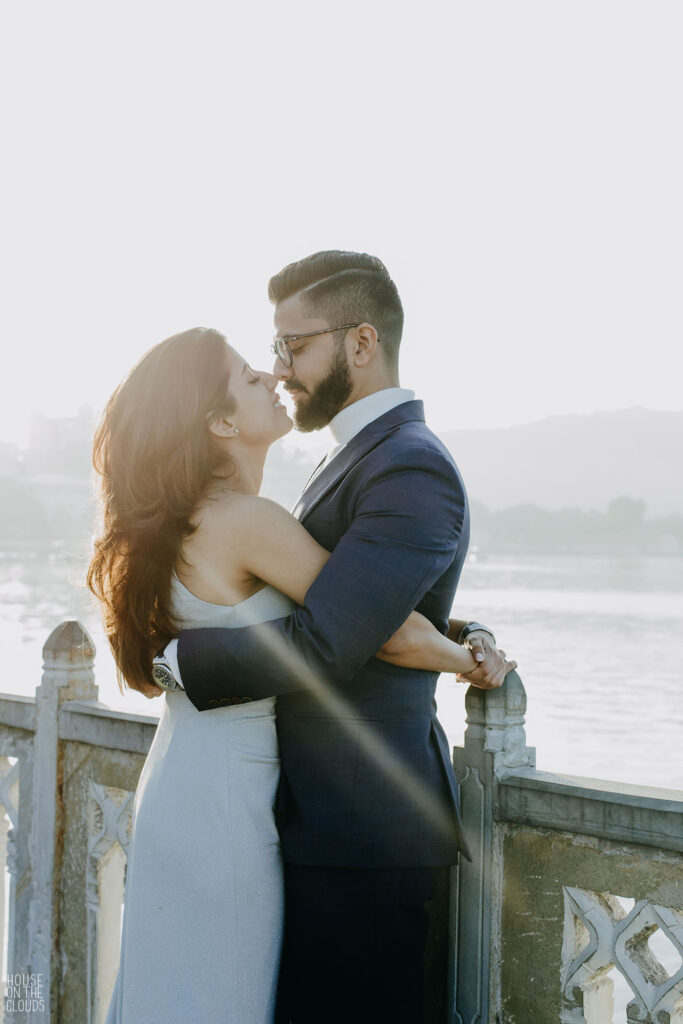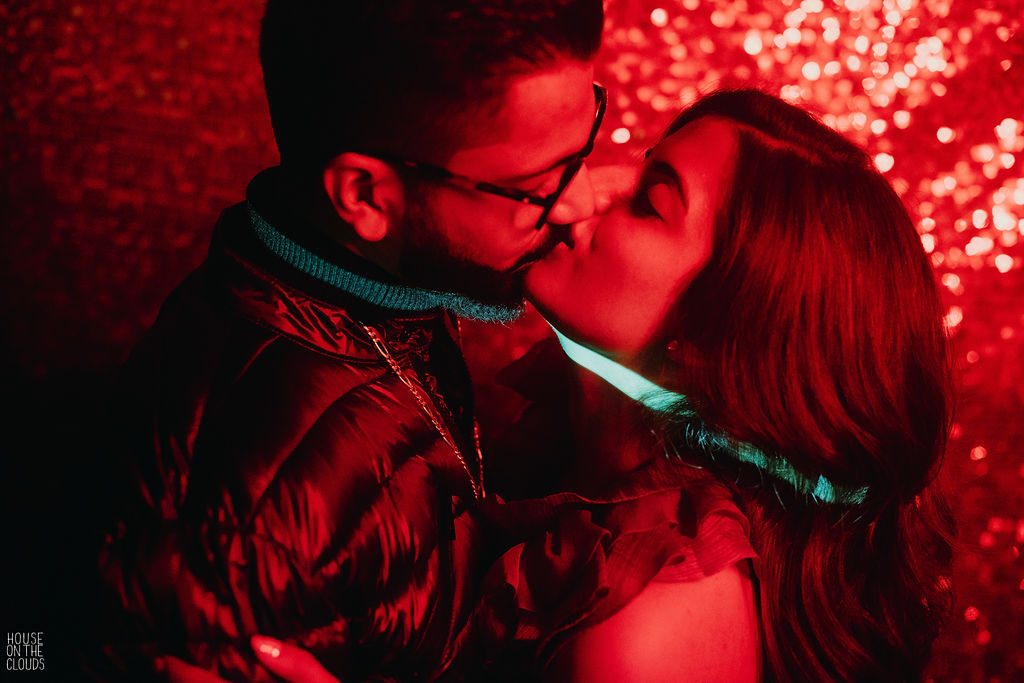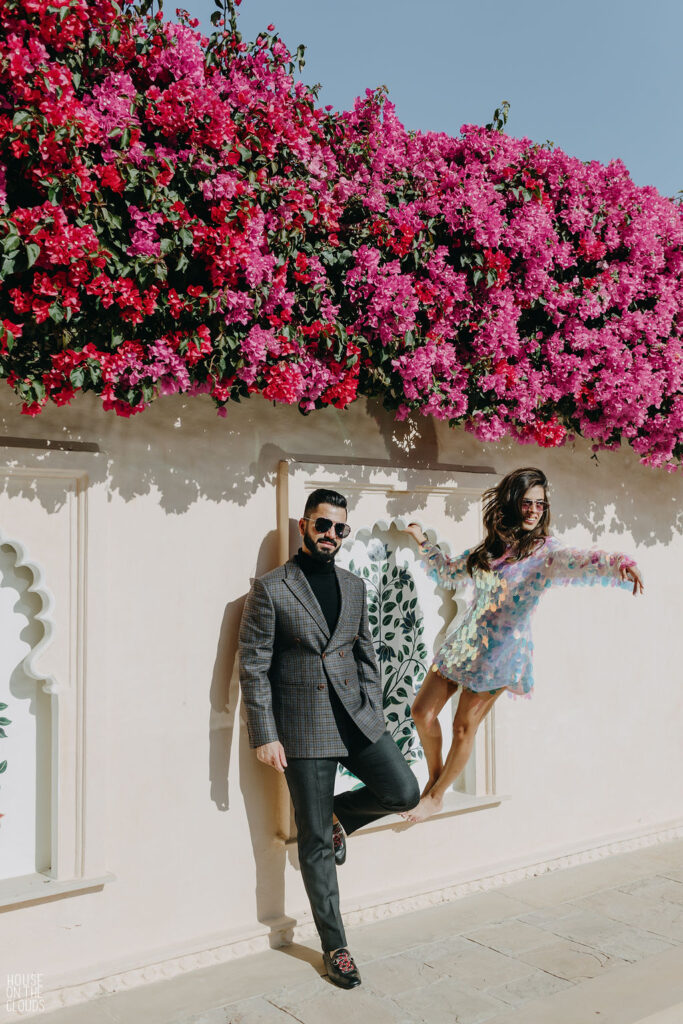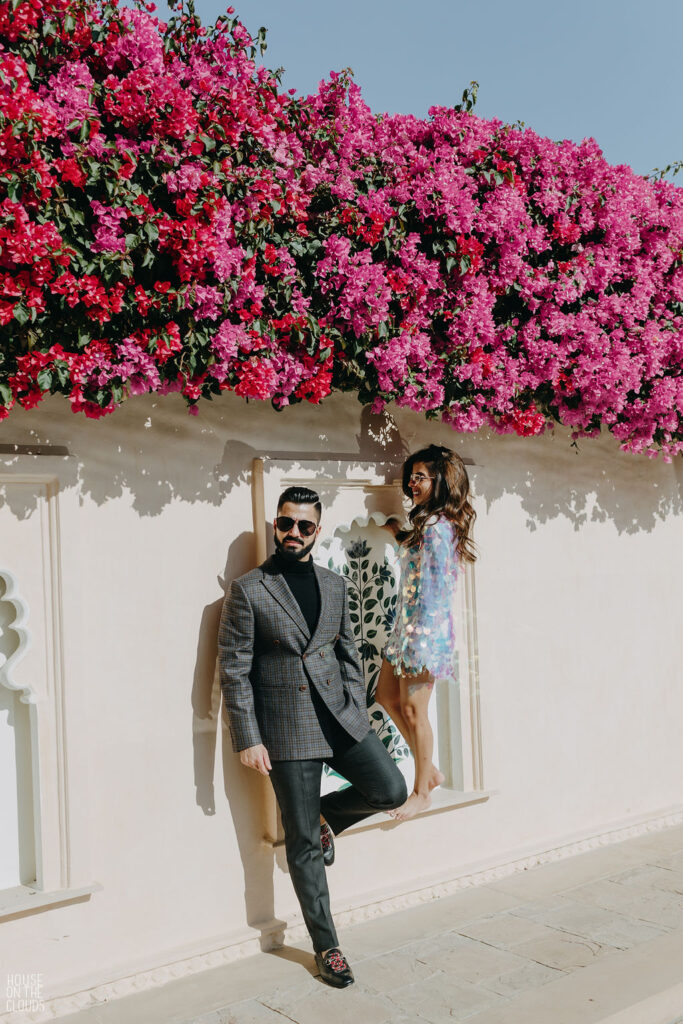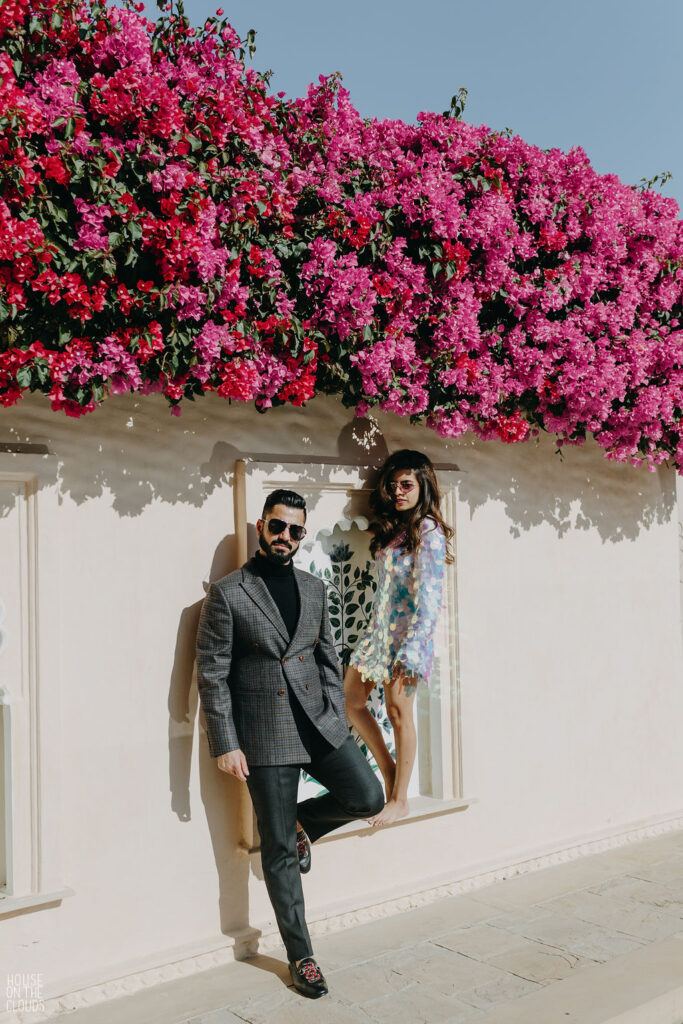 Mehendi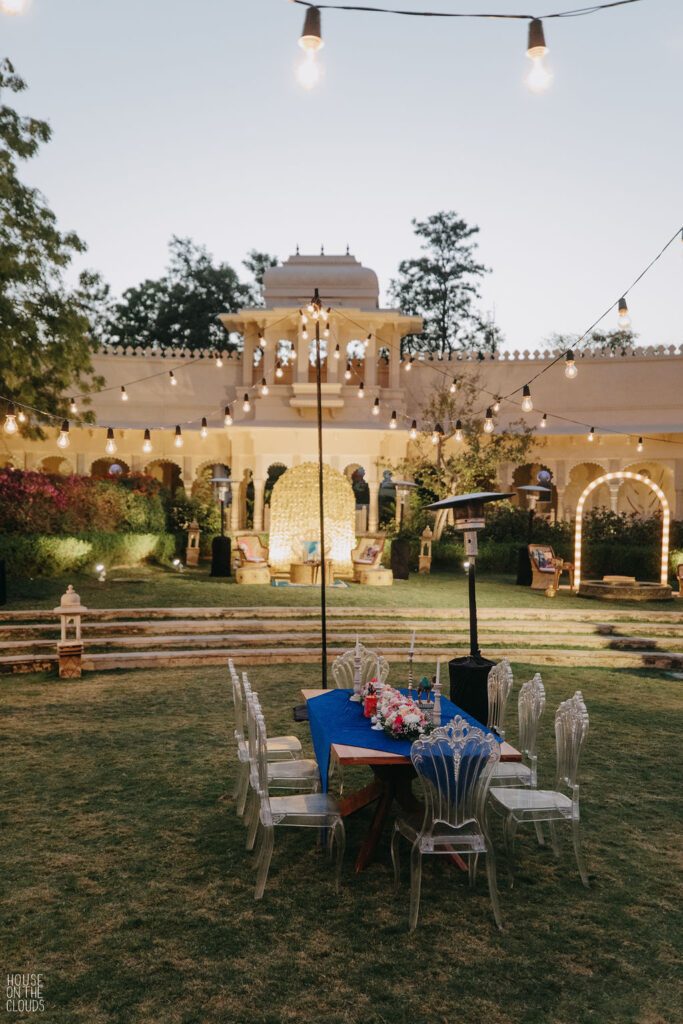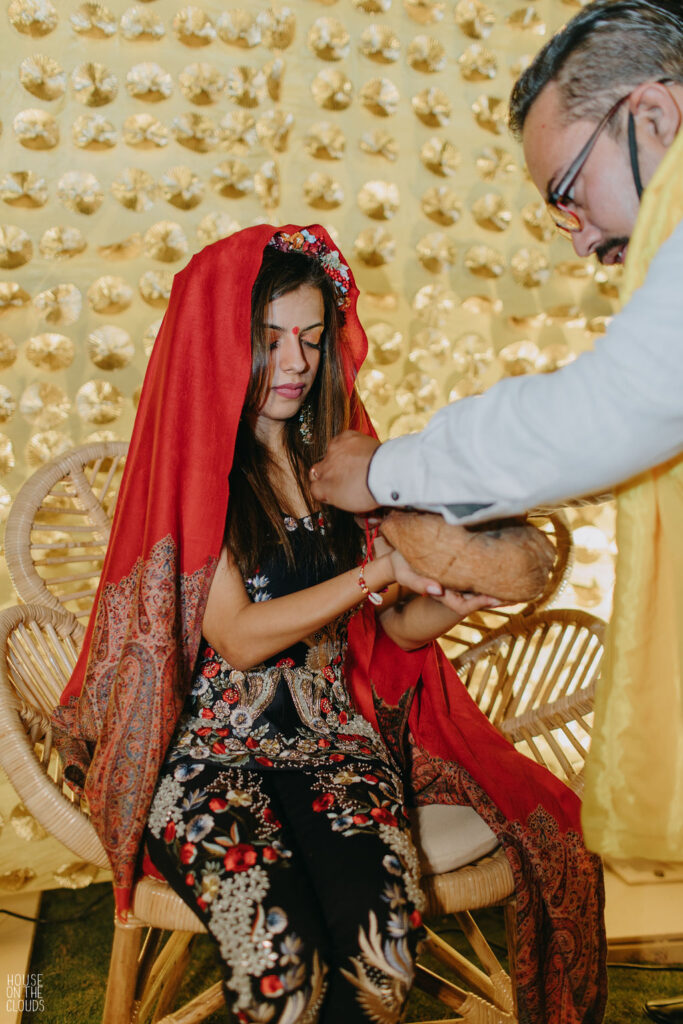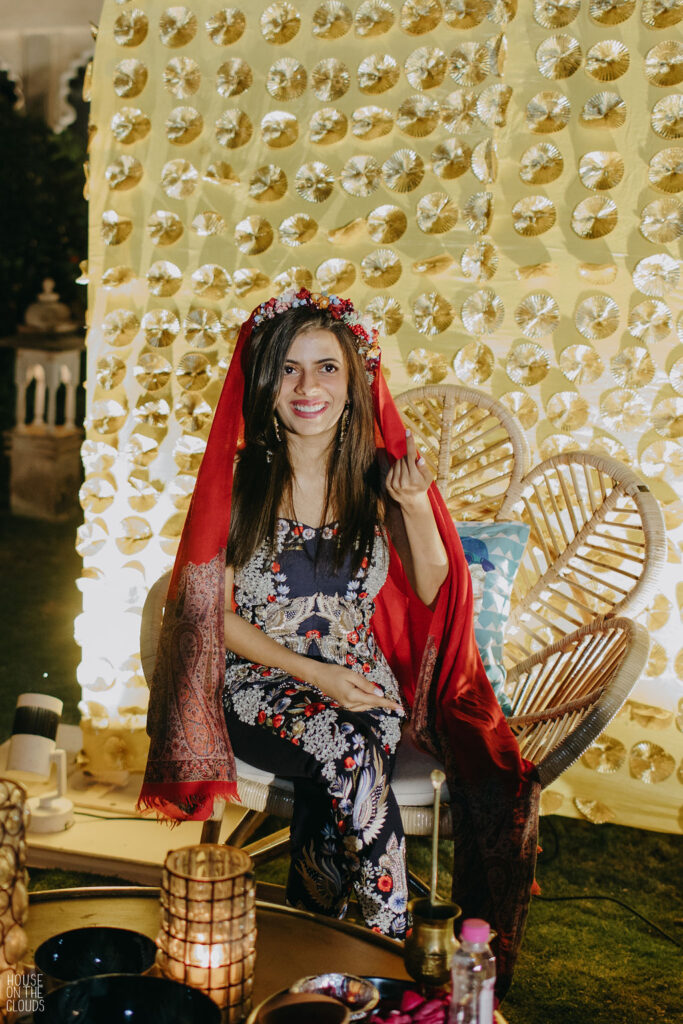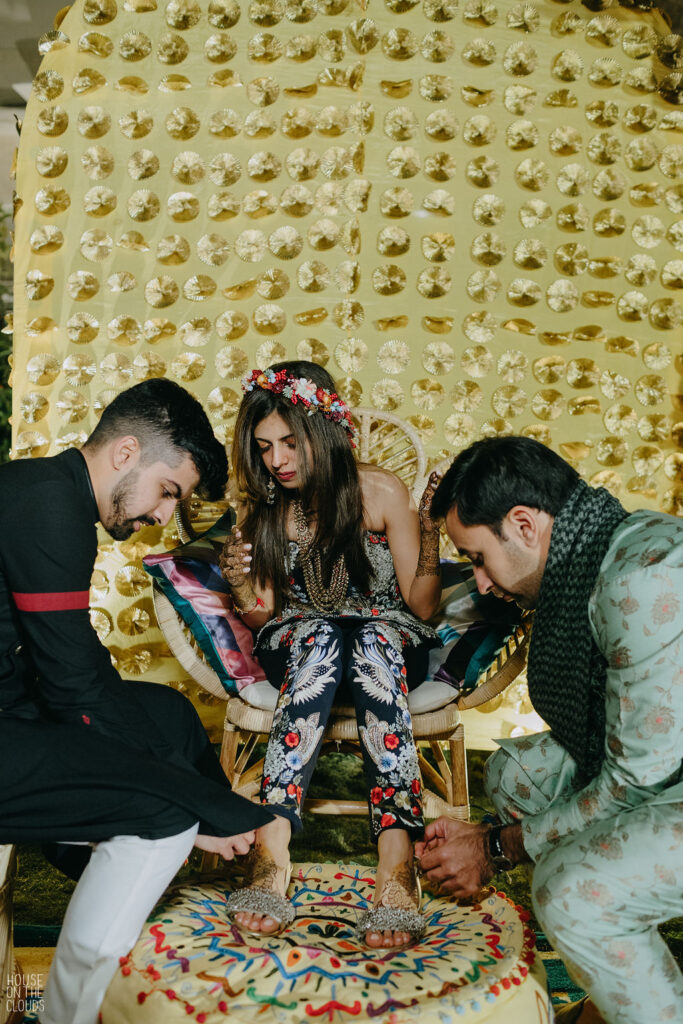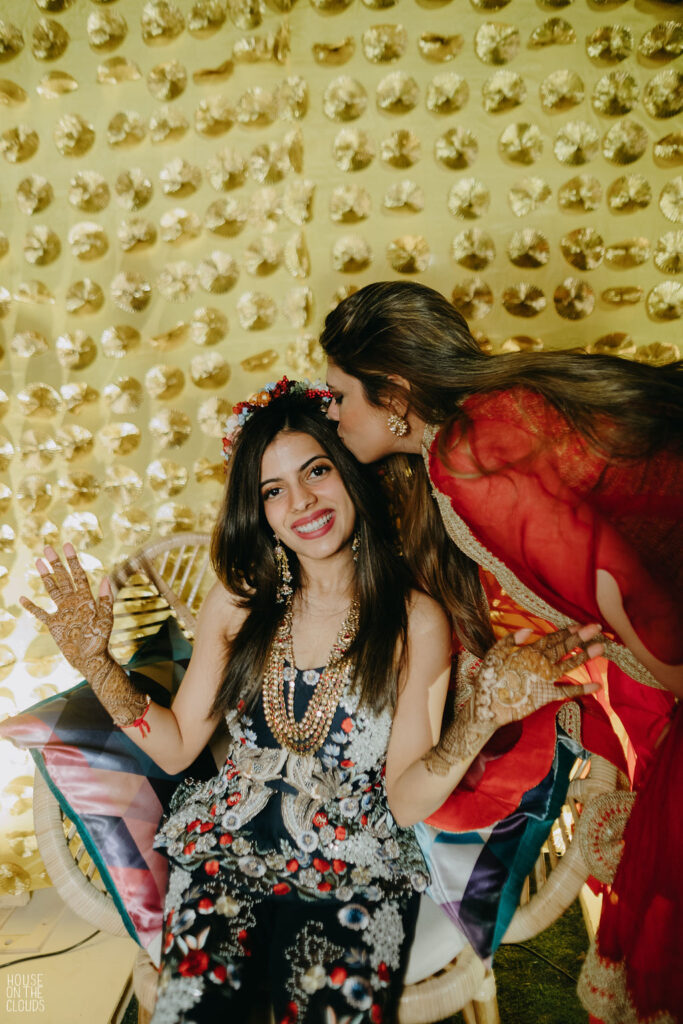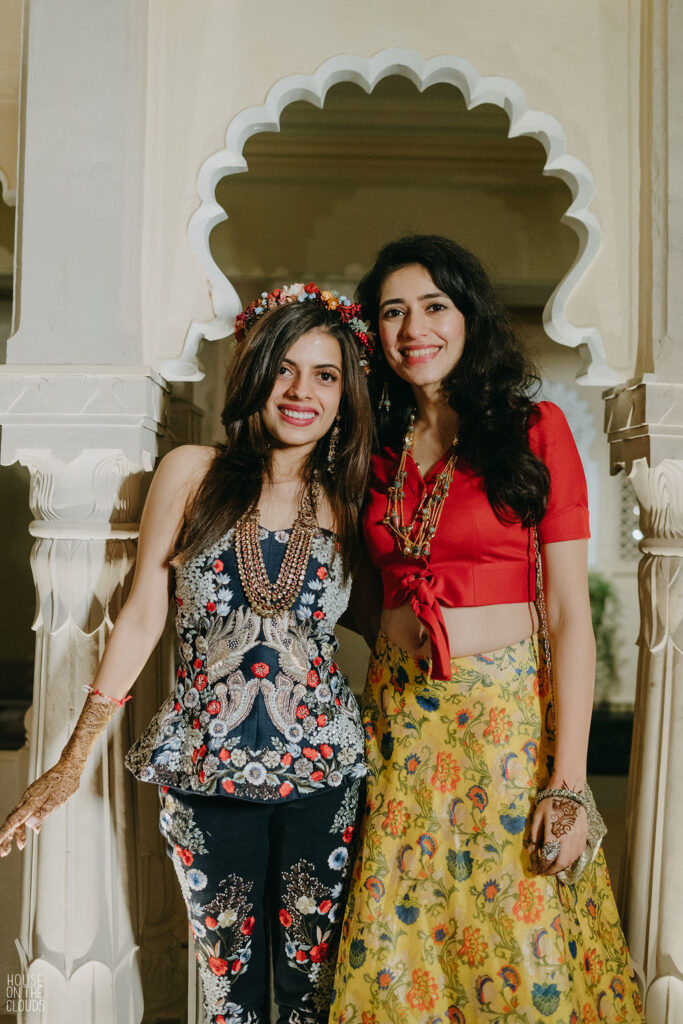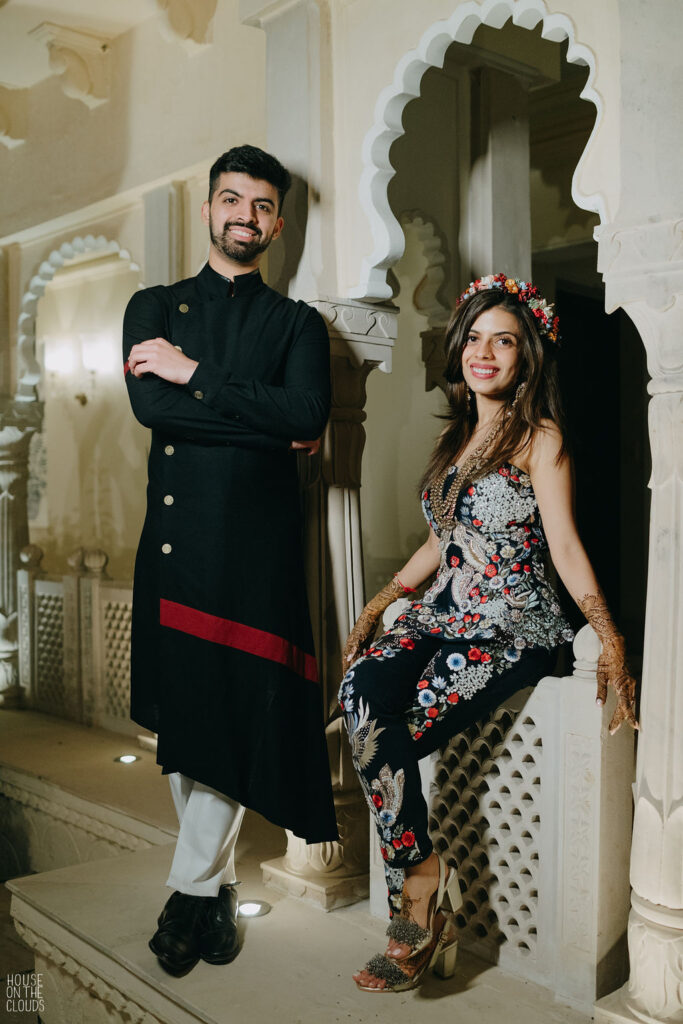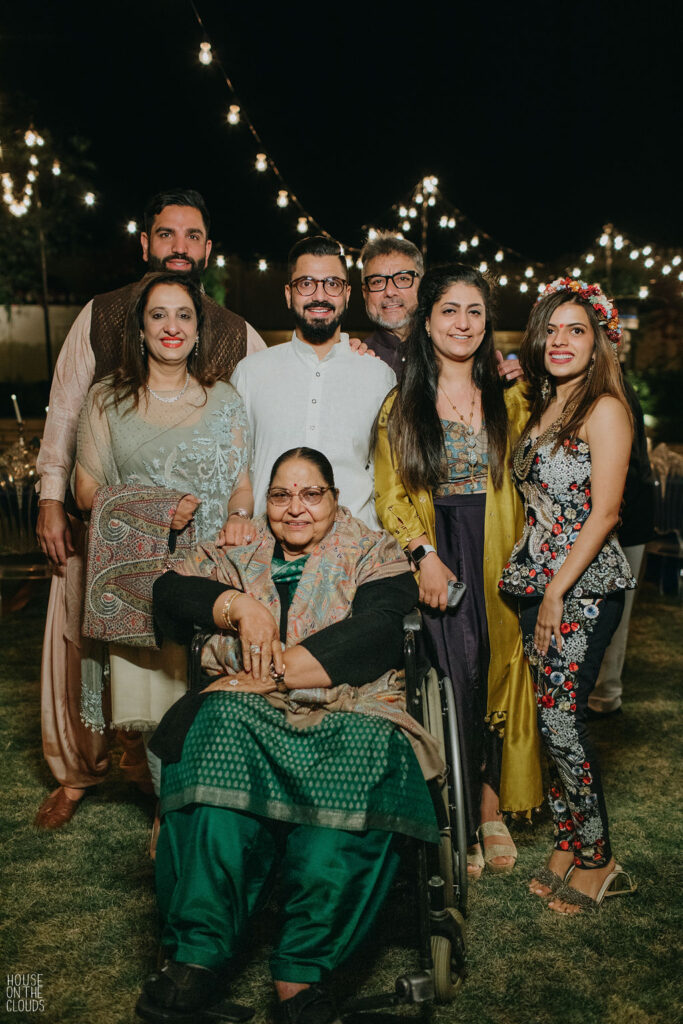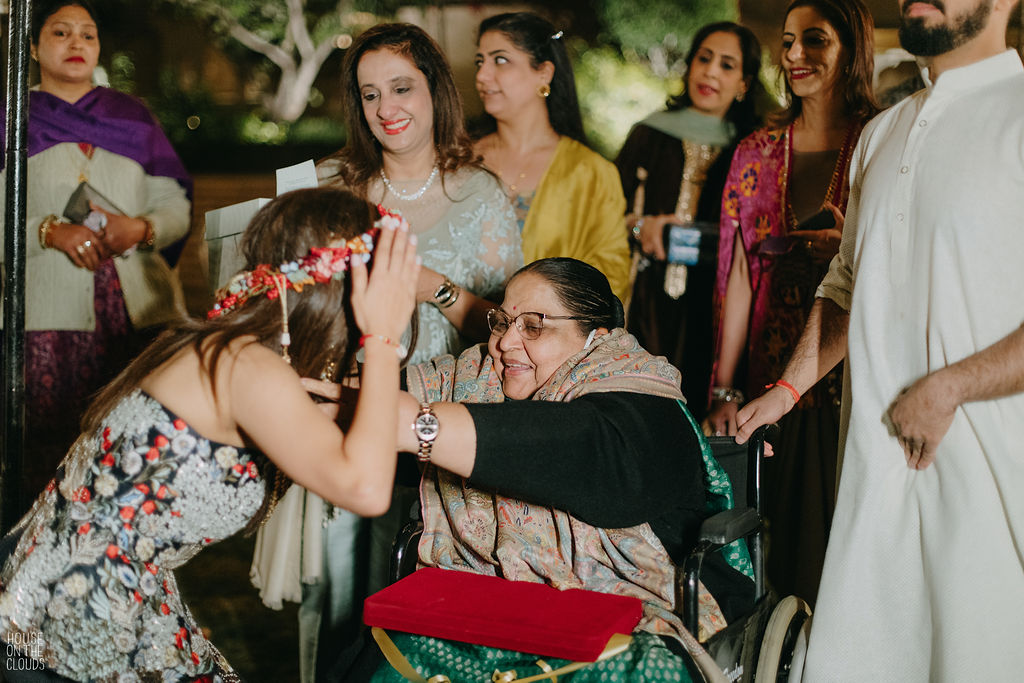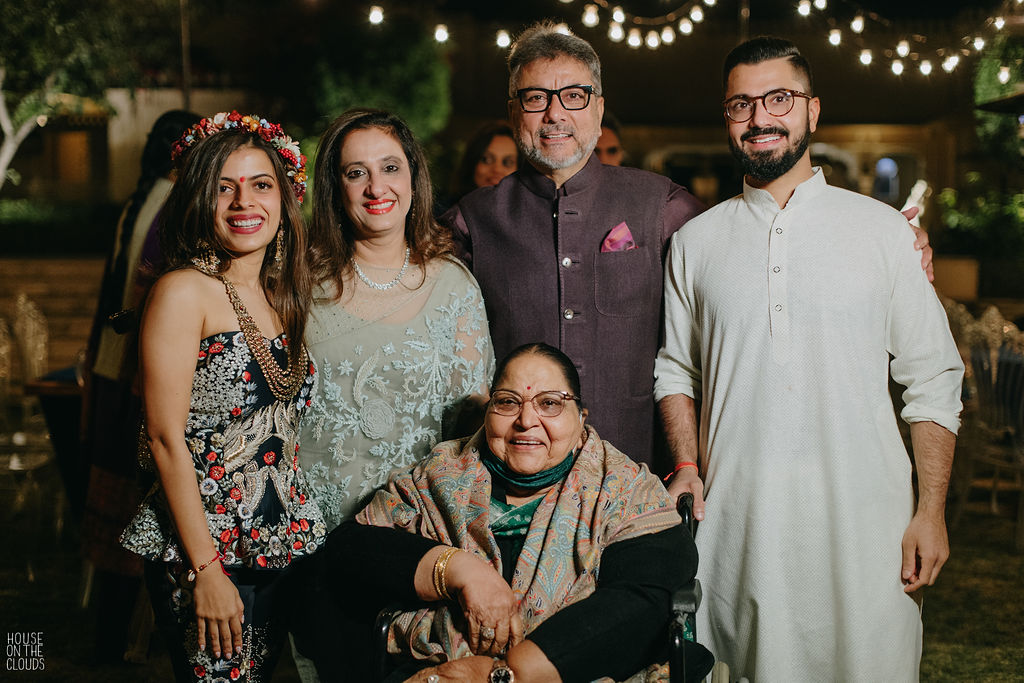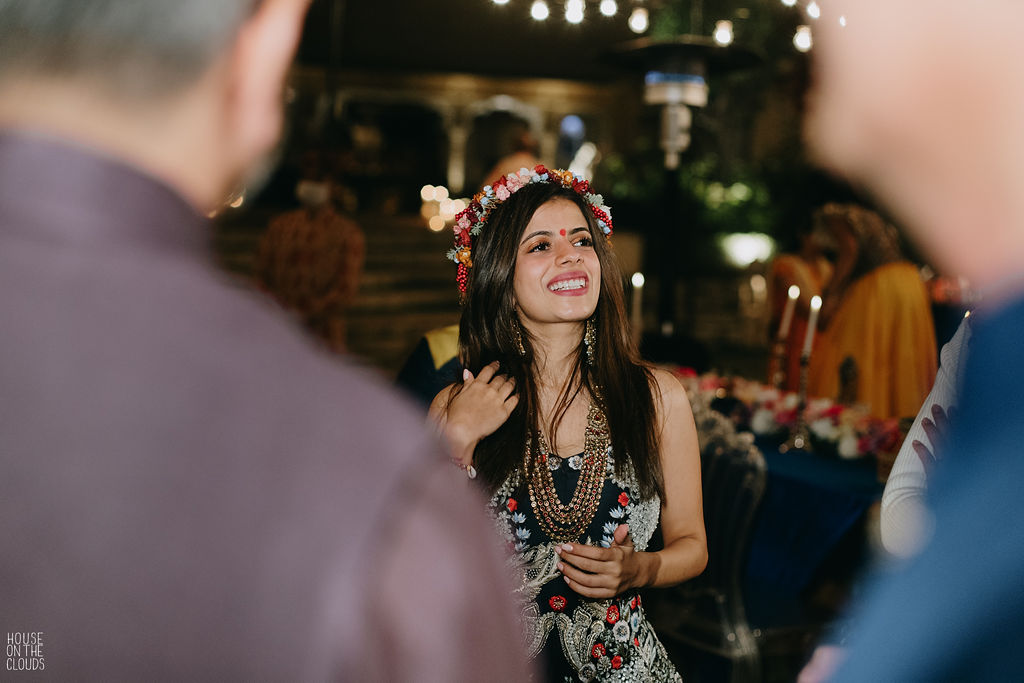 Musical Lunch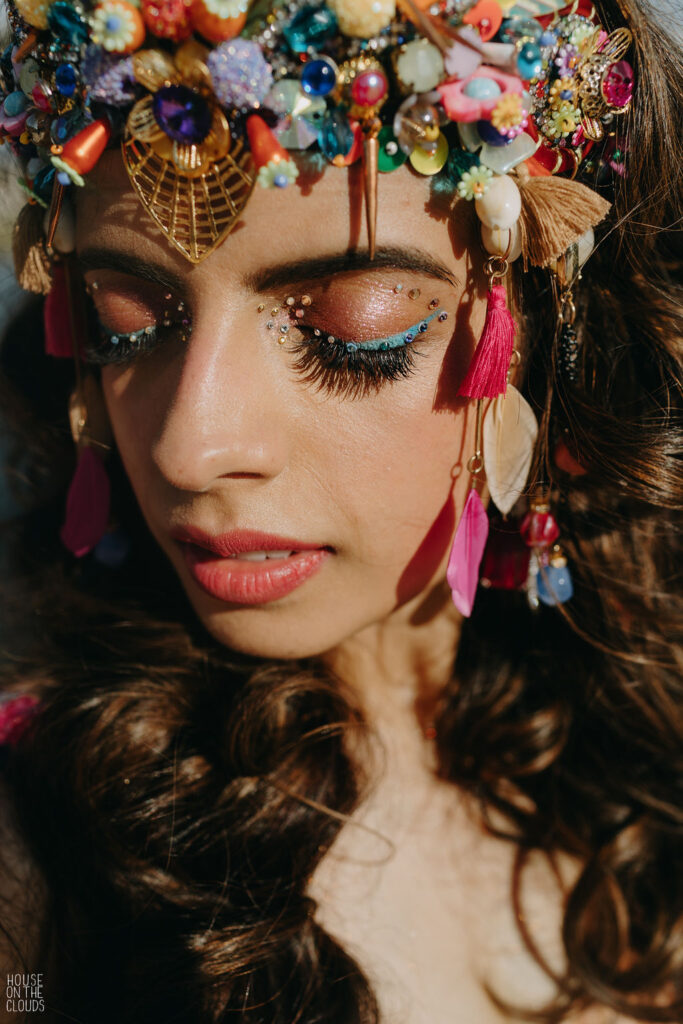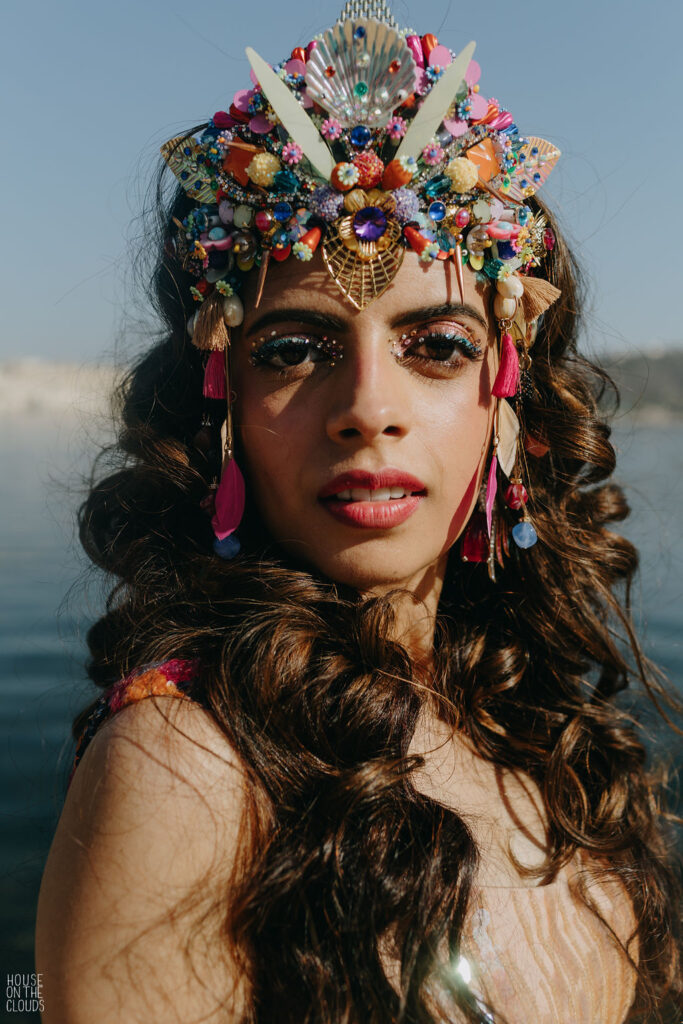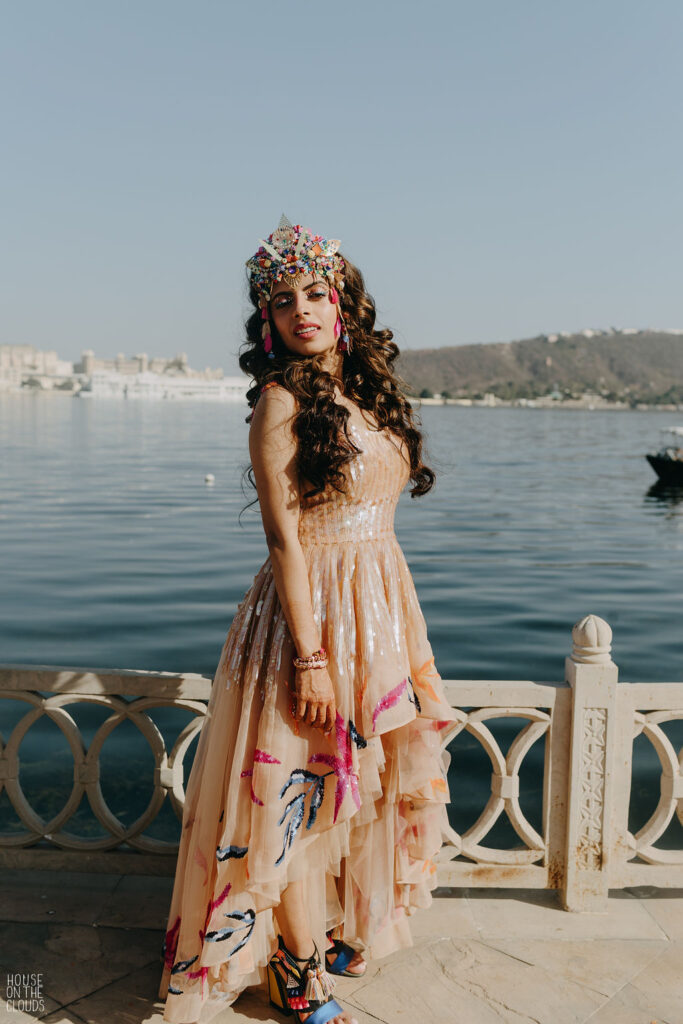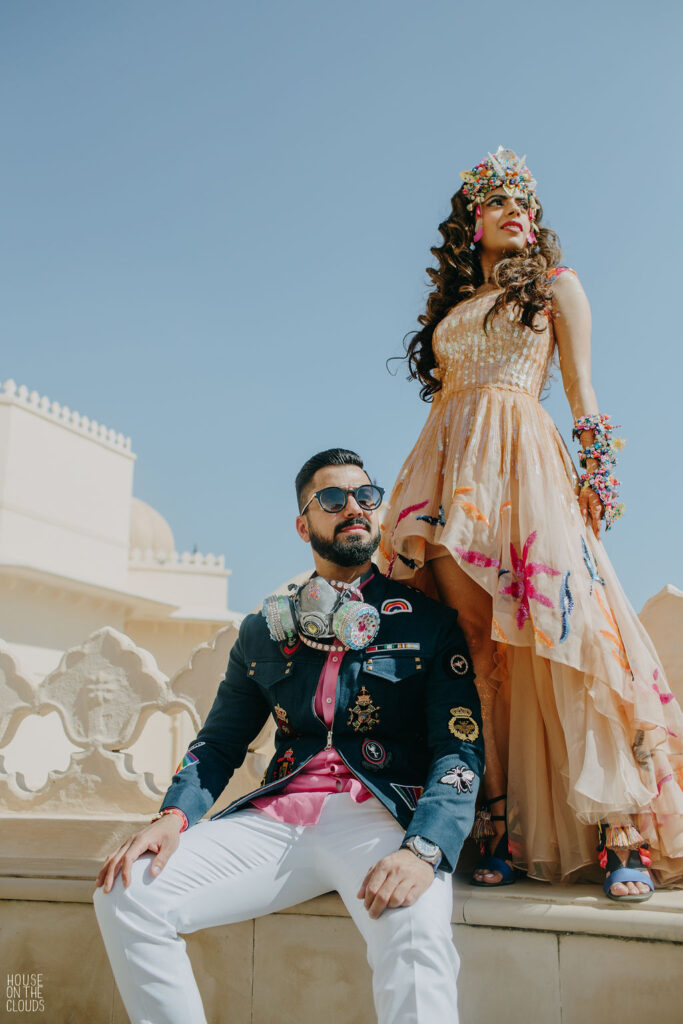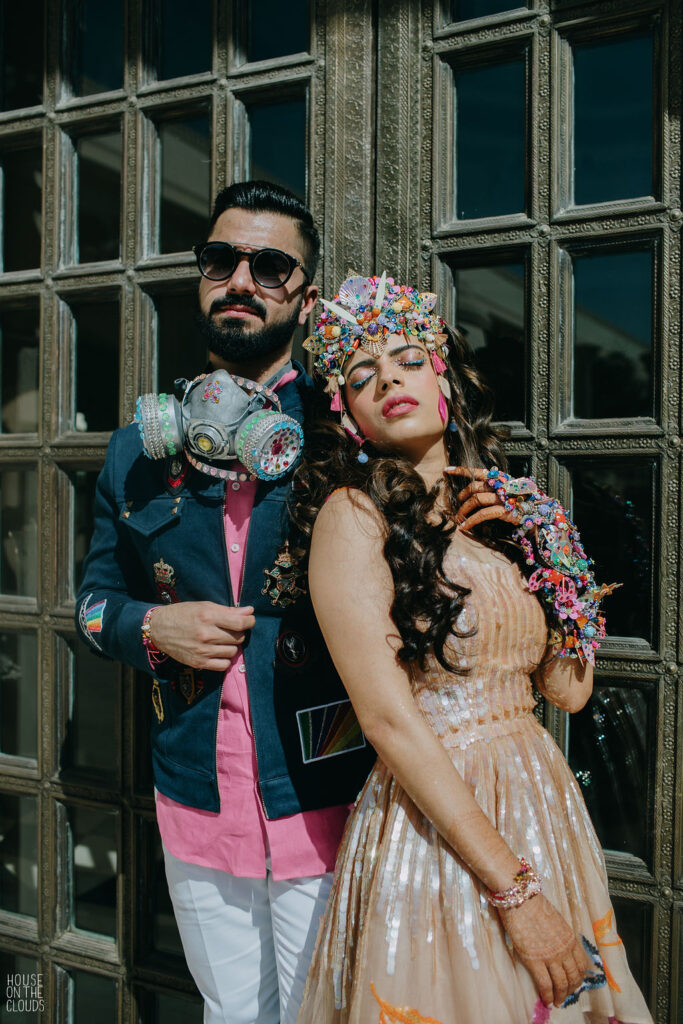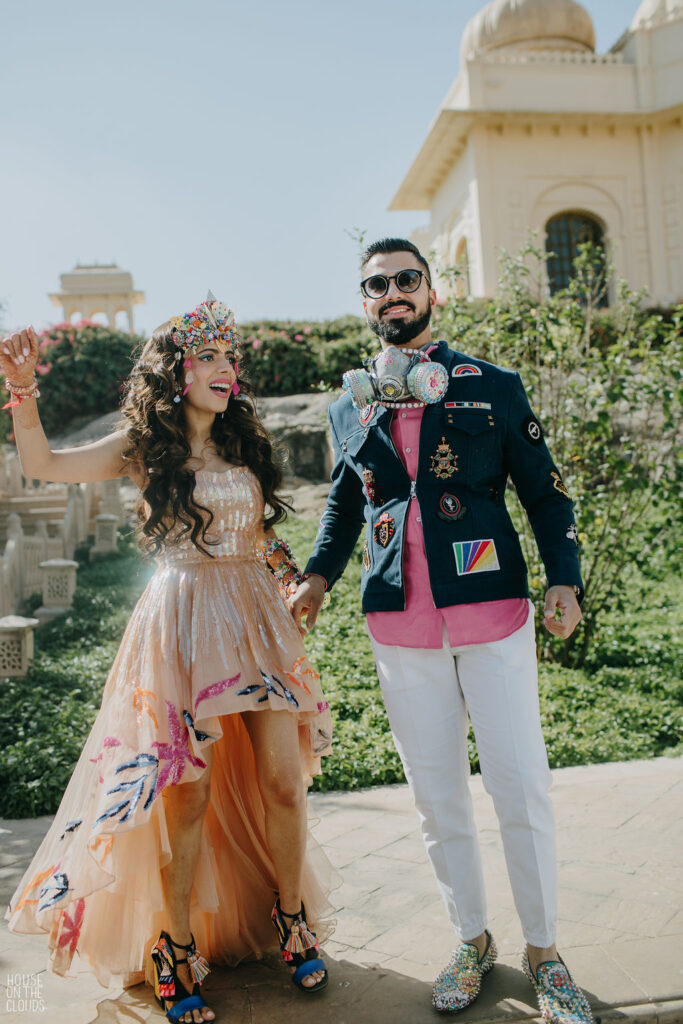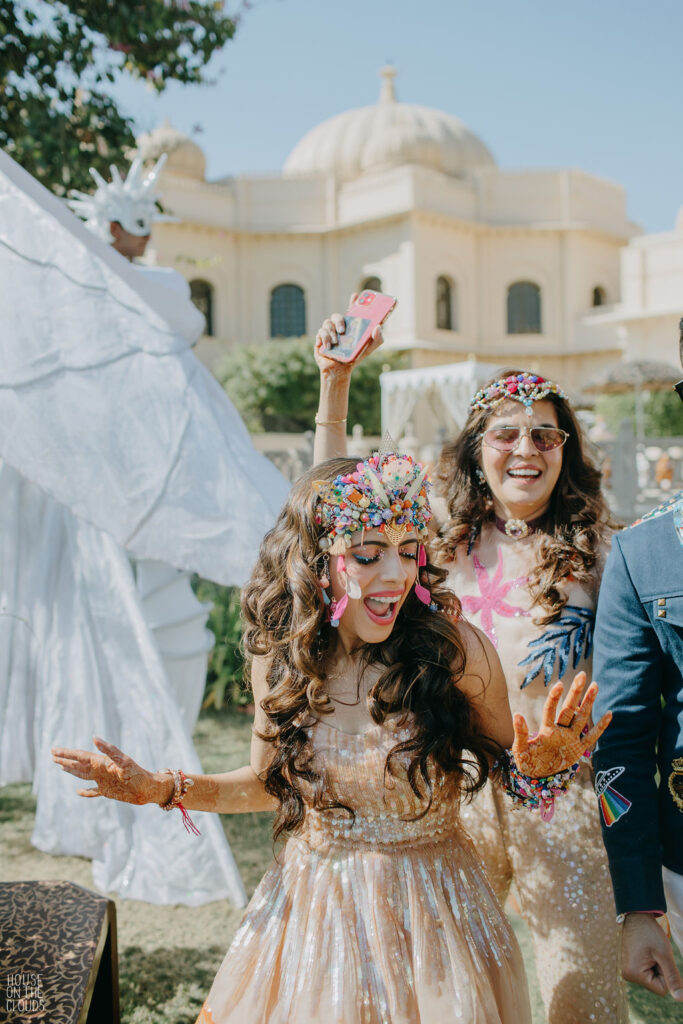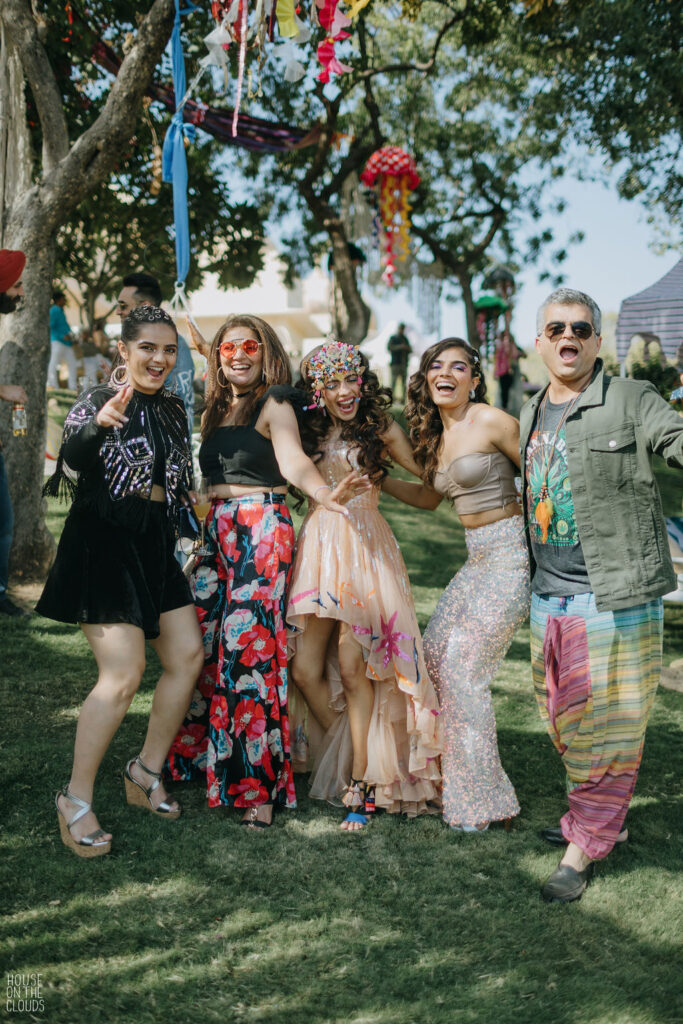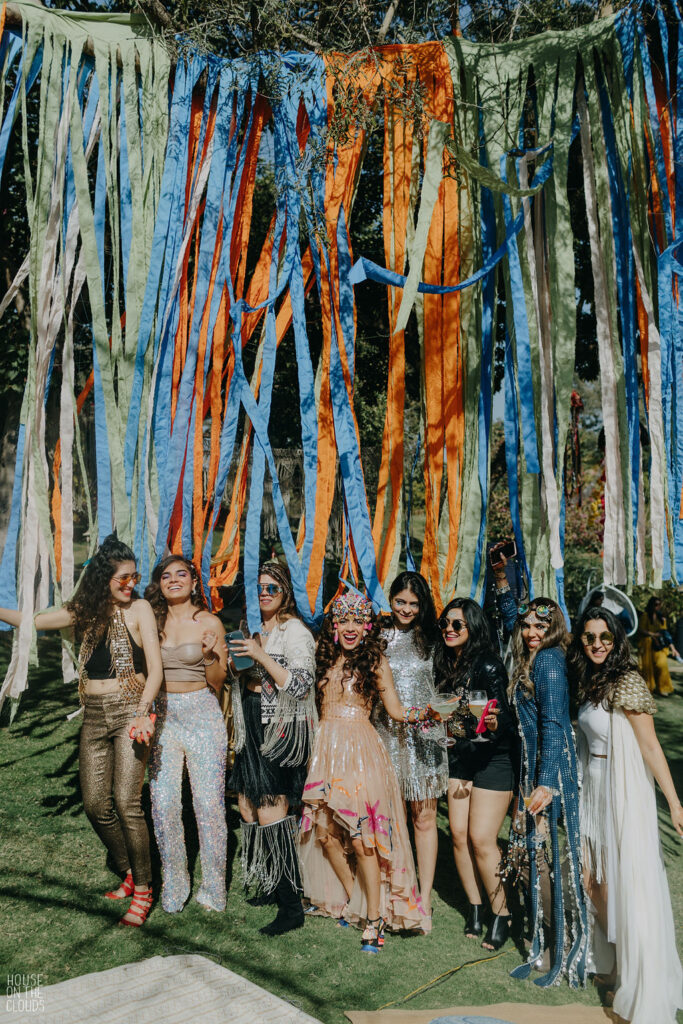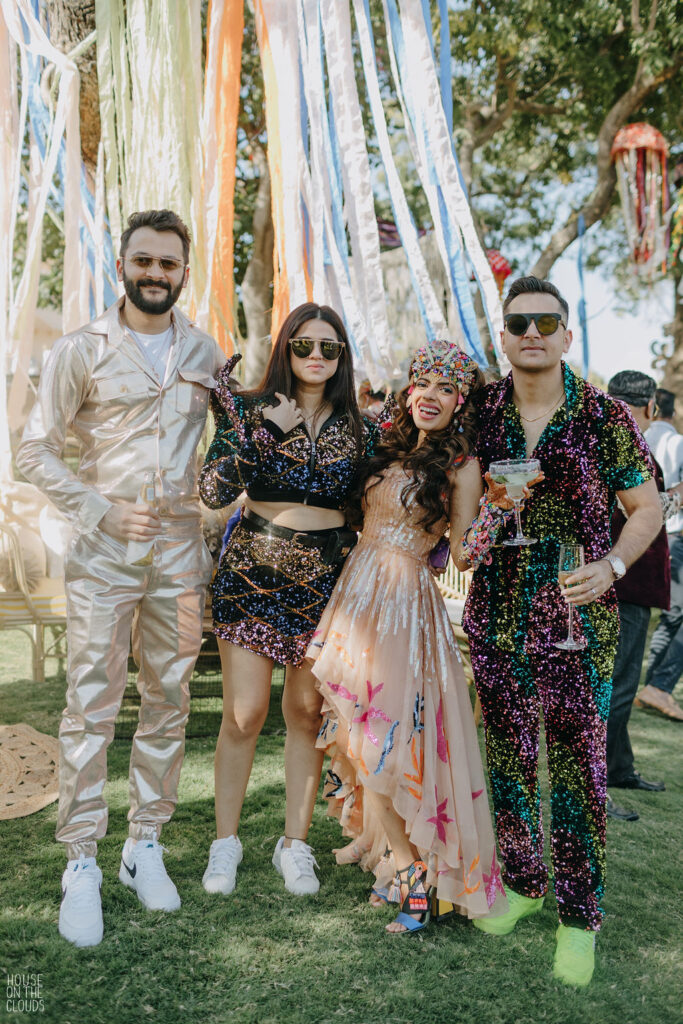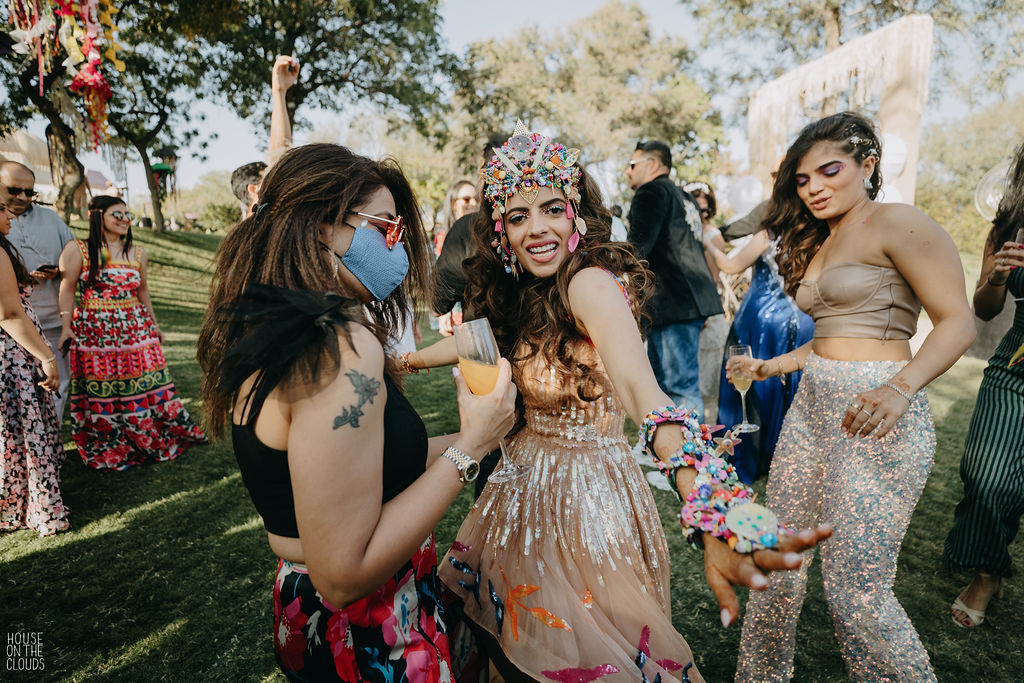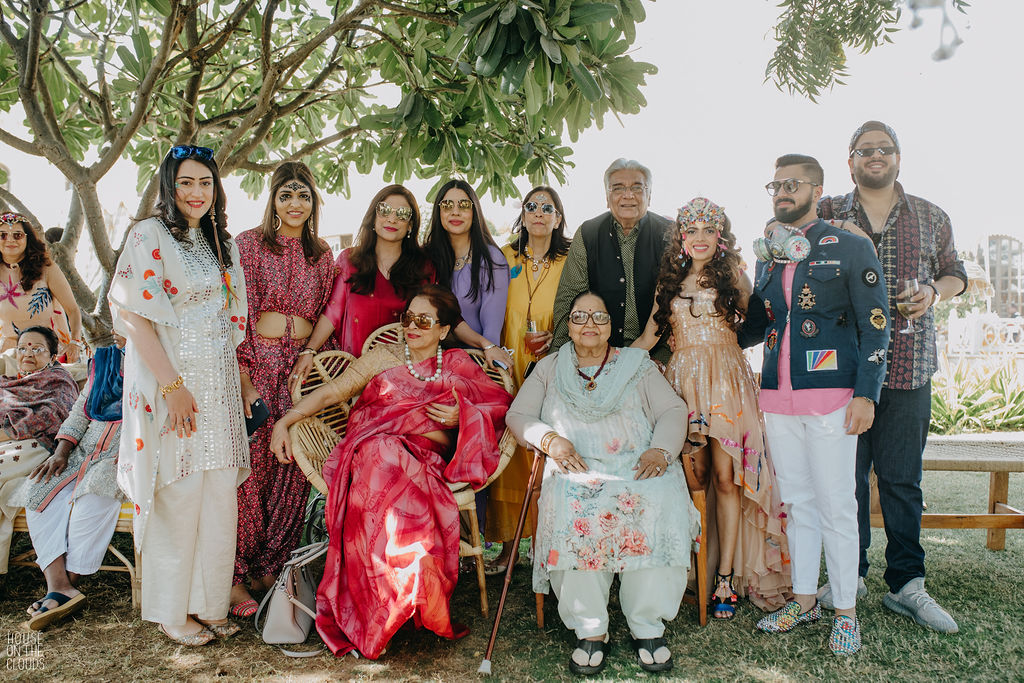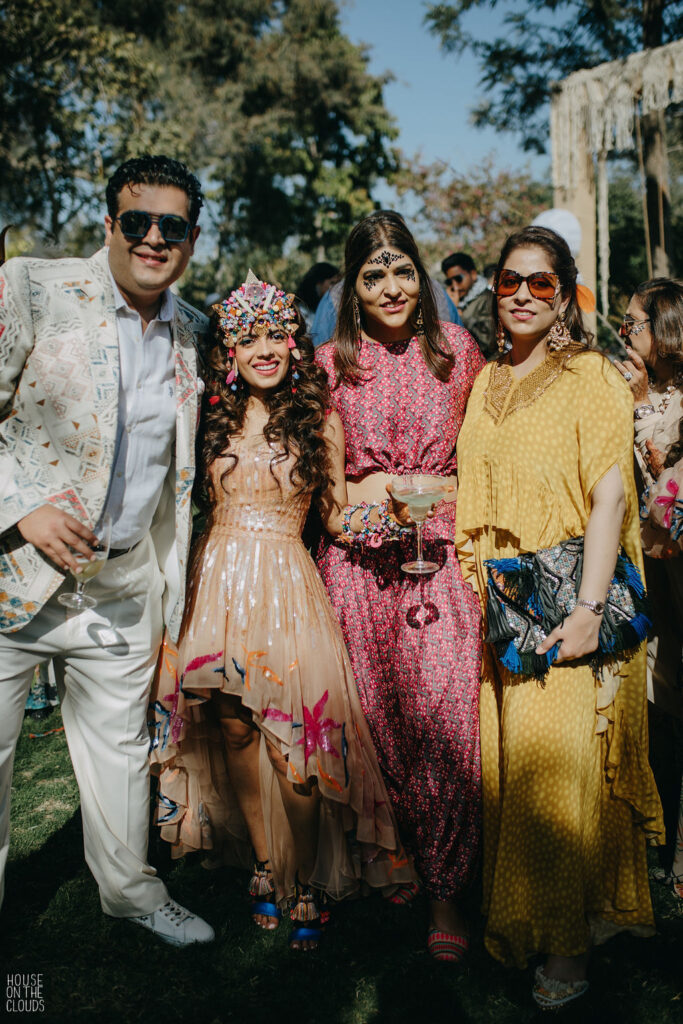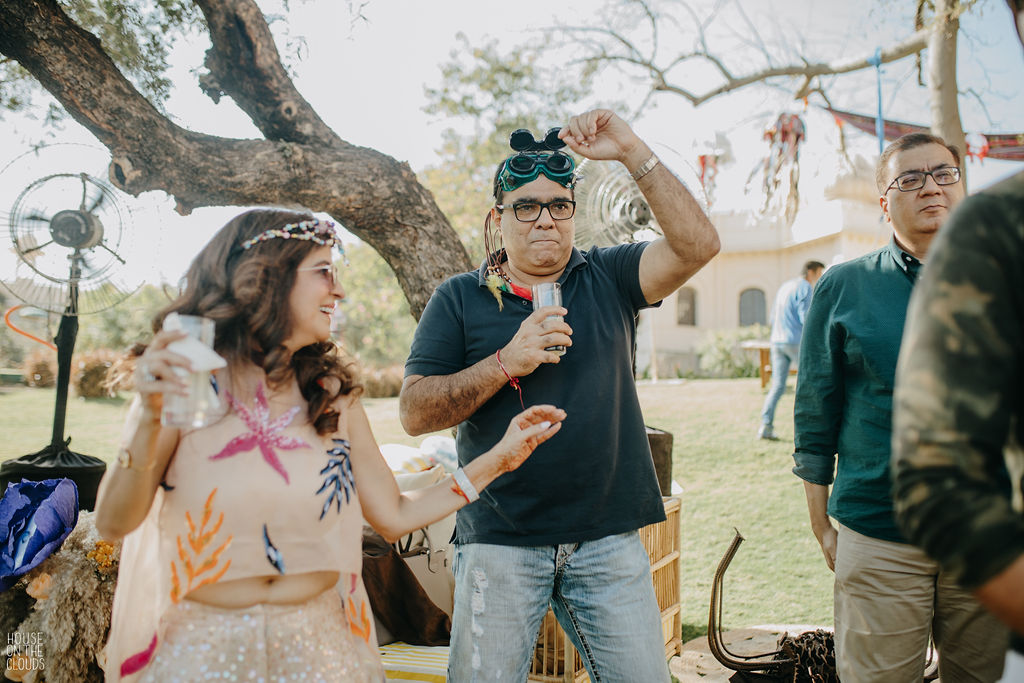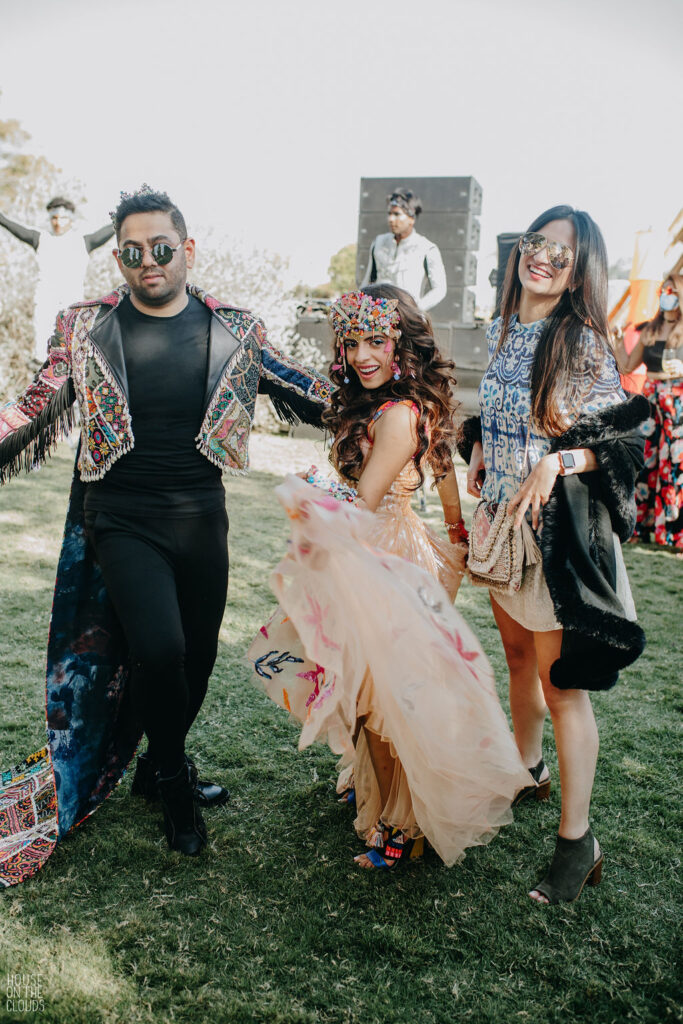 Cocktail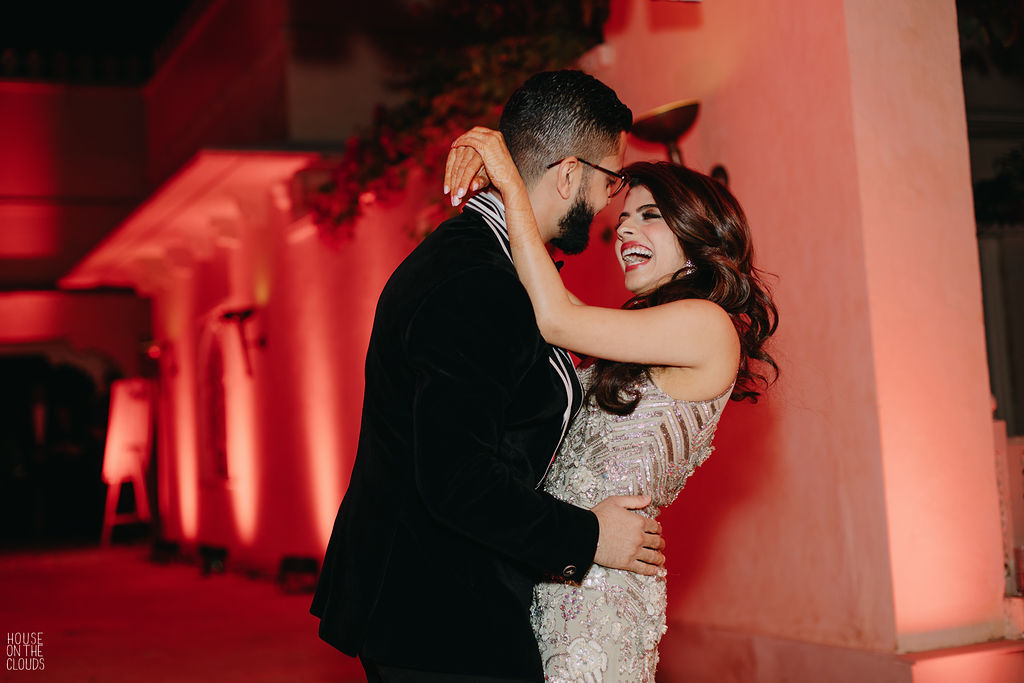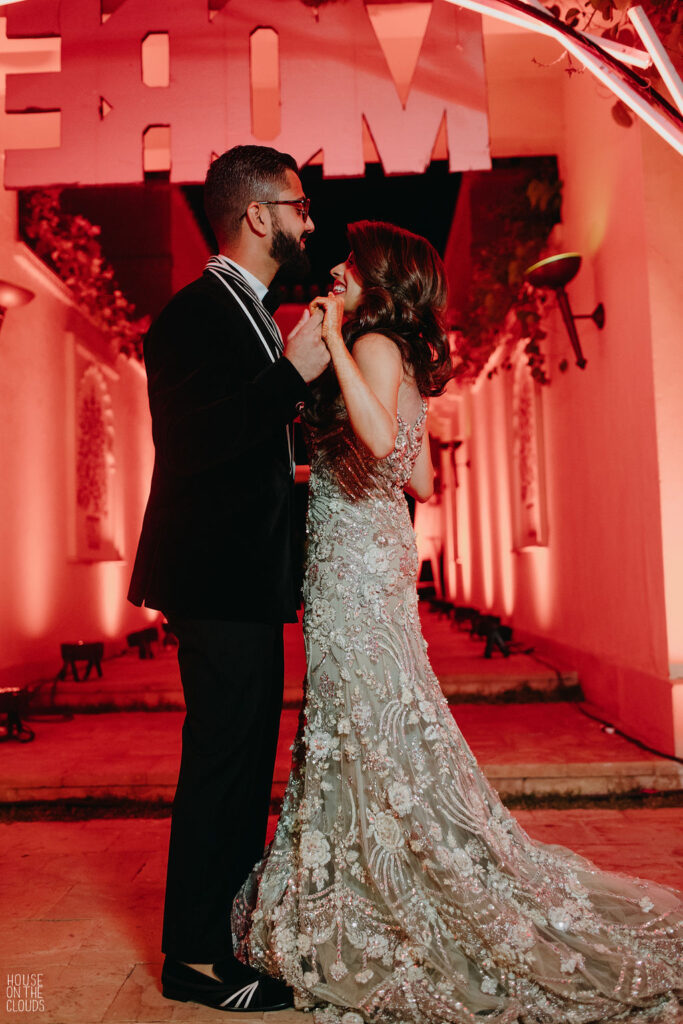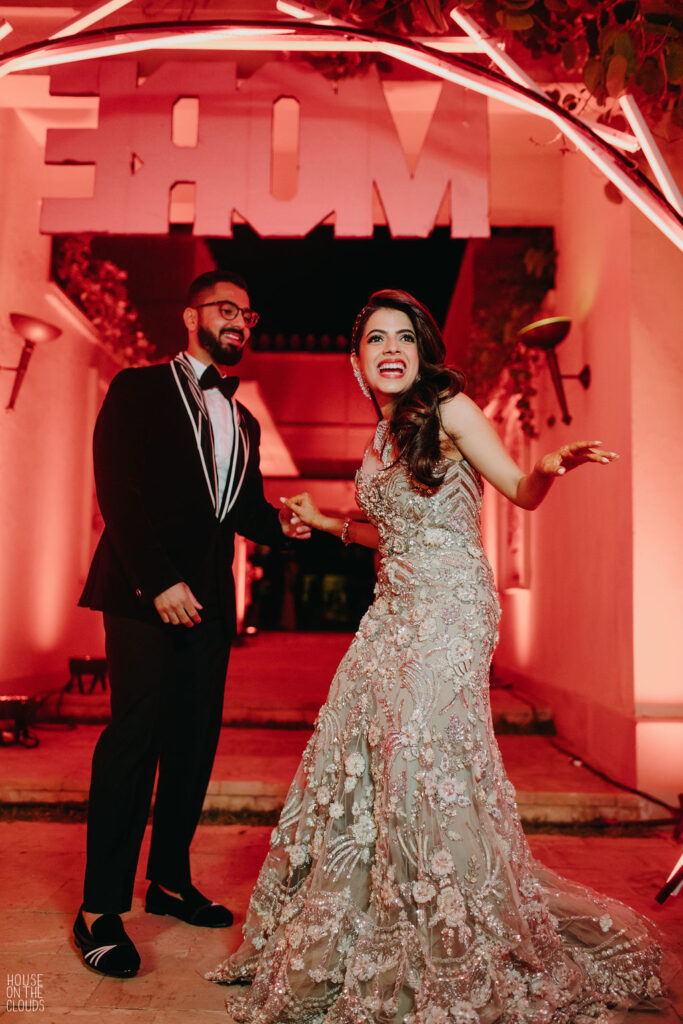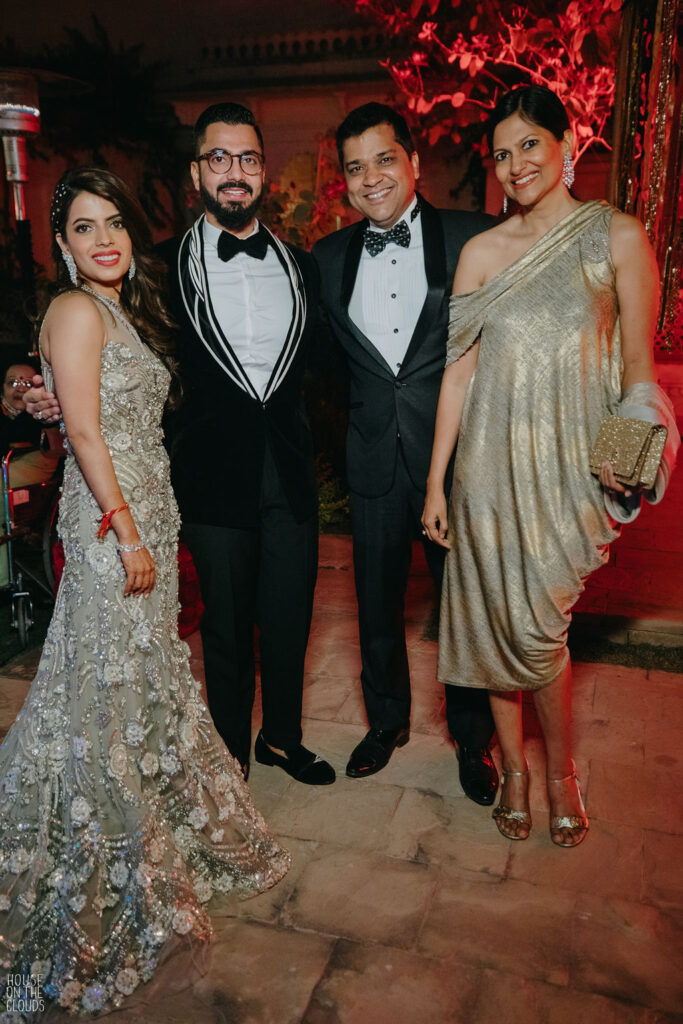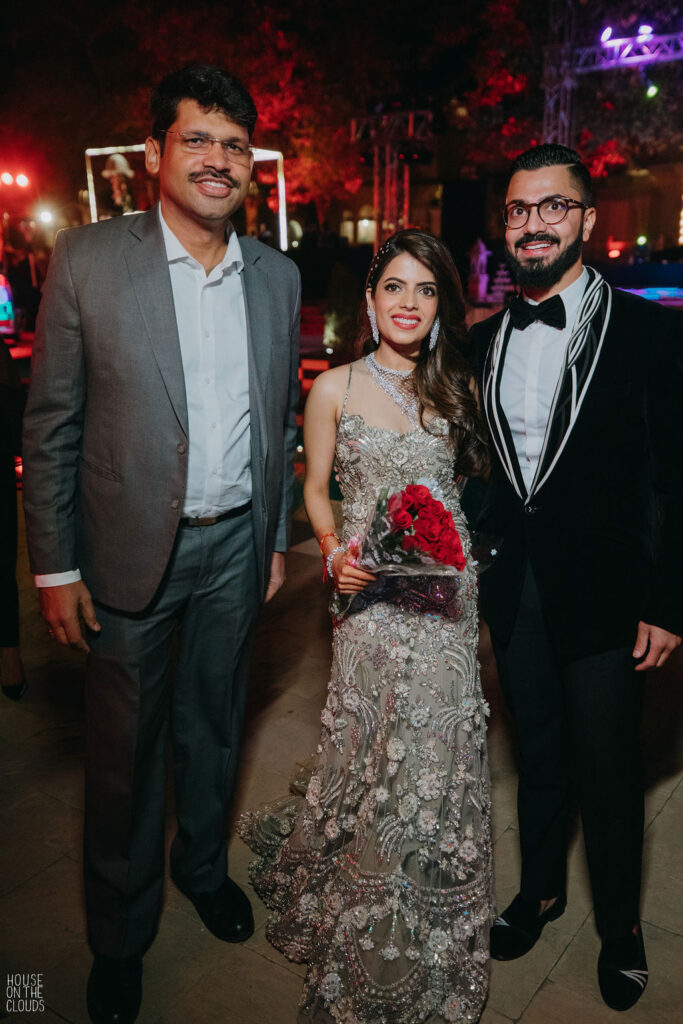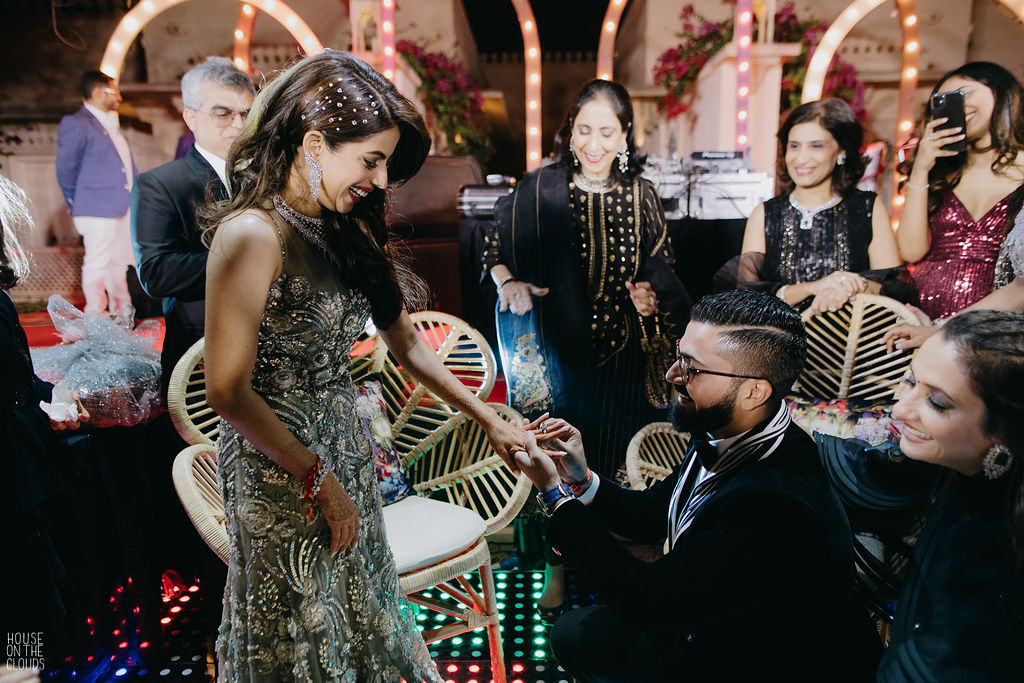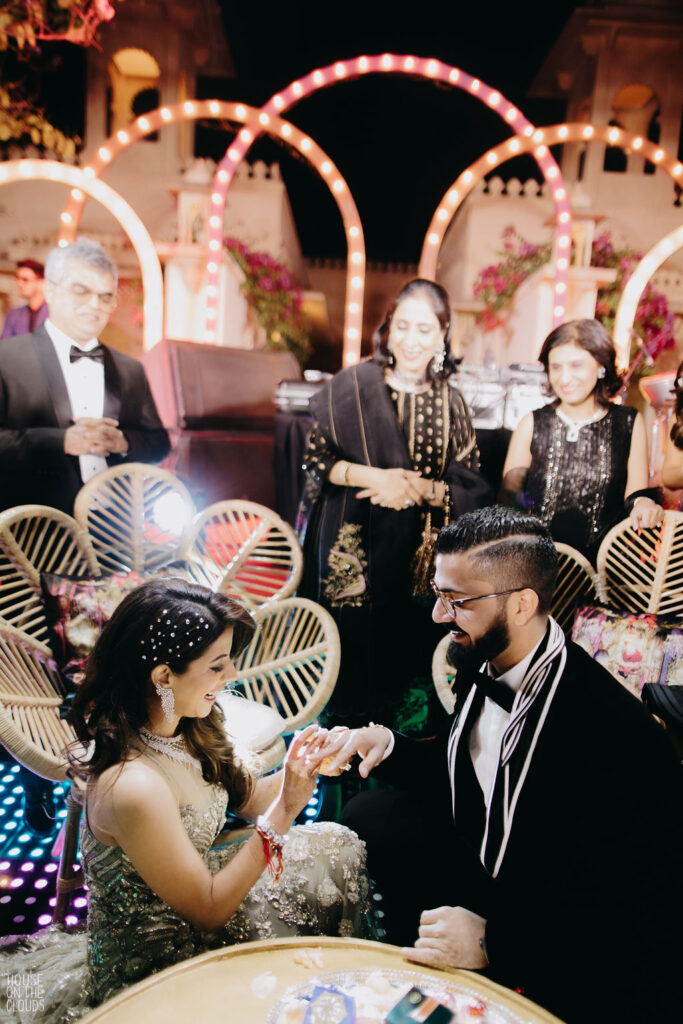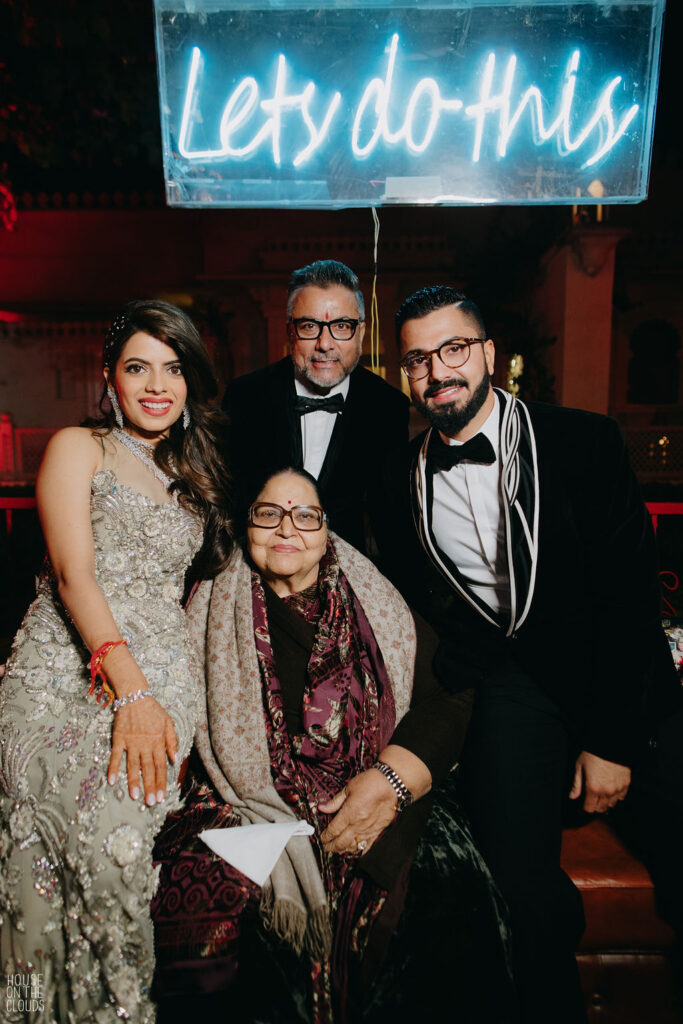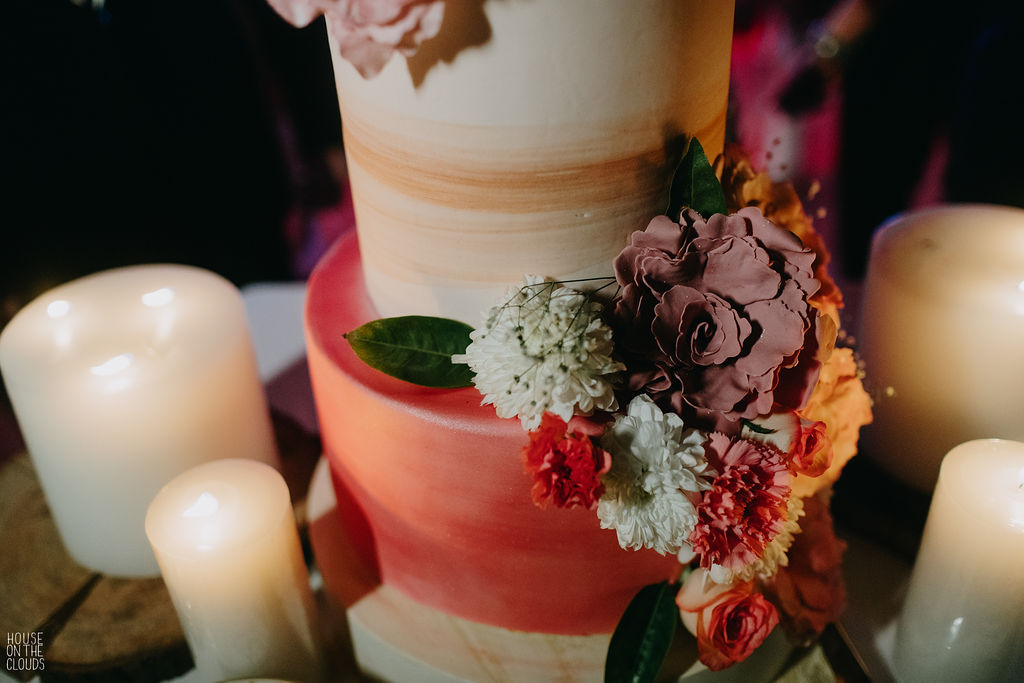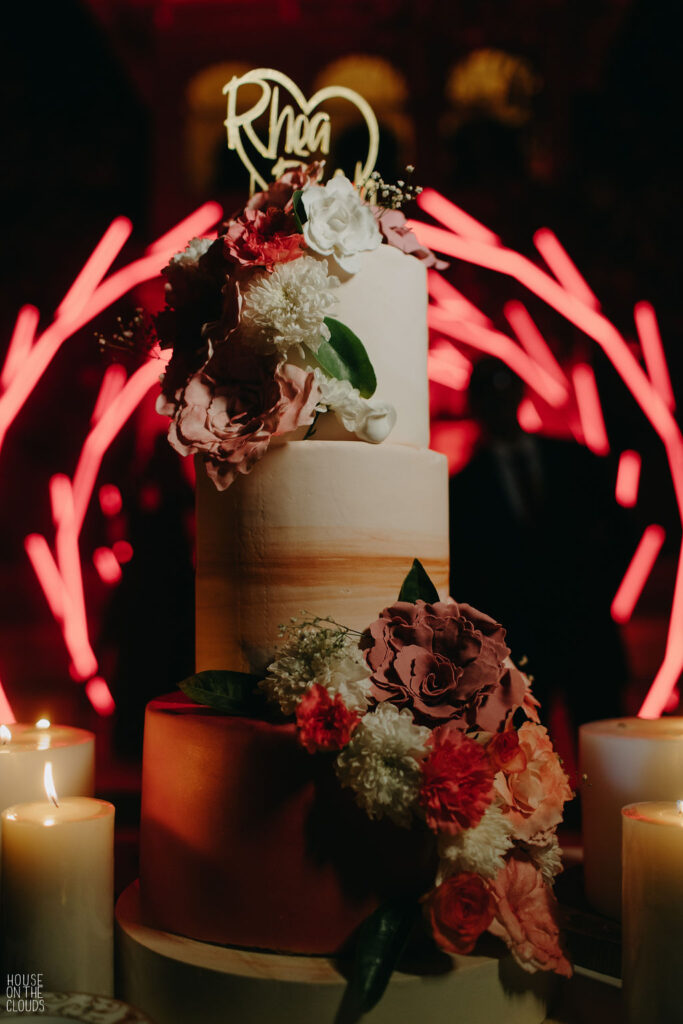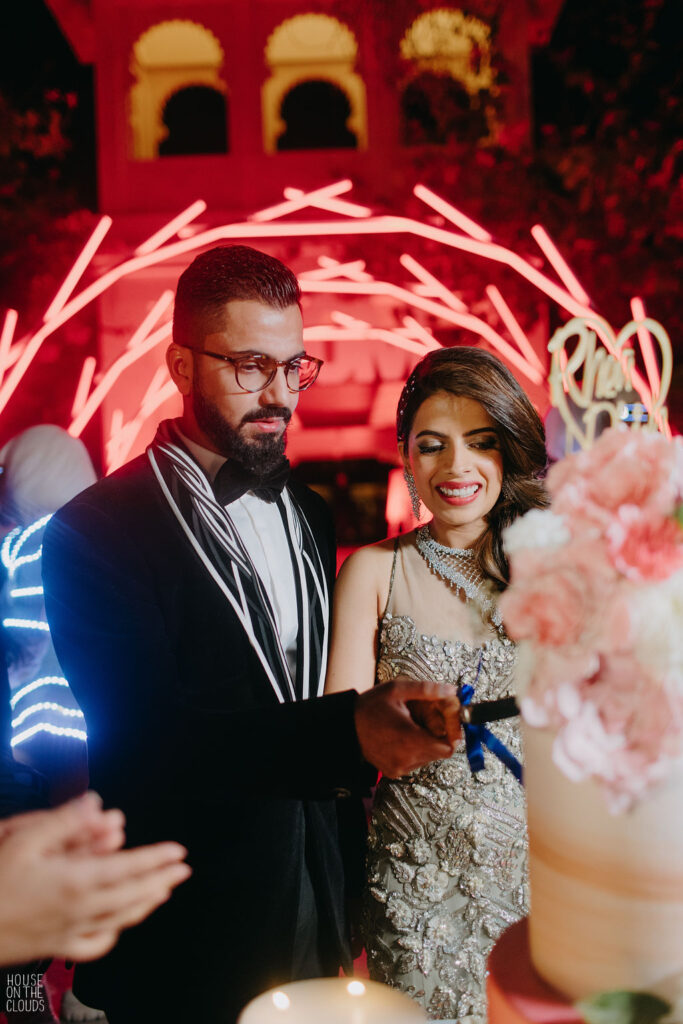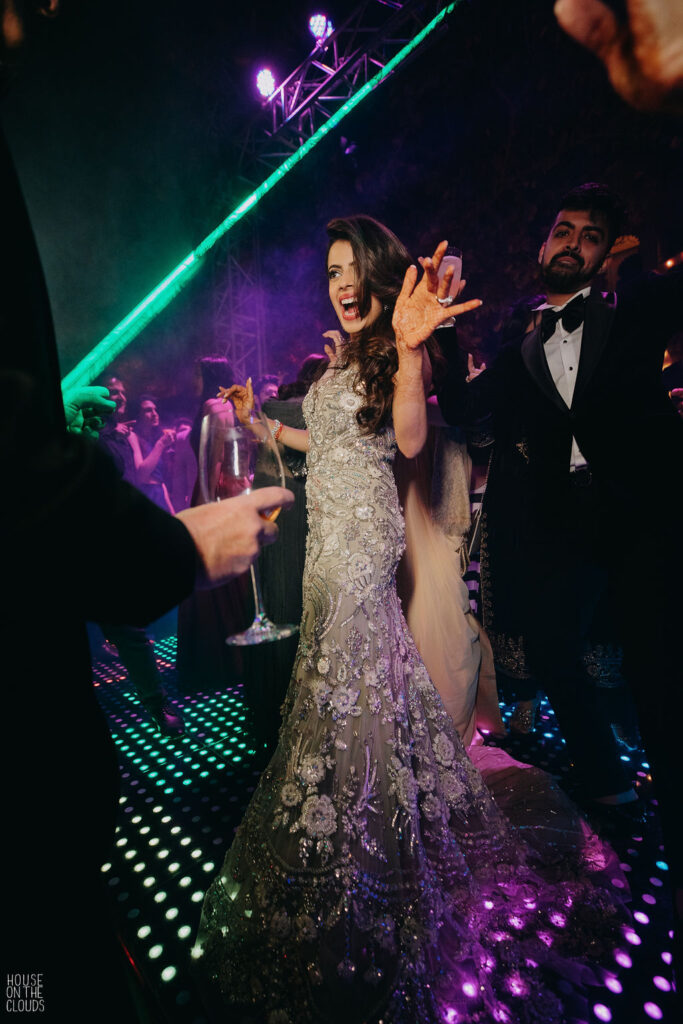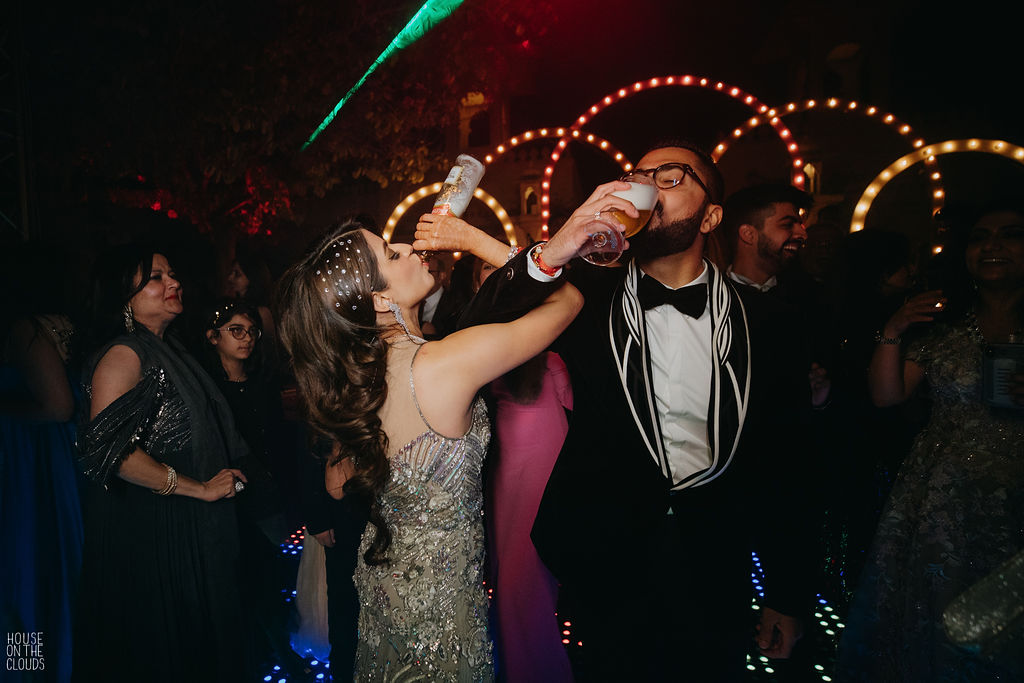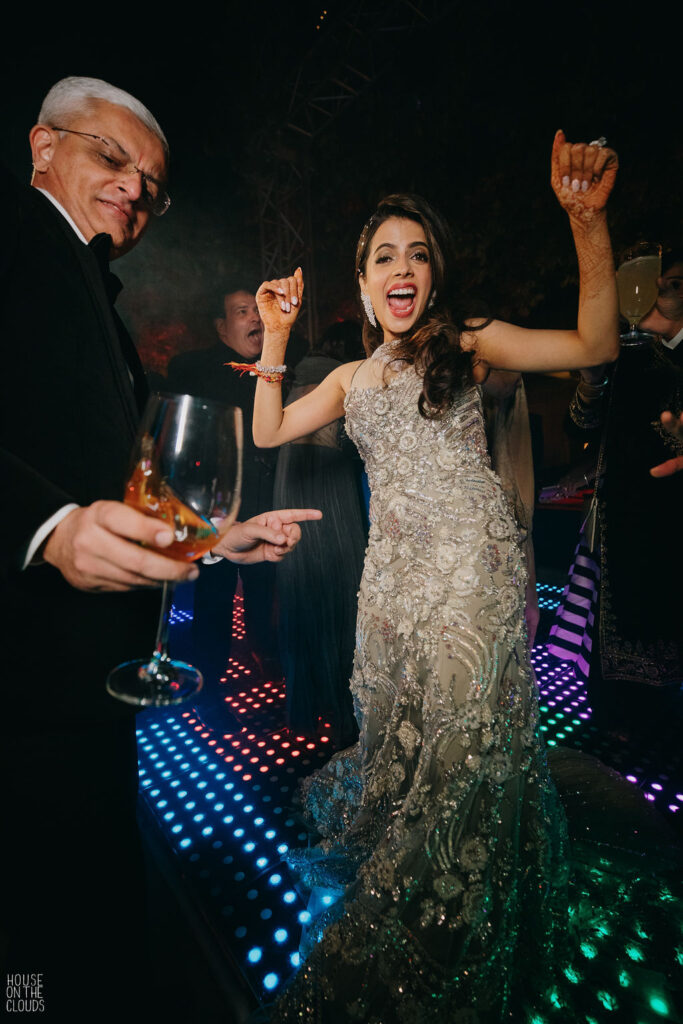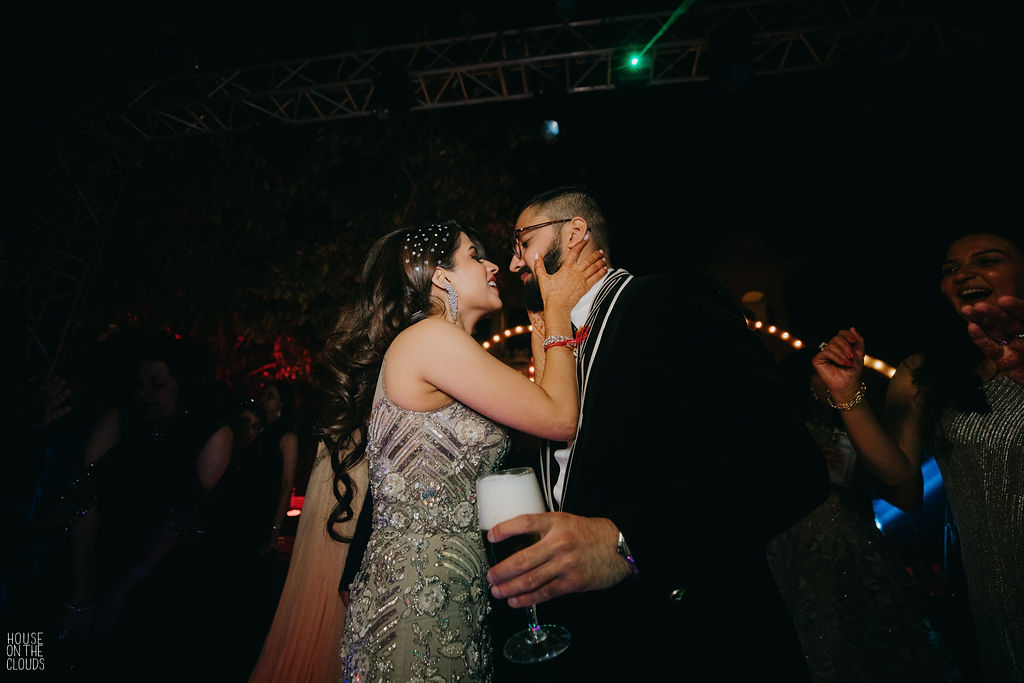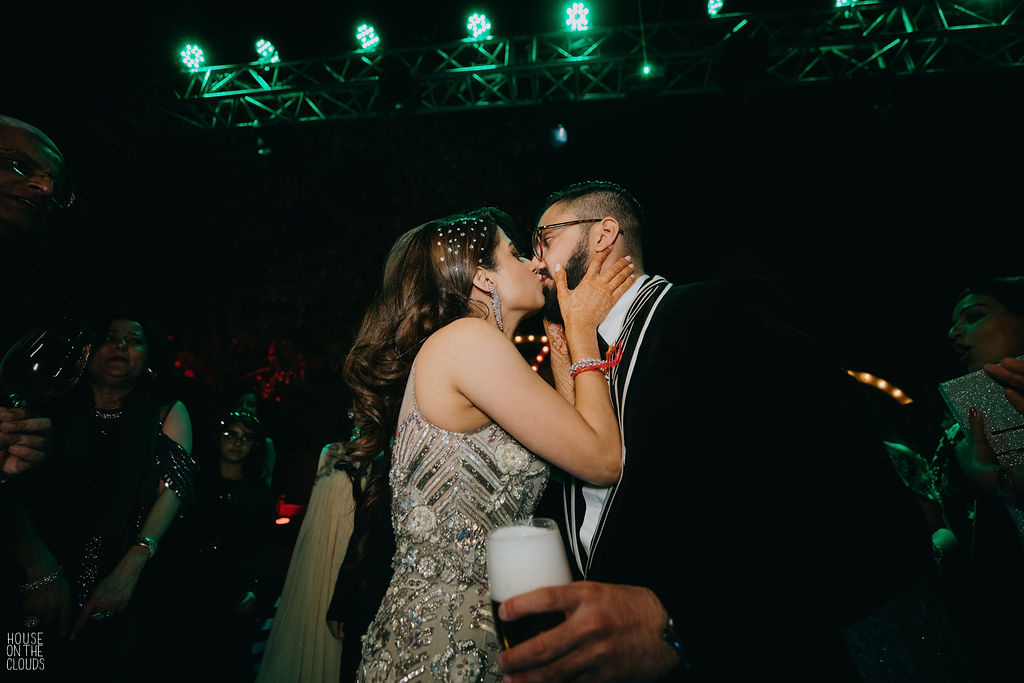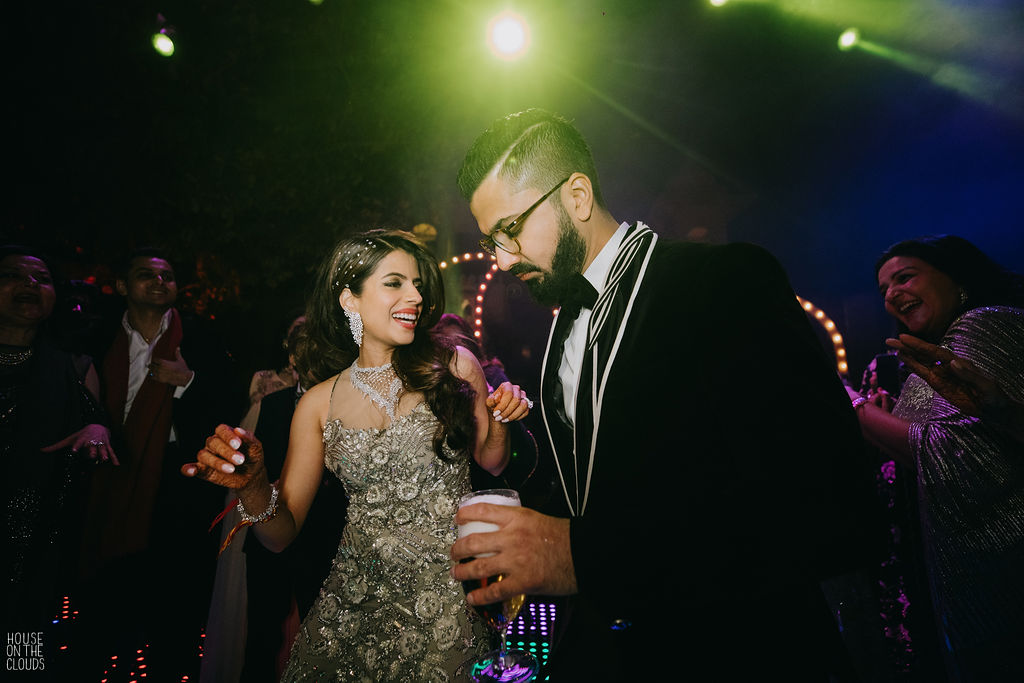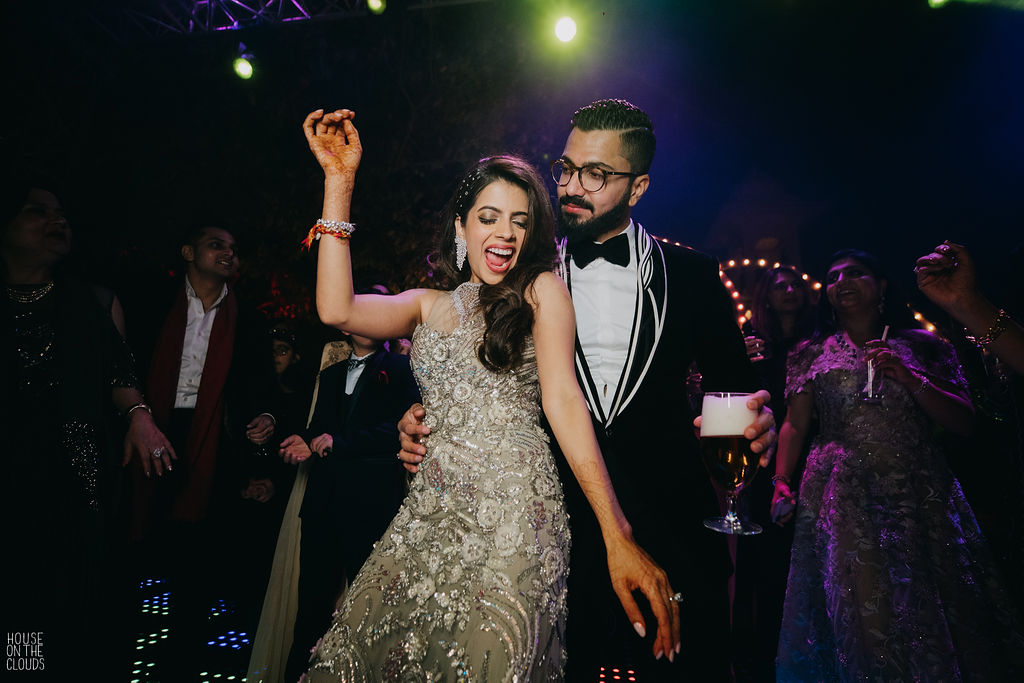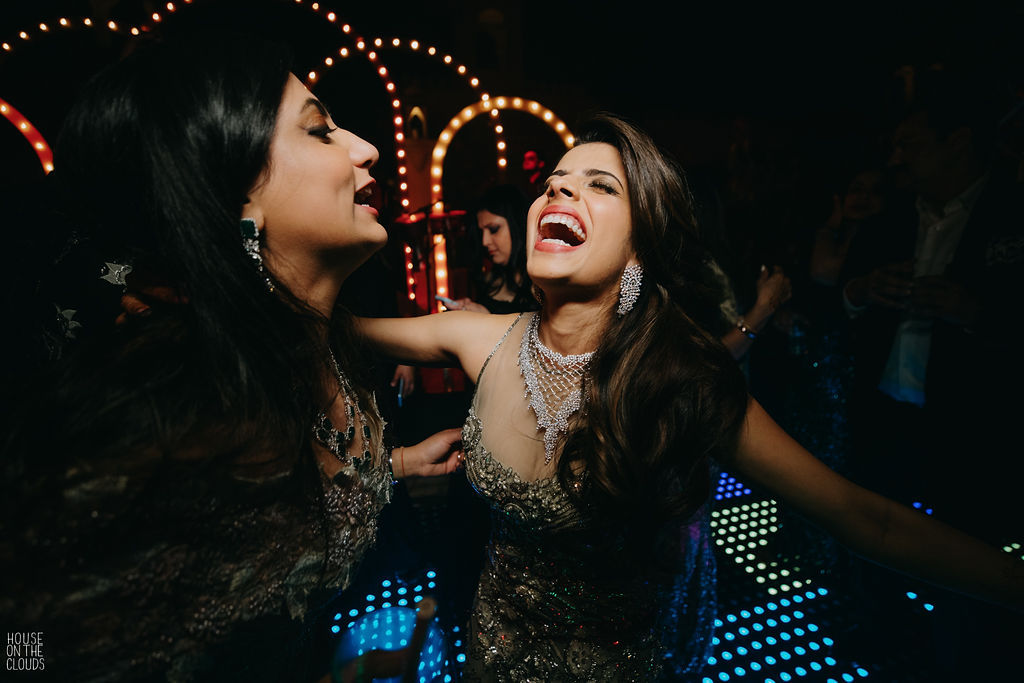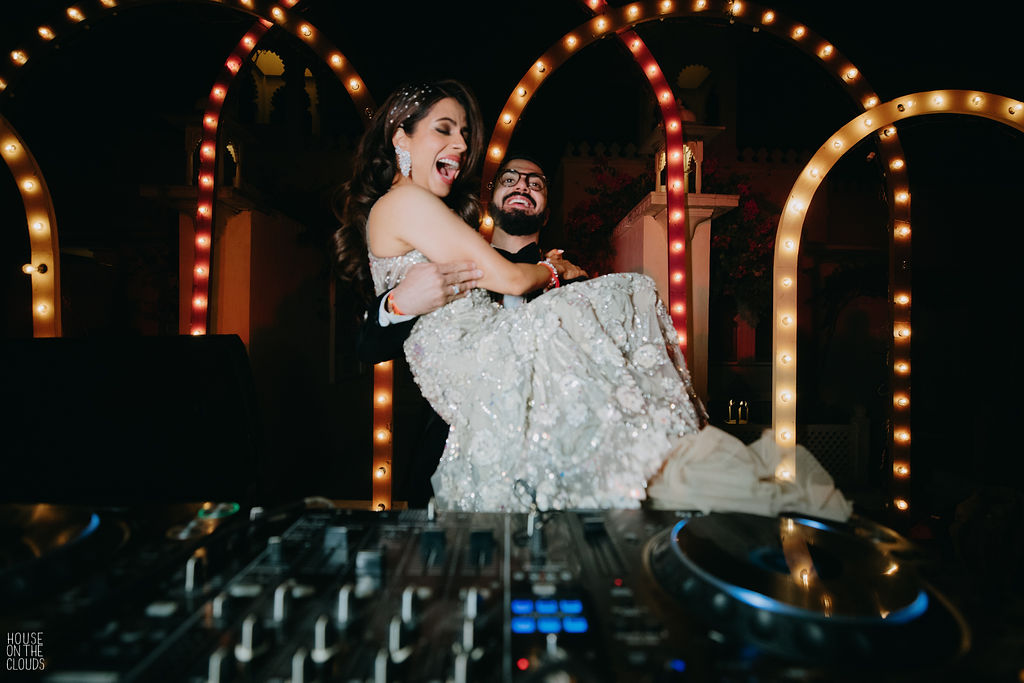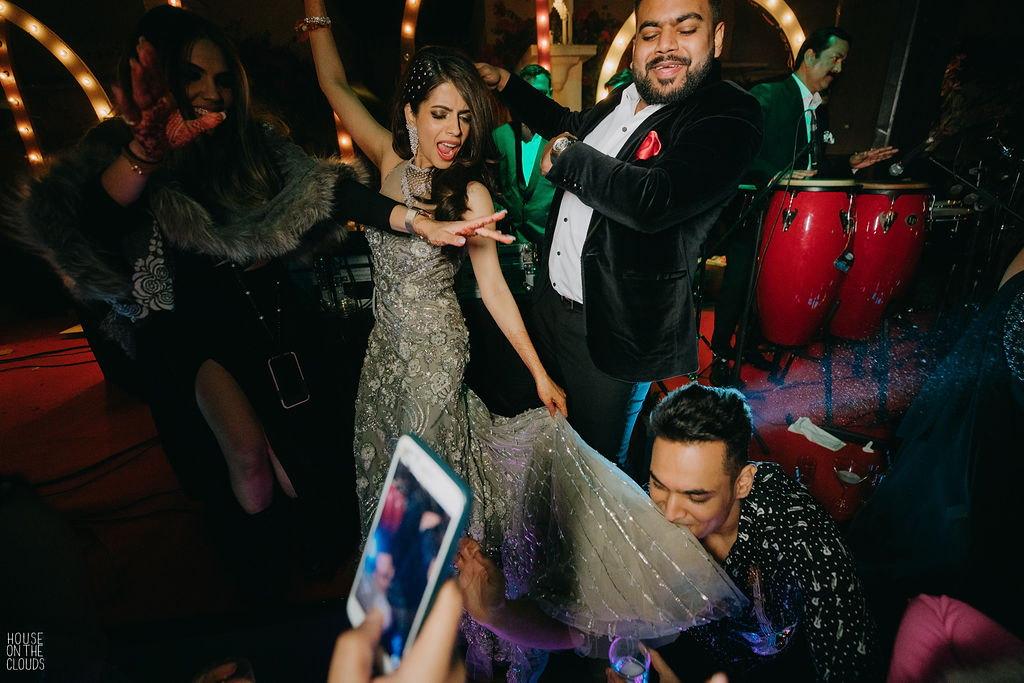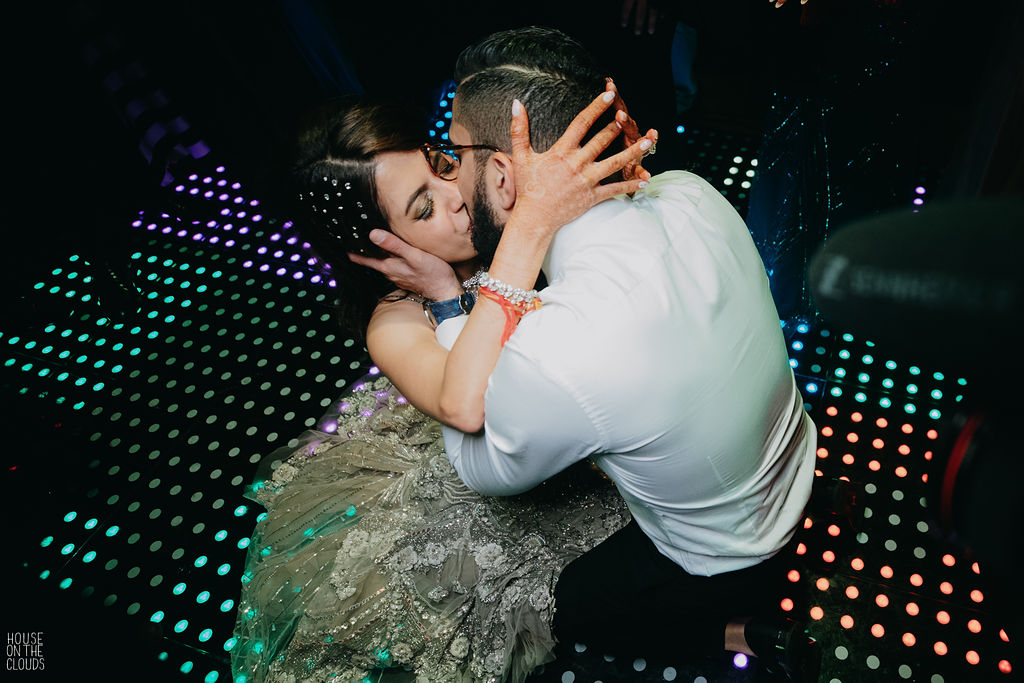 Sangeet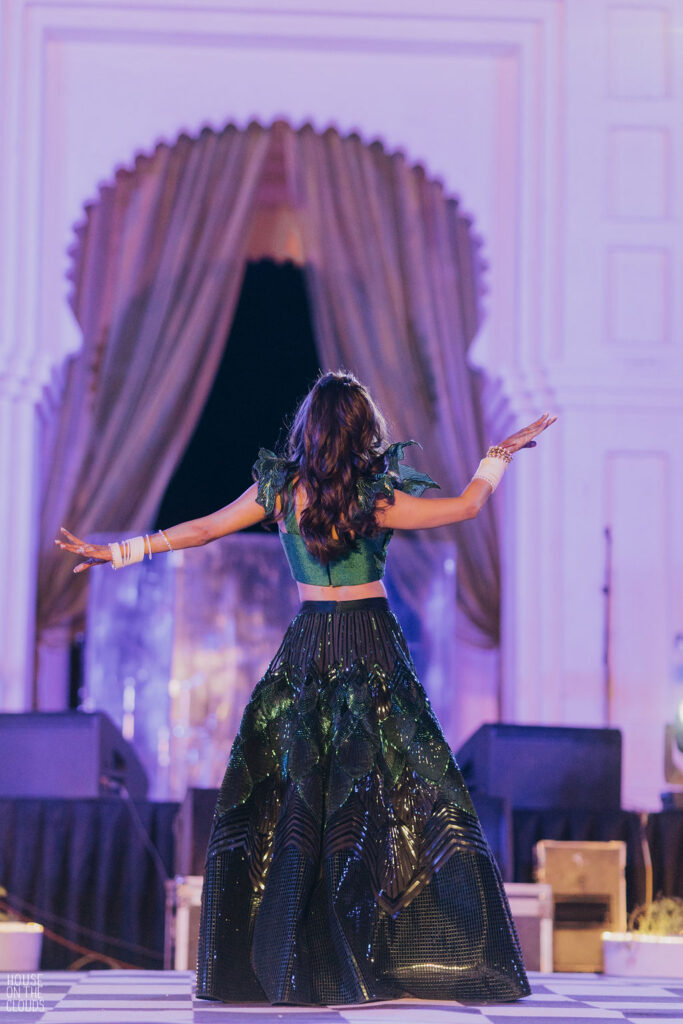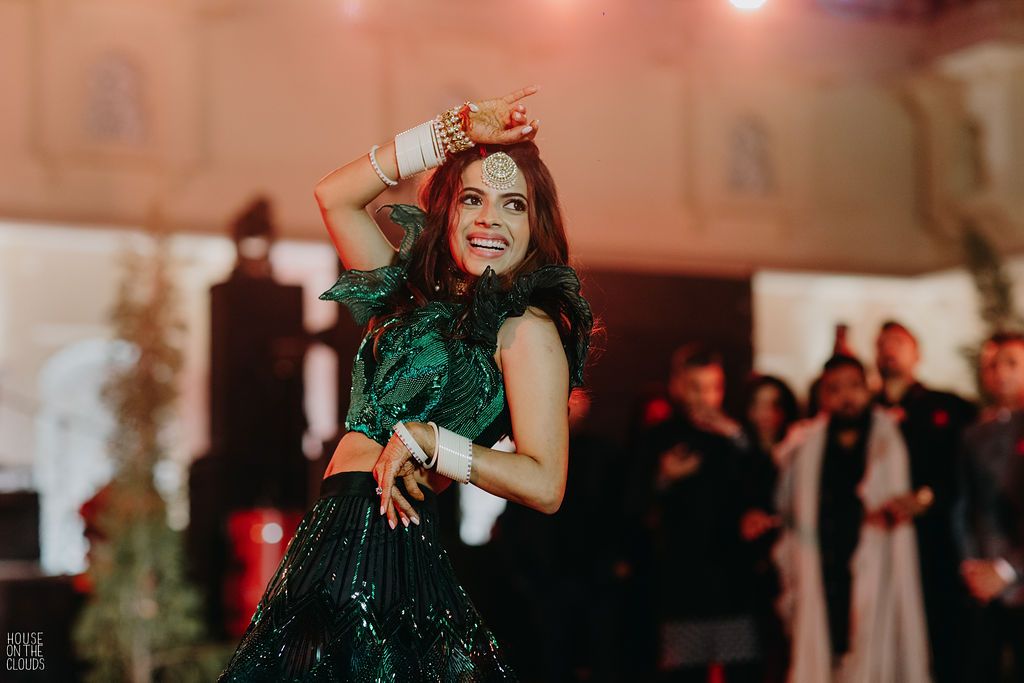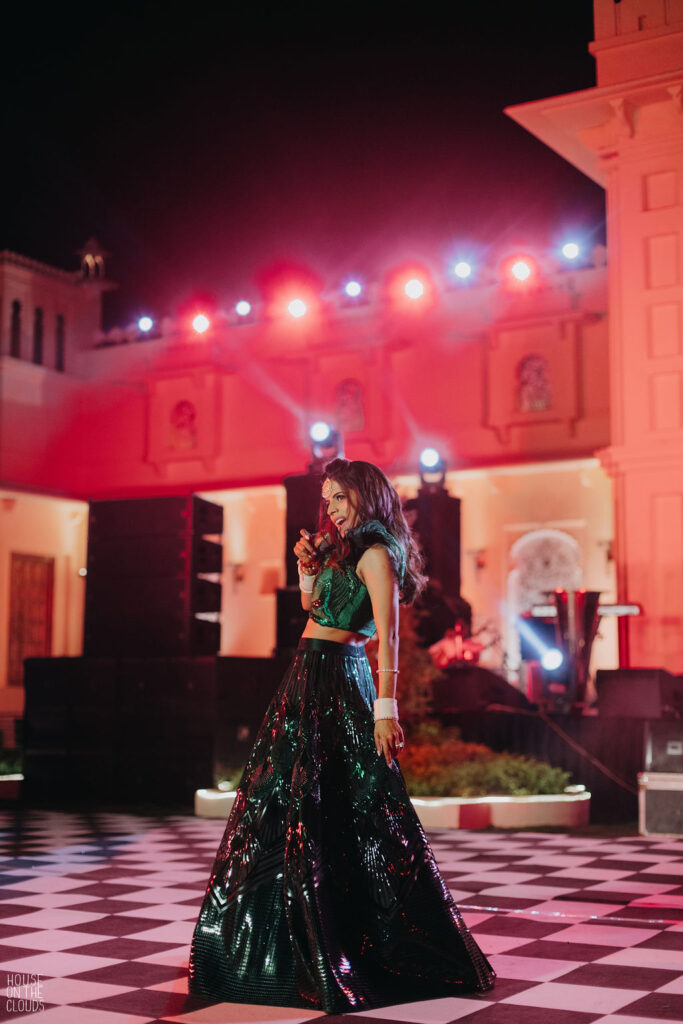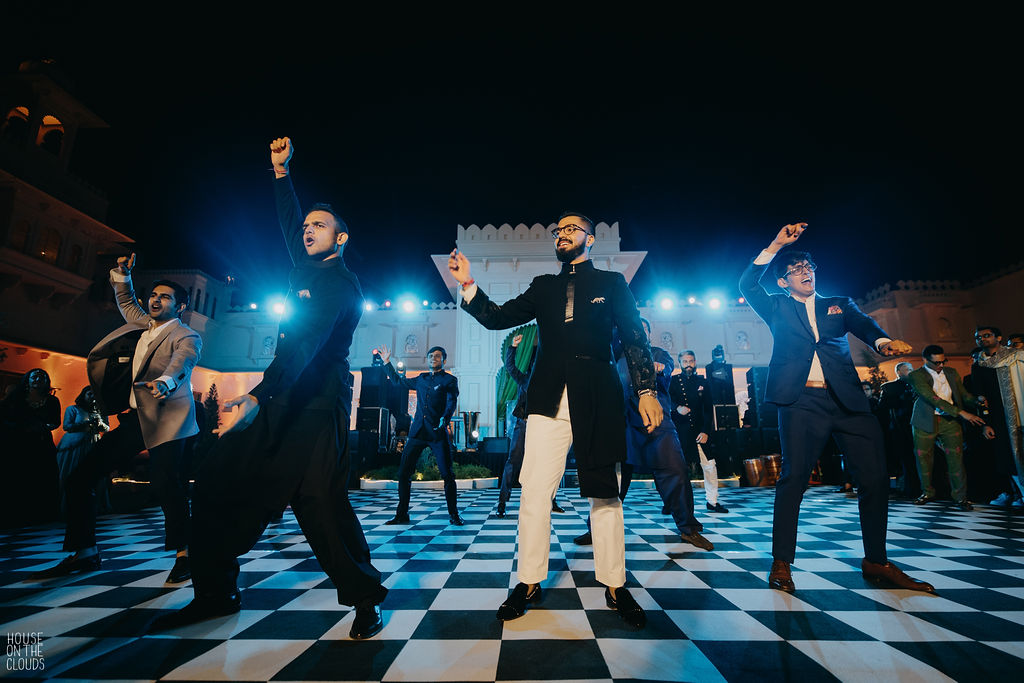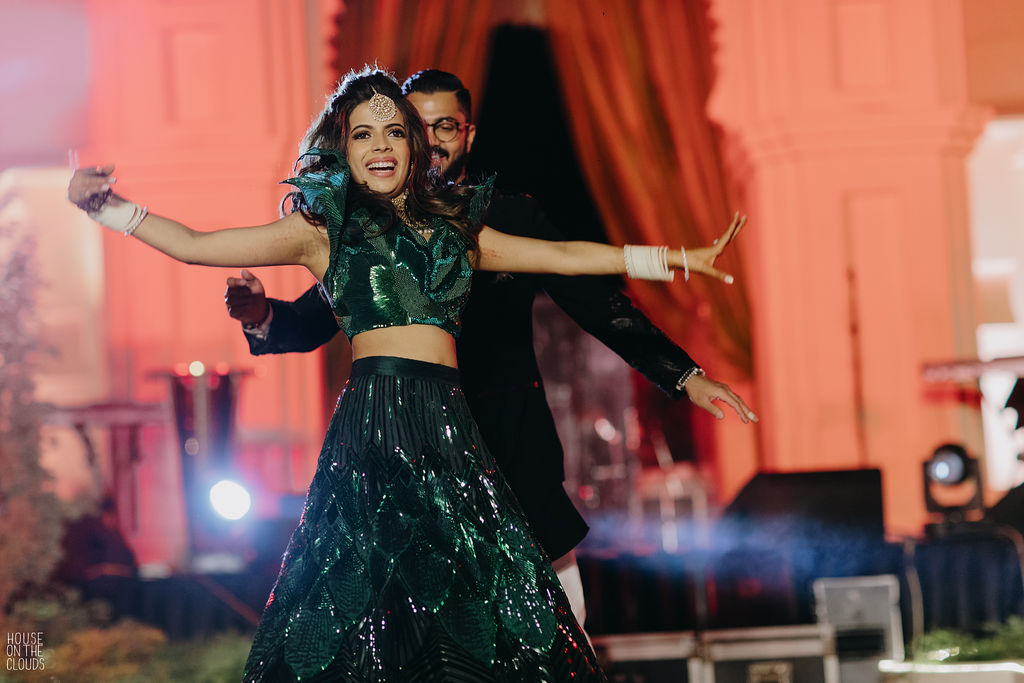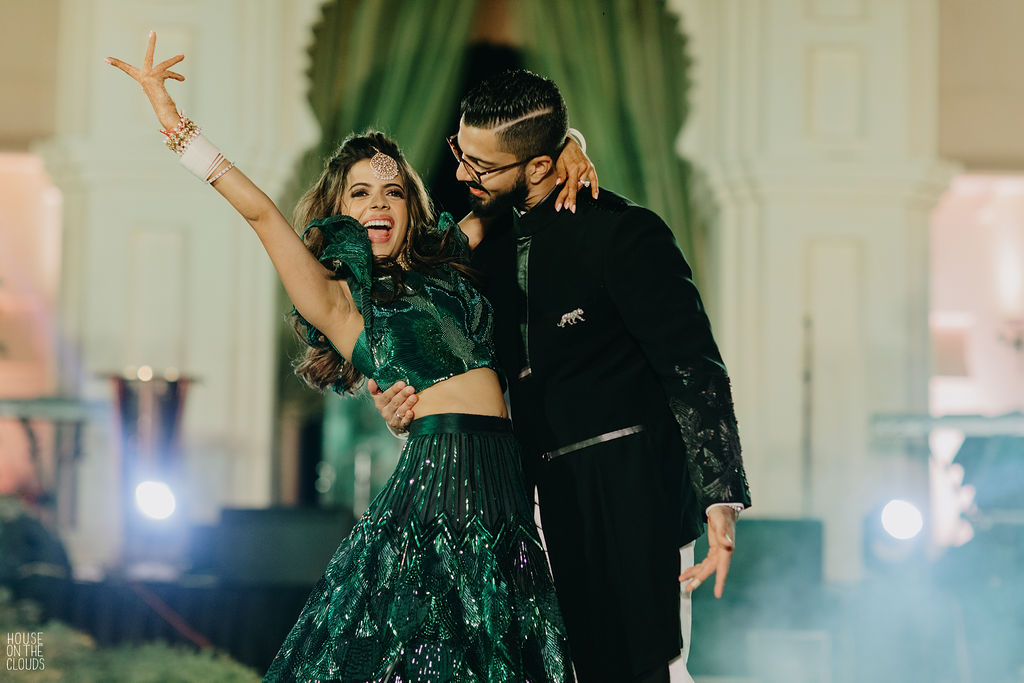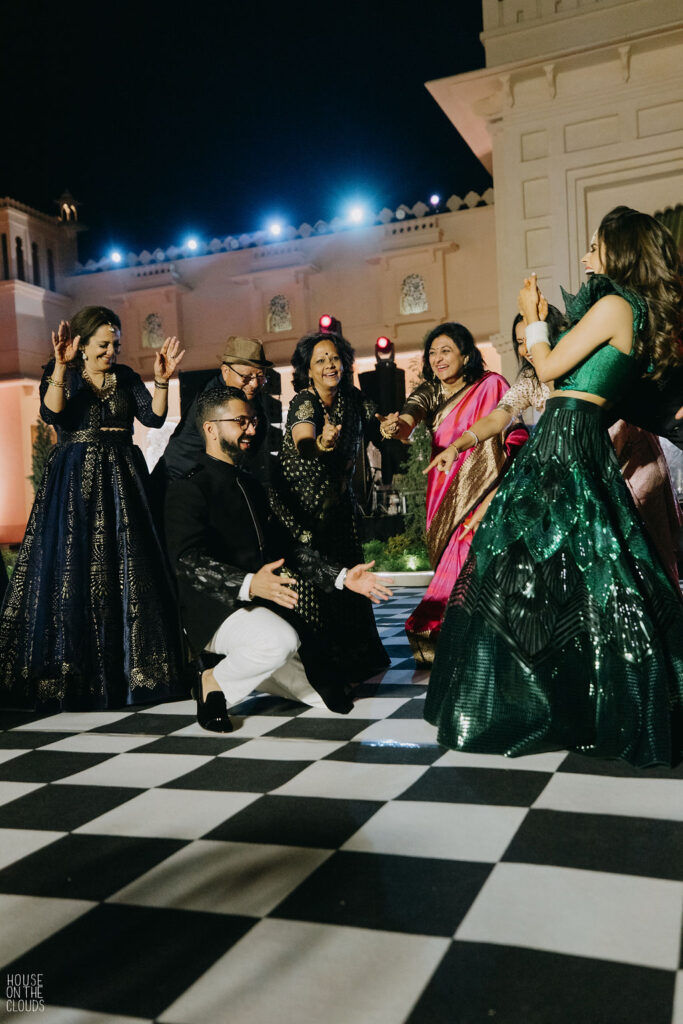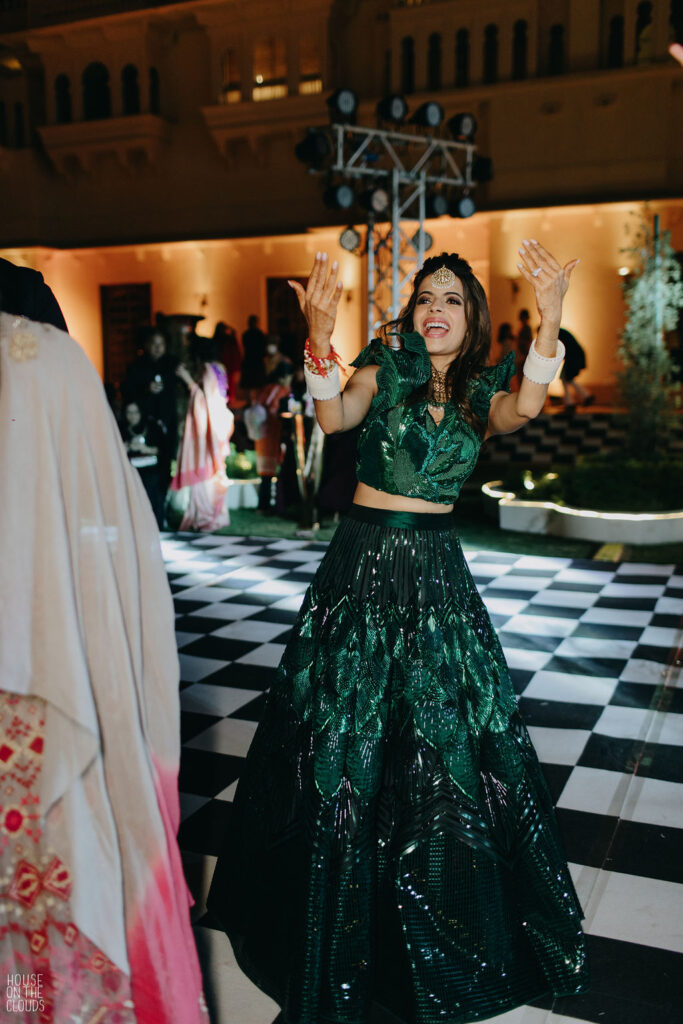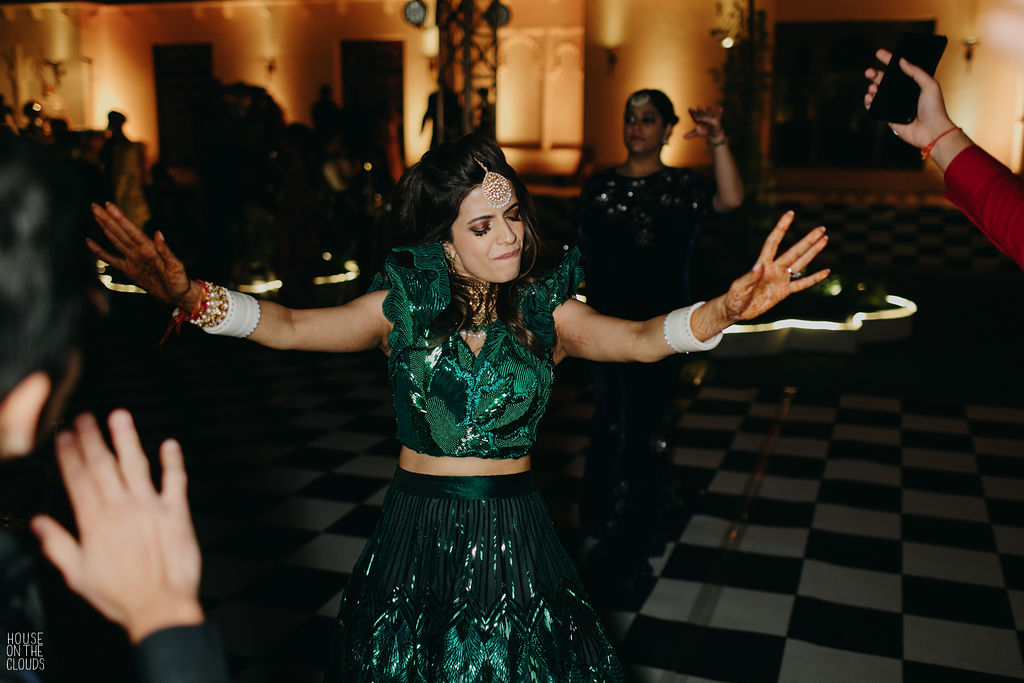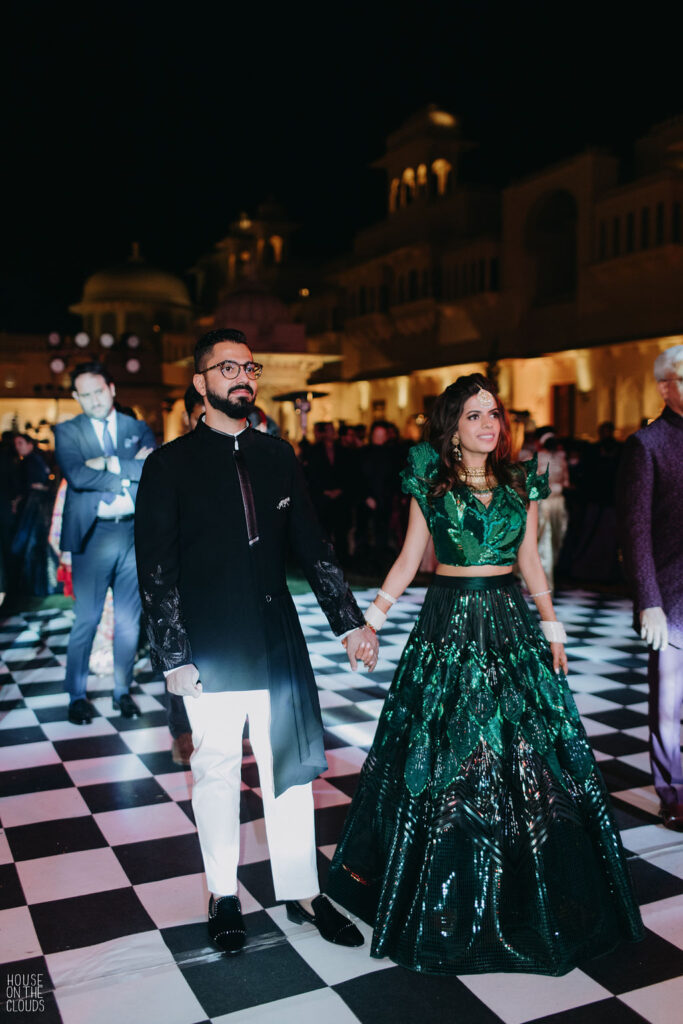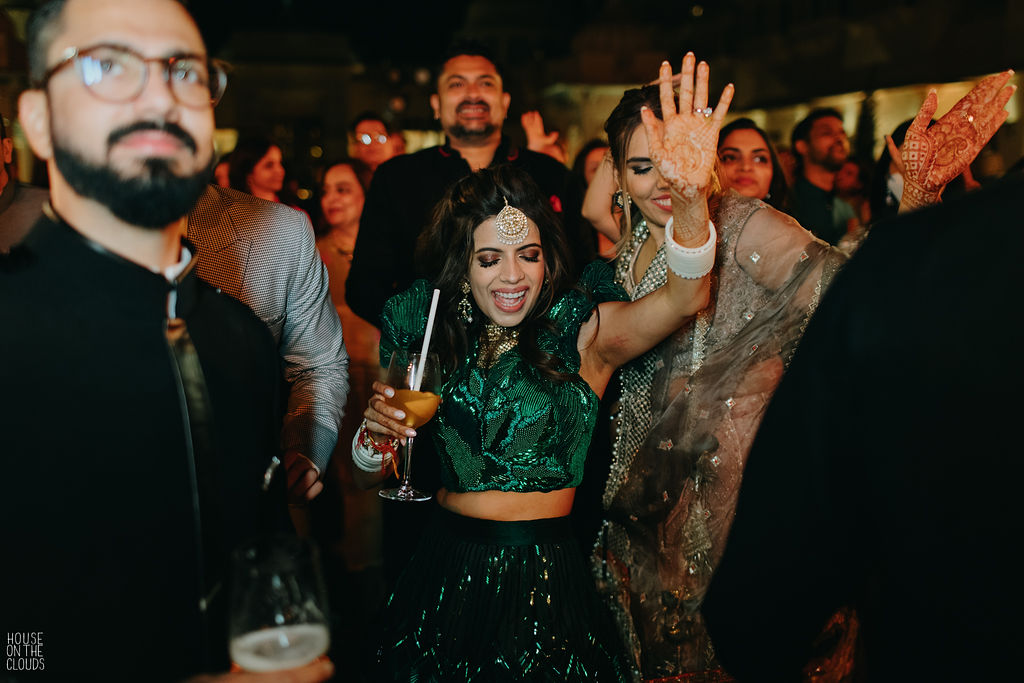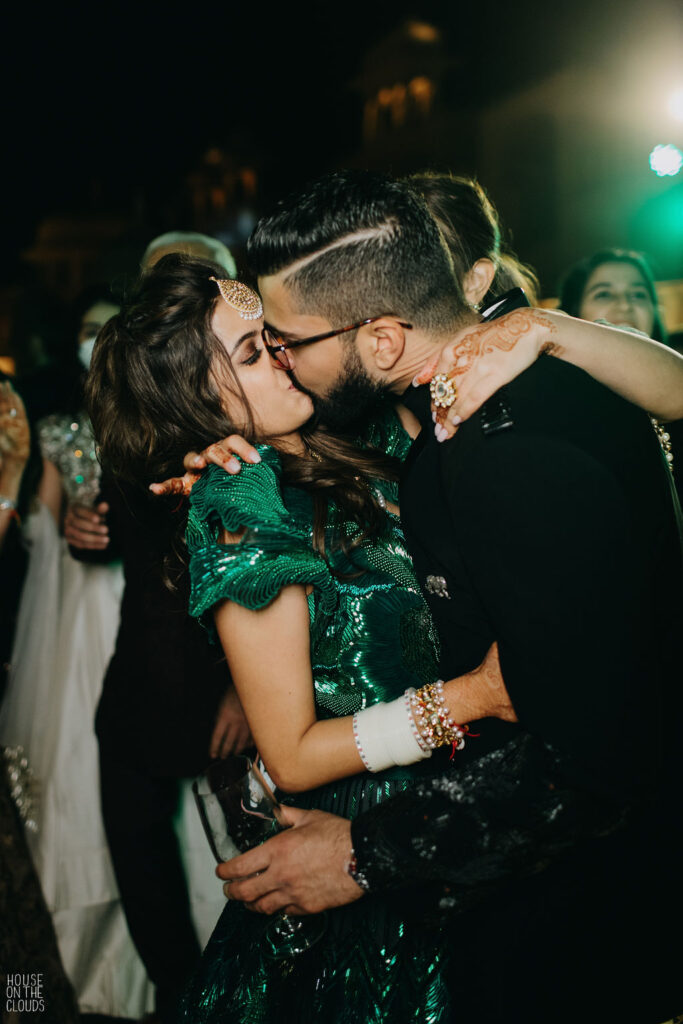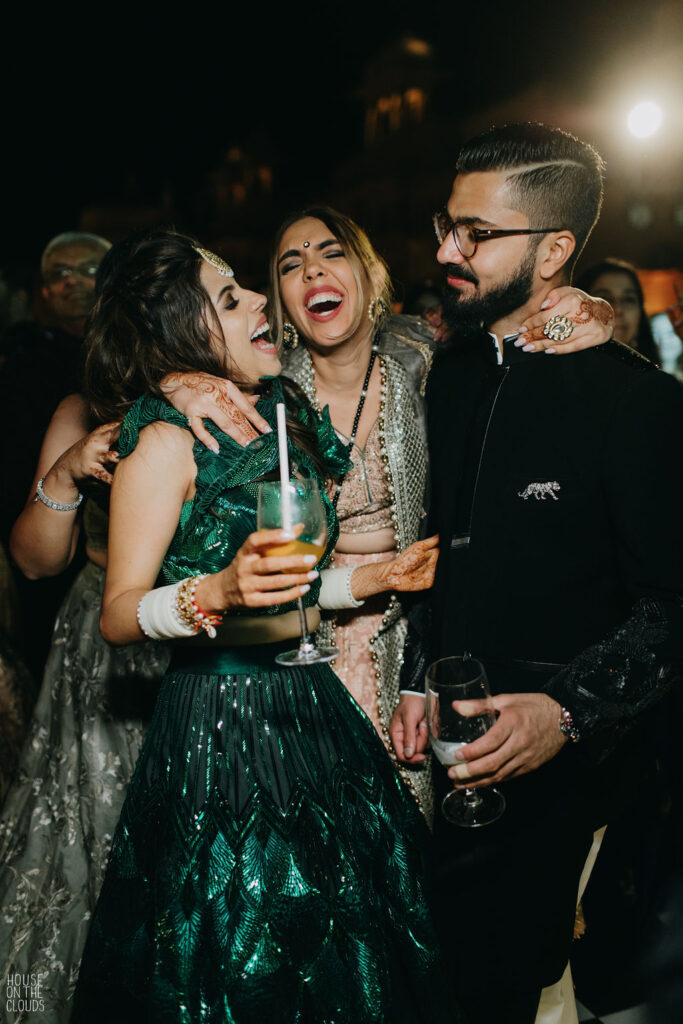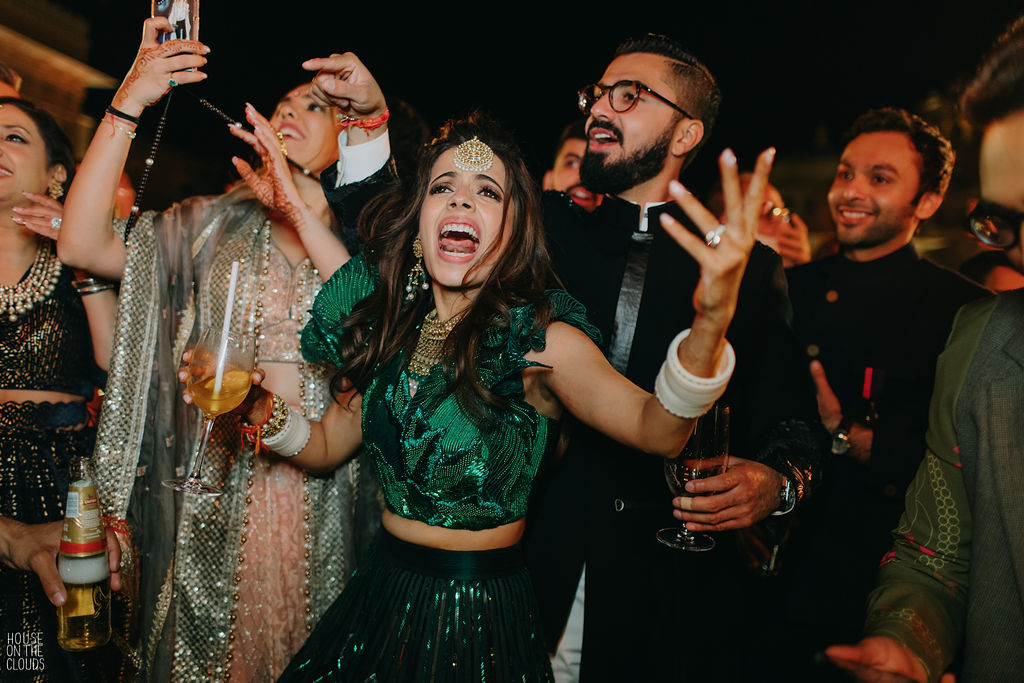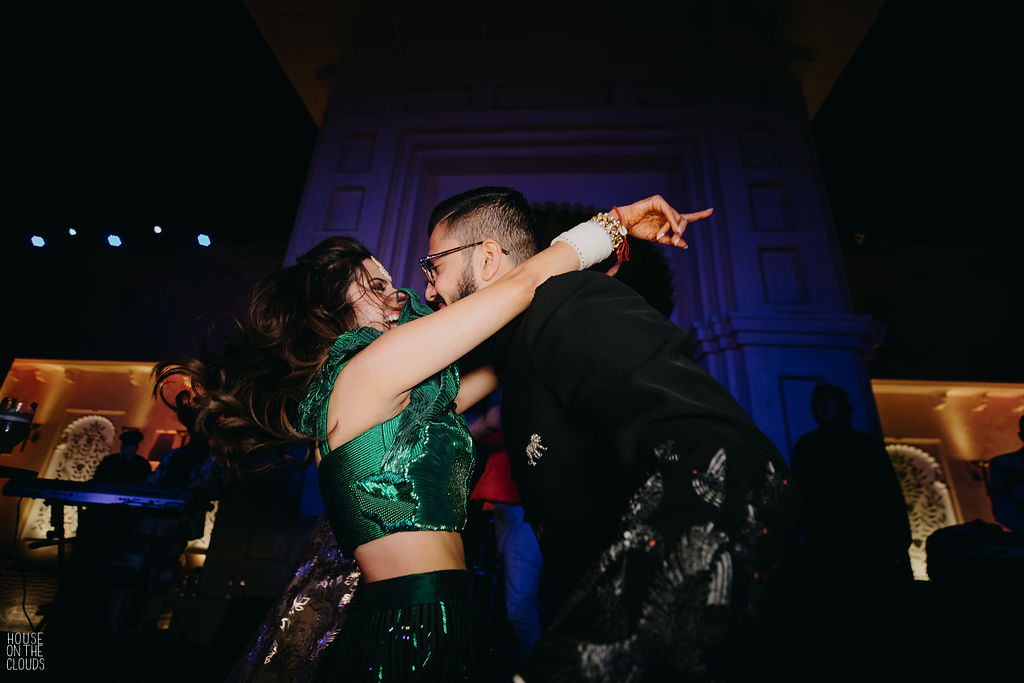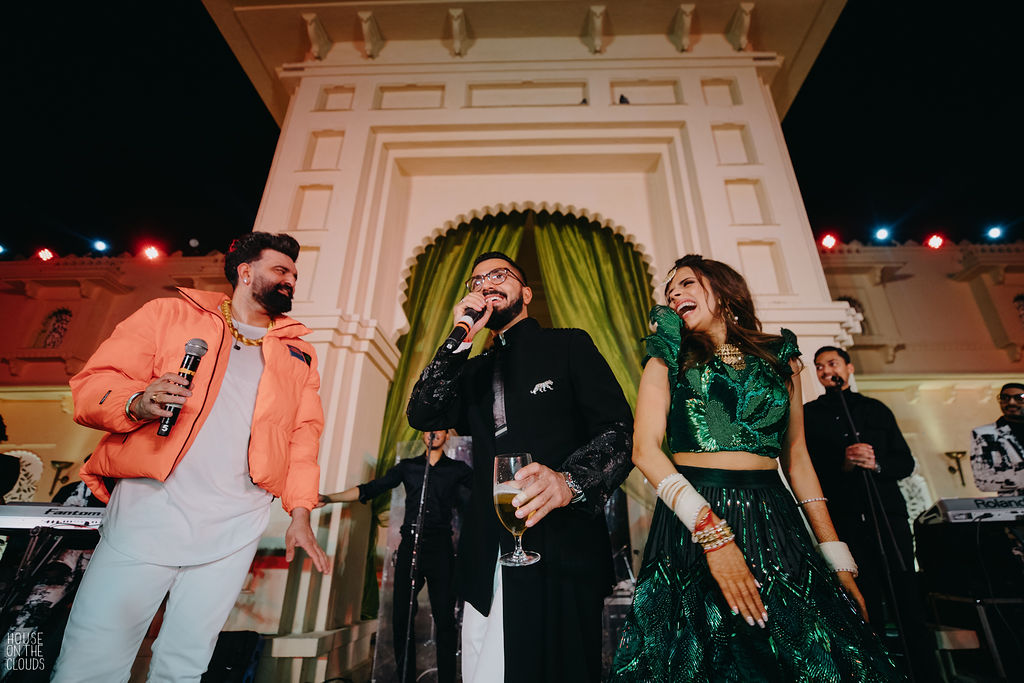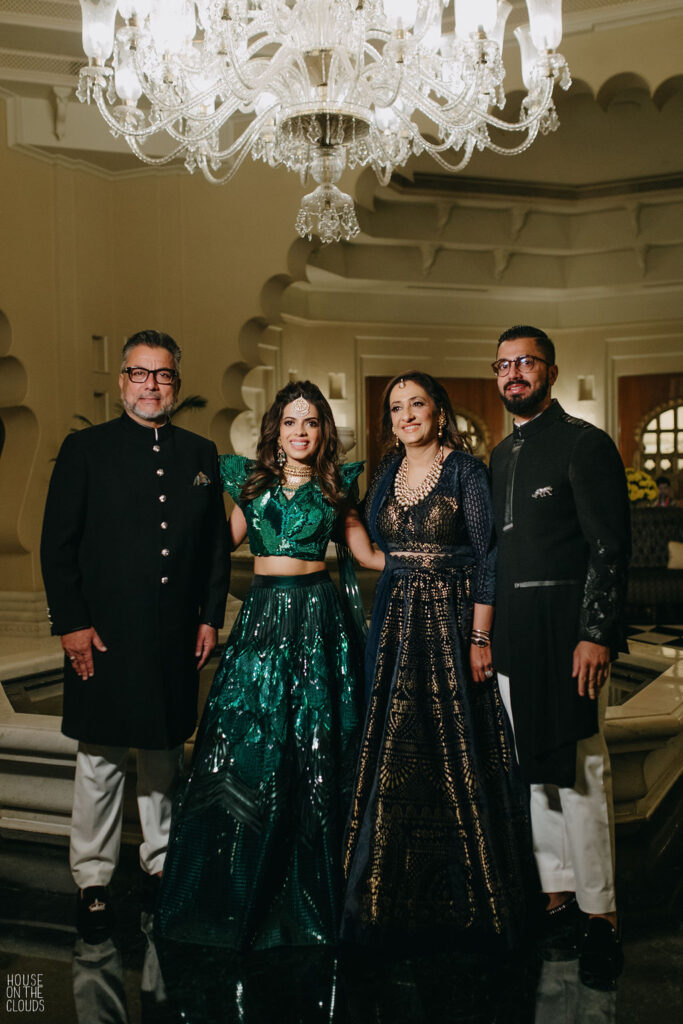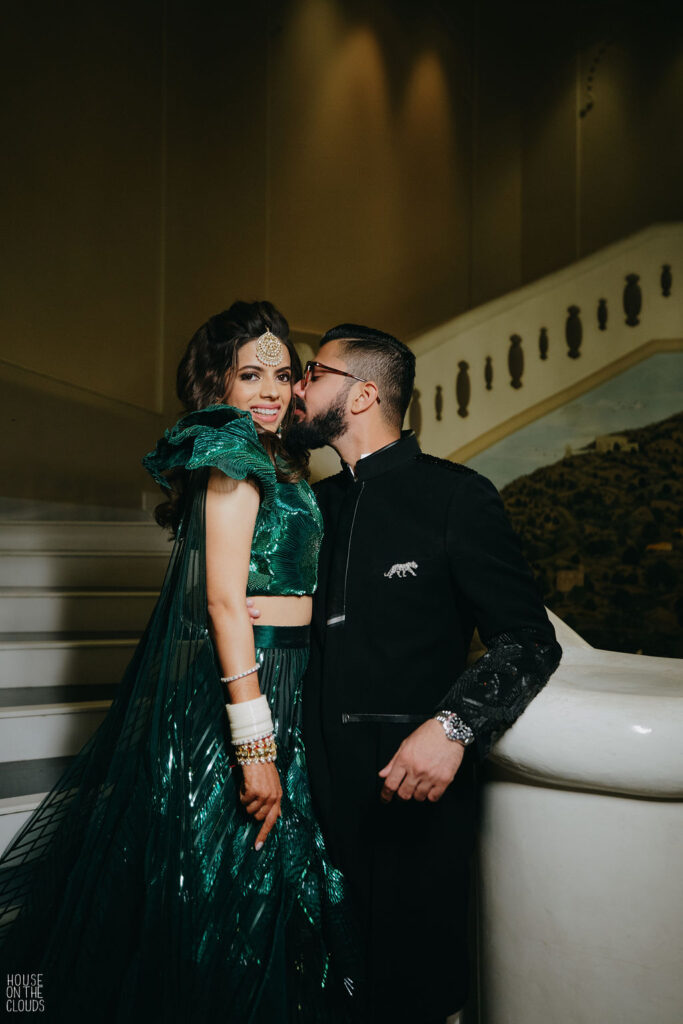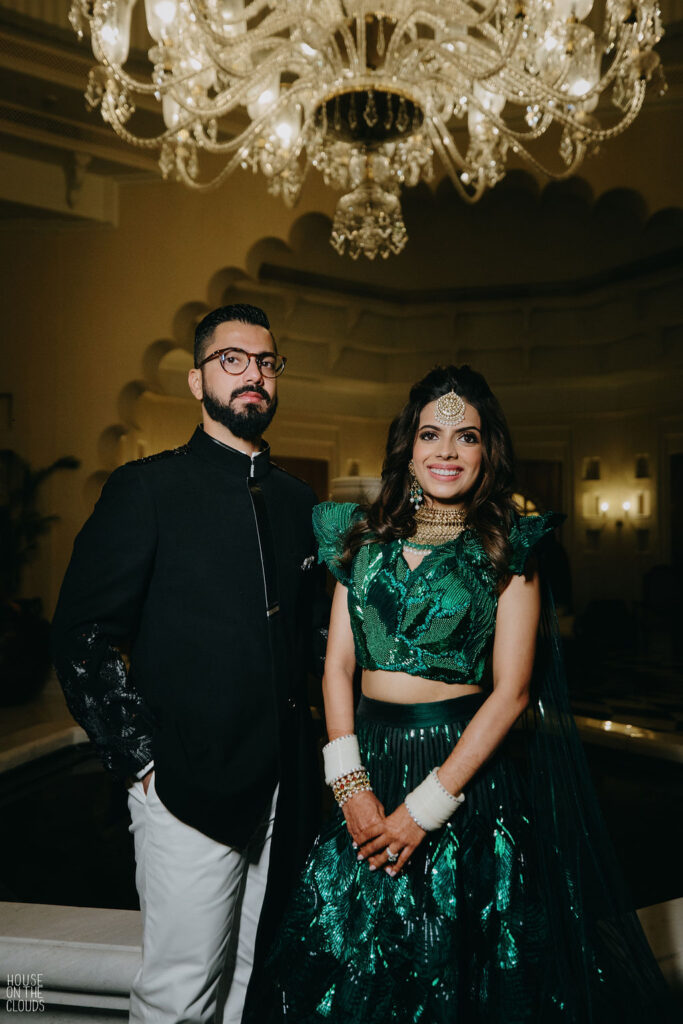 Wedding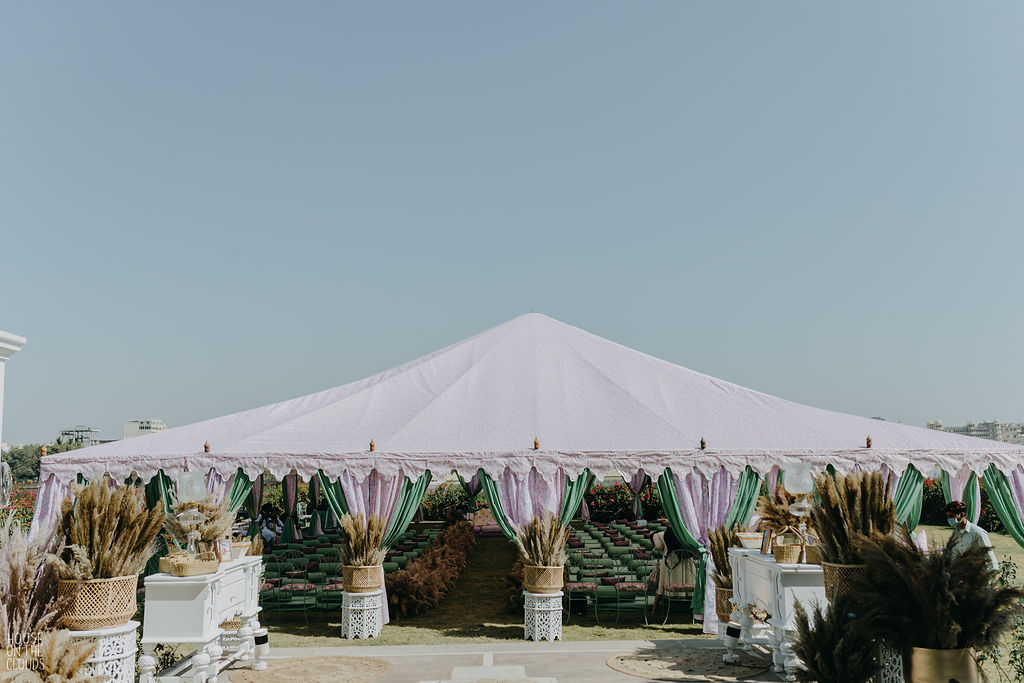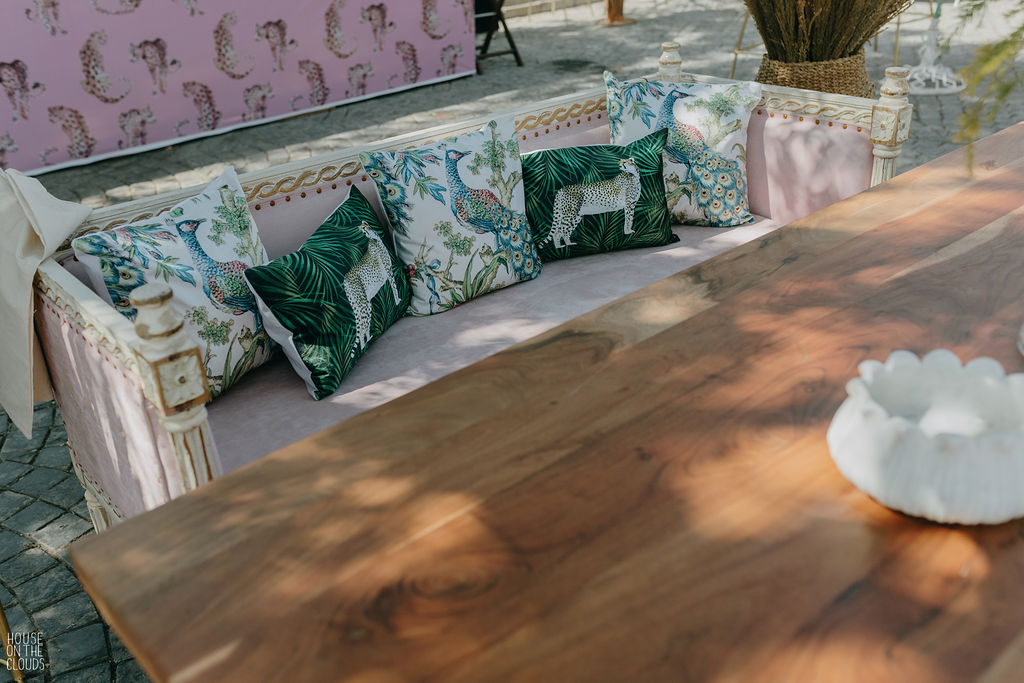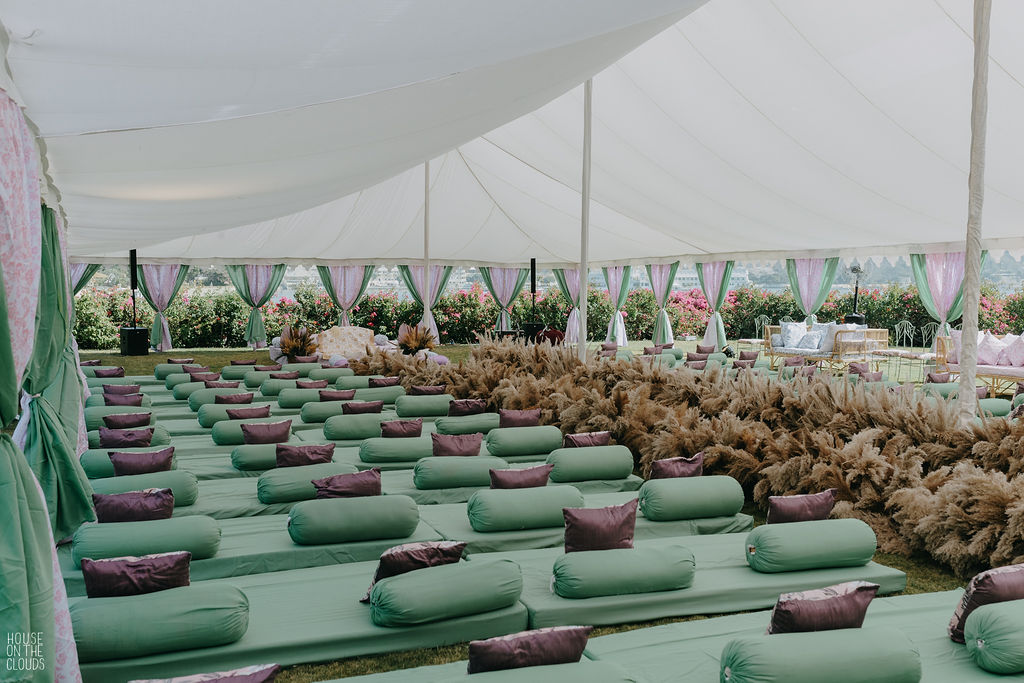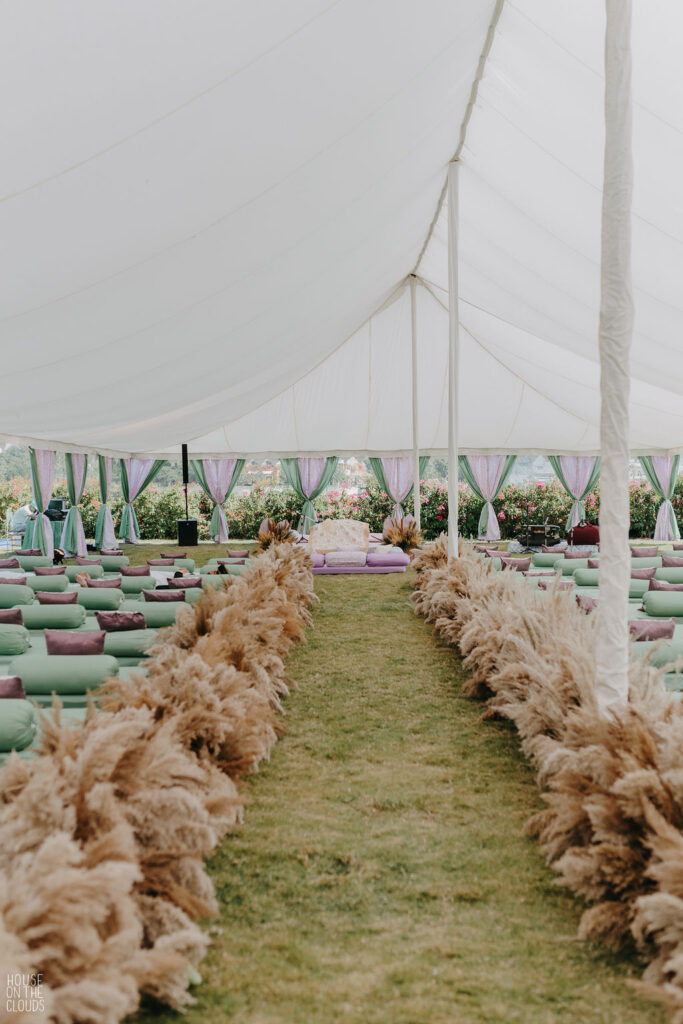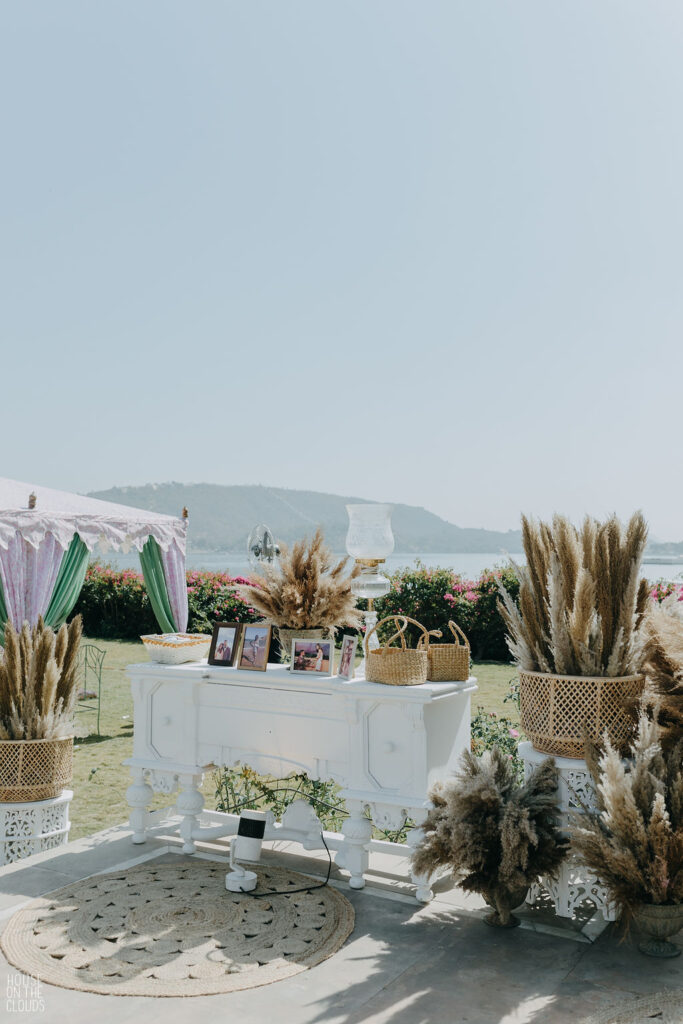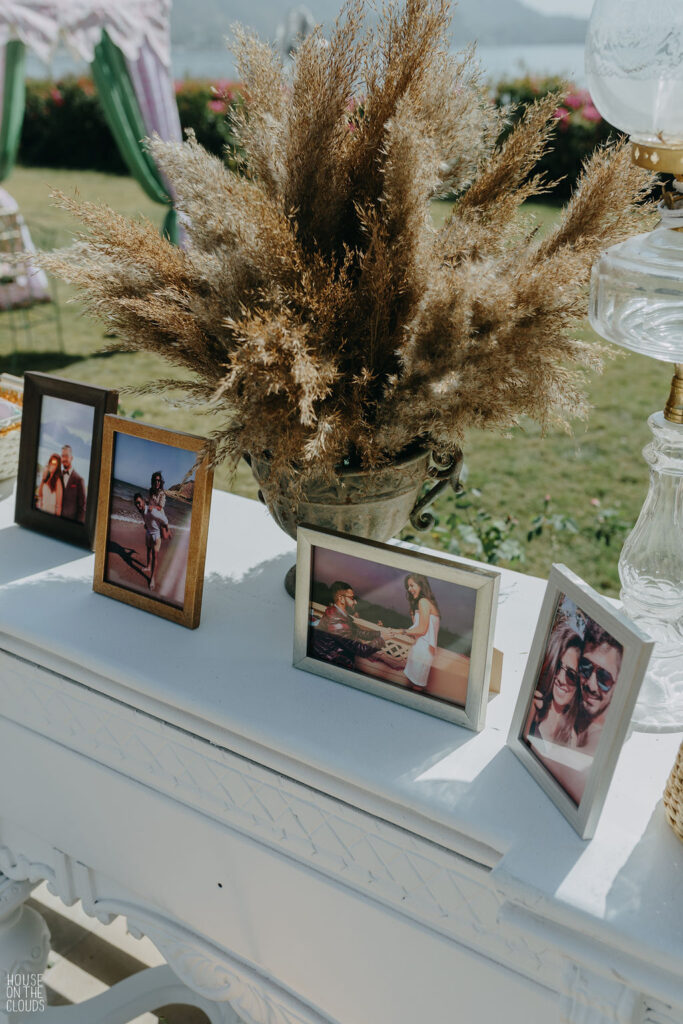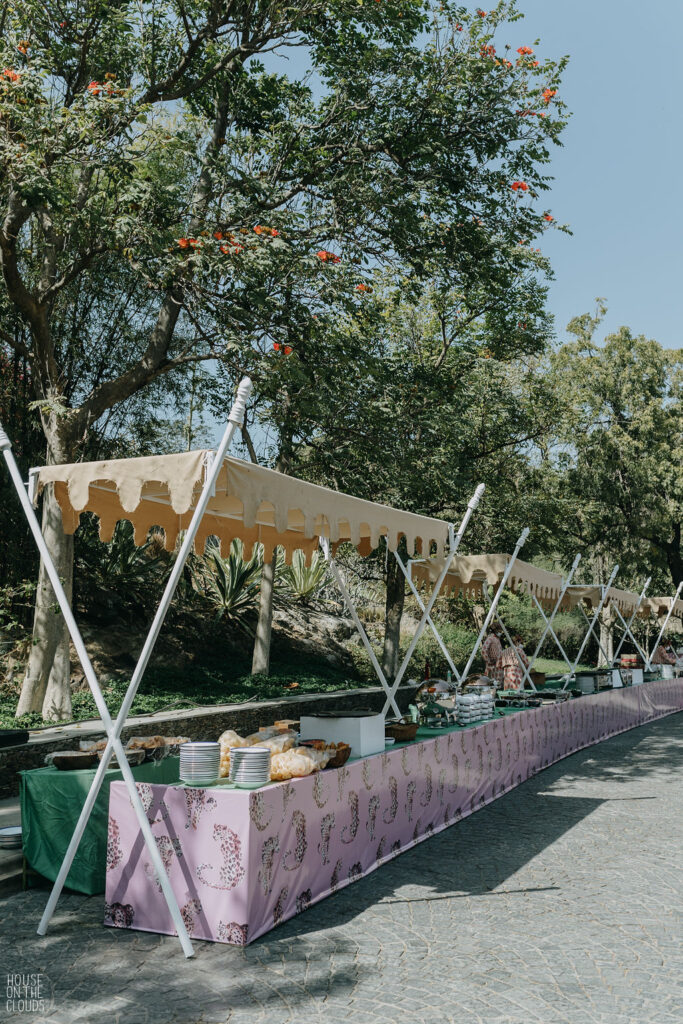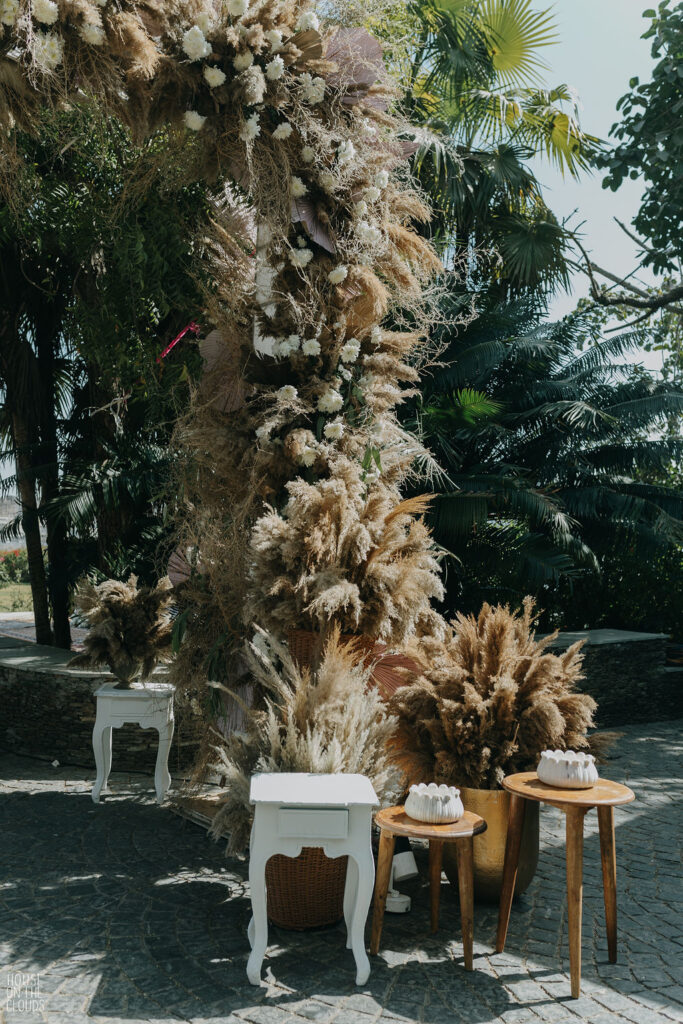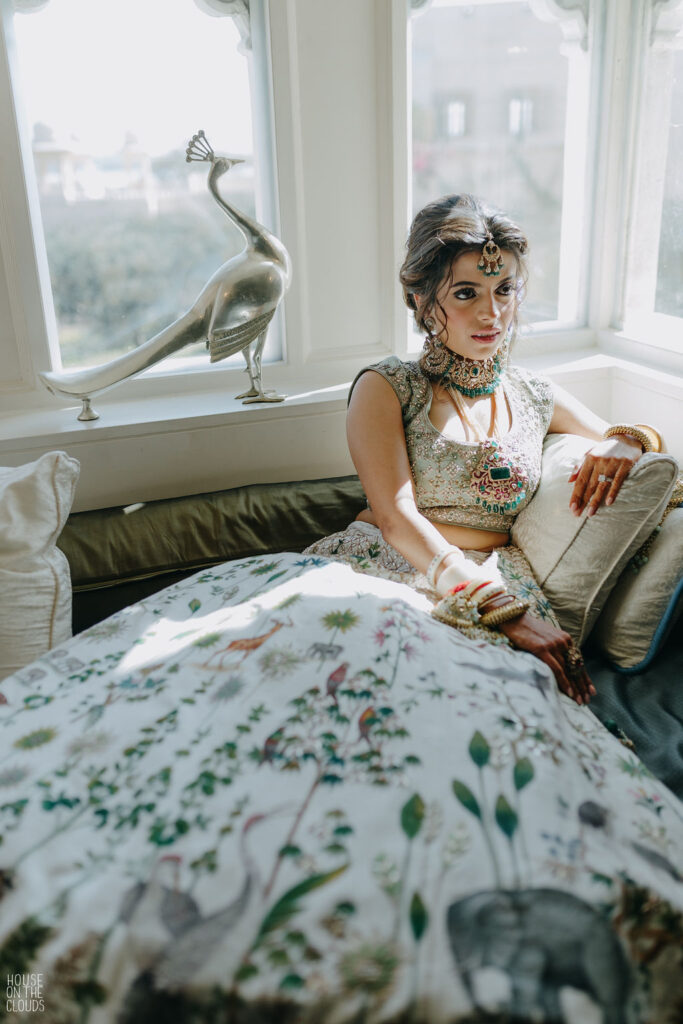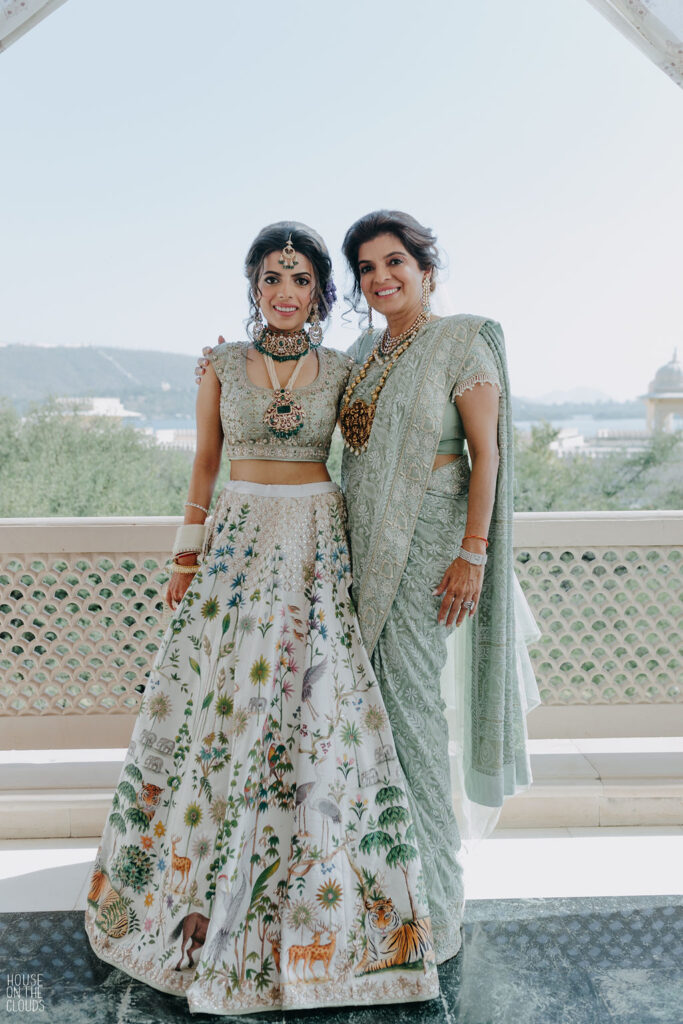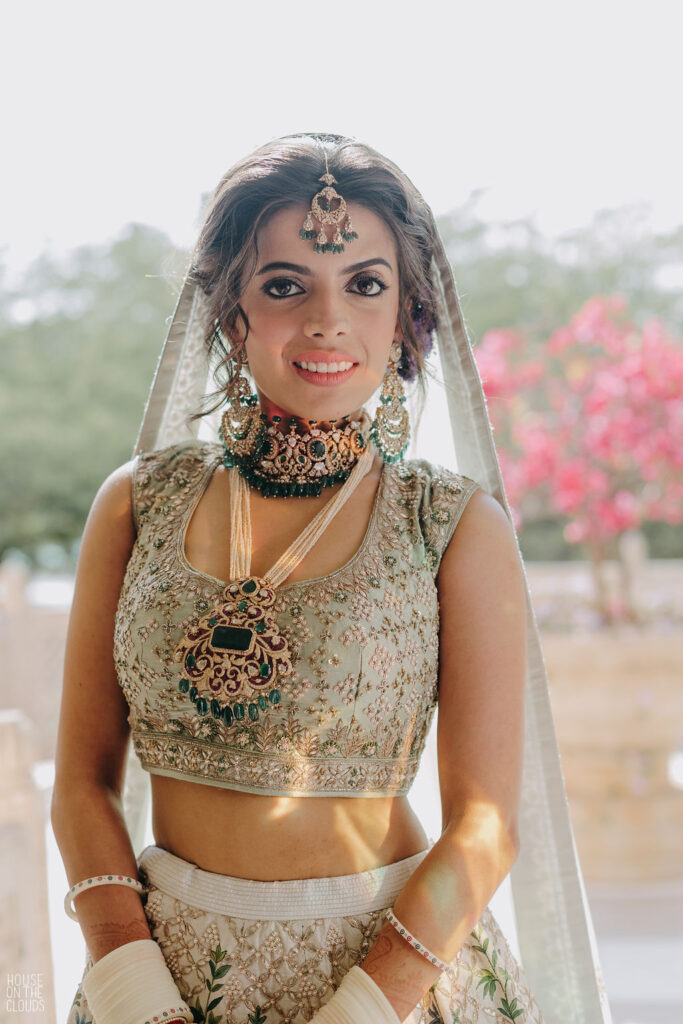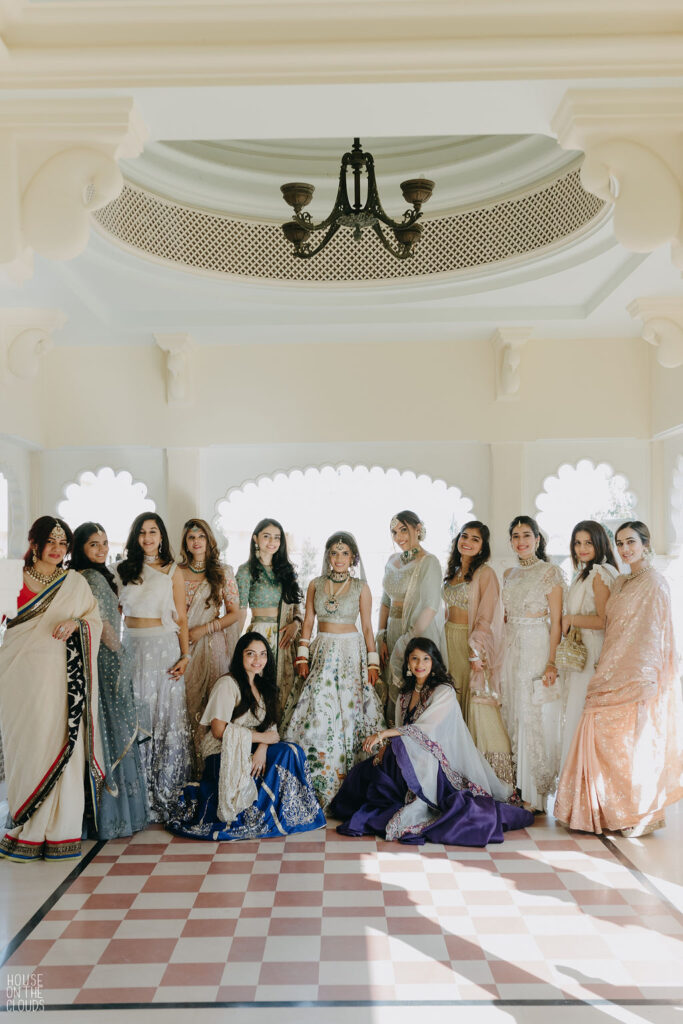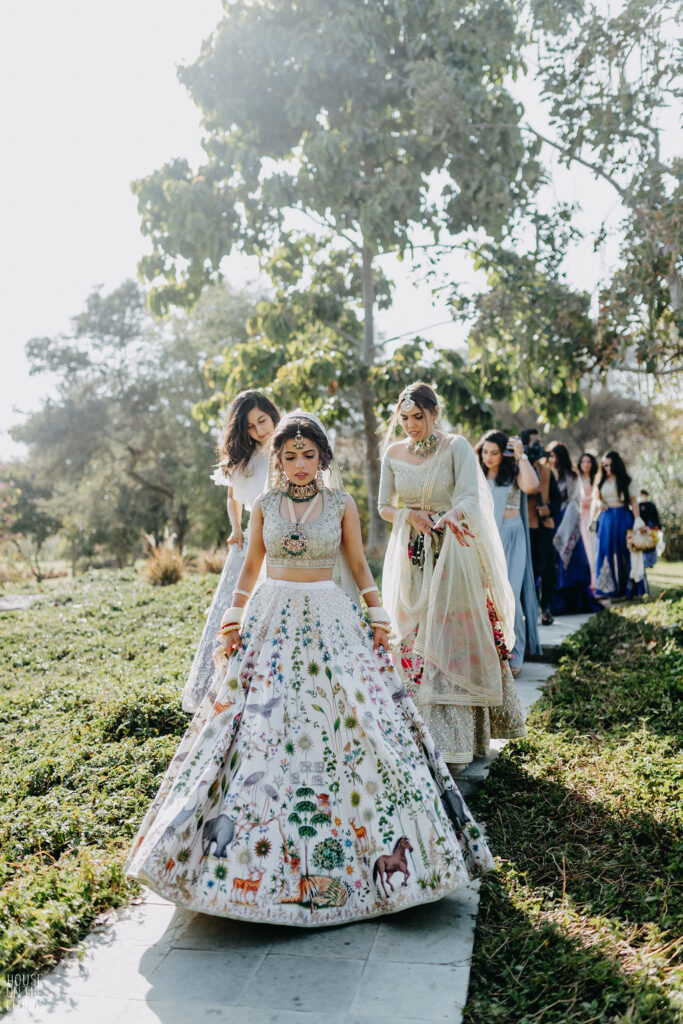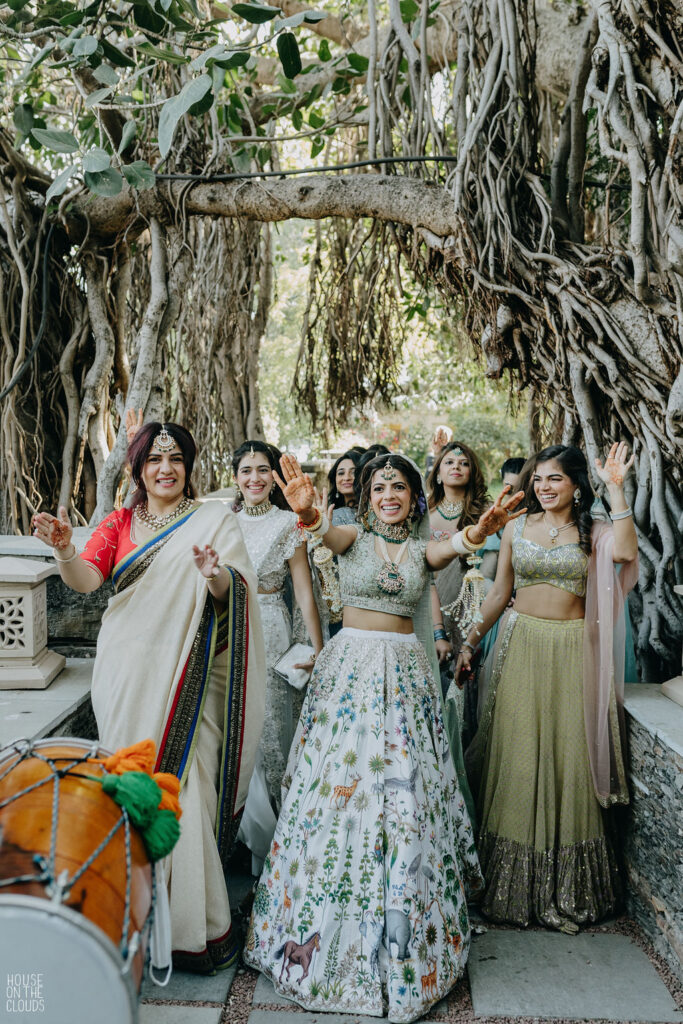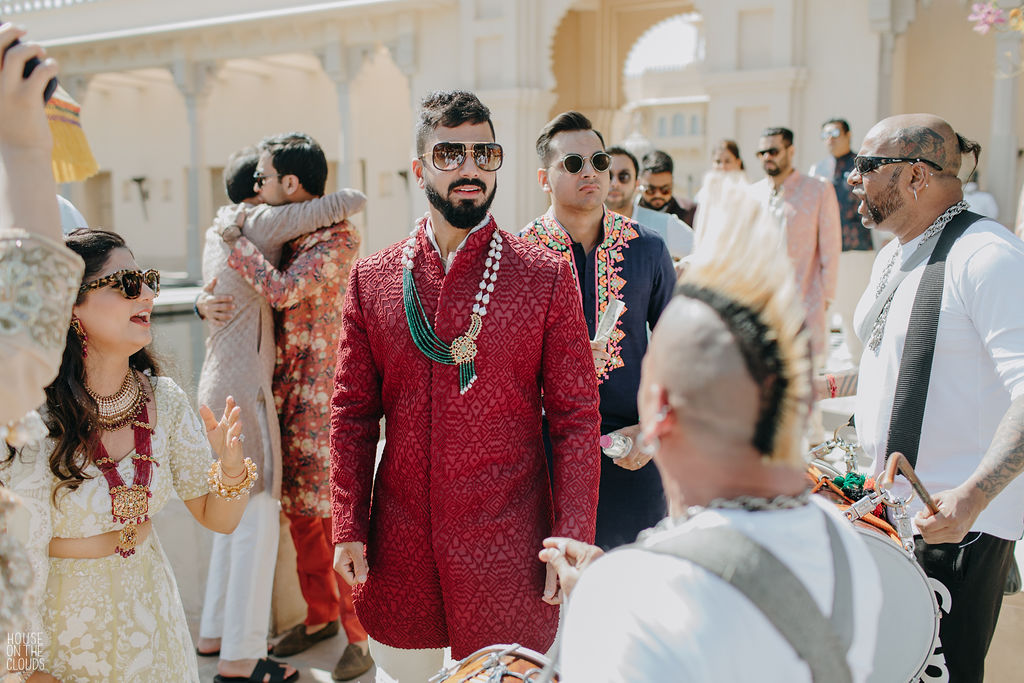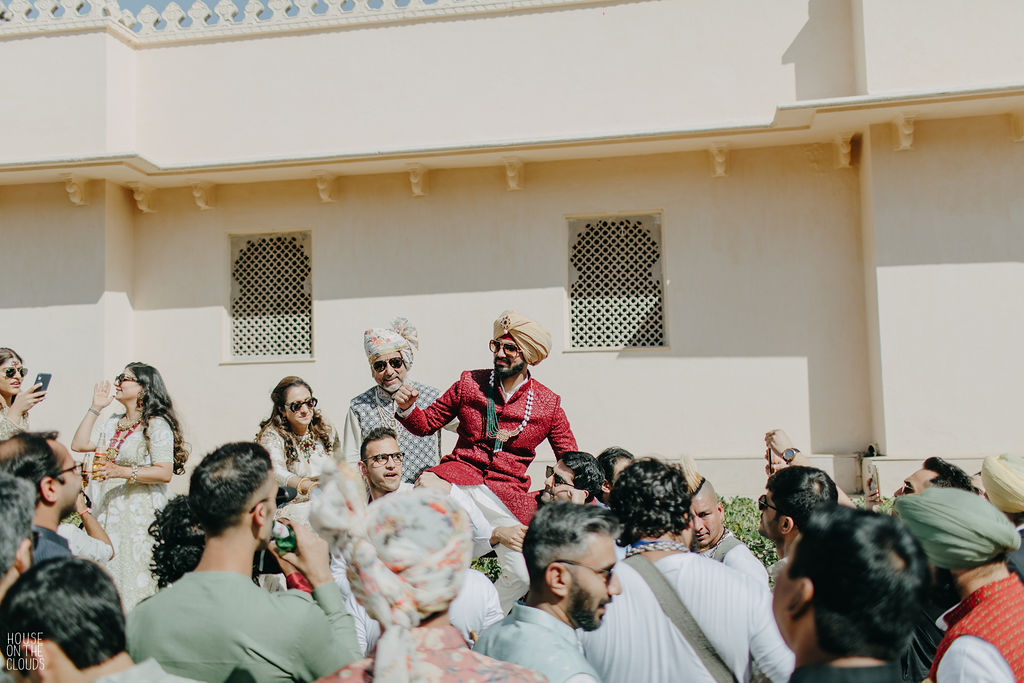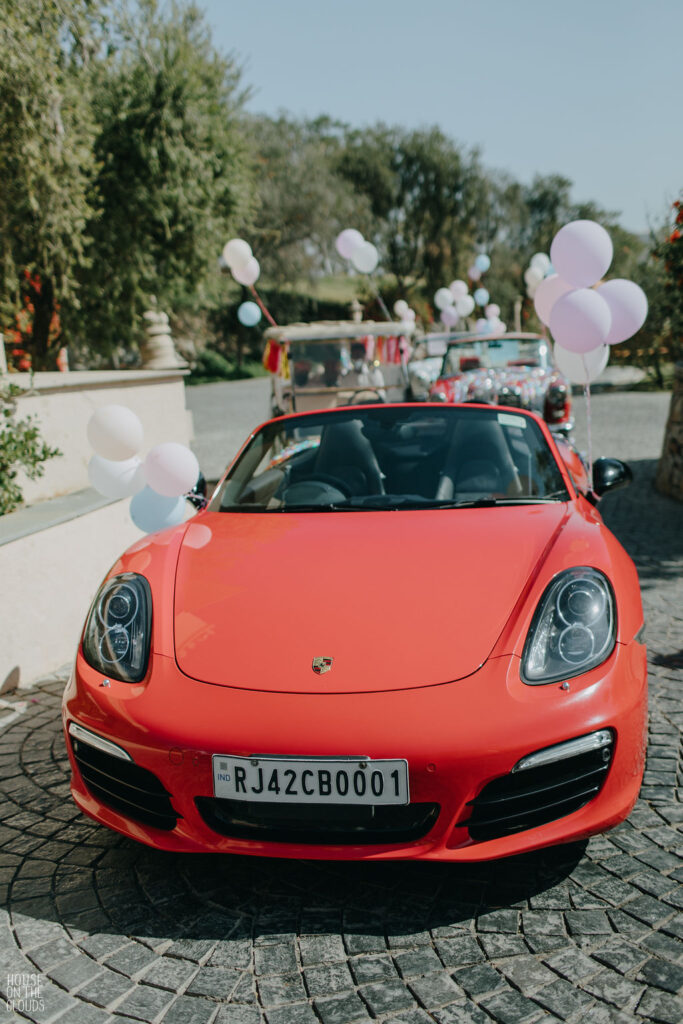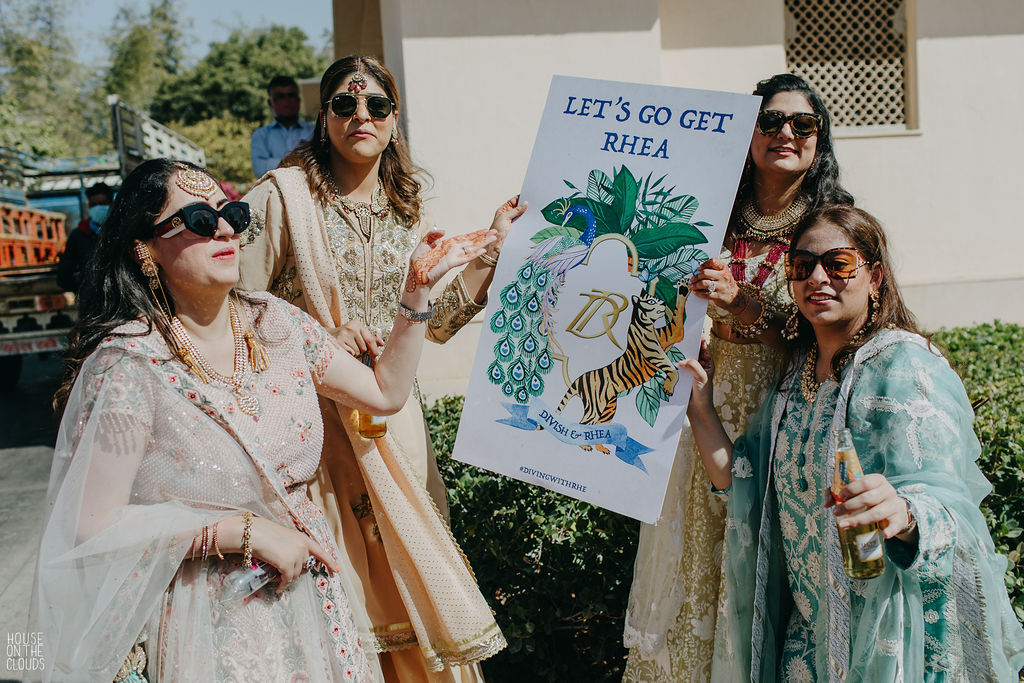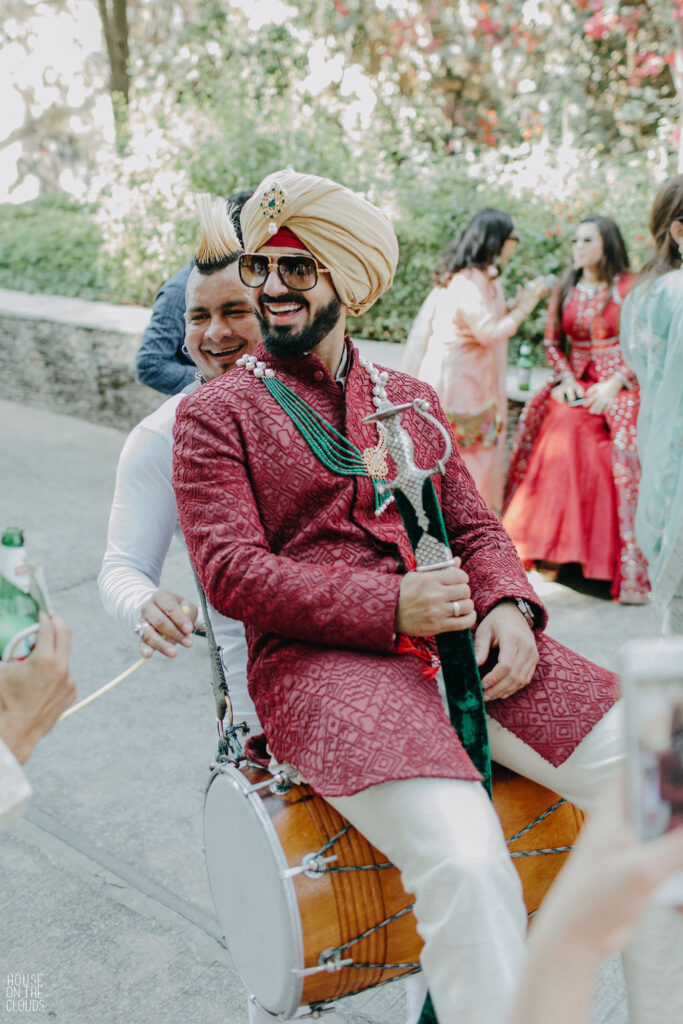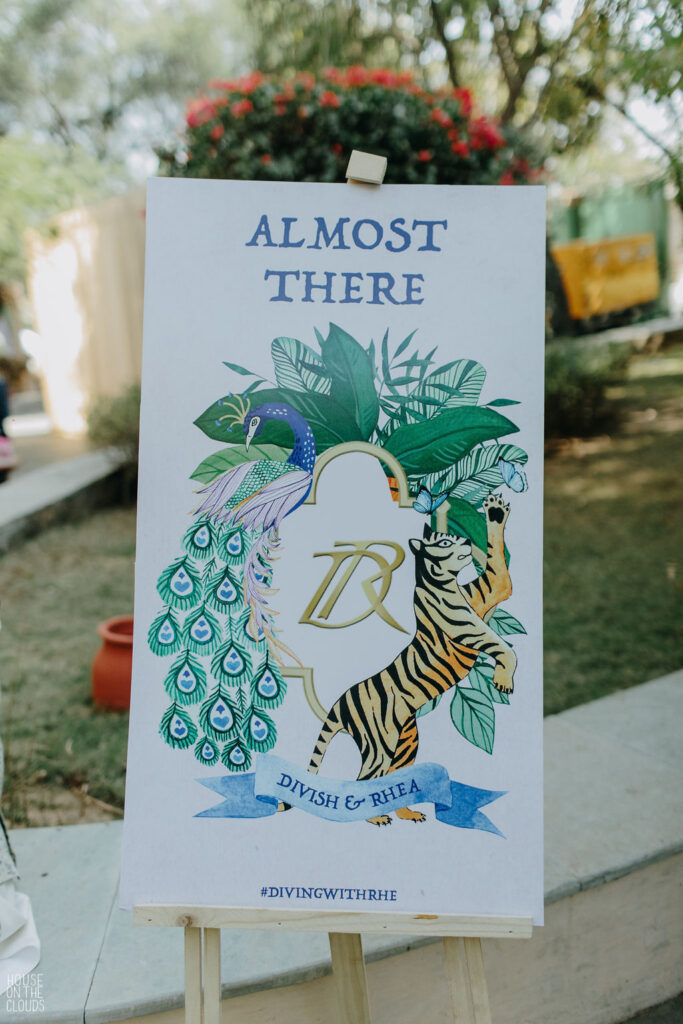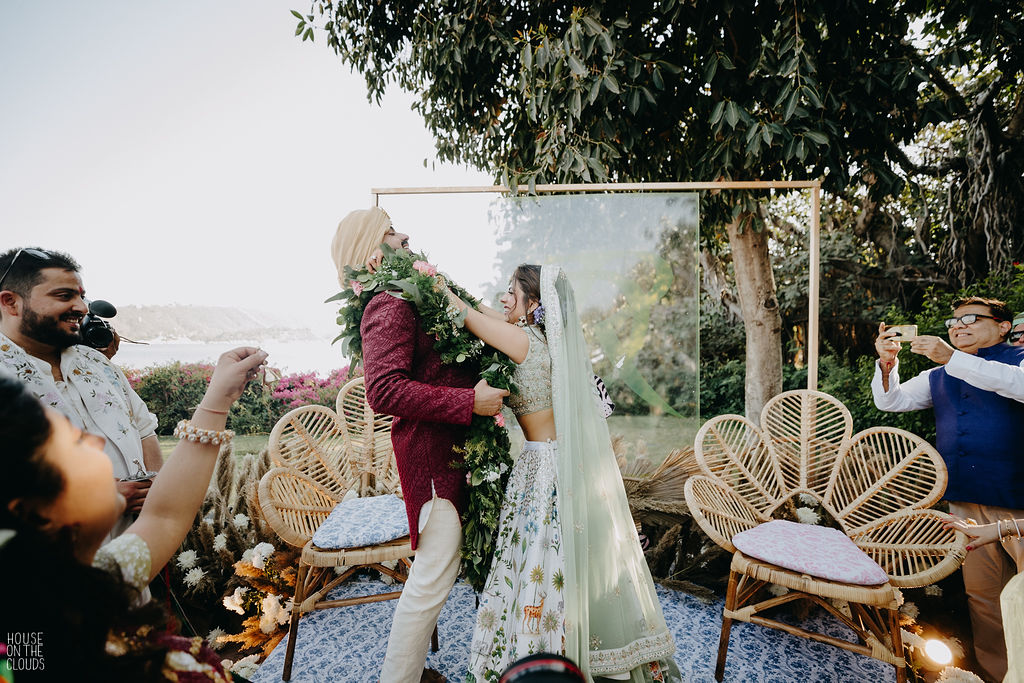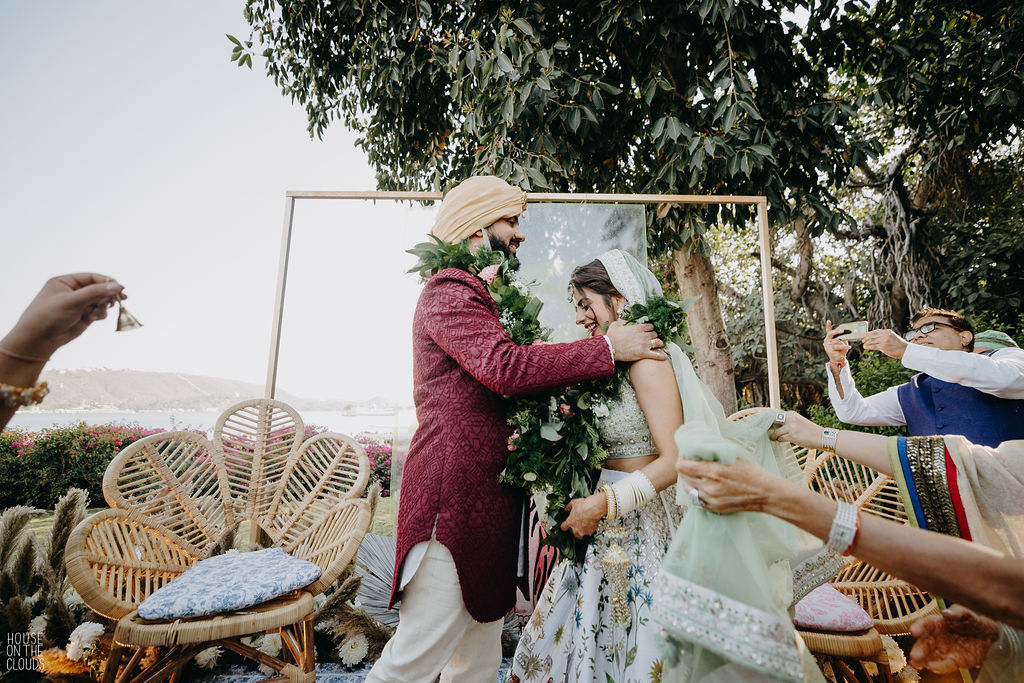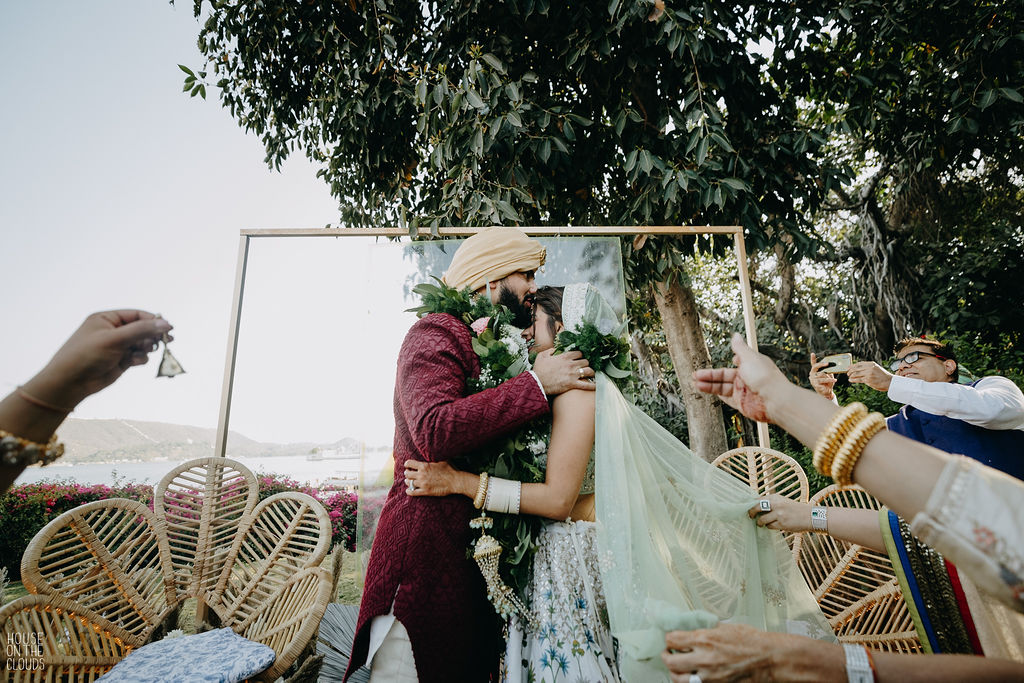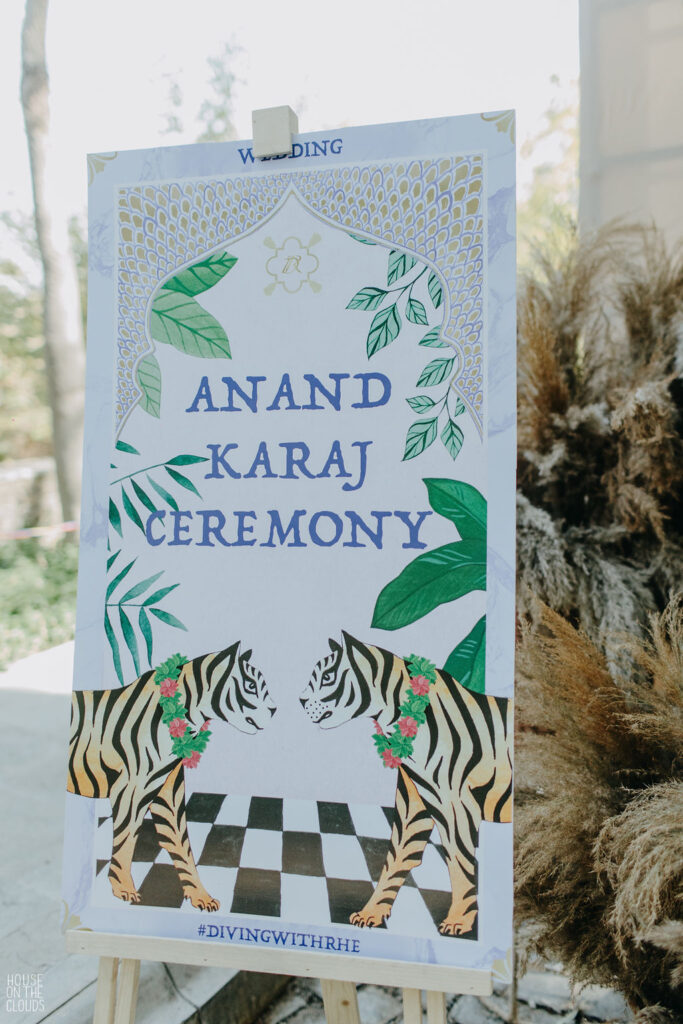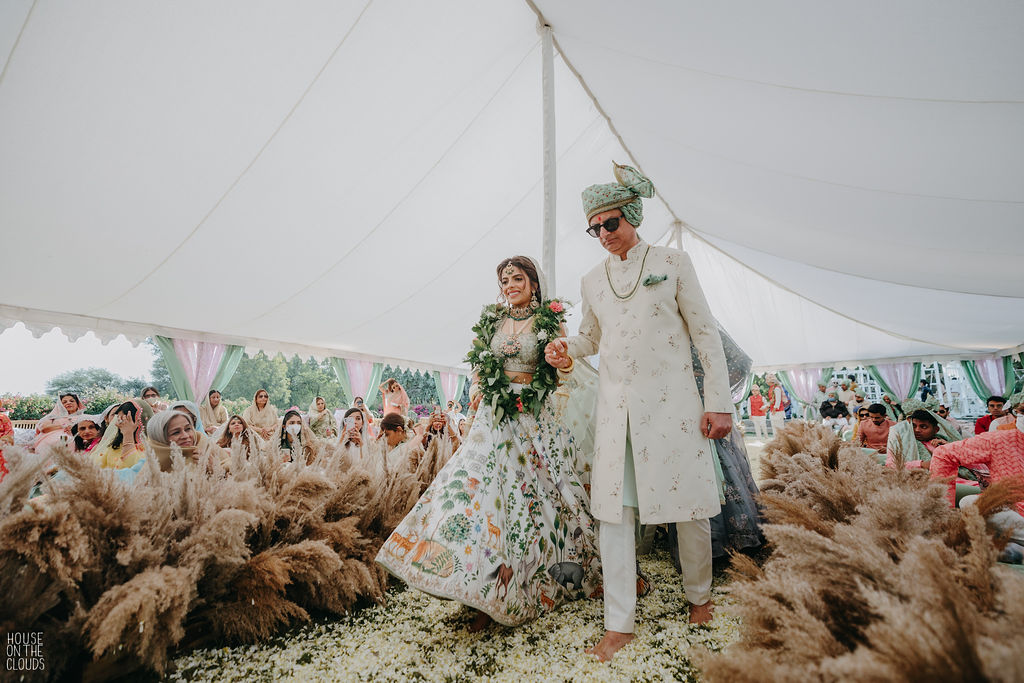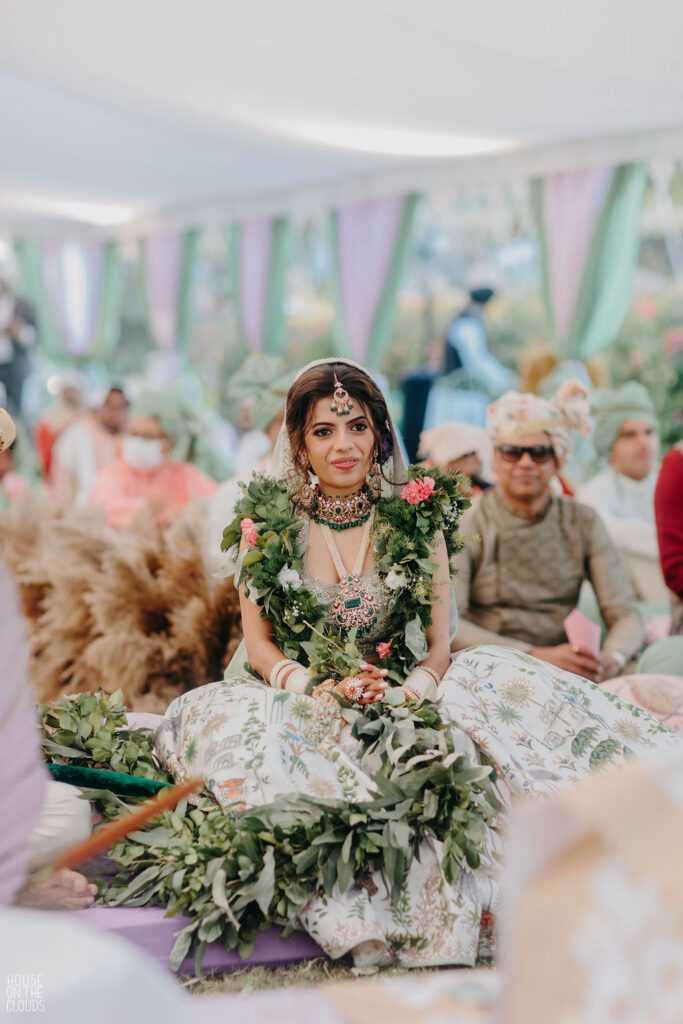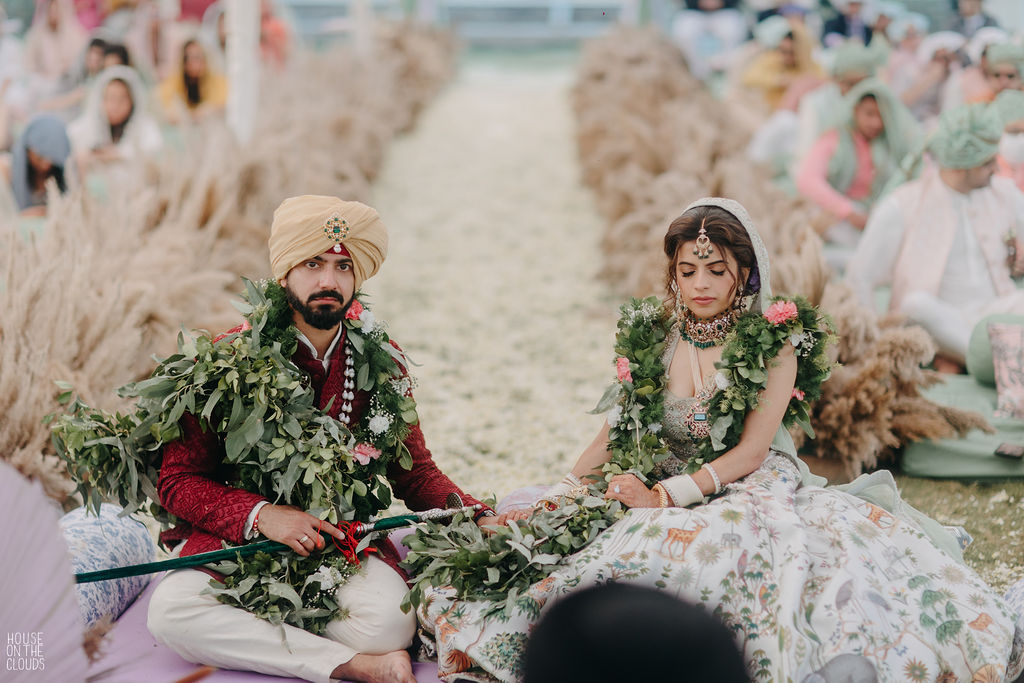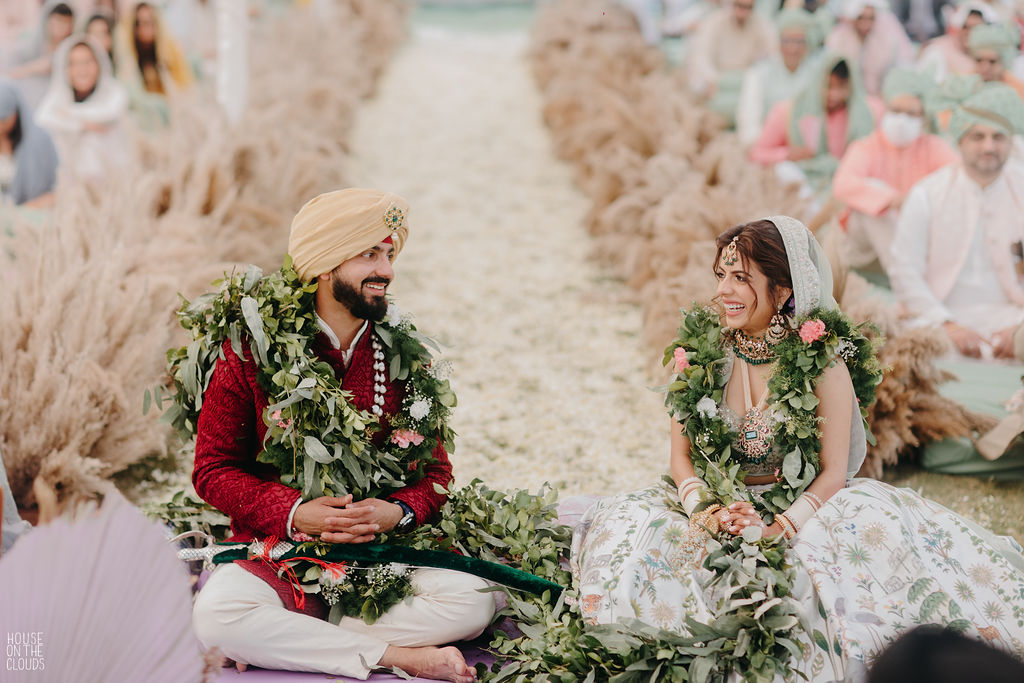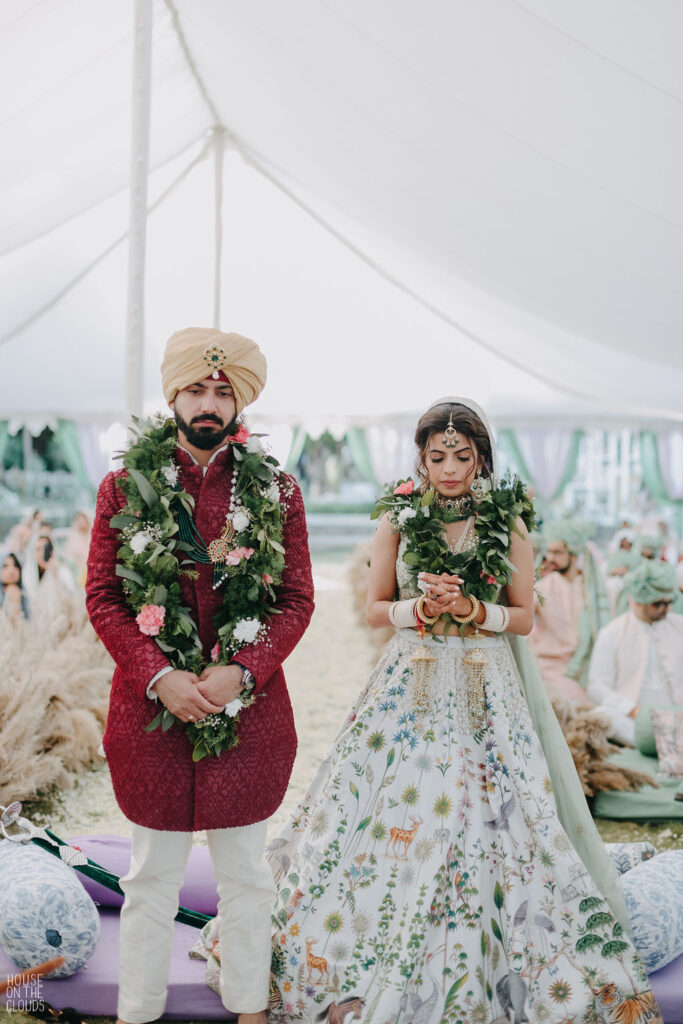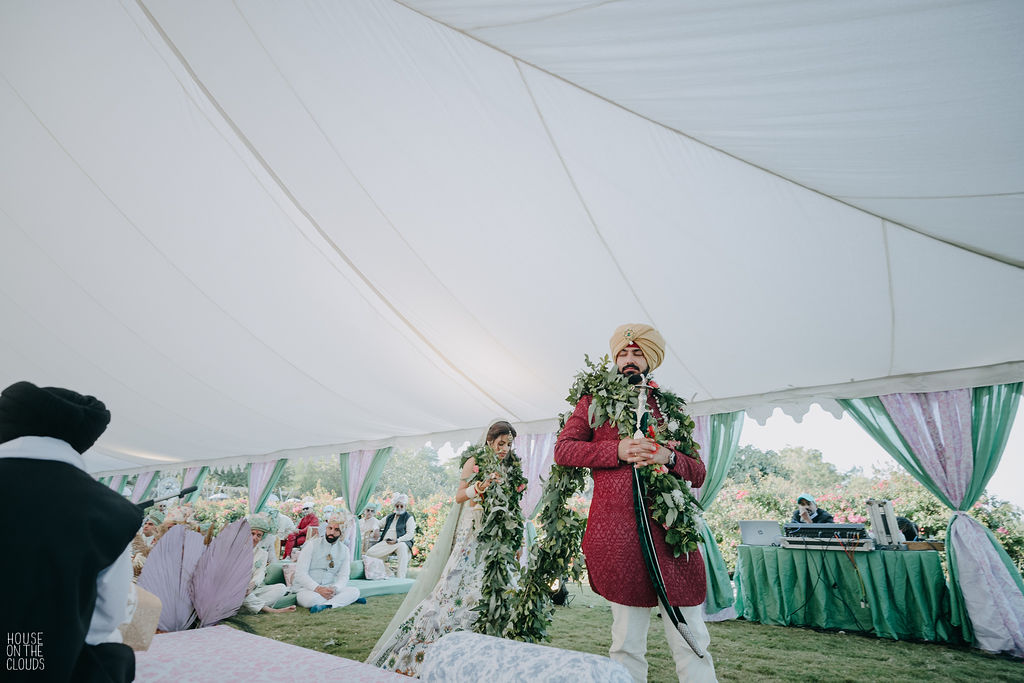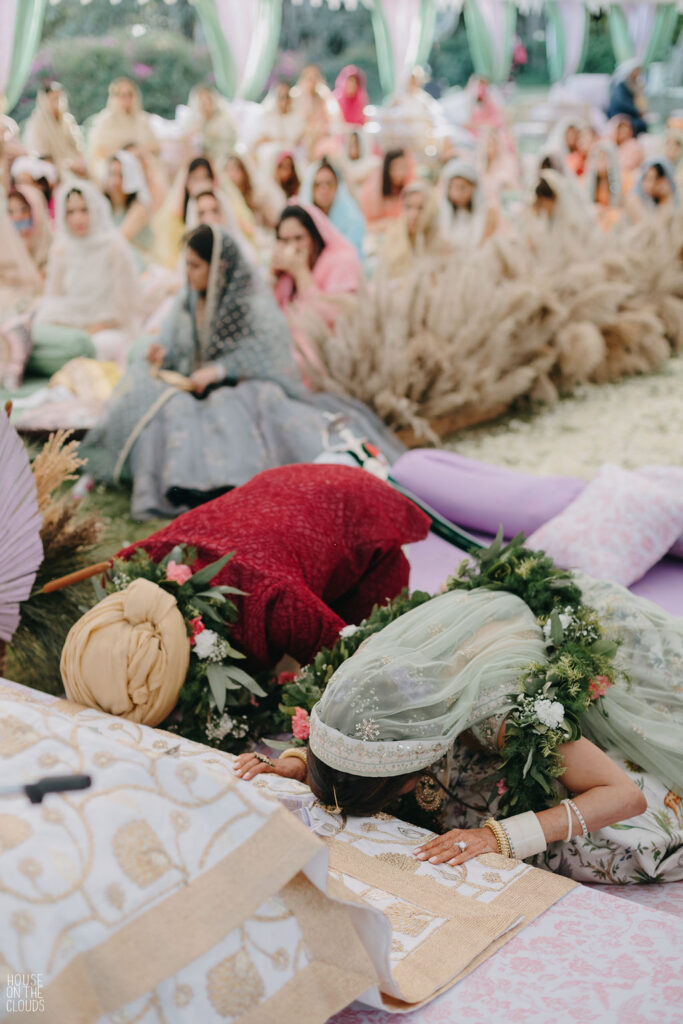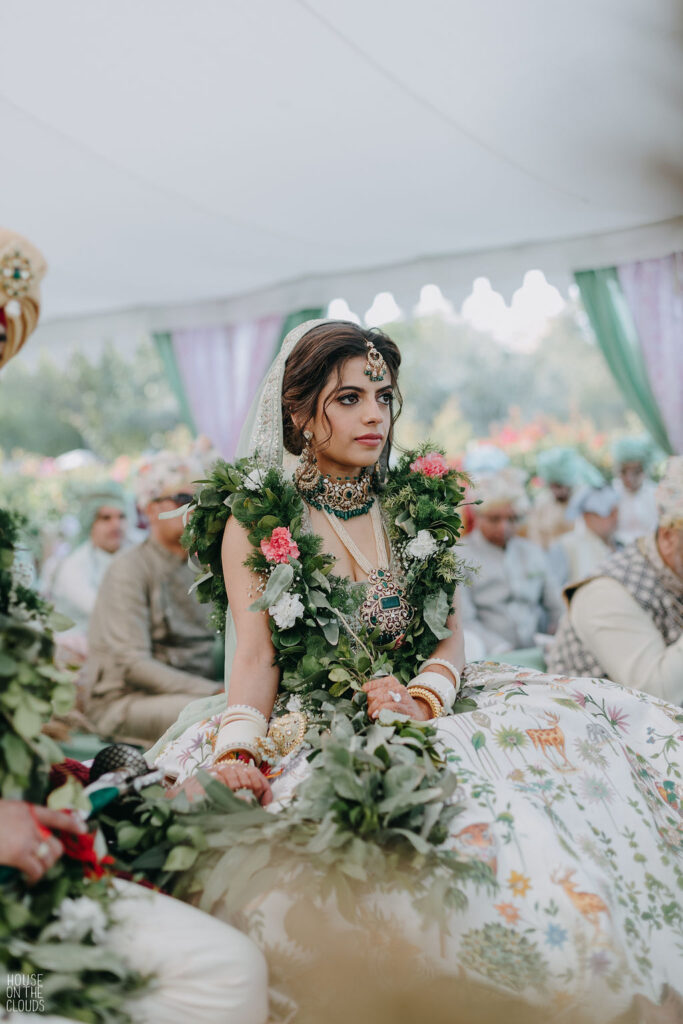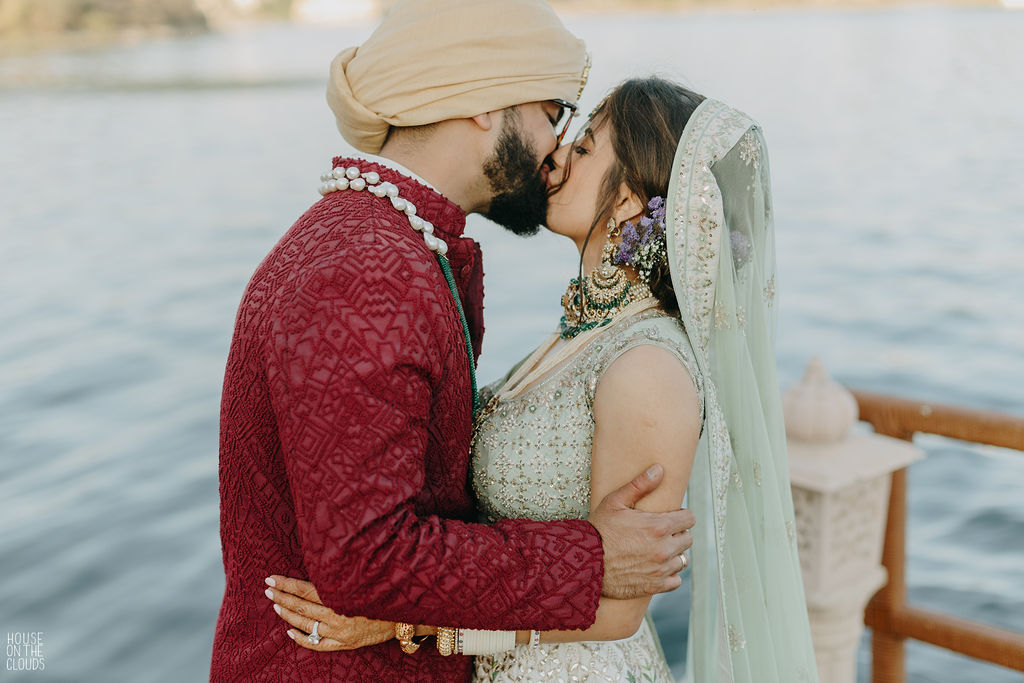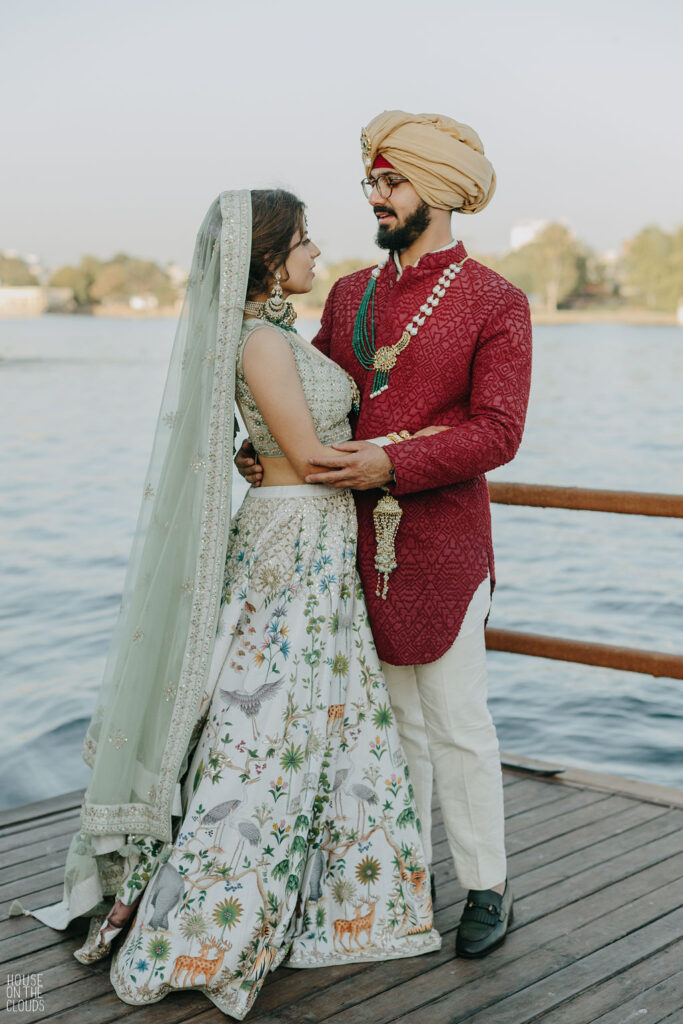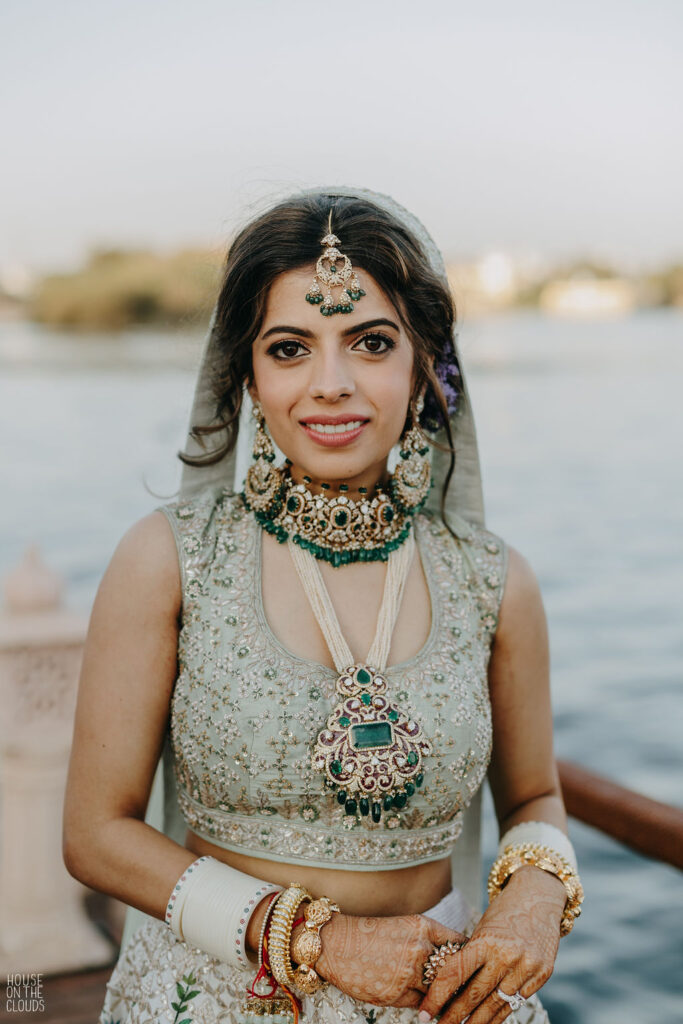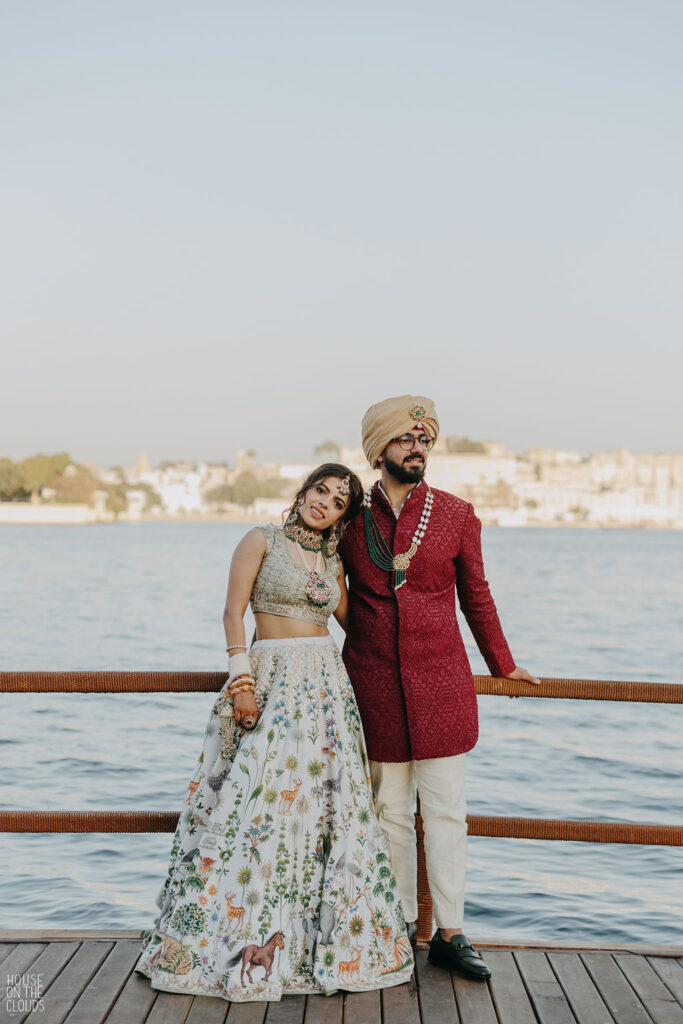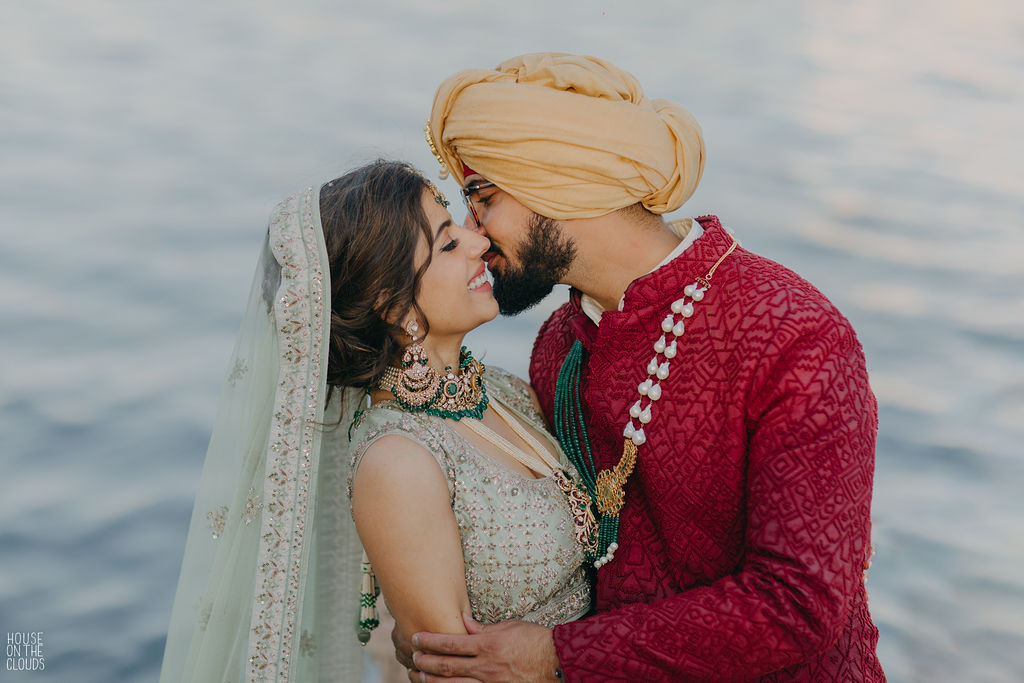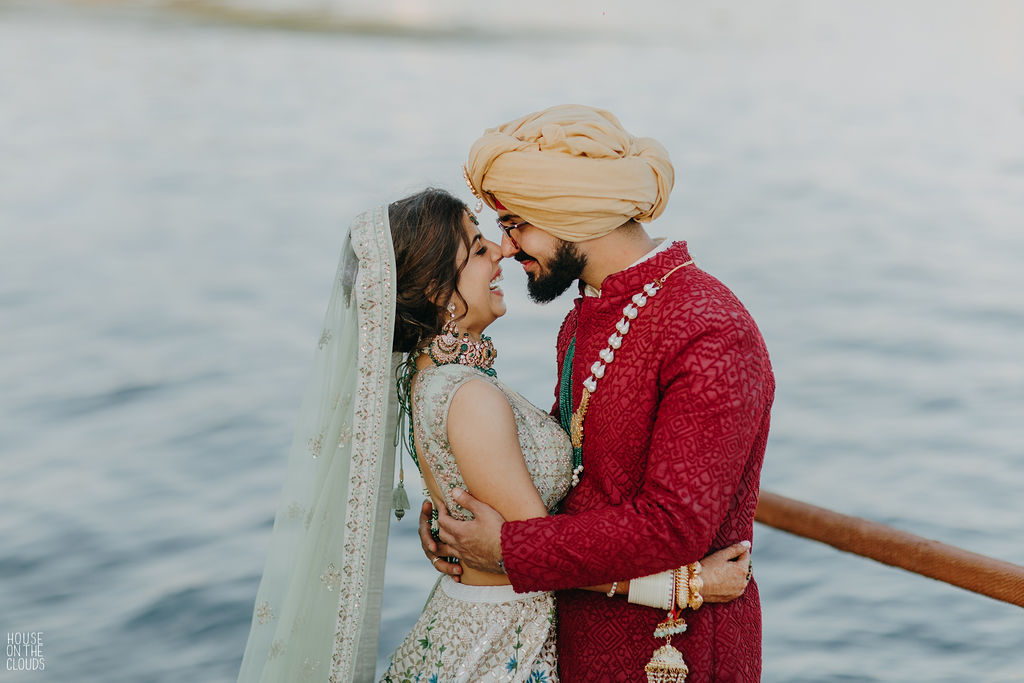 Staying true to herself throughout the wedding planning was the reason behind her happy smile on the main days. And that's what she recommends other brides doing as well. 
Brides-to-be,
Be yourself 

Be sensible 

Add your own personal touch that's what your guests will always remember 

Don't come under pressure of society and do anything you're not comfortable doing 

Get a makeup trial 

Don't go too loud or too simple if you're not used to it 

Don't waste money
– Rhea
Bride: Rhea Chhabria || Outfits: Anita Dongre (Wedding), Amit Aggarwal (Sangeet) ||
Planned by: Wedding Duo || Photography: House On The Clouds ||
Makeup: Avni Rambhia || Location: The Oberoi Udaivilas