Sabyasachi lehengas are a piece of art! They are so damn gorgeous, it's hard to take our eyes off them and the brides who carry them so beautifully. All brides-to-be dream of wearing Sabyasachi on their big day! But then a realistic question pops up in their minds –
How much does a Sabyasachi lehenga cost?
The prices of Sabyasachi lehengas start from around 4 lakh, they are simple lehengas with minimal work. The next price range can be around 8 to 10 lakhs, which are heavy lehengas with intricate work & heavy blouse pieces. The upper limit of a Sabyasachi lehenga can be anywhere around 15 lakhs. And some like Priyanka Chopra's wedding lehenga can cost around Rs. 18 lakhs.
That's just a small gist of Sabyasachi lehenga prices. To make it easier for brides, we have got prices of some of the most trending and latest Sabyasachi lehengas. Trust us, you must have spotted these lehengas on Instagram and wondered what their cost is? We have got the answers for you!
DISCLAIMER: Some of the prices may vary. We have sourced out these prices from many references, which can make them fluctuate over time. Also, Sabyasachi increases its prices every season. Moreover, customizations can fluctuate the price too. Please note that any difference in prices will not be a huge one. Just around 50k or so.
Latest Sabyasachi Lehenga Prices!
Summer 2020 Bridal Sabyasachi Lehenga: Rs. 3,95,000
Recent brides who wore this lehenga:
Basic Sabyasachi Red Bridal Lehenga Price: Rs. 5,00,000
Brides who were seen wearing this lehenga:
Sabyasachi Lime Green Lehenga Price: Rs. 2,50,000
Here are some real brides who this lime green lehenga after being popularised by Alia Bhatt:
Sabyasachi Multicolor Lehenga – 2018 Summer Collection – Rs. 2,75,000
Sabyasachi Red Bridal Polka Dot Lehenga Price: Rs.4,00,000
Real Sabyasachi bride in this lehenga:
Sabyasachi 2020 Bridal Lehenga Price: Rs.4,00,000
Sabyasachi Printed Blue Lehenga: Rs.13,00,000
Sabyasachi Printed Ivory Lehenga: Rs.12,00,000
Recent Sabyasachi Bridal Lehenga Price: Rs. 4,50,000
Green Benarasi Silk Lehenga: Rs. 3,95,000
2019 Collection Sabyasachi Lehenga Price: Rs. 8,95,000
Floral Pink Crop Top Sabyasachi Lehenga Price: Rs. 3,45,000
Bridal Sabyasachi Lehenga Price: Rs. 6,95,000
Real Brides in this lehenga:
Anushka Sharma was also spotted in the same Sabyasachi lehenga a while back:
Anushka Sharma Mehendi Sabyasachi Lehenga Price: Rs. 2,95,000
Bride who wore a similar lehenga at her mehendi:
Bronze Golden Sabyasachi Lehenga Price: Rs. 4,95,000
Sabyasachi Floral Lehenga Price: Rs.3,95,000/-
Sabyasachi Floral Lehenga Price: Rs.3,95,000/-
Sabyasachi Velvet Bridal Lehenga: Rs.3,25,000/-
Sabyasachi Embroidered Lehenga Cost: Rs.3,95,000/-
Updating this list with 2 more trending lehengas:
P.S. We got these prices from brides themselves, so they're accurate. 😇 . Also, the brides have said that the price tags generally don't include the second dupatta price, which can cost you 50k more easily, depending on how elaborate you get it done.
2021 Sabyasachi Golden Multi shade Lehenga Price: Rs.6,00,000/-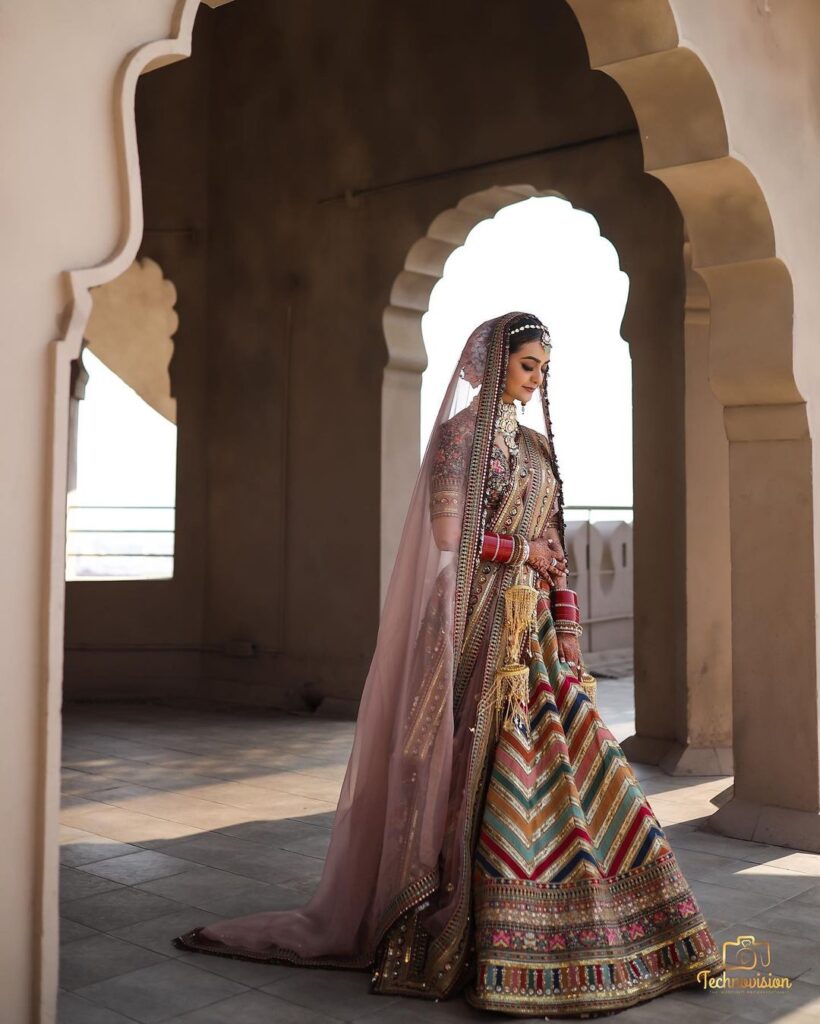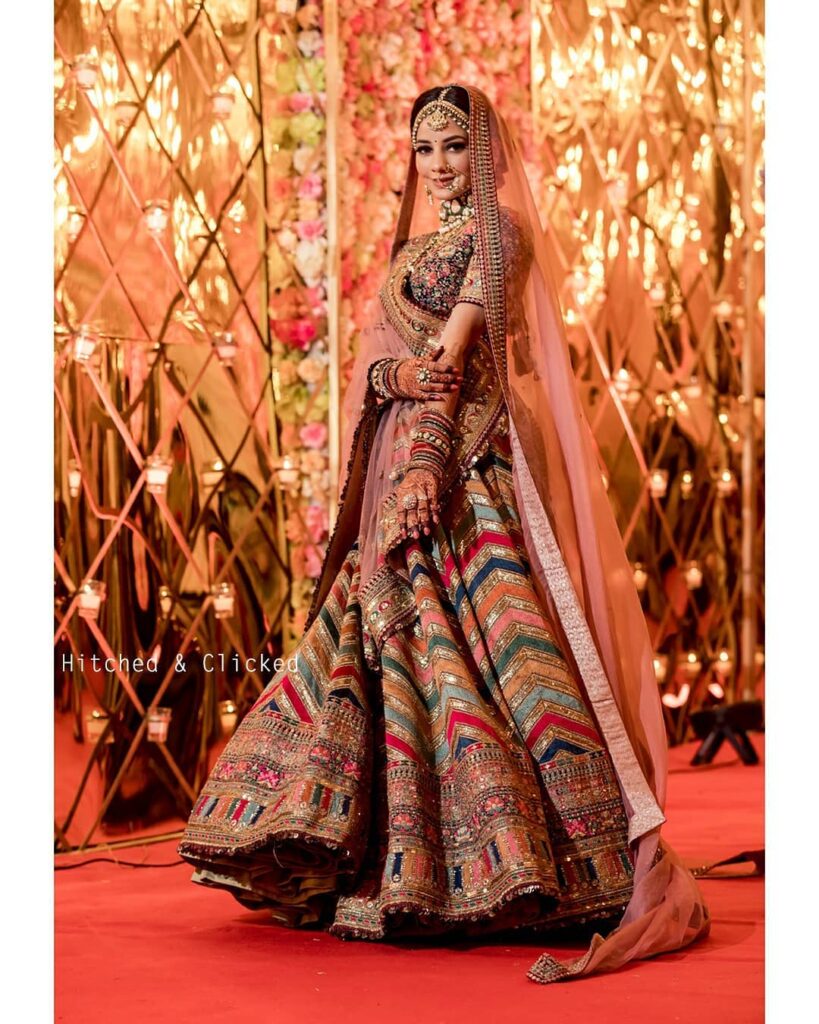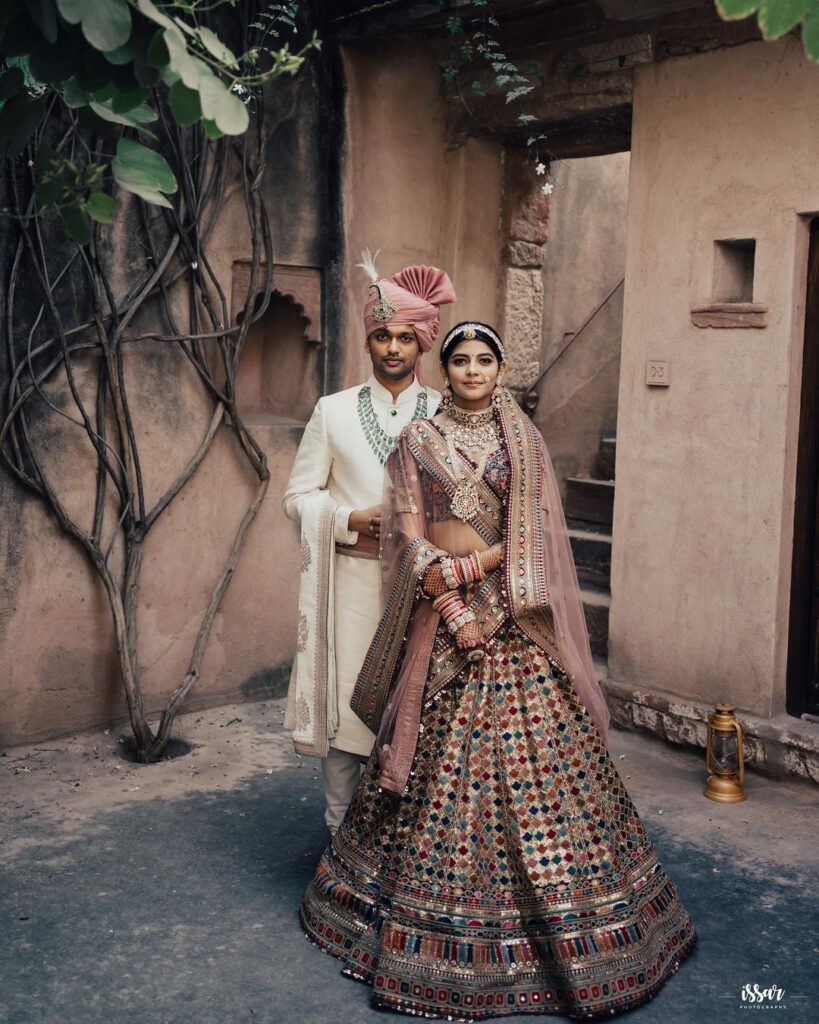 2021 Bridal Lehenga by Sabyasachi Price: Rs.5,95,000/-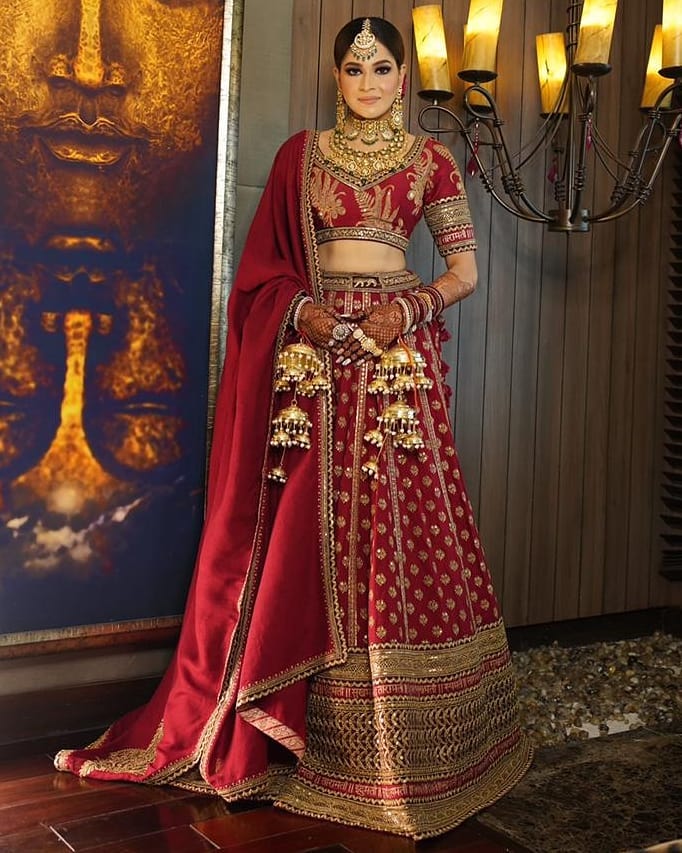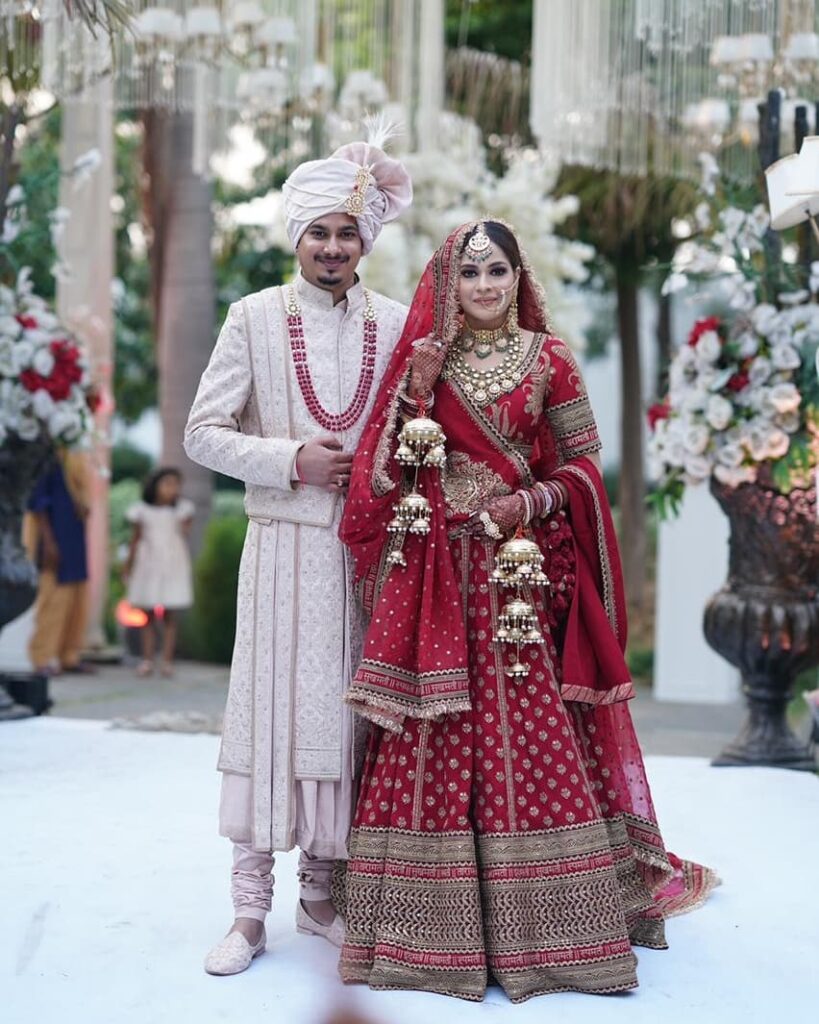 It's the same one Aditi Rao Hydari wore in her latest collab with Sabyasachi X Khush Magazine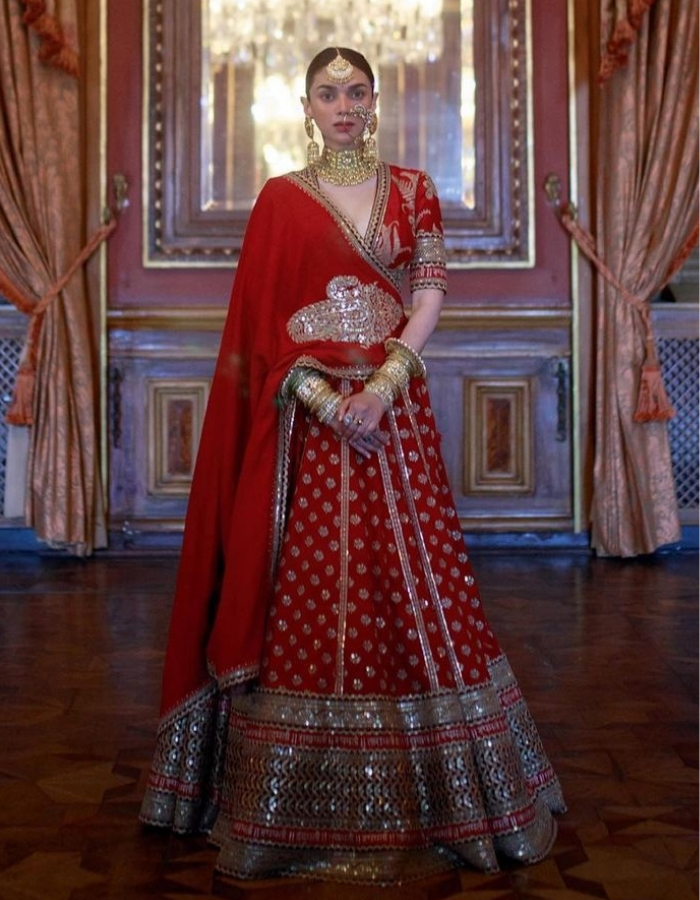 Things to know before you visit a Sabyasachi store, as told by real brides:
"It's always helpful to call the store first and make sure they have the lehengas you have shortlisted in store so you can try them all at once.", said real Sabyasachi bride Swati Mishra Walia! She also added, "It's also quite dark in the Sabya stores so if you're having a day wedding as I did, it's a good idea to ask them to take you outside and take a photo so you get a feel for what it looks like in natural light."
Sabyasachi does take 3 to 4 months to deliver so plan your shopping accordingly.
Furthermore, you can't customize a lot. But can change your blouse and second dupatta. This might incur some additional charges, so be prepared.
Another Sabyasachi bride, @flyingparatha said Sabyasachi is quite expensive and no matter what outfit you choose, it's always important to choose to be stress-free on your big day! Pratha didn't wear a lehenga on her big day, she went for a Sabya saree instead. She wanted to copy her mother's bridal as precisely as she could! Her mom wore her grandmother's saree. She wanted to wear it too, but it was quite old to be revived. So she went for a gorgeous benarasi saree for her big day!
Simar Kukreja Sachdeva, our recent Sabya bride, advised to not assume similar designs will be priced the same. Sometimes, comparable designs can have different price range, so have a look properly.
That's all for the tips, if you are a Sabyasachi bride and would like to add your own recommendations here, please email us at wedbook08@gmail.com & we would be more than happy to add you here!