Sabyasachi is a dream bridal designer for many women, but not the one that fits into the budget. That's why the huge market of Sabyasachi replica lehengas is thriving, and if you've seen replica lehengas too, sometimes, it's hard to spot the difference between the original and the first copy. To find your desired Sabyasachi duplicate outfit, strolling through Chandni Chowk streets seems like a befitting option. And there are many lehenga stores doing a great job at it! But hold, what if we told you that you can buy a few copy pieces from Sabyasachi's collection online and that too, on the biggest e-commerce store of India, Amazon. Due to Coronavirus, many designer stores have taken their stores online, and since Sabyasachi copy is a huge demand, they have curated amazing lehengas matching the vibe and feel of Sabya. 
Here are some of our favorites. All the ones listed have amazing customer reviews and offer top-notch quality.
#1 Sabyasachi Floral-Printed Replica Lehenga
Sabyasachi's floral lehengas are always a hit among brides for their mehendi or haldi functions. Some intricately decorated ones are also chosen for the sangeet. This silk one with a big floral print and zero neck blouse along with a net dupatta is a gorgeous one to carry for your pre-wedding revelries, and an ideal one to don if you're the sister of the bride/ groom. Plus, you'll love the quality of this – see the reviews and client pictures. For the amazing price, it's definitely worth the steal.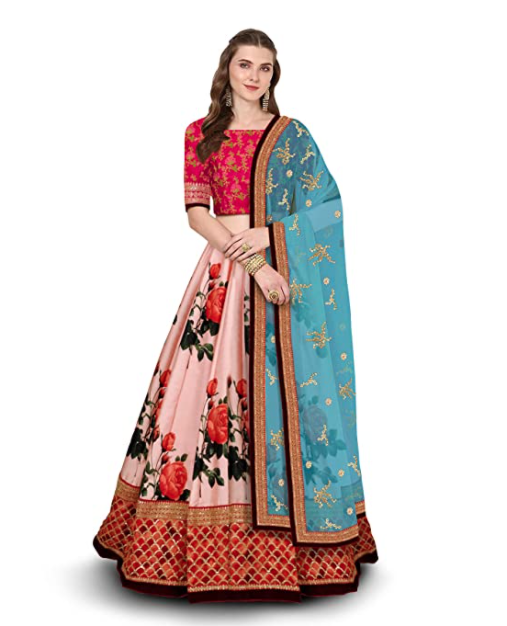 #2 Sabyasachi Replica Monochrome Lehenga
Ah! The monochrome Sabyasachi lehengas with the exquisite leafy zardozi work and leheriya dupatta that slid into real brides and celebrities' closet alike. Who doesn't remember Alia Bhatt lehenga pick while attending Sonam Kapoor's reception with Ranbir Kapoor on her side? And afterward, these lehenga styles became quite popular, and still remain to this day. Considering the same, here are Sabyasachi replicas for the same design in 4 different colors – so you can choose the one fitting as per your style and preferences.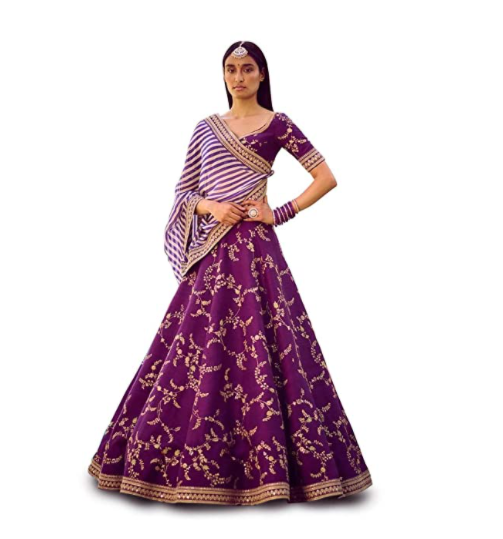 #3 Sabyasachi Replica Bridal Lehenga
Anushka Sharma bridal replica lehenga is still in demand! After all, she was the one who exponentially curved the pastel lehenga bridal trend and it remains strong to this day. Soft pastels are a great choice for brides who want to keep it minimal, elegant, and timeless – all at the same time. And if you're looking for a bridal outfit straight out of Sabya's graceful designs – you'll love this amazing first copy of his design.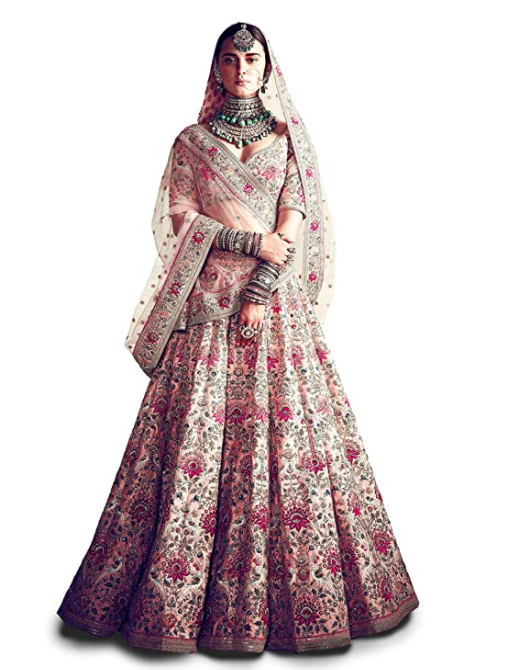 #4 Sabyasachi Floral Summer Lehenga 
Florals will always stay strong in Indian wear. Maybe we can see some variations in their design – like earlier small, neat ones were the go-to and now it has changed to intricate but big ones. The best part? These timeless designs can now be spotted on a printed version of lehenga skirts; meaning it will not weigh down the wearer and yet impart a charming appeal. Here are Sabyasachi replica lehengas in 4 colors to try. 
#5 Sabyasachi Black Lehenga First Copy
While red, oranges, and pastels continue to be on top of the trend for Indian wear, black is a beautiful color to break the usual trend and wear a unique, sophisticated color for your wedding. While it might draw eyes from elders, we think you can carry it on a small pooja function instead of the main event. But if you're the bridesmaid or the sister-of-the-groom, don't even think twice before picking this suave color. And if you're looking for a piece to convince you, we're ready with the picture below.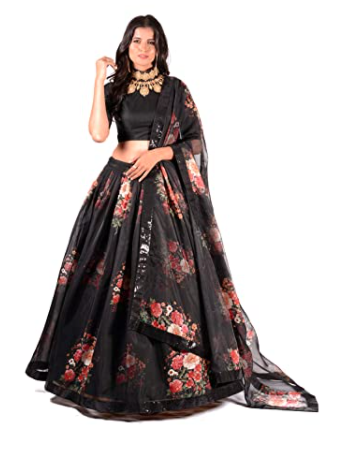 #6 Sabyasachi Silk Duplicate Lehenga
Lockdown brides, we need your attention. For your intimate wedding, you might be on the hunt for an ensemble that keeps it minimal yet lends you the grace for the bride. And haven't we found the perfect one for you? Big orange, red flowers with artistic foliage and an ivory base: imagine yourself walking down the aisle in this gorgeous dress with kundan choker and an elaborate mathapatti – dream imagery, right? The price and quality of this are amazing too.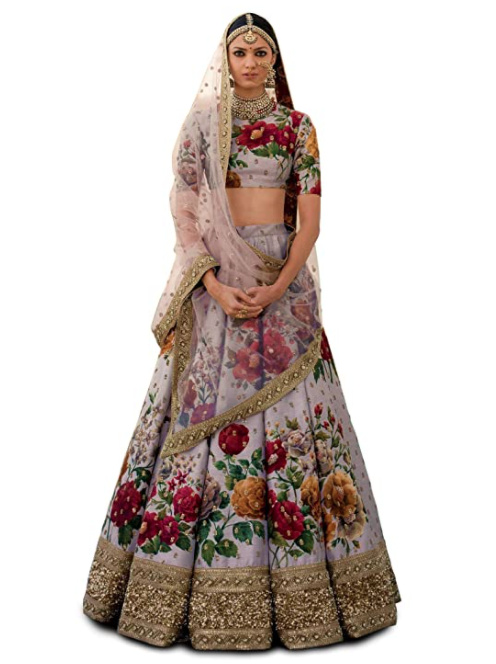 #7 Monochrome Sabyasachi Replica Lehenga
Brides today are more about subtle hues that don't overpower her personality. That's why quite a few brides are loving the pastel, ivories, and pinks for their big day. If you're one of them too, here's a baby pink lehenga with striking work and amazing quality to woo you. A Sabyasachi replica lehenga made with utter detailing in mind, we have to say.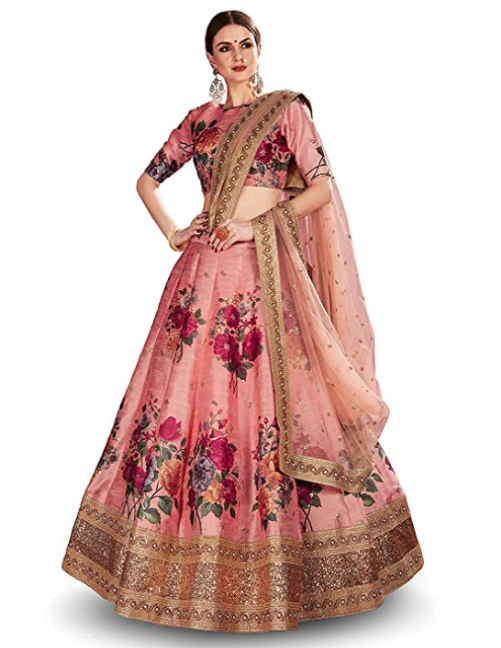 #8 Organza Lehenga With Zero Neck Blouse
For some women, heavy occasion wear is just not an option. Styling for them comes in the form of easy, subtle, and elegant wear. And speaking of that, there are some fabrics that fall right into their preference bracket – like Organza. This breathable yet charming fabric can be seen everywhere right now, from sarees to lehengas. If you're someone looking to include organza in your wedding wardrobe, here's a beautiful Sabyasachi duplicate outfit to try.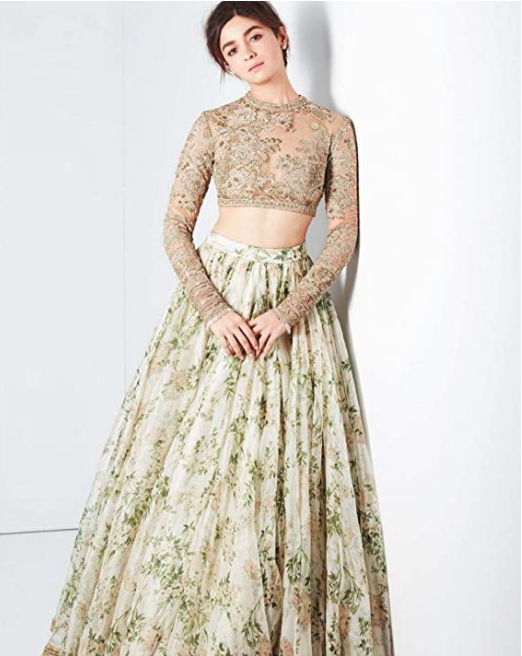 #9 Sabyasachi Bridal Lehenga Replica
If lockdown ruined your summer wedding plans and a winter wedding 2021-2022 is in your books, then here's a wine-colored Sabyasachi replica bridal lehenga just perfect for your celebrations. Looks perfect, doesn't it?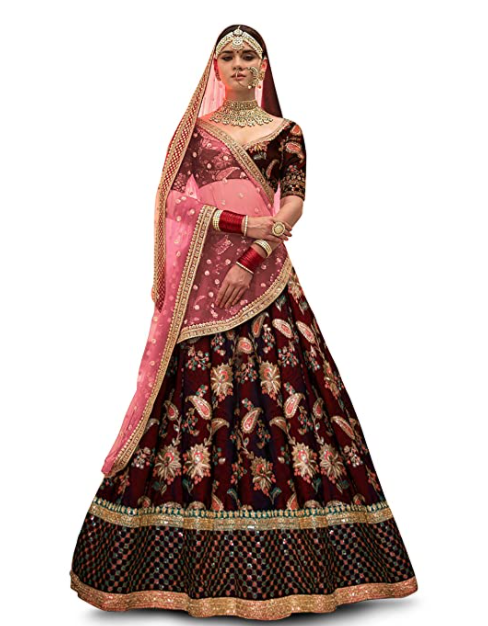 #10 Yellow & Orange Sabyasachi Replica Lehenga
When it comes to buying Sabya's first copy, we often think that a simple one would be better because it can be easily replicated. Well, we're here to tell you that the designers have nailed the duplicating part well. Plus, many of the karigars have worked in Sabya stores and have a good idea of the intricacy of the design. So, here's a gorgeously detailed one to try on.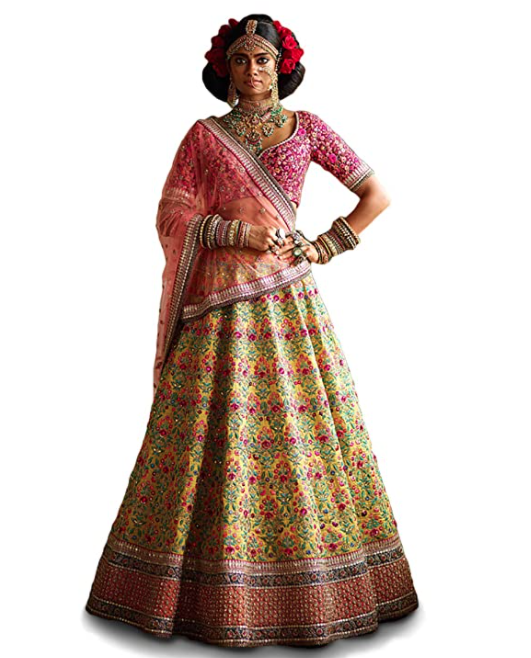 #11 Sabyasachi Anushka Sharma Lehenga Copy
Anushka Sharma's wedding started an explosion of trends, and pastel hues were one of them. Millennial brides across the country are still loving pastels for their wedding wardrobe and styling it in their own personalized way. If you're looking for an economical, stunning lehenga too, then this one right here will be your ideal choice. Pair it with a stunning choker set, minimal makeup, and a floral bun for a timeless bridal look.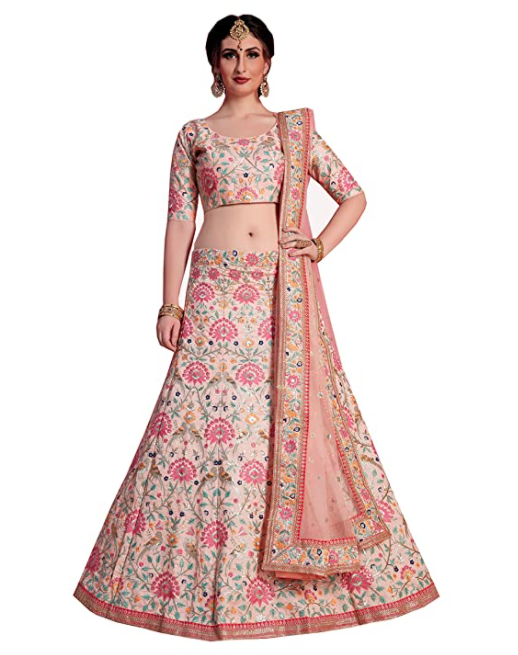 #12 Sabyasachi First Copy Silk Lehenga 
An ostentatious, heavily-worked Sabyasachi lehenga on your mind? Then, this alluring one in earthy tones will be love at first sight. From a detailed bottle green lehenga skirt to a red-golden zari blouse and a net dupatta with heavy work – this ensemble has it all for the brides who want to go all-in on their big day. Besides the big day, this would also make a great option for your sangeet or roka function.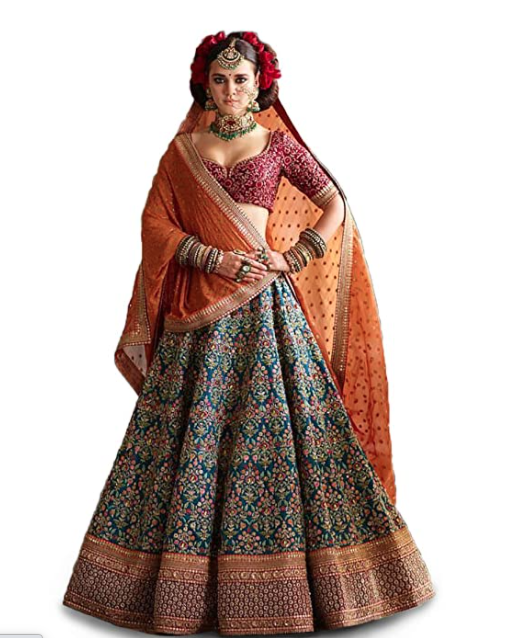 #13 Organza Sabyasachi Replica Saree
Apart from the Sabyasachi benarasi sarees, his organza saree collection has been revered and in demand too. The good thing is organza sarees are pretty easy to replicate, you just need to make sure the cloth is quality. This blue one with an endearing floral design looks like a good one for anyone wanting a Sabya design in their closet.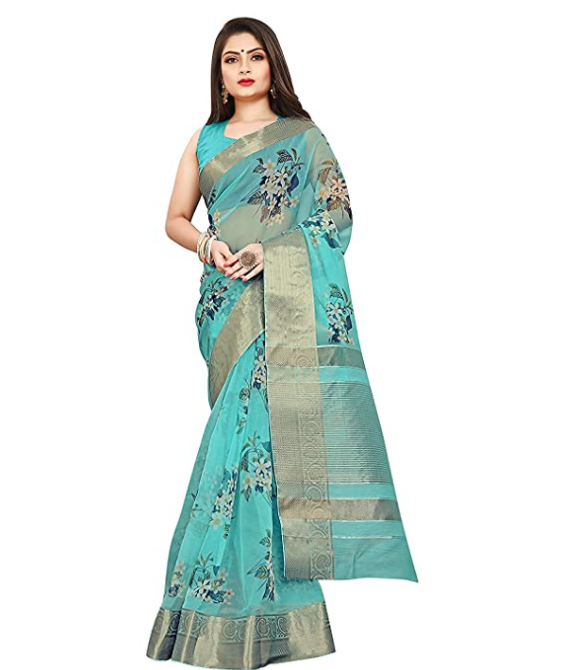 #14 Sabyasachi Belt First Copy
Sabyasachi belt first copy is immensely popular. Even actresses like Divyanka Tripathi have worn a Sabyasachi replica belt with their own style and glam. Add a ravishing charm to your outfit with a Sabya Bengal tiger belt. You can wear it with a saree, lehenga, or even a Westen attire (think high-waisted skirt and a shirt with Sabyasachi belt adding a nice quirk). If you're looking for a good Sabyasachi belt replica, here's the one you can buy off Amazon.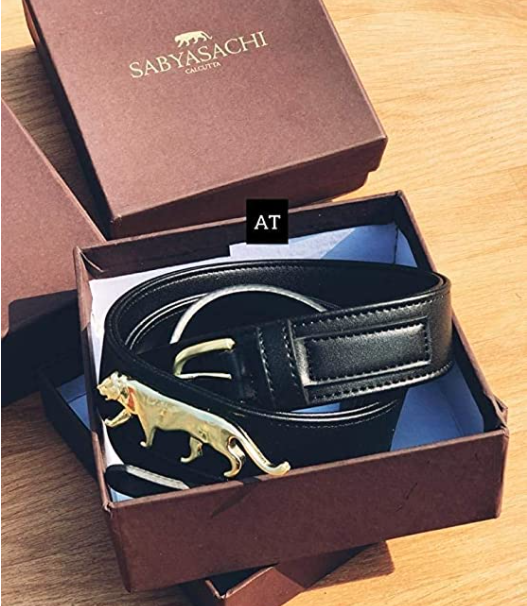 #15 Sabyasachi Replica Jewelry
Well, honestly, finding a replicate of Sabyasachi jewelry is hard, especially if it's not really golden, diamond, and polki pieces. But, if something comes close, then it was this elaborate jewelry set we found right here. Otherwise, we think going to your family jeweler to create a perfect duplicate can get your job done.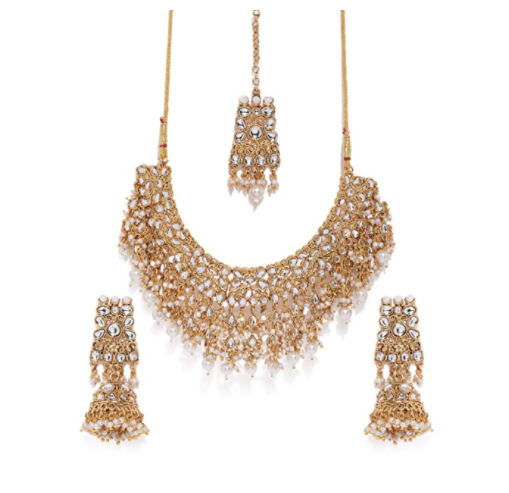 FAQ's 
What's the average price of a Sabyasachi lehenga?
Sabyasachi lehenga prices can vary anywhere between 3 lakhs (light, printed pieces) and can go up to 15 lakhs. You can get a simple bridal lehenga for 4 to 5 lakhs, but those with heavy detailing and elaborate designs can easily reach 10 lakhs or above. Sabyasachi sarees range from 1 lakh to 3 lakhs, some with heavy work can cost 5 lakhs. Sabyasachi belts are priced between Rs.12,000 to Rs.16,000, clutches start from Rs.30,000 and bags can be around Rs.60,000. Sabyasachi elaborate bridal jewelry can be priced anywhere between 20 lakhs to 50 lakhs. 
Can you tell a fake Sabyasachi apart?
Well, in most cases, yes. Sabyasachi designs can be found in a number of lehenga stores, and not all designers adhere to the same quality and intricacy when it comes to designs. The closer you want it to feel like Sabya, the more you've to pay. Take for example Priyanka Chopra's monochrome red lehenga, the closest quality design we think is that of Payal Keyal, and she takes around 3 to 4 lakhs for the lehenga, and the original price is between 14 to 18 lakhs. Similarly, stores like Sudhir Bhai Saree Wala and Kamal Bhai Saree Sangam sell convincing Sabyasachi replicas, but the cost can easily be between 1 to 2 lakhs. 
Some stores in Karol Bagh will design the same exact lehenga for you on request. These designers go to great lengths to replicate the original piece. This includes taking pictures at the fashion shows, ordering the same outfit as a sample, and ordering material from the same vendor. But again, the closer you want the replicate one to be to the original, the more you'll have to shell out the money. 
From where can we rent a Sabyasachi lehenga?
Want to rent an original Sabyasachi lehenga or saree? It's possible. Here are two online stores that offer your favorite Sabyasachi lehengas for rent. 
What are some good Chandni Chowk stores for Sabyasachi lehenga replicas?
Chandni Chowk lehenga market is the hub for selling Sabyasachi replicas. While you can find good designs almost anywhere, our top picks are Sunehree, Kamal Bhai Saree Sangam, and Sudhir Bhai Saree Wala.