The conversations around protecting nature's bounty have gained momentum post-Covid-19. We all feel a responsibility and accountability towards Mother Earth, and in small, impactful ways we can all make a difference. From using our own carry bag to shop (cloth ones please!) to sipping our favorite drinks with a recyclable straw or cutting milk packets without clipping away the small opening in full – there are ways we can all make a difference every single day. However, the big changes have to start from those holding influential positions in the market. And in the Indian fashion sphere, that foremost, laudable step is taken by Anita Dongre. 
Dongre's 25-year old fashion house has offerings for everyone – pret, casual, bridal wear, jewelry line, and just recently she launched her fragrances too! The conversations around ethical fashion never bothered the designer because, for her, it's always been the way of life – both personal and professional. In fact, in 2015, she launched her own sustainable label called Anita Dongre Grassroot. Besides, she is taking big, moon steps to make her older labels sustainable through the use of eco-friendly materials, conscious production strategies, plastic-free packaging, and ditching the idea of fast fashion by creating timeless couture pieces. By 2025, she plans to make her million-dollar company carbon-neutral.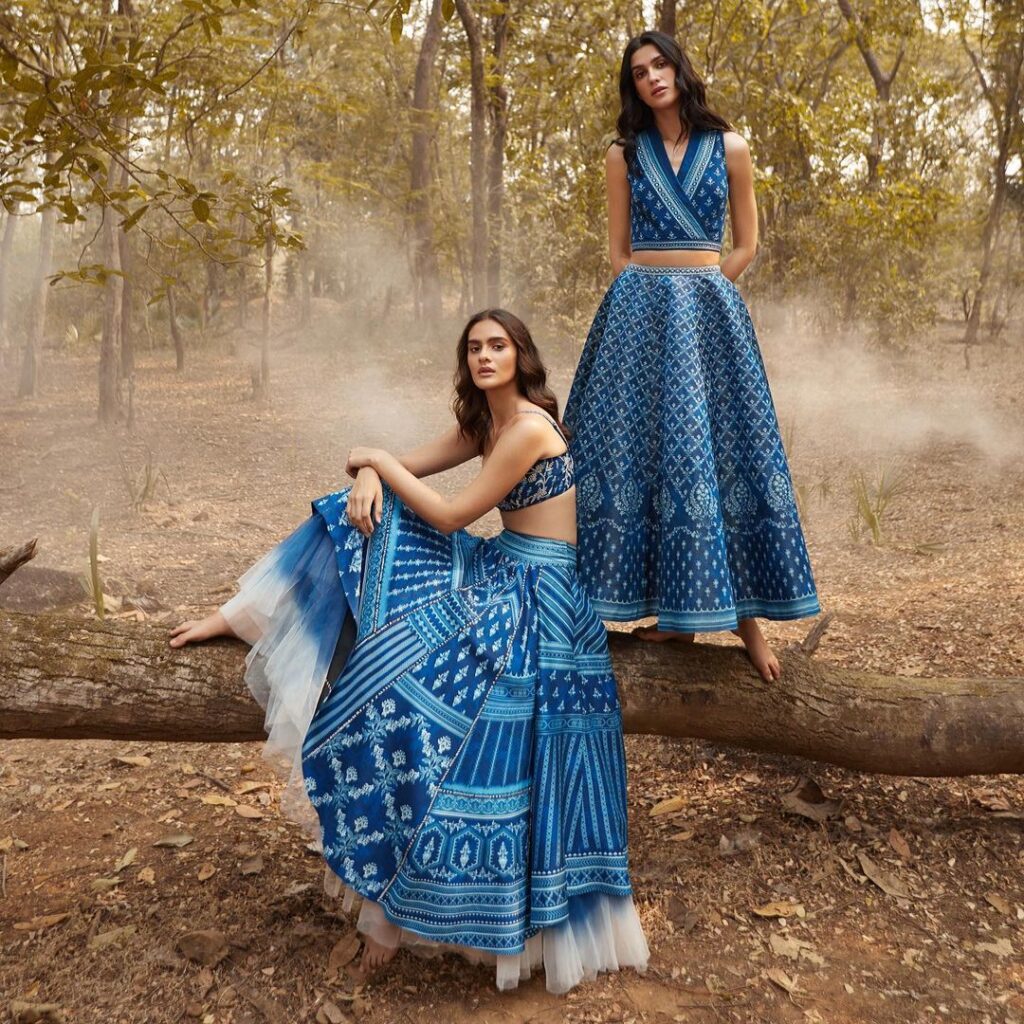 Anita Dongre's Latest Collection Infuses Sustainability Into Bridal Fashion
Weddings are a source of huge waste – there's probably anyone who doesn't know that. From food to lights to clothes – all parts of the celebration contribute to the growing landfills. While there are ways to tackle each aspect (see how to plan an eco-friendly celebration), I think Anita Dongre has fixed one for us beautifully. In her latest collection termed 'Sounds of the Forest'. 
The collection is launched in collaboration with Tencel India, a company that manufactures fibers of botanic origin to make ethical fashion easy & comfortable for you! Launching the new range, this is what Anita Dongre wrote on Instagram
"Forests are an eco-system of sounds. The cascading harmonies of native birds, the rustling of prancing hooves, and the murmurs of swaying trees create a binding symphony that has played across time. Its soul-stirring renditions have always welcomed us, and we join its melodious cycle with "Sounds of the Forest", a collection highlighting Tencel fibers originating from sustainably managed forests. Renewable and biodegradable. Emerging from and returning to nature. Reflecting on the power of our choices and our place in nature's complex puzzle." 
With her collection, Dongre proved, yet again, that sustainable fashion is anything but boring and monotonous. The featured couture line encapsulates sarees, lehengas, anarkalis, and sharara sets doused in fine prints done by local artisans. Besides, you can find fine-cut jewelry, intricately crafted footwear, and vividly printed potli bags in the newly launched collection too. Scroll to take a look.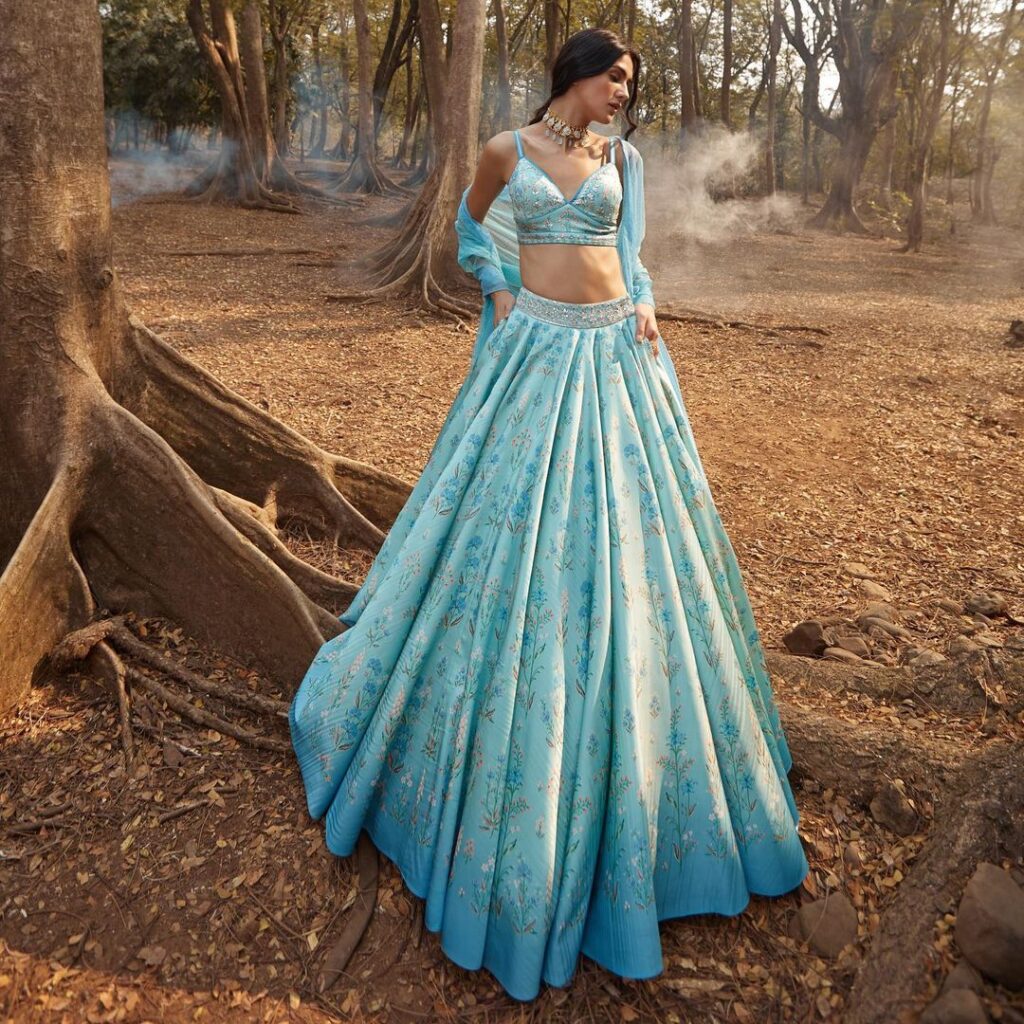 How Other Indian-Wear Designers Can Follow Her Approach
Being a well-known designer in India, and the world, Anita Dongre has a strong influence on budding as well as existing designers in India. She has become a leading torch for sustainable fashion, and many creators have followed suit. "It is gratifying to see young designers passionately taking the helm of responding to the need of sustainability," she said in an interview with Elle India. To inculcate sustainability, "designers should start at the core of the brand and re-evaluate the principles that govern design choices. See if you can source ethical raw materials, introduce interventions to create ethical, more natural production choices, and justify the end-products with the efforts made to create them," she adds. 
The initial costs of the efforts may be higher, but sustainable fashion is all about minimizing costs, and hence, will cut your costs in the long term. The consumers are also moving towards ethical, green choices and there's an increased awareness around brands inculcating the same in their production efforts. This means that you'll be benefiting in terms of production costs and consumer acquisition. It will certainly be great to see more brands in the wedding space following this ideology, and hopefully, one day, we don't have to separately emphasize this is a 'sustainable fashion brand' because that's now a way of fashion. 
Shope For Anita Dongre's Sounds Of The Forest collection here.