The haldi ceremony marks the beginning of the wedding day and is a fun, vibrant ritual to engage in for the couple and the wedding guests. Also known as the pithi ceremony, the haldi ritual consists of applying a paste of turmeric with gram flour and curd on the face & body of the bride & groom. The guests apply the paste one by one, and the ritual generally starts with elders applying the haldi first and then moving on to the younger generations. Friends and siblings take advantage of the occasion by lathering the bride-to-be/ groom-to-be like a bread pakora on the day. This can also escalate to putting other things on them like beer or eggs. In the groom's haldi ceremony, it is also common for his kurta to be torn apart by the end of the ritual. 
All in all, a haldi ceremony is a balanced mix of traditions, fun, laughter, emotions, and hearty banter. Below is a complete guide on the significance, steps, dress, poses, and decor ideas for a haldi ceremony. 
Haldi Ceremony Significance
The significance of the haldi ceremony goes beyond the fun event it is. Here are some of the significant steps of the Haldi ceremony:
#1 It Keeps Away The Evil Eye
Ask any elders in your home what's the significance of a haldi ceremony and they will say it's to ward off the evil spirits and evil eye from affecting the bride and groom. This is also the reason why the bride and groom aren't allowed to leave the home after the haldi ceremony. A sacred red thread is also tied on their hands to protect them against the evil eye. 
#2 It Imparts The Beautiful Bridal Glow
Craving for that beautiful bridal glow? Haldi is a great DIY agent to get glowing skin. Turmeric has powerful antioxidant and anti-inflammatory properties which boost blood circulation and tightens the skin instantly. It also acts as an exfoliant and gently sloughs away any dead skin to reveal the beautiful radiant skin within. When mixed with other ingredients like gram flour, rose water, oil, saffron, etc. the beautification properties of the ubtan are further enhanced. 
Besides imparting radiance to the skin, turmeric also has anti-microbial and antiseptic properties. It reduces any dryness, itching, swelling, and irritation on the skin. If you have any acne, haldi calms the skin and reduced any redness or itching. 
#3 The Color Of Haldi Is Auspicious
In Indian culture, the color yellow is considered very auspicious. Yellow symbolizes sanctity, opulence, and royalty. Therefore, yellow is often incorporated into many elements of the wedding ceremony. From decor to outfits to jewelry and the auspicious color of Agni, yellow can be seen quite frequently in Indian weddings. The bride and groom are also supposed to wear yellow on haldi day to signify new beginnings, and the majority of them do! 
#4 Haldi Relaxes Your Mind
Turmeric is beneficial for relaxing the mind and driving away pre-wedding jitters. The application and massaging of ubtan on the body is a relaxing task in itself. Although, haldi also helps alleviates the symptoms of anxiety, stress, and depression. These benefits are enhanced when the haldi is ingested, but even the application ensures these benefits. This is mainly because strong ayurvedic herbs get absorbed into the bloodstream from the skin. Research has shown that turmeric reduces cortisol levels inside the body by reducing inflammation and any undesirable symptoms associated with it. Turmeric, particularly curcumin, also alleviates depression symptoms on its own or in combination with other herbs like saffron (which is also added to bridal ubtan). 
#5 Haldi Purifies & Cleanses The Mind
Besides the physical benefits, turmeric also has spiritual meaning and significance in the Indian culture. It's a symbol of purity and pride and is associated with fertility and prosperity. The turmeric root helps form a spiritual connection with the Earth and the color yellow denotes the Sun's calming rays, abundance, and sacral chakra. It's spiritual benefits manifest in the form of humbling the bride & groom, calming their nerves, and imparting them with peace of mind so they can embark on their marital life with composure, contentment, and serenity. 
#6 Blessings
The haldi ceremony generally starts with the elders applying haldi to the bride/ groom. While doing that, they also shower them with blessings to start their newly married life with tons of love, happiness, and peace. For the bride's side, this ceremonial ritual can also make the elders & the bride emotional and it's a good time to get those emotions out for the day because the rest of the day, things can become a little rushed.  
#7 A Fun, Cozy Event
While mehendi, sangeet, and other revelries have a sort of societal norms and formalities associated with them, haldi in the event often requires fewer preparations and doesn't have many customs associated with it. On the day of the wedding, you can start with some low-key and yet have endless fun with your loved ones. This is also the time when the bride doesn't have to worry too much about her hair & makeup, and can feel easy-going with her attire. 
More so, it's believed that anyone who wants to get married or find a partner should try to get some of that haldi paste applied to them by the bride/ groom and it's believed this can help them find a partner soon in their life. 
Haldi Ceremony Steps, Rituals & Items
The haldi ceremony steps are relatively straightforward. Panditji is often not required for the haldi ceremony, although some people can employ their services to chant shlokas that bless the bride & groom and signify the auspiciousness of the ceremony. Panditji is also called if you're combining bangle ceremony with haldi ceremony, which is often the case with Punjabi and Sikh rituals. 
On the day of Haldi, someone mixes the turmeric with other ingredients like gram flour, jau ka atta, saffron, glycerin, rose water, oil, etc. Everyone takes different herbs and ingredients and there's no set rule for what should be added into the haldi to make it into ubtan. Relatives then apply the haldi with grass or doob tied using the red sacred thread or moli. They apply it to the cheeks, hands, and legs – one by one. They also bless the bride & groom in the process. Afterward, the friends and cousins take over to have some fun lathering the bride & groom entirely and getting some cheery photos in the process.  
Haldi Ceremony Dress
Here are some ideas for the haldi ceremony dress:
#1 A beautiful organza saree is the ideal outfit option for haldi revelry. It's easy-breezy, comfortable, classy, and looks utterly gorgeous. You can pair it with a sleeveless white blouse and style minimalistically. While here the bride wears jhumka earrings with her saree, you can go ahead and wear white mogra flowers jewelry as well. The latter is in trend and celebrity-approved as Katrina Kaif, Isha Ambani, and Kajal Aggarwal wore it at their haldi event.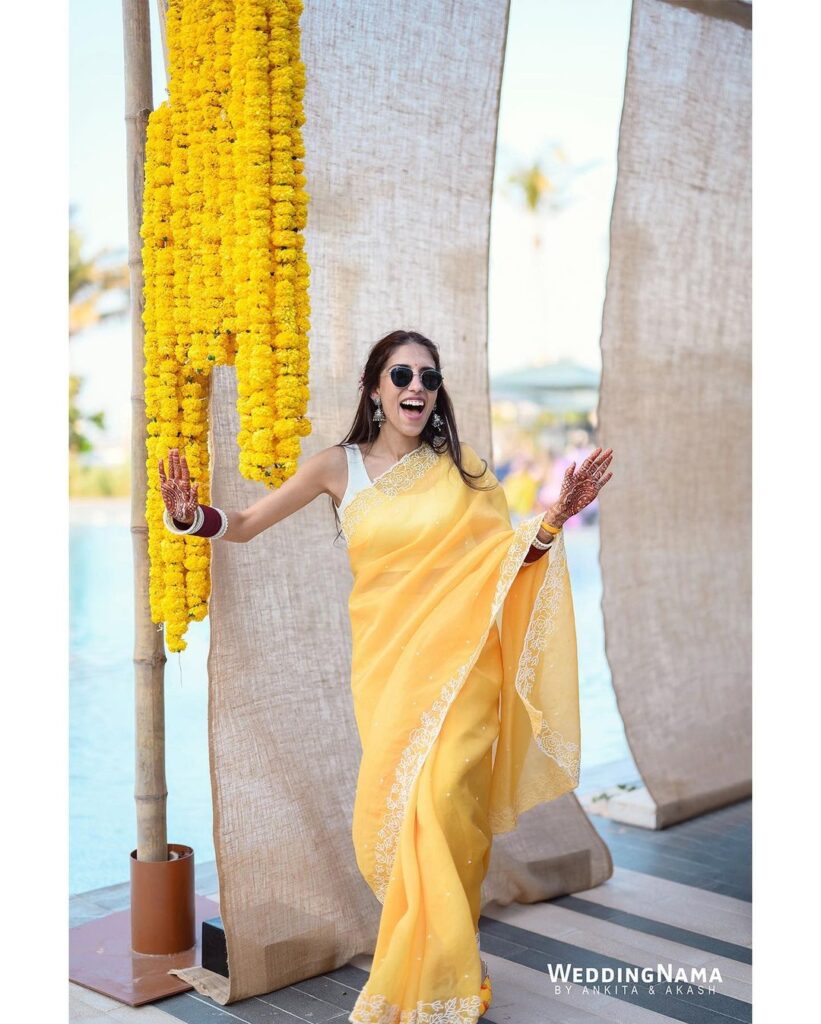 Courtesy: Wedding Nama
#2 While minimalistic haldi outfits are common, you don't have to go with the majority if that's not you. This bride went for a maximalist haldi look with a gota-patti work lehenga, a simple blouse with attached dupatta, and kundan & emerald jewelry. She also got the waistline of her lehenga customized with her wedding hashtag for a bridal haldi look worth staring at!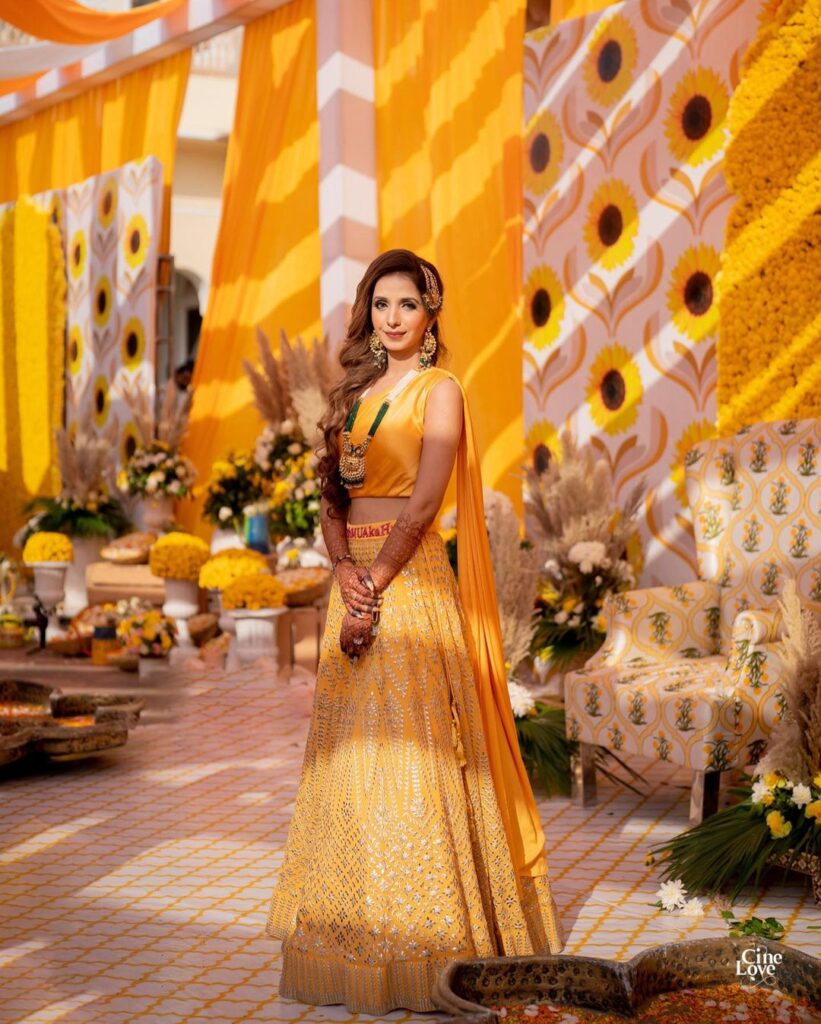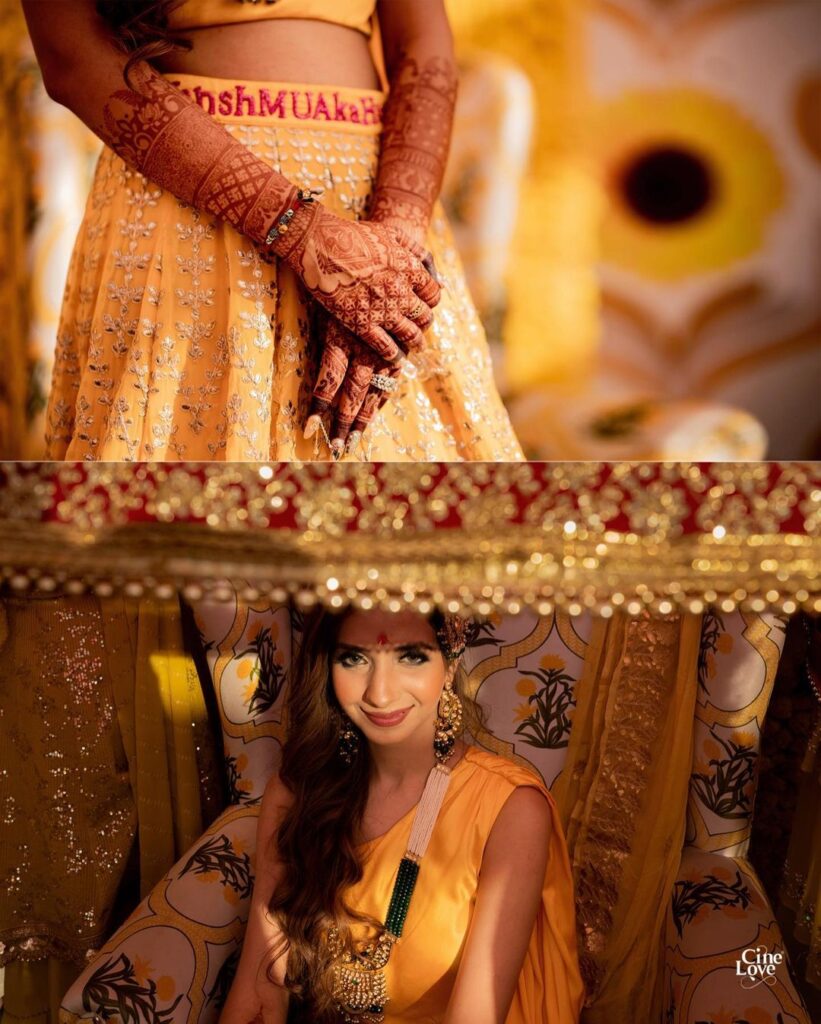 Courtesy: Cine Love Productions
#3 Another lehenga haldi look where the bride went for a complete maximalist style look with a heavy sequin lehenga and glamorous hair & makeup. The groom also dressed in a black mirror-work sherwani to match the allure of his bride. If you're having a phoolon ki holi, then having such fashionable outfits makes sense. However, if you're having the traditional haldi, then make sure, everyone's intimated to not put a ton of haldi on you. Haldi stains are tough to remove and might ruin your dress forever.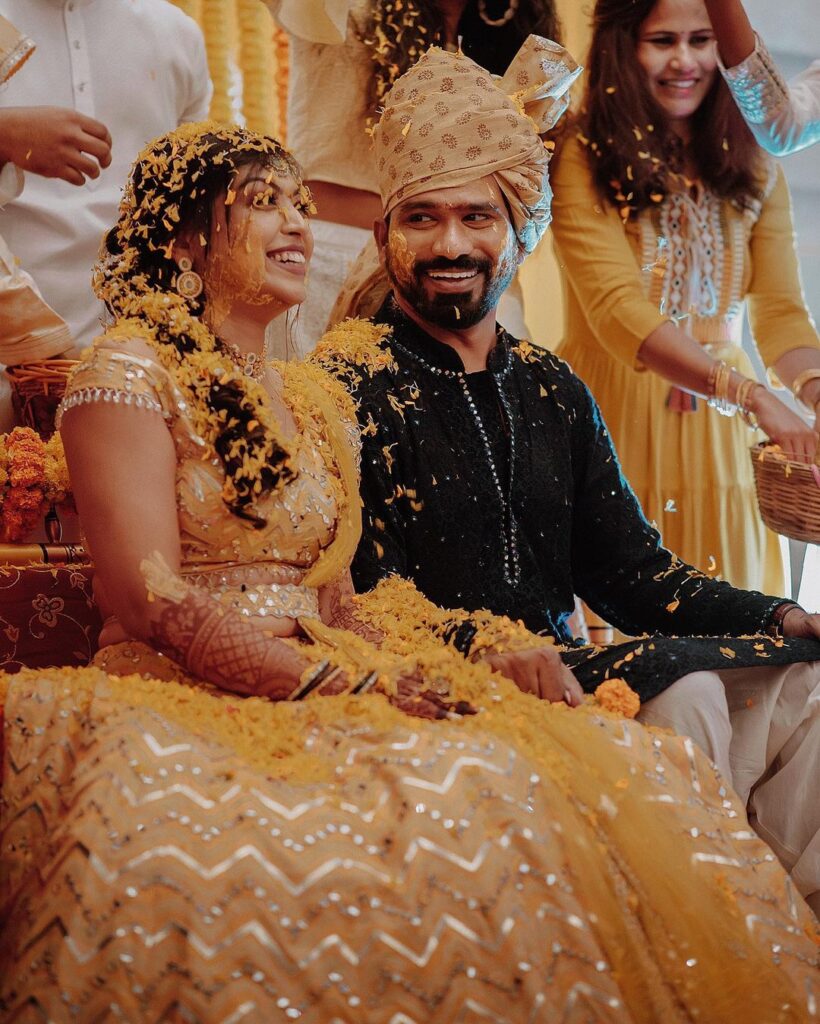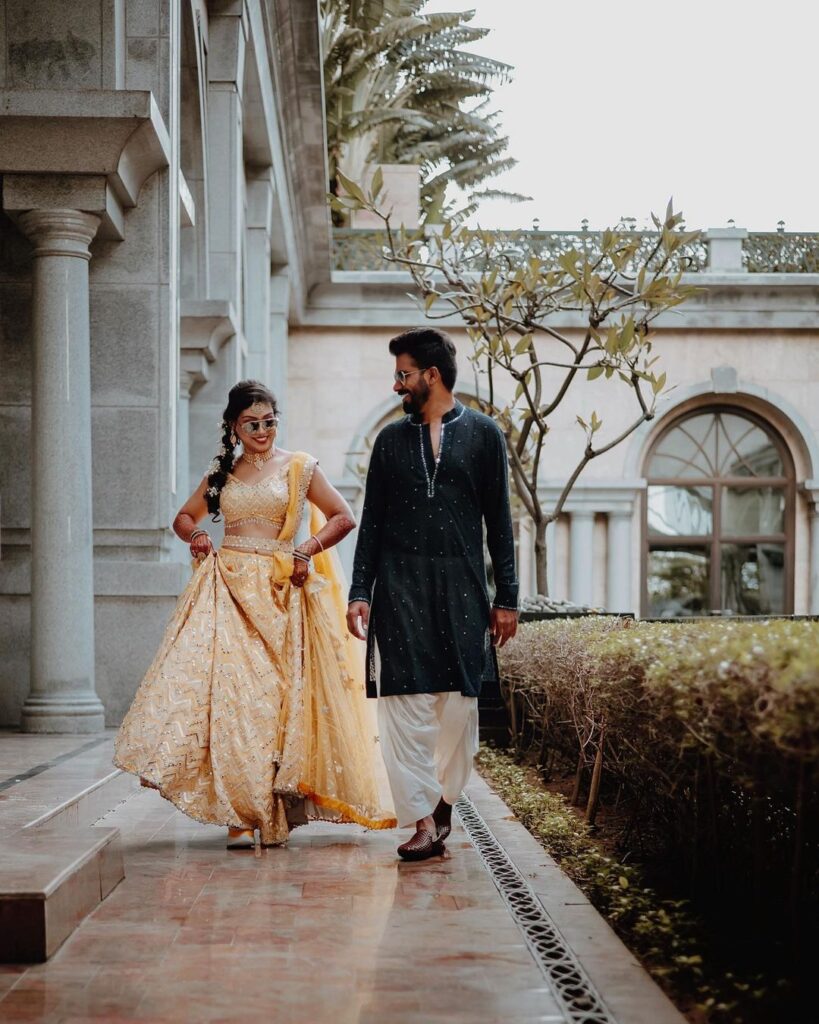 Courtesy: Shades Photography
#4 Yuzi Chahal & Dhanashree's wedding in Gurugram attracted much attention from the media and wedding fanatics alike. For their haldi ceremony, the bride & groom coordinated in yellow and gave major couple goals.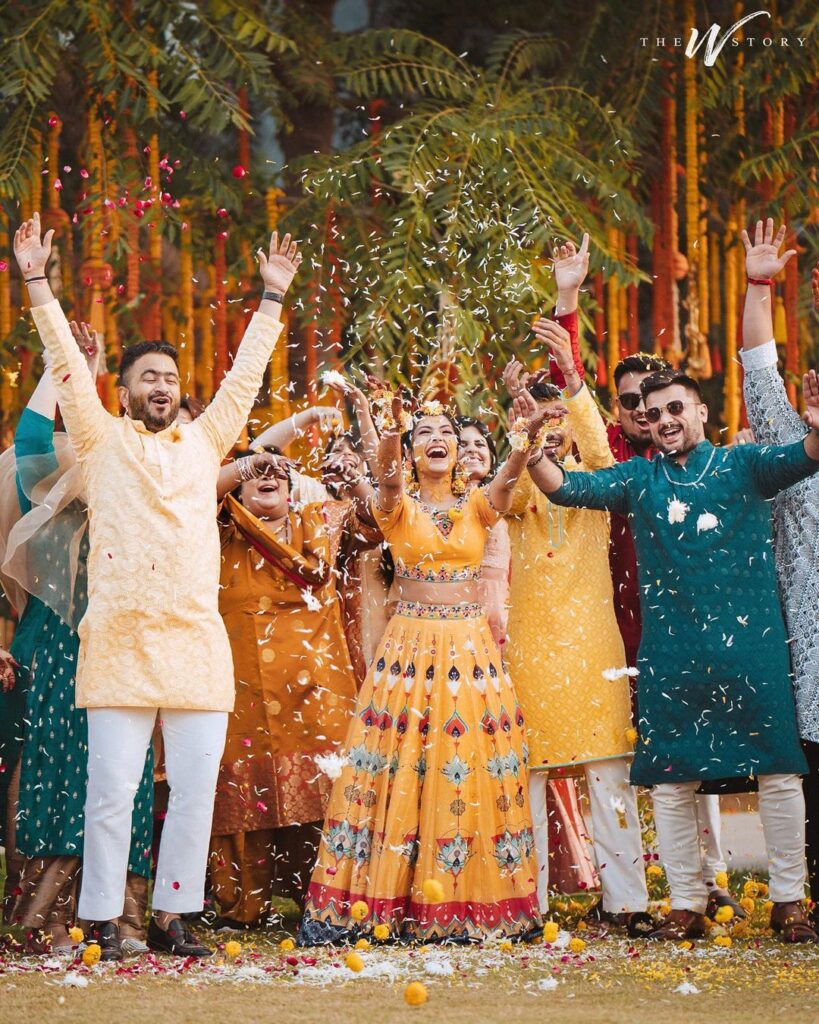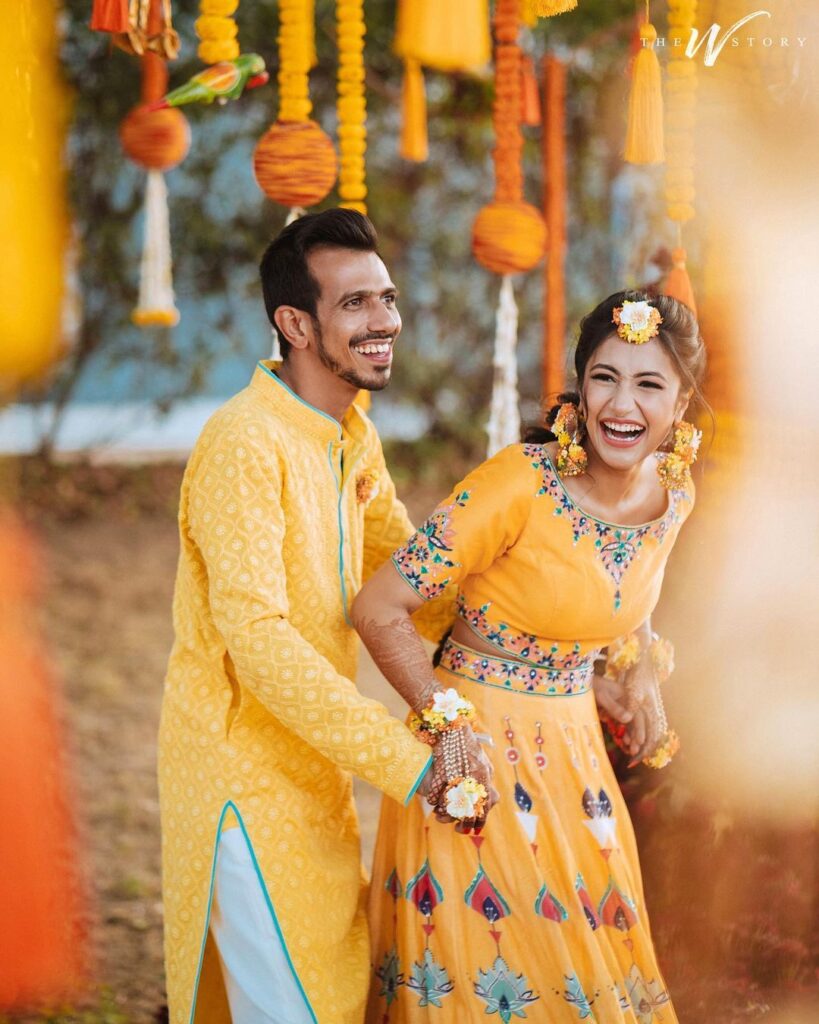 #5 This stunning shot of the sister-of-the-bride went viral for the pose, aesthetic, outfit, and gorgeous background behind it. This ghagra choli in Rajputi-style doesn't just make for an ideal option for sisters, but also for the bride herself. It's a subtle deviation from the sarees and lehengas, yet gives a very traditional look.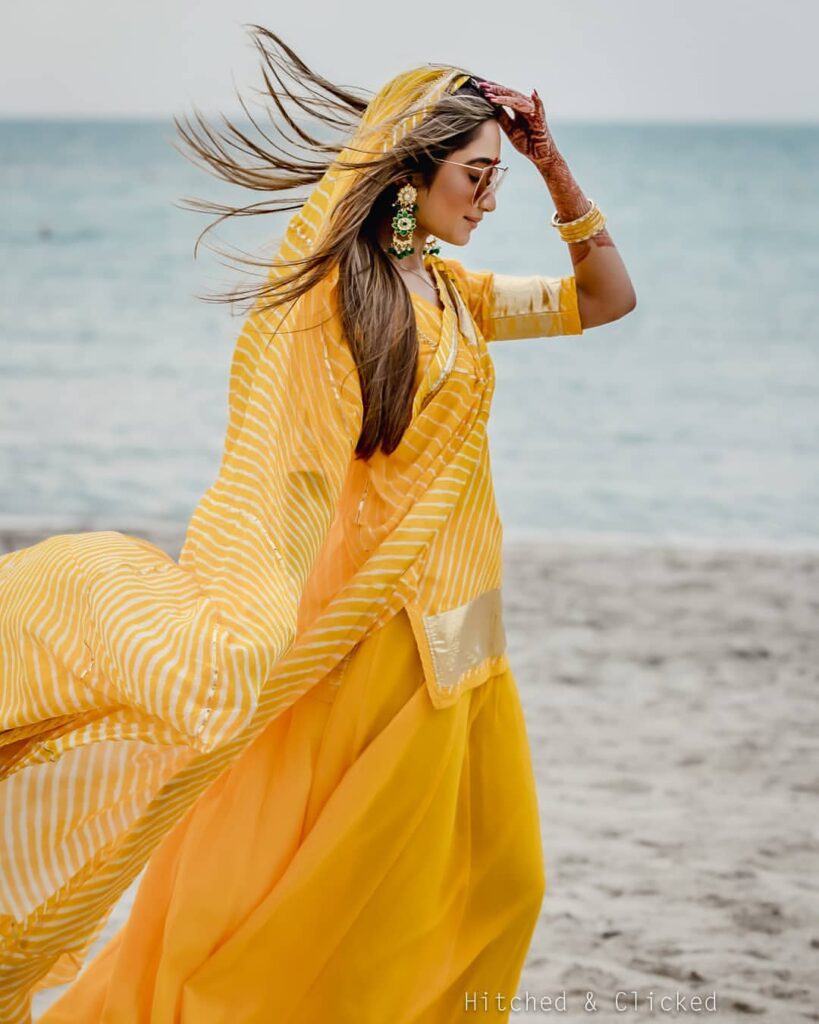 Courtesy: Hitched & Clicked
#6 A saree for a haldi ceremony is common, but make it intricate with hand-embroidery and a jacket and turn heads at your haldi event. Bride Sakshi paired her flawless Anamika Khanna saree with kundan jewels, dewy makeup, red lips, and an elaborate braid for a head-turning Haldi dress idea.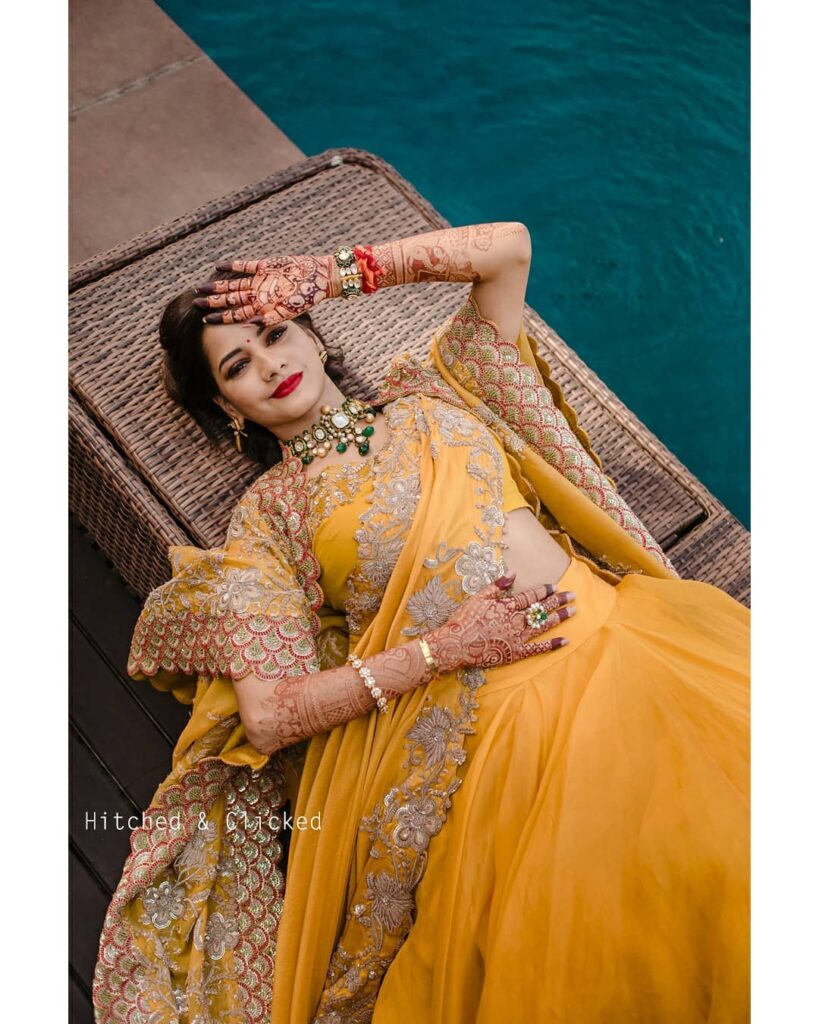 Courtesy: Hitched & Clicked
#7 A simple lehenga for your haldi ceremony so you have the functionality of movement yet the glamor of the bride in one frame. While this bride opted for a bare face and makeup with no jewelry, you can certainly wear floral jewelry with the lehenga and pair it with simple hair & makeup to amp up the attire.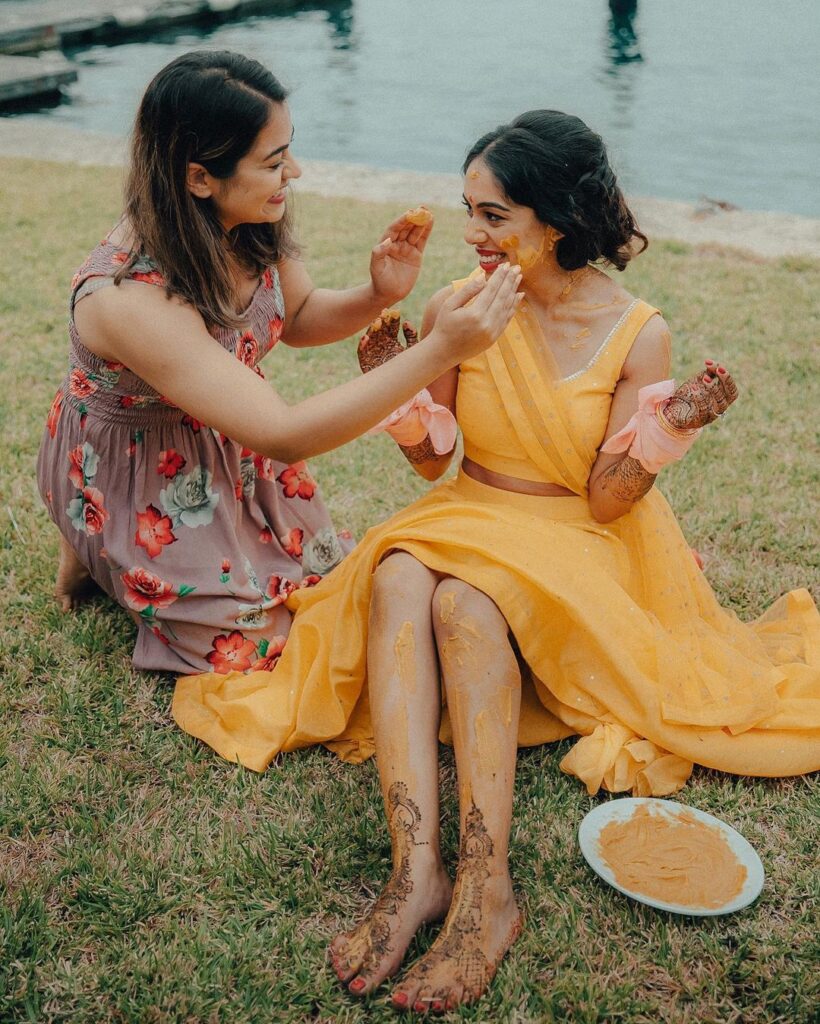 Courtesy: Shades Photography
#8 Bored of the usual yellow color for haldi ceremony outfits? Then opt for this trending and splendid combination of prints for your haldi. Enhance the modish quotient higher by opting for a concept saree, instead of the usual one.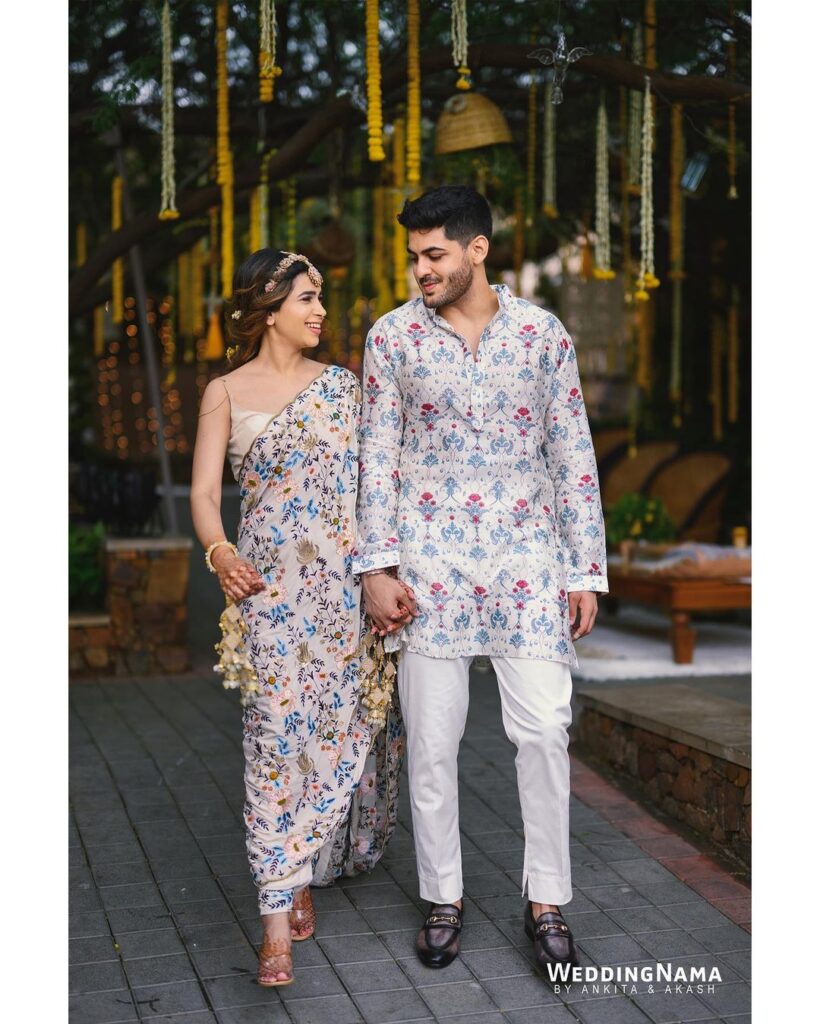 Courtesy: Wedding Nama
#9 Yellow is the color of haldi, so don't shy away from including this color (however excessively) into your outfit. This bride & groom coordinated beautifully in gorgeous shades of yellow for their haldi. The bride's mirror-work lehenga seemed enough to add charm to the entire event and a superb haldi ceremony dress for brides.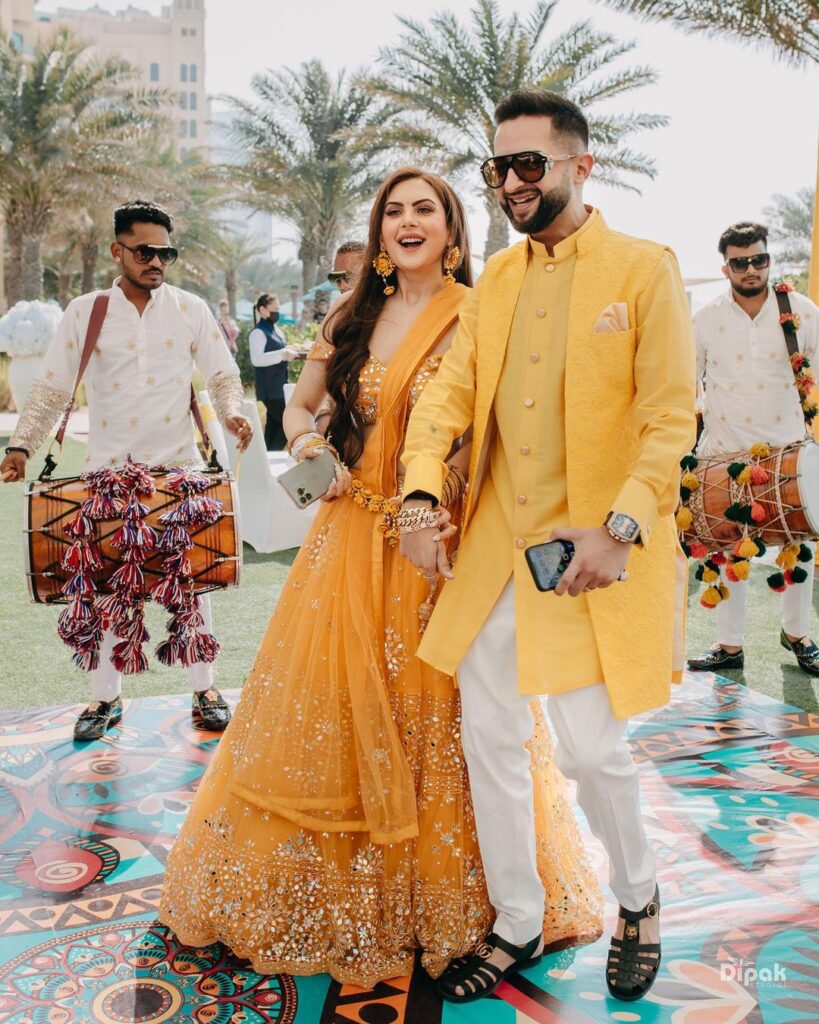 Courtesy: Dipak Studios
#10 Blogger Niki Mehra's entire wedding wardrobe and styling were captivating. On her haldi, we were expecting a usual haldi look in yellow, but she gave us a pleasant surprise in a green organza saree, with her beau in a kurta pajama with the same hue. Also included below are the mesmerizing details of the look.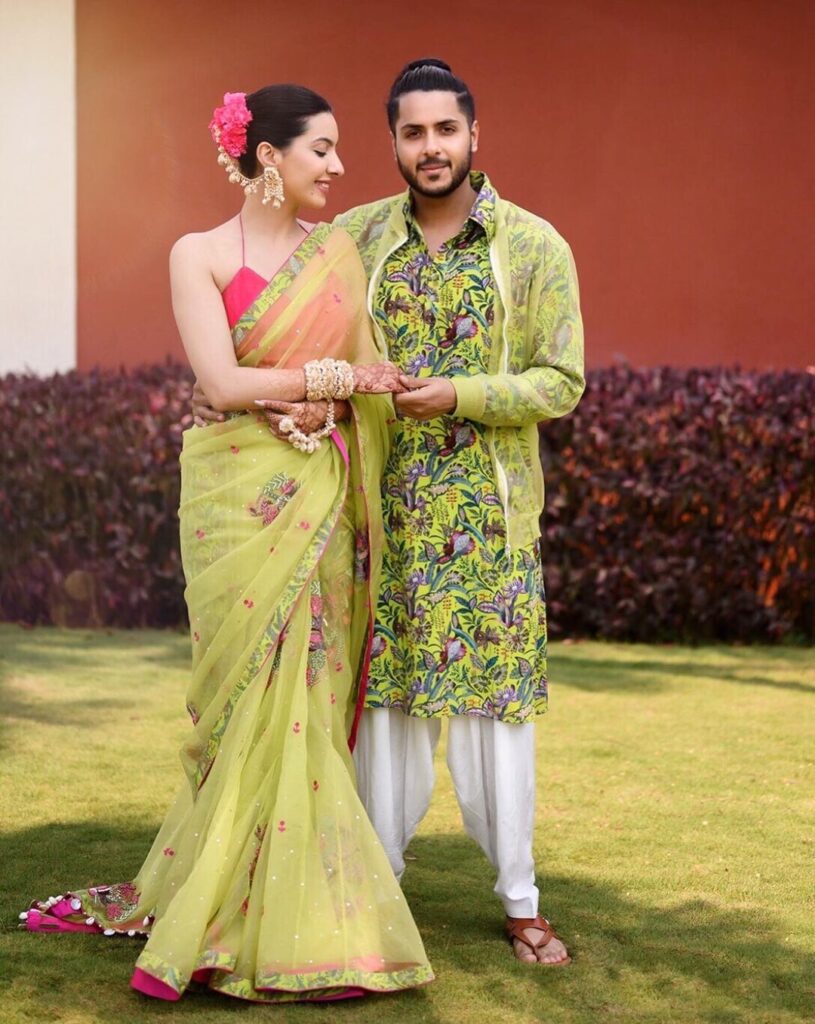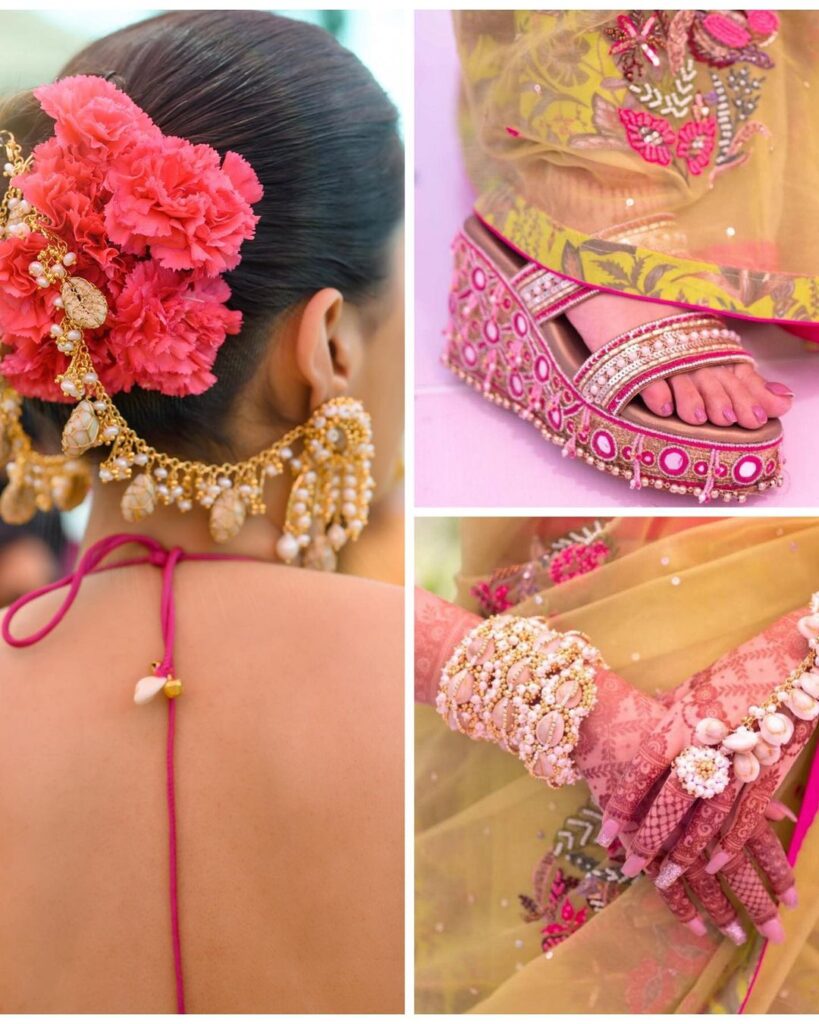 #11 This bride proved that red is the ultimate color of Indian weddings and can work for any event, including haldi. If you want to do something different and statement on your wedding and yet want to be safe with your choices, then opt for a different color lehenga and let the silhouette & styling remain classic.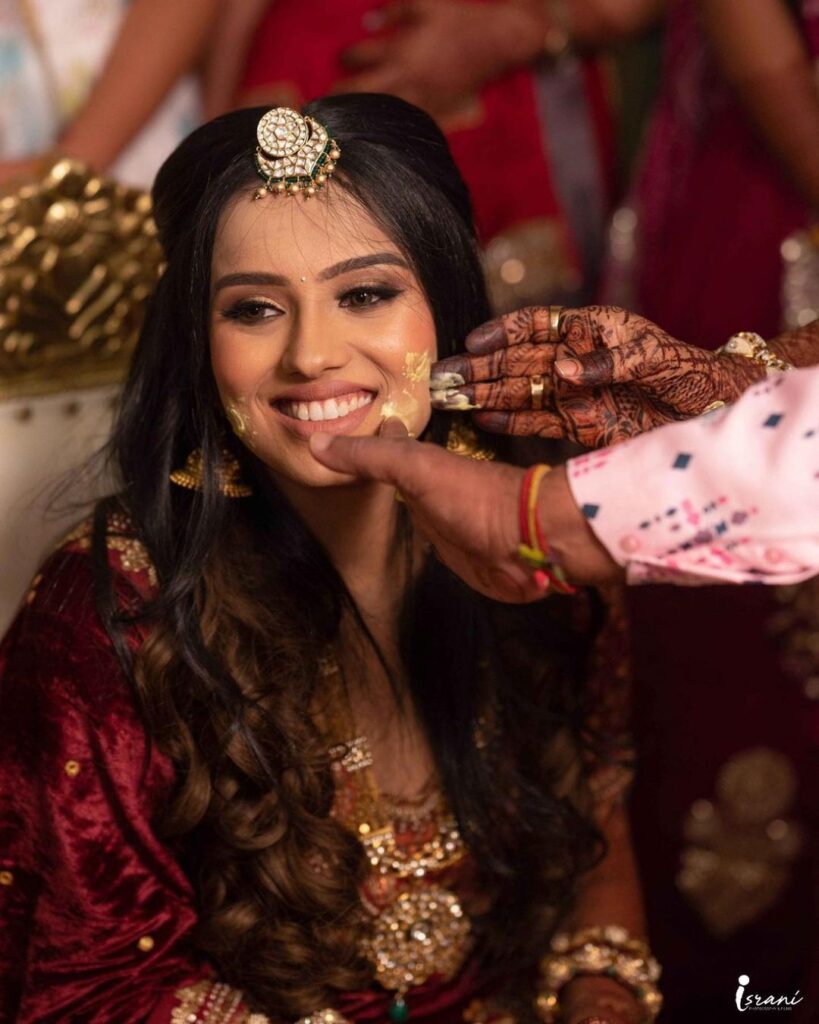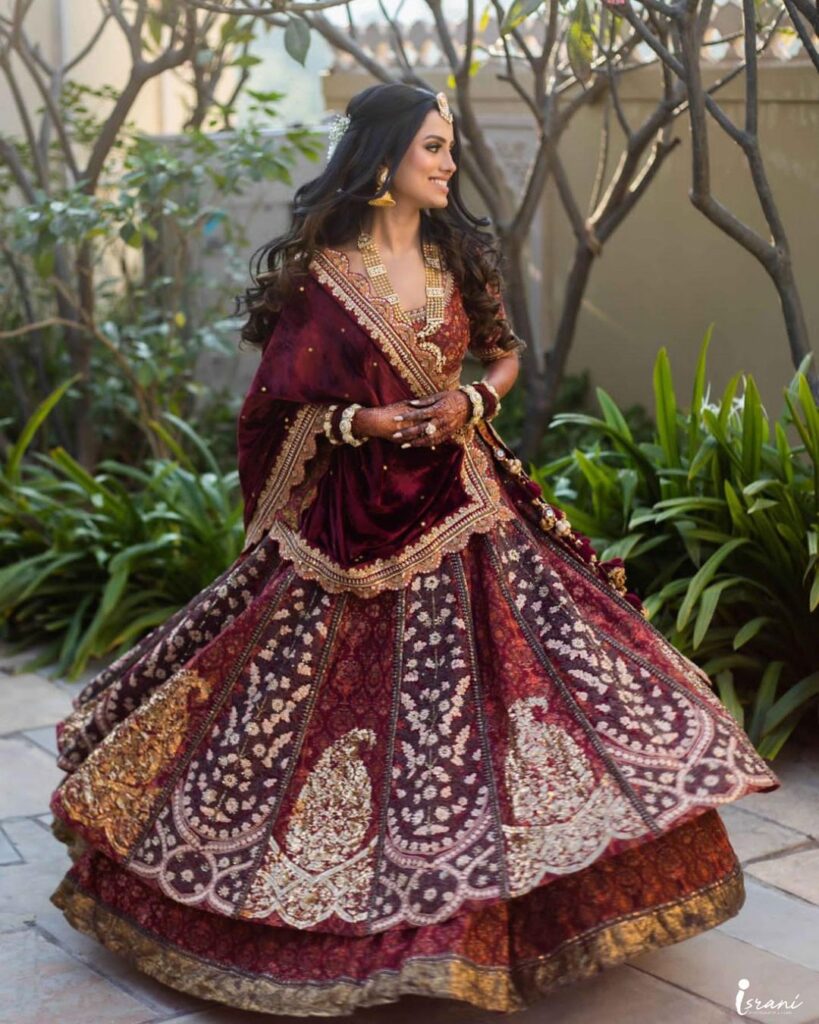 Courtesy: Israni Photography
#12 Fashion bloggers always bless us with the best wedding inspiration. Kritika Khurana or best known by her Instagram name – @thatbohotgirl's wedding was no different. Included here is her OTT haldi ceremony look in a Rimple & Harpreet lehenga with her husband, Aditya, in a mirror-work kurta by Abhinav Mishra.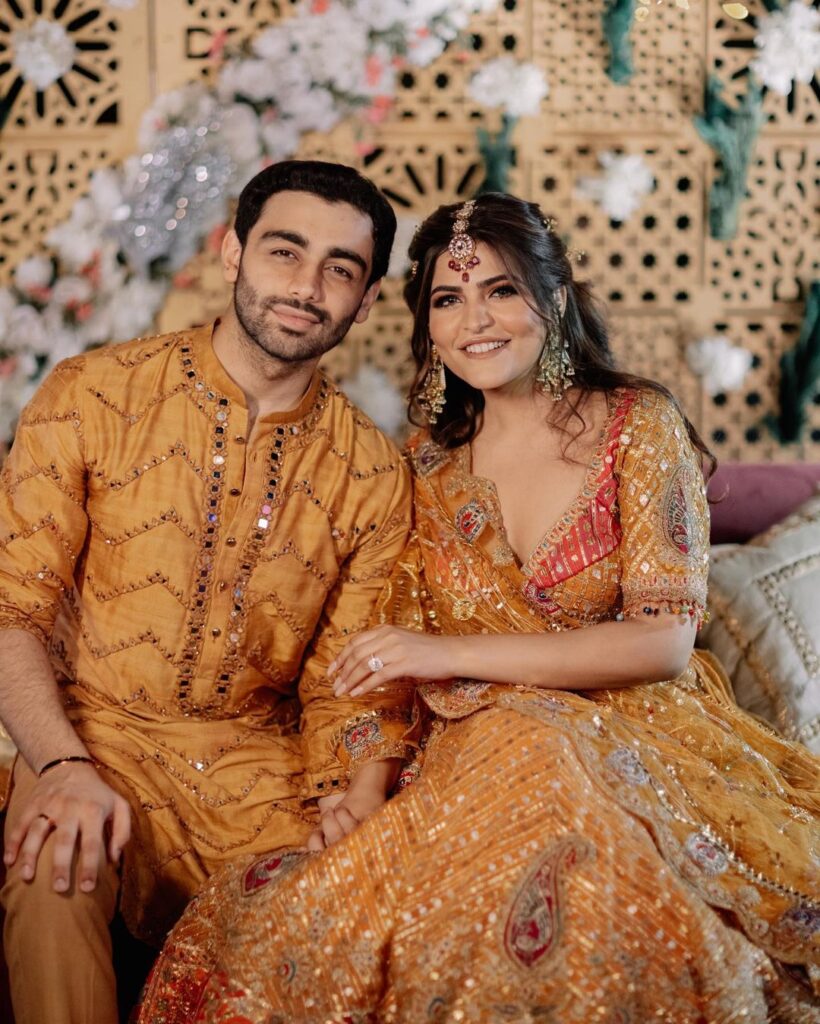 #13 The cuteness of this haldi portrait is surely one captivating aspect of this haldi event. But we're also admiring the simple haldi ceremony outfit choices. Grooms, a word of advice, if you know your friends will tear your kurta then you might as well invest in only a simple kurta. And a simple leheriya saree (get here) can look splendid on brides as well.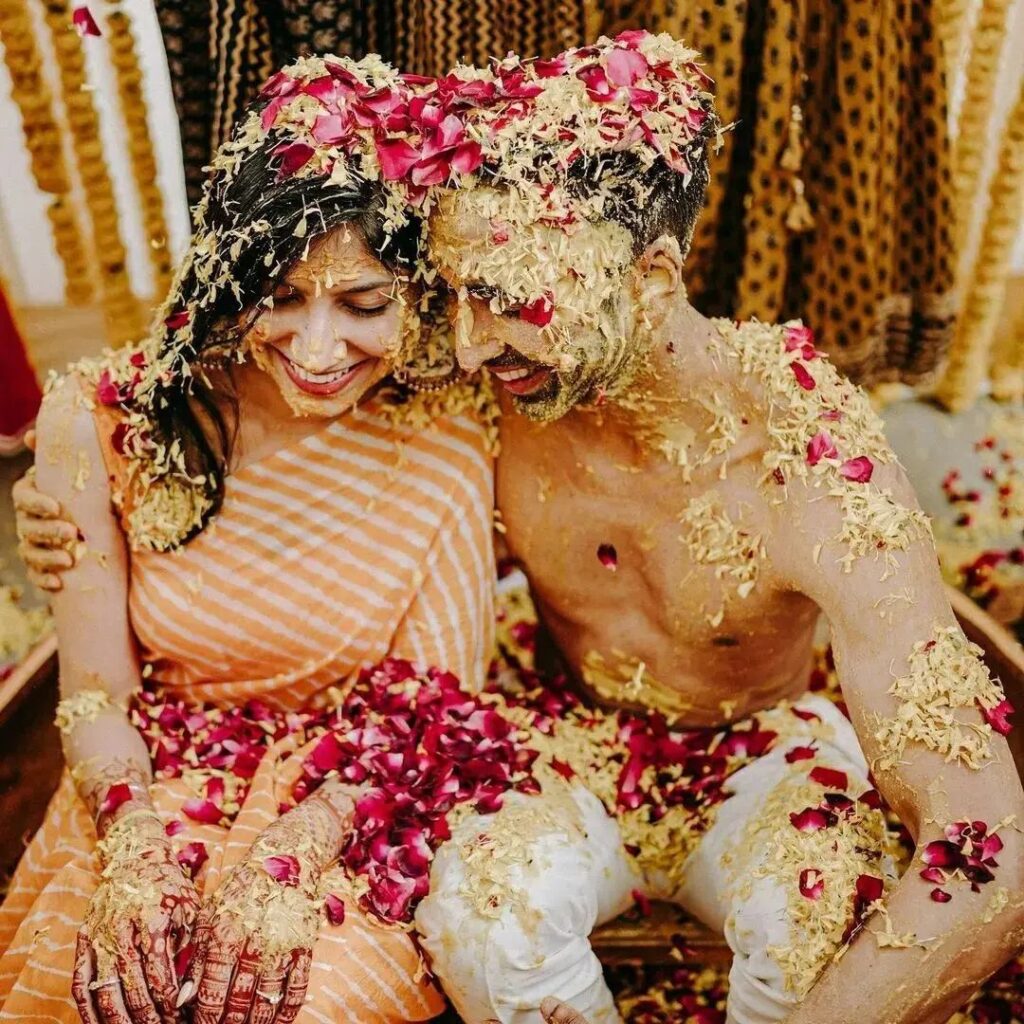 Courtesy: Light Chamber
#14 Yet another blogger haldi look because they really are fashion connoisseurs who we can all get inspired from. Diipa wore a golden lehenga set for her Haldi ceremony by Ritu Kumar and paired it with real mogra flowers while Oleg wore a simple kurta set in baby pink. See all their wedding details & pictures here.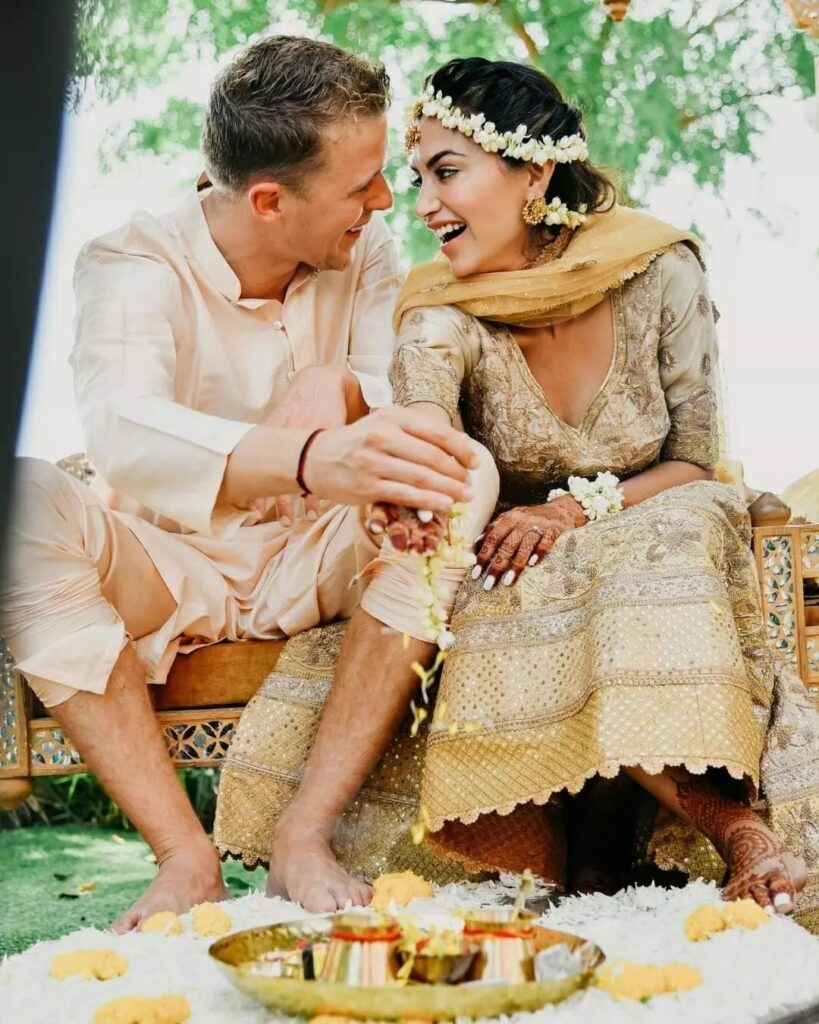 #15 Let your fashionista shine on the haldi day by opting for an asymmetrical lehenga skirt and a bandeau blouse. Paired with colorful floral jewelry that also includes a kamarbandh, we love this bride's modish haldi ceremony look.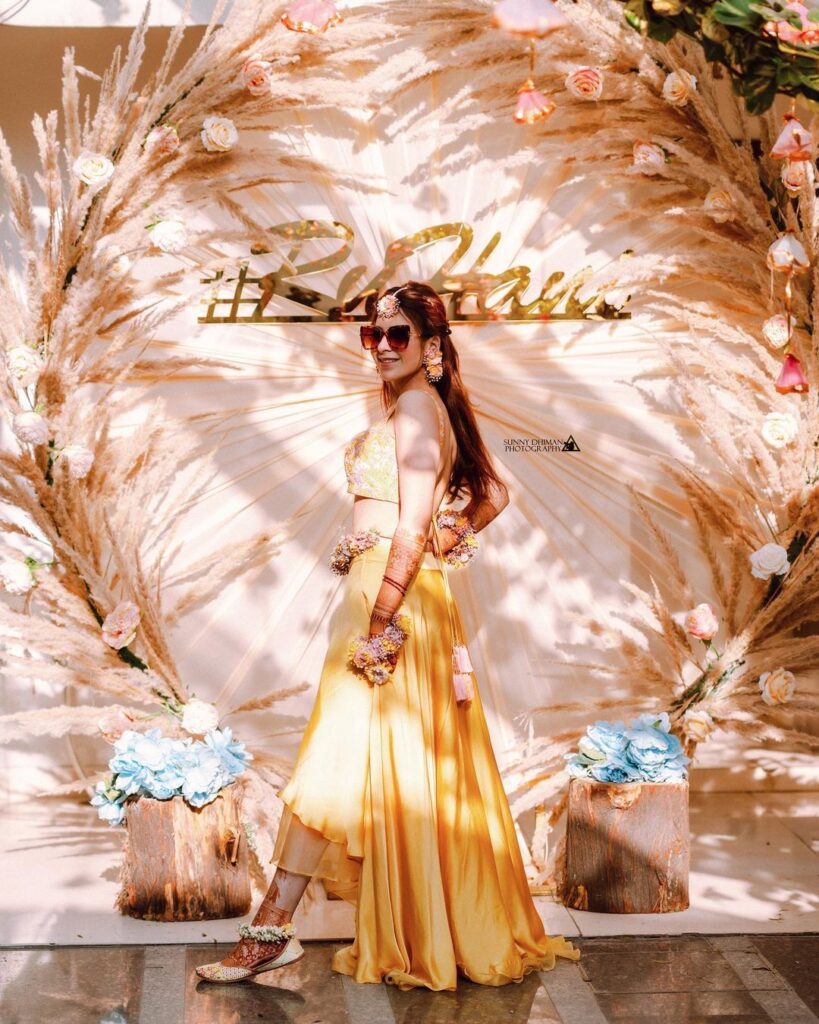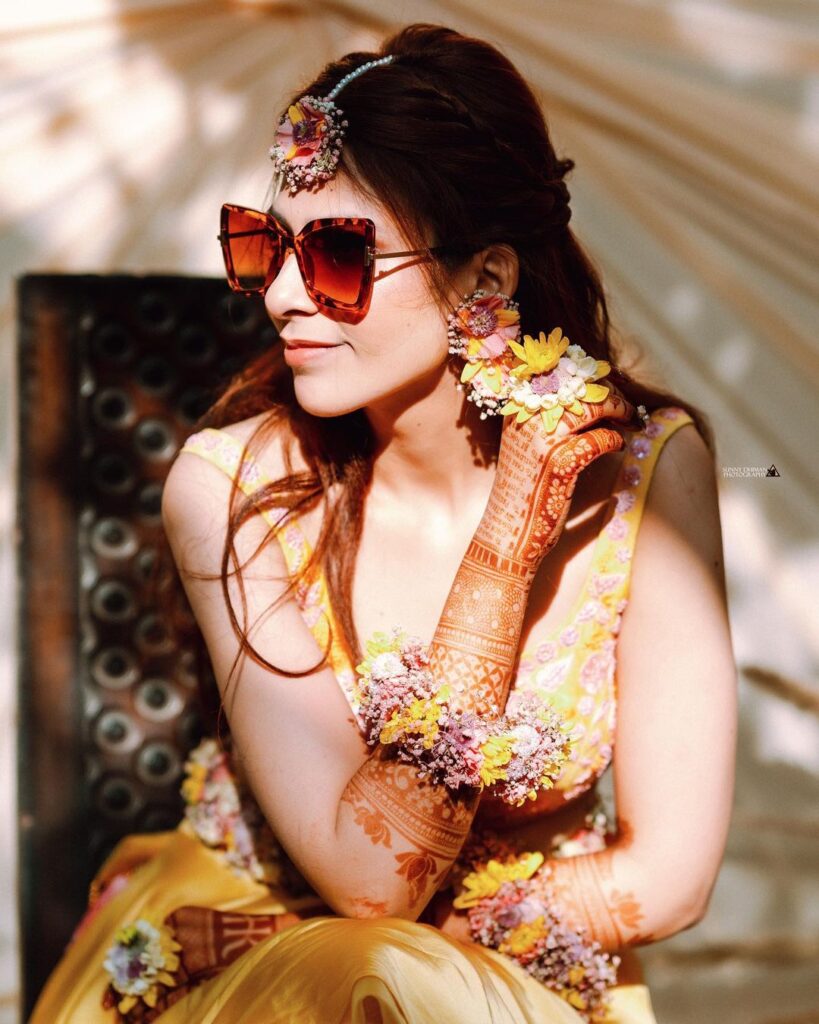 Courtesy: Sunny Dhiman Photography
#16 A leheriya saree for your haldi dress is the simple, classic, and stunning choice you need in your wedding wardrobe. The real floral jewelry and the green & yellow glass bangles are the ideal haldi ceremony jewelry for a traditional look.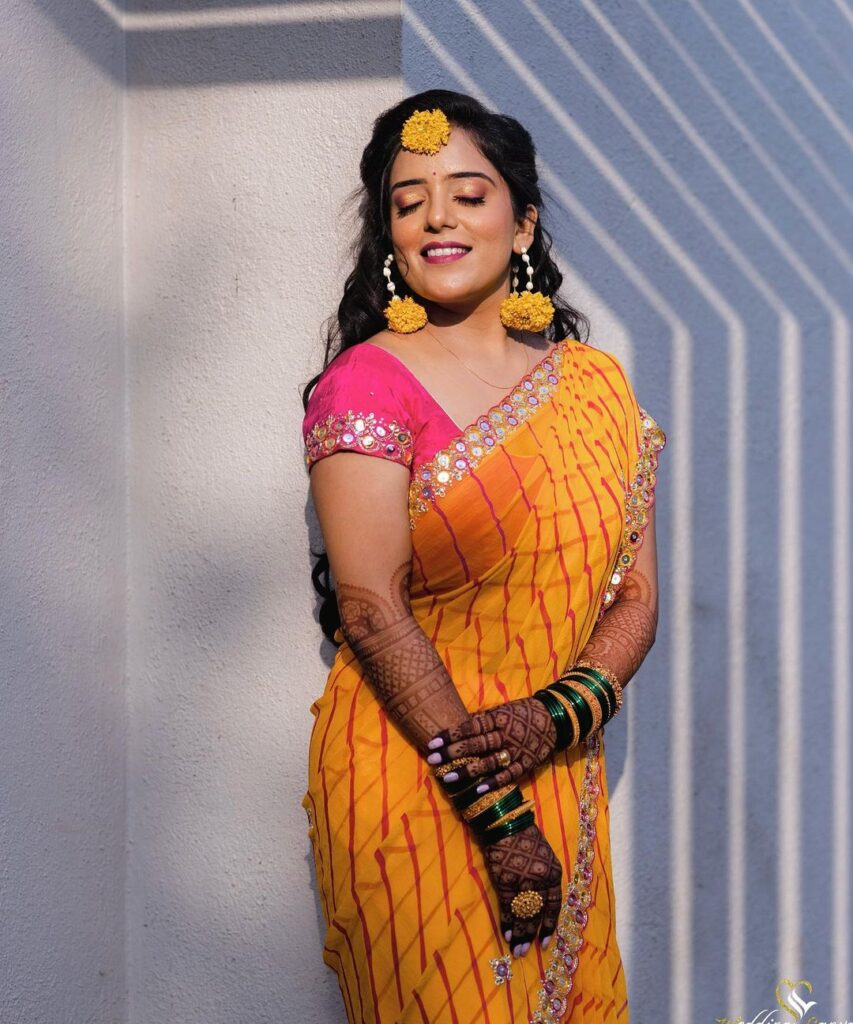 Courtesy: Sangita Lohar Bridal Studio
#17 Make your haldi ceremony look stylish and classy with choices like this bride and groom made. A white tuxedo for the groom's haldi dress is debonair but opt for it only when it's phoolon ki haldi or when you will change for the ceremony though!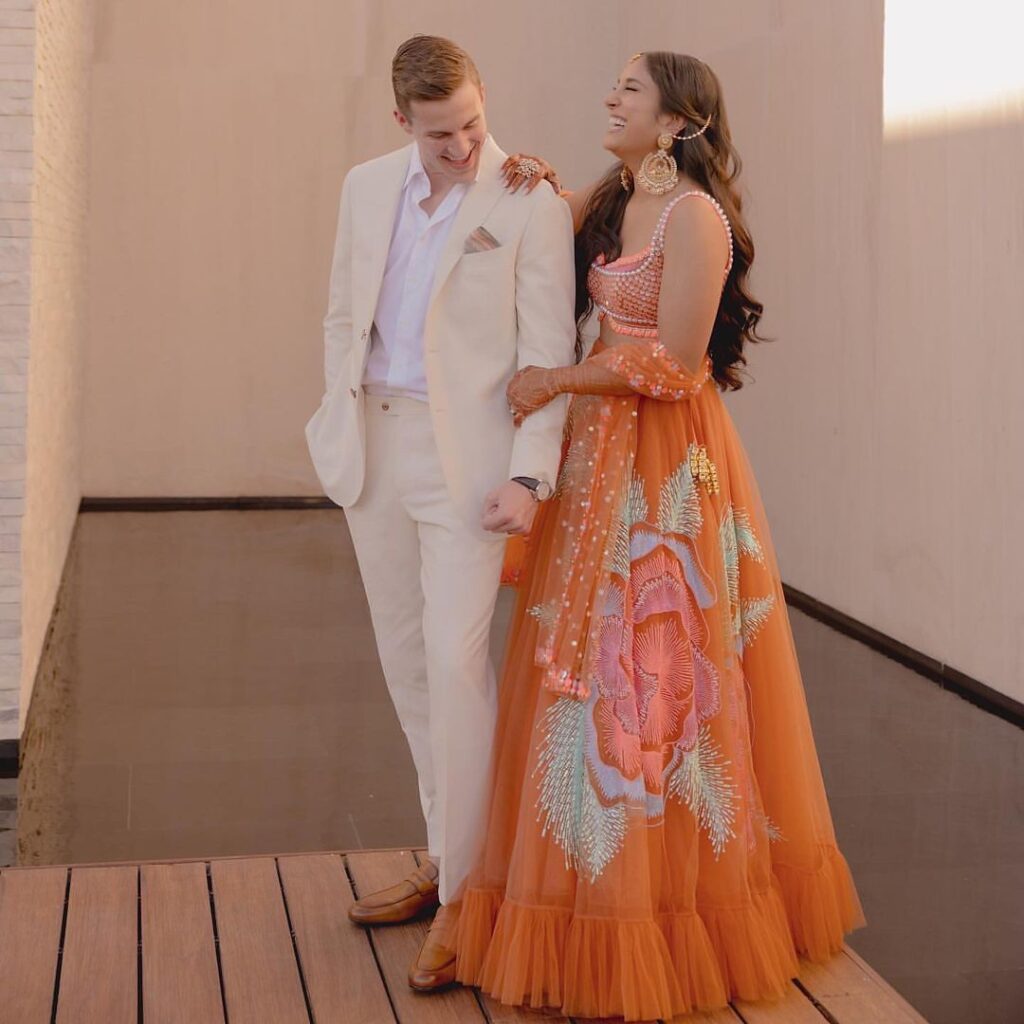 Courtesy: Mili Kanabar Ghosh
#18 Another stylish and elegant look for the bride & groom haldi ceremony outfits. Printed lehengas are all the rage these days. They give an easy-moving attribute to the lehengas and still look ravishing. The groom color-coordinates the bride in a thread-work pastel blue kurta pajama with a Nehru jacket.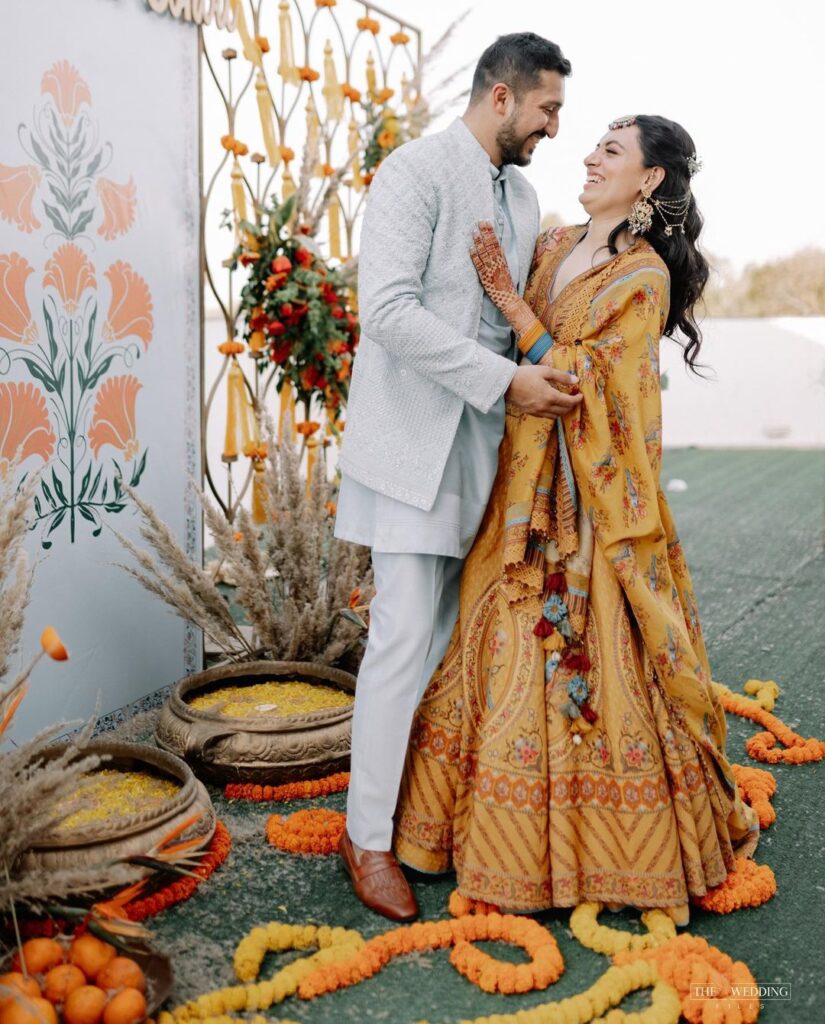 Courtesy: The Wedding Files
#19 Yet another option for brides & grooms in ombre outfits. We love how beautifully they match with each other and the pose is also something you can recreate at your own wedding.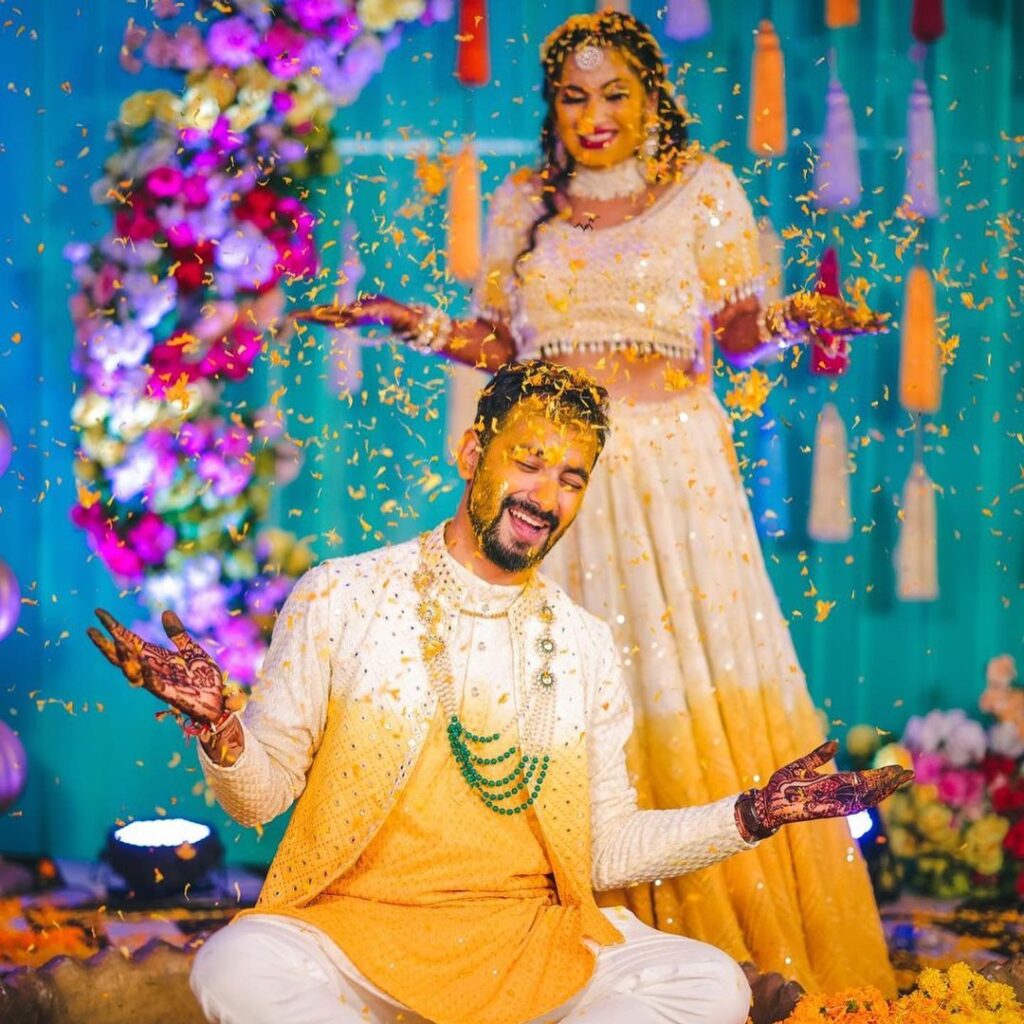 Courtesy: Simran Balar Khabiya Jain
#20 Paneled lehengas are yet another trend which you search for haldi function dresses online. They are vibrant and ravishing, and quite versatile to be paired with any type of bridal jewelry – whether floral or kundan.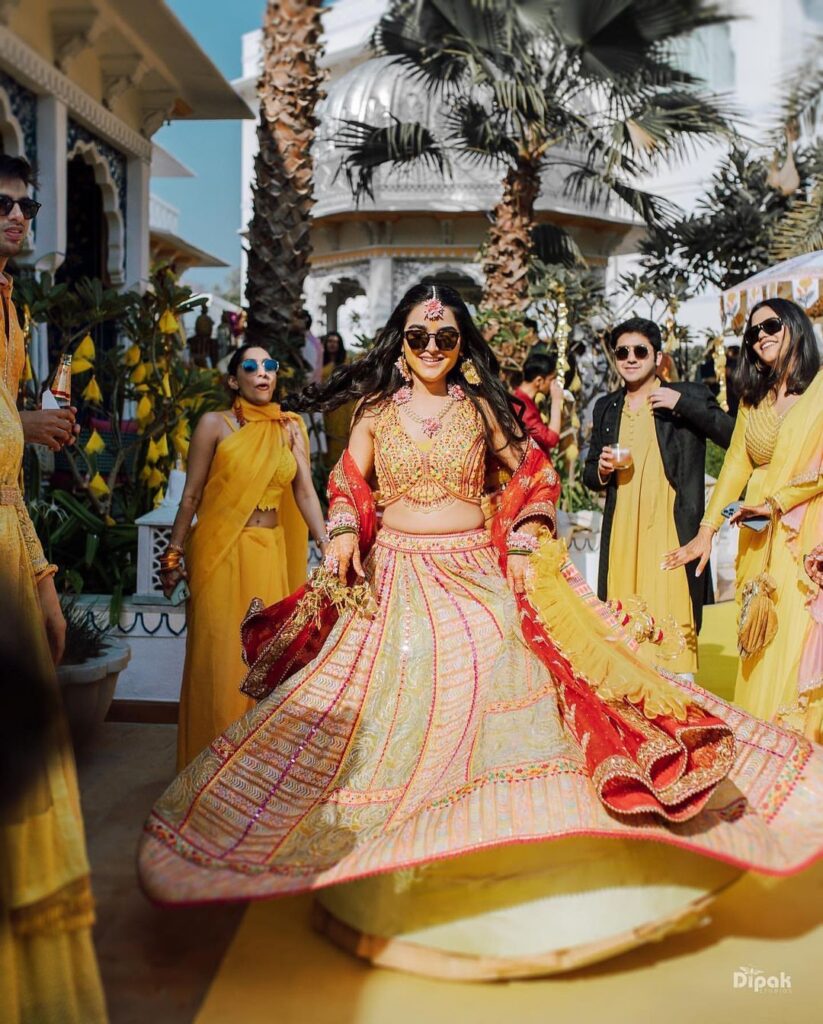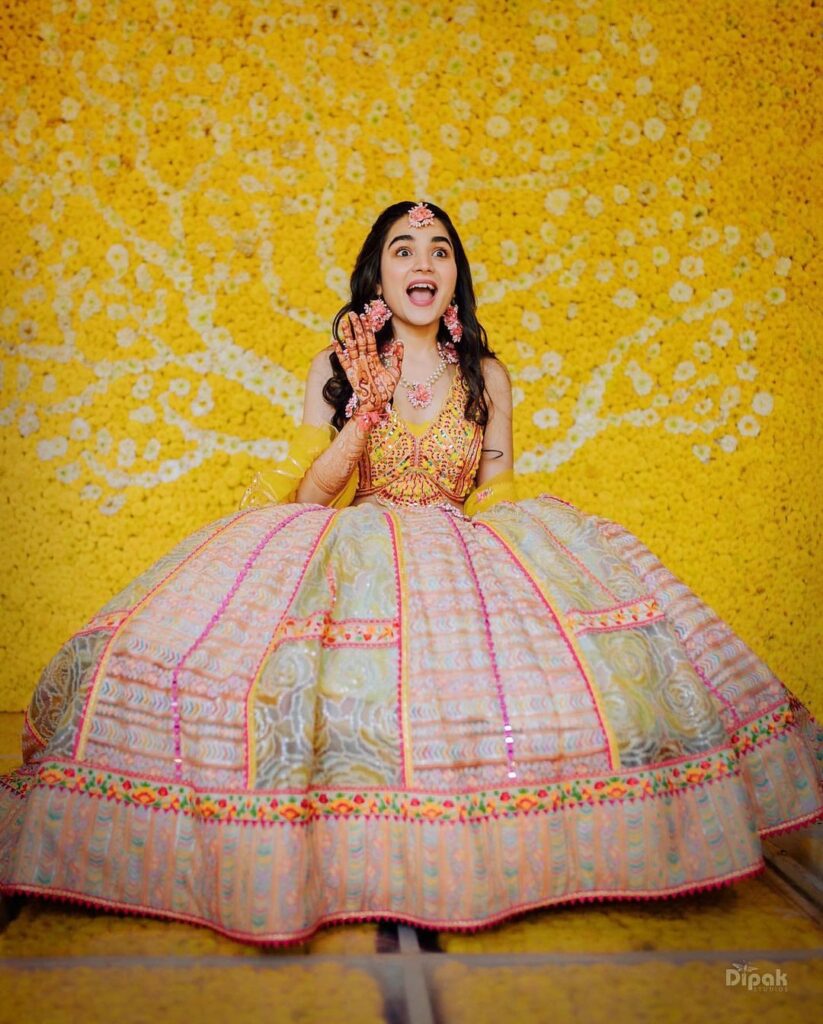 Courtesy: Dipak Studios
Haldi Ceremony Poses
#1 A close-up shot of you & your beau all before the haldi takes over all of your faces is a good idea. You can also modify this shot by both of you looking in the forward direction. Or get some romantic couple portraits before the haldi is applied at all.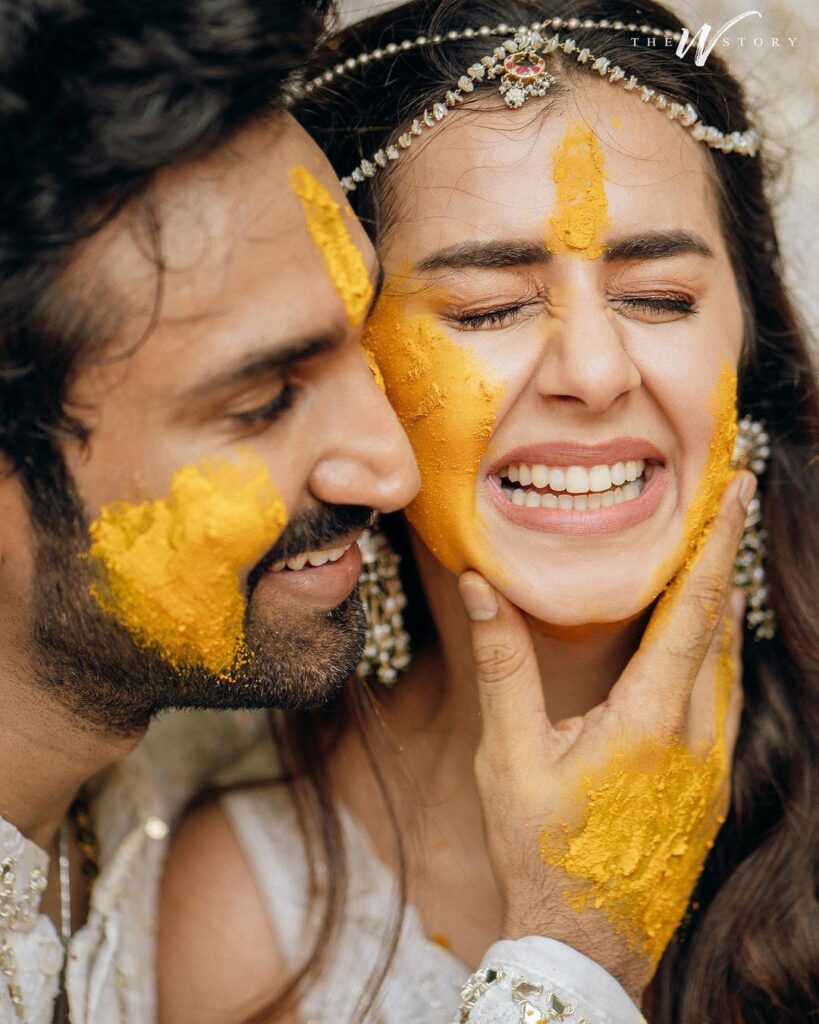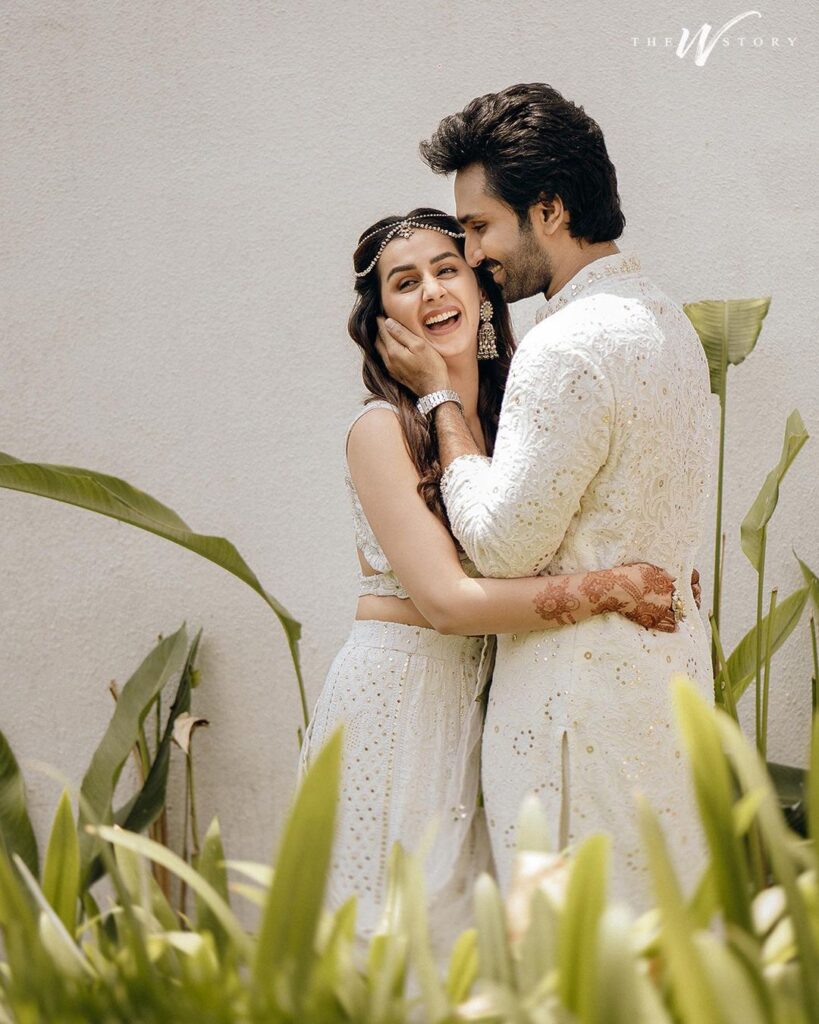 Courtesy: @theweddingstory_official
#2 Golden hour photos are absolutely magical. The Sun's warm rays serve as the perfect natural lighting and enhance the romance, features, and beauty of just about everything.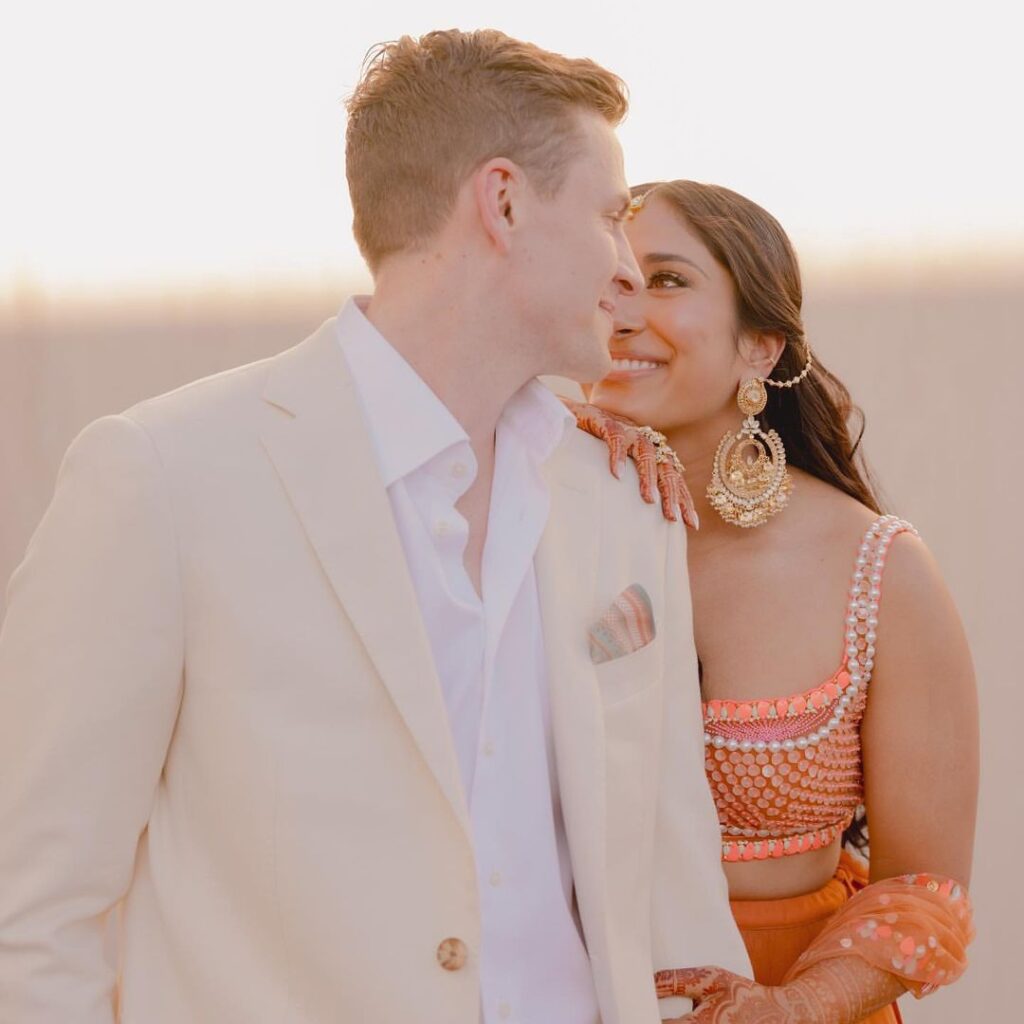 Courtesy: Mili Kanabar Ghosh
#3 Get your friends included in the haldi portraits as well and make some cherishable memories together. After all, we all know how difficult it is to get a professional group shot. Your wedding can serve as an ideal time.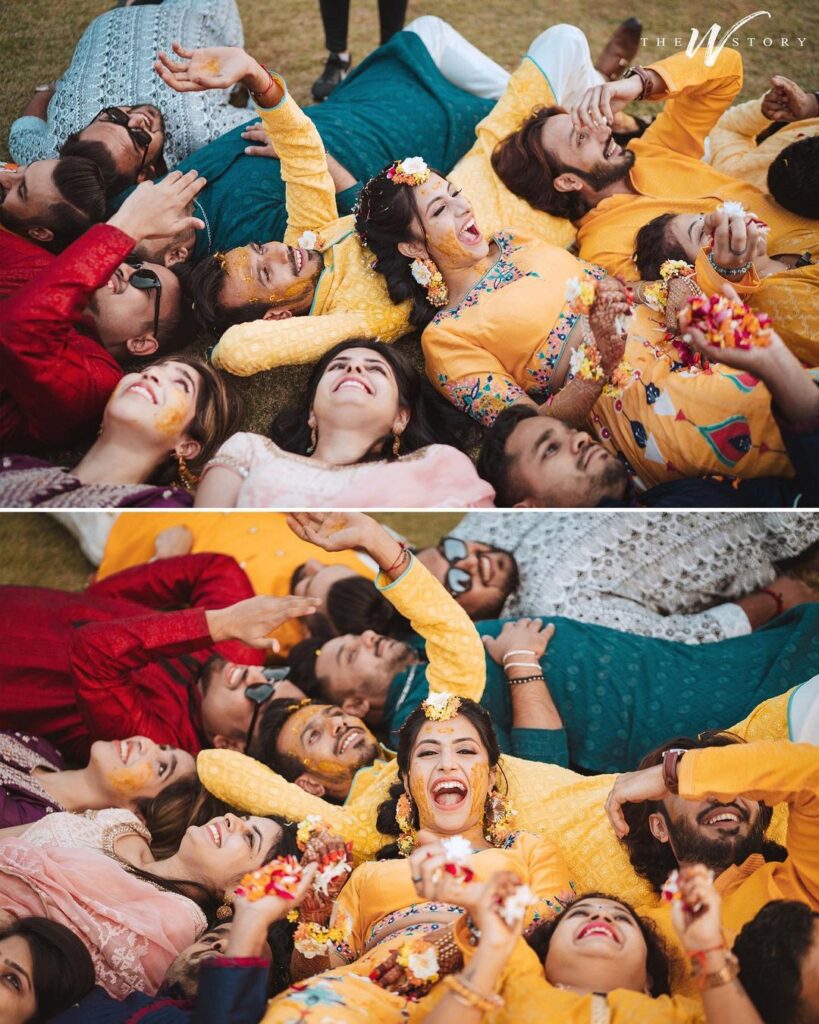 Courtesy: @theweddingstory_official
#4 Don't forget to get some good shots of your friends having some fun at the haldi ceremony. You will cherish these memories forever.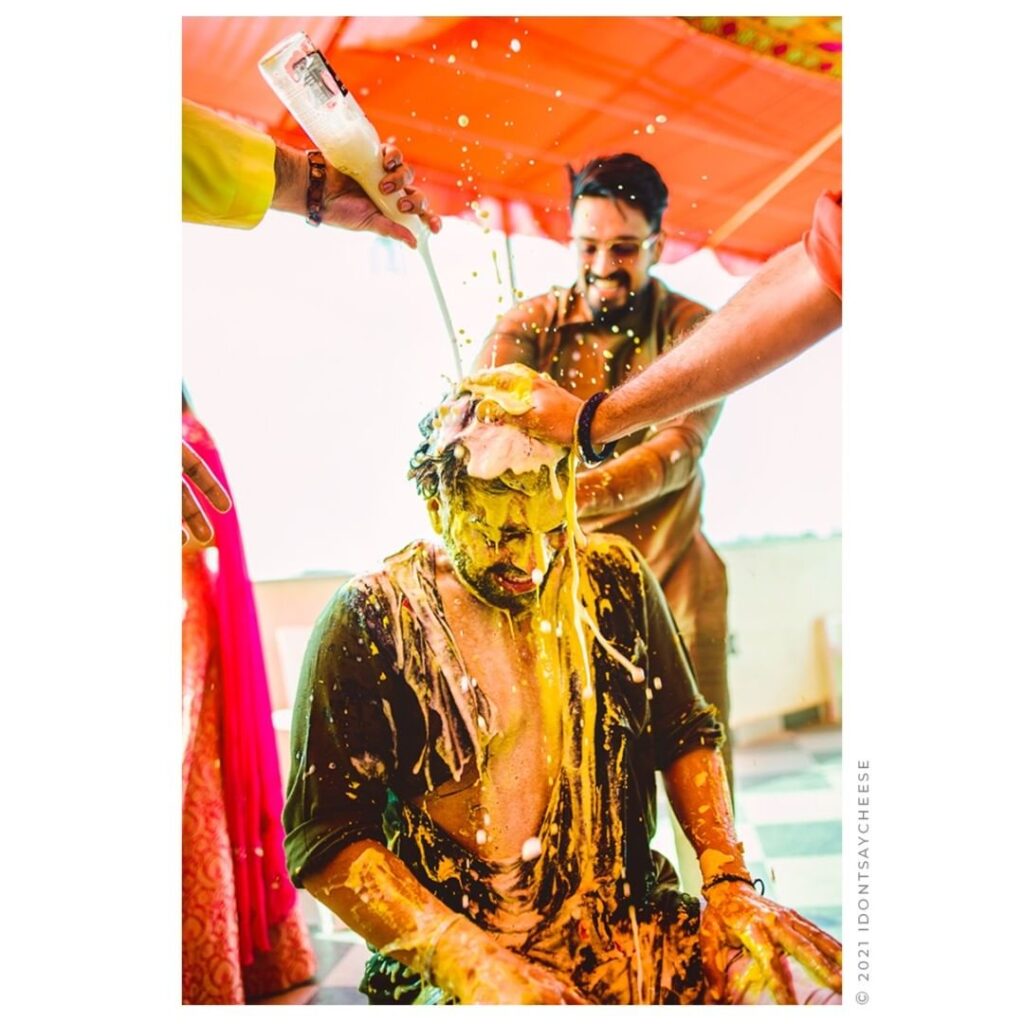 Courtesy: @idontsaycheese
#5 The gorgeous background haldi ceremony decoration deserves a click of its own with the bride in its frame. But you can also utilize the decor by getting your bridesmaids to pose in front of it and getting an amazing shot.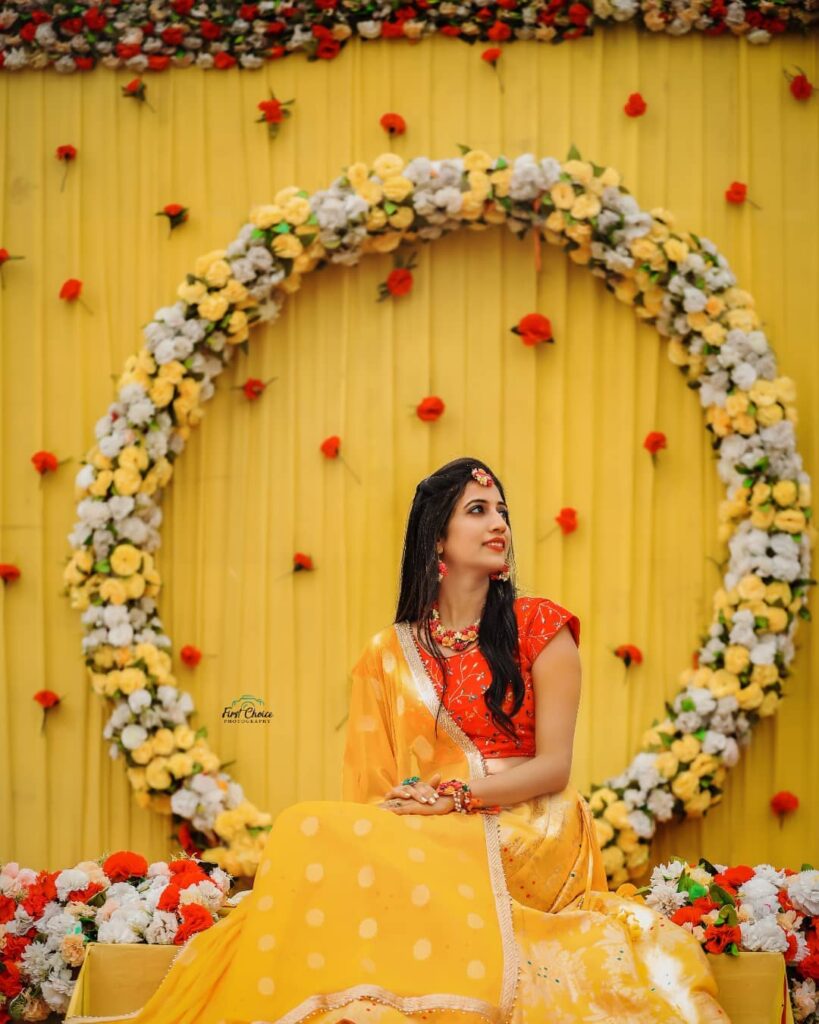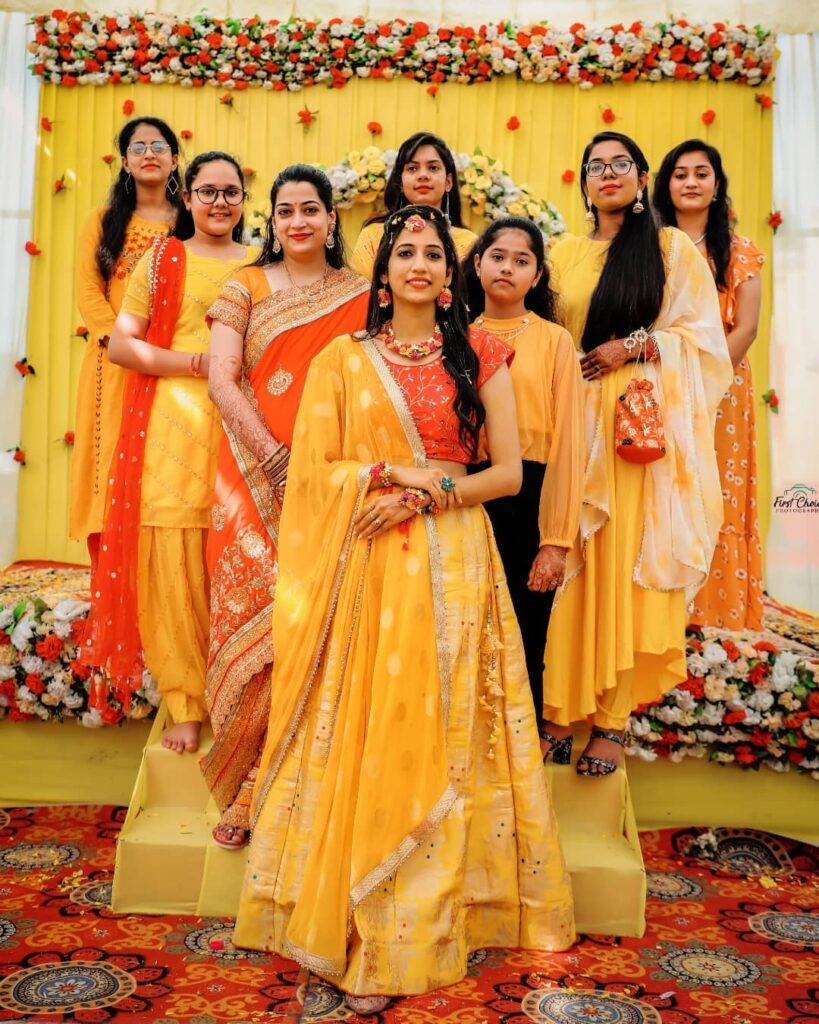 Courtesy: @first_choice_photography
#6 In the midst of all the chaos of wedding celebrations, don't forget to enjoy the little glances of love and moments of PDA between you two. See how endearing the portraits they make for as well.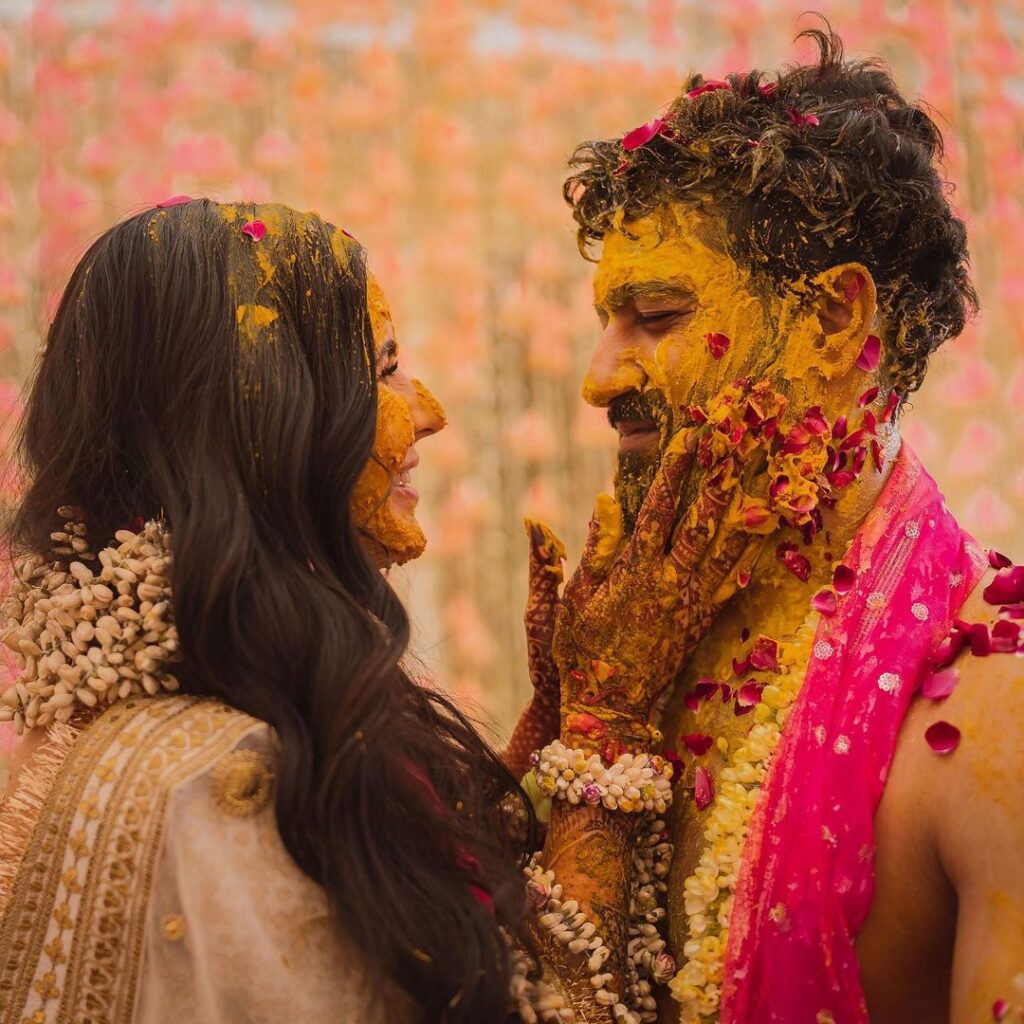 #7 A solo portrait for the bride's haldi ceremony and the couple's session, later on, is amazingly worth it. Take some time out for these photography sessions as well.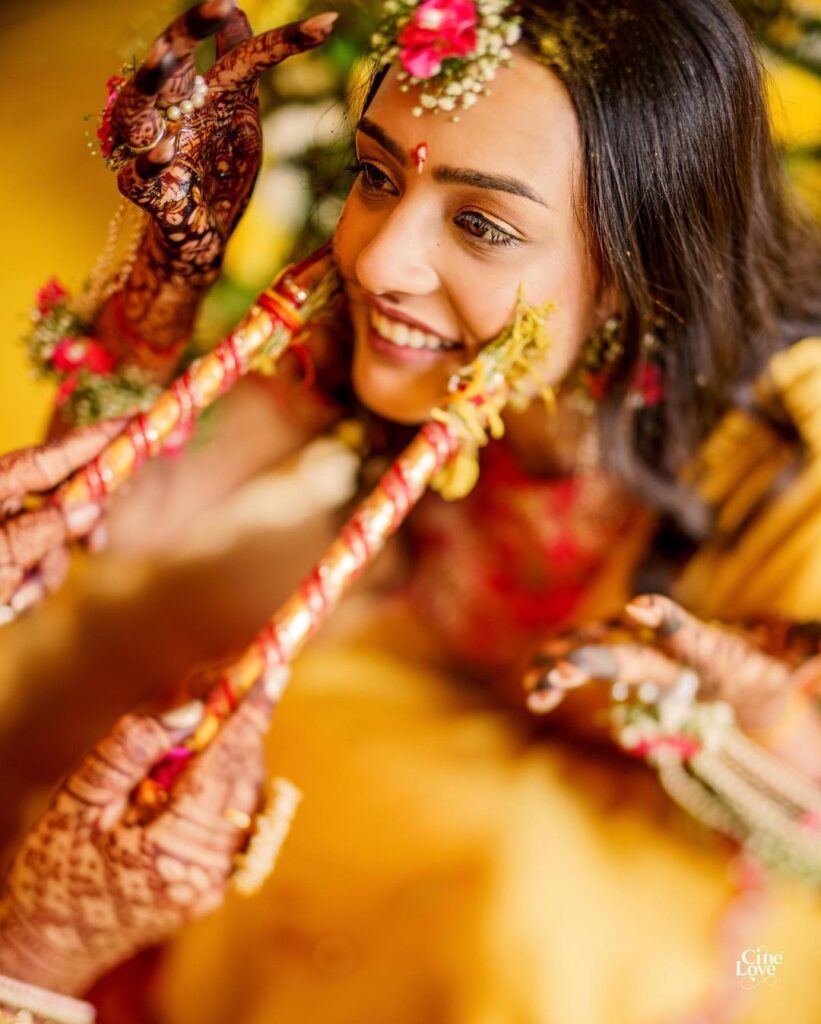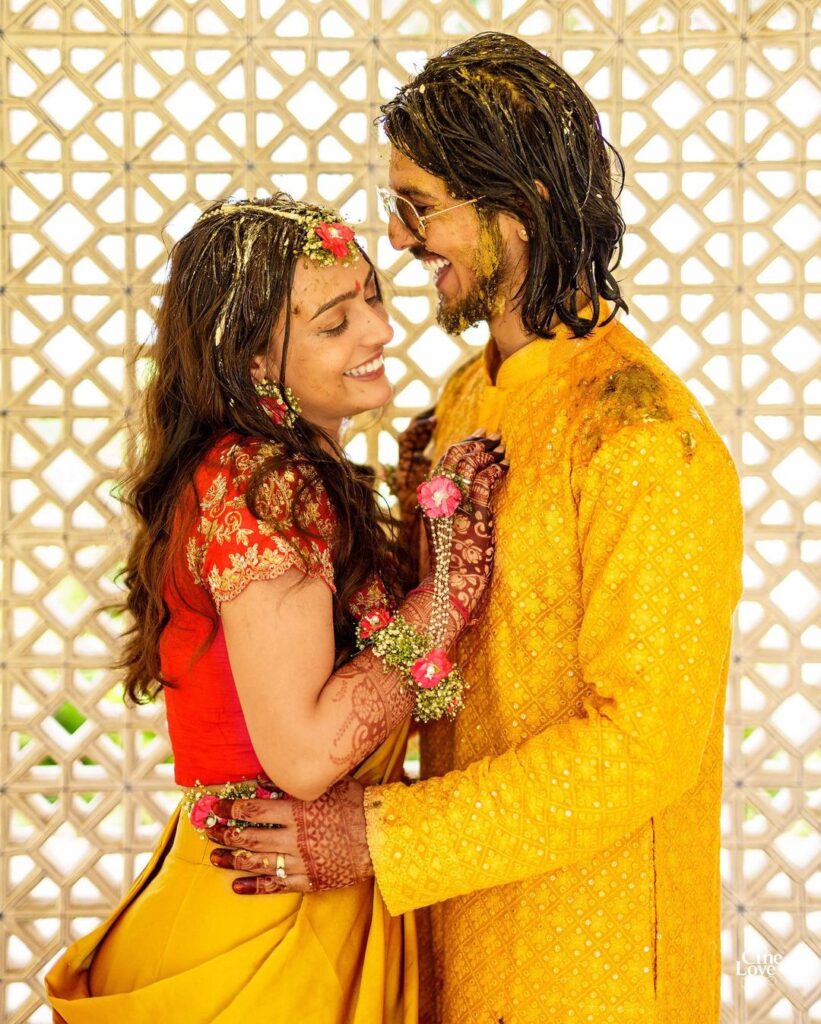 Courtesy: Cine Love Productions
#8 If you think you won't get time to get a couple of portraits after the ceremony, because we all know how weddings are…things tend to run a little late, then get the portrait session done beforehand.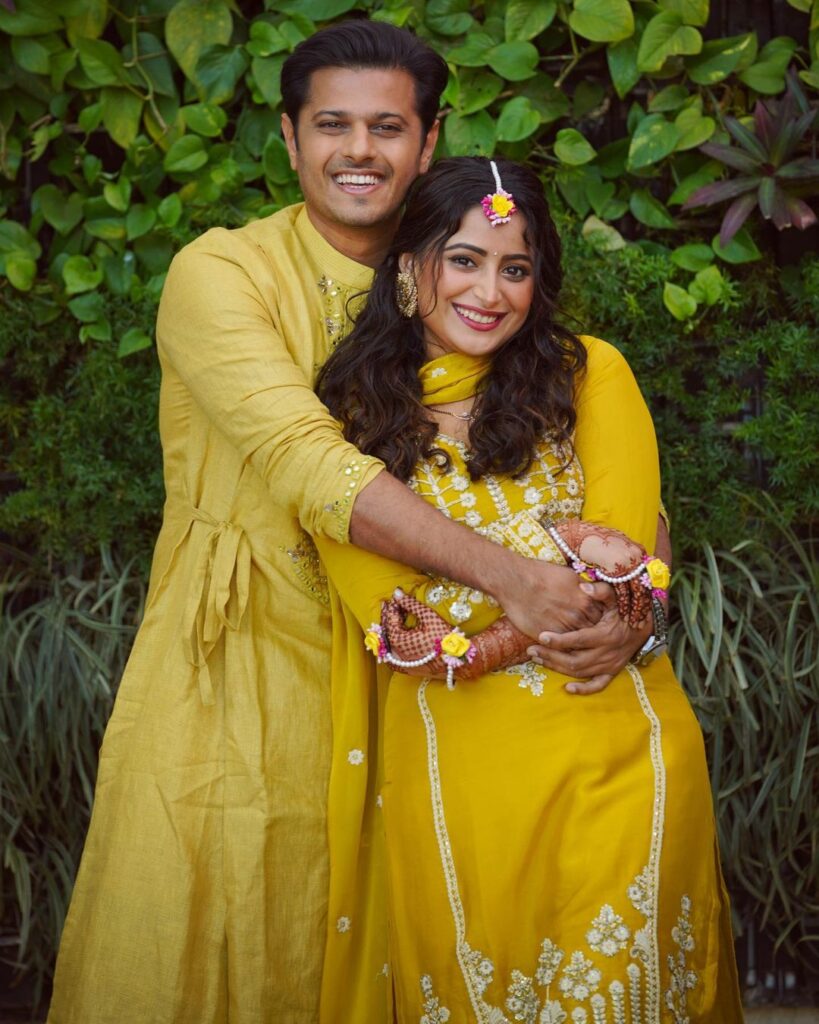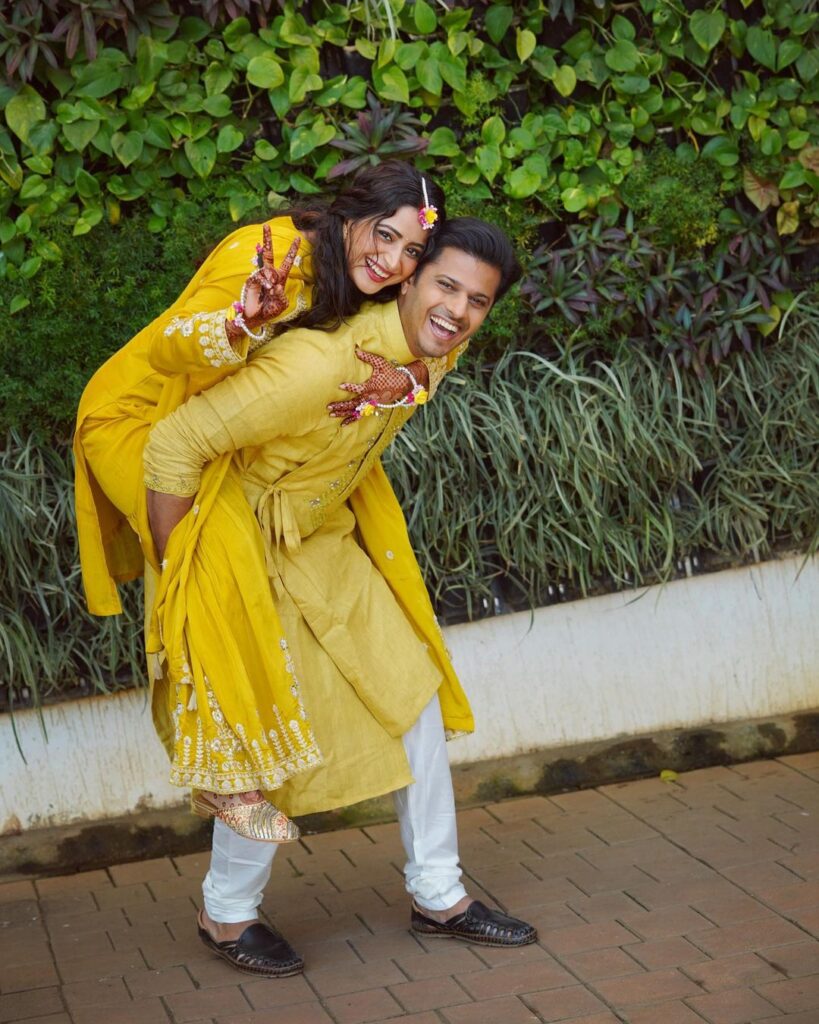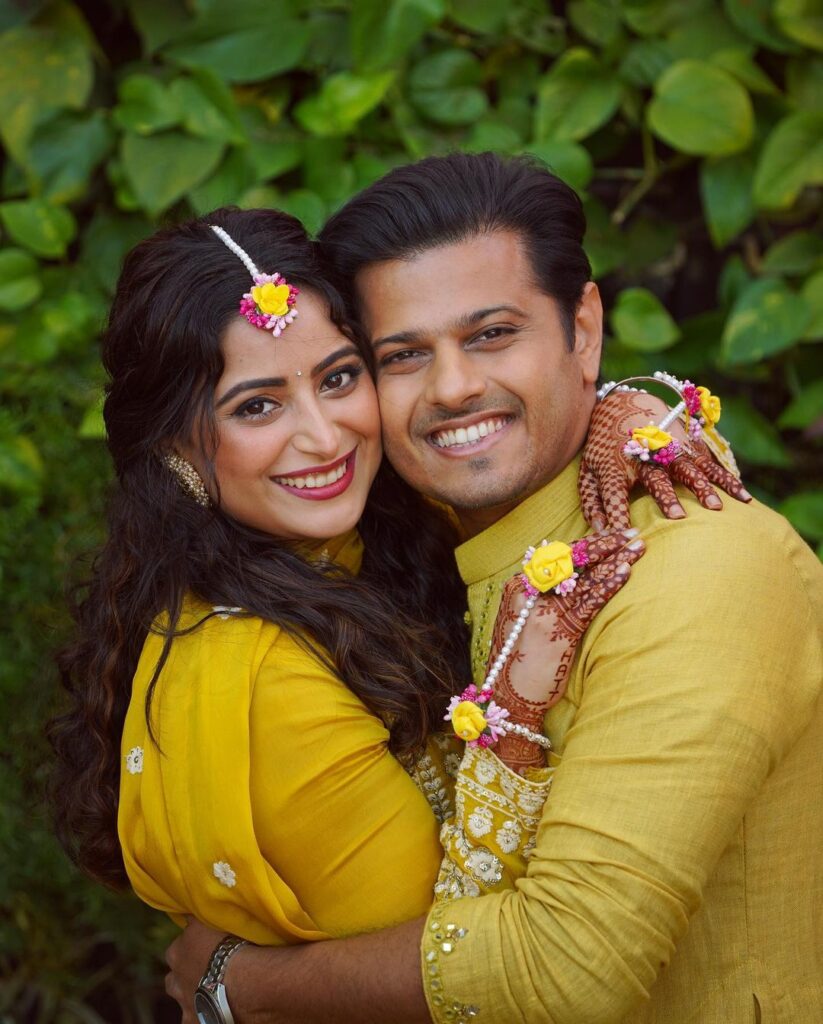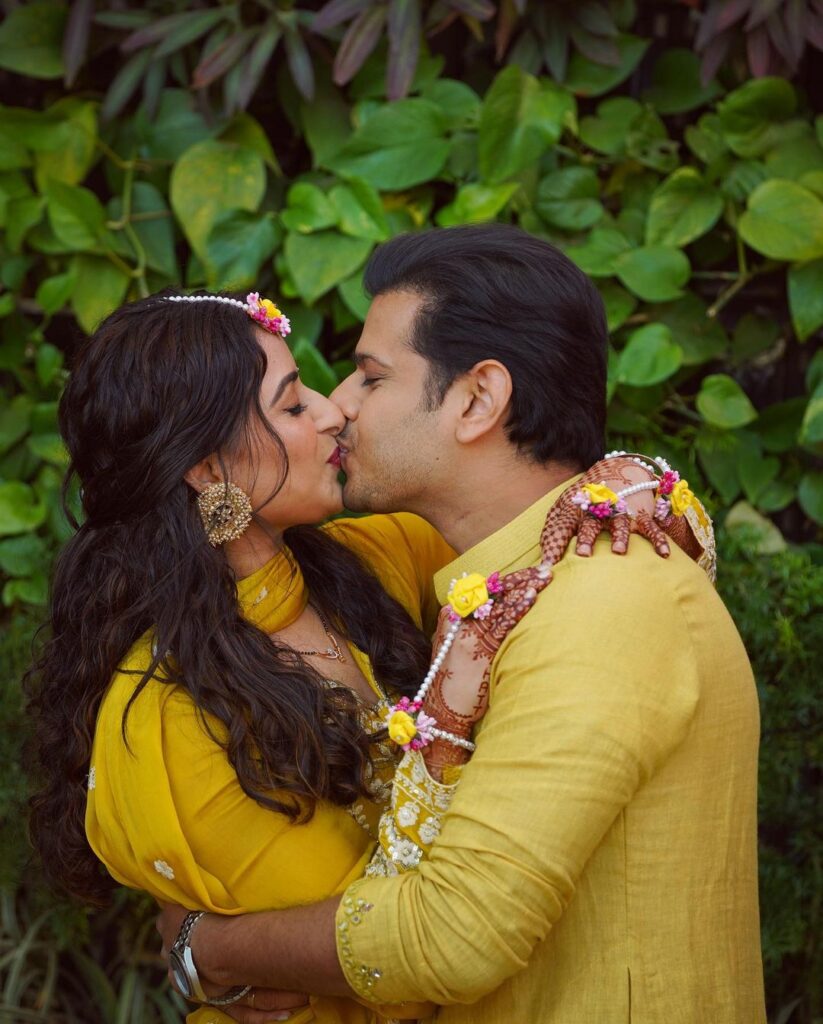 Courtesy: @aisharma812
#9 Getting some fun poses with your bridesmaids at every event at any chance you get is always a good idea. You never know which one comes out to be the creative and stunning one. So, never miss a chance to take a picture.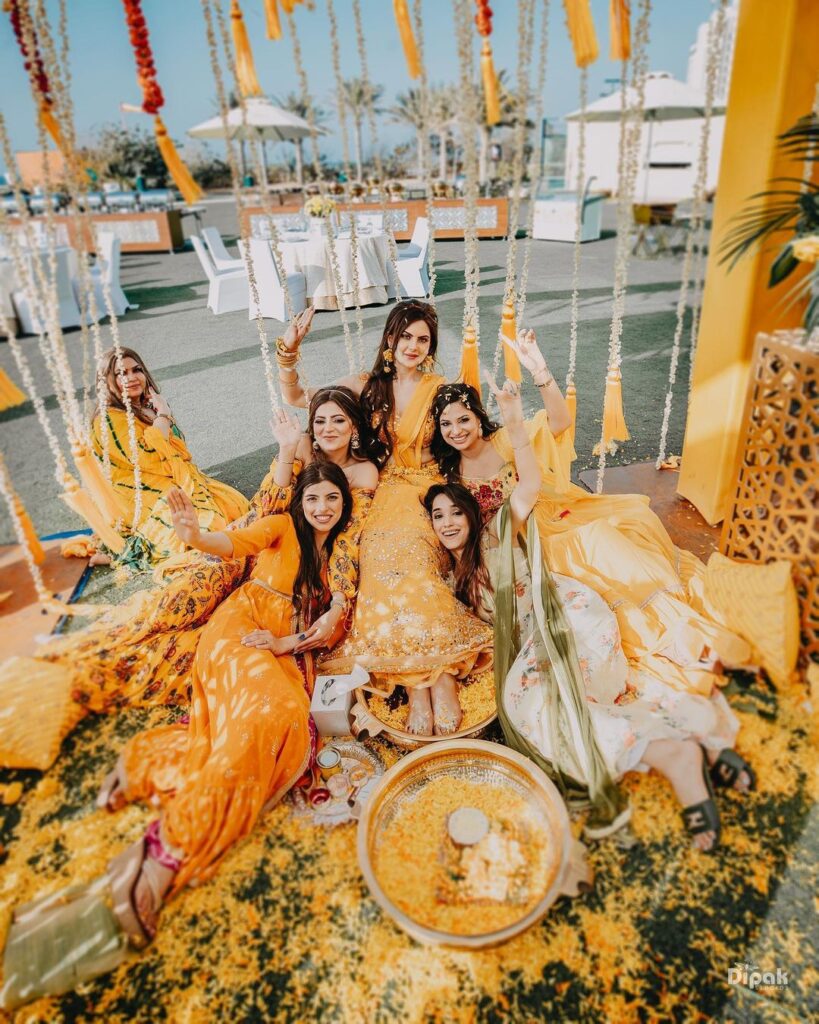 Courtesy: @dipak_studios
#10 Saree for haldi ceremony gives you the convenience in this tub-style haldi event ideas – which are quite popular these days. Pose for a photo idea like this for a ravishing solo bridal portrait.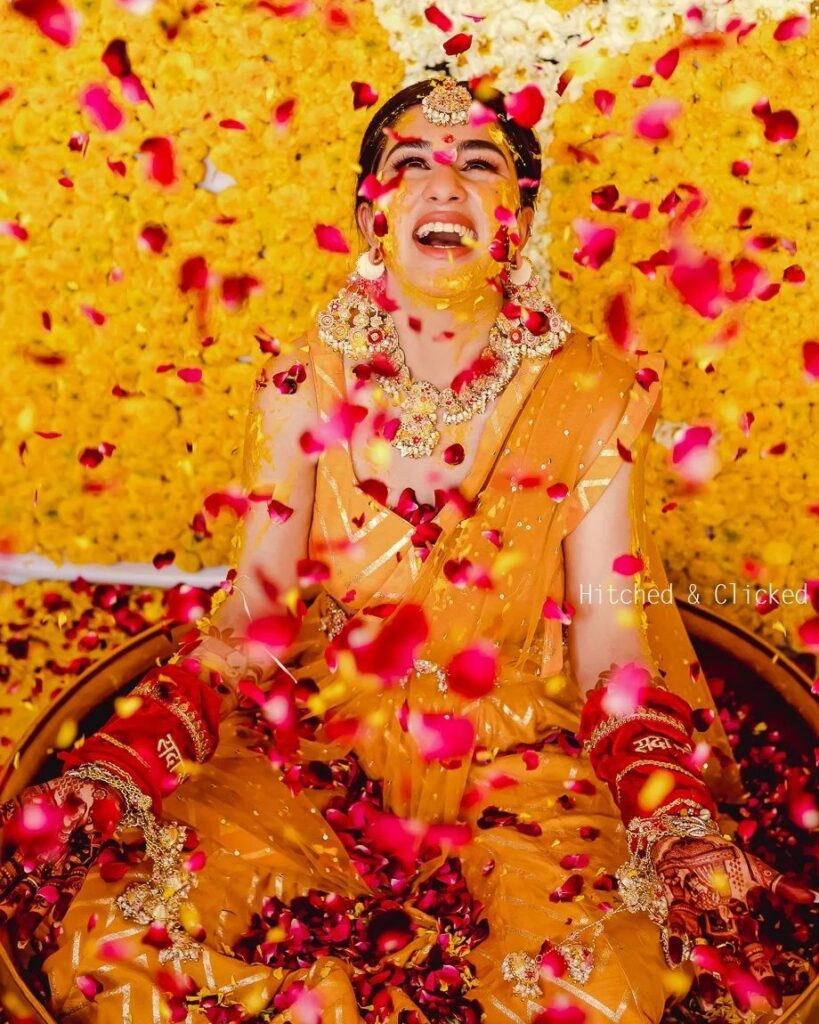 Courtesy: Hitched & Clicked
#11 And the grooms need some solo pictures as well, and this fun and easy one surely makes for a stunning choice to take inspiration from.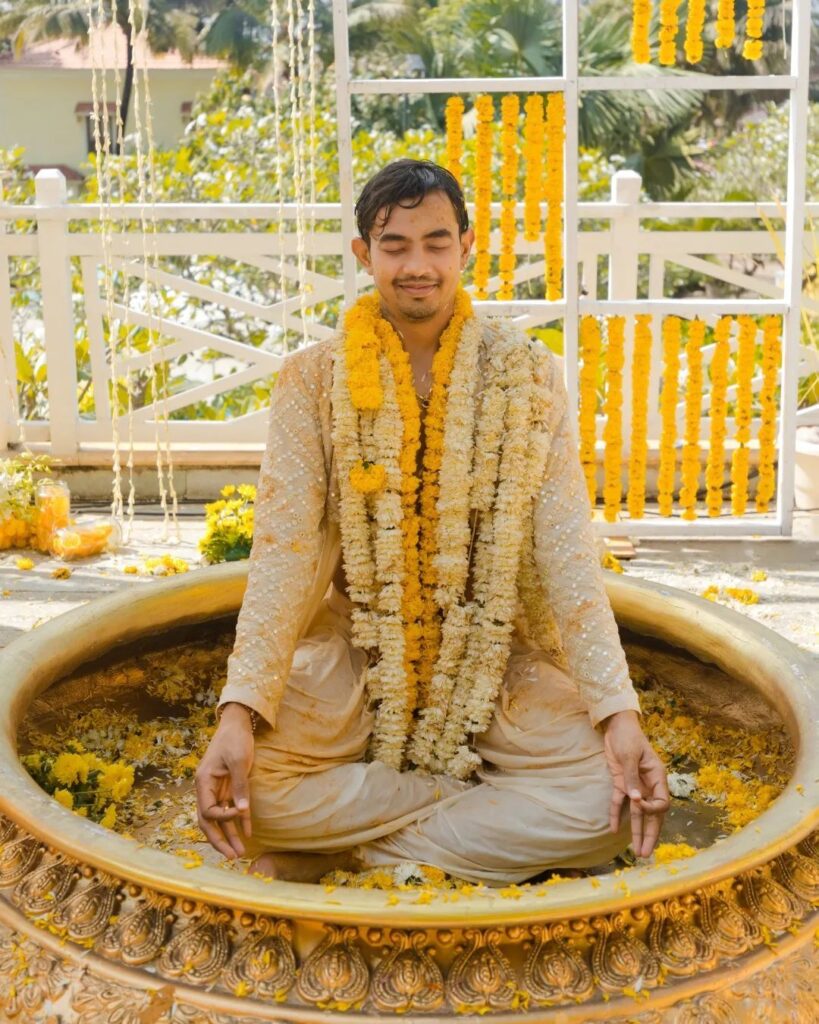 Courtesy: Karma Production
#12 Times are changing, and the bride & groom don't have separate haldi ceremonies anymore. And if you're together don't forget to have some fun with each other as well.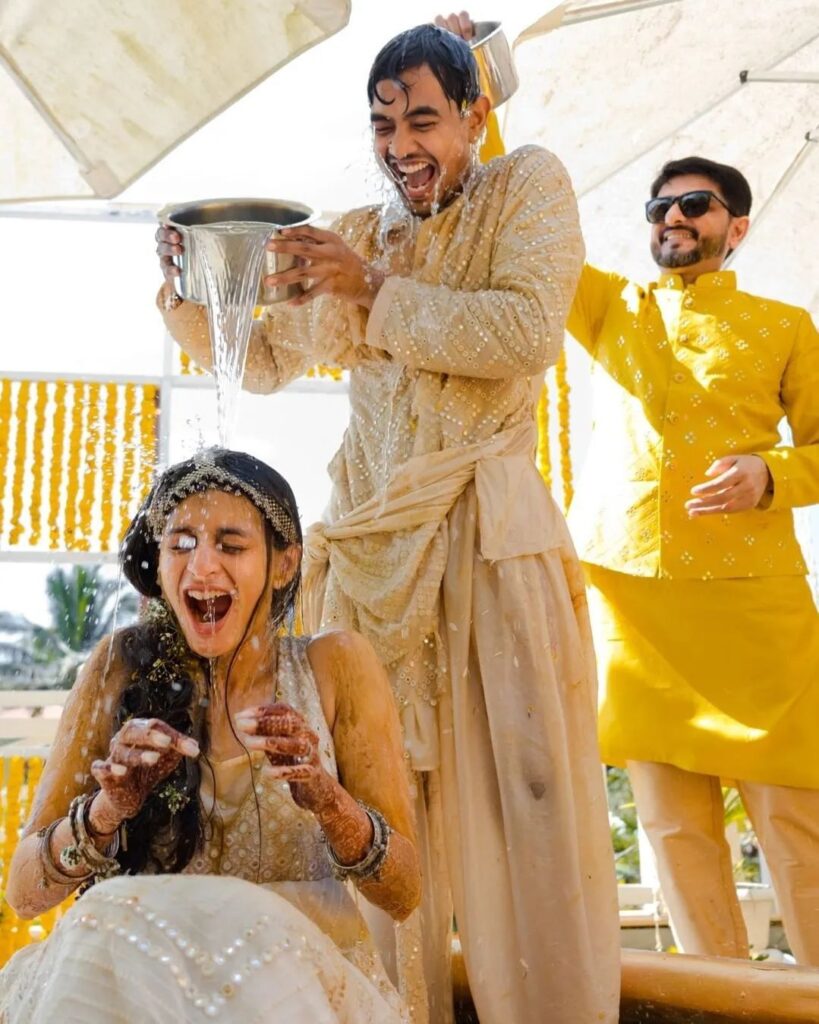 Courtesy: Karma Production
#13 Not just elders, but even the groom can apply haldi on his bride and get some cheery pictures clicked in the process too.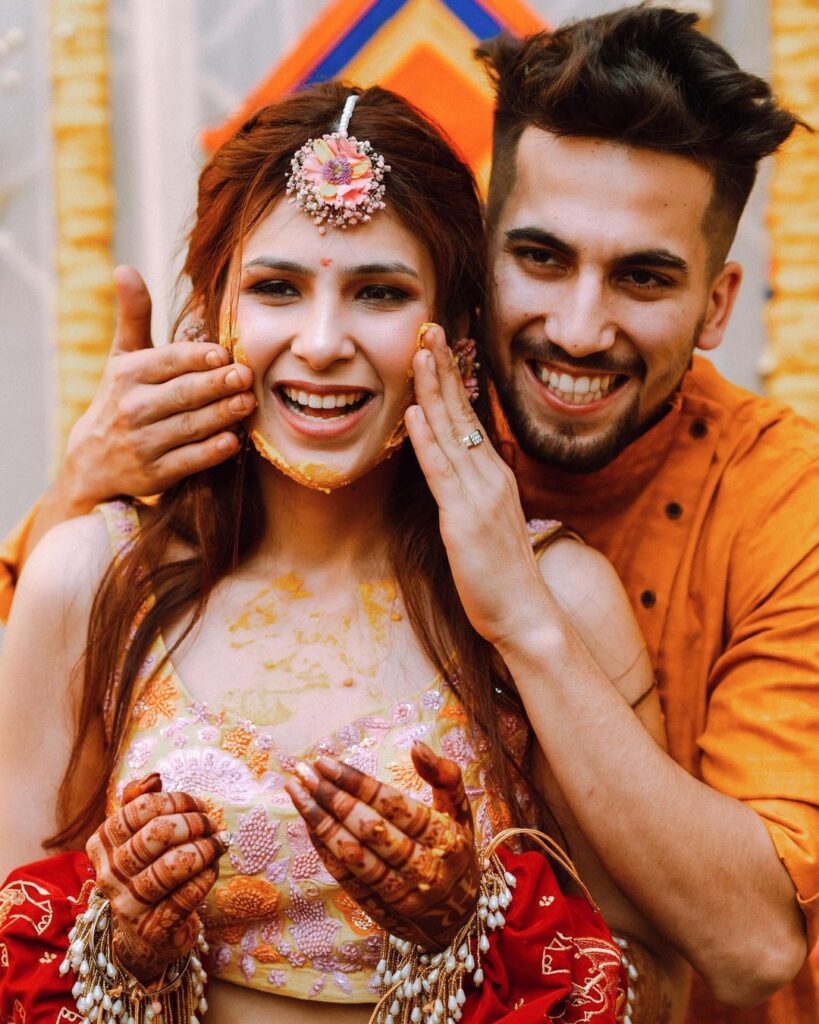 Courtesy: Pinterest
#14 When it's your wedding, it tends to become difficult to think of pose ideas with all the pressure in the process. So, we are including some portrait session ideas here. Bookmark right away.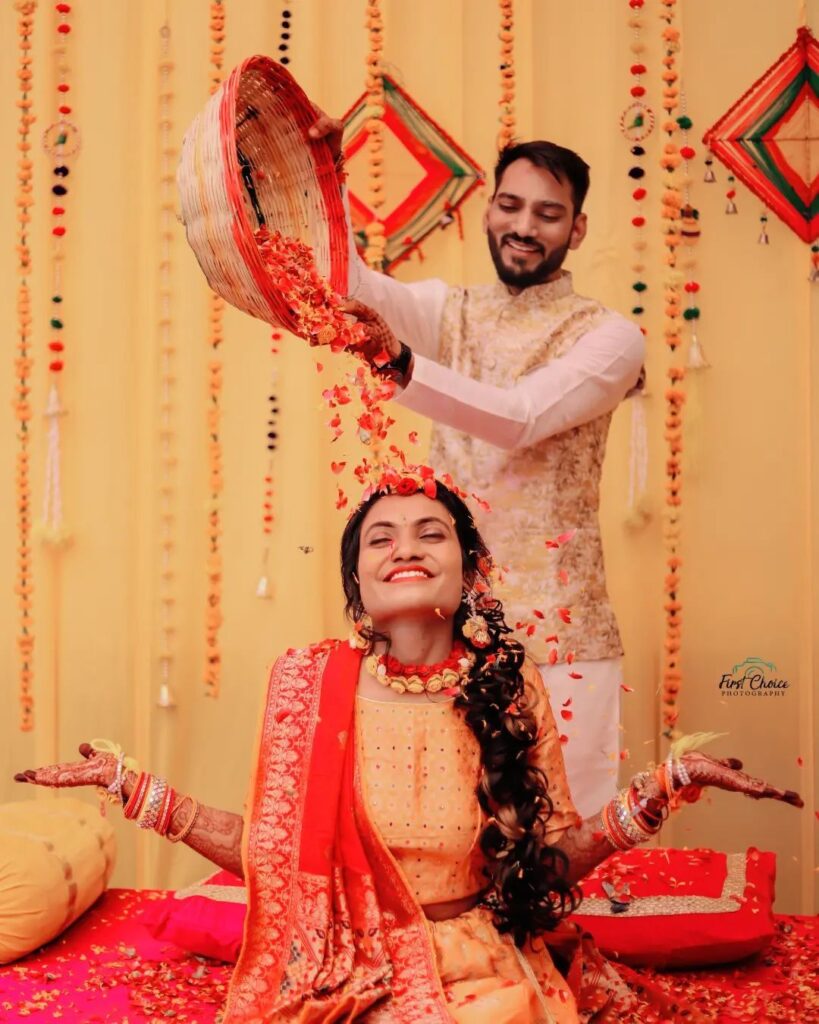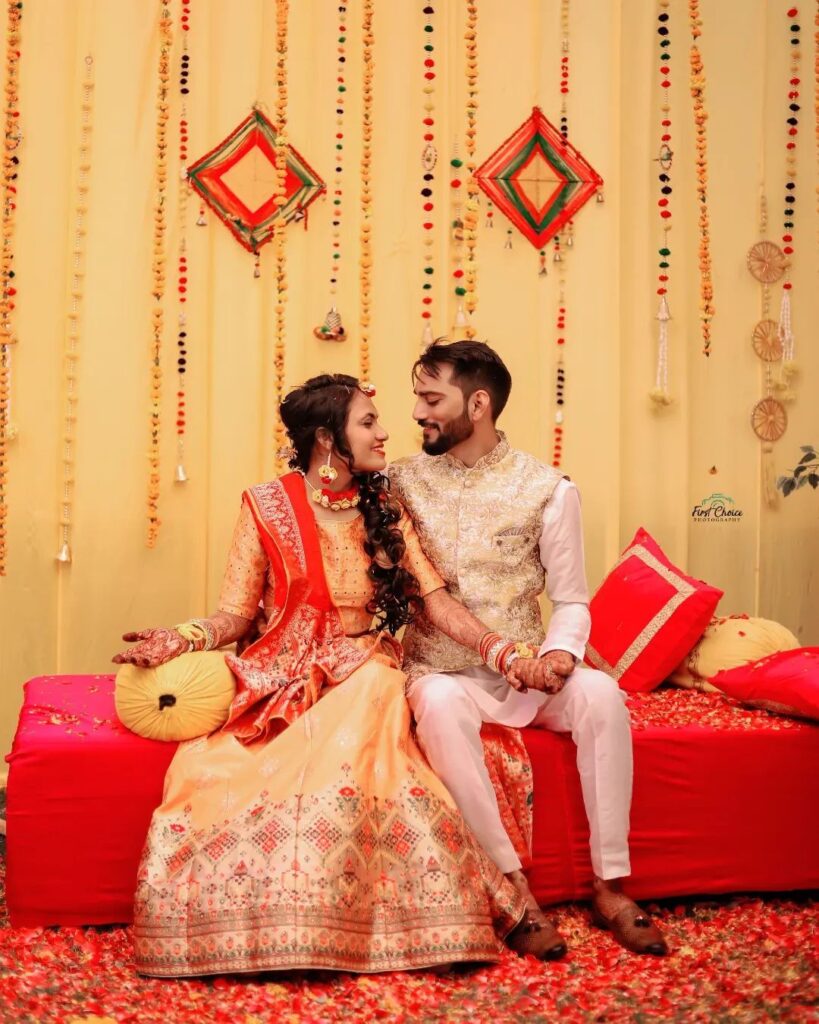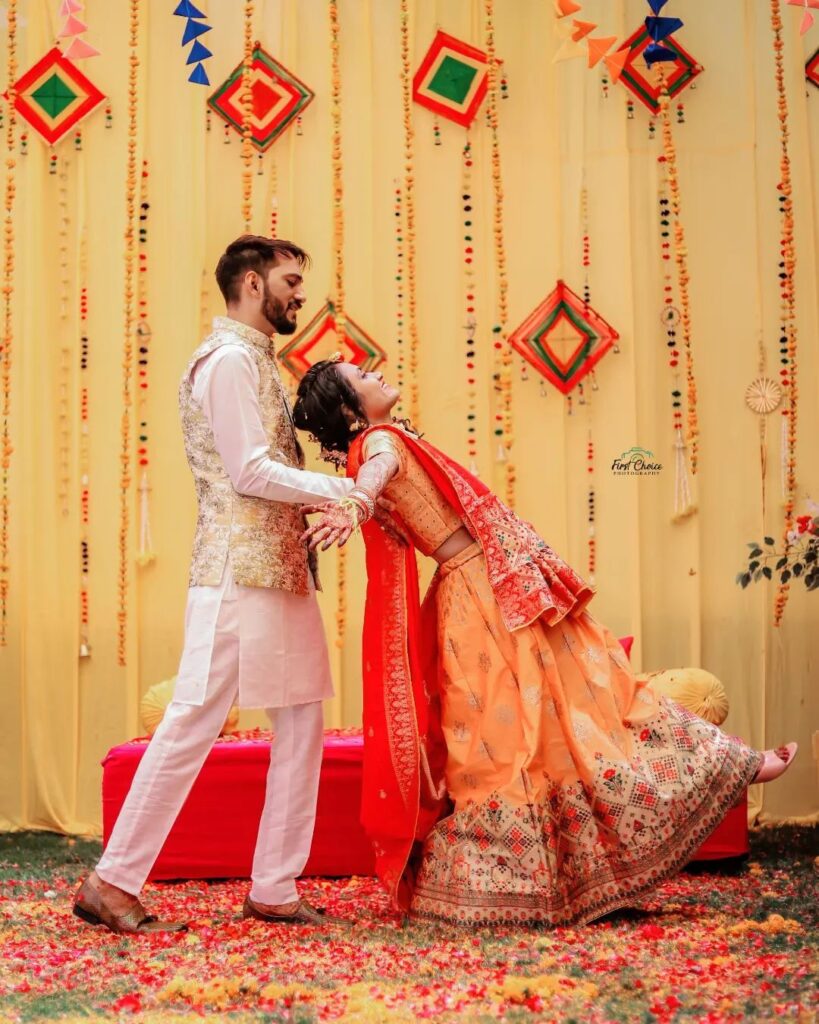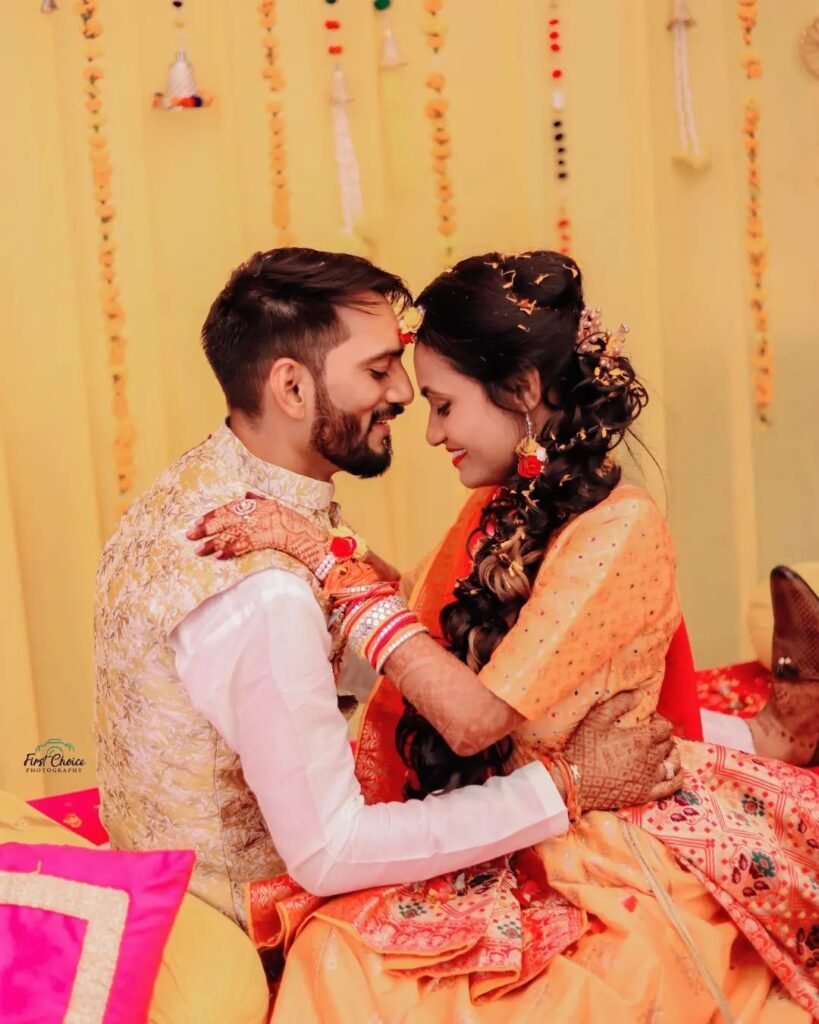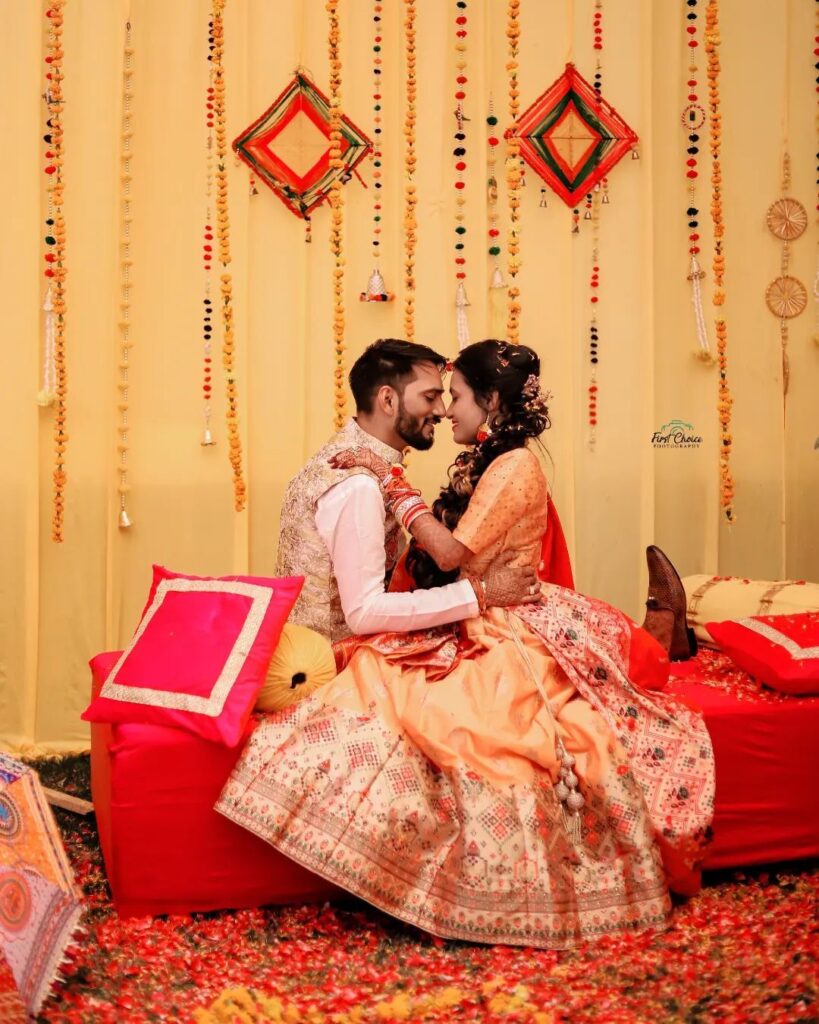 Courtesy: @first_choice_photography
#15 Just some utterly romantic portrait ideas for your portrait session away from everyone else.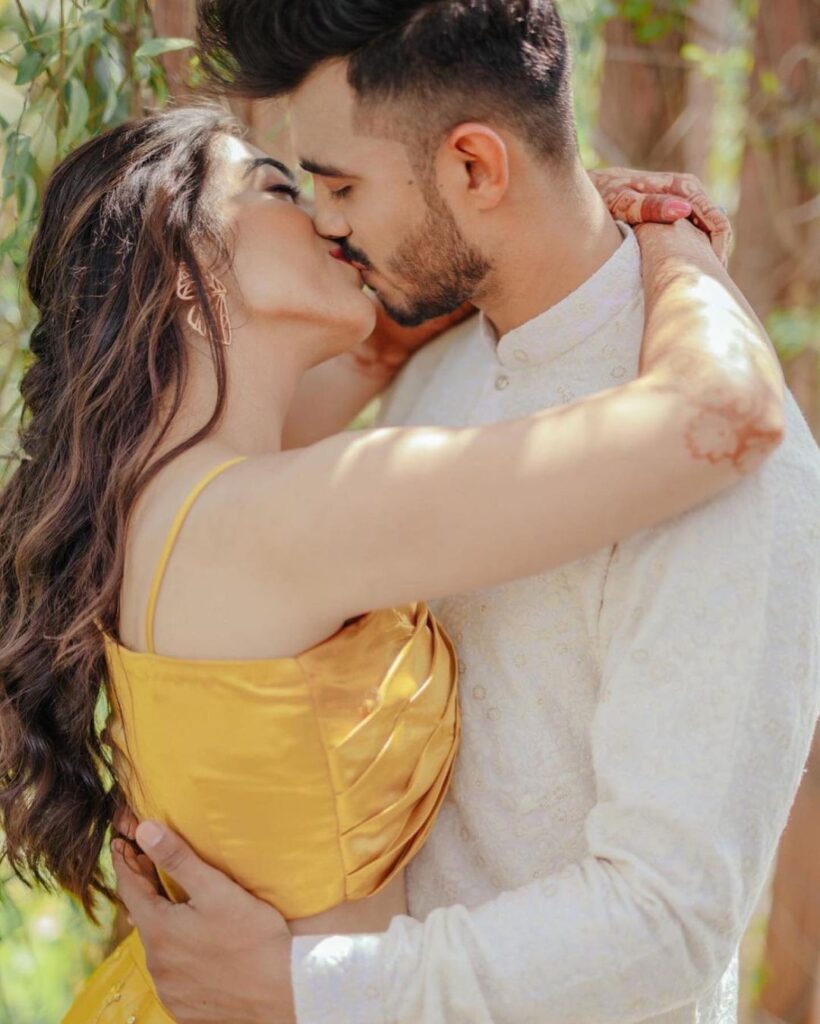 Courtesy: Neel Chavan Photography
#16 Haldi function portrait ideas for brides that are common for mehendi events, but also makes for a great portrait idea for haldi events as well. It looks spectacular as well, don't you think?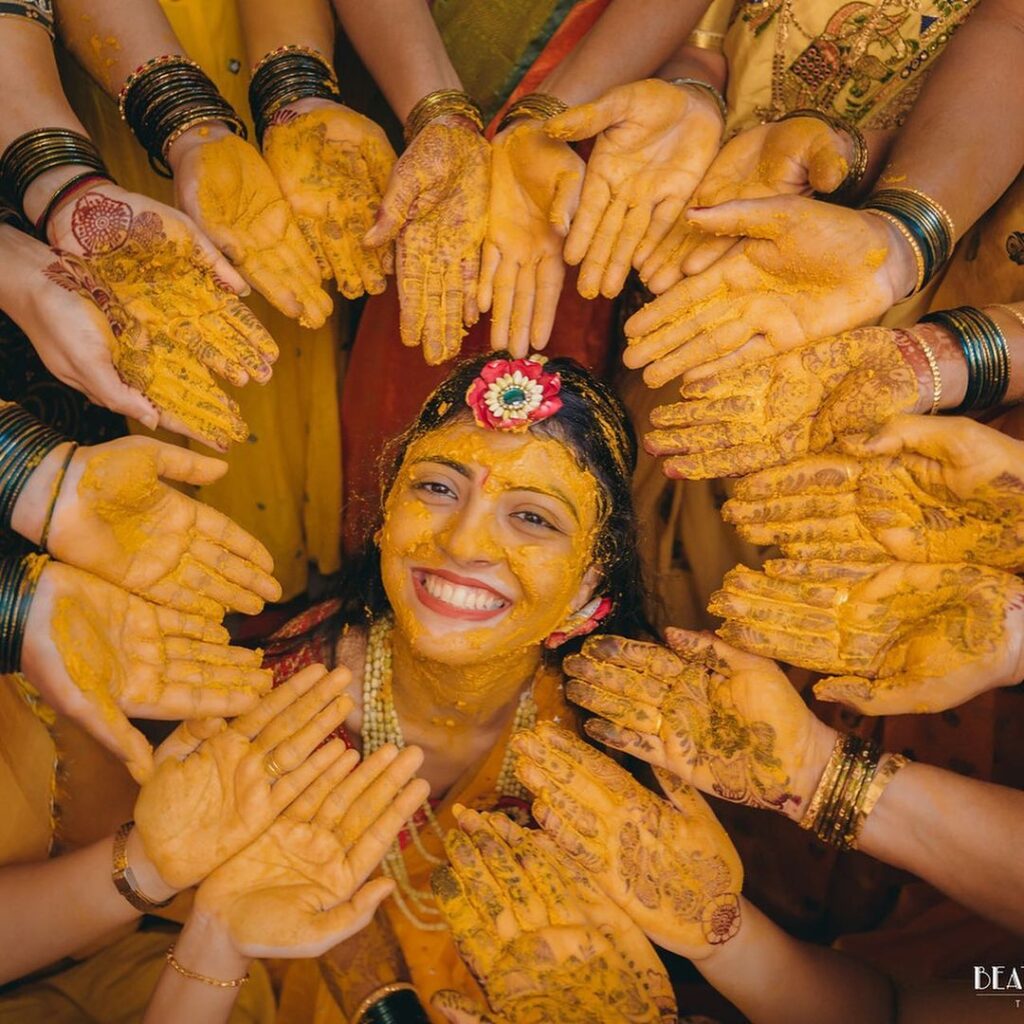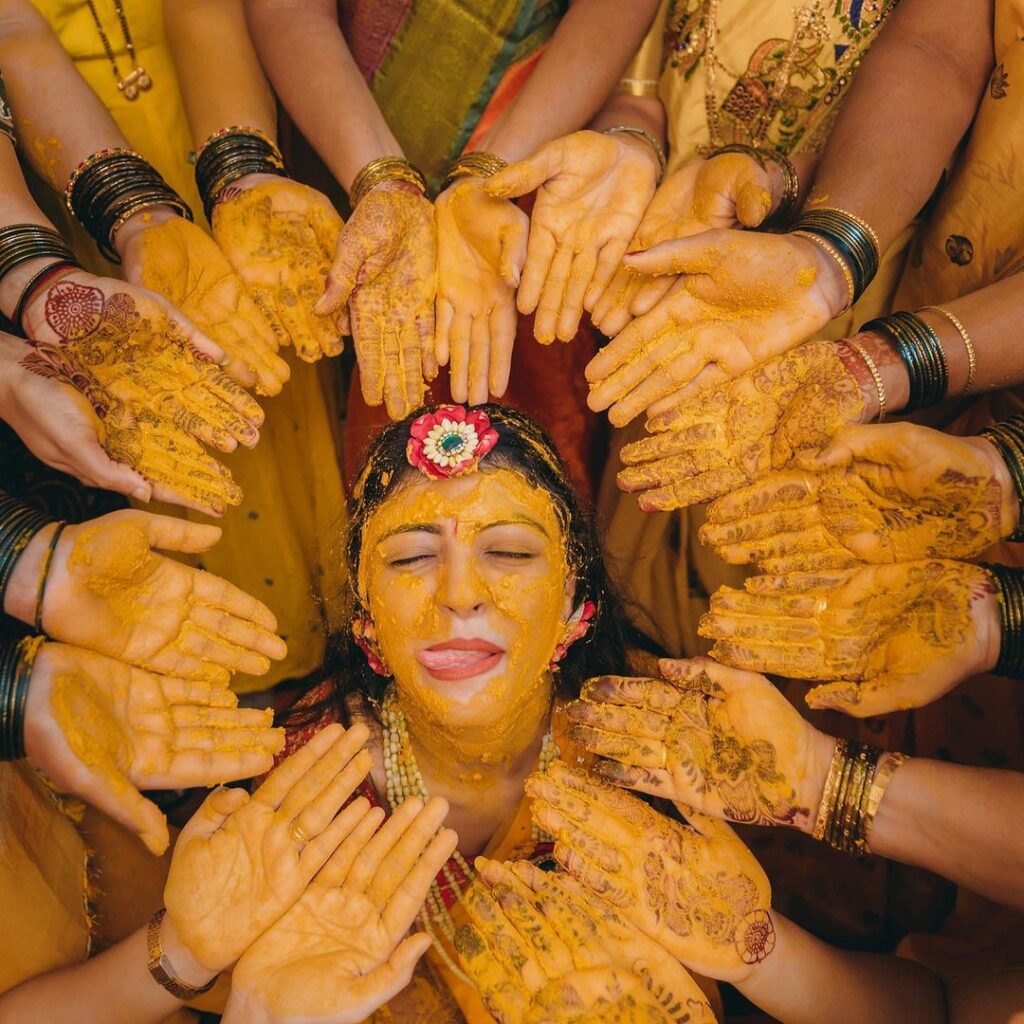 Courtesy: @the_drama_girl
#17 Yet another bridal portrait idea where the guests are all involved in the photograph and having fun as well. Besides solo and couple portraits, try to include portraits that include your family members as well.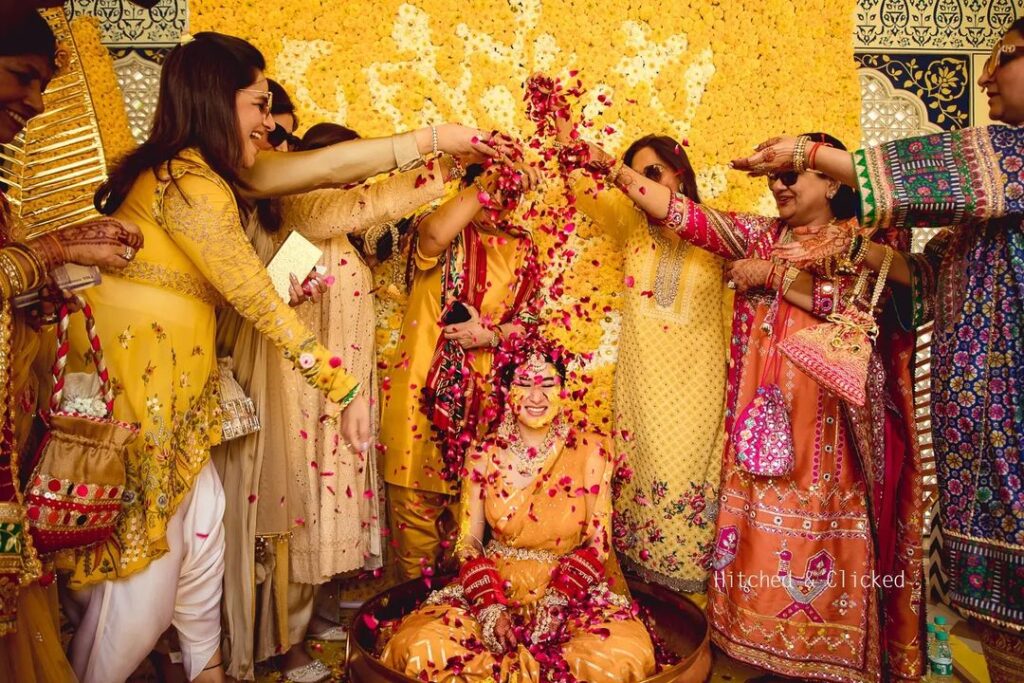 Courtesy: Hitched & Clicked
#18 A simple haldi ceremony photograph idea but it's the background which you should get inspired from! The skyline surely makes for a great setting and you should try to get a shot there, if possible.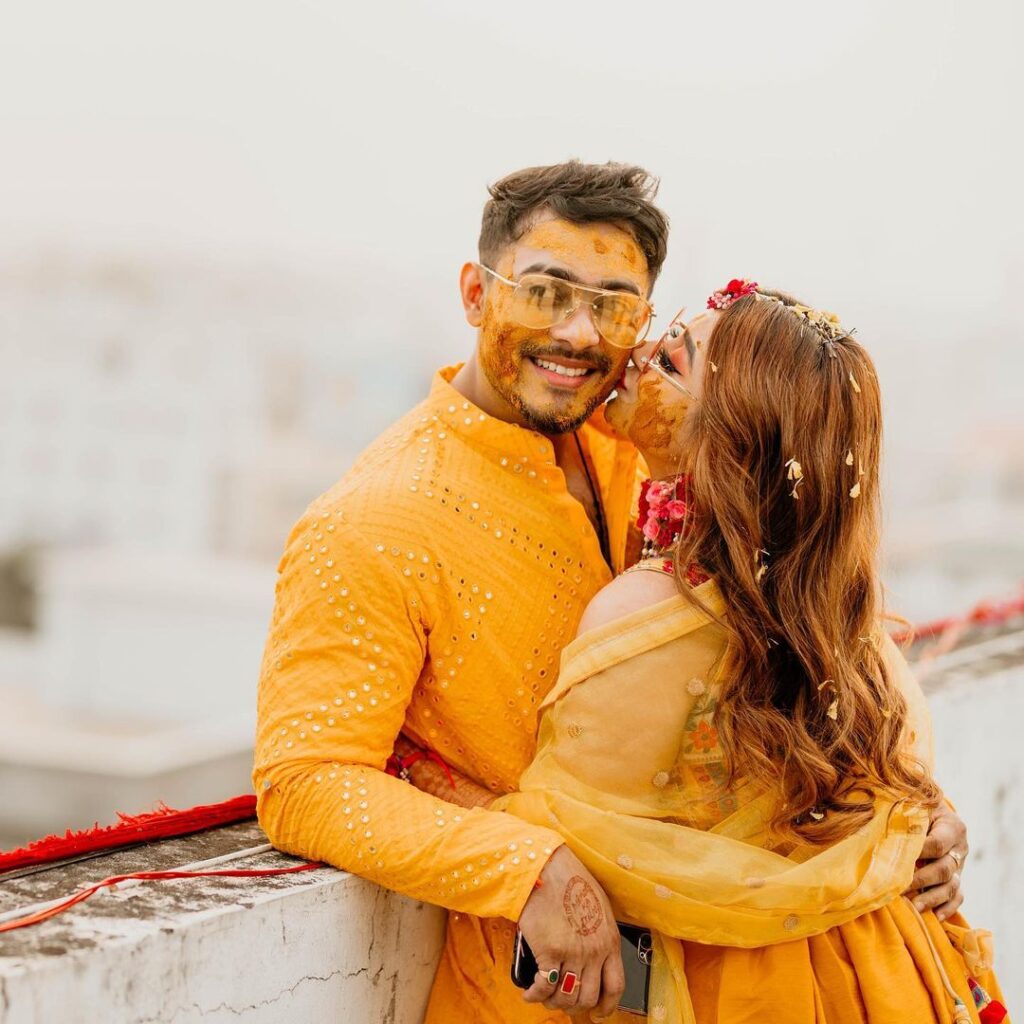 Courtesy: Samudrika Datta
#19 Normal pose portraits for couples are common, but here's a unique one that surely makes for a notable portrait for the haldi ceremony.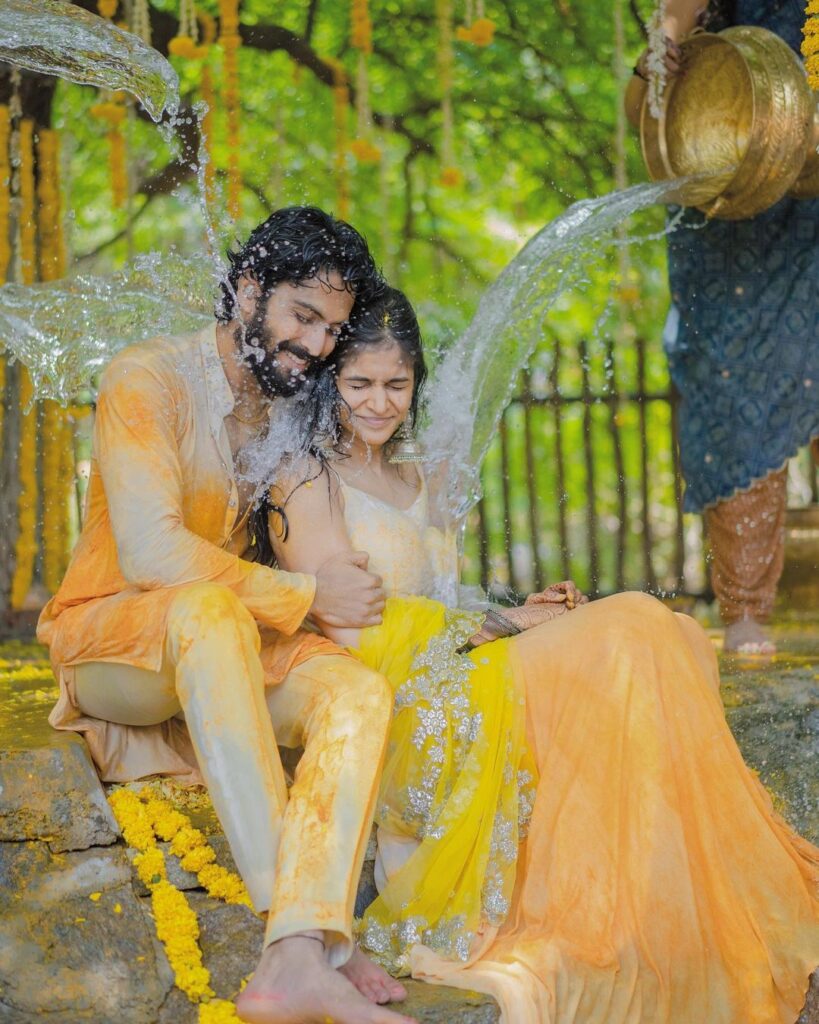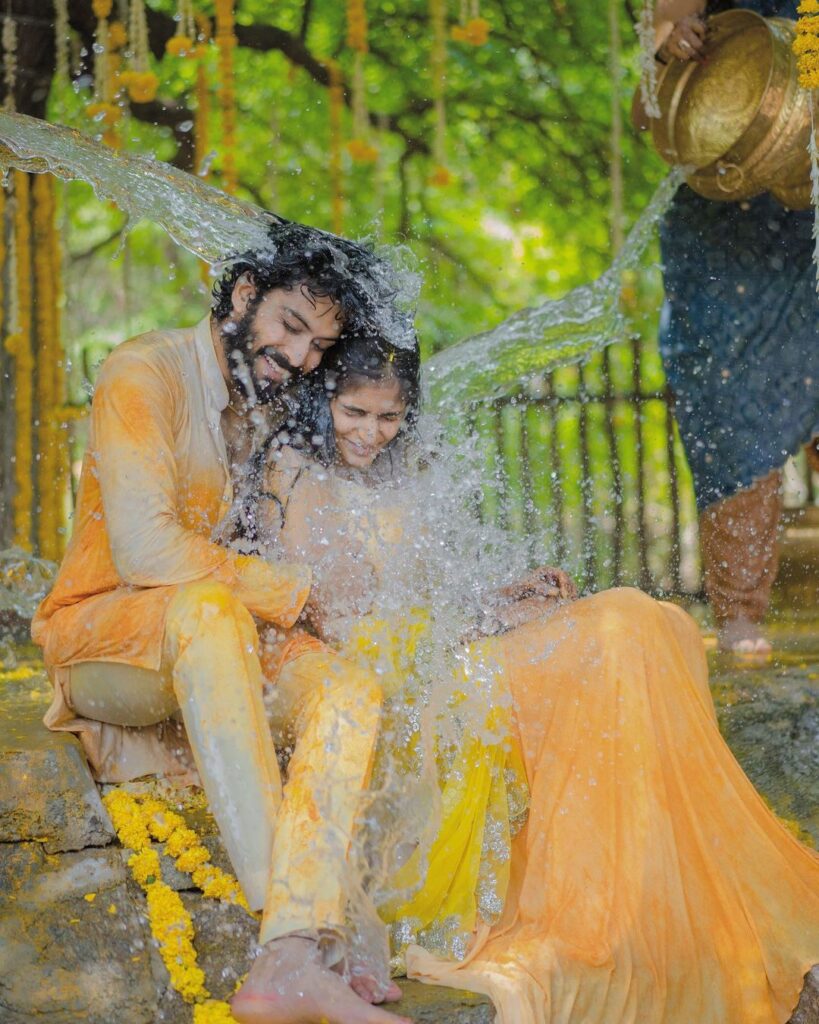 Courtesy: Beyond Frames
#20 If the haldi celebration for bride & groom is taking place at the same place, then don't miss having some fun with your other half in the process.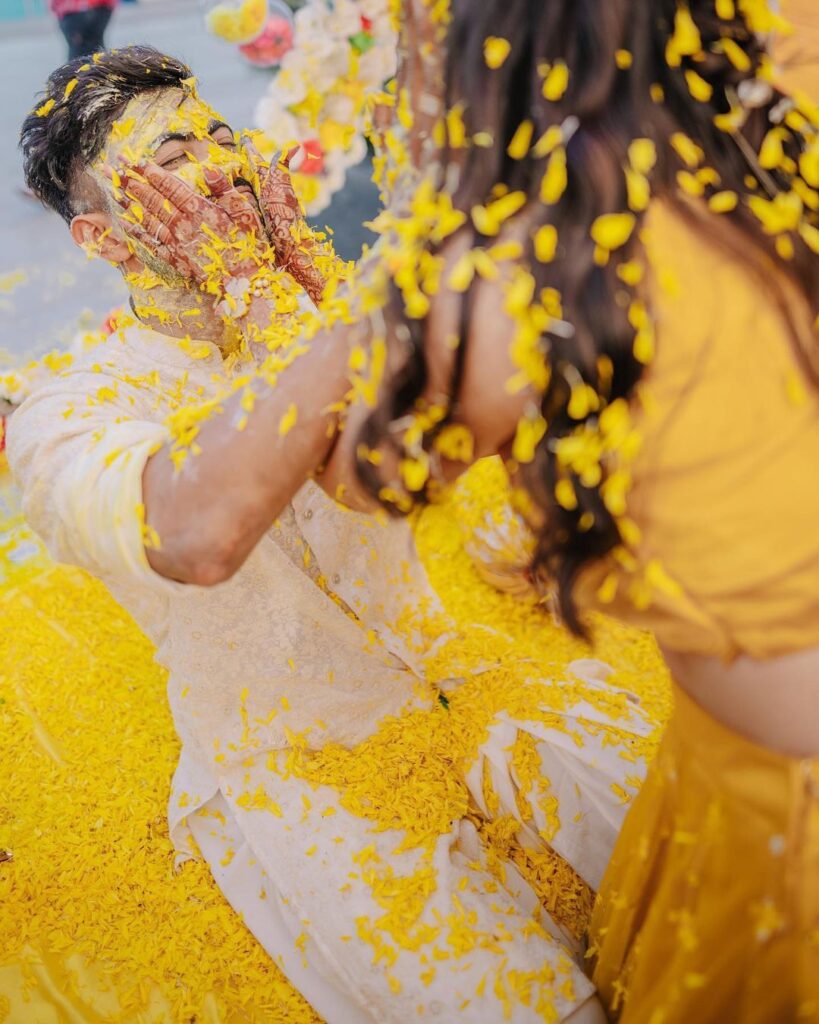 Courtesy: Instagram
Haldi Ceremony Decoration For Background & More
#1 A colorful burst of florals and design to add a little more enhancement to the usual yellow haldi ceremony decoration. 
#2 Love this quirky board at the entrance of the haldi ceremony. Also, a nice pose idea for the groom-to-be.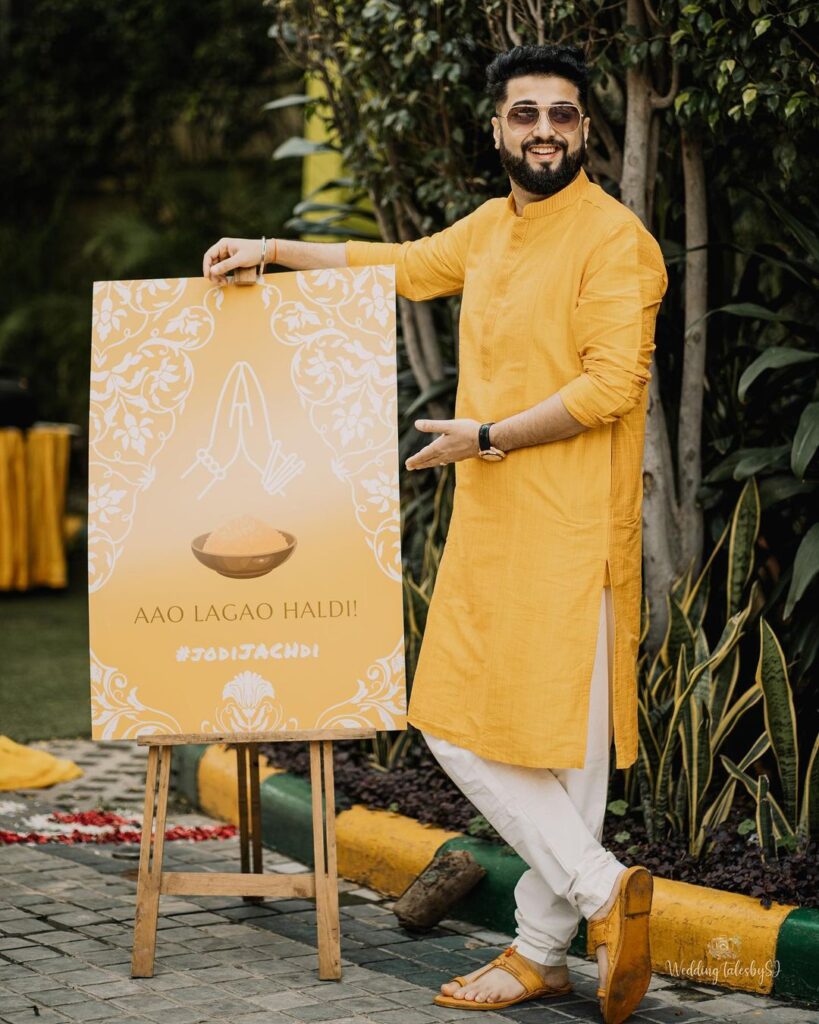 #3 If you're bored of the customary vessel seating and looking for some other creative idea, here's a lotus-design seating to take ideas from.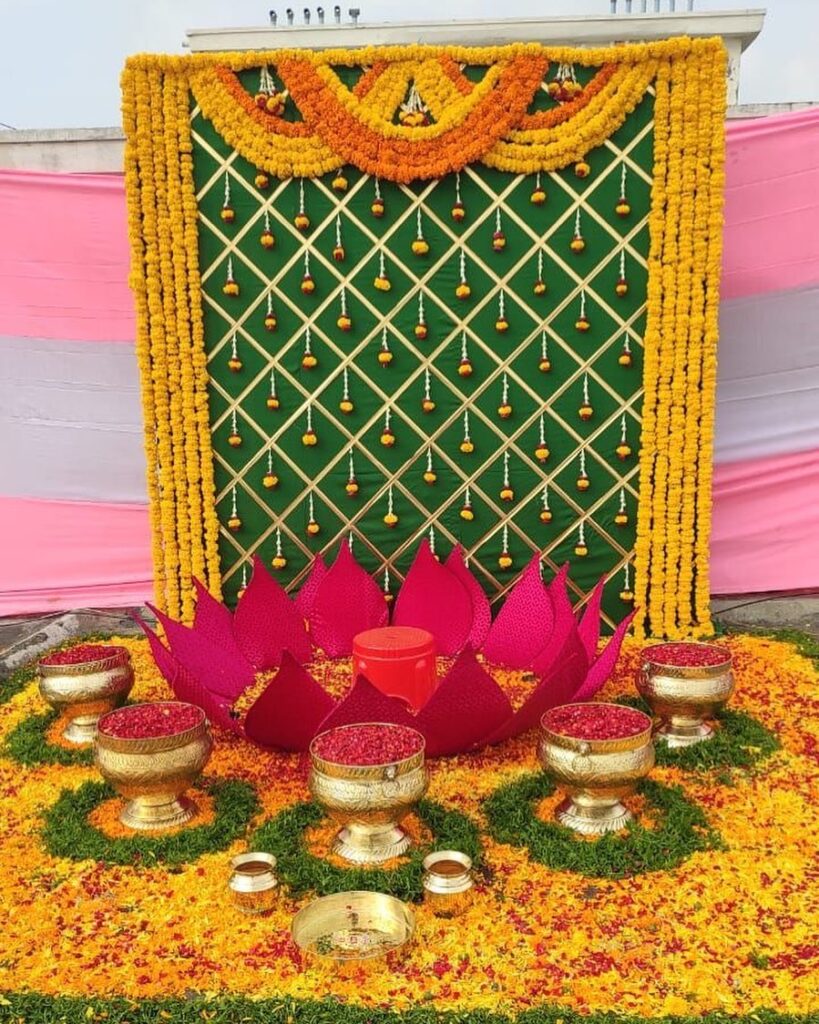 #4 Yes, those are fresh oranges. The eco-friendly decor uses the most easily available ingredients for decor and it will make for cute additions to your haldi ceremony.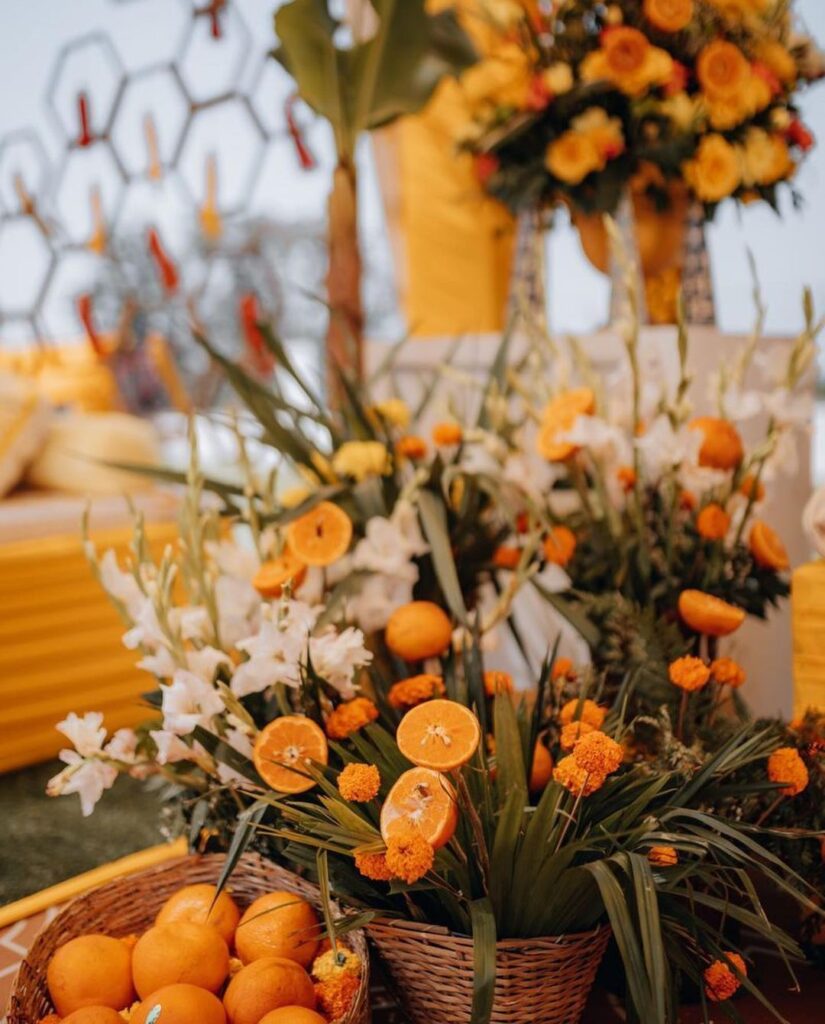 #5 Install these beautiful pillars in the midst of your haldi celebration or at the entrance, howsoever you deem fit.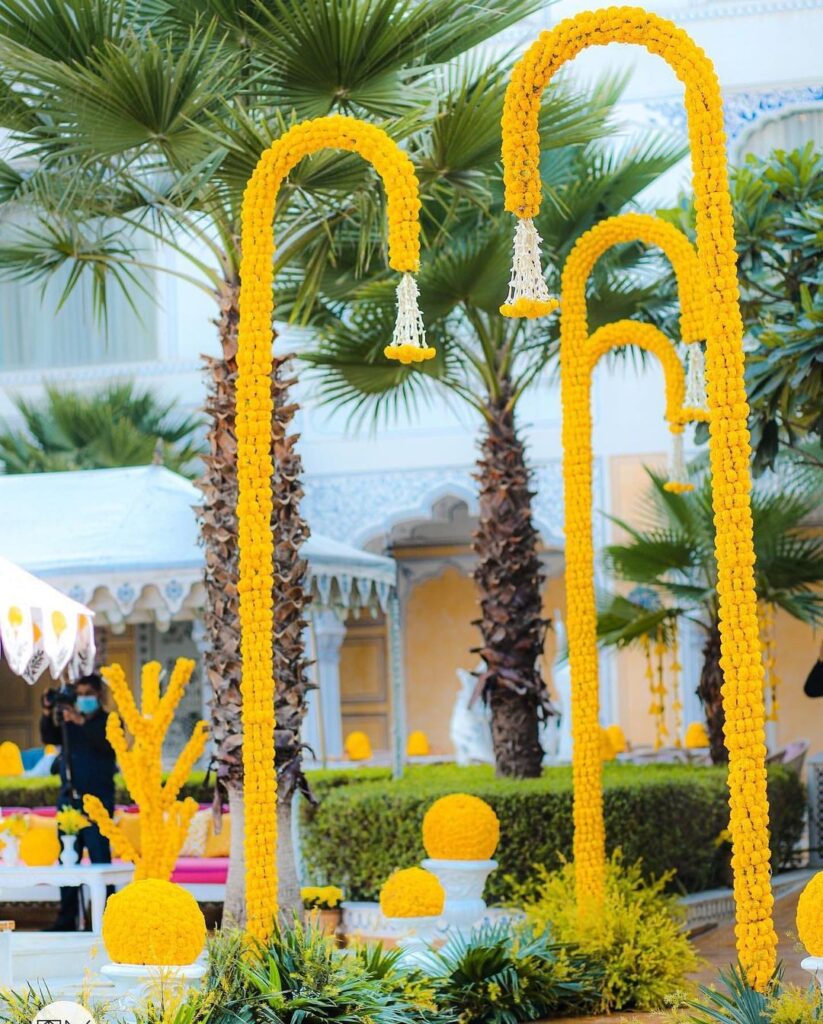 #6 It's the little things in the haldi function decor that make the difference. These vases placed strategically can enhance the decor flawlessly for your event.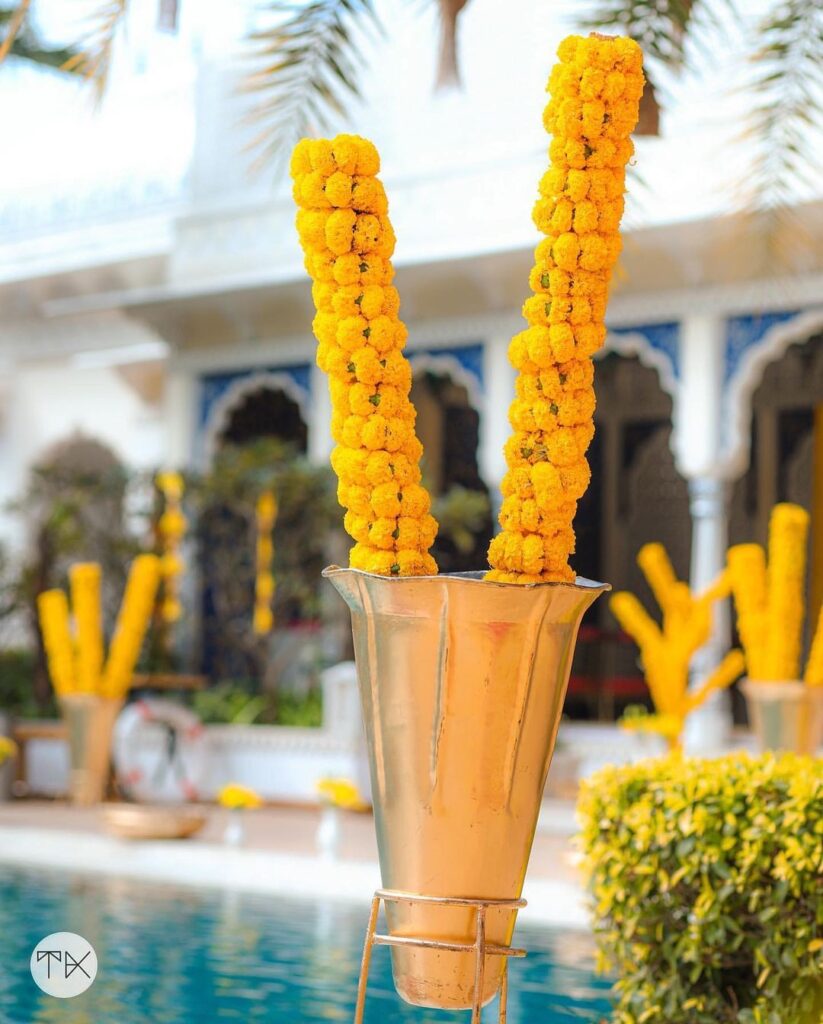 #7 Considering the vibrancy of the haldi event, if you want to mix in some other colors, choose equally lively hues like pink or red. Here's how these colors are used beautifully in caricatures outside the main entrance. 
#8 Speaking about the main entrance, here's another beautiful haldi entrance decor idea in yellow which exudes minimalism and elegance.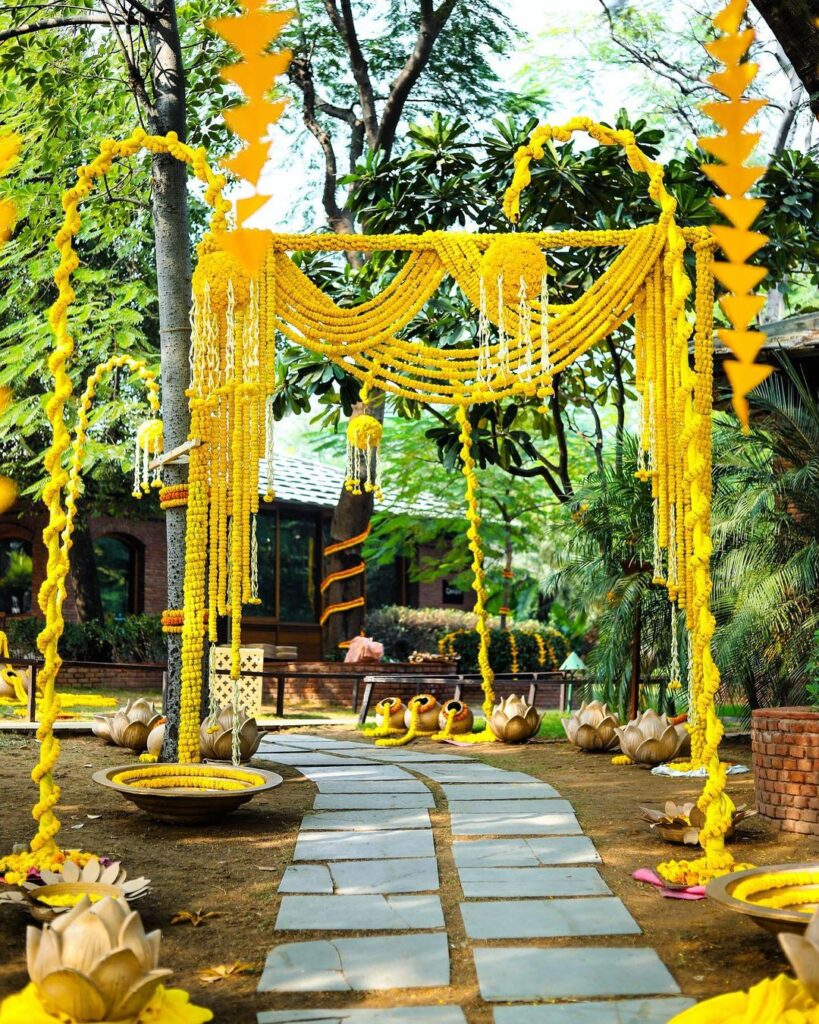 #9 Installing the name tags on the entrance of the main events is common, so here's a decor idea for the same.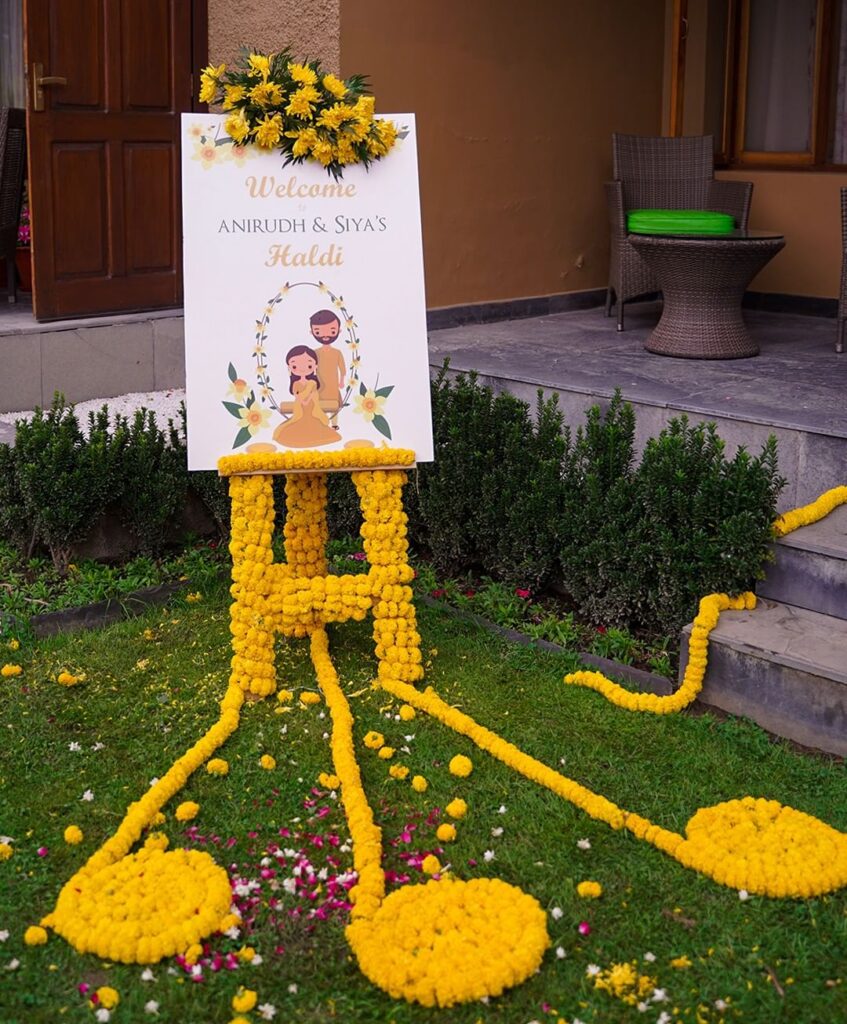 #10 Haldi ceremony decoration for the background is yet another common search for both bride & groom's side. In the majority of haldi ceremonies, the main element is the background so do bookmark some ideas for it.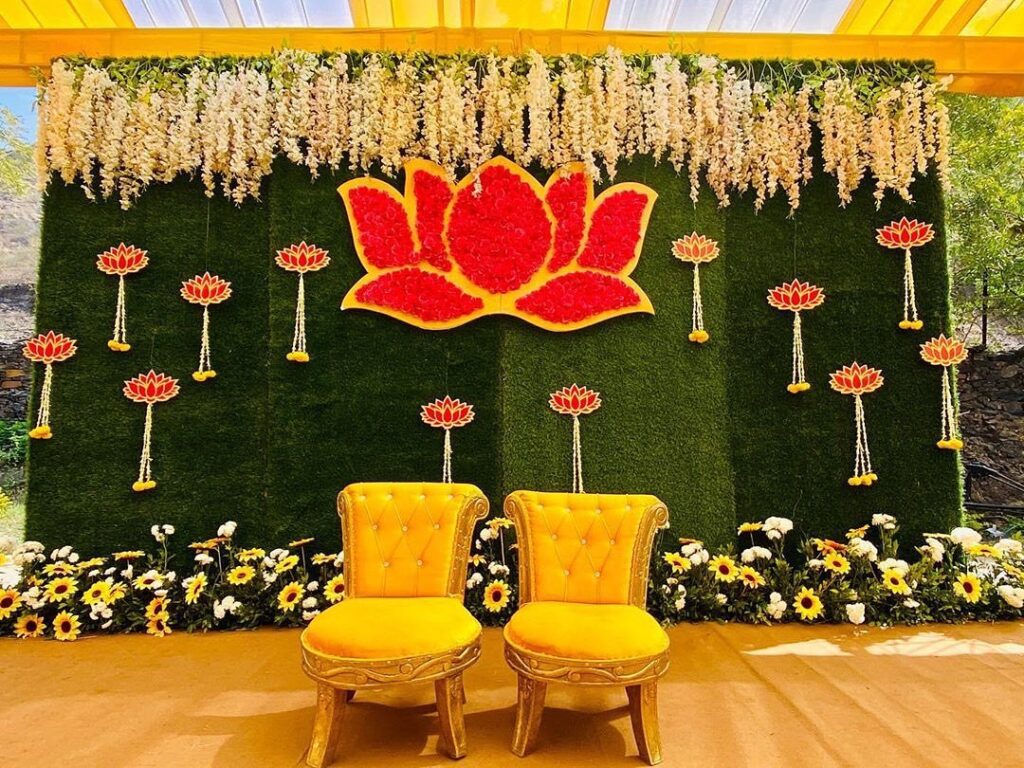 #11 Haldi seating decoration that's simple, appealing, and gorgeous.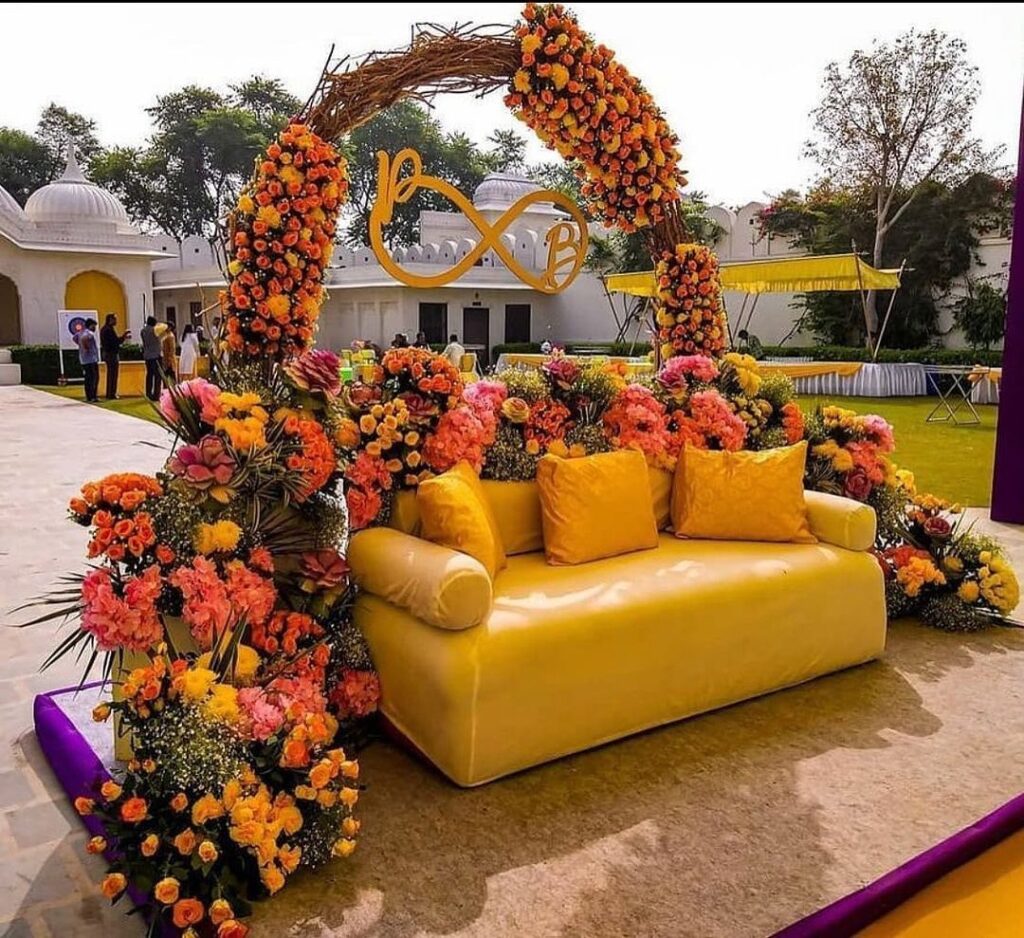 #12 The common haldi vessel-seating idea for the haldi ceremony at the moment is matched with some gorgeous decor items on the sides and an alluring background decor.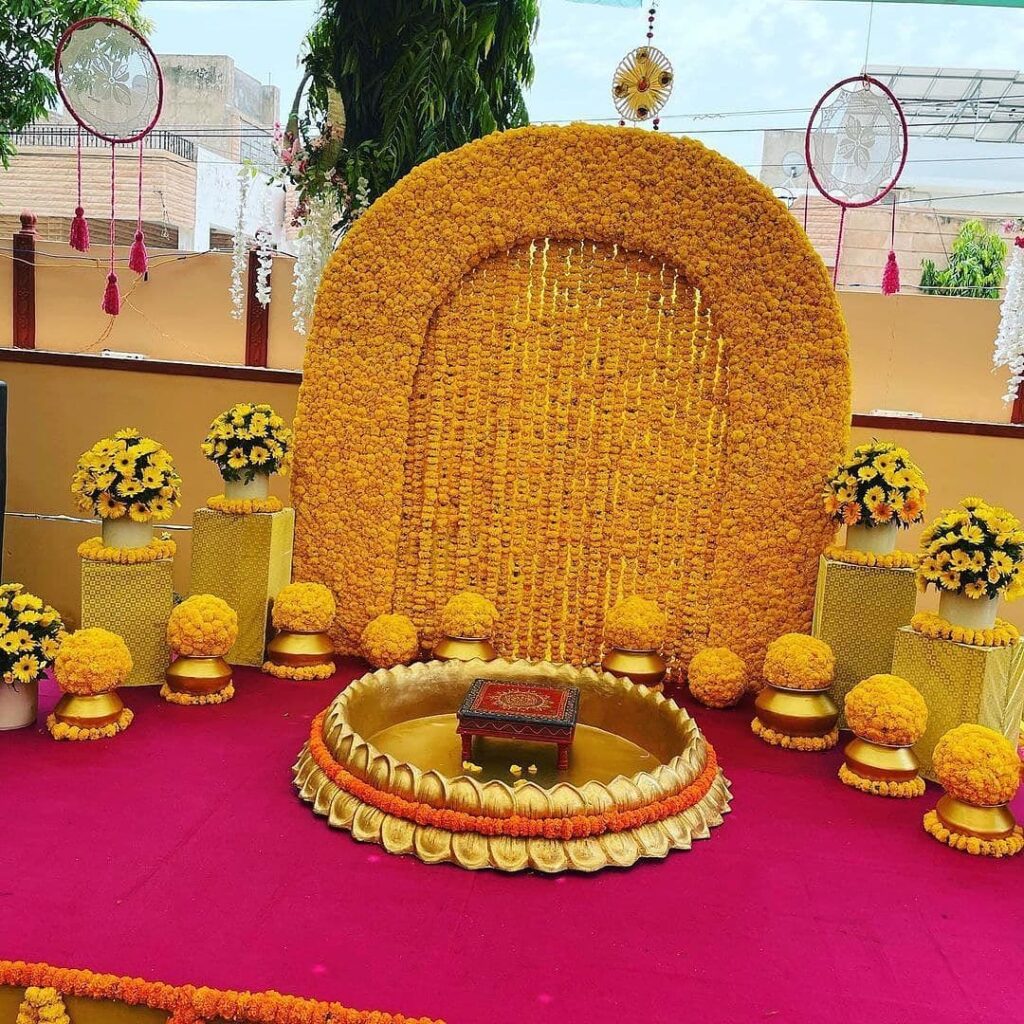 #13 For couples who want to go OTT with their decor, here's a ravishing idea replete with florals, ceiling drops, and drapes.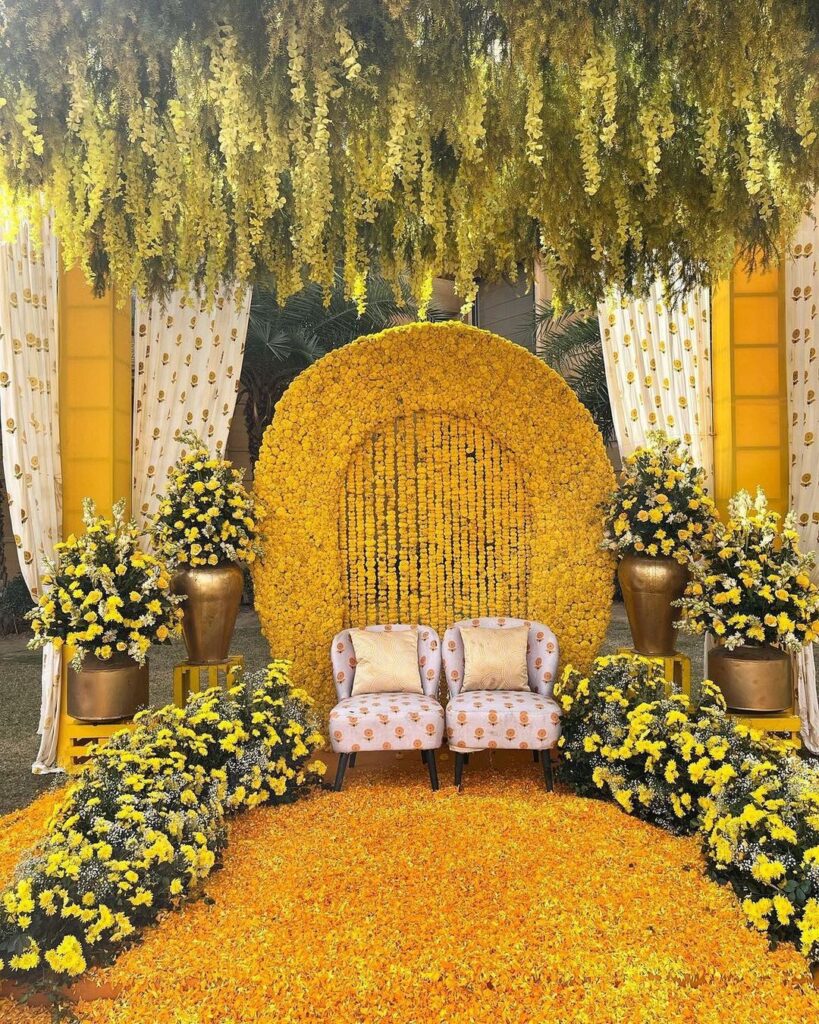 #14 Yet another maximalist idea for the haldi decor to bookmark and get inspired by!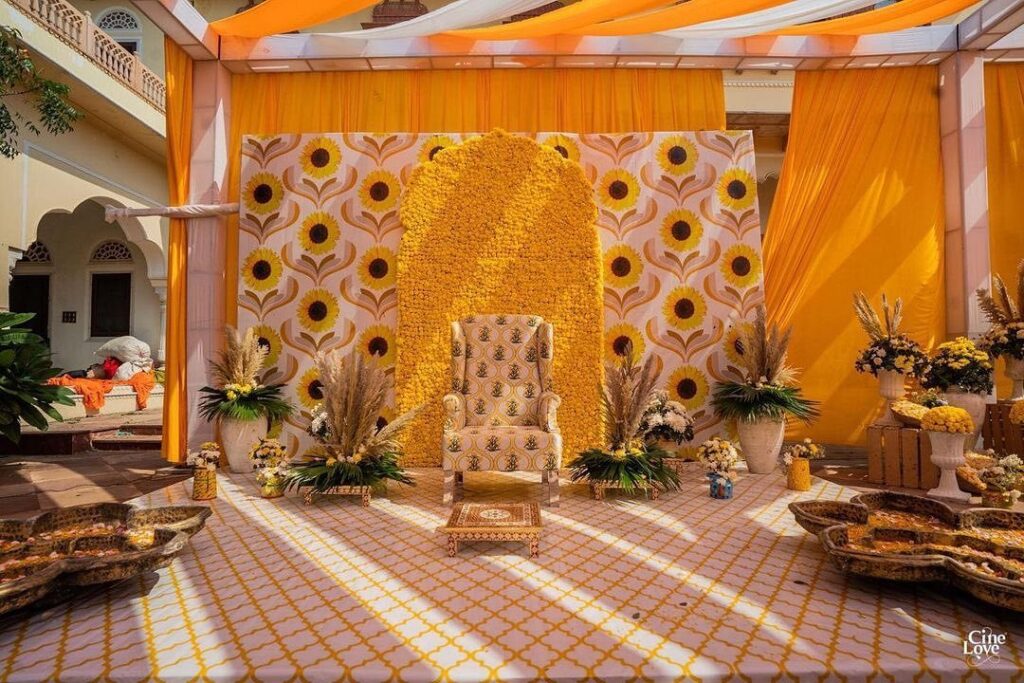 #15 We just love everything about this picture. The vessel-seating, the criss-cross drapes, the Sun shining beautifully, and the outdoor arrangement.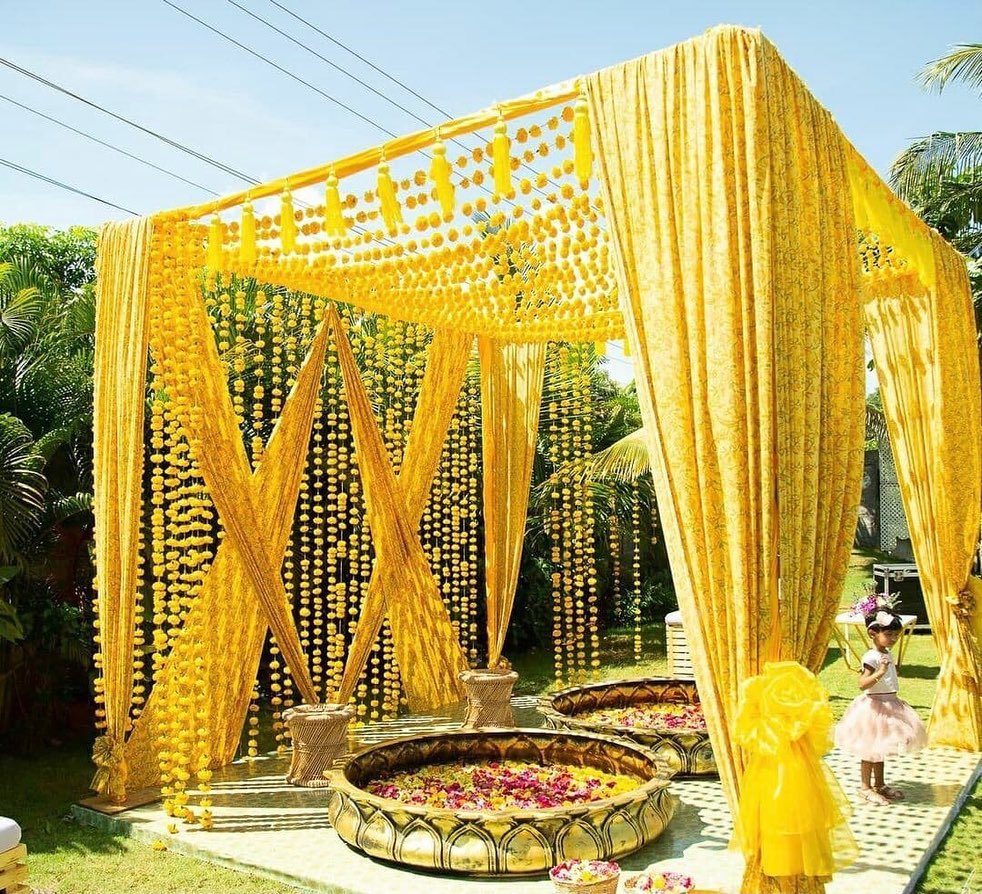 #16 For DIY haldi decor inspiration, this is an amazing idea, and an easy one to accomplish even for the creative noobs.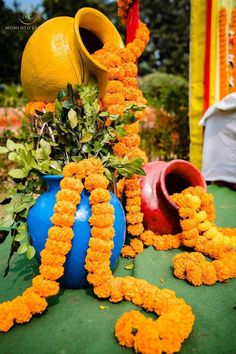 #17 Now, this charming wall decor can be installed in the background or at the entrance as well.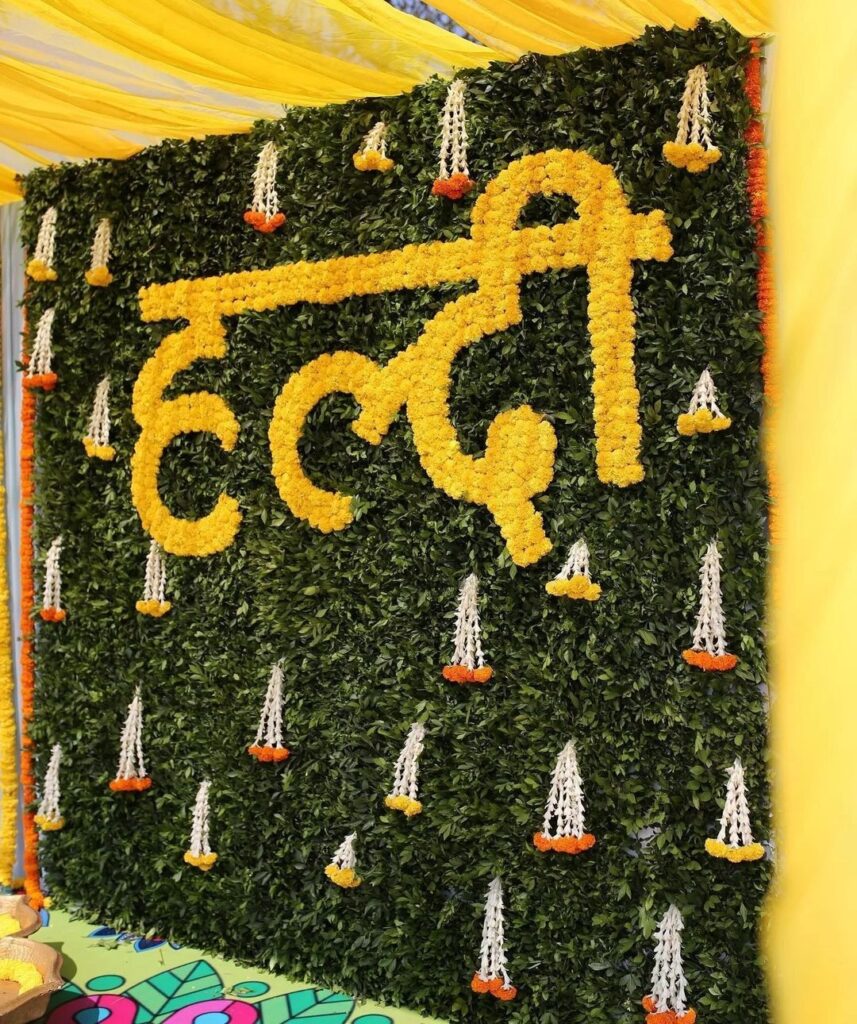 Haldi Ceremony Quotes & Captions
Haldi Ceremony Quotes For Bride
# "The morning of your wedding was beautiful but I know your marriage will be a hundred times more beautiful than the wedding celebrations. Congratulations on your happily ever after!"
# "Congratulations on your marriage. You both look wonderful together and I hope that all your dreams come true as you begin this new journey."
# "Here's wishing you a spectacular ceremony with an abundance of happy moments to follow in your married life. Only & only love & good luck to you!"
# "Here's to a glorious wedding day and a wonderful married life ahead. I sincerely wish your life is filled with an abundance of joy and amazing fortune."
# "May the vibrance, fun, and excitement of the haldi ceremony spread to your ceremony and your married life ahead."
# "You truly are one of my favorite couples. Hoping you've a wonderful Haldi ceremony and a married life ahead."
# "Lots of luck and blessings to the best couple I know. You define what a happy & healthy relationship looks like! May you both always stay this happy together."
# "This haldi ceremony, I got to witness two love birds starting their forever. We hope this special day gives you fond memories to cherish forever. Congratulations on your married life!"
Haldi Ceremony Quotes For Sister/ Brother
# "You can tell you're in the presence of true love when you see the faces of the couple beaming with joy & contentment just by being with each other. You guys represent true love and I'm so happy for you. Here's hoping your love lasts forever and beyond."
# "Today, we add one more member to our family, and we couldn't be happier. Only wishing the best for both of you."
# "I was finally able to take revenge for all the teasing by lathering you with haldi today. It was really fun, for me at least! Jokes aside though, I'm beyond happy today. Seeing you take the next step in your life feels so surreal. I hope, from the bottom of my heart, that you have a wonderful married life."
# "My only wish for you is, you keep smiling and laughing just like at your haldi function. It was wonderful seeing you this happy and finding someone who makes you feel at utter peace in your heart. So excited to add another member to our family!" 
# "I hope that you know I've been impatiently waiting for my sister to get married and find her "forever". Jiju is just as amazing as you, and I'm so happy for you. Congratulations! Love you now, and forever."
# "I've never seen you as happy as when you're with Bhabhi. It gets me a little emotional, but I promise I will control myself. Enjoy these last few moments of your wedding, and prepare for the wonderful married life because the best is yet to come!" 
Haldi Ceremony Quotes For Friend
# "Dear BFF, you know I've been waiting for this moment forever so I can lather you like a bread pakora. Thank you for making my dream come true. I love you."
# "I have seen you bawl your eyes out for the wrong guys and it makes me immensely happy to see you marry the right one today. I know you have waited long for this moment. So, enjoy it immensely."
# "They got married and I got free drinks. So, it's a win-win situation for both of us."
# "There are two big days in any love story – the one where you meet the person of your dreams and the other one when you get married to them. I am glad I could witness both of these days in your life. May your love grow forever."
# "Came for the couple, stayed for the cake."
# "You guys just proved fairytales do exist."
# "A perfect wedding has two things – true love…and an open bar. Yours had both and I had the time of my life. Cheers to your forever bond!"
# "Thank you for inviting us to eat and drink when you got painted yellow. It was the best & most fun live play I've ever watched. Congrats!"