Haldi is one of the joyous, cheery ceremonies of the wedding revelries. Only a small part of it requires any puja or rituals. Rest is all about lathering the bride and groom with haldi or pithi (as what's called traditionally). We come across such pleasure-filled pictures of the Haldi ceremony every day where the couple and family members are smiling from ear to ear and enjoying every bit of the jolly ceremony. As a bride/ groom, you'd want to choose a haldi function dress that's inexpensive yet adds glam to your VIP status. The haldi stains are not easy to be removed, so you might not even be able to wear the outfit again. To help, we have curated a blog with 19 haldi function dresses online, including different sartorial choices so you can pick the one as per your liking. 
All of them are conveniently priced between 500 to 2000, with just a few going a little over 2k. 
Haldi Function Dress For Brides
#1 An Indo-Western Option For Millennial Brides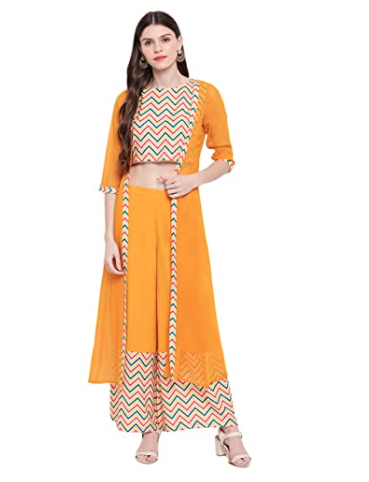 Bored of the usual sarees, lehengas, and kurta sets, don this palazzo, top set with a jacket to set a statement at your haldi ceremony. If the dress doesn't get stained much, you can easily wear this as a stylish option as a wedding guest. Pair it with heavy earrings and an open hairstyle for a contemporary look or use floral jewelry to give the ensemble a subtle traditional touch. Styling can make all the difference in how the look turns out, so pick the accessory and beauty look wisely. 
Purchase here for ~ Rs.700/-
#2 Affordable Pick With Foil Work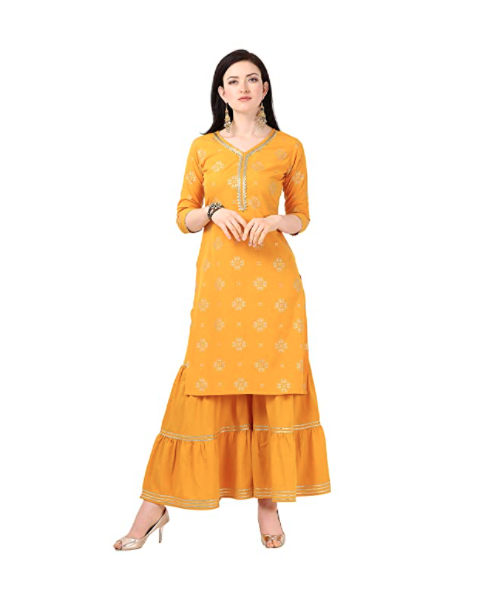 Another great option to opt for your haldi ceremony is this amazing sharara set with foil work all over and a sharara set with crinkled patterns and layers. This is a convenient haldi dress for brides. You will anyways be wearing a heavy dress for your wedding at night and also would have worn a heavy lehenga on the sangeet night. This will be a great break from all the cumbersome lehengas without compromising the "main girl" look you'd want to have. Pair it with real flowers jewelry done in mogra or artificial one with yellow flowers to upgrade your attire. 
Purchase here for ~ Rs.600/-
#3 The Grace Of Bandhani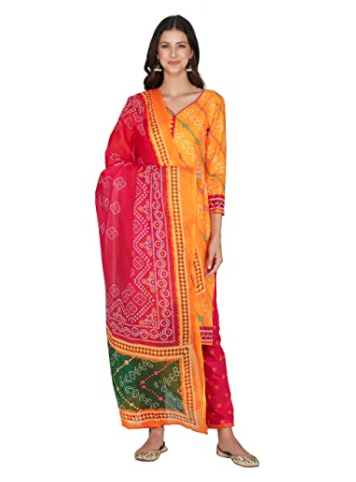 Bandhani has a traditional and graceful appeal attached to it, quite like benarasi. If you're looking for a simple haldi outfit, then go for this Patiala bandhani dress. To elevate the look of the attire, pair the ensemble with floral jewelry and glamorous makeup with a gorgeous eye. Don't splurge on professional makeup though if you know your friends & family are going to lather you with the haldi. If that's not the case, you can surely go for a professional MUA as they'd know exactly how to amp up a simple dress to match your bridal glam. 
Purchase here for ~ Rs.700/-
#4 A Gorgeous Silk Lehenga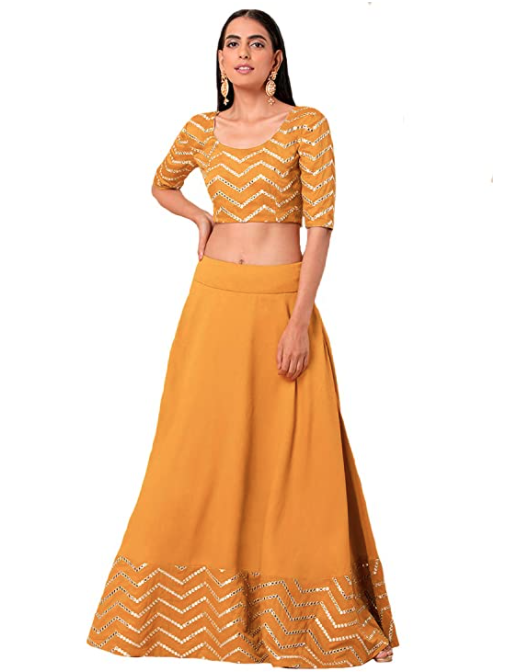 Who says lehenga is mehenga? At a price of 1.2k, you can get a gorgeous silk lehenga set with work and vivid shade for your haldi celebration. Don't believe us? See what the reviewer of this lehenga set had to say, "The fabric quality is so good and unexpected at the price. The gather is nice and it doesn't look cheap. Although you have to spend some bucks on blouse stitching and lehenga measurements so the cost goes up. But at 1.3k, it's still a steal." Some brides just can't look past the glam of a lehenga for their wedding, and this option is especially for those beautiful brides. 
Purchase here for ~ Rs.1299/-
#5 Celebrity-Inspired Haldi Function Dresses Online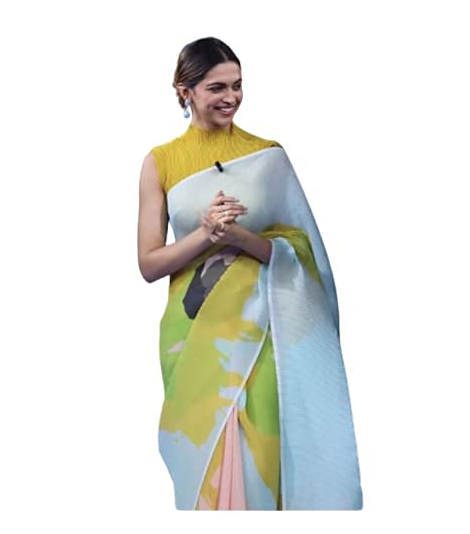 Imitation outfits have certainly outdone themselves these days. Sabyasachi-inspired lehengas have already been made into the market at prices 20% of the original. So has the threadwork of Papa Don't Preach by Shubhika and prints of Anita Dongre. Any outfit that a celebrity wears and receives massive coverage is copied as well. Like Deepika's printed saree in a beautiful blend of bright and pastel colors. At the price of 1k, which is like 5% of the original price, you wouldn't mind if it's even destroyed by the haldi stains. Surely enough, you will receive a good copy. Just go through the reviews and you will know. 
#6 Mirror-Work Sharara Set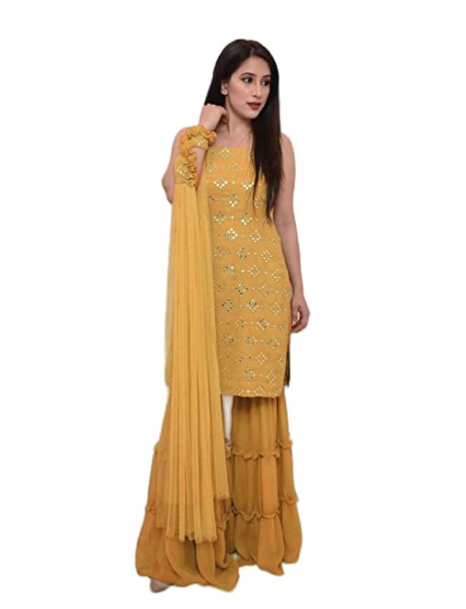 Sharara sets have conveniently made their way into the bridal trousseau. Their functional approach combined with the ease of movement and the ability to reach any level of glam has attracted many brides. You can easily wear a sharara set as your haldi outfit and look gorgeous. If you're opting for work, you don't even have to pair it with many accessories. Just a simple choker set with maangtikka would do. Keep your hair in blow-dry style and makeup dewy yet water-proof so it doesn't fade as quickly. 
Purchase here for ~ Rs.1299/-
#7 Sabyasachi-Inspired Haldi Function Dresses Online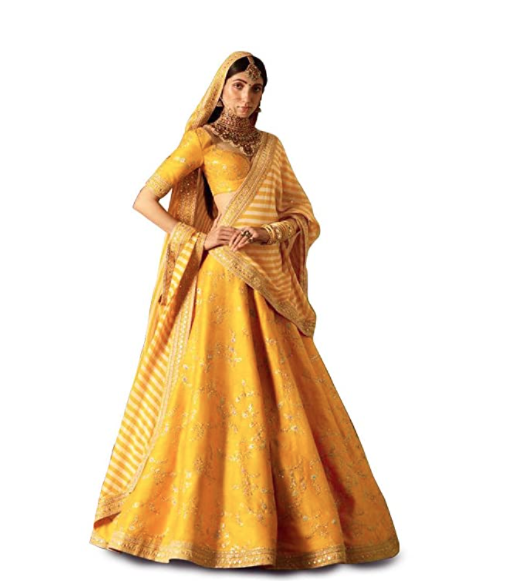 Sabyasachi's monochrome lehenga launched in 2018 in dreamy summer colors are still trending and chosen by brides still. As we said, the lehenga designers have become pro at imitating designer clothing without compromising with the quality and a small fraction of the original price. This is one of those examples. While this is just one example, Zeel Clothing has some amazing Sabyasachi replica designs and original pieces to woo the brides. This yellow lehenga can be paired with gota patti jewelry for a different styling than the floral jewelry one. Even a simple beauty and accessory look will be great with this lehenga. 
Purchase here for ~ Rs.3499/-
#8 A Beautiful Green Dress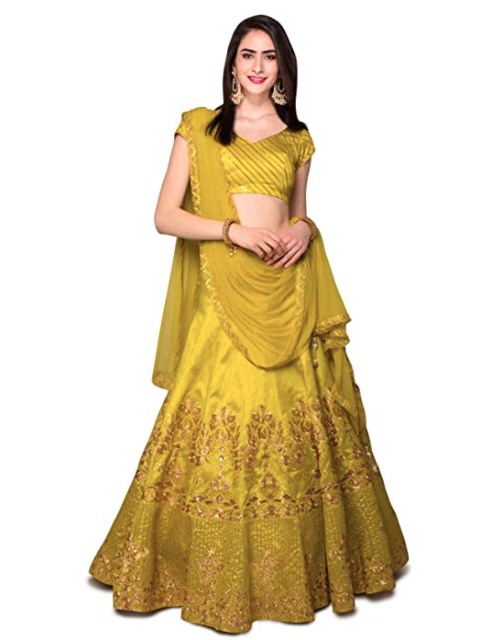 If you're bored of the classic yellow for haldi and want to don a different color, opt for this stunning lime green net lehenga with embroidered work of dori and sequins. Since it's a heavier option, you also don't have to worry about the styling much. Just pair with a chunky pair of earrings and you are good to go. 
Purchase here for ~ Rs.3599/-
#9 A Gorgeous Designer Haldi Outfit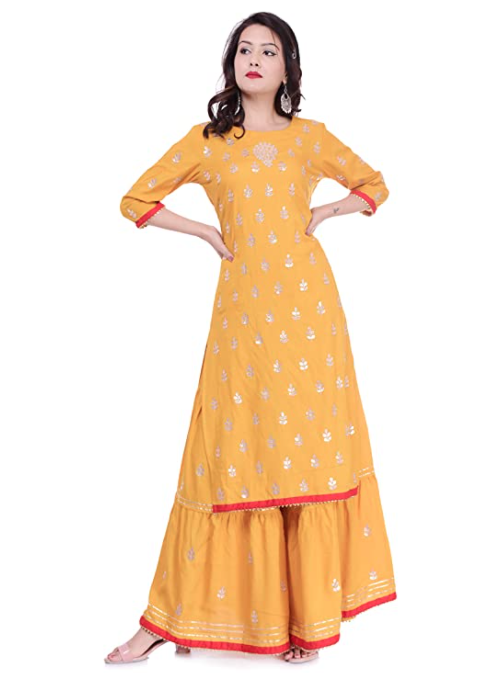 You really can find some amazing designer haldi function dresses online. Here's another one. It's a gorgeous sunny yellow sharara set bedecked with foil work and some hints of pink for a striking look. The best part about shararas is they're comfortable yet give a very stylish look. Here's what one of the reviewers wrote, "Thanks a lot for the awesome price range and such an amazing quality dress. I ordered my haldi and everyone loved it. The dress got ruined (of course!), but at this price, I didn't feel guilty at all. Haha."
Purchase here for ~ Rs.800/-
#10 A Striking Yellow Bandhani Lehenga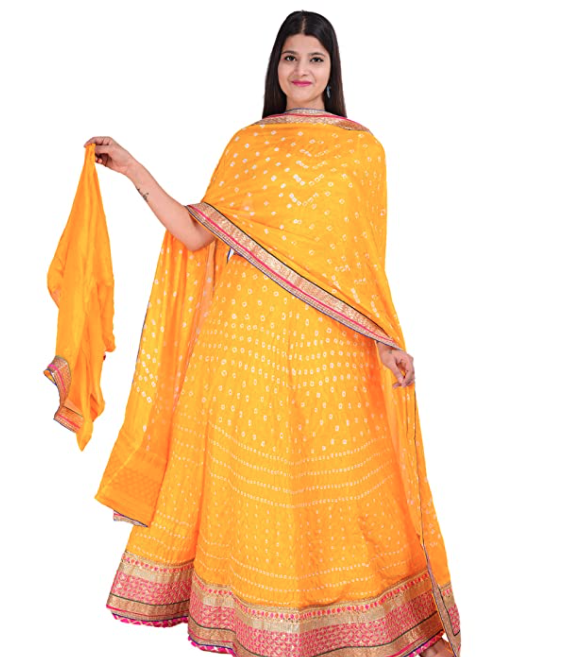 This gorgeous bandhani lehenga with a blouse piece and dupatta is a stunning option to wear on Haldi and is quite inexpensive. Bandhani's inherent charm and a soft nod to Indian textile are commendable in themselves. We'd definitely recommend including a bandhani saree and lehenga in your trousseau and even don on one of your main functions. You can pair this gorgeous attire with real marigold floral jewelry or even mogra flowers for a contrasting look. Beauty-wise, let the face be dewy and wear a bright pink lip for a gorgeous look. You can also put the hair into a loose braid for an aesthetic ensemble. 
Purchase here for ~ Rs.1299/-
#11 An Elegant Silk Lehenga For Haldi Dress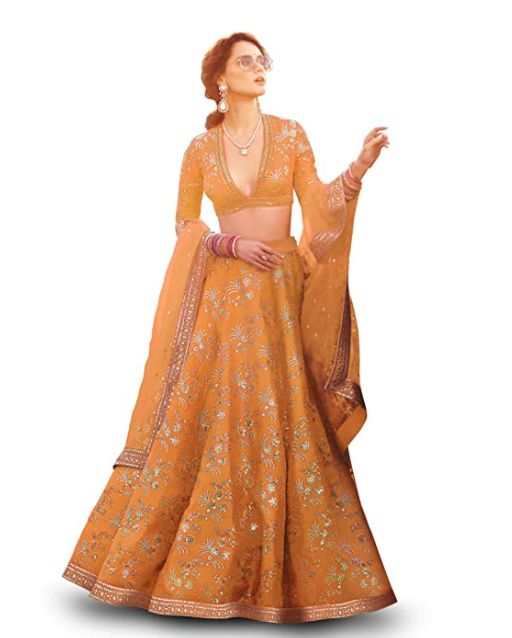 This gorgeous silk lehenga is another Sabyasachi-inspired lehenga and makes for a great pick for your haldi event. Given the golden embellishments and the intricate embroidery, you can pair this lehenga with floral or kundan jewelry. If you're having a phoolon ki haldi, then also this yellow haldi lehenga will make for a great pick. The great part is the seller has uploaded the original pics of the dress besides the inspiration so you can have an idea of how it will look in real life. For the price, we think it's a steal for your pick of haldi function dresses online. It can be easily re-worn after the wedding as well. 
Purchase here for ~ Rs.3999/-
#12 The Floral Charm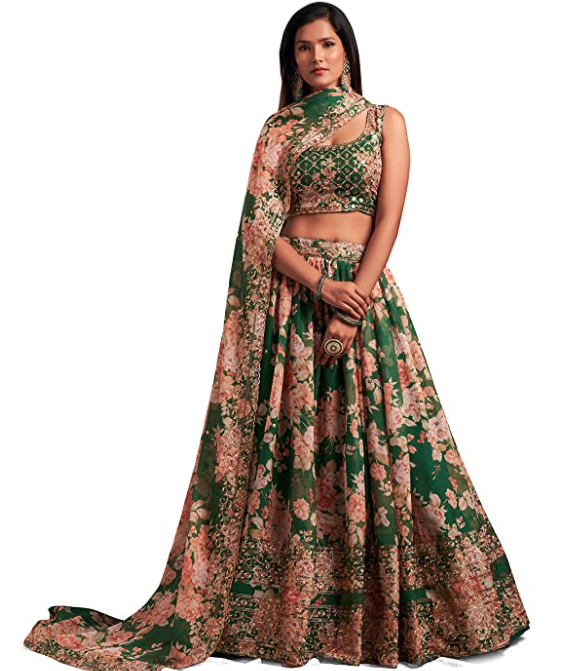 Florals look amazing in Indian weddings – no matter how they are involved. Plus, there are so many color options to choose from in this Haldi dress online. For those who don't want to wear the customary yellow on their lehenga, choose some other hue. Since it's a millennial, ethereal look, you can pair it with straight, tucked-back hair, simple, dewy makeup and minimalistic accessories for a beautiful haldi ensemble. If you pick a soft color, you can easily rewear the outfit after the wedding. A point to note is maximum lehenga sets will have to be fitted at home, adding up to the costs. So keep that in mind. 
Purchase here for ~ Rs.3149/-
#13 Burst Of Colors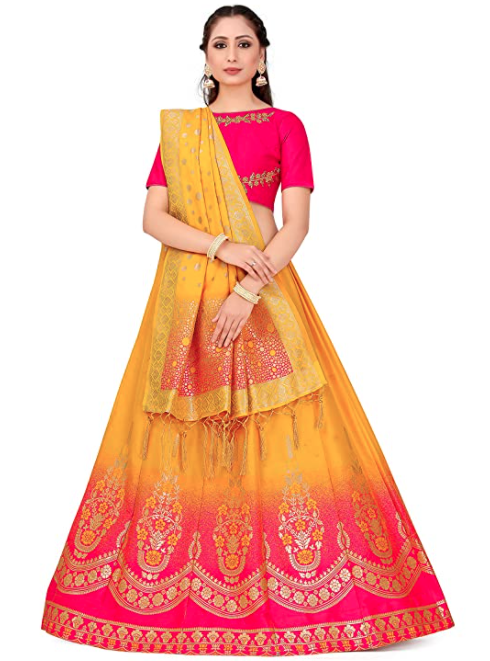 A beautiful combination of pink & yellow, this haldi outfit is perfect for the ceremony mornings when the Sun will further add to the flamboyance of the lehenga. The best thing about the bright colors is that they look right as you don them – without any accessories or makeup. Therefore, for someone who doesn't want to put too much effort into their styling, this can be an amazing haldi dress option online. 
Purchase here for ~ Rs.2699/-
#14 The Saree Love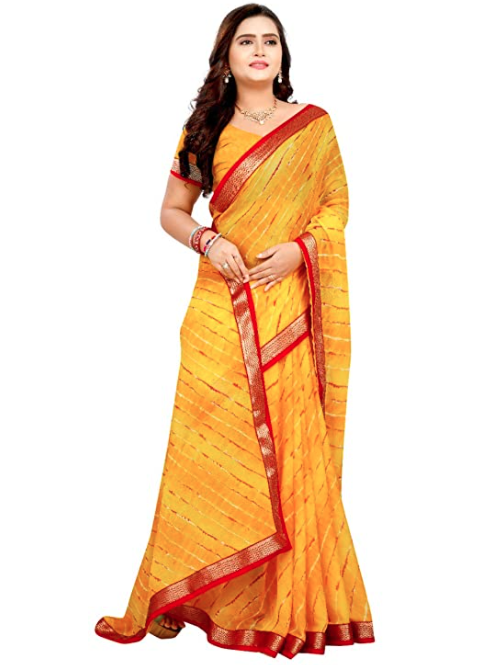 Sarees are another great haldi dress option. Their elegance, charm, and sophistication can seldom be questioned. In fact, owing to the pandemic and the small weddings, a lot of brides are opting for sarees on their wedding day – just like in the traditional times. If you don't want to exclude the poise of saree on your wedding revelries, opt for them on your haldi. This leheriya, chiffon one comes with an unstitched blouse and is lightweight to wear. Style it with floral accessories and a dewy makeup look for a beautiful look. 
Purchase here for ~ Rs.648/-
#15 Moss Chiffon Saree With Sequins As Haldi Function Dresses Online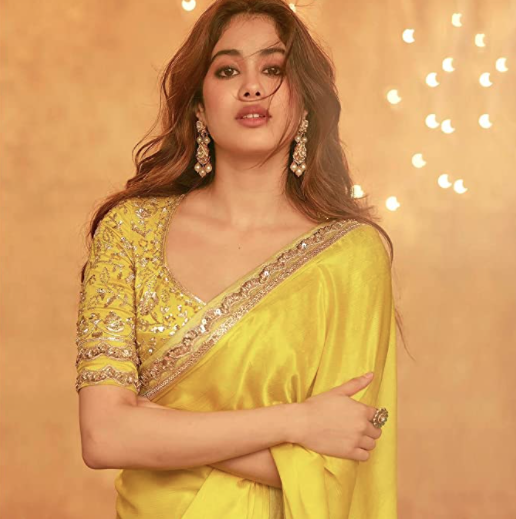 You can find some amazing Haldi function dresses online (clearly) and if you're specifically looking for a celebrity-inspired look, then opt for this beautiful yellow saree worn by Janhvi Kapoor. Originally designed by Manish Malhotra, this replica has premium moss chiffon cloth and gorgeous sequin work on the border. You can scroll down on the product images to see how intricately the work has been done to give you your favorite designer wear in budget. For this saree look, we'd highly recommend you pair the saree with yellow floral jewelry or gotapatti jewelry and keep your beauty look oozing of royalty. 
Purchase here for ~ Rs.999/-
#16 Simple & Elegant Haldi Function Dresses Online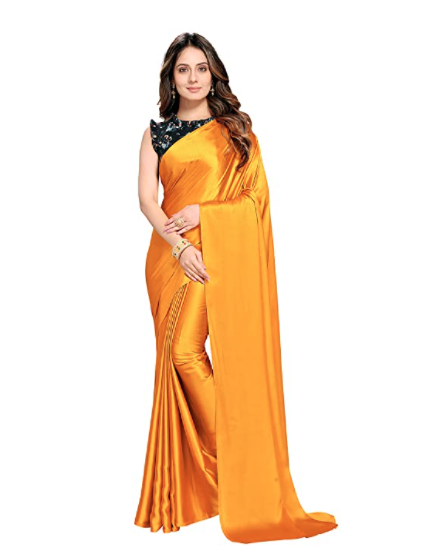 A plain satin silk saree is a great pick for your cheery revelry as well. This can also make for a great haldi dress for bridesmaids or sisters. Pair the saree with colorful floral jewelry to infuse the vividness into your haldi look. You can either pair it with the black blouse provided with the saree or switch with another satin blouse piece, which can be found easily in any store nearby. Nevertheless, this can make for a beautiful option for any bride. 
Purchase here for ~ Rs.580/-
#17 Beauty of Leheriya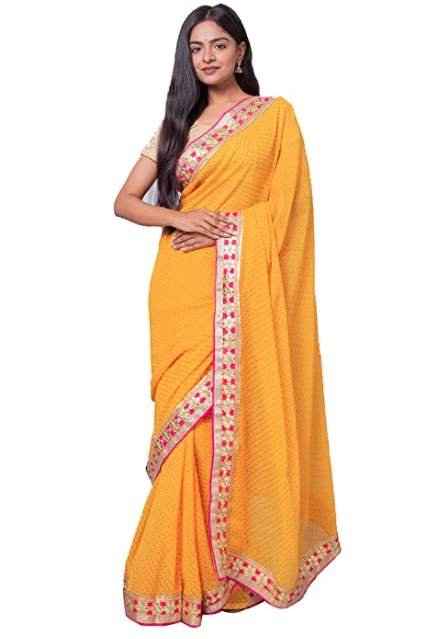 Leheriya is just another textile that should be a part of every bride's trousseau. There's just something appealing about these distinctive diagonal stripes in a gorgeous color that catches the attention immediately. This is an affordable option with a blouse piece and is available in many colors. You can also have your bridesmaid and other wedding guests coordinate in leheriya by suggesting them this inexpensive option since it will be within everyone's budget. 
Purchase here for ~ Rs.749/-
#18 Bandhani Georgette Saree
Yet another bandhani option on this list. Bandhani is that one print that can be found in any budget you like. This crushed bandhani saree is perfect for brides or even sisters of the bride/ bridesmaids. It's simple, elegant, and can be worn anytime in the future (if it survives the haldi madness). Here's what one of the reviewers wrote, "I really love the saree. The material, design, and fabric are spot-on for the price. I am extremely happy with the purchase and quick delivery." 
Purchase here for ~ Rs.819/-
Haldi Function Dresses Online For Groom 
#19 The One For The Groom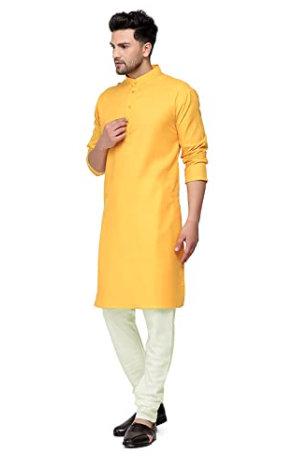 We wanted to include a simple option for the grooms in the end. We all know the kurta will be torn by friends in the end so let's make the attire option simple and inexpensive. Here's a cotton blend fabric which is just ideal for the groom's haldi dress. If the bride is wearing some other color, they can choose another economical option from Amazon. Pair it with a reasonably priced churidar and you're good to go! 
Purchase here for ~ Rs.349/-
Floral Jewelry For haldi
#1 A Colorful One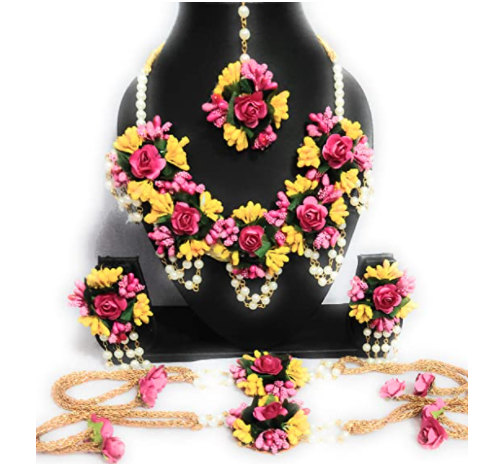 Purchase here for ~ Rs.349/-
#2 All Yellow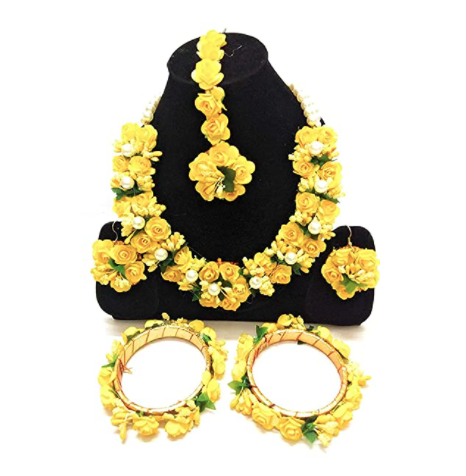 Purchase here for ~ Rs.394/-
#3 Minimalistic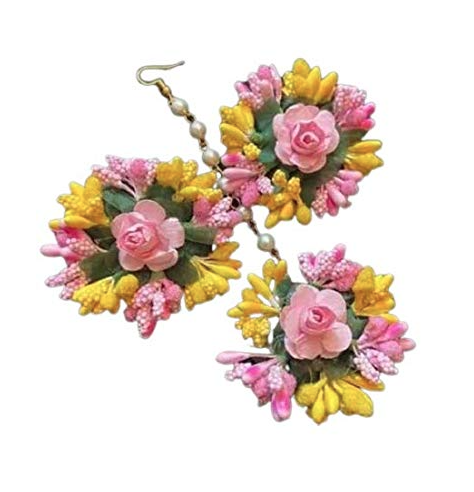 Purchase here for ~ Rs.215/-
#4 Gorgeous & Royal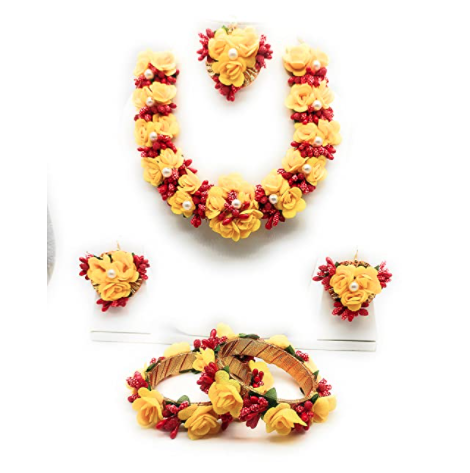 Purchase here for ~ Rs.399/-