A bridal lehenga is undeniably the most important feature of a wedding wardrobe. Next in line is the bridal jewelry. Just like the bridal lehengas, there is a never-ending range of jewelry available in the market. And amongst this myriad of jewelry options, when it comes to Indian weddings, it is the very regal and elegant Polki set that takes the cake. Brides continue to favor a gorgeous Polki set over any other kind of jewelry owing to its elegant, royal, and intricate beauty that comes with the mark of tradition. Polki jewelry is often confused with Kundan jewelry. But, they are not the same. To know the difference between them, you can check this blog here, and see the inspiration for Polki jewelry, scroll down for the 30 most gorgeous Polki set designs, necklaces, and earrings that will elevate your look.
#1 The grandeur of Polki set designs is undeniable. A Polki necklace can easily become the showstopper of your bridal trousseau. Since it is your big day, you can let it show through your choice of the Polki set. You can opt to have your jewelry with Polki diamonds that are big enough to show your excitement and happiness (and of course fit your budget). It is common for jewelers to use green-colored stones and gems to complement a Polki set. It not only adds a pop of color to the jewelry but is also considered an auspicious color. Another traditional and auspicious color that you can choose is red.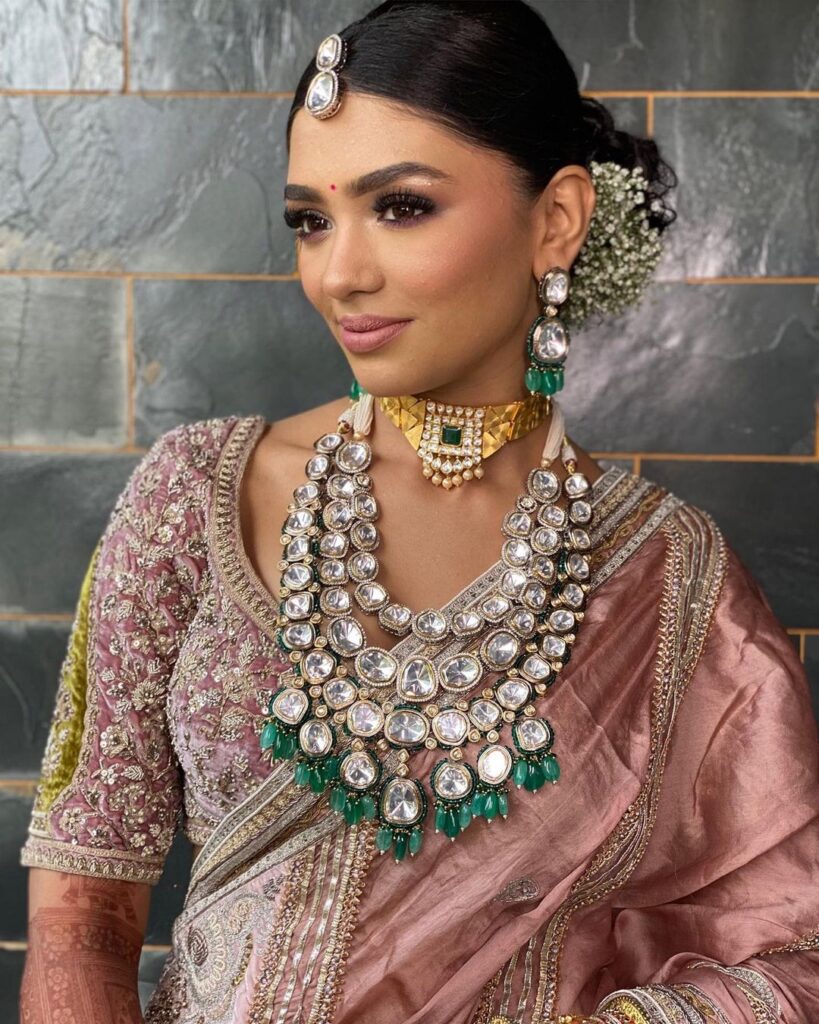 #2 Polki diamonds are basically uncut and unpolished diamonds which is why they are not as shiny as the polished diamonds that we usually see. So, while the shine might not be enough to dazzle you, a Polki necklace still looks very impressive. It has a rustic color and comes with an old-world charm that goes very well with Indian bridal outfits. If you are planning to wear a golden or a beige lehenga, then choosing the jewelry becomes easy. A Polki necklace and a matching set of Polki earrings will add to the beauty of your whole look and make it more royal.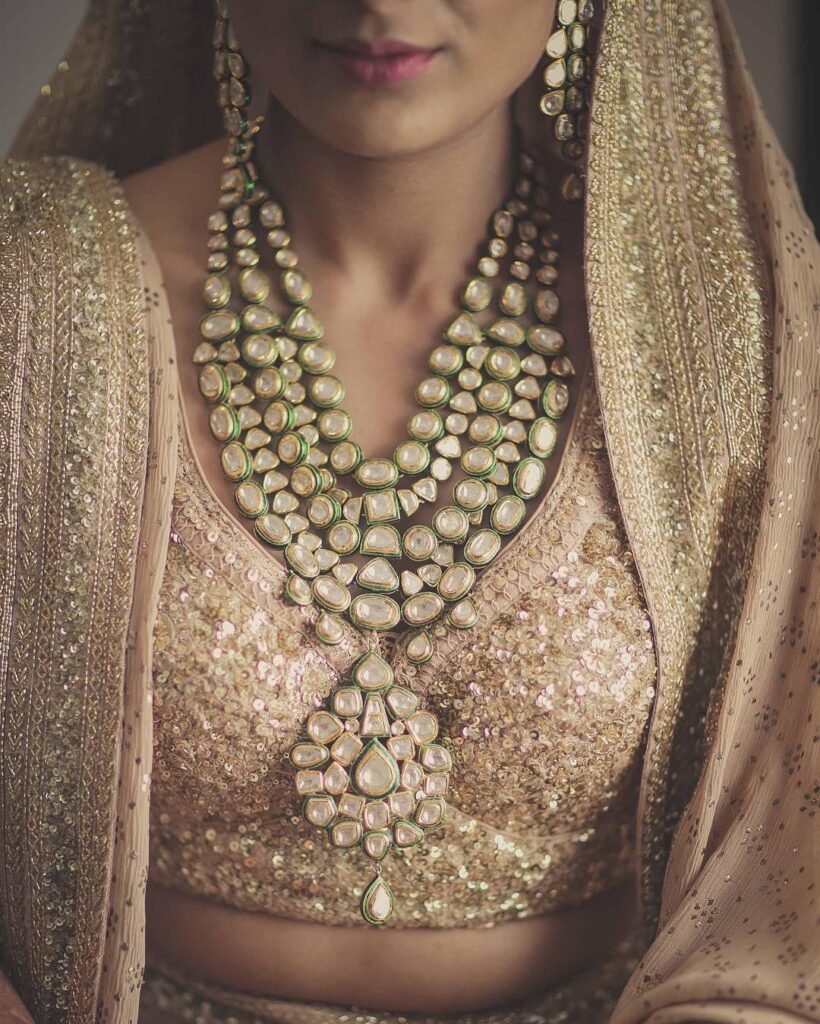 #3 Looking at some Polki set designs will leave you mesmerized. They have a majestic beauty that has been a part of the Indian wedding tradition ever since the era of Mughals. This art of creating jewelry with Polki diamonds was later picked and popularized by the Rajput royal families. This is the reason why Polki jewelry Jaipur style rules the wedding jewelry market even today. Do you need to be any more convinced that a Polki necklace is what you need for your wedding day?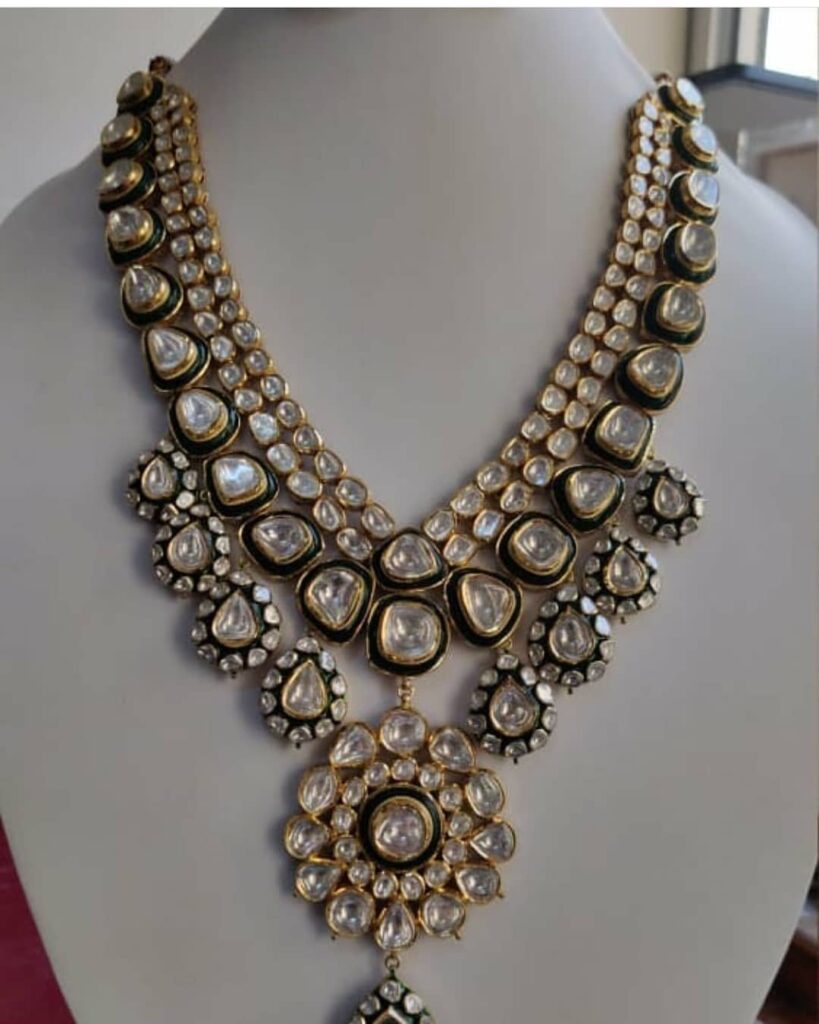 #4 If you have always wanted a regal, elite, and traditional look for your wedding, then Kundan Polki jewelry is your best bet. You can choose a heavy choker or an elaborate Polki necklace. You can also opt for both as has been the trend. When it comes to Polki earrings, you can either go for chandbalis or choose the chandelier style of earrings. Investing in such classic designs will enable you to wear your precious Polki jewelry even after your wedding celebrations.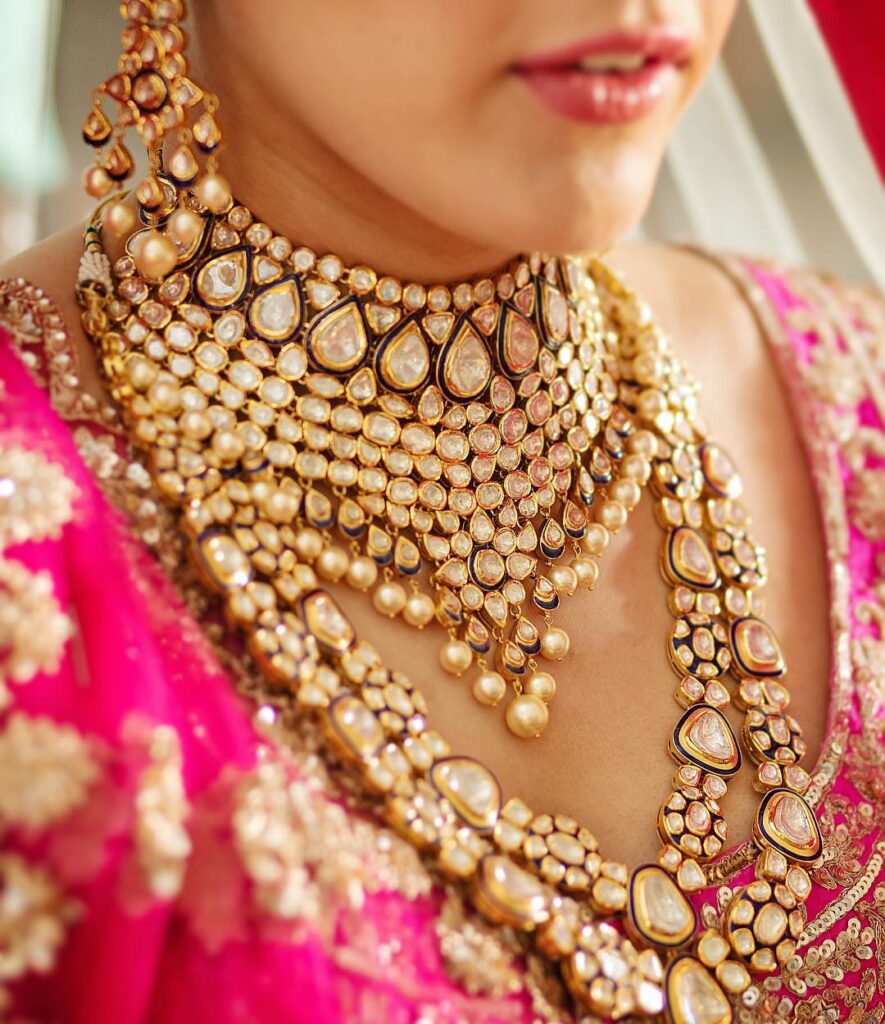 #5 Be it, Aishwarya Rai, in Jodhaa Akbar or Deepika Padukone in Padmaavat, both the actresses vowed the audience not only with their performance but also bedazzle them with their exquisite and majestic jewelry. A Polki set represents a bygone era and when you incorporate it in all its majestic glory to your wedding wardrobe as shown in this picture, you are not only celebrating the nostalgia it brings but you are also dressing up as the queen that you are. You can check out the Polki sets Tanishq does that are inspired by the spectacular royal aesthetic along with Polki earrings, bangles, and maangtika.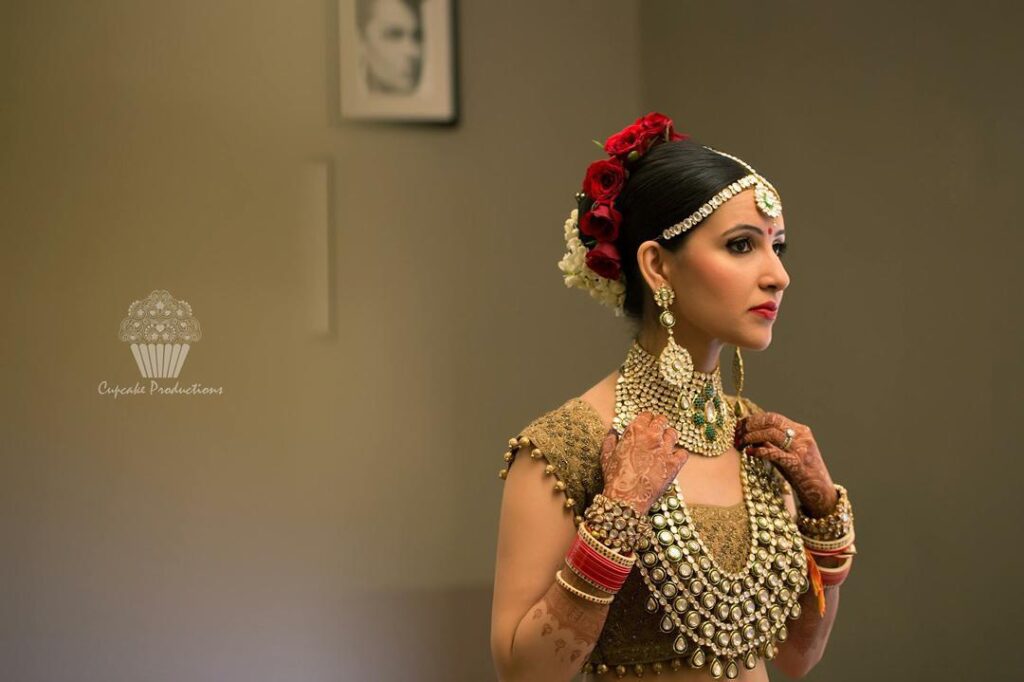 #6 If a heavy and elaborate Polki set is not your cup of tea, then you can always choose a lightweight and minimal style. When it comes to Polki set designs, you can easily find a lot of variety in the market that fits your preferences. A layered Polki necklace is a great modern style with a touch of tradition. You can also play around with the design of your maangtika and choose something with dainty pearls or colored gemstones that match your trousseau.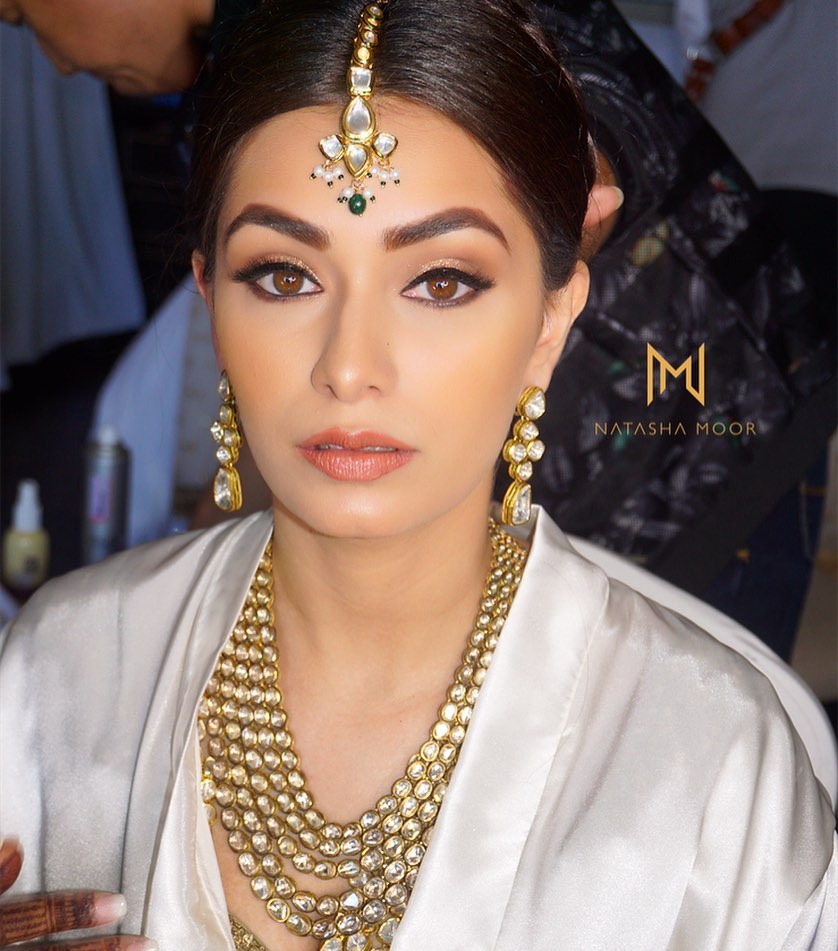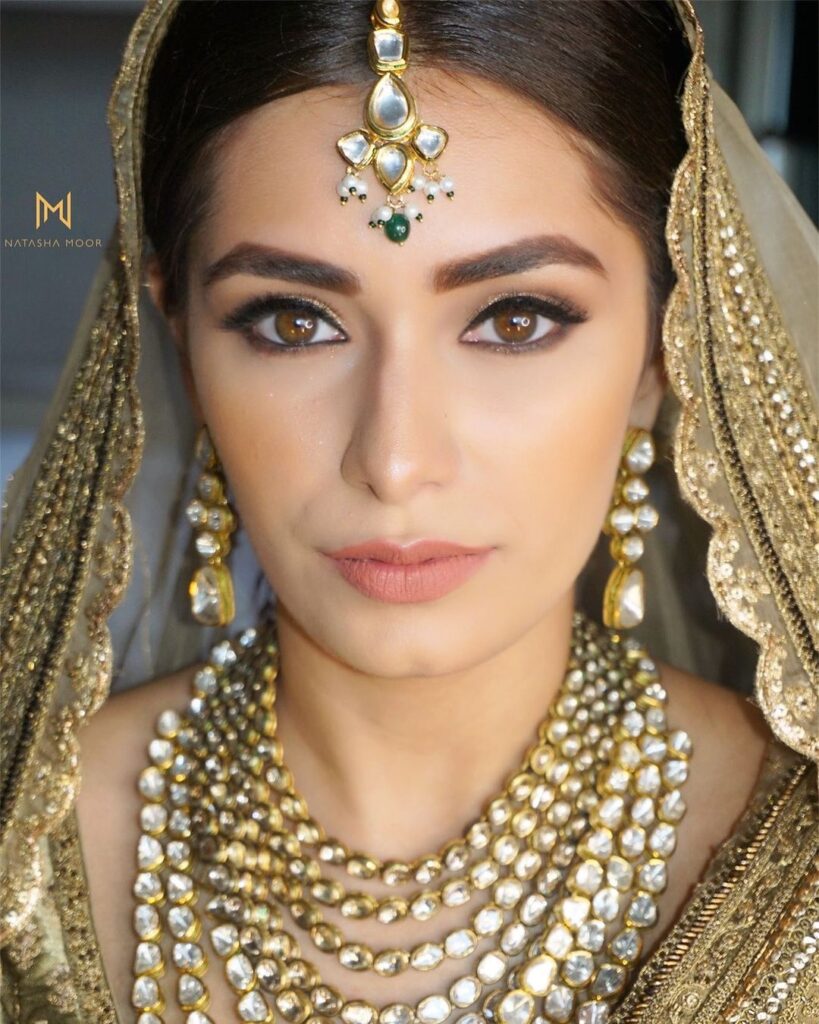 #7 Your wedding day is a special event in your life. Of course, your jewelry has to be special too. If you are big on making a statement, then go for interesting and attention-grabbing Polki set designs. This bride chose a magnificent Polki set that is adding a special and majestic quality to her look. Polki jewelry is a work of art that she used to complement her wedding attire. Since it is heavy, you should opt for a gold chain to support your earrings.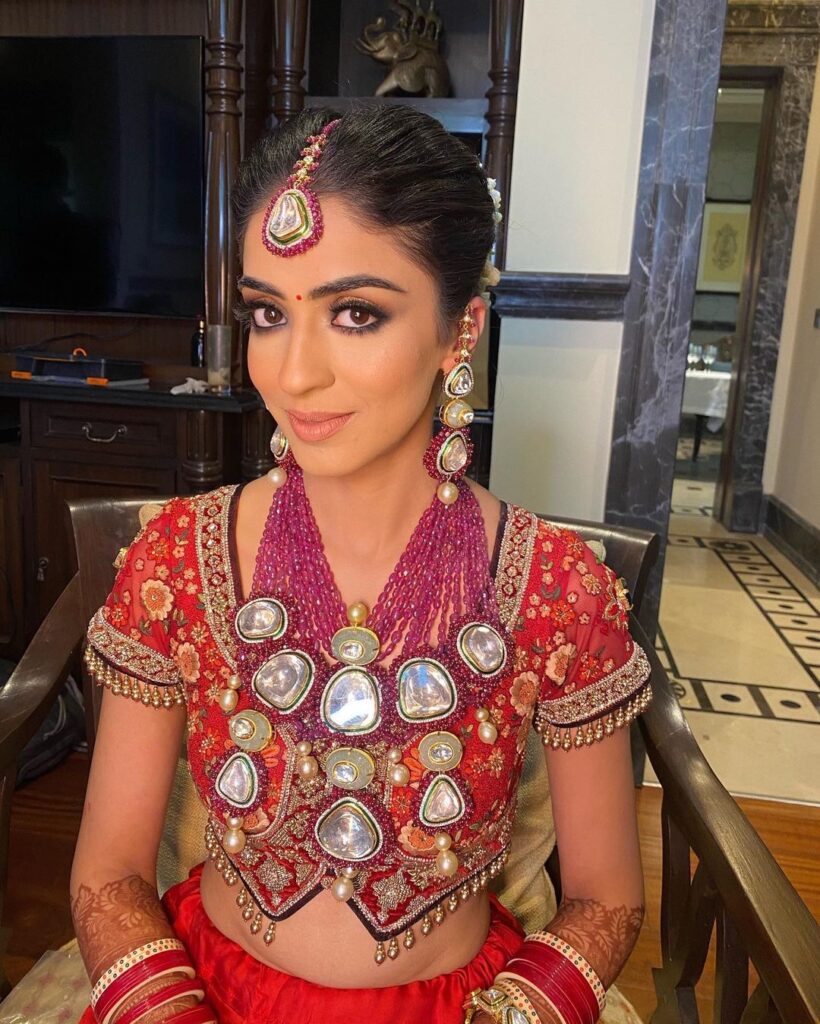 #8 This is a very beautiful example of Jadau Polki jewelry. Jadau is a technique of making jewelry where glass, stones, or in this case the Polki diamonds are simply embedded to form a jewelry item. Polki set designs used in jadau to look extremely regal and complement each other well. A good and different way of styling such a Polki set would be to contrast it with a jewelry piece with Polki diamonds of a different style and size. This bride contrasted her Polki earrings and necklace with her mathapatti. You can try something similar or even change the style of your earrings and let the necklace be at the center stage.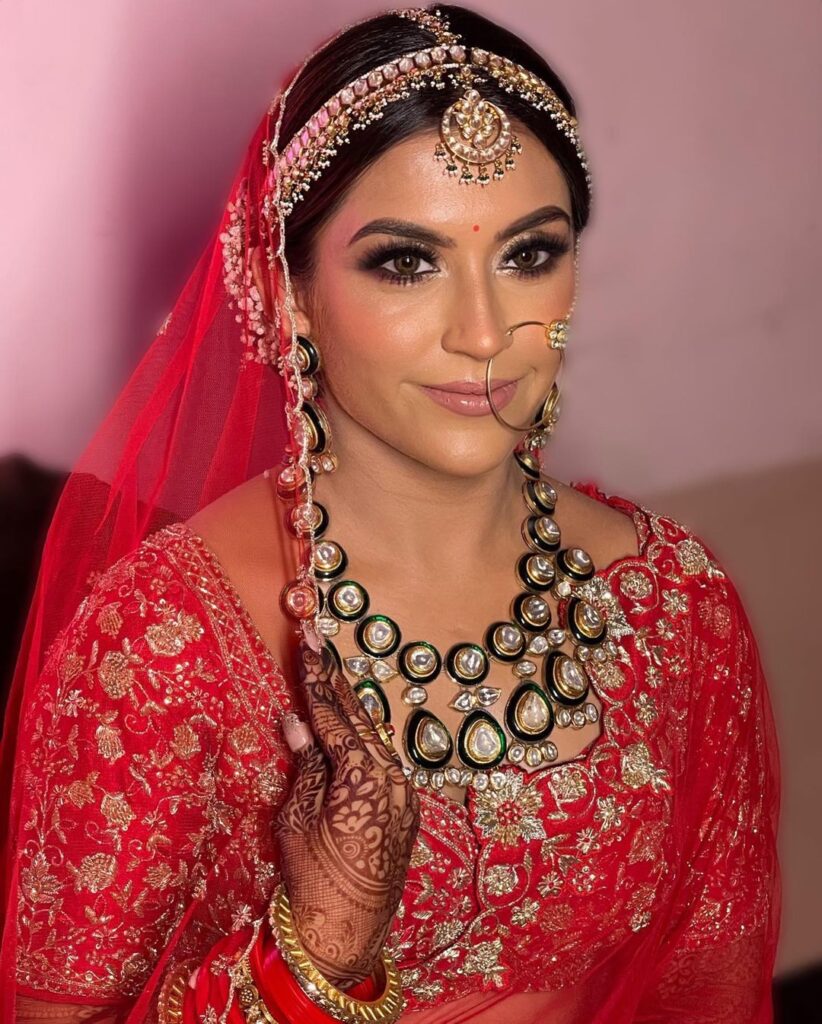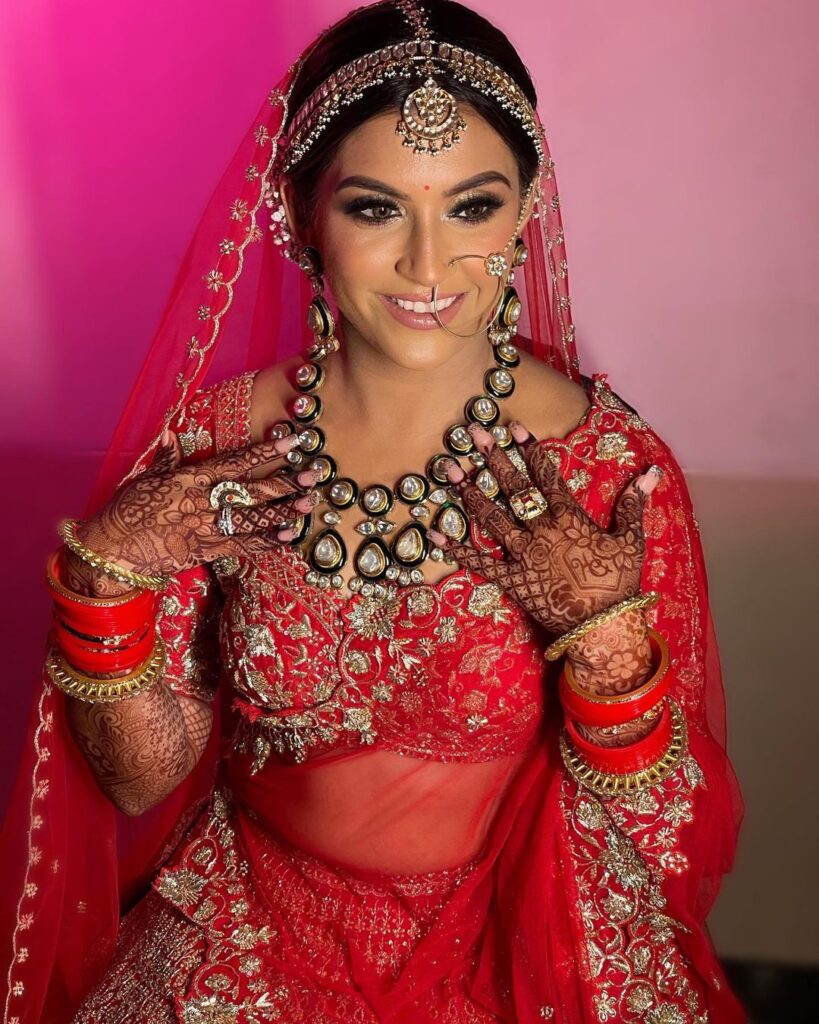 #9 Here is another elaborate Jadau Polki jewelry inspiration for you. This is a minimal design that is perfect if you want to embrace tradition but with modern elegance. Its beautiful golden tone goes well with all the different colors of Indian bridal wear. Even the green enameled base of this Jadau Polki necklace matches the green embroidery of the lehenga. Since most of the Jadau Polki comes with a green base, you can choose your bridal attire accordingly to make your whole look color-coordinated.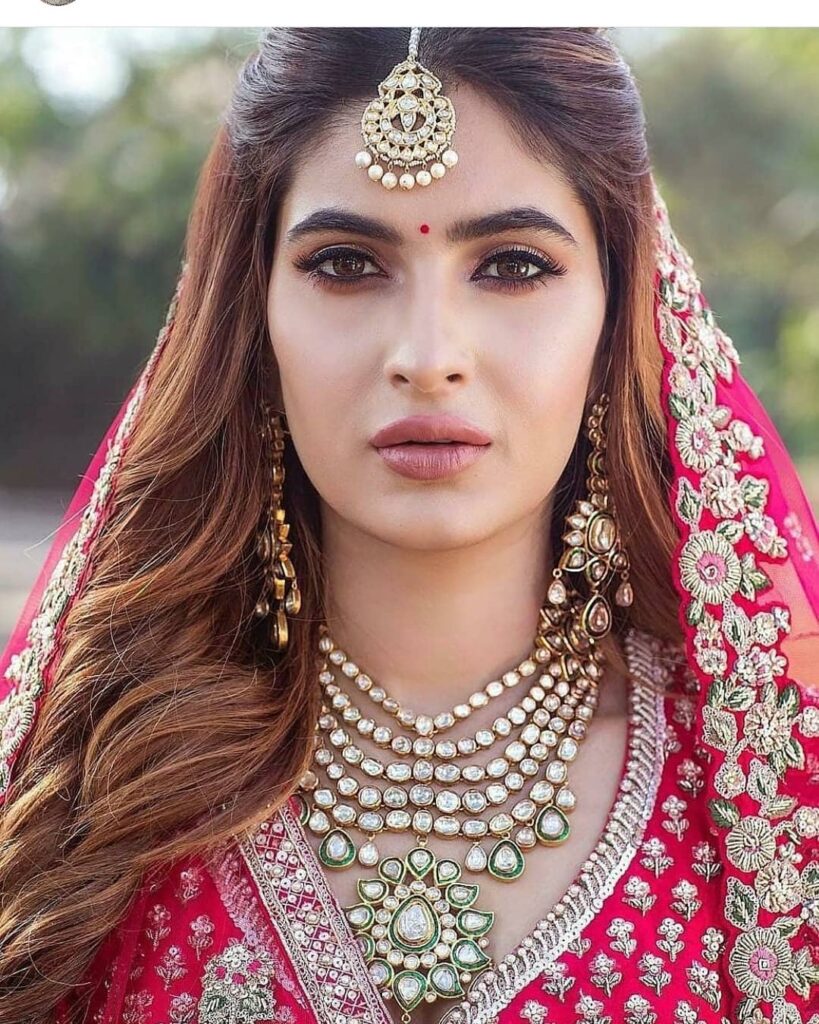 #10 Now is the time when it is a trend to pair traditional Indian jewelry even with western clothes. And Polki set designs like this one work amazingly well for following such a trend as it is extremely versatile. You can wear it on various occasions and not just at your wedding. You can also invest in detachable and multi-purpose Polki jewelry to make the best of your purchase.  This way you would be able to use an earring as a pendant or even as a hair accessory. Hathphool can be made into an earring or a necklace. The choices will be limitless.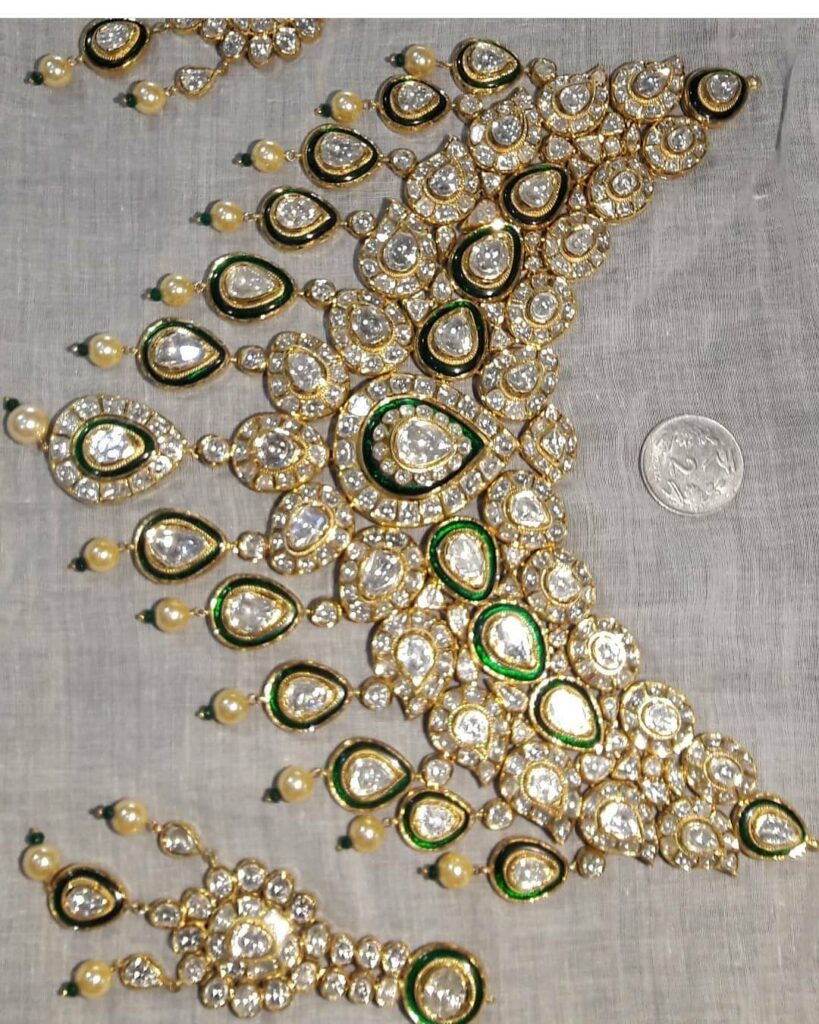 #11 While the green hue you see around the Polki diamonds is usually enamel, there are certain Polki set designs that use the Meenakari art form. Here we have one such Meenakari Polki Necklace that will leave you mesmerized with its regal and enchanting beauty. It will look beautiful when paired with a green lehenga with golden embellishments or a beige/golden lehenga. You can also pair this beauty with a red bridal attire and have the traditional combination of auspicious colors as part of your big day.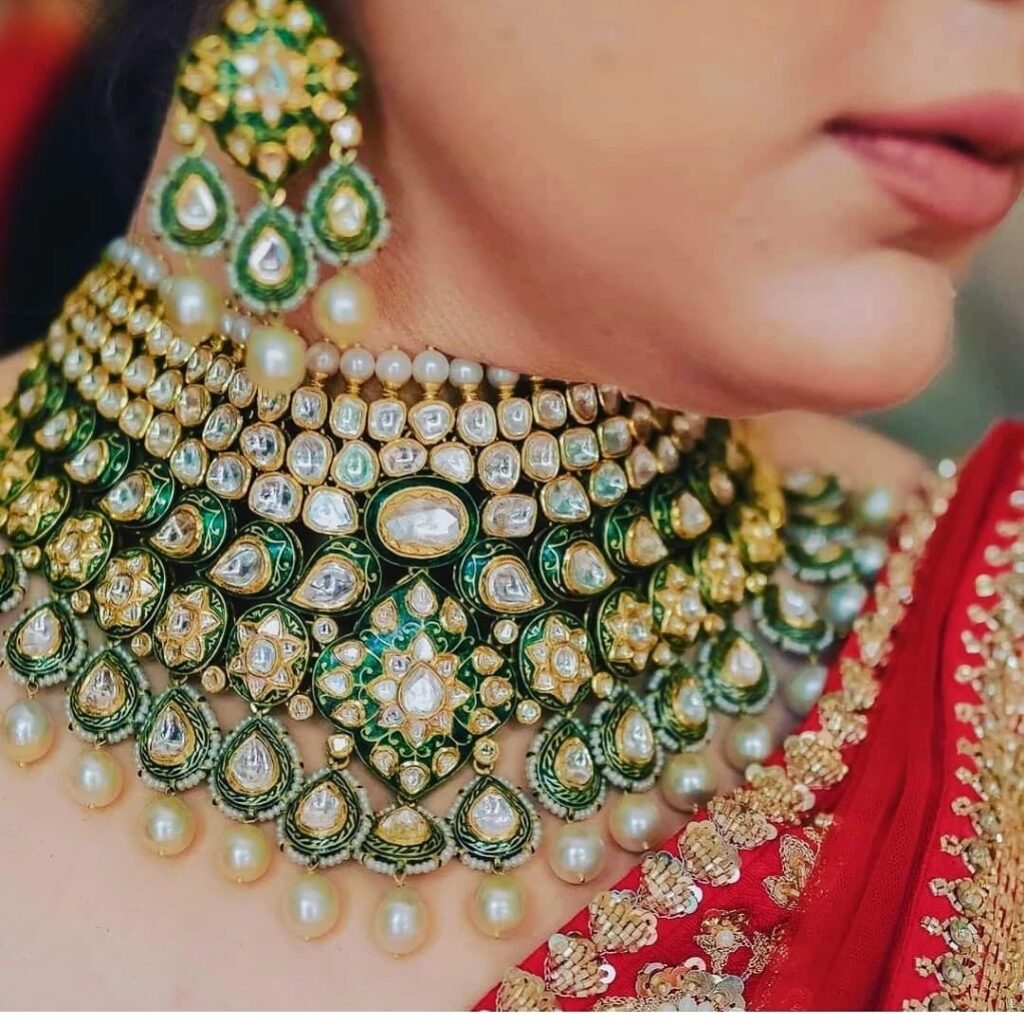 #12 Kundan Polki jewelry has been a favorite amongst celebrities as well. Many famous brides including Priyanka Chopra and Sonam Kapoor have flaunted a Kundan Polki necklace during their wedding festivities. The pure gold appeal of Kundan and the rustic shine of Polki diamonds match the many different styles, sizes, and colors of embellishments on the Indian bridal trousseau. You can also opt for simple Kundan jewelry but without the Polkis if you have budget constraints.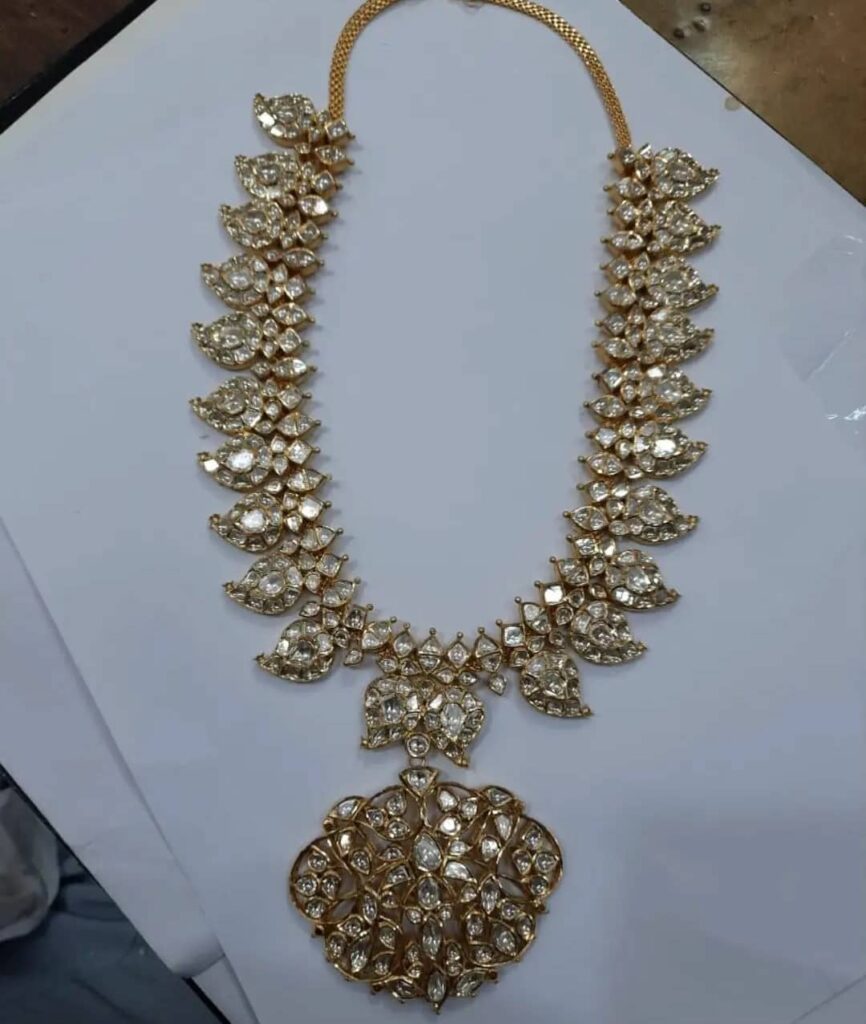 #13 Polki jewelry Jaipur style has a charm of its own. This is because these are timeless styles that come straight from the home of Polki jewelry. Popularized by the Rajput kings and queens, Rajasthan became the center where you will find the most authentic and skillful Polki jewelry designs. Each piece is crafted with immaculate skill and dedication. It can take months to finish a single piece. If you want to find an authentic Polki necklace for your wedding that also fits your style and personal preferences, then this is the place to go.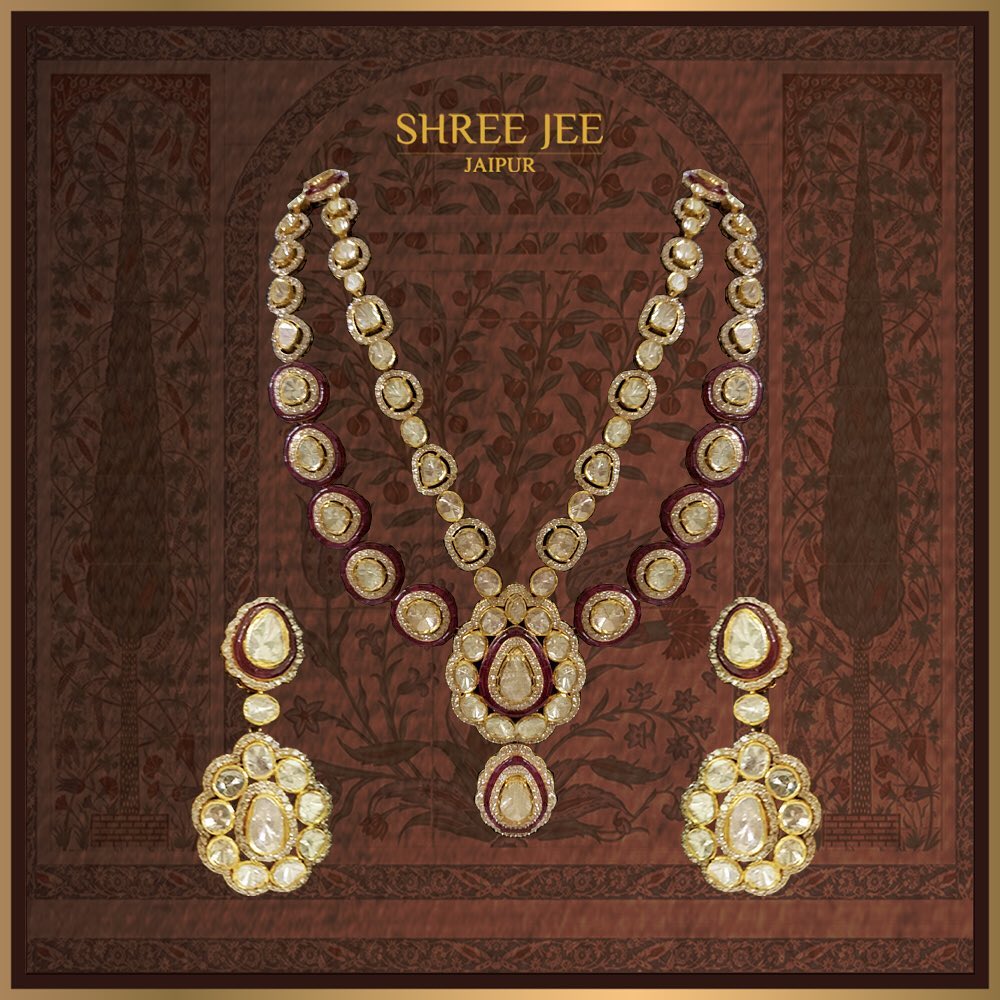 #14 Kundan Polki jewelry is not limited to its typical golden color. Many Polki set designs are often paired with colorful gems as well as enamel and Meenakari work. While green is the most common color that has been traditionally used, you can also pick your Polki set with pearls and rubies. Apart from the rich and deep green hue of emeralds, now you also have the option of choosing pastel-hued stones such as amethysts, Russian emeralds, and morganites. You can either pick the jewelry based on your outfit or you can get it customized.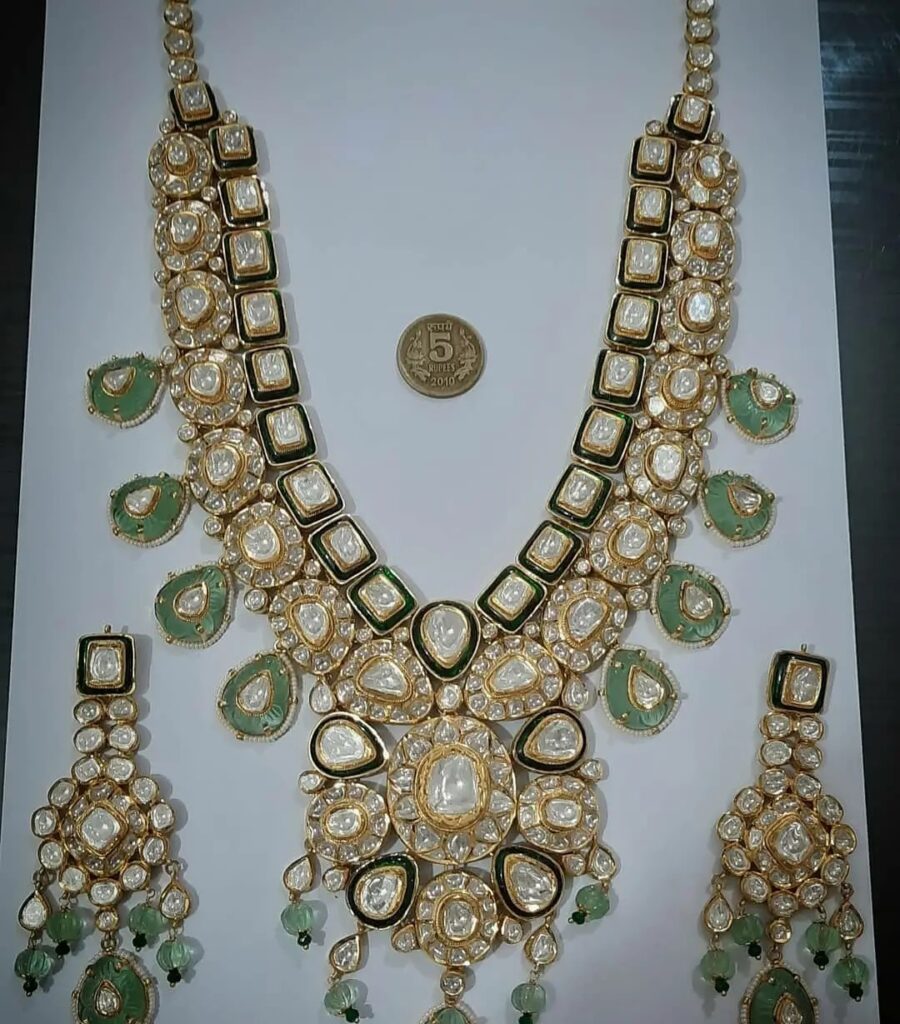 #15 Kundan Polki jewelry comes in a lot of variety. And it is not just limited to the bride. Polki diamonds are a symbol of our rich cultural heritage. Wearing Polki jewelry is a good way of embracing the tradition especially since it is something that is also passed through the families as an heirloom. Due to its traditional value, even guests prefer to get decked in their very own Polki bangles, necklaces, and earrings. While bridal jewelry is multi-layered, if you are a guest at a wedding, you can choose a single-layered drop Polki necklace as modeled by Nita Ambani. She has kept her look simple yet majestic by choosing a simple and sensible Polki set design.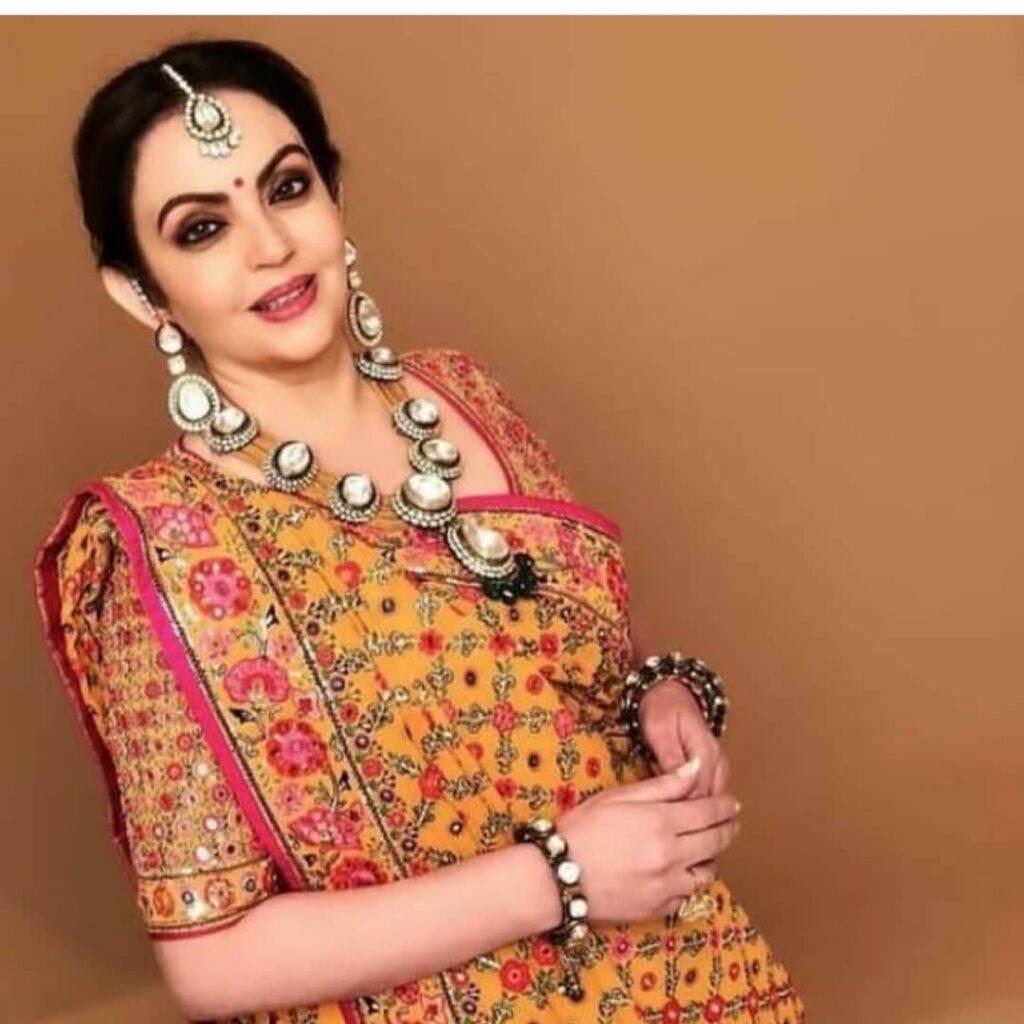 #16 Bright-colored stones go well with Polki jewelry. And it is the ethereal beauty of the Russian emeralds which has made them the most popular choice of gemstones to be paired with the Polki diamonds. The light green hue of these emeralds complements the modern and the latest styles of wedding trousseau rather well. Despite being a common and popular choice, you will find rather different and versatile Polki set designs with these emeralds. You should not only choose the one that goes with your wedding attire but also something that satisfies your personal style.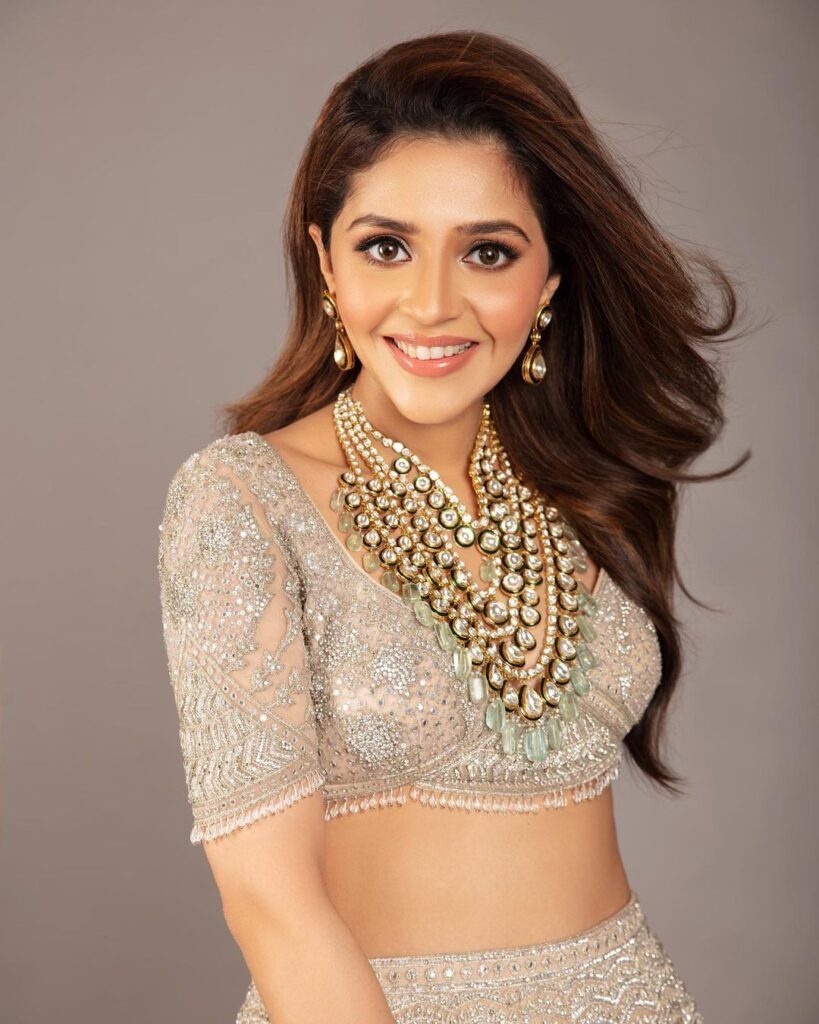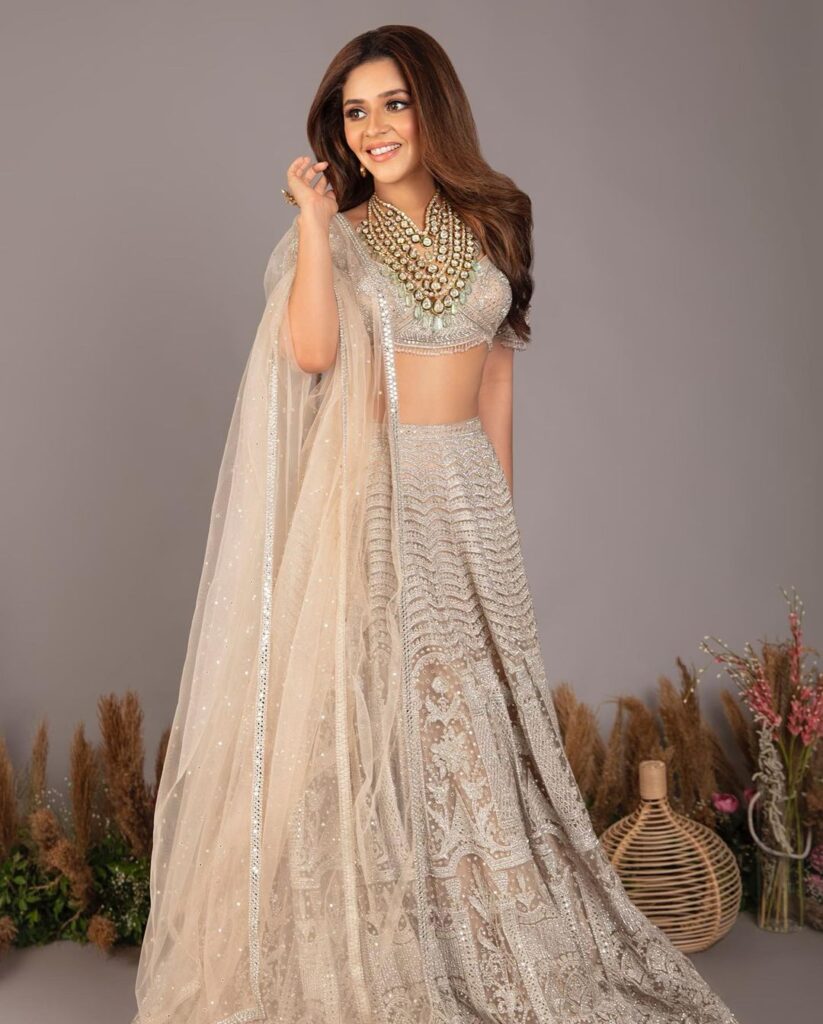 #17 This is the minimalistic version of the Polki choker and multi-layered Polki set designs that have taken up the wedding scene by storm. It might not have as many layers as you might usually see but it makes up for the lack of layers with the huge size of its Polki diamonds. This is a go big or goes home kind of situation and as a bride, you can choose to go big for your big day. Make sure that your Polki necklace or your Polki bangles don't overpower your bridal attire's design.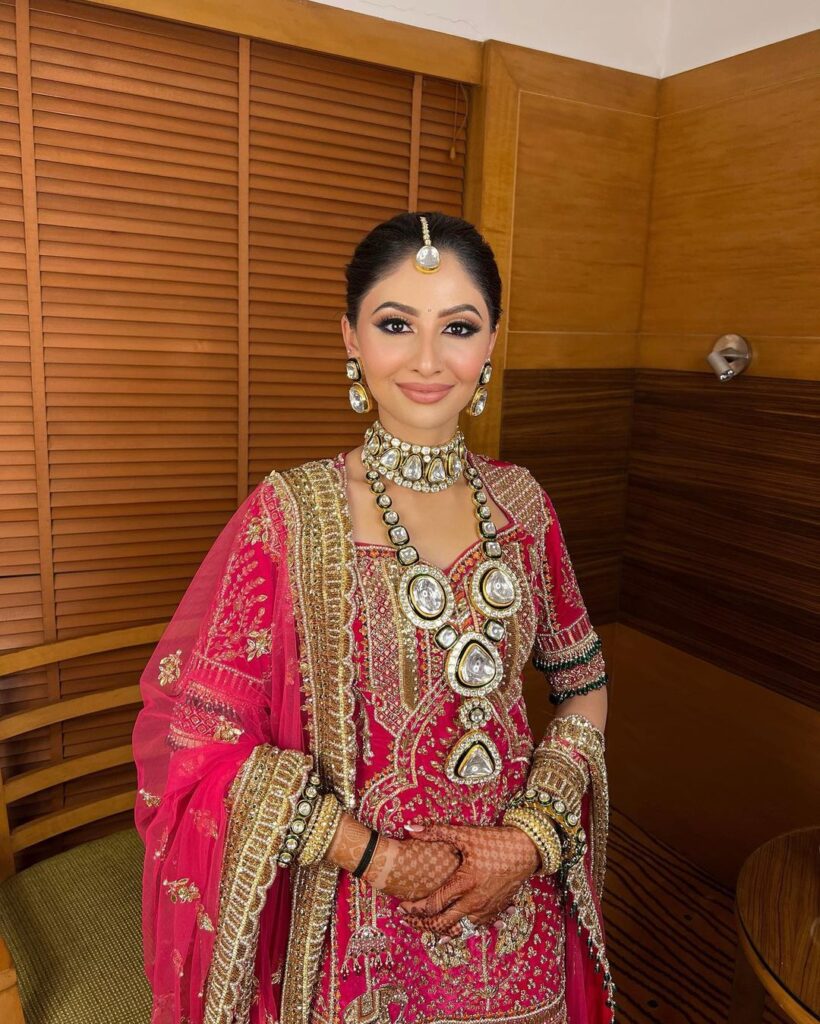 #18 Polki jewellery has been a part of the Indian cultural heritage for more than 2500 years now. Remnants of its historic glory can be traced even today through the heirlooms that have been passed through various generations within the respective families. This set of Polki necklace and Polki earrings comes with that old, vintage, and timeless charm. The use of pearls in this necklace can remind you of the sepia-toned pictures of your grandmother. If your family heirloom doesn't include a Polki set, you can always get one customized as per your preferences.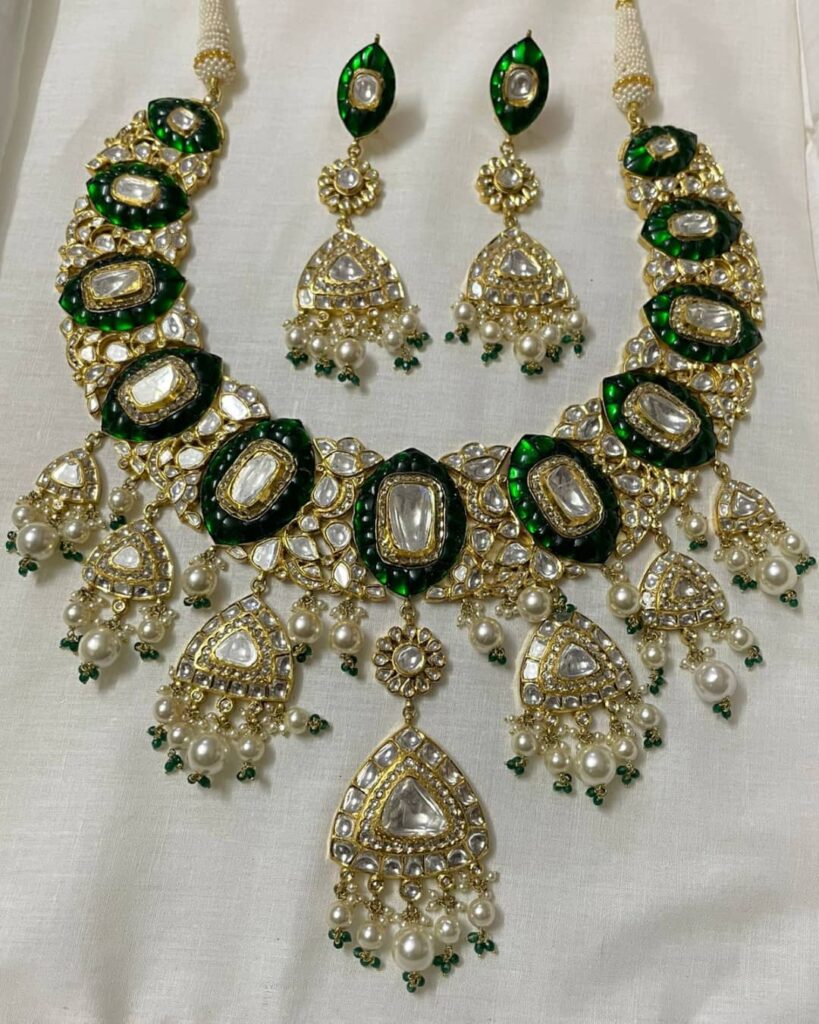 #19 Polki bridal jewelry is something that will last forever. And here is something to inspire your wedding jewelry shopping. It is a classic Polki set design with its trademark timeless appeal. It will add an elegant and regal touch to your bridal lehenga as well as a couture cocktail gown. You can pair this design with deep square necklines and let it fall off over your collarbones.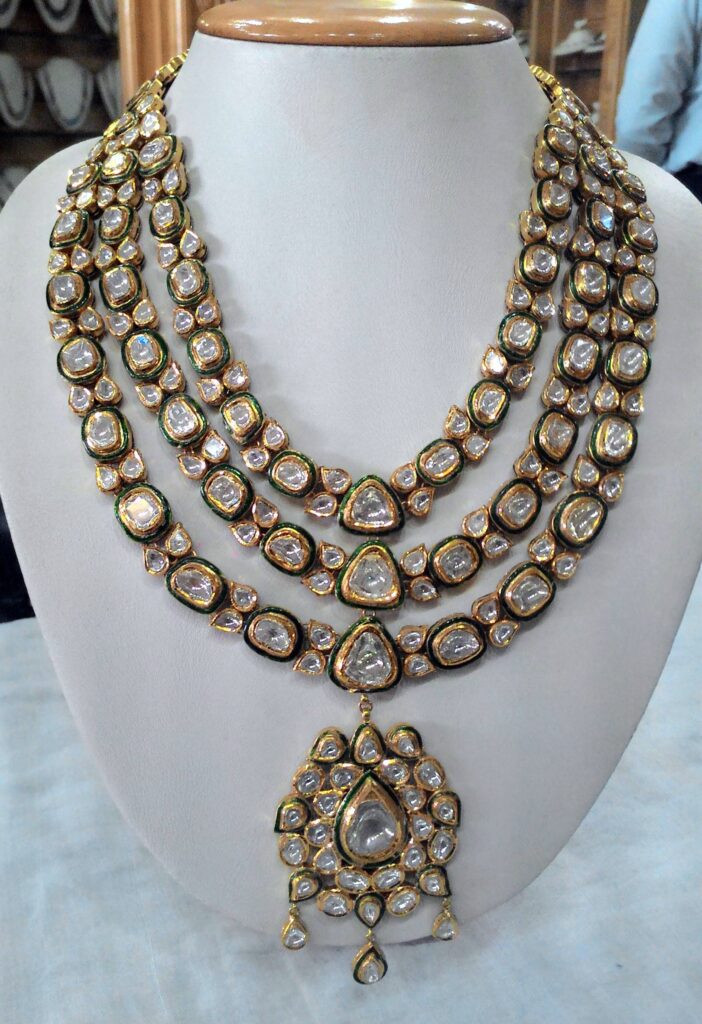 #20 When it comes to Polki bridal jewelry, you have two choices: choose Polki set designs that complement the color palette of your wedding attire or choose the one that gives an appealing contrast. You can complement your red bridal attire like this bride with Kundan Polki jewelry with red enamel belonging to the same color family. The Russian emeralds and the pearls perfectly match the embellishments of the attire. You can also opt for rubies or pastel pink gemstones which will give you a very color-coordinated look.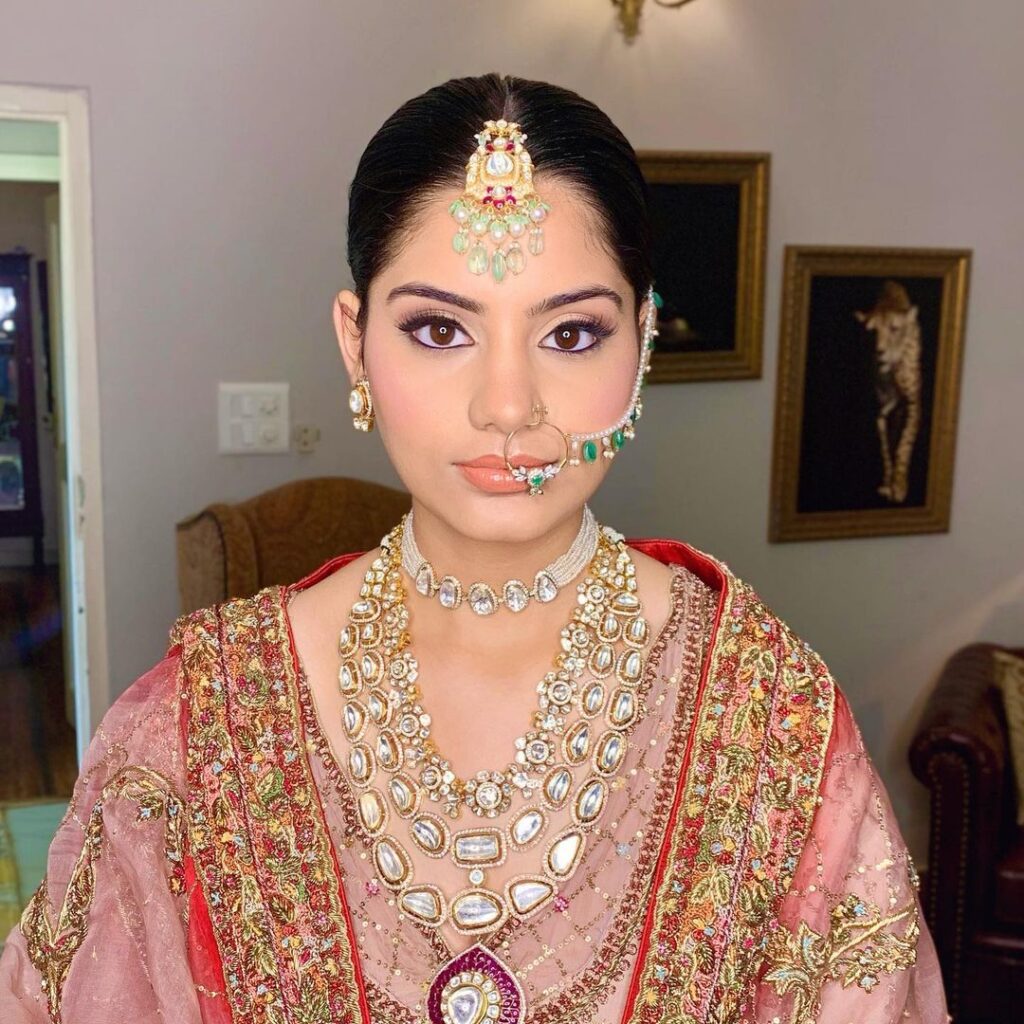 #21 Your choice of Polki bridal jewelry can either make or break your outfit. This bride decided to go with a contemporary choice of color when it came to her bridal trousseau. Her ivory lehenga looks ethereal in the sun while also letting her decision of embracing traditional Polki jewelry shine through. If you are also planning to don ivory or cream-colored bridal attire, you can play around a little and pair it with Kundan Polki jewelry, or Jadau Polki jewelry with Meenakari. You can also opt for a Polki set with pearls or go for something with colorful gemstones to add a pop of color.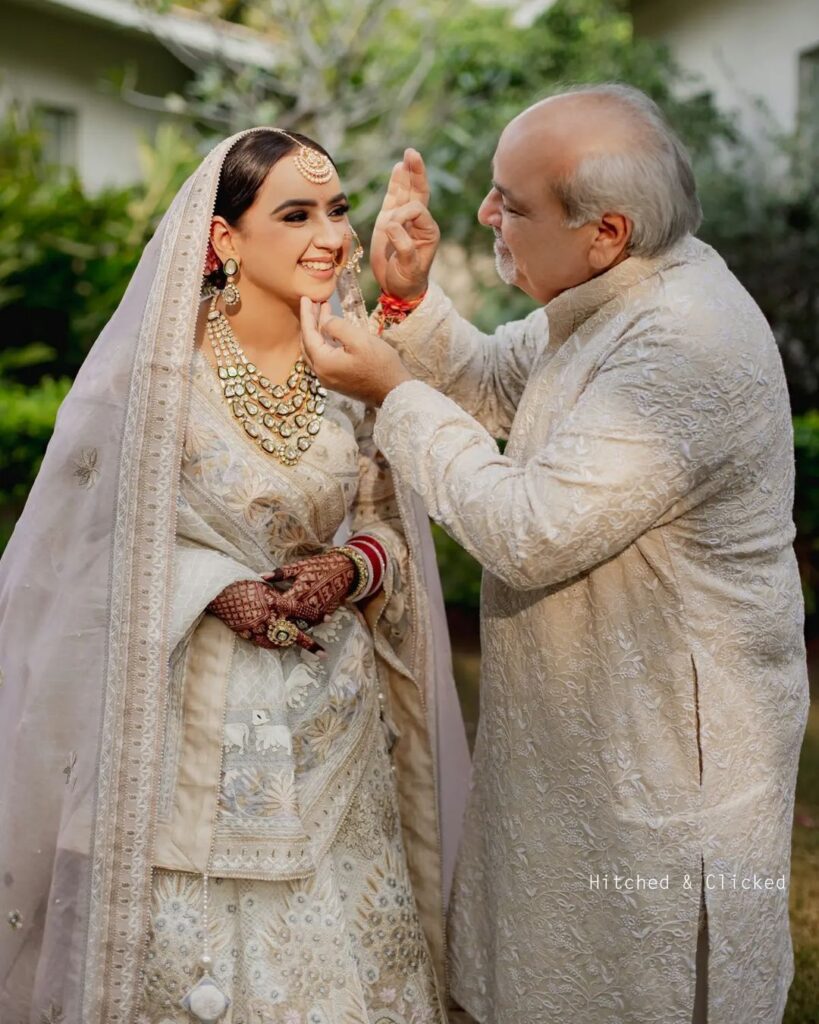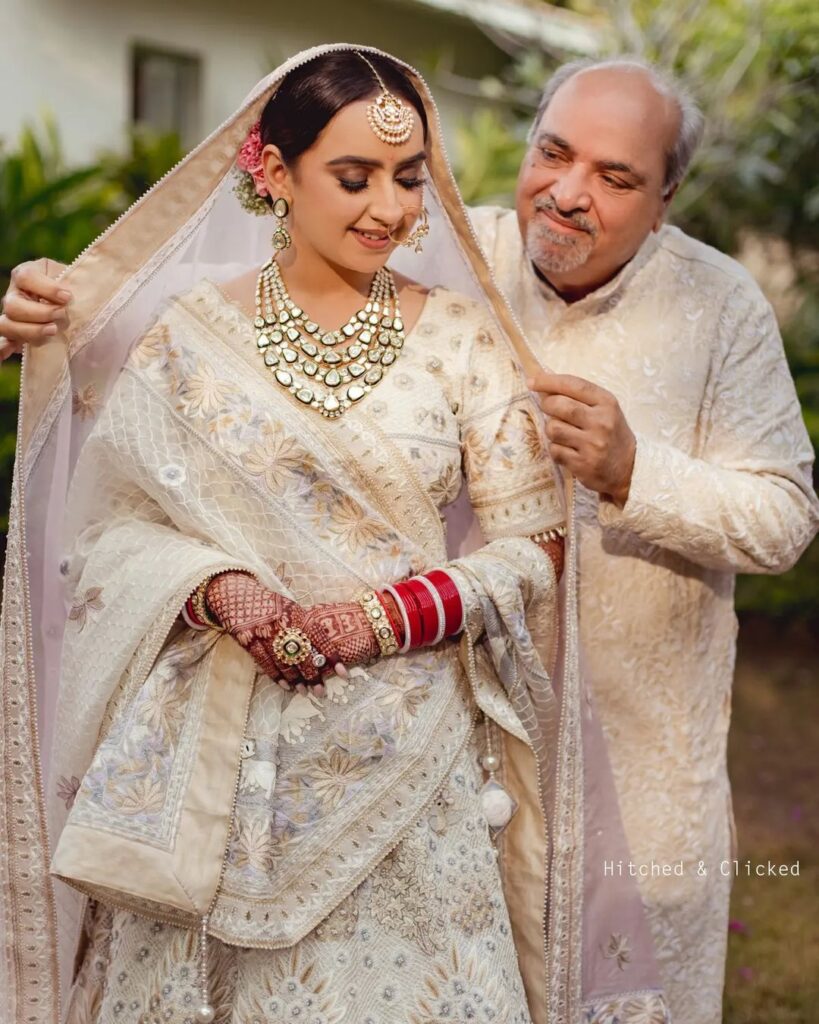 #22 The rustic color of a Polki set makes it a good partner to a variety of colors of bridal wear. But it looks especially good with golden/beige and yellow-colored trousseau. Here is a minimal multi-layered Polki set and matching Polki earrings. Nothing says majestic, regal, and arresting as much as Meenakari Polki jewelry, and this red one is hitting all the right points. After green, red is another popular choice that is also considered to be auspicious. The rustic charm of the Polki diamonds coupled with the royal look of the red Meenakari will make you the talk of the town. This is a Polki set that you can wear even for other wedding functions. It would look good with the red bridal lehenga, the yellow attire for haldi as well as the green attire for the mehendi function.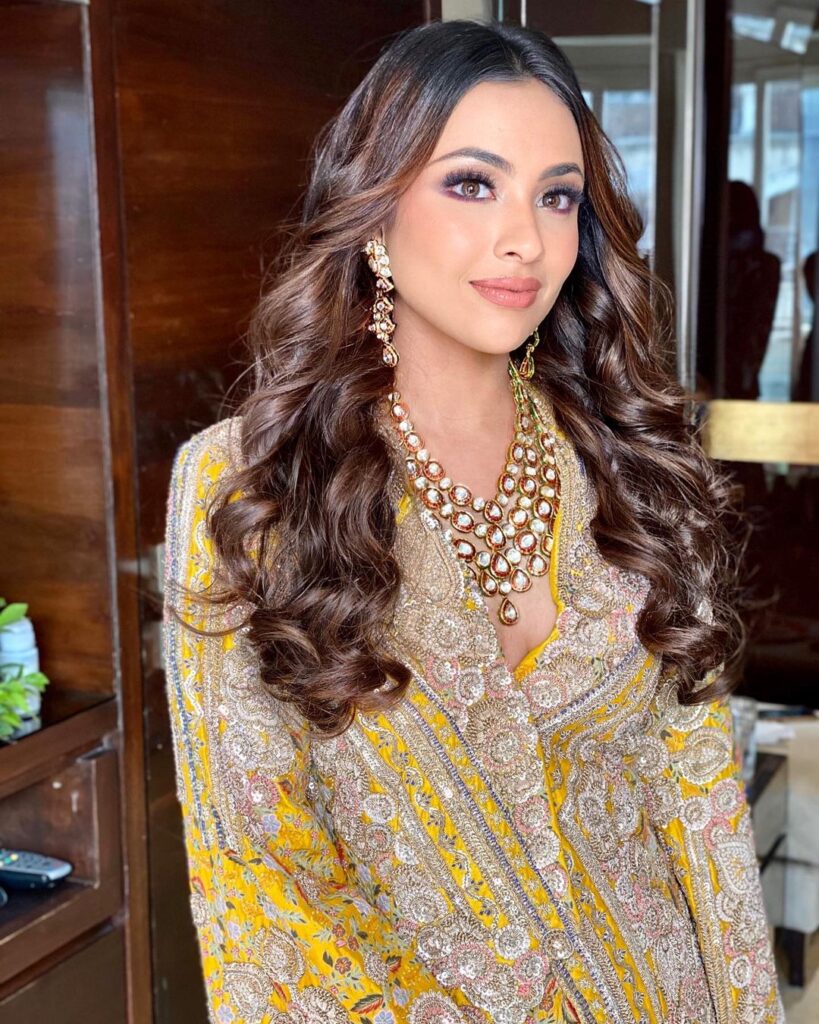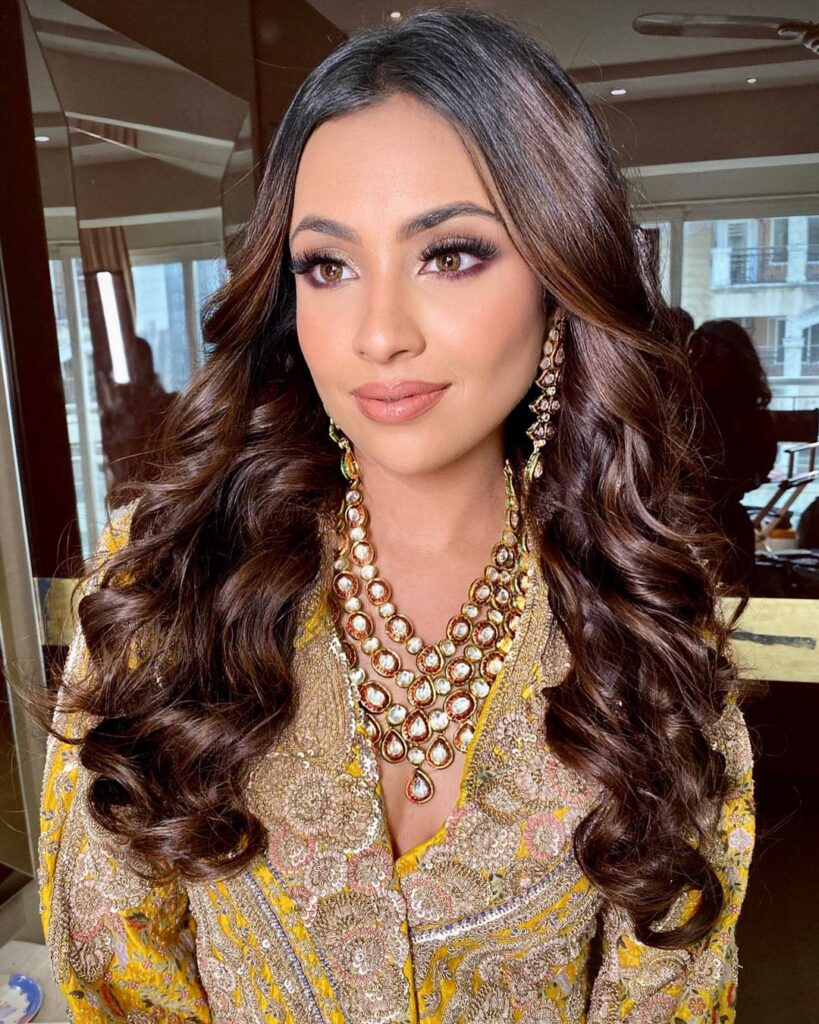 #23 If you prefer the bigger and single-layered Polki set designs, then you can take inspiration from Nita Ambani as she models that very look here. She is wearing an exquisite piece of jewelry that has a captivating charm. The huge Polki diamonds are surrounded by smaller ones and create a very dazzling and pleasing to the eye look. The Polki earrings have a different shape but the same design theme. While this Polki set is the real attention grabber, it still complements the outfit rather well. You must keep this in mind while making the purchase yourself. Opt for heavy jewelry while considering your bridal trousseau. The question you should always ask: Will I be able to move in this Polki set without any pain and stay comfortable for hours?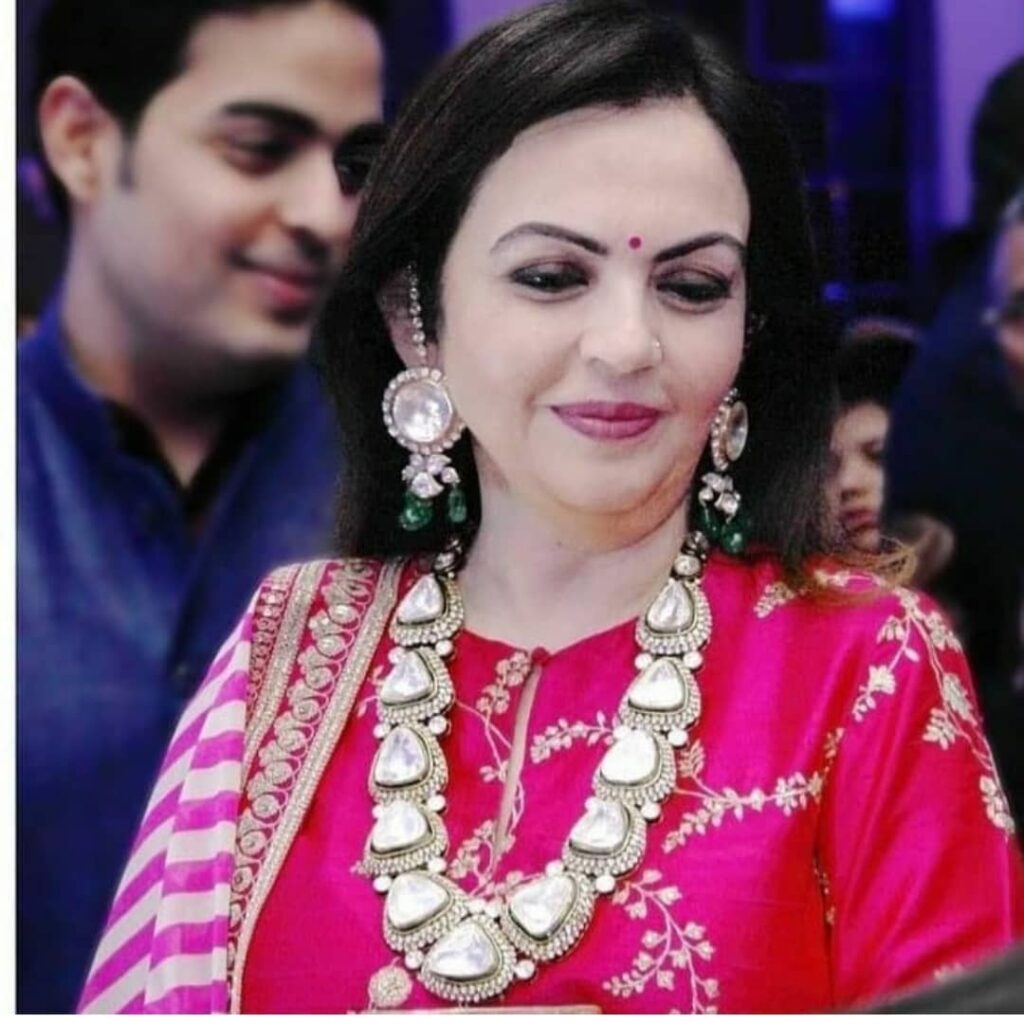 #24 Here is a Polki necklace design which is something different. It has an intricate base design that forms the special feature of this Polki necklace. It lends a unique charm to the necklace; a dreamy, dainty, and ethereal look that will leave the onlookers mesmerized. If a design like this becomes your choice, ensure that the rest of your outfit and jewelry pieces don't clash with it because when you have a necklace like this, all eyes are going to be on it. It becomes the main star of the show that will instantly elevate your look tenfold.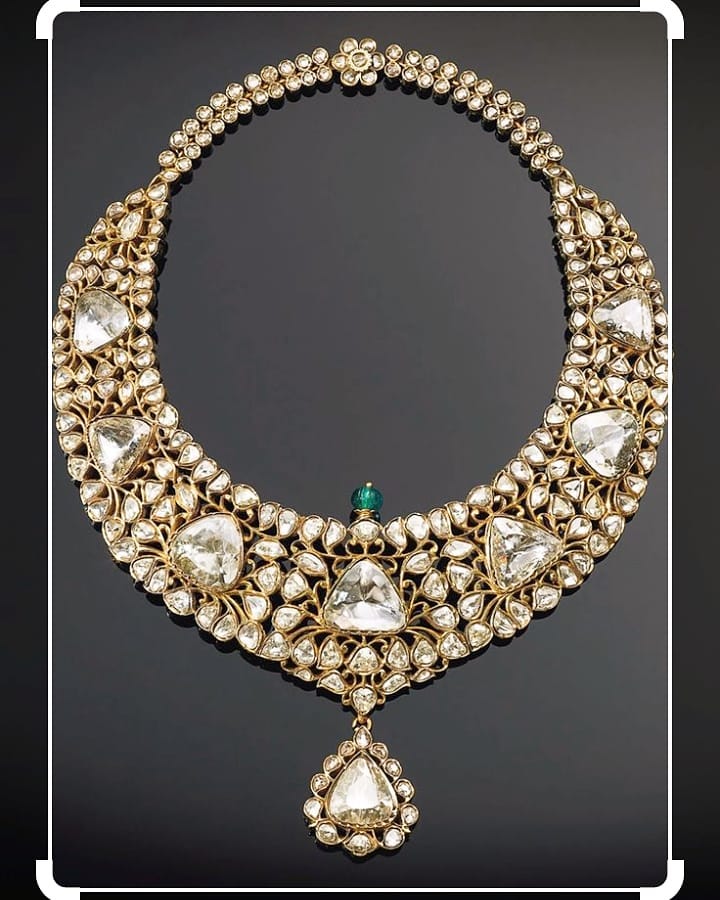 #25 Polki set designs come in a lot of variety so you must not stop until you find something that checks all your boxes. It might be a daunting task but at the end of the day, it will be worth it. If your idea of bridal attire is being decked with bling from head to toe, then this Polki set can be a good inspiration. This is a bib Polki necklace with an elaborate design that matches the color scheme as well as the general theme of the outfit. It has been made more interesting with the addition of pearls which give this Polki set a new life. This is your cue to get Polki jewelry of the same theme and style for your wedding trousseau from the Polki earrings and necklace to Polki bangles, hathphool, and mathapatti.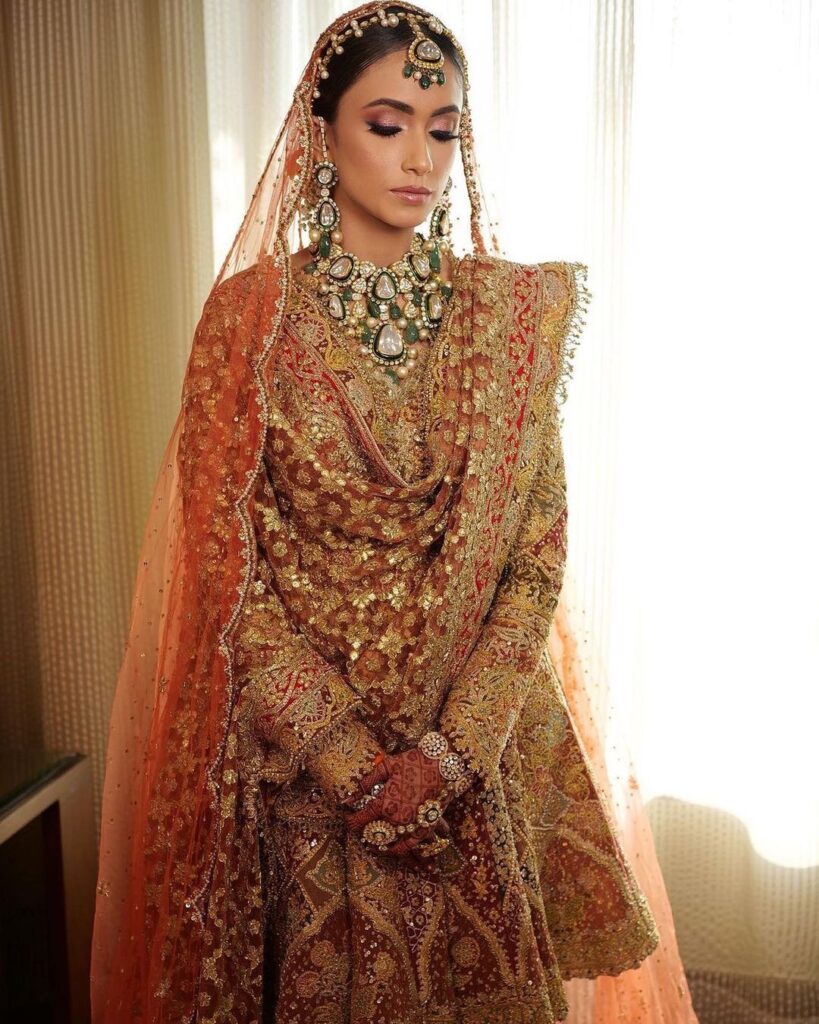 #26 A Polki set as exquisite as this one will not only be a part of your wedding wardrobe but something that will not remain unused after a day of festivities. It has a classic and beautiful design with wearability that will make it your lifelong jewelry companion. If you want to make the most out of your Polki jewelry purchase, invest in a similar piece that you can wear beyond your wedding day. Choose a contemporary design and style that will suit a majority of outfits in the future.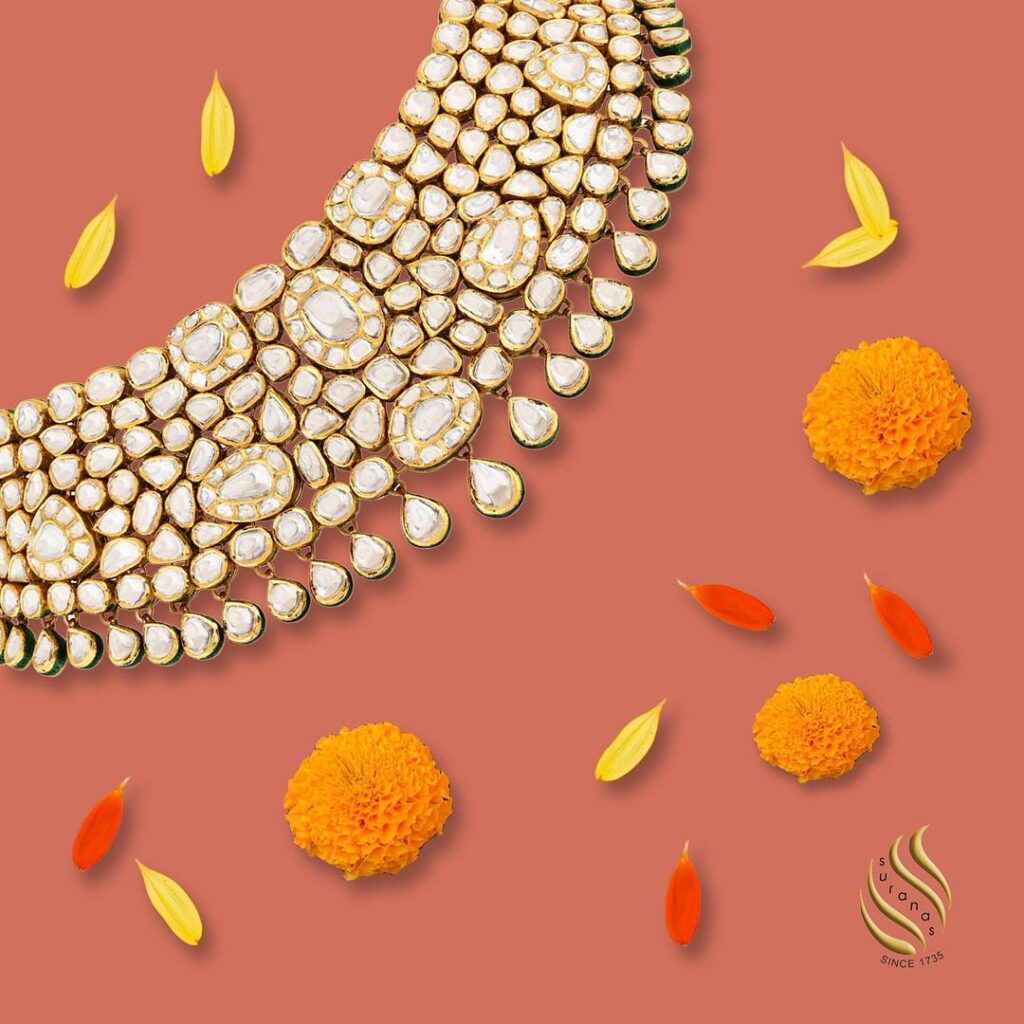 #27 Polki set is timeless and here's proof.
#28 Multi-layered Polki necklaces have a fan base of their own. Blame it on their regal, majestic, and fashionable design or blame it on the hoard of celebrities and designers who have popularized this style of Polki set designs. But, this Polki jewelry design is here to say. Its unique aesthetic charm and its rustic royal look will elevate any outfit with ease. This style might be common but they are handmade so no two pieces are ever alike. You can alter the design as per your preferences while placing the order with the jeweler.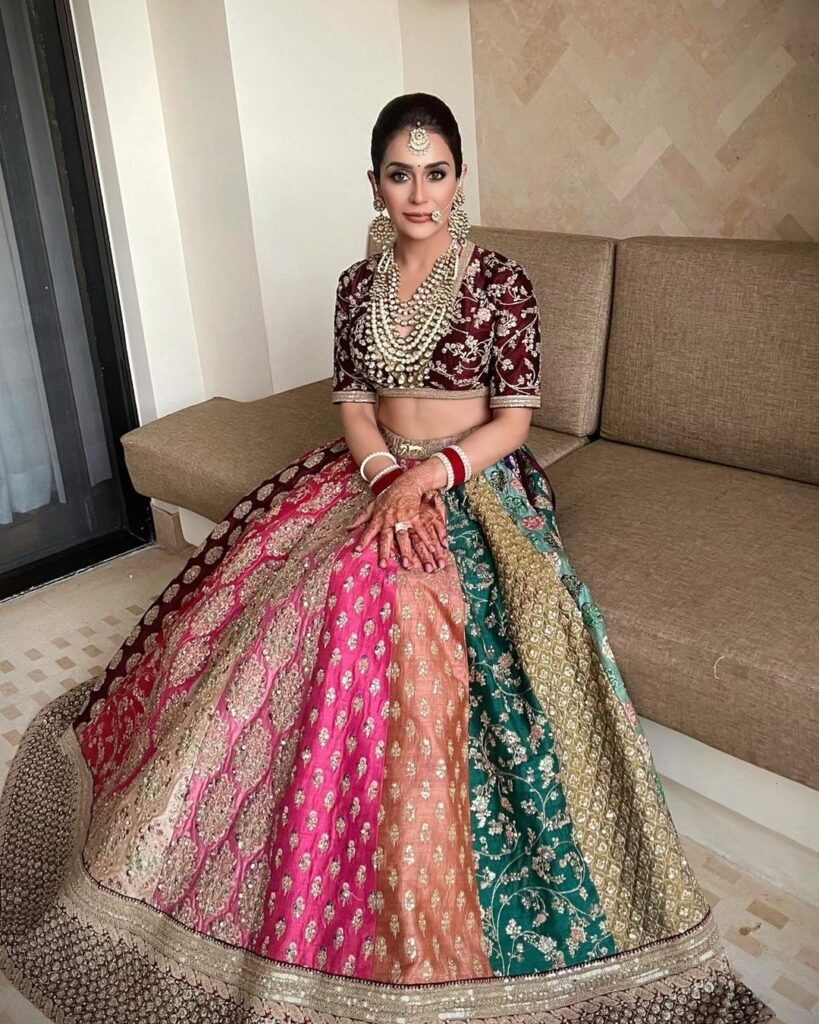 #29 Polki set designs are a great choice if you want to look like a royal on your wedding day. Take things to the next level by pairing two different styles of Polki necklaces but within the same theme. This bride did the same. She chose a choker Polki necklace with big and bold Polki diamonds as is generally seen while the longer necklace is a switch from this style. The latter has a similar design but incorporates a different style. There are smaller Polkis that surround each of the big Polki diamonds like the crown jewel. The dangling Russian emeralds match the dangling embellishments of the bridal attire. The dangling Polki earrings in the same style add to the beauteous and majestic look.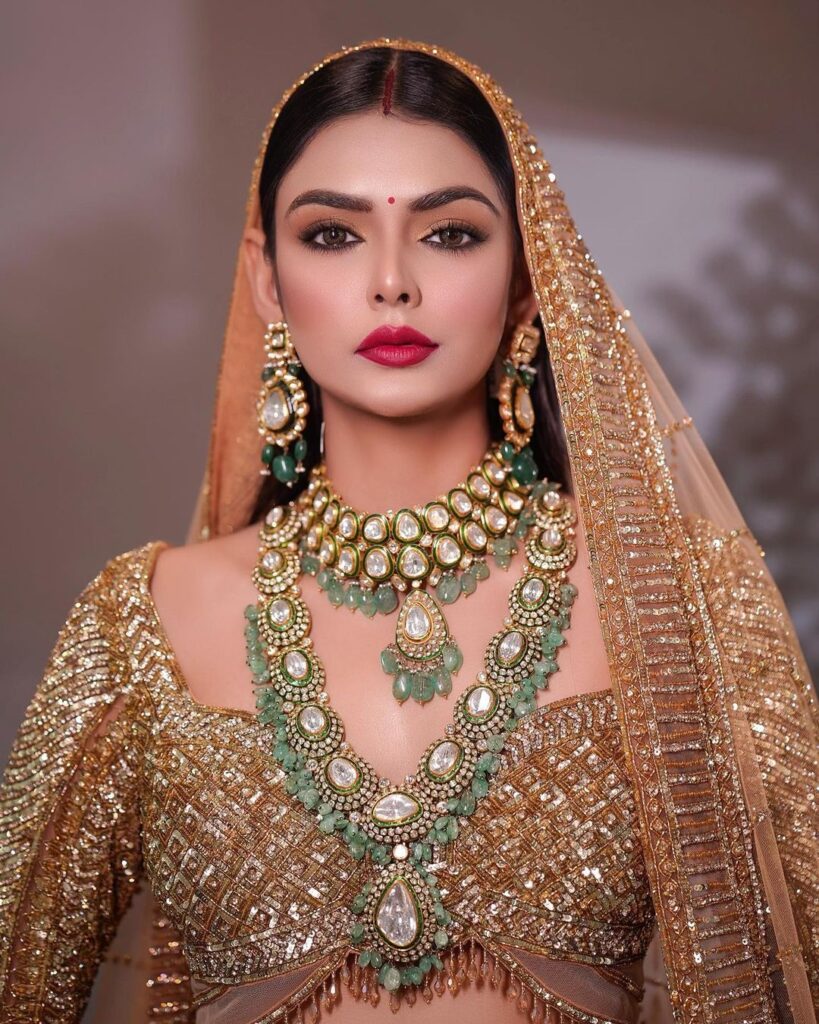 #30 Here is some Polki necklace inspiration for the minimalist in you. This is a classic Polki set design that you can wear not only during your wedding festivities but also as standalone pieces paired with your office as well as party outfits. But you must be careful while buying Polki sets online. Make your purchase only from trusted jewelers to get authentic Polki jewelry.