When it comes to planning your wedding decor, there are multiple options on the Internet. From grand to fun to quirky, there are ideas for every kind of wedding style and preference. Although, for haldi, all couples are looking for simple signage, florals, and seating decor ideas to set the environment right for the cheery event. Bright colors are the customary option for haldi decoration, but another thing to keep in mind is the seating arrangement for the bride & groom. One of the trending seating styles is where the couple is seated inside a big vessel that is further bedecked with florals. That and many other haldi decorations are featured right below. Scroll and see. 
See other Haldi Blogs:
#1 Starting off with this haldi decoration idea for the groom. We all know the groom's side will have an unchecked haldi experience with the main guy's T-shirt probably torn and where he is lathered with not just haldi, but many other things. As a start though, you can install this fun signage on the entry and have a lush foliage background behind your seating. Don't forget to pose and get some portrait shots before things get crazy.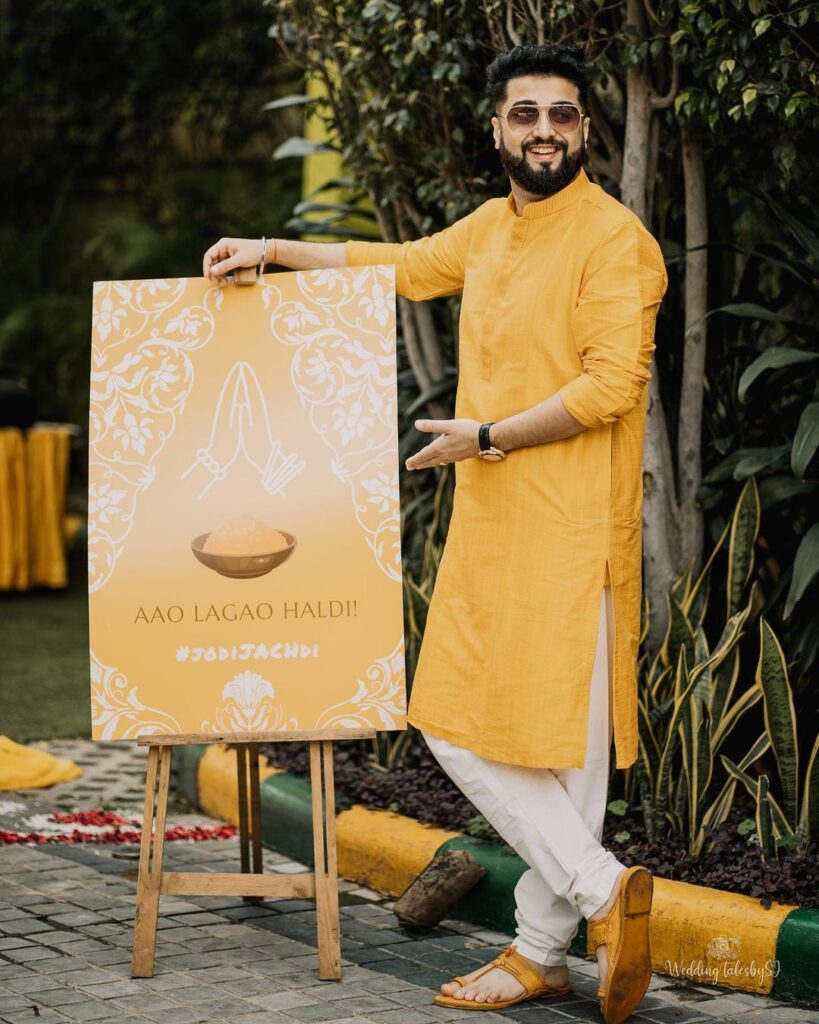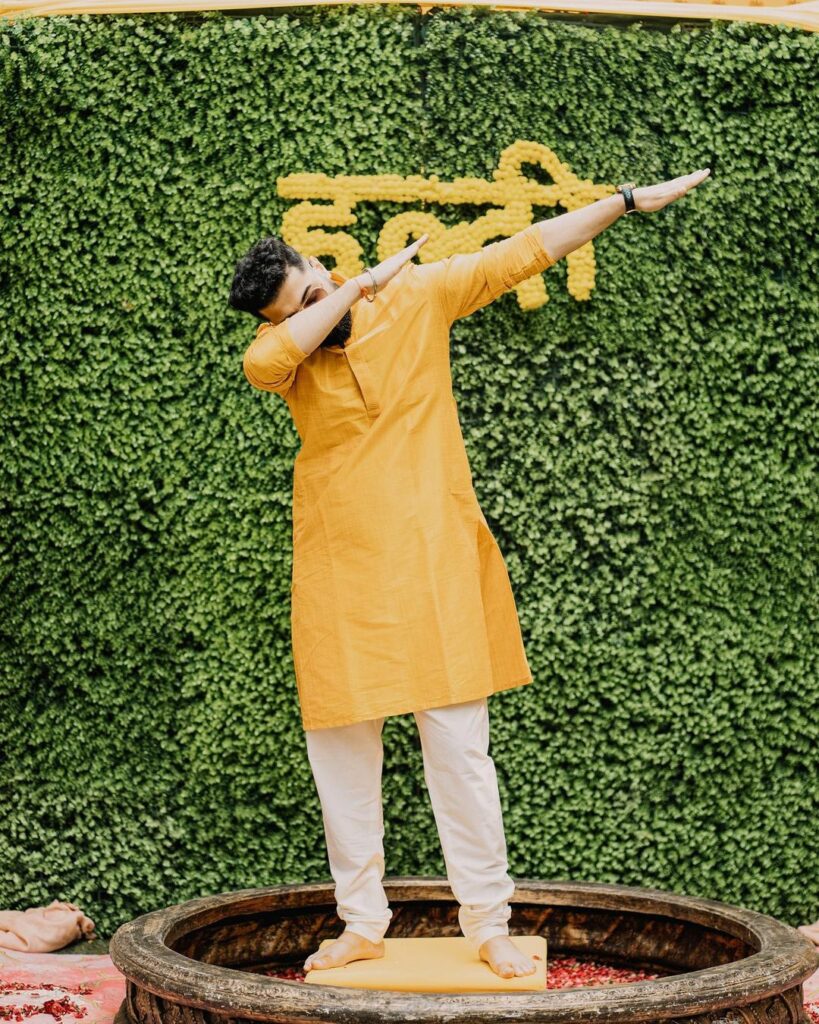 #2 A low-cost simple haldi decoration idea at home is right here. The bride & groom's seating is simple wooden chairs surrounded by pillars having a bowl of marigold flowers. On the backdrop are garlanded in an uncoordinated yet aesthetic fashion to enhance the entire arena. You can also put some flowers on the sides to elevate the decor further.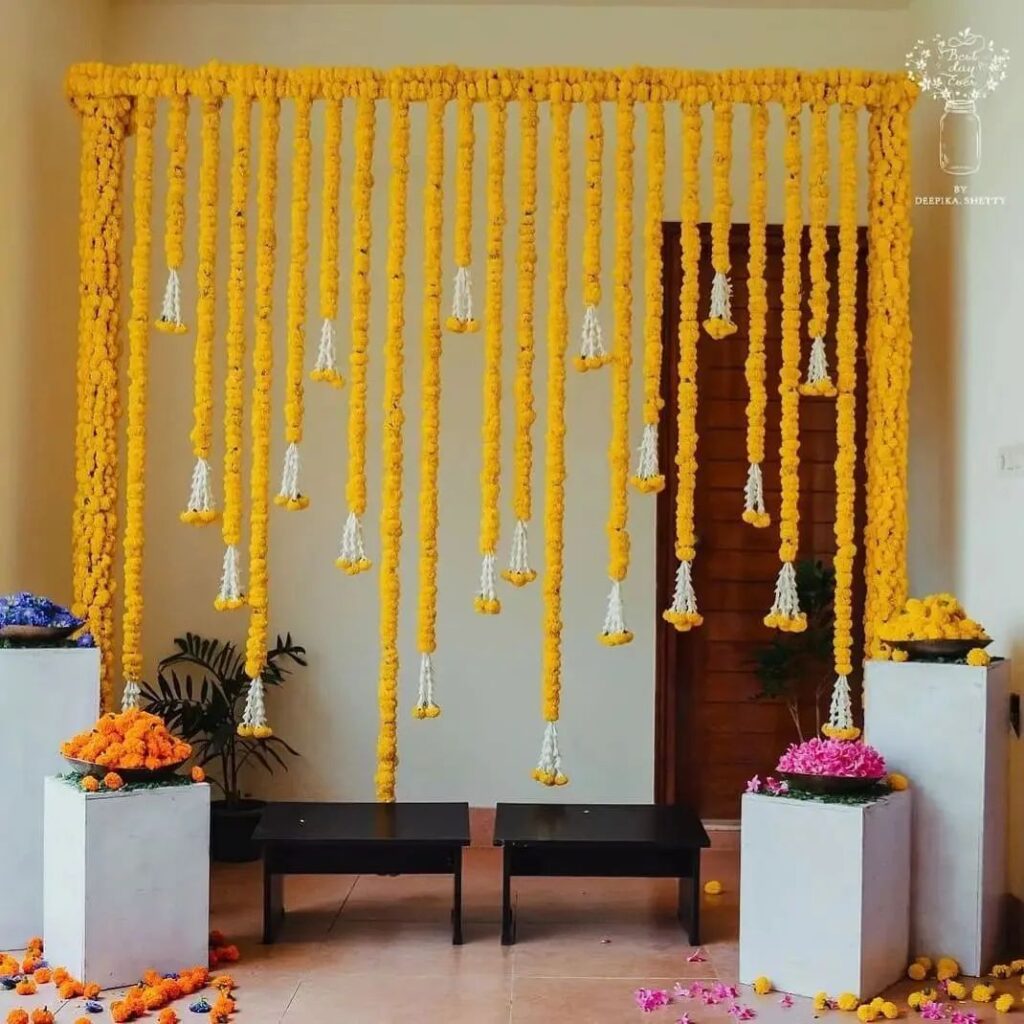 #3 A beautiful pathway leading to the couple's seating arrangements is a stunning way to decorate a haldi event area. When you're marrying with natural scenery behind, like in this case hills or a beach, you don't have to put much effort into enriching the space. Just a simple floral decor would do.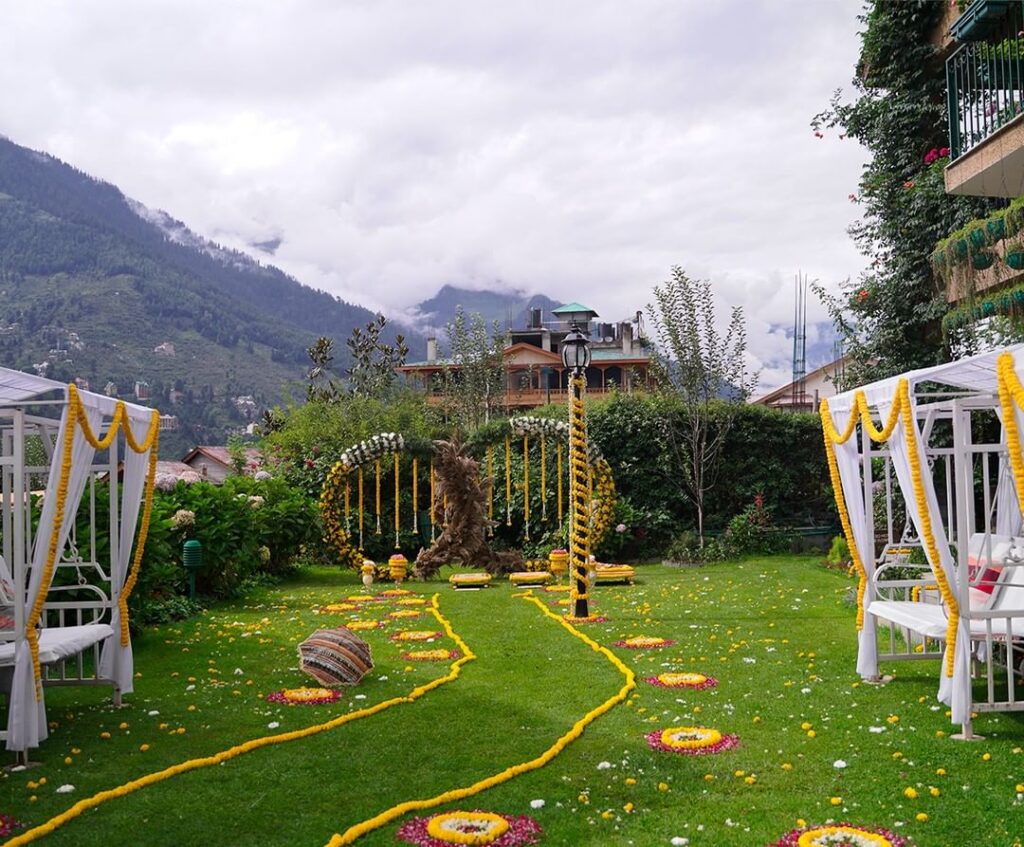 #4 Blooming like a flower, a blushing bride should be treated like nothing less than one. For a dazzling and striking haldi decor, try to make a seating arrangement for the bride and groom as appealing as this one. With lotus arrangements around, the decor also plays with different colors of the marigold along with roses to create a picturesque setup.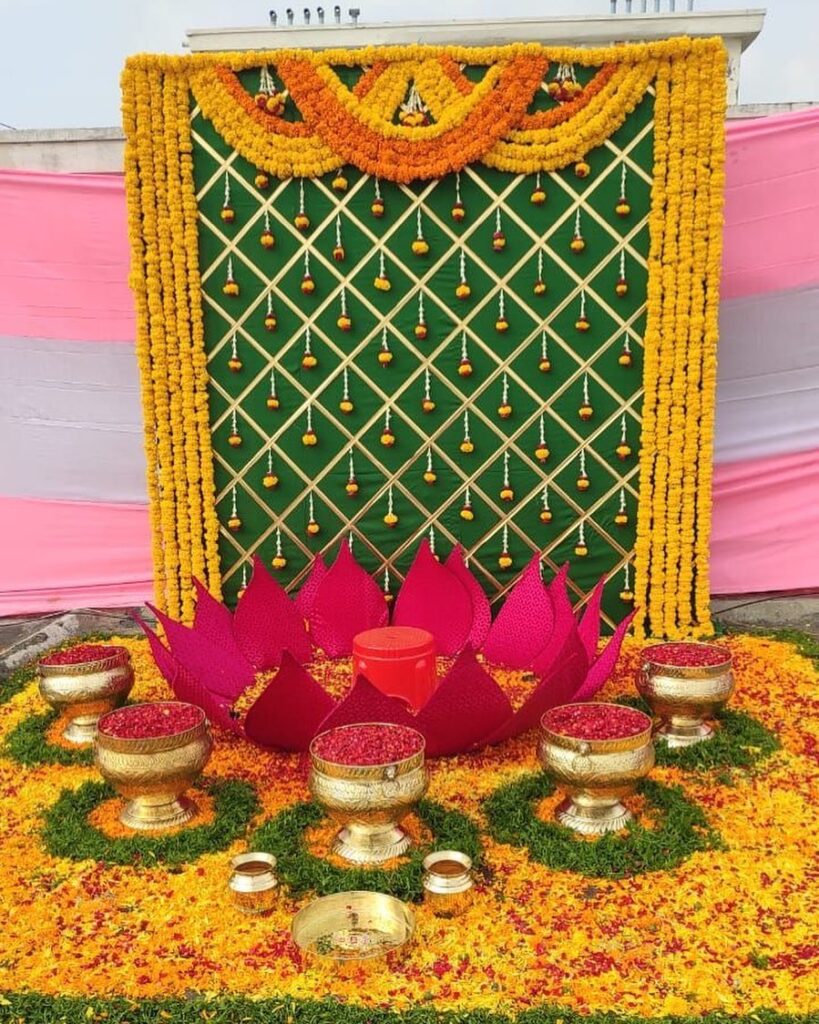 #5 Besides the haldi decor on the interior, you'd also want to catch the attention of your guests as they enter the ceremony area. Installing such endearing elephant caricatures on the sides with vivid florals and structures around is a sure way to dazzle your guests and create a fun environment for yourself and your guests.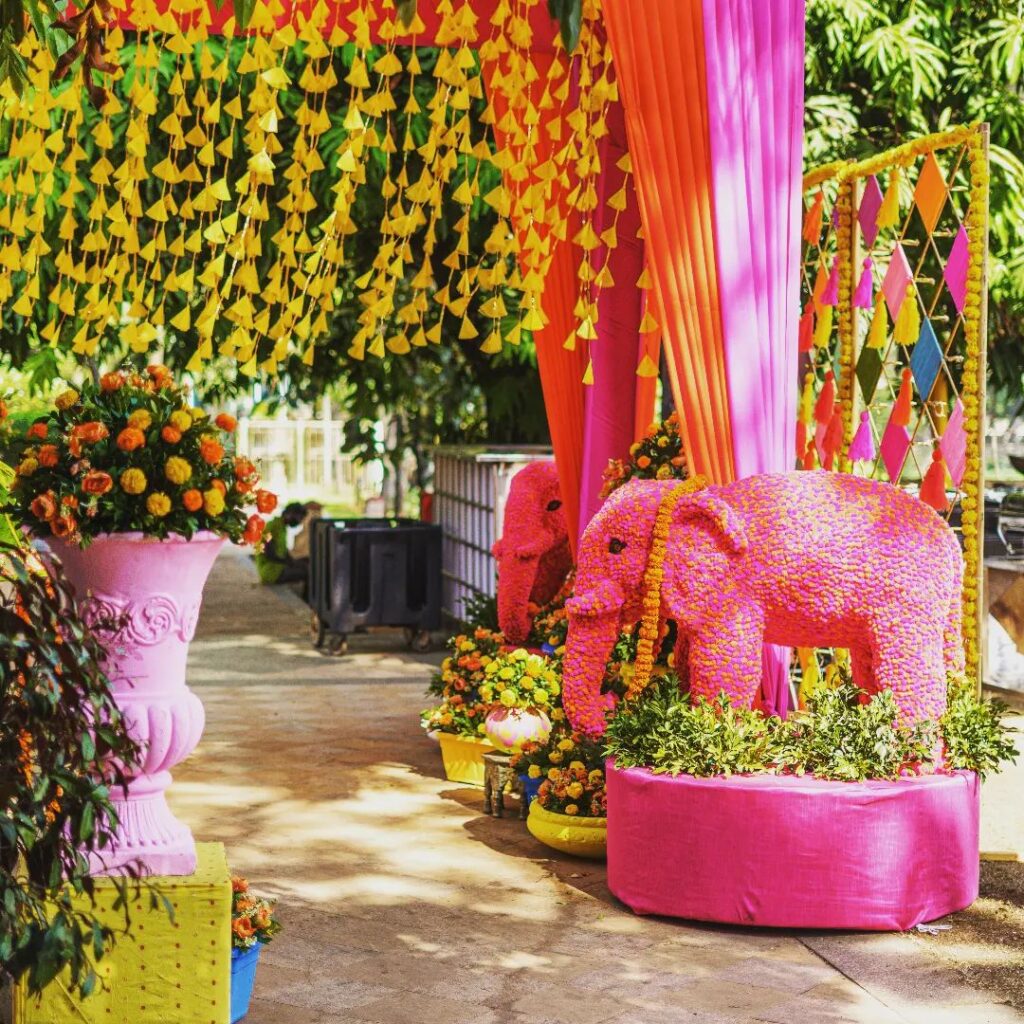 #6 Haldi decor isn't just about the seating and entrance, you'd also want ideas for the sides and the rest of the area of the space. These cute champagne-style glasses with flowers stuffed inside and spread around are a great idea for open or home haldi decor.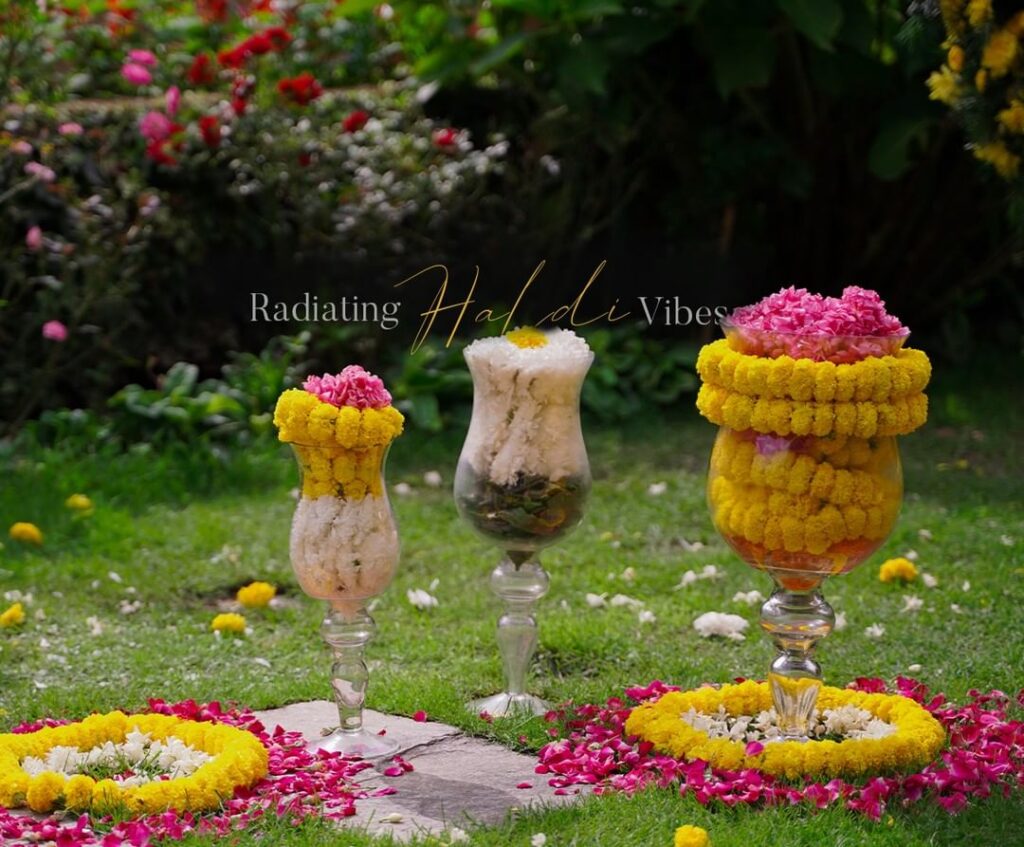 #7 This beautiful lush foliage decor board can grace your haldi event either at the entrance or as the backdrop of your seating. What boosts the charm of this gorgeous decor installation is the addition of lemons here & there to match the customary marigold flowers of haldi. With this stunning backdrop, you don't even have to spend a lot of time on seating as this will enhance the area by itself.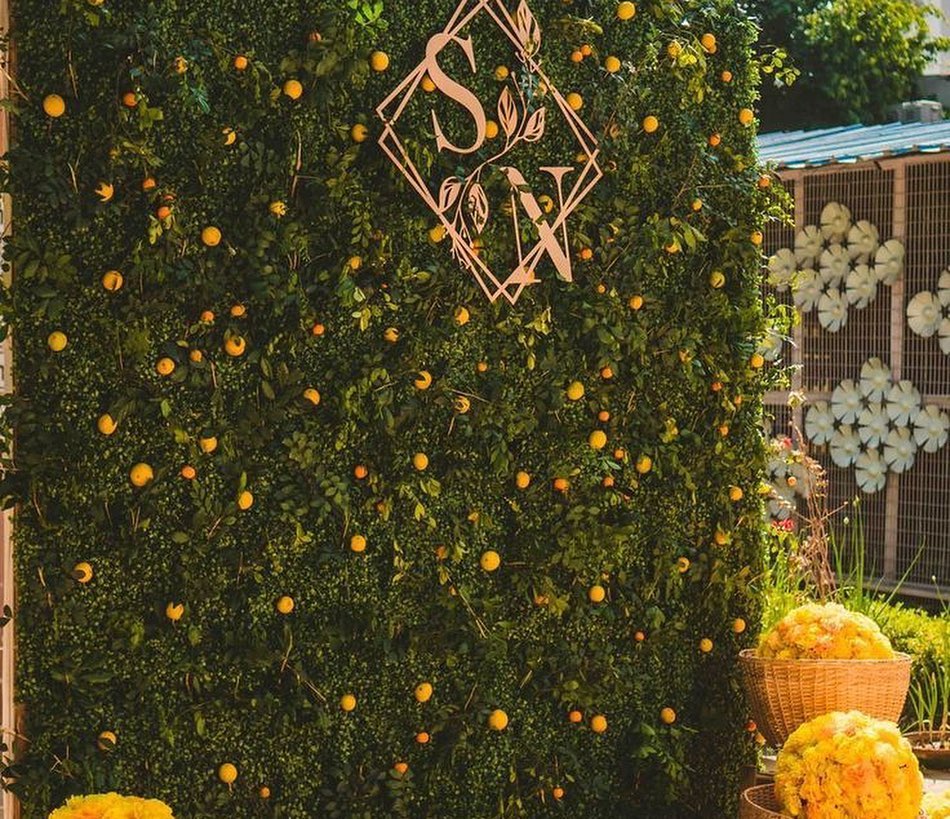 #8 Yet another pathway decor idea to surprise your guests beautifully by the floral charm. If the event area has trees, make sure to decorate them with flowers too as they wonderfully complement the entire area. Hang some quirky hangings from the branches too that's color coordinating with the other elements to grace the lawn well.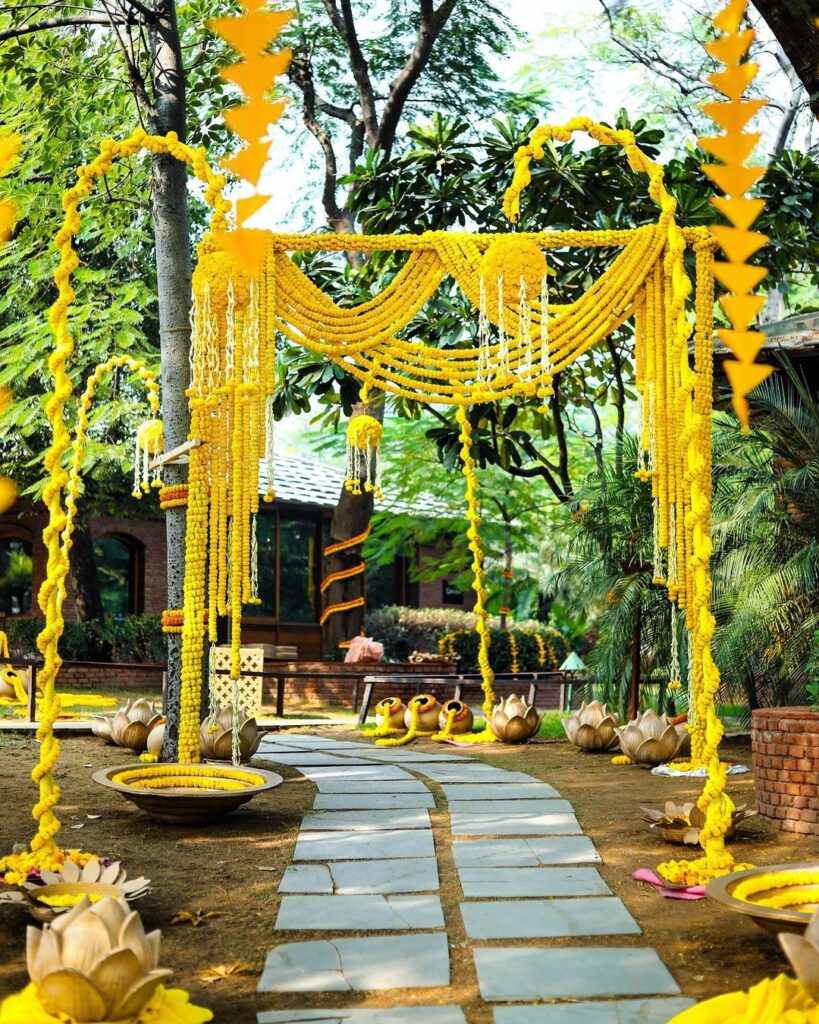 #9 Marigolds are one flower that blends well into any kind of wedding style. Be it boho chic, informal, casual, or upscaled elegance. The last one is perfectly portrayed here. Set on a rooftop, the monochromatic setting is infused with subtle marigold decorations to give the haldi its bright vibes. For the seating, only a simple mustard sofa completed the job.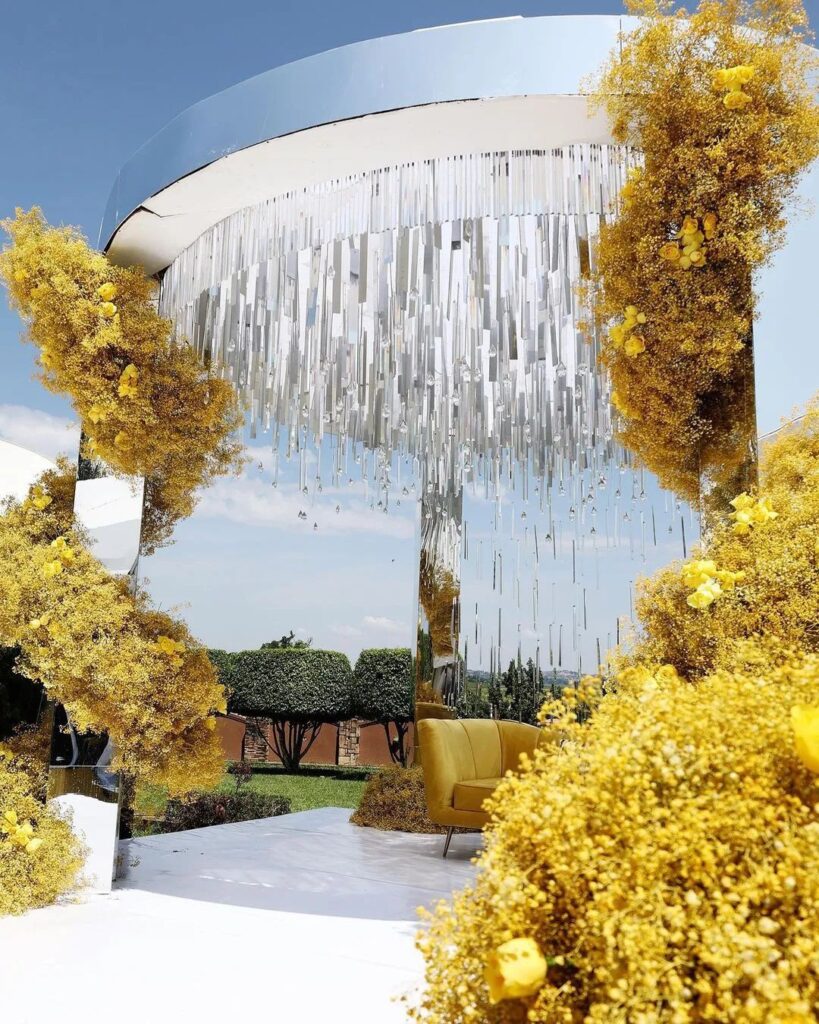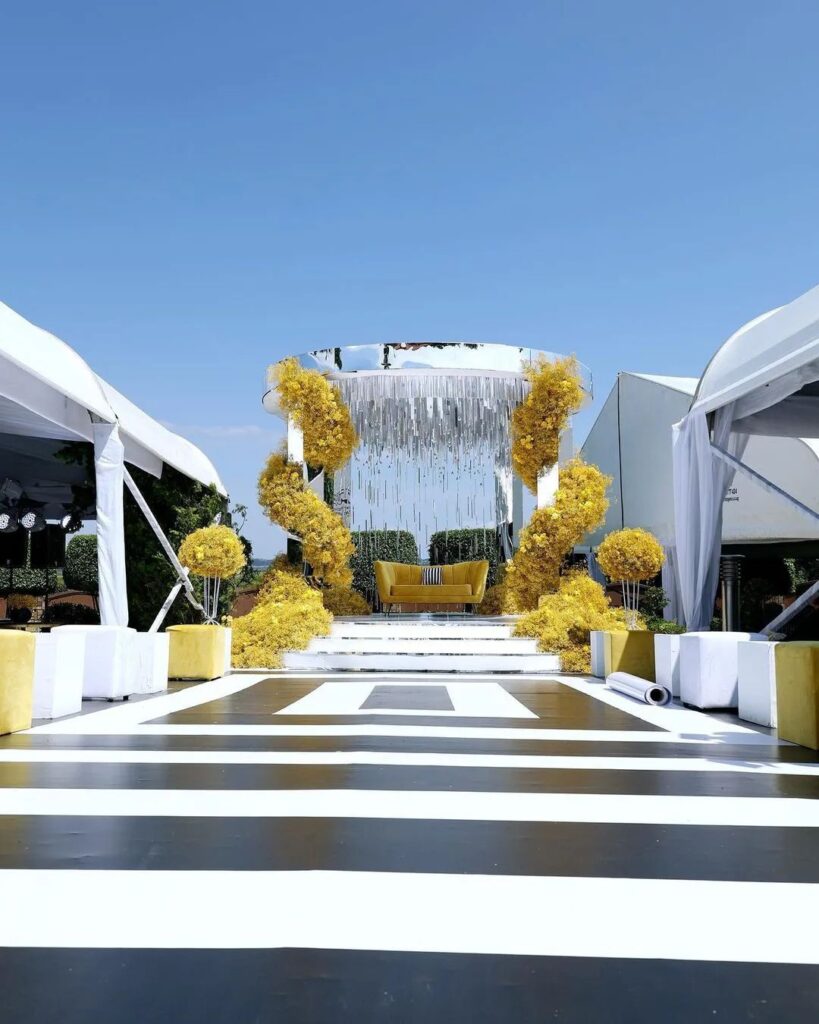 #10 If the event area is already beautiful or has a special place in your heart, like a farmhouse or a childhood home, it's best to keep the decor minimal so the original beauty of the place is preserved. Here, the couple minimally decorated the area with colorful seating and some marigold to let the natural beauty of the place shine.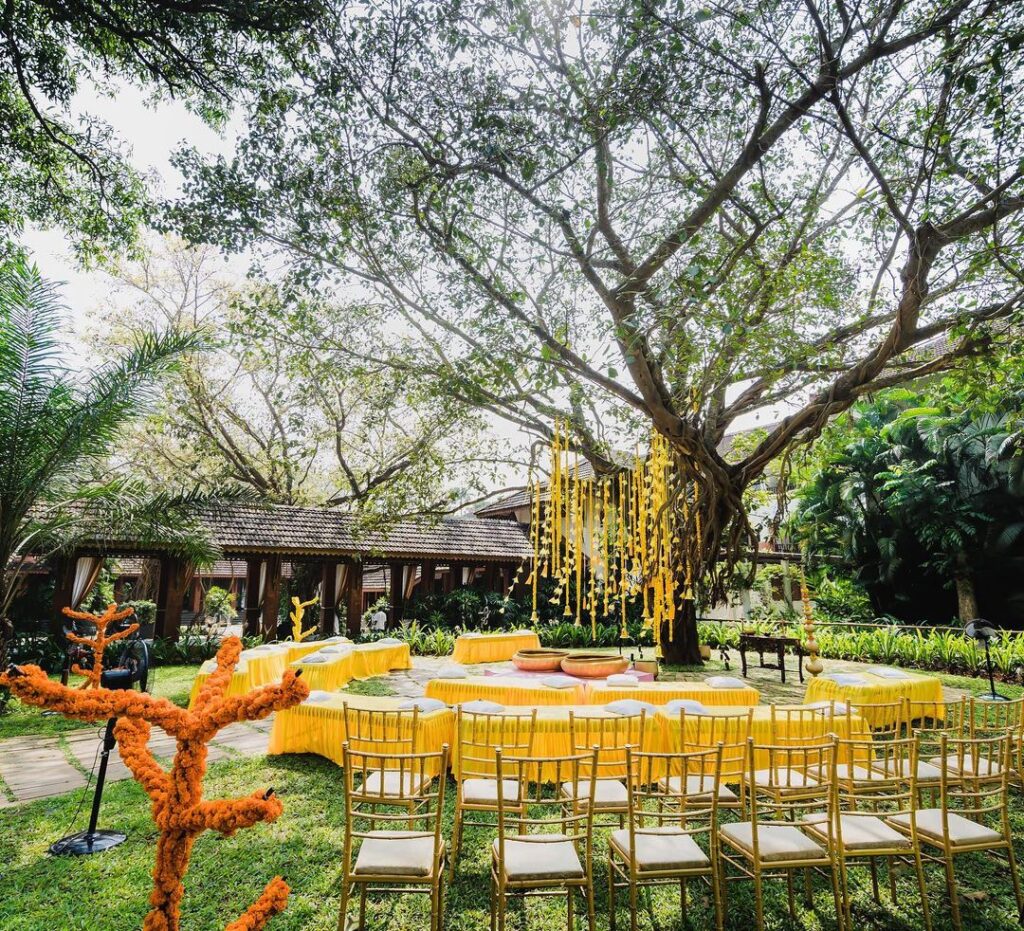 #11 Give your guests cozy cabanas like this to relax, chill and sit down after the madness of haldi. Create 8 to 10 such cabanas in the area so you as to cover the area well. Pink and green are beautiful colors to complement the customary yellow color of haldi. Include them in the haldi decoration.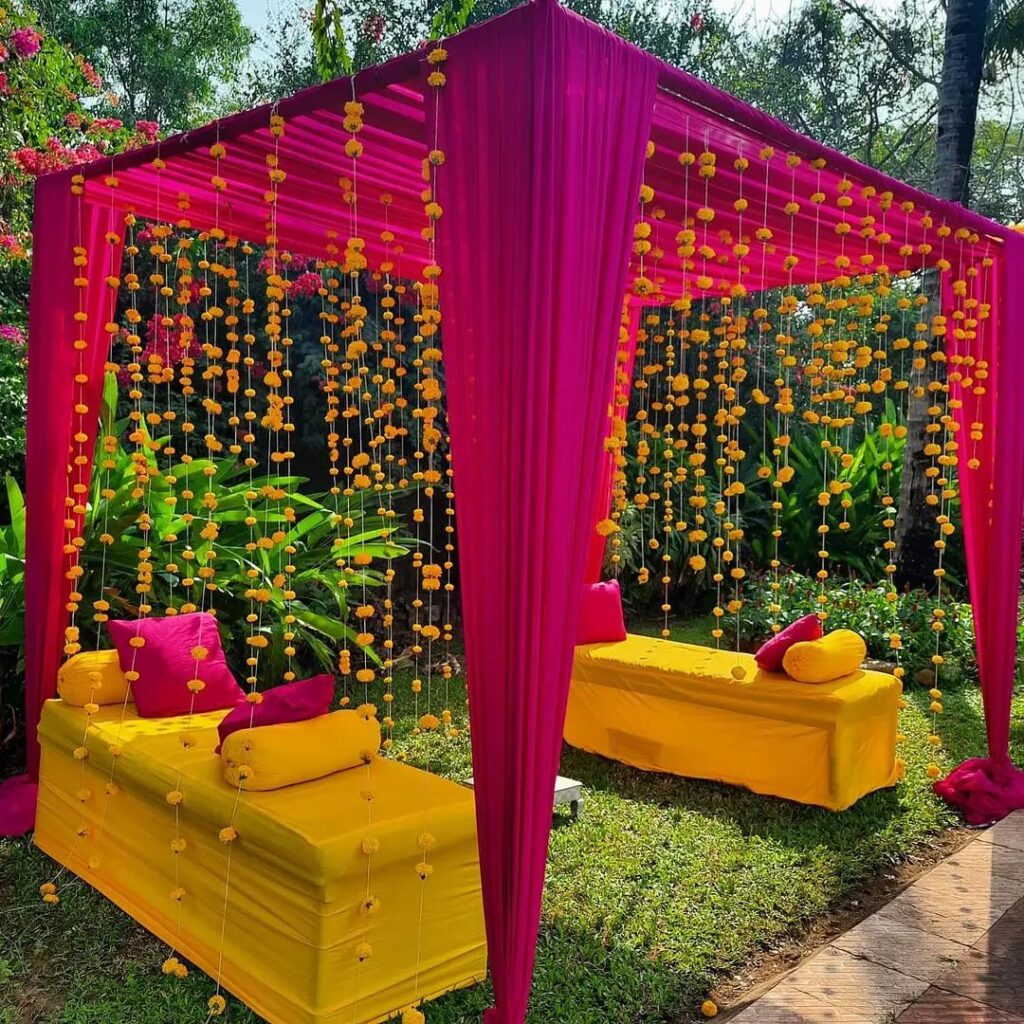 #12 Placards are a beautiful way to signify the entrance of your ceremony and help guests identify the area as well. So, it has both practical and beautiful elements. Take some ideas from this beautiful entrance decor on how to use this important element. Creating a beautifully animated version of you two elevates the endearment of the component further.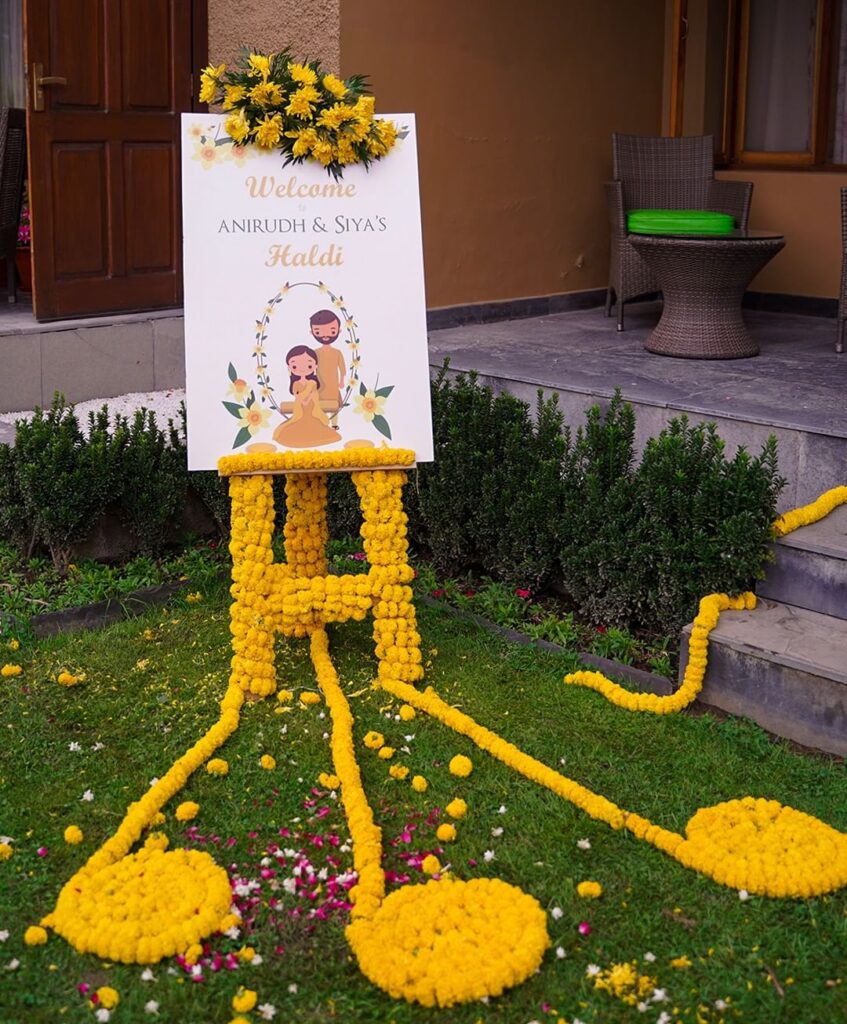 #13 Here's another haldi decoration idea at home where you can install these vivid pillars with flowers attached to them to make the event space feel complete. These pillars can be easily purchased online or rented from a nearby store for a day.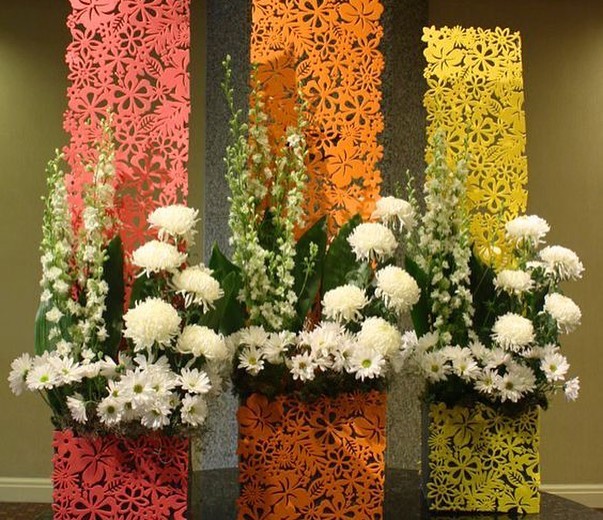 #14 Here's another idea for a gorgeous cabana in the haldi event location. Having such gorgeously decorated cabanas enhances the look of the haldi decor and also gives guests a beautiful space to sit and relax in. Wedding decor plays an important role in setting the mood right for the event and every detail comes together to create a mesmerizing setting for your beautiful day.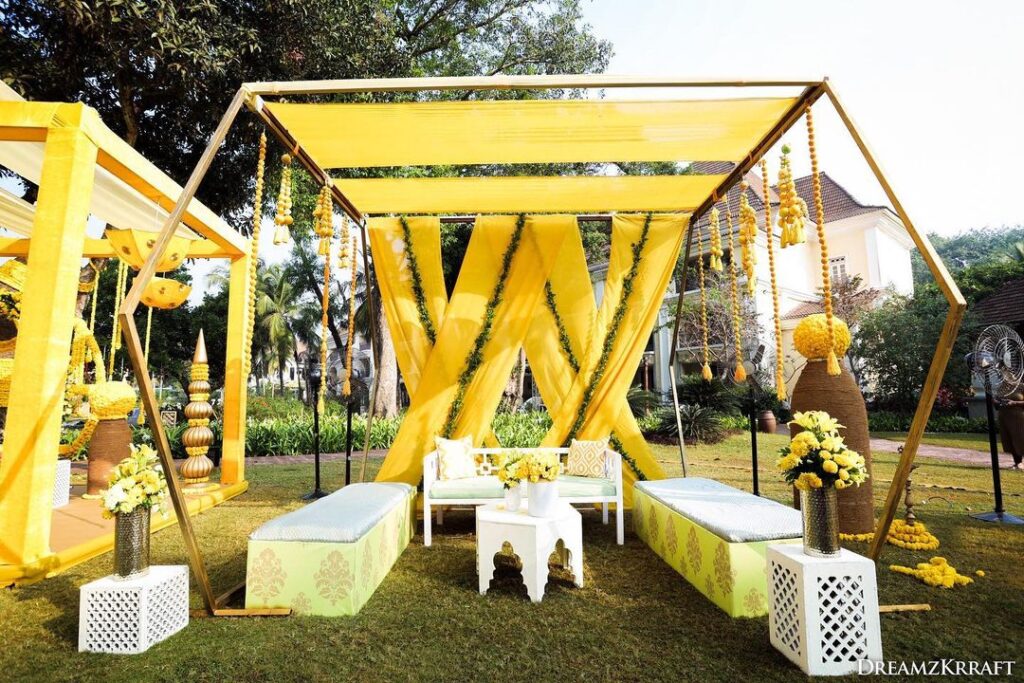 #15 A dance stage is a must at every event, especially haldi which marks the beginning of the couple's special day. Since the ceremony is also small, haldi is more about fun, laughter, and tonnes of dancing. Having a stage-ready just gives the guests the nudge they need to let their inner child out and dance their hearts out. If someone wants to perform their sangeet dance again, even the bride and groom, here's the chance.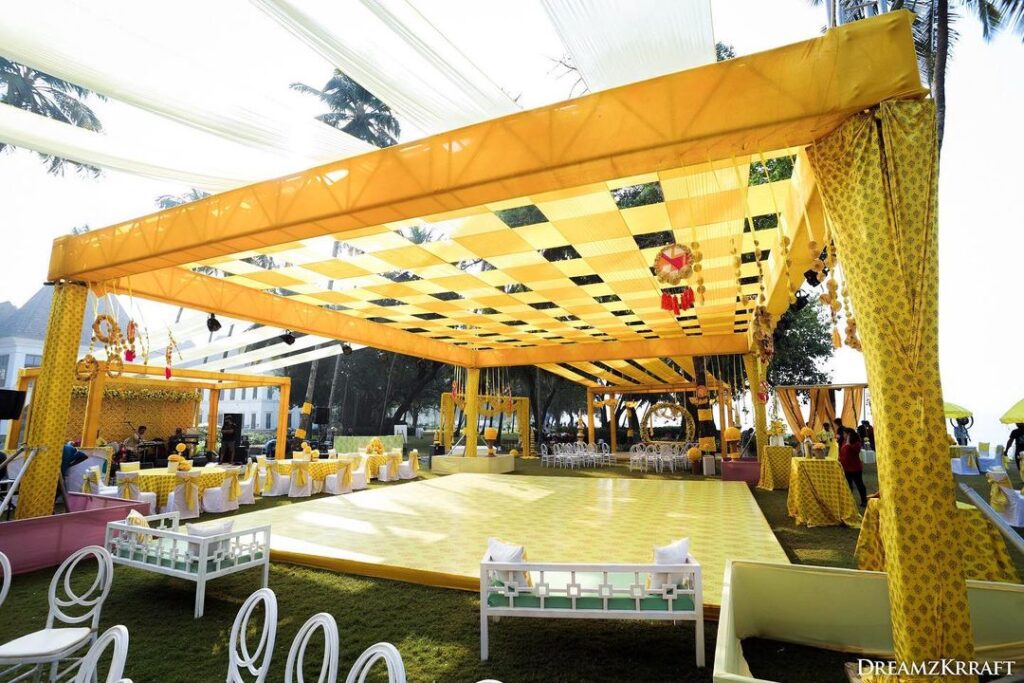 #16 Here's another beautiful entrance with endearing elephants around the two sides of the gate. Bright pink or red blends really well with yellow, so if you don't want your entire haldi decor to be yellow, then infuse these two colors into the mix. It will look wonderful, as also evident by the picture below.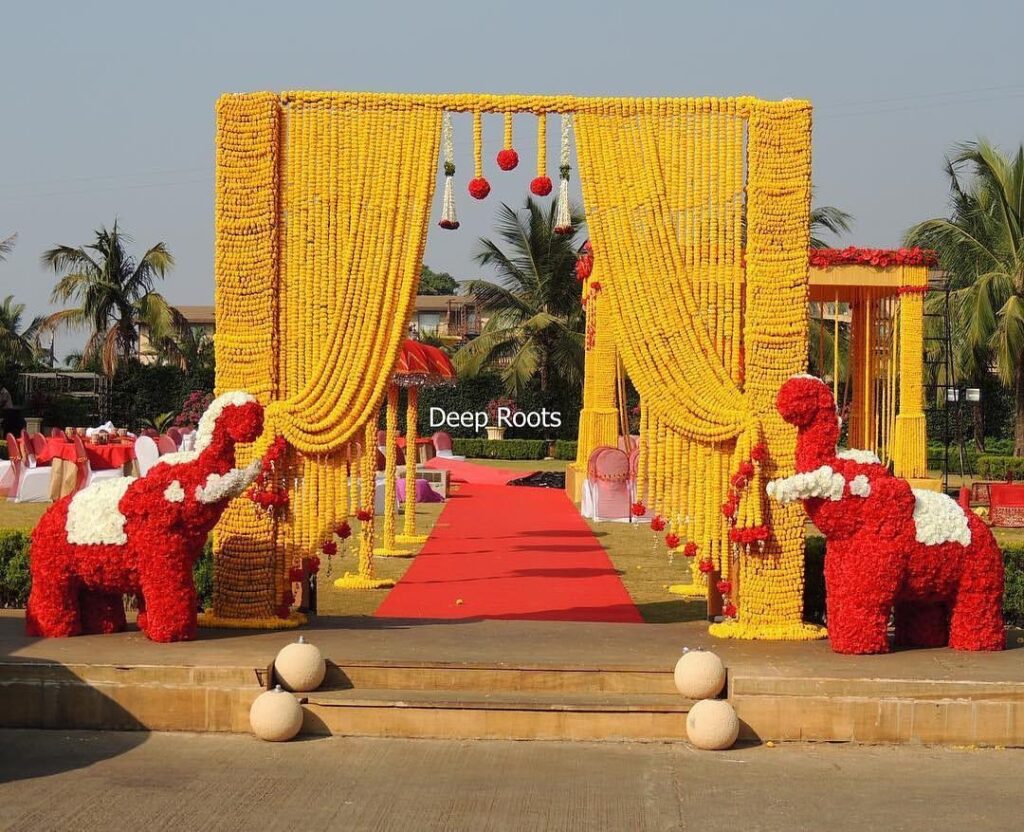 #17 For simple & cheap haldi decoration at home, stick to putting some unique and dazzling elements in various corners of the house. These earthen pots are a great addition. You can get them easily in a nearby nursery for short while. Bedeck them with fresh flowers for an ethereal charm and you've got gorgeous decor ready for the morning ritual.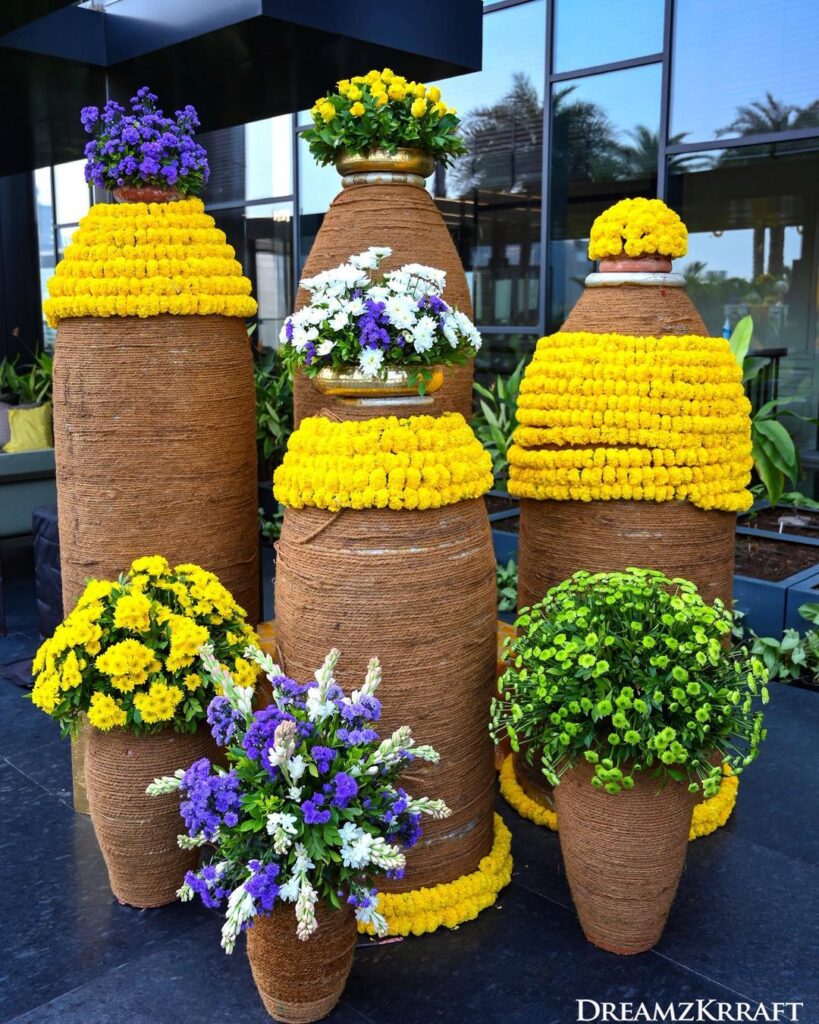 #18 If you're having an outdoor ceremony in a gorgeous aesthetic location, stick to a couple of drapes and miniature haldi decor elements to bedeck the location. A beautiful overhead drape protects the guests from the Sun and gives a pretty shaded effect for pretty portraits of you and the guests.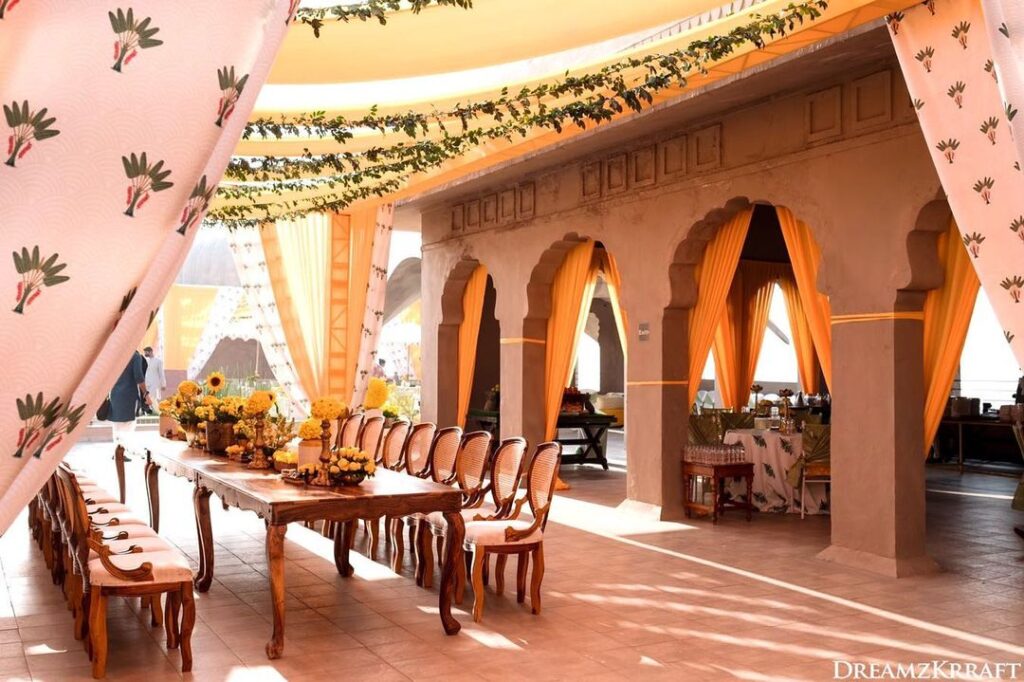 #19 Place these pretty centerpieces and elevate the look of your haldi ceremony decoration. Coordinating the yellow and orange colors of marigold flowers is another great way to break the monotone look of the haldi decoration. Pink is another common color to add in haldi decoration and you will spot it multiple times on this list too.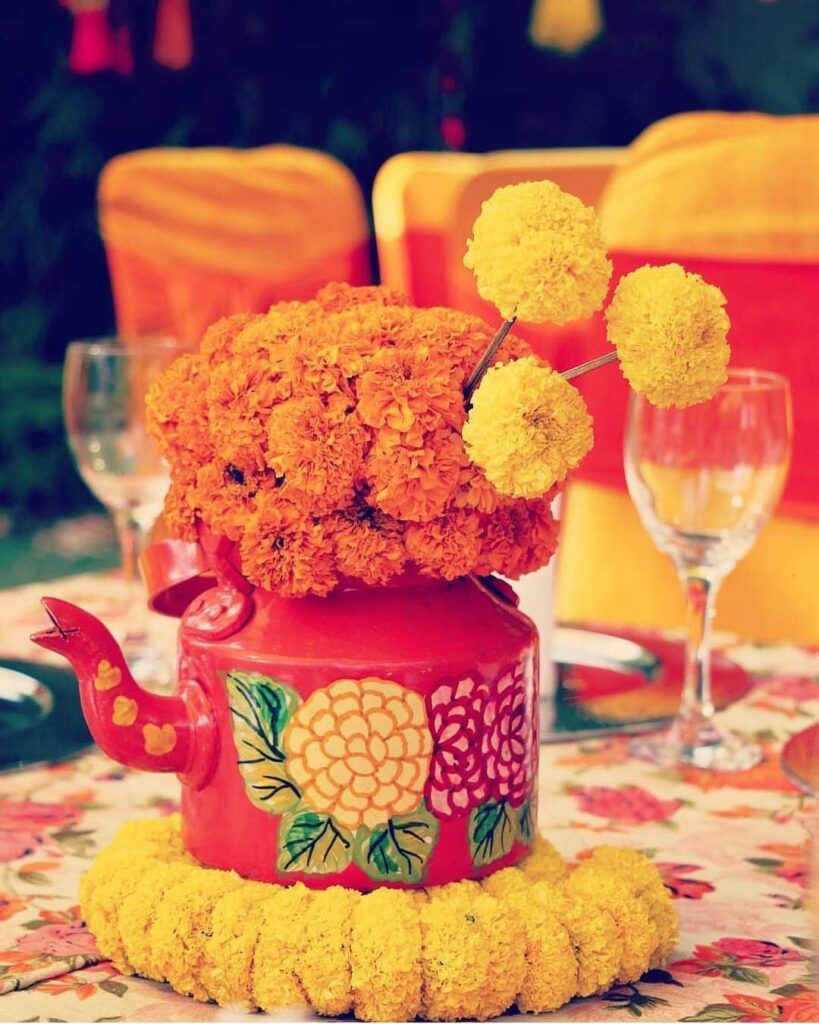 #20 If you want to elevate the main status of you as a bride or groom, then create a stage for haldi just like this and enjoy the important because you really deserve it. When you create such an impeccable stage for the haldi, you also don't have to bedeck other areas that much because the stage will have the main center of attention. Just do a dazzling entrance and seating decor and you're good to go.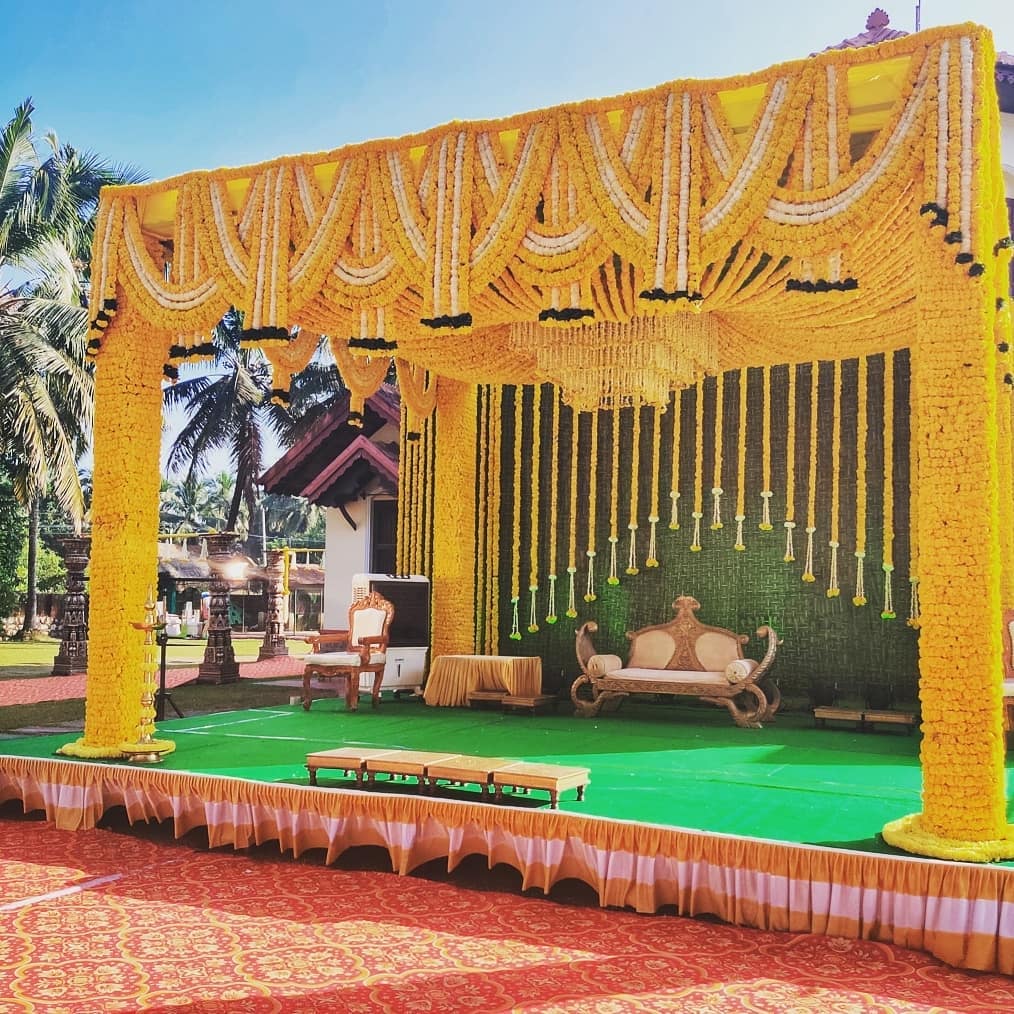 #21 Yet another seating decor idea for the haldi ceremony. The bride and groom's stage is one of the main areas in an event that catches the attention of guests and also gives them the feeling of being the center of attention on their main day. Curate this gorgeous lotus-inspired decor along with lush foliage and blooms to set the mood right for joyful revelries.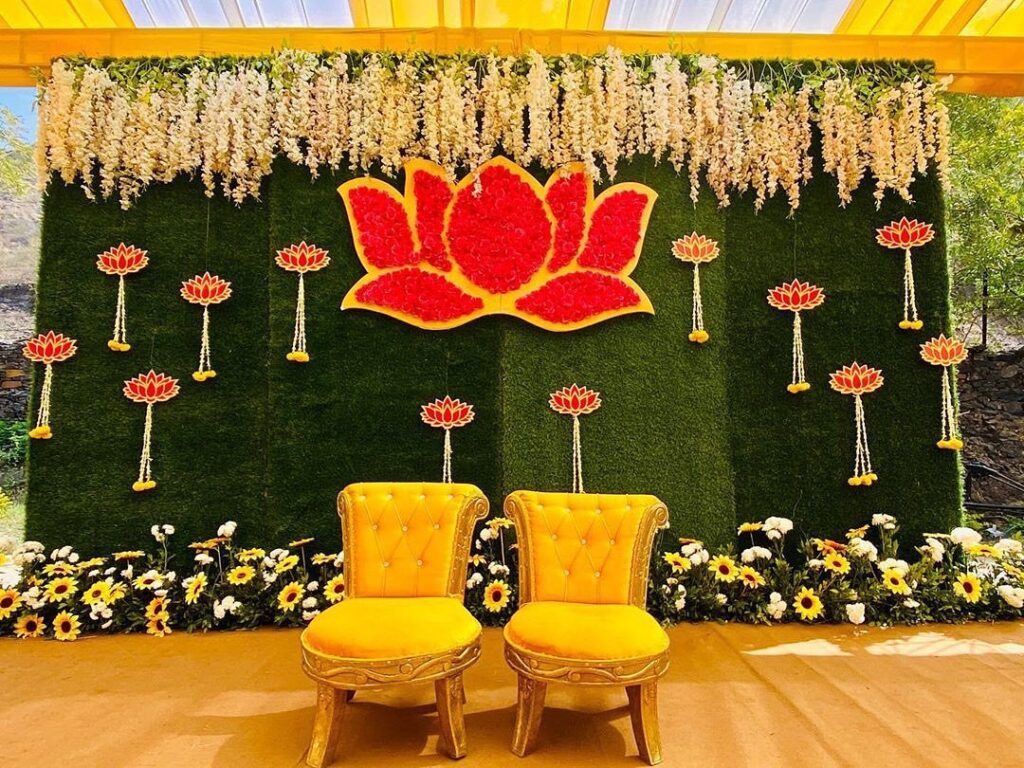 #22 You can find many haldi decoration ideas at home on this list too. Like these upside-down floral basket hangings. When you're prepping for haldi at home, then choose the right elements and don't overdo if you're not an expert. Just choose simple elements. You can even rent them from a nearby craft shop at a minimal price.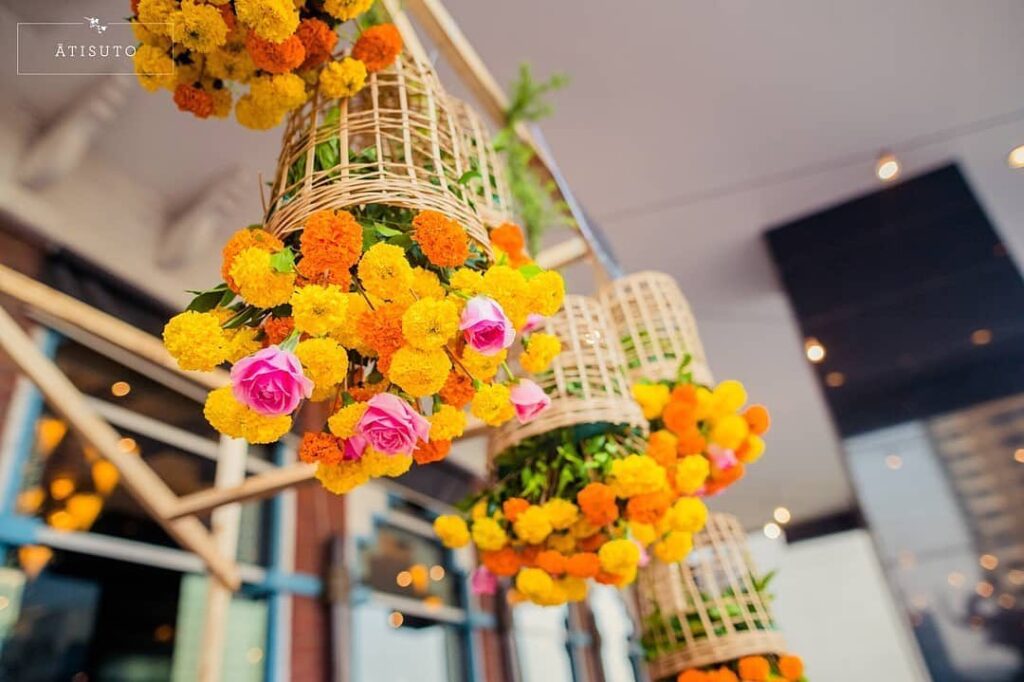 #23 Here's another haldi decoration idea at home which you can also use for an outdoor event as well. This is quite easy to recreate as well. You just need to create the borders and blend the colors just as shown. Instead of the flowers created out of marigold, you can just leave it as it is or attach some garlands. It will give the same ethereal effect.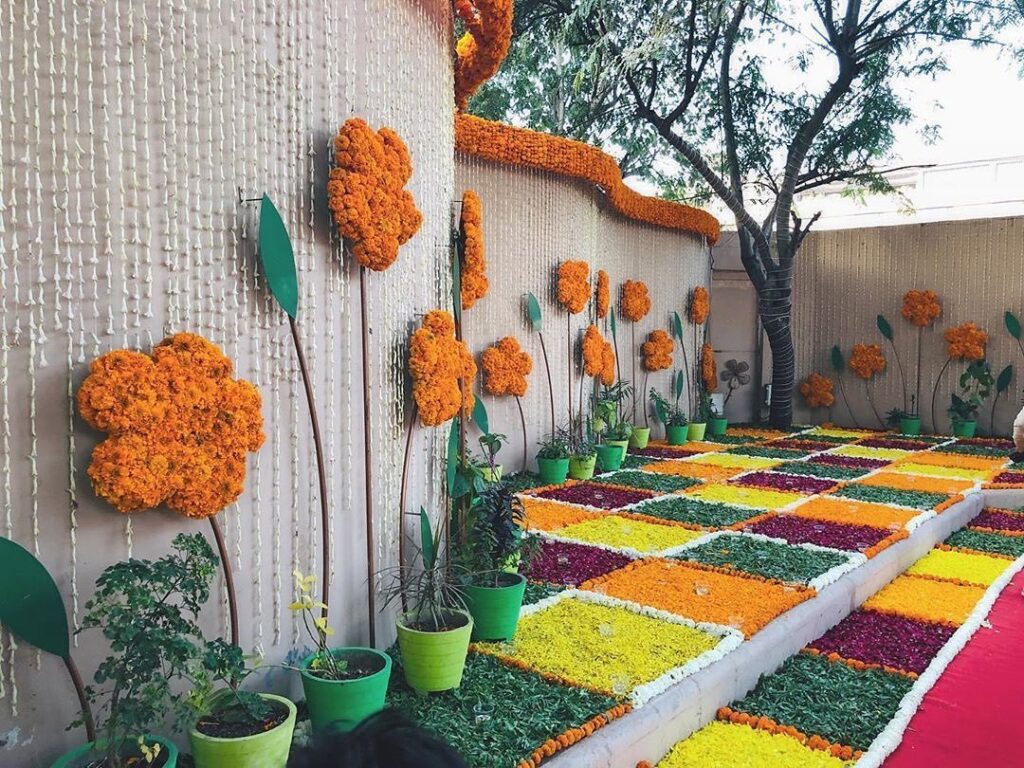 #24 A low-cost simple decoration at home requires just marigold flowers, which are one of the most inexpensive ones in the market. If you're wondering how to recreate this baby elephant, don't worry, you can get this done by any floral store around you. They will deliver along with the flowers. Artistic installations like these can make your decoration look complete.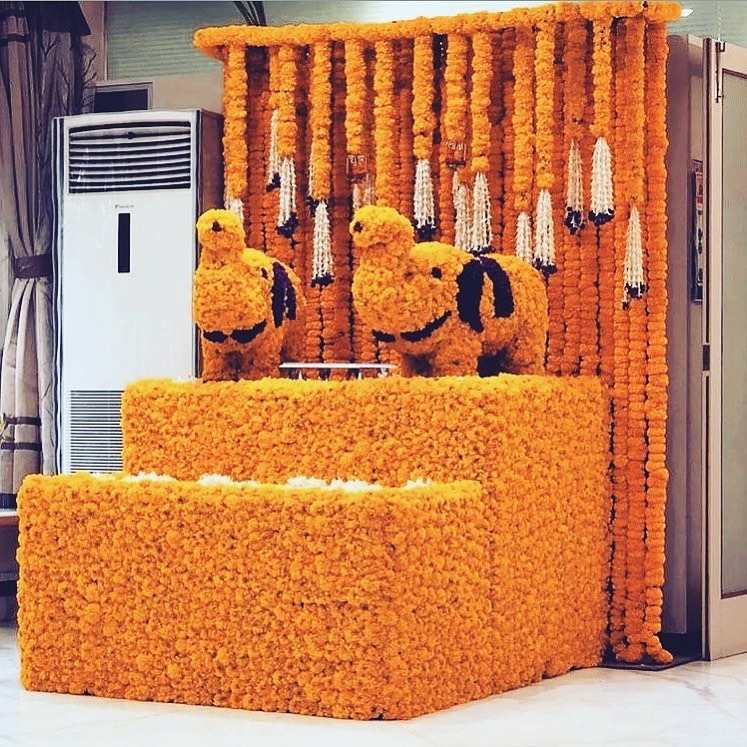 #25 Seating haldi decor is definitely a part of haldi function decoration and an important one, that too. Here's a straightforward and elegant one to bedeck your ceremonial space with. Simple and elegant seating and decor are best for couples who want to maintain a minimalist style at their wedding.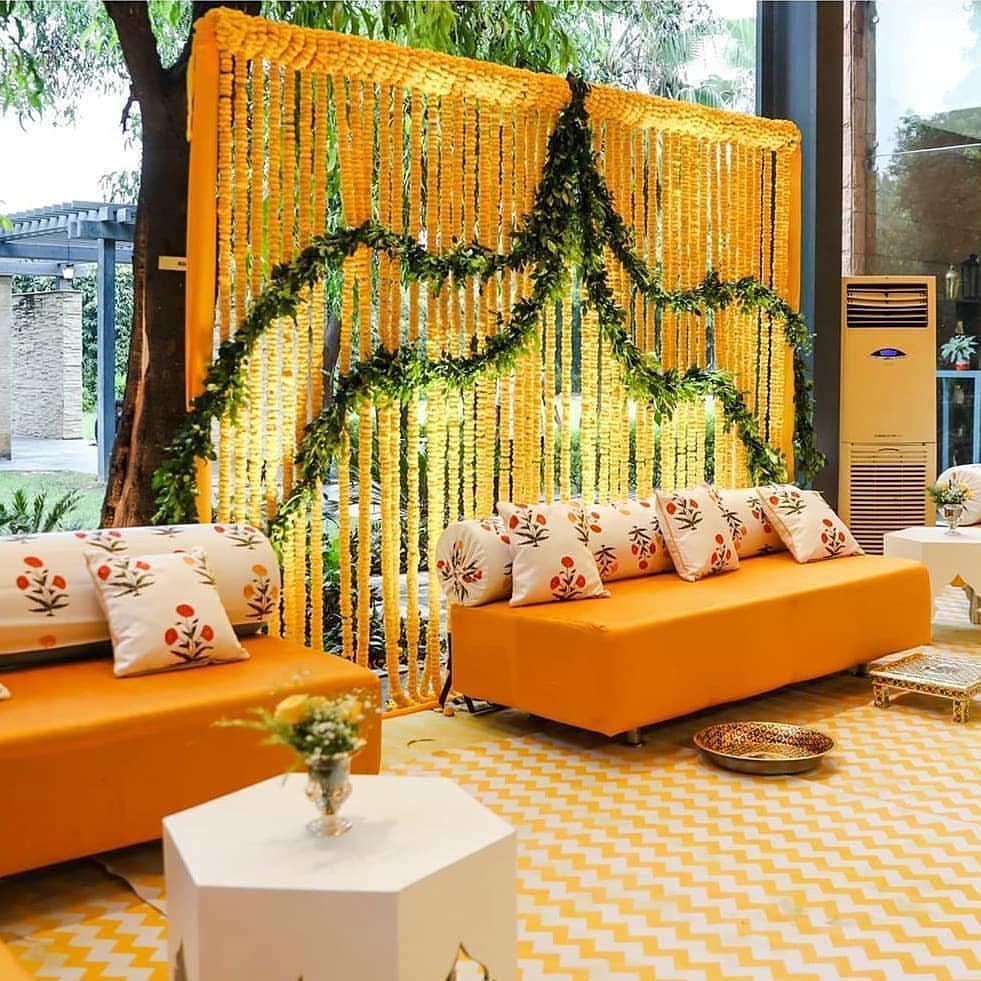 #26 A swinging seating is getting popular in weddings, especially during mehendi events. But you can use the same idea in your haldi as well. You don't have to make it your main seating because it would make it difficult for everyone to apply haldi on you. So, just keep it as a secondary arrangement to sit and enjoy after all the lathering of haldi is done with.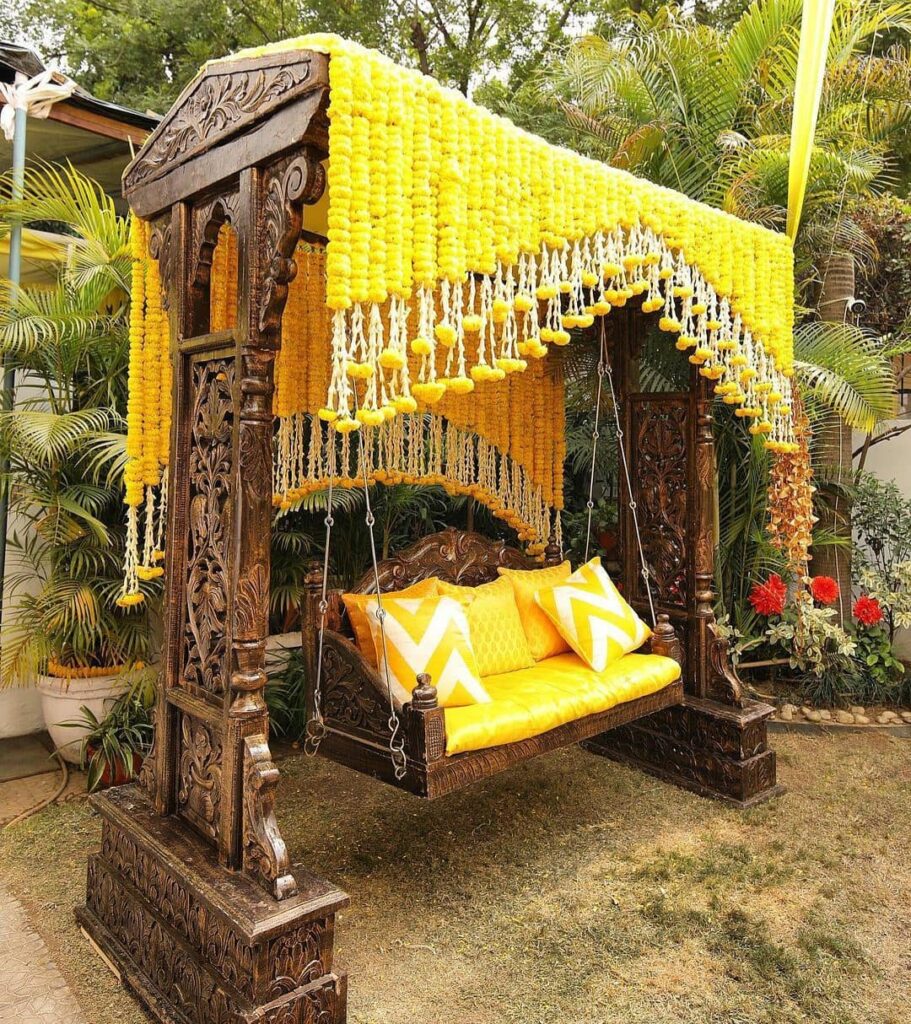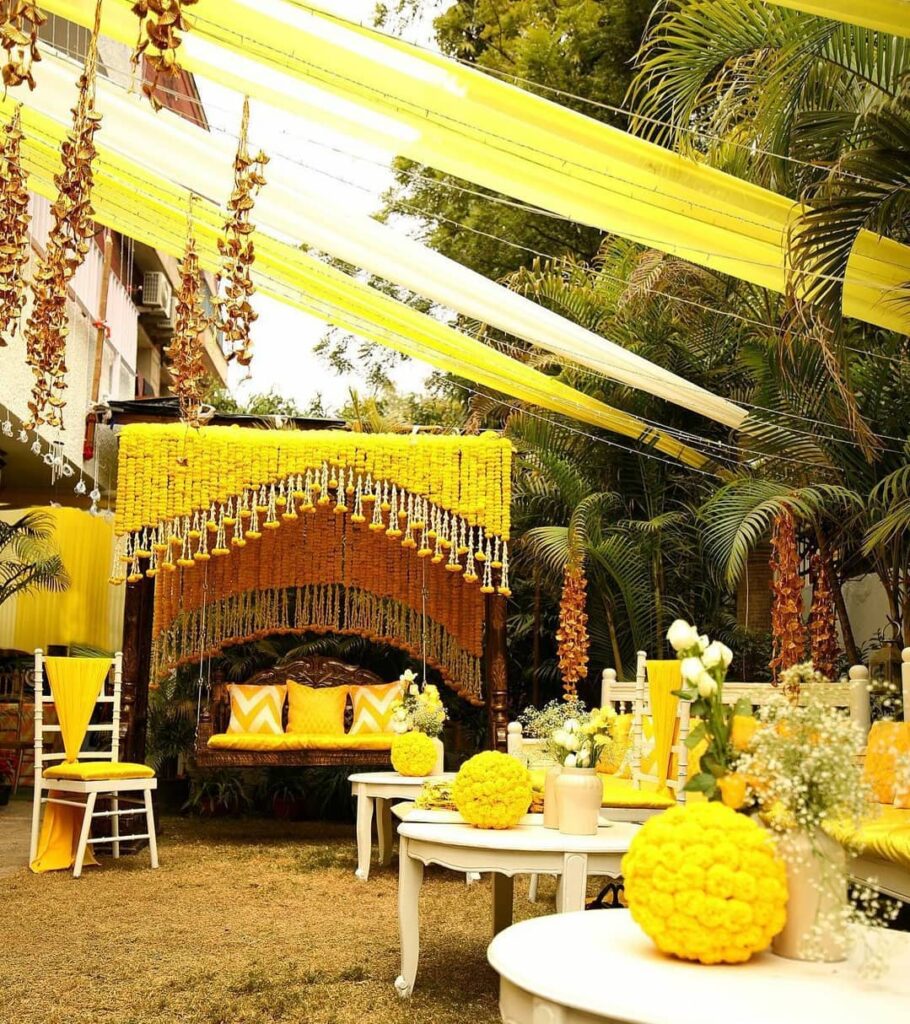 #27 Haldi is often an intimate celebration and is many times planned at the bride or groom's humble abode. It's also a meaningful way to start your new life from the very place you grew up in. To bedeck the space, here's a gorgeous haldi decoration idea at home. Since it's a tent-like setup, you might need a vendor to help you set this up. Because of the simplicity though, the charges will be less.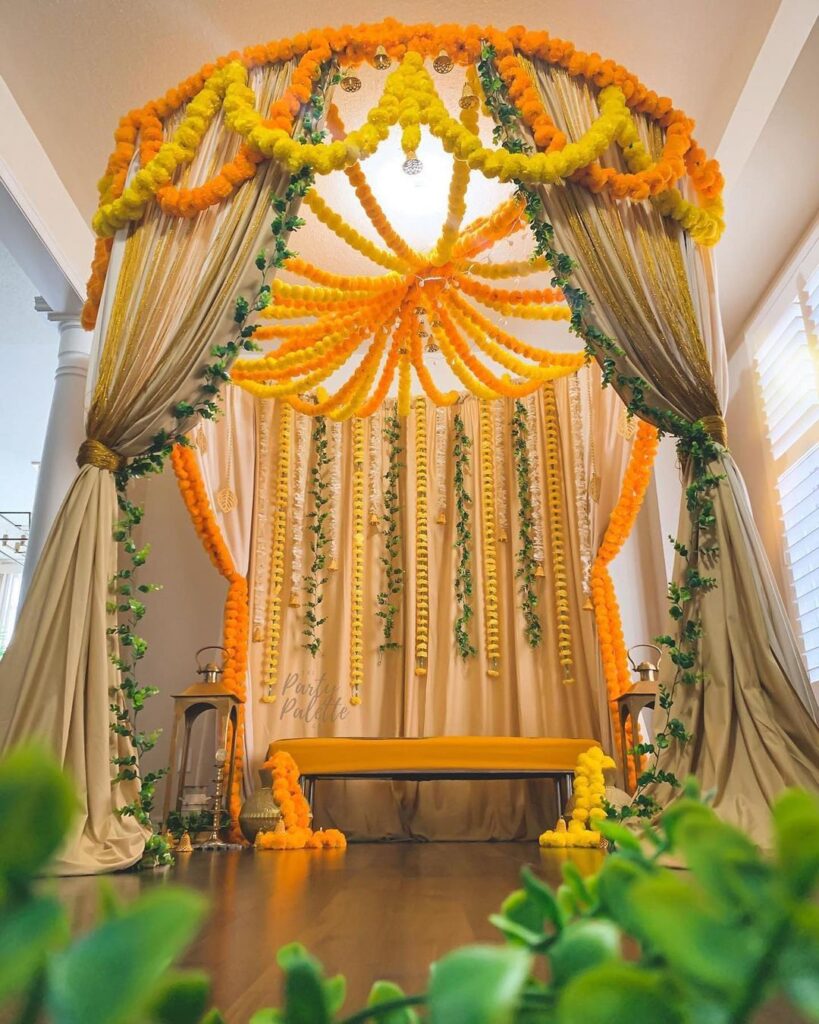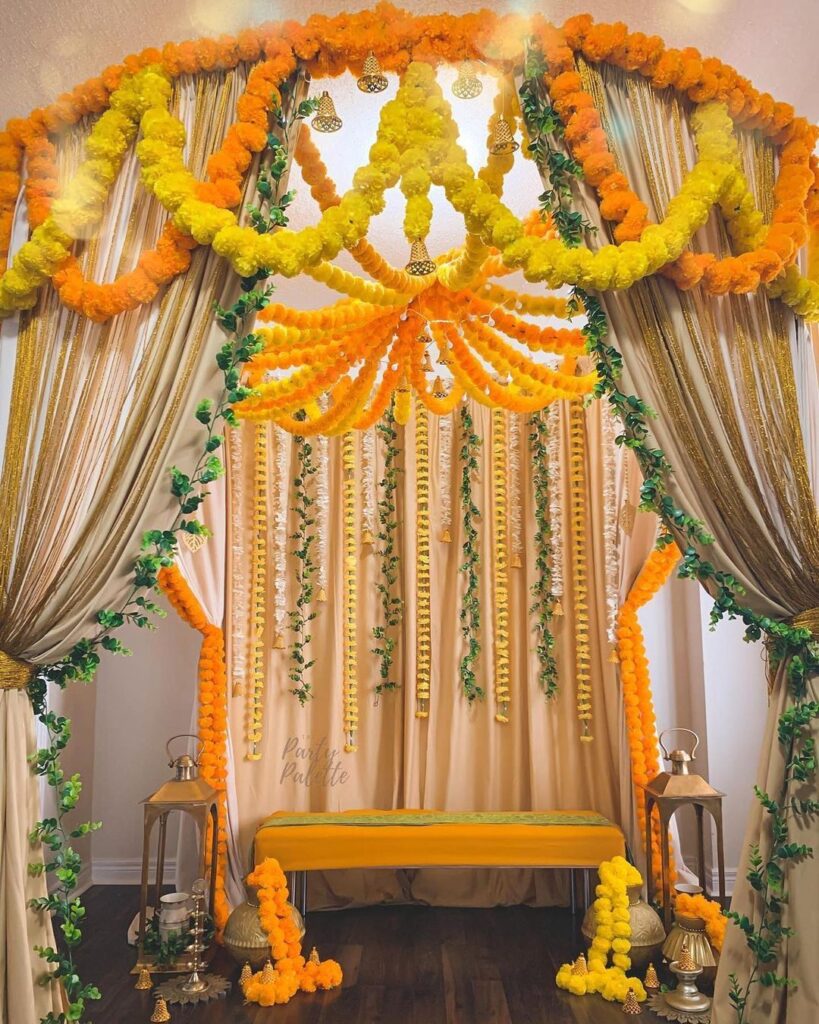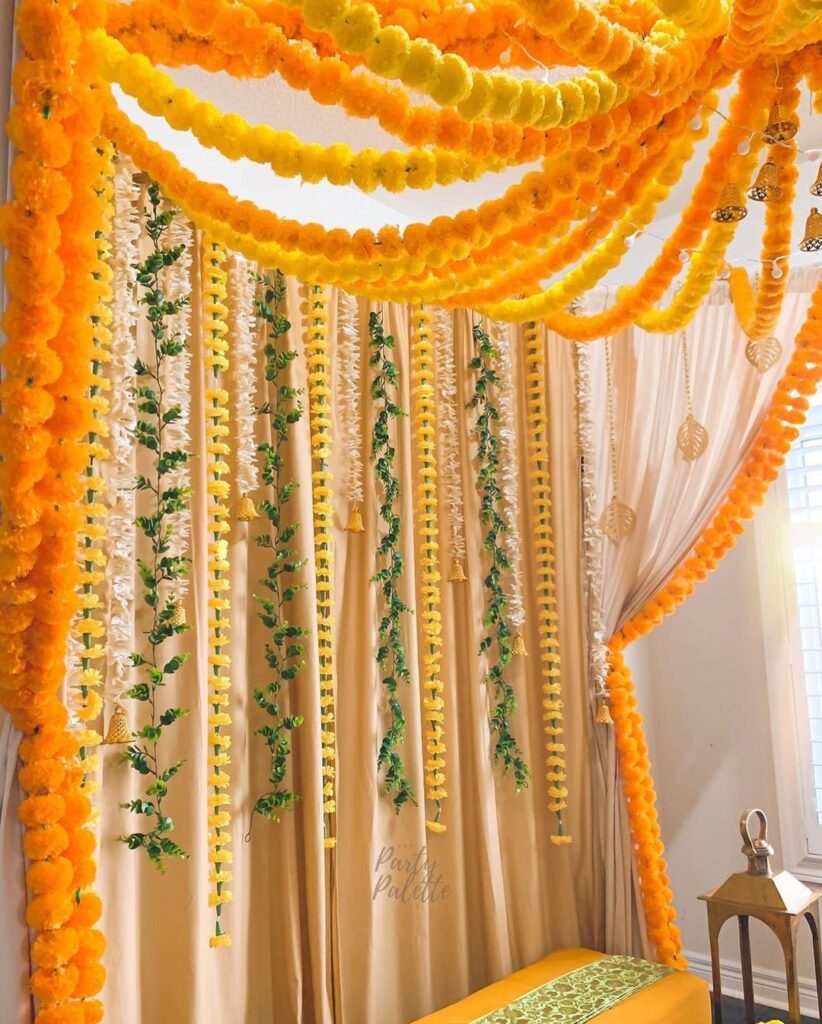 Buy artificial marigold garlands here. 
#28 A striking haldi arrangement surrounded by vivid blooms and a floral arch can be a superb idea to install into your haldi decor. The infinity sign with the couple's initials is a beautiful hint signifying their forever togetherness. Obviously, you will need a professional floral decorator to do these arrangements and only trust a professional to recreate the same ethereality.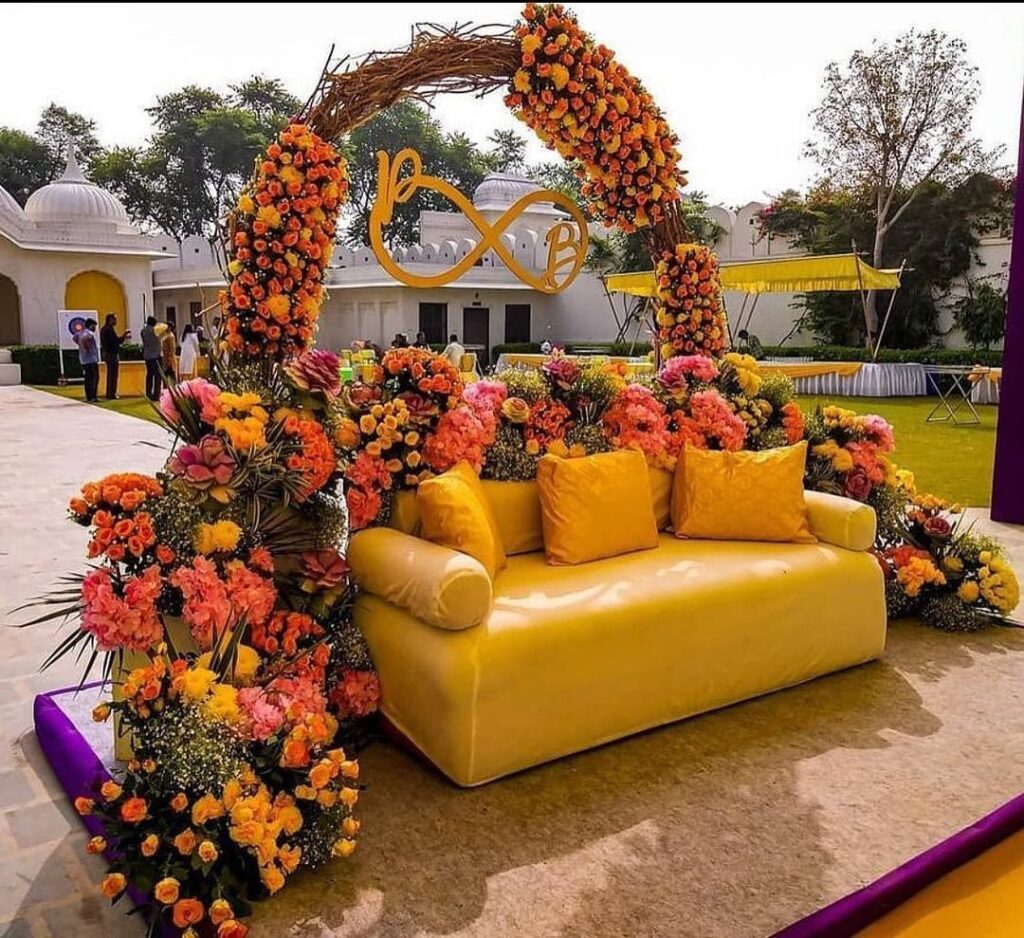 #29 Seating the bride or groom inside a big vessel is an amazing and trending idea for the haldi ceremony. If the couple doing the ceremony together, place two side by side and take turns lathering them up like a bread pakora or splashing them with water. This can make a great haldi decoration idea for the groom or bride's side. Bedeck the rest of the space with some bright elements to complete the decorations.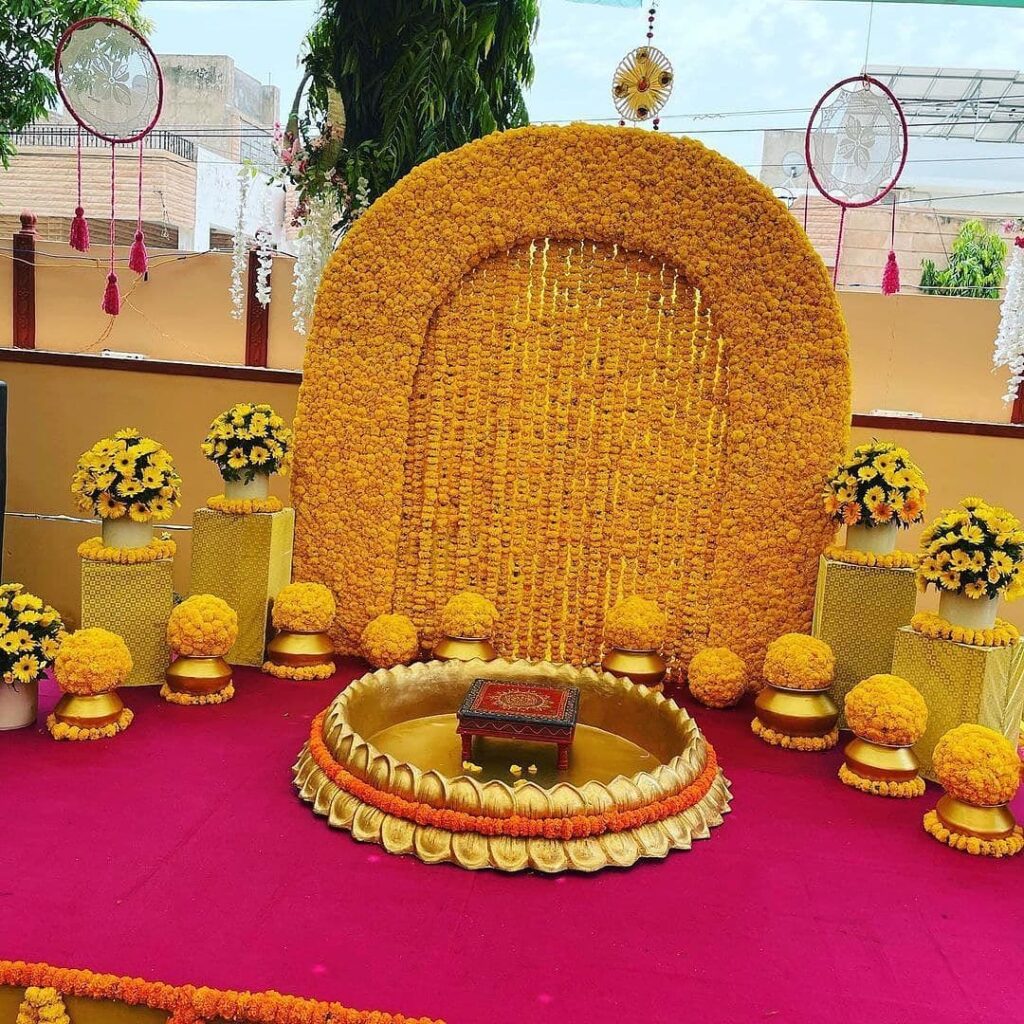 #30 If you want something new and fun, in terms of colors and decor, in your haldi celebration, then the next picture is here to impress you. Done predominantly in pistachio green with bits of yellow and pink in different shades, this decor is a fresh take on the usual yellow haldi decor.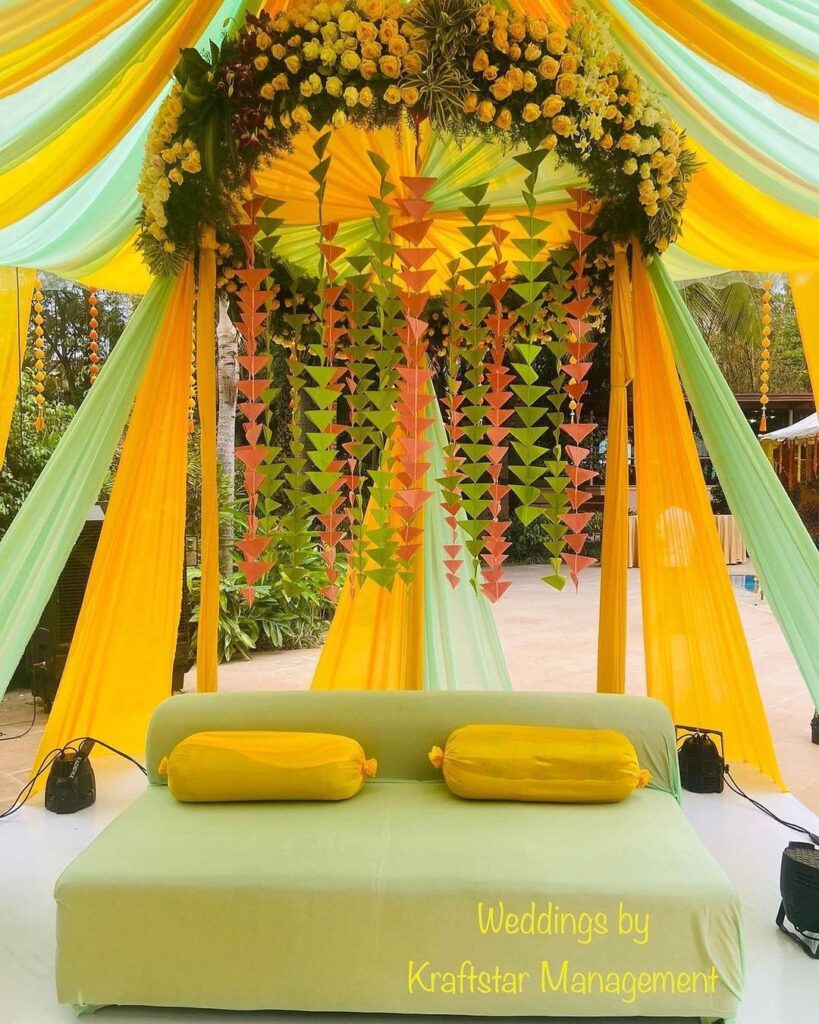 #31 A gorgeous haldi ceremony decoration idea at home at a low cost. At home, you don't need a ton of things to make the area look festive. Just some minimal yet eye-catching elements will do the trick. Like creating these birds in the backdrop that enhance the beauty of a simple floral wall.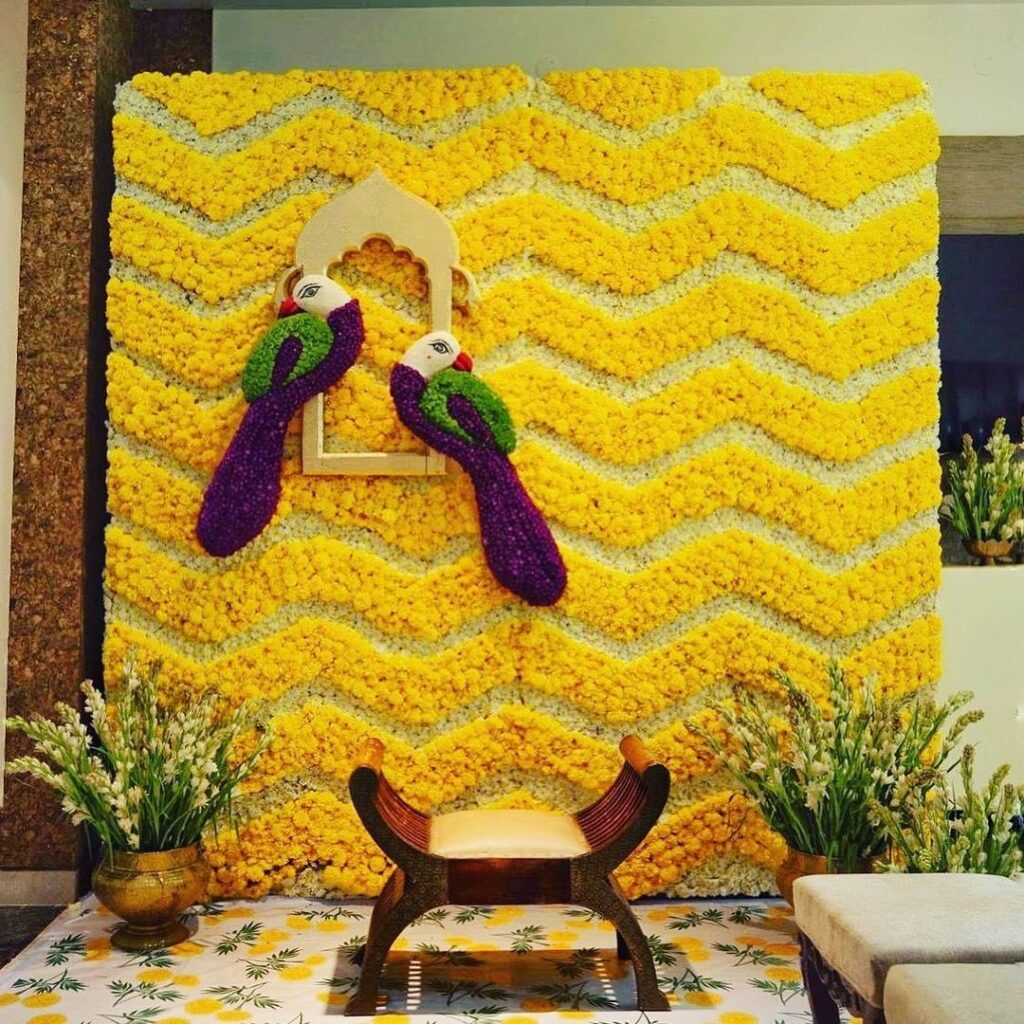 #32 Dominated in green with bits of yellow and pink makes this haldi decor is unique and dazzling in its own right. The main stage is connected with the dancing stage so the guests have easier access to the dance floor. For the seating, a sofa or the big vessel – both will look amazing.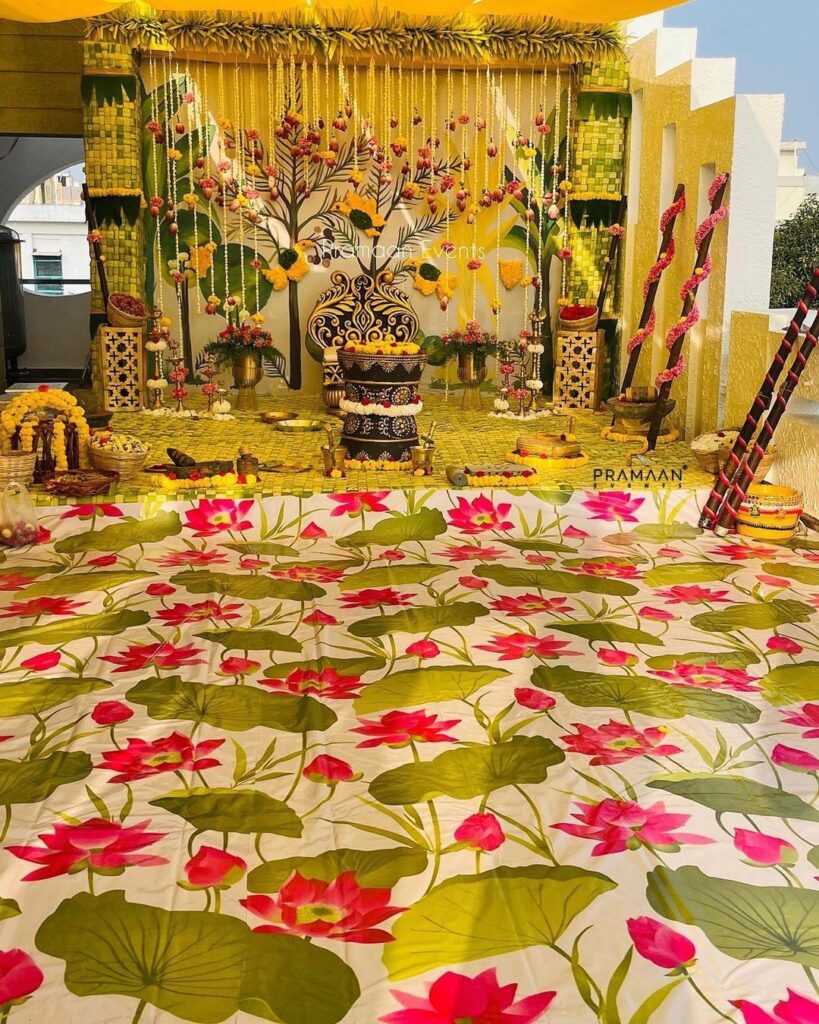 #33 While this might not work as the main seating arrangement for the bride & groom as their haldi decoration, a bedecked floral swing would make for a gorgeous setting for a portrait session and can impress the guests as well. If you're having a phoolon ki haldi though, this can make for an ideal seat set for the couple.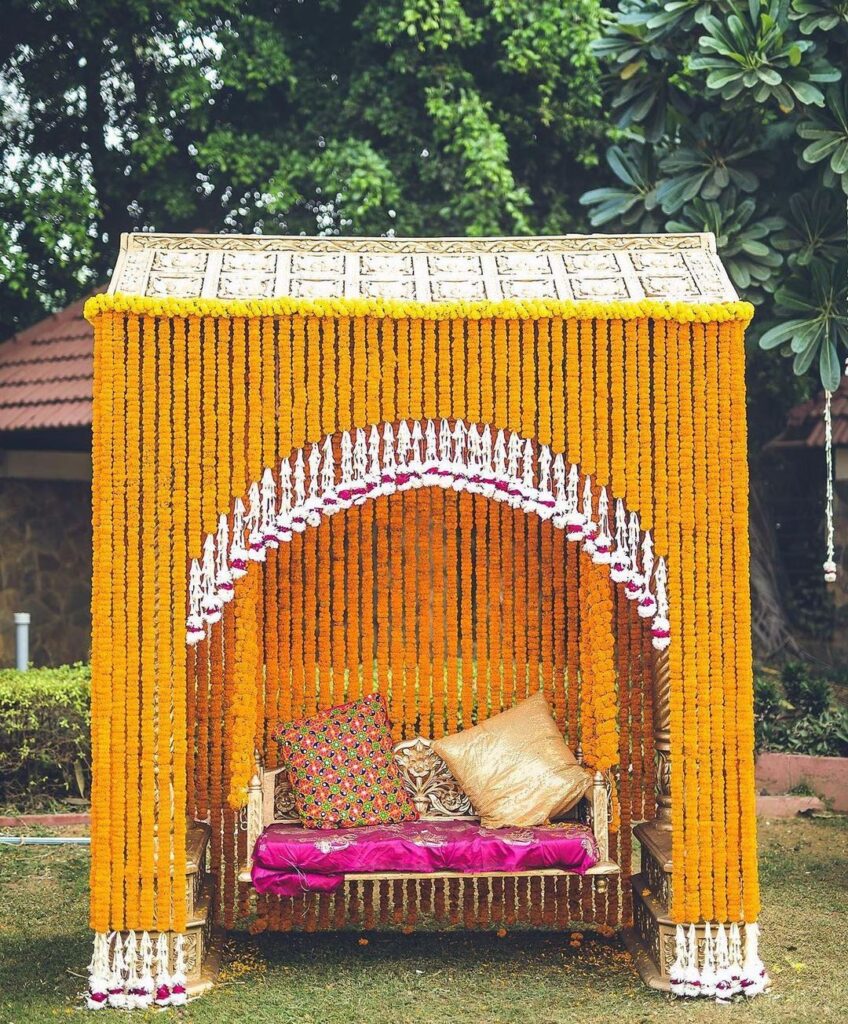 #34 A backdrop as beautiful as the bride. Curated using many rich and vivid colors, the large floral backdrop is perfect to put the seating right in front and will make your pictures aesthetic and forever memorable. Since the main seating area has many colors, it's best to include the different colors in the rest of the decor too so as to properly coordinate the entire haldi function decor.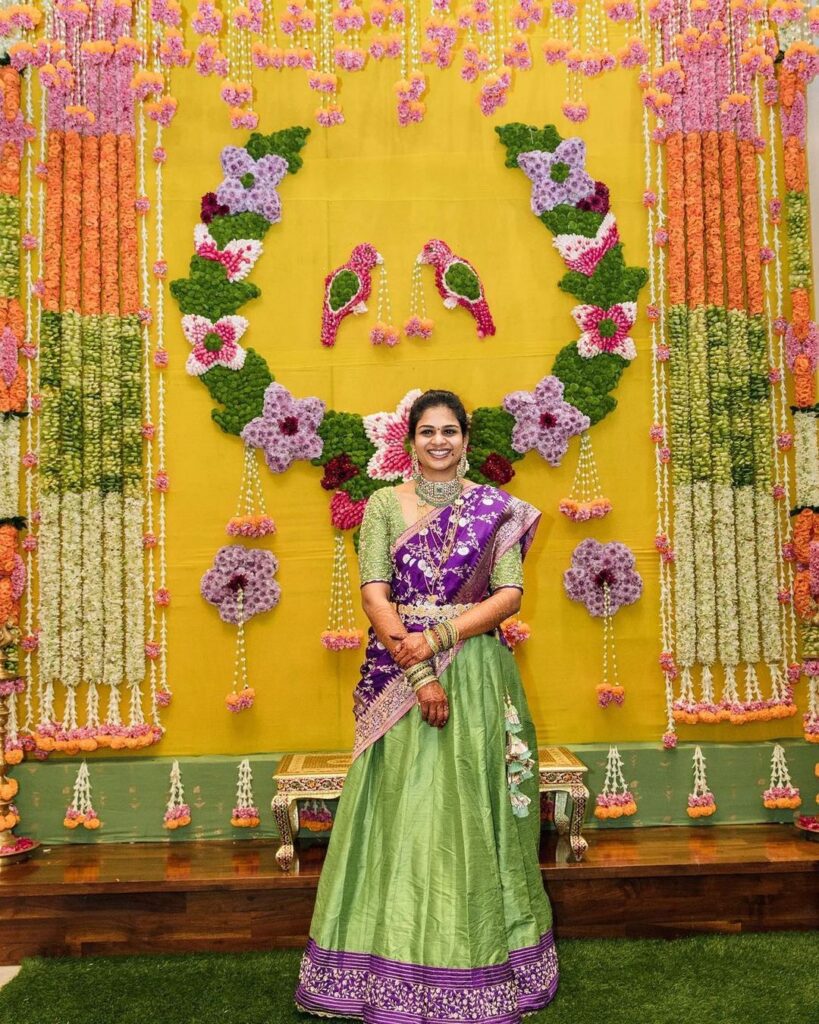 #35 Give your guests a glimpse into the dazzling decor inside by installing such a gorgeous entranceway bedecked with strategically placed flower arrangements on both sides. If you're getting married in an open garden with a big entrance, spend some time pondering on how you'd adorn it as the entrance sets the mood right for the cheery ceremony held inside.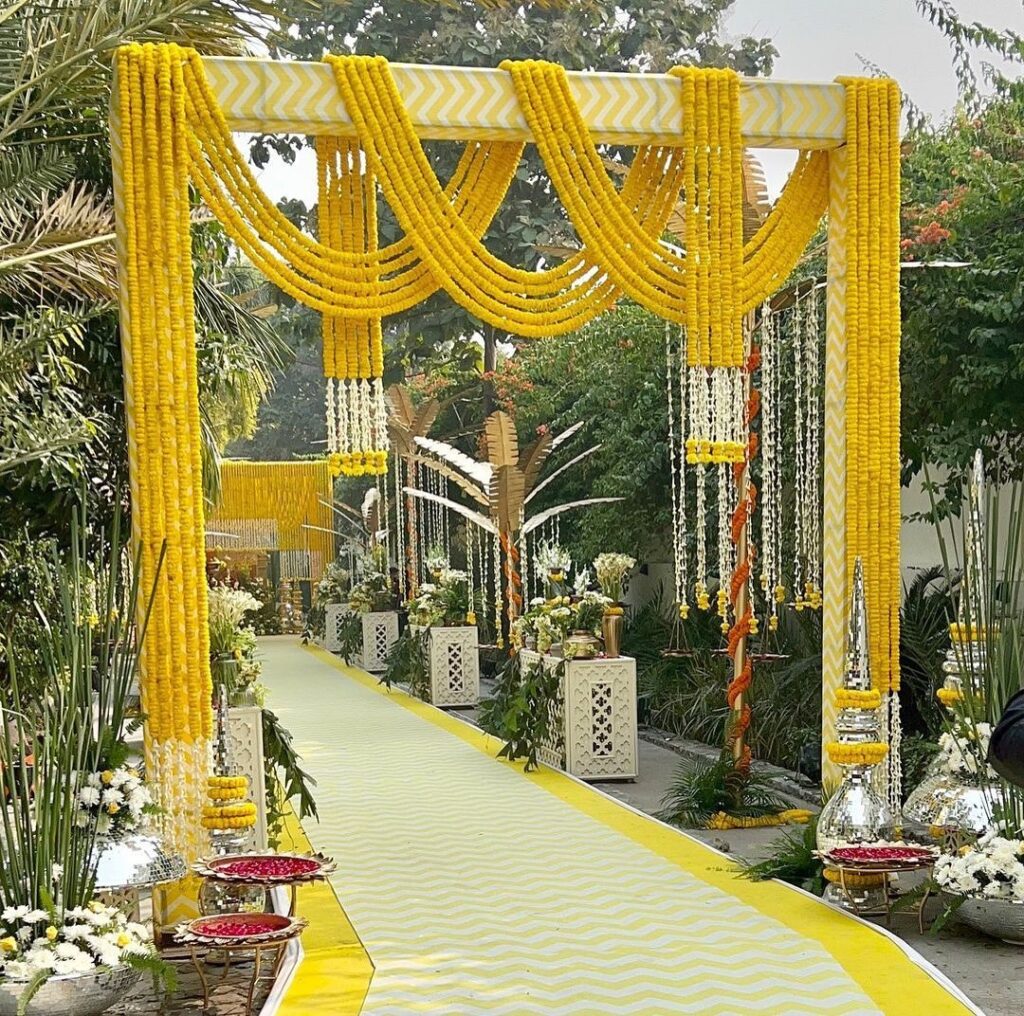 #36 This haldi decor is done at the entry of the ceremonial area, but it can just as easily be used to decorate the backdrop for the seating of bride and groom. The lovely birds on both sides can also be moved and placed at a few places throughout the ceremony. Birds symbolize hope, enlightenment, wisdom, and hope and can make for an amazing addition to a couple's haldi function decor.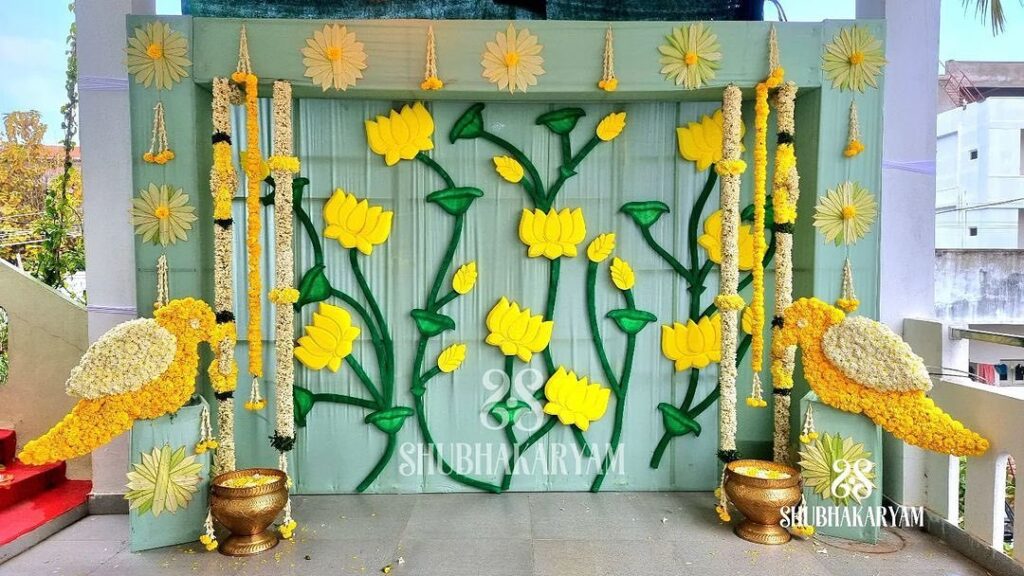 #37 A low-cost haldi decor idea at home doesn't get any better than this. These foliage stands can easily be rented from your nearby craft store or a florist wouldn't take more than 2k to install this kind of setup in your home. You can place simple elements like a plant or flowers in a pickle jar to enhance the decor's whimsical status.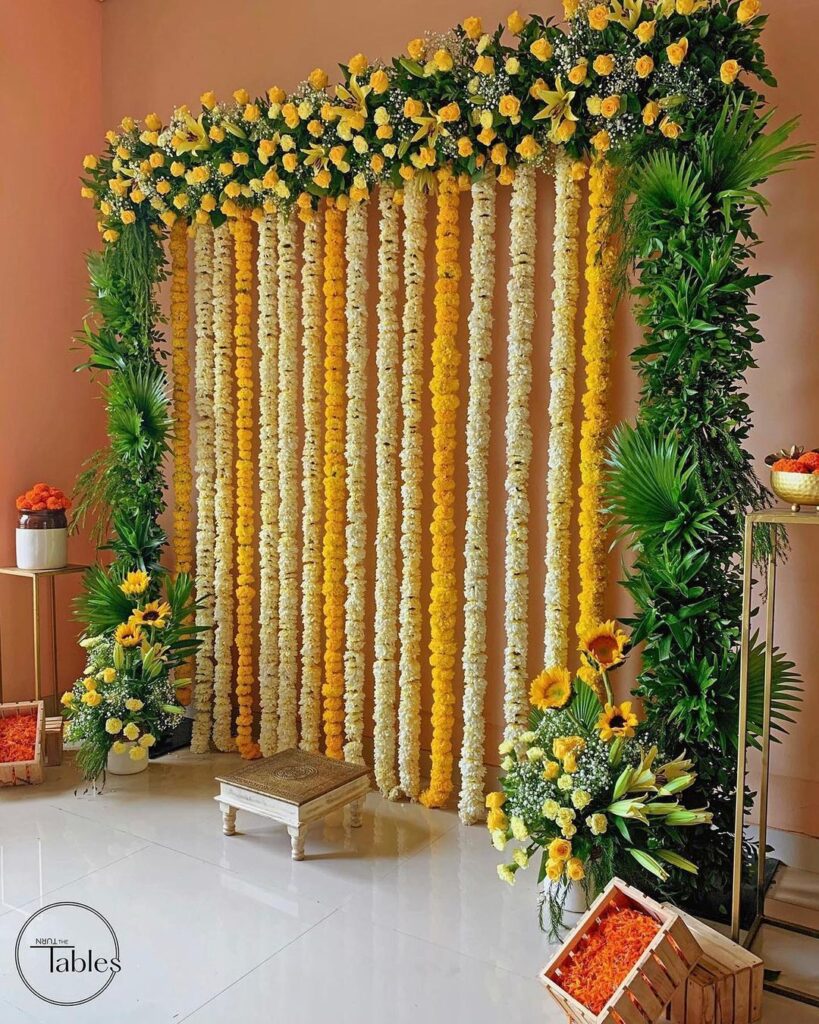 #38 Besides the seating and entrance, you'd also want to spend some time on the table decor for the guests' seating. Here's a gorgeous tent setup and chair decor in yellow and white to make the ceremonial area pleasing to everyone attending. Haldi ceremony is a morning ceremony and can go on till noon. This means that the Sun can come out and make your guests look for shade. Having such gorgeous tents can make sure your guests have access to the shade in the celebration area itself.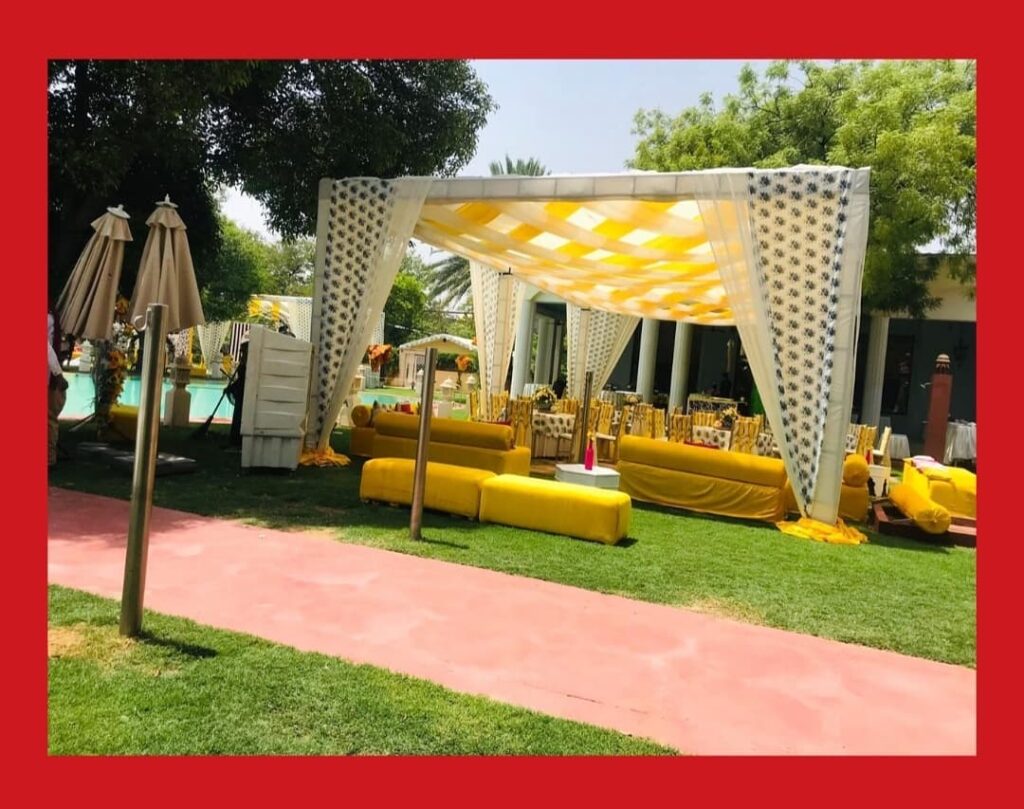 #39 An extravagant yet elegant seating haldi decor idea for the groom and bride is here to swoon you over. Florals look good even in the excess, given you have a decorator who knows how to arrange them aesthetically. The beautiful marigolds dominate the area with sides adorned with baby's breath and carnations. On the top, a leafy pampas grass hanging decor elevated the entire arena of the seating well.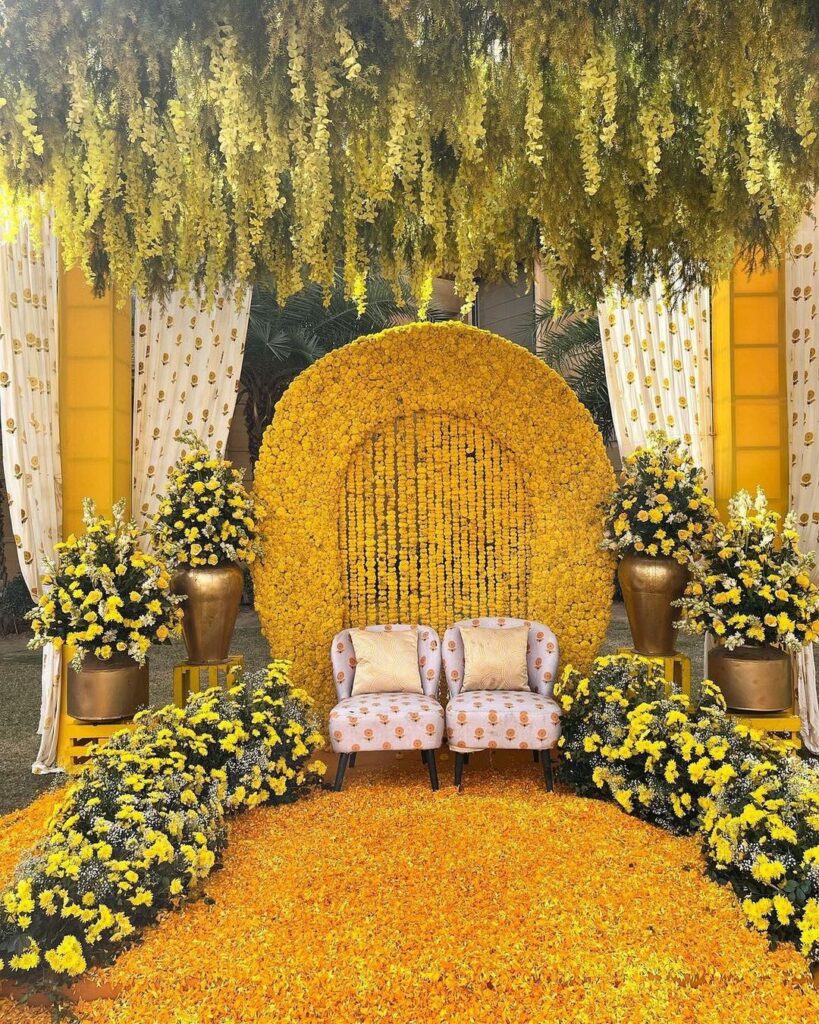 #40 A good florist/ wedding decorator will be able to envision the setup of your ceremony before it's even done. That's why it's important to hire a good decorator or an event planner who has a good decorator in their team. In this haldi decor, the backdrop is simple with a printed setup, but the florist elevates the area with florals, pampas grass, and foliage at various places. The drapes on top further enhance the look of the entire haldi decor.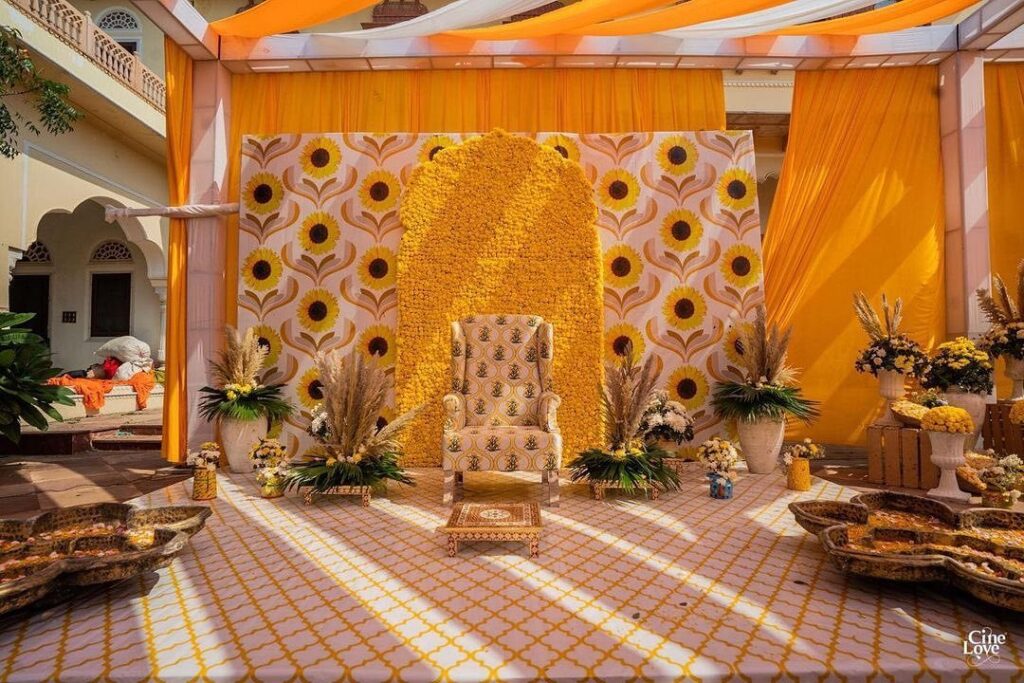 #41 Simple haldi decor idea at home with floral arrangements in the background is a beautiful and minimalistic idea for decorations. This setup doesn't cost a bomb but looks aesthetic nonetheless.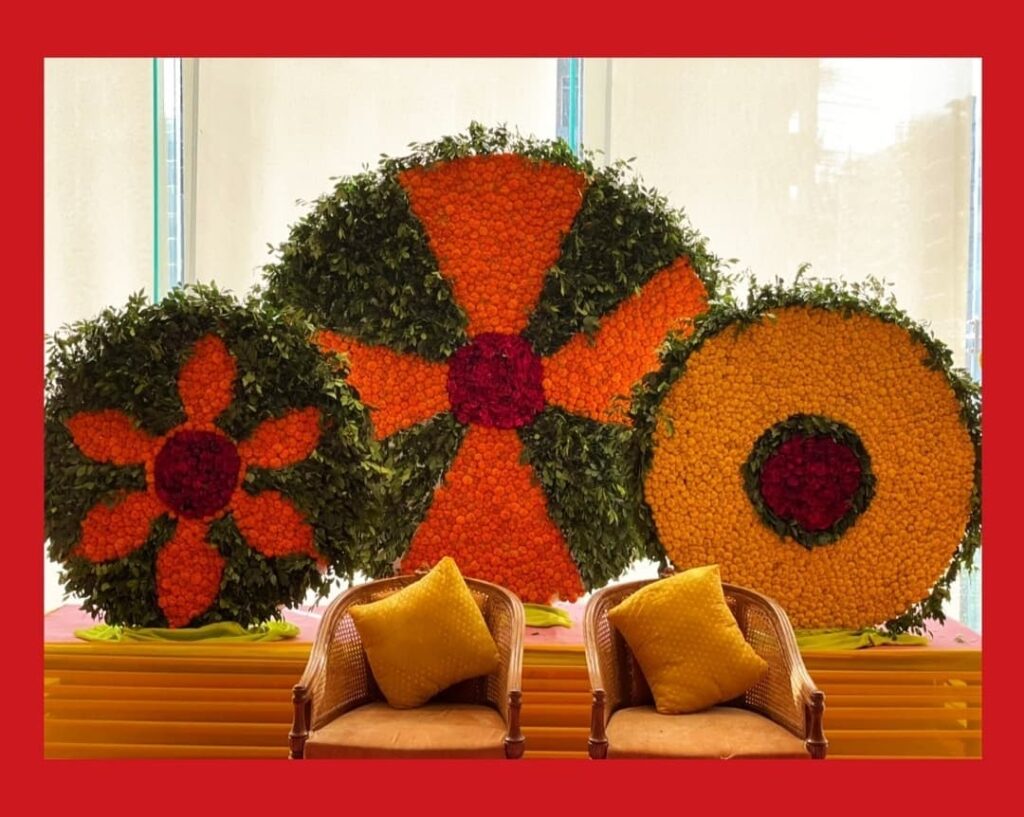 #42 A vessel seating idea for bride and groom is trending and looks quite striking. Take inspiration on how to bedeck the space around the seating in an artistic way. Make sure if the stage is a little up, you include stairs so as to make it easy for the elder family members to come on the stage and take part in the ritual.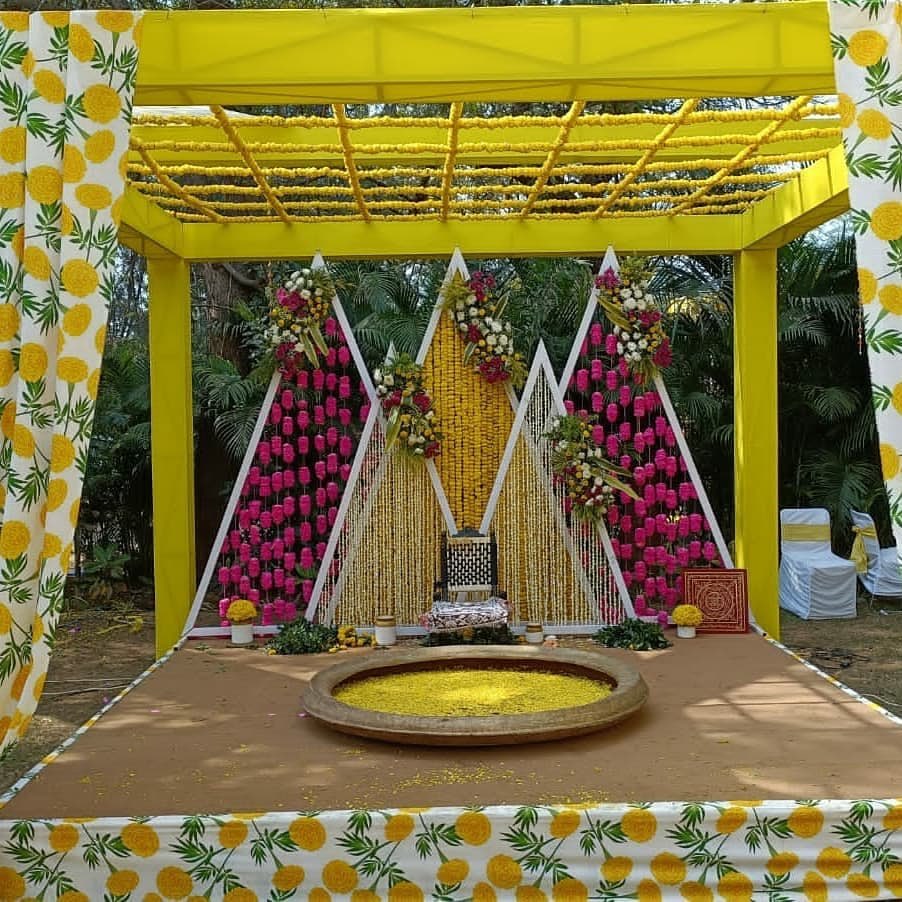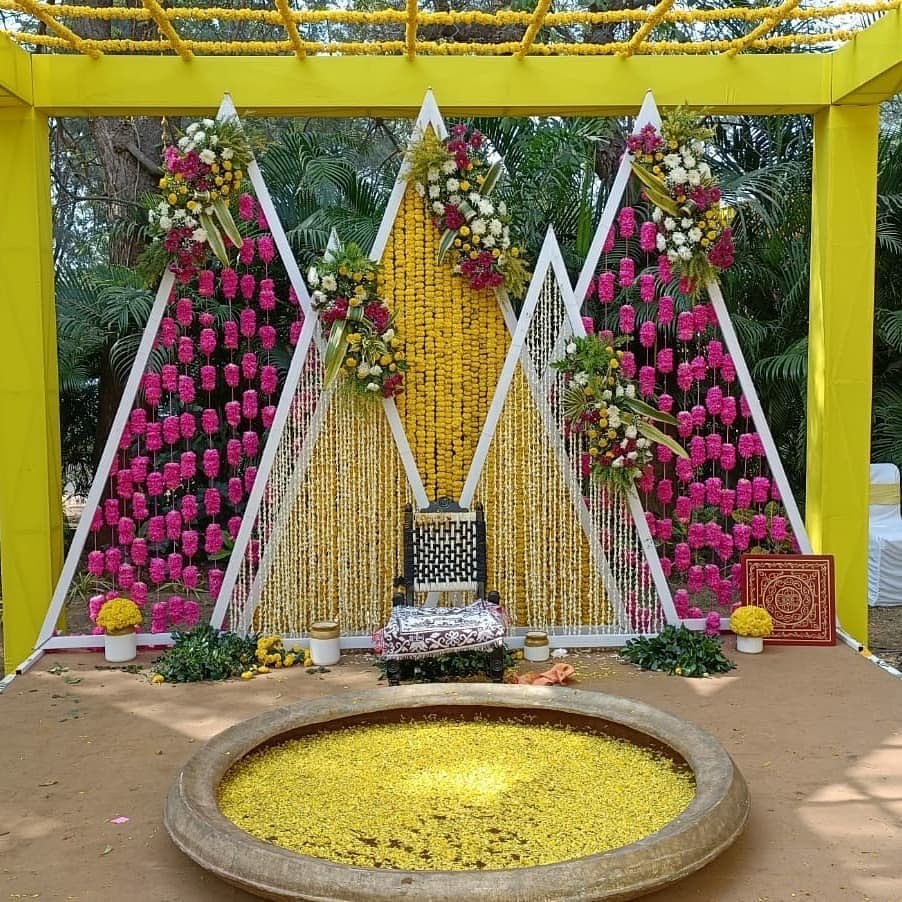 #43 A stunning haldi decoration idea at home with matkas and floral wheels. The entire setup will be cheap and won't take a lot of time either. For rooftop haldi ceremonies (either at home or a hotel), this can make for a gorgeous inspiration to save.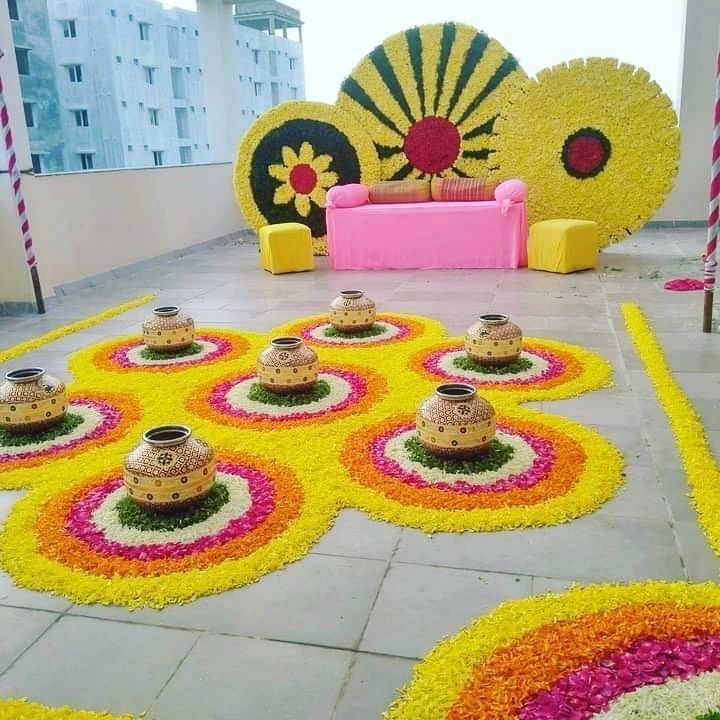 #44 This beautiful setup can be made at the entrance or at any other prominent spot in the ceremonial area. Elephants are a common addition in Indian weddings and they symbolize strength, resilience, wisdom, and good luck. So, include them conveniently in the haldi function decor.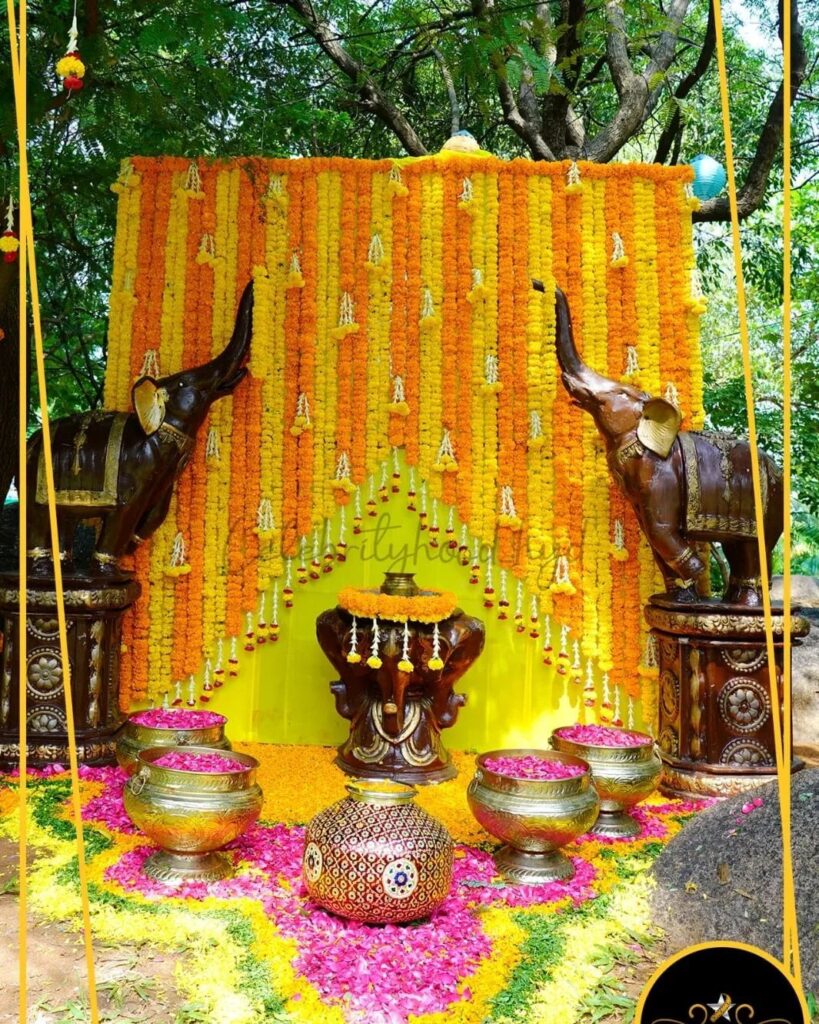 #45 Bedecking the whole space in different shades of yellow with some hints of white is always a good idea for the haldi ceremony. Here, everything from the stage to the backdrop to seating is doused in yellow and looks ethereal, to say the least.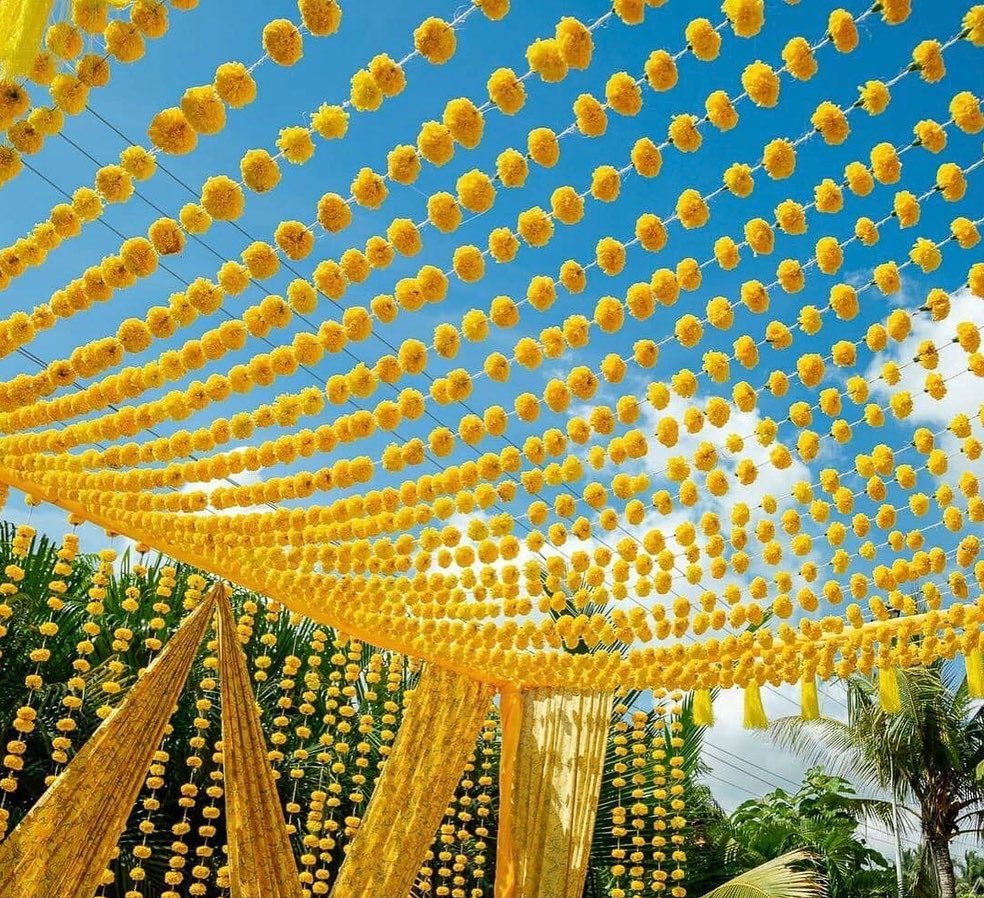 #46 Ditch the drapes on the top completely and use the flower garlands to cover the area for a beautiful effect. An outdoor haldi seating with the warm Sun rays glistening makes for a picturesque setup and makes for some amazing pictures. Since this is a simplistic setup, you can make sure the seating and other arrangements are also minimalistic so the entire decor complements each other.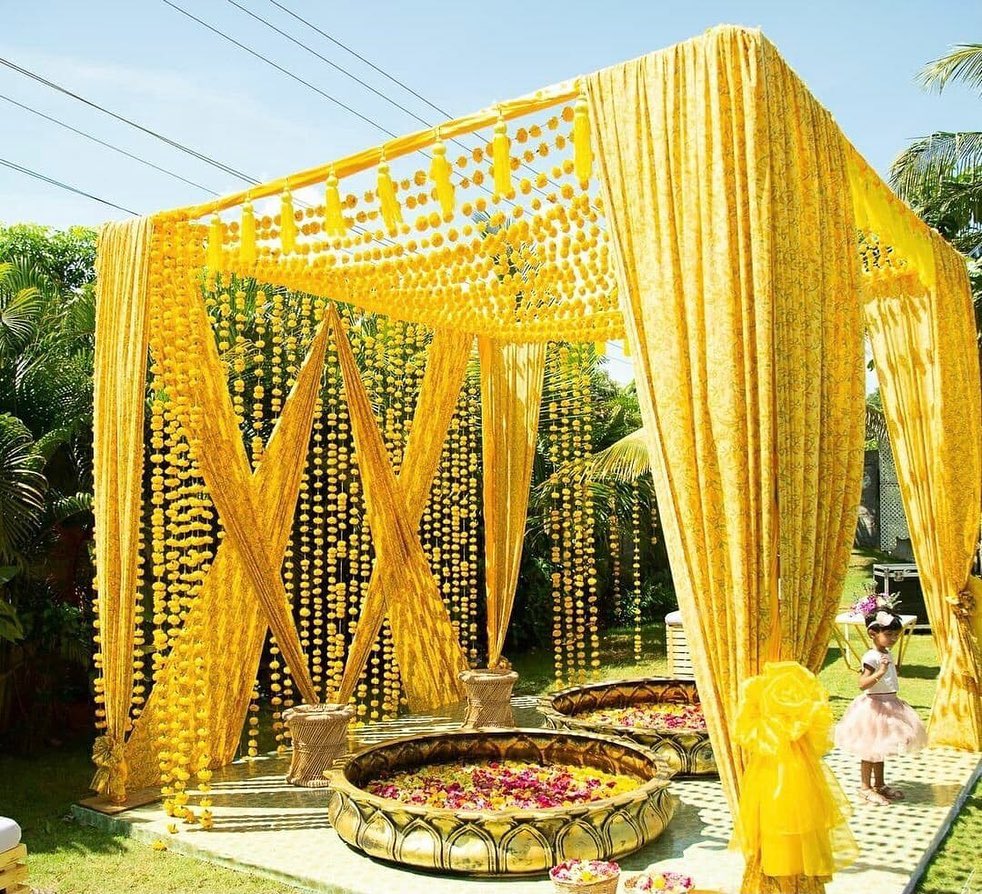 #47 Just some simple matkas kept on the side can make the haldi decor look complete. You can install them in an outdoor setting, but also for haldi function decor at home. This is such a versatile idea to save to the wedding decor board.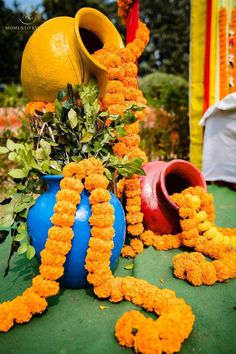 #48 Writing the function name in bold is quite a popular idea and common in both haldi and mehendi events. This can serve as a simple haldi ceremony backdrop for the seating, but also at the entrance. You can also write the couple's names below.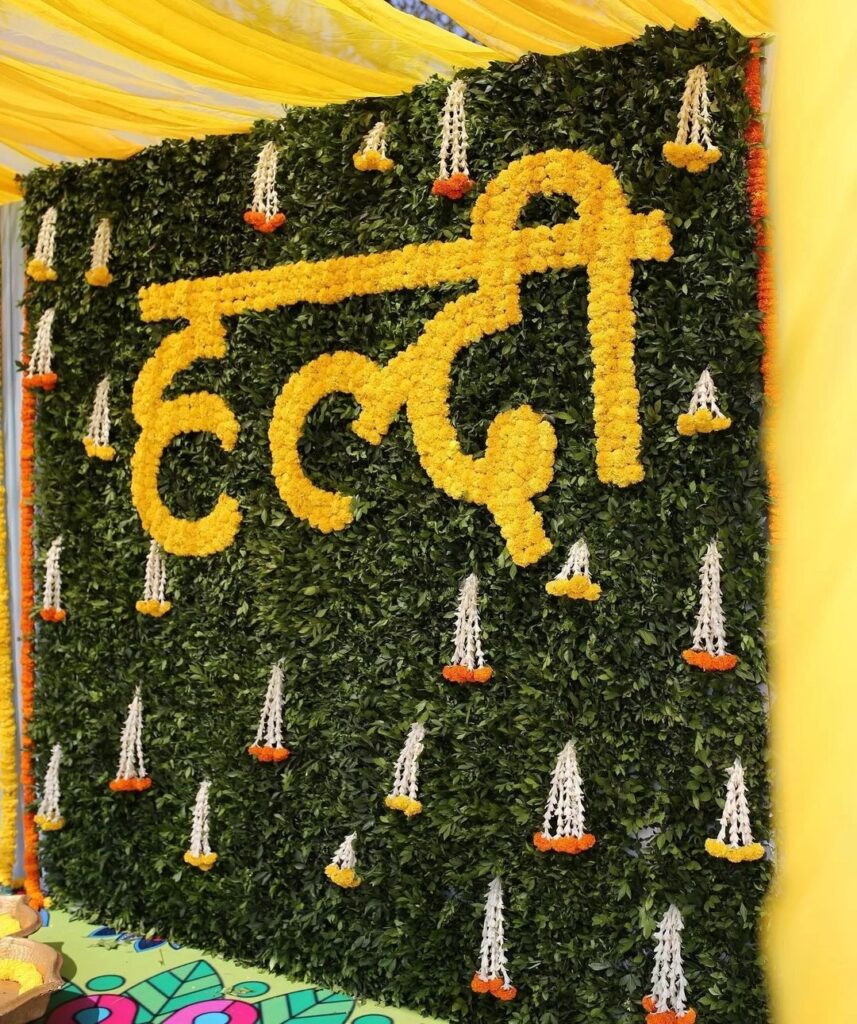 #49 The seating decor in two contrasting shades of yellow with subtle hints of white is aesthetic and pleasing to the eyes. Given the natural beauty in the background, there's less need for any decorative elements in the area to create the perfect relaxing environment for the function.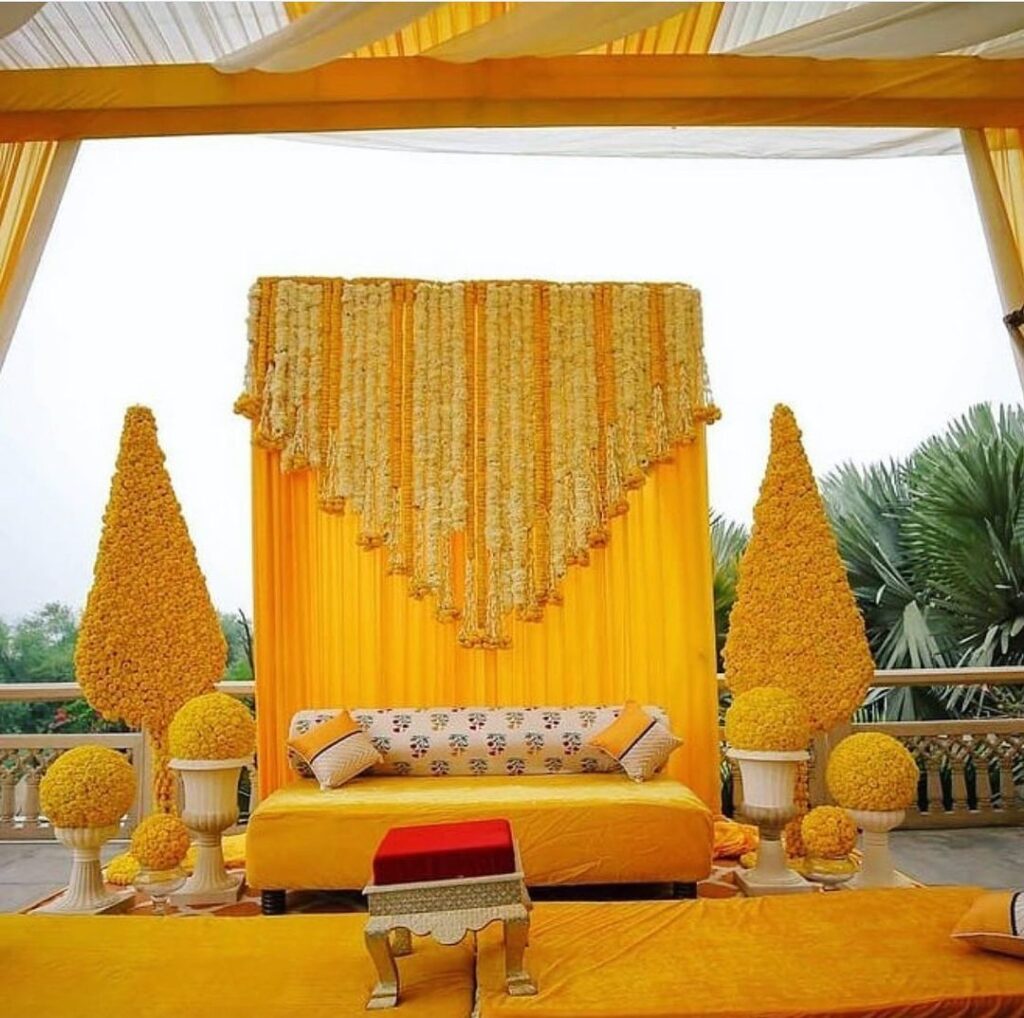 #50 If you don't want to be lathered on excessively by the haldi, then plan a phoolon ki holi instead. Here, the guests have a great time tossing flower petals on the bride and groom, and each other. This also means you can dress your best at the haldi as well and not worry about the outfit being ruined.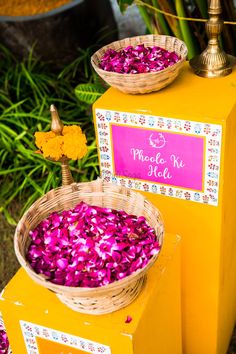 #51 Home haldi decor idea can be as simple as creating these simple rangoli on the sides. This is an easy DIY haldi decor idea that anyone can do, even if you're not as artistic or creative.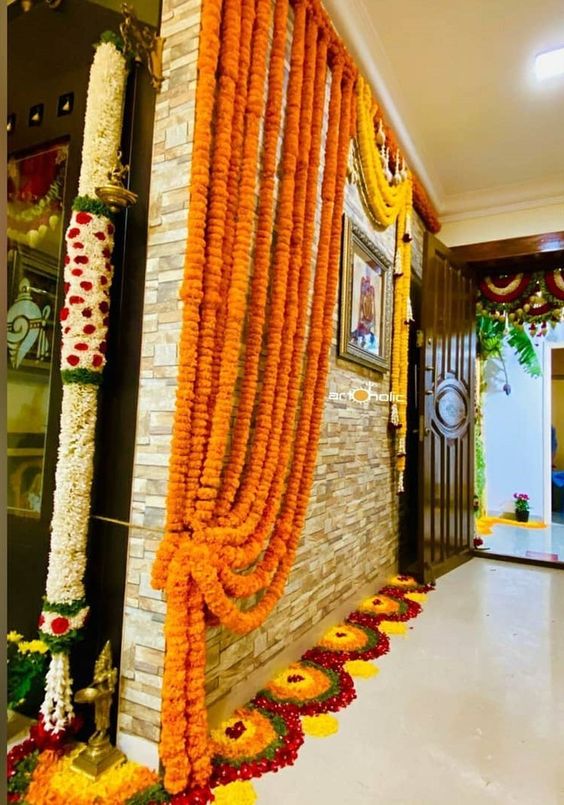 #52 Just a pretty flowerpot on the side with blooming florals and marigolds around is a lovely idea to bedeck the corners of the ceremonial area. This can make for a great haldi decor item to include.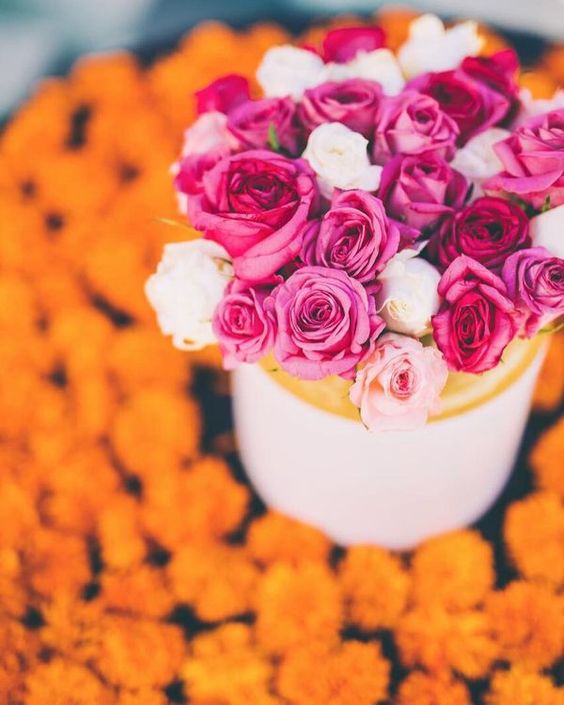 #53 Bride and groom in the center with the guests seated around is a great seating arrangement to have at the haldi as well. The drapes arranged on top in uncoordinated style is also an artistic haldi decoration idea. You can also use umbrellas for haldi decoration in this setup and attach on the top. It will also give shade in case it's a sunny day.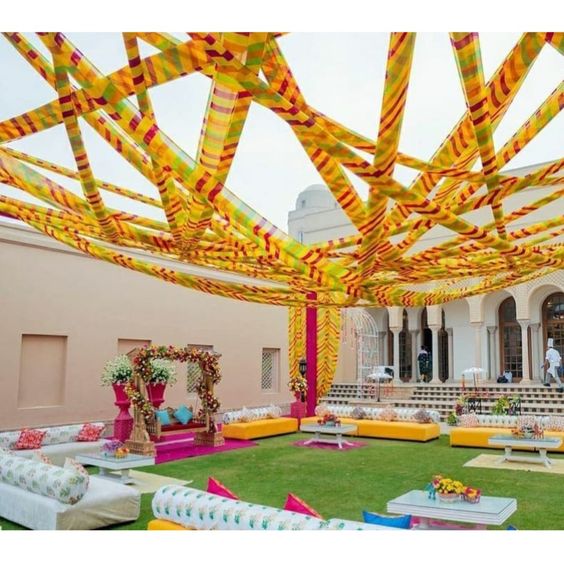 #54 Ending the list with this spectacular and vivid decor seating decor idea.