A designer that's more popular among Bollywood divas than the real brides is Manish Malhotra. That's a given though; considering Malhotra began his career as a Bollywood costume designer and launched his couturier a decade afterward. Manish Malhotra lehengas, sarees, and other outfits are a staple in every actress's wardrobe and since Bollywood fashion is a trendsetter among common people, MM has created a permanent place for himself in the hearts of Indian women.
During his long-spanning career, Malhotra has created a wide range of outfits. From lehengas to sarees to kurta sets and indo-western wear, he has done it all. Without a doubt, when we talk about high-end designer bridal wear, his name is on the top. Ahead, we list the top 30 Manish Malhotra outfits that are perfect for a bride-to-be.
#1 Starting off with the showstopper outfit of the designer's 2020 collection, Ruhaniyat. Donned by Janhvi Kapoor, the beautiful sea-green lehenga with princess trail captured our and everyone's attention in no time. A superb pick for brides who are all radiating royalty and flamboyance.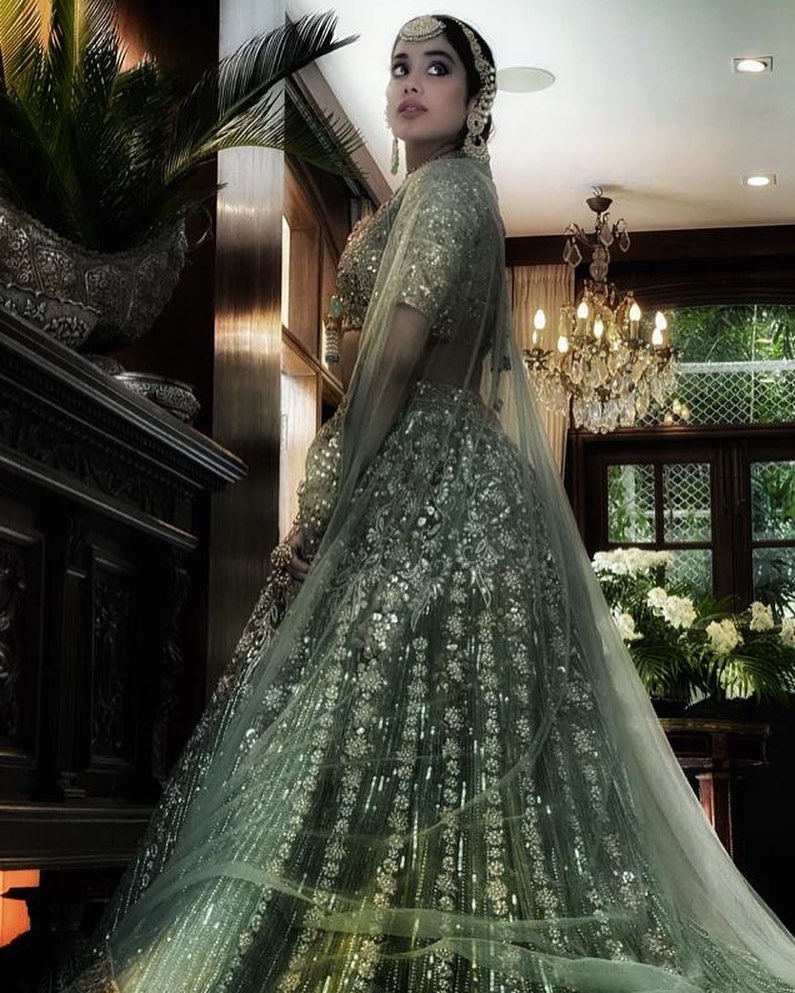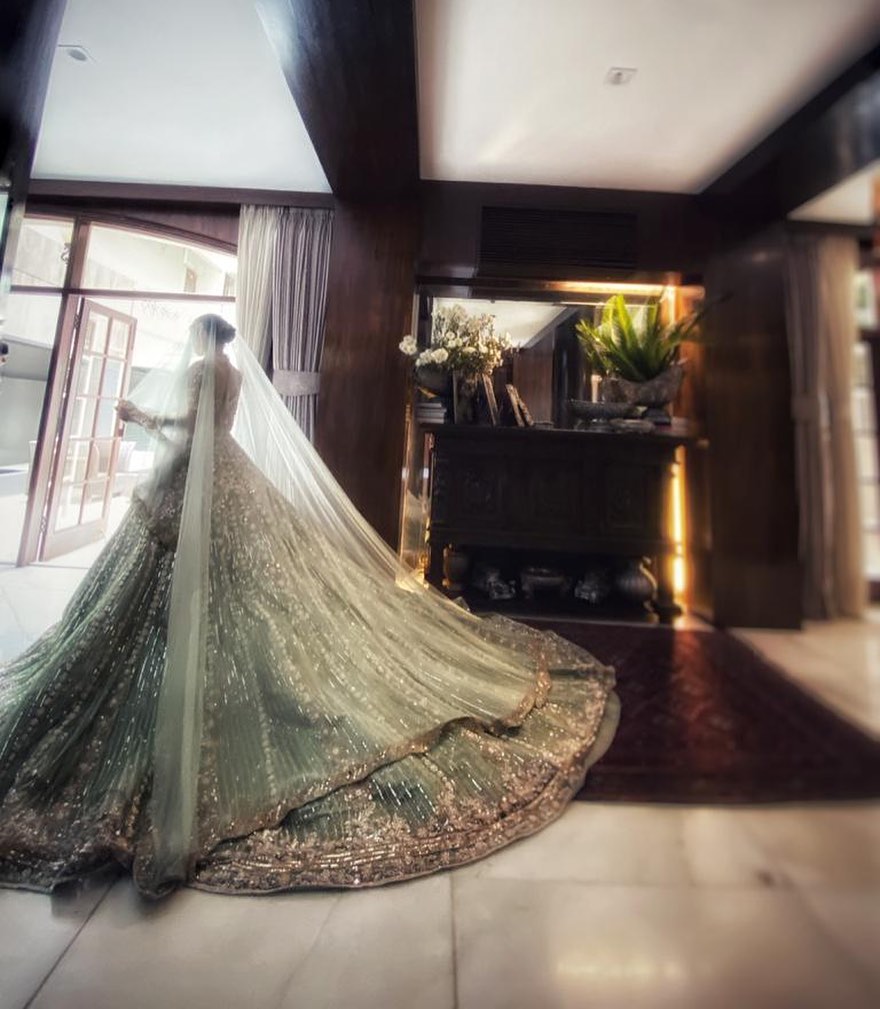 #2 Manish Malhotra lehengas are all that the designer stands for – glamour, drama, and glitz. Simar wore an opulent champagne gold creation by the designer bedecked with intricate 3D and beadwork. To say she stole hearts with her ensemble and beauty is an understatement.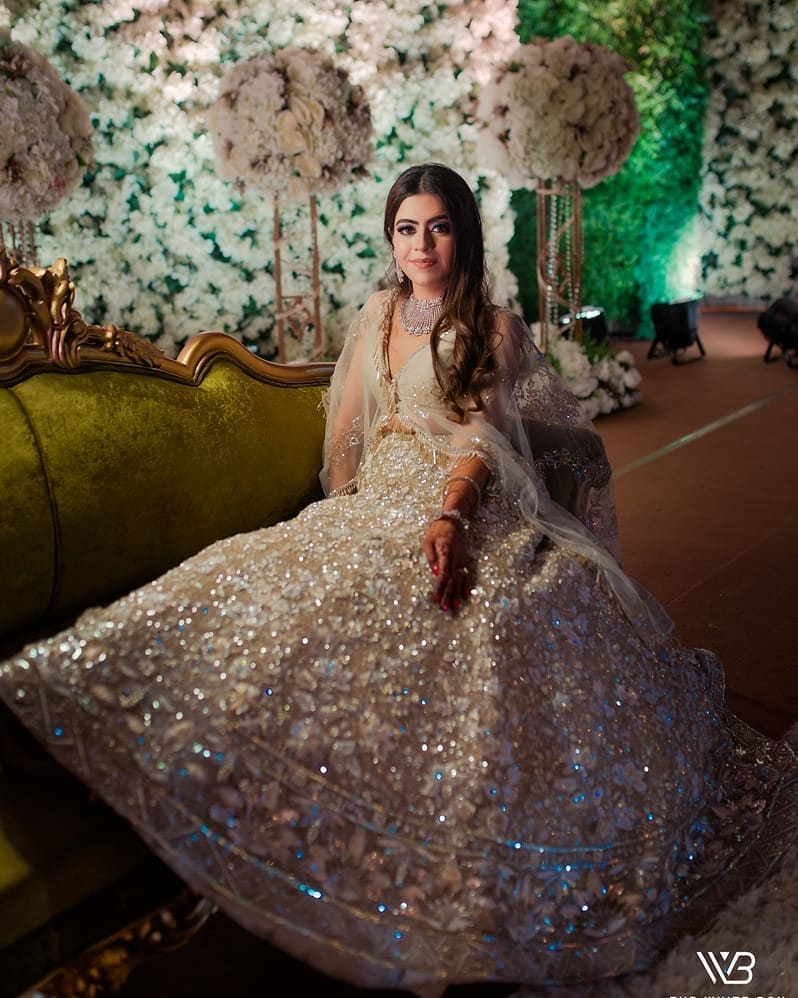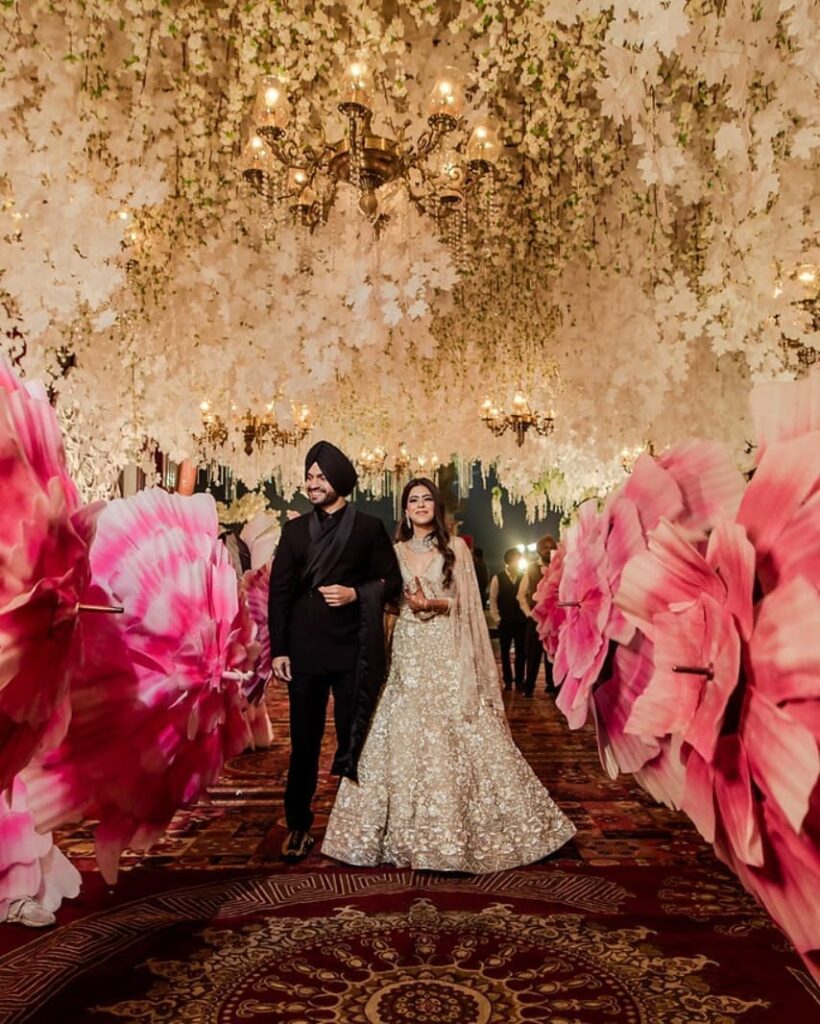 See her wedding blog here.
#3 Look at this bride dripping with gorgeousness in a pristine white Manish Malhotra lehenga design. A white lehenga is generally not a preferred choice by Indian brides, but if you're planning to break the rules, Malhotra can help you.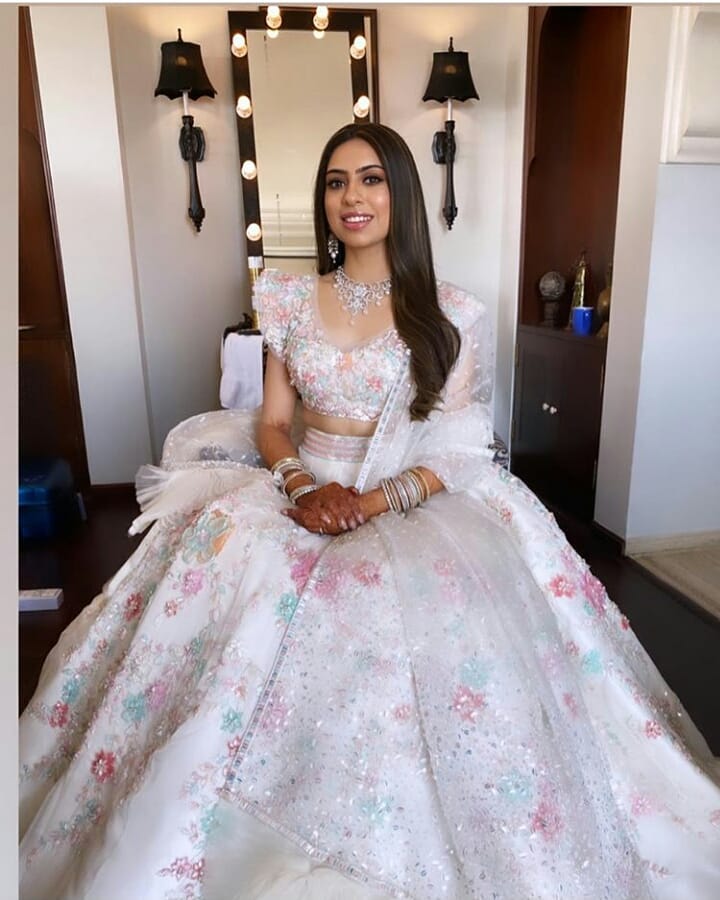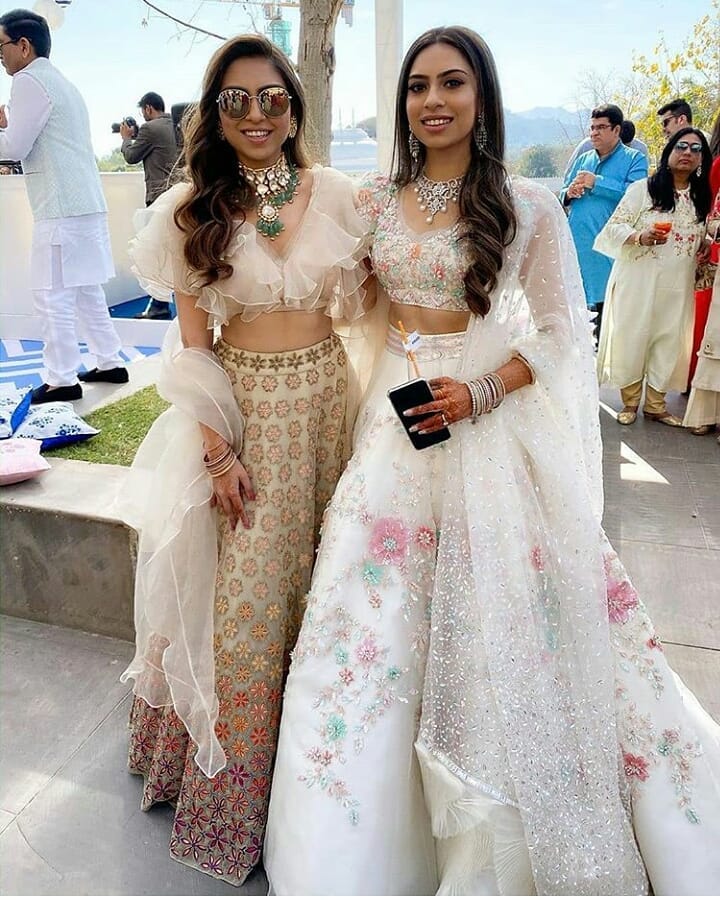 Images via Bianca Louzado
#4 When it comes to Manish Malhotra lehengas for brides, there's no such thing as a simple design. He believes brides should go all out on their big day, and this red bridal lehenga, along with others on the list reflects the same.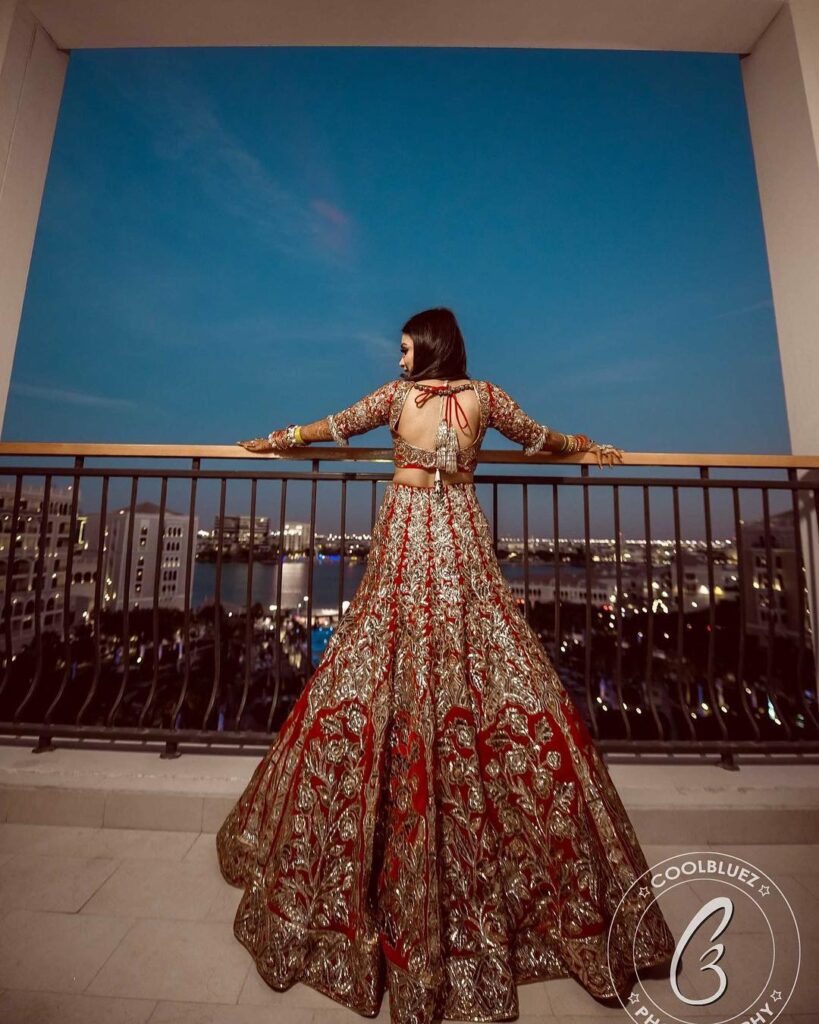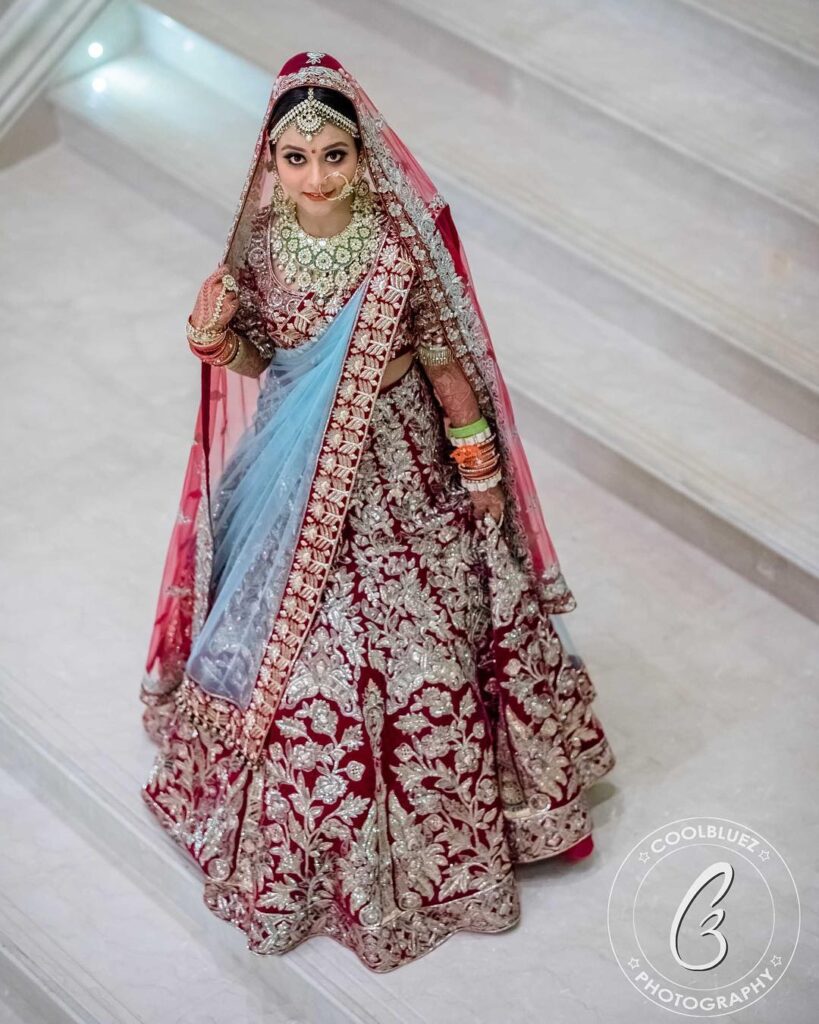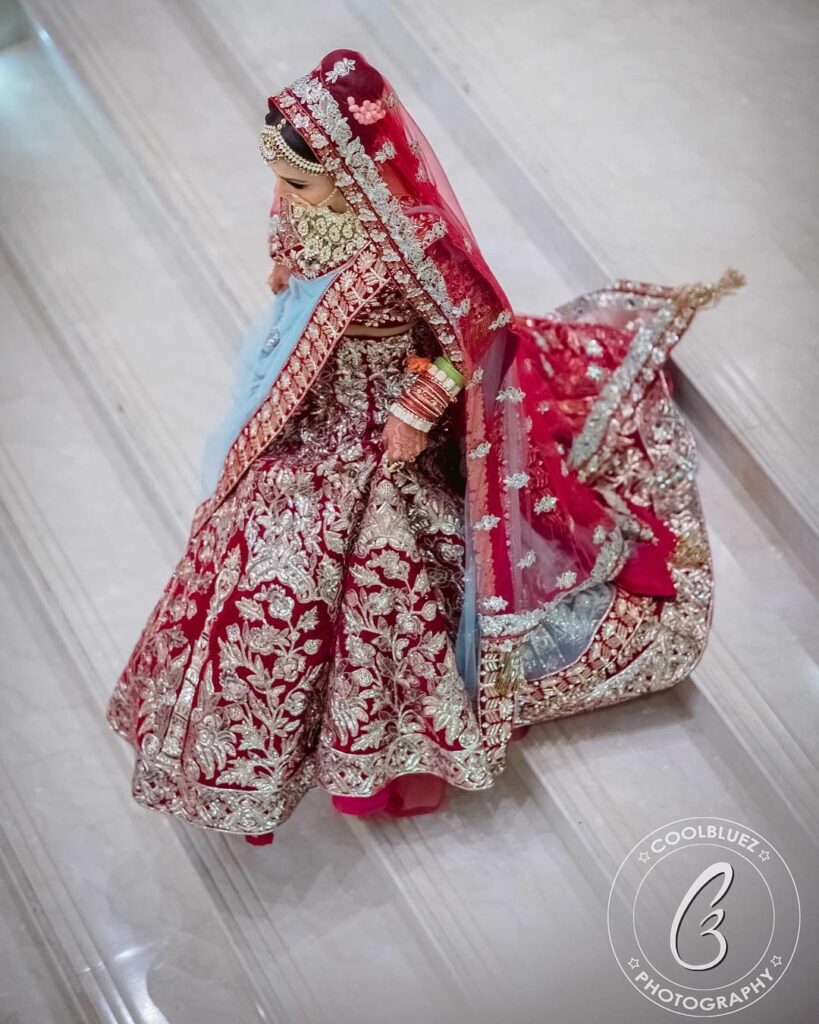 Photos by Cool Bluez Photography
#5 Take cues from bride Anj on how to make your high-end lehenga an investment and not an expenditure. She wore the same Manish Malhotra lehenga at her wedding and changed the choli for the sangeet.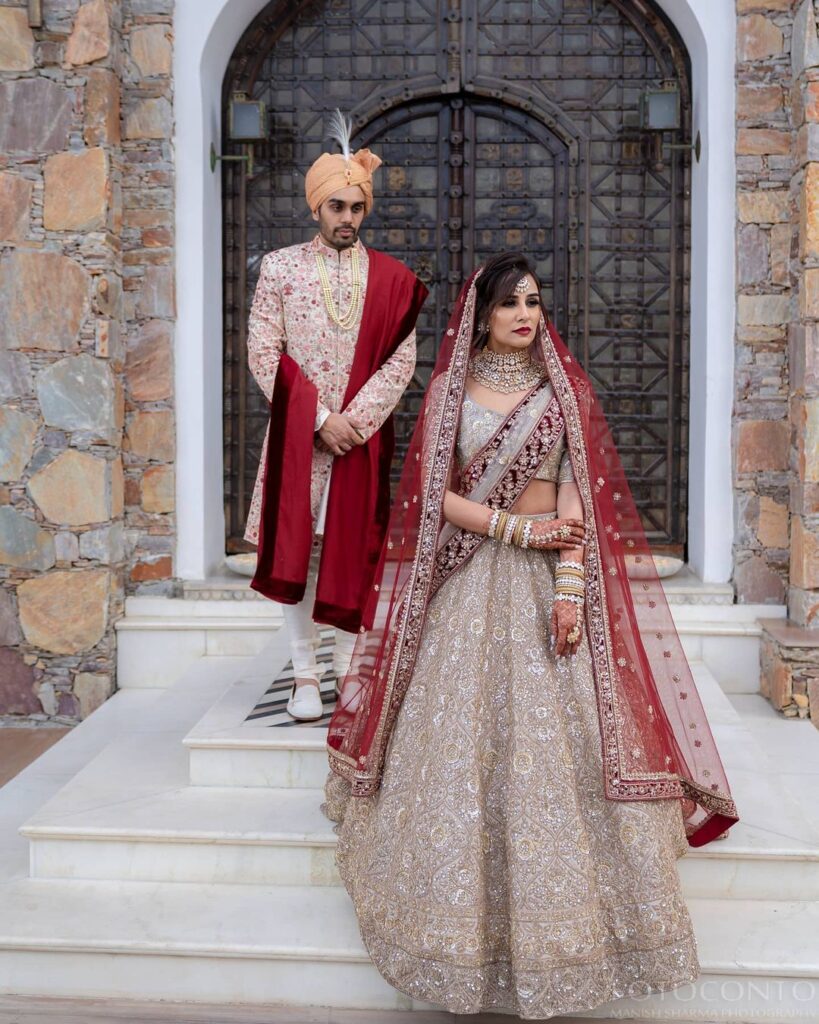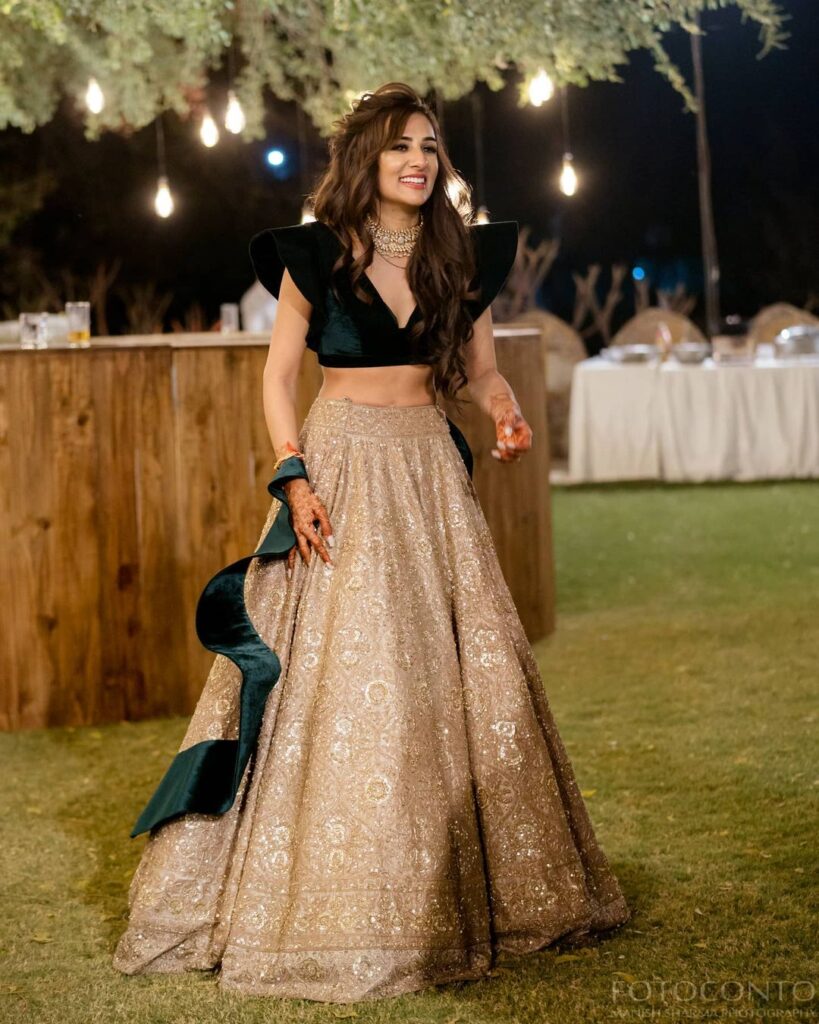 Check out her wedding blog here.
#6 Have a special place for simple and statement outfits in your heart? Then this flowy deep maroon outfit will impress you. It makes for a great option for your roka or cocktail. Shop for these minimal Manish Malhotra lehengas here.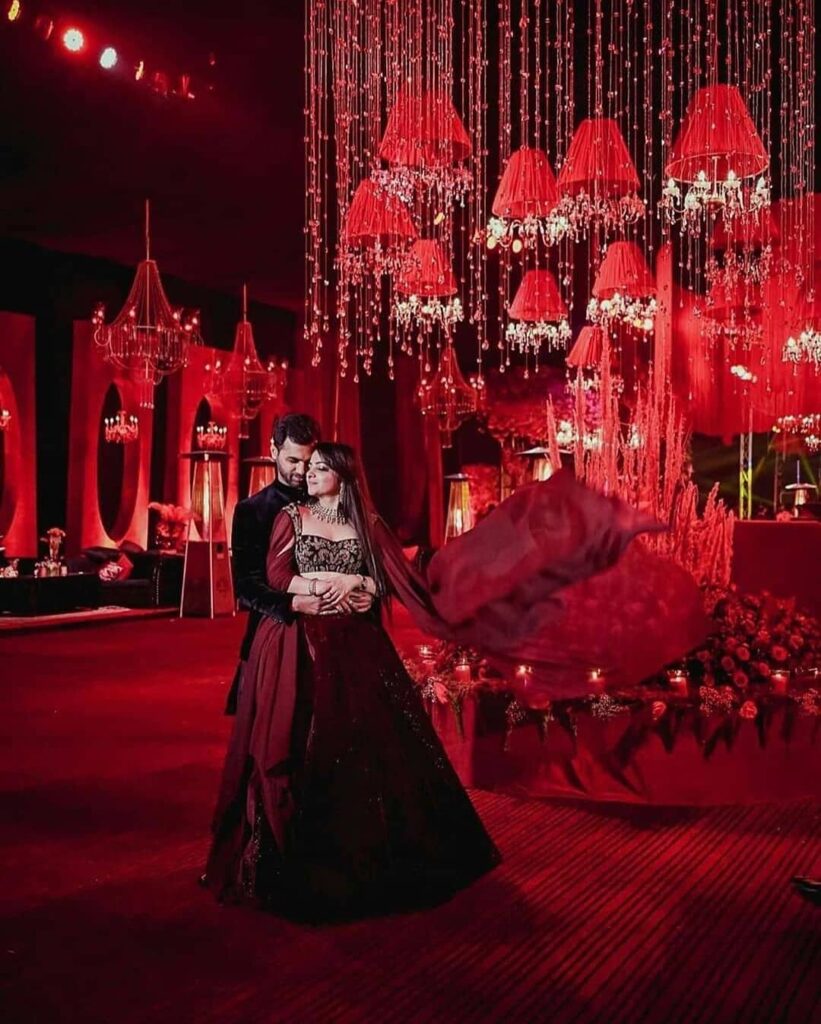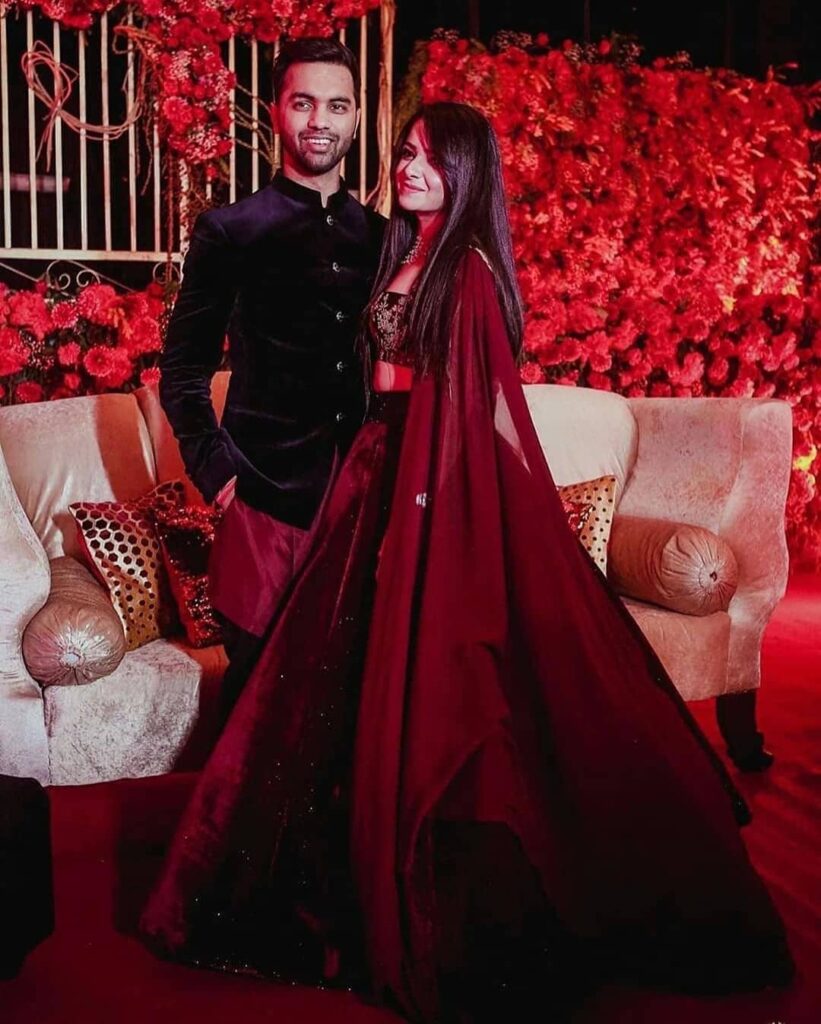 Source @dinshaghnada
#7 A Manish Malhotra bridal lehenga that makes us skip a beat every time we see it. Bedecked with such intricate barati and wedding motifs on a velvet hue, Devangi Nishar looked like a dream at her Abu Dhabi wedding.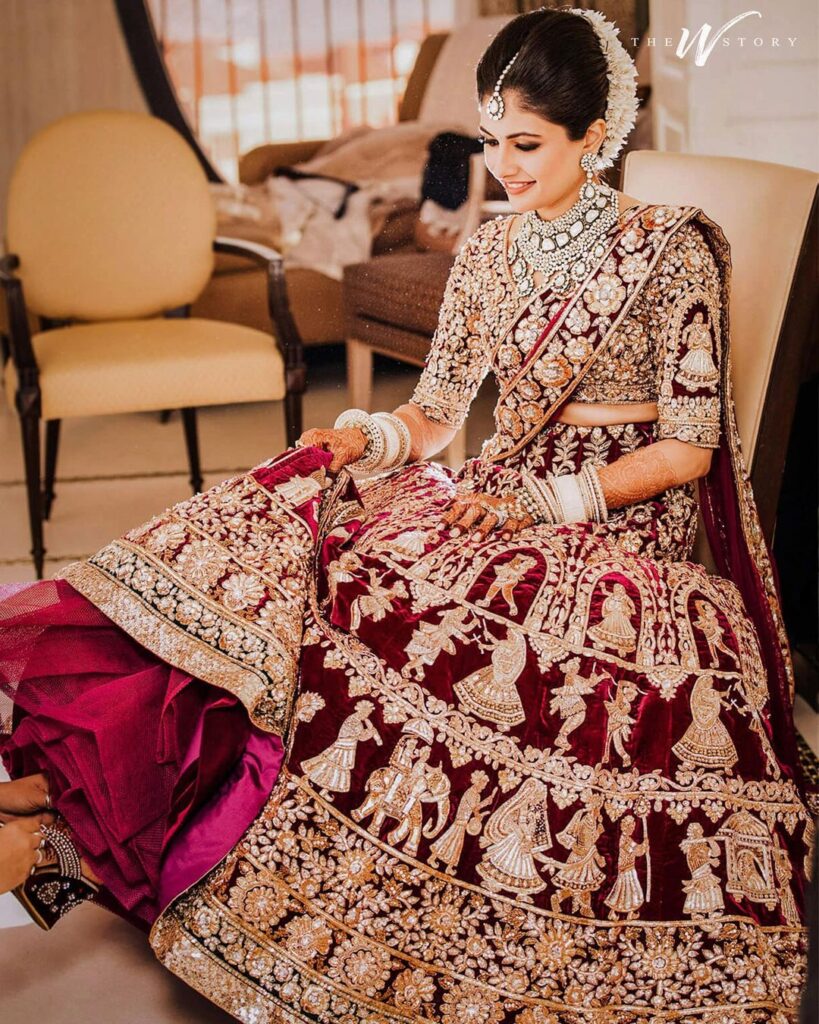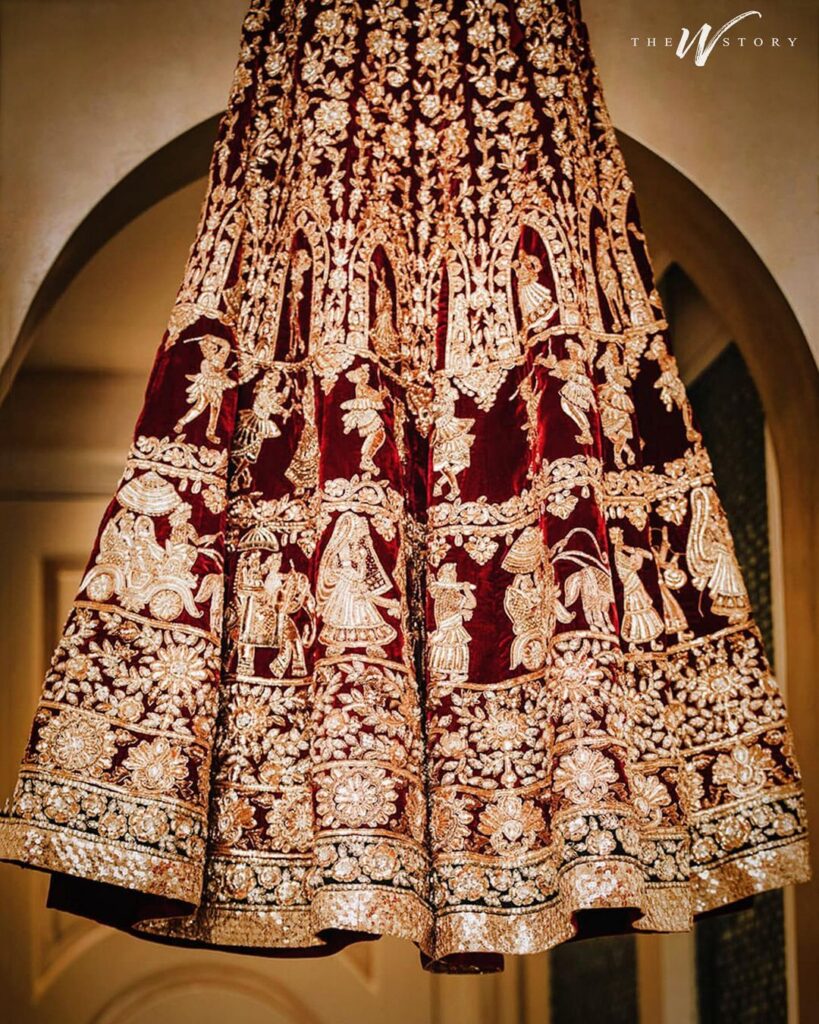 In-frame: Devangi Nishar
#8 Well, we told you, Manish Malhotra lehengas for brides are all OTT. Here's a bride that walked down the aisle in a gorgeous Manish Malhotra outfit that was equal parts traditional and contemporary.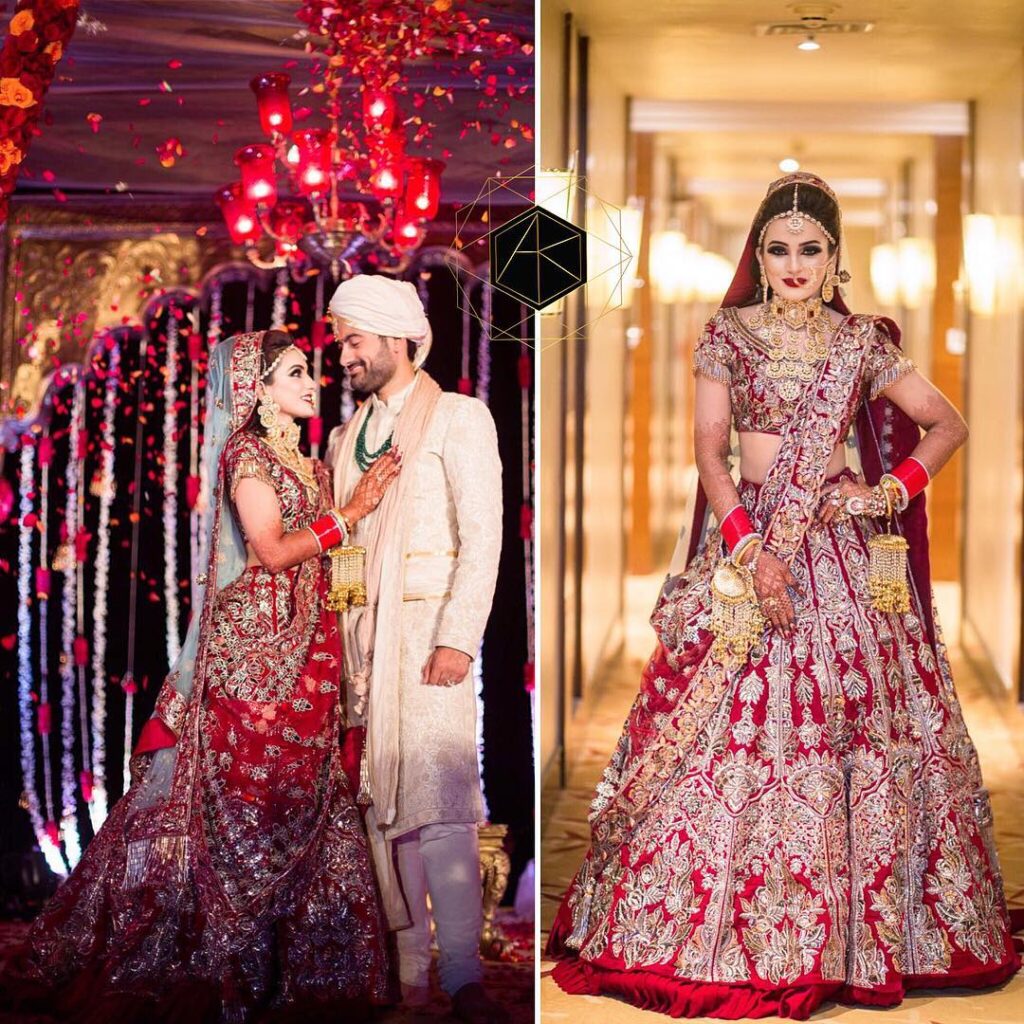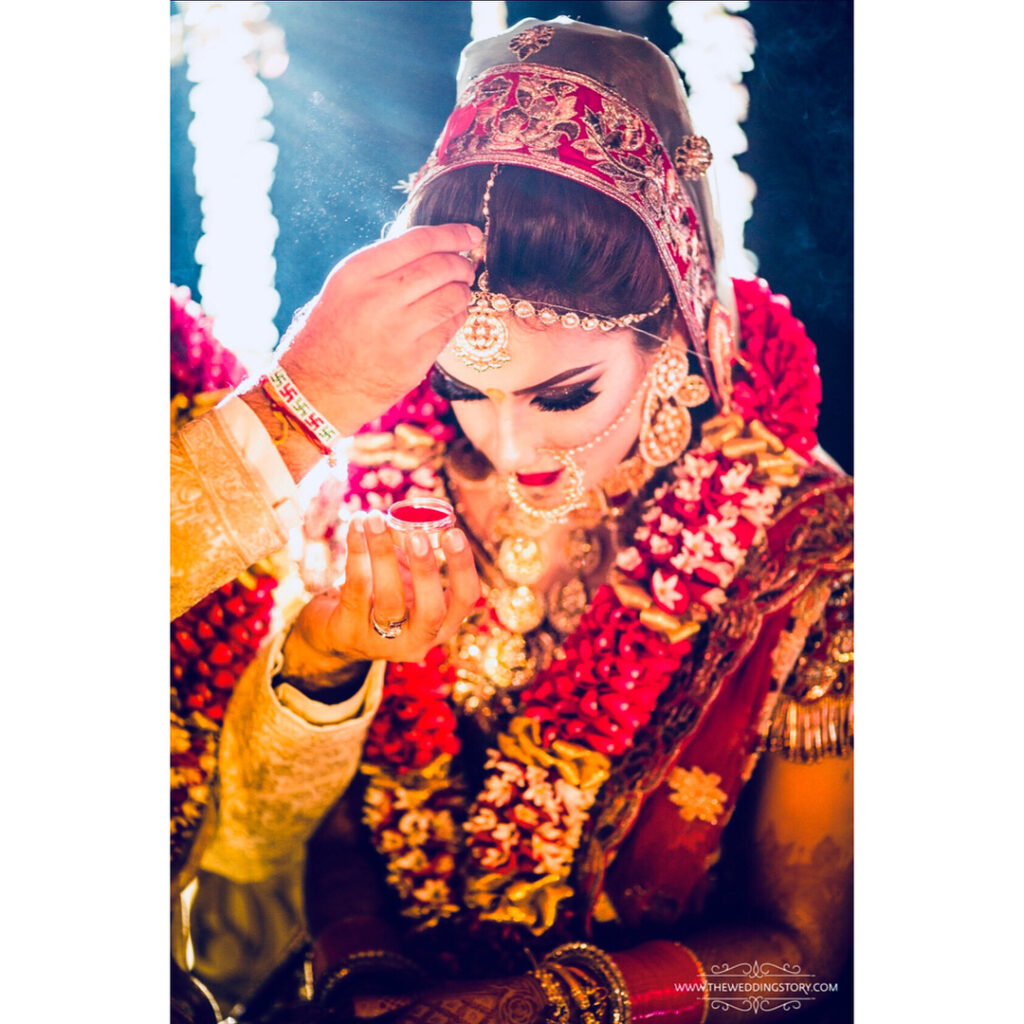 Bride Kanishka Ahuja
#9 A masterpiece from Manish Malhotra's 2020 collection is this peach ensemble doused with such spectacular impressive work. Pair it with a kundan rani haar like this bride and you're all set to strut like a diva on your wedding revelries.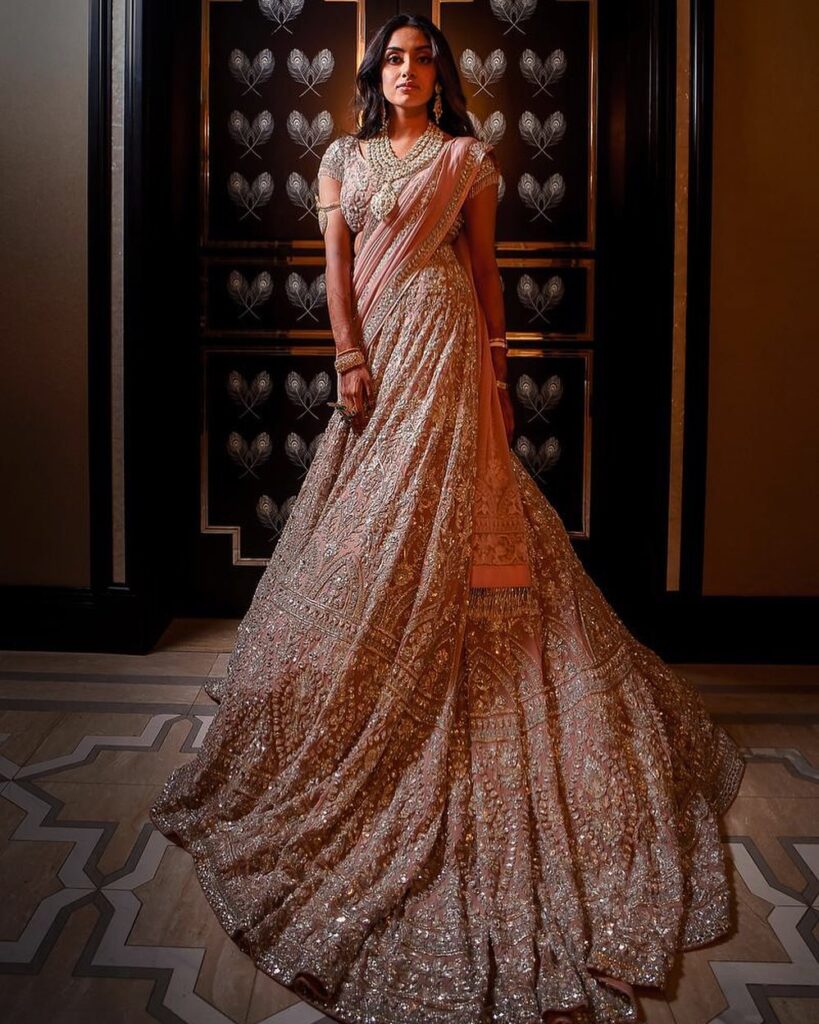 In-frame Pooja Talluri
#10 Gauahar Khan chose the man himself for her grand finale wedding event – Reception. She clad herself in a golden & maroon outfit by Manish Malhotra that ticked all the boxes to make for a ravishing bridal lehenga.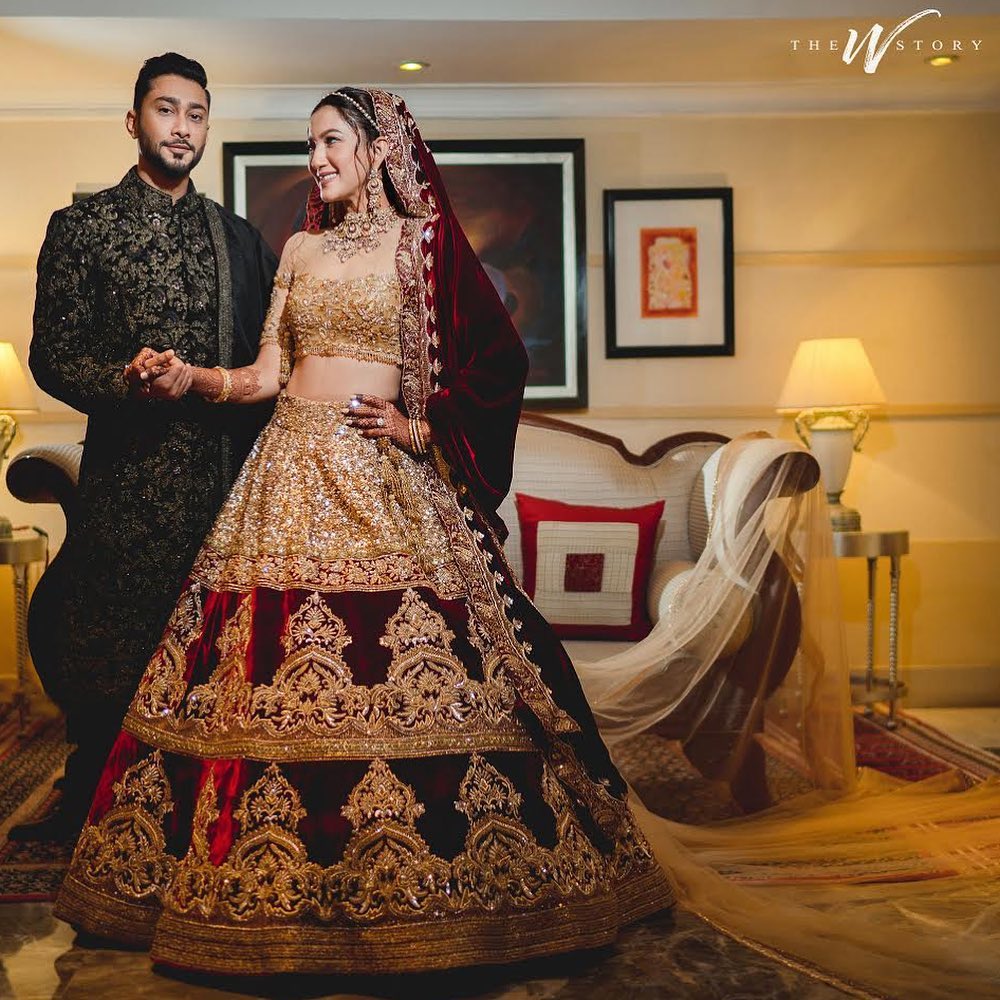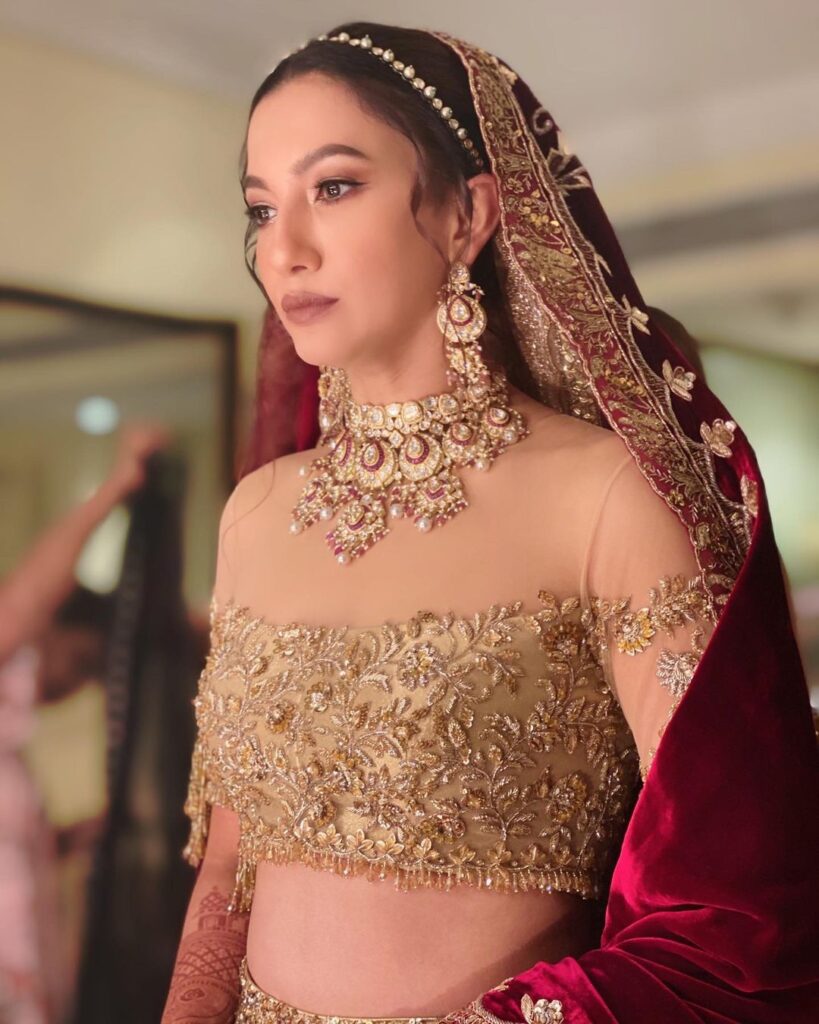 #11 Whenever Manish designs a simple outfit, he makes sure to add a touch of glam into it using sequins. Featured here is a princess ball gown by the designer embellished with winsome sparkle work.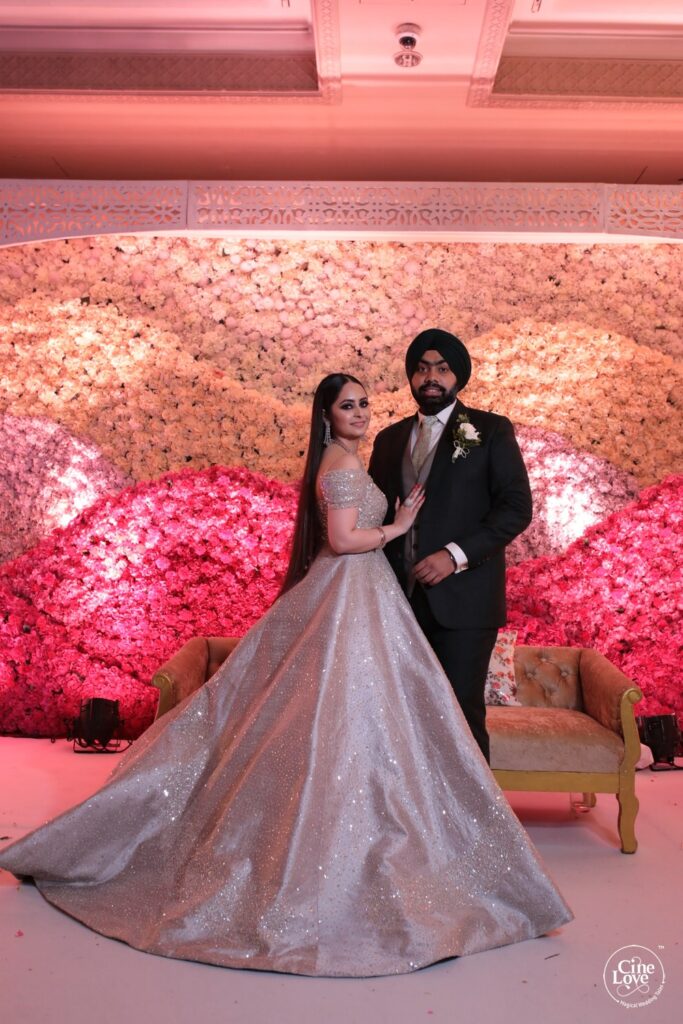 Photography: Cine Love Productions
#12 A perfect Malhotra couture piece for our millennial brides out there. Fabricated on a beautiful sea green base and adorned with elaborate work, we love every bit of this ensemble.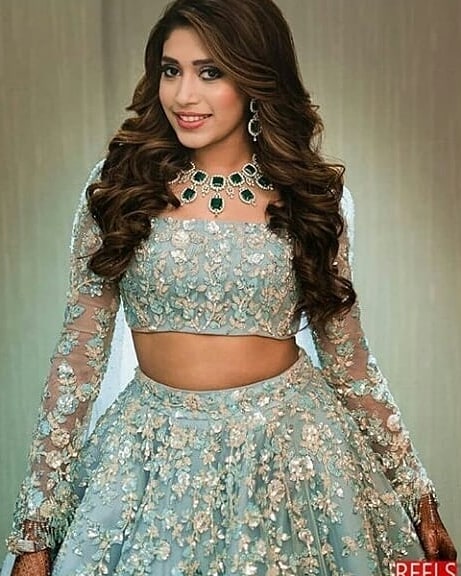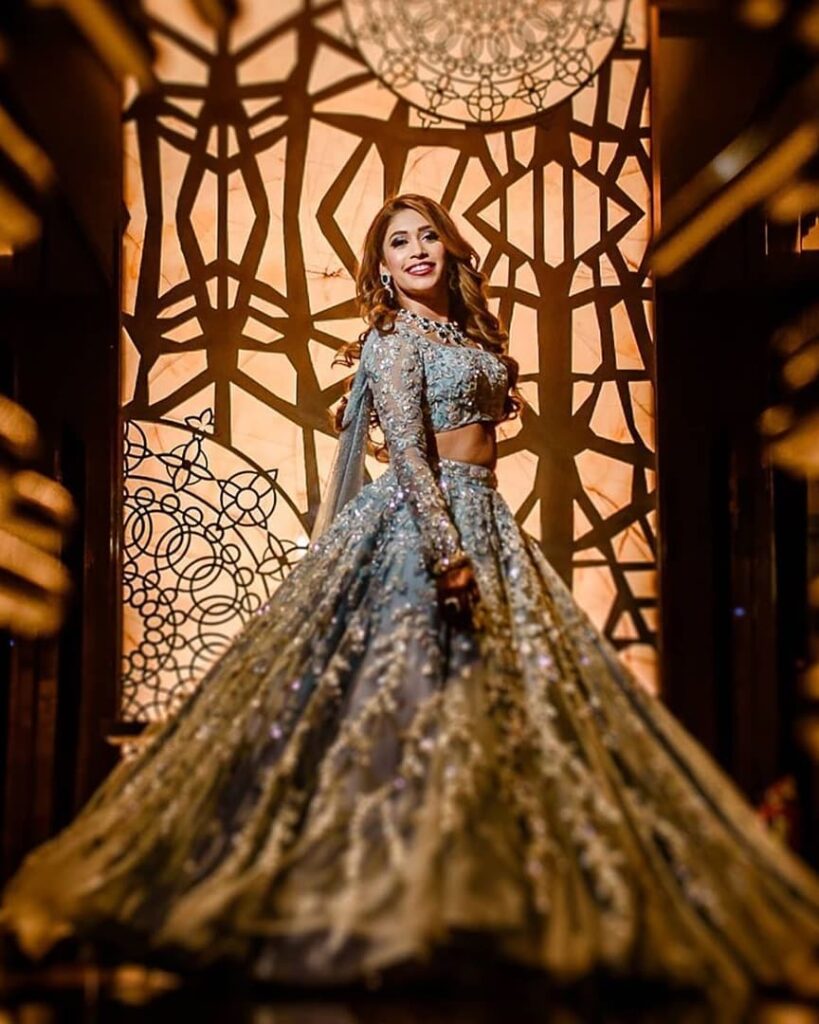 Photos by Reels & Frames
#13 Another silhouette-friendly look by the designer. Curated and designed to turn heads and styled to perfection by Shania, this lehenga is what reception dreams are made of.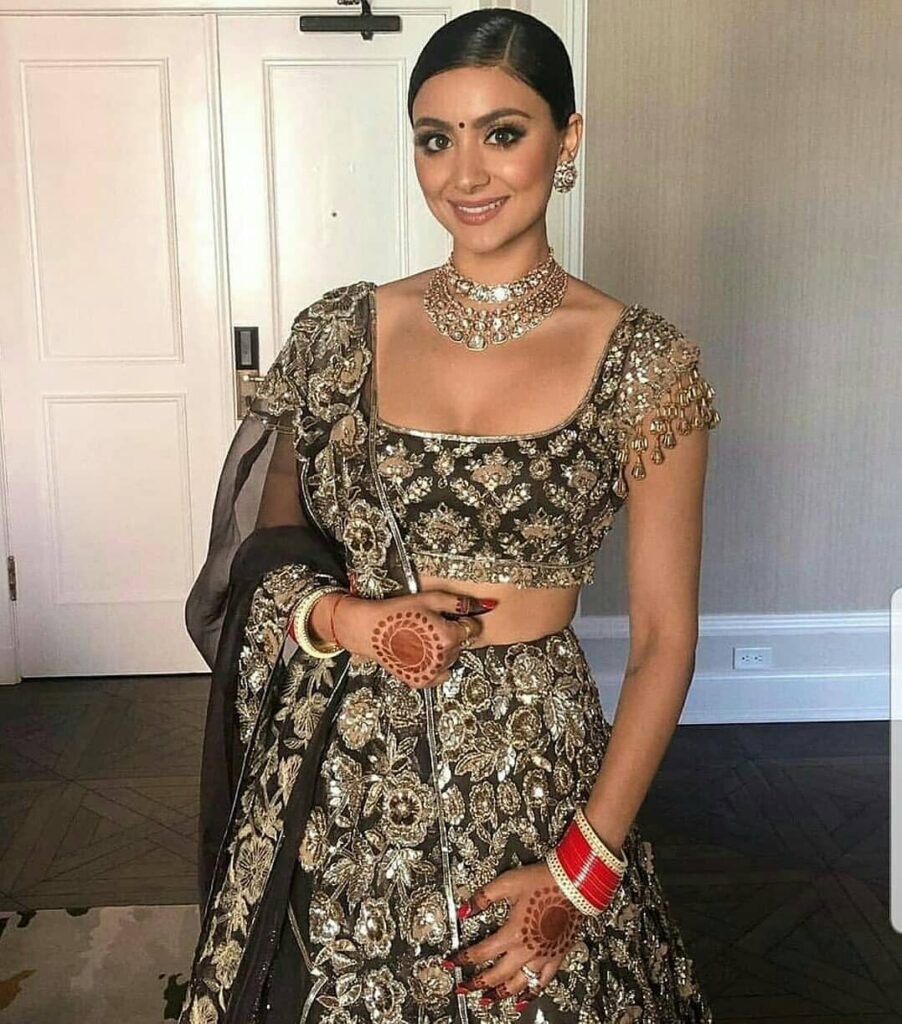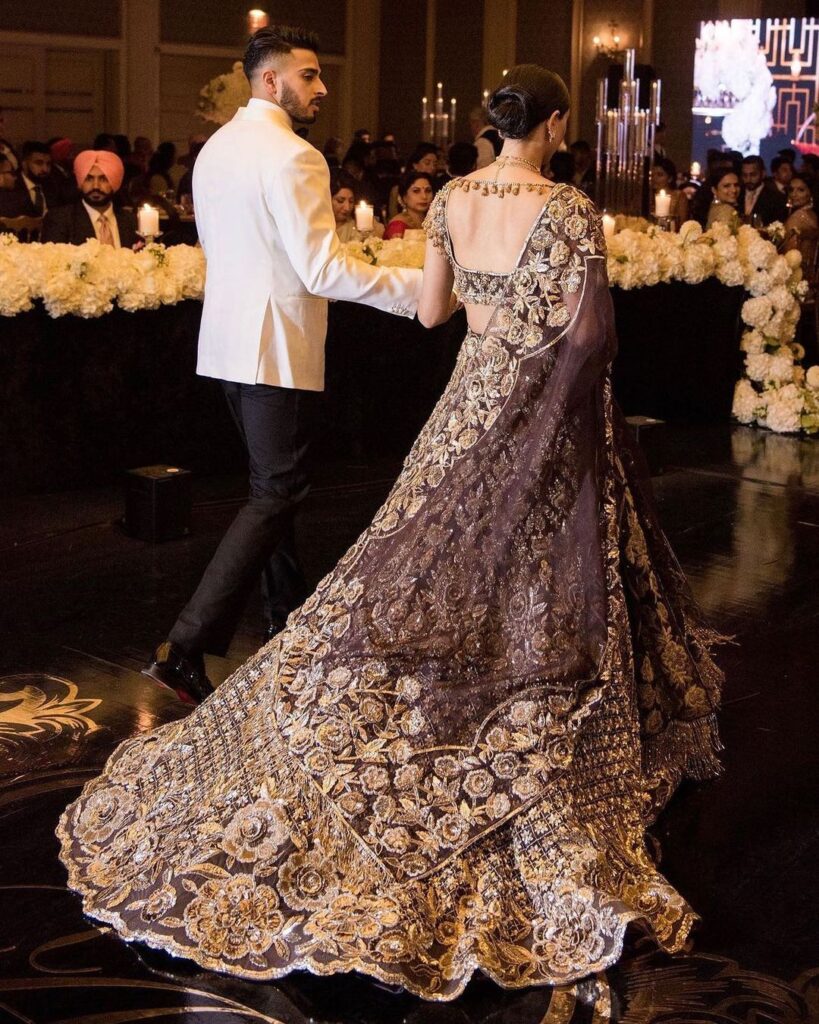 Via Shania Grewal
#14 Bride Isha Multani needs no introduction. All her wedding looks broke the internet. For her Sangeet, she wore a silver Manish Malhotra lehenga and it was such a superb pick for a night event.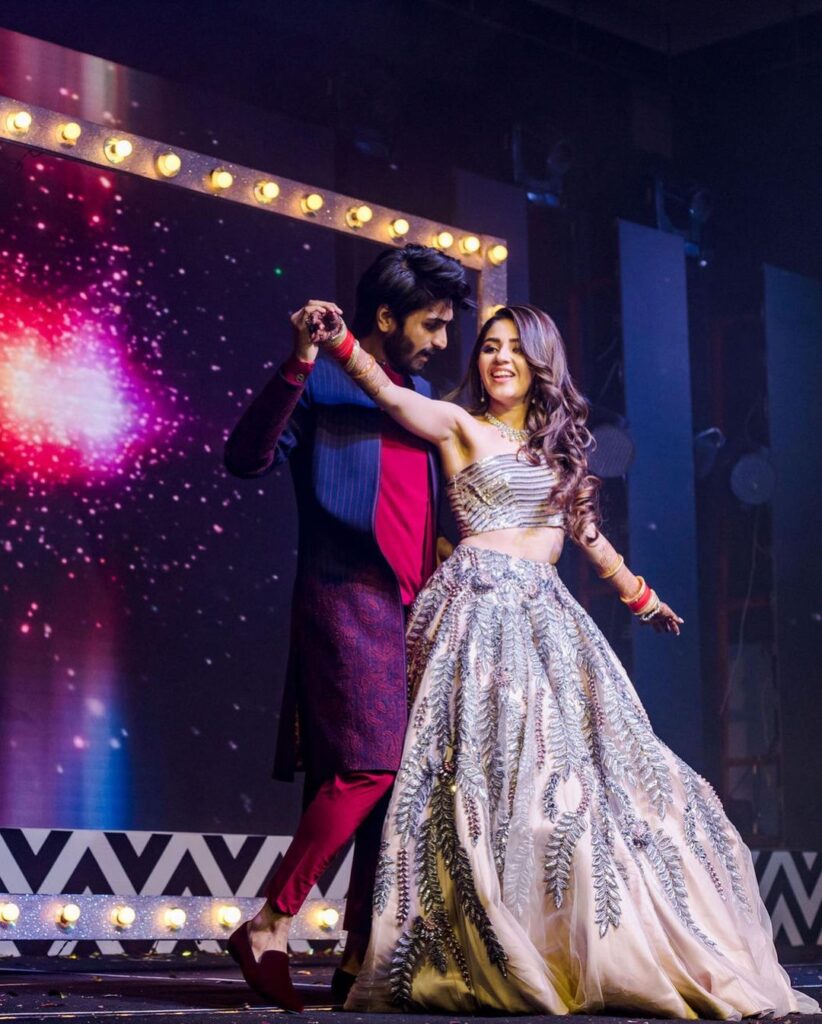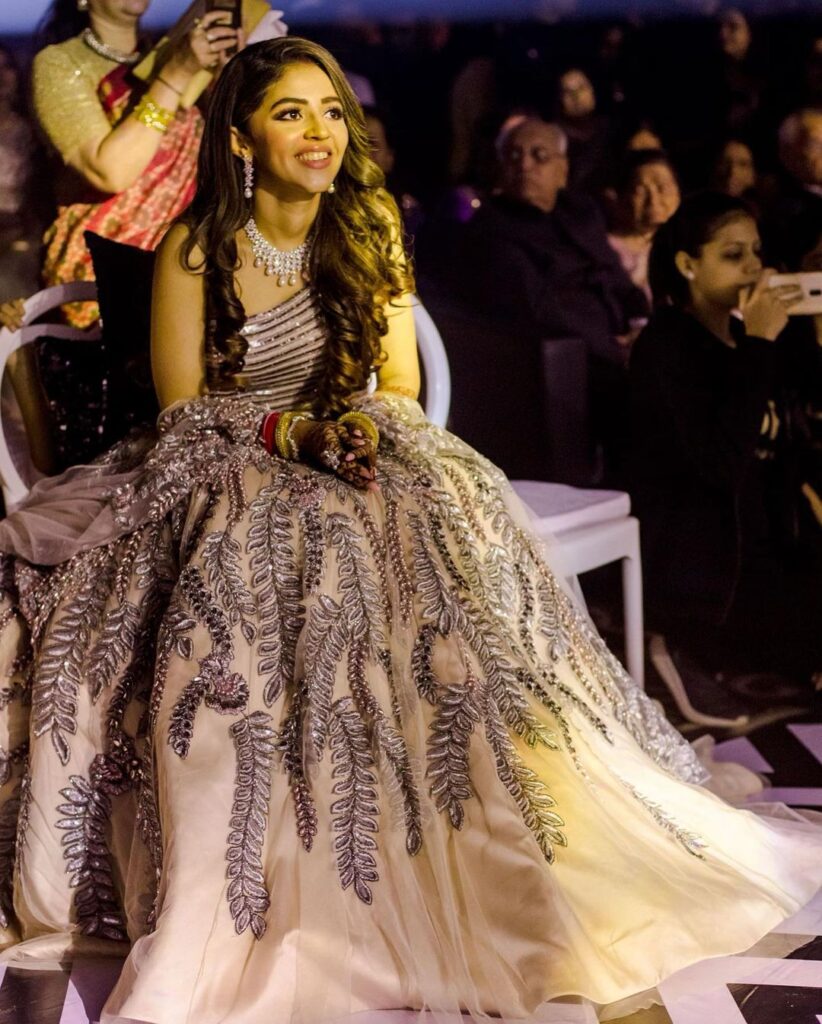 Isha's wedding blog here.
#15 Royal blue doing what it does best, exuding regality. A perfect Manish Malhotra lehenga for brides who don't want to wear red or pastels on their big day. And of course, the bride entering wedding premises with her father is the sweetest thing ever.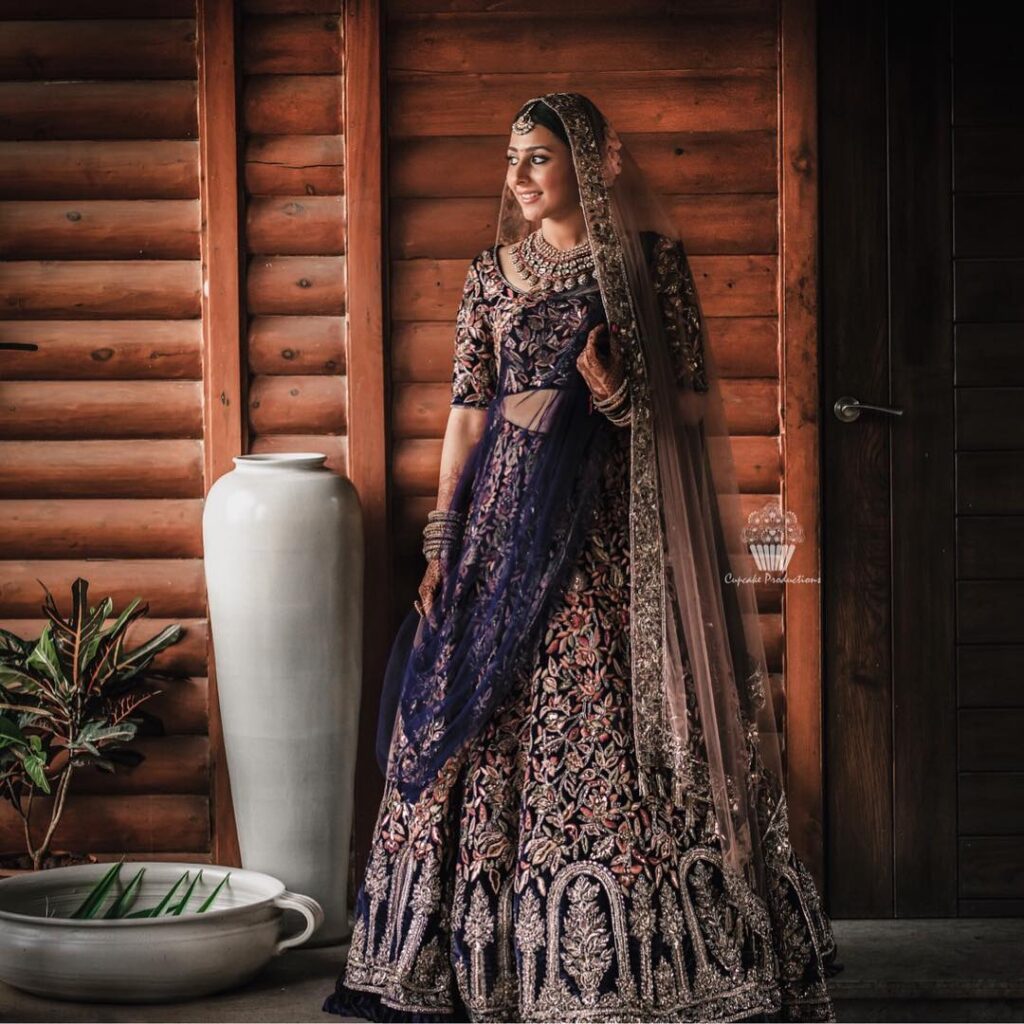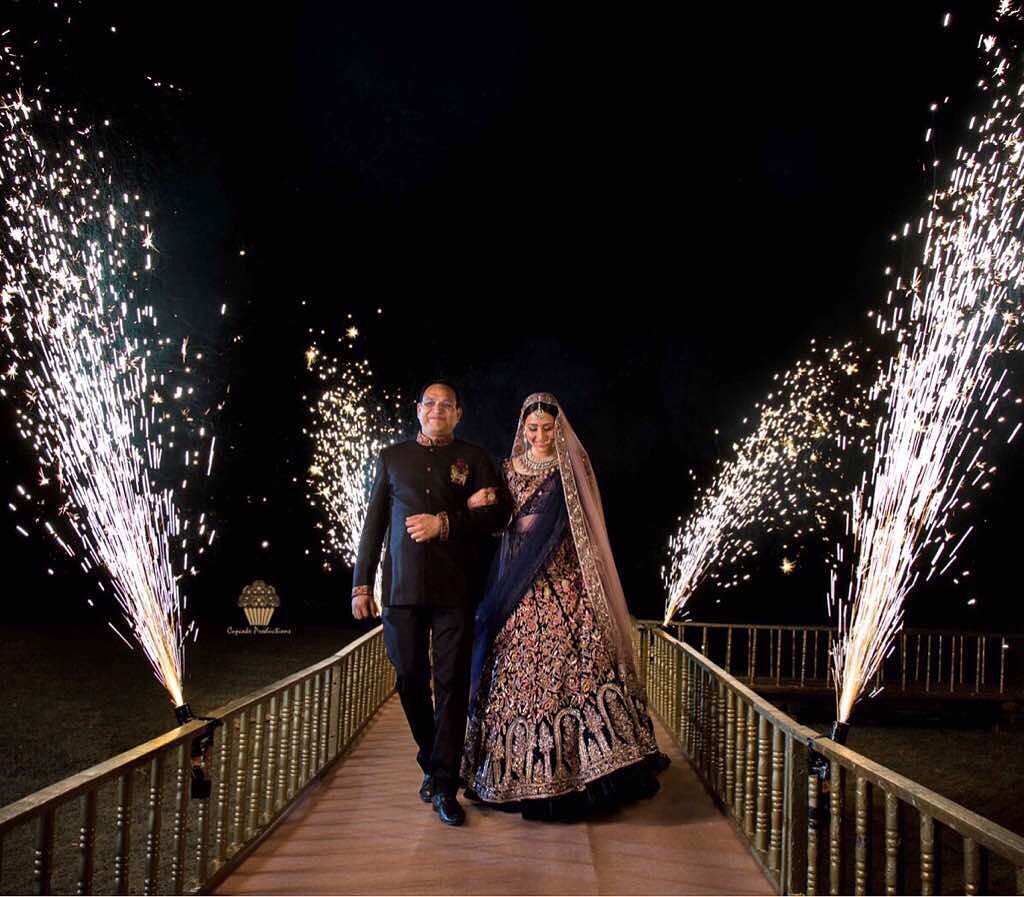 Photos: Cool Bluez Photography
#16 Most Manish Malhotra outfits are all about oozing those Maharani feels, like this one. We love how bride Nishtha complemented the royal lehenga with equally remarkable jewelry and left us all in awe.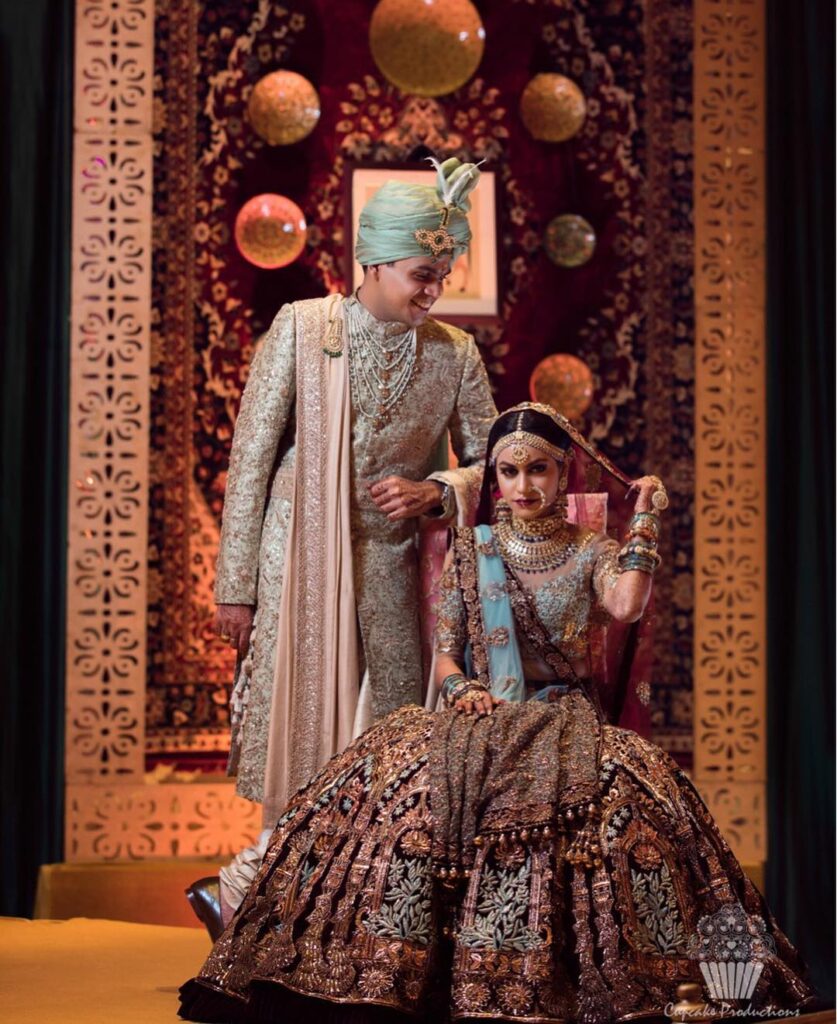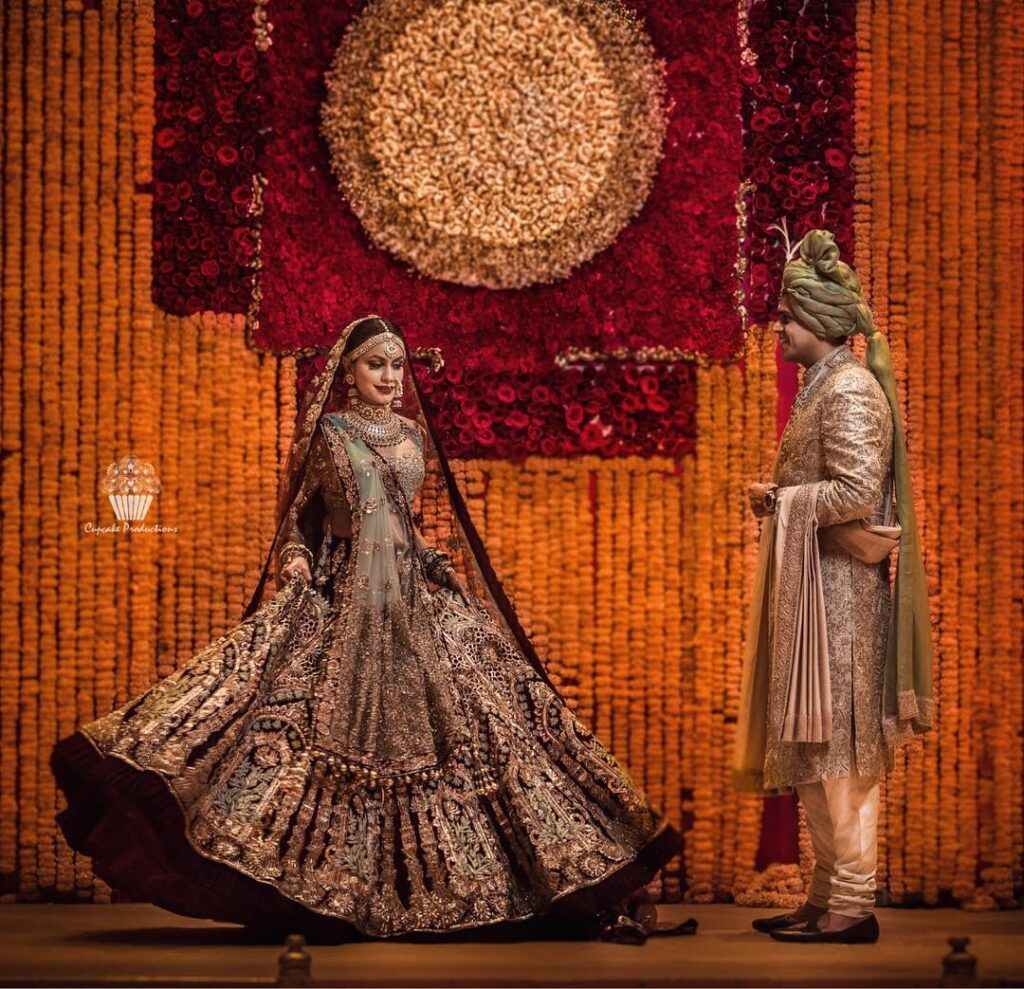 Pictures by Cupcake Productions
#17 Red lehenga with golden zari work is a classic design for brides to wear on their big day. Here's a Manish Malhotra masterpiece created along the same lines and donned with absolute grace for the Nikah ceremony.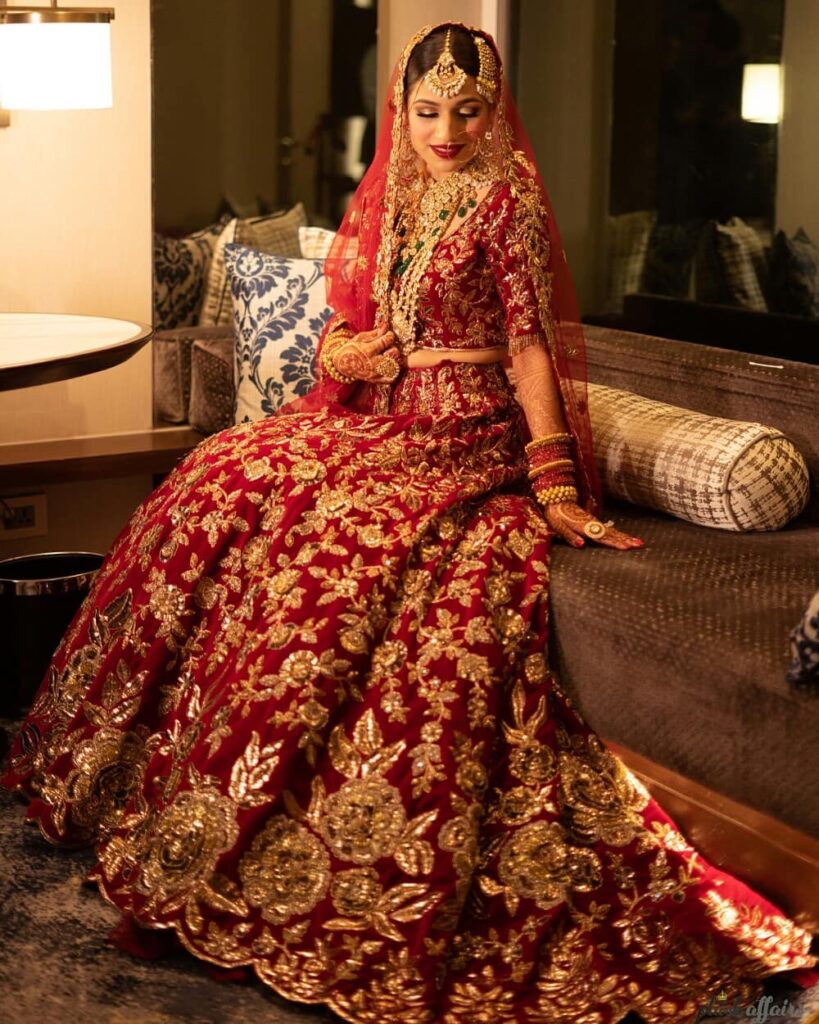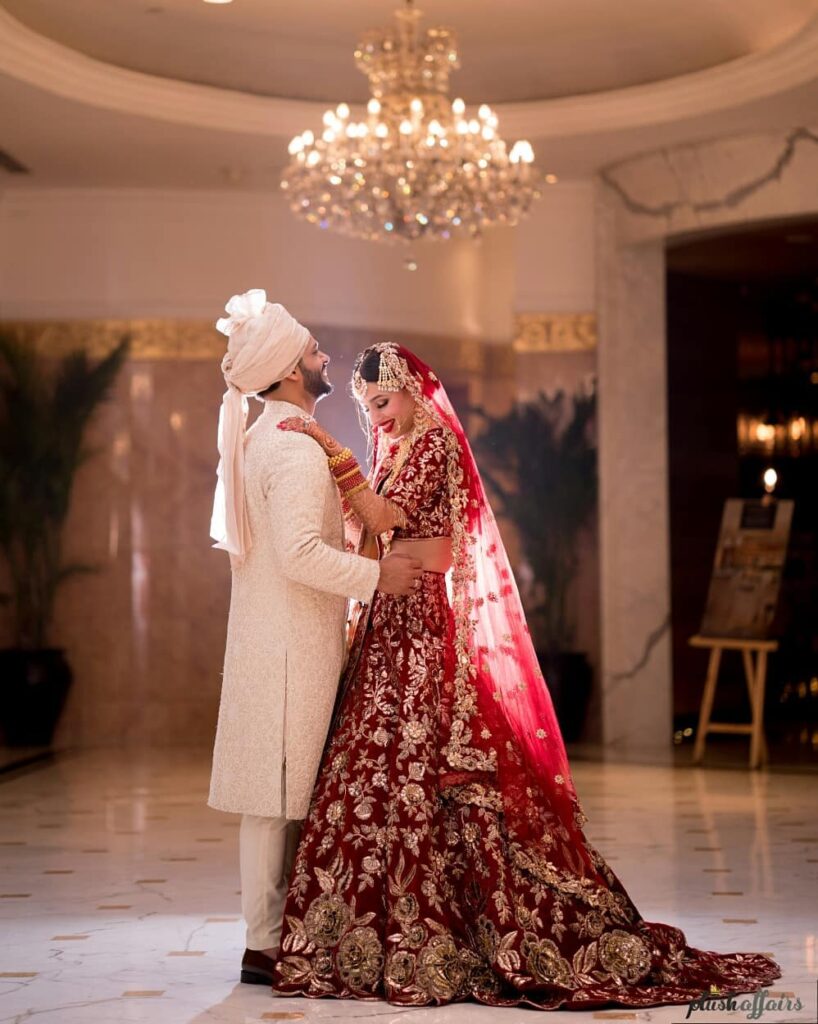 Pictures by Plush Affairs
#18 Manish Malhotra couture are seldom similar in appearance and differ in their work and unique color. A problem that we can quite often spot in Sabyasachi outfits. If you'd like to stand out with your attire, a Manish Malhotra outfit is the way to go. Here's one donned by @soleilllx for her reception.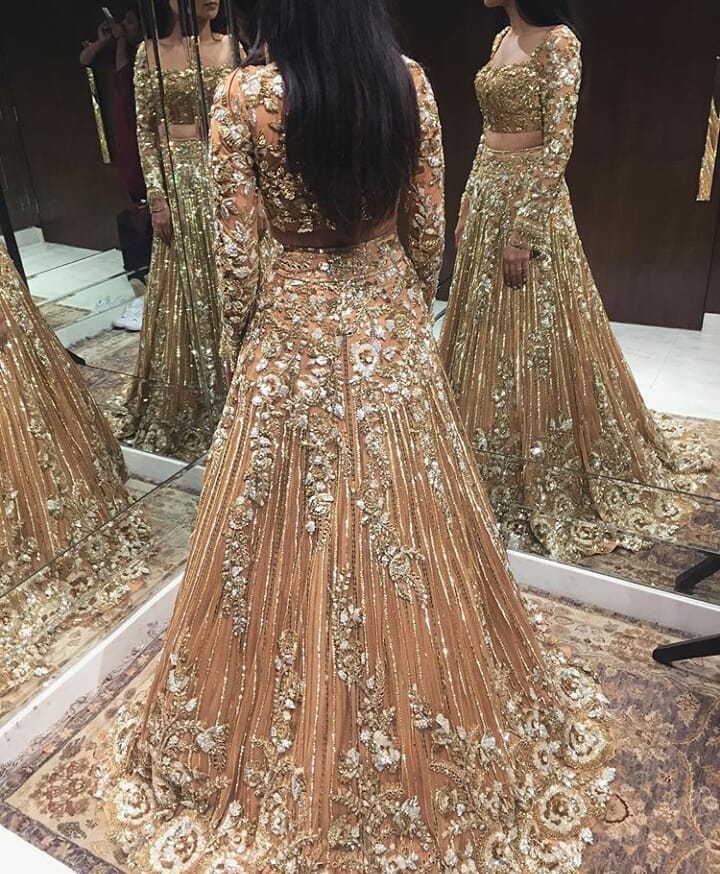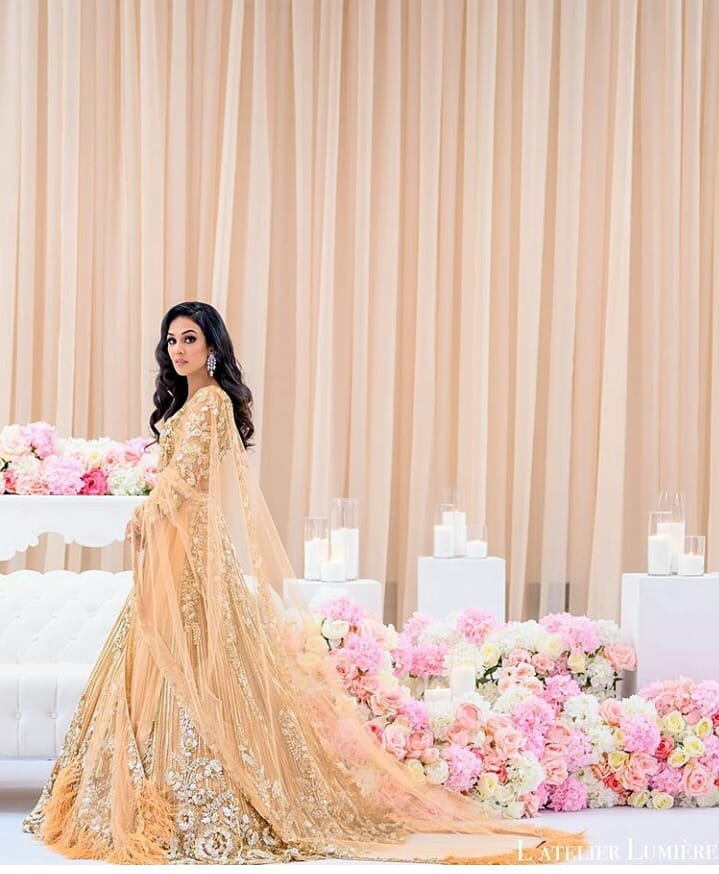 #19 Princess trail gowns are trending recently. And aren't they a pleasing sight to stare at? Drenched in a noteworthy silver-golden color and decked up with sequin work, this gorgeous Manish Malhotra gown is to die for.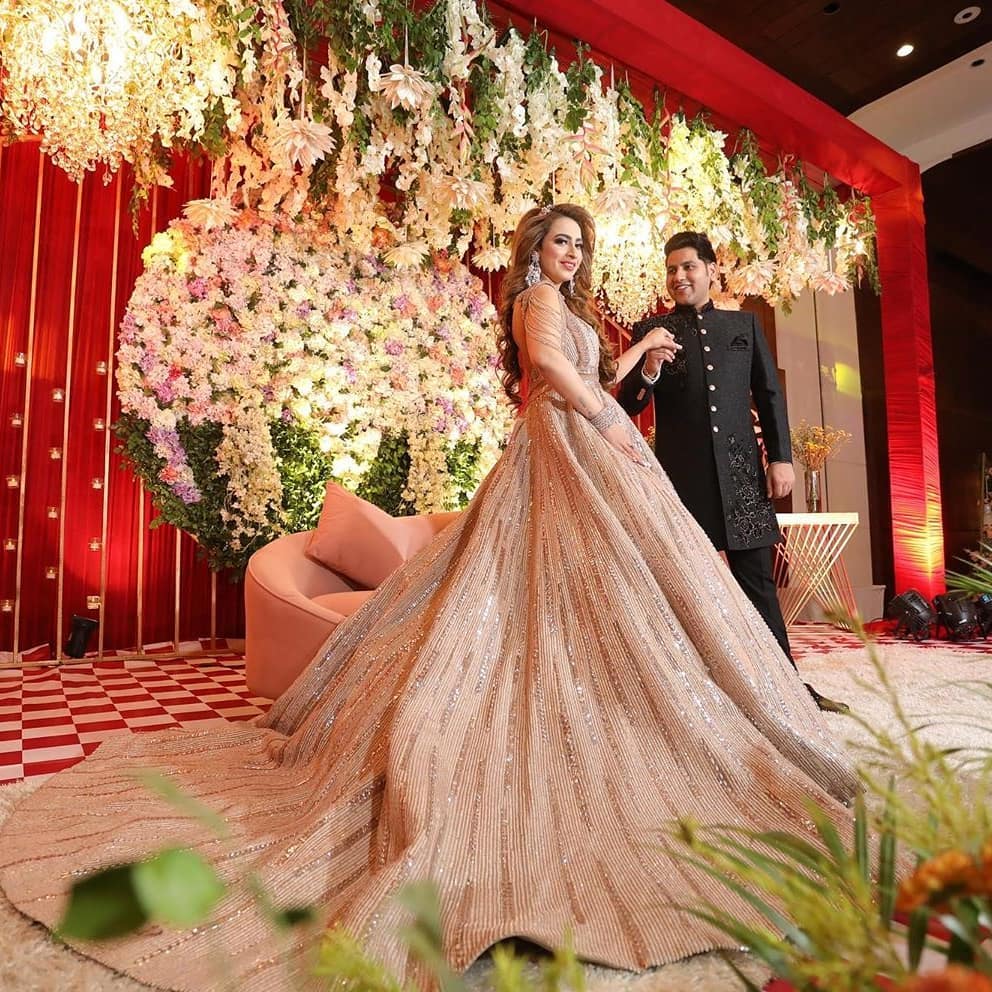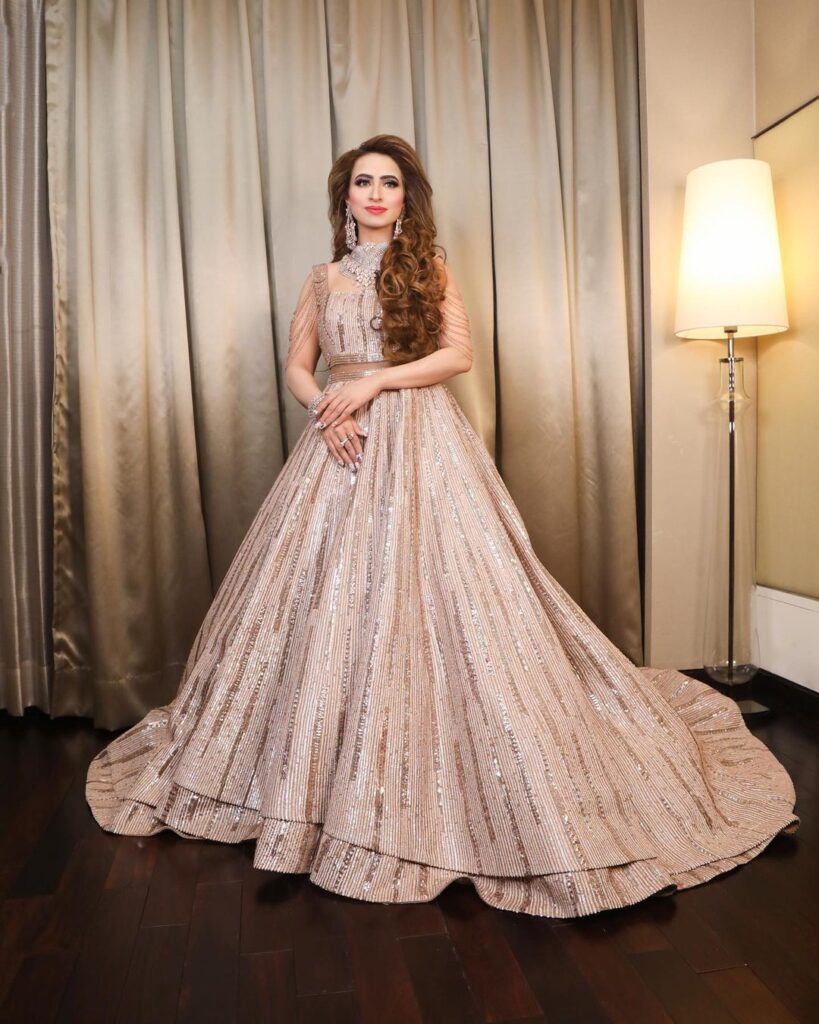 Bride: Noor Vishu Sehgal
#20 Not just gowns, even lehenga trails are a hit among brides right now. This bride picked a beautiful silver Manish Malhotra bridal lehenga proving that you only need to choose the right attire to give your traditional outfit a modern update.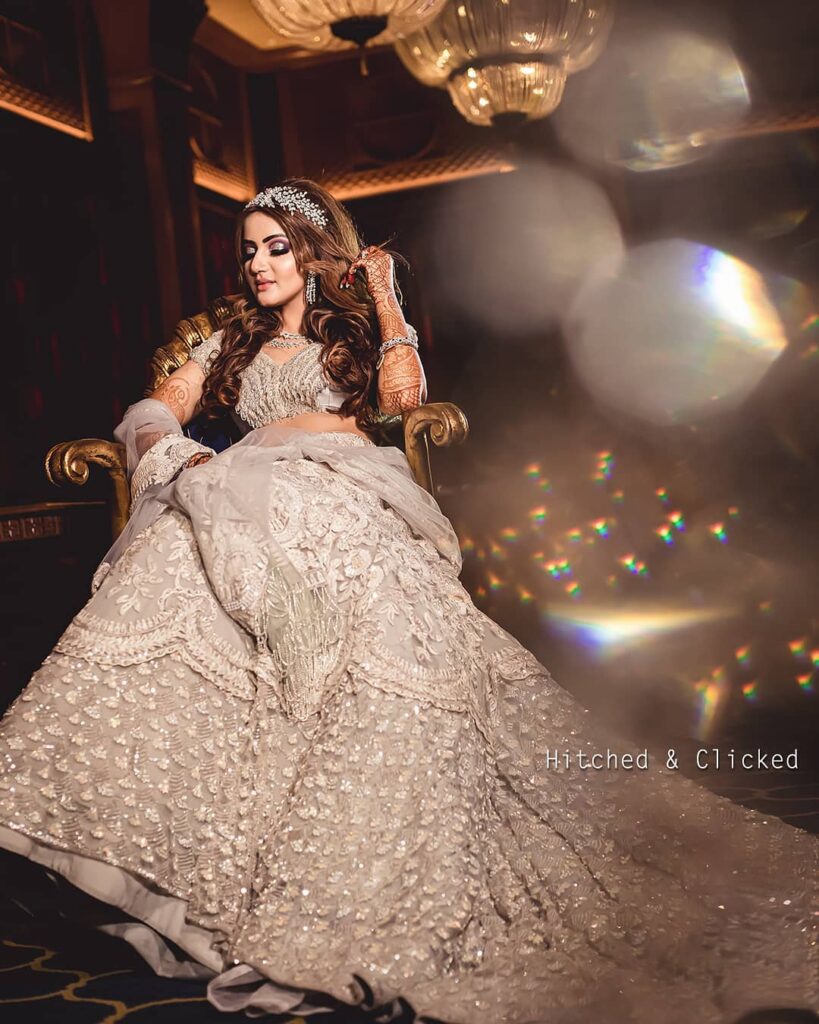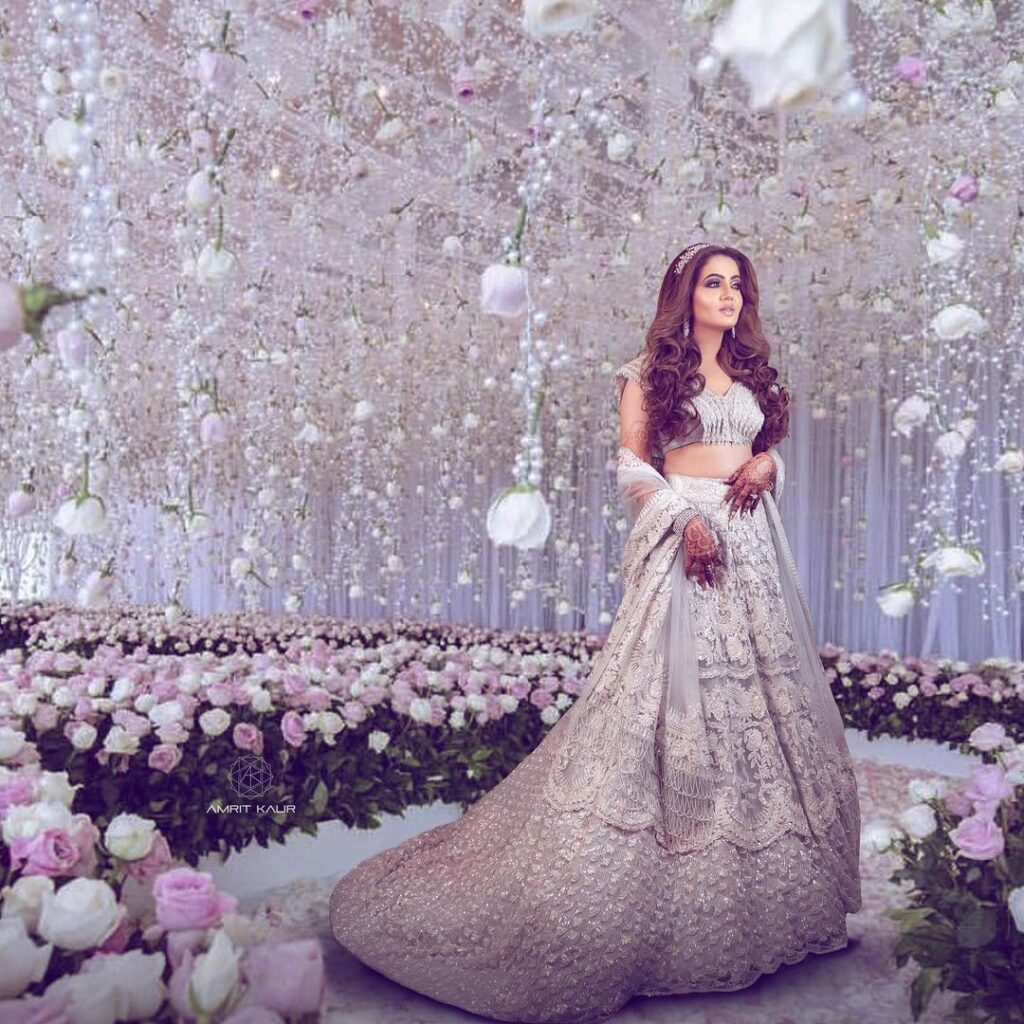 Source: Amrit Kaur Artistry
#21 Here's a Manish Malhotra bridal outfit straight out of your dreams. An A-line silhouette gown featuring light pleats and unique sequin work, beautifully paired with a high bun and statement earrings for maximum beautification.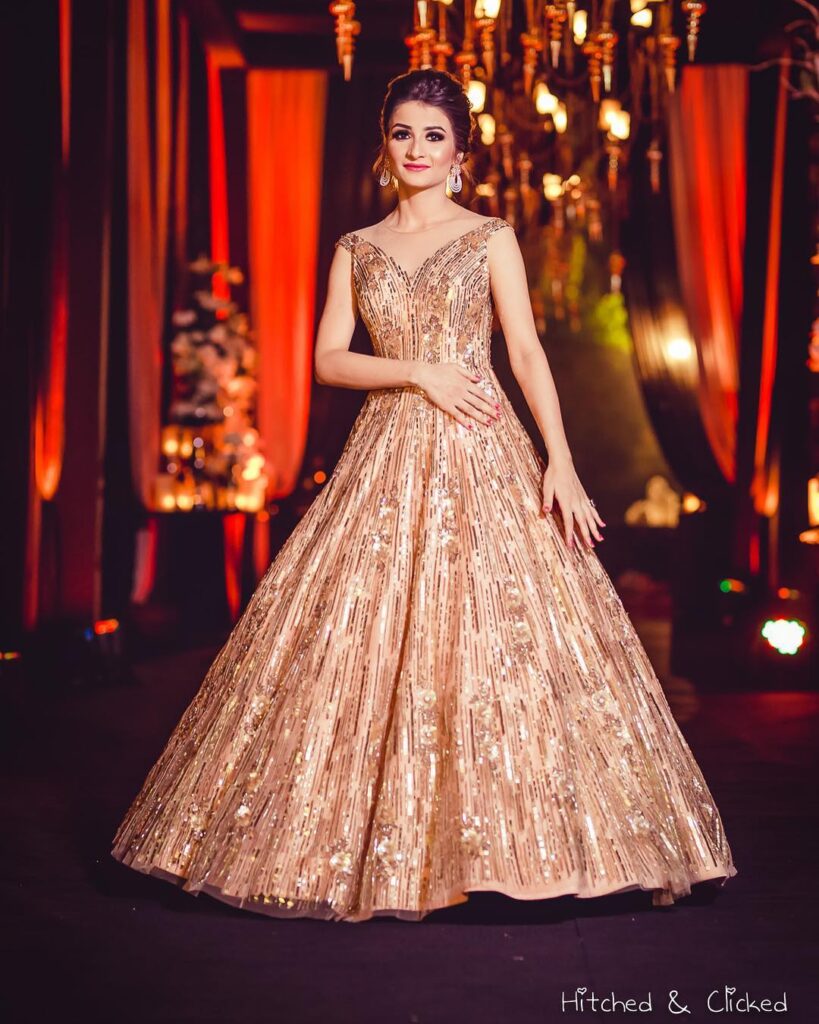 Source: Hitched & Clicked
#22 We can always trust Mouni Roy to bless us with amazing Indian wear inspiration. While she has donned Manish Malhotra couture plenty of times, this blush pink one is our favorite. It would make a great option for your sangeet or even wedding when paired with a complimentary double dupatta drape.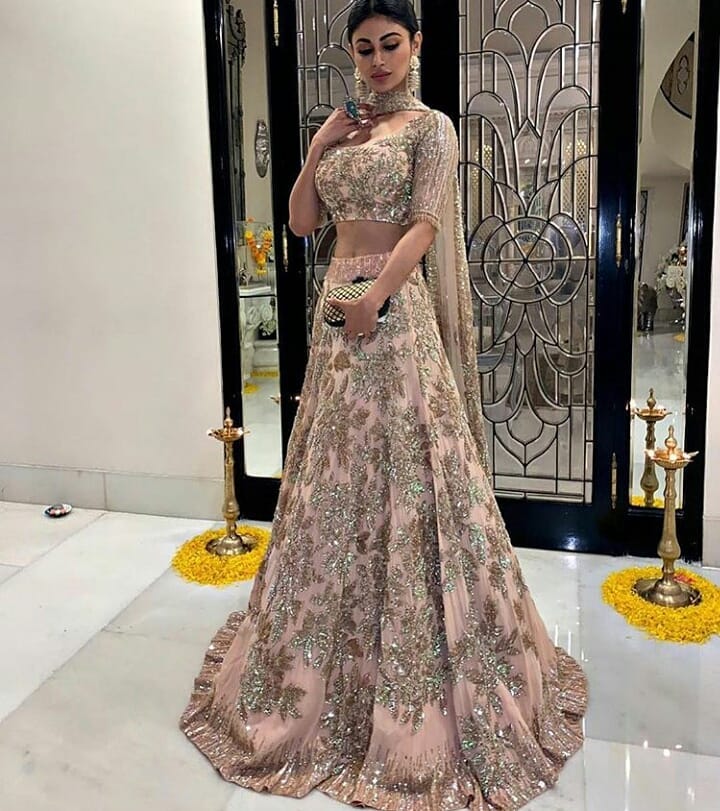 #23 A soothing coffee brown lehenga accentuated with a statement blouse is exactly how you straddle tradition with modernity. Extra brownie points for how this beauty teamed her ensemble with open hair on the sides and magnificent diamond jewelry.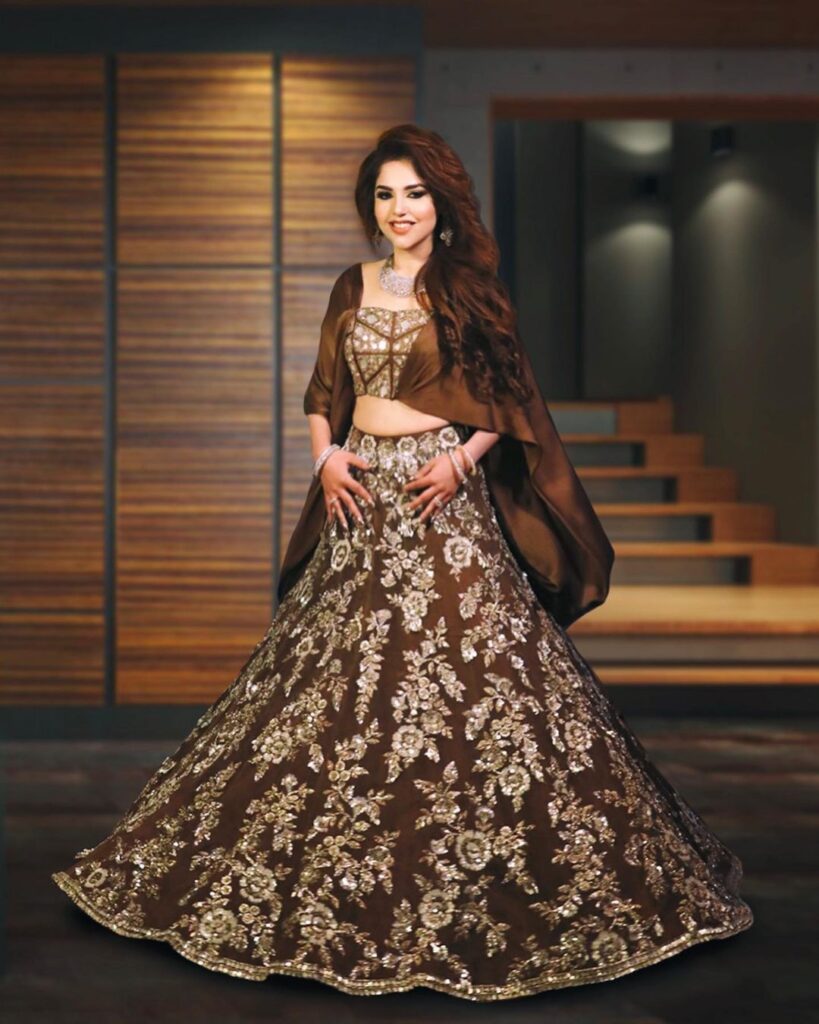 Source: Amrit Kaur Artistry
#24 An eclectic blue shade lehenga with such eye-catching embellishments is our favorite pick for millennial brides from this list. No doubt the bride enhanced its beauty with her on-point styling and sheer charm.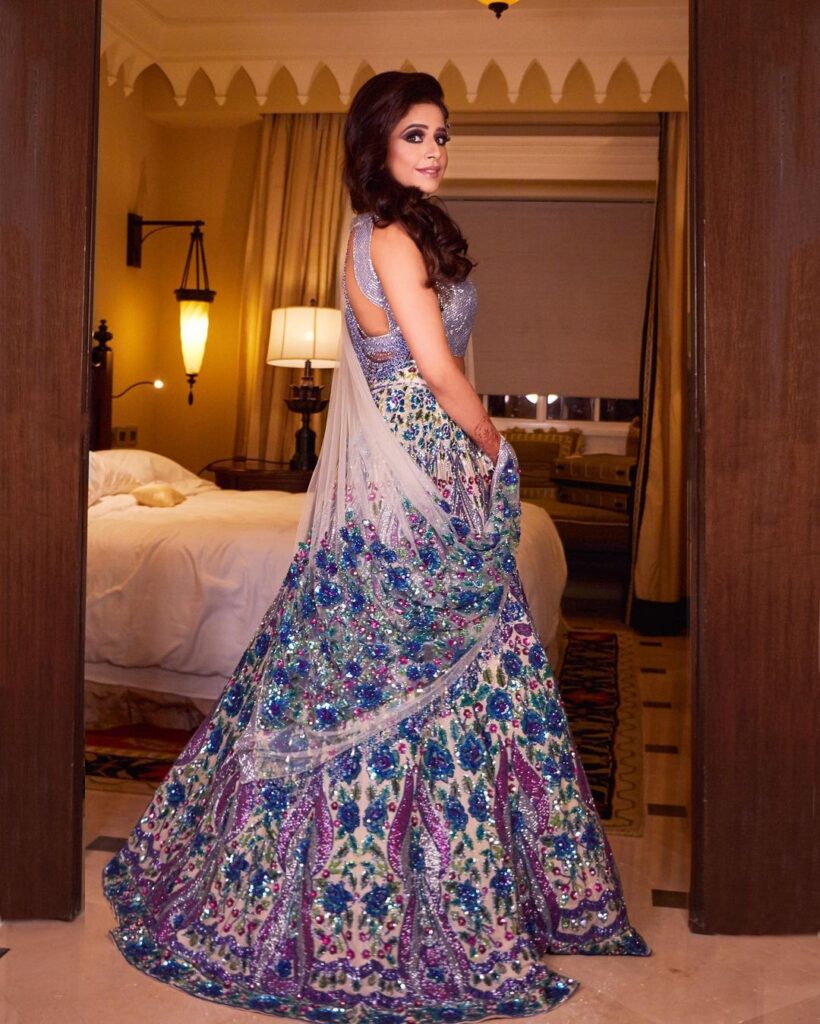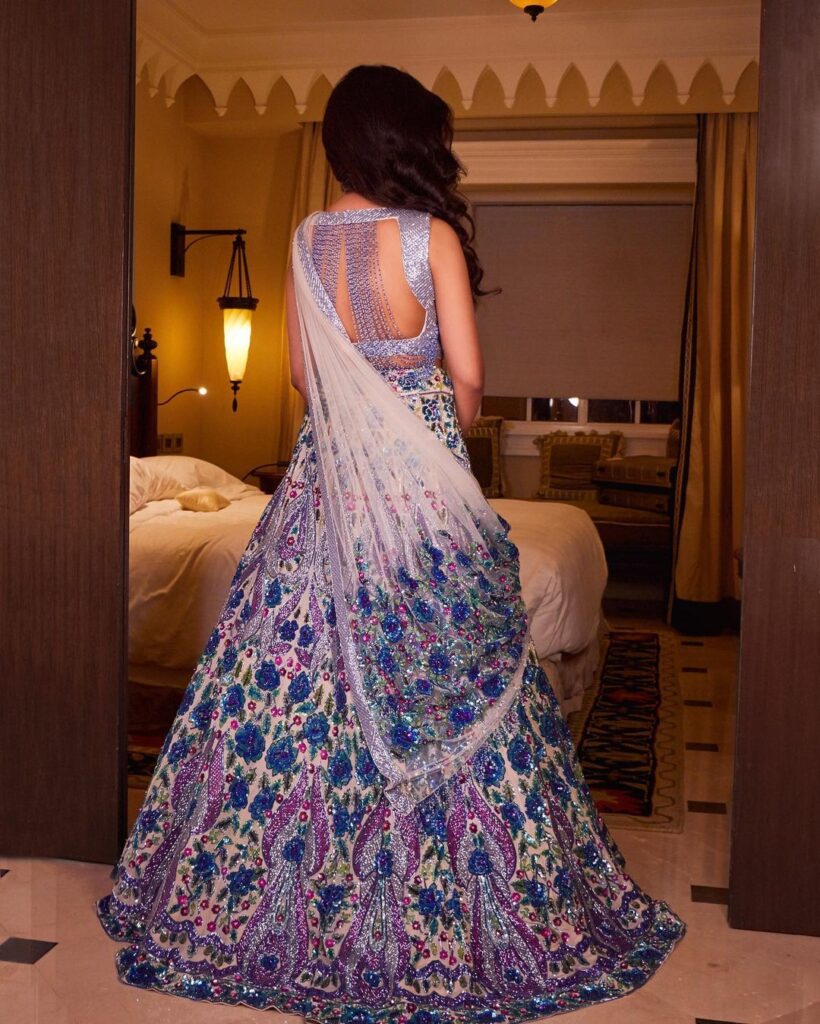 Source: Amrit Kaur Artistry
#25 Manish Malhotra's sequin sarees are the talk of the town. We've seen it on celebs a number of times and now, it's making its way into real bride's trousseau as well. They're priced at Rs.1,35,000/- and you can buy them from Manish Malhotra's website here. And check out our blog to see other Indian designers for your sequin saree.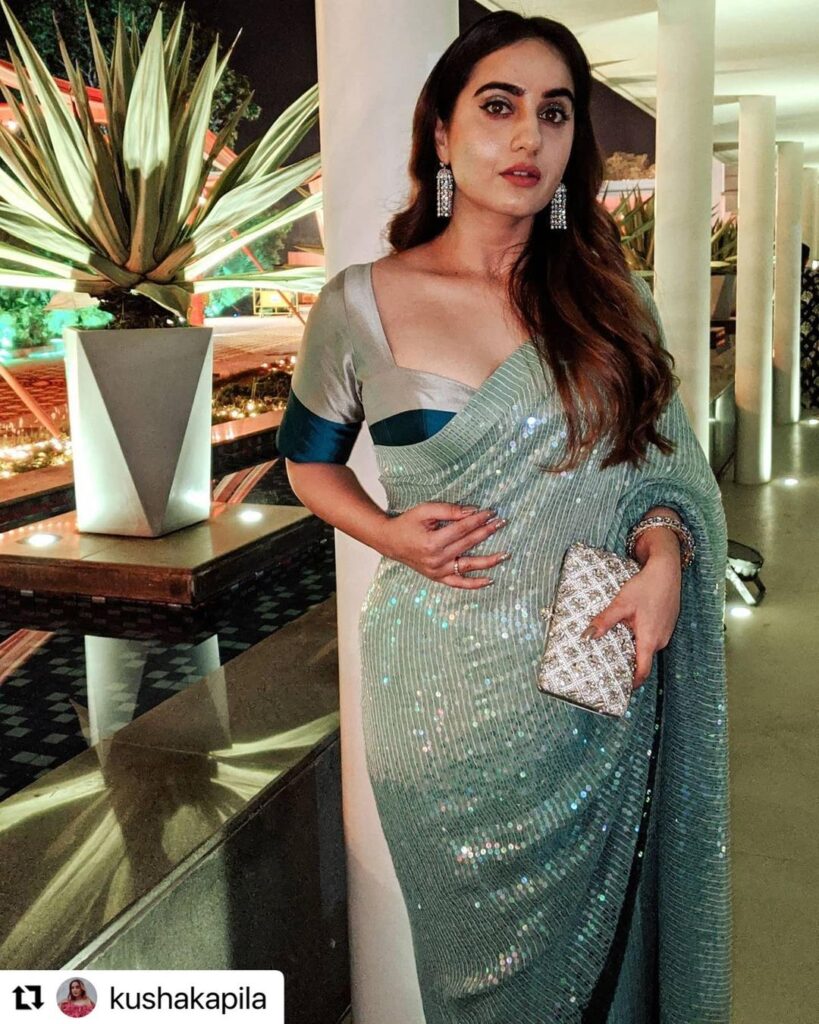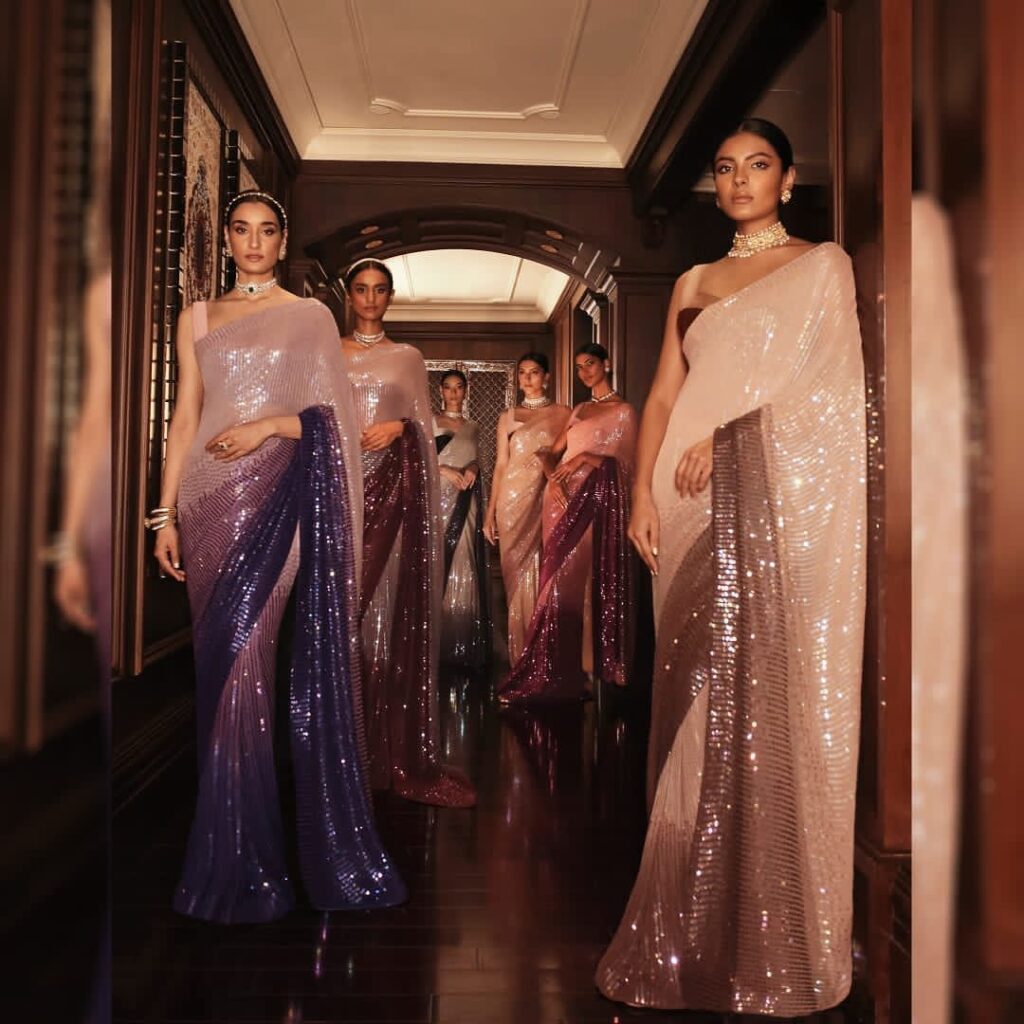 #26 Is saree your first love? Well, who could refute the sheer grace it lends to the wearer, more so when it has been designed by our revered designer Manish. Here are some classic monochrome pieces from his collection.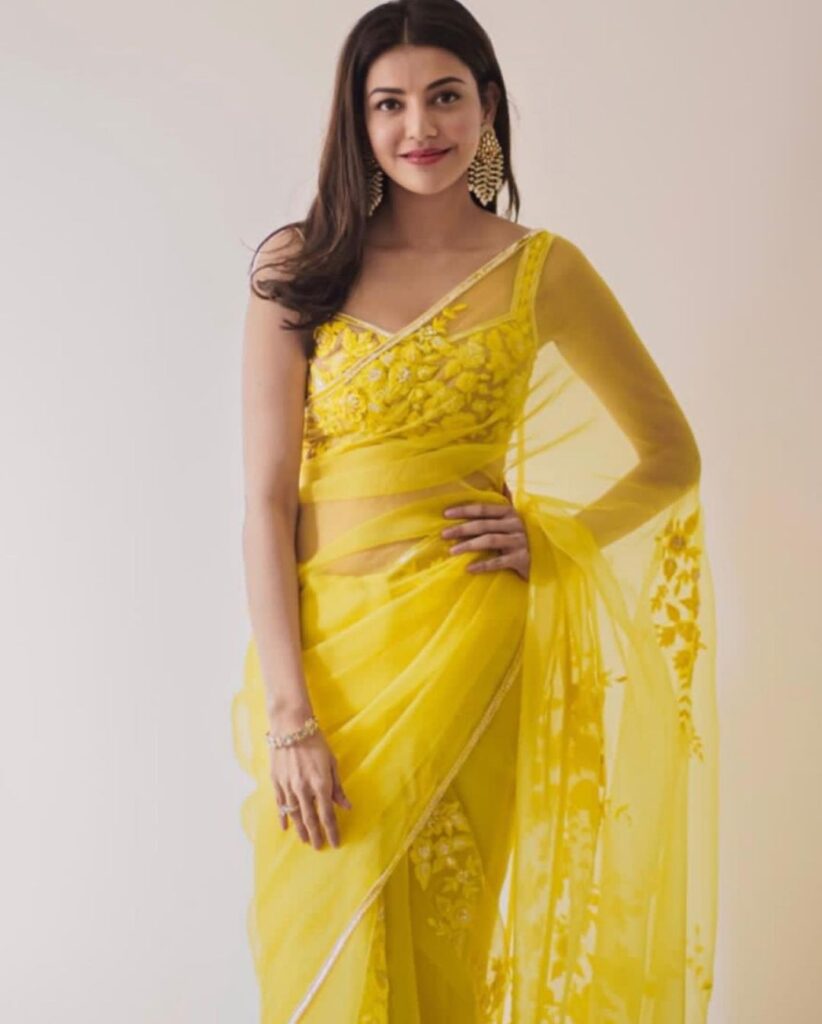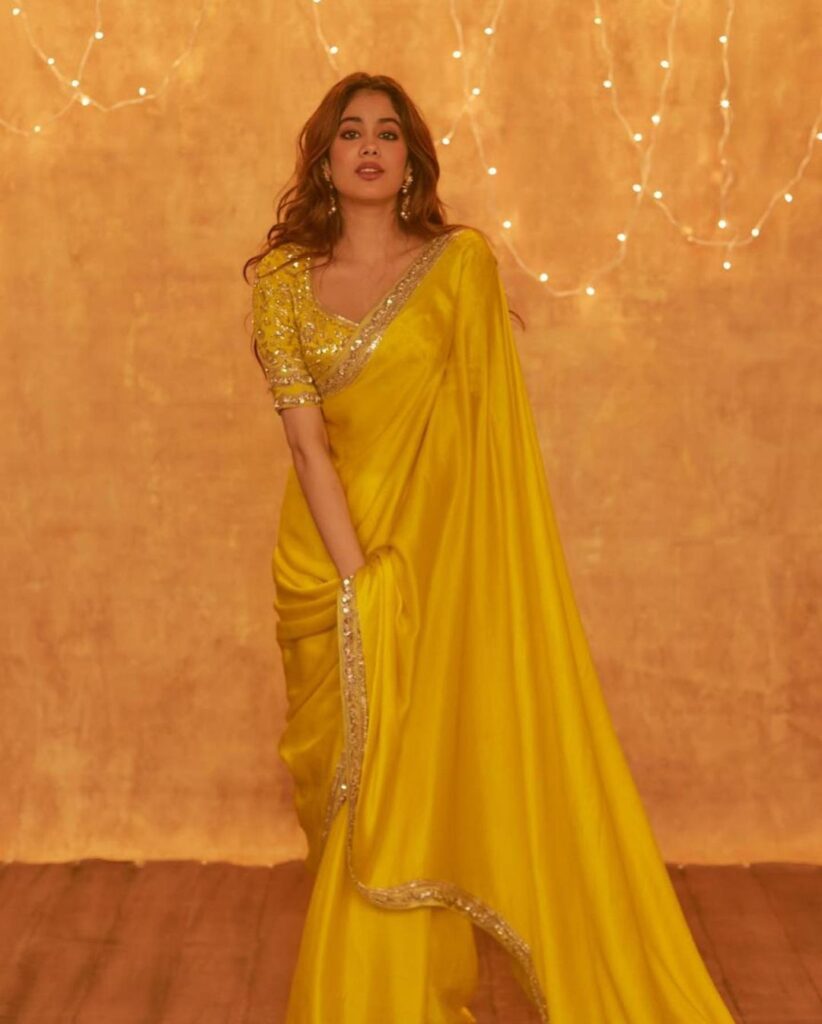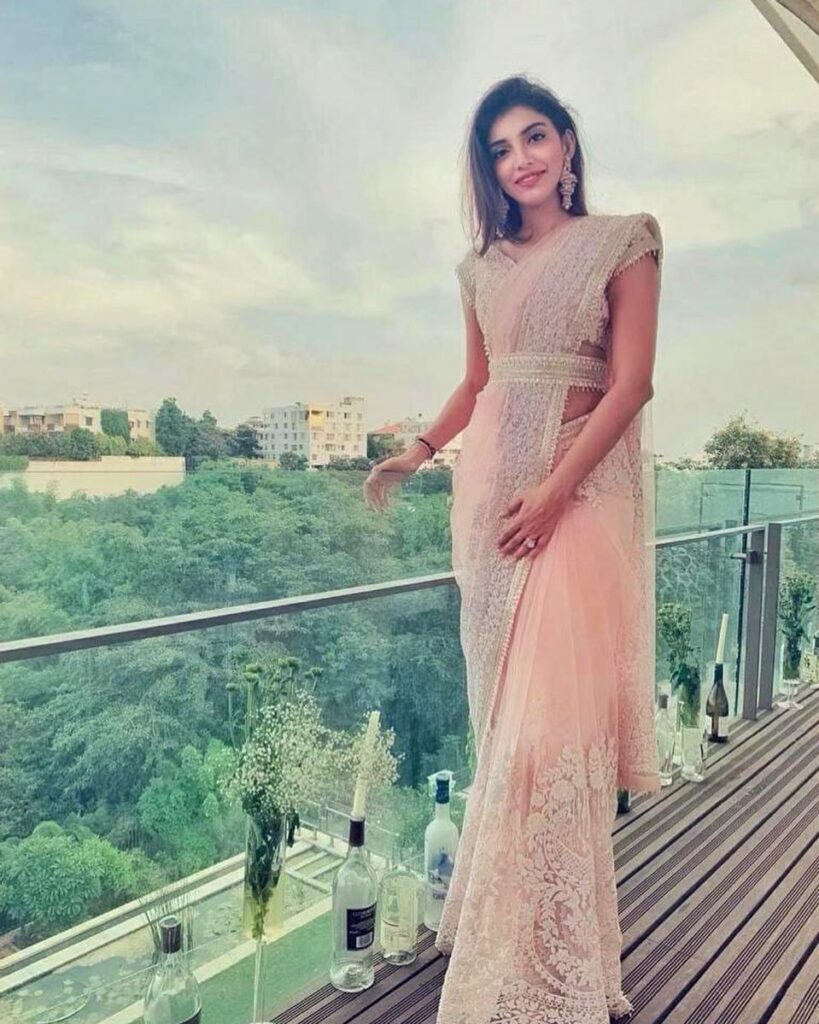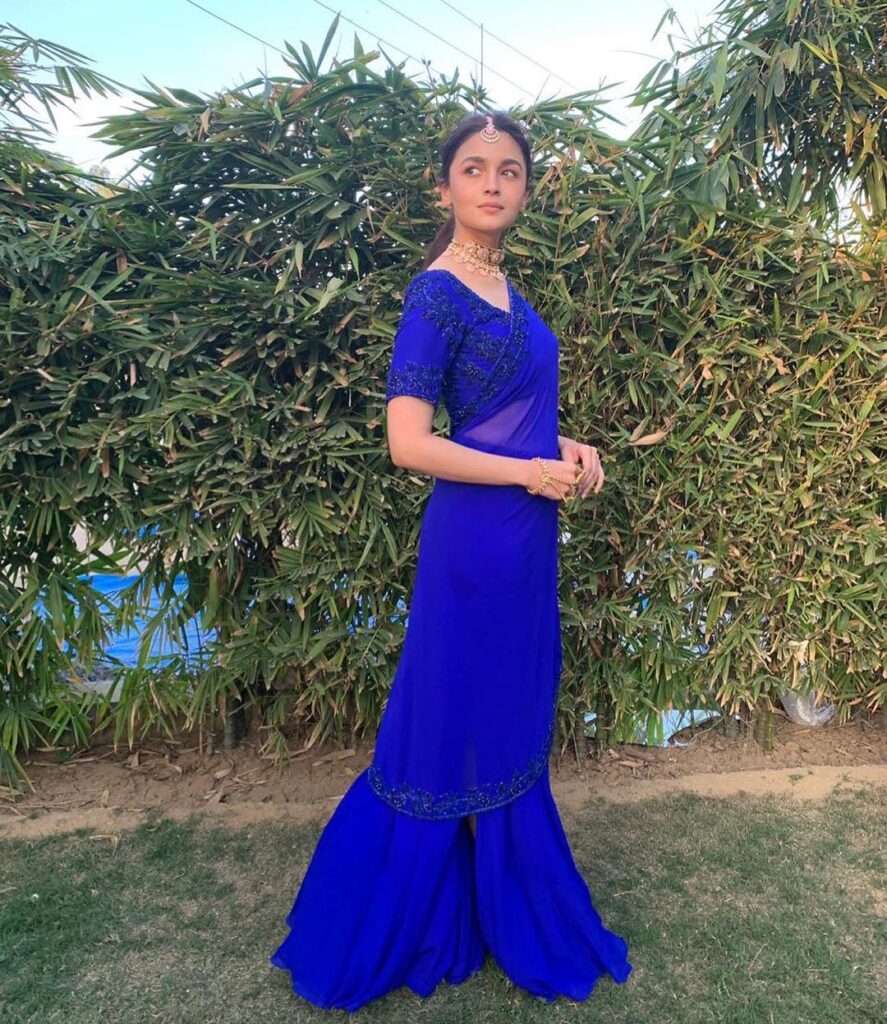 #27 Malhotra's latest 2021 collection features some stunning kurta sets made with plush cloth and imperial-inspired designs. This Diwali, many celebrities showcased this part of his collection. Wouldn't it make a great pick for your home puja or mehendi function? We think so.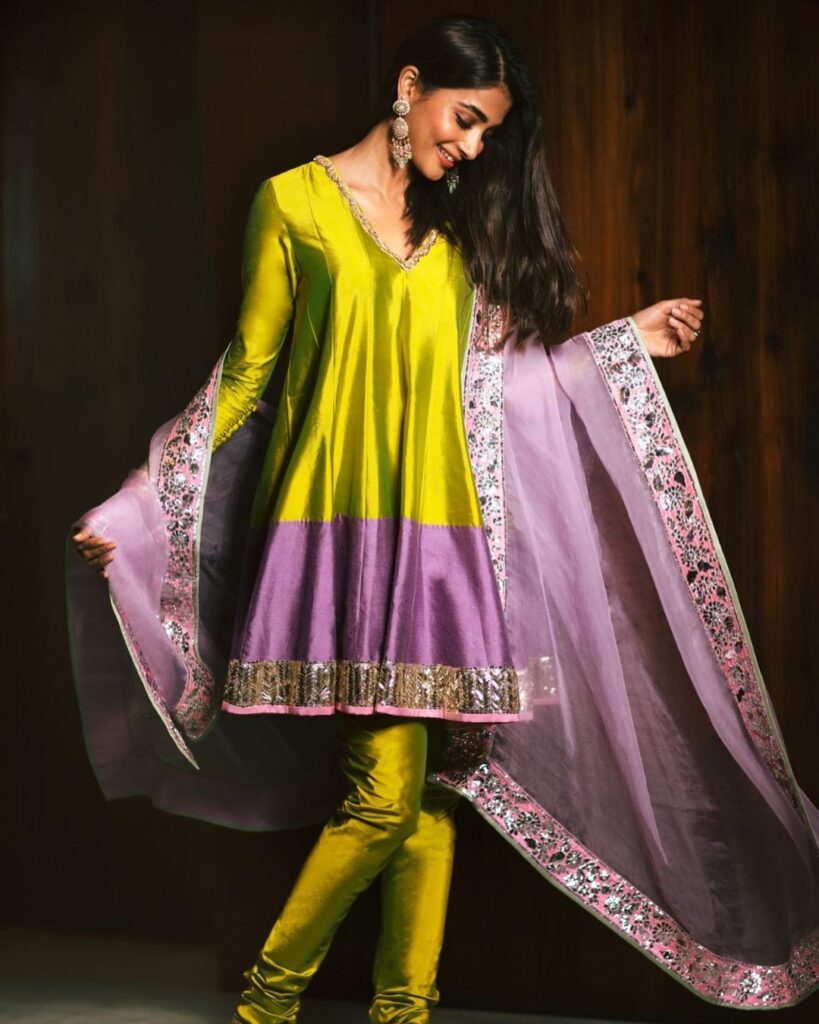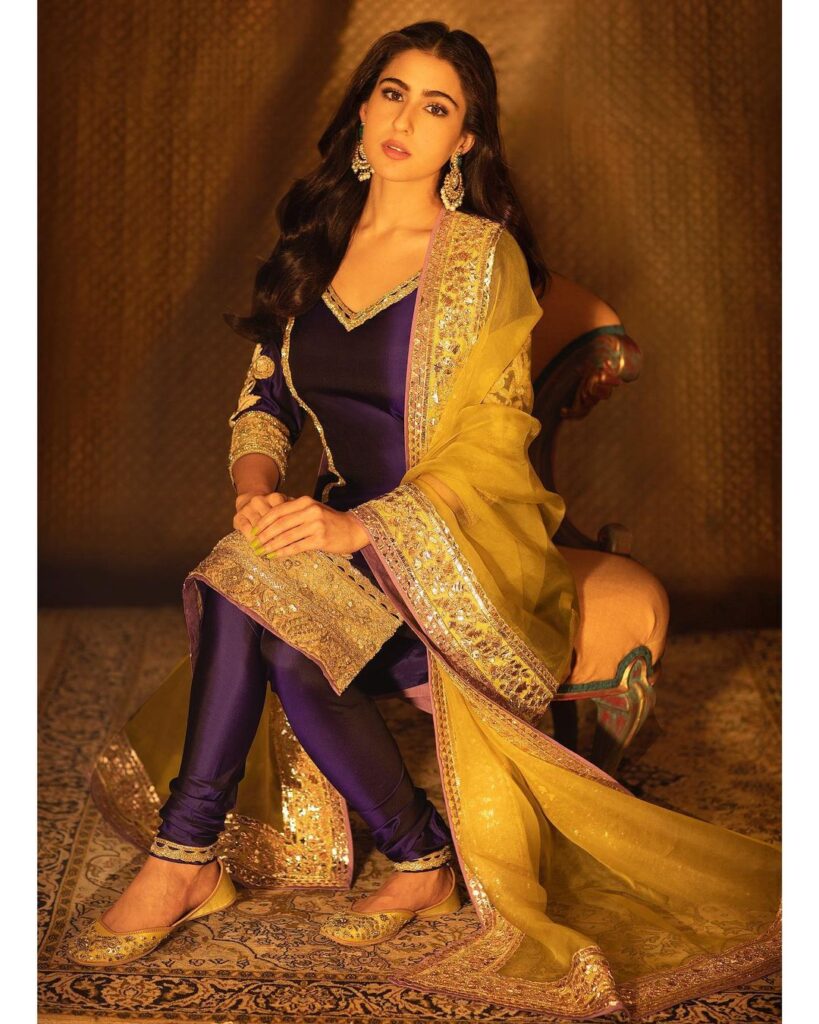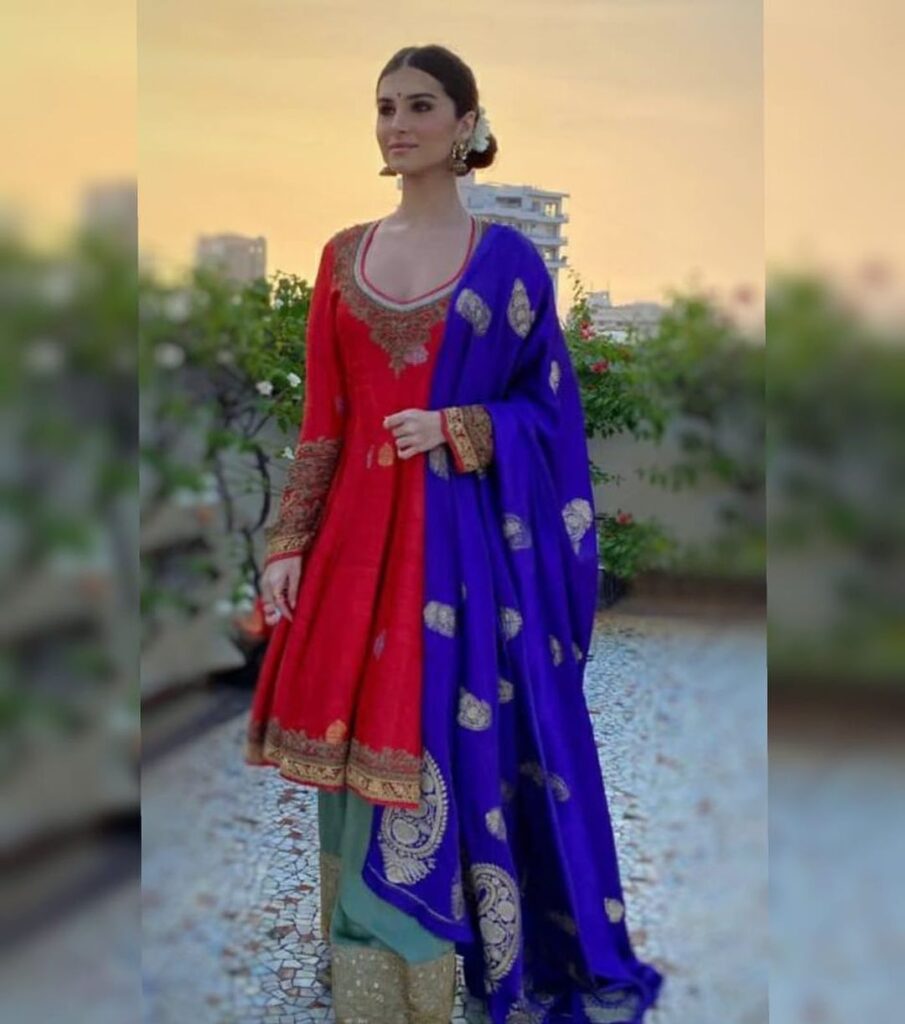 #28 A perfect Manish Malhotra bridal lehenga adorned with immaculate handwork and a satin base. No doubt the bride's styling made it look even more ravishing.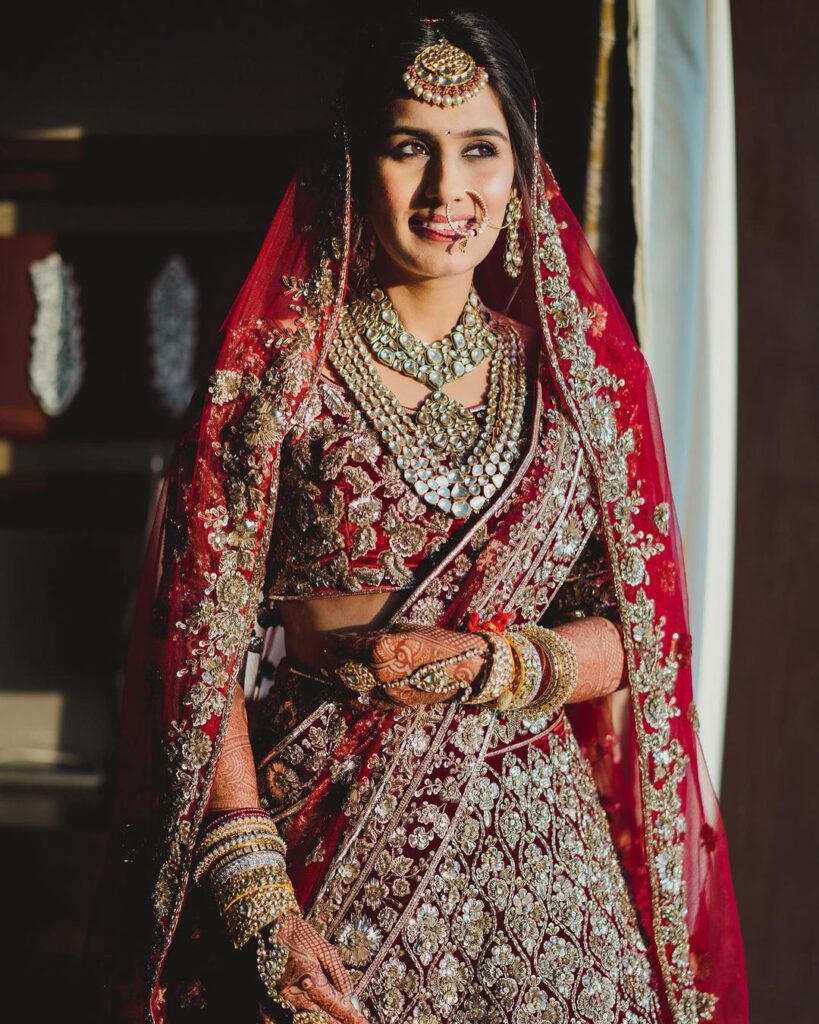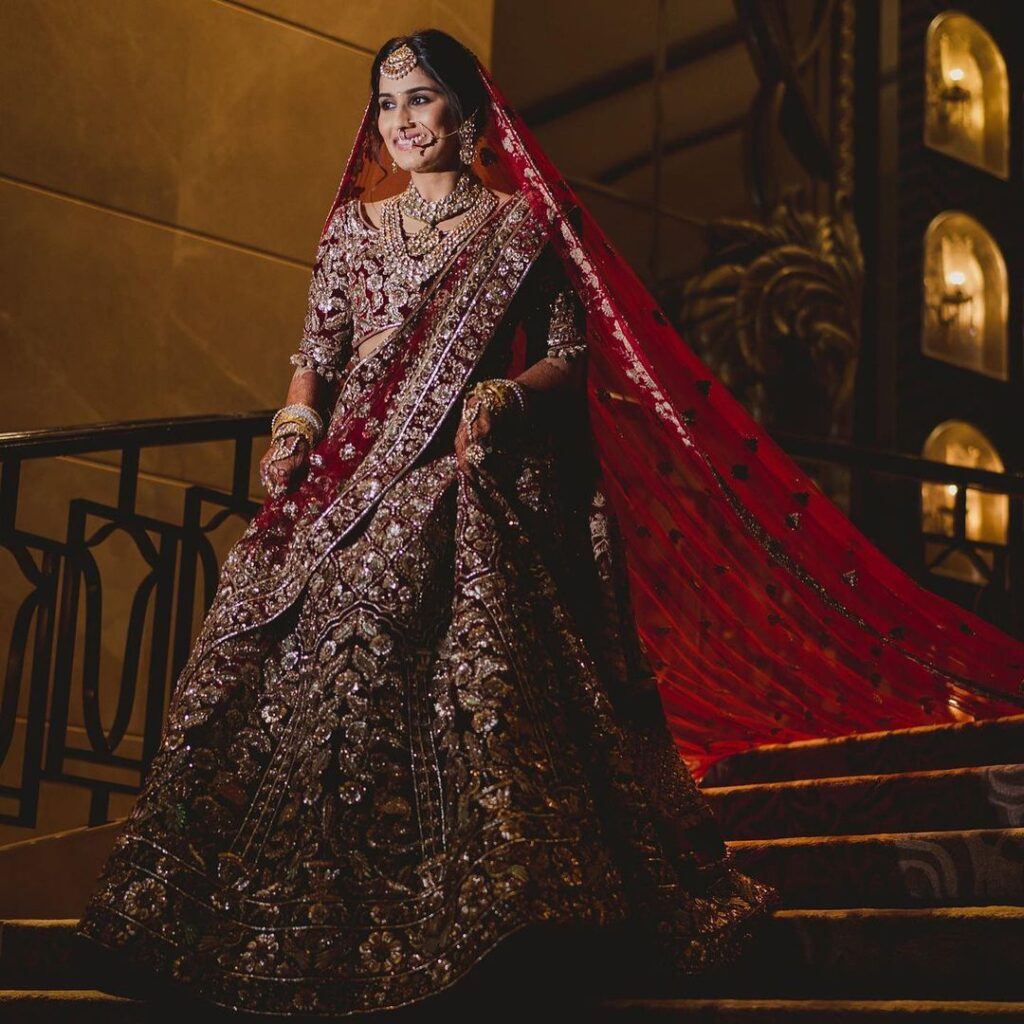 #29 If you're looking to feast your eyes on some heavenly Manish Malhotra bridal outfits, you're in luck. The designer just launched another Instagram page (@manishmalhotravows) showcasing real brides in his couture. Here's a captivating one we fished out from his newly launched page.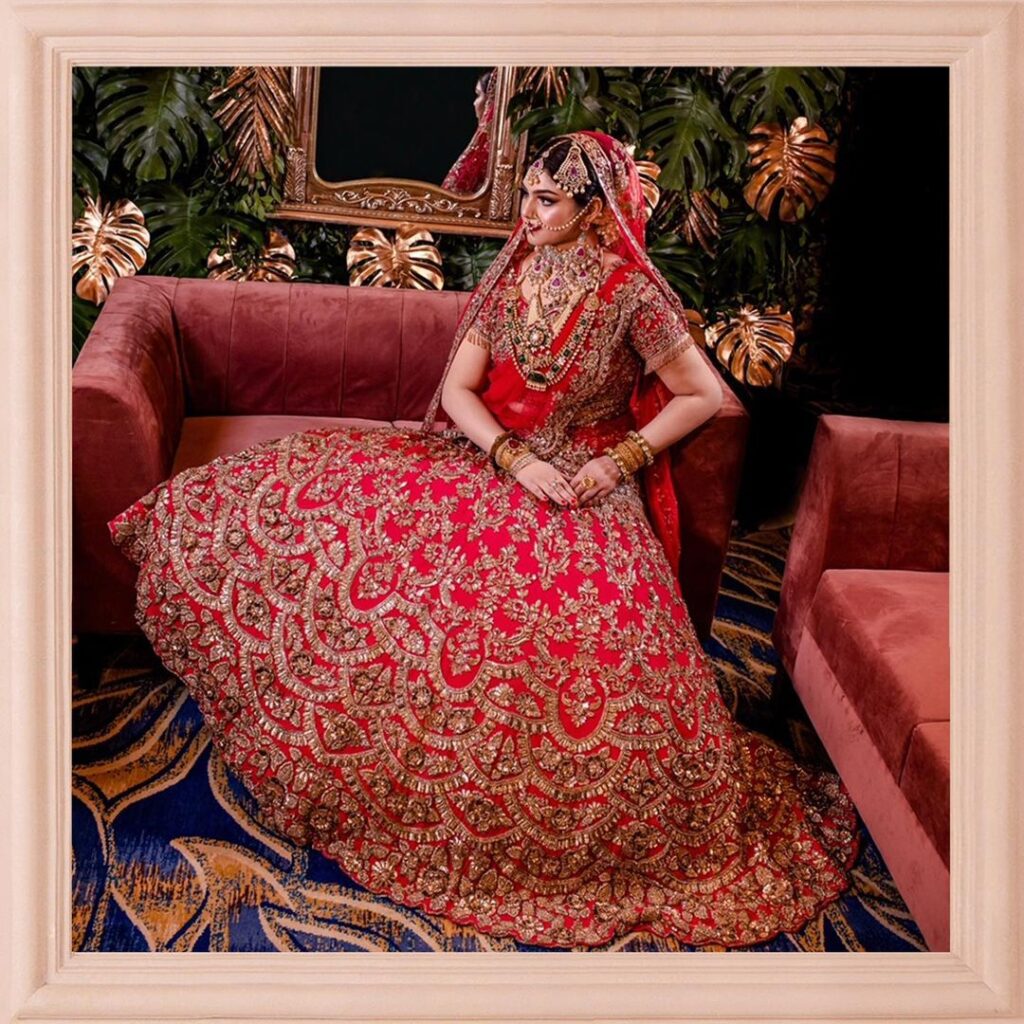 #30 Ending this aesthetic list with a cheery bride, flaunting her Manish Malhotra outfit perfectly. Bookmark it as an inspiration for your bridal portrait right away.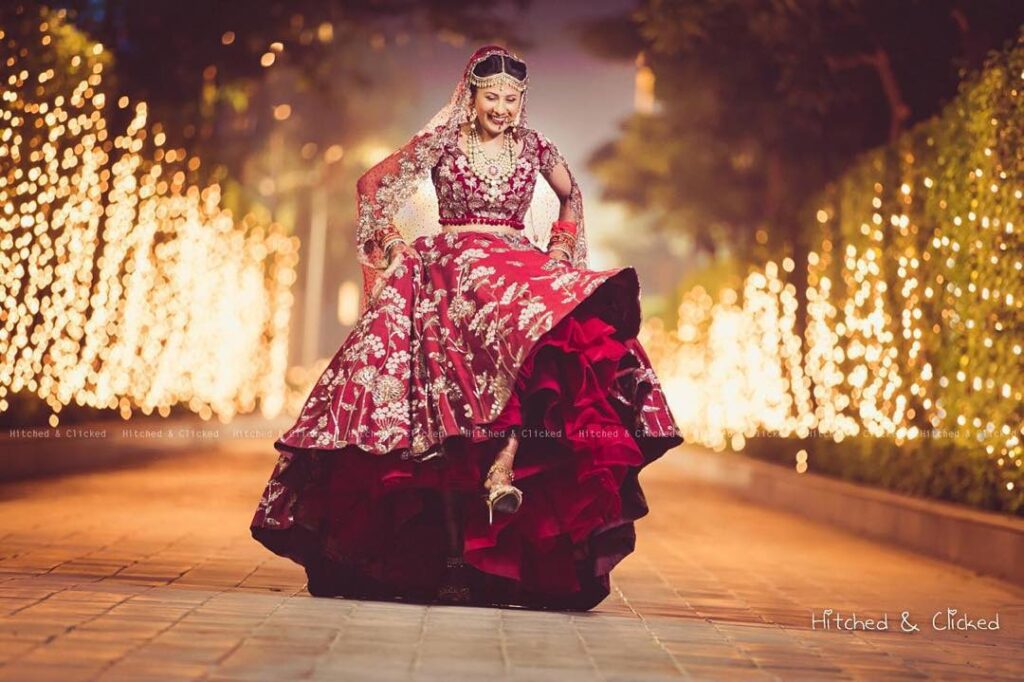 Photos: Hitched & Clicked
FAQ's
How much do Manish Malhotra lehengas cost? And what's so special about them?
Manish Malhotra lehengas start from Rs.2,50,000/- and go up to 10 lakhs or more for customized designs. The latest 2021 collection has lehengas in the range of 3 lakhs to 10 lakhs. The designer has included many of his lehenga designs for direct purchase on his website. The reason why Manish Malhotra lehengas cost so much is first, because of the brand value, and second, the standalone designs and impeccable karigari on them are unmatched. They offer a unique sense of style and will make you feel beautiful the minute you don them!
How much do Manish Malhotra sarees cost?
Manish Malhotra sarees start from Rs.65,000/- and go up to 3 lakhs. Most of them average out to around Rs.1,50,000/- and you can purchase a gorgeous one with this budget. His latest sequin saree designs are all listed on the website for direct purchase.