Twirling and posing like a princess bride is a part of the wedding shenanigans. To make those portraits as ethereal as ever, the lehenga should have the whirl that mesmerizes. While that can make your mind direct towards a 24 kali lehenga, it's certainly an option not appealing to millennial brides who want a movement freeness with their ensemble. The next trending option is the Can Can lehenga. Unlike the 24 Kalis that adds a tonne of weight to the lehenga skirt, the Can Can lehenga just enhances the fluff without a lot of heaviness. If you're wondering what sort of can-can you should use underneath your lehenga and all the other related questions about this trending element in Indian wear, we answer them all here! 
What is a Can Can lehenga?
Simply put, a Can Can lehenga skirt is one that has a can-can attached on the side. The can-can stitching can be done in a number of ways. From coming all the way to the top to multiple layers on the bottom and a simple one-layer entirely – there are many ways in which a can can bridal lehenga can be designed. Depending on the bride's needs and comforts, a designer can put together a can can lehenga design. However, keep in mind that not all designers will entertain customization of these mesh enhancements, especially the high-end lehenga designers like Manish Malhotra. It's best you select the pieces you'll be comfortable wearing in that case.   
Types Of Can-Can:
There are mainly two types of Can Can skirt:
Wire, Hard Kind: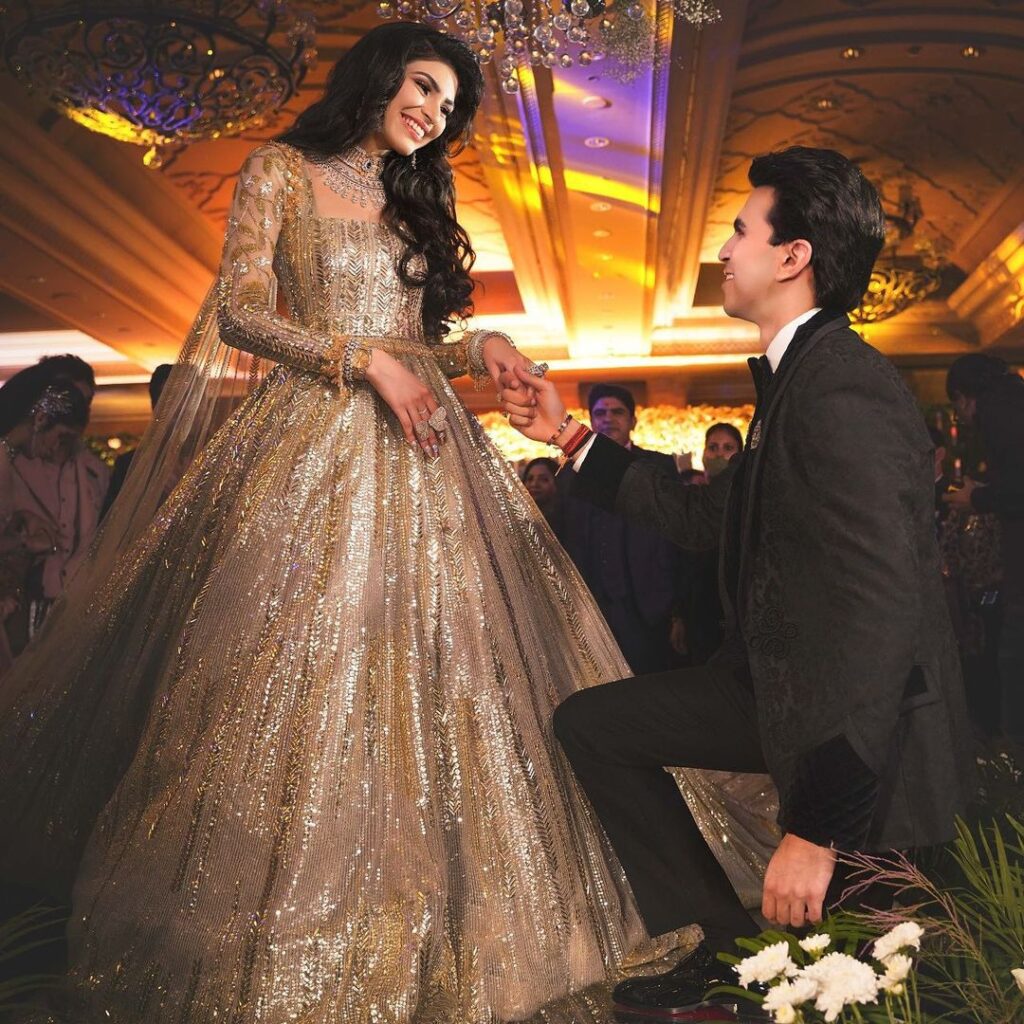 Courtesy: Manish Malhotra
The hard-kind wired mesh is a common can-can under wedding gowns. They don't have many layers but are meant to add a ball gown-type effect to the attire. These under-the-attire additions have a wire after every few inches to support the flare and the heavy base of the cloth that comes on top. They only have one layer and the net used to make them is generally quite stiff. 
Soft Fabric Type With Layers: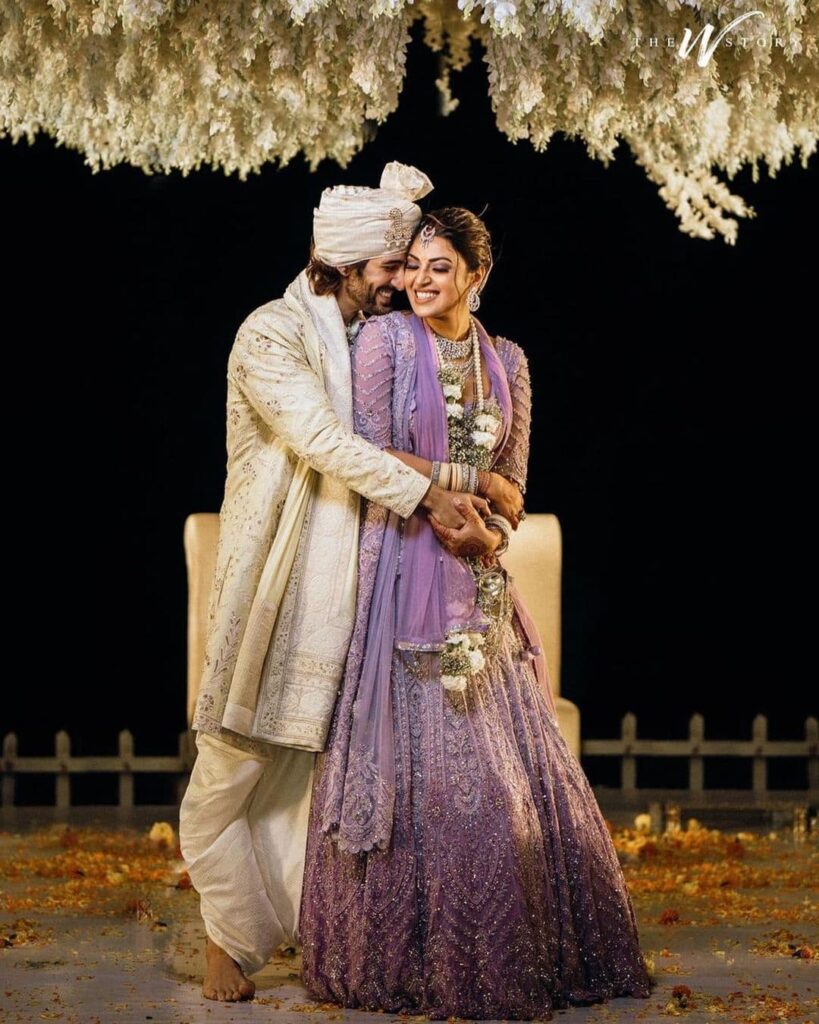 Courtesy: Manish Malhotra
These are the popular can-can for bridal lehenga as they give the comfort for brides to move and carry their heavy attire while also lending a smooth silhouette appearance at the same time. They also don't cram up or look heavy under lehenga and you can have as simple and as dramatic a look you want. You will find them commonly in high-end and designer wear stores. 
Things To Consider Before Attaching Can Can On An Outfit:
Consider The Fabric: 
Some lehenga fabrics tend to fluff on their own and not all fabrics can handle the weight of this mesh material. In this case, it's best you take the advice of an expert. Some cloth structures are very delicate like that of georgette and pure bandhani. When loaded with can can they will tend to tear up and get damaged over time. In these fabrics, it's best to stick to just one layer of soft fabric can-can. Most bridal lehengas are made with silk though and silk holds the can-can in a very flattering manner. If you want an absolute princess bride look with lots of fluff, opt for a silk or cotton sating fabric for the special occasion. 
Know Your Limits In Movement:
If you want ease in movement and sitting in a can-can, only attach the mesh material after your knees. This still keeps your lehenga fluffy and gives it a gorgeous twirl effect. Or keep the lining of the lehenga on the top fabric soft layer and add layers only on the bottom. Know that going to the bathroom will not be possible without some assistance and this is where one of the bridesmaids will have to step in to help. Further, keep the can can under gowns in the limit if you're opting for a wedding gown on sangeet or cocktail, it will just compromise with all the dancing fun. On wedding day though, when you don't have to move as much, a good amount of can can is an ideal option. 
Get A Detachable Can Can:
A detachable can can stitching under lehenga ensures that you can remove it once you don't want that extra dramatic effect. Plus, you can transfer the material into the lehenga you want to make fluffy for the next event. Considering how much you invest in a wedding lehenga, it's imperative you'd want to wear it again, but all that extra fluff in the lehenga doesn't make the re-wearability easy. This is where getting a detachable can can skirt on a wedding lehenga pays off. 
Bridal Tip: How to iron and fluff the can can?
To iron the can-can lehenga, keep the iron setting on the low to medium and swiftly drag the pressing iron all over. If using a steamer, 
put it on the highest setting to remove any wrinkles. To fluff the can can, jerk it lower 
and outwards from the lehenga. Someone else will have to do this for you. 
Take Into Account Your Body Type:
If you are curvy, go easy on the can can skirt as it will further up the illusion of a broader body. Similarly, slimmer brides can add the can can stitching from top to bottom for a fuller look. It's important to work with the lehenga designer to customize a silhouette that flatters your body shape the best. Also take into account the fabric of the lehenga, as some fabrics tend to fluff when worn, and strategically placing can can become important so as to not lose the charm of the entire ensemble. 
Conclusion: 
A Can Can lehenga has its own advantages and disadvantages. If you're a bride leaning more towards comfort though, having a heavy flare installed just wouldn't serve you right. In that case, just one layer of can-can is enough to give you the glamour of a bride. Or you can opt for this extra element added just on the bottom. 
Keep in mind, if you're going to a designer store for wedding shopping and have in mind to don a Sabyasachi lehenga or a Falguni Shane Peacock lehenga, there aren't any options to boil down on the can-can. Any high-end designers value the flare because that's what gives their lehengas a queen-vibe. So, be prepared mentally to be bestowed on with heavy can-can at these designer stores. They're comfortable and made of high-quality fabric though, and won't' be as uncomfortable as you'd think. 
Summing up, getting a can-can skirt on lehengas, anarkalis, or concept sarees totally boils down to personal choice. We hope this blog cleared many of your doubts relating to this common element in Indian wear. Let us know if you have any more questions in the comments section below.