While curating a look for your wedding doesn't give you much option with the hairstyle, a classic bun being the most favored choice, it's on your mehendi day that you can actually explore options. On the other functions, you might also have a dupatta on the head, but for mehendi, things roll differently. Brides often prefer playful palettes for this fete and opt for such gorgeous mehendi hairstyles that match the cheery mood of the event, and their ensemble. 
Also, experts recommend picking a hairdo that won't need touch-ups or lose its charm over the day. Not only do brides have wet mehandi on their hands, but the event also lasts for the full day and most of the portraits are clicked after the mehendi is all dried. It's obvious you'd want your hair & makeup to stay put through all this time. Convey this to your hairstylist before time and pick only a professional to do your mehendi hair. If you're DIY-ing, lots of hairspray and bobby pins are the key to keeping your hairdo intact. 
Find below 30 trending mehendi hairstyles for brides and wedding guests. 
Mehendi Hairstyles With Flowers
There's no allure like that of florals. From dresses to henna to hairstyles and decor, they can add a whimsical touch to anything they're a part of! In this case, they will be a part of your mehendi hairstyle. Since most brides love sporting their hair open for this revelry, all the hairstyles on this sub-section will be featured with open hair and different floral arrangements. Bedecked with common florals like baby's breath, hydrangeas, roses, and carnations, this hairstyle idea is ideal for brides looking to add a romantic and elegant trait to their ensemble. For those who're doing their own updo and looking for a simple mehendi hairstyle, flowers can be your best bet to add an ethereal charm to your hair. Scroll to see some of the best mehendi hairstyles with flowers. 
#1 With a unique triangular arrangement of flowers, it seemed befitting to start with this eye-catching hairdo. We're also swooning over her perfect curls and how the 'do transforms this bride into a goddess.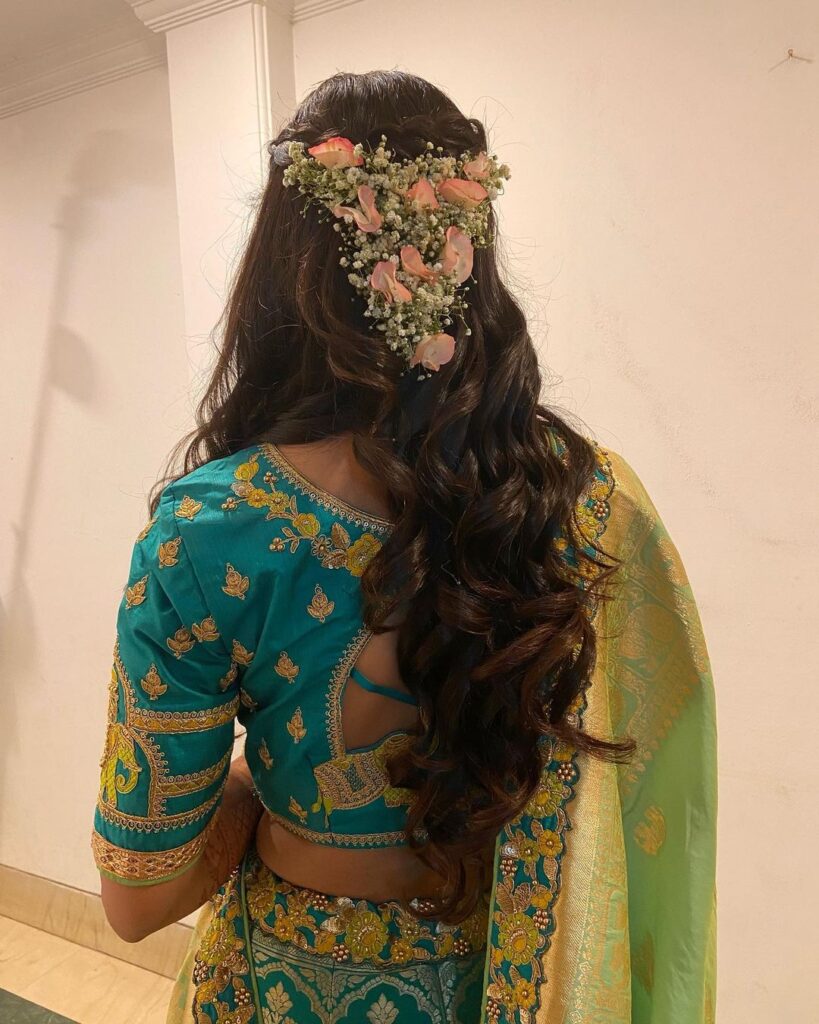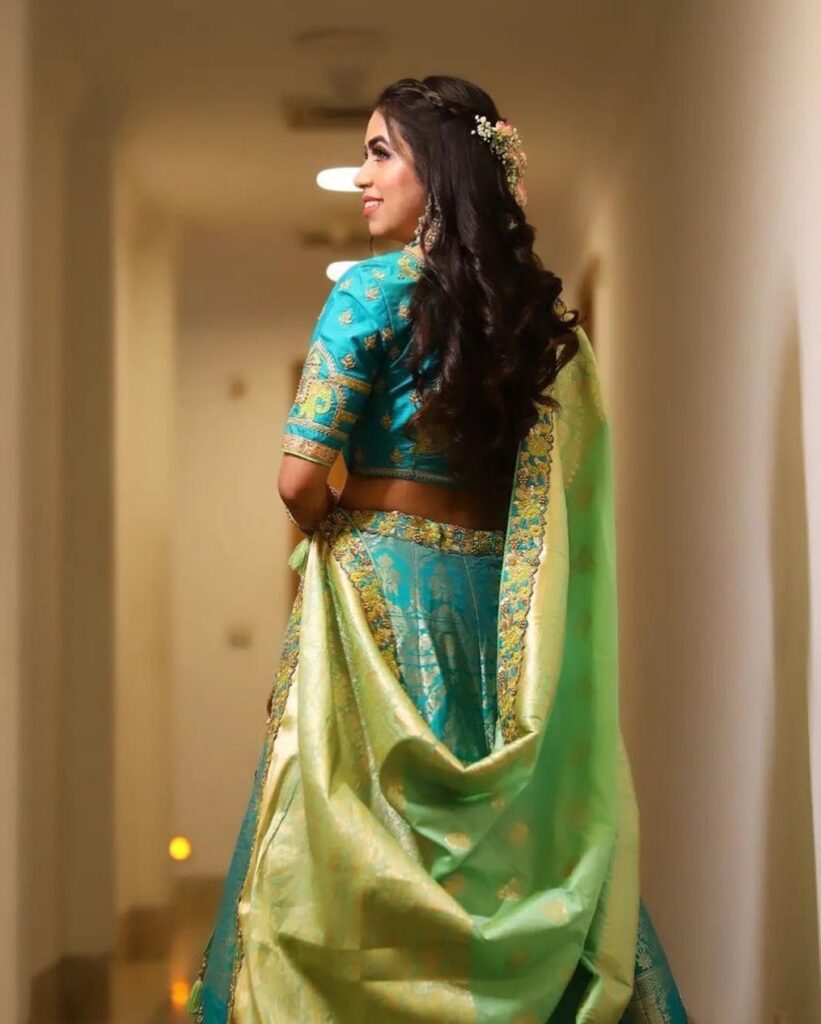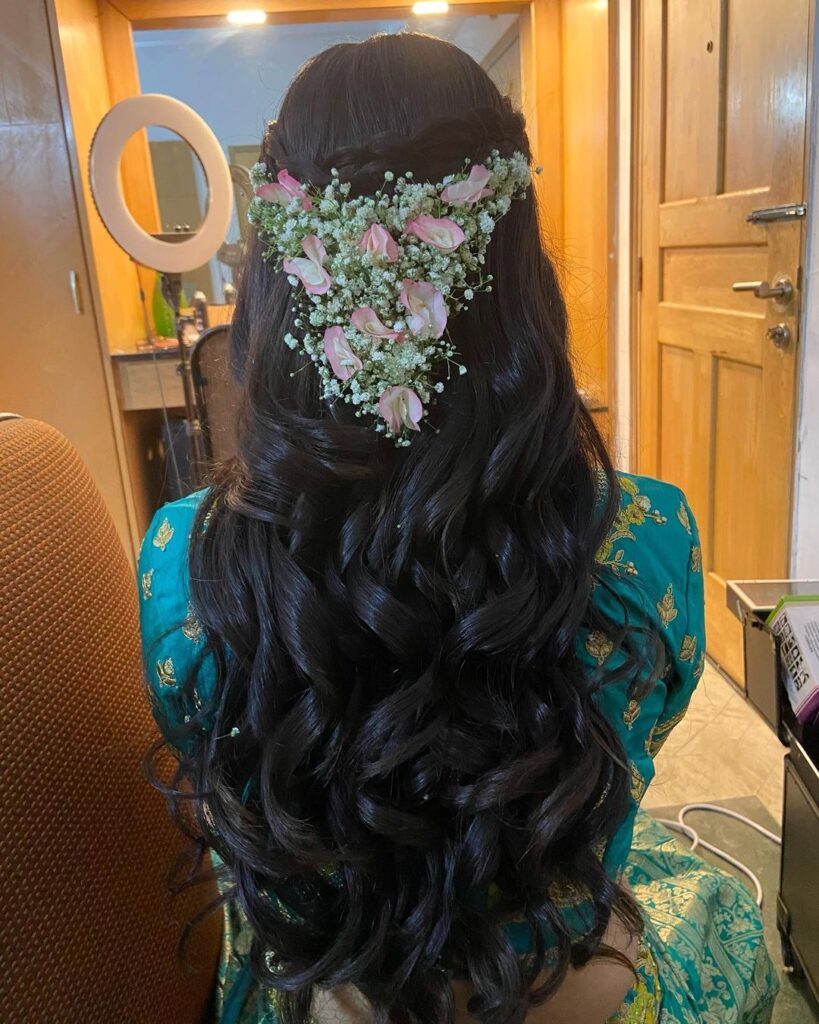 Courtesy: Khushi Hairstylist
#2 Baby's breath is the trending flower in bridal hairstyle arrangements. Their elegant, simple, and romantic touch sure is wedding-worthy. This bride opted only for these flowers to bedeck her half-up, half-down mehendi hairstyle for long hair and it sure looks gorgeous as ever. 
Courtesy: Shahbaj Khan
#3 It's admirable how the braids in her hairstyle look messy and yet arranged so intricately to curate a splendid picture-worthy hairdo. This is where spending the money on an expert will pay off! They will bestow on your ensemble such creativity that it will impress you well and make all the bucks spent worth it.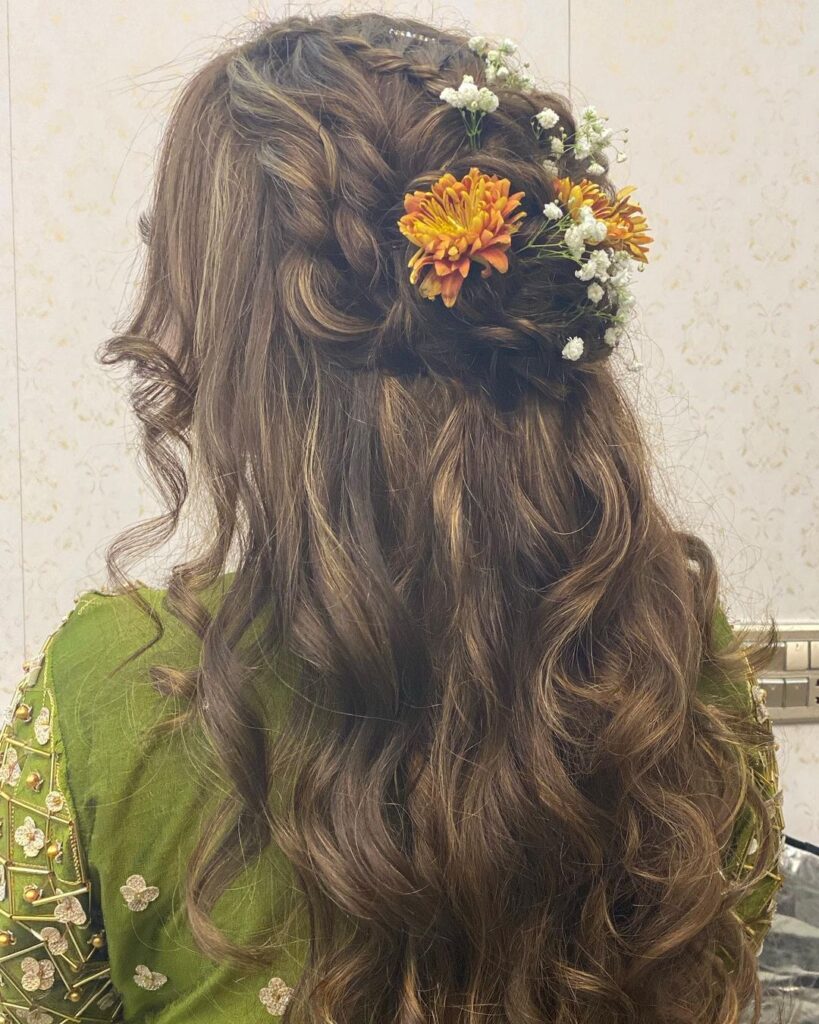 Courtesy: @icandybeautysalon
#4 Butterflies are yet another common accessories used in Indian wedding hairstyles these days. Their beautiful whimsical element sure is unmatchable. If you're looking to bedeck your open hair curls, do give a thought to this stunning new accessory in town.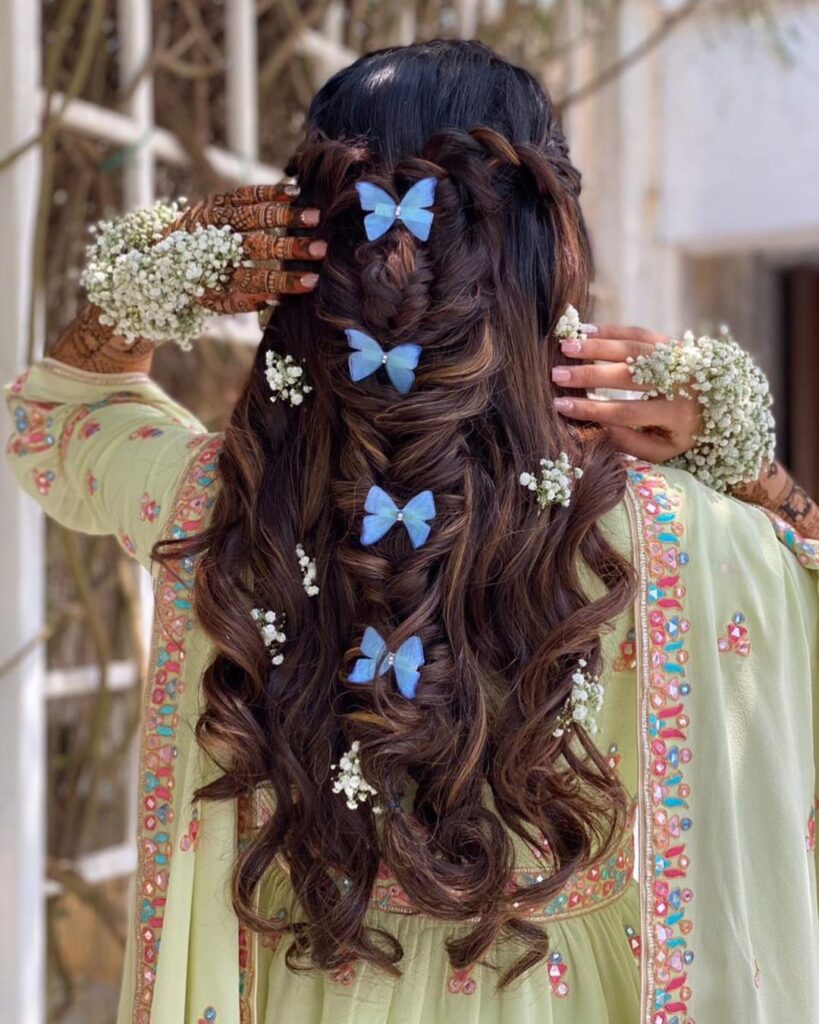 Courtesy: Vidya Patkar
#5 To match the pink shade of her lehenga, this bride chose to pick blooms in the same hue for her mehendi hairstyle with flowers. Elevating the look with a statement bow and voluminous curls, this 'do add a unique boho touch to this bride's playful mehendi ensemble.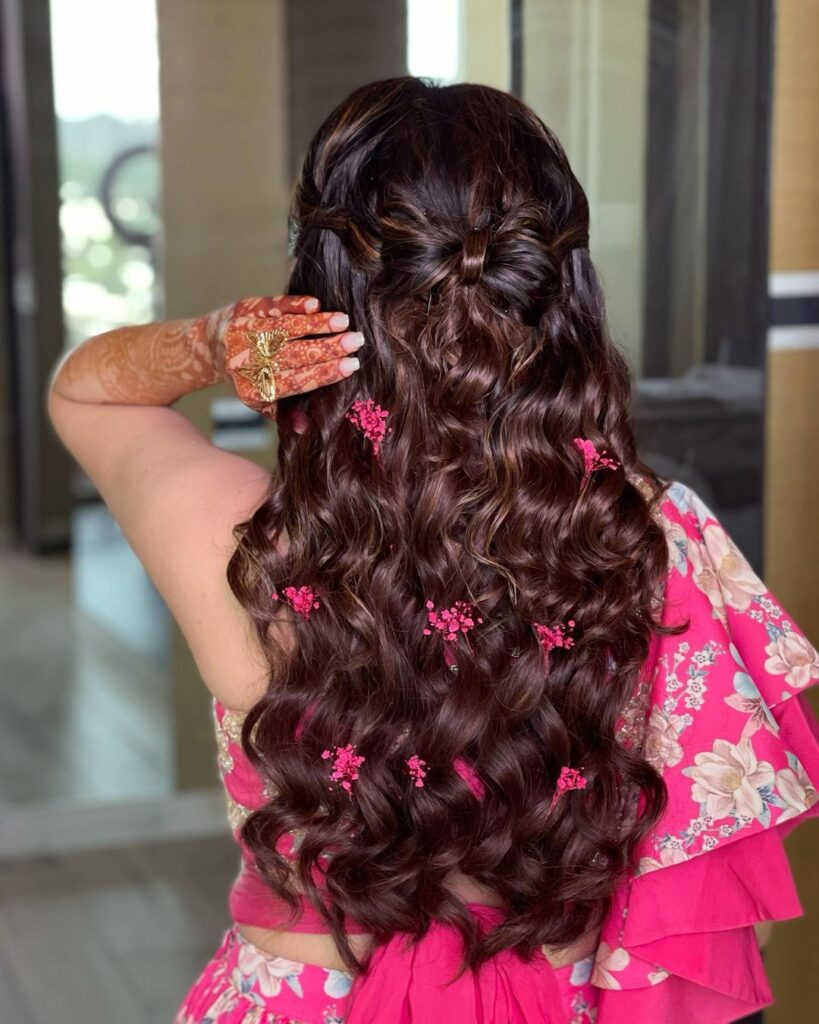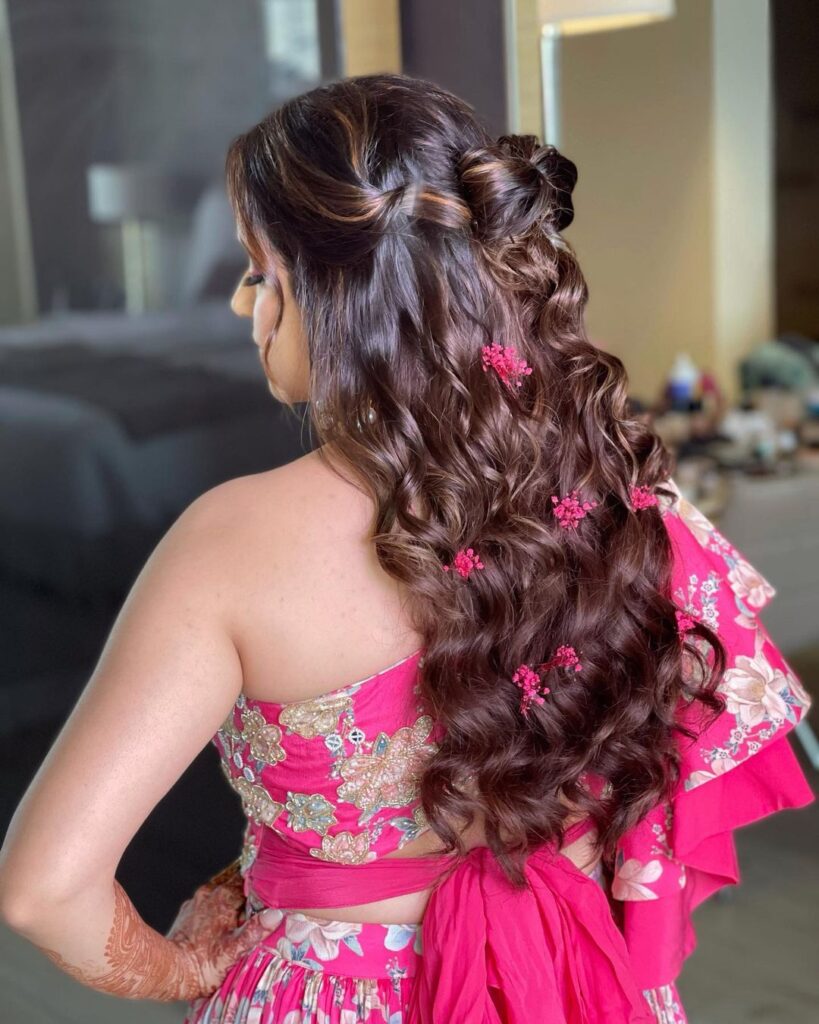 Courtesy: Anisha Nagpal
#6 Simplicity at it's best. This is a great mehendi hairstyle for brides, but also a beautiful mehendi hairstyle for sisters and other wedding guests. It's also an easy recreation for those looking to DIY their wedding hair. The smooth curls at the end sure are an understated alternative to favored voluminous waves.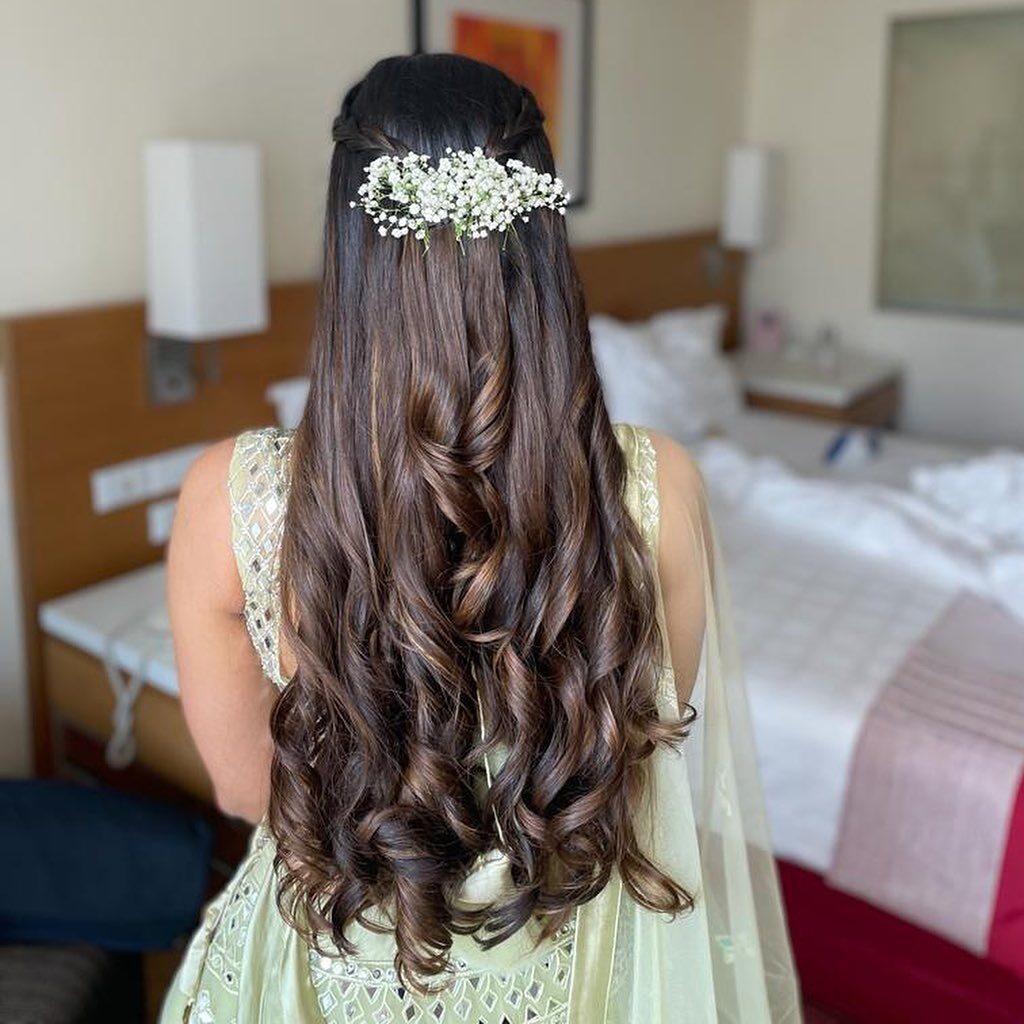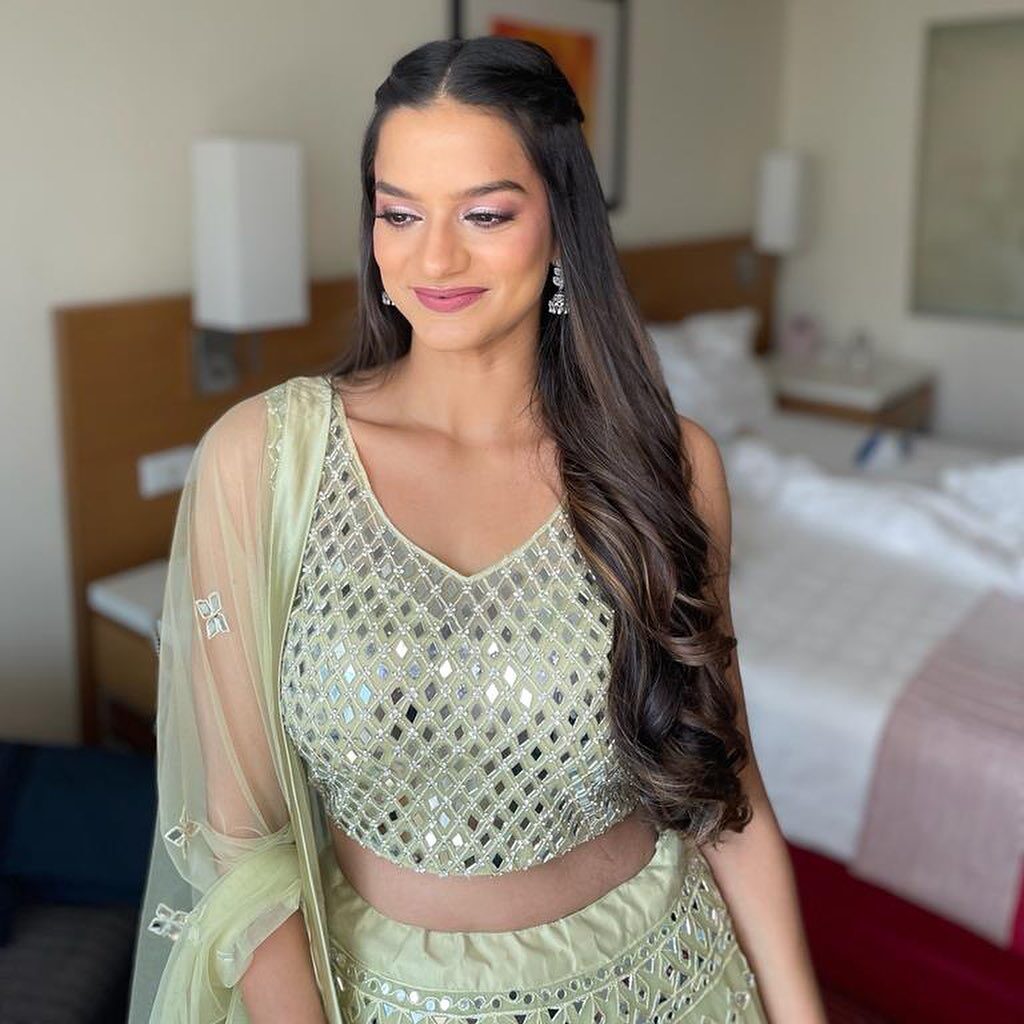 Courtesy: Chandni Rajput
#7 Yet another minimalistic yet gorgeous mehendi hairstyle idea for brides-to-be. Needless to say, a fresh, floral breath is always a good idea for weddings.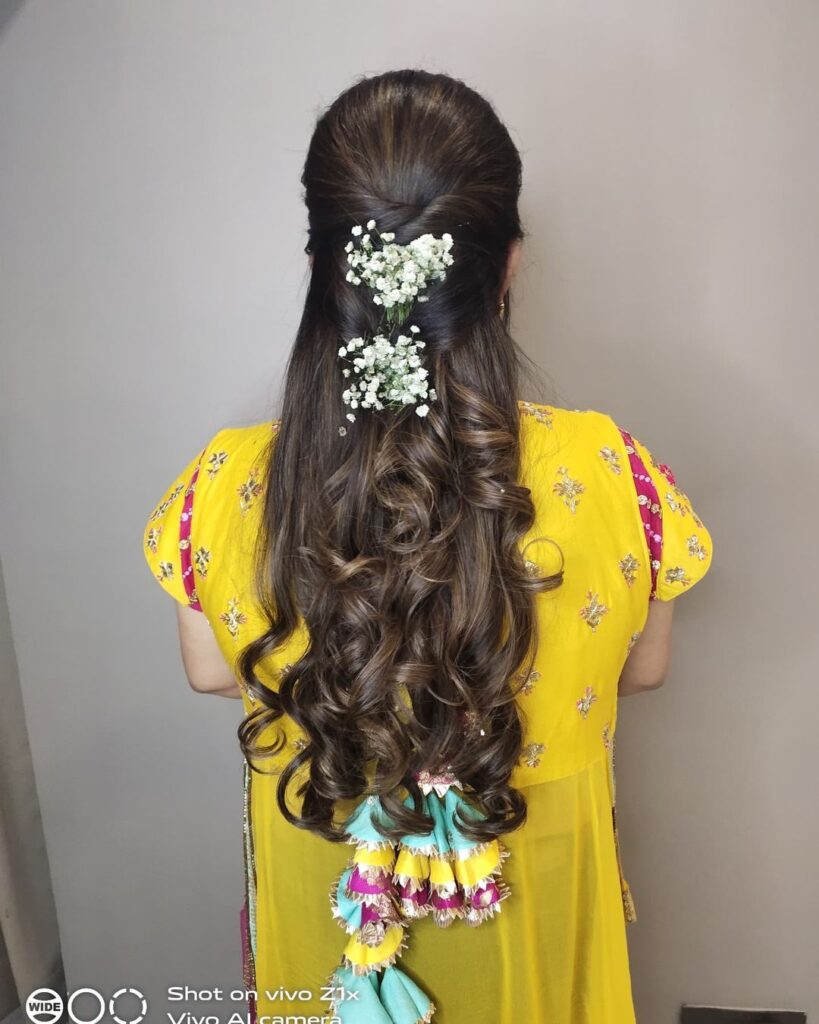 Courtesy: Devinder Chohanraj
#8 Adding color to her subtle ice blue lehenga is the carnation in her bridal mehendi hairstyle. The soft waves are impressive and create a sweet balance between modern and traditional.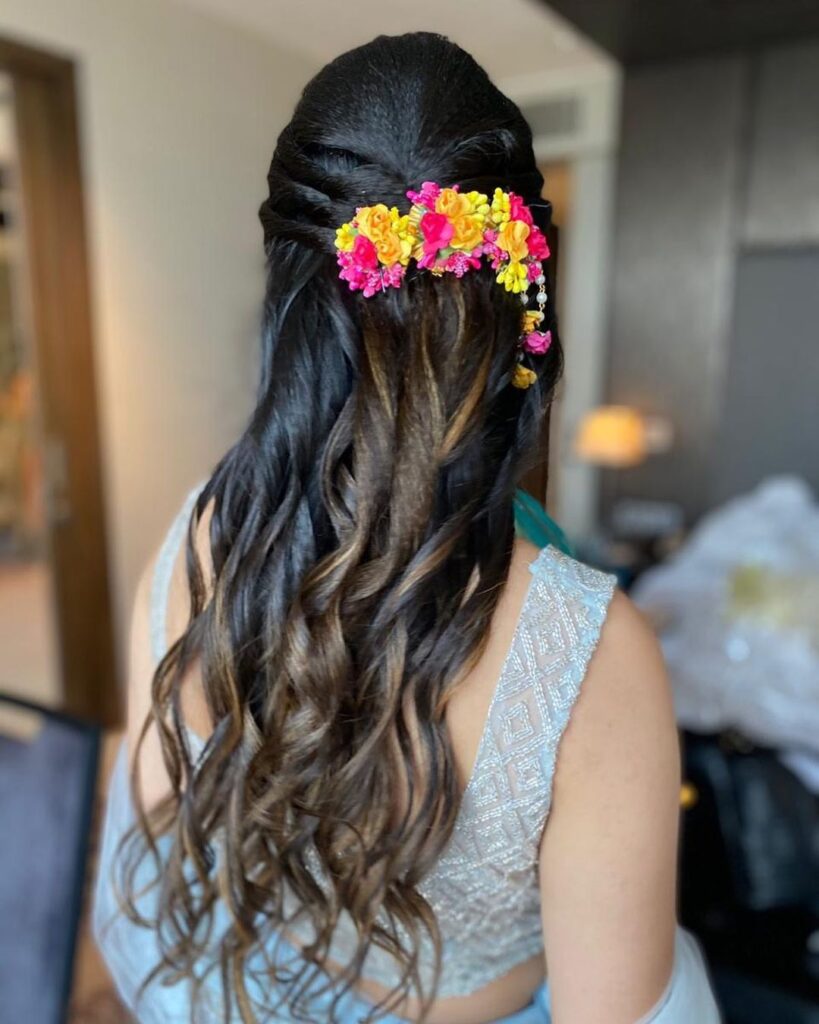 Courtesy: Jazz_Sara_
Open Hair 'Dos For Mehendi 
Mehendi is the best day to let your hair do the talking. And open hair with some waves, curls, and trendy headpiece is the perfect way to do that. Letting your hair loose also ensures the 'do will stay intact from day-to-night, and looks endearing in the portraits that happen a few hours after the henna is applied. Styling products do play a role here. Since the sprays and good tools let your waves stay put through the entire event. Open mehendi hairstyles for sisters & bridesmaids are also quite common and you can probably find the *inspirational* one on our next section of mehendi hairstyles. 
#9 With just a sheeshpatti in her hair and voluminous, beachy waves, this updo is a refreshing departure from the usual blossoms.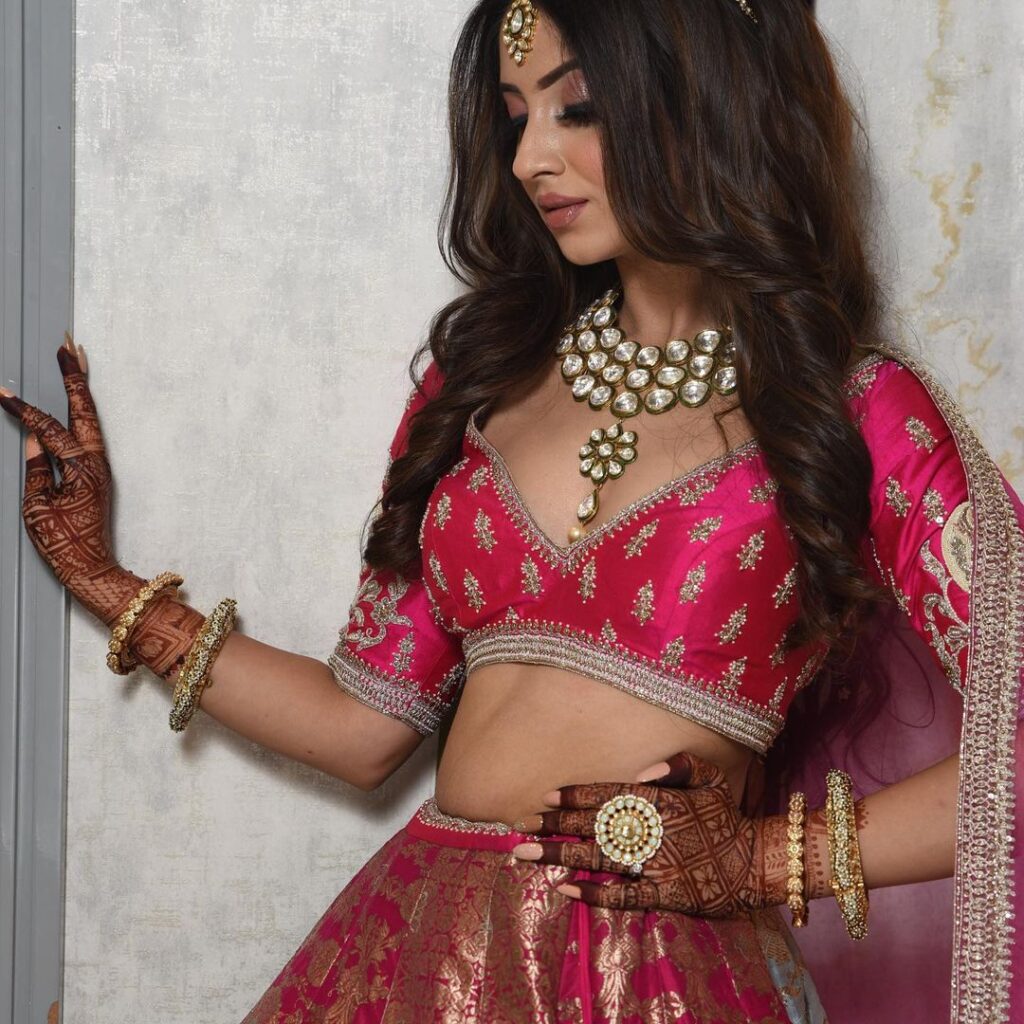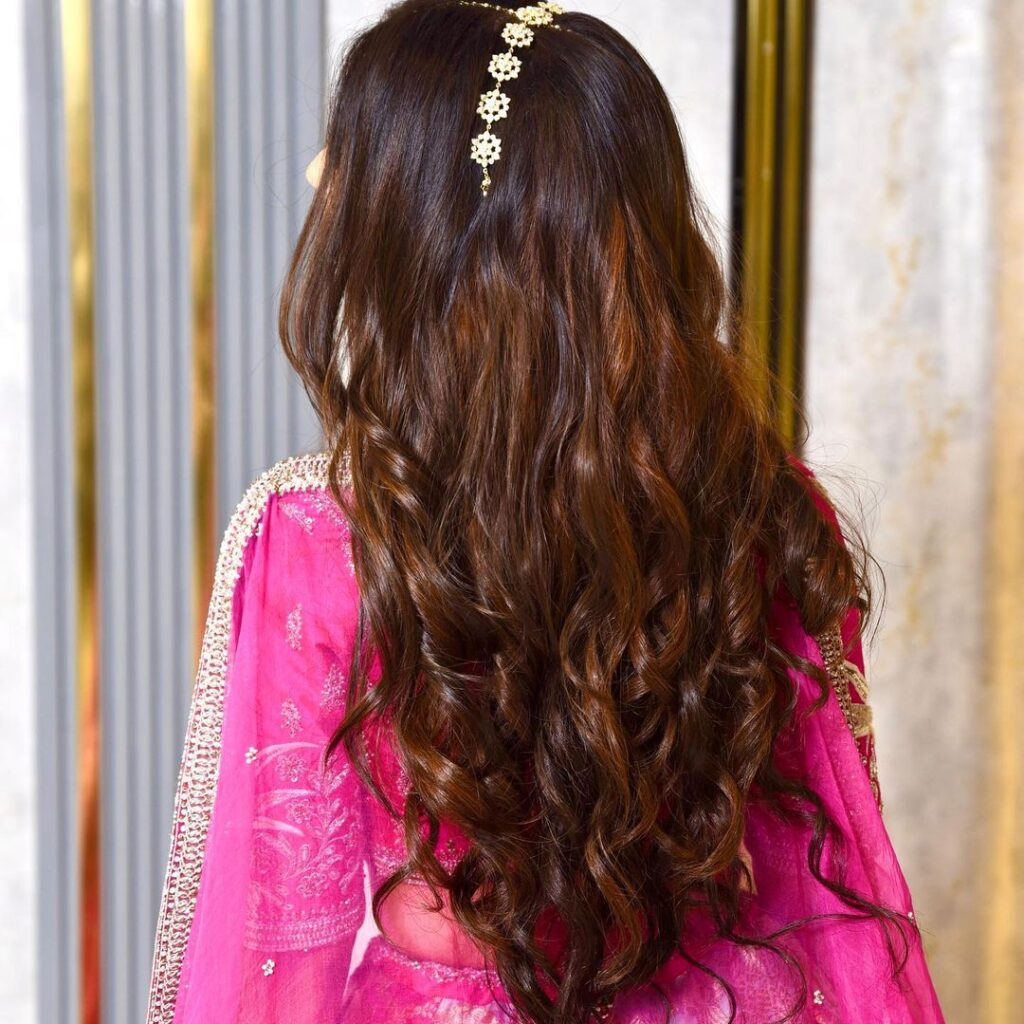 Courtesy: Hair by Himanshu
#10 Who said you need real blooms to bedeck your mehendi hairstyles, carve one from your tresses instead. This bride chose to accessorize her hair with her own strands and let the gorgeous braided rose in the middle take all the attention in her hairstyle. Add a tutorial next if you want to try this for your small wedding events.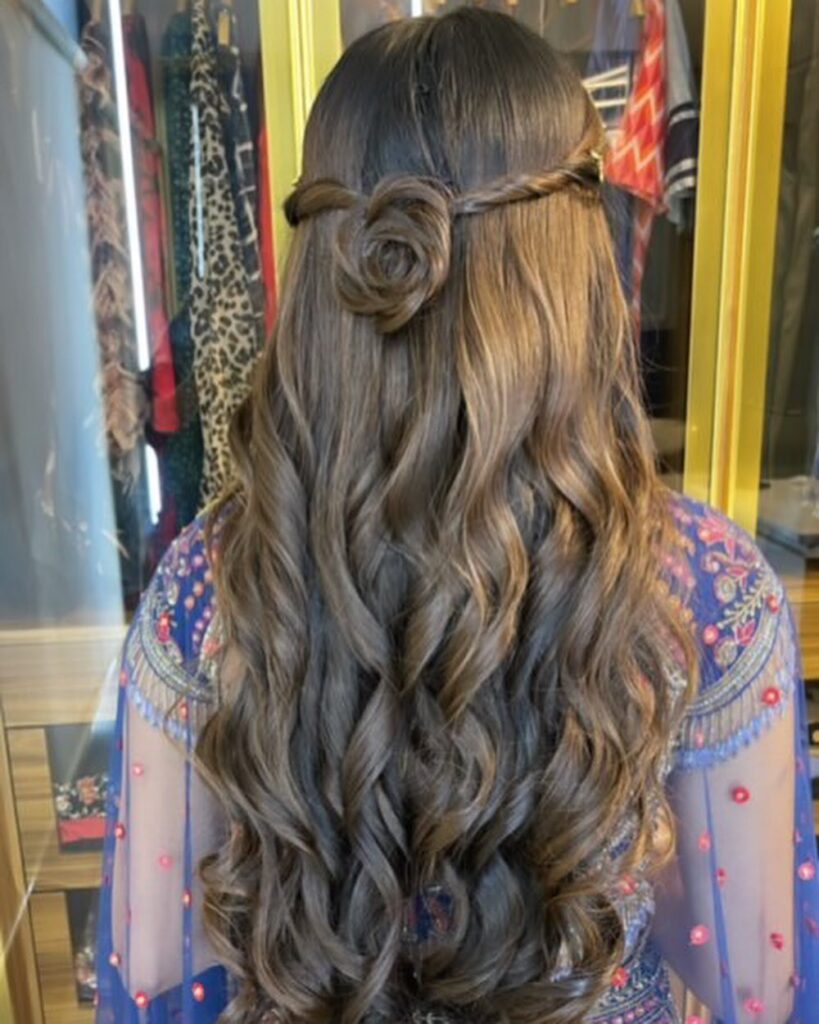 Courtesy: Chandni Rajput
#11 A mesmerizing cascade of curls and impressive balayage curls is making this hairdo Insta-worthy and wedding-worthy as well. To elevate the hairstyle, you can add a subtle accessory or just leave the tresses as they are. Clearly, getting a good hair color before the wedding is a good idea.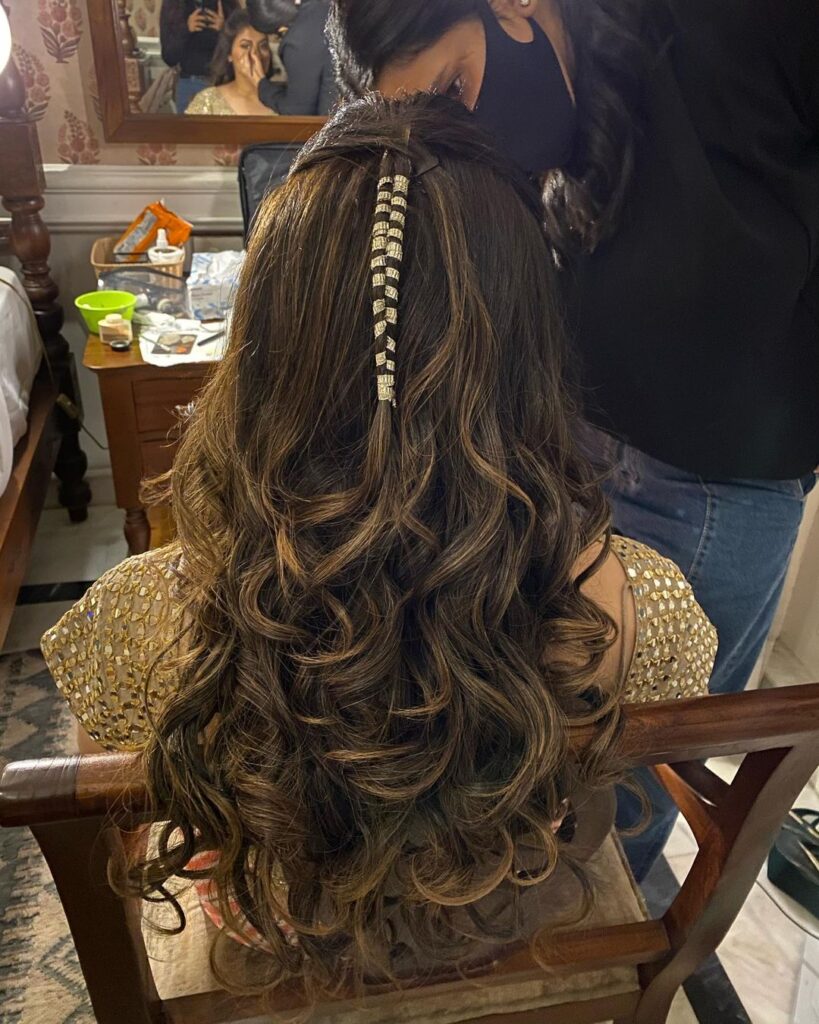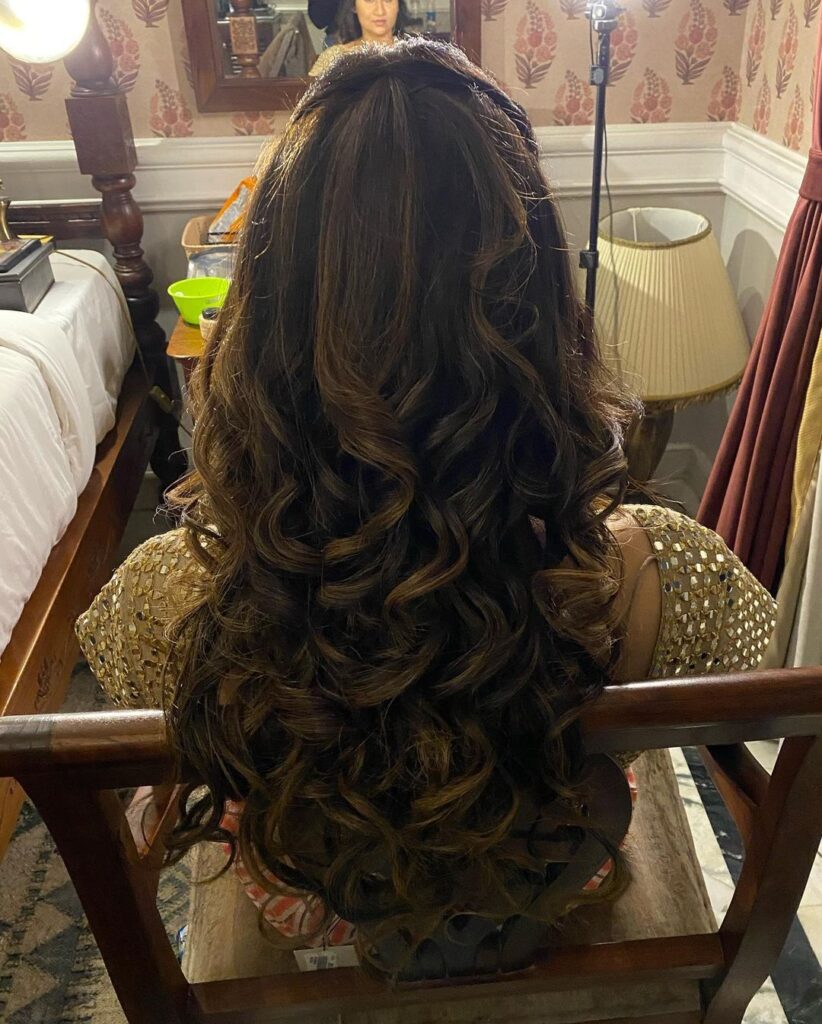 Courtesy: Hair by Anam
#12 If you're looking for a statement wedding hairstyle, this is it. The two twisted braids are trailing incredibly into the bride's captivating messy curls.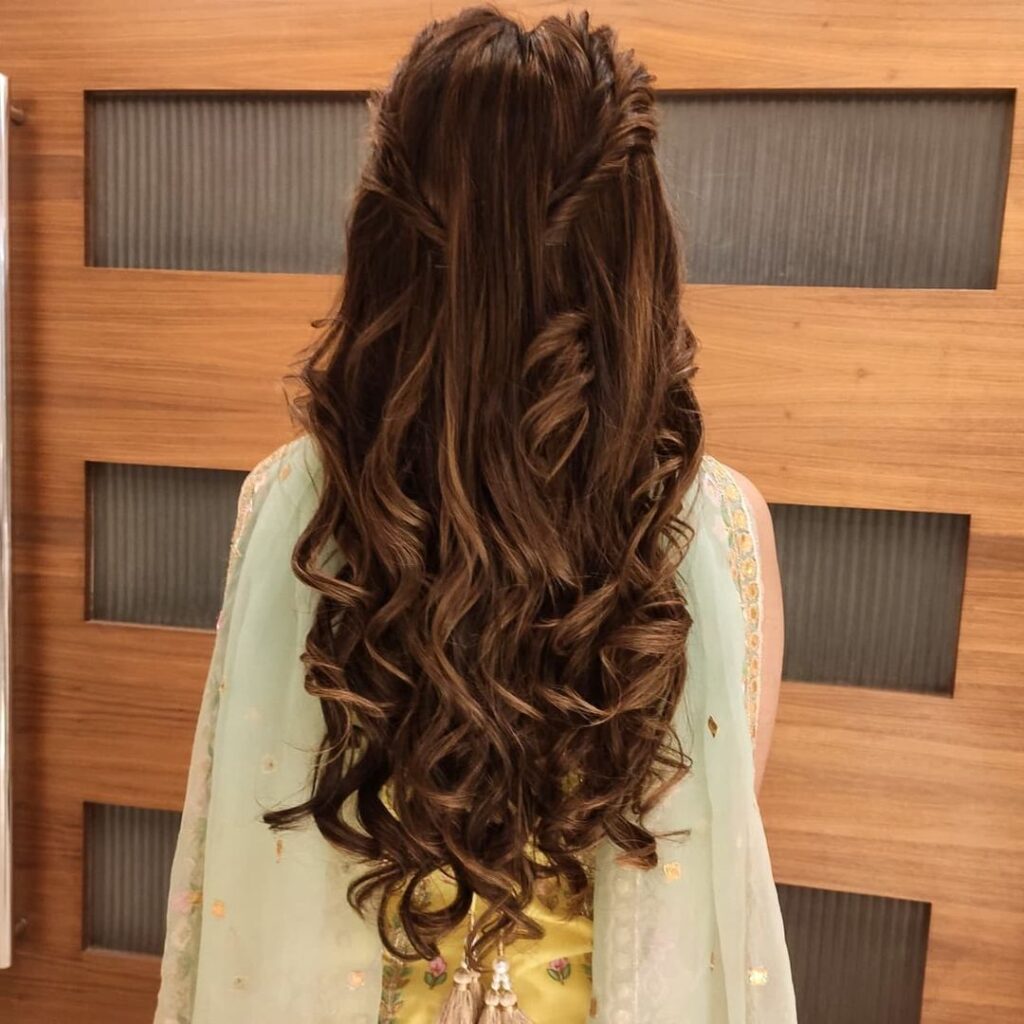 Courtesy: Neelam Prasad
Braid Mehendi Hairstyles
For brides wanting an easy, no-fuss hairstyle, braids are one of the best options. And for brides looking for mehendi hairstyles for short hair, braids can be a great option for them too! It's such a versatile hairdo that you can mold them into any way you want. Be it short, wavy, curly, voluminous, or a side braid merged with tendrils from the sides. The finish and styling of braids are only limited by your own imagination. Plus, don't forget they can be accentuated in any way you want. From florets to head accessories and even jewelry pieces, braids can be elevated by almost any hair adornment. If you're convinced about trying on a braid hairstyle for mehendi, find below some of the best ones for inspiration. 
#13 We love how this voluminous braid is stacked so neatly that you can get the advantage of a side braid and a back braid with one look. The eye-catching braid gets an extra dose of romance with carnations and face-framing tendrils on both sides.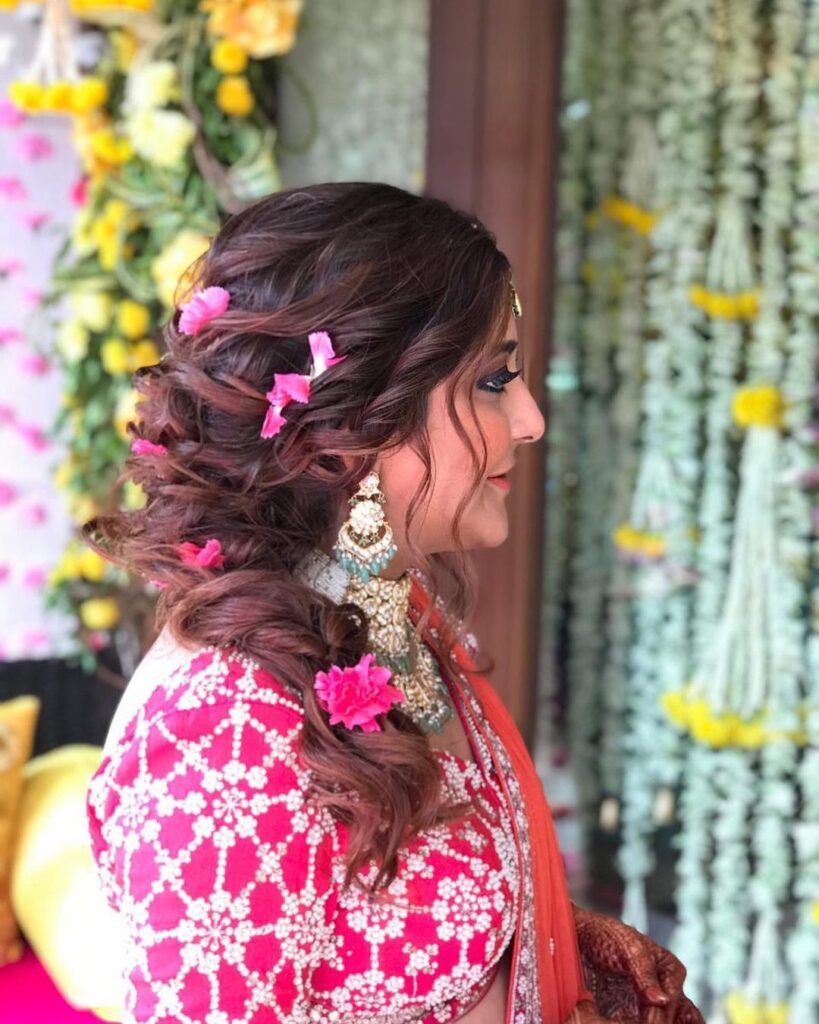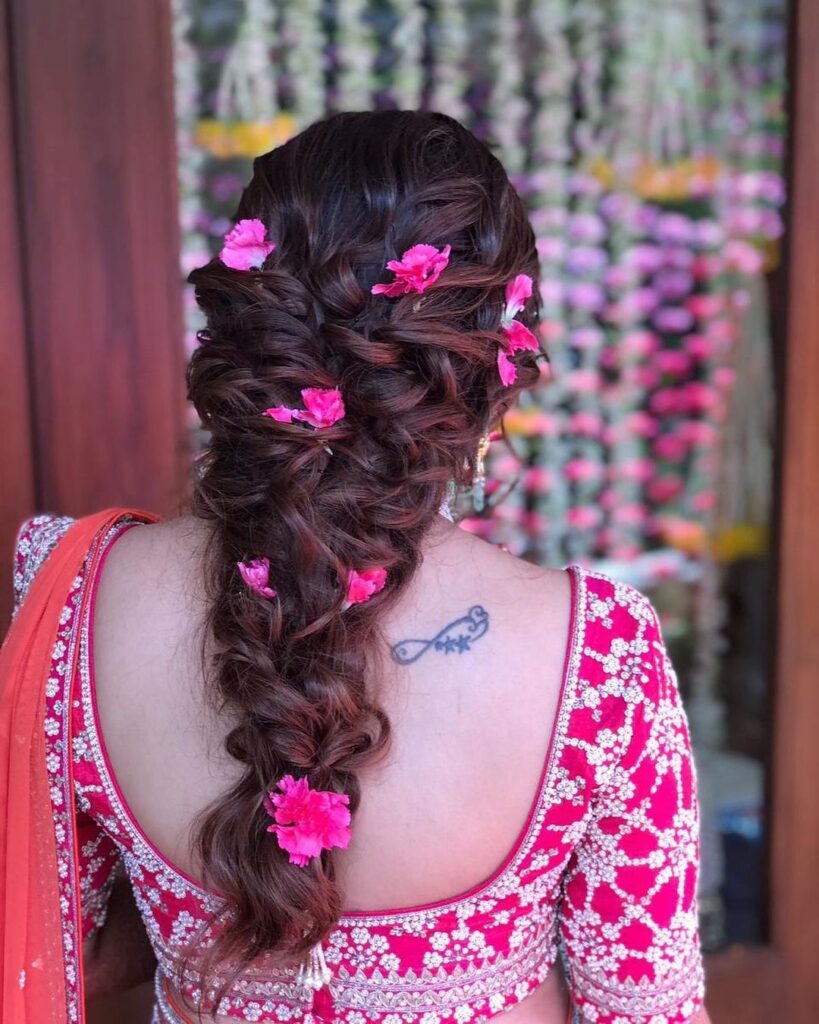 Courtesy: Vidya Patkar
#14 Eliminate all the fuss of hair coming on your face and feel free as ever during the mehendi application with this loose, traditional back braid. The customary style is enhanced with intentionally-placed flowers in the knot and the simplicity is truly admirable.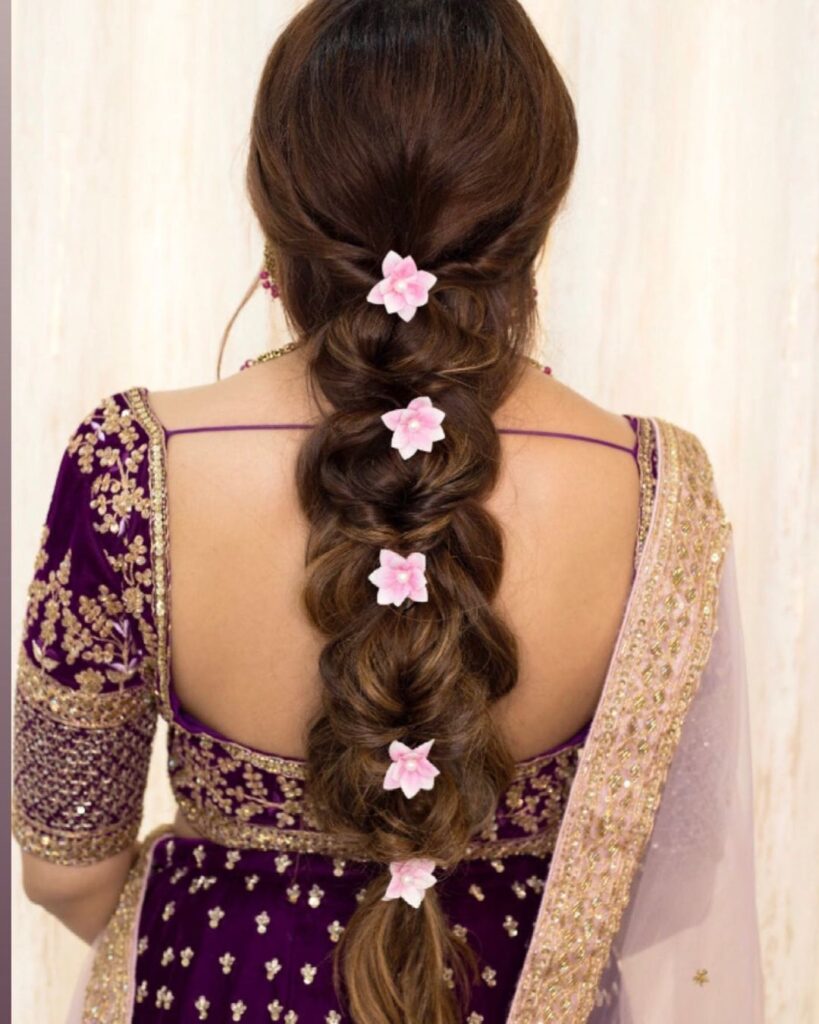 Courtesy: Saba Patel
#15 A dramatic braid mehendi hairstyle that features a braided rose on the top and a fishtail braid on the bottom. We admire how the bride color-contrasted her lime green lehenga with pink floral jewellery and similar color hair adornments in her braid.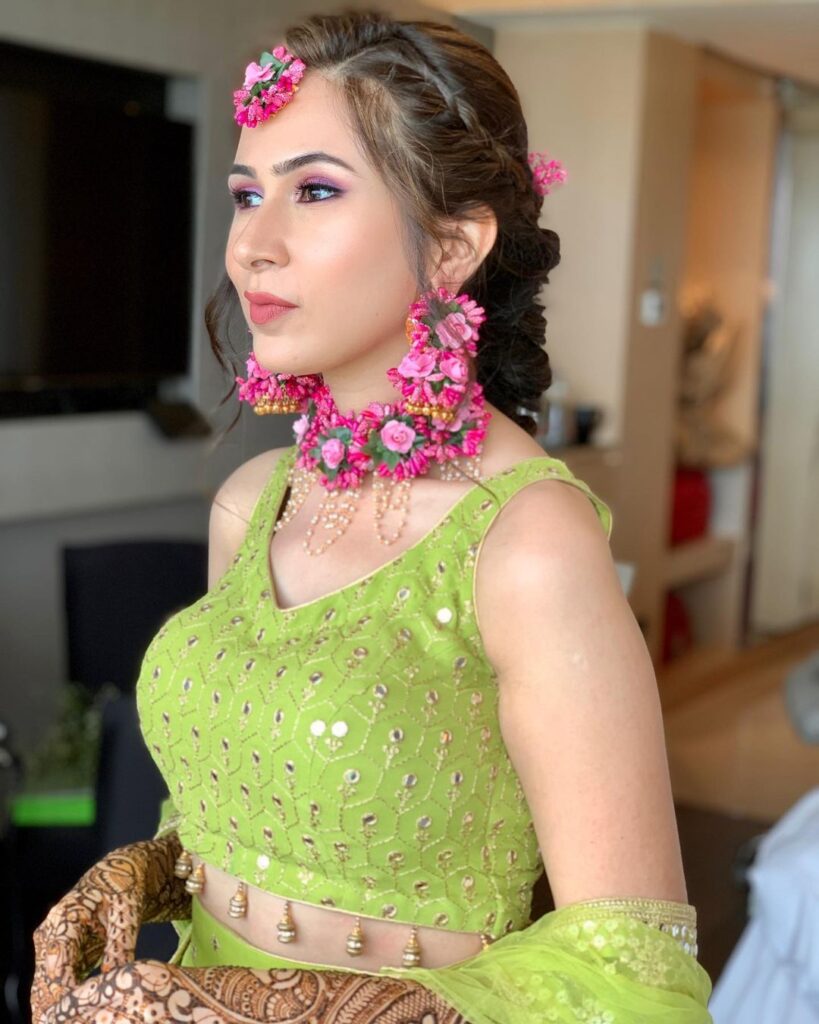 Courtesy: Chandni Rajput
#16 Talk about adding glam to your mehendi look! To boost the look of your classic fishtail braid, all you need to do is add some volume. Don't worry if your hair isn't this thick, only a few women are blessed with the volume pictured below. Your stylist can put in some extensions and create a bridal mehendi hairstyle you will love to look back after years.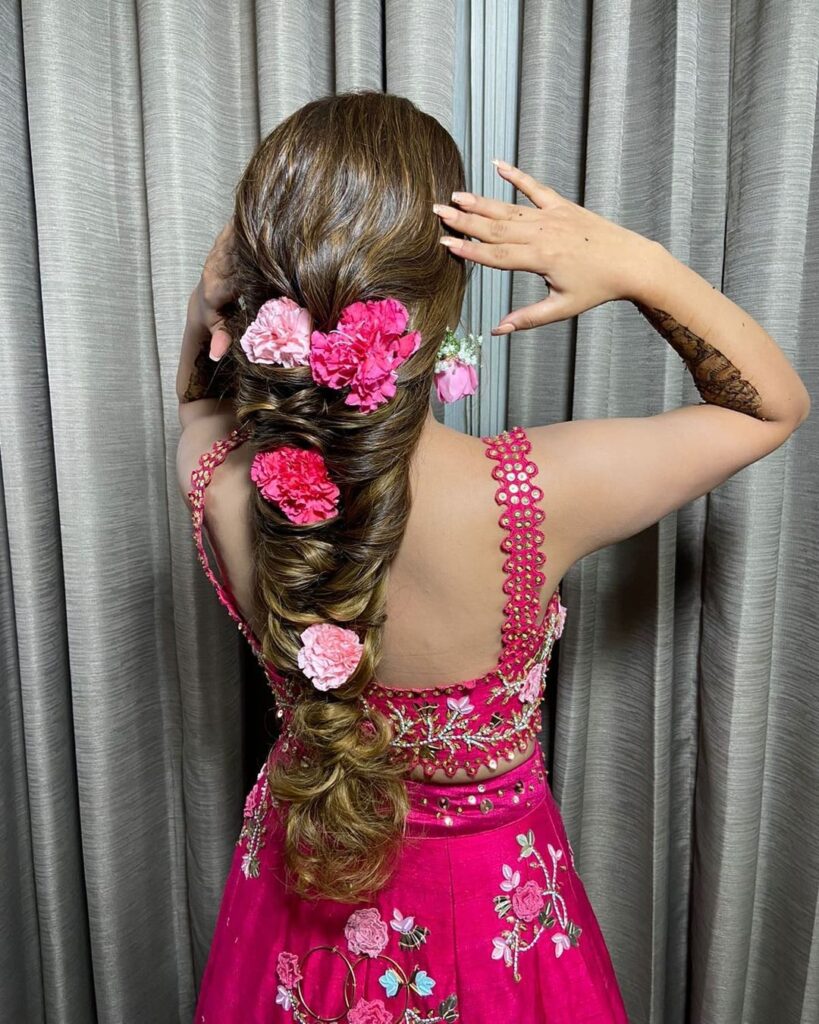 Courtesy: Kamy Sharma
#17 Messy, gorgeous, and every bit timeless. This plait shows off the artistic skills of the stylist and also matches the bride's playful mehendi look. It can be a stunning mehendi hairstyle for short hair as the braids add a fluffy and elegant texture to the lengths. Plus, we're drooling over the colorful mix of blooms that's making the entire hairdo better.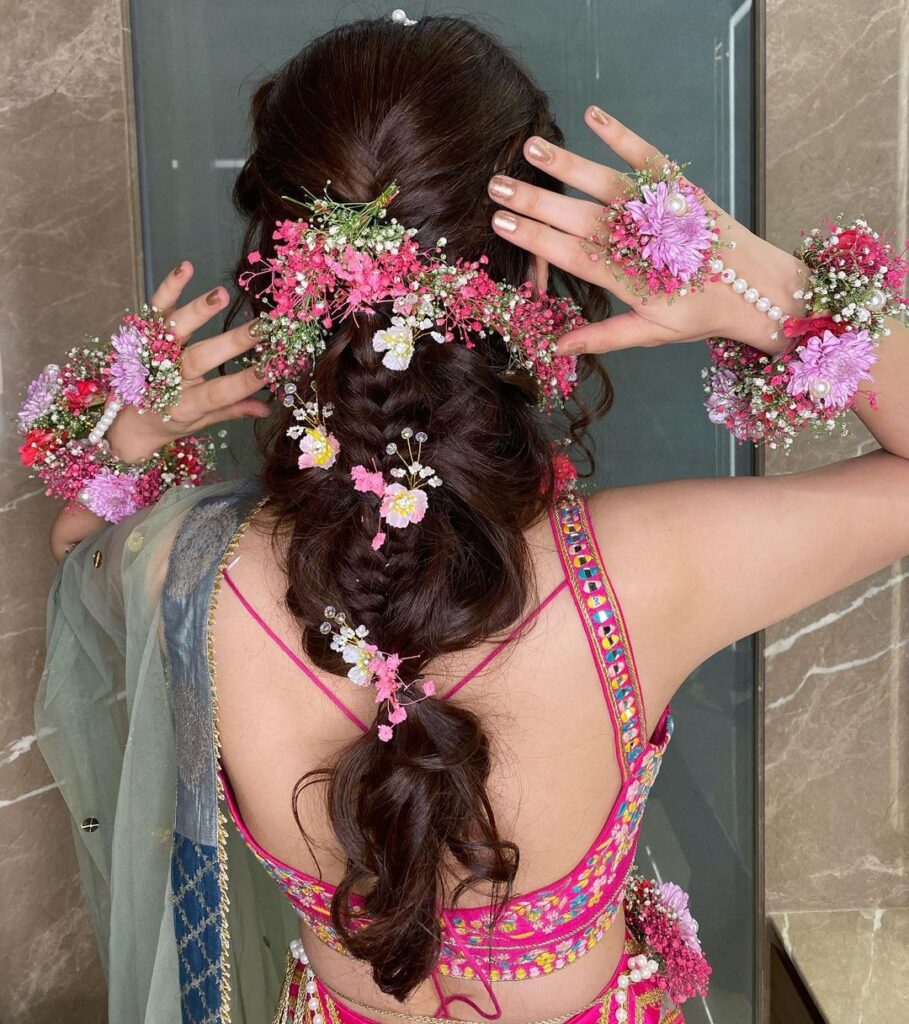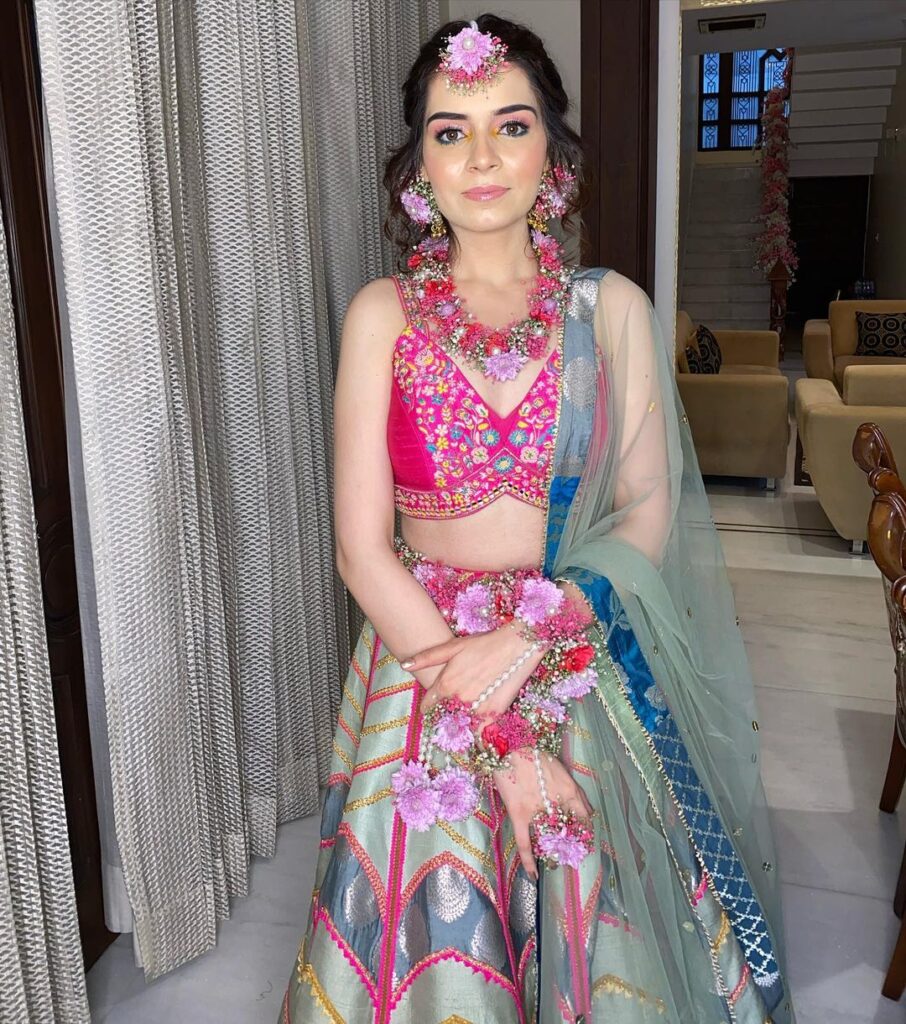 Courtesy: Kajal Kalra Dhall
#18 A side fishtail braid is a lovely way to frame your face and show off your tresses even through a plait. Voluminous or not, this hairstyle won't fail you on the big day!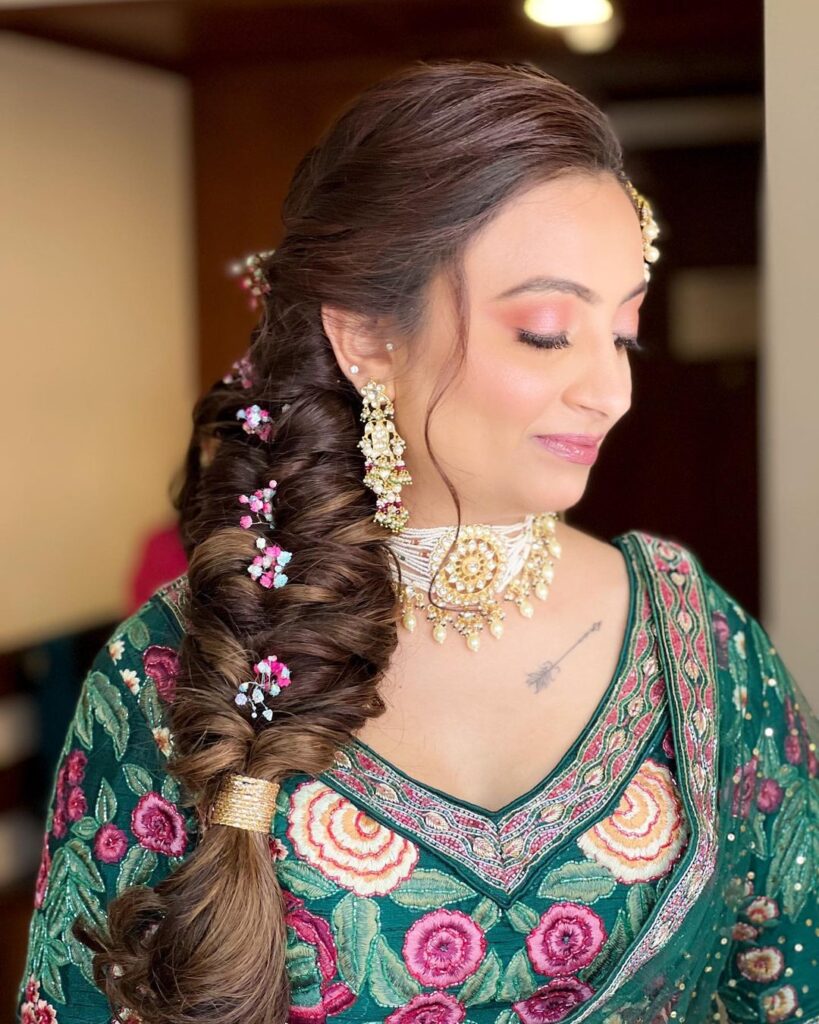 Courtesy: Saba Hairstylist
Bun Mehendi Hairstyles For Brides & Mothers
A bun mehendi hairstyle for mothers and other wedding guests is quite popular, but even the brides can take advantage of this poised hairdo. This fuss-free style is perfect for brides who're looking for low maintenance 'do for their long mehandi event. And let's call it the undisputed queen of the wedding day hairstyles. We have our reasons for this title too! First, a bun works with any kind of hair length and texture. Second, it can be designed to match the theme of your ensemble – as informal or as romantic or as elegant as you'd want it to be! Lastly, there's nothing that brings out the poise of a bride like a gracious chignon. Scroll to see some of the best bun mehandi hairstyles. 
#19 Now this is a chic low bun, and also a perfect mehandi hairstyle for short hair. The braids from each side add a gorgeous texture to the low chignon and an ethereal charm to the bride's ensemble as a result.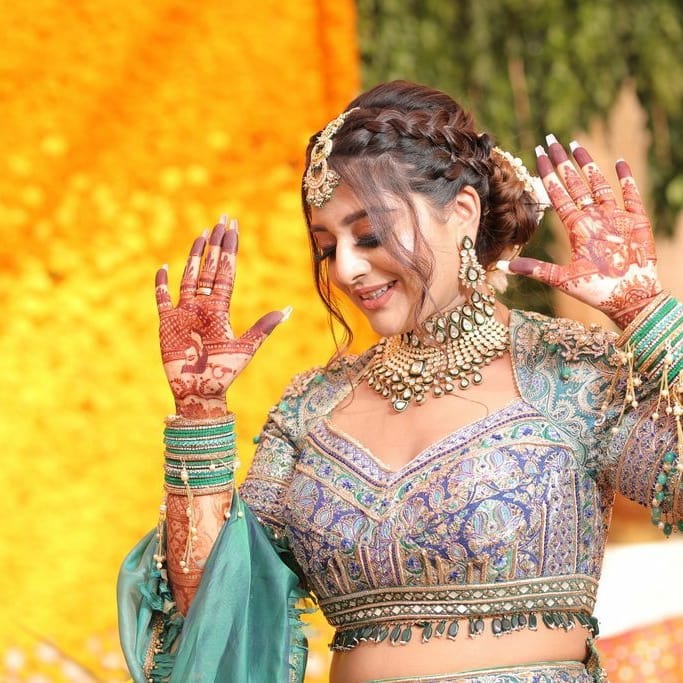 Courtesy: Abdul Layek
#20 A voluminous bun on the back accentuated by blushing blooms on the sides and a puffy texture on the crown makes the style cohesive to be a part of any of your wedding look.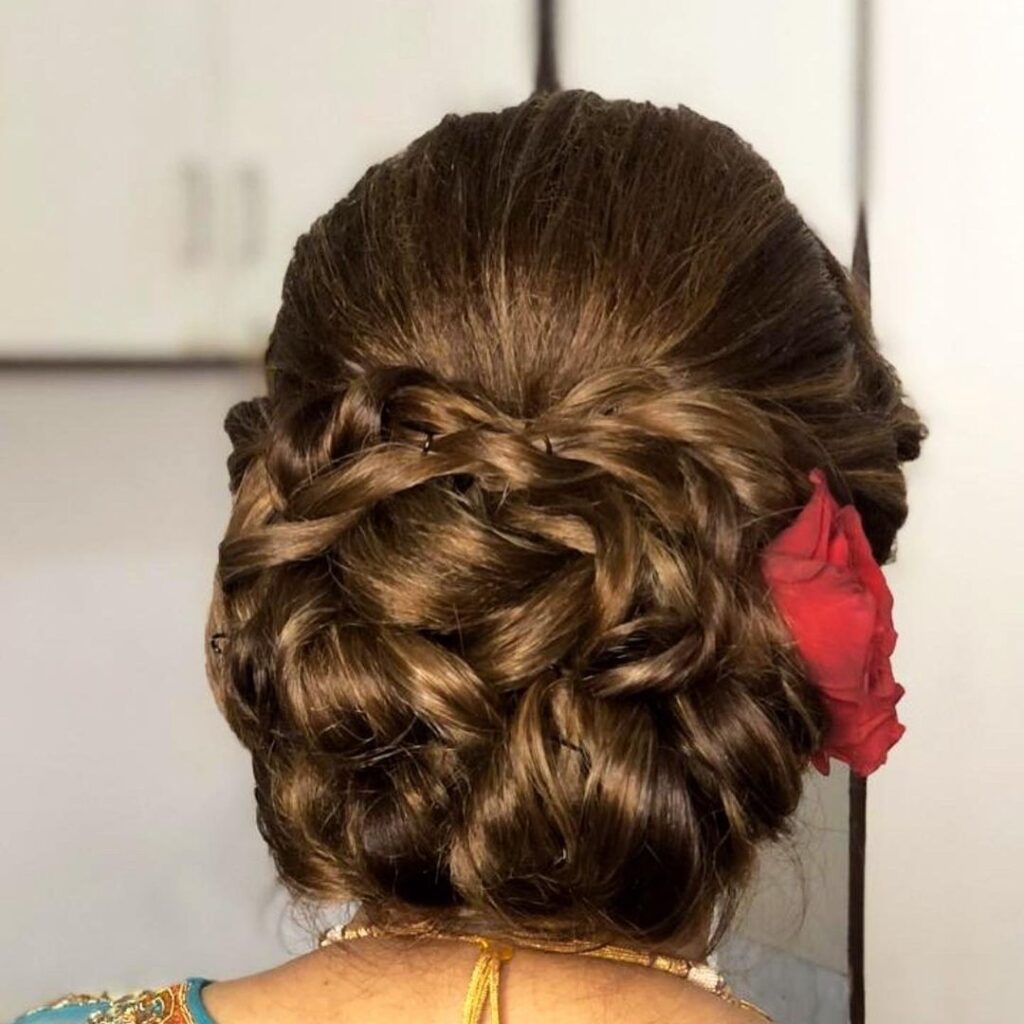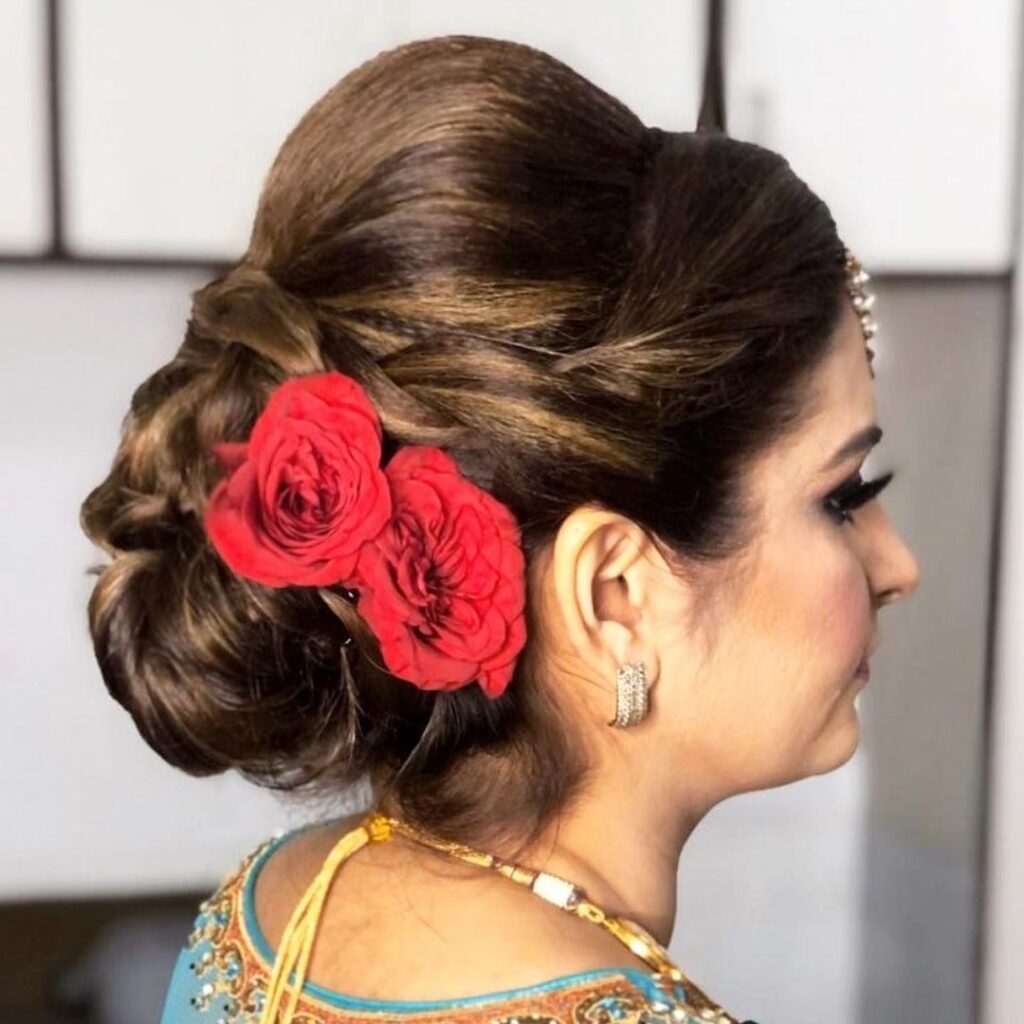 Courtesy: Dilshad Ali
#21 Textured hair flows impeccably into this bride's wavy bun, which adds up to the softness of the style. What elevates the beauty of the 'do are the pearls and the gorgeous florals placed so well in the updo.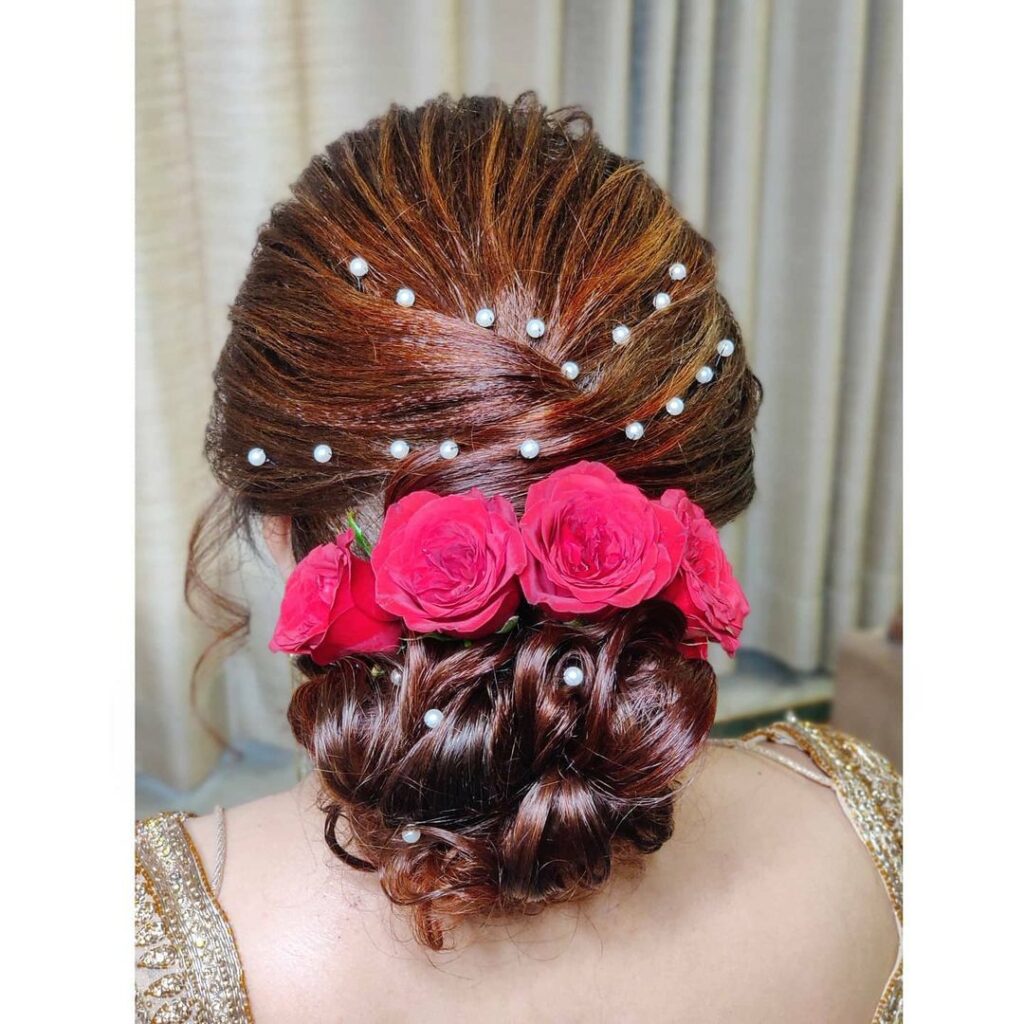 Courtesy: Manisha Hairstylist
Half-Up Half-Down Hairstyle For Brides, Sisters, & Bridesmaids
This is THE hairstyle that has taken the Indian wedding world by storm. The half-up, half-down hairstyle has anyways been around for a while. But with the advent of social media and the brides looking actively for inspiration on the 'gram, the hairstylists' creativity has gone up a notch given how many eyes are there on them. Half-up, half-down hairstyle does give an opportunity to experiment as you please. You can add a small bun on the top, or a few braids, or you can play with the texture of the hair (soft waves, full-blown curls, or just the usual straight texture) – the options really are endless. If you're looking for some gorgeous bridal mehendi hairstyles in the half-up, half-down way, refer to this sub-section. 
#22 Channelise your inner princess with this romantic floral tiara style on your mehandi day. Before recreating this though, make sure your hair artist can affix the tiara properly on the crown because they have a tendency to loosen up, and as a result, also, impair the rest of your hairdo.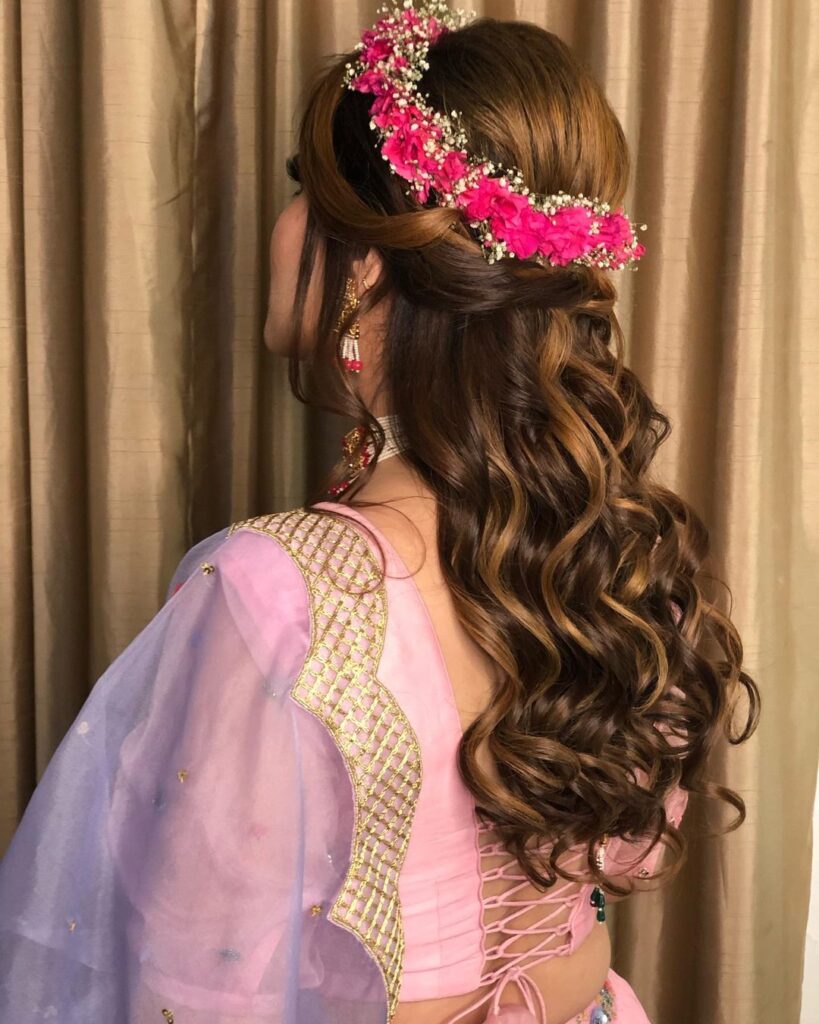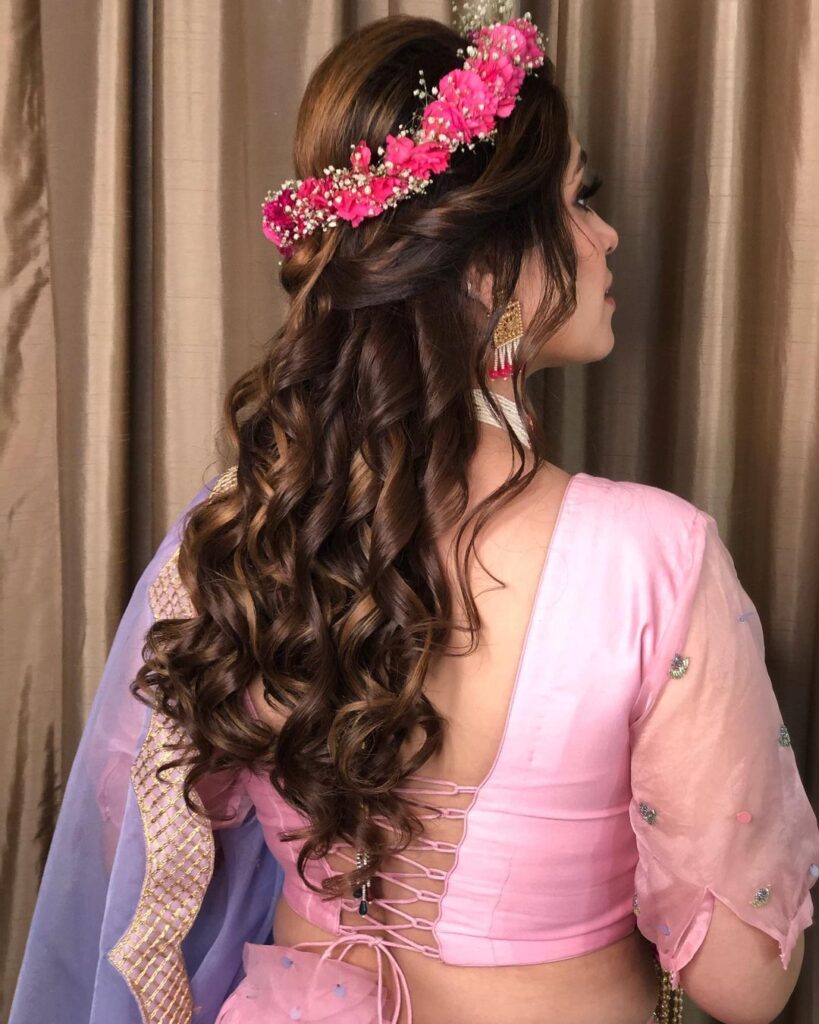 Courtesy: Azad Khan Hair
#23 Sometimes simplicity is the best route. And this hairstyle is one of those times. Look at all that exquisite volume. Rest assured, you know that this 'do won't fail to impress you even 20 years down the line.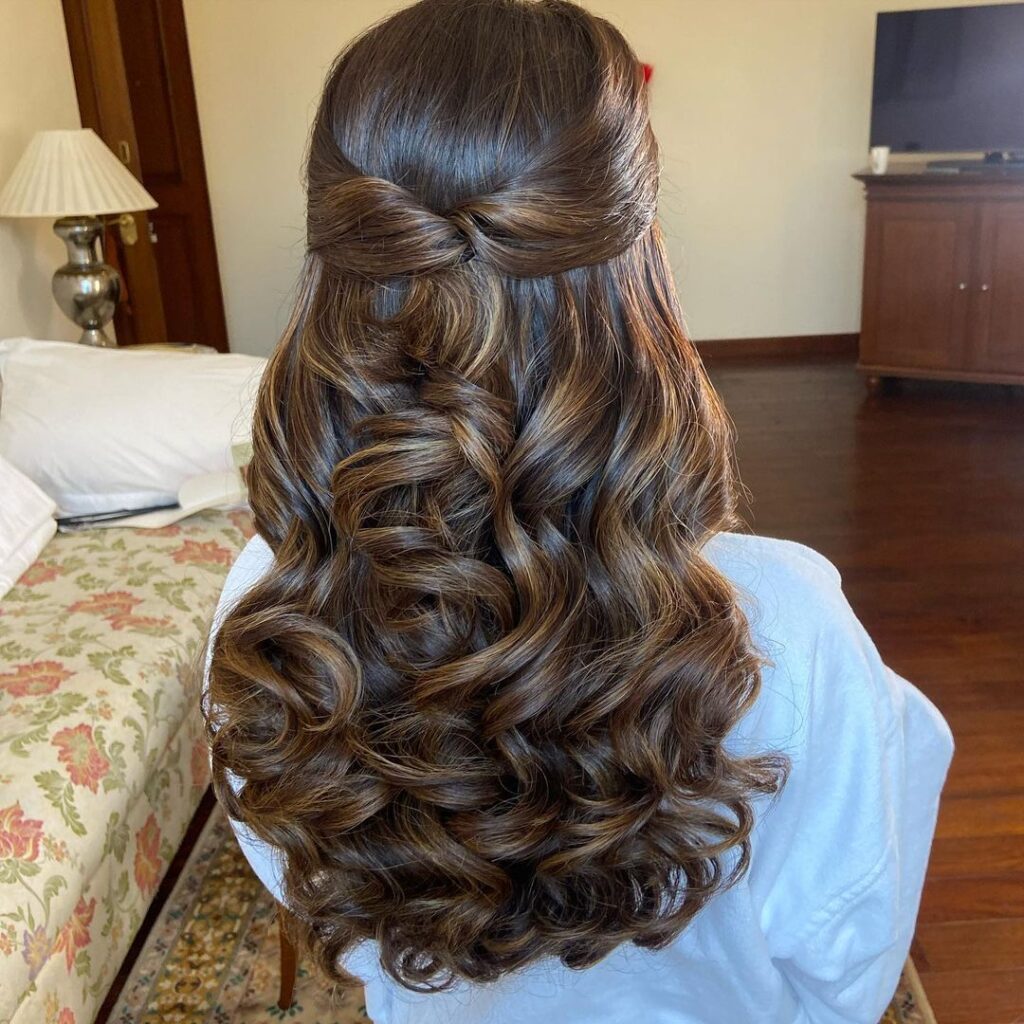 Courtesy: Sonu Hairstyles
#24 A gorgeous mehendi hairstyle for the bride's sister, this 'do employ the use of a puff to add volume to the crown and waves to volumize the tresses. The stunner embellishment brings a heaven-sent appearance.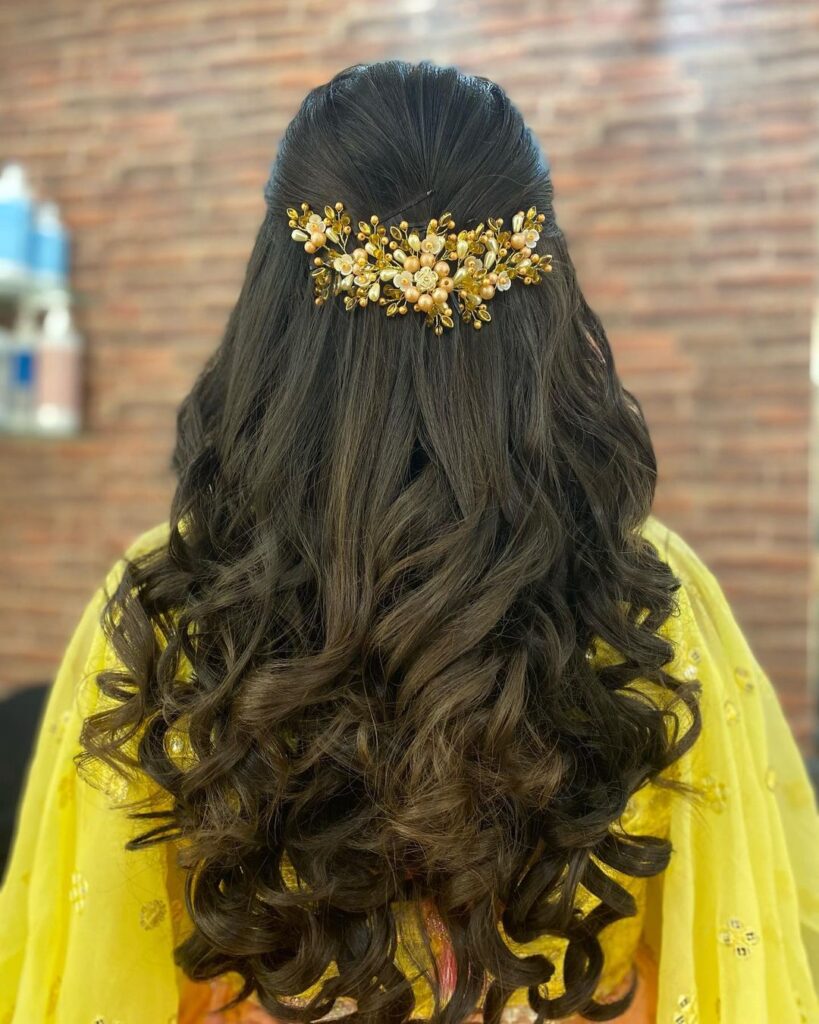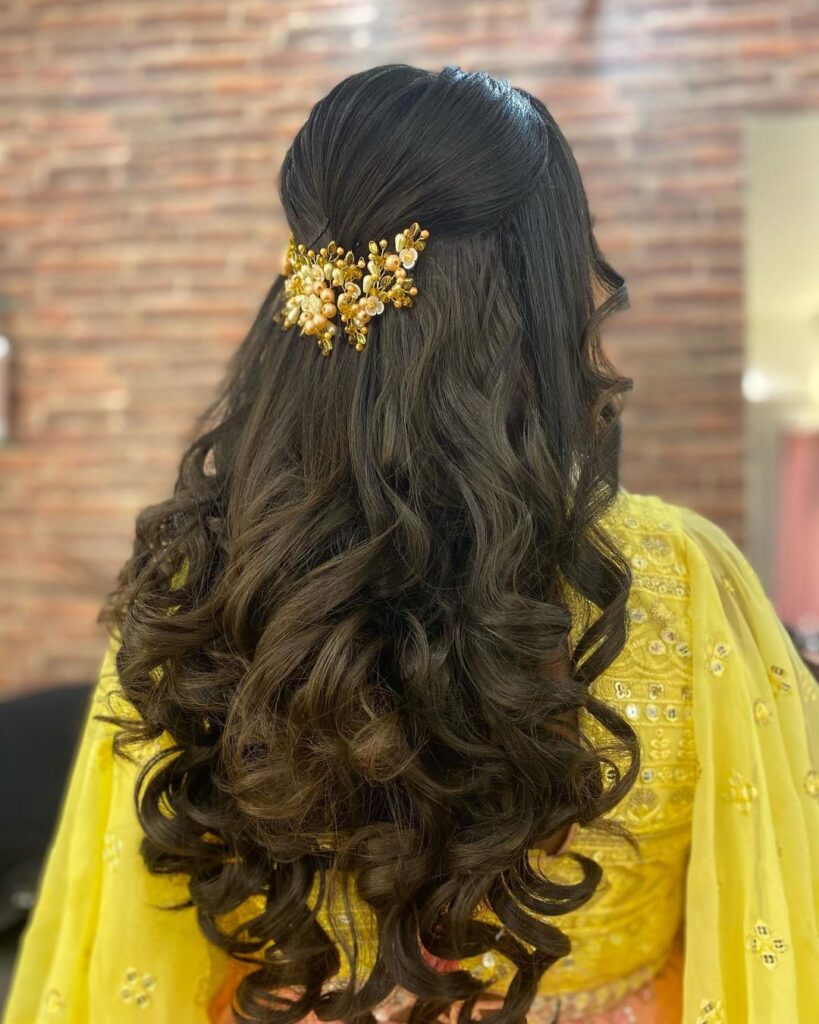 Courtesy: Pankti Patel
#25 If you've been growing out your hair forever just to show them off at your wedding, this is a mehendi hairstyle for long hair to woo you. Enhanced with buns, braids, and classy waves, there's hard to point out just one reason why we love this hairdo. With just the pearls used as adornments, you can really work this hairstyle with any palette you're wearing.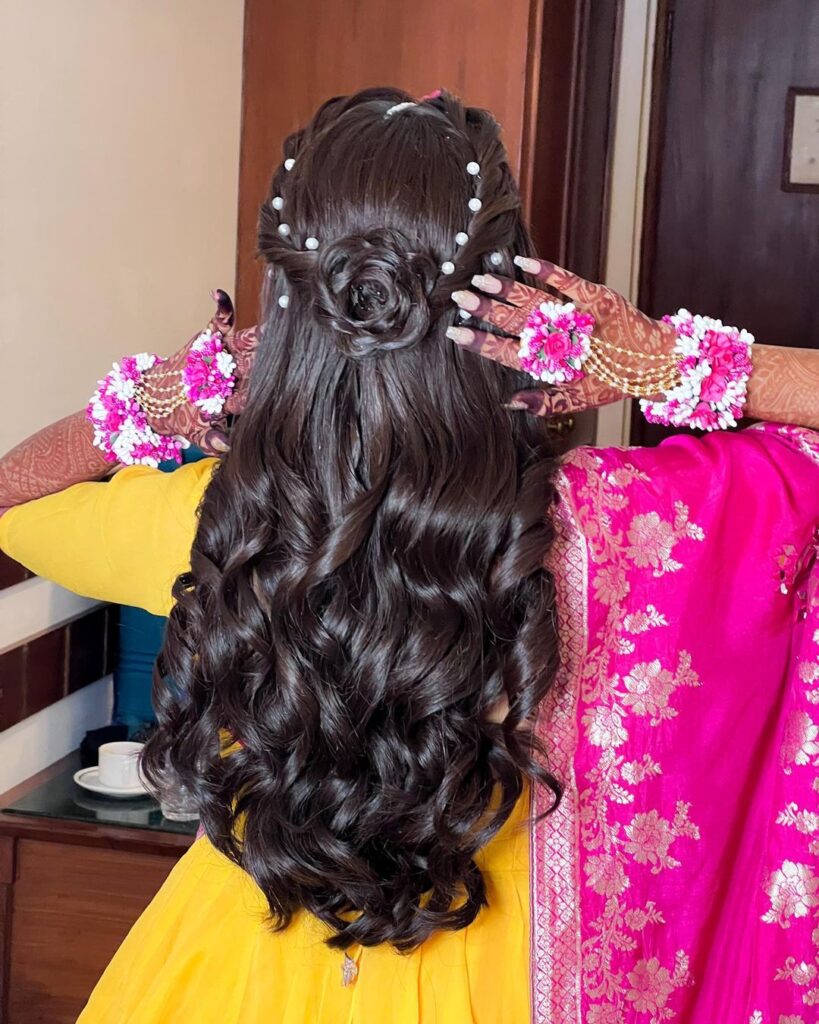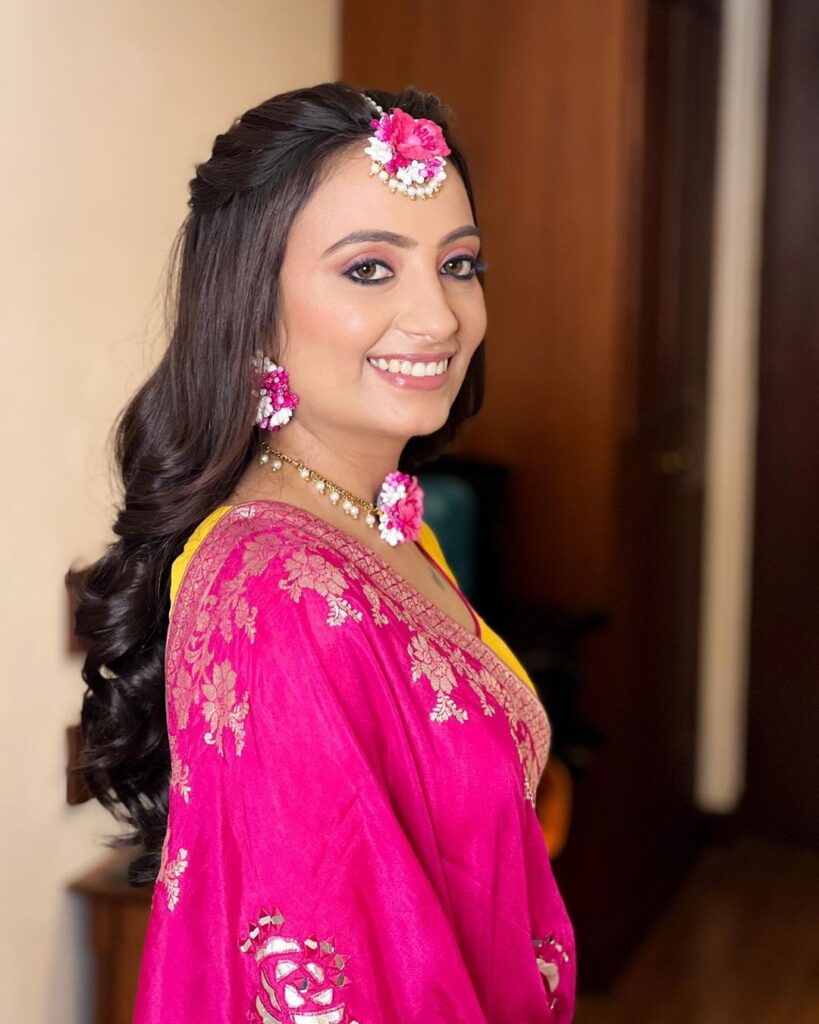 Courtesy: Saba Patel
#26 This bride twisted her hair from both sides to mimic the look of a ponytail without giving away the beauty of the romantic sweep.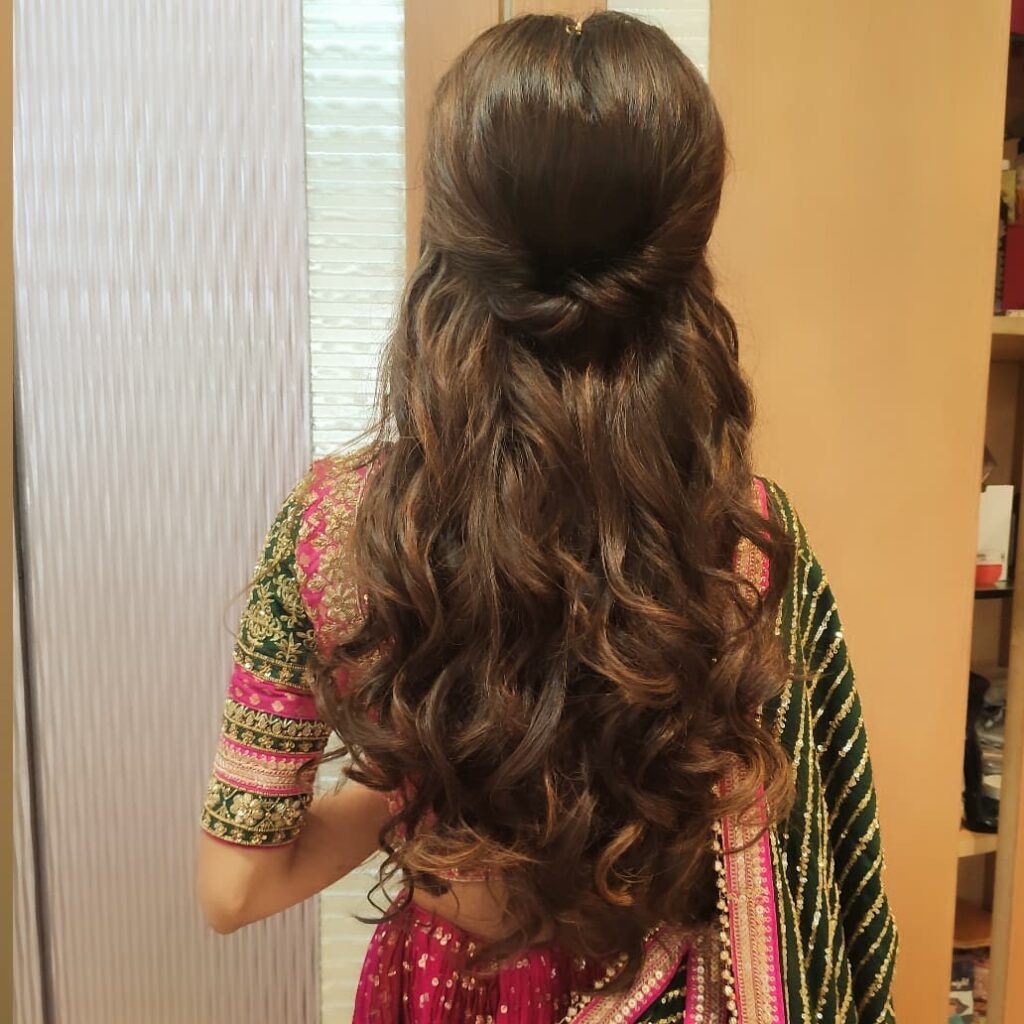 Courtesy: Neelam Prasad
Ponytail Mehandi Hairstyles
Ponytails aren't as basic as they seem. Yes, they're a go-to style for when you want to tie your hair away when you're working or when you want to go to the gym, but they can elevate the style of your wedding look with just a little strategy. Ahead, find a few ponytail hairstyles for mehandi day and beyond. 
#27 A simple mehendi hairstyle for brides, this bride's impeccable ponytail is the very essence of minimalist chic. The addition of the baby's breath just brings the right touch of whimsy to the 'do.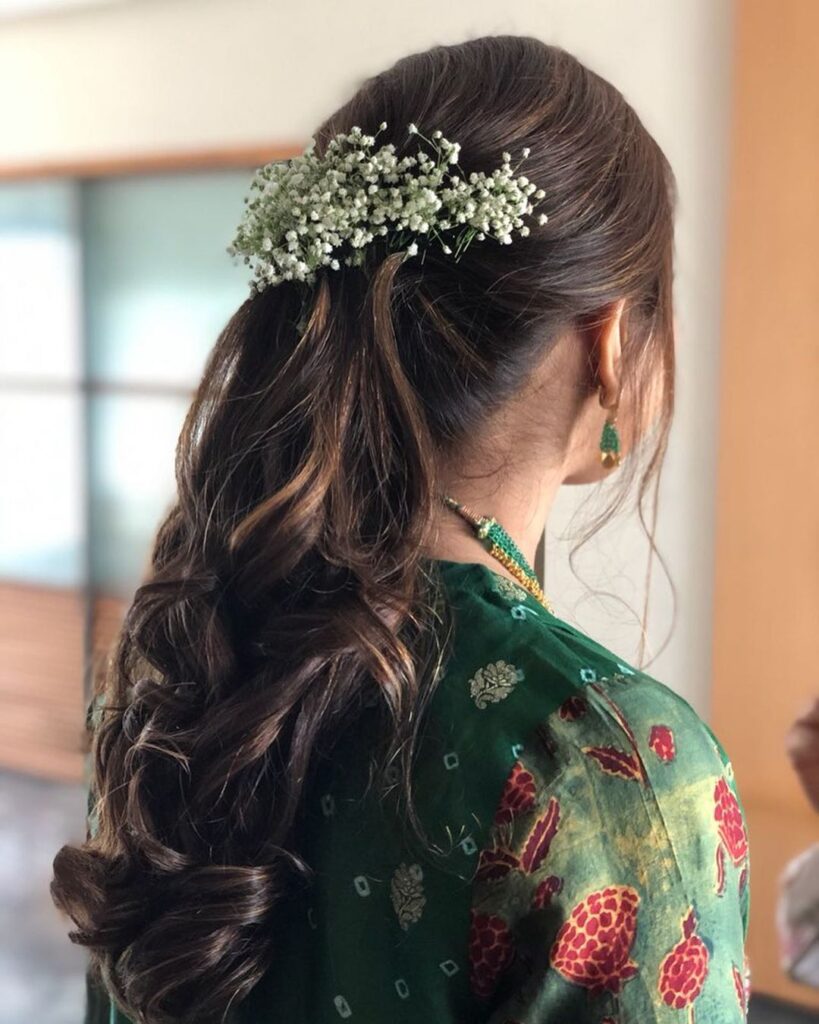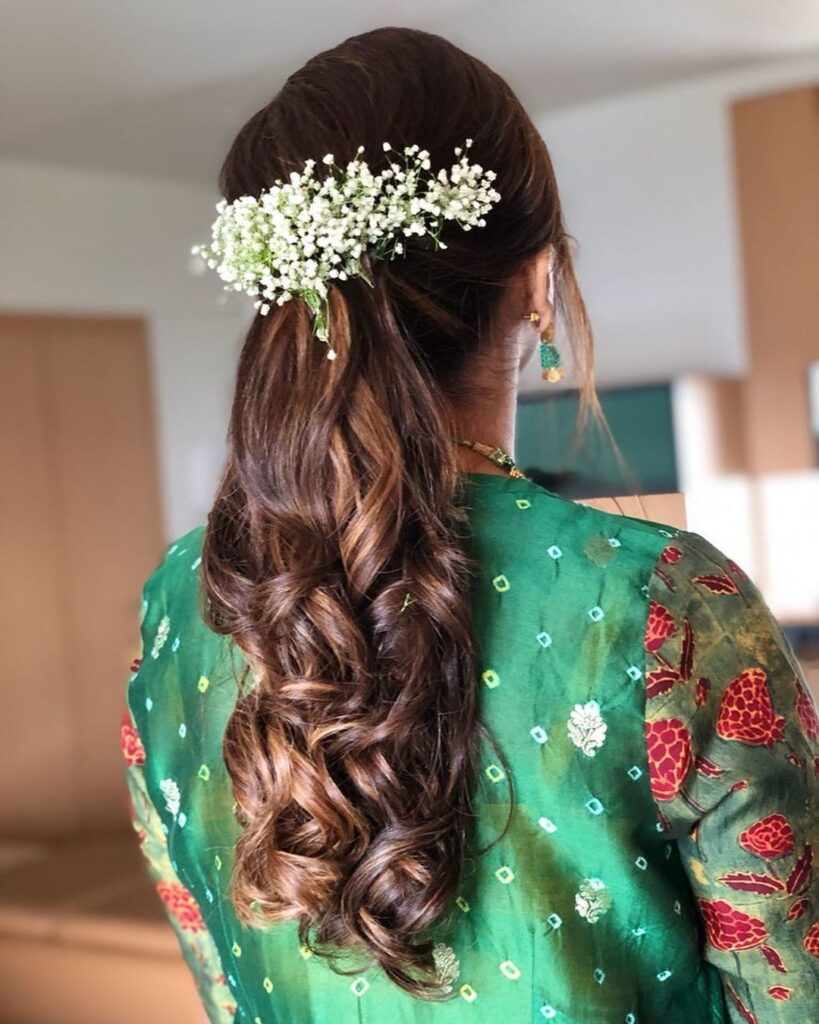 Courtesy: Chandni Rajput
#28 Messy doesn't always look shabby. In fact, when done right, by which we mean by a professional, it can look chic, feminine, and attention-worthy. This bride's low pony is a perfect balance between disheveled and romantic charm.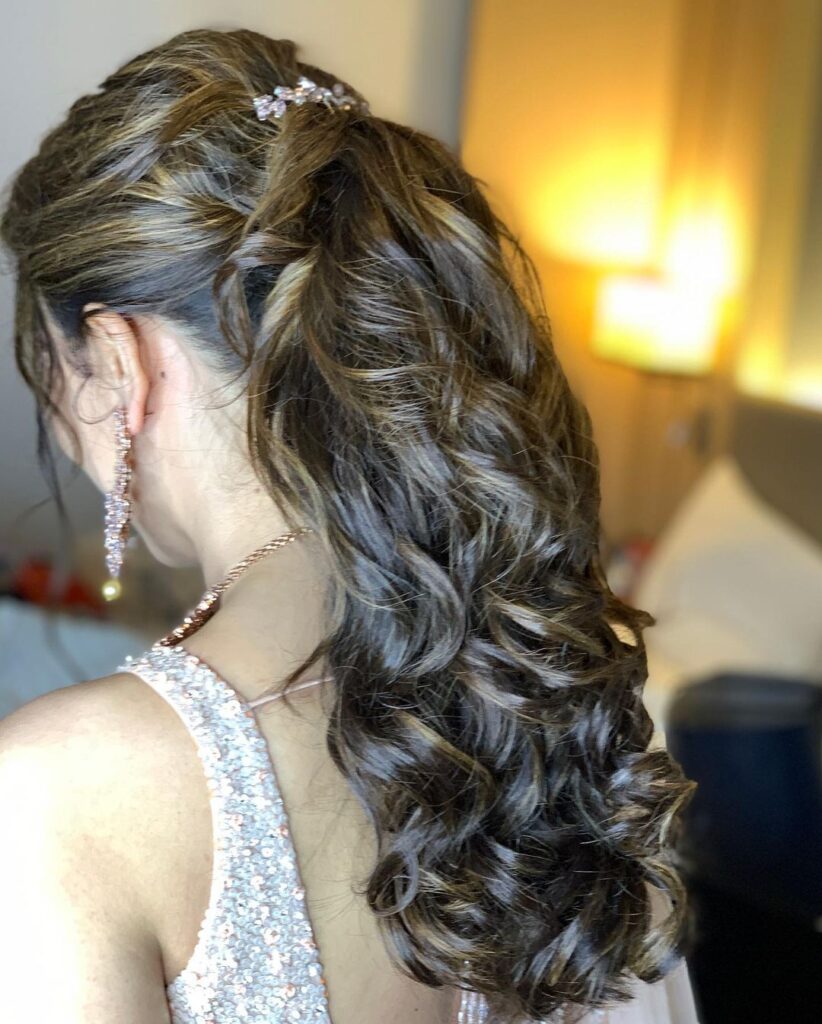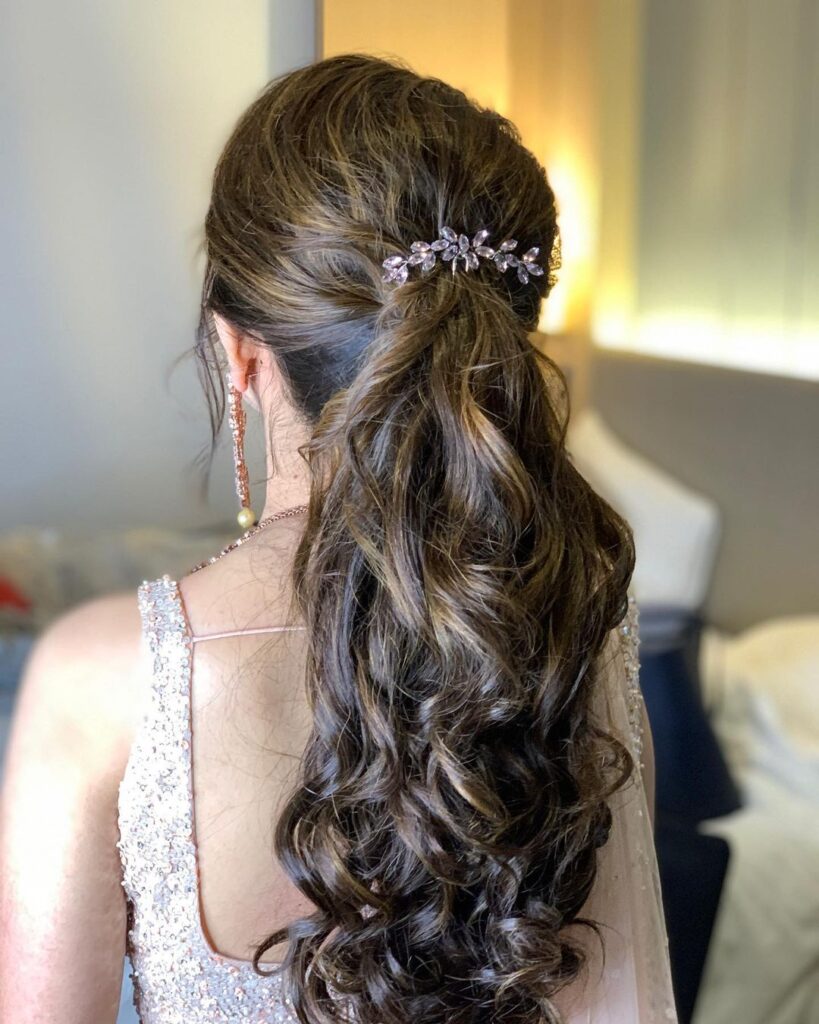 Courtesy: Chandni Rajput
#29 Never underestimate the power of a clean, high ponytail. It's glamorous and elegant at the same time. This bride also added some extra pearl on the sides for a statement look.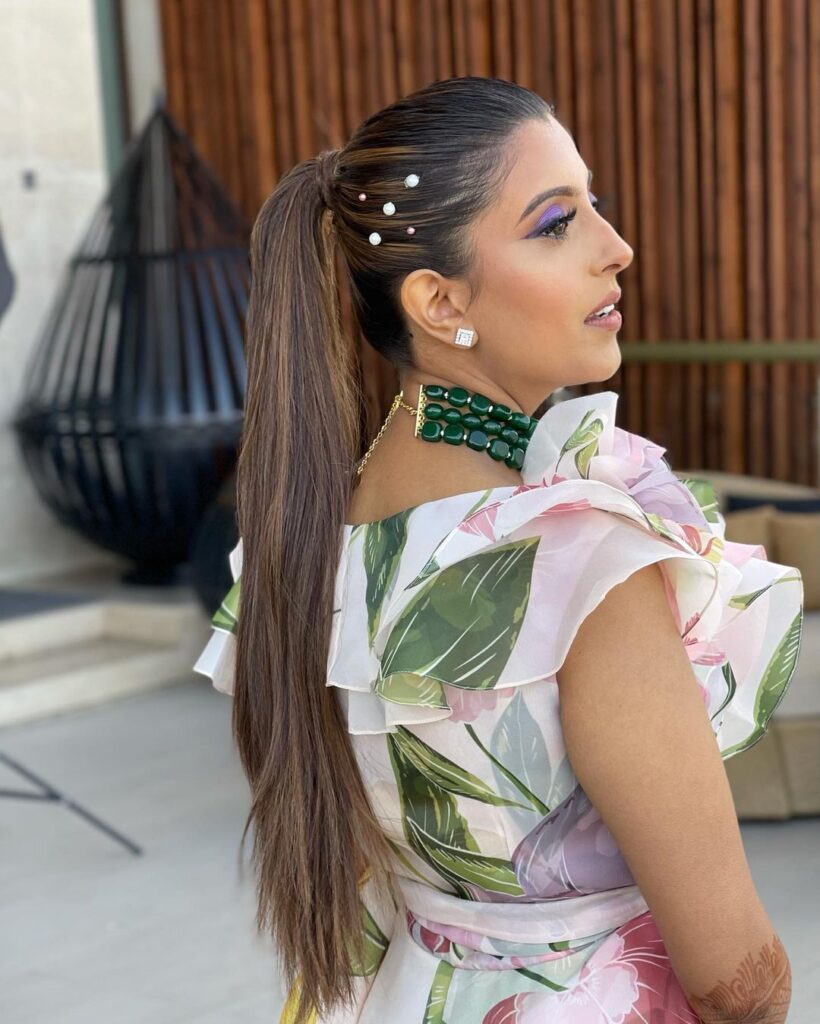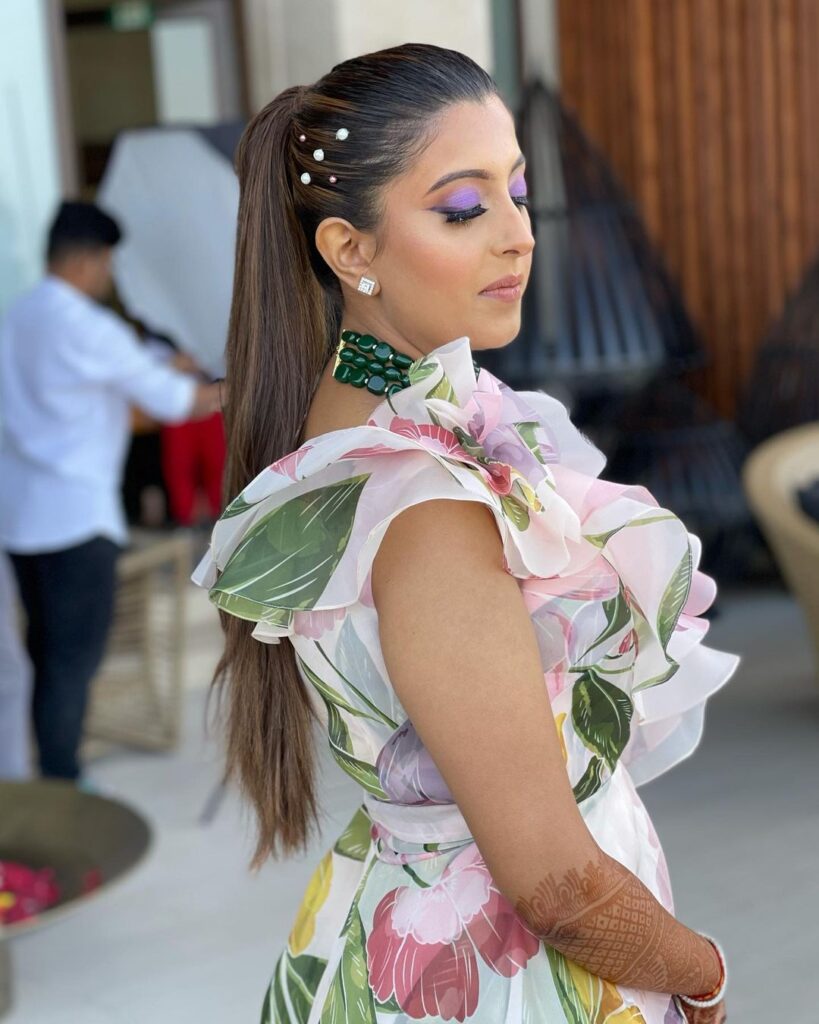 Courtesy: Anisha Nagpal
FYI: A high ponytail can give you headaches pretty quick, especially when there's added volume. If you're prone to them anyways, avoid getting this 'do on the mehandi day when you have to carry your hair & makeup for the full day. 
#30 This messy curls ponytail is every bohemian bride's dream, thanks to tons of volume and texture on the crown as well as the tresses. If you're to add some Princess Jasmine vibes on the wedding day, this is the way to go!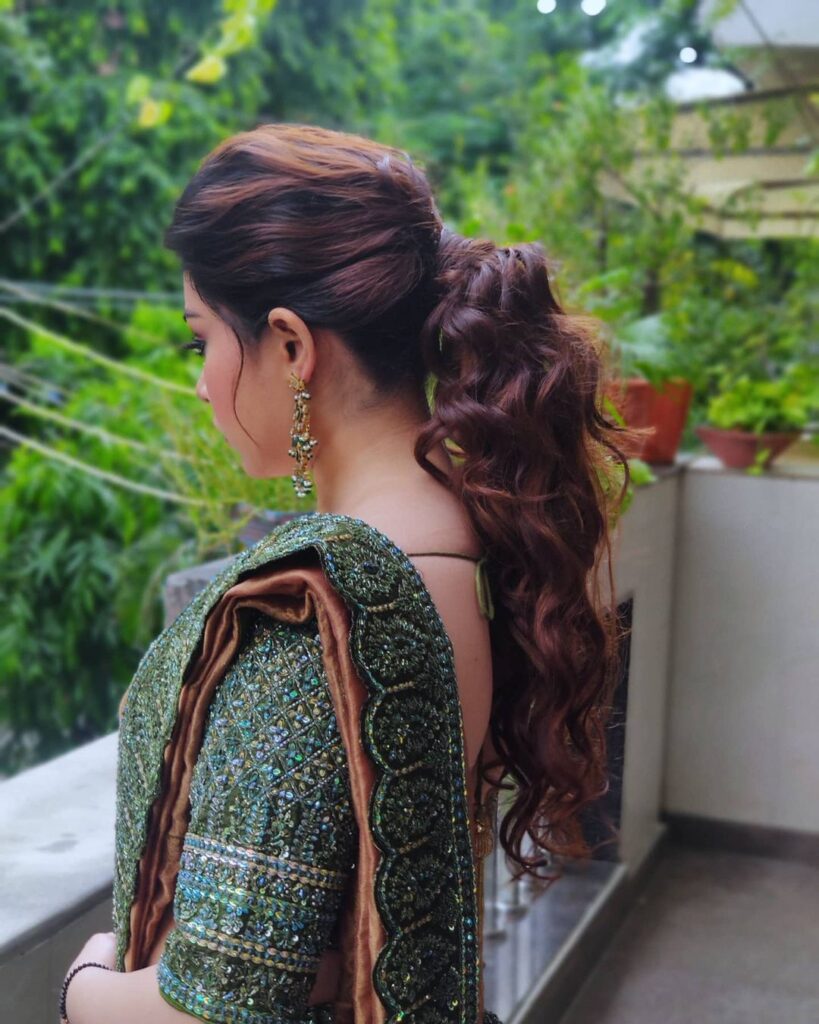 Courtesy: Manisha Hairstylist