Your engagement will be one of the very first events for your wedding. Setting the tone right by defining your style & taste is important. And that includes choosing one of the best & latest engagement dresses for you & your man. While we have already done an inspirational blog for engagement dresses for men, here's engagement dresses for girls curated blog to inspire you, brides! 
Just a side note: Always pick an engagement dress that goes with the theme of your event and your personality! Planning an intimate roka in the comforts of your home? Go for a saree or a printed lehenga. Thinking of a fairytale-themed roka event? Opt for an A-line engagement gown with a trail. All set for a formal, more traditional affair? A heavily-embellished lehenga is your friend. Lastly, don't overthink too much and just go with the flow. It's a special day and is meant to be relished and enjoyed. Look for our curated list of engagement dresses for girls for inspiration and sit back as you plan an epic roka event. 
#1 Just recently, popular fashion blogger
Kritika Khurana
got engaged to her boyfriend Aditya Chhabra in a whimsical roka ceremony. Chhabra proposed to her in the first half of September and they planned their engagement event within a month. For her roka lehenga, Kritika chose an ivory number by Abhinav Mishra, while Aditya wore a kurta-pyjama set by the same designer. Their couple coordination was on-point and so was the chemistry.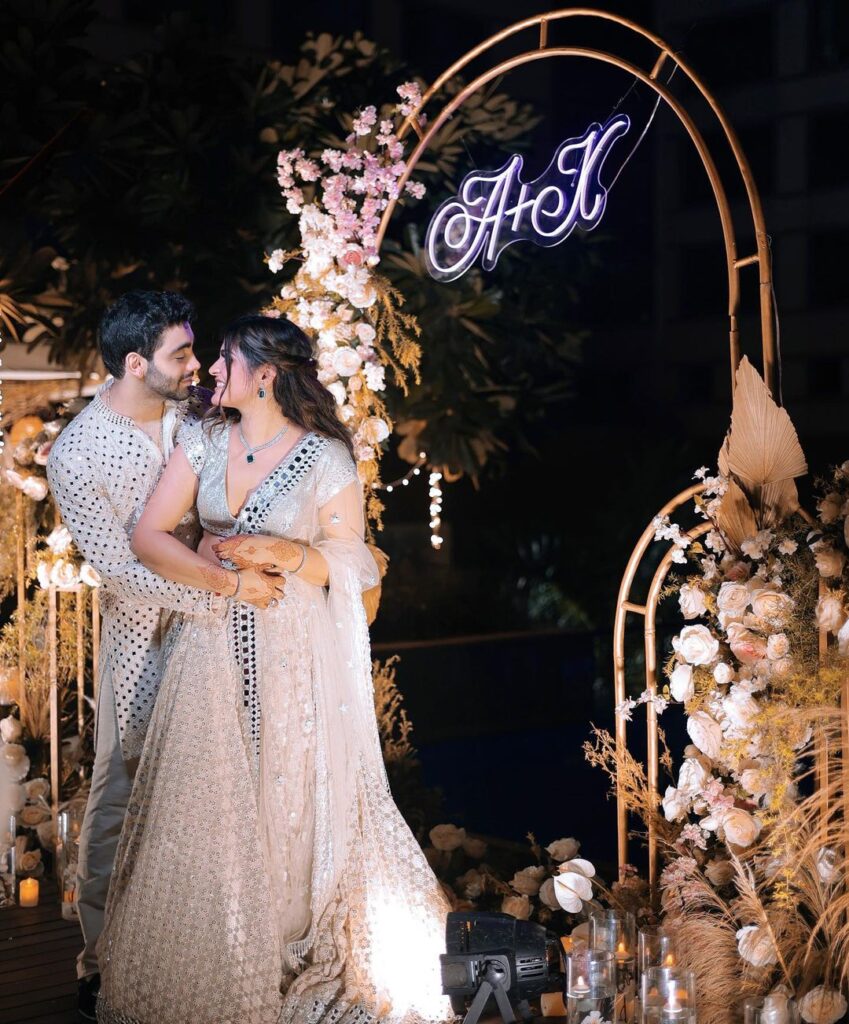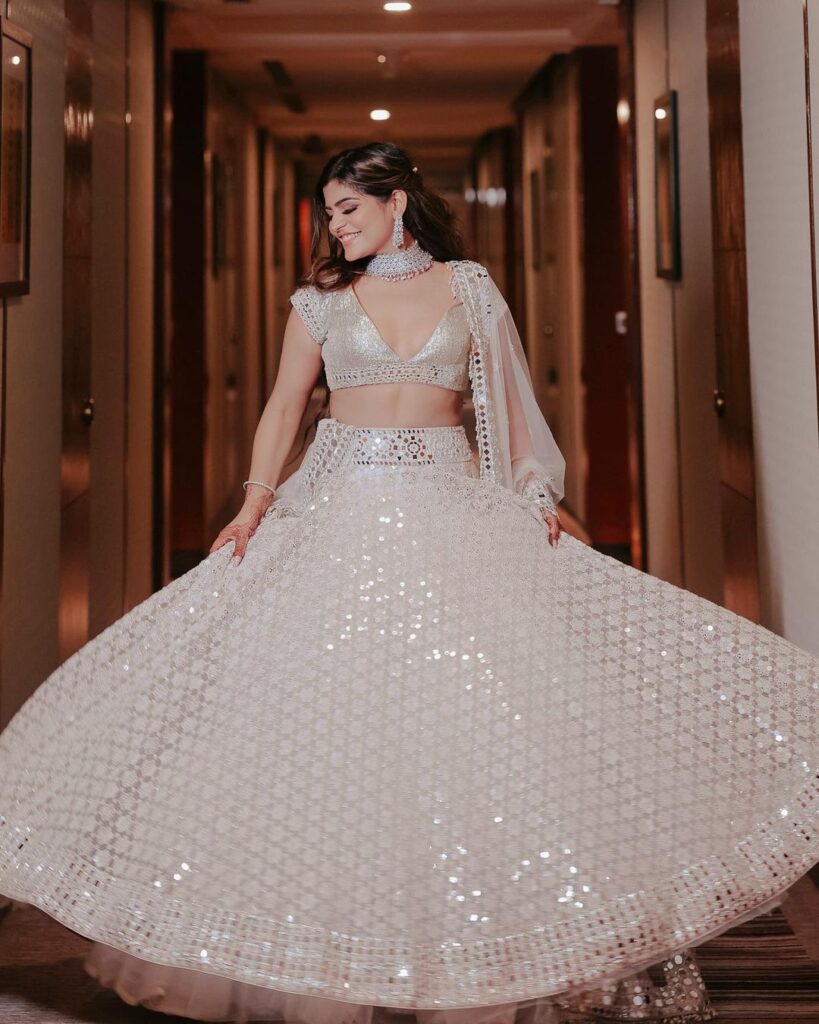 #2 An eye-catching engagement gown design with tons of flare and a nightingale blue hue is just the inspiration you need for your black-tie roka event. With a tiara on her head, this bride radiates absolute princess vibes on her wedding revelry. The groom's engagement dress further adds charm and allure to the bride's attire and the couple's portraits in general.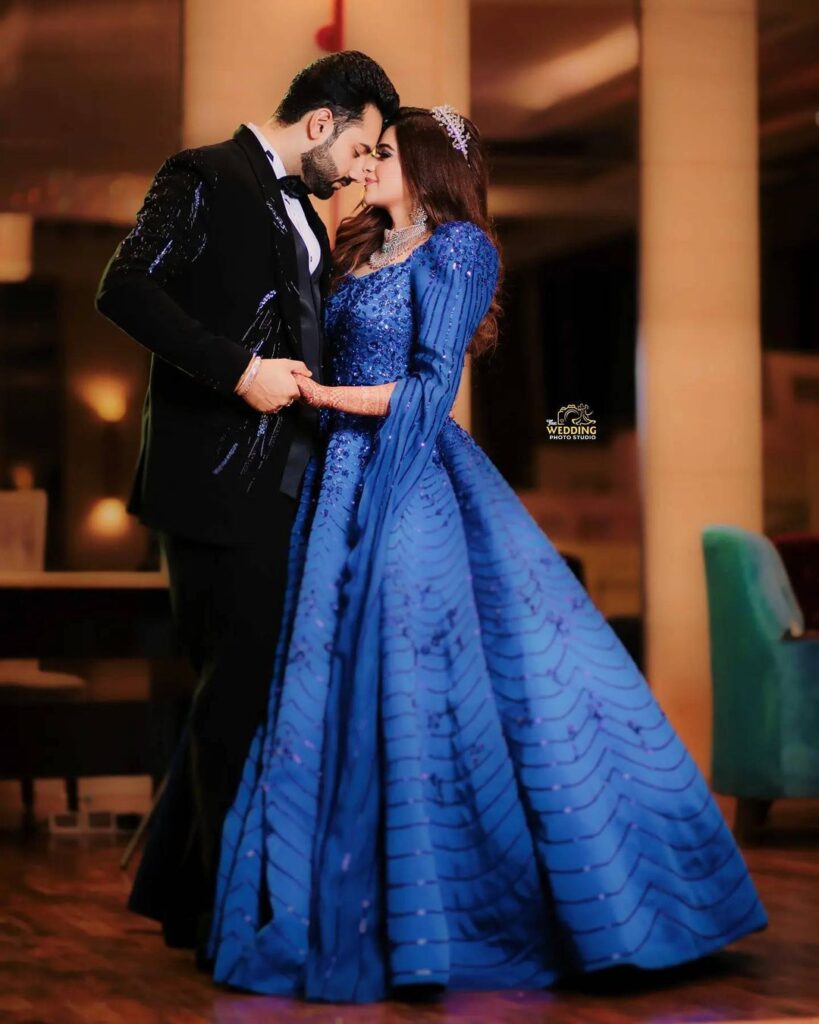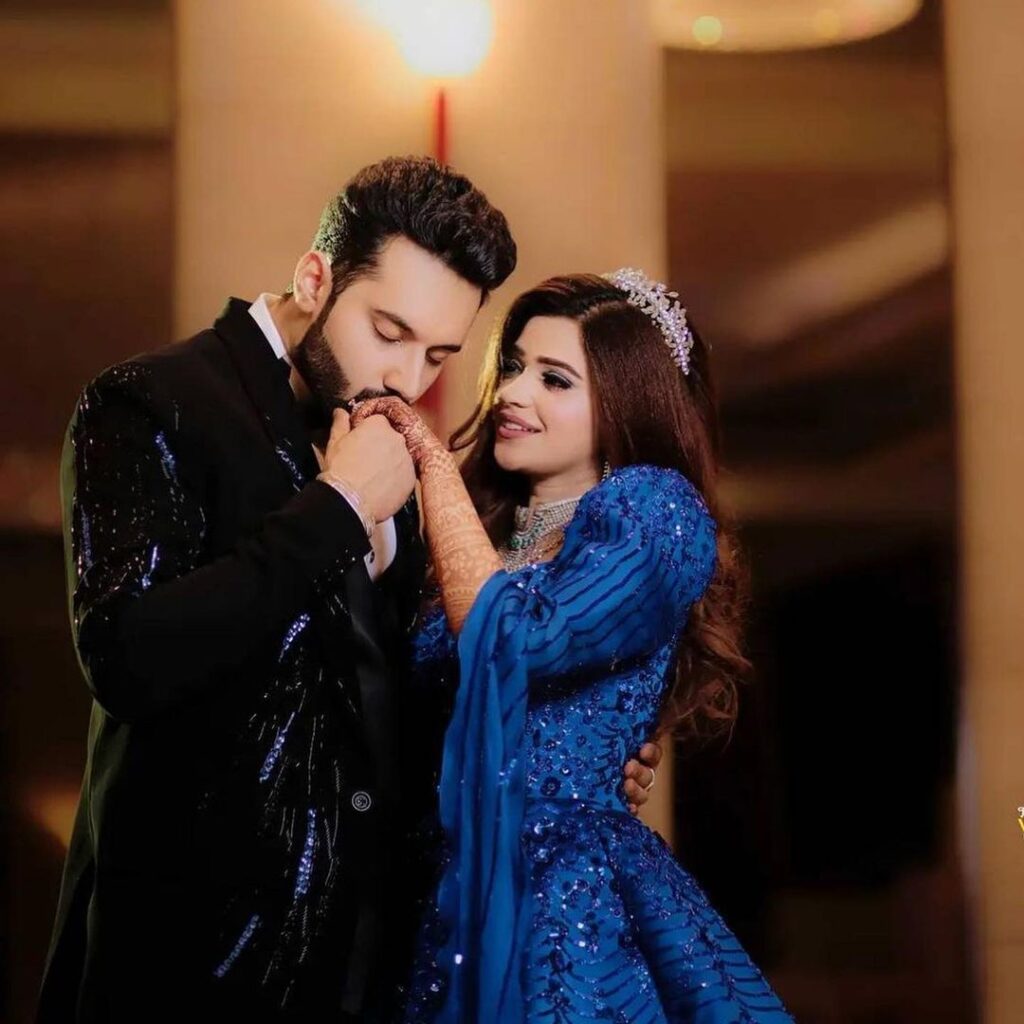 Courtesy: Inder Kaur
#3 Body-tugging engagement dresses for girls are trending. Brides are experimenting with various styles, flares, and silhouettes to set a statement at their wedding. And when we talk about a gown silhouette, there's no one who does it better than Gaurav Gupta. This bride surely picked the best designer for her roka. Amping the charm of the dress, she paired the attire with diamond jewelry and a pull-back hairstyle.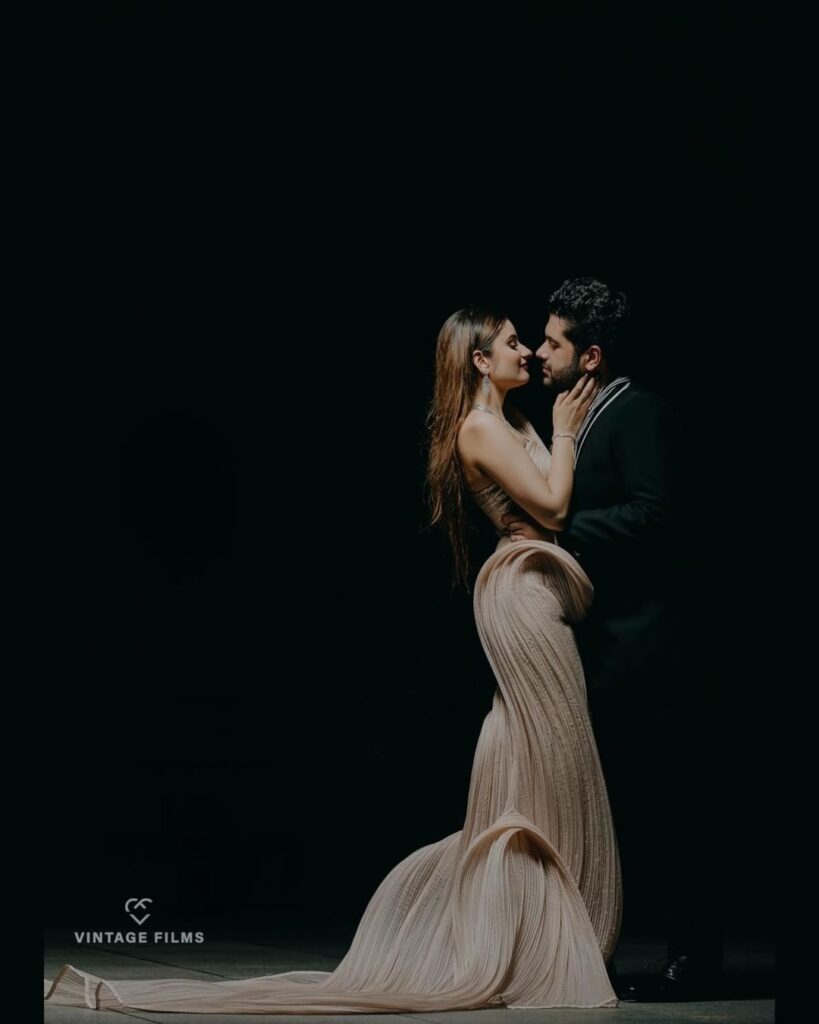 Courtesy: Vintage Films
#4 A little bit of bling in the dress never hurts! But make that completely embellished in sequins, and it's just a better version of your idea on literally shining on the engagement event. This engagement lehenga design has a beige base, silver adornments, and tons of glitter-infused in the entire clothing area. Teamed with a dainty diamond set, this engagement dress for girls is a superb idea.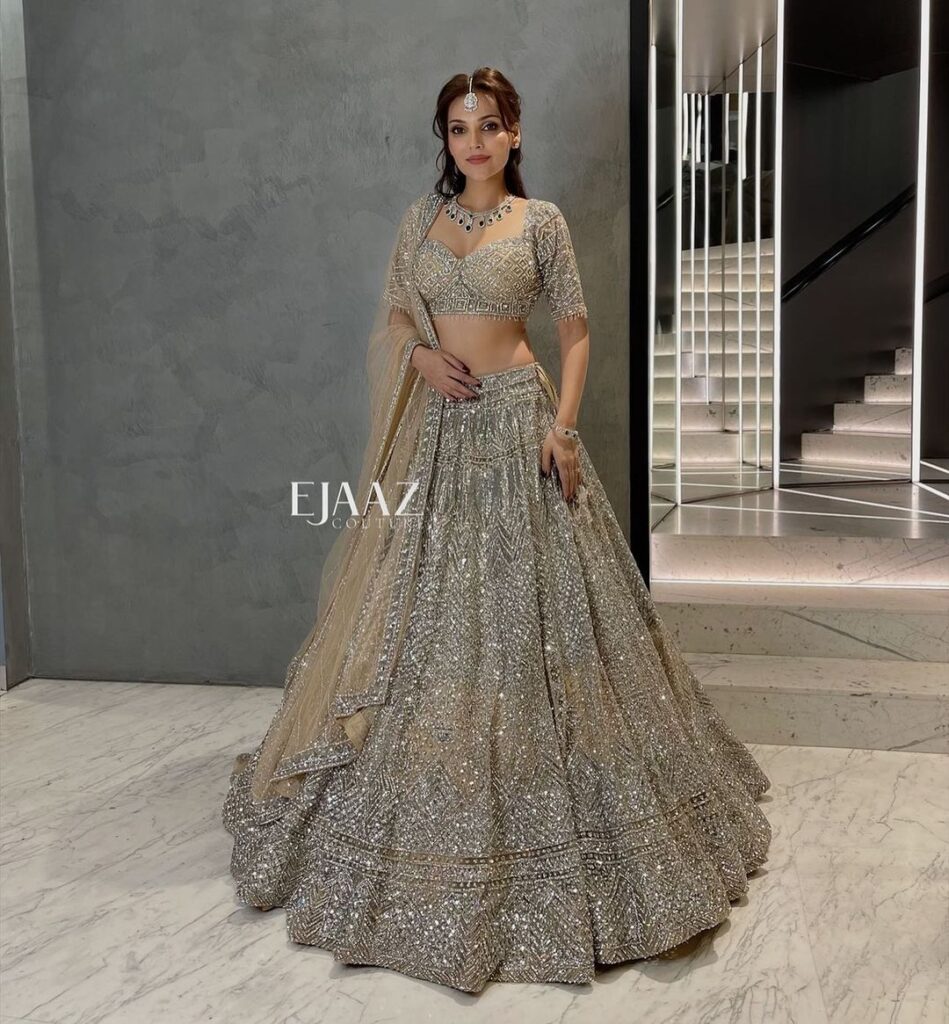 Courtesy: Ejaaz Couture
#5 A black ensemble is not considered acceptable at an Indian wedding. The same goes with white. But the lines of traditions are now getting blurred as more brides are opting for colors/ dresses that suit their personality more rather than making them acceptable as a bride in society. Here's a bride that challenged this tradition and wore a Sabyasachi black lehenga as her roka dress. She further graced the attire with a Sabya belt and let the styling be simple. The groom, on the other hand, coordinated in a black kurta and exuded absolute groom goals.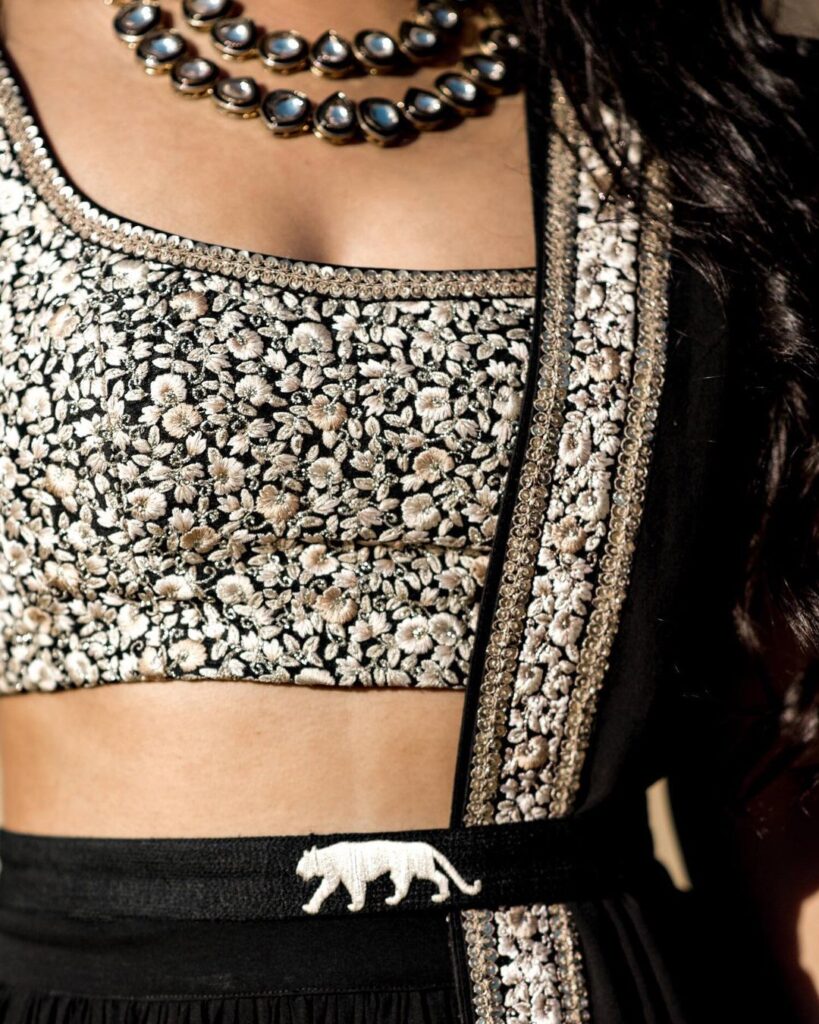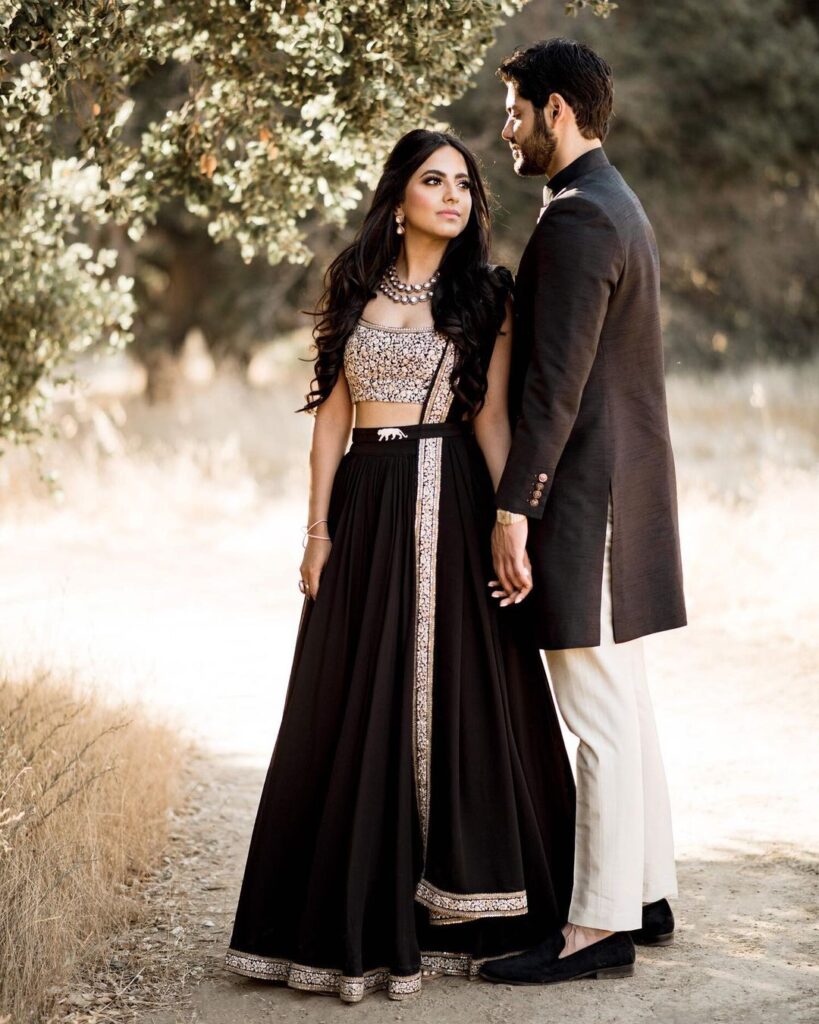 Courtesy: Rita Labib
#6 With the trend of intimate weddings, our six yards of grace have taken a front seat in the bridal trousseau. From the different wedding events to the main day, brides are moving in the direction of this classic bridal attire. Like this bride opted for a shimmering tea-green saree as her clothing choice and styled it with open hair, diamond jewelry, and dewy makeup. Saree definitely makes for a wonderful addition in the engagement dresses for brides' inspiration.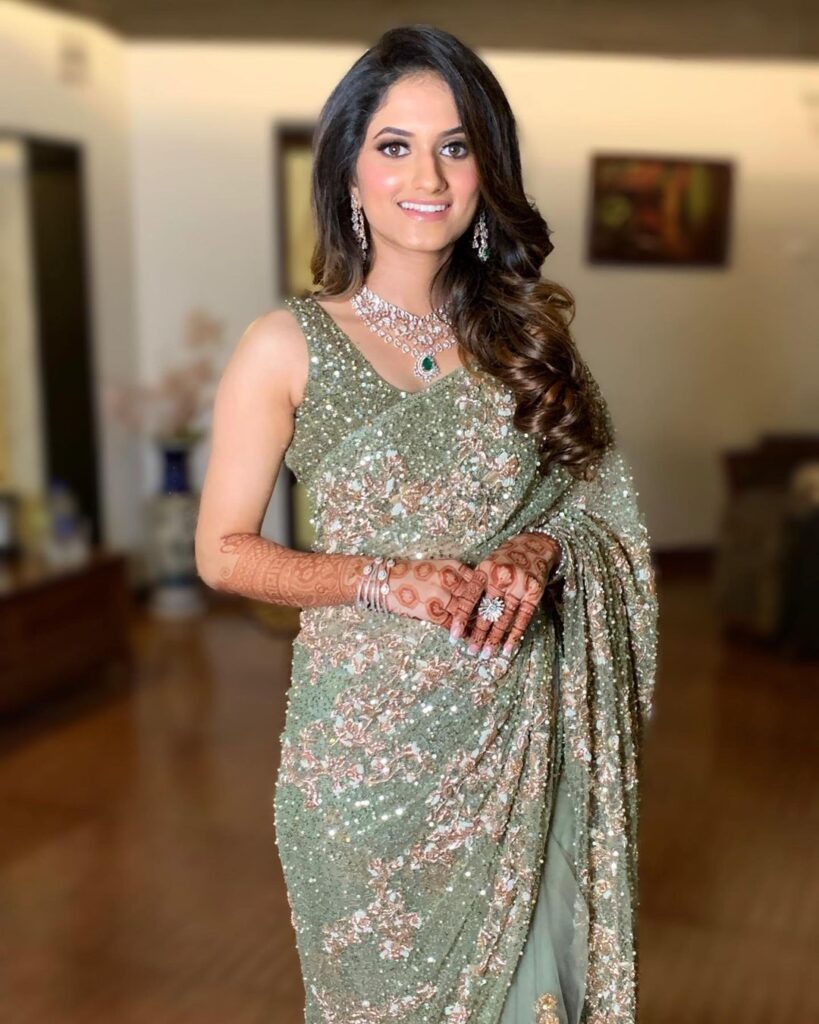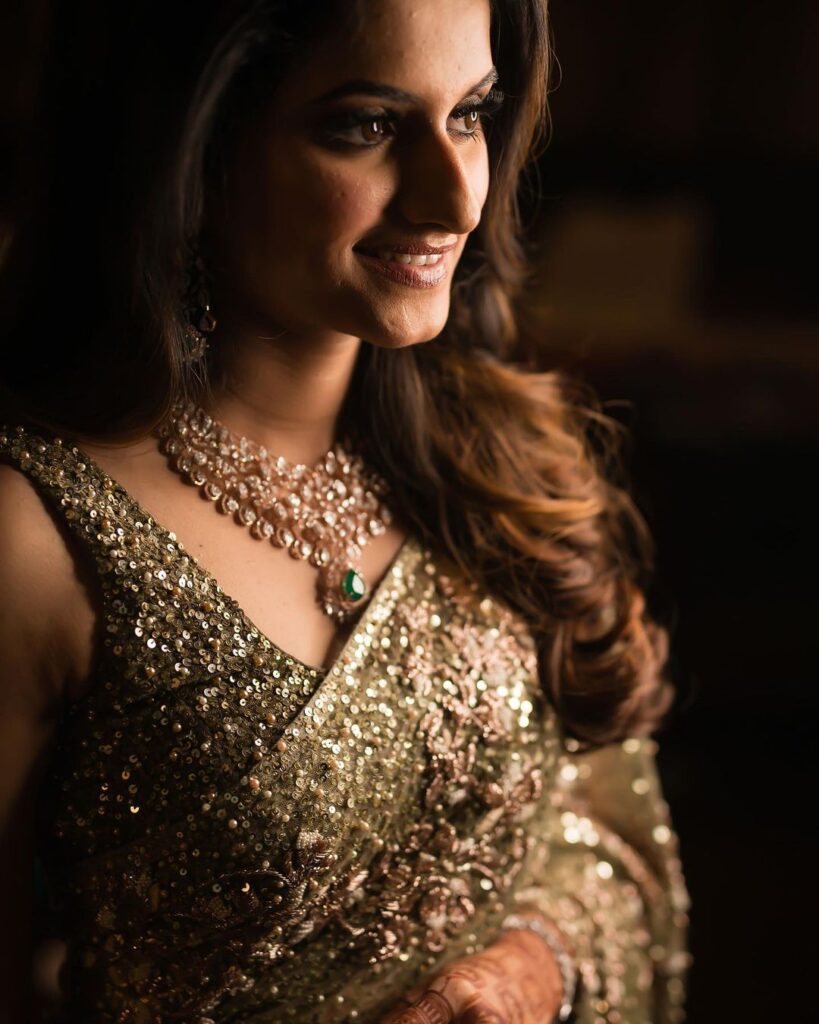 Courtesy: Saloni Sajan
#7 If you're someone who loves to go for a maximalist style, no matter what the event is, you will love this next option. Actress Shraddha Kapoor was roped in for the
Falguni Shane Peacock'
s
FDCI India Couture Week 2021
and showcased the husband-wife designer duo's epic collection at the Taj Mahal. One of the few pieces that caught our attention is this gorgeous lehenga with a hue that's a mix of orange and peach. Bedecked with mind-blowing embroidery and paired with a full-sleeved blouse, this lehenga is graceful, elegant, and charming all at the same time. For brides looking for an engagement lehenga design, look no further than this captivating
Falguni Shane Peacock Lehenga
set.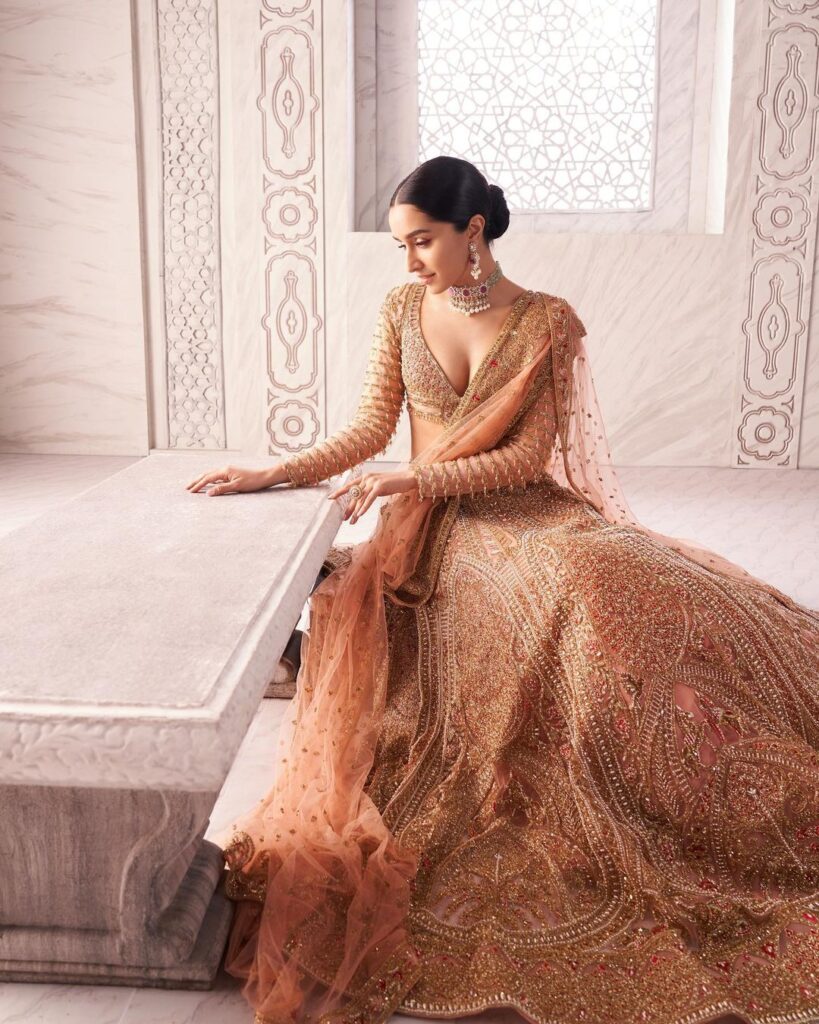 #8 We love the sparkle on wedding dresses because why not really shine on your wedding day? Sparkly lehengas are showing up in every designer's collection, but if you want one that's made with intricate karigari look no forward than this spectacular Sunaina Khera collection. A phenomenal golden lehenga with handworked crystals will make your roka dress and the evening a memorable one.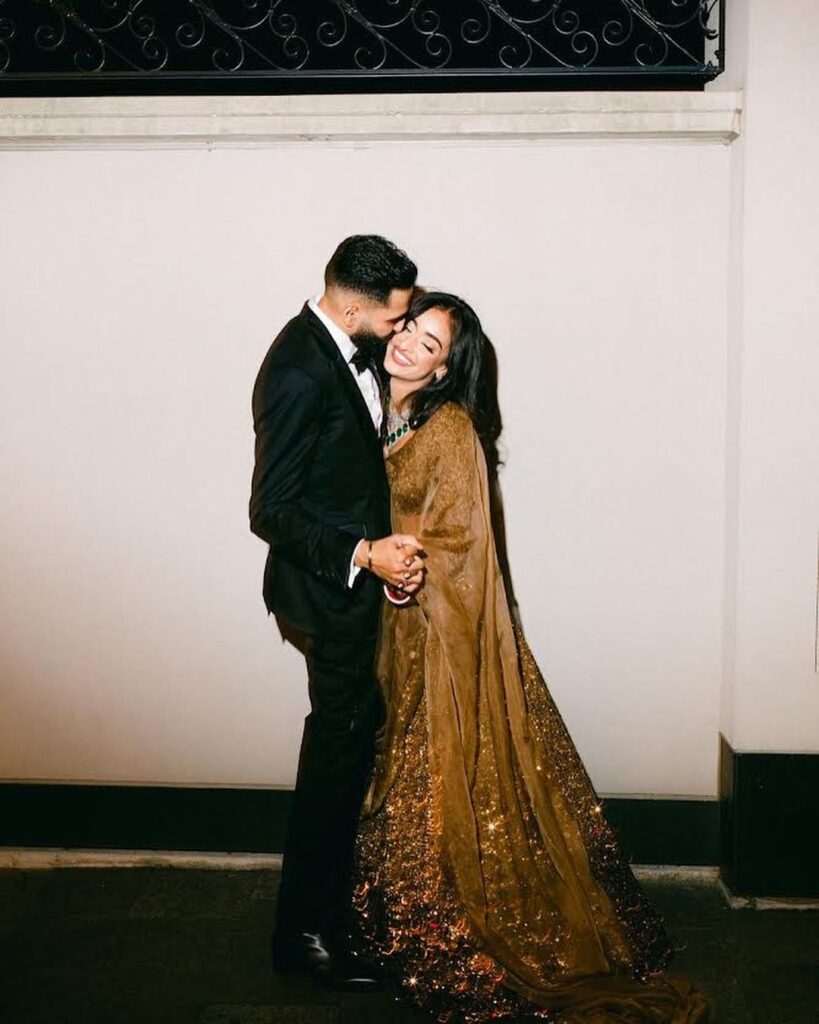 #9 For brides planning a roka inspired by white weddings, then here's a GG dress perfect for your celebrations. This couple planned their intimate engagement in the Shimla hills, at
Oberoi Cecil
. The engagement dress for the groom was a 3-piece tux with a box and a white collar to complement his bride's lehenga hue. The aesthetic surroundings of the Oberoi served as the ideal backdrop for their majestic celebrations.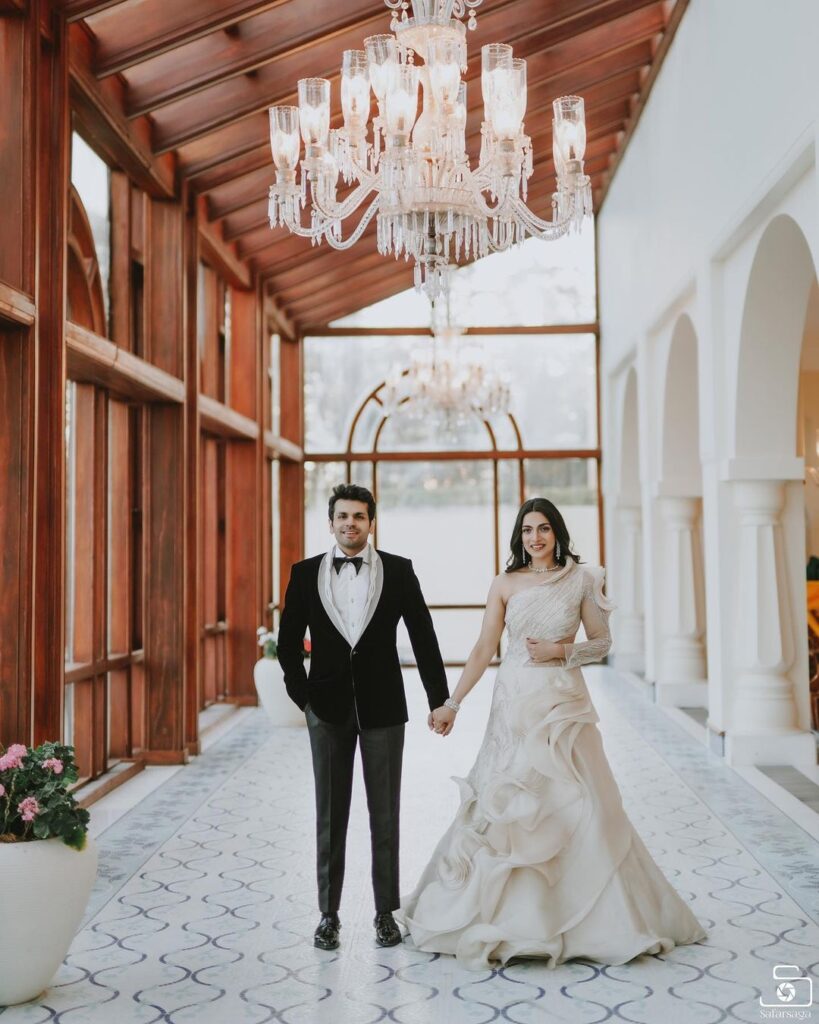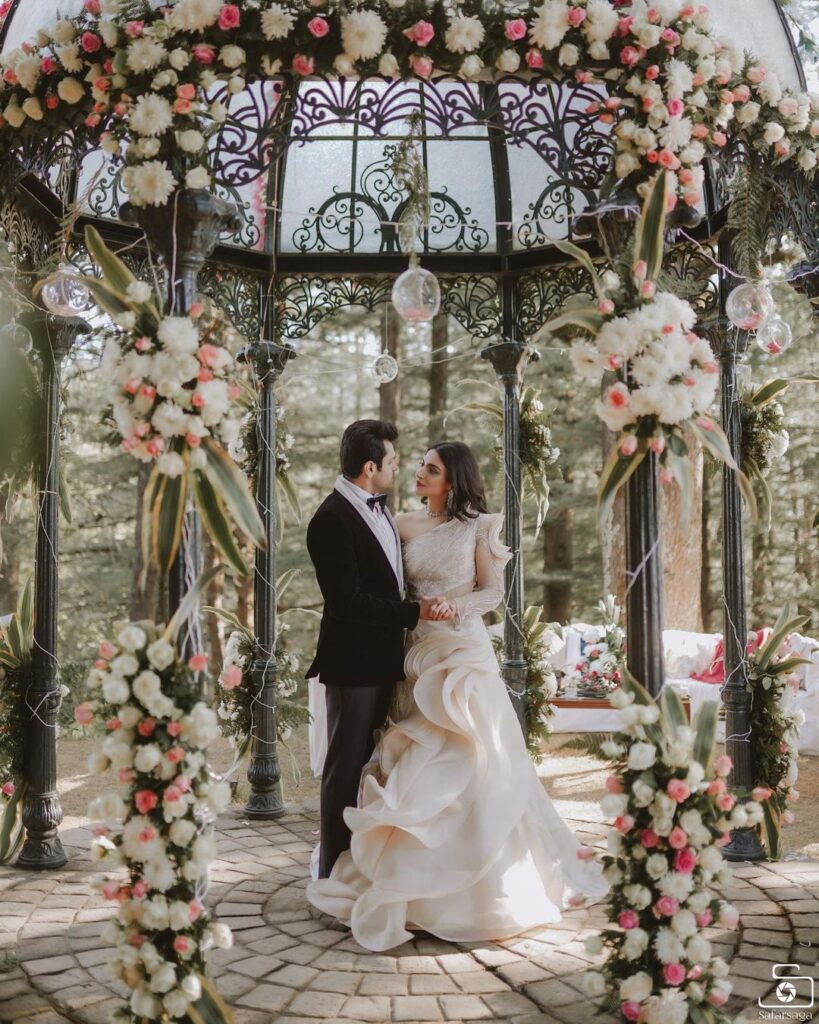 Courtesy: Safarsaga Films
#10 We told you – concept gowns with body-tugging silhouettes are trending as engagement dresses for girls. And if you're looking for one – there's no one who does them better than Gaurav Gupta. Here's a mehendi green lehenga from the designer's collection with a detachable train you can remove when you want to shake a leg! Styled minimally with a diamond set, waves, and natural

bridal makeup
– we love the elegance of this bride. Also, diamonds do seem like a girl's BFF on their roka, with many wearing them on the big day!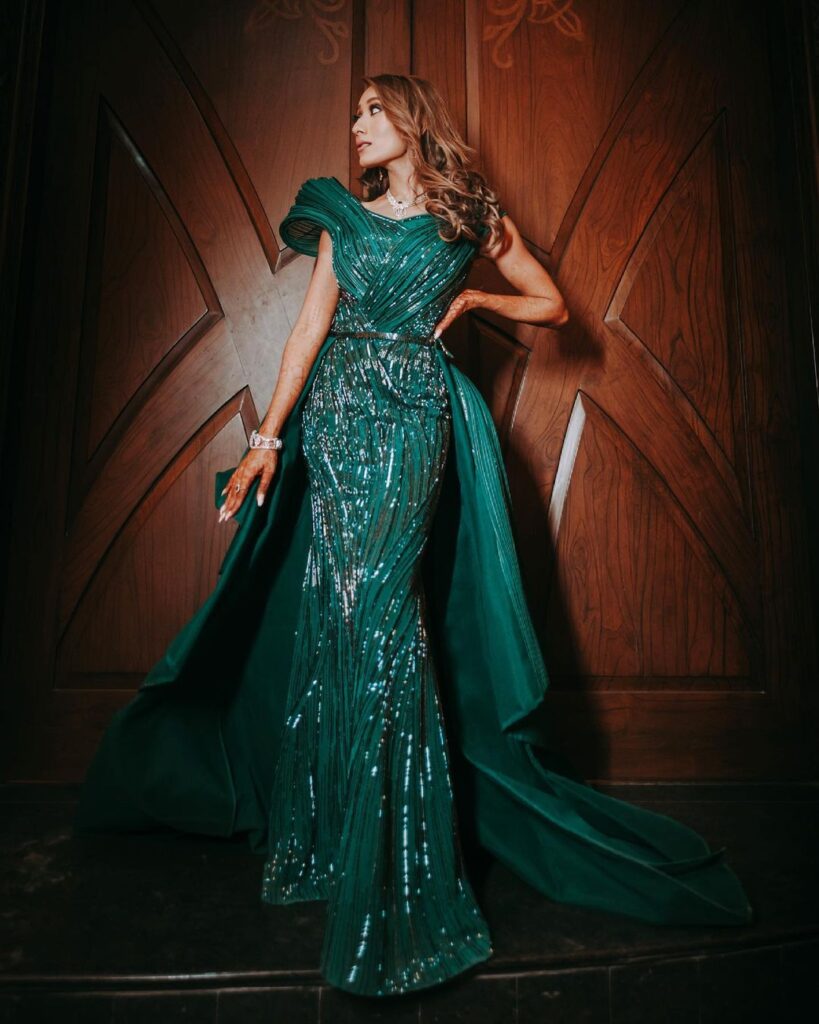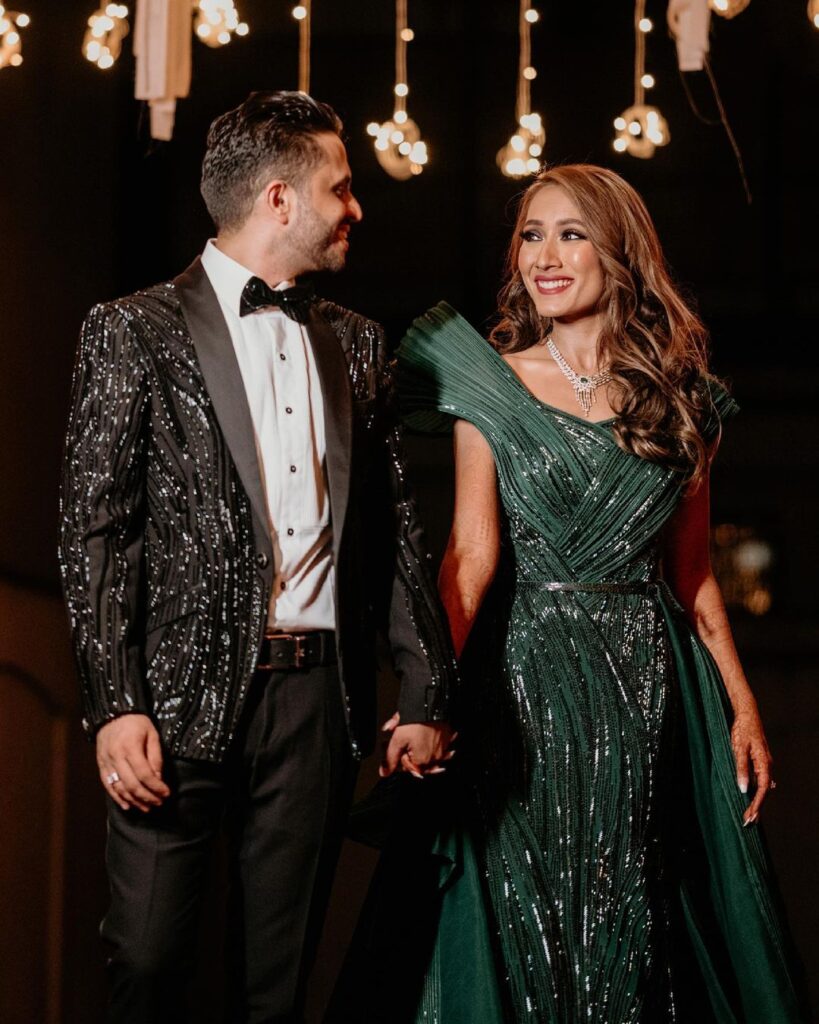 #11 This
peacock design lehenga
in ivory with gold accents became Insta-popular as soon as it was posted. The stunning ensemble doesn't just make for a perfect outfit for your day roka event but also for the after-party. Further, the blouse with raised shoulder adds a unique touch to the attire. You can pair the clothing with a kundan set as pictured here, or go for the popular diamond jewelry option. Keep things simple beauty-wide, so your roka lehenga can really shine!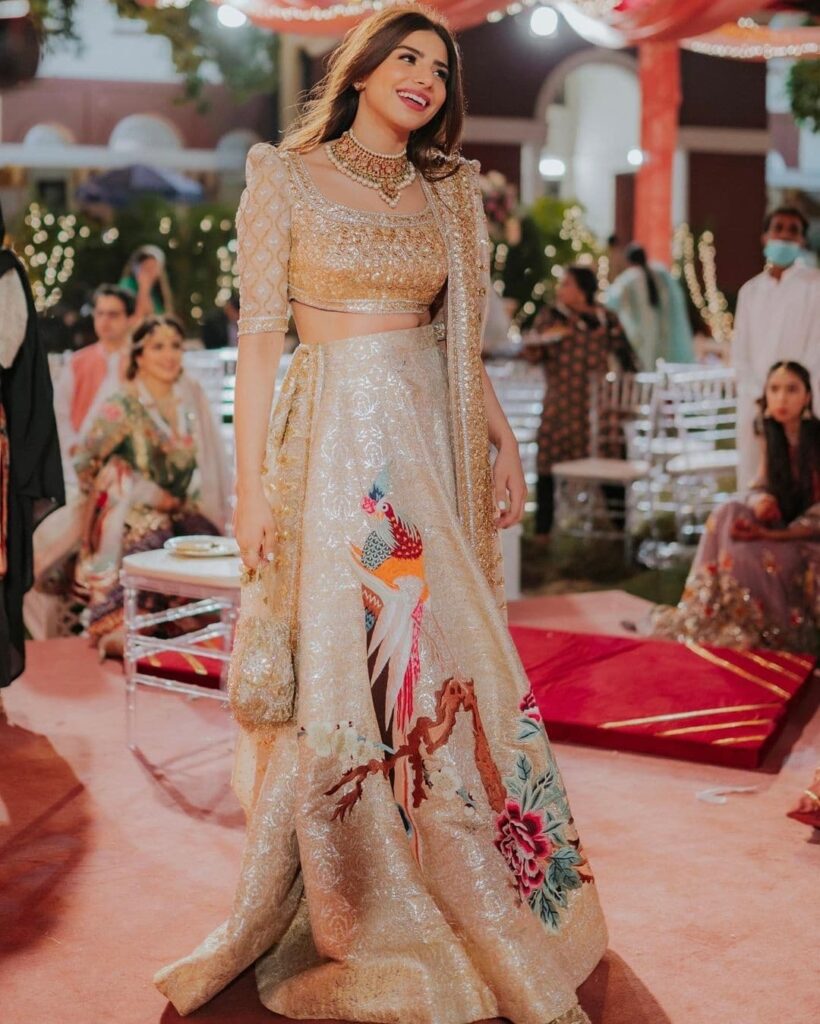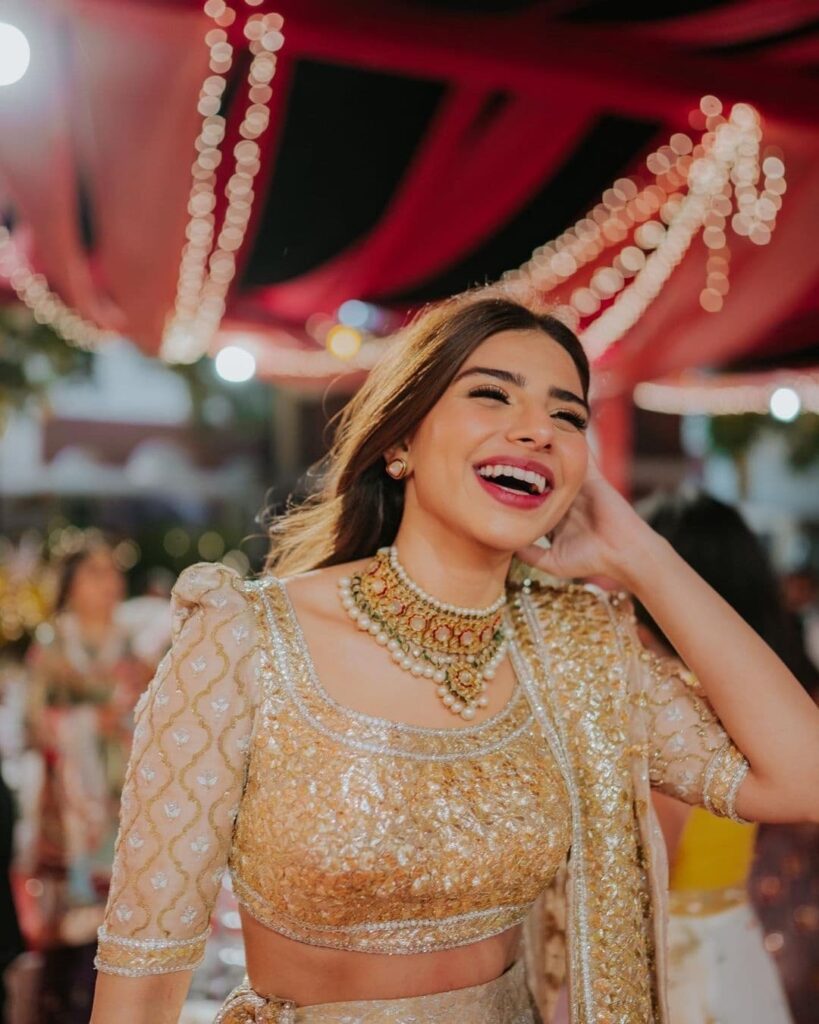 Courtesy: Sara Idrees
#12 An off-white lehenga is the latest trend among Indian brides. While a complete white is not considered acceptable, an ivory shade with intricate work has become popular. This Seema Gujral lehenga (which you can buy right
here
for Rs.99,600/-) is an alluring ensemble to wear for your ballroom roka ceremony. Style the outfit with shimmering makeup, minimal jewelry, and a charming smile to woo everyone at your roka event, including your now-fiancee.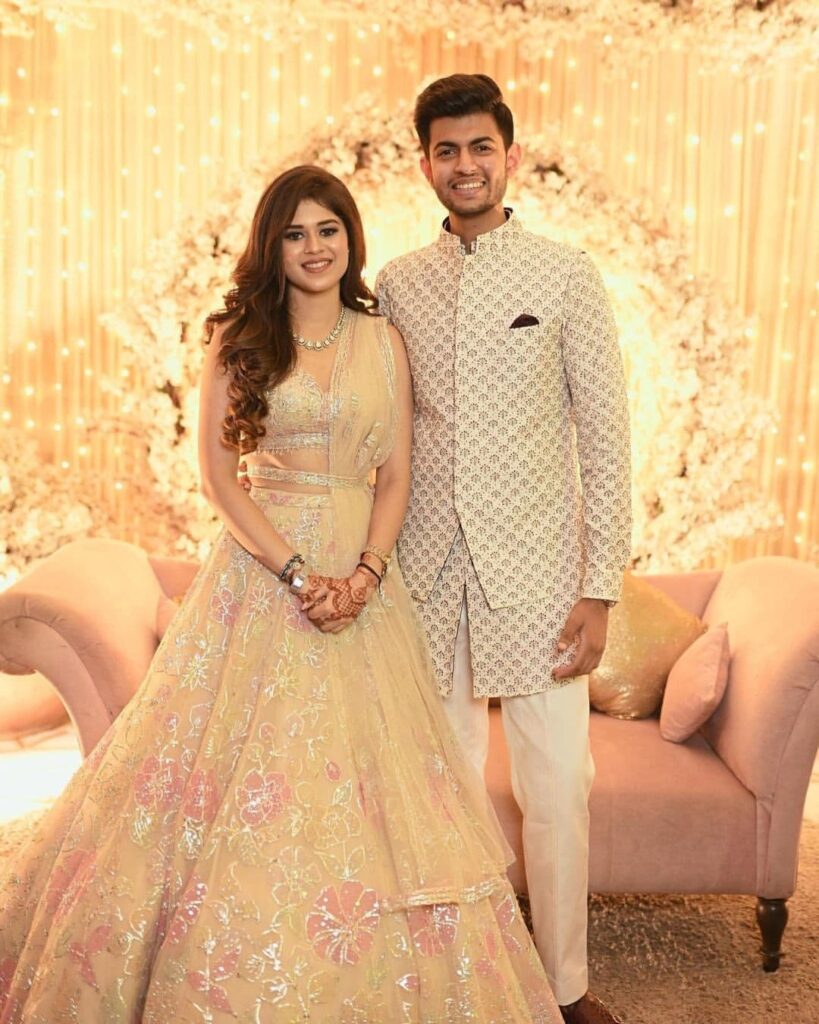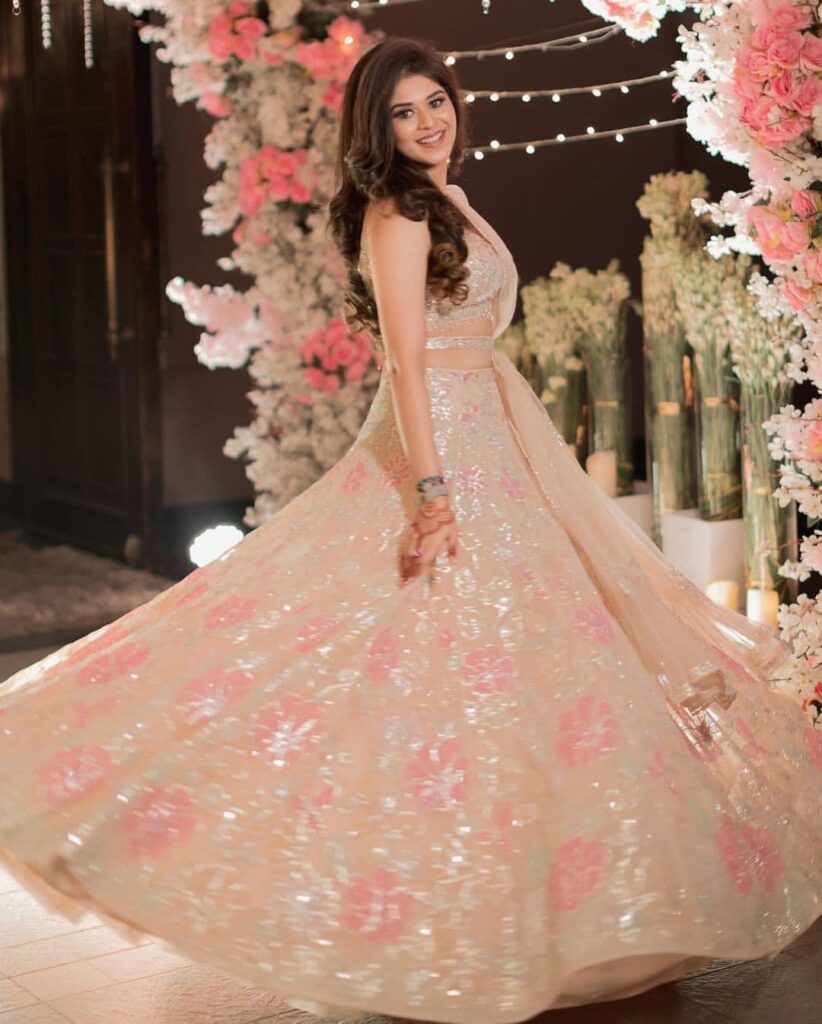 Courtesy: Inder Kaur
#13 Simran Bhati, from
@theswishceo
, recently got engaged and wore this gorgeous lehenga set by
Sulakshana Monga
. The antique lehenga in ivory with unique designs in blue is picturesque and eye-catching. We absolutely love the unique
lehenga blouse
with the outfit. Keeping the jewelry and beauty styling to minimal, she really let the outfit shine and we can't help but adore her entire ensemble.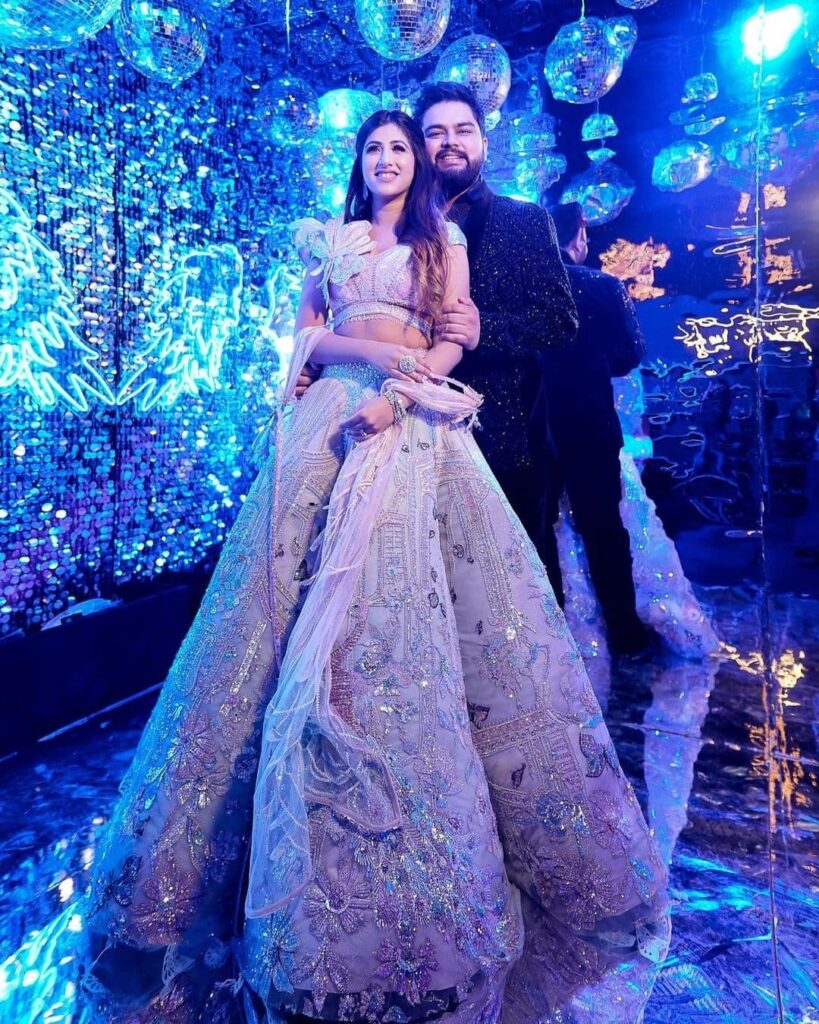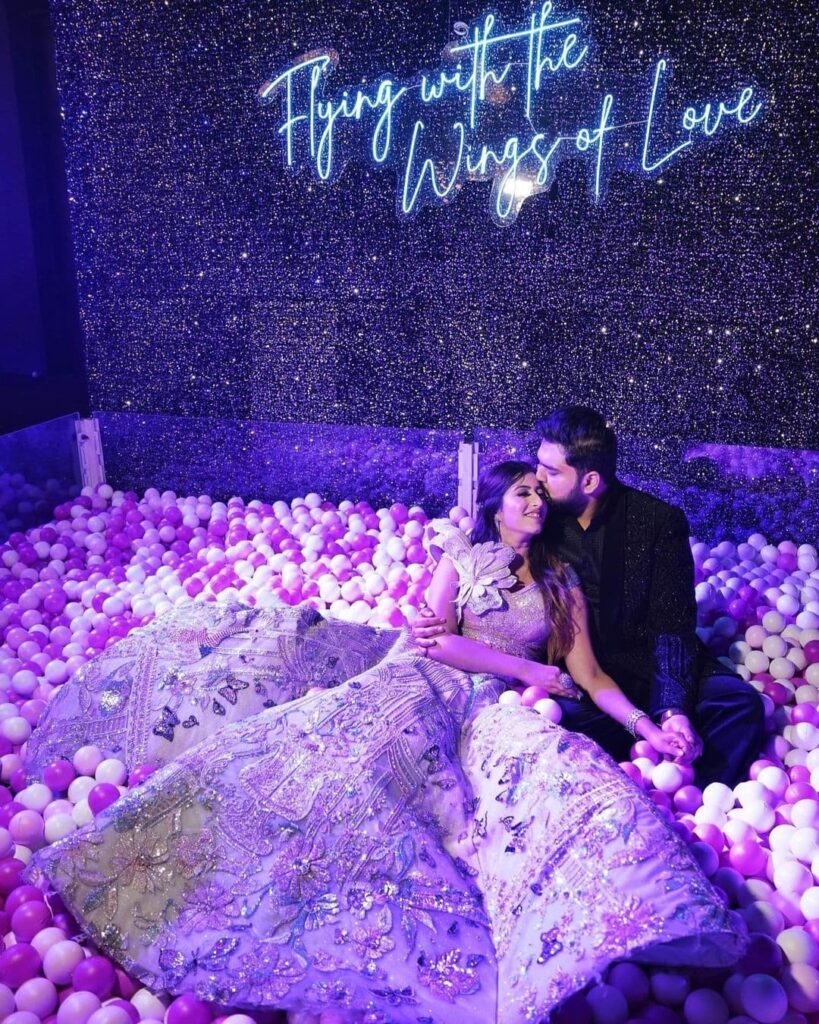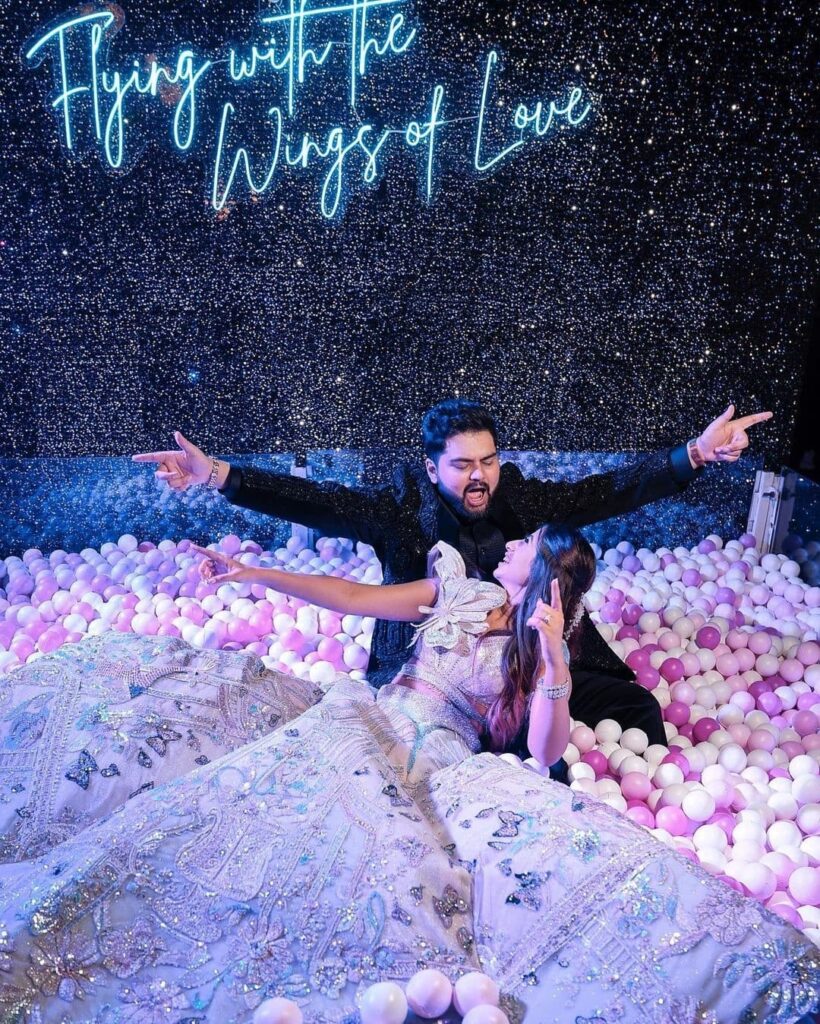 #14 Shreya & Ampin got engaged in a cheery roka ceremony just a few weeks after Ampin officially proposed. Shreya's blingy saree look was adorned on Instagram and circulated widely. When opting for a saree for a bigger celebration, it makes sense that you'd either want it to be a pure textile or beautifully embellished. Shreya went with the latter and looked drop-dead gorgeous on the roka day.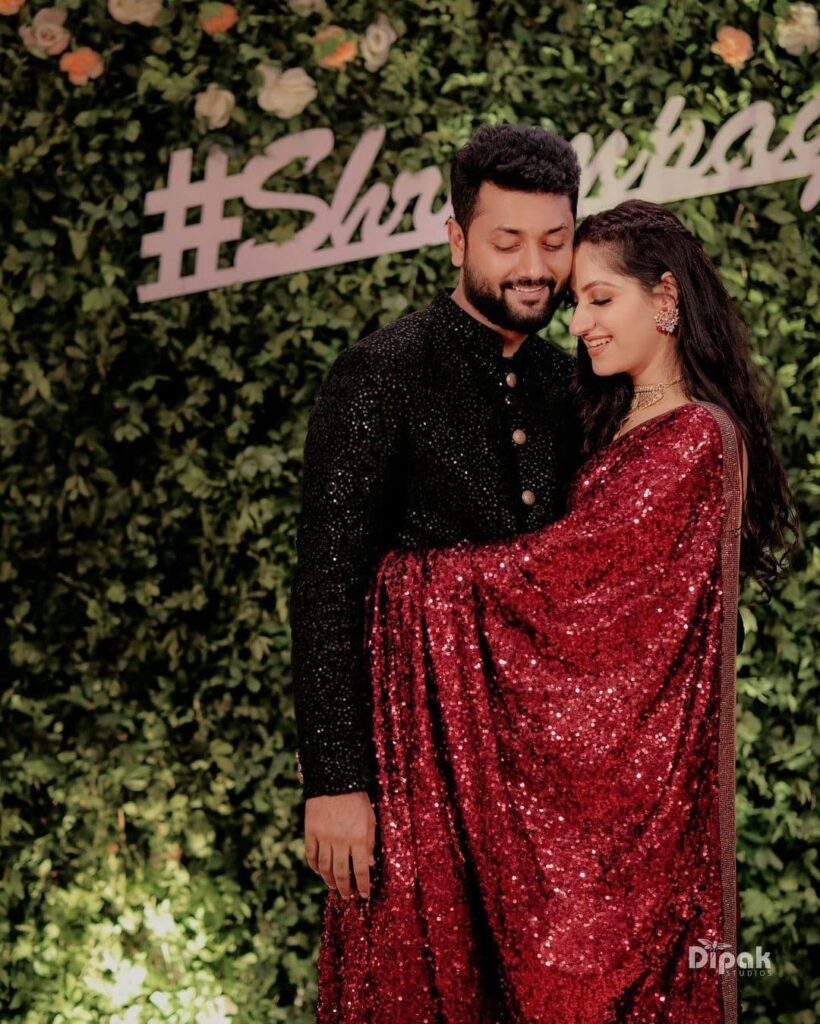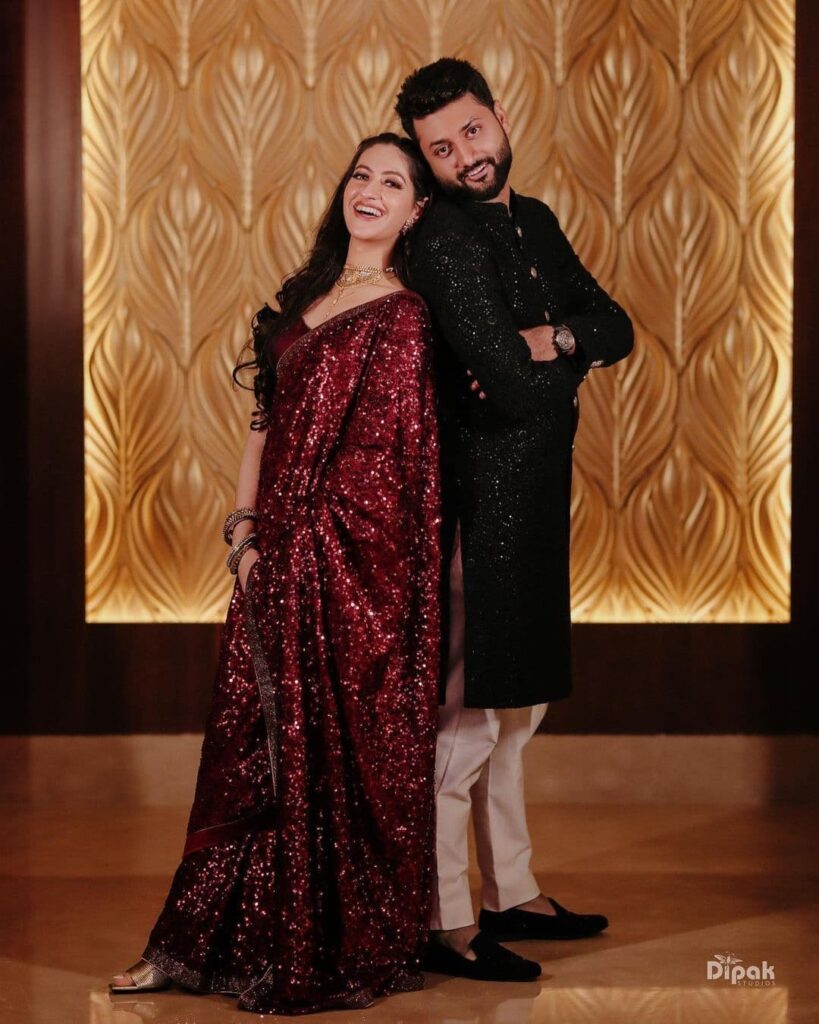 See her engagement blog here. 
#15 If a heavily embellished lehenga doesn't interest you, then here's something more suited to your preferences. A new addition to the engagement dresses for girls, this printed blue lehenga is ideal for your day roka celebrations. You can coordination as a couple in the same hue and set the tone right for the rest of your wedding events by dazzling at this revelry.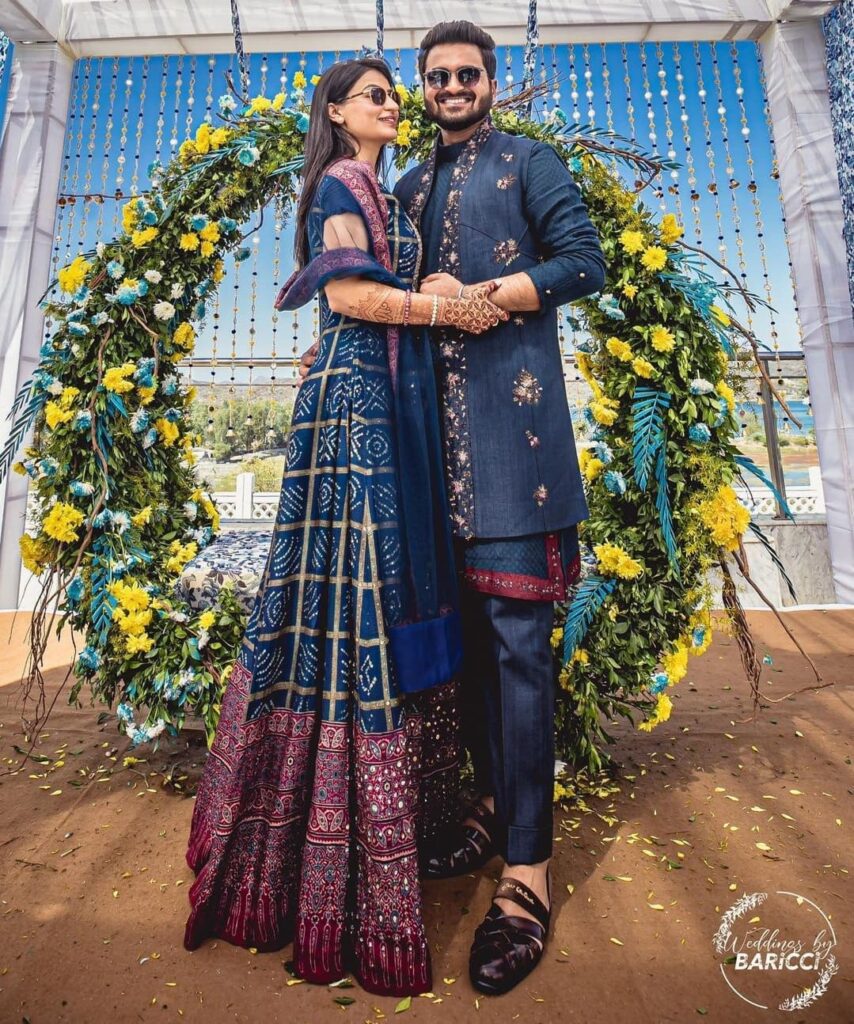 Courtesy: Baricci Weddings
#16 A trail gown is a great pick for an engagement dress for brides and one that will make you shine outright! Plus, roka is the best time to actually wear a long trail gown. Mehendi requires comfort, wedding requires comfort due to long hours, and sangeet requires movement & dancing. On roka though, you can easily don a trailing gown because it's a small event and doesn't require much moving around. For inspiration, look no forward to this amazing
Lalit Dalmia
gown worn by
Anmol Sehrawat
at her roka event.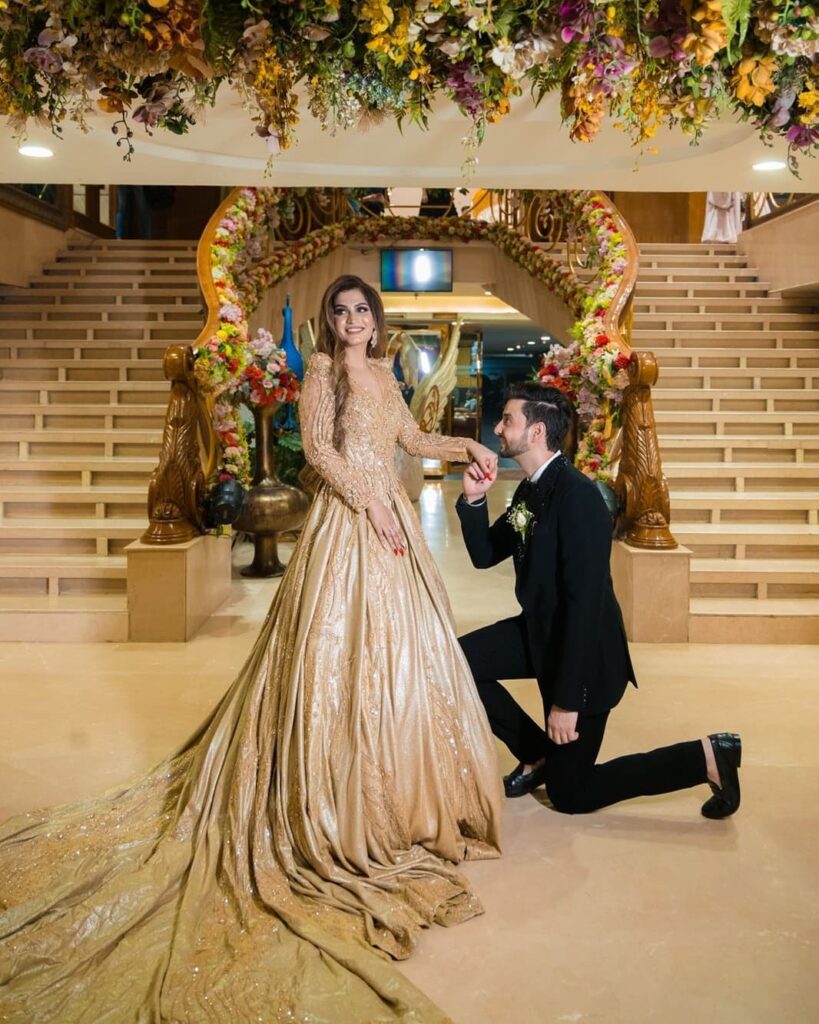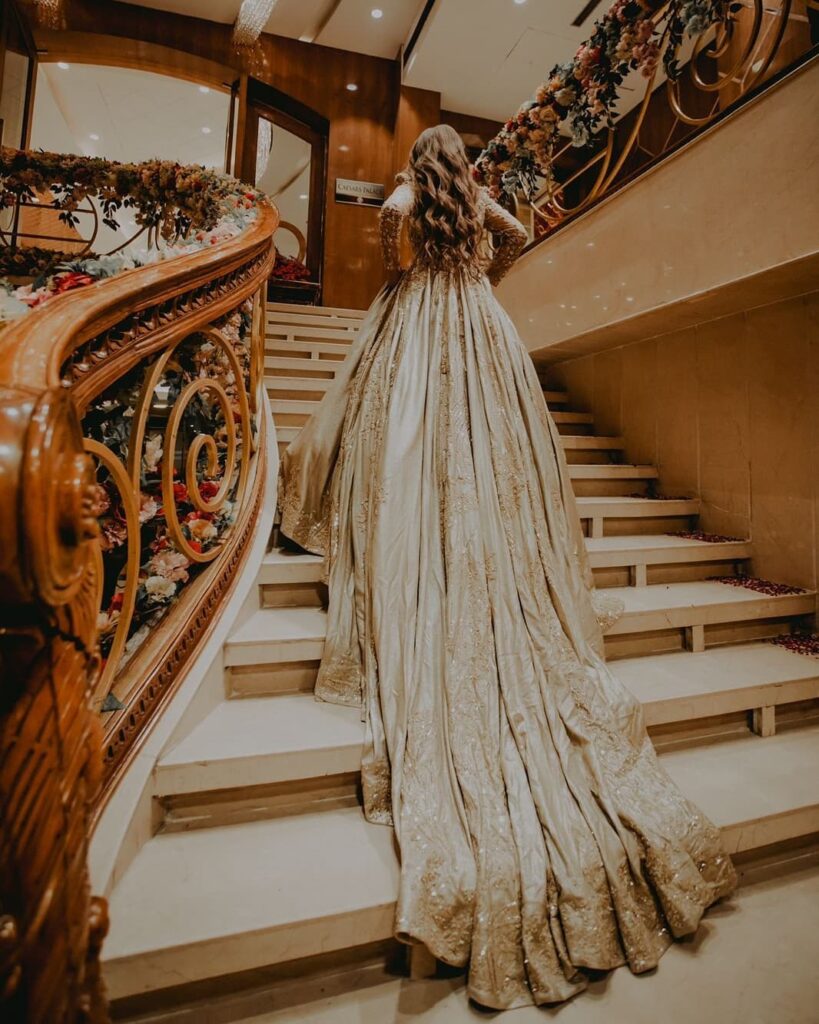 #17 Yet another engagement lehenga design for brides who just can't let go of this customary trousseau choice on their events. With a golden base and distinctive patterns on them, there's so much to admire about this roka bride. We're specifically crushing on her hairband hairstyle that adds a princess touch to the outfit. Paired with meenakari jewelry and statement bangles, there are many elements you can inspire from her bridal look.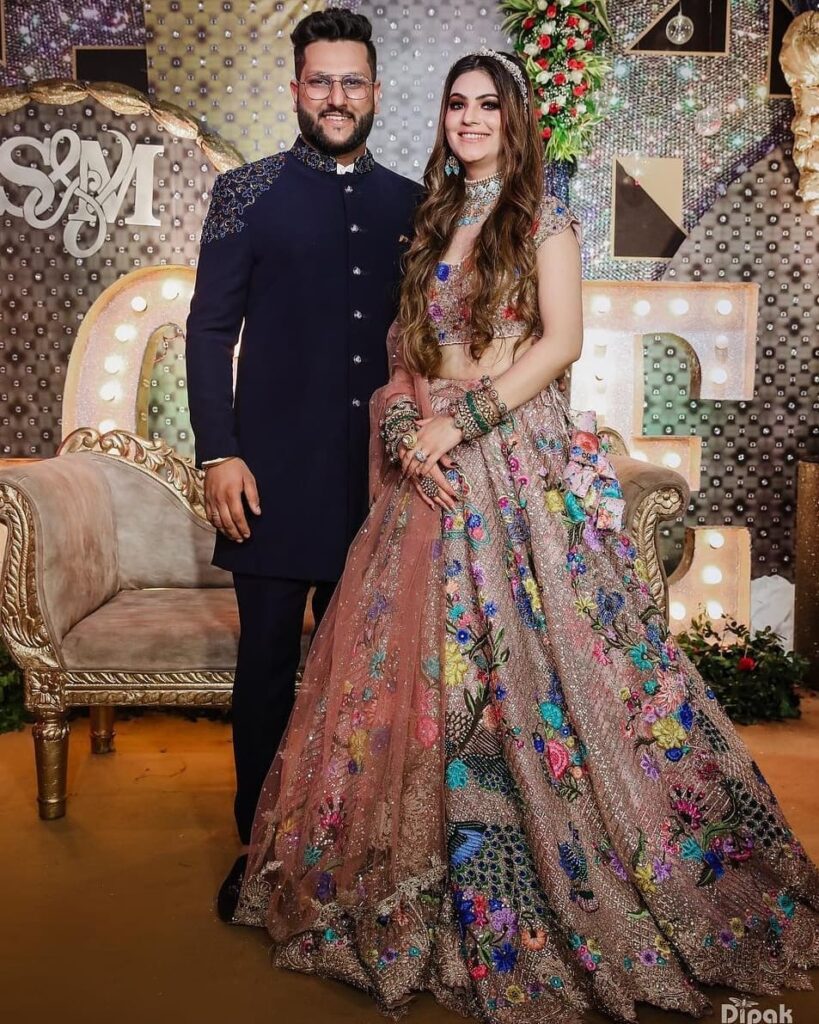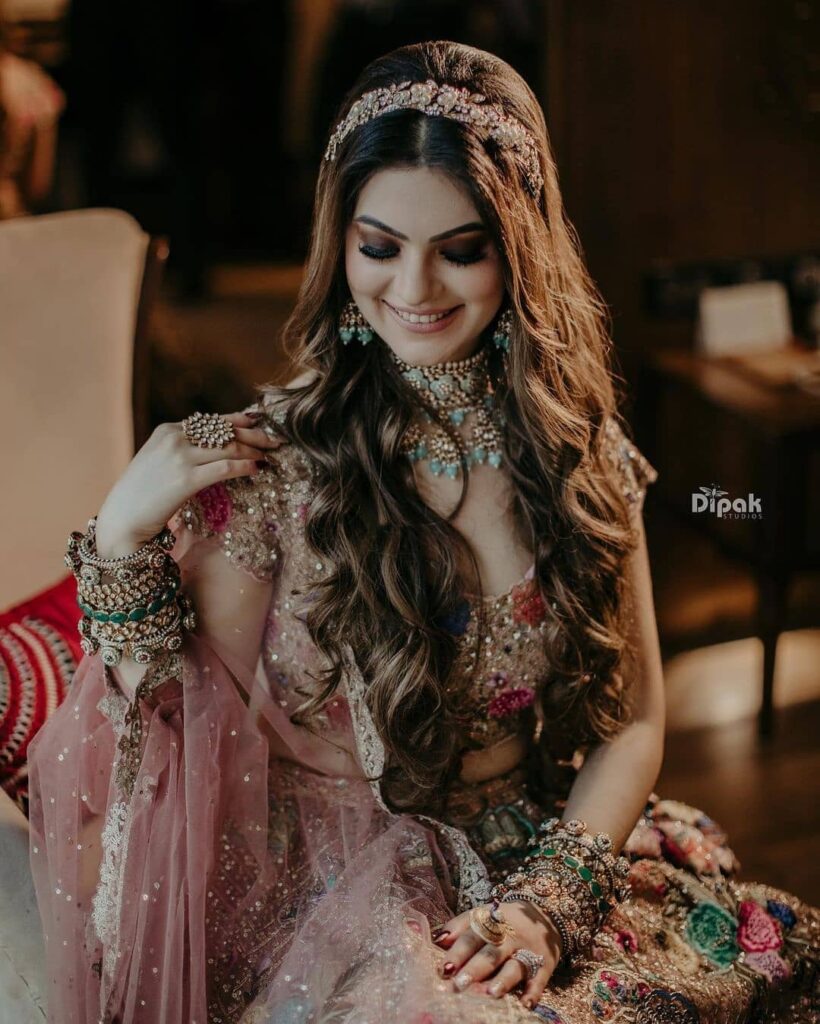 Courtesy: Dipak Studios
#18 Engagement dresses for couples are all about color-coordinating these days, but this couple did something different. They went for shades on the opposite side of the spectrum to create beautiful contrast coordination. The bride sizzles in pastel shades with bling work while the groom wears a navy blue 3-piece kurta pajama set for their special day. Posing lovingly, they're also giving you a portrait idea for your album.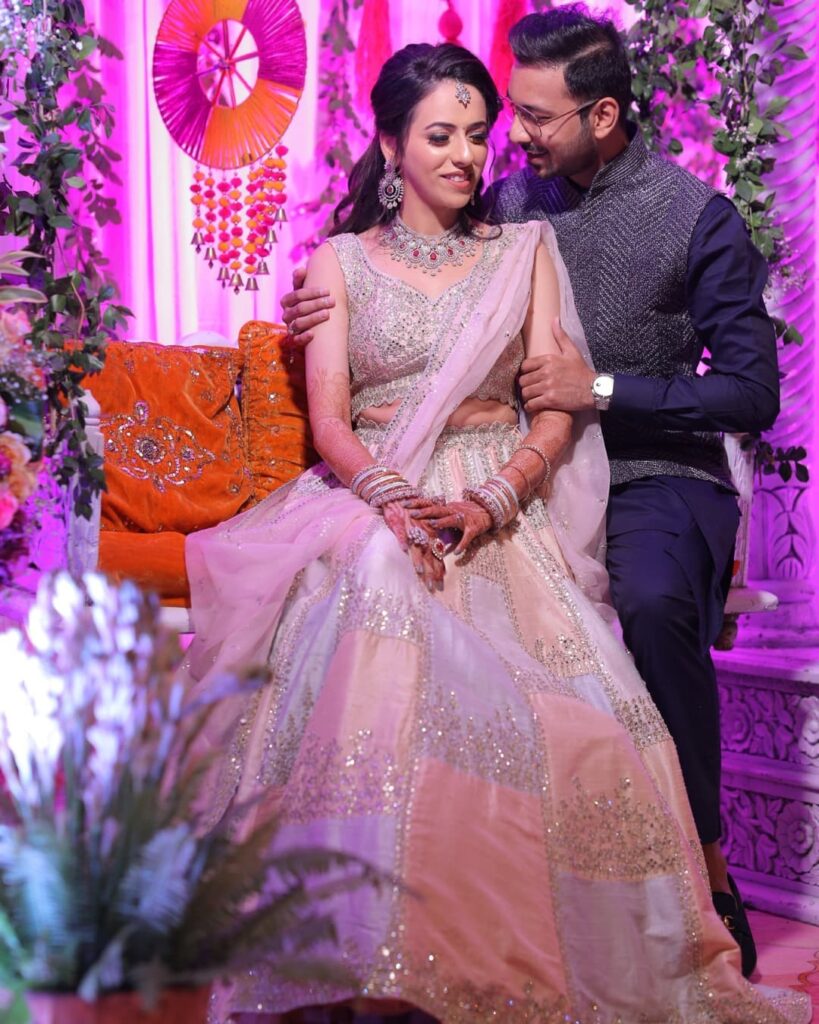 Courtesy: Vasvi Jain
#19 For couples planning an intimate roka ceremony in the comforts of their own home, here's an outfit and setup idea for you. The pastel-themed roka was decorated with gorgeous foliage and the couple coordinated in pastel pink colors for the event. Being a stylist,
Saanchi Gilani
nailed the outfits and the complete ensemble for her & her beau.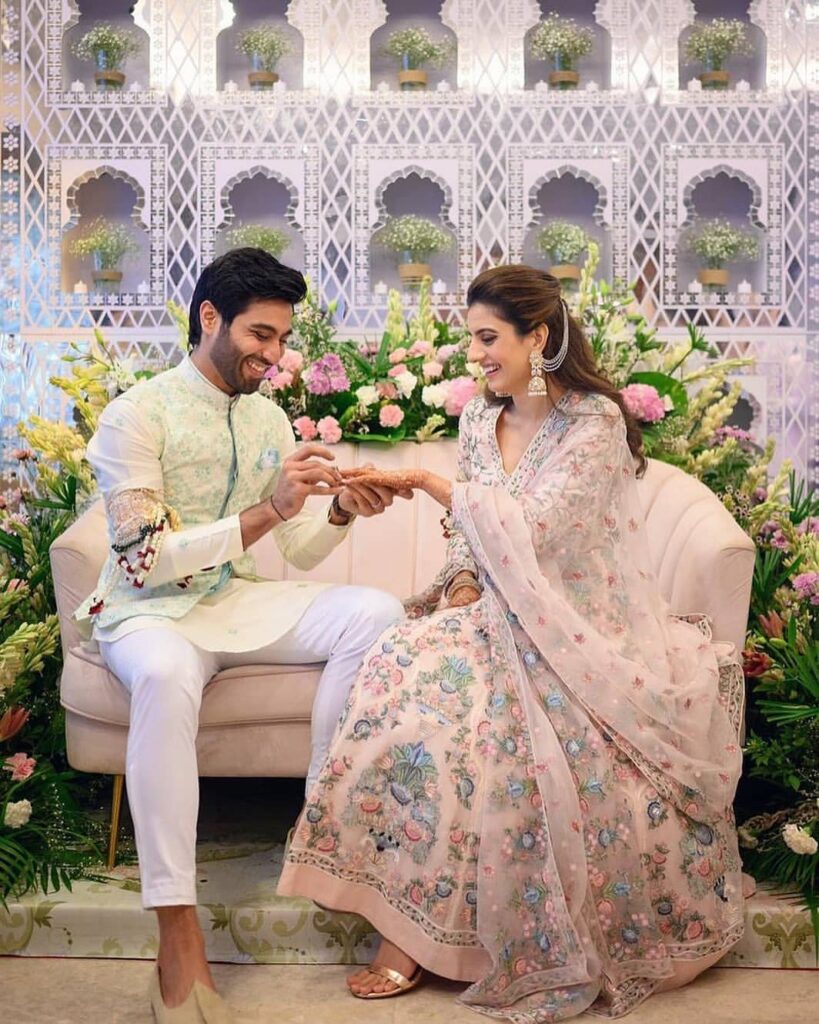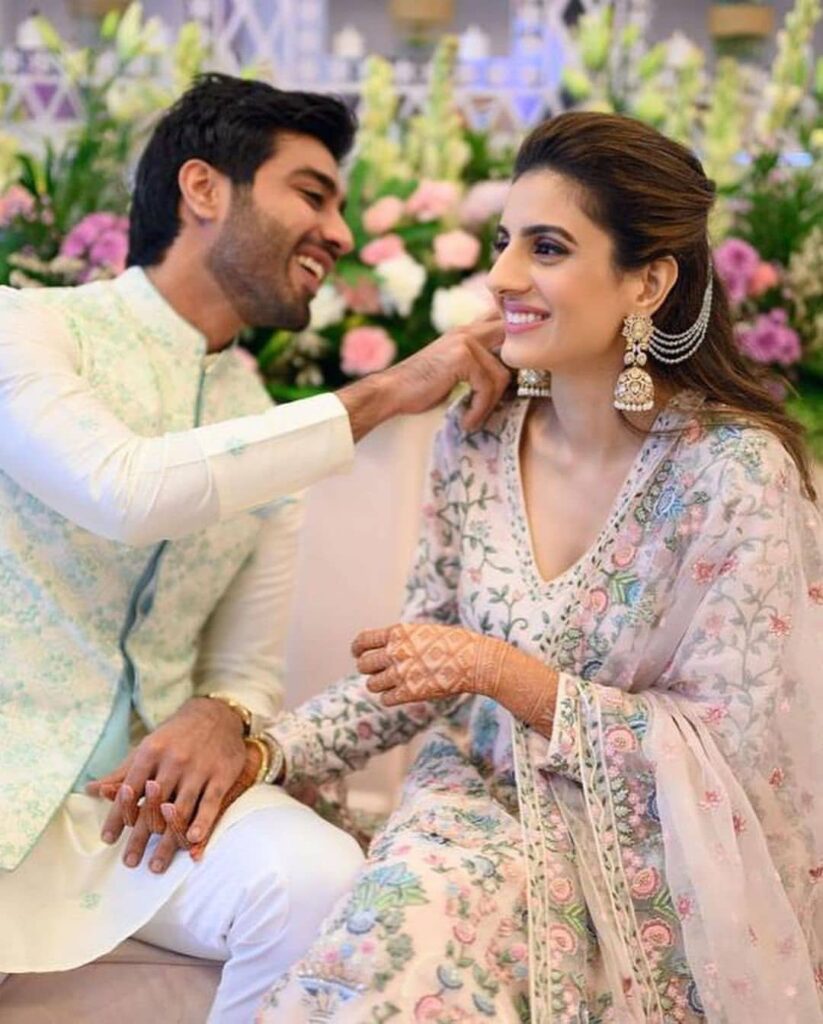 #20 As we said earlier, when brides opt for a saree on their special events, they either go for pure material or heavy embellishments. This one opted for the former and stunned in a phenomenal silk saree for her roka. She paired the resplendent outfit with diamond jewelry, a low bun, and an embellished clutch. The full-sleeved
saree blouse
further amps up the grace of her ensemble.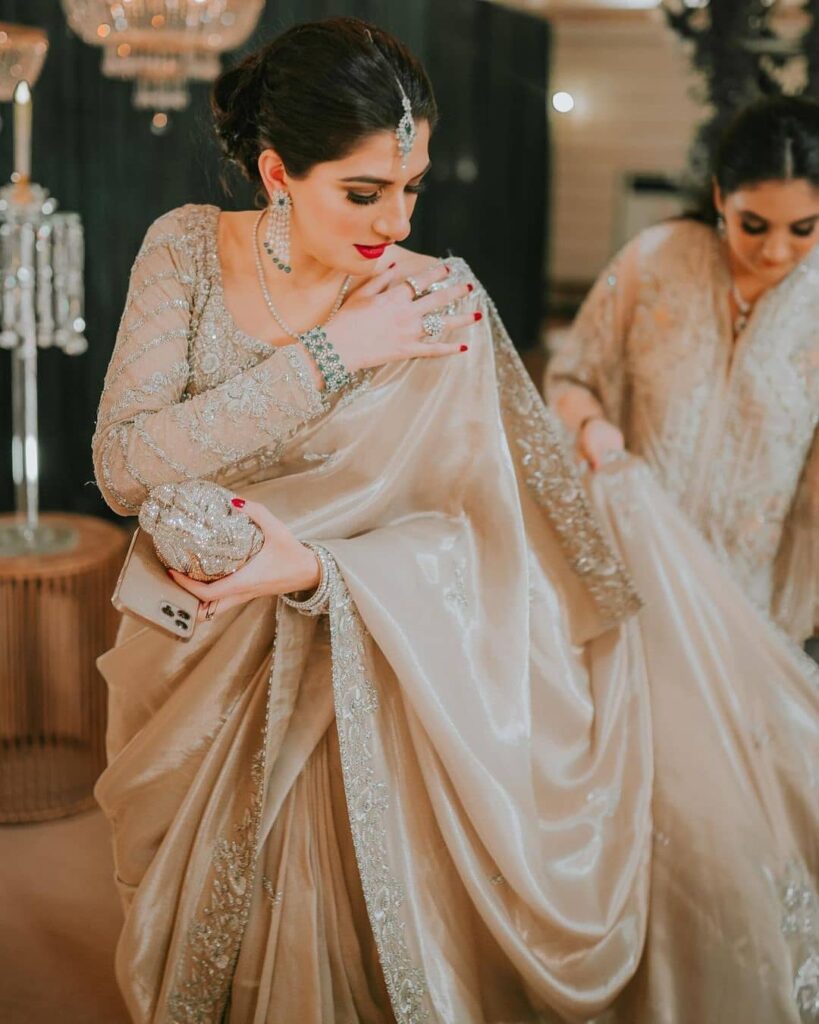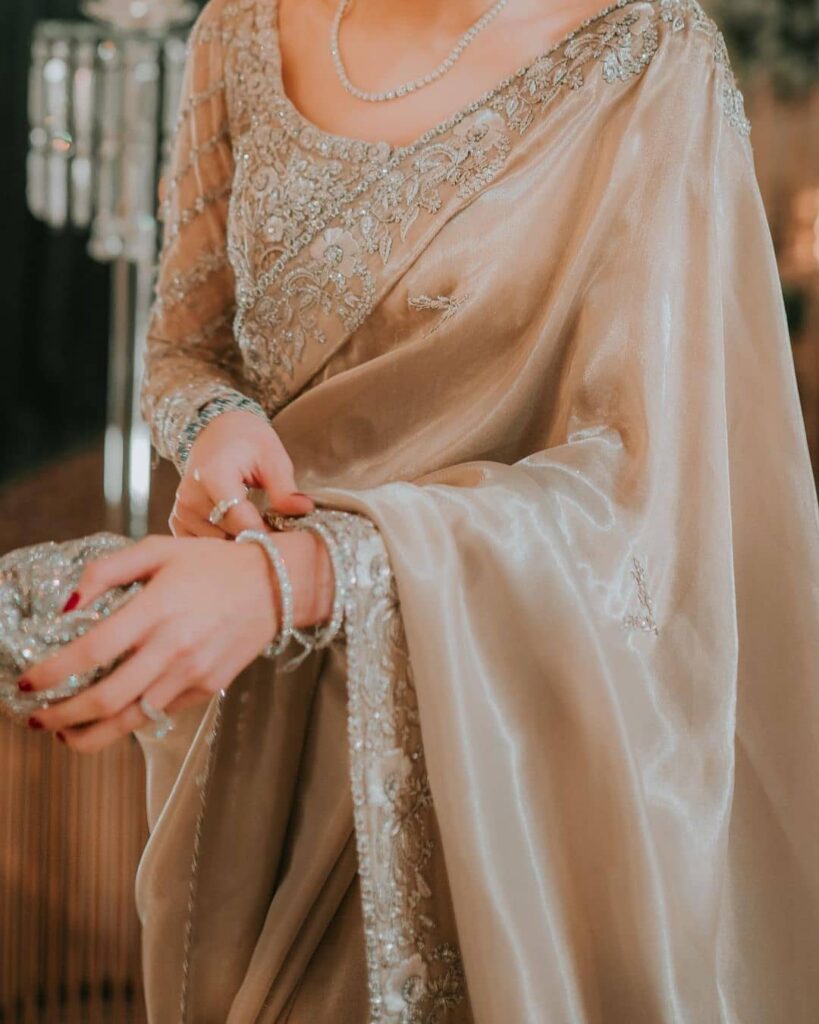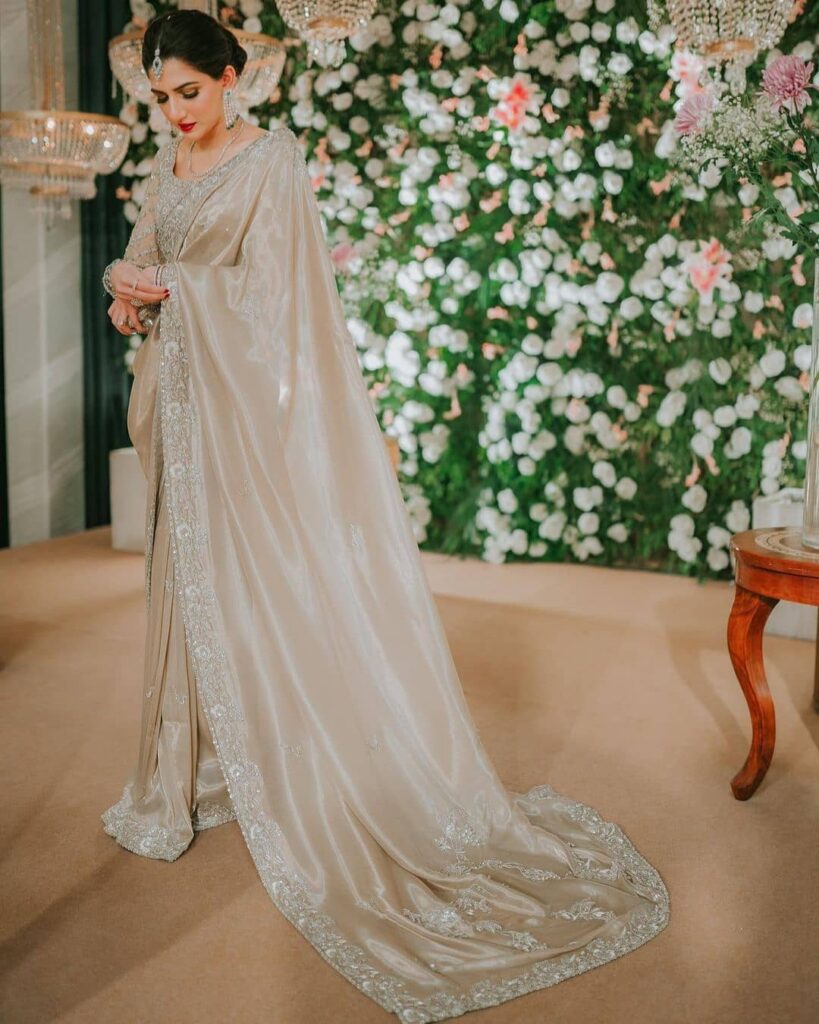 Courtesy: Bunto Kazmi
#21 When it comes to engagement dresses for girls, there are options for all kinds of brides. This one featured here would be perfect for brides looking for a simple lehenga with minimal embellishments but heavy jewelry to elevate the attire. The look would serve well for a black-tie affair and anyone going for a statement roka ensemble. Our advice is to pick the jewelry that goes with the lehenga set, otherwise, it won't compliment so perfectly.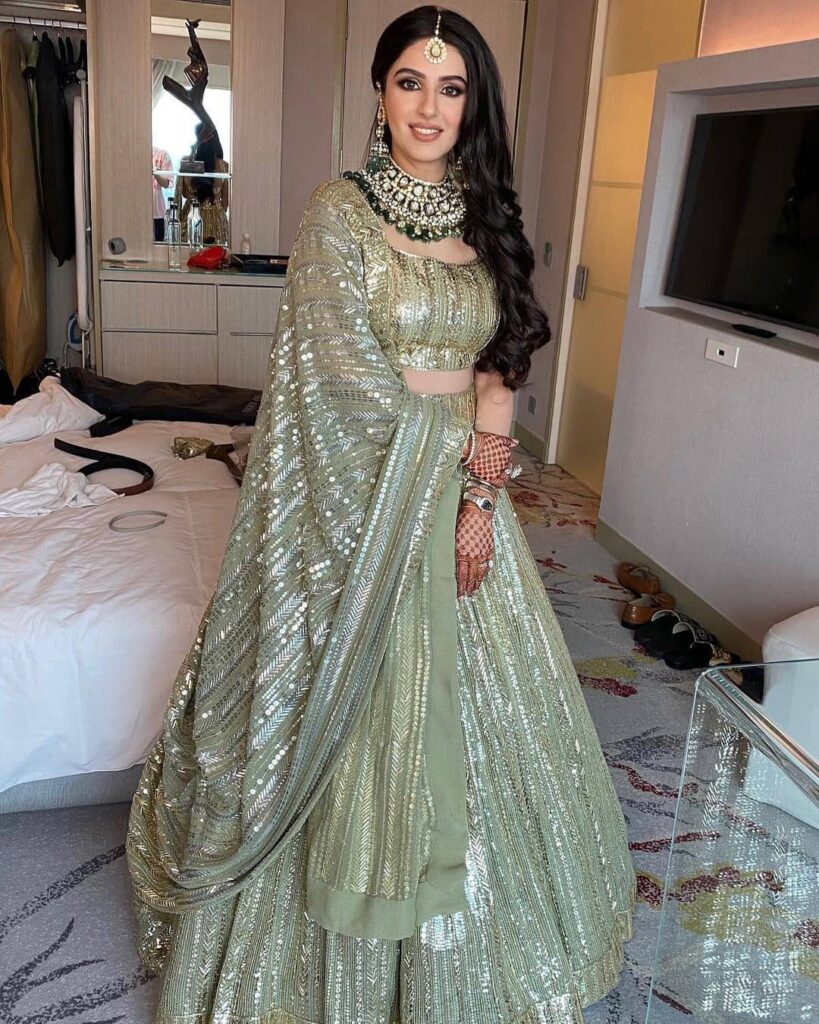 Courtesy: Meera Sakhrani
#22 A simple silk saree for the roka with a sleeveless blouse and minimal elements makes for the superb look idea for standout brides. In the world of intimate weddings, simple yet elegant bridal looks have taken an upsurge and this latest engagement dress for the bride fits into the trend beautifully. FYI, if you want to elevate the look with heavy jewelry or an embellished blouse, you can completely can! Minimalistic elegance is defined differently by everyone, make sure your ensemble fits into your bracket.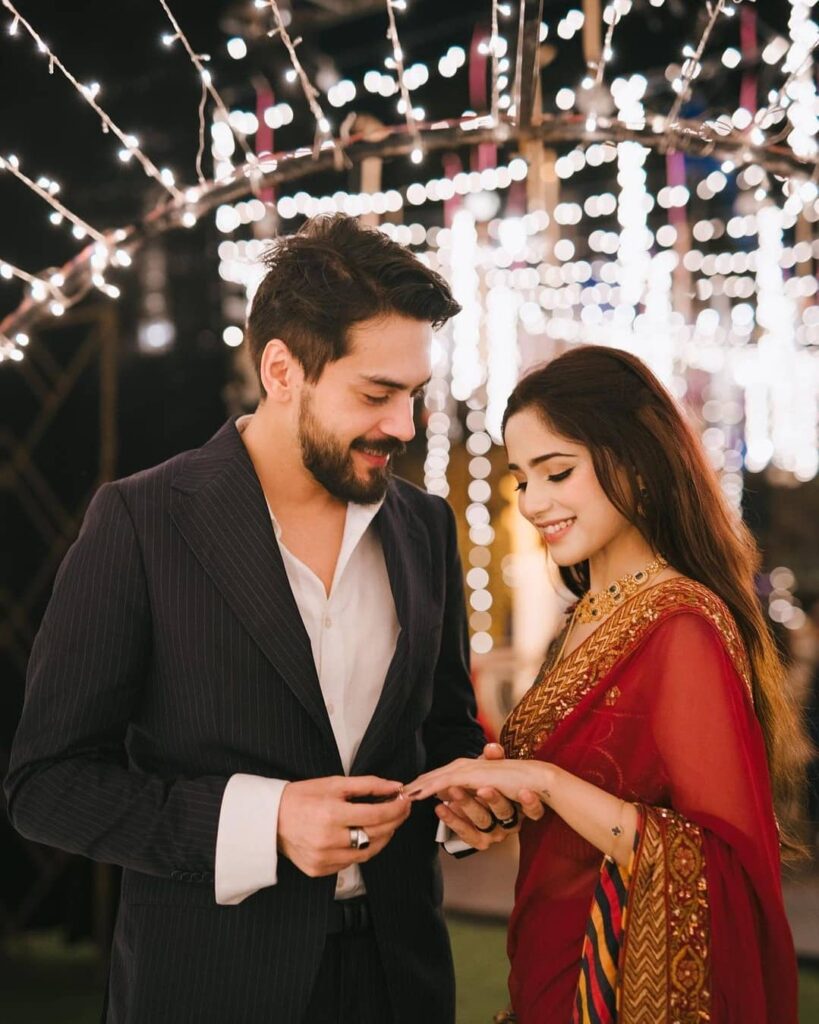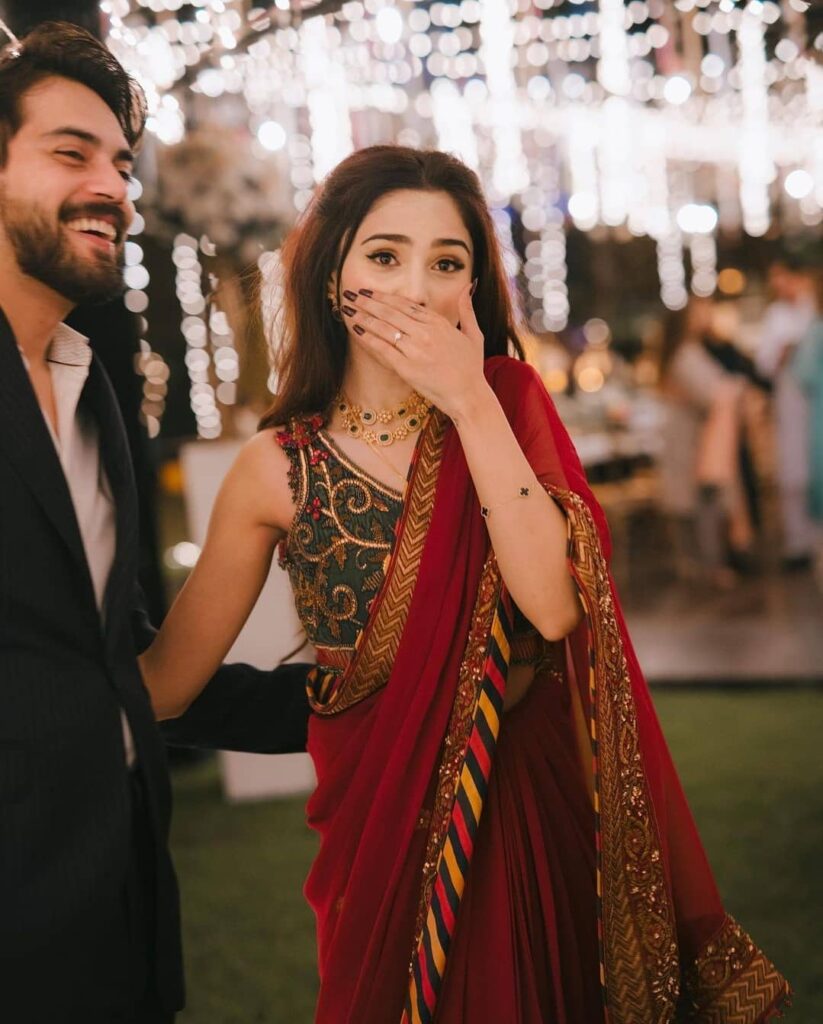 Courtesy: Izzah Shaheen Malik
#23 The coffee brown
Manish Malhotra lehenga
on
Kanika Bhatia
was the center of attention at her roka ceremony. The small trail added the princess vibe and the distinctive work won the show. When it comes to cocktail night, sangeet, or roka lehengas, brides often are looking for something unique. Mostly because they want to play it safe at the wedding, and enjoy the versatility of other wedding revelries instead. Look nowhere other than the MM stores to feed into this desire of yours as a bride.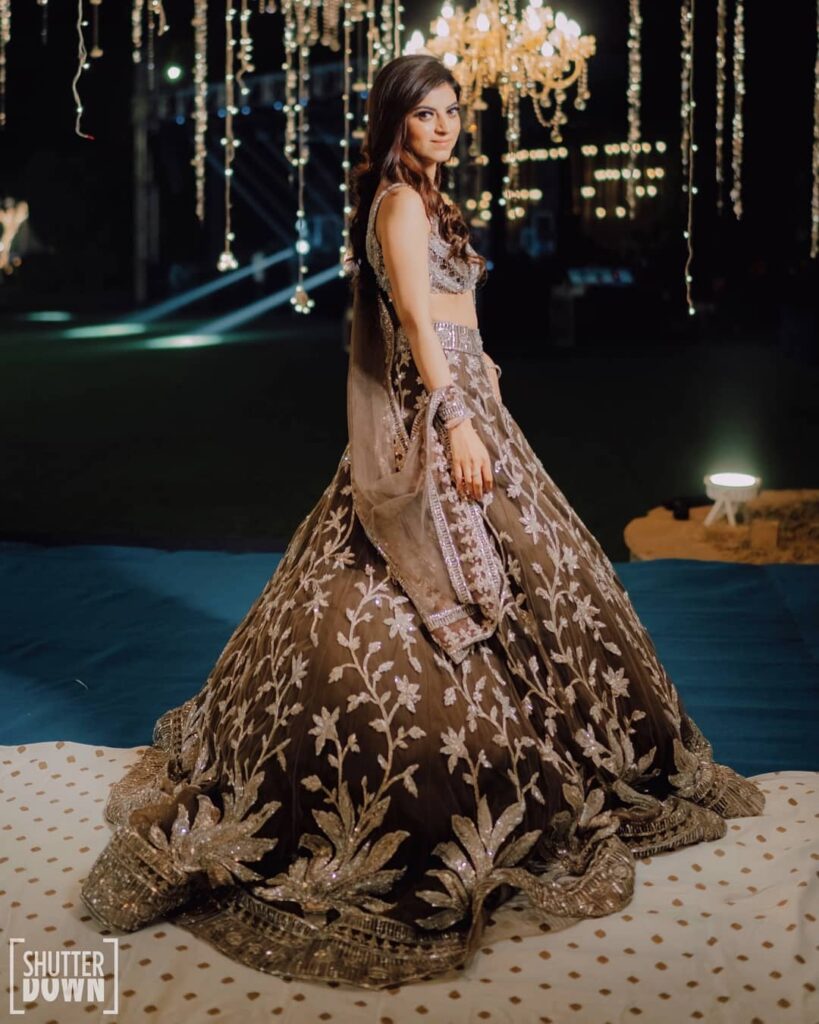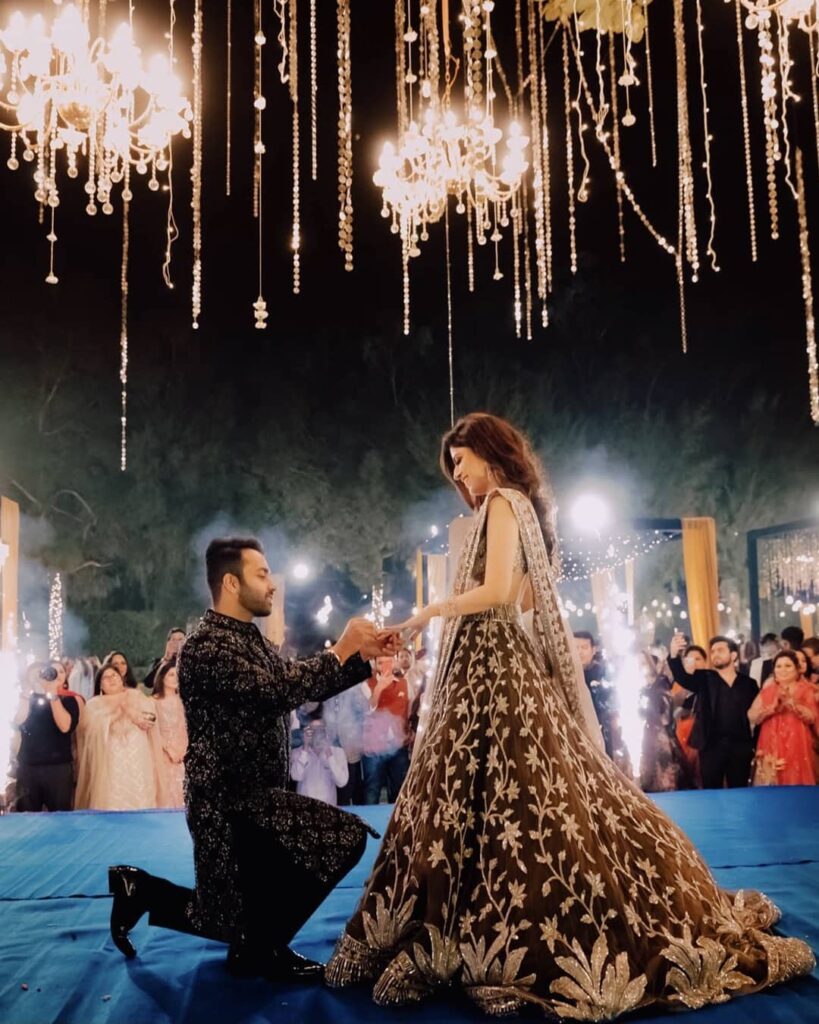 #24 Does an engagement gown design get any better than this? We don't think so! The charming silver color adds the whimsical touch to the bride's engagement look, but that flair adds the much-needed attention she deserves on her wedding day. Couples with a
puffy ponytail hairstyle
and diamond jewelry, this bride is oozing with charm and allure on her roka event.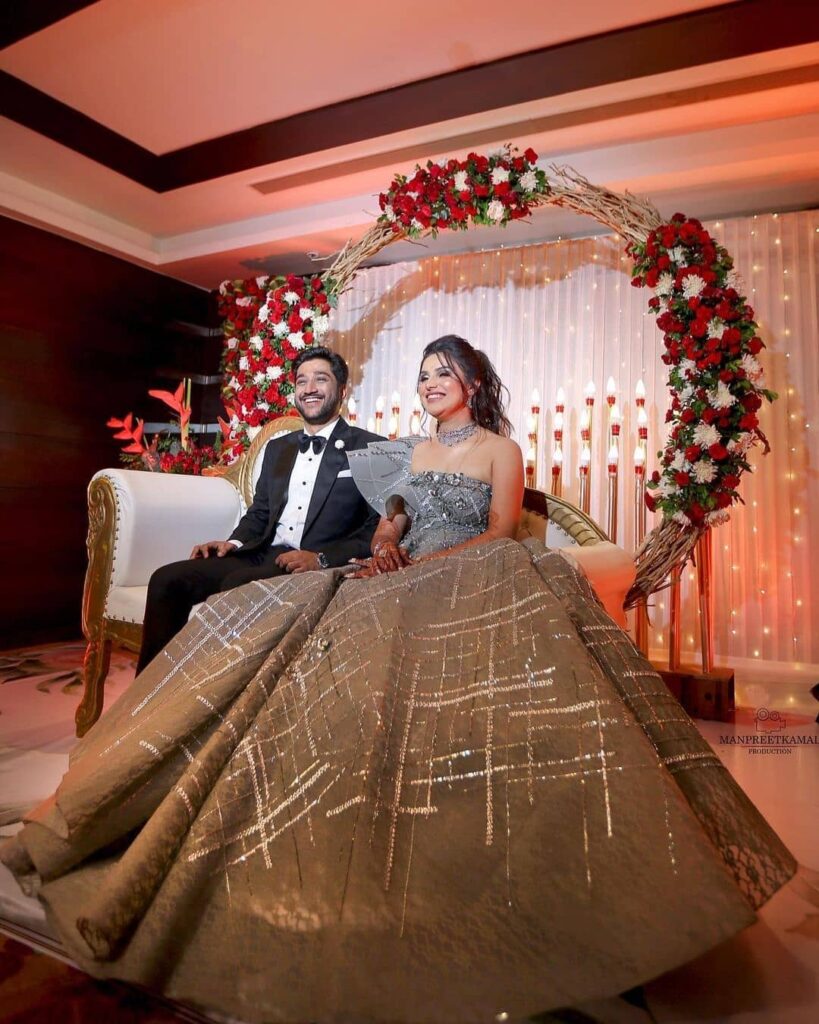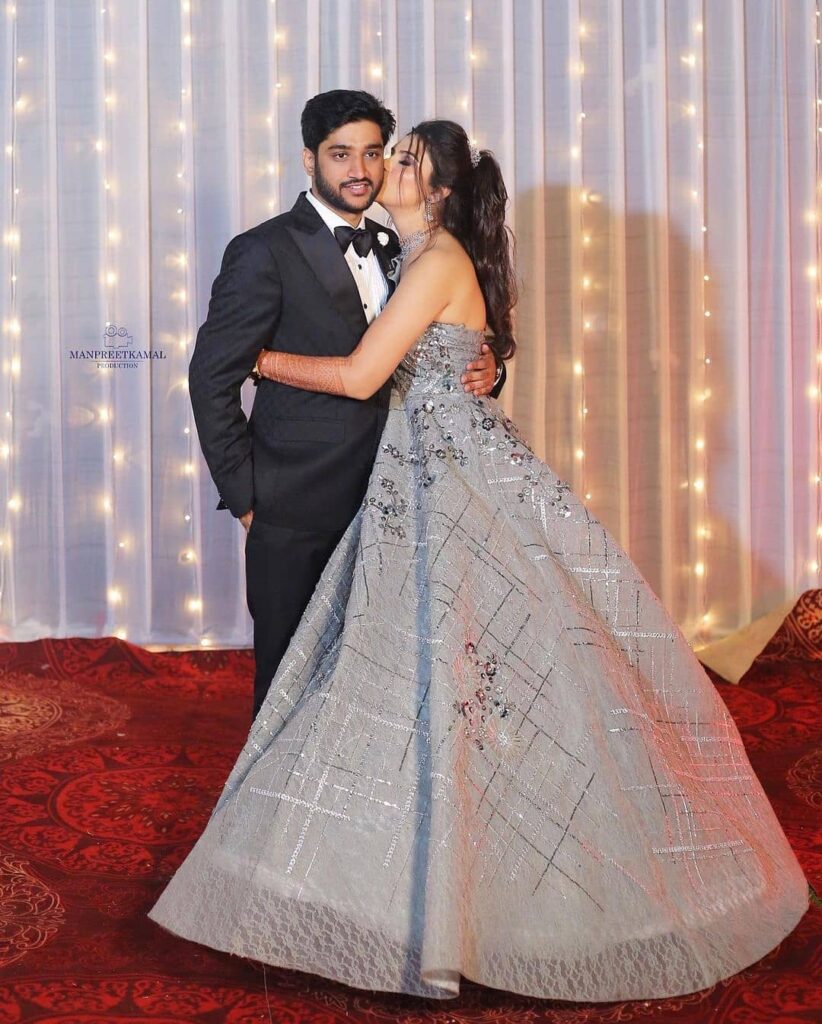 Courtesy: Rahul Kapoor
#25 Another Indian bridal designer who creates magnificent wedding gowns is Dolly J Studio. Here's bride
Simrat
oozing with gorgeousness in one of the designer's creations. For her starry roka, the magnificent decor spoke for the opulent event and the couple's engagement dresses just added to the luxuriousness of the revelry. For your hunt on engagement dresses for girls, just visit Dolly's store once and you'll not regret it later.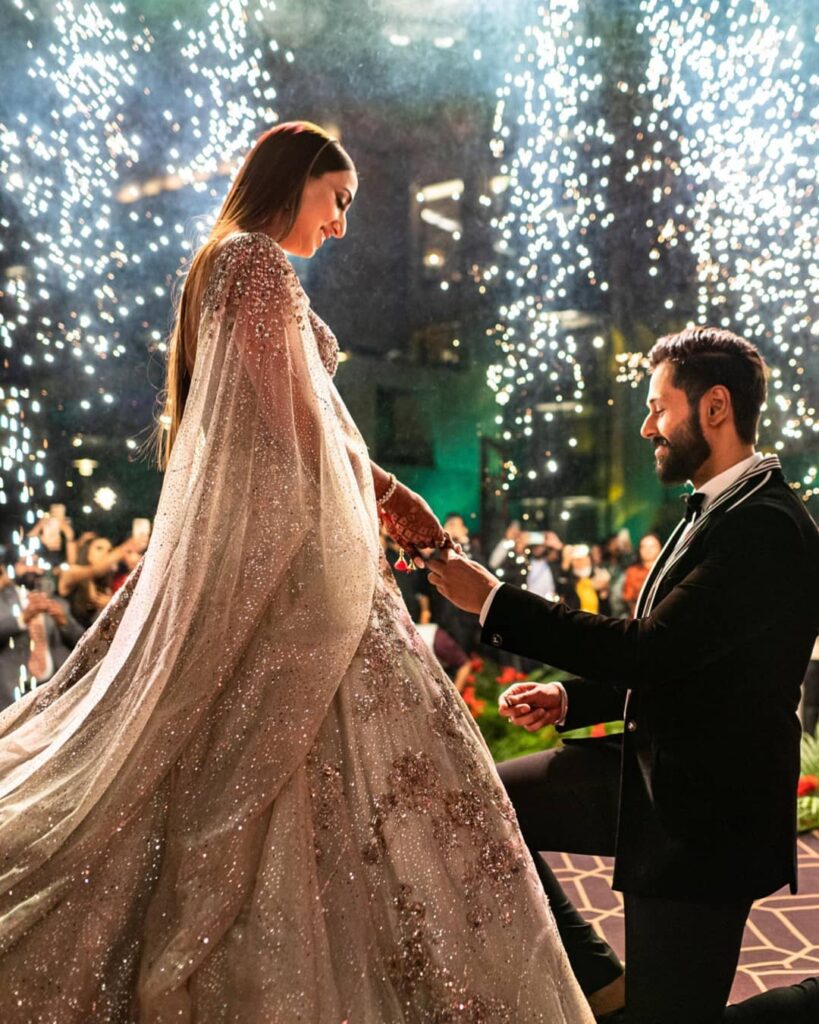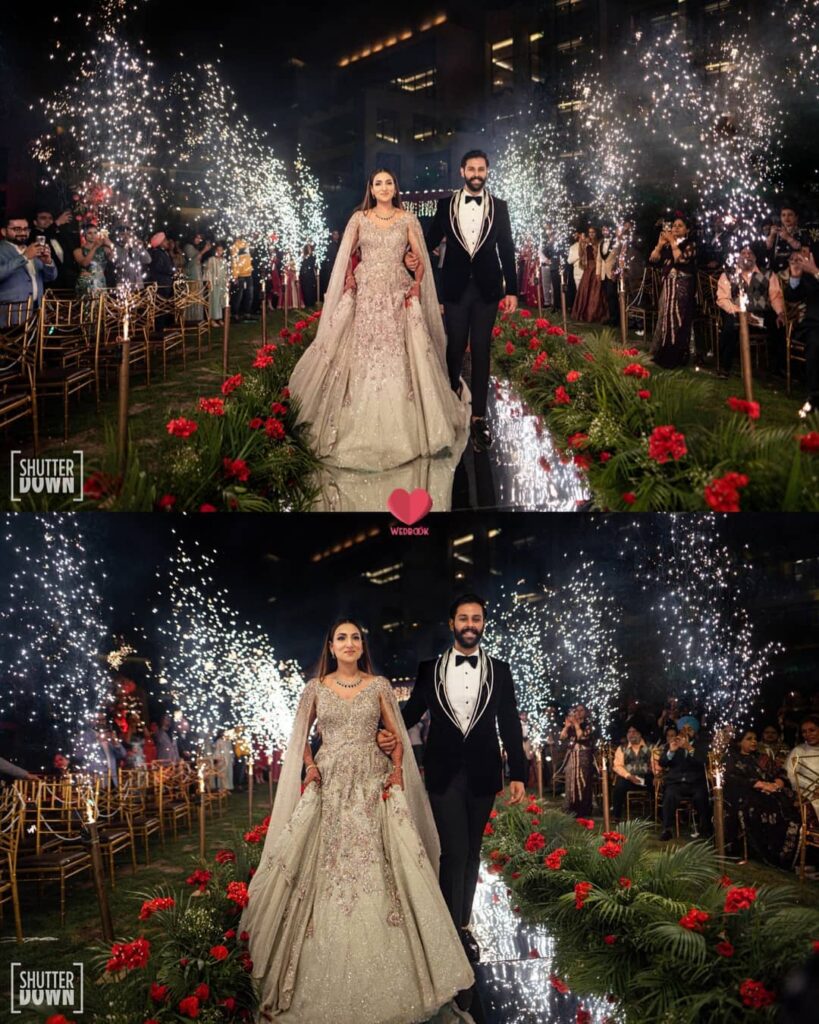 #26 Who said red is only for the wedding day? If you're opting out of the color on the wedding day, then pick an outfit of the customary shade on any other of your functions. Bride
Sejal Kumar
here wore a silk red lehenga set for her engagement with golden accents and we love everything about this look!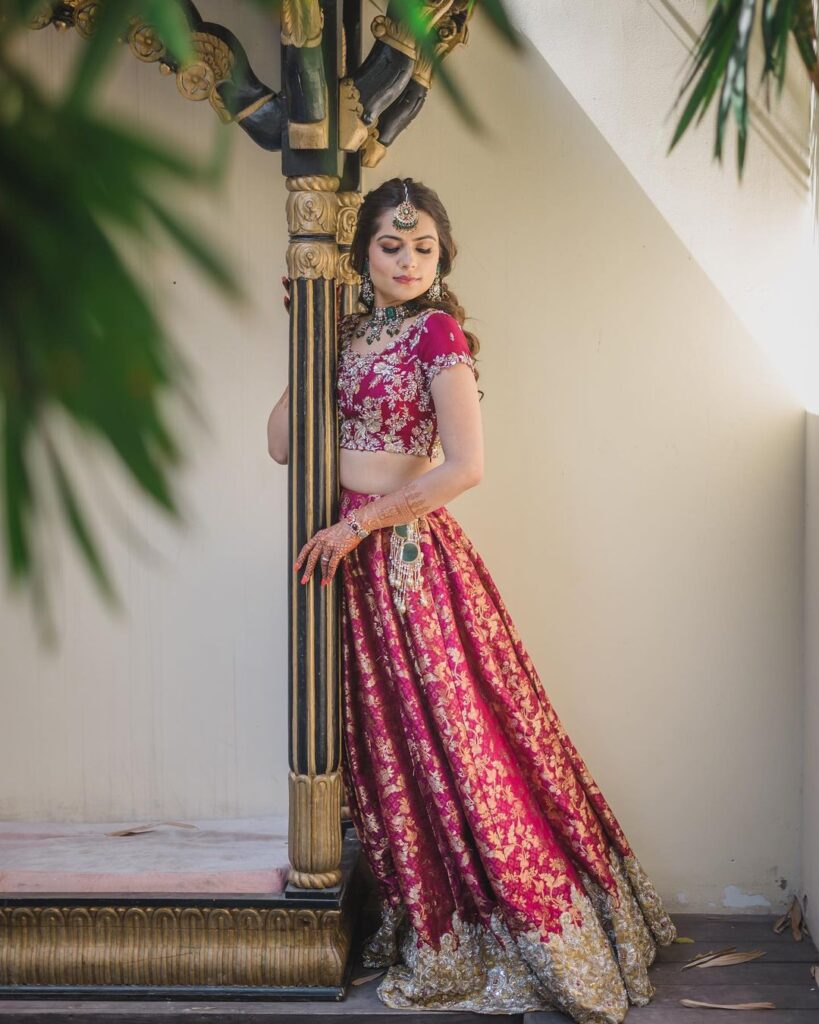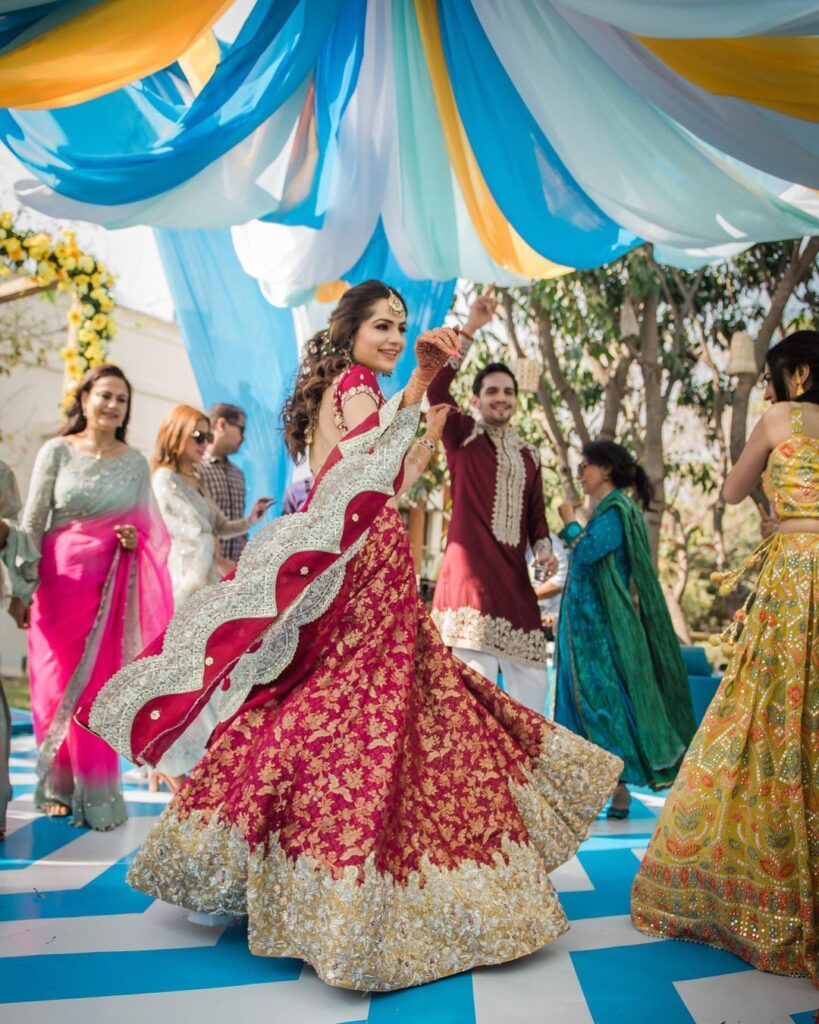 #27 Who knew that silver could look so good? For brides looking for a shimmering, statement engagement lehenga design, then here's a look that you'll absolutely adore. Alongside the dazzling lehenga, the bride wears a full-sleeved net blouse and carried the
dupatta in a notable style
. Elevating the attire, she went with a
beautifully braided chignon
and diamond jewelry with emerald just to add a touch of color to the monochromatic ensemble.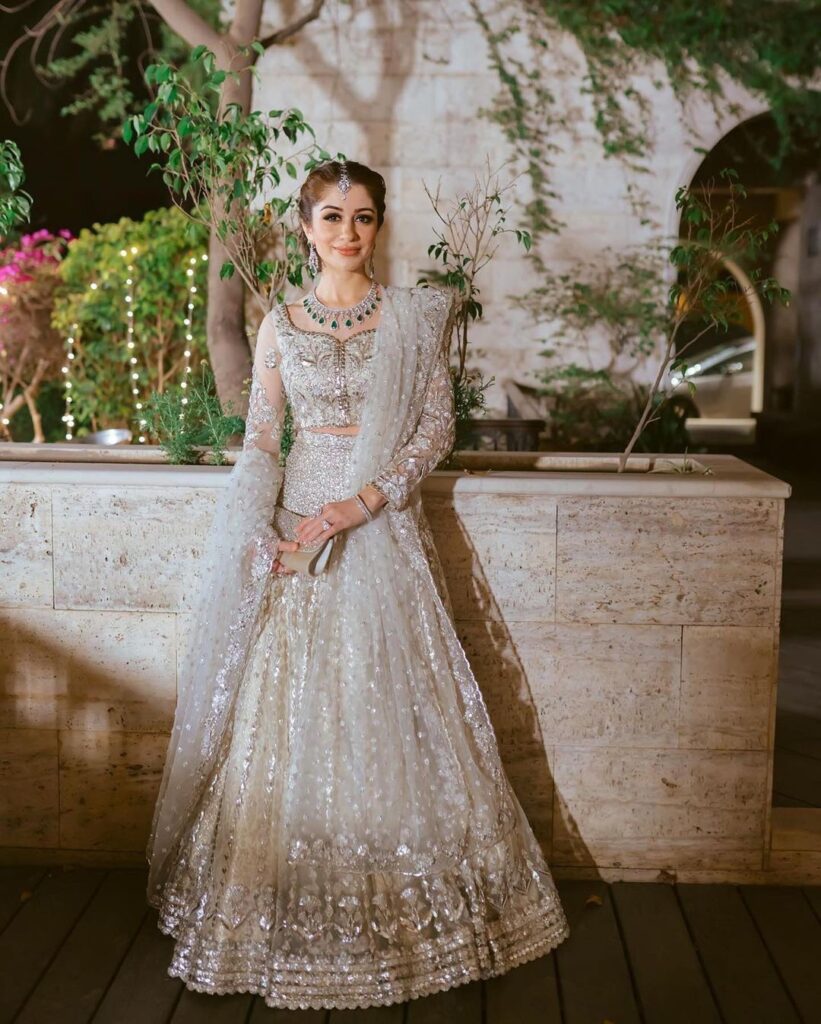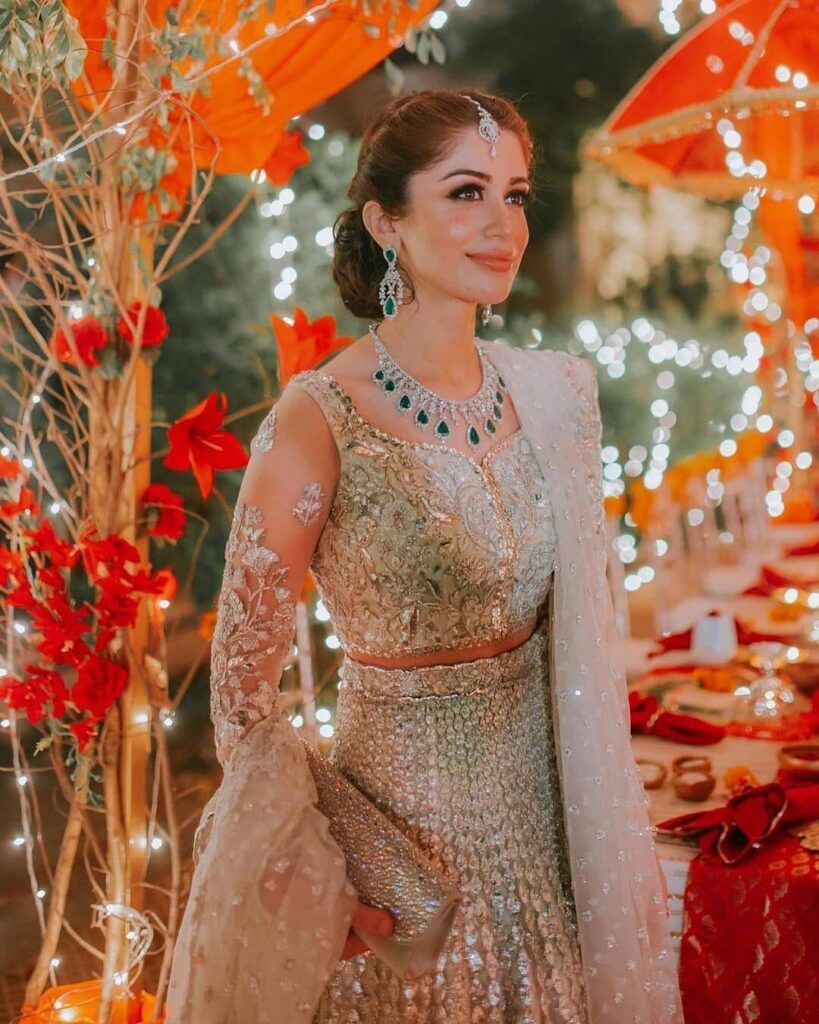 Courtesy: Deena Rahman Lahore
#28 Anita Dongre's collection is always about rich textiles, comfortable silhouettes, and now, improved sustainability. One of the few
influential designers in India who has taken big, moon steps towards sustainable fashion
in terms of material used, packaging, and production strategies. Besides her, even
Amit Aggarwal has taken the initiative to create a sustainable brand
, with his latest designs made of upcycled plastic wastage! Coming to engagement dresses for girls, a printed Anita Dongre creation is an amazing pick.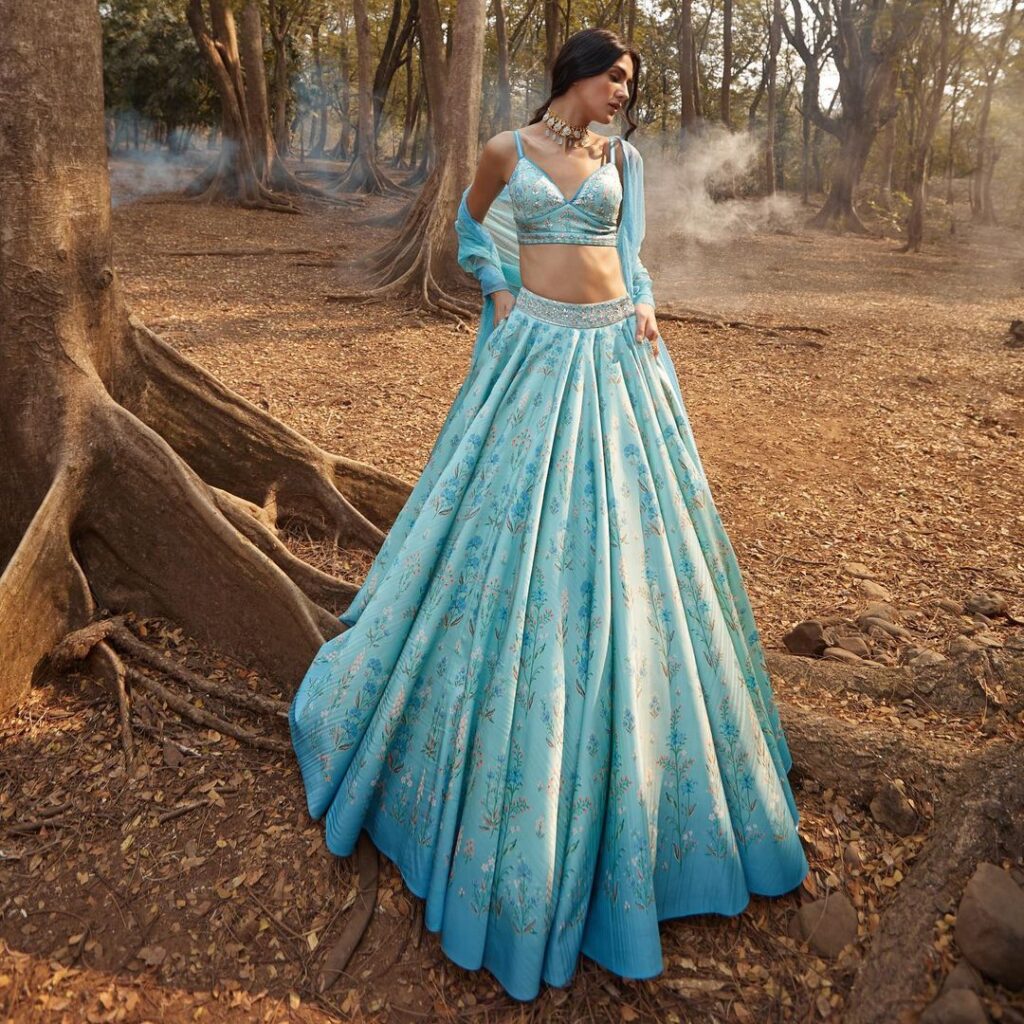 Buy it for Rs.95,000/- here. 
#29 For a ballroom-themed, luxurious roka affair, the roka gown design should reflect the opulence of the event. And who's better than infusing this grandiose in the attire than Manish Malhotra. The A-line gown is created with a golden base and metallic finish work all over. MUA Aarushi Oswal did a fabulous job giving a dramatic look to the bride. The puffy waves and smokey eyes, the clean face looked fabulous with the outfit and the event theme. Groom, on the other hand, is wearing a bandhgala kurta that is also a debonair inspiration for
engagement dresses for men
.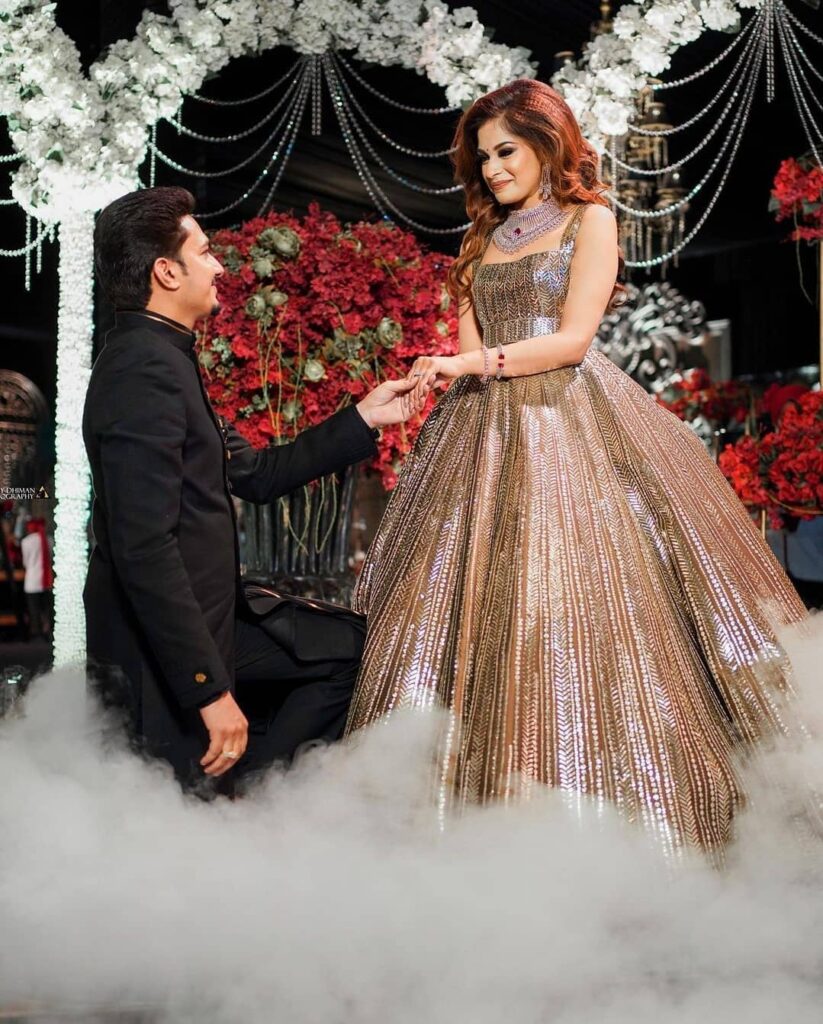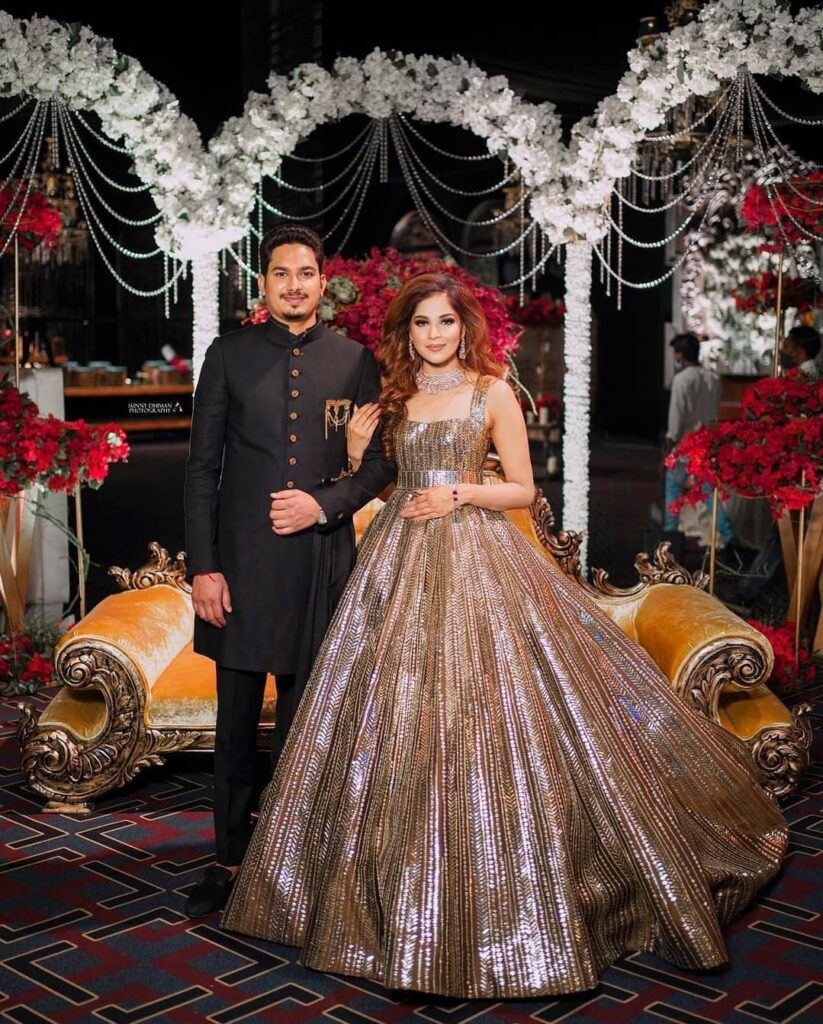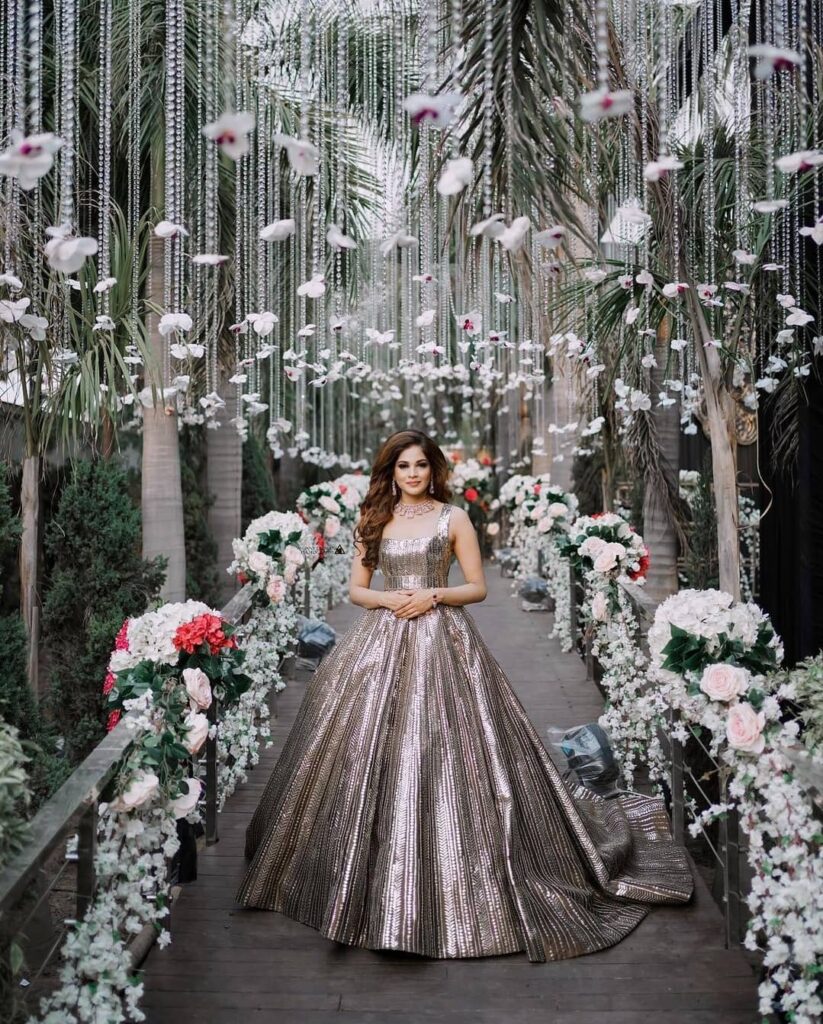 Courtesy: Sunny Dhiman
#30 On this list of engagement dresses for girls, this sky blue is one of a kind! The shade is beautiful and has taken a backseat among pastels and bright colors. If you want to look distinctive while playing safe, opt for this beautiful color and intricate design for roka. Wear the bangles in the same color and pair the attire with open hair and diamond jewelry for a gorgeous engagement look. Even gold jewelry design will look amazing with this lehenga, and you can definitely try that out as well.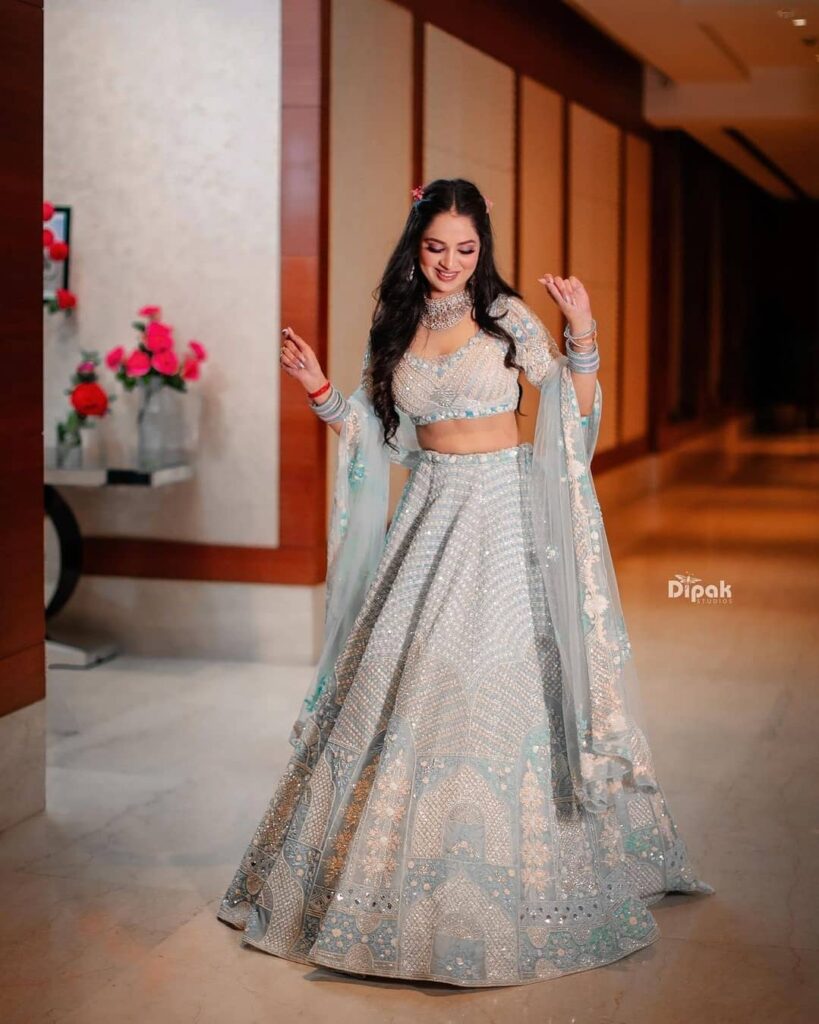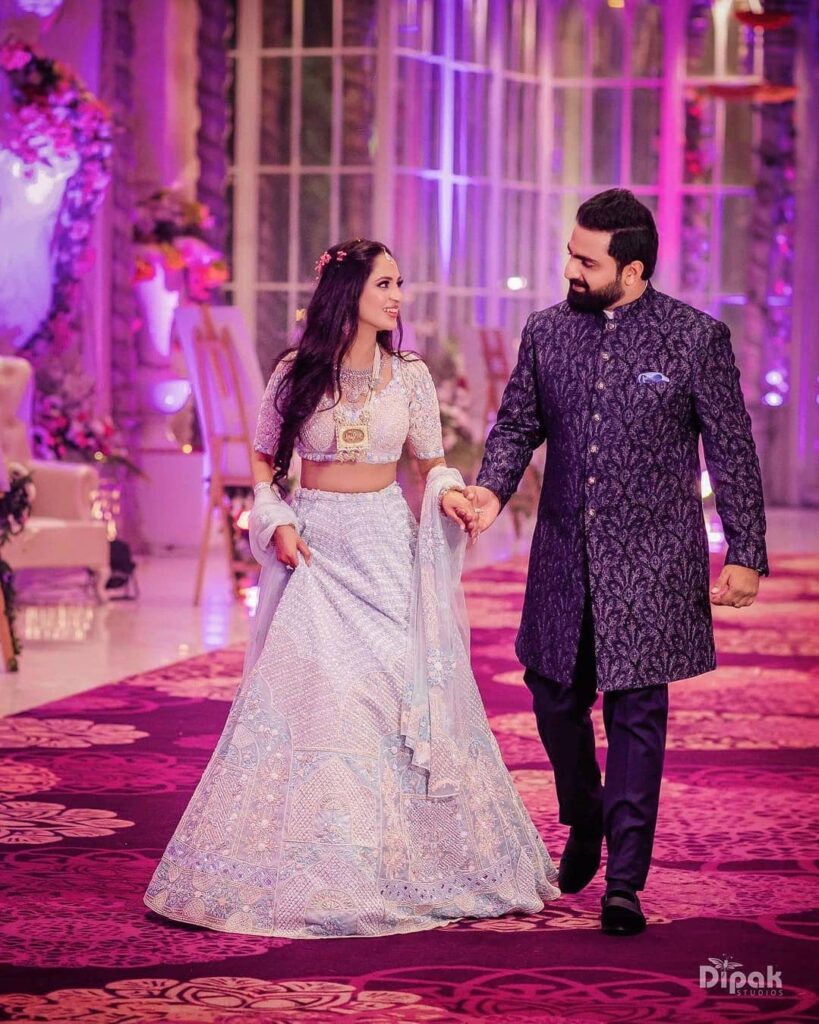 Courtesy: Dipak Studios
#31 Red isn't just for weddings! In fact, the wedding day has been infused with so many other colors lately, like golden, pastels, pinks, and multicolor that red is definitely not a priority for brides. In those cases, you can totally go for a red lehenga on some other day of your wedding revelries. Like a printed one for mehendi or an embellished one for cocktail or roka. This bride wore a red engagement lehenga with floral embellishments to her engagement day! And we love everything about her look.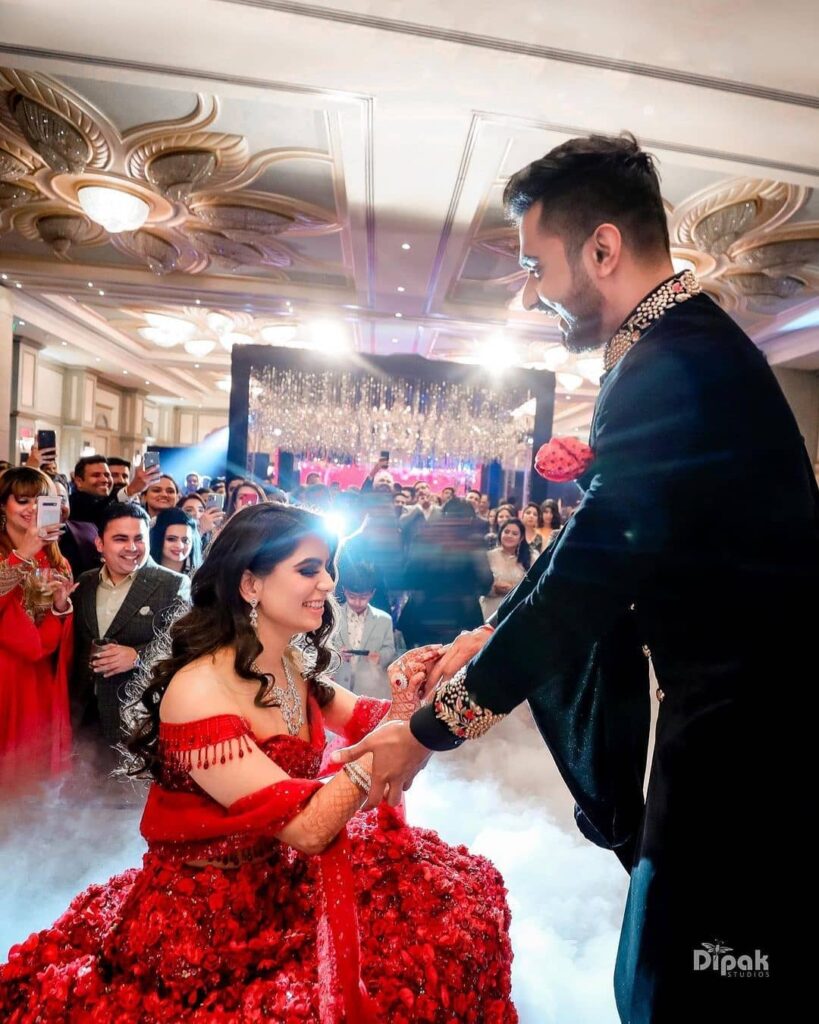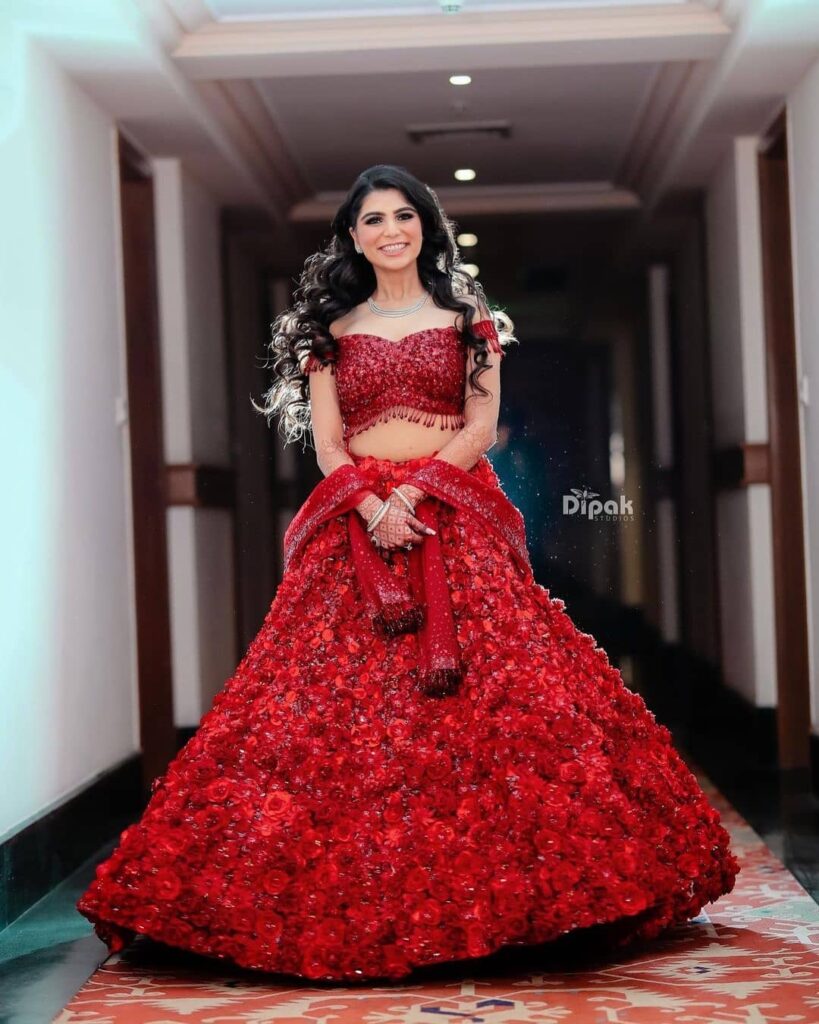 Courtesy: Dipak Studios
#32 For your intimate home ceremony, a designer saree will make for a perfect pick. This sheer net one by
Sunaina Khera
with a bandeau saree blouse looks simple yet stunning. Pair it with color block jewelry hues like blue to create an utterly stylish look.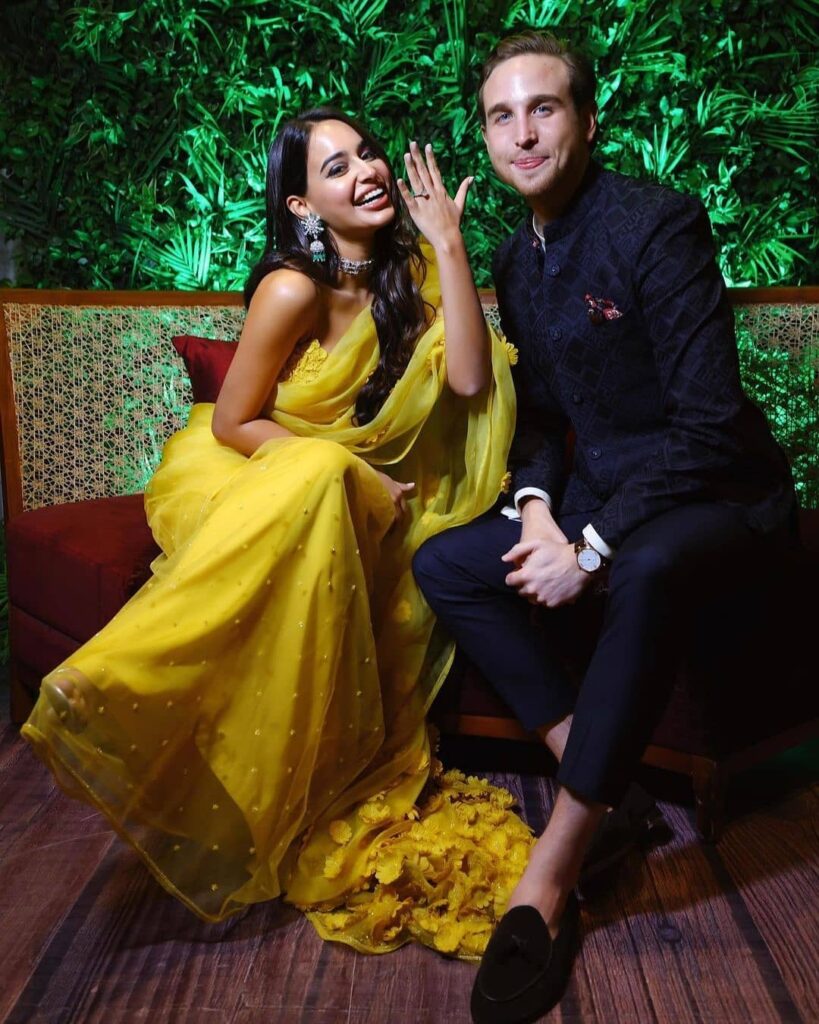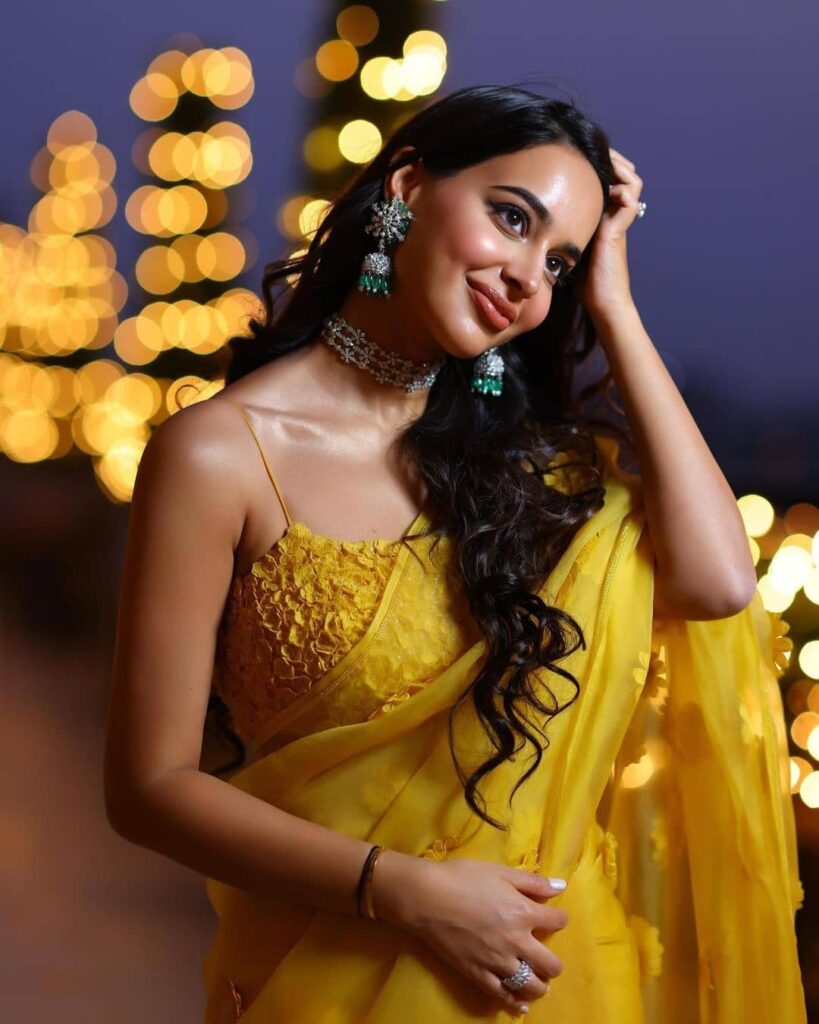 #33 Here's another bride making case for sky blue lehenga on the roka day! With white embellishments all over the lehenga, this bride's engagement lehenga design is truly a work of art. To let her simplicity take over, she just paired the attire with a simple diamond necklace set and soft waves in hair alongside a clean bridal makeup look. For a ballroom event or an outside affair, this engagement dress for brides will look good for both themes.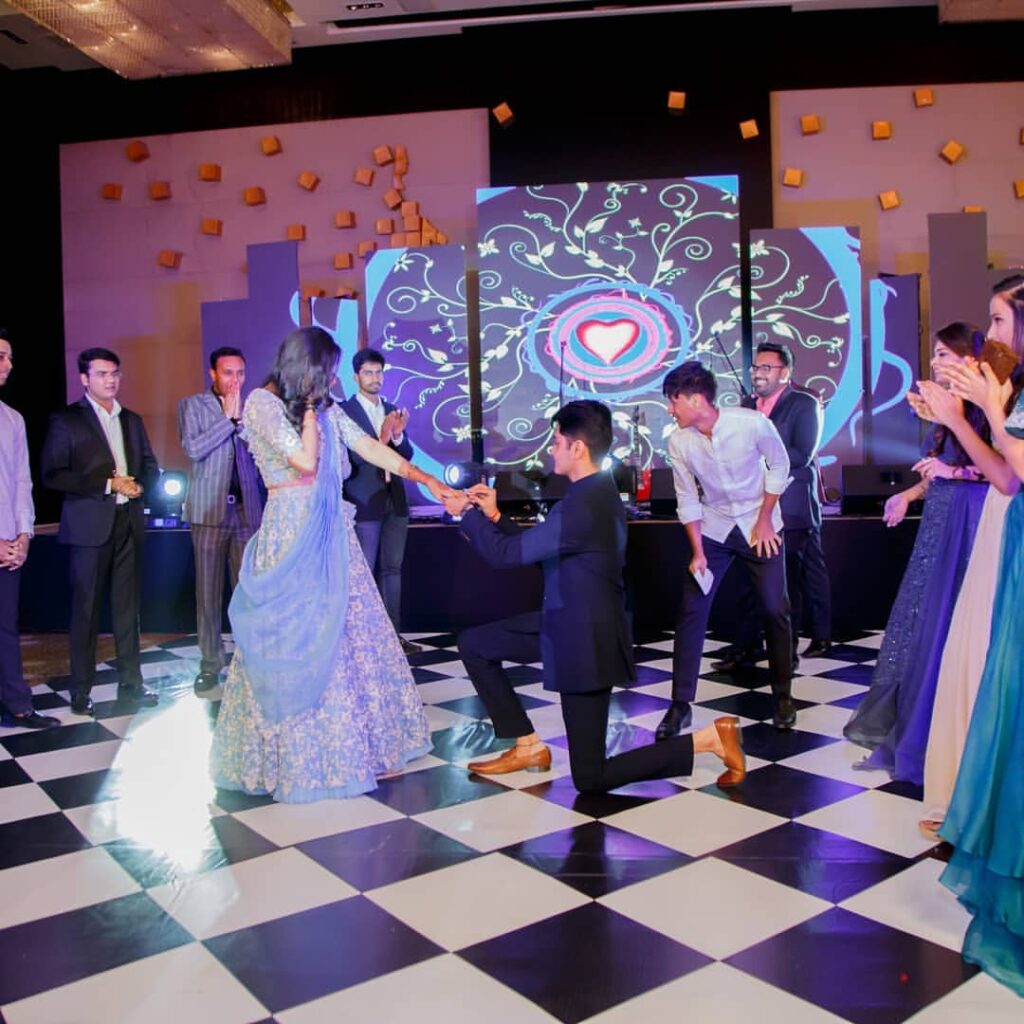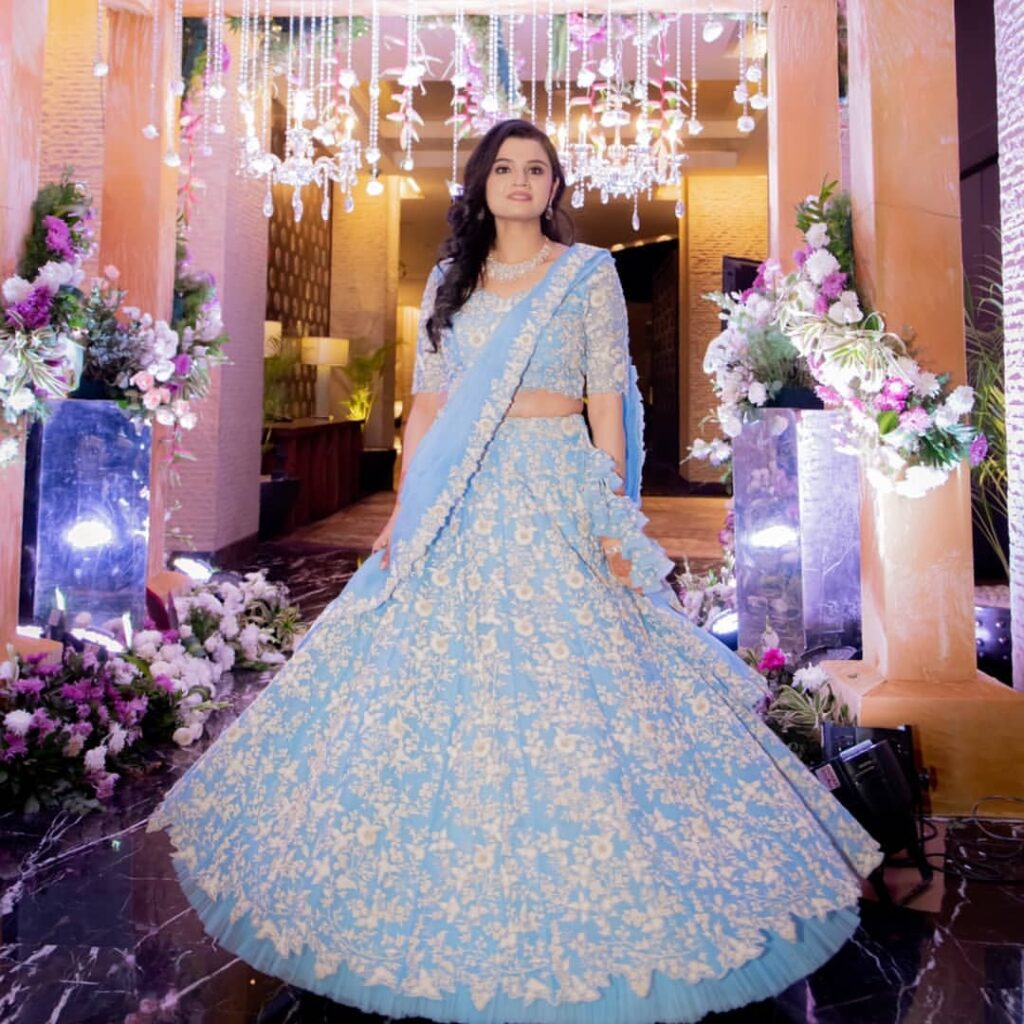 Courtesy: Tadasha Mishra
#34 A wonderfully designed and hand-embroidered lehenga with gorgeous pastel colors to woo the guests and stun on your main day! Both bride & groom give amazing inspiration for engagement dresses for couples. Further, if you're planning to bedeck any space of your wedding, let it be the entrance or the wedding stage. These are the two places where the couple & other wedding portraits are shot the most, and it will give you a good background! As you can see here.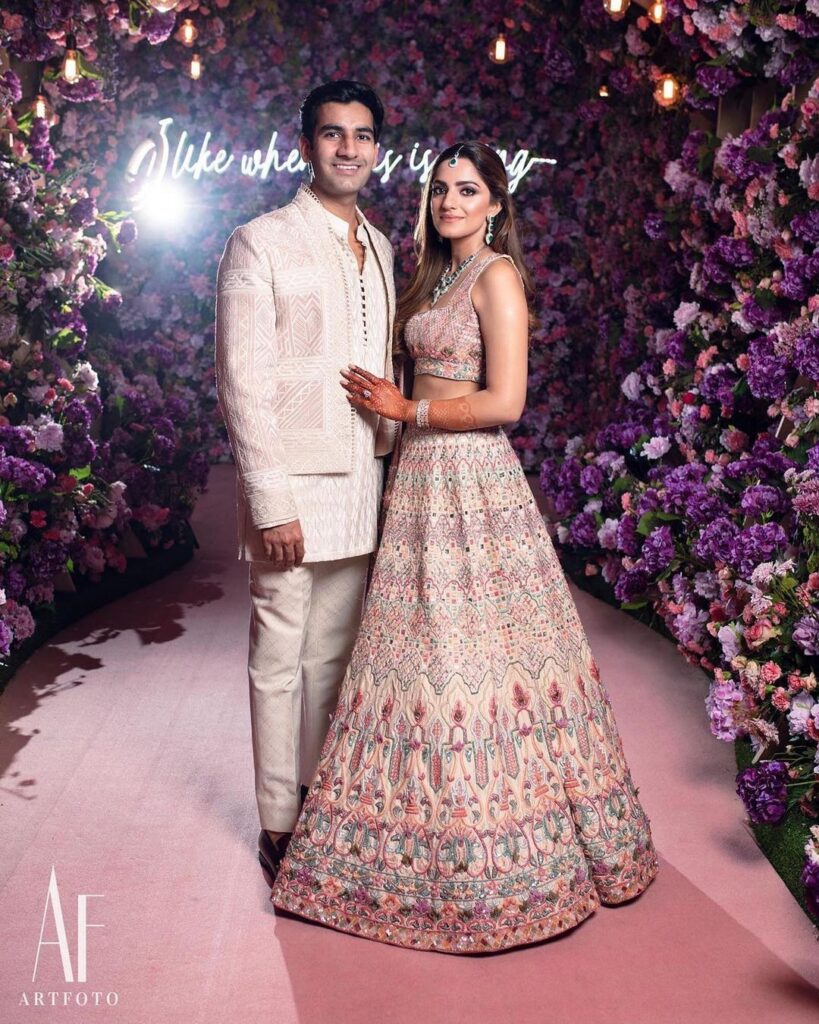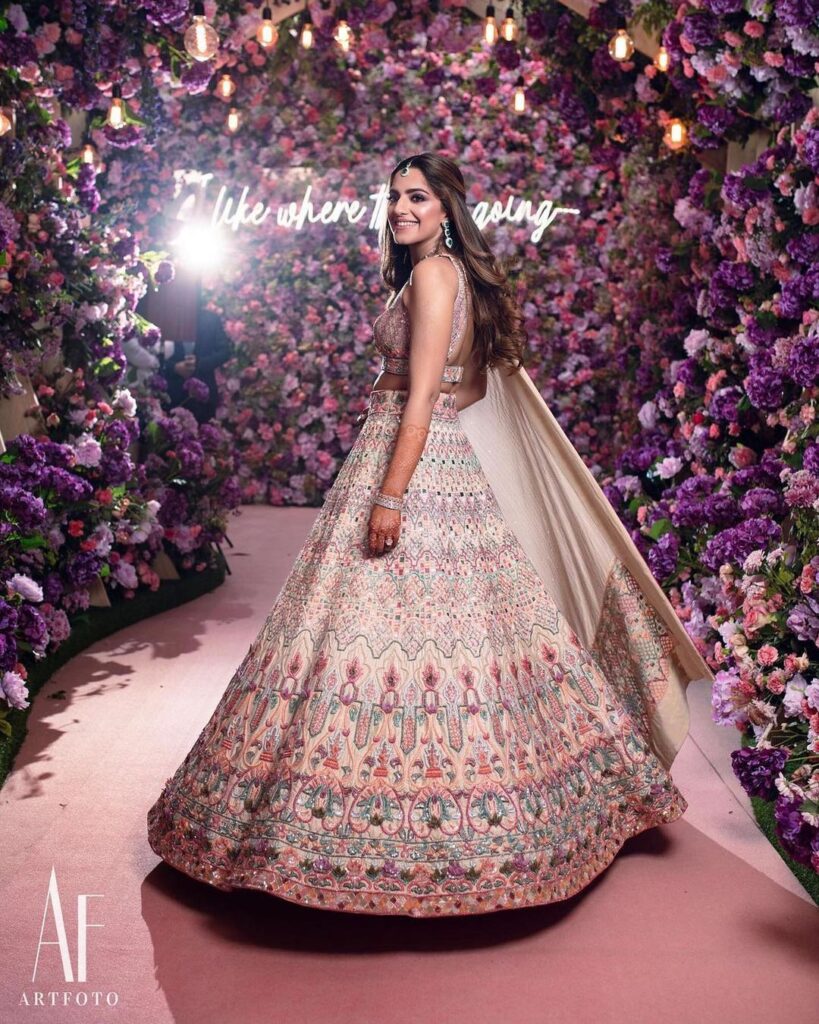 Courtesy: Artfoto Studios
#35 A white lehenga with beautiful colors infused in the lehenga looks spectacular. Sometimes, a simple lehenga can add a significant elevating effect to the entire attire. Her colorfully embroidered blouse enhances the ivory lehenga and the long sleeves add a graceful touch to the look! She completely skipped on jewelry and just wore simple pearl studs to complement the lehenga. Keeping things simple beauty-wise, her bridal roka dress is idyllic for the quaint celebrations.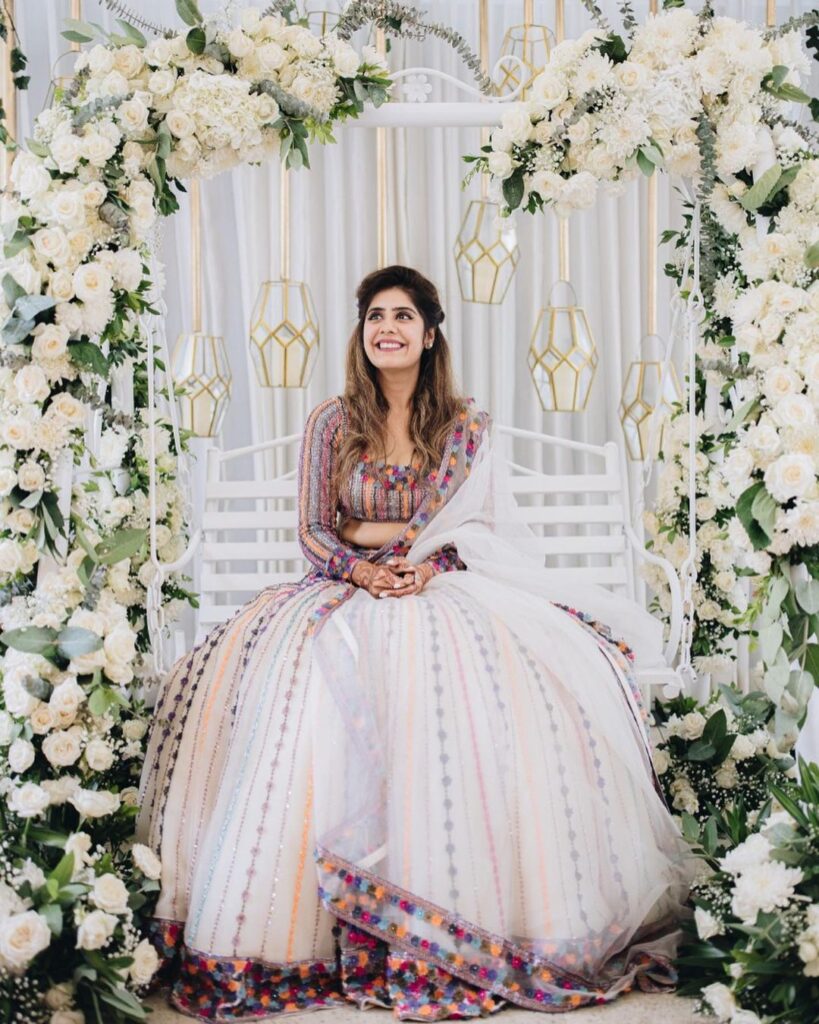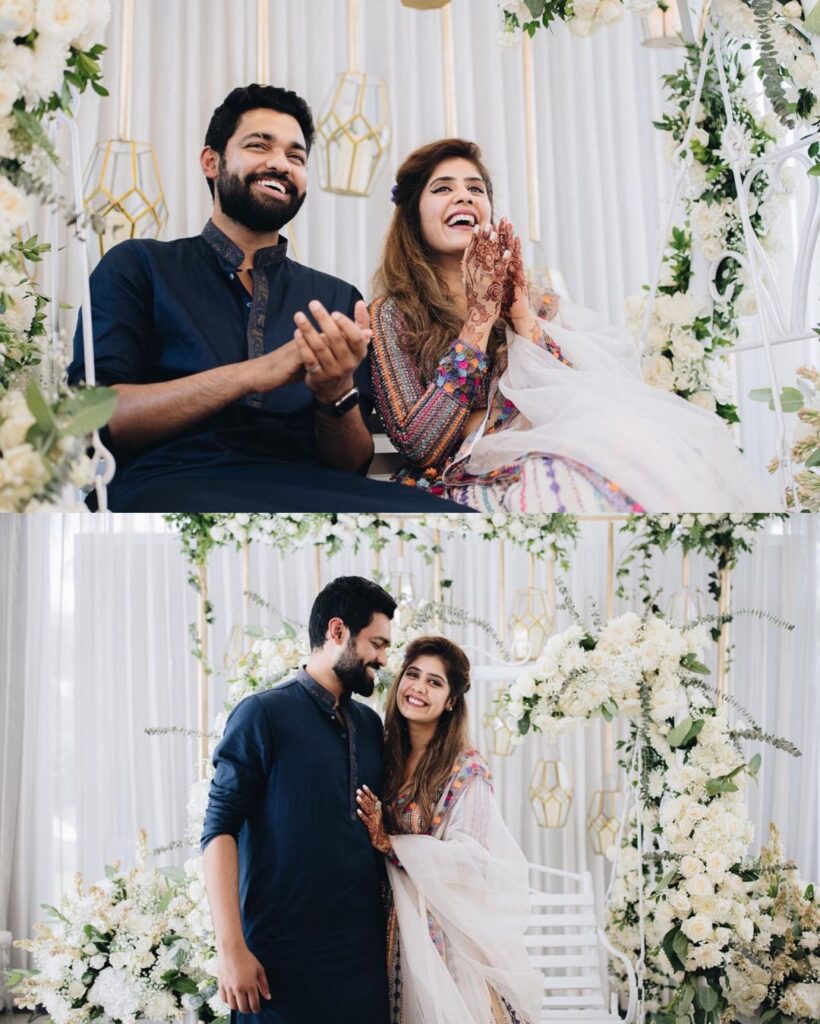 #36 When you're on the hunt for engagement dresses for brides in Chandni Chowk, you will find tonnes of replicas from popular designers that will look just as good, and sometimes better. This bride, for example, is wearing an Abhinav Mishra replica, which is priced at Rs.1,80,000 (see
here
) and which she probably got for a quarter of a price or lesser. The gota patti gives an illusion of the mirror work and the powder blue looks amazing for the home roka ceremony.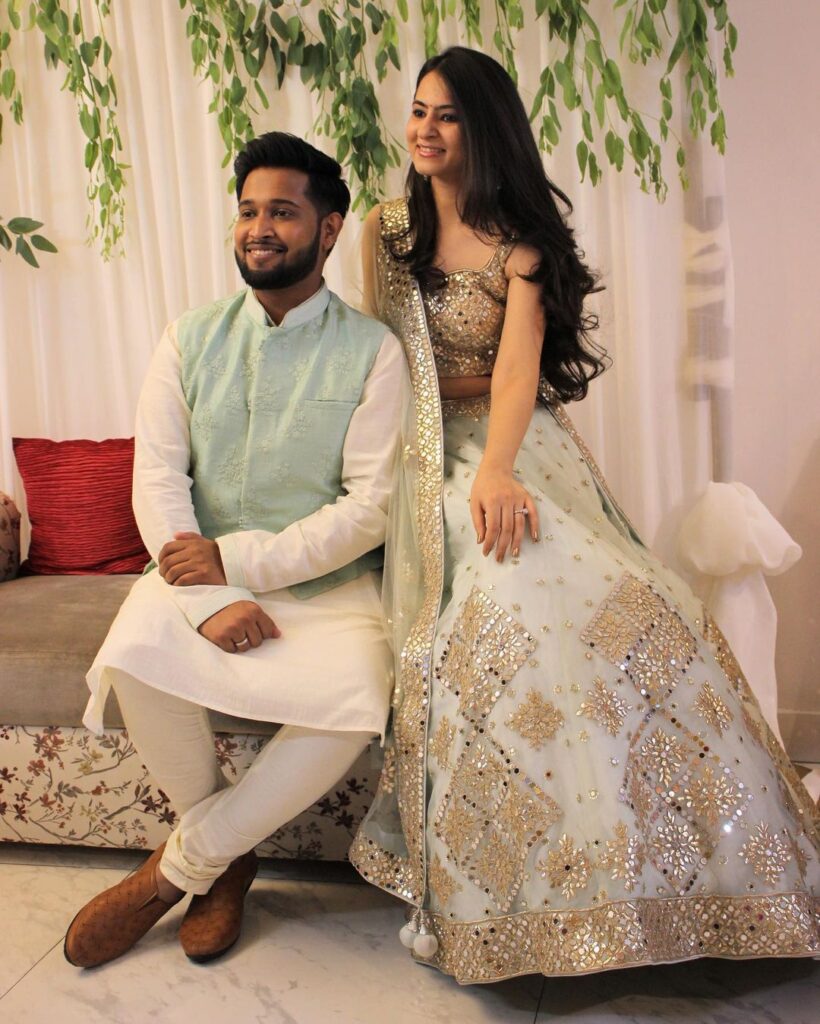 #37 The cape-style dupatta is an ongoing
lehenga trend
that will be big in the 2022 wedding season. And it's a comfortable, convenient draping style for brides who don't want to ditch this ethnic element on their wedding revelries. Bride
Mehak Bakshi
wore her MM lehenga with a cape-style dupatta and was stunned by the glimmering silver design on her roka day! Coupled with diamond jewelry and tight curls, she is a graceful vision in this ensemble.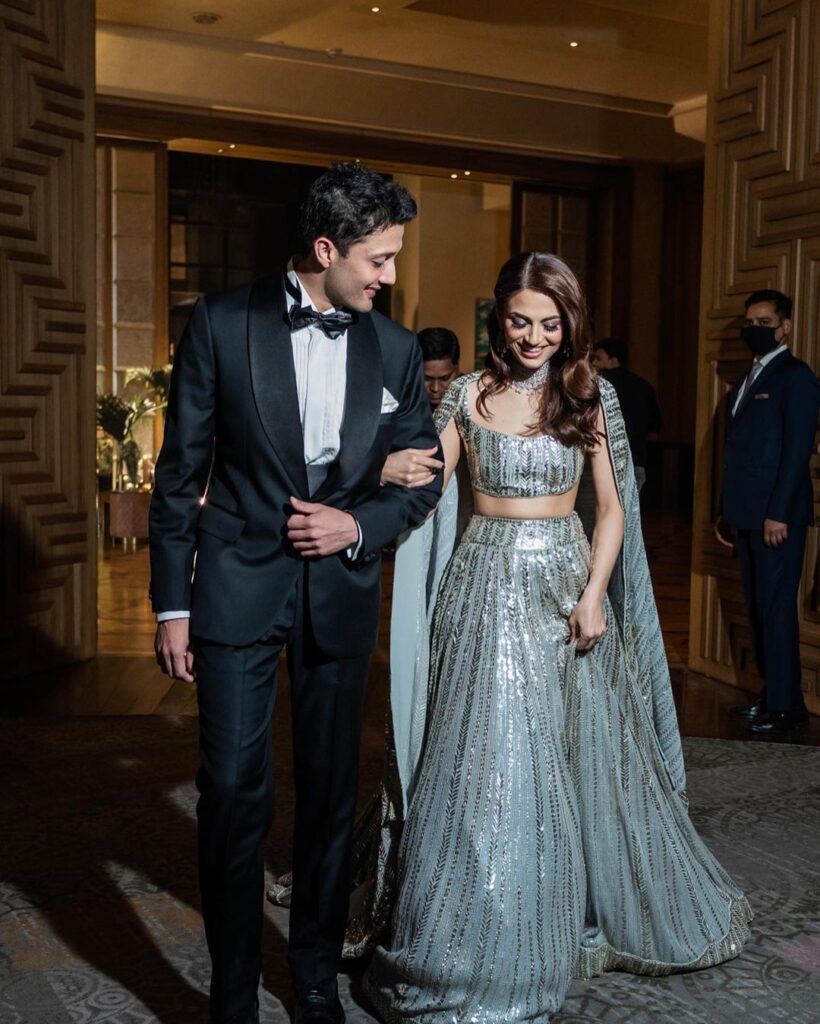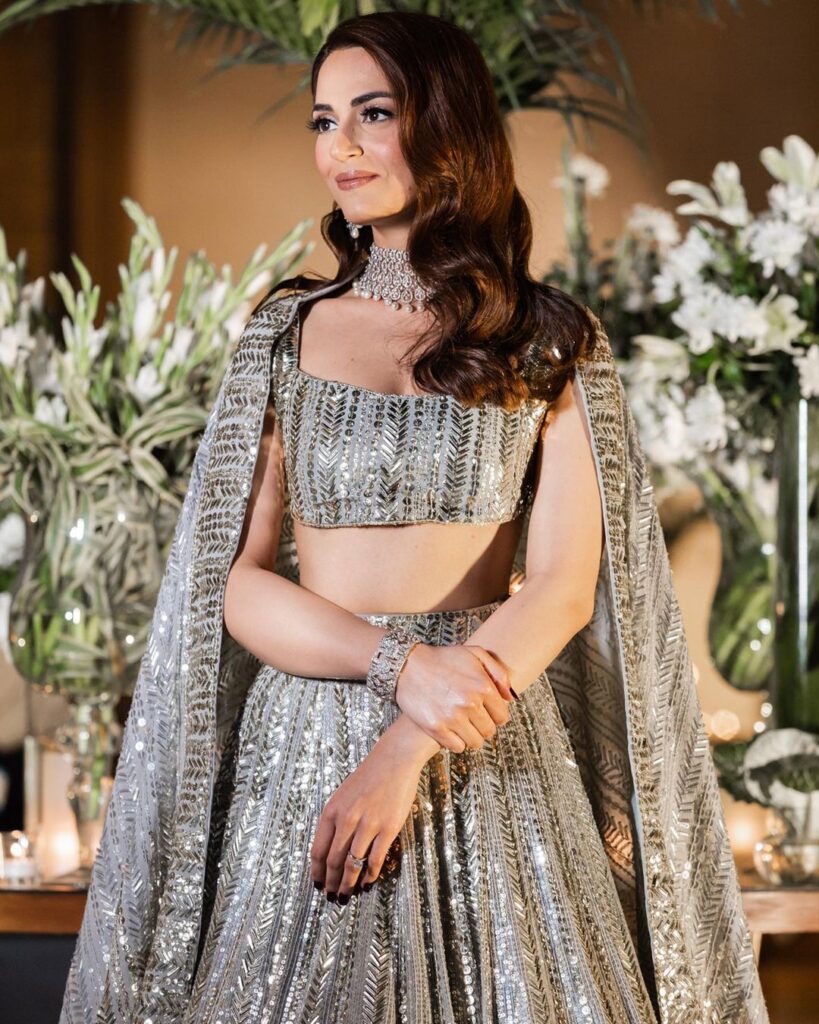 #38 Michael Cinco is a global designer with a base in Dubai but an influence worldwide. He was the man behind
Aishwarya Rai's Cannes 2017 look
in a butterfly sky blue gown. And this bride is also wearing an opulent creation from his collection for her engagement day. Made in deep blue with statement sleeves and a huge flair, she styled the look with but a
tiara hairstyle
for a beautiful princess look. The groom complemented her in a tux and both of them headed to their engagement in utter style.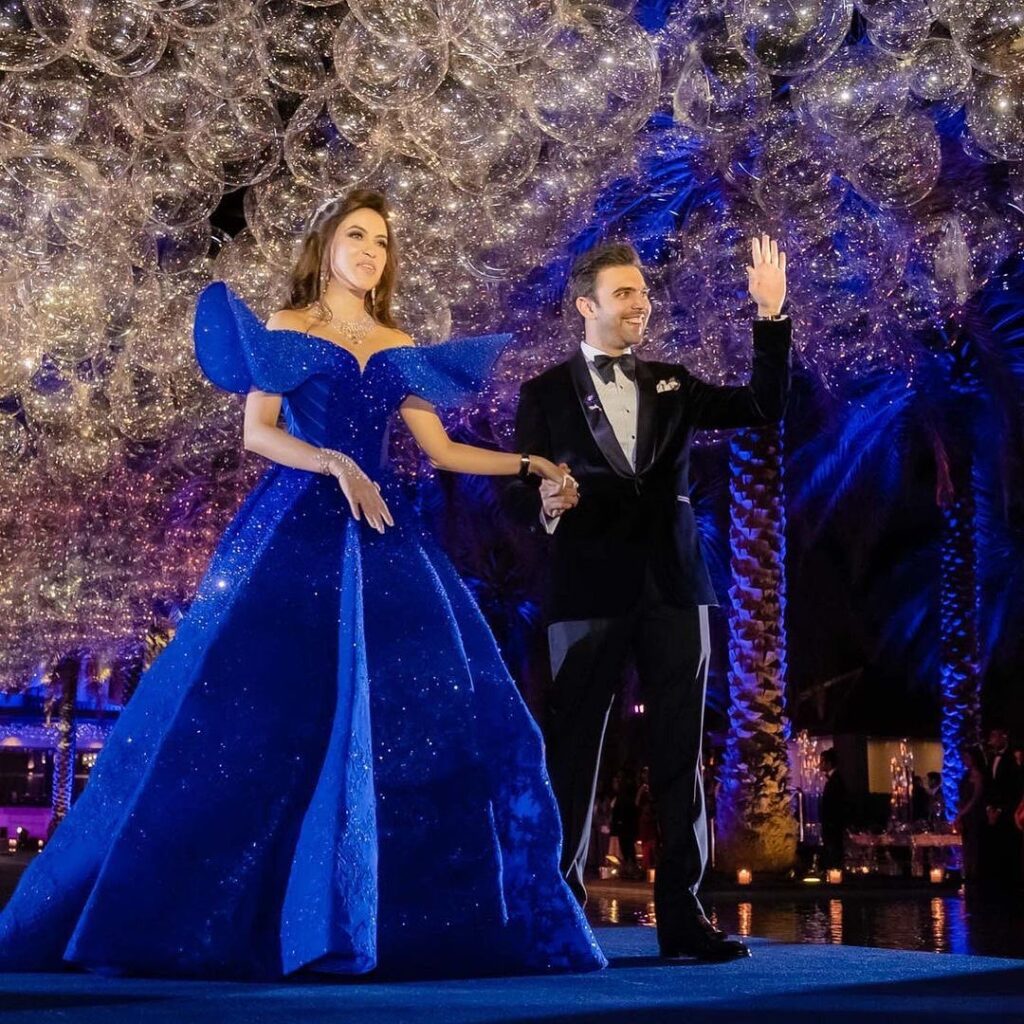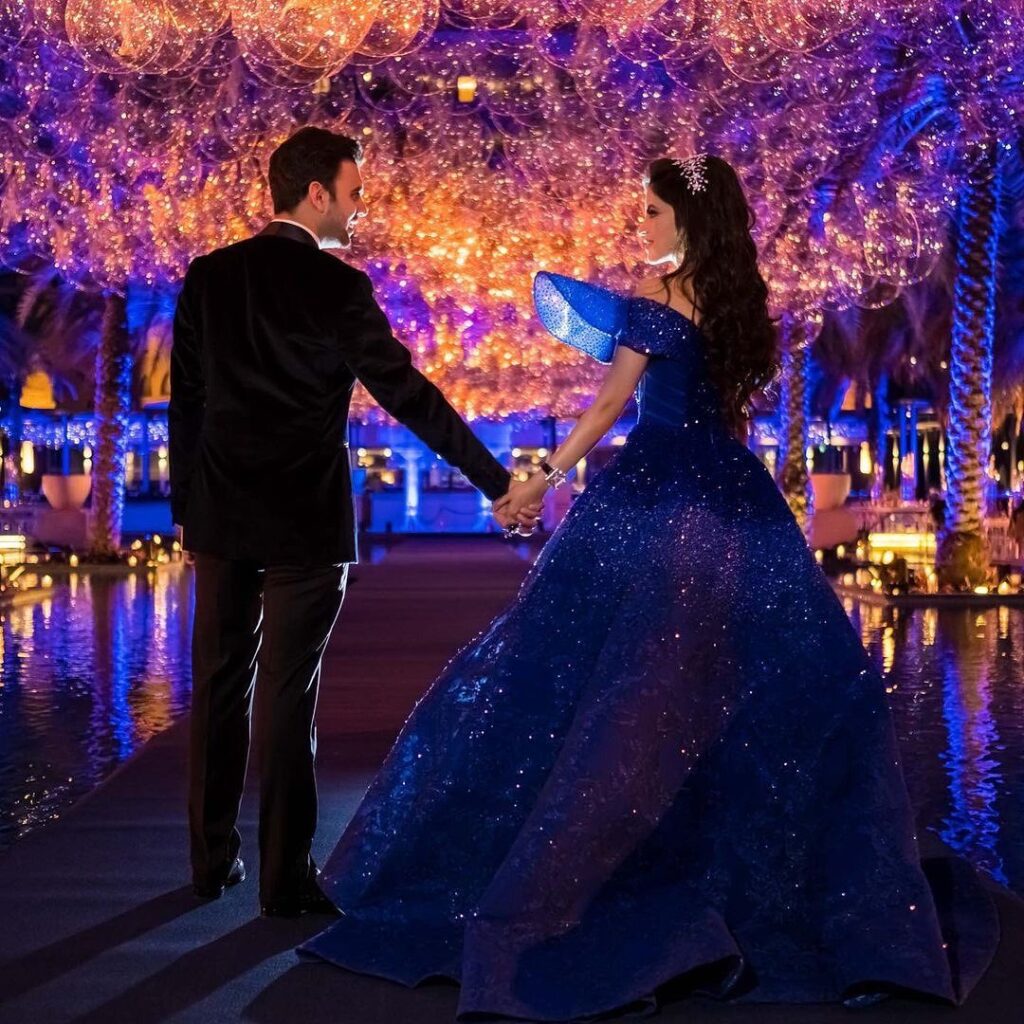 Courtesy: Amrit Kaur
#39 Very rarely do brides are able to balance out between a dramatic evening look and simplistic poise – but this one is an exception and an example. She wore a beautiful Amit Aggarwal gown in silver with dainty metallic embellishments. Beauty-wise, she went for smokey eyes, nude base makeup, and straight pulled-back hair. Bride
Shivika Mahajan
was truly an epitome of grace and inspiration for brides looking for engagement dresses for girls.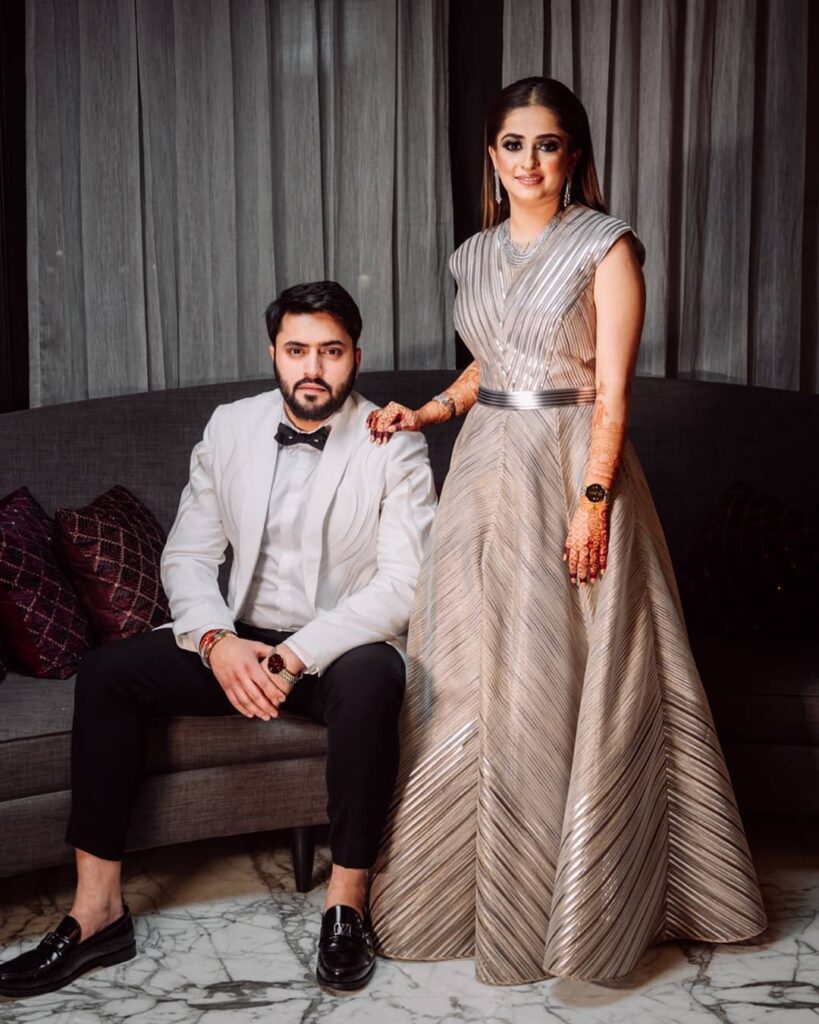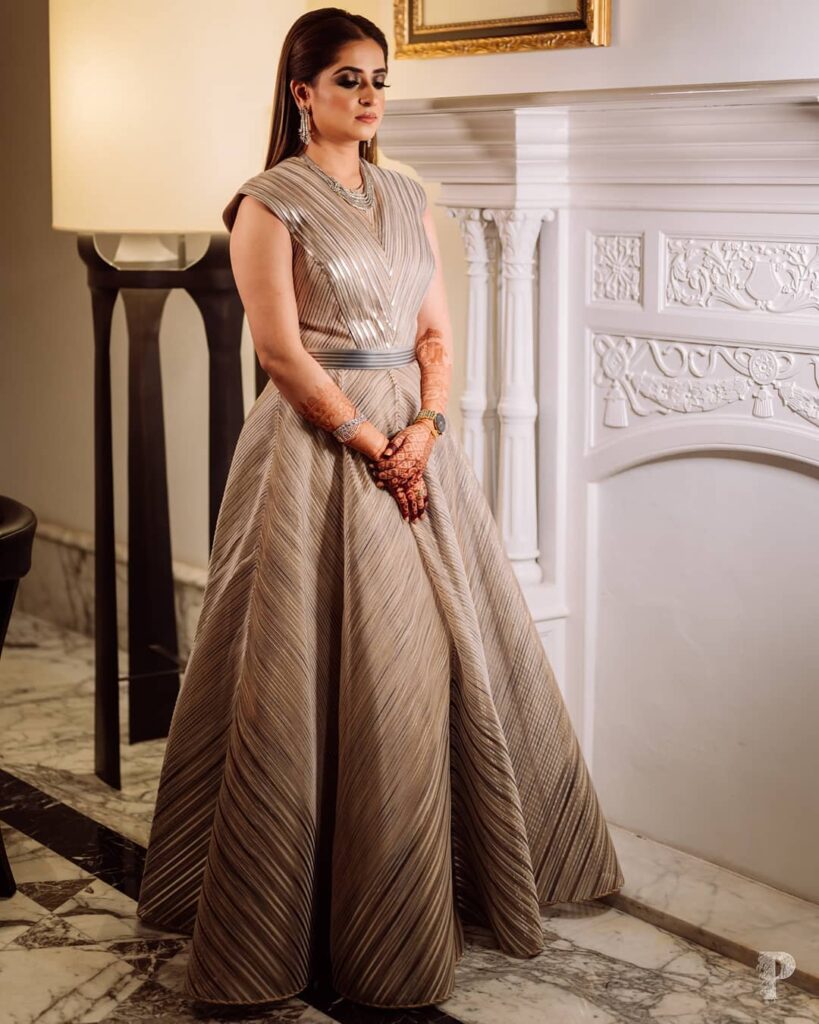 Purchase the exact gown here for Rs.1,10,000/-
#40 Stunning in black & gold with groom coordinating in a black bandhgala kurta is absolutely gorgeous! Opt for this non-customary color on the roka and create a unique look just like this bride. Pair with diamond jewelry and simple makeup to elevate the grace of the attire further. An all-black outfit anyways never fails to impress.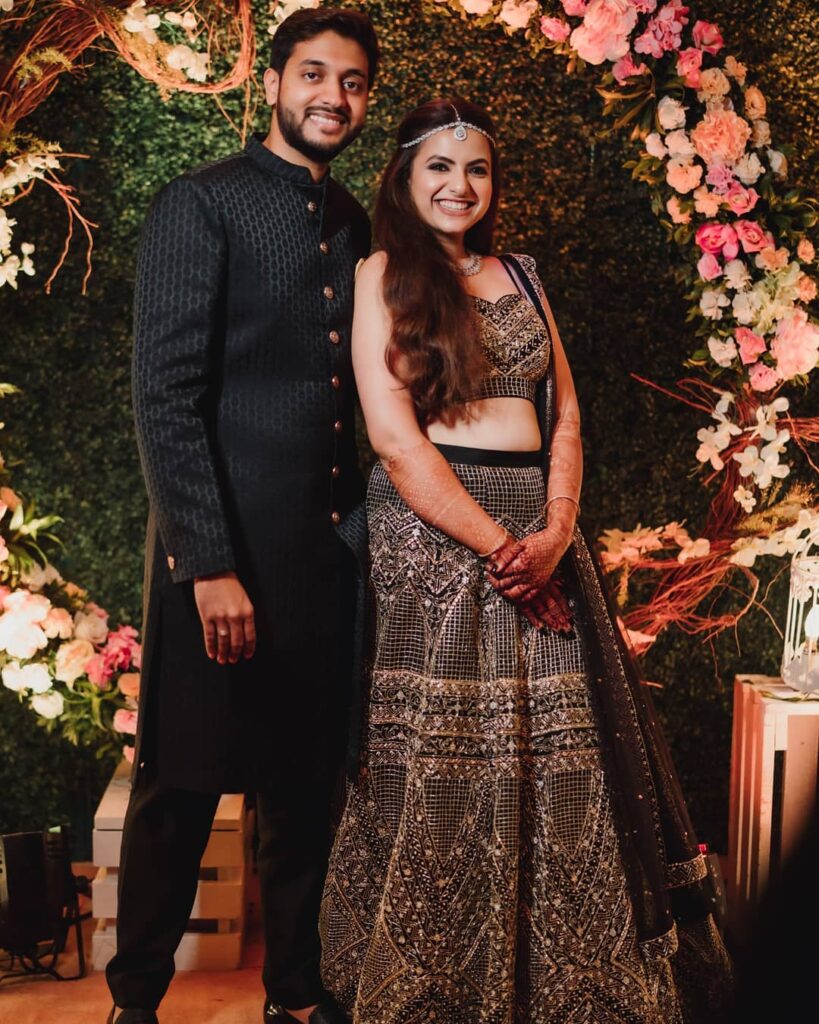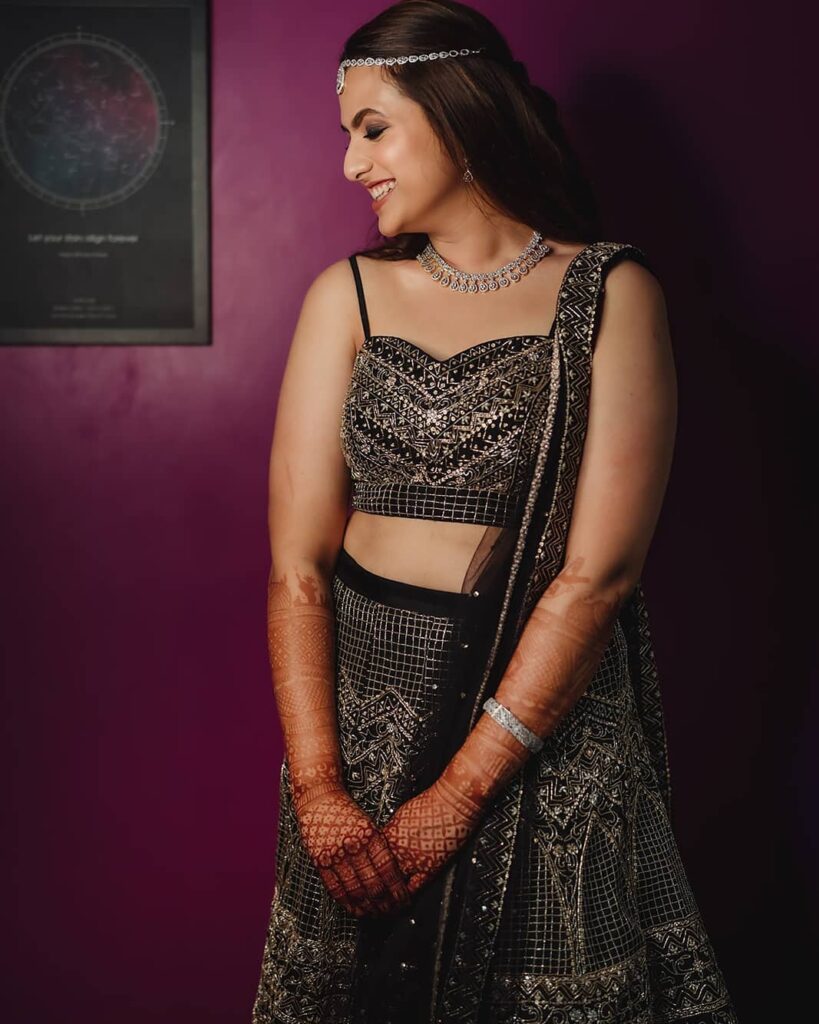 Courtesy: Chamee & Palak
#41 A purple engagement lehenga design with such ornate silver work is just breathtaking! The duo with the groom dressed in a 3-piece suit is blessing us with ultimate engagement dresses for couples inspiration. The bride paired her attire with gold jewelry in meenakari work and a half up half down hairstyle. This ensemble will be perfect for your indoor ballroom celebrations.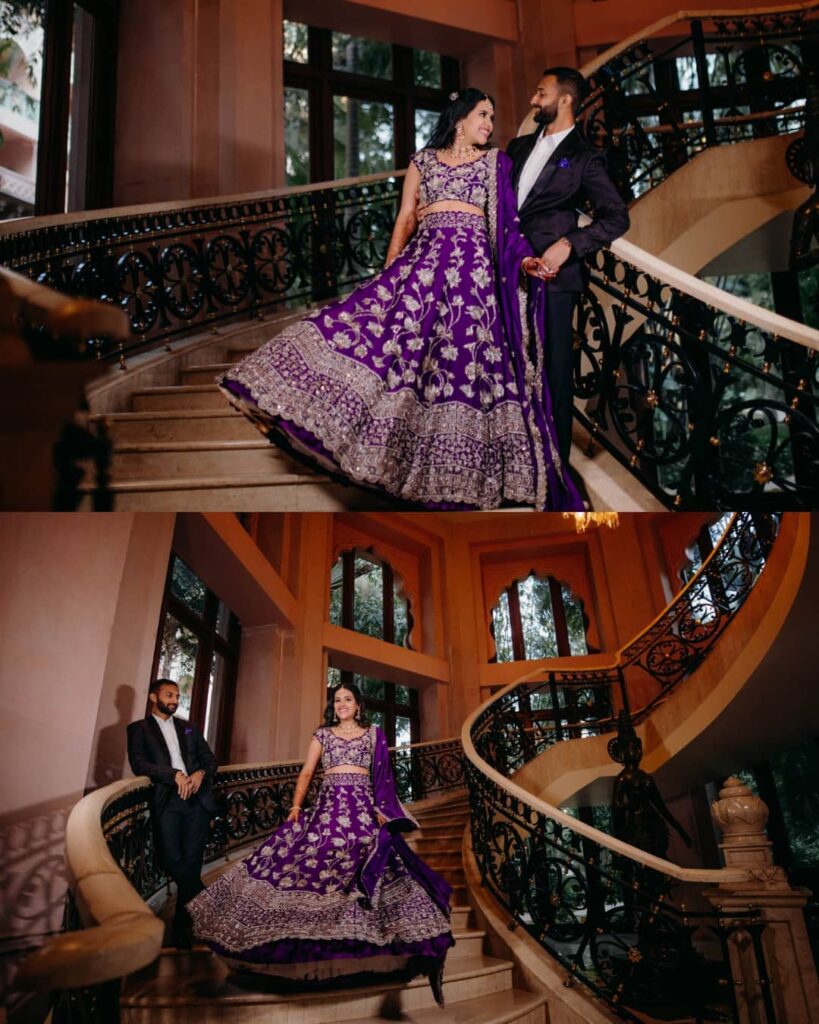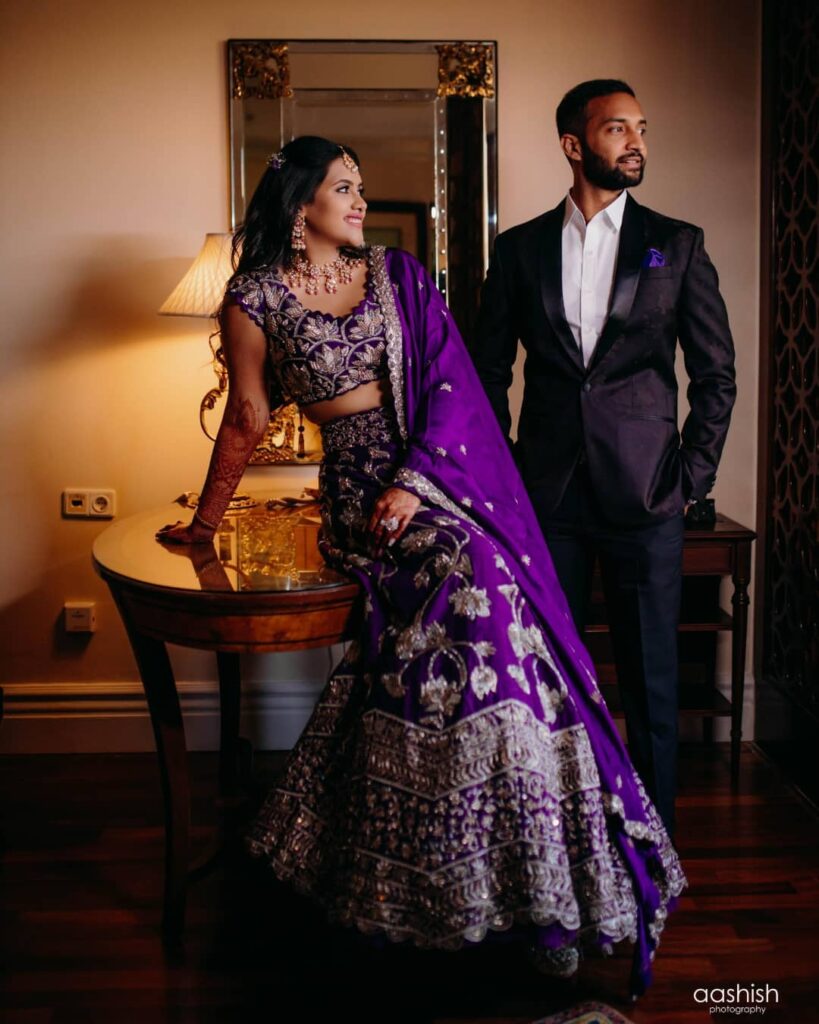 Courtesy: Geethanjali Venkatesh
#42 While lehengas and gowns are the most popular choice for engagement dresses for girls, but you can definitely go for a sharara suit. Many designers, like Rimple & Harpreet and Manish Malhotra, have included heavily embellished shararas in their collections. Here's a gorgeous piece from the former's collection, shot amazingly by Simran from
Beginnings for You
. The bride styled it with a braided bun and pearl jewelry to keep the look simple and graceful for the event.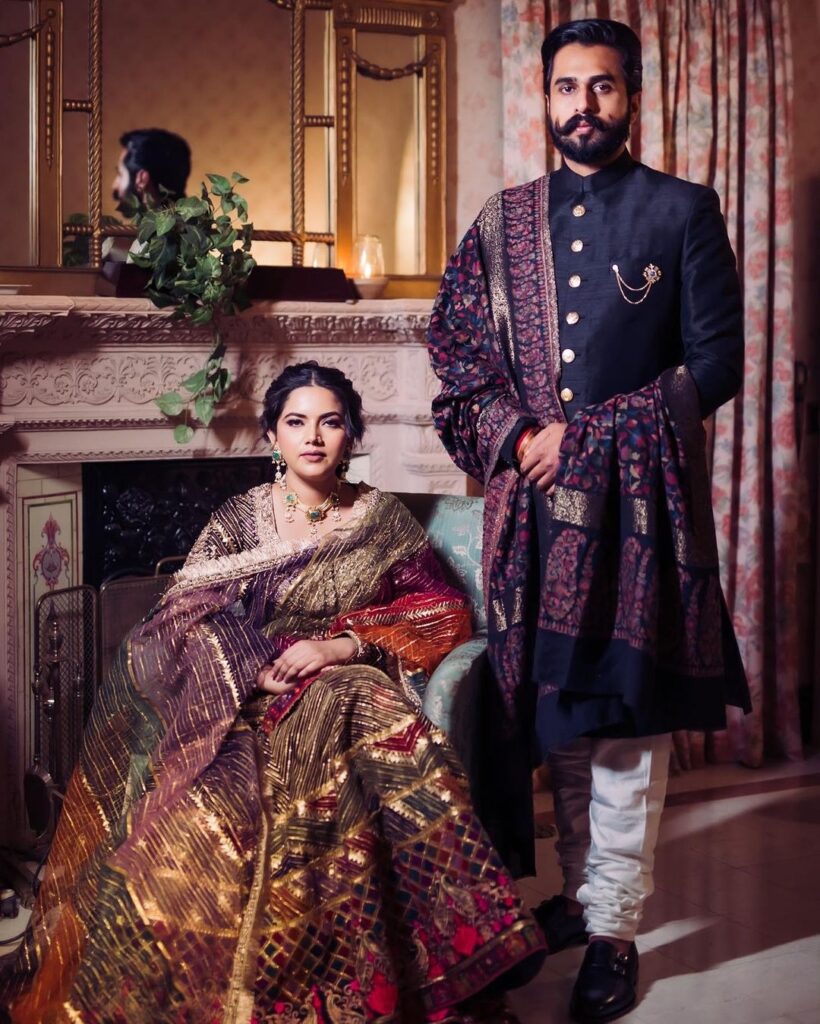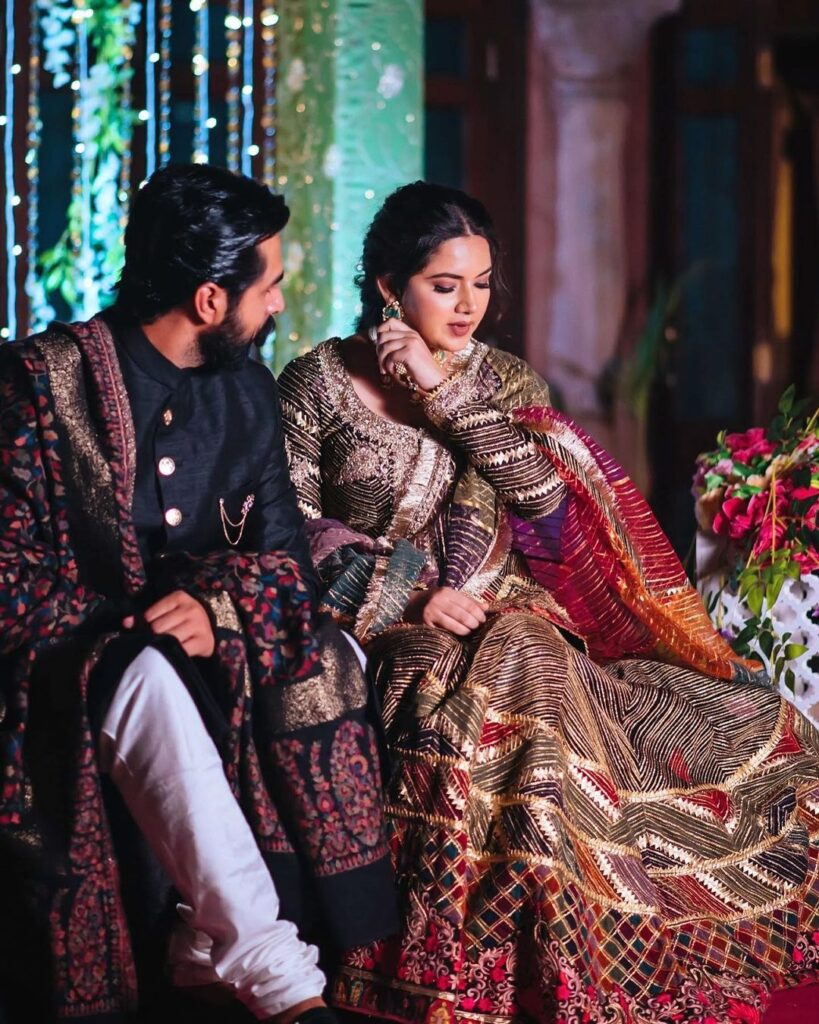 #43 She's definitely living the Cinderella moment. Clad in a deep blue engagement gown encrusted with crystals and a huge trail attached, wearing this engagement dress will make sure that all eyes are on you. Style it just like the princess touch with a tiara and diamond earrings to complete the look with perfection.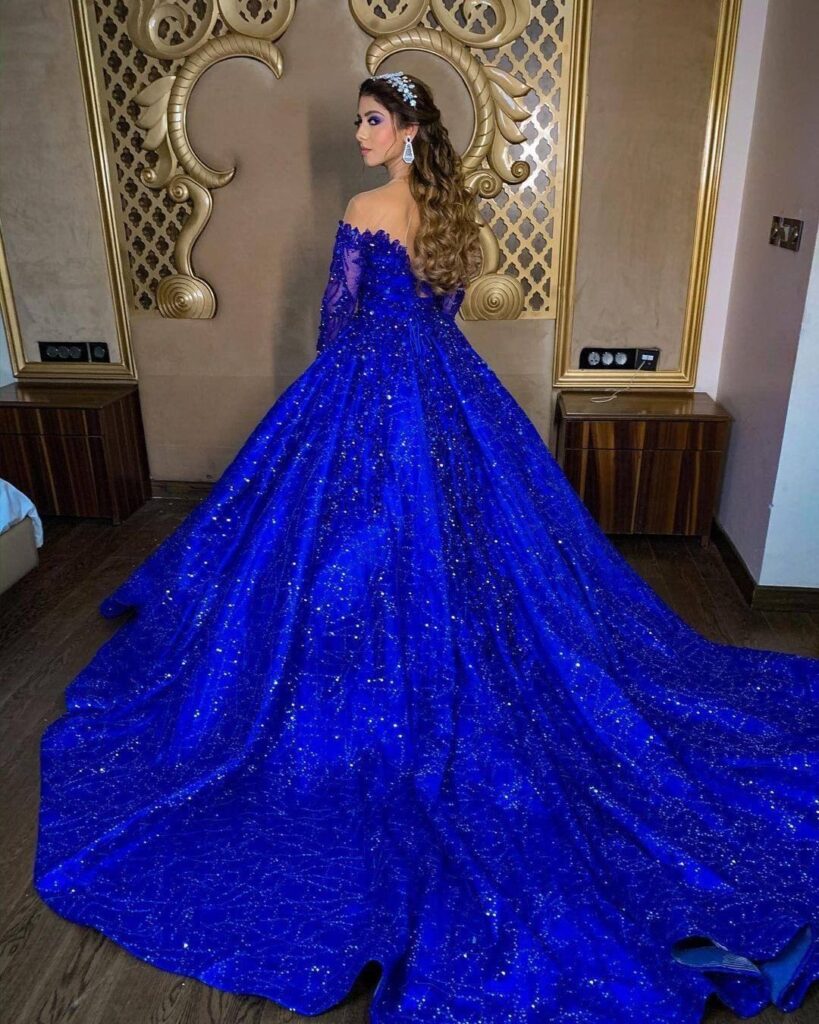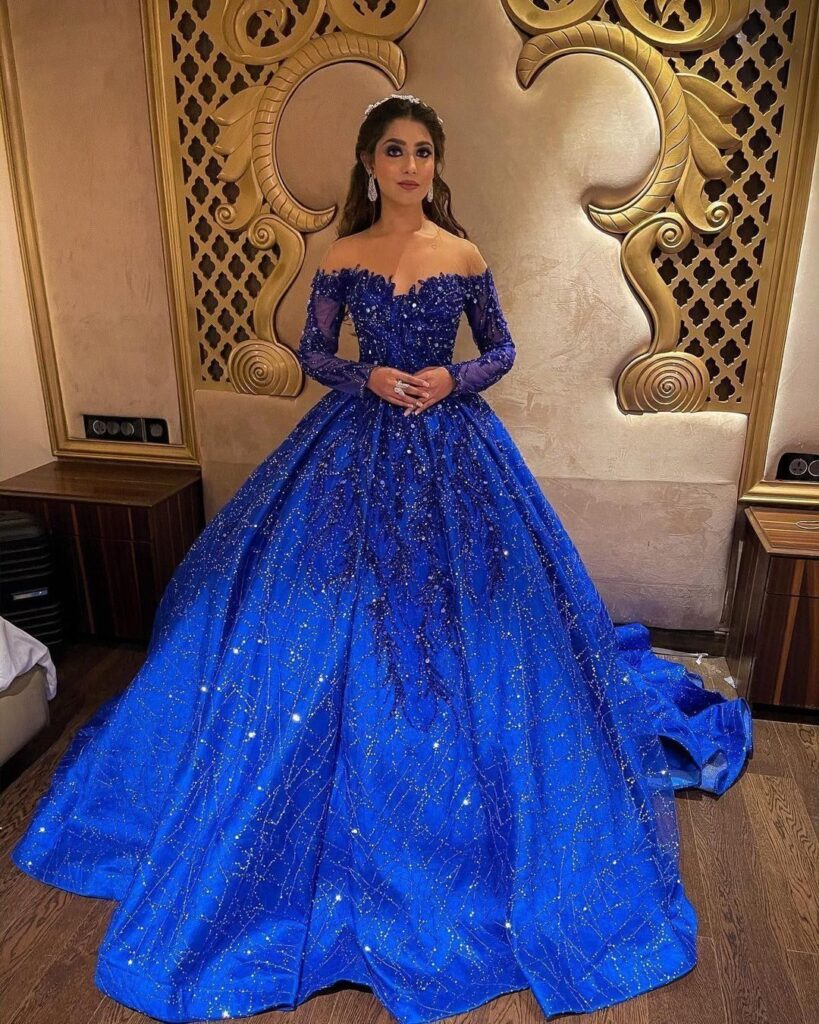 Courtesy: Gomit Chopra
#44 If you're a fan of garden celebrations, then you will absolutely adore the roka pictures of the next couple. The decor was done by Bangalore-based
With Love Nilma
, we're in absolute awe of the floral & colored revelry of this couple. Keeping in line with the theme, the bride & groom chose ivory outfits with intricate work for a statement couple inspirational look. The endearing 2-tier cake with minimal flowers was a testament to their on-point theme adherence and planning.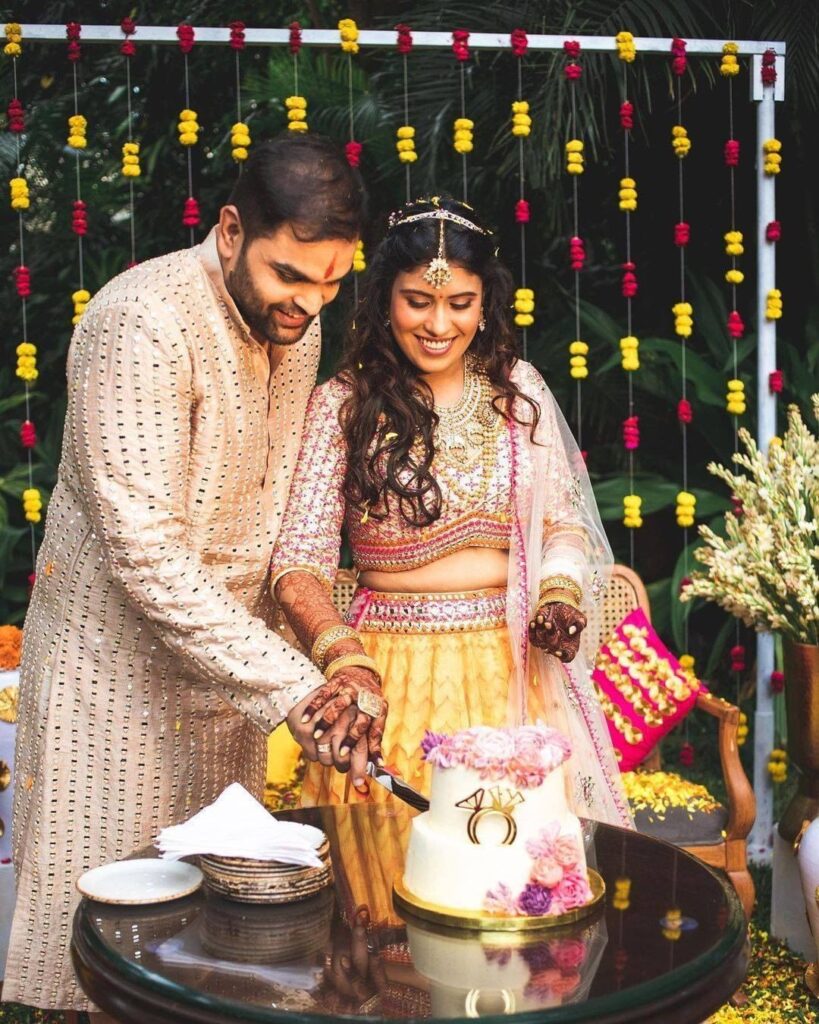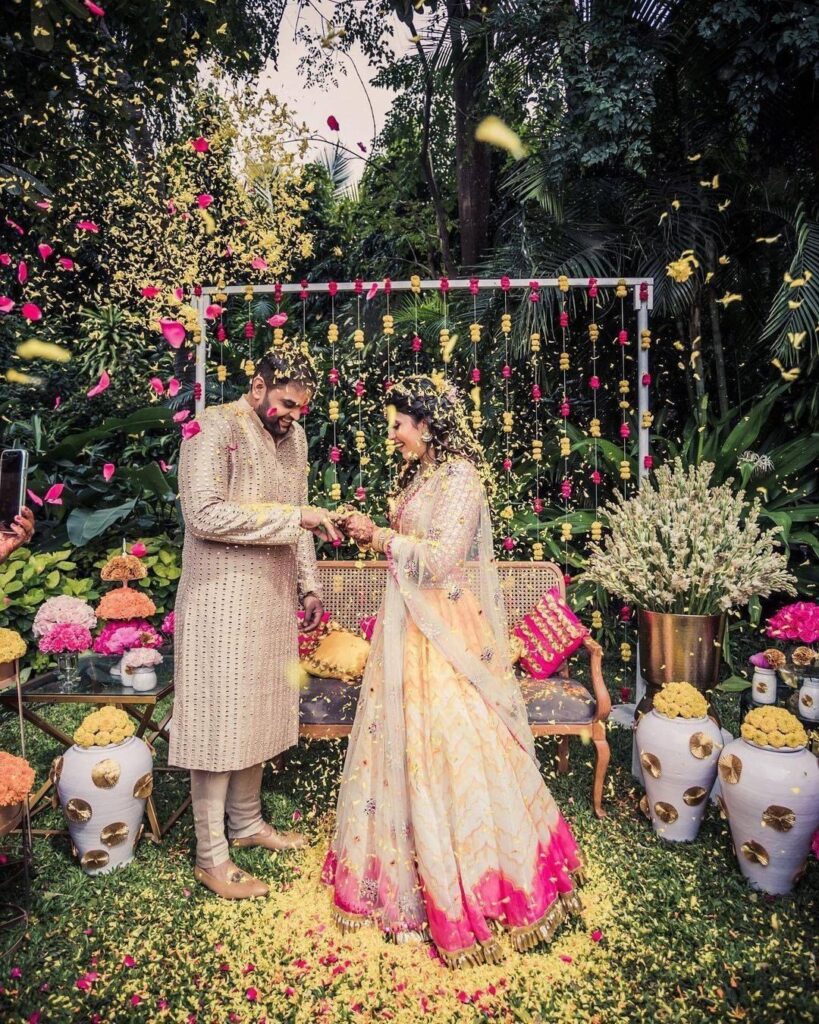 #45 Set amidst the hills, bride Tapsi kept it simple yet stylish for her quaint roka celebrations. She wore a sheer blue saree with a trail for the roka, while the groom looked debonair in a different shade of blue suit with a white shirt. If you want to utilize nature's beauty for your events, then let the decor stay on the minimal side to really let the picturesque settings shine.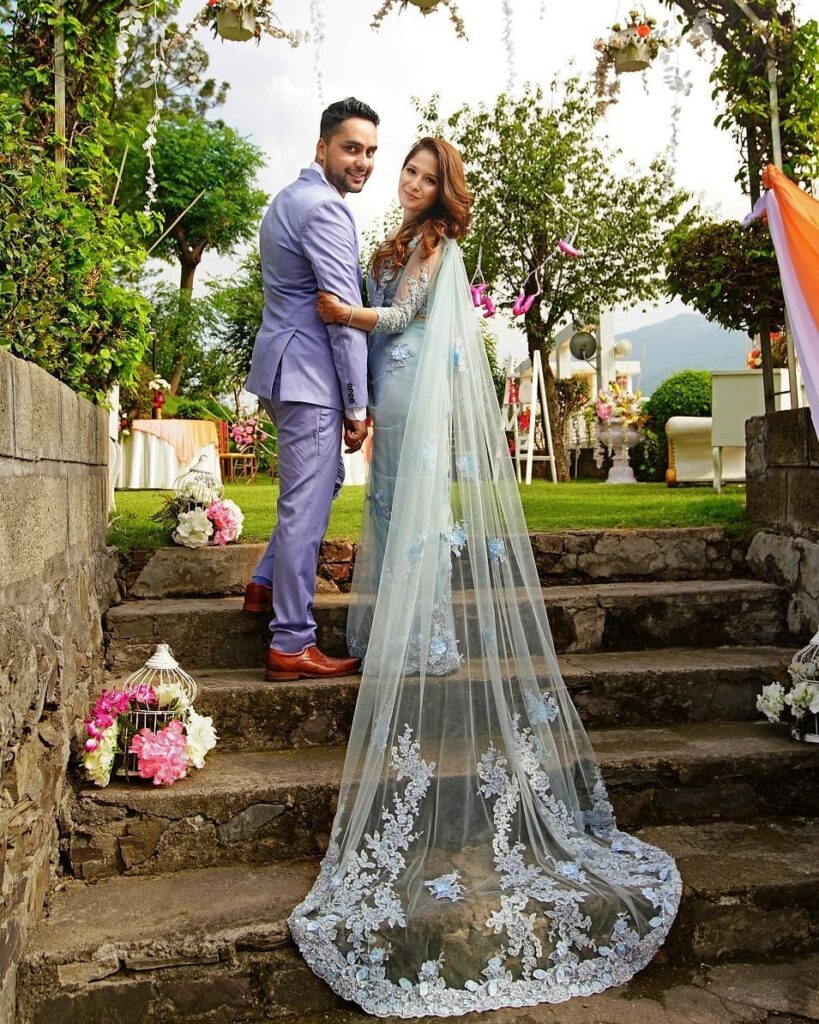 #46 With the onset of the pandemic, many couples chose to resort to a
home roka ceremony
to officially declare themselves as betrothed couples. One such couple is Sunakshi & Abhinav who had a beautiful engagement in their basement and arranged for the decor from the Amazon. Initially, they have planned a 600+ guests event, but all that went to drain because of Covid-19. Keeping in line with the rules and assuring safety, their home roka will surely be a memorable one!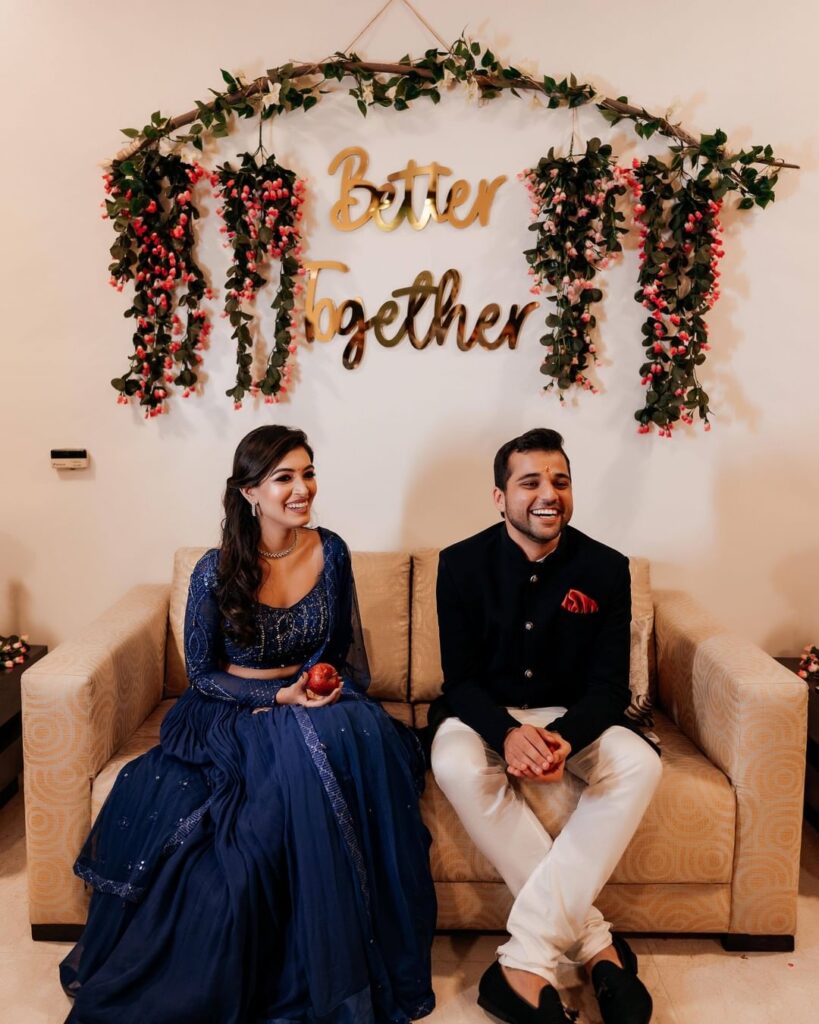 #47 Uniquely embroidered outfits and pretty smiles on the faces make these portraits worth staring at! Both the bride & groom are wearing dresses from
Anamika Khanna
. If you want to coordinate with elegance and charm with your other half, Khanna can be a one-stop-shop for both of you.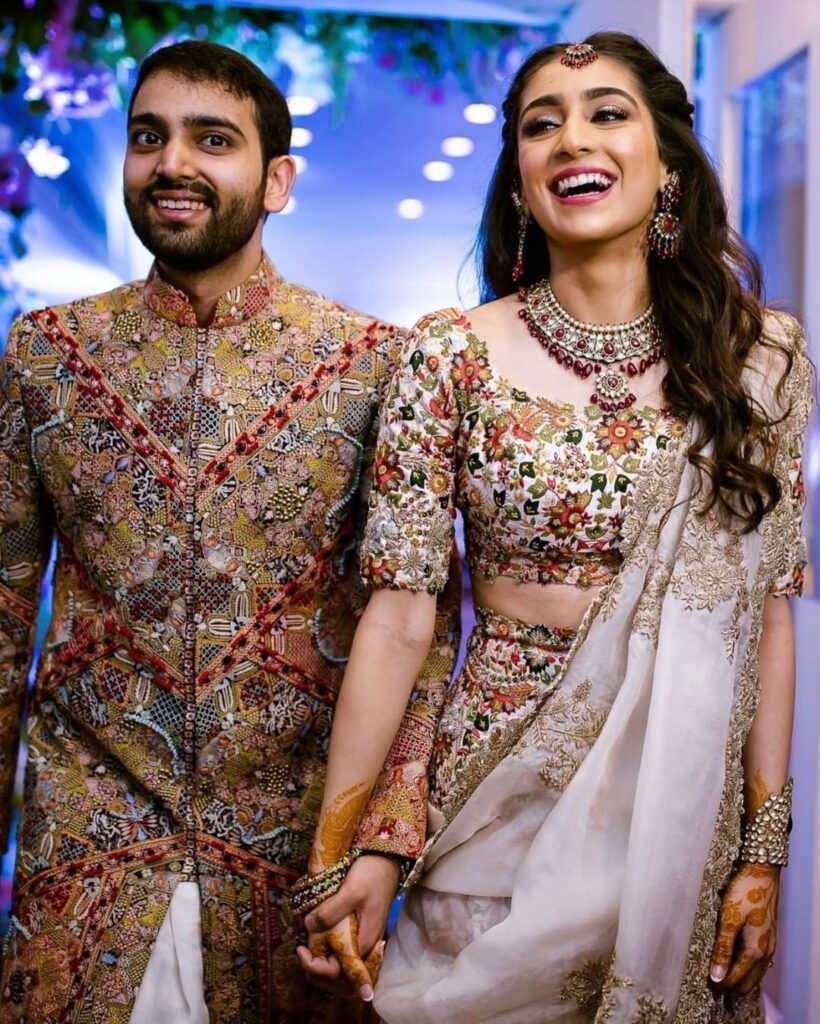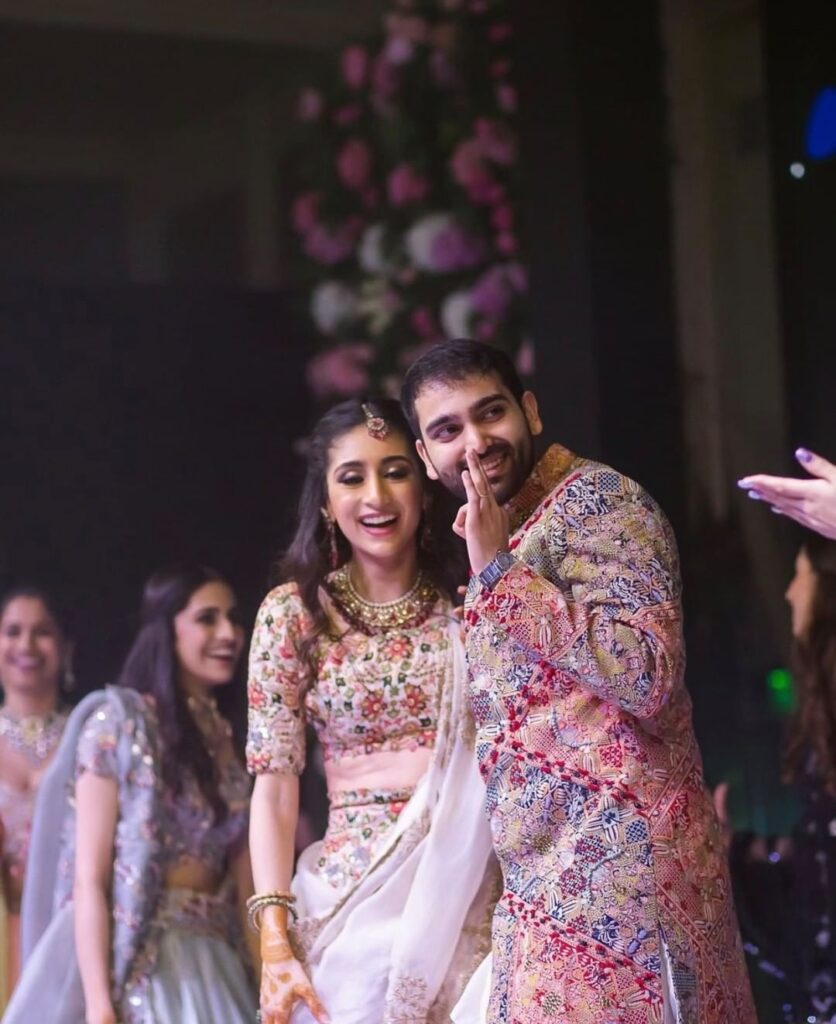 Courtesy: The Photo Diary 
#48 One of the elegant colors for engagement dresses for girls is blush pink. It's feminine, romantic, and lovely to wear and looks amazing in pictures. Keeping the same in mind, bride
Surbhi Sinha
wore a pink outfit heavily bedecked with metallic work to radiate romance & poise with her roka outfit. The groom coordinated with his bride in a black tux with a bow tie exuding sophisticated vibes himself.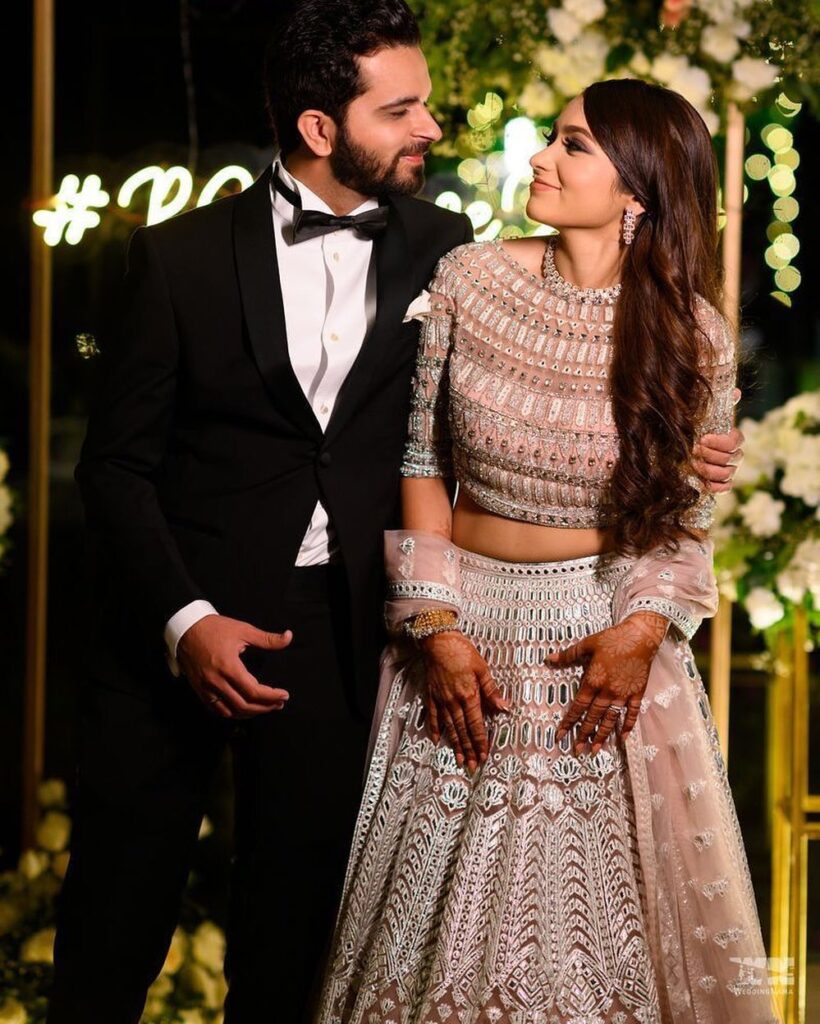 #49
Riya Sonigara
and
Harsh Bafna
had a posh engagement ceremony in Bangalore, shot by
Gireesh Chalakudy
. For the formal affair, Riya stunned in a golden lehenga set and Harsh wore a black coat suit to complement the bride. We're in awe of their chemistry and a gorgeous couple of portraits.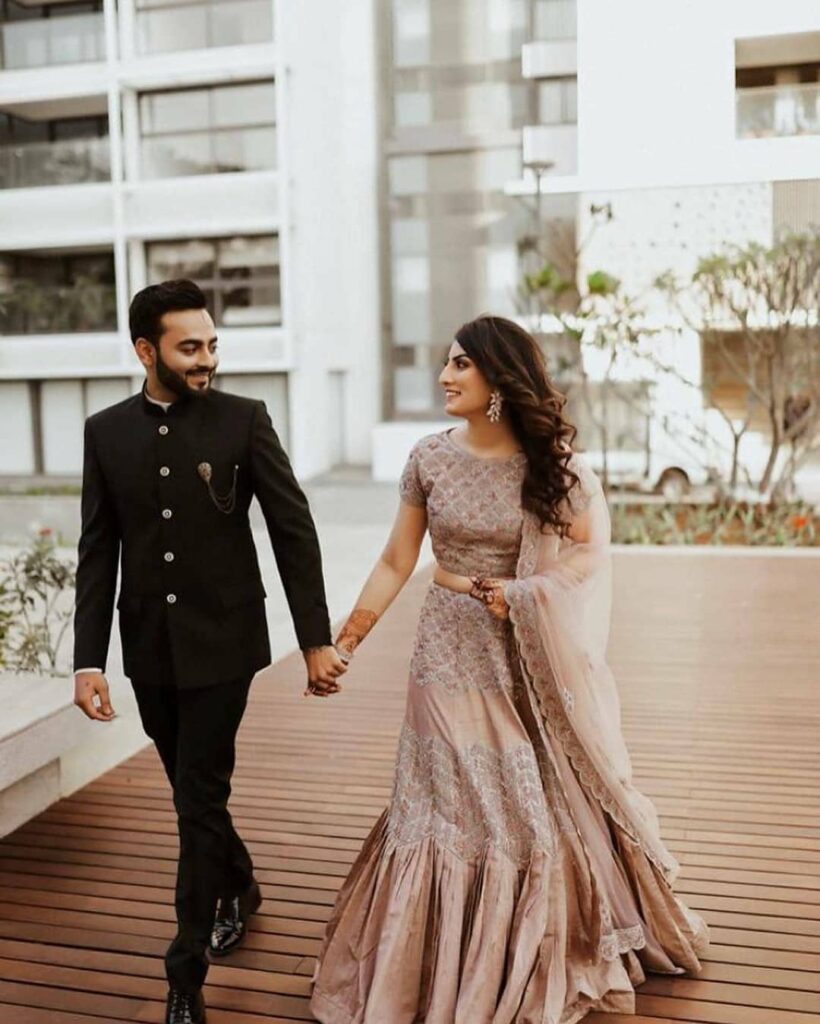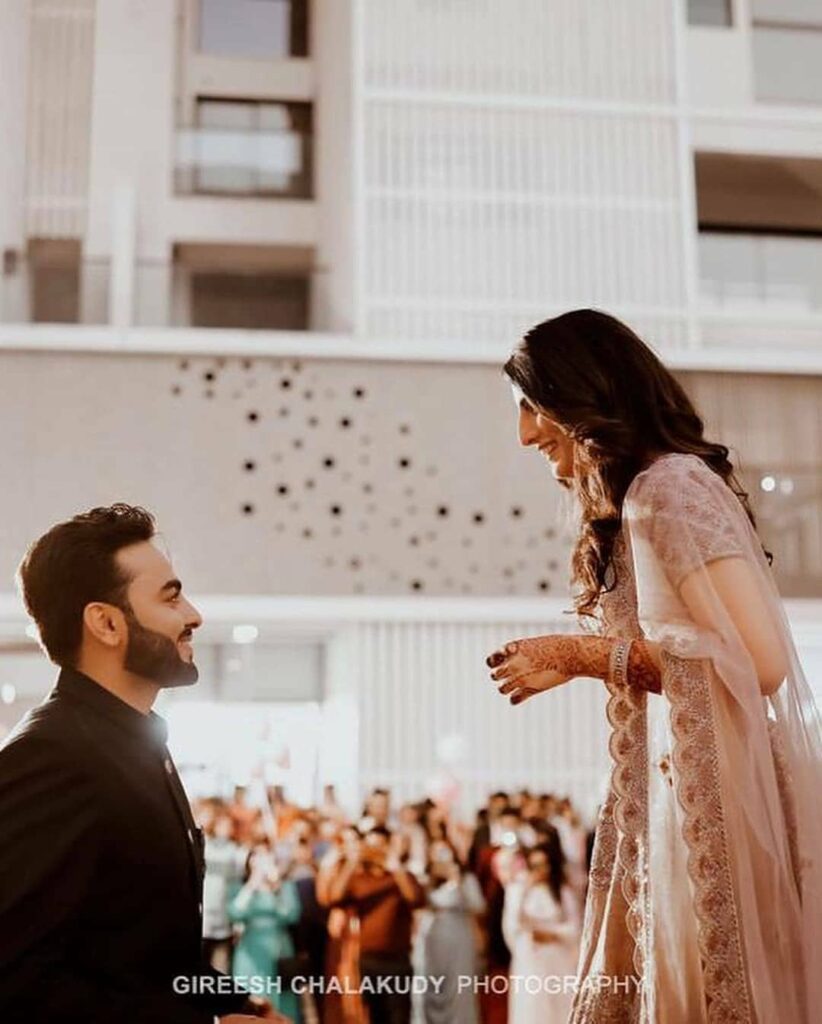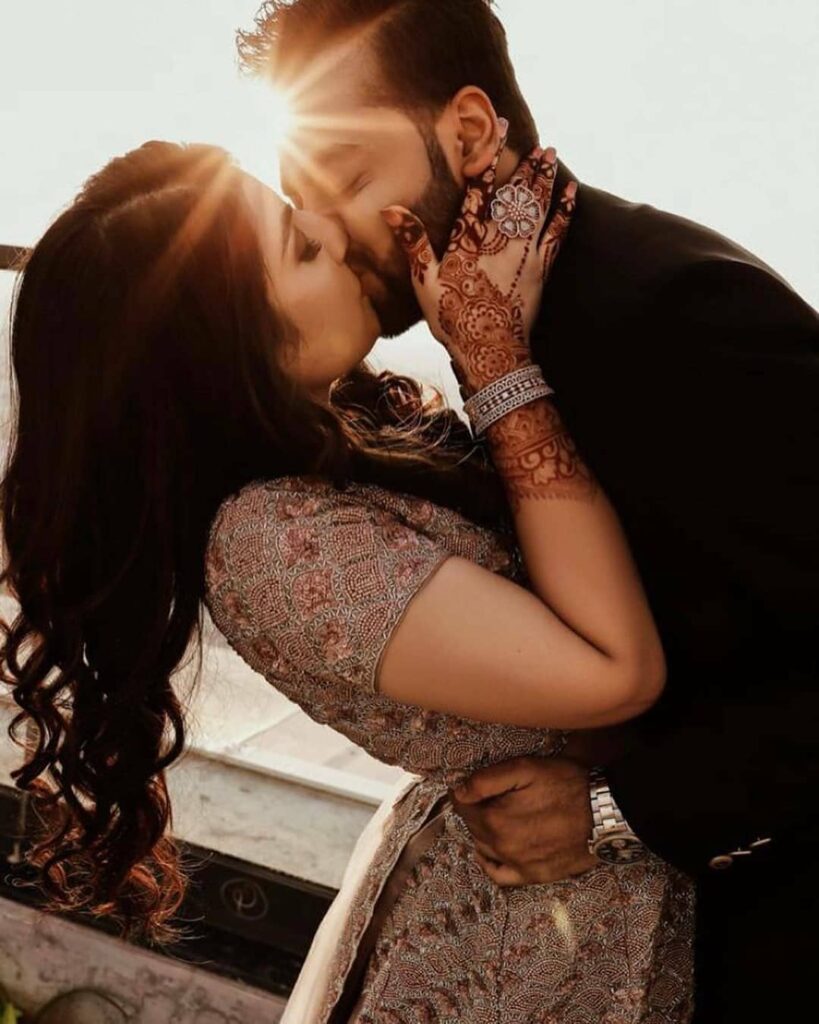 #50 Set amidst the California desert, bride
Nisha Vig
wore a printed red lehenga set by Anita Dongre for her engagement celebrations. The floral-themed decor in a mellow palette was the perfect background for the bride's vibrant outfit. Groom, on the other hand, also wore a printed jacket with white kurta pajama to coordinate with the bride & the theme of their special day!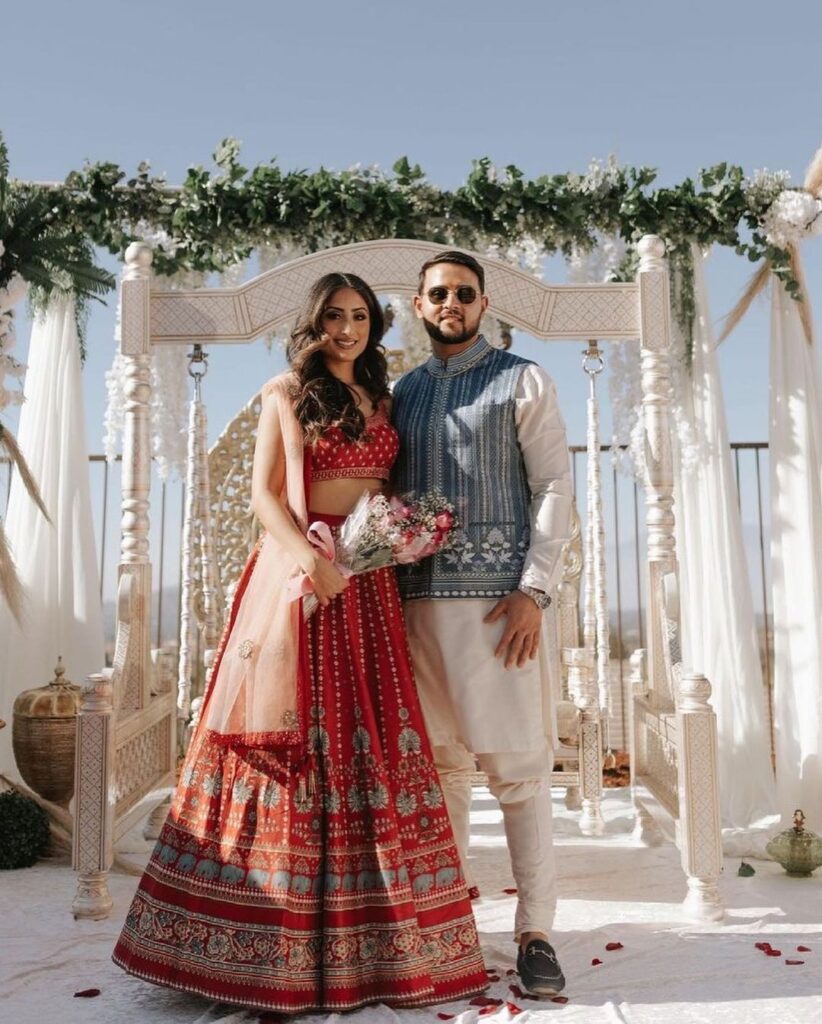 #51 Clad in a stunning blue gown with dupatta pinned on the crown for unique styling. Curated by Bollywood designer
Gavin Miguel
, we love the silhouette and bling of her engagement gown. We love how the groom is coordinating in a black suit to go with the bride's outfit and the opulent event setting.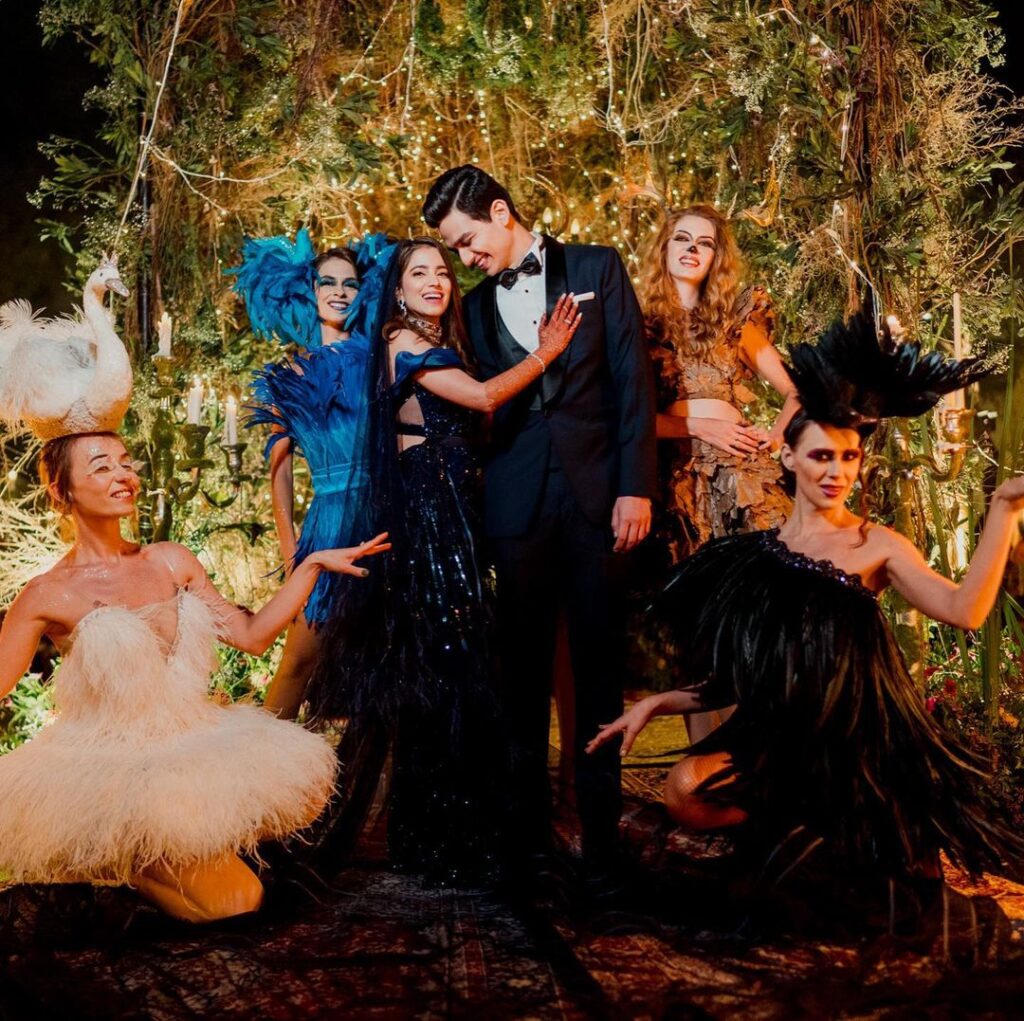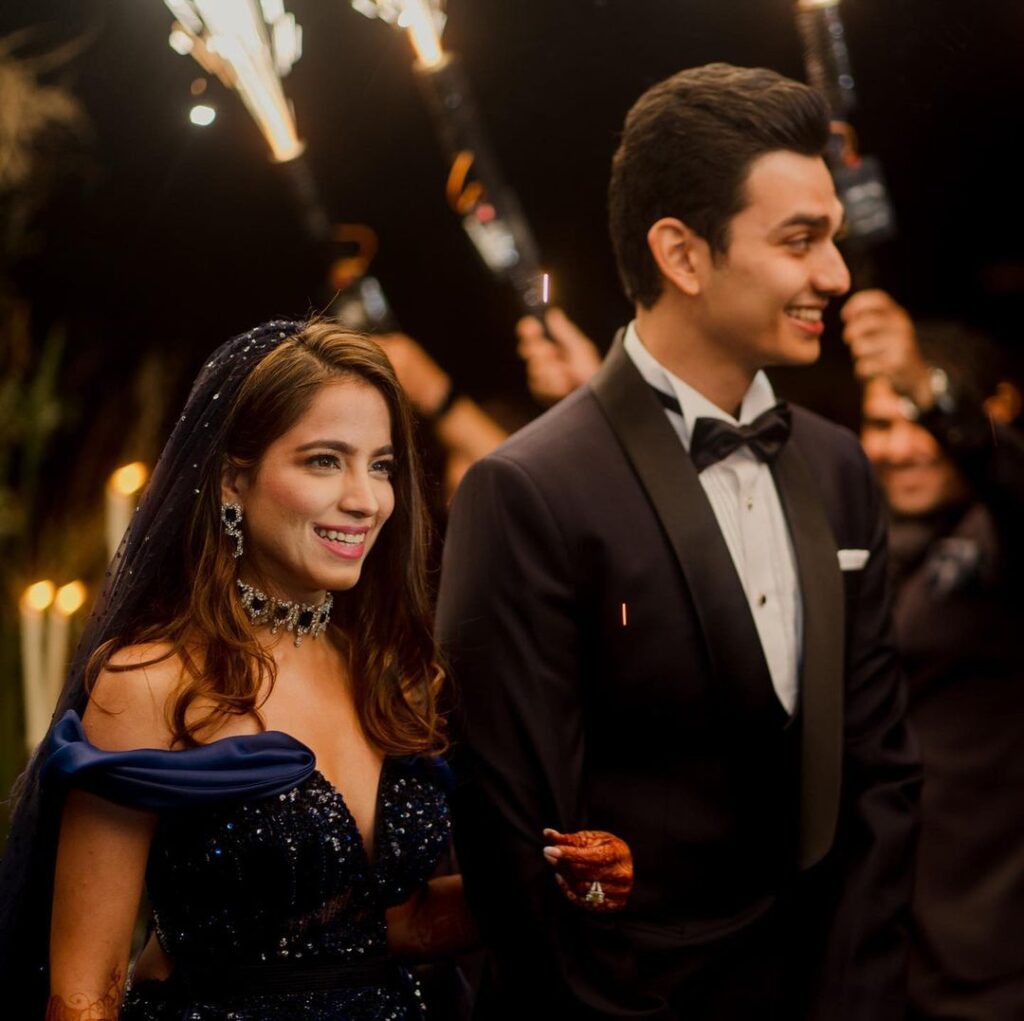 #52 When it comes to engagement dresses for girls 2022, some brides love the six yards of grace, and here's a bride who wore a golden saree with beads, sequins, and fur on her roka event and looked absolutely splendid.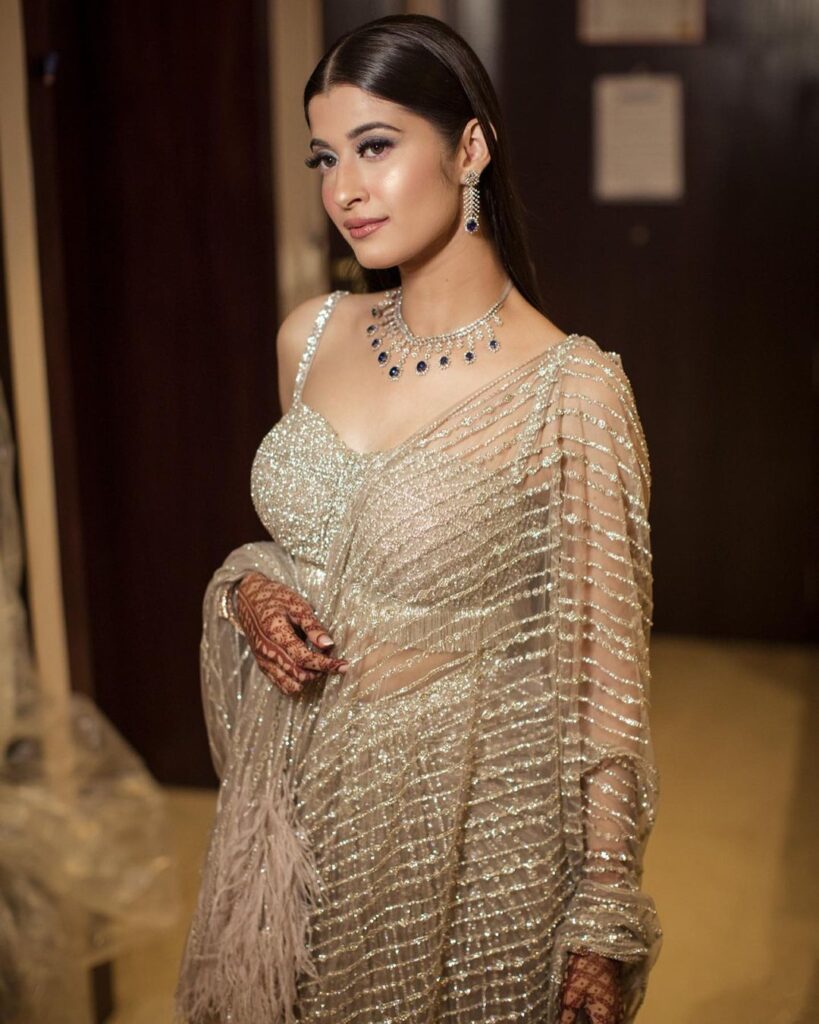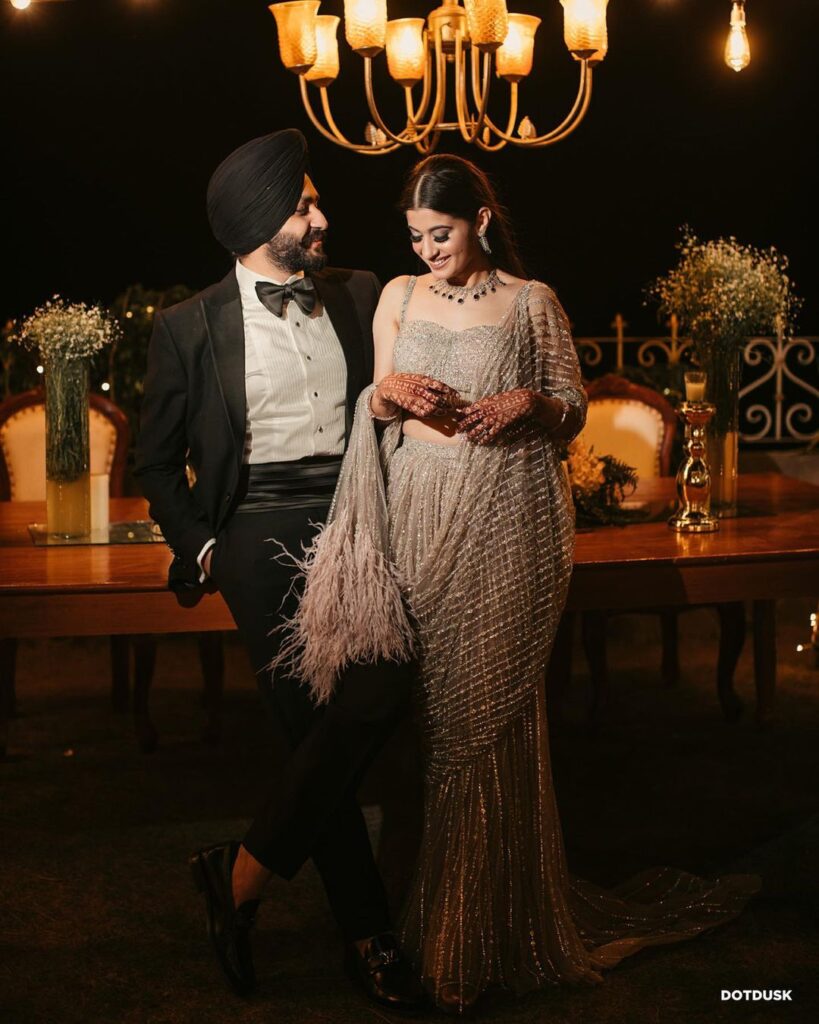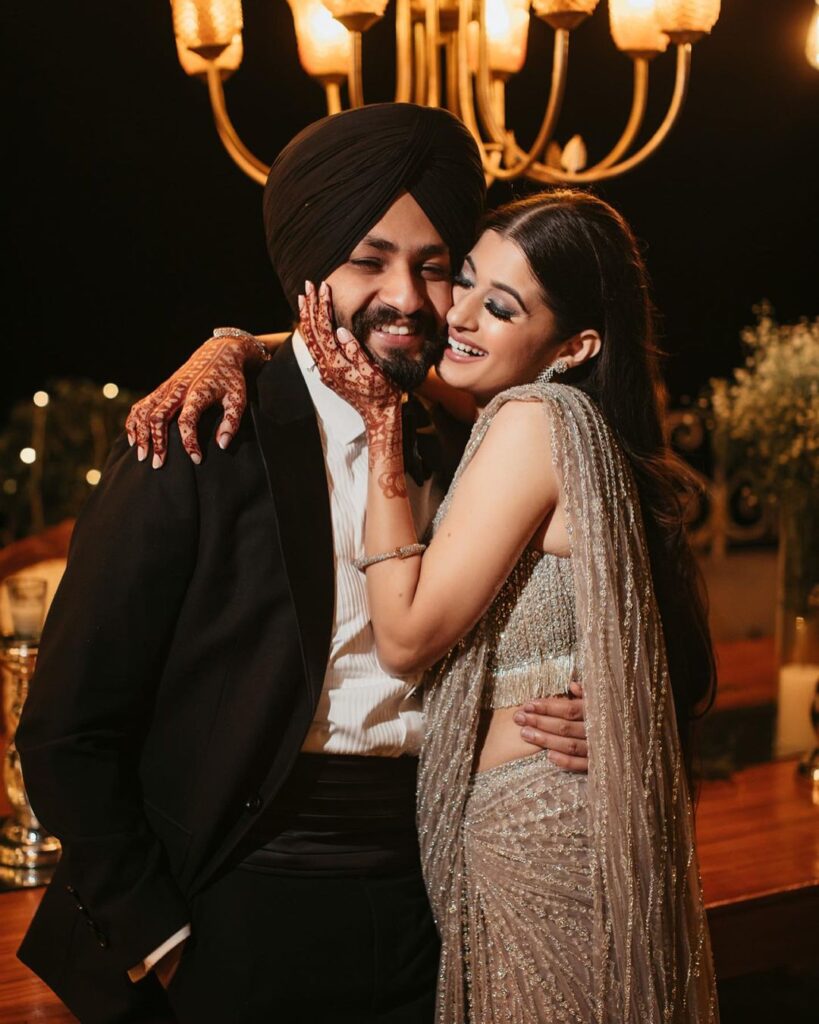 Courtesy: Dotdusk
#53 A concept saree is another great choice for brides looking for a convenient yet stylish option for their roka event. Bride
Krishna
wore it for her roka and you can buy the same saree from Amit Aggarwal's site
here
for Rs.1,45,000/-.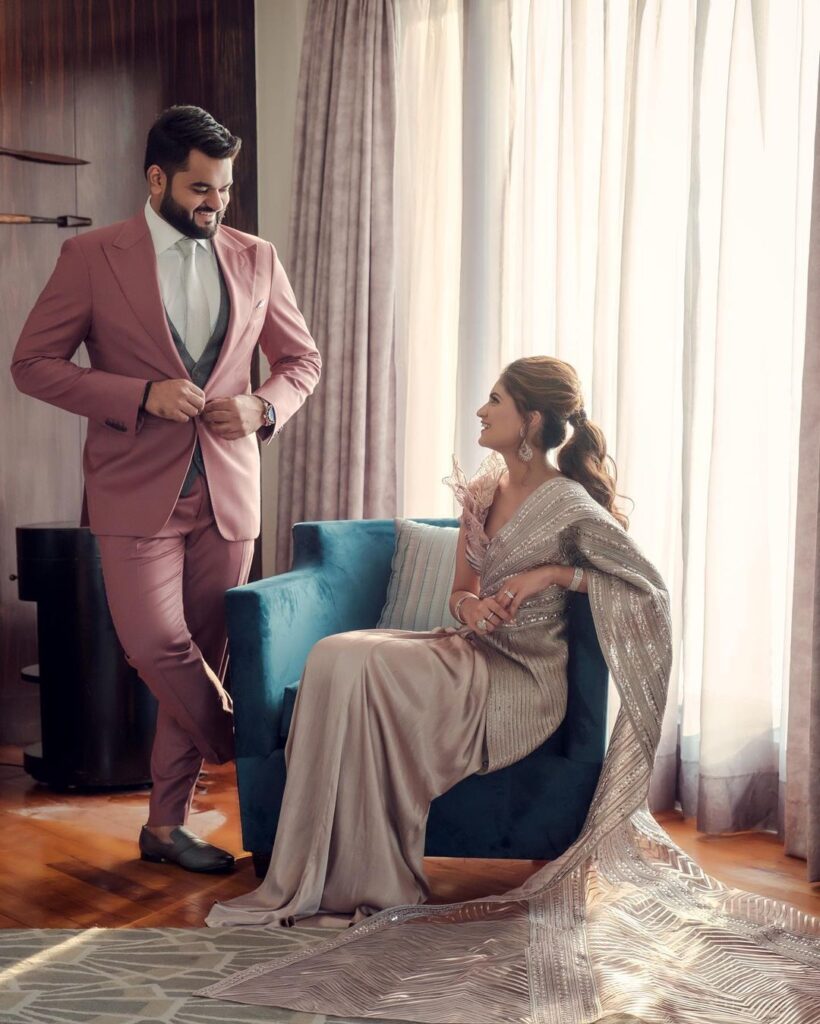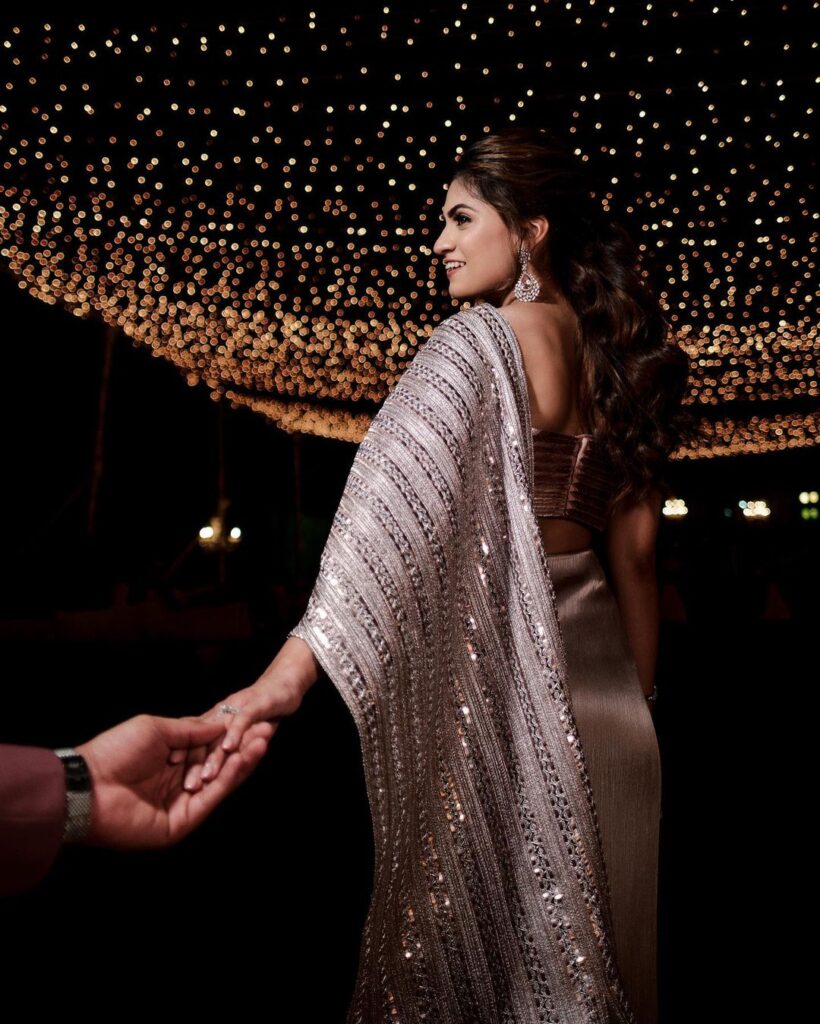 #54 Shine bright with these vibrant hues on your sangeet. Yellow has a long wavelength and grabs attention instantly. That's why it's most commonly worn by brides on at least one of their functions. If you want to wear it on your roka too, here's a yellow-pink latest engagement lehenga design to inspire you!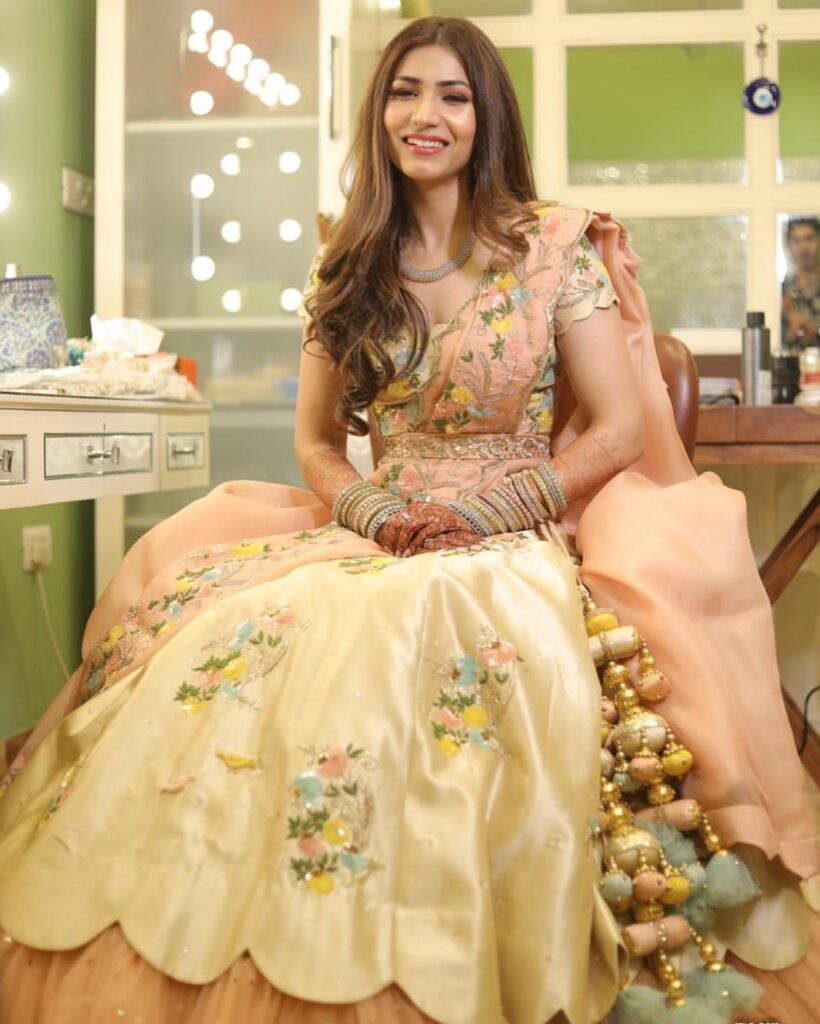 Courtesy: Shriya Pardal Singh
#55 This pink lehenga from Swati Narula's collection already went viral and it does make for a superb pick for your engagement dress, doesn't it?