While your missus-to-be is enjoying being the center of attention and you too are doing your part for making her feel special, your big day is approaching as well. And as the groom, you need to savor a bit of attention and pampering as well. No doubt, she will have an upper hand in most aspects, like wedding planning decisions, but there's one aspect where you can hold the majority of the reins: your wedding wardrobe. Yes, we said it, majority, not all. And the first of the wedding outfits you'll be picking is an engagement outfit. To make your quest easier, we are listing 30 engagement dresses for men in this list. Some are traditional, some contemporary, and others, a mix of both – so you can find the ideal one for your engagement party.
#1 Varun Dhawan and Natasha Dalal's wedding is the latest addition to Bollywood's riveted weddings. Dhawan shared the snaps of their revelries soon after they were married. While both of Varun's sherwani make for a befitting choice for groom-to-be, his mehendi sherwani fits an engagement party better. An ivory bandi set with a hint of mint hue and bedecked with beadwork was custom made by Kunal Rawal and looks like a charming piece to hang in a groom's wardrobe.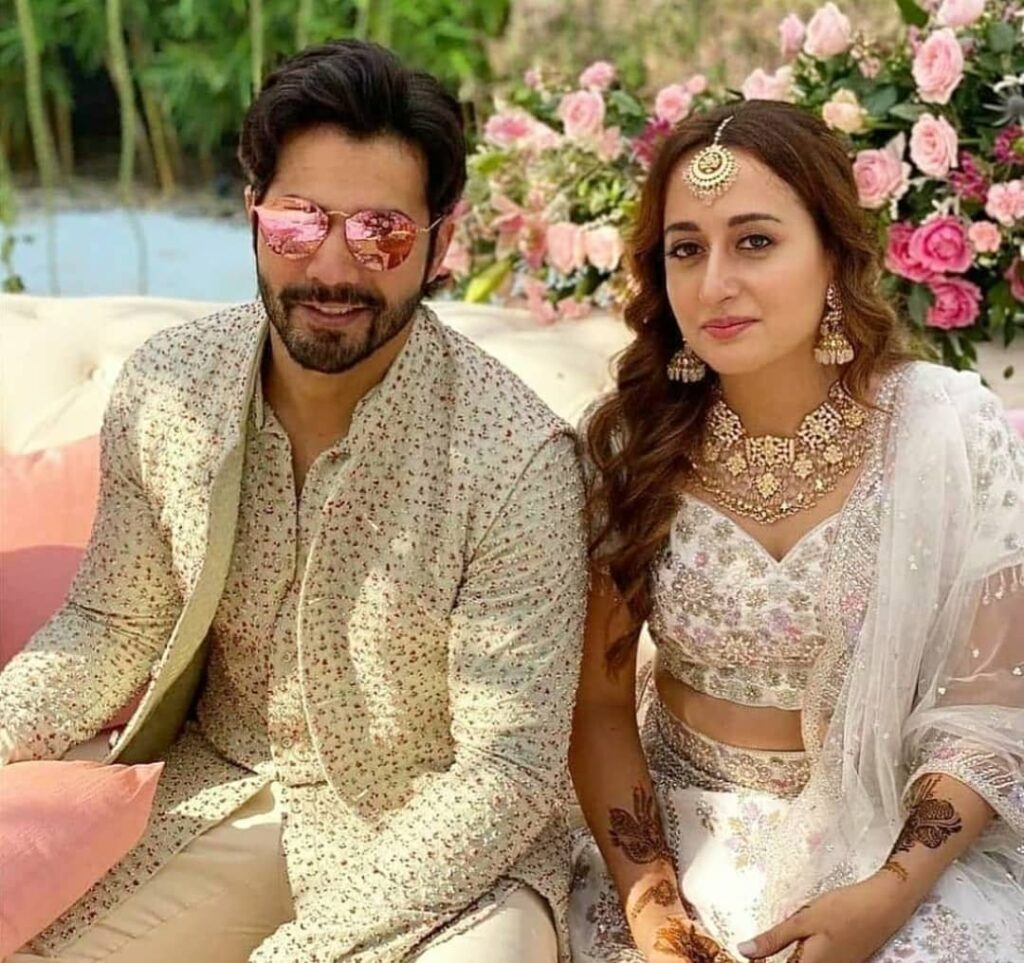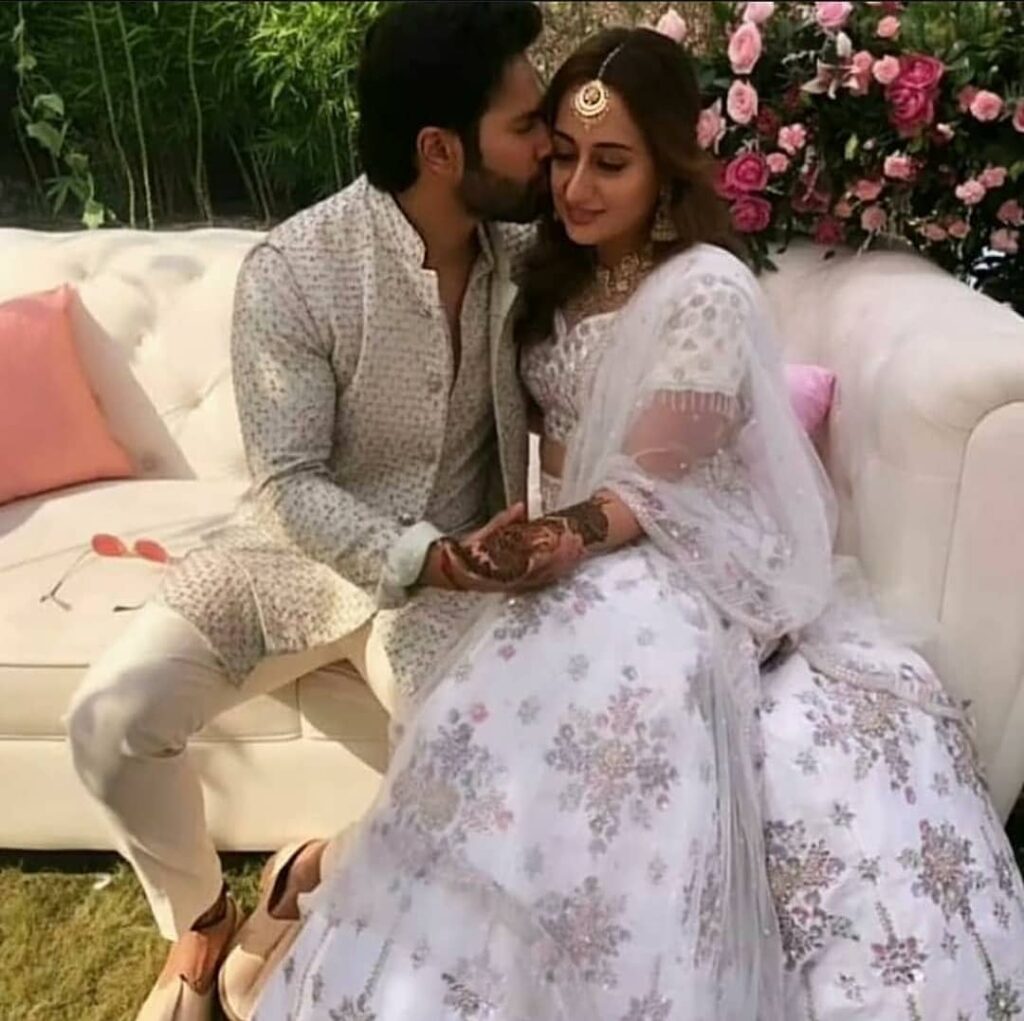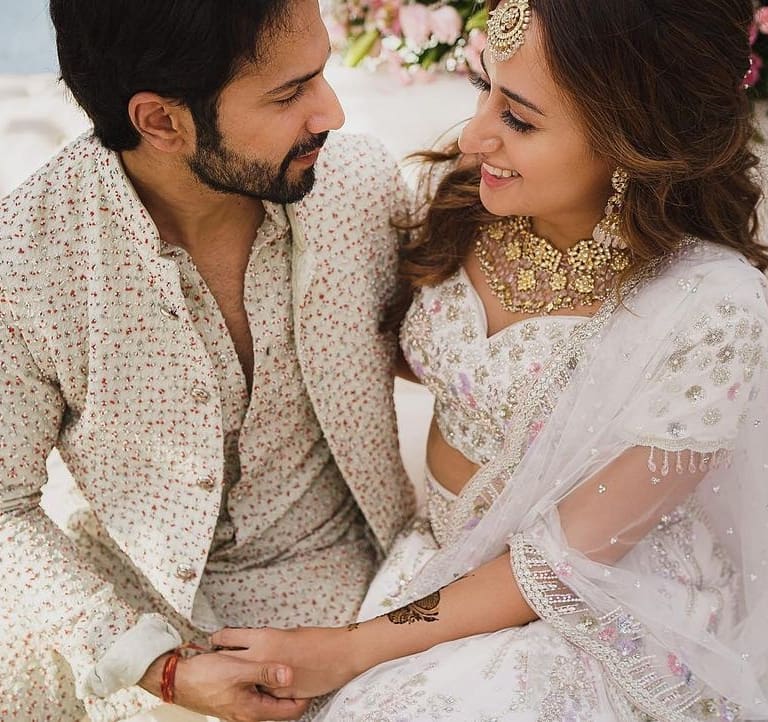 Via Kunal Rawal
#2 If matching your outfit color or pattern with your bride makes you cringe, then this nonchalant couple coordination is a match made in heaven for you. Comprising a cement grey coat with a dark grey kurta and churidar, the groom makes an impressive case for this contrasting color palette. His gorgeous bride further added an alluring appeal to his outfit choice.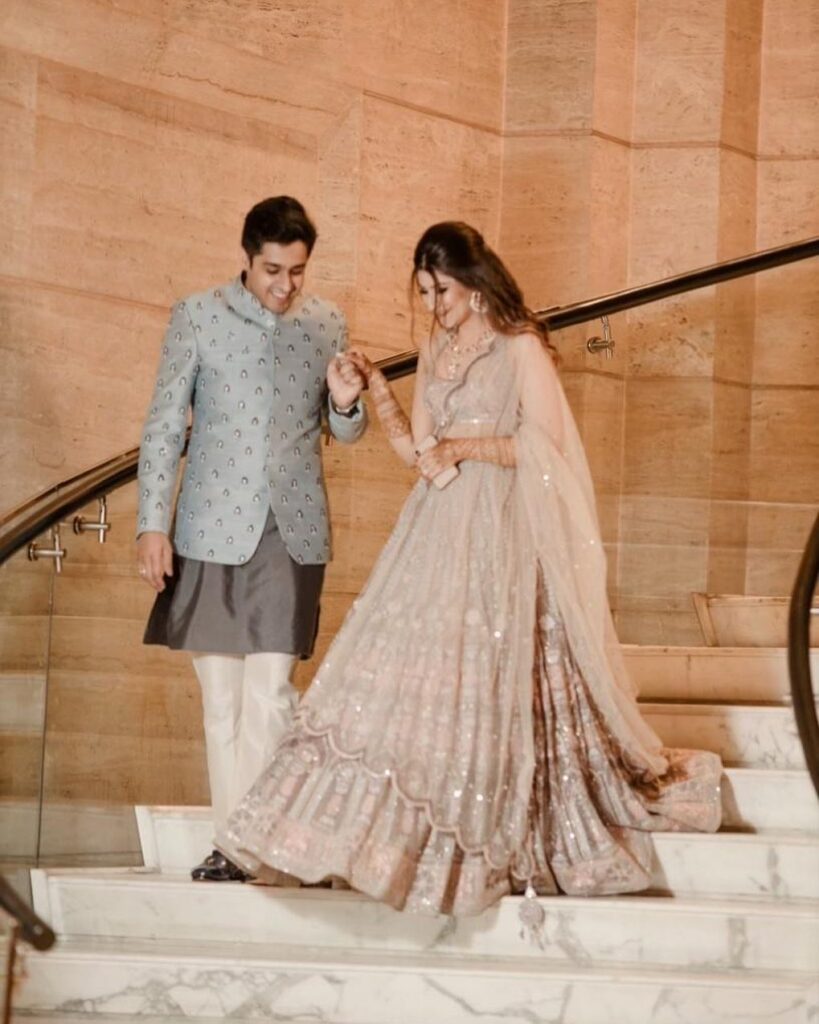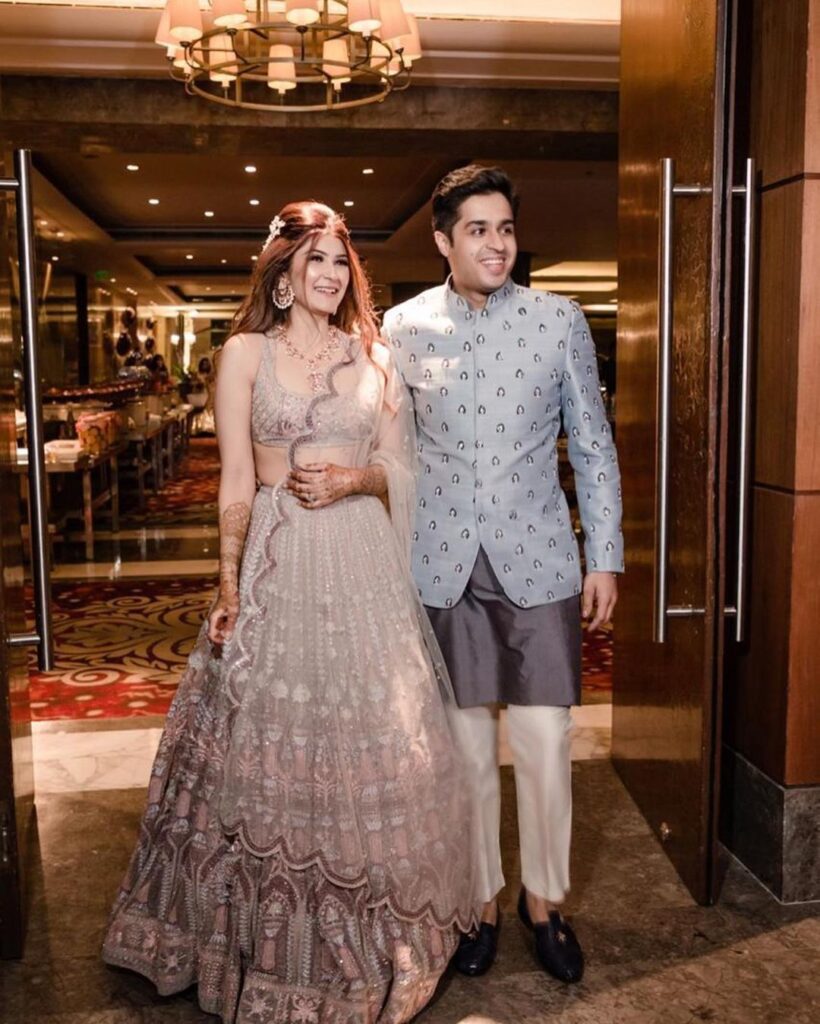 #3 Jatin Malik is a well-known name in the realm of men's Indian wear. His regal silhouettes, quality clothing, and fashionable designs will catch any groom-to-be's eyes. Showcased here is a classic piece from his collection worn by a real groom: rich blue layered sherwani with just a touch of red. Enhance its appeal by pairing it with a neat bearded look and well-set hair.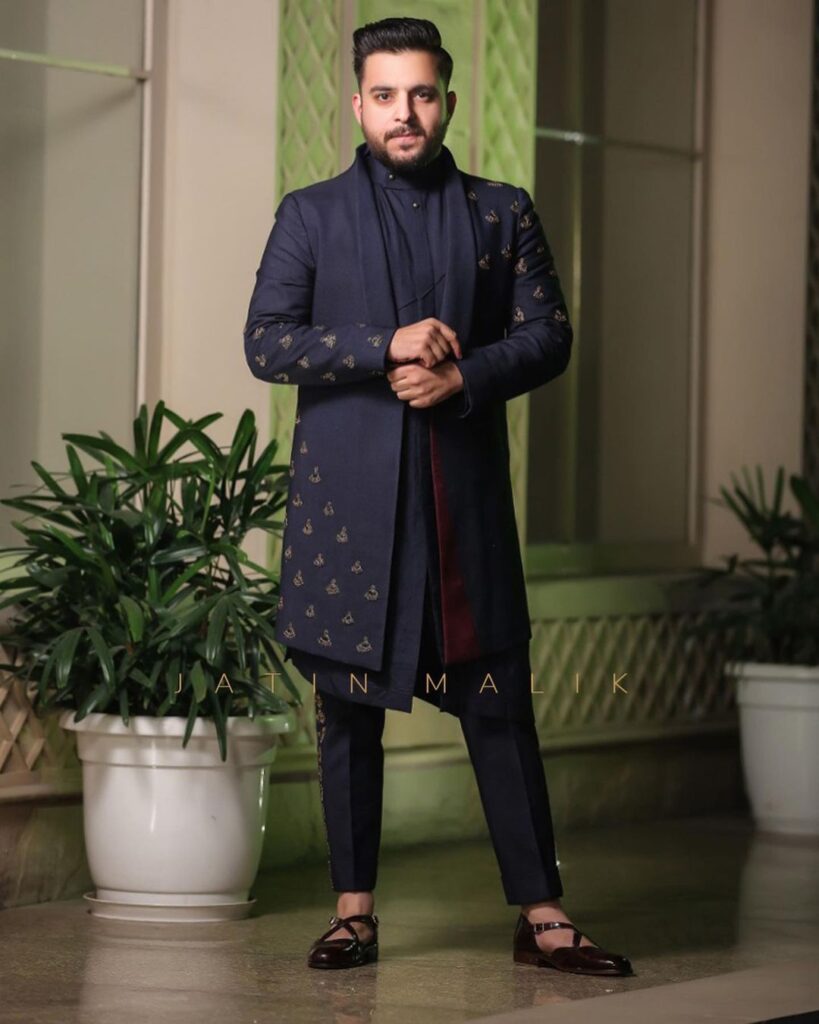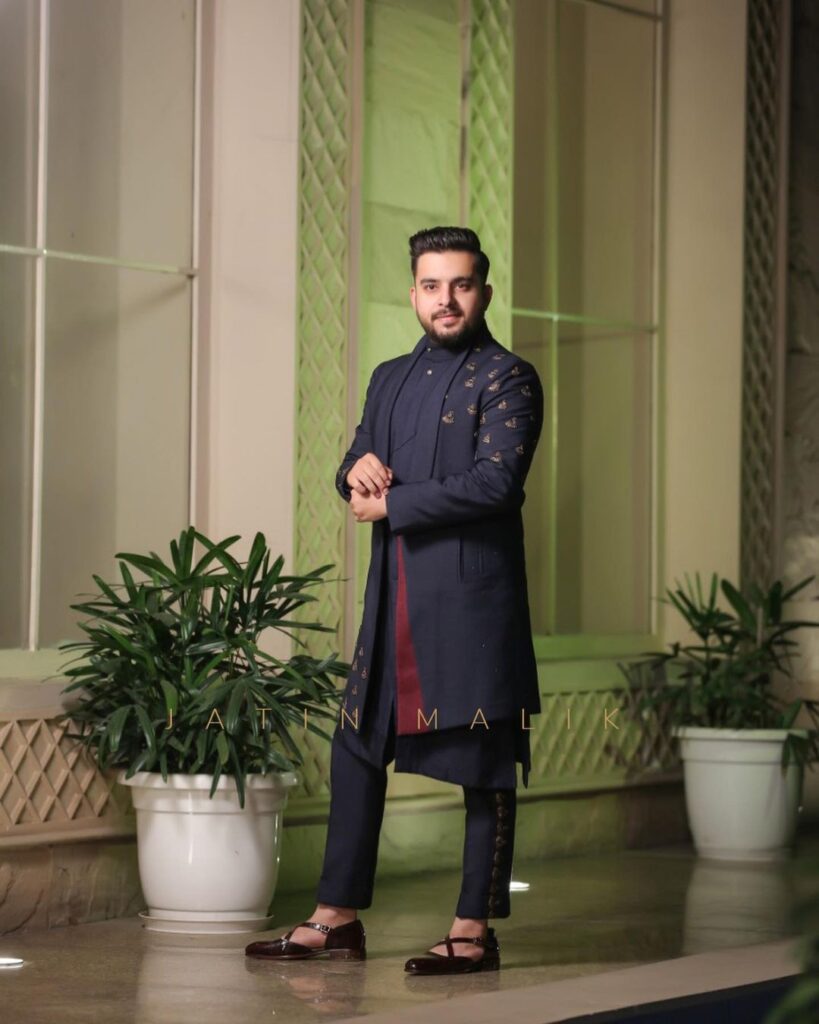 Via Jatin Malik
#4 For our millennial grooms who won't settle for anything less than a statement outfit, JJ Valaya's menswear collection is your perfect match. His latest launch included this finely embroidered sherwani with details and design that will turn all eyes on you. (Shh! Don't tell the bride that.) Whether it's an engagement or a wedding dress, do make a trip to Valaya's store (virtually at valaya.com) before finalizing your attire.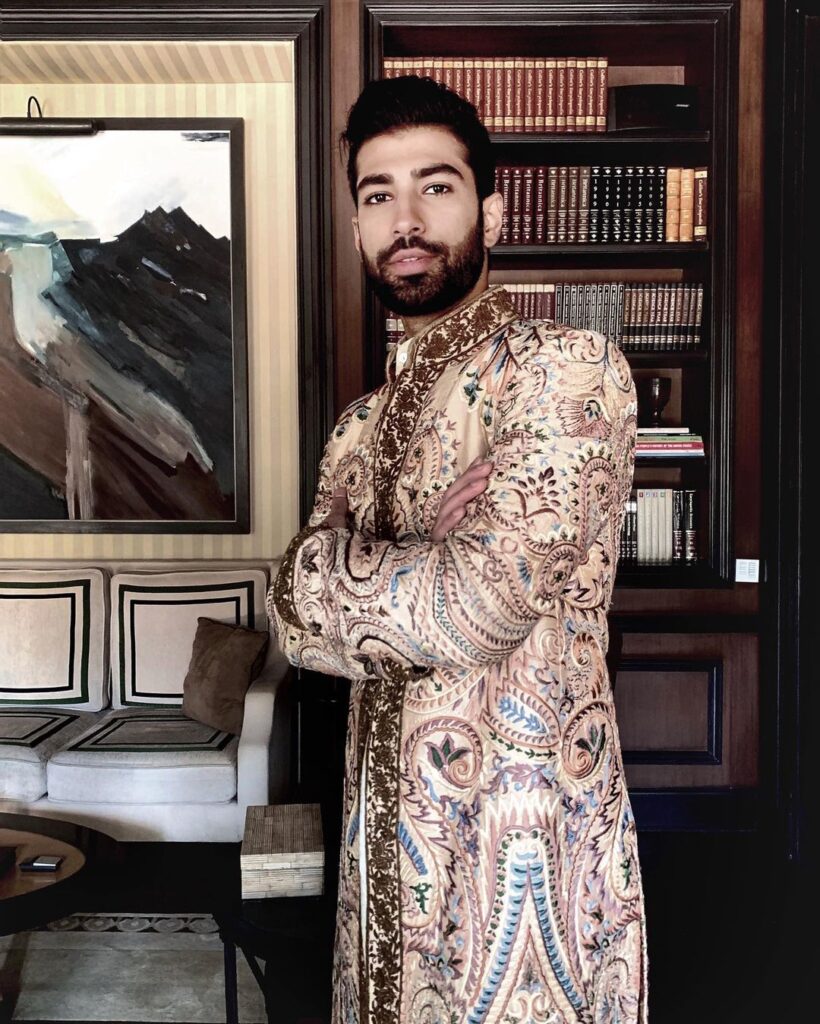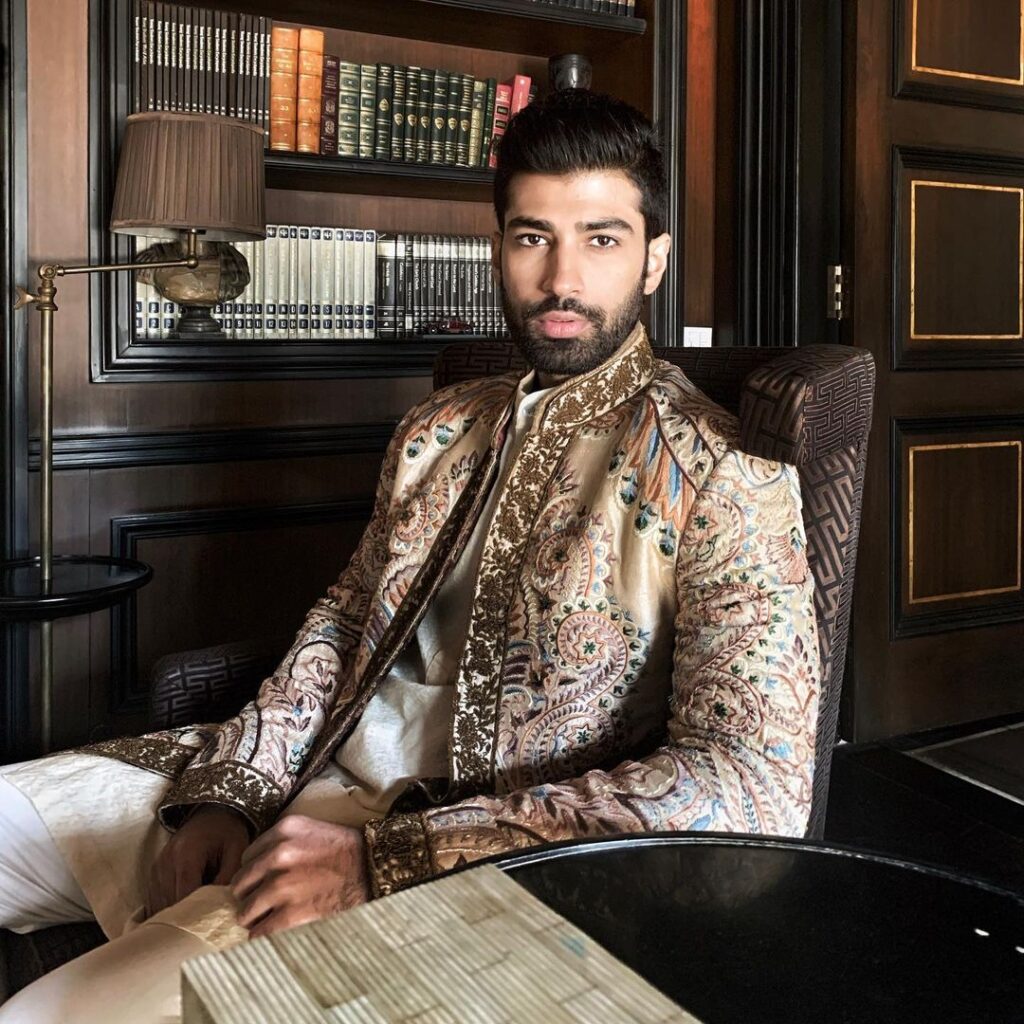 Via JJ Valaya
#5 Did you love Ranveer's Anarkali sherwani from his mehendi? If yes, and you're on a hunt for a sophisticated version of the same, here's another one by the same designer – Sabyasachi. The red jacket serves as the perfect addition to the block color combination. And also puts aside any superstitions related to black hue in wedding wear.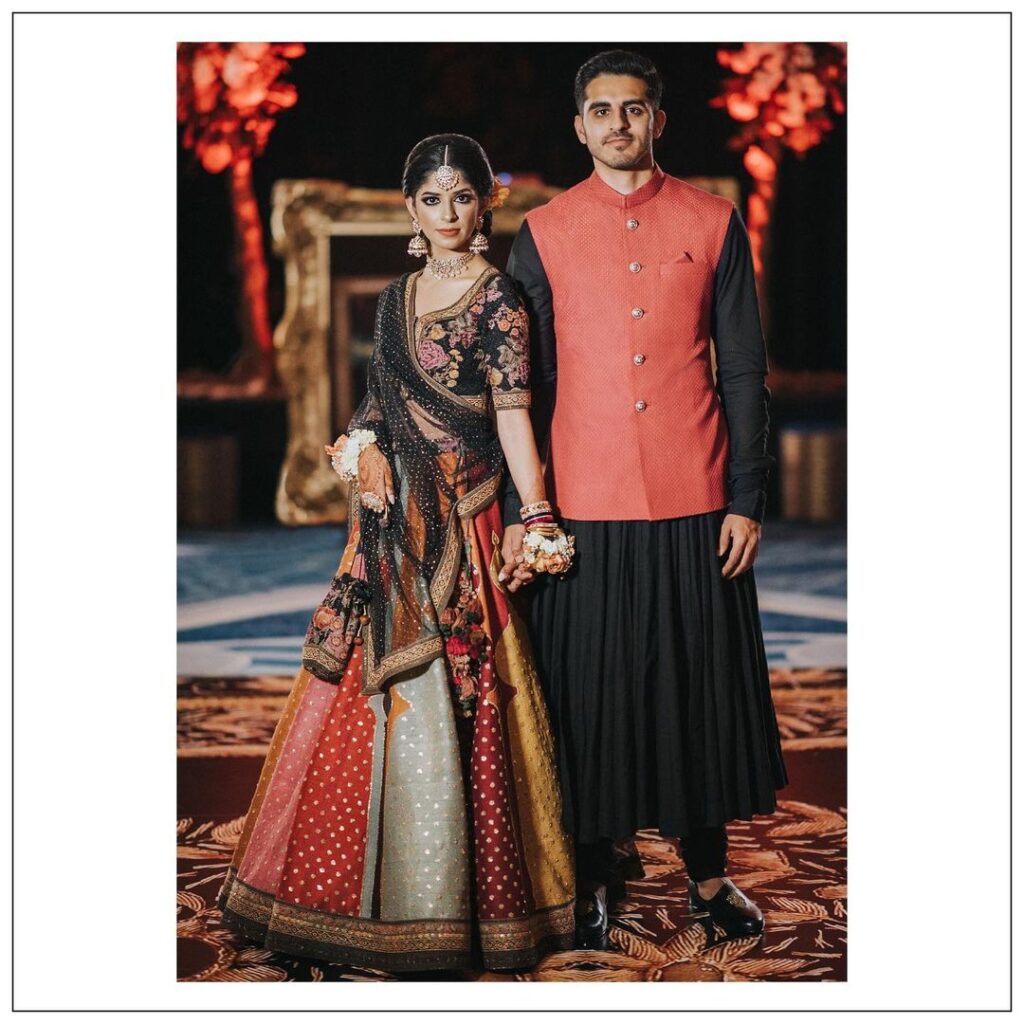 Via Sabyasachi
#6 Sequins add the same allure to men's dresses as it does to women's. An all-black look with just a scintillating touch of glitter on the kurta, this ensemble encompasses glamorous, stylish, and debonair all in one. It makes for an amazing pick for an engagement outfit for men.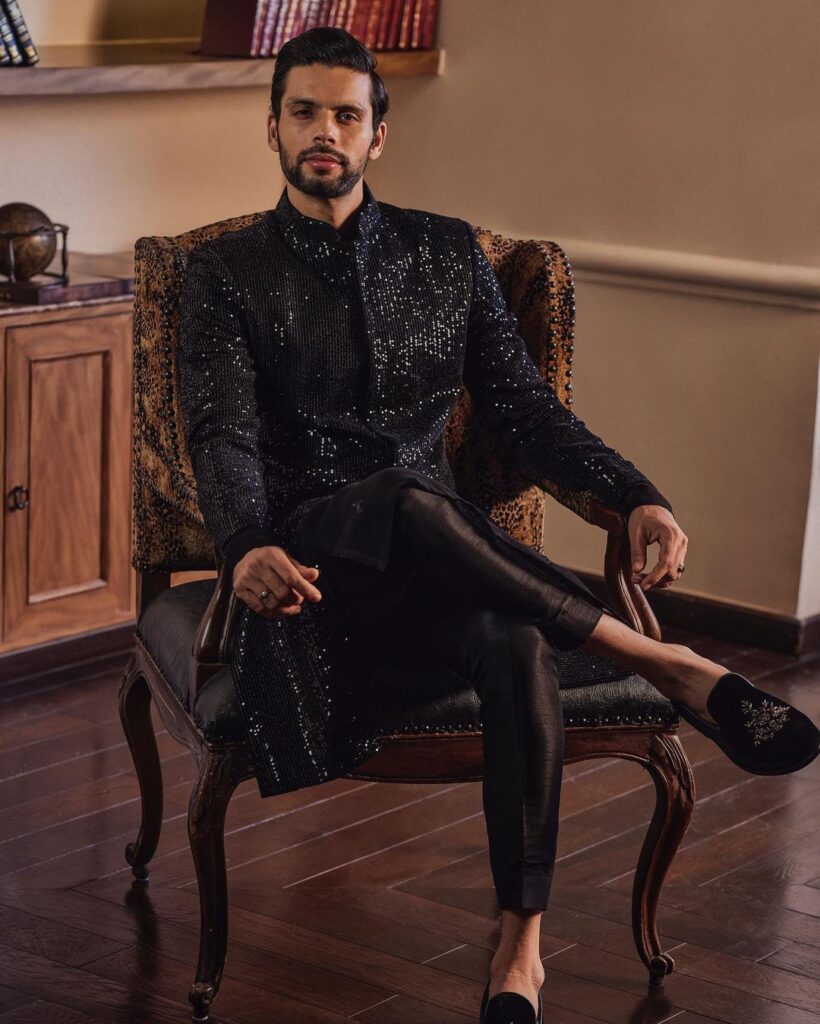 Via Sawan Gandhi
#7 Abhinav Mishra's mirror work charm can be relished by both men and women. In his 2020 collection, the designer introduced some beguiling set of men's kurtas, replete with his signature glint effect. Whether your roka party is planned during the day or night, a mirror work outfit is a foolproof choice for both. Immerse in the virtual AM couture world here.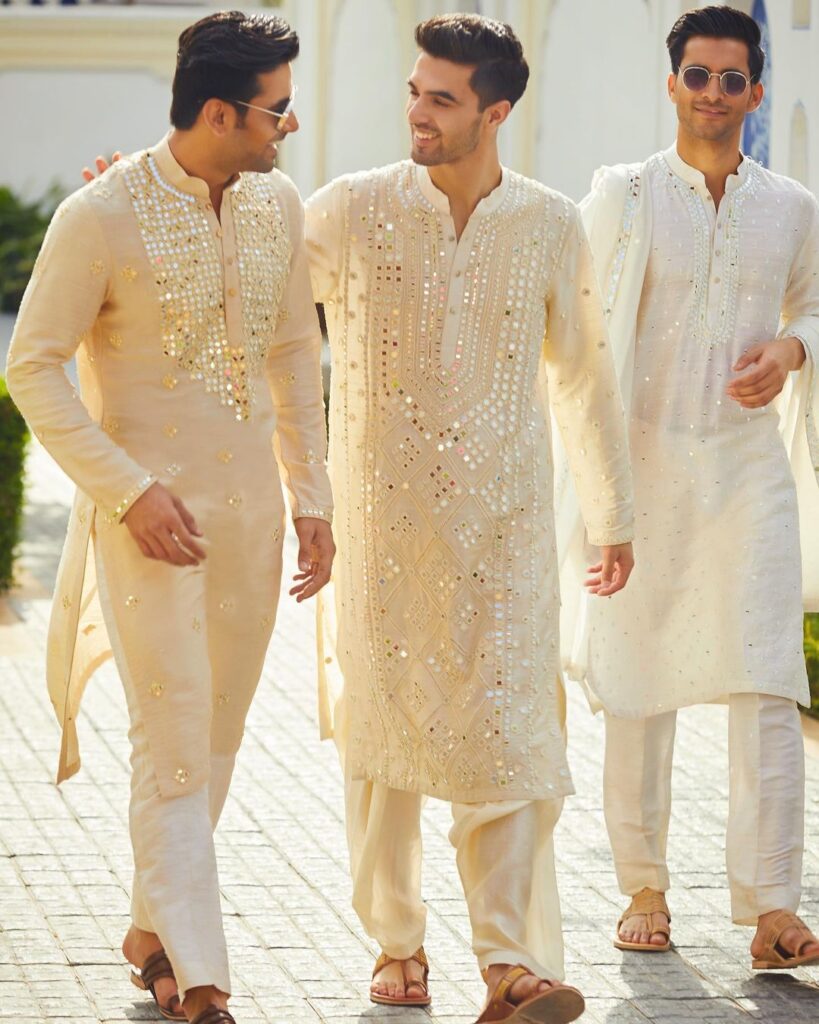 Via Abhinav Mishra
#8 Engagement dresses for men need to reflect a sophisticated, charming, and chivalrous appeal, and Manish Malhotra's designer menswear collection aligns with the same attributes. This lilac sherwani set with a debonair silhouette and a seamless stole from MM's collection is all you need to dazzle at your roka. Make sure the bride isn't wearing a bright shade, like yellow or hot pink though, and save yourself a couple of wardrobe malfunction.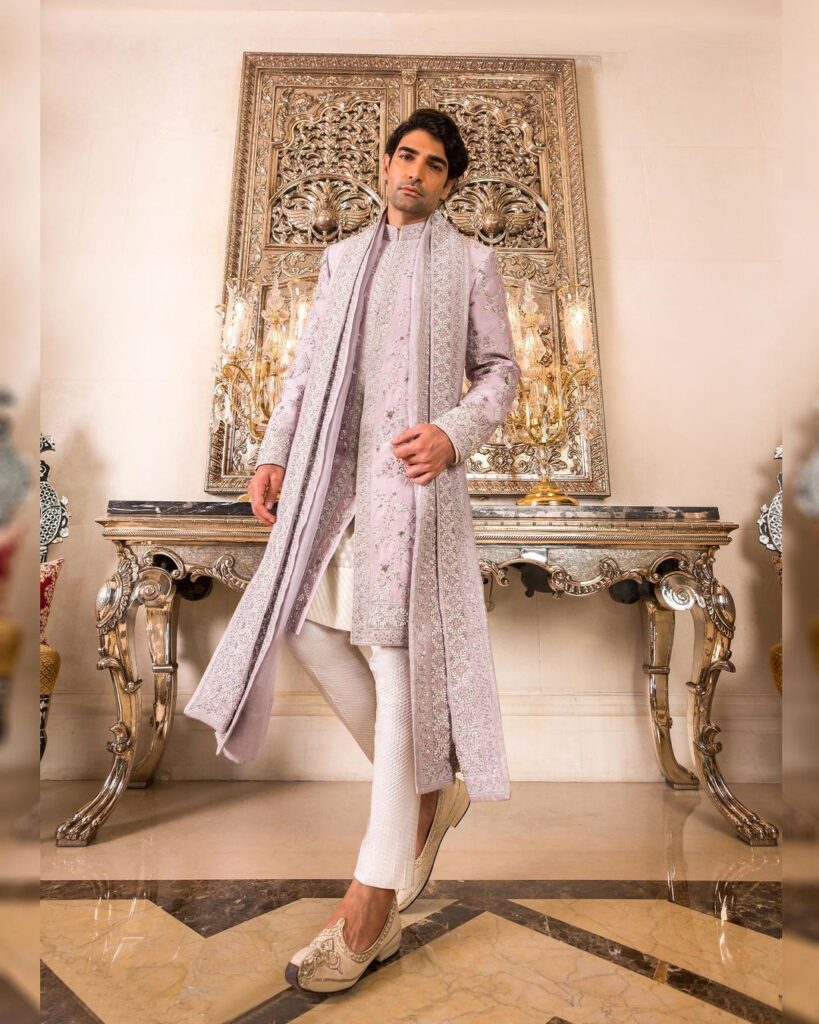 Via Manish Malhotra
#9 Grooms, the best way to jazz up any Indian outfit is to add an eye-catching stole to it. And to convince you of its a winsome appeal, here's Karan Johar donning the merger at a B'town party (where else). While the director houses many attractive menswear pieces in his wardrobe, this one was the most apt for a list showcasing engagement dresses for men.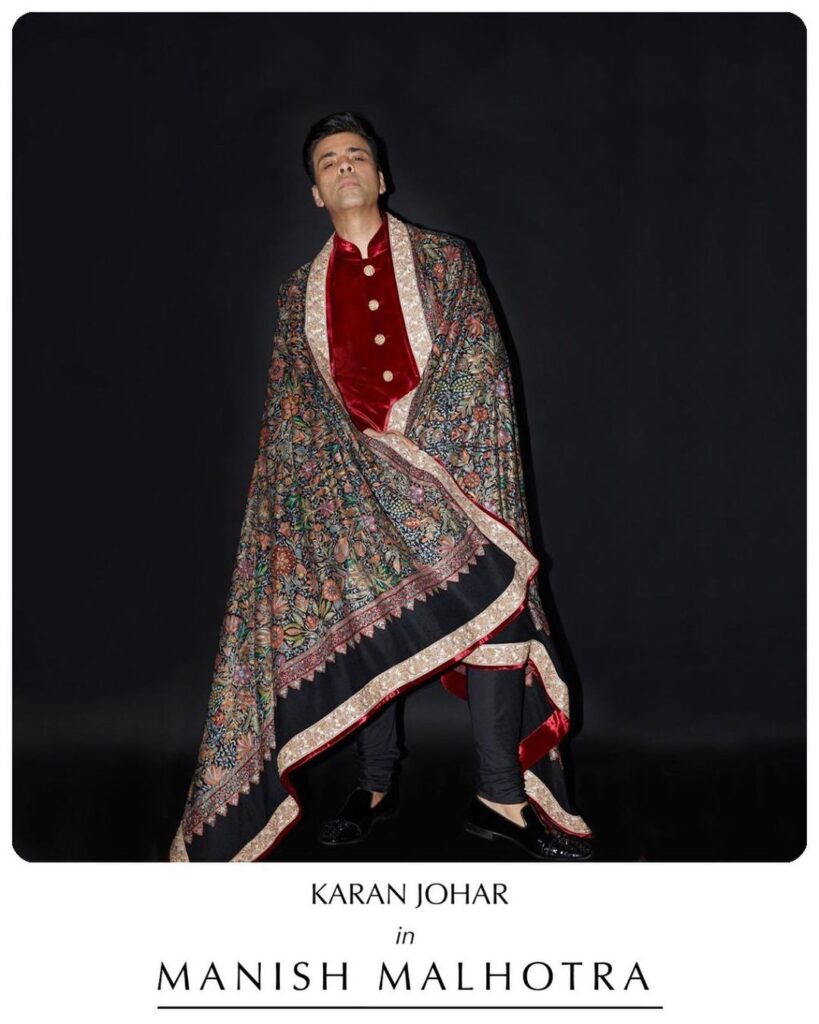 Via Manish Malhotra
#10 Regardless of what your style is, a tuxedo can certainly fit into it. And at least one of them makes a safe abode in every groom's wardrobe. Here's a suave one from Manish Malhotra's line, but you can easily procure an appealing one like this by getting it stitched from your trusted masterji.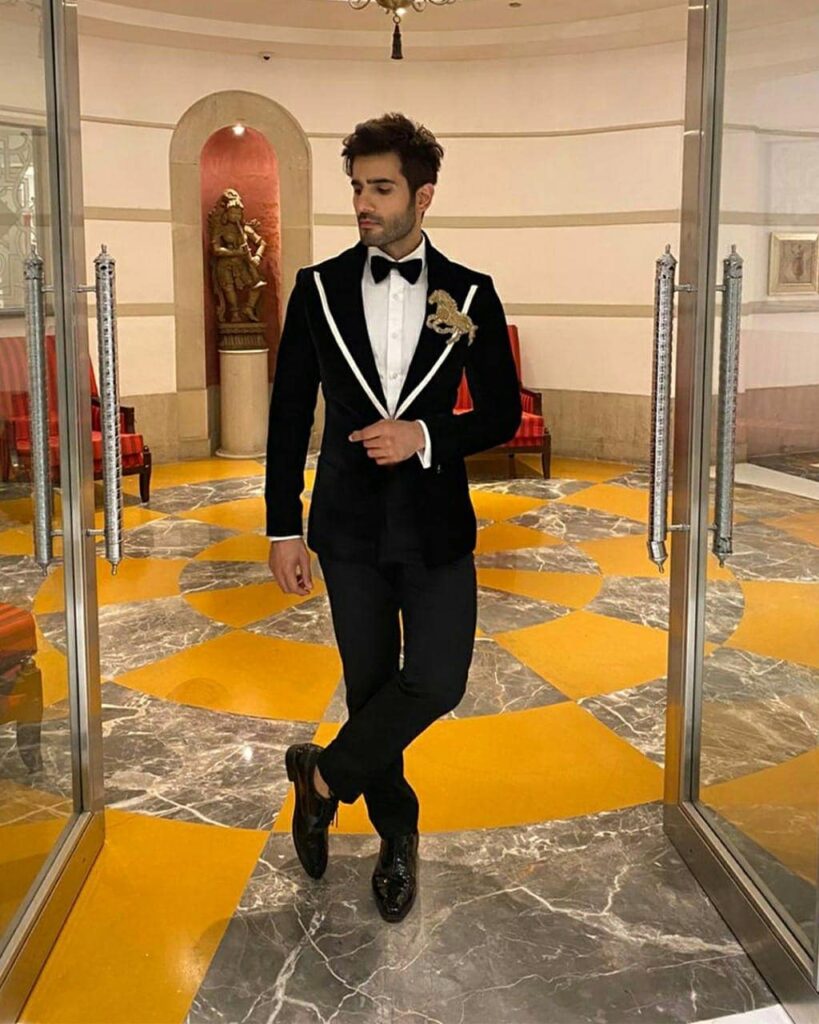 Via Manish Malhotra
#11 Want to keep it casual but not so simple. Then a velvety open zipper jacket with a drape kurta will win your heart. And if you have a dear nephew, twin with him. It makes for a stylish yet comfortable Indian men designer wear apt for the evening and indoor wedding ceremonies.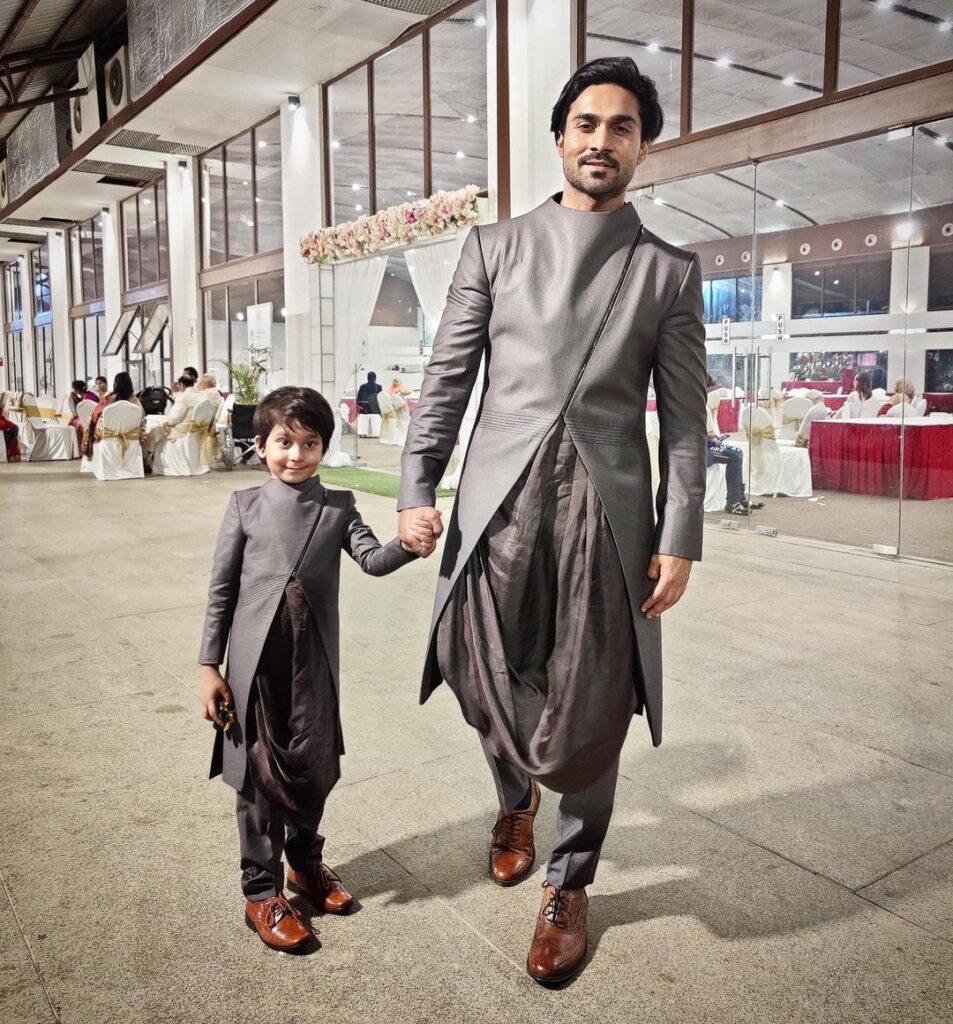 Via Panky Soni
#12 Yet another modish option for grooms with an inclination towards donning the latest styles. Pink is a favorite for brides on their roka, so an engagement outfit like the one pictured here would coordinate you two well. The flared kurta has become quite common, so if you know a good tailor, you can get the outfit stitched by him/ her.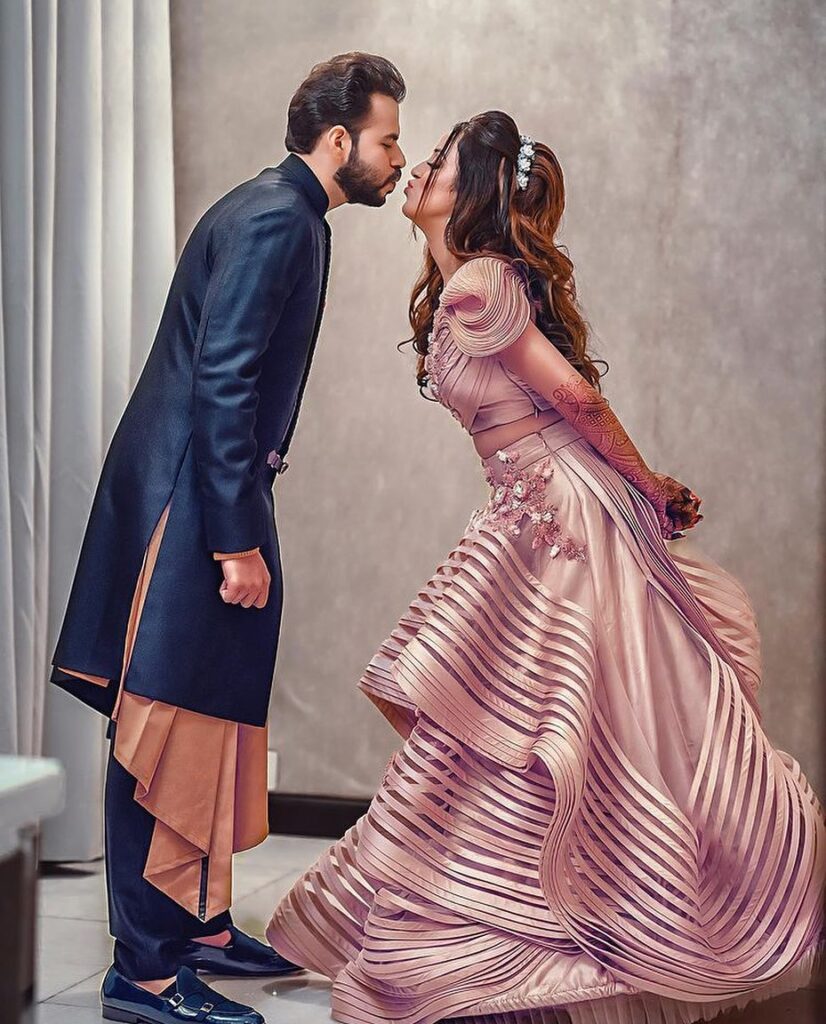 #13 Summers are around the corner and so is the summer wedding season. And when it comes to choosing a wedding dress for men in summers, grooms often gravitate towards cool, warm shades like blue. And brides towards yellow. These two can make for an aesthetic combination, as you can see. So go ahead with this pick without thinking twice.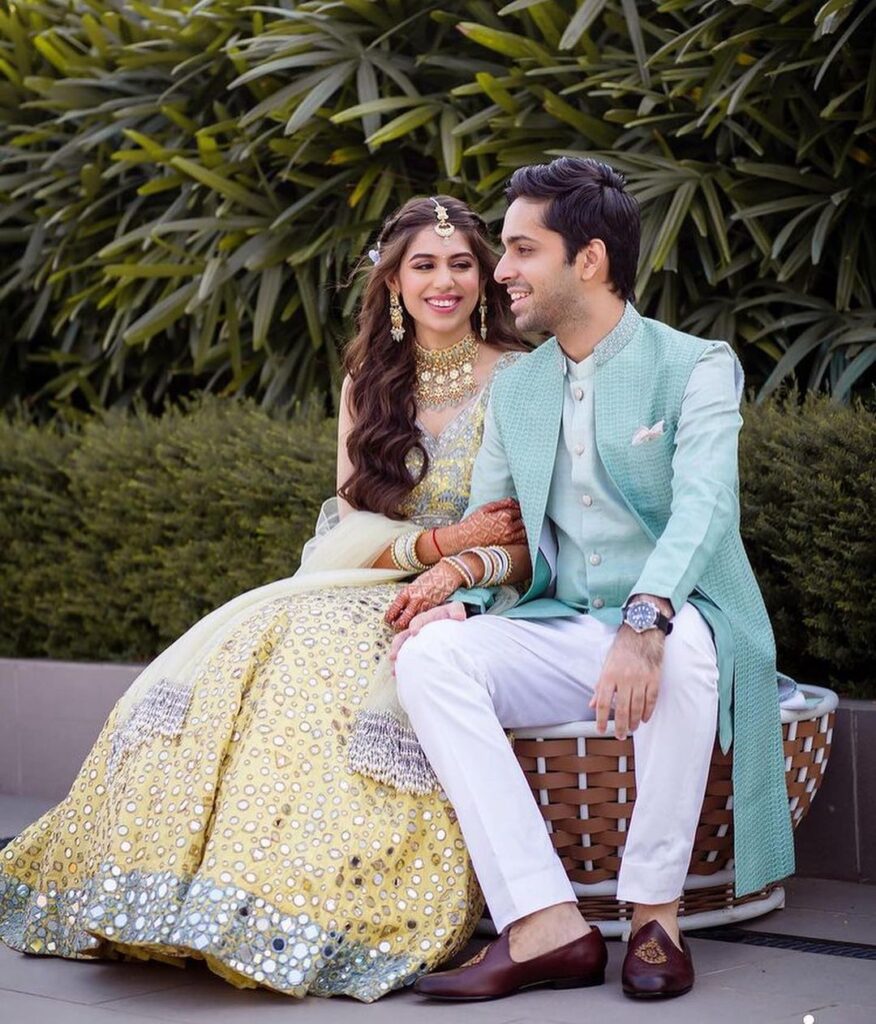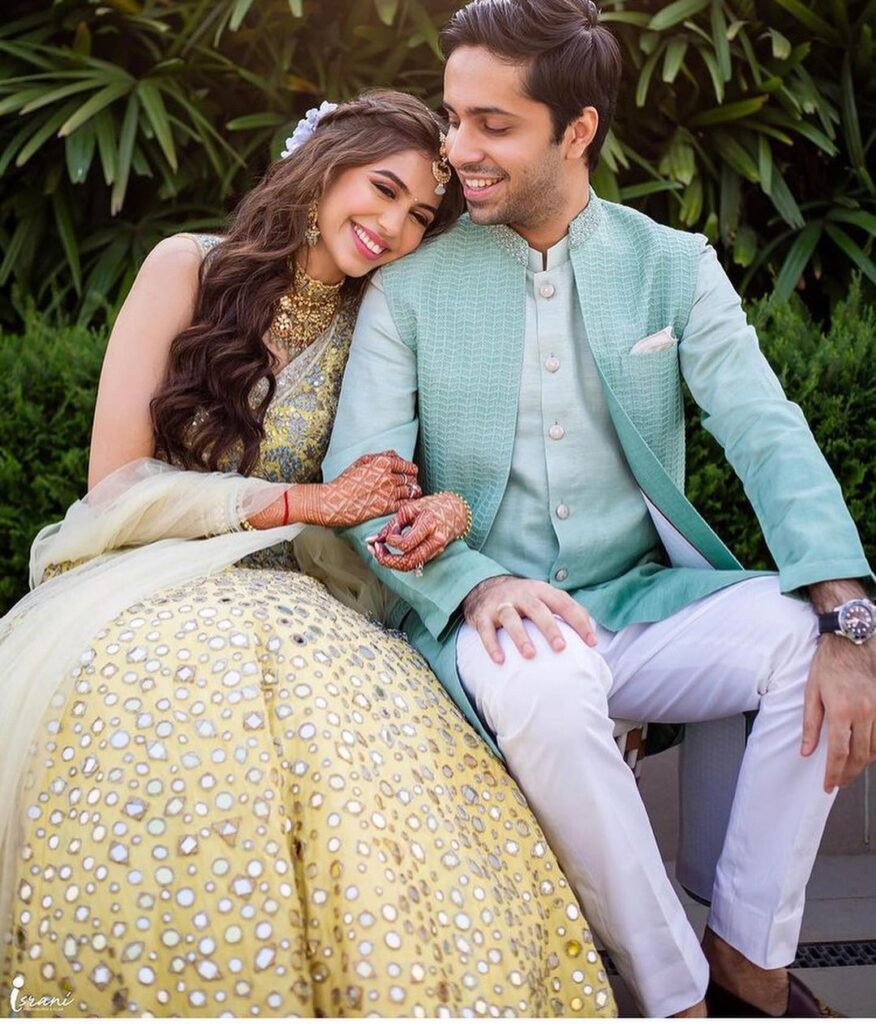 #14 Skeptical of an Anarkali kurta and nonetheless want to give in to the trend? Team it up with a knee-length sherwani instead of a jacket. So you can subtly indulge in the voguish fashion idea without feeling conscious. Keep the front open if you feel comfortable.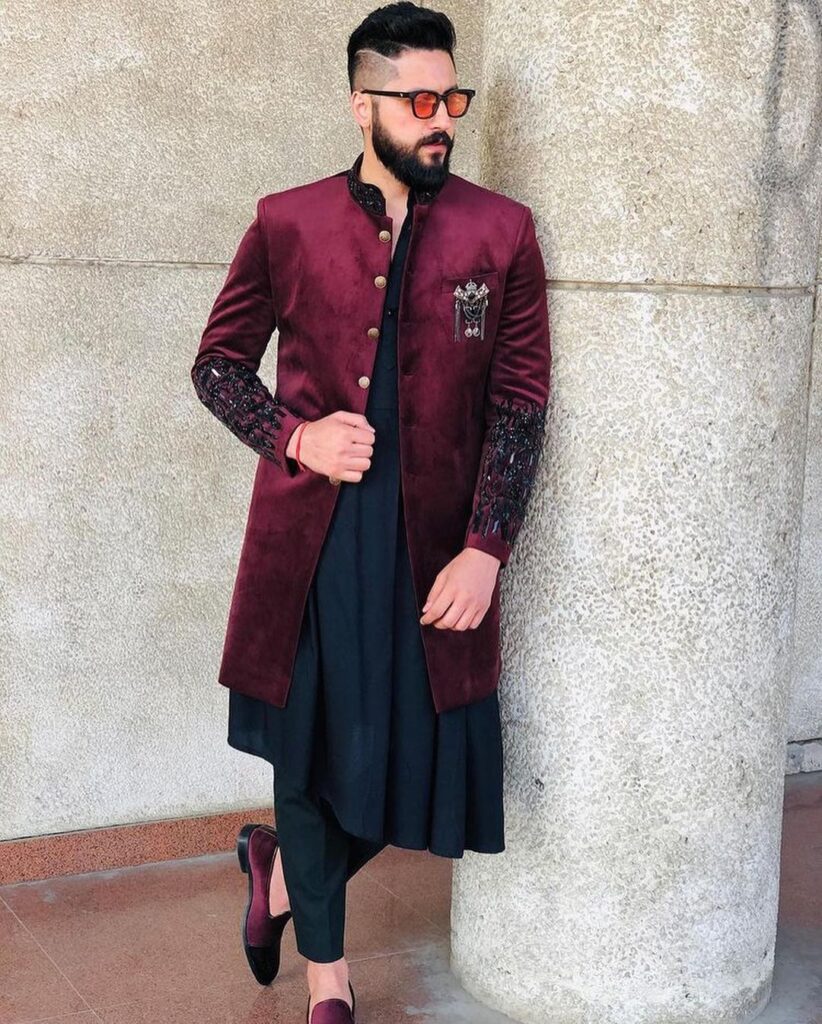 Via Vinay Rana
#15 Just like a white kurta has become a staple in every woman's ethnic wardrobe, a black kurta pyjama has become a staple in a man's wardrobe. Add a fun twist to this modest combination by teaming it up with a vividly printed satin shirt and you have a budget engagement outfit all ready to don.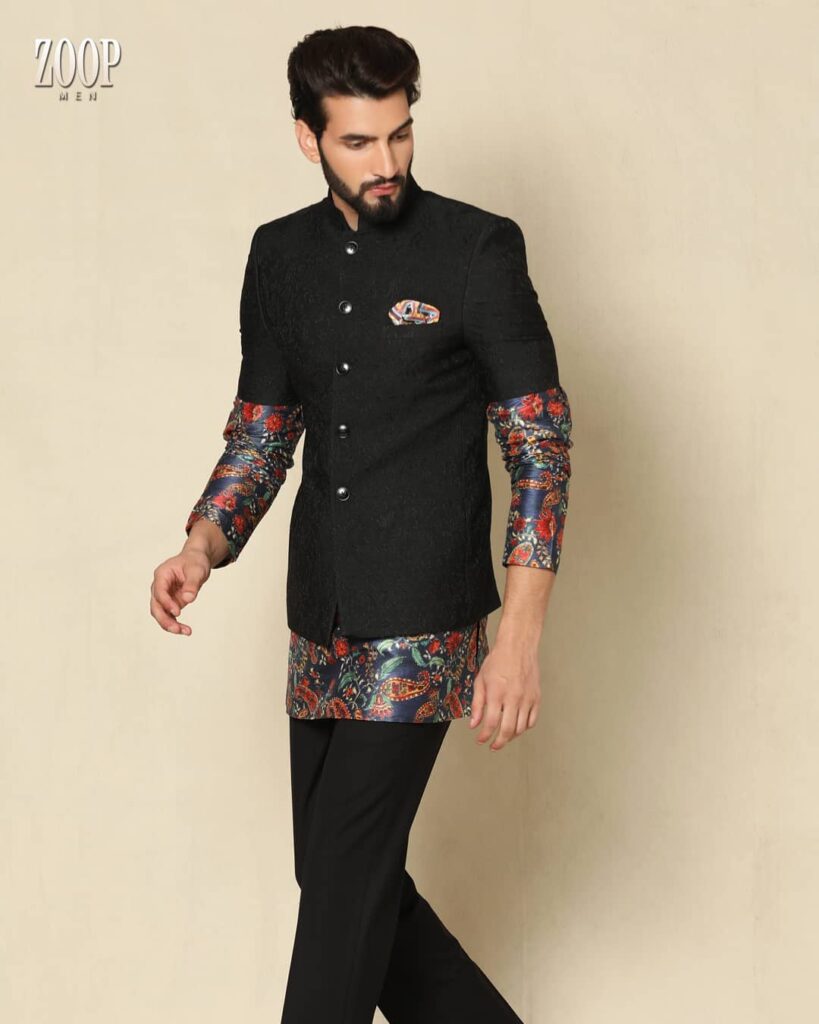 Via Zoop Men
#16 Ranveer Singh's flamboyance is known to all. And his go-to designer to match his levels of quirk in the clothes is Manish Arora. While most of his wedding looks were relatively understated, the one that reflected his maximalist style the most was at the Mumbai party his parents hosted for the newlyweds. The longline jacket with fitted pants featured Arora's signature exuberance and motifs like glow-in-the-dark hearts. While taking inspiration from Signh's wardrobe isn't for the faint-hearted if you do choose to go for an outlandish outfit, make sure you carry it with as much confidence as he does.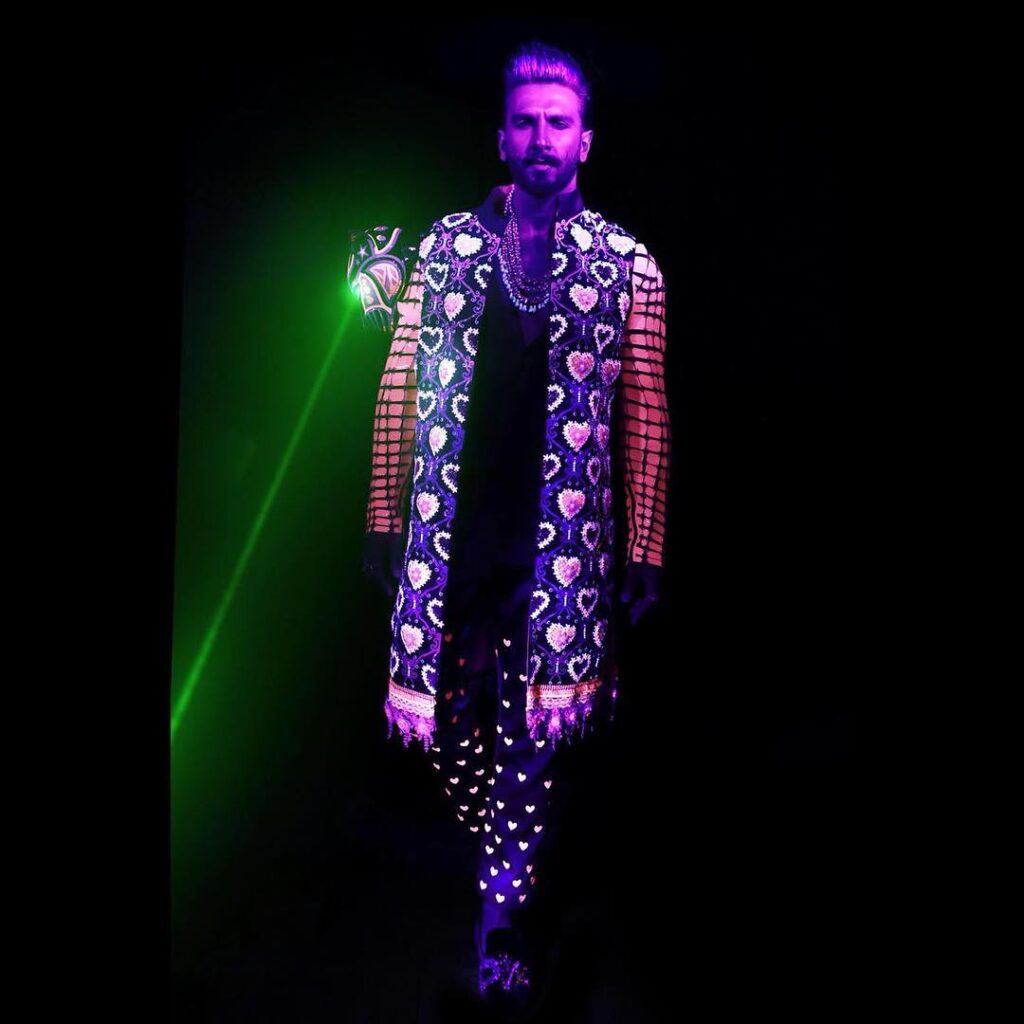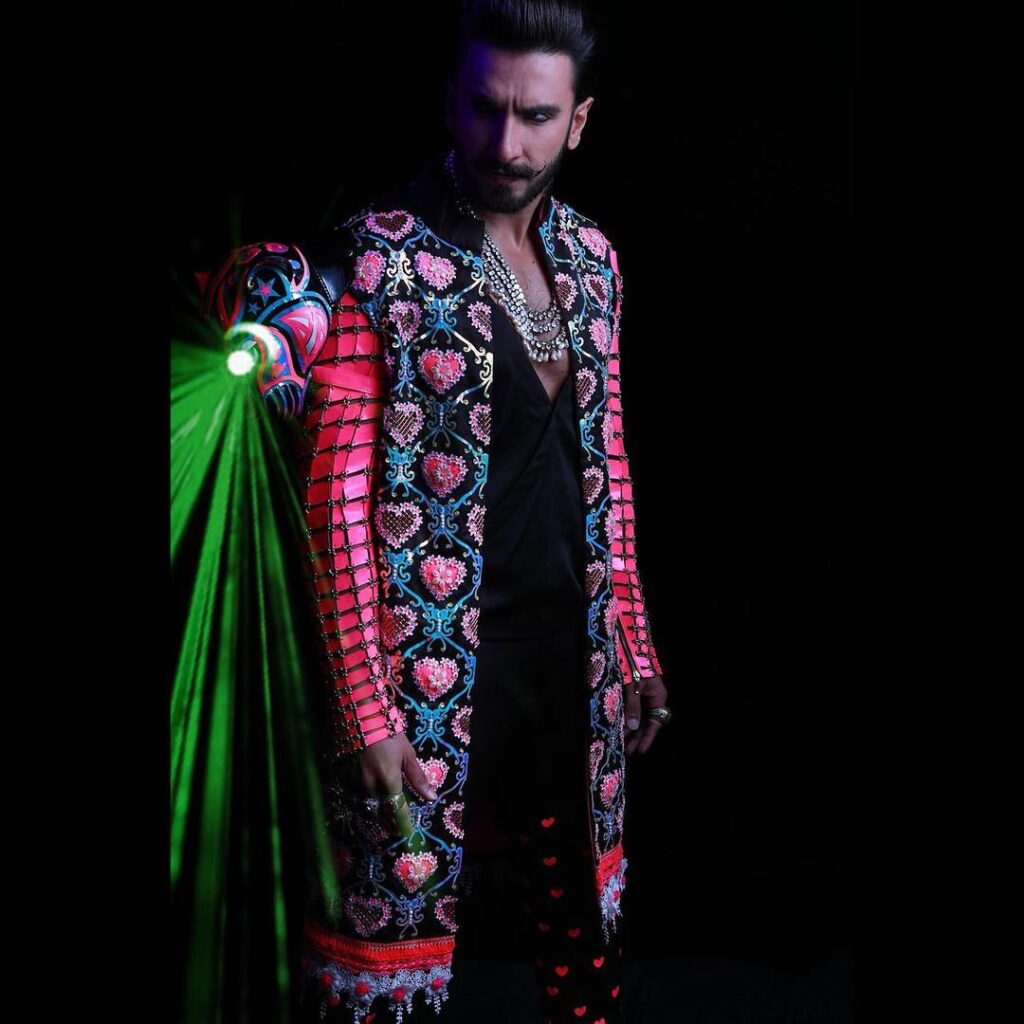 Via Manish Arora
#17 Among the sea of engagement dresses for men, a traditional one always stands out. Adorned with intricately embroidered motifs of peacock, elephant, and deer and so beautifully designed, does a conventional menswear outfit get any better than this? We don't think so!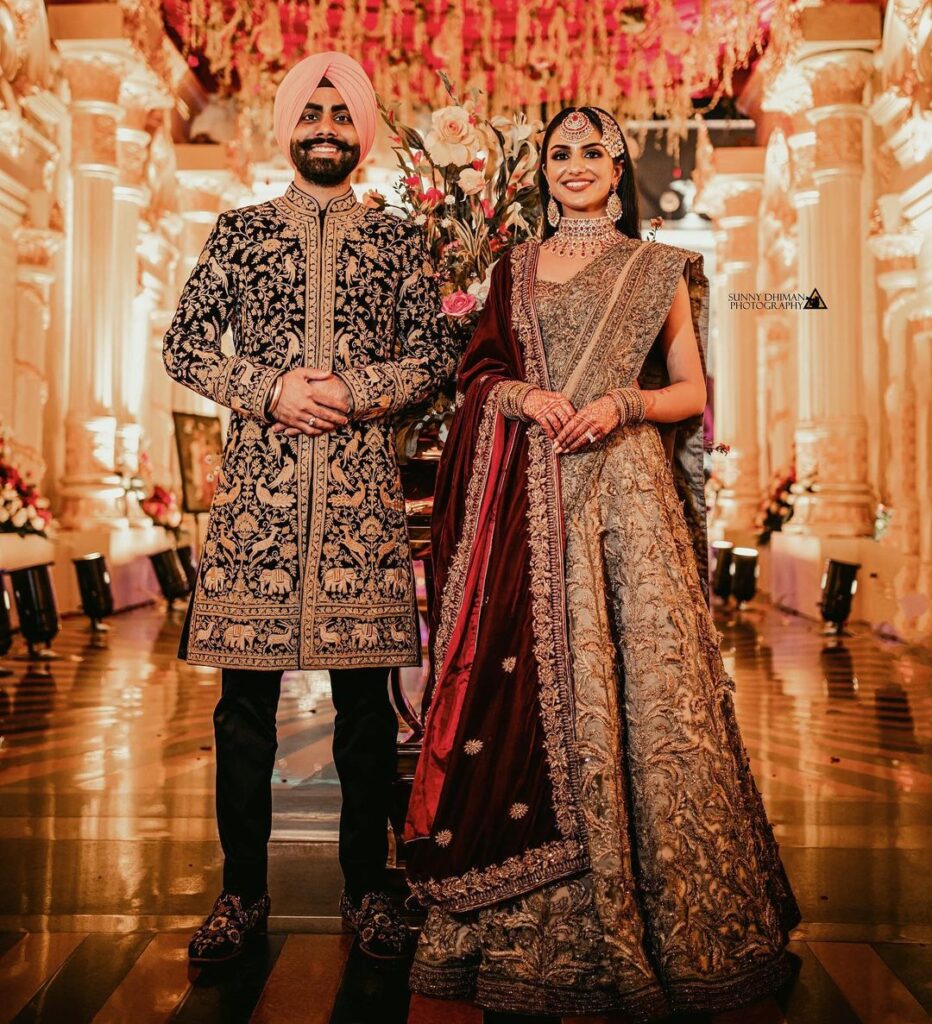 #18 Shantanu & Nikhil's couture is known for its fluid fabrics, contemporary designs, and high-level craftsmanship. The unique blend is what gravitates brides and grooms towards them during their shopping spree. Featured here is a bandh gala sherwani with asymmetrical kurta and churidar from S&N's 2020 collection. A versatile piece like this would for a superb engagement outfit now, but also for any other events down the road.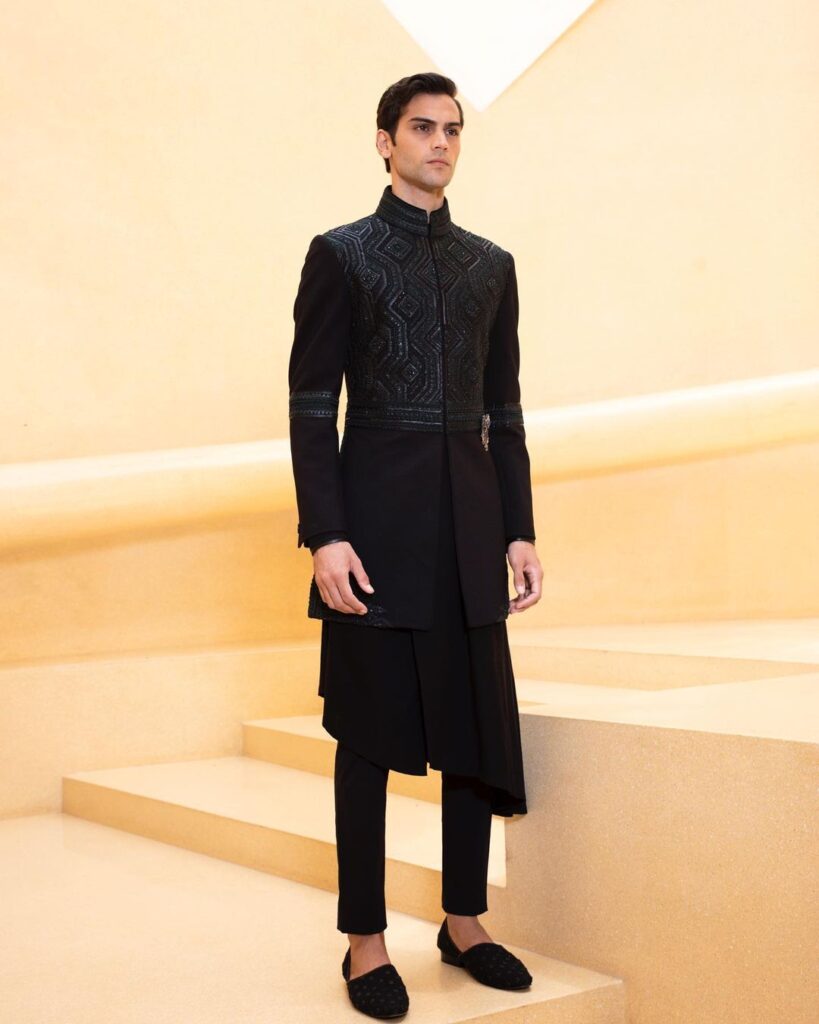 #19 Indian cricketer Yuzvendra Chahal married Youtuber Dhanashree Verma in December 2020. The wedding revelries kickstarted with an engagement ceremony with the bride and groom coordinated in beautiful cupcake hues for the event. If your missus-to-be is a fan of pastels too, she'd be quite impressed with your choice. Safe to say, this attire will gather all the attention from the wedding guests and extra loving from your bride.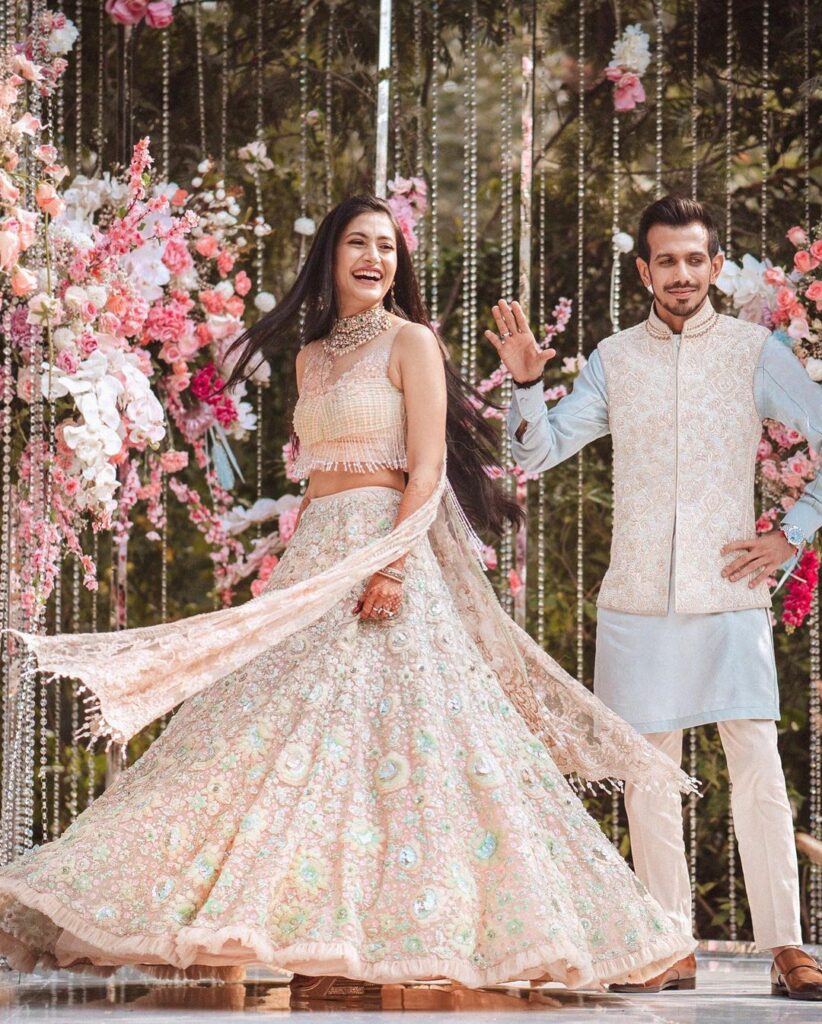 Via Tarun Tahiliani
#20 Go smart and stylish on your engagement ceremony with this urbane tux from couturier Gaurav Gupta's 2020 ICW collection. The unique pattern on a coat with velvet trousers is a sure way to stand out on your special day. If you can convince your bride-to-be to wear an evening gown, trust us, people would be staring at the spectacular coordination through the event.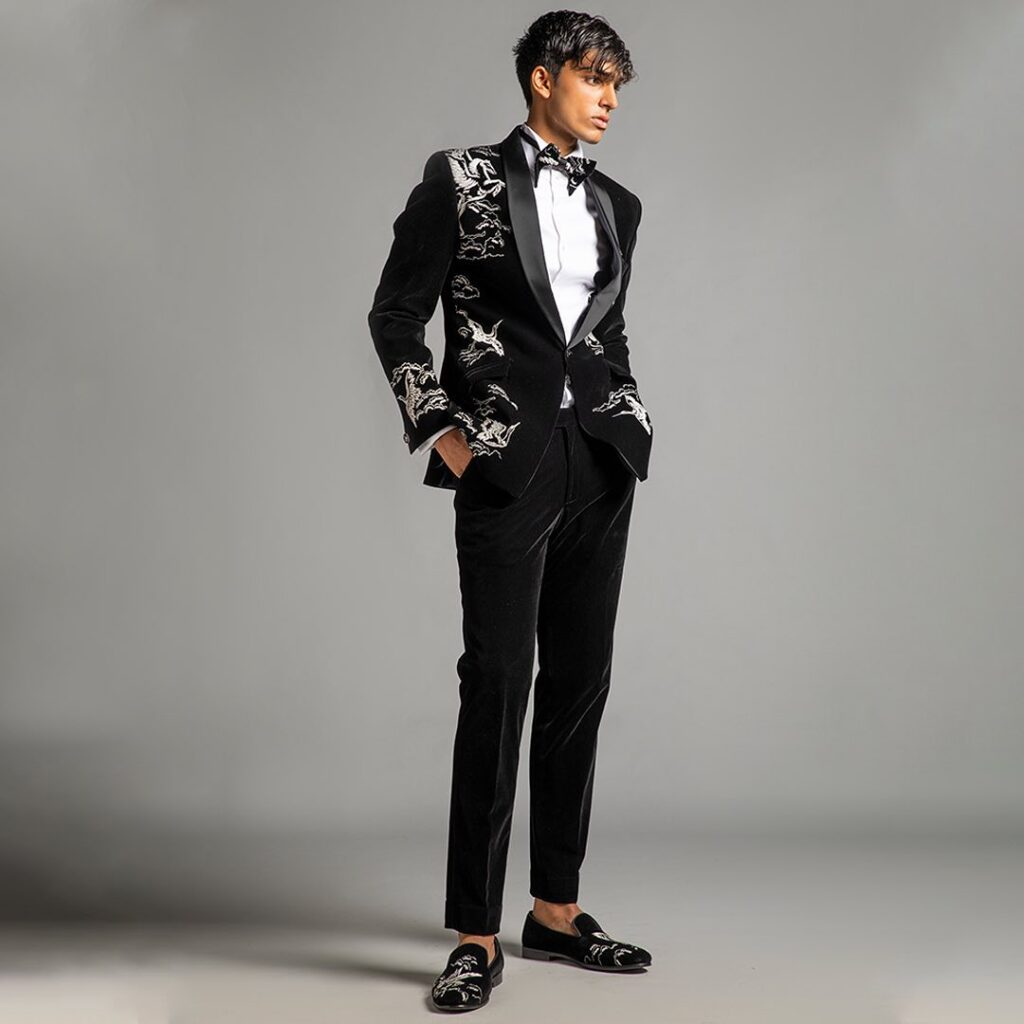 Via Gaurav Gupta
#21 There's absolutely nothing to not love about Shalini's gorgeous wedding, including the designer outfits on the groom. For their cocktail event, Rishi was seen in a gray 3-piece suit with a bow tie and he gave a good competition to his bride that day. For an evening roka event, these two serve as the perfect inspiration for your ensemble.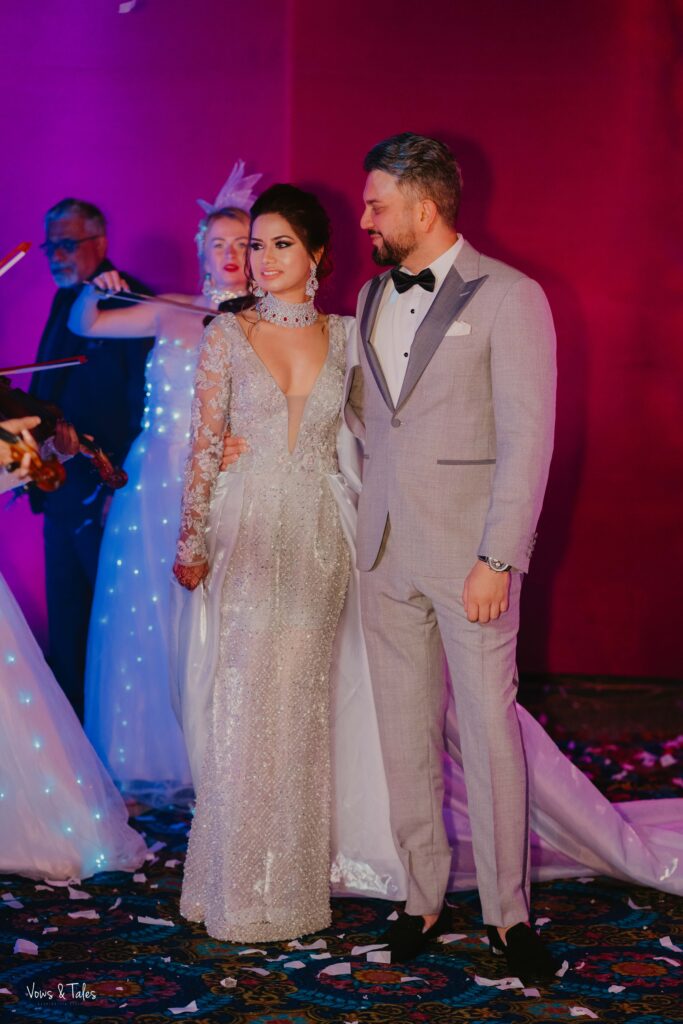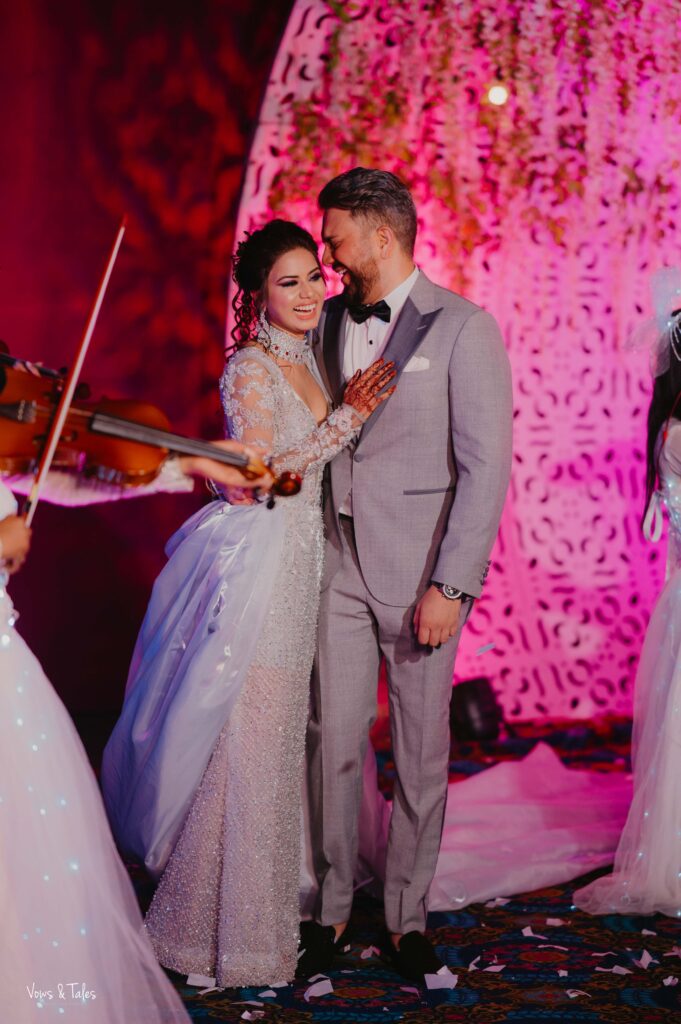 #22 Keep it minimal yet modish on your engagement with a diagonally buttoned kurta with standout embellishments and a lovely green hue. You can pair it with a golden churidar or dhoti. We'd say skip the stole and let the kurta shine for itself here.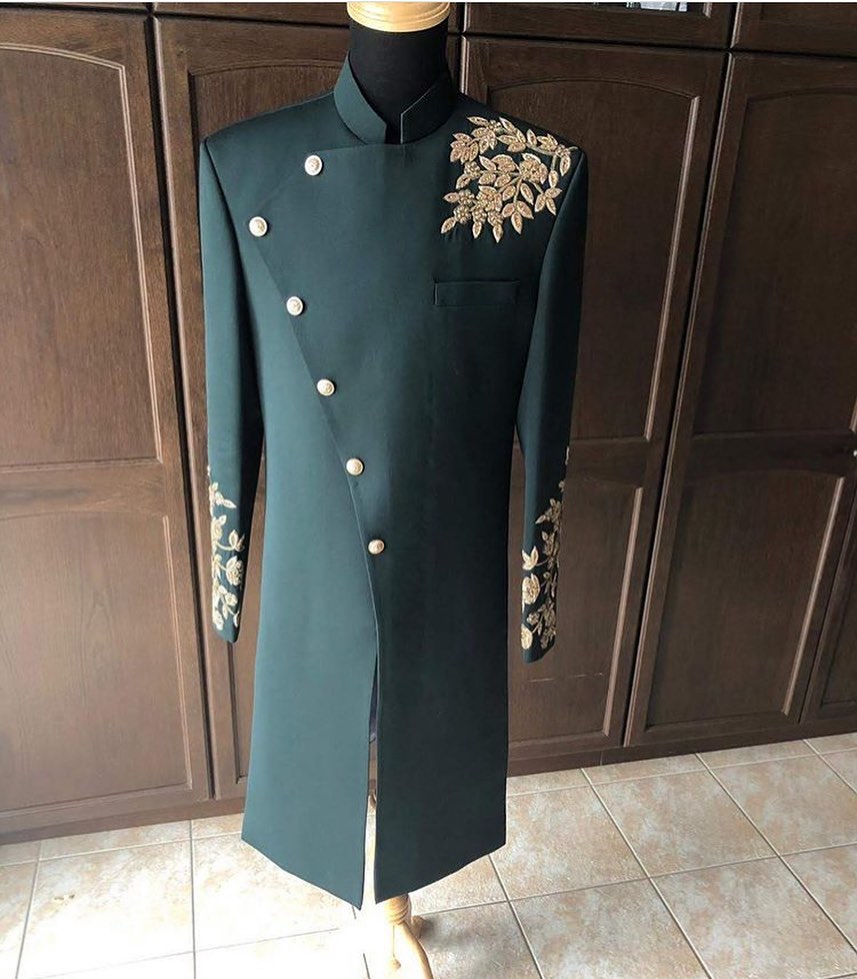 #23 There's just something fresh and appealing about a floral print. Here's a groom carrying it with perfection on his mehendi day. Although you can easily pick it as an engagement outfit, owing to its subtle charm and glamour.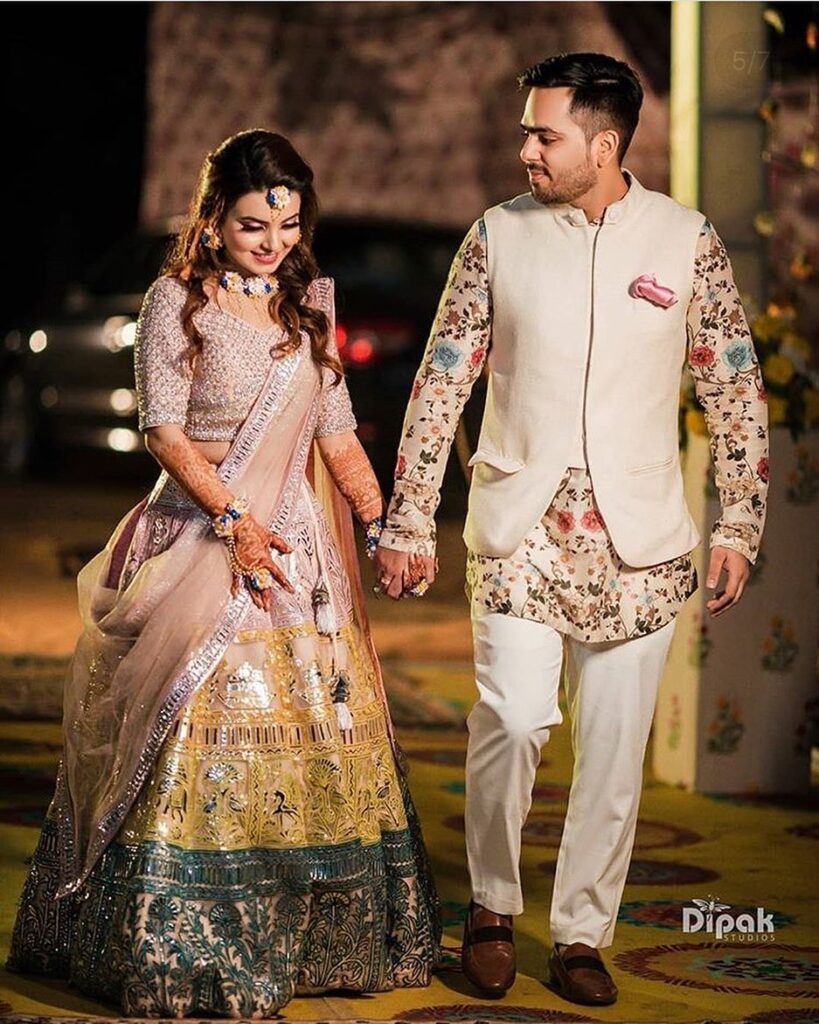 Via Dipak Studios
#24 Anita Dongre's outfits often follow a simple formula: elegance blended with effortless and heritage handlooms. This aesthetic shoot picture represents the same. While the lady is clad in a red timeless saree, the groom dons the same hue with a touch of gold in his outfit. If your engagement outfit aligns with AD's couture mantra, bookmark this snap right away.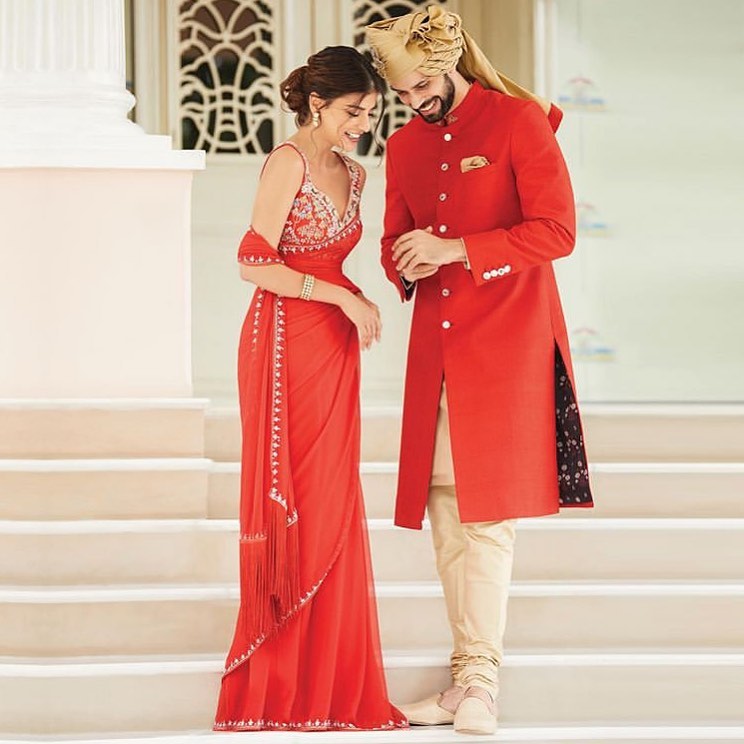 Via Anita Dongre
#25 A summer wedding approaching soon? Then these cotton printed angrakha sets topped with standout jackets will win your favor. Although, we'd advise you to carry them only if it's a day outdoor event. But if you're having an evening function and want to carry the same style, just switch the cotton angrakha to a suede velvet and you're good to go.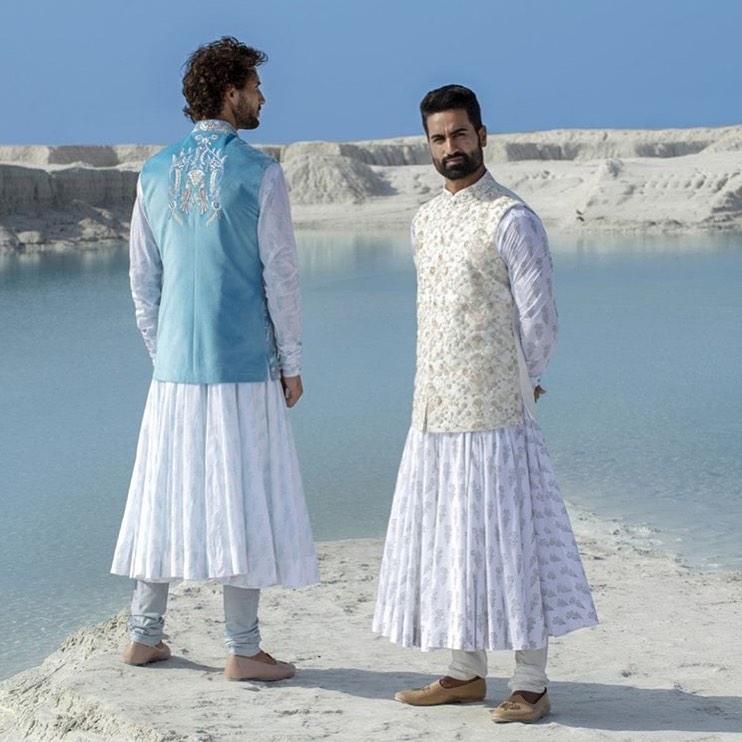 Via Purusham
#26 Here's a minimalistic groom who carried off his style statement with royalty and perfection. If you're minimalistic too, then a traditionally printed kurta with churidar is a superb option. Pair it with a dashing watch and a neat look to amp up your look further.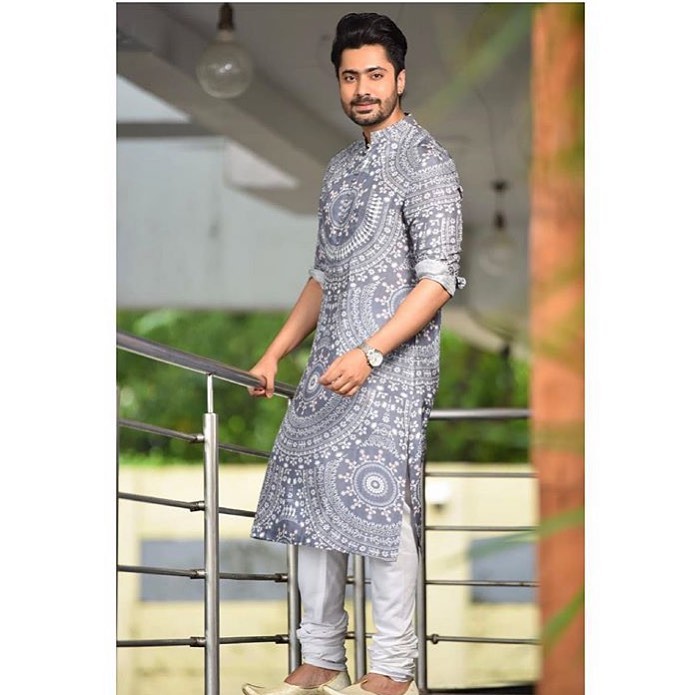 Via @devrnil
#27 Because quirky details make all the difference sometimes. The distinctive paint-drop print definitely makes this outfit a 'stop and stare' one. Grooms who want to dial it up a notch with the outfits, this is the one for you.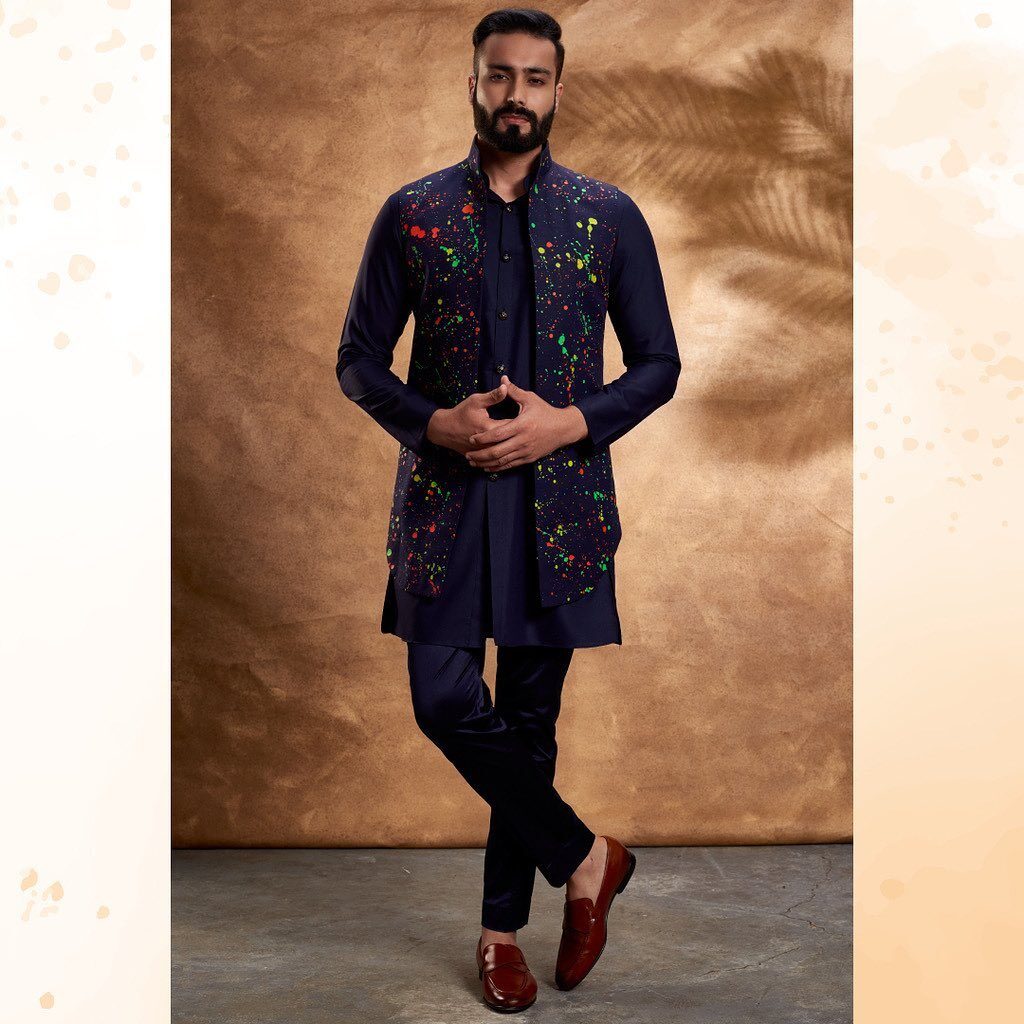 Via Arjun Kilachand
#28 The delicately intertwined colors in their ivory outfits have our hearts. The celebrity duo walked for Sukriti & Aakriti in LFW 2020 and their charming outfits were an ode to 'phulkari' art in Punjab. The embroidery, color scheme, effortlessness all makes them perfect engagement dresses for men and women.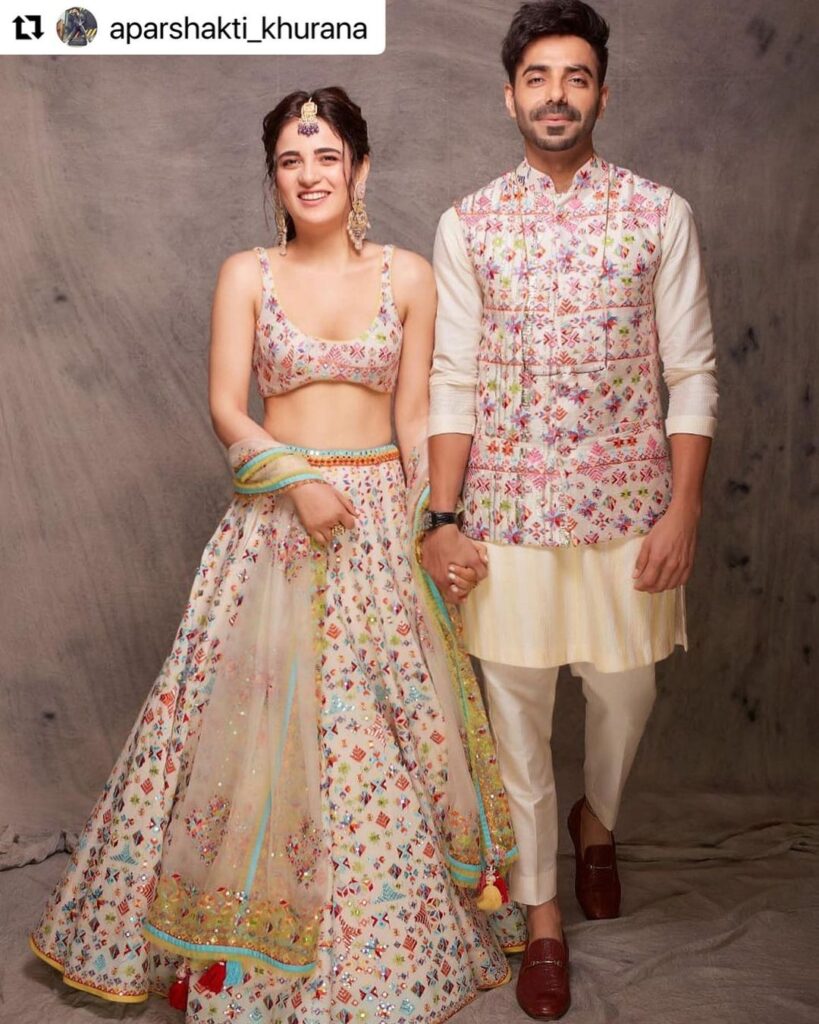 #29 This groom donned a gracious kurta-pajama set with a Nehru jacket to match his viral bride. To amp up your normal kurta set, the best way is to go for satin silk cloth. It instantly adds an occasion wear aura to the attire while keeping the effortlessness intact.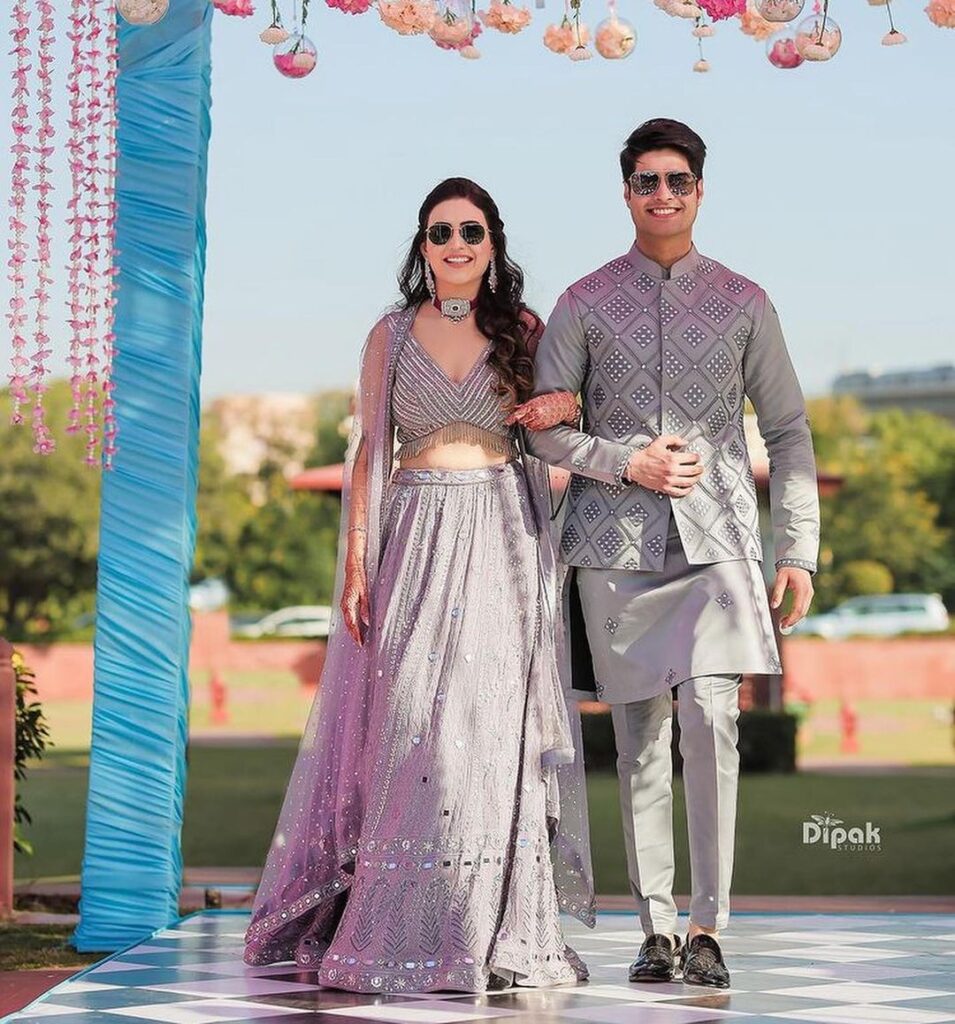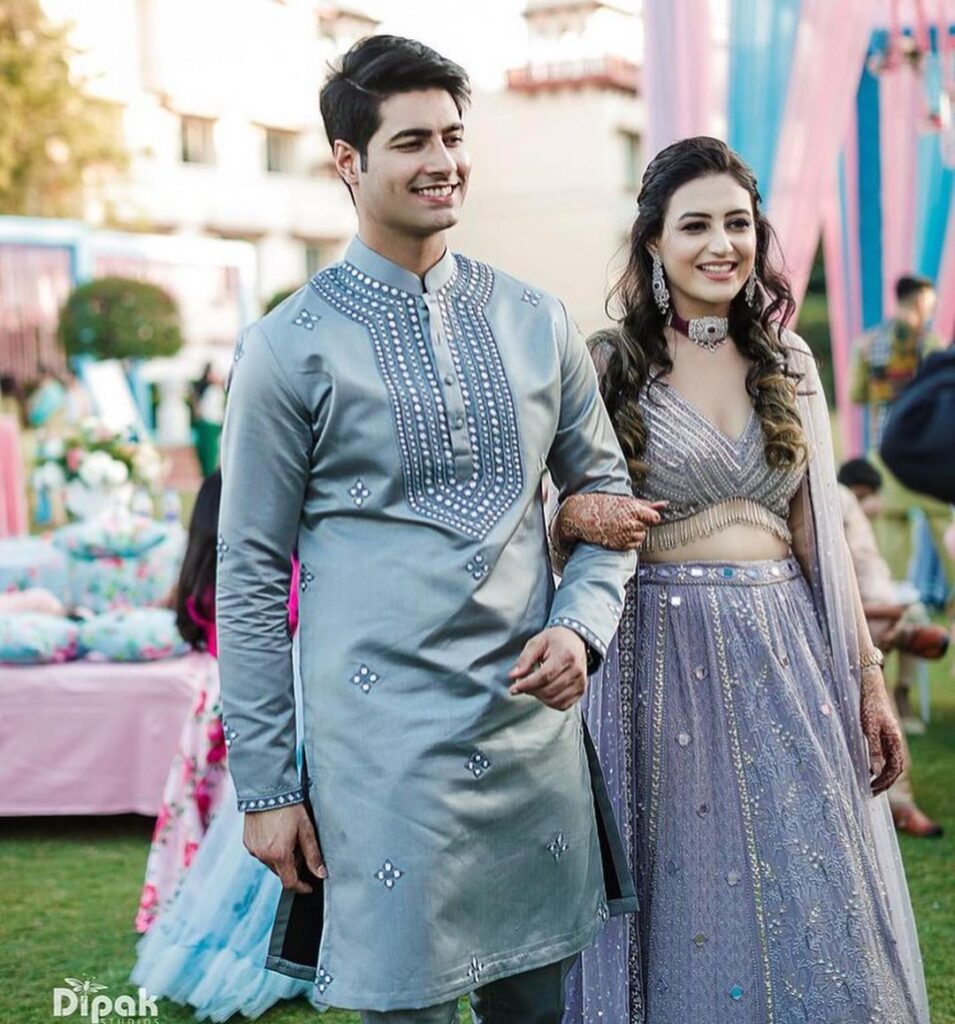 Via Dipak Studios
#30 Ending this exhaustive list with a statement 3-piece suit set. A black tux is to a man's wardrobe what a little black dress is to a woman's wardrobe. No matter how many have, there's always a place for one more. And wouldn't this debonair and notable black tux would make an amazing addition to your collection, and your wedding wardrobe?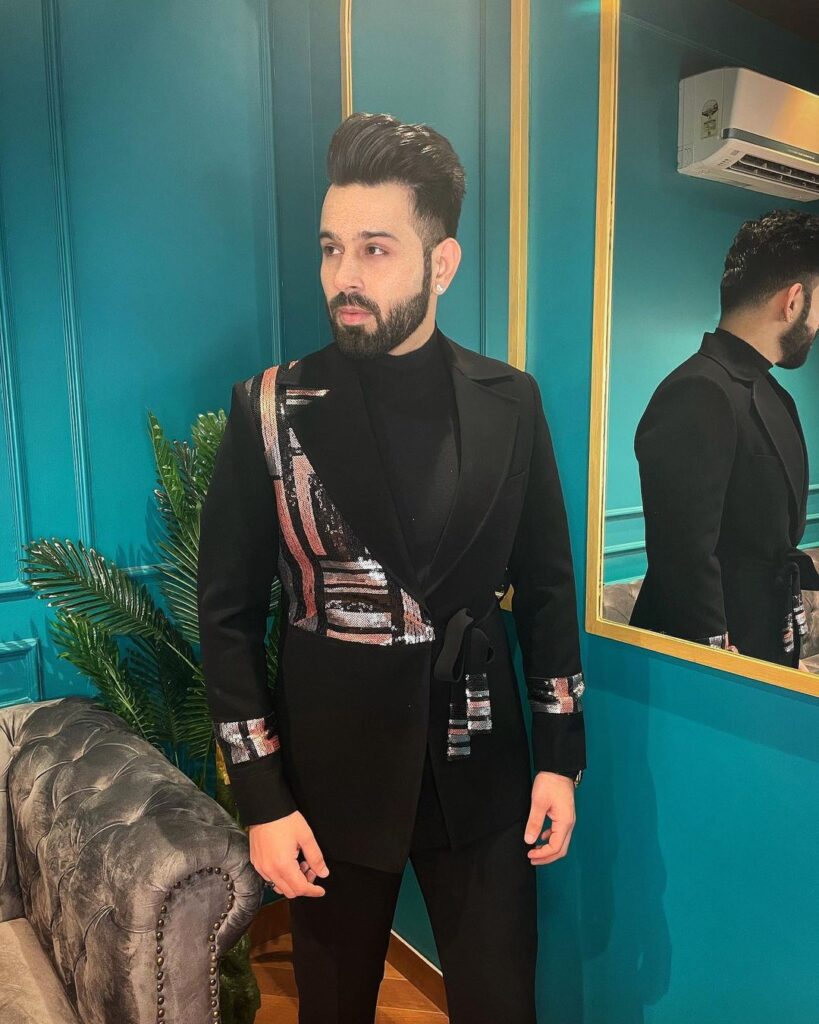 Via Mayank Chawla