Peacock motifs have graced lehenga designs for a long time. Unlike other trends that make a noise and then recede into the background, peacock lehenga designs have maintained their position as a classic embellishment since we can remember. Even today, we can see them on lehengas in every designer store. And one high-end designer who embraces this royal motif more than anyone is Rimple & Harpreet. The majority of their lehengas are replete with gorgeous peacock motifs – sometimes overtaking the entire design, other times elevating the look without acquiring a lot of space. Besides RAH, Anita Dongre's designs are often graced with peacocks. But she's known to include prints from the entire flora & fauna – swans, hyenas, sparrows, etc. We are yet to see these traditional motifs in Sabyasachi's designs. 
Peacocks don't just make for an ethereal touch in Indian outfits, but also add meaningful symbolism to your big day. In Hindu Culture, the peacock is associated with Goddess Lakshmi and adds prosperity, health, happiness, and an abundance of luck to your married life. They're also a symbol of faithfulness and loyalty – adding the perfect inspiration to your wedding. These gorgeous birds are also a sign of beauty and joy, something you'd want to carry on your special day. 
Given their heavenly aesthetic, peacocks are also a part of wedding decor and cakes. Their feathers are also kept at the wedding and are considered to bring happiness & luck to newlyweds. And if you want to carry this symbolic bird through your attire on D-Day, here are 27 peacock design lehengas that will serve as perfect inspiration.
#1 Starting off with this whimsical lehenga design that's a burst of such unique colors and catches your attention with one look. The base is pastel pink with noticeable dark shades of green and blue on top. Contrasted with an orange dupatta, this color combination makes for such a stunning design for a day or sunset wedding. Enhancing the entire creative lineup are the oversized peacock motifs, drawn in full color and lending a traditional touch to her wedding attire.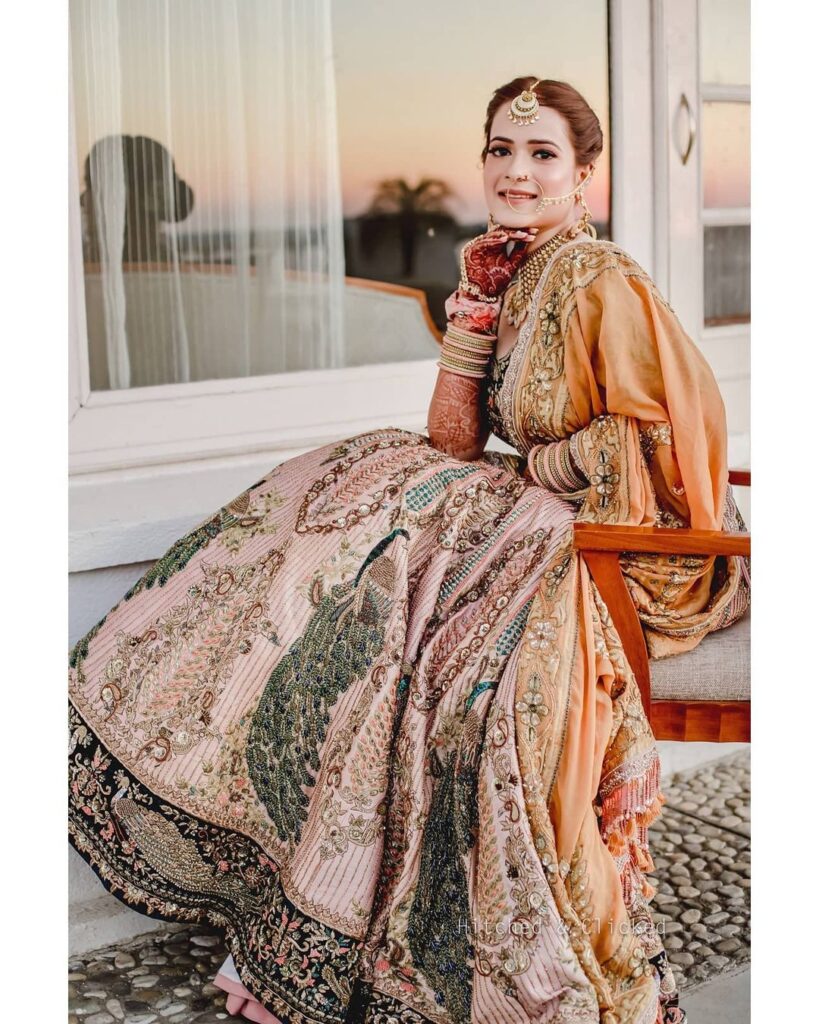 Courtesy: Hitched & Clicked
#2 Her golden lehenga designed with applique work all over is a beauty in itself. The colorful combination of embroidery adds stunning liveliness to the mix. Adorned with peacock motifs on the lower side of the attire, there's a regal touch on the lehenga mixed with the millennial vibe. The bride paired her lehenga smartly with open waves, minimal jewelry, and a dewy base characterized by statement eyes to create an ethereal inspiration for brides-to-be.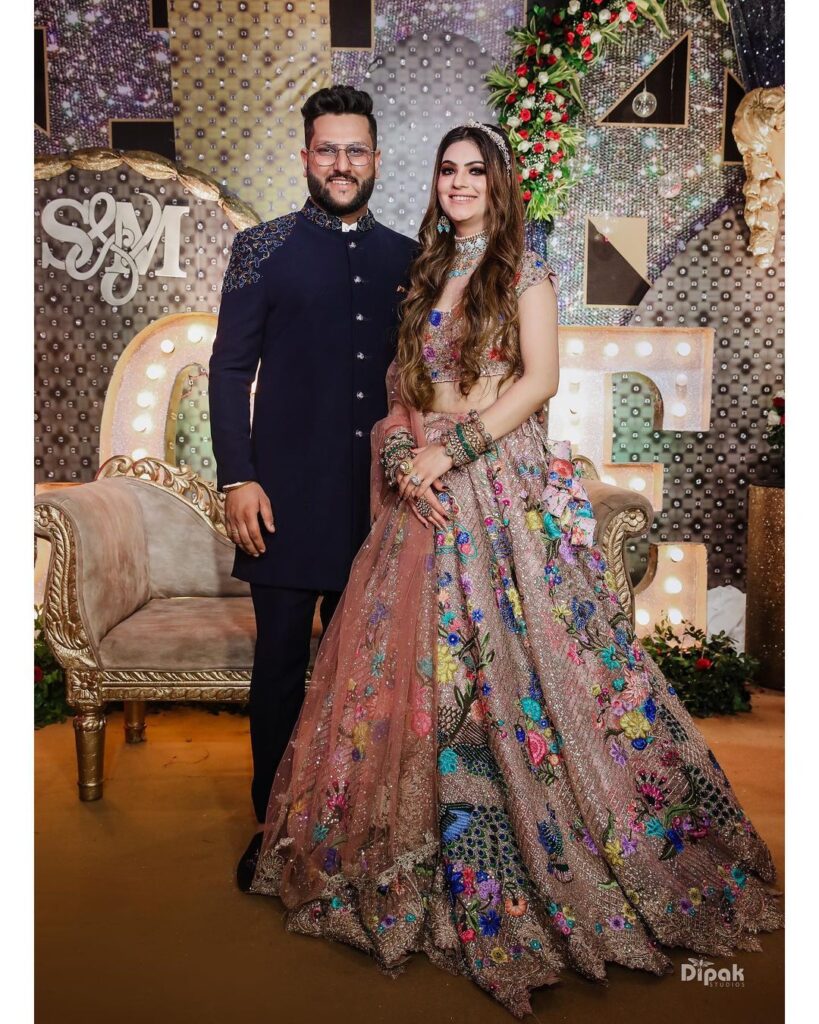 Courtesy: Dipak Studios
#3 If a minimal aesthetic is your idea behind the wedding ensemble too, here's a bride that will resonate with your wishes. She wore a light pastel pink lehenga on her big day that was daintily embellished with intricate embroidery on the border, and geometric patterns with peacock motifs all over. Even the sleeves of the blouse have a motif of our Nation Bird on them. Teaming up with simple jewelry and natural makeup, she really kept true to her minimally elegant vibes.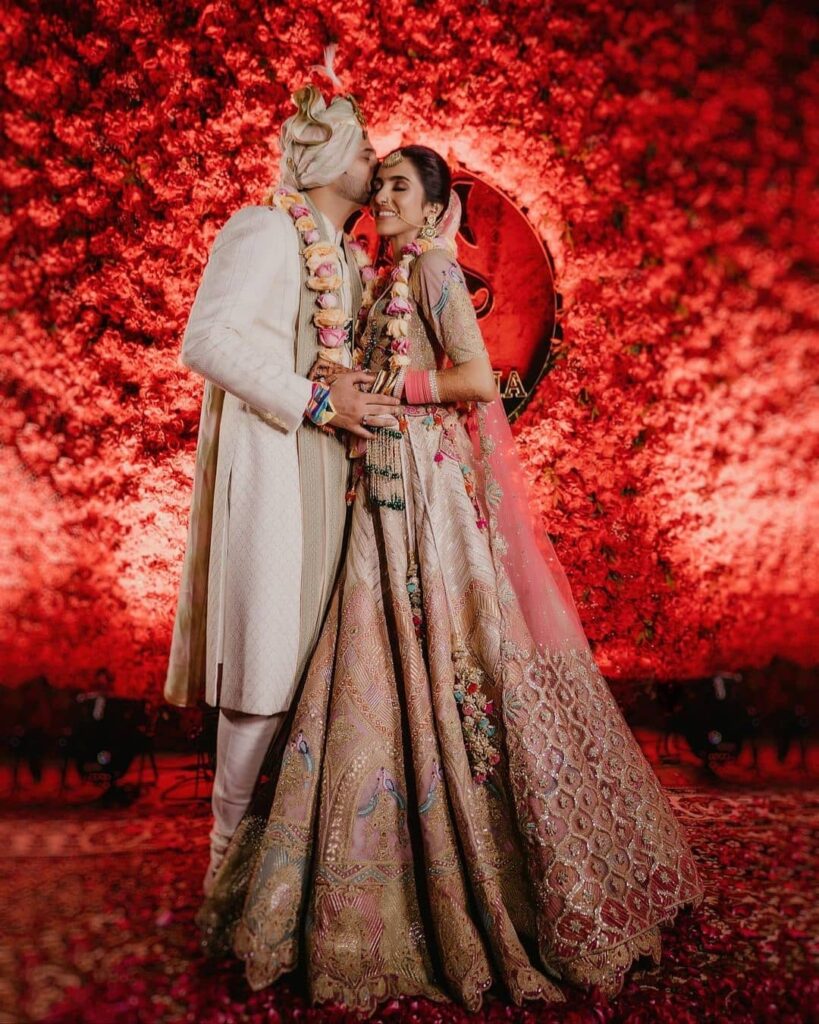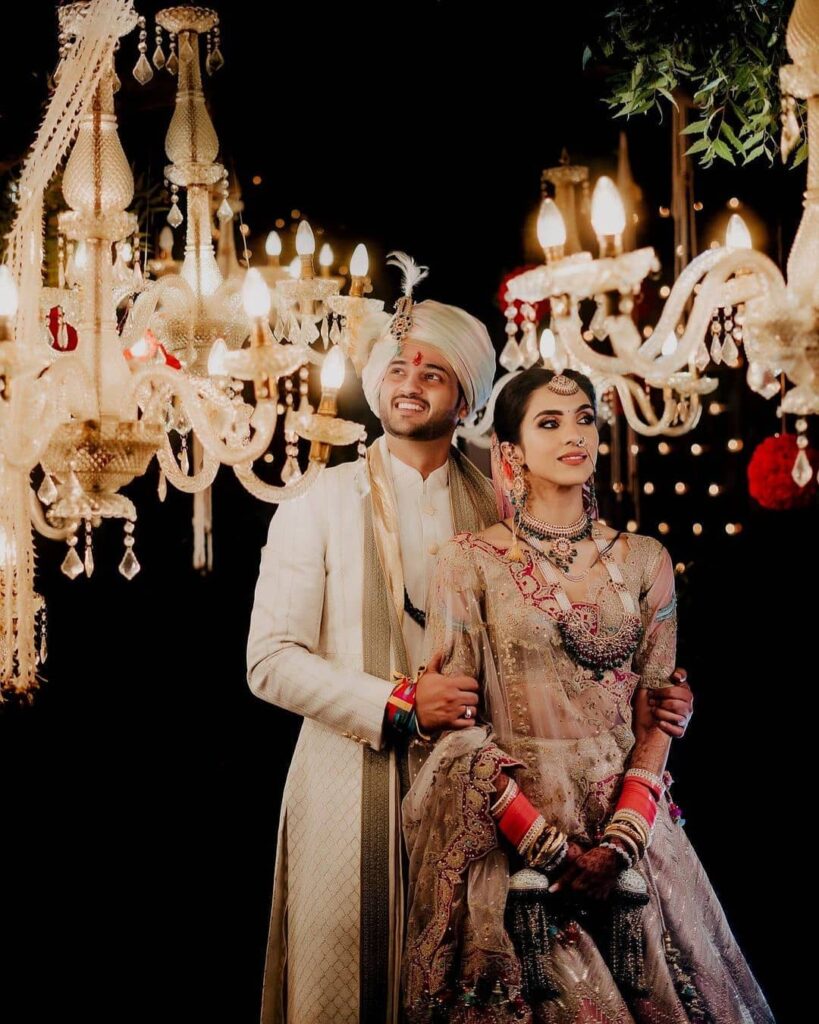 Courtesy: Delhi Velvet
#4 Besides the colorful peacocks on lehengas, many designers just draw an outline with the basic golden zari work, like this one here. The modest silk red lehenga is embellished with the motifs on the border and bird patches above to create an eye-catching design. Given the millennial vibes, the bride paired the attire with a sleeveless blouse and single dupatta to complete her gorgeous big day look.
Courtesy: Razz Films & Photography
#5 Another ethereal creation by Rimple & Harpreet featuring peacock motifs right here! This bride's heavy bridal lehenga look went viral on Instagram, giving in to the lehenga trend
that maximalist style will reign supreme in the upcoming wedding season.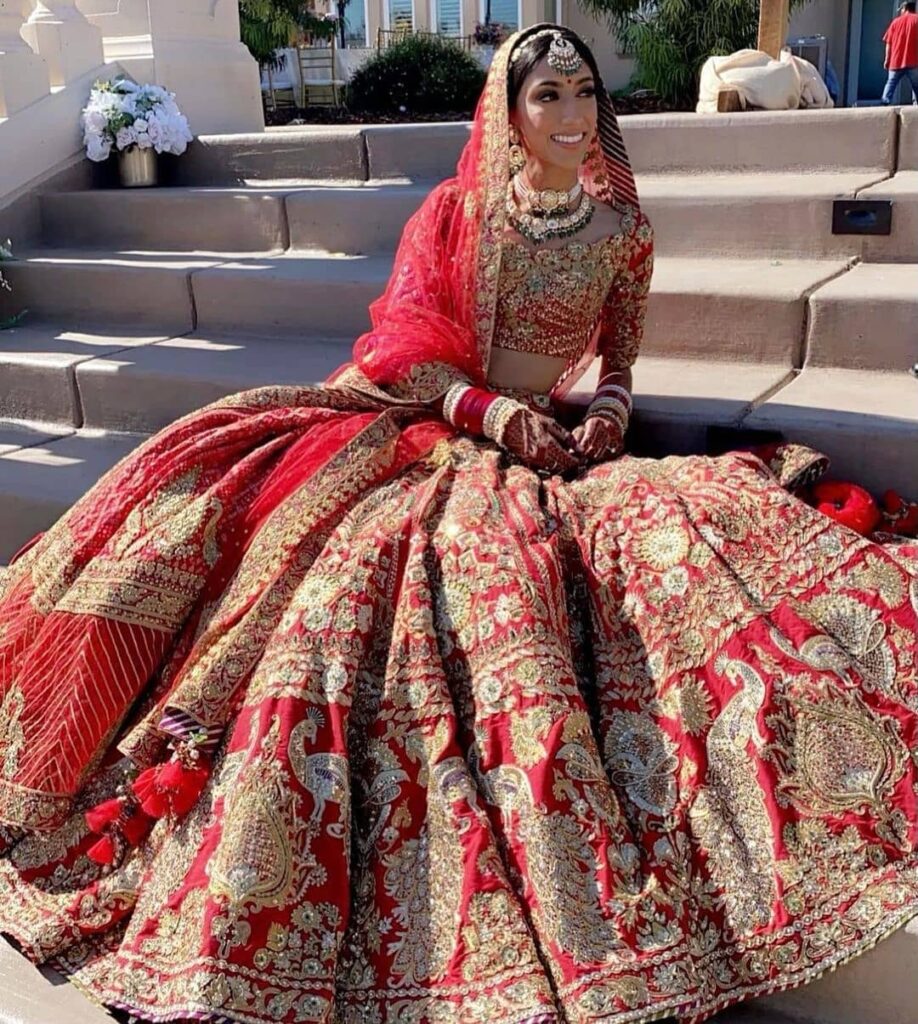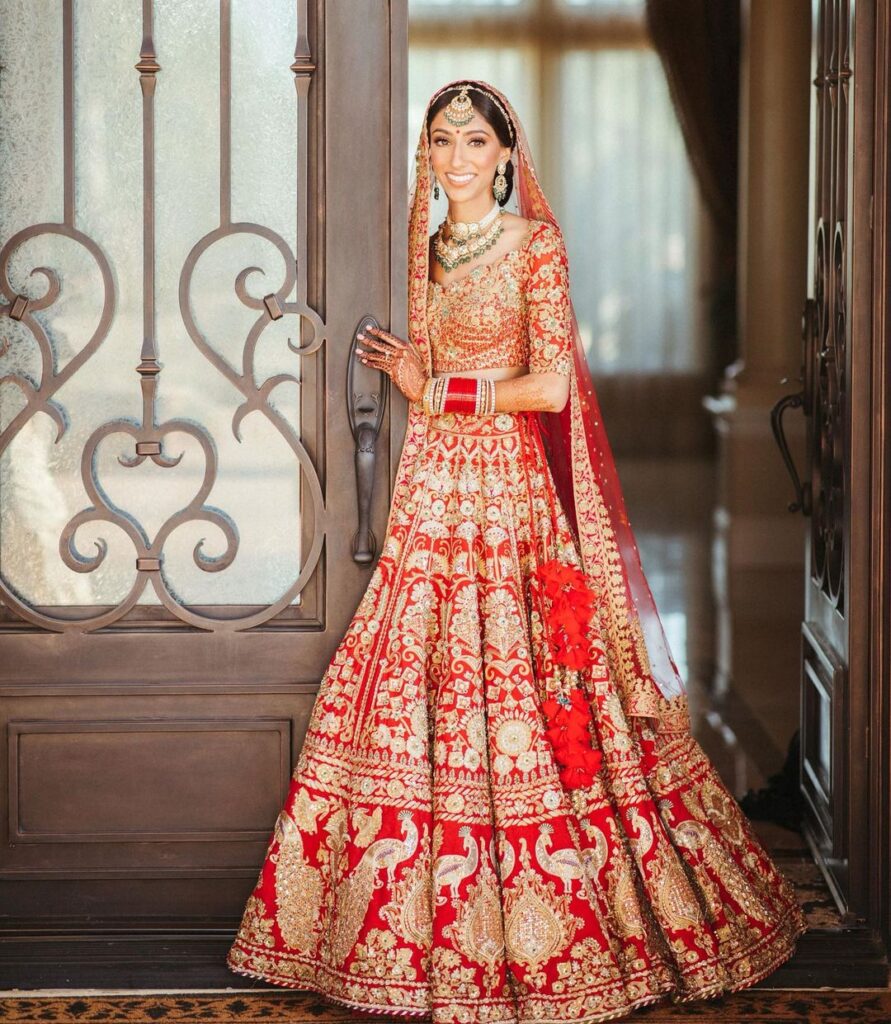 Courtesy: Artistry by Jasmine
#6 Doused in various shades of blue with just a hint of peach in the border and on the dupatta, this peacock design lehenga appeals to the modern bride in you. With beautiful peacock motifs on the entire skirt with other creatively carved traditional elements, we're loving the conservative touch in these ensembles.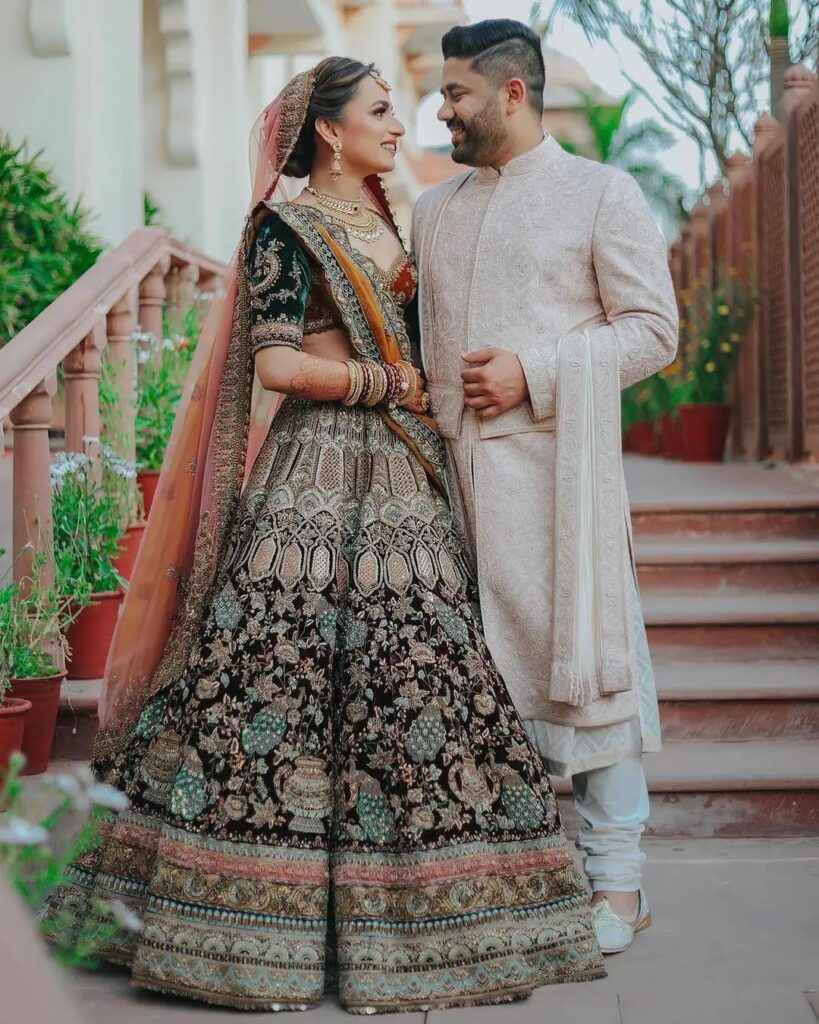 Courtesy: Deepika Sharma
#7 If you're someone who is already enchanted by the peacock motifs on lehenga, here's an outfit that only radiates this classic Indian design. Paired well with a heavy gold choker set and statement
bridal bangles
, we're loving the royalty dripping from this bridal look.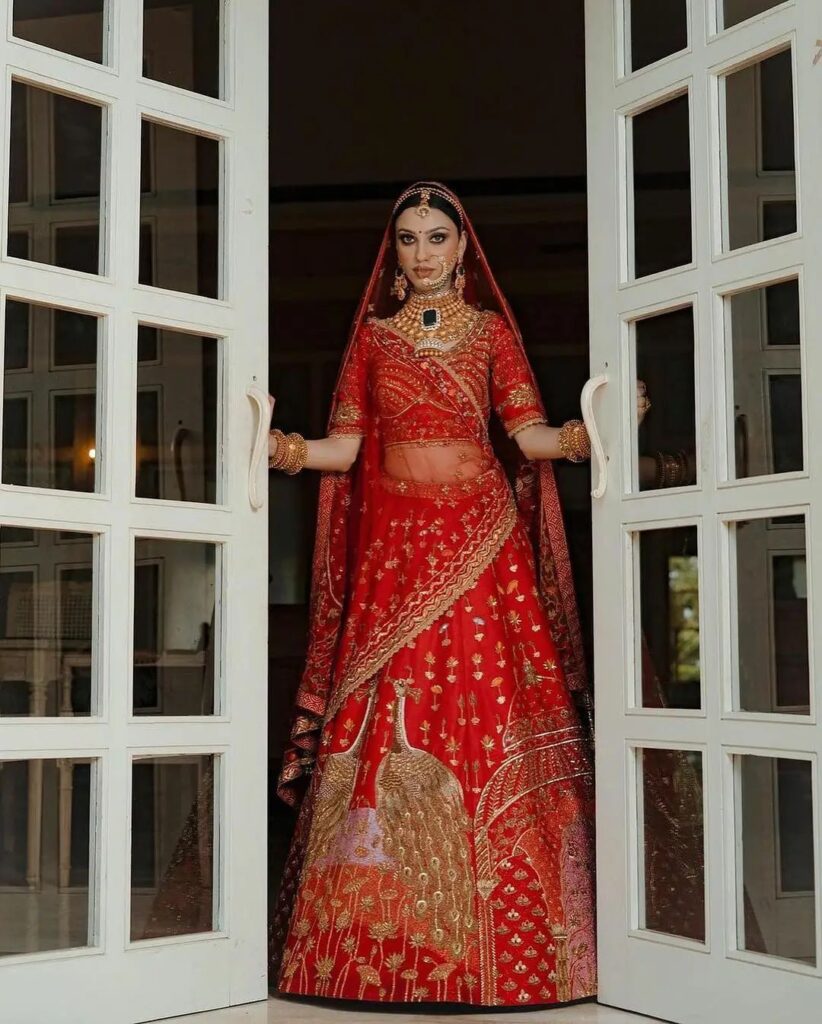 Courtesy: Rose Creations Ludhiana
#8 Gorgeous peacock-centered motifs carved on the downward side of her lehenga skirt and creating a consistent design are soothing to the eyes and timeless to re-wear down the line. The lehenga is replete with golden threads to add a gleaming aura to the ensemble. And what bride doesn't want to literally shine on her big day?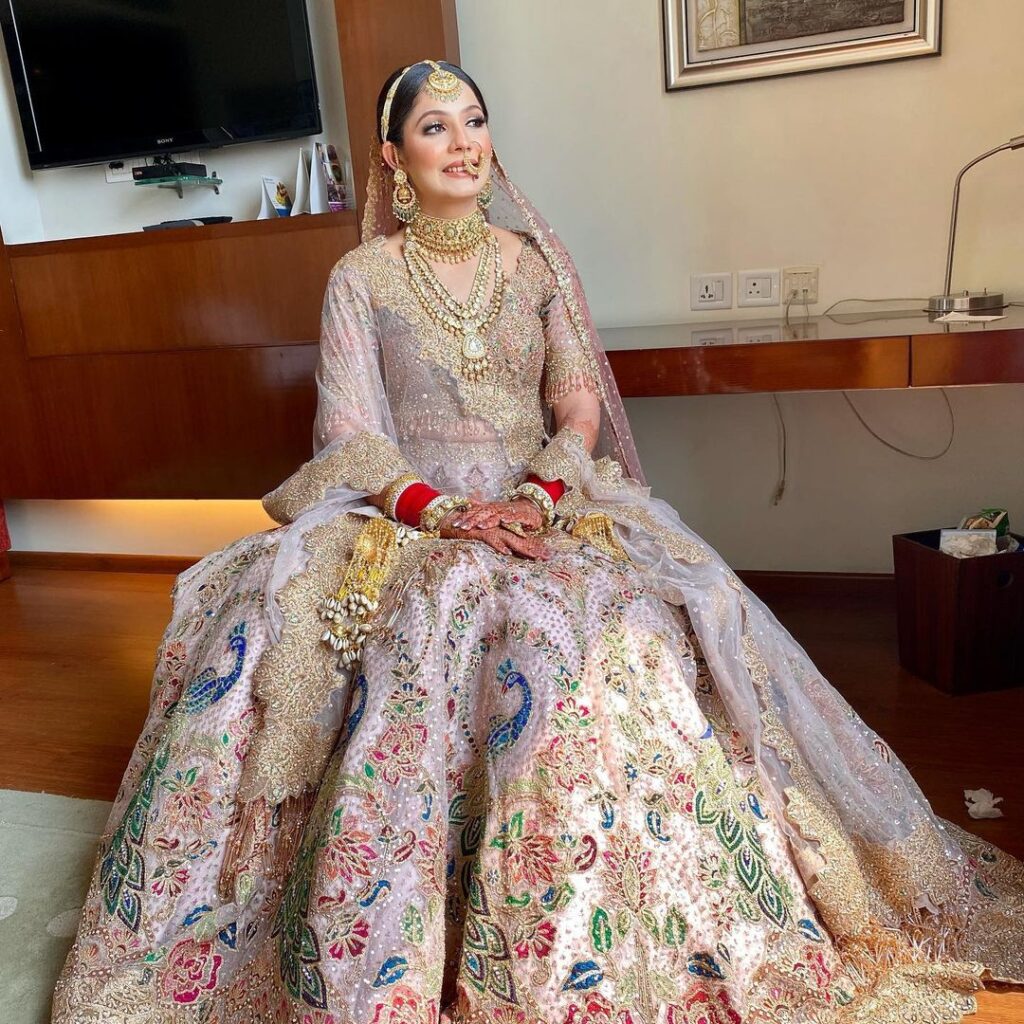 Courtesy: Shahid Naar
#9 RAH's 2021 collection features a lehenga set that caught love & attention by everyone around. The unique wedding ensemble features small peacock motifs on the lehenga but also on the sleeves and back of the blouse. The beautiful green & blue colors on an otherwise muted tone lehenga adds vivacity to the outfit and an exquisite feature that catches the eye. Pair it minimally or go all in – the beauty of this outfit would go with any kind of styling.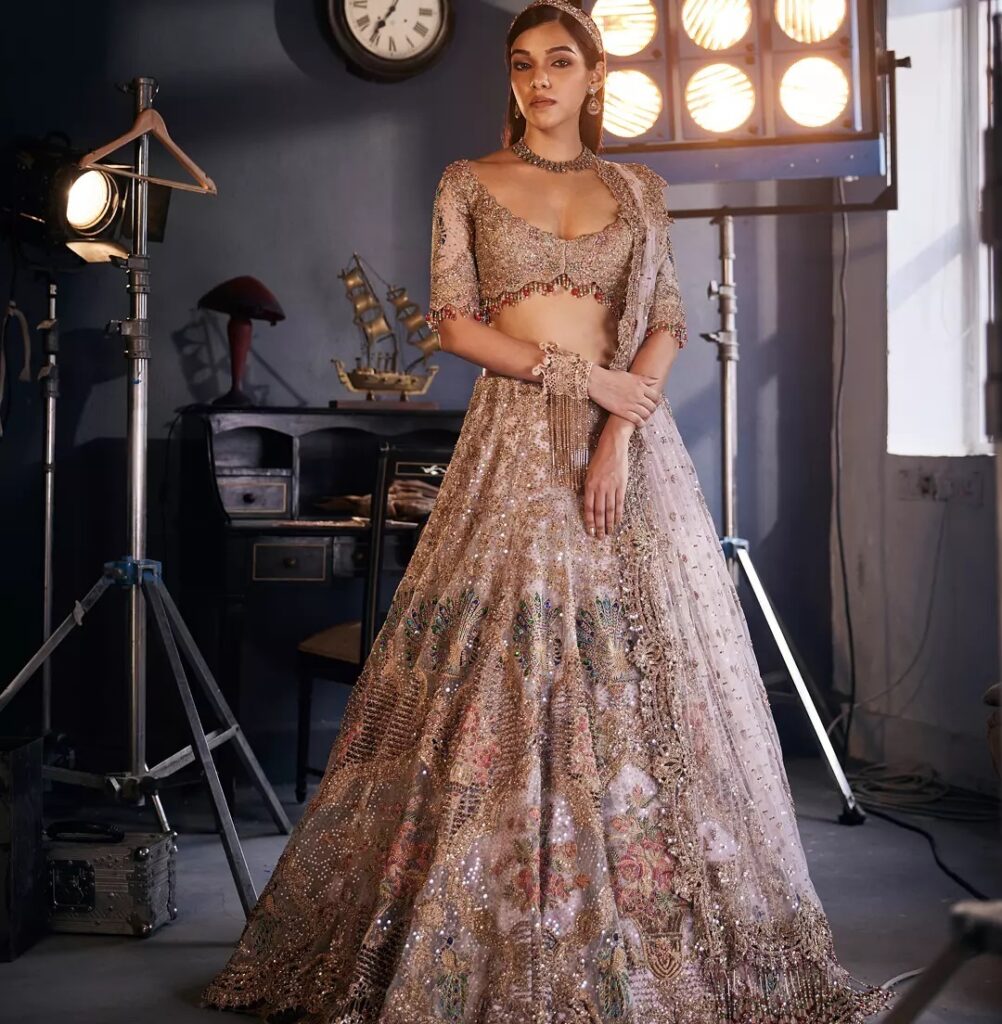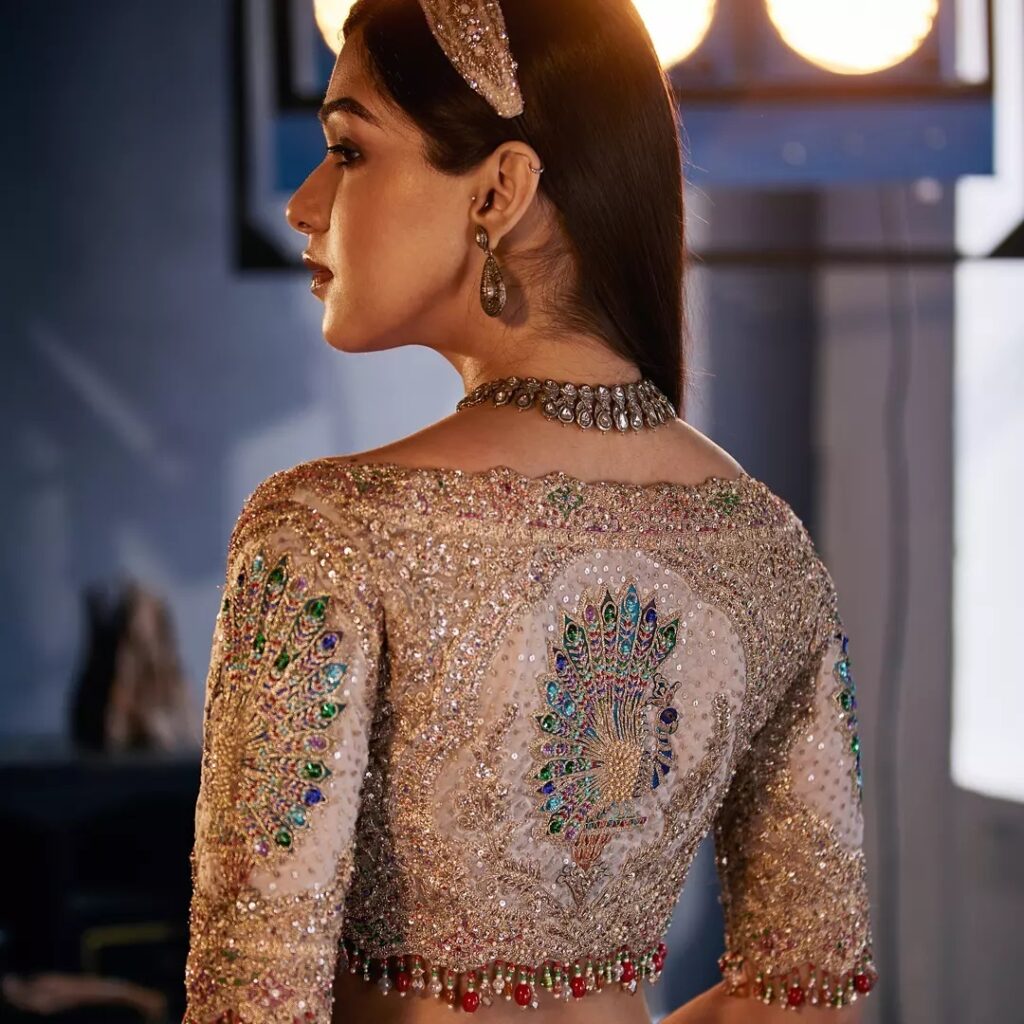 Courtesy: Rimple & Harpreet
#10 A unique blend of pink & red creates a pretty gradient but what further elevates the design are the bold and vivid peacock motifs on the bottom. Styled gracefully with a Kundan necklace set and a bold mang tikka, this bridal look surely deserves a special spot on your Pinterest mood board.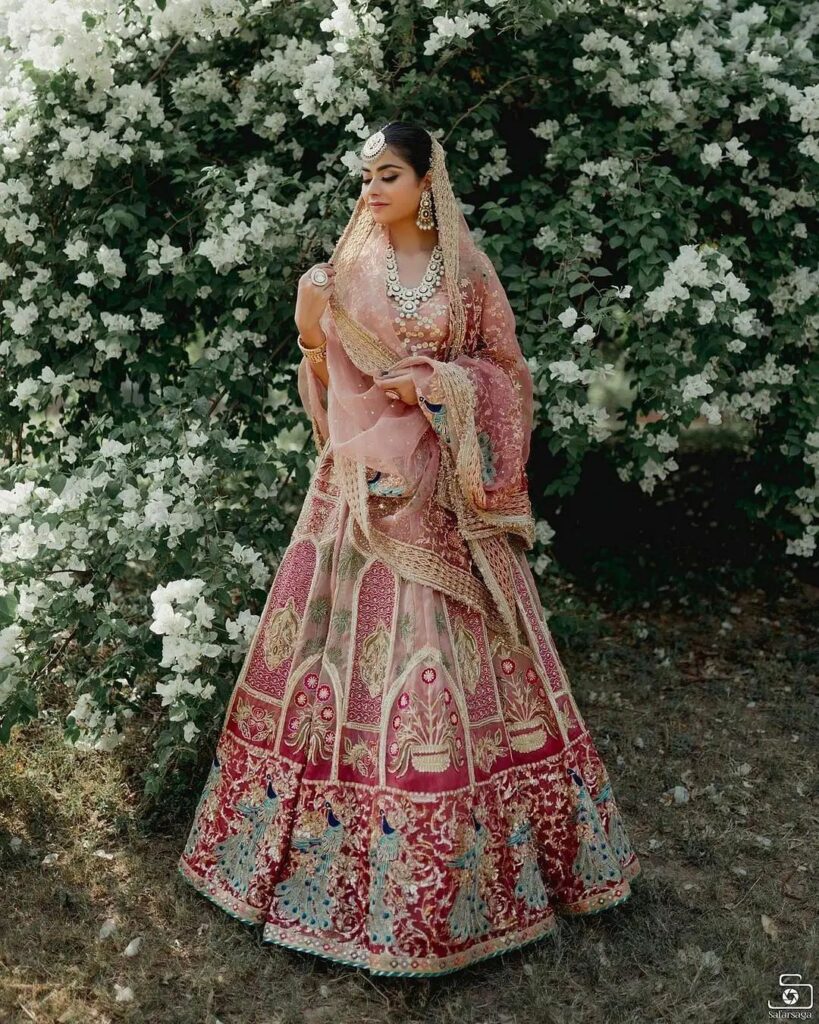 Courtesy: Safarsaga Films
#11 This peacock design lehenga is taking this traditional work to another level. The back-to-back stacked motifs in the middle with the ones showcasing the bird with their entire plumage on display on top & bottom are creating such a visually aesthetic effect. Coupled with other bird motifs and unique golden work all over, this lehenga is a work of art. Keeping in line with the attire, this bride went for heavy jewelry to complete the look and left us all with ultimate wedding dress goals.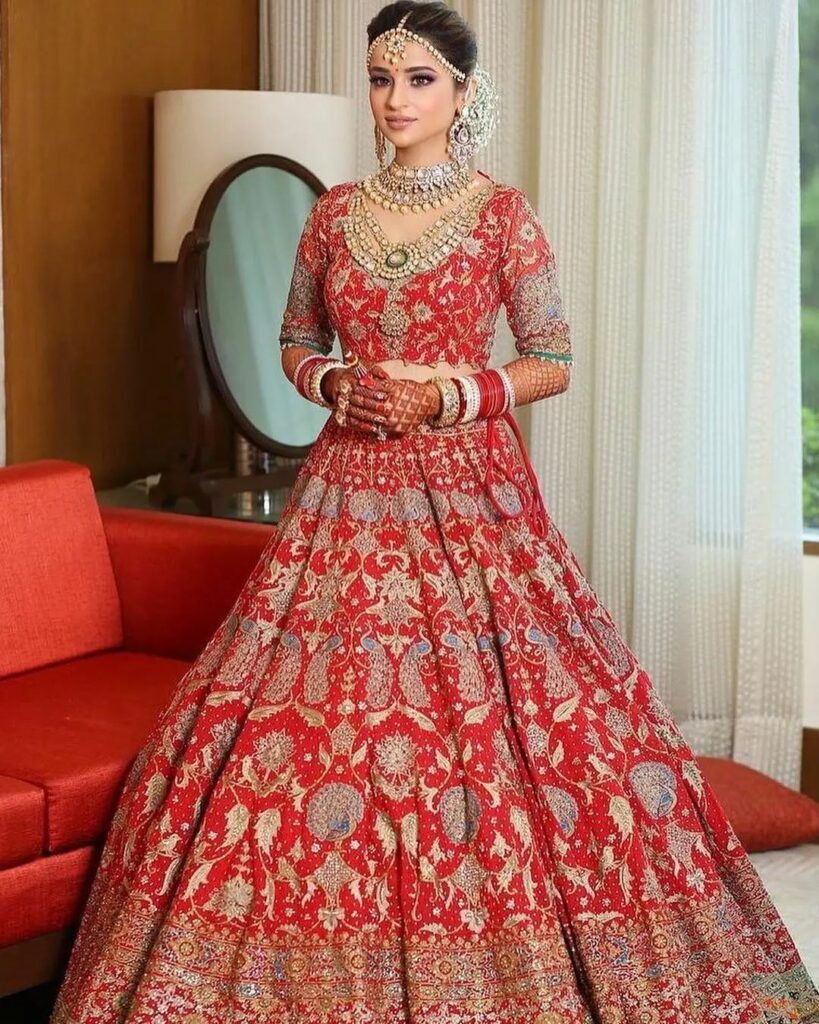 Courtesy: Samaira Sandhu
#12 Peacock perched beautifully on a branch and created so elaborately on the lehenga is such a beauty! We love the dark maroon color of this outfit, which is perfect for the upcoming winter wedding season. It also makes for a gorgeous dress for the sister of the bride/ groom, or a very close relative – of course, if the bride doesn't mind you wearing red on her big day.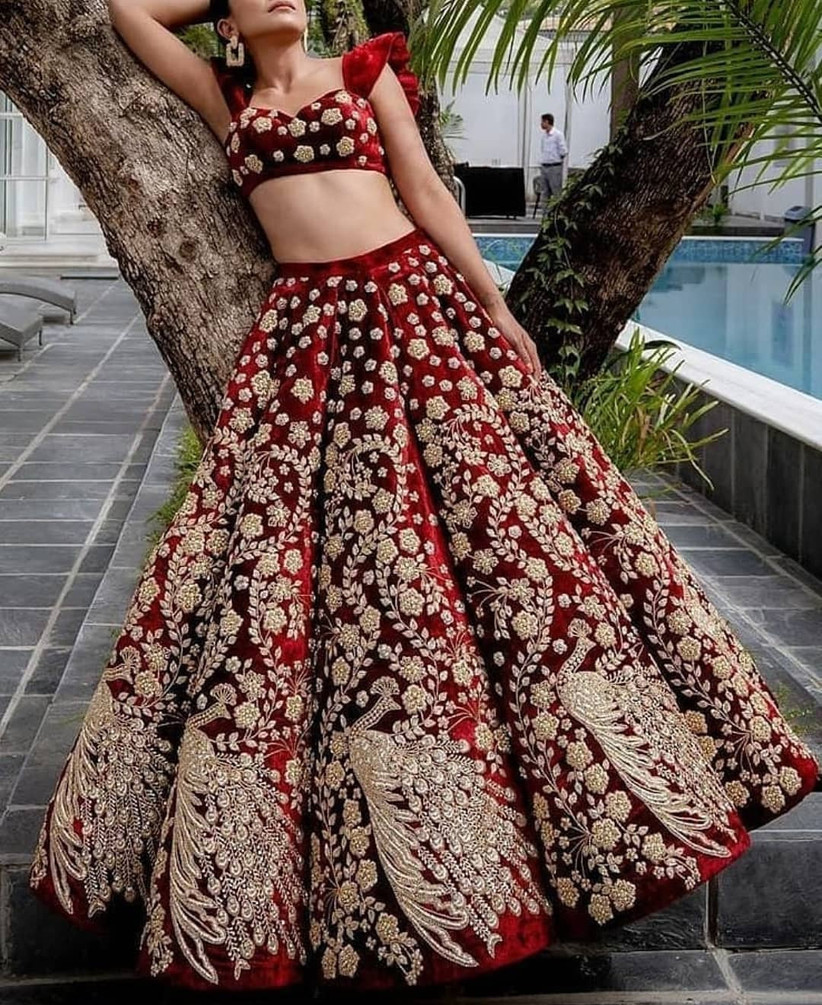 Courtesy: Unknown
#13 Simran became viral on Instagram when she took out her own baraat procession at her
Jaipur destination wedding
alongside the groom. Since she opted for a golden hue on her big day, she chose a red peacock design lehenga on the Sangeet. This is a nice way to not miss out on the customary wedding color, pick it for any other of your events instead.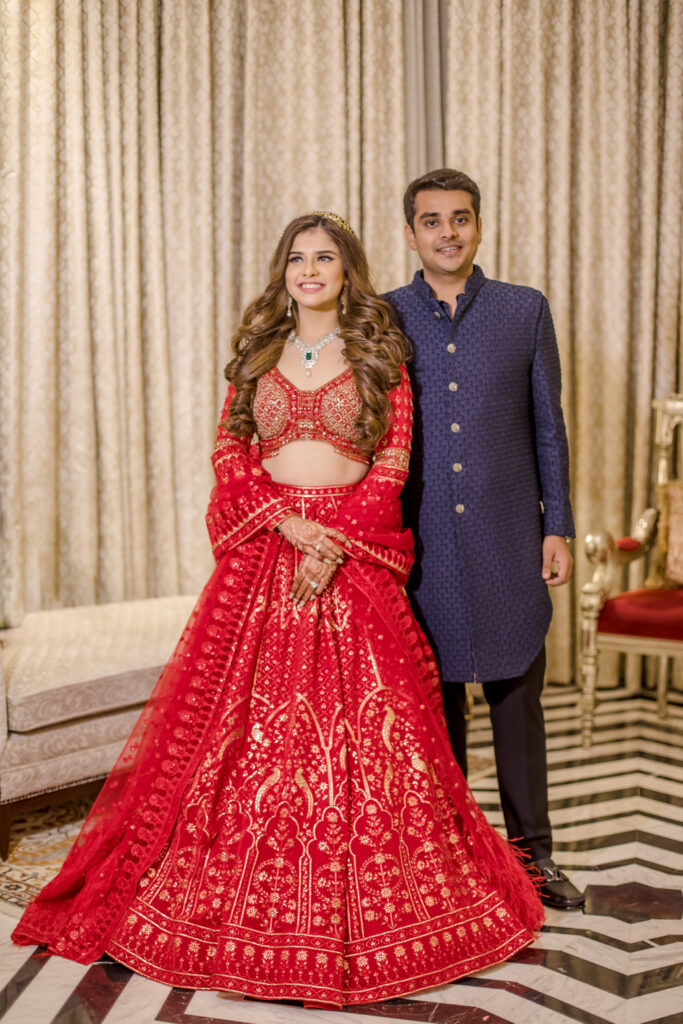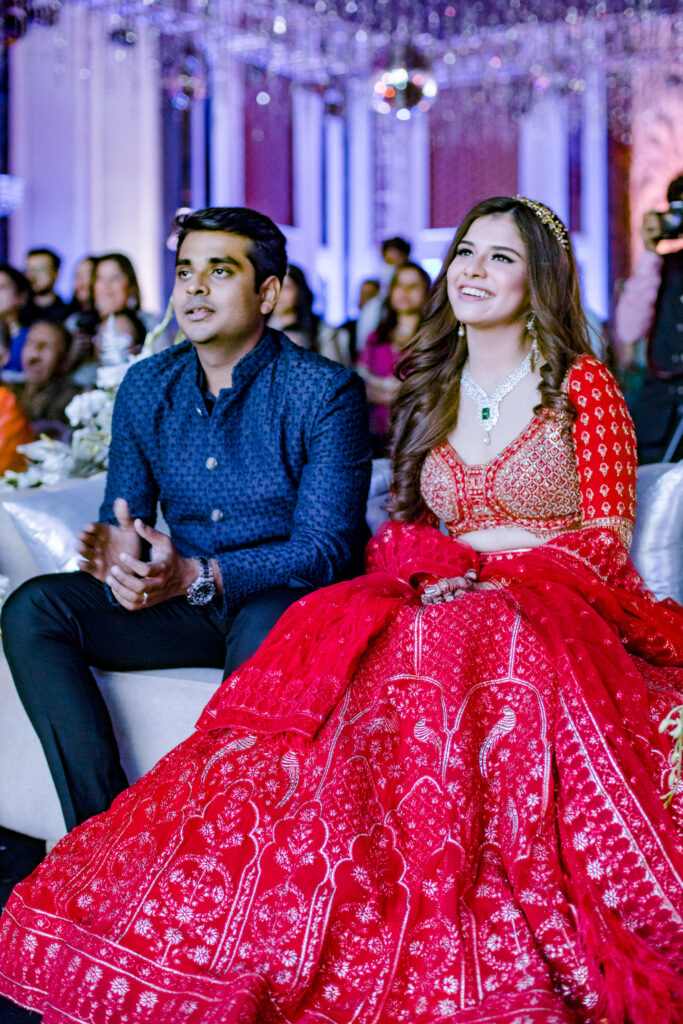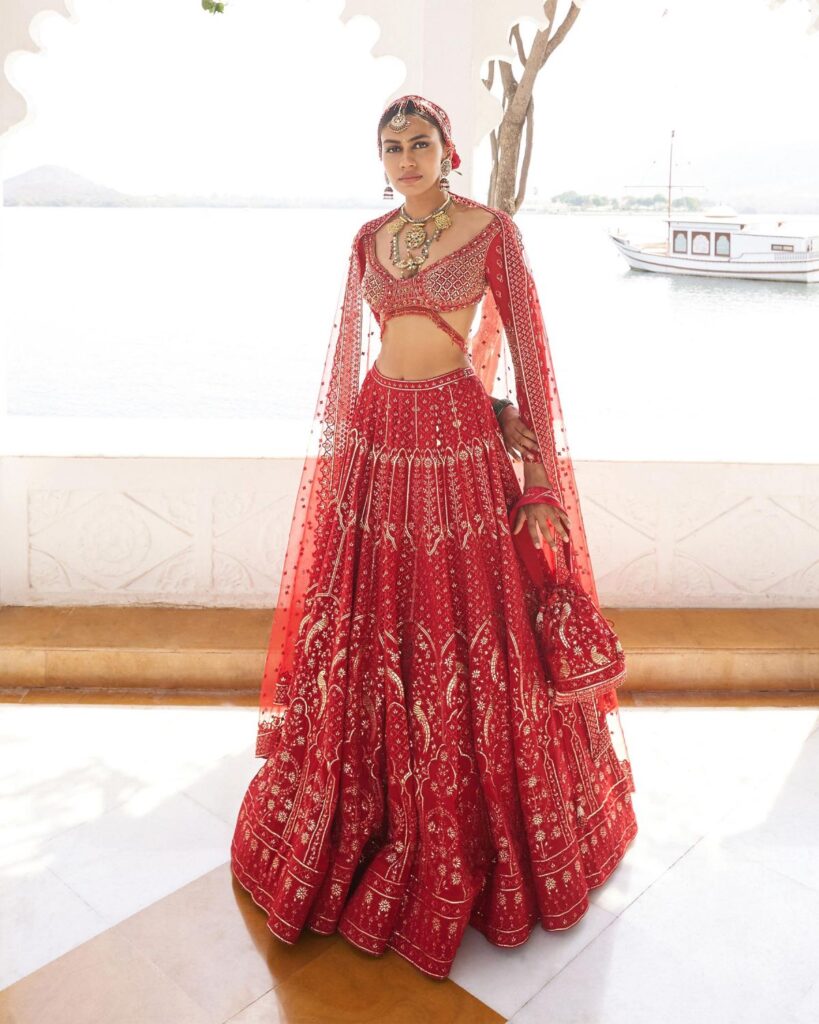 Courtesy: Falguni Shane Peacock
#14 While brides often don't give the budget or the thought to the design of their over-the-head dupatta, here's a picture that will change that general view. Created by Rimple & Harpreet, this bride's second dupatta created a statement on its own. Graced with such exquisite peacock designs, alongside other bird motifs and traditional motifs, the aesthetic will make you stare at it longer than you expected.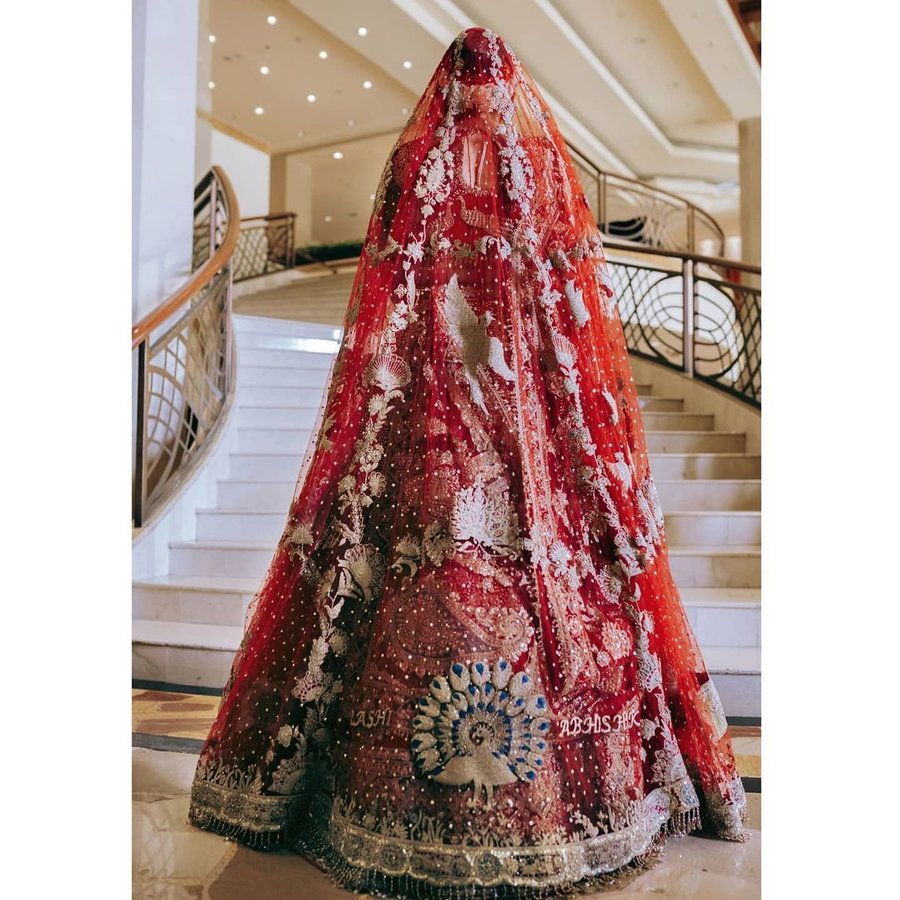 Courtesy: Rimple & Harpreet
#15 Yellow isn't a customary color to don on your pheras, but if you're wanting to try something different, here's a bride that makes a strong case for the color. A
yellow bridal lehenga
will make you stand out. Doesn't matter if you're having a day wedding or a night wedding, the shade will look gorgeous at any time and you can pick it nonetheless.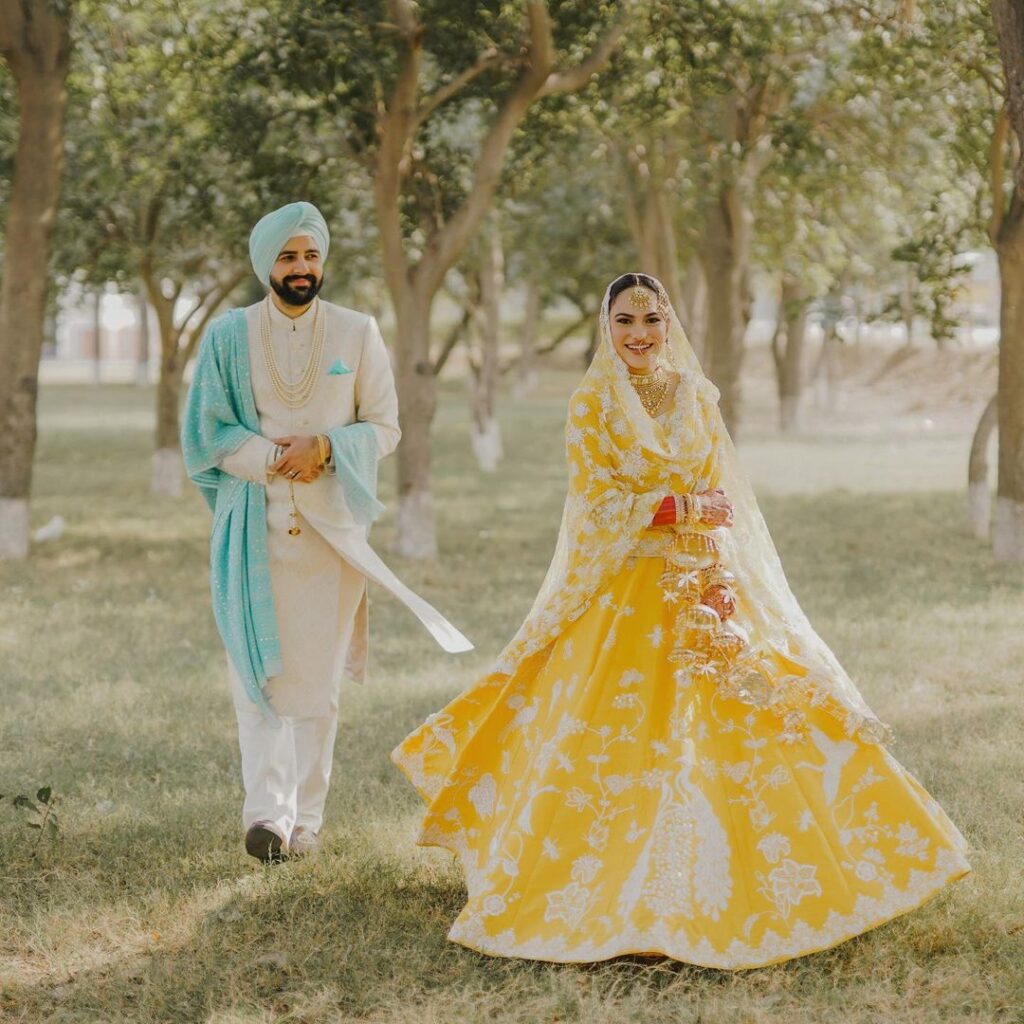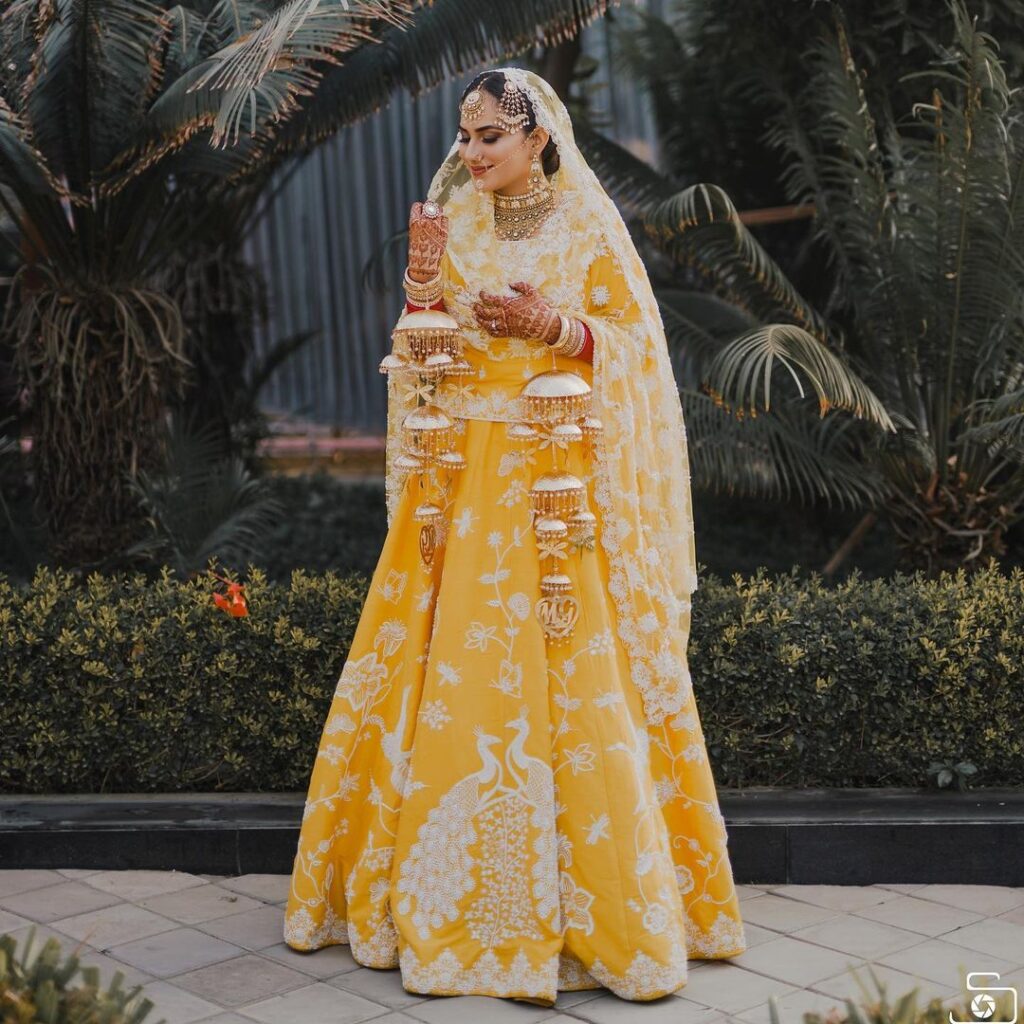 Courtesy: Harkiran Basra
#16 This picture-perfect peacock design lehenga caught all the attention when bride
Isha Multani
wore it on her mehendi day. Since then we have spotted the exact piece on many brides. Here are two of them rocking the ensemble on their engagement and wedding day respectively.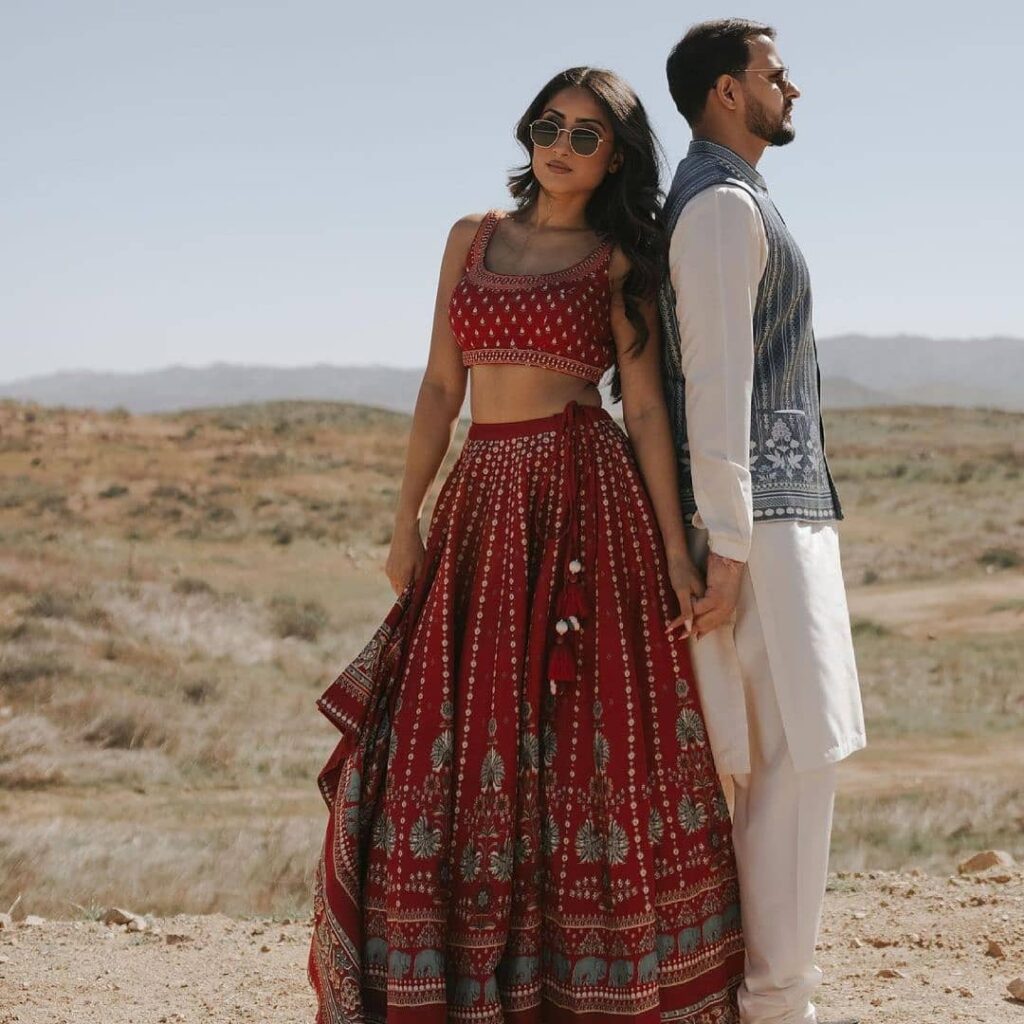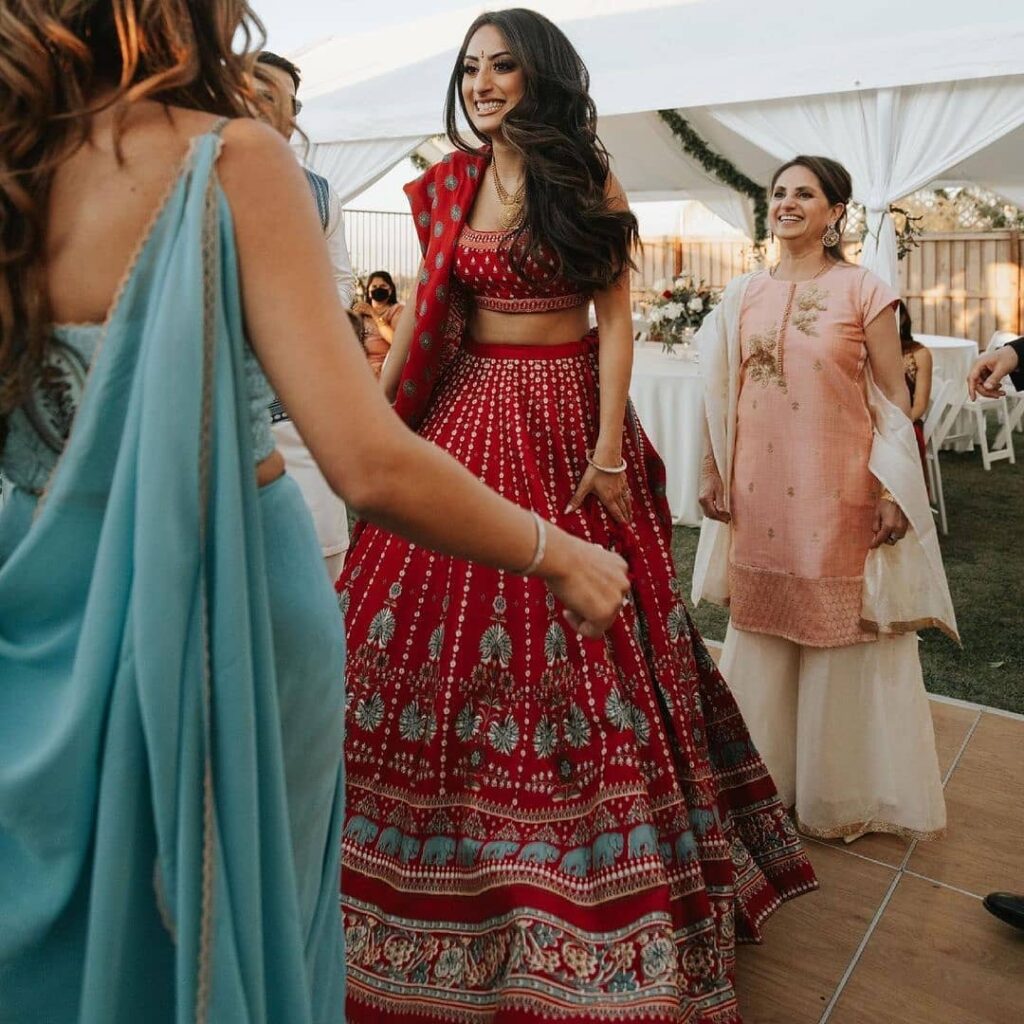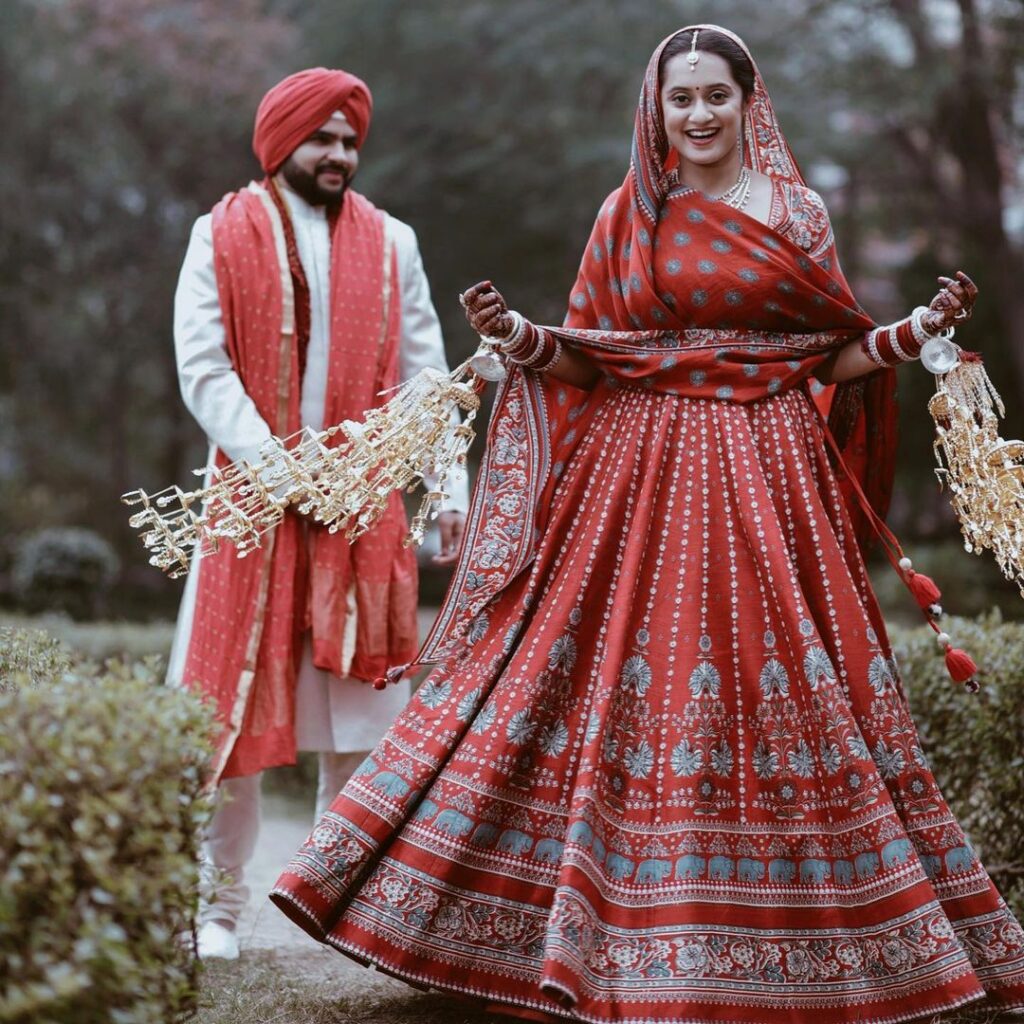 Courtesy: Nisha Vig, Deepika's Deep Clicks
#17 Talk about a bride dripping with royalty. Of course, her lehenga choice has to be given credit for the regality. The customary red & golden work is superbly offset with the blue peacock design and some dainty lush green paintings on the bottom. Bride smartly paired her lehenga with a
polki bridal set
and just a minimal mang tikka to create a truly whimsical wedding look.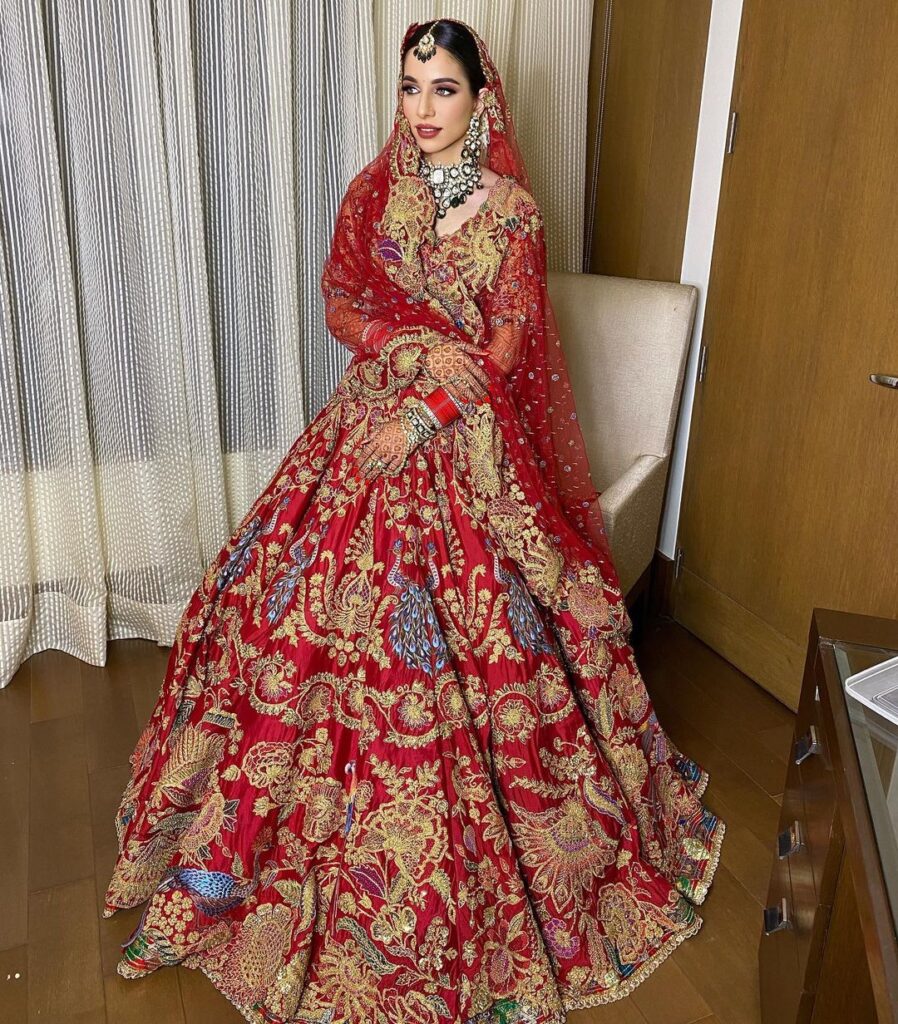 Courtesy: Samaira Sandhu
#18 Not red, not pastel, not golden, this bride picked a unique hue for her big day, The chestnut-shaded lehenga was embellished with golden embroidery and peacock designs alongside some sequin work to give a glittering effect to the skirt. Paired with a V-neck
lehenga blouse
and a heavy kundan choker, this stunner was the millennial bridal goal in one frame.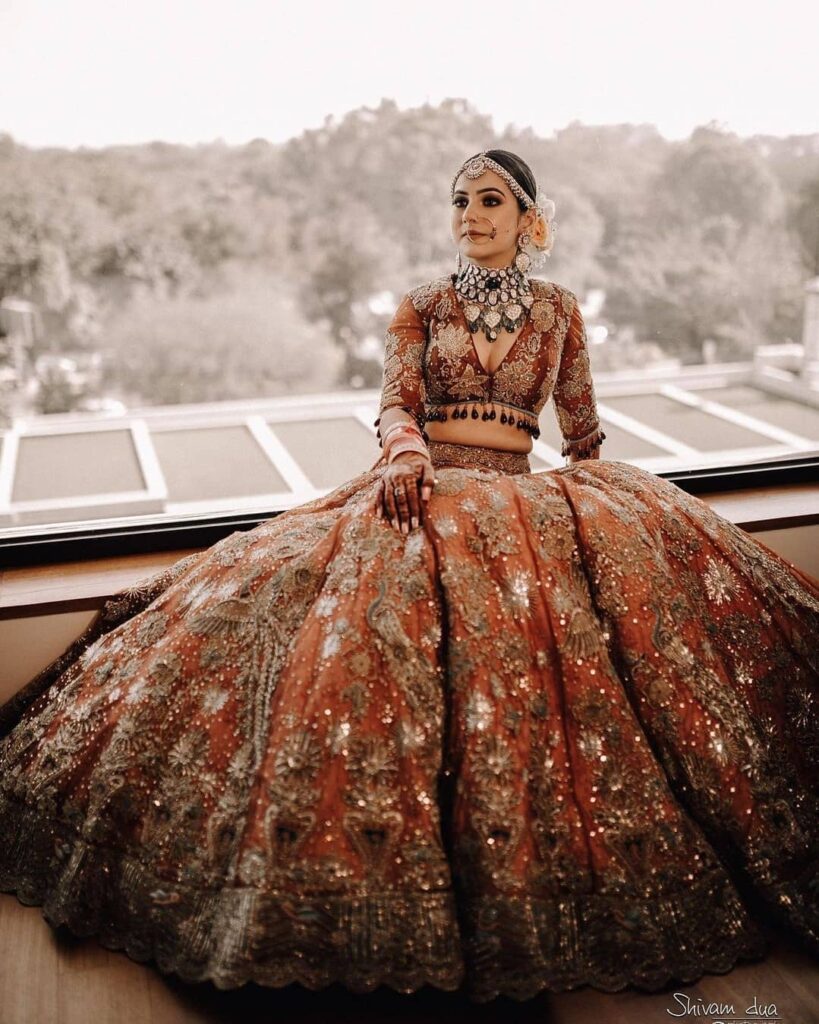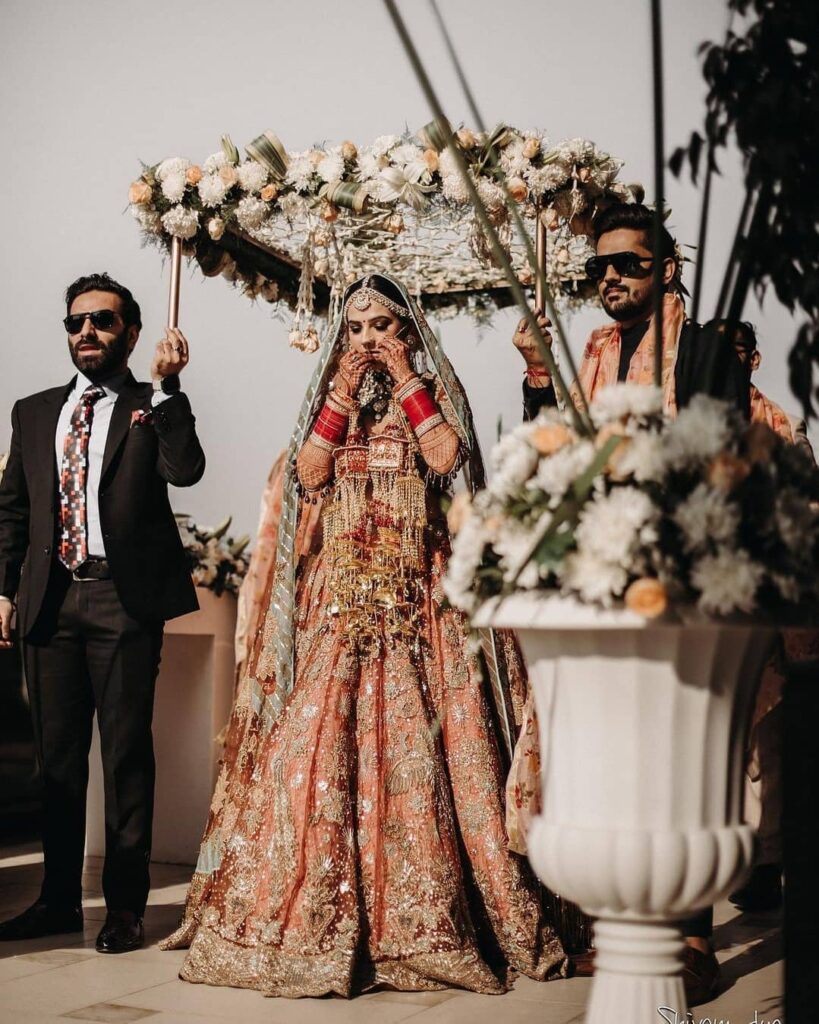 Courtesy: Shivam Dua Photography
#19 Peacocks pecking each other on the lower panels of the lehenga and surrounded by such elaborate embroidery creates a majestic lehenga. Plus, the beautiful brick red hue is a noteworthy color out of the usual bright red hues. What's not to love about this peacock lehenga design?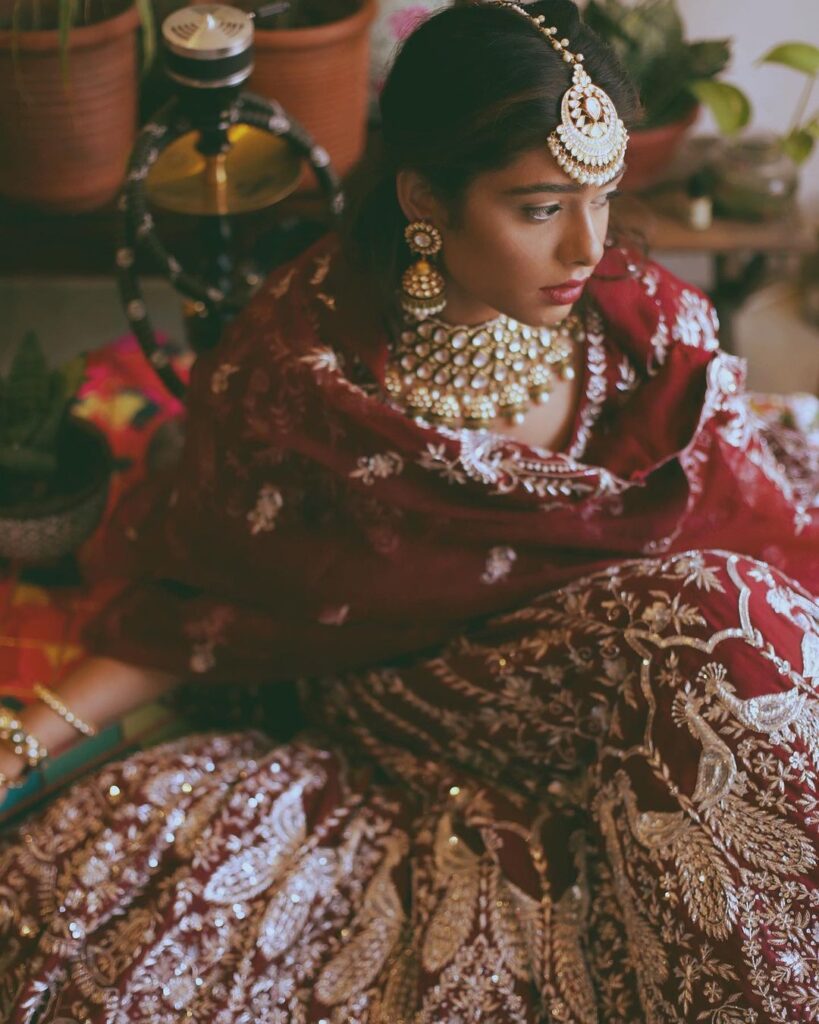 Courtesy: Deepika's Deep Clicks
#20 Blogger Silvy Mehta is another bride whose wedding look was adored & loved by all. Simply because she opted for a dark blue ensemble on her big day that was decorated so gorgeously with peacock motifs, pearls, zari work, and embroidered elements. This lehenga is a testament that peacock design, even in smaller versions, can elevate the look of your outfit.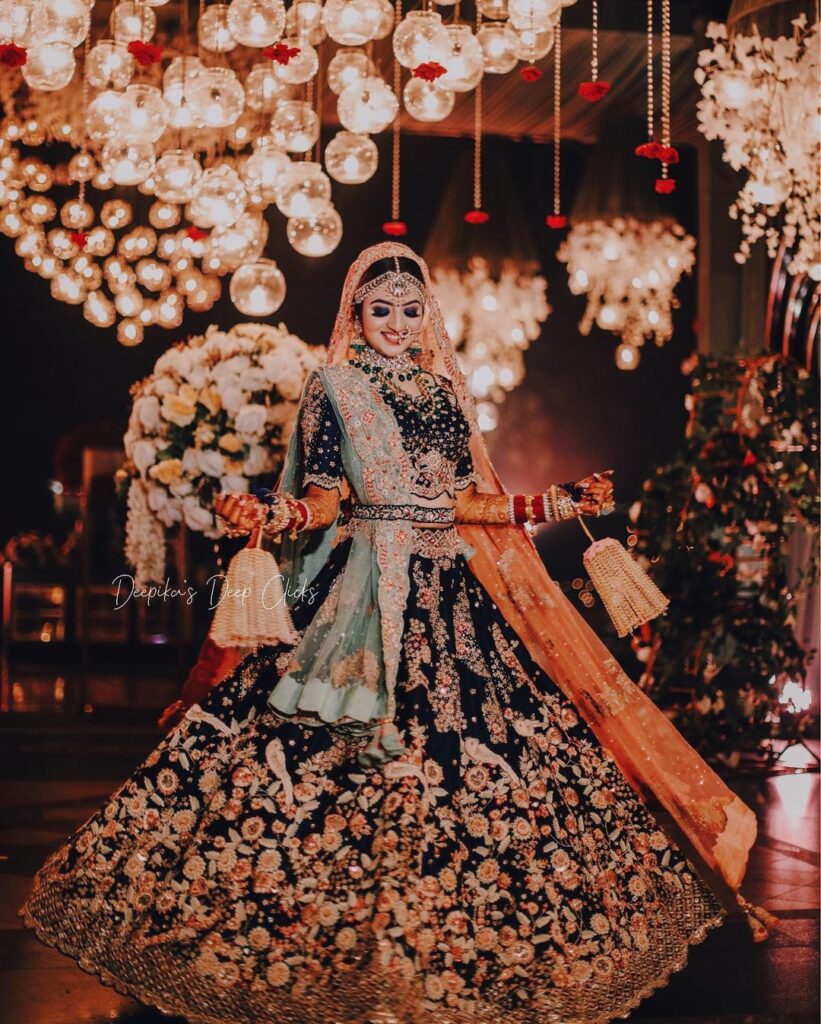 Courtesy: Deepika's Deep Clicks
#21 Off-white is a lehenga shade that will be a massive trend in the upcoming wedding season. And if you're looking for inspiration for the same, here's a bride that carries the color with utter grace. Paired with brightly colored elements here & there alongside the pink dupatta – the artistic design surely captures the attention.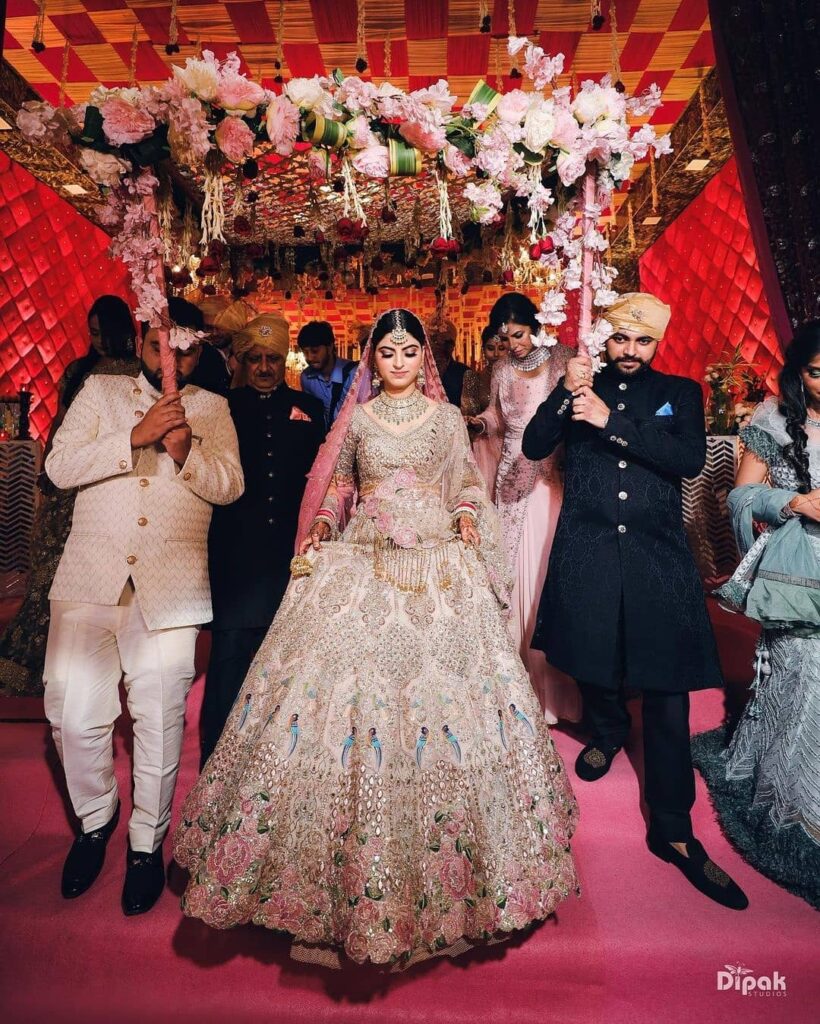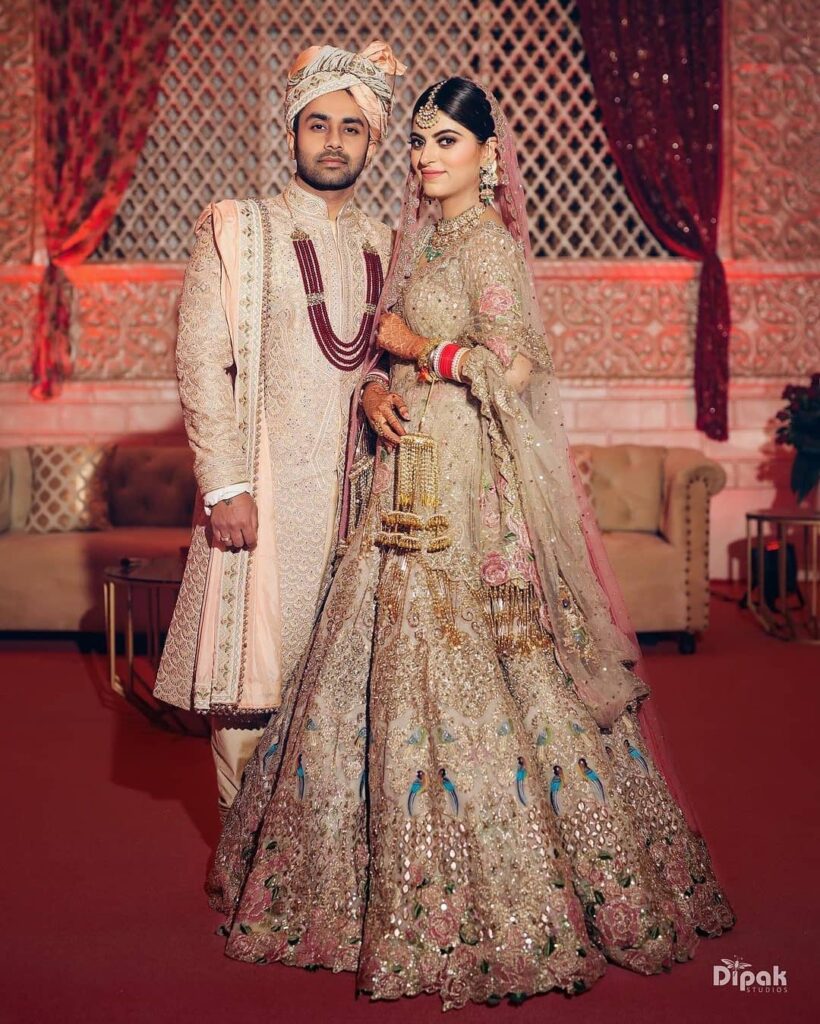 Courtesy: Dipak Studios
#22 Jayanti Reddy label exemplifies bridal fashion that takes you back to the heritage roots while radiating a style that's all about minimalistic elegance. Some of her recent lehengas were daintily decorated with peacock motifs. Here is the same design showcased in two different colors – dusty pink and red.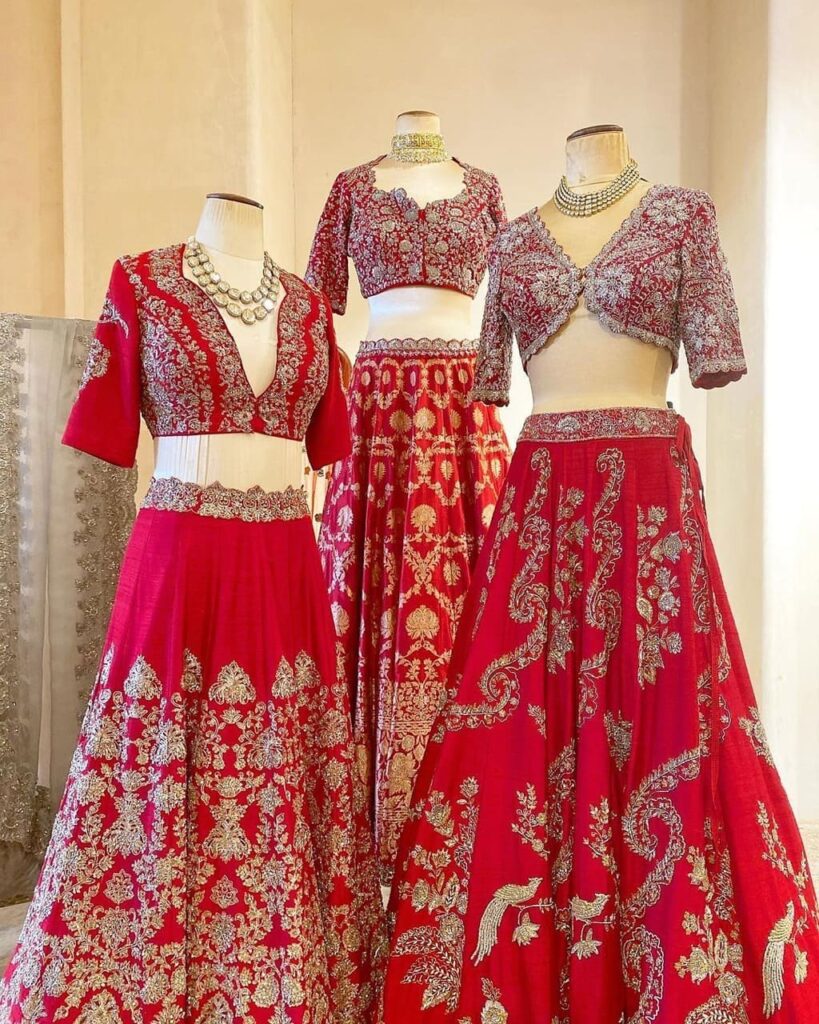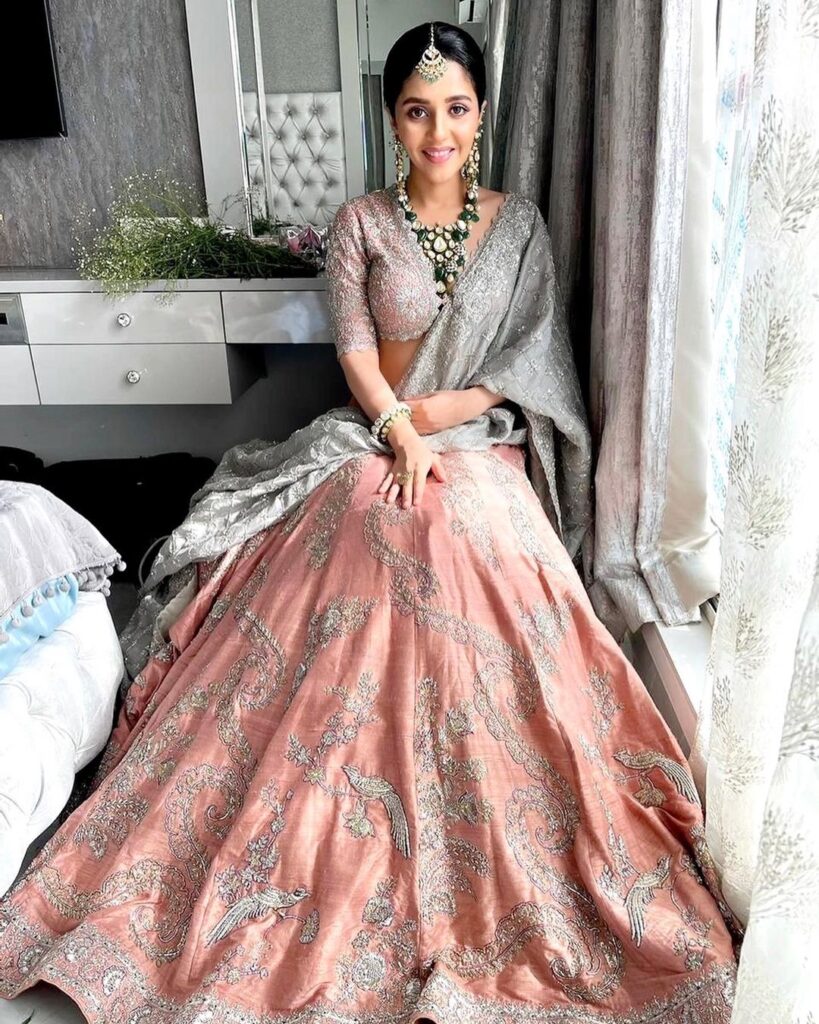 Courtesy: Jayanti Reddy
#23 Mira Rajput Kapoor made headlines recently when she made for the perfect bridesmaid at her friend Sejal Kumar's wedding in Jaipur. For the big day, Sejal opted for an alluring pink lehenga paired with a brick red and blue dupatta. The entire outfit was designed with such a standalone vibe, and we haven't definitely seen anything like her ensemble before.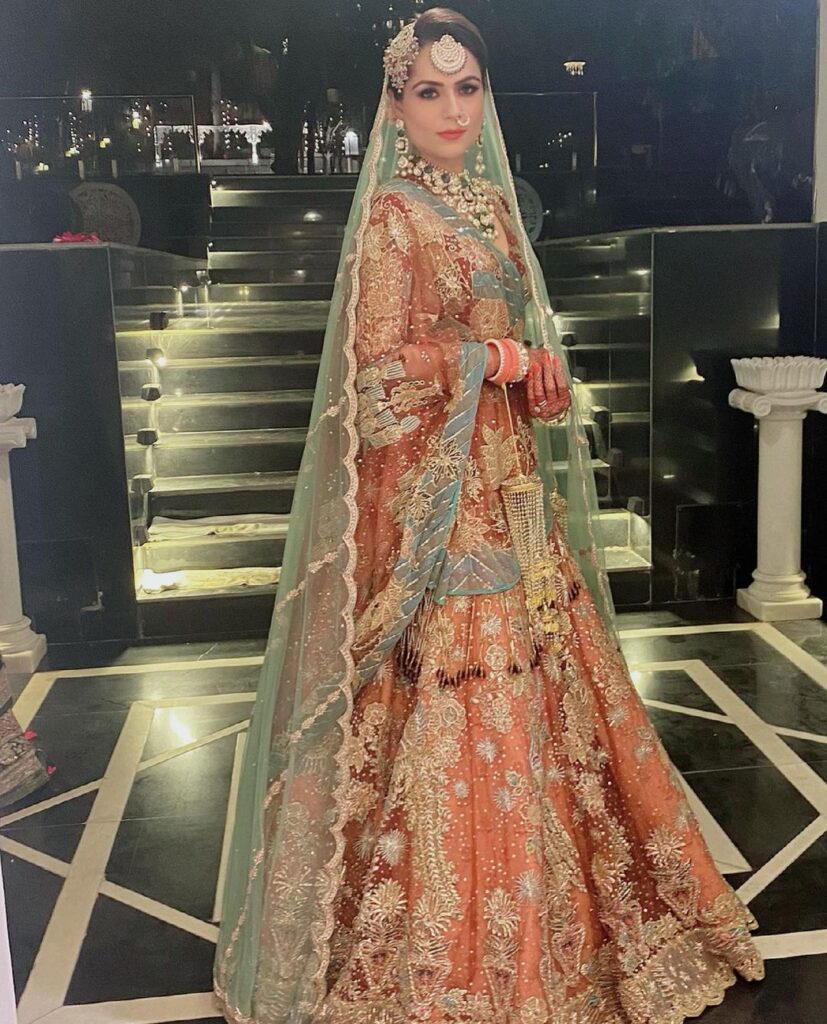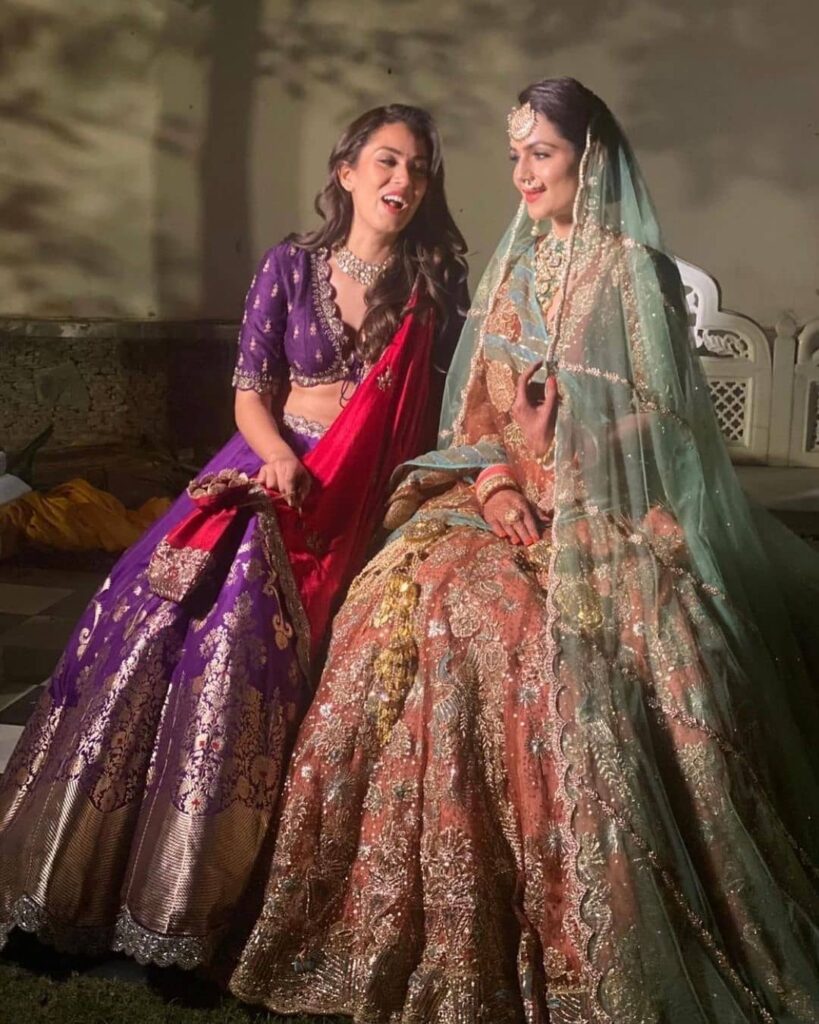 Courtesy: Sejal Kumar
#24 For her reception, Jasleen opted for a tangerine-hued outfit with a hint of red exuding a perfect newlywed vibe. She paired her outfit with a sheeshpatti, and a set of choker, and an elaborate necklace, giving the ideal royal coupling to her regal Rimple & Harpreet outfit. Doesn't she look like an absolute queen?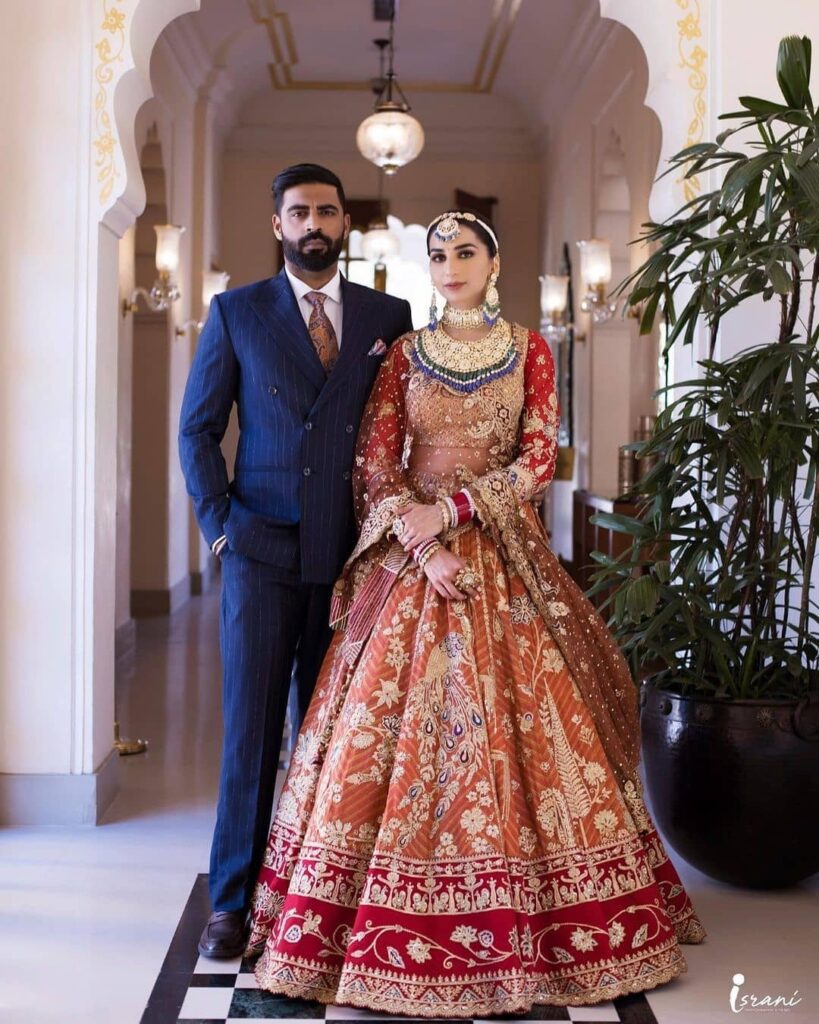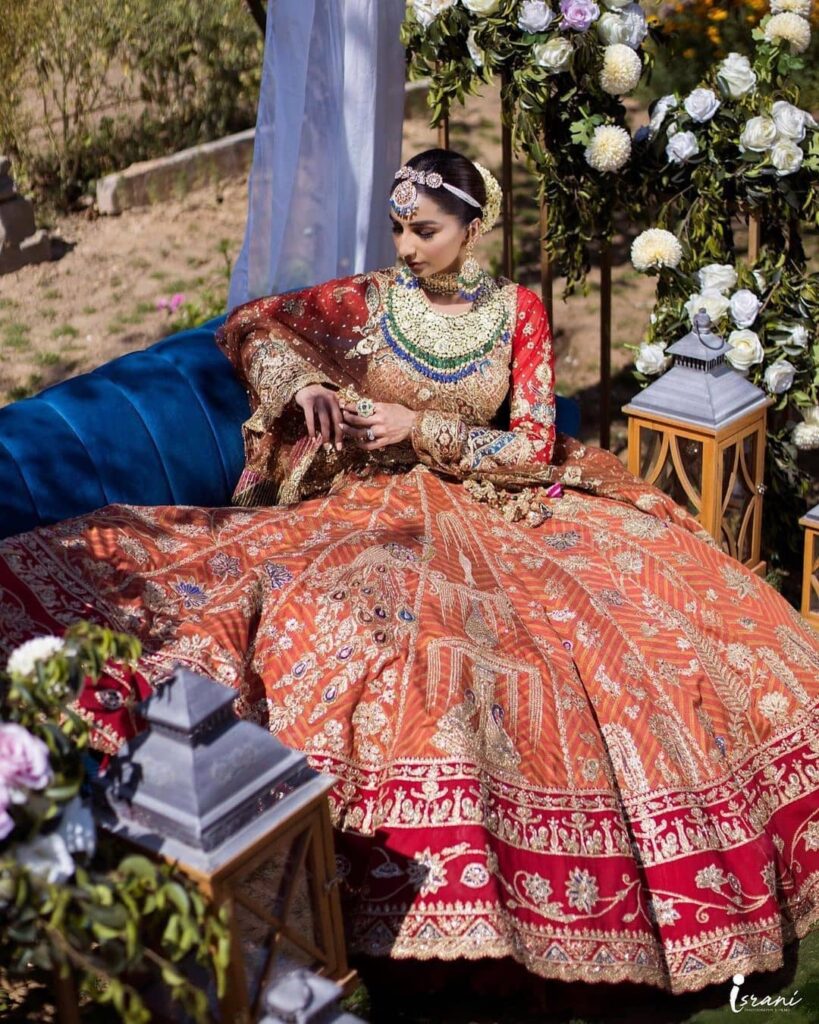 See her wedding blog here.
#25 Creating sheer bridal perfection with her pastel blue peacock design lehenga! We will let the pictures do the talking here.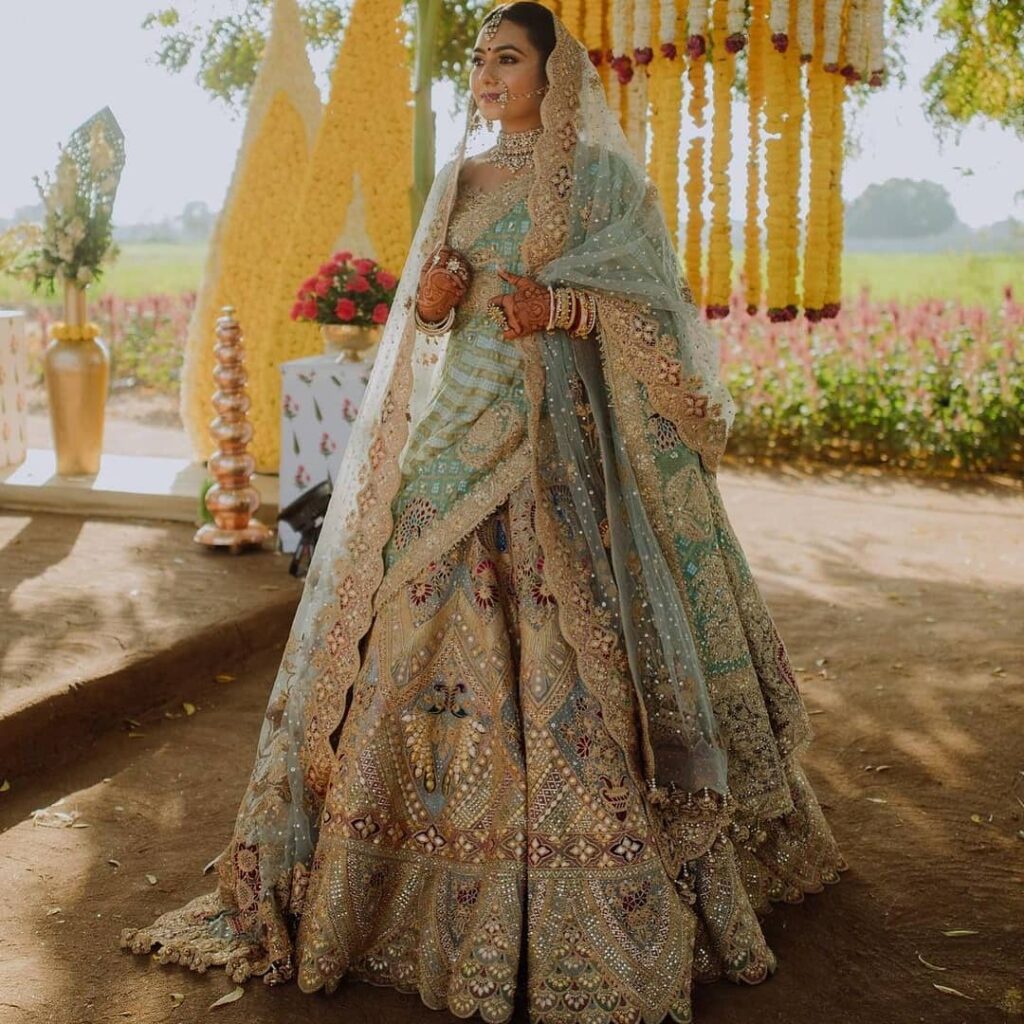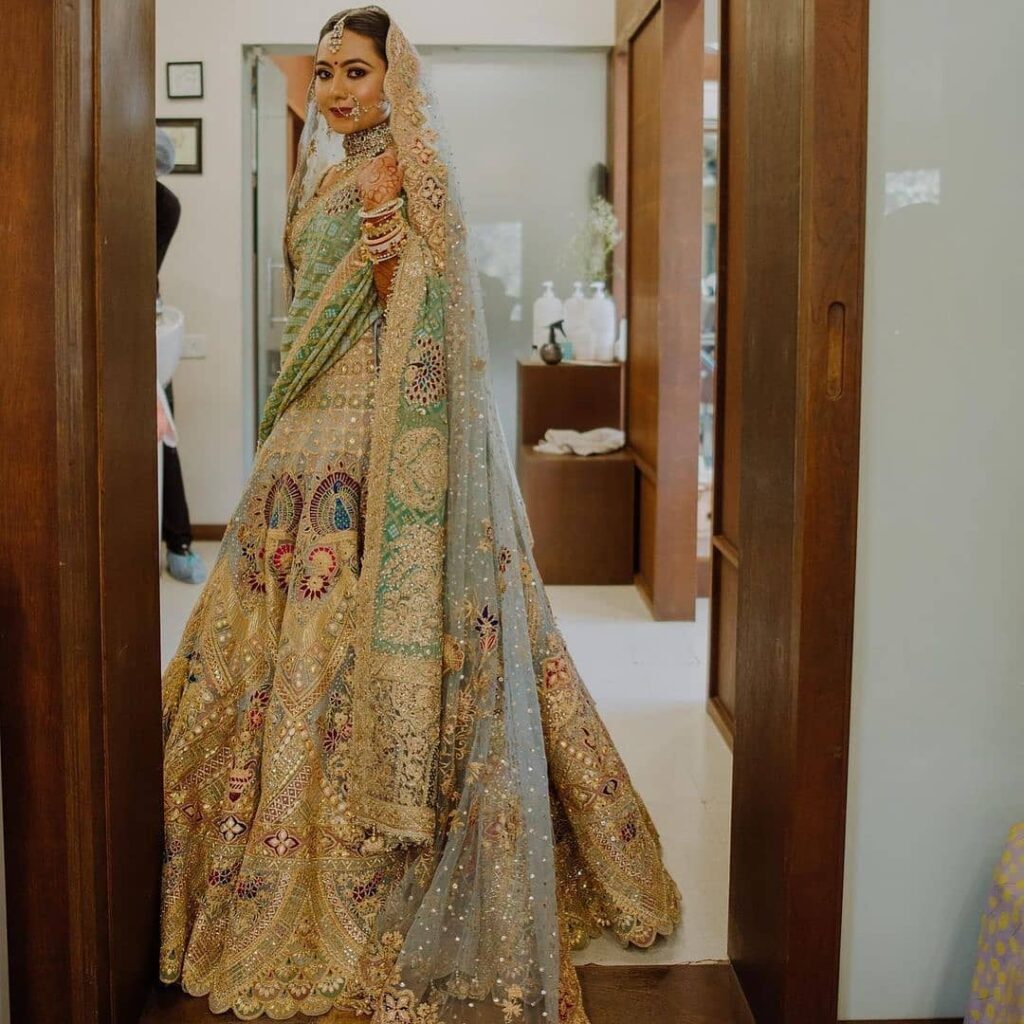 Courtesy: Ulupi Parikh
#26 If you're seeing this gorgeous bridal lehenga everywhere on our platforms – and on social media, in general, that's because the utter beauty of it is surely a treat to the eyes and will make heads turn on your big day. The outfit's grace is such that you can don it for a minimal aesthetic or go all in – and it will still not lose the charm.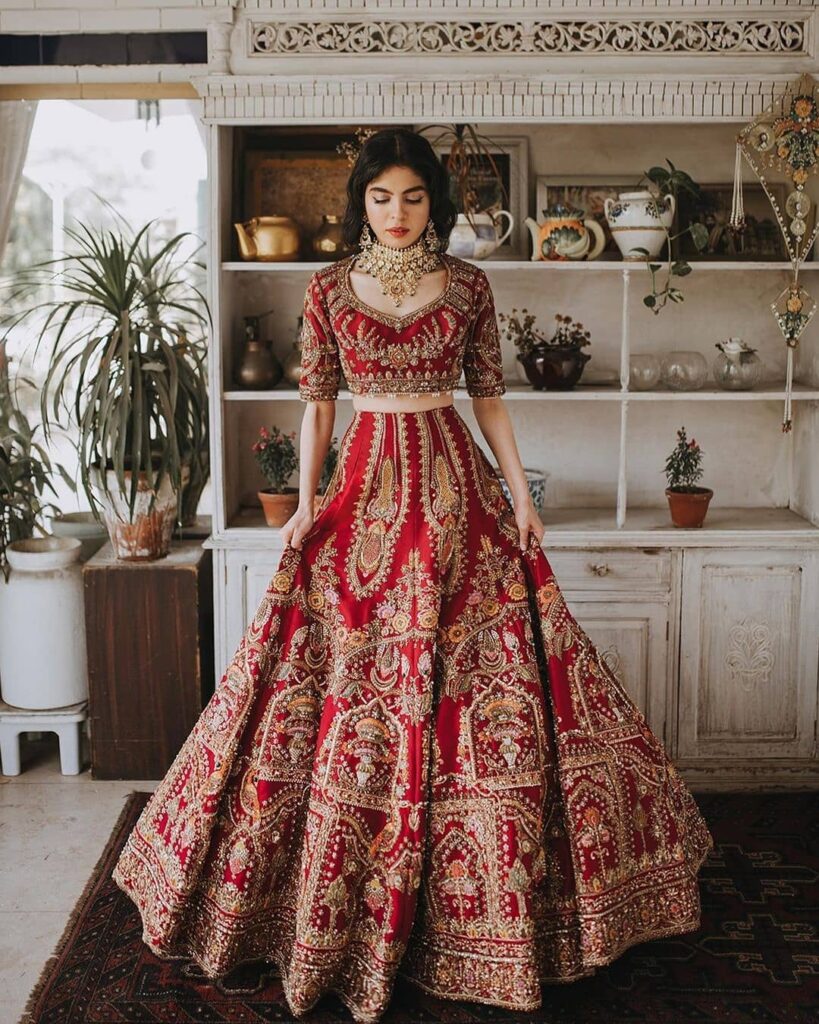 Courtesy: Ali Xeeshan
#27 Ending the list with another regal red outfit that has elaborate peacock motifs on the borders. Replete with golden work all over, we're swooning over how the bride styled her lehenga with a bandhej dupatta and gave the outfit yet another traditional touch.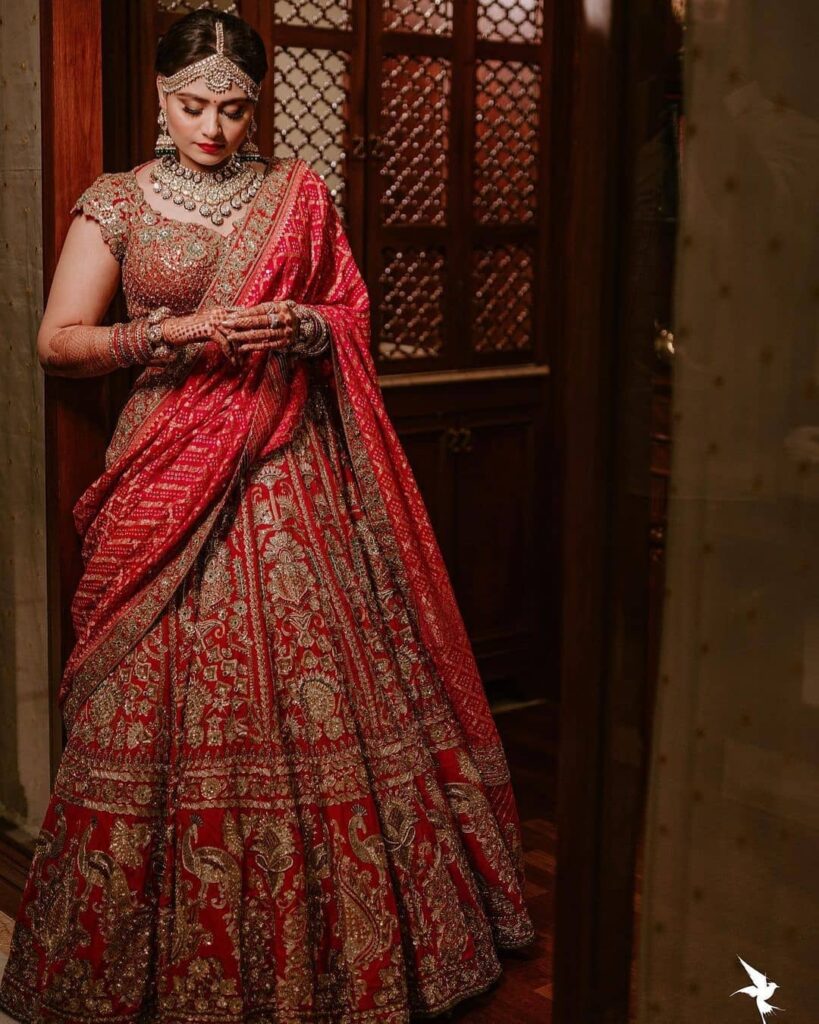 Courtesy: Unknown