A saree blouse design plays a major role in elevating the look of your six yards of elegance. That's why traditional designers are putting in the effort to put their creativity into blouse styling to create their desired aesthetic for your wardrobe. Whether you want an elegant & traditional saree look or a simple one with a clean line or a sexy one with a designer twist – this list covers them all! Bookmark the ones your like the most: 
#1 Sheer Embroidered Saree Blouse
Kresha Bajaj is known for her elaborate thread detailing on traditional garbs and her blouse designs reflect the same. Here's a recent one from her collection that displays embroidery done on a sheer net covering. Paired with a sheer saree that lets the blouse stand out, this is the party look you need in your wardrobe right away.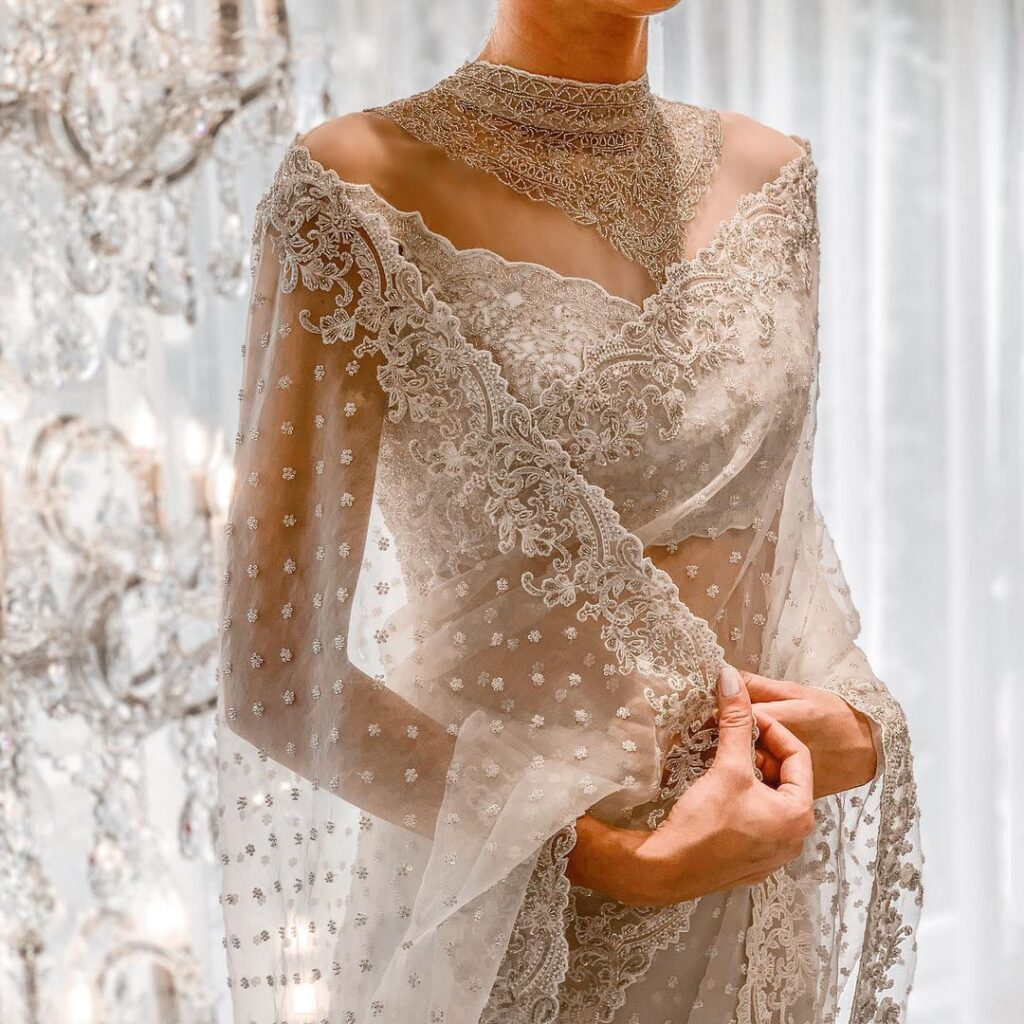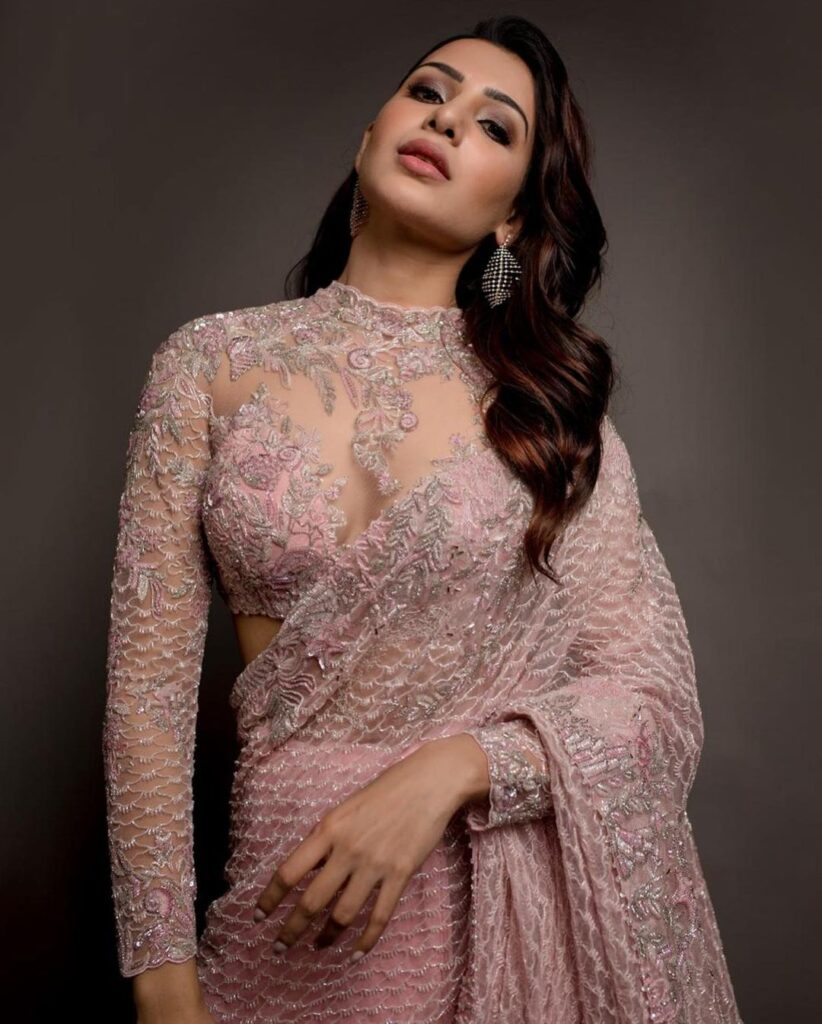 Courtesy: Kresha Bajaj
#2 Sleek One With Round Back Cut
If you are looking for a simple cut for your saree blouse design, here's one that will appeal to you. Perfected with floral work that balances the plain pink saree and uplifts the entire look, this blouse surely makes for a perfect option for women looking for a clean design on this list.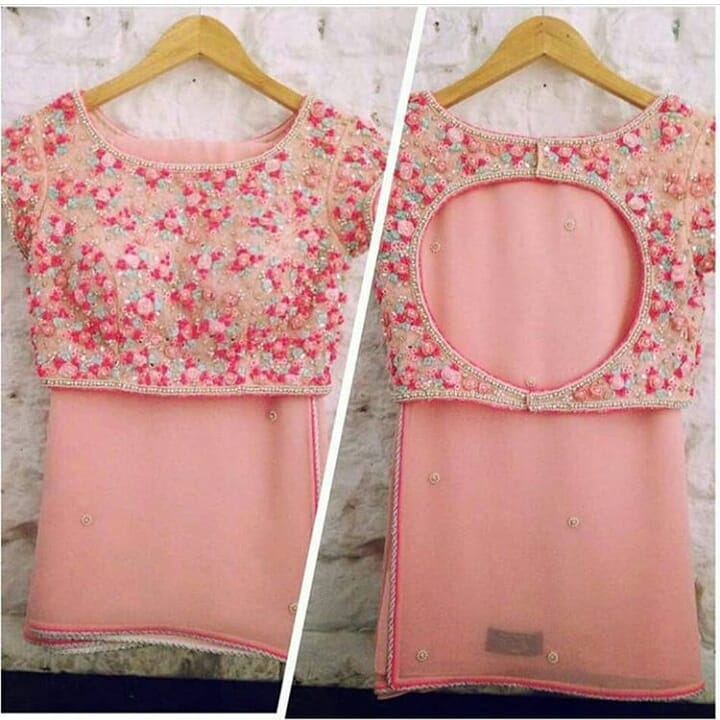 Courtesy: Pinterest
#3 Full Sleeves & A Daring Back
When Bhavna debuted her reception look, we were in awe instantly. She chose a maroon saree for her finale event but what really stood out was her sequined saree blouse. A deep round cut and full sleeves gave her a sexy and elegant look. She paired her attire with newly-married red elements and a low bun to add the last touch of grace to her breathtaking ensemble.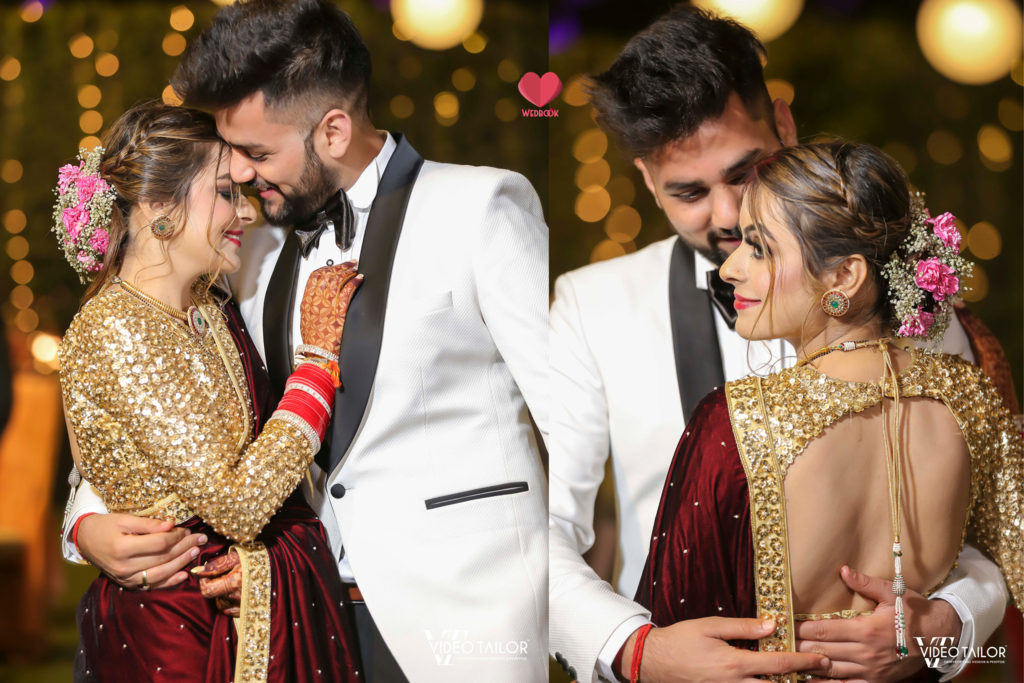 See all the pictures from her wedding reception here.
#4 V-Neck & Puffy Sleeves
For brides who want to try something different from the usually fitted sleeves on a saree blouse, here's an idea for you. The mint green pairs well with her sari's border and creates a stunning combination. But the design of the blouse with a V-neck and puffy sleeves stands out as the star of the look.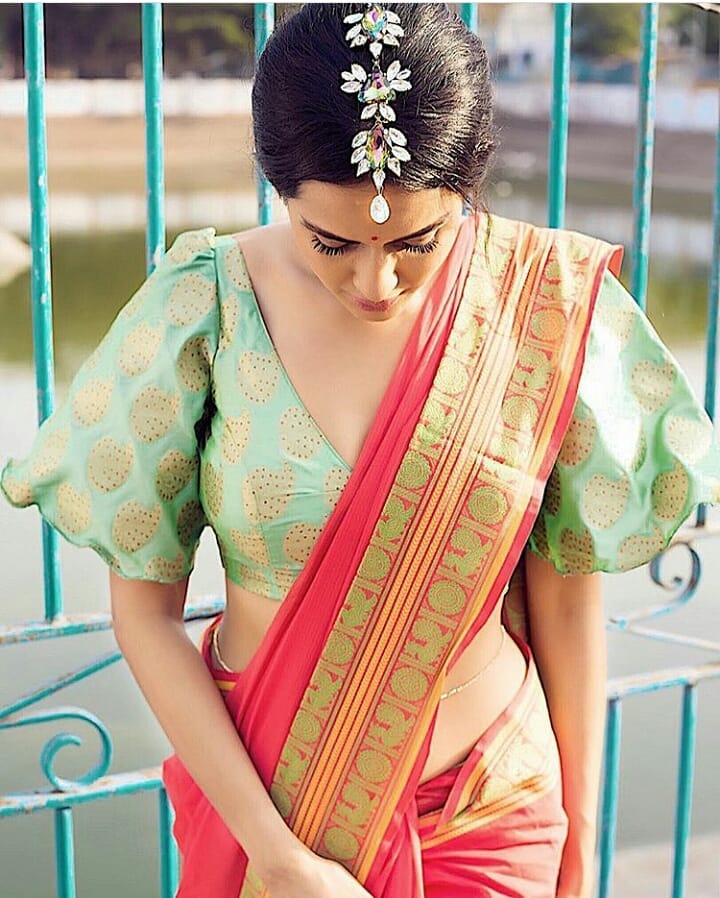 Courtesy: Pradaini Surva
#5 Deepika's Gorgeous Halter-Necked Blouse
Whenever Deepika Padukon steps out in a saree, it's hard to not gawk at her beauty. Her sleek figure and a poised aura give the saree's elegance a beautiful face. In 2018, she stepped out in a red saree for Isha Ambani & Anand Piramal's celebrations. The Faabiiana garb came with a halter-necked blouse, which is a beautiful pairing when you want to combine a party look with a traditional one. With her hair tied in a ponytail, the second picture is a must if you're trying this pattern as well.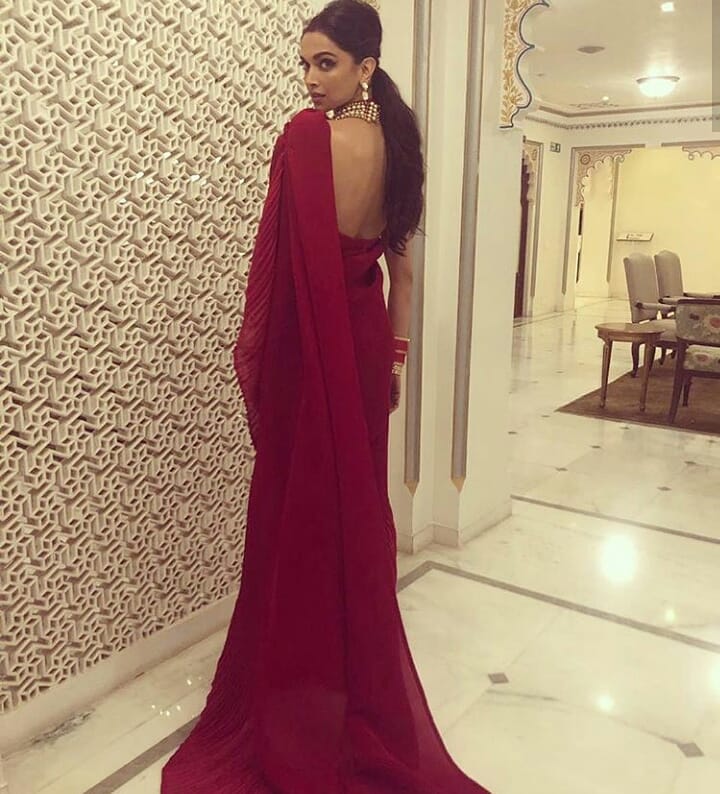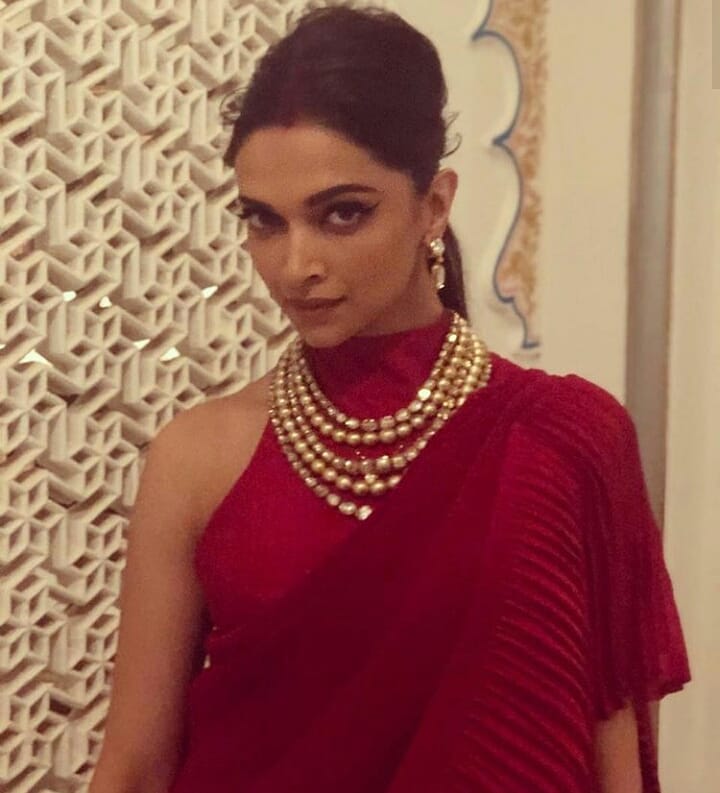 Courtesy: Faabiiana
#6 The Sheer Covering Elevates The Design
Who knew we just needed a sheer covering to enhance the entire blouse aesthetic? If you're like us, here's a design that features a simple silk saree blouse design with a bandhgala sheer covering. You can also create a 2-in-1 look by removing the cover and possibly layering with another one.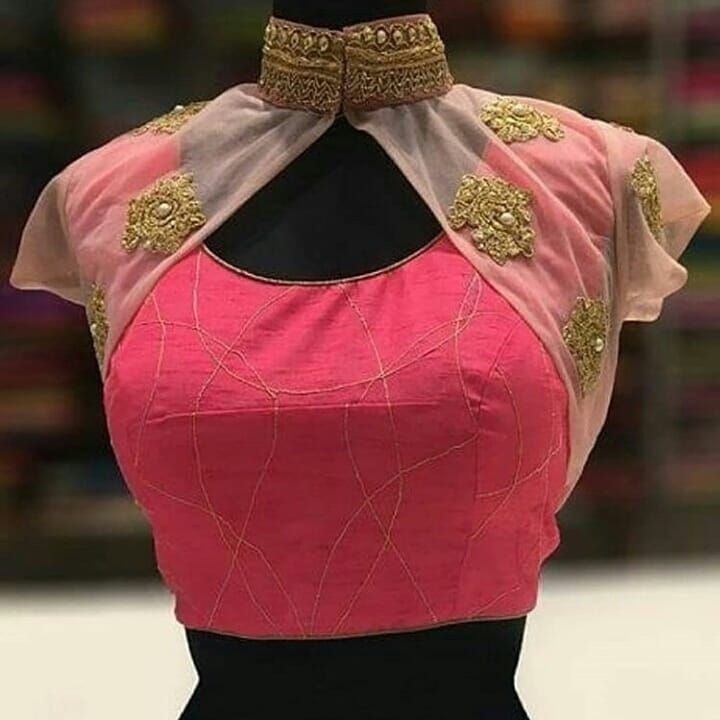 Courtesy: Pinterest
#7 Boat Neck Saree Blouse Design
A boat neck adds the perfect Western touch to an Indian outfit and gives you a neo-traditional look. These blouses can be simple or daintily embroidered for a classy effect. Displayed here is a sequined boat neck blouse with a net red saree and other styling elements in the same shade alongside a low bun for a whimsical look. We think it would make a great inspiration for your newly-wed look, don't you think?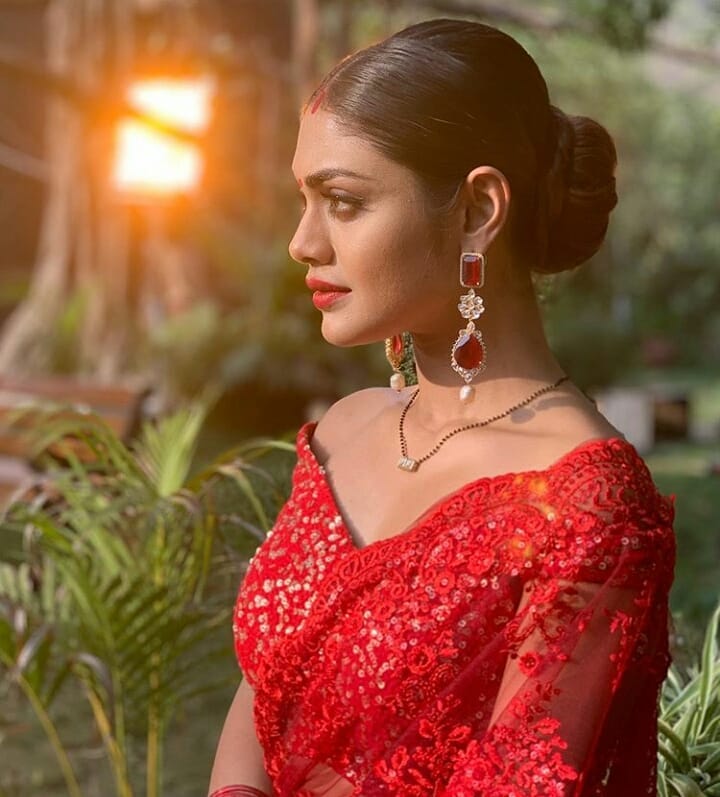 Courtesy: Sreejita
#8 Aesthetic Baraati Cut To Make Heads Turn!
This South Indian saree blouse design came with a baraat cut on the back, done so intricately that the looks were just spectacular and will be an inspiration for years to come. The jhumki earring style additions further add the beauty to the entire pattern.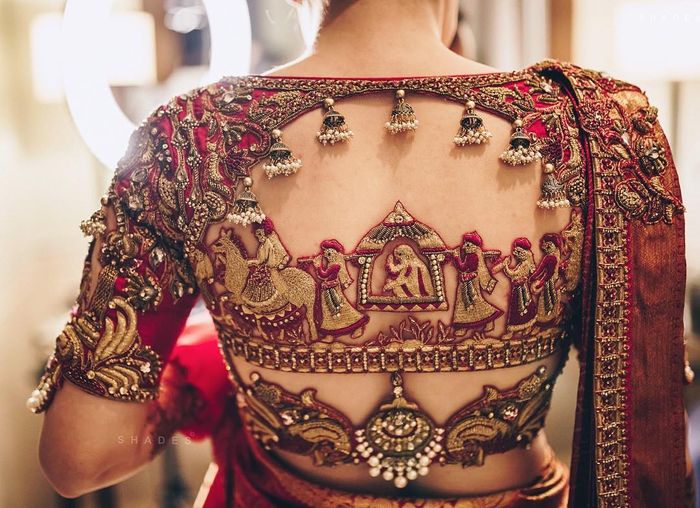 Courtesy: Shades Photography
#9 Sabyasachi's Sophisticated Blouse
For her intimate roka event, this bride opted for a deep V-cut blouse with a round back designed by none other than Sabyasachi. Paired with his signature organza sarees and bride's minimal styling, the entire look definitely acts as a perfect inspiration if you're planning a roka event soon.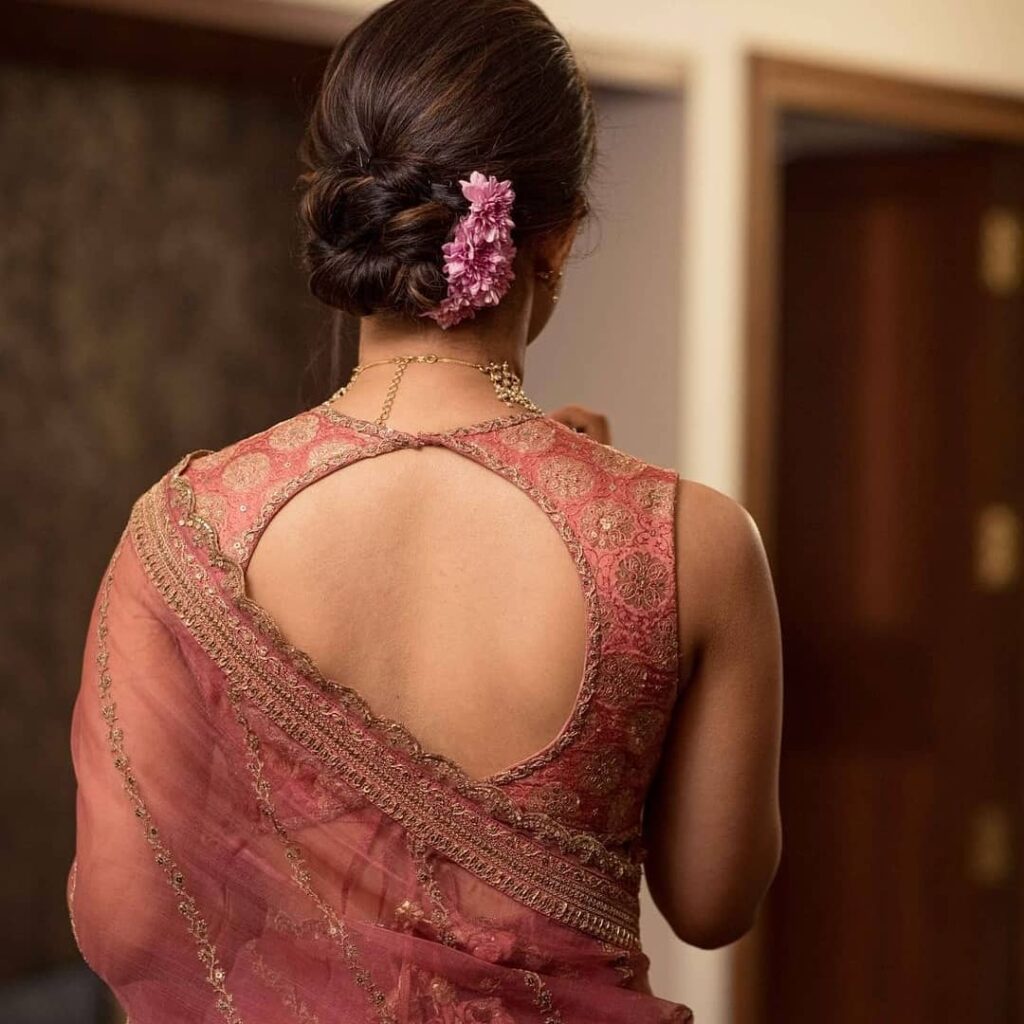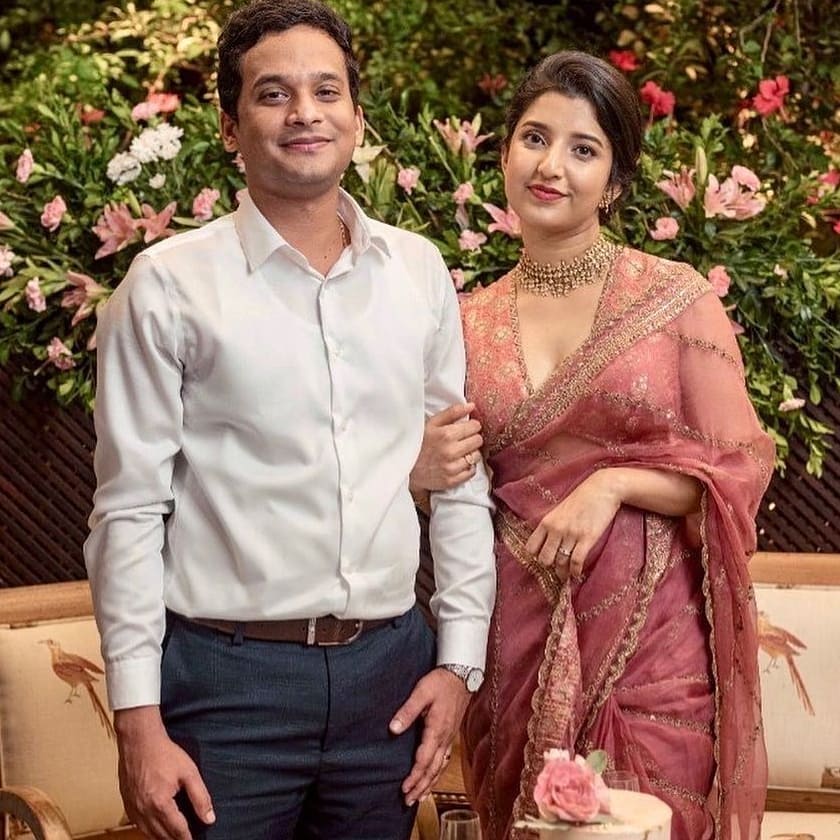 Courtesy: Thomas David Photography
#10 A Unique Back Cut
Sometimes, all you need to create a designer blouse is to grace it with a unique back cutting. Love how the gorgeous parrot green color complements the hot pink and gives us such a picturesque color amalgamation. Surely, a head-turning design for brides.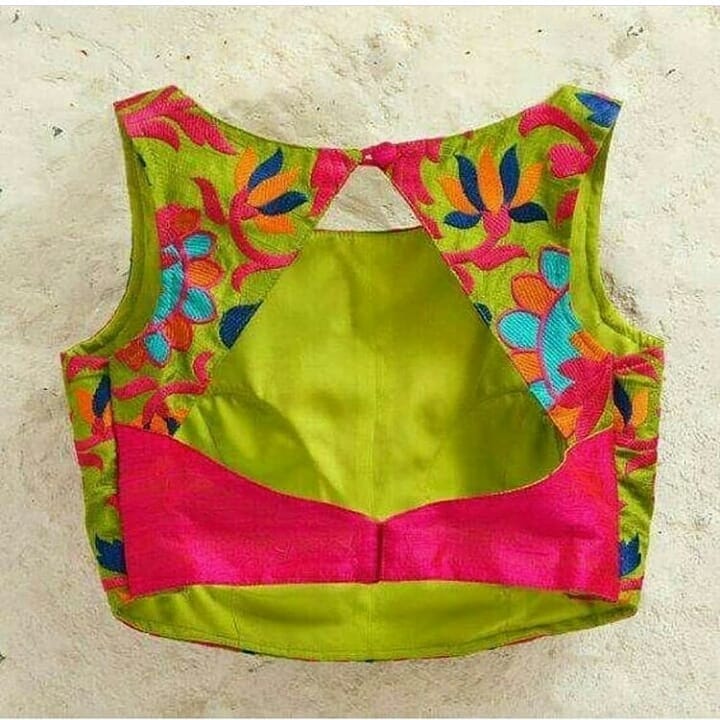 Courtesy: Pinterest
#11 Talk About Statement Sleeves
A fluffy net sleeves saree blouse design with a deep round cut is all you need to amp up the beauty of your six yards. The super-soft net and the clean blouse design is an amazing way to balance fashion with functionality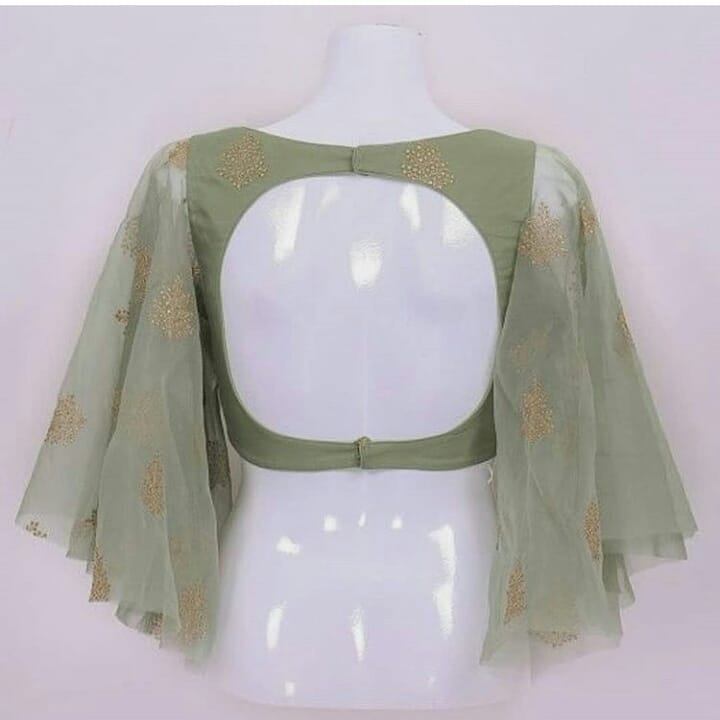 Courtesy: Pinterest
#12 Kajal Aggrawal's Saree Blouse Design
Kajal Aggarwal summery yellow roka engagement look was dreamy in every sense. Custom-designed by Manish Malhotra, Aggarwal's ensemble included a sheer organza saree and a blouse with fringe detailing on the back. To complete her minimalist look, she only paired her look with chandelier earrings and diamond-encrusted kadas, and left her hair open with a perfect blow-dry.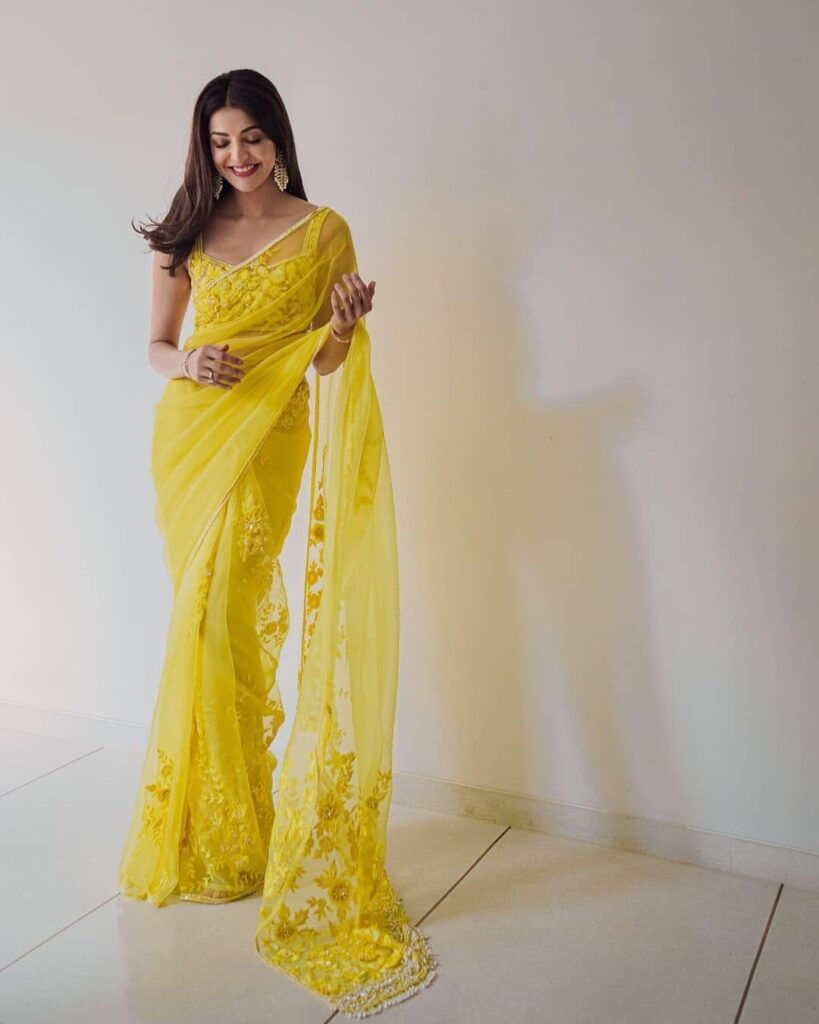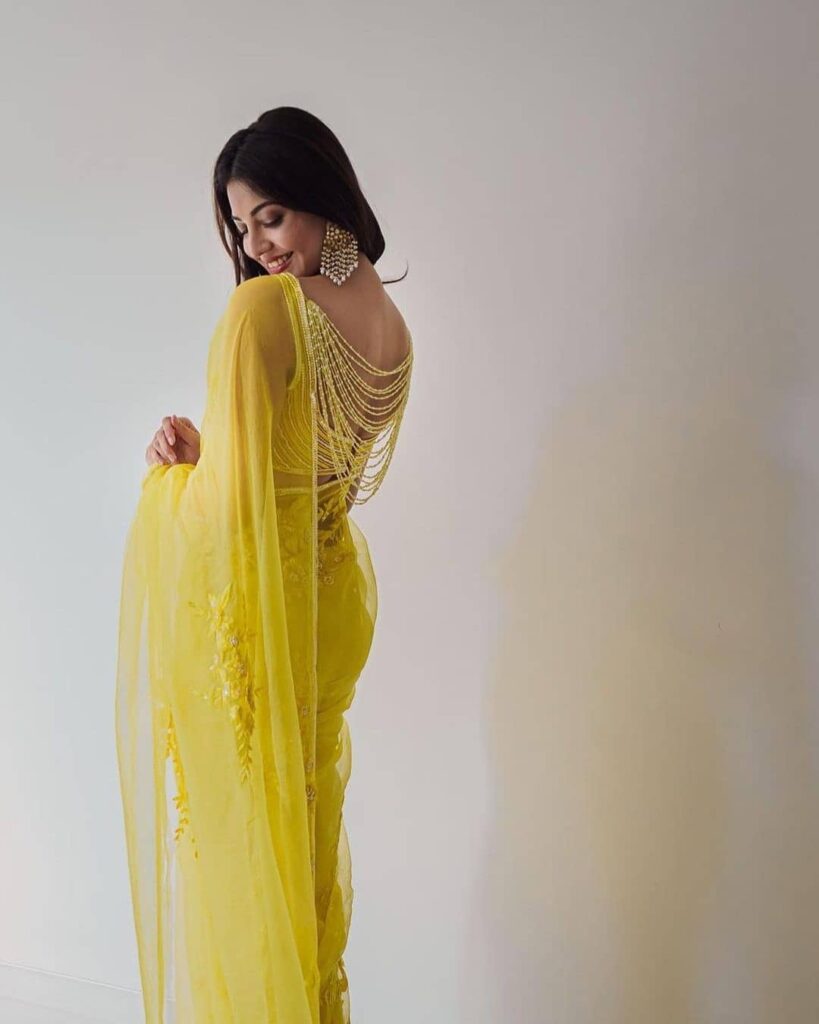 Courtesy: Kajal Aggarwal
#13 A Stunning South Indian Bridal Saree Blouse Design
For South Indian brides, it's often the blouse that ties the whole look. For those up North, the double dupatta and the veil cover the blouse and don't leave much room to shine on their own. In South India though, brides often pair a statement blouse with their silk sarees to set a statement. Here's an elaborately detailed one with elbow sleeves and a sweetheart neckline that looks lovely with the bride's banarasi brocade saree.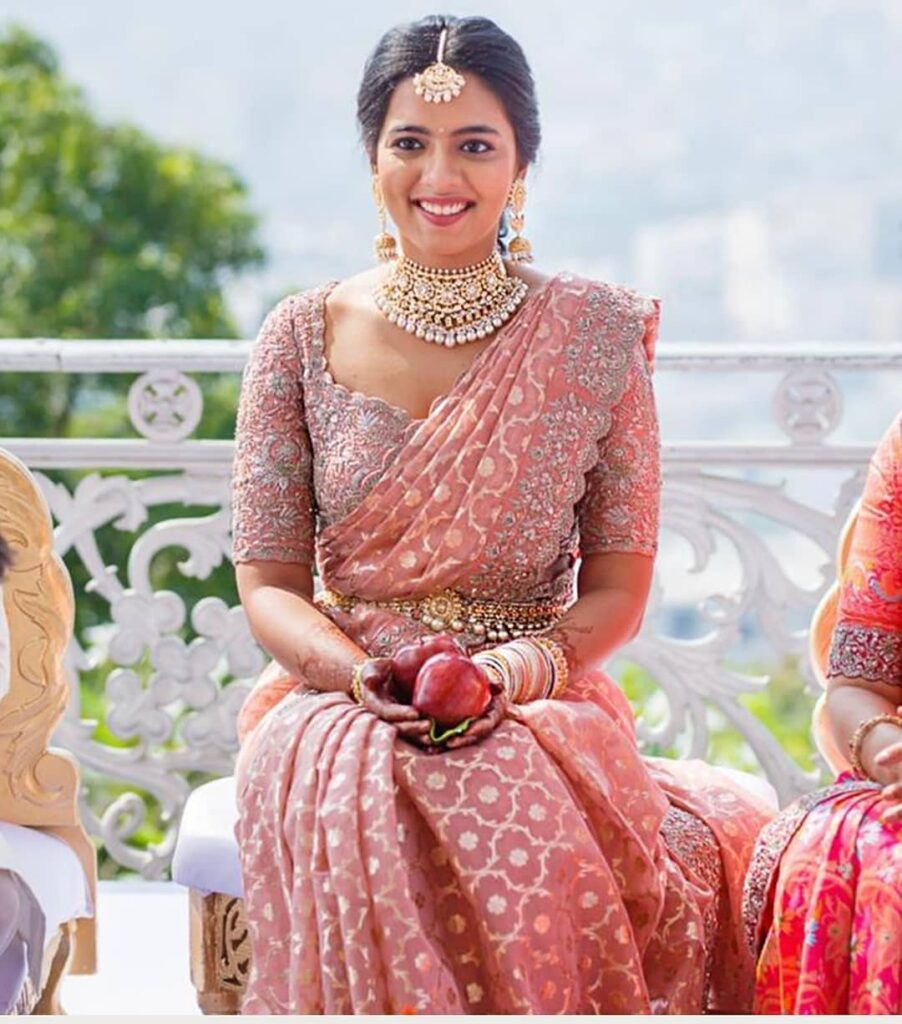 Courtesy: Anushree Reddy
#14 Sequined Saree Blouse Design
This style is so chic and feminine. The pastel green saree has a multi-hued sequin on the border that matches the eye-catching blouse design. The blouse itself has such a unique cut that it would look immensely graceful when donned and will definitely garner you tonnes of compliments.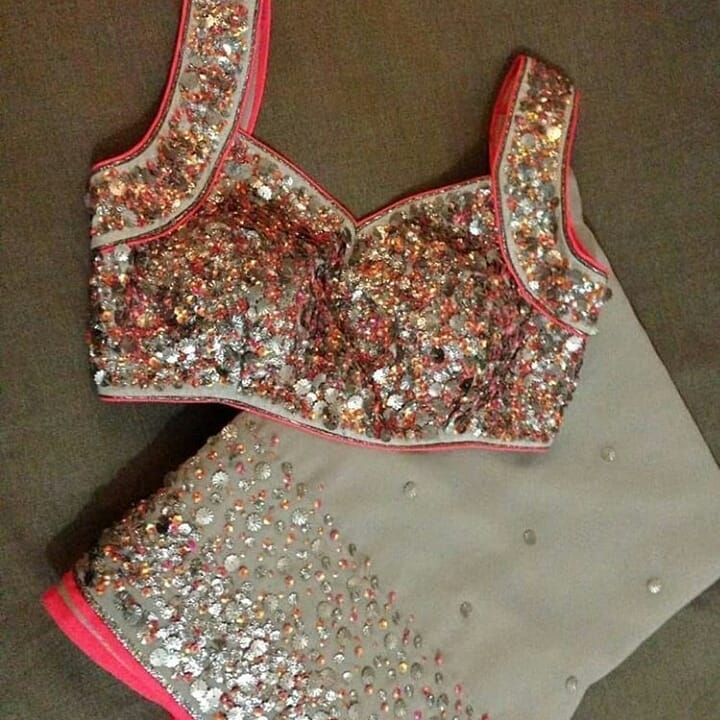 Courtesy: Pinterest
#15 Gracious Saree Blouse Design
If skin show with a blouse design is something you aren't comfortable with, this gracious Sabya blouse will win your heart. The boat-style neckline with a U blouse back cut can go with any saree of your choice and elevate the grace quotient of the entire ensemble.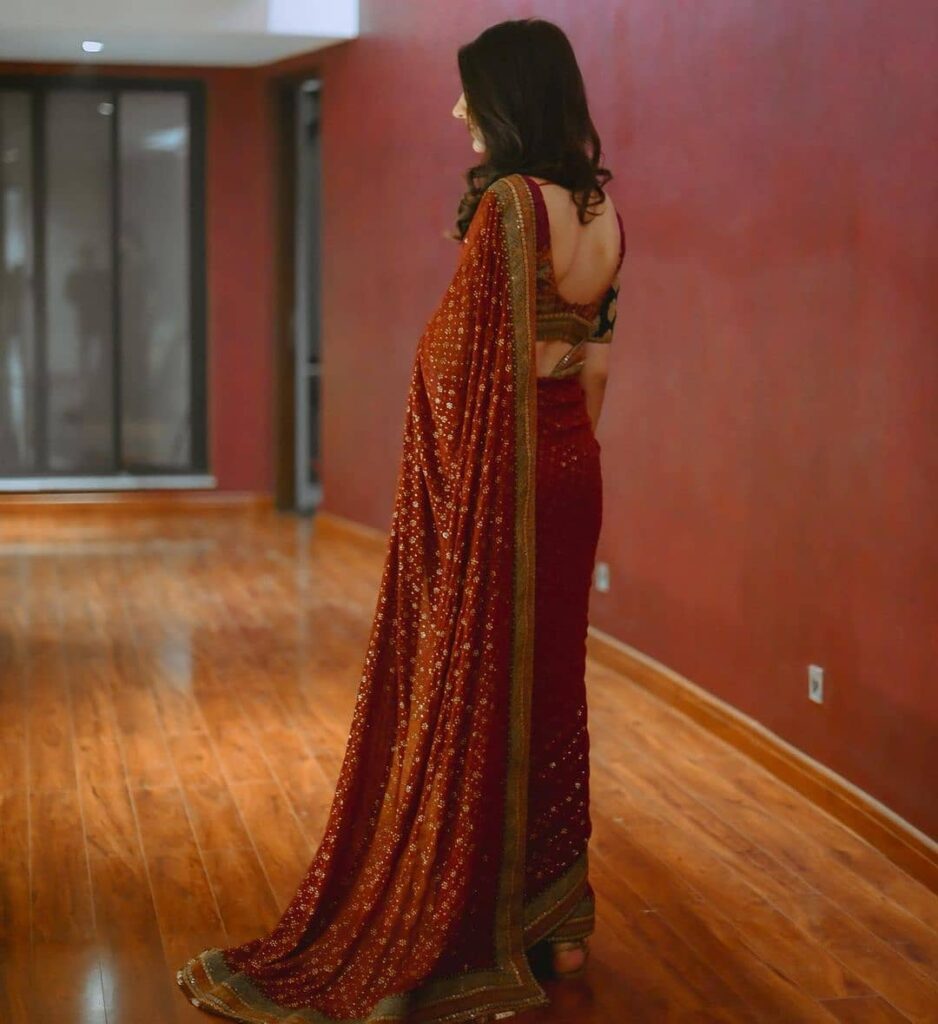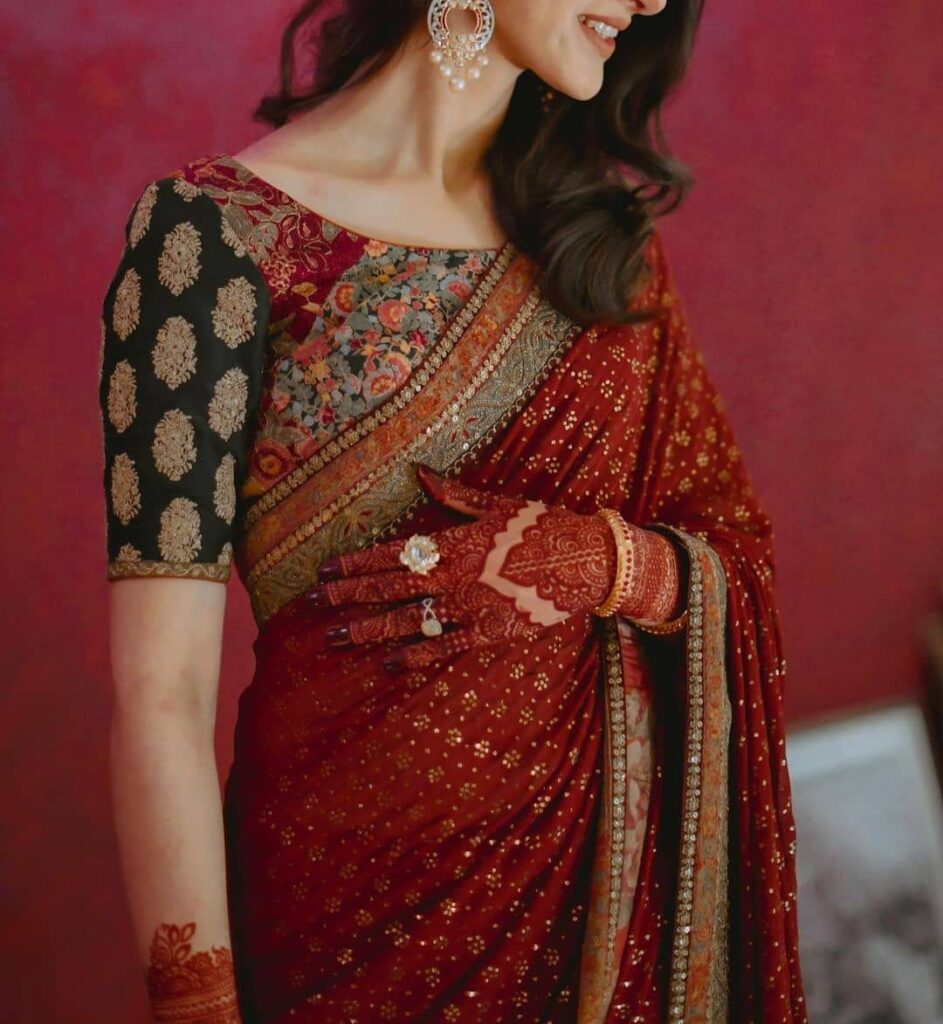 Courtesy: Sara Idrees
#16 V-Neck Cut Saree Blouse Design
Not only are Anita Dongre's sarees a work of elegance and art but the blouse designs she pairs them with are often an ode to her sumptuous aesthetic. In her 2021 collection, she launched a bunch of handwoven sarees and one of them was this stunning satin silk one paired with a sleeveless V-neck blouse. If you're opting for this blouse, make sure you pair it up with a choker to enhance the appearance of the cutting.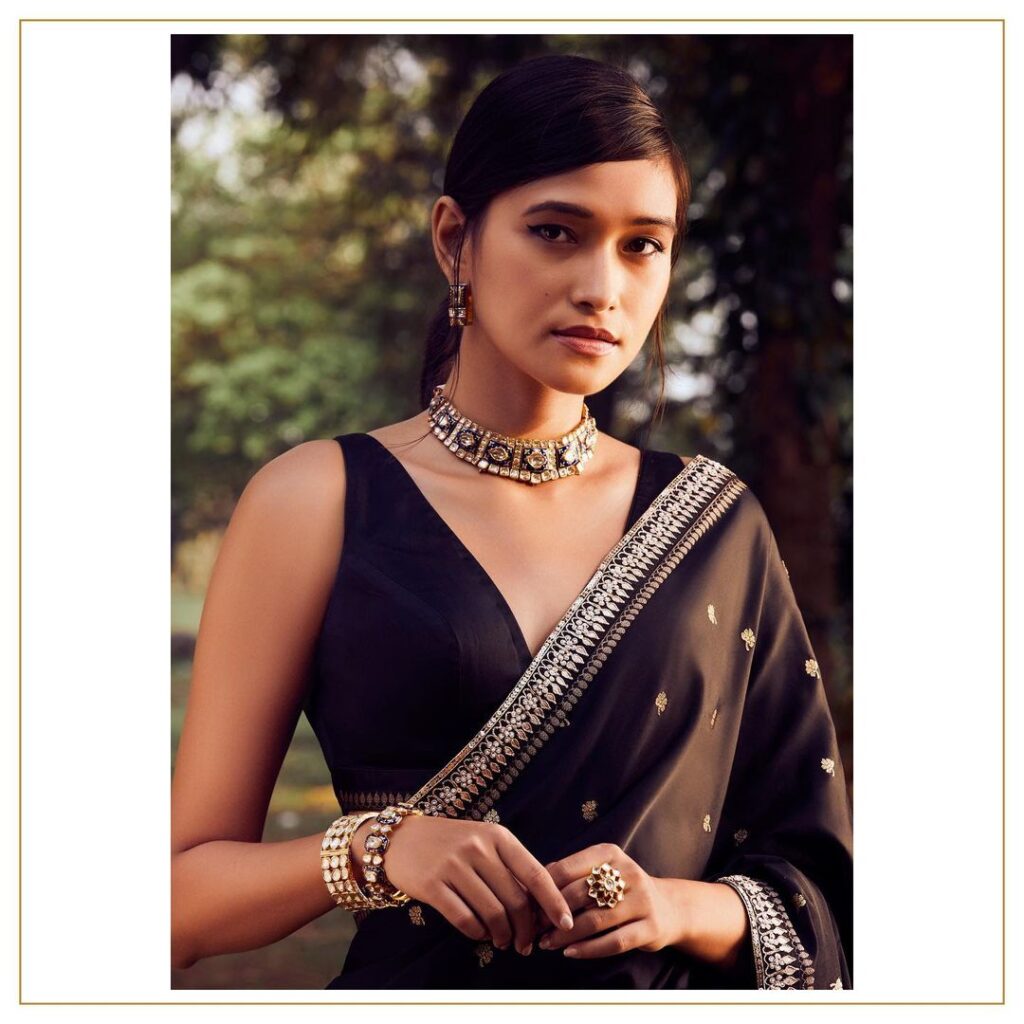 Courtesy: Anita Dongre
#17 Deepika Inspired Saree Blouse Design
Deepika Padukone is a huge fan of full-sleeve and zero-neck blouse designs. This one right here is inspired by her Bangalore reception ensemble. The bride wore it for her intimate wedding during the peak pandemic scare of 2020.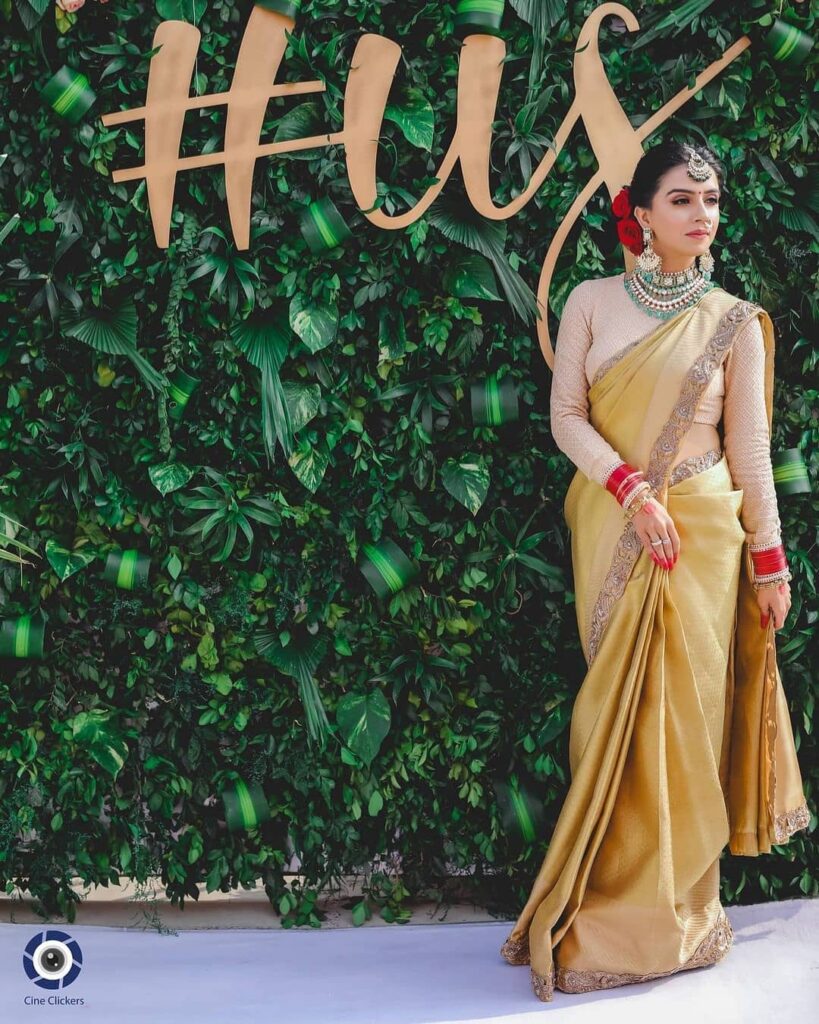 Courtesy: Cine Clickers
#18 Unique Wedding Saree Blouse Design
This couple melted our hearts with their cute couple poses, but we also couldn't help but notice the statement blouse of the bride. She color-blocked her blouse with a saree and designed it with a standalone back cut and puffy sleeves. Love her take on the traditional look with a side of fashion.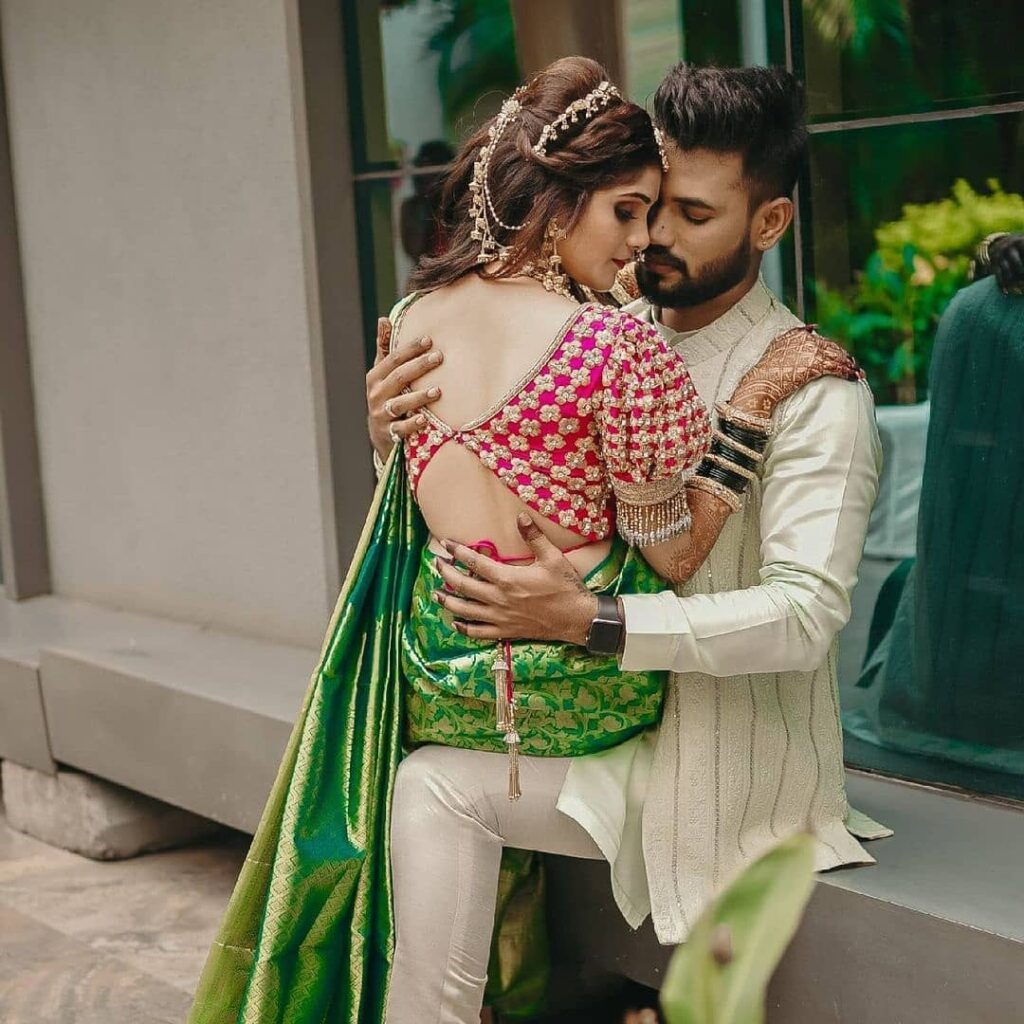 Courtesy: Neel Chavan Photography
#19 Sequin Sabyasachi Saree Blouse
Sabyasachi head-to-toe sequin saree ensembles created a trend of their own when they were launched in 2020. First seen on Deepika Padukone at Chhapak trailer, it wasn't long before it reached the trousseau of real brides. Here's a gorgeous bride who carried a red sequin saree with a U-cut front and back saree blouse for her engagement and gave us all utter inspiration for a roka look.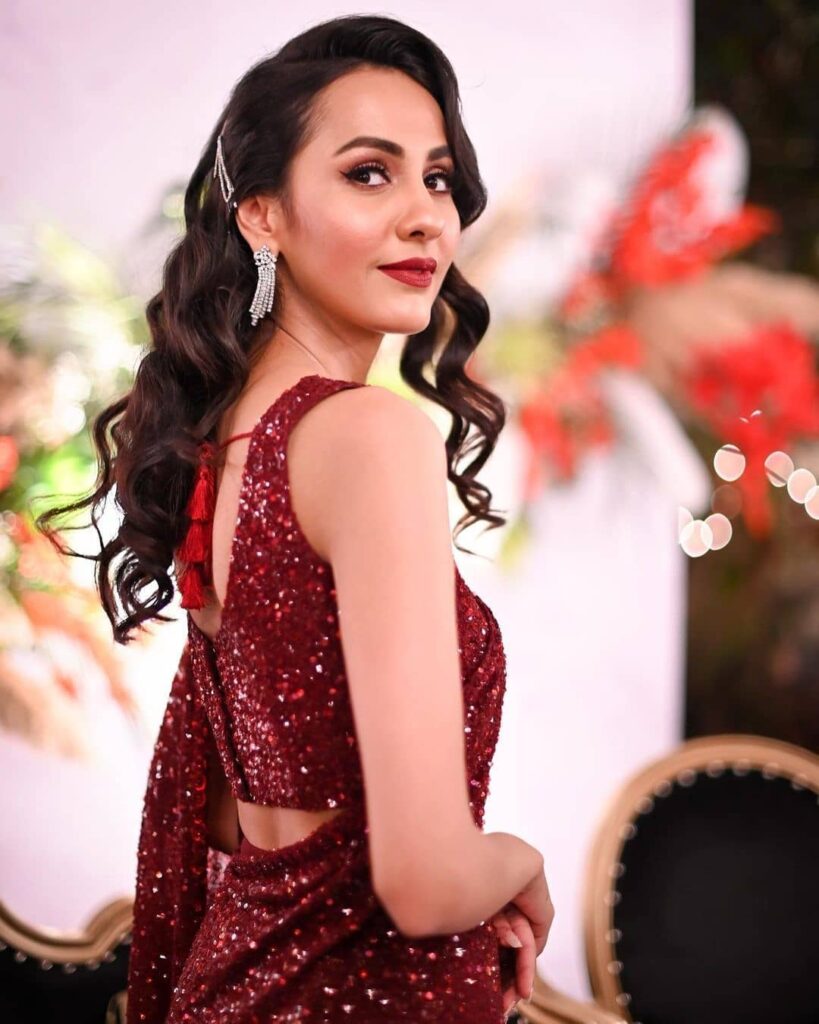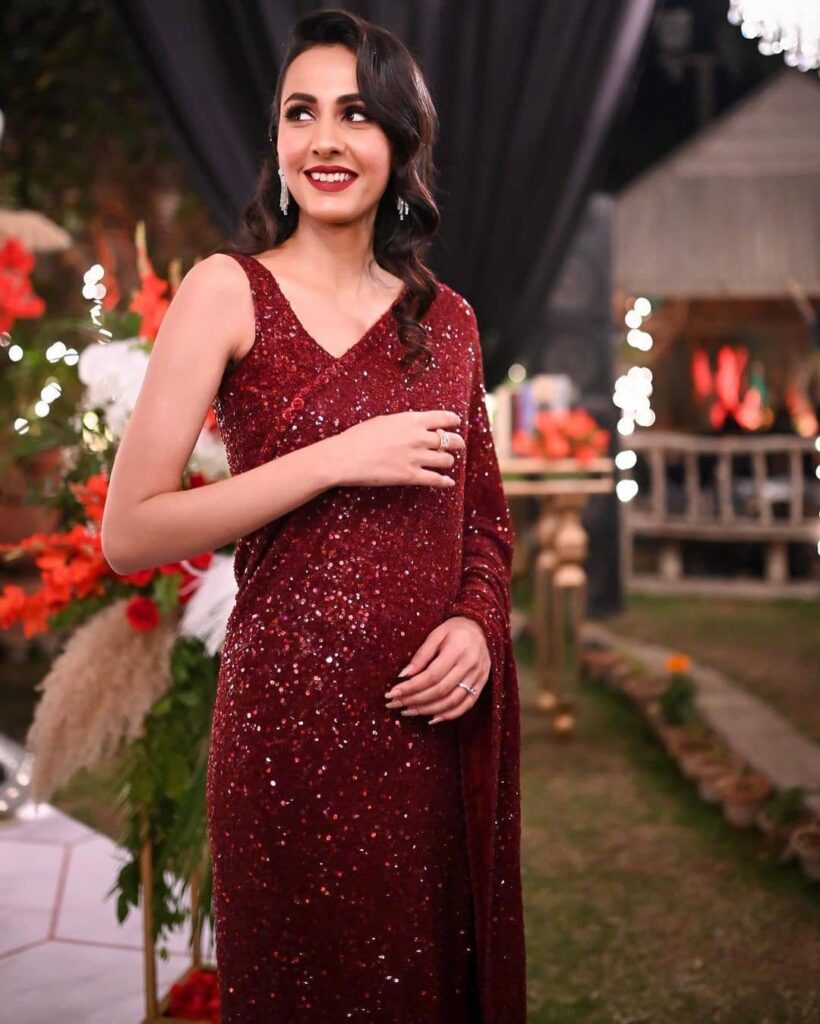 Courtesy: Mydah Raza
#20 A Sexy Back Cut Blouse
We have said it before, nothing brings the sexiness in a blouse design like a deep gorgeous back cut, like the one shown here. P.S. We'd recommend getting your back all scrubbed and moisturized to make it look flawless in a design like this.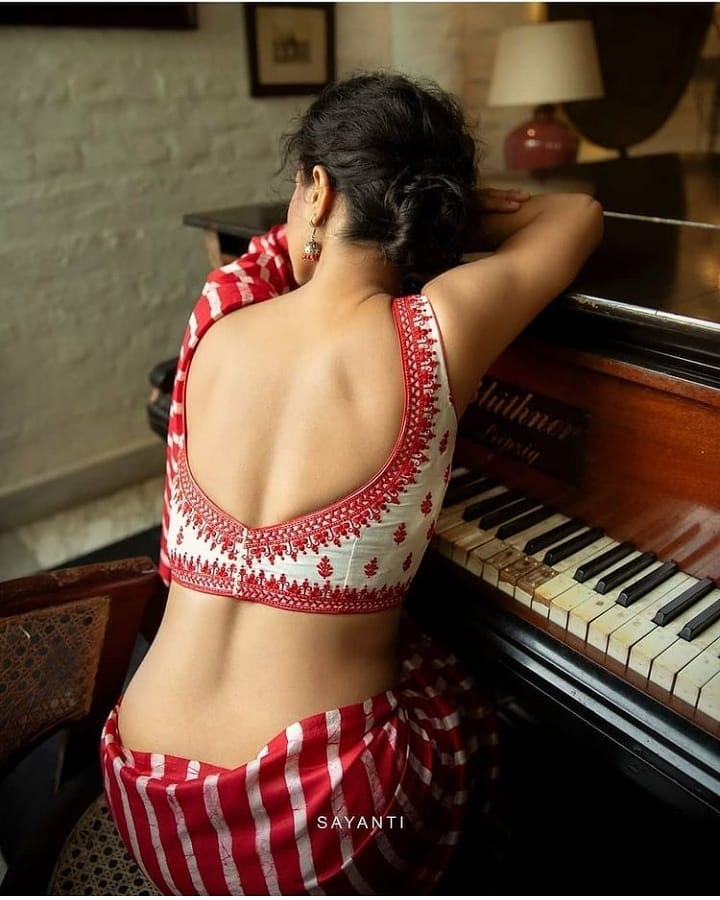 Courtesy: Sayanti Ghosh Designer Studio
#21 Saree Blouse Designs
If you want to add style to your simple strappy blouse, do it by adding funky tassels like this on the top. It adds a feminine touch to your blouse, and hence, to your ensemble. It also covers a bit of your back – which is a great idea for all those shy girls who want a backless blouse but still want to make it subtle.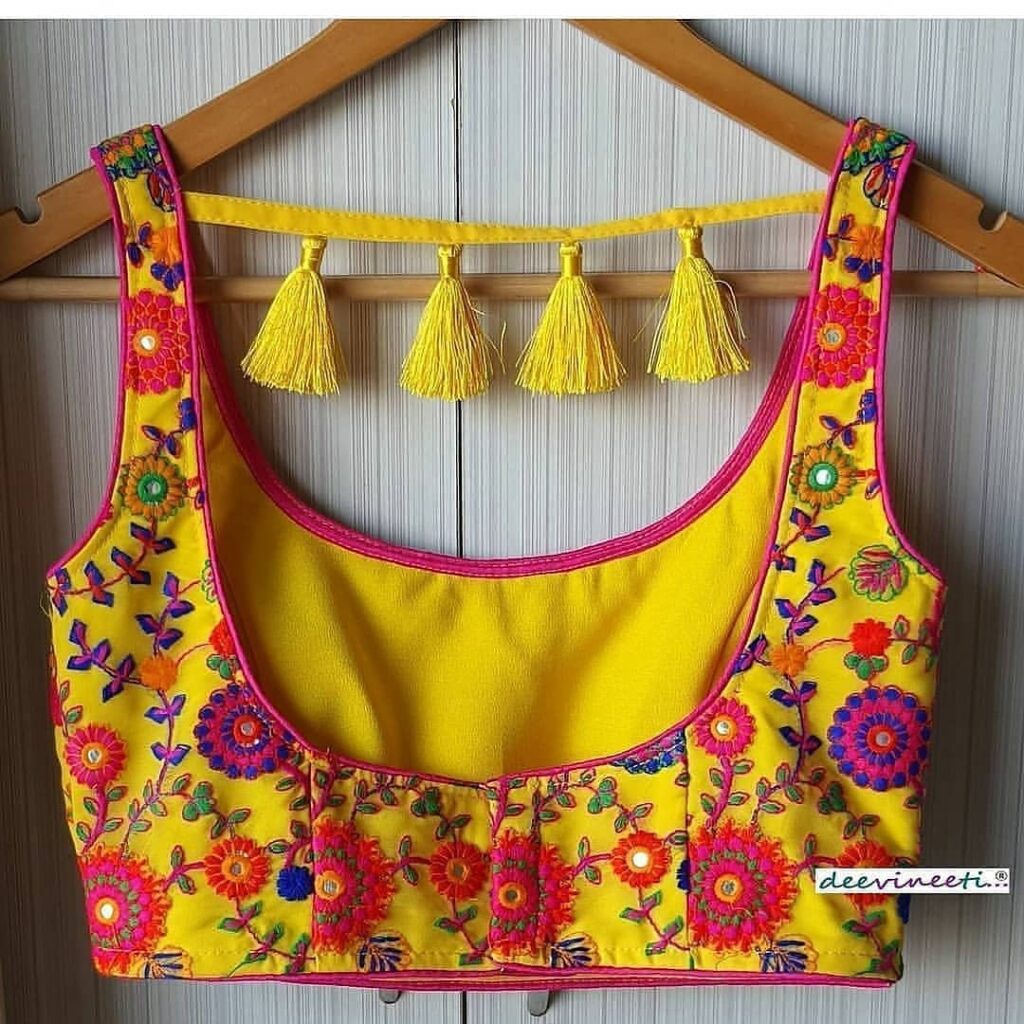 Courtesy: Devineeti
#22 Designer Saree Blouse Design
Everything about this blouse design screams fashionable and designer. From the fluffy sleeves that become fitted on the ends to the distinctive color combination and a back cut that's noteworthy – if you take inspiration from this design, prepare to get asked tonnes of questions and compliments. The dori detailing instead of a plain cloth lining is just cherry on the top.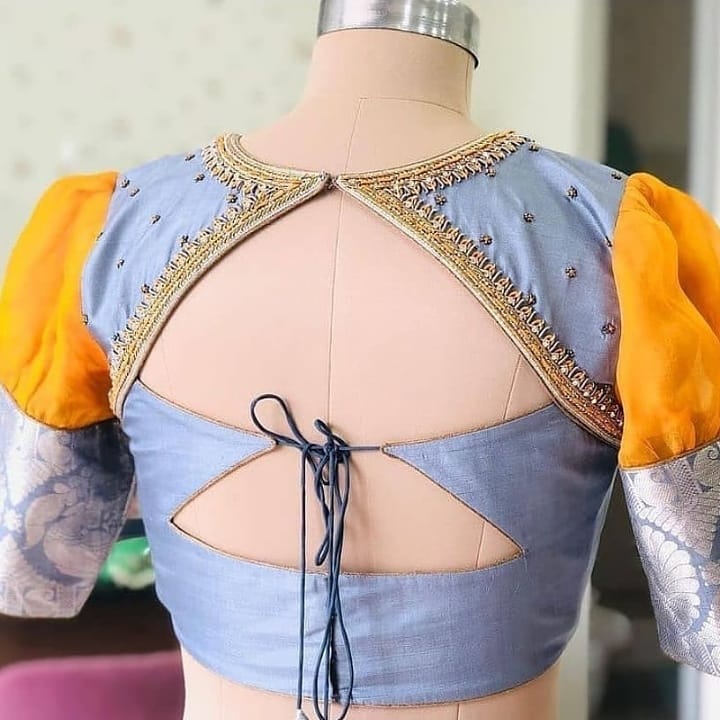 Courtesy: Pinterest
#23 Bold Deep Back Saree Blouse Design
If you're the bold & daring kind or are in the mood to up the sensual appeal of your wardrobe, bookmark the next pattern on our list. With nothing but just two strings that tie the blouse on the back, and a hairstyle that enhances the flirtatious patterns, this blouse is the perfect one for our bold brides.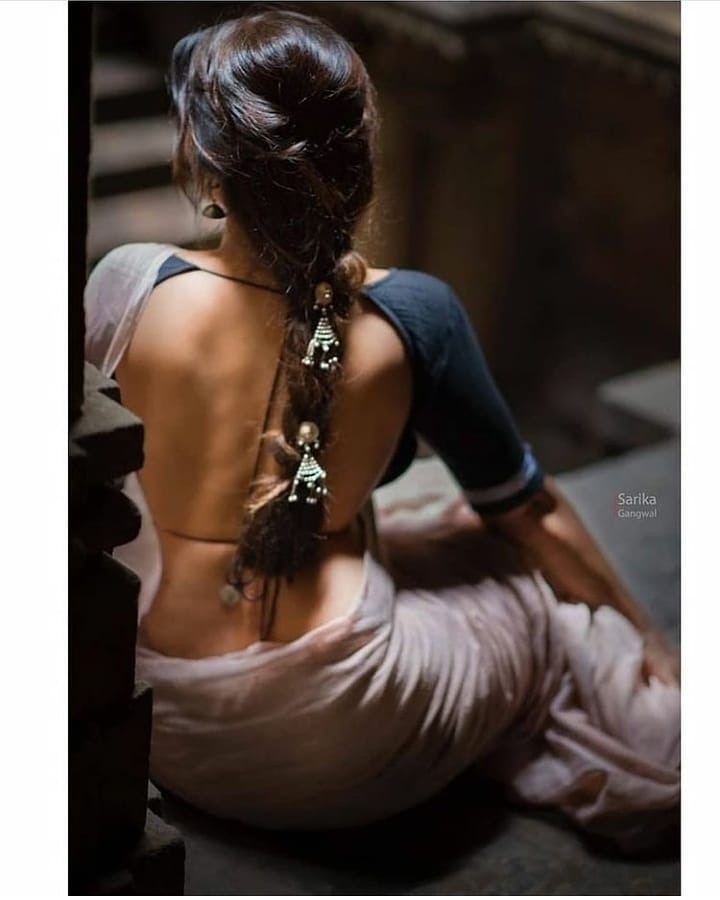 Courtesy: Sarika Gangwal
#24 Subtle One!
That subtle oval cut on her blouse design adds an alluring appeal to her entire outfit and the photography pose. Doll yourself up in the chic and notable blouse which gives you feminine feels while staying on the radar with the latest fashion.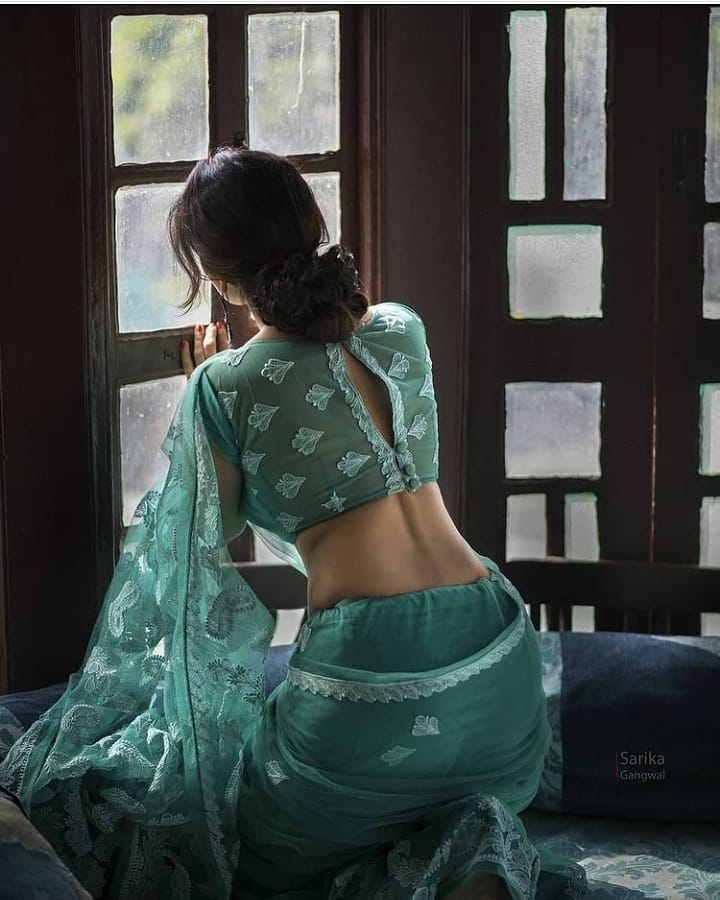 Courtesy: Sarika Gangwal
#25 Suave Wedding Saree Blouse
An elaborate sweetheart neckline with elbow length blouse and fringe details on the sleeves adds a whimsical charm to her elaborate designer saree. A striking number from Falguni Shane Peacock's collection, this silver saree is all about ease and poise for your wedding revelries.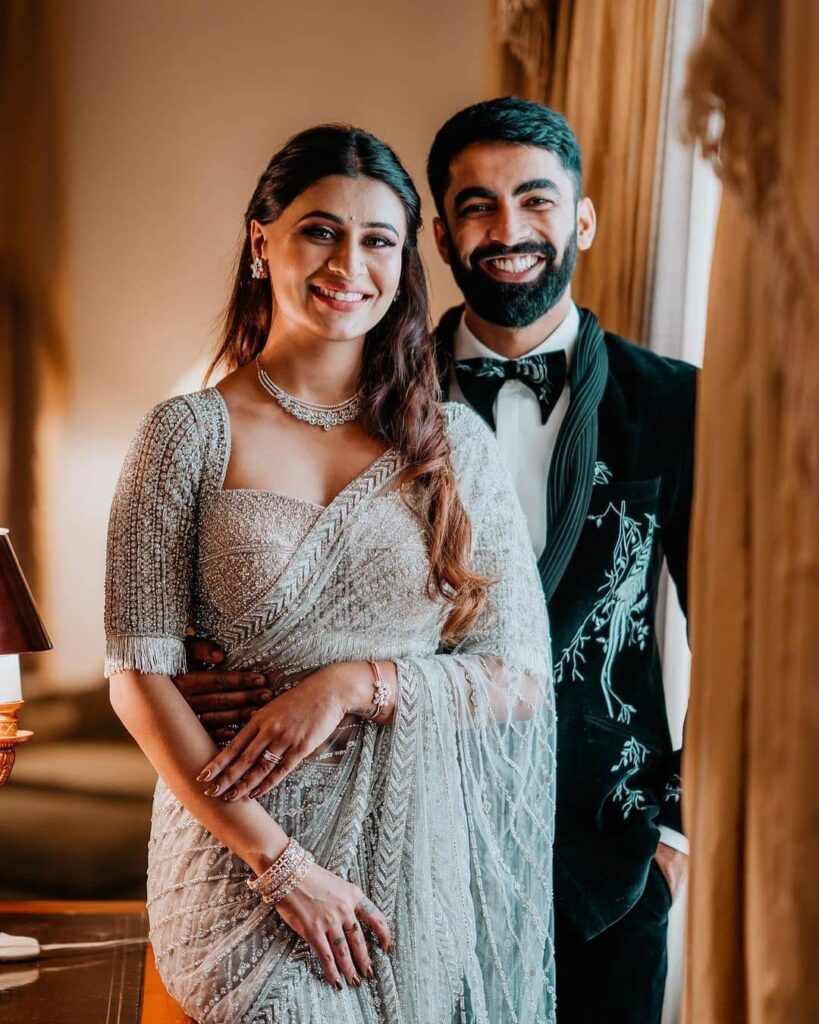 Courtesy: Deepak Vijay Photography
#26 Noteworthy Saree Blouse Design
Replace the normal hook button and a clean line on the blouse back tie-up with an adjustable strap and a dori to create a maximum statement. When planning for your trousseau, it's best that you go for different styles & cuts for the blouses so you don't miss out on anything as a newlywed.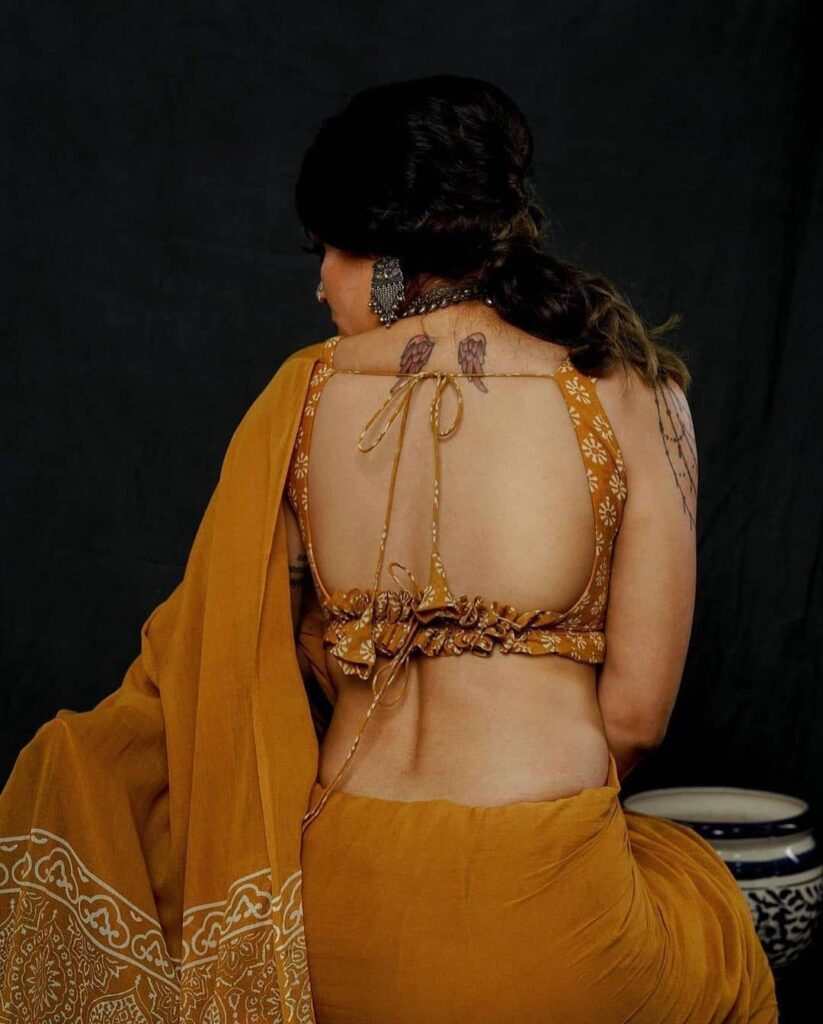 Courtesy: Pinterest
#27 Net Saree Blouses
For women who're looking for a ravishing style option for their next event, here's one that stands out! The embroidery on the net is just gorgeous and amps up the beauty of the saree. Although, we'd recommend that you get this style done only by a talented seamstress. When not done right, it will lose the entire appeal.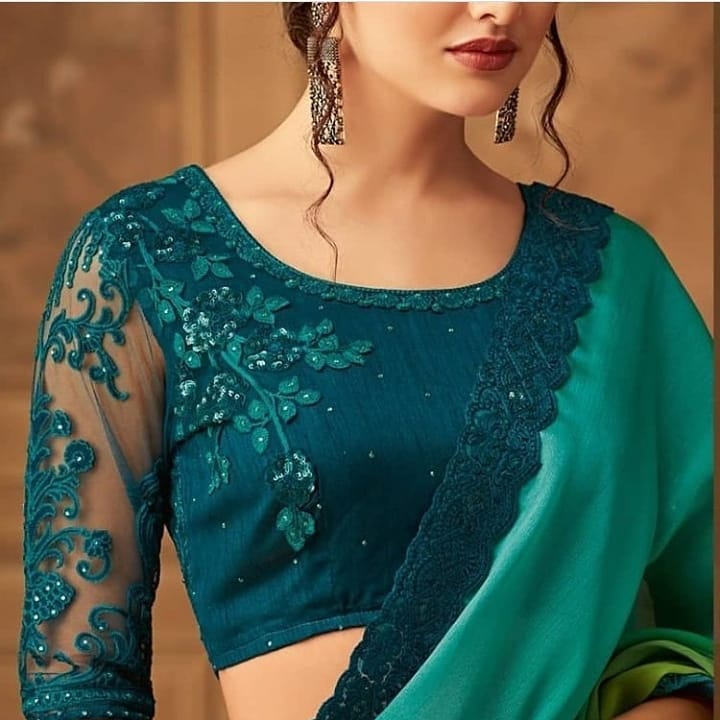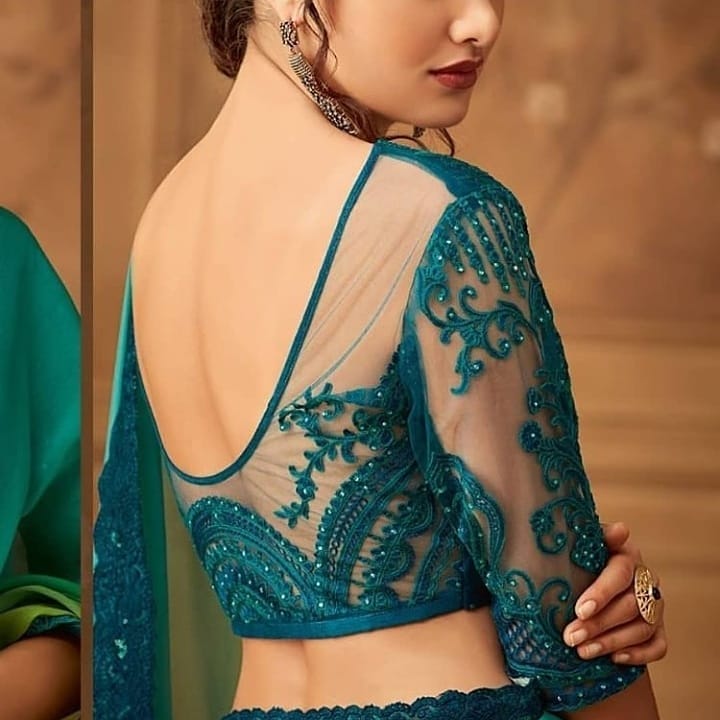 Courtesy: Pinterest
#28 Elegance Redefined
This look caught our attention on Instagram instantly and when we posted it on our profile, you guys showered it with much love and likes. The satin silk saree blouse design with thread detailing looks gorgeous, but so does the other styling elements. Dainty diamond jewelry pieces, a low bun, saree trail, and a red lip to outbalance the muted tones all fitted in to create one enchanting bridal look.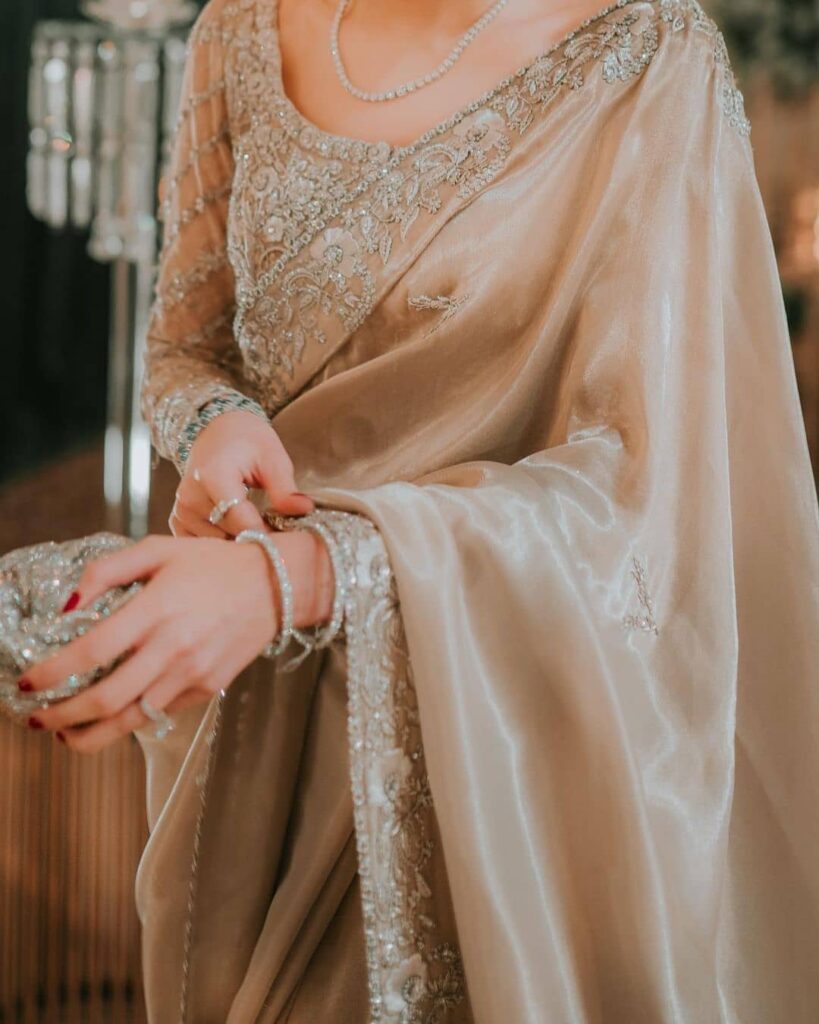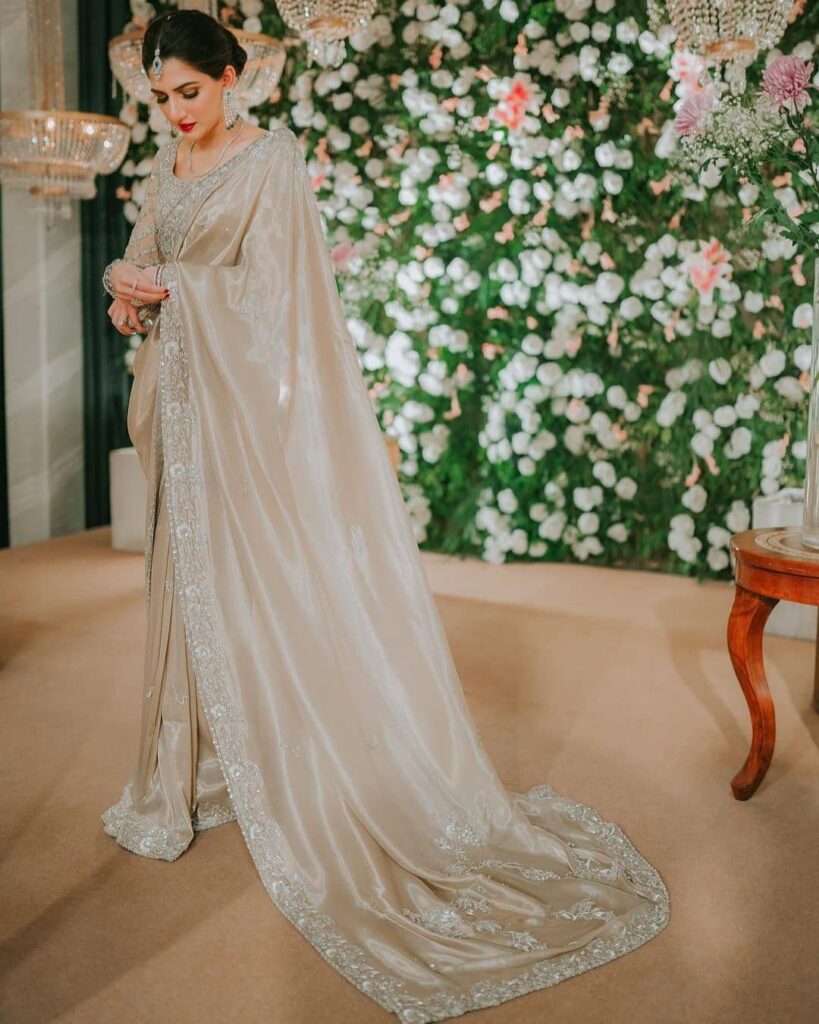 Courtesy: Bunto Kazmi
#29 Strappy Blouse Design
For couples who have their prewedding scheduled soon, here's ensemble inspiration for you at its finest. The bride opted for a satin red saree, while the groom looked debonair in a black tuxedo. Red + Black is already such an aesthetically powerful color scheme. On top of that, we are really admiring the bride's strappy blouse choice that didn't away from their minimal, elegant aesthetic couple goals.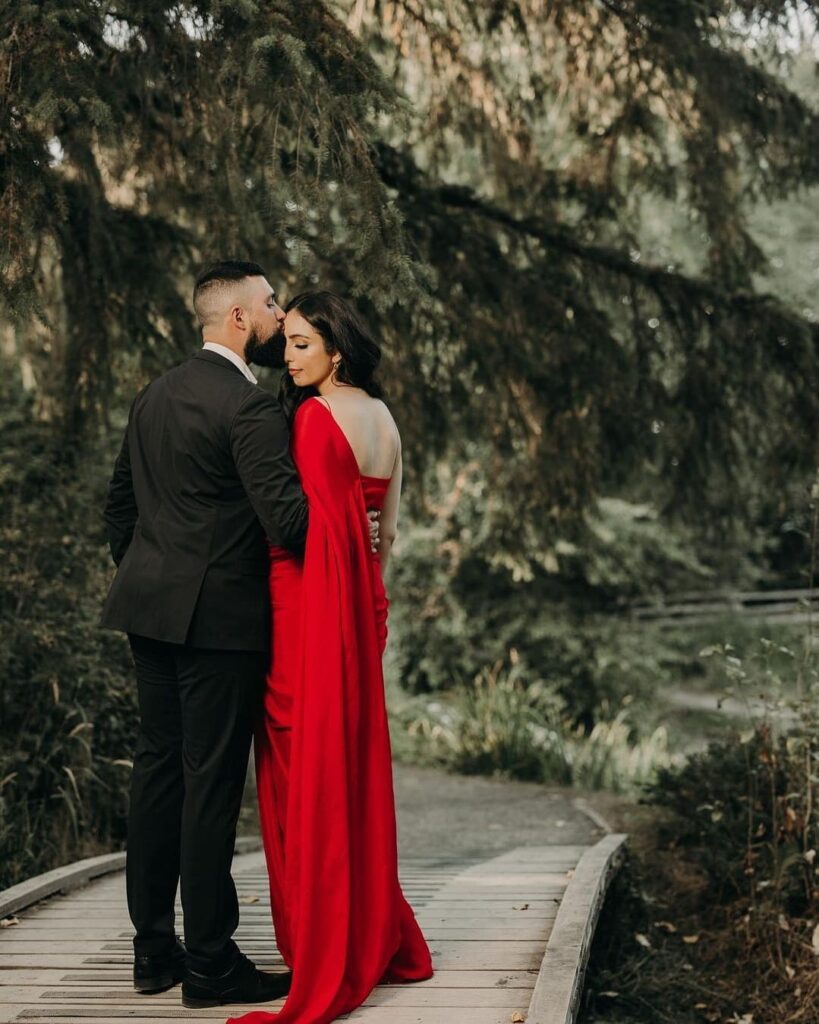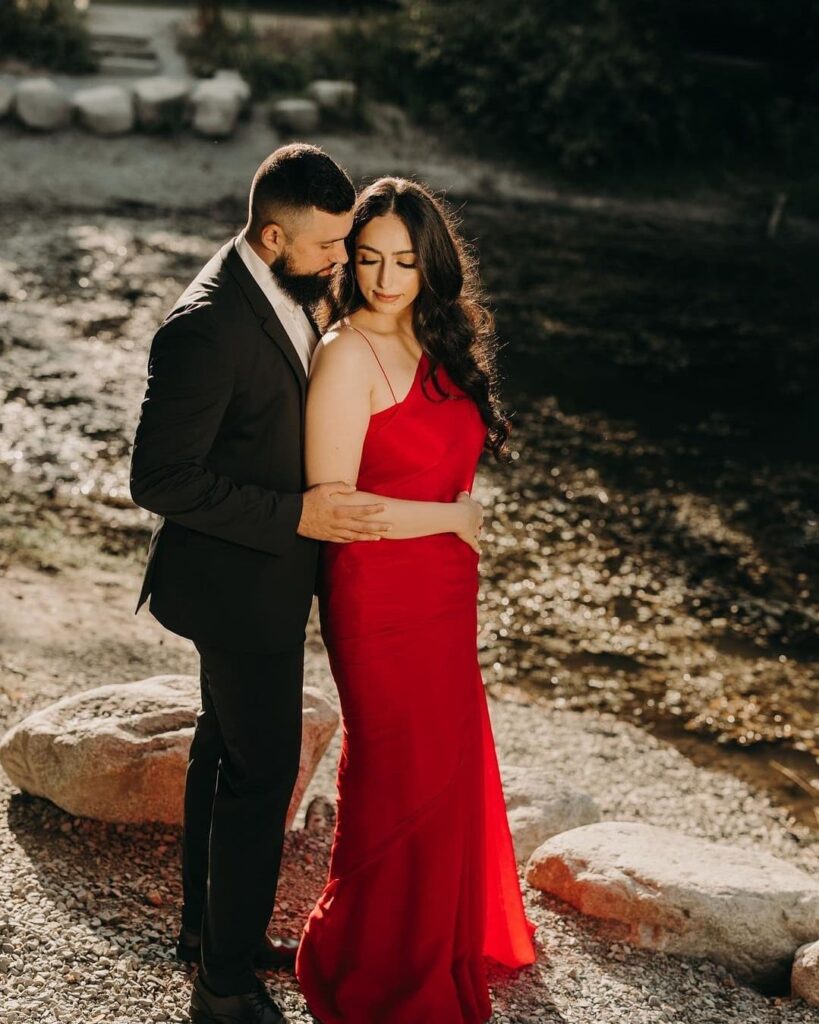 Courtesy: Amrit Photography
#30 Knot Saree Blouse Design
This one is one of our favorite blouse designs of all time. A pattern that will suit women of all ages, any event you're going to, and whatever traditional wear you're donning. With a knot detailing on the back and funky tassels on the top, this blouse is one of the most dapper ones on the list.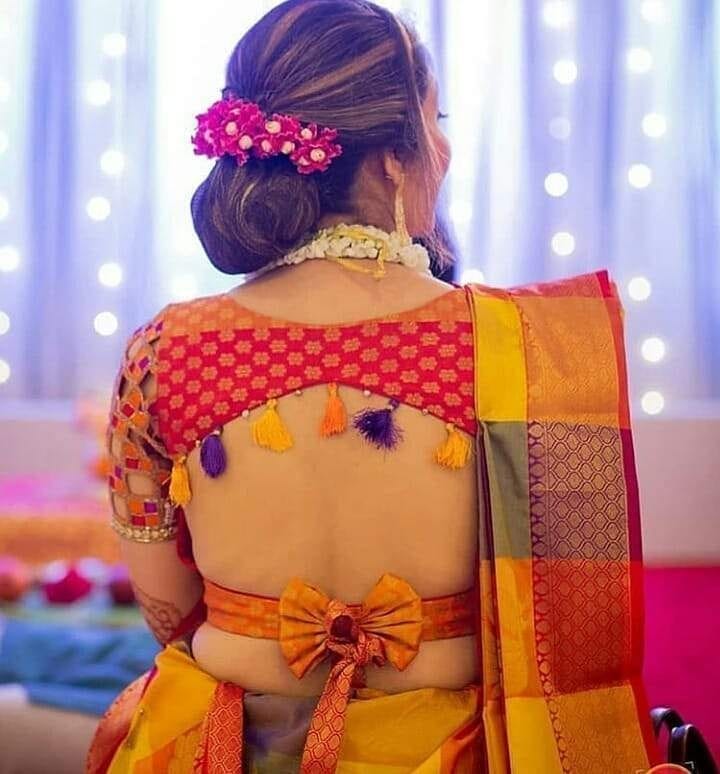 Courtesy: Pinterest
#31 Frills Patterned Saree Blouse Design
The frill patterned on blouse sleeves are extraordinarily standing out in this blouse pattern, Further, the latkans add an ethereal touch to the blouse designs. Do hire an expert designer to curate this design for you. If not done right, it can lose its allure. Those frills require expertise at the best.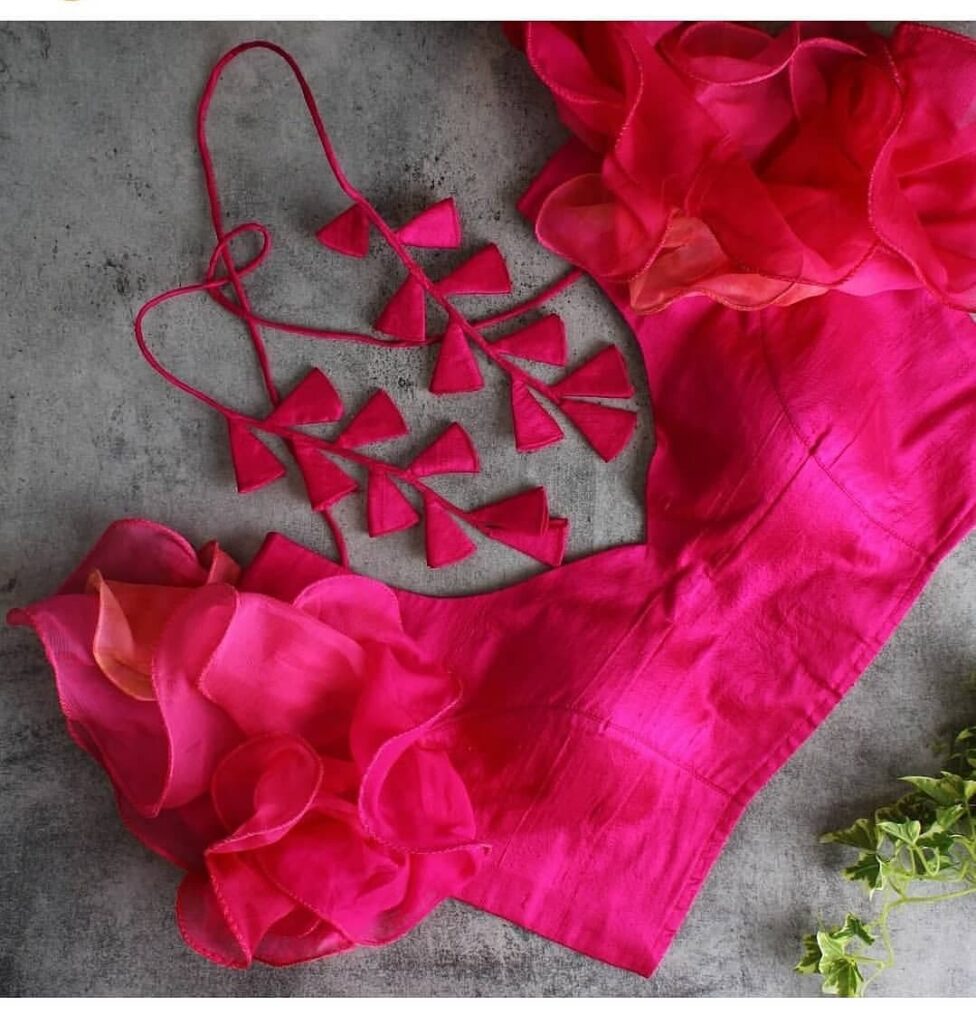 Courtesy: Unknown
#32 Sleek One With Poised Style 
For brides looking for a subtle whimsical saree blouse designs to add to their trousseau, here's a beautiful V-cut one you'll love. The thick strap with a dori ensures you don't miss out on the dori tie-up design while maintaining the delicate effect of the blouse.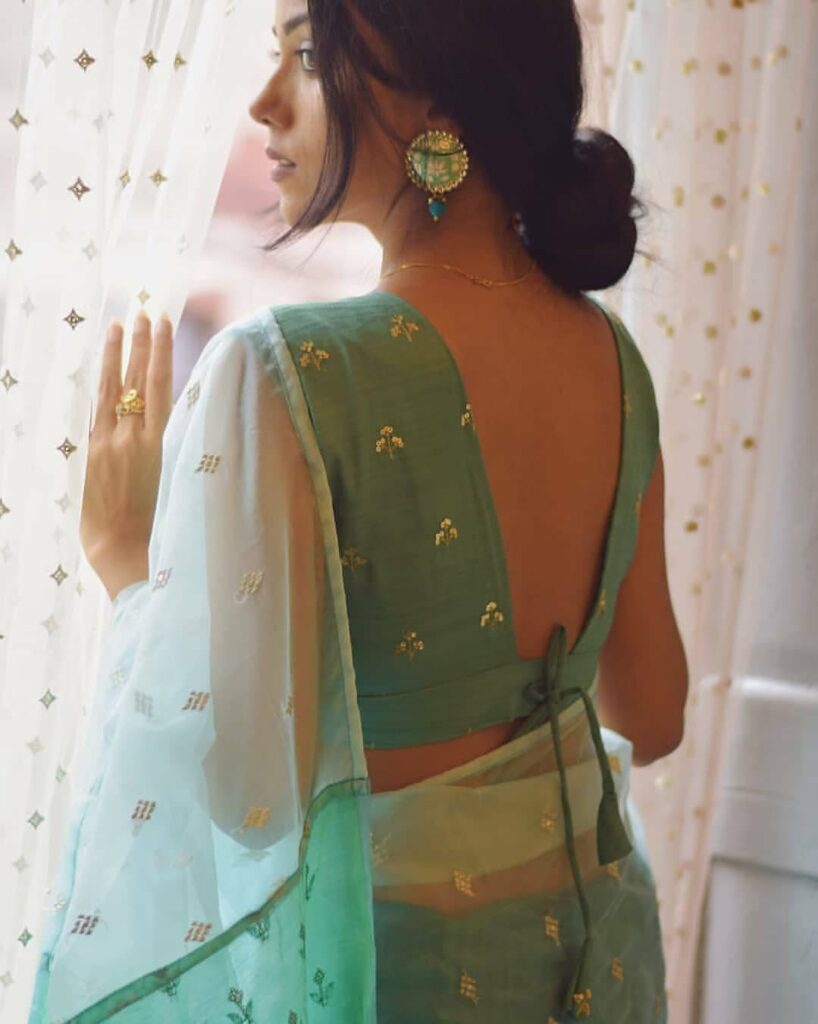 Courtesy: Unknown
#33 Puffy Sleeves Style Saree Blouse
When opting for a statement blouse design, it makes sense to pair it with a sheer saree so that the beauty of the blouse shines through the ensemble. This is the trick that will pay off every time, here's proof. Moreover, tie your hair in a low bun and let the blouse become the star of your look.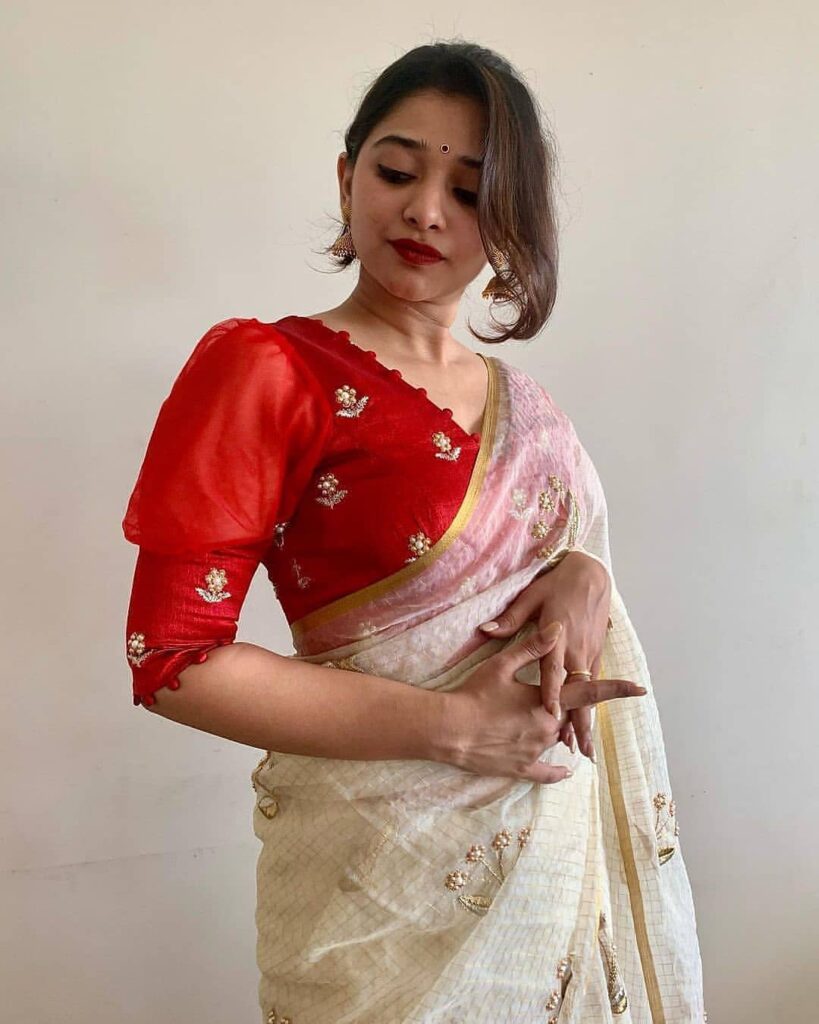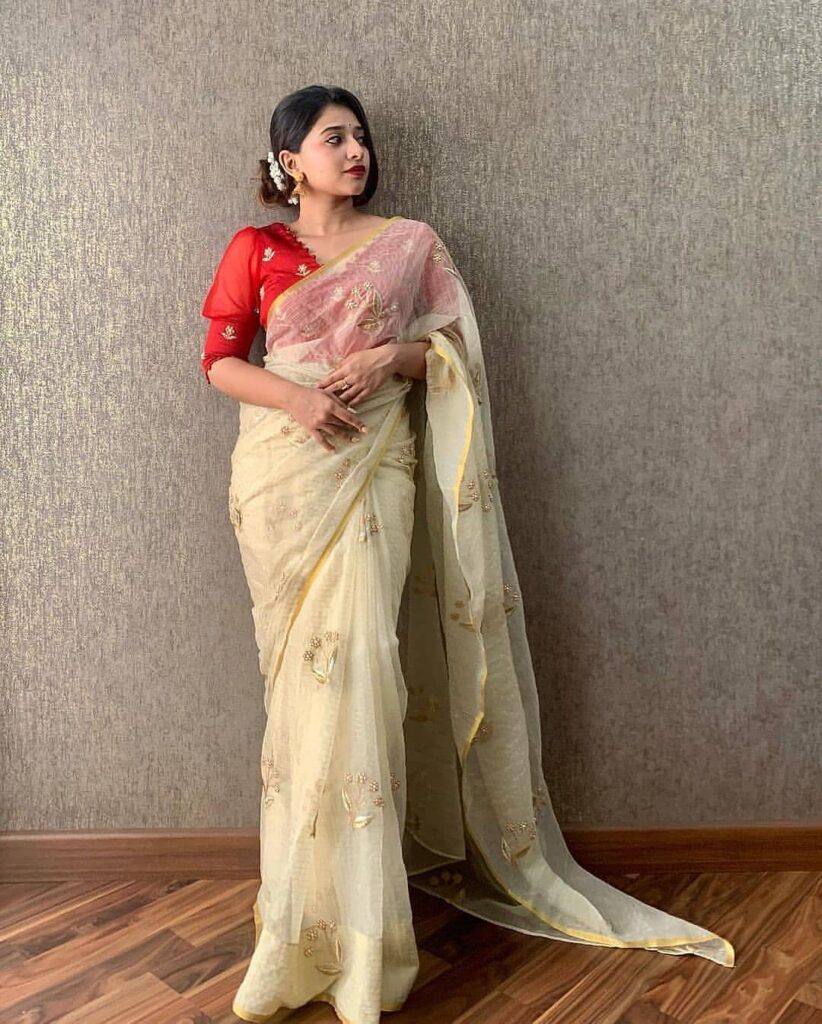 Courtesy: Unknown
#34 U-Cut Saree Blouse Design
A gorgeous blouse that will go with your everyday look, but also when you want to balance out the minimalism of your party look. The deep U-cut is a subtle one that's comfortable to wear at any occasion and doesn't take away from the grace of the blouse as well.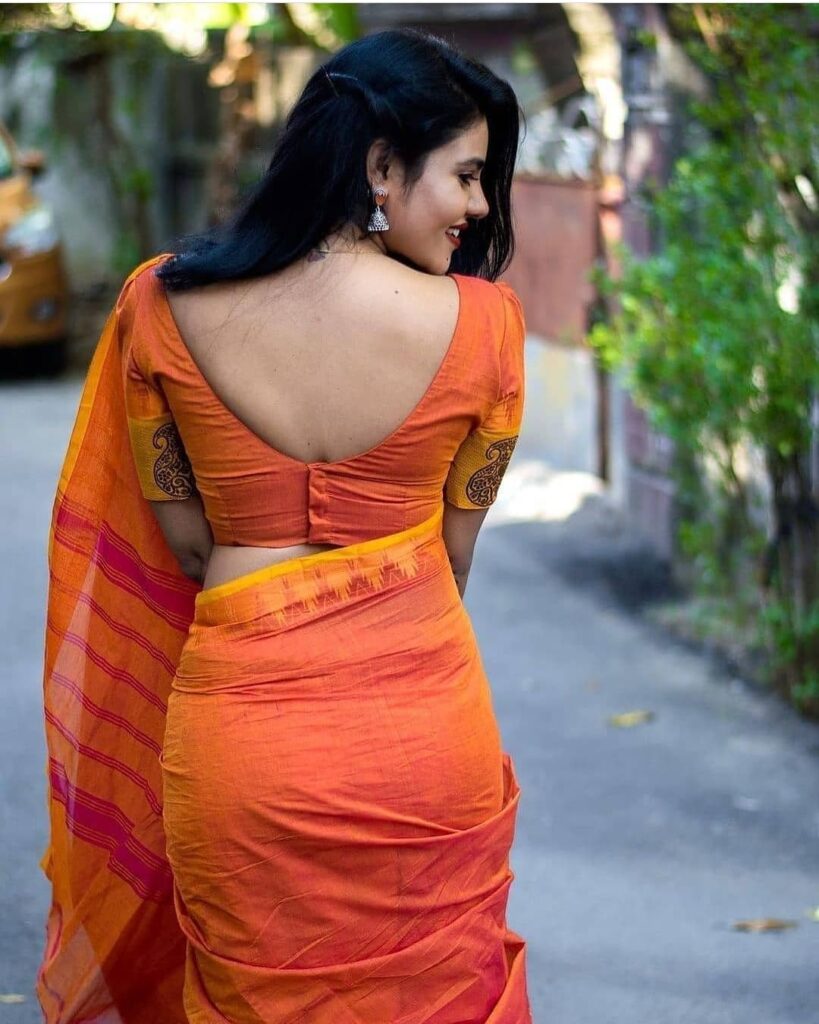 Courtesy: Unknown
#35 Halter-Neck Blouse 
A floral blouse with a floral saree is a superb way to create a monochrome look for a day event or even a white tie event at night. Teamed up with a halter neck blouse, we are swooning over Urvashi Dholakia's saree look that's definitely worth bookmarking if you're a summer bride.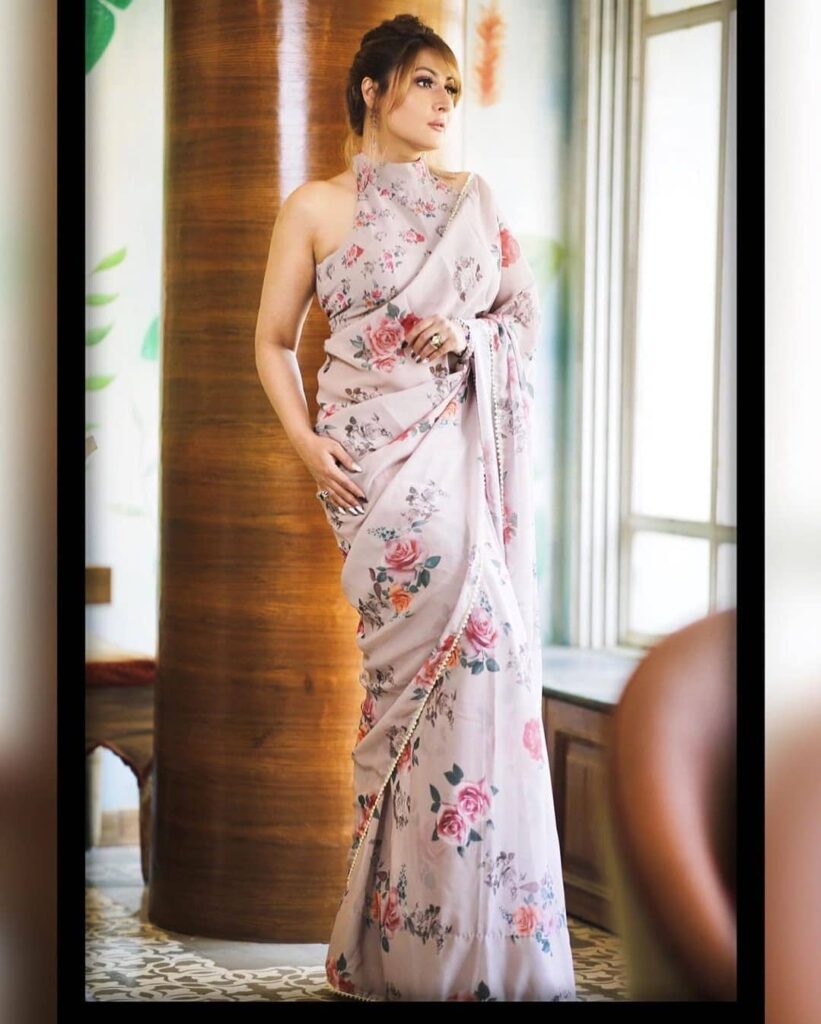 Courtesy: Urvashi Dholakia
#36 Designer & Latest Saree Blouse Designs
If you've been bored of the usual U and V back cuts for your saree blouse, then this designer elastic one with frills will have your heart. The sharp square cut further enhances the winsomeness of this pattern. Bookmark if you're looking for a standout blouse for your event.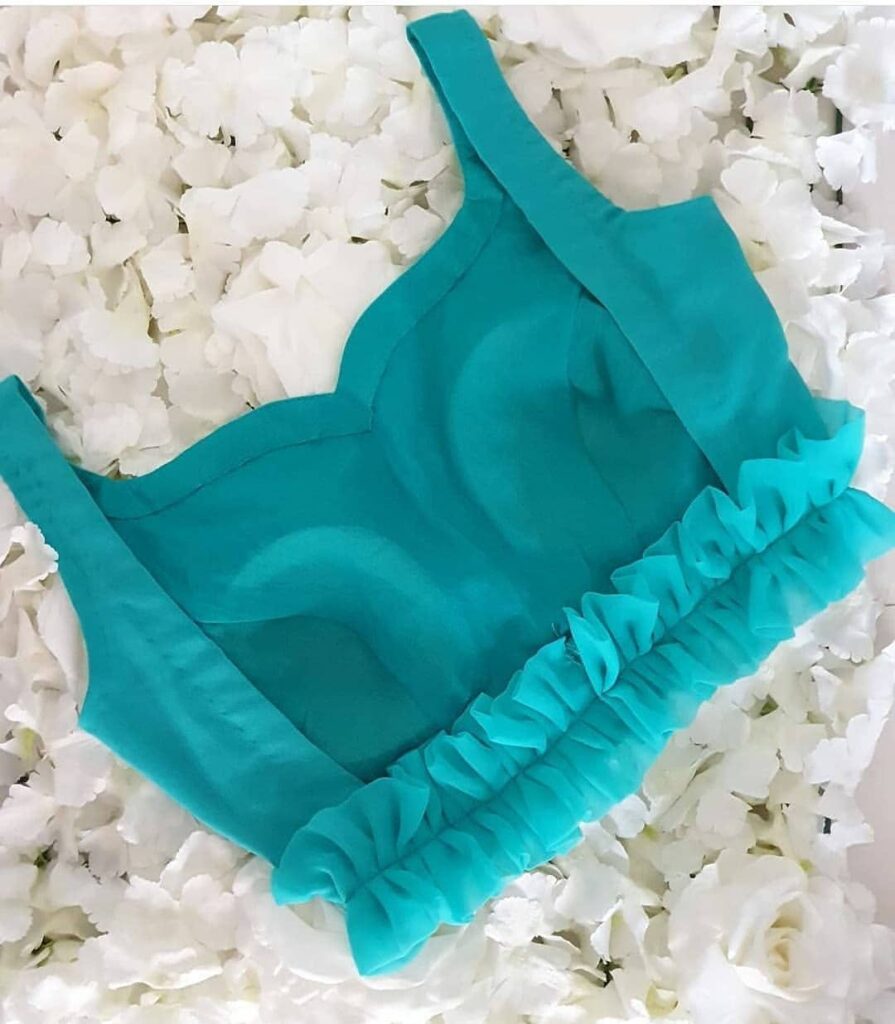 Courtesy: Instagram
#37 Draping Cover Saree Blouse Design
The dainty embroidery on this blouse stands out, but so does the gorgeous net pattern on the back. These enthralling patterns are one to opt for if you really want to make a statement with your elegant saree look.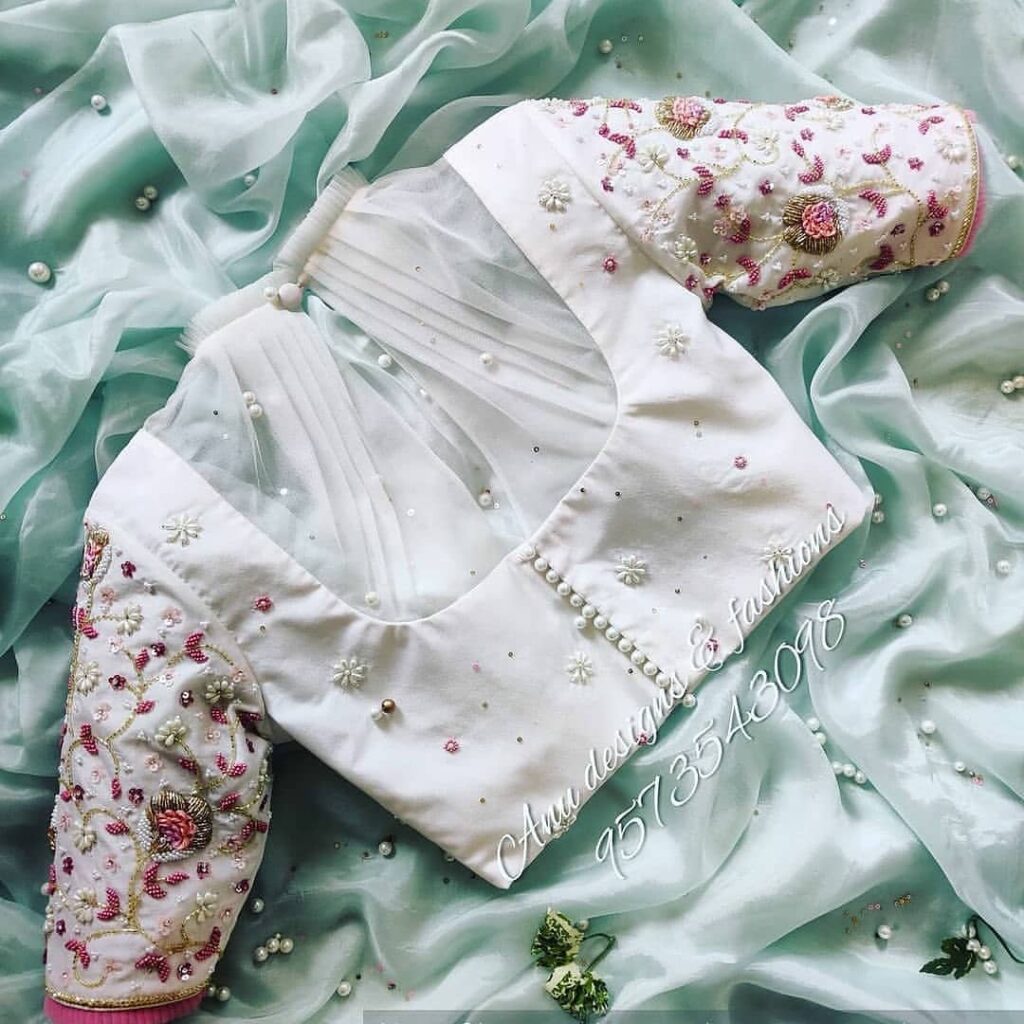 Courtesy: Unknown
#38 A Gorgeous Blouse Tie-Up
For your handwoven elegant silk saree, opt for a blouse that is made of the same material but adds a lovely touch with a net tie-up on the end. We say don't experiment and add any latkans because it would totally steal the focus from the lovely detailing. It looks pretty just like it is.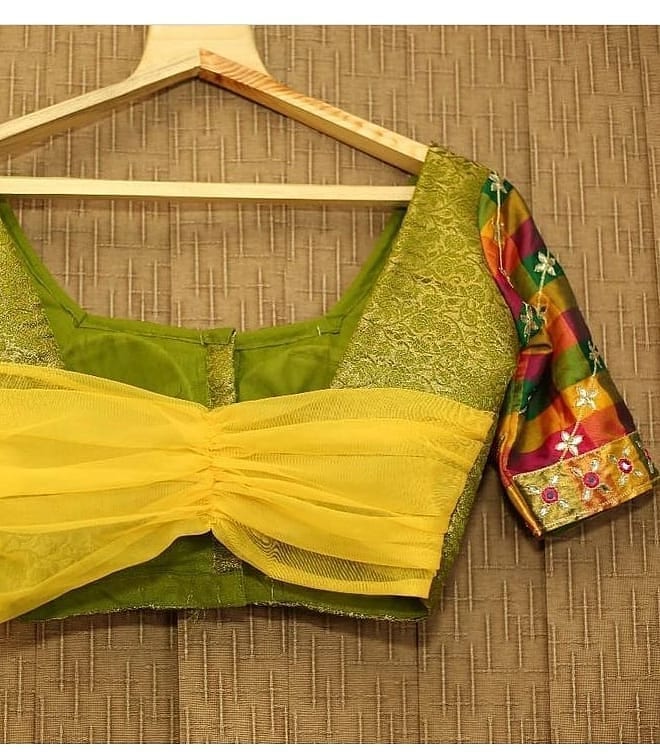 Courtesy: Instagram
#39 A Perfect Reception Look
Bride Simar's entire trousseau was loved and admired by y'all on social media. For the last one of her wedding events, she opted for a half-half Sabyasachi saree. While the saree is gorgeous, its beauty is enhanced with the heavy wedding saree blouse design. The block pattern on the sleeves complements the thread work on the other parts well and creates a dazzling finish to carry on your big day.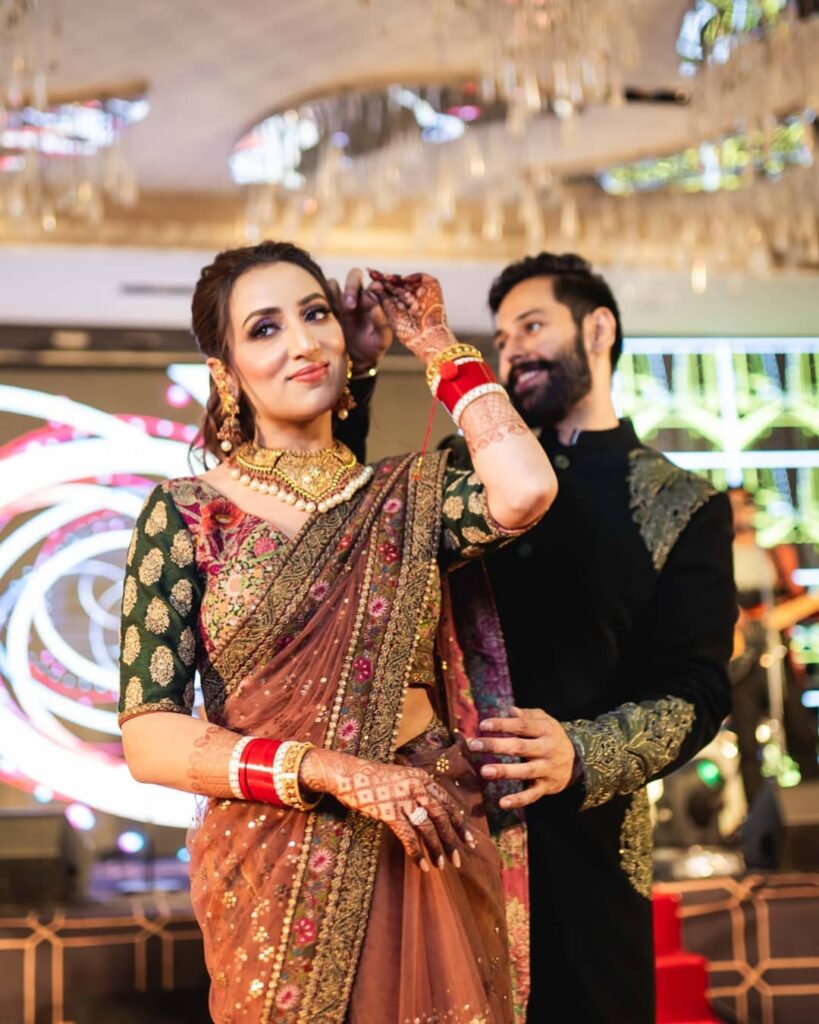 Courtesy: Simrat Sethi
#40 Splash Of Colors
If you're attending a day event or looking for a blouse for your haldi saree, here's one that's seemingly perfect. We love how it's intricately embroidered with different colors. And even if you're wearing an all-yellow saree, it will amp up the ensemble gorgeously. Don't miss out on the pink piping that brings the entire look of the blouse together.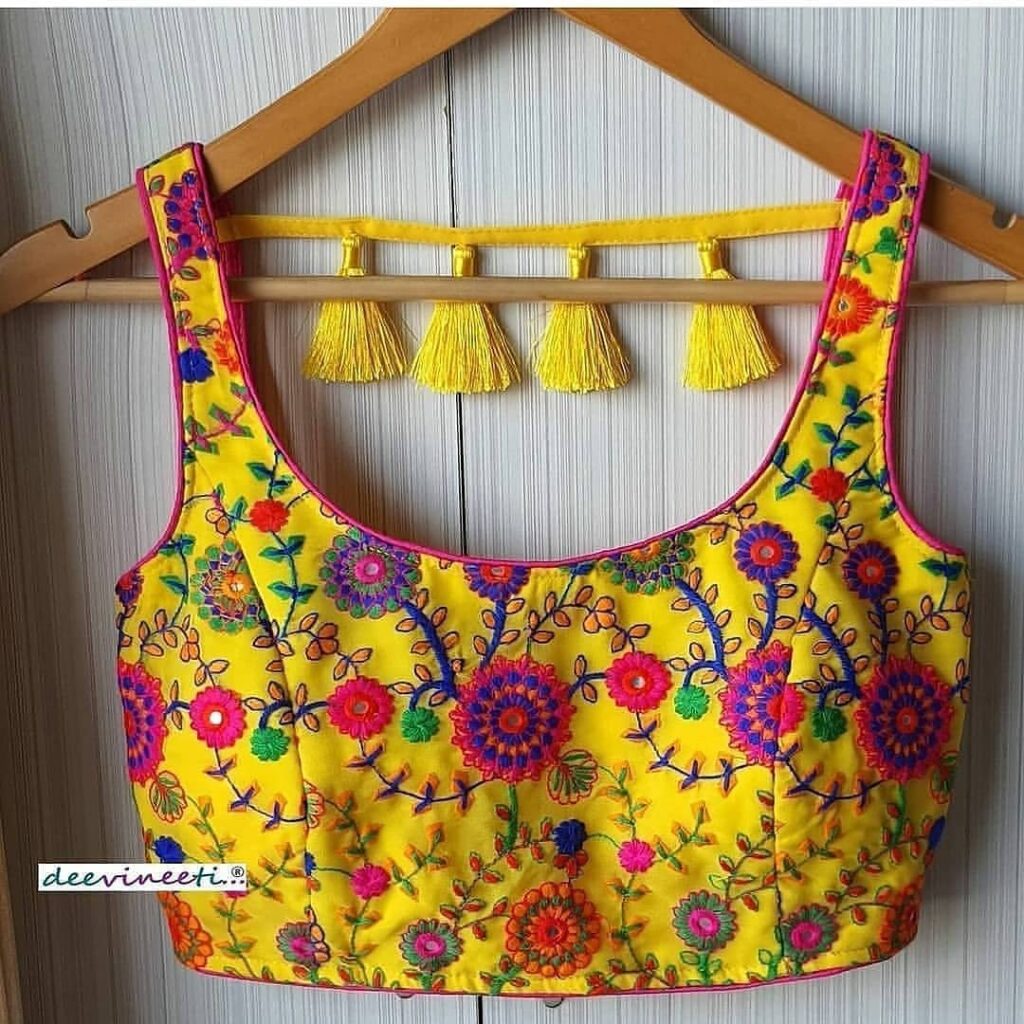 Courtesy: Devineeti
#41 Triangular Cut Wedding Saree Blouse
Here's another wedding saree blouse that works as an amazing inspiration for to-be brides. The triangular cut on the top with a single dori on the bottom gives an alluring appeal to the outfit. Get a couple of pictures like this with your hubby to show off your love and your attire in one picture.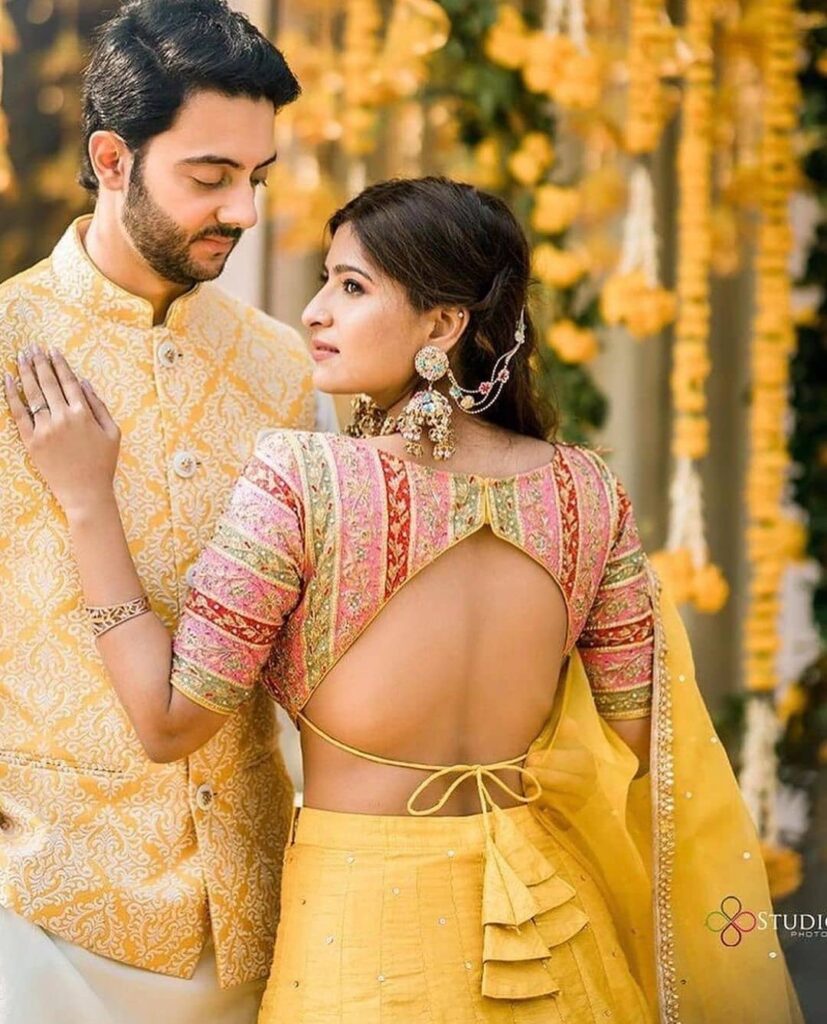 Courtesy: Studio Kelly Photography
#42 Double-Dori Saree Blouse
The double-dori style is the go-to lehenga blouse design, but it can easily work for a saree. If you're wearing a heavily embroidered blouse, go for minimal latkans, like this bride. But opt for fancy ones, if your blouse is relatively simple.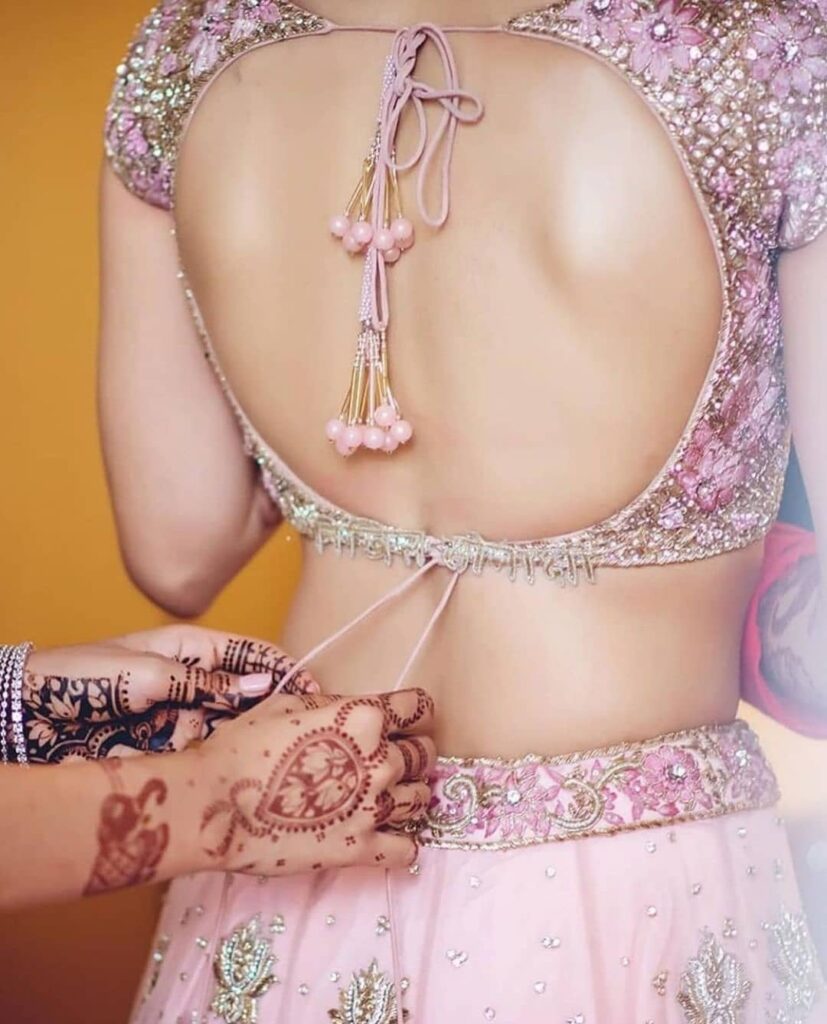 Courtesy: Sonaakshi Raaj
#44 A Whimsical Design
If double-dori doesn't catch your attention, replace one of them with a knot for an aesthetic blouse design. She's wearing a simple saree, yet the blouse itself was enough to add the funky effect to the ensemble. That's why it's important to put effort into designing it.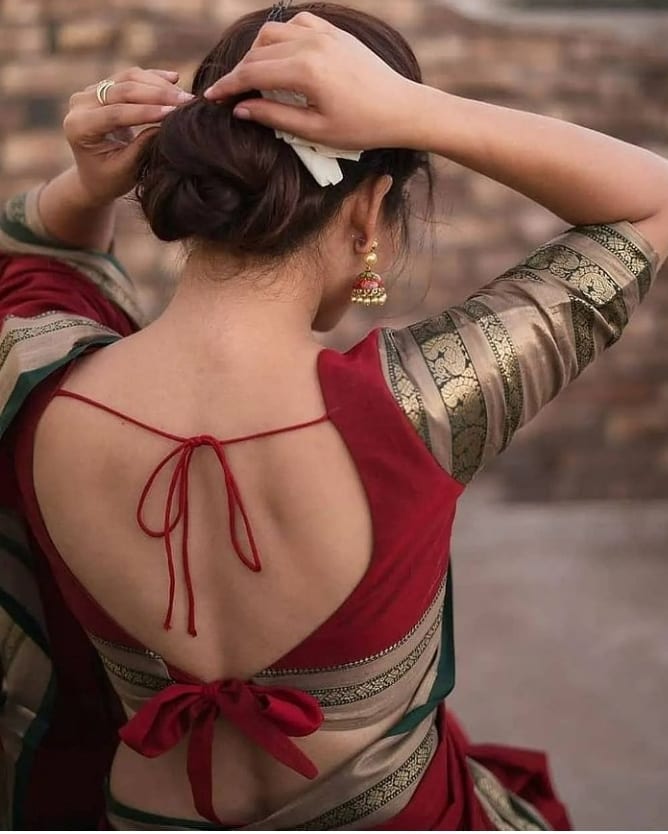 Courtesy: Pinterest
#45 That Exquisite Fringe Detailing
Instead of adding just one trail of fringes, this blouse features three covering the skin for women who aren't comfortable when there's just one while keeping the style intact. Fashion is all about mix and match and this blouse proves exactly that.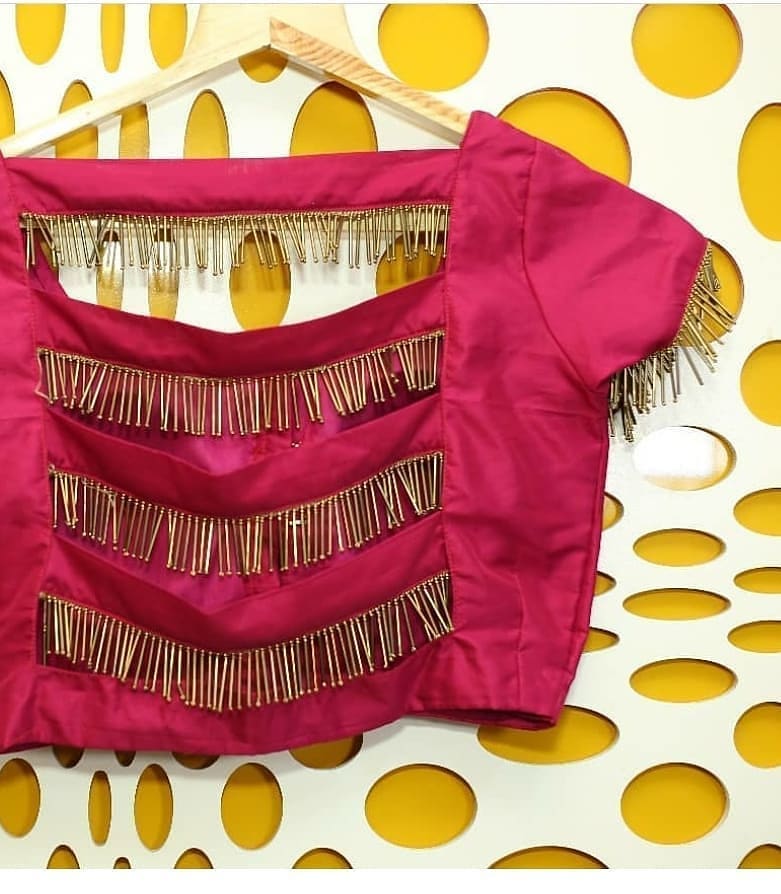 Courtesy: Instagram
#46 Simple Wedding Saree Blouse Design
The pandemic has surely given the minimalist aesthetic a further push. If you're still loving those intimate, minimal vibes, here's a saree blouse design that will be apt for your mood board. It's also quite easy to make, so you don't have to hire an expert and shell out a lot of money to recreate this one.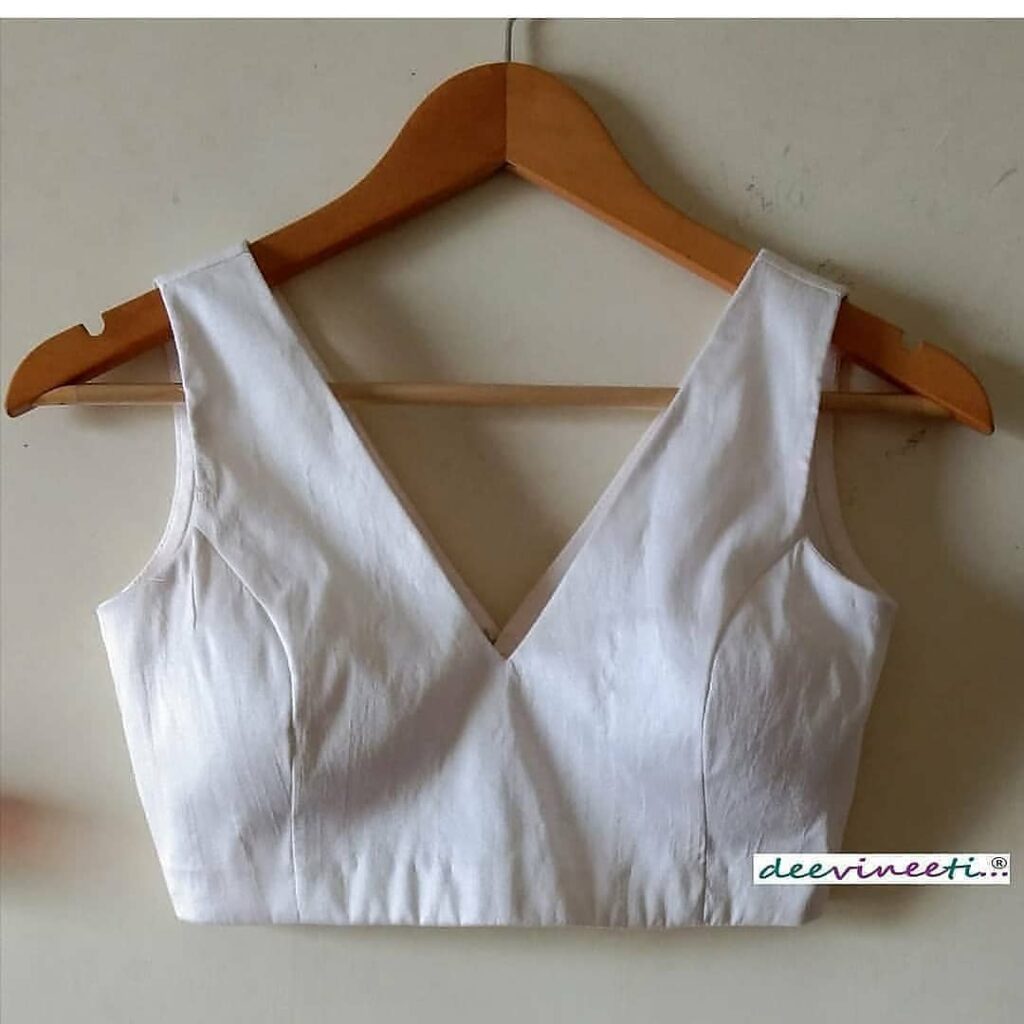 Courtesy: Devineeti
#47 An Impressive Silk Saree Blouse Idea
Wondering what to pair your traditional textile sarees with? Here's a design that will answer your woes. With a thin strap that ties the blouse with a knot on top and a dori combining the shoulders, this blouse is a gorgeous one to complete your elegant saree look. You can include latkans if you're in a mood to up the glamour statement of your ensemble.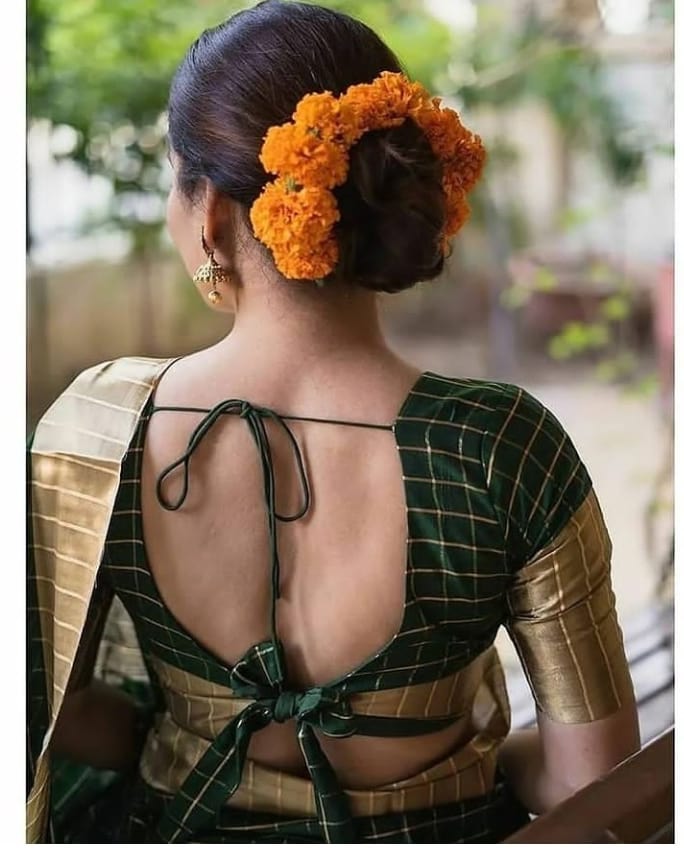 Courtesy: Unknown
#48 Basic Yet Aesthetic
If simple and graceful is your style statement, here's a blouse design meant just for you! When going for a plain blouse design, we'd recommend picking a bold, bright color as that adds the much-needed whimsy to the otherwise basic aura.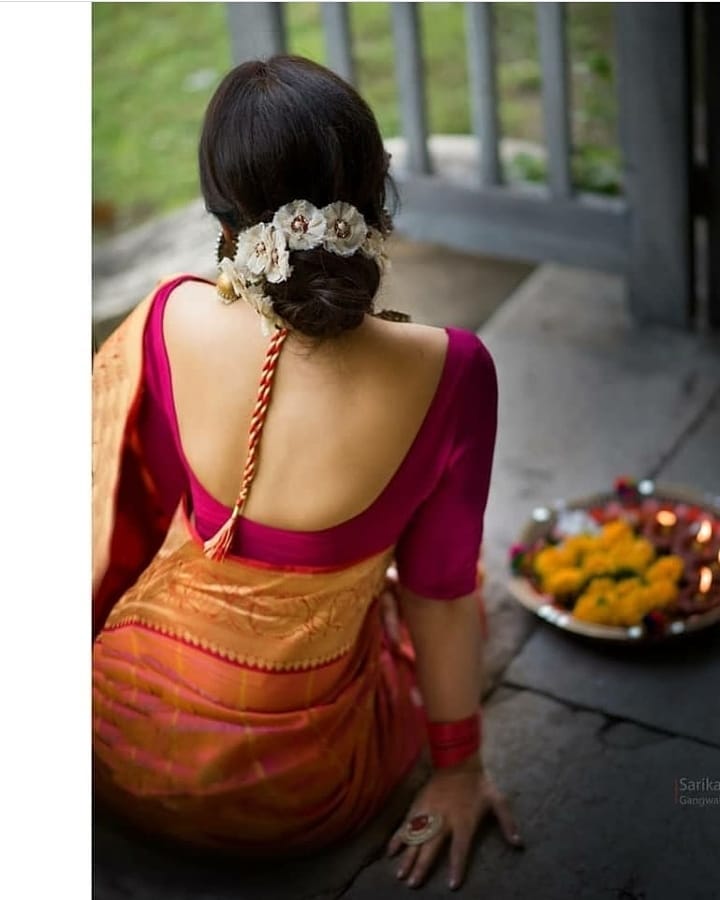 Courtesy: Unknown
#49 Sharp Square Cut Blouse 
With her enchanting silk saree, this South Indian bride opted for a sharp square cut blouse and paired it with a chignon for a timeless wedding look. You can surely wear it for your wedding or any other normal day.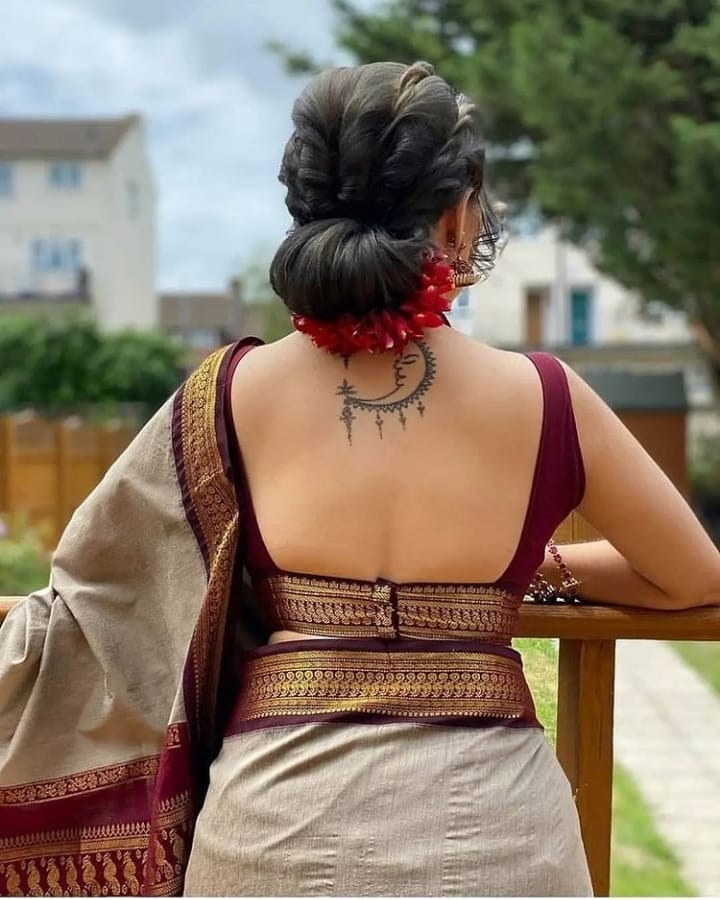 Courtesy: Unknown
#50 Designer Saree Blouse Design
Didn't we just find the perfect bridesmaid blouse design inspiration for you? This strappy blouse with a halter-neck pattern is such a unique one from the list. If you're attending your close friend's or siblings' wedding soon, bookmark this one right away.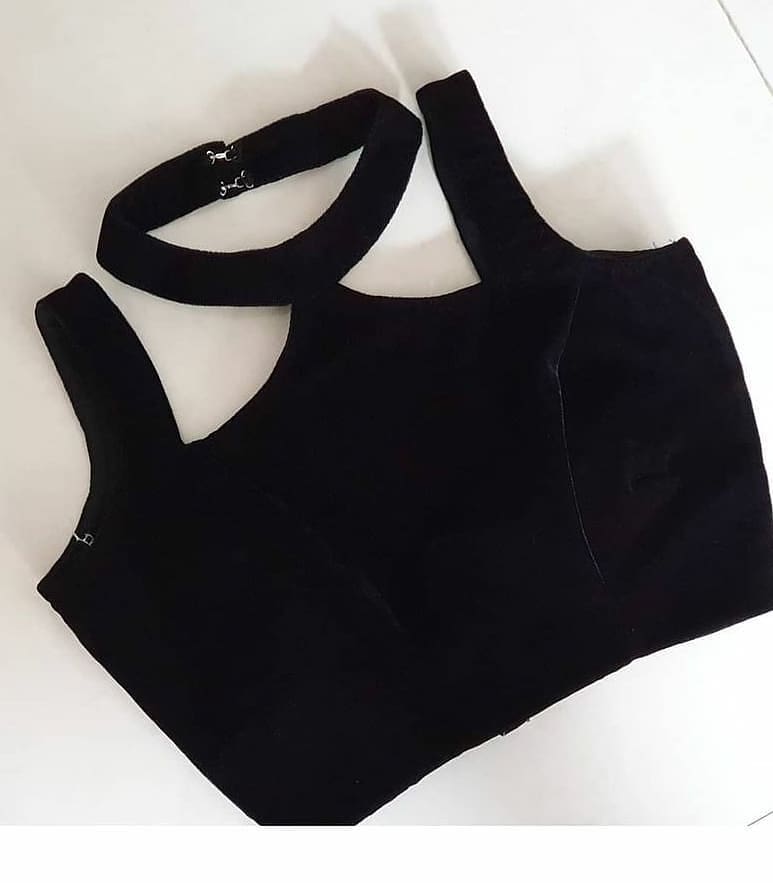 Courtesy: Instagram
#51 An Alluring One
What a timeless design! We love how the sleeveless blouse with a deep cut can work for today's trend, but also for any other occasions you'd like to wear down the years.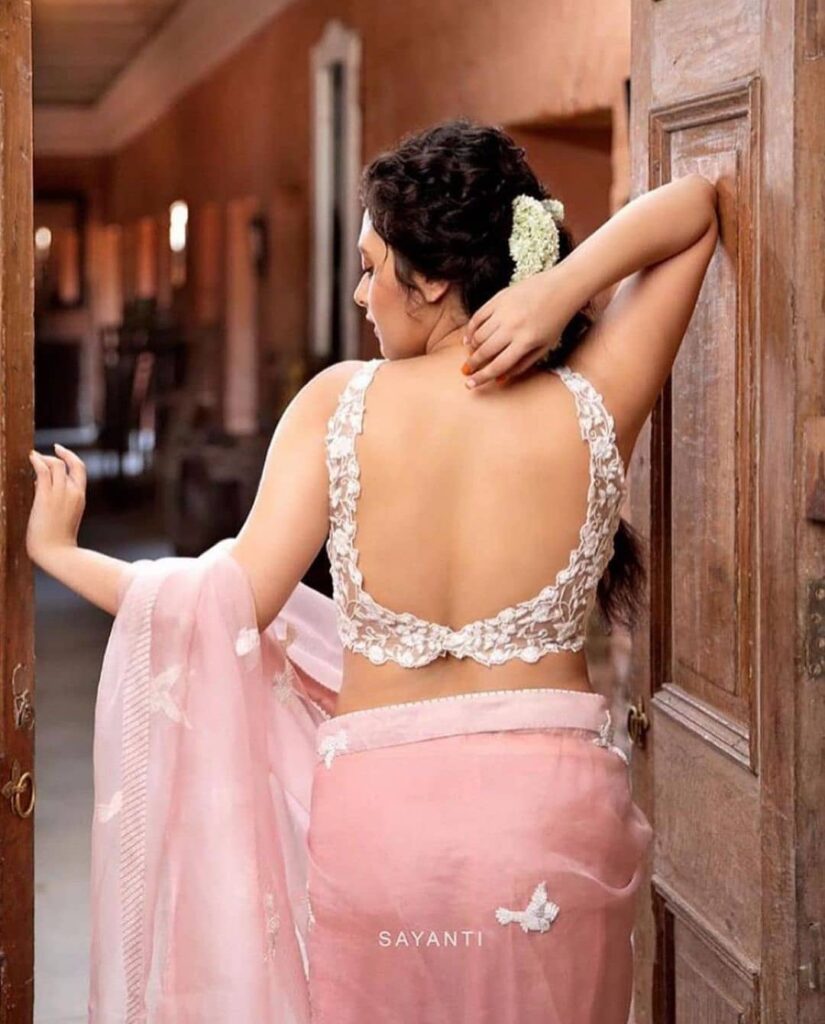 Courtesy: Sayanti Ghosh Designer Studio
#52 That Gorgeous Round Cut
Up your allure with this enchanting round-cut blouse which creates such timeless patterns. It's also a very easy design to replicate so don't worry if your seamstress isn't an expert, even someone with basic to moderate knowledge of stitching.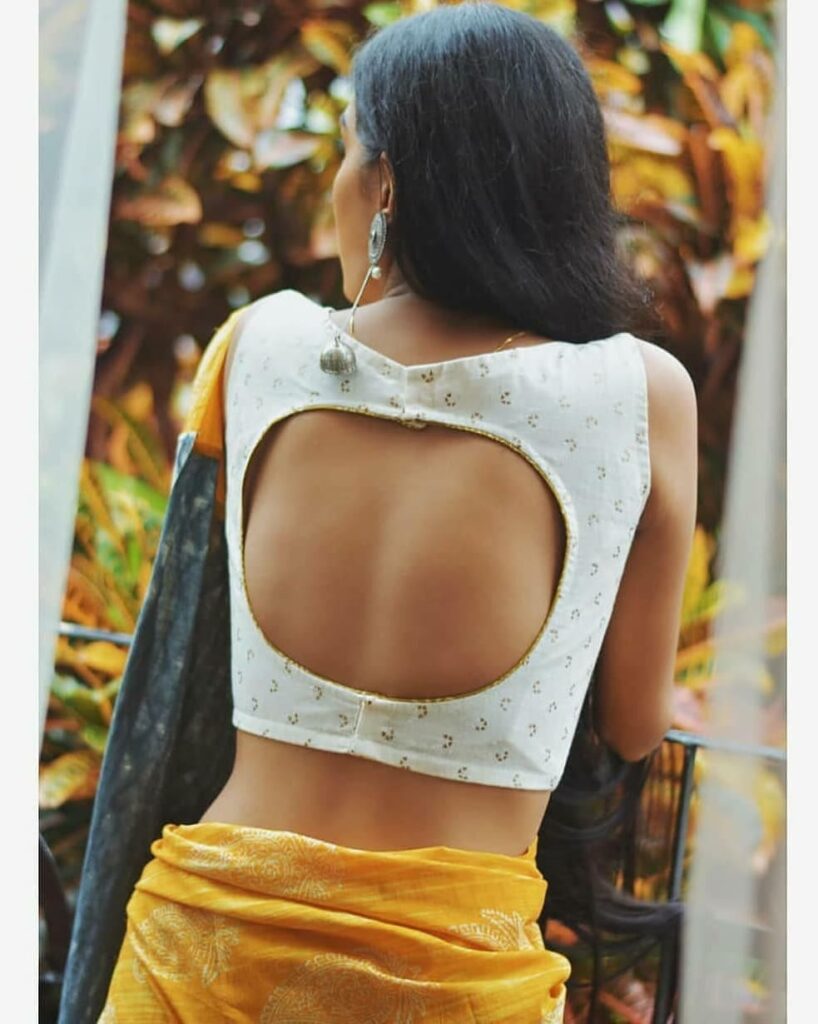 Courtesy: Unknown
#53 Simple Wedding Saree Blouse Design
While trends and designs deserve a place in your wardrobe, so do basics and modest clothing. This one here is a good example of the latter. Amping up the simple and graceful look are the latkans on the back.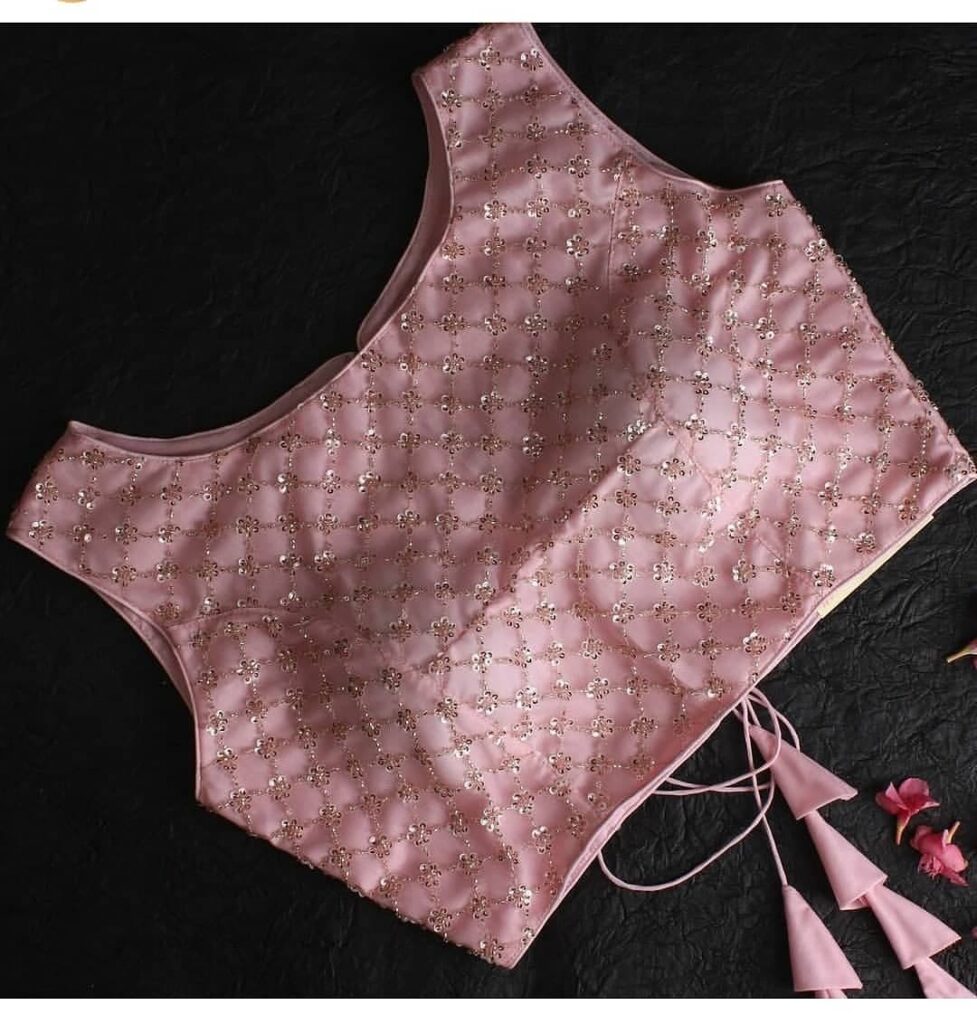 Courtesy: Unknown
#54 Multiple Doris 
Unlike the usual double dori design, this bride went for a triple dori to add fun to her basic cotton blouse. This pattern can work for a wedding, but also for your daily saree look. Nonetheless, you should definitely save this for future reference.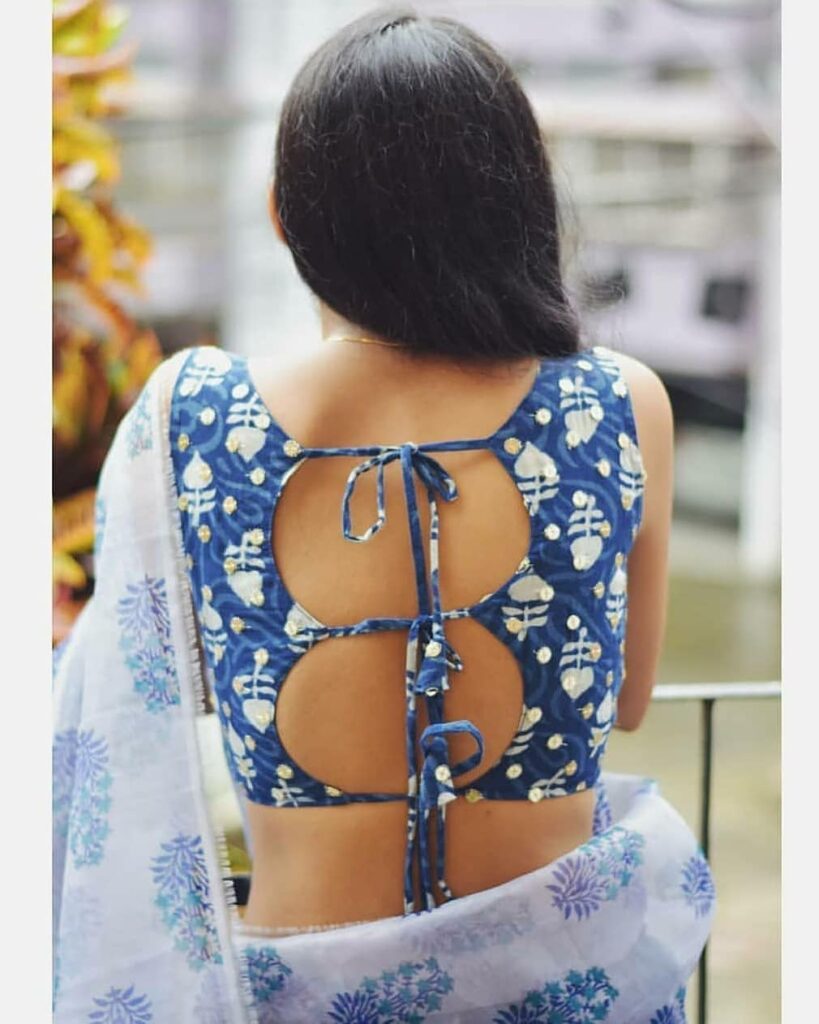 Courtesy: Instagram
#55 Subtle & Sleek
Ending this list with a saree blouse that exudes subtle allure with its traditional back cut. The V isn't as deep so you can be comfortable wearing it for any occasion.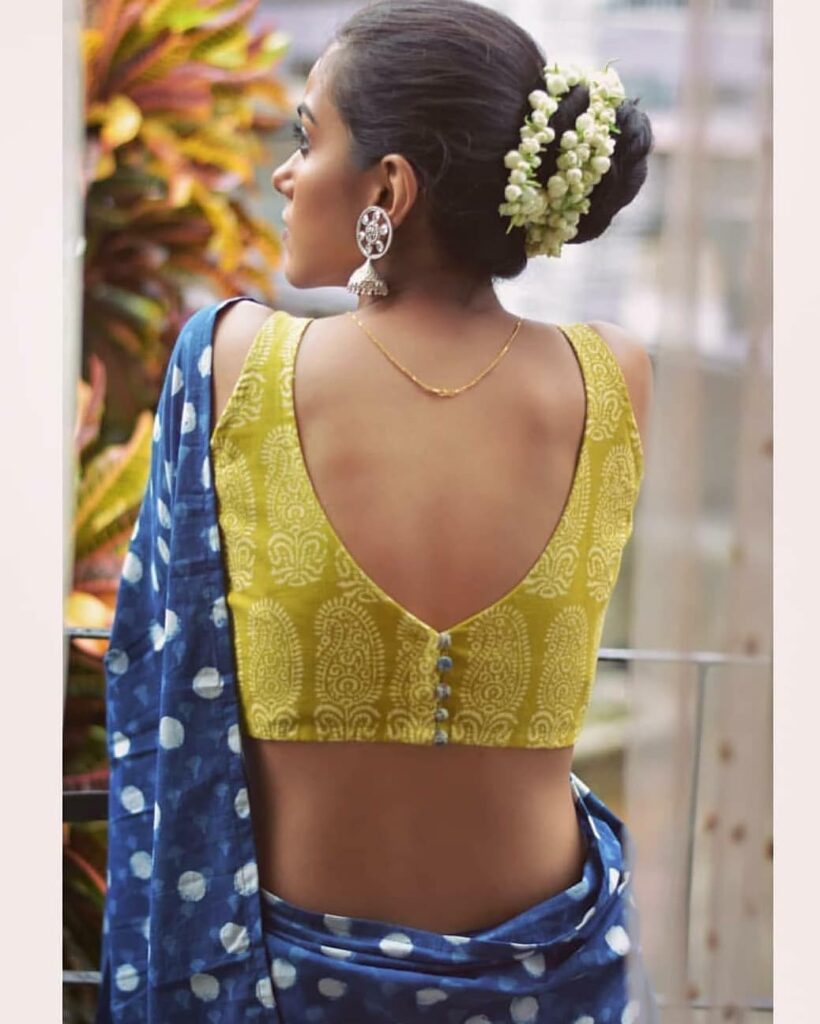 Courtesy: Instagram