Amla or Indian gooseberry has 10 times more Vitamin C than oranges & strawberries, 5 times more than kiwi and lemon, and around 4 times more than a bell pepper. Because of its potent antioxidant and generously high Vitamin C content, the ancient Indian fruit has been termed as a super berry by Western media and plenty of research has gone to prove the benefits of the fruit – topically and internally. When taken internally, it can have a myriad of health benefits, like making your skin glow, strengthening your immune function, enhancing liver health, and improving digestion. Topically, the herb is used to make amla hair packs and amla face packs. 
P.S.: Hollywood celebs like Cindy Crawford, Kim Kardashian, Sofia Vergara, etc. have all found the goodness of humble Indian gooseberry effective and appealing. All of them have endorsed a supplement or skincare product from the celebrity surgeon Dr.Raj Kanodia's line.
Amla Benefits For Hair: 
Amla application significantly improves hair growth rate and hair density. A 2020

study

found serum consisting of amla as the main ingredient, alongside selenium and coconut water, controlled hair fall, boosted hair growth, and enhanced hair density after 90 days. No adverse effects of applying amla were reported. 

Amla blocks DHT, a male sex hormone that can lead to hair fall conditions like alopecia. A 2011

study

tested 17 Thai herbs, including Amla, and found that the herb has the potential to block DHT as much as finasteride, a medically recommended drug to block the hormone. 

Amla also helps elongate the anagen (hair growth) phase of the hair, thus supporting hair growth and hair length. A 2011

study

showed that amla proliferates DP cells in the hair. These cells play a pivotal role in hair formation, growth, and cycling. 

Lastly, amla's rich concentration of Vitamin C decreases oxidative stress on the hair follicles. This helps in strengthening hair follicles and prevents the hair from falling.  
Amla Benefits For Face: 
While Amla is mainly used in hair masks and is considered the magic ingredient for your tresses, it can do wonders for your facial skin as well. You can also mix it in your body ubtans to experience the benefits all over. Here are 5 benefits of amla for face: 
A 2008

study

showed amla application boosts the production of fibroblasts, a cell that synthesizes collagen. The extracts also significantly proliferate TIMP-1, a type of protein responsible for fibroblasts' growth and invasion. It's safe to assume that topical application of amla will prevent wrinkles, tighten your skin, and give you a youthful appearance – all thanks to its ability to catalyze collagen production. 

Amla has strong photo-protective effects, which further reduce signs of aging, as per a 2013

study

. Parts of our skin that are exposed to sunlight experience accelerated aging, also known as photoaging. Amla extracts prevent sunlight-induced wrinkles and quench oxidative species generated by UVB radiation. 

Amla's rich source of Vitamin C accelerates wound healing, decreases pigmentation, and inhibits melanin synthesis to give your out-of-the-world glow. 

Due to its pre-collagen boosting properties, amla is an effective skin hydrator and ups the moisturization in your facial skin. Those with dry skin can find creams with amla extracts useful and effective. 
5 Amla Face Packs For Beautiful Skin

Amla & Yoghurt Face Pack For Sun Tan
What You Need:
1 tbsp Amla Powder

½ Yoghurt
Application: 
Mix amla and yogurt together. If yogurt gives you acne, reduce the quantity and replace it with water. Apply a thin layer of the paste on your entire facial area and next. Leave on for 15 minutes and wash off with lukewarm water. 
Benefits: 
Amla in the pack has whitening and brightening properties. It increases the synthesis of collagen which further improves skin's barrier repair and helps in restoring your skin's natural color. Yogurt, on the other hand, exfoliates the skin, tightens the pores, and hydrates. The gentle exfoliation helps get rid of sun tanning. 
Amla & Papaya Skin-Brightening Face Mask
What You Need:
1 Whole Amla or 1 tbsp Amla Powder

1 tbsp Papaya Pulp
Application: 
If you're using fresh amla, juice the fruit in a blender with some water. Or add some more amlas and drink the rest. Mix this fresh juice or powder with papaya pulp and apply to the freshly washed face. Leave on for 15 minutes and wash off with lukewarm water. 
Benefits: 
Amla's high Vitamin C content along with other potent antioxidants like polyphenols and phytochemicals nourished the skin, boosts blood circulation and leaves you with an envious skin glow. Papaya pulp helps with exfoliation, removes dead skin cells, and reveals your gorgeous skin tone. 
Amla, Masoor Daal, Milk Facial Scrub
What You Need:
1 tbsp Amla Powder

1 tbsp Masoor Dal

4-5 tbsp Milk
Application: 
Soak milk in masoor dal overnight. Add more milk because the masoor dal will absorb the milk and swell in the morning. Add 1 tbsp amla powder to this mixture. Apply this paste on your face. Leave on for 15 minutes. Gently scrub the pack while removing. Clean with plain water and apply a hydrating toner and moisturizer. 
Benefits: 
Masoor Dal is an amazing natural exfoliator and a bleaching agent. It cleanses your skin from deep inside, sloughs away any dead cells, and brightens your skin with consistent use. Milk is rich in lactic acid, which stimulates new cell growth and protects skin from any free radicals.  
Amla & Manuka Honey For Pigmented Skin
What You Need:
2 tbsp Amla Powder

1 tbsp Manuka Honey
Application: 
Mix the two ingredients together to form a dense paste and apply generously on your face. 
Benefits: 
Amla helps fight free radicals and boost the skin reparation process. This helps in fading away any skin pigmentation. Manuka Honey in this amla face pack has anti-inflammatory and anti-oxidant benefits which work to even out the skin tone and decrease any dark spots on the skin. Manuka honey is considered better than raw honey and improves your complexion better than regular honey. 
Buy Manuka Honey: Option 1/ Option 2
Amla, Aloe Vera, Turmeric Face Mask For Skin Health
What You Need:
1 tbsp Amla Powder

2 tbsp Aloe Vera Gel

1 tsp Turmeric
Application: 
Mix all the ingredients together and form a liquid (not runny) paste. Let this amla face pack sit on your face for 20 minutes before rinsing off. Follow up with a soothing moisturizer. 
Benefits
: 
Aloe Vera contains powerful enzymes and Vitamin A and E that kill any acne-causing bacteria, improves skin tone, and hydrates the skin from within. Turmeric, on the other hand, is rich in curcumin that fights free radicals and elevates collagen & elastin fibers to give you a youthful look. 
Buy Amla Powder Online:
#1 Khandinge USDA Certified Amla Powder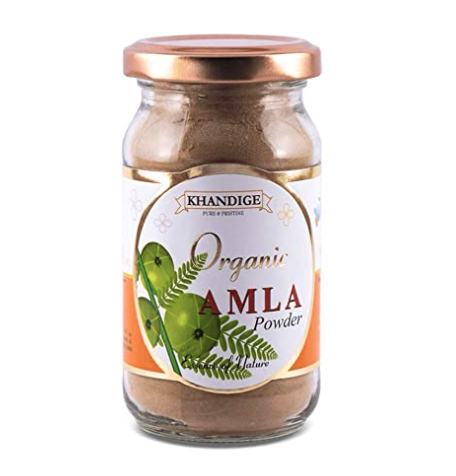 Purchase here.
#2 Greendorse Amla Powder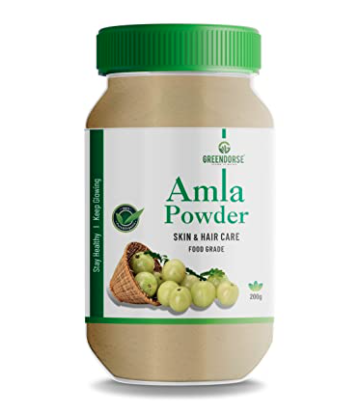 Purchase here.
#3 Saptamveda Organic Amla Powder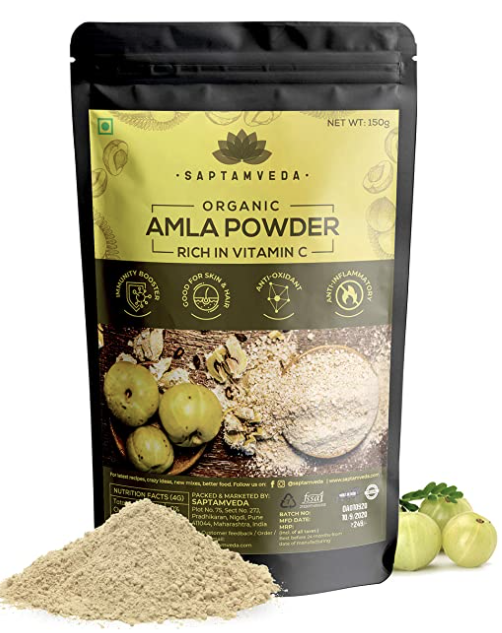 Purchase here.
#4 Untedly's Organic Amla Powder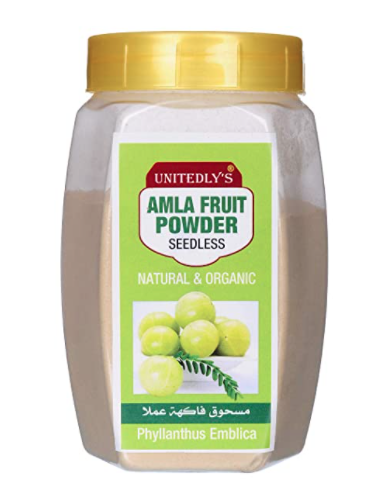 Purchase here.
#5 Just Jaivik 100% Organic Amla Powder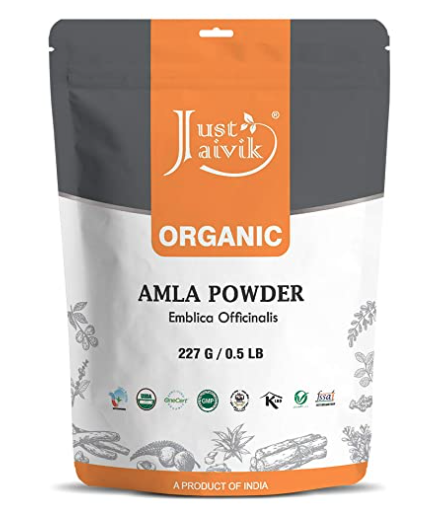 Purchase here.
Amla Powder At Home: 
It's fairly easy to make amla powder at home. The powder will have the assurance of quality and 100% naturalness. So, you can feel satisfied with putting it on your hair & skin, as well as consume it. 
Take around 1-2 kg of amlas.

Grate them or blend them in a blender. 

Spread the pieces of the amla on a tray and let them dry in the Sun for 2-4 days. 

Blend the amla after it's completely dried. 

You can use this powder for direct consumption or topical application. 
Here are two videos that show the process of making amla powder at home: 
P.S. The powder is pink in the first video and brown in the second because in the first one, she dries it in the shade and the second one shows amla left to dry in the Sun. So, if you see a pink shade of Amla powder, don't doubt the quality. It's all about the drying process. 
FAQ's
Can We Use Amla On Face?
Yes, you can use amla on your face. One of Ayurveda's basic stances on skincare is – "if you can't eat it, don't put it on your skin." And so any ayurvedic herb can be consumed internally as well as applied topically. Amla is one of the most commonly used and significant remedies in Ayurvedic medicine. It has numerous benefits for the skin and hair. An amla face pack can make your skin glow and more youthful over time. The herb's lovely effect of boosting collagen synthesis helps prevent wrinkles, heals pigmentation scars, and gives it plumper, healthier look. You can simply mix amla powder with water and leave it on for 10 minutes if you're going through a busy phase. It will still leave your skin feeling more beautiful than ever. 
Can Amla Whiten Your Skin?
Yes, amla can whiten and brighten your skin. Amla's strong antioxidant properties and mix of vitamins enhance skin health, reduces uneven skin tone, and lends it a beautiful glow. As enhancements, you can mix it with papaya that helps in gentle skin exfoliation and will get rid of darkened spots on the face quickly. 
Does An Amla Face Pack Help With Acne Scars?
Amla does help with acne scars. Research has proven that amla's topical application elevates the production of collagen, which repairs the acne scars and smoothens out the skin. It also has a powerful antioxidant combination. Besides Vitamin C, it's rich in polyphenols and phytochemicals like gallic acid, ellagic acid, quercetin, and corilagin. This powerhouse of minerals works to stimulate cell growth, betters the skin texture and helps with pigmentation and uneven skin tone. 
Are There Any Side-Effects Of Amla?
No, amla doesn't have any side-effect when applied topically. Yet again, it all comes down to if the product suits you. For instance, an aloe vera gel hair mask causes my hair to fall more than usual. Even though it's a gentle, safe DIY, for me, it doesn't work. There are no side effects and the hair fall is only when I wash my hair and doesn't last afterward. Similarly, I think an amla face pack or hair pack might or might not suit you – don't worry though, it won't leave you with any kind of skin reaction. 
Related: