Purple is associated with creativity, luxury, and royalty. There's a visual magnetism about this color that's hard to put into words. It's a popular choice in fashion, decor, and even manicures. Purple nail designs are everywhere – and in a variety of styles. There's the simple and lighter palette of purple nails, then there are dark purple nails oozing creativity with geometric patterns while other purple nail designs are just accentuated with a bit of glitter or rhinestones. Here's a scroll-through gallery of purple nail designs. 
#1 Cow nails don't just have to be done in the traditional black and white, but can also be experimented with in different colors. Here, the purple lavender nails are accentuated by the cow print in purple on the middle finger and ring finger. The almond-purple nails enhance the length and give these short purple nail designs dimension.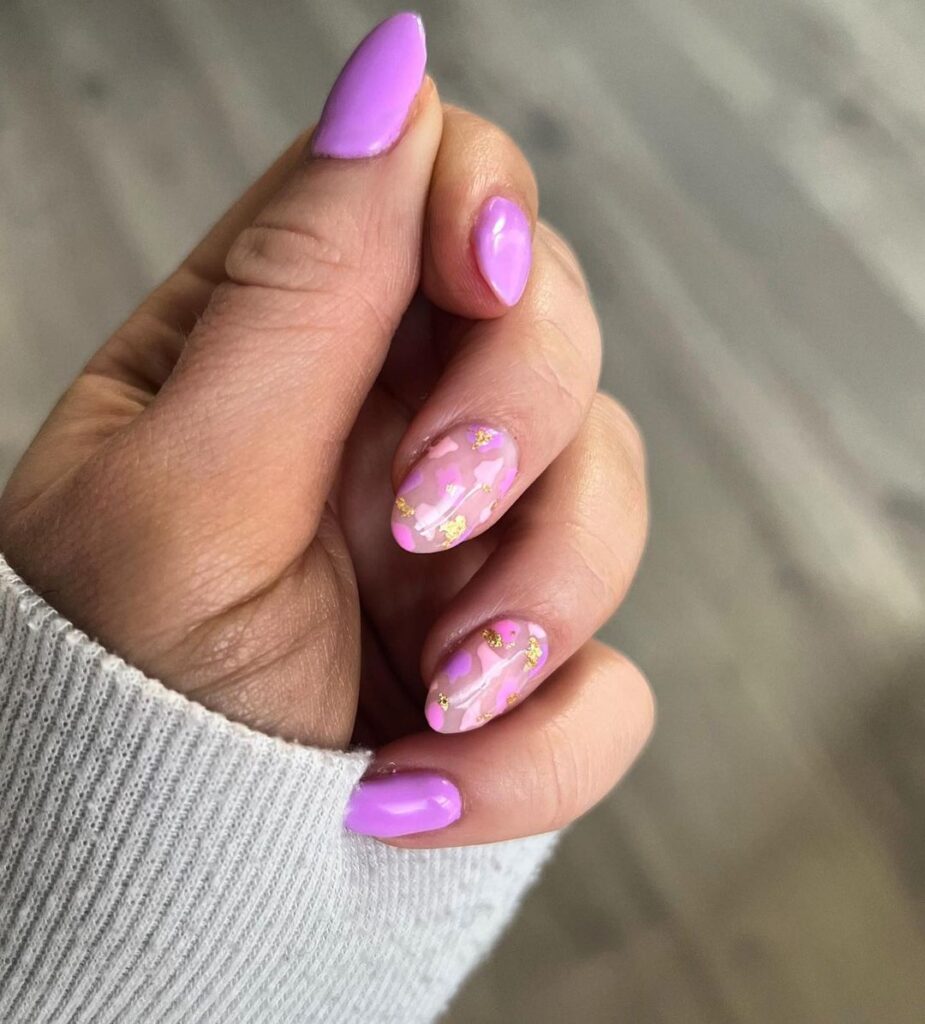 Courtesy: @nailsby_nicolaglover
#2 Lavender surely is one of the popular shades of purple and has become popular because of its soothing and luxuriating attributes, especially after the lockdown. Using a shade of lavender for your purple nail designs will not fail you surely. But you can add some creative twists to the design by adding a white nail with a cute heart in the middle and another accent nail with polka dots in various colors for a vibrant element to the
manicure.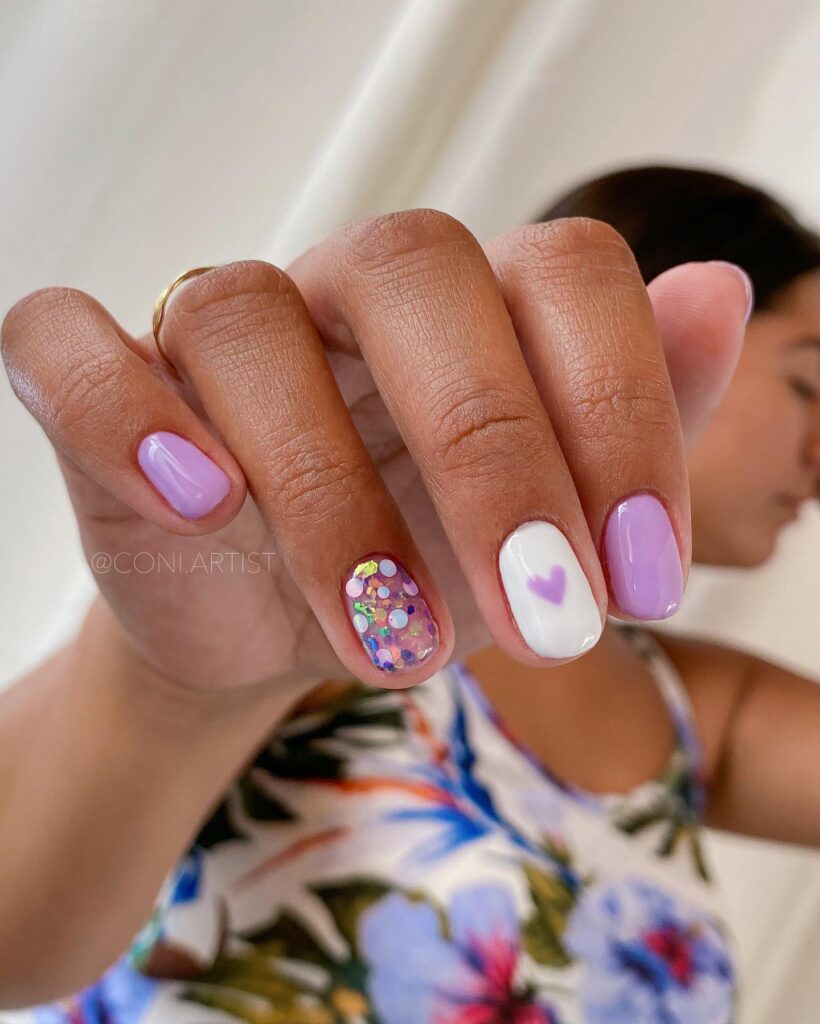 Courtesy: @coni.artist
#3 Can't settle with one shade of purple? How about a different color for all nails? It will look good just as it is or you can make a concentric heart to further elevate the manicure idea. If you are a beginner and trying this design at home, you can just draw one heart on the ring finger and leave out the concentric one to make the manicure easier to recreate. Or, you can just apply different shades on each nail and leave it at that!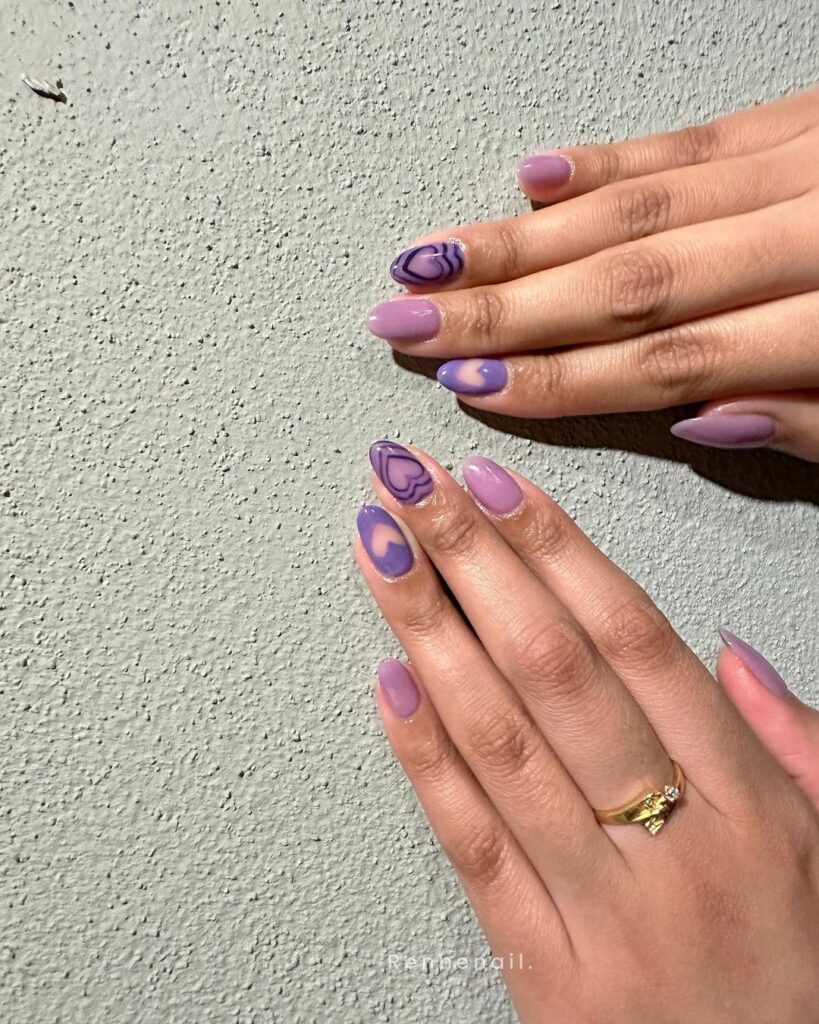 Courtesy: @rennenail_sentul
#4 Unleash your inner royalty with these fierce pointed matte purple nails! Bold, edgy, and sophisticated, these nails are the perfect choice for those who want to make a statement. The striking purple shade, combined with a matte finish, creates a chic and modern look that is sure to turn heads. Whether you're dressing up for a special occasion or want to add some flair to your everyday look, these pointed matte purple nails are the ultimate accessory.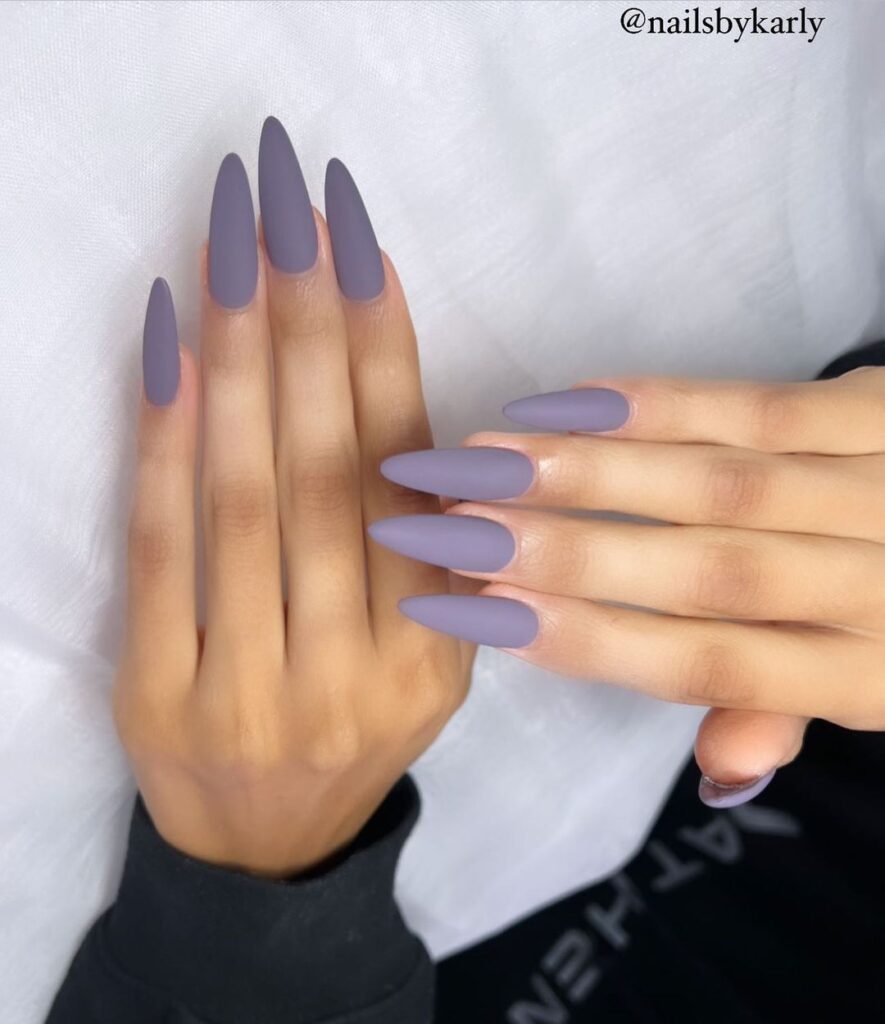 Courtesy: @nailsbykarly
#5 Love purple but can't let go of your favorite French manicure? No problem! You can add the purple with white shade in a V-cut french manicure style and add just a bit of glitter for a finished look. Purple nail designs with glitter are yet another popular choice because they are quite versatile and can be as subtle and loud as you want your manicure to be!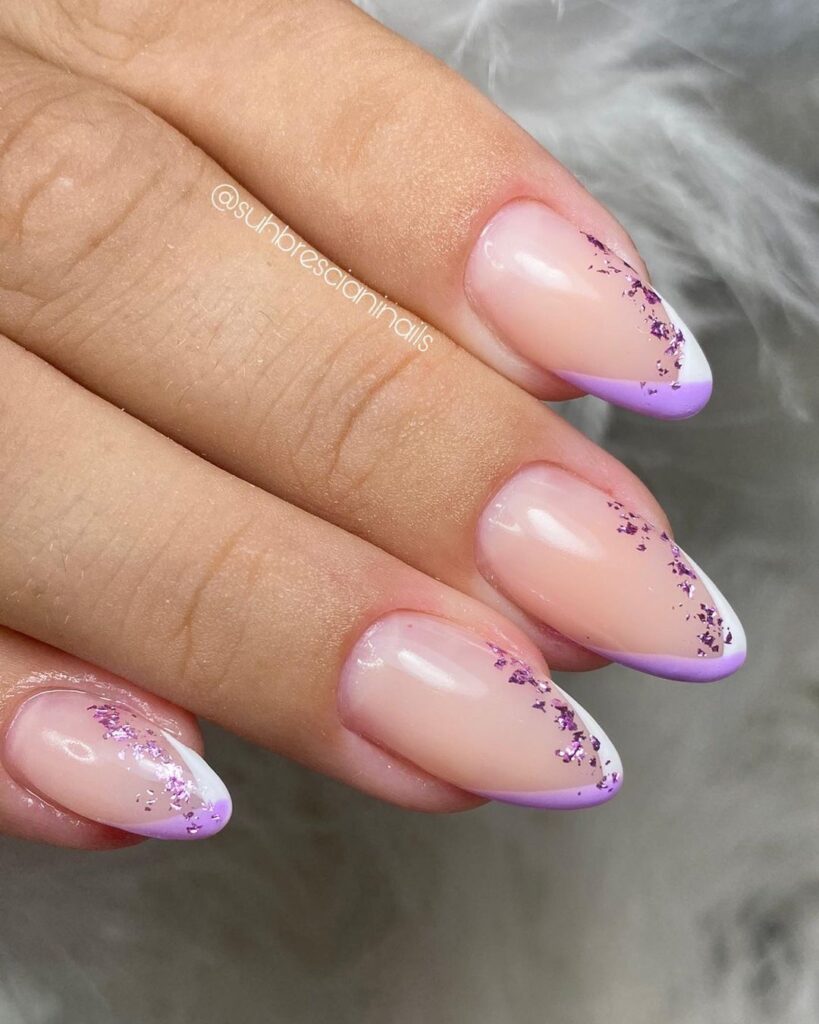 Courtesy: Suh Bresciani Nails
#6 These light ink blue nails are done in square-shaped nails and are given an artistic twist by adding nude nails with blocks of the same shade in the middle of the two nails. This manicure looks good with square nails but can also work for coffin purple nail designs. Nail shape does matter when it comes to creating a flattering manicure and you should either stick to the one you see in your inspirational image or trust an expert when wanting to change the shape.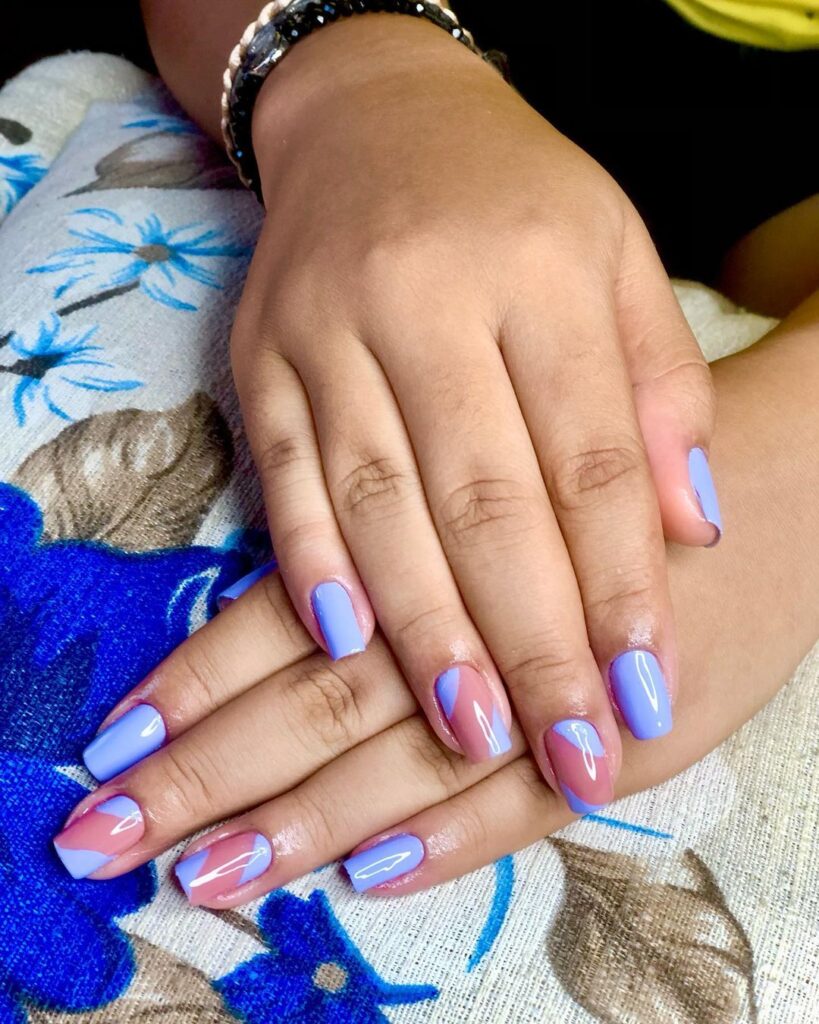 Courtesy: Dri Santos
#7 Cloud purple nails are a fun and playful way to add some personality to your nail look. This nail style typically involves a light purple base coat with white cloud shapes painted on top. To achieve this look, start by applying a base coat of light purple nail polish and allowing it to dry completely. Next, use a thin nail art brush and white nail polish to create cloud-like shapes on top of the purple base. The clouds can be of various shapes and sizes, and you can create a gradient effect by varying the opacity of the white
polish.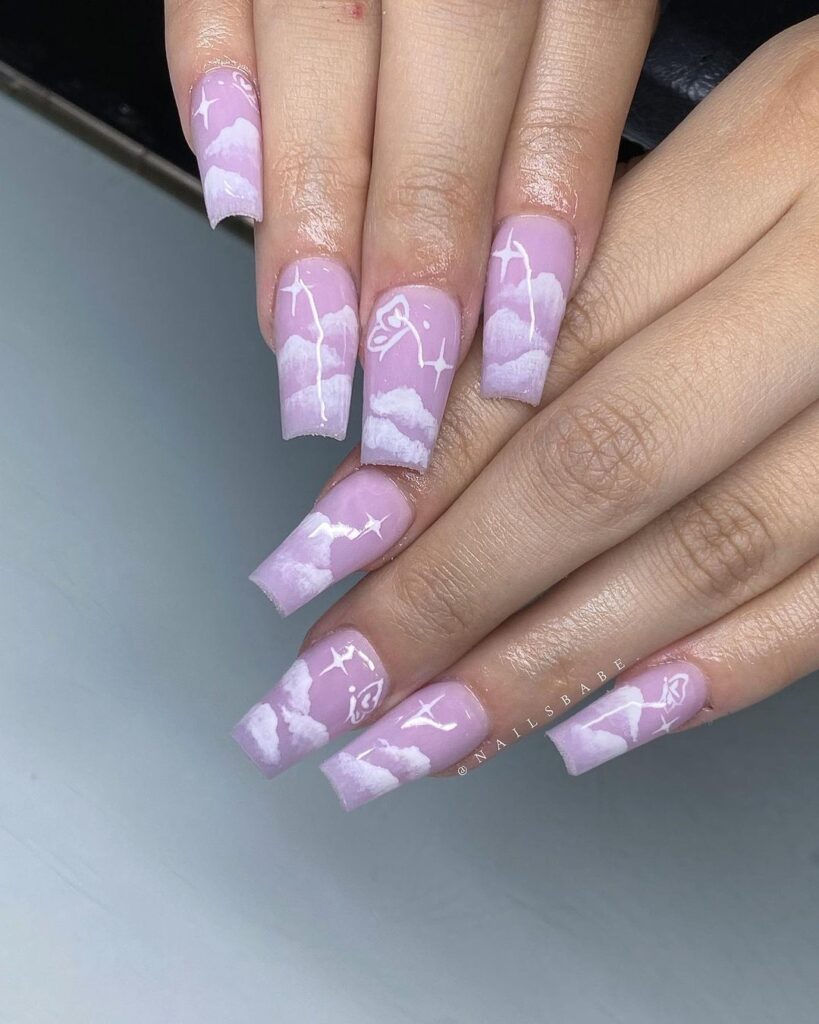 Courtesy: @nailsbabe_
#8 This one of the purple nail designs with rhinestones is simple yet stunning! It features a darker shade of purple as a base followed by a starry glitter base, which is further given a gloss effect with a top coating. The addition of rhinestones just completes the manicure. To make sure the rhinestone doesn't fall off, use a glue made specifically for the nail art as they are designed to make the studs stick to the polish.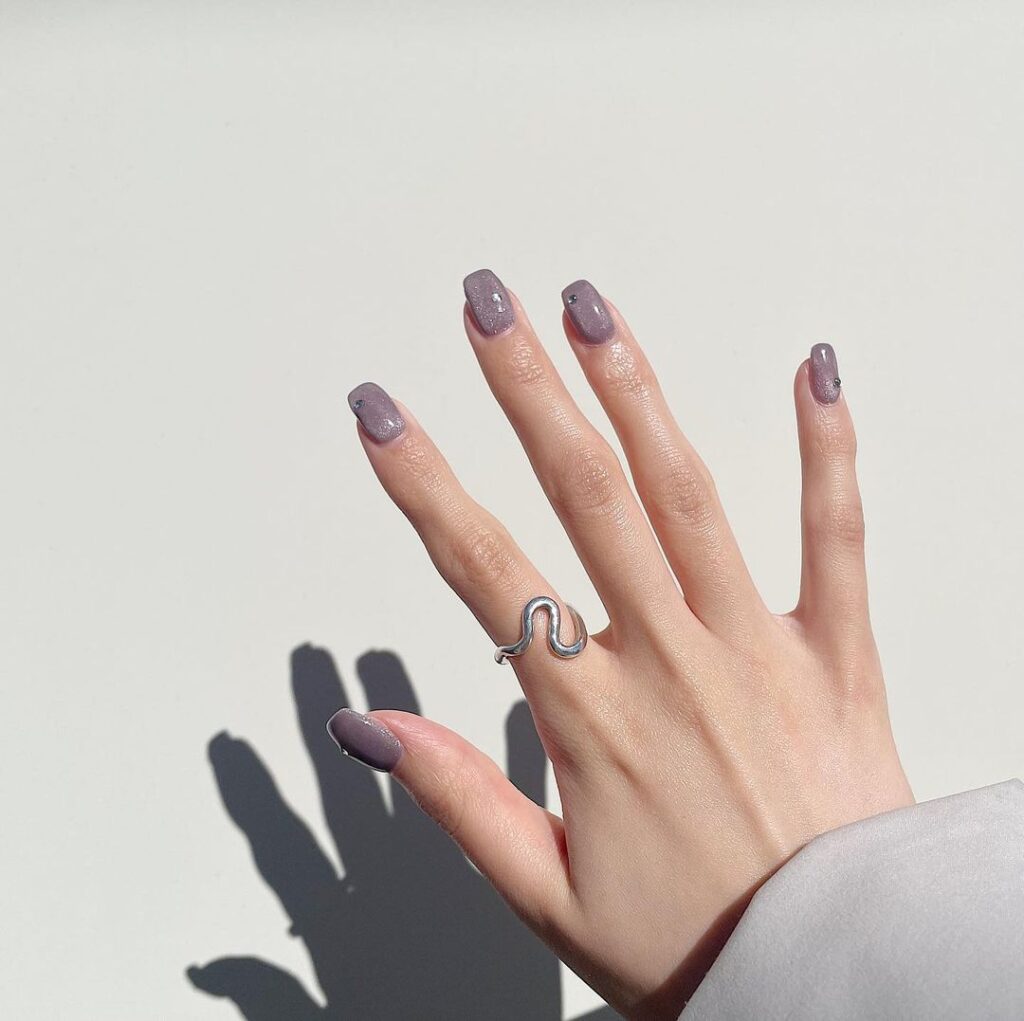 Courtesy: Izumi
#9 This dark purple nail design uses an ombre finish on the first two nails for a differentiating factor from the usual nail polish. You will see almond nails as a popular choice in many manicure ideas because they give an elongated appearance to the nails, which is perfect when you want short nail length but want them to appear a little longer.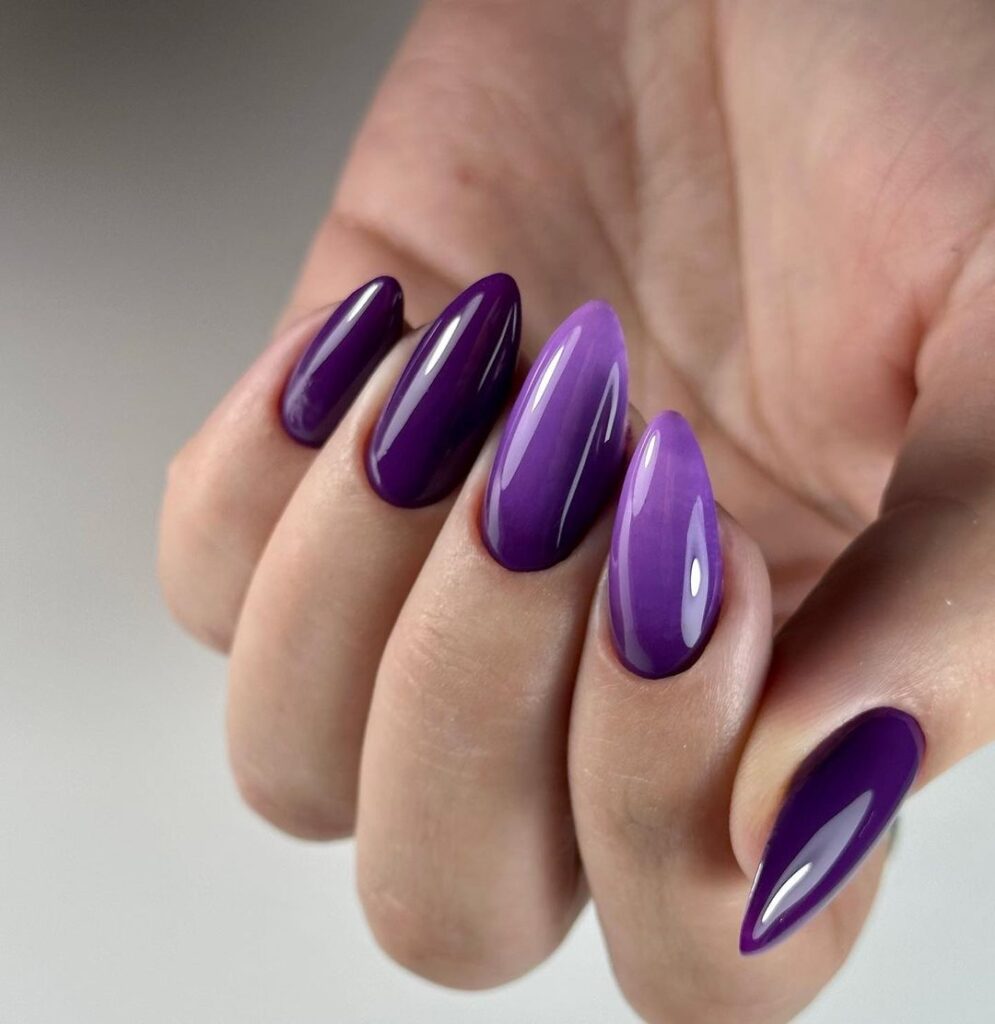 Courtesy: @carmel_nailchemistry
#10 These light purple ombre nails are a beautiful and feminine manicure that features a gradient effect, blending a light purple shade into a lighter shade of the same hue. This elegant and subtle look is achieved by using a makeup sponge to gradually blend the two shades together. Light purple ombre nails are perfect for those who want a touch of color and sophistication in their manicure. This design can be dressed up or down depending on the occasion and pairs well with a variety of outfit styles. Whether you're going to a wedding, a job interview, or just want to add some extra flair to your everyday look, light purple ombre nails are a perfect choice.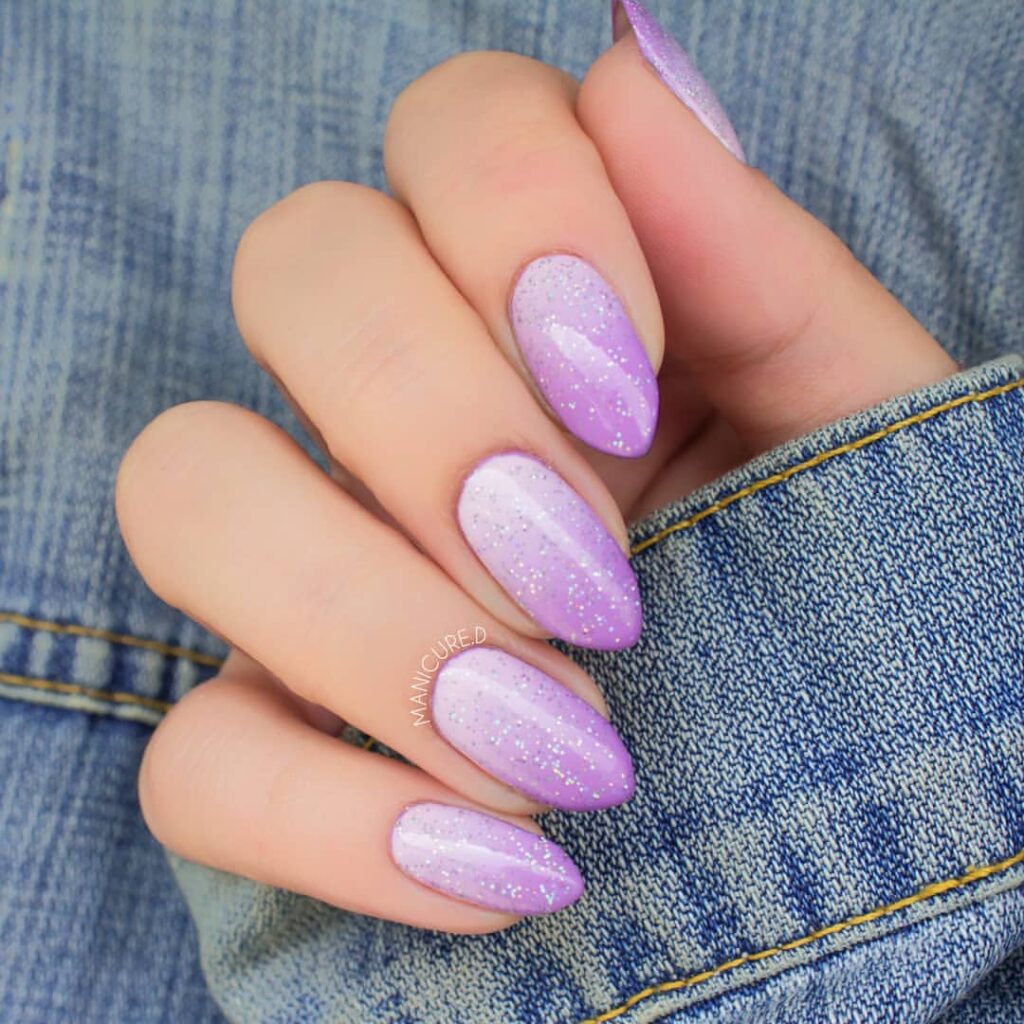 Courtesy: @manicure.d
#11 These light purple nail designs are just perfect for those who want a beautiful, everyday manicure with this royal shade! This one, however, makes the design just perfect for your Pinterest board with inspiration for summer nail design or spring nail designs by adding a floral touch on the accent nail. Needless to say, it's an intricate art and should only be trusted to be recreated by an expert manicurist.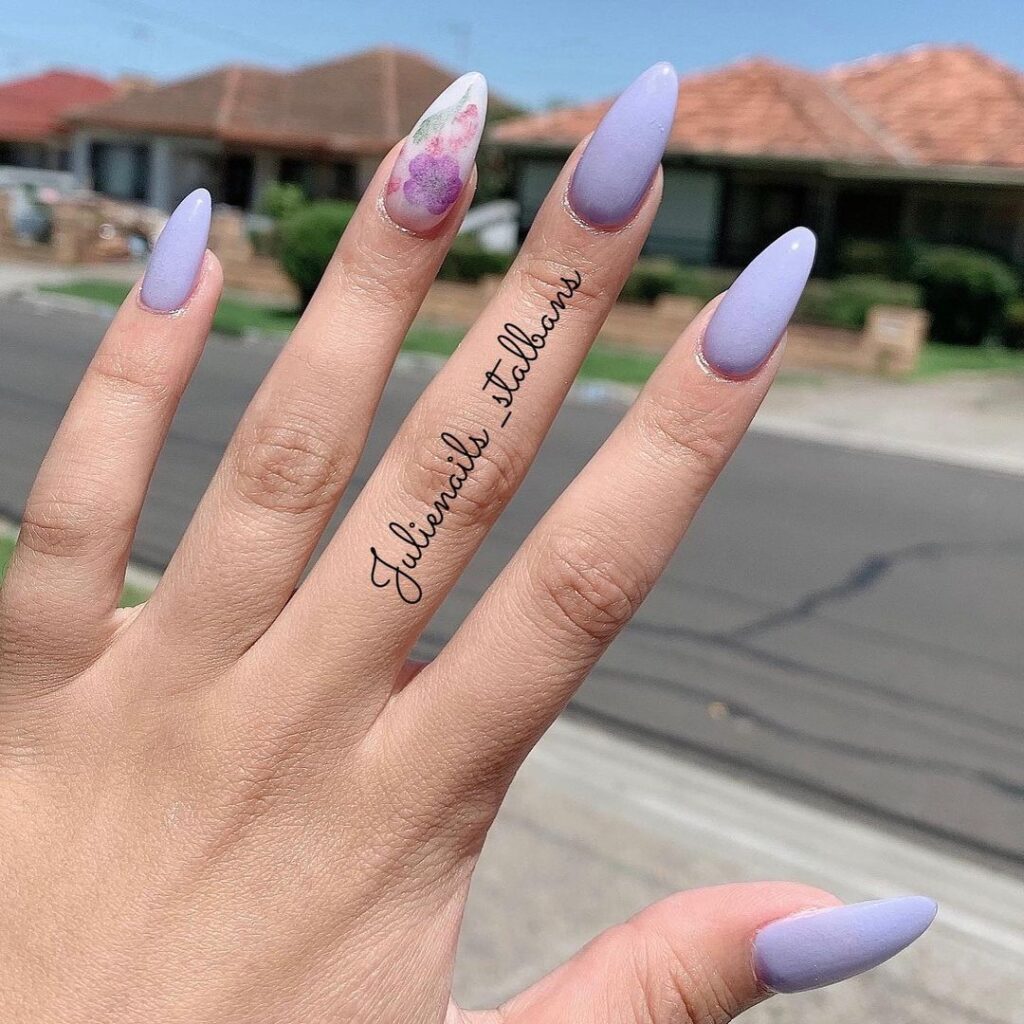 Courtesy: Julie's Nails
#12 The next one of the purple nail designs is all about warmer shades of purple blended with a warmer beige shade in a sweater pattern for a stunning fall manicure idea. The addition of glitter lifts up the spirits of the manicure and brings some shine to the cozy fall season. You can skip the glitter though if you want and even use a sticker for the sweater nail pattern if you're doing this manicure at home!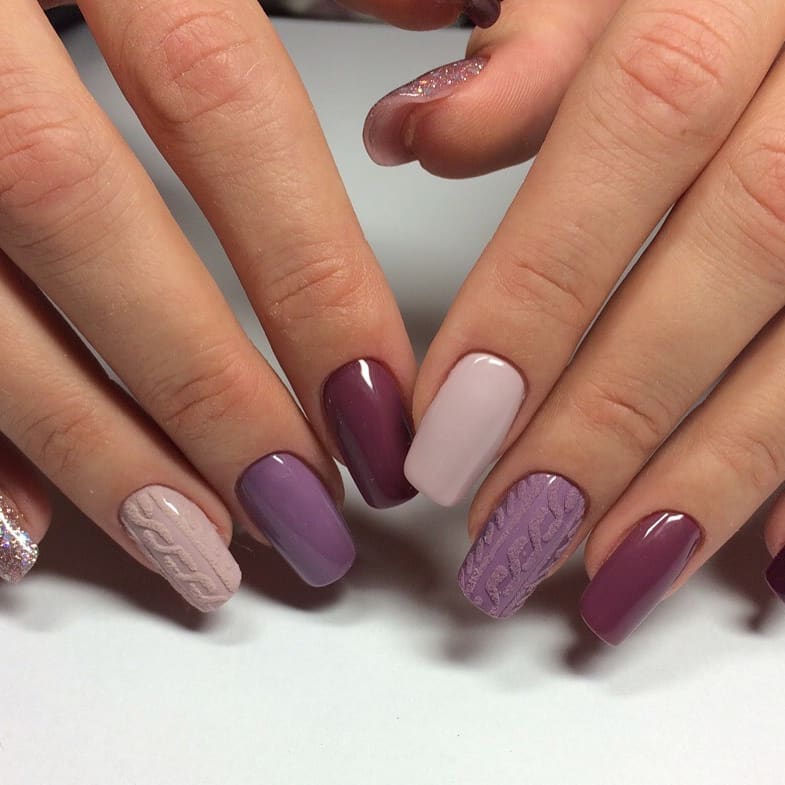 Courtesy: @rosalindofficial
#13 This glitter purple nail design is all about creatve patterns and uses swirls to infuse artistic appeal into the manicure. The divisions of swirls are done using a thin, fine brush and filling the polish with a wide brush after the sectioning. You do need to have a steady hand when you're DIY-ing them at home. Don't forget to cover it all with a gloss coat for a shimmering finish.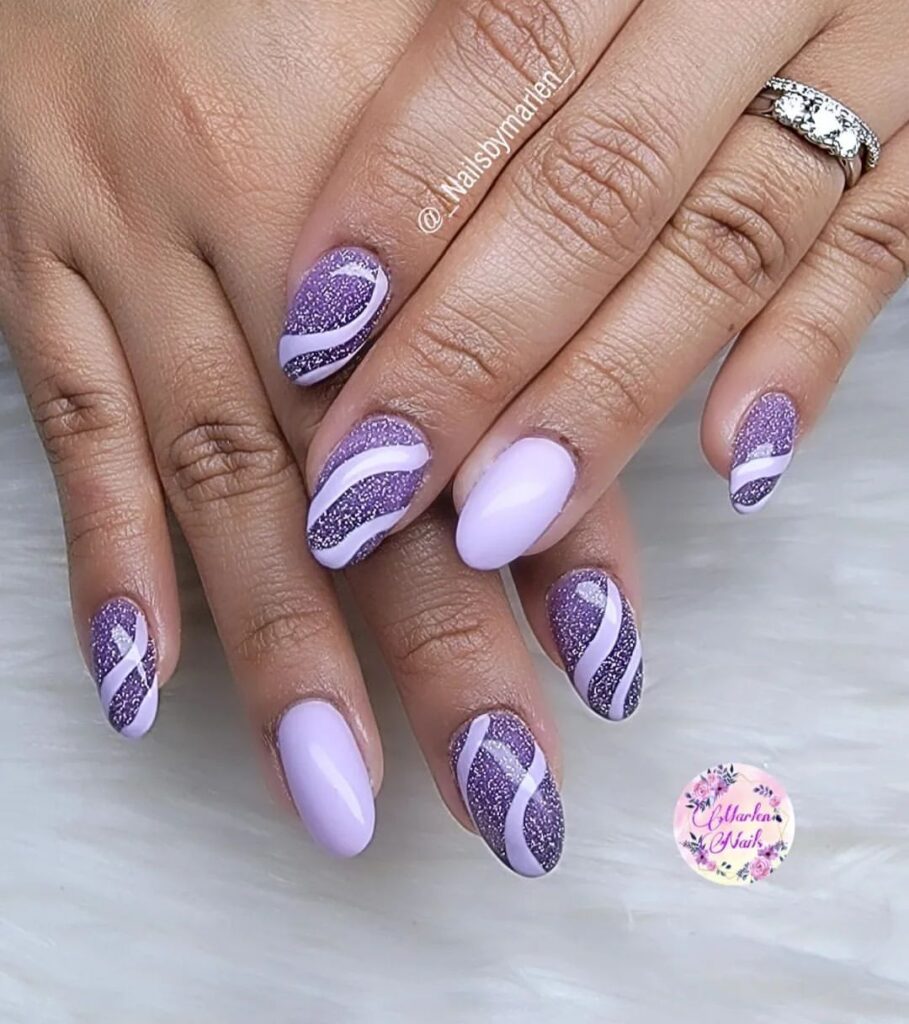 Courtesy: Marlen
#14 Halloween acrylic nail designs can also be done using purple – if you're swaying towards this hue in your manicure. This black and purple nail design paints two nails in black and the other two in purple. The latter, however, also includes Halloween-specific motifs like ghosts and writings for personalized nail art. You don't have to draw these motifs if you're DIY-ing this manicure. Instead, you can just use stickers to recreate them at home without any extra effort.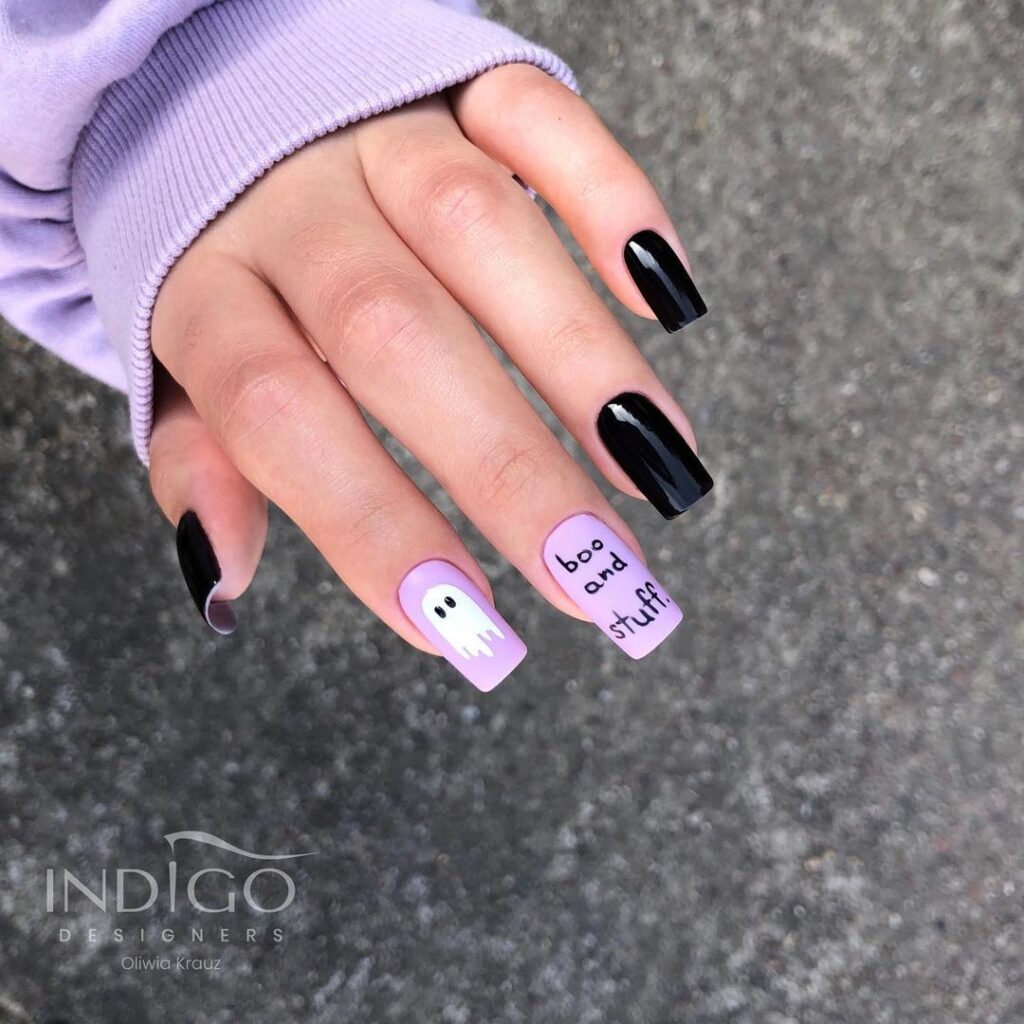 Courtesy: @indigonails
#15 Ombre nails have become quite popular lately. No matter the color or occasion, their versatility makes them a hit anywhere and everywhere. This nail style typically involves a gradual color gradient that fades from one shade to another, creating a subtle and sophisticated effect. The addition of glitter just gives a glamorous twist to the
otherwise mellow purple manicure.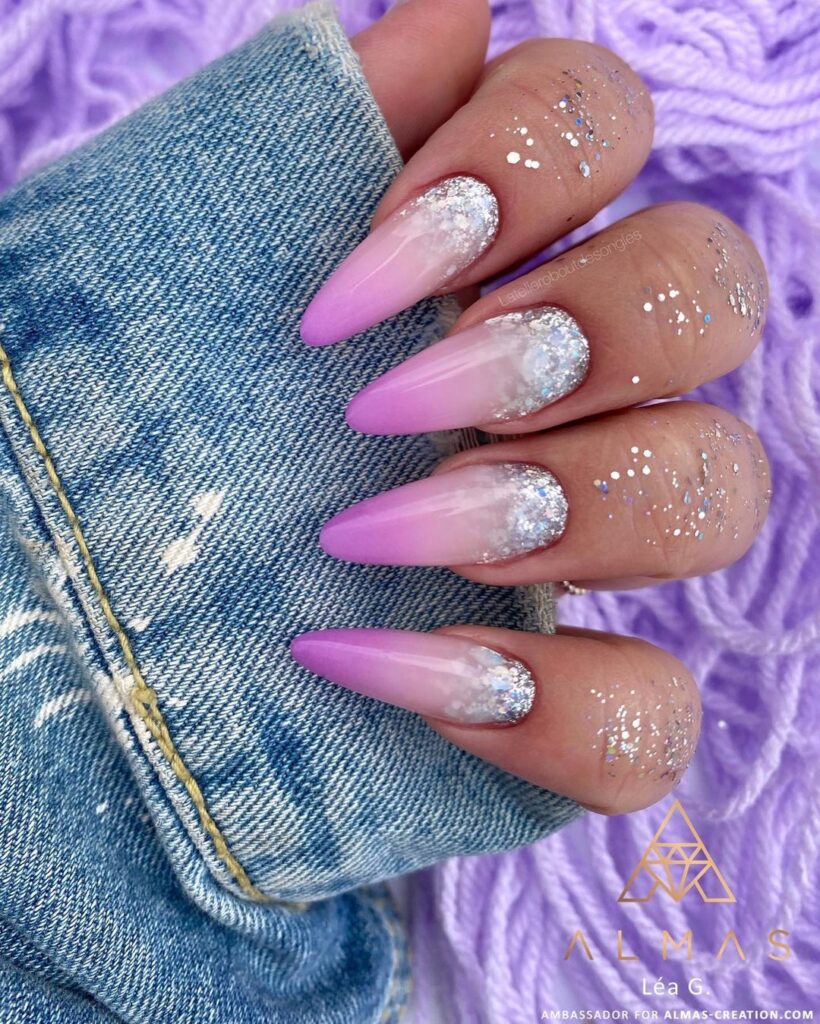 Courtesy: Almas
#16 Short purple nail designs are just as popular as the longer ones given the practicality of the former in everyday life. And they can be just as creative as the long nail designs. Like here, the addition of a flower pattern on the ring finger gives a refreshing look to the manicure. You can experiment with different motifs on the accent nail to create a manicure that reflects you. Some ideas include a heart, polka dots, or swirls.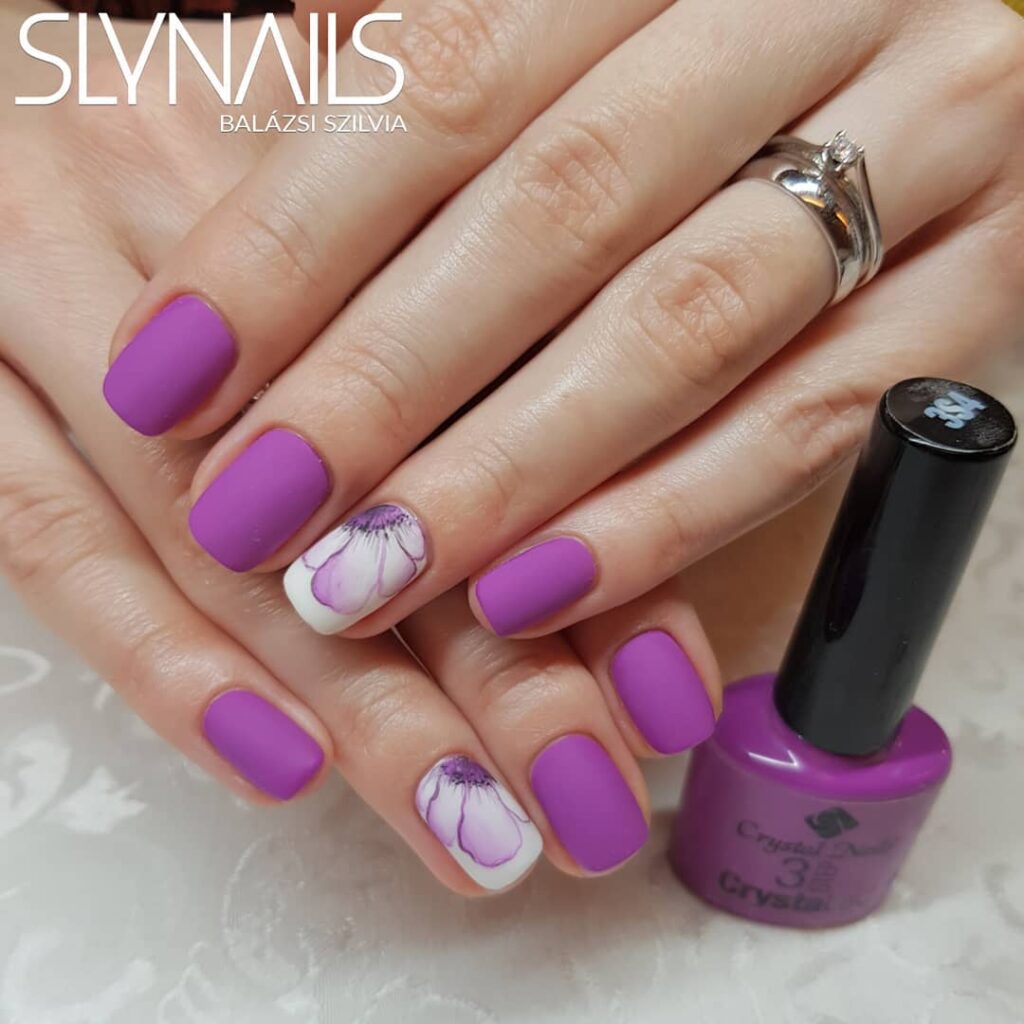 Courtesy: Balazsi Szilvia
#17 Now, artistic purple nails like these are just the way to express yourself through your nail art. These nails combine flakes of purple to create an illusion of 3-D nail art while other nails are painted in a block color to balance the charm of the design. Now, this is the kind of purple nail design that will look good on any nail shape that you choose for your manicure.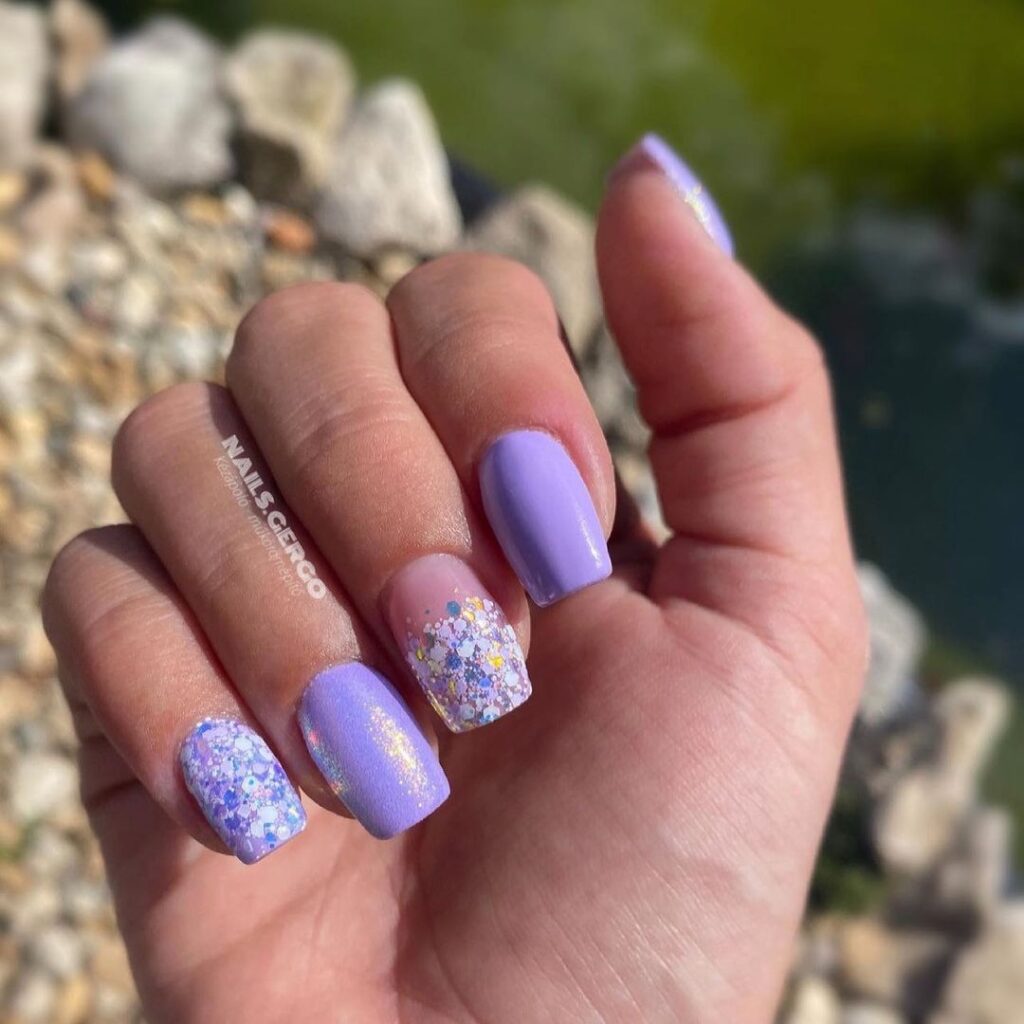 Courtesy: @nails_gergo_bp
#18 When you want purple nail art, but don't have time to get a professional manicure, just get the shades lying in your vanity and paint each nail with a different shade from the palette. It will look elegant and scintillating all at the same time. You can use this trick with any of your favorite colors as well, like pink nail designs or nude nail designs.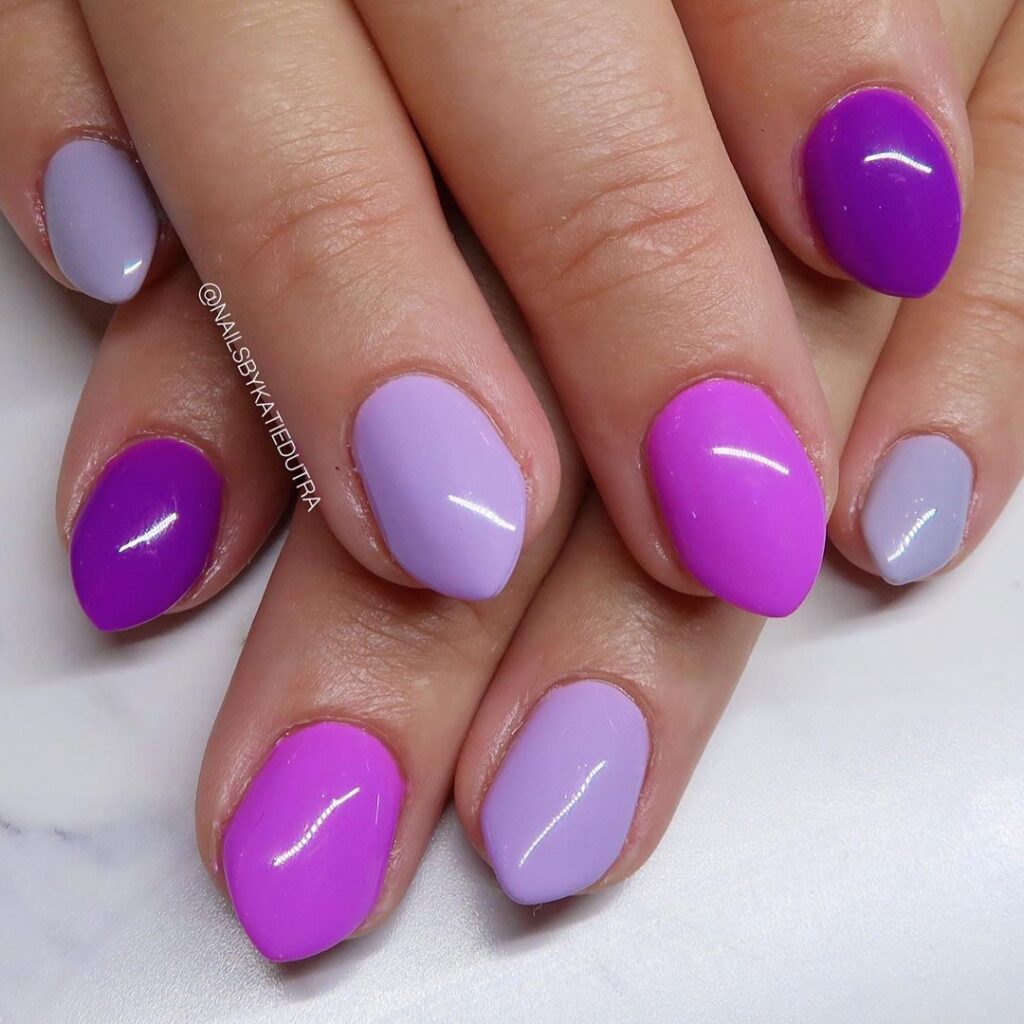 Courtesy: Katie
#19 These purple design nails are embellished with studs to add a touch of allure to an otherwise basic yet elegant manicure. Studs are available in a wide variety and can be arranged in a number of patterns to bless you with a design that reflects your own personal style. This design is perfect for those who want to add a bit of sparkle and texture to their nails without going over the top.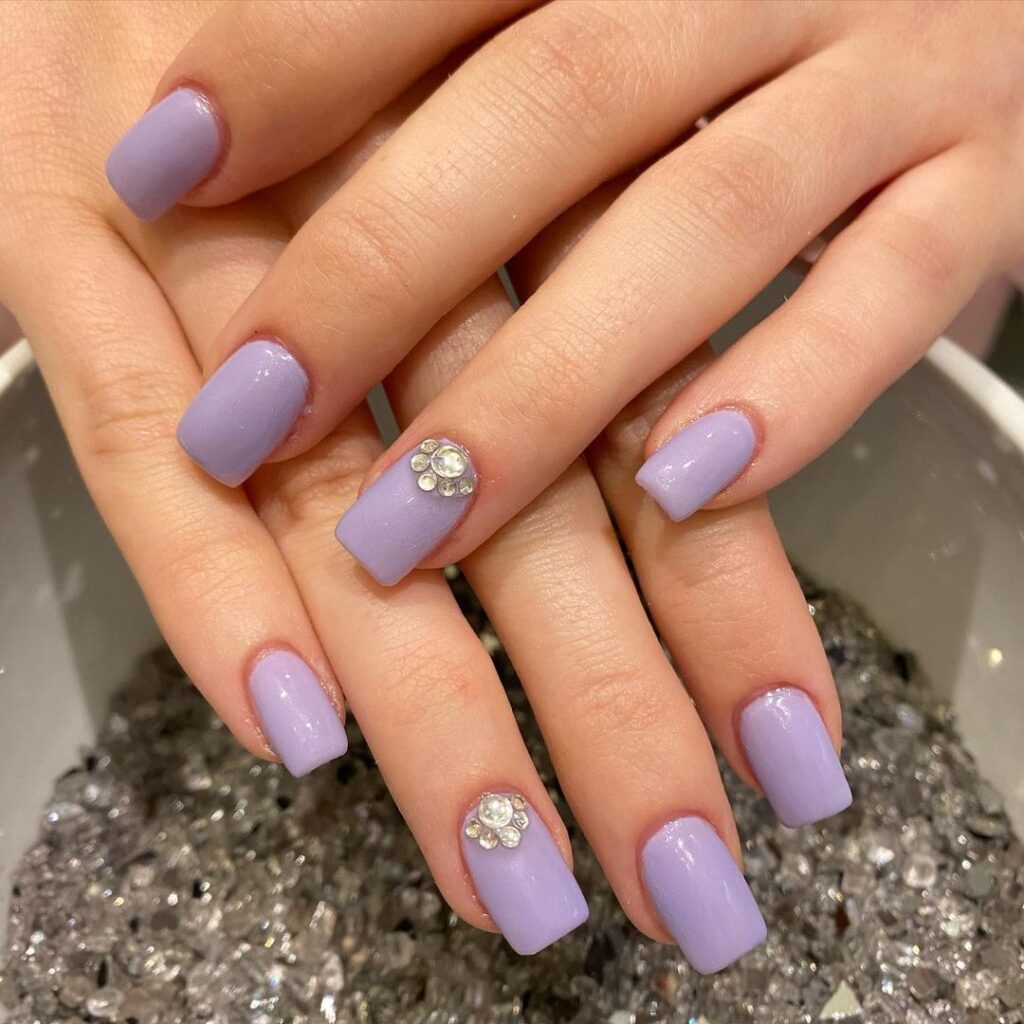 Courtesy: Glamour Nails
#20 Smiley face nails are popular because they add cheerful vibes to your everyday mood without doing much. And while we can't control much of what happens on the outside, these tiny efforts can go a long way to add a bit of positivity into your life. Good news? You can infuse this design idea into the purple nail designs for a black and purple manicure. You can also use a lighter and darker shade of purple to create this manicure.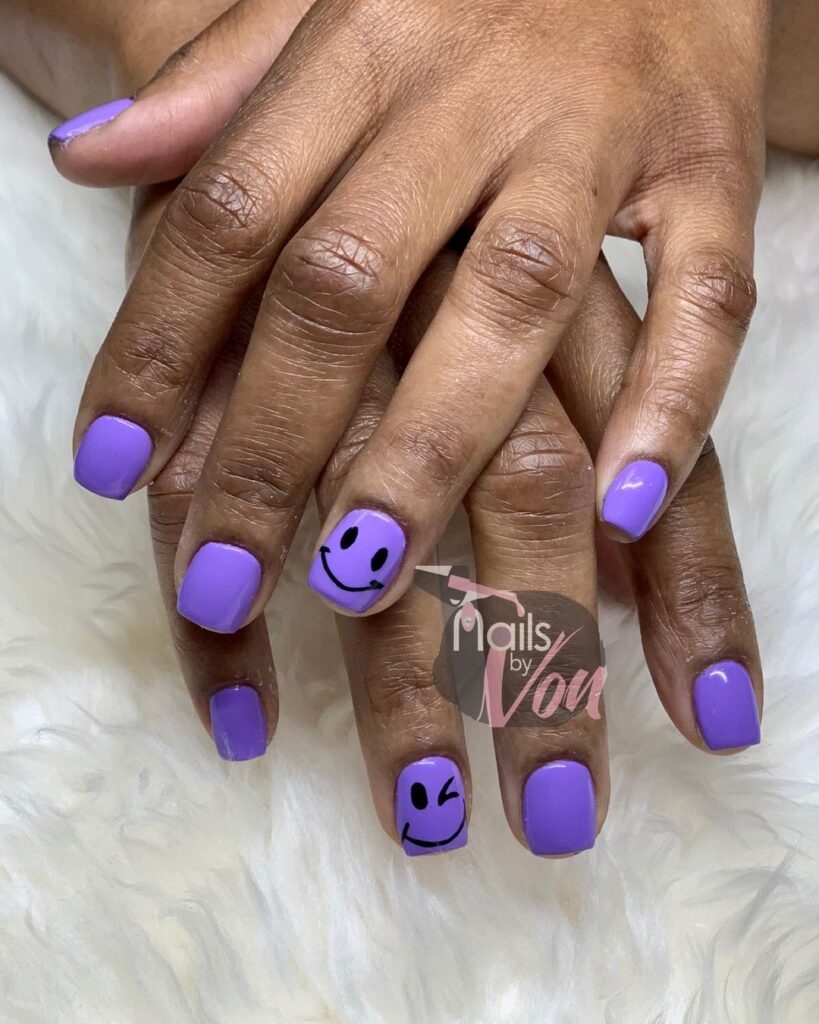 Courtesy: Von
#21 We are adoring this glitter French tip nail design in purple with stars motifs all over the base. It's a unique manicure idea and one that will draw compliments for as long as it will last – which will be about 3 to 4 weeks for acrylic purple nail designs. You can also get gel nails which also last around for the same time but are more natural-looking than acrylic nails though!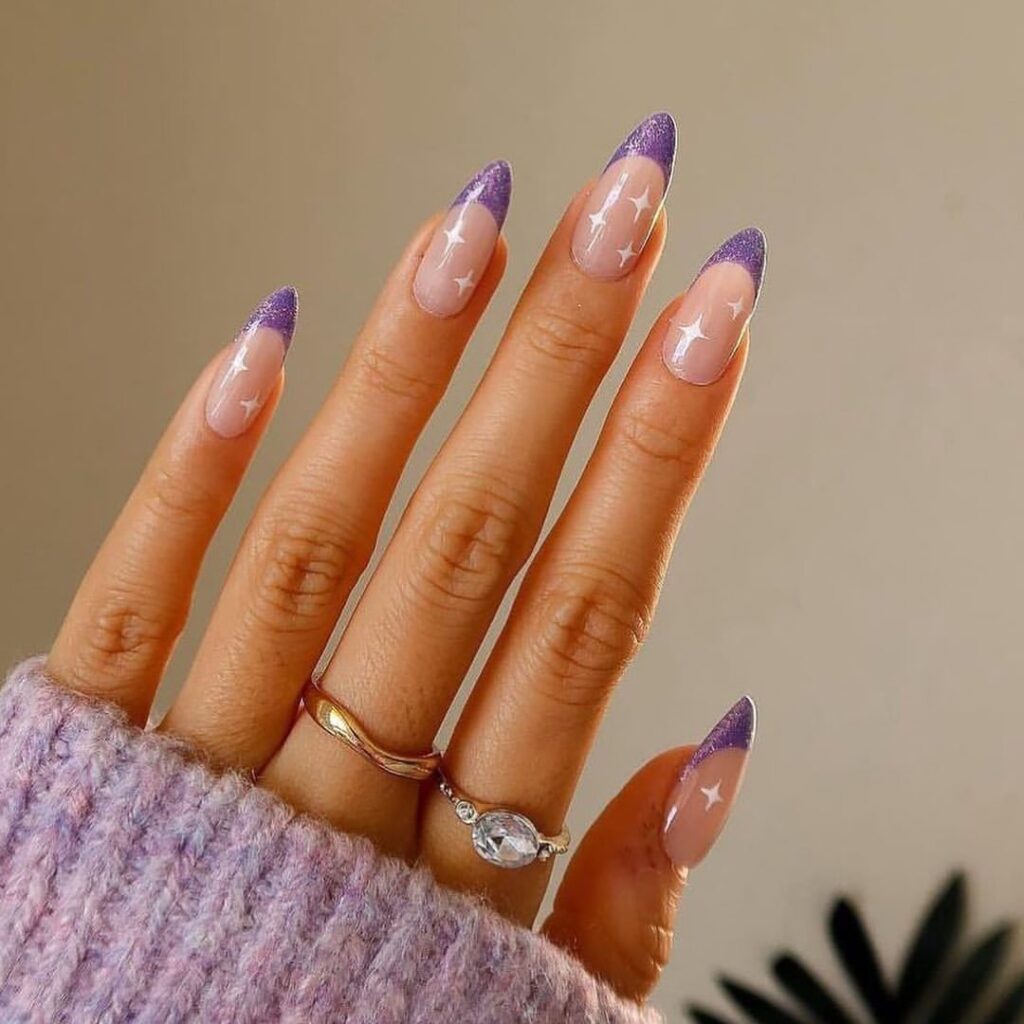 Courtesy: @betterwithjew
#22 This list of purple nail designs just elevated its glamorous quotient with the addition of an embellished manicure featured in the next image. This coffin purple nail design is upgraded with a marble nail pattern on one nail and studs on the other. Even though it's a bit more decorated, the manicure still retains its elegance thanks to the smart color combination of white and light purple, which gives a very chic and sophisticated look.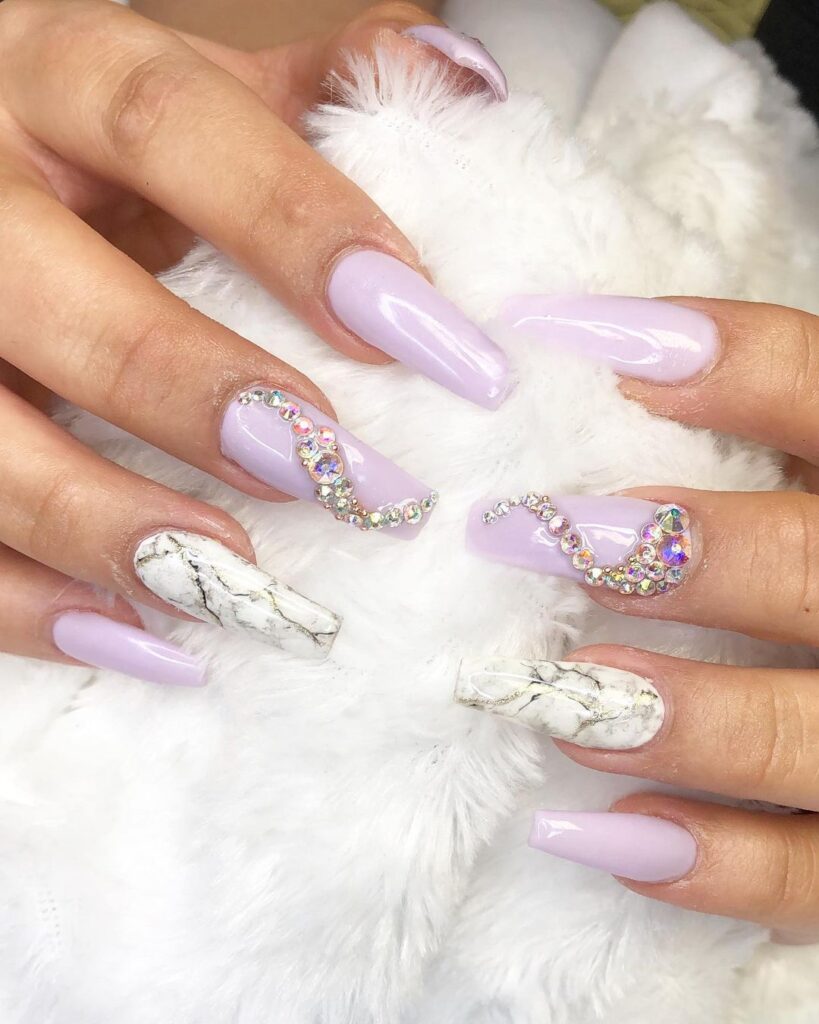 Courtesy: @nails_2001
#23 Nothing welcomes the spring season like the leaves & floral art on this manicure done on the middle two nails in combination with a light purple nail design. Trusting an expert manicurist is imperative to recreate this lovely nail idea.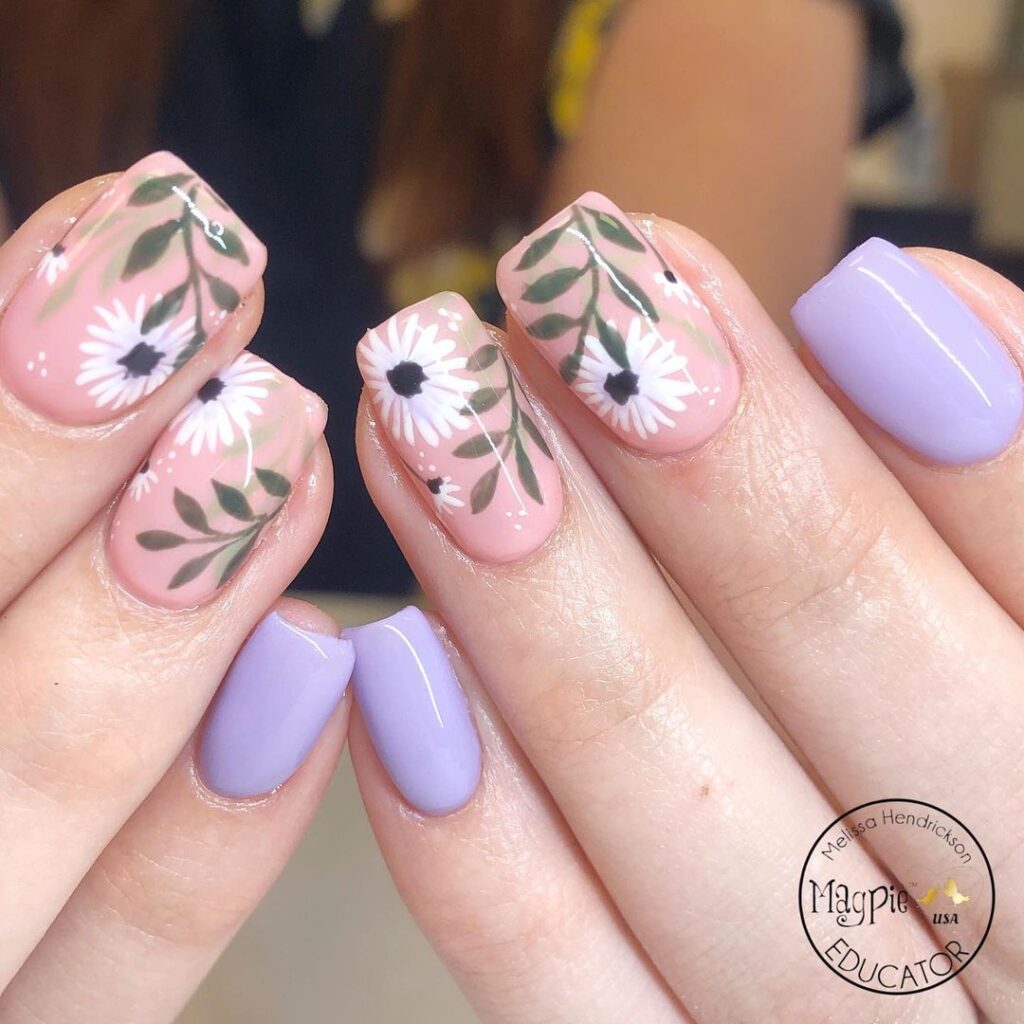 Courtesy: @polisheslooksbymelissa
#24 ORLY is the first brand that introduced French manicures to the general market and has been ranked as one of the best nail lacquers in the world. You can see the review of their remarkable pigmentation and stay on any of the e-commerce websites you open! Here's a gorgeous shade of purple in their range that you can rock just in itself!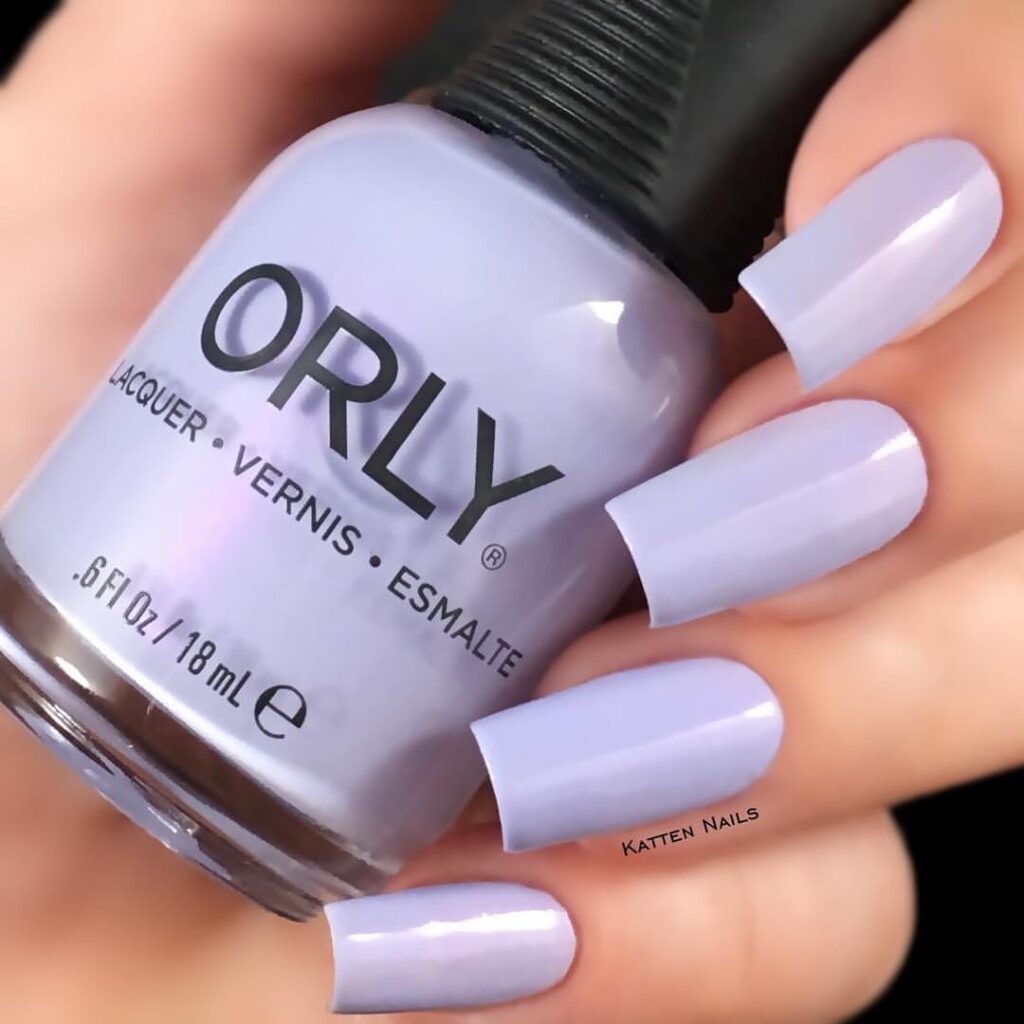 Courtesy: Margareth
#25 The next one of the purple acrylic nails is done in the French manicure style coordinated with flower motifs on the other nails. The combination of two colors and two designs is done quite uniquely and certainly impresses in one look! You can pick any other shades of purple if these two aren't available. The manicure will still look as charming as this one.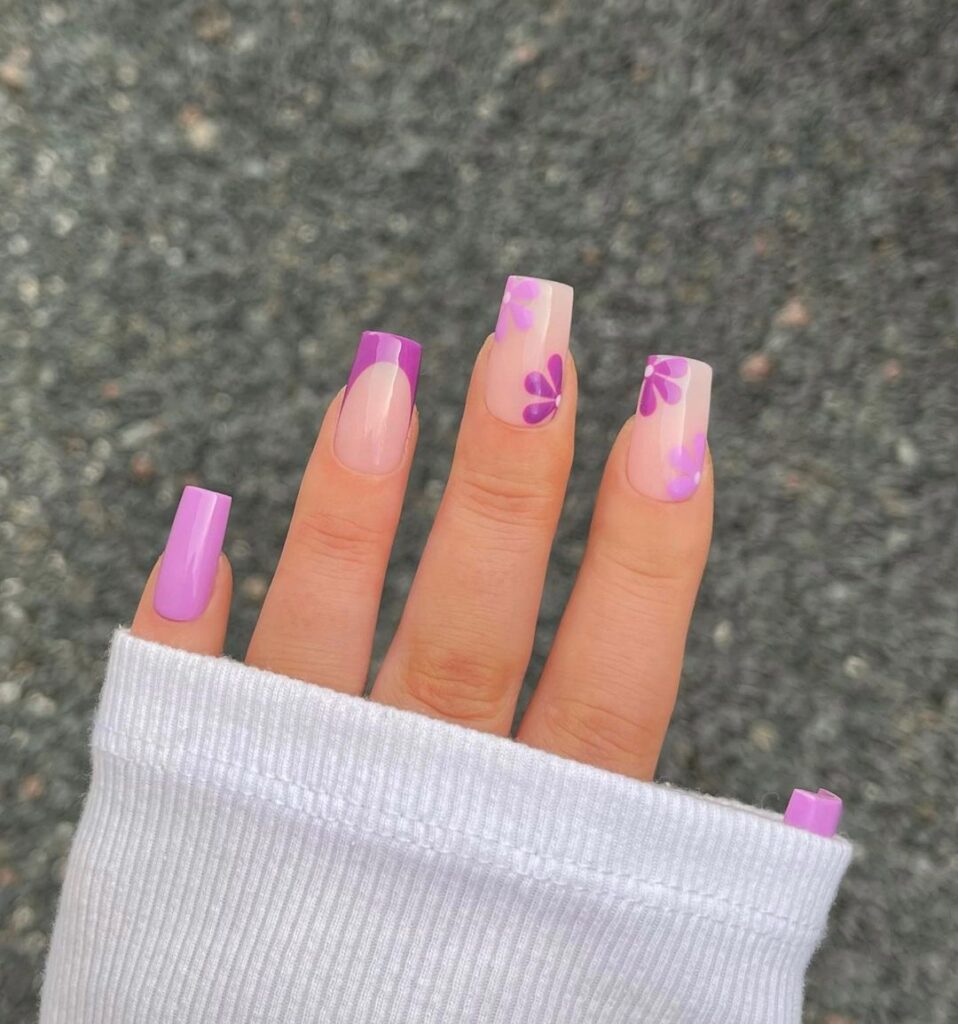 Courtesy: @nailsby.lynsey
#26 When you are looking for quick purple nail designs, saved inspirational images like these will come to the rescue. All they require you to have is a purple shade nail lacquer, a glitter lacquer in the same shade, and a gloss coat. Start by buffing and shaping your nails. Apply the base shade and let it dry. Apply the glitter coat on the lower half of your accent nail and let it dry before you follow up with a gloss coating.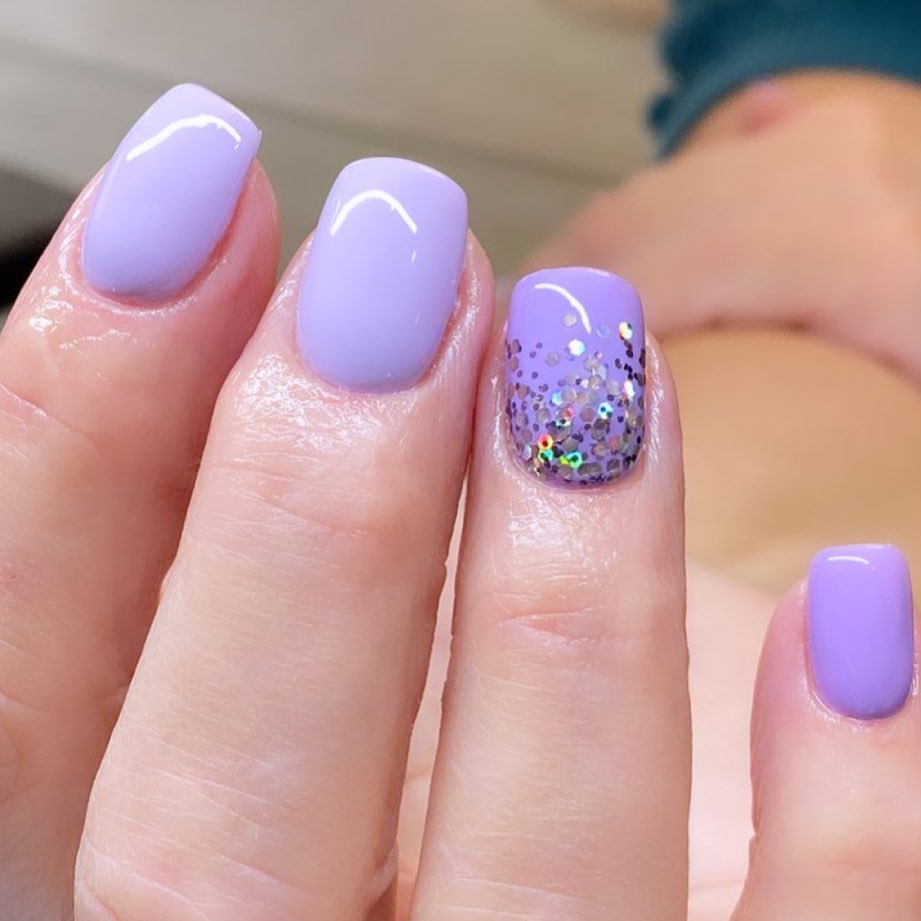 Courtesy: Five Elements Institut
#27 These short purple nails are proof you don't need long nails to set a statement. Even shorter nails when done strategically can grab eyeballs. And although different shades of purple on each nail have already been featured, pairing them with white has added a touch of distinction to this manicure quite well. Purple and white go together anyway, so you can never go wrong with the combination.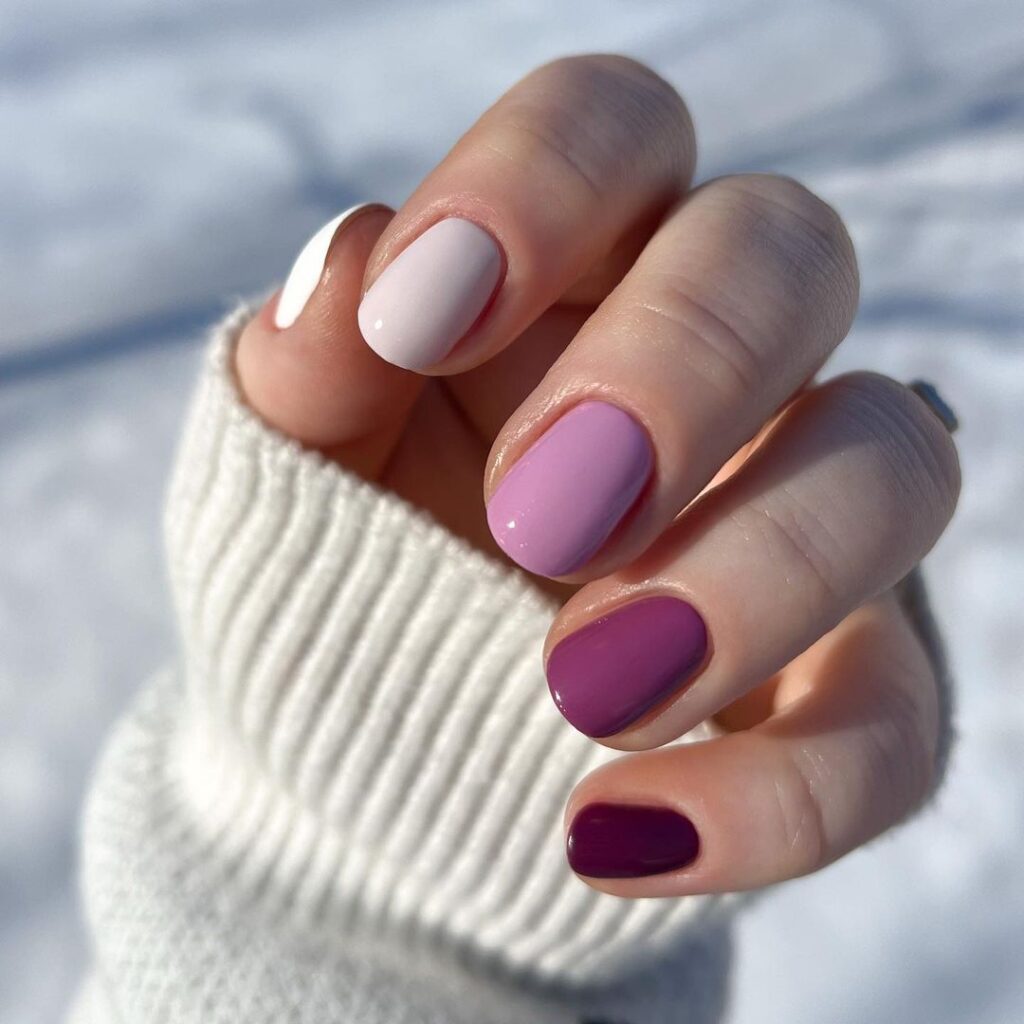 Courtesy: Emily
#28 Purple nail designs with glitter are common, but the way each one is done so creatively is quite impressive. You can literally choose from a multitude of glitter nail designs in purple to choose one that suits you the best. The next one is a bit mellow and a bit glamorous so you can wear it to the office every day but can also carry the same manicure for a fun party afterward!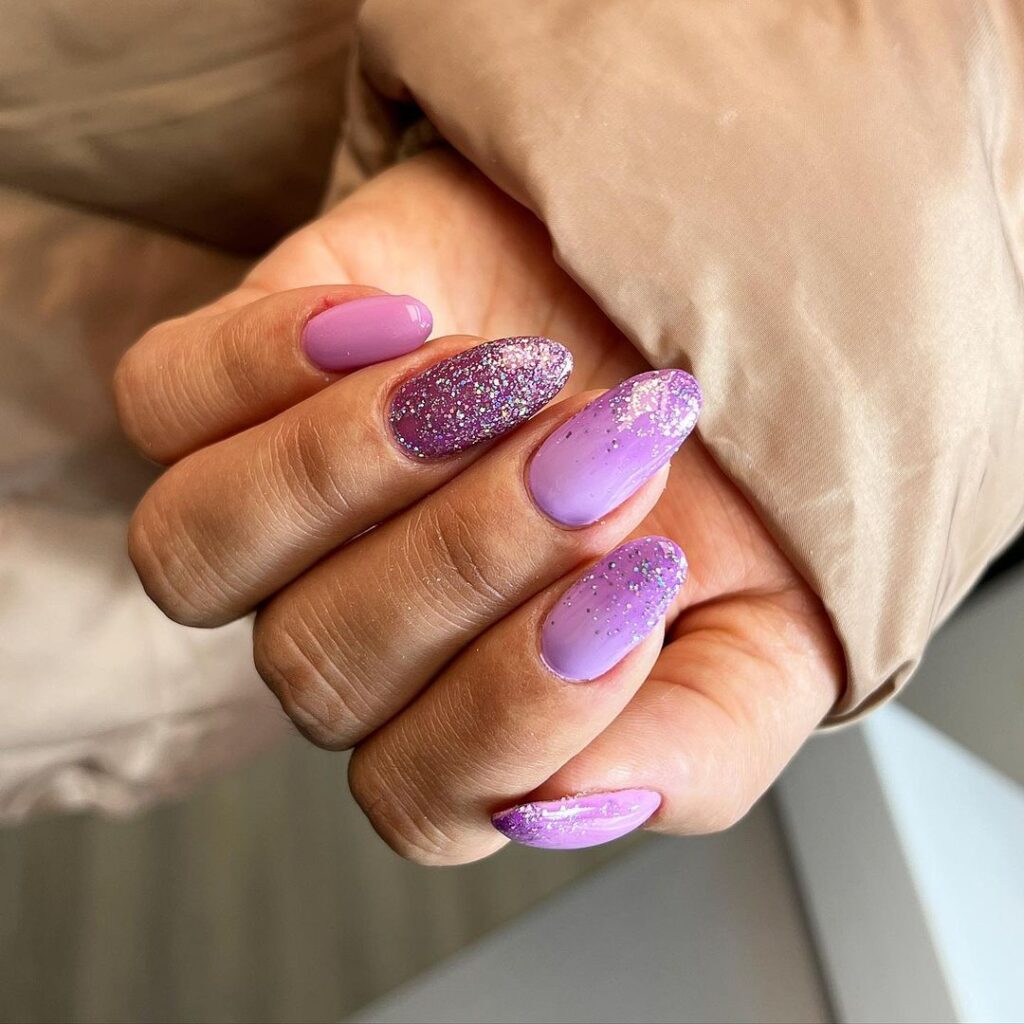 Courtesy: Sabih Nailbar
#29 Purple nails with glitter coating are a dazzling and glamorous way to make a statement with your manicure. This style involves painting the nails with a rich shade of purple and then adding a layer of glitter on top. The glitter can be applied in a variety of patterns and shapes, from full coverage to gradient fades. This manicure is perfect for those who want to add a touch of sparkle and glamour to their look, whether it's for a special occasion or just to brighten up an ordinary day. With purple and glitter, you'll be sure to stand out and shine like a star.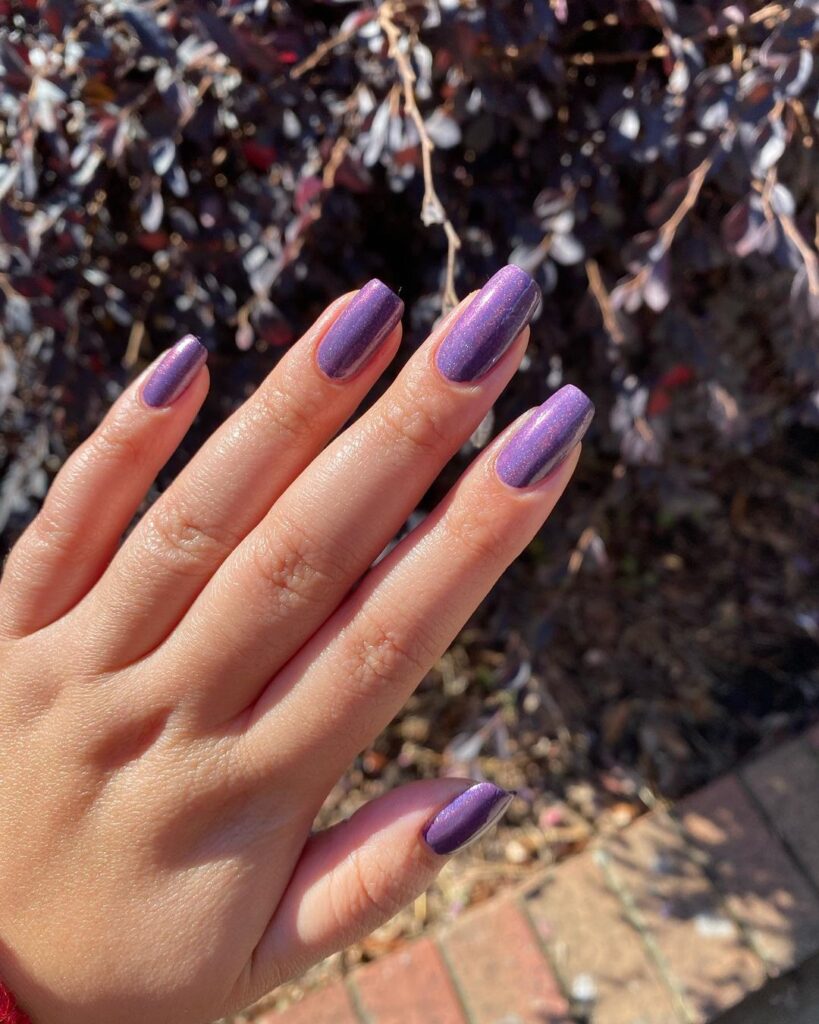 Courtesy: Vika Polishes
#30 Now if you want to set a statement with your manicure, just use a different shade of purple than the others mentioned on this list and you're good to go! The hue looks like a combination of inkish blue and purple and is smartly combined with glitter nails alternatively for an eye-catching manicure. You can use any other unique shade of purple to recreate this manicure!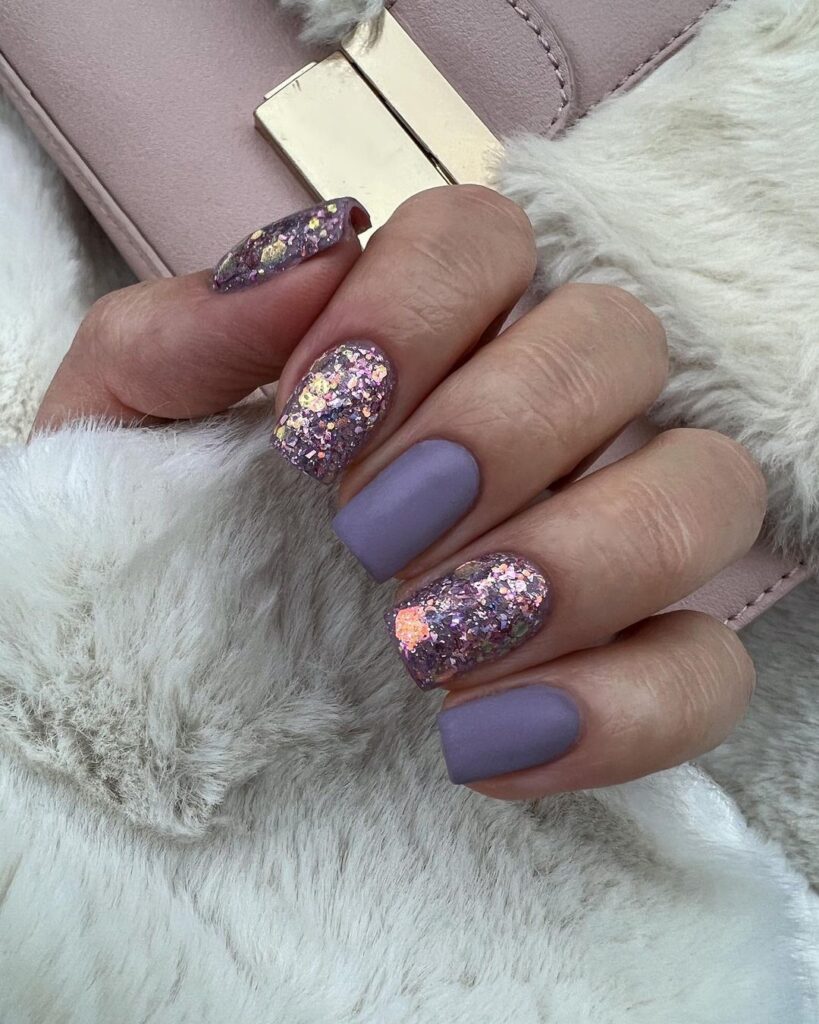 Courtesy: @borcsanails
#31 These square purple nails with design are elevated by an accent nail in a cookie pattern. You can use a glitter purple polish to create the pattern easily at home. This is just one of the few purple nail designs that will look good with all the nail shapes and you can try anything from coffin to ballerina to small round nails to recreate this manicure.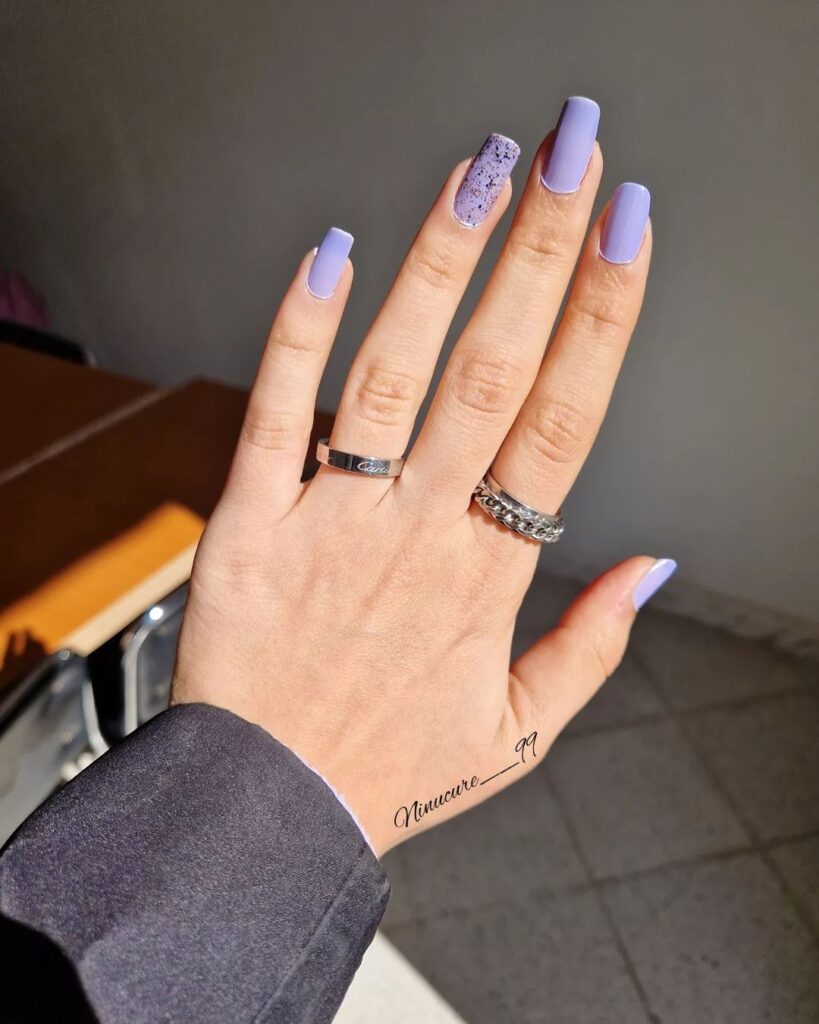 Courtesy: Ninucure
#32 A colored French manicure in purple is a modern twist on the classic French manicure style. Instead of using the traditional white or beige tips, the tips of the nails are painted with a vibrant shade of purple, creating a bold and eye-catching look. This style can be customized to suit your preferences, whether you prefer a deep and rich shade of purple or a lighter and more pastel hue. Colored French manicures in purple can be paired with a variety of nail shapes, from square to almond, and can be embellished with glitter or nail art for an even more unique and creative look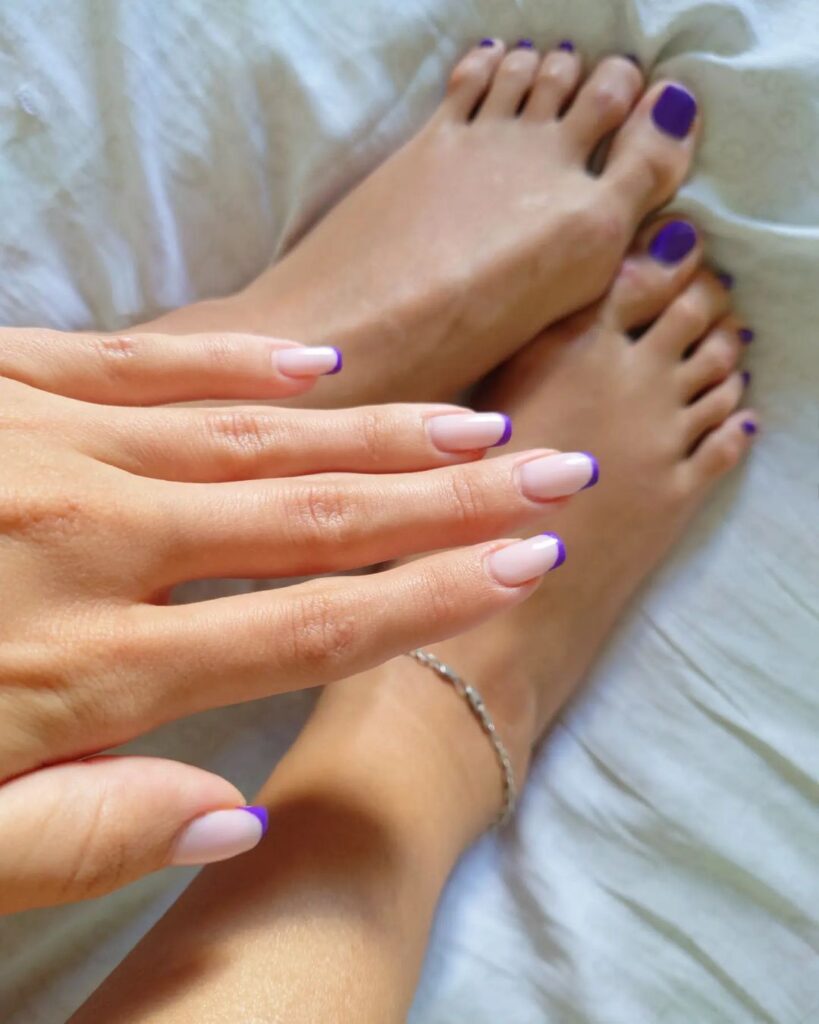 Courtesy: Aliona Pyleva
#33 A black and purple nail design is also popular and makes for a striking color combination. These two colors complement each other well due to the strong contrast between the neutral black and the vibrant purple. Additionally, both colors are associated with sophistication and elegance, creating a regal and striking effect. If you're eyeing this color combination in your manicure, here's a design idea to try!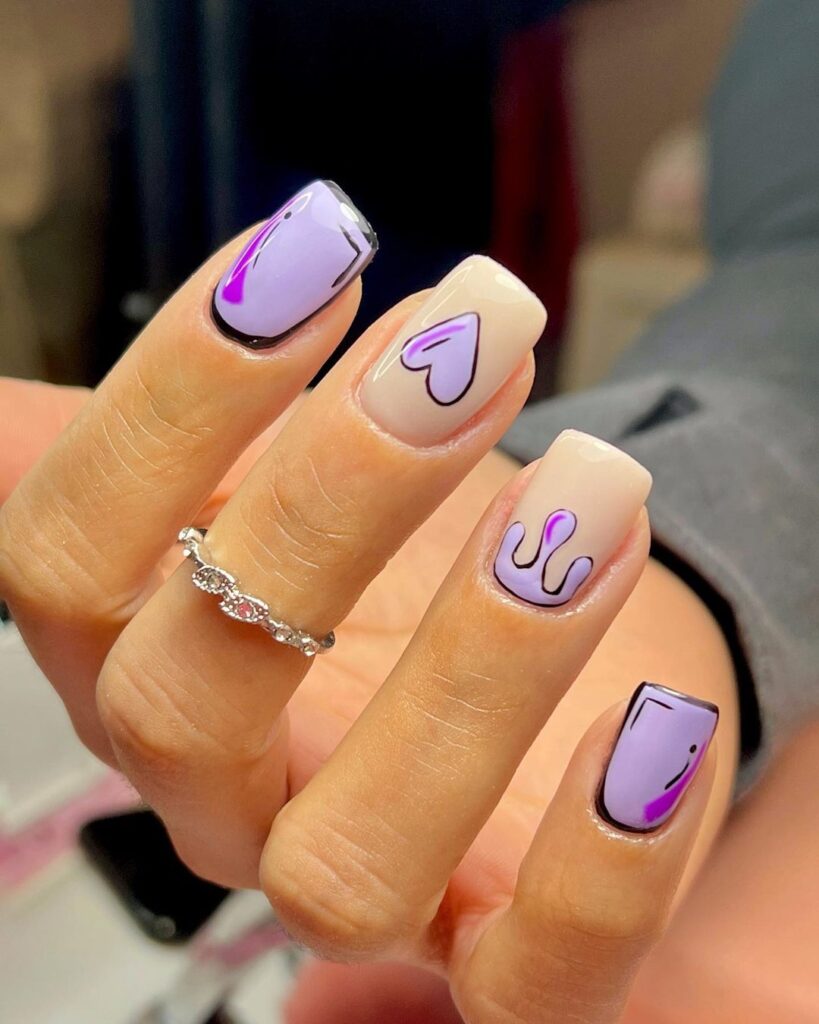 Courtesy: @gabynailsnyc
#34 The light purple nail design doesn't get any better than this! With a different shade of light purple on each nail, it's such a fun and creative way to show your love for this color. For a more eclectic look, you can pick a darker shade of purple to create a spectacular contrast. You can also add nail art, glitter, or rhinestones for a more personalized touch.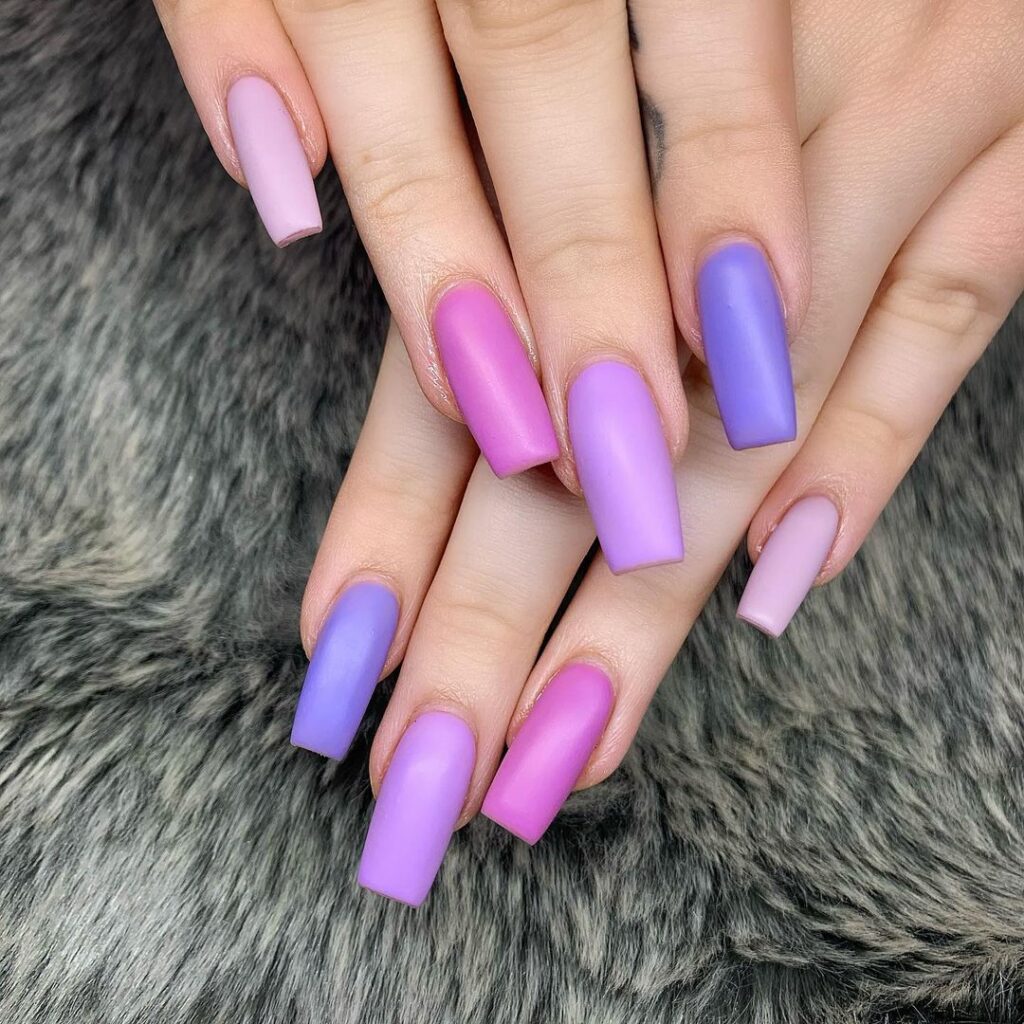 Courtesy: @nailedbytayla
#35 With a multitude of manicure ideas available for every color, you won't have a dearth of ideas to play with your favorite shade in the manicure design. Below, there's another variation among the purple nail designs to try next! It involves french tips, wands, and hearts to add to the artistic appeal whilst keeping it visually appealing to the eye!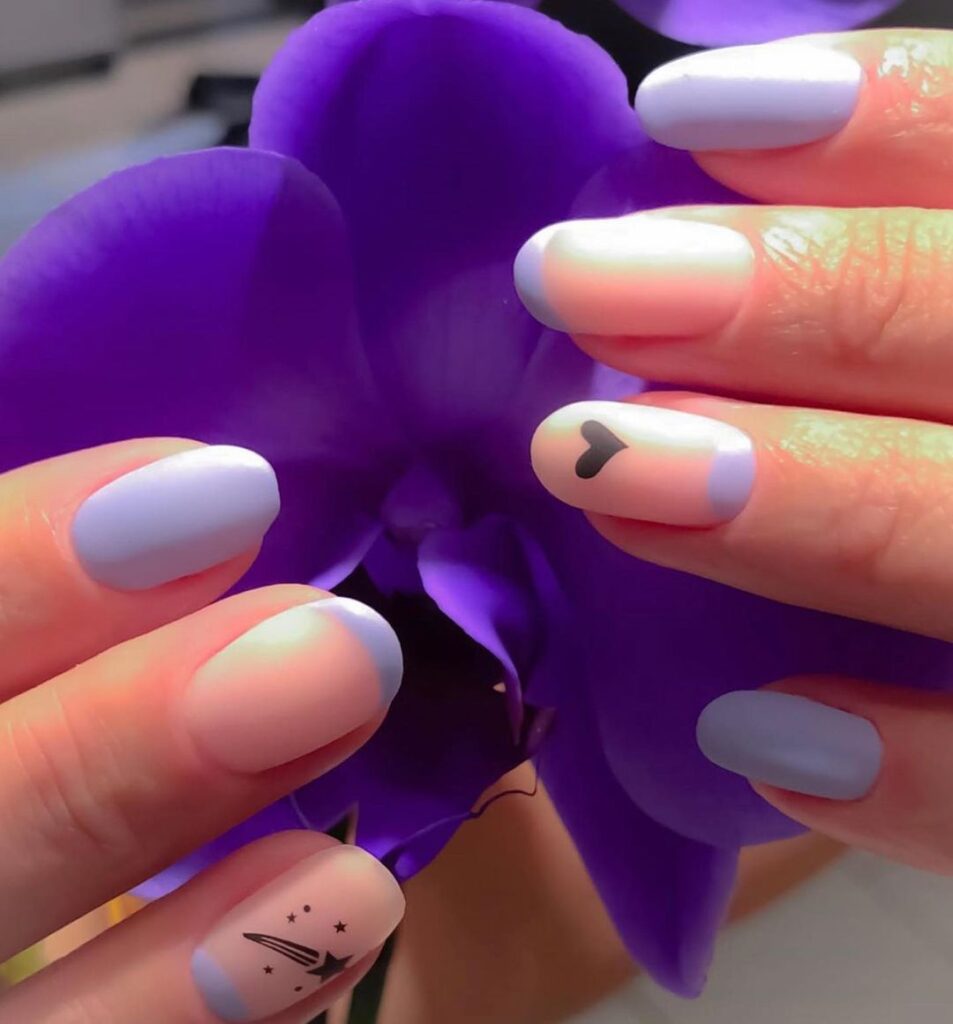 Courtesy: @acqualina_hair_salon
#36 Sometimes you don't need a manicure idea to show off your love for purple in nail art! Just a simple polish with your favorite purple shade can do the trick instead. To make the polish last longer, use a base coat and a top coat. Buffing the nails after filing, and using brands that make hydrating, nourishing polishes also ensures they will last longer. 
Courtesy: Kait
#37 This purple nail design with rhinestones is done in a soothing purple shade with the accent nail having a lighter color base than others. The rhinestones are used to create flower motifs, but you can create any other motif you're in the mood for! Like a heart or leaf, or just place them on the edges of the cuticle to look like a reverse French manicure.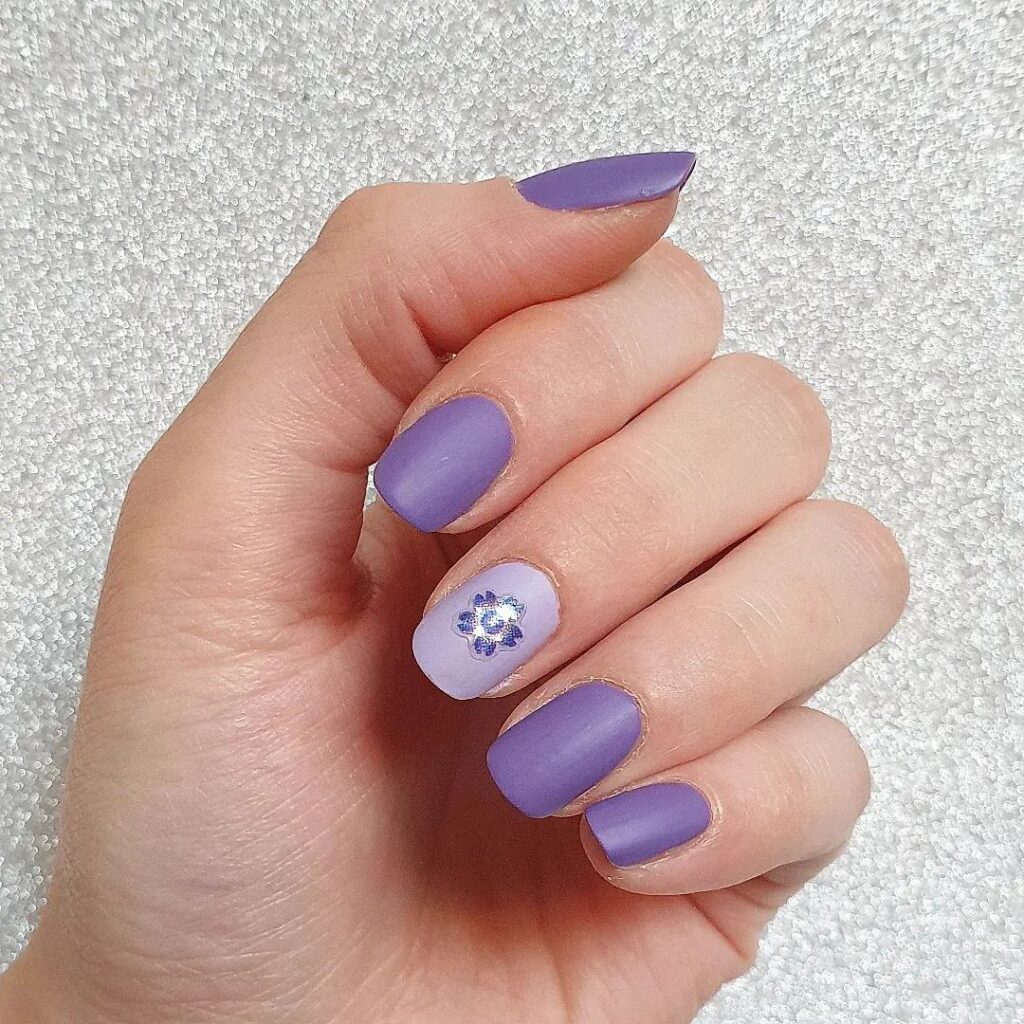 Courtesy: Marta Chalupka
#38 Affordable and quality-rich, OPI nail paints are another one you can trust when it comes to DIY manicures that will stay and look stunning at the same time! They have a number of purple shades and you can pick your favorite one to create a single-shade manicure at home.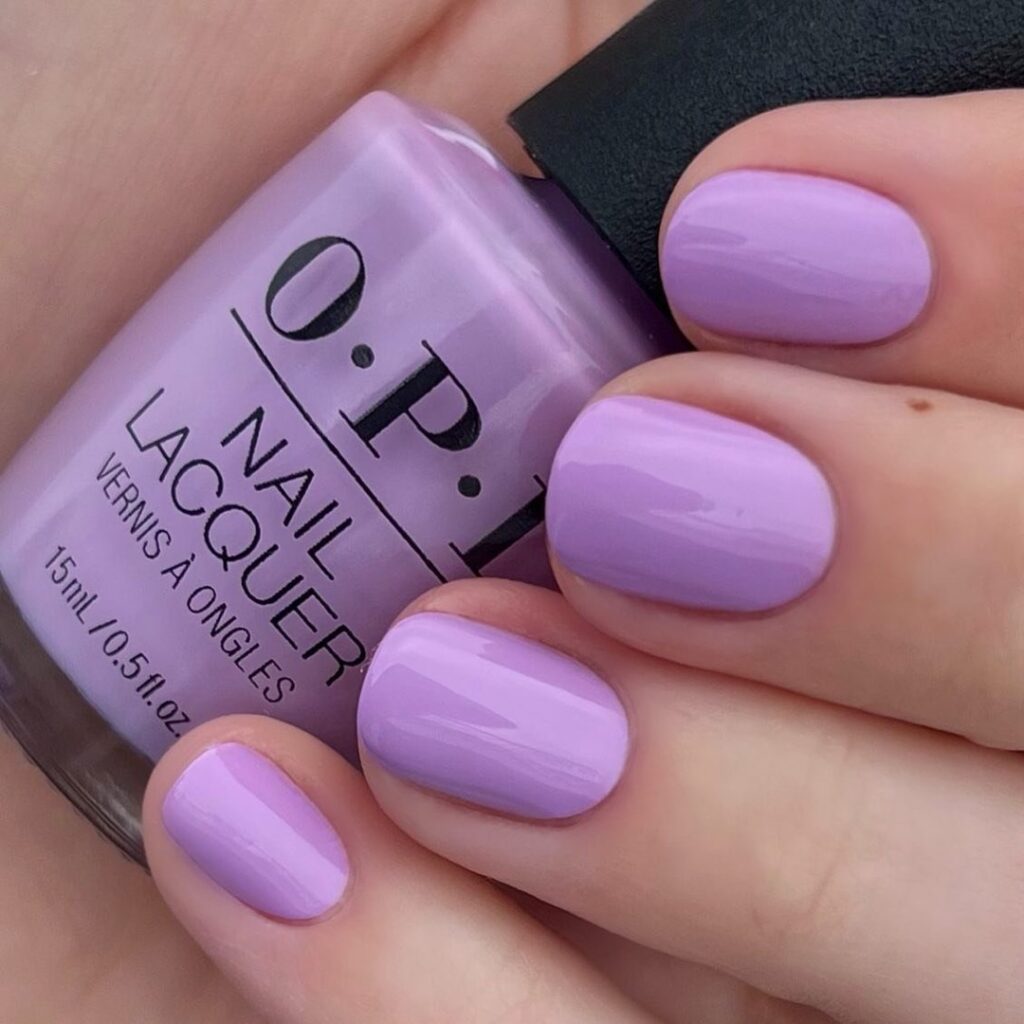 Courtesy: OPI
#39 This geometric and elegant purple nail design with a hint of white is eye-catching and simple to do at home! Start by buffing and shaping your nails, then create sections using white tape on each nail as shown in the picture. First, draw the white shade and then move the tape a little and paint the remaining nail purple. Let it all dry and cover it with a glossy top coat to finish.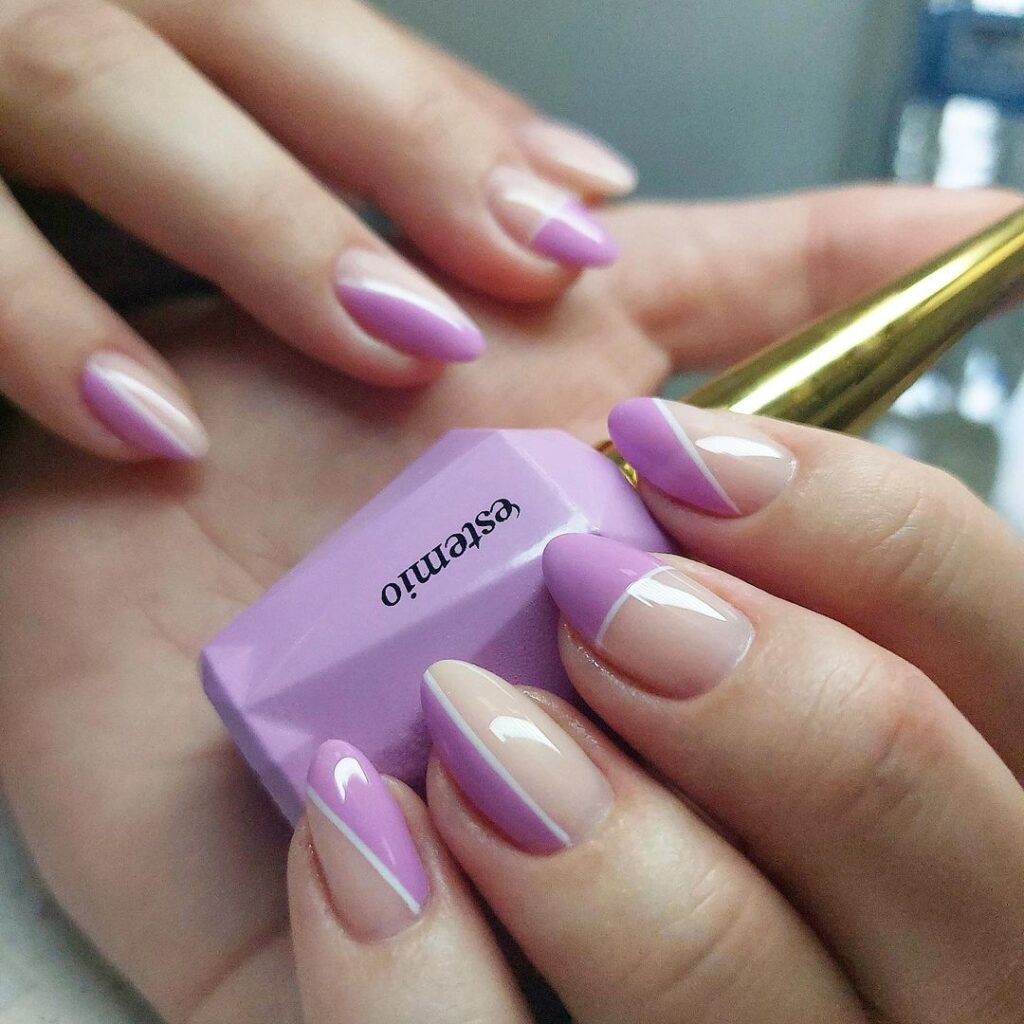 Courtesy: Blythe
#40 Purple ombre nails – but make the colors gradually change over different nails rather than on one nail! Ombre nails have become quite popular lately and are favored because of their visual appeal and effect. Ombre also allows for endless possibilities when it comes to color combinations, from bright and bold to soft and muted tones. This makes it a versatile style that can be adapted to any occasion or personal style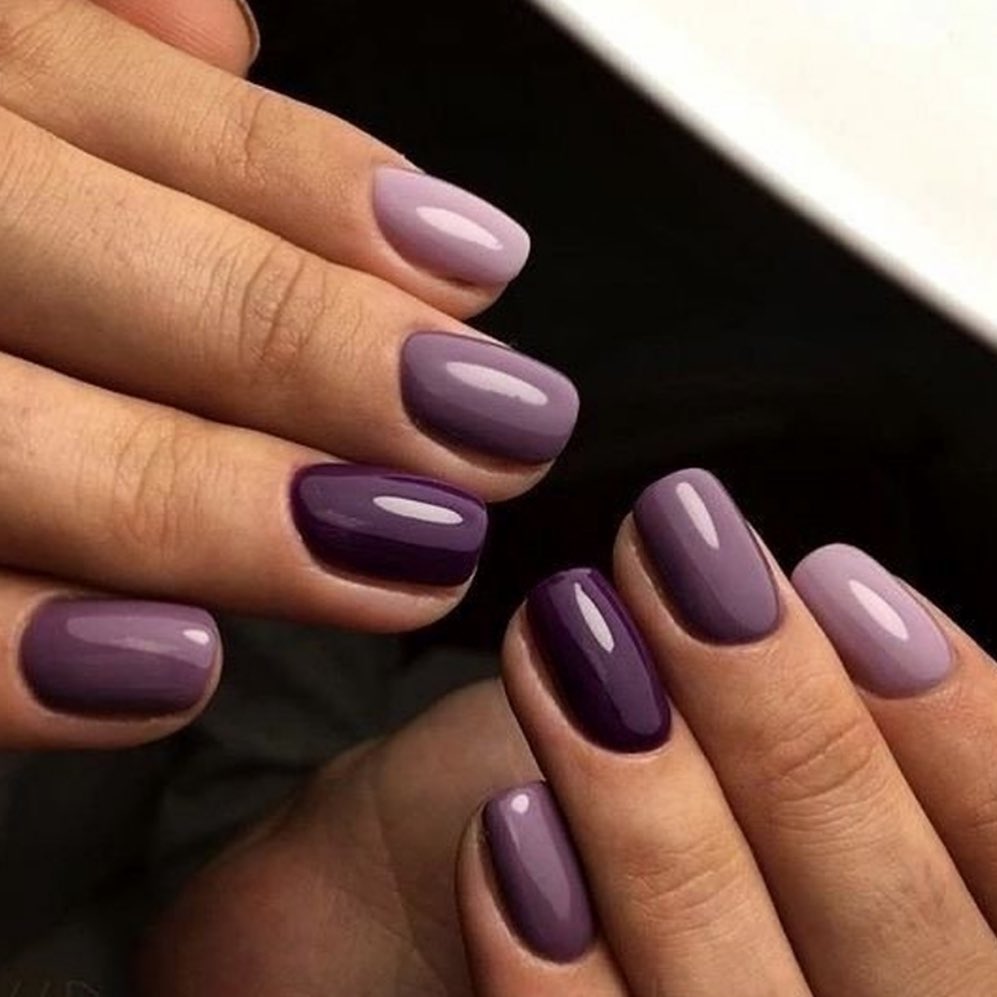 Courtesy: @livingroomdubai
#41 Nothing says a spring manicure other than a 3-D flower motif on the nails. You can choose any base to create this white floral motif, but a purple base surely gives elegance and poise to the white flower petals in full bloom. Because of the simple flower petals drawing, you can also DIY them at home using a nail art tool brush easily! 
Courtesy: Noktara Irena
#42 This blue and purple nail design is done in lighter to darker shades of purple with one nail covered in white and a black outline on the top. We are also loving the pointed nail shape that further adds to the femininity and allure of the manicure.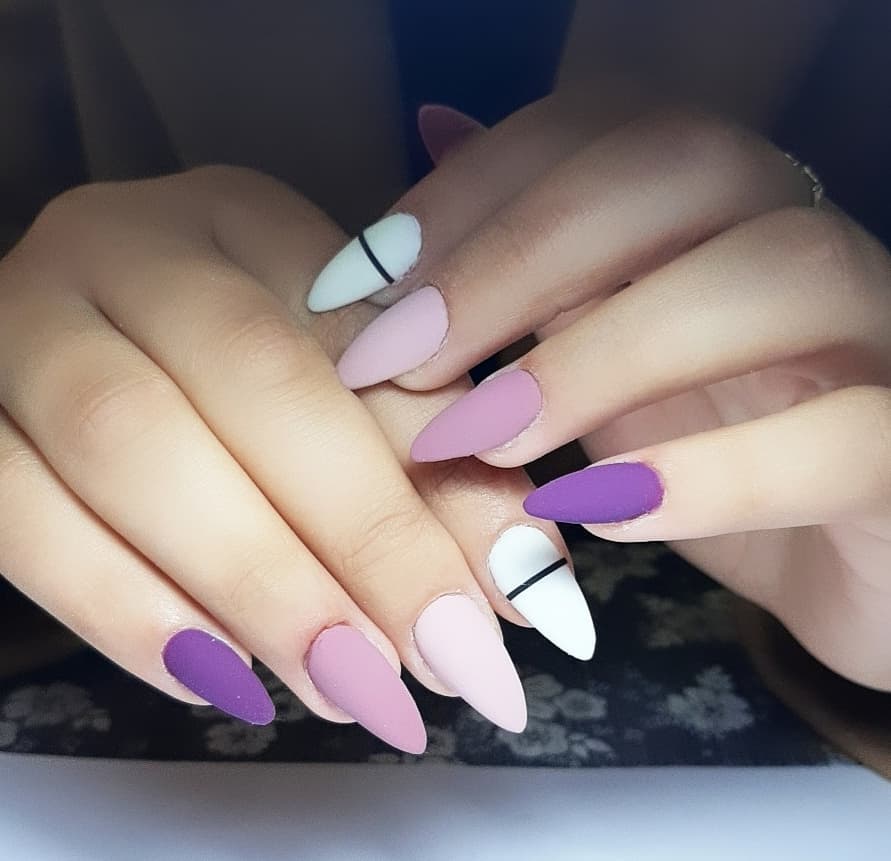 Courtesy: @ongleri_eglentine_official
#43 Purple nail designs just became a lot classier with the next manicure idea on our list. Done in an ombre French manicure style where the colored tip is done in a transition manner rather than having a traditional line of demarcation, this is such a gorgeous take on the classic style. a gloss coating on the manicure adds a beautiful finishing touch that enhances the overall appearance of the nails.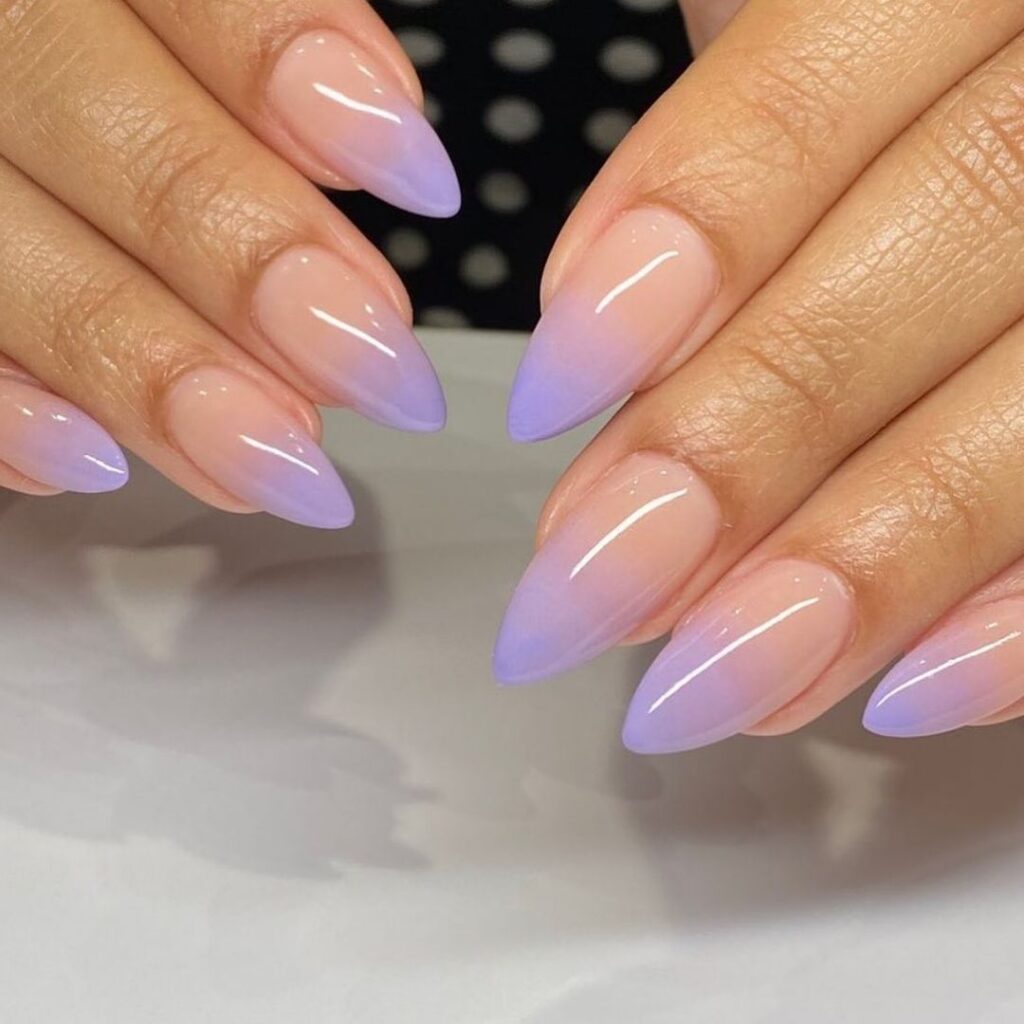 Courtesy: @livingroomdubai
#44 When we opt for longer nails there's often an unsaid pressure to opt for an artistic look, but even simple shades can look good! The example can be seen in the next manicure idea. The purple design nail is done in different shades from the same palette. Darker shades dominate while one lighter shade nicely adds dimension to this purple nail art.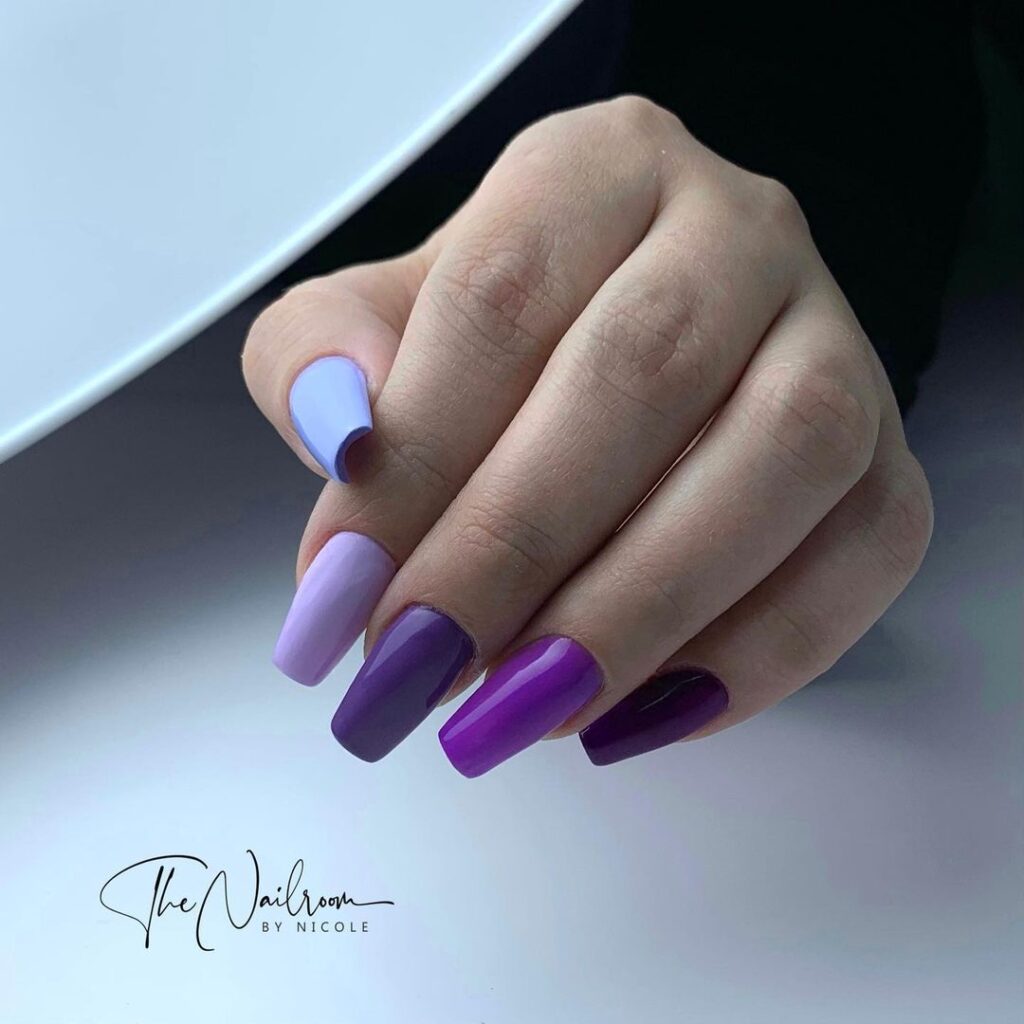 Courtesy: @the_nailroom_by_nicole
#45 These light purple nail designs with butterflies are anything but boring. It involves an ombre purple base followed by black polka dots in different dimensions for a cookie nail look. The butterfly motif on one nail elevates the artistic appeal of the manicure without compromising with its subtlety. A small touch of white enhances the ingenuity further!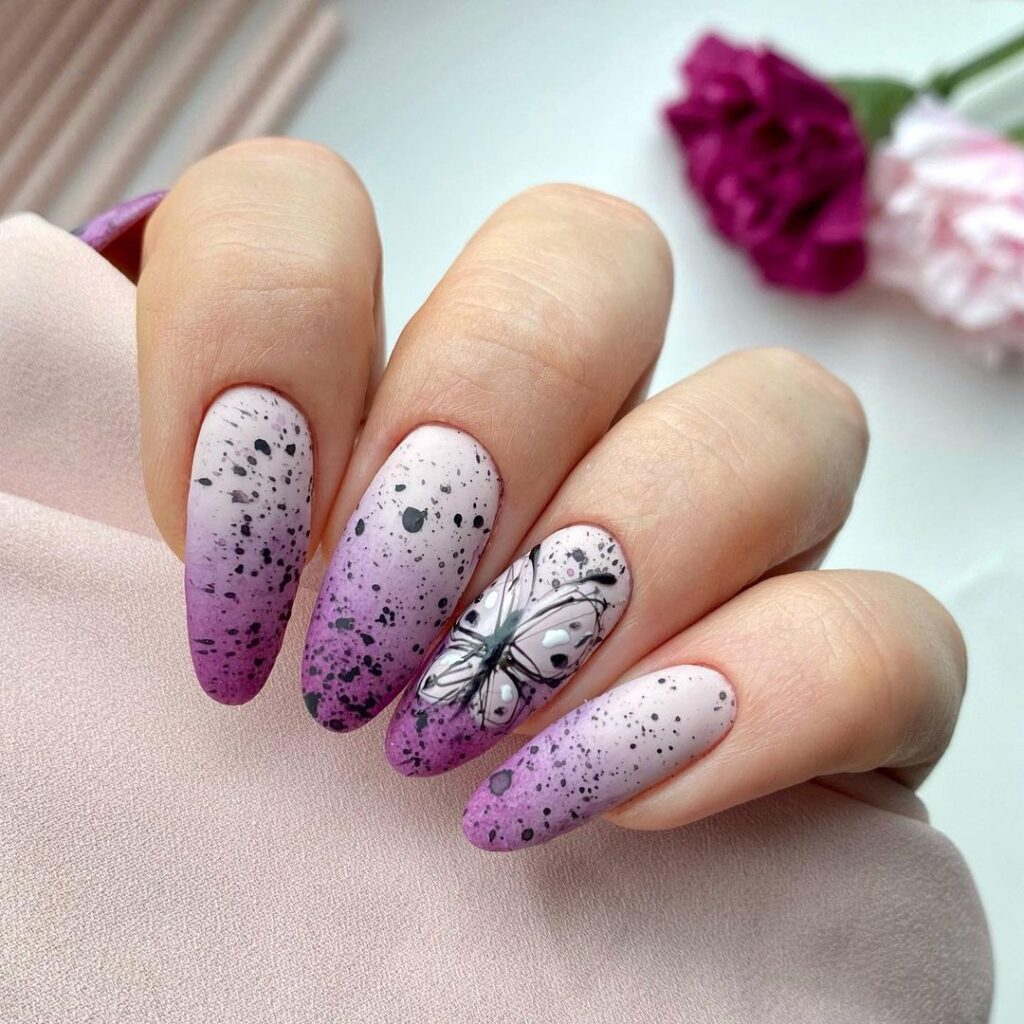 Courtesy: @sylwia.maluje_
#46 We're adoring this light purple nail design done in a geometric pattern for a beautiful manicure. To DIY at home, start by applying a nude base and then put a white tape diagonally. Apply the lighter color shade in the upper exposed section and let it dry. Move the tape a bit further and apply the darker shade. Cover it all with a top coat and you're all done! 
Courtesy: Peacci
#47 With this dark purple nail design, you can take your nail game a notch up! It involves the classic French style but adds a twist with a zebra pattern, which adds a playful twist to an otherwise normal manicure style.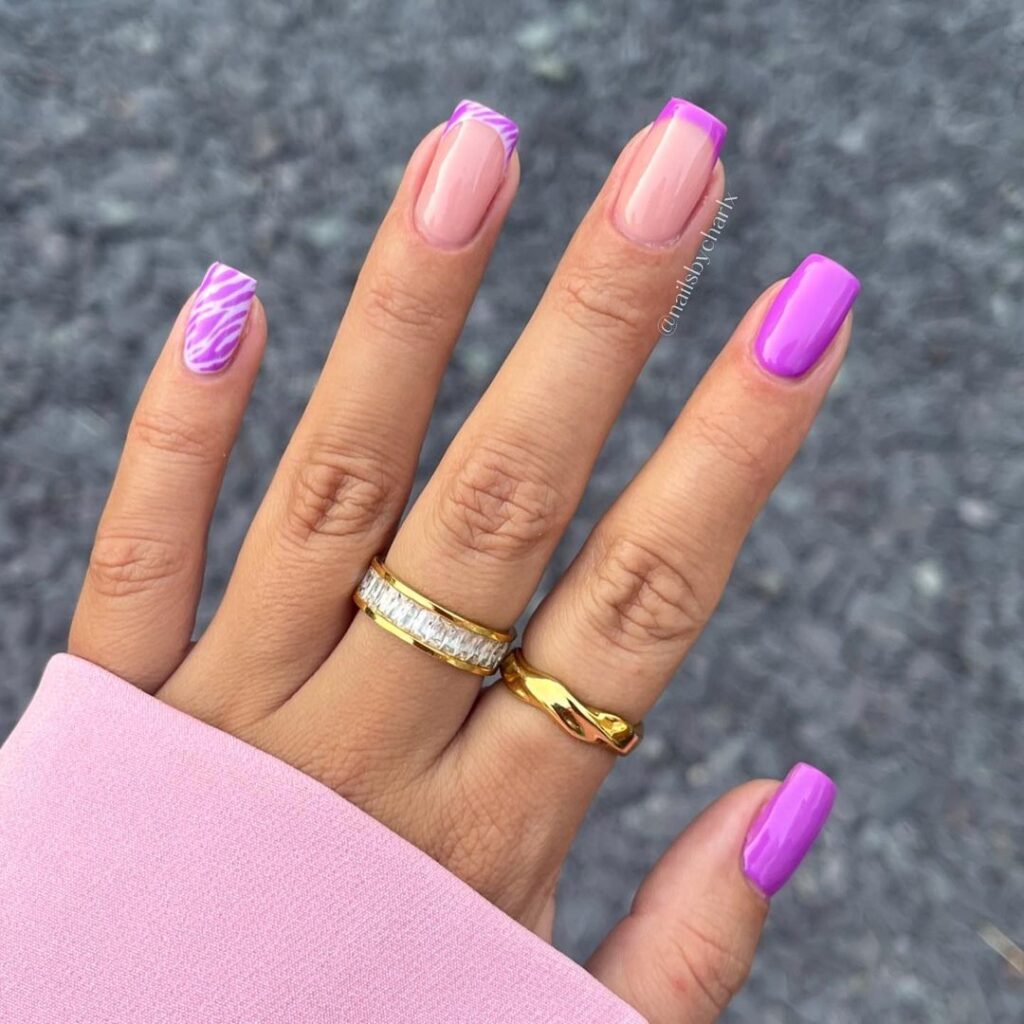 Courtesy: @nailsbycharlx
#48 Ombre purple nails with glitter give a beautiful sparkle and dimension to the manicure! The ombre gives a modish element to the nails while the glitter adds some extra glamor to the look. You can replace the glitter top coat with a gloss coat if you want your ombre to take centerstage in the manicure.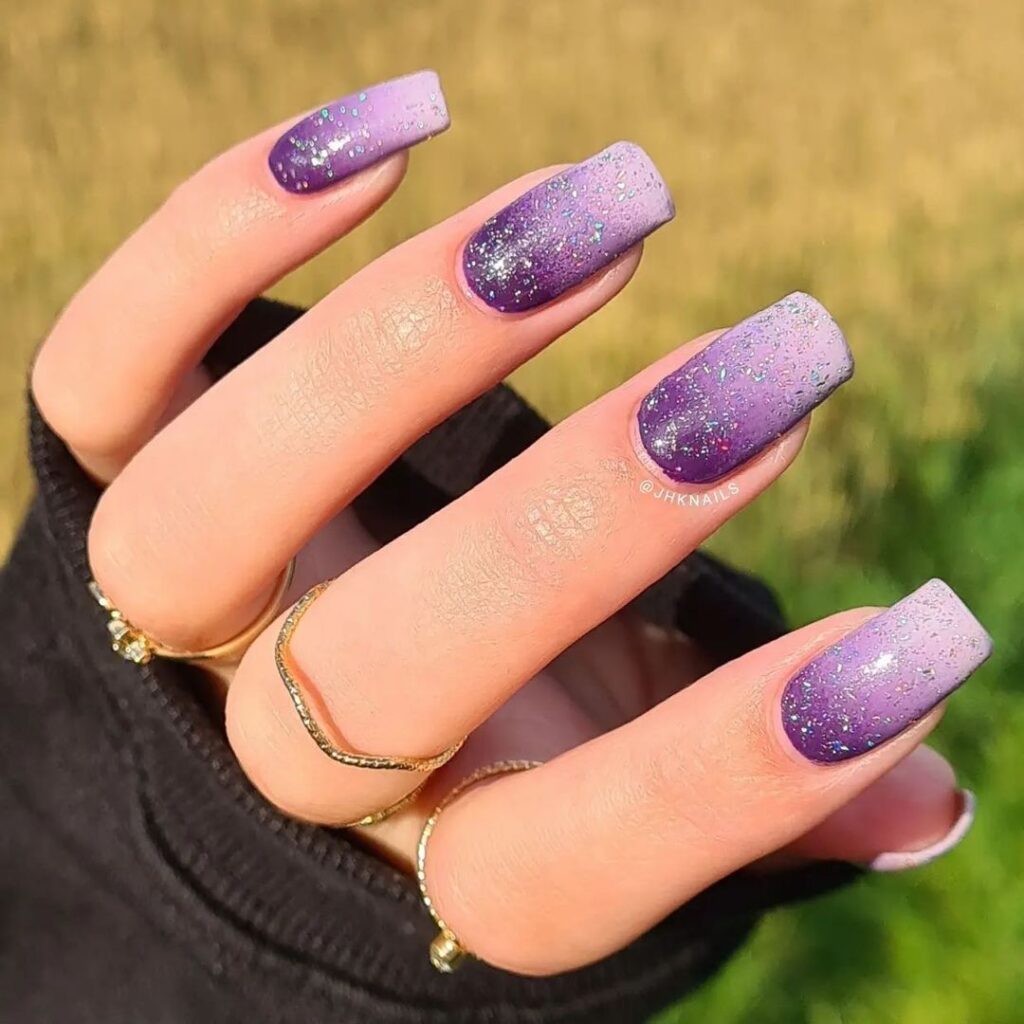 Courtesy: @jhknails_
#49 While the combination of different shades from the same palette is a usual idea to elevate your manicure, adding some geometry on one nail sure adds an edgy element to this cute nail design.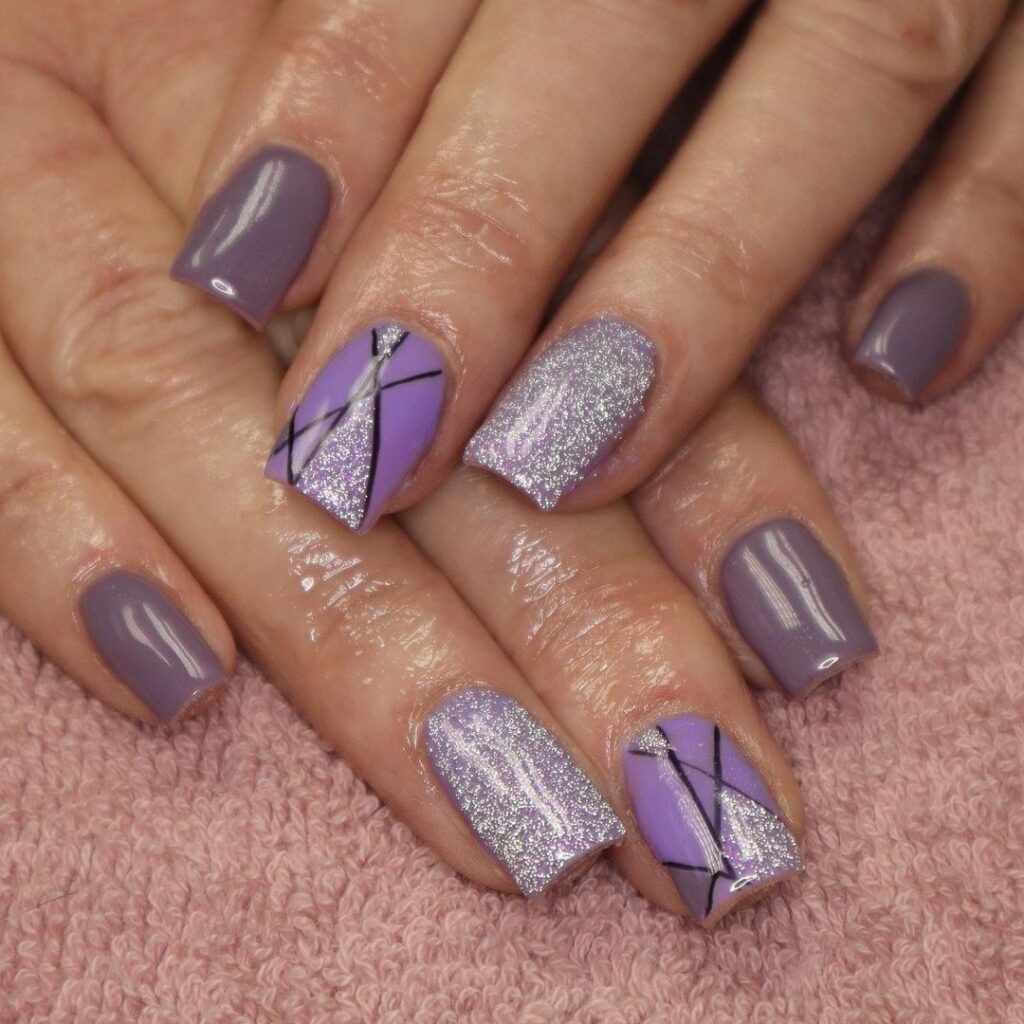 Courtesy: @bethallenmakeup
#50 This almond purple nail designs is amped up by the inclusion of small floral motifs making them perfect for spring or summer seasons alike! The white flowers are popular on purple nails because the combination of white and purple is quite popular. Besides the visual appeal, the combination radiates soothing vibes and is known to be utterly royal.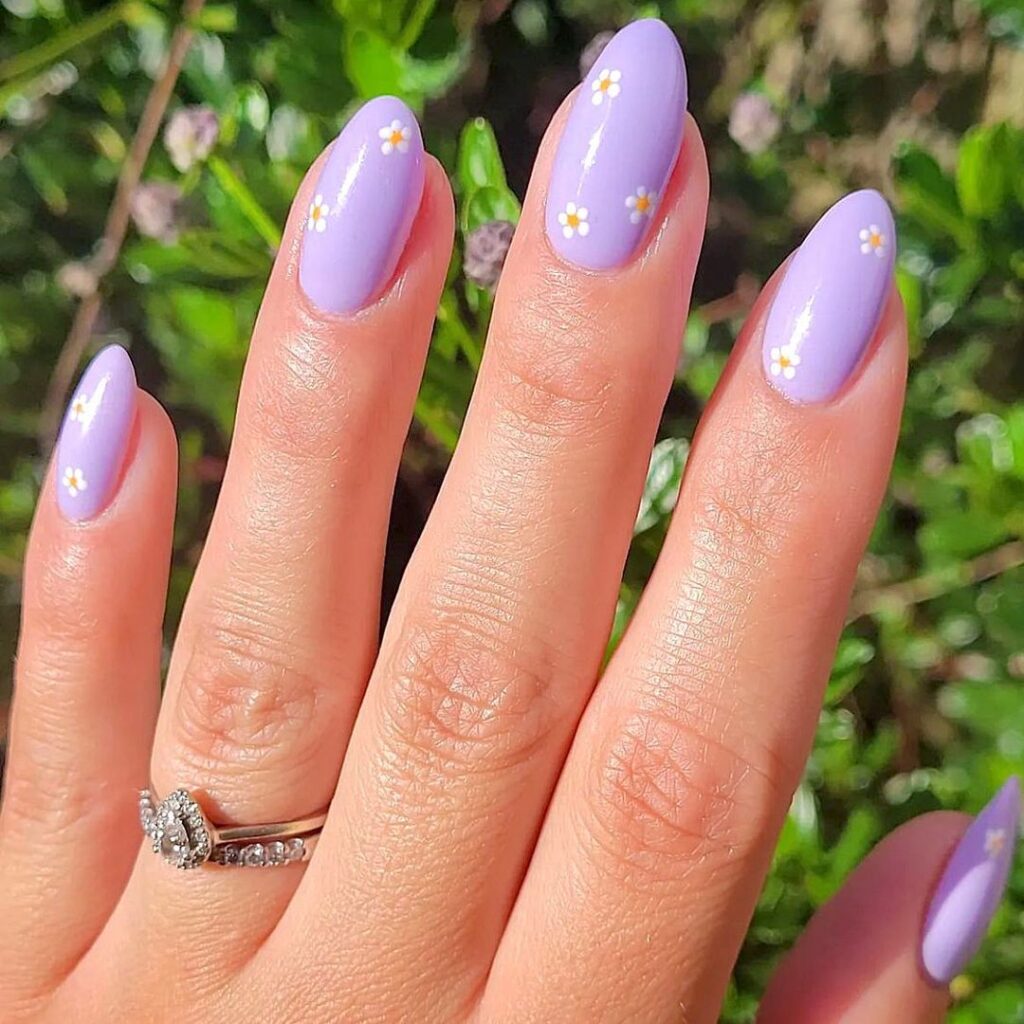 Courtesy: @theprogeluk
#51 These light purple nails are elevated in design with the inclusion of marble nail art in the middle of two nails. The subtle coffin purple nail design can be done in any nail shape though and it will look just as charming as shown in the picture.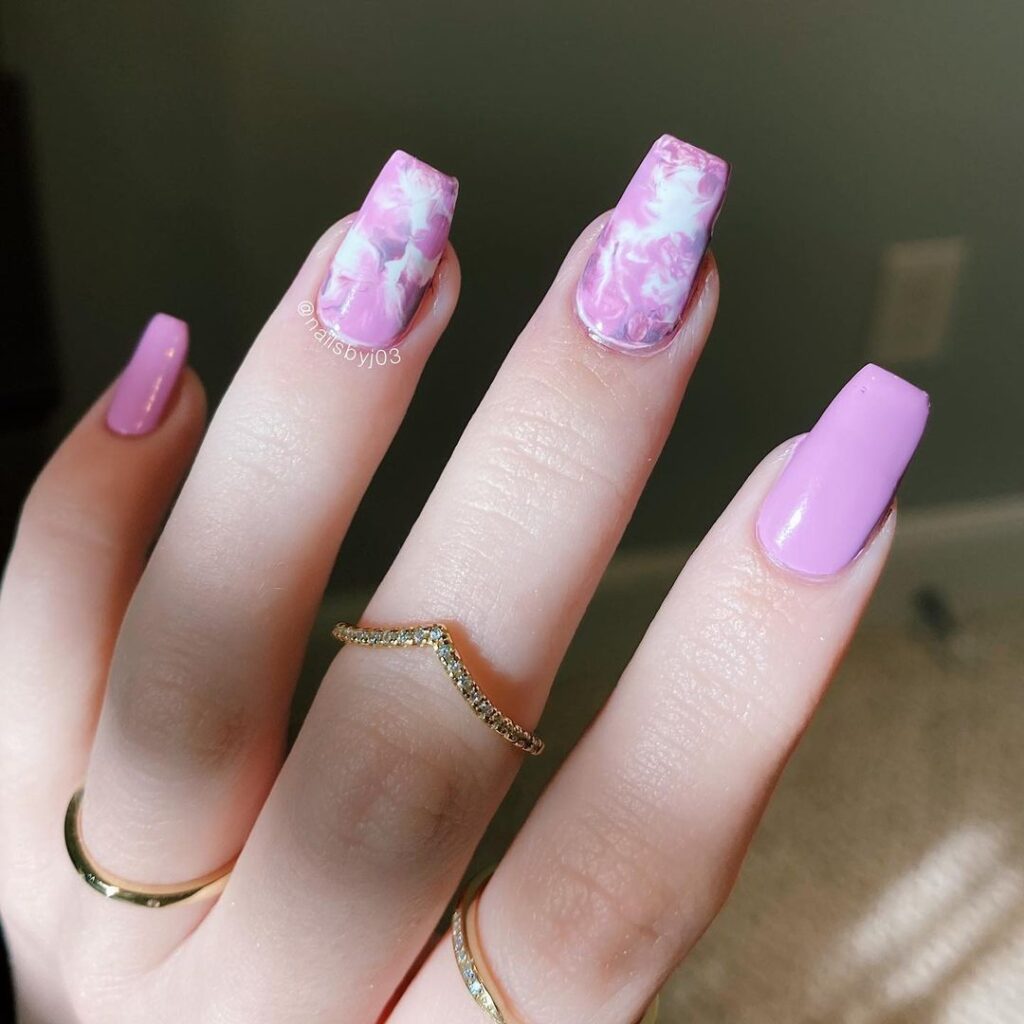 Courtesy: Julia
#52 Dark and light purple in the same manicure is a great idea to include in your nail art. It can be done in a number of ways and styles and can be dressed up or down depending on your personal preference. An ingenious idea is portrayed in the picture below. 
Courtesy: @sanroz.beautybar
#53 One of the reasons to get a professional manicure from someone who is naturally creative is you will get nail art you won't stop staring at for hours! The next purple nail design is subtle in creativity and yet impresses the viewer – showcasing the artistic inclination of the manicurist.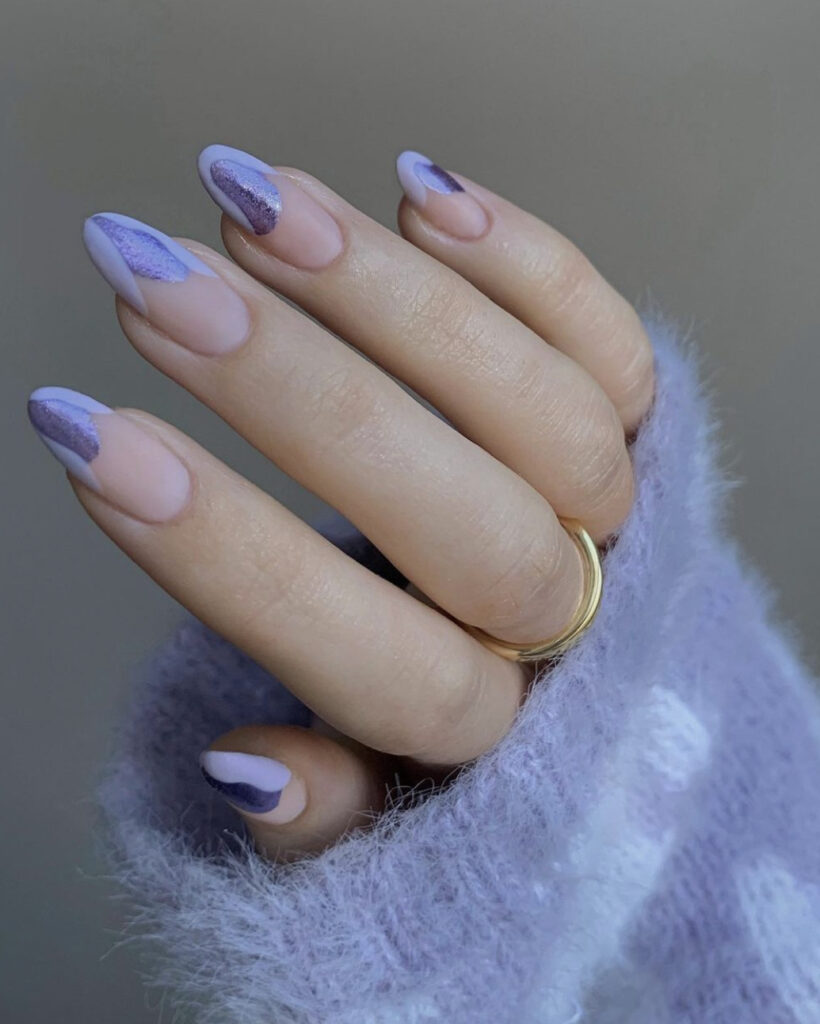 Courtesy: Amber
#54 Adding some positivity to things around you is never a bad idea! Here the manicure is replete with smiley motifs to lift up your spirits anytime you're feeling down. It's a perfect manicure idea for when you need a little boost in your mood.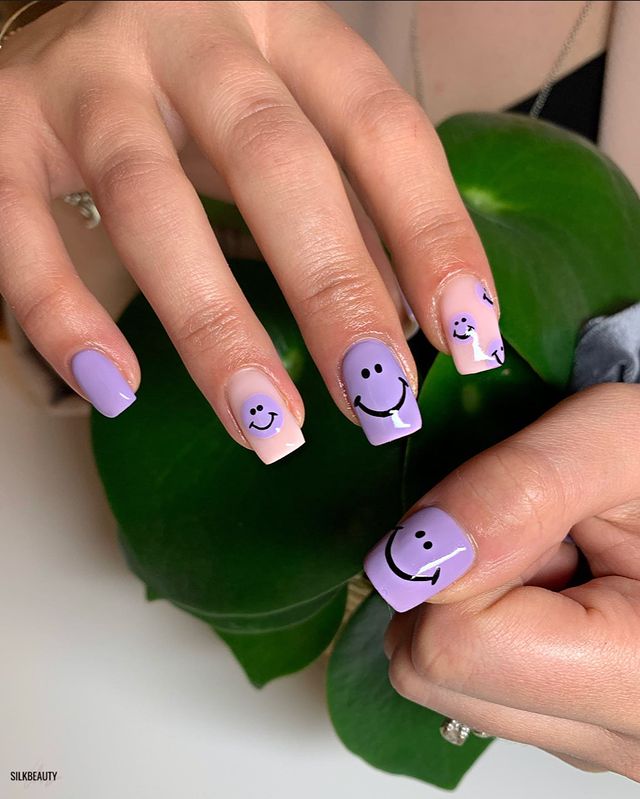 Courtesy: @silkbeauty.uk
#55 These simple purple nails are all about the gorgeous length! Long nails are stunning but they can be difficult to maintain so it's best you get them in acrylic or gels so they don't brea easily and you can enjoy their beauty and femininity for a longer time.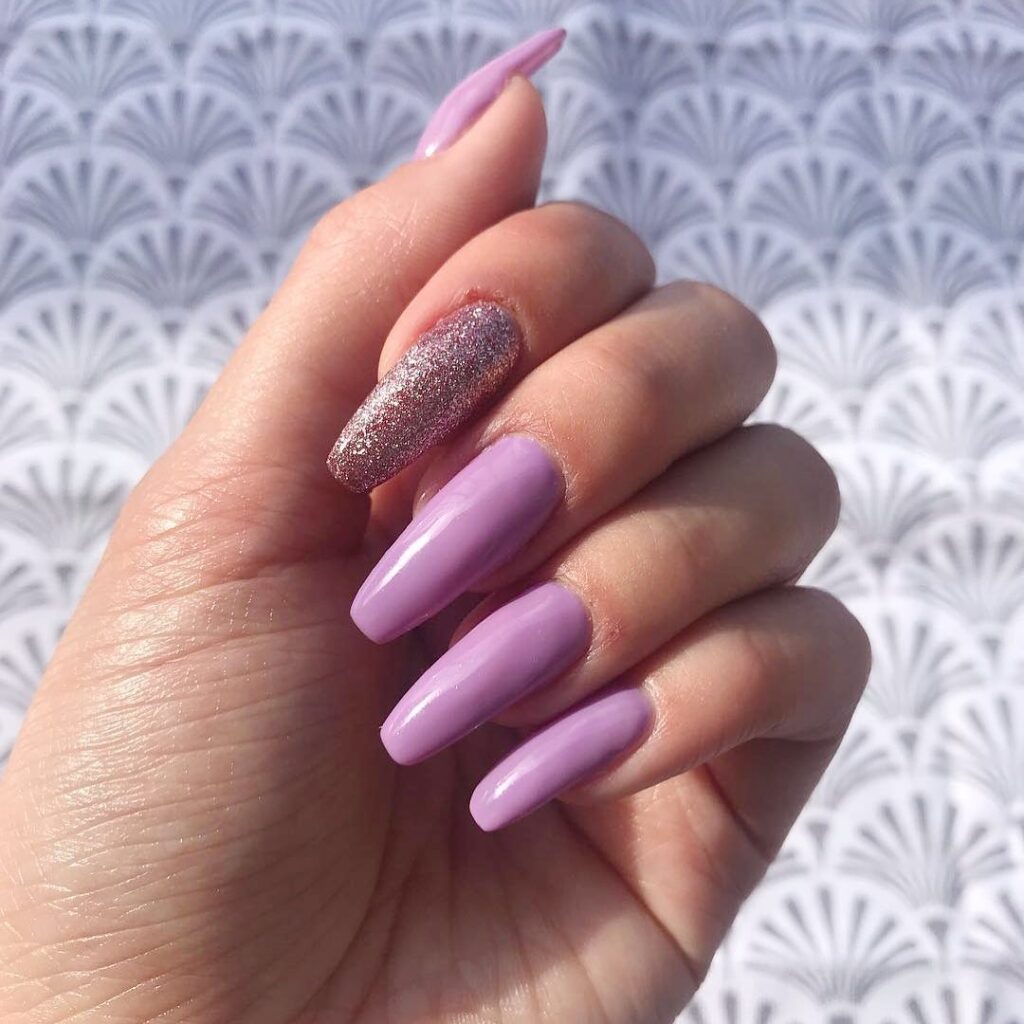 Courtesy: @rosalindofficial
#56 A purple French manicure with pearls can be a sophisticated and elegant nail design that is perfect for special occasions such as weddings or proms. The combination of the classic French tip with the trendy pearl accents can make your nails stand out while still keeping the overall look chic and refined.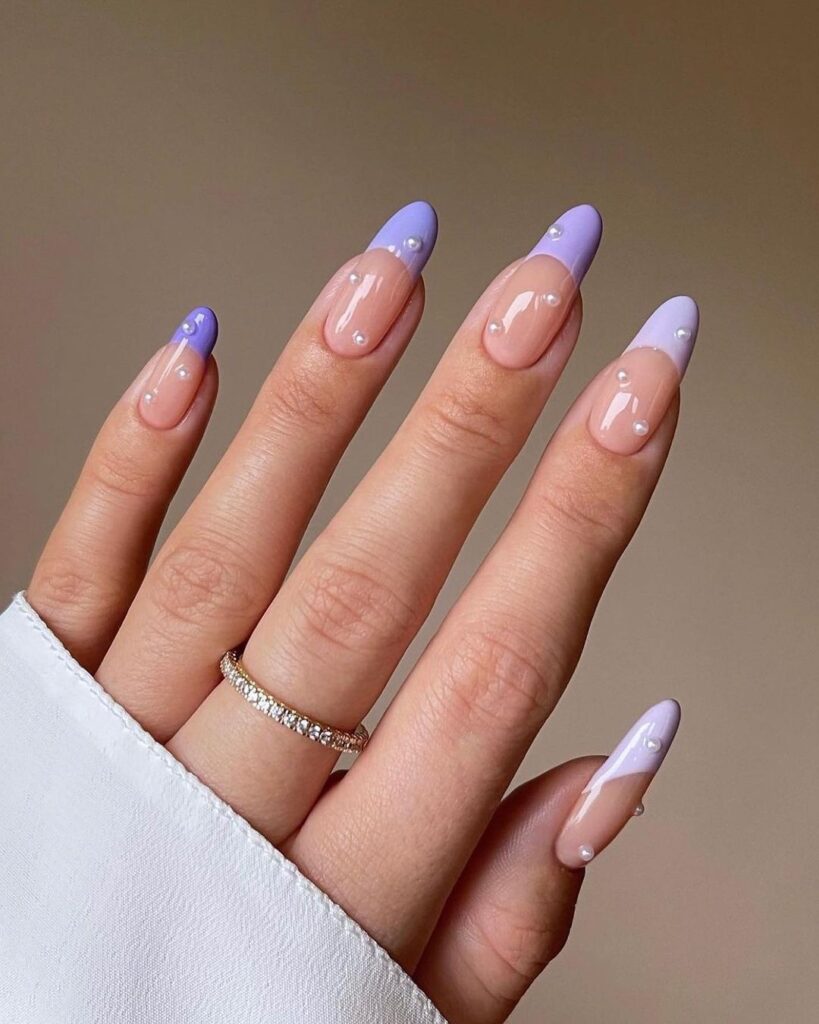 Courtesy: Tiffany Abbigaile Beauty
#57 Your usual French tip nail design but make it purple and playful with different colors and a golden line to mark the tip.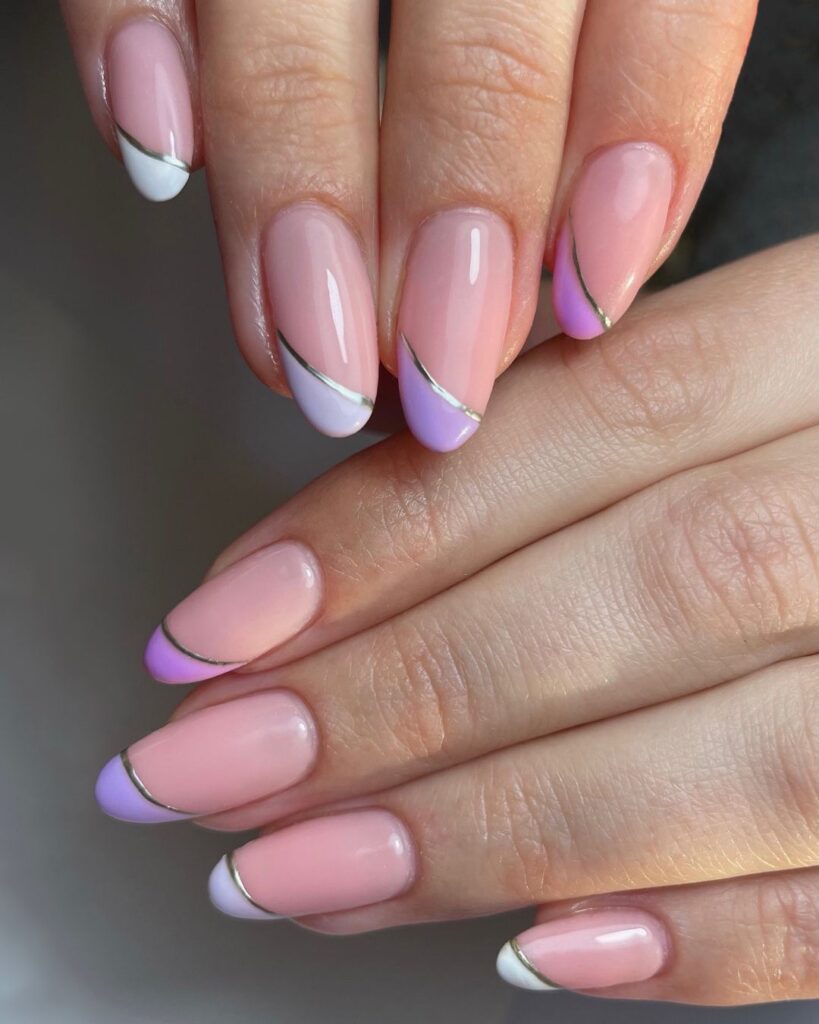 Courtesy: Minnie's Beauty Lounge
#58 This light purple nail design is all about the strategic use of demarcations and intricate lines for a stunning manicure. An easy DIY at home with just a bit of time given to intricacy can make this mani a hit!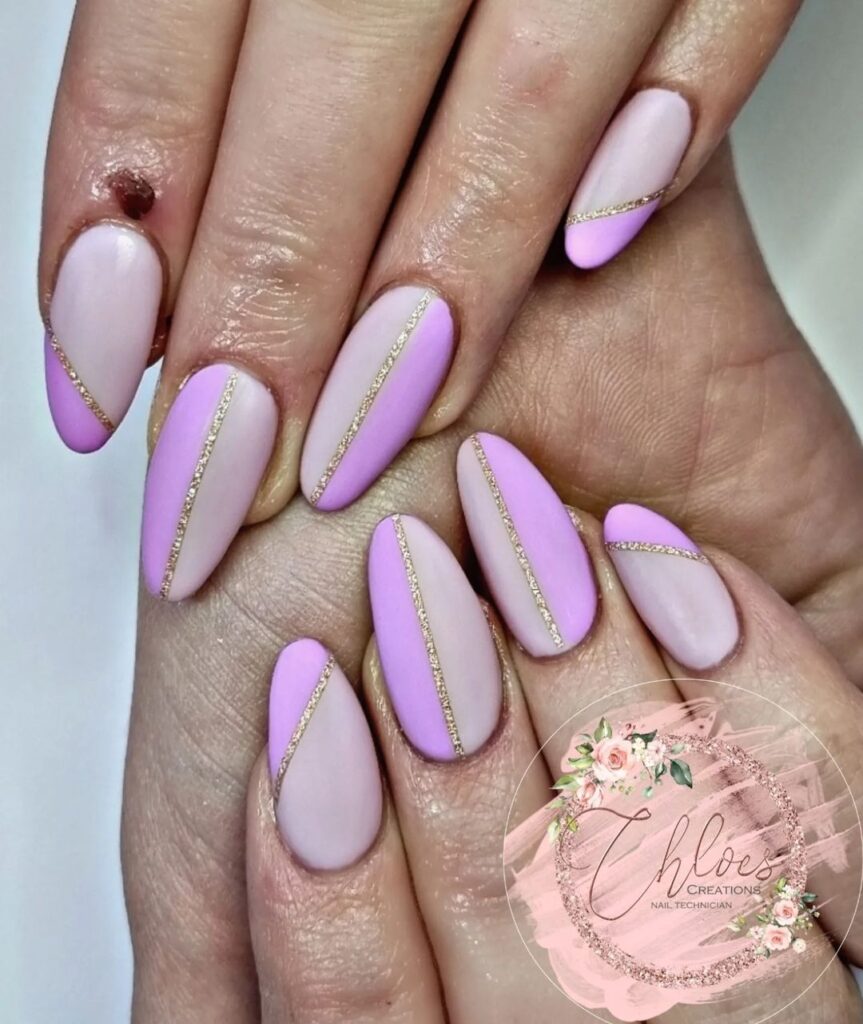 Courtesy: Annabel Marginnis
#59 If elegance was manifested in your nails, it would be this purple manicure right here. With the right colors, empty spaces, and motifs, it's an amazing nail idea to try!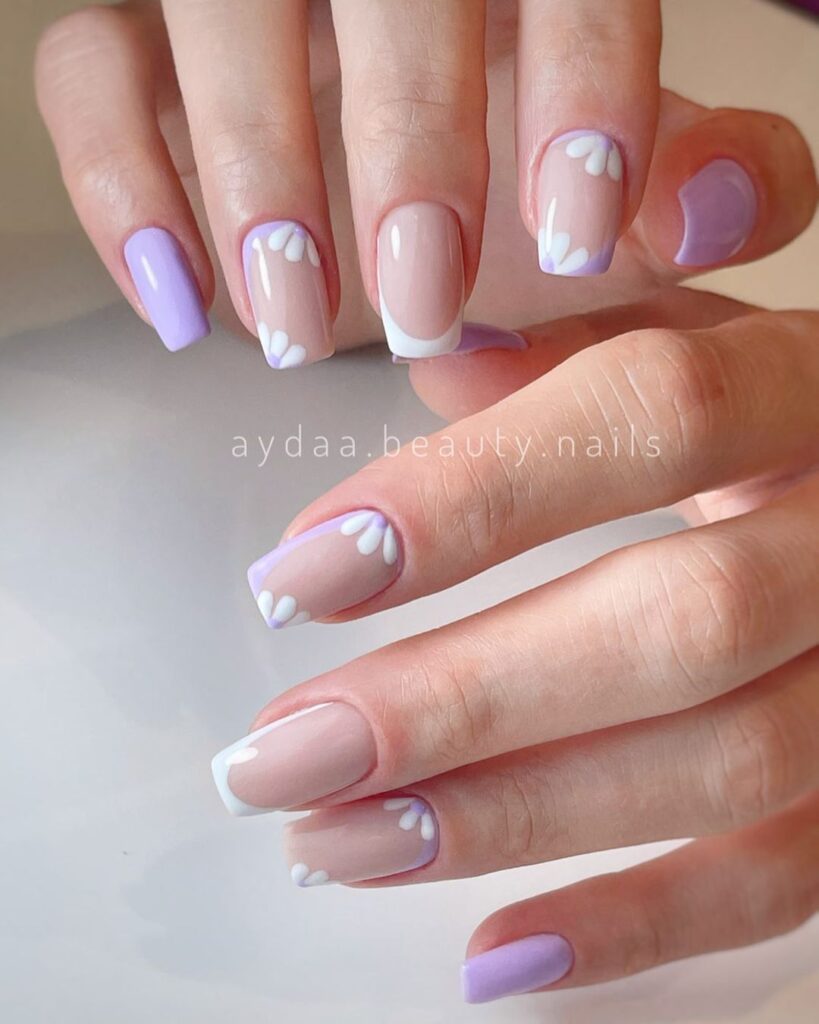 Courtesy: Ayda Beauty
#60 These purple almond nails are all about spreading the love! The heart motifs along with swirls make for a unique and notable manicure all set to grab you tons of compliments.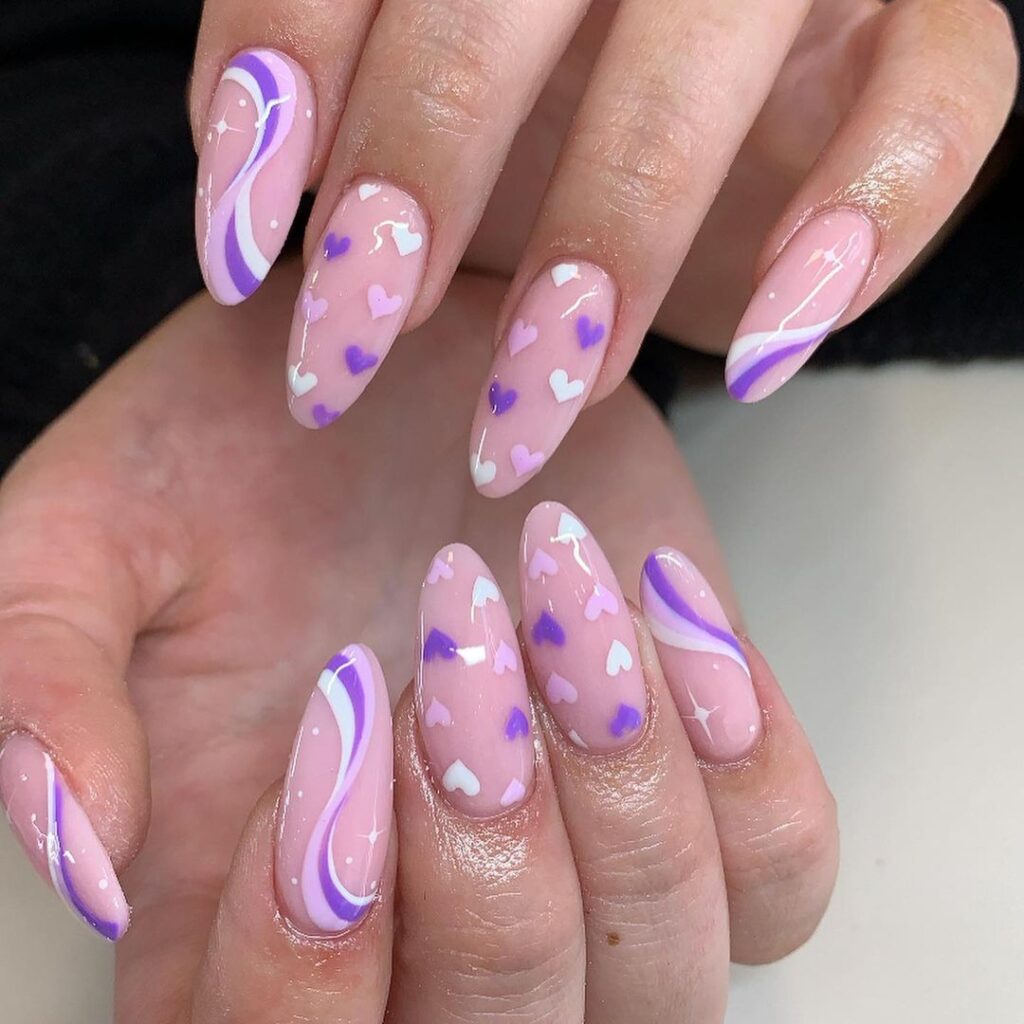 Courtesy: Sandy Nails
#61 Short purple nail idea, but make it stunning, please! The different shades of purple on each nail are a beautiful idea in itself, but you can also make it interesting by adding black dots to give the nails a cookie pattern!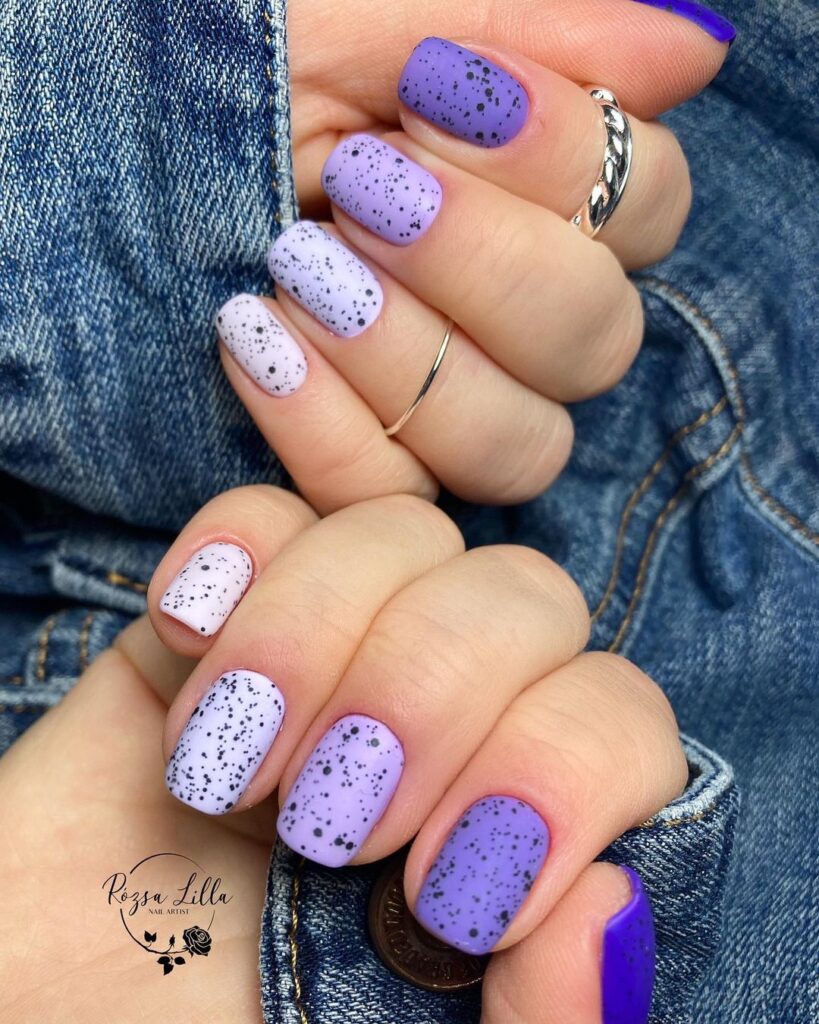 Courtesy: Lili
#62 Light purple nail designs can be given a spring twist with motifs of blooms and a shiny top coat for a glimmering effect. Opt for a motif of your favorite flower or just recreate the design as it is! 
Courtesy: Nails by Harriet
#63 Yin-yang nails have become popular for the symbolism they represent and you can completely include them in your purple nail designs. This one, for example, creates a blue and purple nail design, but you can use any color that you want!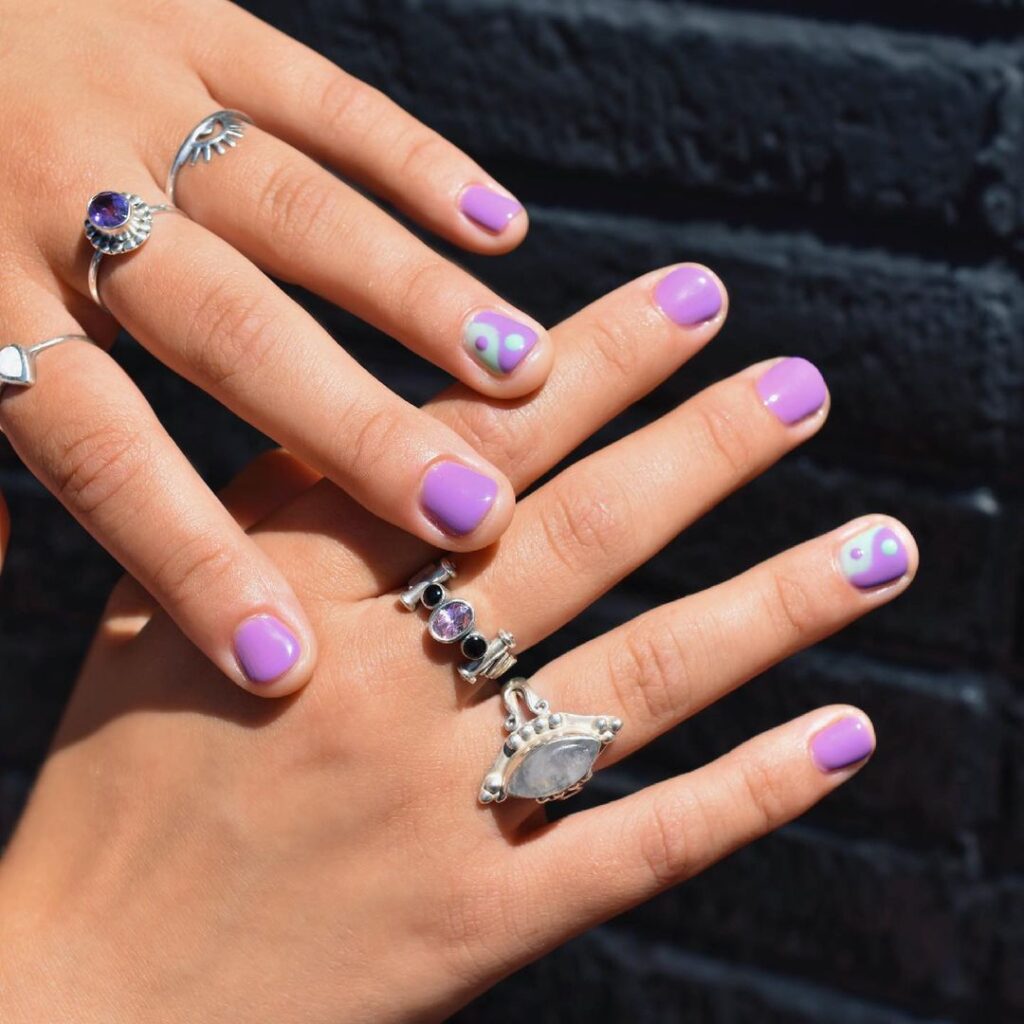 Courtesy: Hello Birdie Nail
#64 Purple and white marble nails are another great way to try this combination. To achieve this manicure, just add slobs of white and purple nail polish and use a toothpick to blend and smudge the lines. Add a layer of top coat for added shine and protection. This will also help to seal the manicure and prevent it from chipping.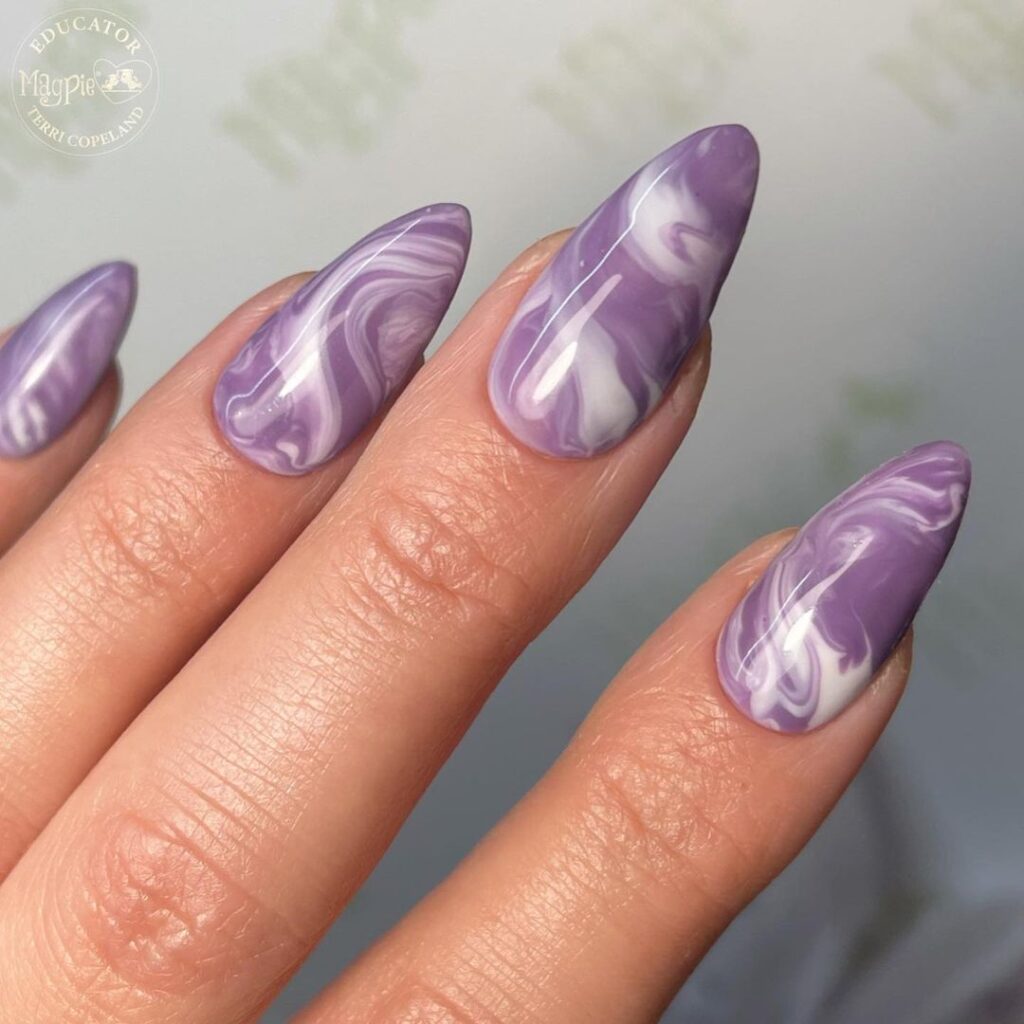 Courtesy: Terri Louise Copeland
#65 Purple ombre nails make for a stunning and sophisticated look with a gradual transition from lighter to darker shades. To add some artistic flair, the design adds concentric hearts on one nail for the transition to give some distinction to an otherwise usual purple ombre manicure.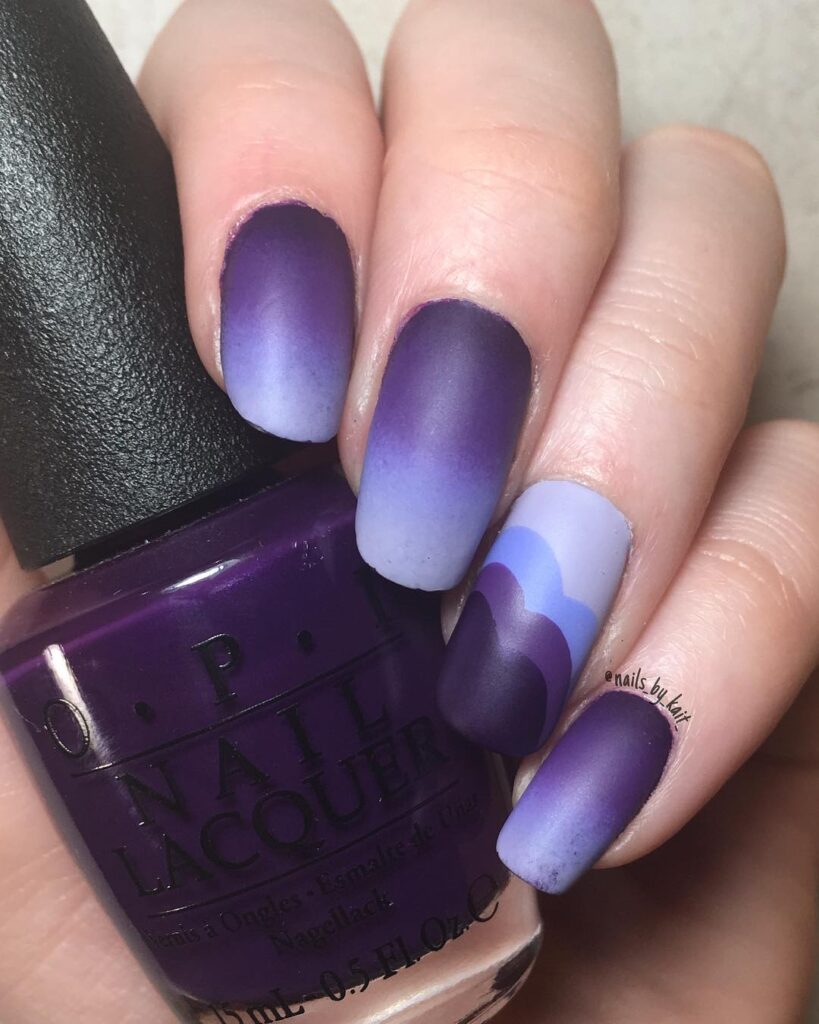 Courtesy: Nails by Kait
#66 These simple purple nails are just the perfect professional manicure with a bit of artistic touch. You can DIY them at home or if you don't want to go through the hassle, get them done professionally so they also last longer.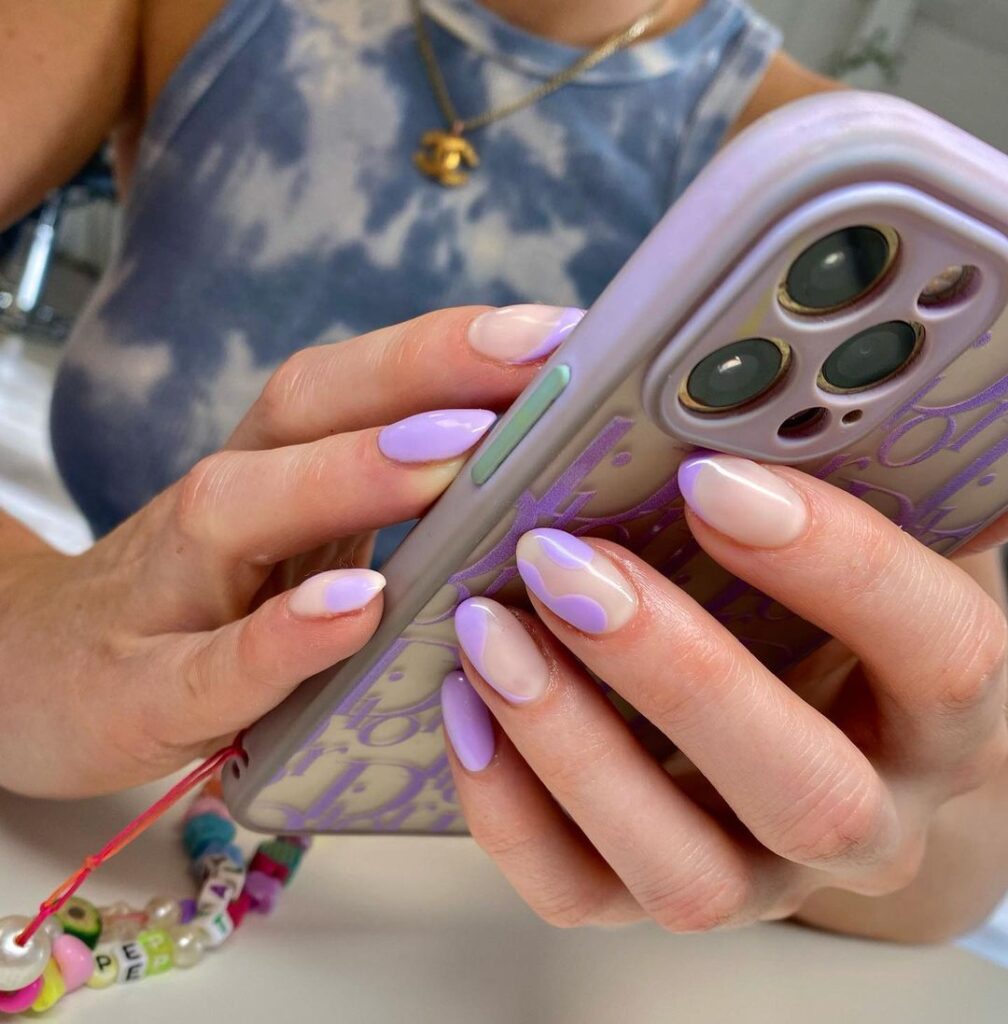 Courtesy: Emily Farrell
#67 We're adoring this elegant purple nails design with a combination of white and light purple – the best amalgamation for a sophisticated look. The design can be as simple or as creative as you want and the elegance will be maintained.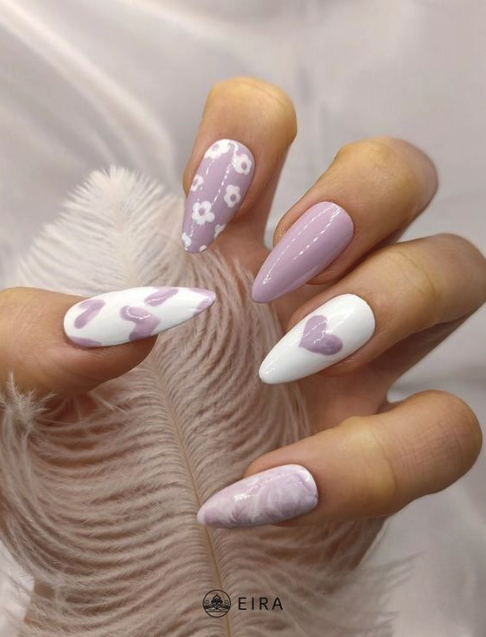 #68 These purple acrylic nails are infused with colors and a swirl effect that makes the manicure a treat to look at! With the intricacy of the lines in the mani, it's best to leave it to an expert for recreation as you sit back and enjoy the magic happening on your nails.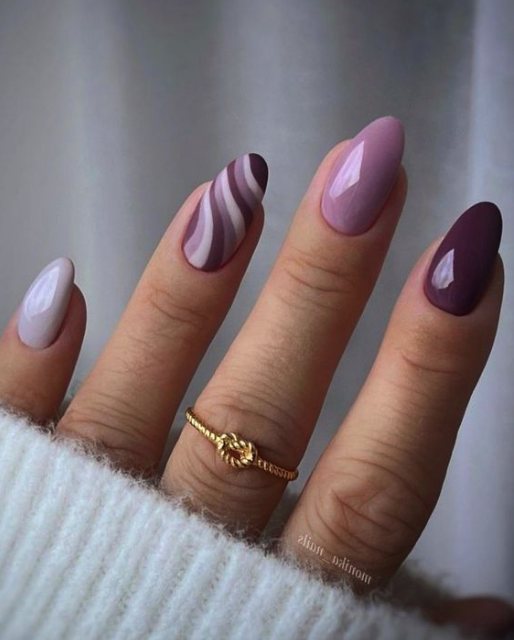 #69 Color blocking has become huge everywhere – including in manicures! But you need to find the right colors, like purple and mint green makes the cut here. It makes for a fun and ingenious choice with the motifs just adding to the eye-catching effect of the color combination.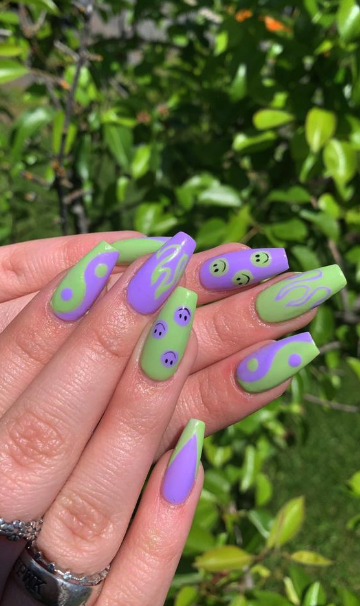 #70 A purple nail design with a butterfly can be an elegant and feminine choice for your manicure. You can DIY them at home using a dotting tool. While the motif in this one is done in the same purple shade, you can use a deeper one to make the motifs stand out.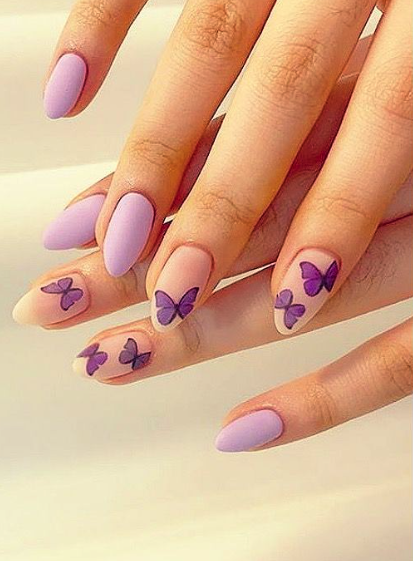 #71 A purple and neon orange manicure can add a pop of color and fun to your nails, making it a great choice for summer, festivals, or anytime you want to make a statement with your nails. 
#72 We have our hearts set on this dark purple nail design beautifully accented by white. The white accents can be added in a similar pattern or you can use your creativity to add the hue. Think marble pattern, cow pattern, or any other animal print for the win.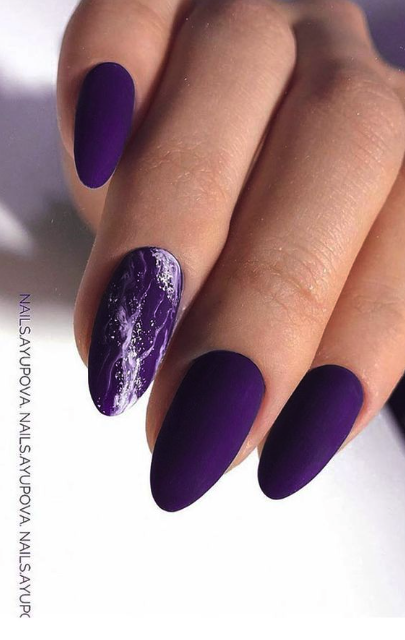 #73 All glitter purple nails can be a bold and glamorous choice, perfect for when you want to have an eye-catching manicure. Coffin purple nail designs are a true match for this manicure idea because they're able to match the glam of the glitter beautifully.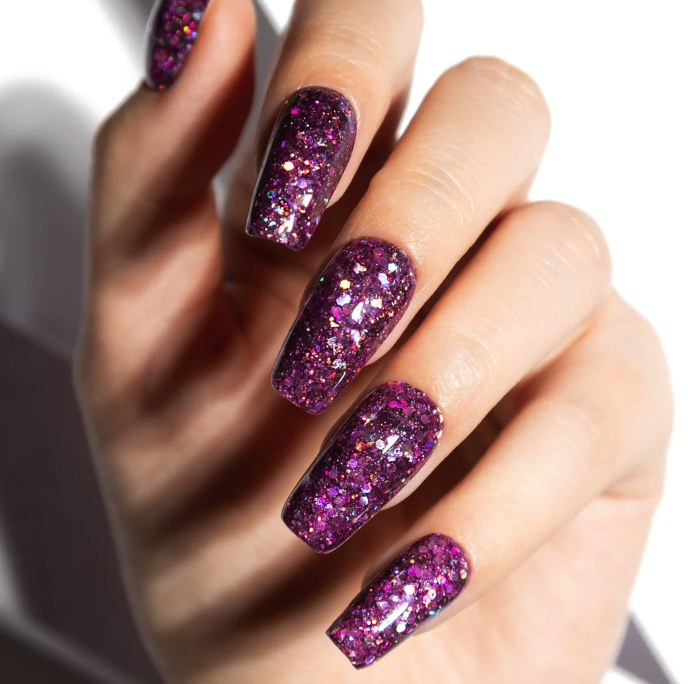 #74 If you want to elevate the vibrancy of your purple design nail, simply add a touch of yellow to the mani and let the magic happen! Purple and yellow make for a beautiful and striking color combination and can add a surprising pop of color to your monochromatic manicure.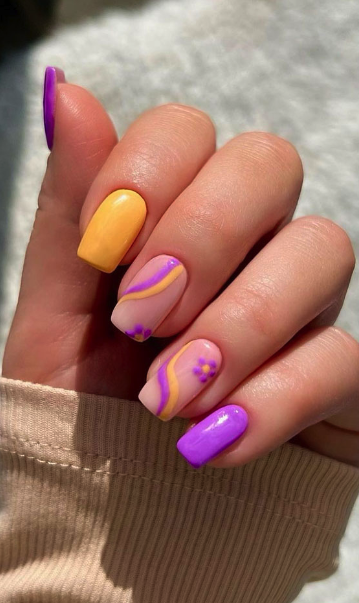 #75 This purple nail designs list just got an ultimate sign-off with this dark & light purple manicure with cow print and cross motif to enhance the design of the nail art. You can try this design with any nail shape and length of your liking.
FAQ's 
Is Purple A Good Color For Nails?
Yes, purple nail art is a good option for your manicure. It is a versatile color and has a calming vibe. It can also be as subtle and as artistic as you'd want! The above list of purple nail designs is proof that purple can make for simple everyday wear of nail paint or can make for a cool look for a fun party too! Additionally, purple pairs well with a variety of outfits – from neutral colors like black or white to brighter ones like blue or yellow, you never have to worry about your manicure clashing with the clothes when you opt for nail designs in purple. 
What Does Wearing Purple Nail Polish Mean?
People who like purple are often those who are unique, artistic, and spiritual and seek a certain calmness in their life. The women who wear purple nail designs or generally gravitate towards them are also said to be very intuitive and empathetic. In some cultures, purple is associated with royalty, luxury, and wealth, so wearing purple nail polish may signify elegance and sophistication. In spiritual or mystical contexts, purple is often associated with intuition, creativity, and spiritual enlightenment, so wearing purple nail polish may represent a connection to these qualities. However, purple manicure can simply be a personal preference as well! 
Is Purple Nail Art Unprofessional?
Purple nail art in its demure form is far from unprofessional. In fact, light purple nail designs have become widely professional and have joined the likes of beige and neutrals when it comes to simplicity and class. In general, muted or subtle shades of purple, such as lavender or mauve, may be more appropriate in conservative work environments, while bright or glittery purple nail art may be better suited for creative or fashion-forward industries. 
Are Purple Nail Designs Trendy?
Purple nail designs have become incredibly trendy. In fact, shades of purple are all set to overthrow pink in the women's realm in 2023. The palette's hue – lavender – is named the 2023's color of the year by the trend forecasting website – WGSN. Color blocking – another popular trend – is favored with purple and brighter shades as well! Purple is said to evoke serenity and peace, something everyone's longing for after the pandemic. So, embracing purple nail ideas is definitely modish and a good way to stay ahead in the fashion curve.