Spring is all about fresh, bolder, and brighter shades, and as the new season ushers, the spring nail designs will be seen in plenty – in both real and social media life. A few weeks ago, we covered both glitter nail designs and summer nail designs, and this time we got you covered with the best of inspiration for spring nail designs. Scroll through the list and save the ones you admire the most. 
#1 Fresh leaves are reminiscent of the spring season, where the blooming florals and lush foliage dominate the atmosphere. Including an element that's a sure characteristic of the spring season makes it relevant and eye-catching. The art, done on a nude base, with pastel colors accentuates the leaves and keeps things interesting.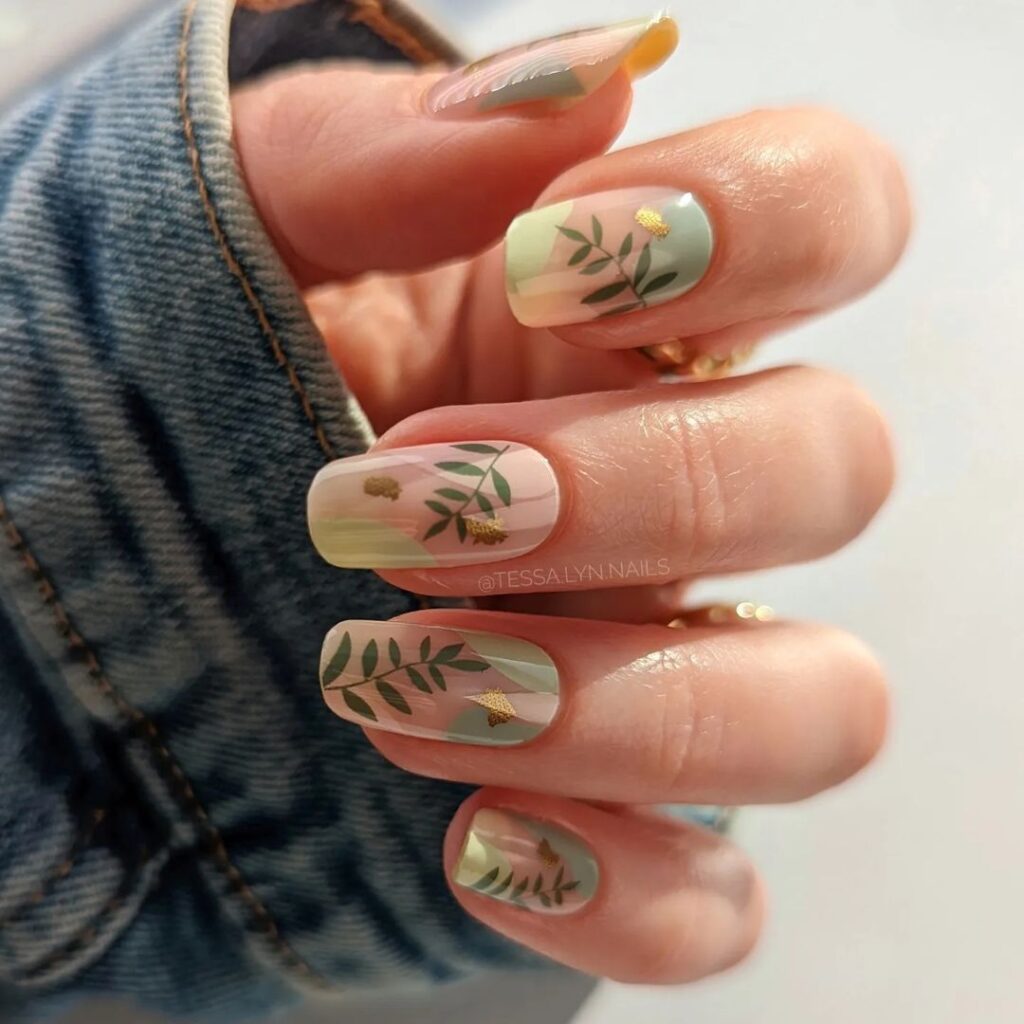 Courtesy: Tessa Lyn
#2 Just like blooms and foliage, another element of the spring season is lush fruits growing on trees. Keeping the same in mind, the artist includes cute strawberry drawings on the nails while letting some nails be covered in red polish so as to not overdo the sketch.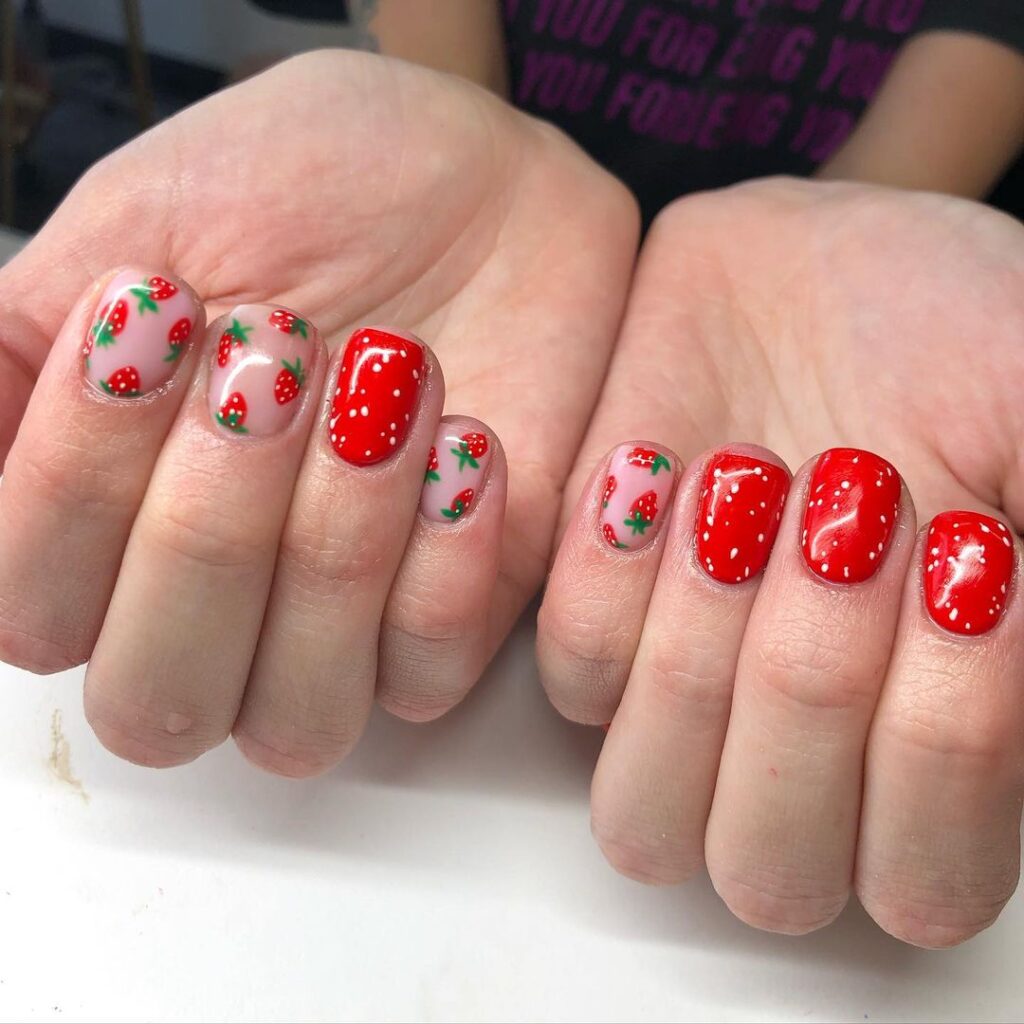 Courtesy: Hailey Lloyd
#3 Florals are something found in many spring fashion statements, like clothes or shoes, and now, spring nails as well. Here muted colors brown and ivory are complemented with each other for a unique yet eye-pleasing combination and design. Muted hues are generally for autumn and winter, but if you're into them, then adding a floral touch is enough to give them a spring twist.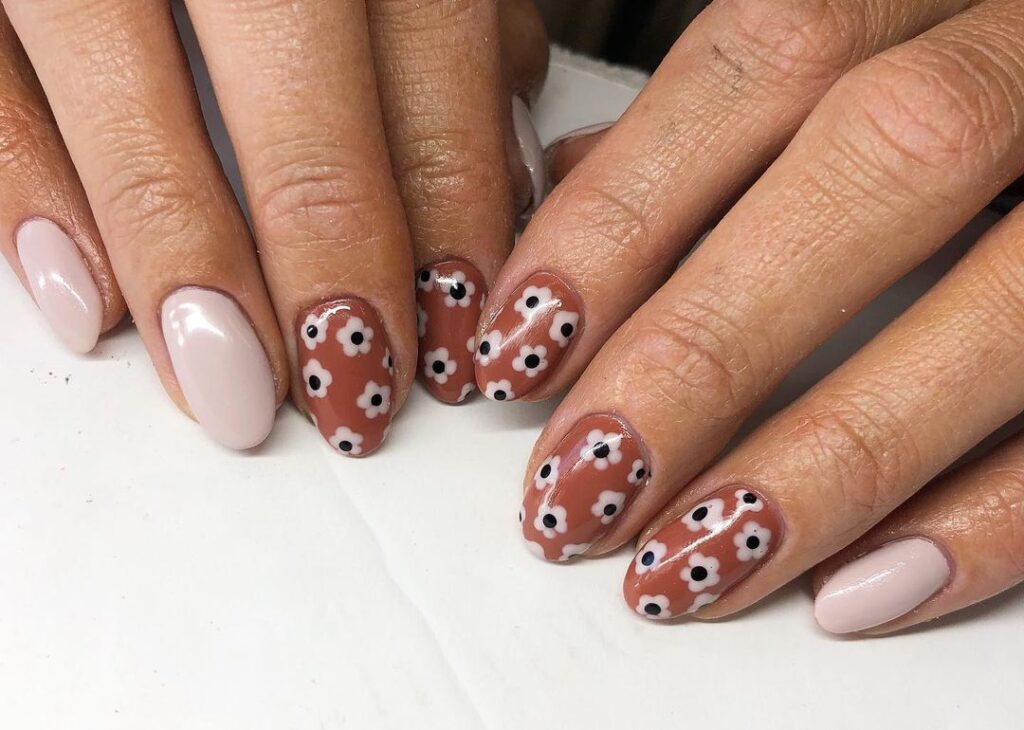 Courtesy: Hailey Lloyd
#4 This one of the gel spring nail designs is almost too cute to handle. It features an ombre French design with glitter on the base which takes the design to the next level. Glitter nail designs are quite versatile and can be accommodated into any season and purpose, you just have to know the right art, and voila! You're ready to slay anywhere you go!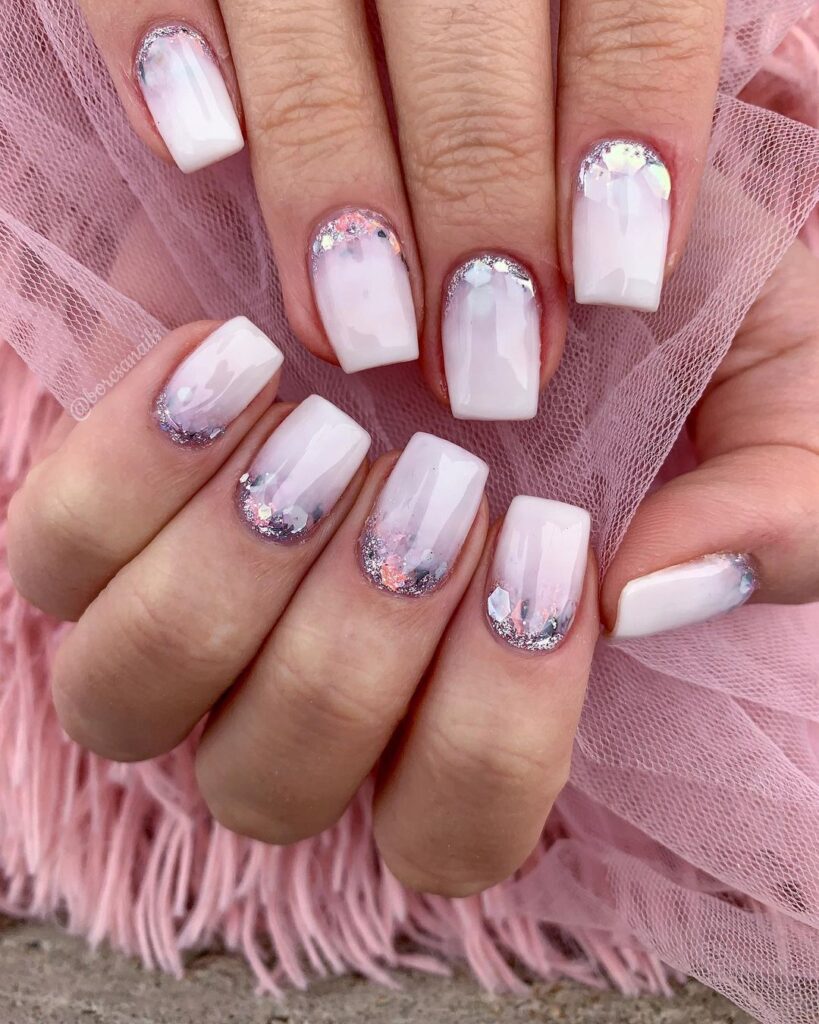 Courtesy: @borcsanails
#5 Pink spring nail designs are popular, but so are blue which points to the gorgeous and clear spring skies after the harsh winters. Include both these favored shades in your nail art with a design that's equal parts glamorous and elegant. The square cut nails are one of the highly favored nail shapes as well because it looks flattering on every kind of nail length.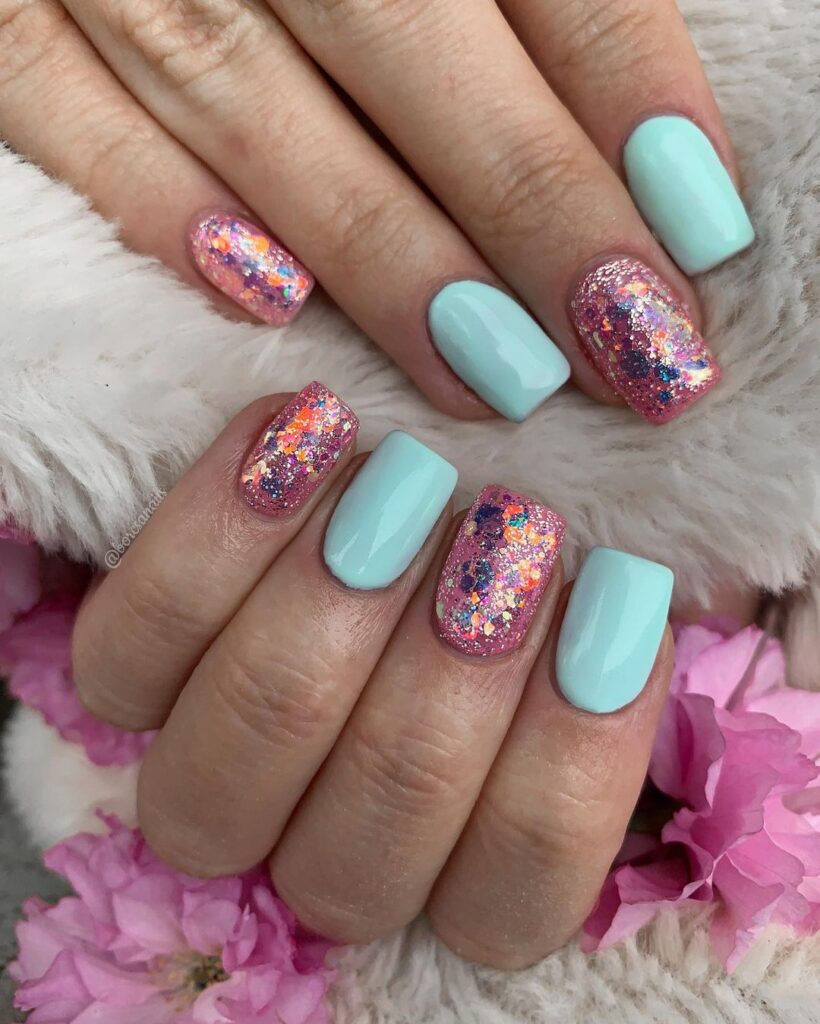 Courtesy: Pinterest
#6 If you're someone who loves minimal nail ideas, then here's a simple spring nail design that uses a gorgeous polish shade but gives it a spring twist with some petal designs. Recreate this look at home with a few intricate swipes of a detailing brush. You can also swap the color to your favorite.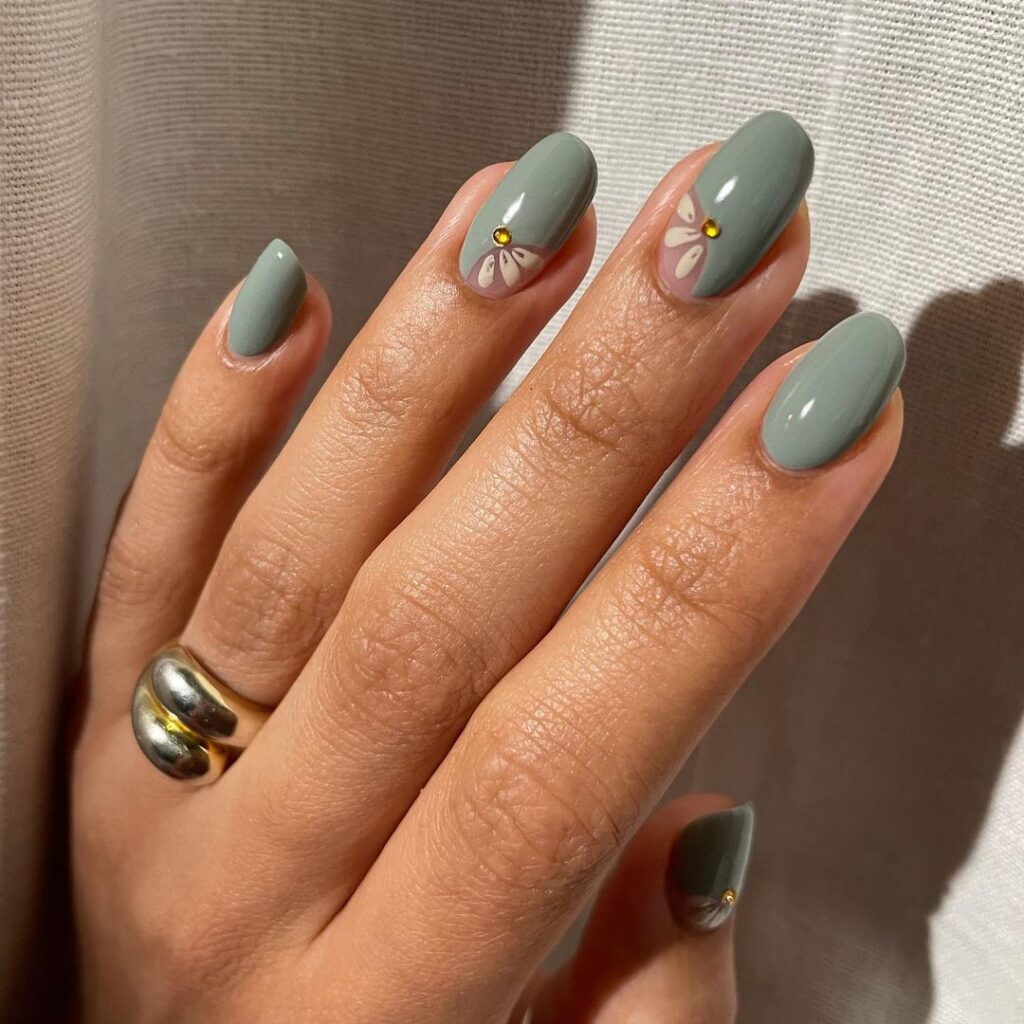 Courtesy: Press Reset Nails
#7 Pink & blue are a common color combination in spring nails and they can be manifested in a lot of versions. In the next one of the spring nail designs, they are both used in pastel shades. Pink forms the base while the blue is applied minimally on the sides, but you can also do it the other way around.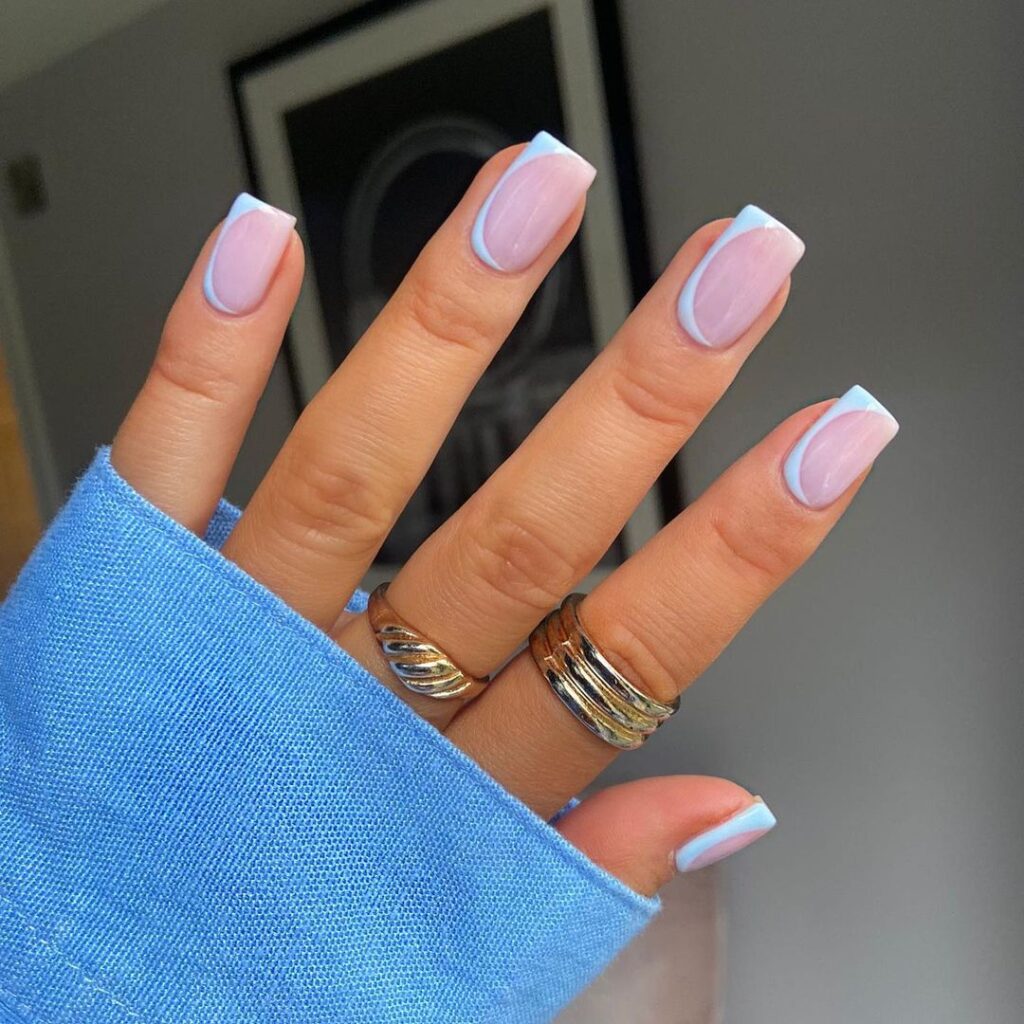 Courtesy: By Mia
#8 Swap your normal French tips for vivid florals done with intricacy hard to beat! There's a different kind of accented goodness of colors done on a nude base, as you witness here. The almond nails further amp up the floral design in such a subtle way that's hard to put into words.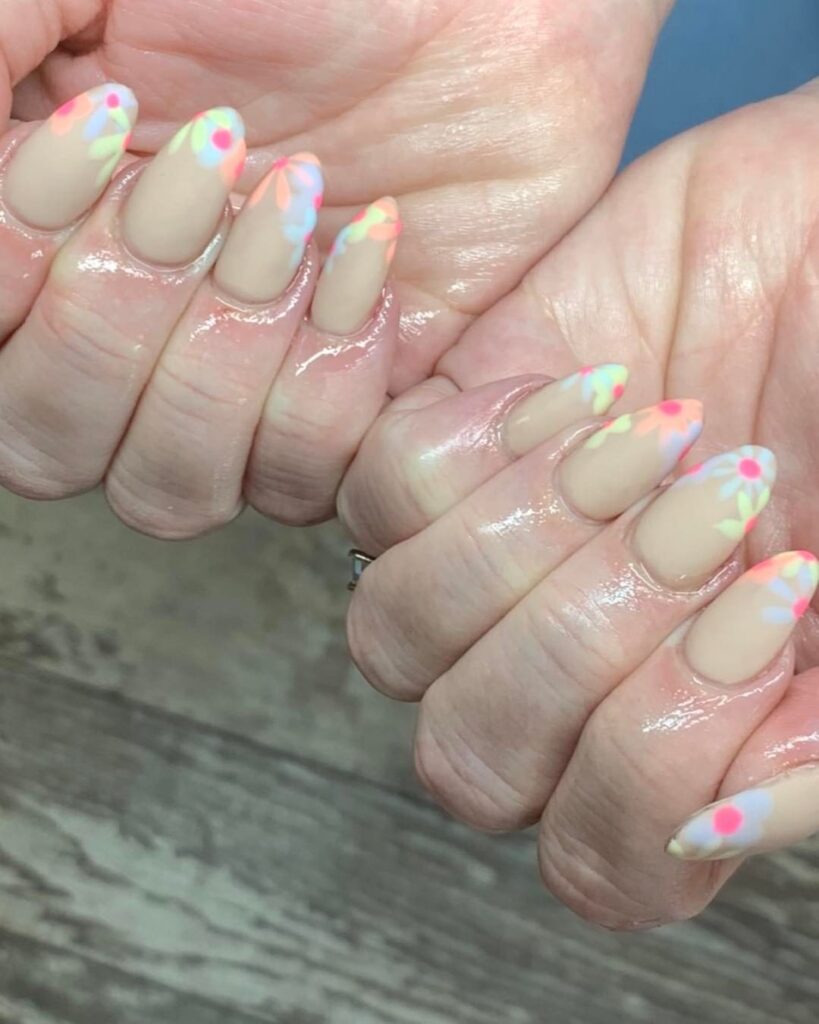 Courtesy: Cora Sokoloski
#9 With two shades of blue and pink, this nail art plays with colors but keeps it simple on the creative sketch end, by just drawing cute flowers at a comfortable distance in the middle of the two nails. This can be easily DIY-ed at home as well because the flowers drawn are easy and can be done at the beginner level.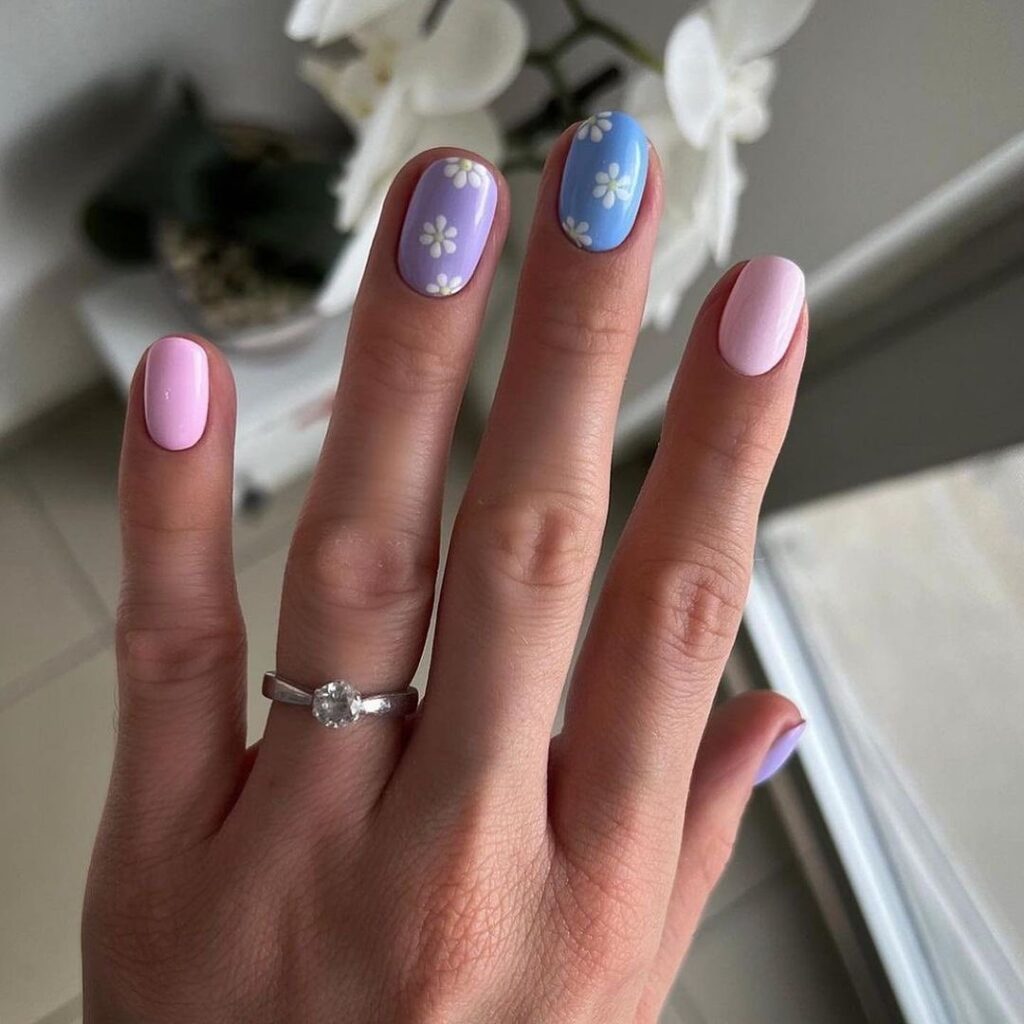 Courtesy: @nails.kol
#10 Lemons and limes are evocative of spring memories as well. Incorporating these elements might not seem like usual, but it's quirky, interesting, and striking of them all. What's more spectacular is the artistic disposition of nail art! It's certainly one of the most unique spring nail designs on the list.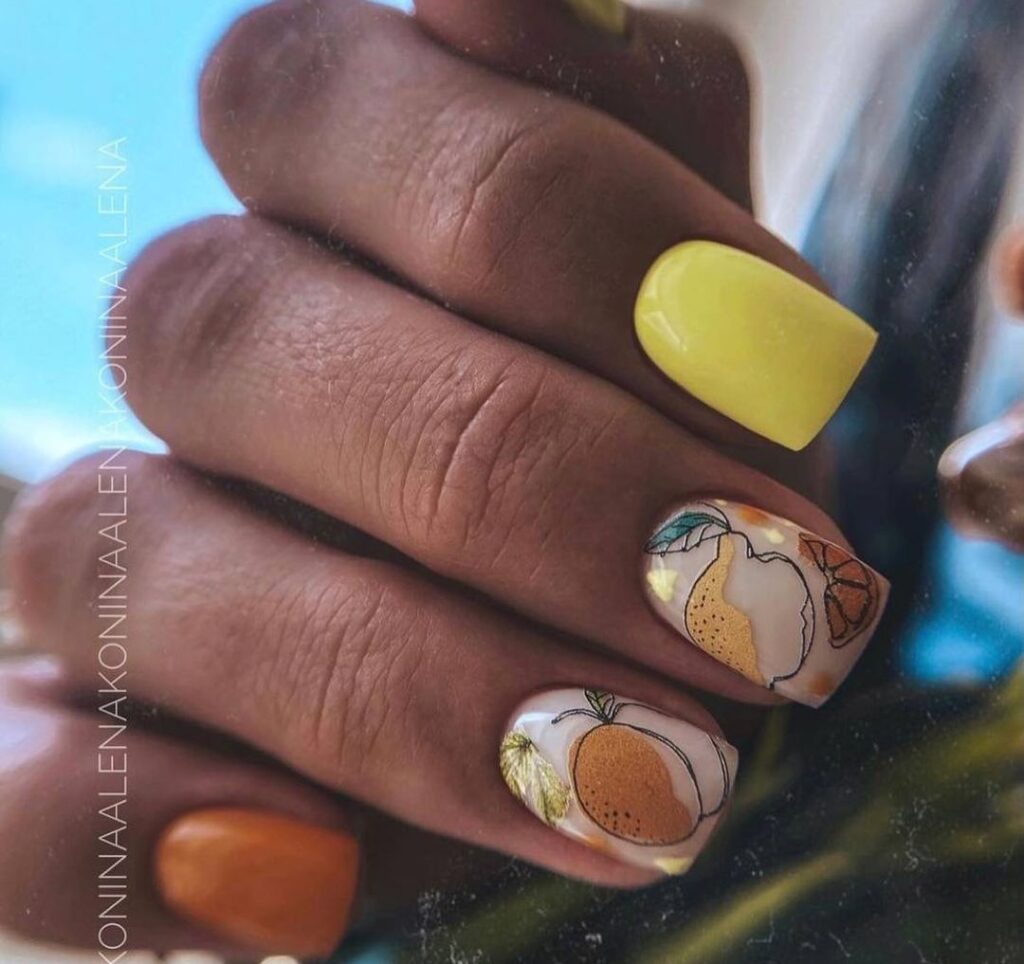 Courtesy: Pinterest
#11 Gray is having its moment and it's practically everywhere. From every season to every occasion, from a party to a wedding, gray's ability to transform itself from a mellow hue to a flashy component is mind-blowing. Here, it makes for an everyday wearable style with bold flowers giving it a springtime makeover.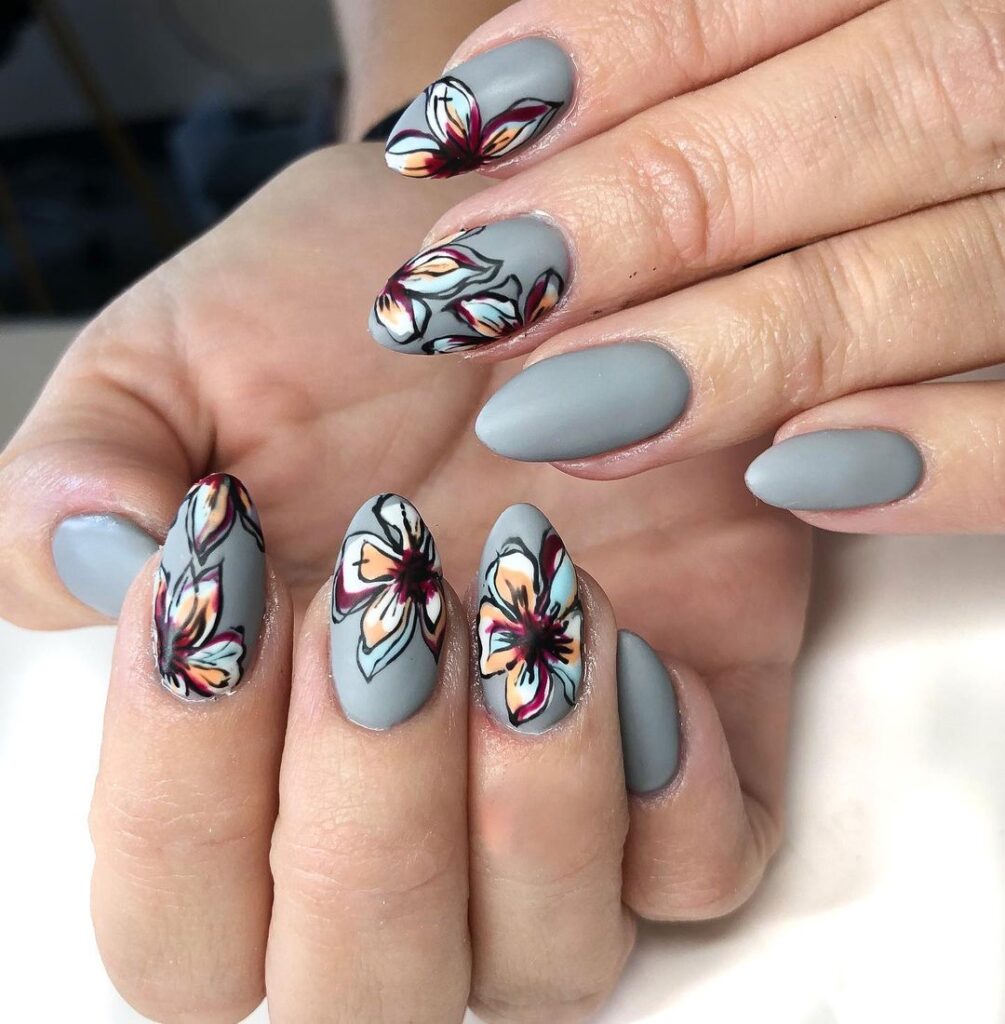 Courtesy: Hailey Lloyd
#12 When one design is not enough, you opt for different designs for every nail! This pretty mani combines the swirls, checks, yin-yang, and sky sketch to make for an ultimate spring look. By minimizing the number of colors, it balances the distinctive designs with a mellow approach for a classy spring nail design.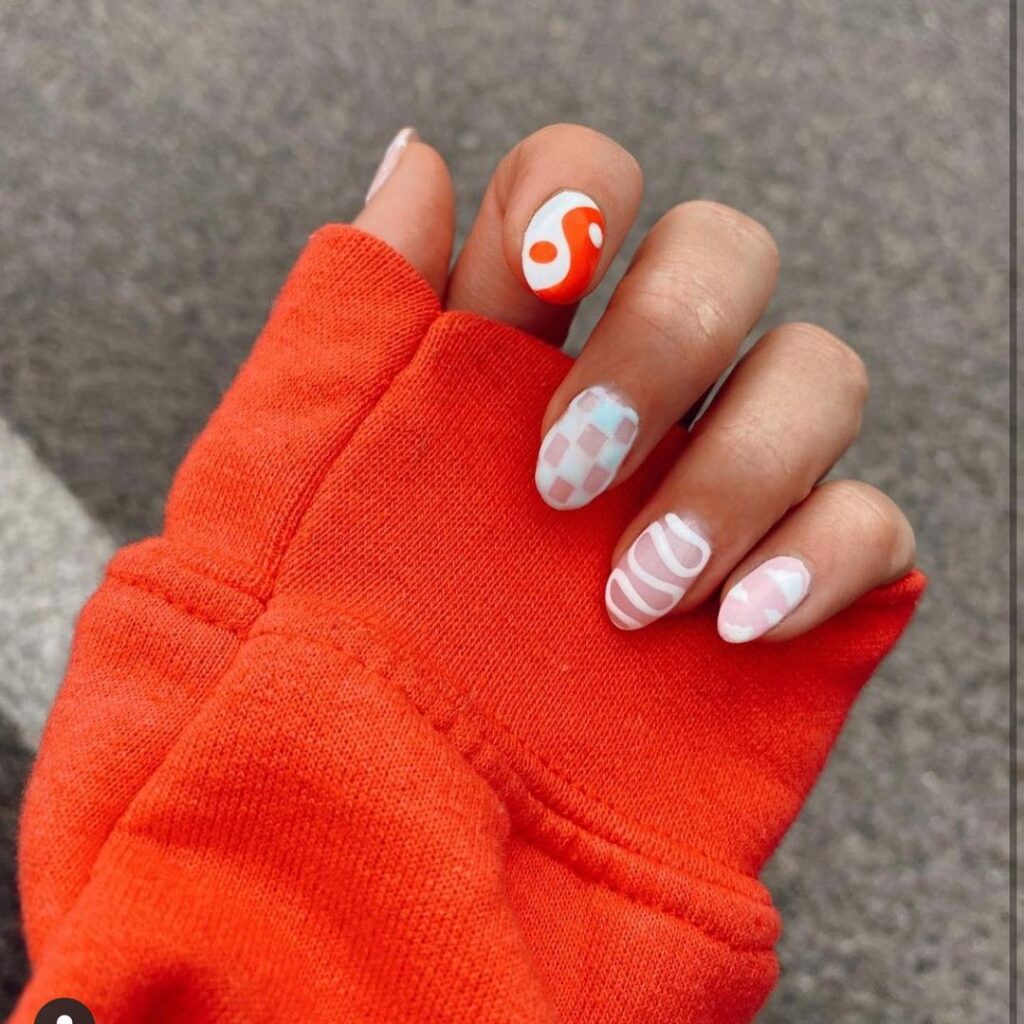 Courtesy: Hailey Lloyd
#13 Yellow is THE color of the spring season, mostly because it isn't such an appropriate shade for other seasons, especially fall and winter. Bright yellow especially makes a huge comeback for the spring season and stays till the summers before bidding goodbye to the next two weather stages. If you're looking for yellow spring nail designs, here's one featuring 3-D flowers.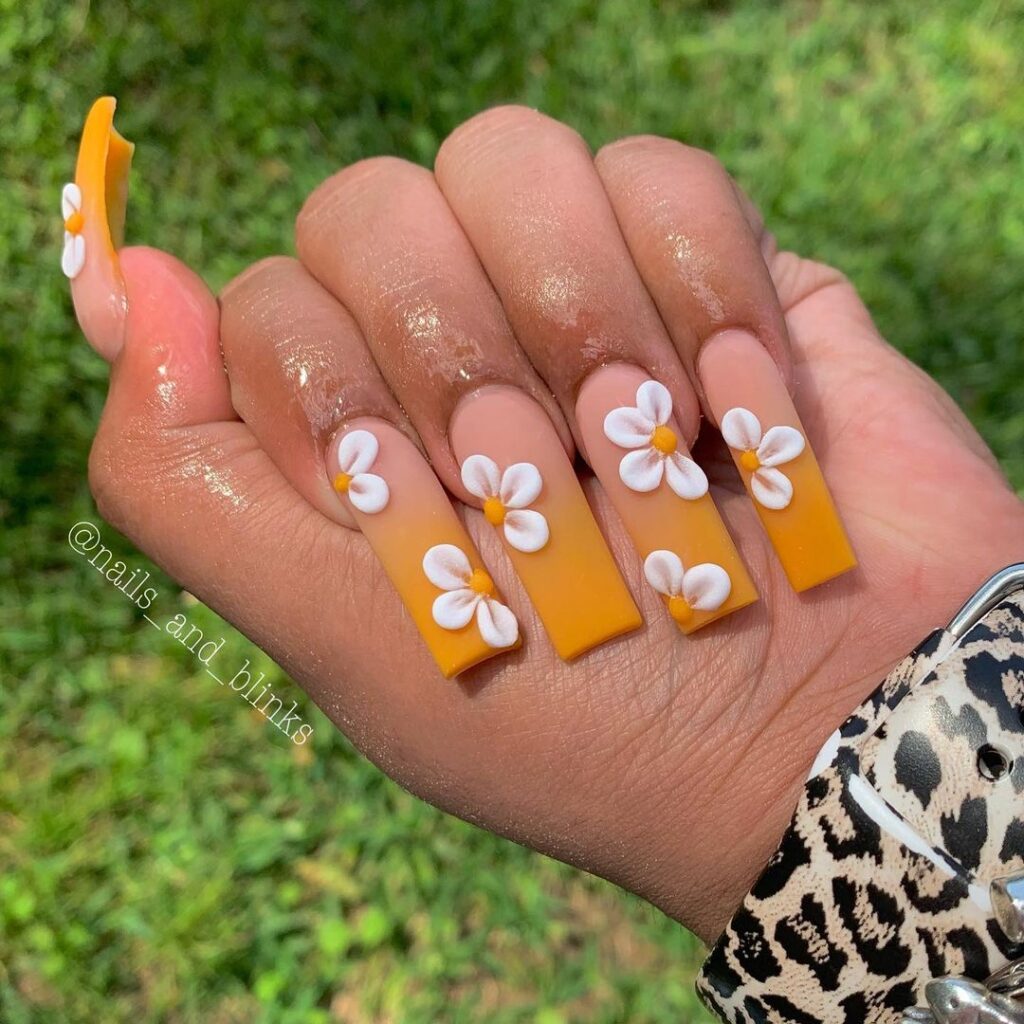 Courtesy: Nails & Blinks
#14 For those who love their French nails, and the simplicity in their nail art, these ombre French nails with little studs are just ideal for you. If you're getting married in Spring, then this also makes for gorgeous wedding nails, which are minimalistic and elegant for a cozy wedding ceremony.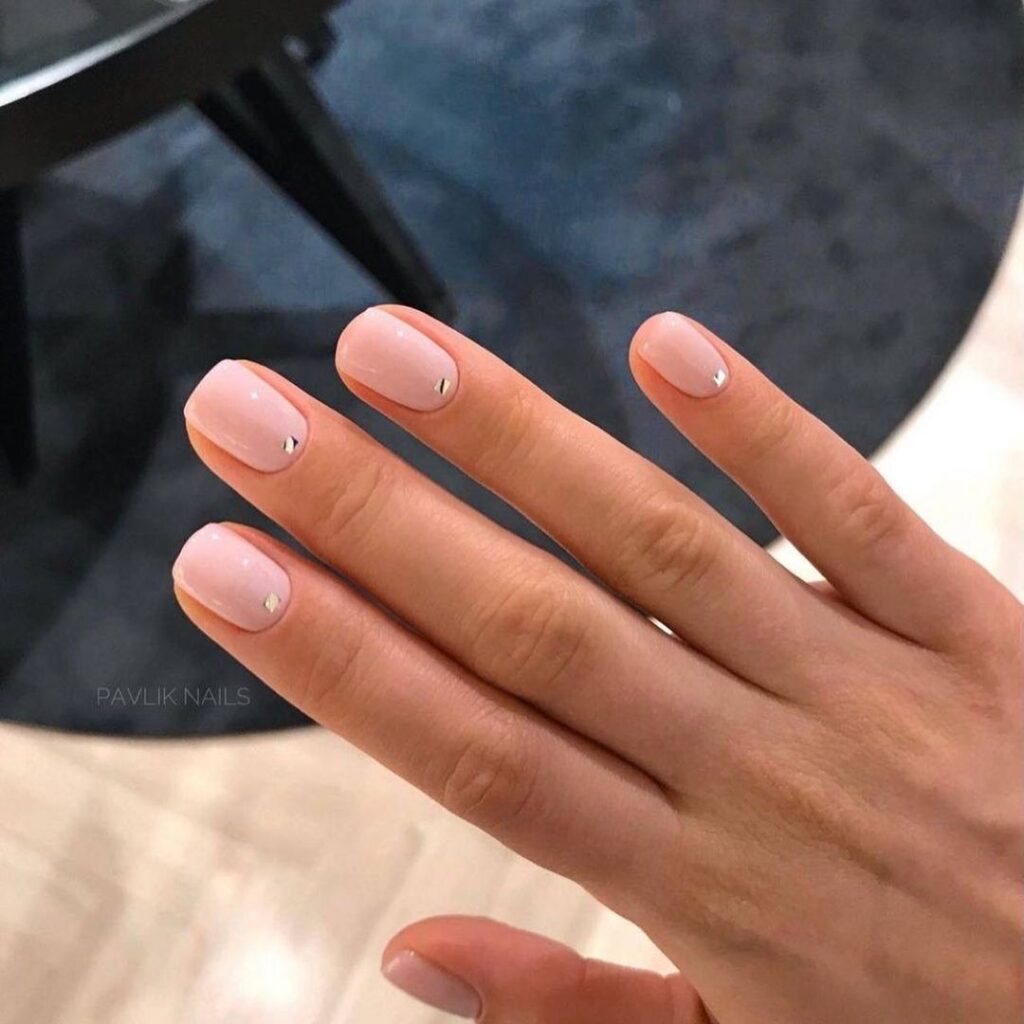 Courtesy: Pinterest
#15 Combining the bright yellow hue with the bold black color perfectly balances the color palette of this spring nail art. With two nails covered in a delightful yellow shade, the other three have geometric patterns in black for a creative and expressive manicure. Know that the gorgeous shaded flowers in the index and pinky finger are a work of an expert and should only be tried at home if you're quite confident with your artistic skills.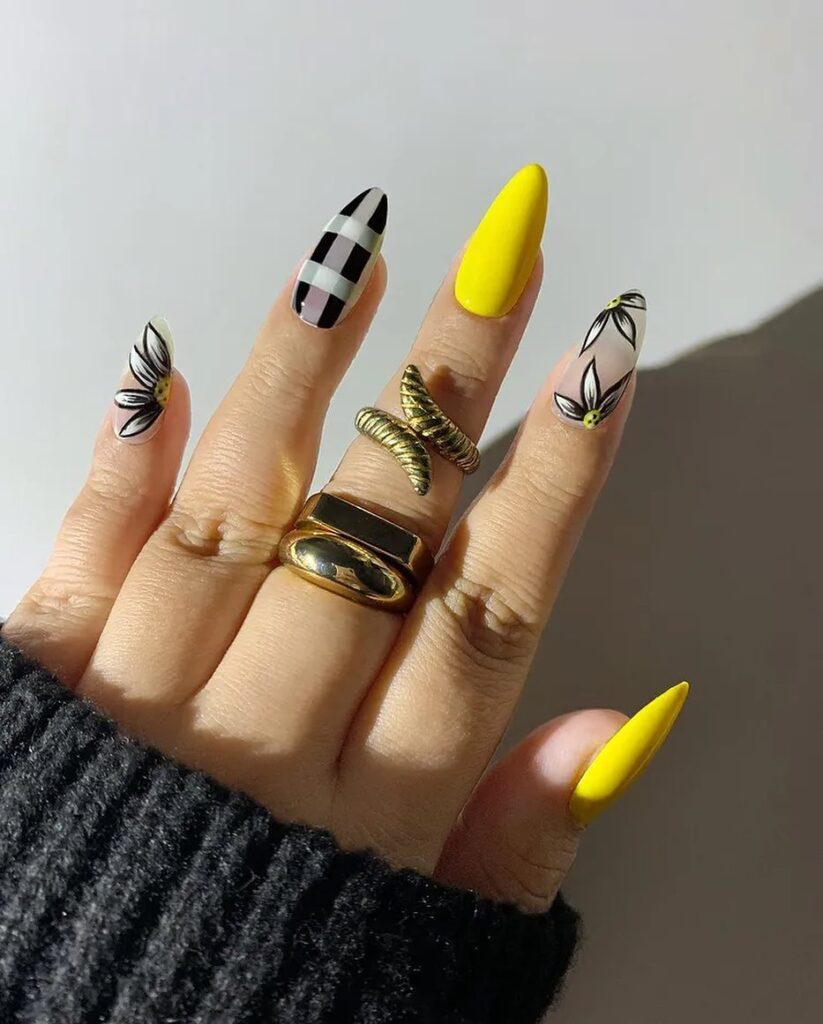 Courtesy: Nima
#16 Spring is a season for new life and beginnings. To reflect the same, people often opt for bright, fresh, and bold colors to bring out vividness and positivity, which is also reflected in the spring nail designs 2023. All the shades on the next featured nail art are bright except the matte purple one, which uses pastel shades. If you have all these bright shades available at home, you can easily DIY this easy spring nail design.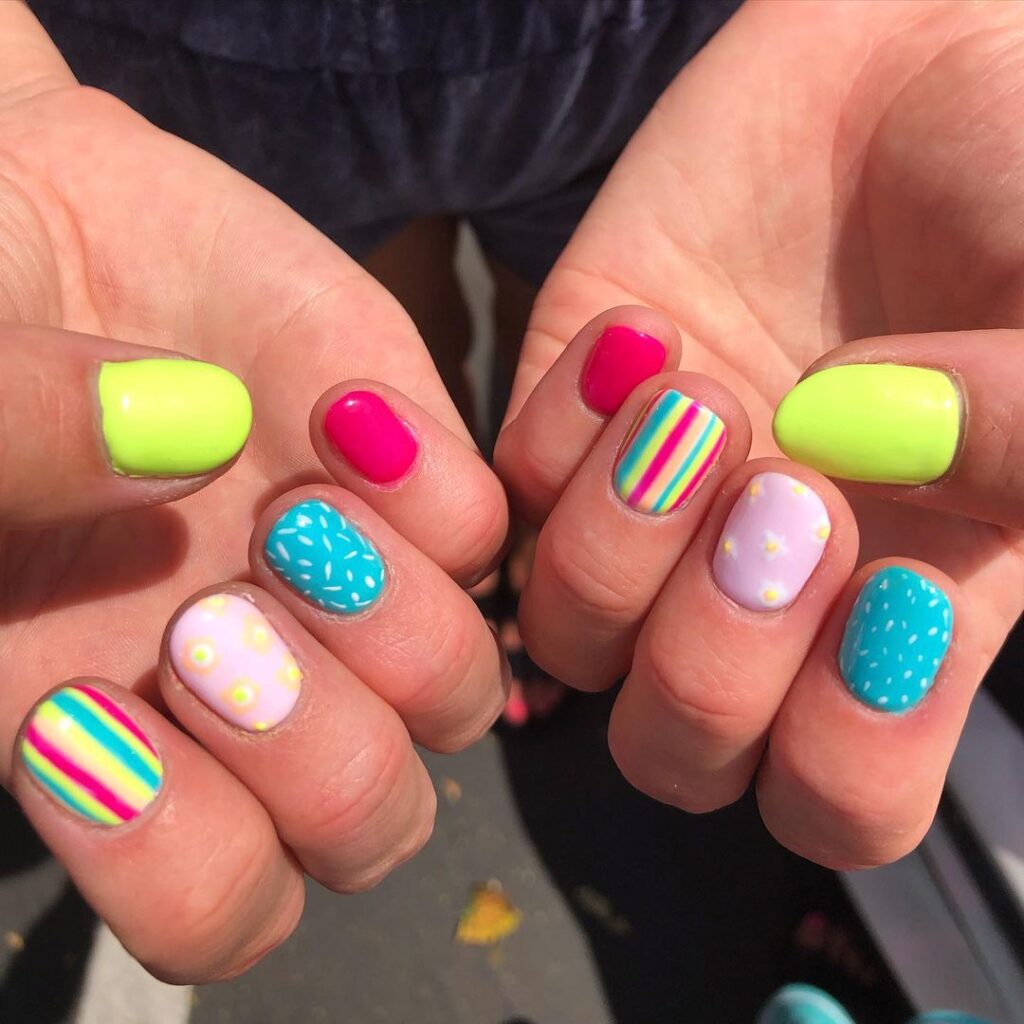 Courtesy: Hailey Lloyd
#17 The muted orange done on square nails are gorgeous, but what makes this nail art interesting is the ring finger painted with a dusty pink and drawn over with blooming flowers. Daisy is a common choice in nail spring design because of its simplicity, and the fact that they represent happiness, joy, and innocence.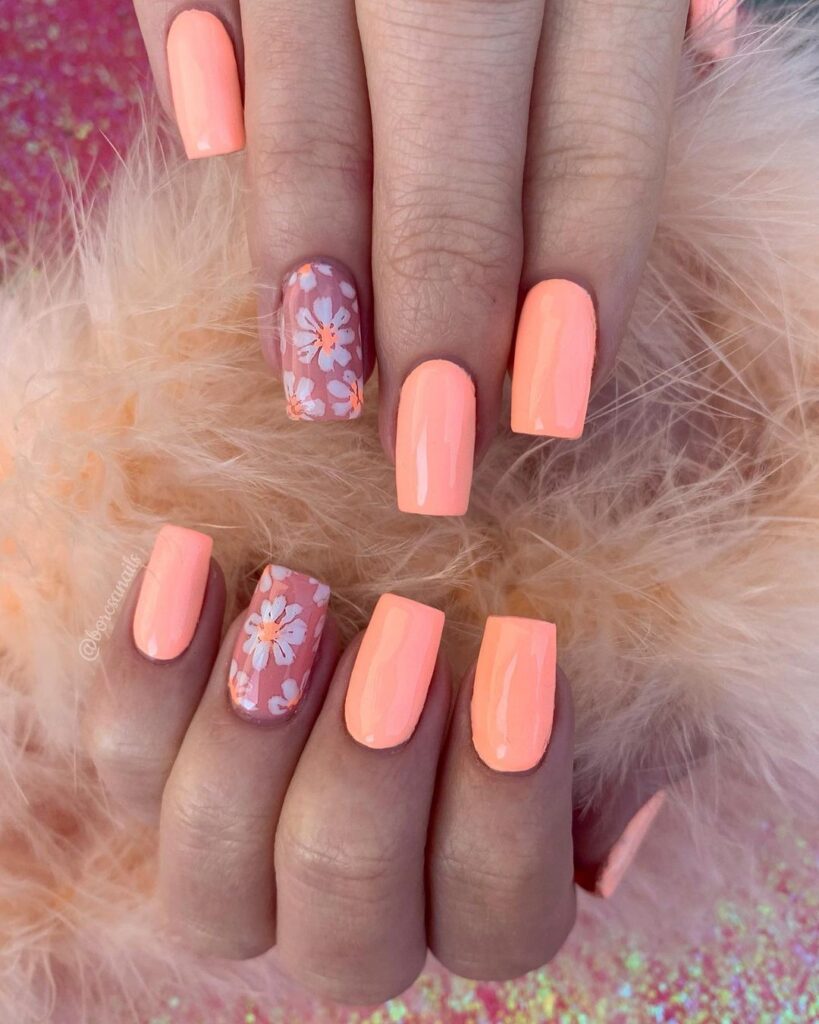 Courtesy: Luxury Nails
#18 If you are not a fan of bold, brighter shades, and yet want your nail art to represent the joyous spring, try this neutral and classy spring nail design, perfect to pair up with warm-weather outfits and will shine gorgeously on the sunny days to come.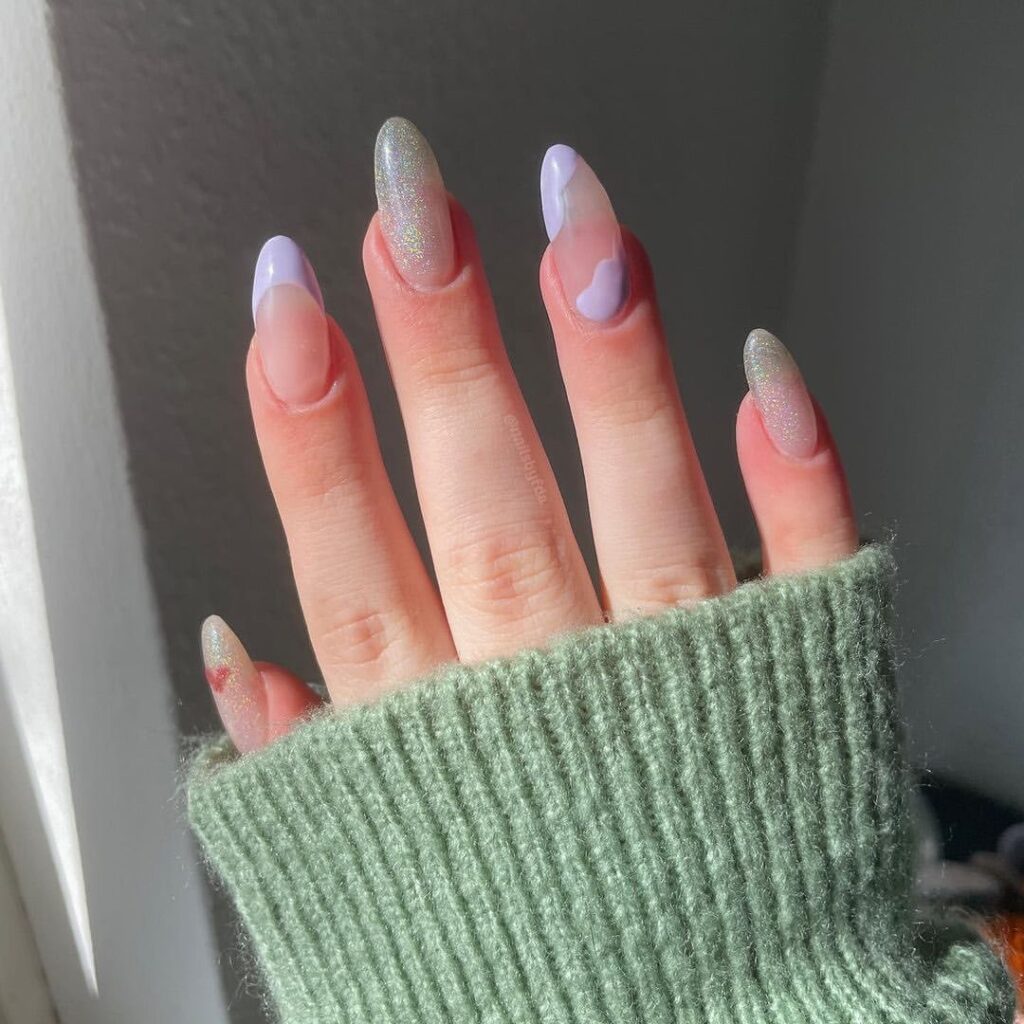 Courtesy: @nailsbyfda
#19 While gloss dominates the majority of the spring nail designs, it's a treat to witness these matte nails in bold hues making their way into this inspirational list. The bold blue is complemented with red on the pinky, but it's the ring finger that takes all the credit for the artistic appeal of this nail design. With a matte white base, the design features lush foliage and cherries for a spring twist to the entire design.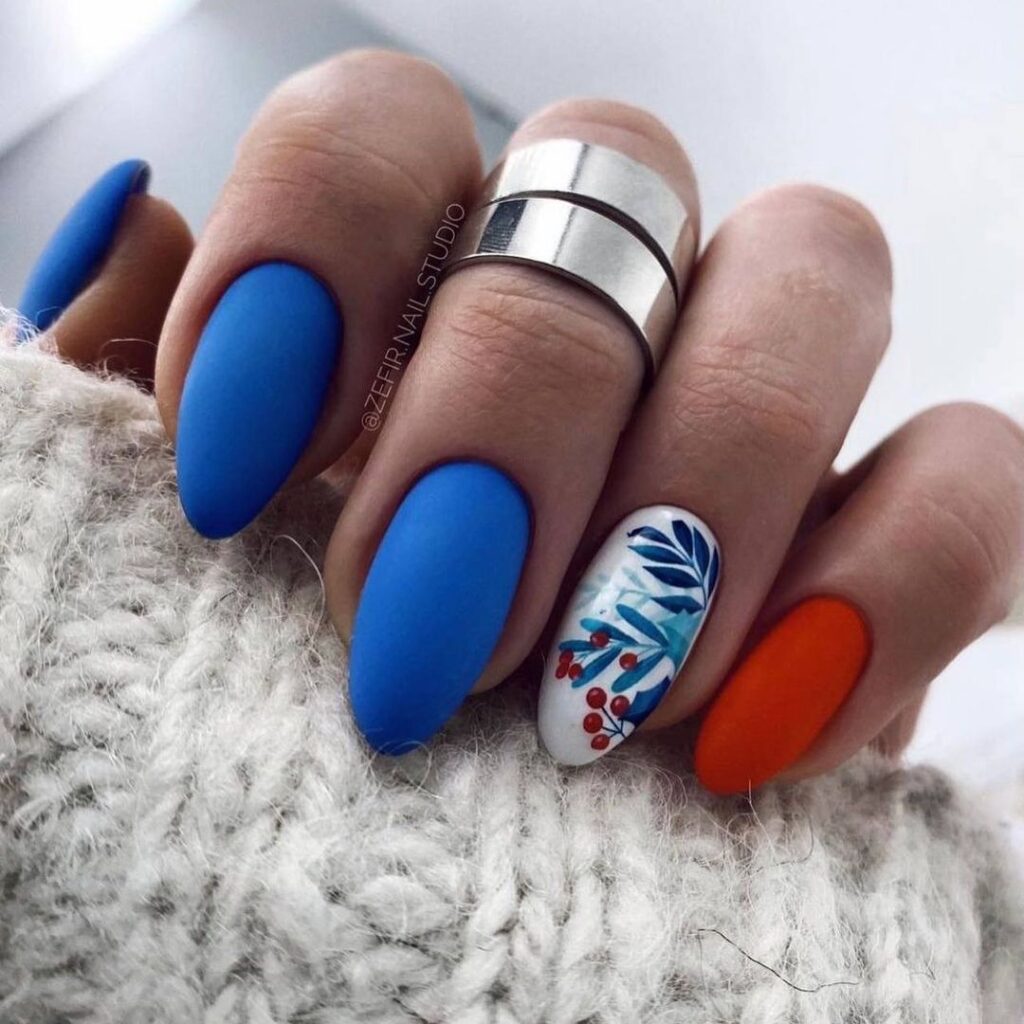 Courtesy: Zefir Nail Studio
#20 For women who love staying on trend and want to reflect their fashionista attitude with their nail designs as well, then try these ombre nails which are becoming a huge trend in spring nail designs in 2023. This manicure is best done on long nails so the gradient effect is more pronounced and visible.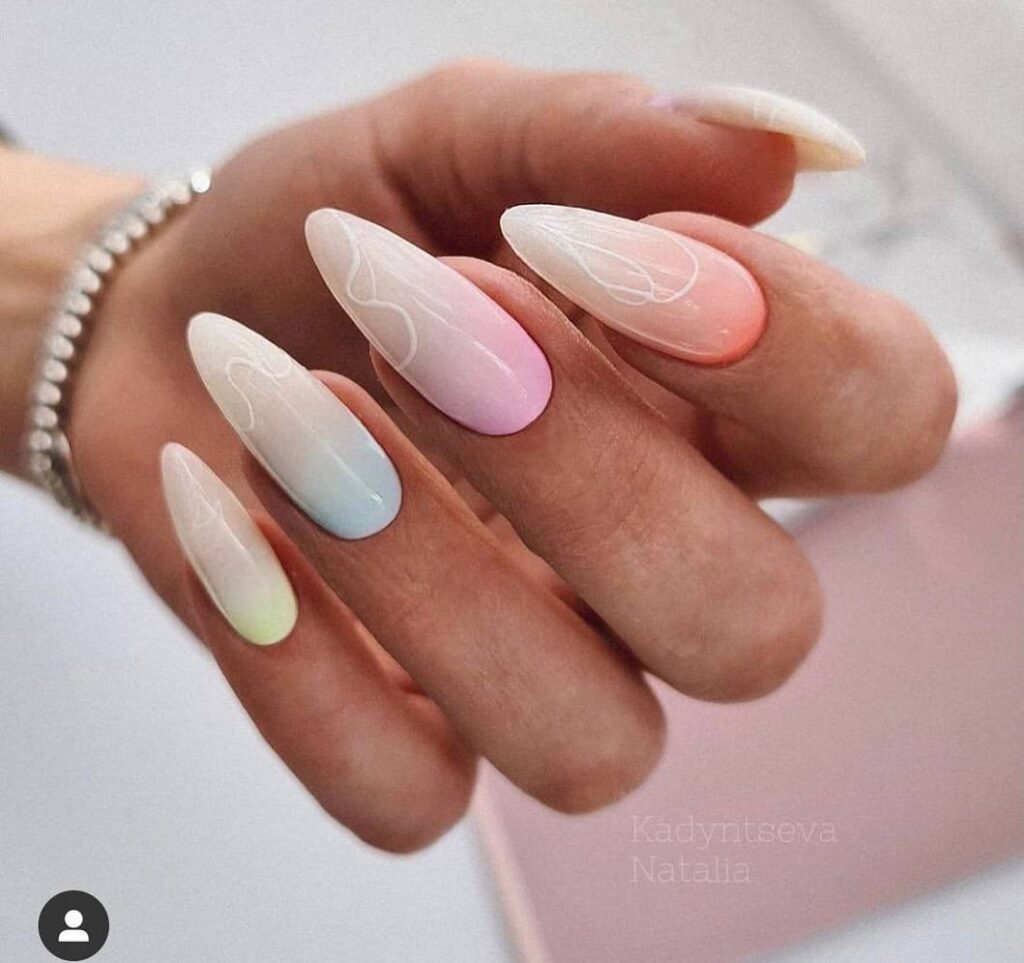 Courtesy: Kadyntseva Nails
#21 Pink & blue are the most common combination is spring nail colors and summer nail colors as well. While they are majorly seen in bright or pastel shades, this light variation is a pleasant surprise. This spring nail design for short nails also demonstrates that even those who prefer shorter lengths can enjoy an artistic design on their nails. 
Courtesy: @javifernails
#22 Lilac with lilies? A similarity whether intended or accidental is visually appealing and utterly gorgeous. White anyways is a great color to match any base shade. So, pick your favorite shade instead of lilac and you'll have a design just as stunning as this one.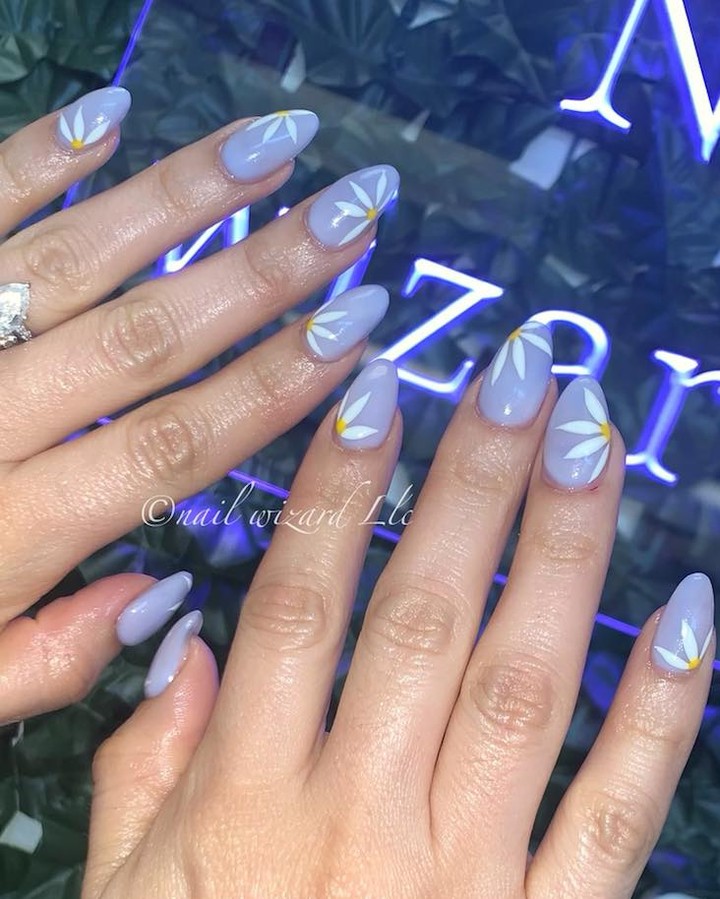 Courtesy: Cora Sokoloski
#23 Short square nails are trending this season. Besides their minimal and everyday-wear look, they are easy to maintain and less prone to breakage. However, they do give you less versatility for artistic designs, but if yours is an inclination toward these minimal designs, then they are just absolutely perfect!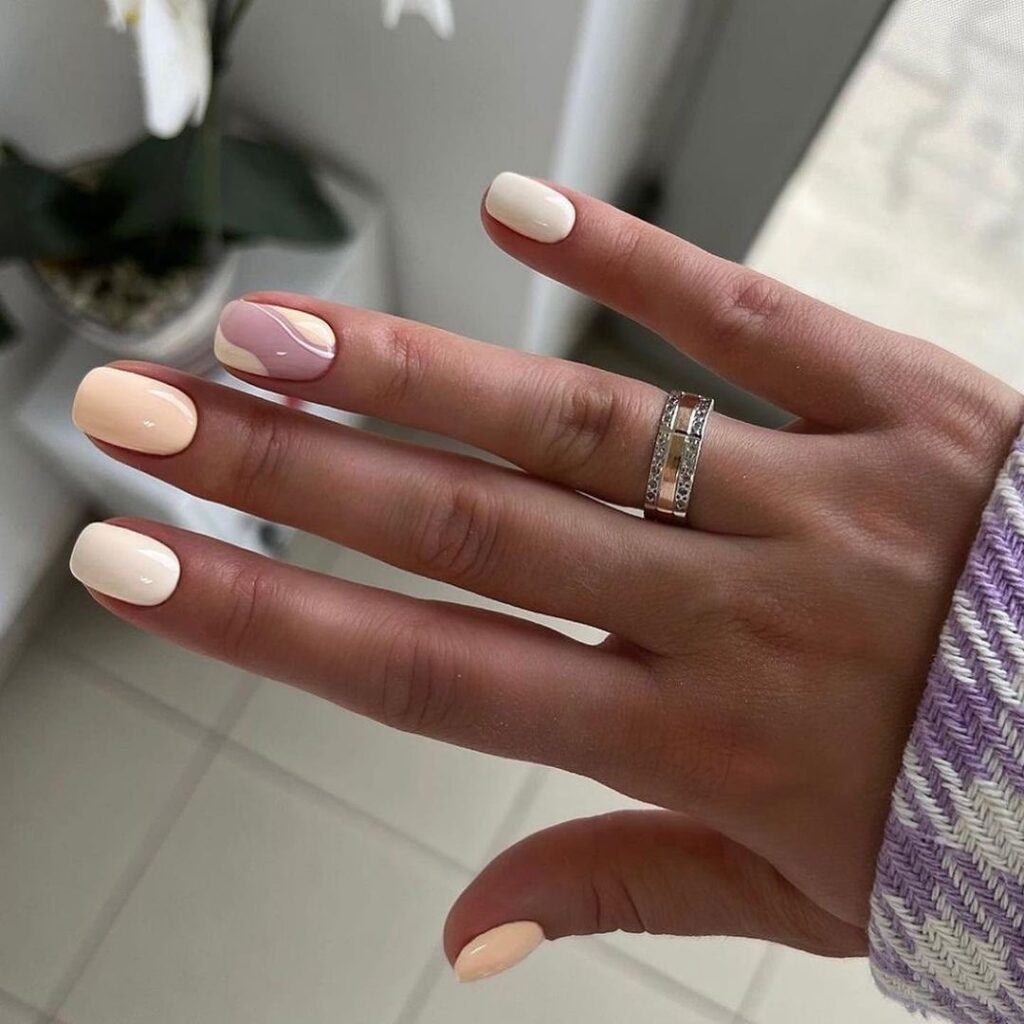 Courtesy: @nails.kol
#24 This is an easier spring nail design that you easily recreate at home. You just need bobby pins to draw the blooms and leaves – the most common element in the spring-inspired manicure. Don't worry about the neatness. The sketches are rather done roughly so it looks wholesome and innocent.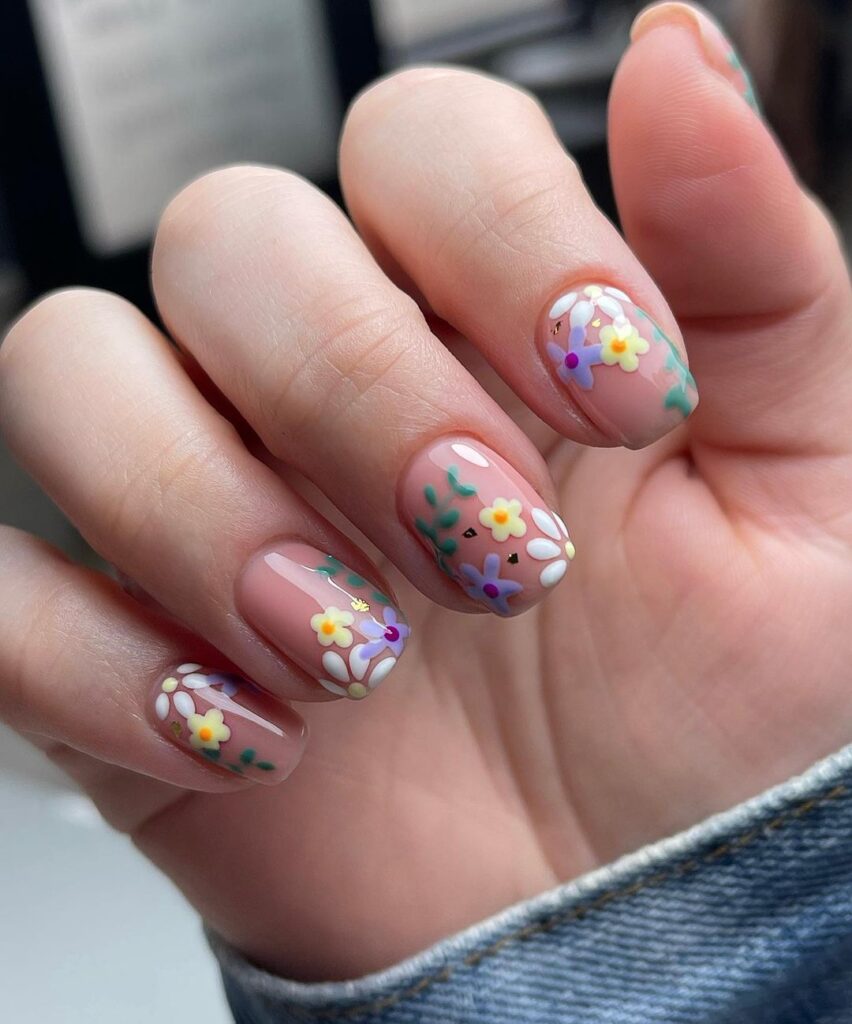 Courtesy: Jodie Richards
#25 This one of the French tip spring nail designs is so soothing to the eyes and ideal for women who love pastel shades as opposed to bright counterparts of the same hue. We love the subtle glitter that makes the mani pop gorgeously.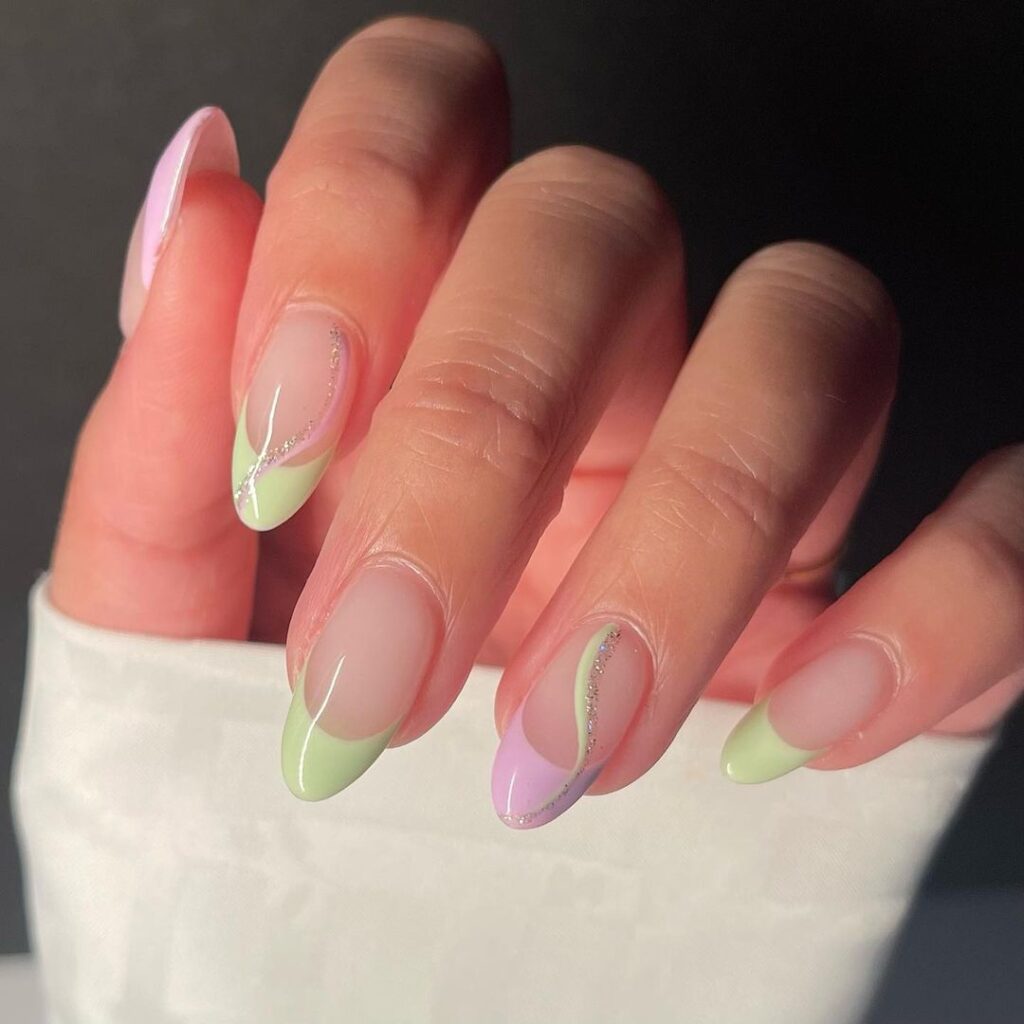 Courtesy: Aby
#26 Forest green is a color inspired by the lush foliage of the spring season, and can also make for a perfect color for your spring Easter nail designs. Incorporating this unique hue as a whole and as French tips in the middle two nails makes this design distinctive and artistic as well.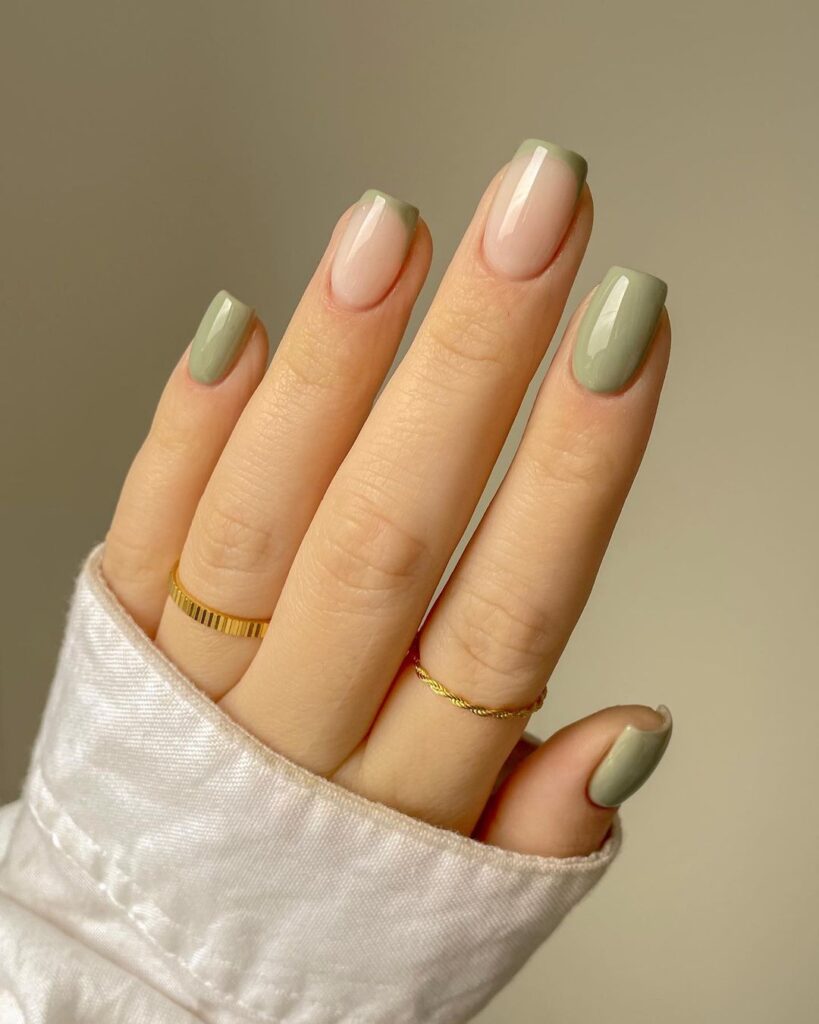 Courtesy: By Leah
#27 You can inculcate the spring elements subtly into your white matte nails with these twigs and leaves enhanced by golden foil glitter. These spring nails will only work for medium-sized nails though because larger nail sizes can create negative spaces and smaller reduce the allure of the leaf sketch.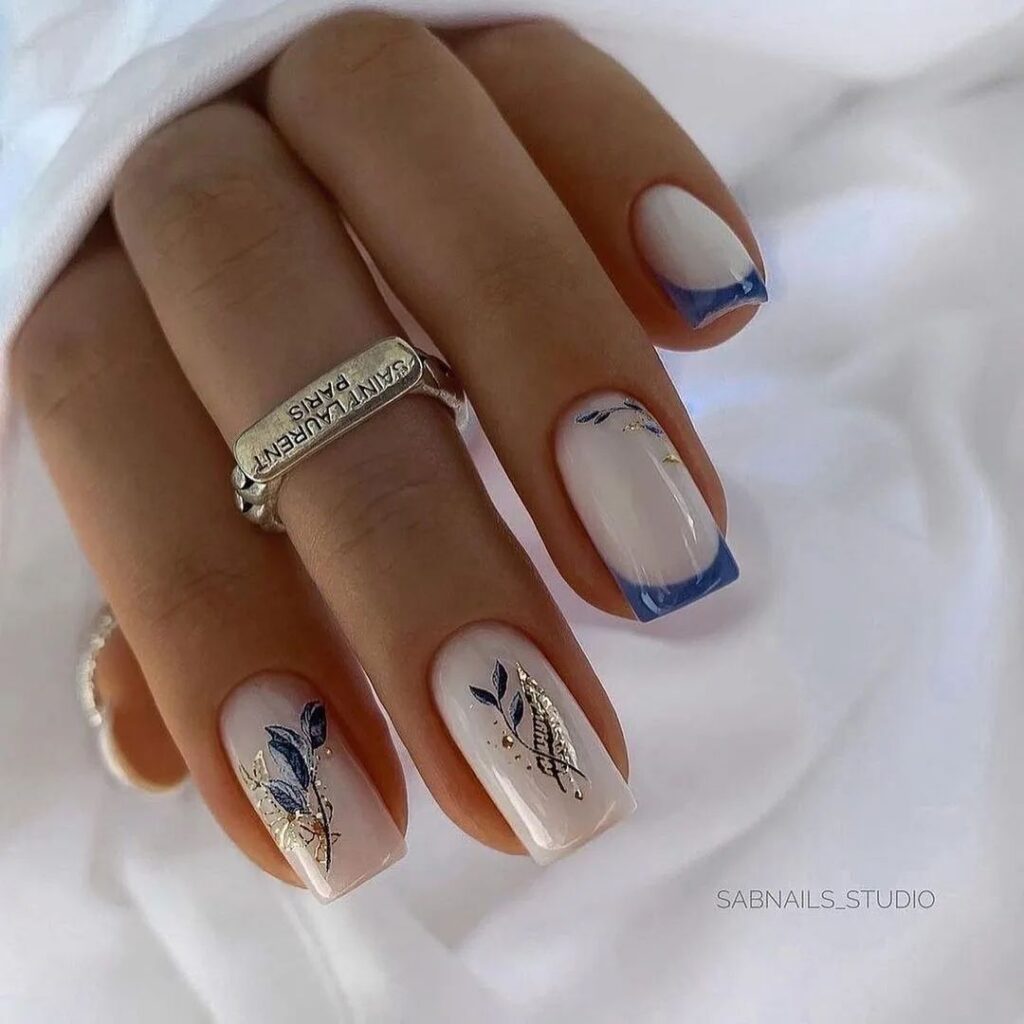 Courtesy: @sabnails_studio
#28 Ah! Such a soothing color combination! One of the advantages of getting your nails done professionally is to see how artistically they curate a design, leaving you spellbound with the result. This is true for expert-level professionals. They mix usual colors and simple geometric art into an ingenious design – and that's just impressive!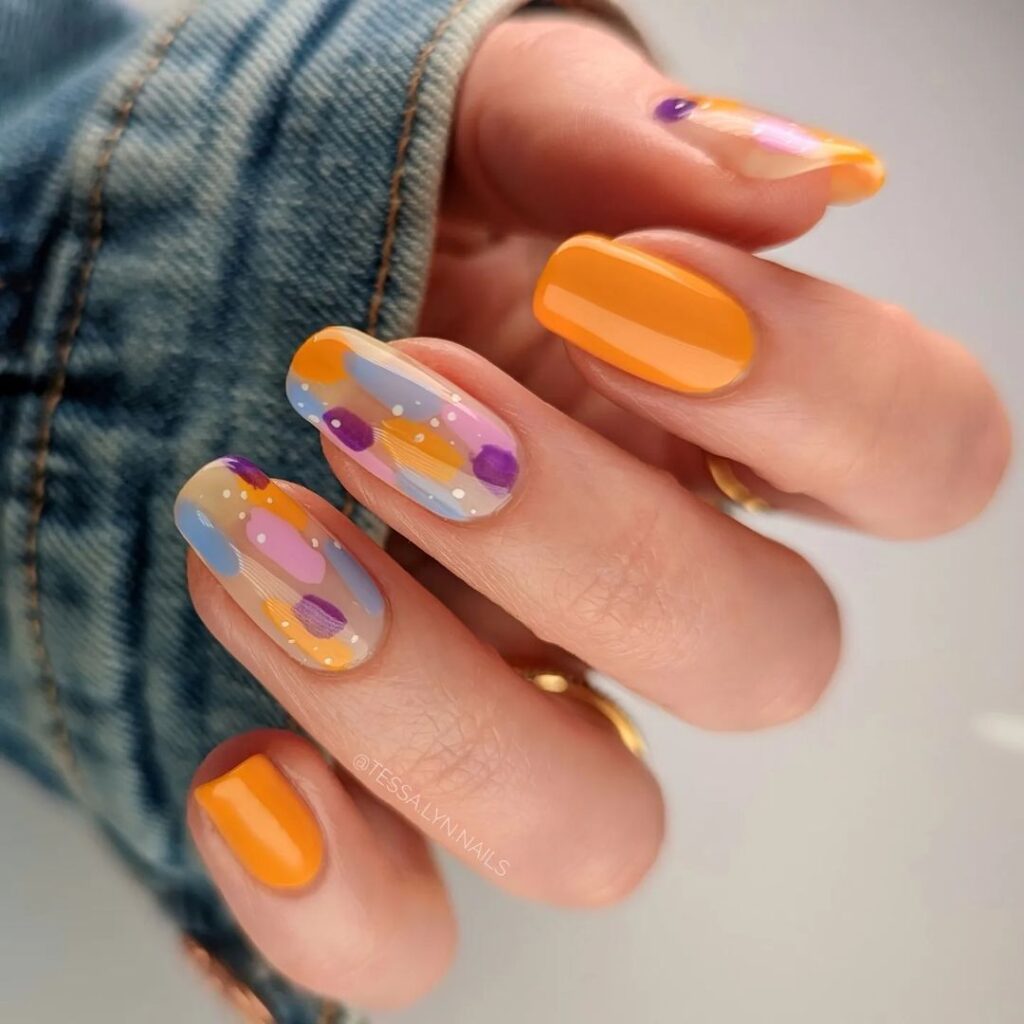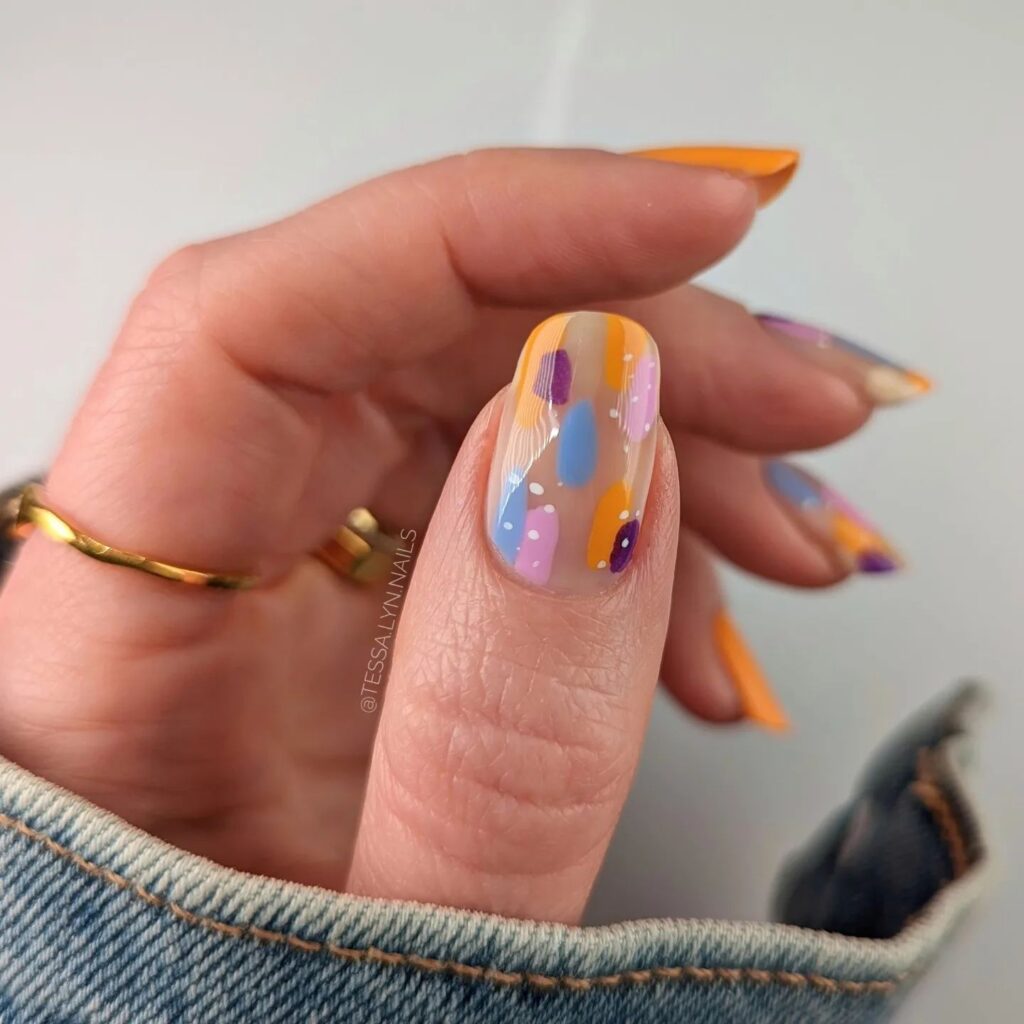 Courtesy: Tessa
#29 Alright, we accept, that there isn't anything spring-y about this nail art, but sometimes these monochromatic colors are all you need for a versatile and timeless nail design. We love how a nude base is coordinated with strategically placed geometric lines in black coordinated with white fillings here & there.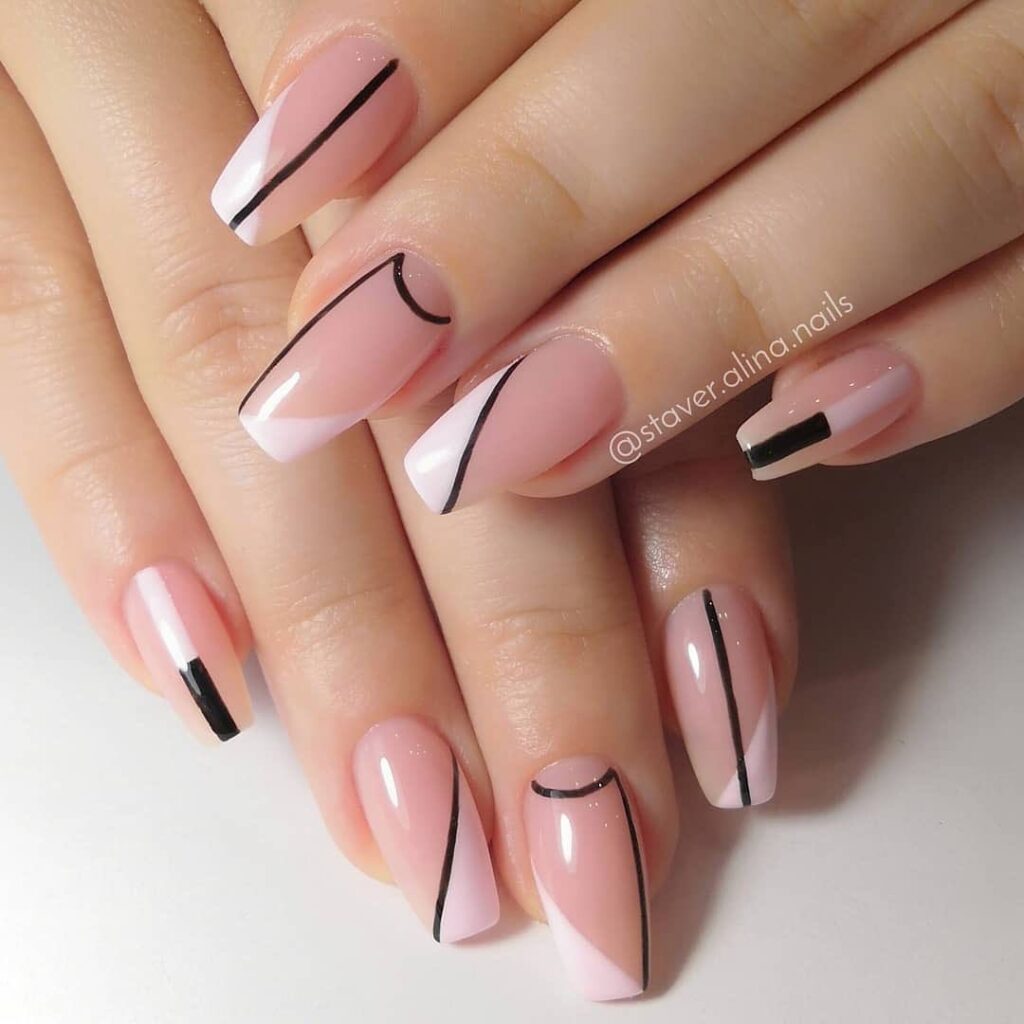 Courtesy: @staver.alina.nails
#30 As we mentioned, the most creative nail artists have the knack for complementing beautiful colors in a basic design for an artistic look. If you have these two colors at home, you can easily DIY this nail design. Use bobby pins to create petals of the flowers on the base and a thin brush for the lines. Finish it all off with a gloss coat on the top!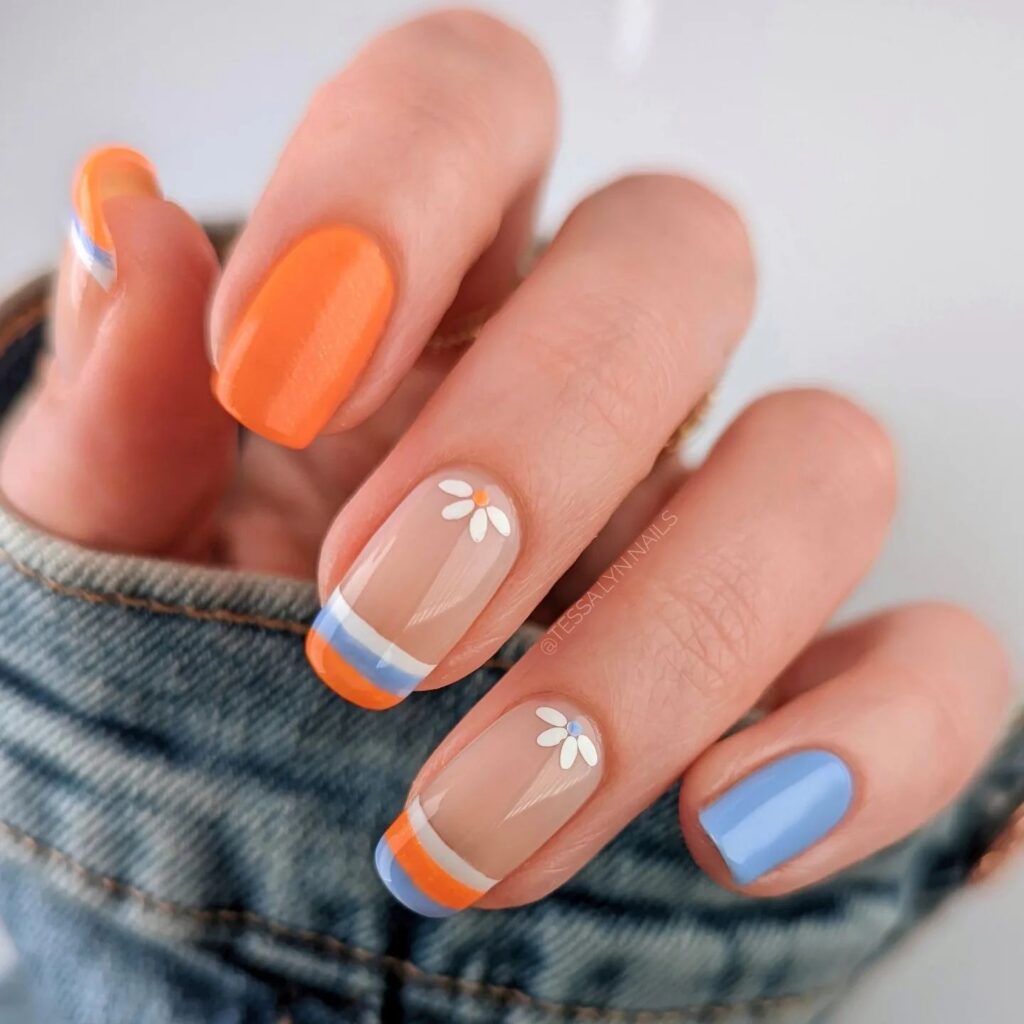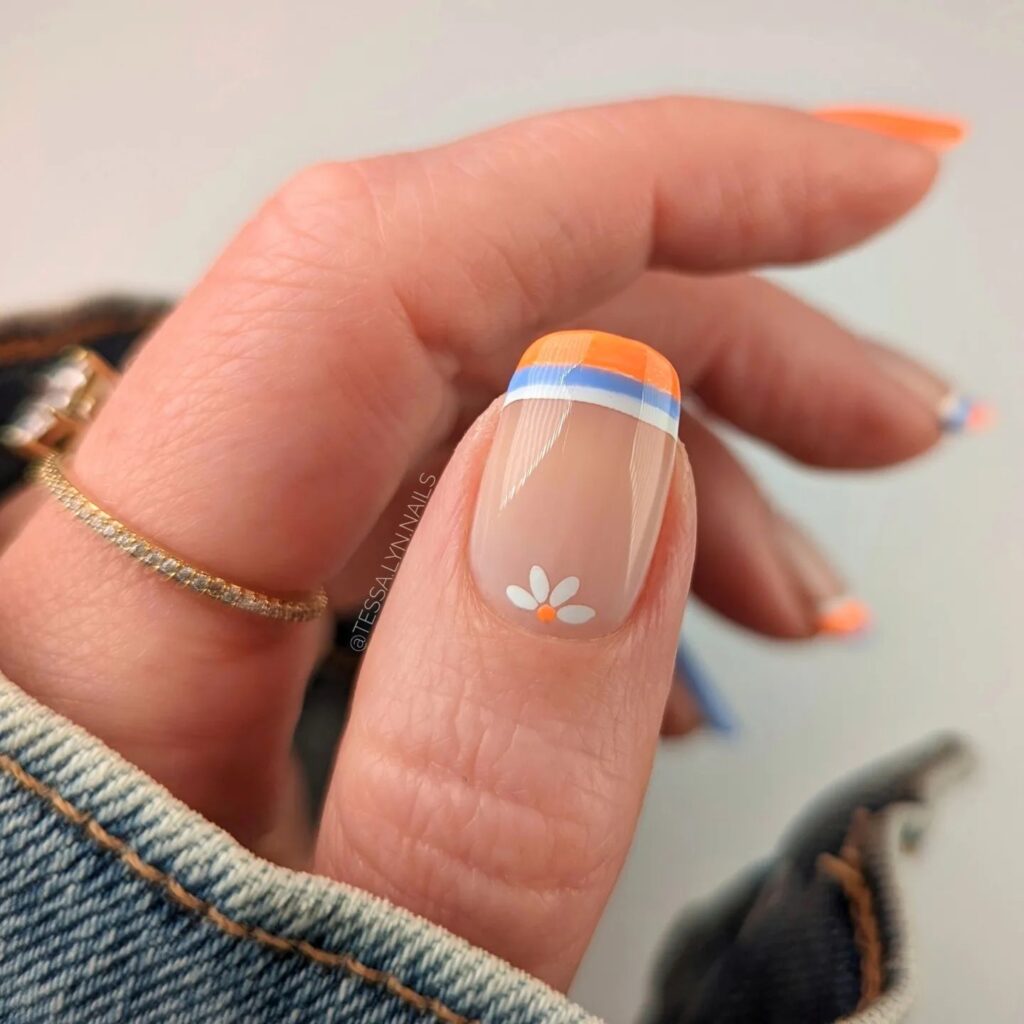 Courtesy: Tessa
#31 This one of the easy spring nail designs can be done with utter ease at home. Start with applying tape diagonally on the top section of each nail. Apply the base coat and let it dry. Now, remove the tape and paint the remaining section of the nail with the other color. Don't worry if it's a little rough because that's what the golden separating line is for! Cover it all with a gloss coat or leave it matte – if you like your nails matte.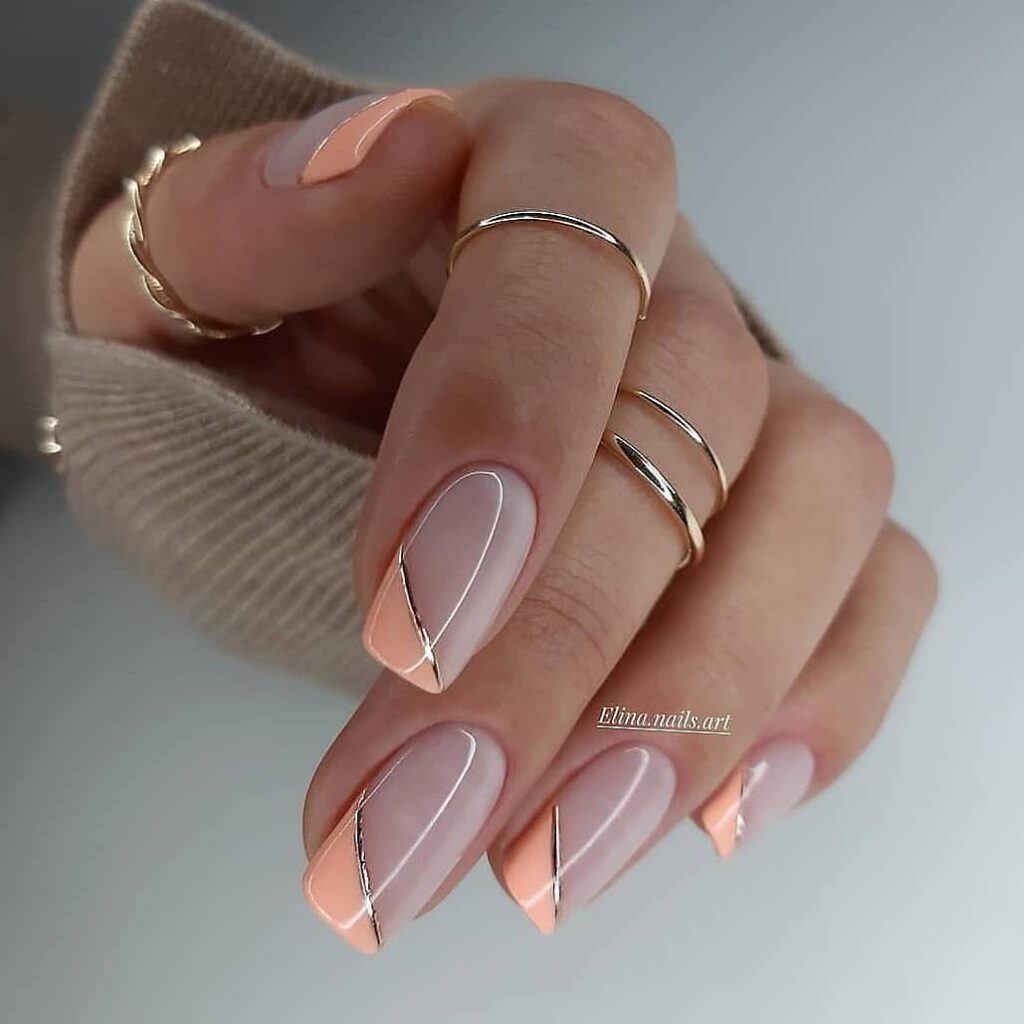 Courtesy: @nogti__idei
#32 Give your hot pink spring nail designs a gorgeous makeover by giving them a mellow twist. The first two fingers are covered in light pink as the base followed by metallic accents and drawings of the florals. This is expert-level work and we'd recommend giving it a go at home only when you've achieved that mastery.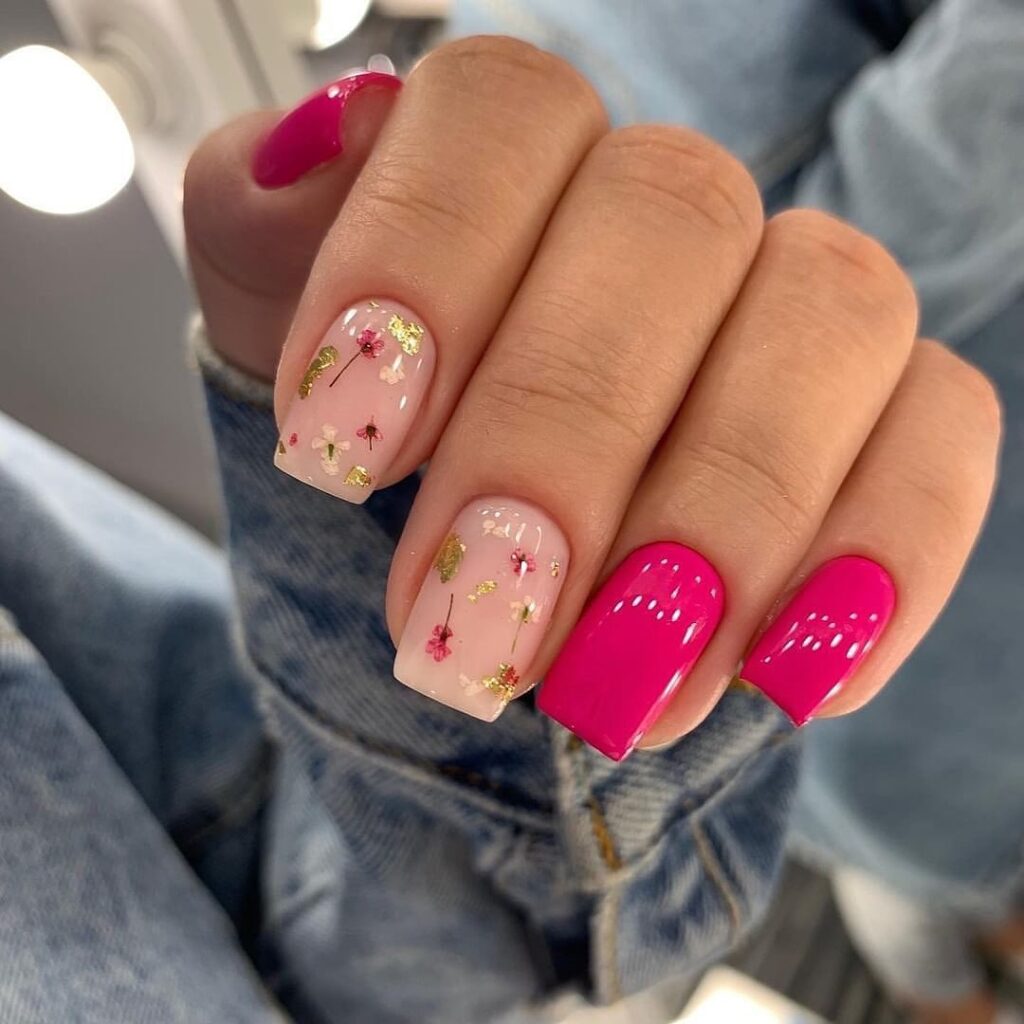 Courtesy: Instagram
#33 There's something that feels so refreshingly spring about this pairing of light blue with peach pink. Though, they don't cover the entire nail and only act as prominent accents in the form of French tips and geometric lines. The leaves act as a perfect theme for the season and the dash of glitter gives it all a glamorous appeal.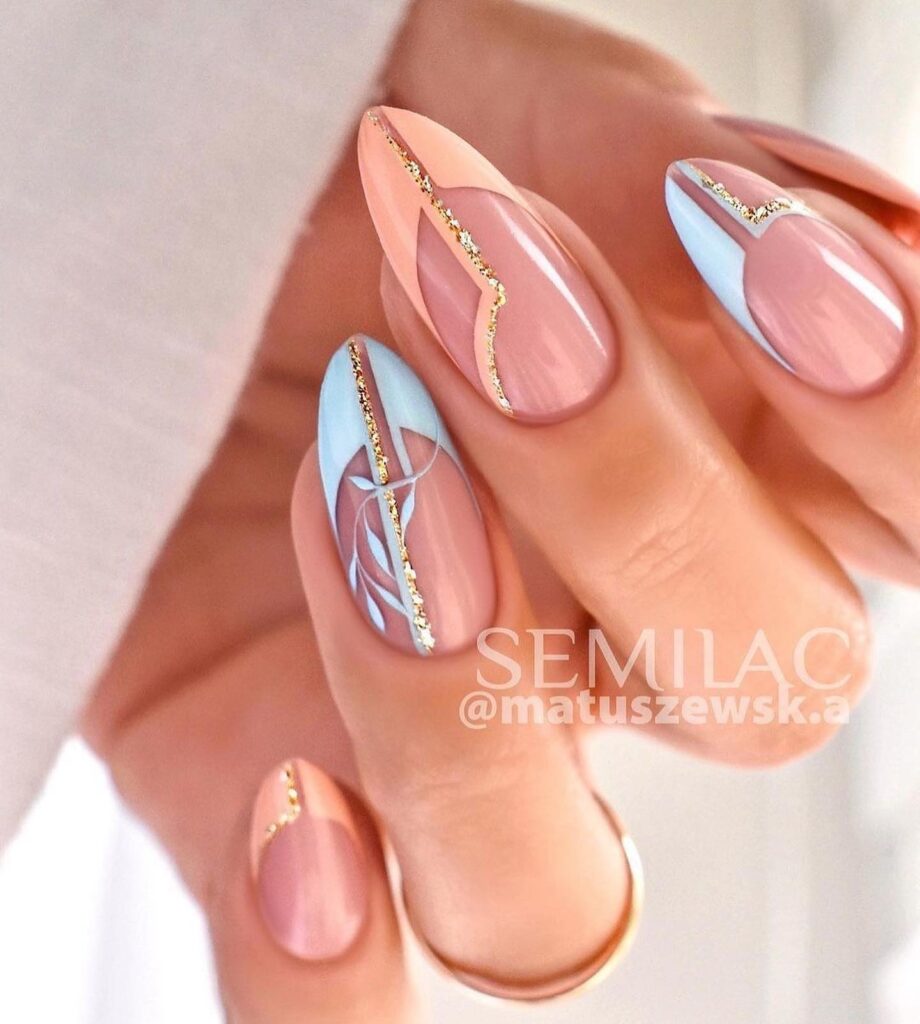 Courtesy: @nogti__idei
#34 French tip manicures but make them modish and stylish! The forest green on the tips doesn't cover the entire top of the nail but rather stays as a blob. To add to the mix, a zig-zag with pink adds a creative streak and looks kind of like a thundering bolt.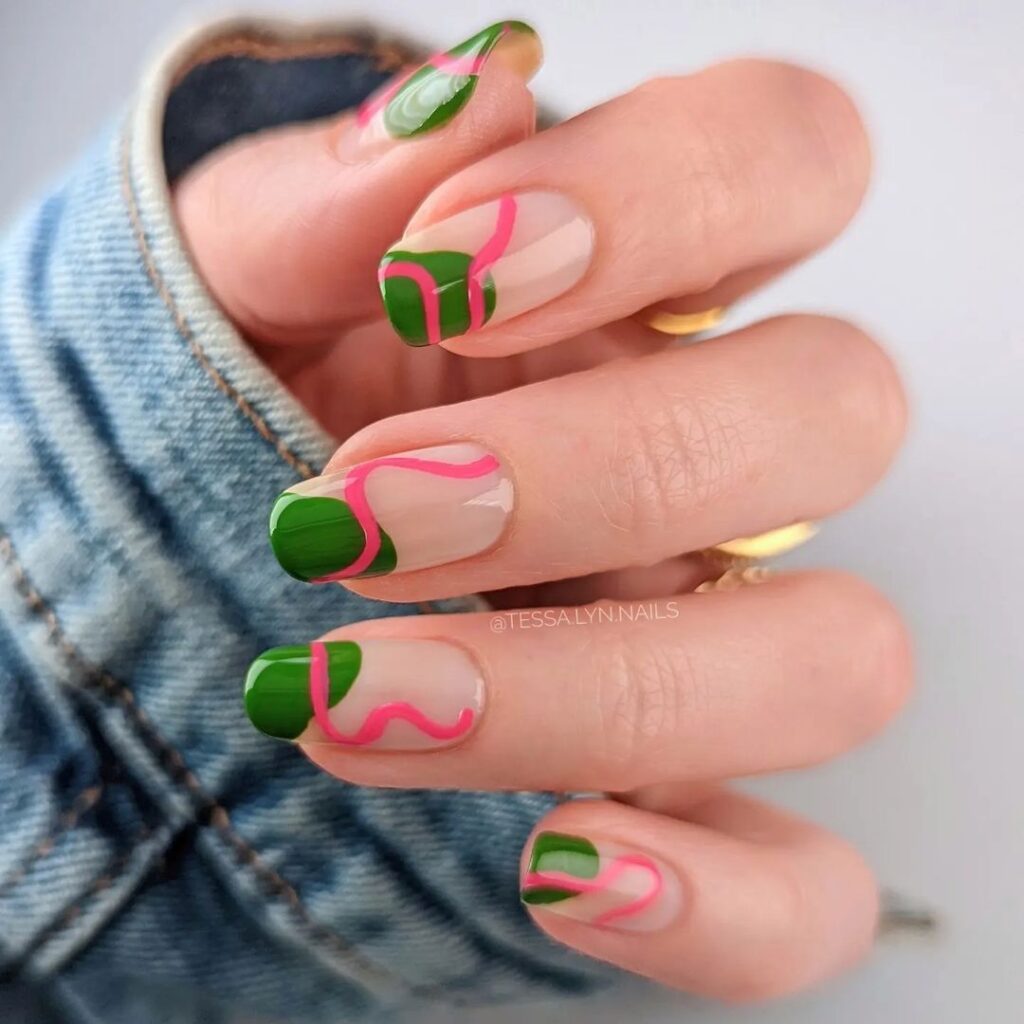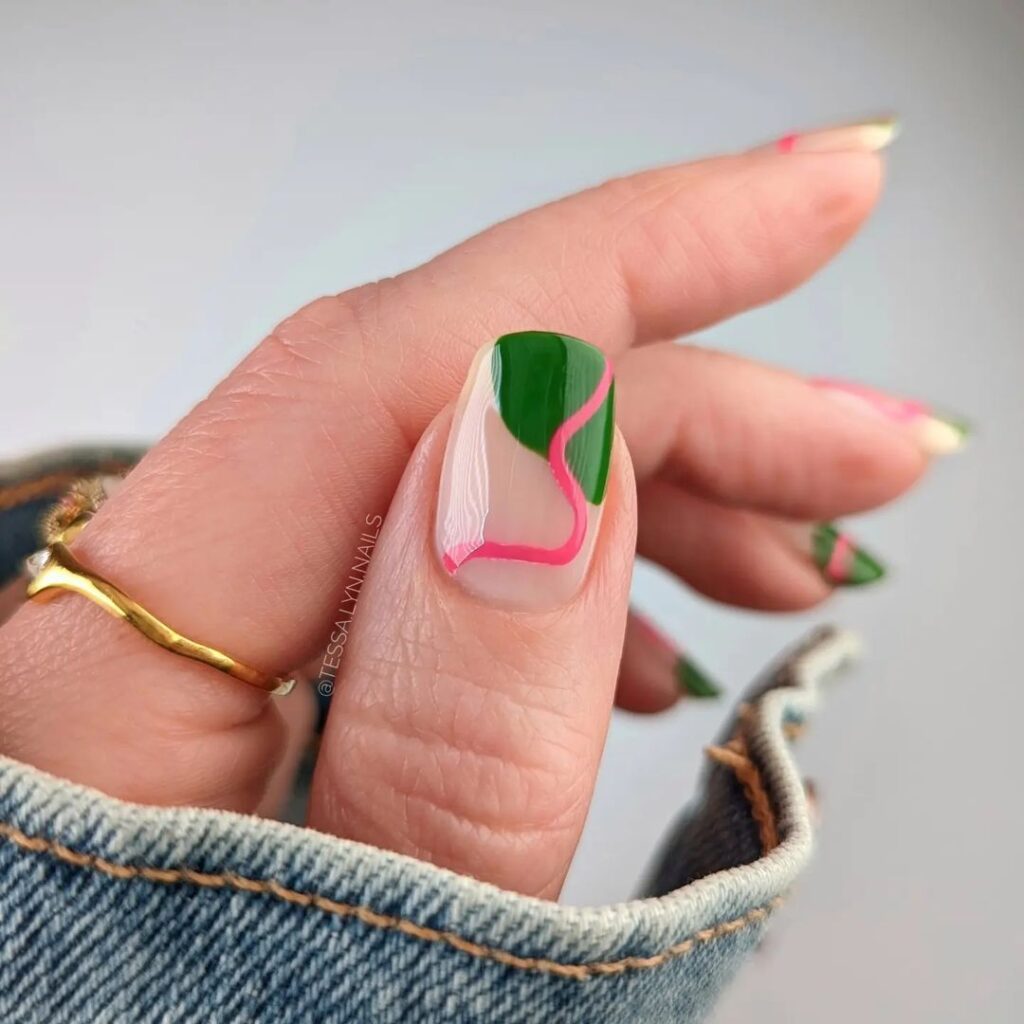 Courtesy: Tessa
#35 The French tip spring nail designs are popular, and here's yet another one that radiates the elements of the season adorably. Each nail is covered in different colors – all in vivid palettes, while two of them also have cute sketches of cherries and a smiley for an endearing charm.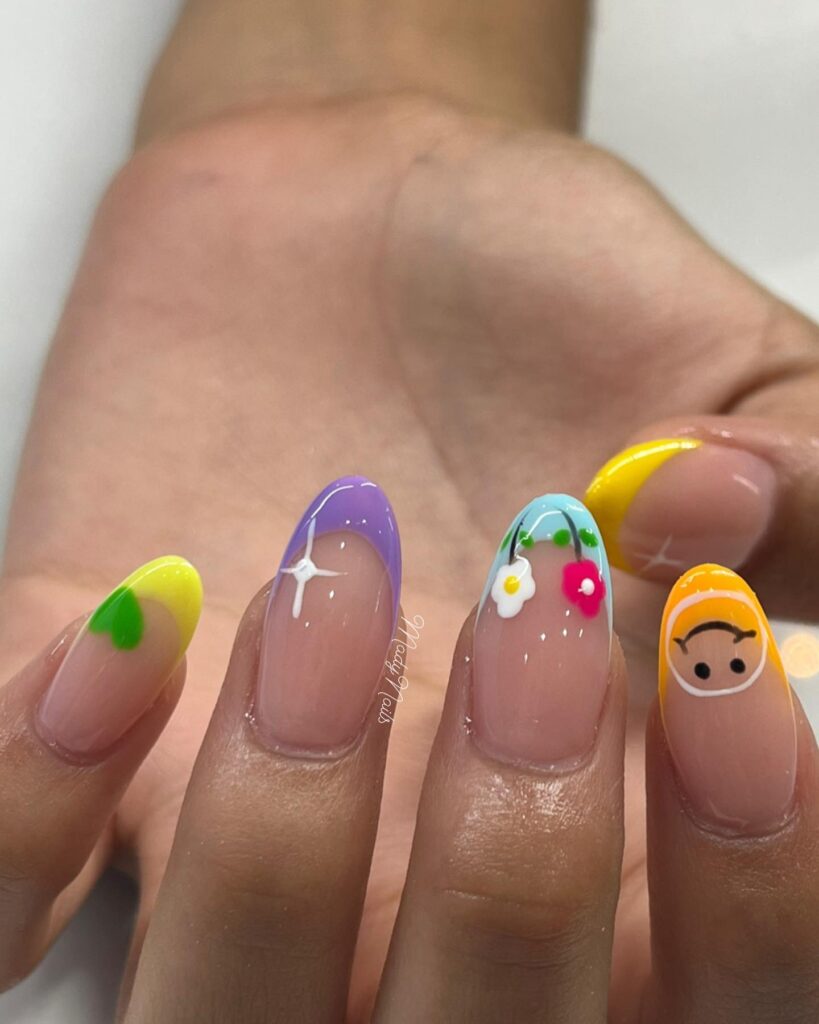 Courtesy: Maday Perez
#36 This spring Easter nail art is just what a minimalist fashionista needs! While Easter nail designs reflected bold hues earlier, the latest ones are all covered in soothing pastel shades instead. The color combination keeps things simple, but the wave sections add an interesting touch.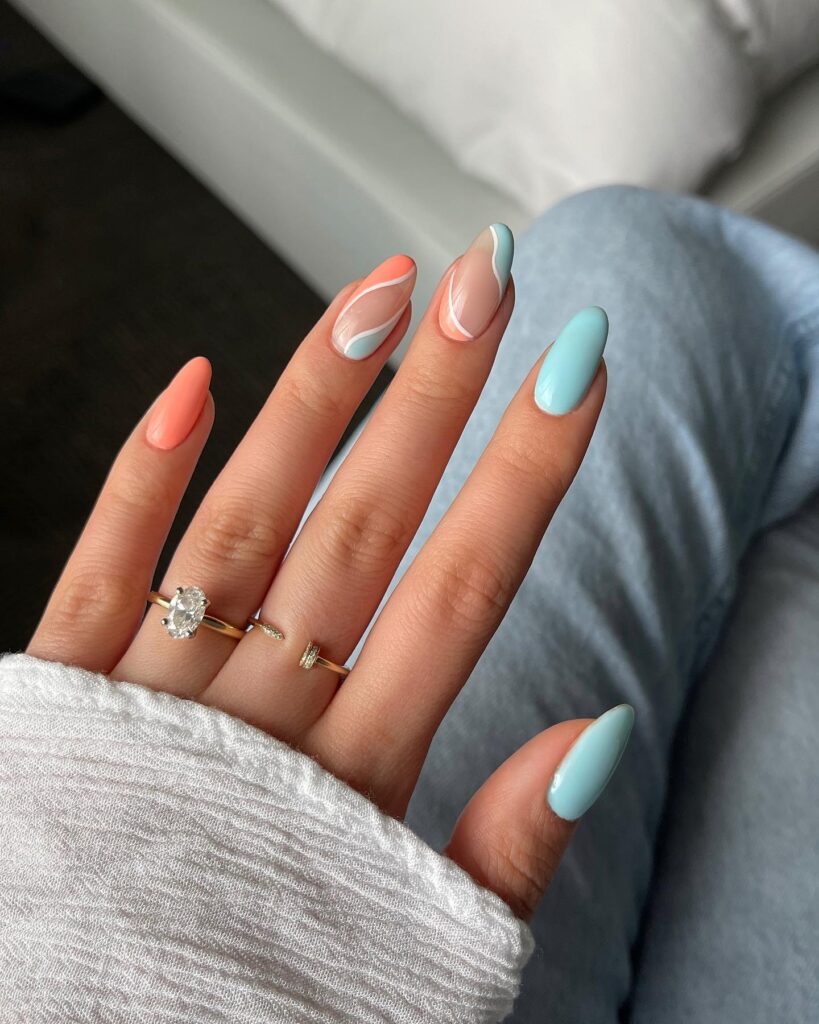 Courtesy: Pinterest
#37 Not just spring, this nail design can be ideal for any season. A versatile and timeless design like this can also work for any occasion, from daily wear to a vacation. This is so easy to do at home if you have the colors in your collection. For those wondering how to get the gold foil print, there's a separate pigment that comes for it, which is easy to use and apply. Finish it off with a topcoat for a wondrous shine.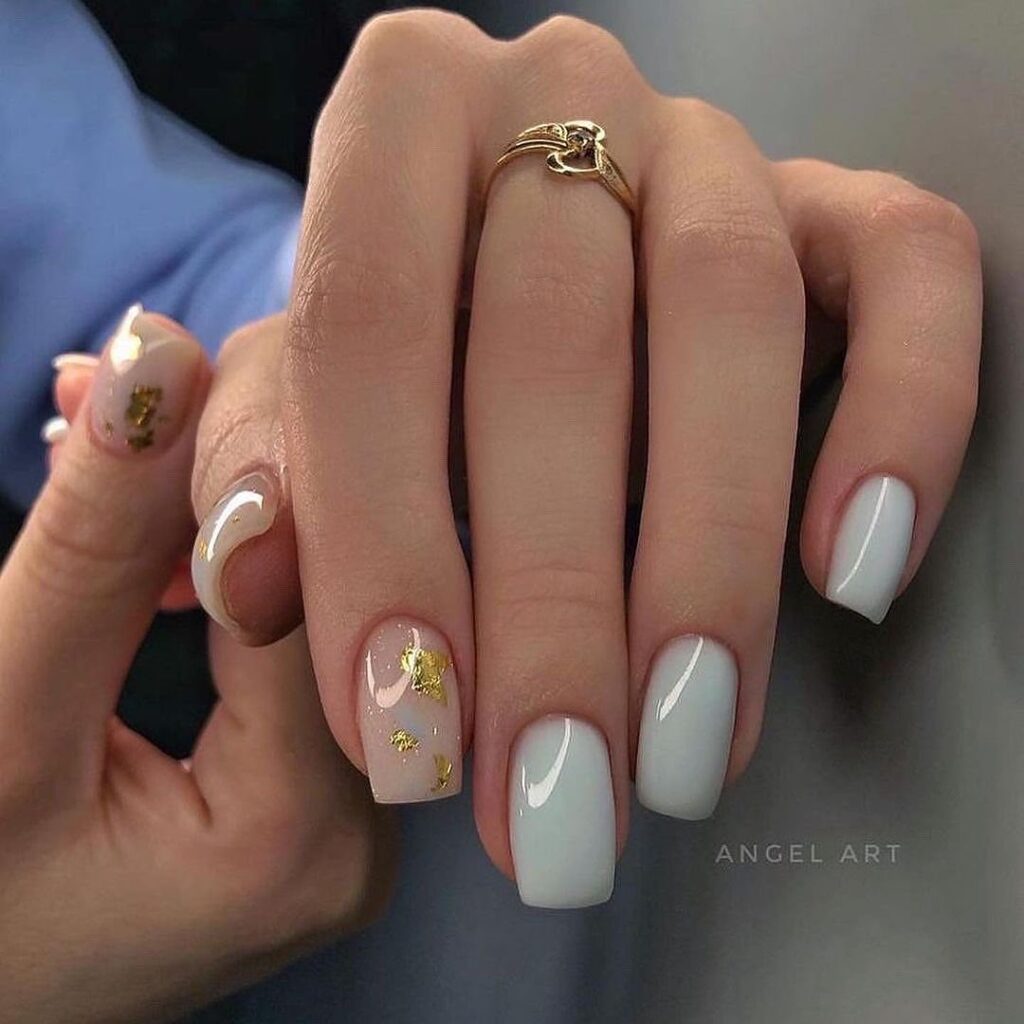 Courtesy: @nogti__idei
#38 Yellow spring nail designs are a big deal and given the hue's association with the spring's happiness and joy, it's a given to include it in your nail art. Here, the yellow is applied only on the tips, and smiley faces & flowers are added to give the manicure more detail.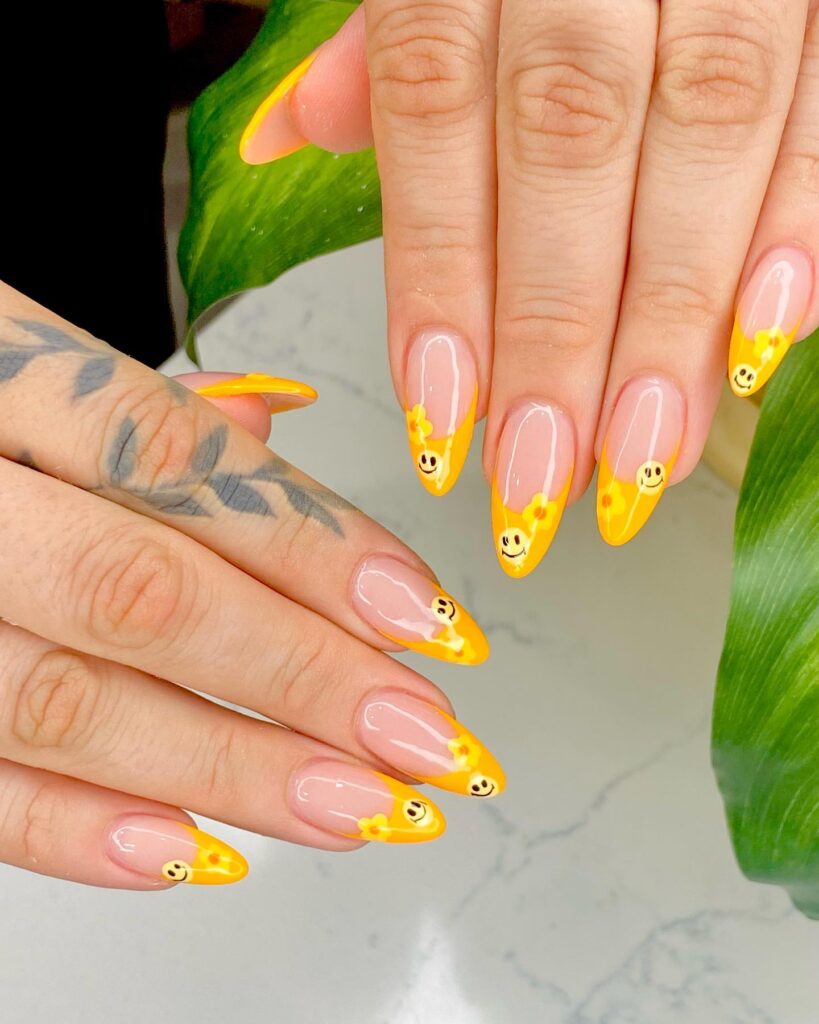 Courtesy: Daniel Tieu
#39 Pastels are associated with optimism and freshness, having a strong psychological connection to spring and new life. Seeing them dominating the spring nail designs space is a given. Here, the pastel nails are amped up by the dots in bright hues for an attractive twist.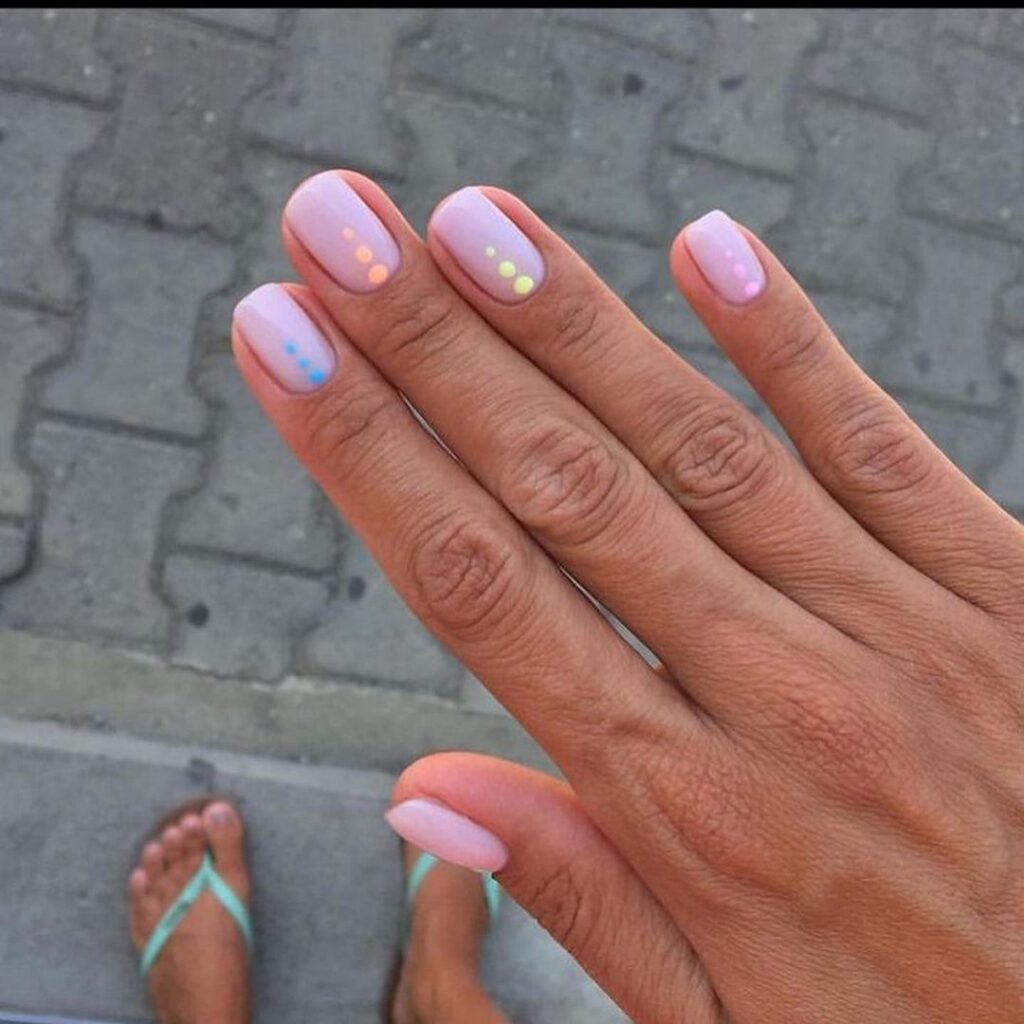 Courtesy: @1000manicure
#40 Sometimes all you need to create an alluring nail art is to combine two colors that have never been combined before. Like the next design, the hues complementing are neon pink and mint green with a hint of pastel purple on the ring finger. If you have these colors at home, it's an easy DIY spring nail art that's both eye-catching and distinctive.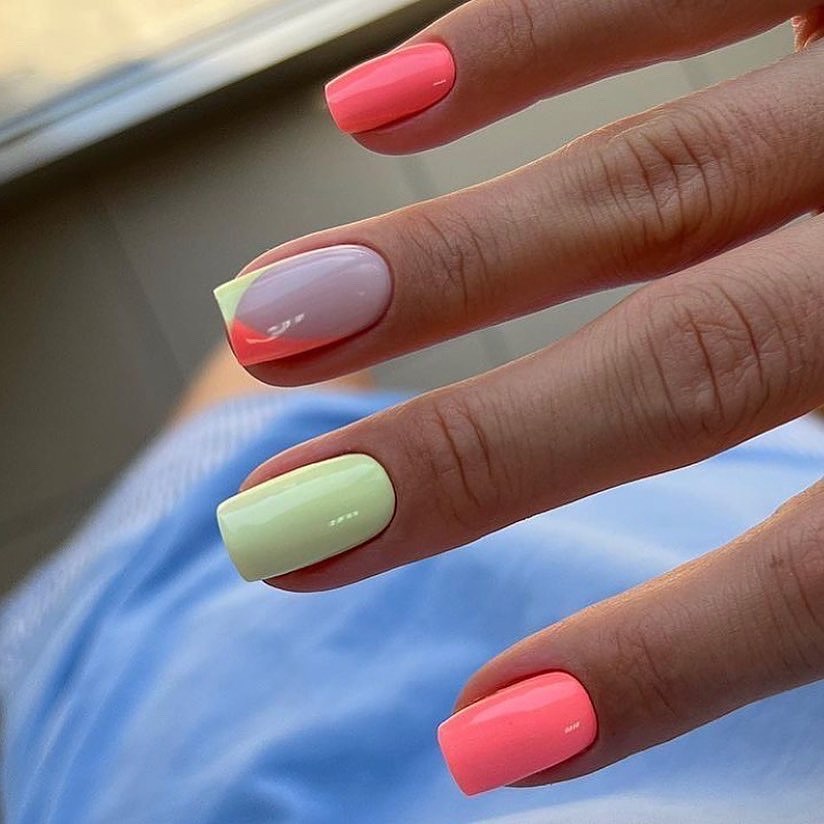 Courtesy: @1000manicure
#41 Cherry trees start producing blooms in the spring season in preparation for putting out cherries. Not only do they make for delicious fruits, but they also look aesthetic on your nail art. Marking an interesting twist on the standard French nail tip in ombre green and cherry sketches, this design is just beautiful.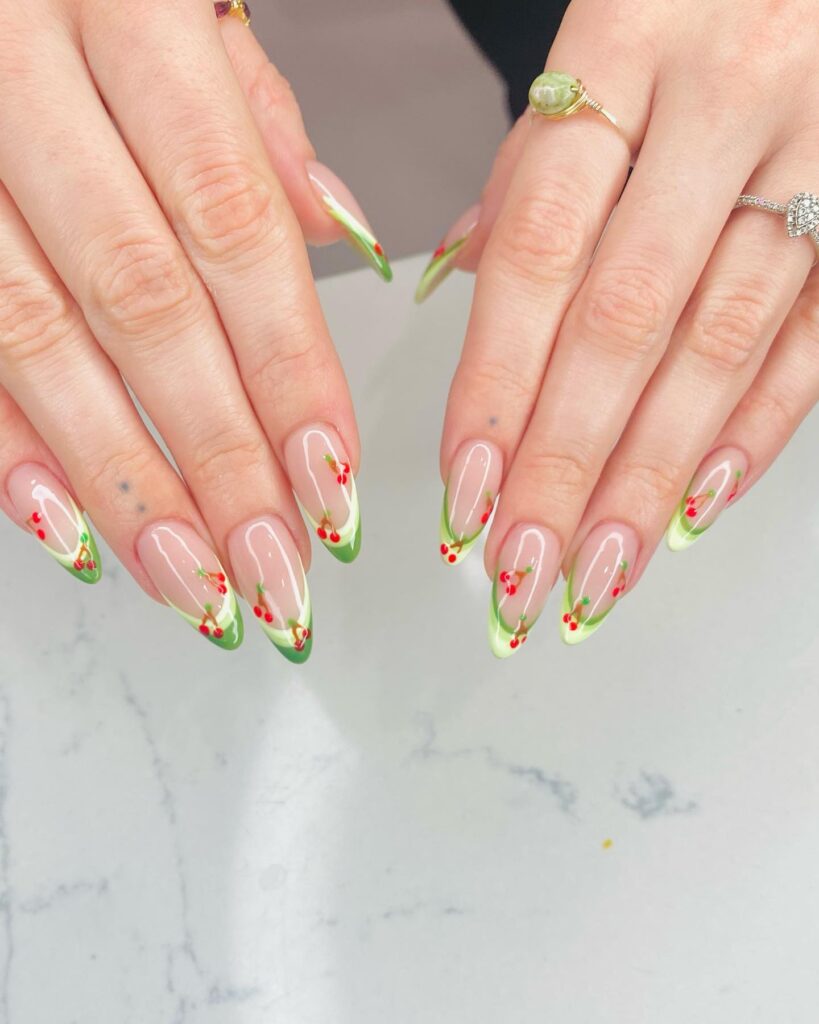 Courtesy: Daniel Tieu
#42 Ombre nails are gorgeous! There's no questioning that! But these blue ombre nails for spring with 3-D white artwork reminding us of the clear blue spring skies is gorgeous on another level. We love how this one of the spring nail designs is mellow and glamorous at the same time.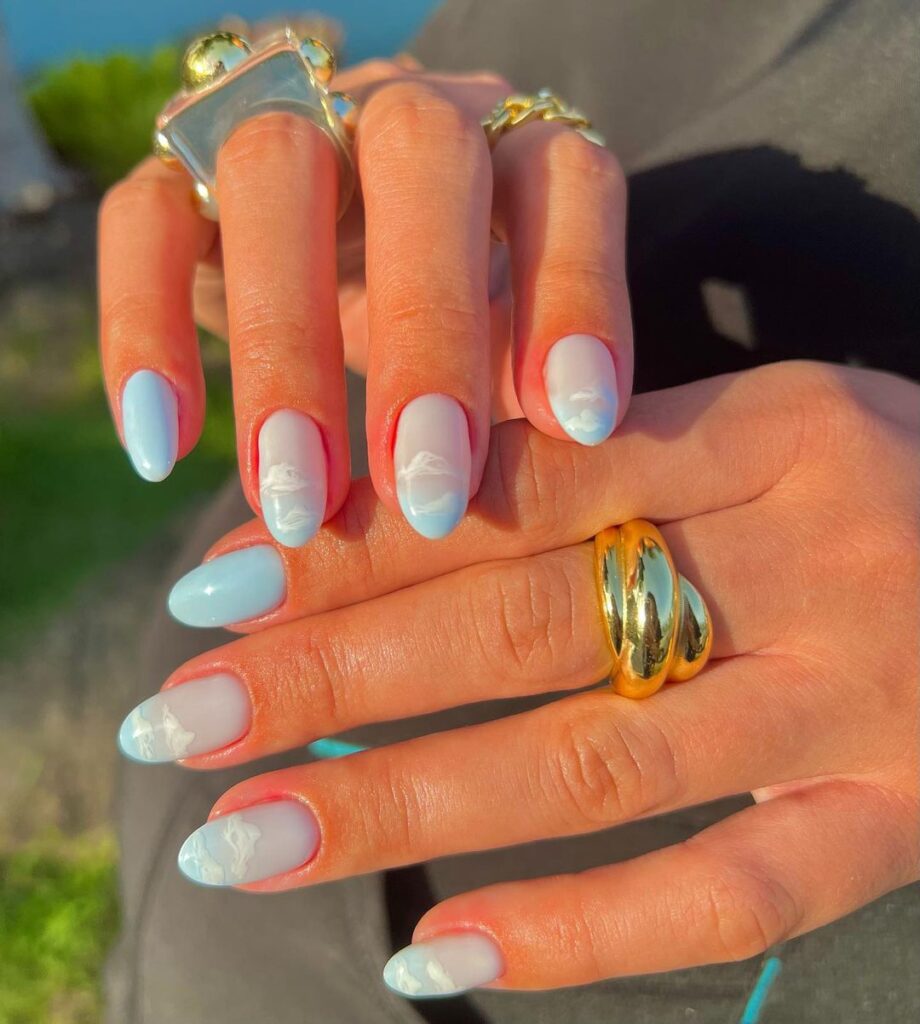 Courtesy: Gel Polish Bar
#43 Limes & lemons have their moment in the spring. It's time to go out, enjoy the Sun, and drink some refreshing lemonade. Taking their spring superiority into nail art is this creative spring nail design for short nails.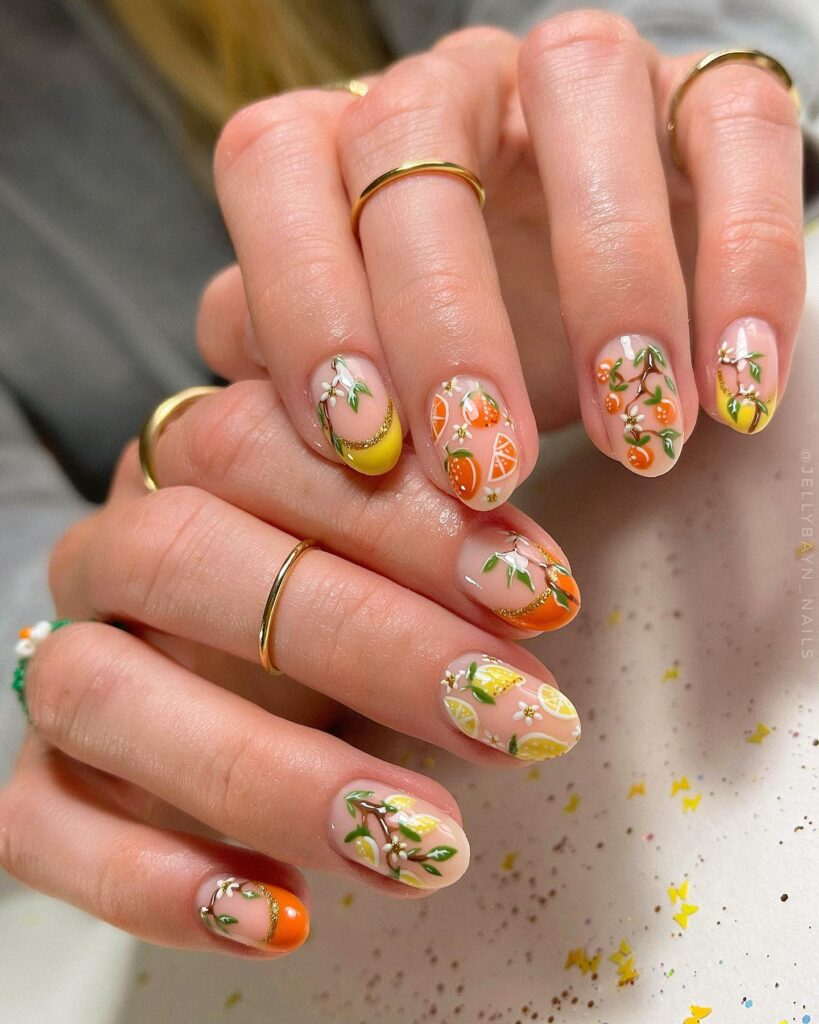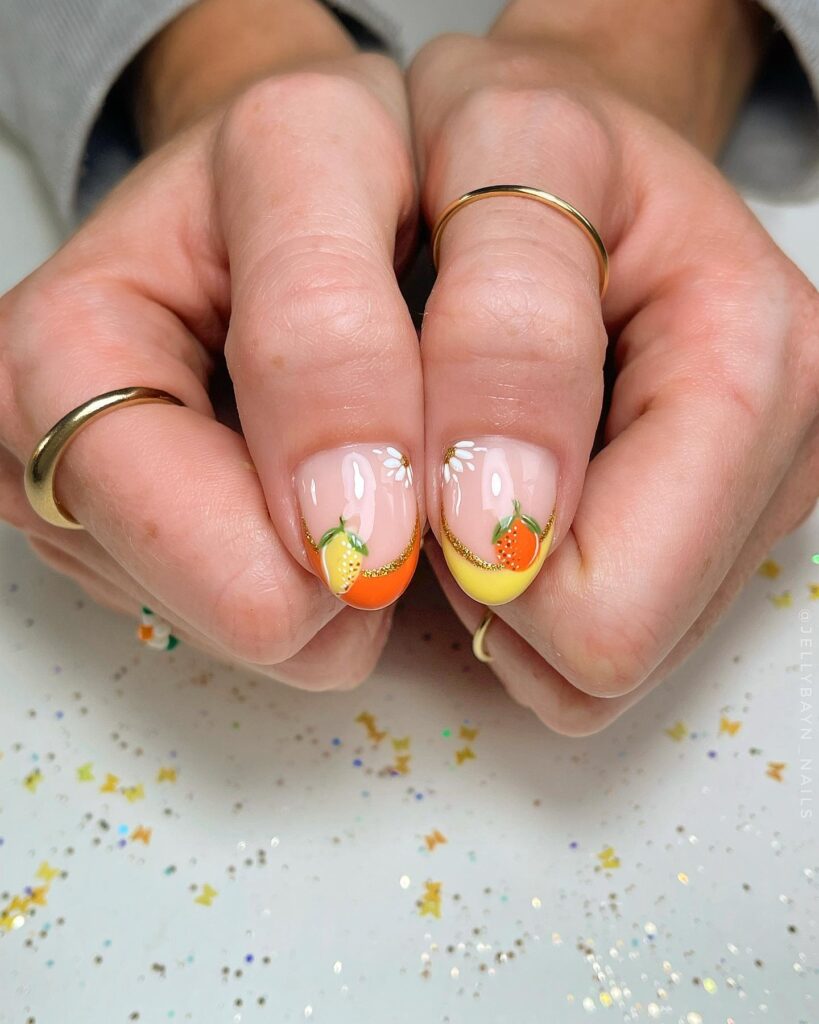 Courtesy: Jema Baynes
#44 Spring is the best time to visit the beach. The balmy sun rays and the comfortable atmosphere after the chilly winter feel peaceful and calm. Bringing the beach to your nail art is this creative twist to the French manicure where the tips are replaced with the beach waves. Don't miss the dolphin on the index nail – an endearing and interesting detail indeed! 
Courtesy: Phoebe
#45 The perfect spring nail designs include some of the brightest shades on the color palette and this one incorporates some of your favorites. Of course, you can stick to just one color if you'd prefer. Once the base is dry, add some sass with a soft glitter coat to finish.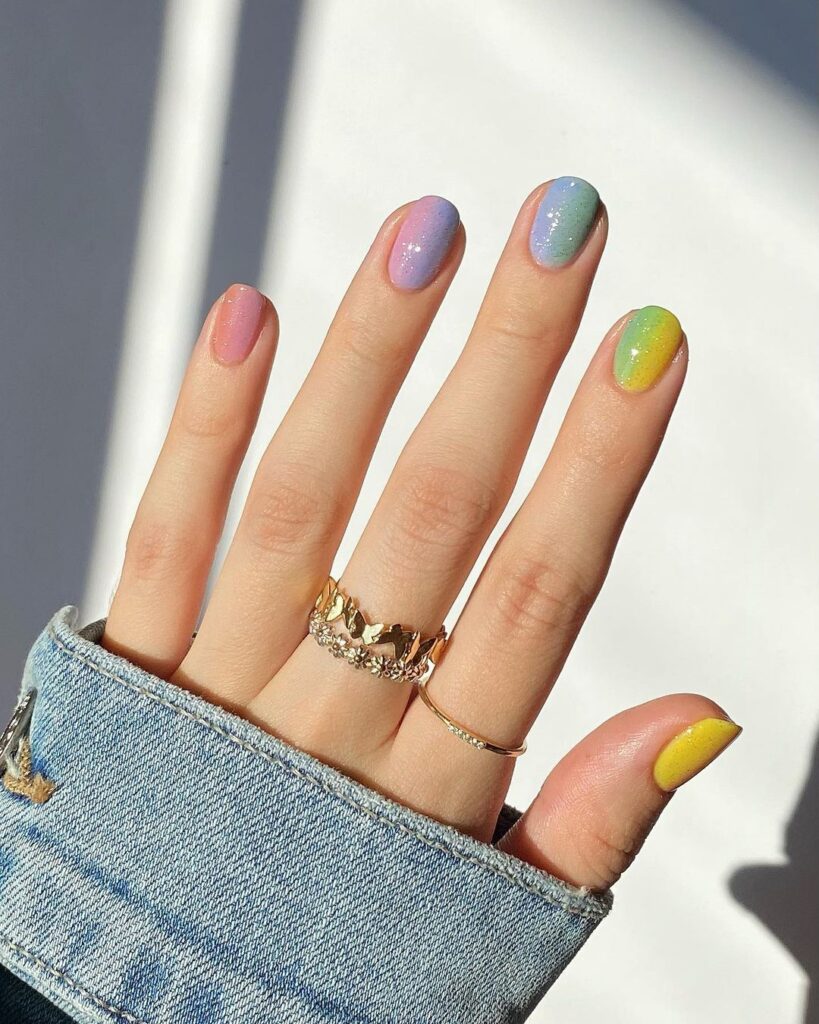 Courtesy: Stefanie
#46 Having different designs on different nails is common, but having distinct ones on all 10 fingers isn't! This is expert-level creativity though because even with the different artwork on all, they complement each other flawlessly.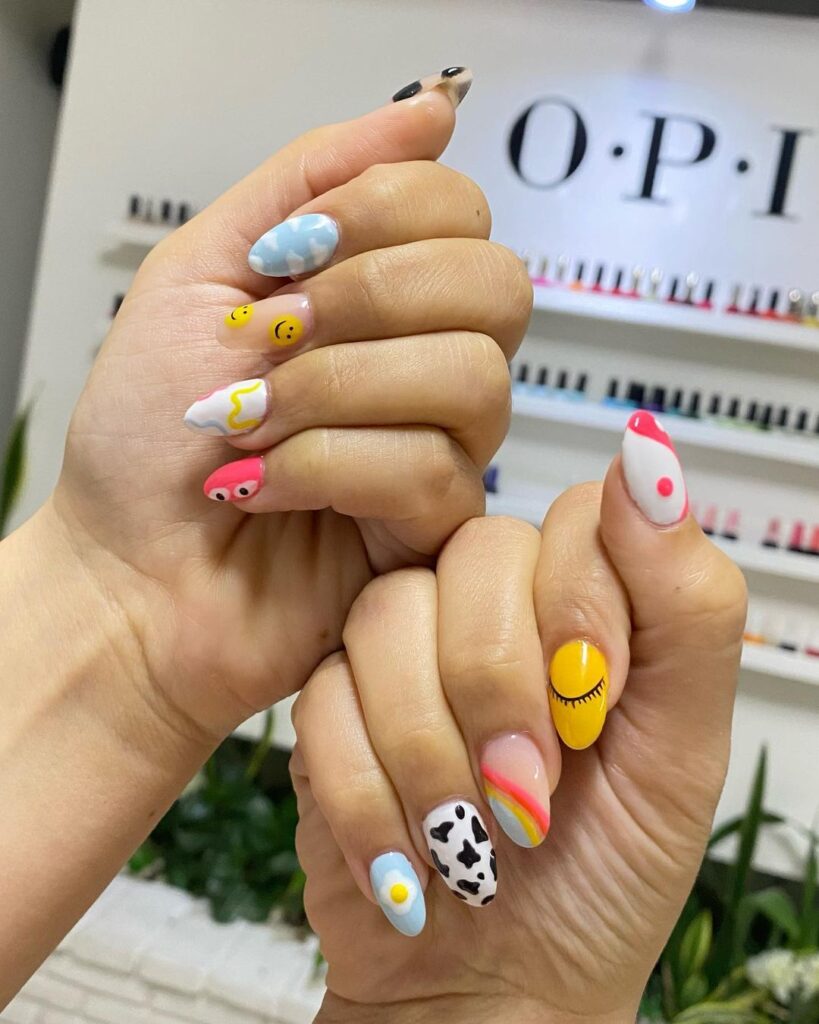 Courtesy: @tsmglitter
#47 The foil print leaves and golden work look elegant on these coffin nails. Coffin nails have been popular recently because they are the most common nail shape sported by A-listers like Rihanna and the Kardashians. Though, for coffin nail designs, you'd have to pick the art wisely so it complements the nail shape.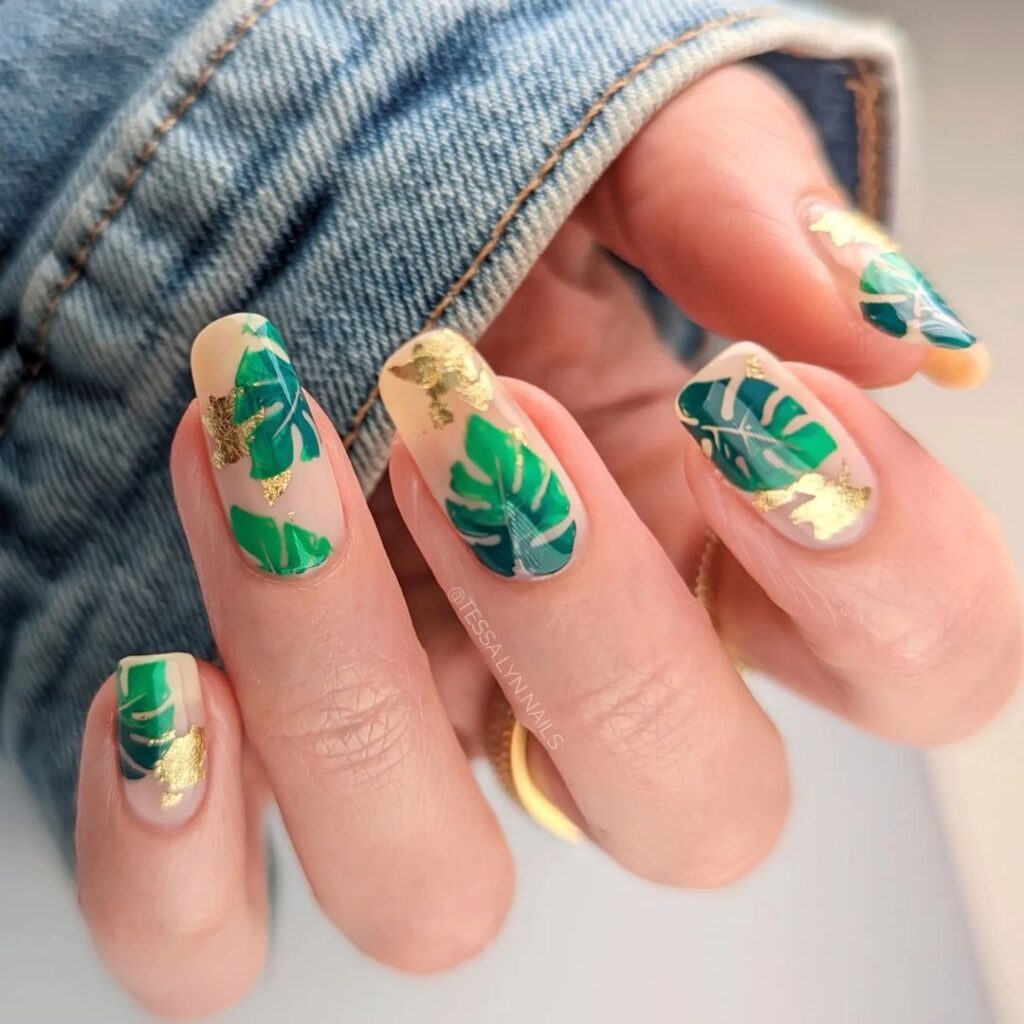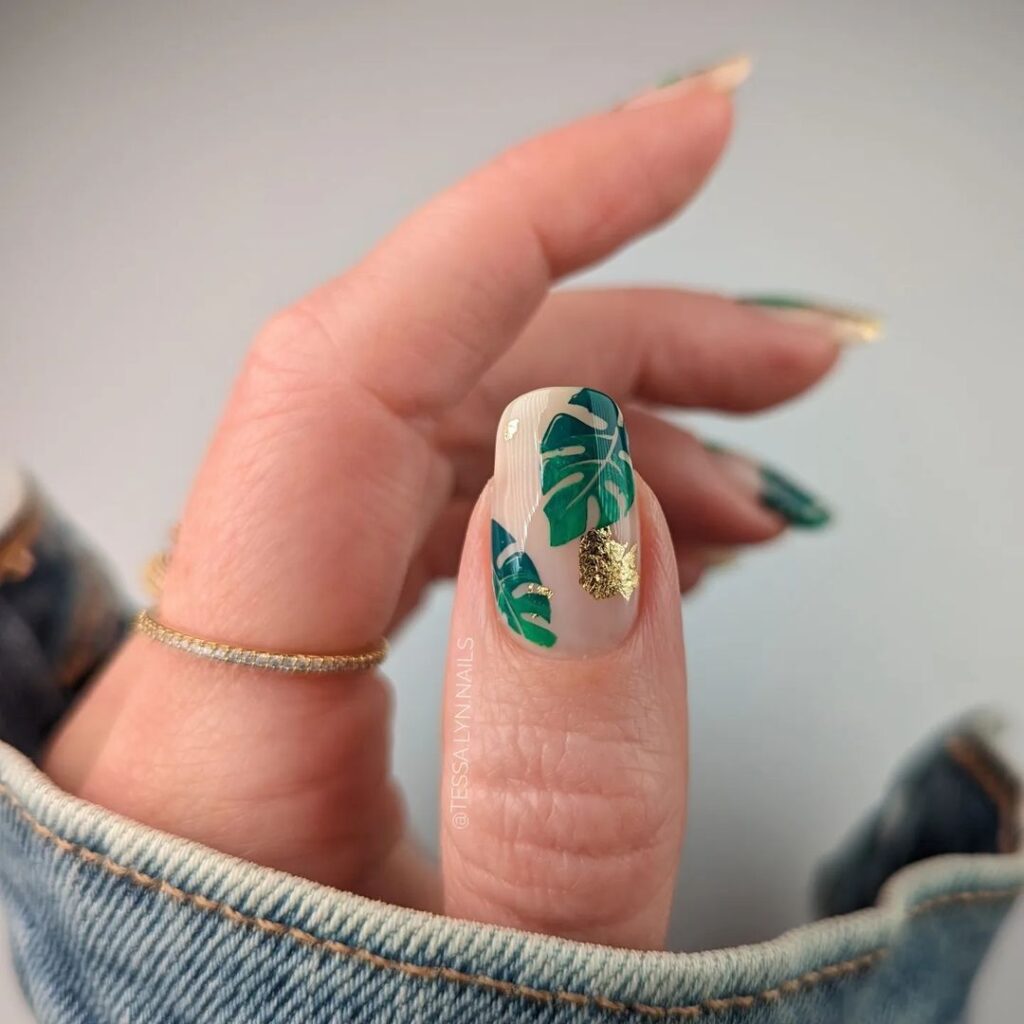 Courtesy: Tessa
#48 Incorporating rainbow colors into your nail art is captivating and aesthetically pleasing. While there are many ways to embrace these colors in your nail art, these swirly lines look minimal and glamorous to include in the nails.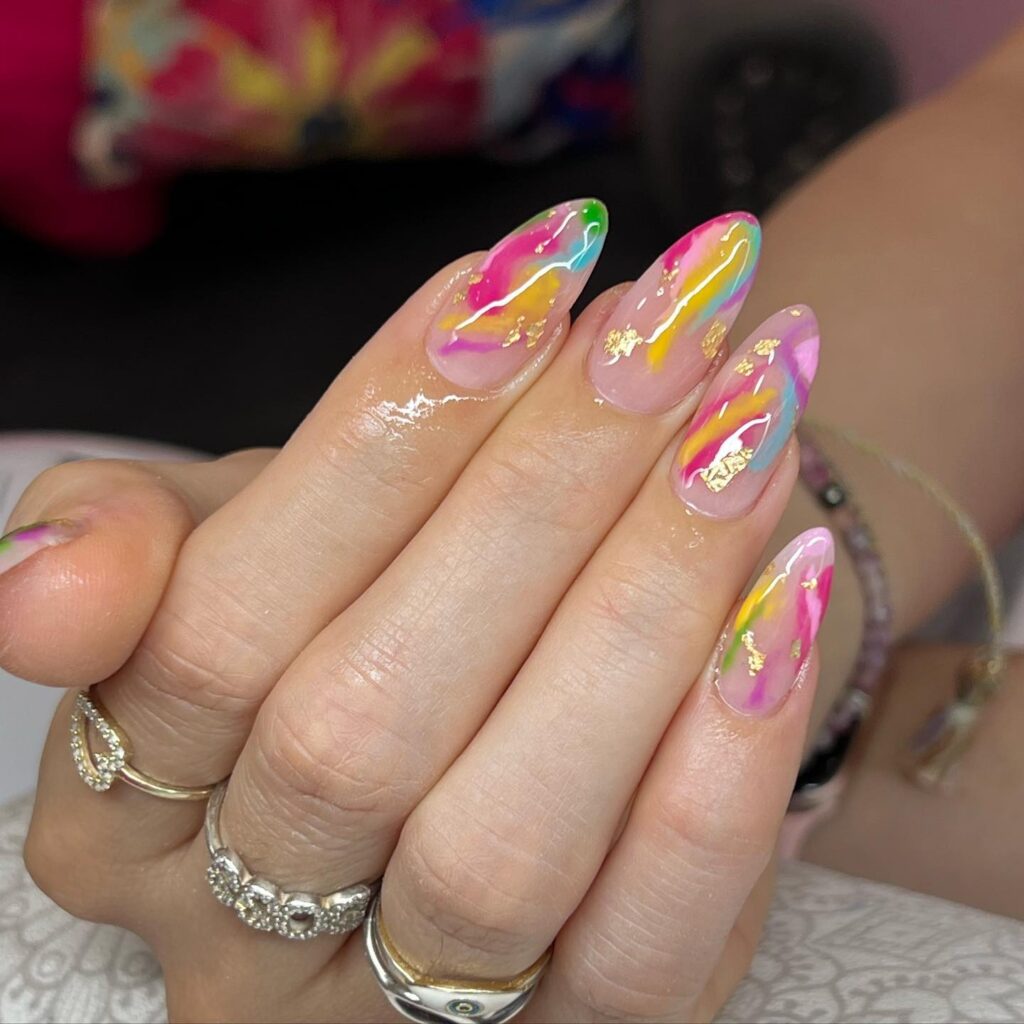 Courtesy: Evelyn NL Nails
#49 Yet another rendition of beach waves into your nail art, which is spring-relevant and artistically pleasing. This is one of those spring nail designs which needs to be done professionally to recreate the same intricacy and allure.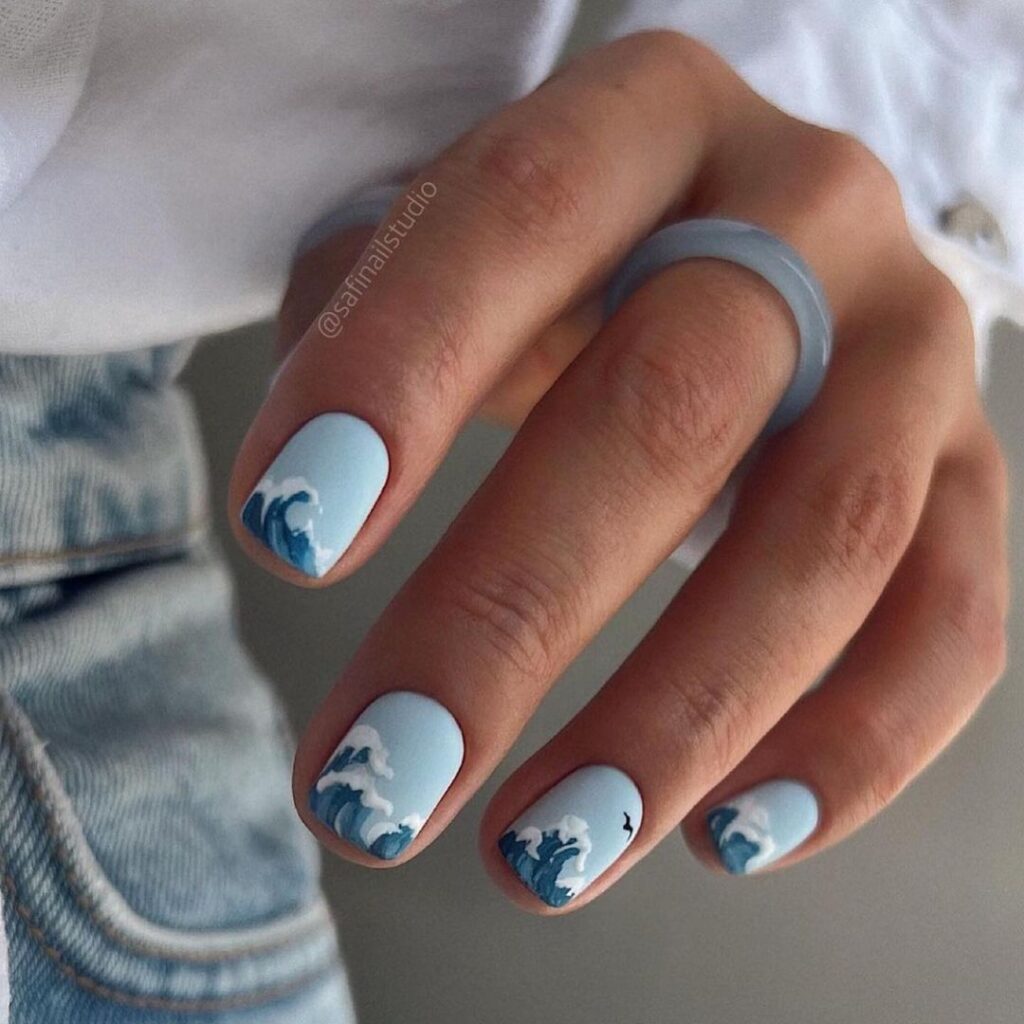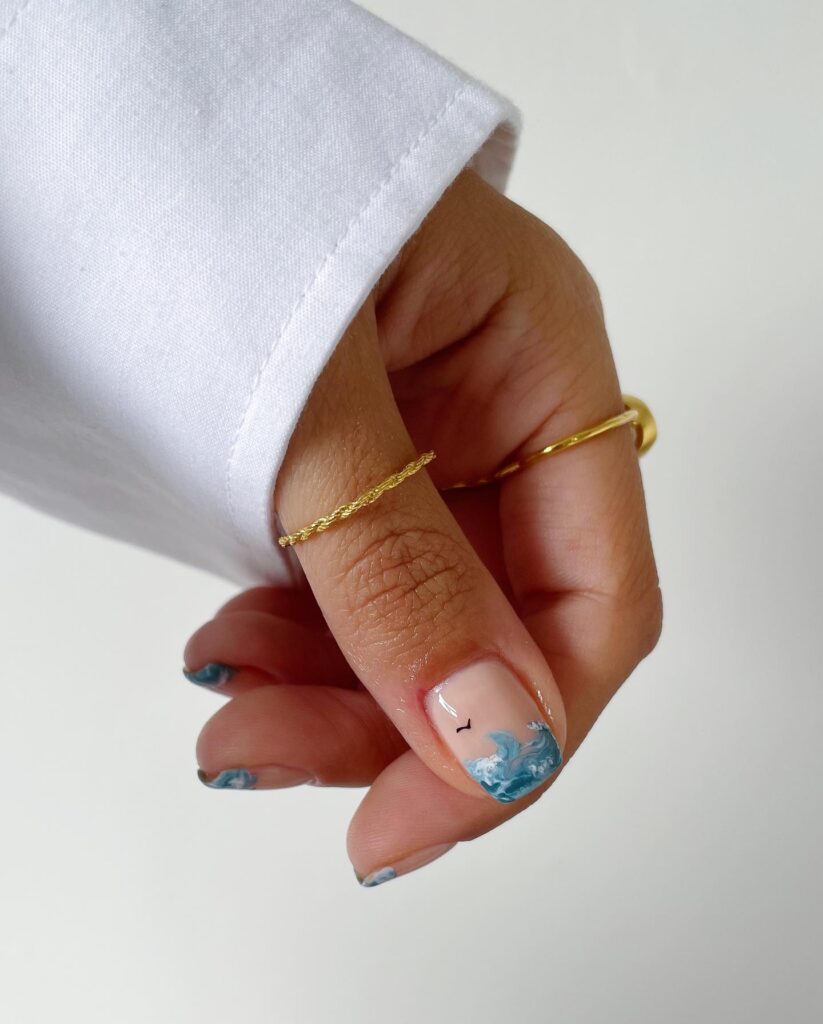 Courtesy: Studio by Elvira Safina
#50 Monochromatic nails are all the rage these days. Black & white nail designs are classic and work on every outfit or occasion. The next one, however, also includes some vibrant shades in the middle so as to honor the spring season.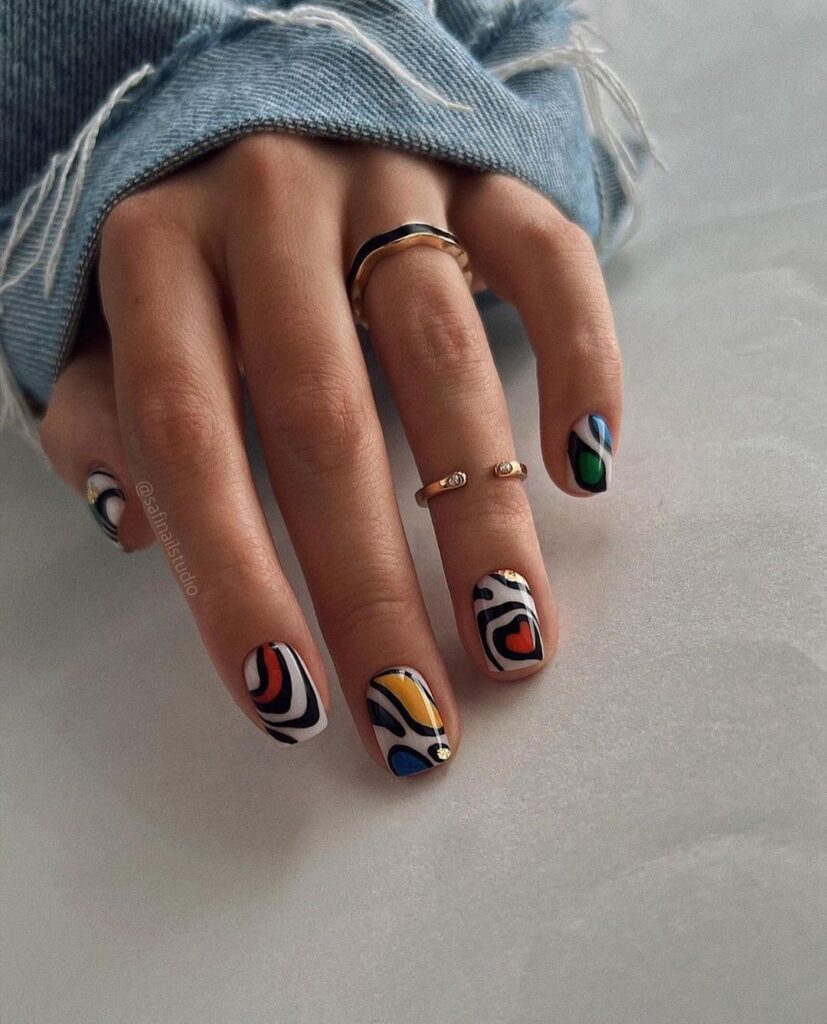 Courtesy: Studio by Elvira Safina
#51 Abstract nails are another huge trend this season. They are characterized by lots of negative spaces erratic swoops, chunky dots, and random swipes. The result is an eye-soothing and intricately complex design which wins the heart in one look. Here, just two colors create a color-blocking effect on these perfectly shaped almond nails.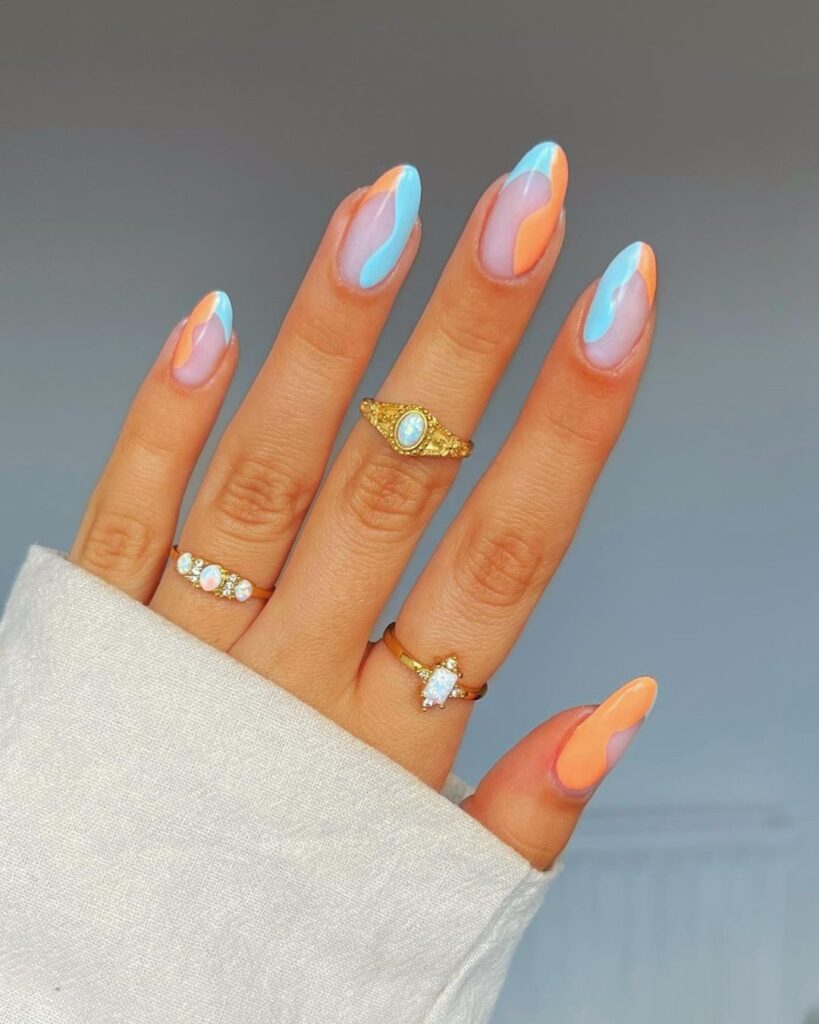 Courtesy:
#52 Give your usual French manicure a spring twist with these endearing butterflies in royal blue. Butterflies represent hope, positivity, comfort, and change and transformation. Traits are perfectly synonymous with the spring season. Radiate these qualities with your nail art by including these symbolic creatures in your design.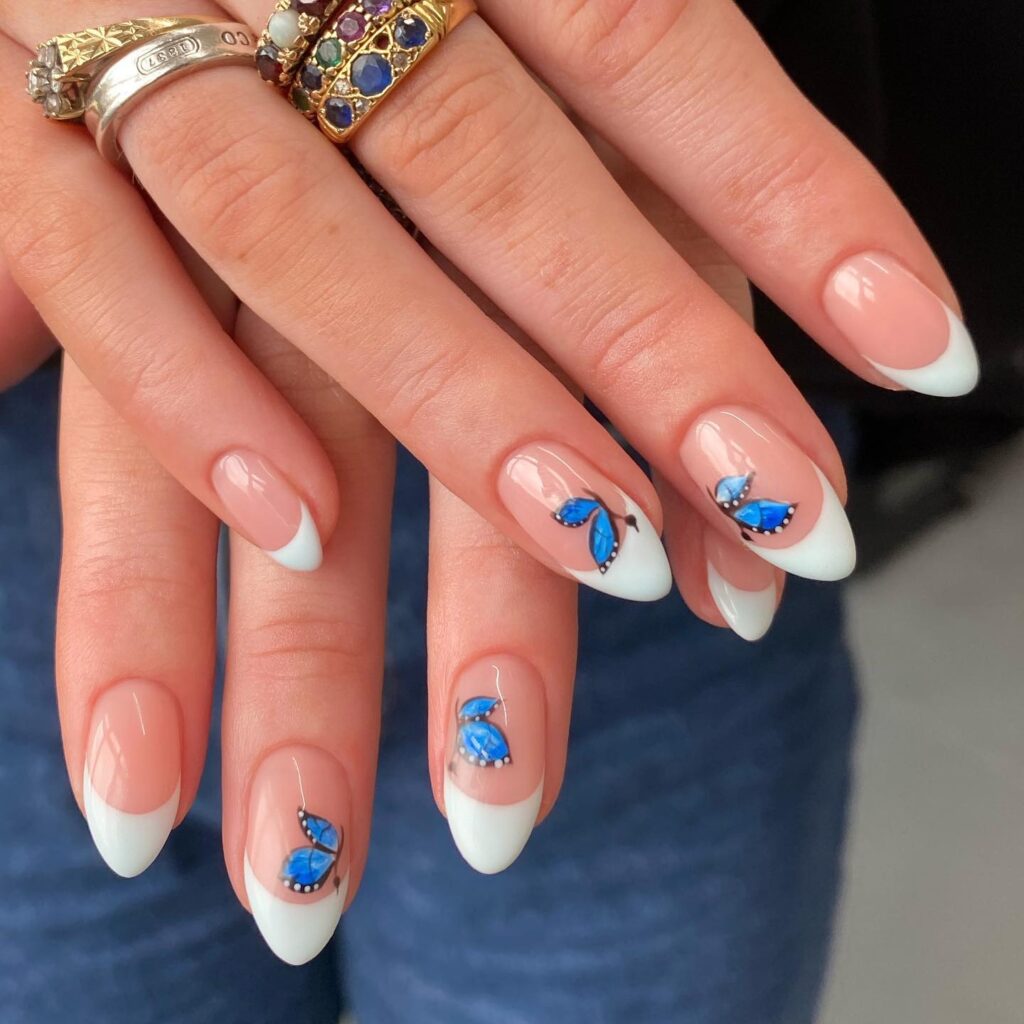 Courtesy:
#53 For all my classic girls out there who don't like experimenting with nail art much, here's a glamorous twist on your usual versatile French nails. Just add a dash of glitter and fill the white polish diagonally on one nail, and you're good to go!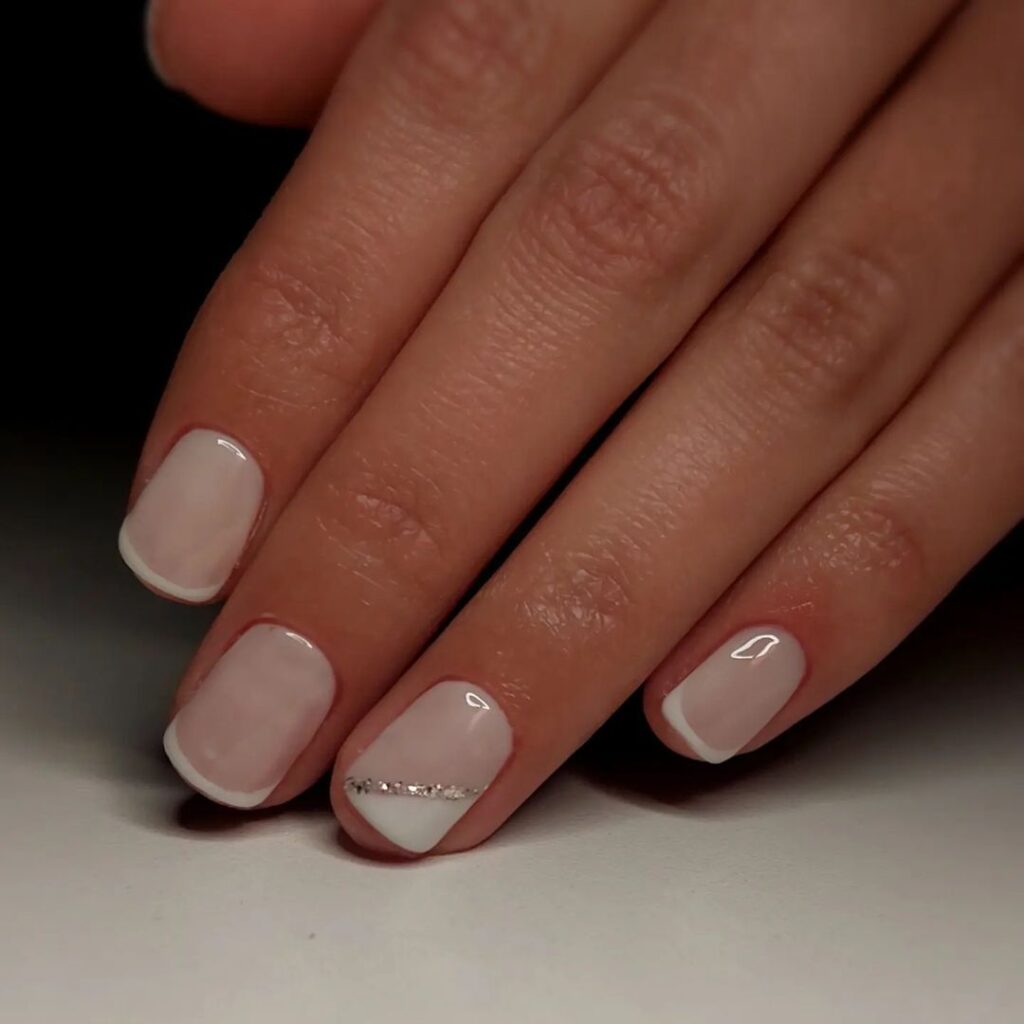 Courtesy:
#54 Pick your favorite spring colors and let your professional nail artist get them on your nails with such creative appeal. The mix of light and dark shades of the same color as it blends nicely into the white nails is just a work of a true artist. These coffin spring nail designs are truly inspiring.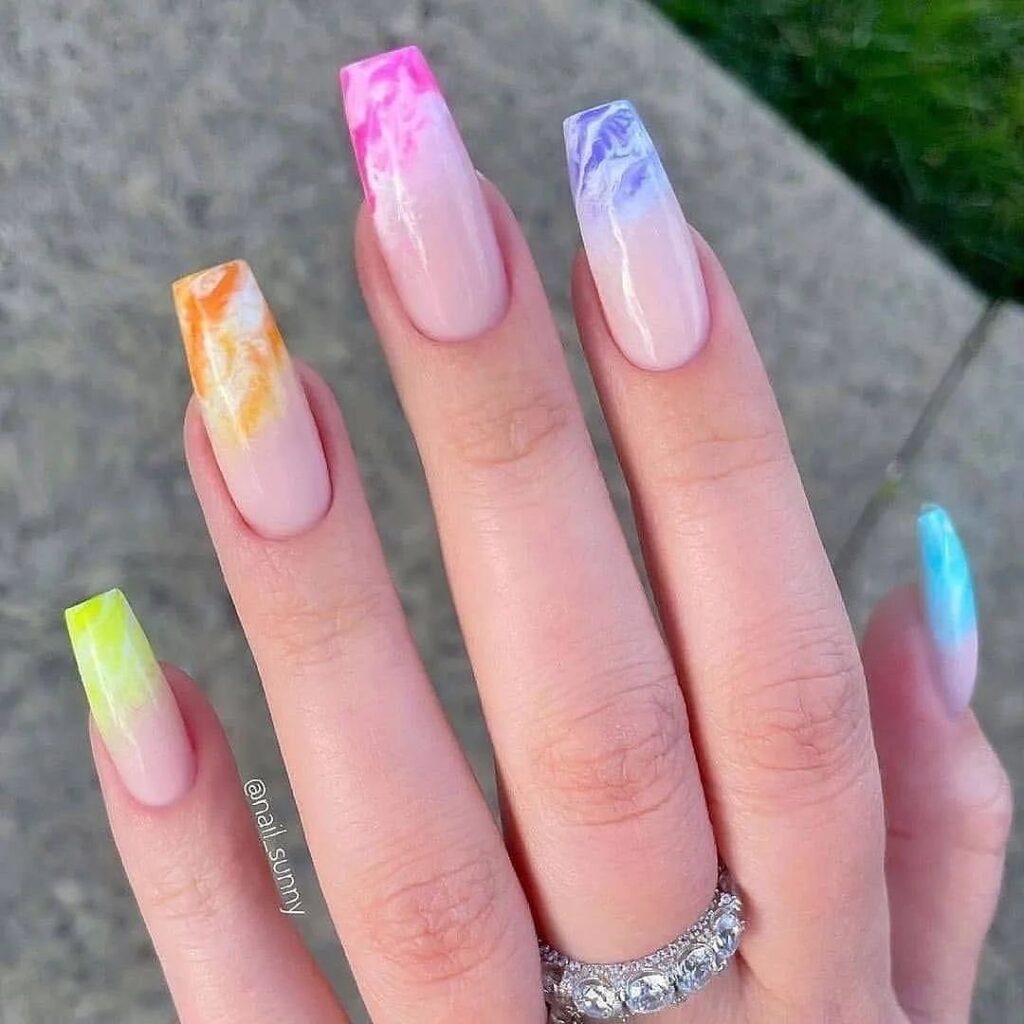 Courtesy: @nail_sunny
#55 These spring nail designs are all about beautiful colors and here's another one that combines the brightest shades of the season. With a different design in each one of them, from smileys to checks, florals, and polka dots, there's a lot of complementary art and colors in just one design.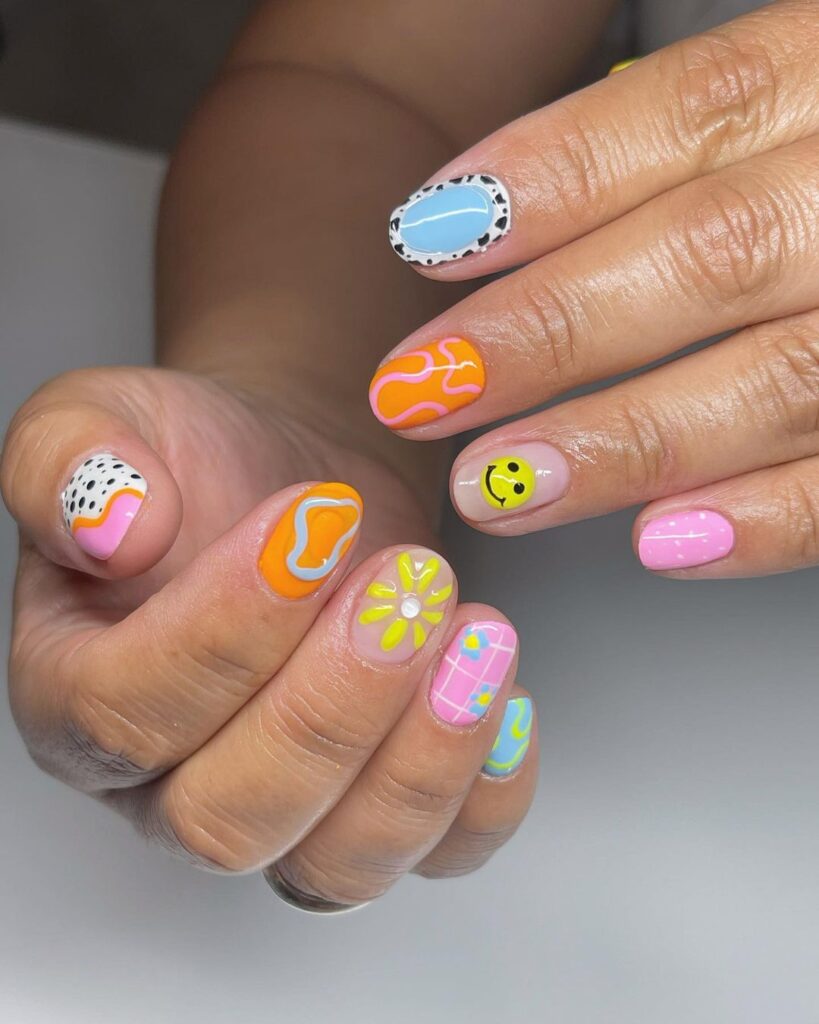 Courtesy: @glitteredtips
#56 Short spring nail designs are also popular because of their easier maintenance and practical usage. Here's one that's chic, classic, and super cute for the spring season. We love how these typical nude nails are enhanced by golden minimalistic art.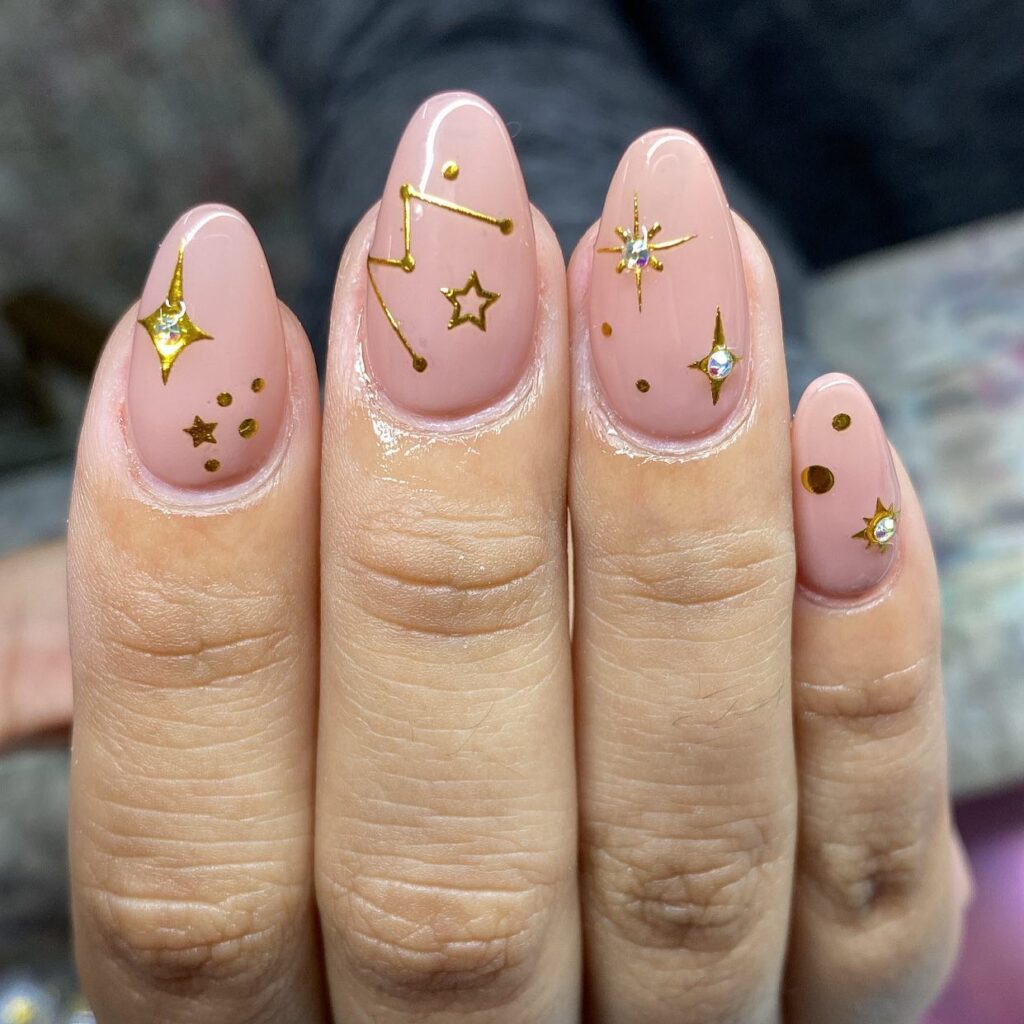 Courtesy: @alejandrao_nails
#57 Gloss nude nails are also sought-after, especially the ones that are minimally enhanced by some colors and designs. Here, the hues are bright – representing the season and the design is abstract keeping up with the current trend. This is an easier abstract nail design though and can be easily done at home.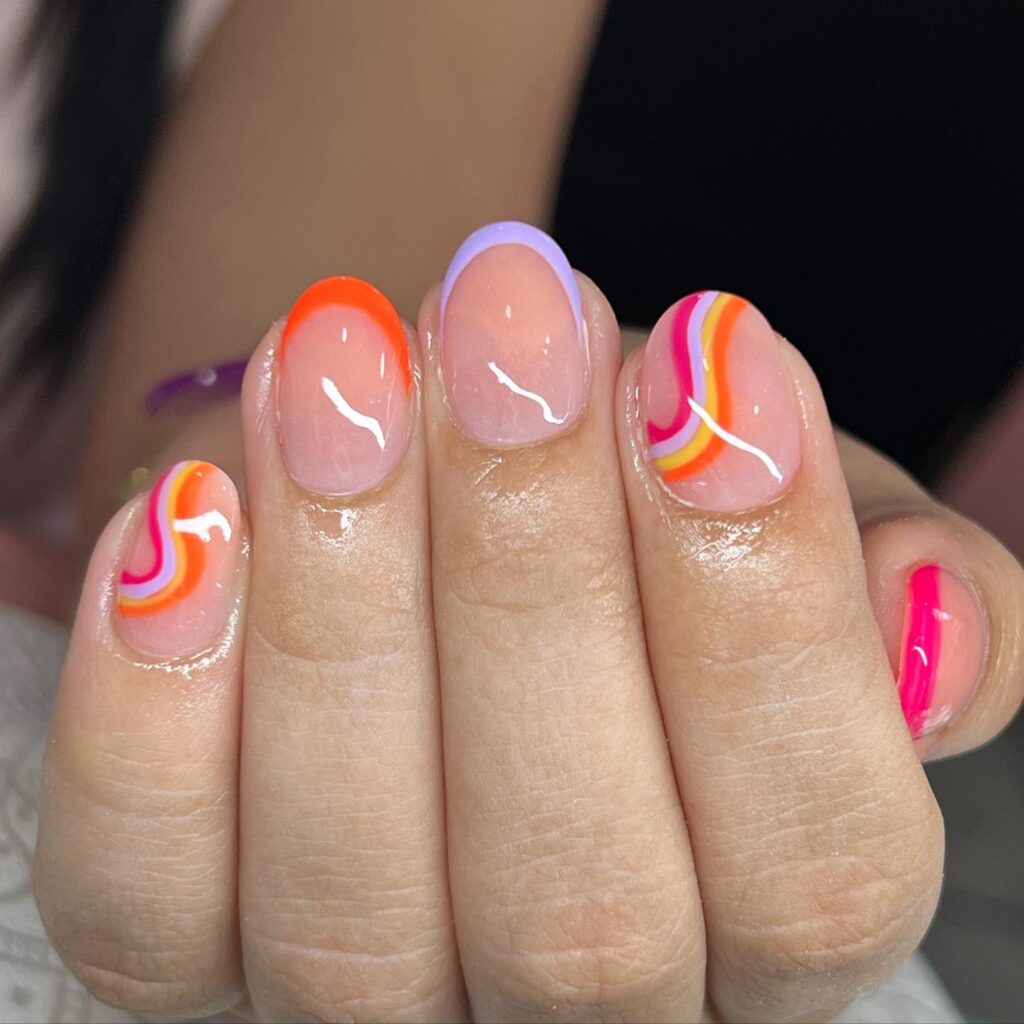 Courtesy: Evelyn NL Nails
#58 This abstract spring nail design is oh-so-gorgeous. The soothing pastel and warm shades combined with such flawless art is both eye-catching and charming. This one of the spring nail designs is some high-level professional work and we'd recommend to only trusting an expert to recreate this for you.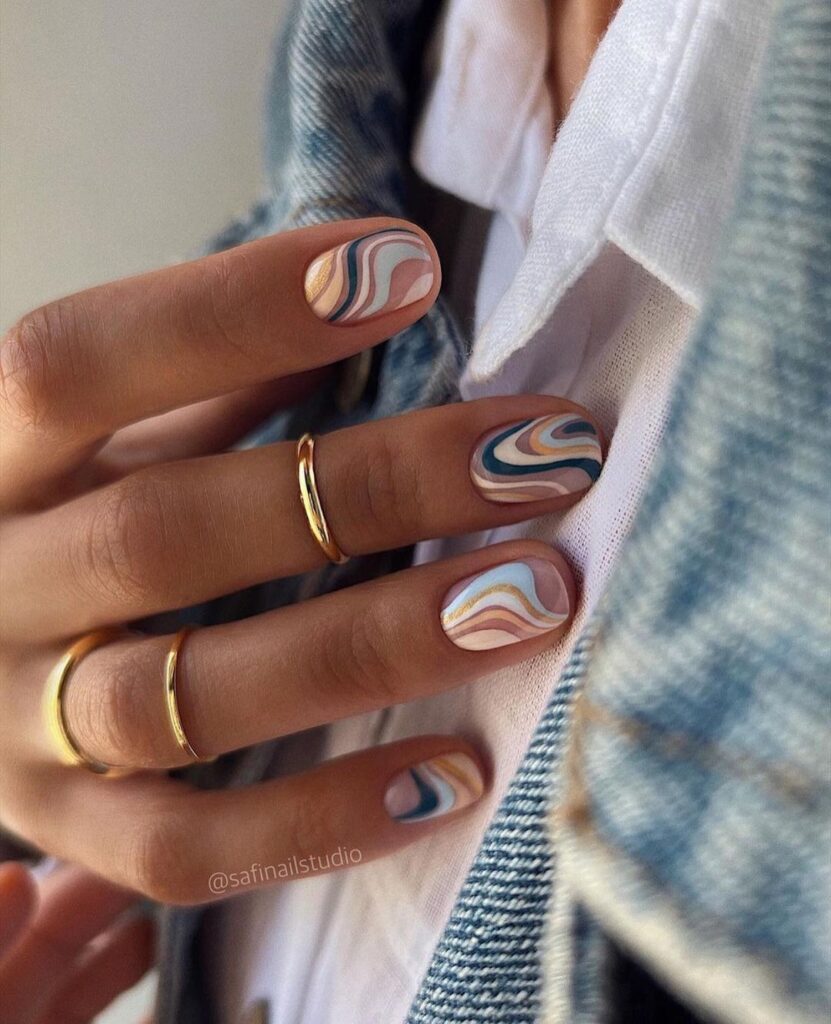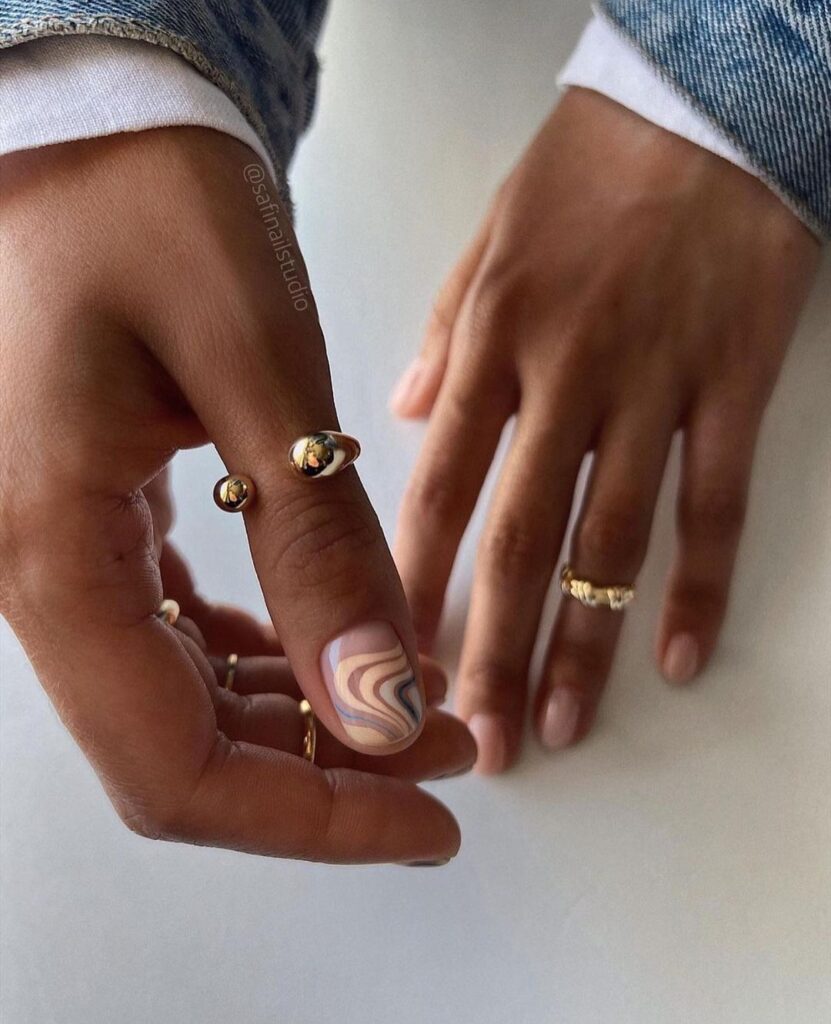 Courtesy: Safina Nails Studio
#59 We absolutely adore this spring nail design for short nails. It's easy enough to do at home and yet gives an artistic vibe just like a professional nail salon. You'd need just need the basic nail design tools to DIY this.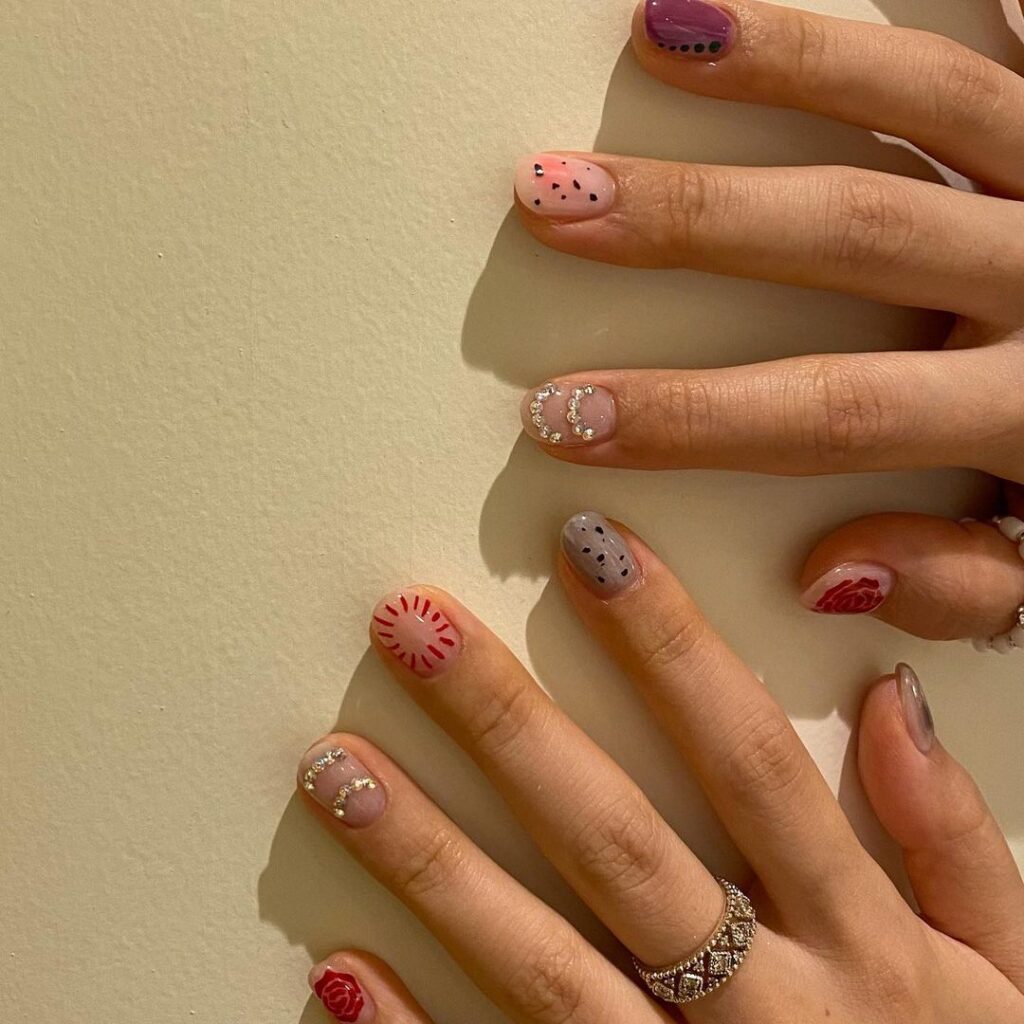 Courtesy: @b.by_you
#60 Coffin nails are "THE" celebrity nail trend. Sported by A-listers like the Kardashians (especially Kylie Jenner) and Rihanna, coffin nails are worn on long nails and are named so because their shape resembles that of a coffin. If you want to try this raging trend, here's a coffin nails spring design to inspire you.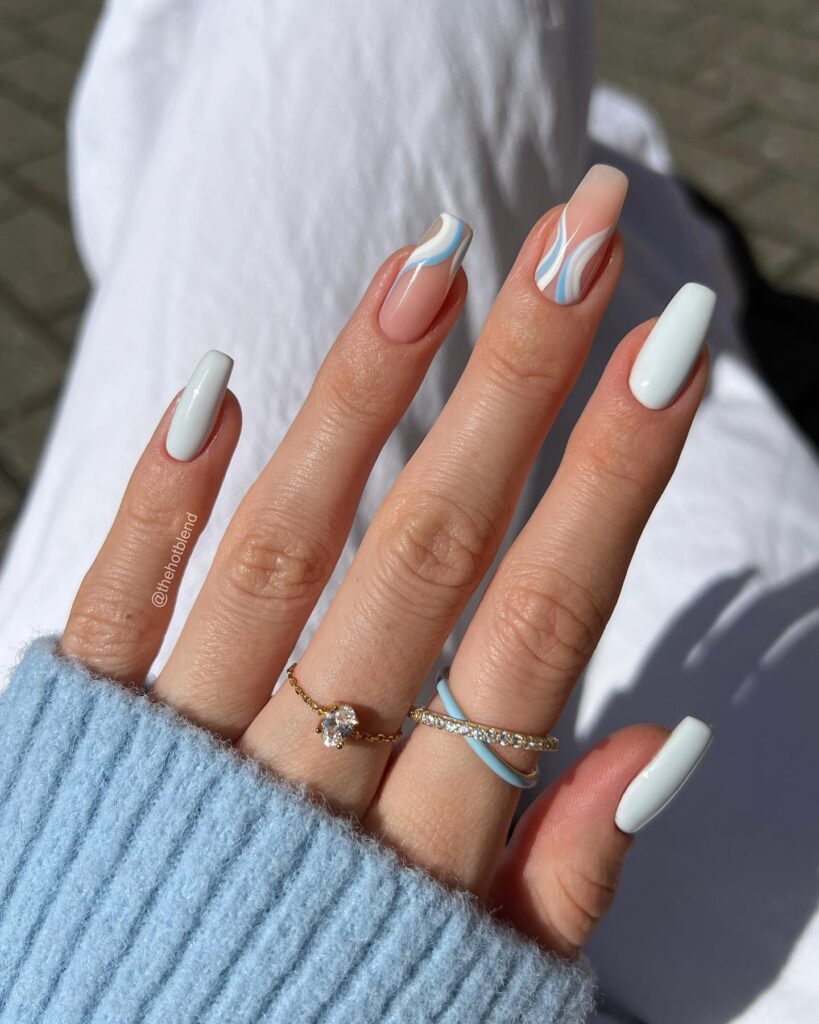 Courtesy: @thehotblend
#61 Neon is quite popular in nail art, especially when the weather warms up. You can often also see celebrities sporting neon colors in summer. There's some sort of recharged energy in the air that people are expressing by neon shades. You can blend your favorite neon hues for an ombre effect on each nail.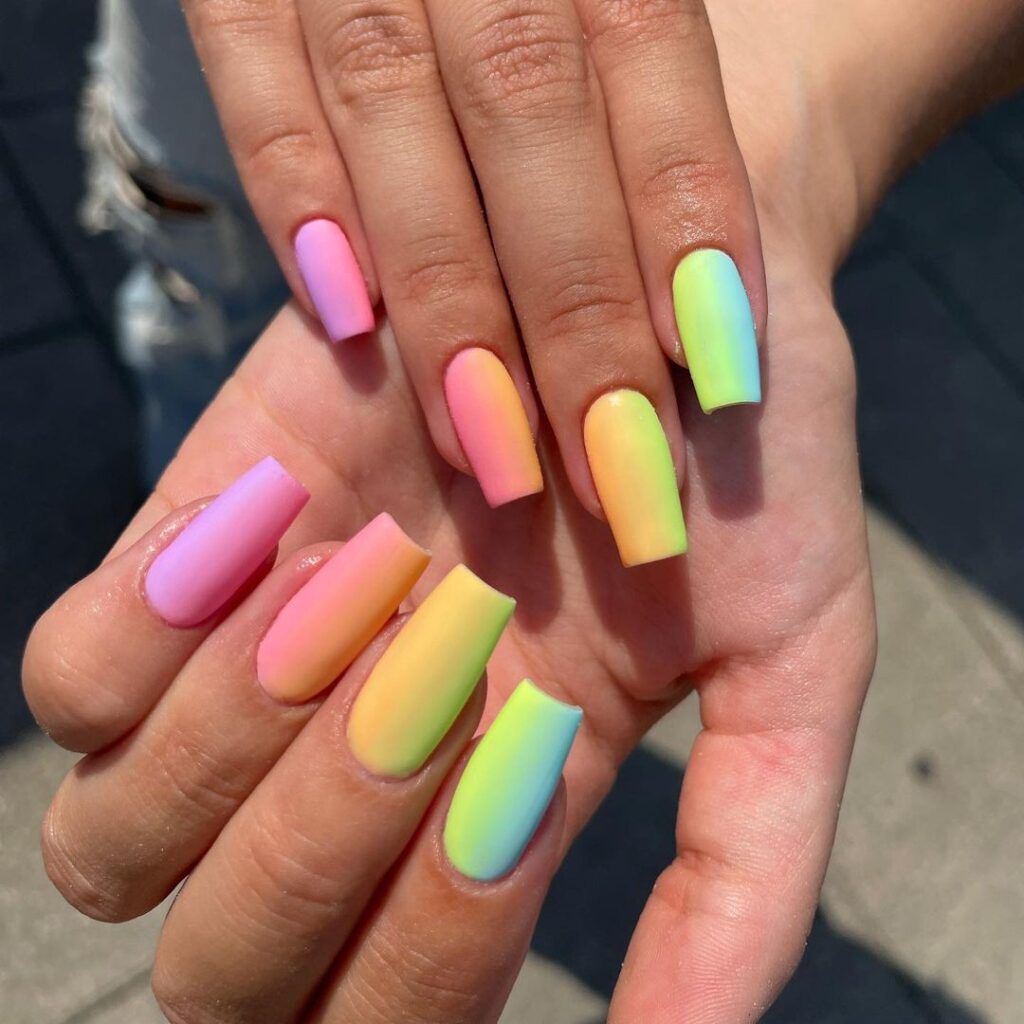 Courtesy: Instagram
#62 These spring nail designs gel are done in clear nude nails with pops of soothing hues like blobs making an appearance. Calm down – it's not nearly as complex as it looks. And besides these colors, you can use the one available to you at home. Apply a small blob with the brush, let it dry, and repeat with the same colors. Cover them all with a top gloss coat.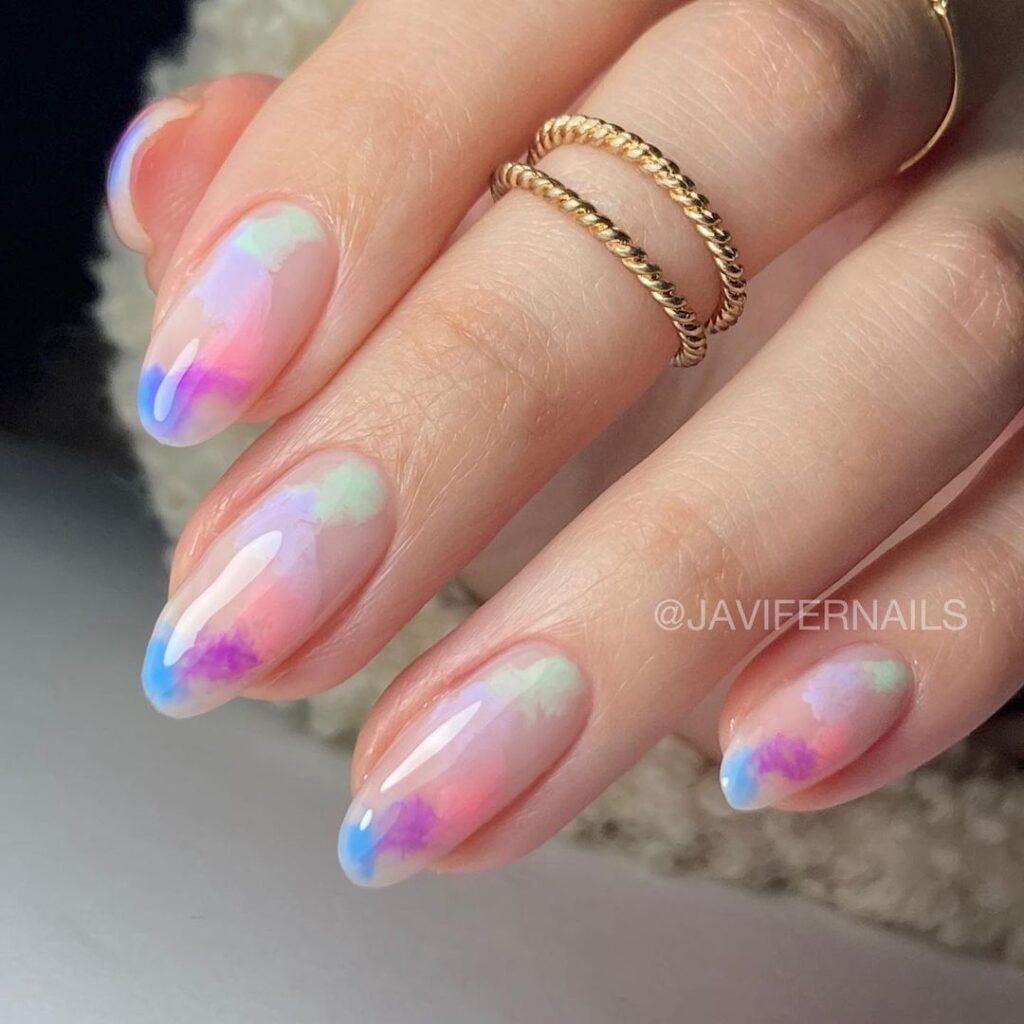 Courtesy: @javifernails
#63 Yellow spring nails are popular, and yellow definitely is one of the best spring colors to incorporate into your nail art. Though, you can add some playfulness to the usual spring yellow nails by painting the middle two nails in French tip style instead.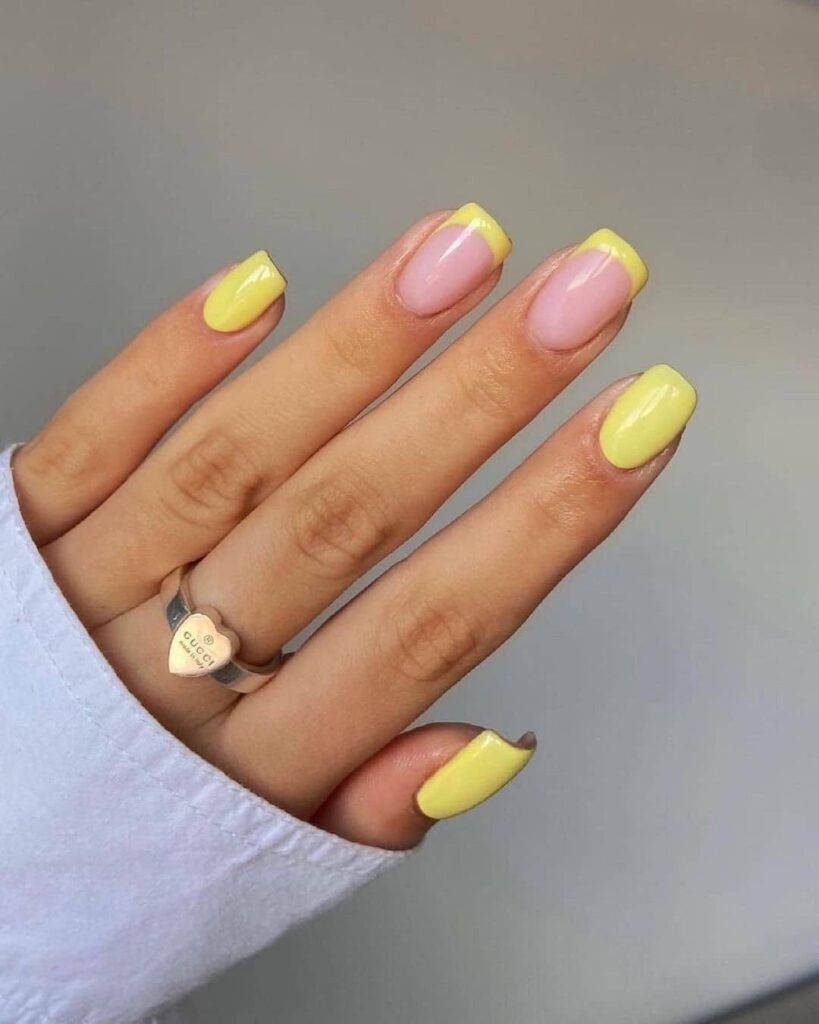 Courtesy: Pinterest
#64 These neatly-cut square nails have our hearts! The eye-to-detail of the expert artist is commendable and impressive. Incorporating some glitter into the base of the nails makes the design glamorous yet everyday wearable. You can try it with any other of your favorite color, but we'd recommend keeping it a muted shade so as to retain the characteristics of the nail art.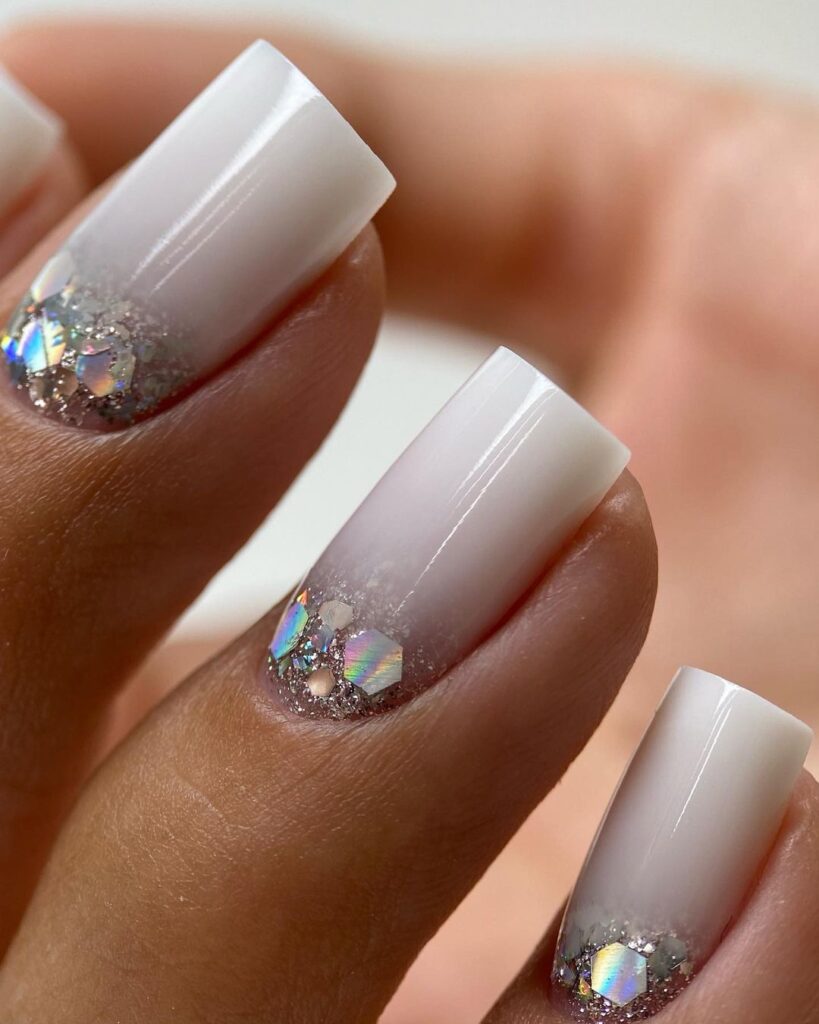 Courtesy: @gerasimova.nailstylist
#65 These matte purple nails with drawing on them are endearing and so different from all the others on the list. If you're someone who wants to radiate uniqueness with their nail design, try these purple spring nail designs. We love how the other hand is left with normal matte polish and only one is painted to enhance the art well.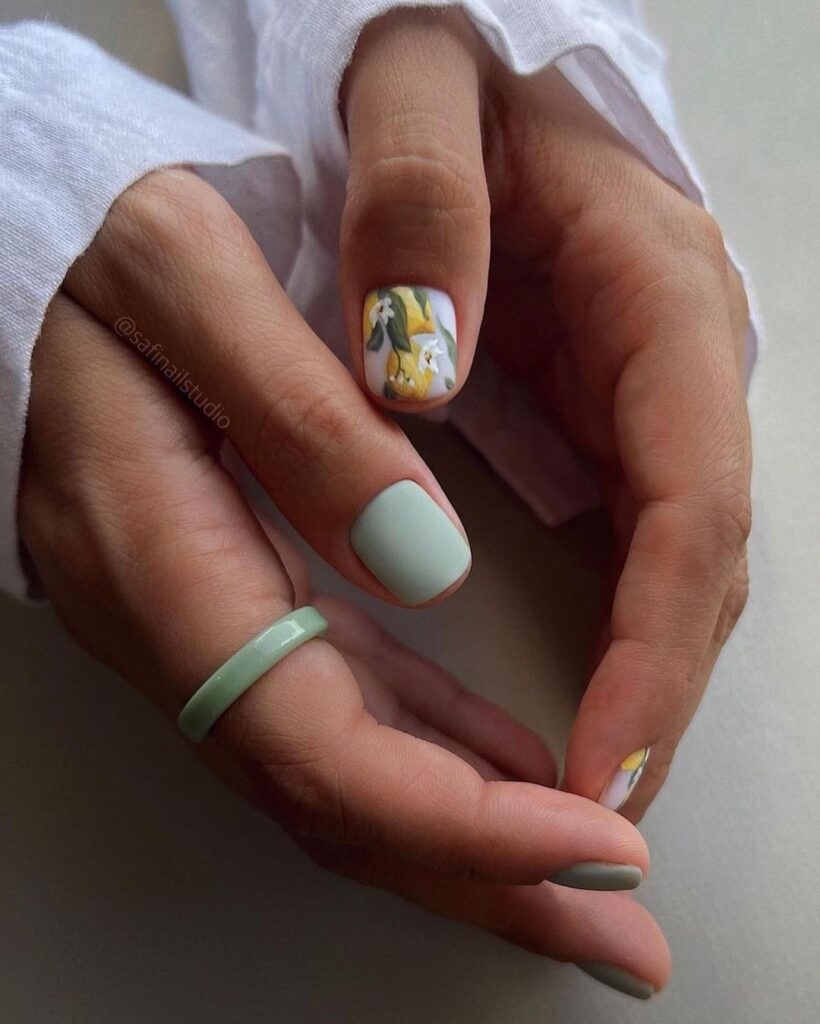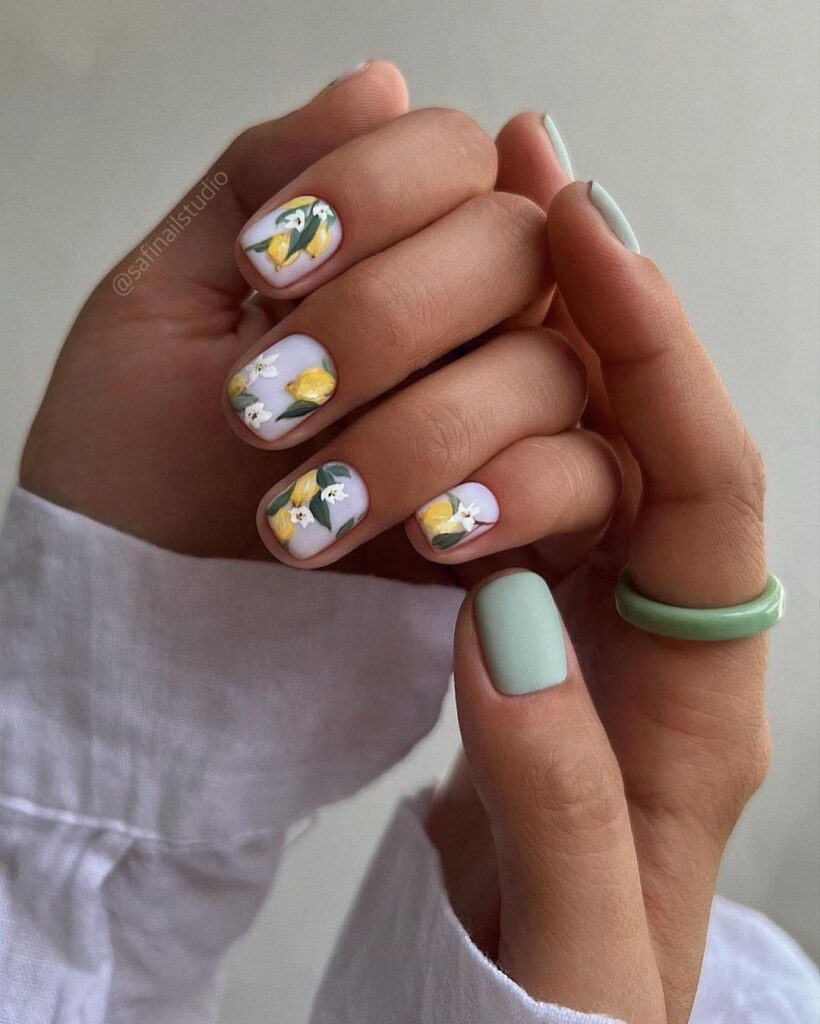 Courtesy: @safinailstudio
#66 Another simple and stunning spring nail idea are to create flowers on some nails and leave some in the French style. You can recreate this at home with a couple of bobby pins and dark & light shades of your favorite nail paint. You can completely skip the white nail paint if you don't have it at home.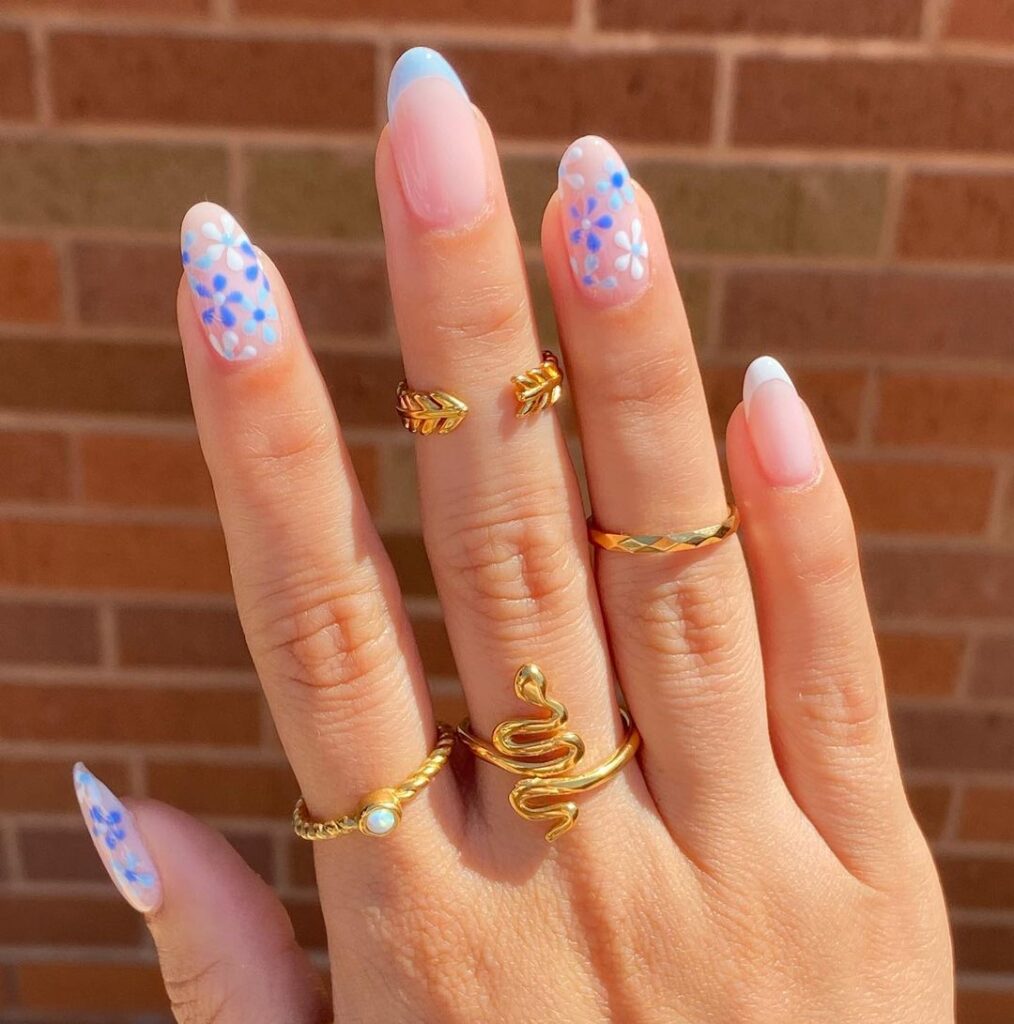 Courtesy: @sarasofiabeauty
#67 These milky white nails are gorgeous, and the shine is ideal for the spring season when you want a sheeny element rather than a mellow one. To DIY, pick a clear nail polish that doesn't go matte or thick, but rather leaves some empty spaces. Don't do a double coat, just a single one, and let it dry. Finish off with a top coat.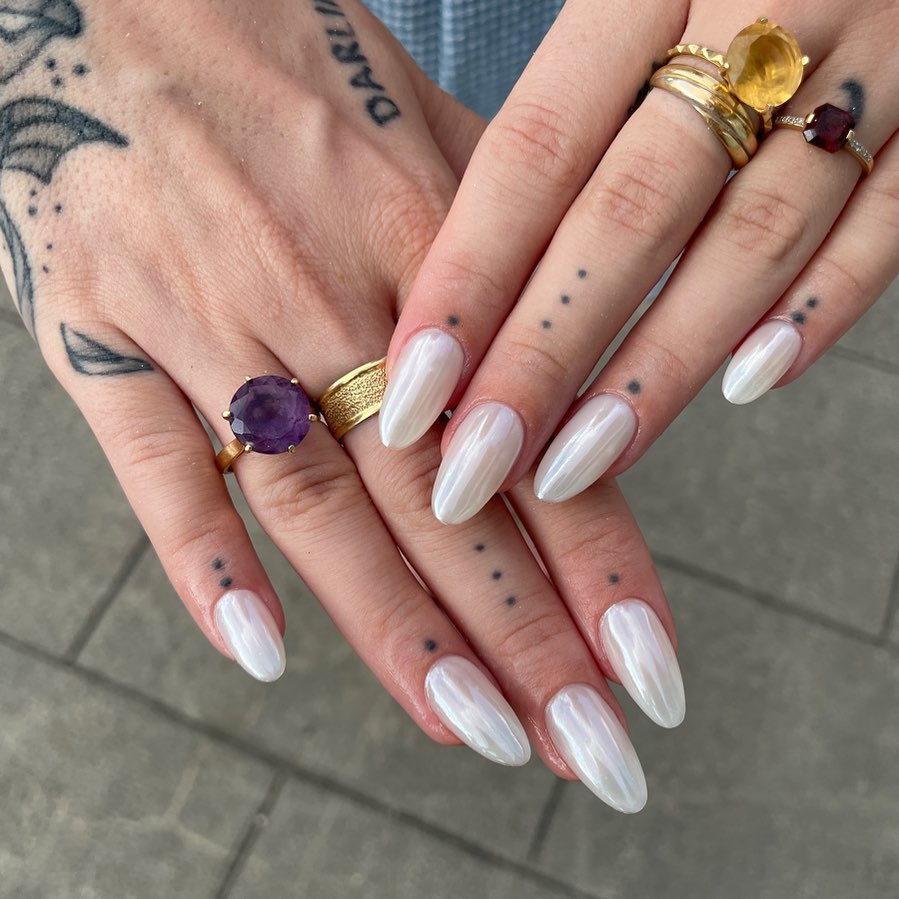 Courtesy: @nailsit38
#68 Ombre nails are the perfect bridge between a standard nail design and a complicated mani. Plus, they look difficult to DIY, when all you need is two different shades of the same color and a blending sponge. Here, the gorgeous blue ombre nails are enhanced by a red heart, for which a dotting tool is all you need to recreate.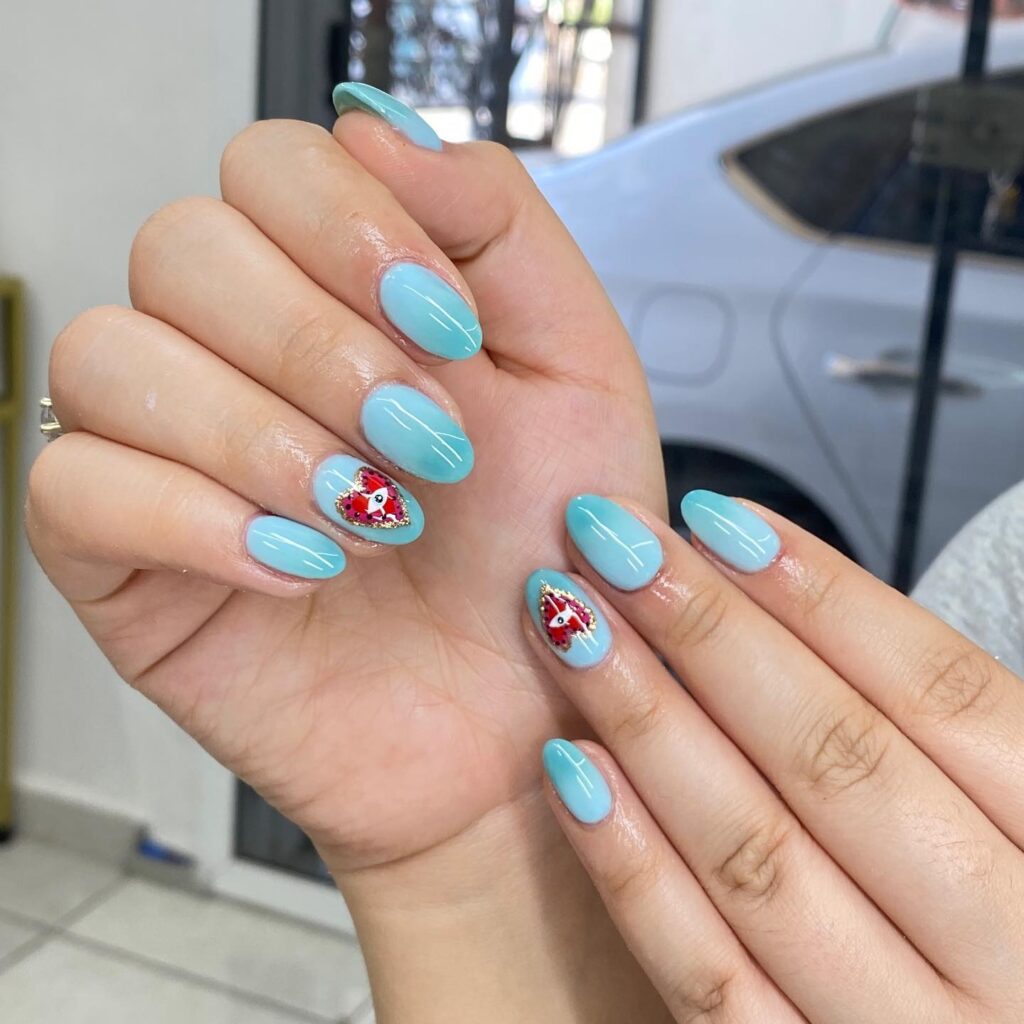 Courtesy: Maria Fernanda Nail Room
#69 This is the ideal Easter spring nail design with 3-D bunnies on the thumb and other cute sketches on the other nails. Just to let you know, 3-D nails are expert work and need professional tools to achieve. They're worth the cost and hype though! Also, know that getting them done takes time as the 3-D work takes longer to dry.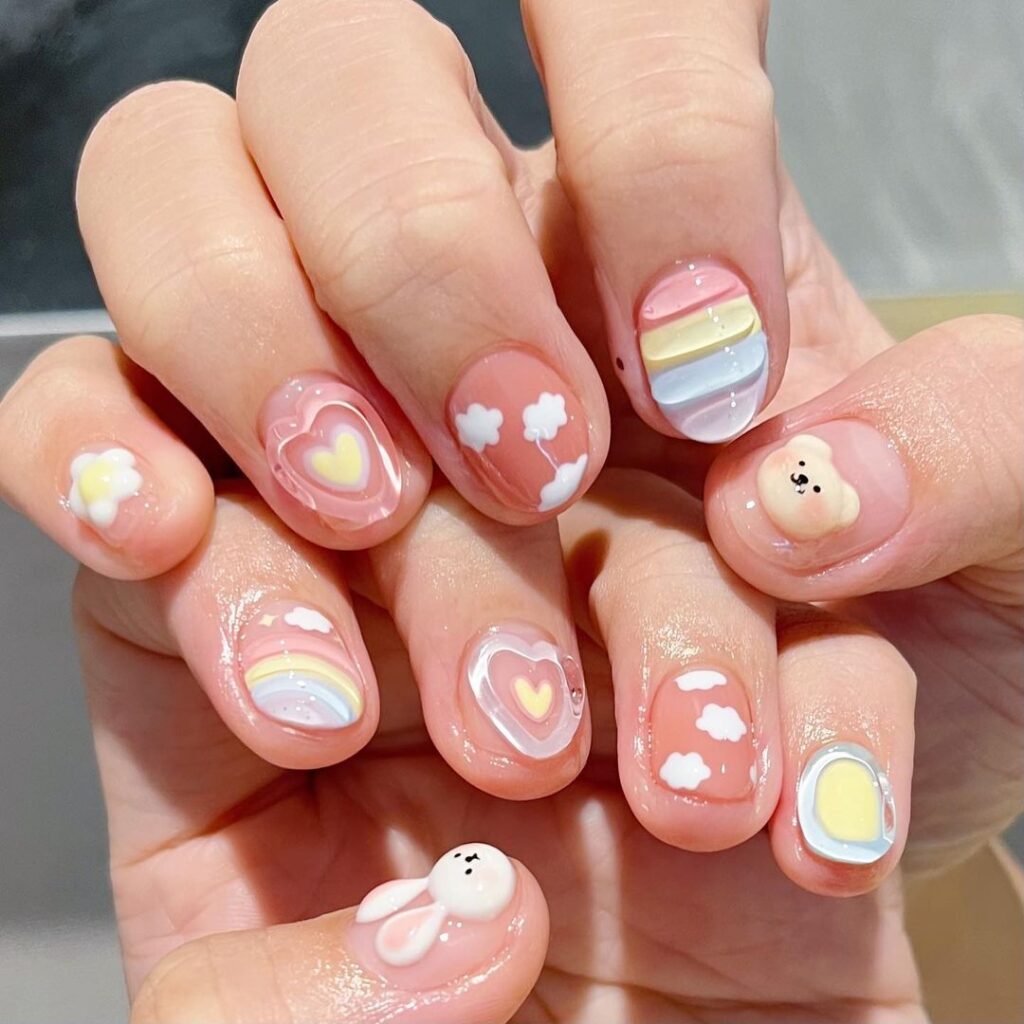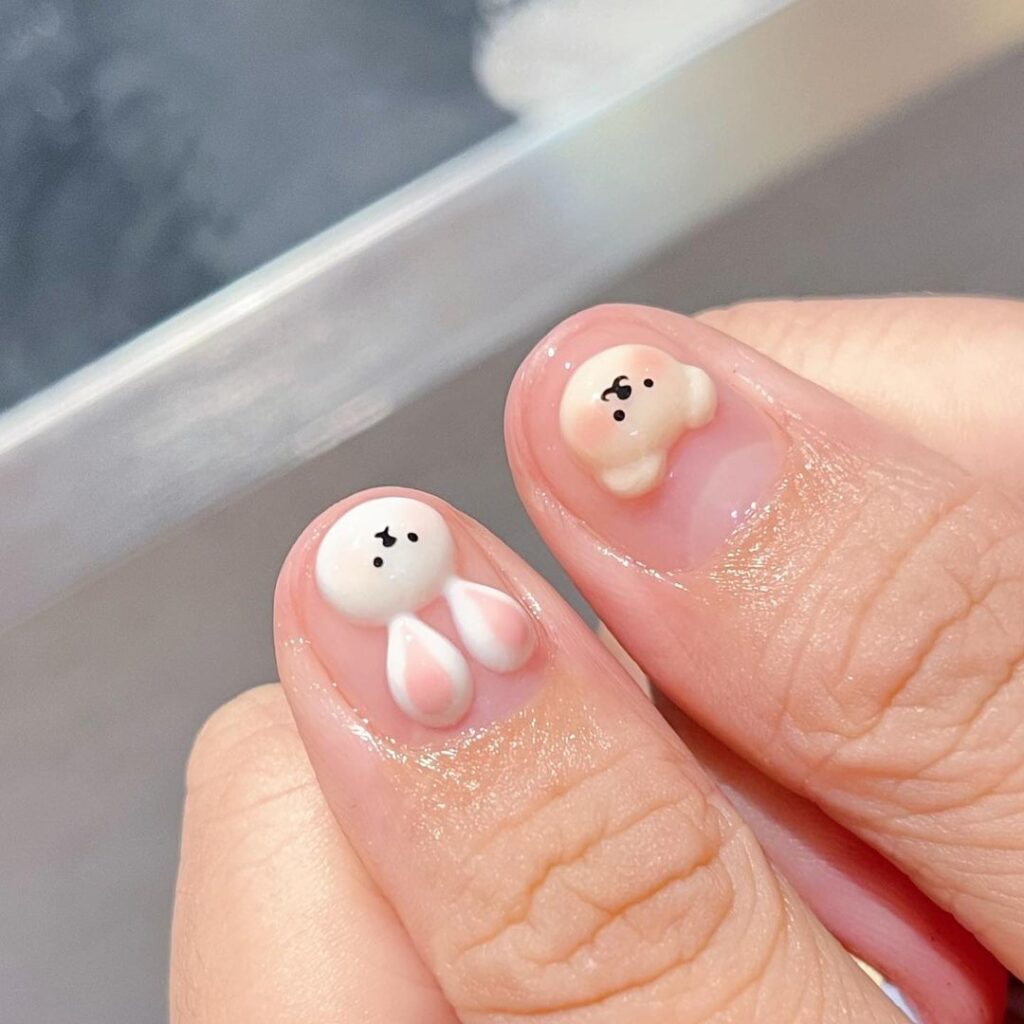 Courtesy: @willow.nails
#70 Yet another 3-D nail design just ideal for Easter. The bunnies are super cute, but so are other elements included in the nail art. Again, know that 3-D nails take time as the art takes some time to dry. But, if you already informed the artist about your needs, they can do the art on acrylic nails before to save time during the process.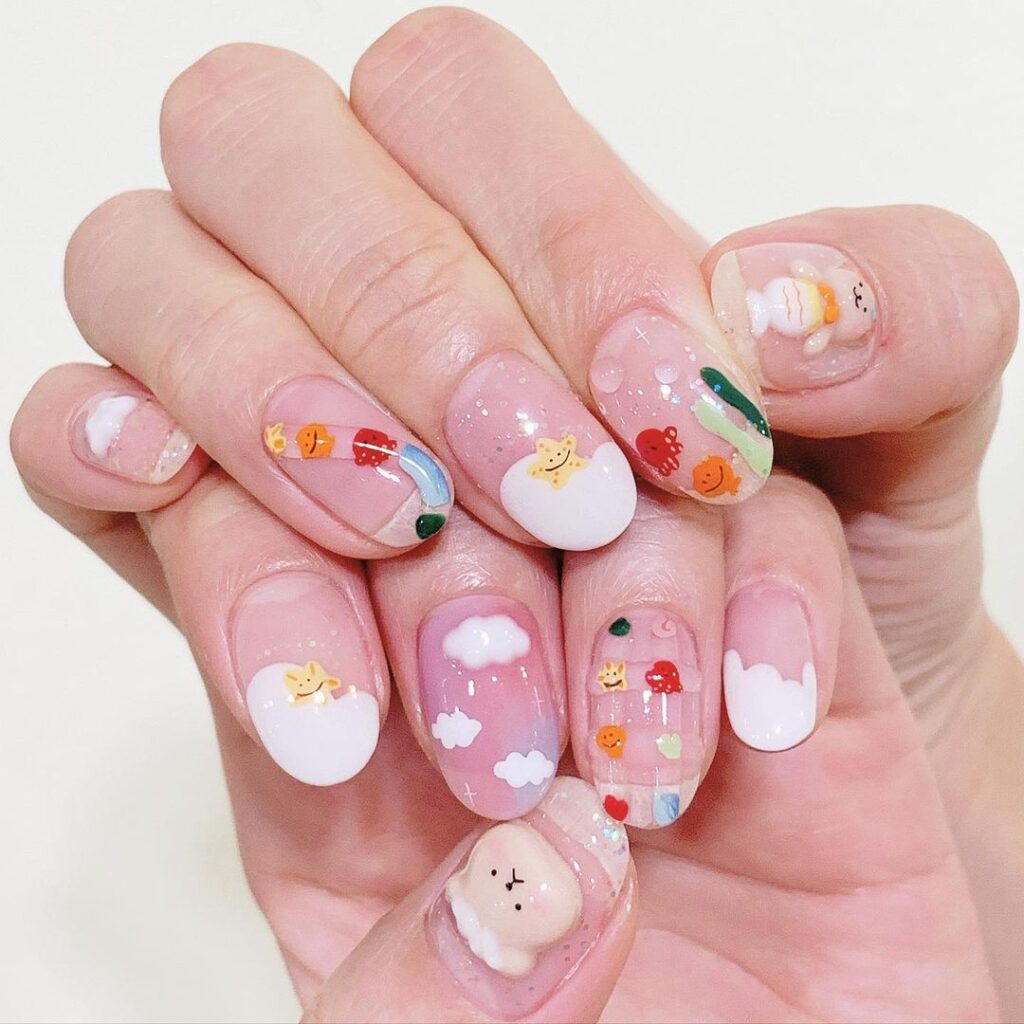 Courtesy: @gomgomnail
#71 Besides florals, leaves are the epitome of spring nail art. The lush foliage denotes the blossoming nature of the spring seasons and can be incorporated into your nails when you need a break from all the florets in the spring nails. Here's a cute design to inspire you for the same.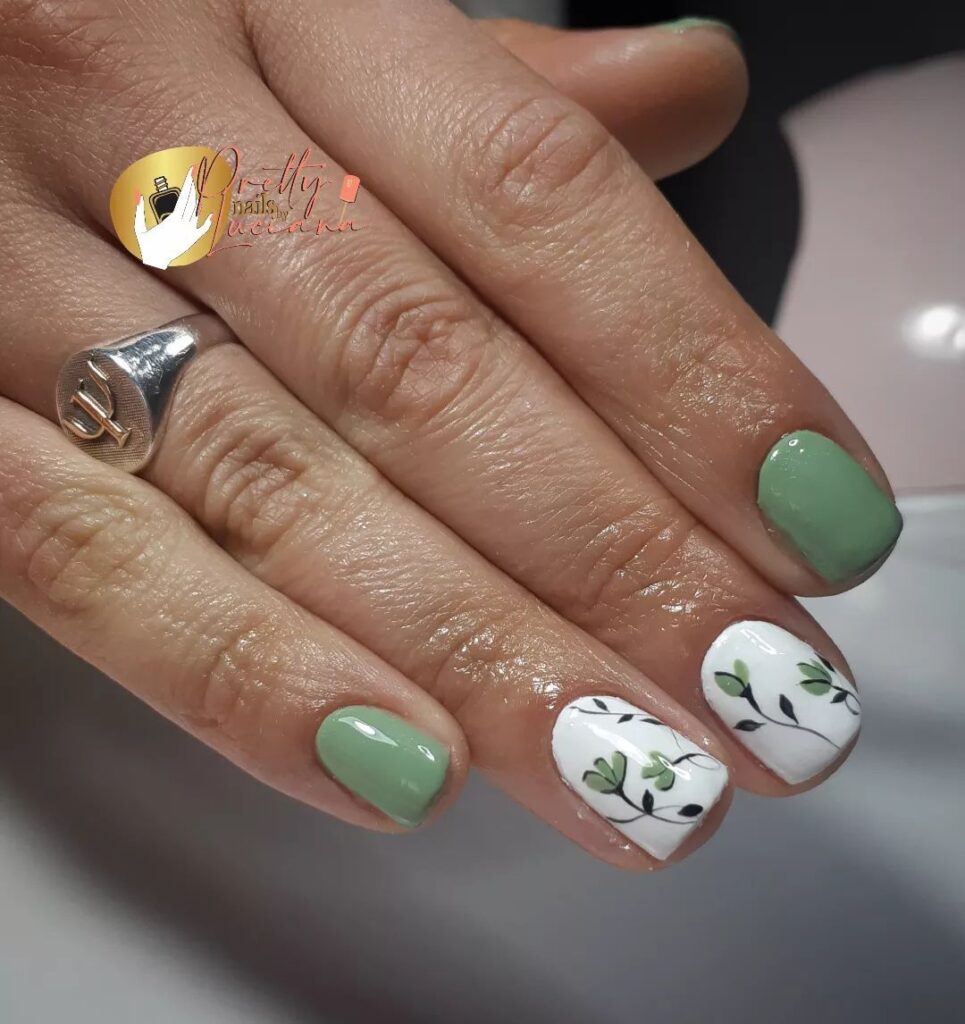 Courtesy: @prettynailsbyluciana
#72 When doing DIY nail art at home, what's tough is not recreating the design but shaping the nails as flawlessly as the professionals. Like here, the perfectly-shaped square nails are enhanced by the simple design done in medium-sheen for everyday nail art.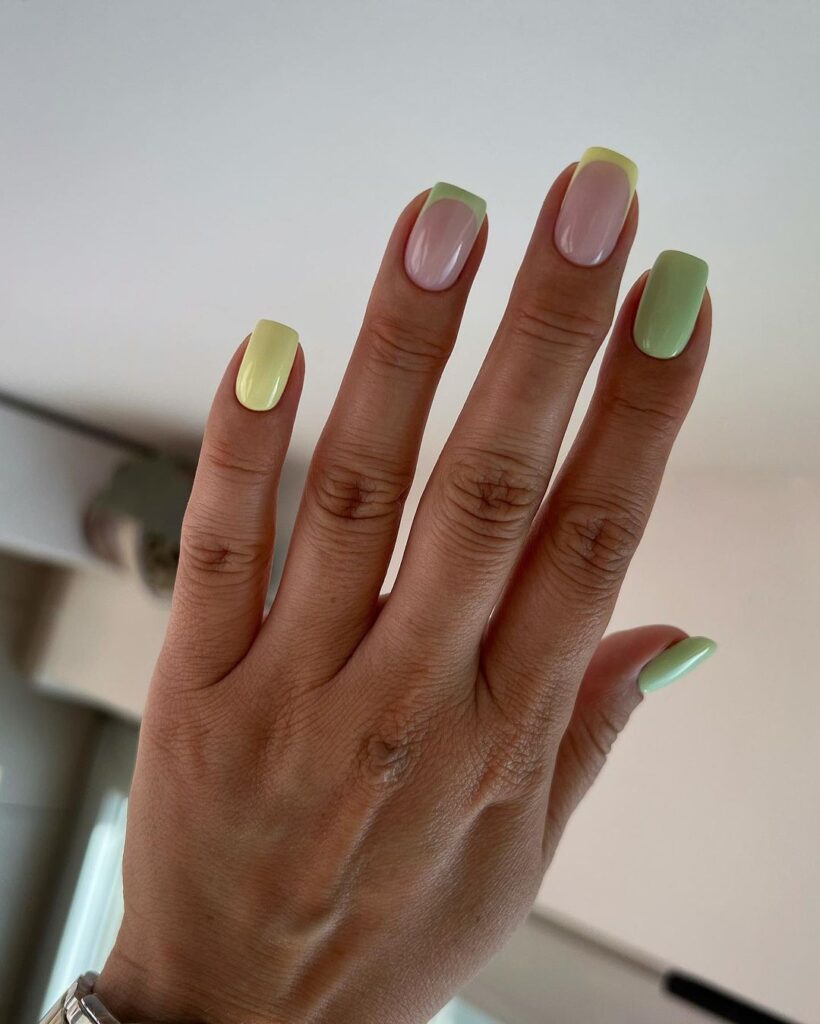 Courtesy: @tatjanails
#73 Embodying foliage and flowers into the nails is another great idea to take a break from just-the-florals nail design. We adore how the art is kept minimal with a nude base enhanced by sunflowers and leaves only on the sides. Just the perfect pick for brides who want a classy spring nail design.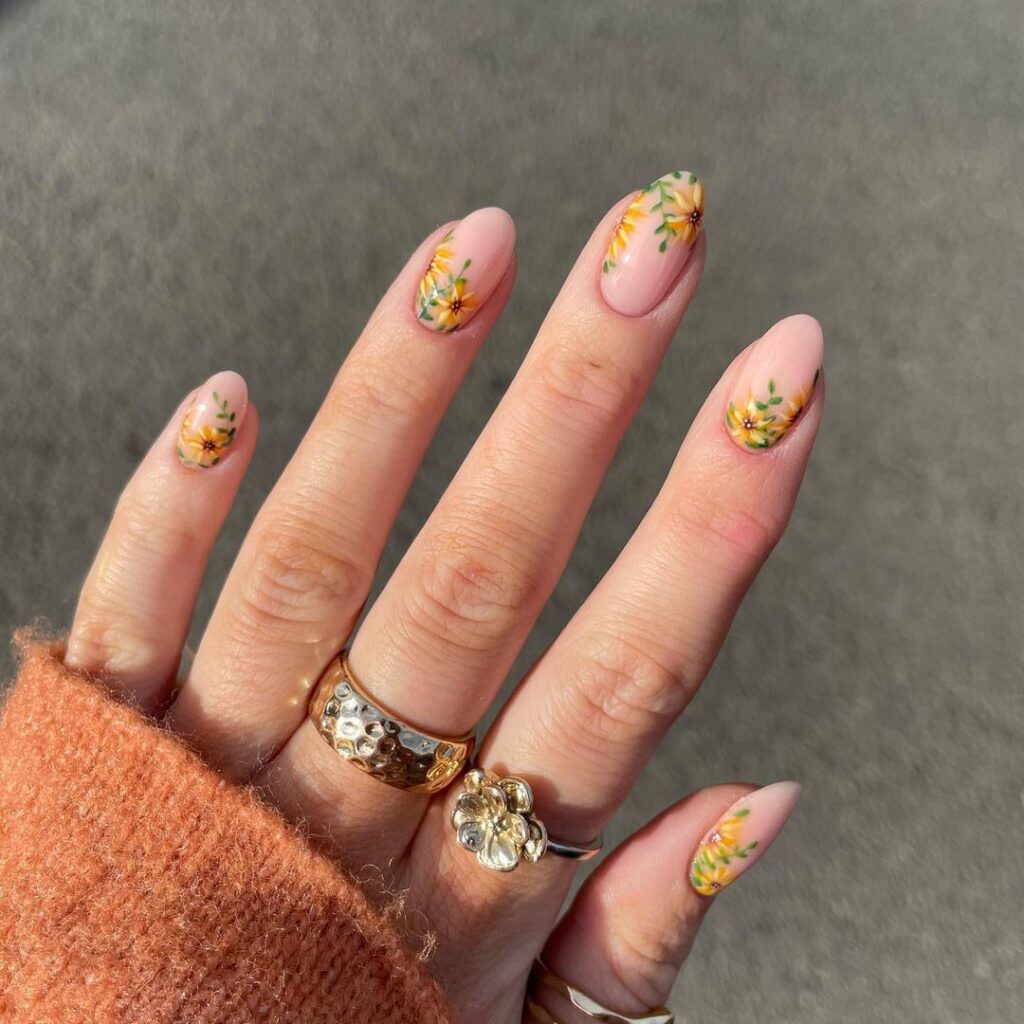 Courtesy: @rachelsbeauty_
#74 Who said short nails don't look beautiful? Because the next one of the spring nail designs is as stunning as the one done on long nails. Plus, they are more practical for some people like new moms and those whose nails are more prone to breakage and don't have time to get acrylics or gel done.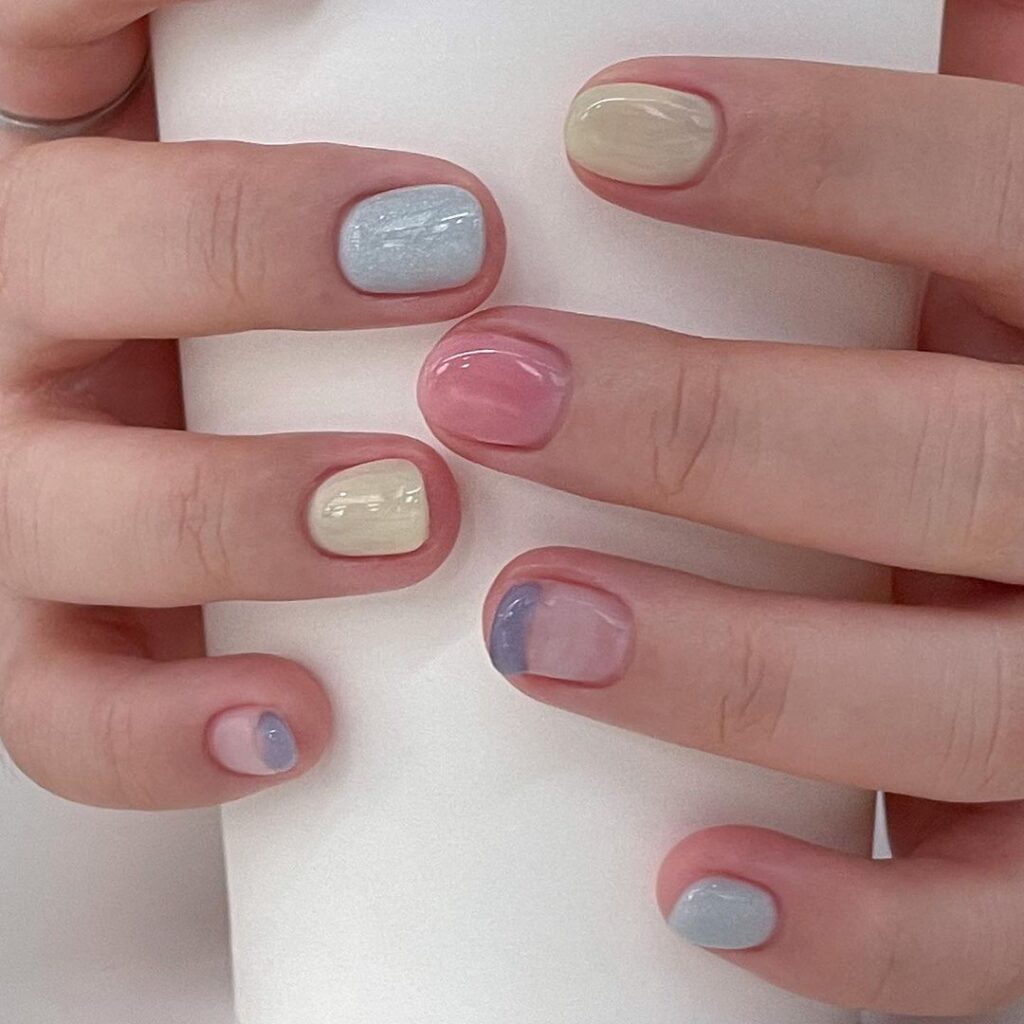 Courtesy: @nail__mooi
#75 These French tip spring nail designs have our hearts! But this one is a little different as it also has half-lilies painted on the top for a delightful spring twist. Lilies are symbolic of devotion, purity, good luck, and love, and that's why they are most often found in wedding decor.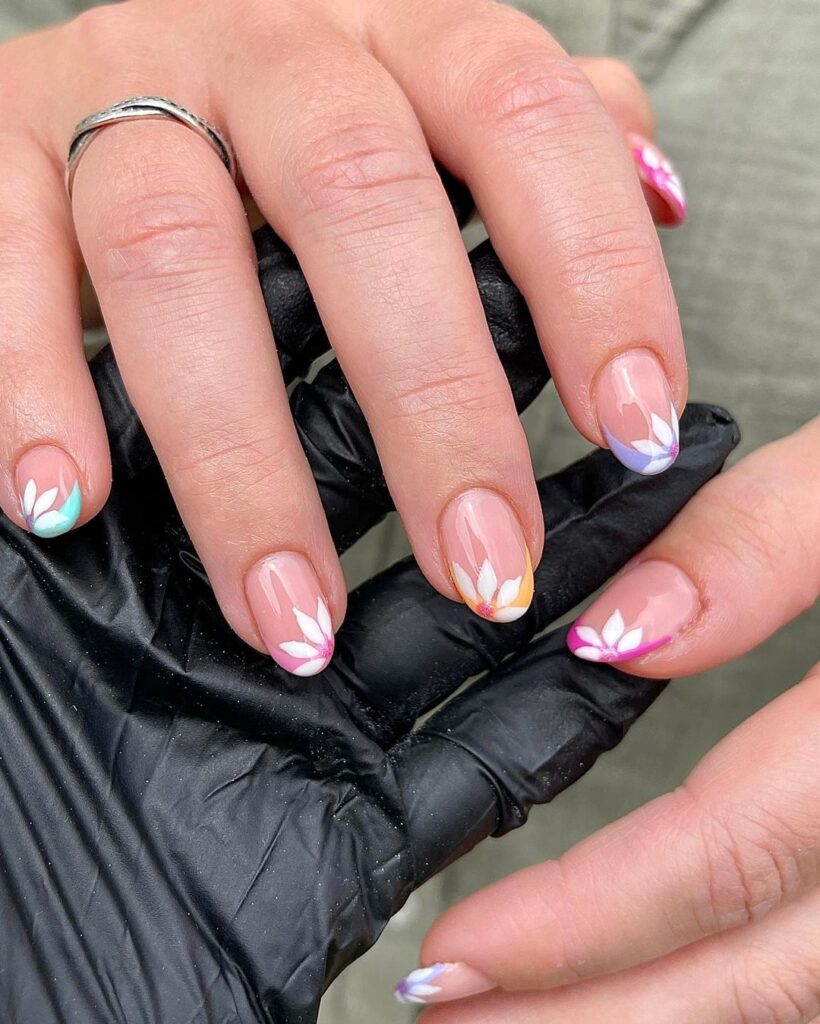 Courtesy: @beauty_basecoat
#76 These short nail spring designs are endearing and truly inspiring for people who love short nails and prefer them over their long counterparts. These nails represent the clear skies of the spring season with scenic clouds and a hint of glitter for a glimmering effect.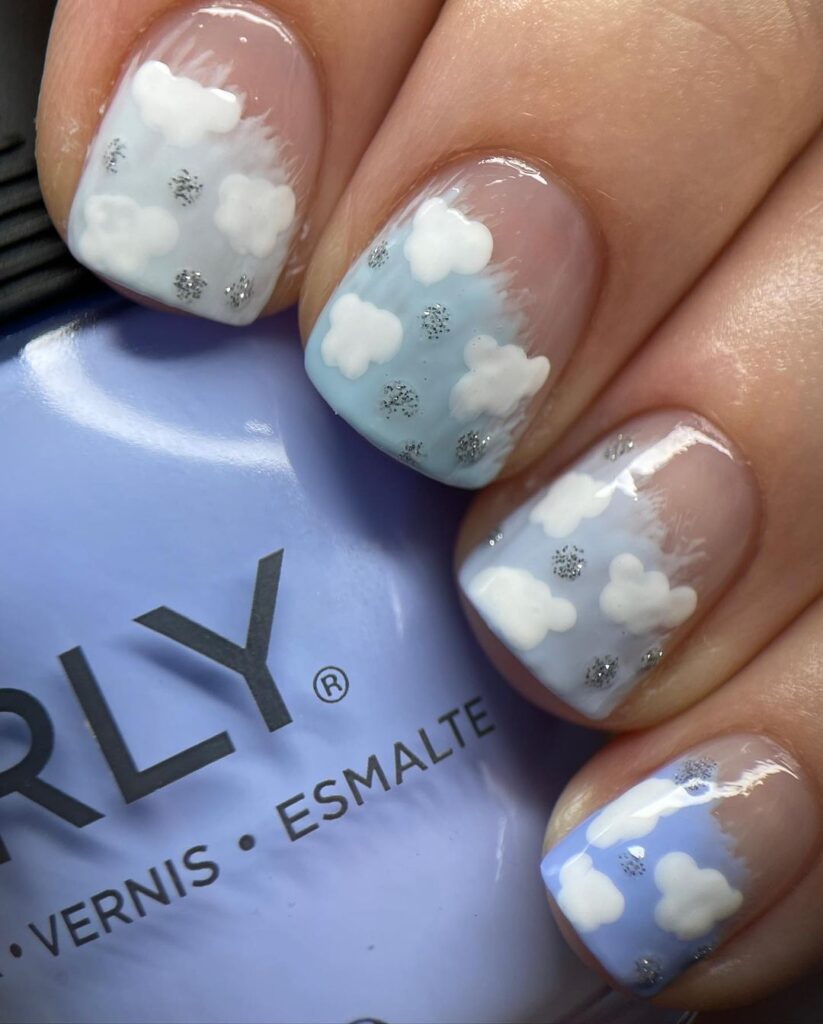 Courtesy: @paosbeautycorner
#77 If you're wondering why gloss nails are more common than matte nails, then you should know it's not because of their favored superiority but the fact that they last longer than matte nails. There's no denying that they look just as classy and gorgeous. Take the next one of the matte spring nail designs as an example. The combination of stone grey, pink, and lime is stunning, and so is the 3-D effect on the middle one of the two nails.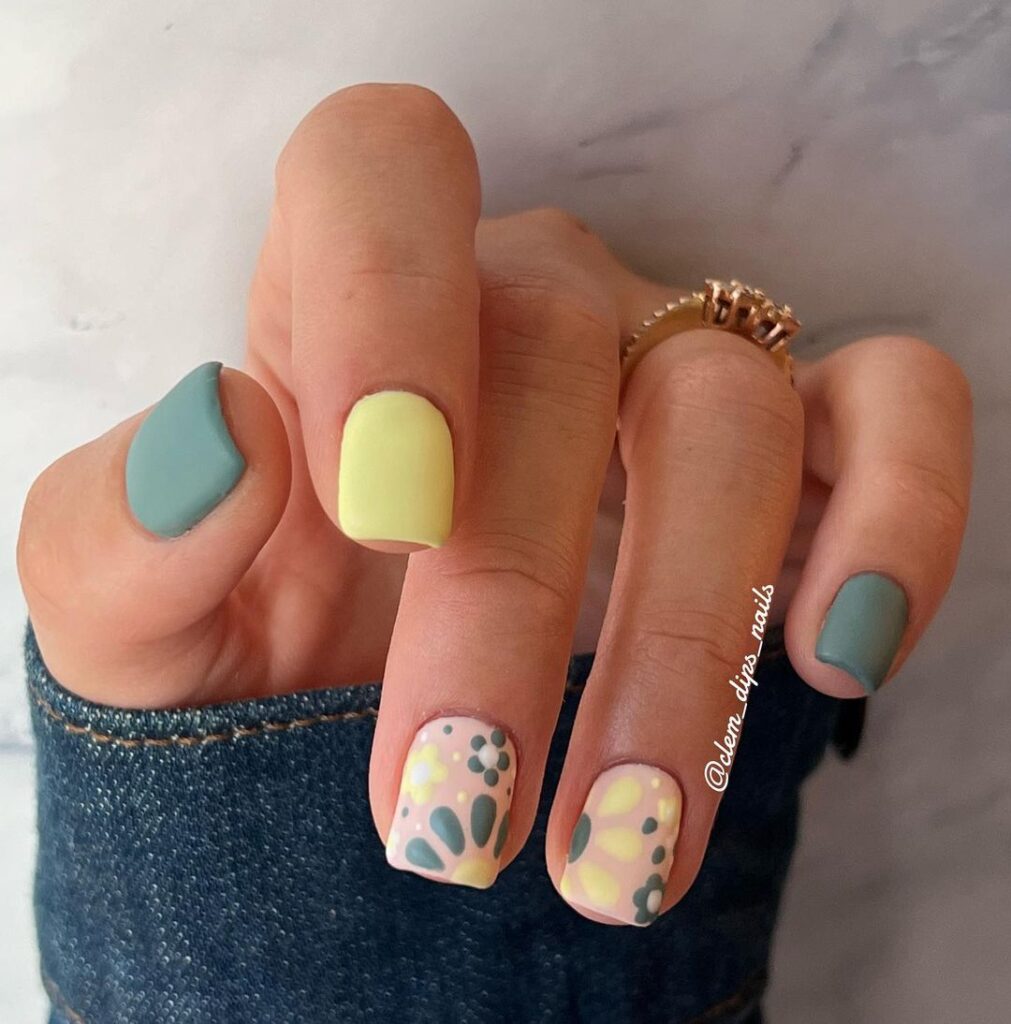 Courtesy: @clem_dips_nails
#78 If you're a fan of matte nails but want them to last longer, then covering them with just the slightest amount of gloss will do the trick. 
Courtesy: @musartista
#79 Ombre nails just don't have to be on the same nails. Sometimes they can be done as lighter to a darker shade on different nails, like in the next one of the purple spring nail designs. The purple palette looks winsome, and it's slowly becoming one of the most popular colors to exist.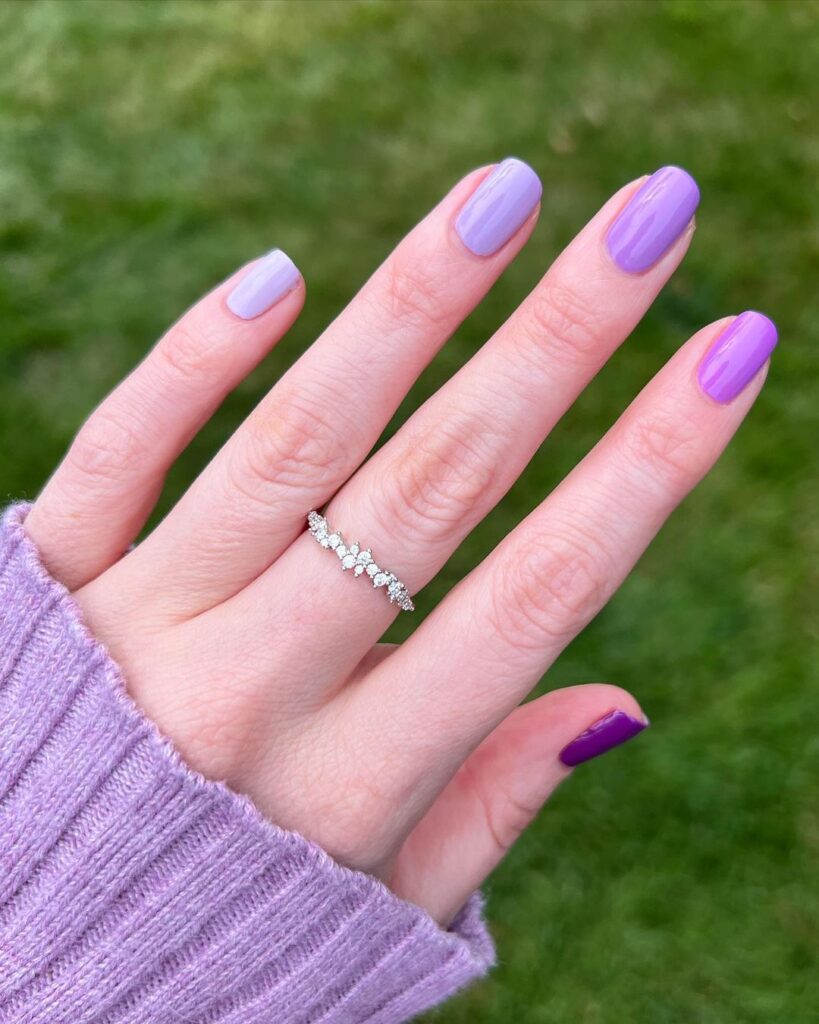 Courtesy: @lindslovelacquer
#80 Sometimes the simplest things are the prettiest. Here, the white nails in a perfectly square-shaped size give the elegance we all need in our nails. Plus, they are a perfect complement to any outfit or occasion, or season. Don't you think?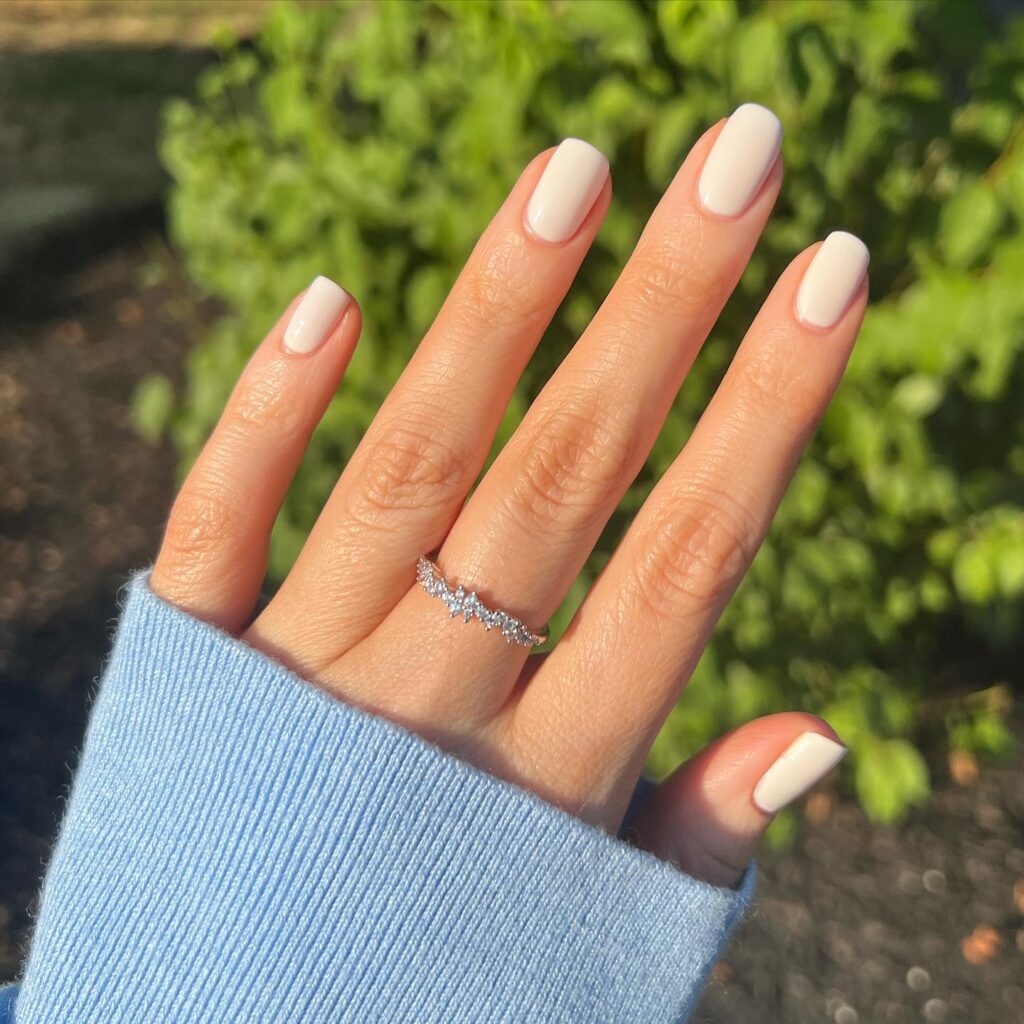 Courtesy: @lindslovelacquer
#81 If the above design is a little too simple for you, and you want to add a glorious twist to the simplicity, try these French tip spring nail designs. Here, the ring finger is filled with white diagonally and enhanced by a glitter line.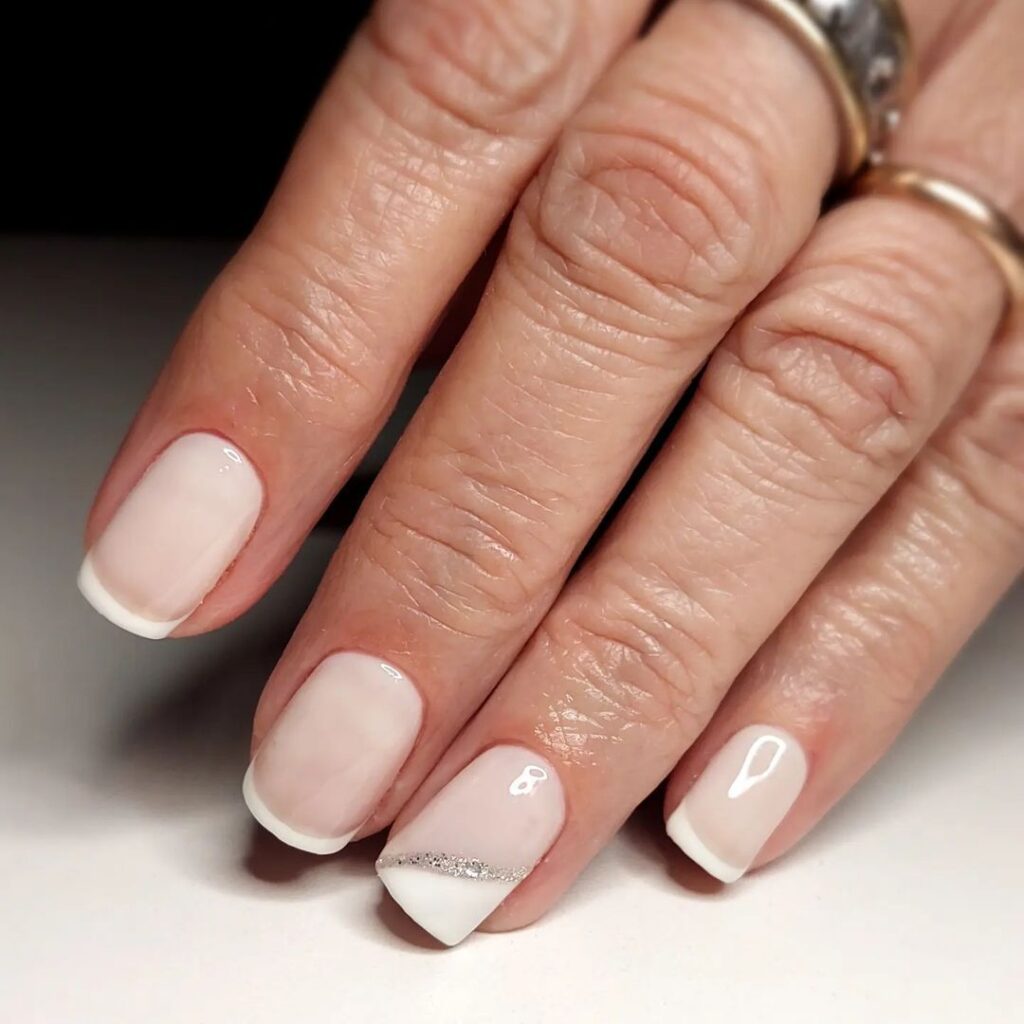 Courtesy: Instagram
#82 The small bubbles dropping from the top is a wonderfully distinctive spring nail design done on a clear base. While this is done on short nails, it will also look incredible on long nails, especially the coffin shape, making it a true inspiration for the spring nail designs coffin shape. 
Courtesy: Pinterest
#83 Combining subtle colors with a bold one is edgy and grabs the attention in the next one of the gel spring nail designs. Done on perfectly square-shaped nails, the mellow colors are enhanced by the lilies on the sides, adding the blooming touch of the spring season.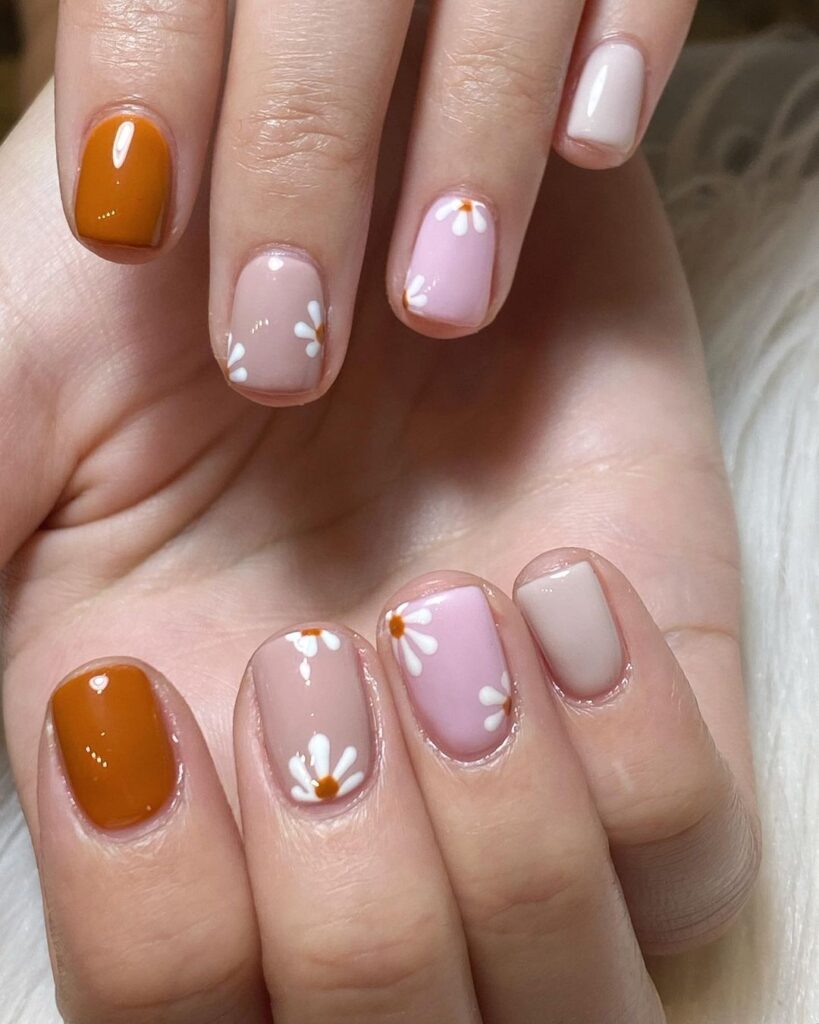 Courtesy: Nora
#84 These gloss combined with matte nails allows you to explore the allure of both worlds perfectly. While the thumb, index, and pinky finger are covered in gloss purple nails, the middle and ring finger are done in matte white followed by winsome sketches in bright shades. If you've got a good hand at drawing, then you can surely try this nail design at home.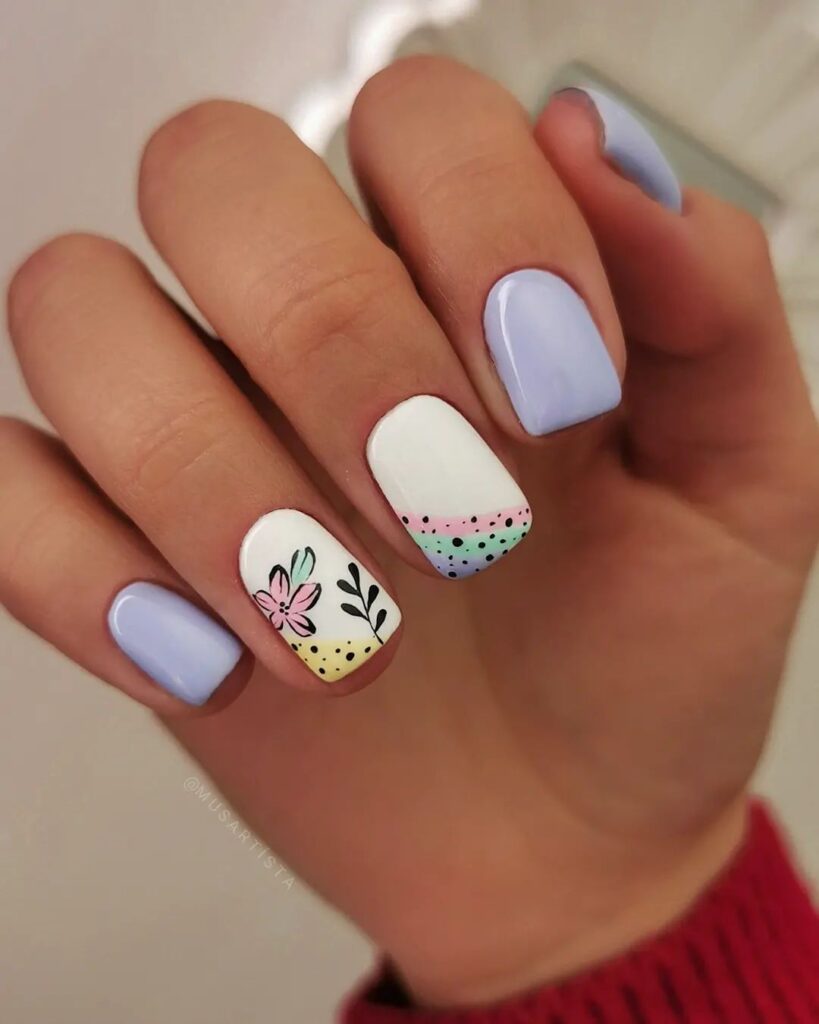 Courtesy: @musartista
#85 An interesting twist to your French nails, or should we say a spring-y twist to your French nails is the next one of the nail spring designs. Only the ring finger is done differently and sketches a dandelion in the middle. A superb design for those who recently got engaged and want to show special attention to their ring finger.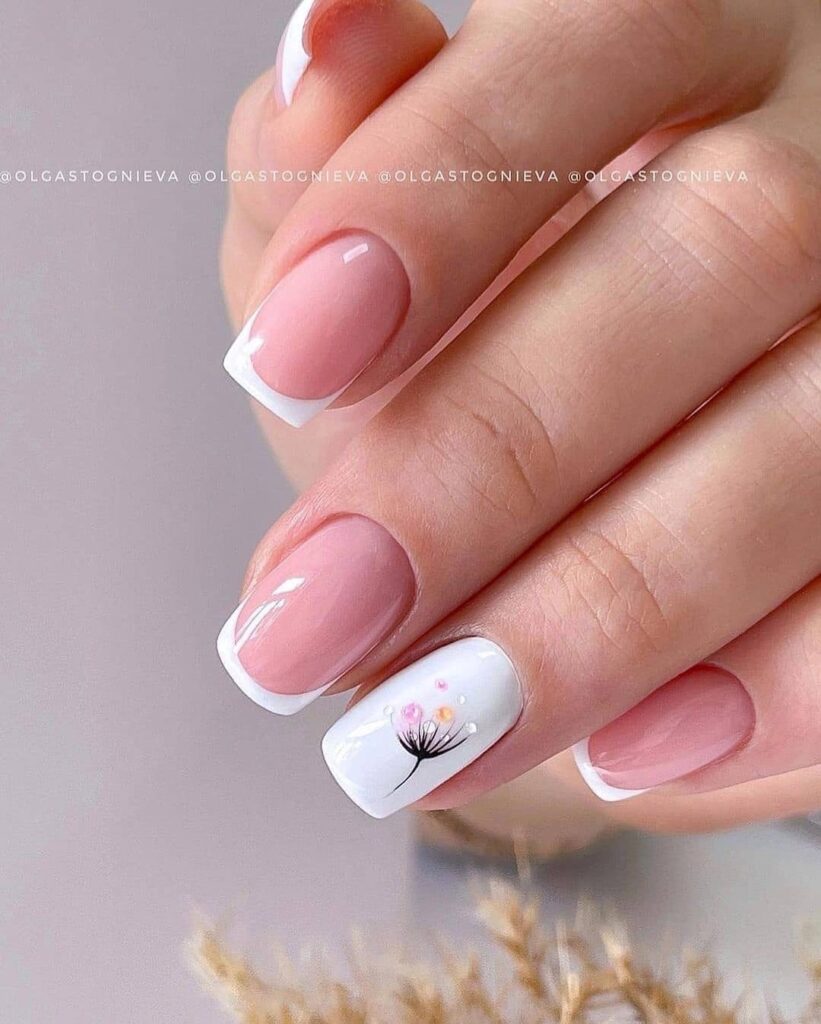 Courtesy: @olgastognieva
#86 Spring is not just the season of flora, but also the season of fauna. This is the time when animals & birds come out in the fresh air as well. So, your spring nails can also incorporate them, and here's a nail art that shows you how to do that impeccably!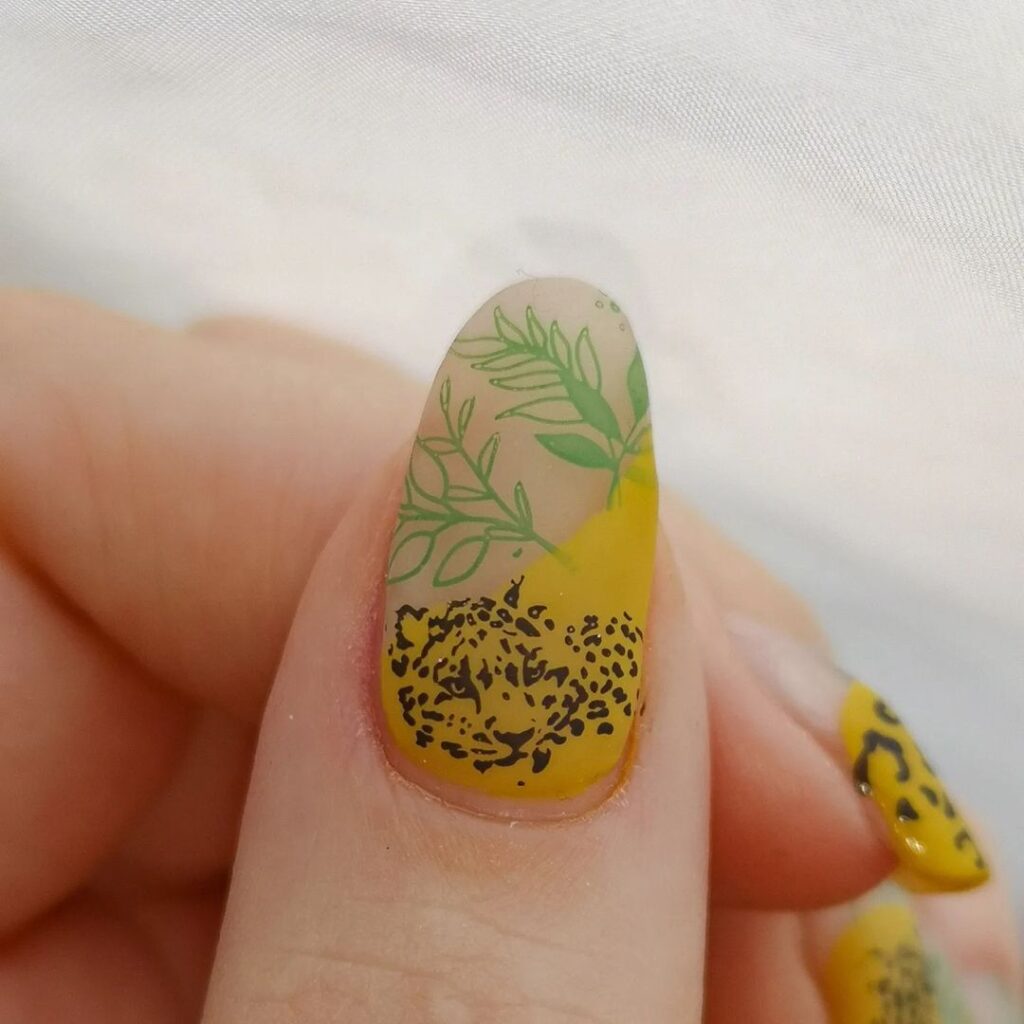 Courtesy: Polli
#87 Abstract nail designs are big! And here's another one representing the art in vivid spring colors, primarily hot pink.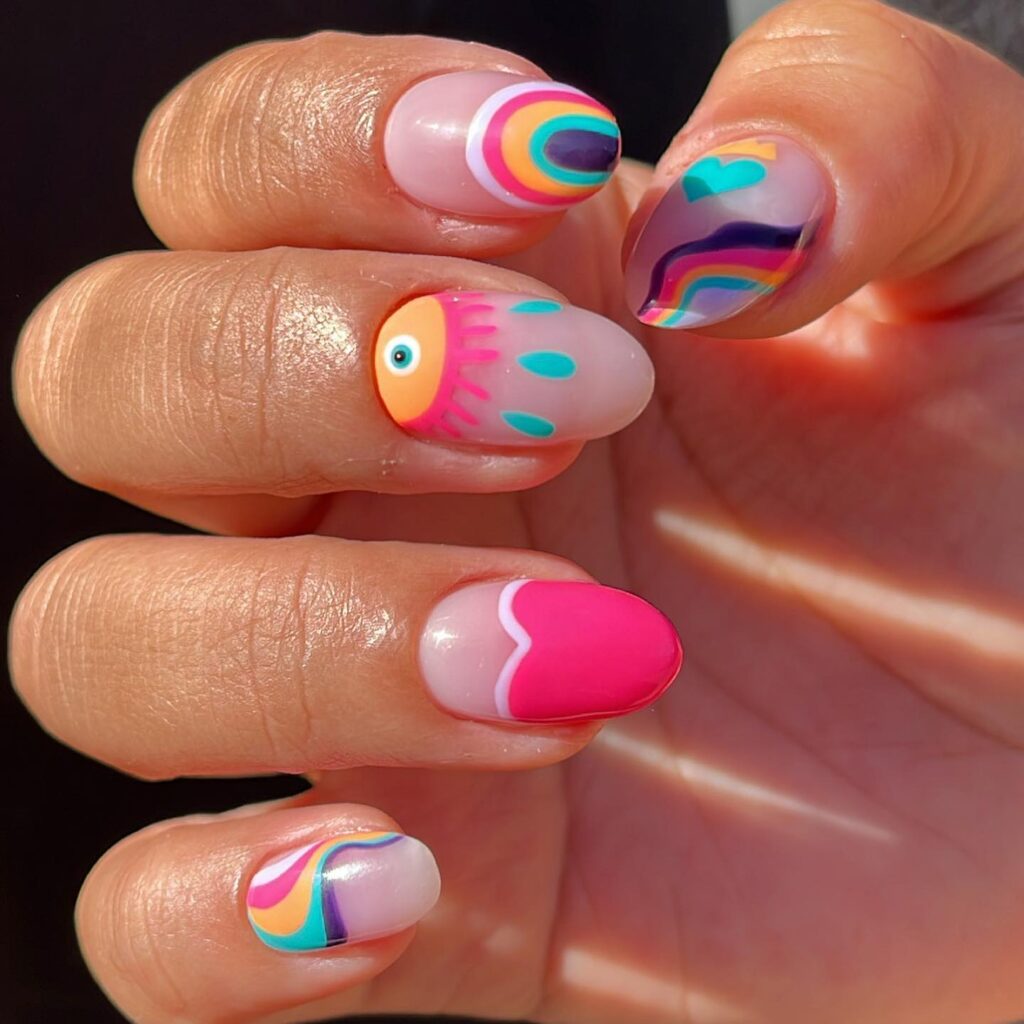 Courtesy: @aitanassalon
#88 Thumbs are often ignored when stunning nail designs are portrayed in pictures, so we're giving them a little attention here. This endearing design can be coordinated with many nail art but primarily the ones representing cute doodles reminiscent of the happy vibes of the spring season.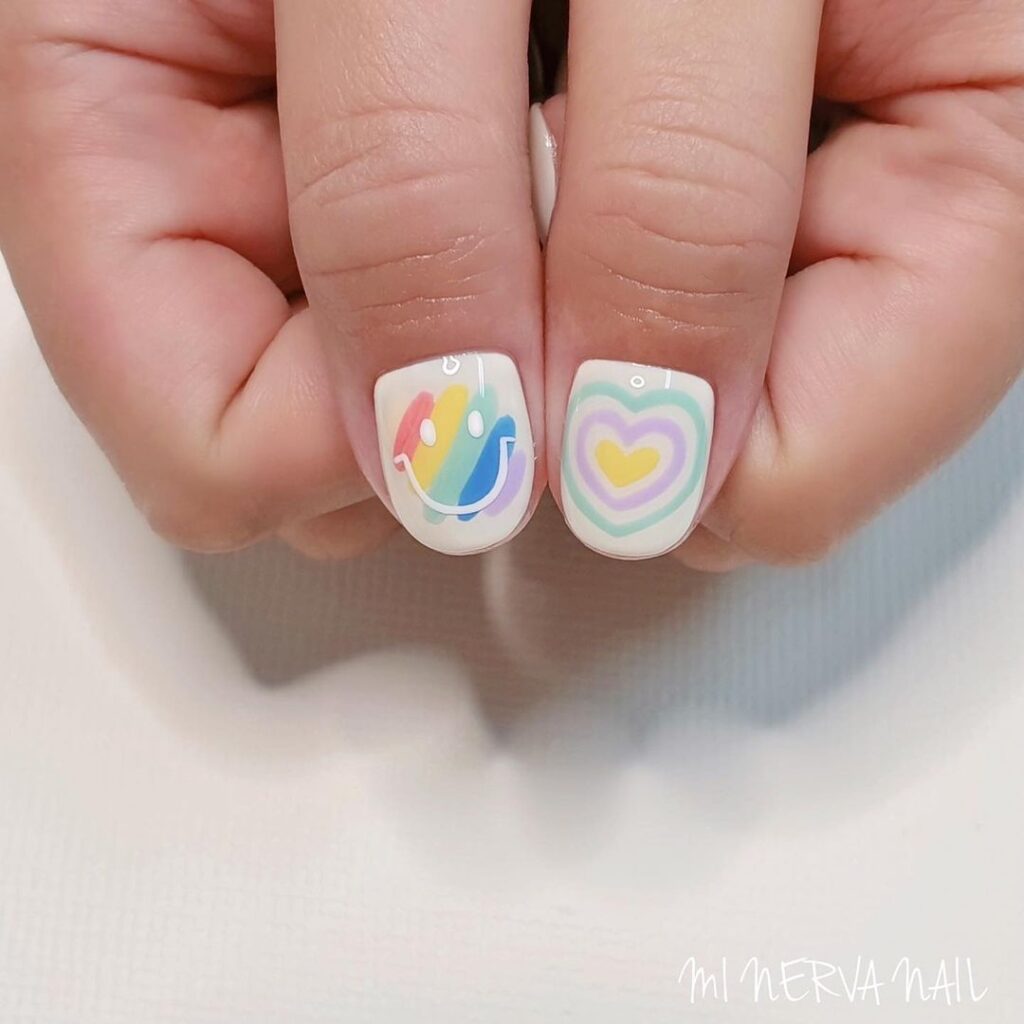 Courtesy: Mi Nerva Nail
#89 Neon colors' vibrancy and brightness are often associated with vitality and excitement, just what the spring season is also coupled with! But if you're worried about the distinctive drawing extra attention to your hands, pair the hue with a mellow hue like light gray to balance it all off.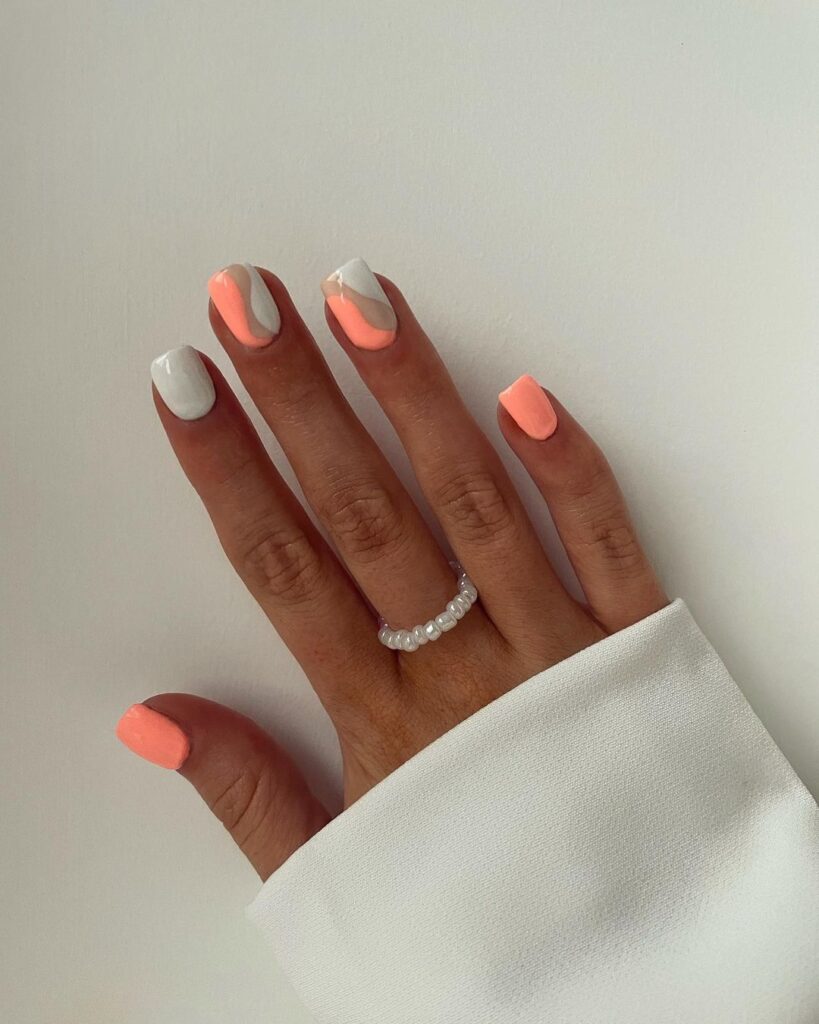 Courtesy: @lilly__palm
#90 Gray is a beautiful color and is gaining popularity in all the elements, from clothes to nail designs to home decor, it can be seen everywhere. It's representation of neutrality, balance, and coziness is behind its admiration and prominence. If you've been loving this hue, here's a nail design to express your fondness for it.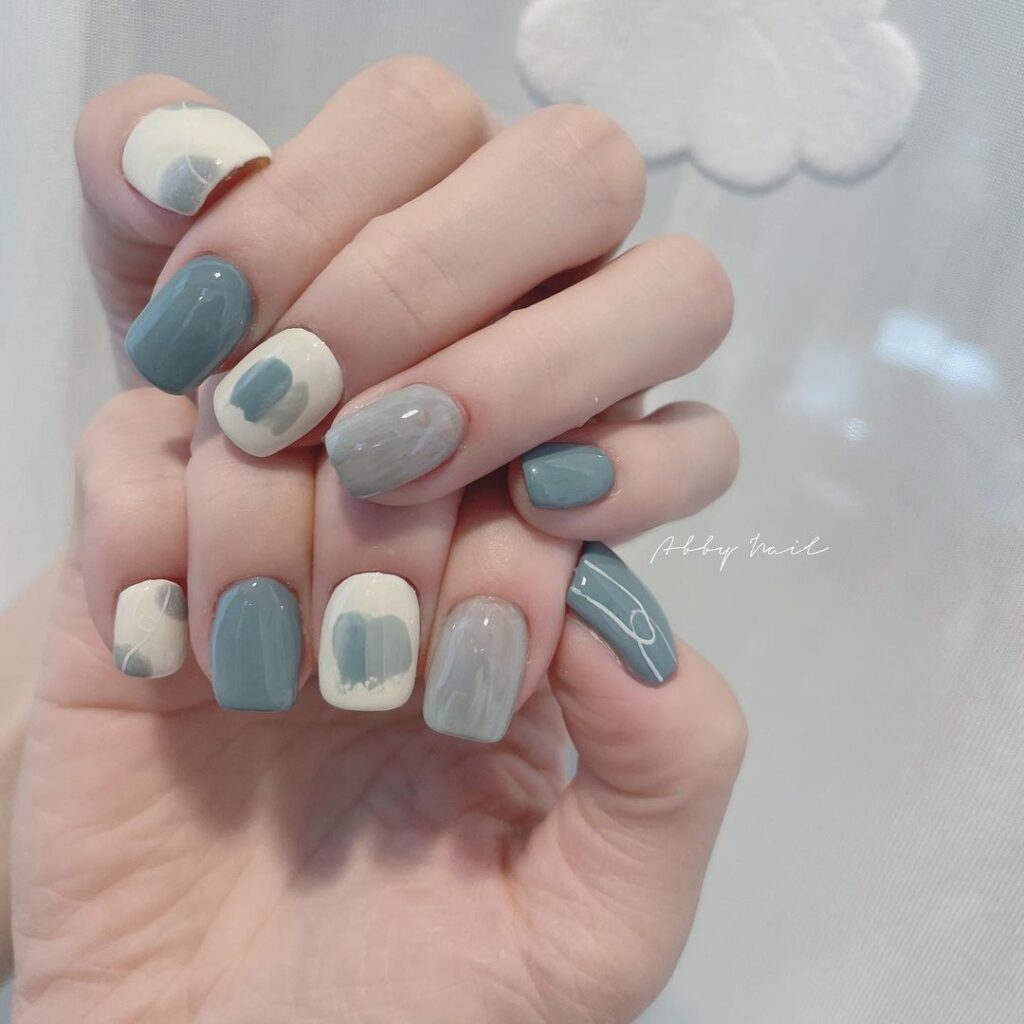 Courtesy: @abby_nail
#91 Pastel pink with light gray is a unique combination, but gorgeous nonetheless. If you're a pro at doing a perfect nail shape at home, this can easily be DIY-ed. To create the sections of different colors, we'd recommend a lining tool in a nail art kit. You can cover it with a gloss or a matte coat, howsoever you'd like.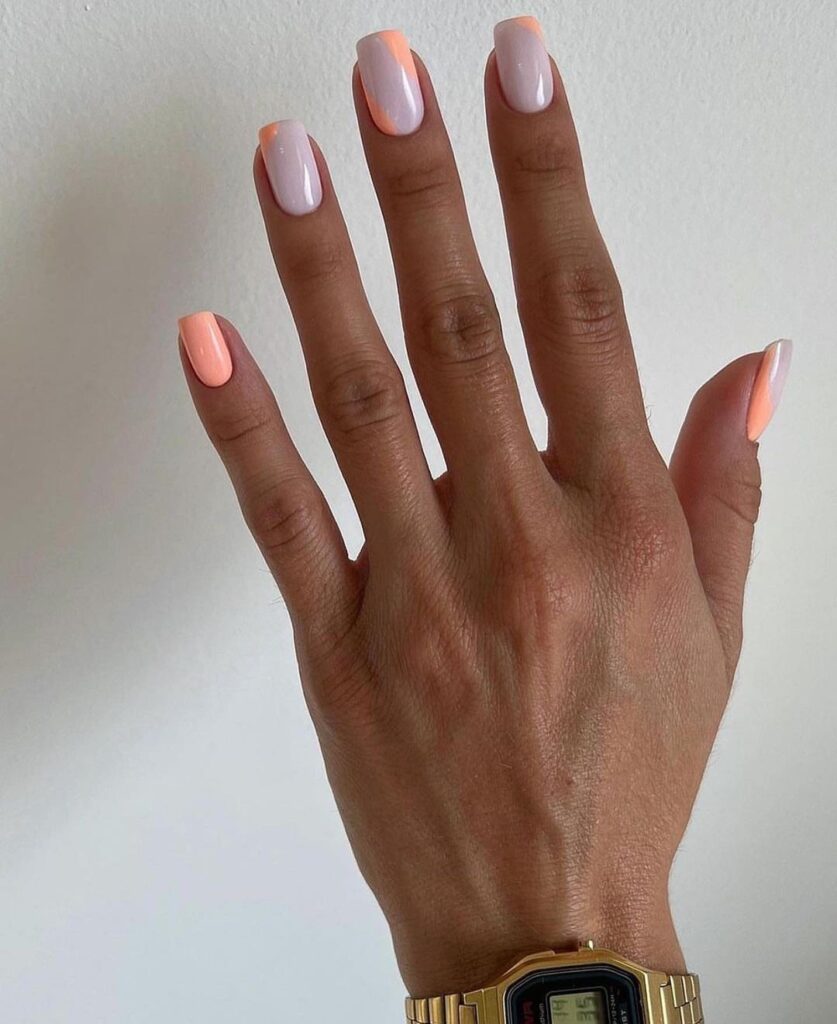 Courtesy: @nails.kol
#92 Pink & blue make for a great color combination mix. And not just the shade included in this nail art, but other shades of the hue can also collaborate together. So, try your imagination, and make one nail glitter for a glamorous effect on this stunning combination.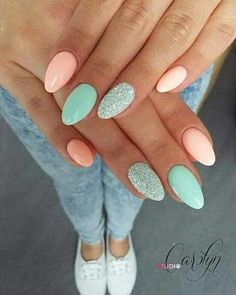 Courtesy: Pinterest
#94 These spring nail designs in coffin shape are ravishing and love at first sight, especially for those who're mesmerized by this nail shape at the moment. The abstract design on the tips is artistic and lovely. However, know that this pattern only looks good on longer nails and will lose its allure on short ones.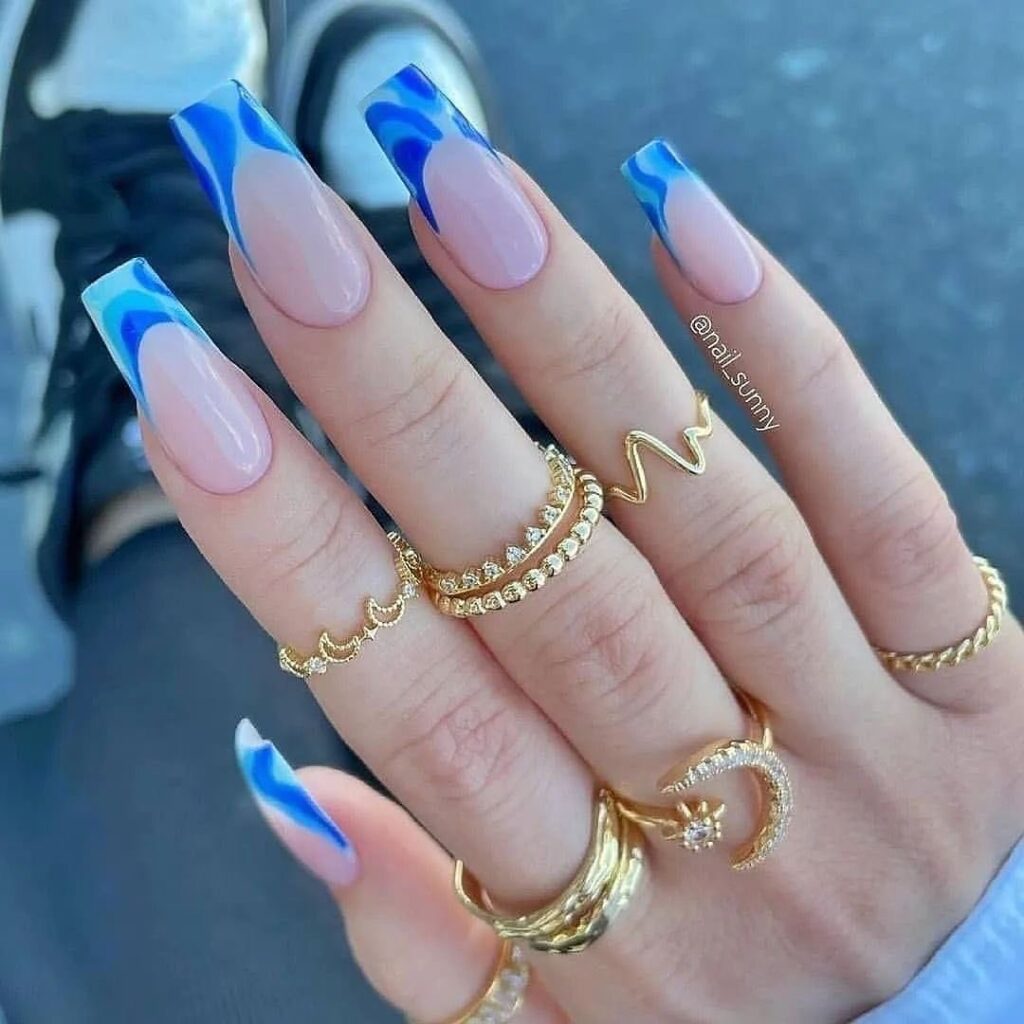 Courtesy: @nail_sunny
#95 The pretty pink nails are undeniably feminine and timelessly endearing. Paint them with twigs and florals representative of the spring season and you've with yourself a season-relevant design that's classy and captivating at the same time.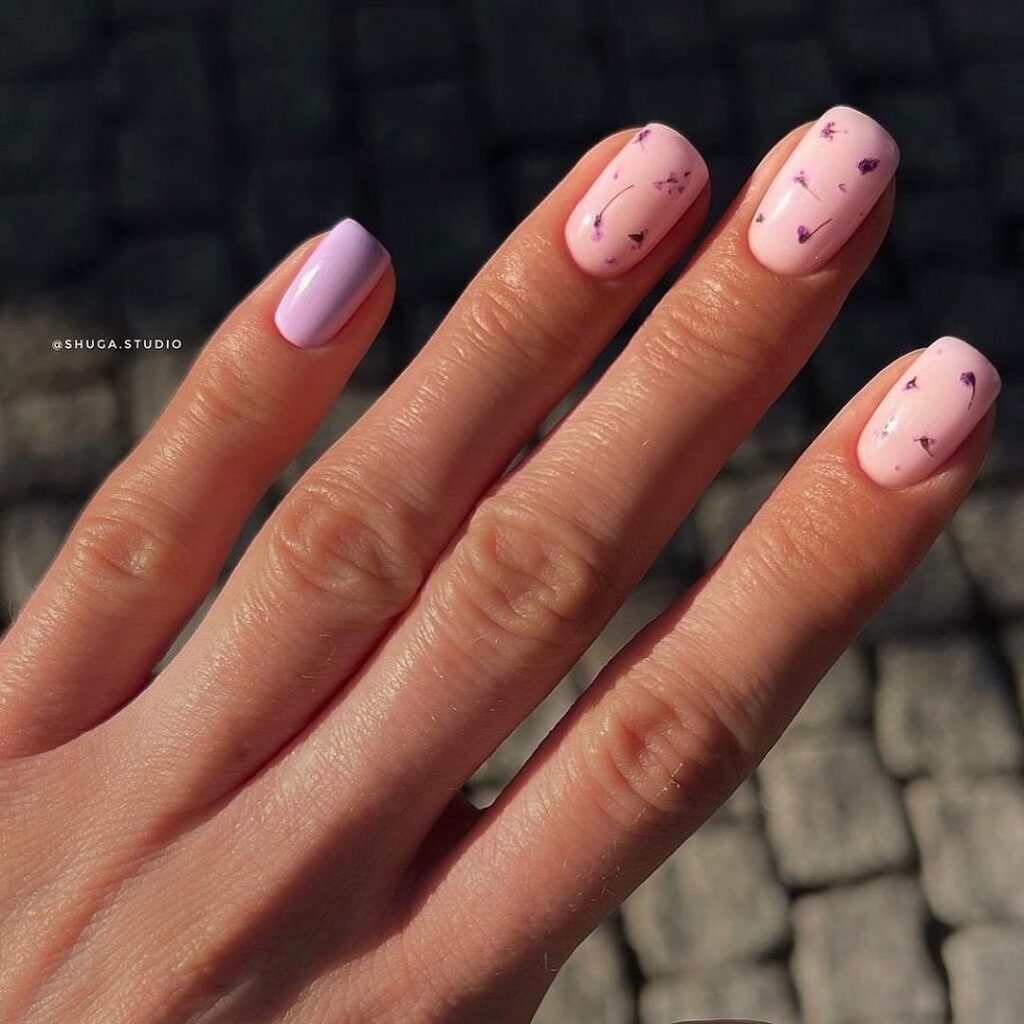 Courtesy: @shuga.studio
#97 Red nails are charming and look amazing on any type of nail shape and length. Pair them with a prominent lead art on one nail and you bring the spring to your nail design perfectly.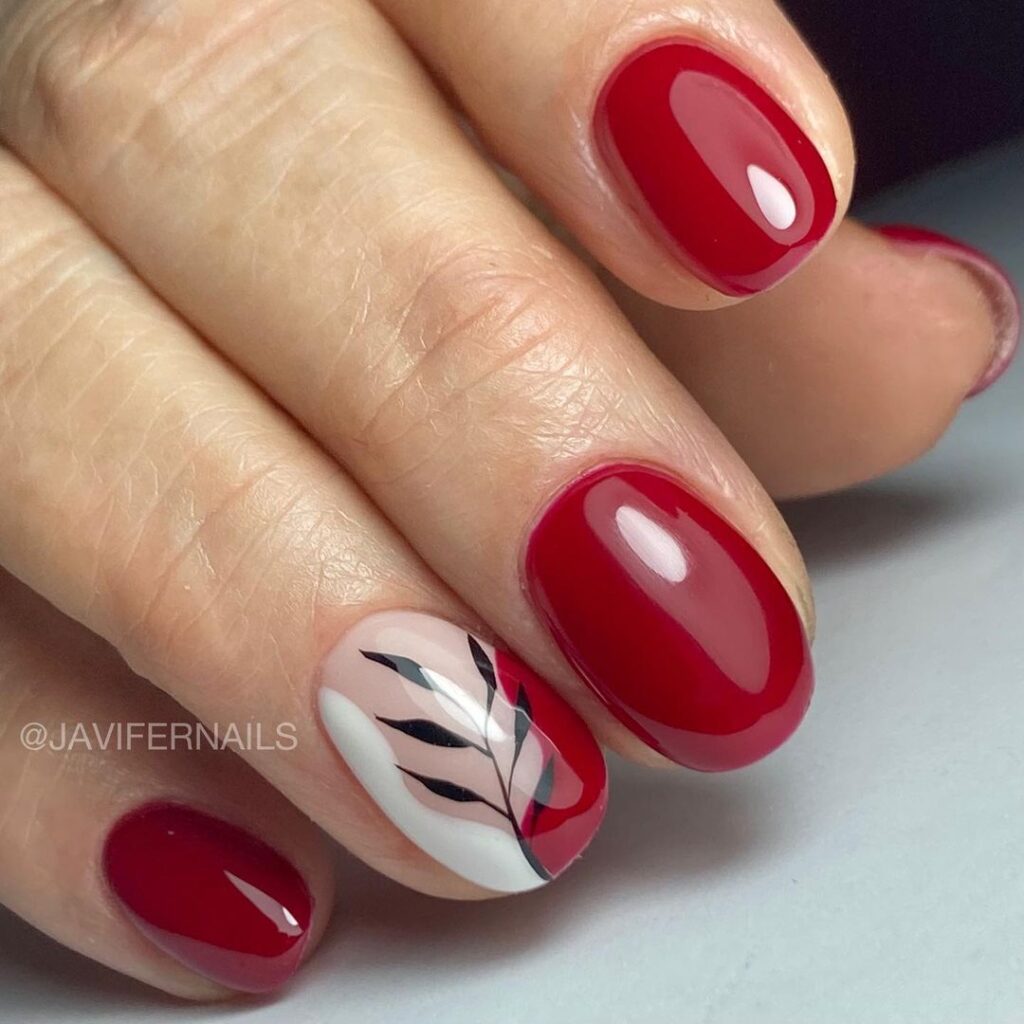 Courtesy: Javifer Nails
#98 White nails are just plain gorgeous. It's hard to put into words their versatility and classic element. If you're wanting to wear them, any season or occasion can work well. We love the next nail design on our list in clear white with some deep white accents on the top and bottom.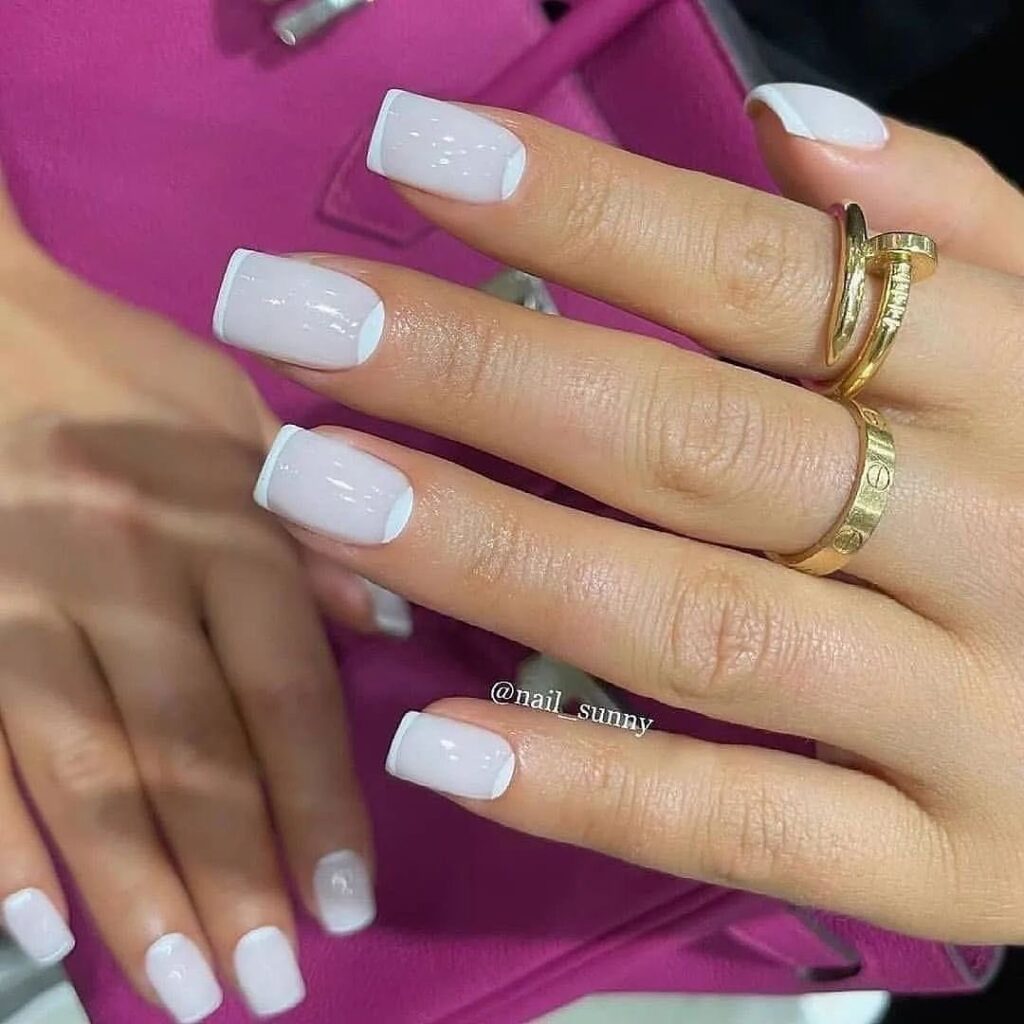 Courtesy: @nail_sunny
#99 As the winter wears down, droplets of water can be found on plants as a result of condensation. Illustrating this effect is the next one of the spring nail designs 2023 which also features dandelion, symbolic of the return of life and growth after the harsh winter season.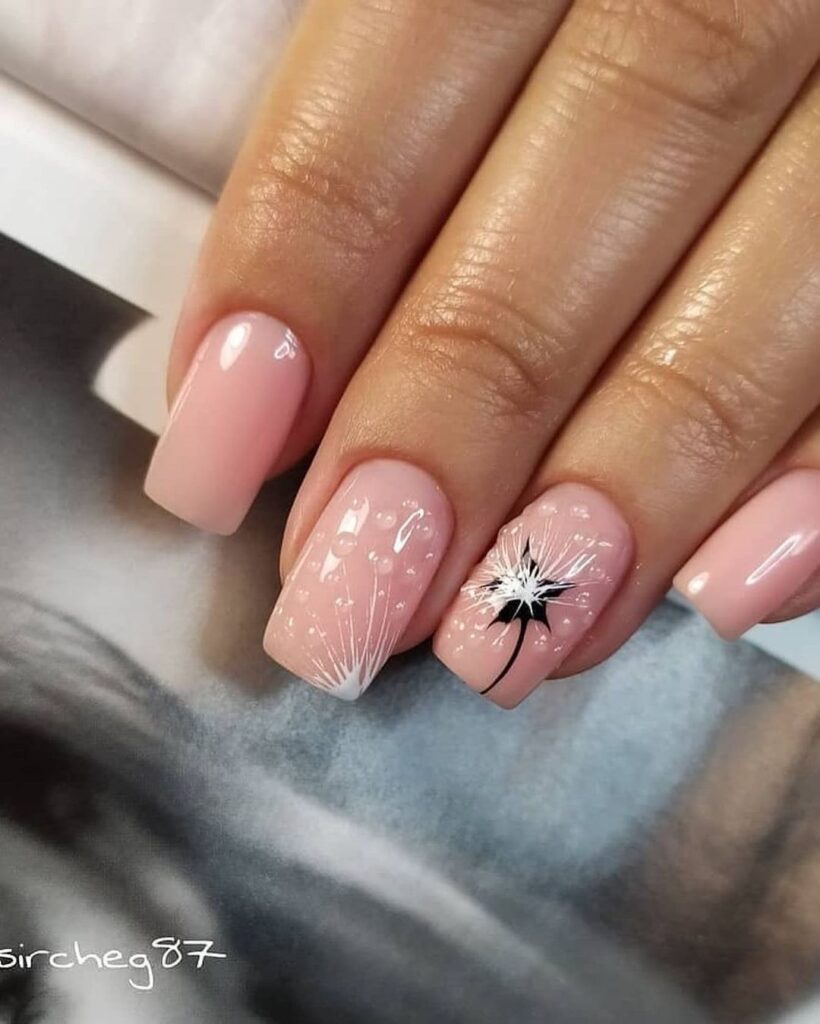 Courtesy: Instagram
#100 The next one of the spring nail designs 2023 embodies a warm earthy polish and aesthetic yet simple art bound to grab attention. The small size and gloss finish also make it long-lasting and easier to maintain.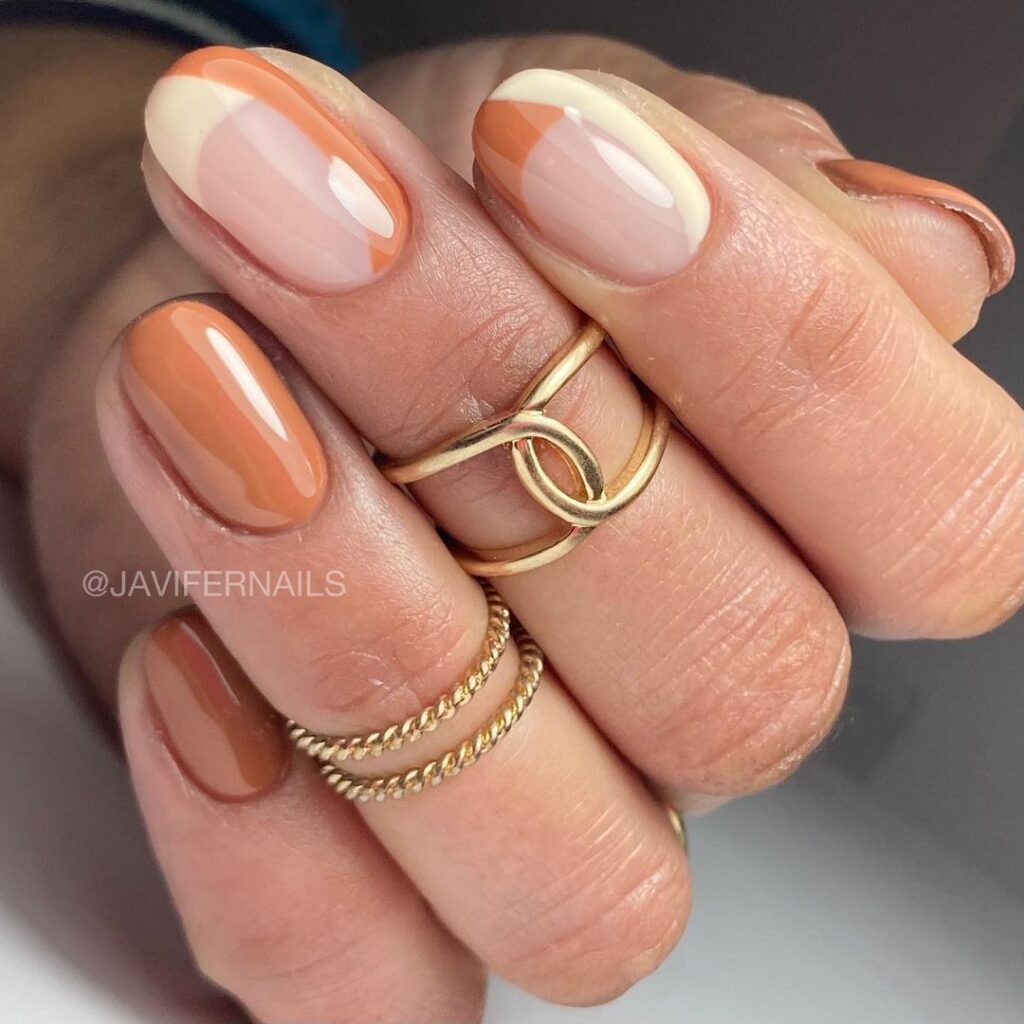 Courtesy: Javifer Nails
#101 These extra-long coffin spring nails are stunning and bound to grab some eyeballs.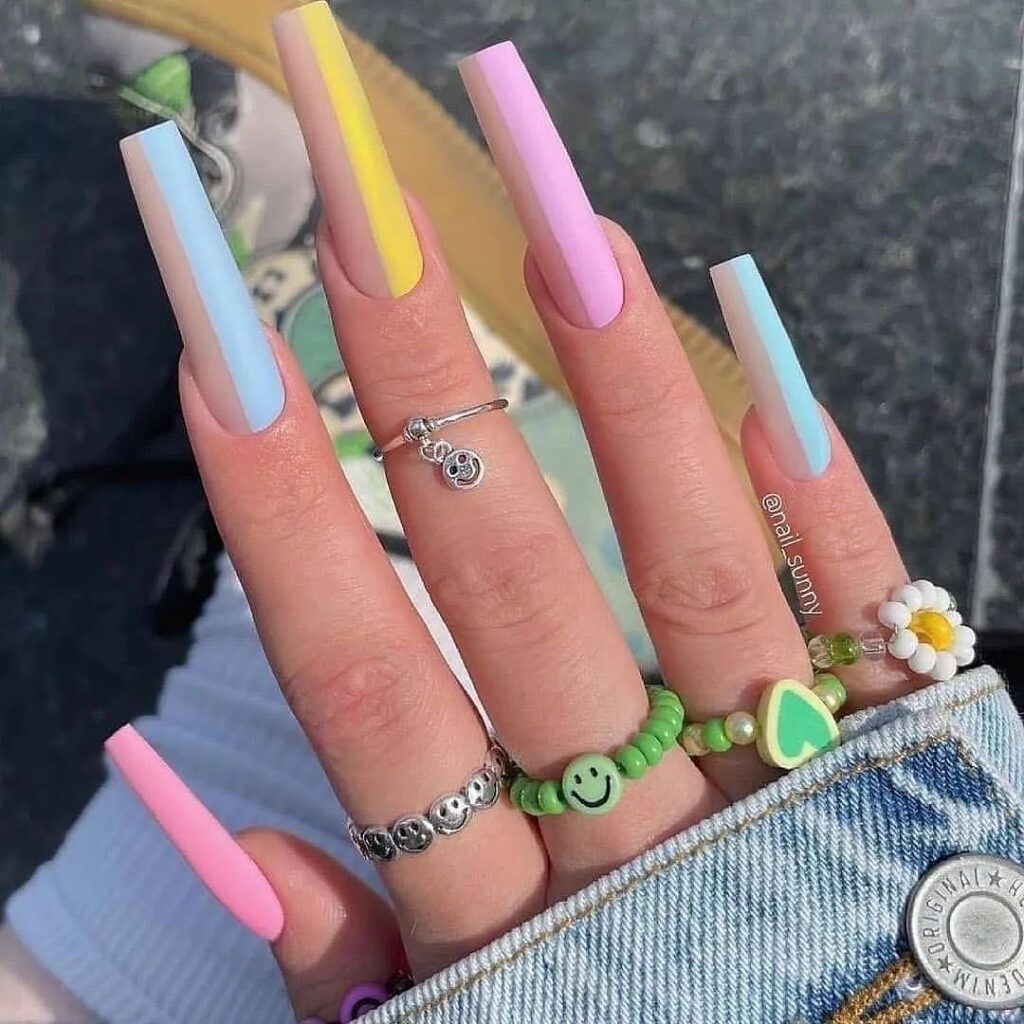 Courtesy: @nail_sunny
#102 This flower art can be done on all nails or one can be left in matte white as shown in the picture. Both will definitely look amazing as spring nails though!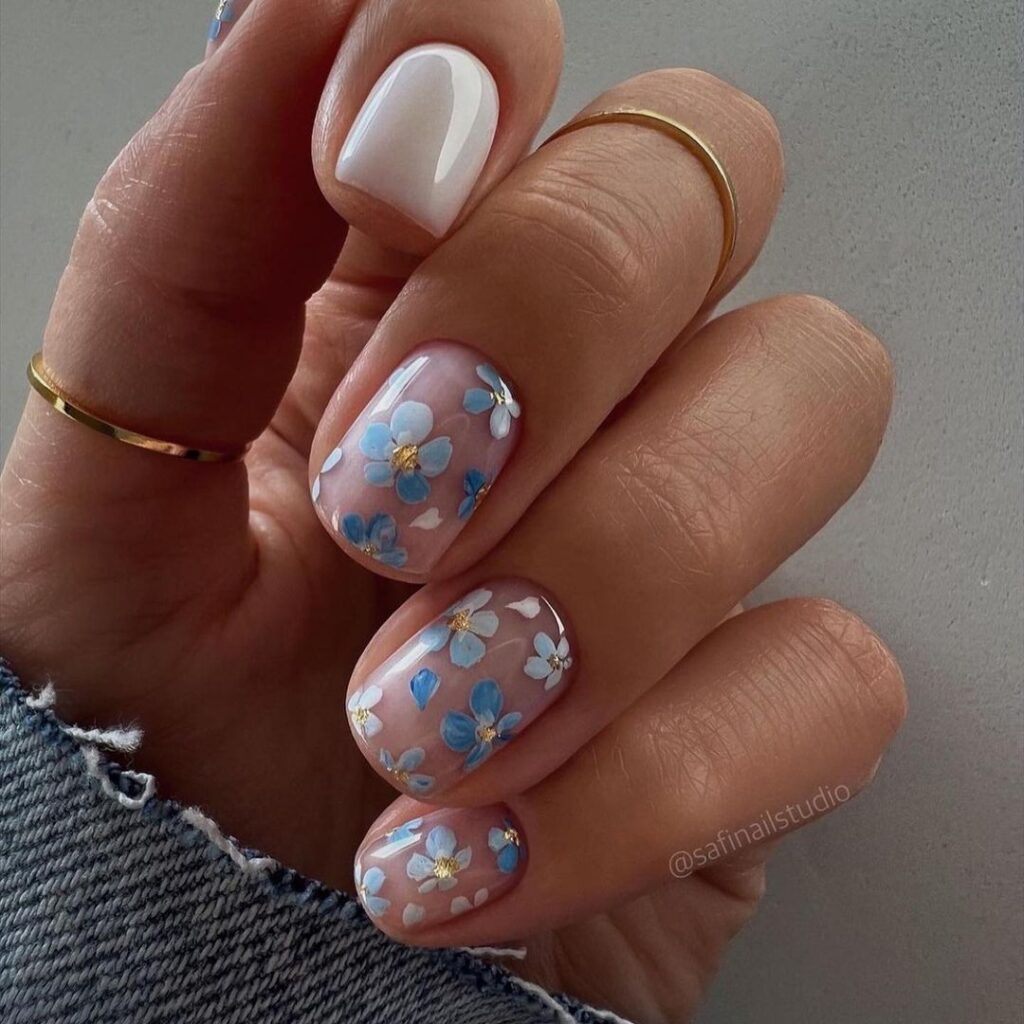 Courtesy: Pinterest