Pink Nail Designs are a classic and feminine choice for any occasion. From pale, barely-there shades to bold, hot pinks, there's a hue to suit every taste. Nail designs featuring pink as the main color can range from simple and understated to intricate and eye-catching. Whether you're looking for a subtle accent or a statement-making look, pink nail designs are a great way to add a touch of elegance and femininity to your nails. Below, find 65 nail designs in the pink shade to help you pick one that suits your taste and preference the best. 
#1 Glitter on any color is probably the most popular nail design idea for any season, and you really can't go wrong with this look. These short pink coffin-shaped nails further add a modish touch to the stunning manicure. We love the alternate ombre pink French nails combined with a dark pink glitter shade to balance out the vividness and subtleness of the design for a truly remarkable manicure that will garner you compliments till it lasts.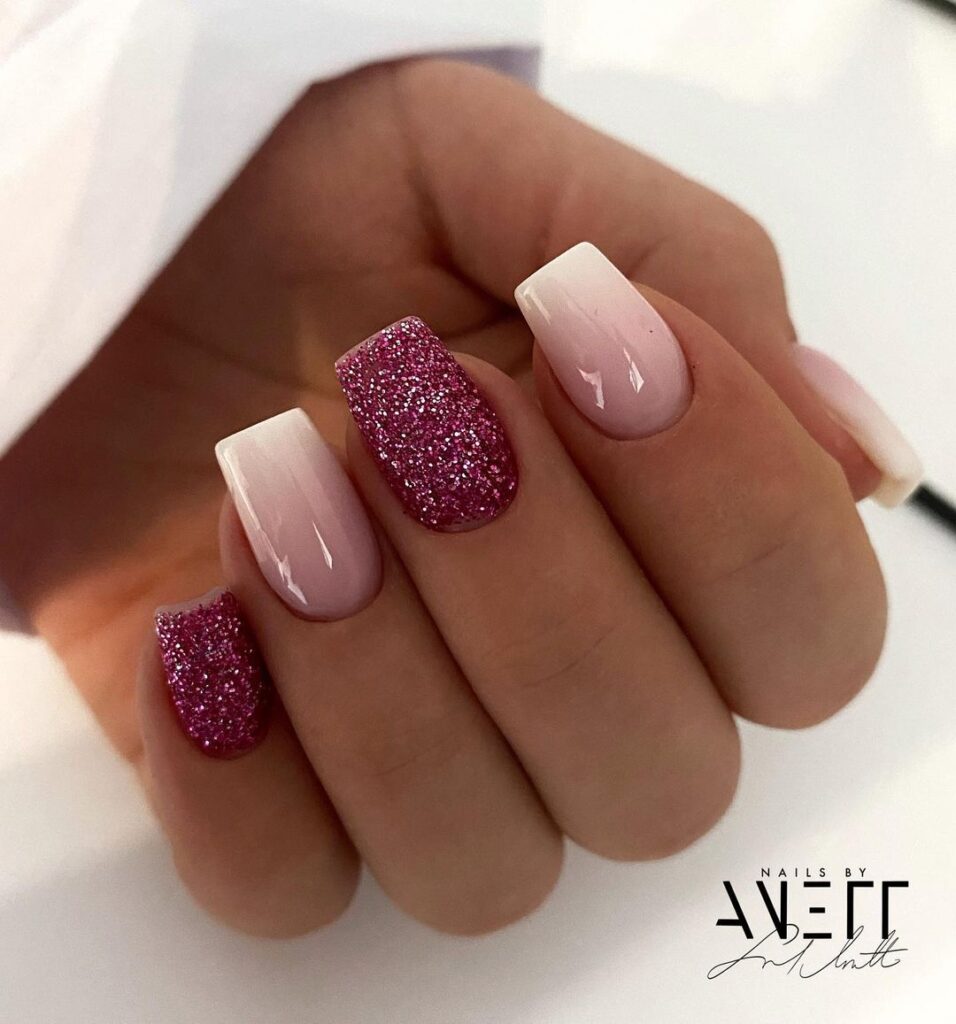 Courtesy: @l.anett.nails
#2 This one of the gorgeous short pink nail designs combines baby pink with light blue. These two soft hues complement each other well and create a soothing, pastel look. It's a great option for spring and summer, or for a baby shower or other baby-themed event. The combination can also be used to create a more elegant look by using deeper shades of these colors. But here, it's instead used to demonstrate the wearer's love for mountains and perch the motifs beautifully at the end of every nail.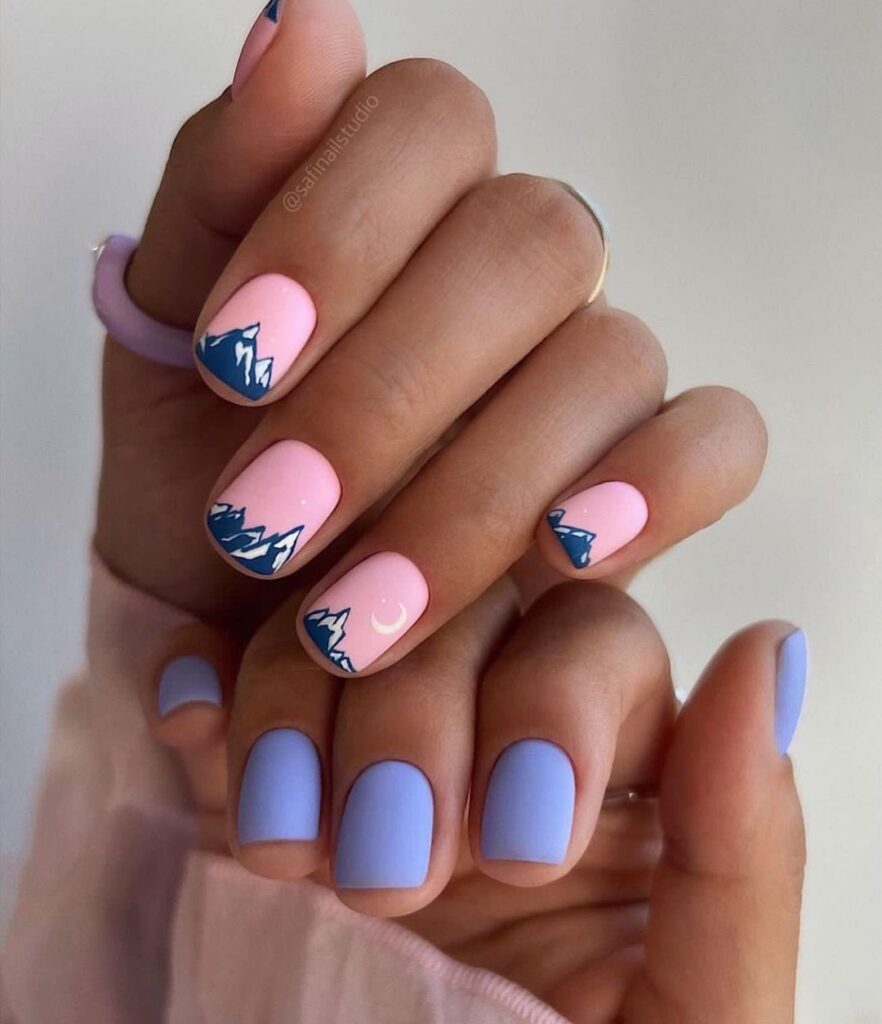 Courtesy: @nail.ideas.iran
#3 We absolutely adore this particular one of the hot pink nail designs probably because it's so beautifully combined with a baby pink nail and a glitter nail for a safe yet classic look. This is also an easy DIY hot pink nail design if you have all the colors available at home. It will look good with all nail shapes, so don't worry if you don't have long nails as of yet!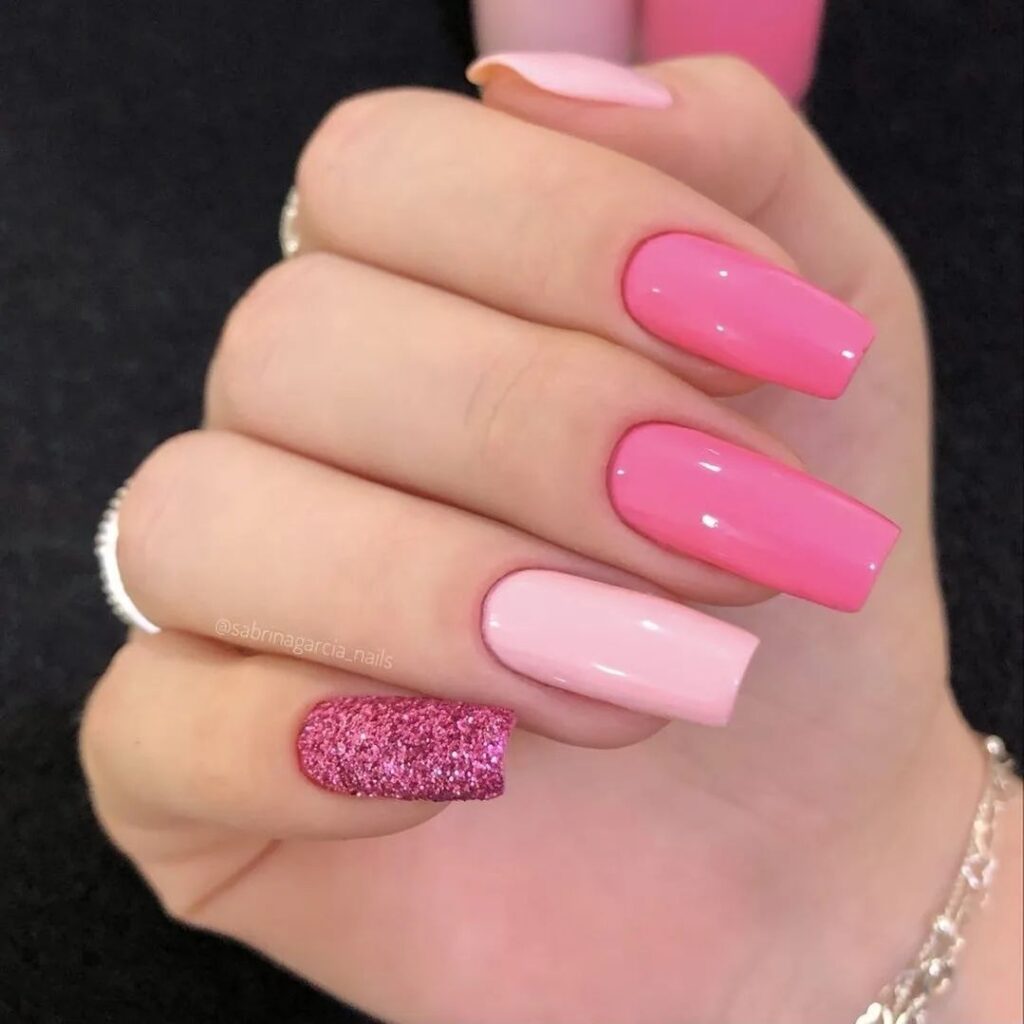 Courtesy: Sabrina Garcia
#4 When it comes to pink nails design, we hardly think of metallic hues for the manicure, but the next design idea is a hint that you probably should! Metallic pink nails can give a bold and shiny look to your nails. A metallic pink nail polish can be applied as a full coat for a solid and shiny look, or used as an accent nail paired with other colors for a more playful look. This color can be used for any occasion, from a casual day out to a night event, and it's a great way to add some shine and glamour to your nails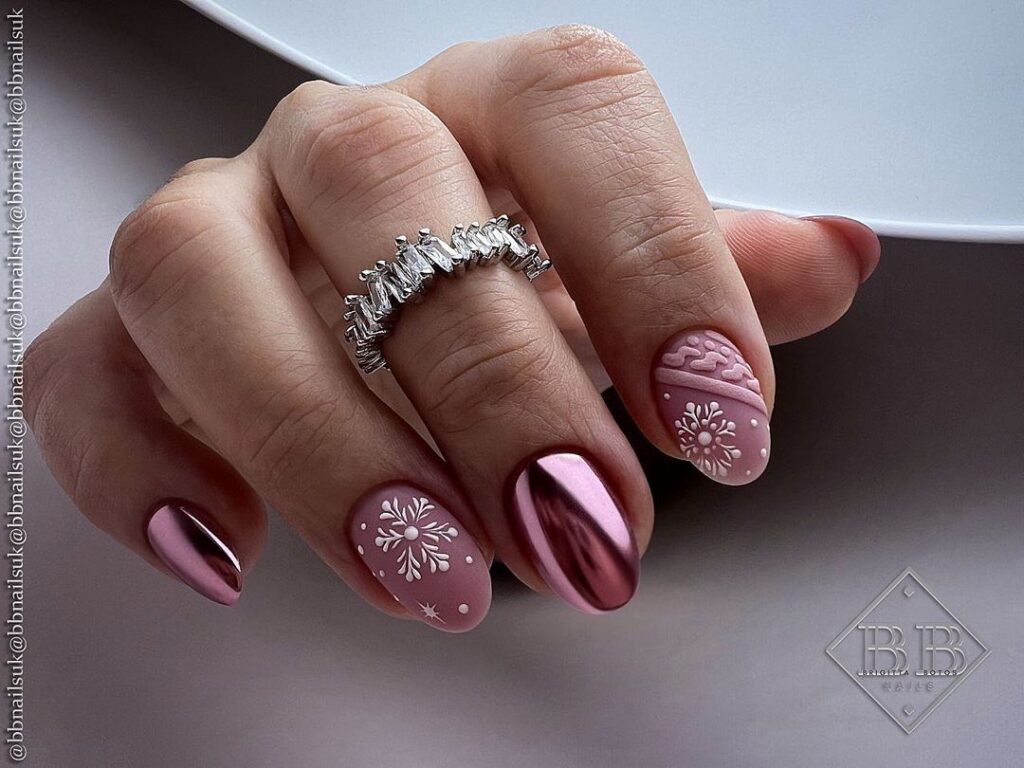 Courtesy: @bbnailsuk
#5 We love this minimal pink & white nail design, amped using various shades of pink in French manicure style and swirls in some nails. The flowers on one nail make the manicure relevant for both the spring and summer seasons. But if you want to make them relevant for any other season, you can omit the floral pattern, and just put another swirly pattern on the middle finger for a versatile look.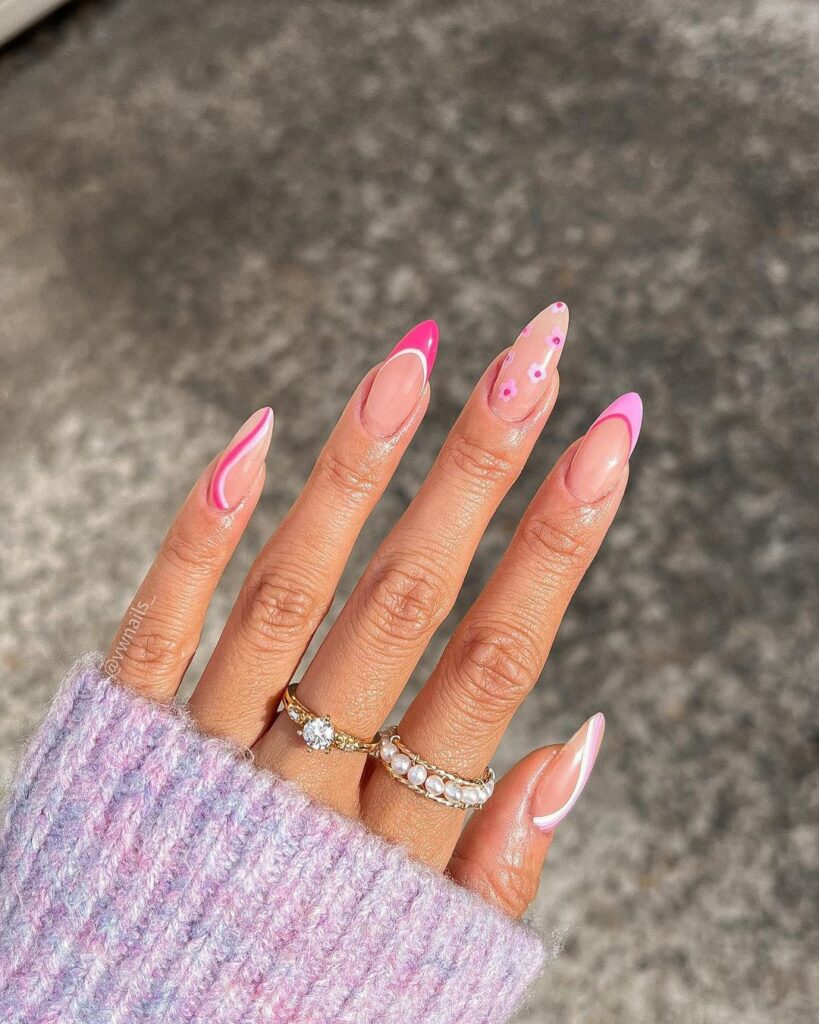 Courtesy: Vivian W
#6 These hot pink and white nails design combines the classic art of French manicure with the allure of hot pink for a design that's as elegant as its eye-catching. What adds more allure is the pointed almond nail shape! If you ask us, the nail shape can make a big difference in how your manicure turns out to be, and do give it a thought when you're trying out any manicure design from your inspirational book.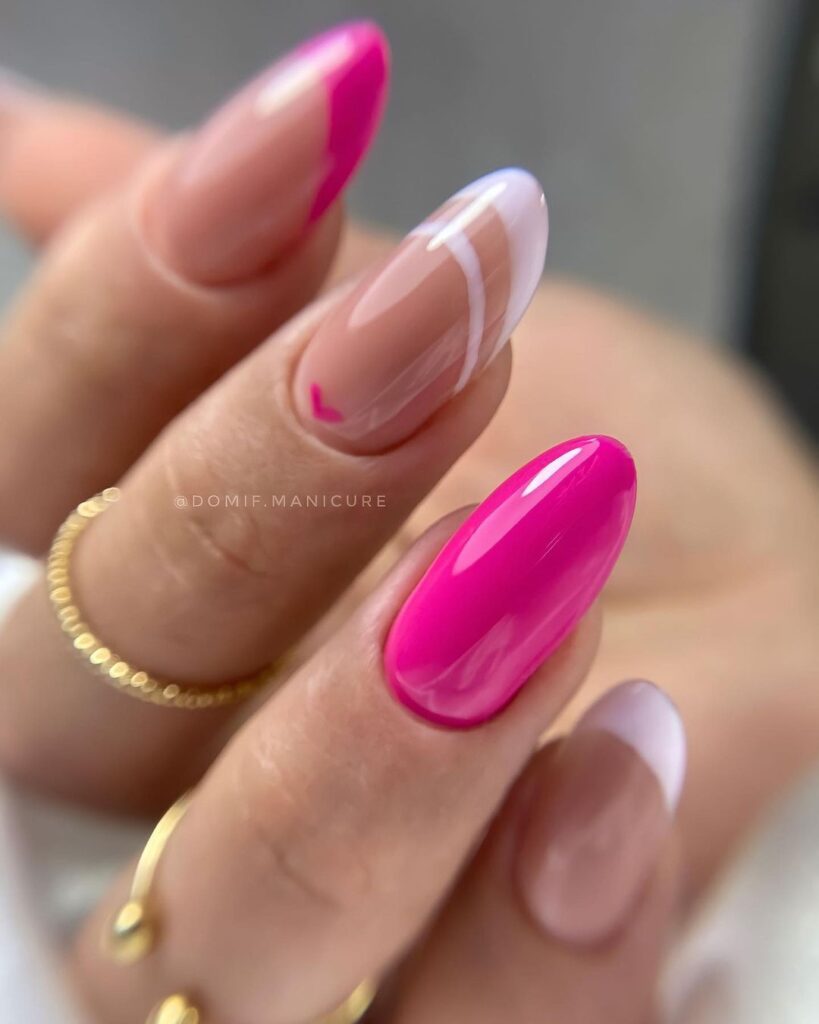 Courtesy: @domif.manicure
#7 This one of the dark pink nail designs is enhanced by ombre pink nails in the middle which is further bedecked by subtle amounts of glitter on the base. Ombre nails are a bit tricky to do at home, so if you're looking for a modern pink nail design 2023 to DIY, then this one's surely not it! But if you've decided to pamper yourself with a professional manicure, then surely go for this noteworthy nail design in pink.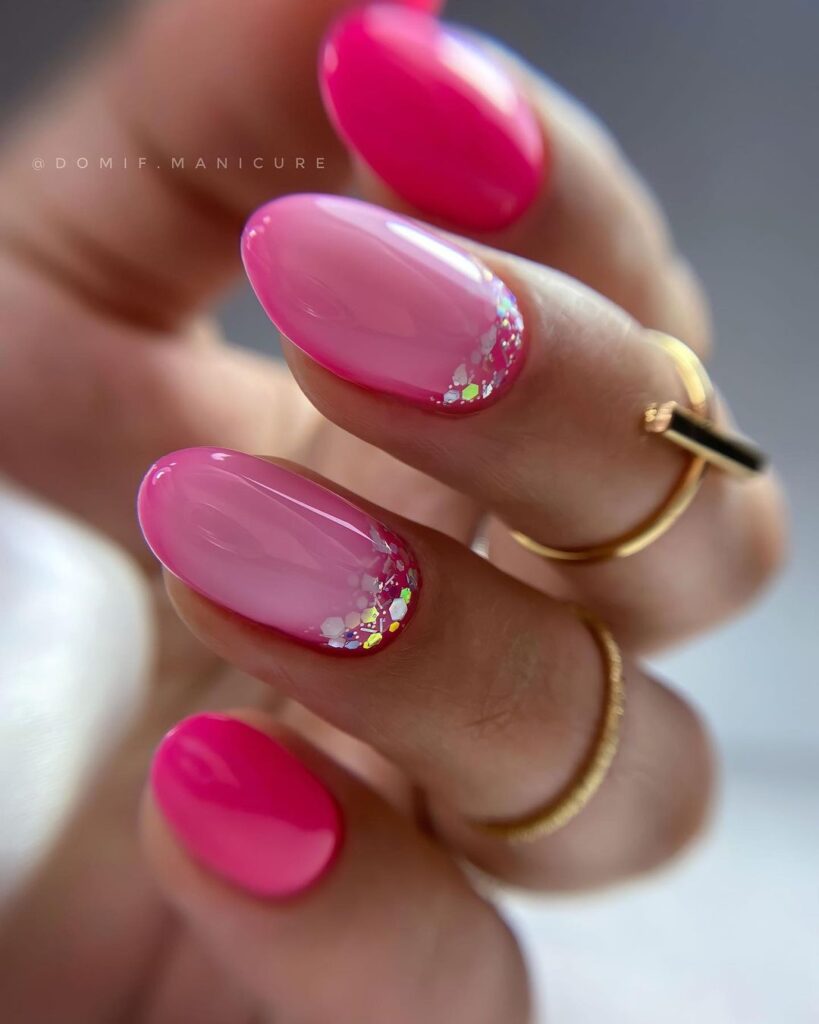 Courtesy: @domif.manicure
#8 It's amazing to see the creativity of manicurists in these spell-binding designs. When you go to an expert nail technician to get your nails done, you can expect them to bedeck your nails in a never-seen-before design that you will love and adore for days! And when you need some inspiration for pink nail designs, this list will help guide you to how you want your nails to look. Like how the next one has a glamorous touch to it without being over the top for a practical and party look in one design.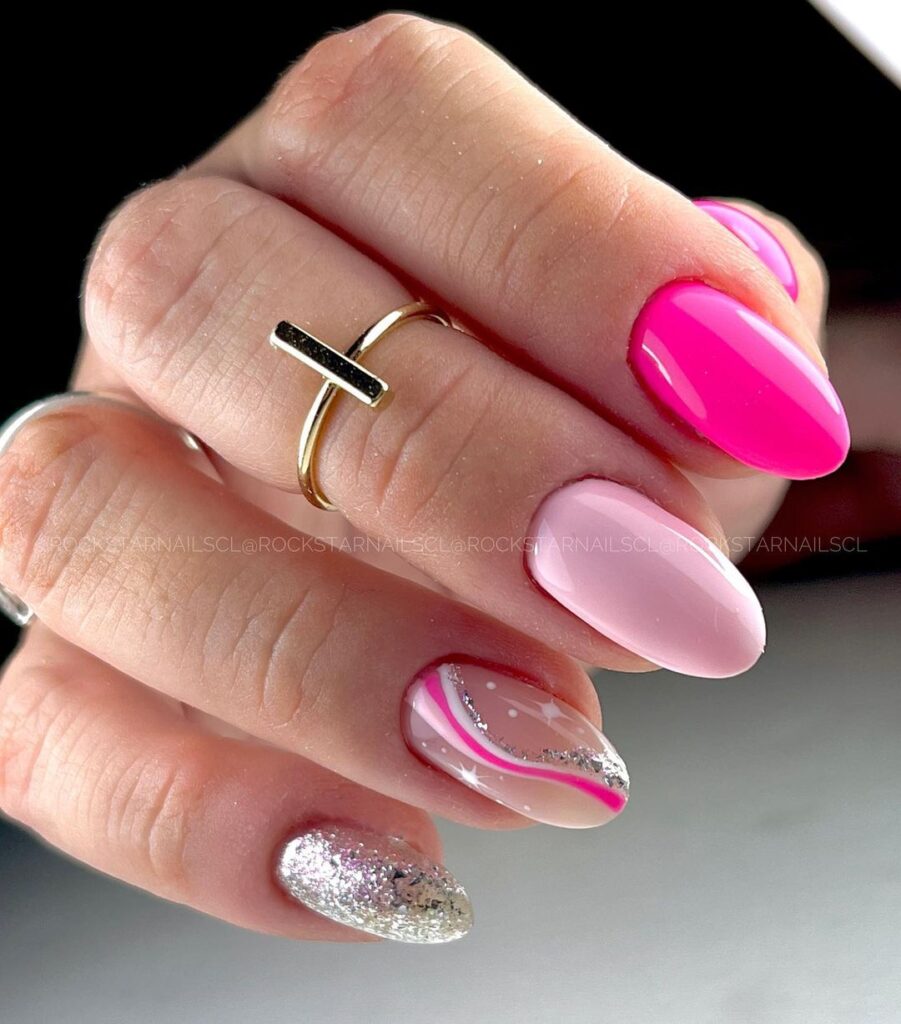 Courtesy: @rockstarnailscl
#9 Well, here's another example of an artistic light pink nail design. It combines the block nail on alternative nails with motif-enriched nail design consisting of the evil eye, heart, and leopard print. This design can be achieved by using stencils or tape to create the evil eye and zebra print motifs, or by freehand painting the designs with a fine brush. It is a perfect pick for someone who wants to make a statement with their nails, and it's a great way to add a touch of personality to your look.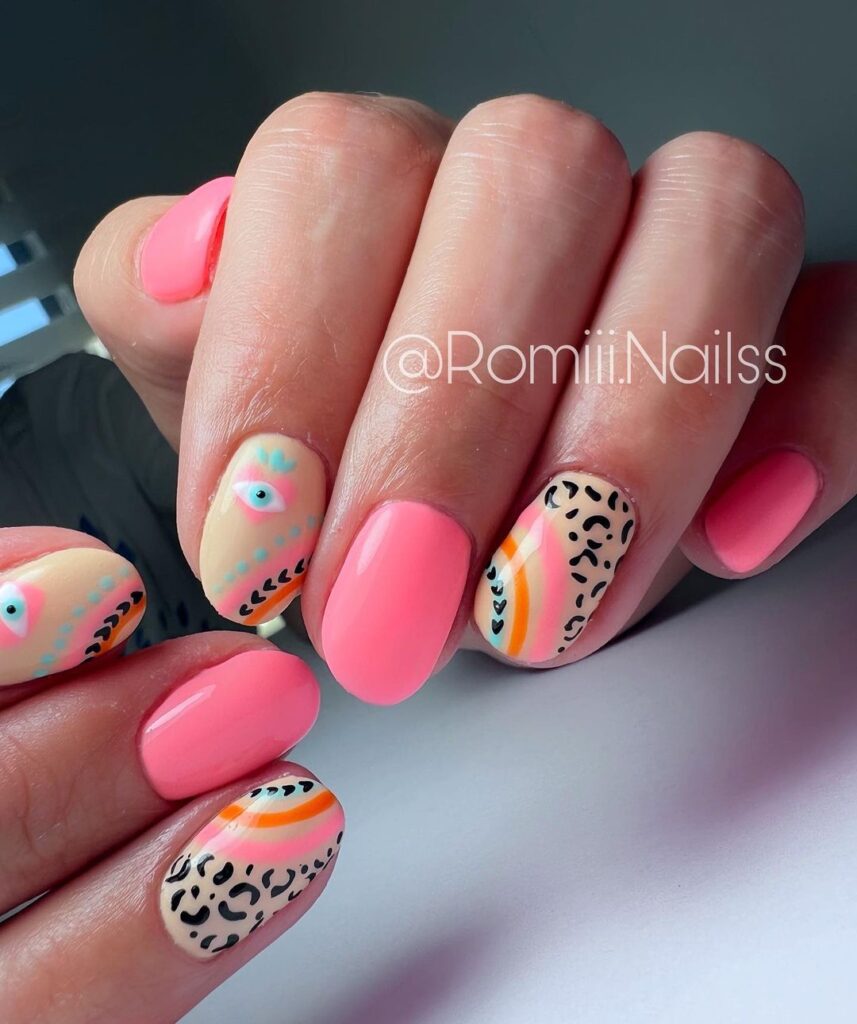 Courtesy: @romii.nailss
#10 This dark pink nails design sees a perfectly square shape of nails decorated in hot pink on three nails and makes the middle of the two nails in the French style. It's the perfect idea for someone who wants to add some personality to the traditional way of painting all nails in one design. It's also a design that can be recreated with your favorite color, from black nails to red nails, it will work with all.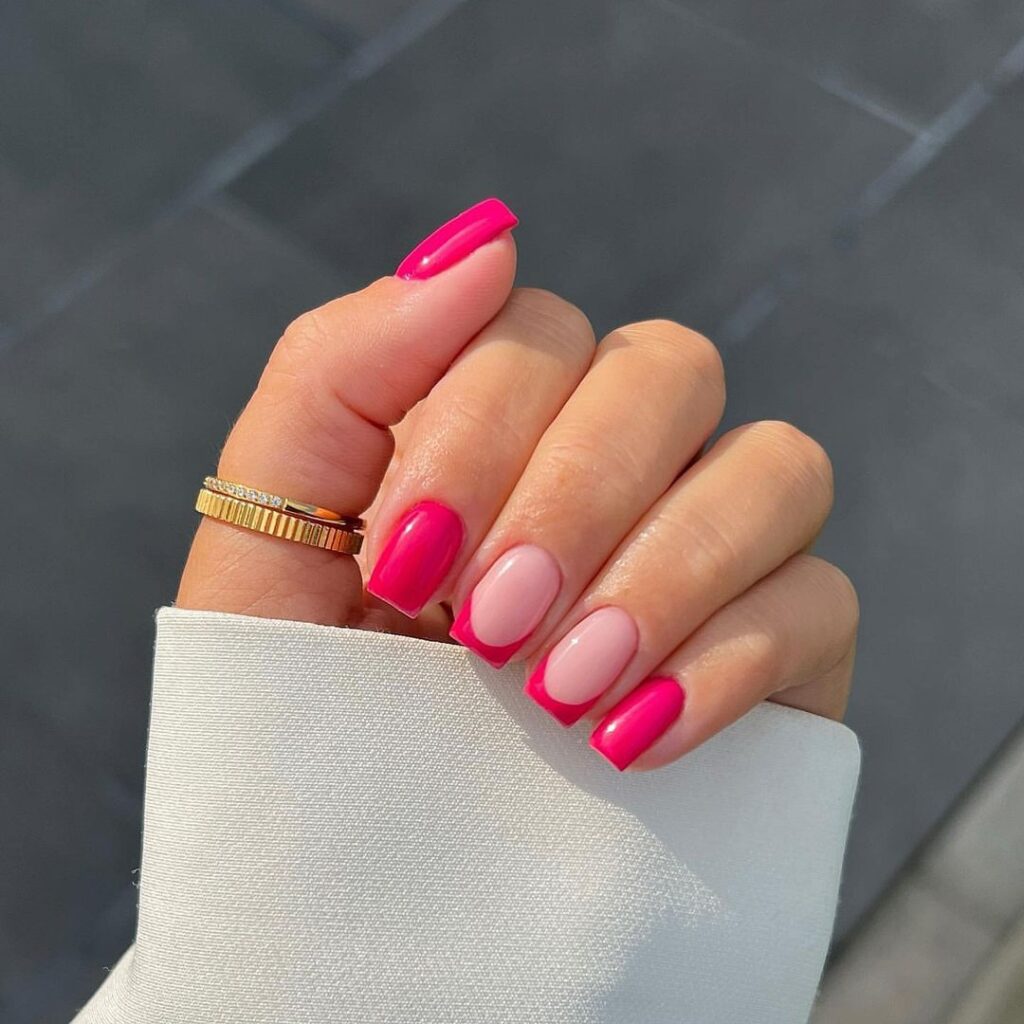 Courtesy: Bethany
#11 The combination of dark pink and light pink is one that you will see in many pink nail designs in 2023, and rightfully so! The contrast between the shades not only creates a modern and playful look but also adds depth and dimension to your nails. Another benefit is how much versatility it offers to your design, and how you can use the combination for any season or occasion. Like here, the addition of leaves makes it perfect for spring or summer, but you can instead add some snowflakes for winter nails instead!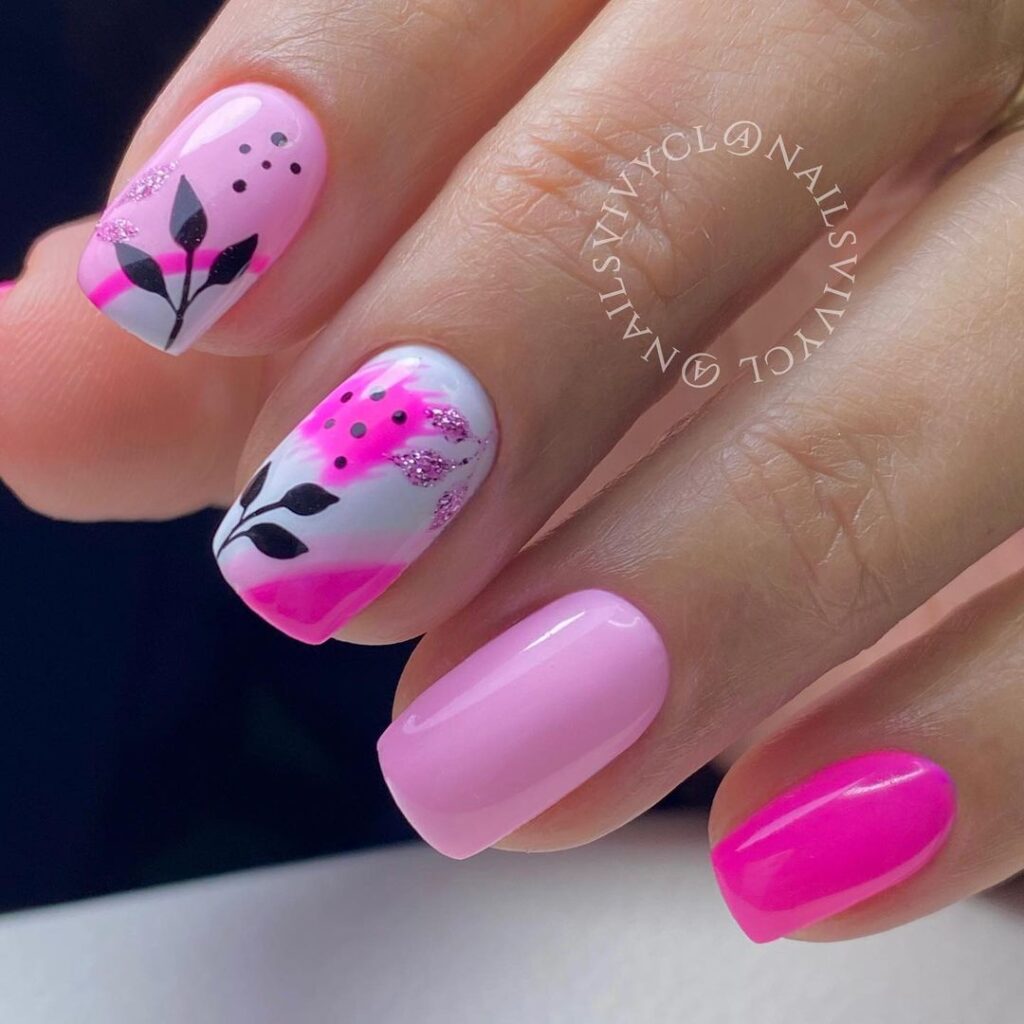 Courtesy: @nailsvivycl
#12 These pink glitter nails again employ the gorgeous combination of light pink and dark pink and further elevate with glitter and floral motifs on one-one finger each. It's gorgeous and girly, and yet looks like a manicure that you can wear daily, but also won't disappoint when you have a cool party to go to!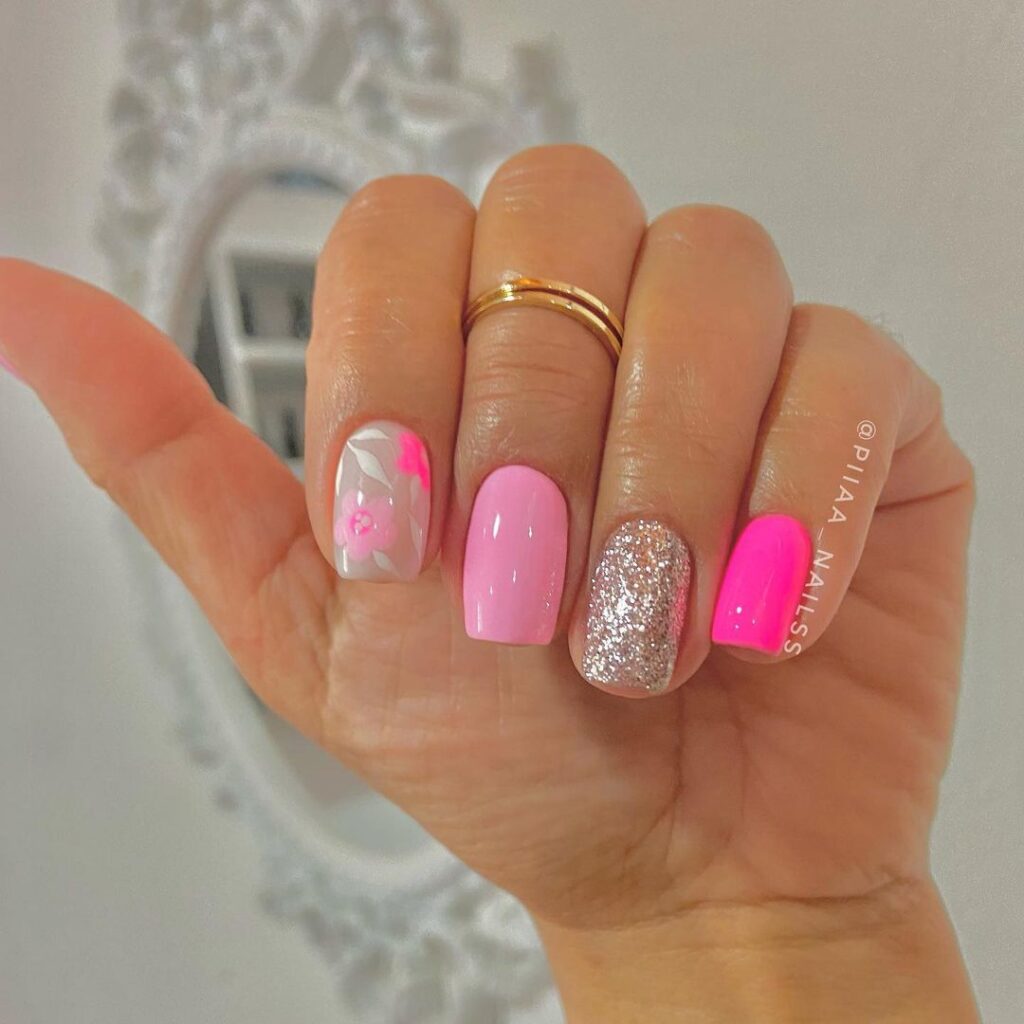 Courtesy: @piiaa_nailss
#13 Since Valentine's Day is coming up, we thought we'd include a nail design that's meant to wow on this romantic day of the year! Pink is anyways a popular color on V-day (besides red) because of its association with love, romance, and femininity. Additionally, pink is a soft and soothing color that can evoke feelings of warmth and affection. Include this light pink nail design on your inspiration list as it combines many love elements alongside a coffin nail shape for a feminine and tender touch.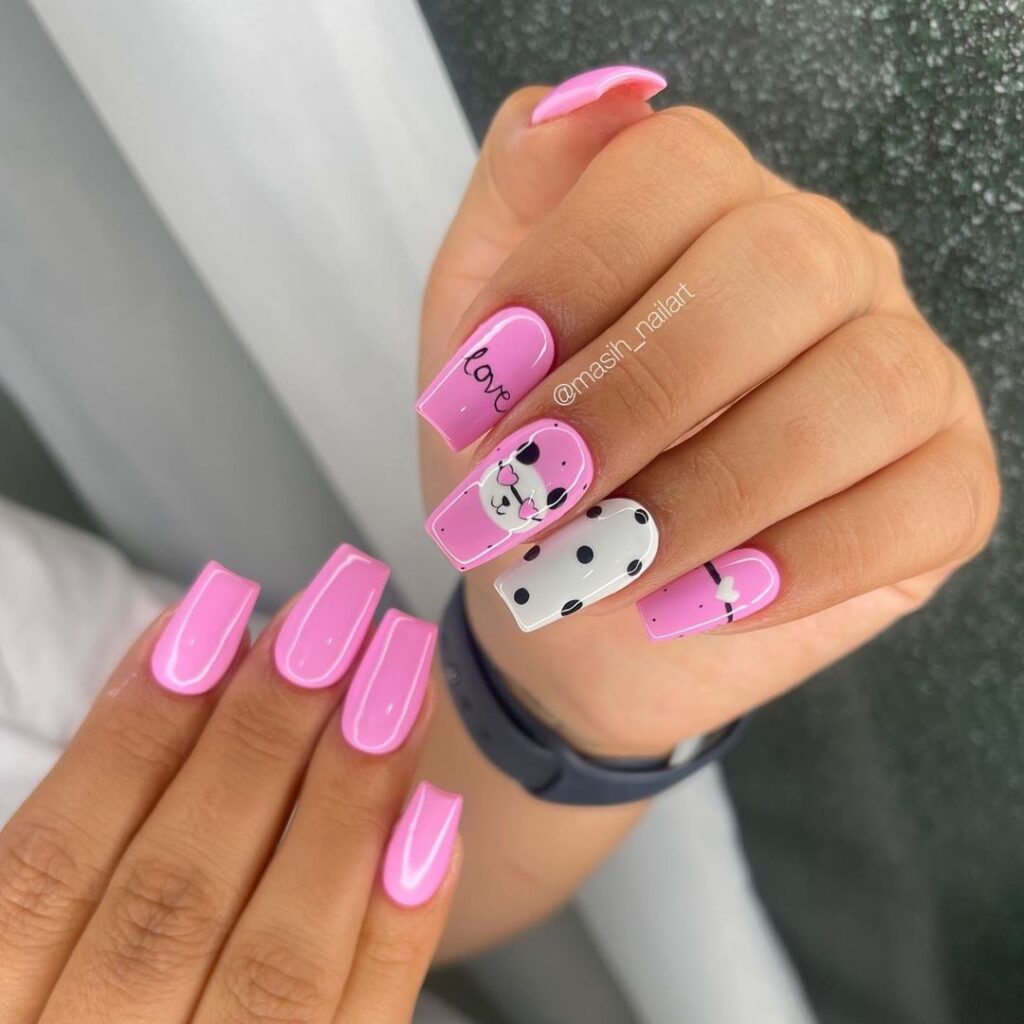 Courtesy: @masih_nailart
#14 Zebra print on nails in pink is a playful and bold design. It combines the wild and striking pattern of the zebra with the feminine color of pink. This design can be achieved by using stencils or tape to create the zebra print pattern, or by freehand painting the design with a fine brush. The pink color can be used as a base coat, or as an accent color on top of a neutral base coat. This design can be worn in different ways. You can paint all the nails with zebra print in pink or just one or two accent nails. This design is perfect for someone who wants to make a statement with their nails and wants to add some personality to their look.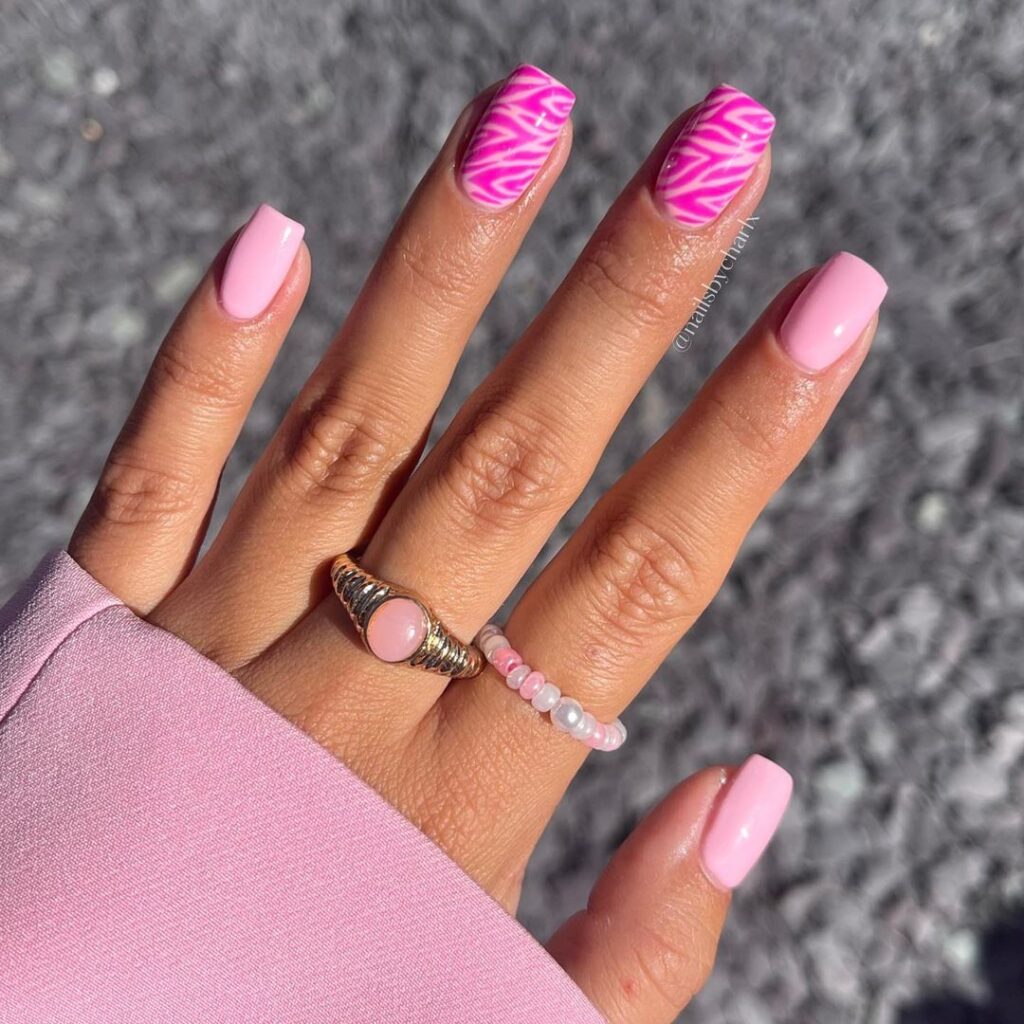 Courtesy: @nailsbycharlx
#15 These nude pink nails are accented by glitter and are just an ideal pick for someone who wants an elegant nail design with just a bit of glam added to them. The best part of these nails is that they can be easily recreated at home. You just need two types of glitter polish to create them. One should have bigger glitter particles and the other should have smaller ones. Apply the former on the base and the former as a complete coat. Finish off with a thicker top coat finish for a glass-effect type look.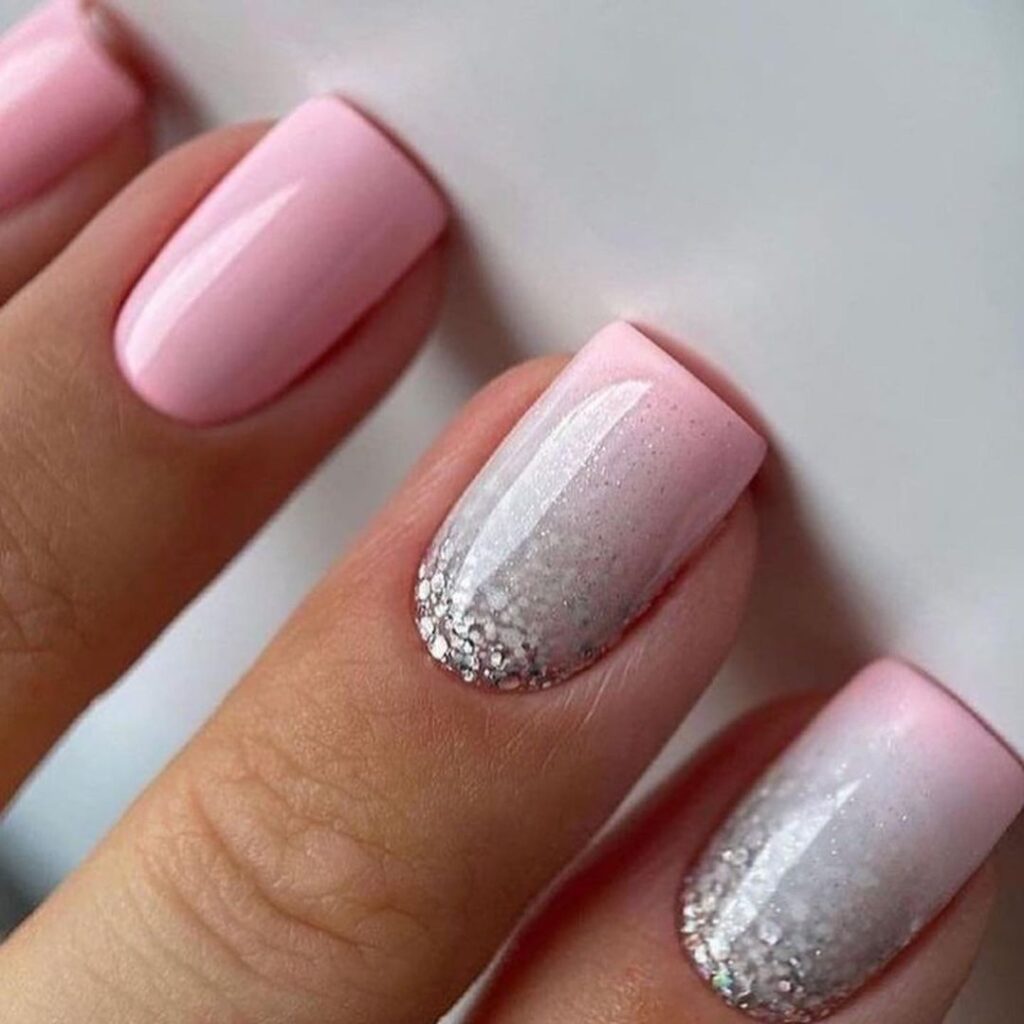 Courtesy: @1000manicure
#16 These swirls pattern design for pink and white nails is both modern and feminine at the same time. The swirl nail trend has taken over the manicure industry, and we love how the simple pattern adds so much movement and personality to your nails. It's also a very versatile pattern and can be done in a variety of colors and techniques to suit your personality. They're quite intricate though and need an expert hand to make them look as alluring as they should be! 
Courtesy: @betterwithjew
#17 These nude pink nails use a soothing and unique combination of light orange and light pink to wow and inspire! Sometimes all you need to add that freshness to your manicure is to use a color combination that's distinctive and hasn't made too many appearances in the manicure world.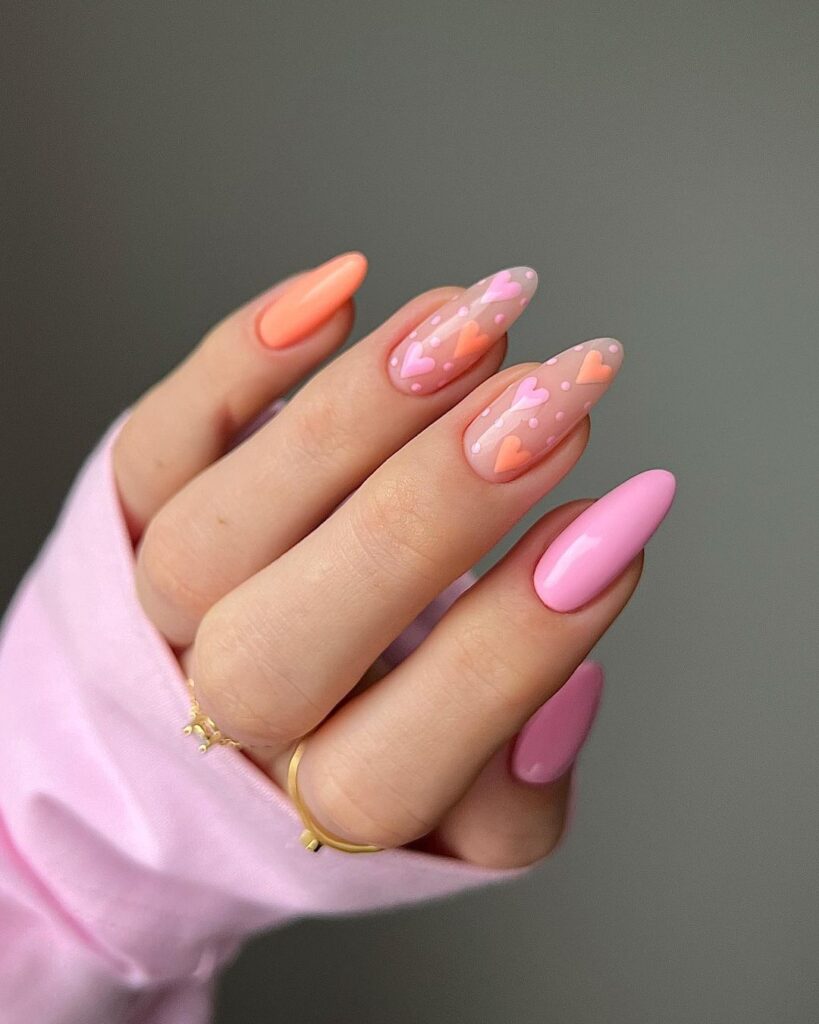 Courtesy: @thehotblend
#18 We love this one of the hot pink and black nail designs with heart motifs and glitter accents. This color combination can be used in many iterations for your manicure and looks quite bold and striking. Some ways to incorporate this combination include negative space, geometric shapes, or even zebra print design to incorporate both colors. This combination can be perfect for a night out, a party, or a special event, it's a great way to add some edge and style to your nails. It's also a great option for those who want to make a statement with their nails and want to add some personality to their look.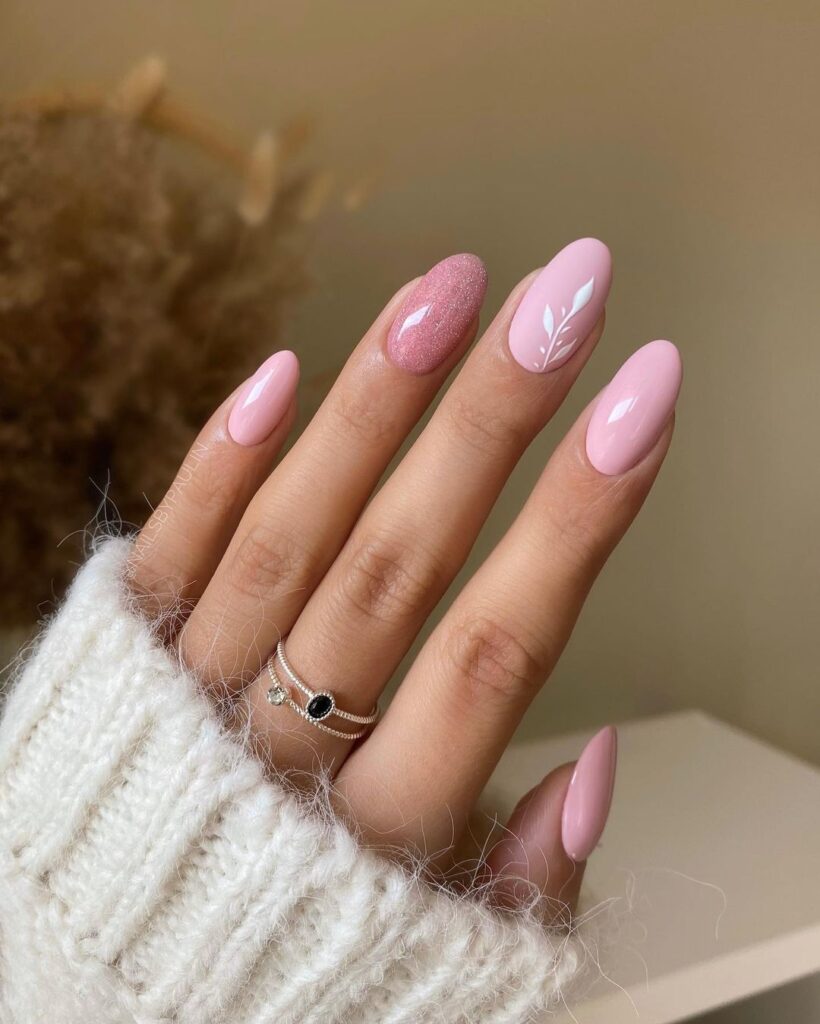 Courtesy: @nailsbypaulin
#19 This one of the light pink nail designs employs an accent glitter nail and a leaf motif to stand out! It's a simple, subtle, and elegant manicure for those who want delicate art as their manicure. The small almond nails also add to the sophistication as they enhance the length and slenderness of the fingers as well! Additionally, almond shape nails are not too long and not too short, which can be a good option for those who want a polished look without the hassle of maintaining long nails.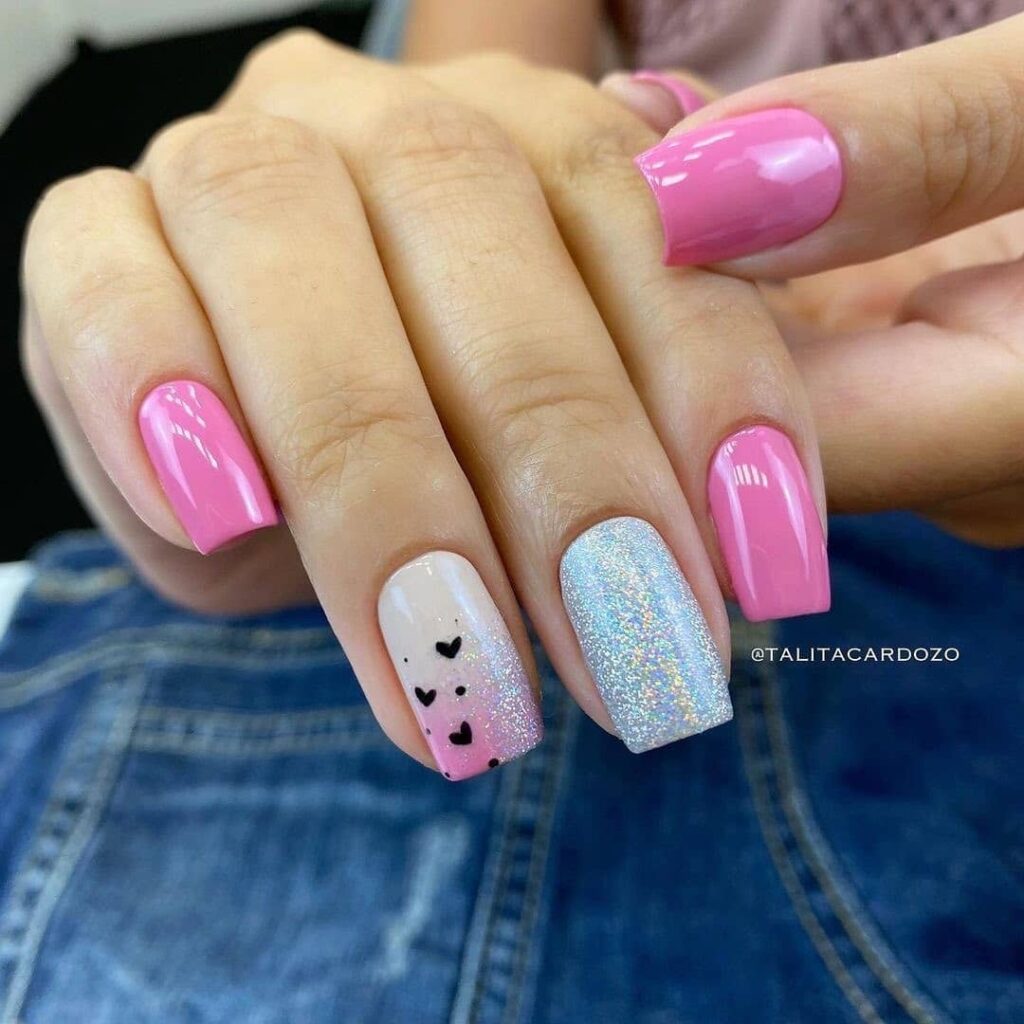 Courtesy: Talita Cardozo
#20 We love these natural pink nails design enhanced by studs and glitter. Together, they give a very delicate and glamorous look. The studs can be applied to the nails in different ways, like in a random pattern, in a line, or even creating shapes. The glitter can be added as a topcoat, or as an accent nail, creating a contrast with the natural pink color. Overall, you can be assured of this combination imparting feminity and charisma to your nail design. 
Courtesy: Talita Cardozo
#21 The next one of the designs for pink and white nails is notable and stands out just by tweaking the edges with an outline. To make your nail design idea 2023 stand out, you don't have to always be extra artistic in your design, just some simple changes can do the trick. Here, the nude pink nail design is outlined to create that distinctive look.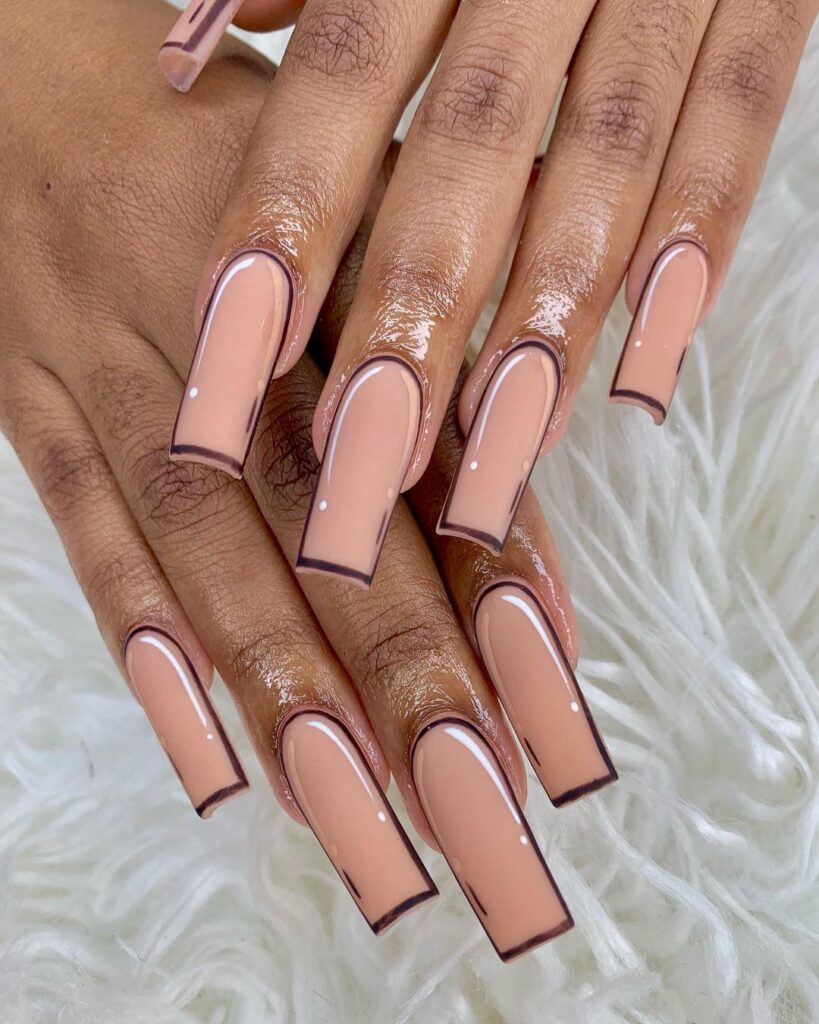 Courtesy: @claragama_nails
#22 This one of the hot pink and black nail designs are accentuated by the black abstract pattern on alternative nails and a cute heart in the middle nail. Heart motifs are often used in manicures because they are a symbol of love and affection, and can be used to symbolize love for yourself or for someone special in your life. Nonetheless, it's a cute addition to the mani which also evokes those lovey-dovey vibes in your heart.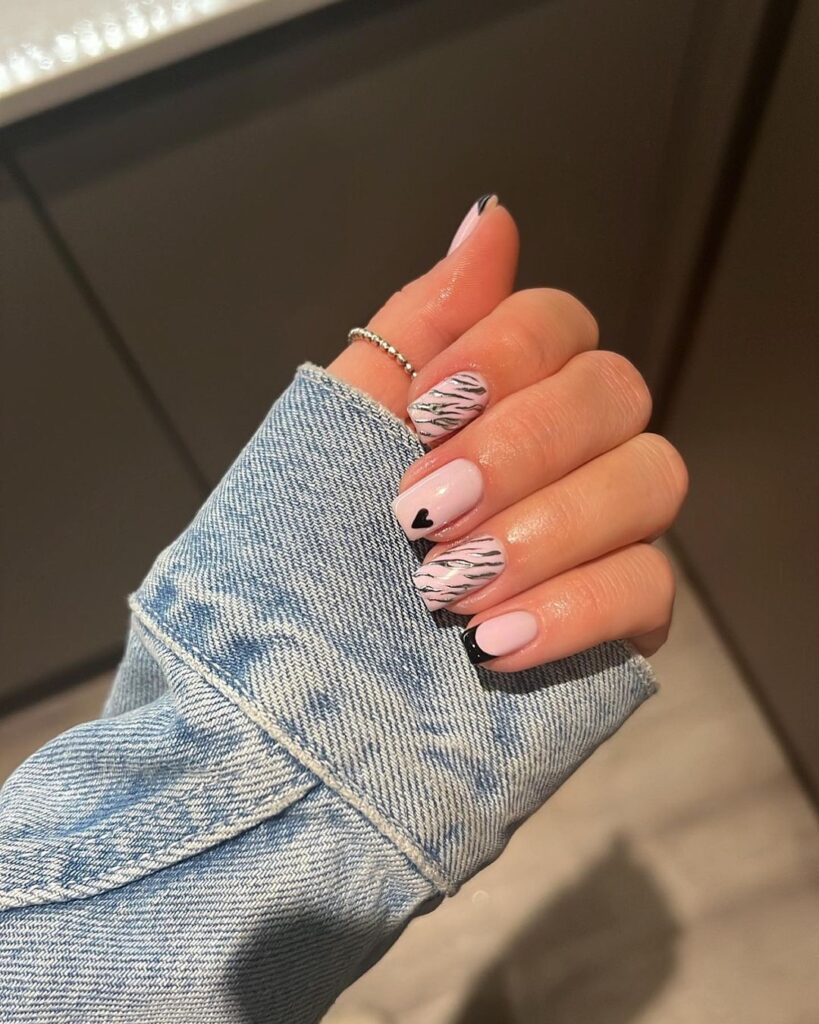 Courtesy: @kcnailsx
#23 These bright pink nails are simple yet gorgeous. Pink nails don't have to be ordinary, and to make them unique, just pick a different version of pink shade than what you usually spot. Like these metallic pink nails stand out for their color, and moreover, they will look with any nail shape, so just go for the one that suits your preferences.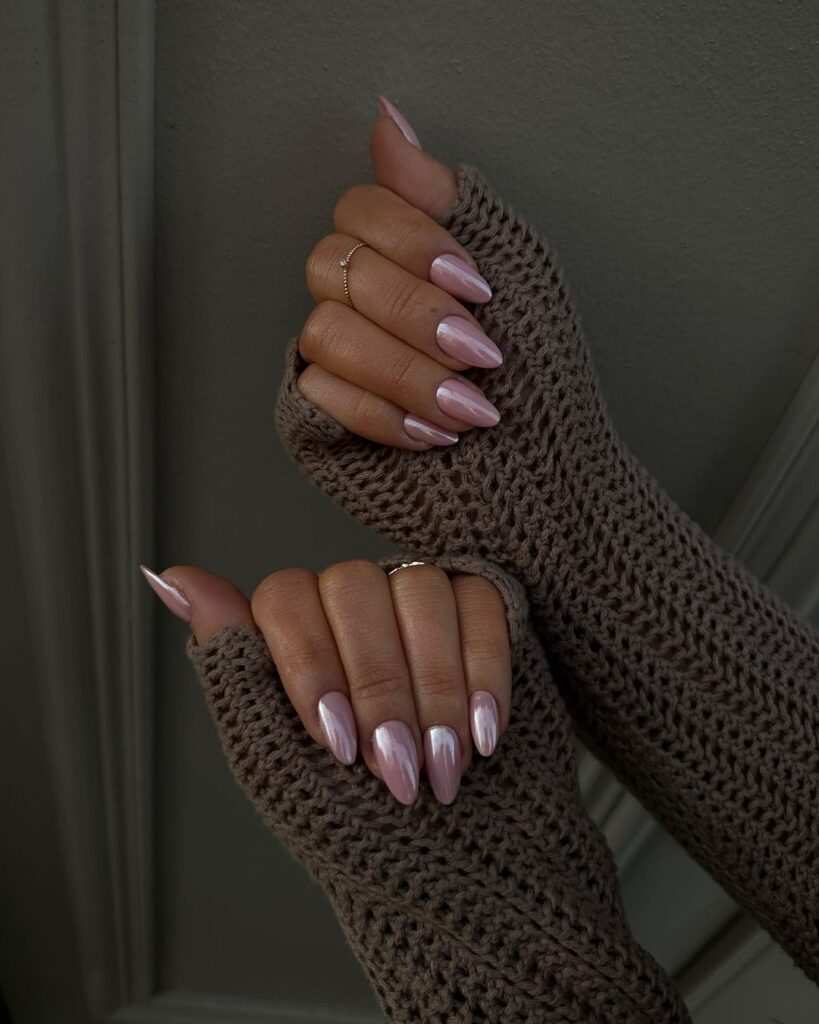 Courtesy: @md_ongles
#24 These light pink nails are perfect for the spring and summer seasons. Instead of the foliage motifs, they instead use dandelions to nod to the blooming season and we absolutely adore the colorful way they're demonstrated. We'd advise you to trust an expert technician to recreate them for you!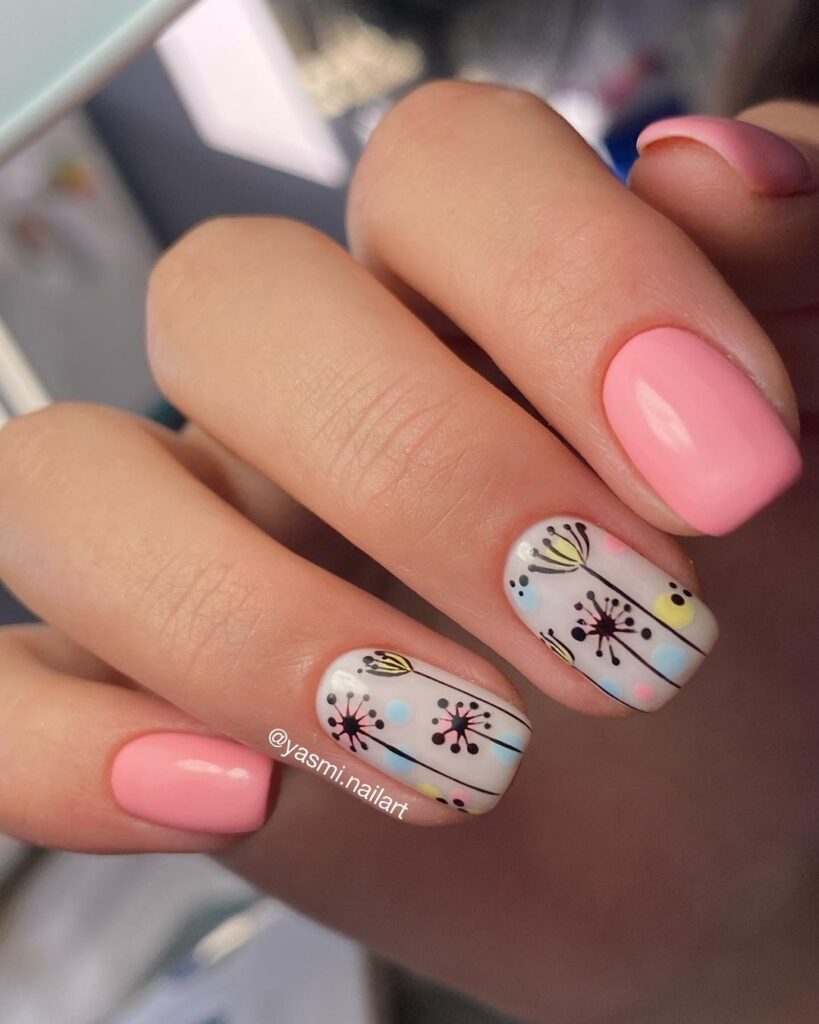 Courtesy: @yasmi.nailart
#25 Sparkle can make everything better. From your cute little dress to the handbags and your manicure, glitter can amp up the glamor of your look and give you the glistening vibes you need in your life. When it comes to pink nail designs as well, adding a glitter coat on top of your pink nail goes a long way to make your manicure alluring and eye-catching.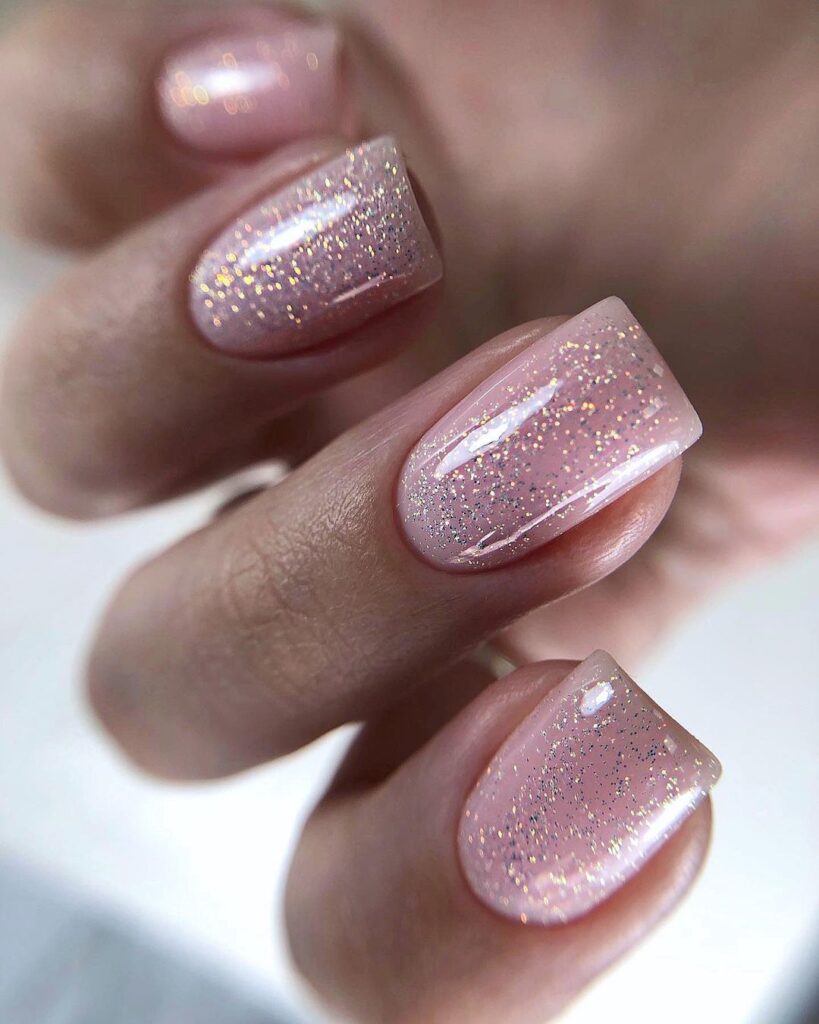 Courtesy: @morgul_nails
#26 The next one of the hot pink nail designs is different from others as it's done on a base of nude base coat and has cutesy motifs featured for an impressive nail design. To recreate, you can use the basic nail tools yourself, but make sure you have a steady hand when you're drawing the artwork. You can also get them done for professionally if you aren't yet confident enough in your DIY manicure skills.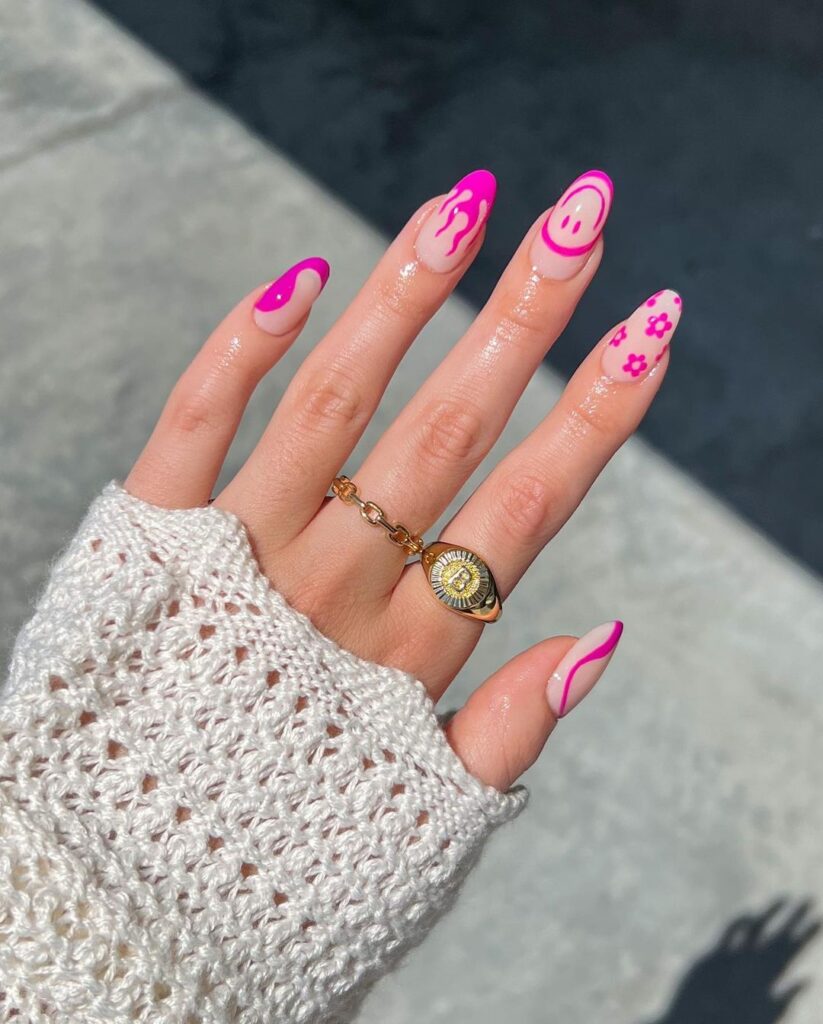 Courtesy: @pop_polished
#27 These natural pink nails are oozing with creativity and vibrant colors. The alternate nails are bedecked in creative patterns in a striking palette that just makes you stop and stare. When you're eyeing for an artistic appeal in your manicure, you can opt for a design like this to match your current preferences.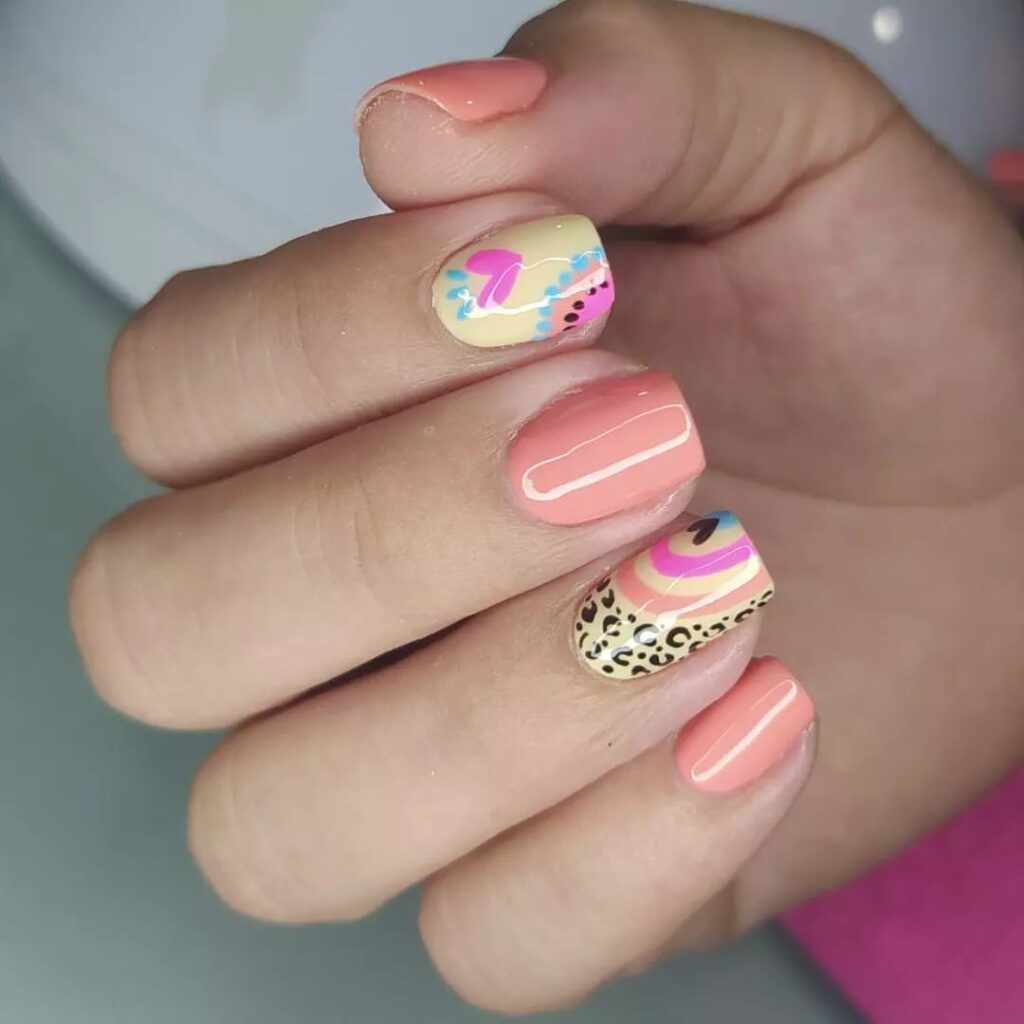 Courtesy: @angiee_nails
#28 When you're bored of the alternative manicure style, bunch two nails together for the creativity streak while painting the rest in a block color. The dark pink nail design features little hearts in different colors for a striking appeal. You can use a different color palette for the hearts, but do keep them vibrant to keep them in harmony with the base shade you've opted for in your manicure.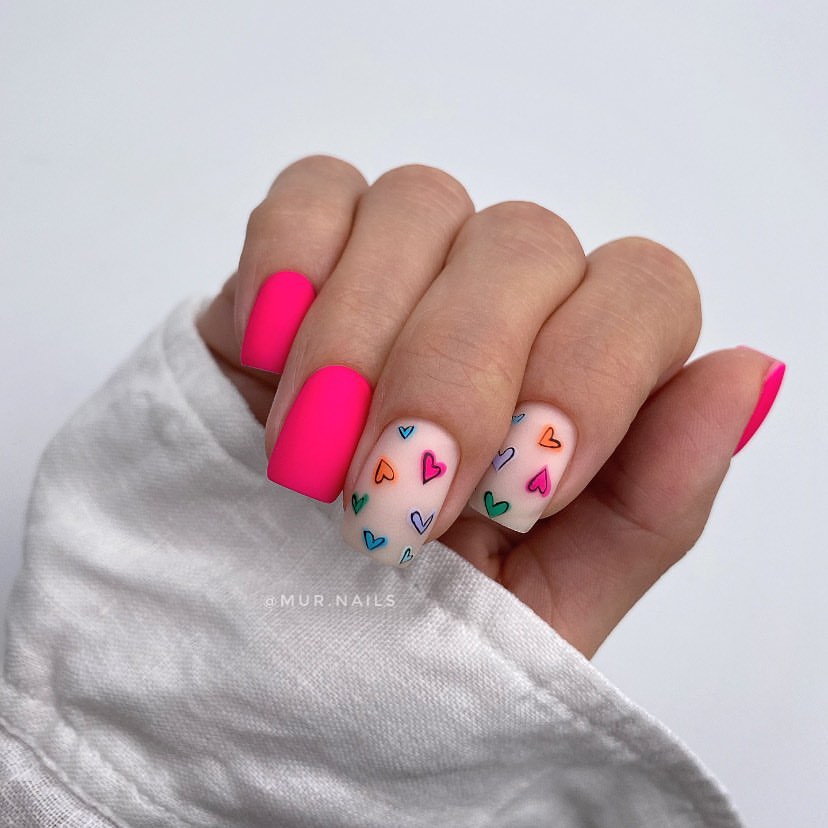 Courtesy: @mur.nails
#29 In the world of glossy, opt for matte. This matte nail design in pink is done with a black outline to create a gorgeous manifestation of a hot pink and black nail design. Again, you can try them at home but be very careful with the black outline as it has to be neat to make the motifs pop out. Use a matte coat to finish off the mani!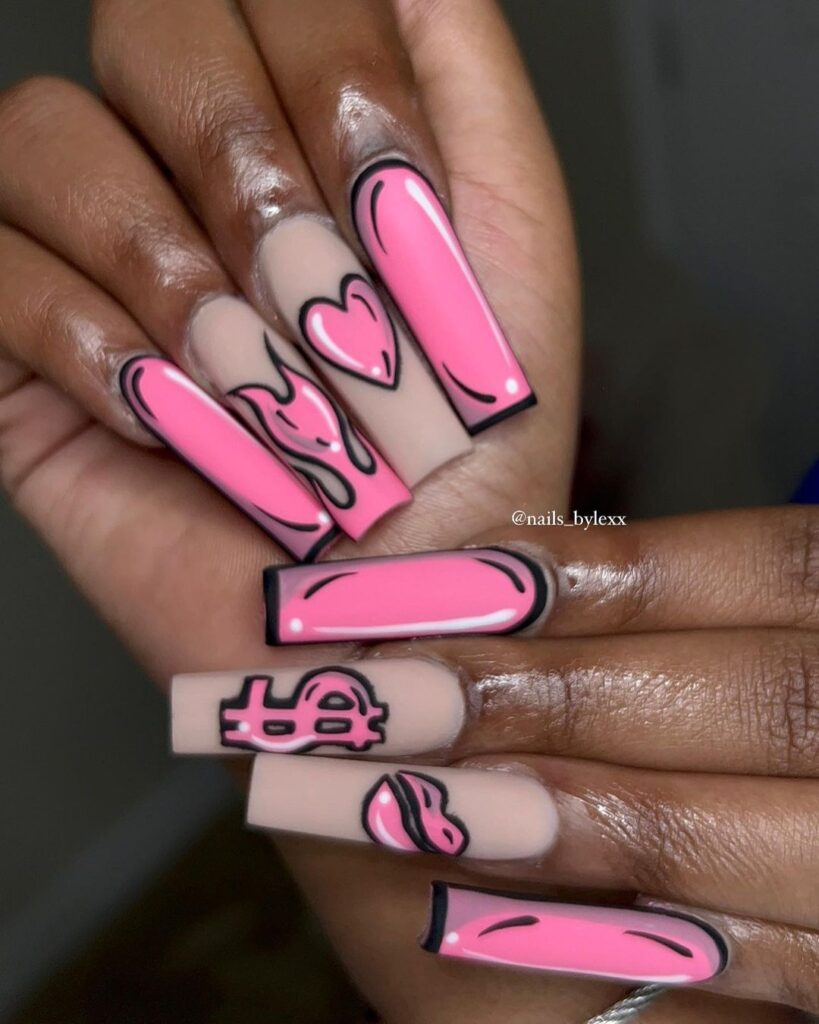 Courtesy: Alexis J
#30 When you want a one-palette nail with two different hues, just opt for the lighter and darker shade of the same palette for a safe and unique pattern. Here, the color combination is enhanced by a plop of nail paint in just the bottom of two nails for adding just subtle amounts of creativity in an otherwise usual manicure!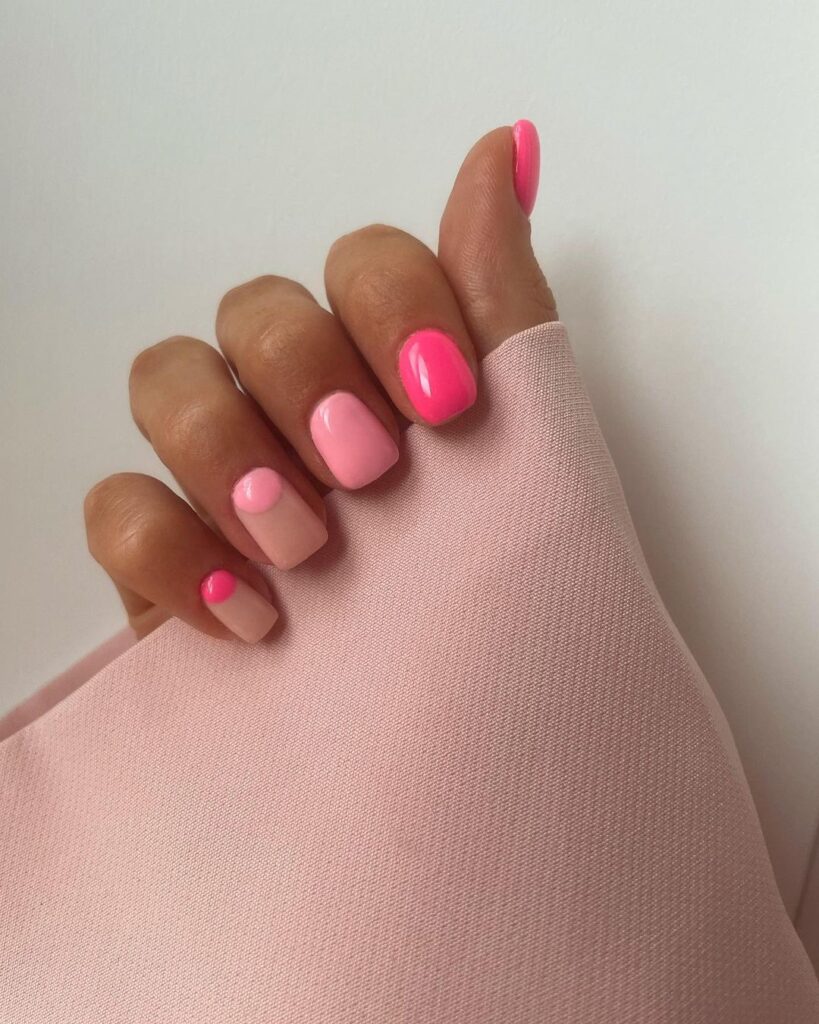 Courtesy: @lillypalm__
#31 We're loving this striking and bold combination of red and hot pink in this nail design. The hot pink color is bright and lively, while the red color adds a touch of passion and intensity. This design is perfect for those who want to make a statement with their nails and want to add some personality to their look. It's also great for special occasions or a night out when you want to add some color and energy to your look. Keep in mind that this color combination can be quite striking and may not match every outfit or occasion, but it's a great way to add some boldness and confidence to your nails.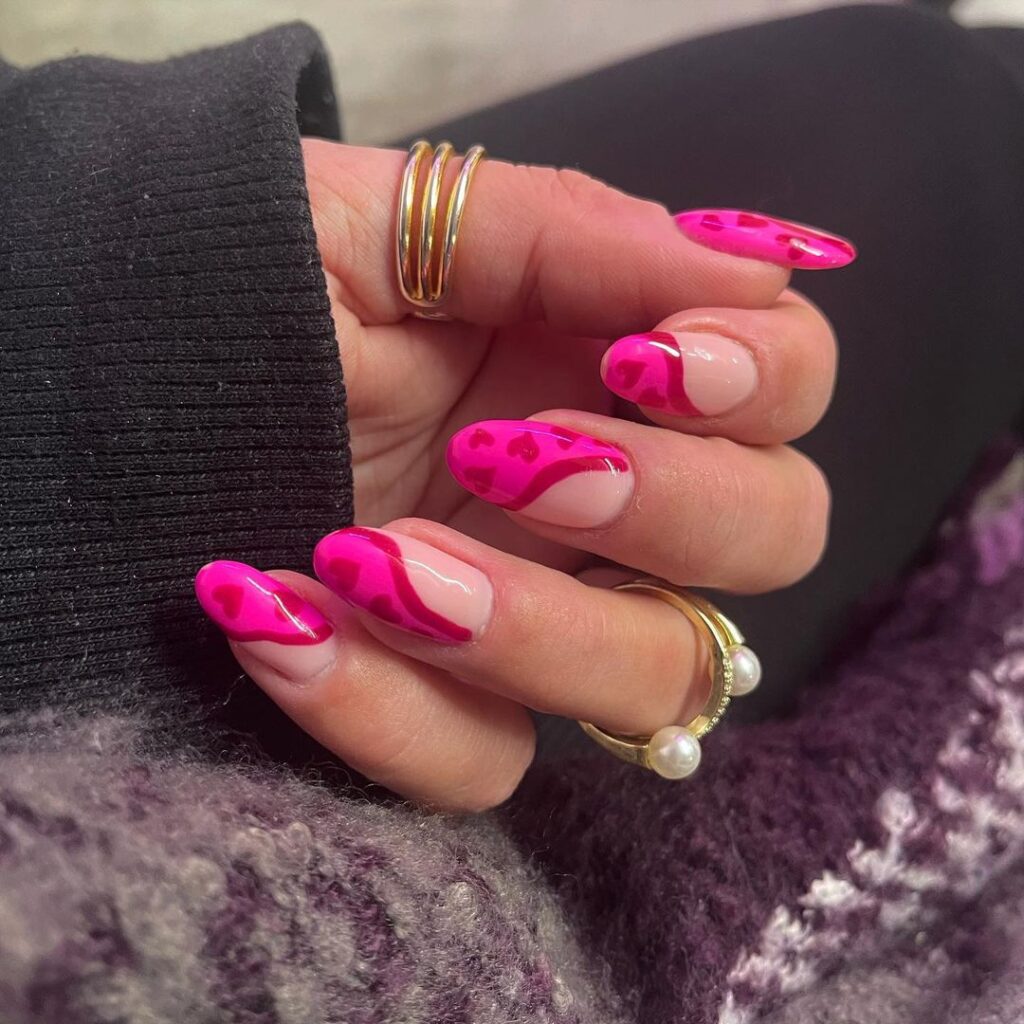 Courtesy: Abigail
#32 This simple pink nail design can be easily DIY-ed at home using nail stickers for a manicure that looks expensive but doesn't cost much! You do, however, need to shape your nails properly before beginning to recreate this mani. Start with buffing, cutting, and trimming your nails, and follow with the base coat and other necessary steps.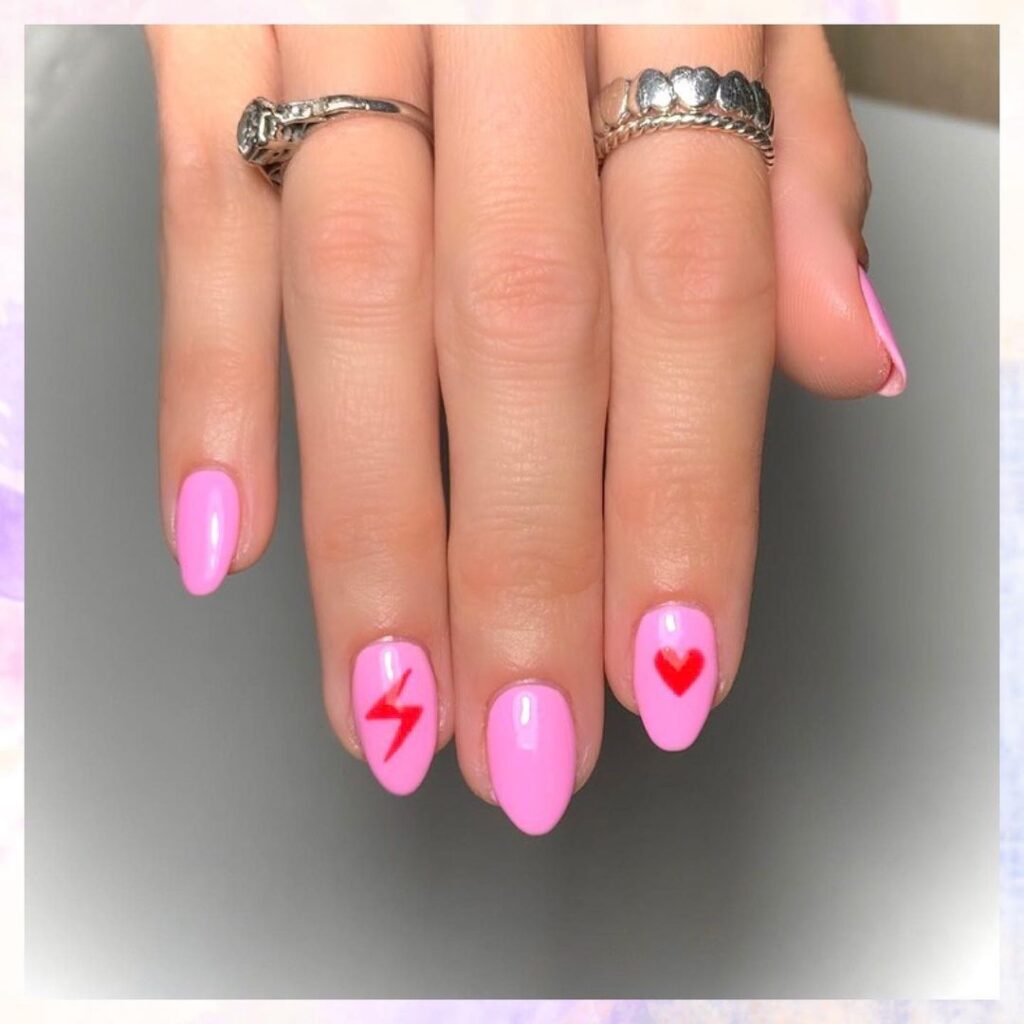 Courtesy: Gel Nails by Vic
#33 Bring your love for the beach and the gorgeous stretch of palm trees to your manicure. These pink nail design acrylic are done in long nails to give the creative streak ample space for creation and also add femininity and captivation to your chosen manicure.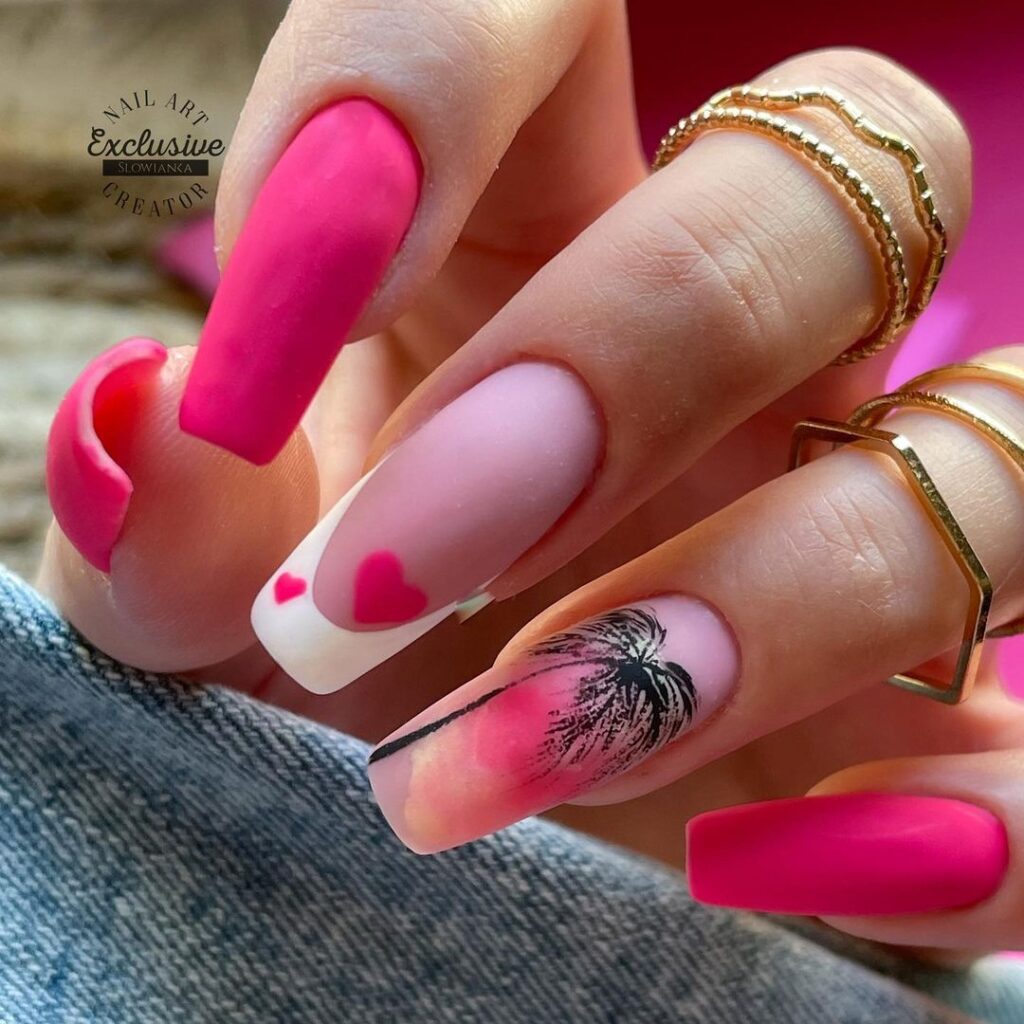 Courtesy: @matrioshka_nails
#34 These pink French tip nails use different shades of pink for an exciting and notable manicure. These coffin pink nails are rather done in lengthy nails, but you can opt for a shorter version to recreate them as well. Long nails are not everyone's cup of tea. They're harder to maintain and they also make it difficult to engage in routine tasks. Opting for a smaller set of nails often seems like a practical choice.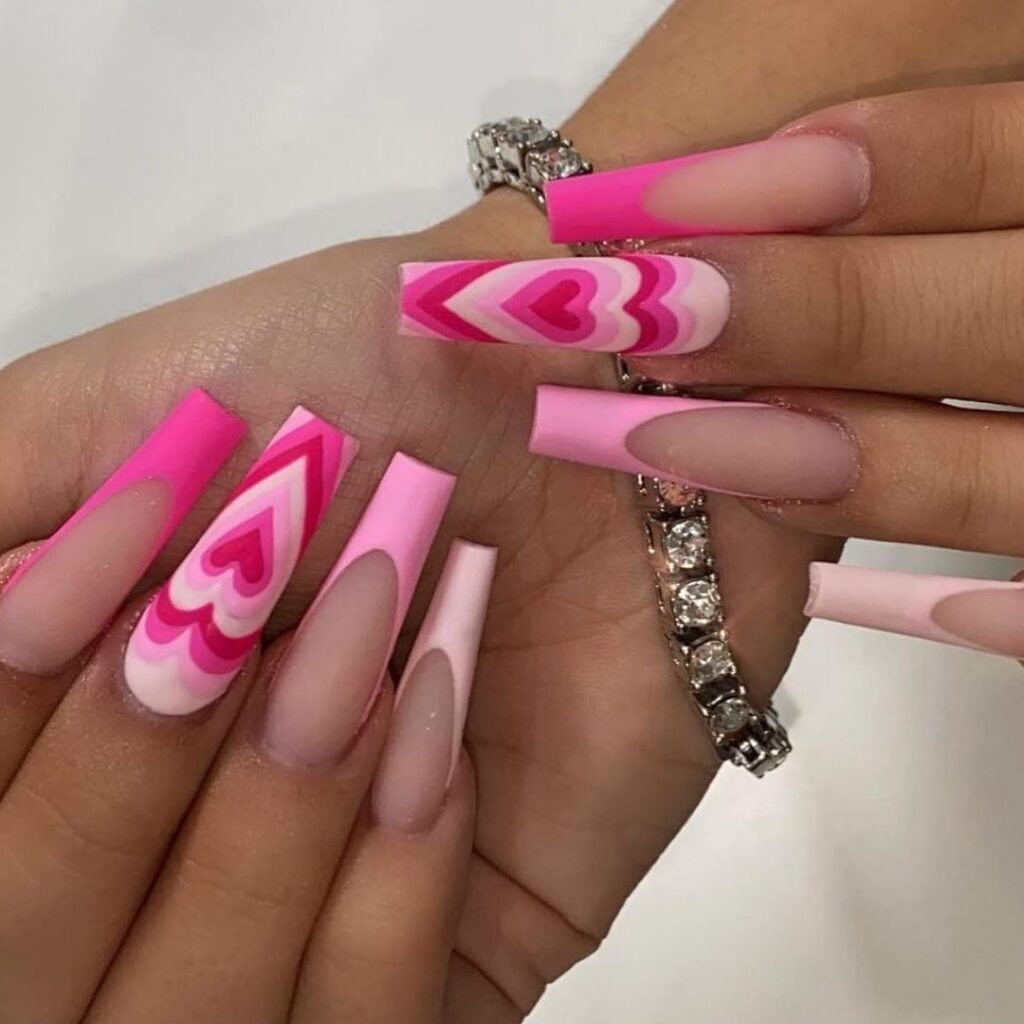 Courtesy: @styledbyailani
#35 We love these pink French tip nails with the tips having the waves design for a unique look. You can substitute the pattern of waves as per your liking. It can be polka dots, lines, or any other geometric pattern. Do make sure the intricacy is maintained so as to keep the charm of the manicure's aesthetic alive as well.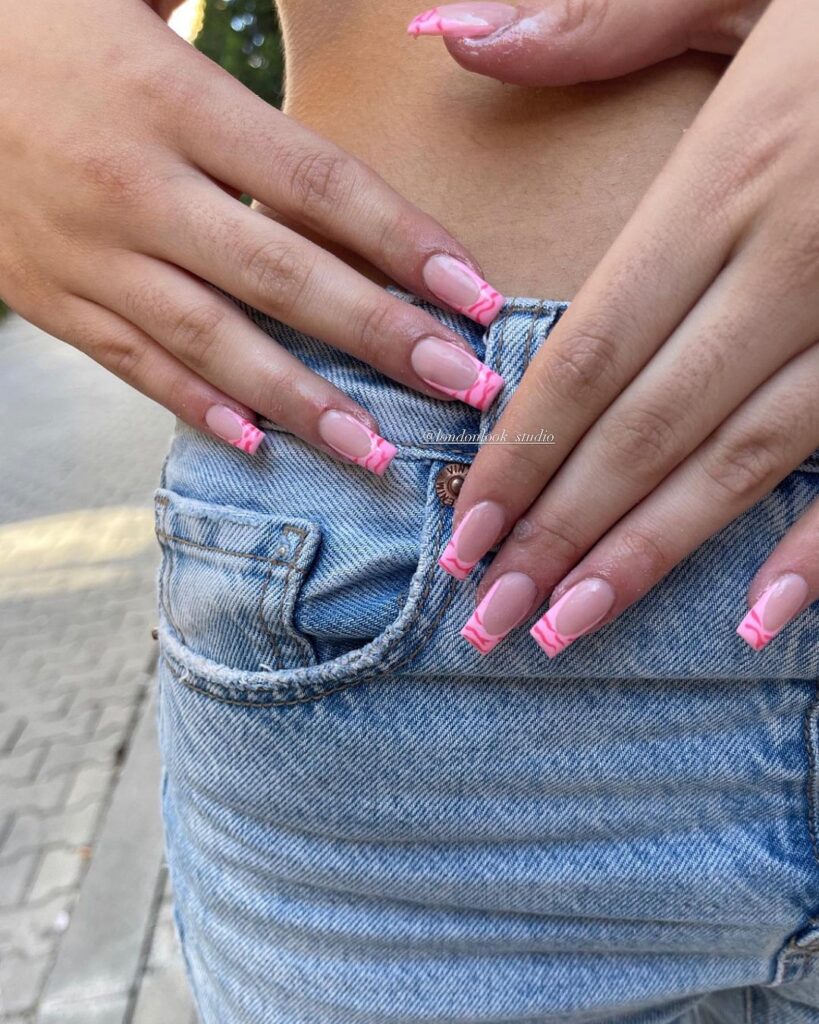 Courtesy: @londonlook_studio
#36 When you want a pink nail design, you get one without thinking too much! Just take the shade of pink polish lying in your vanity and apply it for a basic and elegant look. P.S.: To make your polish long-lasting, try a base coat that helps adhere to the chemicals in the nail paint for a longer duration.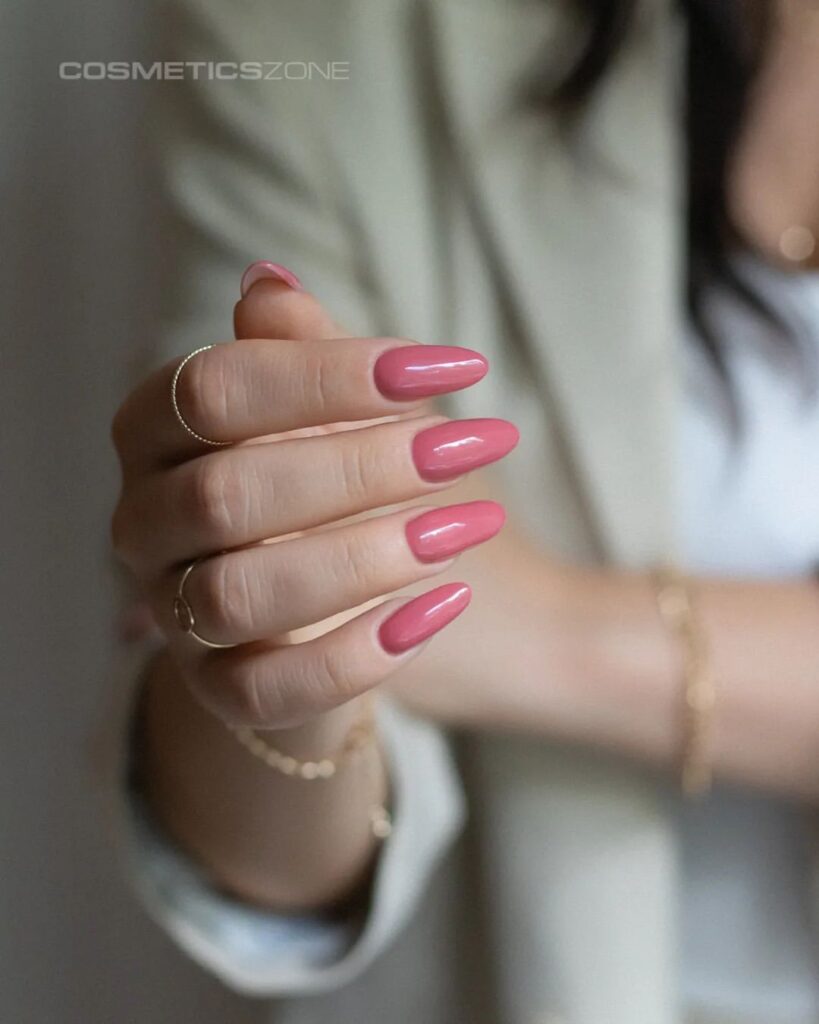 Courtesy: @polskiepaznokcie
#37 We're living for these simple pink nail designs. This one's done in the French tip nails style with light pink as the tip and a nude base for the classic look. Again, you can DIY them at home as well, just be sure of having the length of the tips equal in all the nails.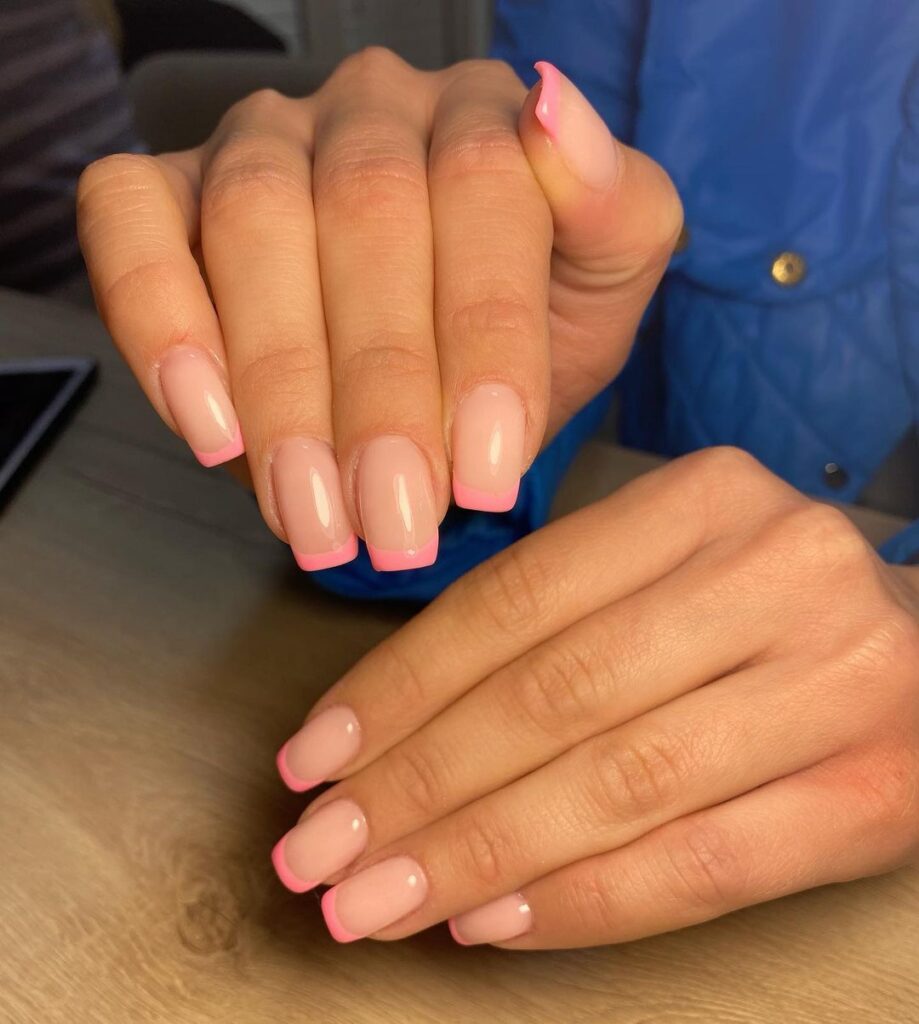 Courtesy: @hera_beauty.studio
#38 This acrylic pink nail design is cute and amazing to wear with a variety of styles. There are many advantages of opting for an acrylic manicure. They are cost-effective, last for a longer duration, and can be applied quickly – saving you some valuable time during your manicure appointment.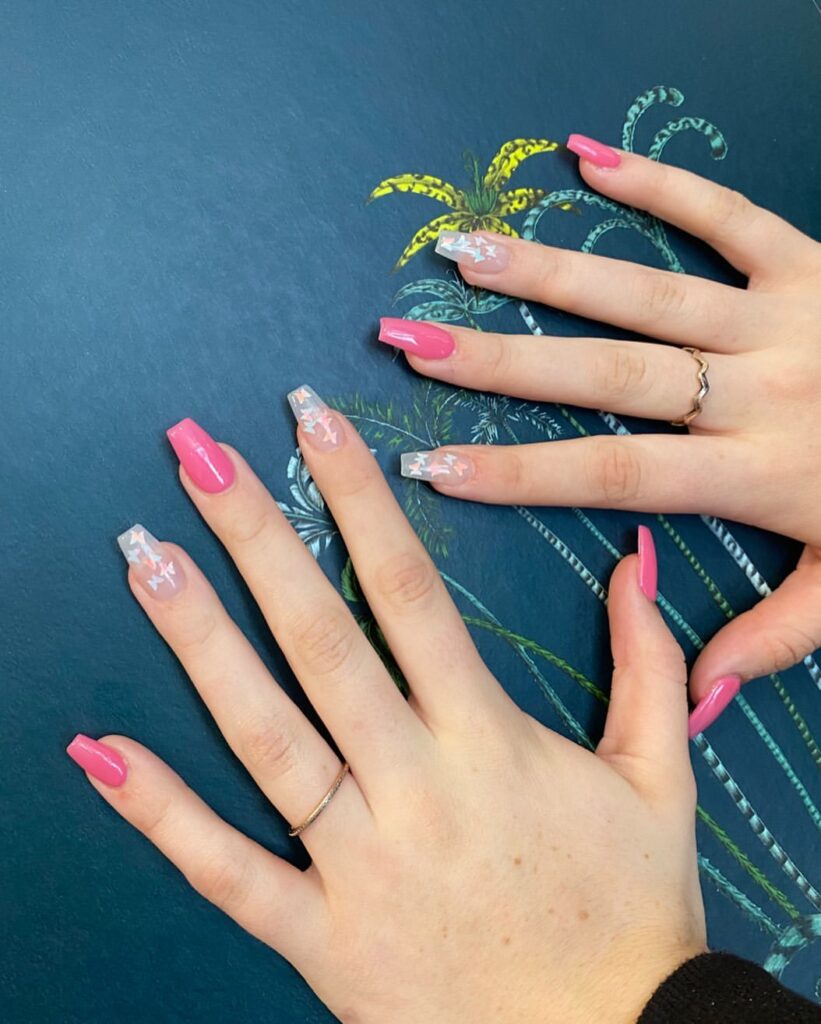 Courtesy: Elegance Nails
#39 Pairing dark pink with light pink is a common combination featured in this pink nail designs list. The dark pink color adds depth and intensity, while the light pink color adds a touch of femininity and softness. This design can be achieved in different ways, such as creating an ombre effect where the colors blend together or using different techniques like geometric shapes, stripes, or even a half-and-half design where one hand is painted in dark pink and the other in light pink. This design is perfect for those who want to add some personality and elegance to their nails without being too bold. It can also be a great option for everyday wear or special occasions.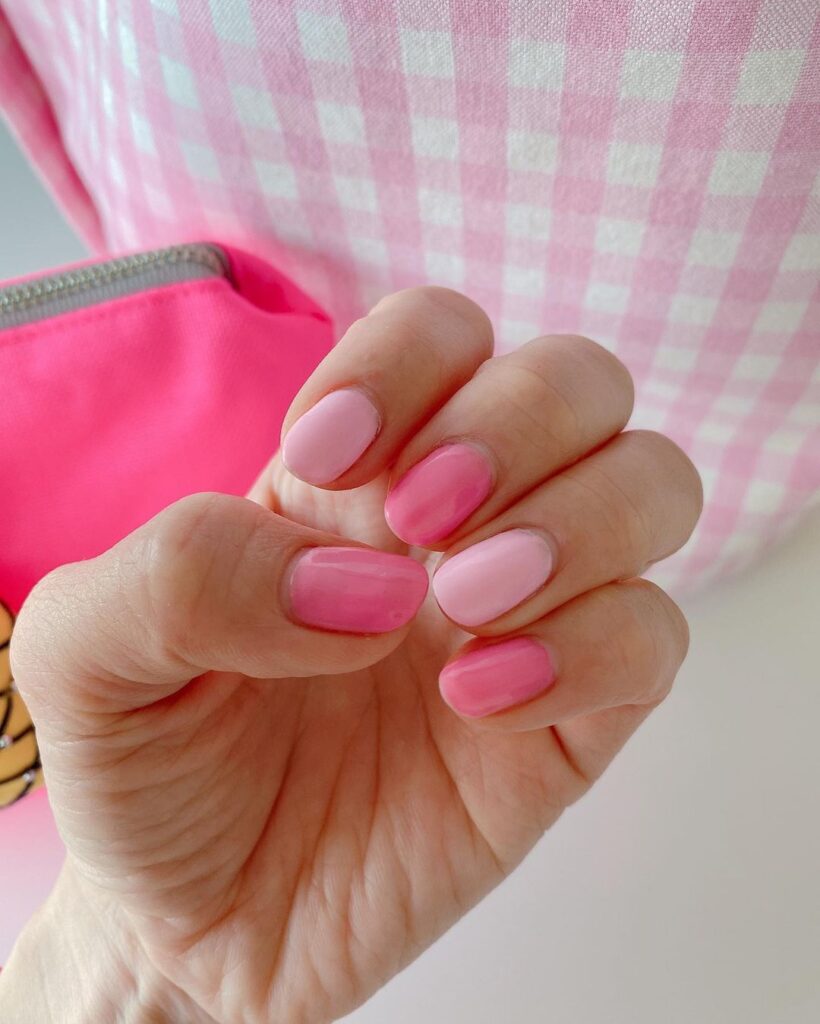 Courtesy: Aki Weng
#40 Pink ombre nails are a popular and trendy design. It features a gradual blend of pink shades, typically starting with light pink at the base of the nails and gradually becoming darker toward the tip. This technique can be achieved by sponging or blending different shades of pink together, or by using a gradual fade stencil. The ombre effect gives a soft and elegant look, perfect for any occasion. Here, the ombre part is enhanced by glitter for a further enhancement to the usual design.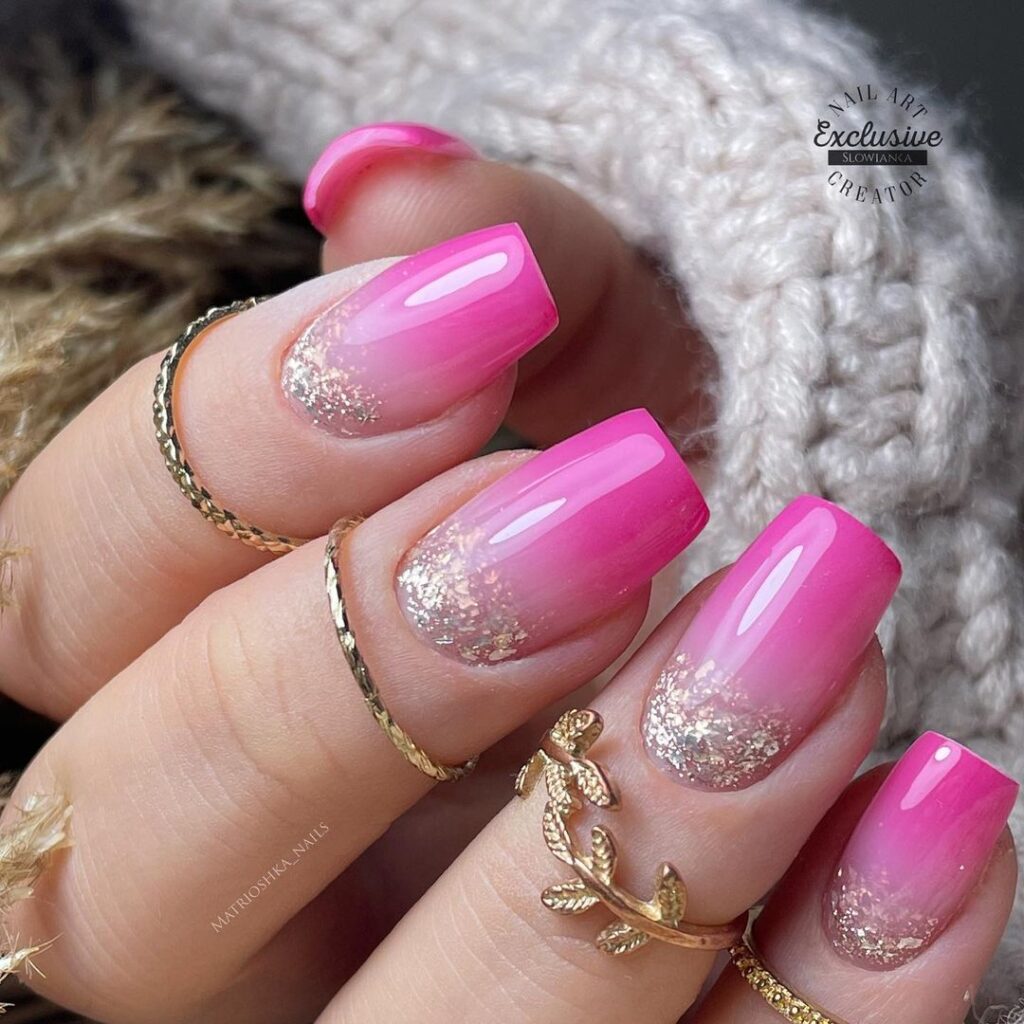 '
Courtesy: @matrioshka_nails
#41 These pink French tip nails are every bit stylish, modern, and exquisite. It features many shades of pink and combines them beautifully for an eye-catching pattern. This nail idea with pink hues is ideal for someone who wants to infuse vibrancy into their nails and wants to keep them looking ravishing as well!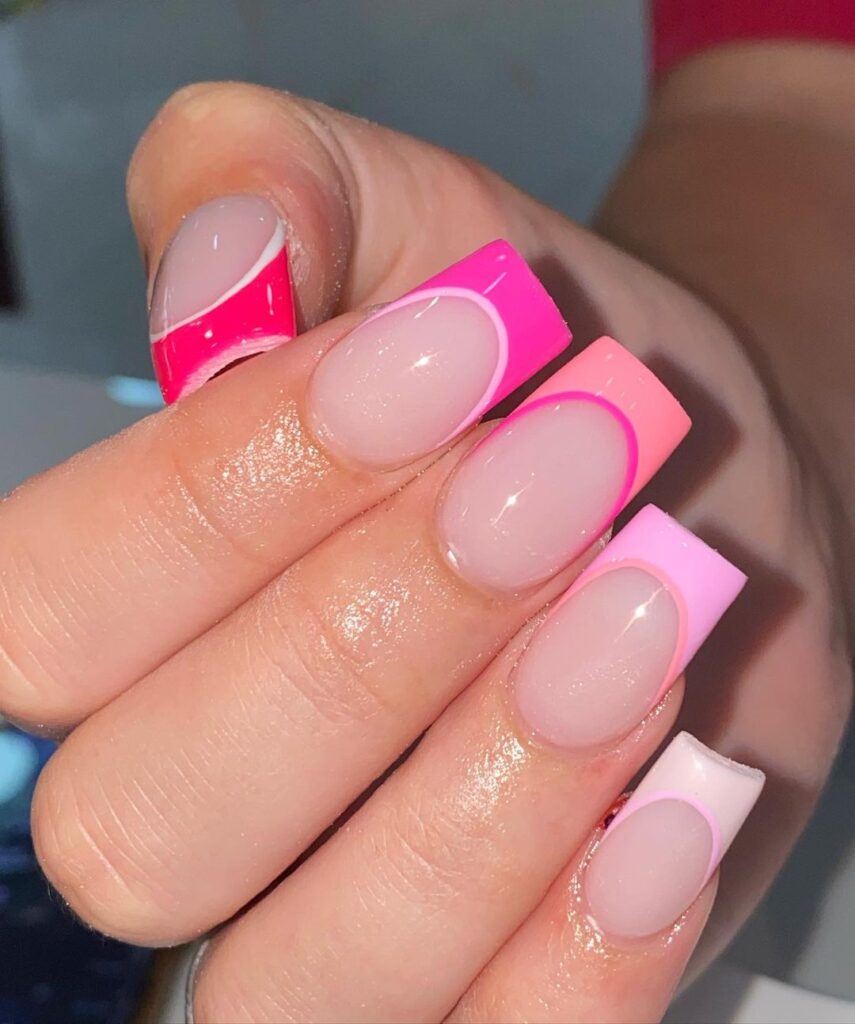 Courtesy: Jasmine Nails
#42 Pink glitter nails are a fun and glamorous design, as is also proved by the next pink nail art idea on the list besides others featured in the same category. They're done in the stiletto nail shape, which is known for its dramatic flair and subtle femininity. The shape surely enhances this usual French tip nails design.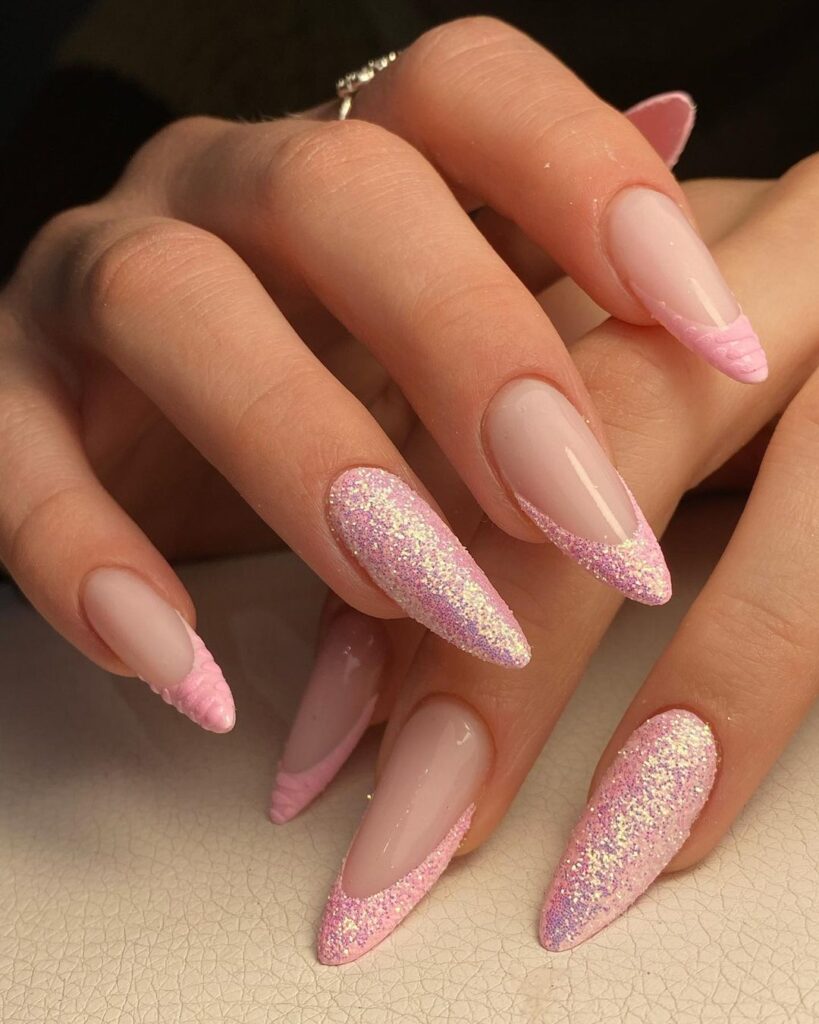 Courtesy: Dolls Nails
#43 If there's one shade that blends really well with pink and matches its vibrancy, it's red. That's why you will spot this hue in these pink nail art ideas quite often. Here, different shades of pink on every finger are paired with red for a striking pink manicure.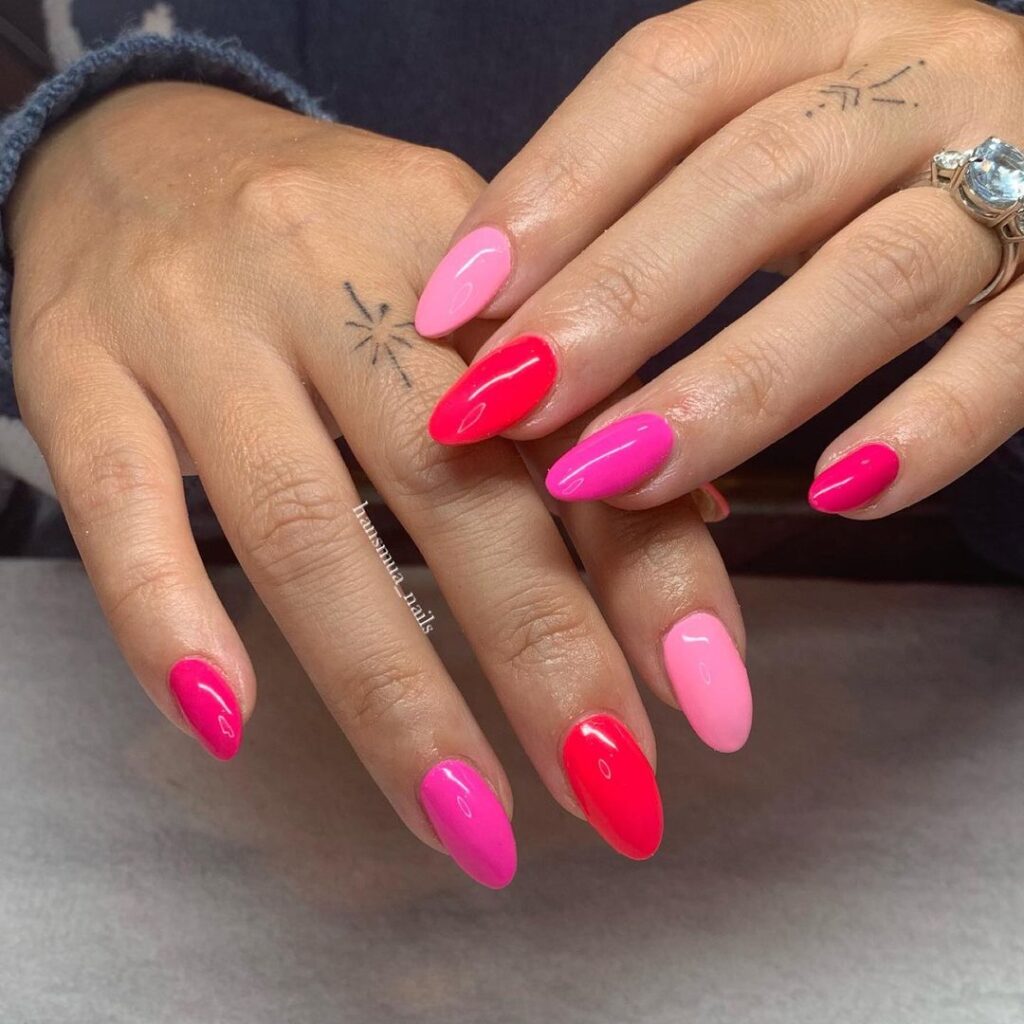 ]
Courtesy: @hansmua_nails
#44 Here, the ombre trend on pink nail designs takes a different route, and instead of going for lighter to darker shades on the same nail, it goes for lighter to a darker shade of pink on each finger for a beautiful manicure idea. If you have all these colors lying with you right now, you can easily DIY this manicure at home with no hassle.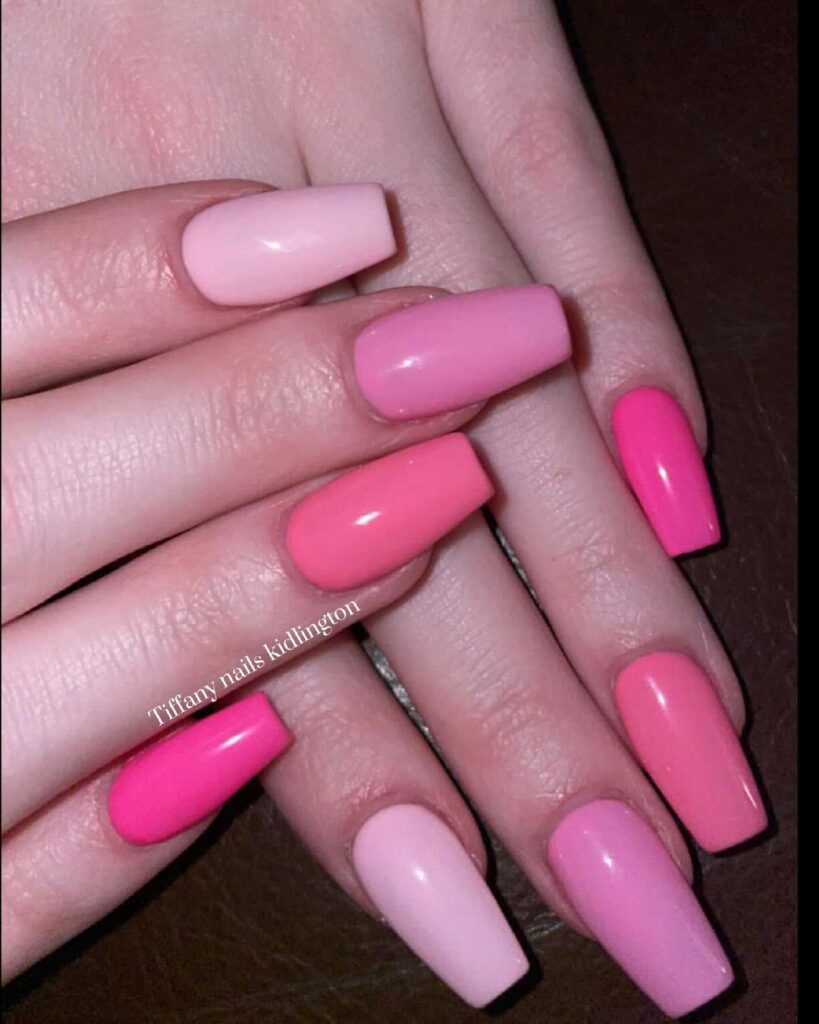 Courtesy: Tiffany Nails
#45 This one of the long pink nail designs comes in French manicure style and uses a hot pink shade. The French tips are done in a geometric pattern rather than in the normal curved style for an angular twist on this classic style. You can use any of your favorite shades of pink to recreate this design.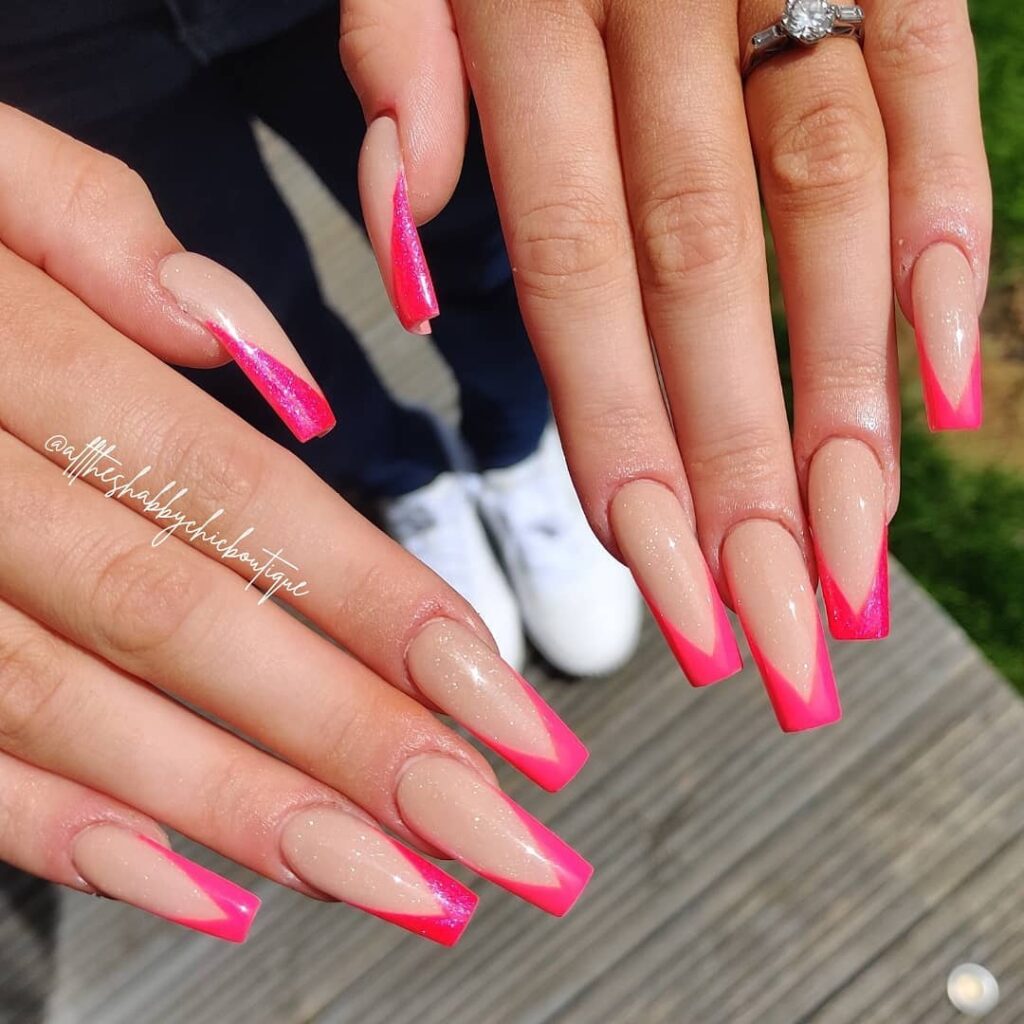 Courtesy: Shauna Reid
#46 This natural pink nail designs idea features a different pattern on each nail and somehow manages to harmonize them all together for what looks like a truly spectacular manicure. They also feature a marble nail pattern in the middle for a great visual appeal to the entire design.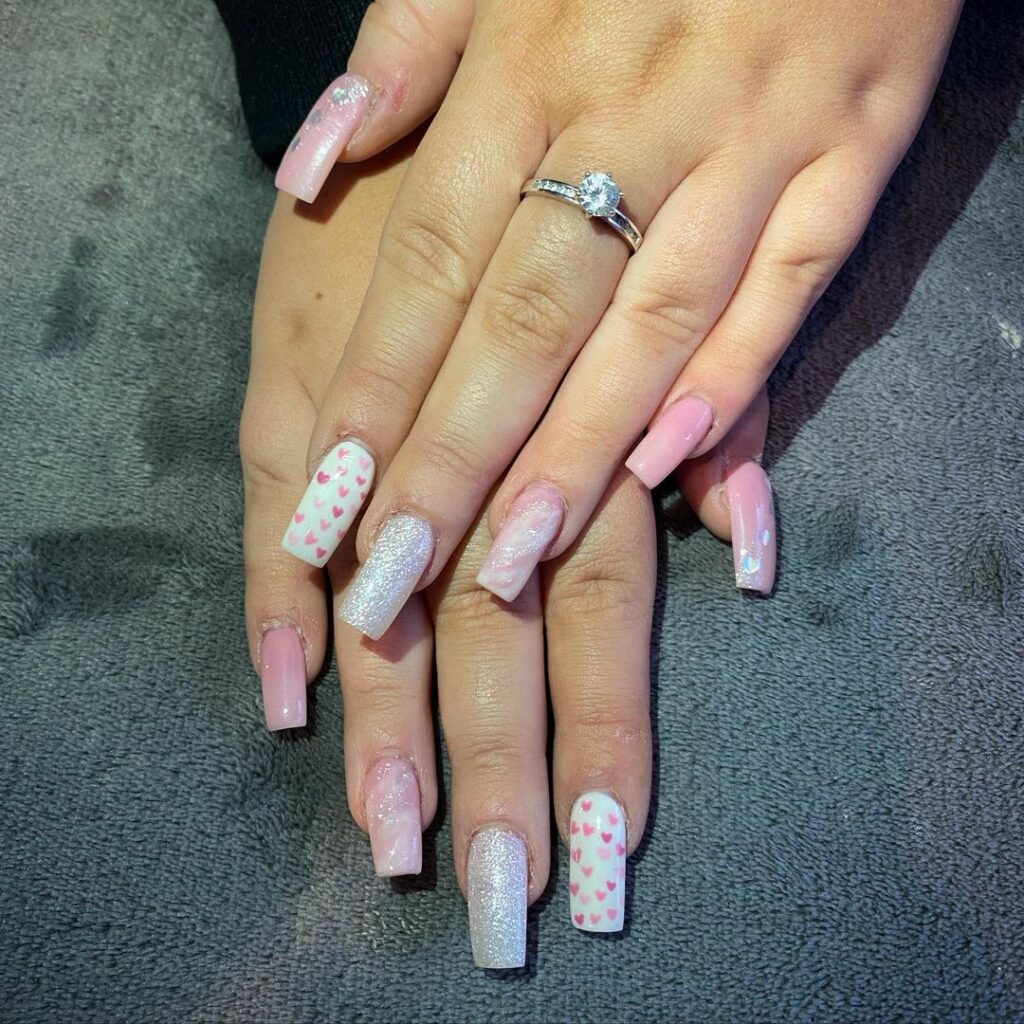 Courtesy: Butterfly Beauty
#47 We're loving this simple pink nail design that's standing out with the accent nail perfectly. The accent nail features a swirly pattern that can be created using a dotting tool and the shades shown in the image. You don't have to be very neat while swirling them, a sort of untidiness is the whole basis behind this accent nail design with pink shades.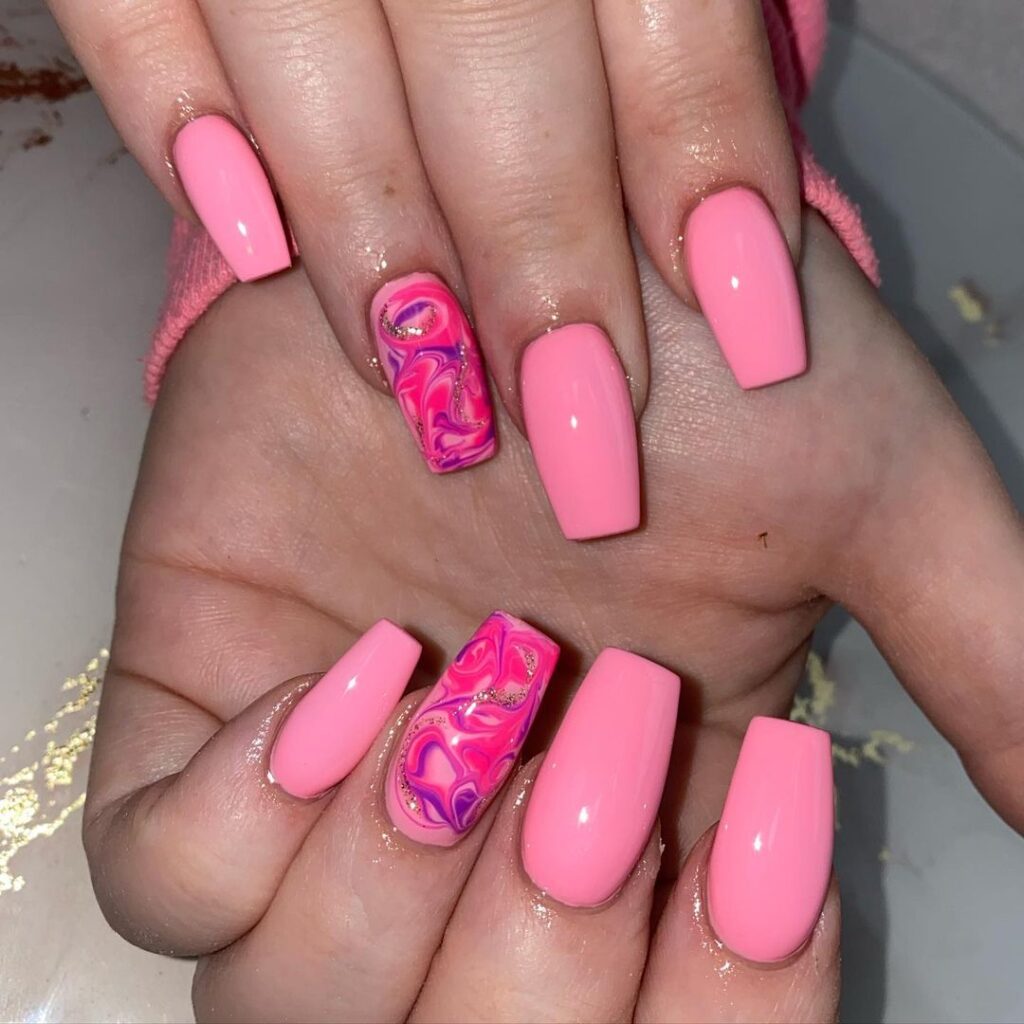 Courtesy: @bexsnails
#48 You don't have to go all out to make your manicure look festive. At times, just a simple motif can do the trick. Here, just the thumb is bedecked in the wreath to give this manicure a complete festive makeover. Another great thing is that you can use any shade of pink to create this design, and it will look just as fabulous as this one.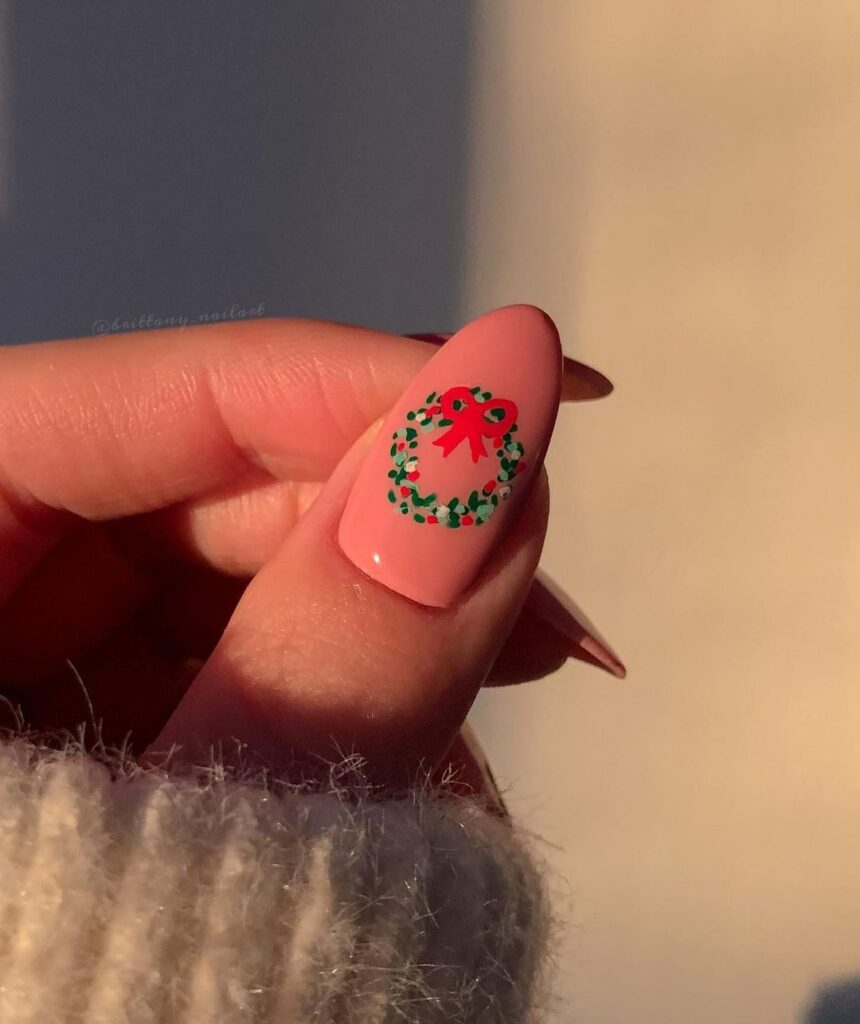 Courtesy: Brittany
#49 Swirls in nail designs are flourishing. They are popular because they add movement and interest to the nails. They are also relatively easy to create, despite the glamour they add, making them a favorite among both professional nail technicians and DIY enthusiasts. They are also quite versatile and can be accommodated in a variety of colors and styles here it shows its supremacy in this pink nail design idea.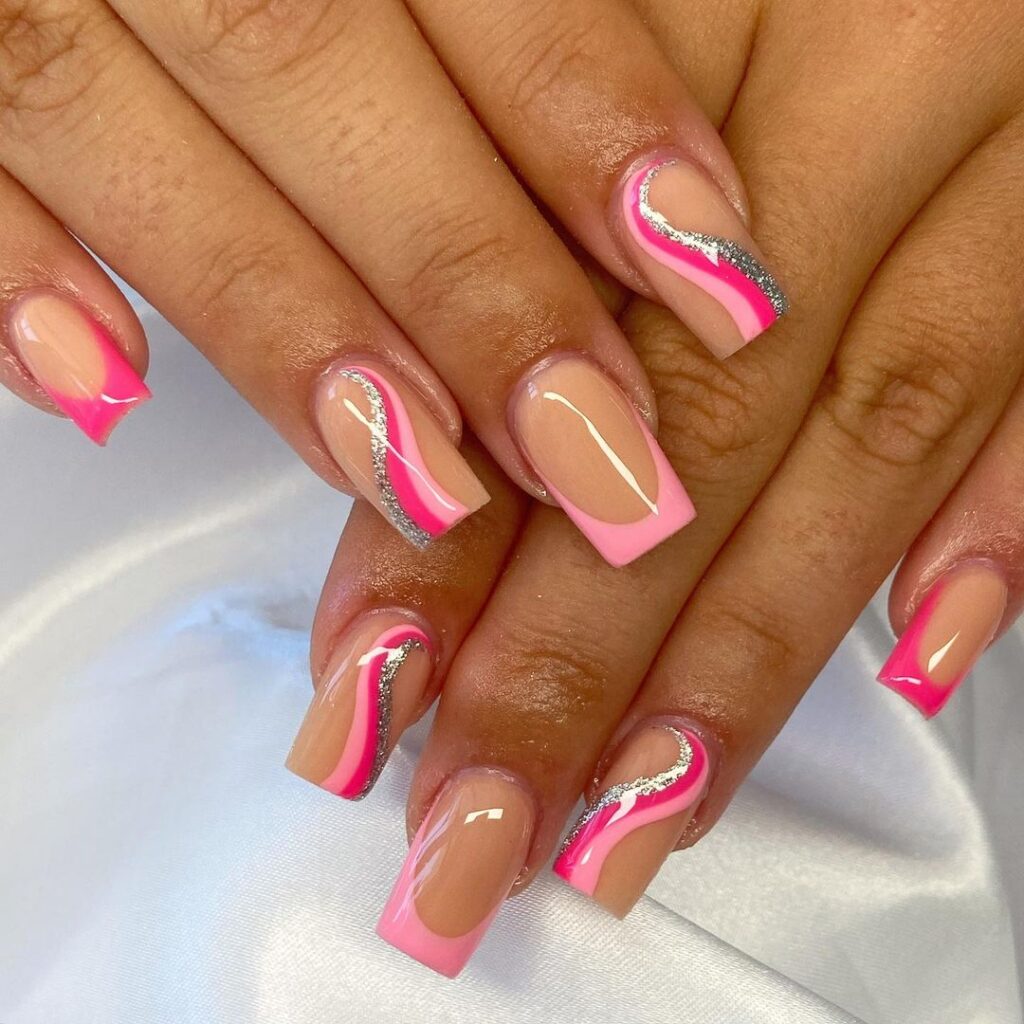 Courtesy: @beautybycait.s
#50 We are not only loving this nail design pink for the striking twist on the classic French manicure, but we are also loving how neatly the nails are shaped for a beautiful effect. Nail shapes play an important role and can affect the overall look and feel of the nails. If you're going for a professional manicure, consultation with them for an appropriate nail shape is important.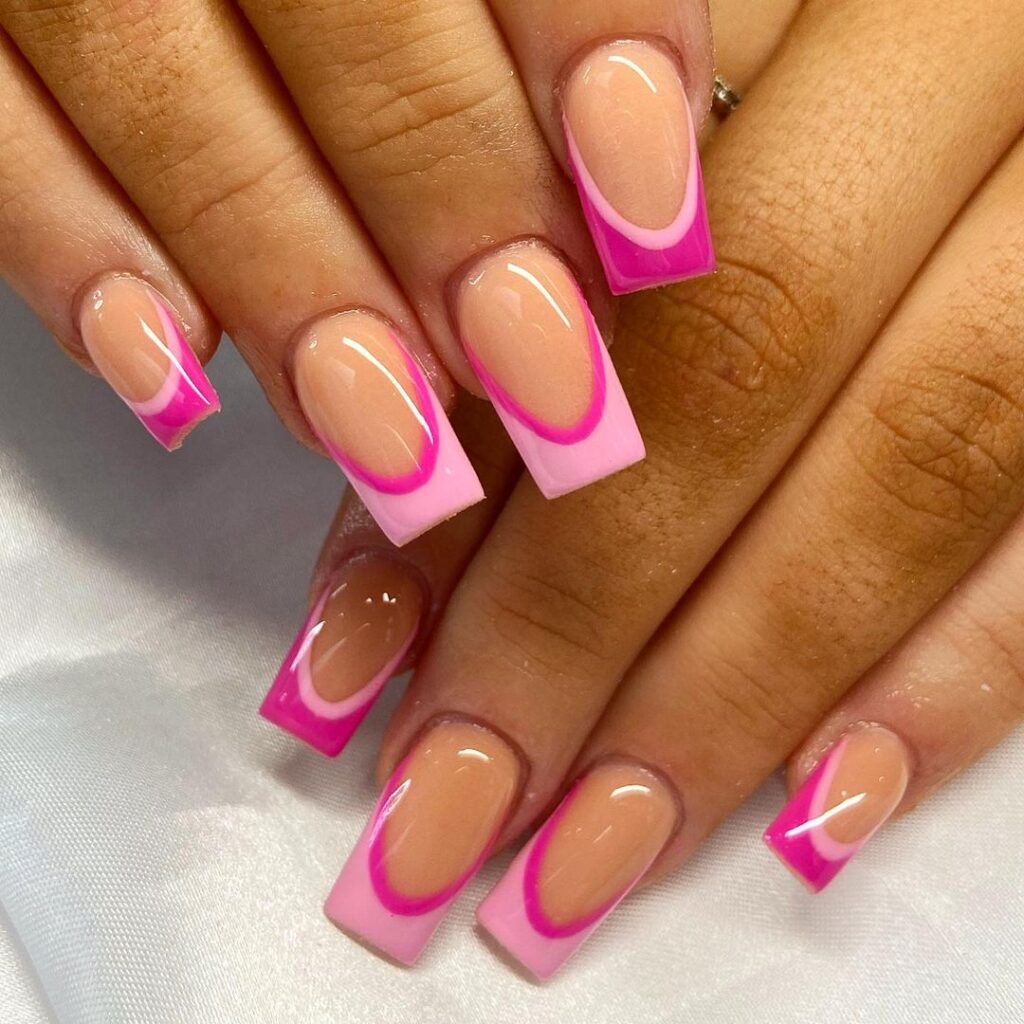 Courtesy: @beautybycait.s
#51 These pink nail designs coffin are done in many shades of pink for a beautiful effect. When it comes to long pink nail designs, it's often recommended to get either gel or acrylic nails so the long nails last for a long. But if you're one of the lucky ones whose nails don't break, you can totally sport this design on natural nails as well.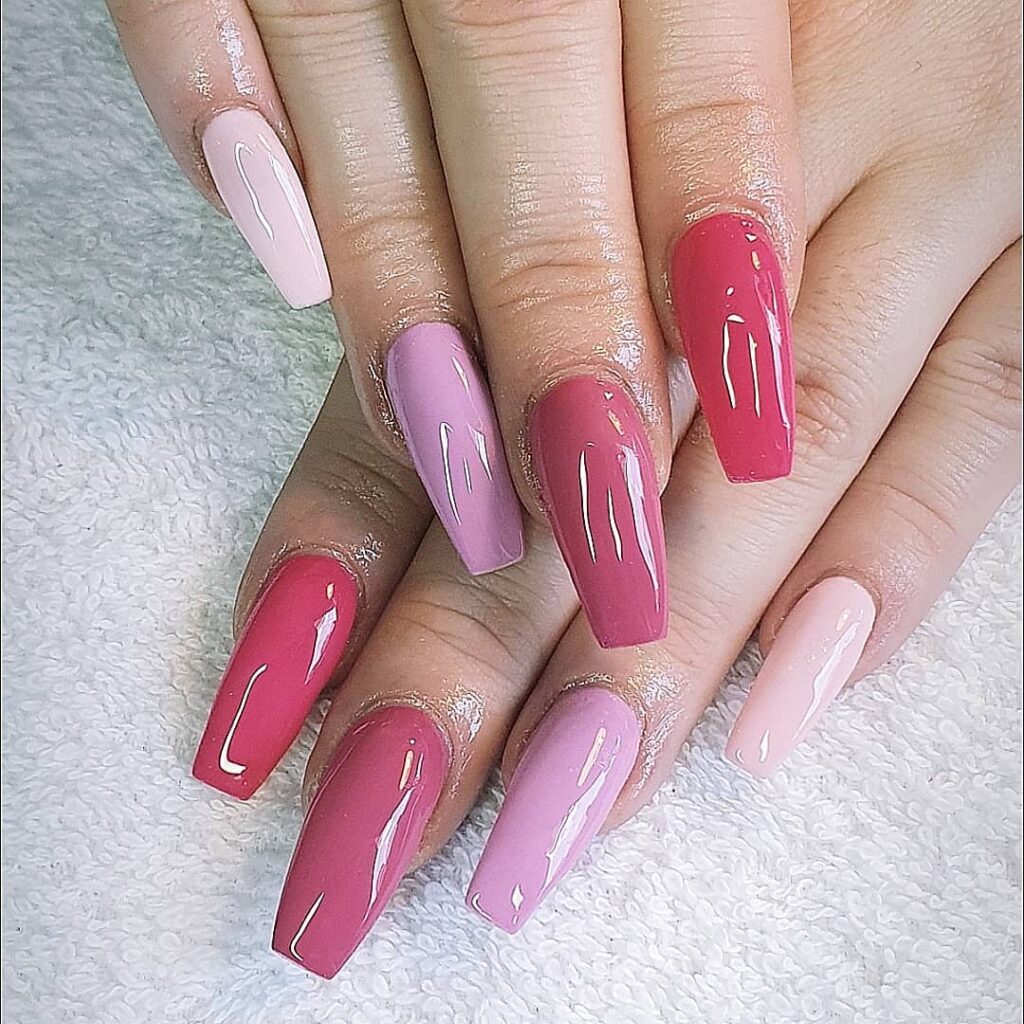 Courtesy: @so_studio_hair_beauty
#52 We love these Pinterest-worthy pink nail designs in a gorgeous peachy shade elevated by a glitter accent nail. When you get nail art this pretty, we'd surely recommend you get it clicked aesthetically so you can save it for memories and flaunt it on social media if you want!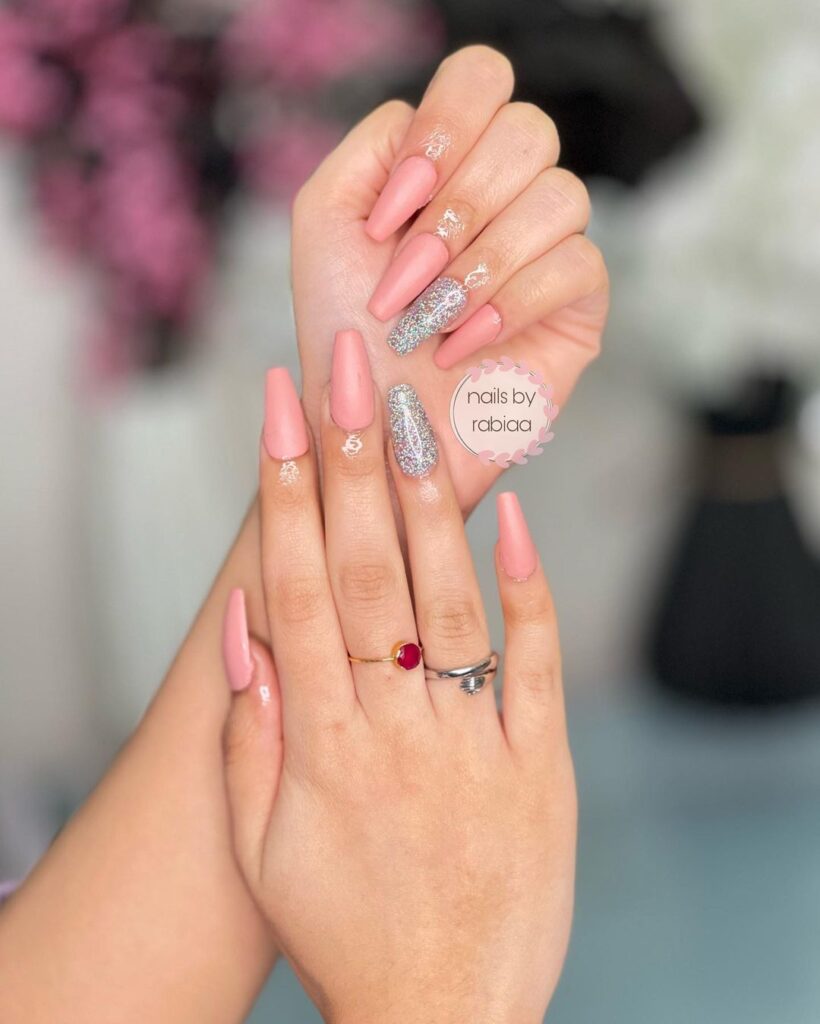 Courtesy: @nailsbyrabiaa
#53 Add a touch of sparkle to your nails with glittery baby pink nails. This design is perfect for any occasion, whether you're going to a party, a special event, or just for everyday wear. The addition of studs further adds some personality to this pink manicure without making it look over the top! Despite the embellishments, it looks quite elegant and subtle.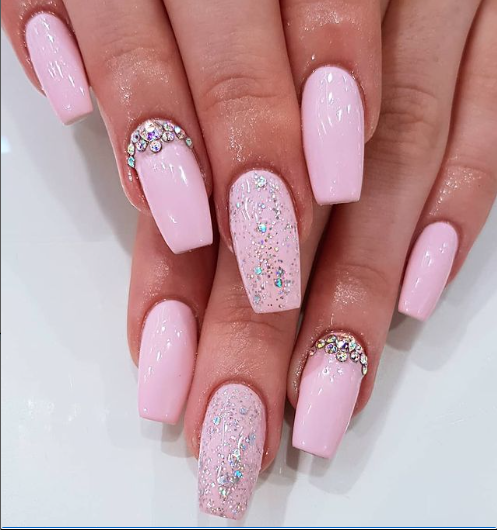 Courtesy: Clawed Nails Belfast
#54 Gradually blending shades of pink from light to dark, an ombre design with sky motifs adds a touch of whimsy and playfulness to your nails. The sky motifs, in this case, clouds, but they can be also birds, or hot air balloons, can be painted in white or light blue and give a dreamy and airy look to the nails. This design is perfect for summer or spring, or for someone who wants to add some color and charm to their nails without being too bold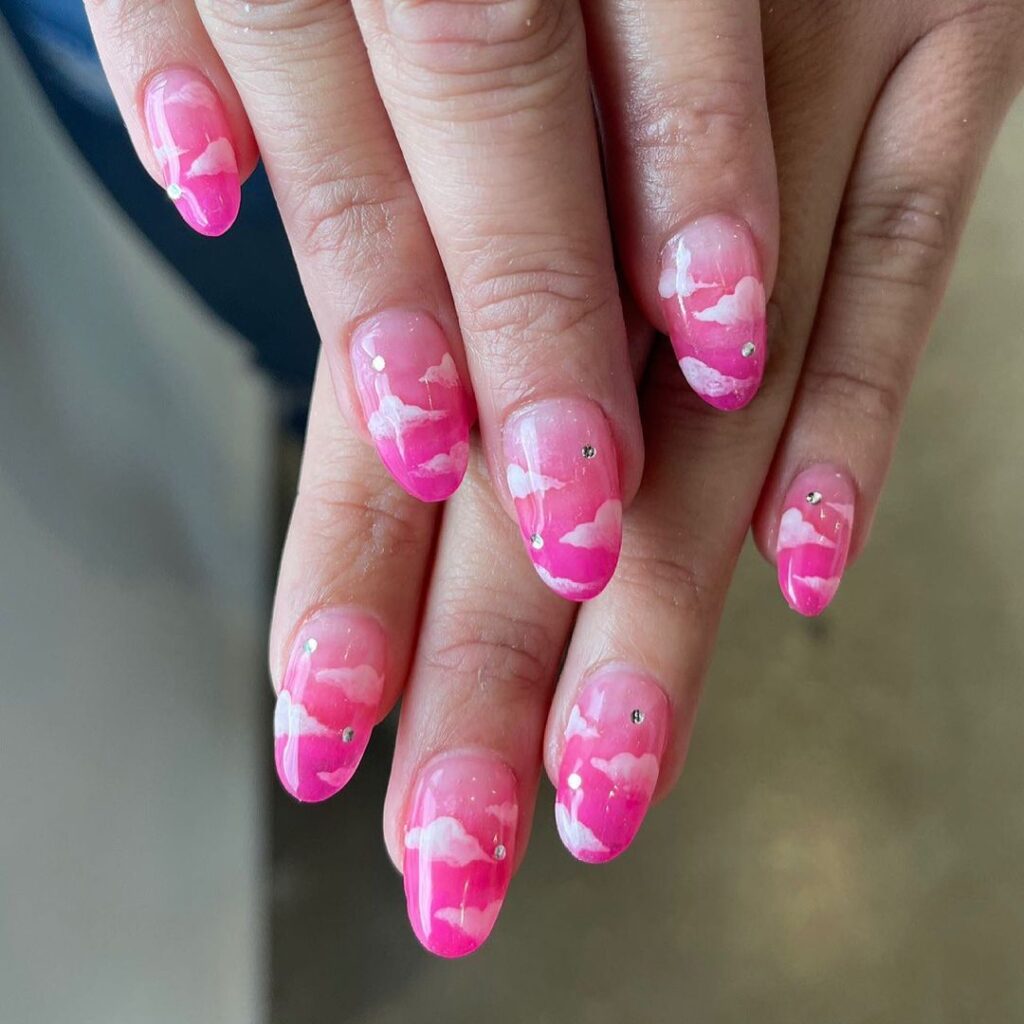 Courtesy: Kimberly Thu
#55 A light pink and black glitter nail design is great for that edgy and stylish look that creates a perfect balance between femininity and a glamorous look. While here they're combined through swirls and French tip style, you can also create them with a light pink base with black glitter nail paint on the top. 
Courtesy: Neonail Poland
#56 I'm just obsessed with these light pink nail designs done in a Christmas theme! The light pink color is soft and feminine, making it a great base for adding Christmas motifs such as Christmas trees, snowflakes, ornaments, or Santa Claus. These motifs can be painted in white or silver for a wintery feel, or in gold or red for a more traditional Christmas look. Overall, pink is an amazing base color to give a try during the festive season!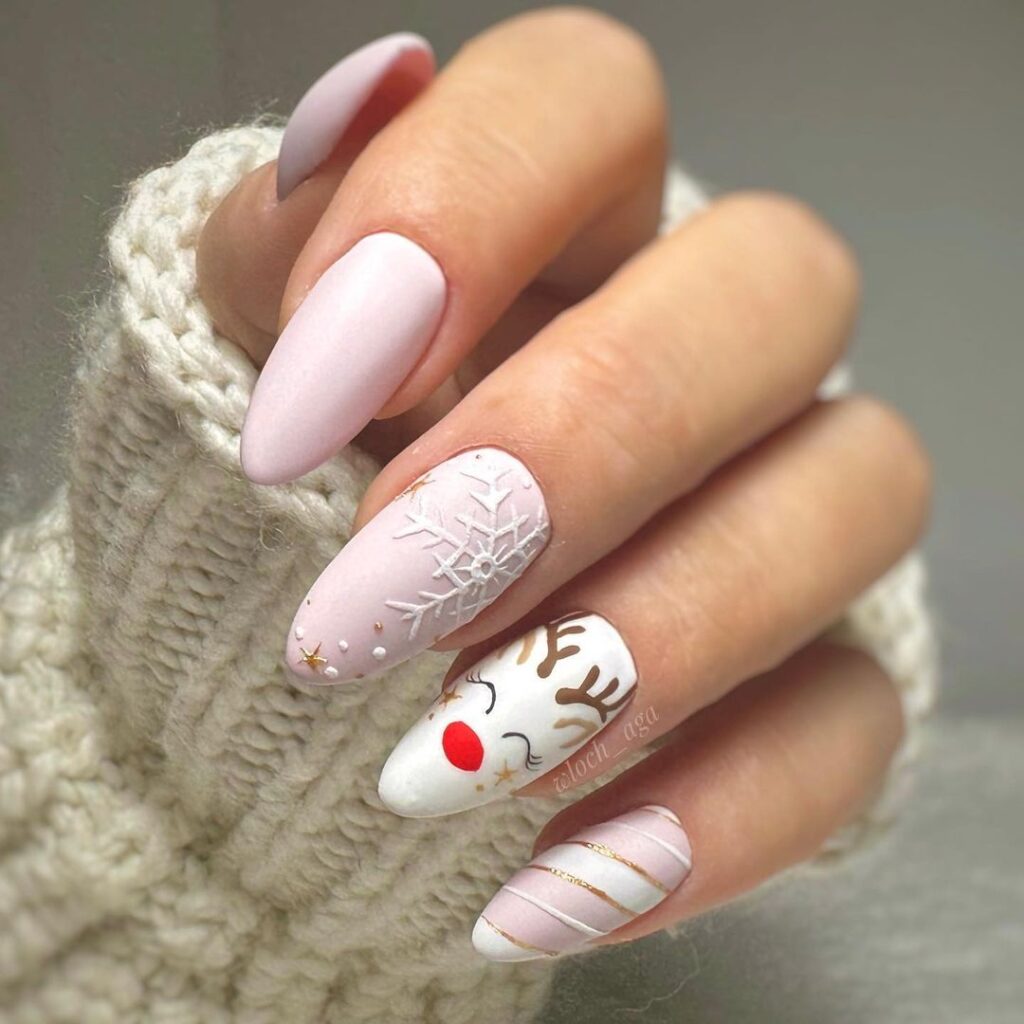 Courtesy: @wloch_aga
#57 There's so much personality in these French tip pink nails. Each nail has a different pattern for a unique style. One has the sweater 3-D pattern, one has eyes, and one has a geometric design. Our favorite one, however, is the ring finger with kisses, making it the perfect pick for your engagement nails as well.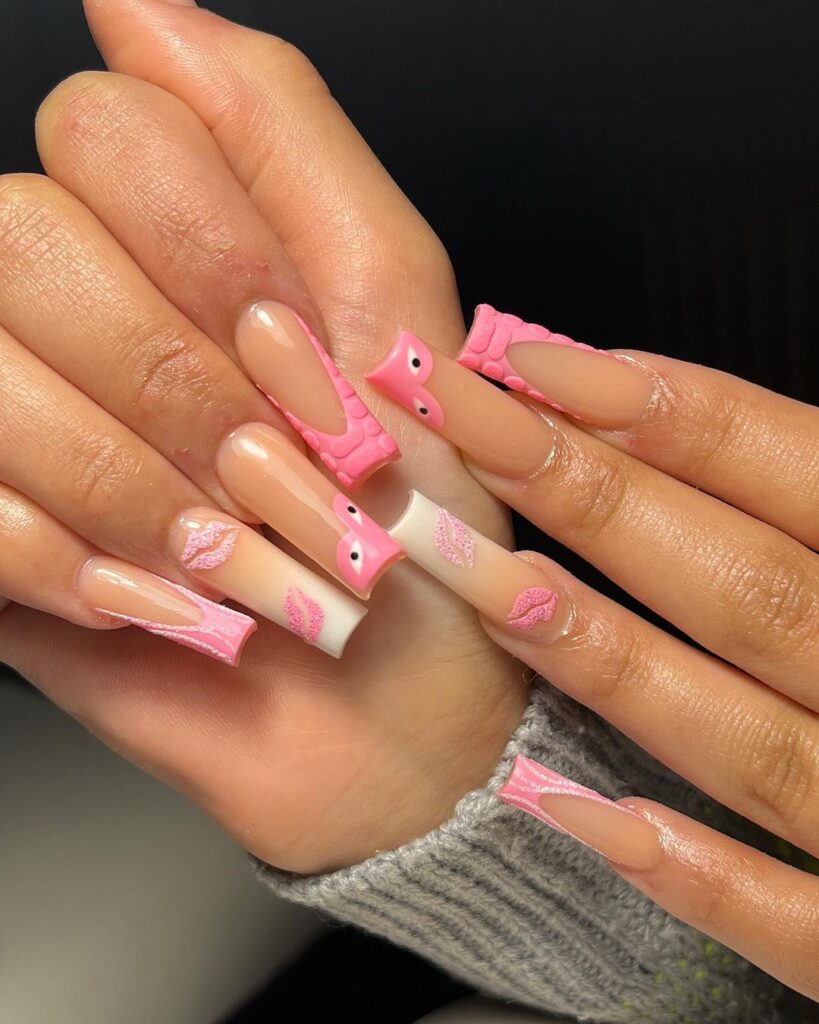 Courtesy: @dvarnish_
#58 We're loving this matte pink nail design. The pink and hot black combination is a winsome one, and I am adoring the subtle accentuations done with white and hot pink for an alluring effect. The matte surely makes for a good pick over glossy, but know that matte polishes last for a lesser duration than gloss ones. So if your longevity is what you need, stray away from the matte nail paints.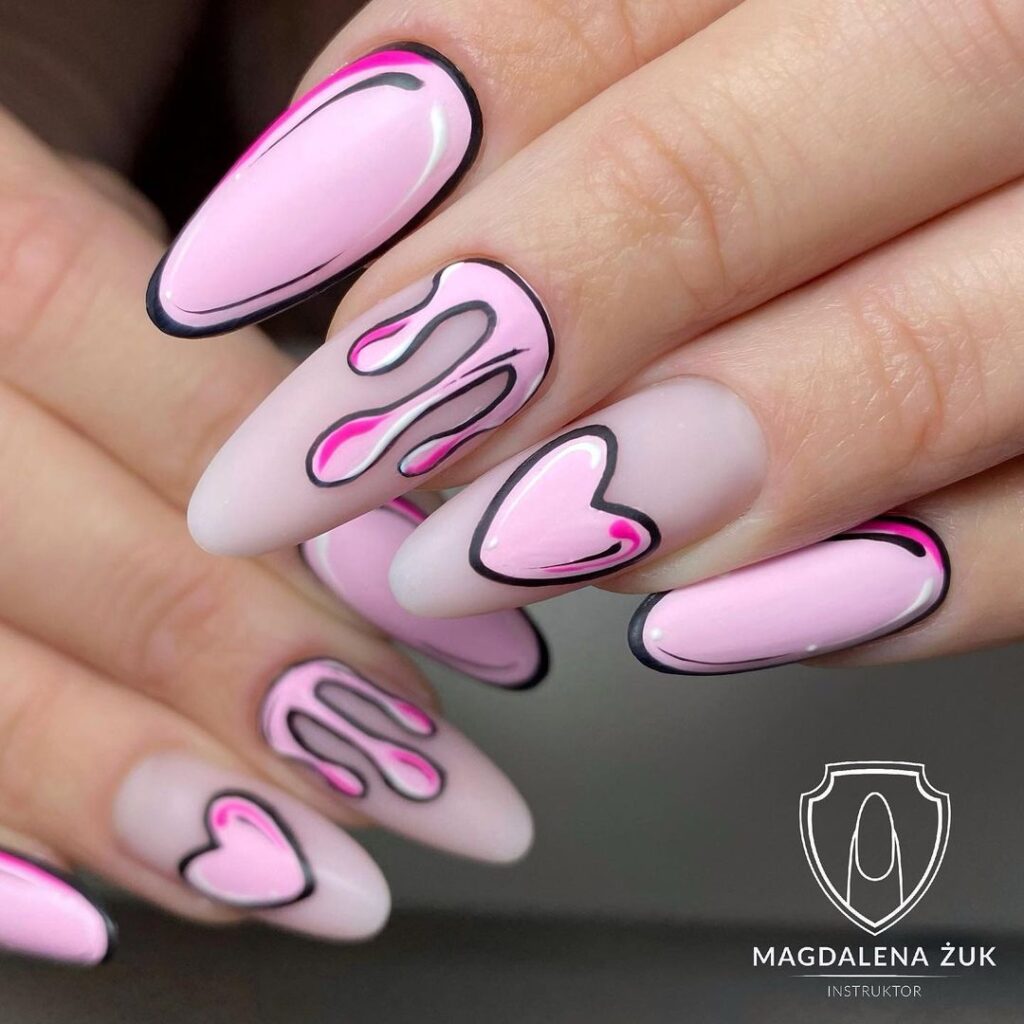 Courtesy: @zuk_nails
#59 So stunning! This hot pink nail design has an accent nail portraying Minnie-Mickey motifs for all the Disney fans out there. Having motifs of things you like can be a great way to create a sense of identity through your manicure. Additionally, they can also serve as a reminder of something that is important to the person and can evoke positive memories, emotions, or associations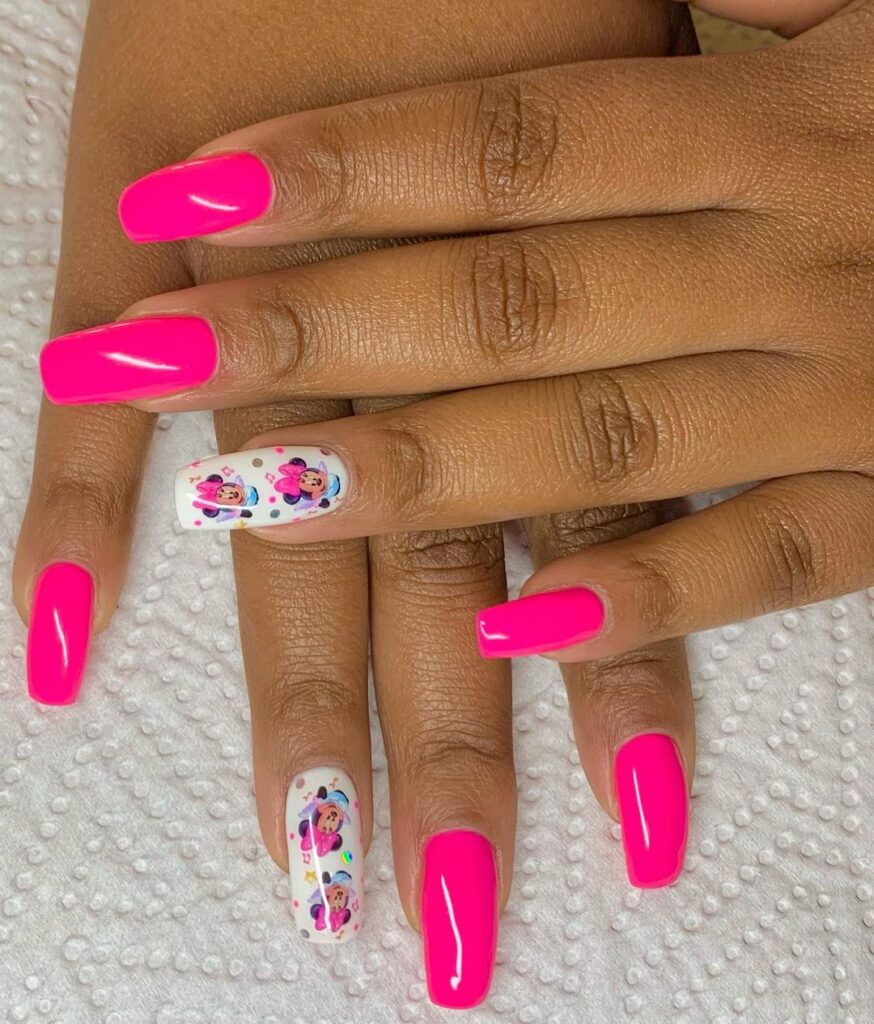 Courtesy: Erica Seekane
#60 The next one of the pink nail designs features two shades of pink in completely different tones. The thumb, ring, and index finger are painted pink with small polka dots, while the rest are painted baby pink with white French tips and snow motifs. While the snow motifs make them winter-specific, you can totally change the motif to flower for summer nails or spring season manicures.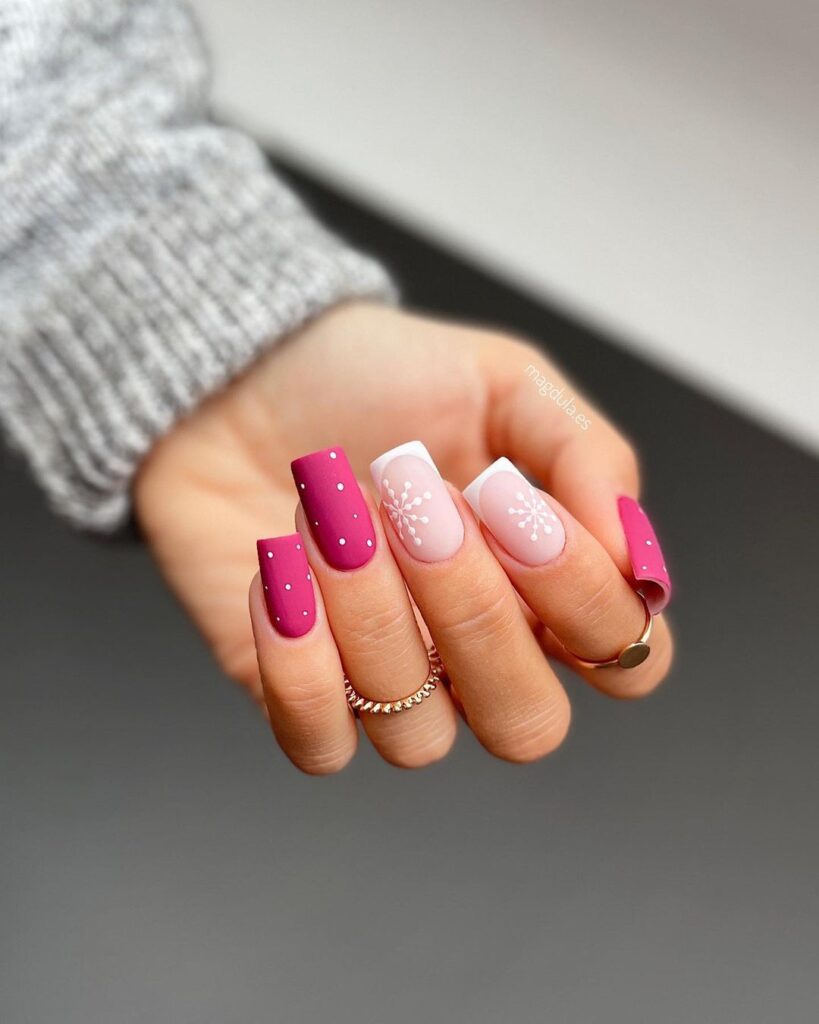 Courtesy: @magdula.es
#61 Pale pink nails with silver glitter accents create a sophisticated and sparkly look. This design is perfect for adding some sparkle and glamour to your nails, whether you're going to a party, a special event, or just for everyday wear. The pale pink color adds a touch of femininity while the silver glitter adds a touch of shine and sparkle. This design is great for those who want to add some enhancements to their nails without being too bold.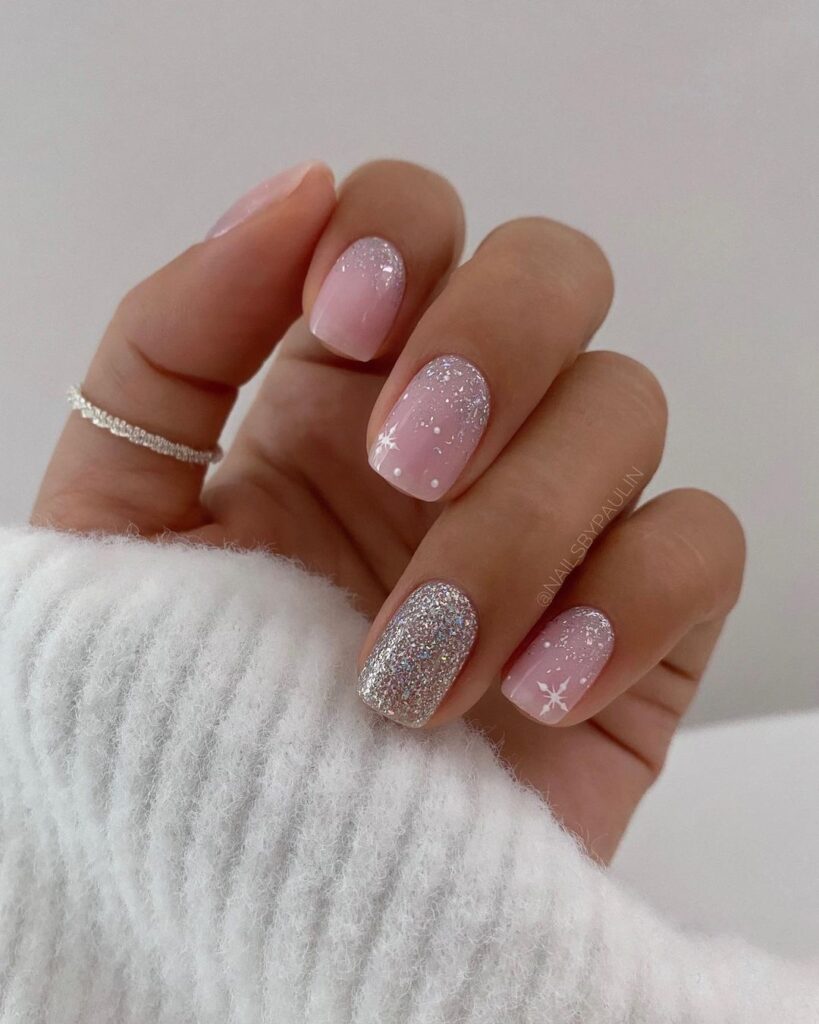 Courtesy: @nailsbypaulin
#62 And here's another pink glitter nail – that is one of the simple pink nail designs which you can DIY at home. Start by buffing your nails and applying a base coat. Follow up with baby pink nail paint on all nails and let them dry. Now, carefully apply the glitter tips using a dotting tool and finish it all with a gloss coat for a glistening finish.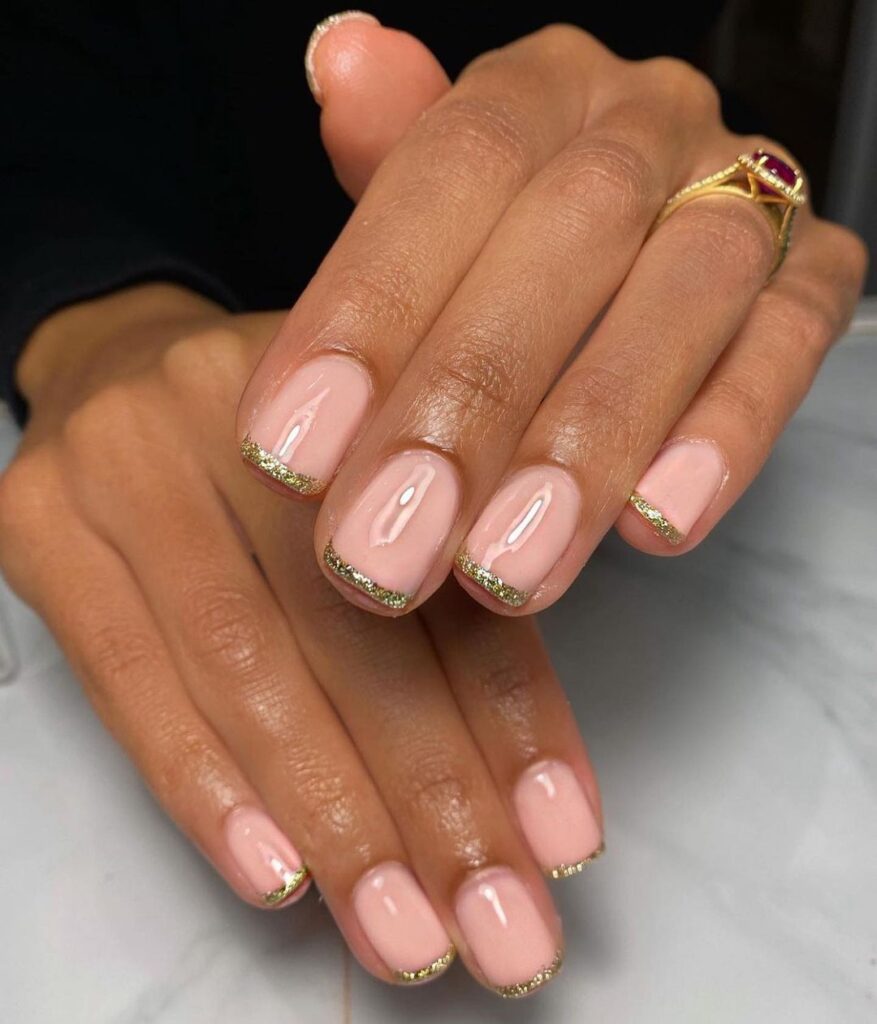 Courtesy: @j.e.m_nails
#63 These pink nails are oozing with tons of personality. You can obviously change the writings and motifs as per your liking and make your manicure more of your personal style. The combination of hot pink and black nails sure makes the mani mesmerizing, and we'd suggest you keep the shades the same and just play with the enhancements to make them more of your personal style.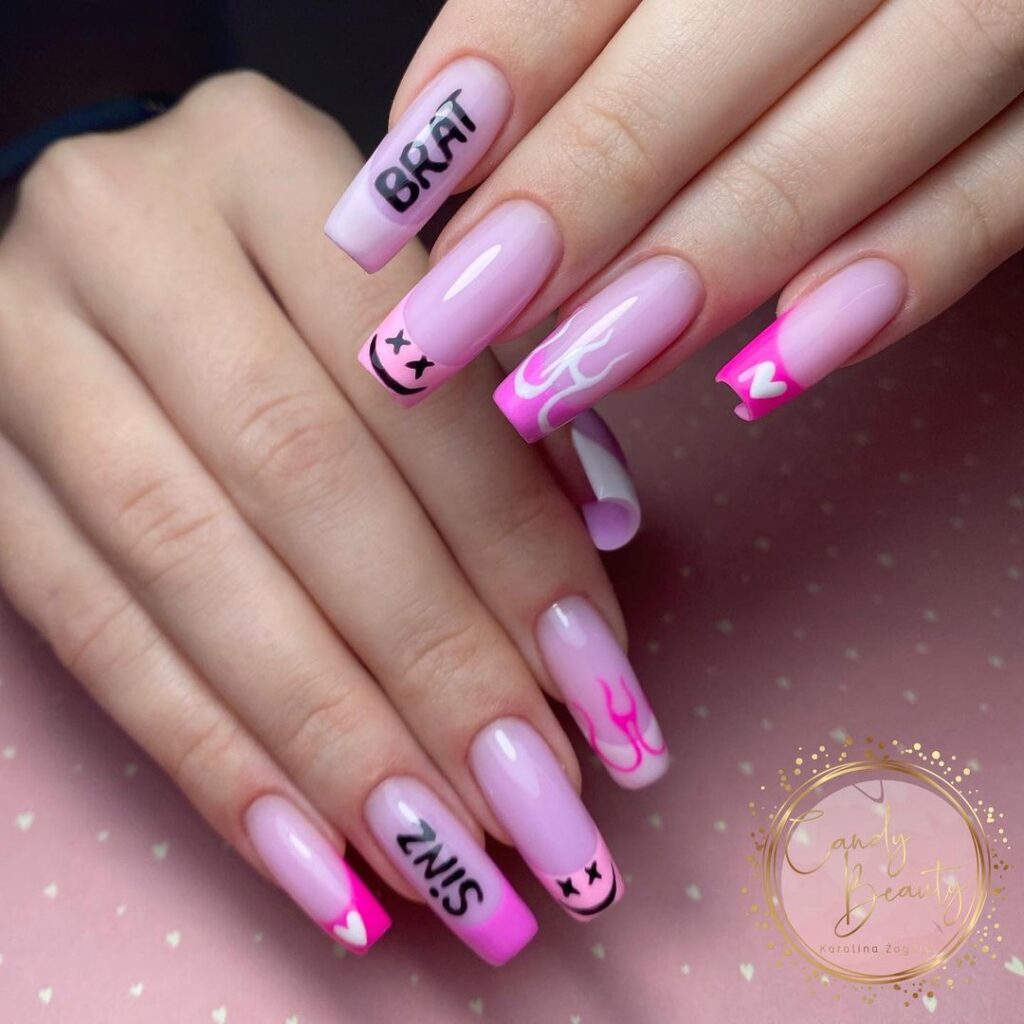 Courtesy: @candybeauty_kz
#64 This one of the coffin pink nail designs are done in a French tip style with ample space given to the tips so as to add the lips motifs that stand out in the nails. You can DIY them at home using lip motif stickers, and shaping your nail length to coffin nails.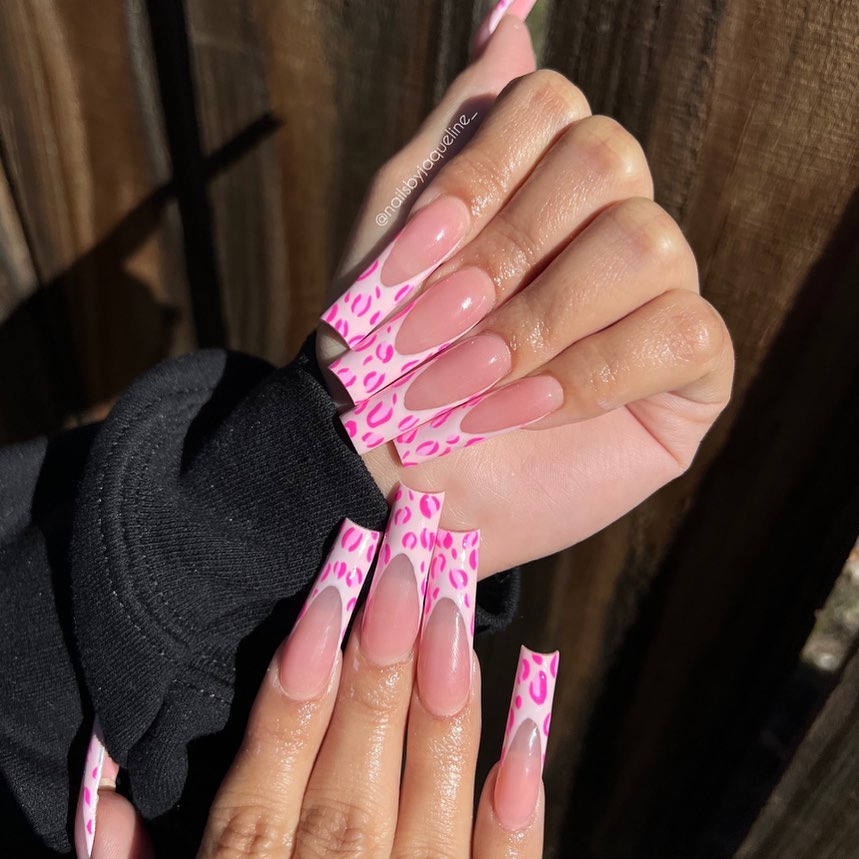 Courtesy: Paola Jaqueline
#65 These natural pink nails are also done in the French manicure with nails done in proper square-cut shape. A French mani is perfect for anyone who wants an elegant and timeless manicure, and the longer length of nails further ensures some glamour in this classic style.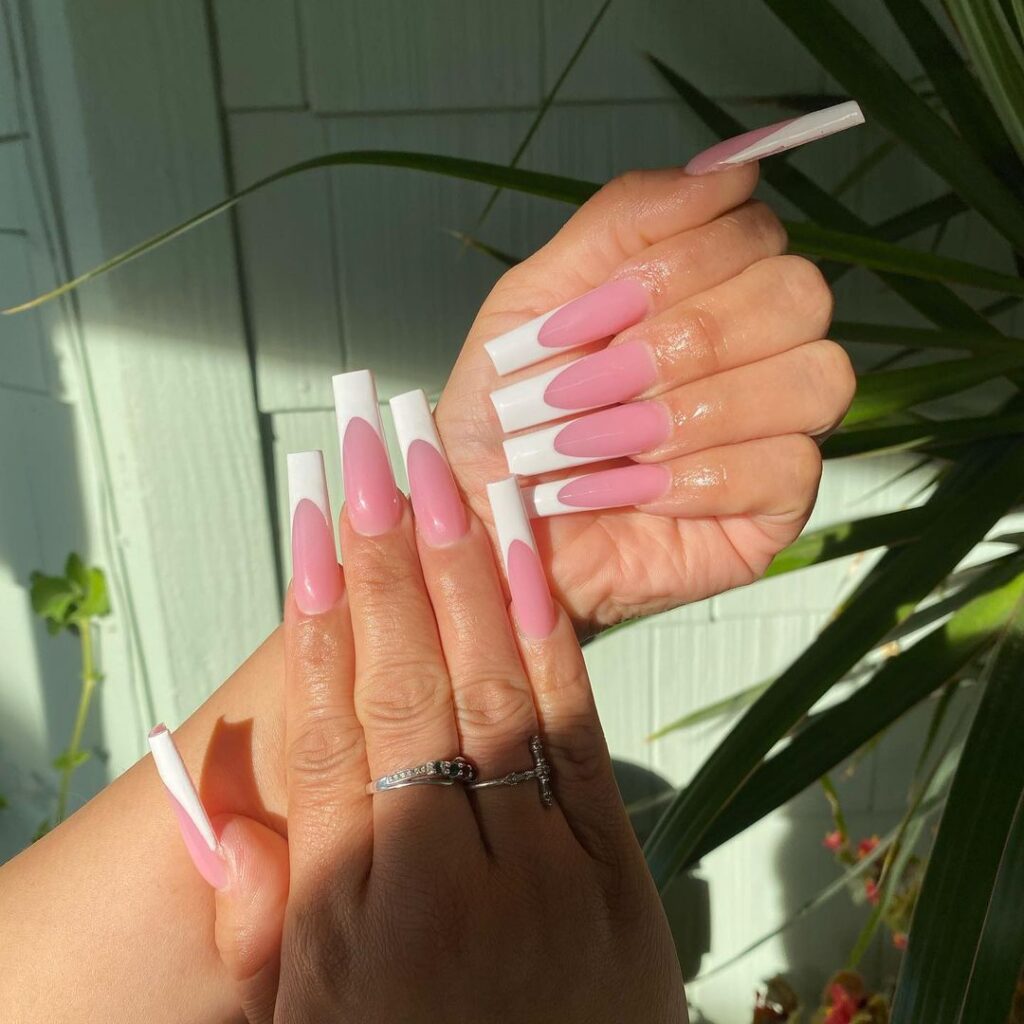 Courtesy: Gabriela Rios