Pink and white nail designs never go out of style. They work in almost any kind of space and fashion choice and offer a visual appeal to almost anything. Their chic, feminine, and magnificent look has made them a hit in nail designs as well. Below, find 61 designs on pink and white nails to inspire your own. 
#1 Long & Crisp
Starting off this list of pink and white nail designs with these long and crisp square-shaped nails in gorgeous colors and a stud accent. Sometimes, just the color combination is enough to make your manicure stand out. We love how the Illinois-based artist Daisy was successful in making the hues stand out by opting for a ravishing color combination and finishing the design with a stud embellishment.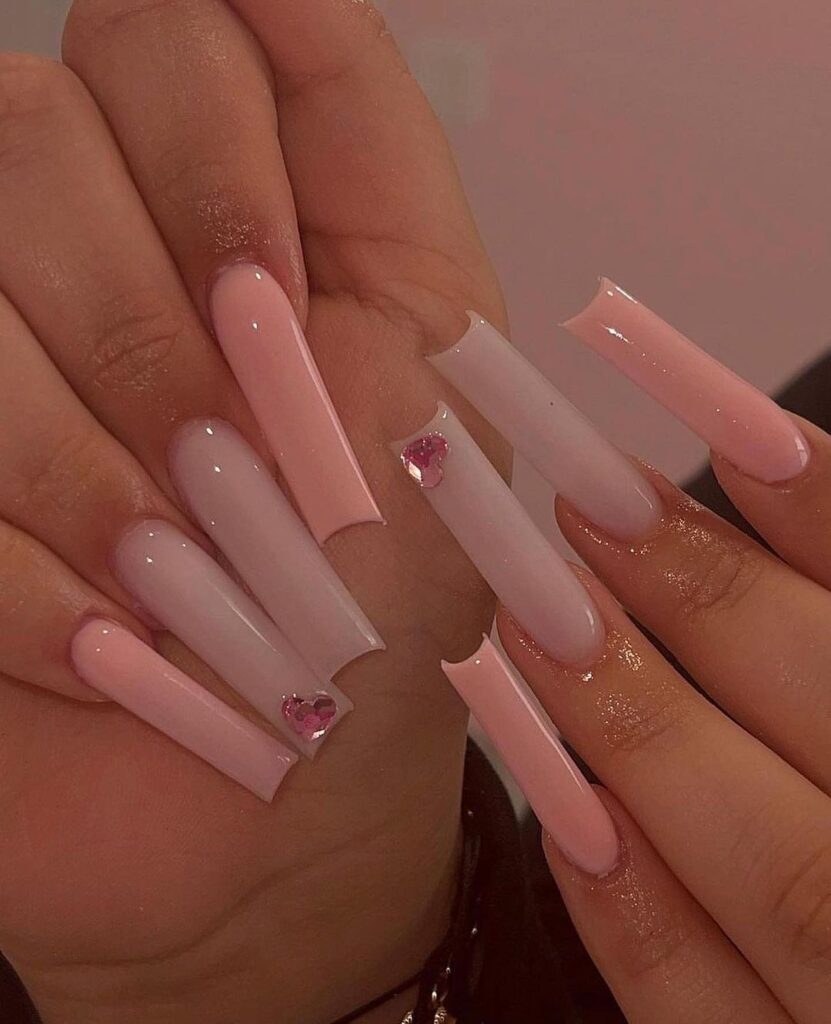 #2 Pink Nails & French Tips
Pink and white nails are generally preferred because we already know the magic they create in French manicures. Taking a step further, this one of the pink and white nail designs covers the entire tip after the base in white and lets the soft pink of the base shine. @chillinbynailsz_ created this dramatic version and we think it's a perfect pick for those who are looking for a fun, eye-catching manicure.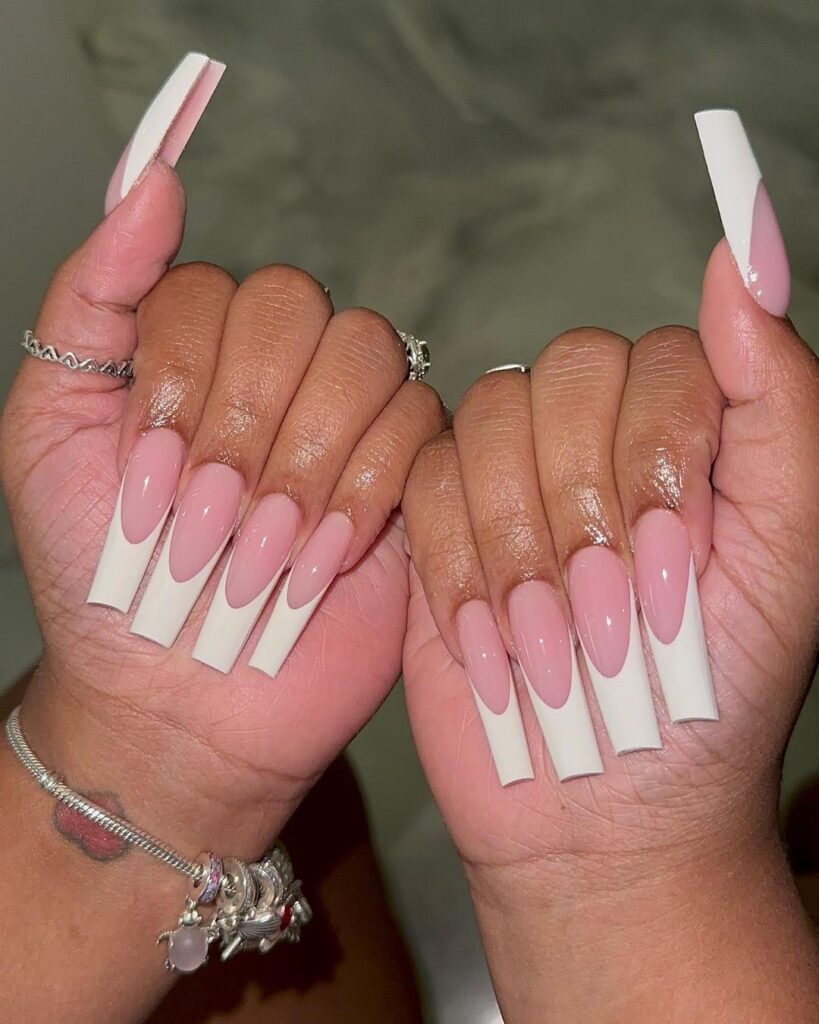 #3 Creativity With Swirls 
If you love to have the creativity streak in your manicure, swirl nails are the idea you will adore. As described by the licensed home-based nail technician @nailtechkam, "so satisfying to look at", this nail art is aesthetically pleasing and will drive tons of compliments. They do need precision to recreate and it's best you only trust an expert to etch this design for you!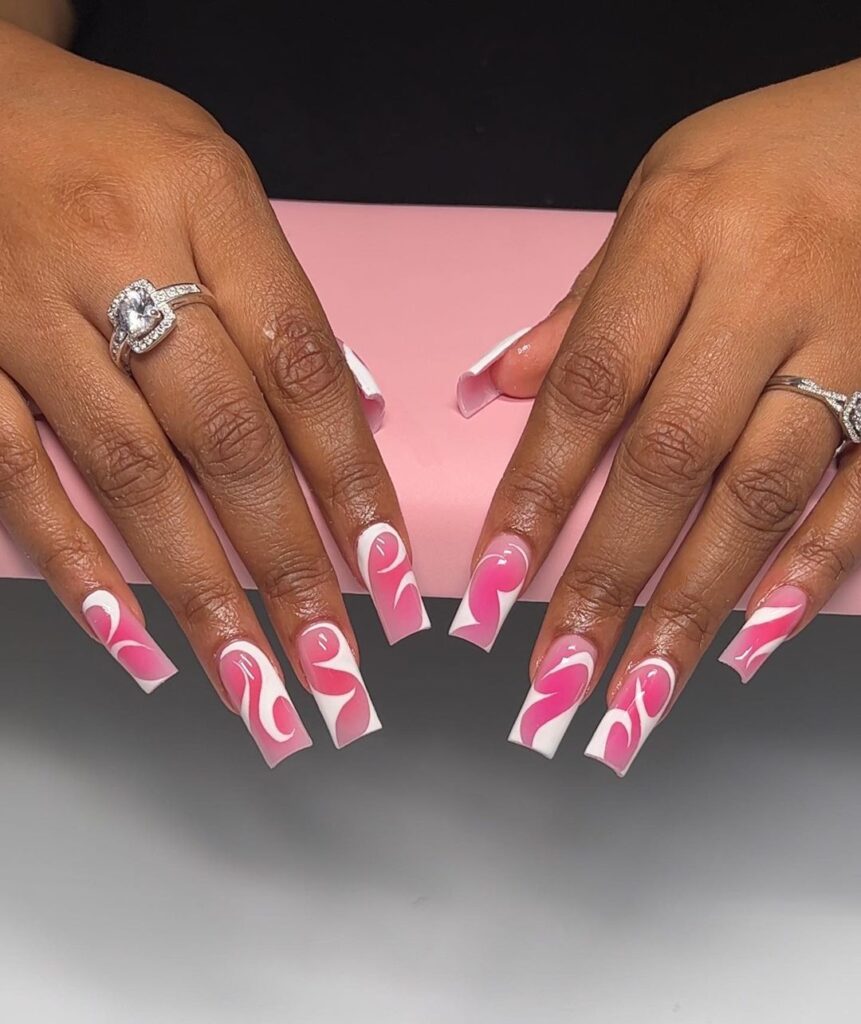 #4 A Striking Pink And White Ombre Nail Design
Pink and white ombre nail designs are searched quite often, and we completely understand the hype. This beautiful gradient creates a seamless tradition from soft blush pink to crisp white nails. They are the epitome of timeless grace and can be worn with any outfit, or style, or can be carried at any time of the day. A beautiful manicure created by the talented Long Beach-based artist Jessica.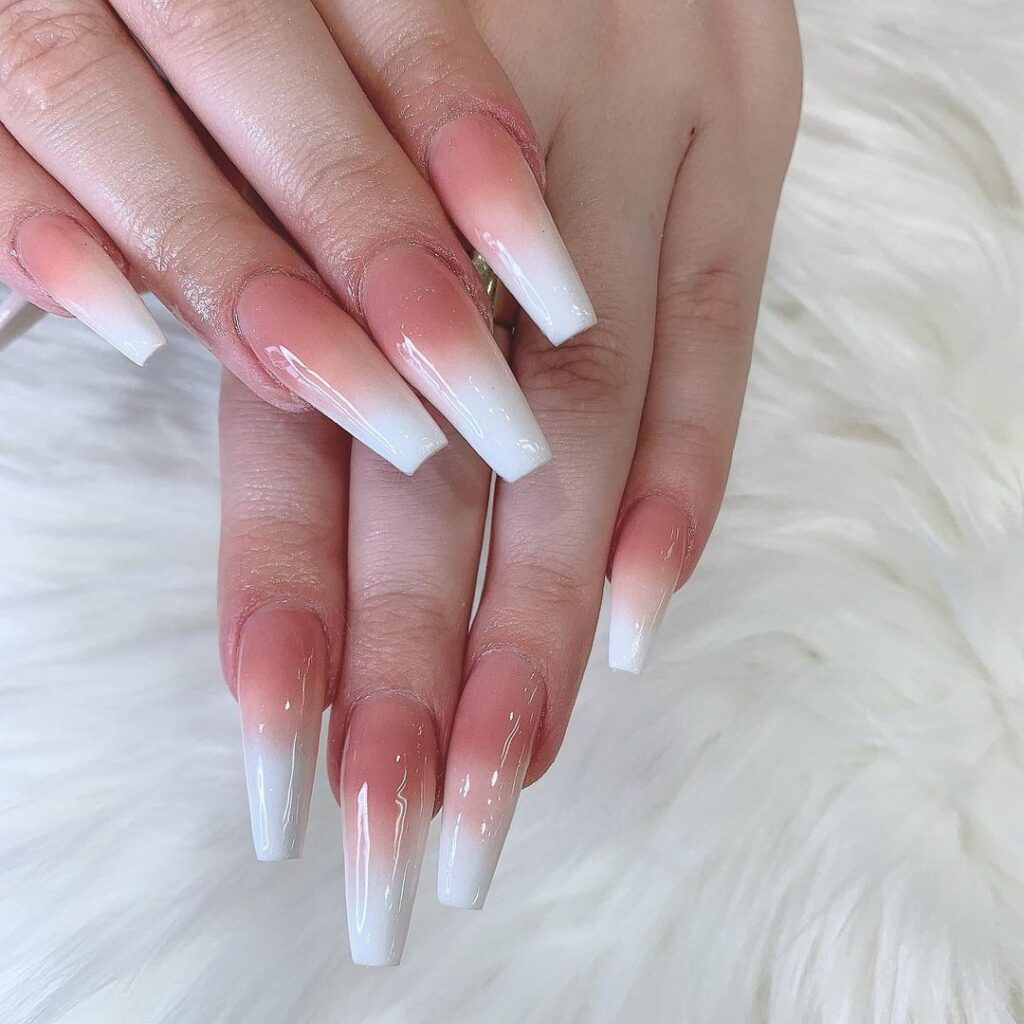 #5 Pretty Studs 
Stud embellishments are the easiest way to elevate any manicure you're trying at home. To recreate, start with clean nails and buff them. Apply a base coat and follow with pink nail paint. Next, draw a line to create the French manicure section and cover it in white. Let it all dry before placing the studs randomly and then finish off with a top coat. Giang's Nails have done an amazing job here.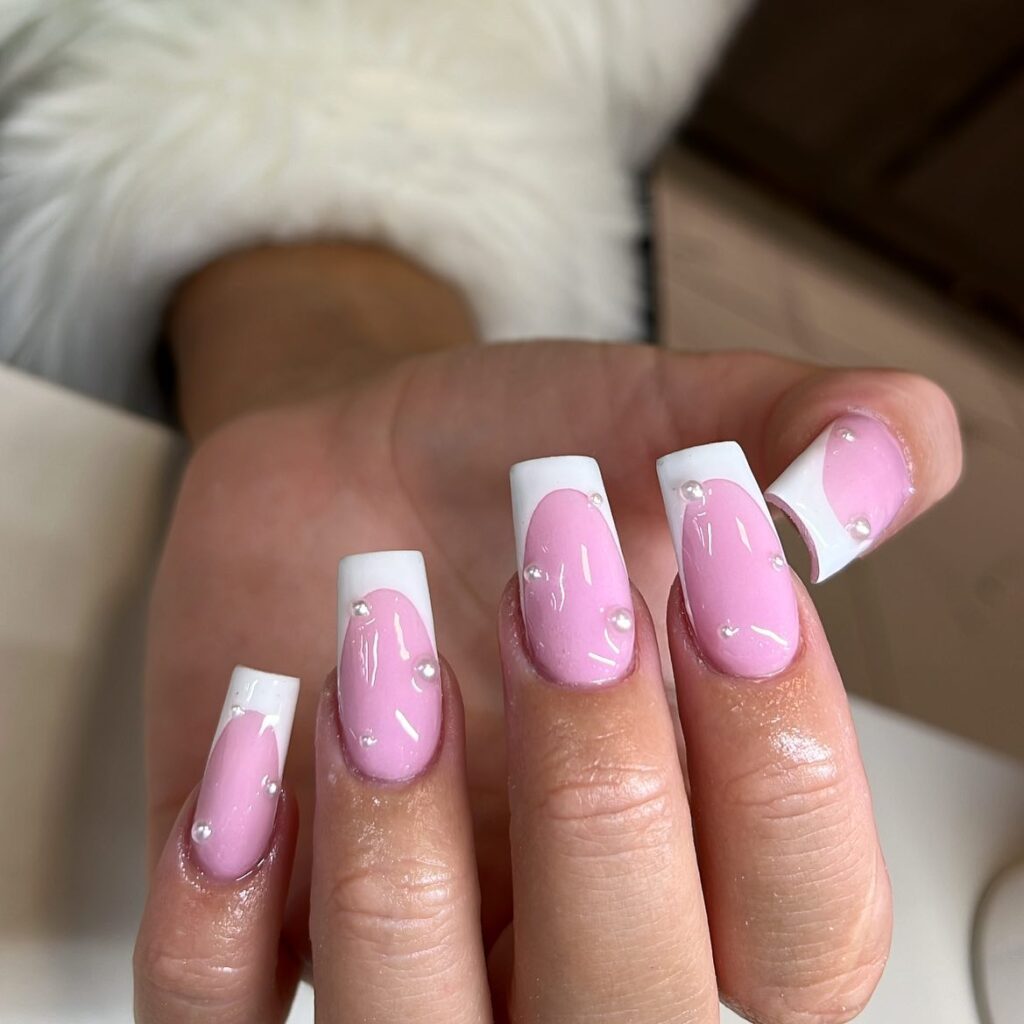 Buy studs here. 
#6 Replete With Embellishments 
Long nails with embellishments are the easiest way to add drama, glamour, and fun to your look with a fashion choice that's as simple as choosing your manicure. Acrylic nails give you the option to choose from a number of embellishments and we will advise you to place them strategically – just like Lawrence-based technician Yasmin – so they come out to be aesthetic and visually appealing. You can take ideas from the Internet if you choose to DIY any of these pink and white nail designs, or just trust an expert to create them for you.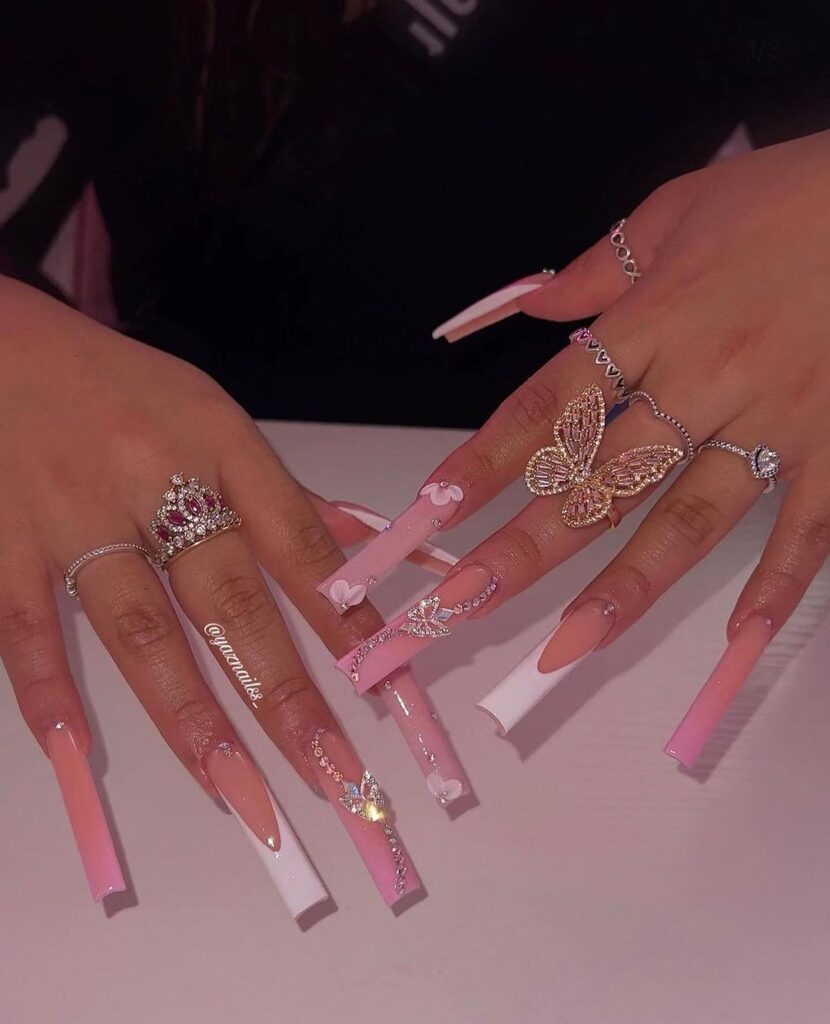 #7 Alternate Marble Pink And White Nail Designs 
Marble nails are a unique and eye-catching design and you can easily incorporate this trend into your pink and white acrylic nails design. Here, the marble nails adorn just the index and engagement finger for an alternate manicure pattern and gives the simple pink and white ombre pattern a noteworthy twist. A design that will suit any nail shape or length you opt for and will go with any kind of look! These nails are created by Rilinda Selimaj.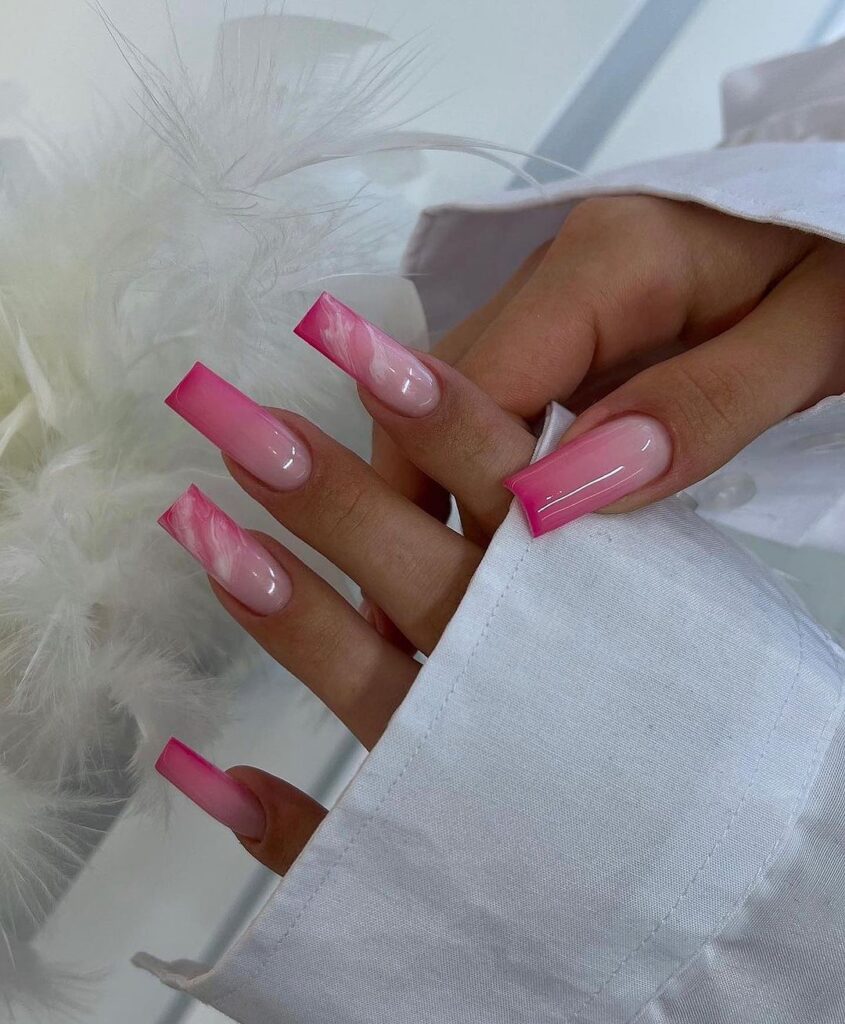 #8 Pink And White Glitter Nails
These pink and white ombre nail design is enhanced by swirls and creative art on the engagement and middle finger for an ingenious design. Envisioned and created by @14nailz, we are in awe of the artistic streak of the manicurist as this kind of design requires both visualization and skill. For nail art that is unique yet simple, trust a technician who has a genuine interest in her field.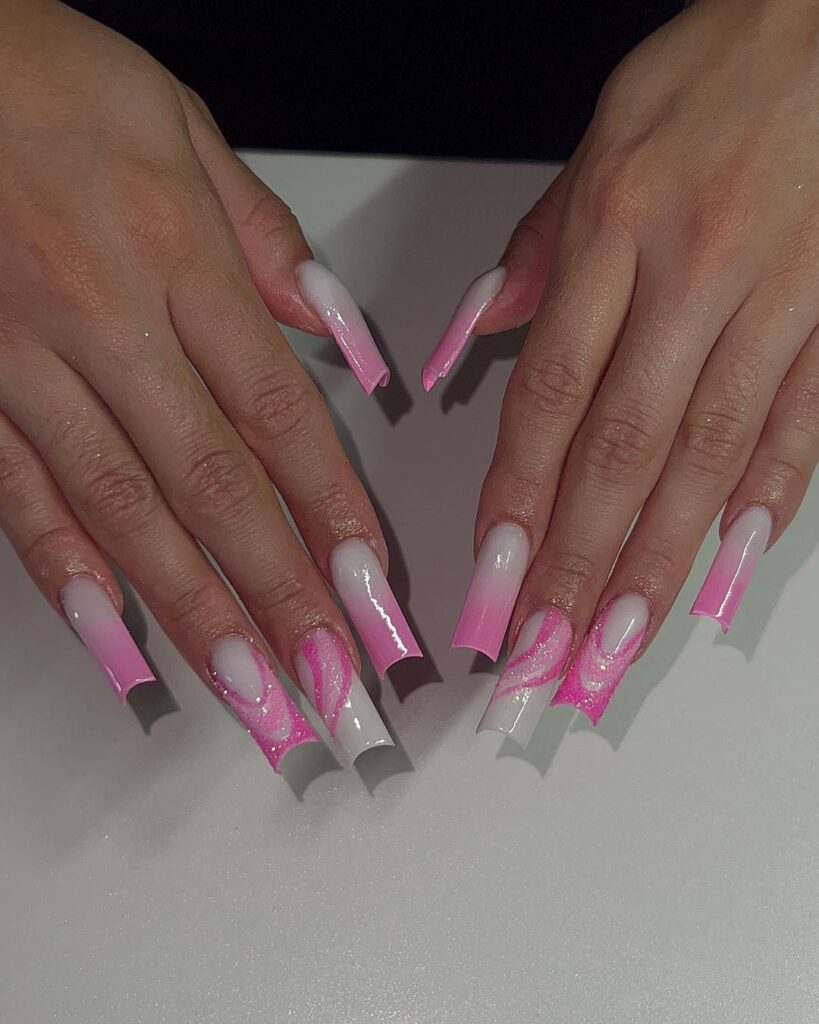 #9 V-Tip French Manicure 
A V-tip French manicure adds a chic and modern twist to this all-time favorite nail art style. It starts with a smooth, glossy pink base followed by V-tips in pink and white. The golden glitter adds an impressive twist and we love how technician Kaludia Gozdek creates this fabulous mani with just a simple adjustment.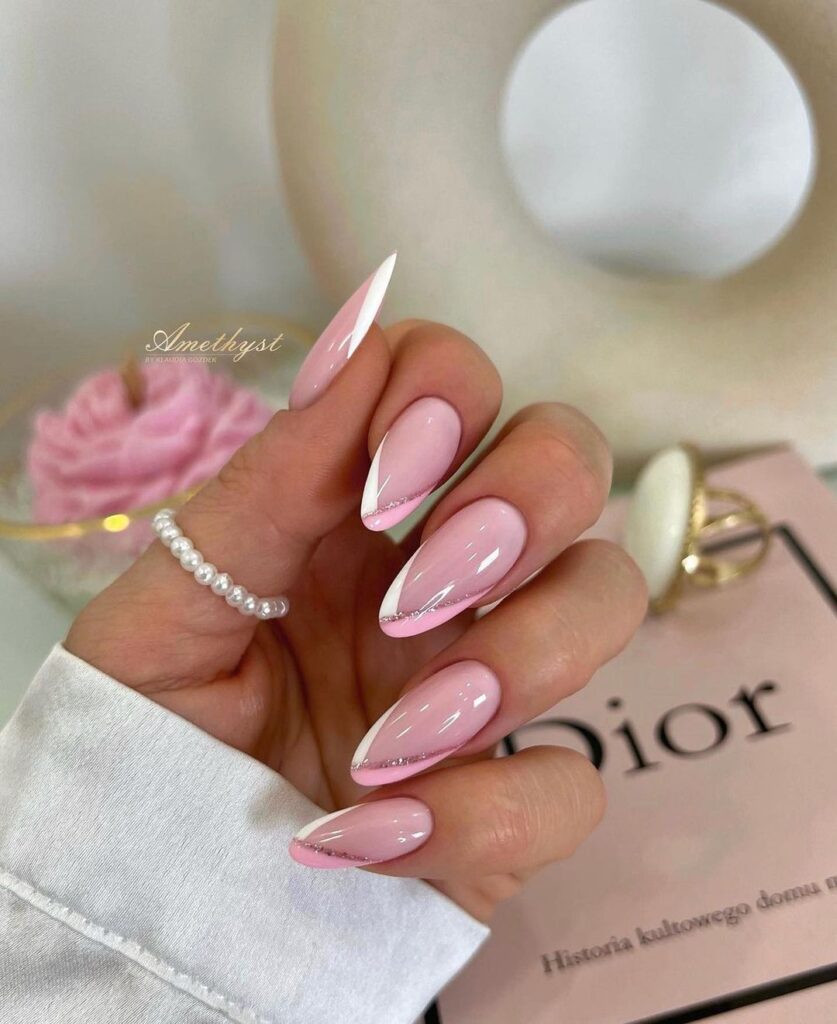 #10 Perfect For Valentine's Day
A Valentine's Day manicure is all about romantic colors, aesthetic design, and a love quotient. All of them are characteristics of this next one of the pink and white nail designs on this list which uses matte colors or probably, a matte top coat alongside the romantic pink shade and heart motifs to give you a good Valentine's Day manicure idea. They were created by Yessica Rizo Rico.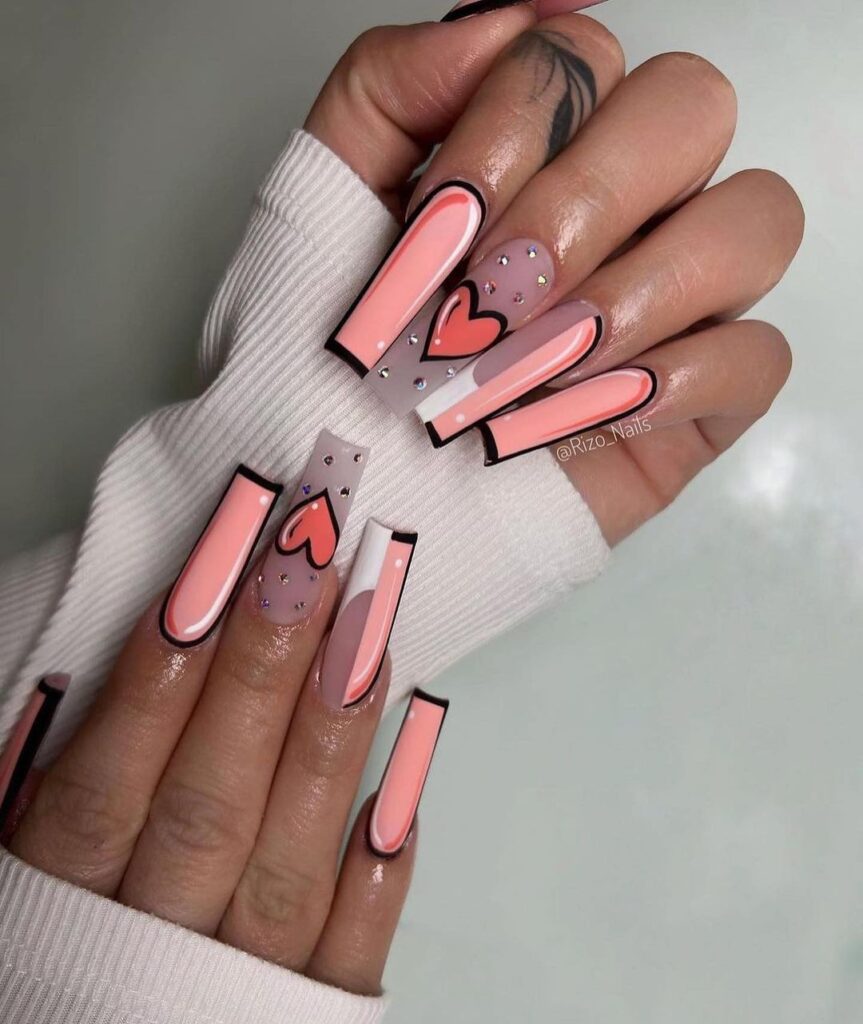 #11 Round French Tip 
A French manicure tip can be created in different styles and designs as well. You'd be surprised to know how many variations of French manicure actually exist. This classic manicure is loved by many women and there's no dearth of creative manicurists worldwide. There are many things that have caught on – and one of them is the deep round French manicure which is portrayed in the next nail art idea. In this, the white tip extends to the sides of the polish as well. Created with amazing precision by @nailsbyro.jane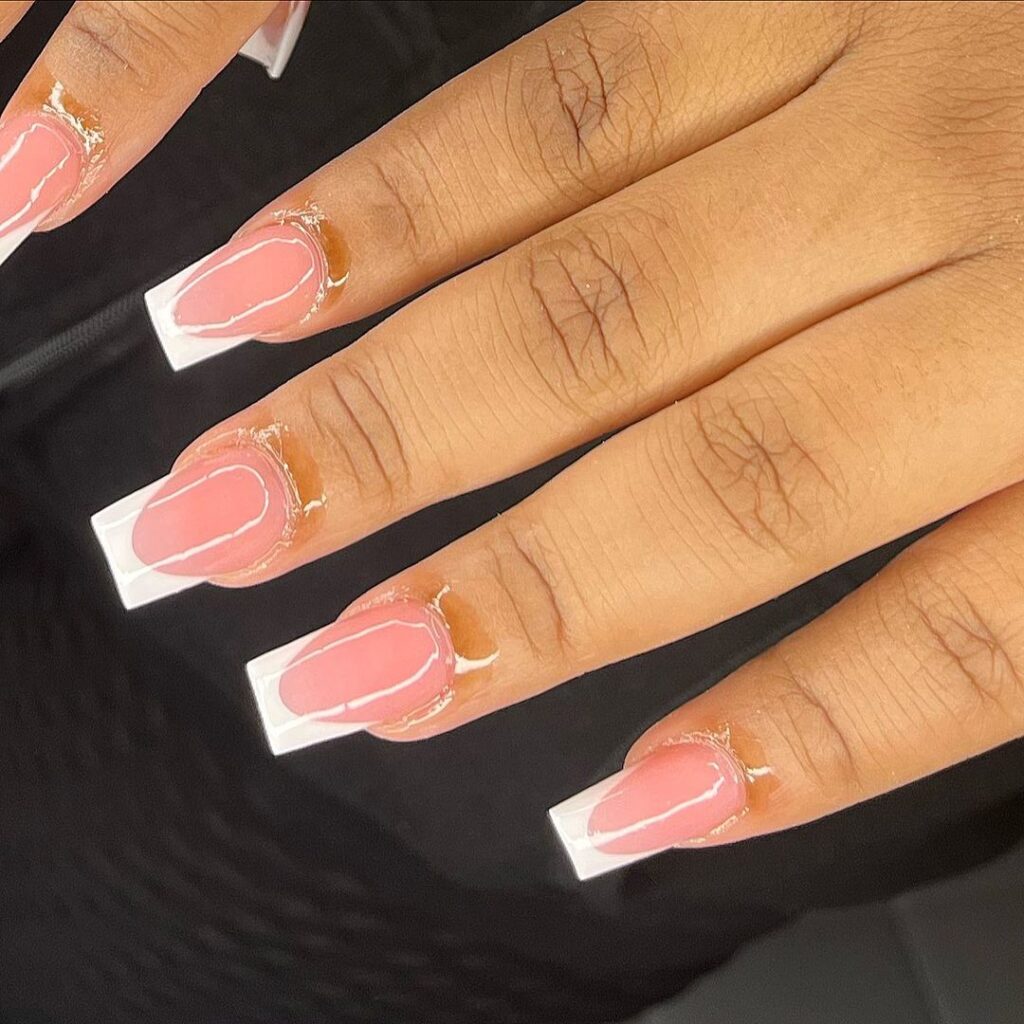 #12 Whimsical Florals 
Mirca Burtscheidt spruced up her client's nails with hand-painted florals in the whimsical combination of pink and white. She kept the pinky and the index nail coated in pink and white ombre nail design and created flowers with exquisite precision on the middle and engagement fingers. It can be a great engagement nail idea with the florals only drawn on the ring finger.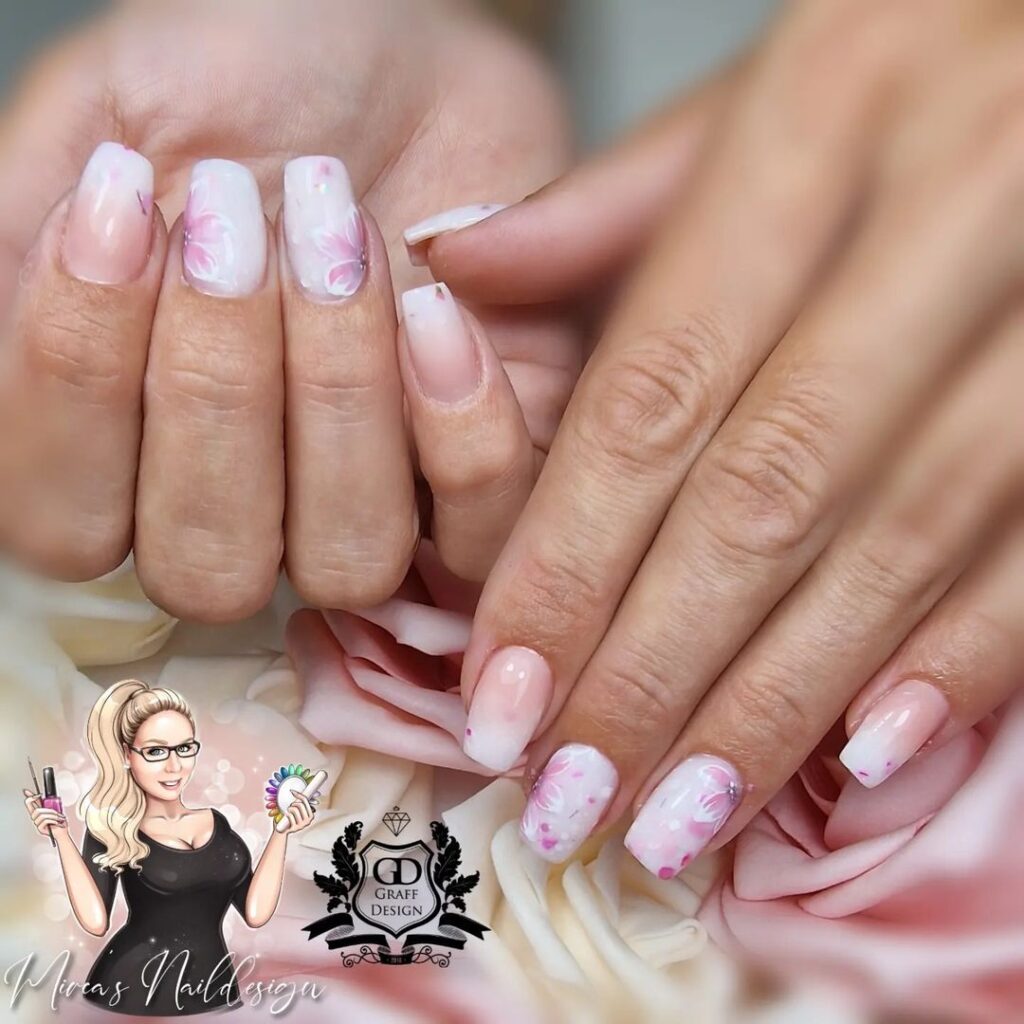 #13 Accent With Reverse French Manicure 
These French tip pink and white nail designs are minimal, elegant, and radiate pure grace. To break the monotony, manicurist Jenny uses an accent nail done with the reverse French manicure idea for eye-catching nail art. A reverse French manicure is one of the latest nail trends and is also celebrity-approved! You can sport them to exude a creative and trendy vibe from your fashion choices.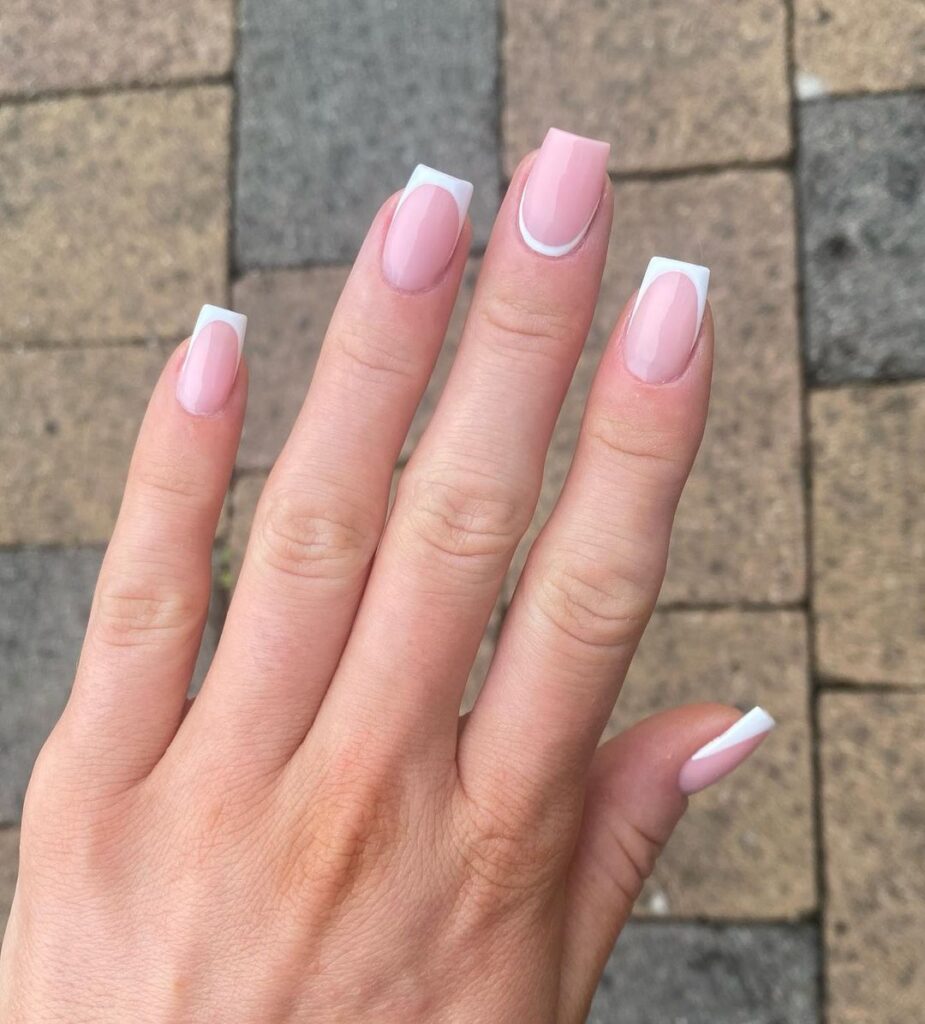 #14 Pastel Goodness 
This one of the pink and white nail designs consists of gorgeous pastel colors enhanced by matte nail polish. A pastel manicure with different colors on each nail is a playful and trendy nail art style that allows you to express your creativity and individuality. This unique and eye-catching manicure uses soft, muted pastel shades for each nail while mixing and matching colors to create a fun and stylish look. Envisioned and created by




@nails.inspo.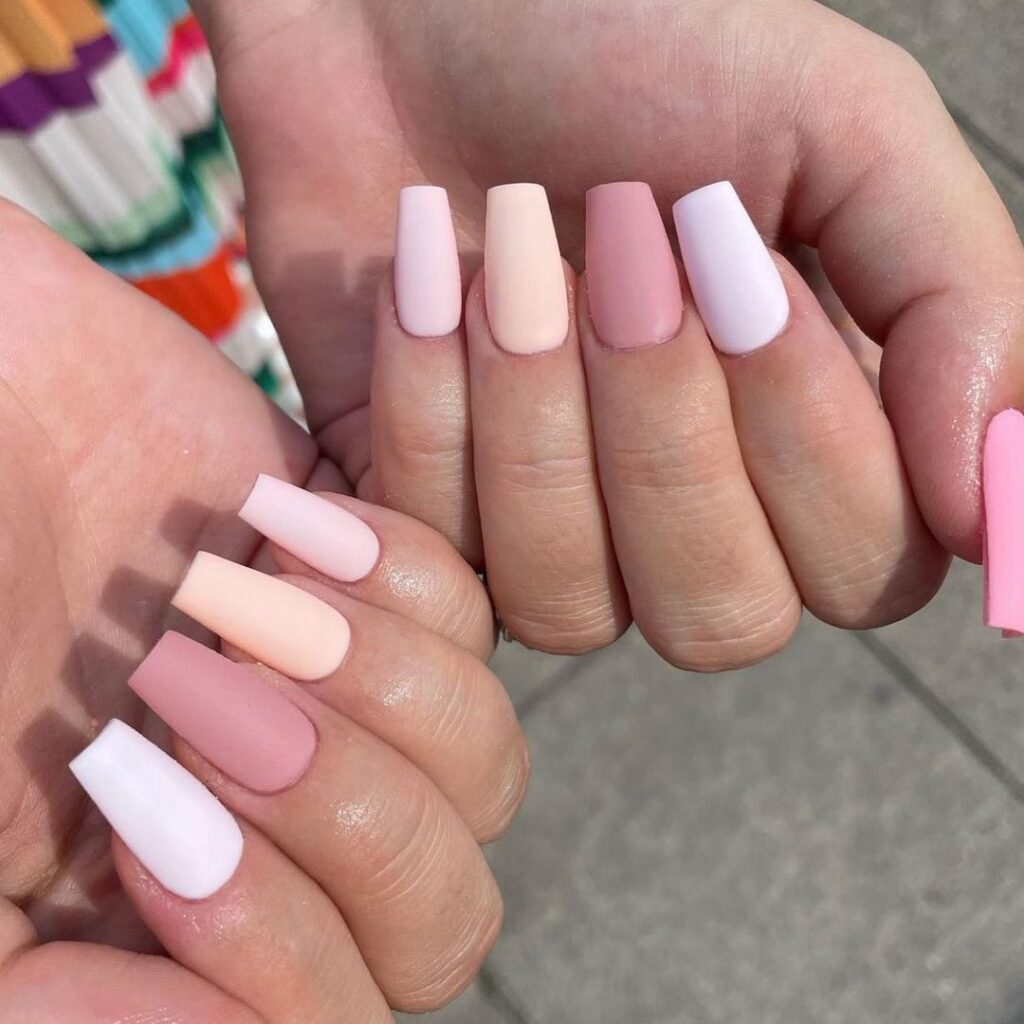 #15 Such Pretty Pink And White Nail Designs
This captivating white and pink nail design by Erica Seekane uses a dandelion image accent nail to elevate the manicure. We love the dandelion image and the symbolism it represents. Dandelions are believed to make dreams and wishes come true, and they also are a way to make your thoughts reach your loved ones. Given their beauty and aesthetic, etching them on your manicure will help to bring those good vibes whenever you glance at them.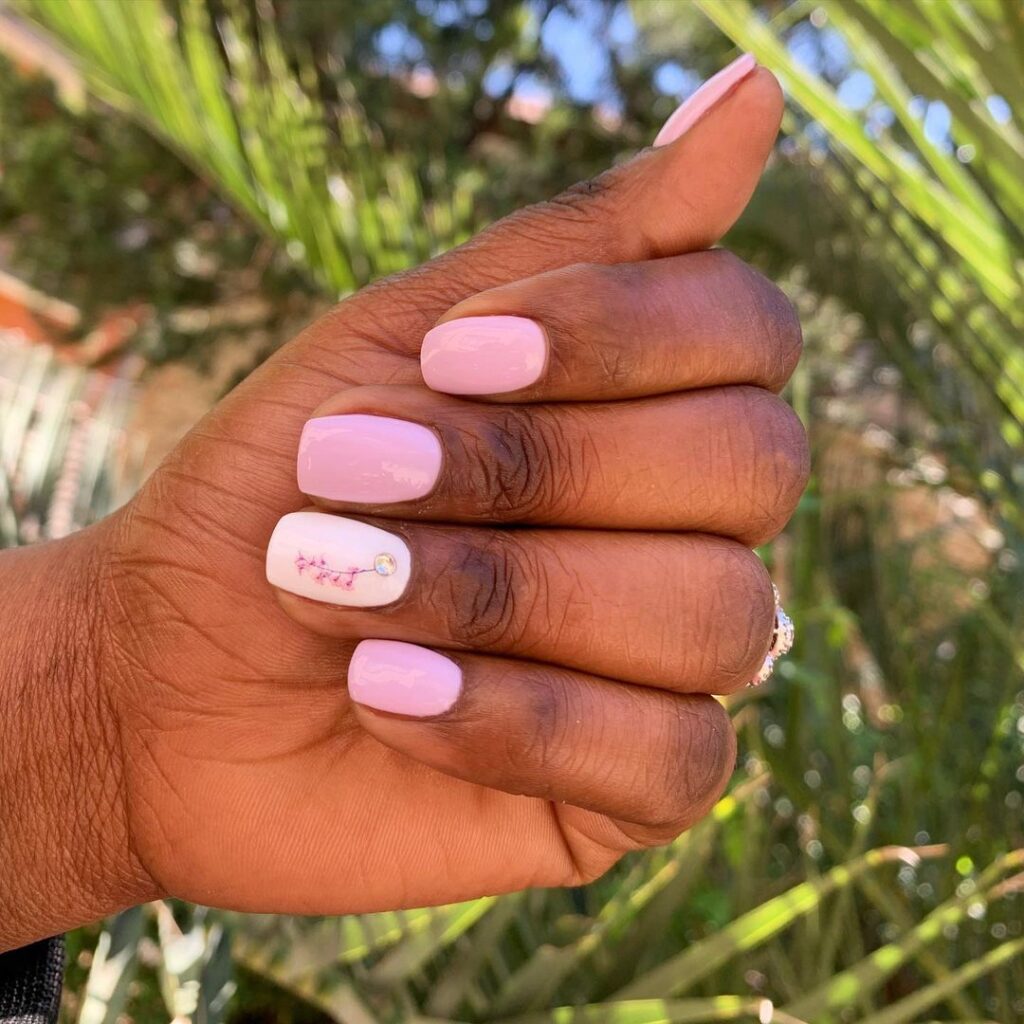 #16 Metallic Pink And White Nails 
When you're thinking of pink and white nail designs, metallic pink often doesn't come to mind, but it can give you an endearing manicure as well. Technician Marcia Nails uses metallic pink as the base of this manicure and white as the tip of the manicure to create this winsome nail art idea. Almond nail shape further adds elegance and femininity to the design, and the length is ideal for daily wear and is comfortable for women from all walks of life.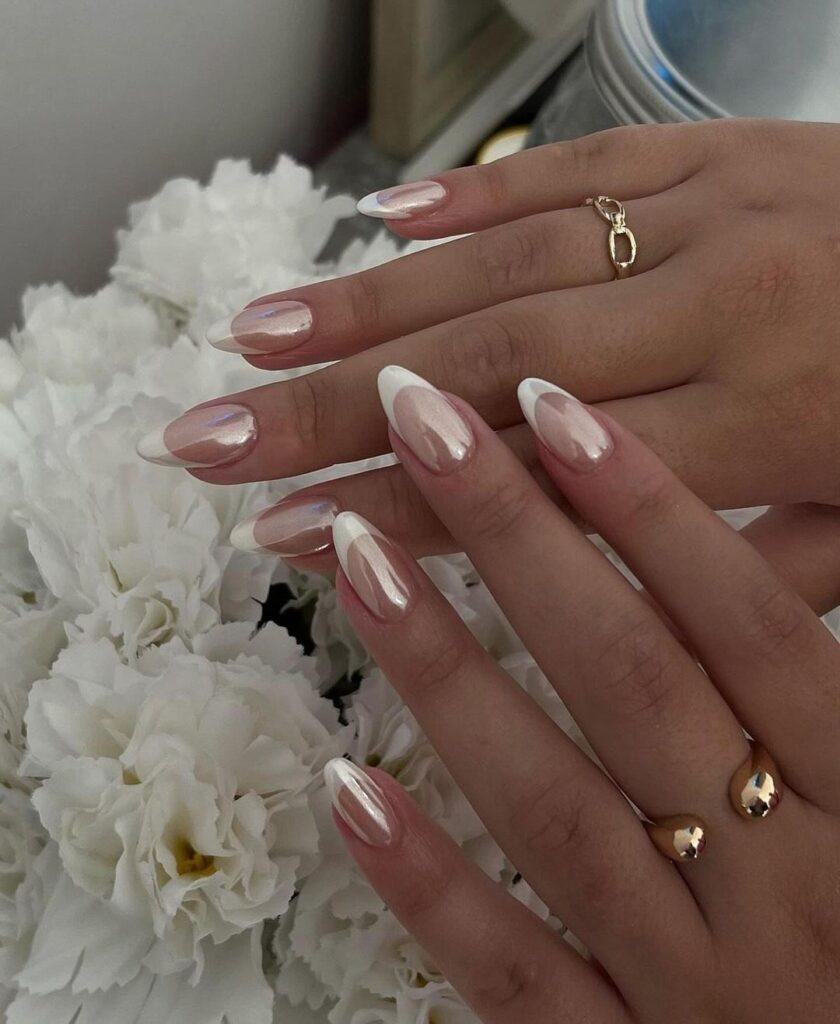 #17 Cute Hearts!
Visit the Instagram page of Manchester-based artist @all_that_jazz_nails and you will find many such manicure ideas that are simple, striking, and modest. You can also DIY them at home. To recreate this, start with clean, buffed nails and apply a base coat if the polish doesn't stay on your nails. Next, apply your favorite shade of pink and either use a tool to draw the heart or just put a sticker before applying the top coat. Voila! Your pink and white nail design is ready!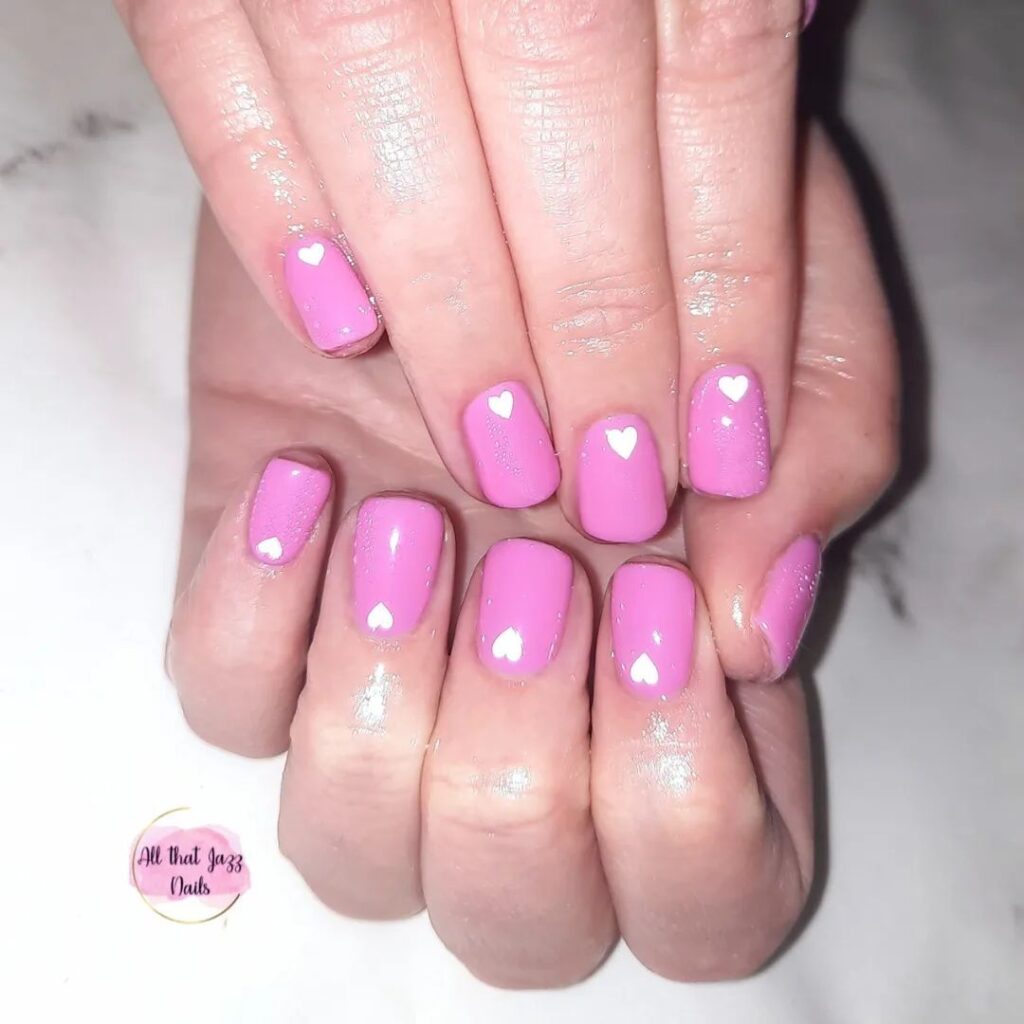 #18 Striking Set Of Pink And White Nails With Design
Greece-based nail technician Kostadina Tsihlas didn't take the easy route when creating this one of the pink and white nail designs 2023. She started with a clear base and created pink polka dots on a light pink base with colors so close in shade that the detail is visible when you see it closely. She then went on to create the leaves with a white polish to give you a mani which is ideal for spring or summer nail design ideas.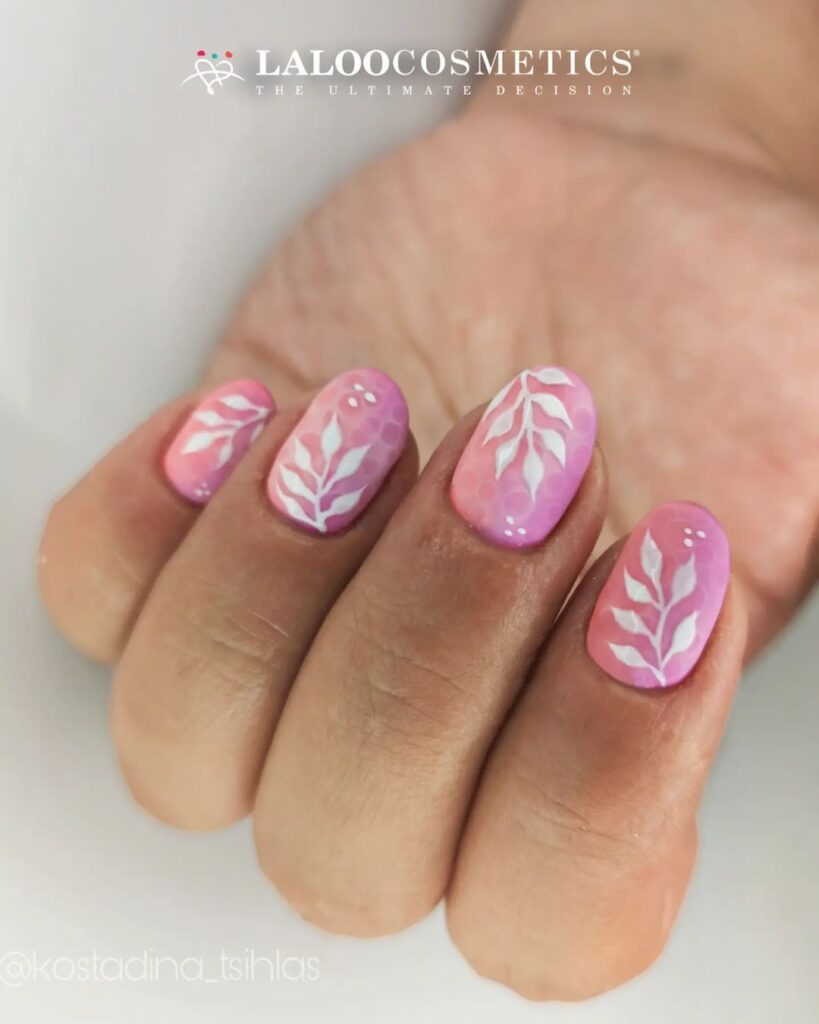 #19 Dazzling Manicure 
Glitter along with golden foil gives this set of nails a dazzling vibe and we absolutely adore how these can become the nails you carry to a party but also can go with everyday wear without adding too much drama to your look. There are absolutely no bounds to what kinds of attire these pink and white nails can go with. Certainly, a versatile and spectacular one to choose from this list.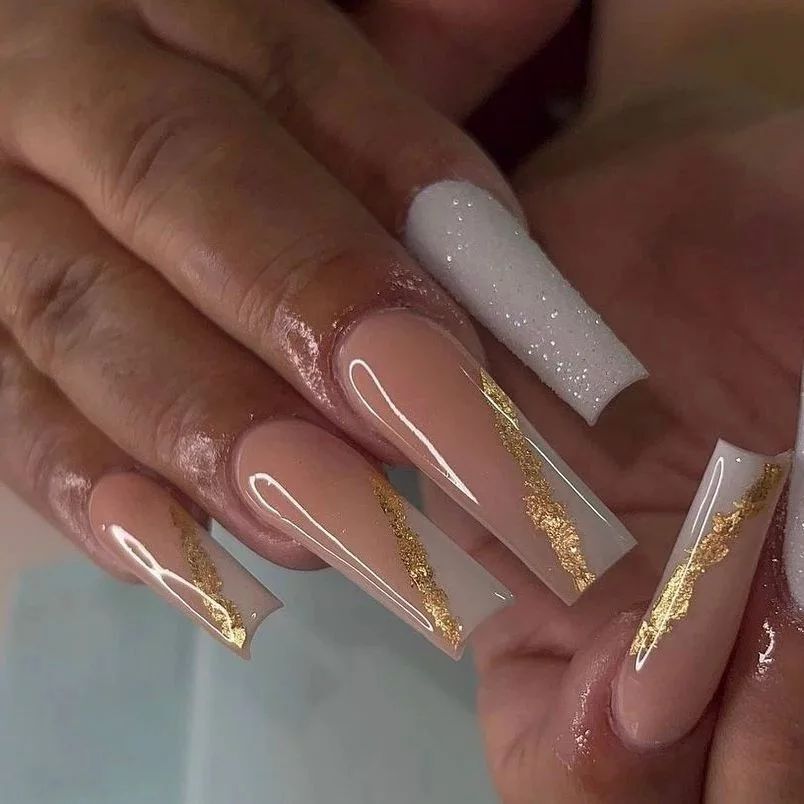 #20 Creative Style 
It's the little things that matter. Always. Just a simple zig-zag line to create the French tip was enough to make this one of the designs for pink and white nails stand out. Manicurist @mdnailbar knows how to keep things simple yet exciting in a manicure and she does the same with this next nail art idea. This idea can work with other color combinations as well, and it's an easy way to add a unique twist without overdoing anything!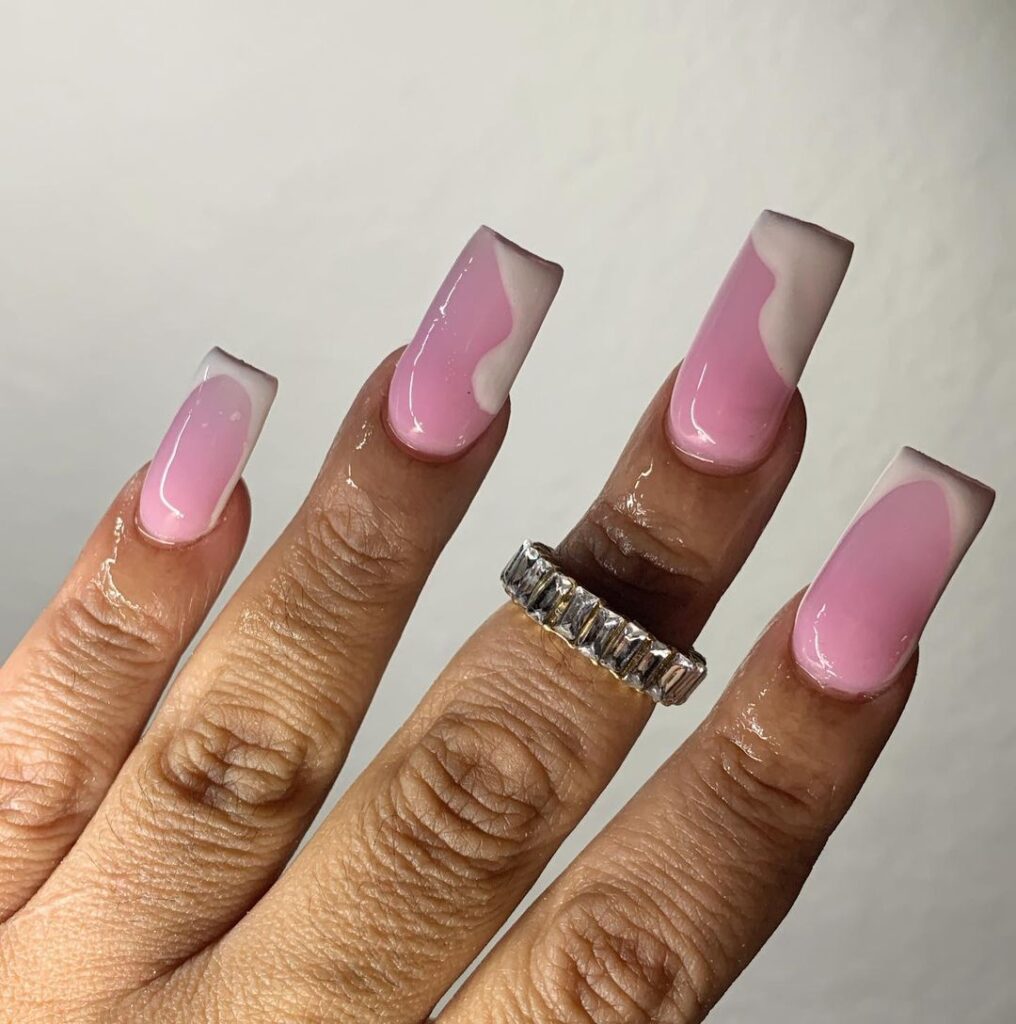 #21 What An Easy DIY! 
Such beautiful, elegant pink and white nails with designs to create at home. Gather all the equipment first – nail cutter, nail buffer, polishes, nail art brush, and filer. Start by cutting, buffing, and shaping the nails. Then, apply pink polish on the middle two nails and paint the others in white. Let them dry and now take a dotting tool and place white dots on the pink nail. Finish off with a top coat! This design is done by @manicure_with_me.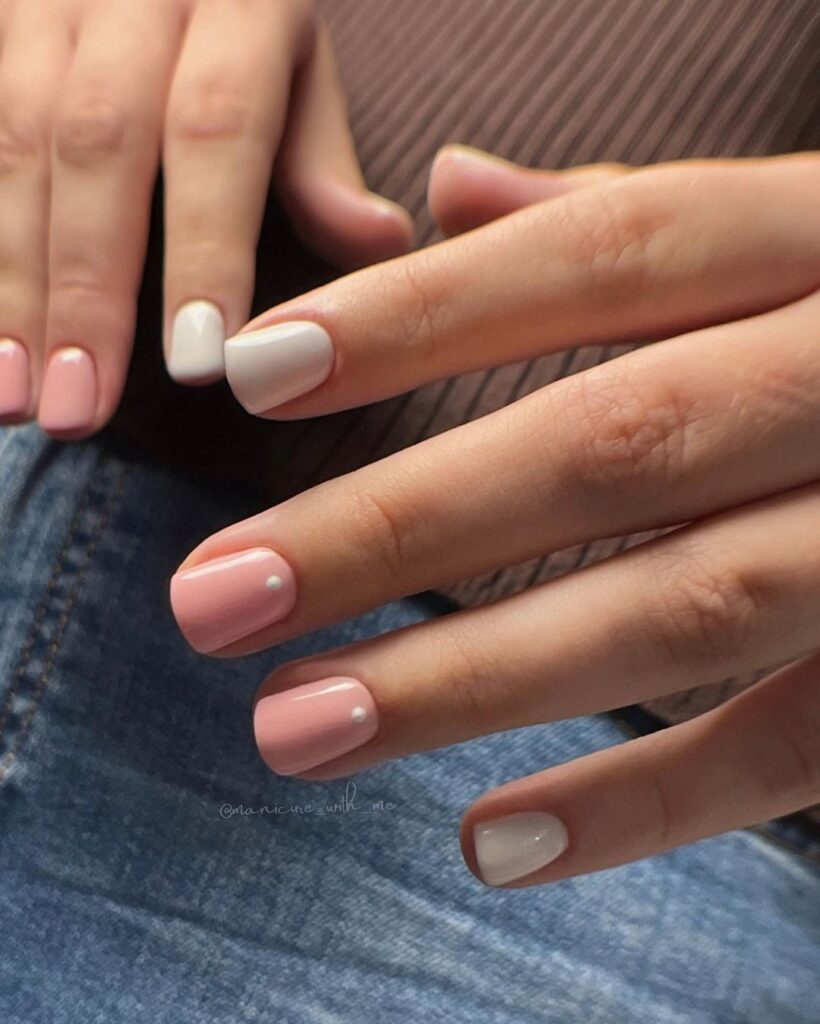 #22 Easy Swirls 
If you don't have time to get the nails done professionally, here's another pink and white manicure – done by 𝚃𝚒𝚓𝚊𝚗𝚊 𝙰𝚝𝚊𝚗𝚊𝚜𝚘𝚟𝚜𝚔𝚒 – that you can easily do at home. Just have a steady hand when you're creating those swirl lines or have someone else do it. Further, use studs with a good adhesive so they stay on till the manicure lasts.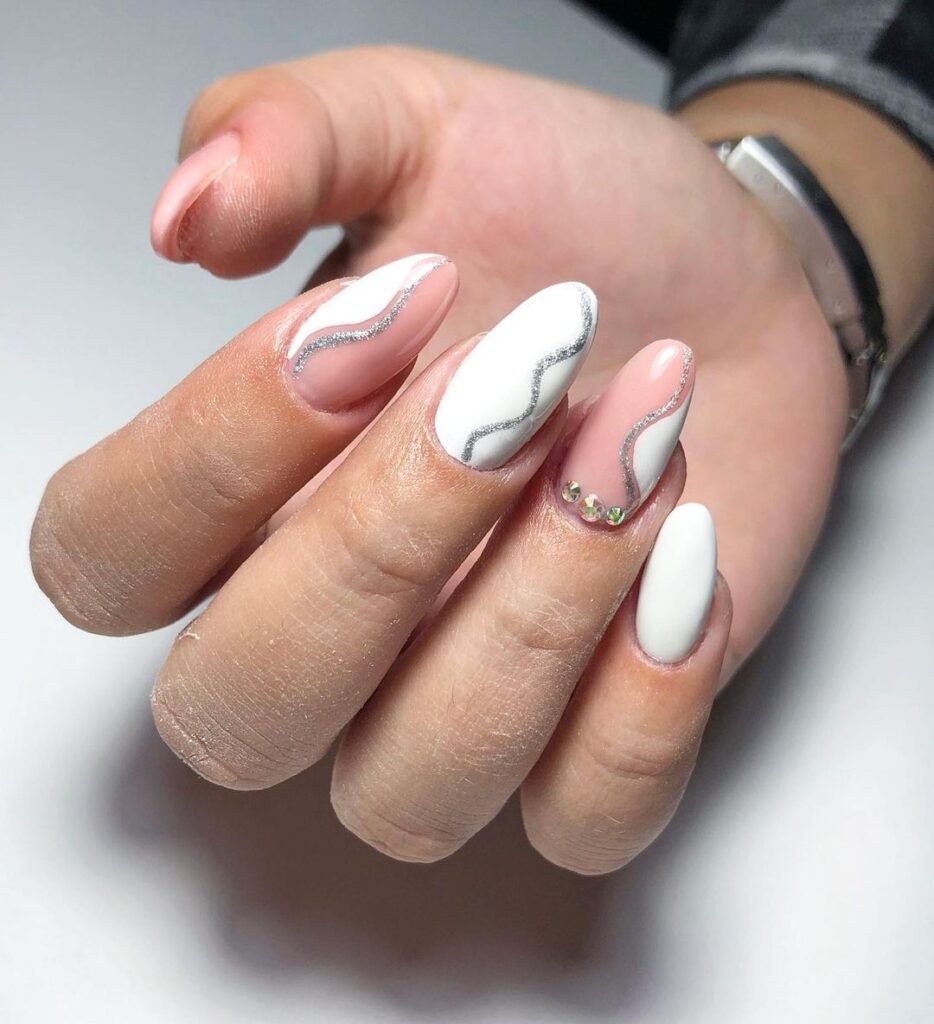 #23 Infusing Other Colors 
When it comes to pink and white nail designs, you don't just have to stick with those two colors. In fact, adding different colors can enhance the visual appeal and add a sharp contrast to the color combination. However, you have to pick colors wisely. If you're doing them at home, make sure you've got that creative streak or just use a design for inspiration. It can be the next manicure created so intricately by @kormozzvelem.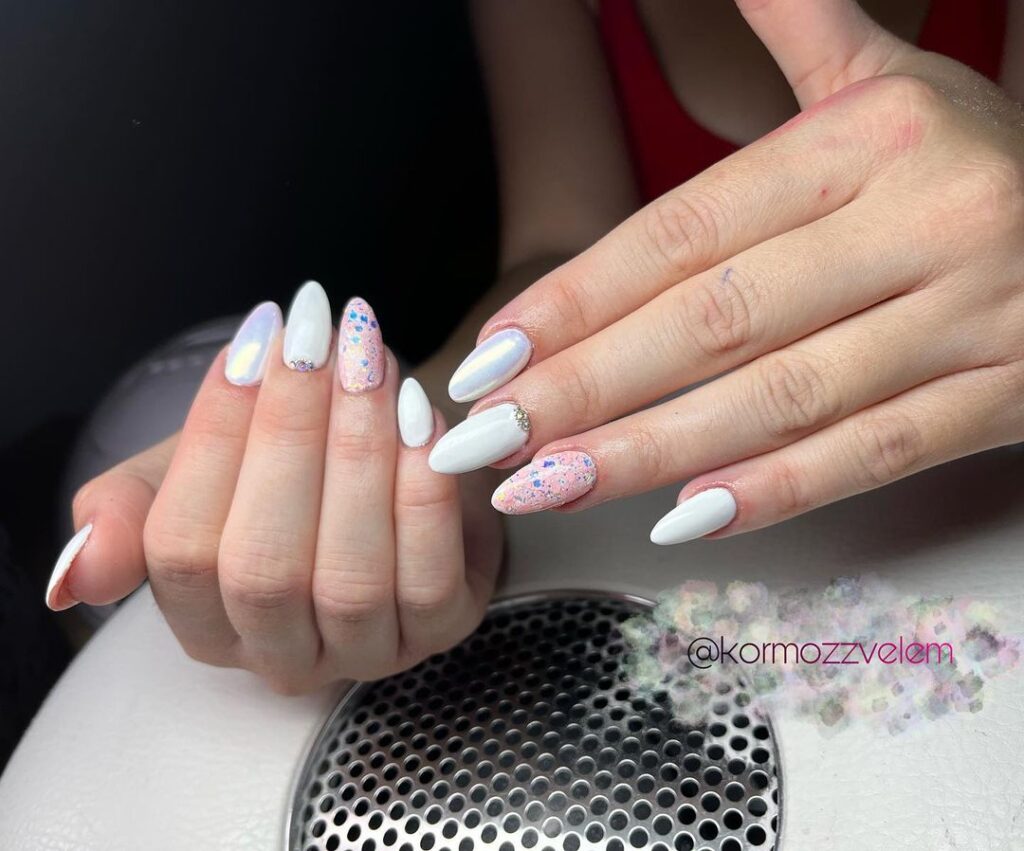 #24 Cow Print 
Created using the combination of pink and white, the next one of the pink and white nails with design comprises of cow print on the middle of the two nails, with block color on the rest of the fingers. @anna_nails_creation uses the cow print to give this mani a unique and edgy look. The color choice creates an eye-catching cow print design that blends femininity with edginess, resulting in a fashionable, head-turning nail style that's both playful and chic.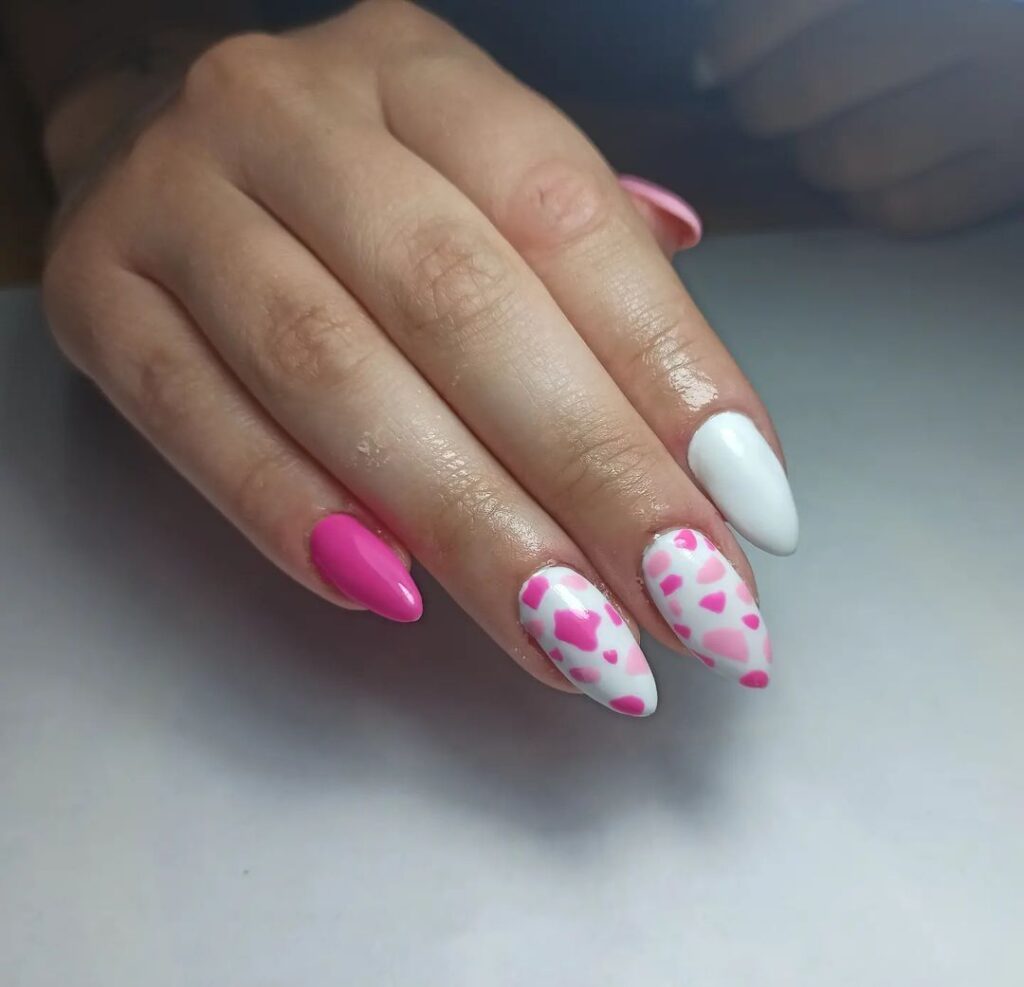 #25 Creative One of The Pink And White Nail Designs 
Downright stunning! It's nail art ideas like these that make us believe that investing in a good, expert technician is important and imperative when you want a glamorous, ingenious, and captivating manicure. @bellaame_esthetician did a different pattern on each nail and despite the contrasting appearance, the patterns blend beautifully with each other.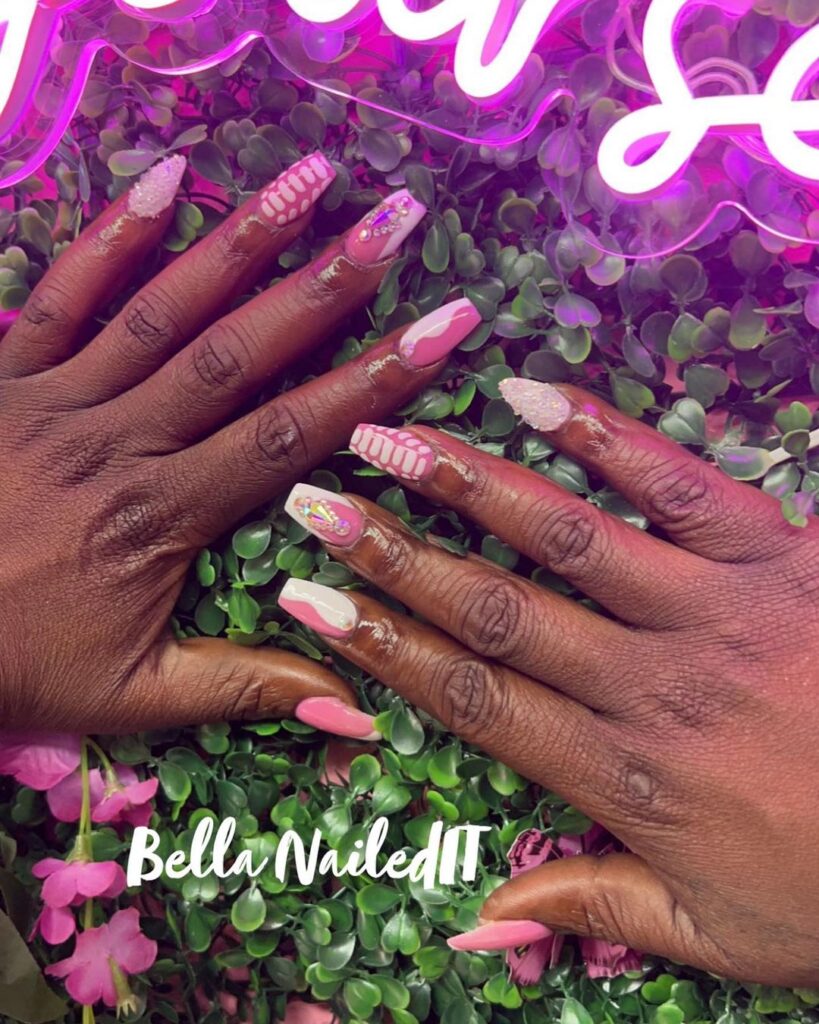 #26 Minimalistic Elegance
It may seem like short nails aren't able to represent as much creativity as longer nails. But that isn't true. Case in point, this look by @nailsby.alley – which is done with snowflakes, stripes, and French tips all in one manicure. The technician surely made the combination of pink and white more interesting, and we think it's a great at-home manicure for those in need of a quick nail look as well.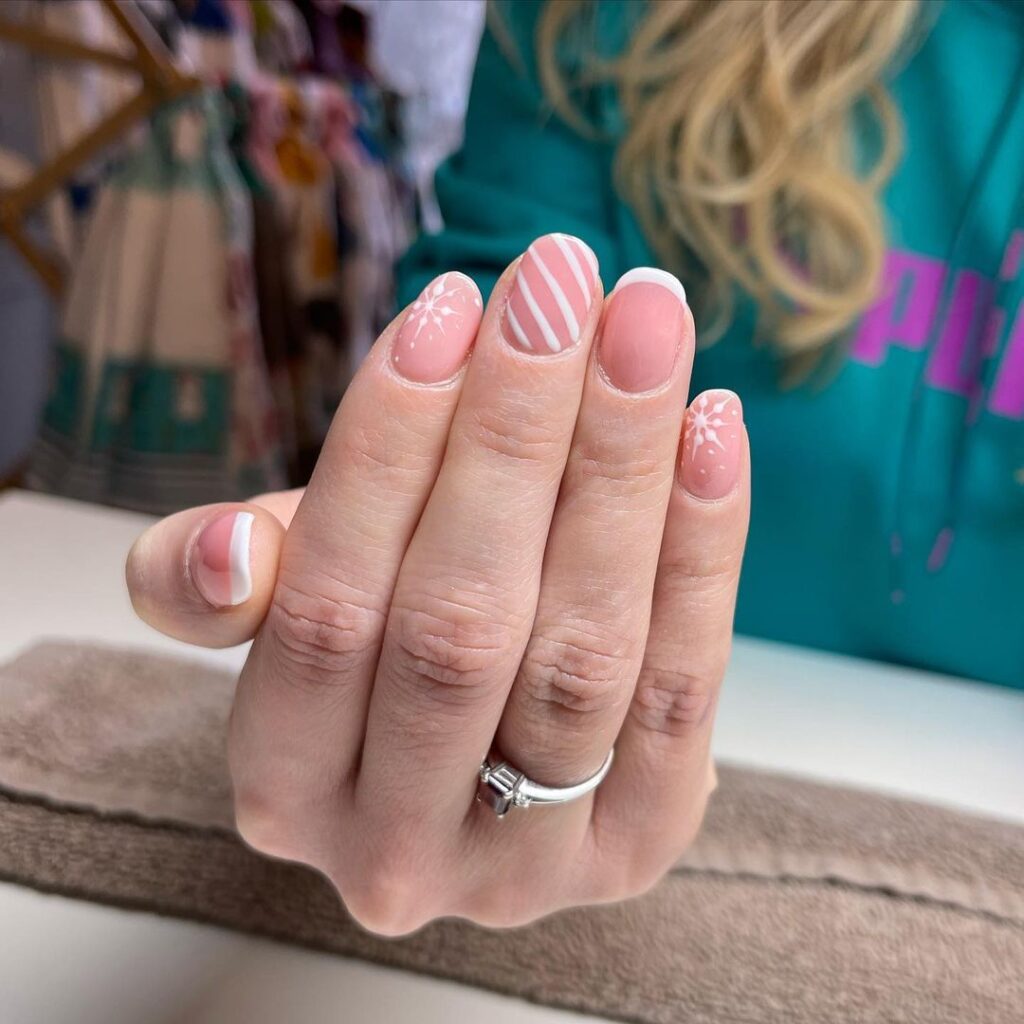 #27 Coffin-Shaped Pink & White Nails With Design
Kardashians have popularised the coffin nail shape and their luxurious style with a tinge of drama aligns well with it, which also exudes the same vibes. Though, you don't have to carry them as long as they do. Coffin nail shape can have a similar charm in the mid-length as well, and here's how you can sport them in the combination of pink and white colors. Technician Zsofia Adler used the marble pattern to elevate the mani, but you can also opt for swirls or a half-half pattern instead.  
#28 Charming Polka Dots 
With a half-half pink and white, these nails are enhanced with polka dots. Polka dots look good on nails due to their playful and visually appealing nature. They add a touch of whimsy and fun to any nail design. Moreover, they are quite versatile and allow for endless creative possibilities. So just choose your favorite combination and try this charming pattern for a wonderful nail art idea. This pink and white nail design 2023 is created by Elzbieta Bachara.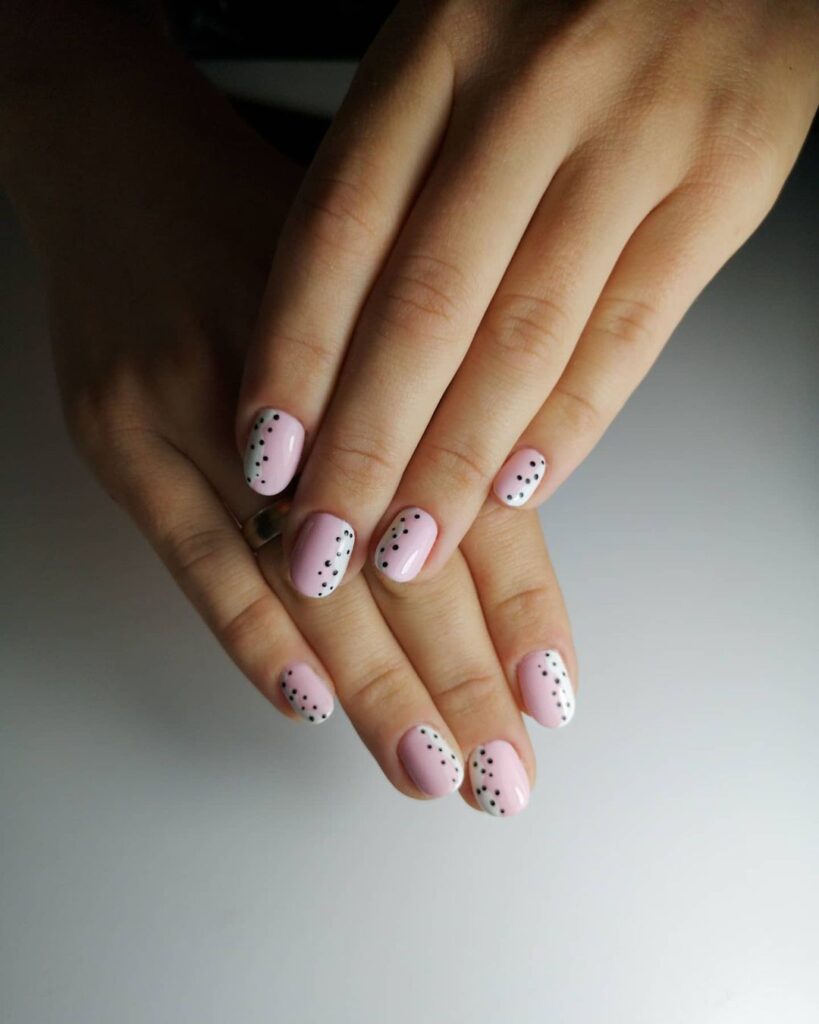 #29 Ombre Pink And White Nails
Small nails are easier to maintain and just perfect for new moms who are afraid to scratch their babies. Moreover, you can have a creative and captivating nail design in a smaller shape as well. Here, manicurist @emiliaioanadavid does an ombre nail pattern in pink and white and goes ahead and creates a hand-painted flower on the ring finger for an enchanting pattern on smaller nails. It's the perfect pick for summer and spring, don't you think?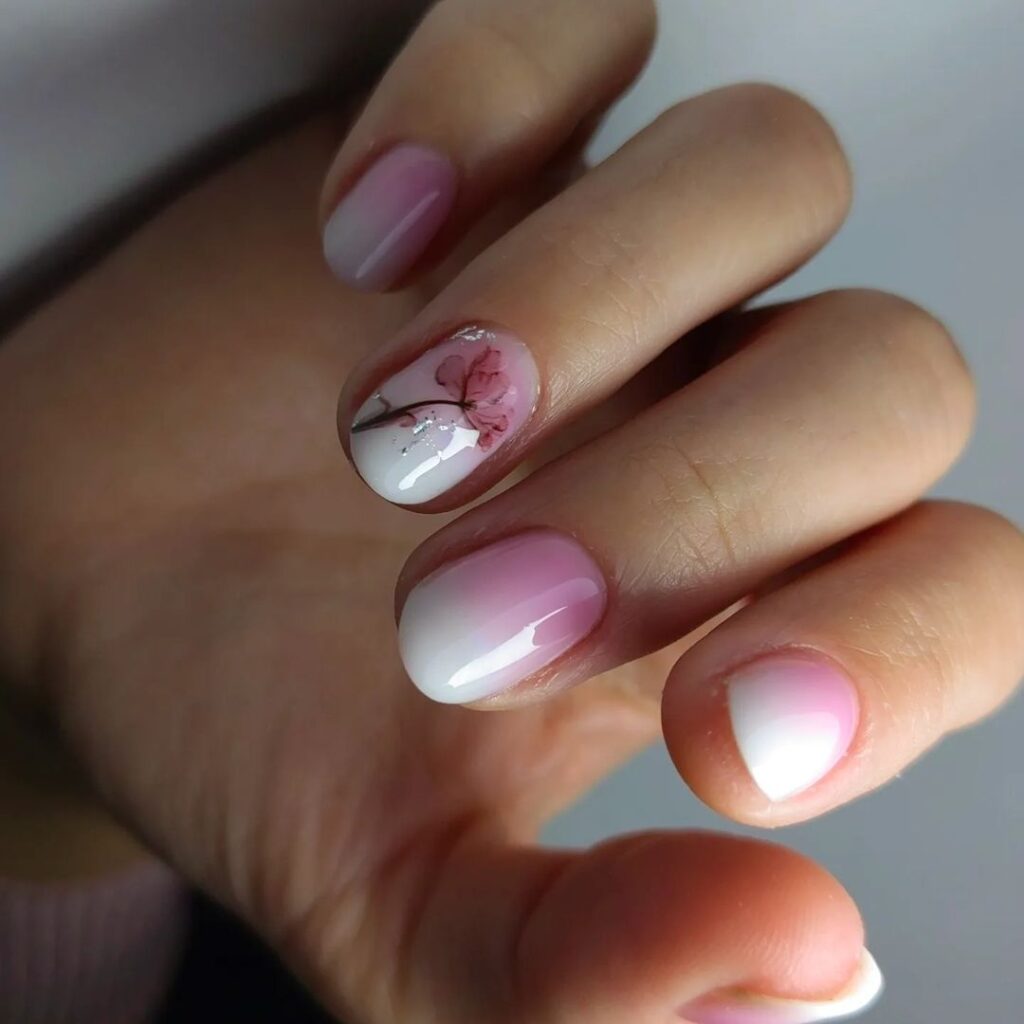 #30 Cookie Nails 
Cookies aren't just delicious to eat, they are also an amazing pattern to draw on your nails. They are charming and visually appealing, and they also look good with any combination of hues you decide for your manicure. @vlmnails created a cookie pattern on the pink and white shade merger and we think it turned out to be amazing. You can do the pattern on pink instead of the white nail as well!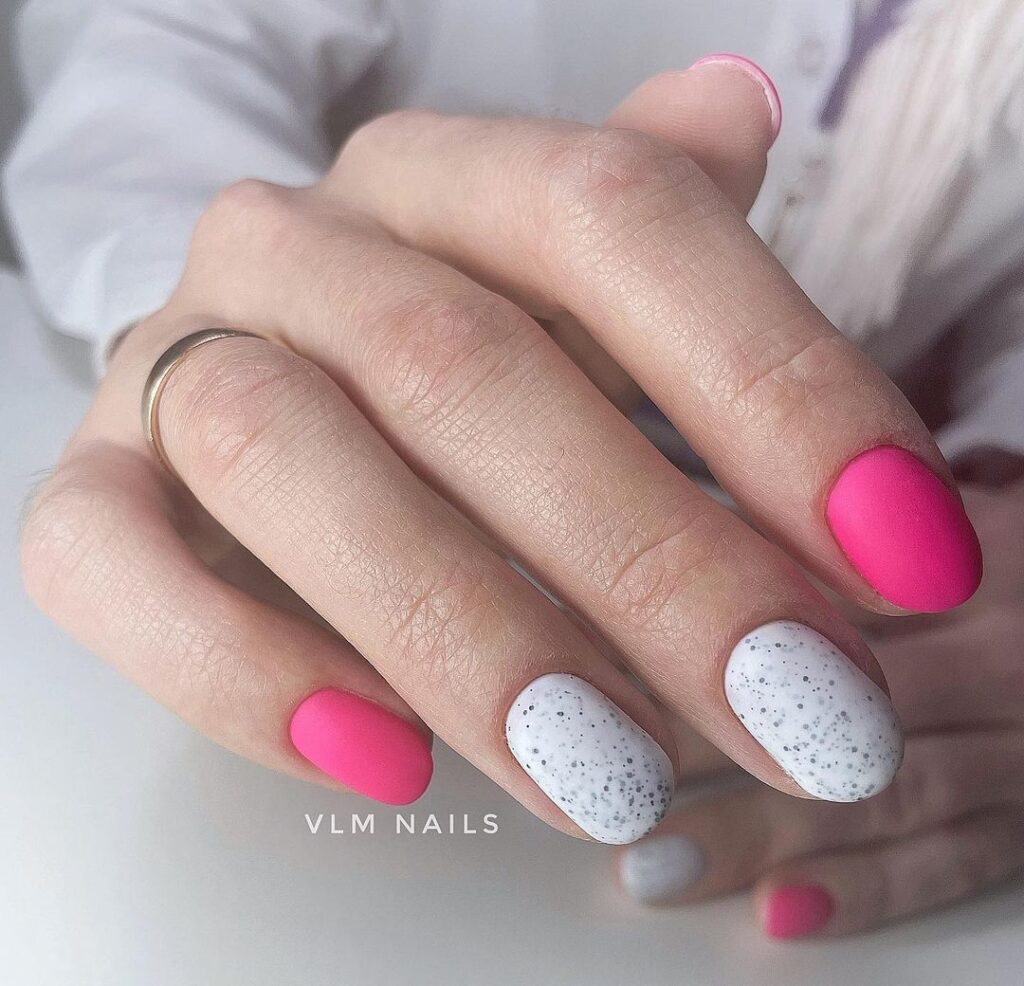 #31 Glitter Galore 
We love the simple creativity yet the striking appeal of this design for pink and white nails. UK-based Alexa's Nail Box created this manicure for one of her clients and we are adoring the minimalism combined with drama in this idea. Easy to create at home when you have the right nail polishes and since it's glitter, it will also stick for longer!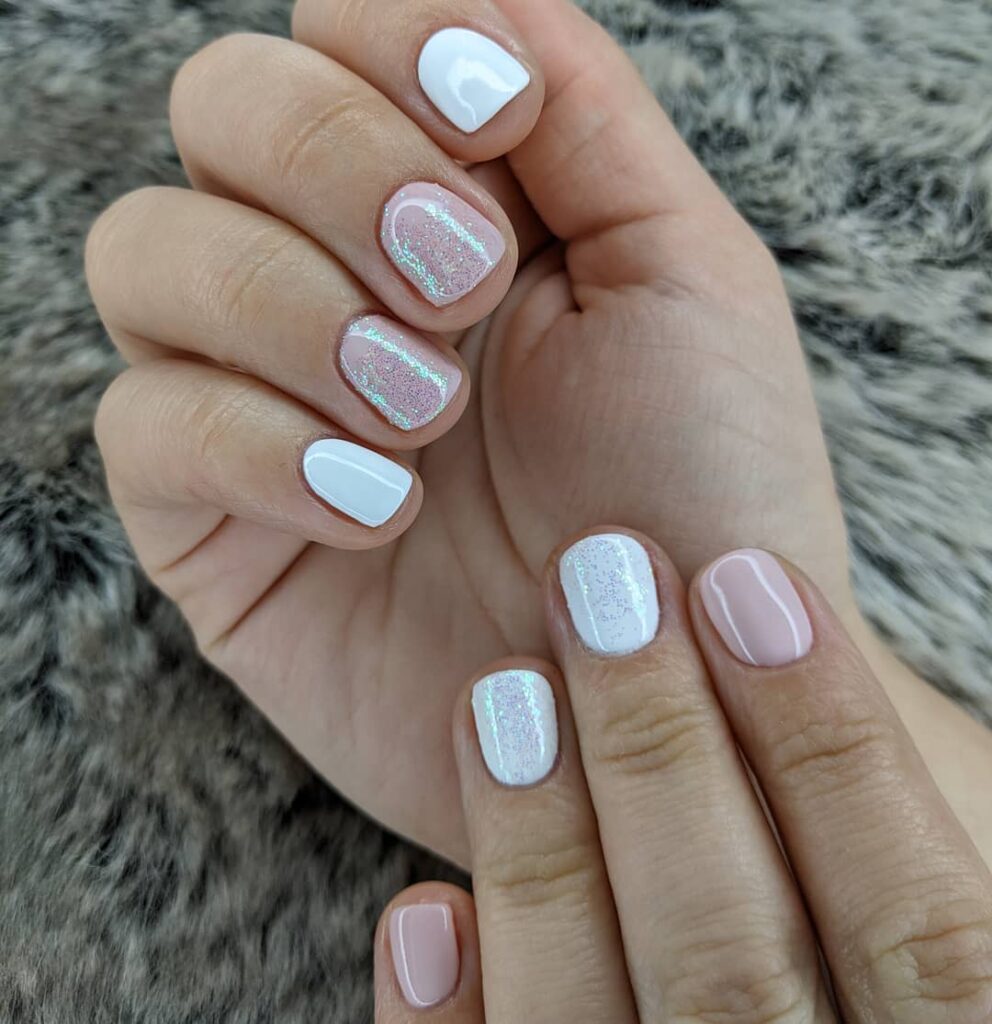 #32 Half-Half Nails 
Another set of DIY pink and white nail designs which you can recreate at home. Start with clean, buffed nails and apply white and pink polish on the index and pinky fingers. Create a French tip on the latter and cover the middle two nails with pink nail paint as well. Use tape to segregate the section and paint the other half of the nail white. Let it dry and use golden foil on the top. Cover with gloss nail paint to finish.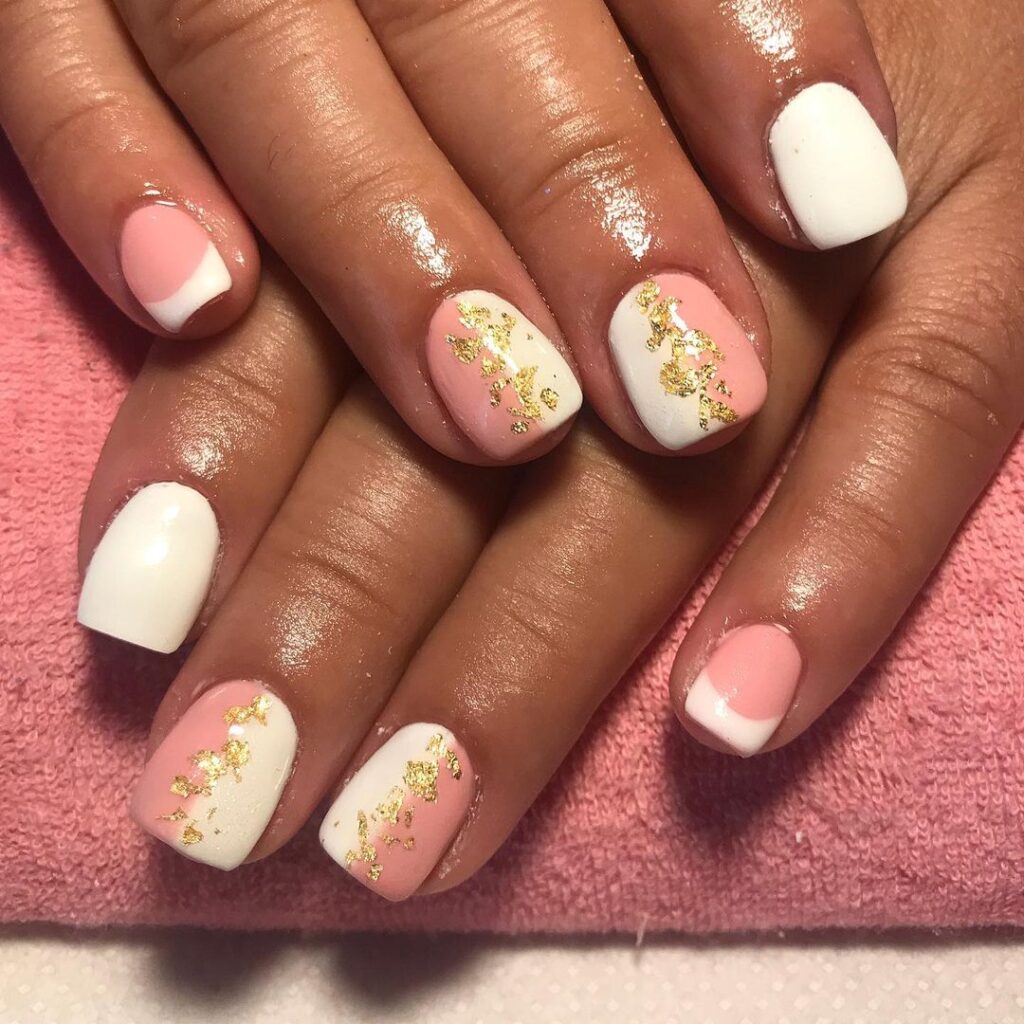 #33 Leafy Goodness 
These pink and white nails with design created by @tamis.nails are just what you need to try for spring and summer. The leaves are hand-painted with intricacy and it's this type of manicure that will be worth the $$$ you spend on the expert manicurist.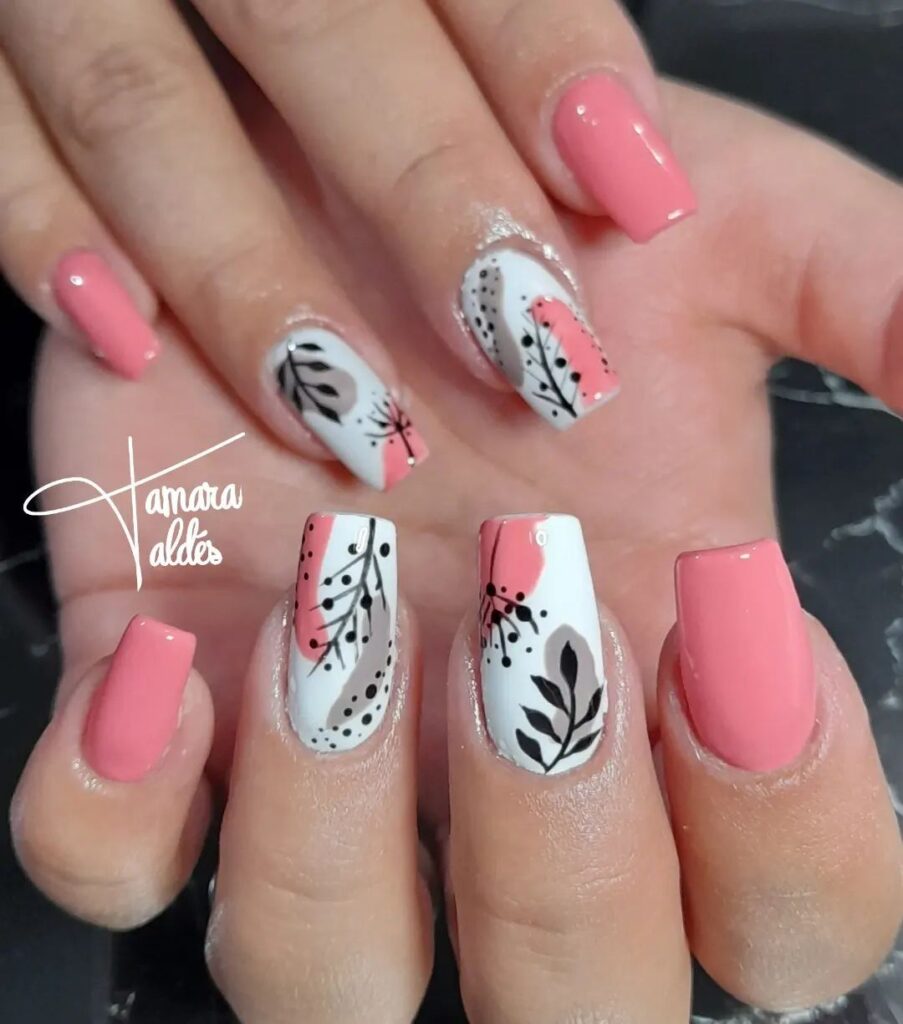 #34 Studs 
We are admiring how the studs are so strategically placed in this one of the pink and white nail designs. With one nail covered completely in glitter and two in pink, it's the half-half nail with the stud demarcation which adds to the ingenuity and beauty of this manicure.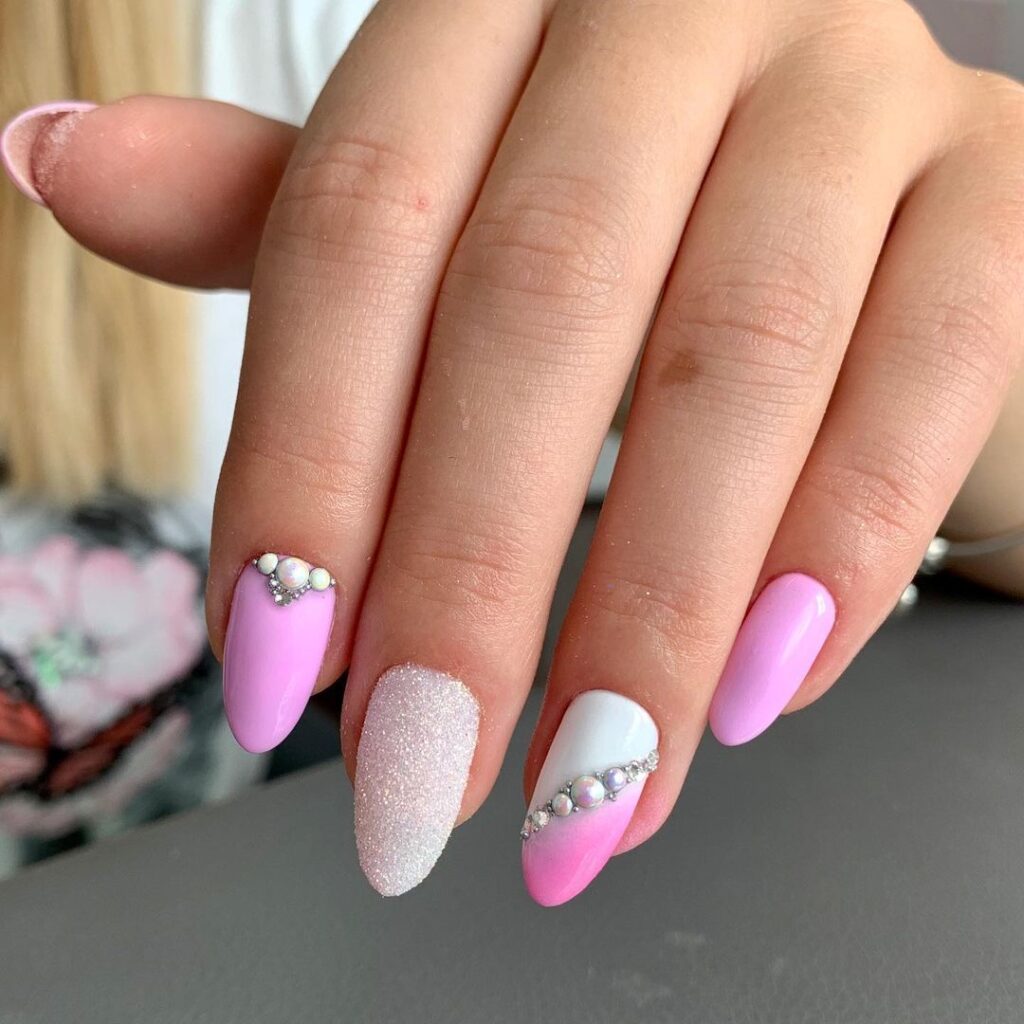 #35 Cow Print Pink And White Nail Designs 
Pink and white cow print nails bring a playful twist to your manicure. Inspired by the classic black and white cow pattern, these nails incorporate pink for a fun, feminine touch. The result is a trendy, eye-catching design that's both whimsical and fashion-forward, making a unique statement.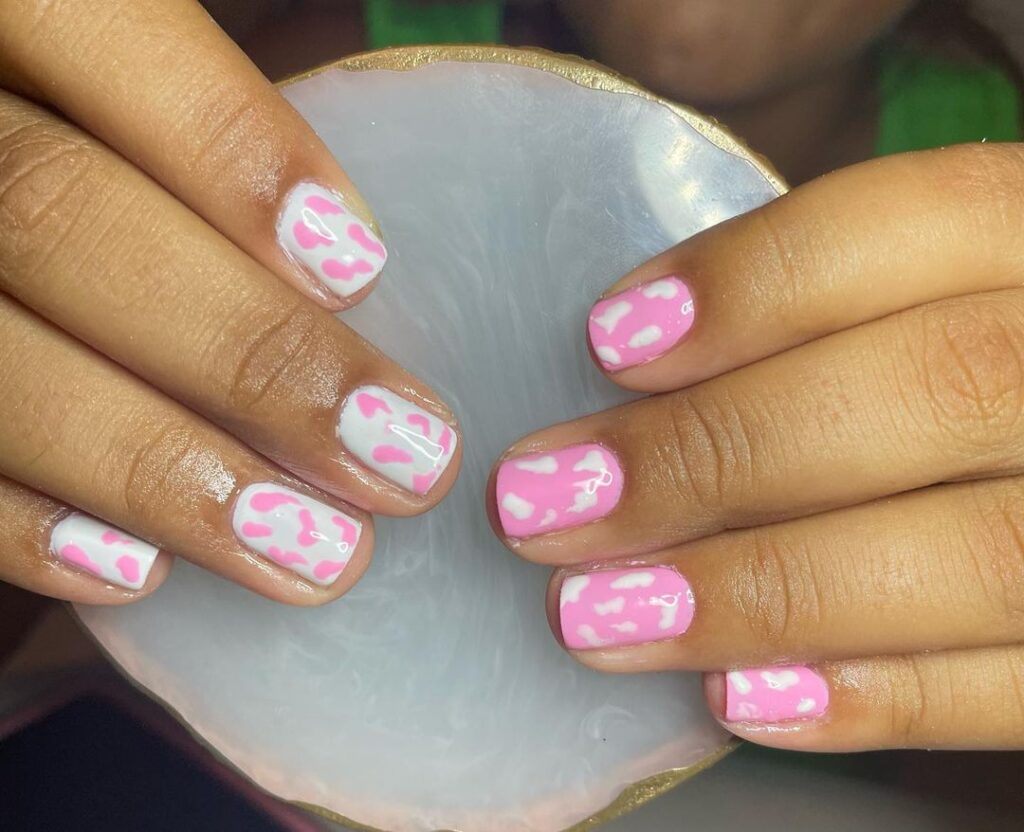 #36 A Simplistic One 
These pink and white almond nails design 2023 uses a silver line in the middle of the white nails to add to the design of the look. Alternatively, you can use a golden line or glitter or perhaps a motif for the accent to suit the occasion for which you're getting the manicure.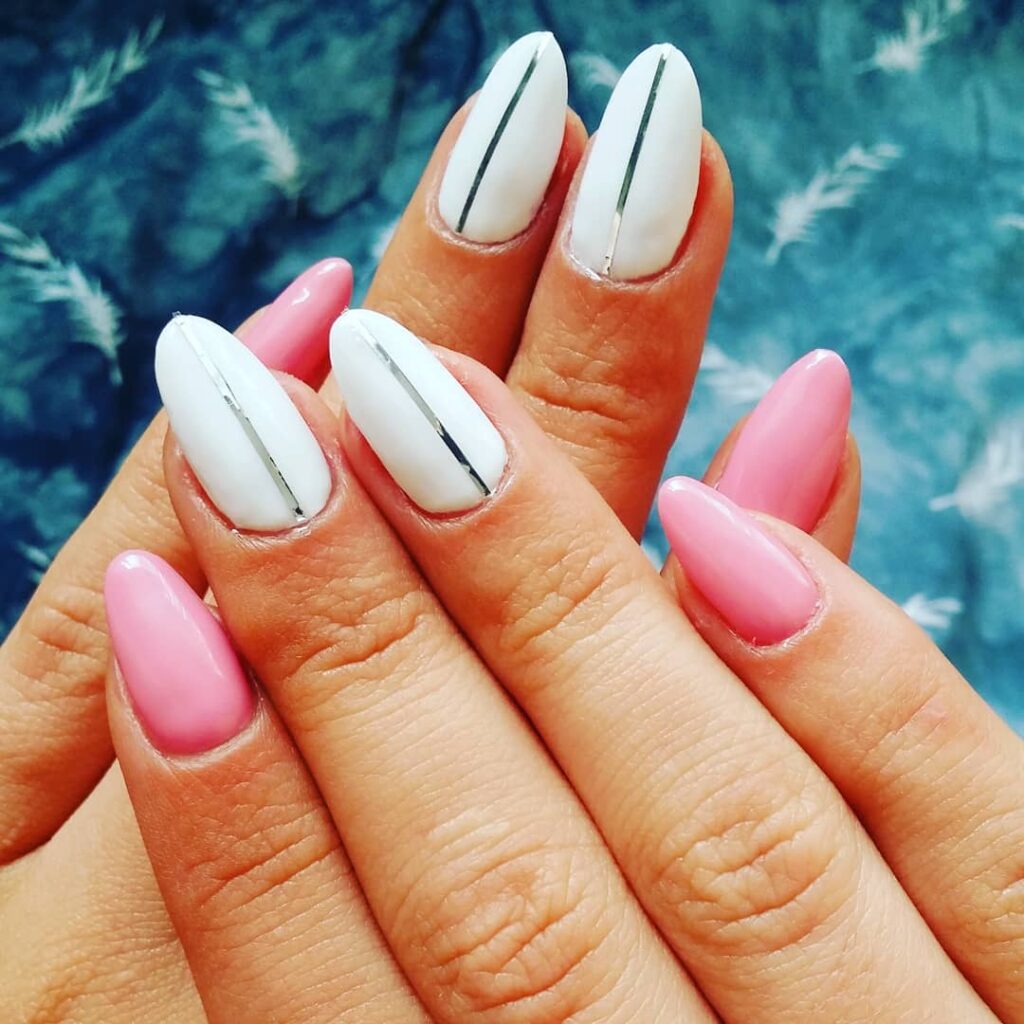 #37 Pink and white With a Tinge Of Black 
These pink and white nails feature white on the two nails and the pink shade on the others. It's the black on the pink polish though which adds the design and allure to the manicure. Silver glitter further adds to the drama, but you can skip it if you want.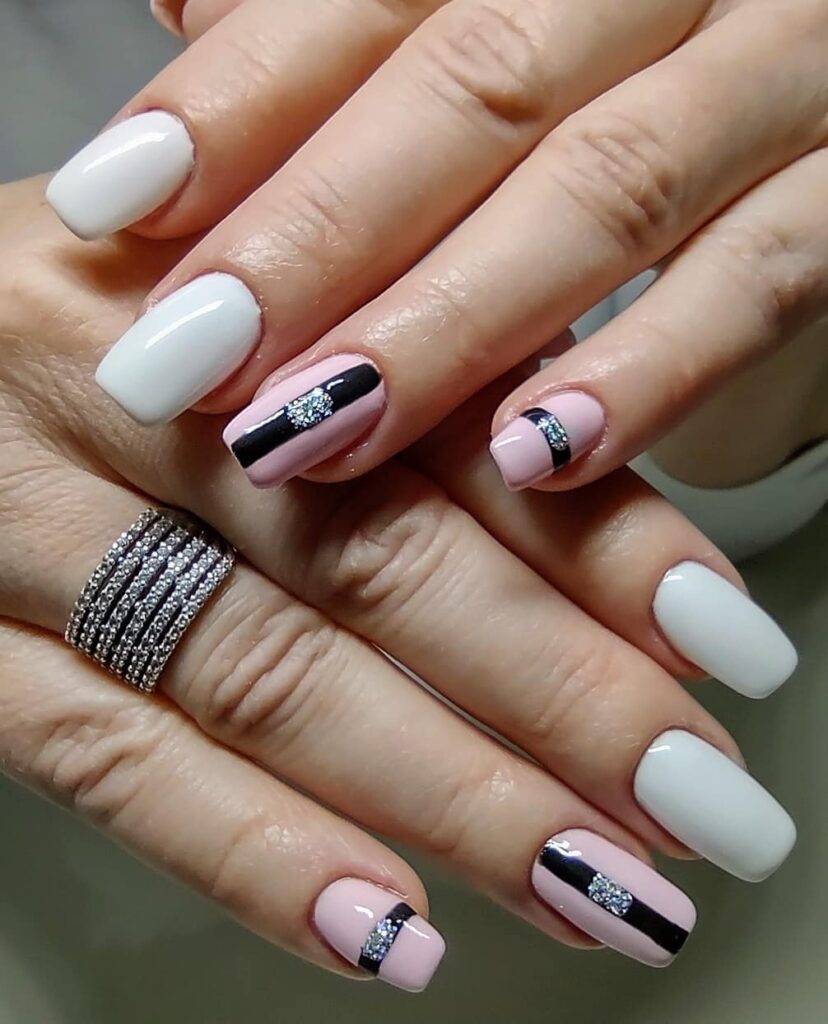 #38 Simple Creativity 
An expert manicurist can give you a striking design with just simple lines and swirls like what's portrayed in the next pink and white nail idea. It can suit multiple occasions, but we can't help but think how apt it is for your wedding day, matching seamlessly with your white wedding dress, exuding the elegance and glamor you want for your D-Day!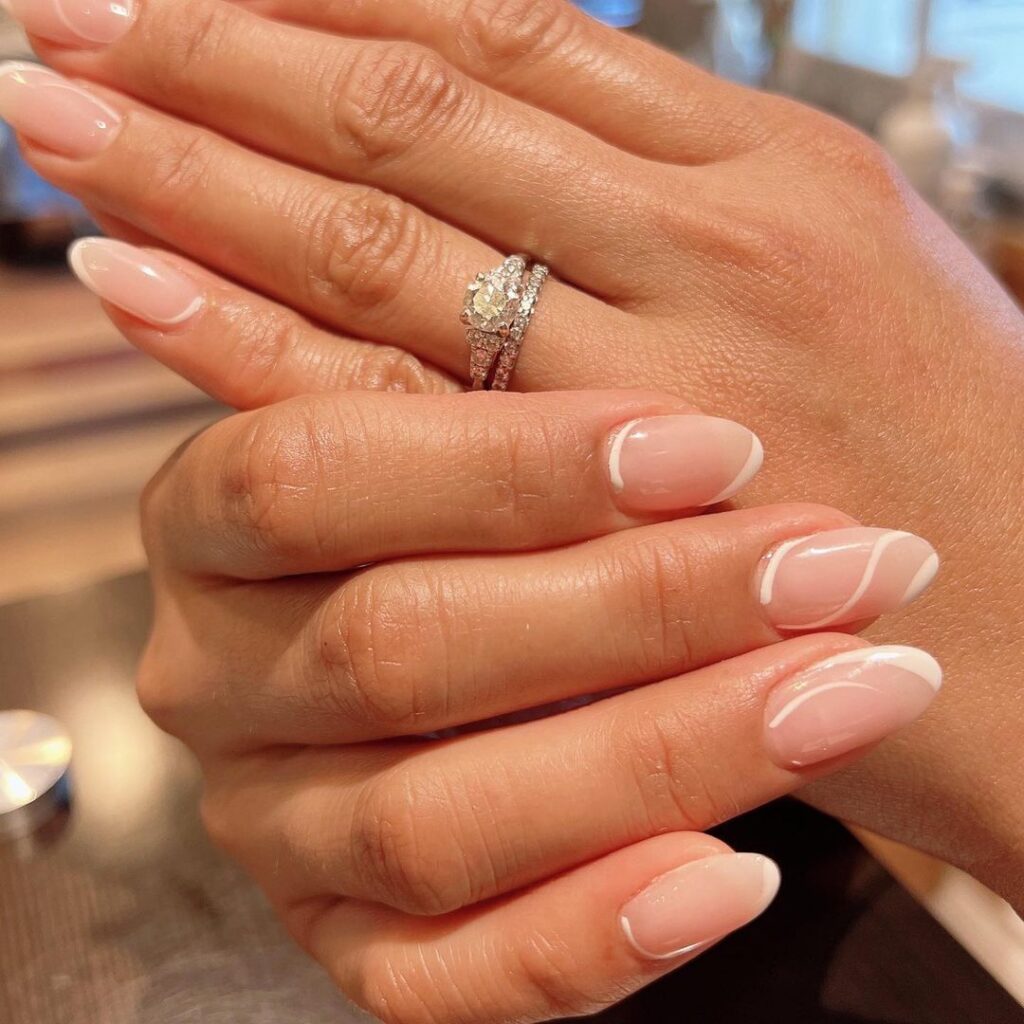 #39 Pink And White Ombre Nails! 
This one of the pink and white nail designs seamlessly blends soft pink and white shades, gradually transitioning from one color to the other, creating a subtle gradient effect. The result is a chic and versatile nail style that complements various outfits and occasions.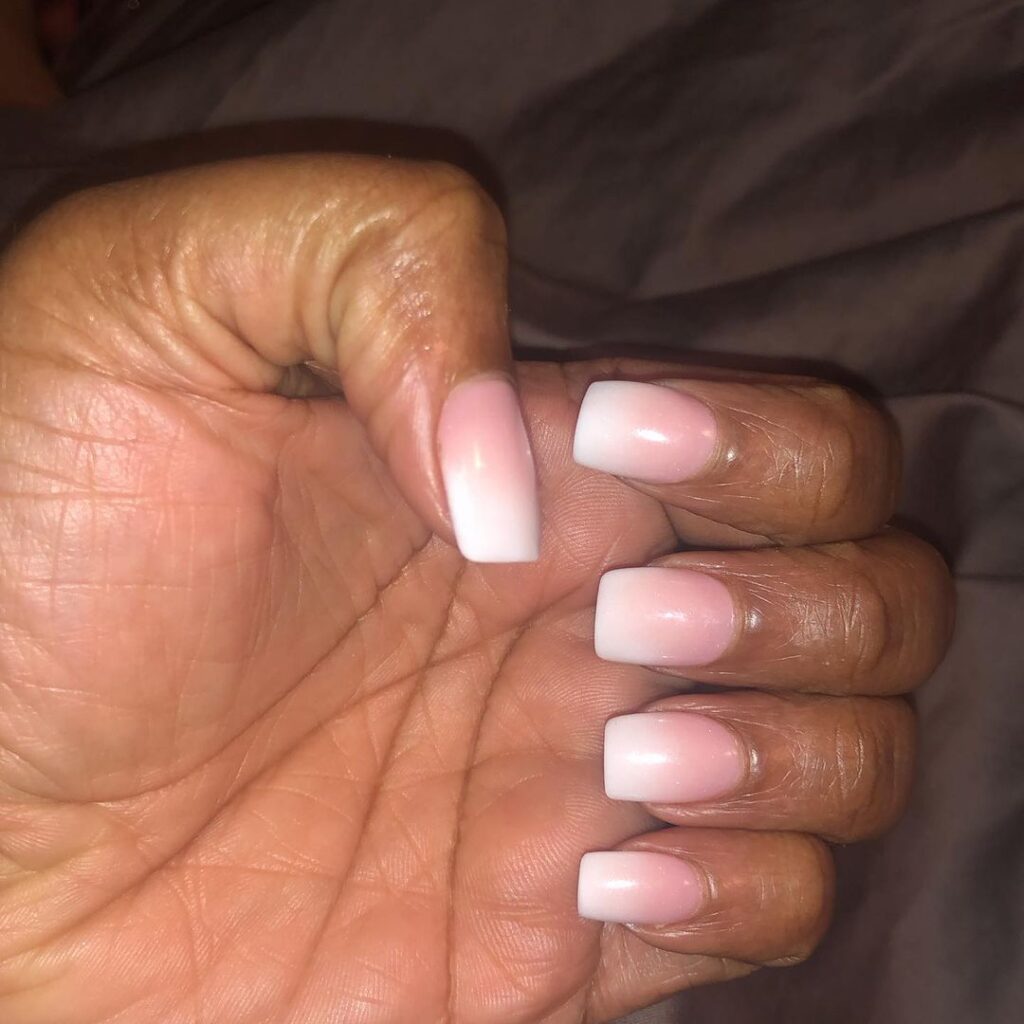 #40 Perfect For Valentine's 
Pink is one of the most preferred colors for Valentine's Day manicures as red can be too loud on nails. Combine it with white for an elegant combination and elevate the colors with elements that evoke feelings of love for a romantic manicure perfect for V-Day!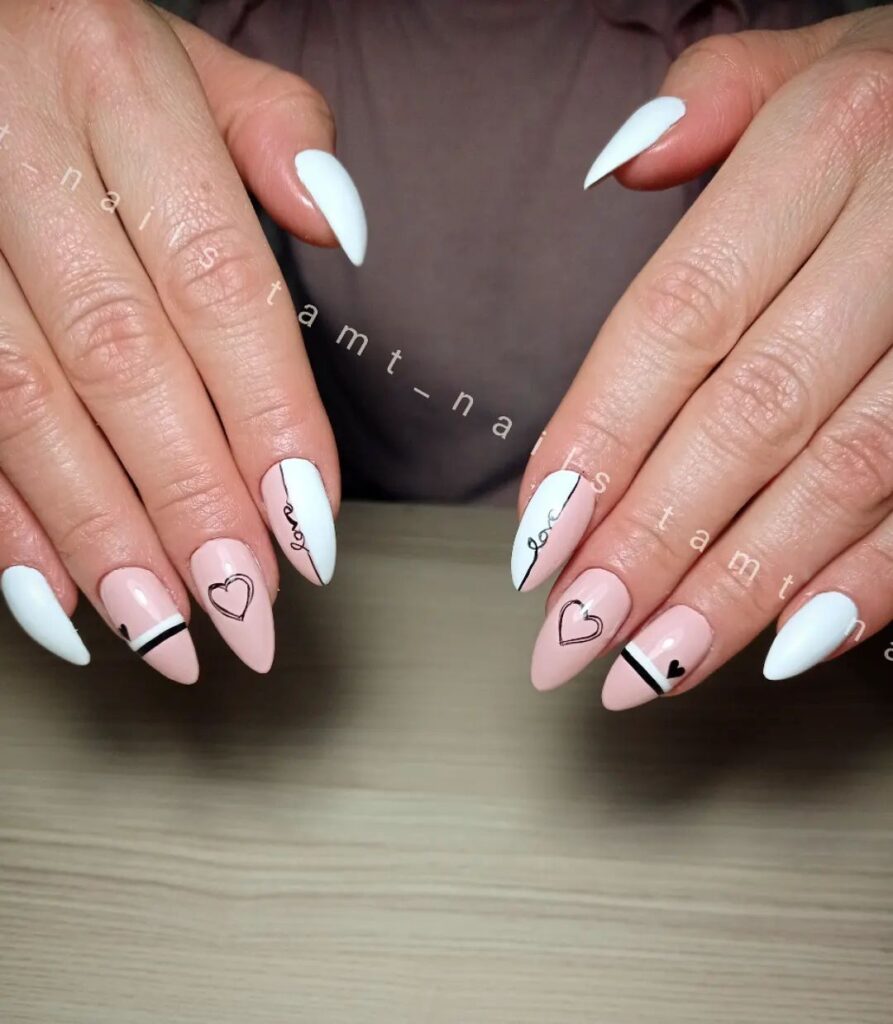 #41 Pink And White Acrylic Nails Design
These pink and white acrylic nail designs use pink as the base and white tips for a French tip nail design! When you're recreating them at home, know that this style requires precision for clean lines, quality white nail polish, and patience between layers. Careful attention to these aspects guarantees a beautiful French manicure without the need for a salon visit.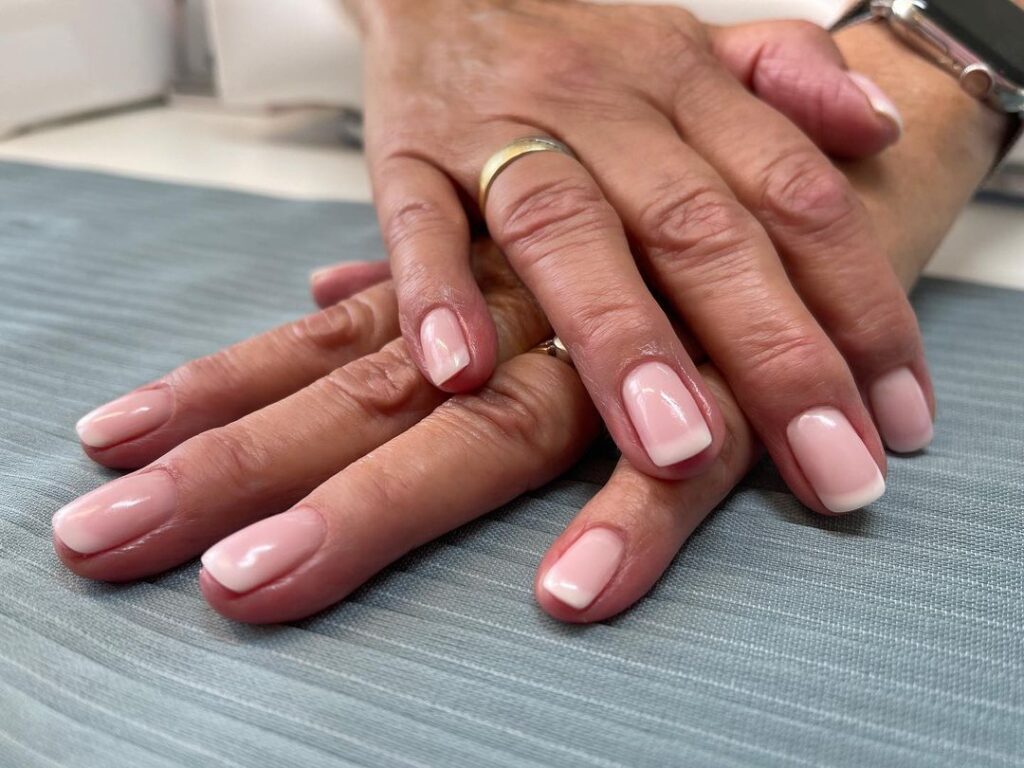 #42 Beachy Vibes 
The long length of the design on the pink and white nails is an appealing choice with the palm tree motif on the accent nail signifying the beach vibes. This manicure is ideal for your beach vacation and you can modify it to the motif of your choice and place, like mountains or rivers to represent the adventure you're about to embark upon!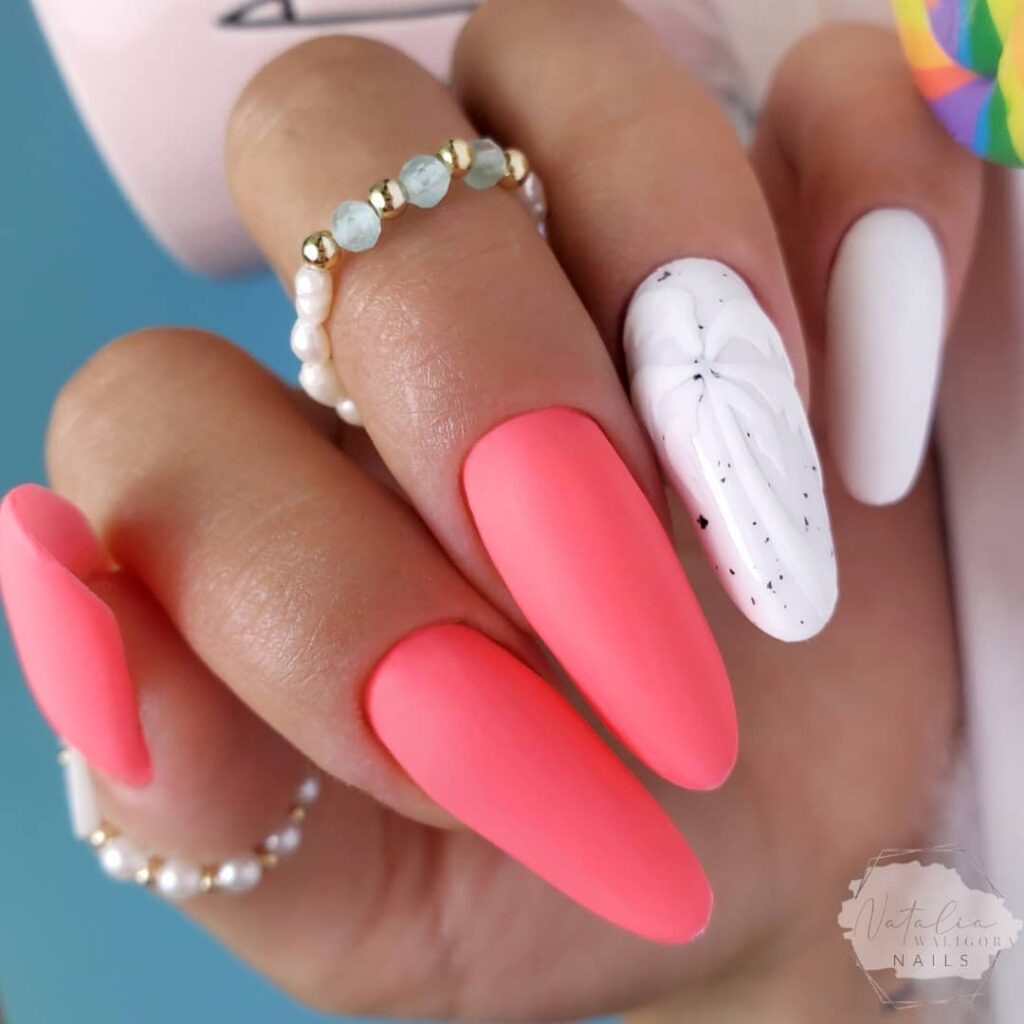 #43 Horizontal French Manicure 
French manicure has received its own versions and the vertical lines is a trendy one that has gained momentum lately. It looks difficult but it isn't! DIY them using tapes and creating each section separately. You can mix and match with golden glitter or pink glitter for a style that matches the occasion and your mood at the time.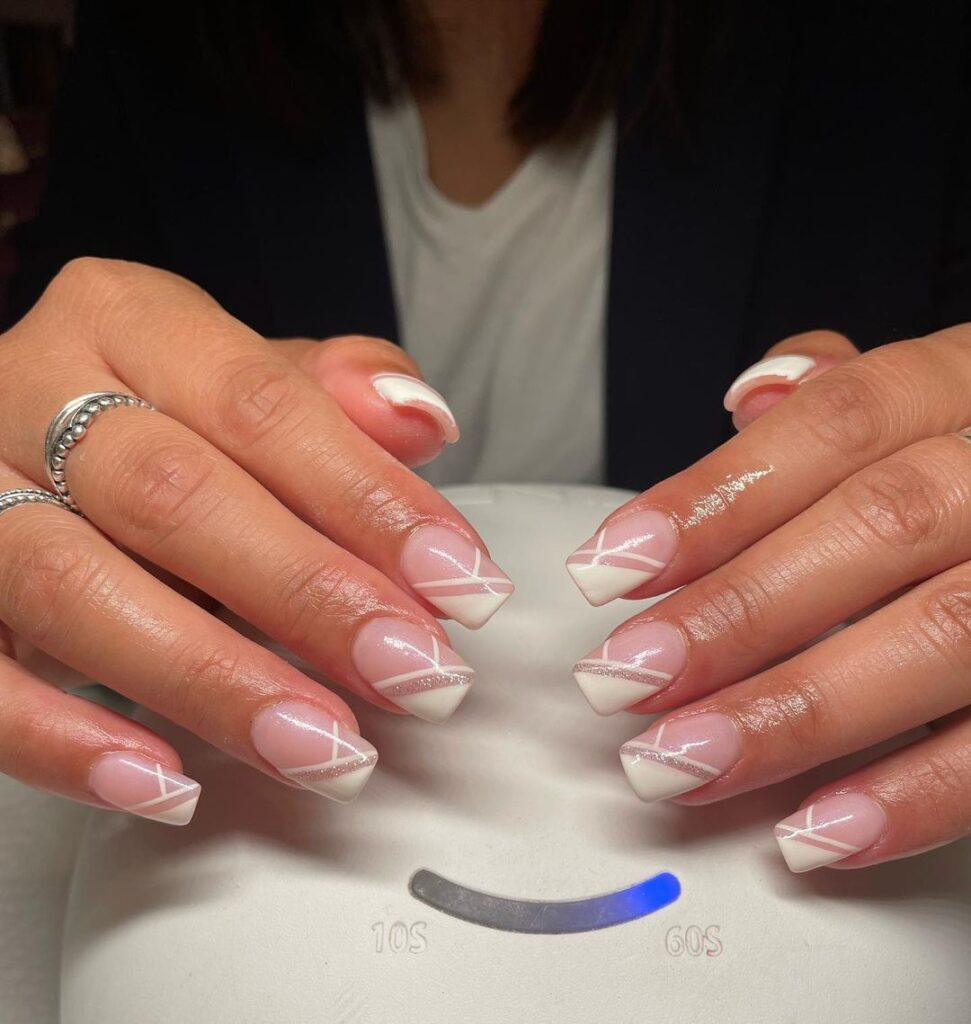 #44 Just Gorgeous 
This pink and white nail design uses glitter, pink, and white polishes on different nails, which you can change depending on your mood and preferences. The white nail has a heart motif, but you can also alter that to any other motif of your choice. Perhaps a snowflake to signify springtime or a spider for a Halloween acrylic nail design.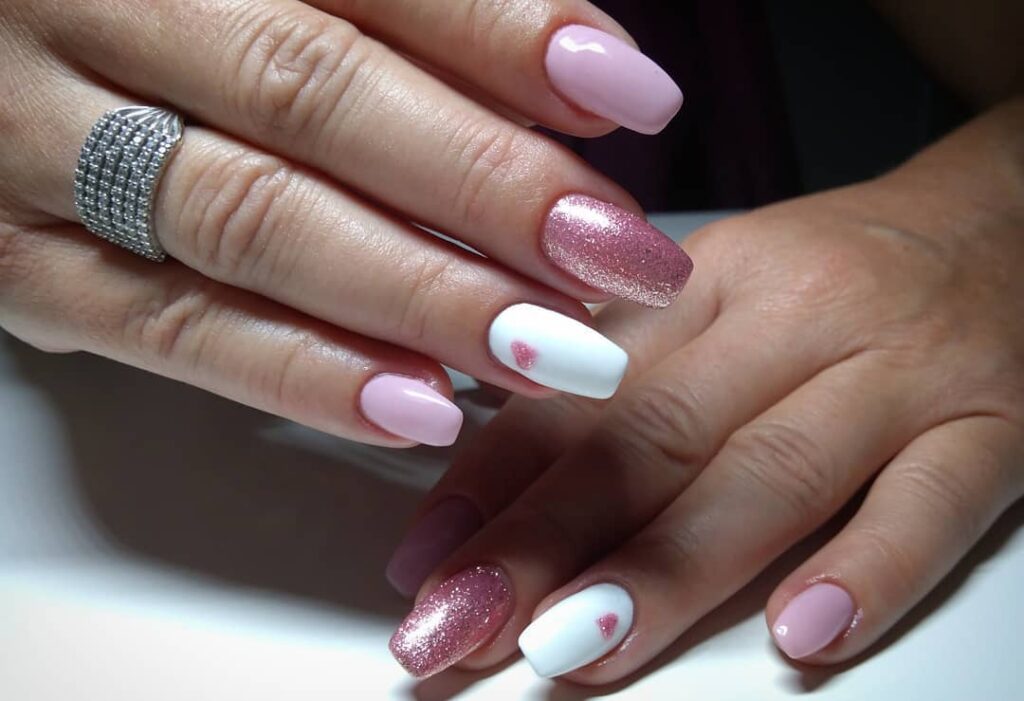 #45 Love The Tinge Of Purple 
We love the combination of colors in this one of the pink and white nail designs. It uses a pink-lavender shade which itself draws attention and is then combined with pink, glitter, and white for a wonderful blend of shades that doesn't need any pattern to stand out.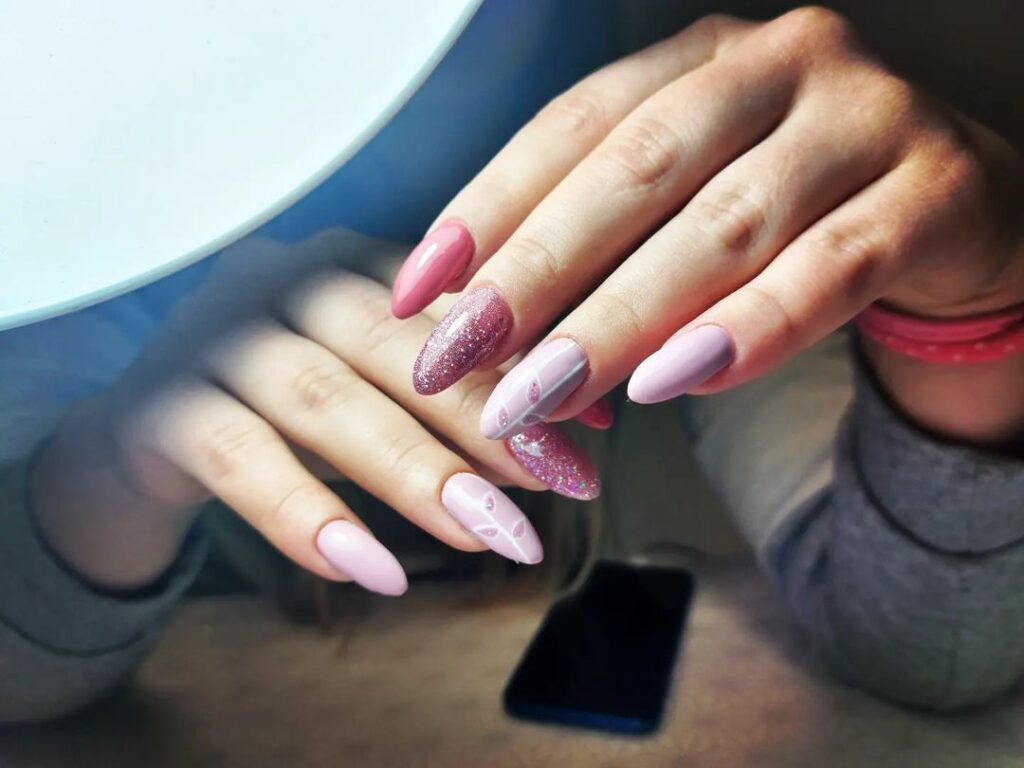 #46 Pink And White Ombre Nails With Design
These pink and white ombre nails are elevated with pink glitter particles on the bottom of one nail to break the usual pattern. This can be a quick DIY for those who know how to do ombre at home and you can skip the accent glitter if you don't have it available at home.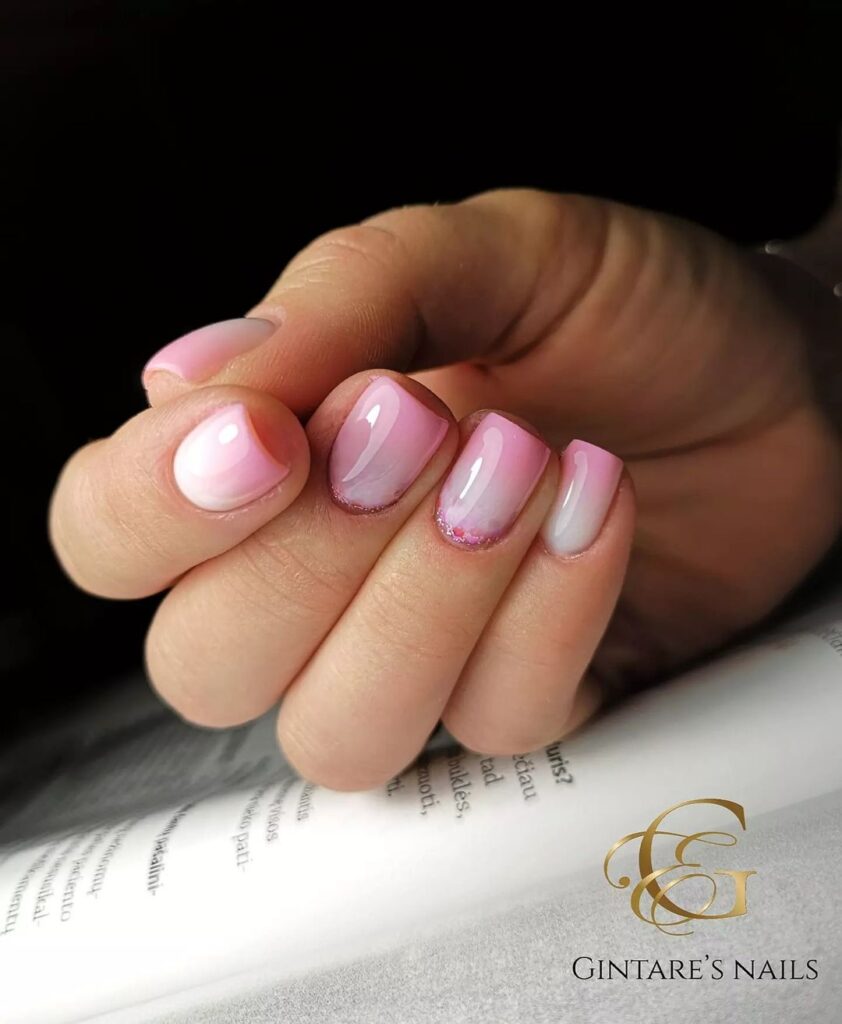 #47 Splendid One 
Sometimes the nail kit that you have at home is enough to create a striking manicure. DIY them at home by applying the pink and white nail polishes and creating texture using the dotted tool. When the polish dries, cover it all with a gloss coat to finish.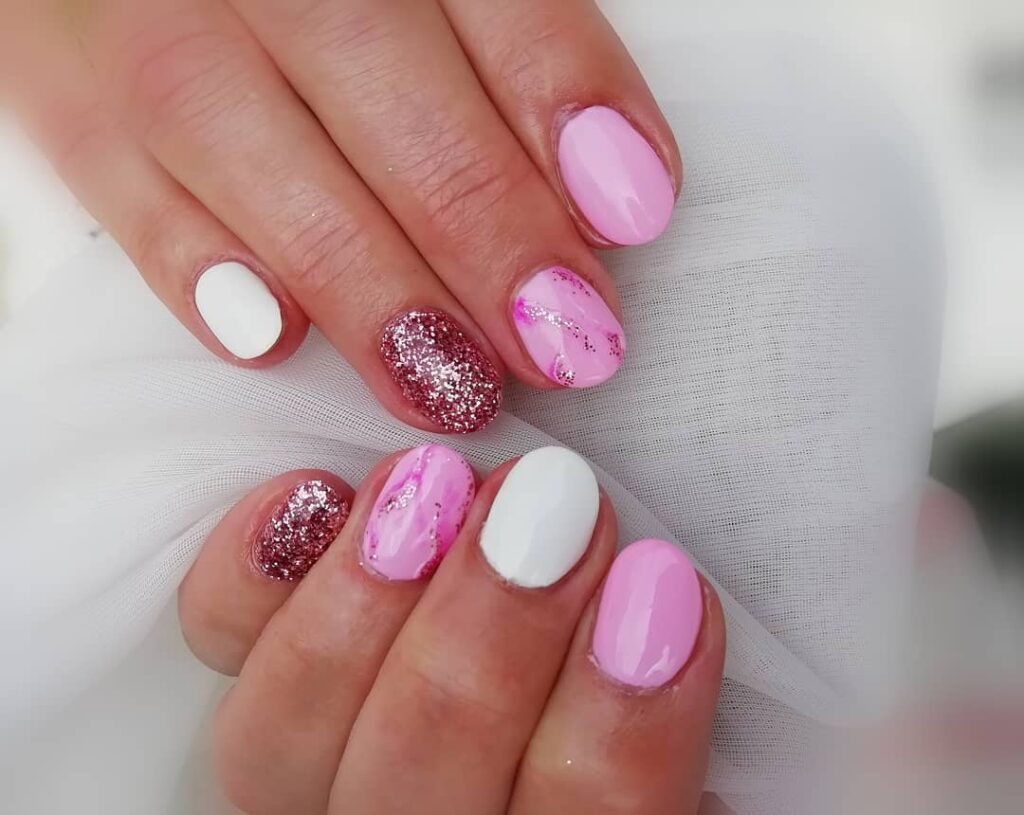 #48 Charming Light Pink
These pink and white coffin nails use the baby French manicure – a type of French manicure that uses just a simple line to create the tip so it gives a simple and elegant illusion – and one nail uses the ombre pattern to add a distinctive break to the design.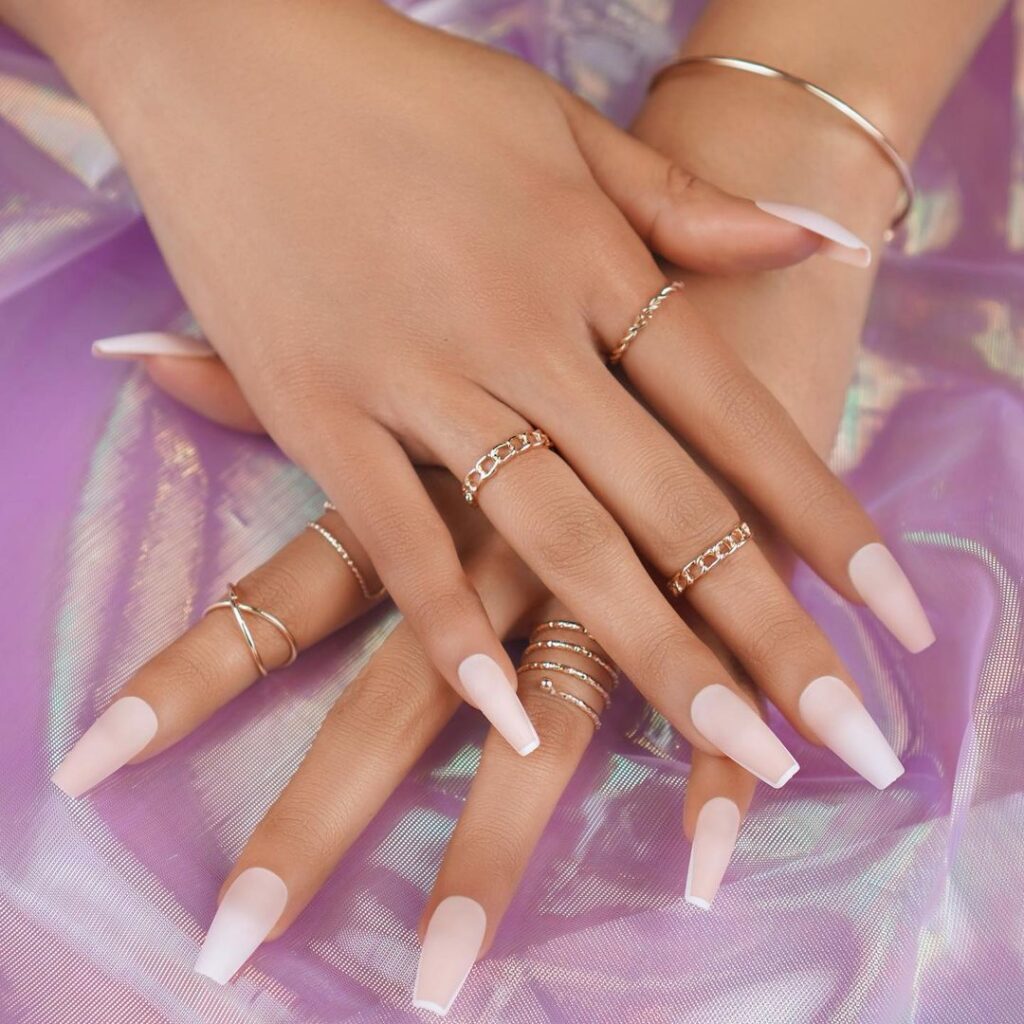 #49 Flower Accent Nail 
These pink nails use a glitter coating on the top and a hand-painted flower nail as an accent for the entire design. Florals are one of the most common motifs for a manicure, but when you opt for a hand-painted flower, make sure the technician has the expertise that it requires.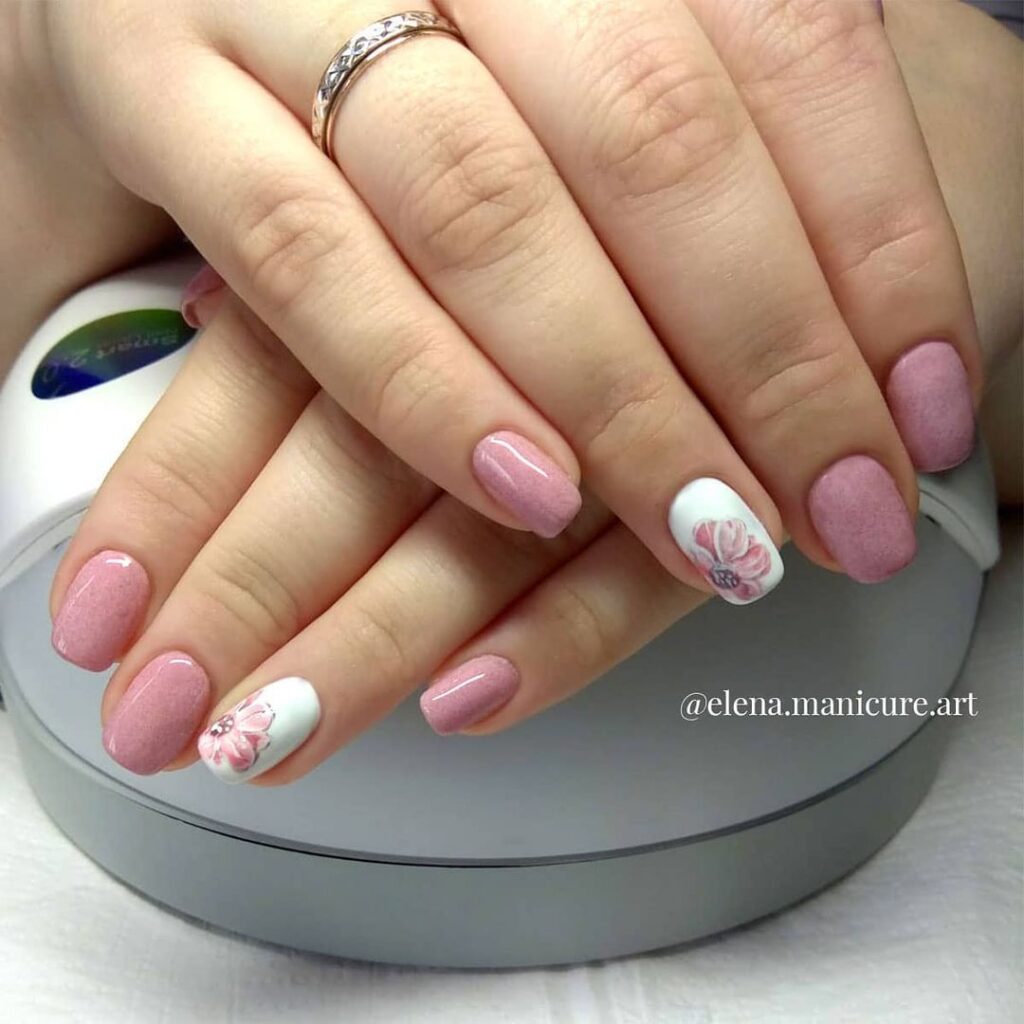 #50 Glitter Dust 
A nail art that will look good with any of the colors of your choice. Whether it's purple, green, midnight blue, or orange, the glitter dust of the same color on the white nails will complement all colors to give you a mani that matches your preferences!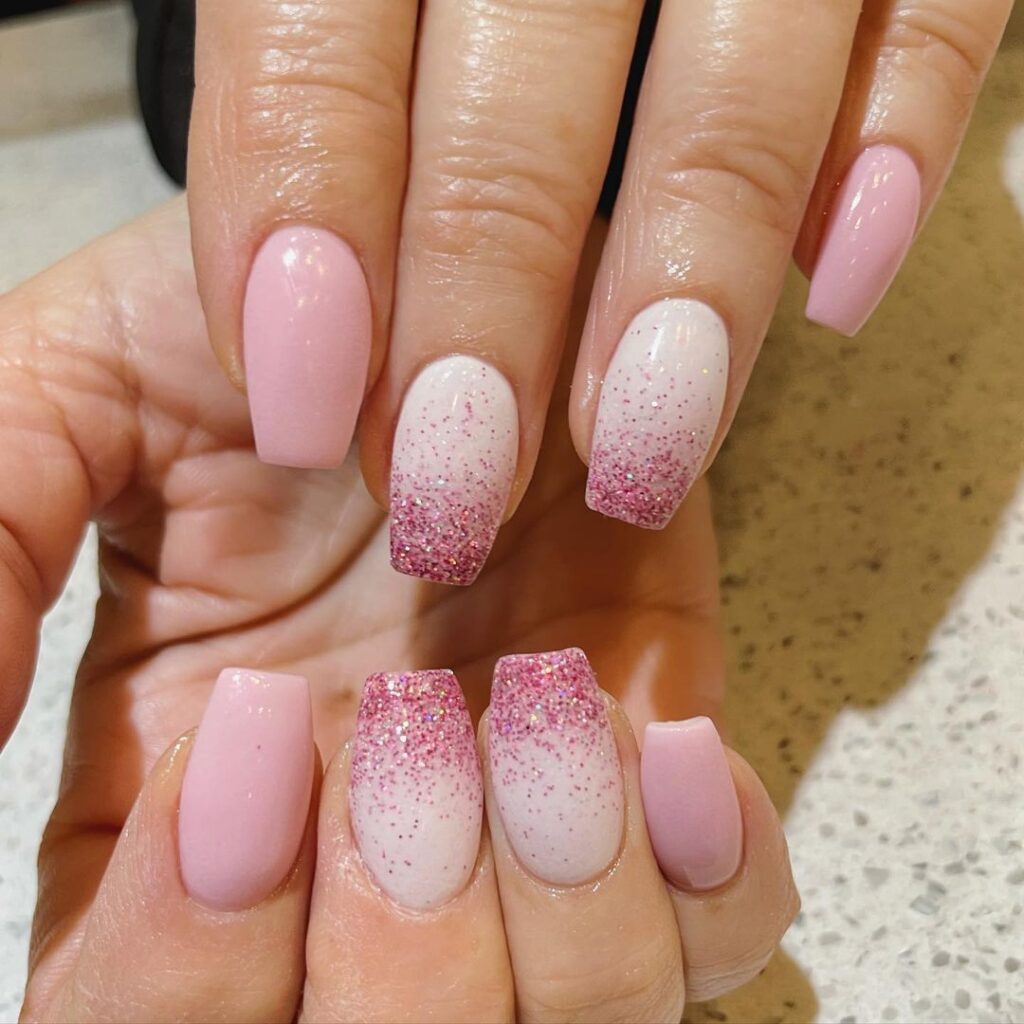 #51 When Hearts Combine 
These pink and white ombre nails with design use the two parts of the heart on the middle two nails, so it forms a full motif when the fingers are put together. It's a fun and romantic way to elevate the usual pink and white ombre nails.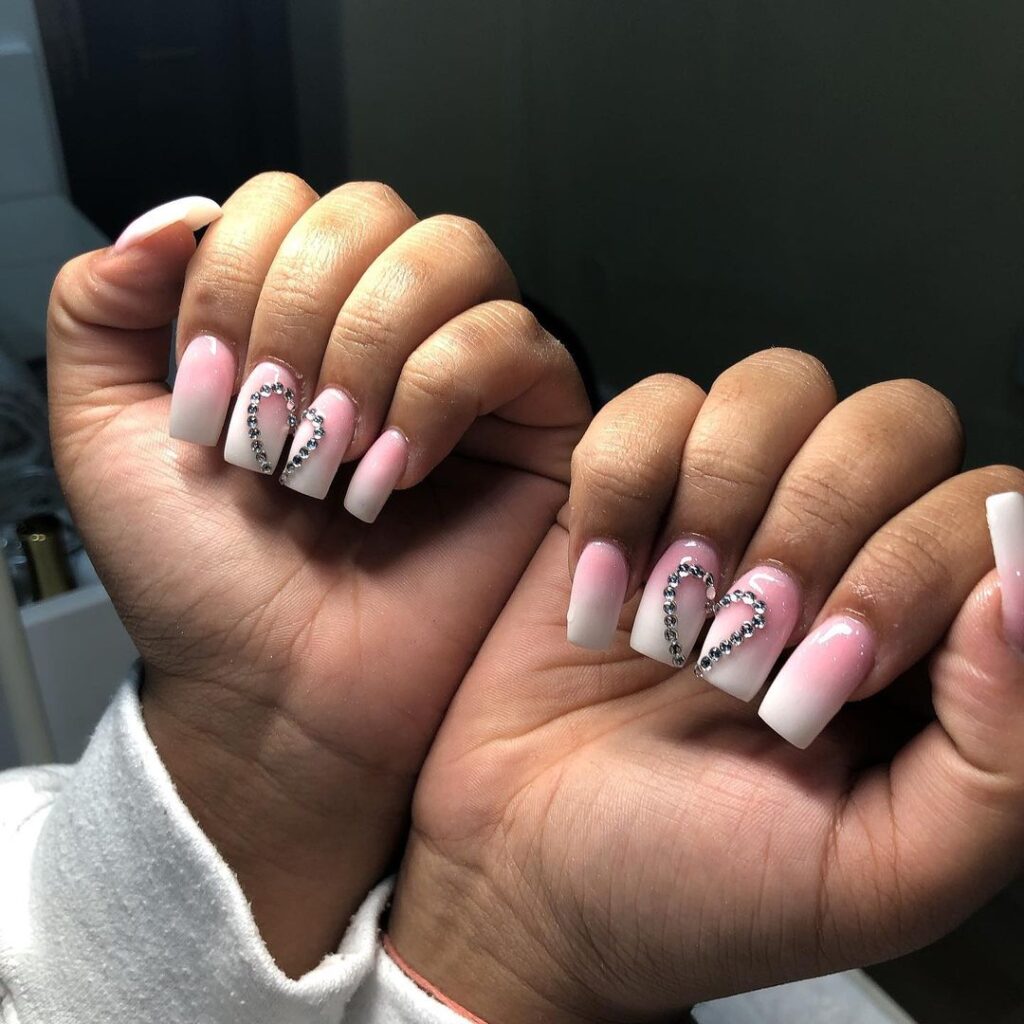 #52 Pretty & Elegant 
Almond nail shapes themselves exude elegance and the combination of pink and white just adds to the grace. Additions of studs and glitter polish also add drama to the mix, which gives a stunning and eye-catching manicure infused with versatility.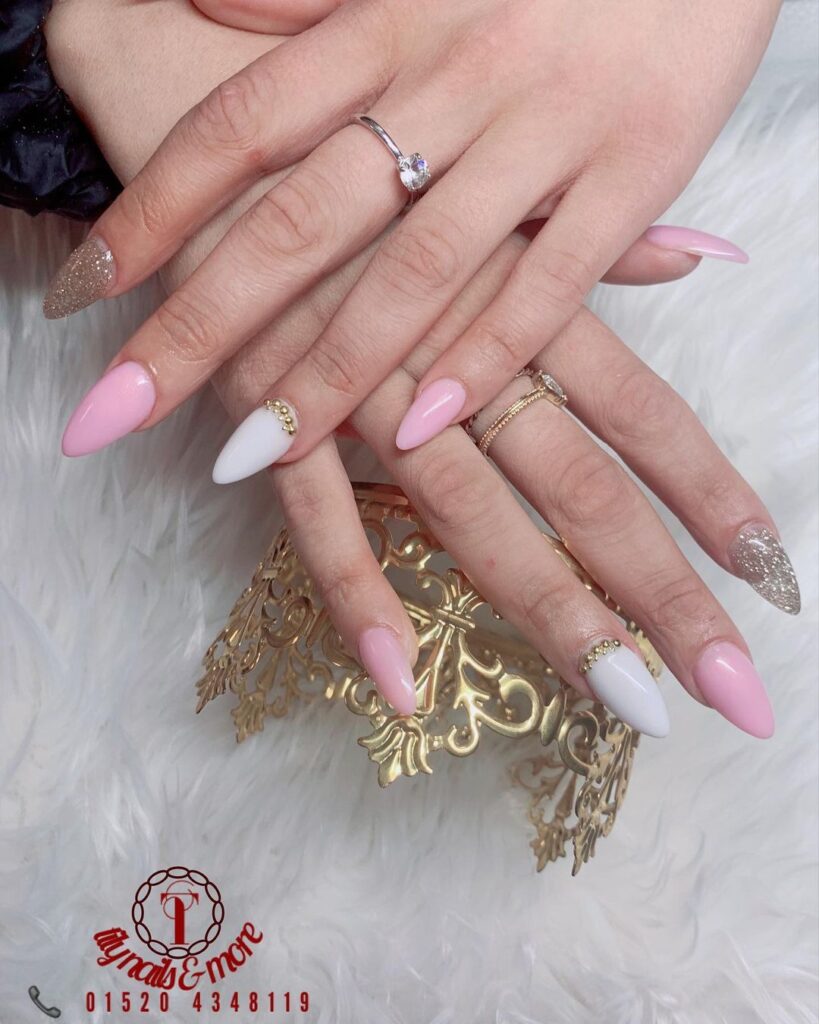 #53 Reverse French Manicure 
These pink and white nails with a reverse French manicure blend sophistication and femininity. The classic combination features white as the base color and crisp pink tips in a reversed French style, creating an elegant and modern look that can be a popular choice for various occasions.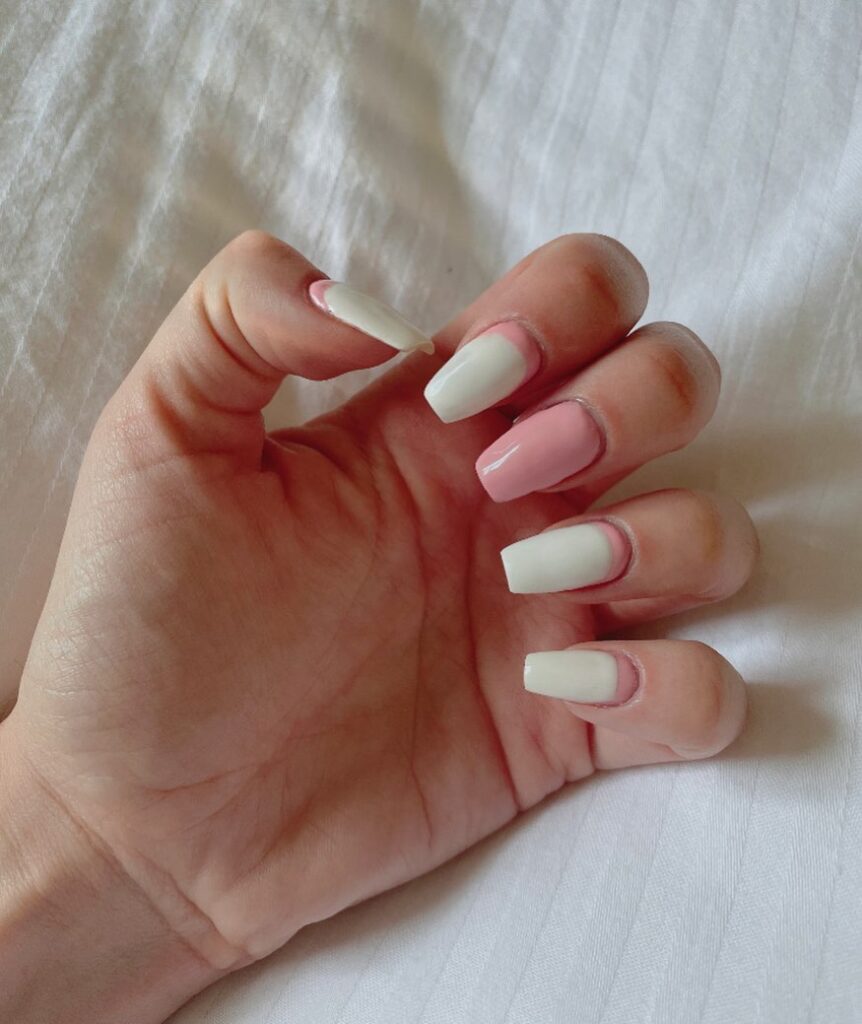 #54 Express Love 
You don't really need Valentine's Day around the corner to try a manicure that's filled with love. You can try a manicure like this when you want to explore little gestures that promote self-love on a daily basis. This one of the designs for pink and white nails does exactly that! Don't you think?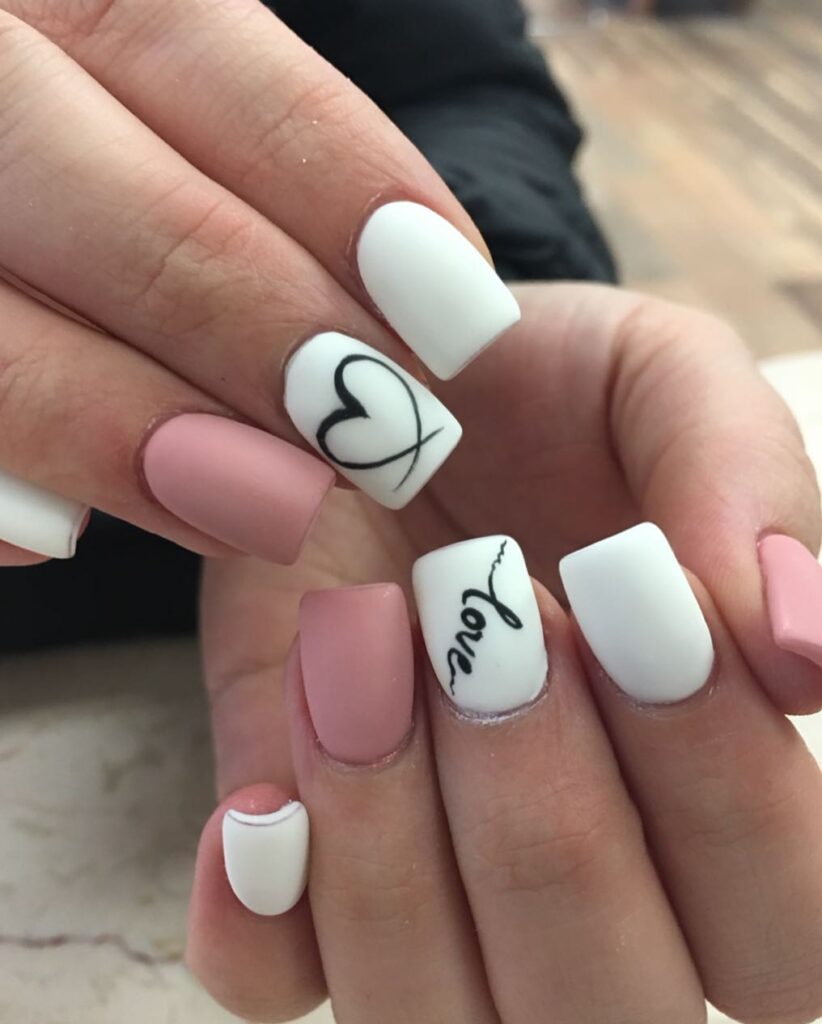 #55 White & Pink 
With a white base, hand-painted florals, and a silver accent, we love this pink and white manicure that's alluring from all angles. Hand-painted nails on the manicure always elevate the look and garner attention, and are a great way to get the most out of the $$$ paid for a professional manicure.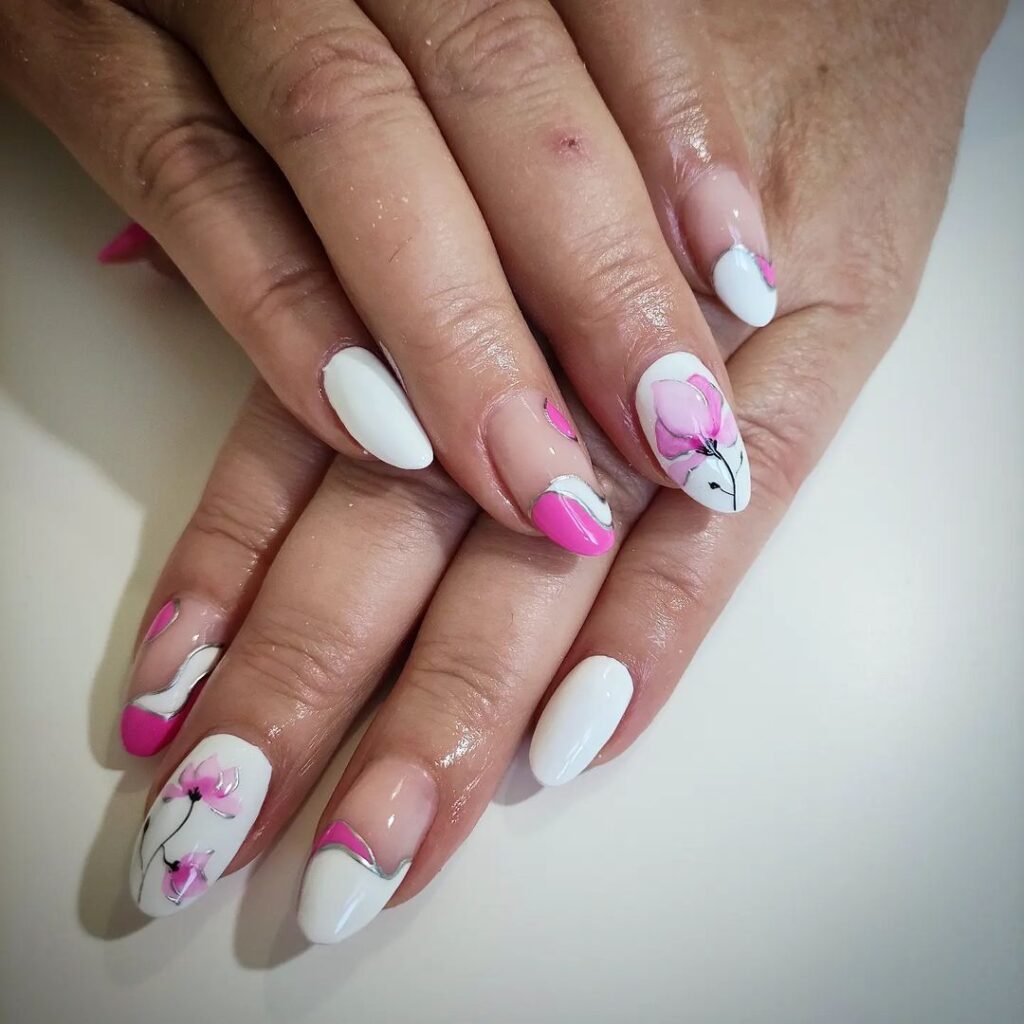 #56 Combination Of Styles 
A pink and white manicure that's truly artistic but doesn't take away from the charming appeal of the nail design. It features leopard print, hearts, and vertical lines in an innovative setting for those who are looking for a unique pink and white nails with design.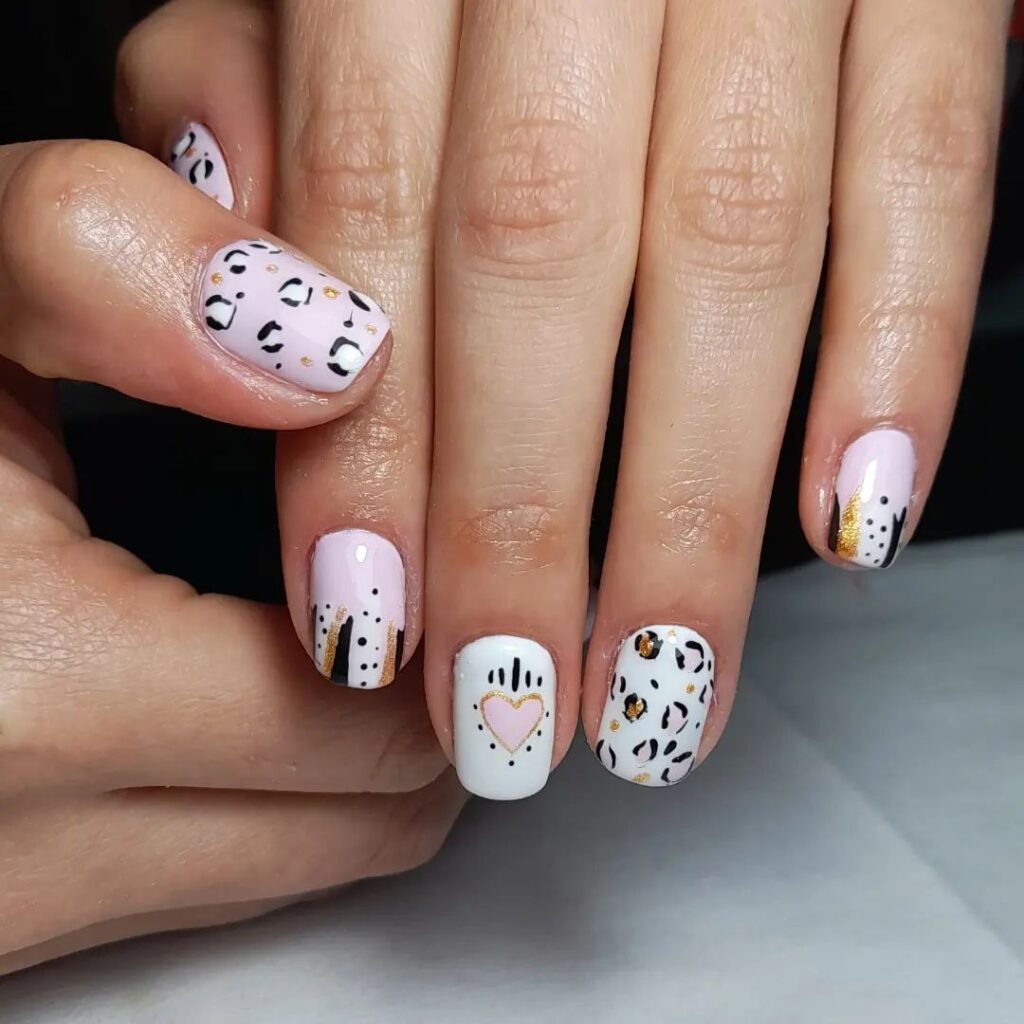 #57 Butterfly Motif 
A butterfly motif in a manicure signifies transformation and freedom. It represents personal growth and change, akin to the butterfly's metamorphosis, and evokes a sense of liberation and the ability to soar. Include them in your pink and white nails to make them both visually and figuratively appealing.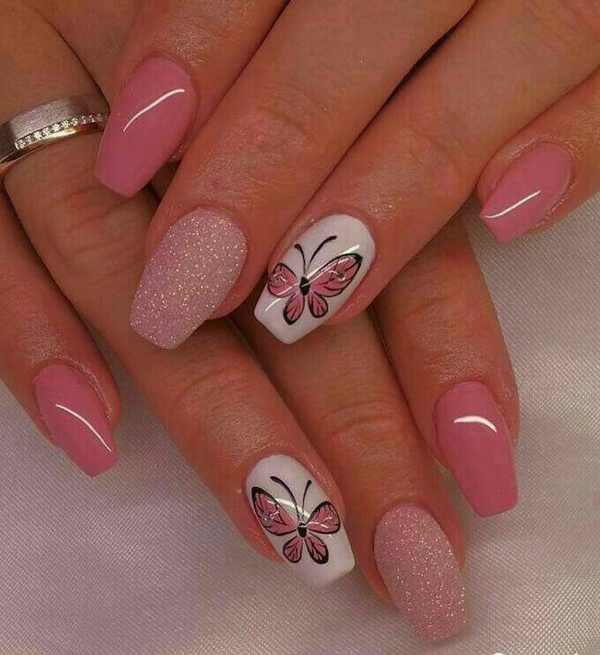 #58 Small Flowers 
You can't talk about the spring and summer nail designs without including floral motifs on them. Flowers signify the revival of the new season and new beginnings. Including them in your mani will serve as a constant reminder to find beauty in the little things. We love how this mani includes them elegantly.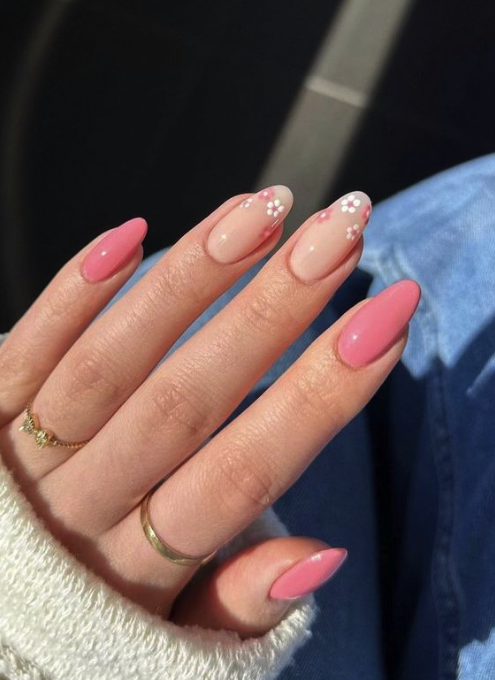 #59 Stunning One Of Pink And White Nail Designs 
This one of the pink and white nail designs uses metal pink on the ring and pinky finger with a French manicure in pink done on the rest of the nails for a creative combination. The glitter adds a nice touch to the tips, but you can use the metal pink on the rest of the fingers as well.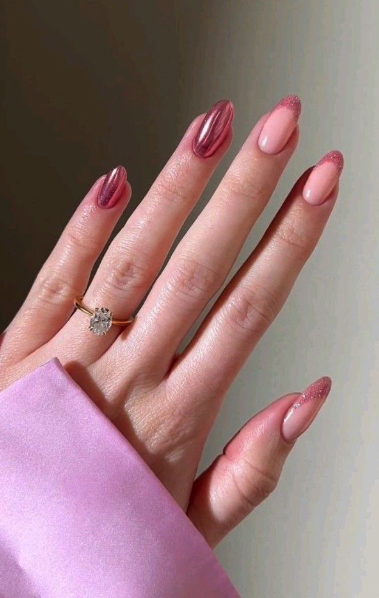 #61 Clouds & Stars 
Just the thought of the night sky with the twinkling stars and the soft moon fills your heart with peace and serenity. Bring the beauty of the night sky to your nails and visualize the image with every peek at them.