Hot pink and black nail designs are just the perfect match for anyone who wants to explore a vintage manicure idea with a mix of modernism and creativity. It's one of those extraordinary color combinations in nails that just never disappoints. If you want to explore this beautiful amalgamation, find below 45 hot pink and black nail designs for inspiration! 
#1 Geometric Lines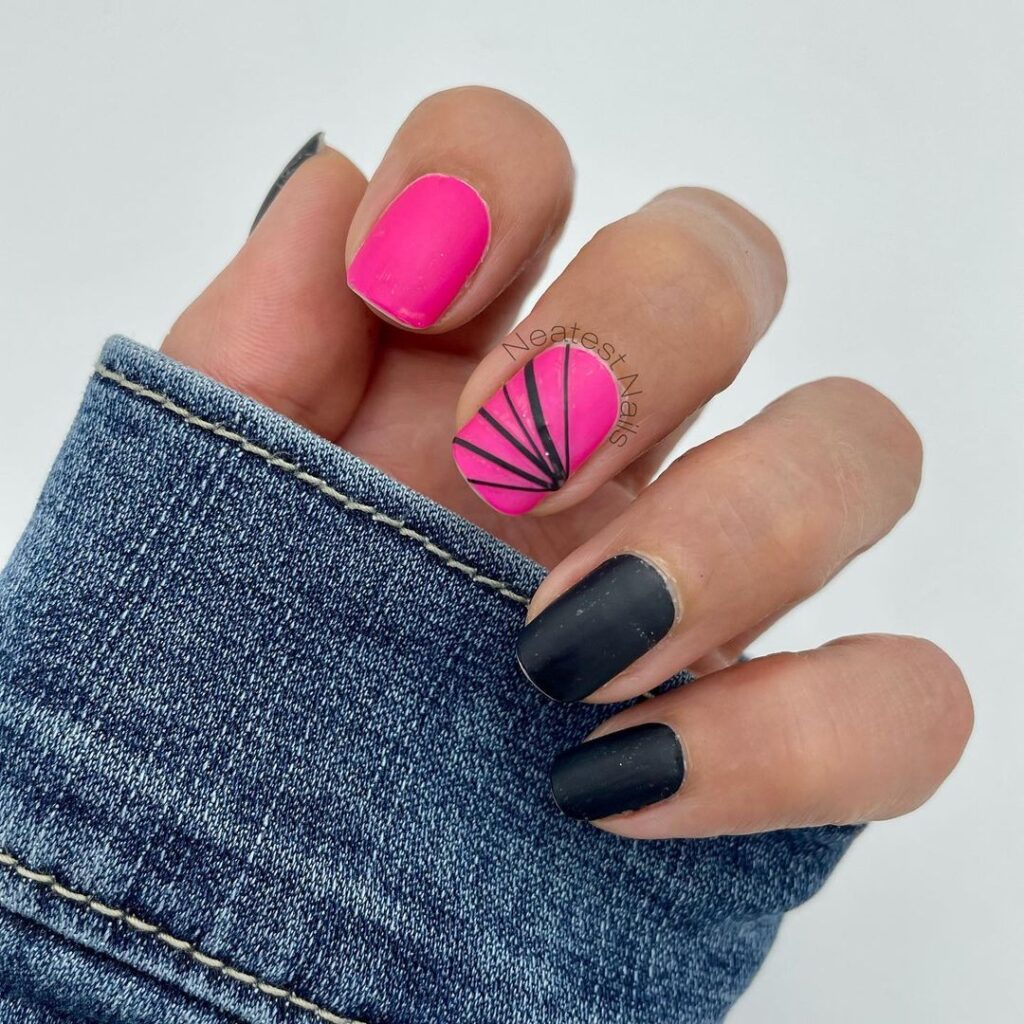 Courtesy: @neatest_nails
Here's a cool way to play with the amalgamation of hot pink and black in your manicure. Wear pink on two fingers and black on others but break the monotonous mani by adding some lines in black on the pink base! It can be done at home if you have a steady hand, but if you aren't so sure about the intricacy, a trip to a professional will be worth it for a design like this!
#2 A Tinge Of Glitter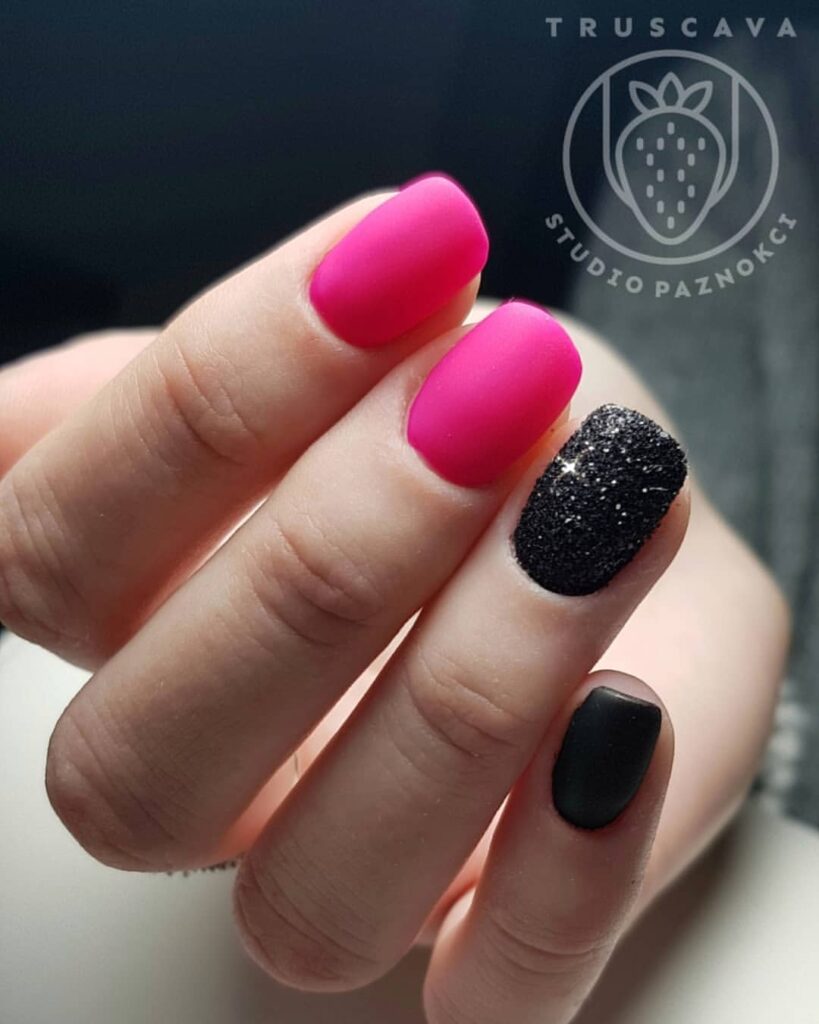 Courtesy: @truscava.studio.paxnocki
Here's another one of the simple hot pink and black nail designs that will look great on all medium, short, and bigger nail lengths. It can be done at home, but for someone who wants longer nails and whose nails are also prone to breakage, acrylic, and gel nails are best to enjoy your manicure for a longer time. But if breakage isn't the problem and you still want your manicure to last longer, do buff your nails and apply a base coat and a top coat that elongates the stay of the nail paint. 
#3 Heart Motif Hot Pink And Black Nail Designs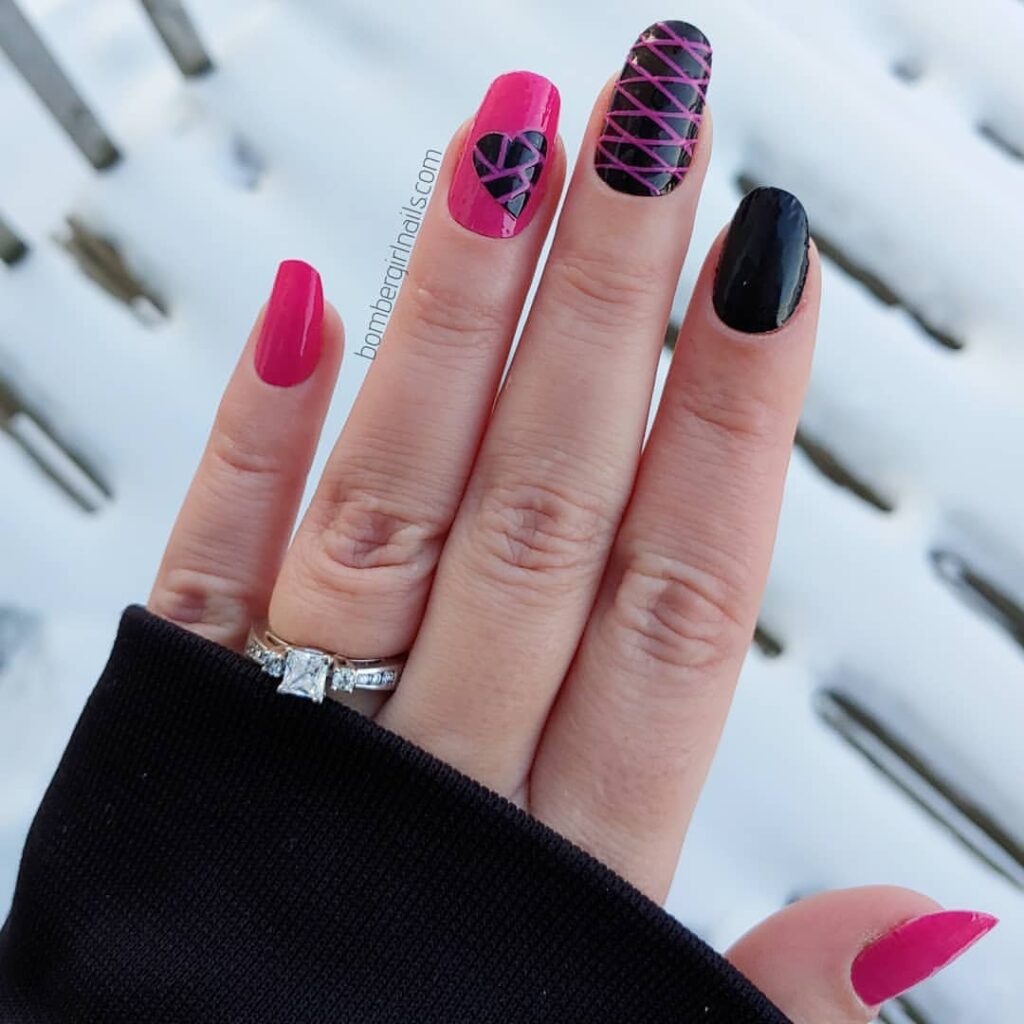 Courtesy: @bombergirls.com
Hot pink and black nails, or light pink and black nails, in general, have a huge fan base. The femininity of pink combines well with the depth of black to give you a sophisticated yet complementary contrast. That's why it's common for special occasions like Valentine's and engagements too! The next one of the hot pink and black nail designs has a heart motif on the ring finger with checkered patterns for a visually appealing manicure idea. 
#4 Glitter Black And Hot Pink Nail Designs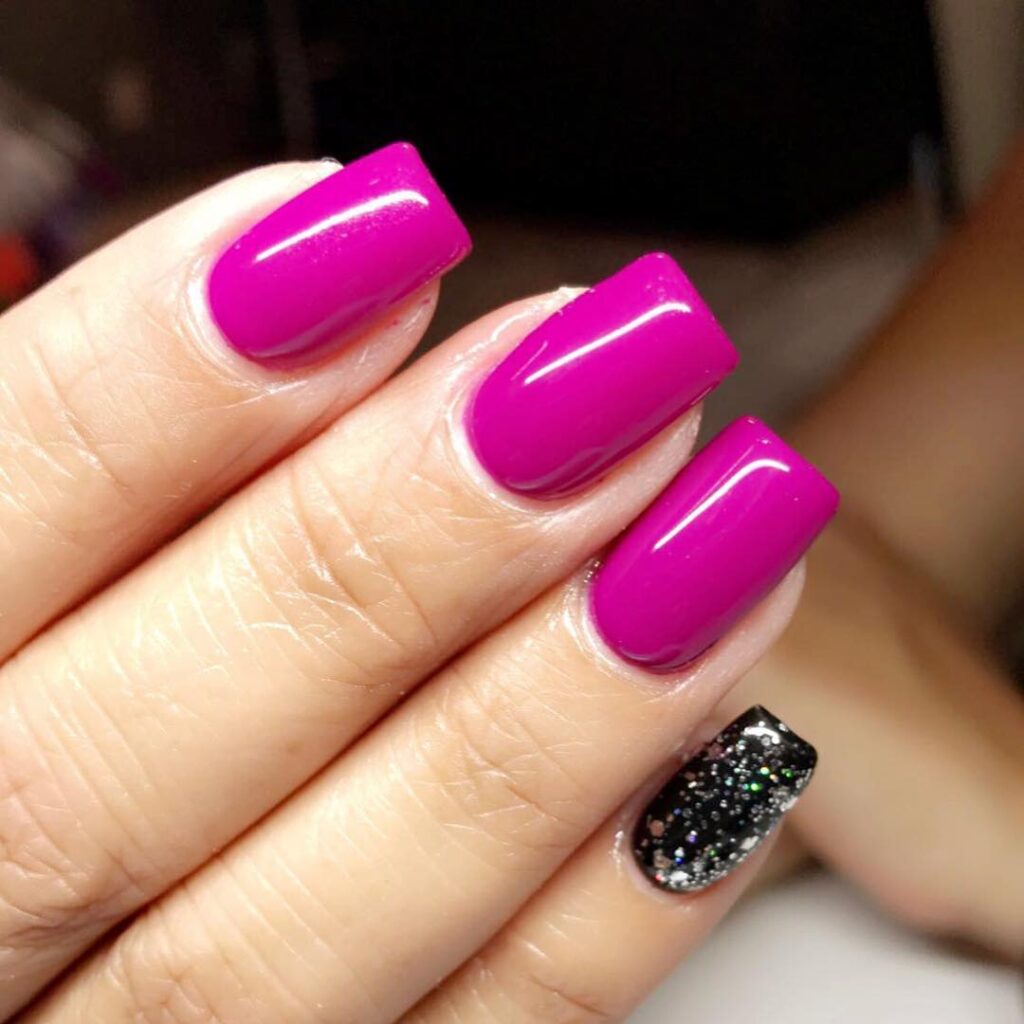 Courtesy: @mnailstudio
This beautiful glitter hot pink and black nail design uses subtle glitter on the pink nails (which can be easily DIY-ed using a shimmer top coat) but breaks the pattern with a black nail that has bigger glitter particles on the top! Though, you can use the same top coat if the bigger glitter particles one isn't available. It will still look just as ravishing as the one done below. 
#5 Black Borders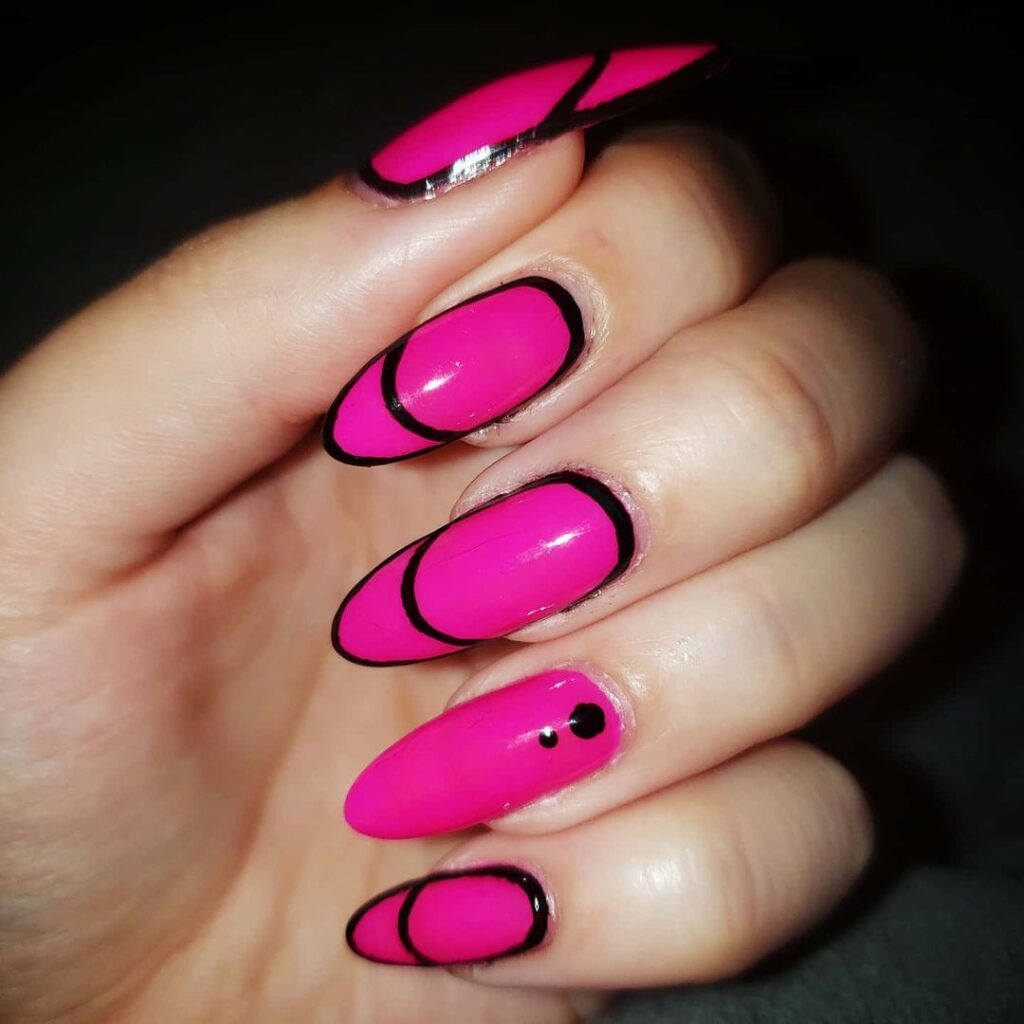 Courtesy: @olicake.nails
These round hot pink and black nails use the former as a base and employ the latter as a bold outline around the entire nail along with the French manicure tip for a bolder and edgier look. You can also reverse the roles of the colors if you want to or just use the outline as an accent nail and keep the rest as solid colors. It's all upto you how you want to tweak this nail idea to create a manicure that's truly your own. 
#6 Make It Matte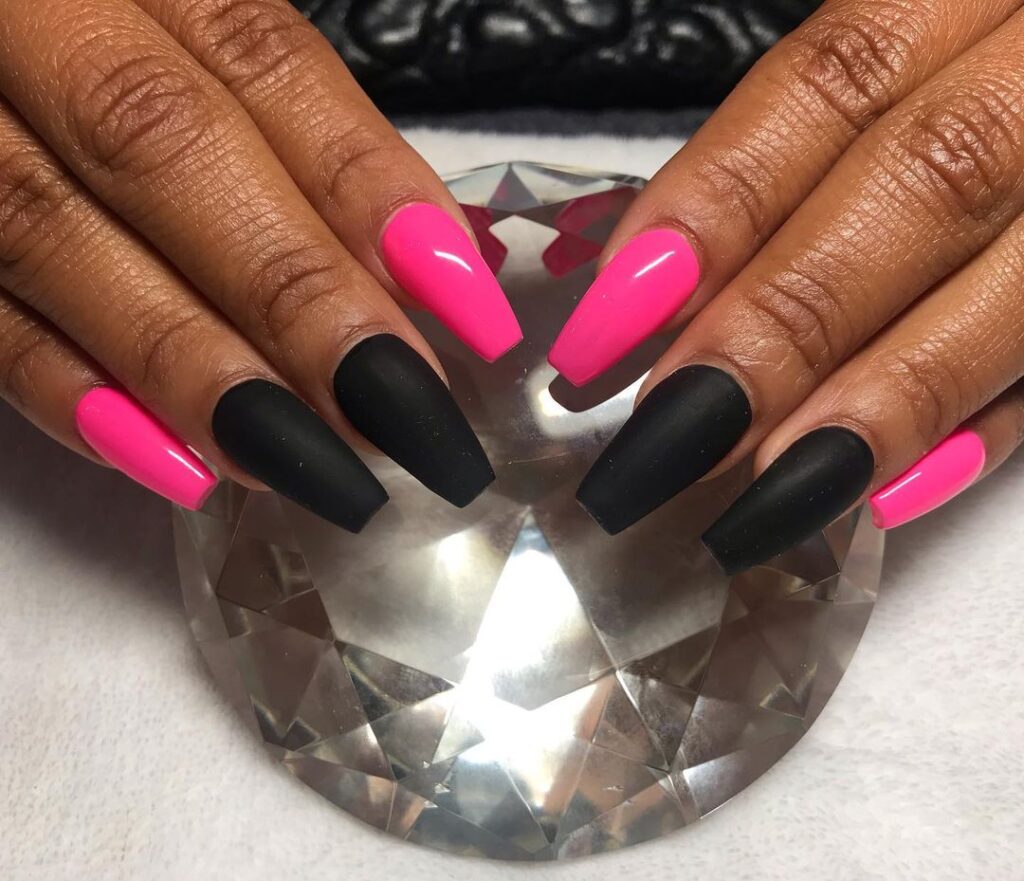 Courtesy: @vibrancelove
We promised you that on this list, you will find just about every type of hot pink and black nail designs! And here's a unique yet striking combination of hot pink gloss nails with matte black nails for an eye-catching manicure. While here, it's done in coffin nails, you can recreate this nail idea with just about any nail shape and it will still radiate the same stunning attribute as shown below. 
#7 Subtle Black And Hot Pink Nails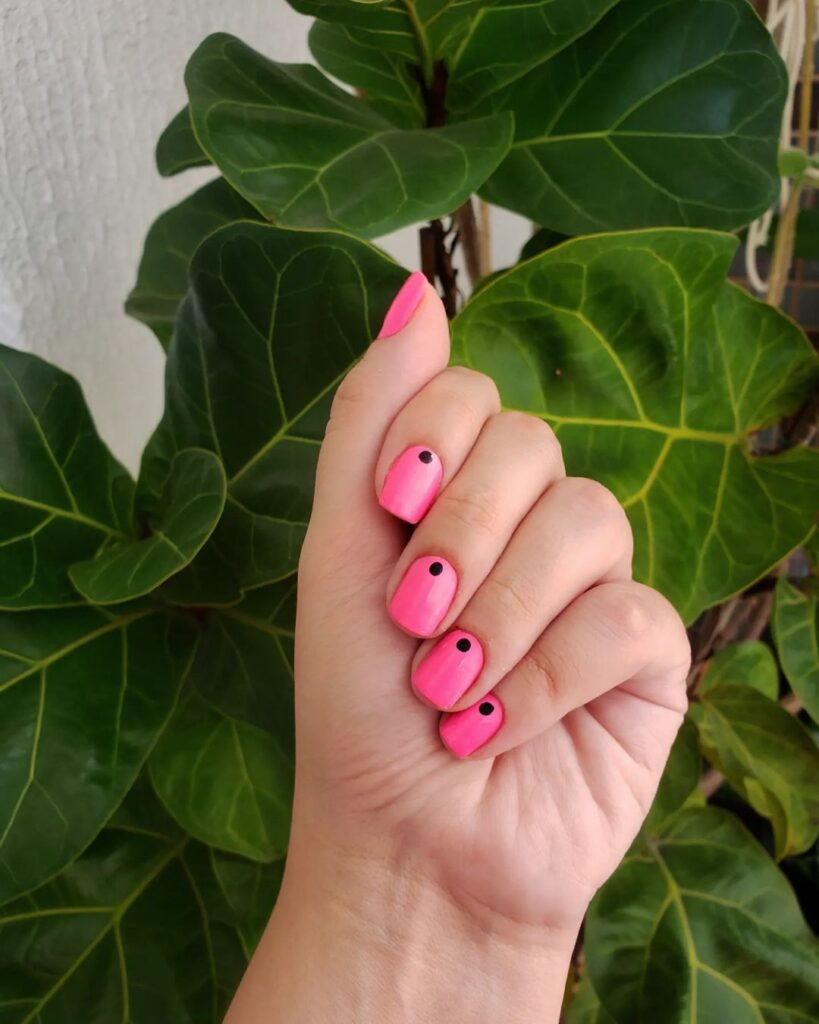 Courtesy: @apto.3quatro
If subtlety and minimalism are the attributes that excite you in a manicure, then the next nail design will be your pick from this list of hot pink and black nail designs. These small nails can be done at home because of their simplicity, but you can also get them done in gel or acrylic if you want them to last longer. Needless to say, this a manicure that's ideal for everyday wear, but also has an edgy look for parties and night-outs.   
#8 Combine Gloss & Matte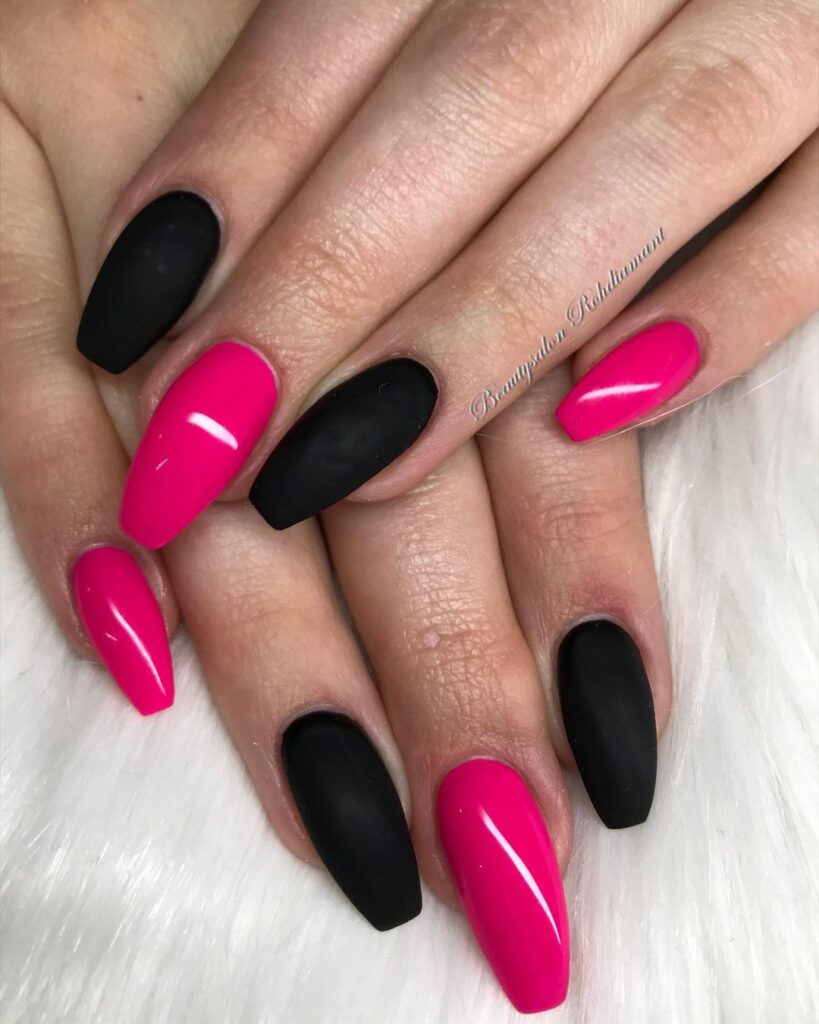 Courtesy: @rohdiamant_nails
These hot pink and black matte nail design also has a touch of gloss to them! This combination gives a visually appealing touch to such a simple nail idea. The glossy hot pink base exudes vibrancy and shines with a lustrous allure, while the matte black accents bring a sleek and sophisticated touch. This basic nail design with hot pink and black colors is ideal for those who want a simple manicure with just a subtle touch to make it stand out. 
#9 Let The Creativity Flow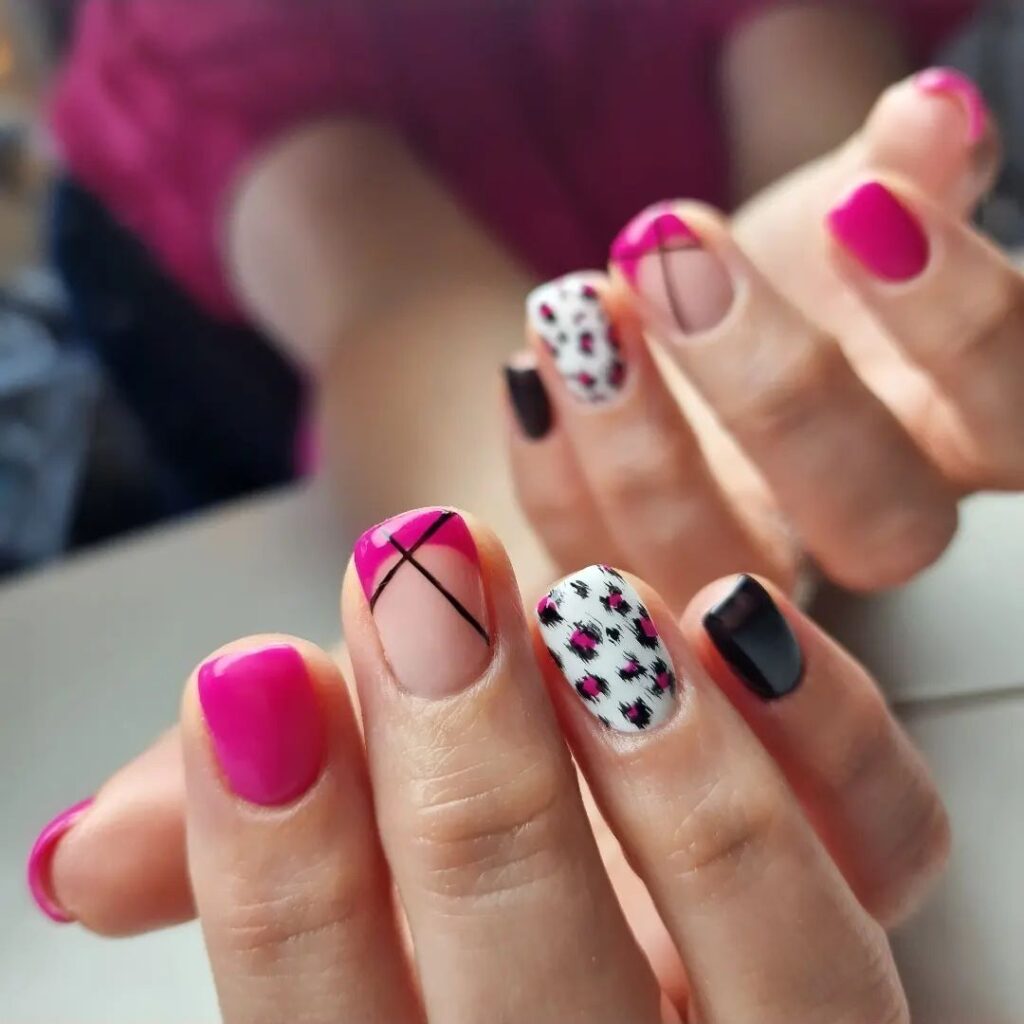 Courtesy: @sophiescosycorner
This black, white, and hot pink nail design is all about creativity and ingenuity! For such inventive nails, we would recommend you trust only an expert manicurist. They are aware of what's trending in the manicure world and can give you a design that you will keep admiring as long as it lasts! Do go through their portfolio and see if they're right for your preferences! 
#10 Nail Designs With Hot Pink And Black On Separate Hands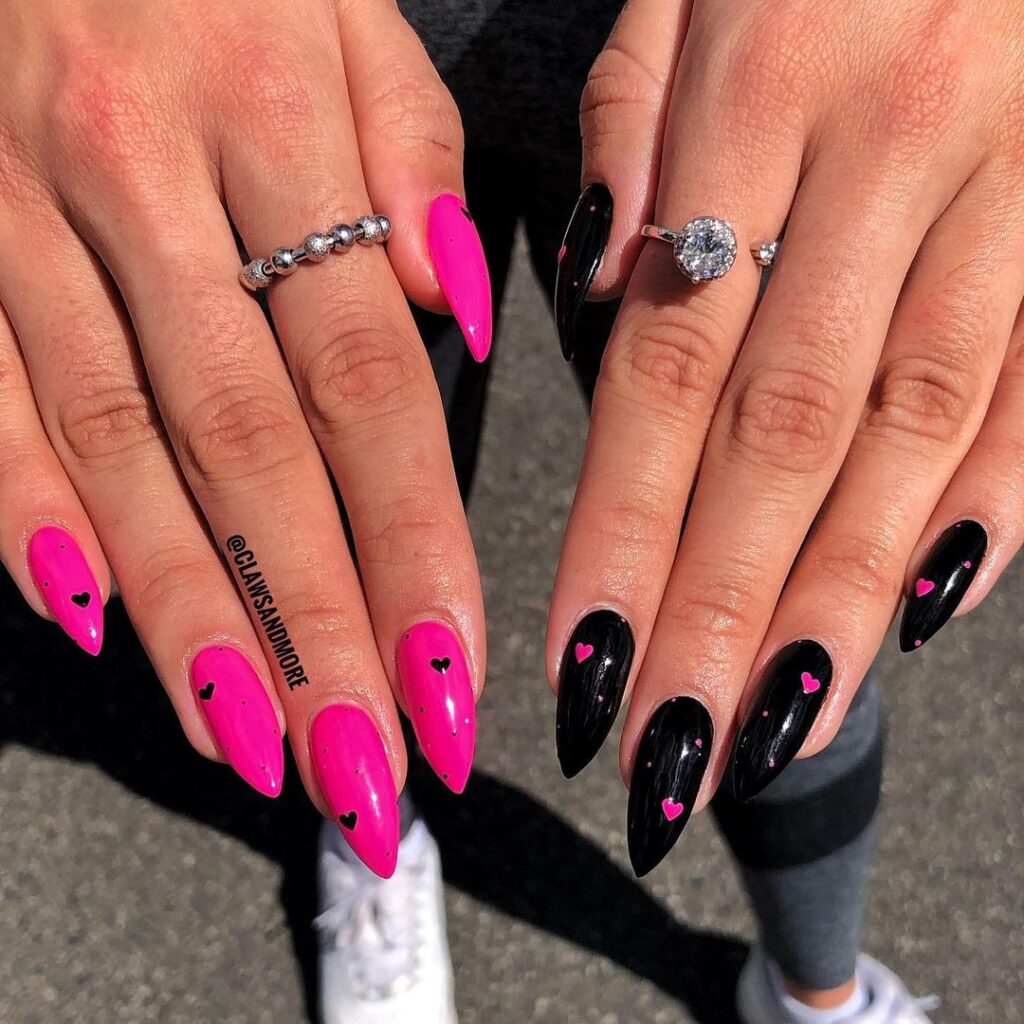 Courtesy: @clawsandmore
You don't often come across such eye-catching nail designs! Both hands are done in separate base colors and have the same motifs in a different color as the base. We adore the combination of polka dots and hearts as they lend a chic and elegant attribute to the nails, and can also serve as a manicure idea for Valentine's Day! 
#11 The Intrinsic Charm Of Checks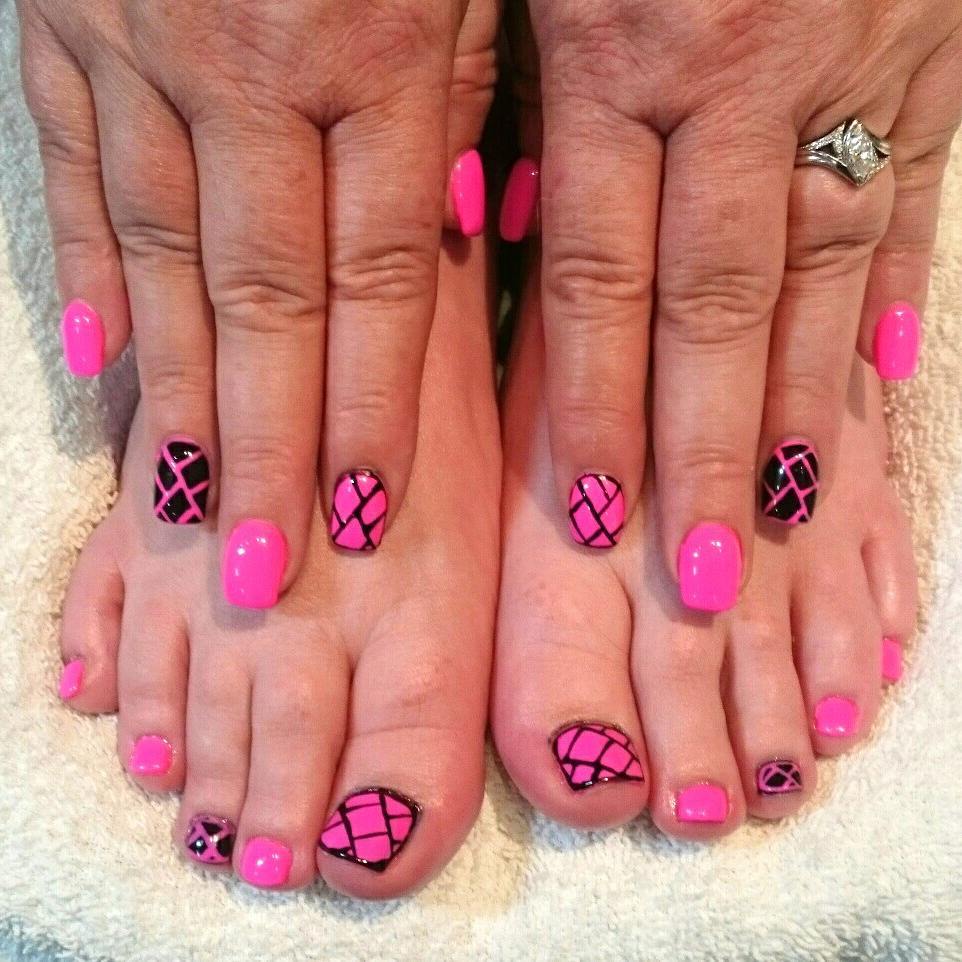 Courtesy: Tanya Firth
If you're a fan of geometric nail patterns, then try them with the combination of hot pink and black in your manicure. The base of vibrant pink sets the stage for the bold black patterns, and creates a striking and dynamic nail design. Checkered patterns are a great artwork to try and amplify the visual impact of the colors. You can also get the same manicure idea on your feet nails for a matching hands & feet manicure. 
#12 Light Pink In The Mix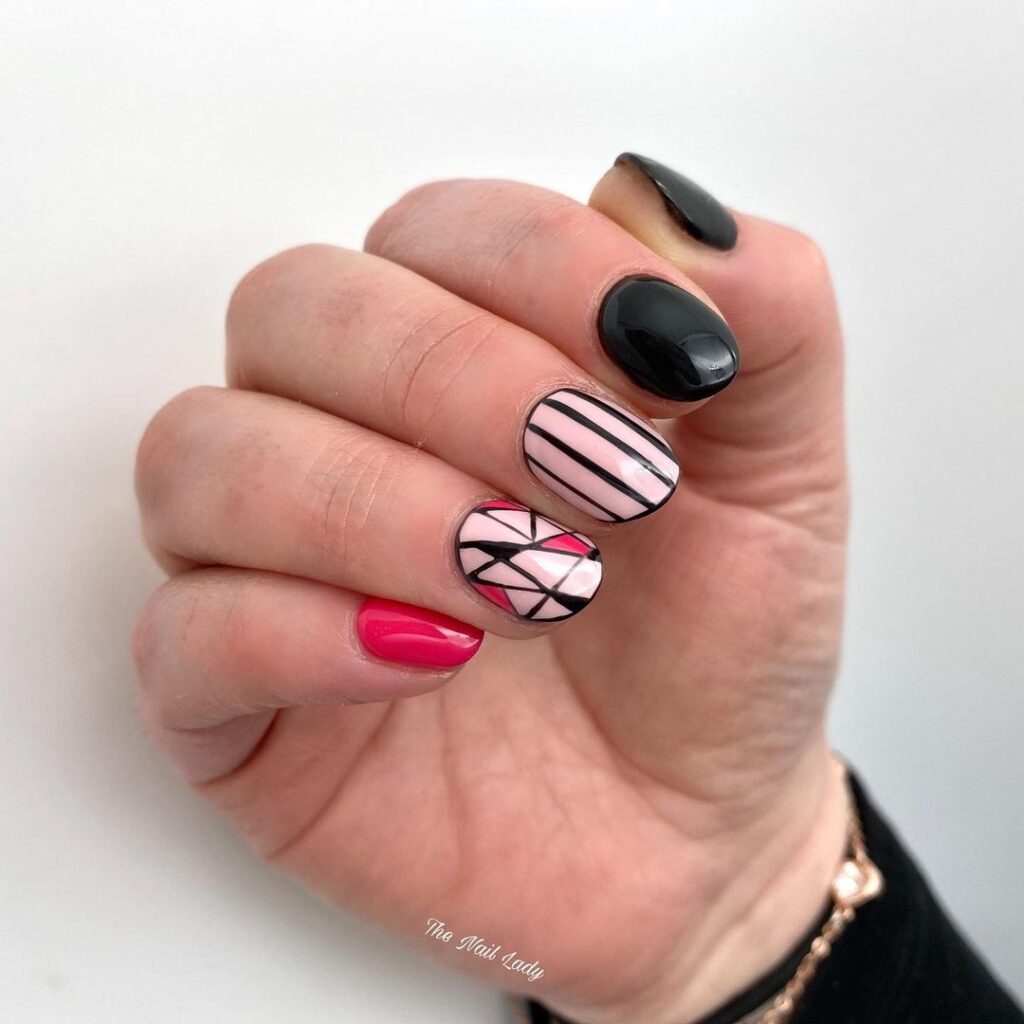 Courtesy: @thenailladylincoln
We love the geometric hot pink and black nail designs! I think it's definitely fun to combine bolder colors for geometric patterns as they elevate the art well and also give a nice combination of base and lines for a truly artistic look. Here, different type of check patterns adds ingenuity and creative appeal to the manicure and also makes it look intricate and exquisite.  
#13 Pink Ombre Nails With Black Polish!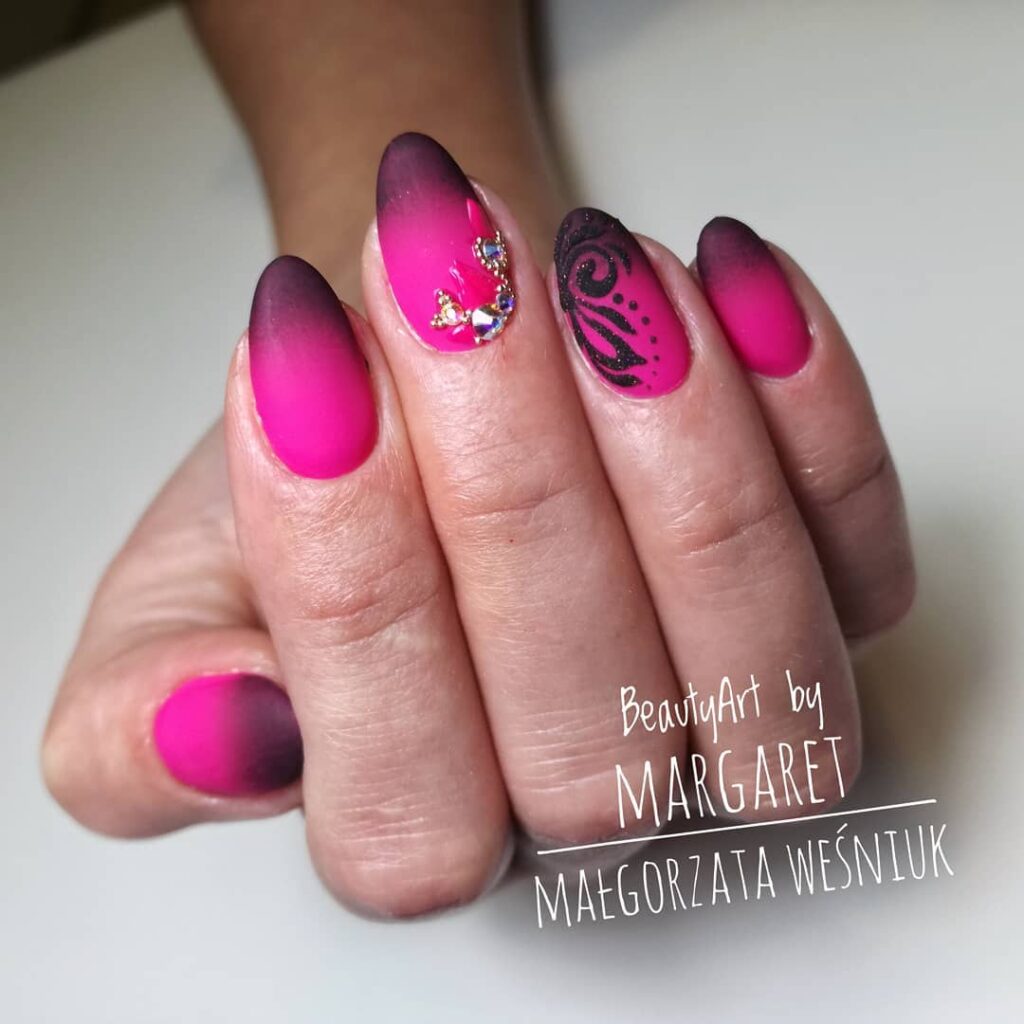 Courtesy: @gosiawesniuk_indigo
The pink ombre nails are done with black polish, but there's a twist of creativity on two fingers! While one showcases an exquisite geometric design, the other one is replete with studs for a glamorous look. For someone who wants a subtle look, you can choose to omit the studs and just use geometric patterns for accents! You can surely mold this design as per your preference, occasion, and style. 
#14 Write Your Name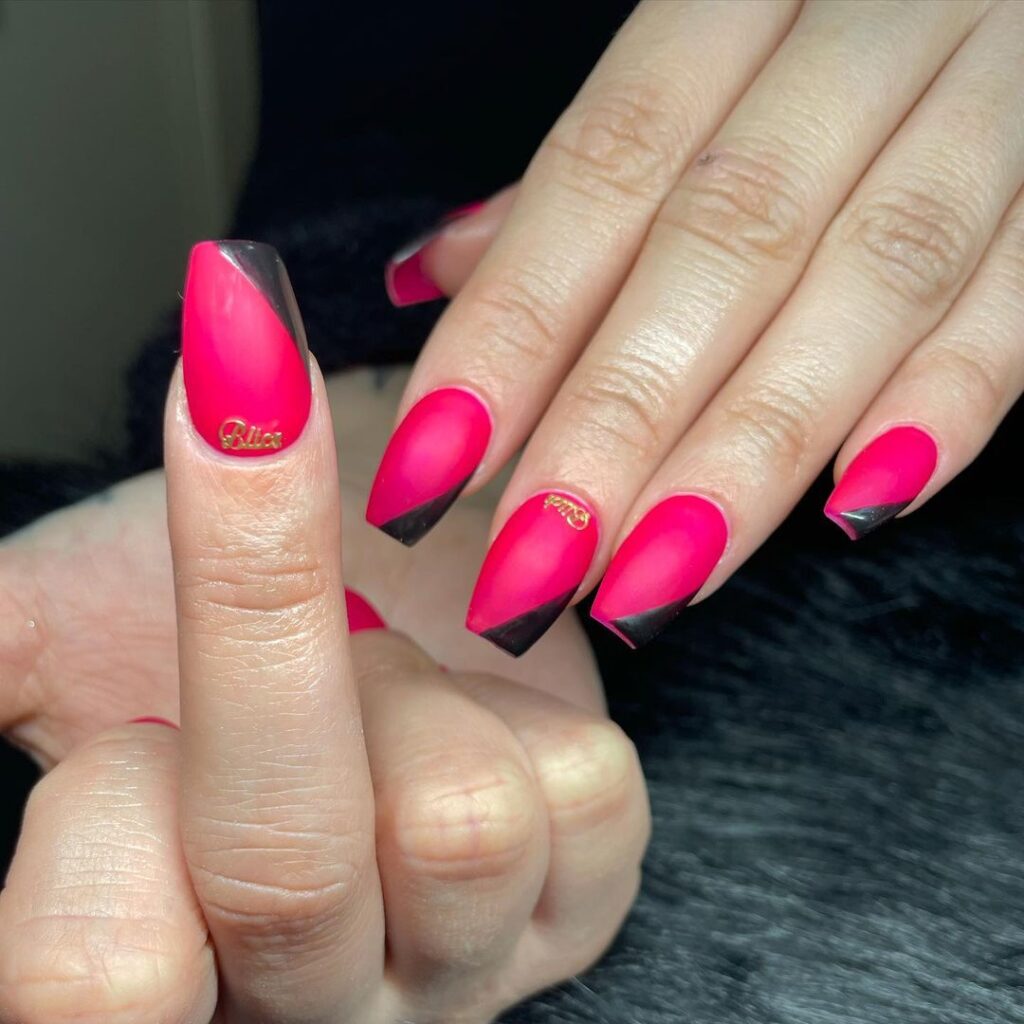 Courtesy: @_casanovanails
What better way to personalize your manicure than to write your own name on it? And if hot pink and black nail designs are your choice for engagement nails, then you can also include your fiancee's name on the other hand! It will be romantic and will make him feel special, just like he made you feel with the epic proposal! Use this design as an inspiration to execute this beautiful idea. 
#15 Easy DIY Hot Pink And Black Nails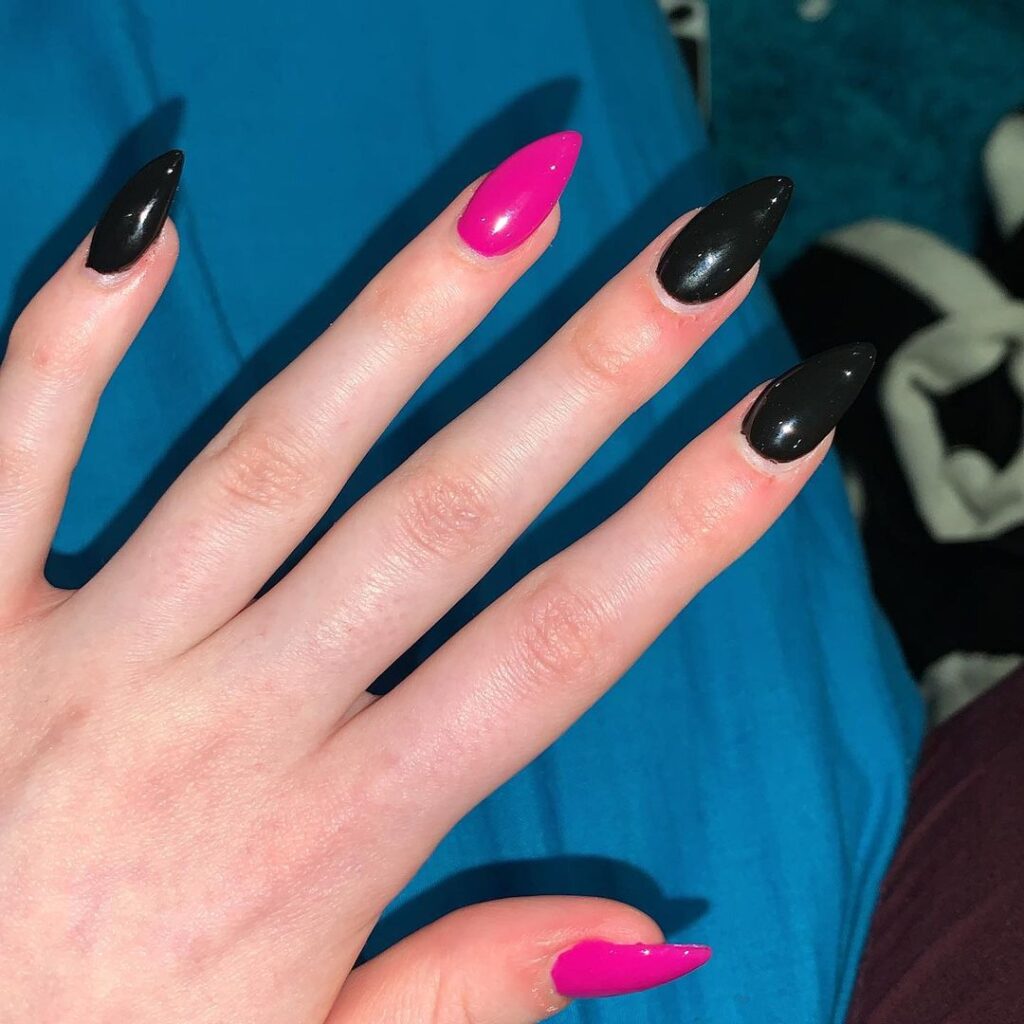 Courtesy: Nipples
We adore these hot pink and black nails that are so easy to DIY at home! Start by buffing your nails. Don't skip this step as buffing not only creates a smooth surface, ensuring a flawless finish, but also enhances adhesion, improves the longevity of the manicure, and helps remove oils or residues for better nail polish application. Shape the nails to your desired length and cut and apply the polish! Let is dry and cover it with a gloss coat or a matte coat, as needed! 
#16 Ombre Hot Pink And Black Nail Designs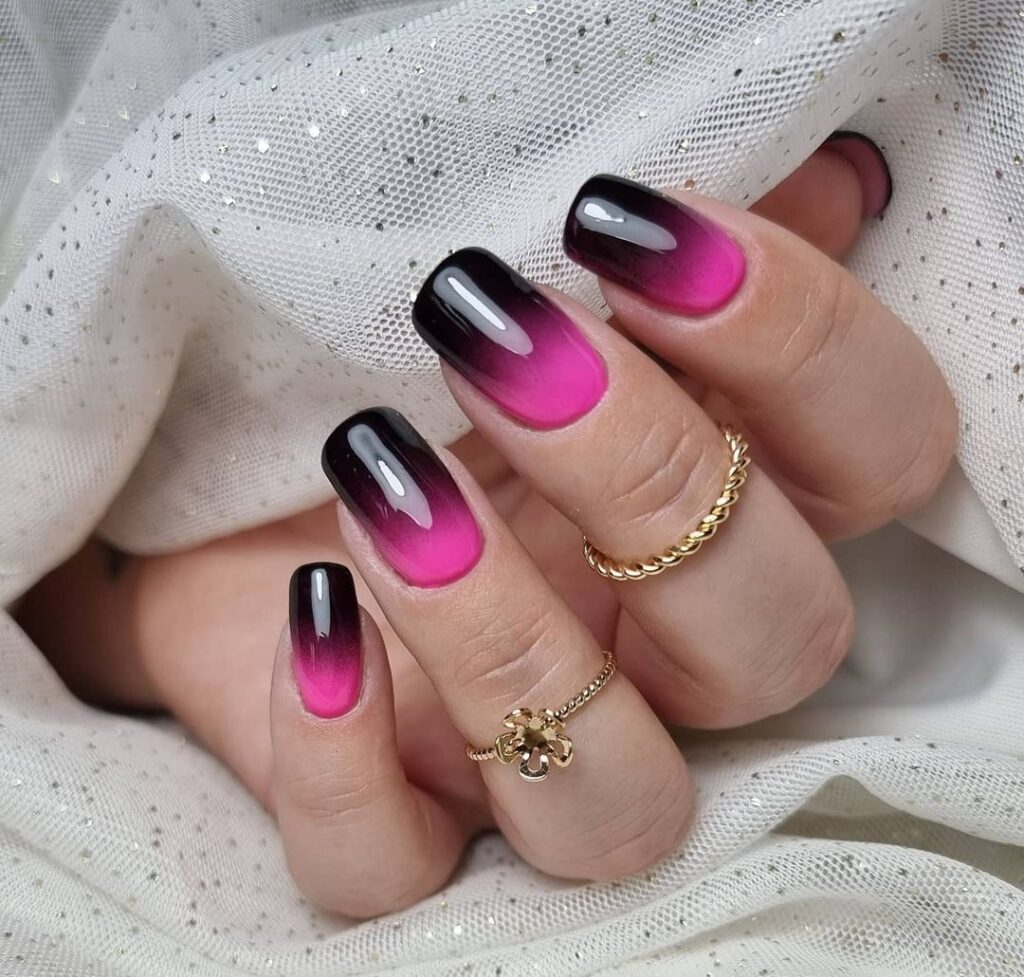 Courtesy: Tuluza
Ombre hot pink and black nail designs offer a captivating and bold gradient effect that seamlessly blends these two contrasting colors. Starting with a hot pink base, the color gradually transitions into a striking black shade, creating a visually stunning ombre effect. The seamless transition between the two colors adds depth and dimension to the nails, while the vibrant hot pink and sleek black create an eye-catching contrast. This design embodies a modern and edgy look, making a powerful statement. Perfect for those seeking a captivating manicure that combines vibrant energy with a touch of darkness, ombre hot pink and black nails are sure to turn heads and showcase your unique style.
#17 Just One Accent Nail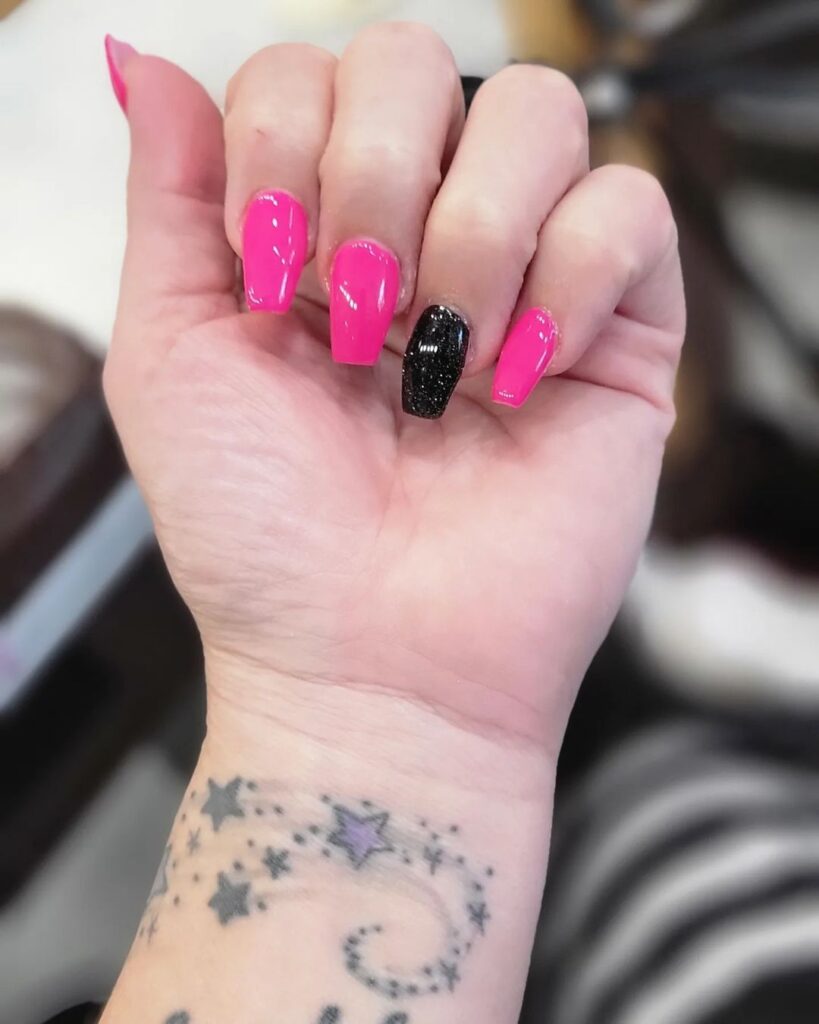 Courtesy: @duchess_natasha
When you're someone who likes these nails to be minimal yet striking, try this hot pink and black nail design with the latter only used as an accent nail. You can also go the other way around by using pink as an accent nail! It's totally upto you. Because of the simplicity of this design, you can use it on any nail shape and can even do them easily at home! But if you want them to last longer, acrylic hot pink and black nails are definitely recommended!  
#18 Add Purple
Courtesy: Jessica Nobles
This one of the hot pink and black nail designs is done with magenta color at the start of the nails with a black base on the rest of the nails. The black nails, however, contain accents of purple and pink to elevate the artistic appeal of the mani further. Because this design is done on a shorter nail and has only subtle creativity, you can totally use it as an everyday manicure idea1 
#19 Glitter Hot Pink And Black Nails Design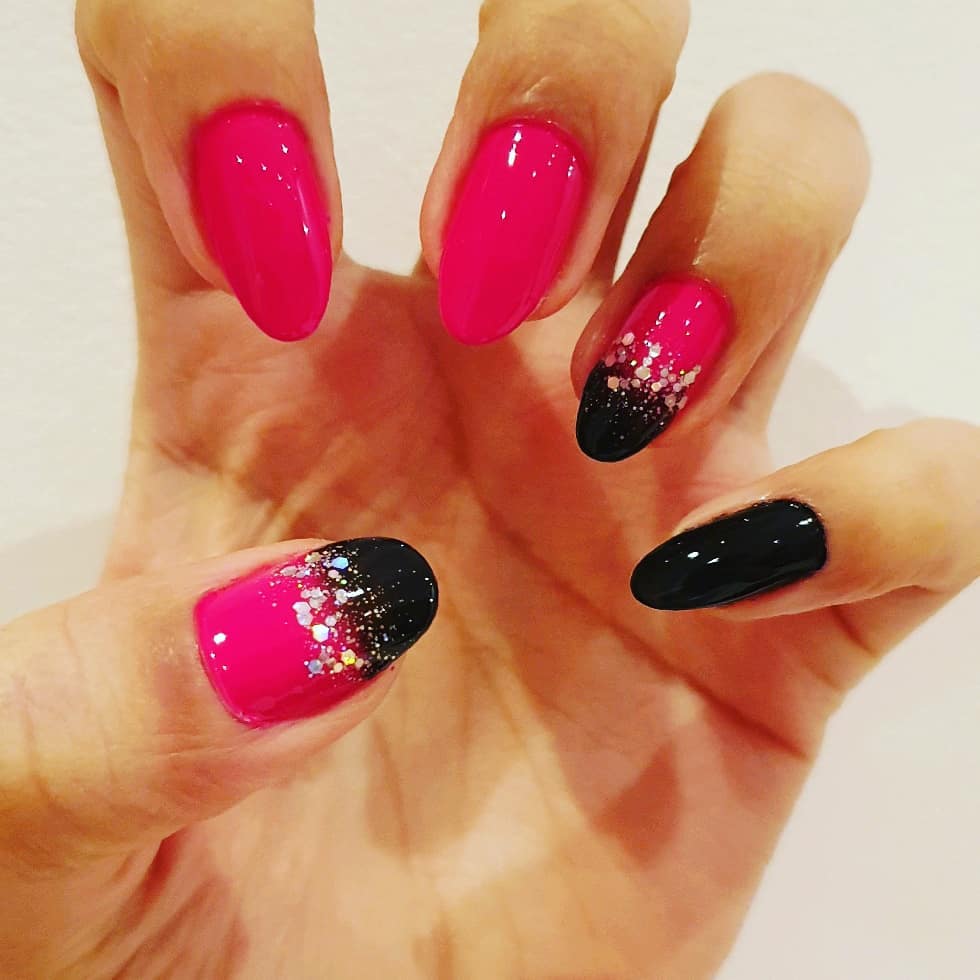 Courtesy: @nailsby_mandeep
We love this hot pink and black nail design, which is easy to do at home and still looks like you've been to a manicurist to get your nails done!  Start by buffing and painting your nails all pink and let them dry. Then, use black polish to paint the upper half of the ring finger and thumb. You don't have to be neat, so it's perfect for beginners as well. When it dries, just apply some clear glitter polish and cover them all with a top gloss coat to finish! 
#20 Just Glamorous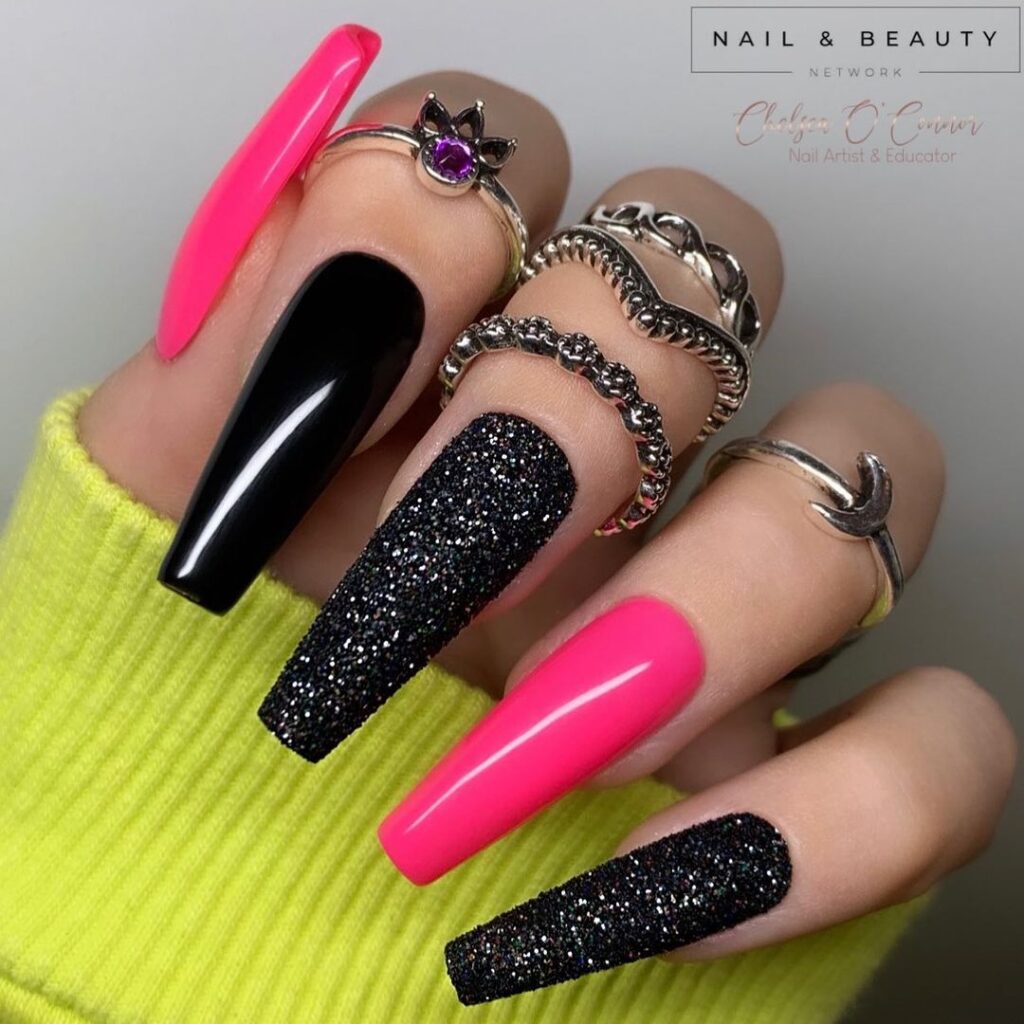 Courtesy: Chelsea O'Connor
These long hot pink and black nails make a bold and confident statement. The vibrant hot pink shade covers two nails, exuding energy and commanding attention. Whilst the black nails are done in complete glitter coating with one nail left glossy. There's a simple design element but since they're long, you might want to get them done professionally. These long hot pink and black nails are perfect for those who embrace their individuality and aren't afraid to showcase their confidence and style through a daring and eye-catching manicure.
#21 Yin-Yang Nails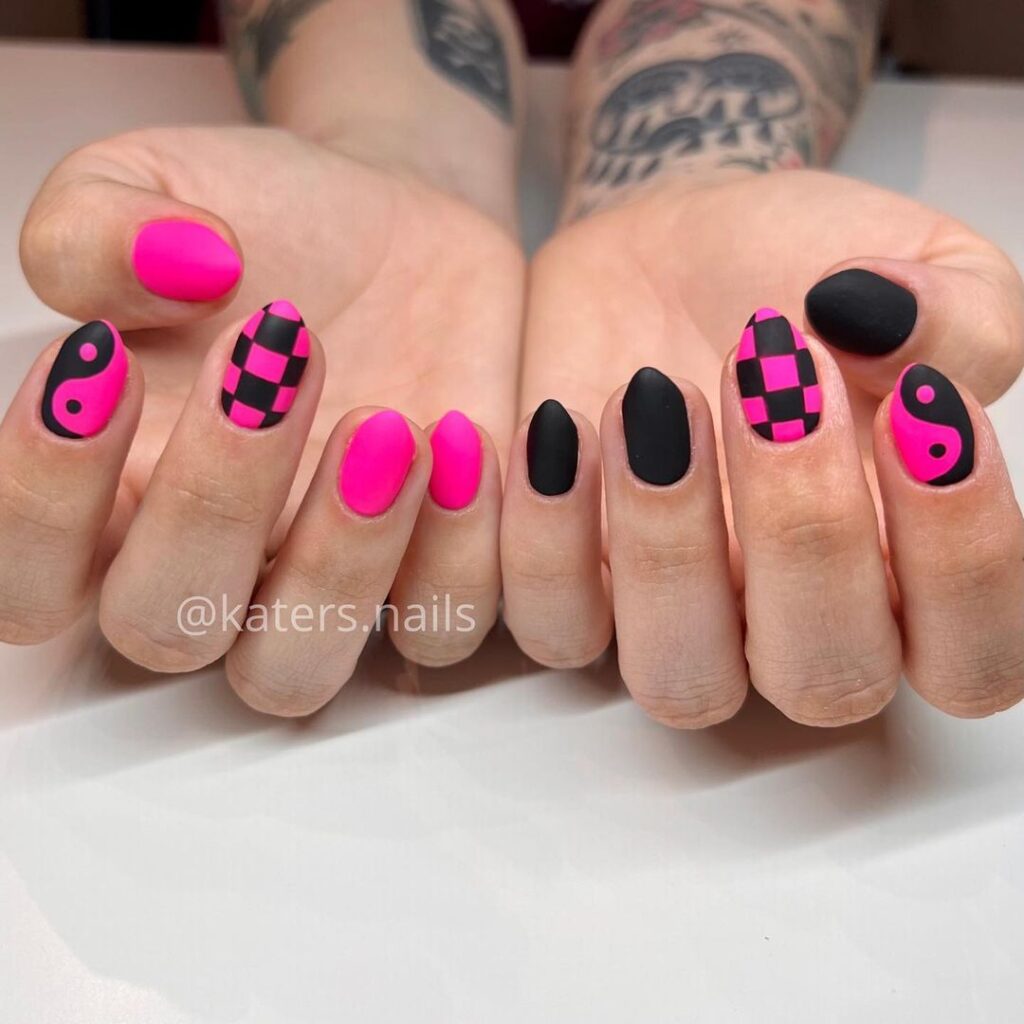 Courtesy: @katers.nails
The Yin Yang hot pink and black nail design merges vibrant energy with symbolic balance. The nails feature a captivating hot pink base, radiating passion and playfulness. On one side, small black circles embody the yin, symbolizing femininity and tranquility. On the other side, larger curved black shapes represent the yang, embodying strength and light. The contrasting colors symbolize interconnectedness and harmonious coexistence. This design harmonizes opposites, showcasing the interplay of boldness and subtlety, passion and tranquility, and light and darkness. With just the right blend of colors and symbols, these nails create a captivating and balanced visual statement.
#22 What A Starry Manicure!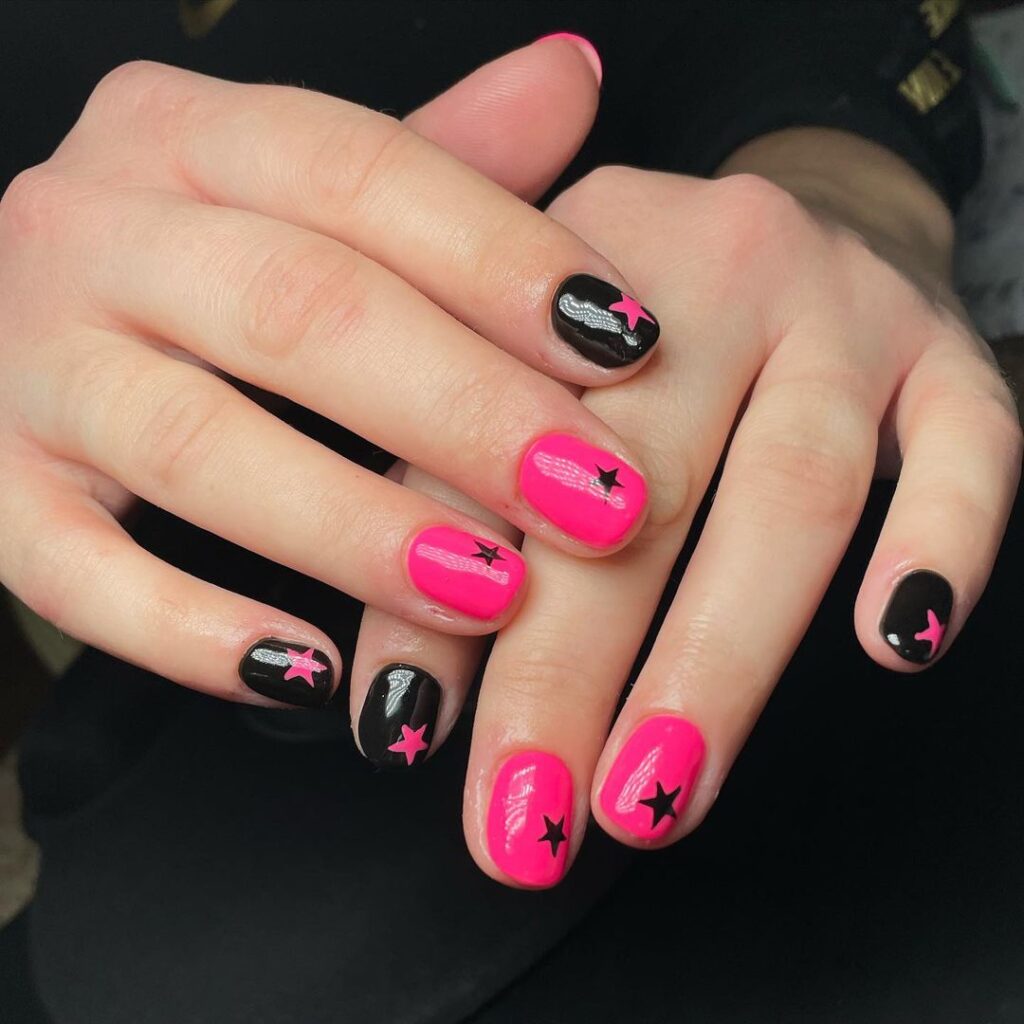 Courtesy: @beautybyhannahhennessy
Painting the middle two nails in pink and the outer two in black, this manicure elevated the design further by including a star motif on each nail with an opposite color when compared to the base. Stars are always great motifs to add to your manicure and they stay relevant throughout the year! It adds a chic look to your manicure and you can choose to include it in any of your favorite color combinations for a manicure. 
#23 Separated By Dots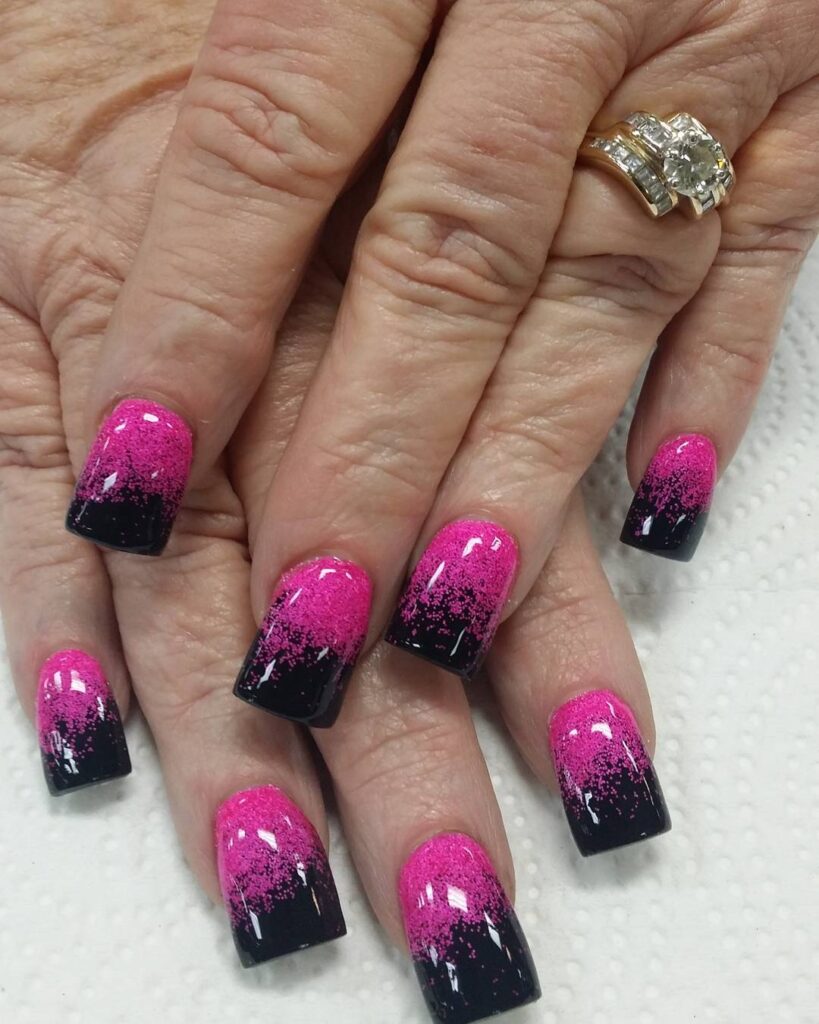 Courtesy: Lisa Thompson
Instead of the usual ombre pattern in the hot pink and black nail designs, this one creates a transition from hot pink to black using rugged dots that gives a grainy texture to the mani! While this is a playful transition look, if you're looking for something neat and chic then ombre might be more suited for your style. You can also incorporate the colors on the same nail by separating them with a slant line for a tidy design! 
#24 Perfect For Halloween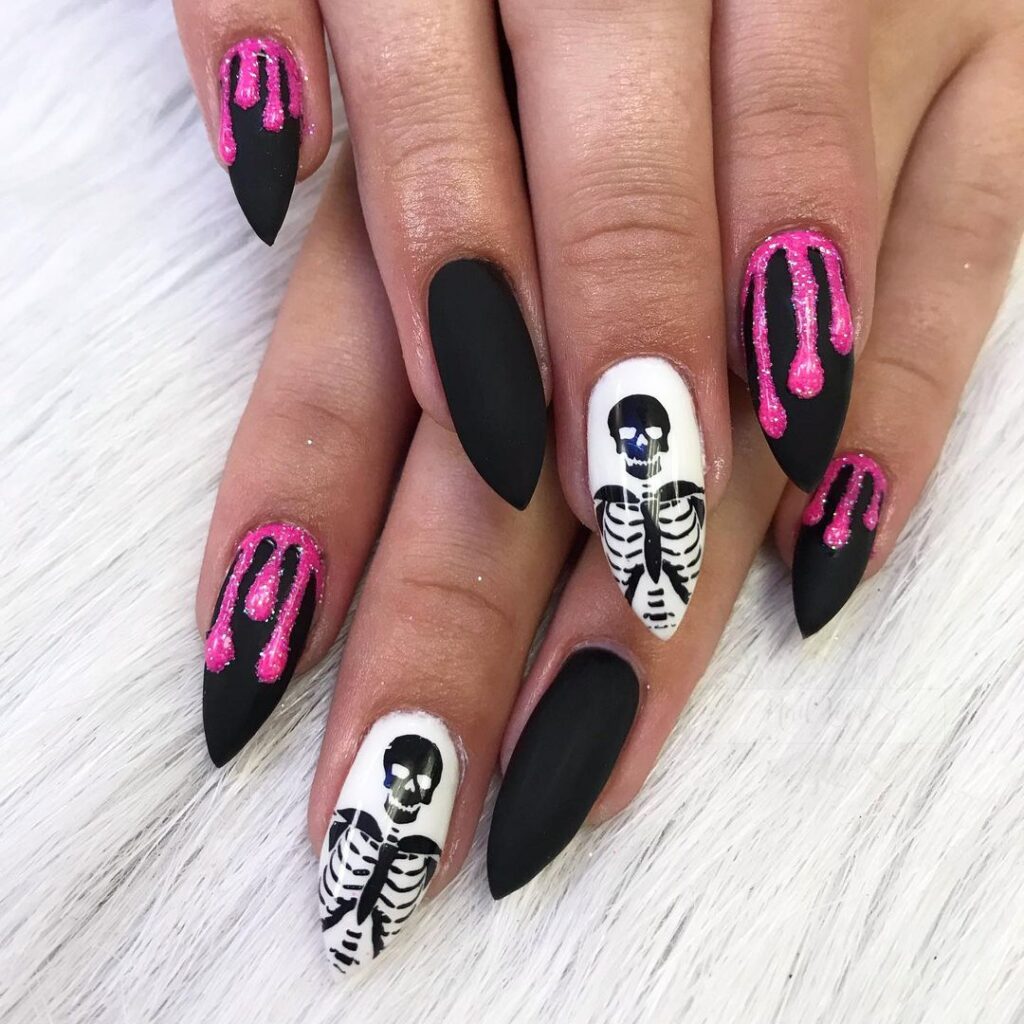 Courtesy: @naillovebykylie
This Halloween-inspired hot pink and black nail design takes a playful twist with a skeleton motif on one nail, adding a spooky and fun element. The stunning combination of hot pink and black is enhanced by using a drip effect on two nails and leaving one in solid nail color. We love how the entire manicure is done in a way that captures the mysterious ambiance and eeriness of the Halloween nails nicely. 
#25 Short Stiletto Hot Pink And Black Nail Designs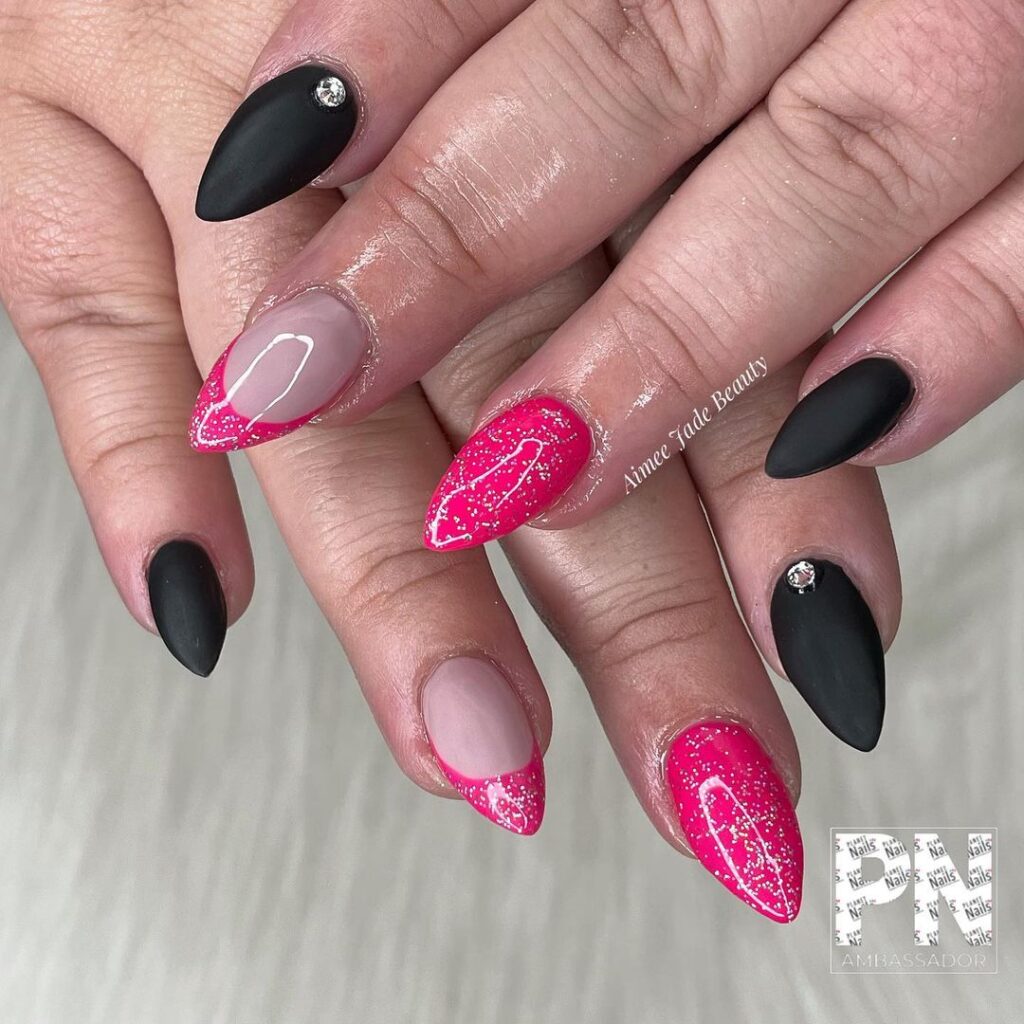 Courtesy: Aimee
Stiletto nails generally give the impression of longer nails, but they can be totally sported on a shorter nail length as well! Here, the hot pink and black nails are experimented with a short stiletto nail length consisting of pink nails in glitter and black nails in a complete matte shade! The studs are added to the black nails for embellishment and give a glamorous look to this manicure idea. Don't you think?
#26 The Whimsical Florals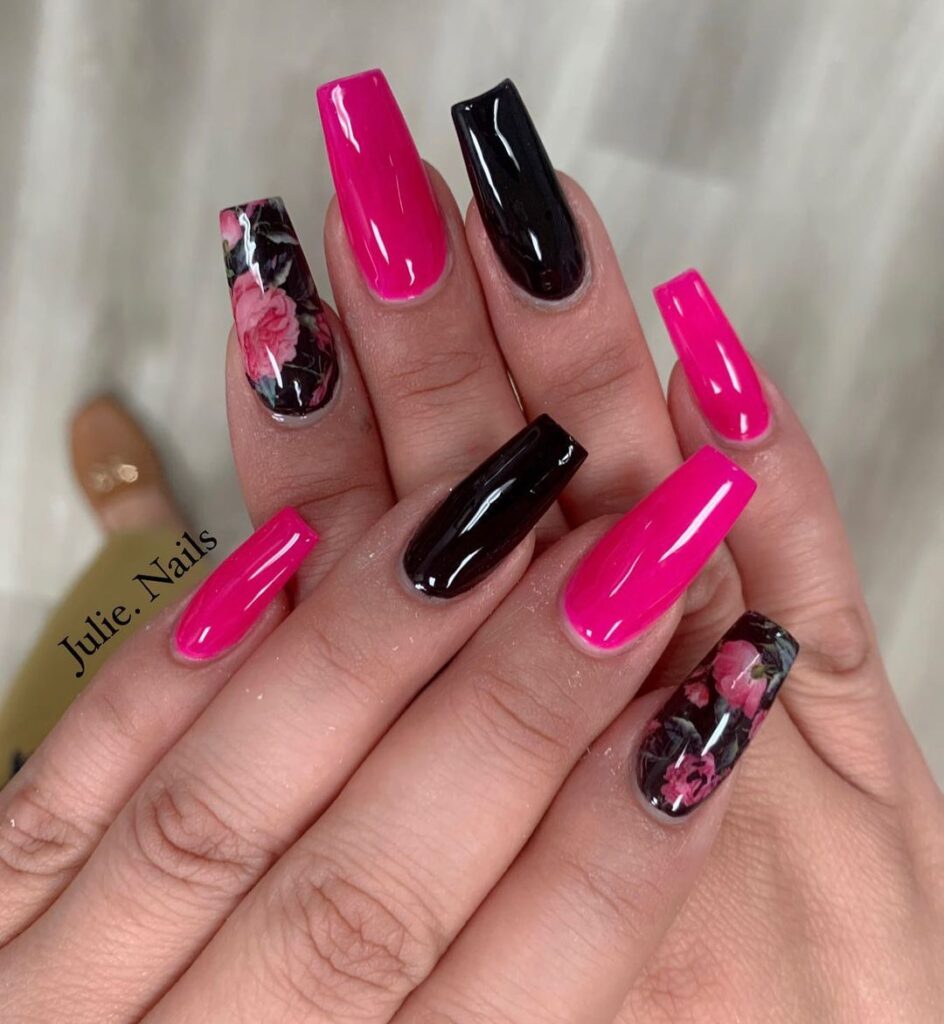 Courtesy: Julie Nails
Why not bring the whimsical charm of florals to your manicure? With summers in full swing, we think a floral design would be just perfect for summer nail design too! Here, just one nail is imprinted with a floral print, but you can choose to incorporate it in one more for that extra freshness. 
#27 Leopard Print Hot Pink And Black Nail Designs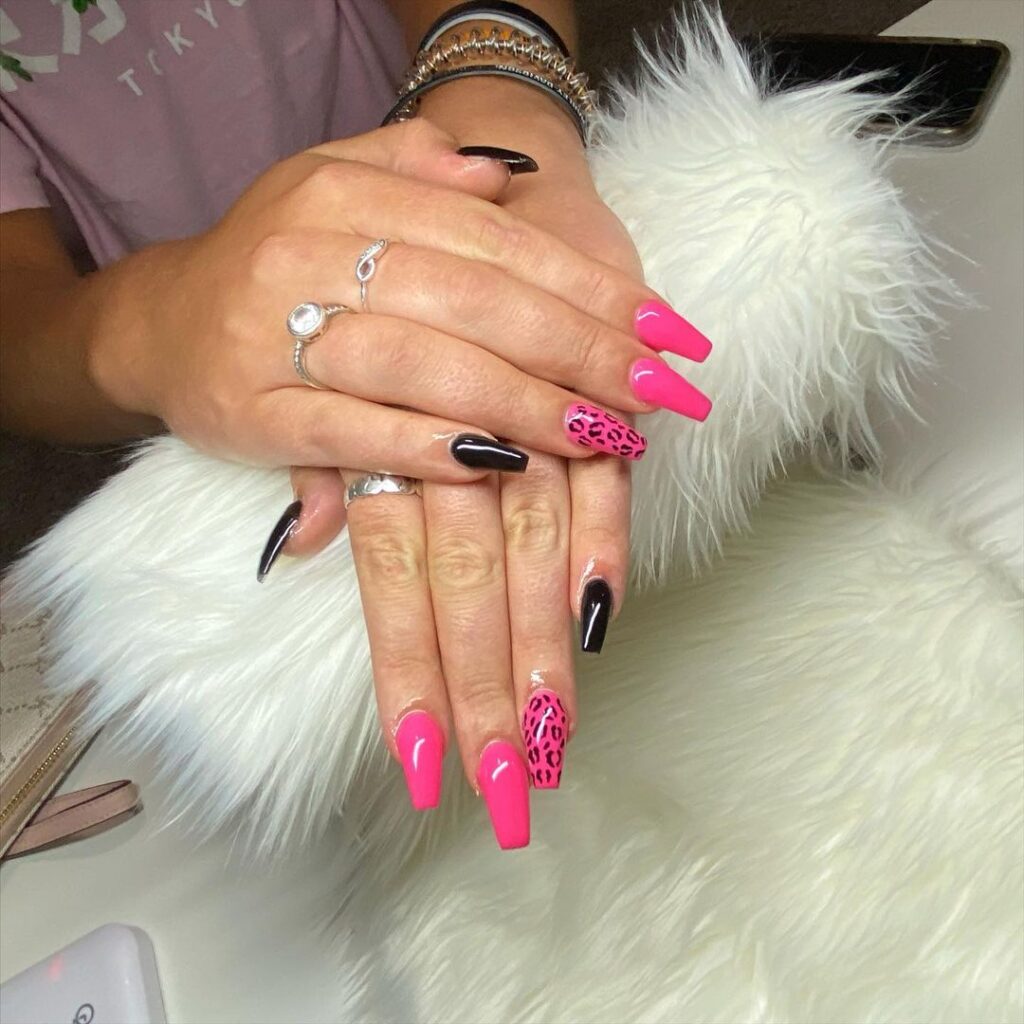 Courtesy: @_nailsbyah_
These coffin hot pink and black nail idea is all about breaking the monotonous solid colors with a leopard print on one of the nails that are used as an accent! Leopard print, along with all the other animal prints, are in style in 2023 and you can definitely use your manicure to express this fashion style. Given the conscious choice of not harming animals, this is also a great choice to express your love and support for them. 
#28 Black, White, & Hot Pink Nail Designs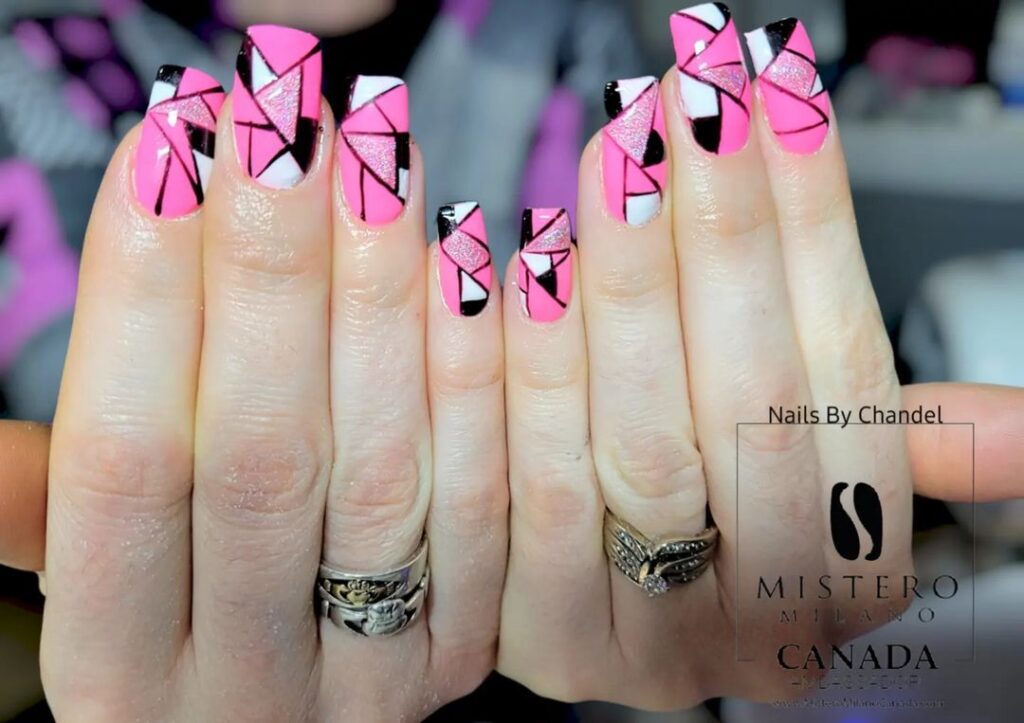 Courtesy: @nailsbychandel
This black, white, and hot pink nail design is such a unique manifestation of checks in the manicure with each square painted with a different color. Given the intricacy of the design, it's best that you only trust a professional to recreate it! Also, this is also an exquisite manicure and will require some time to complete so make sure you have time on your hands when you visit the manicurist for a particular design like this! 
#29 Different Patterns On Each Nail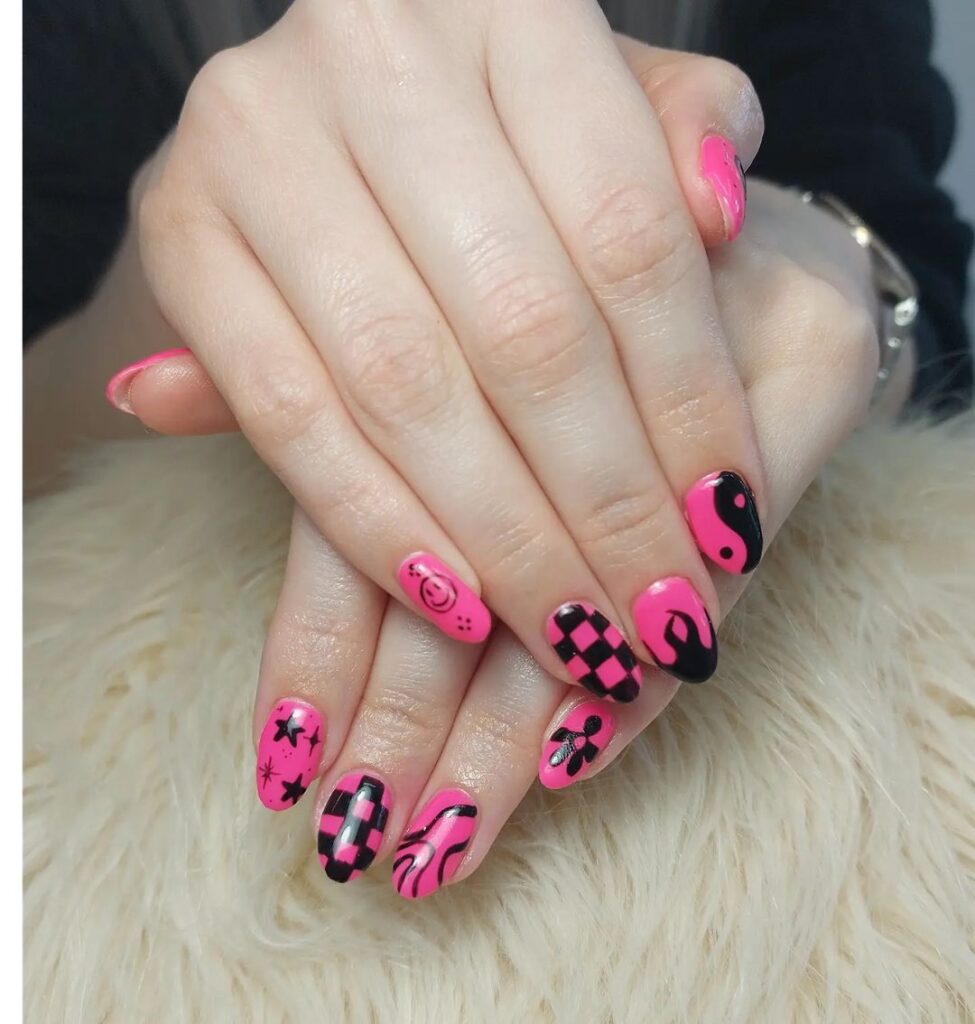 Courtesy: Nails by Hayley
These hot pink and black nails with the former as the base and the latter used for designs on each nail is a captivating and dynamic manicure! The vibrant hot pink hue serves as a bold and energetic backdrop, setting the stage for the contrasting black patterns. Each nail showcases a unique pattern, ranging from checks, stars, yin-yang, and a smiley face, capturing attention and expressing individuality. The design is a superb pick for those who like to express creativity through their manicure and are in the mood for a playful design. 
#30 Drip Effect Nails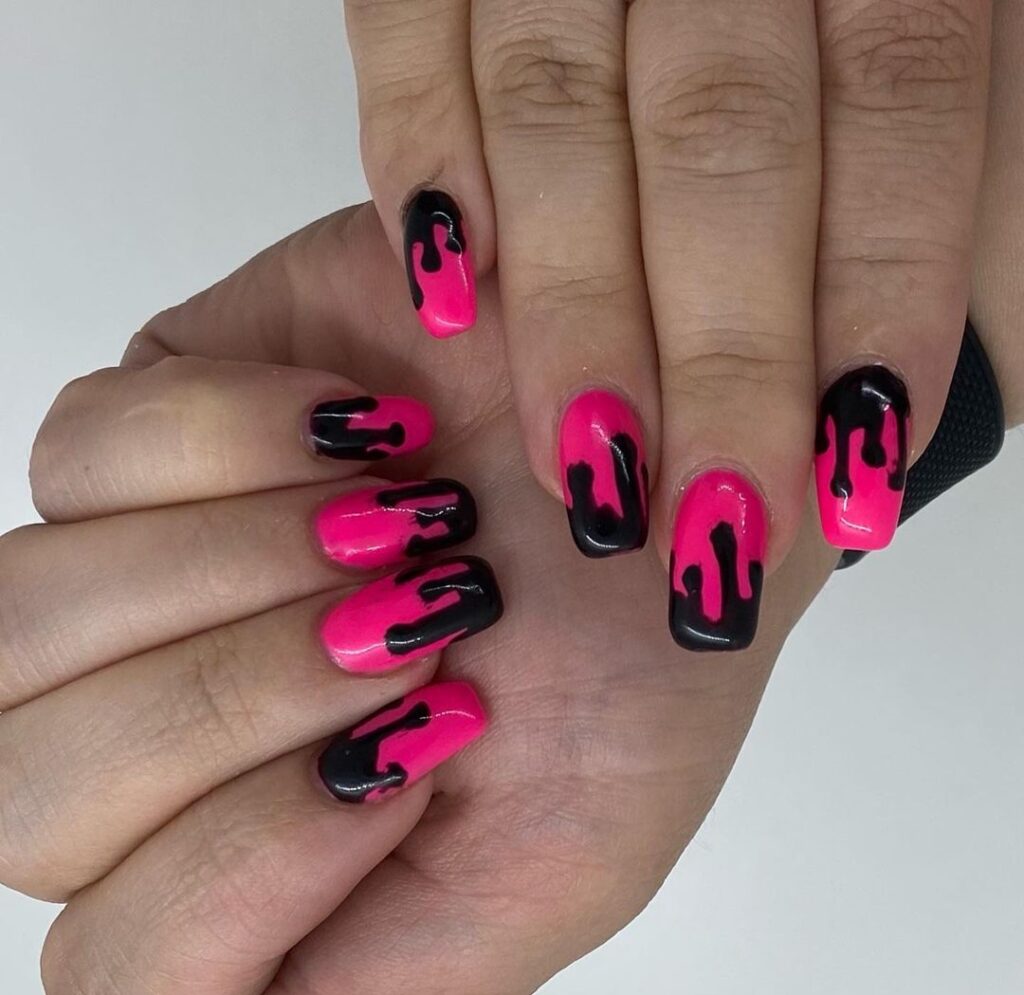 Courtesy: Nail Trix
If you don't mind a bit of slime-like artwork on your nail, try the years-running nail art trend – drip nails in hot pink and black nail designs! The drip nail art comes and goes, and basically trends when a celebrity endorses them. Nonetheless, it always manages to stand you apart from the crowd and gives a playful appeal to your manicure. You can try it with any of your favorite combinations of colors. Our recommendation would be a light color and neon color of the same shade, black and white, and light pink and black! 
#31 Such A Unique Accent!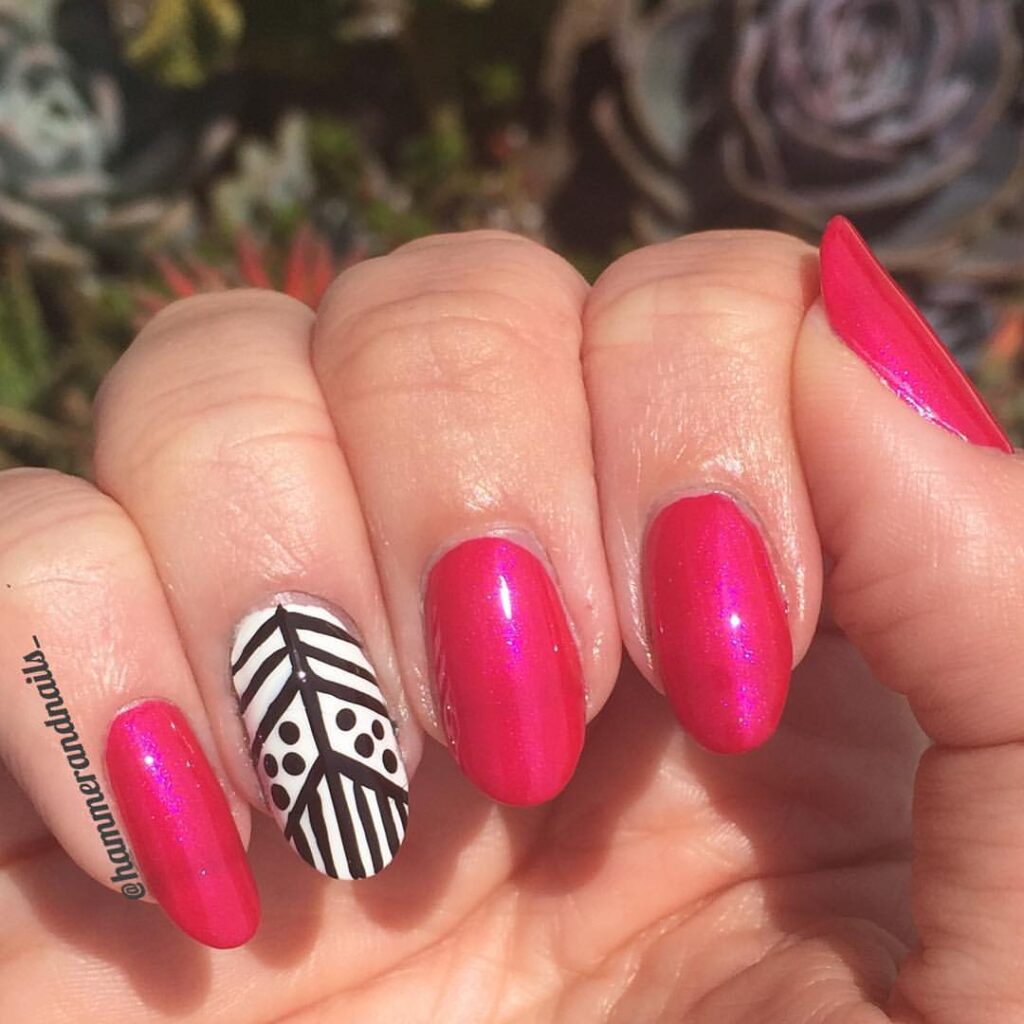 Courtesy: Stephanie
We absolutely love the accent nail done in black and white in this otherwise pink nail design! The accent nail in the nail art can make or break the design. When used thoughtfully, it can enhance the overall look of the manicure and add visual interest, like done here! Otherwise, it can clash with the rest of the design. It's always wise to give some thought to your accent nail design! 
#32 Artistically Pleasing
Courtesy: @in.bloom.nails
These hot pink and black nails have white accents on each nail and a different pattern as well to create an artistically pleasing design that will make you stare at your hands for longer than you planned! Save this for your creative manicure idea. 
#33 Is It Gloss Or White Accents?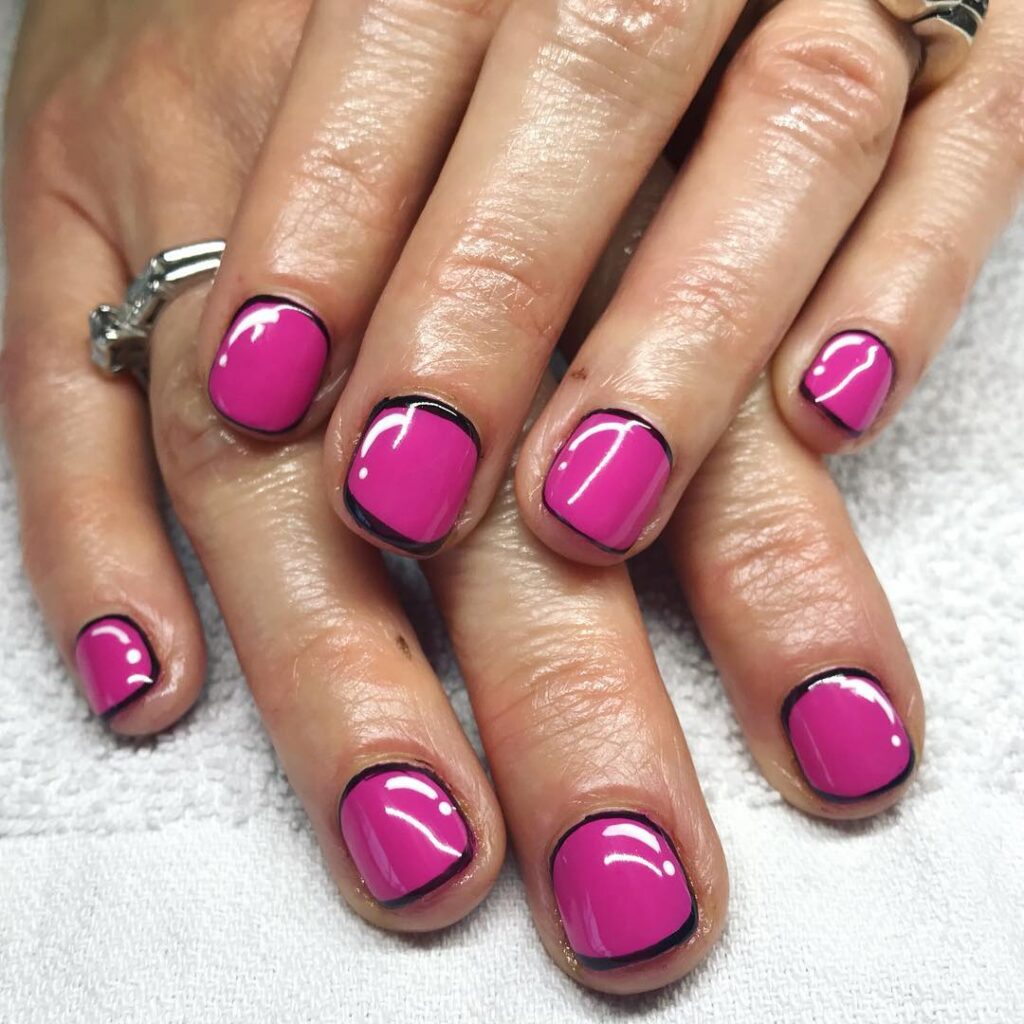 Courtesy: @hopejungnails
It looks like a gloss, but those are actually white accents in this one of the hot pink and black nail designs! The bold and energetic hot pink hue serves as the foundation, while the black outlines add a striking contrast and define the shape of the nails, creating a modern and edgy look.
#34 Question Remains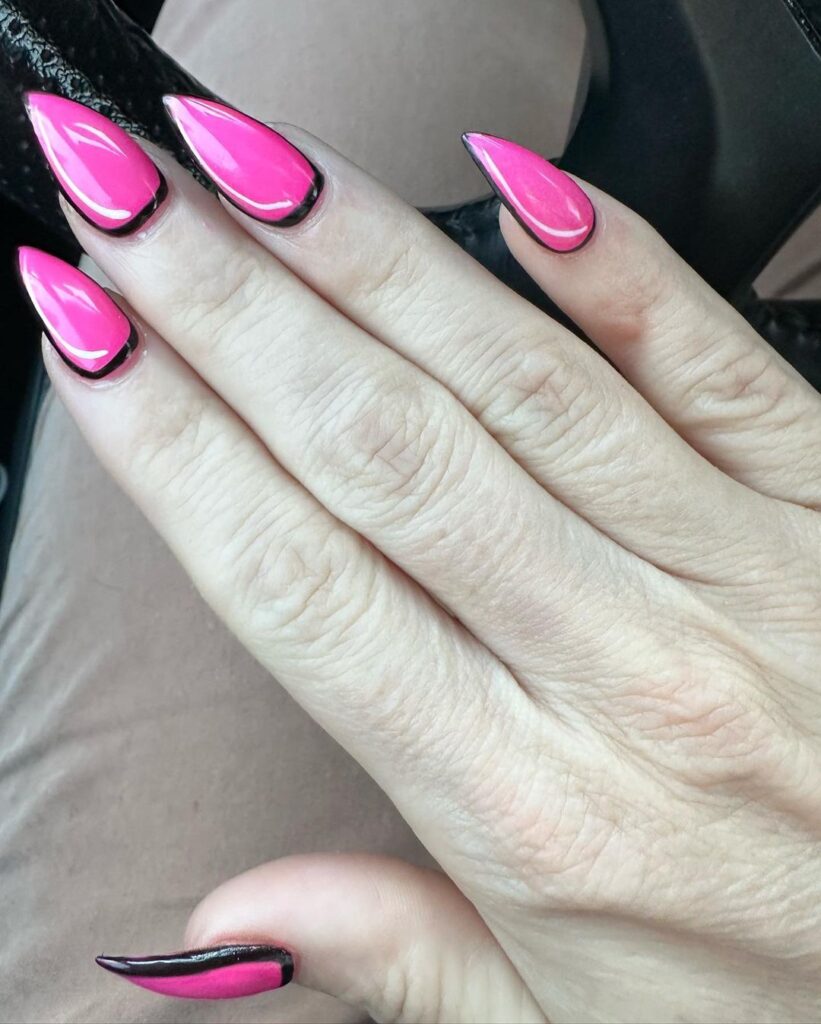 Courtesy: @ar_fitness78
A similar one of the hot pink and black nail designs but in a different nail shape to show you that this manicure can be created and will look just as beautiful in a pointed nail shape as well! 
#35 A Unique Hot Pink And Black Nail Design 2023!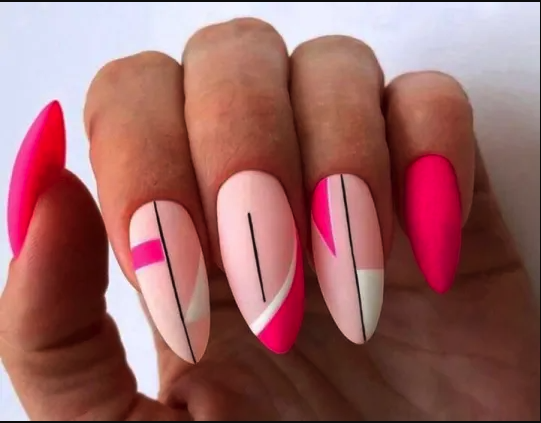 Courtesy: Pinterest
This hot pink, white, and black nail design combines feminine colors with bold shades and exquisite design for nail art that will garner tons of compliments and attention till it lasts! 
#36 Long Pink And Black Nails
Courtesy: Pinterest
Stiletto nails are all about those daring and fierce vibes. Combine them with a powerful combination of colors like that hot pink and black, and you have got a manicure that embodies energy and confidence in equal proportions. 
#37 Keep The Glamor Quotient High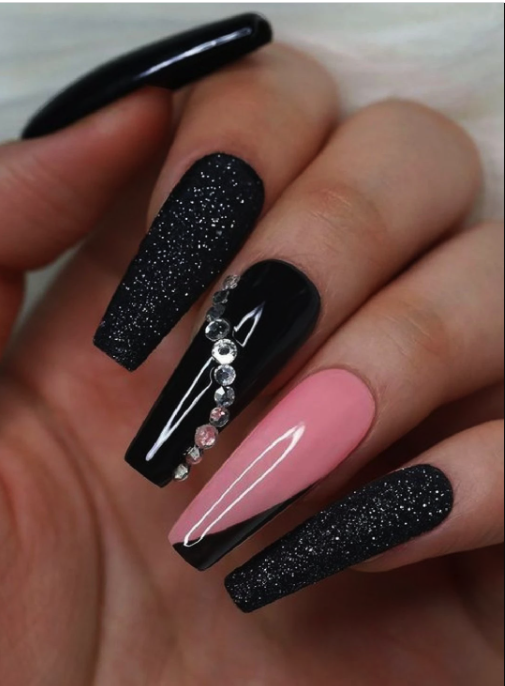 Courtesy: Pinterest
When you're all about keeping the glamor quotient high, the next light pink and black nail design on our list will woo you! Featuring long, square nails, the design has ample gloss coat, glitter, and studs for a striking effect and an intrinsic allure!  
#38 A Stunning One!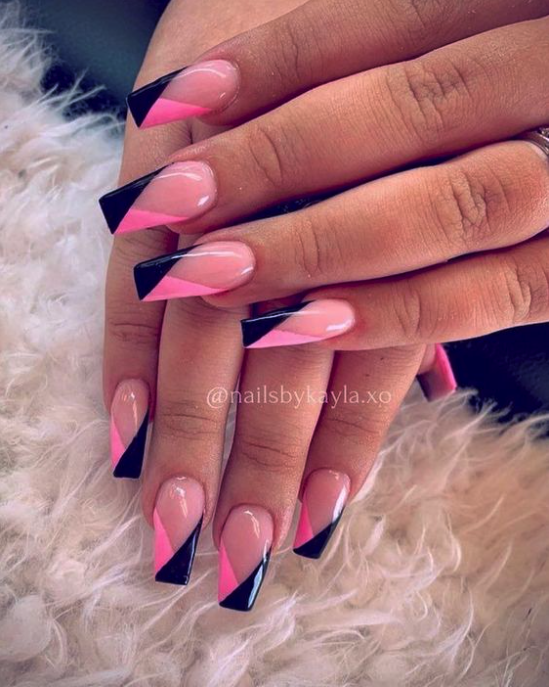 Courtesy: @nailsbykayla.xo
This V-tip French manicure is done with shades of hot pink and black nails; though, you can use your favorite combination of colors. The V-tip French manicure looks good on all nail shapes – from square to round to stiletto, and nail lengths, so you can recreate this as per your personal preference and style. 
#39 Such A Distinctive Pattern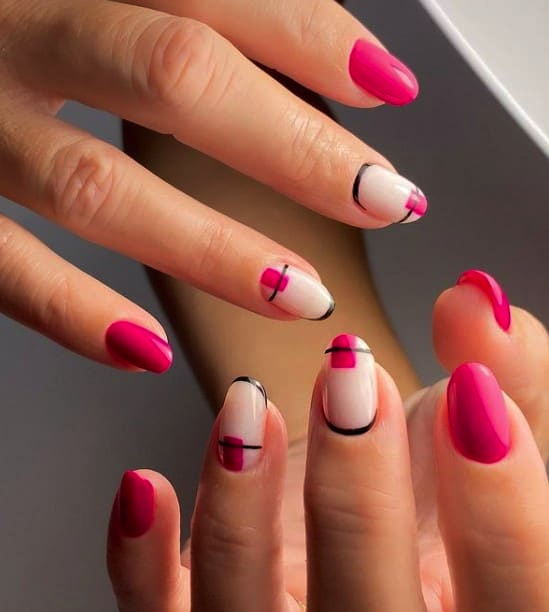 Courtesy: Pinterest
We adore how distinctive yet minimal this one of the hot pink and black nail designs is! It has a unique geometric pattern on two fingers with block colors on the rest of the nails for a balanced approach to the artistic manicure. 
#40 Keep It Simple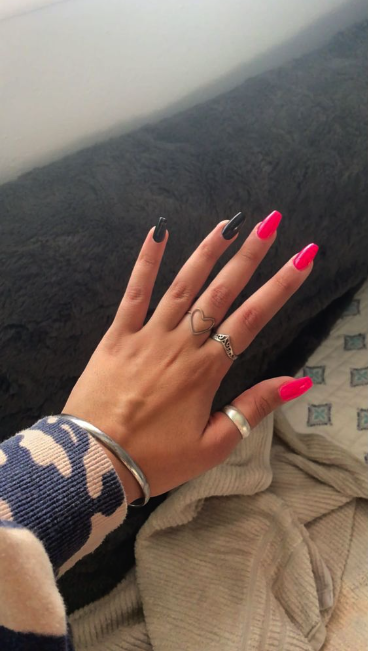 Courtesy: Pinterest
This basic nail design with hot pink and black colors is elegant and striking. The majority of nails are painted in glossy pink with just two standing out in a sleek and bold black polish. It's uncomplicated nature yet eye-catching visual balance allows the color to speak for themselves and yet creates an impactful nail look. 
#41 An Easy DIY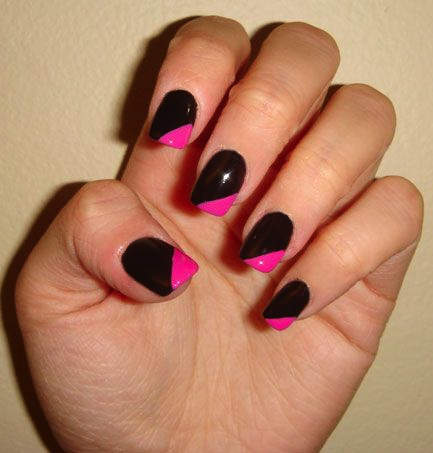 Courtesy: Pinterest
Don't worry, you don't need to see a hot pink and black nail design tutorial to recreate this, we can tell you how it's done here! Start by painting the complete base black and let it dry. Next, use white tape to section the nail and paint the remaining portion with pink nail polish. Let it dry, remove the tape, and cover it all with a top coat or a glossy/ matte finish as you want! Voila! This basic hot pink and black nail design is done. 
#42 Swirly Hot Pink And Black Nail Designs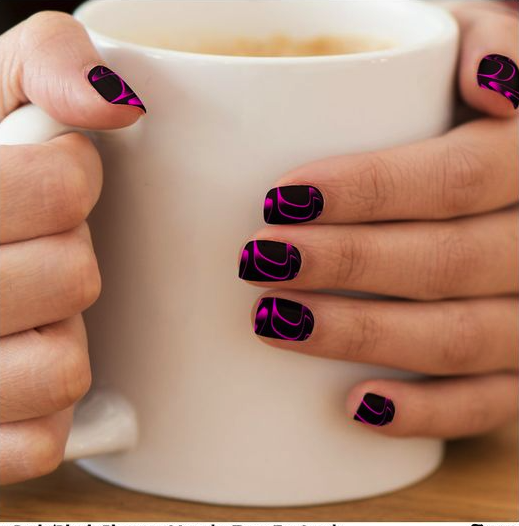 Courtesy: Zazzle
This swirly hot pink and black nail design features a captivating interplay of colors and patterns. The black base exudes elegance and serves as a dramatic backdrop, allowing the vibrant hot pink swirls to take center stage. Delicately hand-painted pink swirls gracefully dance across each nail, creating a sense of movement and whimsy. This design is visually striking without overdoing much. It's perfect for anyone looking for an eye-catching manicure that also has a touch of sophistication and depth! 
#43 V-Tip French Manicure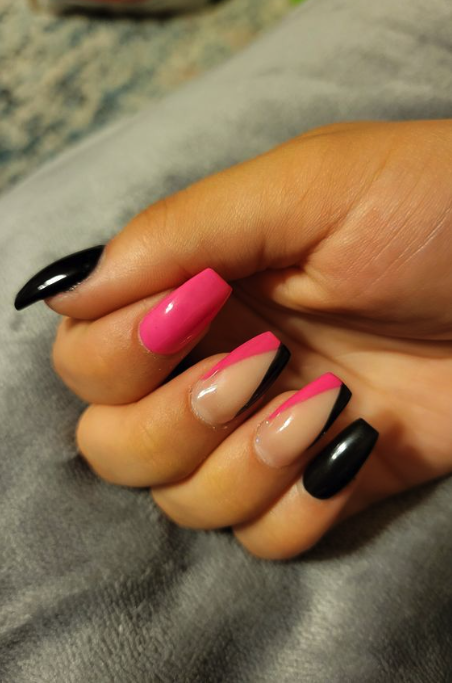 Courtesy: Pinterest
The V-Tip French manicure involves making a deep V-cut at the base rather than a smile line to add a unique touch to this basic mani style! Featuring the same using a hot pink and black combination, the next set of nails features the V-tip on some nails leaving the others in solid colors, but you can do the V-tip on all nails for a gorgeous French manicure hot pink and black nails design! 
#44 French Manicure – But Make It Colored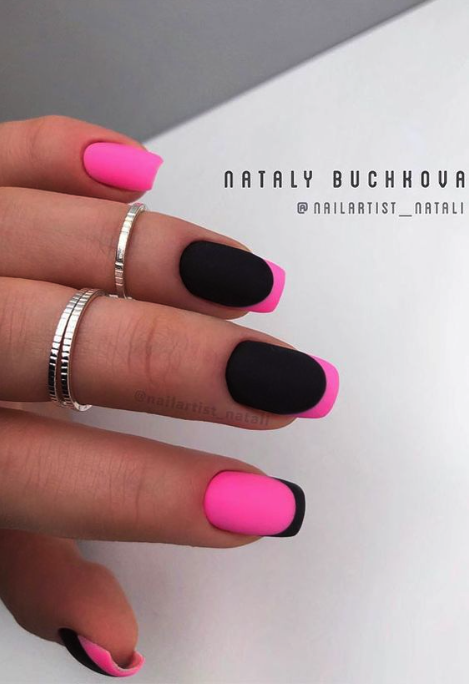 Courtesy: Pinterest
This French manicure variant in the hot pink and black nail designs world goes in another direction and paints the entire nail in one color and uses a combination of colors for the French tip. Again, you can do this design alternatively on each finger or let the solid color polish shine on some fingers so the colored French tip nail design stands out more! It all depends on your personal preference, mood, and occasion. 
#45 An Aesthetic One For The End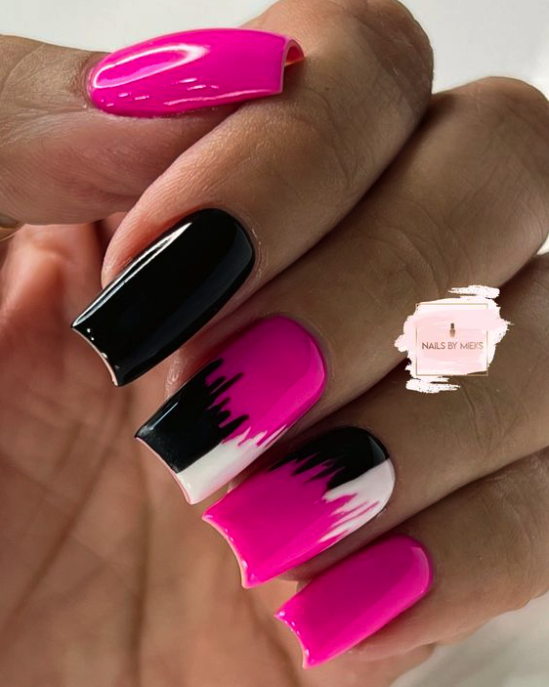 Courtesy: Nails by Meiks
This aesthetic design made its way to the very end, but it definitely made its way to our hearts headfirst. We know many of you scroll straight to the end rather than going through the complete list, so we wanted to include an impressive one on the end that you'd be prompted to save to your Pinterest board right away. It's one of those designs that use an artistic motif yet maintains a subtle vibe for everyday wear! Perfect to get at your next mani appointment.