Whether you're celebrating V-Day 2023 with your beloved or have chosen to shower yourself with self-love on this annual celebration, if there's one thing you can't miss when preparing for the occasion is a fresh manicure. To keep you ready with inspiration, we have included some Valentine's Day nails designs and ideas below. From heart nails to pink Valentine's Day nails and acrylic Valentine's nails designs, there are ideas for all women out there, including ones who want to DIY their Valentine's manicures at the last minute. Scroll & save your favorites. 
#1 We absolutely loved this ombre French manicure, perfect for women who want simple Valentine's Day nails with just a touch of romance in their manicures. Even though this manicure is done on a small nail length, you can certainly try any length or shape you desire to recreate them.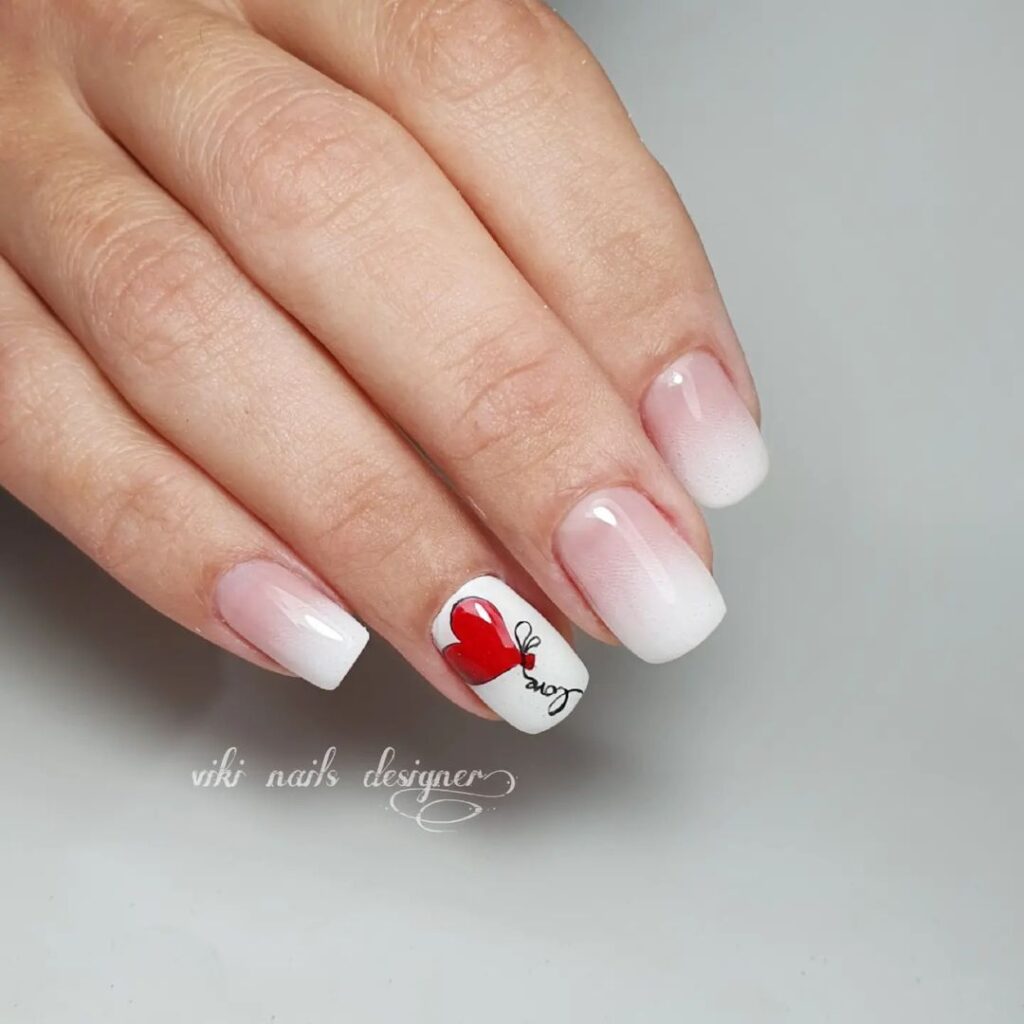 Courtesy: Viki Nails Designer
#2 These nails don't have any traditional motifs for the romantic holiday, but still add appeal, charm, and femininity with the unique floral design. Since flowers are a huge part of this holiday, it can also be a sweet tribute to the many your partner will be showering you with on V-Day, or a subtle hint to get you a bunch of them!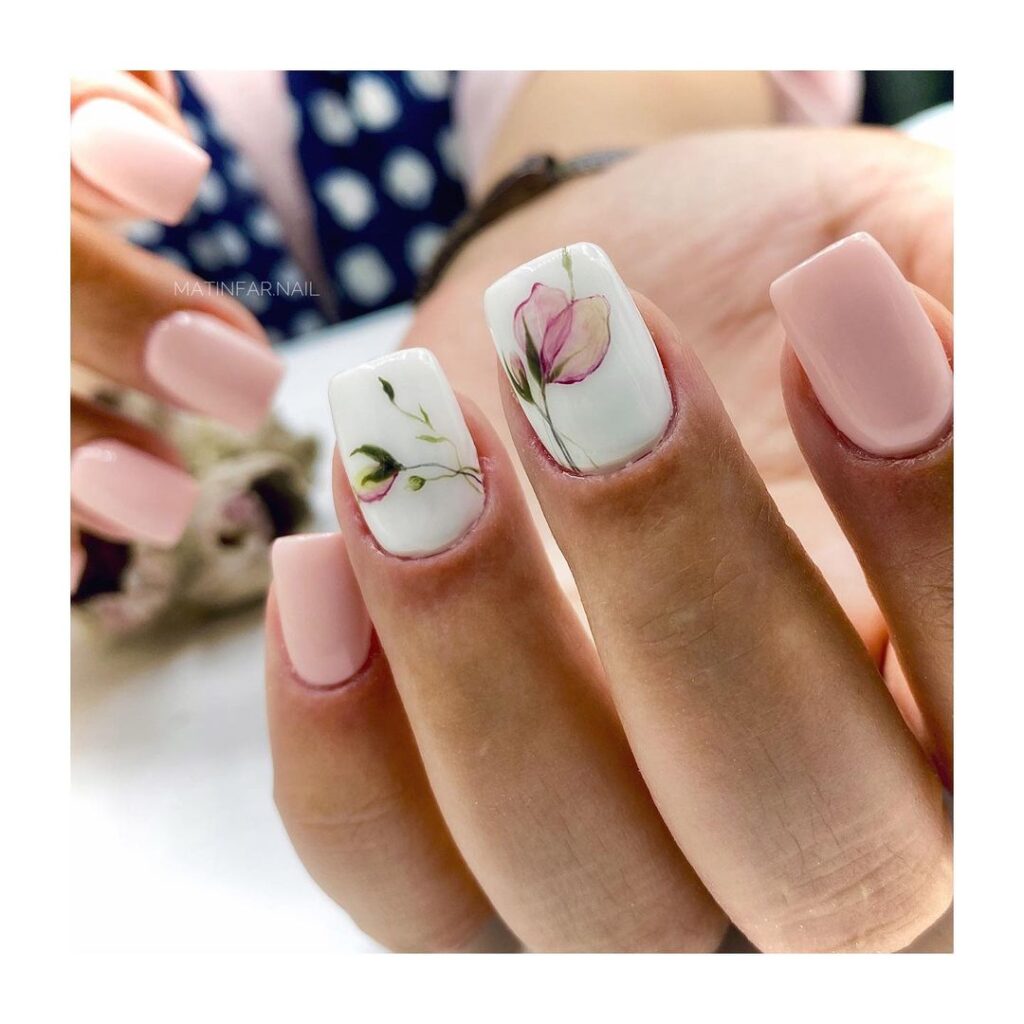 Courtesy: @matinfar.nail
#3 This complimentary Valentine's manicure is lovely & says more about V-Day through its studded "LOVE" quote without going overboard with the motifs. In fact, it's just the thumb that's laden with any occasion-specific elements, and the rest are kept fairly regular for a subtle nod to the annual affair.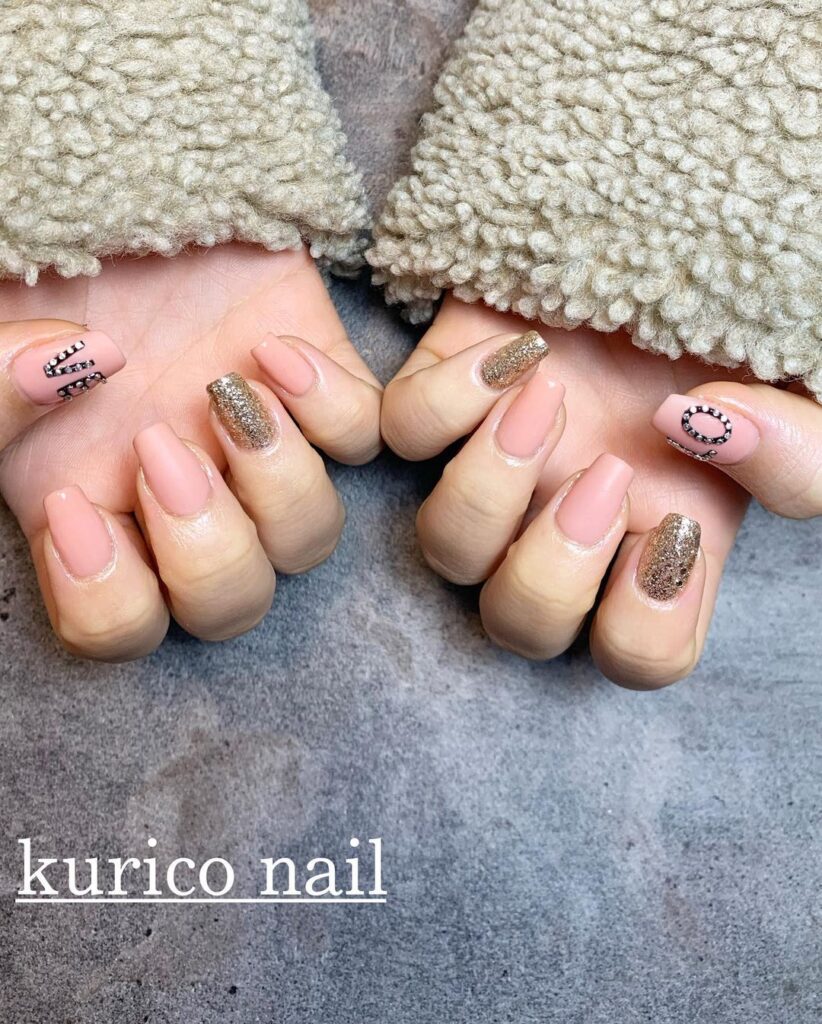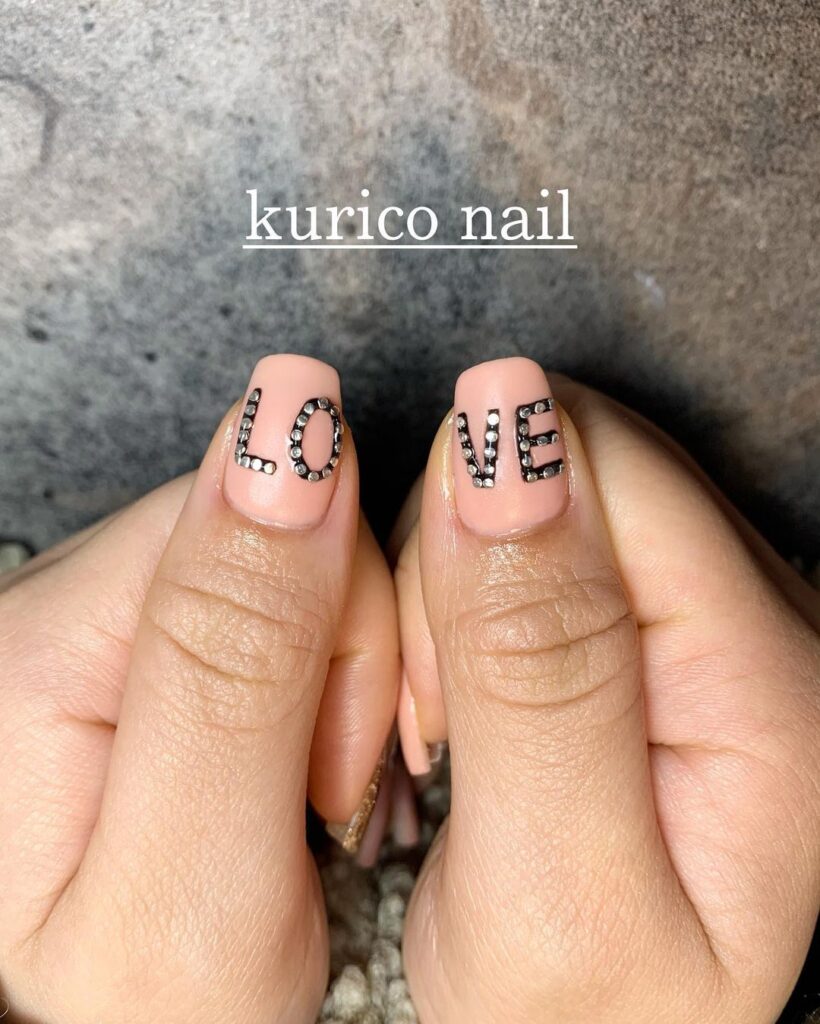 Courtesy: @kurico.nail
#4 These long acrylic Valentine's Day nails are vibrant and eye-catching! They feature a variety of colors, which are all bedecked in 3-D art motifs. When opting for a nail design that has a different color on each nail, it's important that those hues complement each other. Leave it to your expert nail technician to harmonize the shades as you sit back & choose your ideal palette.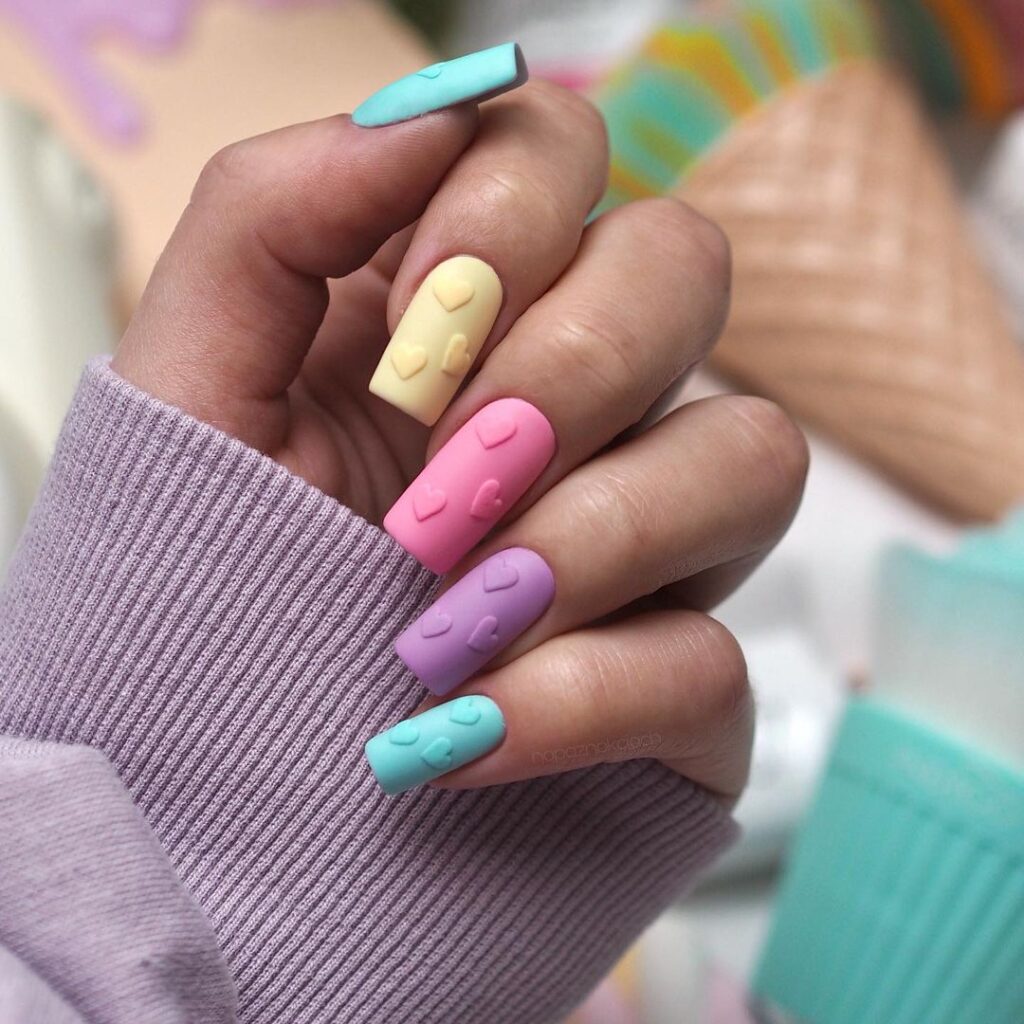 Courtesy: Oliwia
#5 The next red Valentine's Day nails show how you can complement matte and gloss overcoats in a single nail design. While the thumb, index, and pinky finger have a glass red paint, the matte ones in the middle are done in white ombre and elevated by heart motifs and a golden line for a whimsical touch.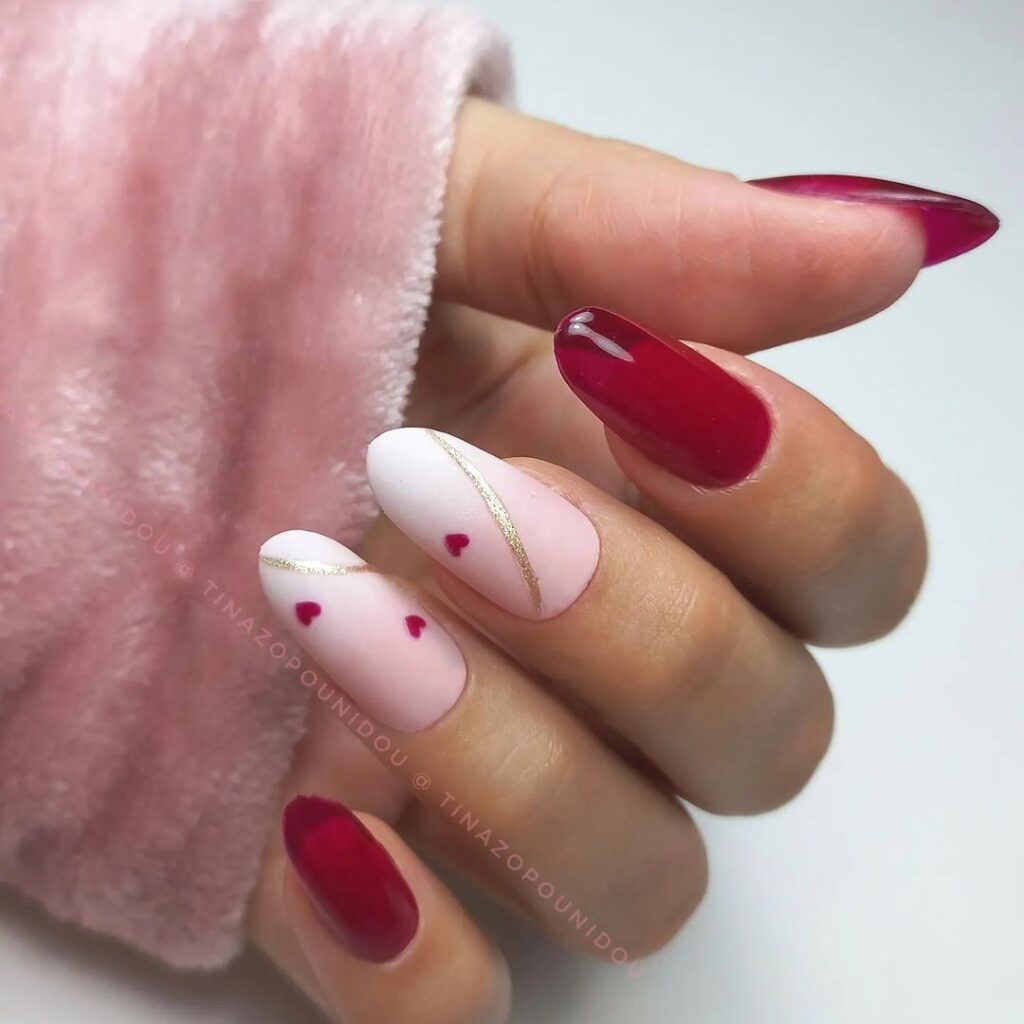 Courtesy: Tina Zopounidou
#6 We love Valentine's twist on these French manicure designs. The tips are done in red – which is THE color for this romantic holiday while the ring fingertip is done in white with heart motifs and initials of the couple in red. We love the initials idea, which is unique to only this design on the list.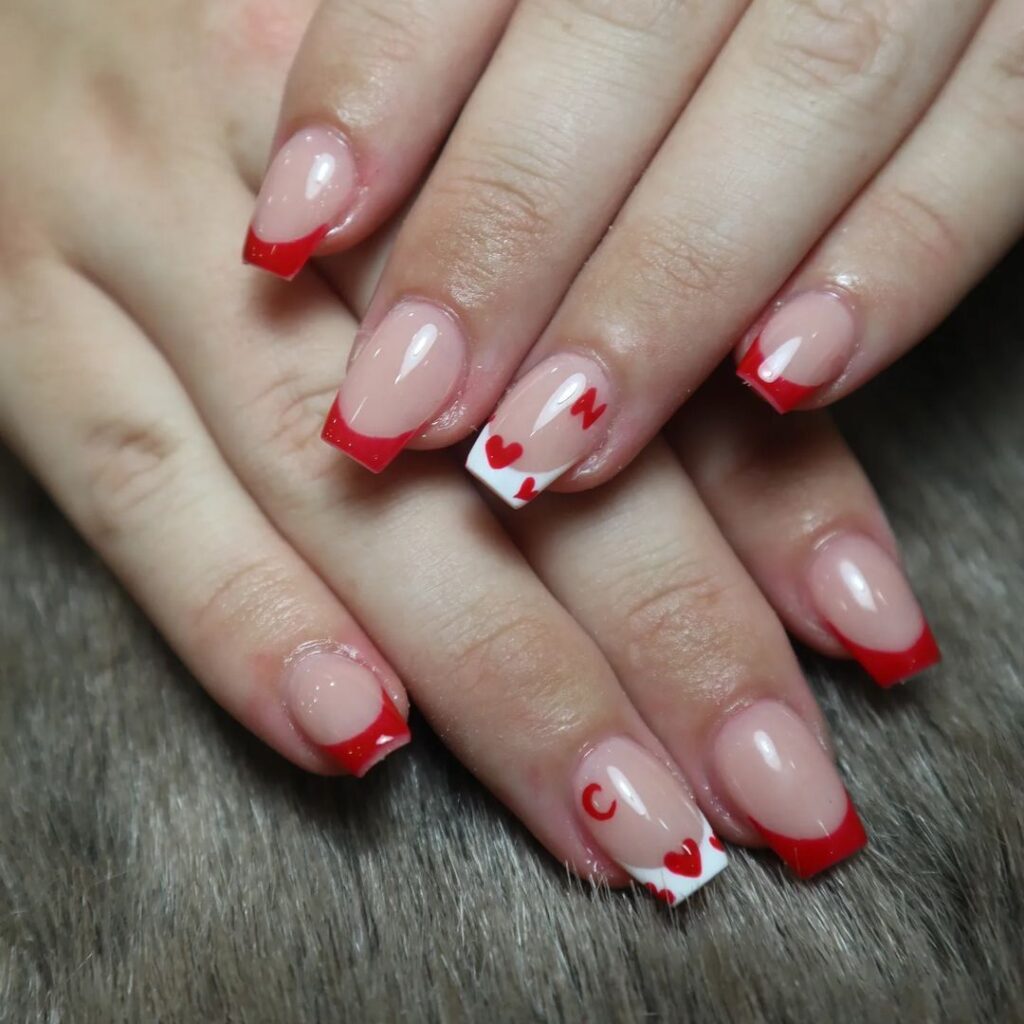 Courtesy: @lavieenrosenailsandbeauty
#7 These Valentine's nails are done on a nude base with each nail showing an artistic nature of its own. One is bedecked in studs, while two are done in a curved tip covered in polka dot patterns, and the last one is done in a heart for an alluring effect.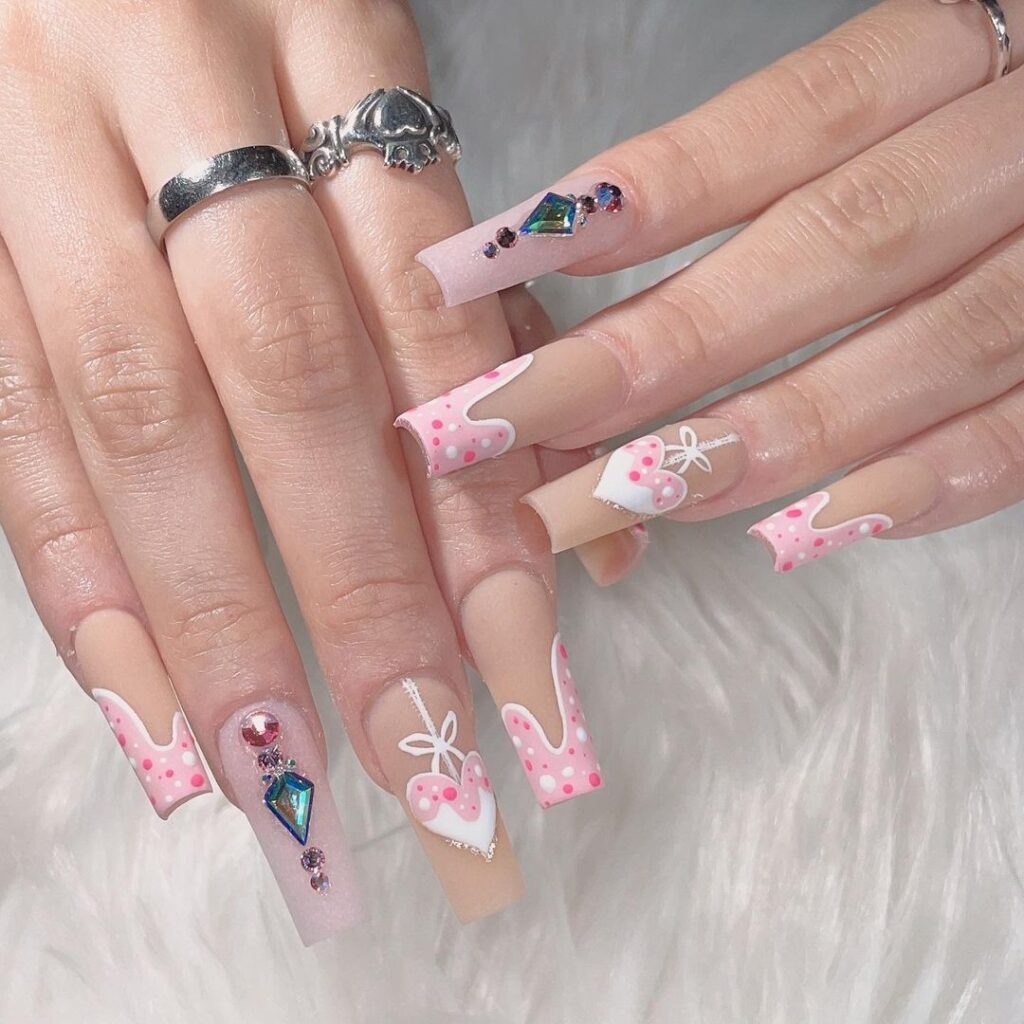 Courtesy: Brianna
#8 When you don't want to include any motifs in your Valentine's Day nails 2023, take inspiration from this creative manicure done in a pastel palette. Each nail has two hues and is divided by open space to let the colors pop on their own and not mix too much into each other giving a rougher look. 
Courtesy: Nails & Lashes by Ashley
#9 Chocolates and strawberries are the most popular Valentine's day treat and are at the focal point of this Valentine's manicure. Strawberries and chocolates are both considered aphrodisiacs and activate the pleasure-inducing parts of the brain. They're considered as the perfect dessert on V-Day after dinner for two!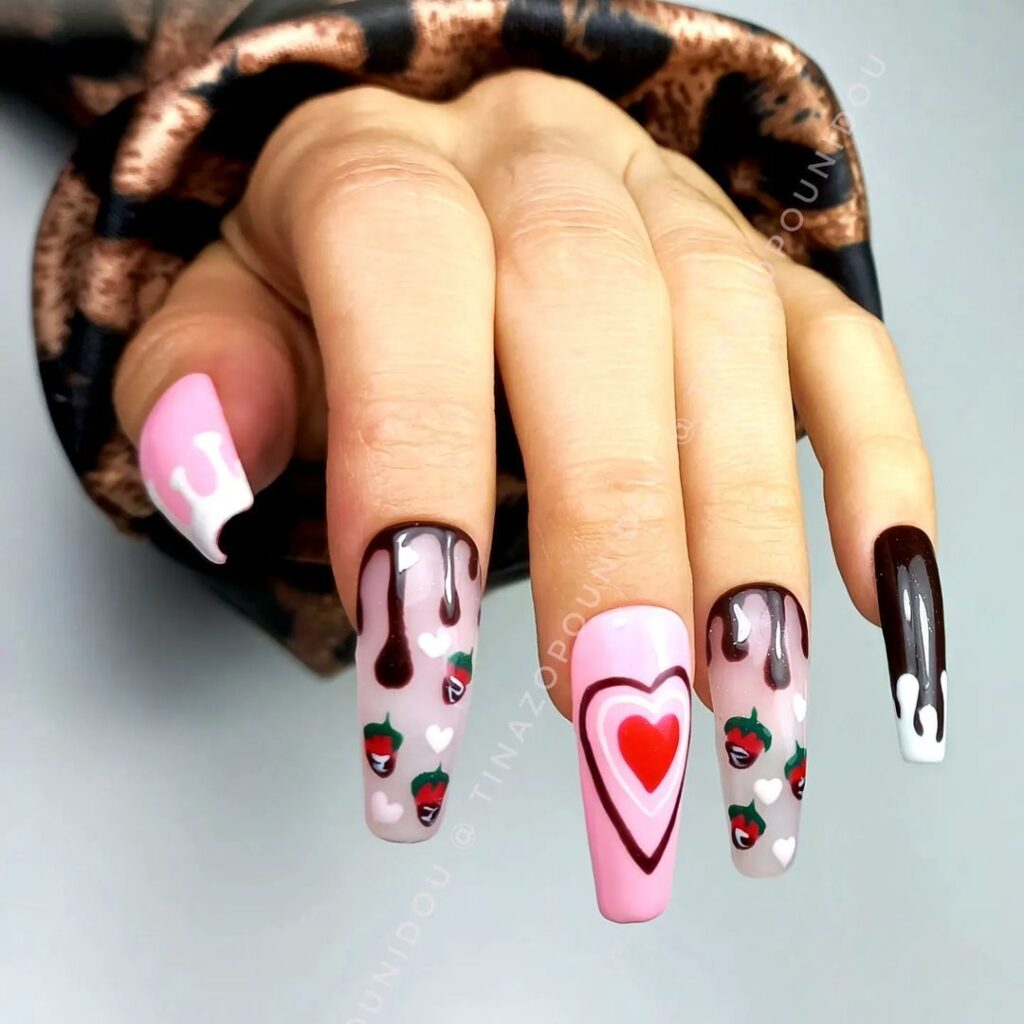 Courtesy: Tina Zopounidou
#10 These fancy Valentine's day acrylic nails team up the sweater nails with a French manicure and studs for an eye-catching look. The enhancement with yellow color and drip on one finger further adds to the ingenuity of this design. We are loving this Valentine's day nails in coffin shape for women who want an elaborate mani on this romantic occasion.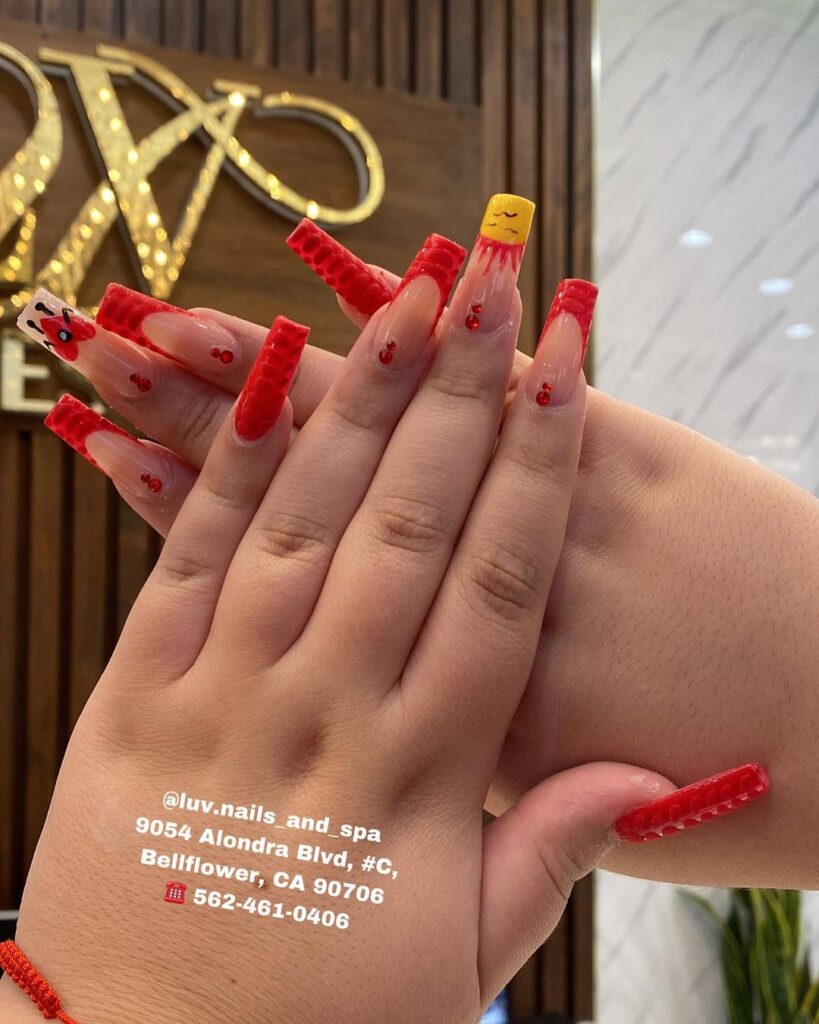 Courtesy: LUV Nails & Spa
#11 But for those who feel ornate is just not their cup of tea, or simplicity is what they love in their look, the next one of the simple Valentine's Day nails in red with an accent nail will be the ideal inspiration. These are also easy to do, and if you're getting the manicure on the same day in a rush, many nail salons are open on Valentine's Day and can help you with this quick design.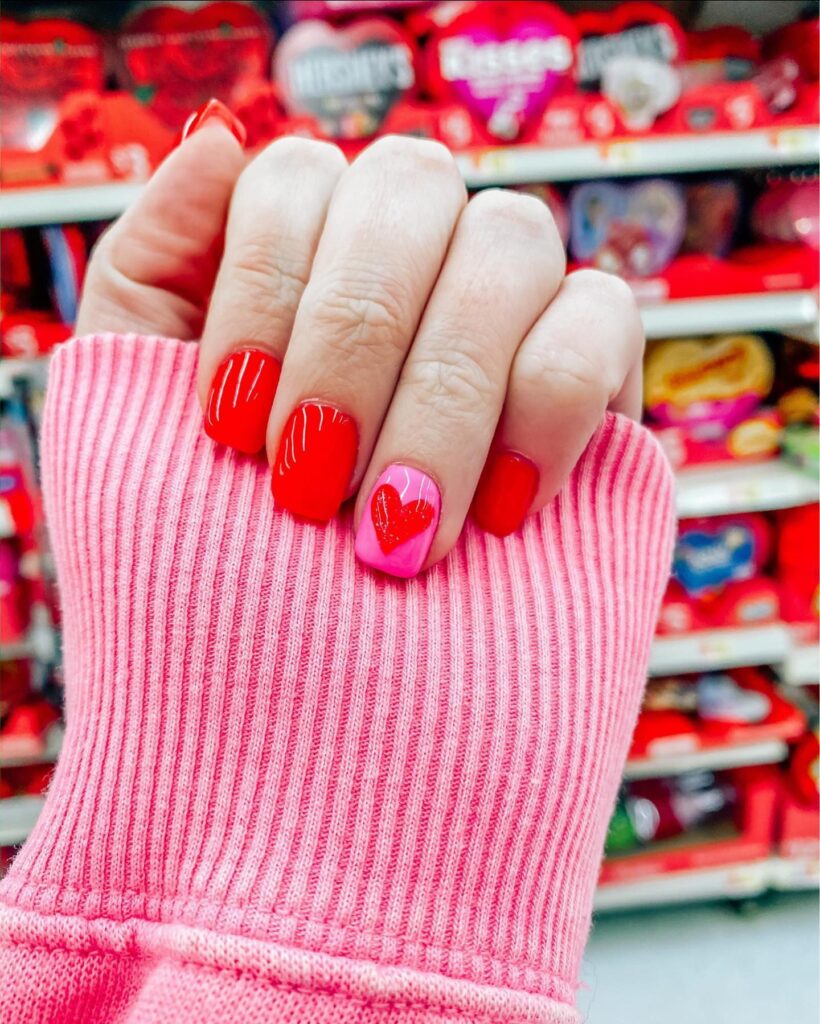 Courtesy: @savillamountain
#12 A nude base just accented with V-Day colors. You might guess that red nails, heart nails, and pink nails are one of the most popular designs for this day. Plus, both red and pink are used in abundance in many Valentine's nail designs. Opting for patches of these colors on an otherwise nude base, this mani is both V-Day relevant and elegant.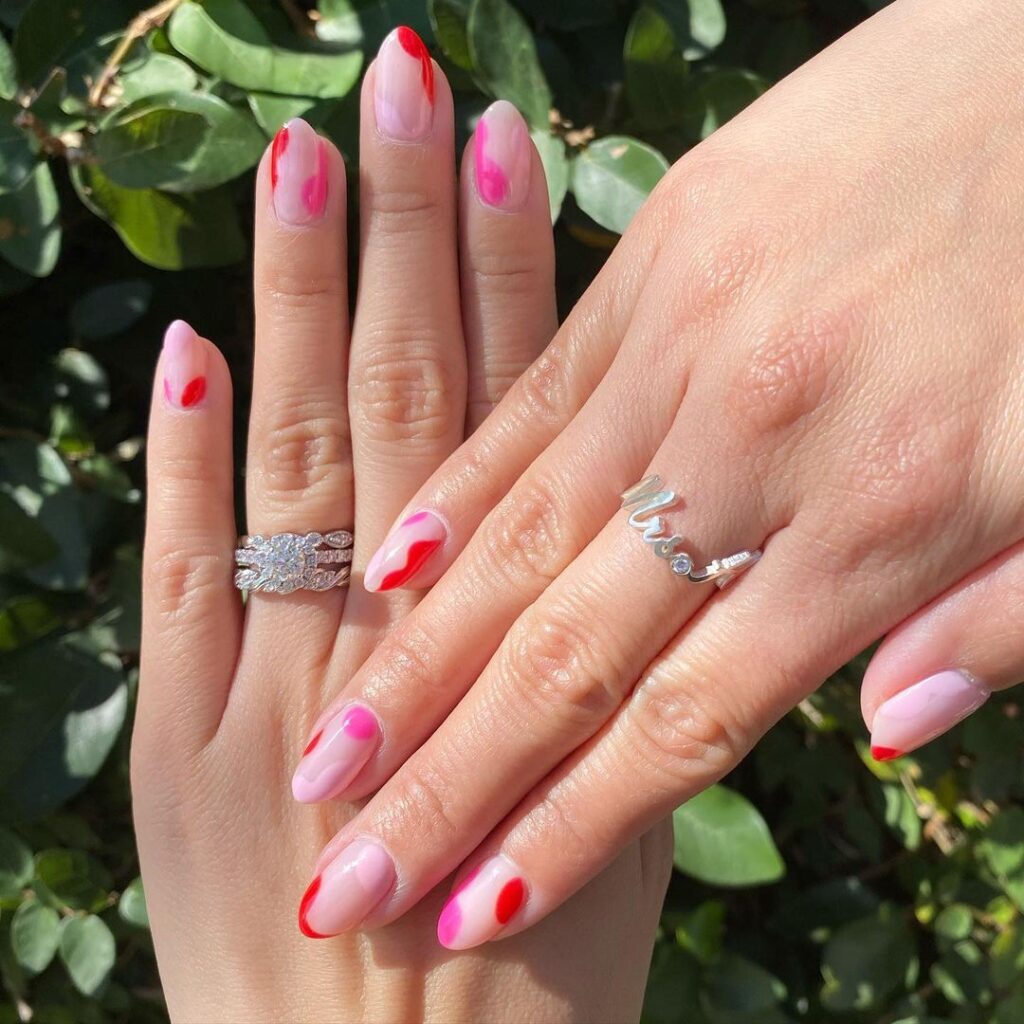 Courtesy: @pilotwifeyogi
#13 Though, when you're bored of the usual red & pink, opt for this lavender manicure done in the French-tip style. To turn them into Valentine's nails, the artists oh-so-subtly added some red hearts on the last two fingers. Because of the design, this manicure will look as charming only on long nails.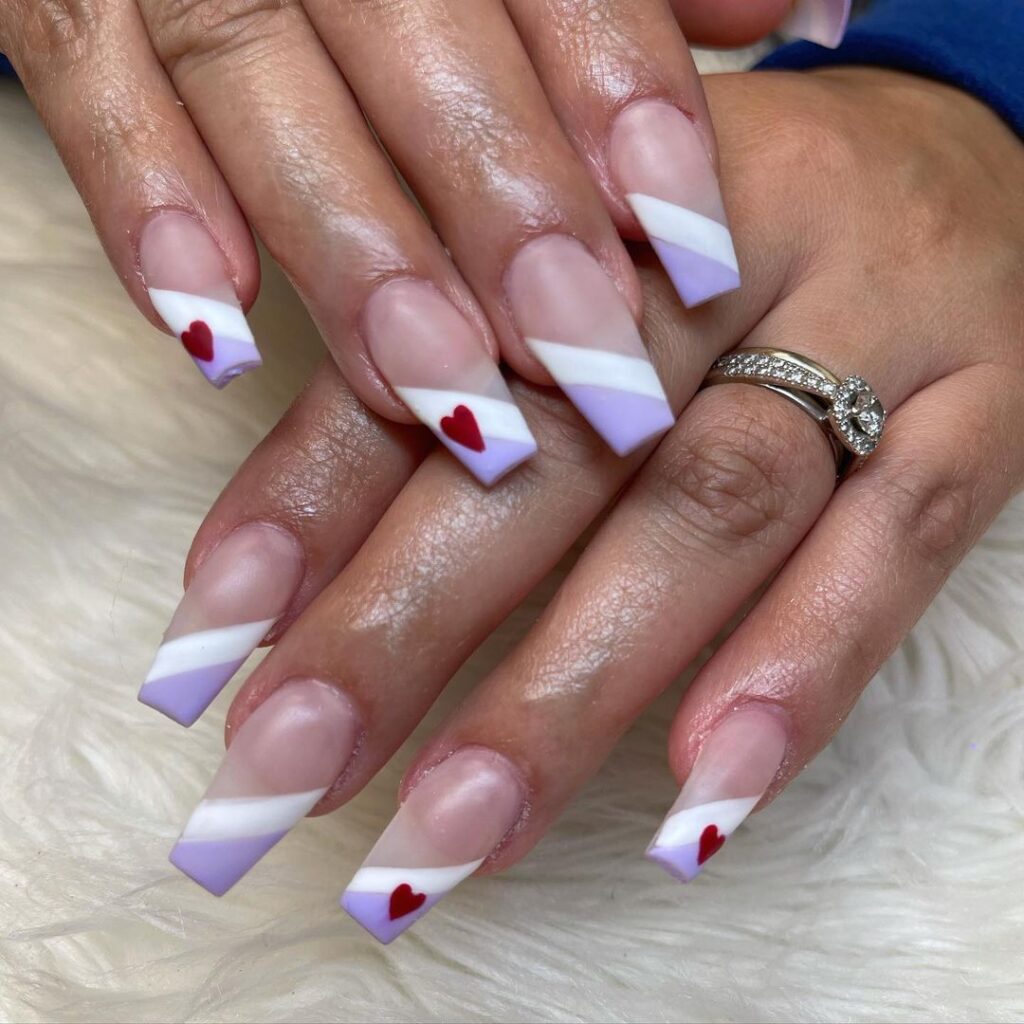 Courtesy: @foreverbeauty.lounge
#14 These medium-sized nails are coated in all-red hues but in different shades. The pinky and index finger are laden with fine glitter, the ring finger is coated in gloss red polish, and the middle finger has a maroon base with V-day-appropriate motifs – different on each finger.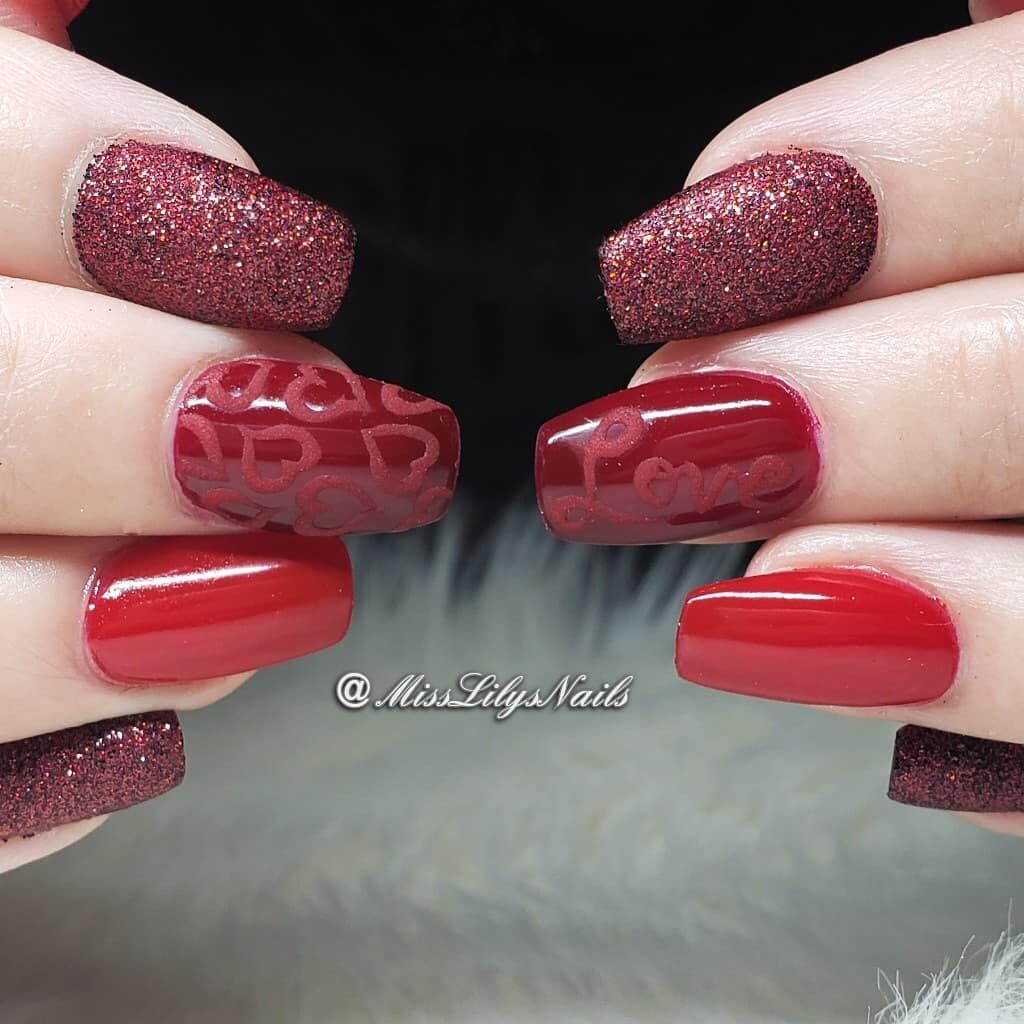 Courtesy: @misslilysnails
#15 The next Valentine's manicure uses the gloss red polish but balances the vibrancy out with a darker maroon shade done in an ombre effect with black nail paint. The heart-shaped French tip bedecked in studs adds much-needed flamboyance to the manicure. Again, you will need to have longer nails to recreate these acrylic Valentine's Day nails with the same appeal as shown below.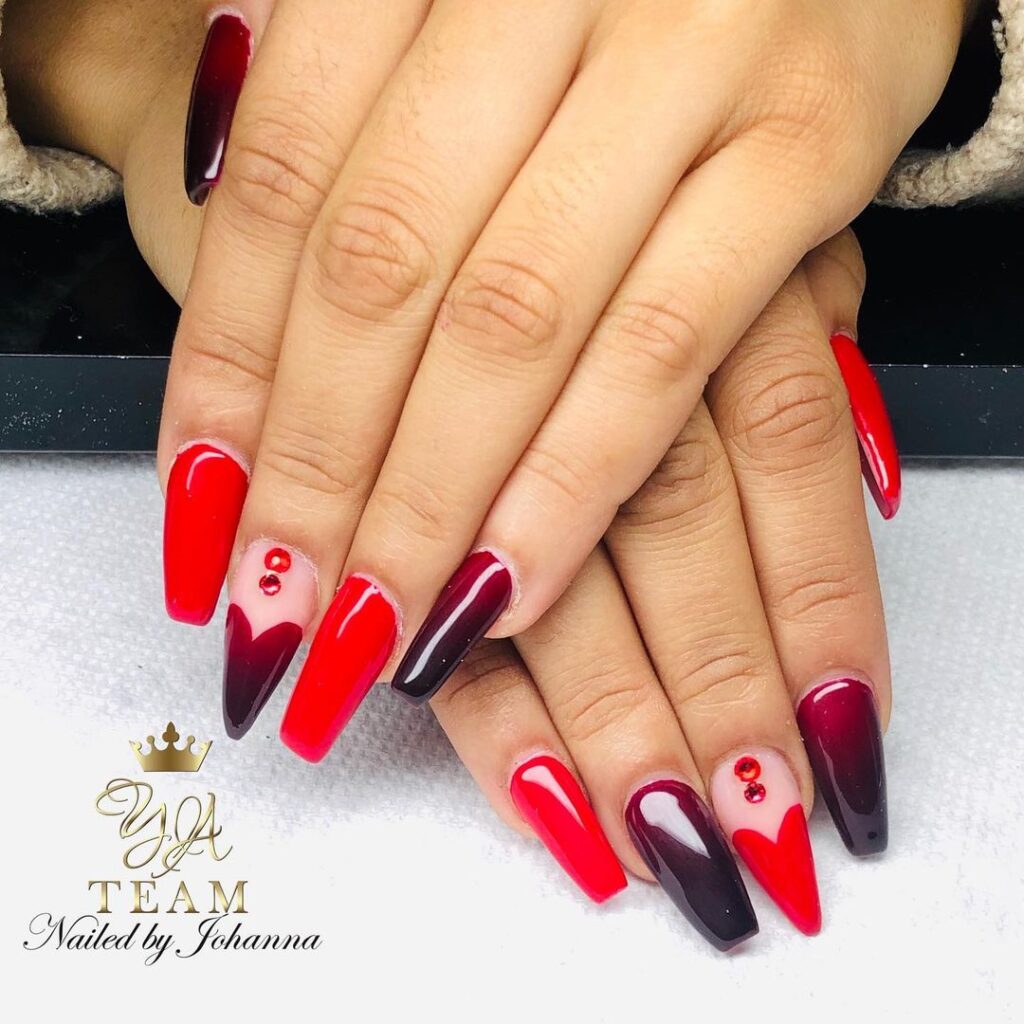 Courtesy: @nailed_by_johanna_
#16 Although, when you're looking for a short Valentine's Day nails idea, there's no dearth of inspiration for them when you search Valentine's Day nails on Pinterest or when you're looking for ideas to save whilst scrolling this list. A captivating one is portrayed below.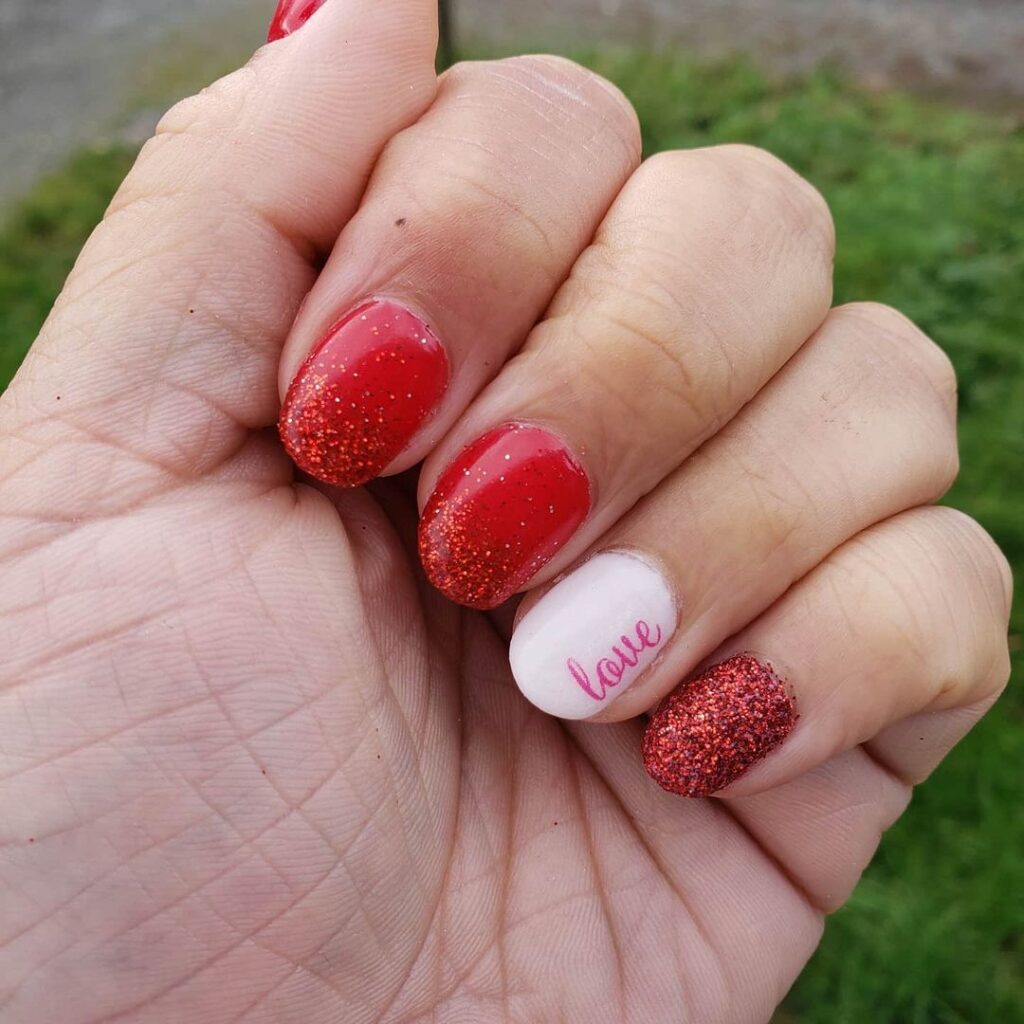 Courtesy: @barkersnails
#17 Are you looking for the popular swirl nail trend to wear this Valentine's Day 2023? Well, we have got an idea just for you! Done in abstract swirl patterns in shades of red and pink, we love this modish and super fun manicure for your Valentine's nail design.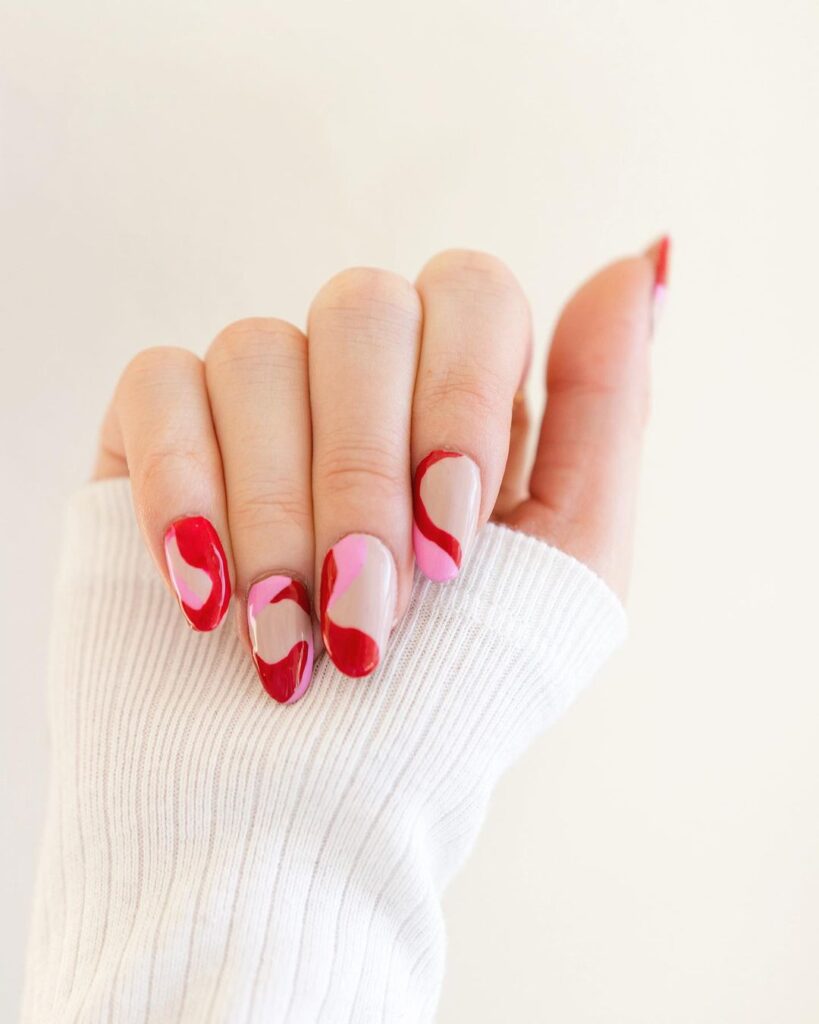 Courtesy: @nailssbyclarice
#18 When short round nails are your thing and when you just can't bear the maintenance efforts long nails take, short Valentine's day nails are a good pick. Below, the round nails are painted in gloss red with just one accent nail done in white & gold lines and a cute heart motif elevating the entire manicure.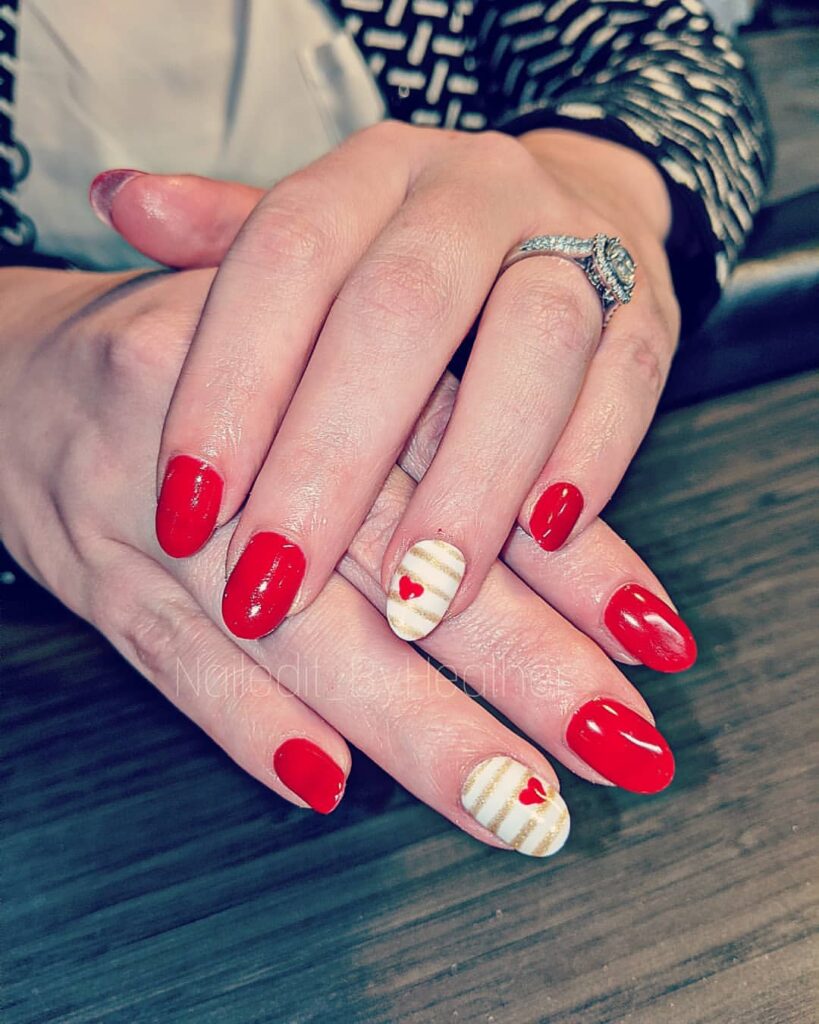 Courtesy: Heather Harley
#19 Pink Valentine's Day nails are another great option to try. Balance the vibrancy of pink with the mellowness of white in your nail art and add another popular Valentine motif a.k.a XOXO into the mani. You can get them in acrylics or gel if you want them to last longer, but doing them at home can be a fairly easy option as well.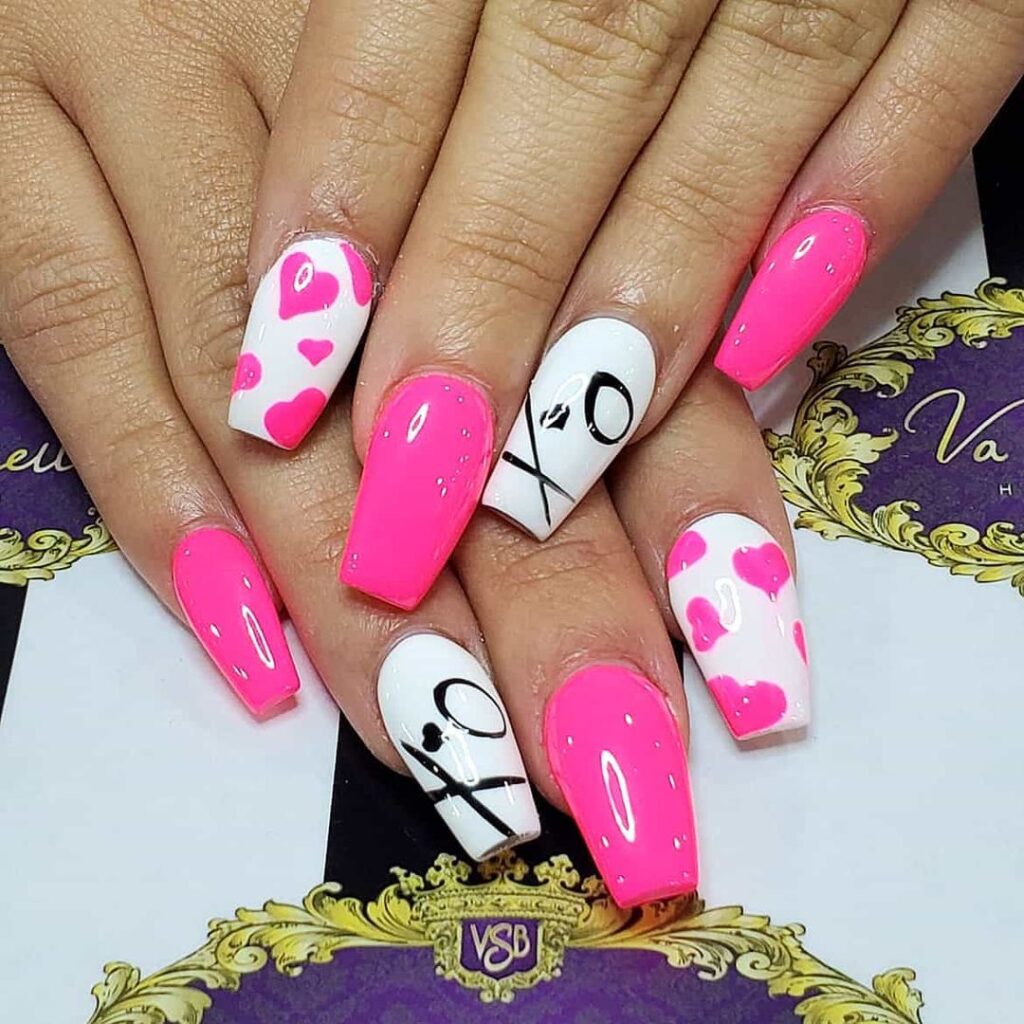 Courtesy: @houseoflalinda
#20 When you don't want anything red for your manicure, black and pink can be a winsome combination to try for your Valentine's Day nails. This short Valentine's manicure can also be done at home if you have the right colors available. Don't forget the heart motif to add a romantic attribute to your mani.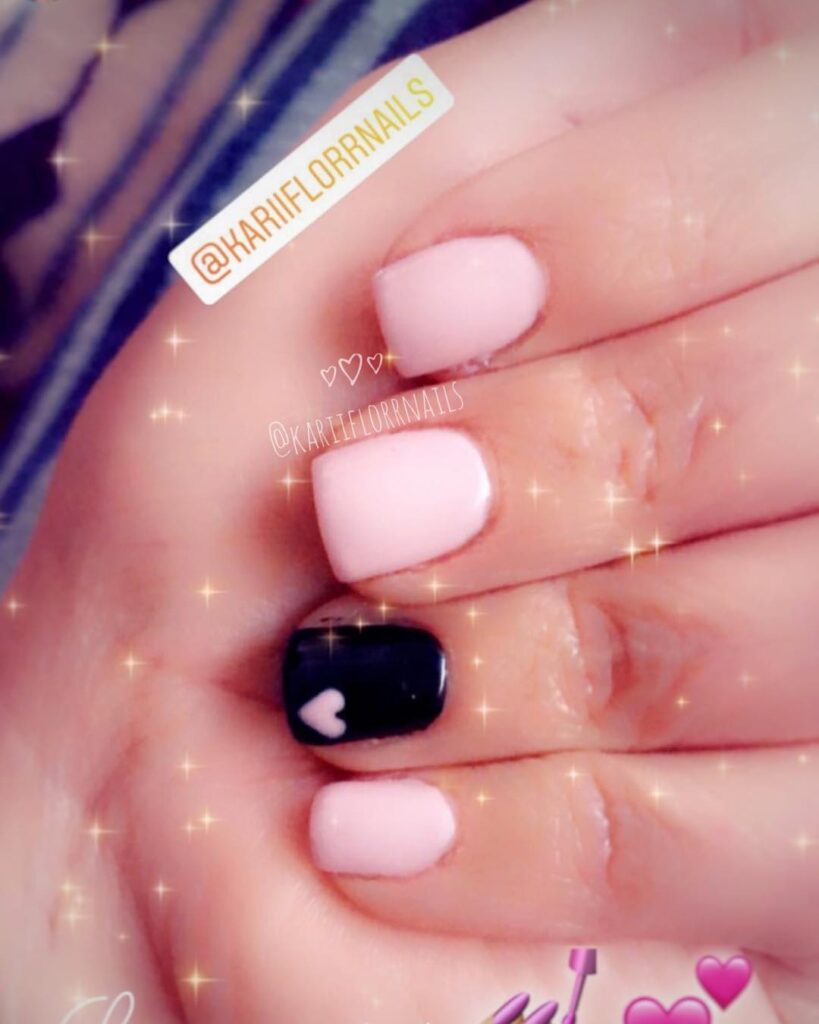 Courtesy: Karina Flores
#21 When all else fails, a simple glitter manicure is all you need to nail your date night look on V-Day. The best part about these easy-peasy nails is that they will look good on all nail shapes. So no matter if your nails aren't long enough for this squoval shape, short almond nails or square nails will look gorgeous too!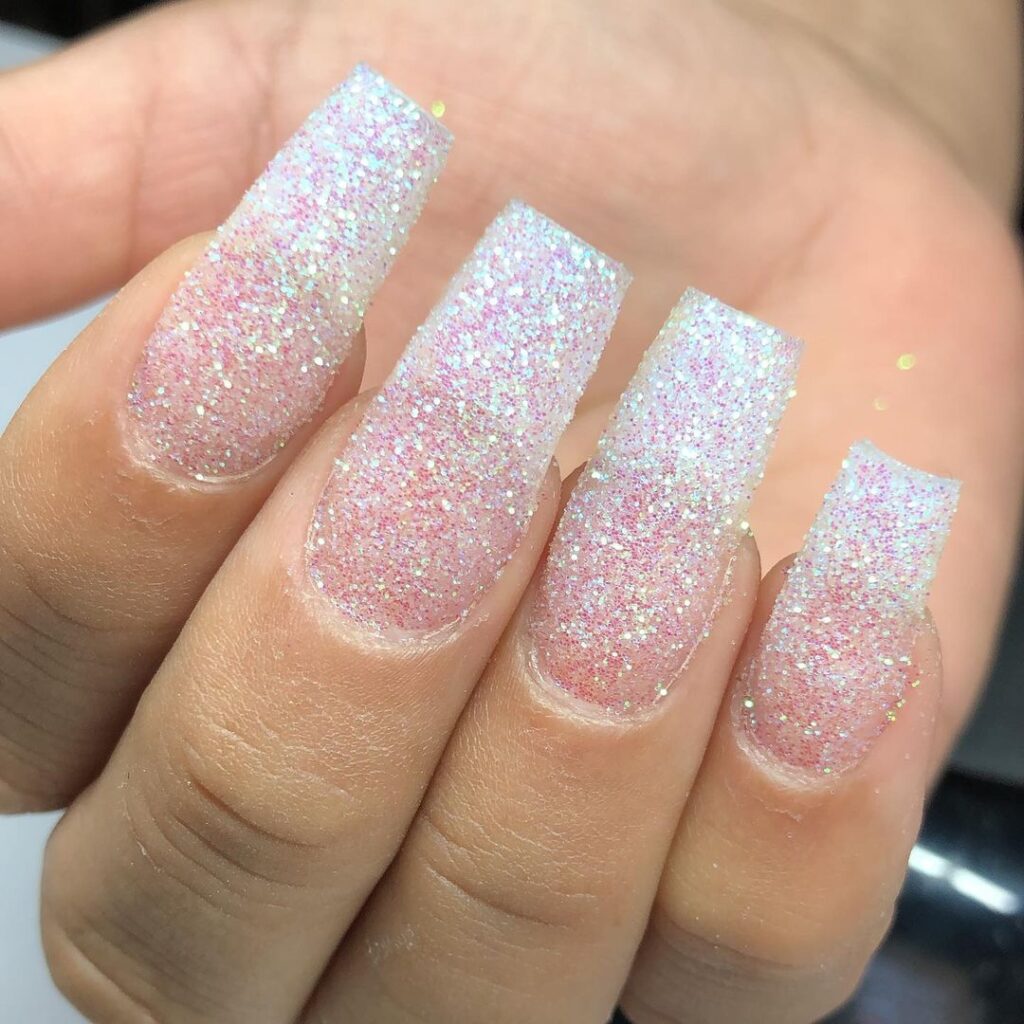 Courtesy: @polishedbyness
#22 And when we're talking about DIY-ing your Valentine's manicure, you just can't miss these square nails done in light pink and a cute heart on the base to add a touch of romance. You can experiment with other color combinations as well, or just switch with red as the base and a heart in pink for a vibrant Valentine's nail idea.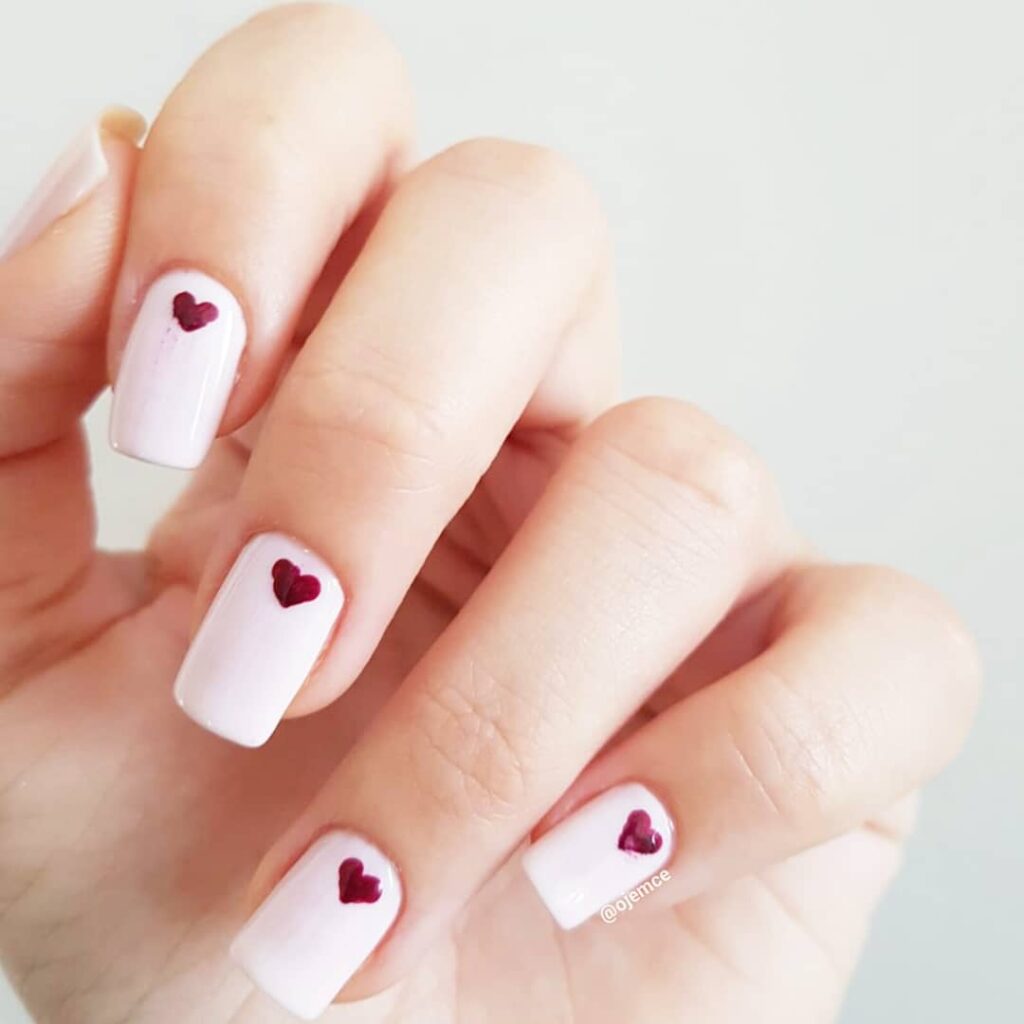 Courtesy: @ojemce
#23 With all French tips done in heart outline, the next one of Valentine's Day nail designs is unique and impressive. When you're recreating the next V-Day manicure idea, we'd advise keeping the nails pointed as it will help the heart outline pop out.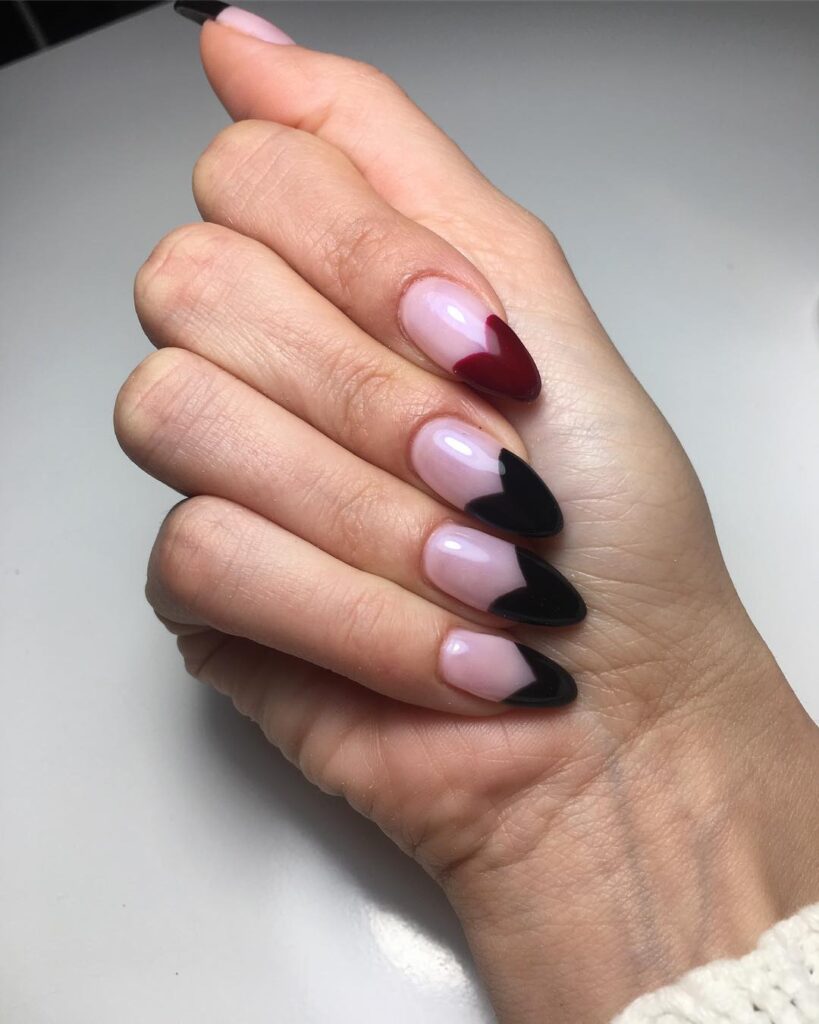 Courtesy: Alexa Liberatore
#24 By now, you'd know the drill. Heart nails are Valentine's Day nails and vice-versa. If you anyways love cute hearts on your nails, you'd love these Valentine's Day nail ideas replete with this shape.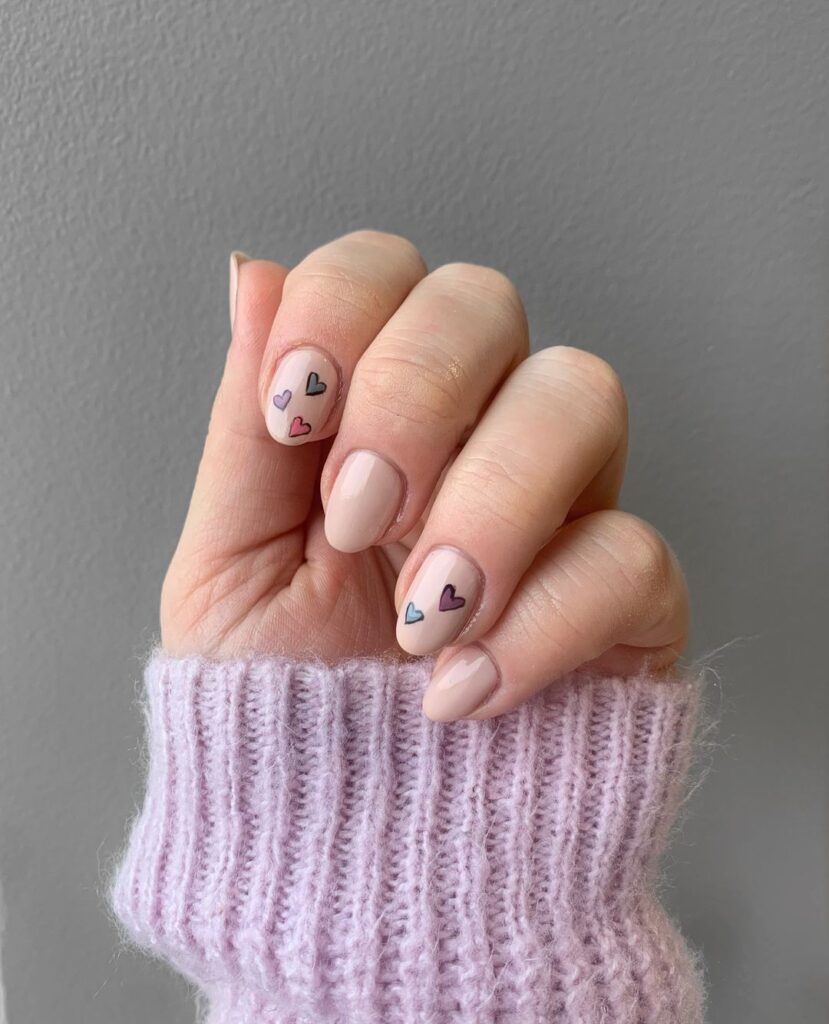 Courtesy: Studio7 Salon & Spa
#25 We are absolutely swooning over these short Valentine's Day nails. Using the occasion-specific color – pink, and an accent nail, it rules the heart with its subtle charm and elegant simplicity.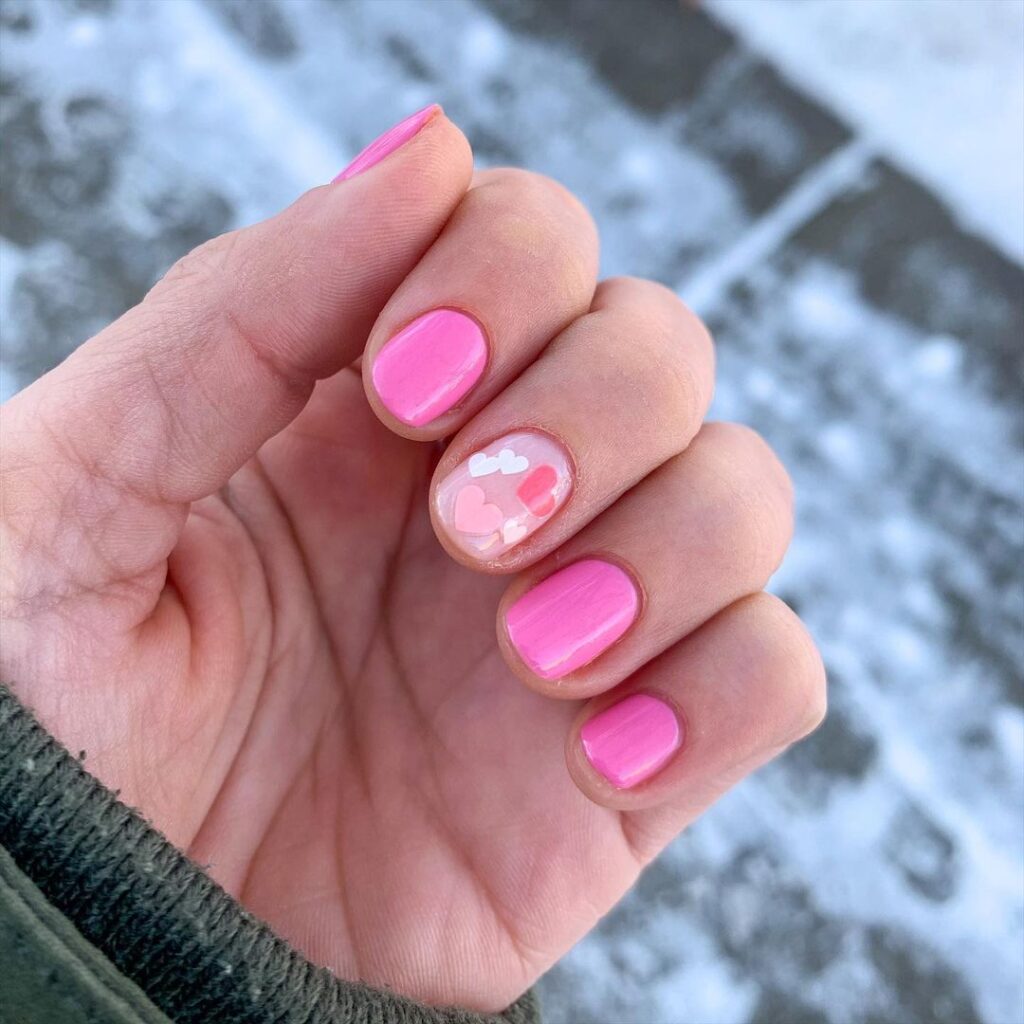 Courtesy: Lexi
#26 When red & pink aren't successful in impressing you, black and golden will do the trick. These contemporary nails mix black & nude with golden glitter for a ravishing mix of colors. The pointy nail shape elevates the charm of the design further.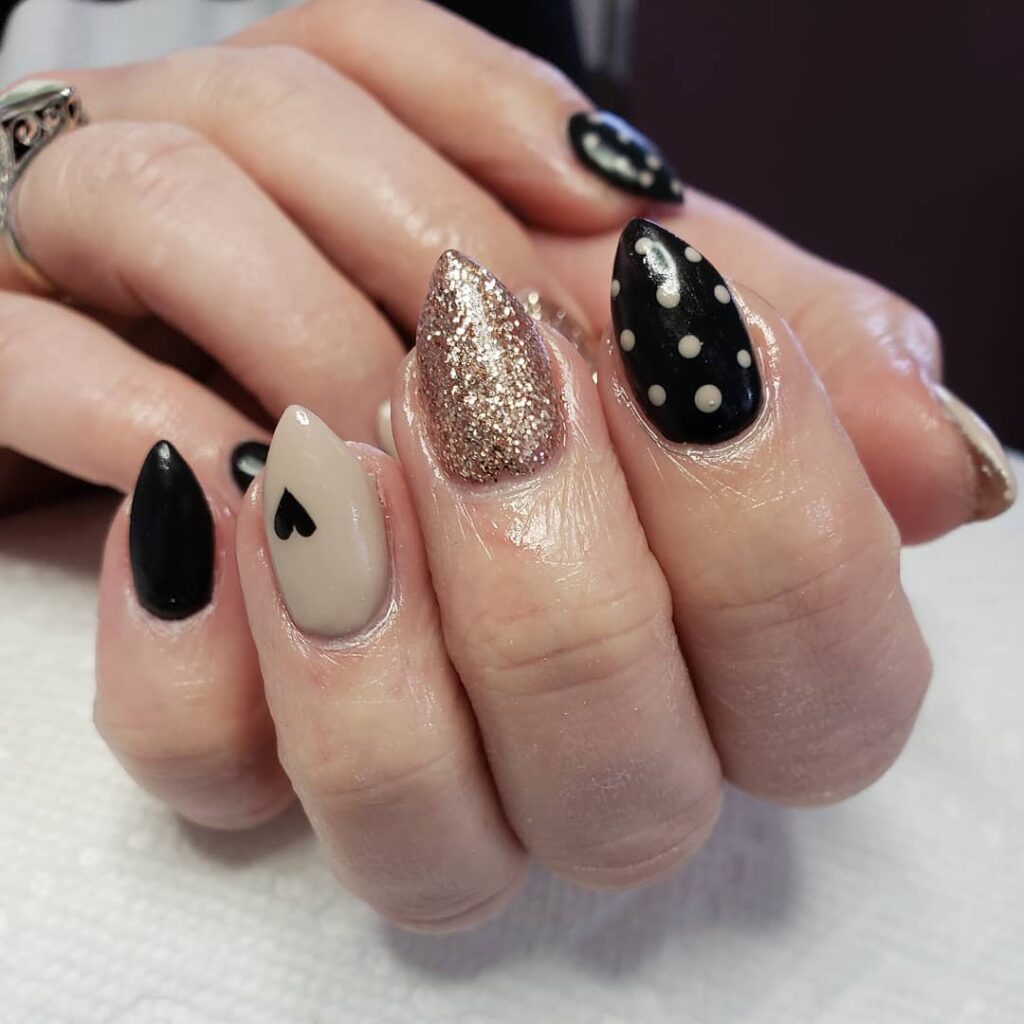 Courtesy: @gypsy.nail.girl
#27 When you don't want to spend $$$ in a professional salon only for them to be relevant for one day, opt for a design that's versatile enough for your everyday look as well as Valentine's Day. Take the next manicure for example where the variations of French manicures are accented by a glitter nail to make them poised for regular nails as well as subtle glamorous enough for Valentine's!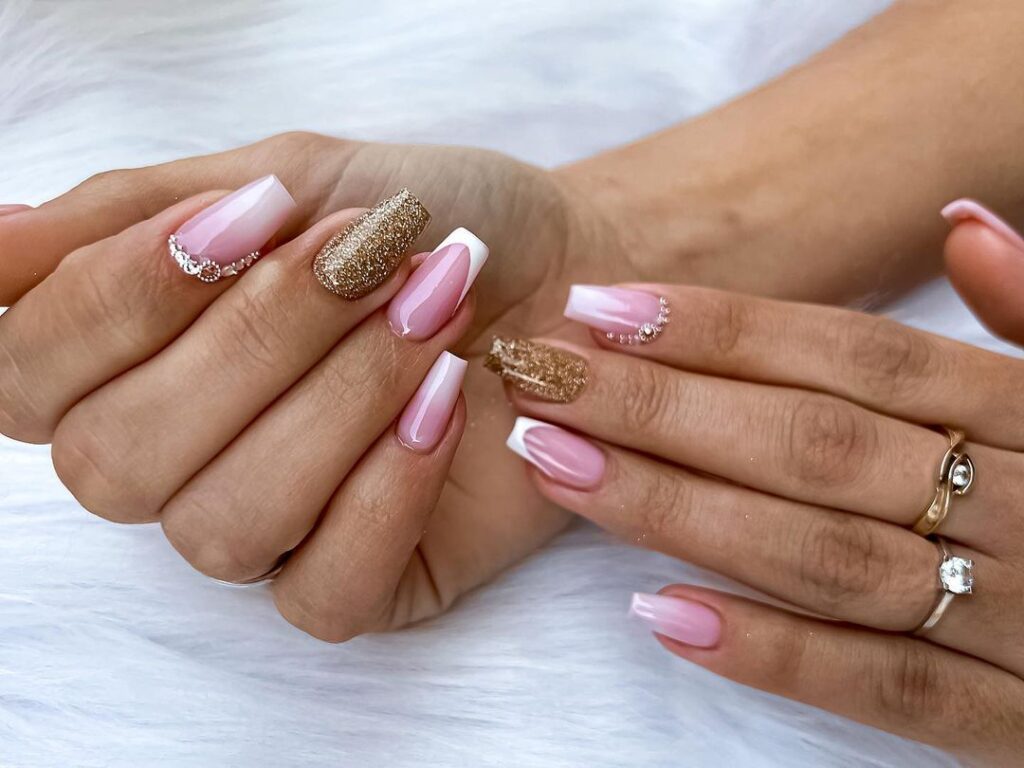 Courtesy: Alexandra
#28 Nude nails are the white T-shirt and jeans of the manicure world. They are versatile and can fit any occasion you want to carry them on! Here, the nude nails are made for Valentine's specifically with a cute heart and love writing on them.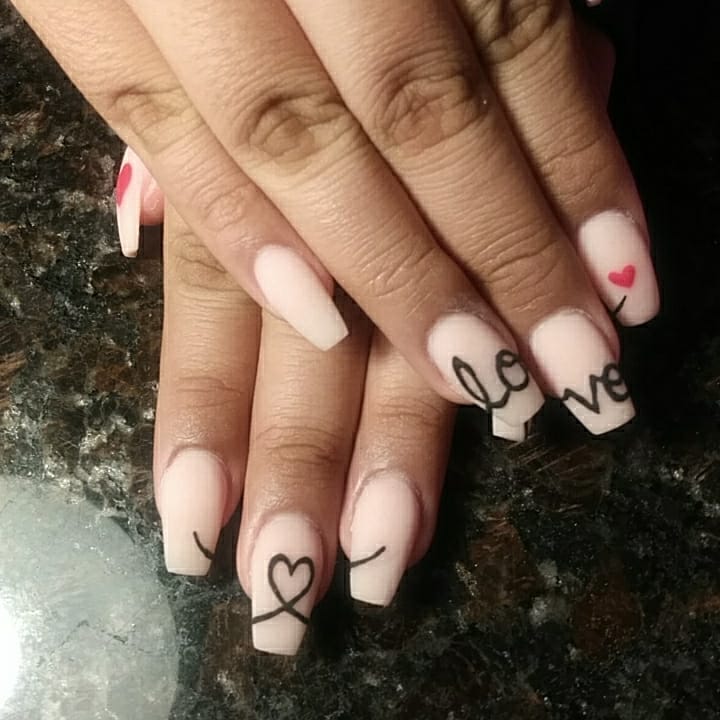 Courtesy: @yournailboo
#29 The next one of Valentine's nail designs is done in the unexpected yet ravishing combination of black and pink. When in doubt about what hues to opt for in your manicure for any occasion, black and pink will not fail you. Pink adds playful energy to the gloomy black and black adds mellowness to the vibrancy of the pink making them a perfect pair.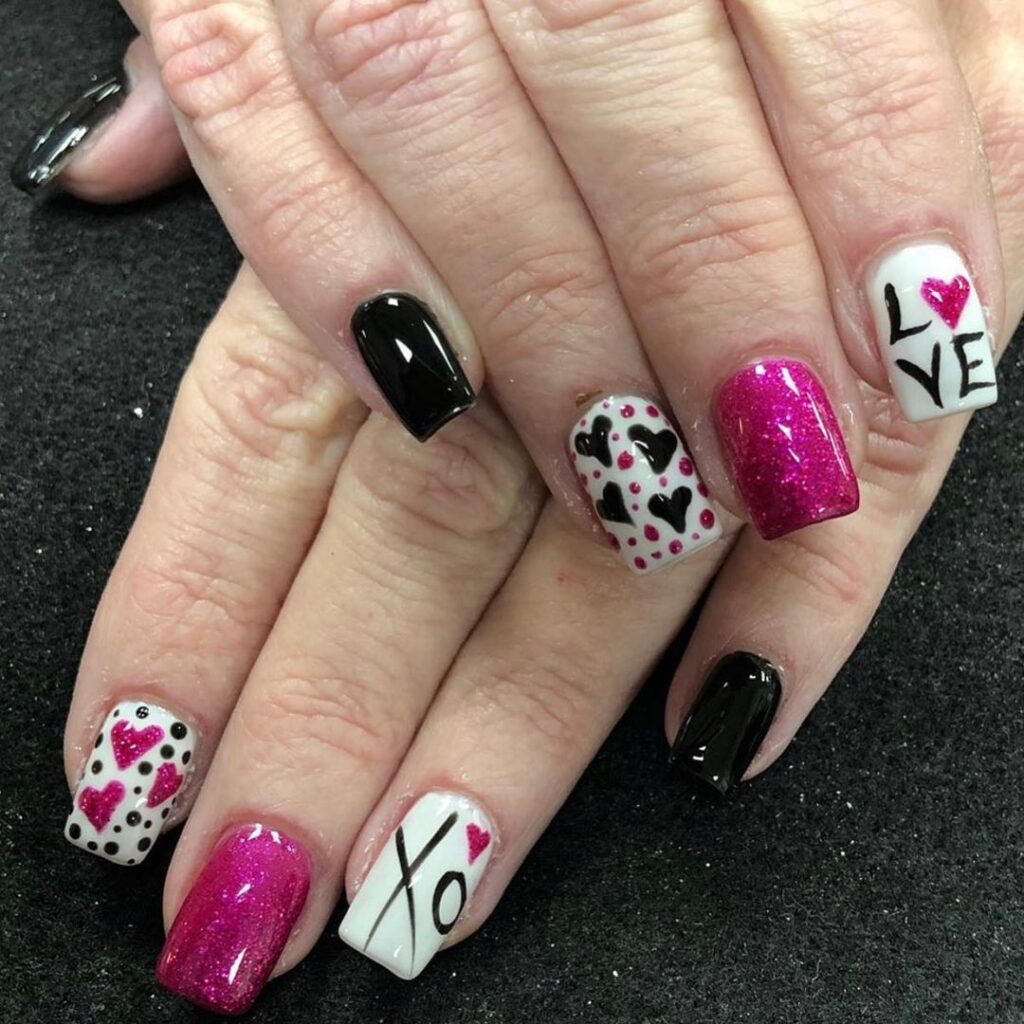 Courtesy: Hair Effex
#30 Nail studs can prove to be yet another fancy and playful element in your Valentine's Day nail art. Studs, though, need to be glued properly to your manicure and we'd recommend letting the glue dry properly before you use your hands so the embellishment stays put till the manicure lasts.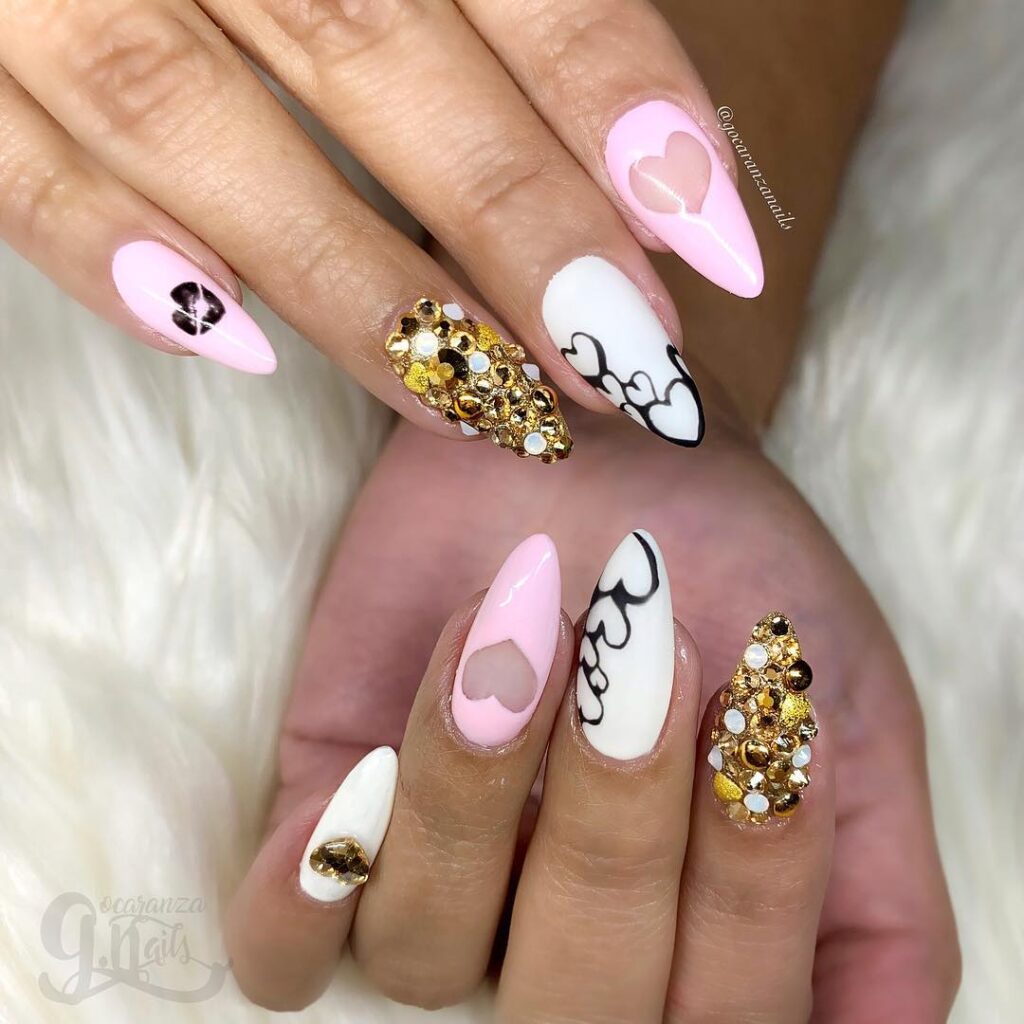 Courtesy: @gocaranzanails
#31 When modest and sophisticated are your style, our #31 nail design for Valentine's Day will go straight to your phone gallery. Owing to their simplicity, they can be DIY-ed easily. Just pick a nude polish that covers the bareness of the nails properly as shown in the picture.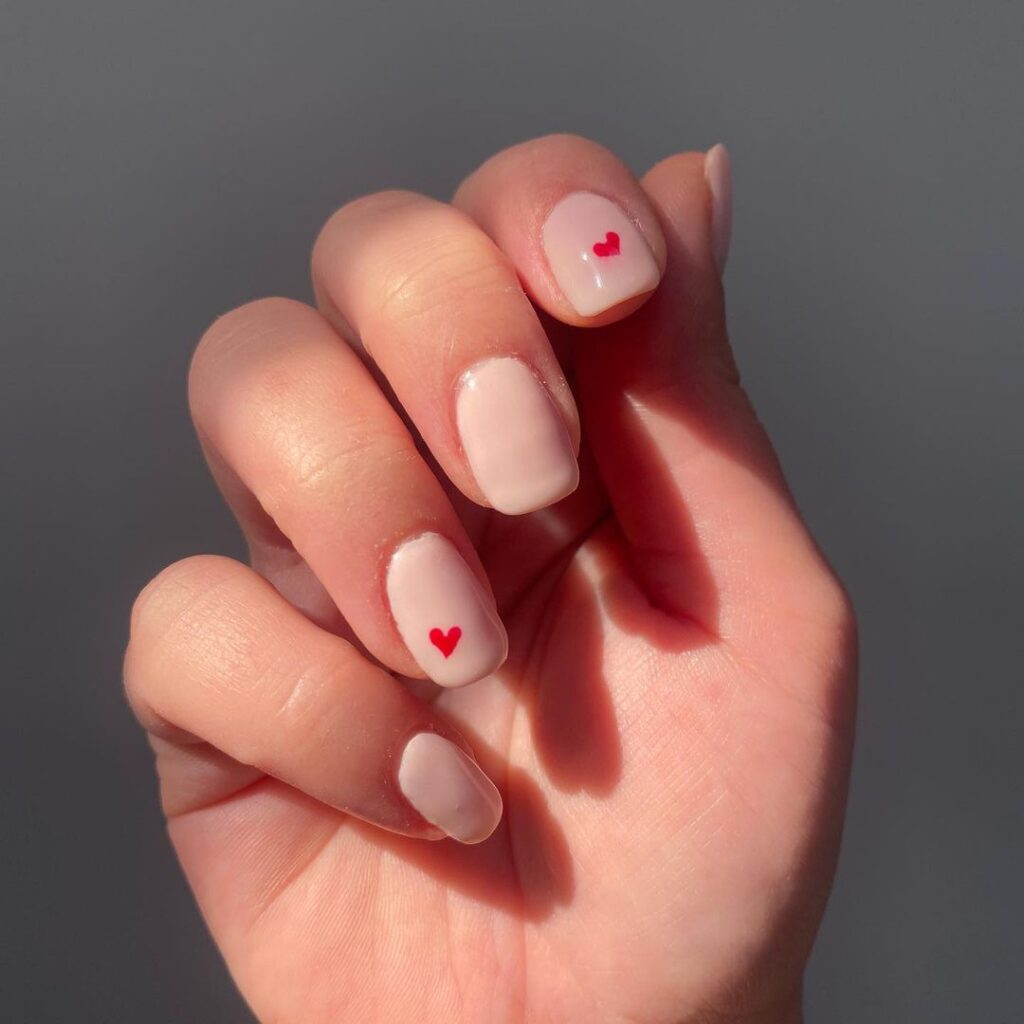 Courtesy: Morgan Haile
#32 These coffin Valentine's Day nails are truly spectacular! Done in vibrant shades of yellow and orange, it's the big heart outline in the middle that catches our attention. Do know longer nails – whether acrylic or gel – requires more maintenance than short ones? Only invest in them if you can find the time to maintain them regularly.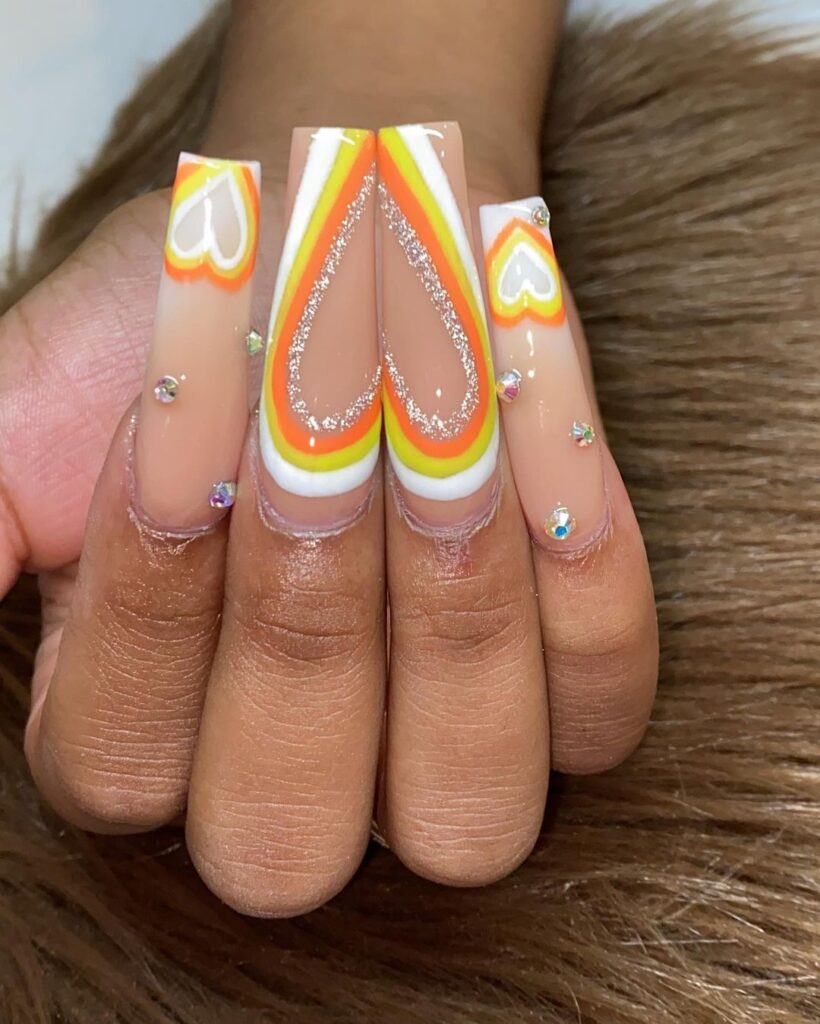 Courtesy: @trapsanailedit
#33 Ditching the usual heart drawings, this Valentine's Day manicure instead has a kiss lips motif, which is also quite relevant to the occasion. You can also bedeck one of the nails with a heart and the other with lip kiss motifs for a fun twist to this design.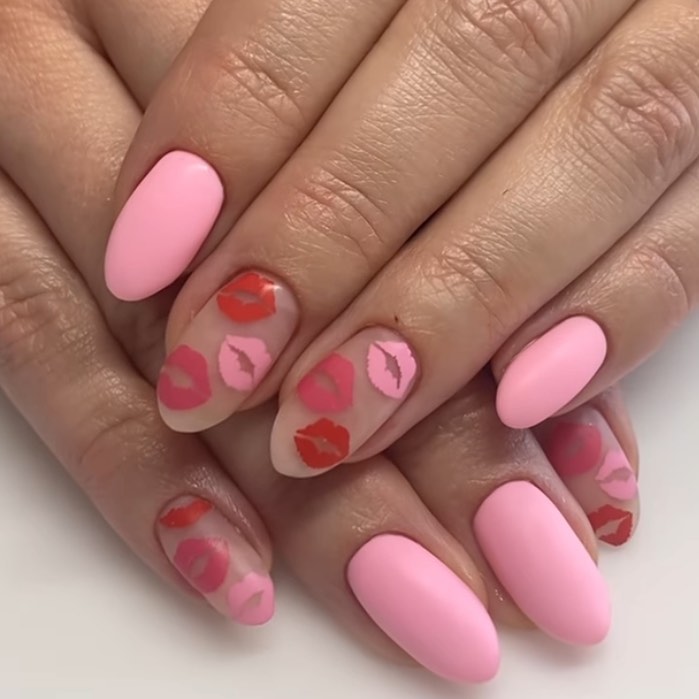 Courtesy: Amy Blair
#34 These red nails are done in gloss finish with the middle two nails done in heart-shaped French manicure style! This Valentine's nail design can be recreated with any nail shape of your liking, but a pointed end is preferred to recreate the same allure as this manicure.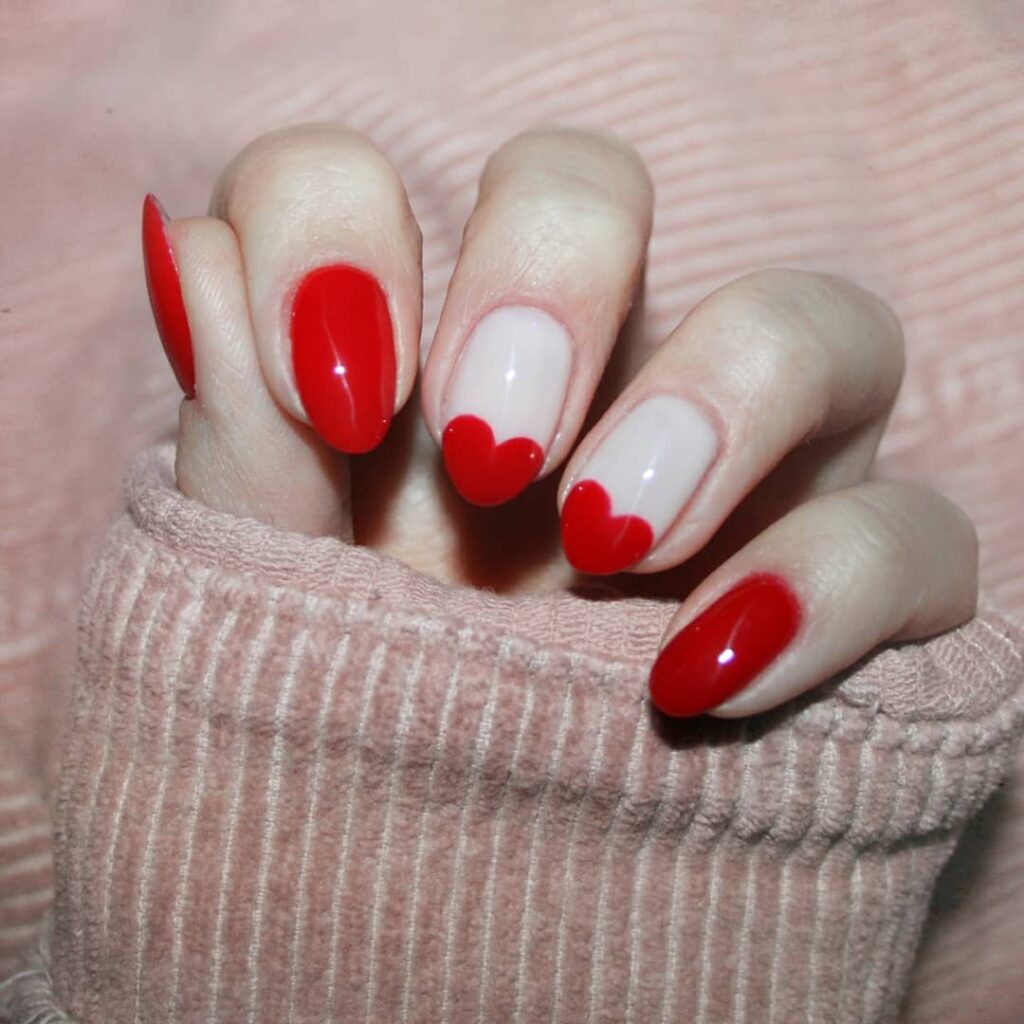 Courtesy: Joanna
#35 When you want to DIY a simple Valentine's Day nails design before heading out to dinner, look forward to the next idea on the list. When drawing hearts, you do need to have a steady hand. Even filling in such a small space requires intricacy. If you can get past that, this is an elegant and sophisticated nail design for Valentine's!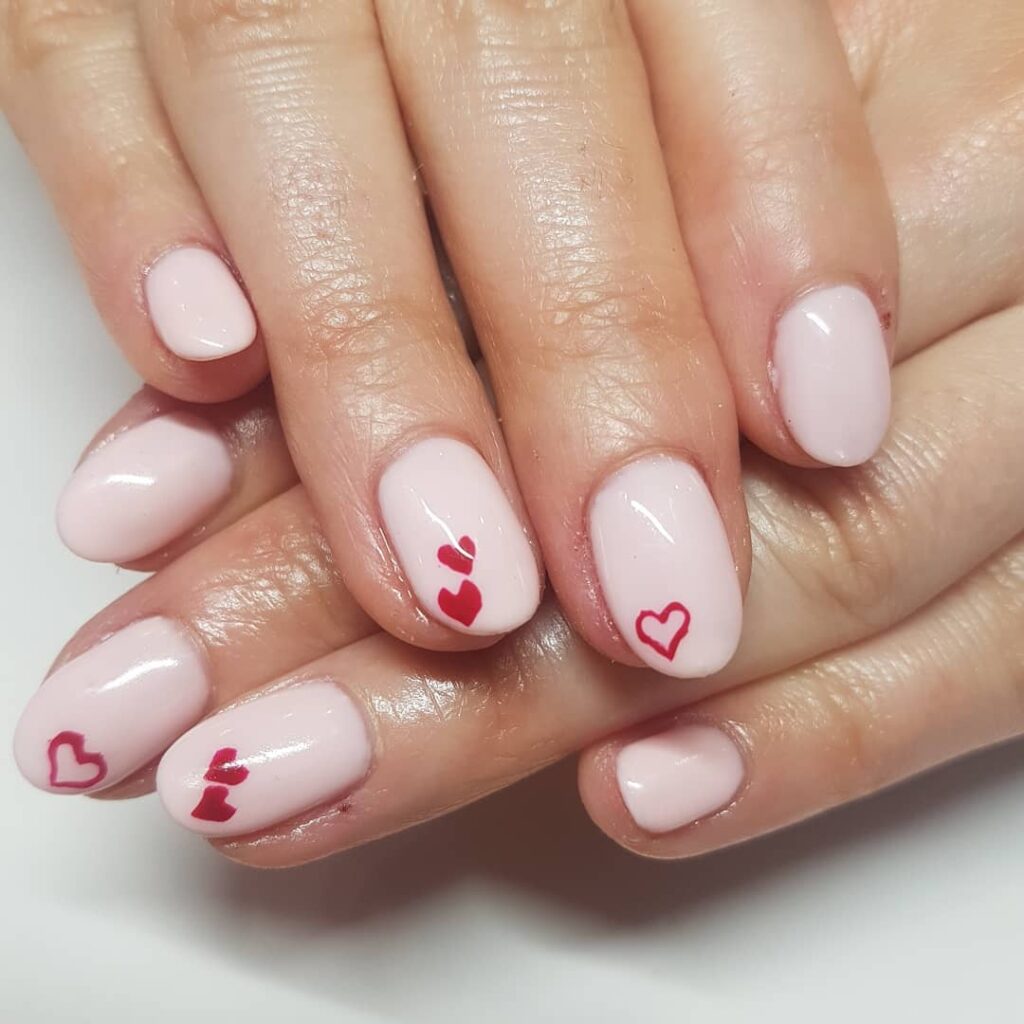 Courtesy: Fantastic Nails & Spa
#36 Introducing another Valentine's nails motif in the next one of our Valentine's nail designs. The cross & zero games where the heart wins. You will be seeing a lot more of this motif moving forward with this list, but if design already has your heart, there's no reason they make for a charming option on the most romantic day of the year.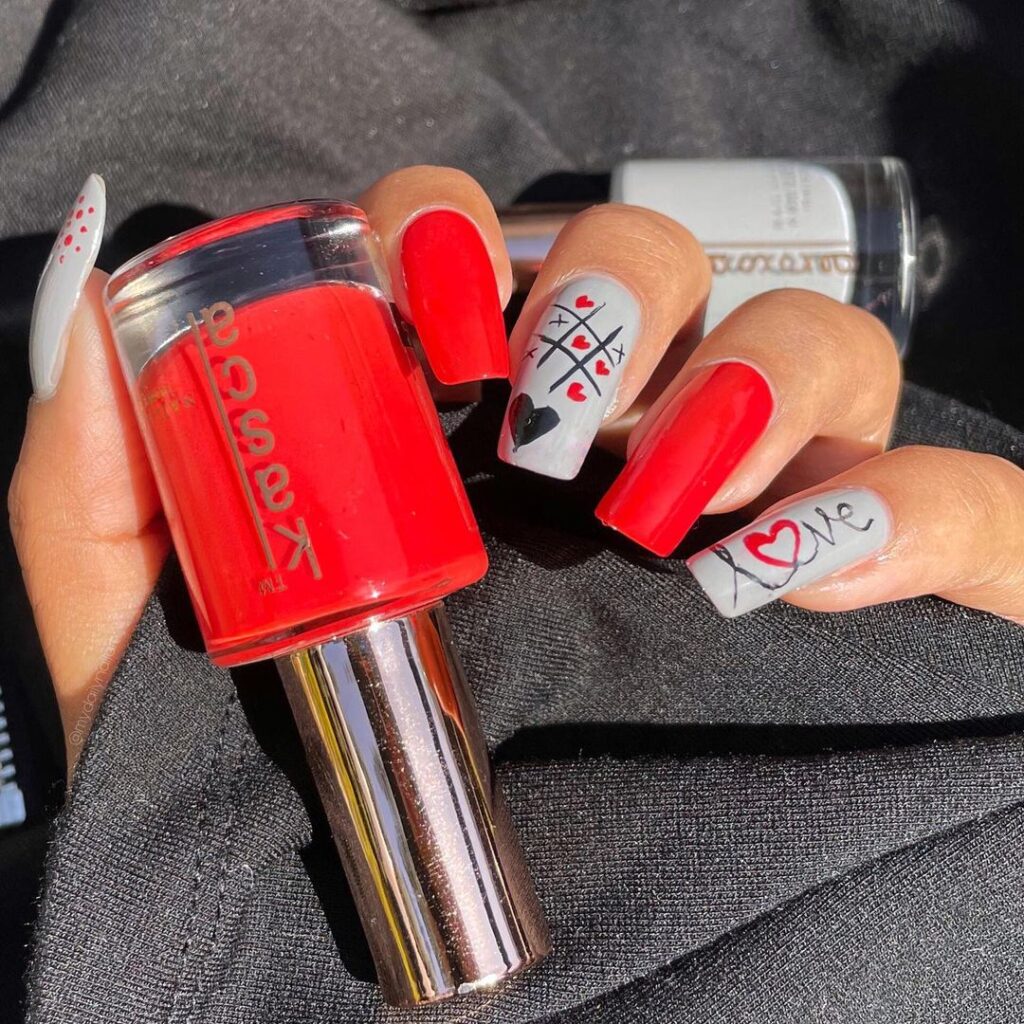 Courtesy: @mydailynailart
#37 And when you want nothing red or pink or any other vibrant colors in your manicure, there's still a way to make it Valentine's relevant – include the heart motifs. With geometric lines and strategically placed hearts, these nails are both ingenuous and easy to DIY at home.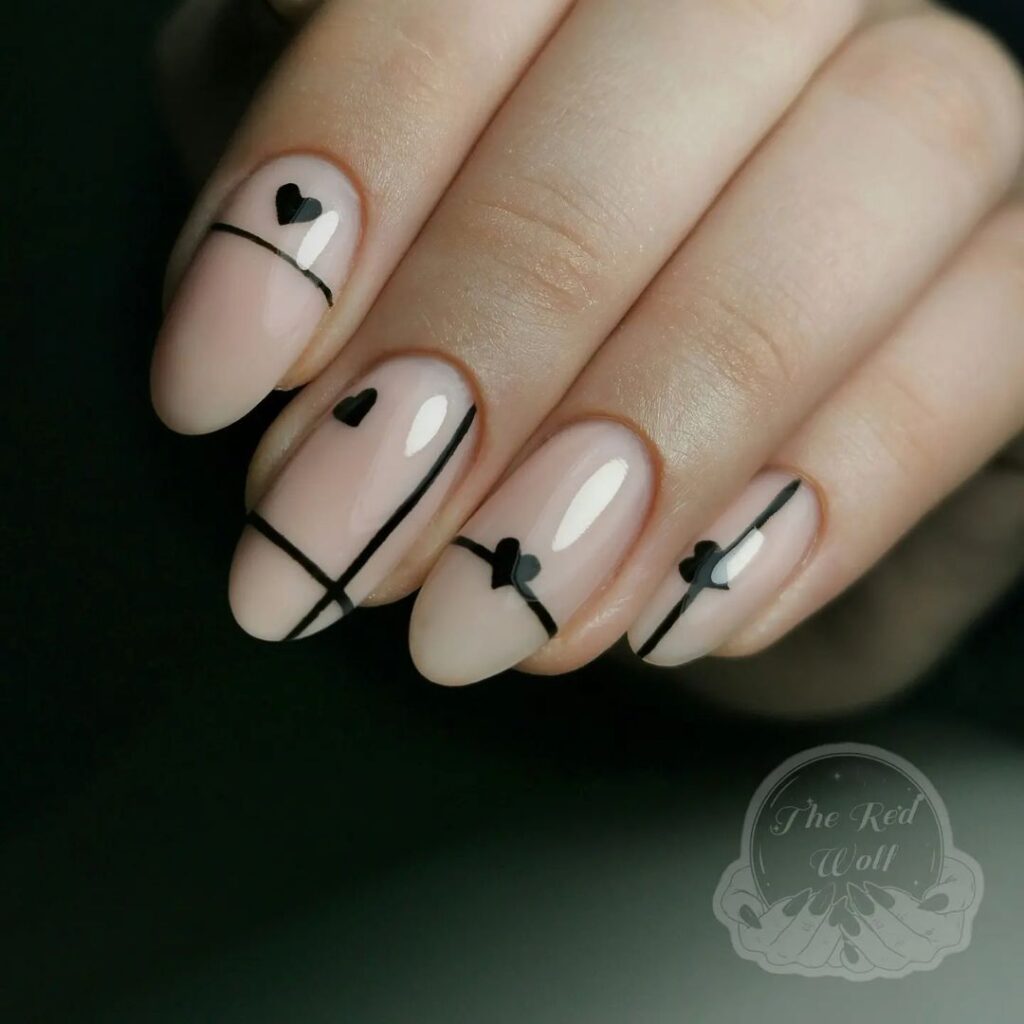 Courtesy: A.L.Lestrange
#38 When you want to go all in with the playfulness in picking your Valentine's Day acrylic nails, the next design including ample heart motifs, studs, and writing will impress you!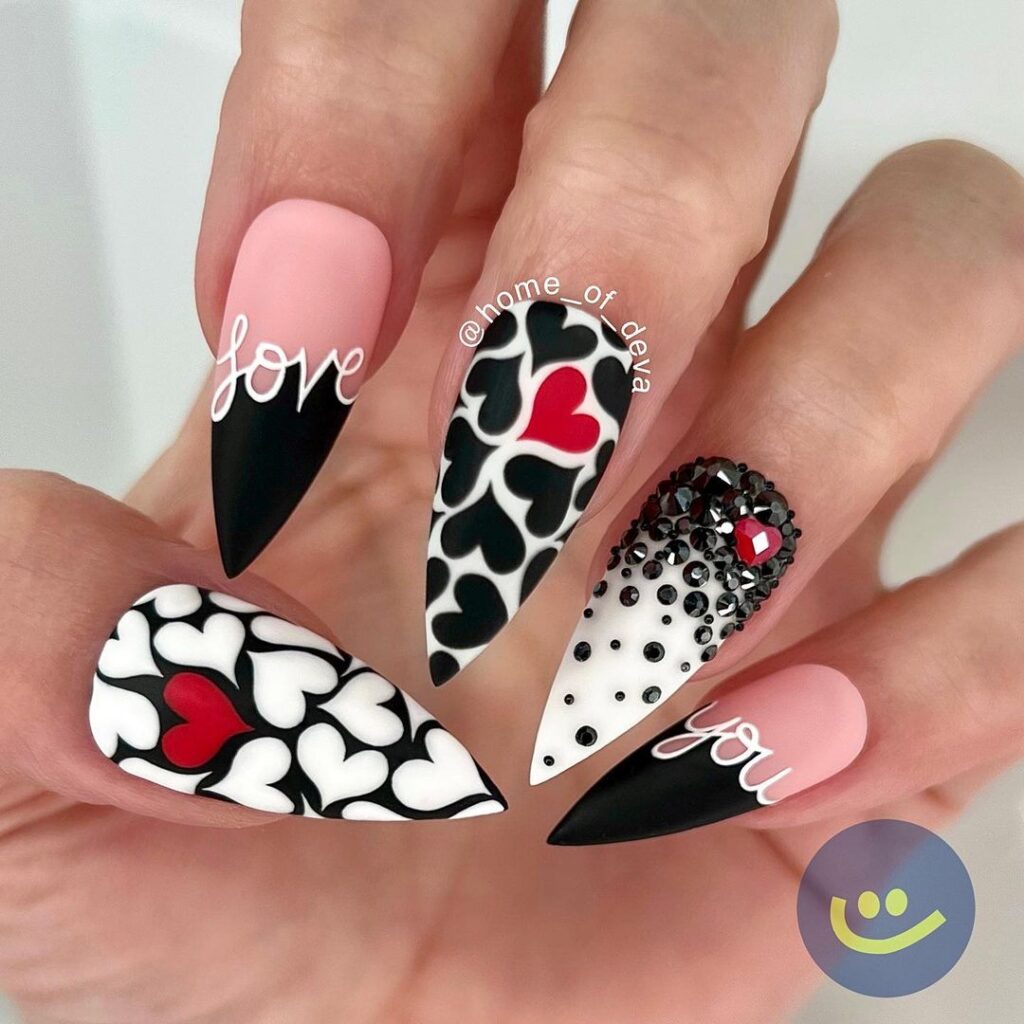 Courtesy: Priscilla Van Uden
#39 A combination of two different shades in the same palette can never fail as you a color combination for your manicure. Here, the darker shade of pink is used as the extended tip shade while the lighter shade of pink is used for heart motifs on the top of each nail.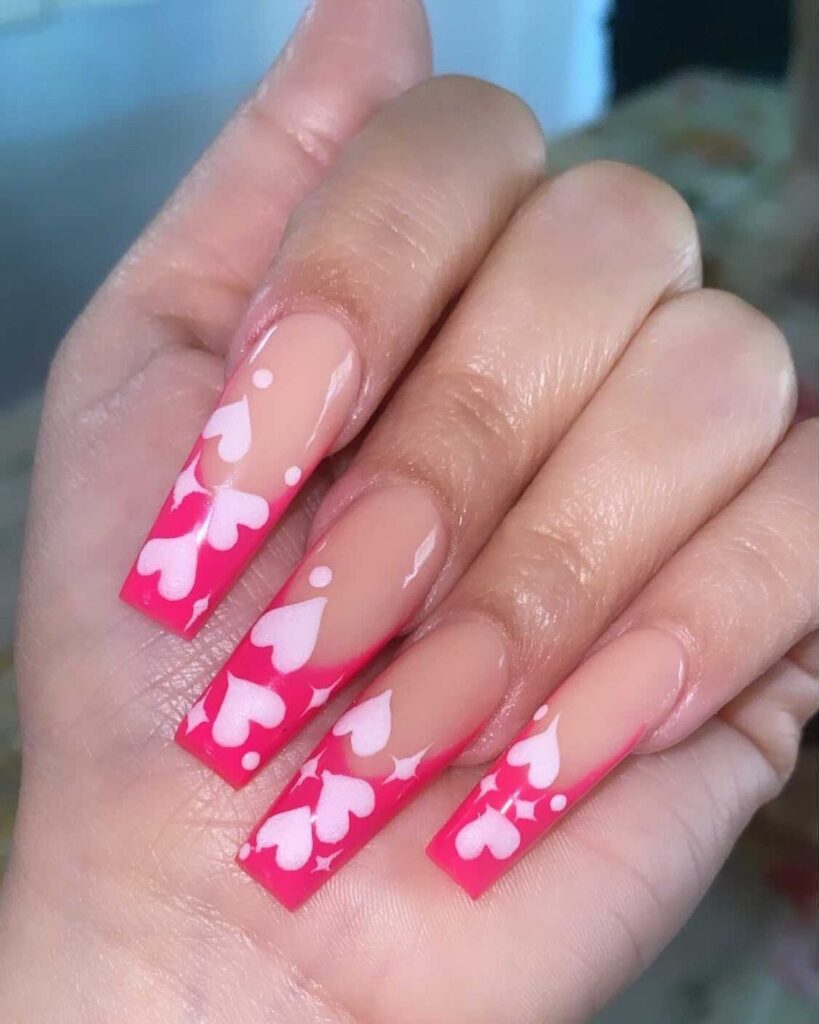 Courtesy: Stacy
#40 The glass coating on this Valentine's day manicure is just stunning! The effect is created using layers of gloss nail paint in abundance. The heart motifs are actually stickers and the gloss coating not just prevents the stickers from slipping off but also gives a gleaming effect to the entire manicure.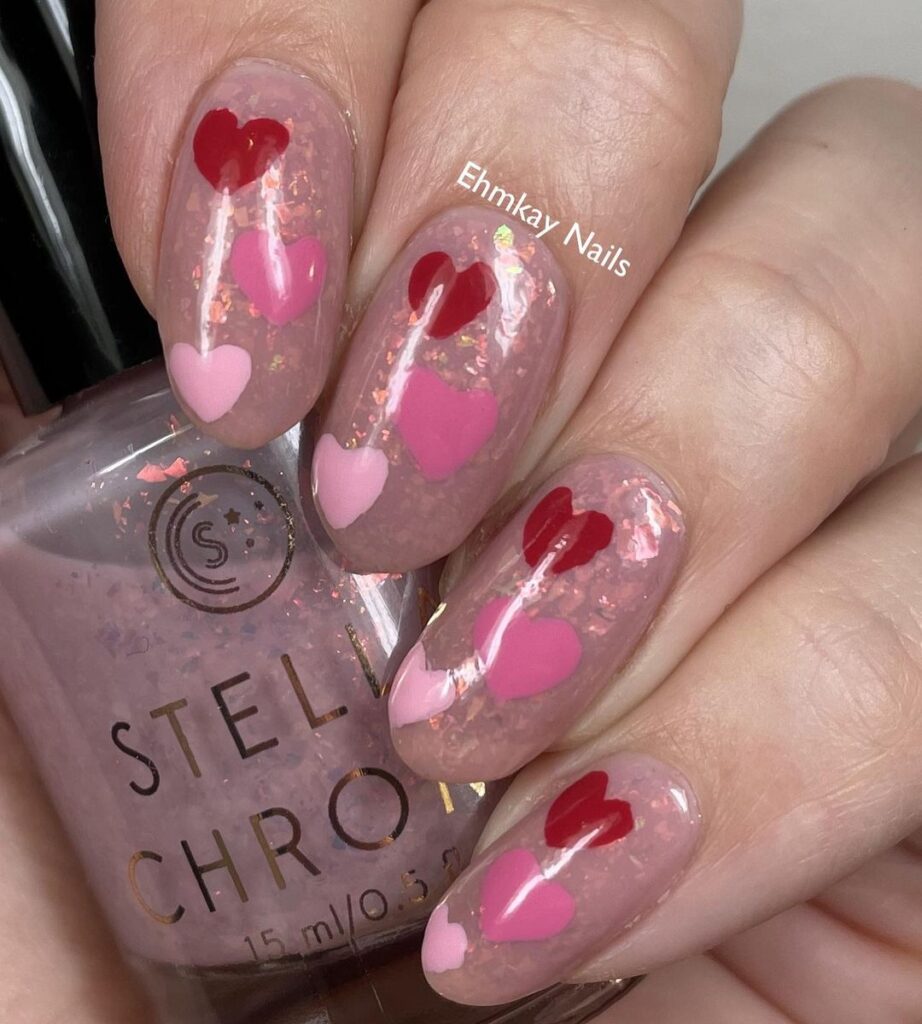 Courtesy: @ehmkaynails
#41 Clearly, when it comes to Valentine's day nail ideas, there's no dearth of designs that contains heart motifs. Here, a nudish pink base is bedecked with red heart motifs. We love how they are so spaciously distributed so as not to make the design look packed and give it a breathable look.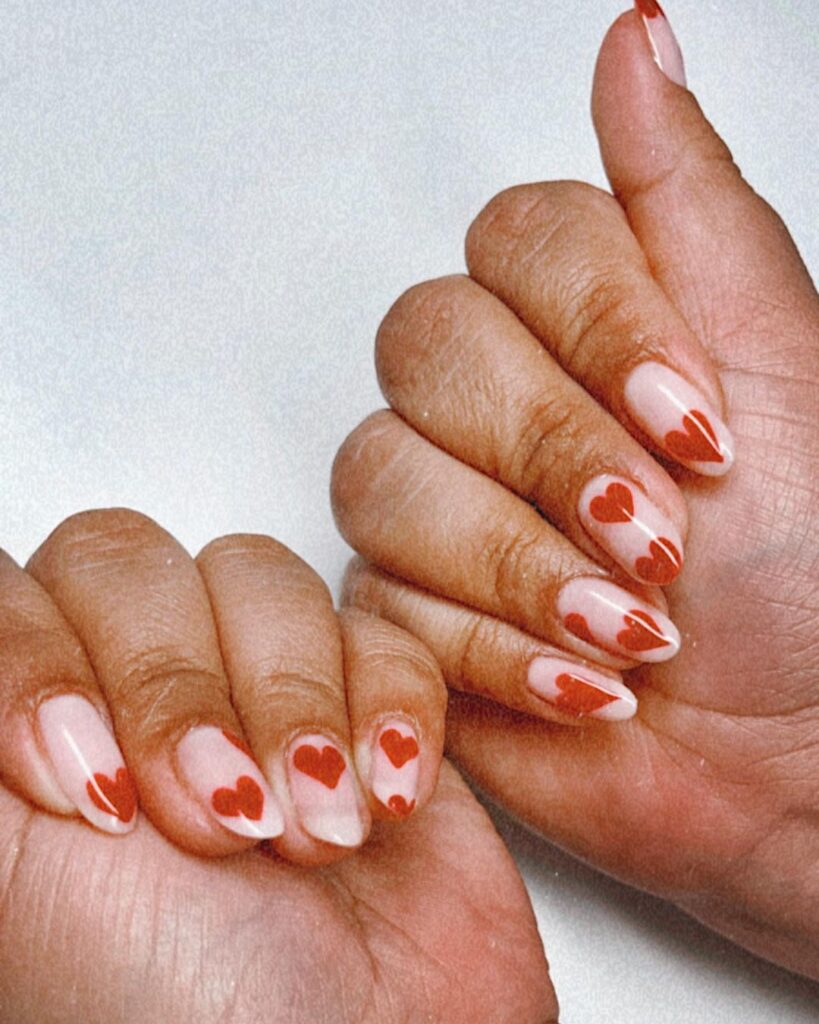 Courtesy: @omgnailsbymyra
#42 Valentine's Day is an onslaught of red & pink color combinations. From gift boxes to outfits and now the manicure, you can find this appealing mix of colors almost everywhere. Here's how you can infuse the mix into your manicure – smart yet elegant!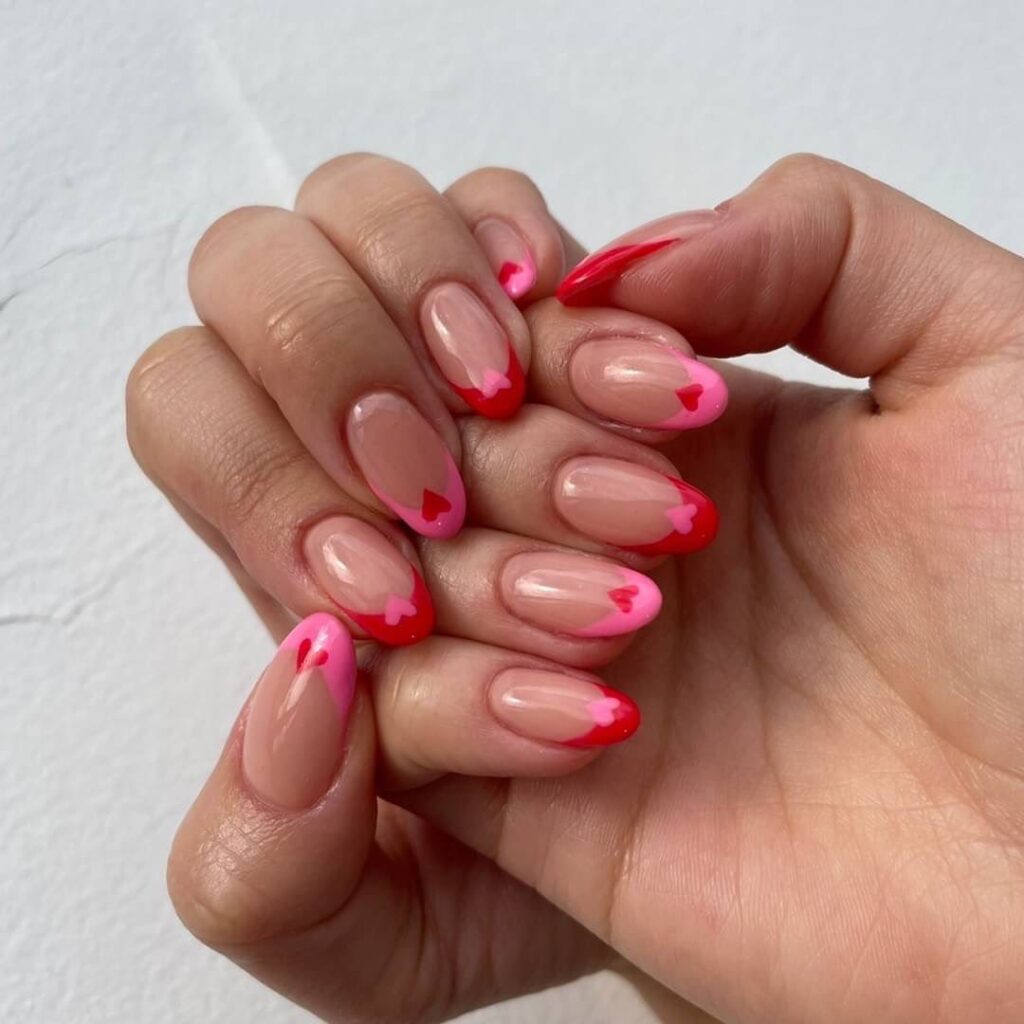 Courtesy: @springwithfriends
#43 French manicure tips decked in heart motifs aren't a fairly new design to spot on this list. In the next one, the white tips are elongated, and little hearts are drawn on top for an aesthetic appearance. These Pinterest-worthy Valentine's Day nails will only look good on longer nails though, as the white & nude parts of the nail should have almost equal space.  
Courtesy: Perla
#44 These pink Valentine's Day nails are accented by the usual heart outline on the ring finger, but it's the glitter maroon nail that adds the much-needed glam to the manicure.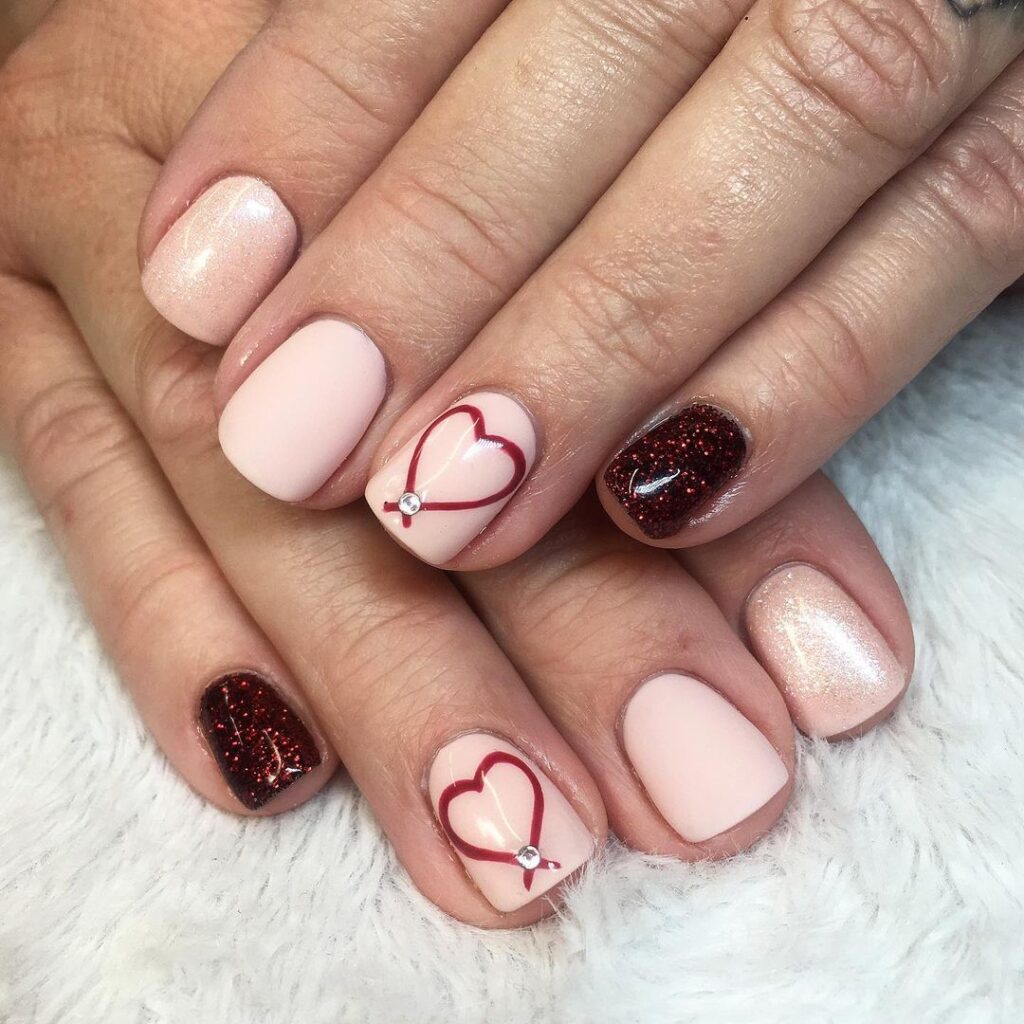 Courtesy: @koukamounails
#45 Don't we love a neat & striking Valentine's manicure? The tips are so intricately divided into two colors that all nails have almost the same proportion of the two sections. Only an expert manicurist can achieve this level of precision, and this is where all the money spent on acrylic Valentine's nails will pay off!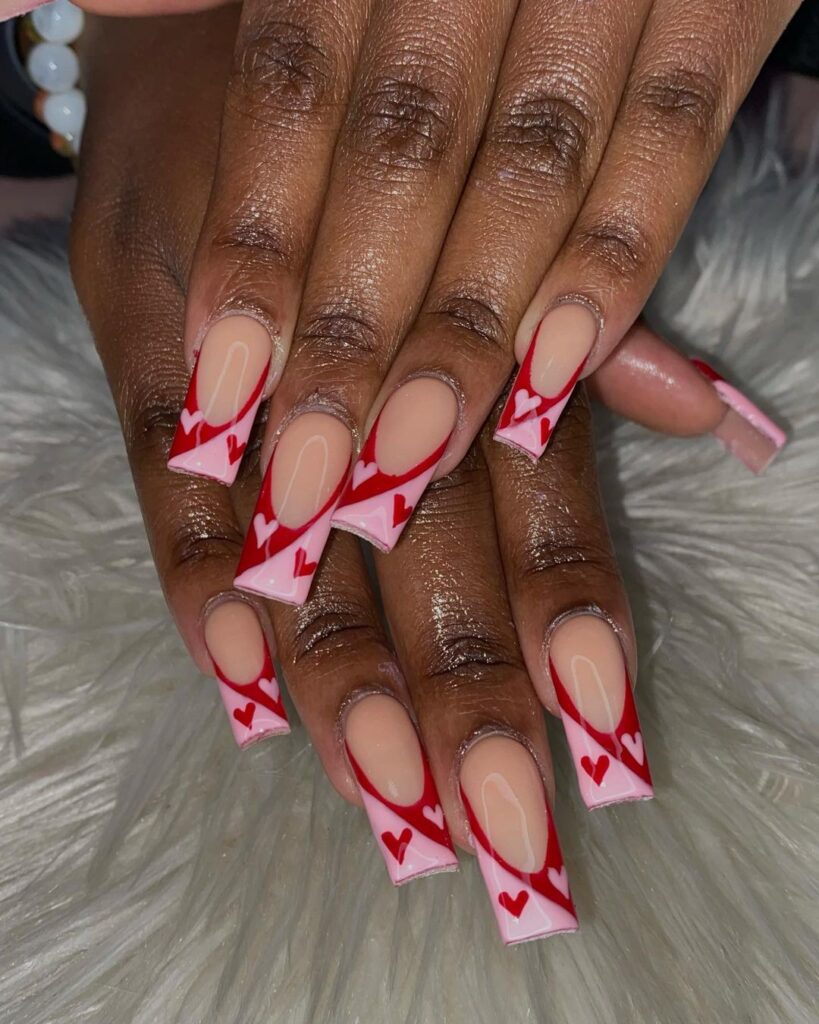 Courtesy: Perla
#46 For women looking for last-minute nail ideas for Valentine's Day, you will love the next manicure idea on this list. Done in the splendid combination of pink & black, and accented with little hearts, it's an easy design to give a try! If you don't have many shades of pink available, just pick the one you have in your vanity, and it will still look as amazing as shown in the picture.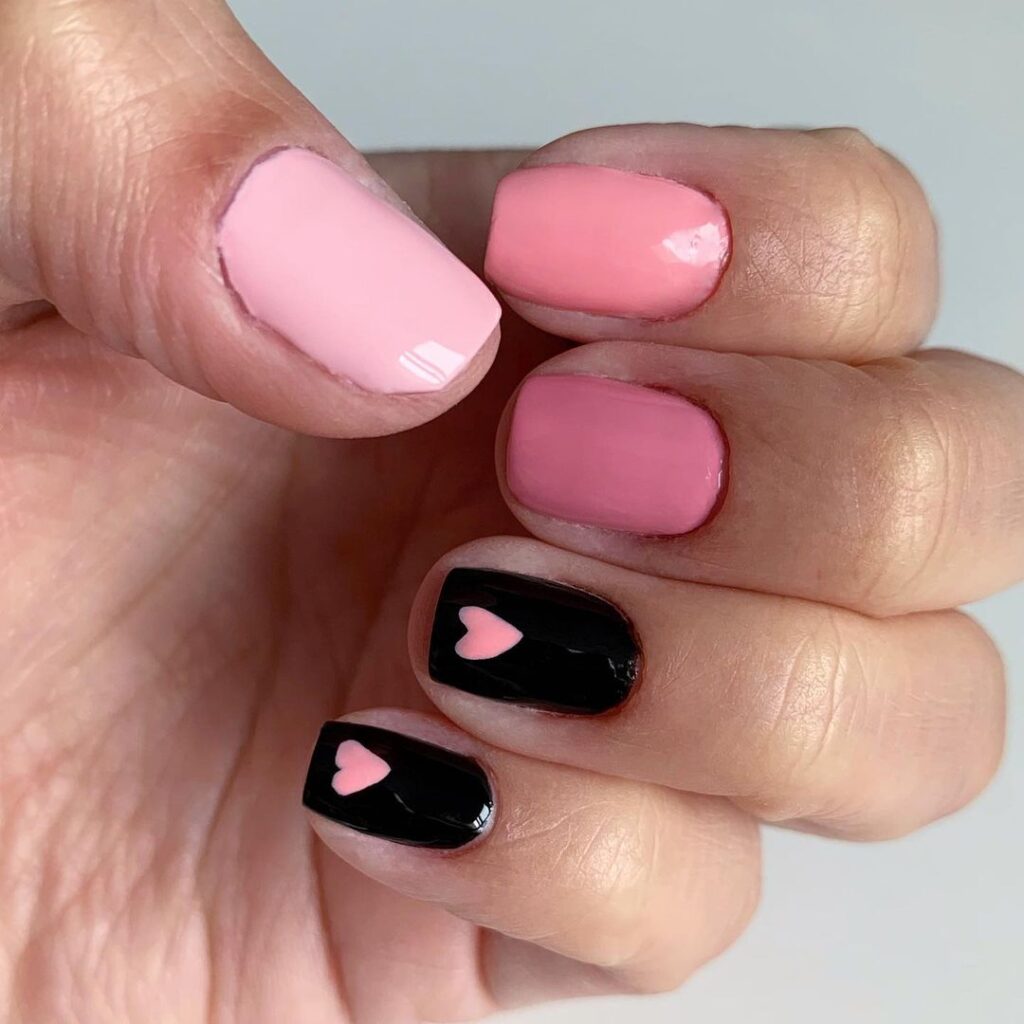 Courtesy: Valerie
#47 February means the sweater weather is not yet over, which means you also need to give in to the sweater nails trend with a V-Day twist. These short coffin Valentine's Day nails are completely winning our hearts over!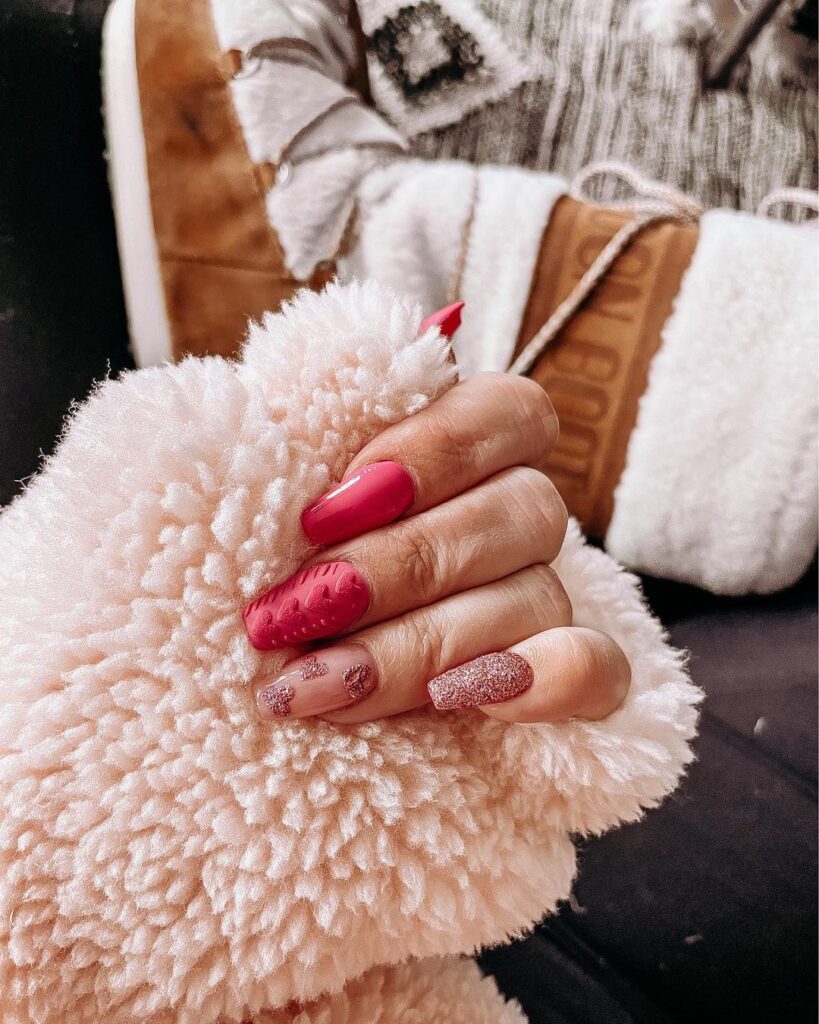 Courtesy: @classycleanchic
#48 Opt for a darker shade of red, like brick red, when a vibrant red palette isn't your cup of tea. The darker shades also give a suitable base for the bright color patterns on the top.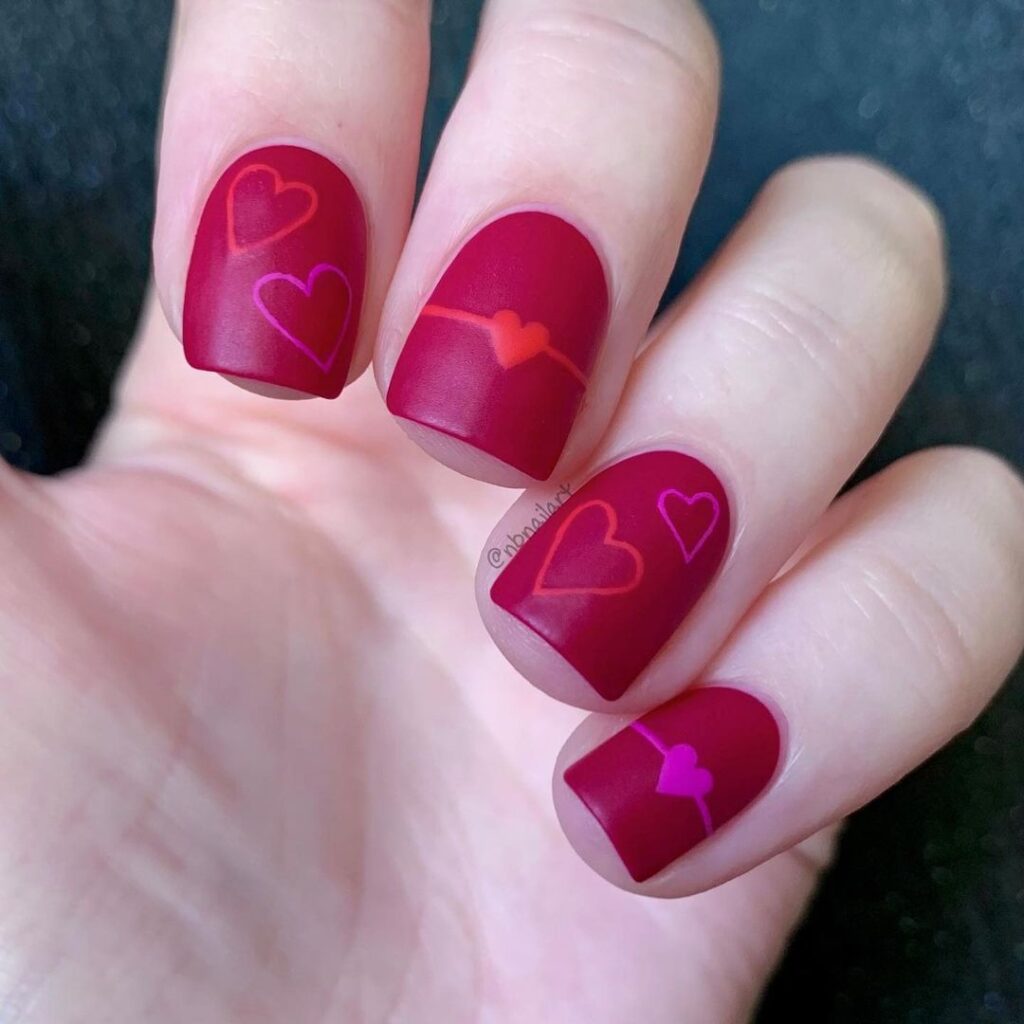 Courtesy: @nbnailart
#49 These simple Valentine's Day nails are another great idea to quickly do the manicure on the most romantic day of the year!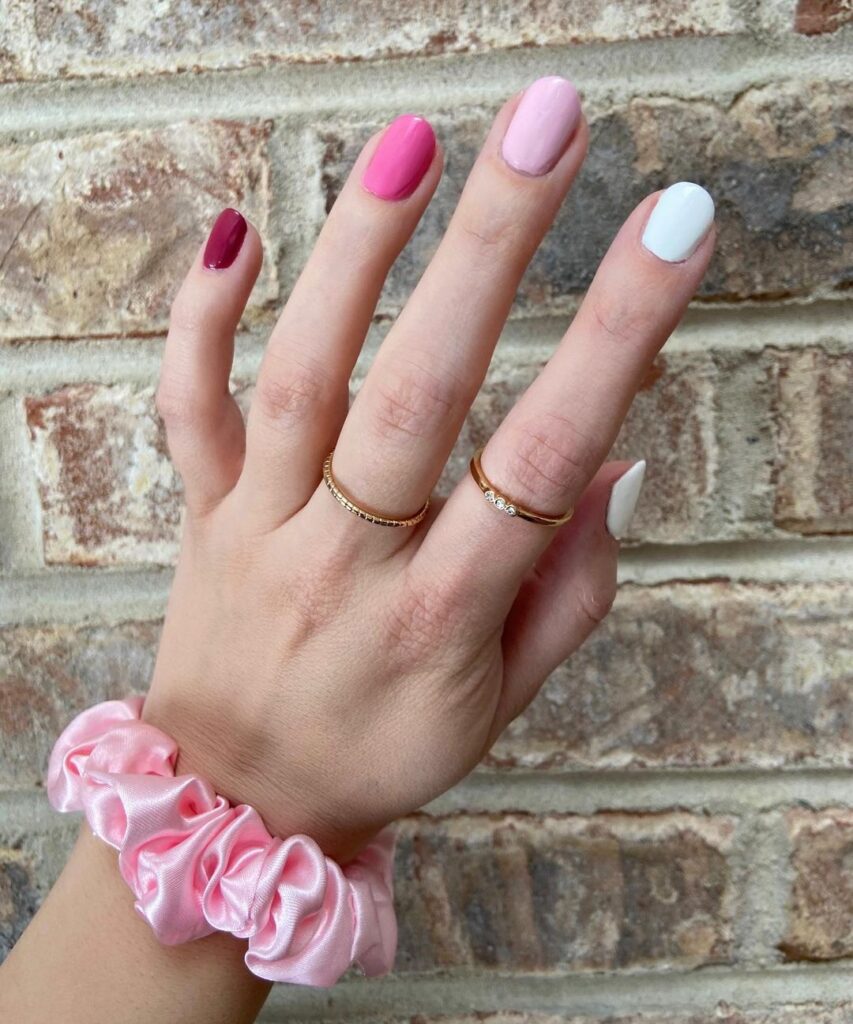 Courtesy: @polishbreakwithcara
#50 Now, this is Valentine's Day manicure that's statement-worthy and includes all the sayings you'd want to dedicate to your beau on this special day! We also love the burst of colors in this design, which is such a breath of fresh air from the usual pink and red nails popular in manicures on V-Day.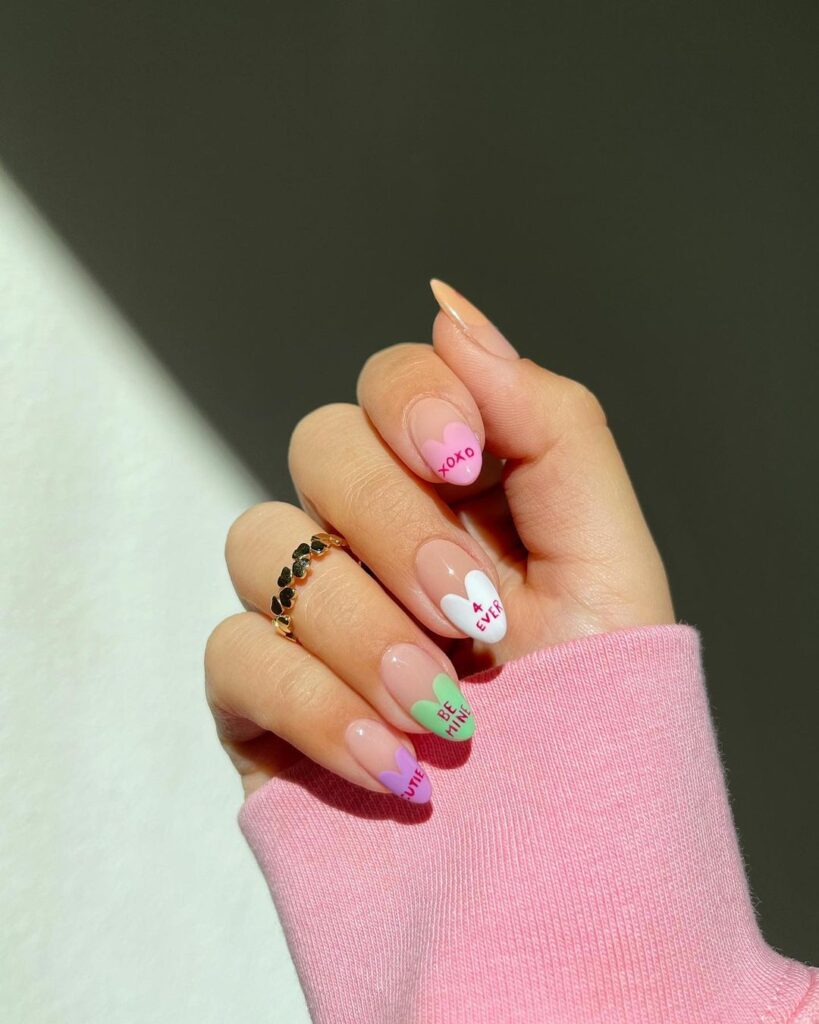 Courtesy: @amyle.nails
#51 When you want longer nails for 14th February, here's a stunning design to consider. Longer nails are best to opt for when you're getting professional gel or acrylic nails. Even though you may have strong, long nails, you don't want to risk breaking any of them especially when you're bedecking them in such beautiful patterns.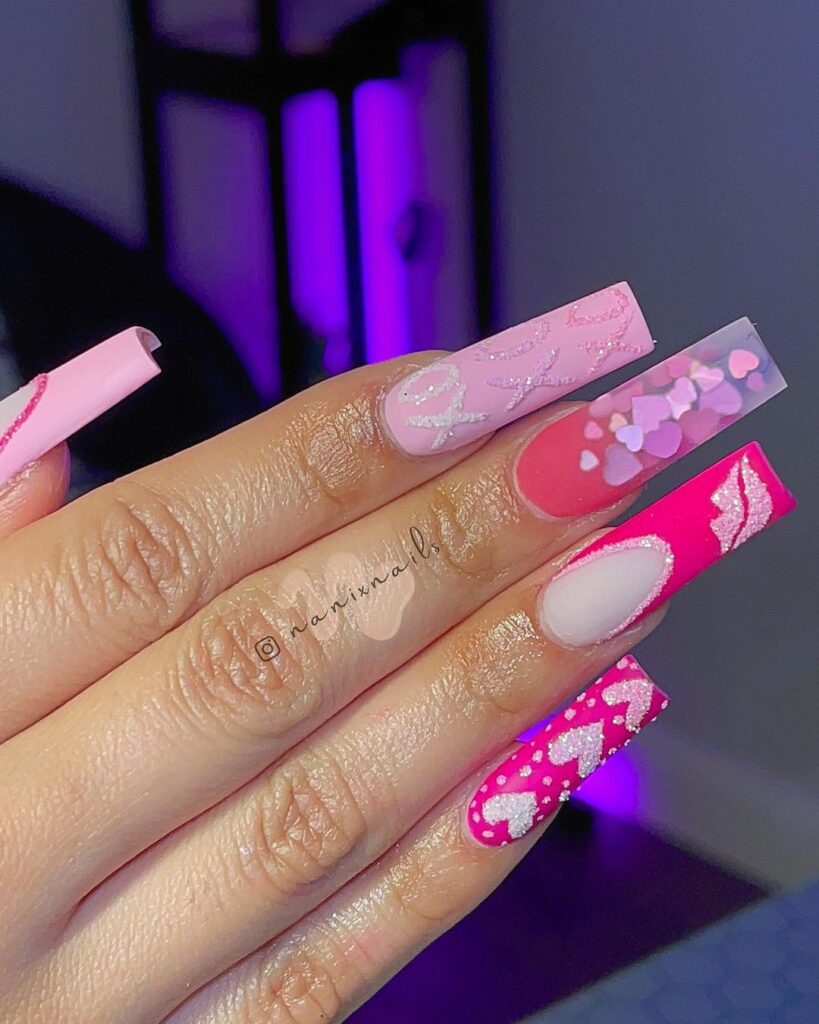 Courtesy: @nanixnails
#52 Alternating red with monochromatic colors balances the vibrancy element of the former shade, while the hearts and checks enhance the artistic attribute of the manicure.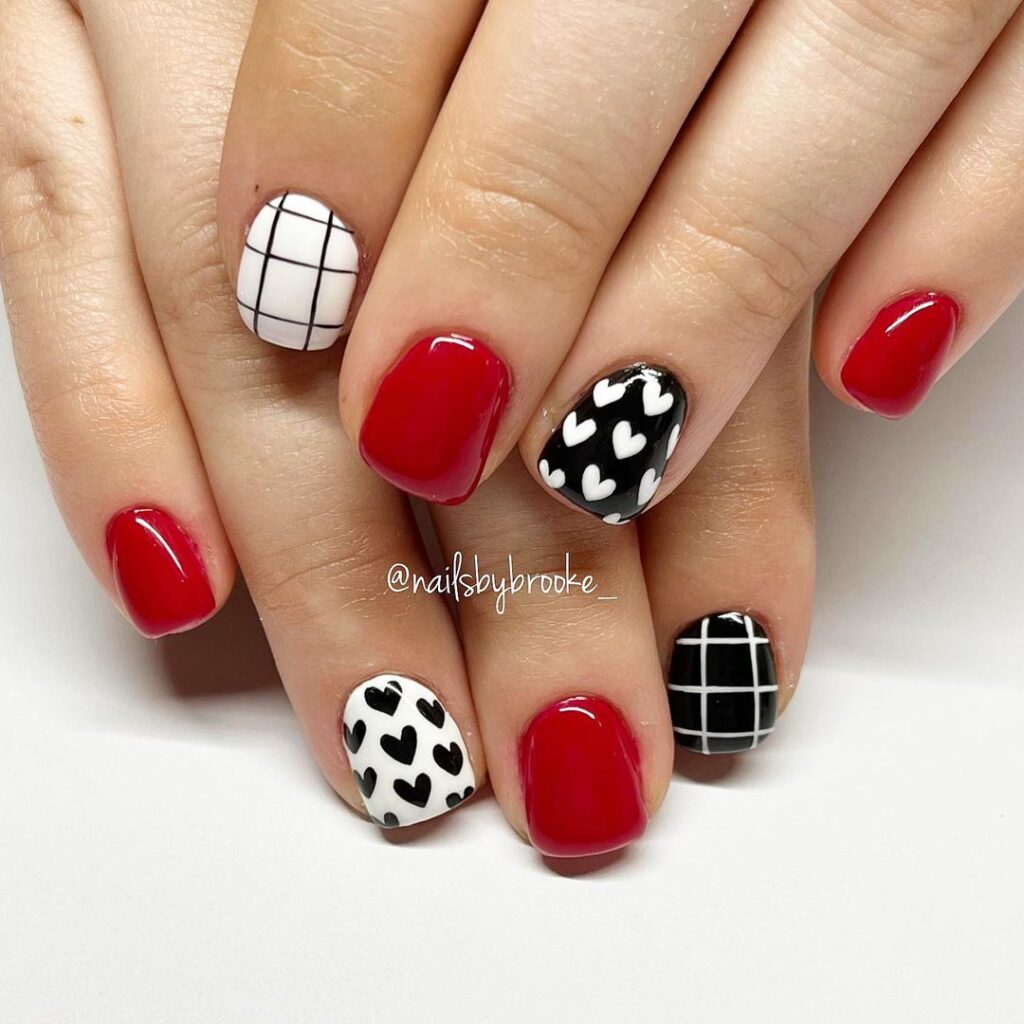 Courtesy: Brooke Jensen
#53 There's no better occasion to shower your other half with love and cheekiness than Valentine's Day. While there can be countless ways to do the same, one of the ways is also through your manicure. The "Be Mine" in scrabble design is enhanced by the cross-zero game with hearts and crosses further.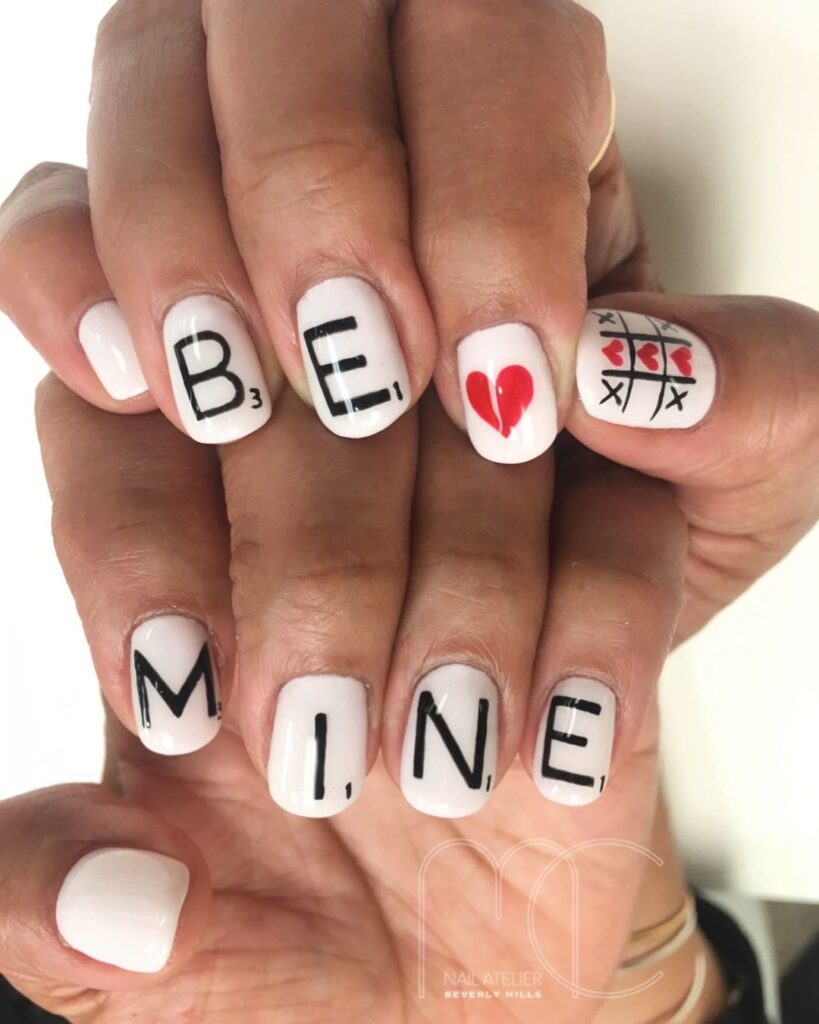 Courtesy: @mcnailatelier
#54 You just can't deny the subtle charm and elegance of the nude Valentine's Day nail design with small hearts on the top. There are many iterations of the same presented on the list and here's one for you to bookmark before you book your manicure appointment.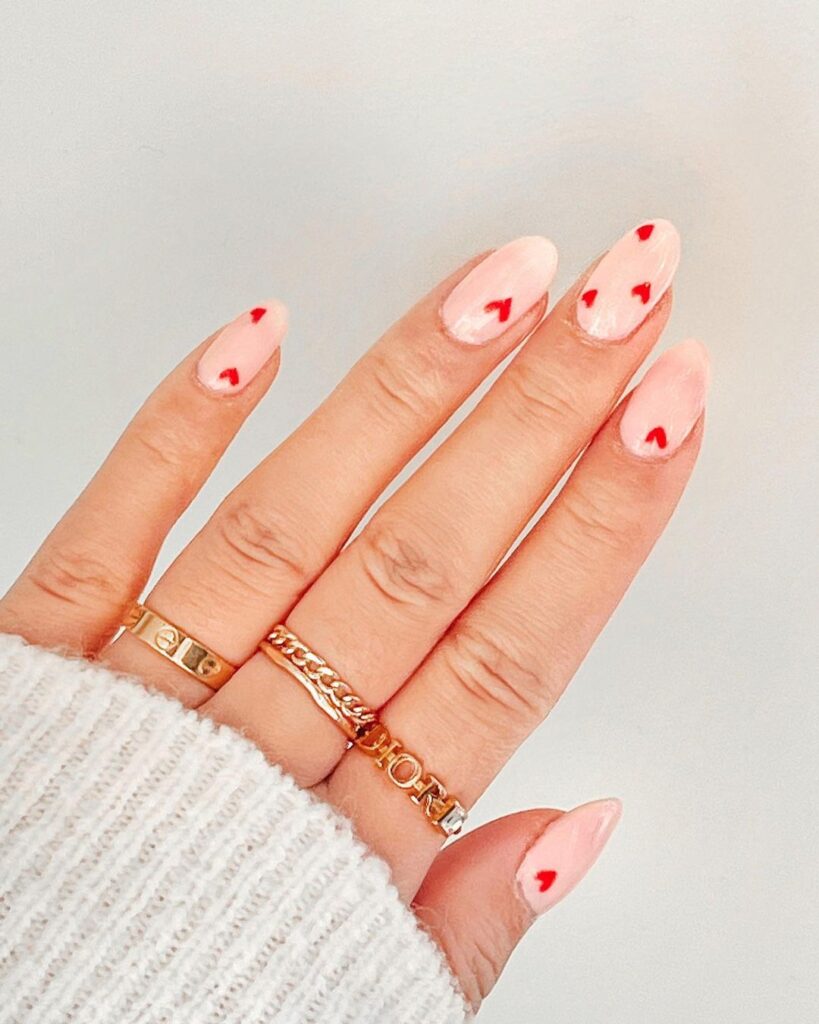 Courtesy: @phoeberreynolds
#55 When you want your Valentine's nail designs 2023 to be relevant for everyday wear as well, here's a pastel green manicure to impress you. Elevated by glitter and complemented with a brownish nude shade, the design is visually appealing and makes for a great investment for V-Day and the rest of the regular days that follow!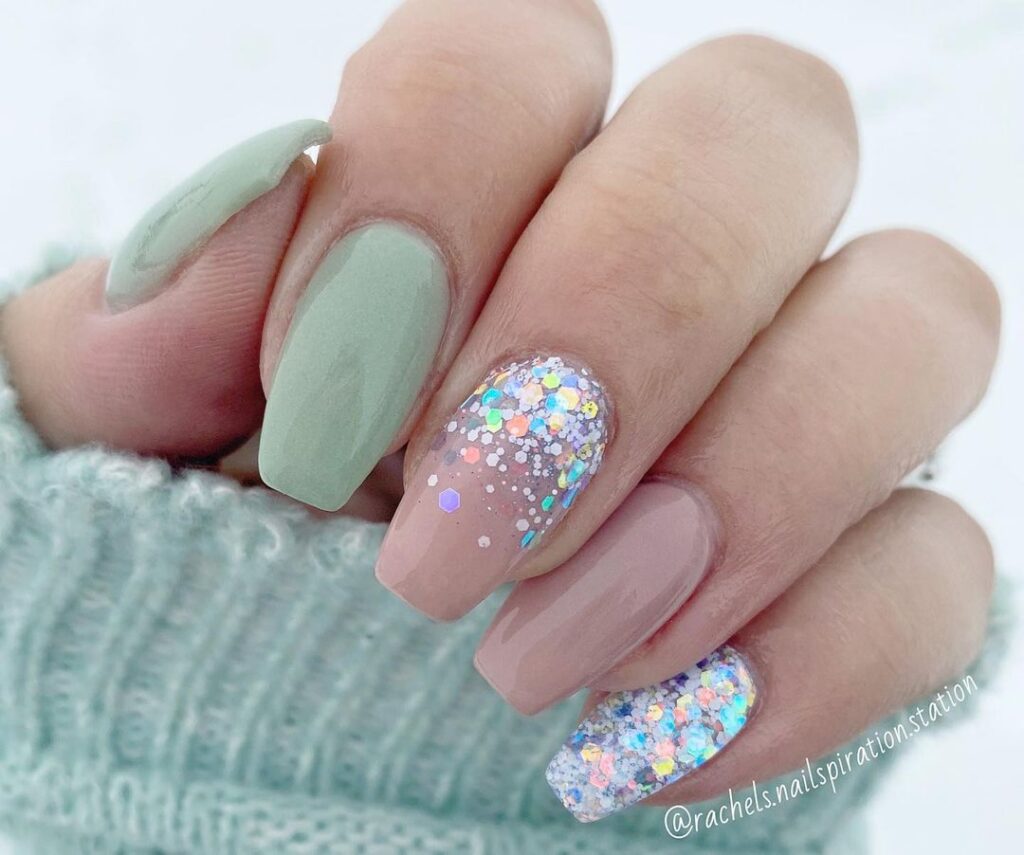 Courtesy: Rachel AT Schmitz
#56 These heart-shaped French tips for Valentine's day manicure is in abundance on this list and can be done in any of your favorite colors. Some combinations to try are red & black, red & pink, black & pink, and light and darker shades of pink. These are the colors popular on Saint Valentine's, but you can opt for any other color combination you like!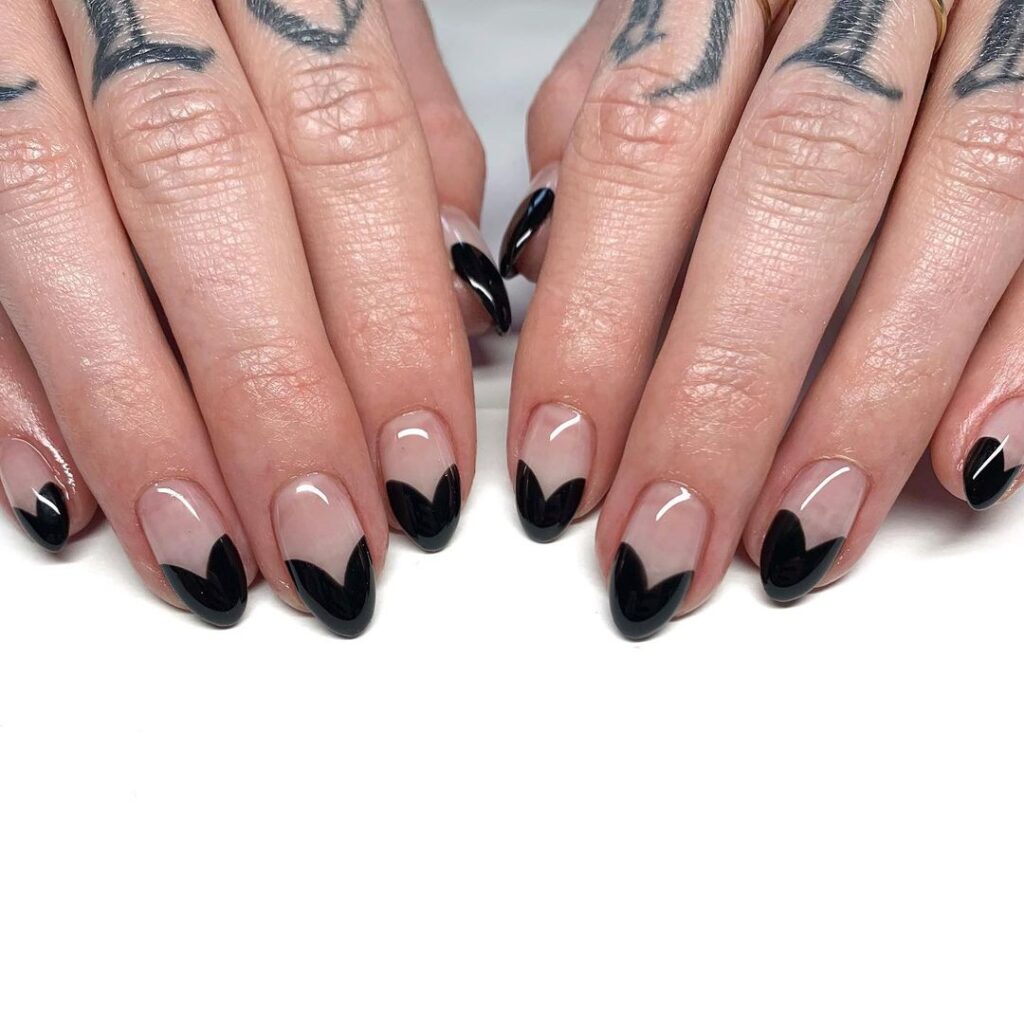 Courtesy: Ali J
#57 With nudish pink as the base, these nails are bedecked in polka dots and heart motifs for a Valentine-specific nail design. When you're DIY-ing this mani at home and want to make it quick, use stickers and cover them with a gloss topcoat so they stay put and you can enjoy a flawless manicure for days.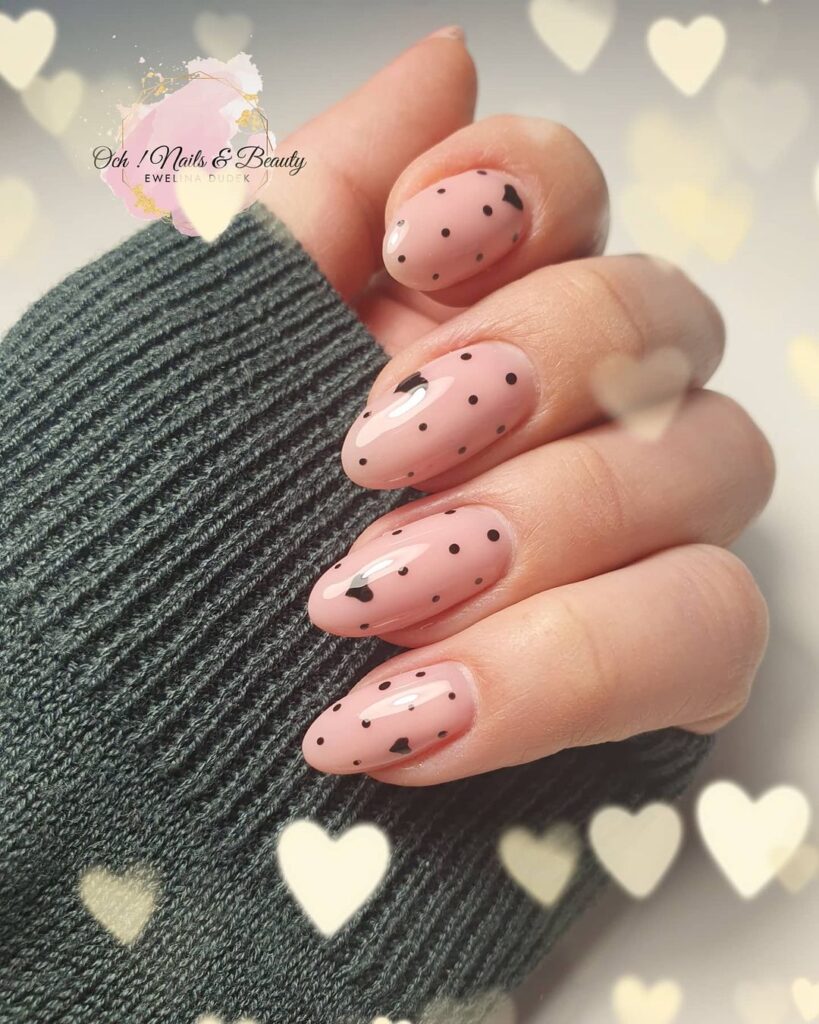 Courtesy: @och_nails_
#58 When glitter is your favorite color, combine the love for the glimmer with Valentine's Day manicure by picking red glitter nails and accenting them with one white nail topped with heart motifs.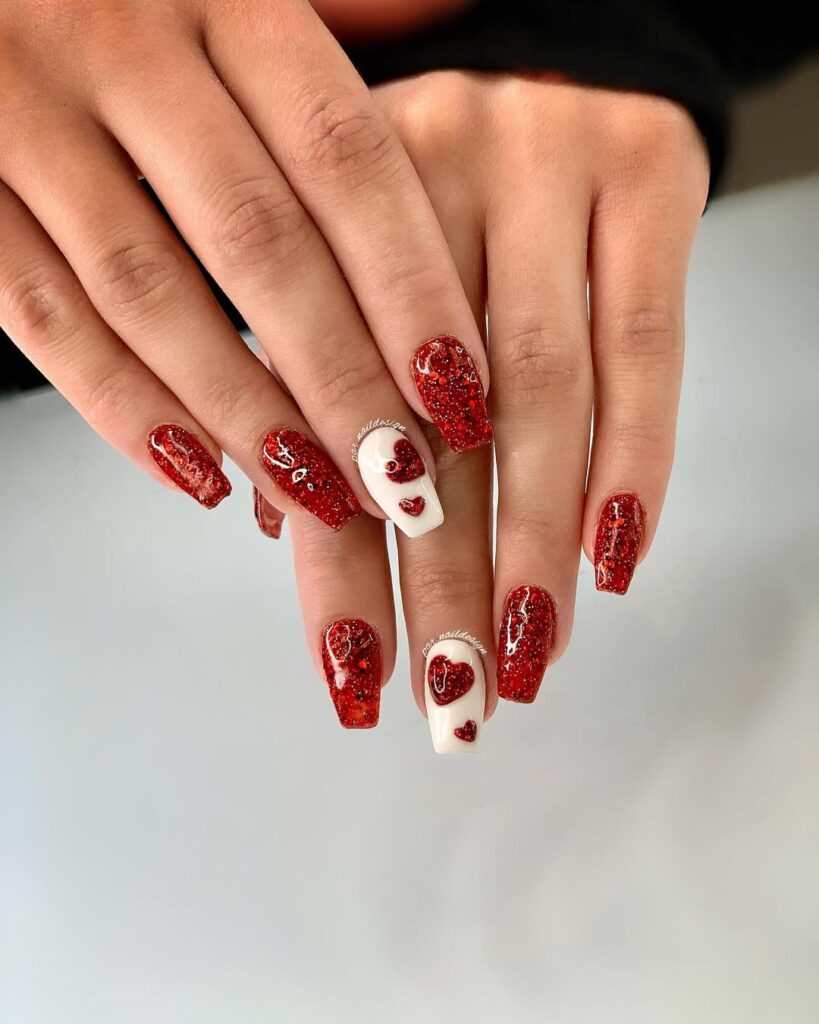 Courtesy: @par.naildesign
#59 Just because you want to get a Valentine's Day nails design doesn't mean you only have to opt for pink Valentine's Day nails or red nails, you can pick a pastel color and use a motif to signify the romance in the air. Below, purple hearts with a golden outline nods to the holiday yet employs a mellow color for the design.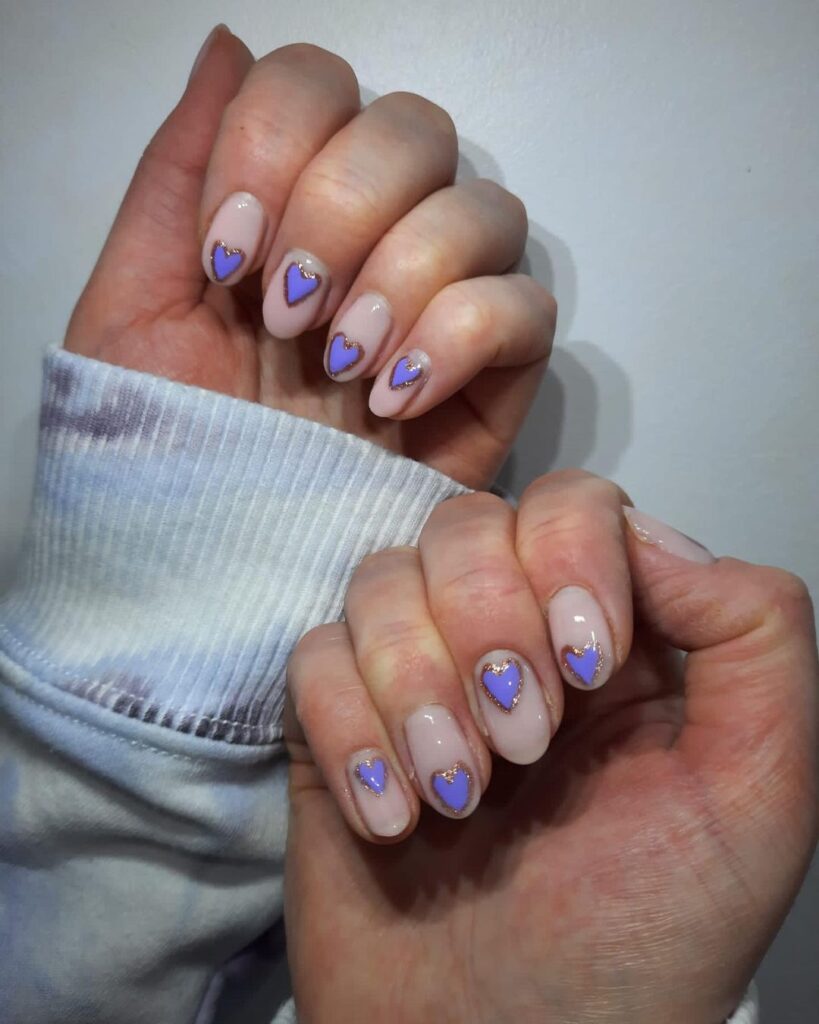 Courtesy: Beautique
#60 Another Valentine's Day nails idea done in lavender combined with white and black accents. Lavender has become the IT color in the fashion industry. It's also slated to become one of the most common hues in 2023. Making it your nail art color can certainly be a fashion-forward and modish choice.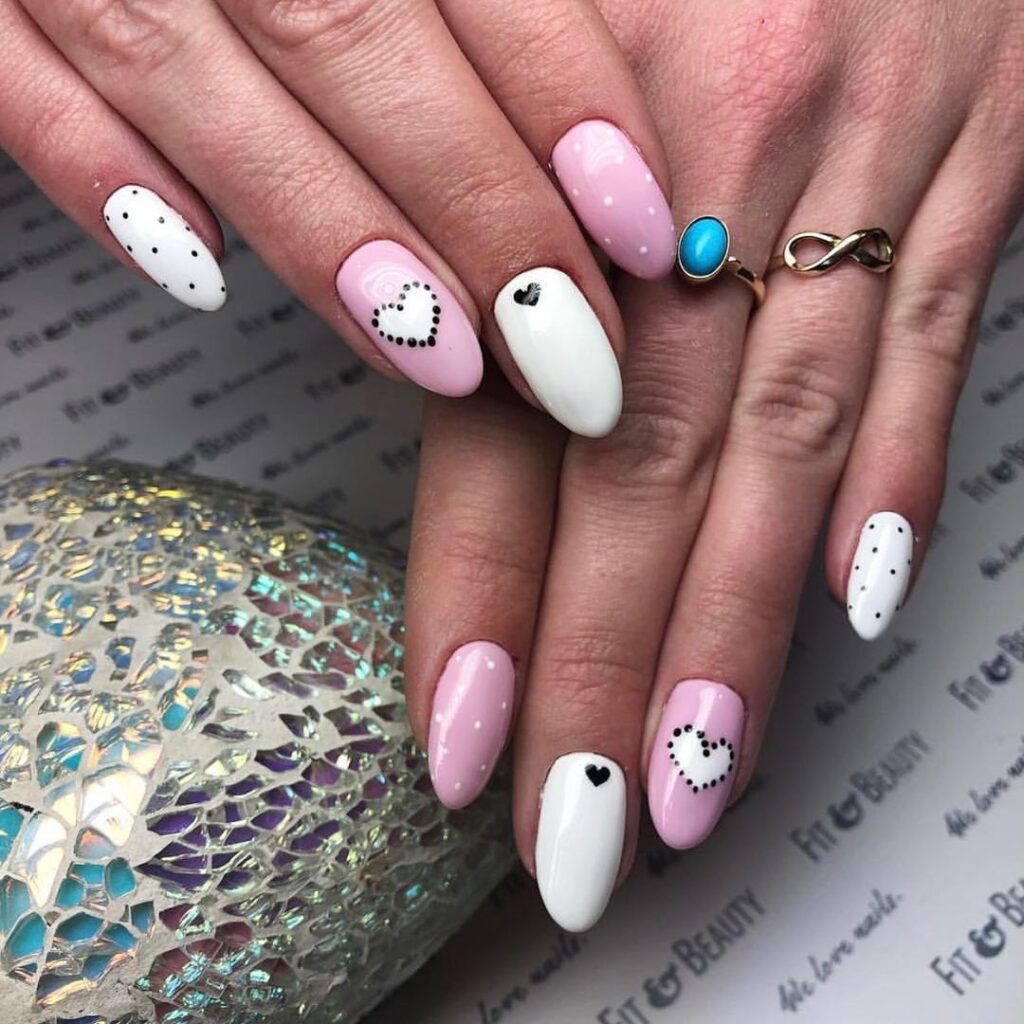 Courtesy: Fit & Beauty
#61 Now, this is a fun manicure to try on both Valentine's Day & when you're also celebrating friendship on Galentine's Day! "XOXO" written on the nail means hugs & kisses and is an informal way of expressing deep affection, sincerity, and love. That's why the term is found in abundance on V-Day cards and chocolates.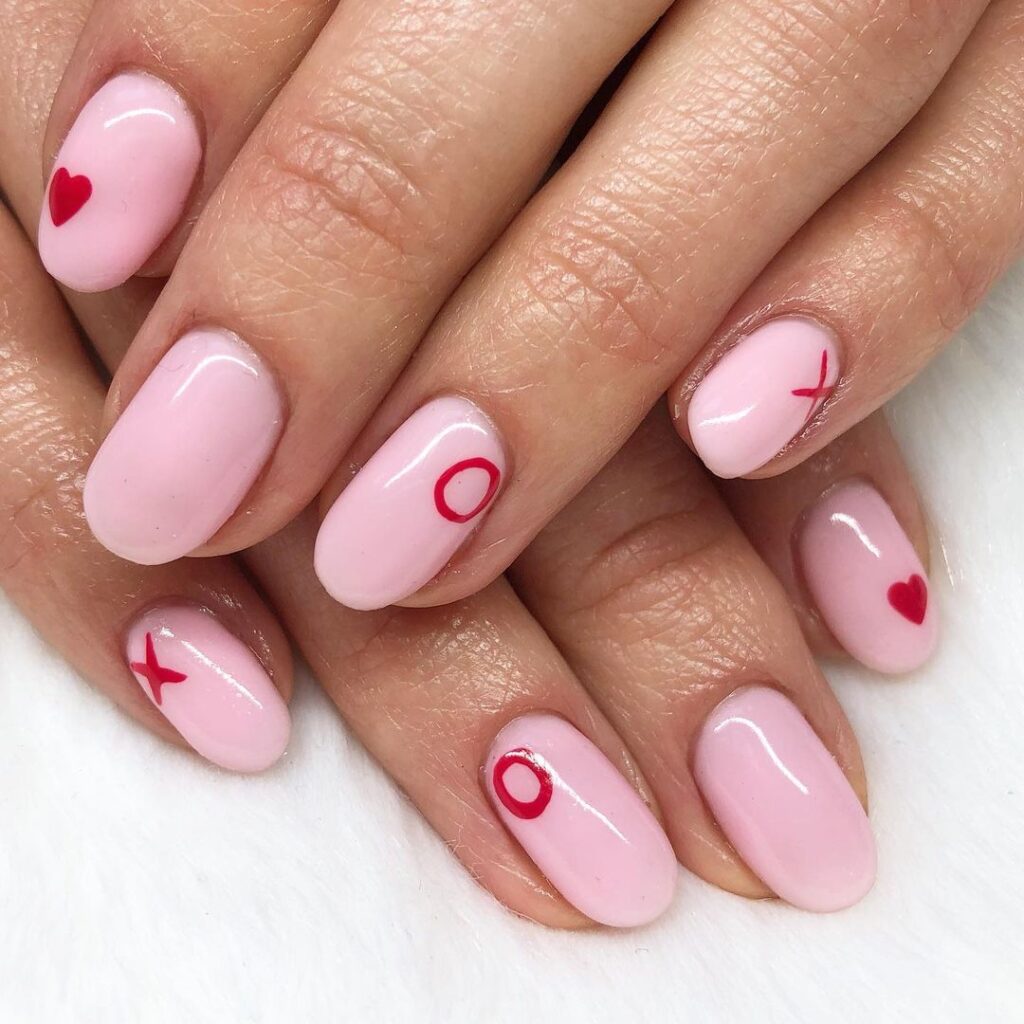 Courtesy: @hayley.haloaesthetics
#62 When you want something subtly romantic for your Valentine's, here's a French manicure accented by a little heart to add romance without looking overdone. You can create the heart using a dotting tool or just use a sticker and place it securely to DIY these simple Valentine's Day nails.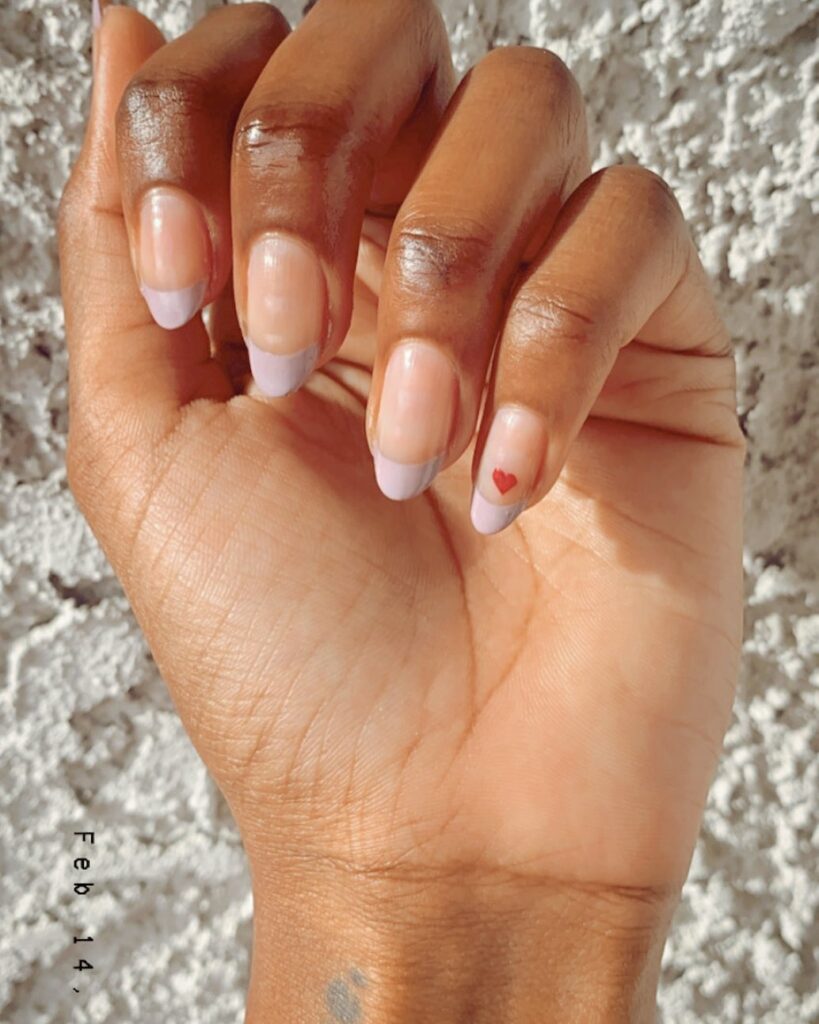 Courtesy: Christina
#63 "XOXO" is another common term used on hot Valentine's Day nail designs. Here, however, when you look closely, you will see that stickers are used for sayings & designs, making this Valentine's nail idea a quick DIY before you head out to dinner with your partner.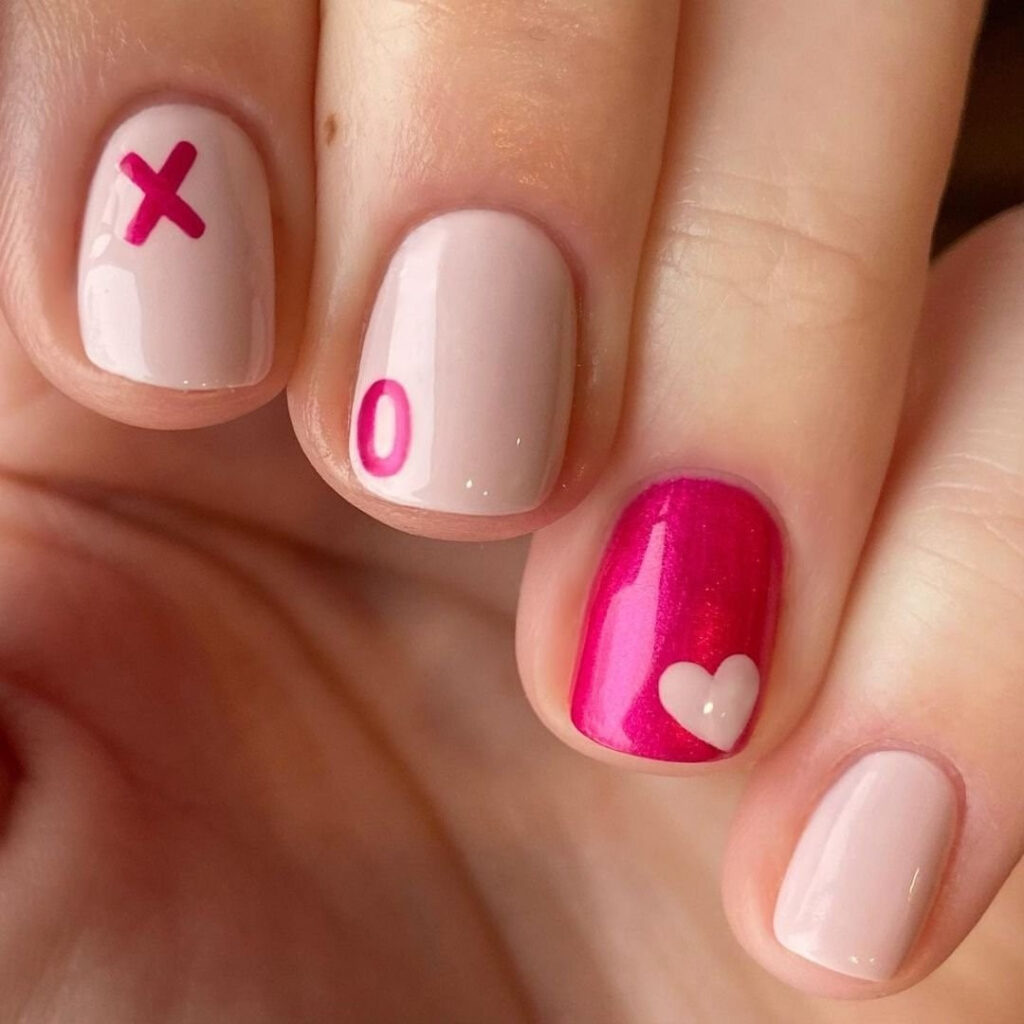 Courtesy: OPI India
#64 These acrylic Valentine's Day nails are both simple & classy. For women who want a nail design that's sophisticated so they can wear them for 2 to 3 weeks after Valentine's Day, this manicure idea can work well for you! It also can be easily recreated by any manicurist near you, so you don't have to spend hours searching for the top ones in your area.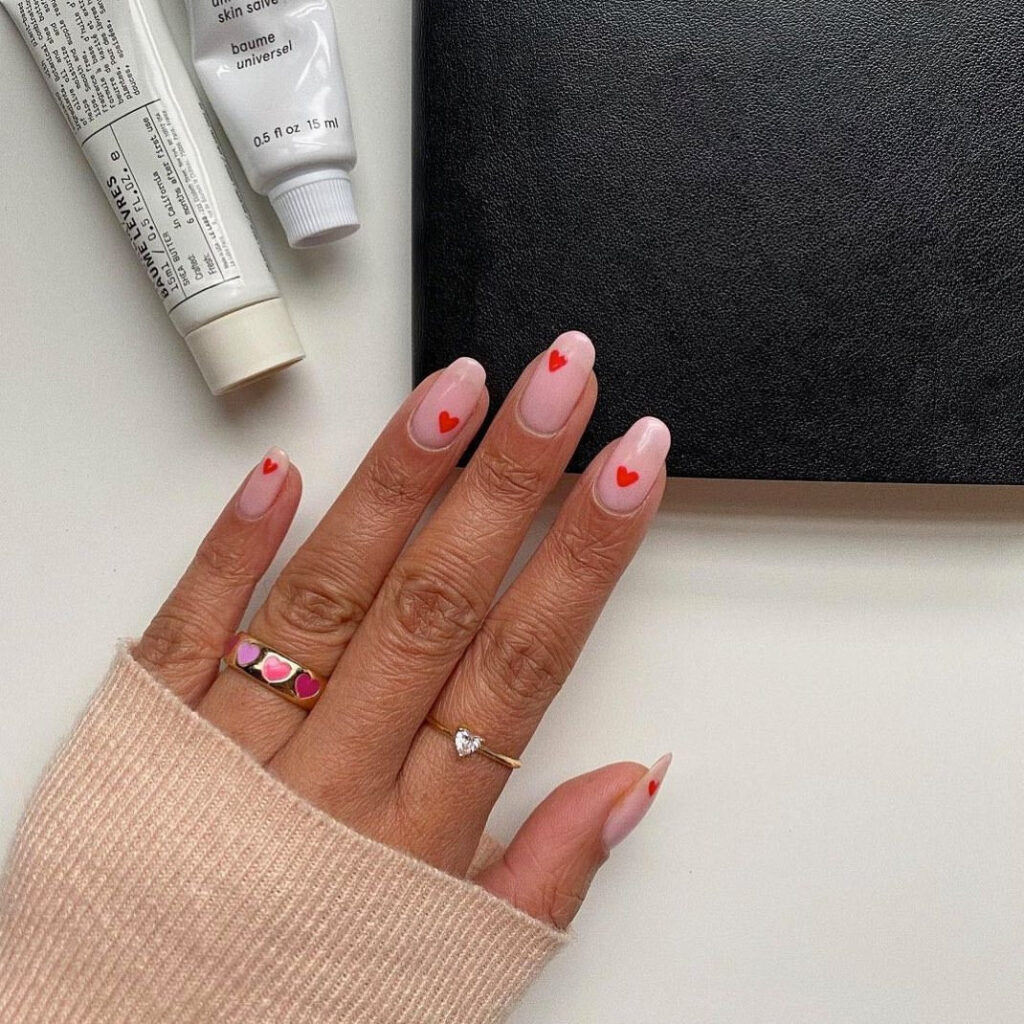 Courtesy: OPI India
#65 To break the monotony of pink and red, we consciously made it a point to include other colors so you've got an option of creating Valentine's Day Nail designs 2023 without the pink or red if you want to! Below, the nails are done in purple glitter with the accent nail enhancing the pattern by including a black and white geometric pattern with a cute little heart on top to exude romance.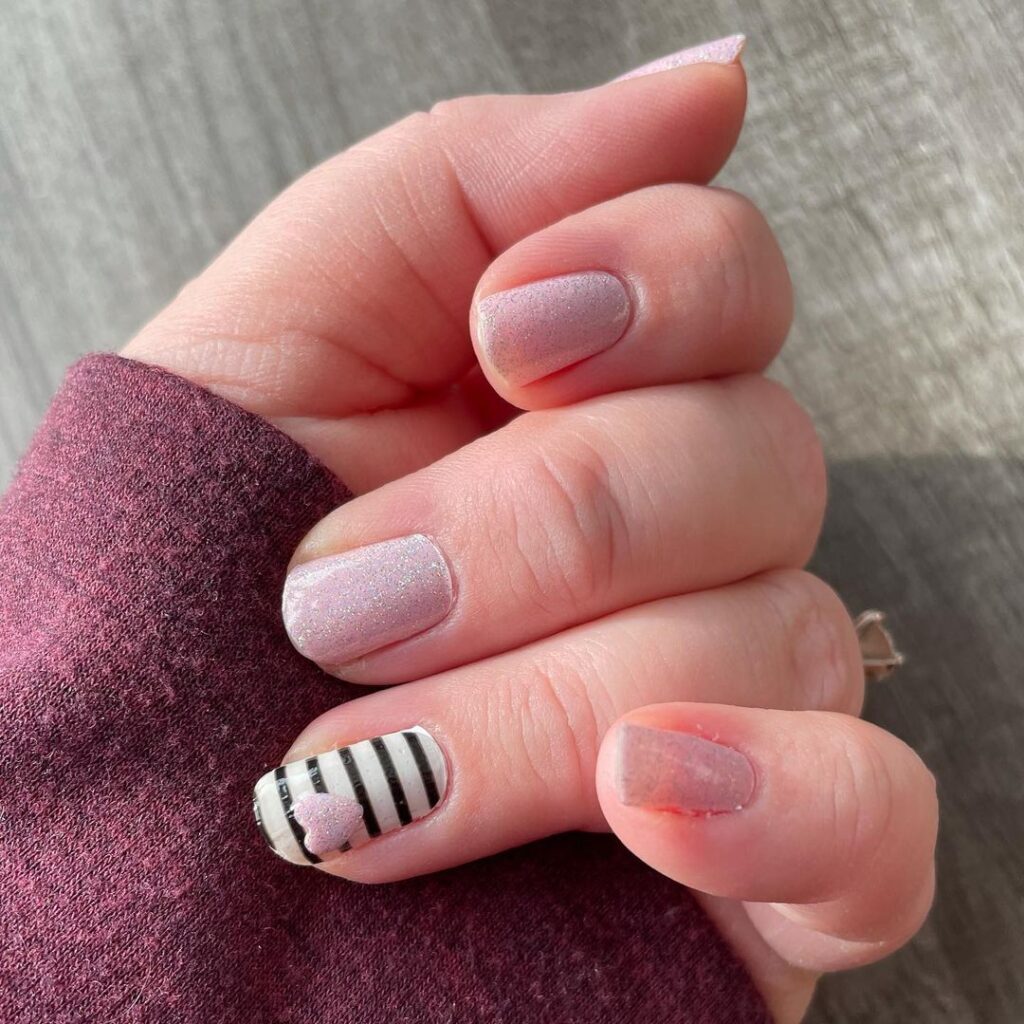 Courtesy: Amanda Taylor
#66 Ask anyone what color goes best with lavender and they will say white! Creating the half-half pattern with these two hues, here's a manicure for your V-Day. Also, lavender is a great color to include in your mani! It has been named 2023's hottest color by WGSN, and its calmness and digital serenity will be seen everywhere from your fashion to your decor aesthetic.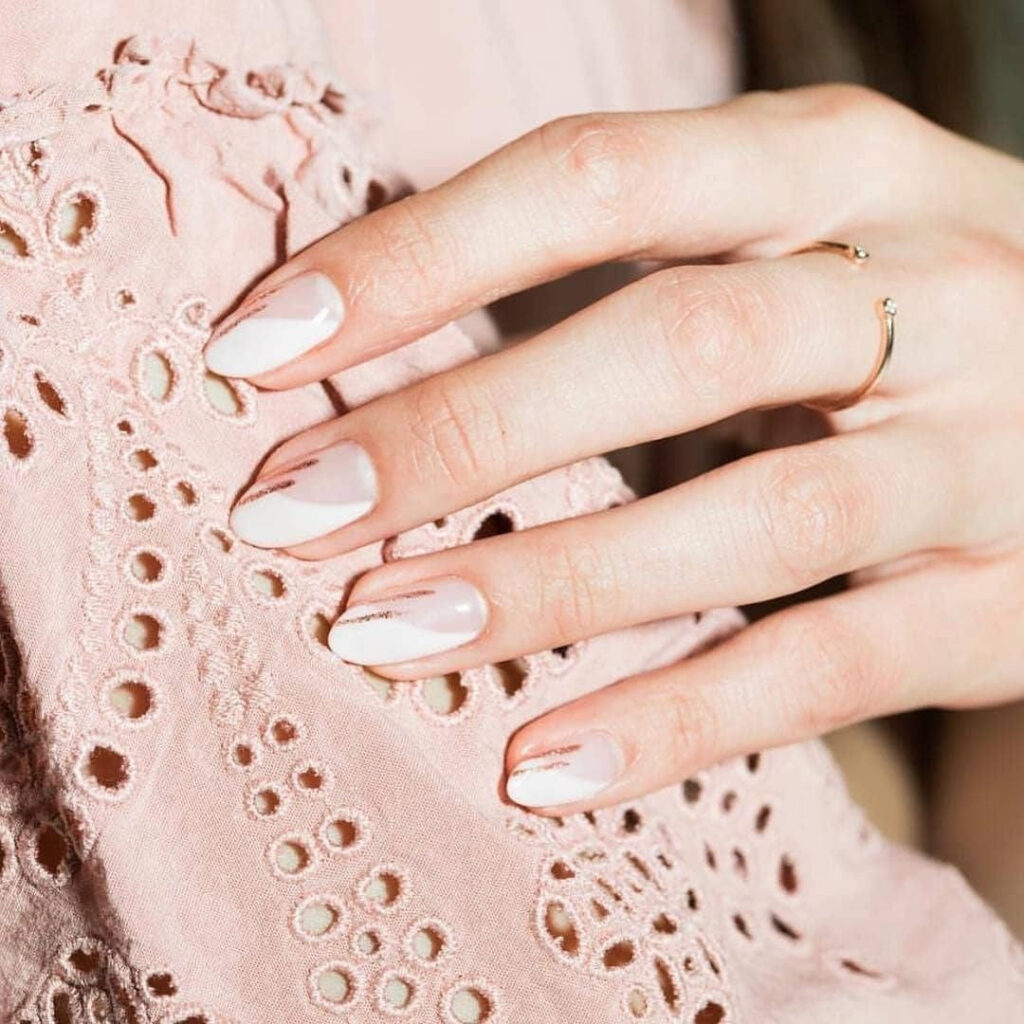 Courtesy: OPI India
#67 If you're looking for other symbols of love than the heart, butterflies can be a good pick. They are often released after the wedding ceremony in America to symbolize the love and promise of a blissful marriage. Spiritually, it also symbolizes genuineness and openness – important qualities to let a relationship thrive! Besides their symbolism towards love and happiness, it's a great representation of the butterflies you still feel when you see your partner, and for all these reasons, we think they make a great addition to your Valentine's Day nail ideas.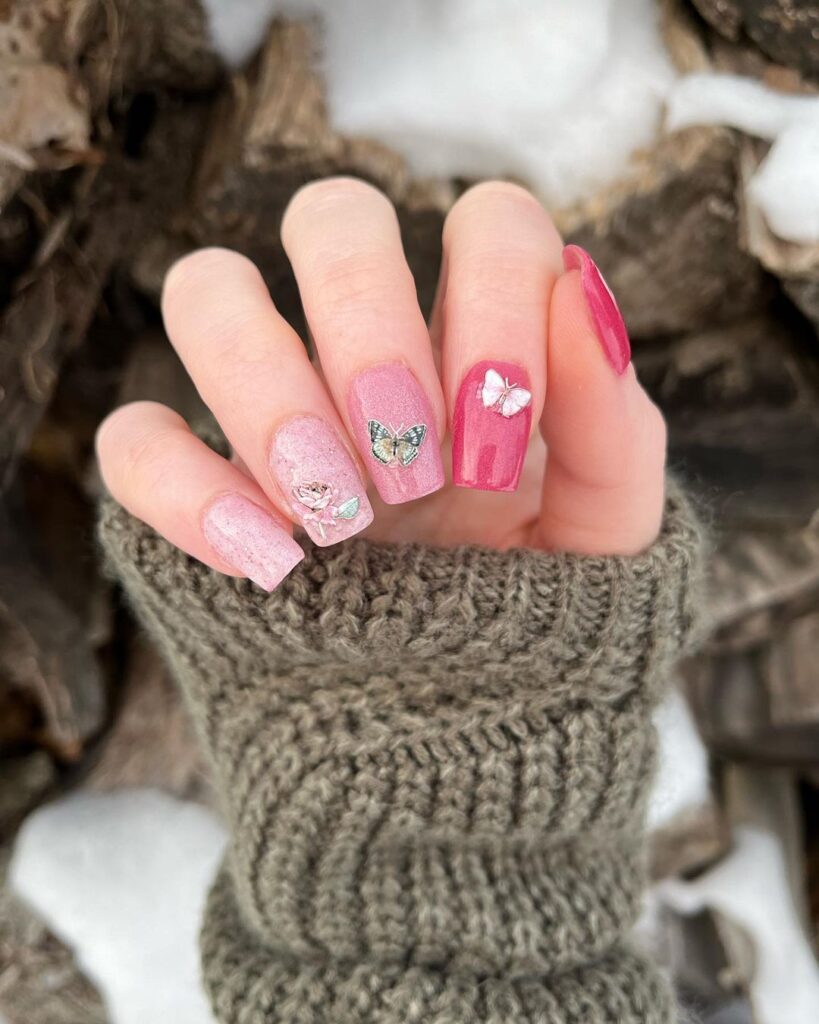 Courtesy: @missravendips
#68 There's nothing that can beat the timelessness of the Valentine's Day nails as all red nails. If you're wondering why red is associated so strongly with Valentine's Day, there are numerous explanations. The strongest one among them is its association with passion, love, and wealth. Red is also the color of the heart and the blood, making it an easy pick to be associated with true love and romance. Moreover, red is also associated with luck in many cultures, and according to science, it evokes the strongest emotions of love and passion in people.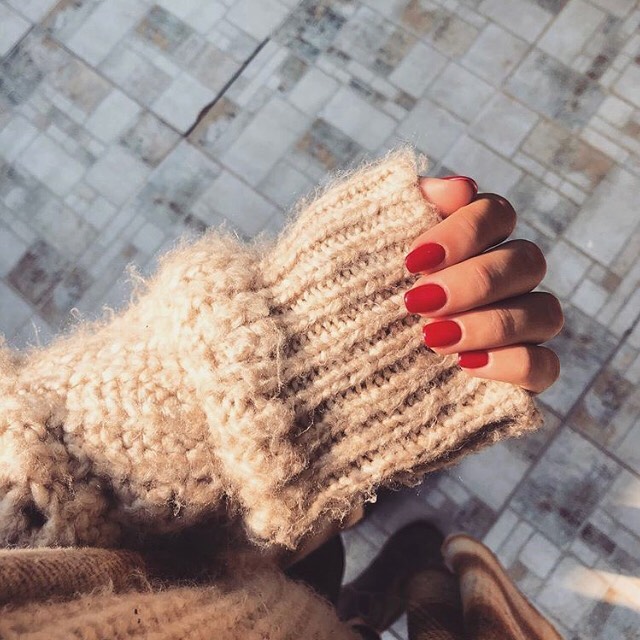 Courtesy: Bio Sculpture UK & I
#69 Go simple this Valentine's Day 2023 with this one of the simple manicure designs for a romantic day! It involves matte pink nails and an accent nail is done in glitter for a glamorous effect. You can choose any other color you like instead of pink, but if you're picking a hue not associated with Valentine's, just add a heart to make it relevant for the occasion! 
Courtesy: @celestilanailz
#70 When you want your Valentine's Day acrylic nails to be merged with the hottest trend in manicures, try psychedelic swirls. These swirls allow you to mix some of your favorite colors and can also be manifested in the form of a design or motif! While they are an inherently maximalist style, you can tone them down by restricting the swirls to just a part of the nail – like portrayed below! Given the intricacy, these nails are best recreated by an expert only.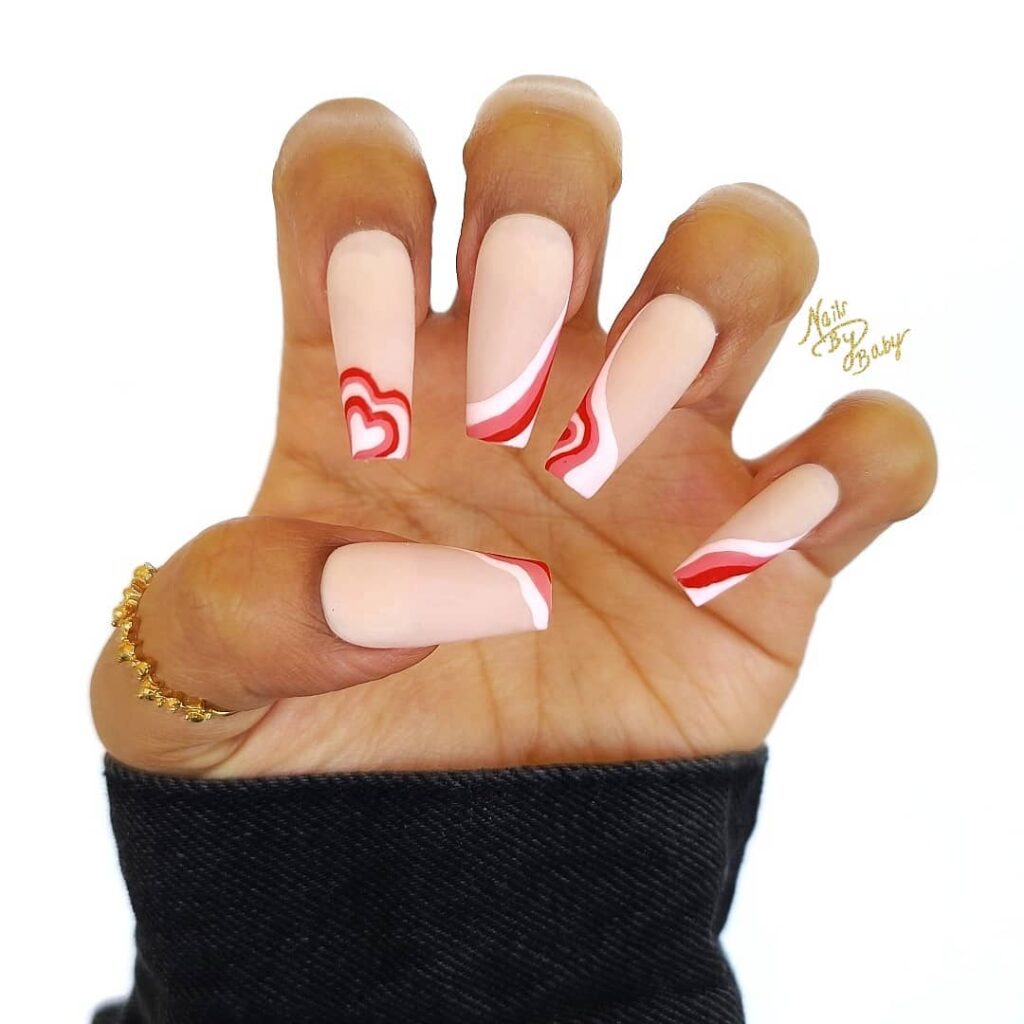 Courtesy: @nailsxbaby
#71 These pink Valentine's Day nails are both glamorous and gorgeous. Besides red, pink is commonly associated with 14th Feb; wondering why? Pink is considered to be a combination of red and white. The former is associated with strong passion and love, while the latter means innocence and purity. It's believed that pink has the power to exude both, and hence it gradually but surely became imprinted in the minds of the people as the Valentine's Day color.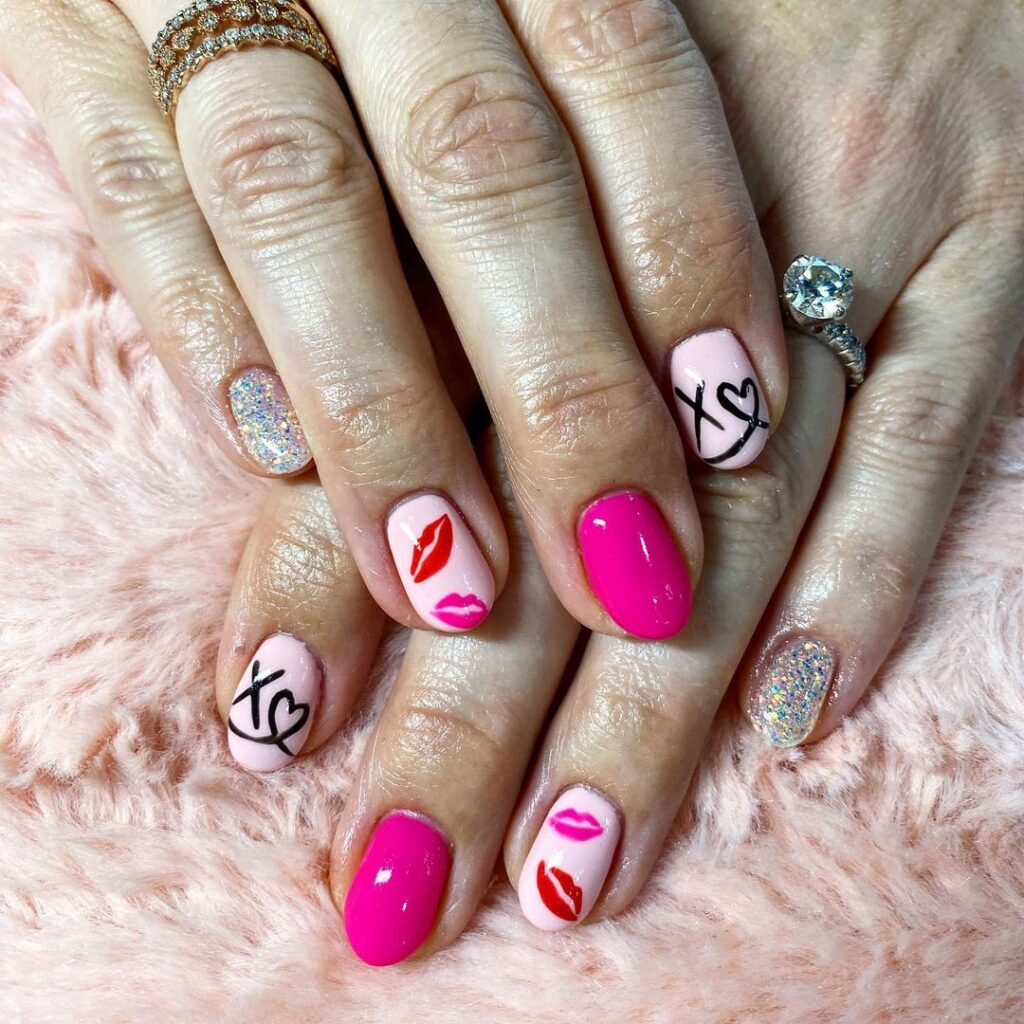 Courtesy: Sam Ellison
#73 These glossy nude pink nails with a golden heart are a simple yet strong reminder for Valentine's day and that love is in the air for the entire week.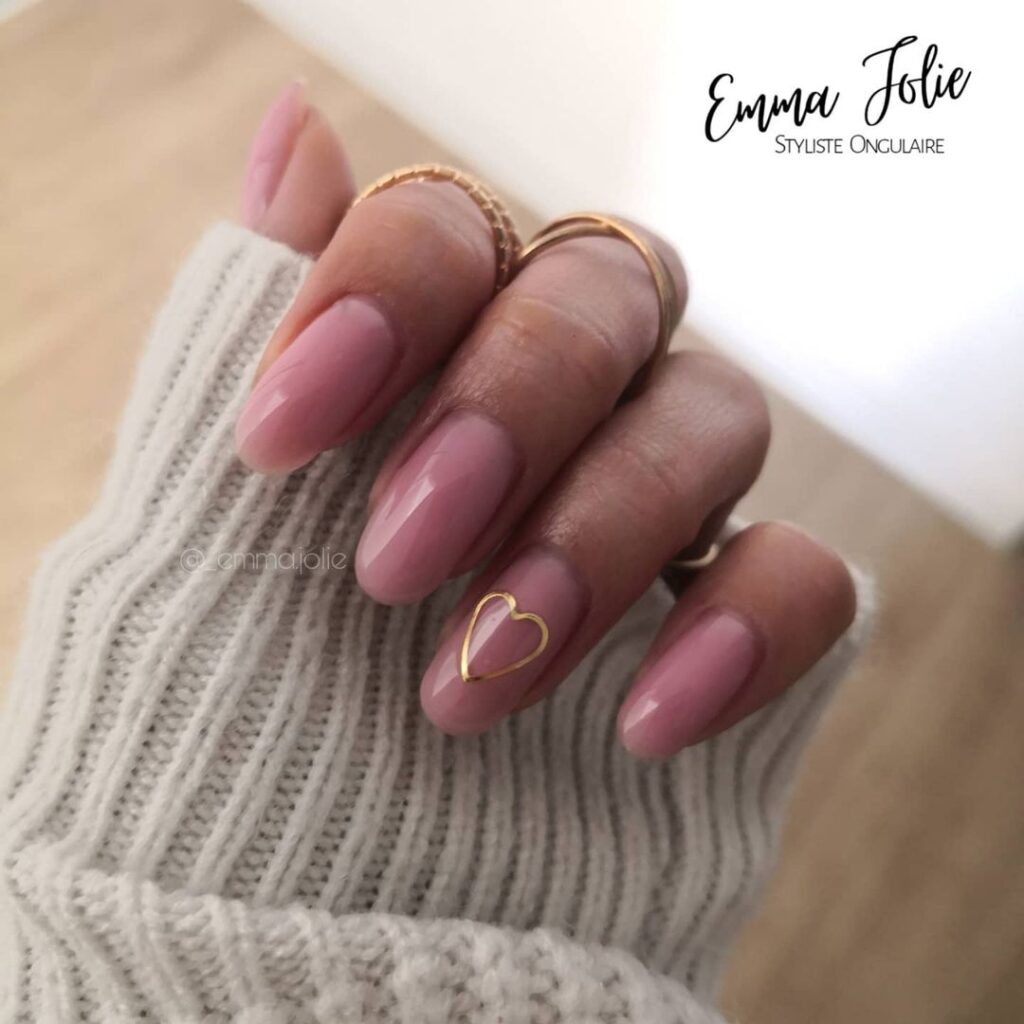 Courtesy: Emma Jolie
#74 Depicting the cute comic illustrations from Instagram is this manicure portraying them beautifully on some nails. We love how they are so neatly drawn and can only be done by an expert nail technician. Recreate this cute manicure on your nails – even if it's for a week – for a reminder that love is in the air and it's time to celebrate it with these small yet significant changes.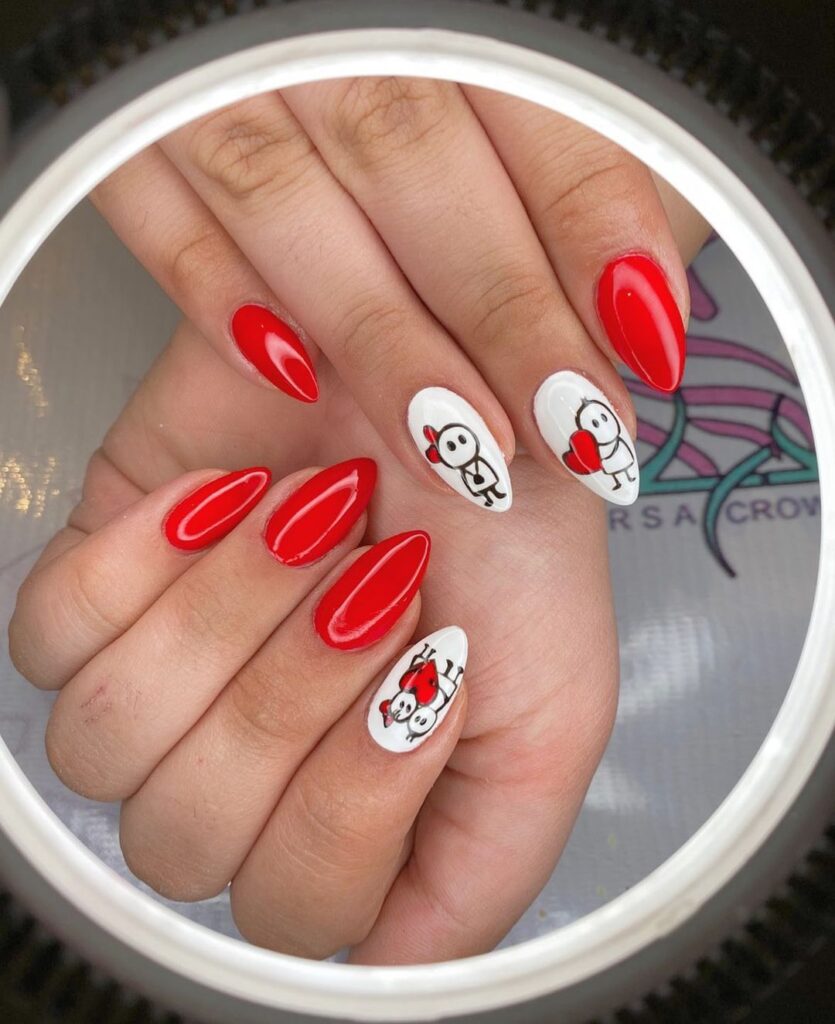 Courtesy: Dorsa Nail
#75 These pink Valentine's Day nails are elevated by ombre and glitter on the middle and ring finger for an aesthetic and striking appeal. You can recreate them at home, but if you want to last longer then acrylic or gel nails at a professional salon are recommended.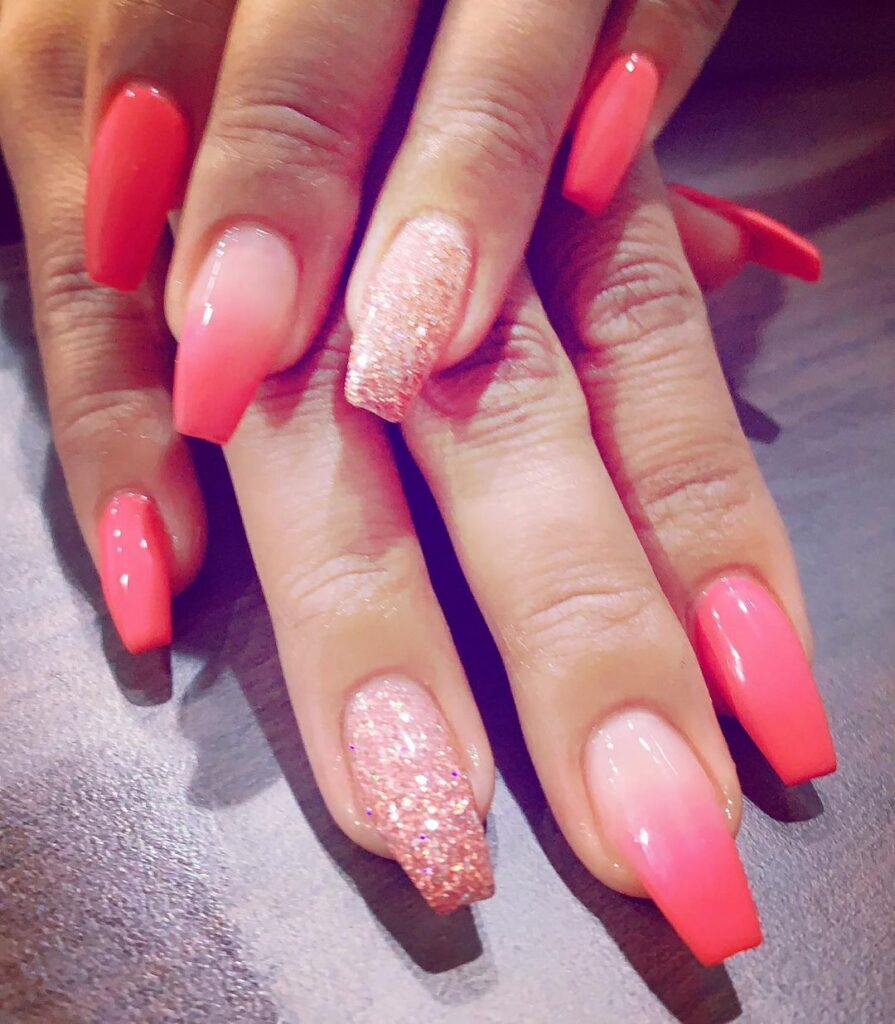 Courtesy: @wikinailsspa
#76 We love this short Valentine's Day nail design. For those who love the practicality associated with short nails or for new mothers who don't have the option to wear long nails, short nail designs are the savior! Don't worry. You can find plenty of stunning manicures for short lengths as well, such as the one featured below. You can also make the colors red & white instead of black & white if you like the vibrancy in your nails.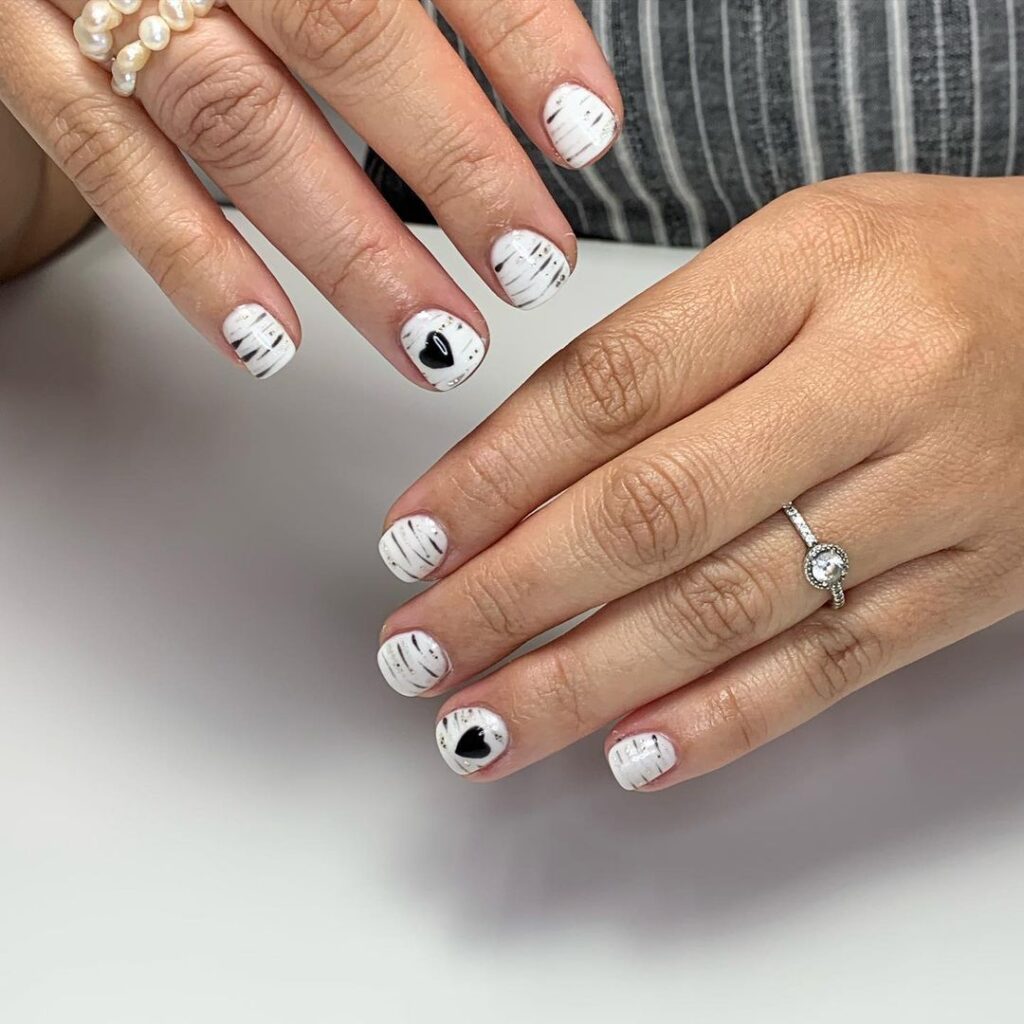 Courtesy: @nailsonpointpr
#77 When you just can't let go of your classic ombre French nails, then make them Valentine-specific by painting a cute heart on the top.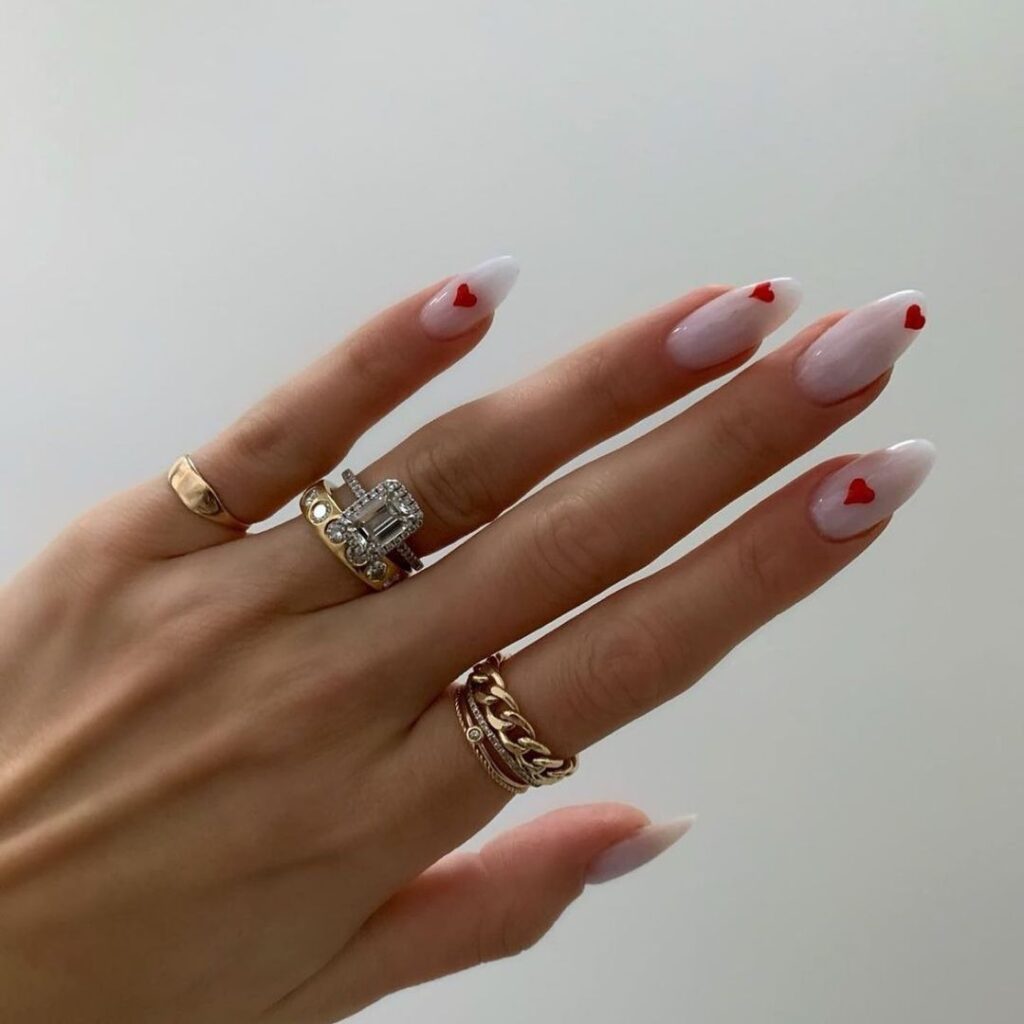 Courtesy: @nat.that.way
#78 If you're a maximalist, this stud-enriched and glitter-augmented design will have your heart! Maximalism is a great way to show your personality and express your unique perspective. Through nails or otherwise, maximalism's idea of "more is more" actually is a great way to lift your spirits and boost your joy especially when you're feeling a bit low on the inside.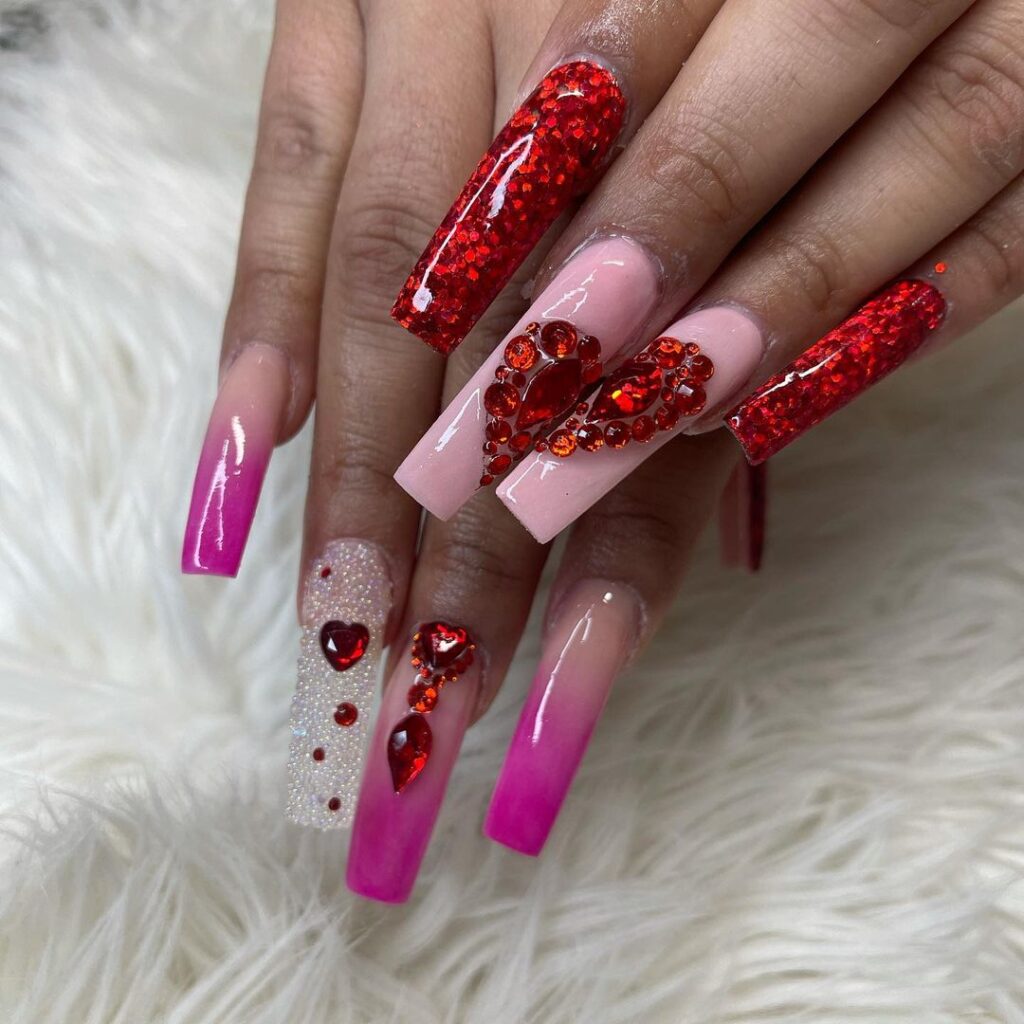 Courtesy: @anas_beautyzone
#79 These short coffin Valentine's Day nails elevated by studs and cross-zero game look quite exquisite. Needless to say, they'd look quite good in pink as well if you're swaying more towards pinks than reds this V-Day.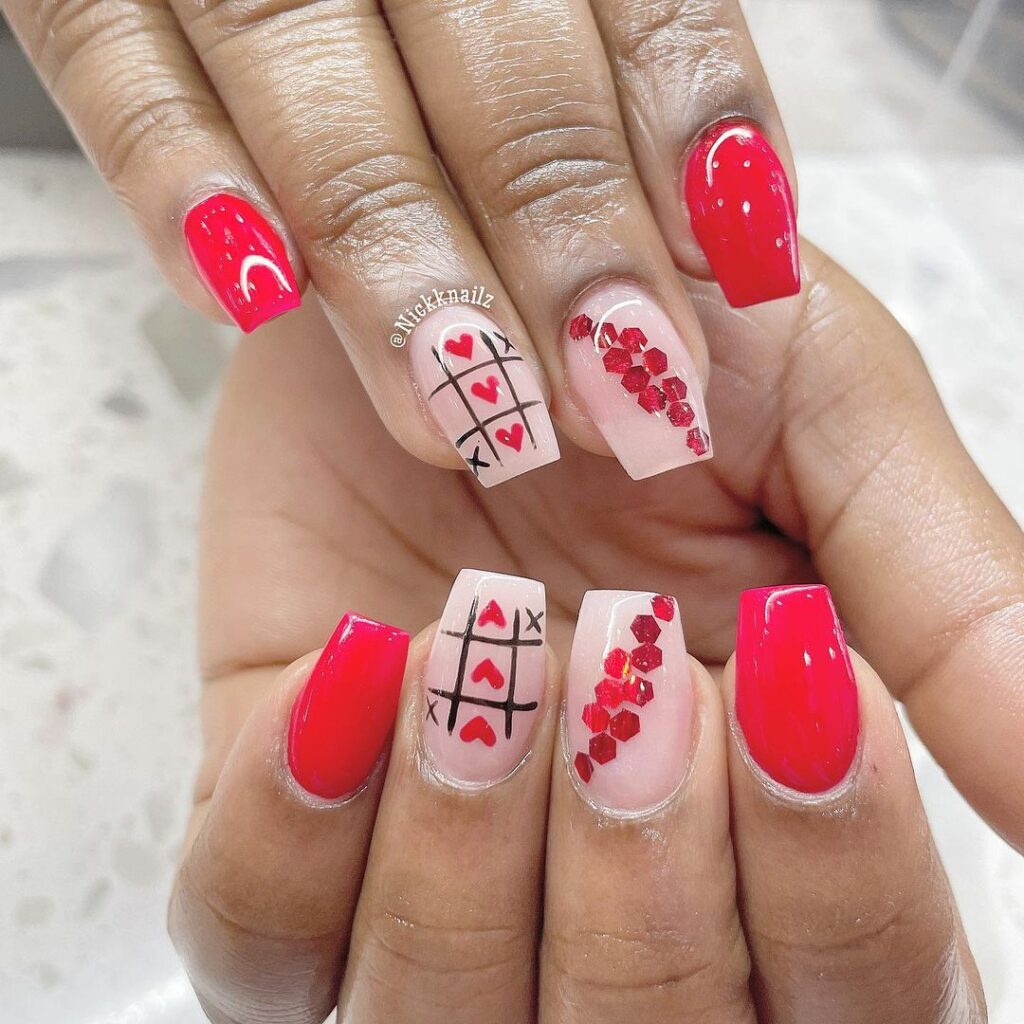 Courtesy: @nicknailz
#80 These heart nails are done in light pink ombre as a base. The pinky and index fingers are done in black French tips while the middle two nails are painted with hearts. We love how the hearts are not that intricate, so you don't have to worry about the rough edge when DIY-ing and can be assured they'd look as appealing as when done professionally.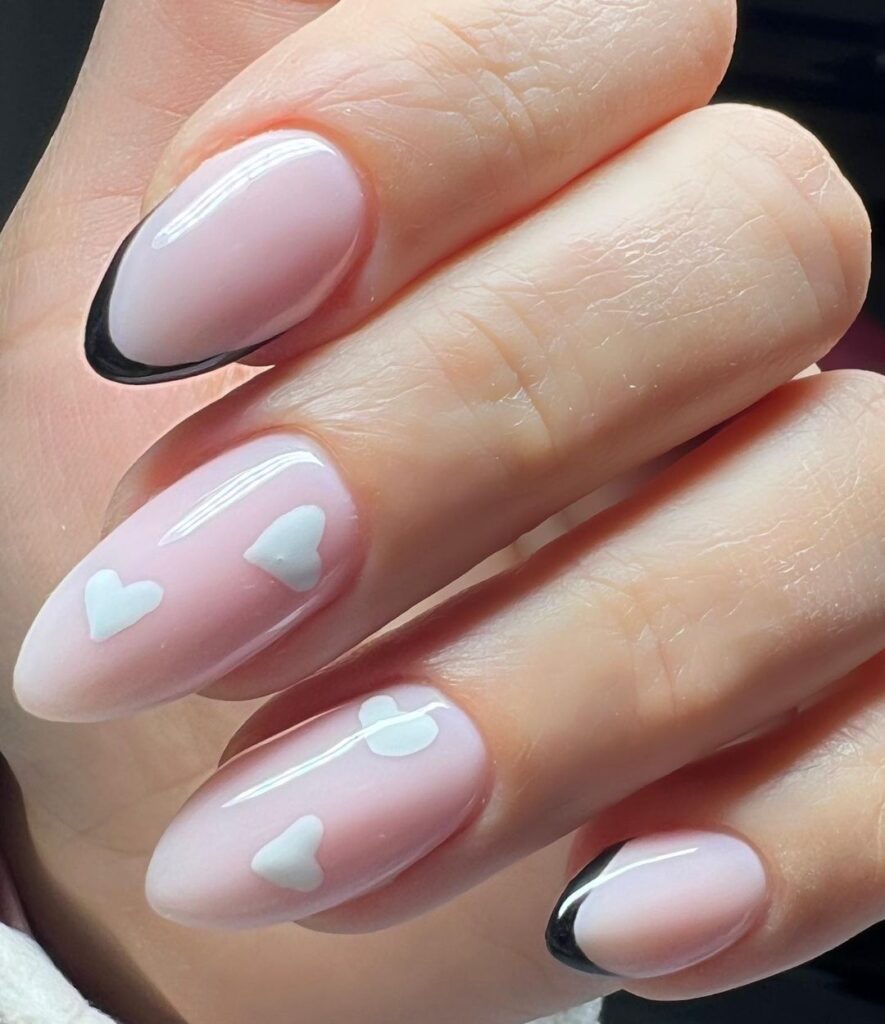 Courtesy: @nickknailz
#81 There's just something about long nails, you do have this constant urge of trying them, and if that urge is stronger this V-Day, here's a manicure to go along with your lengthy talons.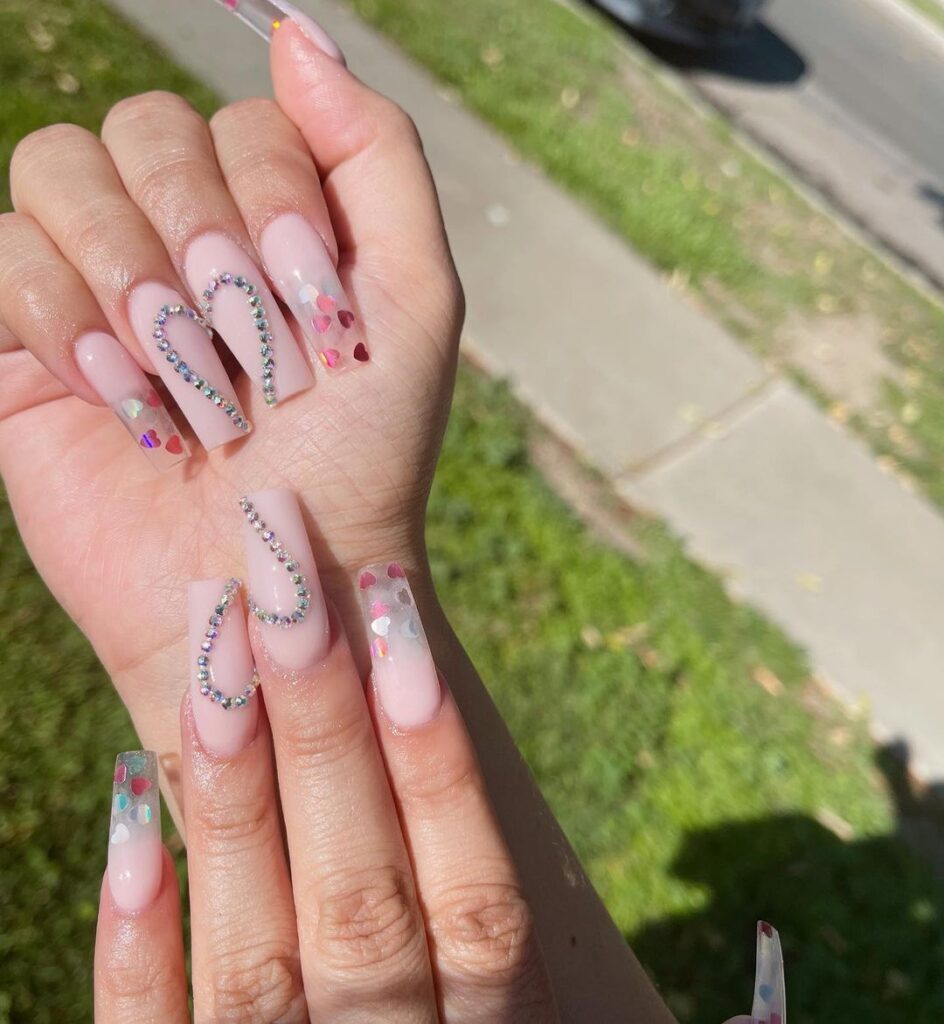 Courtesy: Pink Blossom
#82 It's obvious that Valentine's Day manicures will be replete with hearts, but it's fascinating to see how this single motif can be used so diversely to curate such a striking range of ingenious designs. In these Pinterest-worthy Valentine's Day nails, small hearts are drawn over a square box for a creative and appealing design.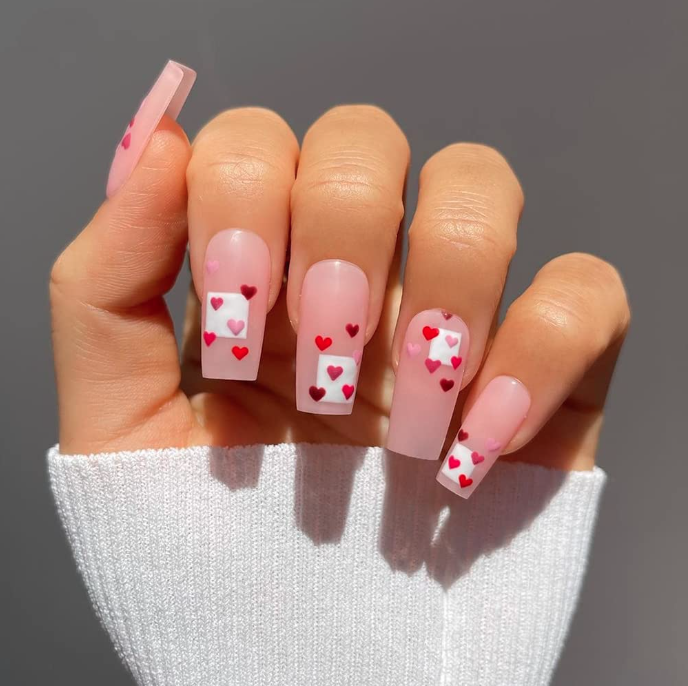 Courtesy: Ubuy
#83 These all-pink nails are a wonderful idea for Valentine's especially when the dress you're wearing also has the majority of the same color. It's also a quick last-minute manicure idea to create before you step out for your date!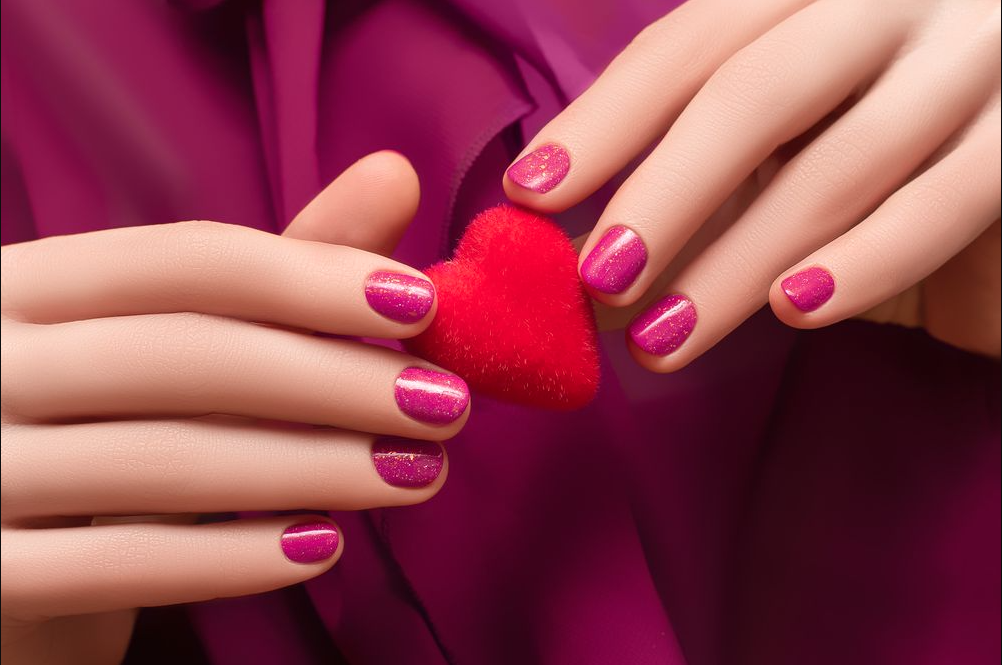 Courtesy: diys.com
#84 The pink nails with glitter are a common design, but the one that never fails to impress. To recreate, start by shaping the nails as you please and start painting the nails. You can also go the alternate route. Once the polish dries, cover them all with a gloss coat for a glimmering effect.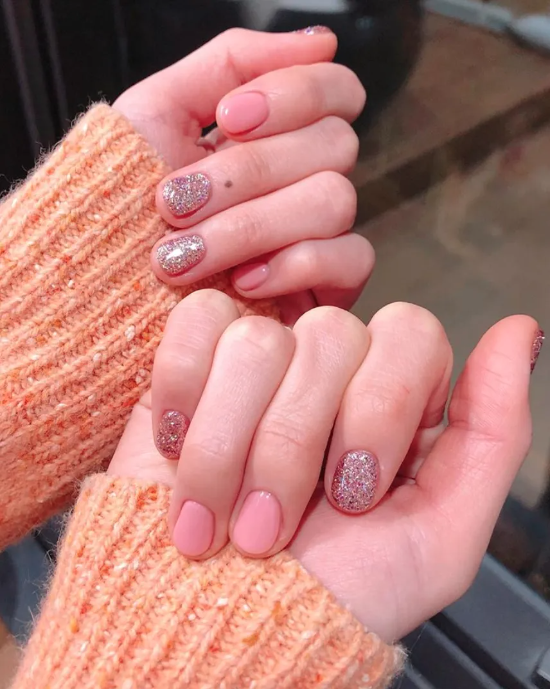 Courtesy: @oi_nail
#85 These ombre pink nails in the stiletto shape are just the dazzling nails design you need to woo your partner this Valentine's Day. Enhanced by a glitter heart in the middle and a straight white line, we love the artistic appeal of these nails. Surely, a great idea when you're getting professional nails done and want to reap the benefits of all $$$ spent! 
Courtesy: @_mejzi
#86 These short almond nails for Valentine's Day have so many impressive attributes to make the design look incredible at first look. From the unique combination of maroon and mauve pink to a glitter accent nail and then the 3-D motifs, we love each part and how it harmonizes well to give you splendid Valentine's Day nail art.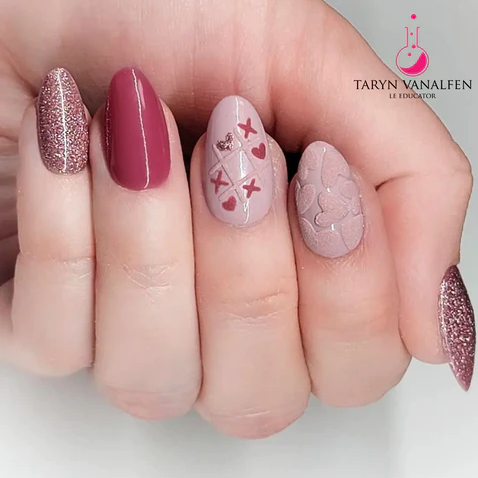 Courtesy: @taryns.nails
#87 When you're a collector of red nail paints, use that collection to curate a manicure that includes many shades in the red palette. It's Valentine-specific, sure, but can also be relevant after Valentine's week is over!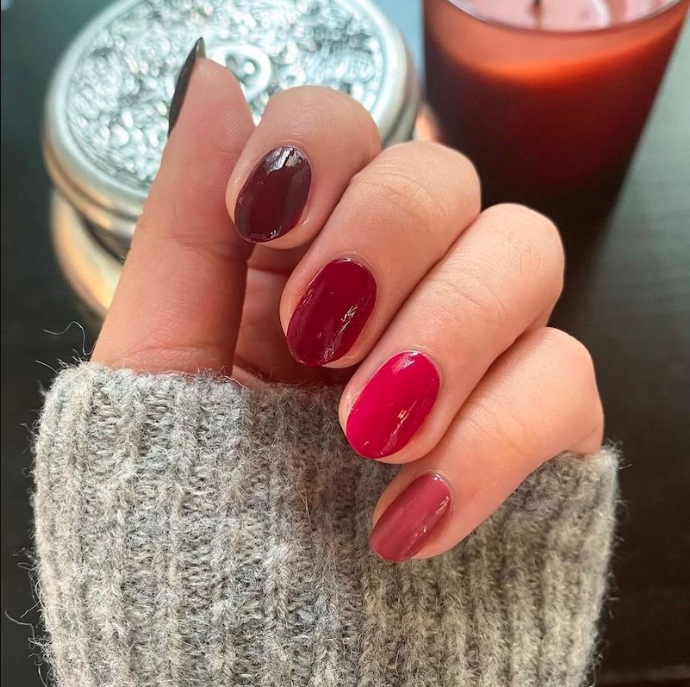 Courtesy: Olive & June
#88 And whilst we're on the topic of colors and how they can combine oh-so-beautifully for an aesthetic appeal in your mani, here's another design to back our statement!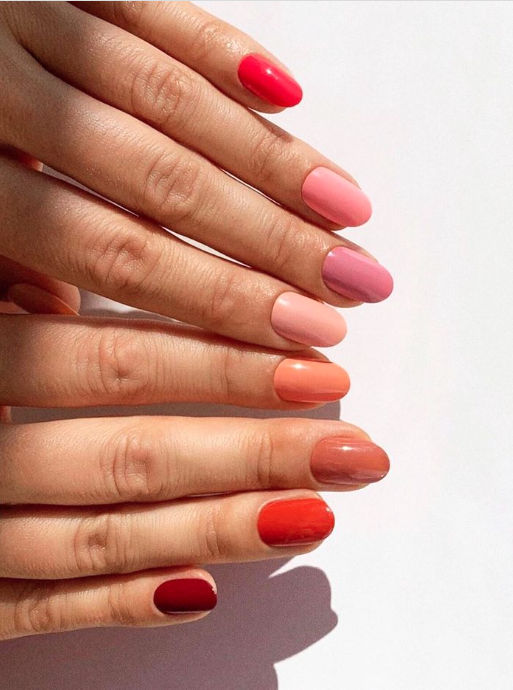 Courtesy: @revolvebeauty
#89 Sometimes you don't need much to give an artistic appeal to your manicure. Here, just playing with the usual lines of the French tips gives a creative twist to the nails. To recreate it at home, use a dotting tool to create the swirly lines and you can put the heart stickers within the area. Cover it all with a gloss coat to finish. 
#90 Besides pink and red, purple is also associated with light-hearted romantic energies and therefore, can be found in quite a few Valentine's Day nail designs. Find this purple palette nail art as an inspiration on this V-Day when you're looking for a different color for your manicure.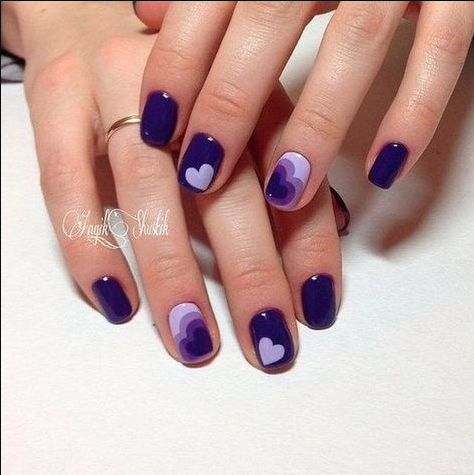 #91 French nails have been popular for over 50 years. Their simplicity, elegance, and timelessness have been revered by women across all continents and cultures. If you love this classic manicure design, there's a way to make it Valentine-relevant. Just put little hearts and you're good to go!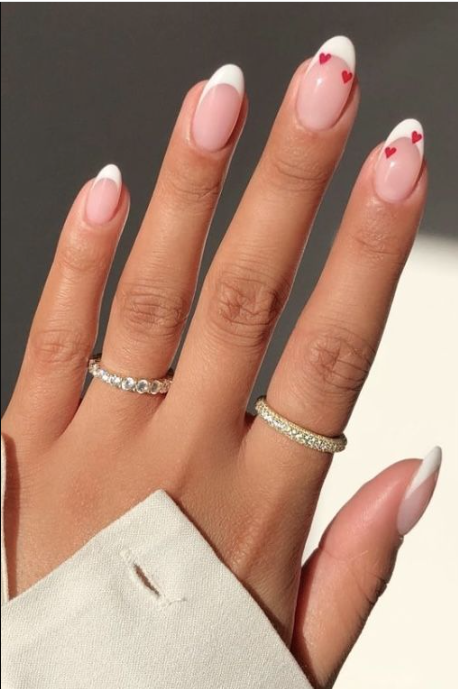 #92 Using a vibrant burst of colors, this short Valentine's Day nail design is truly spectacular! It sets it apart from others on the list and despite the shorter length of nails, it oozes a lot of creativity. You can bookmark it if you want a distinctive manicure to flaunt this romantic season.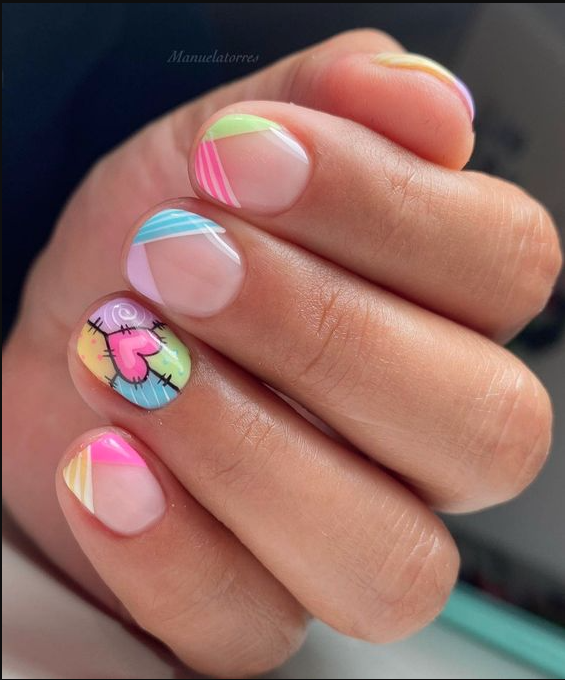 #93 Now, this is a stand-out Valentine's Day manicure you can get professionally if you want them to last longer or can DIY at home as well. Start by shaping your nails – preferably a bit longer so both spaces have considerable space. Divide them using a dotting tool or put white tape to separate the sections. When it's all dried, draw a heart and then cover them all with a gloss coating.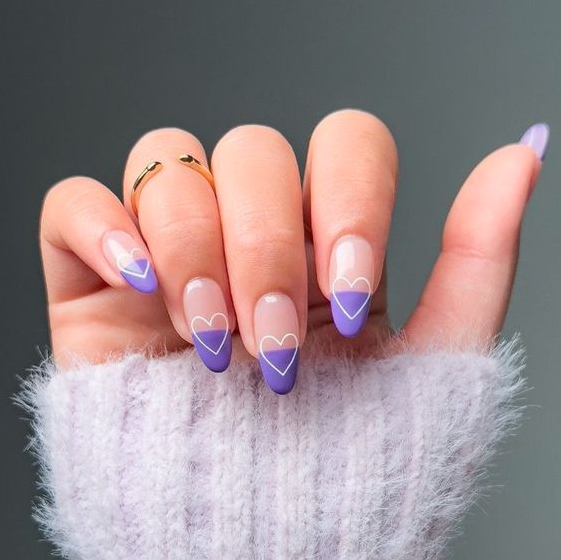 #94 These red and pink ombre nails are utterly gorgeous and ravishing. The vibrancy and lively appeal is undeniable and this is just one of those nail designs that will go with all nail shapes and lengths.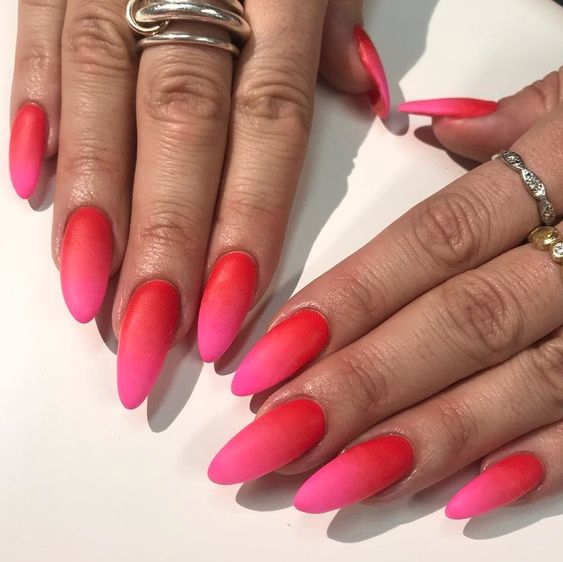 #95 These blue and pink Valentine's Day nails aren't just unique and captivating, but the "love you" writing can also be an ideal saying to include when you want to say these three magic words on the Valentine's.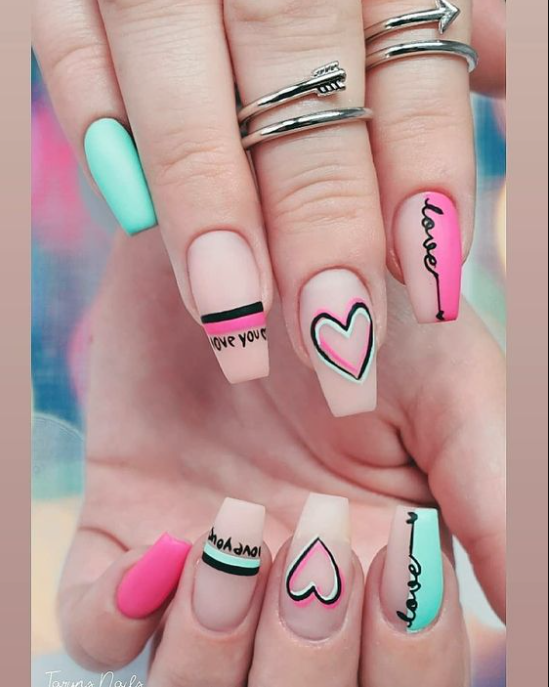 Courtesy: Pinterest
#96 Try the combination of red & pink nails with these gorgeous French tips nail designs done with the heart motif in the middle. Don't forget to cover them all with a gloss coat for a smooth finish.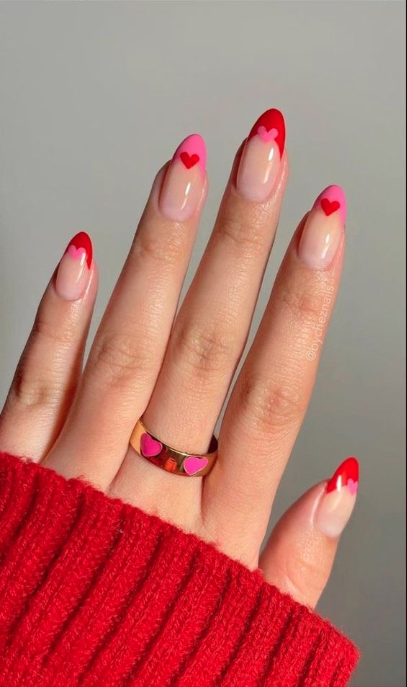 #97 The stiletto nail shape is all about drama and looks classy when shaped with precision. Clearly, you can only trust an expert when trying this nail shape and we also have a design specific for this shape included below so you have a design inspiration ready!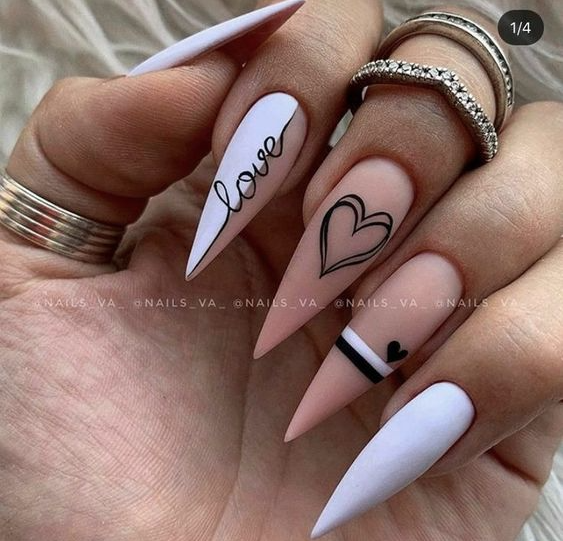 Courtesy: @nails_va_
#98 Now, this is Valentine's Day nail art you can easily do at home. You can buy nude nail stick-ons and heart motif stickers to recreate them in just a matter of a few minutes. It's perfect for those who don't want to spend much on V-Day nails but yet want something special for the occasion.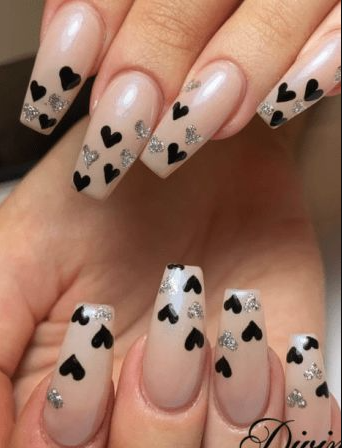 Courtesy: Pinterest
#99 There's just something so adorable about the outlined motifs related to Valentine's on this nail design. It's done in a playful and child-like manner which sets it apart from the rest on the list. If you want playful Valentine's Day nail art, here's one you'd love to recreate and flaunt through the romantic week and beyond.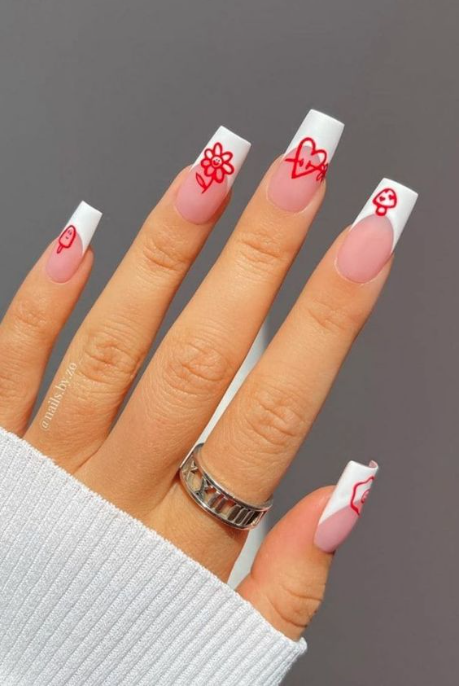 Courtesy: Pinterest
#100 These coffin Valentine's Day nails are done in nude base and heart outlines in black & white for a completely neutral palette manicure! When you already have a vibrant outfit planned and want to style it with neutral colors for balance, this Valentine's Day nail art has your back.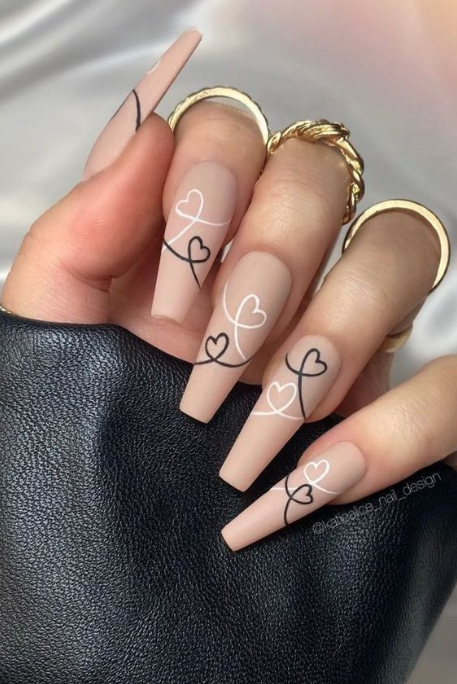 Courtesy: @katiealice_nail_designs
#101 These heart nails are done in a different color each and yet complement each other flawlessly. When opting for a different color on every nail, it's recommended to opt for shades smartly so they complement each other and don't contrast much.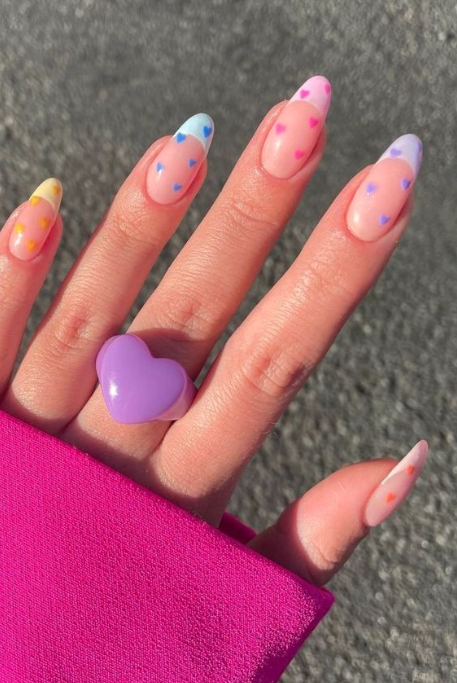 Courtesy: Pinterest
#102 When you want something perky, vibrant, and playful for your Valentine's nail design, the next manicure on the list will be your perfect match. Given the artistic nature of the design, it's best you only trust an expert in the field to recreate this nail art for you.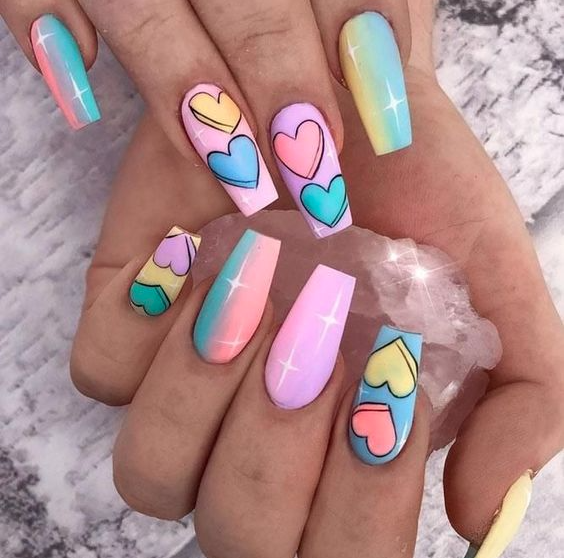 Courtesy: Pinterest
#103 Wondering what combination of two colors to opt for in your nail design? Pick a darker or lighter shade of the same color and you will be good to go! Besides pink, you can also opt for red in a similar design and use a combination of light red and maroon for the same allure.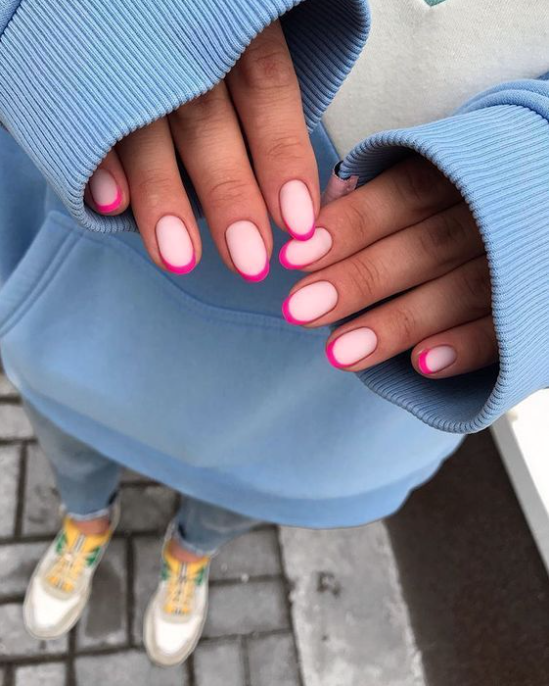 Courtesy: Pinterest
#104 A manicure that's all about showering the love on your other half with these cute sayings. You can change the writings depending on what you're feeling instead of sticking to the words portrayed in this mani!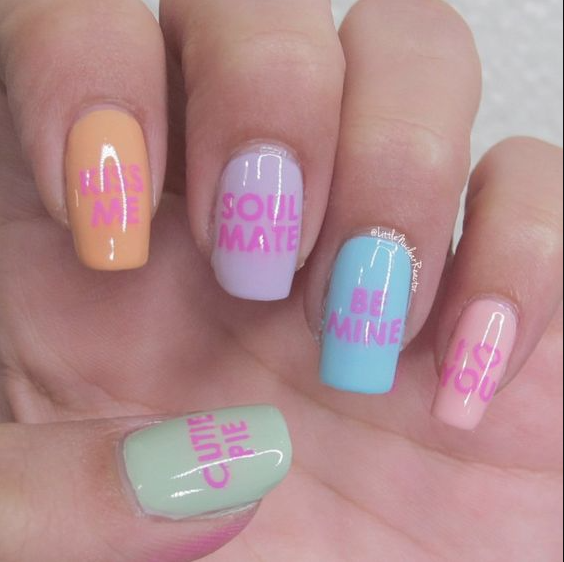 Courtesy: Little Nuclear Reactor
#105 Done entirely using the pink palette and creative geometric patterns, this is Valentine's Day nail design you can recreate in any nail shape or length. It's ingenious attribute will surely drive many compliments for your manicure!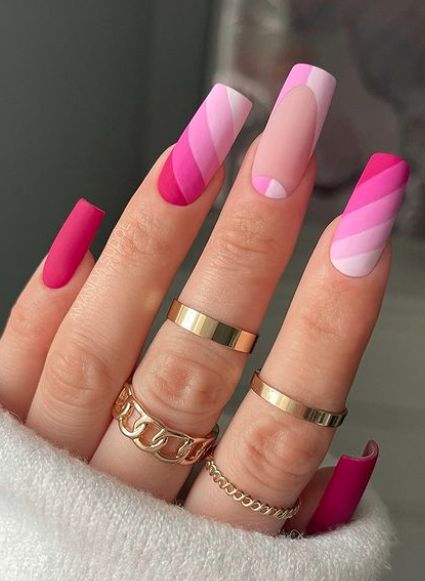 Courtesy: @amanda.sudolll
#106 If there's one surefire way to make your nails glamorous and appealing, it's to add glitter nail polish to them. In the next manicure, the combination of glitter and normal color in the same palette adds to the harmony of the design while the simple geometric patterns add to the creativity.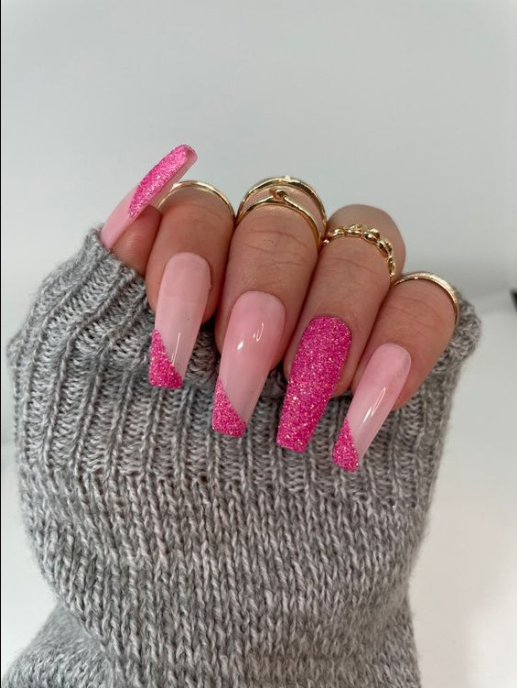 Courtesy: Etsy
#107 A good way to add some quirk to the usual heart motif in Valentine's nails is to add eyes to them! It elevates the playfulness of the design without straying too much from the usual aesthetic of Valentine's nails.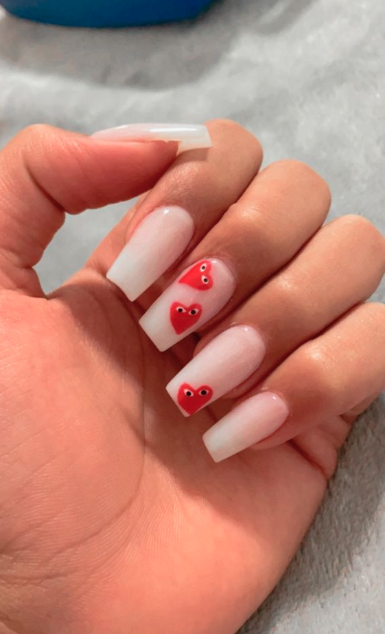 Courtesy: Pinterest
#108 All pastel everything! Pastels will never fail you, not even on the most romantic day of the year. Their soothing combination combined with peaceful vibes are soothing to the eyes and evokes a very loving, calming feeling just perfect for the wearer!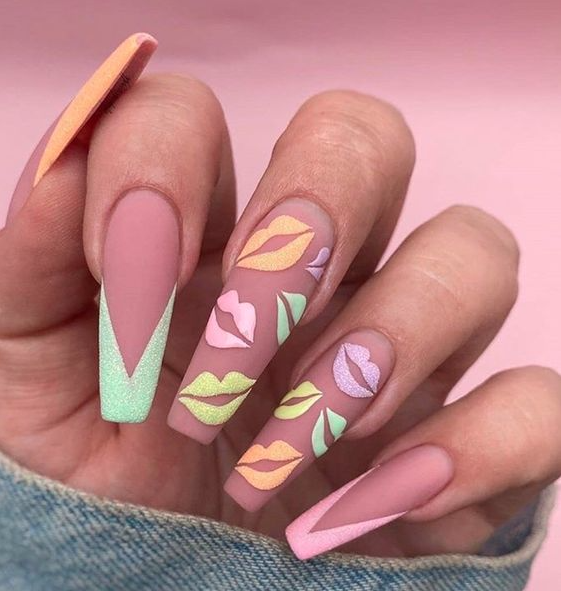 Courtesy: Pinterest
#109 These short Valentine's Day nails are elegant and sophisticated, and most importantly, they can be simply done at home, even by beginners. If you're worried about the sectioning, then here's an easy way to segment the colors. First, paint the nails entirely red and let the nails dry completely. Next, put a tape diagonally so the lower region is covered entirely in tape. Now, paint the nail in lavender, and when it dries remove the tape. You can leave the polish as is or cover them all in gloss paint for a gleaming finish.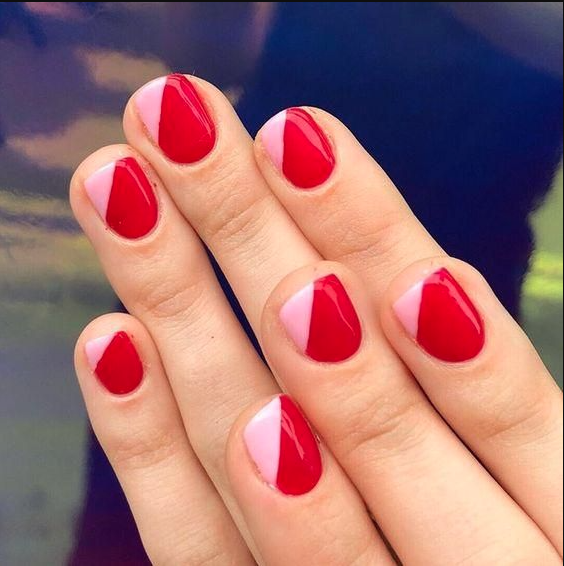 Courtesy: Pinterest
#110 The vibrancy of pink balanced by the calmness of white in the next manicure is so aesthetically pleasing! Don't forget to bedeck your hands with rings to elevate the look of the nail art further.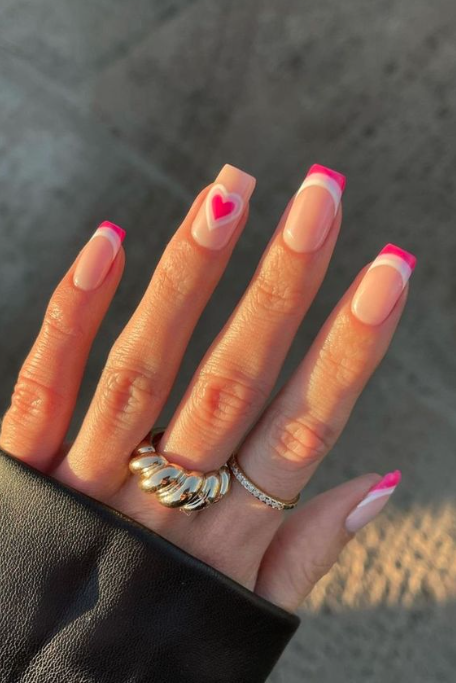 Courtesy: Pinterest
#111 When you've decided on an all-black avatar for Valentine's Day, your manicure should match the other fashion picks well too!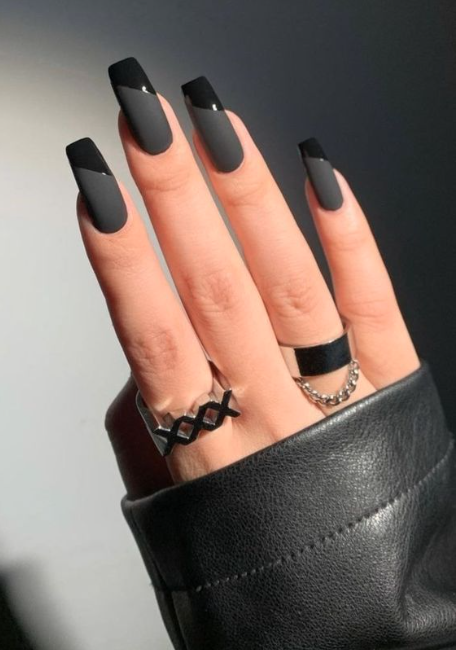 Courtesy: Pinterest
#112 These Valentine's Day nails are on the theme of the occasion, but can still be worn after the day has passed. Its simplicity and elegance make it befitting for a dinner date or a regular day at the office.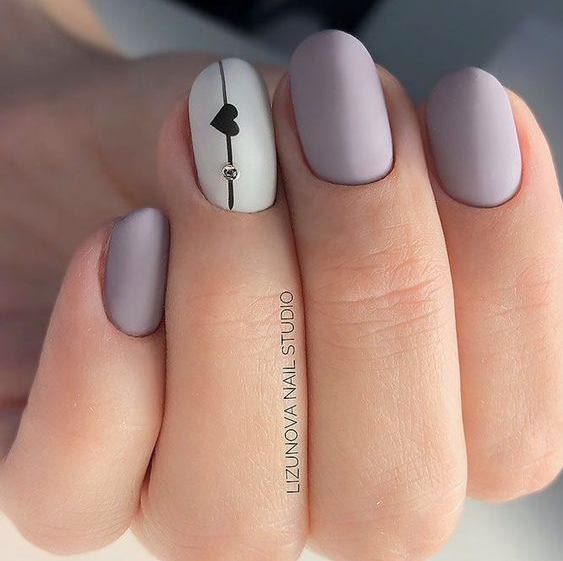 #113 There's nothing boring about these pink Valentine's Day nails. The horizontal lines in different shades topped with hearts are such a creative twist to an otherwise normal Valentine's motif and colors used in the manicure.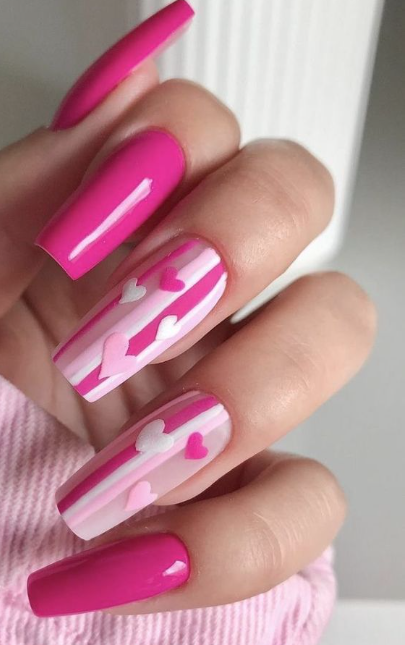 Courtesy: Pinterest
#114 Plan this quick look for an ultra-romantic date night! The design is basic enough to draw a freehand design and you can easily skip over one color depending on availability to ease the design further.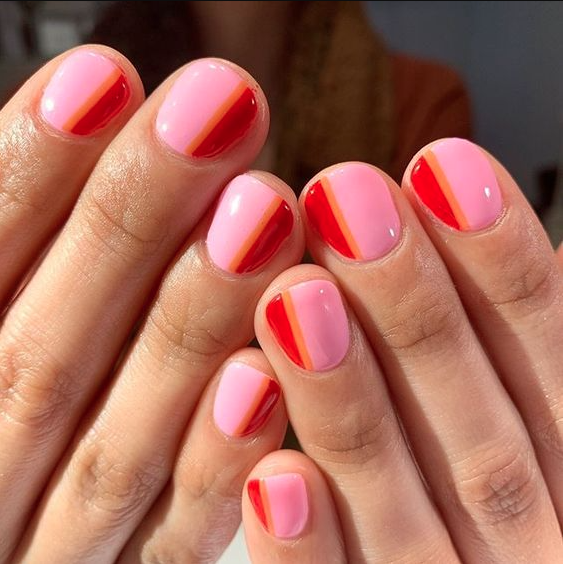 Courtesy: Pinterest
#115 Who said Valentine's Day nails are all about red and pink? You can easily infuse the romance into your mani with other colors by drawing THE motifs for the occasion – hearts!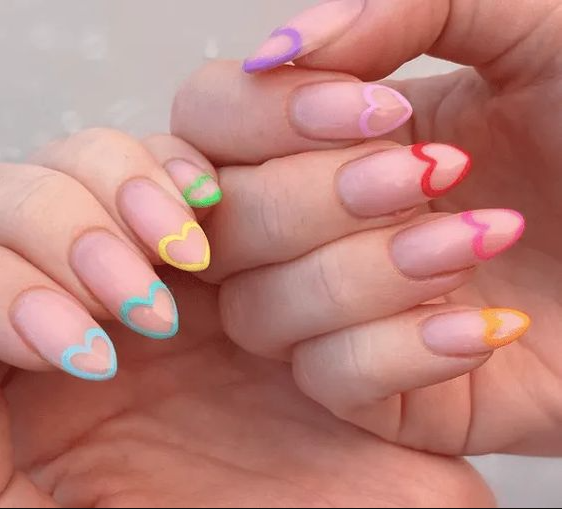 Courtesy: Pinterest
#116 When it comes to red Valentine's nails, there's no dearth of designs and you'll be stunned by the simple creativity in some. Like here, the ring and middle finger are done in swirls and polka dots to add an artistic touch without being too complicated with the pattern.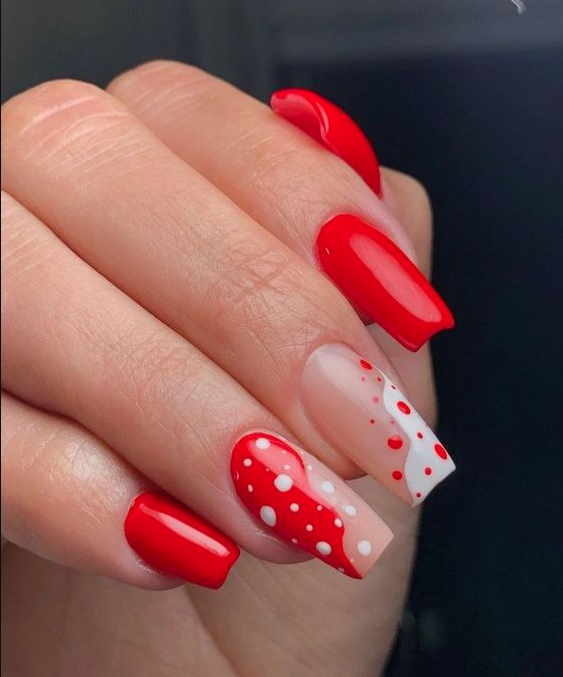 Courtesy: Pinterest
#117 Combining the iridescence of glitter with the mellowness of soft pink, this Valentine's Day nail design makes things romantic by adding hearts & love writing to the manicure.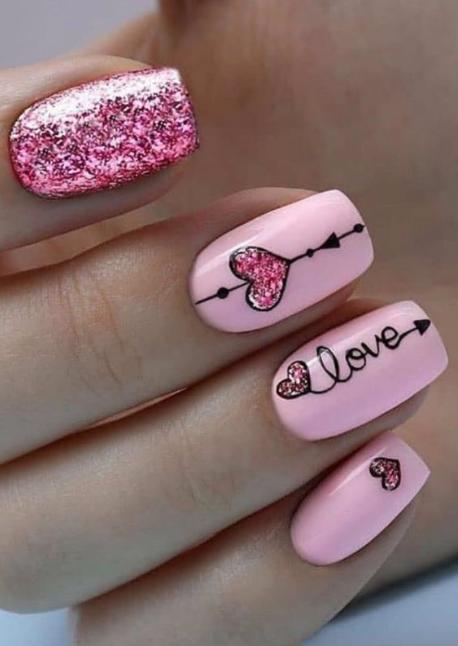 Courtesy: Pinterest
#118 These coffin Valentine's Day nails are statement-worthy and surely grab the attention of anyone who lays an eye on them! You can add a tinge of red glitter in the smaller parts where the red polish is used to add some further allure to the manicure.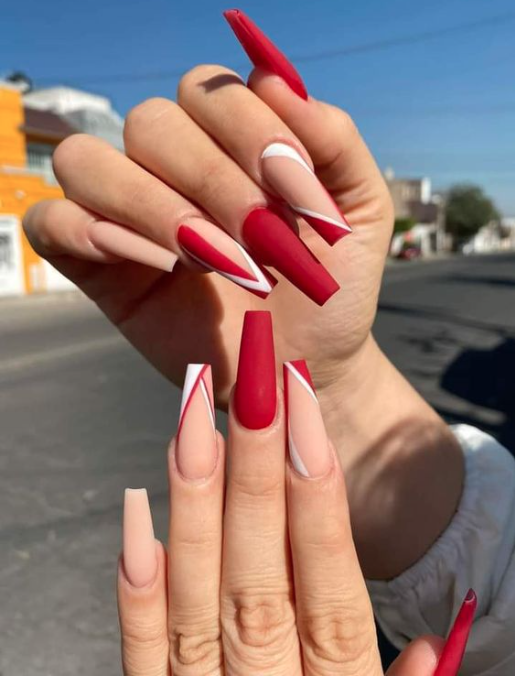 Courtesy: Pinterest
#119 Who said you have to choose between French tips and Valentine's day manicures? You can enjoy both by employing red French tips and replacing one or all of them with red glitter instead.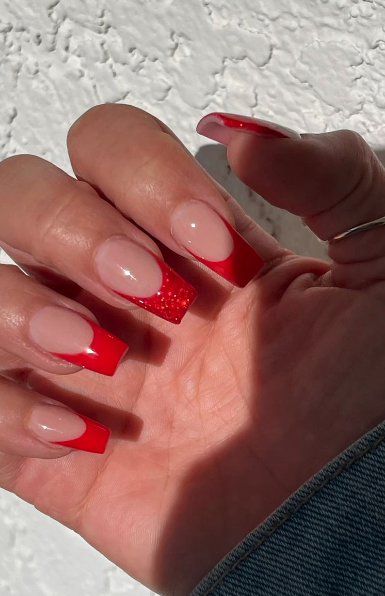 Courtesy: Pinterest
#120 Bring trending nail colors like neons to the most romantic week of the year by using them as French tips on a glossy white nail bed.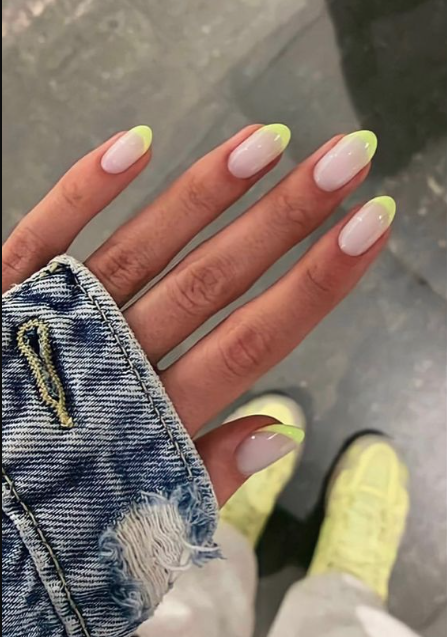 Courtesy: Pinterest
#121 Well, given the elegance and timelessness of the French manicure, no wonder iterations of them have been brought into manicures for every occasion. Here's another manifestation of the French manicure into Valentine's Day acrylic nails.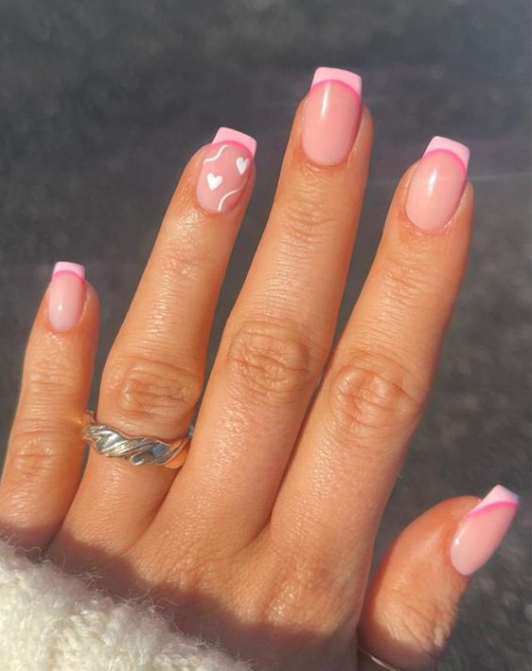 Courtesy: Pinterest
#122 These short Valentine's Day nails are done in red polish with an accent nail done in the fairy dust nail pattern.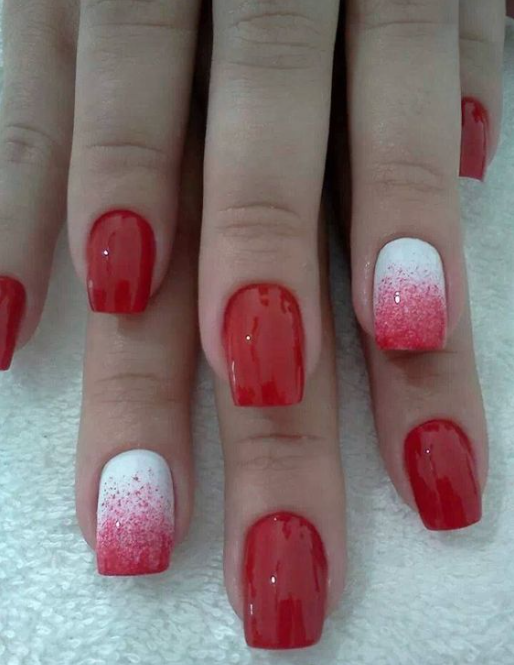 Courtesy: Pinterest
#123 Say your heart out to the love of your life with this writings-enriched manicure. Use your own words or take some inspiration from them on what to write for this type of Valentine's day nails idea.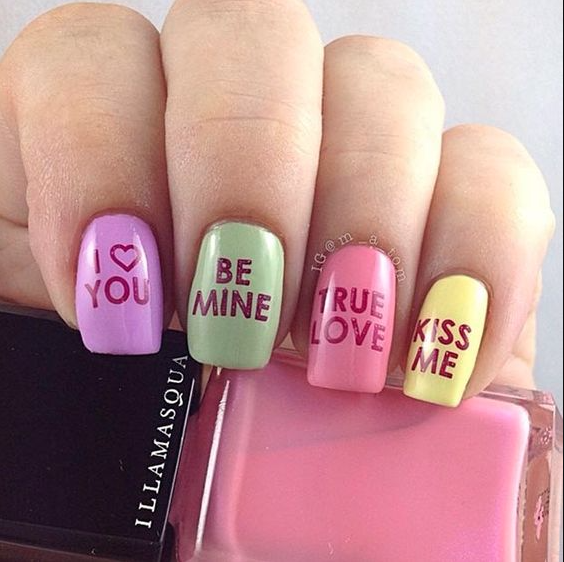 Courtesy: Pinterest
#124 And when you're looking for another iteration of a similar design as above, you can look forward to the picture below for inspiration.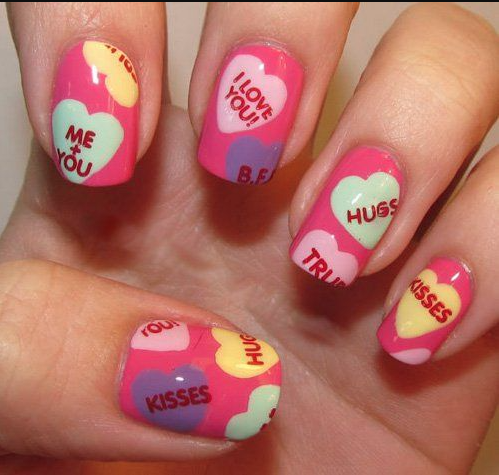 Courtesy: Pinterest
#125 Glitter accents, gorgeous lavender, and 3-D hearts make sure these Valentine's Day nails get noticed. We love this look as it can also work for the upcoming spring nails seasons.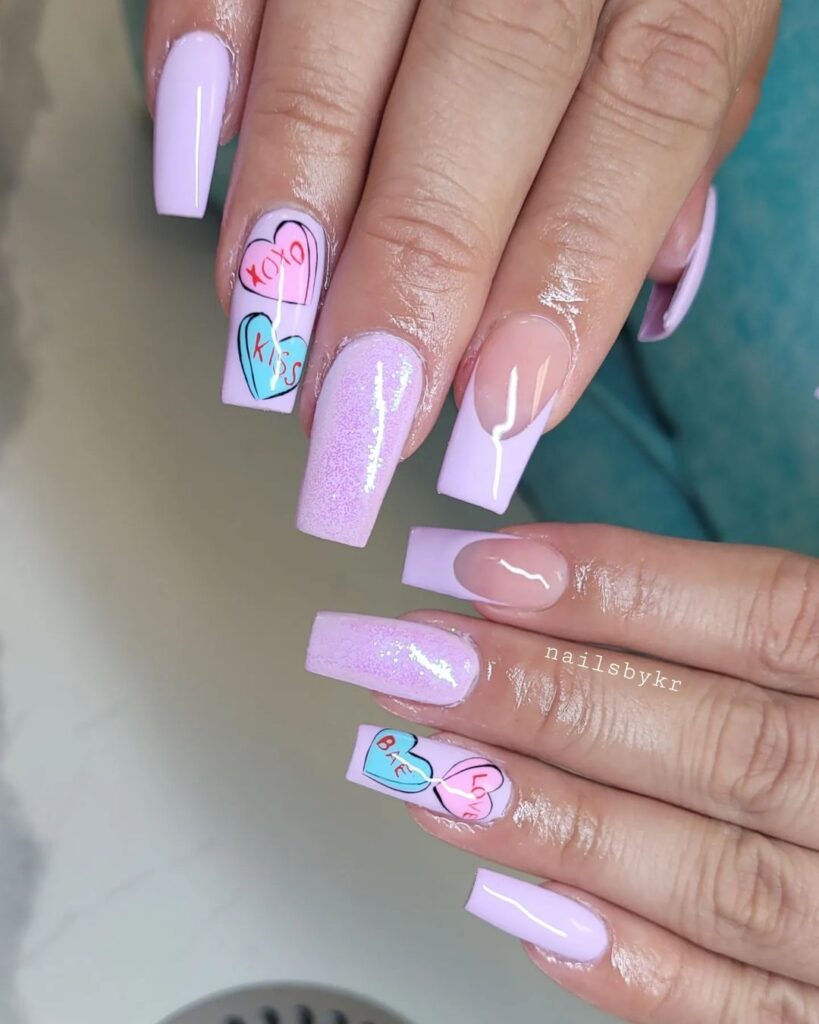 Courtesy: @the_pinkglam_studio