Engagement Nail ideas are everywhere. While some women are prepared with the perfect mani when proposed, others get it done right after engagement to get that appealing Instagram-perfect shot for their social media, or engagement shoot. An aesthetic engagement nail art, of course, elevates the look of your ring as well. On that note, find some of the best engagement nail ideas in 2022 to pick one for your bauble. 
#1 The pink gloss in this first one of the engagement nail ideas is contrasted beautifully with a brown color on the finger, enhanced by studs. Now that you're engaged, you will be seeing your ring finger more than others. Shower some extra love on it by giving it a different hue than other fingers which also emphasizes the engagement ring nicely. When opting for two shades for your manicure, make sure they effectively contrast with each other and if you're not getting the mani done professionally, only trust someone with the creative instinct to coordinate the colors for you.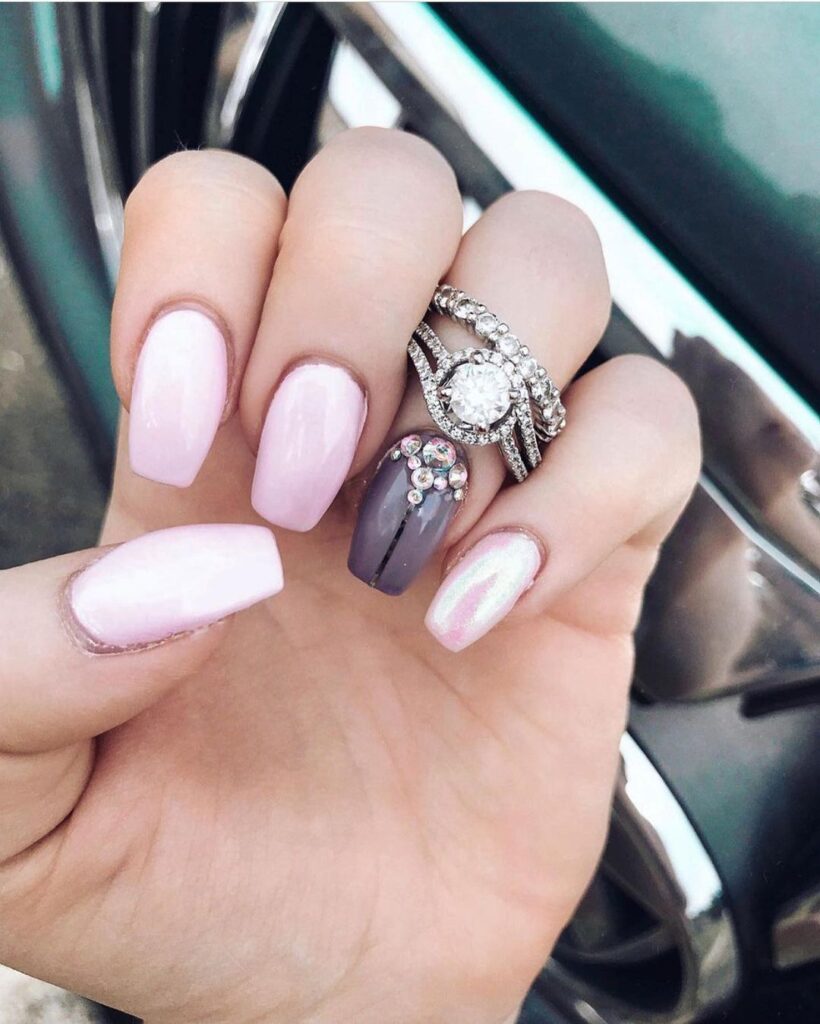 Courtesy: @bri2113
#2 If your nails are prone to breaking or you don't want to be stuck in the constant fear of breaking your nails while doing everyday chores, get acrylic nails done. Acrylic overlay manicures are a favorite among women who want elegant, timeless designs as their mani – probably the reason why royals are often seen sporting them. Opt for this classic and enduring engagement nail idea and you're sure to admire it through the years down the line.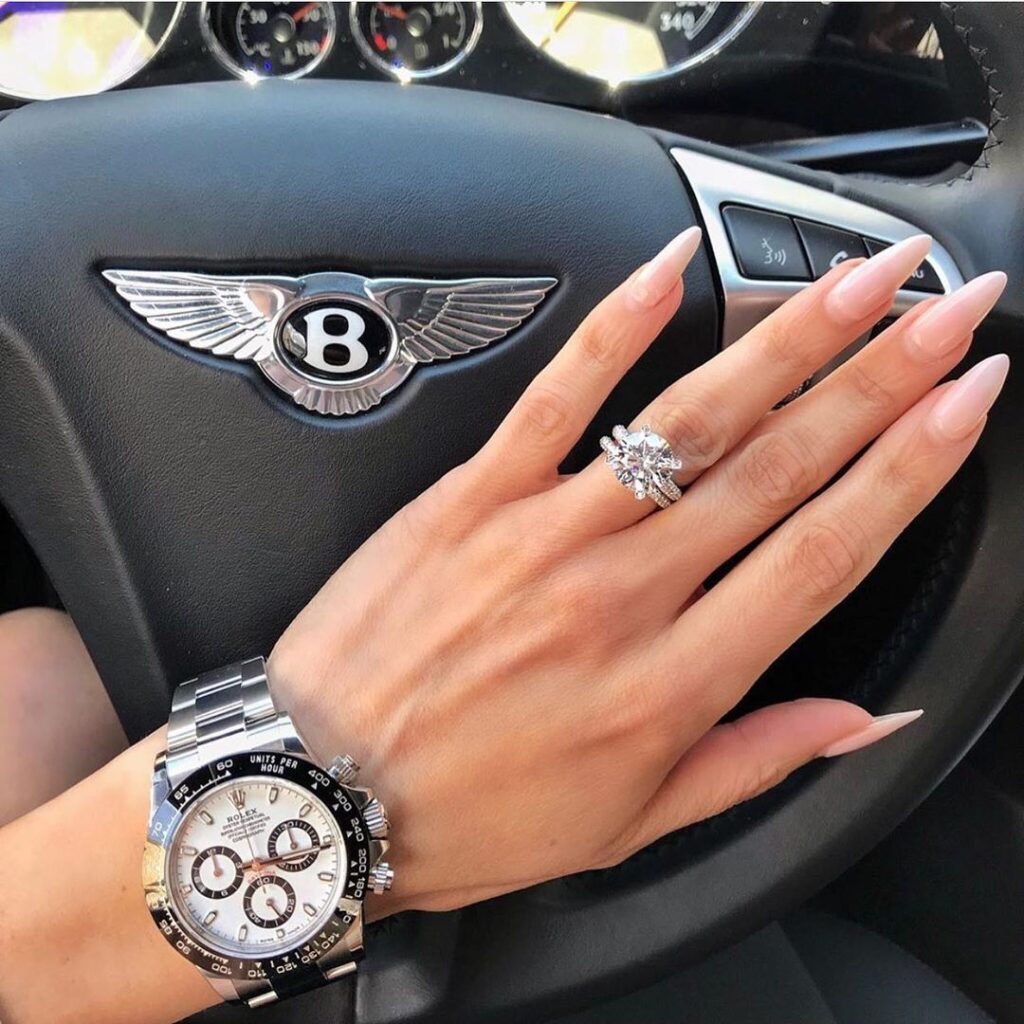 Courtesy: @nadjasnowflake
#3 If your personal style radiates classic with a twist, these winsome engagement French nails are your pick on this engagement nails ideas 2022 list. We specifically love the backdrop of this picture. It's cloudy so the mute colors and the dripping texture of the art come out in the picture. Sunshine might take away from the nail design, though it does make the sparkle of your trinket come out more!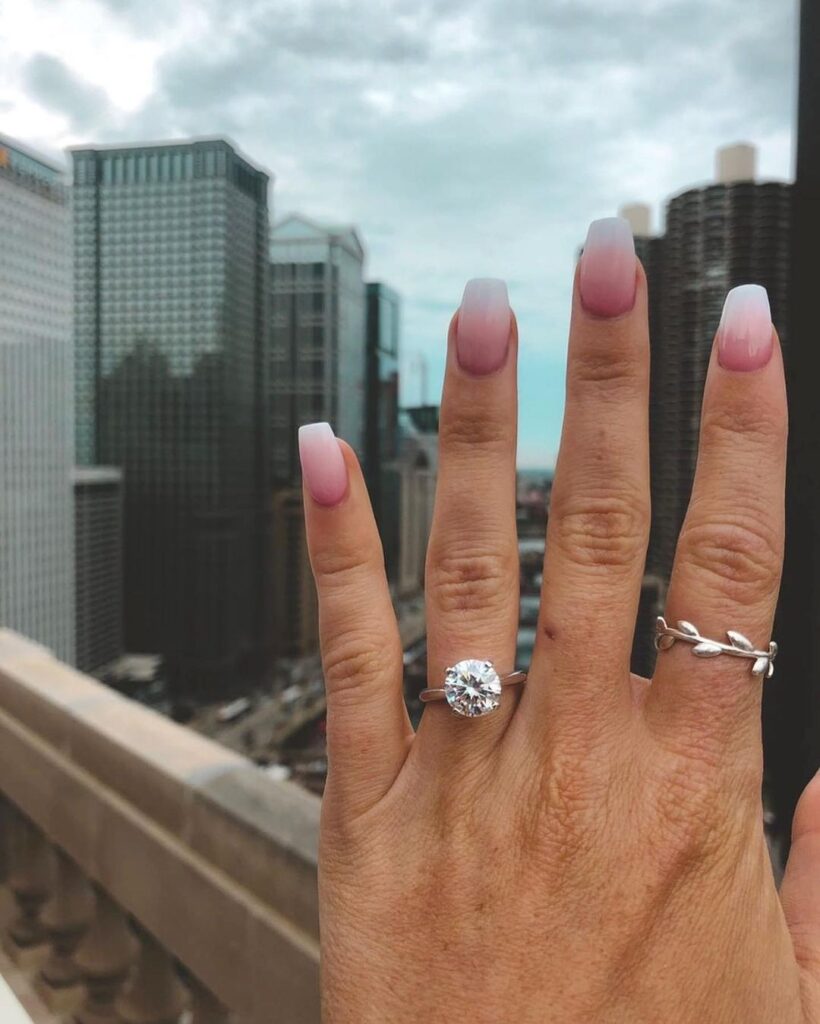 Courtesy: Haley Mohler McNeely
#4 These engagement pink nails with soft geometric foil work on the middle finger had our hearts at the first look. It's the perfect balance between neutral and a bit of vividness and complements your exquisite trinket nicely. If you want a brighter look, go for a deep pink color as the middle finger nail design stays the same. Brighter colors often have the reputation of overpowering the bling of the ring, but they only enhance it. You will see for yourself as we include some vivid hues on this engagement nails ideas list.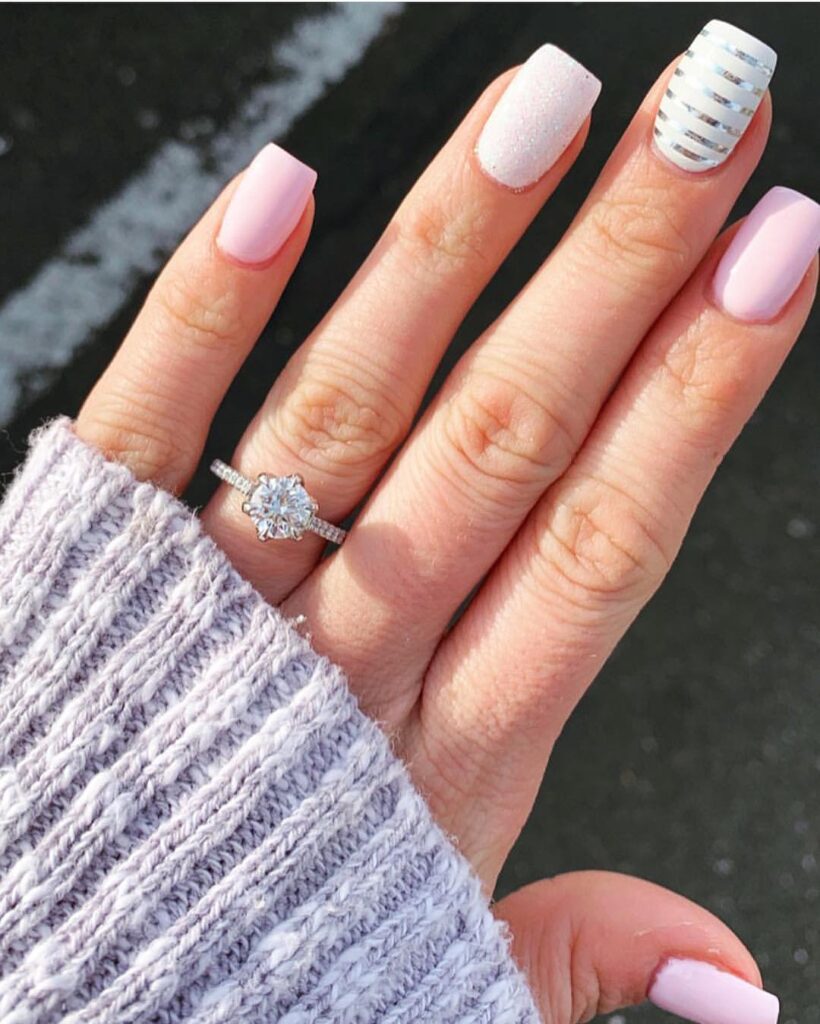 Courtesy: @jillianjanine
#5 Subtle nail designs have a place in our hearts, but so do glitter nail designs, especially the ones done as creatively as these. This picture is oozing with creativity and only a pro nail artist could have curated such flawless nail design. P.S. If your friend is taking you out for a manicure like this, it probably means you're getting engaged. Men do know how much perfect nails matter to us and they take these sly initiatives to make your special day 100% perfect!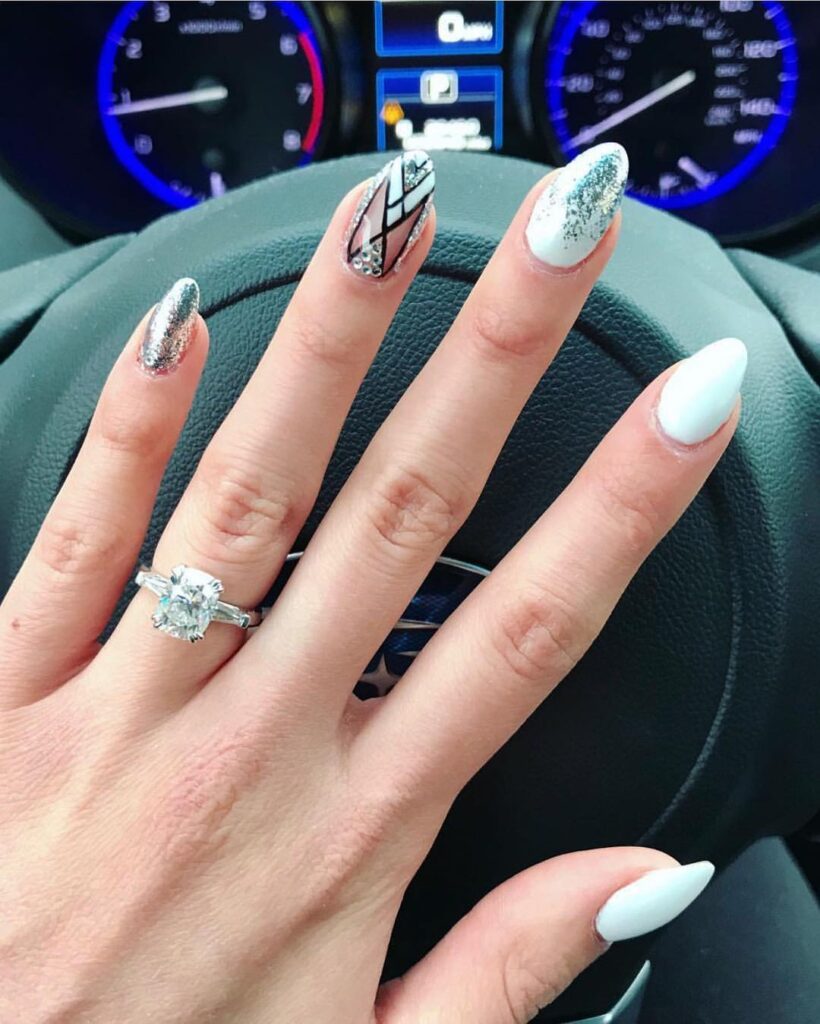 Courtesy: Cindy
#6 If you are suspicious of your beau proposing during the rainy, cloudy season, then amp up the dull vibes of the season with a beaming manicure that resembles the beauty of an open sky. We absolutely love the coincidence that she wore a dress perfectly matching her mani which was, in turn, perfectly matching the weather for the cheery celebrations of her engagement night.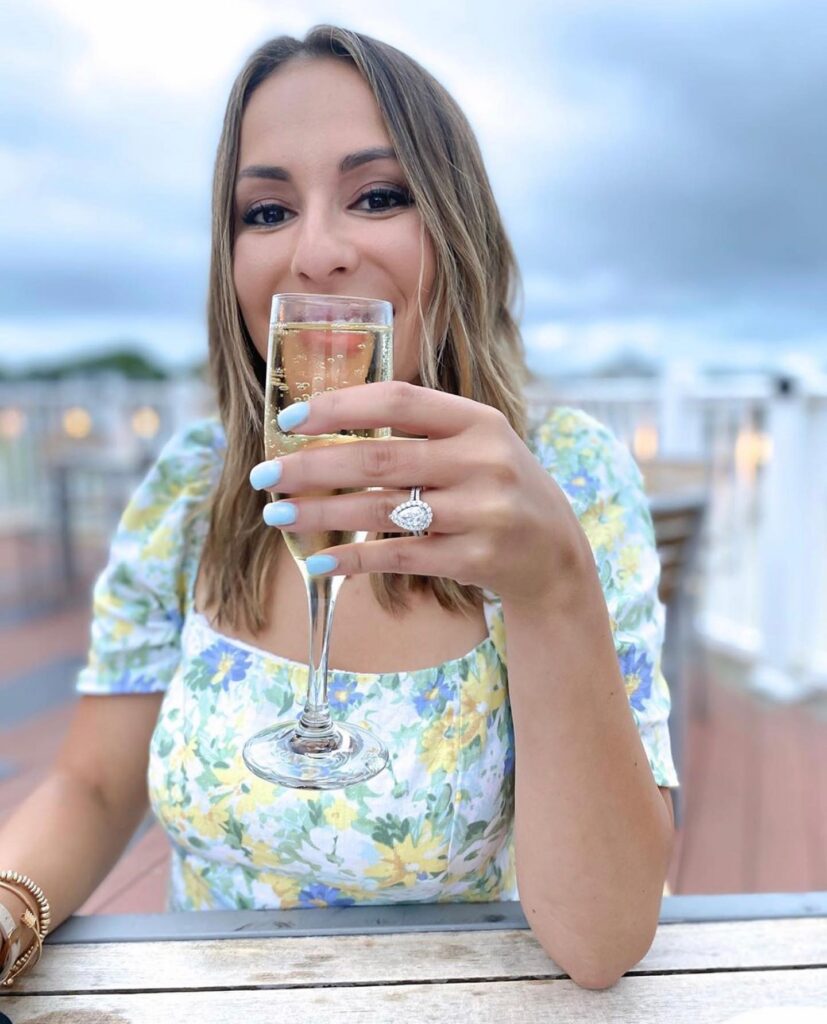 #7 After dating for around 2 years, Joey proposed to Callie at the Arkansas designer home, one of Callie & Joey's favorite properties. Their proposal pictures went viral the instant they were released on public accounts posting wedding/ engagement inspiration. Callie's smile, their sheer love, and the subtle beauty of the day are clearly reflected in the pictures, and no wonder people are loving them too! For the special day, Callie opted for soft nude engagement nails, which can easily be done at home as well. You can leave them bare or cover them with a gloss coat for a lustrous look.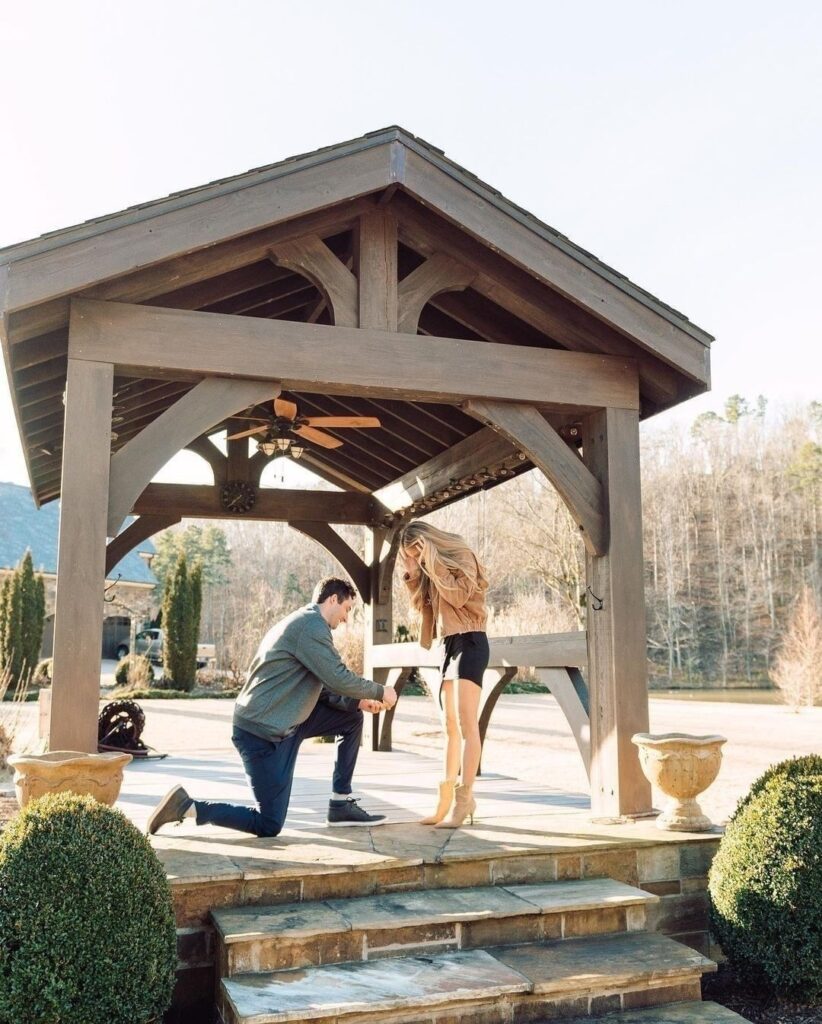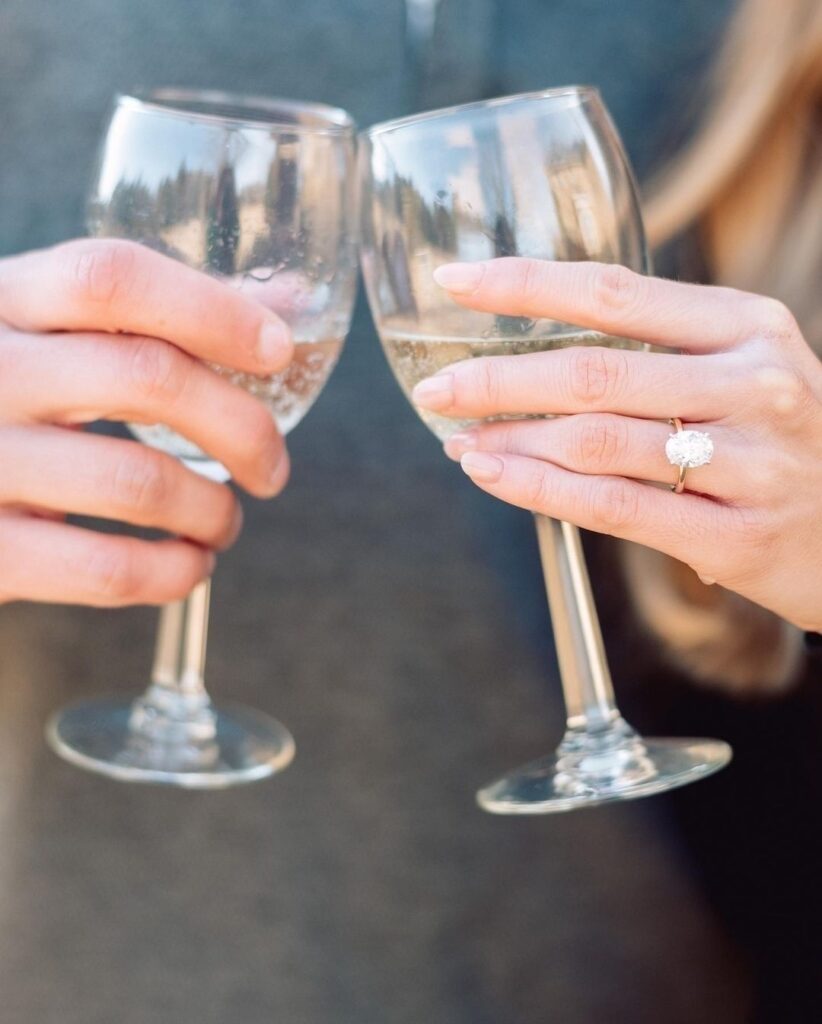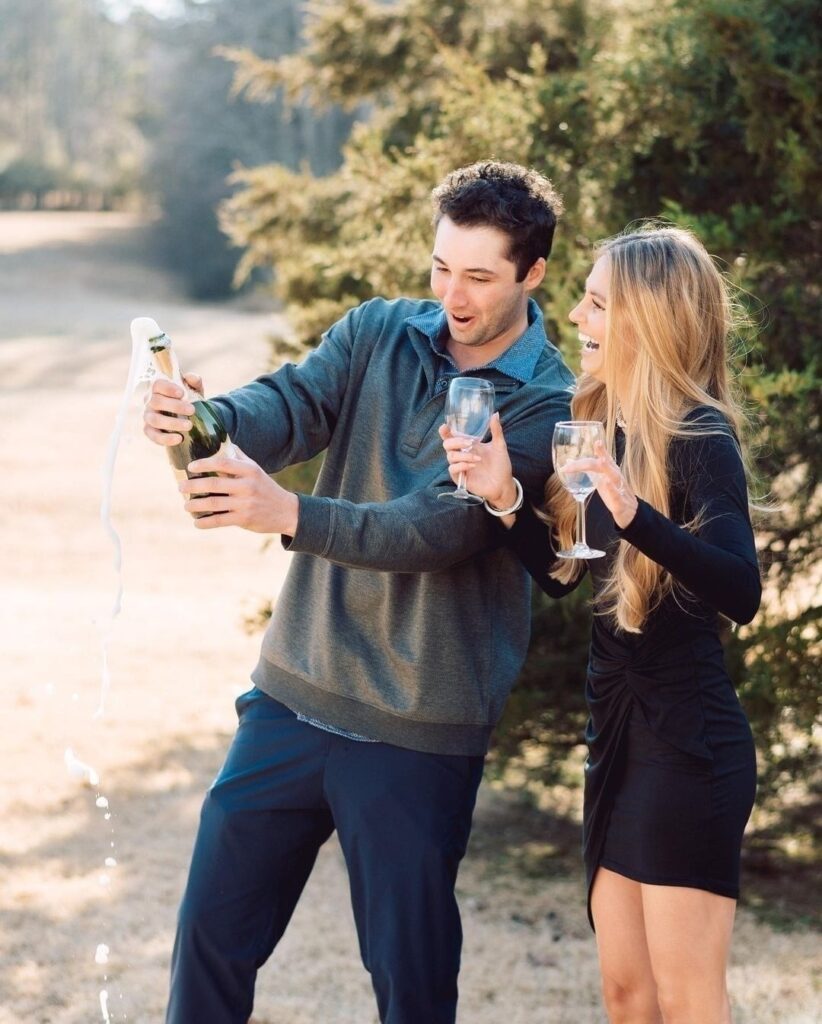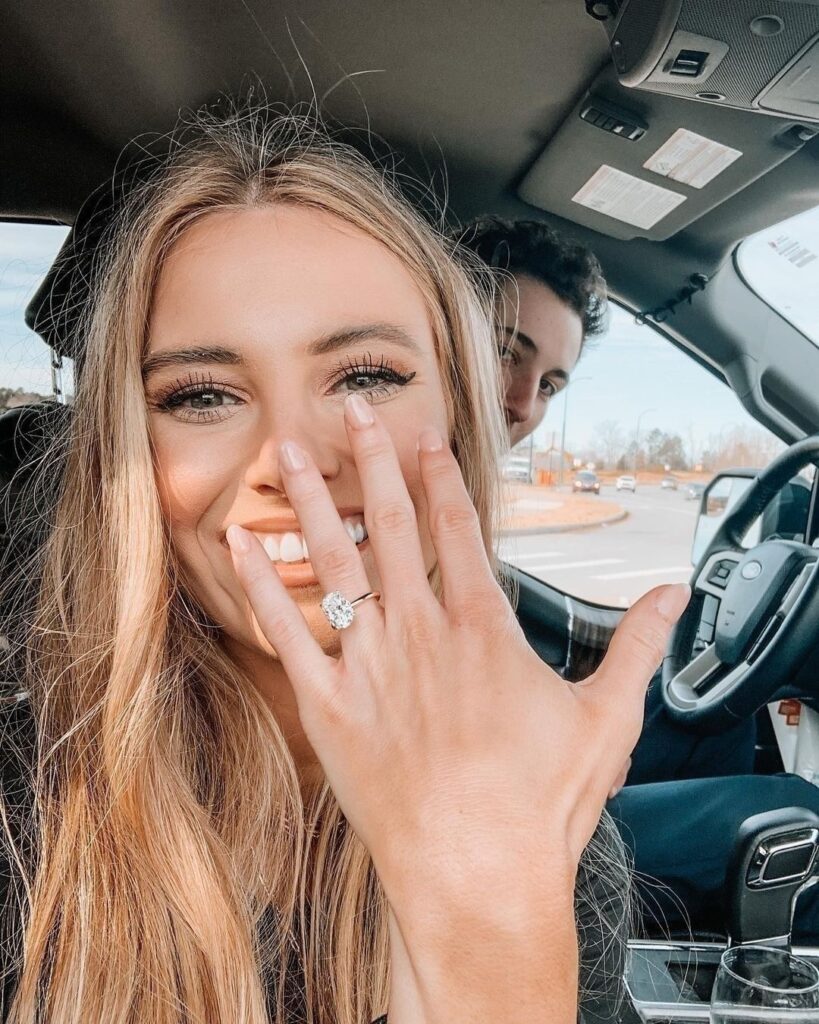 #8 If you got engagement in autumn, these fall engagement nails should quickly become one of your top picks for your proposal photo nail ideas. Incorporating a rustic palette, the nails consist of warm colors in gray, orange, and yellow, and you can see how beautifully the shades go with the natural warmth of the fall season. You can swap these hues with other rustic shades to create a design that reflects your style & personality.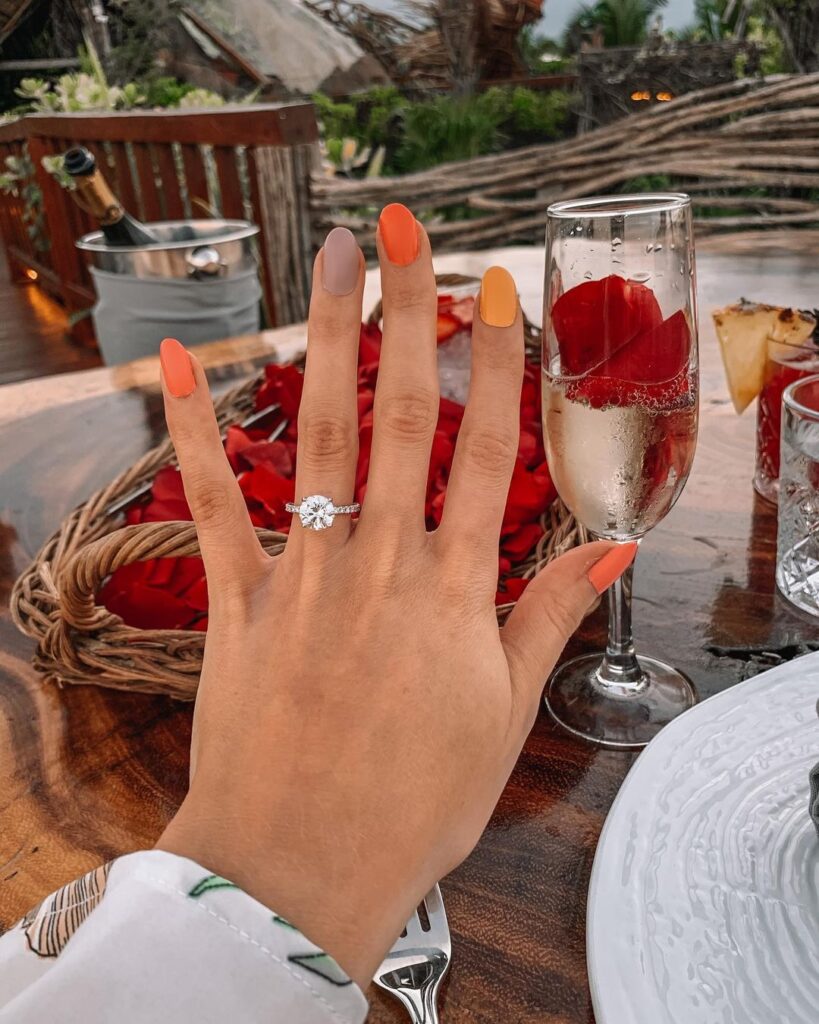 Courtesy: Jenna Morton
#9 Nothing says "bridal" quite like the white hue. Not only do these white nails with a glamorous touch make for a stunning engagement nail idea, but they also can make for a good choice for your wedding nail art. The combination of white & silver glitter is also timeless and besides this design idea, you can pick any other way to combine the two polishes for beautiful engagement nails in 2022.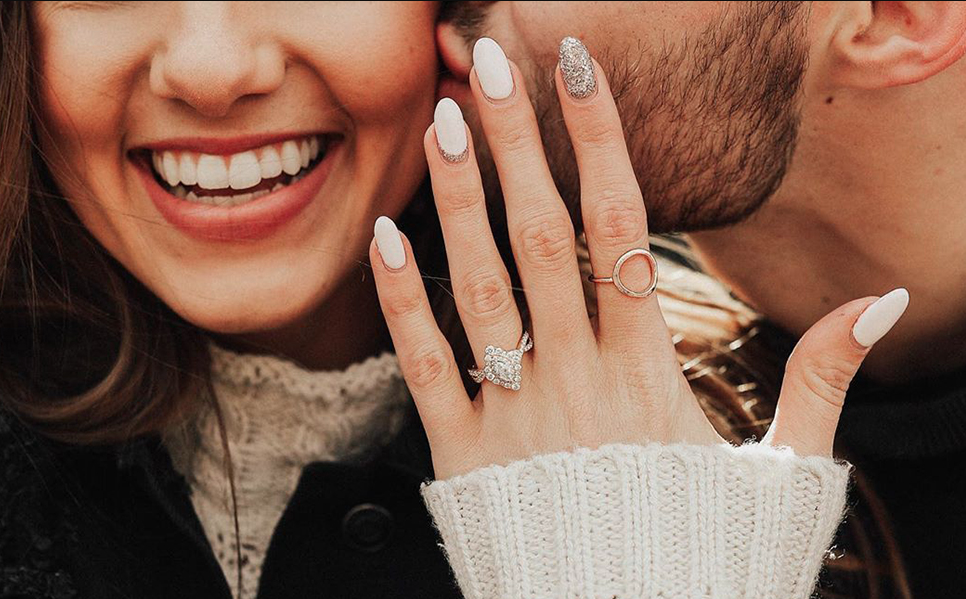 #10 For women who aren't impressed by the usual neutrals and pinks for the engagement nails, opt for this darker shade brown hue instead. To turn it into a statement nail art and also, announce the engagement on social media, get the ring finger etched with a 'YES' in white for an edgy element. Also, dark shades in cool colors like deep brown, forest green, and dark blue are just the perfect idea for winter engagement nails, and lucky you, for being proposed to during the happiest time of the year.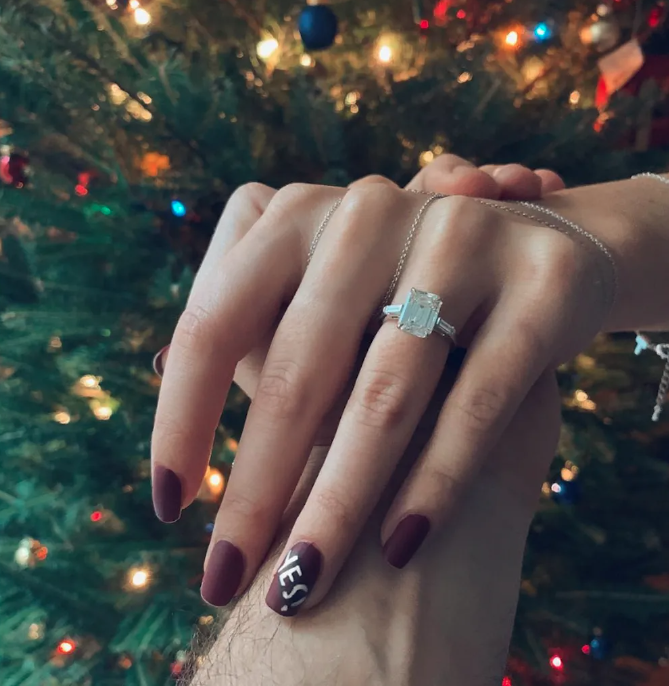 Courtesy: Glamour
#11 Tejasswi Prakash shocked everyone on Instagram when she posted a photo with an engagement ring on her finger. It eventually turned out to be an ad (it's okay, we felt sad too!), but we couldn't help but notice her stunning multi-colored geometric nail part. It has a modish element and doesn't overpower the bling of your ring. In fact, it just enhances it. We also think it's a great photo idea to announce your engagement on social media. Don't forget the bouquet of flowers as it does add a certain romance to the picture. 
#12 For those who are all about minimalistic elegance, the short engagement nails in gray will be your pick from this engagement nails ideas blog. We love how the ring also exudes a vintage, timeless element and the bride-to-be chose just the perfect nail art to go with her enduring ring. While this shot isn't included in a typical engagement shoot, you can definitely include it for a new engagement photo idea.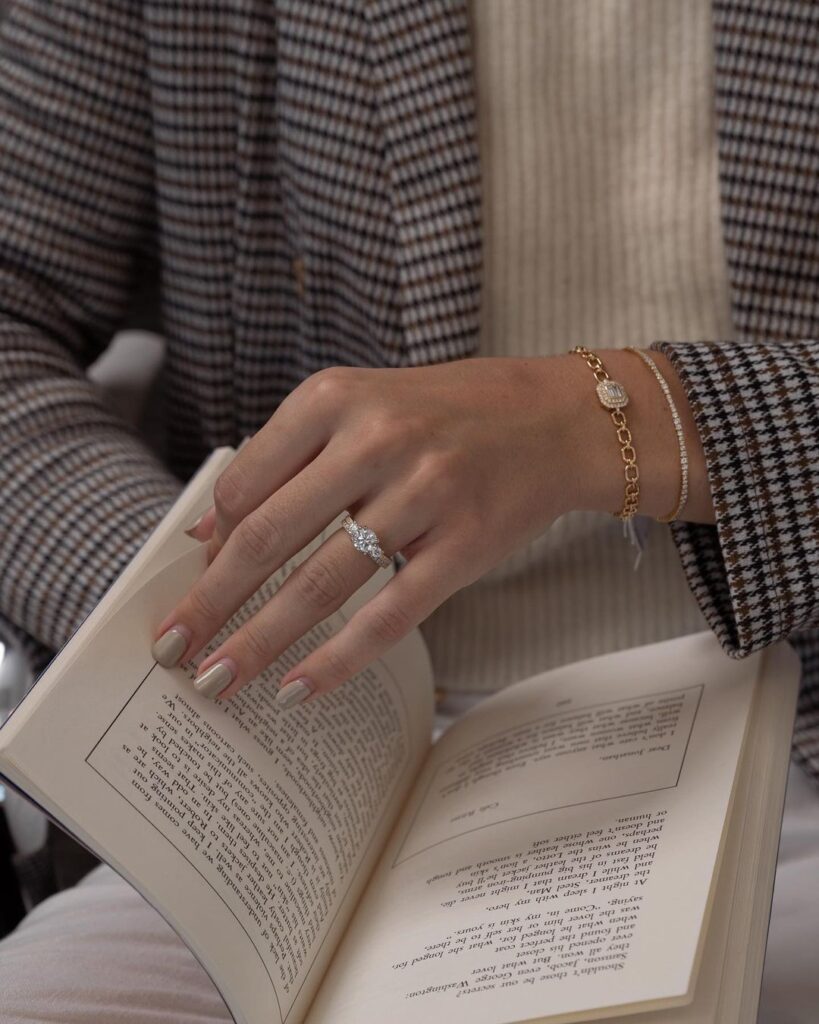 Courtesy: Mark's Diamonds
#13 Why go for the typical French nails when you can opt for these classy engagement nails in French manicure style instead? They feature a glitter outline followed by a light gray solid polish on the ends. Solitaire rings with no halo are gaining traction again, and this subtle design only amps up the glam factor of this style. We also love the mountain peak shape of the bride-to-be's nails – a gorgeous yet lesser-chosen nail shape that can make you stand out from the crowd.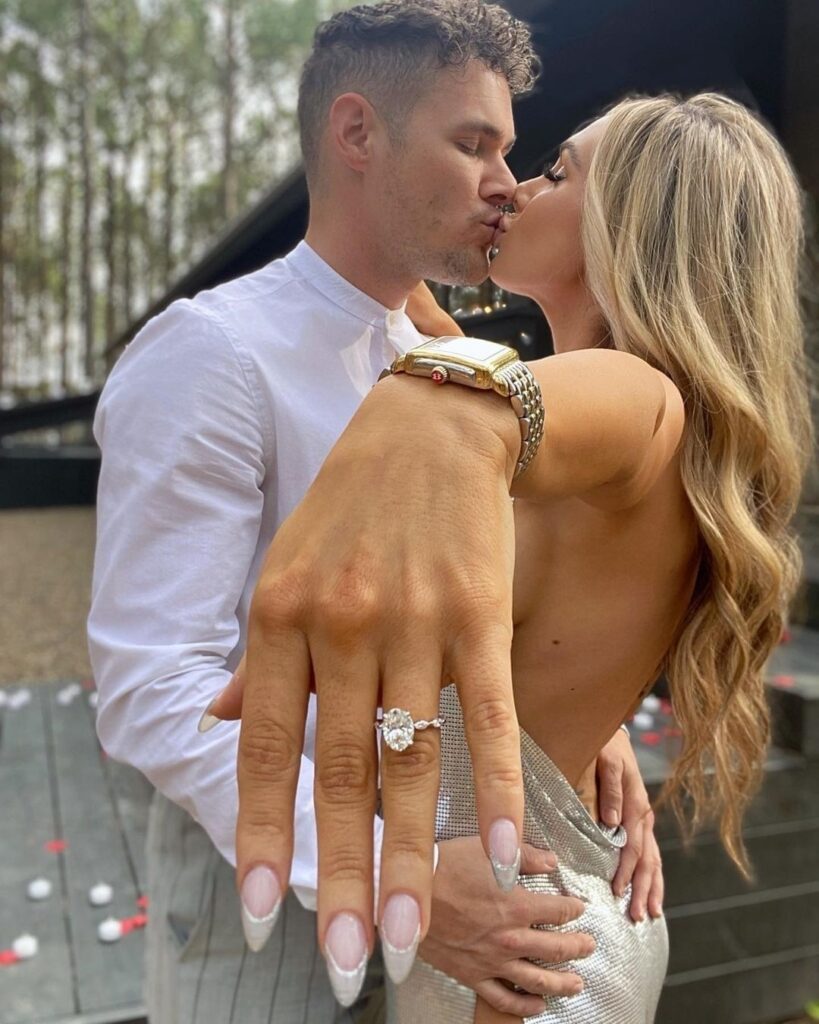 Courtesy: Dior
#14 To add floral romance to your white nails, pick this next one of our engagement nails ideas for an exquisite and artistic design. Know that hand-painted nails take a great deal of creativity and only a professional can achieve the neatness of this type of nail design. We'd only recommend going to a trusted nail artist to recreate this design like this for you. For spring or summer engagement nails, this is a great idea.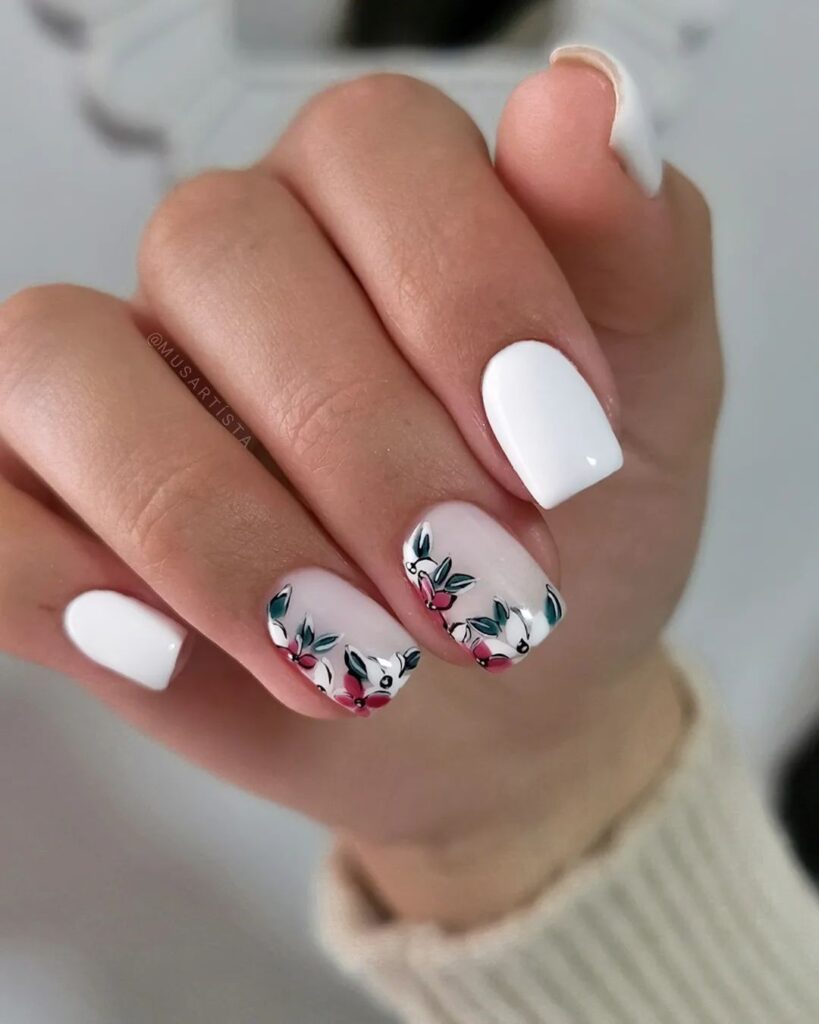 Courtesy: @musartista
#15 If you're a fan of transparent and nude pink engagement nails, but want to amp them up with an edgy element, opt for these leaf patterns for an eye-catching look. Now, these leaf patterns are easy to create for women who have a creative streak and steady hands in sketching, so this can be an easy DIY for them. For others, go to a professional only! Leaves are the center-of-attention of this art and there's no point in recreating this style if they don't look as perfect as the picture.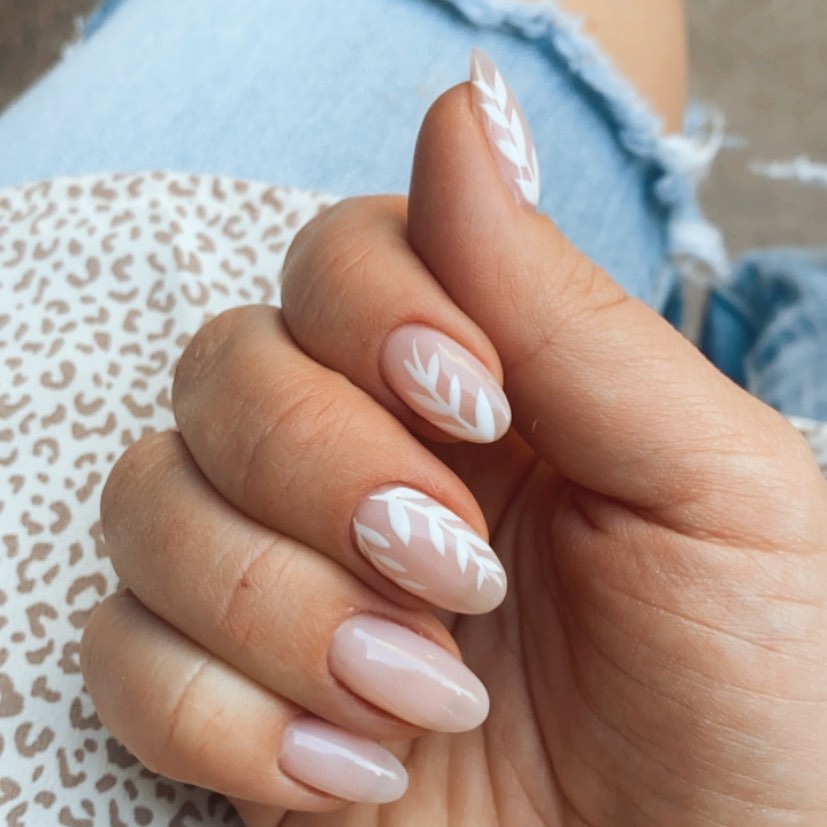 Courtesy: @thenail.co_
#16 Let them know you said YES with this "Oui" (which means yes in French) etched nail design. A classic red nail design might seem off-putting and seem like can overshadow the ring's sparkle because of the brightness. But it's the opposite! Red nails can, in fact, bring out the color of the metal as well as the gemstone in the ring. Of course, there's nothing better than enhancing the standard red nails with an engagement-milestone-specific text that can be totally done at home!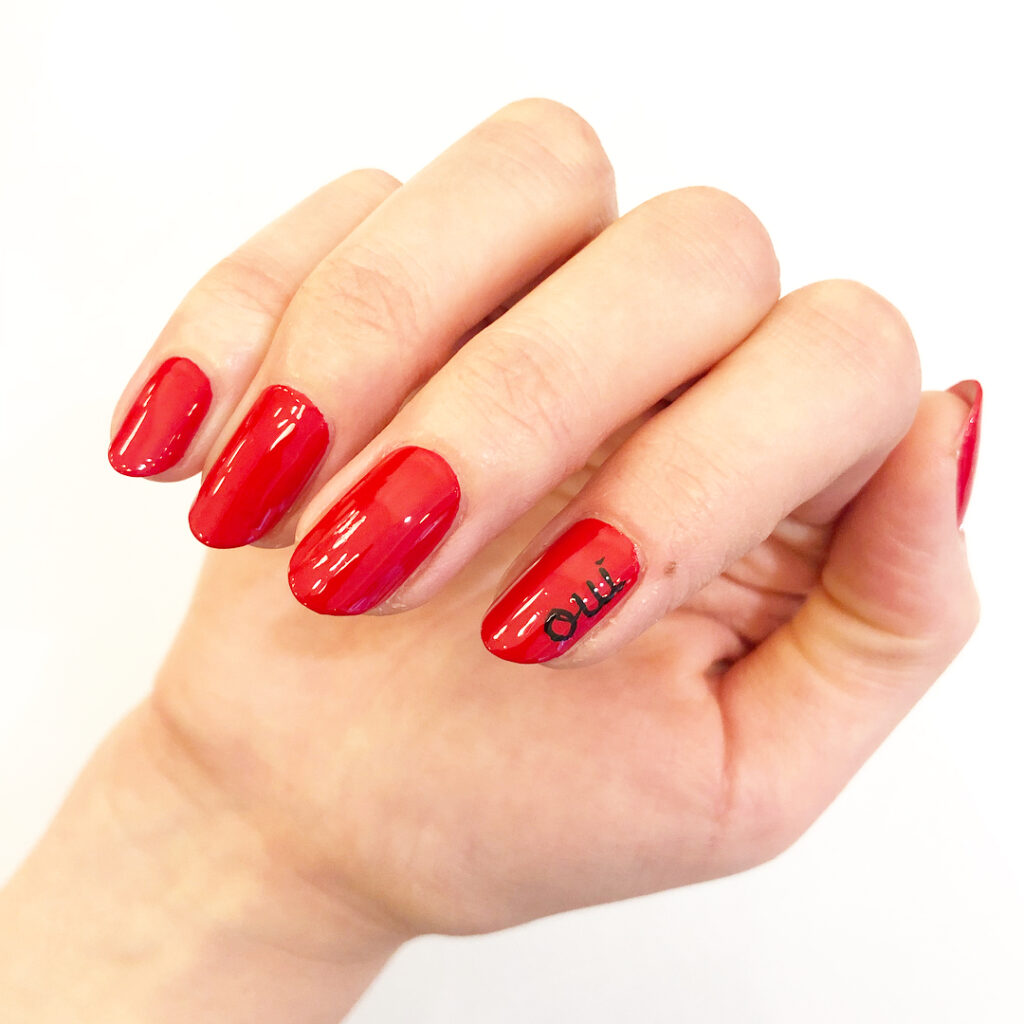 Courtesy: Christina
#17 Using felt letter board never fails to impress as an engagement announcement photo. It's simple, neat, and can be molded into any aesthetic. Not to forget it can easily show off your engagement ring and engagement nails. Clearly, if you're wondering what color your nails should be when you're getting engaged, white is a favorite option among women and never fails to impress!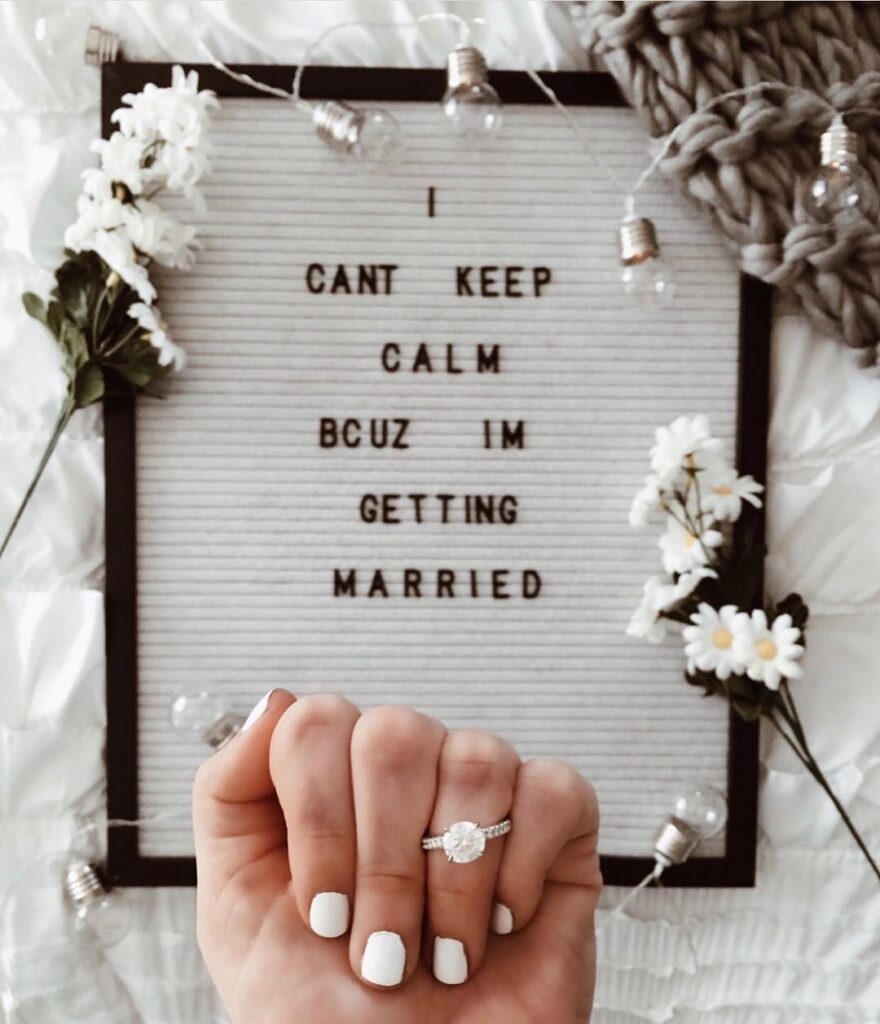 Courtesy: Brittney
#18 Sheer & glass nails are quite popular as they include some shine in the perfectly-shaped nails, which can otherwise appear dull to some. And the best part? These engagement nails can easily be done by you at home. And doesn't even take any preparation in case your boyfriend makes some sudden surprise plans for engagement. More so, if you don't have the perfect nails right when you're engaged, you can instantly apply some gloss polish and pose for the visually appealing hand shots to show off your ring right away!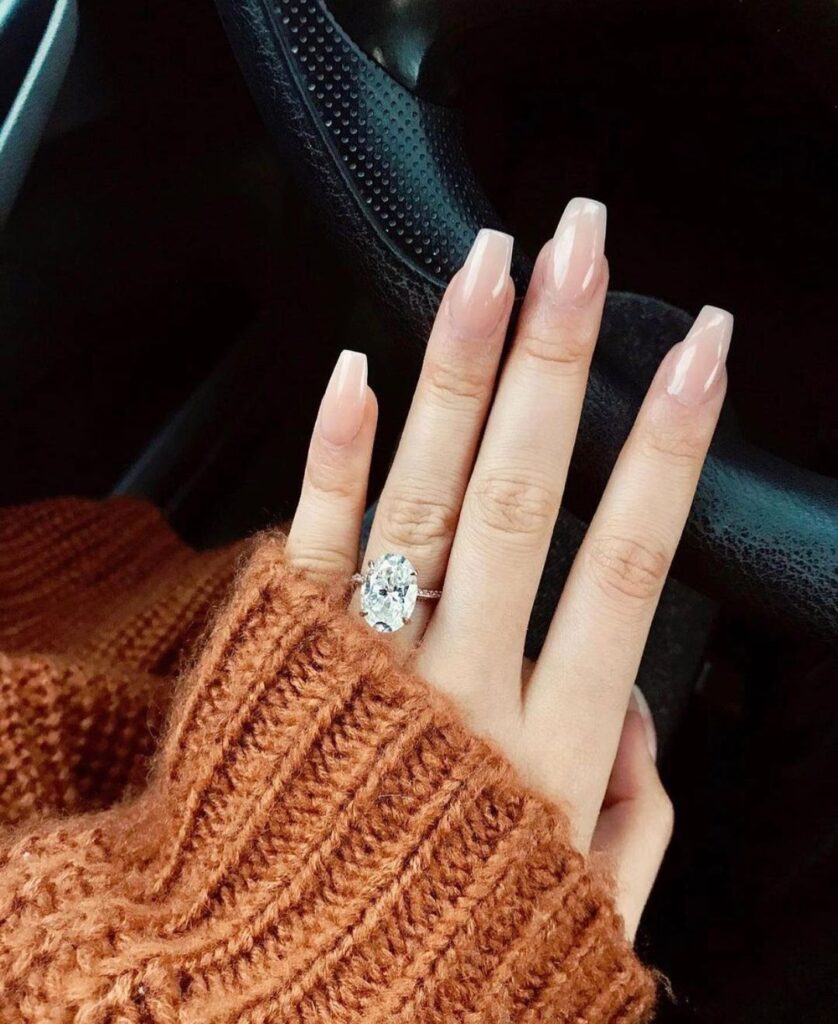 Courtesy: Jace Chloe
#19 If you have a gemstone engagement ring like a yellow diamond engagement ring or a sapphire engagement ring, then you can pair them with similar color nails for a beautiful complementary look. Or else, you can choose to go for a contrasting color instead. Pick the hue using a color wheel to come up with a mani that flawlessly goes with your gorgeous sparkler. Although, if you'd like to emphasize the color of your gemstone, neutral colors are your best bet.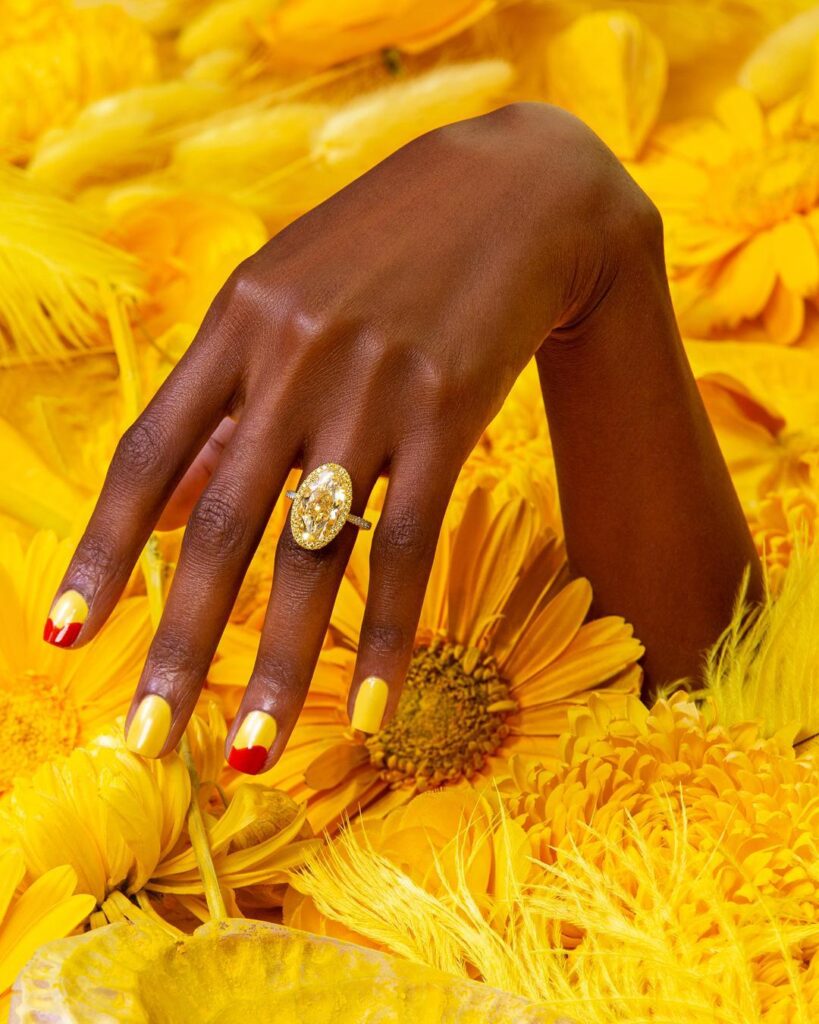 Courtesy: Jean Dousset
#20 Abstract nails are the new trend in 2022 nail designs. They blew up when the spring nail designs 2022 were going around and maximum of them featured abstract nails because the women were adoring them pretty much at the time. They're still in trend though, and lines remain the favorite to create an abstract design. For brides who want to include a modish element in their engagement nails in 2022, this is the ideal pick for you.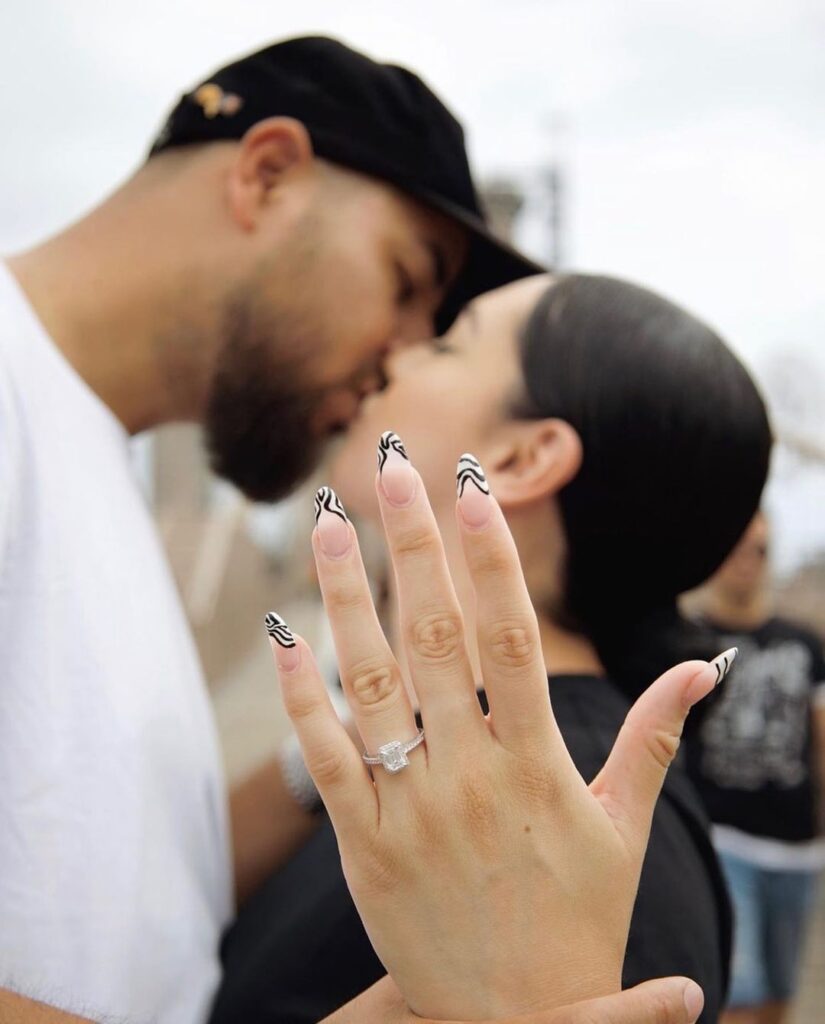 Courtesy: @lovenailsbysarah
#21 If your engagement ring is a gemstone other than a diamond, then you might have to put a little more thought into engagement nail ideas so the design doesn't overpower the gemstone. Diamonds have natural brilliance, so they're hard to overpower. The same is, however, not true for other gemstones. Emerald, for example, would look best with subtle, non-glossy nails, and colors on the neutral, mellow spectrum. A good thumb rule is to match the color of your gemstone with a polish shade on the color wheel, so you can easily color complement.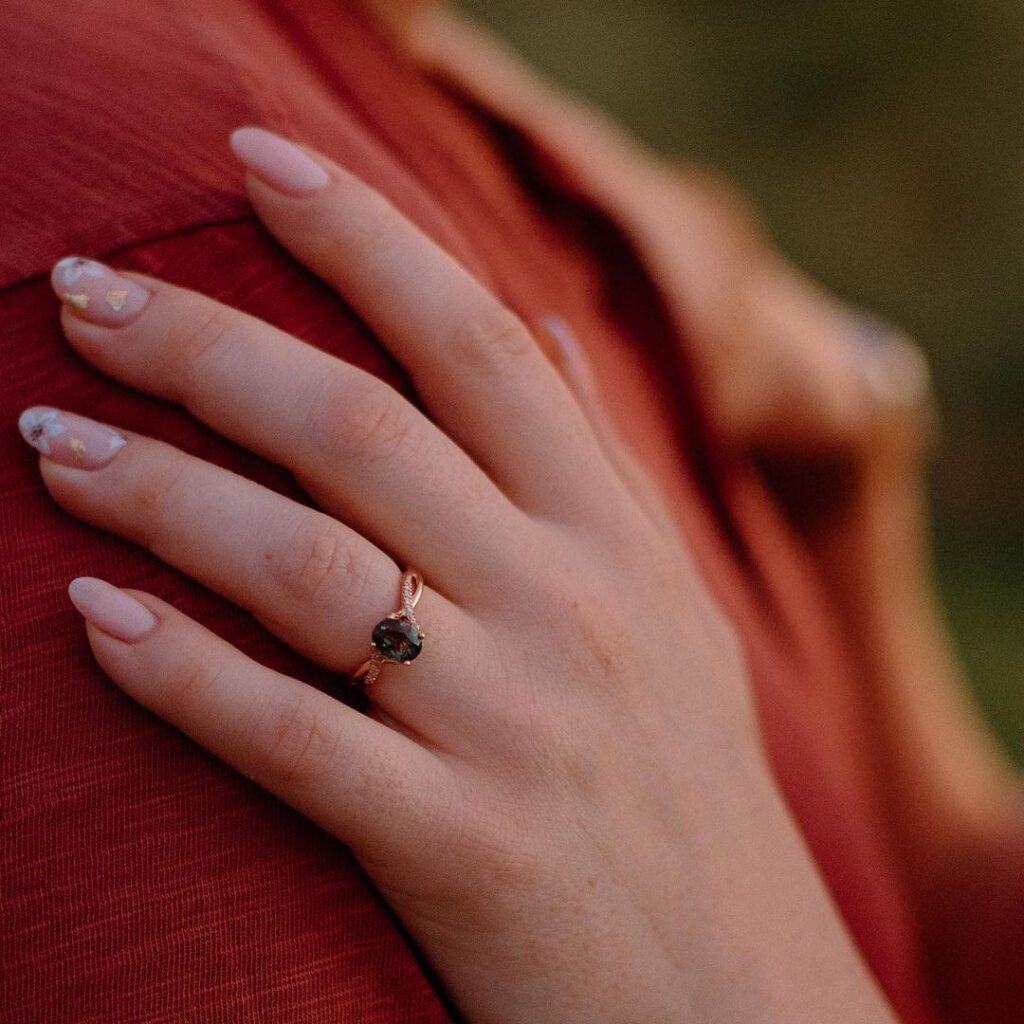 Courtesy: @maryeliasphotos
#22 Combining shades of blue with a dash of pink, this gorgeous nail art design sets out among the rest for its vivid colors and interesting combination. Now, you may think that an artistic design like this with such deep colors can steal the attention of your ring – but it's far more the opposite. Instead, it will draw attention to your hands and makes it easy for you to flaunt the sparkler subtly – online or offline.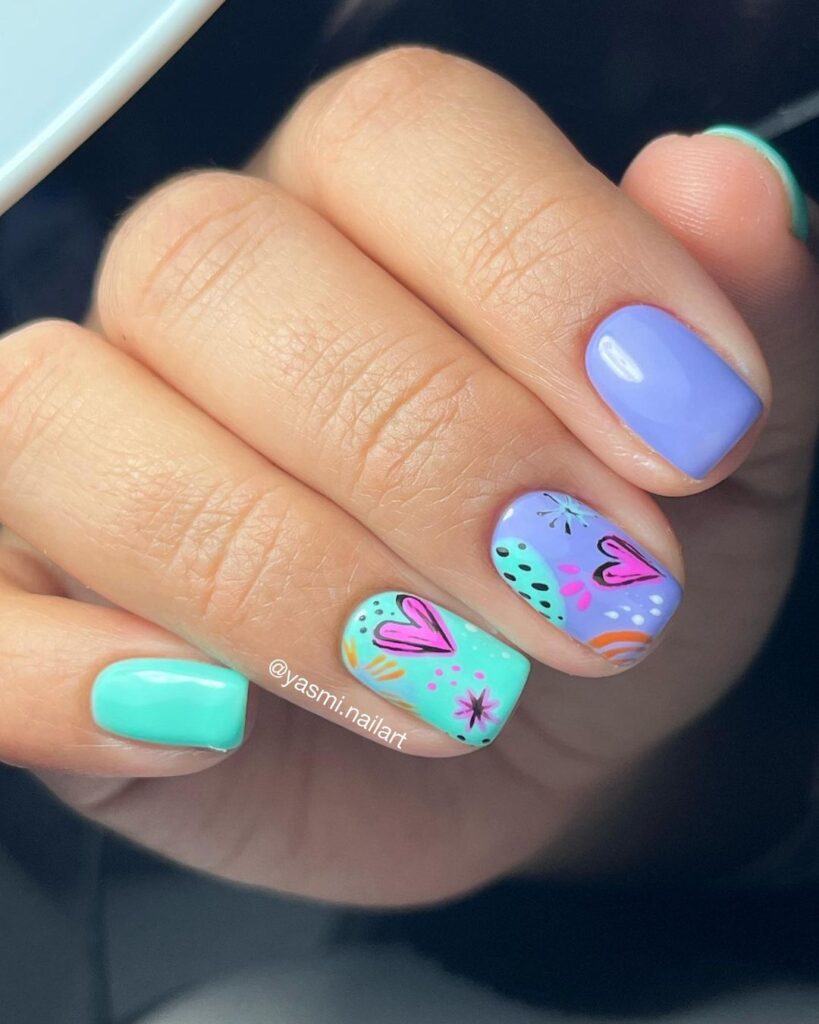 Courtesy: @yasmi.nailart
#23 Continuing on the same note, we have these pink proposal engagement nails enhanced by painted floral leaves in the middle of the two nails. To ditch the monotony of the block colors, it's always a good idea to paint some nails differently. Usually, only the ring finger is chosen to draw attention to it, but you can decide to etch the middle finger differently as well for subtlety. An eye-catching nail design like this will have everyone noticing your hands, and hence, your engagement ring as well.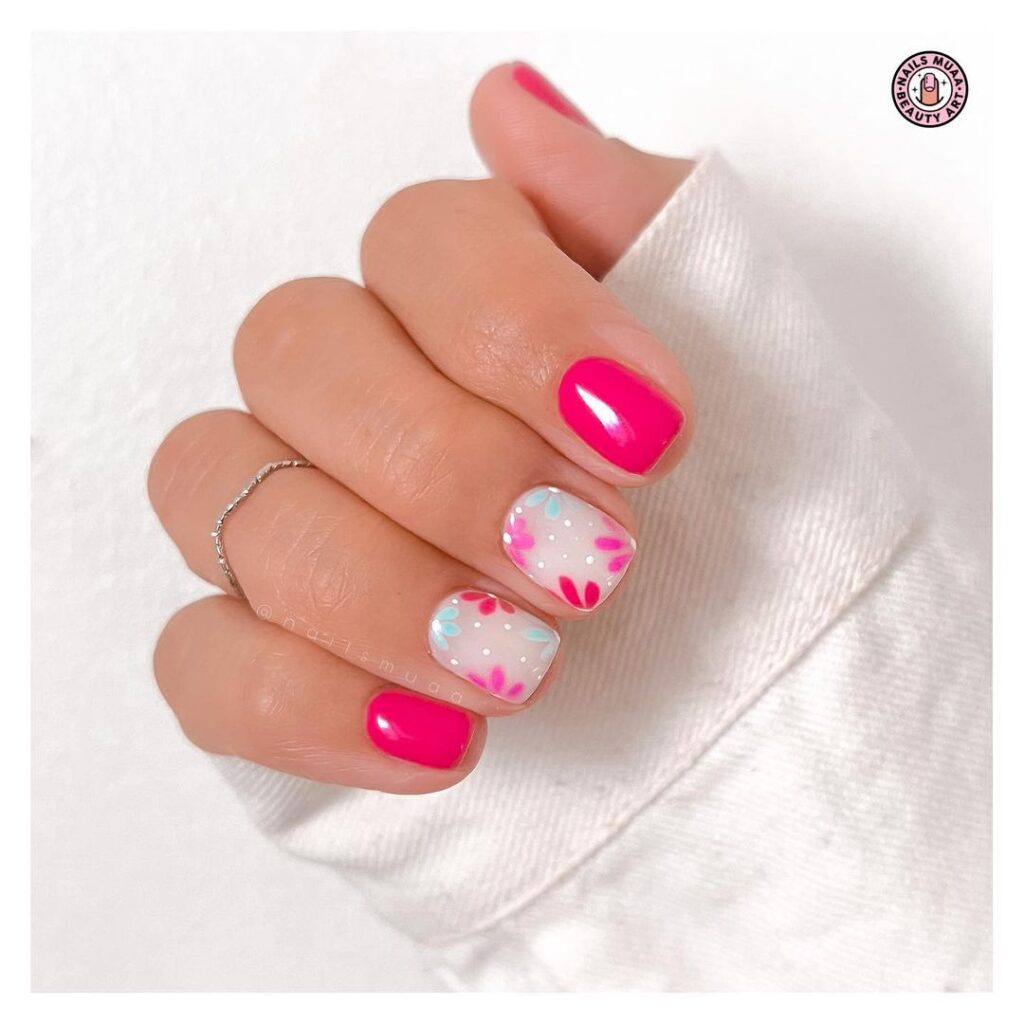 Courtesy: @nailsmuaa
#24 Not into neutrals or sheer nail polishes? These chocolate brown nails with a gloss coating will win your heart. This is also an easy DIY engagement nails 2022. You just need the perfect nail color followed by a gloss coat.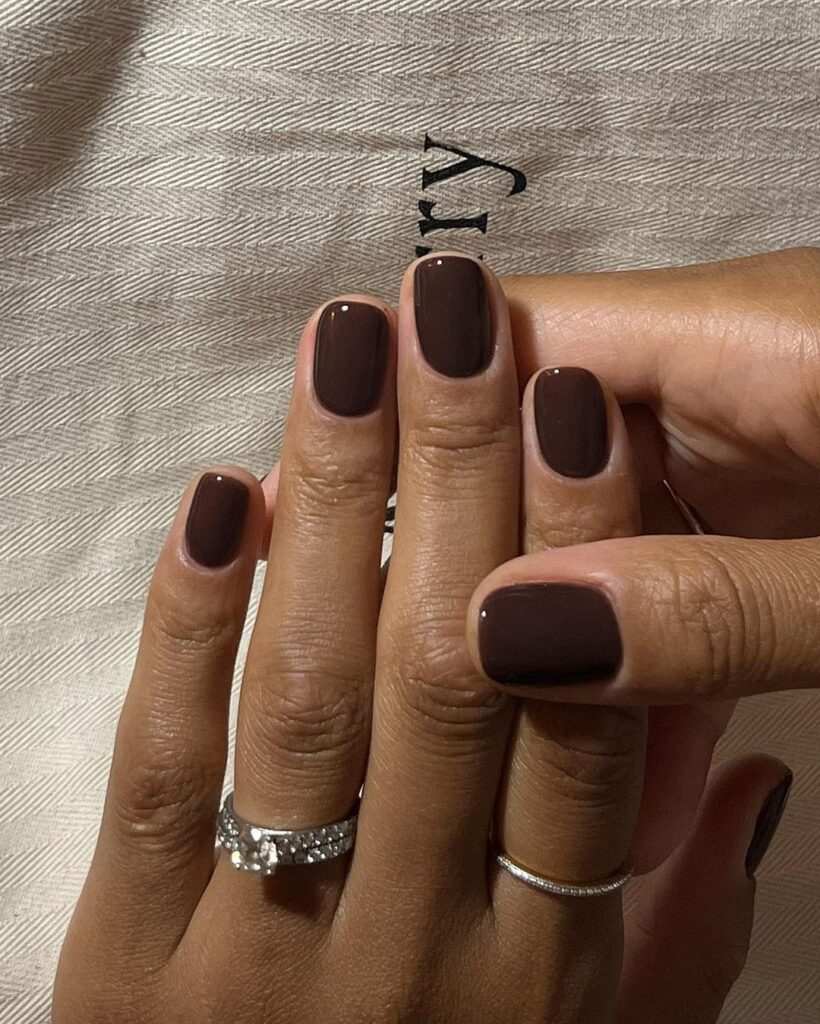 Courtesy: @paintedby_didi
#25 These blue and pink shade combination makes for classy engagement nails. As you can see, the middle two nails are often chosen to break the monotony of a single color because they have the maximum space to make the good design come out. The subtle foil print is an edgy element to elevate the look of this nail art for engagement.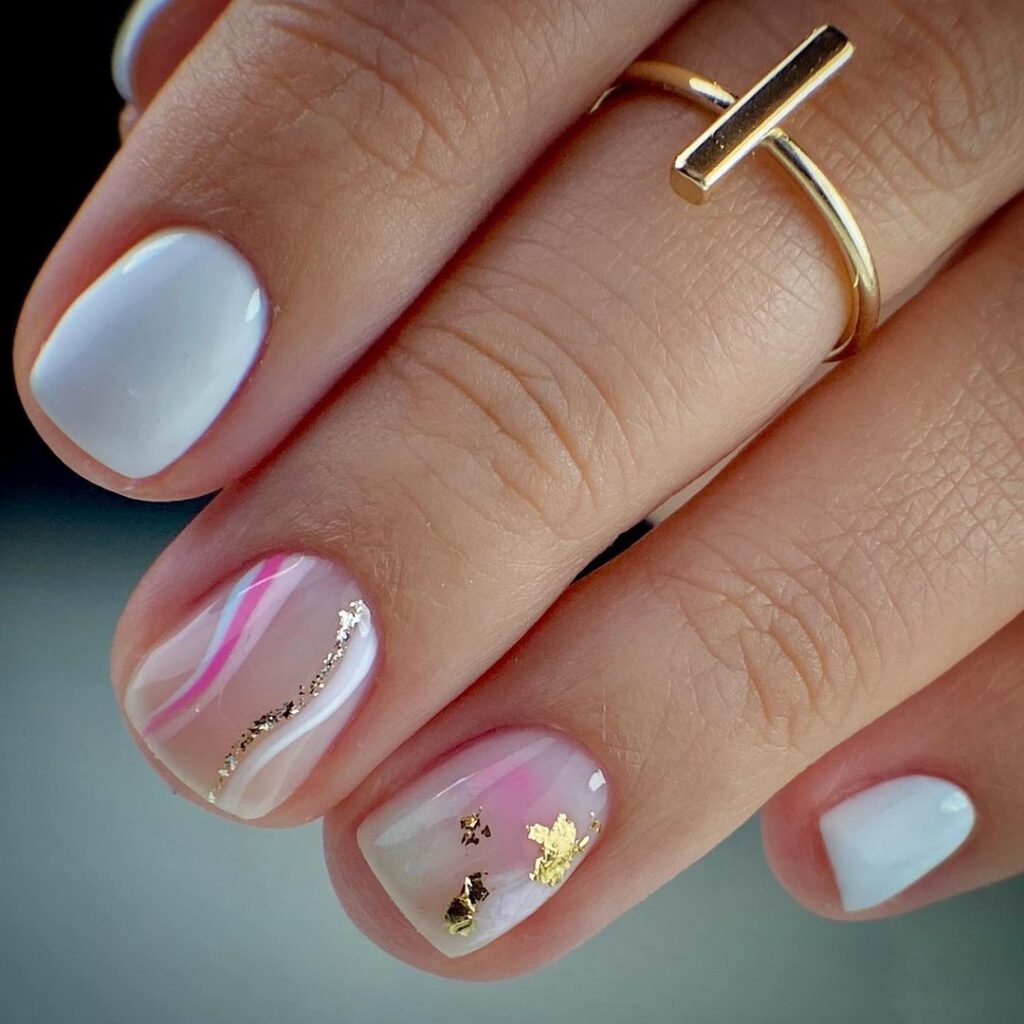 Courtesy: @moonglamnailscl
#26 The next one on the list of engagement nails ideas has it all! It has white, pink, glitter, and gray – all the colors that women admire in engagement nail art designs. We love how they complement each other so well and make for a true statement and Pinterest-worthy engagement nails design.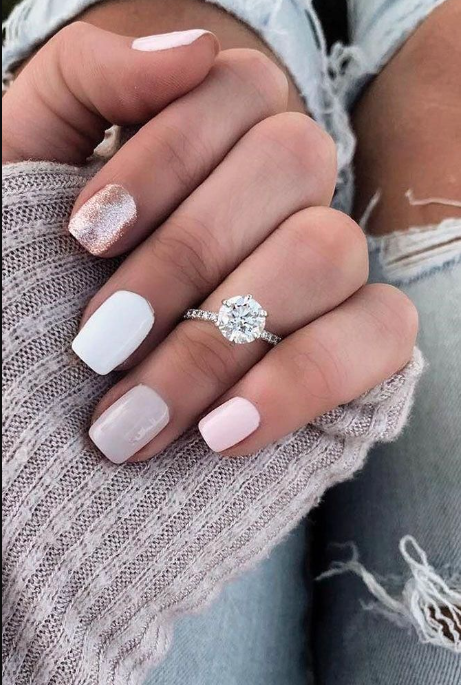 Courtesy: Julianne Liebentritt
#27 If you're lucky enough to have your engagement at the happiest place in the world – Disneyland, there's nothing quite like these blue shimmer nails to flaunt the sparkler. DIY them at home with a similar color polish or get acrylics done if you want bigger nails and don't want to risk any of them being broken.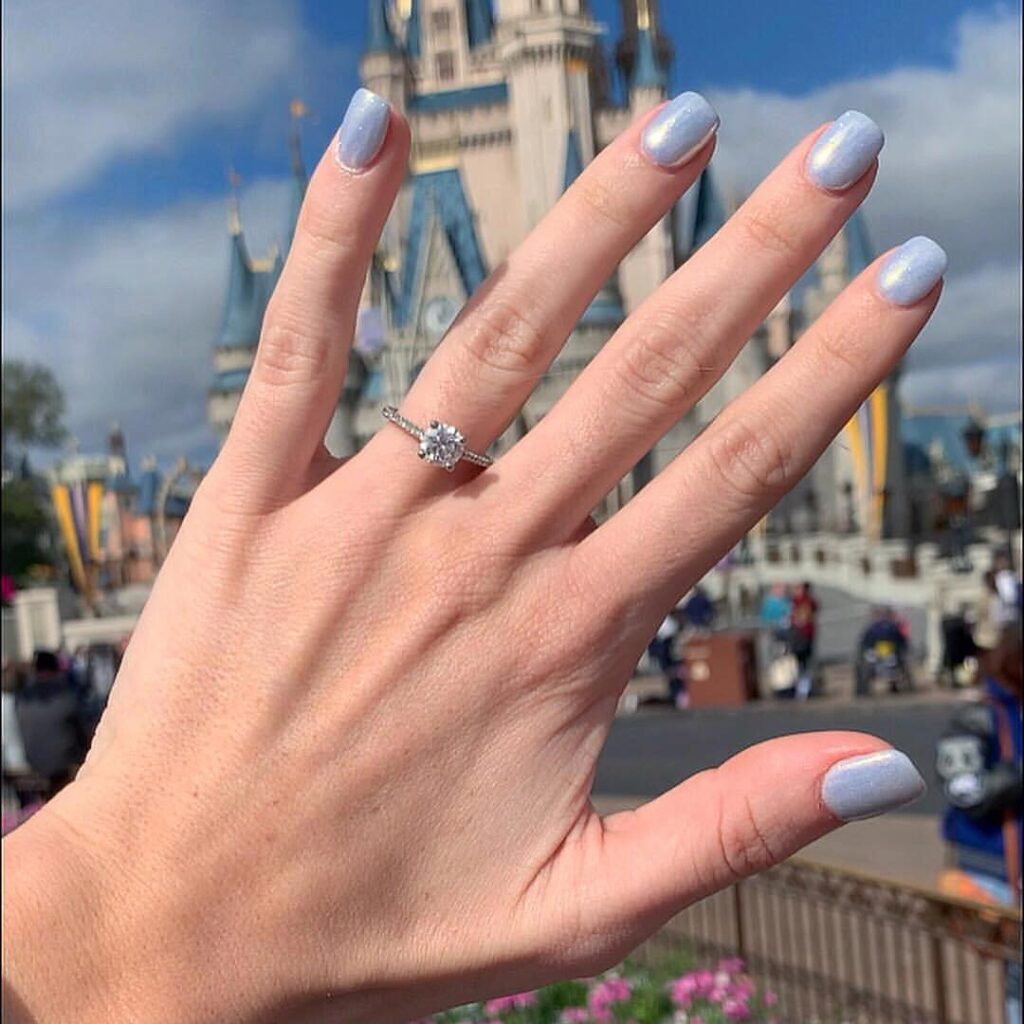 Courtesy: Instagram
#29 Take a personalized approach to your engagement nails by monogramming them with the initials of you & your other half. Clearly, neutral pink is one of the best colors for engagement nails and you can elevate the standard nail design for engagement with an adorable element like this one. It's also a cute gesture to include your fiancee into your engagement nails and make him feel special, just as he has by giving you the ring of your dreams.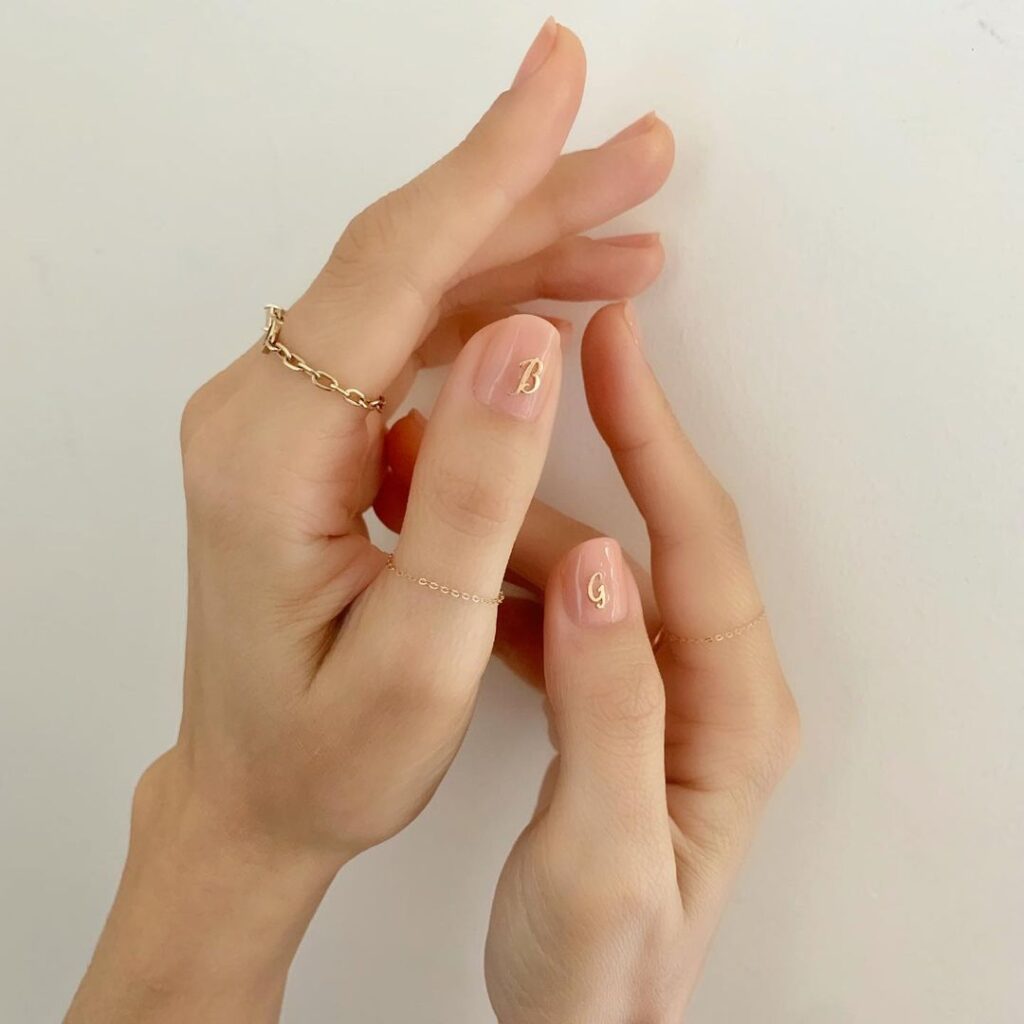 Courtesy: Betina Goldstein
#30 These glitter accent nail art design is literally how you combine simplicity with a bit of style. The swirls in the middle act as a great accent for the typical neutral nails and break the monotony. It's perfect to wear with a halo ring as it enhances the brilliance of the halo, and hence, the diamond. The almond nails further make the fingers look bigger. All in all, this is a thoughtful and cute nail art for your engagement.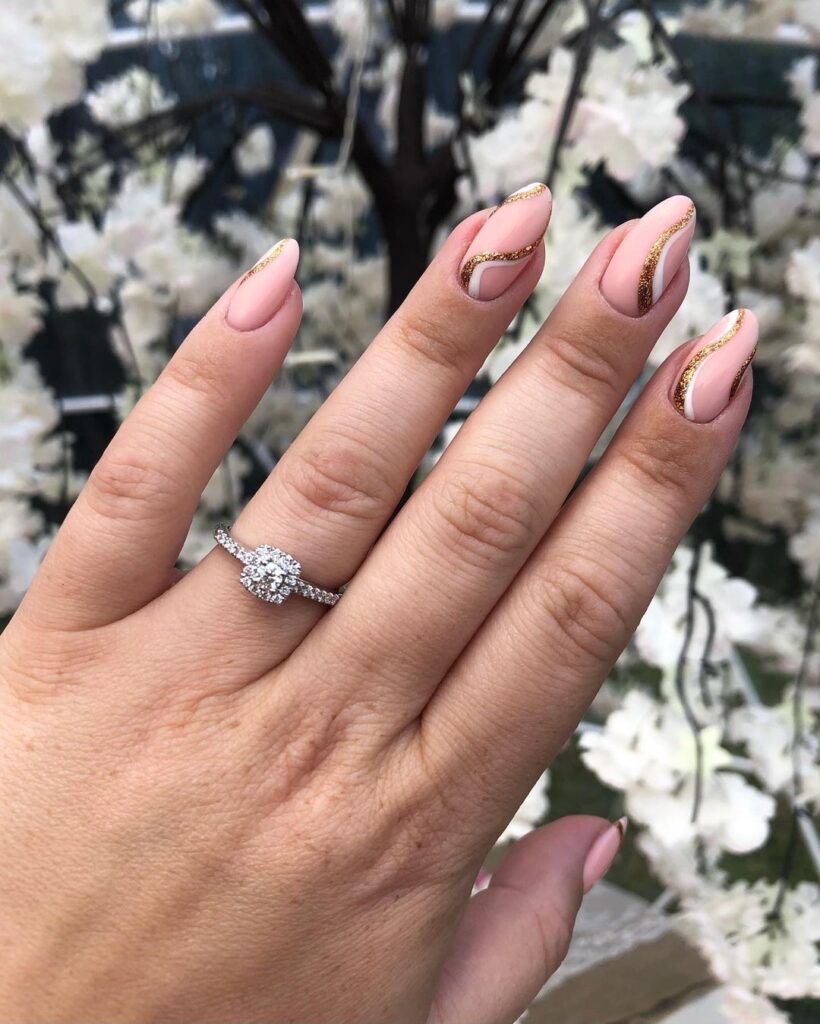 Courtesy: Jodie Richards
#31 Spiritually, light purple is associated with romantic energies and light-heartedness, and also strong passion and sensuality. If you want to infuse some romance into your nails with spiritual significance, picking light purple as your engagement nails color can do the trick. The simple one-color design is enhanced by geometric patterns on the index & ring nails adding to the creativity streak of the nail design. This type of artistic & minimal nail works best with the simplicity & timelessness of a solitaire ring.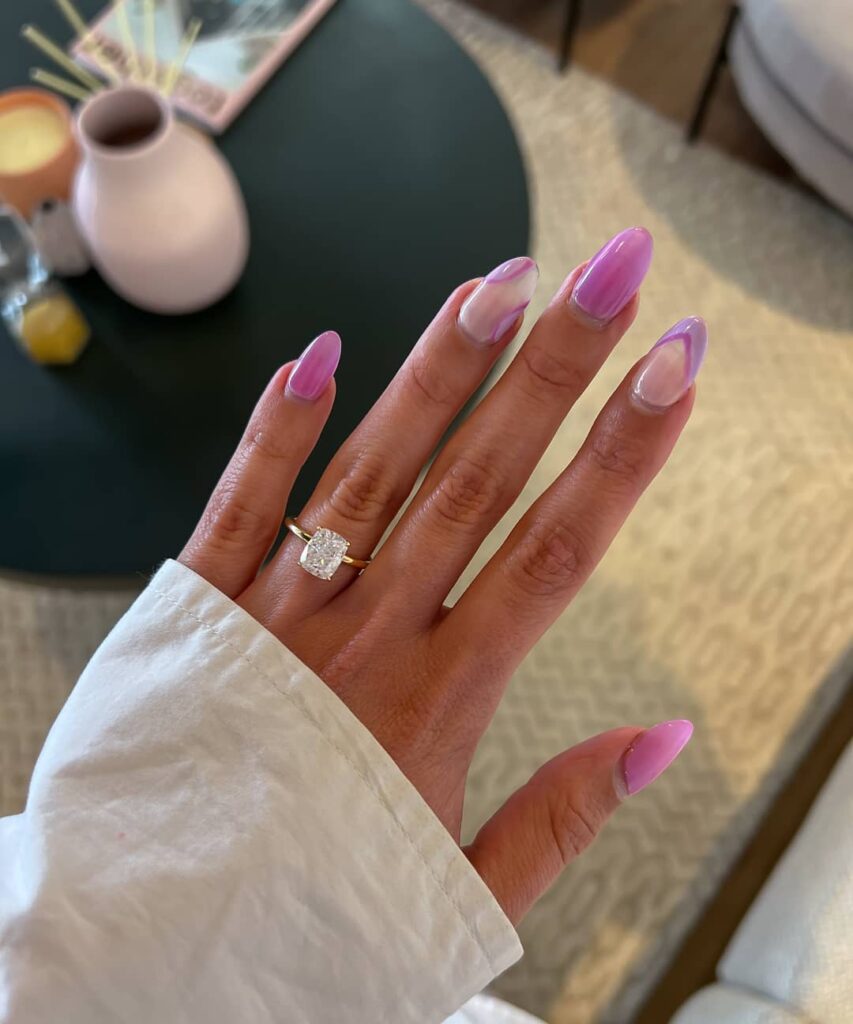 Courtesy: Cullen Jewellery
#32 For those looking for short, engagement nails, there's no shape better than a square shape to give them a beautiful aesthetic for short nails. The square nail shape is also low-maintenance yet looks very stylish and clean. This bride here painted her short engagement nails with the standard white color and snapped them against a white backdrop for a visually appealing picture that enhances the bling of her ring. If you get engaged in winter, you can also click a snap of your ring & perfectly manicured nails with a snow backdrop for a similar visual appeal.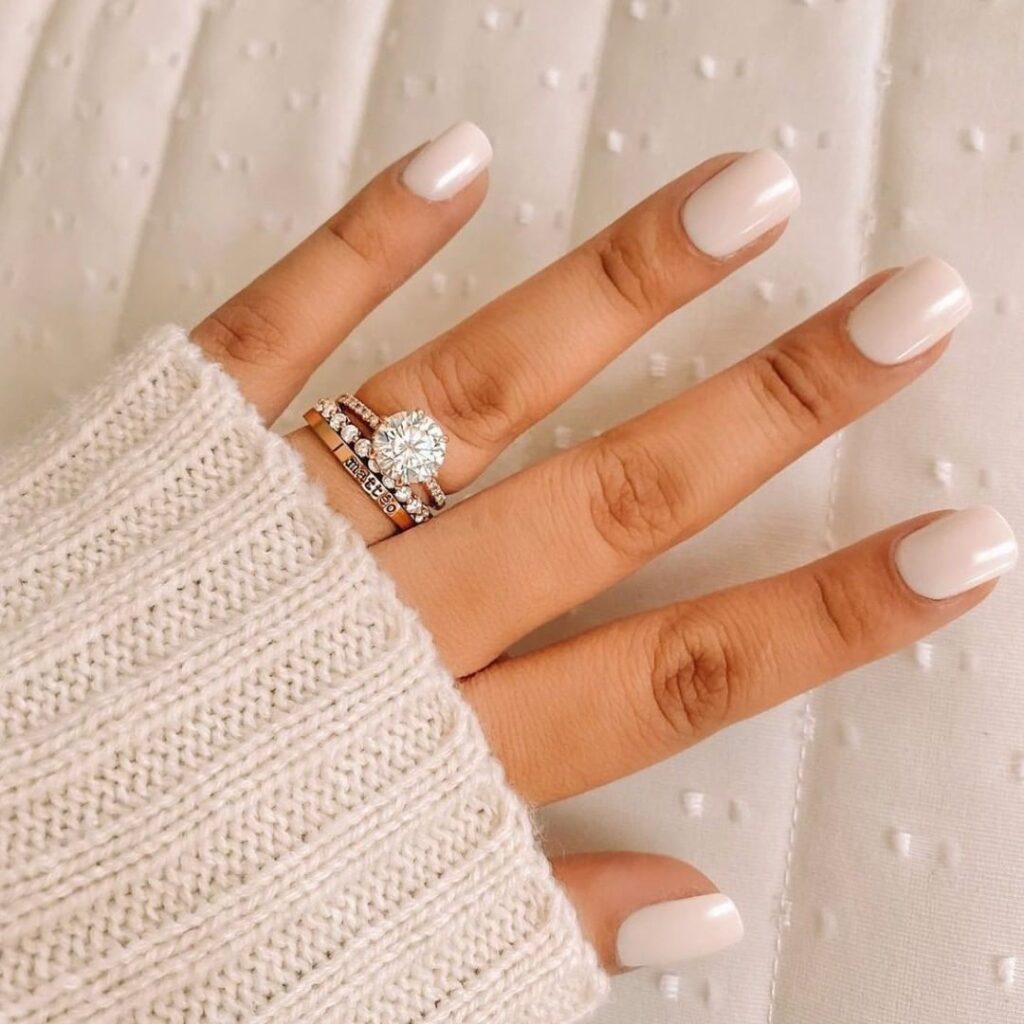 Courtesy: Anye Designs
#33 A clear gel mani can make for a classy engagement nail option as they are elegant, enduring, and versatile. A clear gel mani is often done on gel nails with a clear gel UV polish. We always recommend choosing gel nails over acrylic nails. They are a healthier alternative and cause less damage to nail beds. Gel nails also feel more natural than acrylics – which can feel hard on the nails.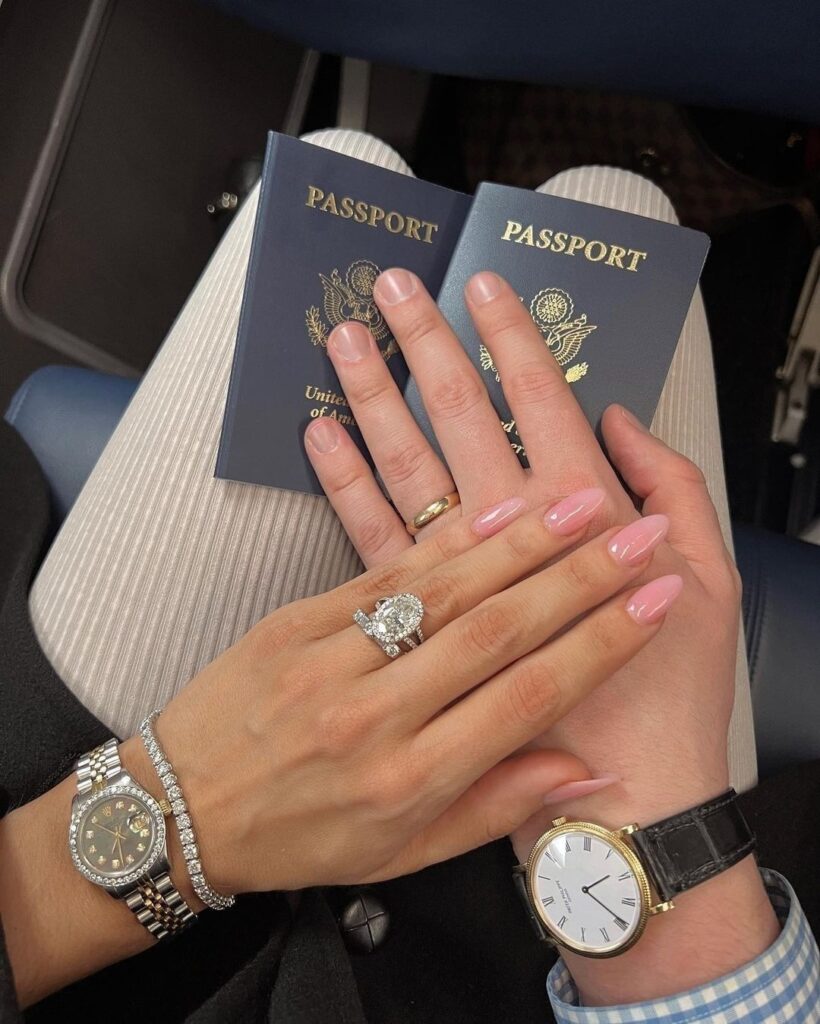 Courtesy: Campbell Puckett
#34 Internet personality and Youtuber Lele Peons announced her engagement on social media in 2022 with her partner and now-fiancee Guayanna. The latter popped the question after two years of dating during Tomorrowland 2022. Pons later posted some heart-touching pictures on social media and we couldn't help but notice her perfect manicure in a half-transparent, half-white shade with stud embellishments. It's such a classic glam nail art for engagement that we absolutely fell in love with the design instantly.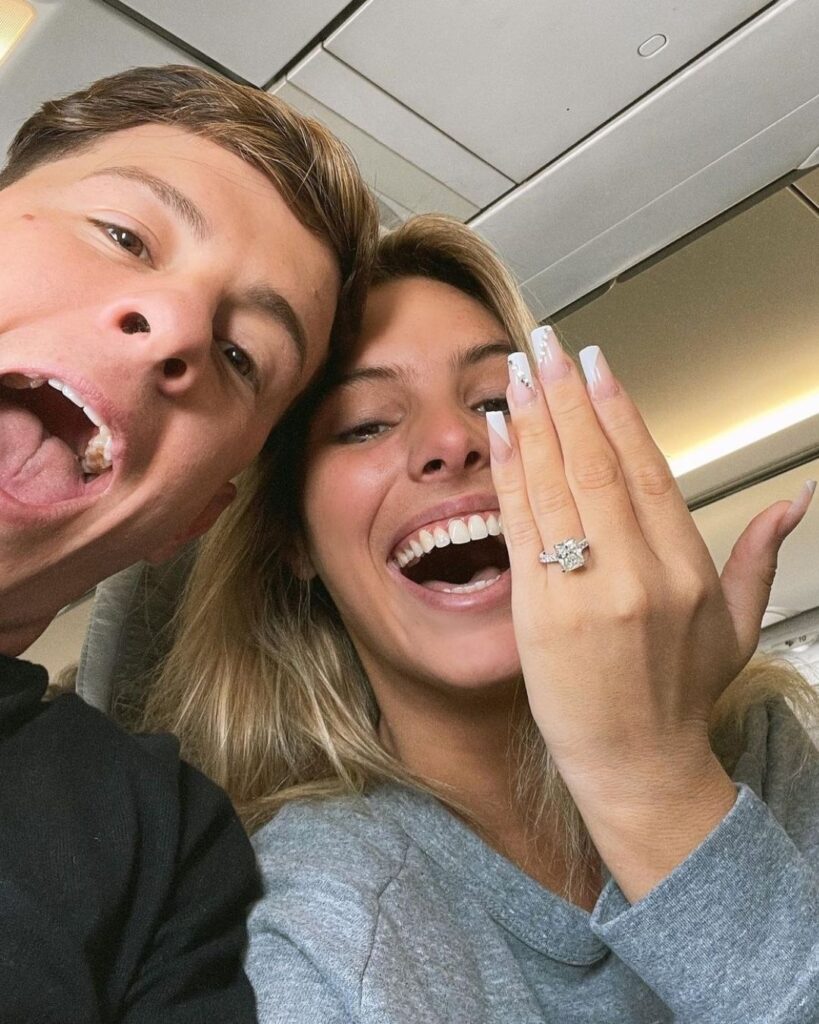 #35 French nails, but make them colorful! Combining the trend of ombre nails and French tip manicures, this nail design is the perfect nail art design for engagement in fall and winter. It's also easily doable at home. Start by applying clear nail polish and shaping your nails. After carefully sectioning out the tips, cover them alternately in light and dark brown shades. Let it dry and cover them all in a gloss polish for a smooth effect.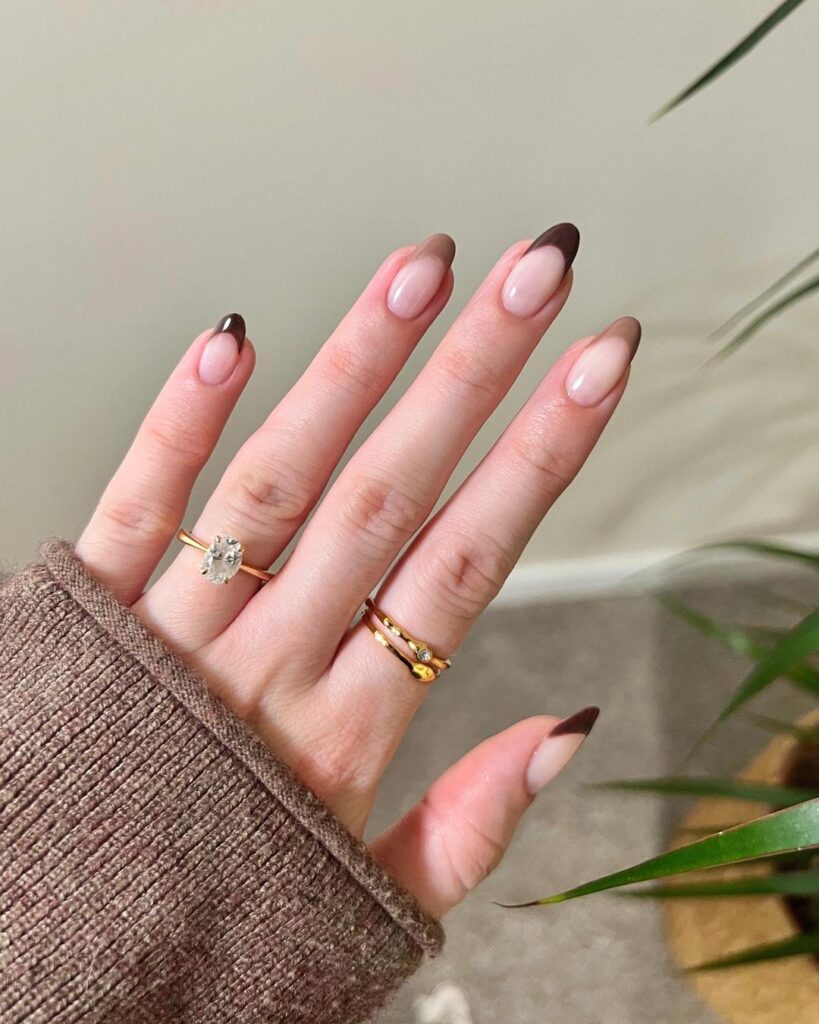 Courtesy: Pinterest
#36 One of the most favored nails for engagement photos has a nude pink shade on them. And it's clear why! Pink signifies romance and feminity and in a lighter shade, it also maintains its subtlety. The color not only seems perfect for the occasion but also has the versatility to go with any season or style you chose to wear on the engagement day!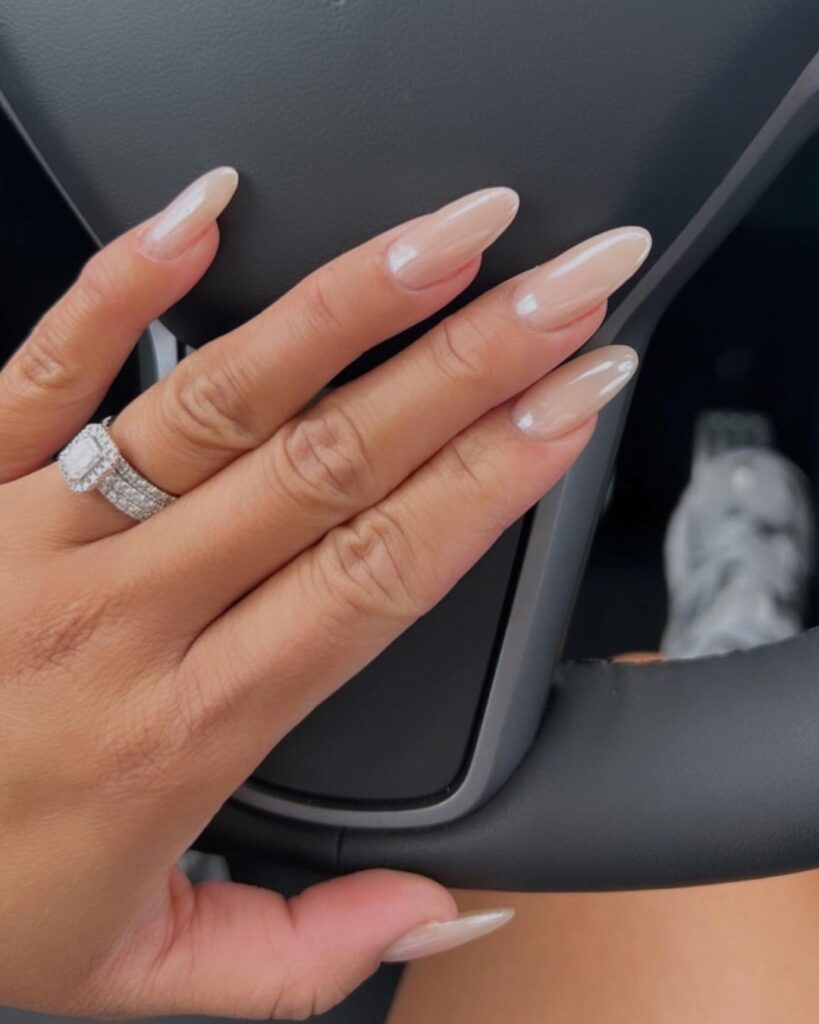 Courtesy: Nails by Jenn
#37 French nails are clearly one of the most popular nail designs for engagement photos and it's easy to see why. They're minimal, elegant, and timeless. So when you look back at your engagement photos a year from now, you won't regret your choice of engagement nail color then. The next one of the engagement nail ideas on our list represents the classic French manicures in bright colored tips for a glamorous twist on the standard designs.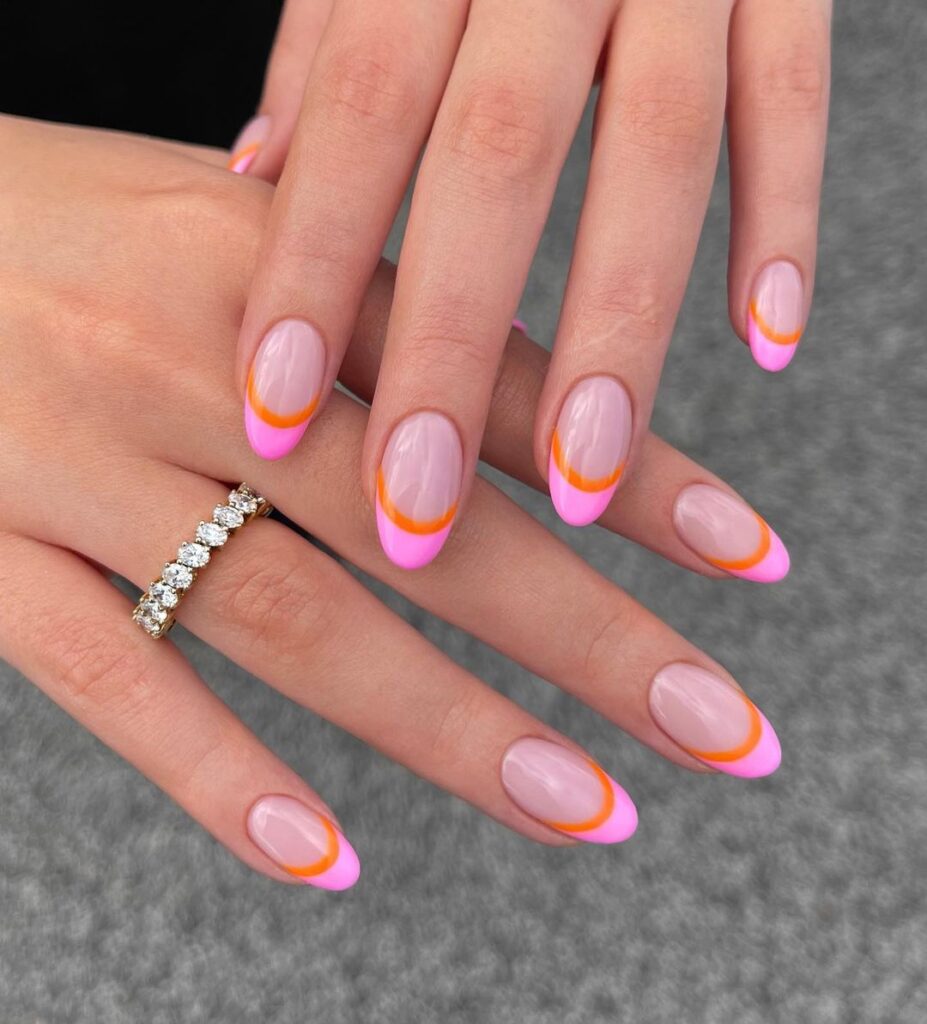 Courtesy: Peachi Nails
#39 If you're getting married in spring with perfect, clear weather conditions, then sport these gorgeous engagement nails that represent the scenic weather and the happiness in your heart all at once. We especially love the play of colors in these engagement nail ideas. The artist clearly shows her creativity in the design, and it's clearly the reason why picking a professional nail artist can help you in creating gorgeous & spellbinding nail art for your momentous occasion.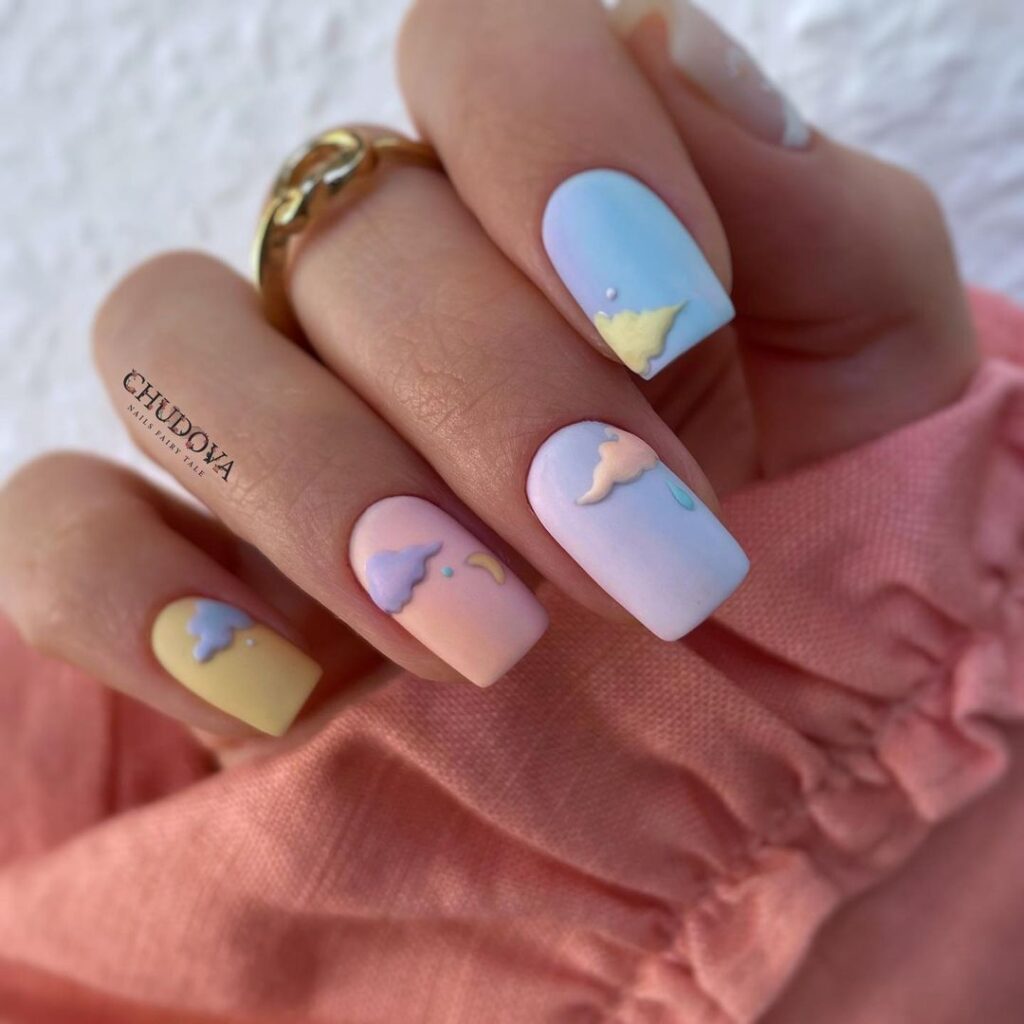 Courtesy: @chudova_nailart
#40 If you want the sparkle of your ring to take center stage in your picture, then opt for transparent white nails as they show off your ring while keeping perfectly-manicured nails in the picture. It's no secret that the sparkle of your bauble will be best shown in the Sun, so don't forget to take a picture in the sunshine of your favorite piece of jewelry now – and forever!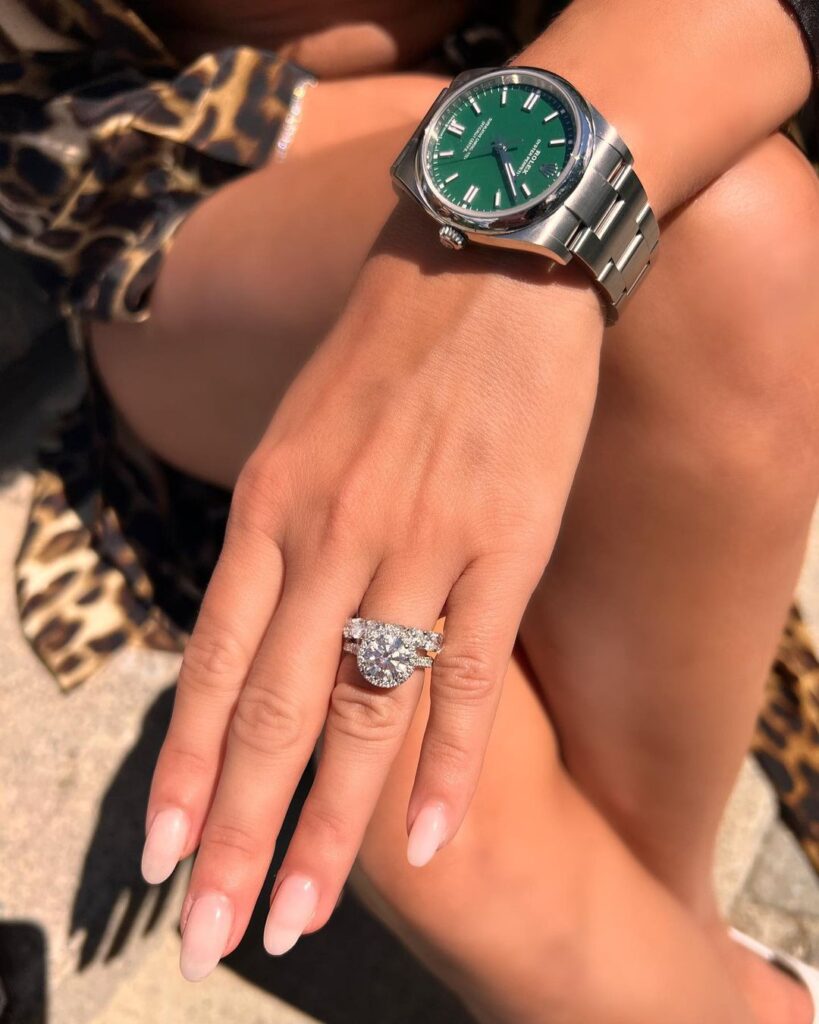 Courtesy: Crown & Carat
#41 Pastels have become a go-to for women – engagement nails or otherwise. Pastels are a subtle rendition of the bright colors and have a warm undertone that makes you feel relaxed the minute you look at them. Plus, gone are the days when pastels could have made the ideal nail colors for just summer or spring, now there are pastel shades like pale mauve, Persian pastel, rose tan, etc. that can make an ideal pick for winter or fall as well.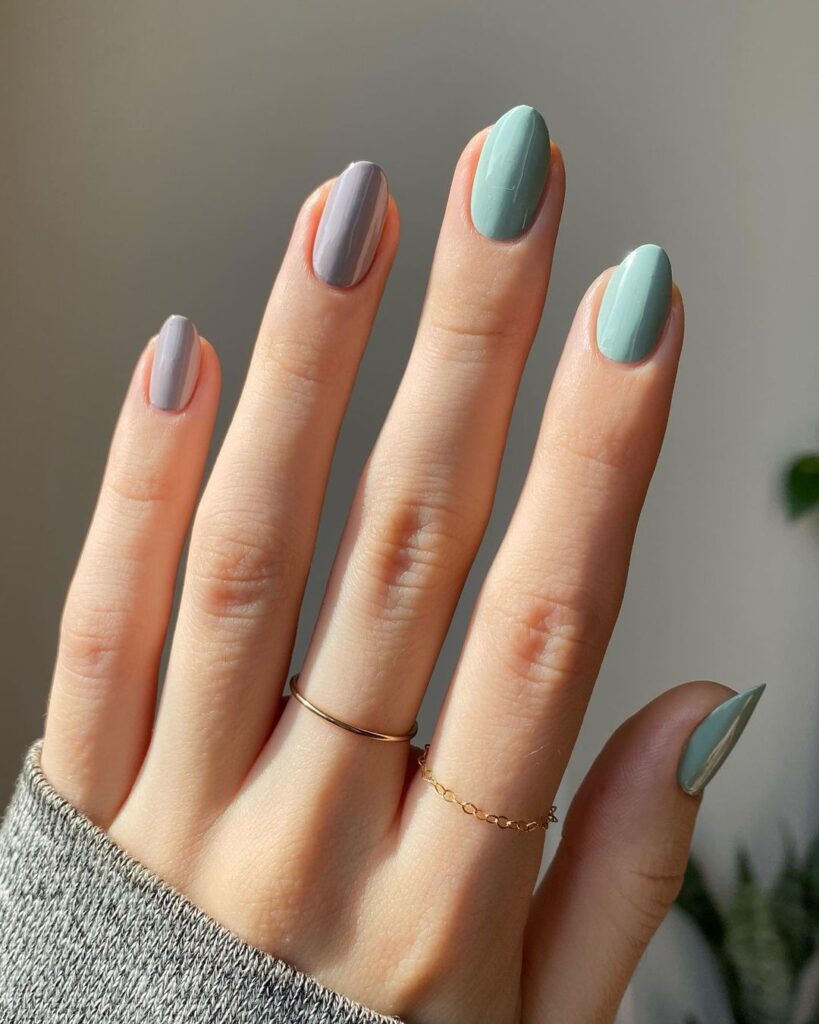 Courtesy: @polished_yogi
#42 If you're someone who likes the classic white manicure more than anything else but wants to elevate it for a special occasion, here's your savior engagement nails idea. The square nails topped by seamless white nail polish are enhanced by a heartbeat art on the ring finger. Since it doesn't require many artsy skills, you can DIY this at home – just maintain steady hands for the neat lines.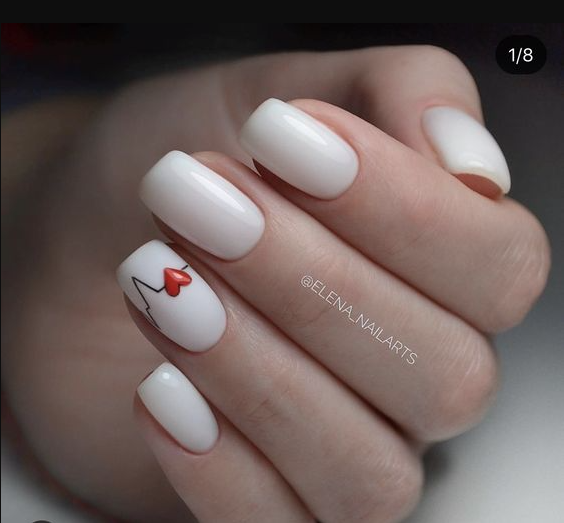 Courtesy: @elena_nailarts
#43 Glitter nail polish for engagement nail art is often not a favored choice, because women feel the sparkle can overpower the shine of their ring. But when done subtly and smartly, glitter nail paint can, in fact, enhance the bling of your gemstone and make it dazzle even more. This is especially the case in halo rings where the shimmer of the little diamonds is enhanced by the shimmer of the glitter – as you can see here.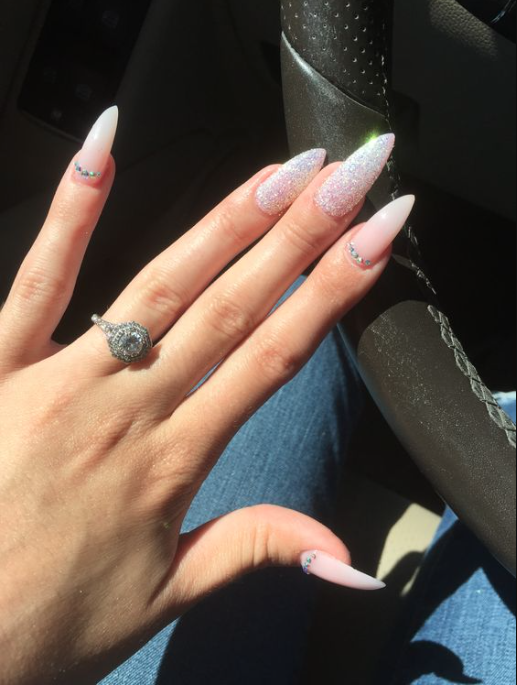 #44 This nail design is so gorgeous and the best part is the little twigs which add a decorative touch to the otherwise normal nail design. We also love how the shape of these nails is in coffin style – one of the most popular nail shapes at the moment inspired by celebrity Kylie Jenner. Its long and tapered style makes the fingers look big and also highlights your sparkler.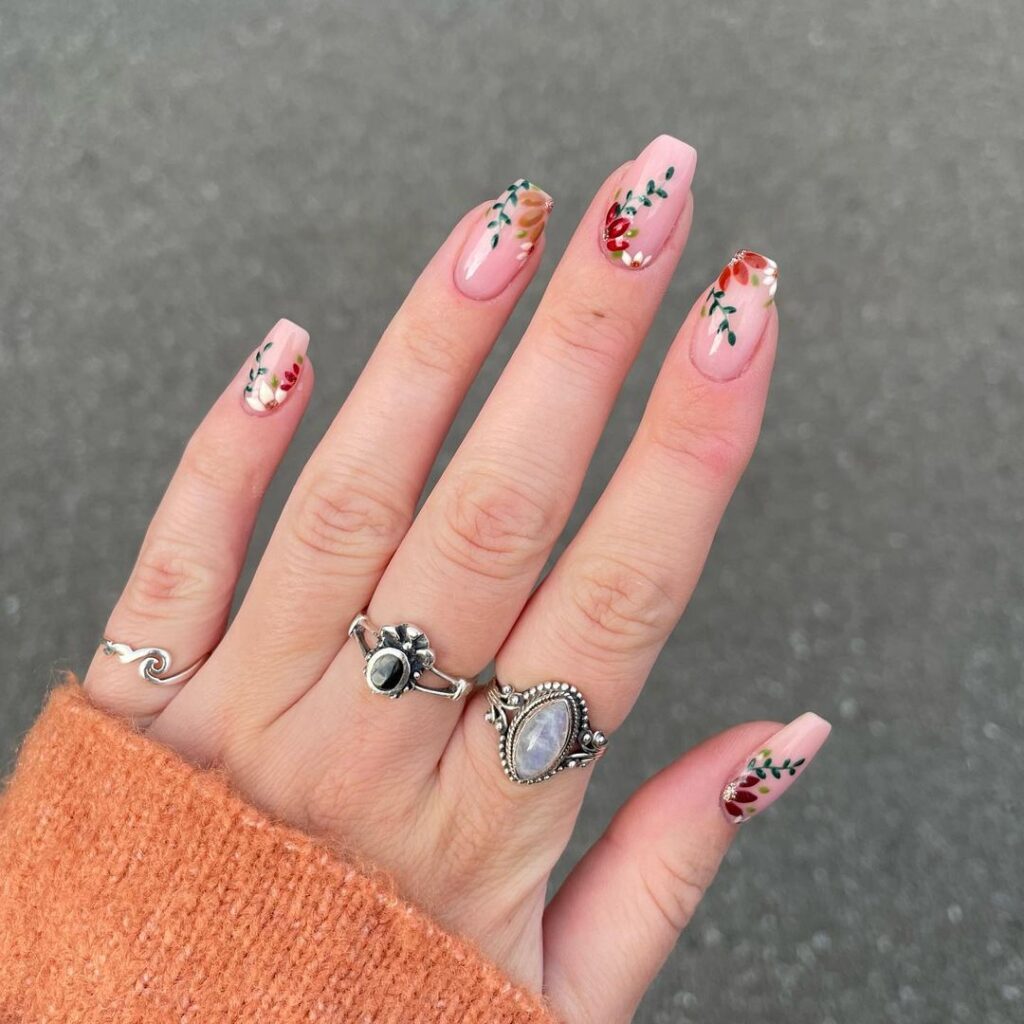 Courtesy: Rachels Beauty
#45 The classic French manicure with a twist! When it comes to elevating the look of your classic manicure designs, only trust someone professional. Only experts have the knack for adding a modern streak to timeless designs and can justify the change.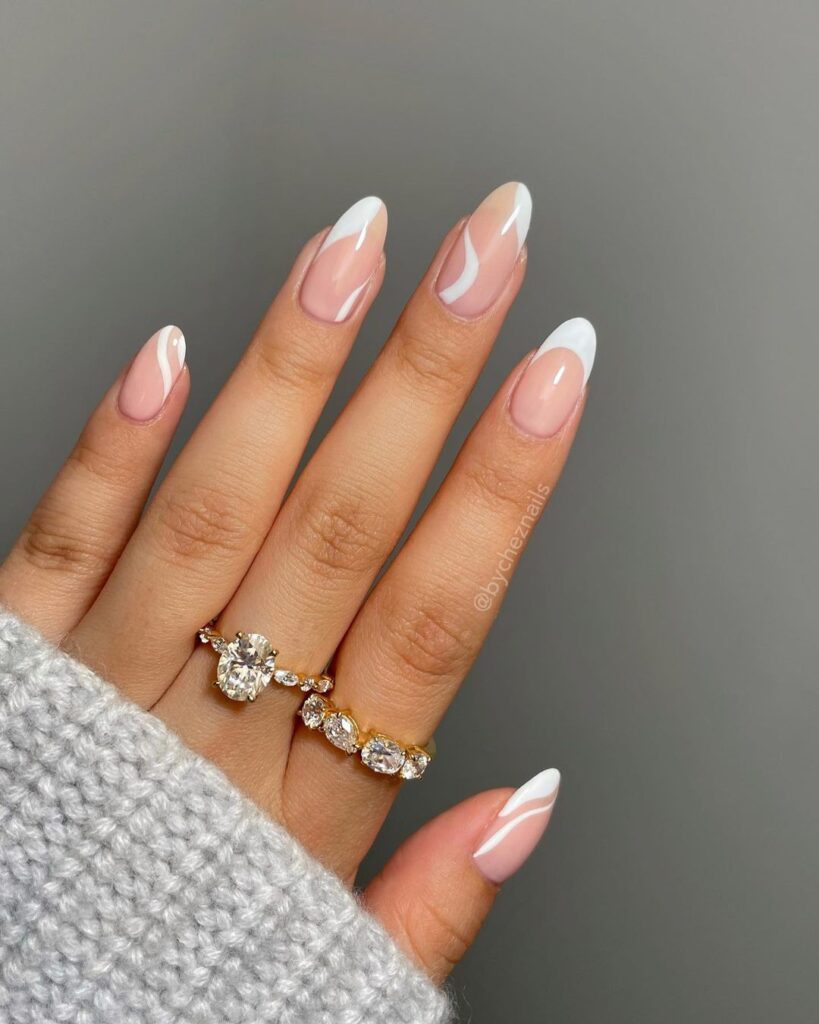 Courtesy: @bycheznails
#46 Well, the tie-dye trend has taken over nail art as well. And they have taken a whole new name – marble nails. Type in #watermarblenails on Instagram and you will be met with almost 60,000 manicures that will make you stop and stare at the sheer prettiness of the trend. Clearly, it's a great idea for proposal nails as it mixes modern style with a raging trend. You can pair the design with any kind of ring style as well.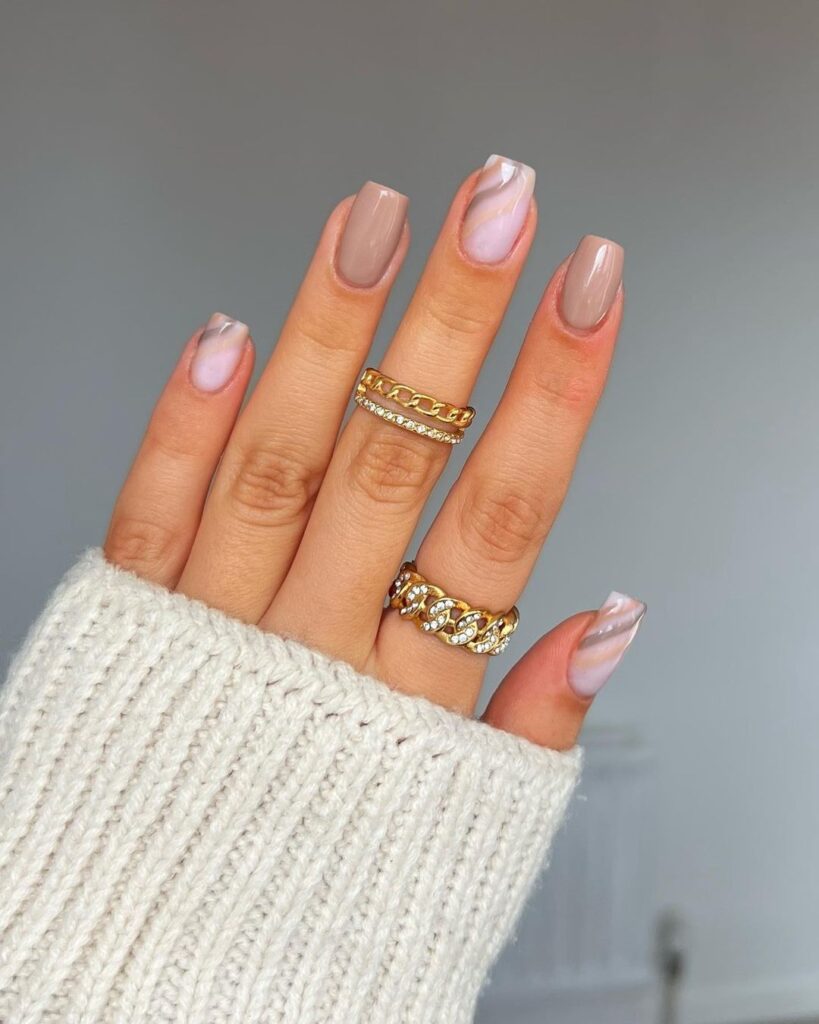 Courtesy: Aimee L Link
#47 Ombre nails are another "IT" trend and if you're someone who loves including the latest fashion in their style choices, then the next engagement nail idea is made just for you! It consists of light & dark blue colors merged in a beautiful, chic way for a chic yet exquisite visual appeal.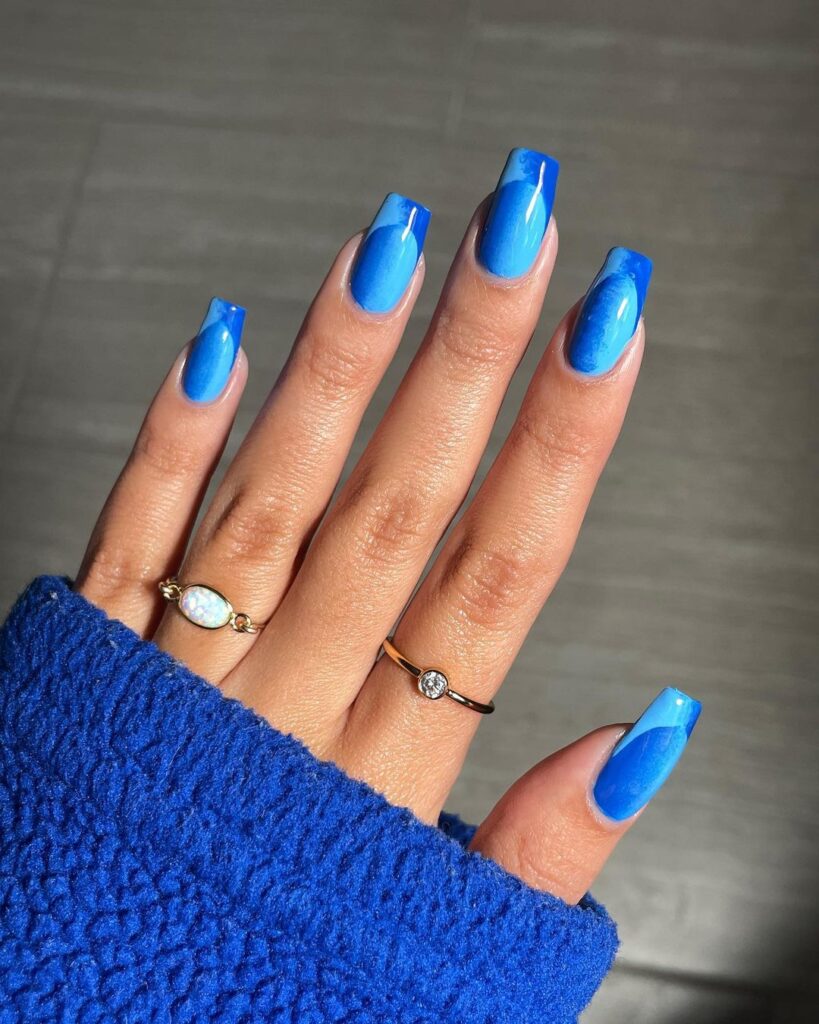 Courtesy: Kristin
#48 This nail design with a fairly simple geometric pattern is truly a work of art! The simplicity yet exquisiteness can only be combined by someone who is an expert in the field. So, if you want these elements in your proposal nails, go to a professional to get them done.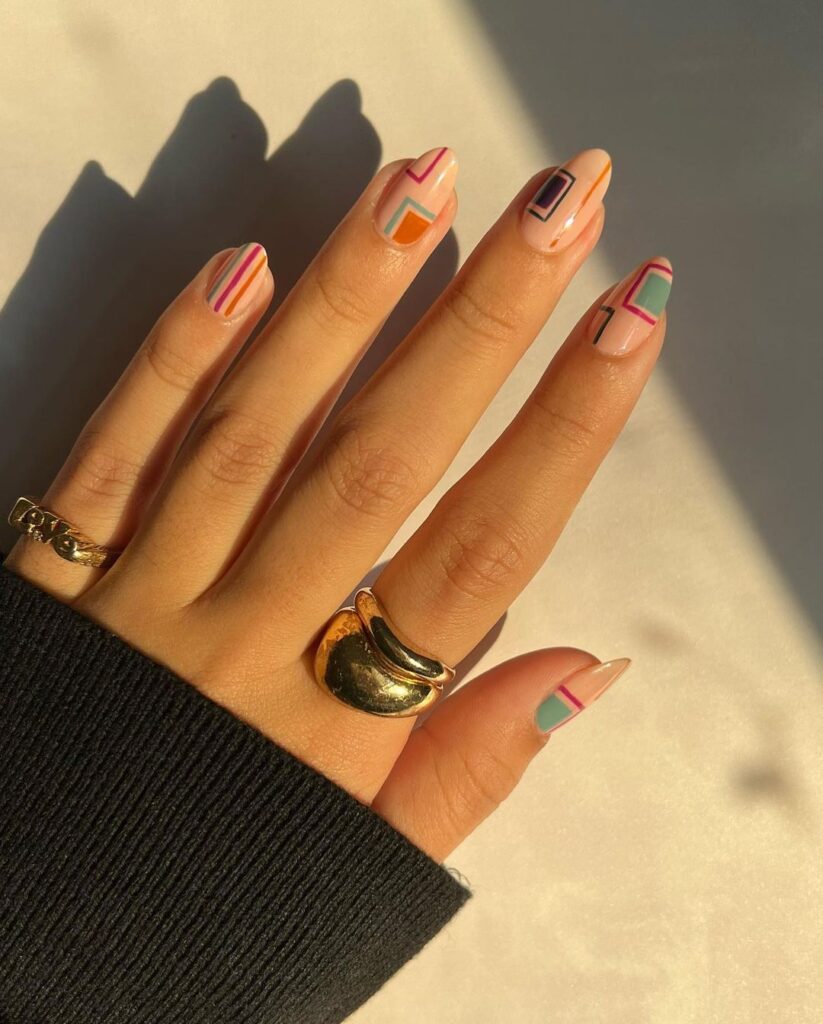 Courtesy: Samantha
#49 When you can't think of the best nail color for your engagement ring, opt for five colors instead. Done in an ombre style, we love how the nails add the radiance of bright colors whilst keeping them placid and subtle.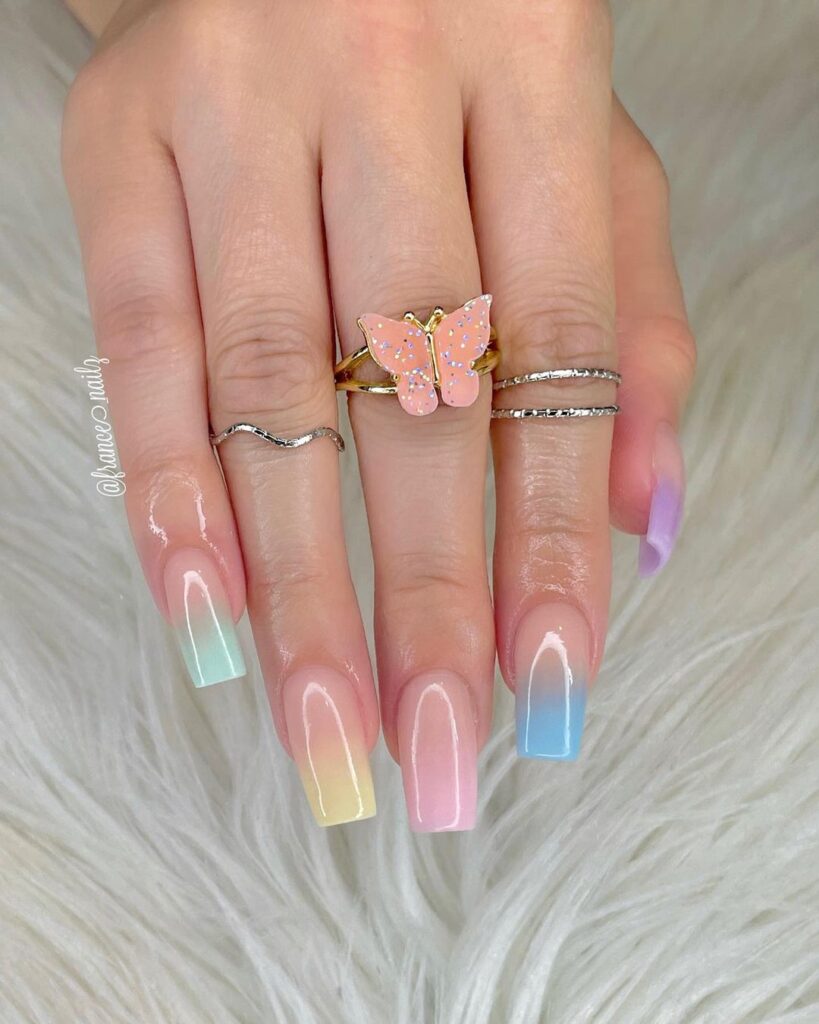 Courtesy: @france_nailz
#50 Brown is one of the trendiest colors for engagement nails 2022, or nail designs generally, for that matter. From caramel to warm sand and chocolate brown, many colors of brown are included in your manicure and can adorn your nails during one of the happiest moments of your life as well.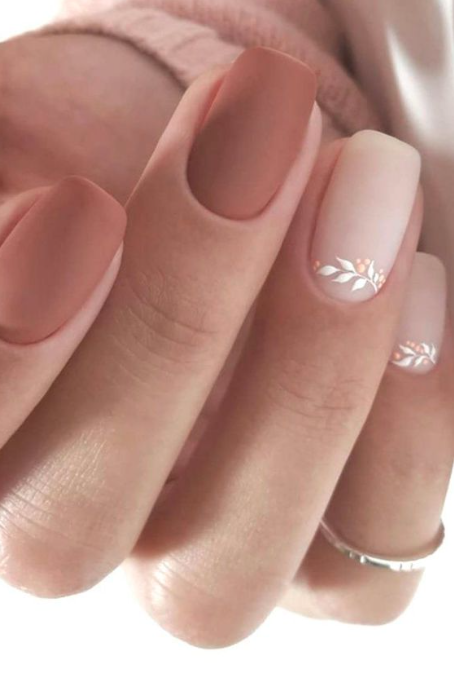 #51 French nails have been one of the most timeless designs & have maintained their popularity through decades. Their continued adoration can be traced to their versatility. It fits everyone well and goes well for all occasions, all personalities, and all skin colors. Naturally, it makes for one of the best nail colors for engagement rings, and many of their modern renditions are acquired by the bride on the wedding day too. Here, you can find the classic French manicure elevated by a glitter outline for a subtle glam engagement nail inspo.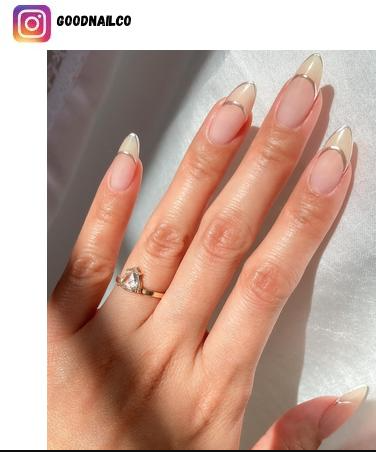 Courtesy: @goodnailco
#52 Among this list of nails for engagement photos, this is probably the easiest yet glamorous DIY you can do at home. You'd need a line tool from the nail DIY kit to create the slant line for the glitter polish on the ends though! Rest, it's all fairly easy. Start by painting the nail in pink polish. Let it dry. With a line tool, draw a slant line with any polish and then paint the smaller section with glitter nails. You can also cover the bigger section of the nails with tape after the base pink color has completely dried, apply the glitter polish and just peel off the tape. Voila! Your proposal engagement nails are ready.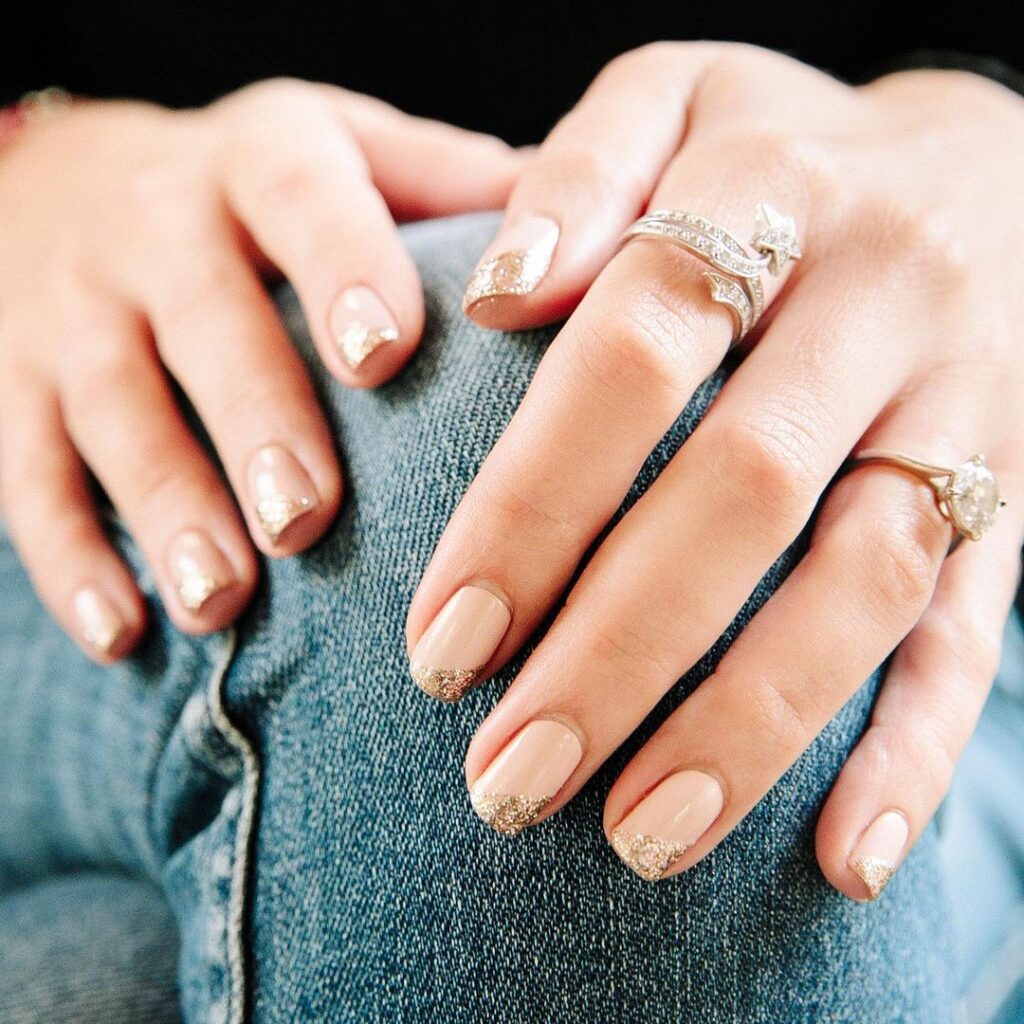 #53 While red's popularity has been taken over by neutrals and subtle tones in recent years, it still manages to be admired by women every now & then. If you're getting married in summer, with Sun shining bright & radiant, opt for the red nails as it matches the sparkling sunshine and your sparkling ring quite well. We aren't just saying. We have proof, which is the next picture on the list.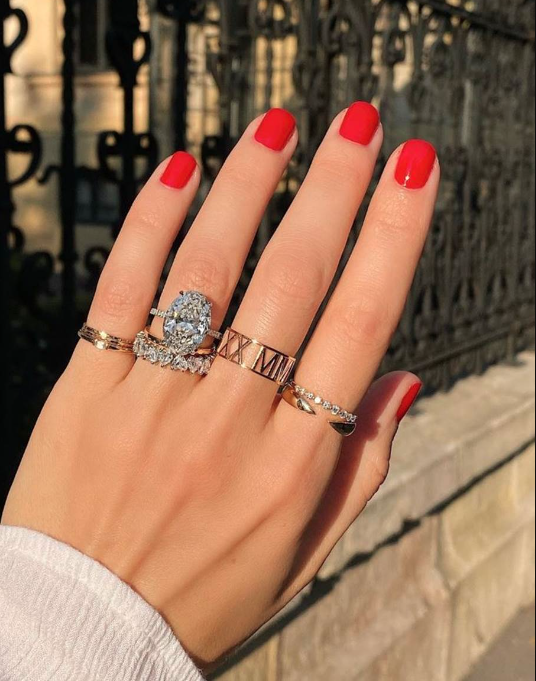 #54 You can't question Jennifer Lopez's styling choices. You just follow them. To match her green diamond engagement ring, which is valued at over $10 million, by the way, considering green diamonds of this size are extremely rare, Lopez chose a neon peaky pink solid color, which makes for a gorgeous nail color for engagement photos. In the world of sheer nudes, be a neon – only if you're ready to switch things up!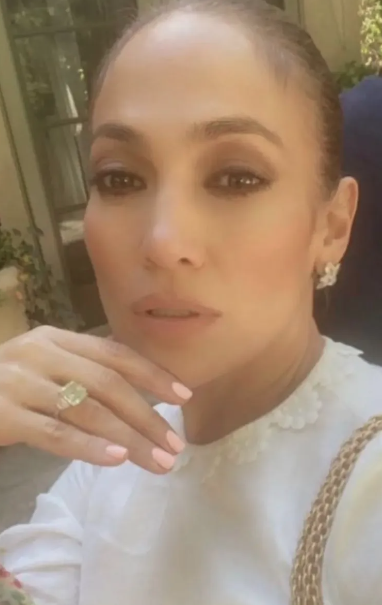 #55 A visual representation of why white nails are so popular! They go with pretty much all ring shapes, types, and metals, and you never have to worry about finding an idyllic backdrop, because no matter the background, the ring, and the nails look fabulous in each one. White nails are also very easy to do and can be easily done at home. Even if you go to the salon for acrylic white nails, they'd still cost lesser than creative designs and will also cost lesser.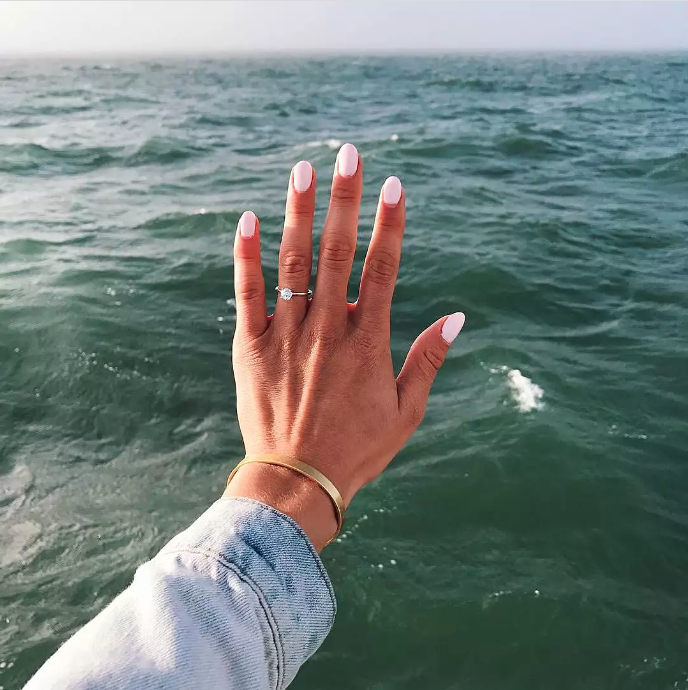 Courtesy: Julie Czernek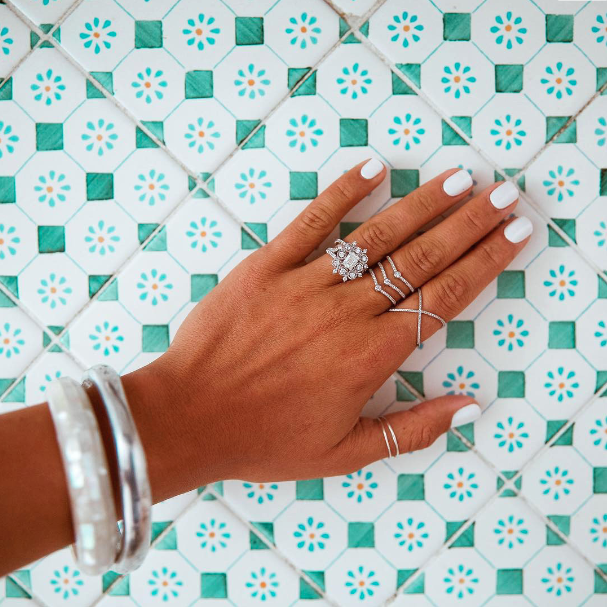 Courtesy: Jamie Mansfield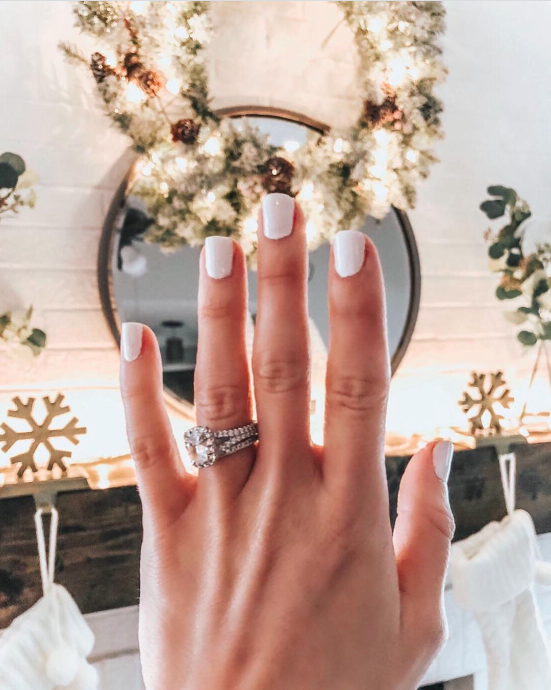 Courtesy: Bess Carter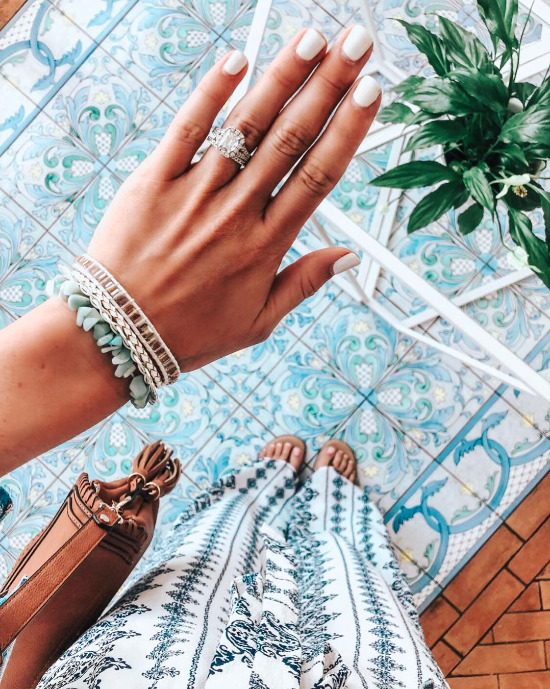 Courtesy: Bess Carter