What's new and trending in the wedding world you ask? A stunning head accessory called Sheeshpatti or sheeshphool. The traditional headgear is native to the state but has slowly and steadily made way to the bride's hearts all over. For Indian brides, there's no dearth of wedding jewelry styles to amp up their wedding look and sheeshpatti certainly adds the much-needed drama to their bridal flair. Celebrity brides Deepika Padukone and Kajal Aggarwal wore these gorgeous Kundan-Gold sheeshphool on their big day. And if you were mesmerized by Deepika's utter elegance as Padmavati, sheeshpatti made a primary part of her look.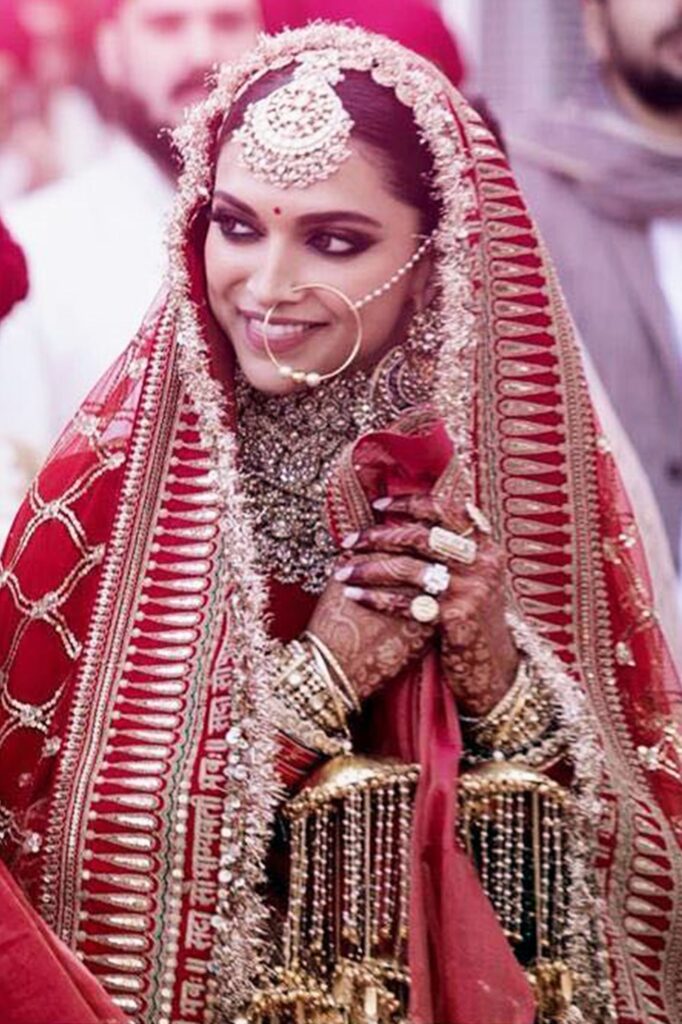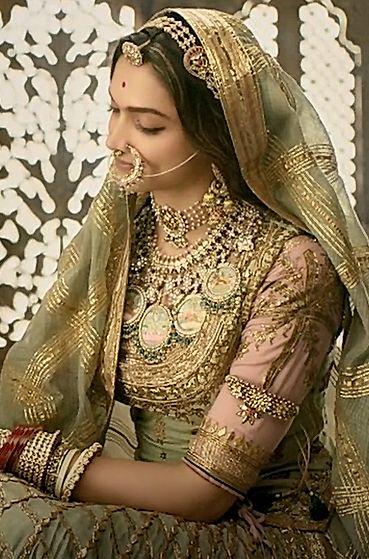 Sheeshphool's Visual Appearance Differs From Its Counterparts
The demure maangtikka makes for a priority pick for brides wanting to exude simplicity on their big day. Next, comes its elaborate version, mathapattis in uncut diamonds, gold, and pearls that are often a popular choice for bridal headgear. Besides, paasa, diamond-encrusted hair accessories, and borlas enter the trousseau frequently too. For mehendi and haldi, brides often opt for floral jewelry counterparts of these usual choices. But the latest and trending sheeshphool designs lend a different visual appearance. 
Unlike the mathapattis, the sheeshpattis don't grace the hairline. While the drooping dangler comes on the head, the bands lie a few inches behind the hairline. The embellished bands can be made out of gold, kundan, or multi-layered strings – the options are plenty. And conventionally speaking, the bands came separately and the maangtikka and the sheeshpatti band were two jewelry parts coming together to form an exquisite piece of the bauble. 
If you're impressed by this trending accessory and want to sport it as a part of your bridal look too, here are 25 sheeshpatti designs worn by real brides to inspire your own! 
In the end, find links to some gorgeous bridal sheeshpatti you can purchase online. 
1. A beauteous one of the gold sheeshphool designs outlined with pearls and held together with gorgeous uncut diamonds in kundan work. The dangler features the charming lotus phool design amping up the beauty of the headpiece. Further, the exquisite bridal jewels complementing the pink lehenga and a dewy makeup well are making this bride a feast to the eyes.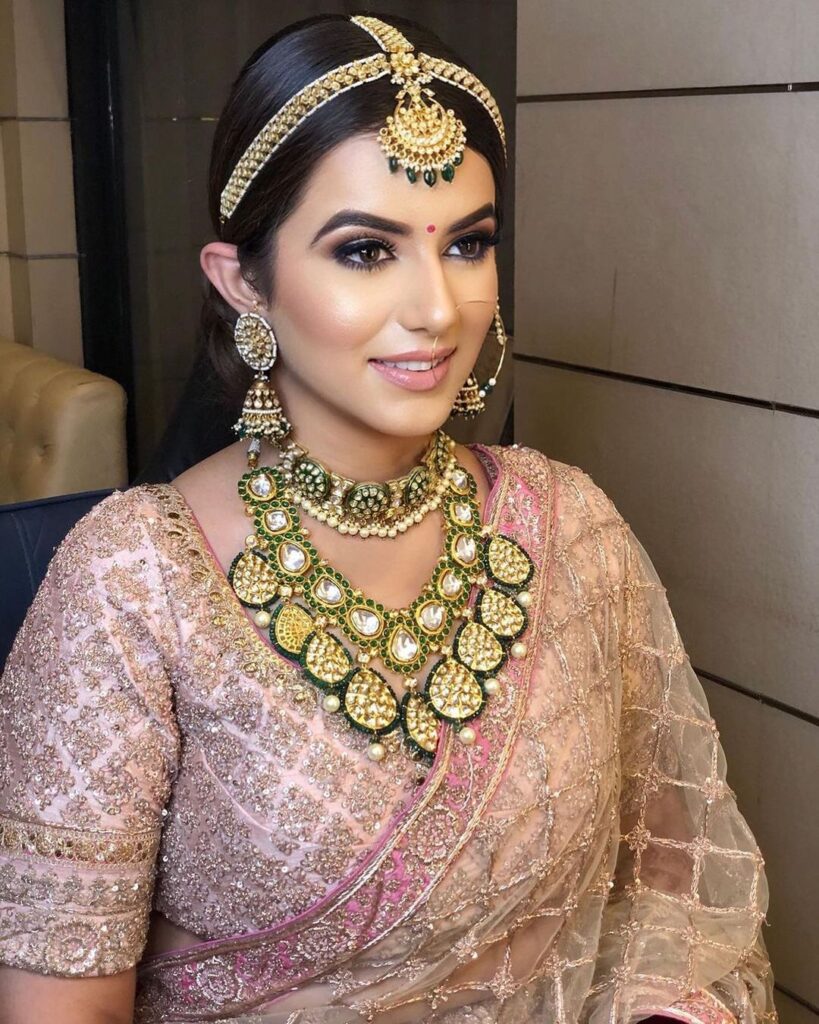 2. We know you're probably distracted by her eye-catching lehenga set by Payal Keyal. It's okay. We're right there with you. Amping her grandeur attire is the traditional circular sheeshpatti on her head, paired well with a kundan choker set. If you're bored of reds and pastels, this standalone color gradient is an amazing option for your big day.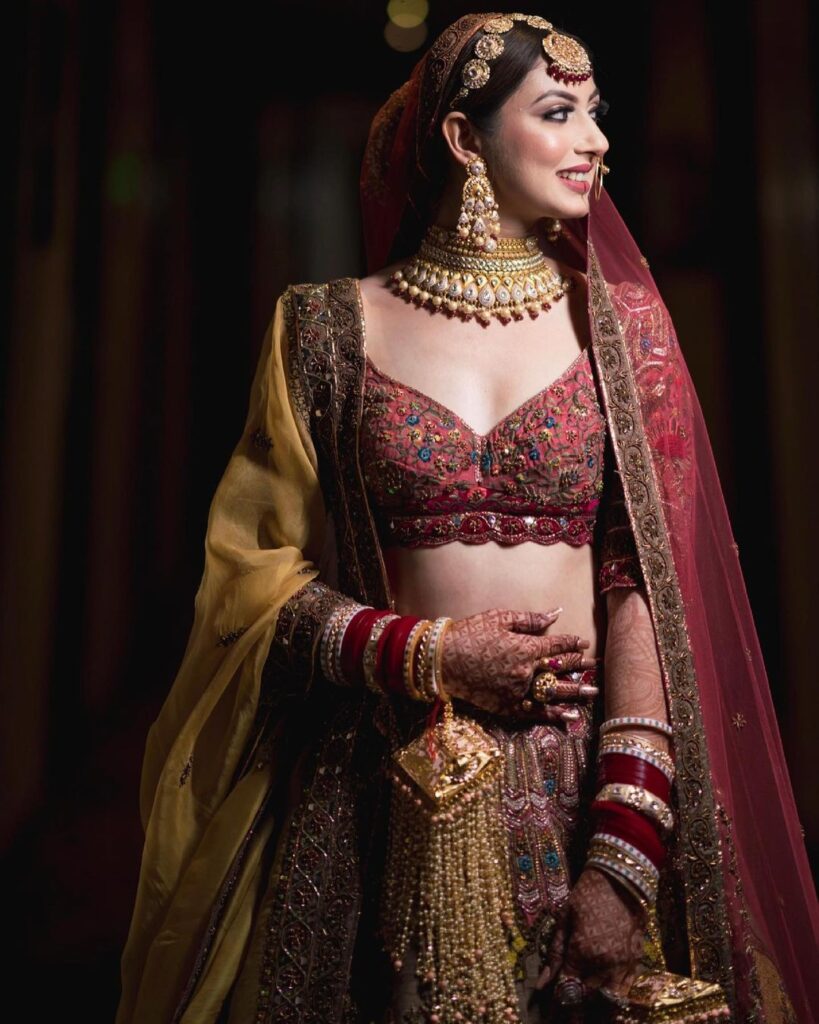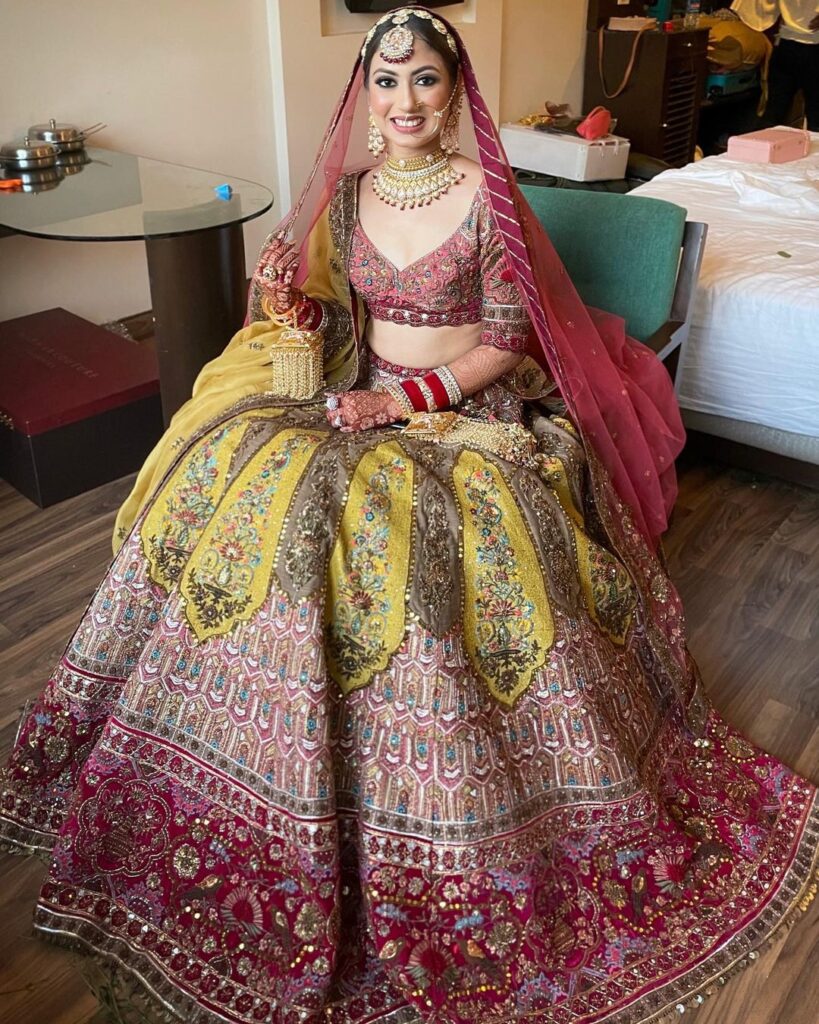 3. If you want to play safe on the big day, and experiment with the latest trend on some other wedding revelry perhaps – here's a bride who wore a meenakari Rajasthani mathapatti on her mehendi day. The pink outfit is just a perfect pair for her jewelry choices.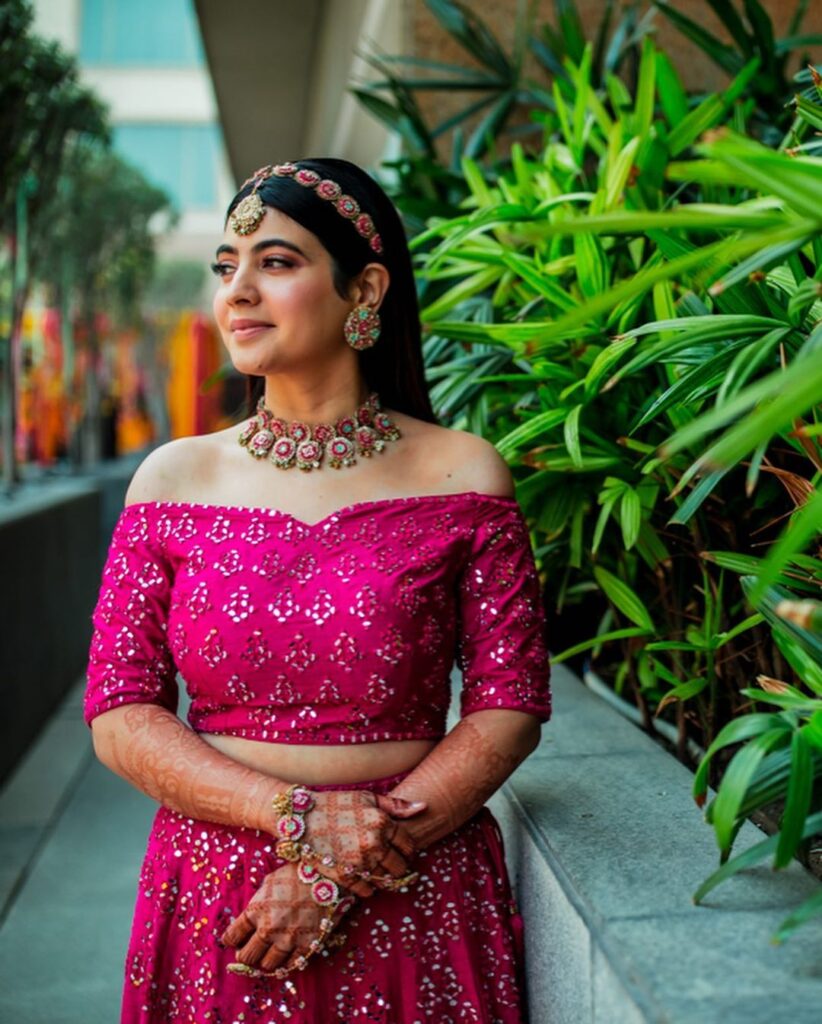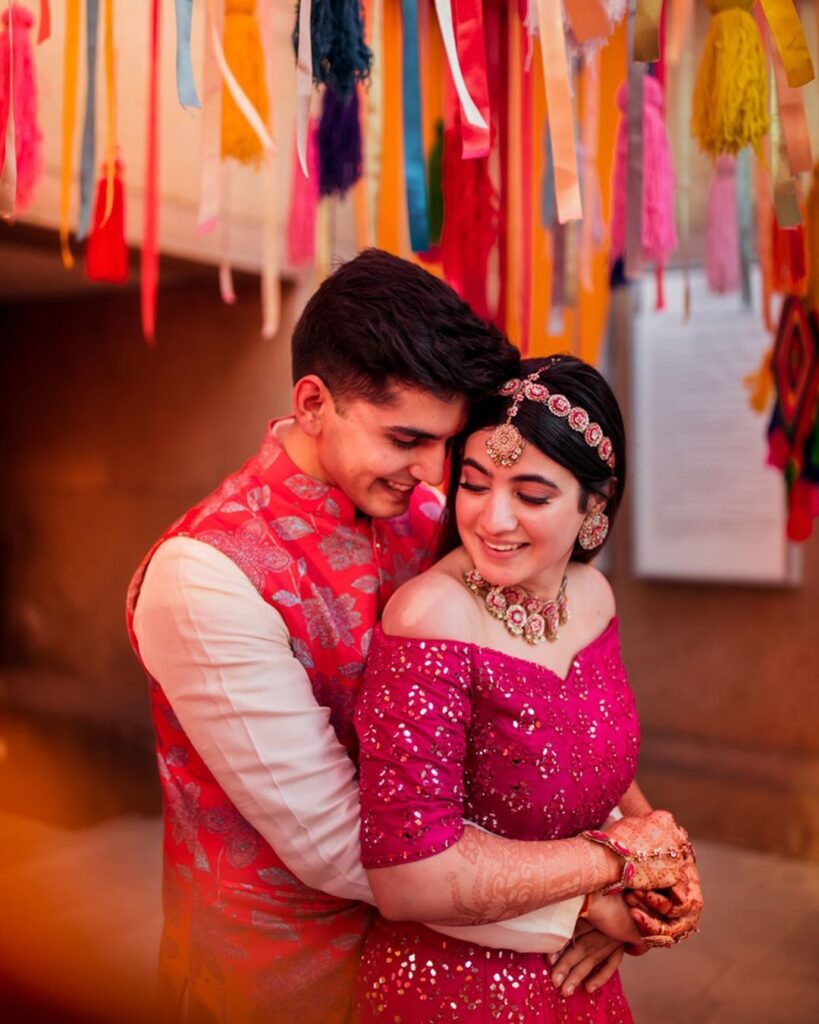 4. Worried about heavy jewelry making your head ache at the end of the day? Take cues from this sheesh patti design on how to sport this gorgeous traditional jewelry in a fuss-free way. Other jewel pieces alongside the headgear with pretty pink droplets are lending such a soothing color gradient to her bridal avatar.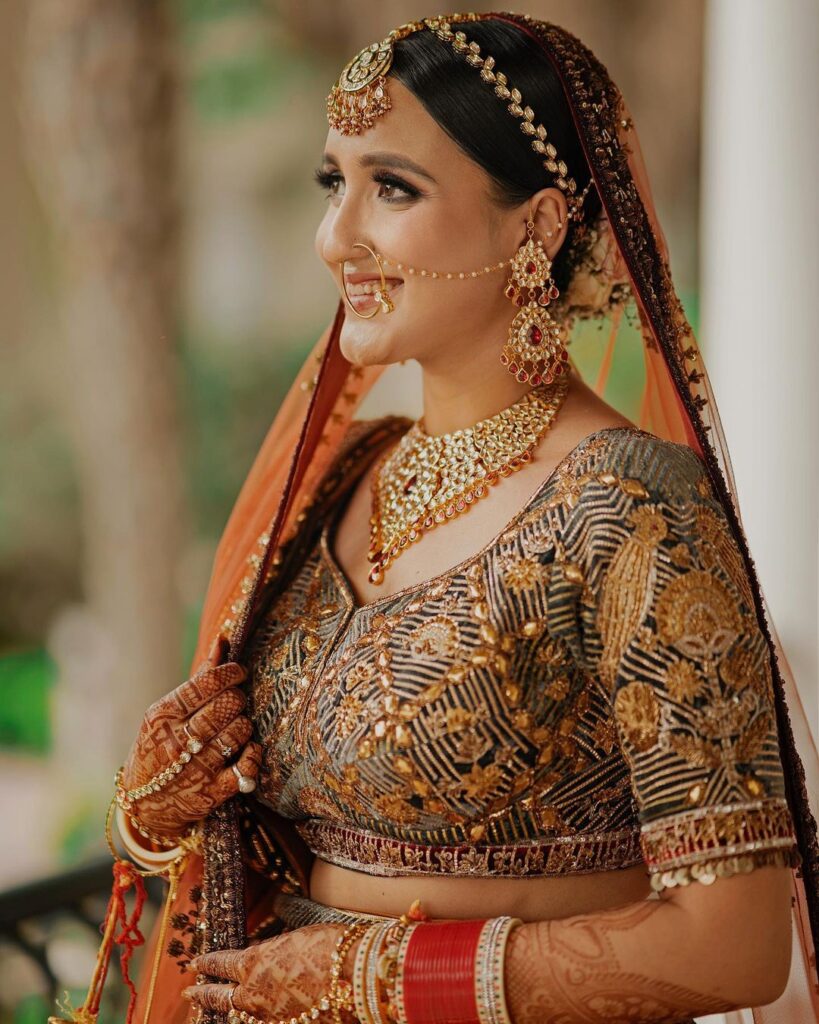 5. Traditionally, sheehspattis are connected to the bun at the back and the maangtikka on the front. Here's a detailed look into what we're talking about. Do you see the embedded pearls and intricate zardozi in her lehenga? What an angelic bridal look!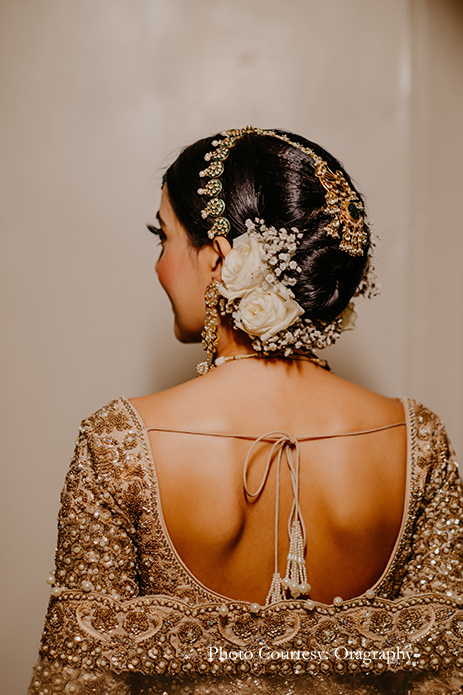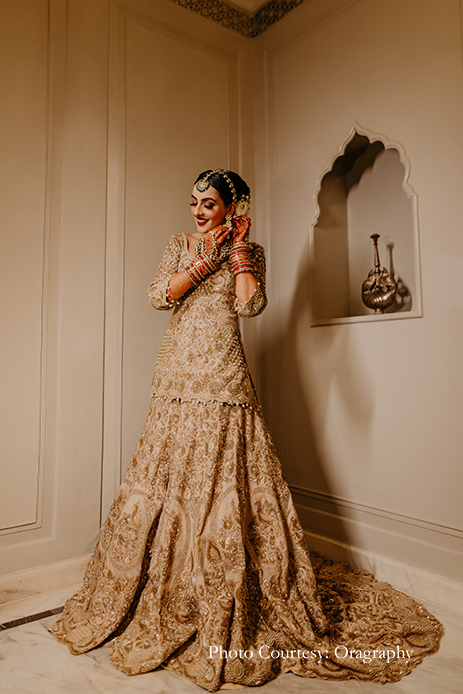 6. If simplicity is your motto to the bridal look, then here's a Rajputi mathapatti design to win you over! Creating a perfect balance by not going completely overboard the hairline nor fully residing on it, we think it's ideal for brides who want to play safe on their wedding day.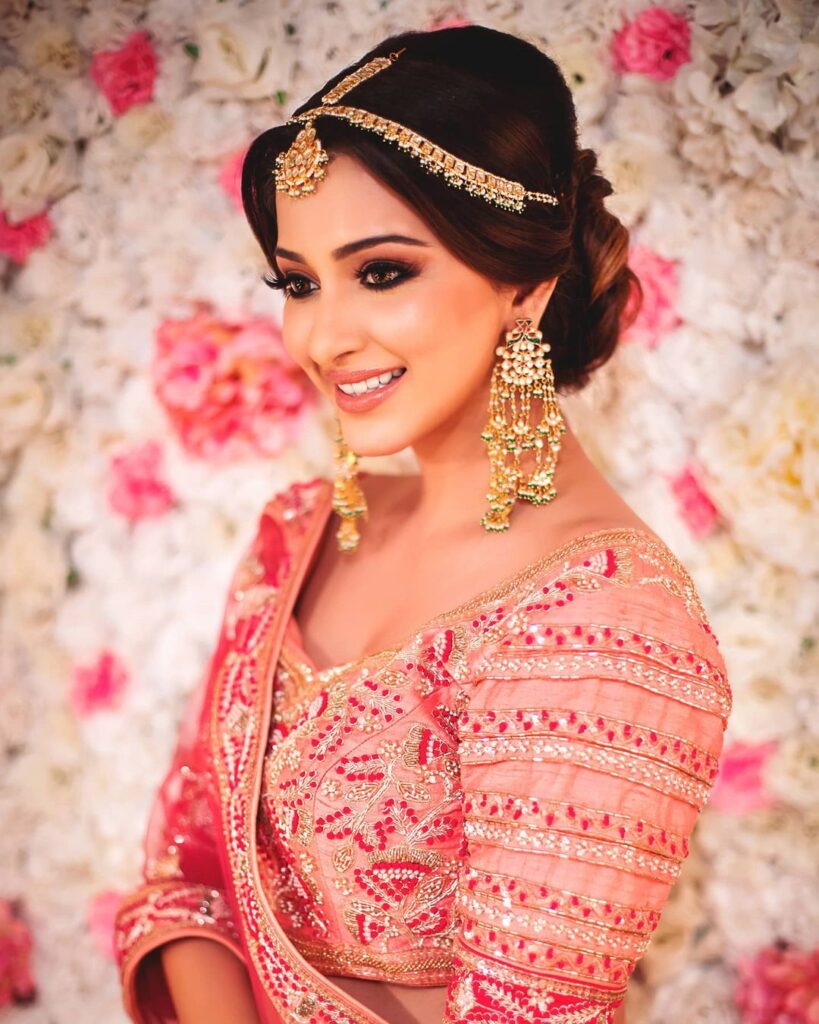 7. Beauty lies in the details! This bride's sheeshpatti has little moons crafted inside with intricate meenakari and pearl work and it's hard to not stare at the beauty of it for a while. The exquisite design of the neckpiece adds a glamorous drama to her D-Day look and we're admiring all of it!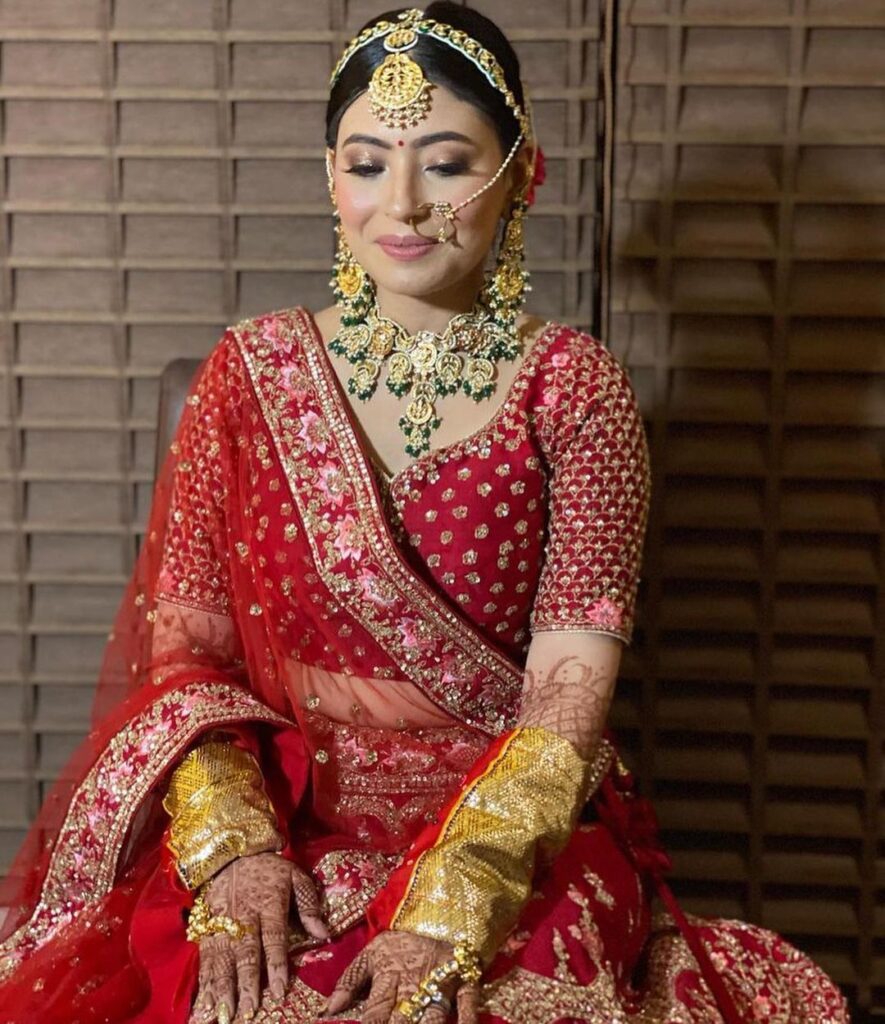 8. Want to stray away from usual gold, kundan, pearl mathapatti designs? Here's a silver one with mirrors and chains to go straight to your trousseau. If you're wearing
mirror-work lehenga
on any of your wedding events, this sheeshpatti design seems like a perfect pick.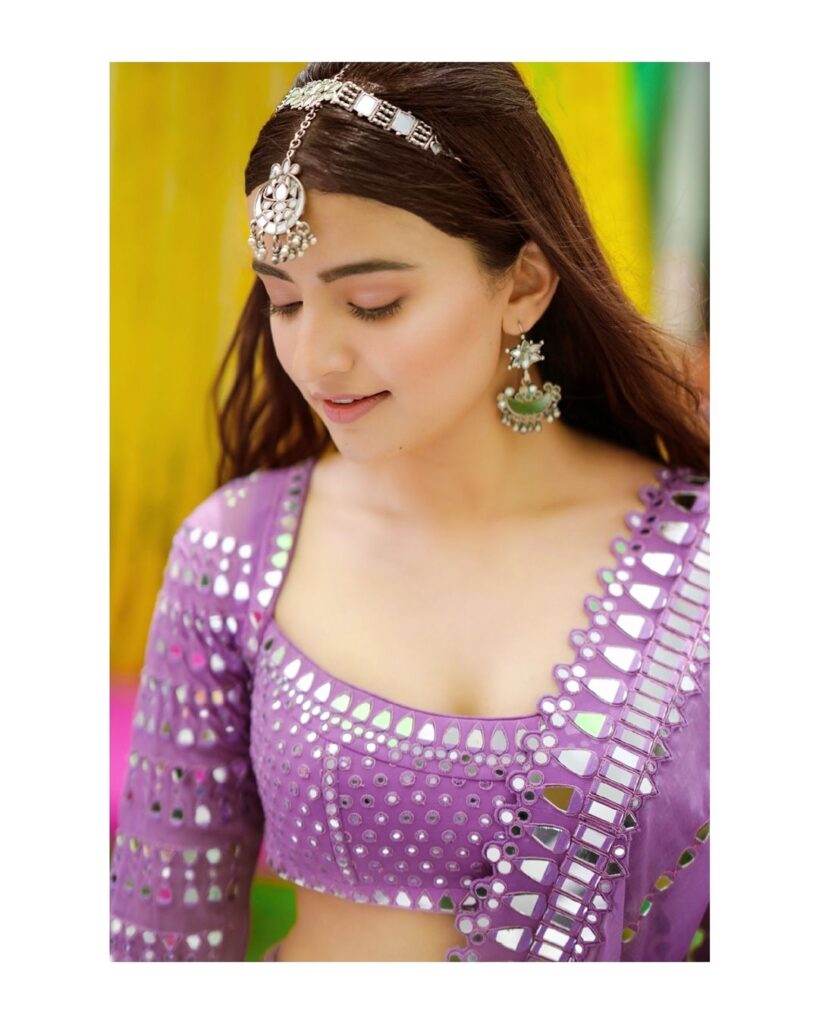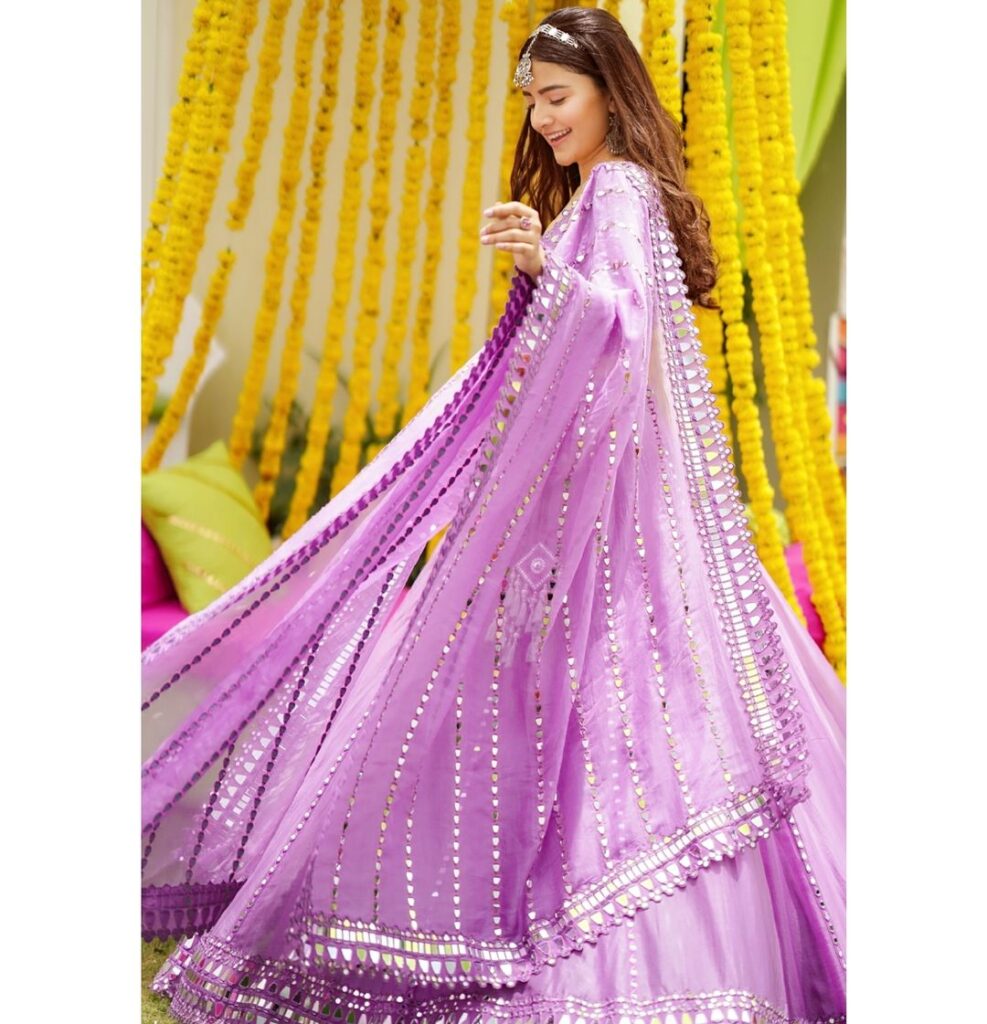 9. For brides who'd like to go OTT, here's a multi-layered sheeshpatti to pin on your mood board. The multiple strings add such a dramatic and dazzling attribute to the ensemble and isn't that all you need as a bride?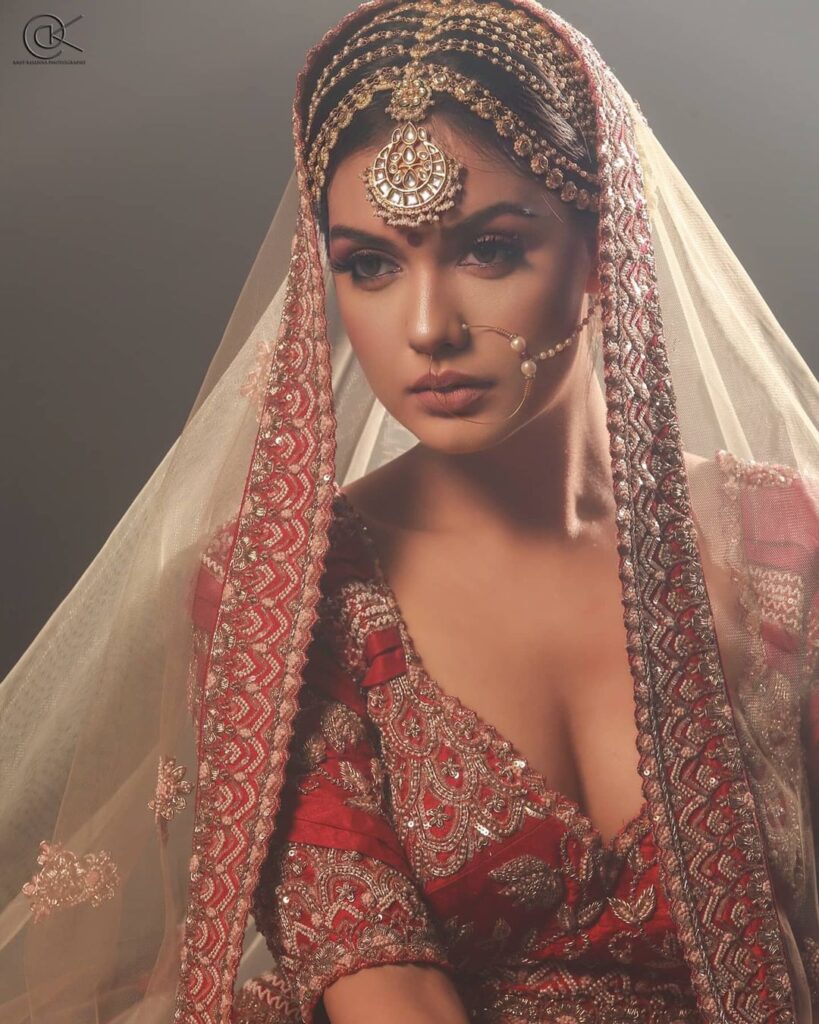 10. A magnificent design that your jeweler can easily replicate and bring your inspirational look into reality. The ornate details on her lehenga blouse harmonize well with her baubles and create a breathtaking bridal ensemble and portrait.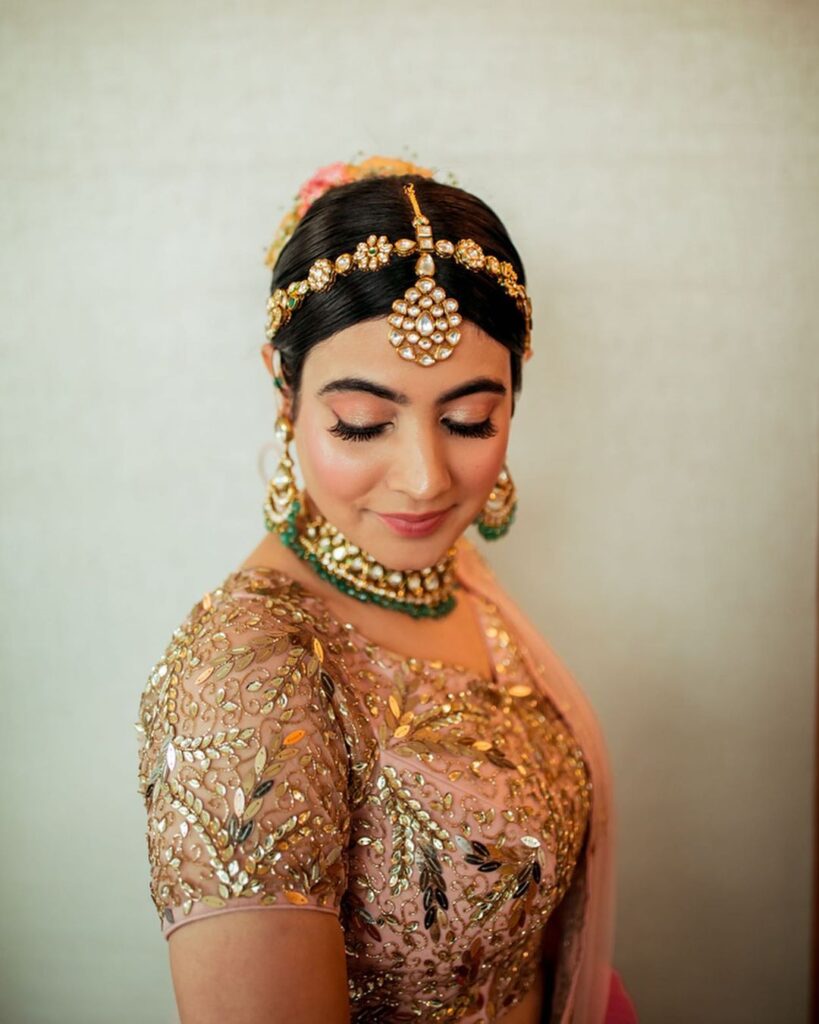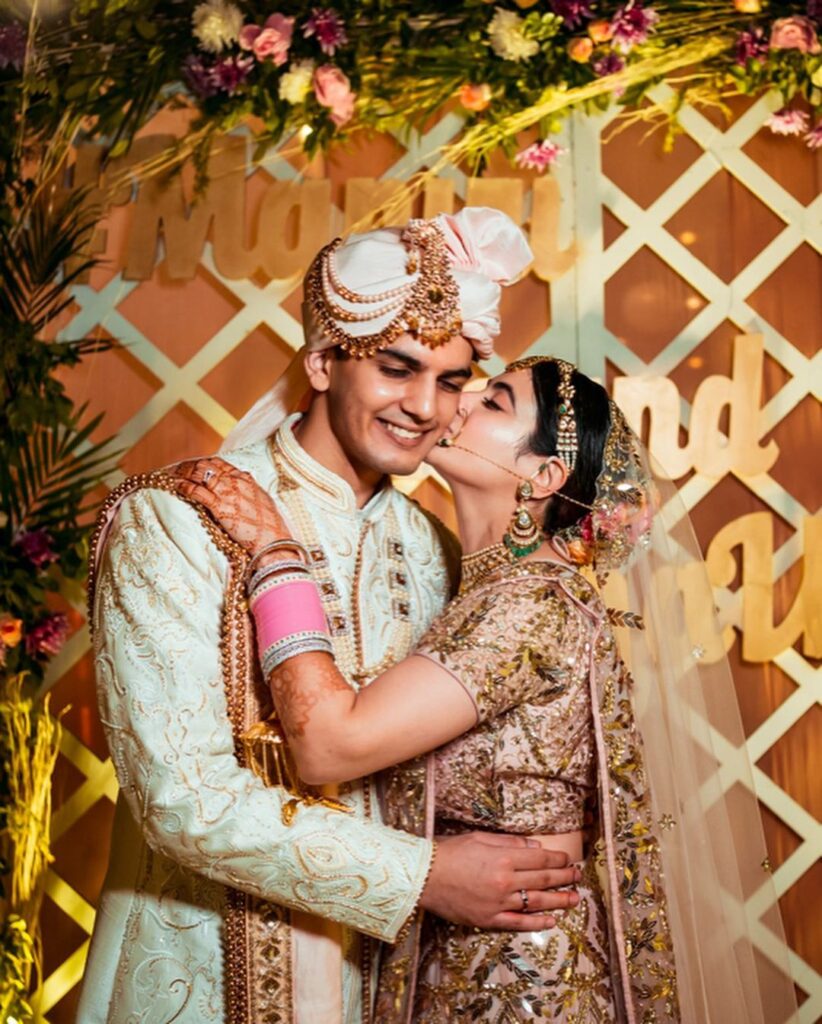 11. A beauteous double-chained sheeshphool mathapatti with detailed uncut diamond and kundan work. The chunky trinkets of her bridal avatar called for glitter goodness on her eyes and a noticeable highlight on her cheeks, which the MUA blended in well. The good old traditional red bridal look never looked better!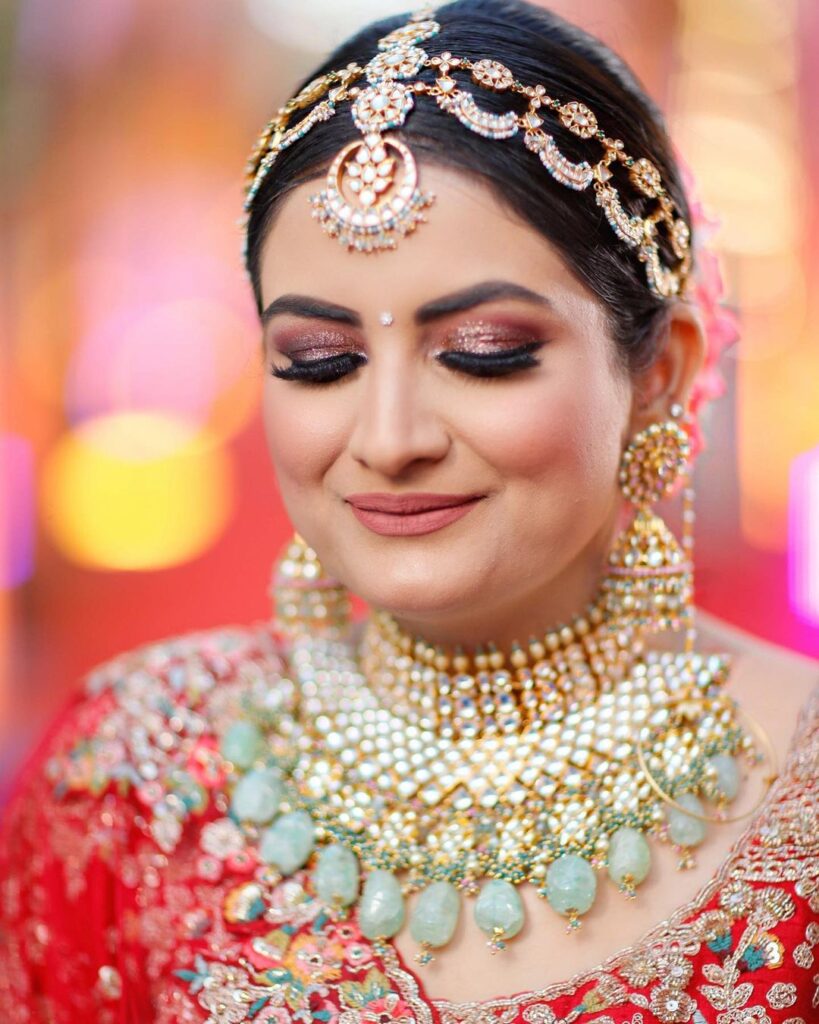 12. Intricate meenakari with pearls on her bridal headpiece is a beautiful blend to add grace and traditionality to your big day baubles. Pair them with
satlada haar
, choker set, and a lehenga doused in conventional craftsmanship and you've created a timeless bridal look for yourself.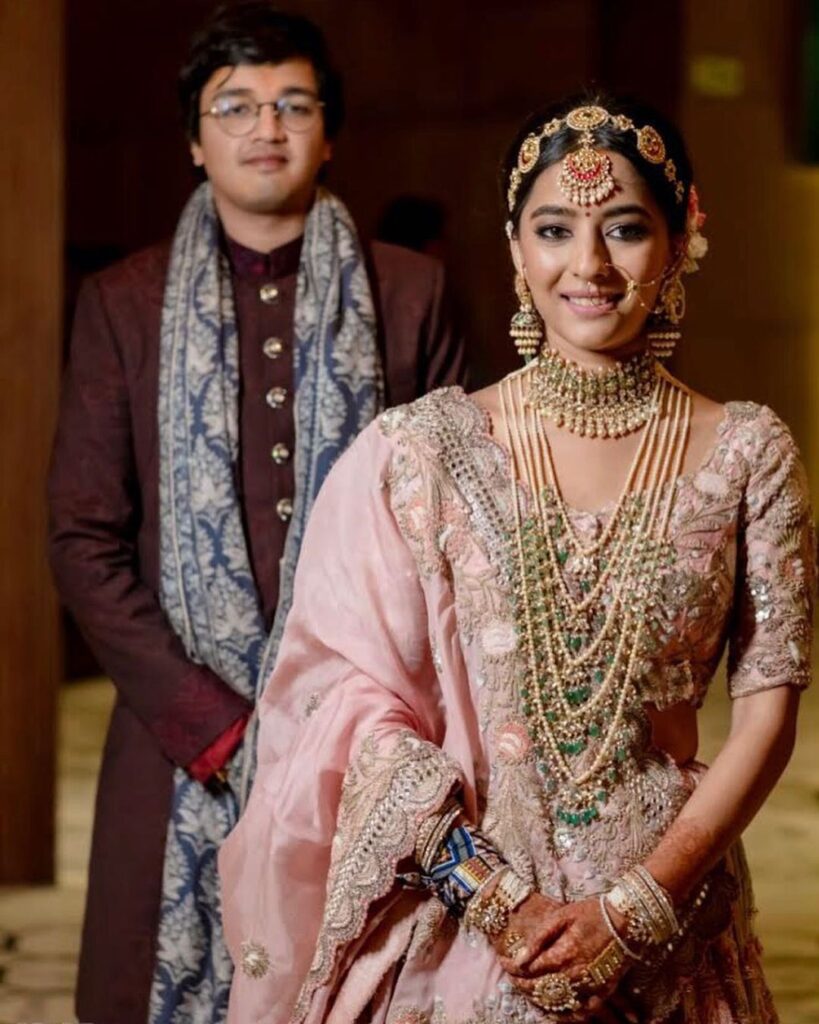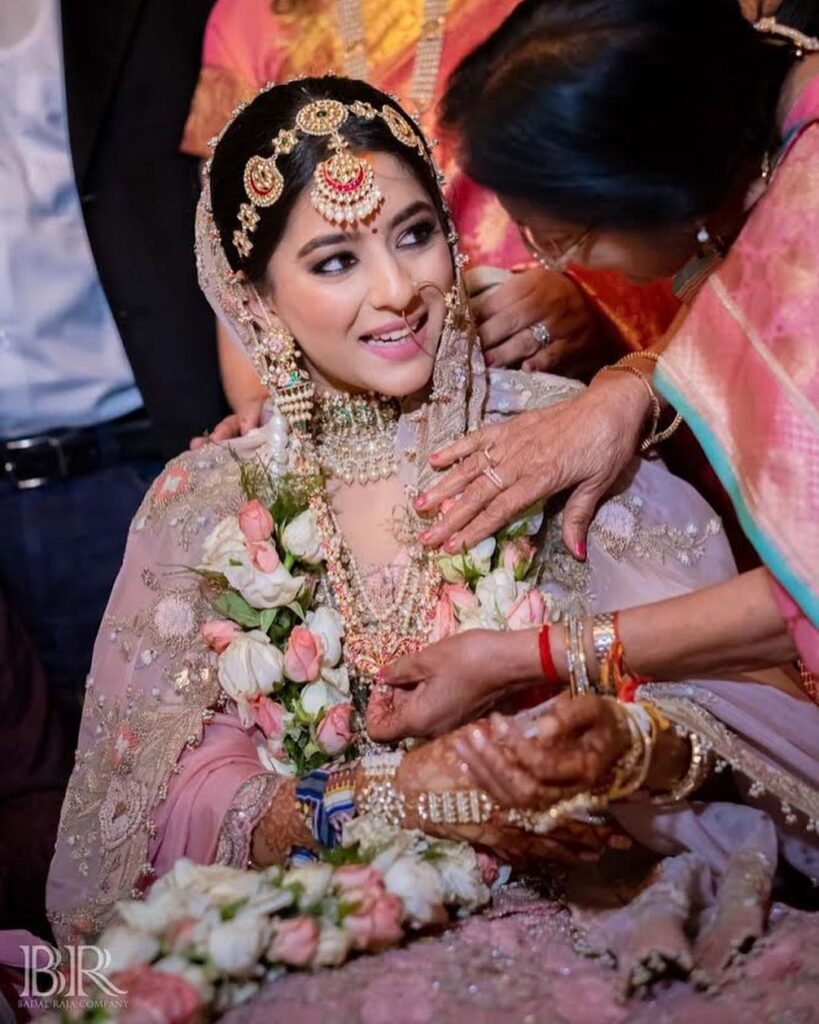 13. A smart way to wear sheeshpatti is to buy the maagtikka and the band separately. The simplistic jewelry pieces can be easily used to elevate your look after the wedding and paired separately to create a new, fashionable accessory in no time. And if you want to experiment with the bridal style further, try creating neat, wavy flick on the front of your bridal bun just like this bride and ace your neo-traditional bridal look like a diva.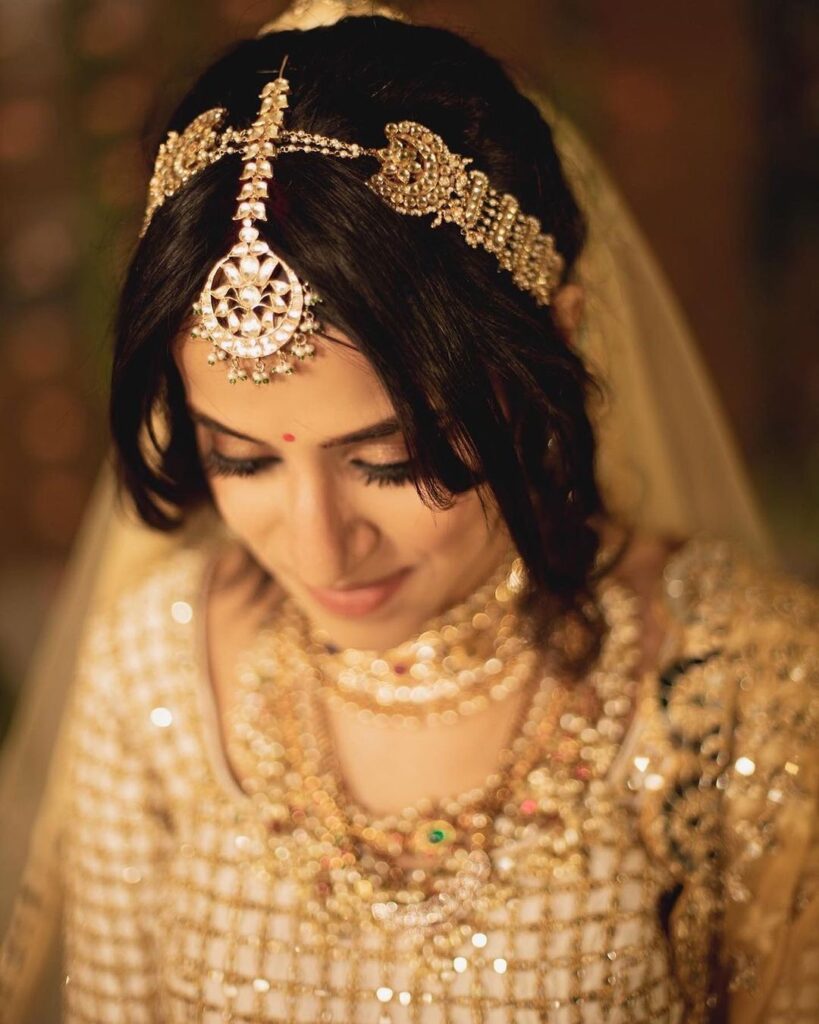 14. In Rajasthani culture, borlas are a significant part of the bridal look and it's often paired with a sheeshpool band. Here's a look into how it's worn keeping in line with the cultural strands. Pearls certainly have an unmatchable charm and will add the same to your big-day ensemble and your Rajputi sheeshphool borla design.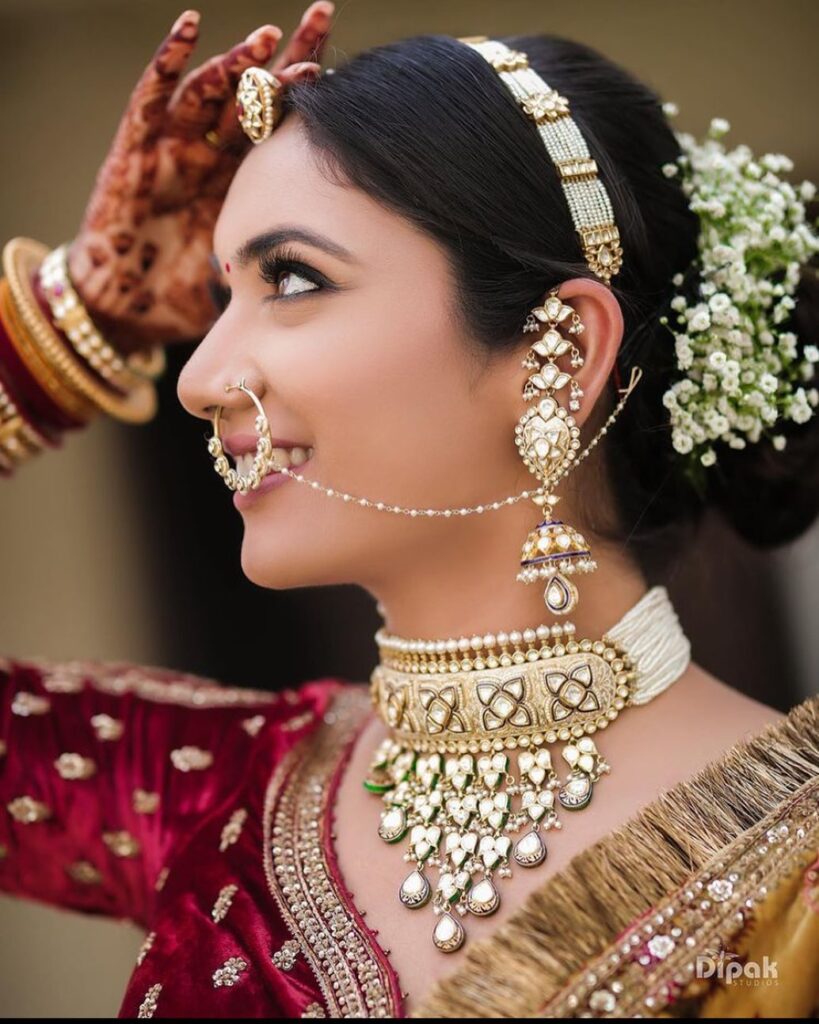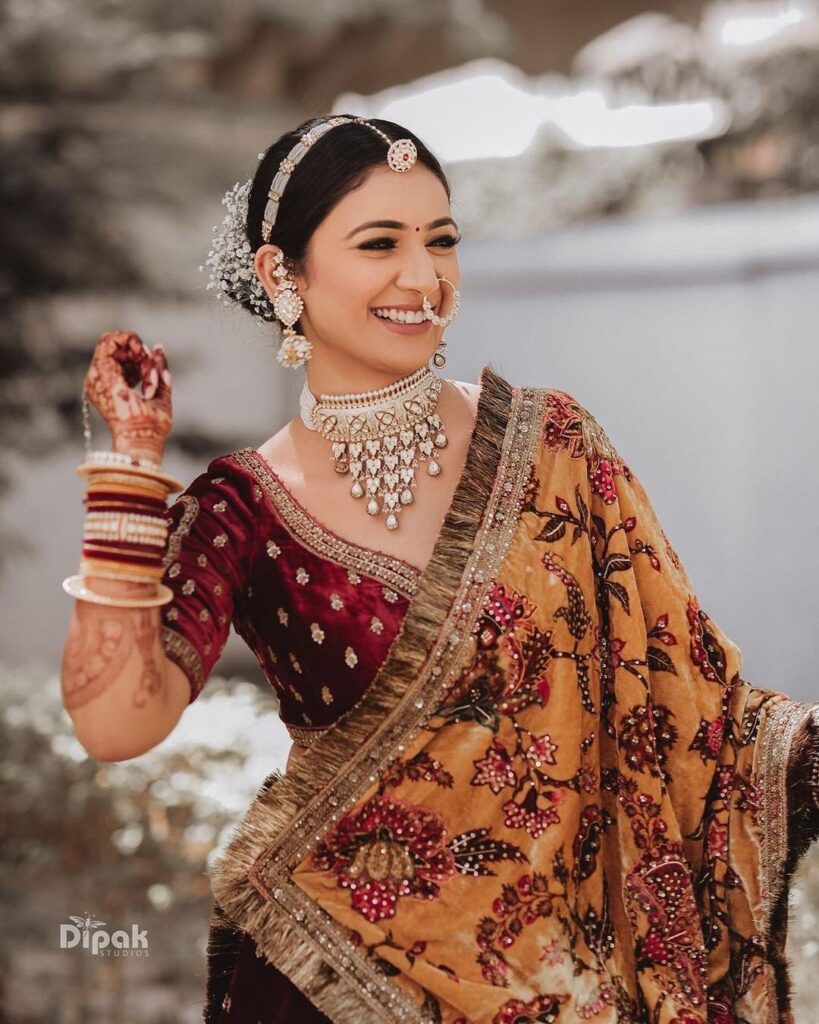 15. When effortlessness and demureness take over your lehenga ensemble, a soothing portrait is bound to come as a result. For her wedding day, not only this bride opted for fuss-free yet majestic jewels but also kept her hair open instead of tying them in a bun setting. Striking a stunning balance between traditional and modish, she's bridal goals to a whole other level.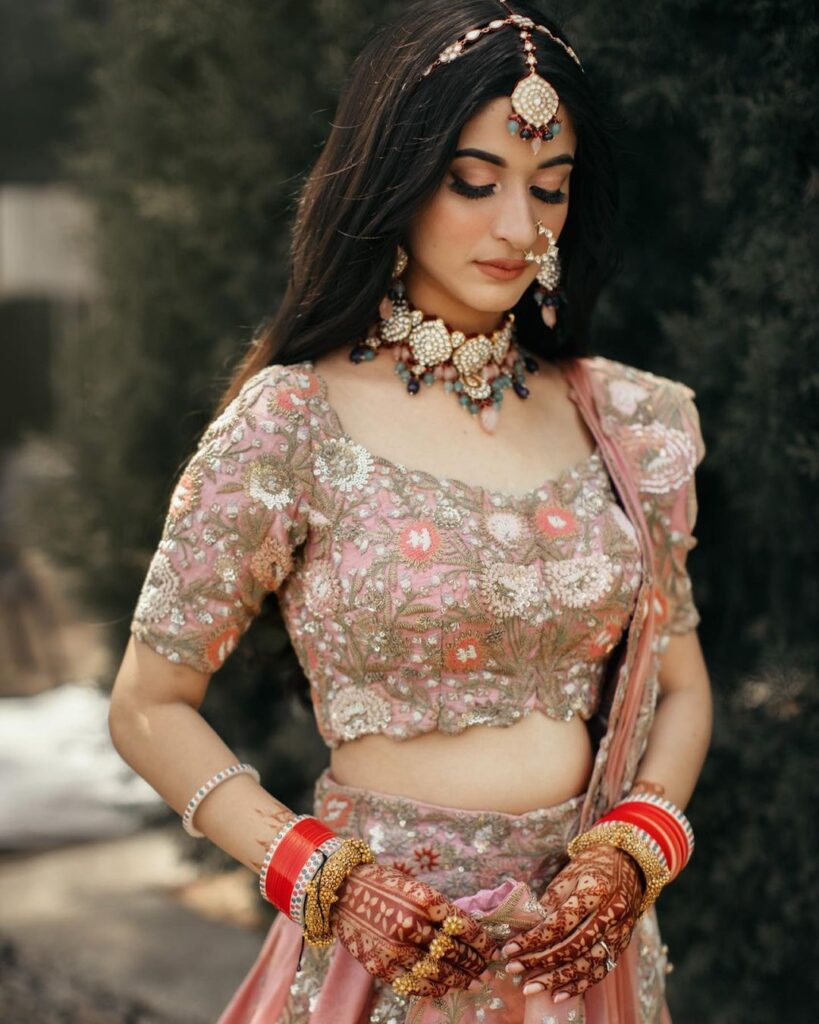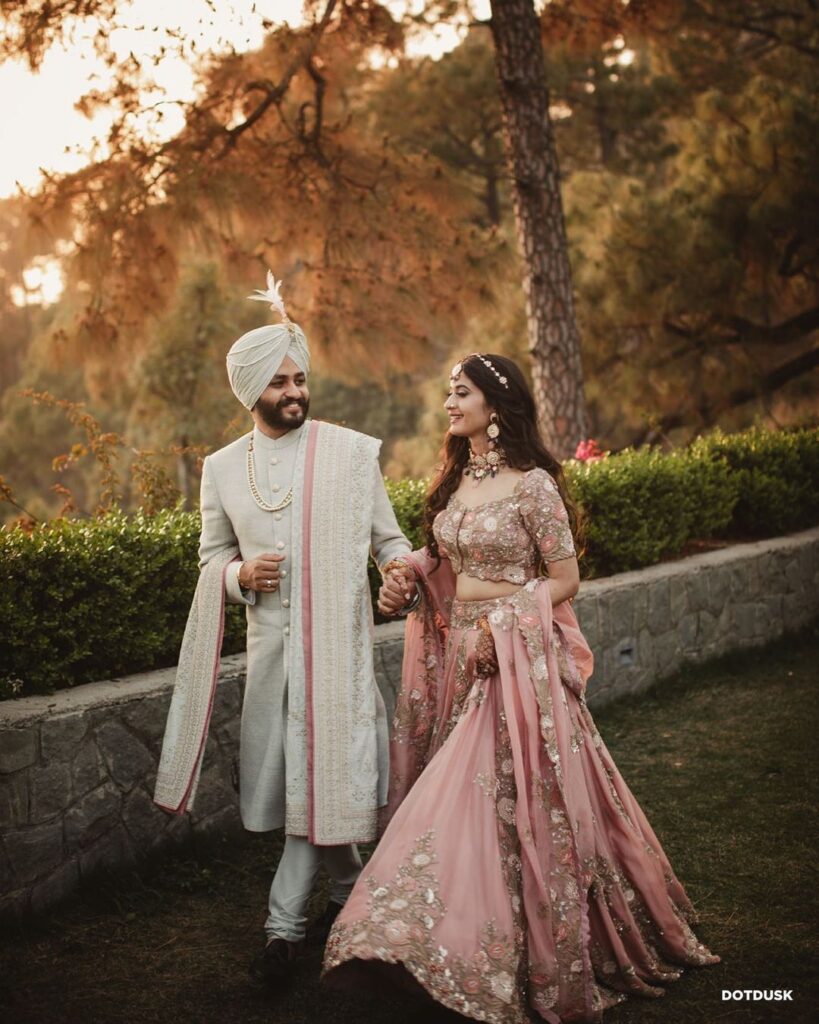 16. All gold, everything! If you think gold jewelry has become outdated and doesn't match the current trend, here's a bride making you re-think this. Acing her red + golden aesthetic, there's hardly anything we aren't swooning over from her bridal makeover – including the gold sheeshphool design, of course!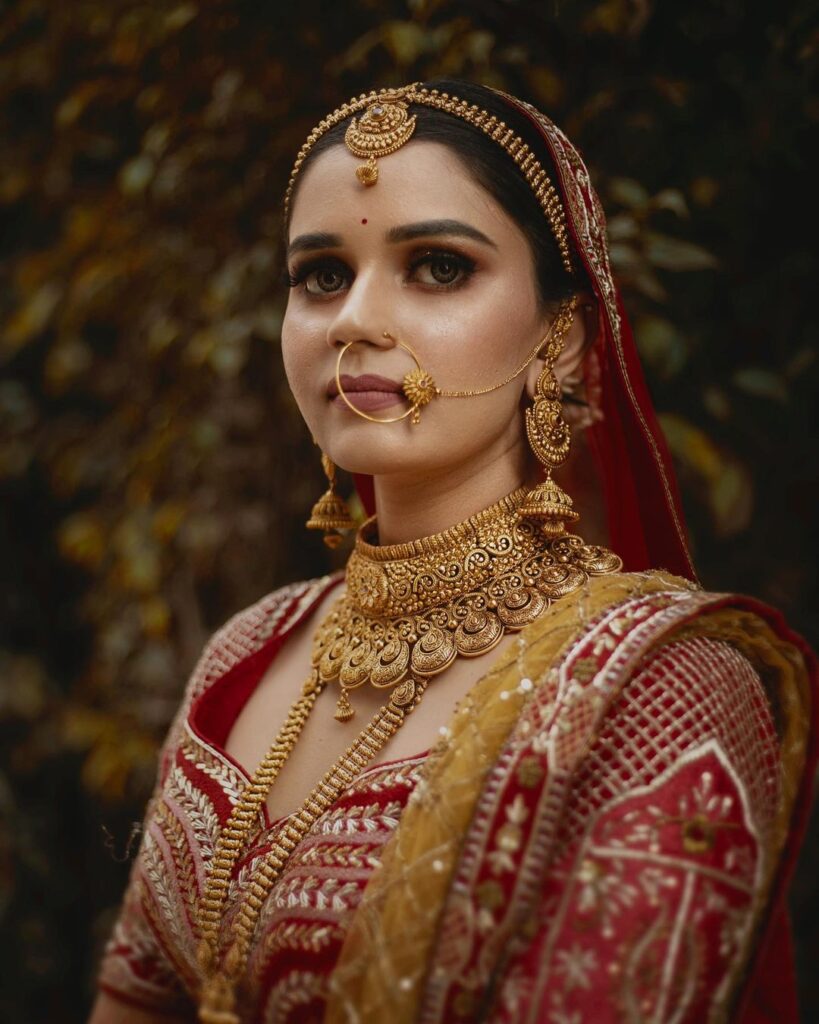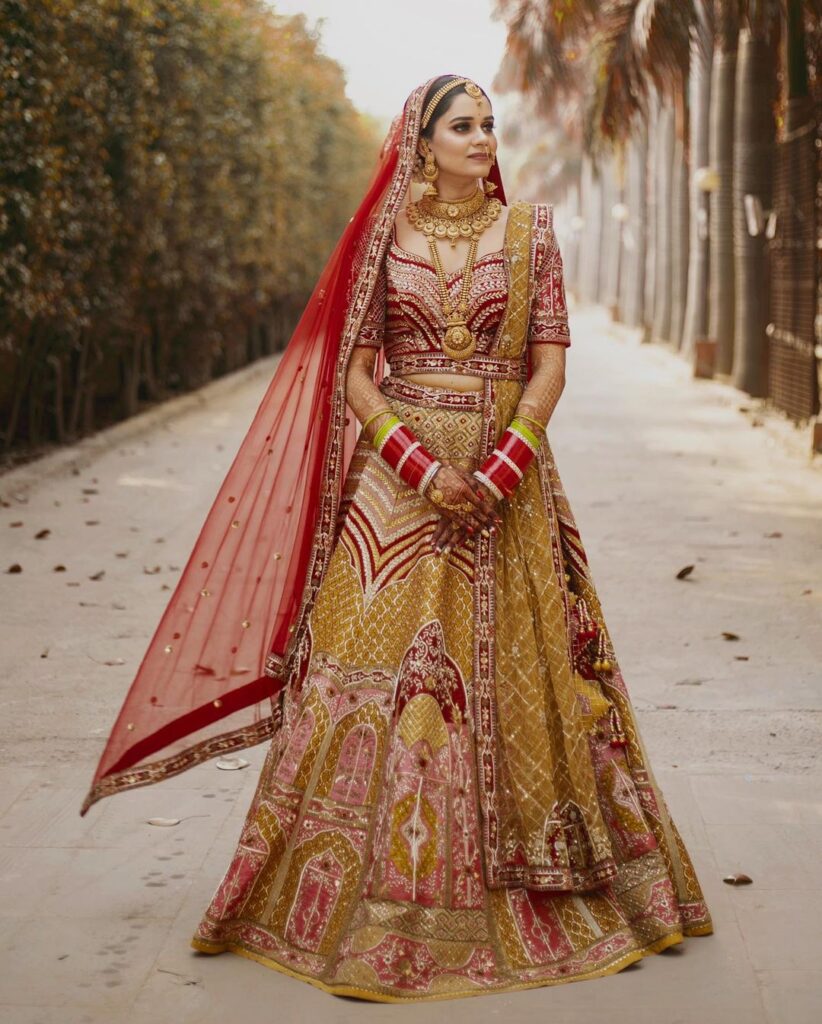 17. A delicate string of uncut diamonds, pure gold, and jhumars make for this aesthetic sheeshpatti design. The bride carried it with utter grace and loved how the photographer captured the ornament in all its glory.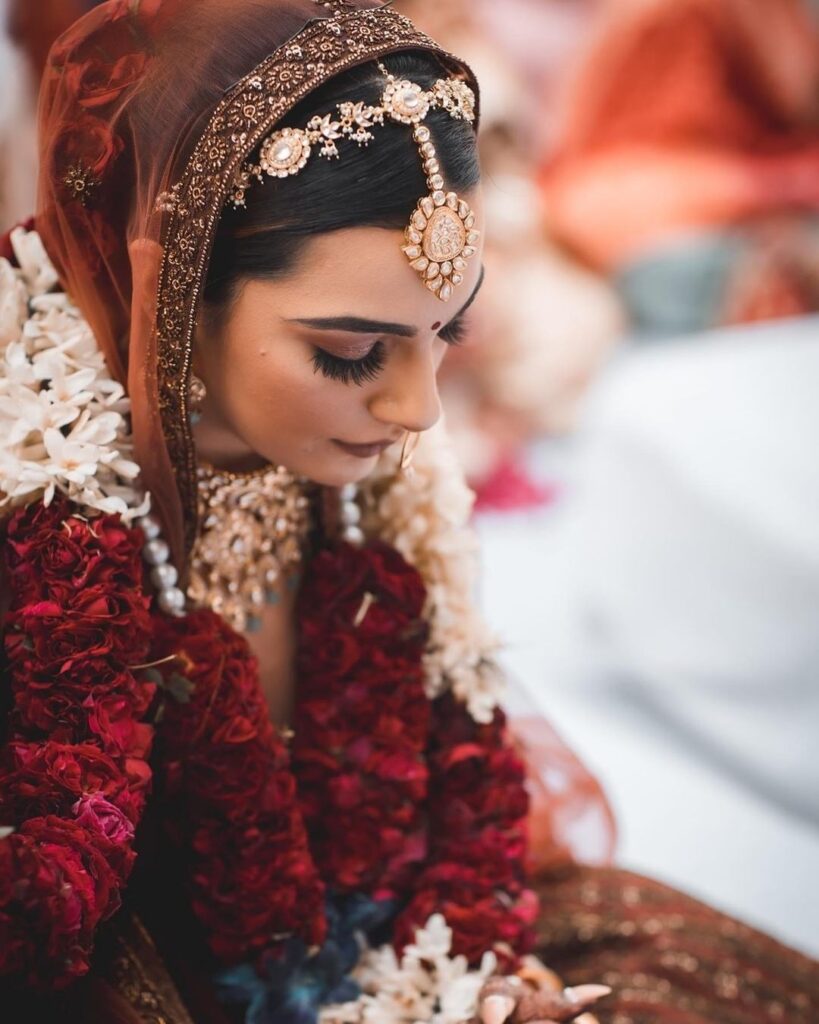 18. Just a traditional mathapatti with a twist! This Sheesh Phool design is a gorgeous replication of the mathapatti design that's all over the bridal world. Just because it's common doesn't mean it isn't charming. I think the picture is enough proof for this statement.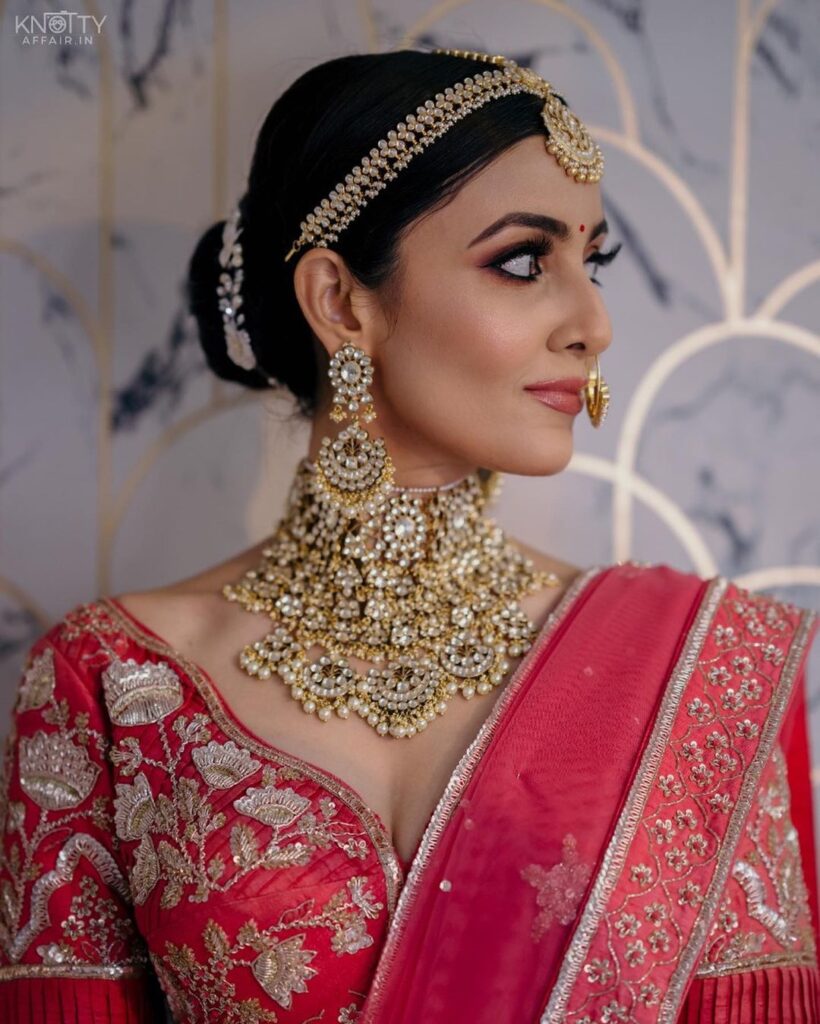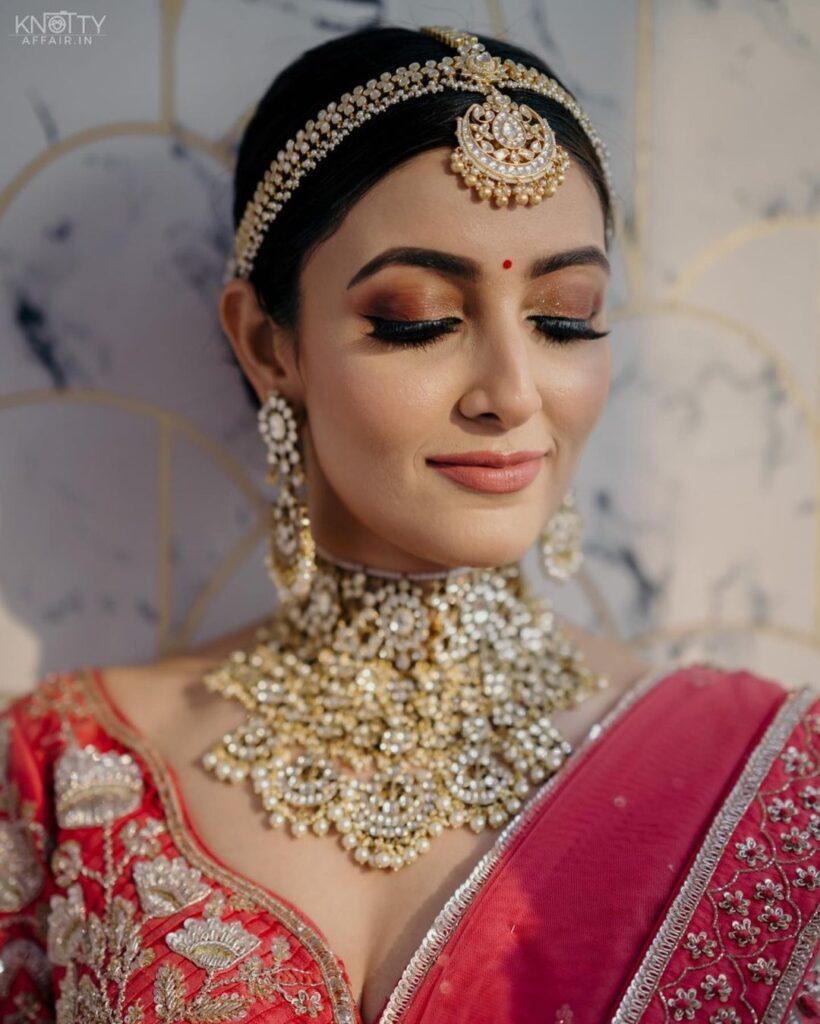 19. We're in love with this captivating Rajputi sheeshphool design that has a unique meenakari allure to it. Completing the glam of this headpiece are bride's charismatic makeup look, chunky baubles, and benarasi lehenga.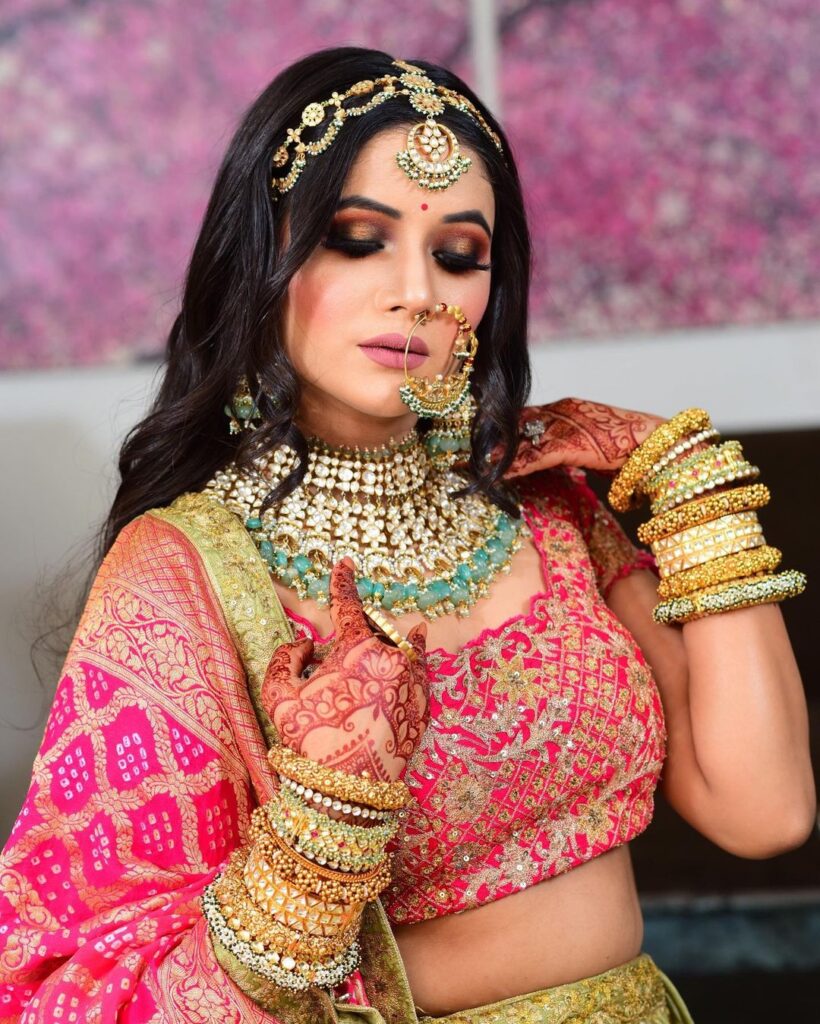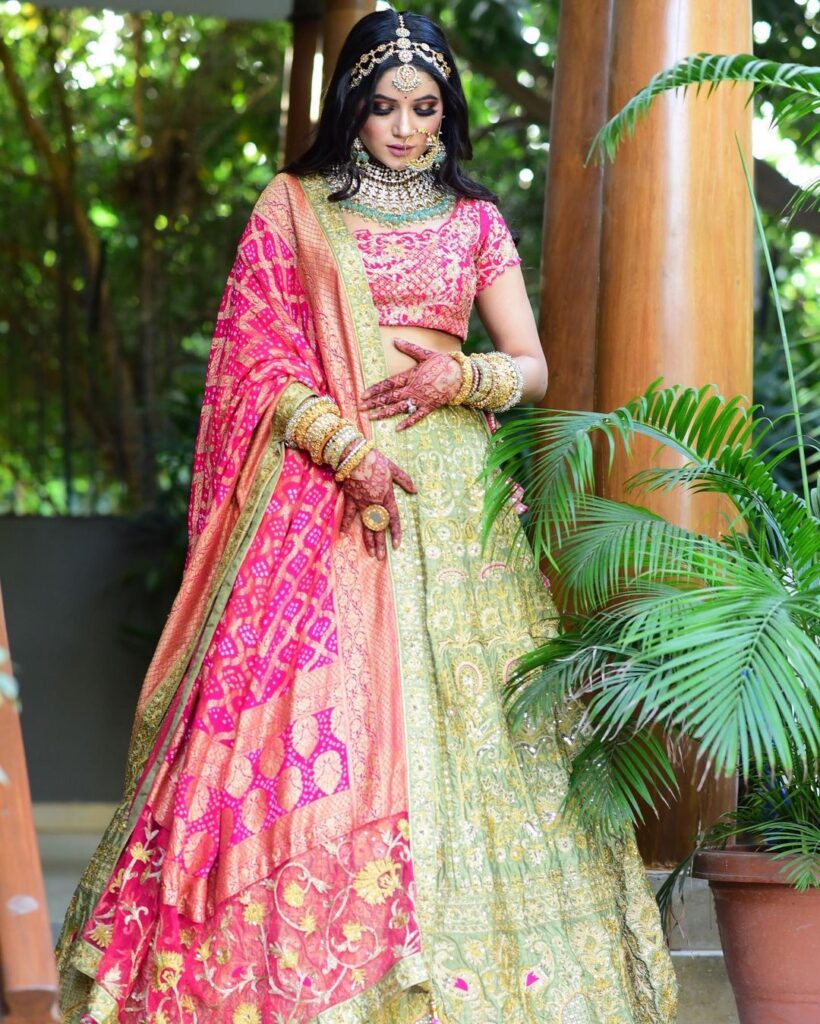 20. Becoming the perfect contribution to her regal bridal look is the sheeshpatti that's a superb choice if you're wearing red on your big day! It has a distinctive red meenakari work on golden jewellery – no wonders her look on Instagram received so much attention.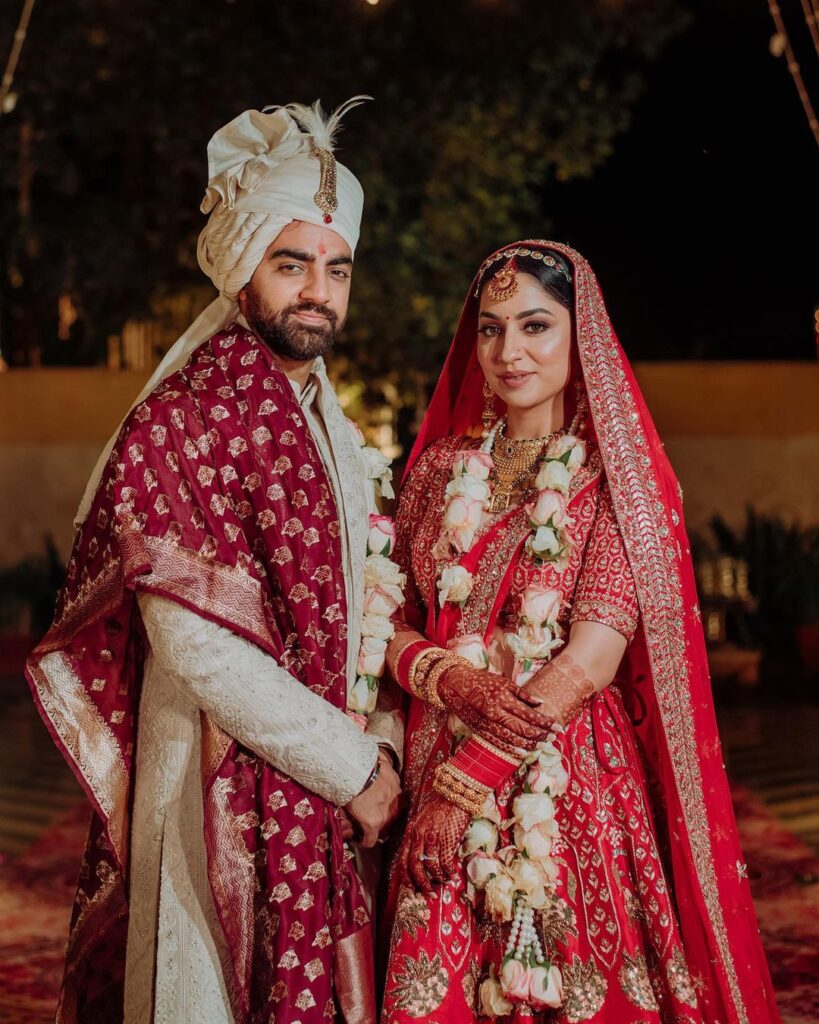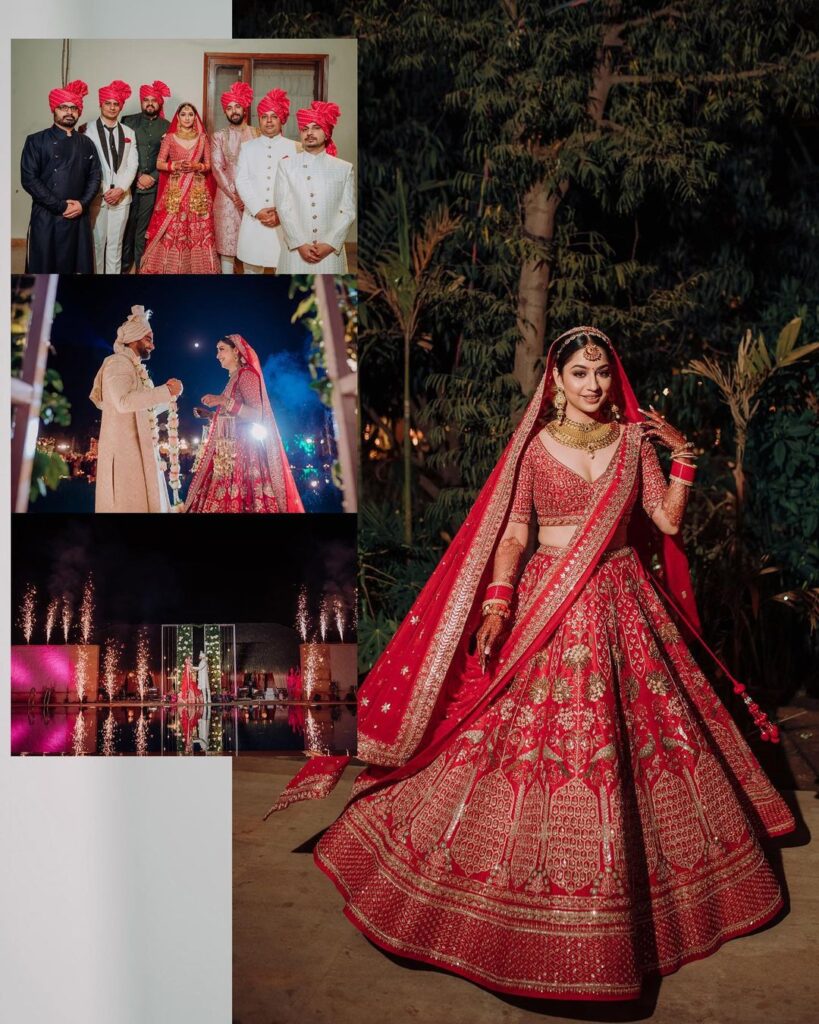 21. Adding up to the list of brides who exude sheer royalty on Instagram is this Rimple & Harpreet bride whose jewellery choices,
smokey eye makeup
, red traditional lehenga, and well-built
bangle stack
are all aligning with her poised look. Bookmark if you're all about grace and elegance too!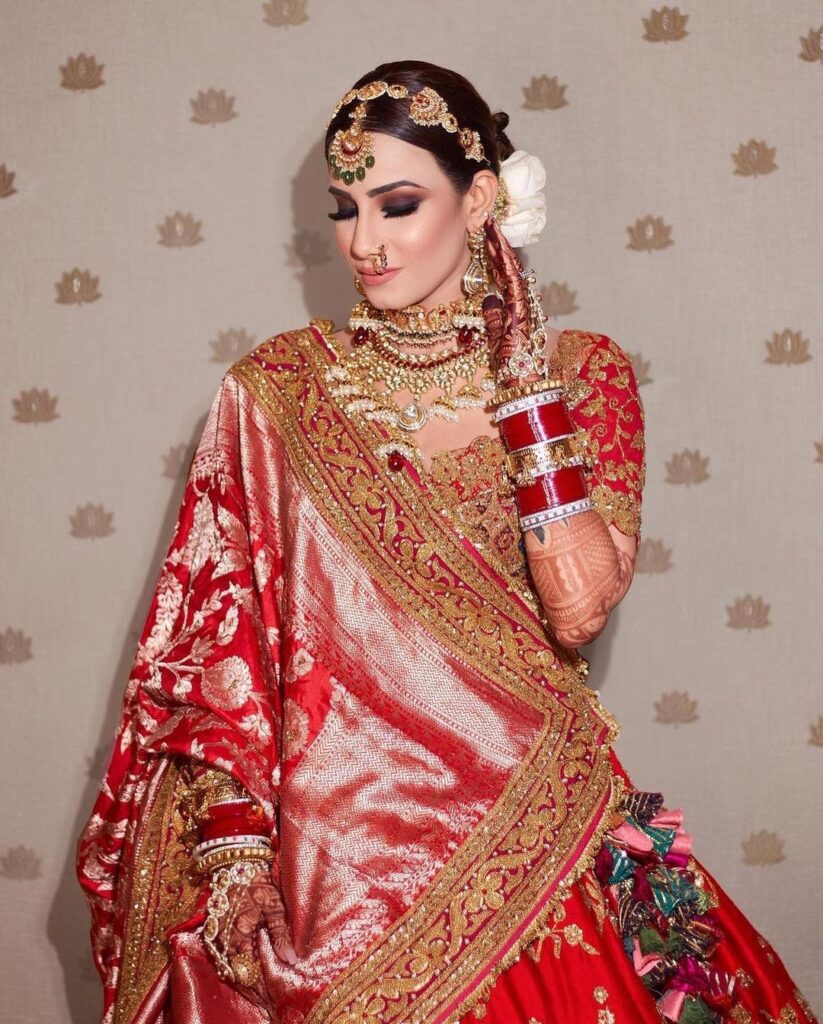 #22 Bedecked in gorgeous kundan and meenakari jewelry pieces, this bride completed her regal look with a sheeshphool jewelry set that peeks beautifully through her blow-dried hair. We love how the makeup artist also gave her an HD golden Indian bridal makeup look to complement the ensemble's theme. This portrait showcasing your sheeshpatti hairband is a must when you're donning it on your wedding day.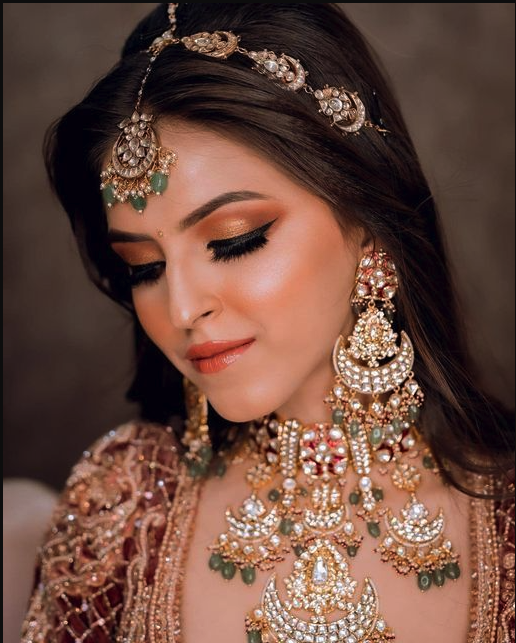 #23 When it came to her bridal look, Alia Bhatt went minimalistic with most of her bridal elements, except one – her jewelry. From her heavy choker set to the chunky kada stack and her jhumka earring, everything was maximalist for her baubles, including her gold sheeshpatti which had a very heavy band on the top. A gold sheeshphool design works for all lehenga colors, so you can pick it without any qualms.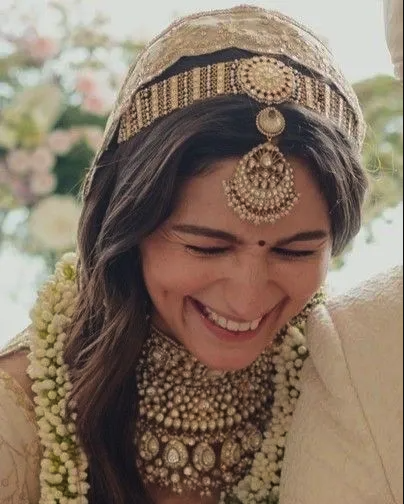 #24 If you're looking for a minimalist sheeshpatti band, here's one simple sheeshphool to take inspiration from! It has a thin band with phools in the middle for a complete look yet has a certain simplicity to the design. This can be worn by the bride at her wedding (if she is opting for a traditional look) or any other event where she deems it fit.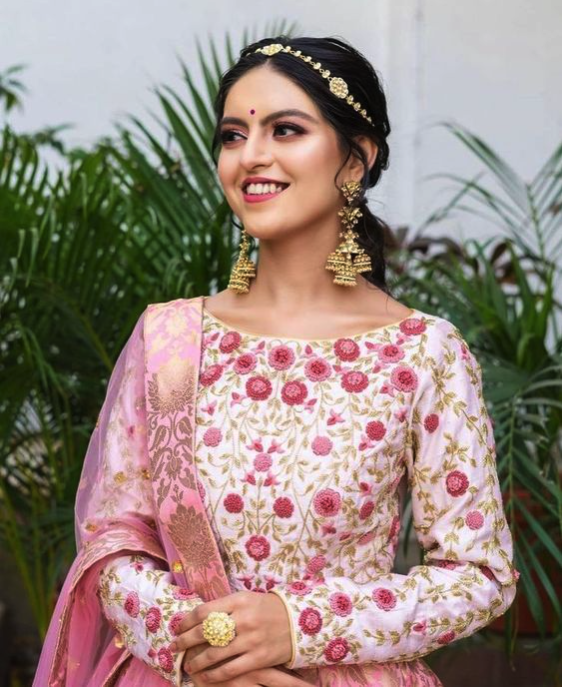 #25 This Rajputi sheeshpatti with borla has a different kind of regality in the look altogether. It features strings of pearls to connect the phool and sits aesthetically on the loose bun hairstyle. If you're looking for a sheeshphool hairstyle, a loose bun is definitely a great idea to try that will also look distinctive and amazing in the pictures.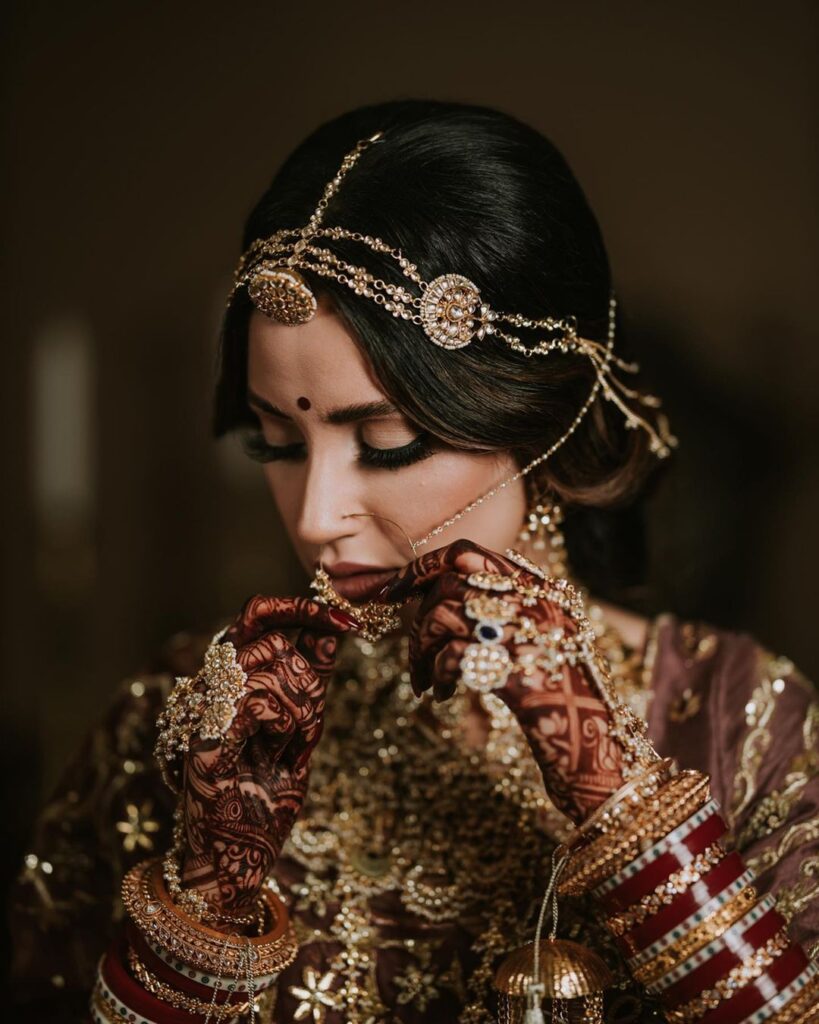 Beautiful Bridal Sheeshpatti You Can Purchase Online!
#1 A Simplistic One With Pearls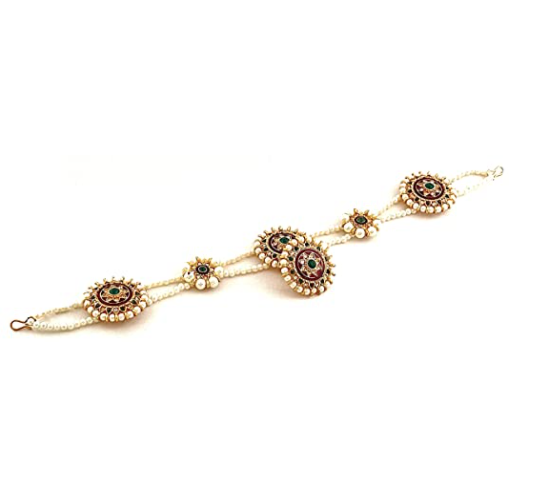 Purchase here.
#2 Just The Band To Elevate Your Maang Tikka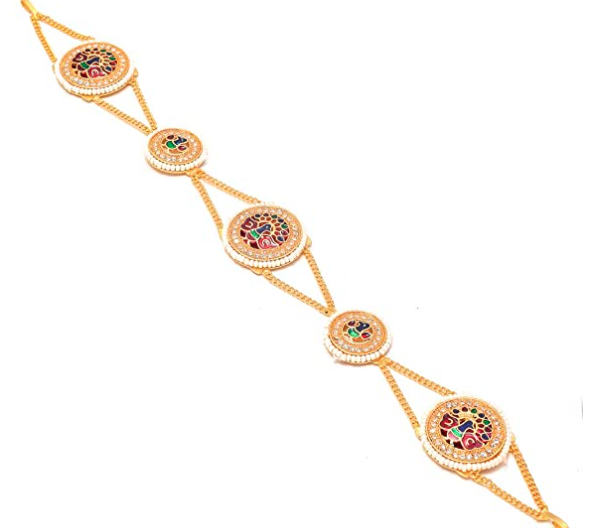 Buy here.
#3 Borla For A Traditional & Graceful Look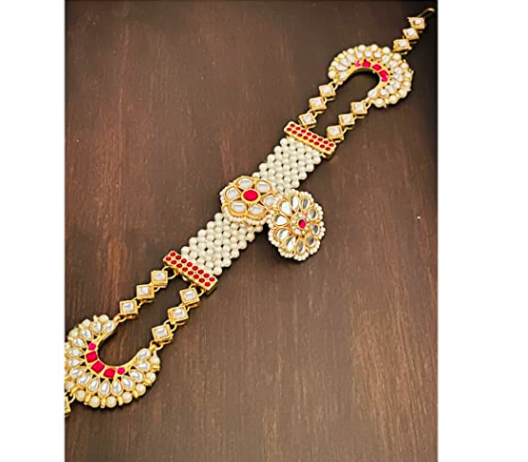 Purchase here.
#4 Beauteous One To Amp Up Your Ensemble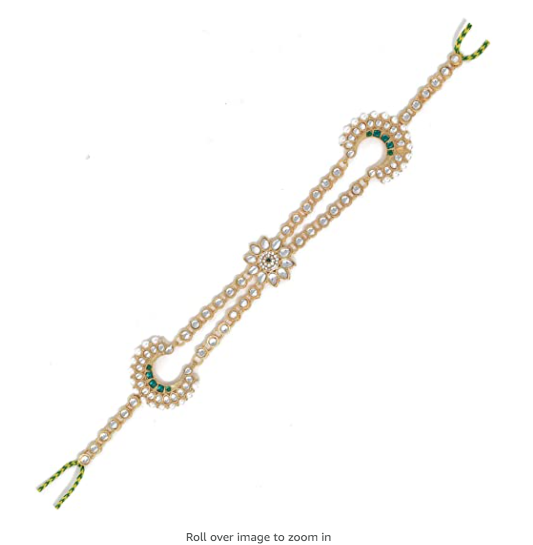 Buy here.
#5 Make A Statement With This Multi-Layered One!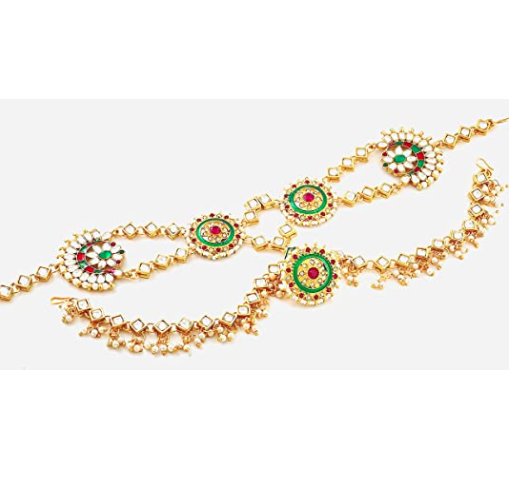 Purchase here.
#6 An Eye-Catchy One For The OTT Brides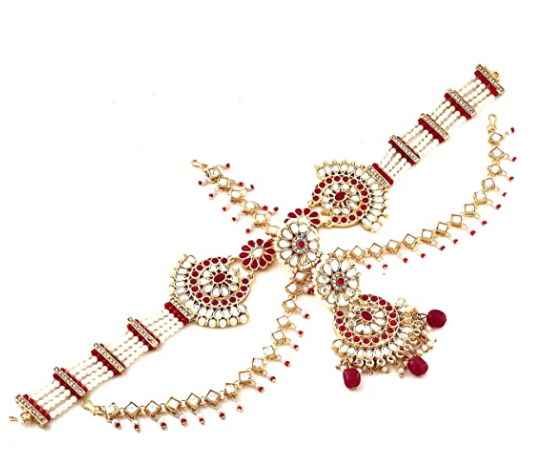 Buy here.
#7 Loving The Intricacy Of It!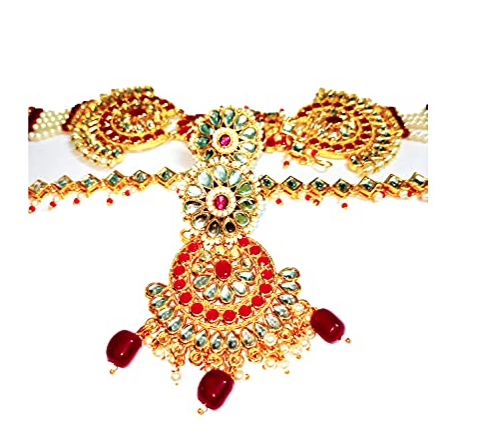 Purchase here.