With wedding planning in full swing, there are so many details to ponder over and finalize. Though some parts can be tricky and stressful like the bigger decisions of an outdoor or an indoor wedding, other parts can be fun like cake tasting and deciding how to decorate your wedding cake. Helping you with the last detail, we are giving you ideas for a pearl wedding cake below, because pearls can make for an elegant decoration element for almost any kind of celebration. Not convinced yet? Let our scroll-through gallery do the job! 
Best Pearl Wedding Cakes We Found!
#1 Think Square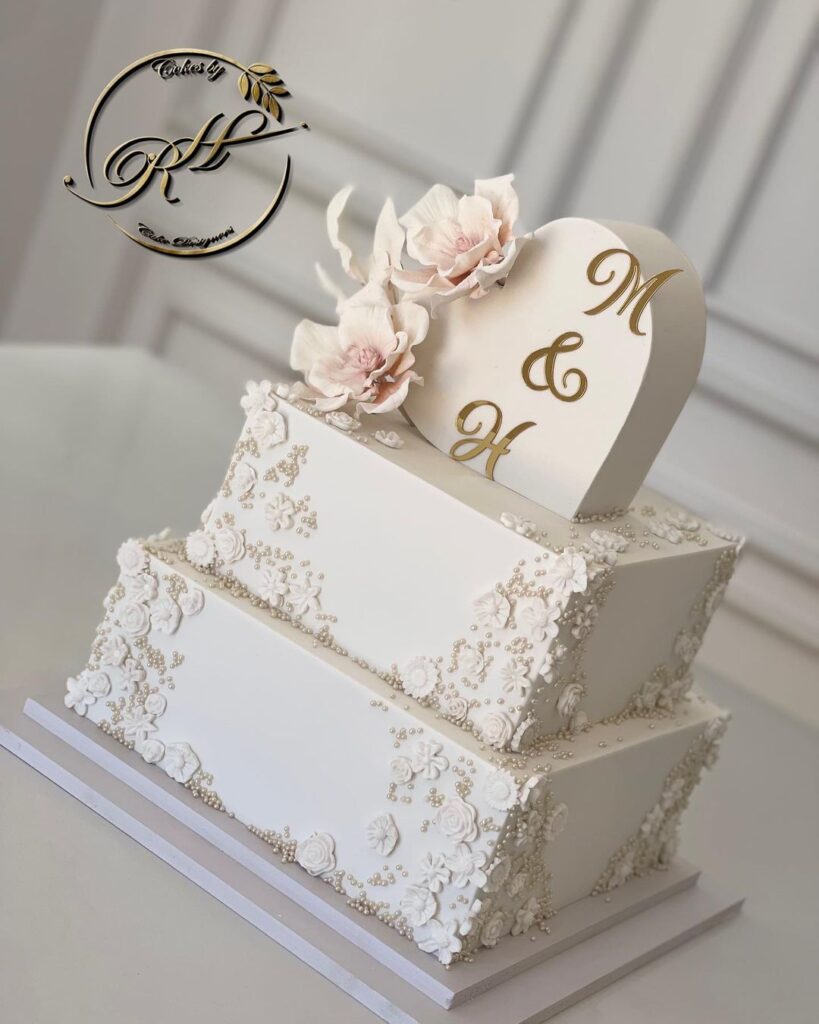 Courtesy: @cakesby_rh
Give a contemporary twist to your wedding cake by opting for square shape tiers instead of the usual round ones! With clean, crisp lines, there's just something so sophisticated about square layers that you just need to bedeck them with pearls to create an eye-pleasing design! 
#2 Why Stop At Pearls?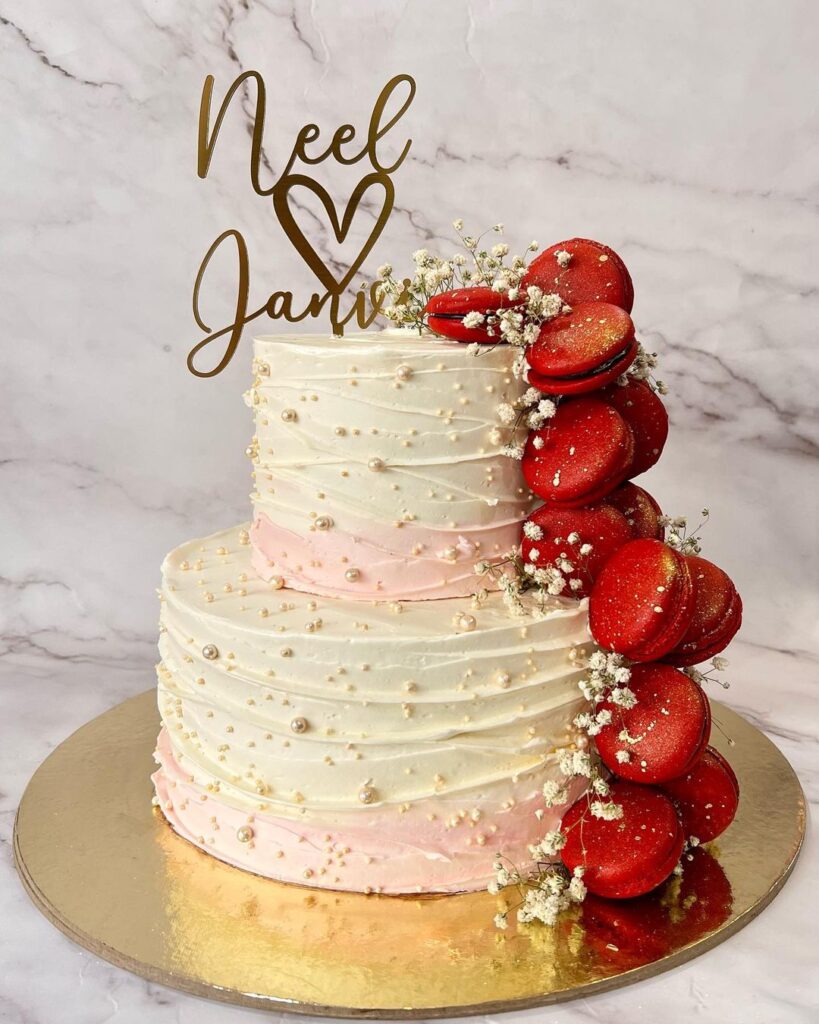 Courtesy: @thebakersden_
Besides pearls and baby's-breath flowers, the cake takes away the attention with its cascading macarons on one side done with a vibrant red hue. Besides the wedding cake, this can make for a superb idea for the 30th Pearl wedding cake celebration because of its casual and cheerful vibe. 
#3 Stealing The Limelight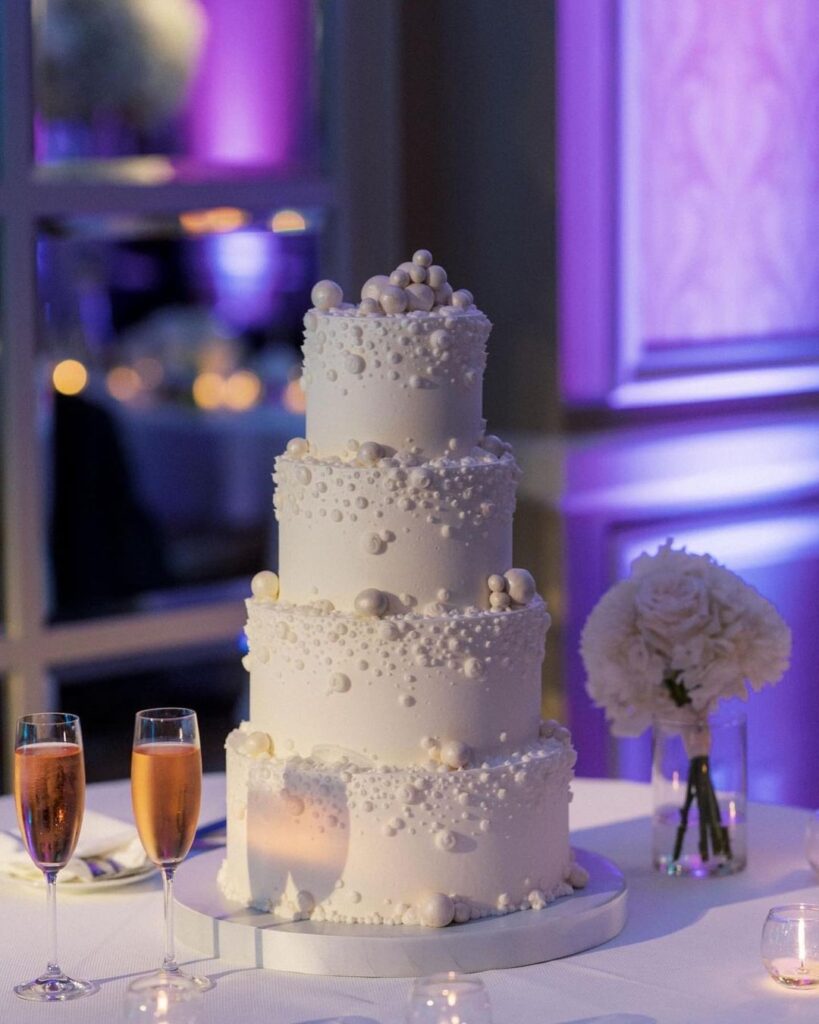 Courtesy: @fancycakesbylauren_
Playing with the circumference of pearls is this four-tier wedding cake with chunky pearls distributed throughout the layers for an eye-catching design. The baker did an incredible job with just this one embellishment, which also cut down the cost of the decoration without taking away from the visual impact of the dessert. 
#4 Elevate Your Pearl Wedding Cake With Roses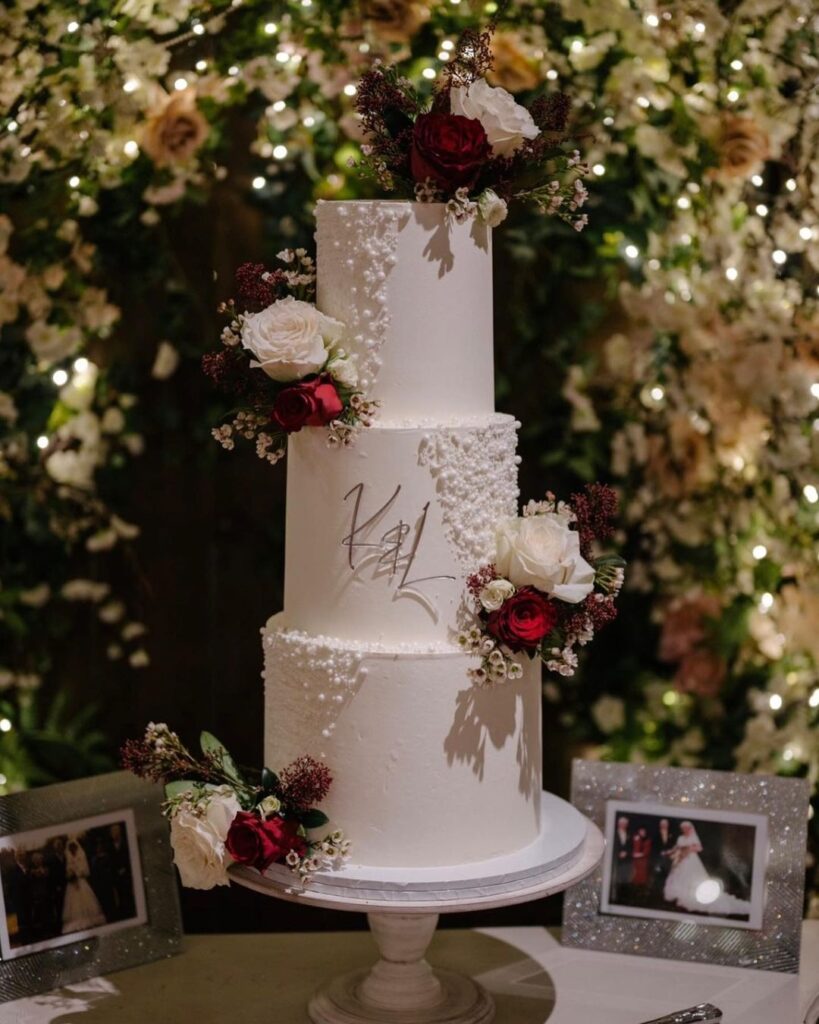 Courtesy: @sjs_cakery
The elegance is just oozing from this pearl wedding cake, isn't it? For a formal celebration with a ballroom theme, this dessert is just the perfect pick. It's strategically designed with pearls arranged in a geometrical shape before it meets a stack of blossoming roses and baby's breath at the start and end of each tier. 
#5 Add Some Greens!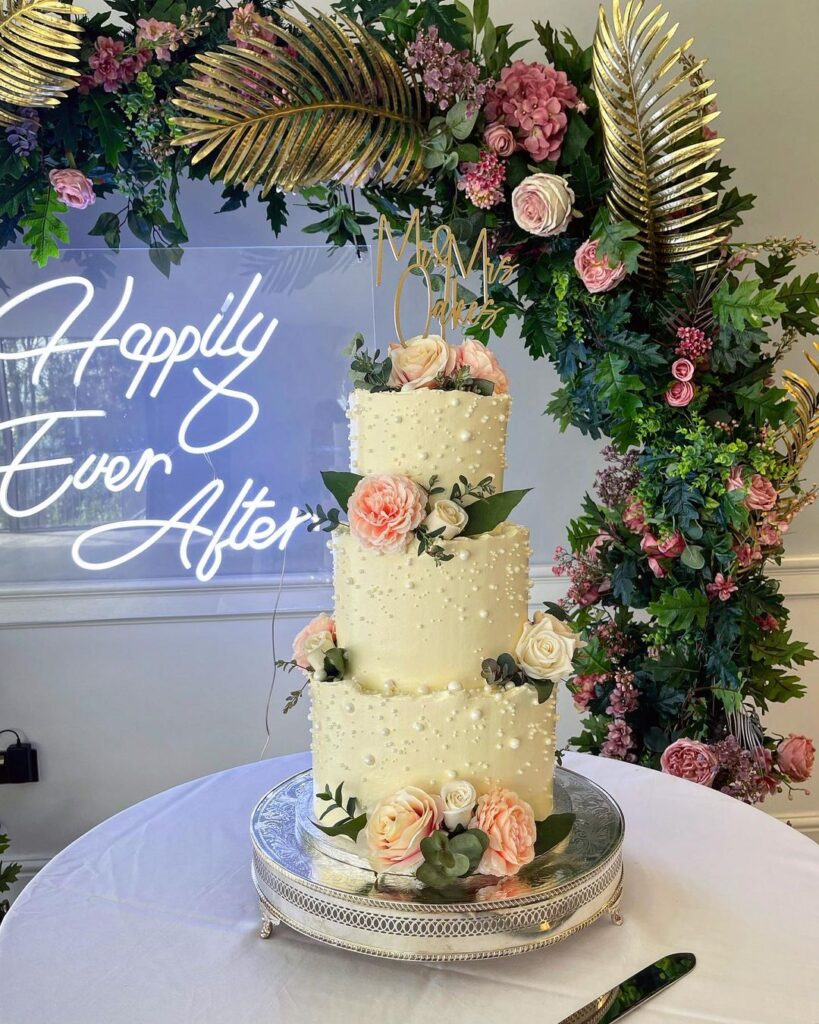 Courtesy: Laura's Cakes & Cupcakes
It's not just the cake that grabbed our attention here, but also the floral arch as the background which adds to the beauty of it! When you spend $$$ on the cake, the presentation deserves some thinking too. More so, this arch can also transform into a photo booth after the cake-cutting is done. 
#6 A Wedding Cake With Pearls & Lush Blooms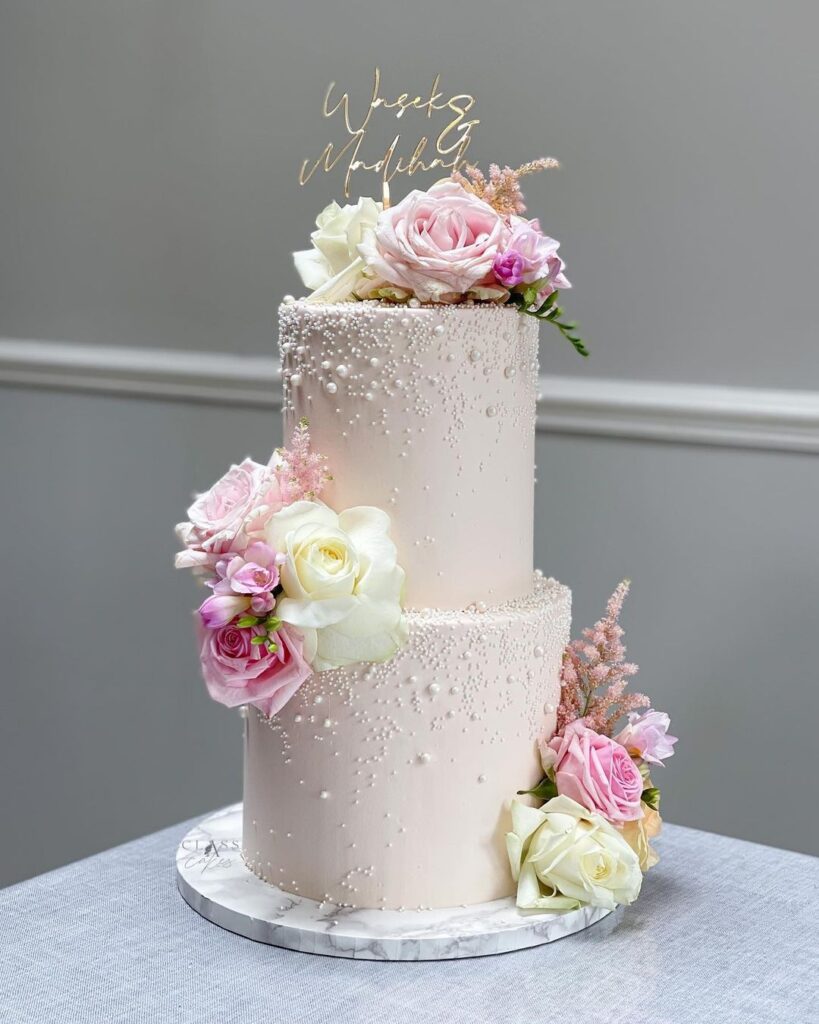 Courtesy: Class A Cakes Luton
For a timeless, elegant wedding cake, ask your baker to choose flowers and designs that have been always in trend! Fresh roses cuts for the job here and added to that are pearls concentrated on the top of each tier for a cake idea which makes the cut for almost any kind of celebration. 
#7 A Gorgeous Blush Pink Wedding Cake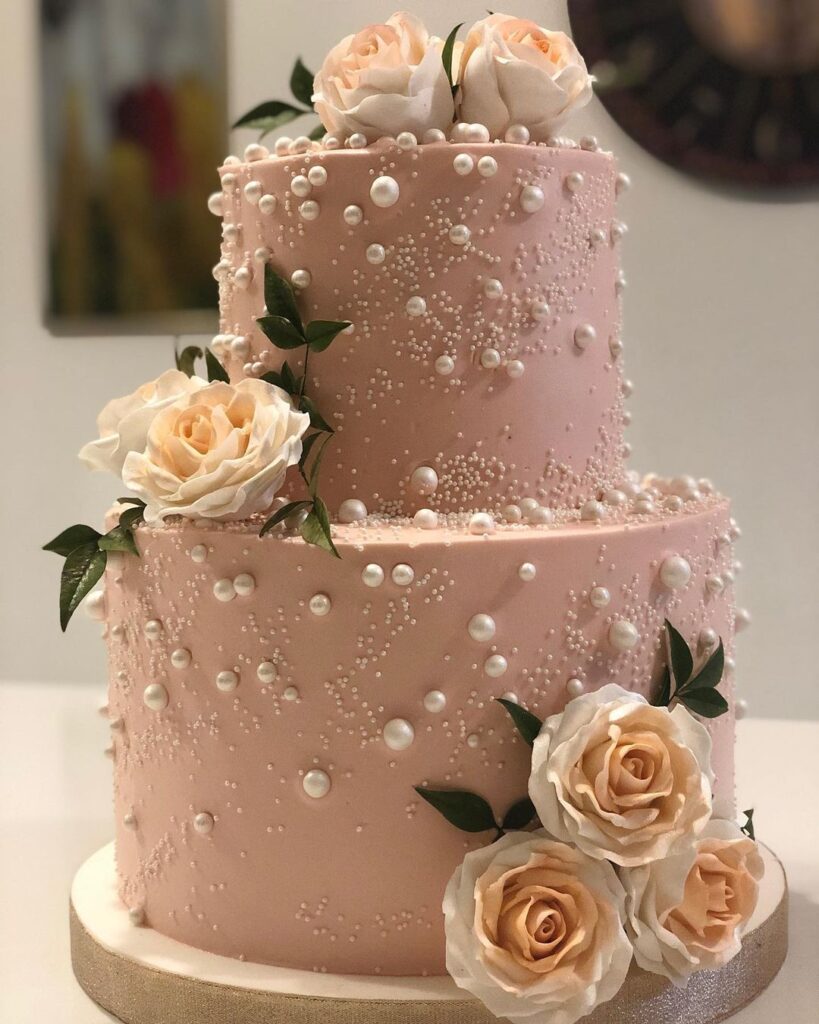 Courtesy: Whiteflower Cakes & Weddings
This aesthetically-pleasing wedding cake with pearls and flowers has our absolute heart. It's visually appealing and the length is enough to serve a wedding guest list of 100 people easily! The lush greens just add to the beautiful palette of the design. 
#8 Liven Up With Colors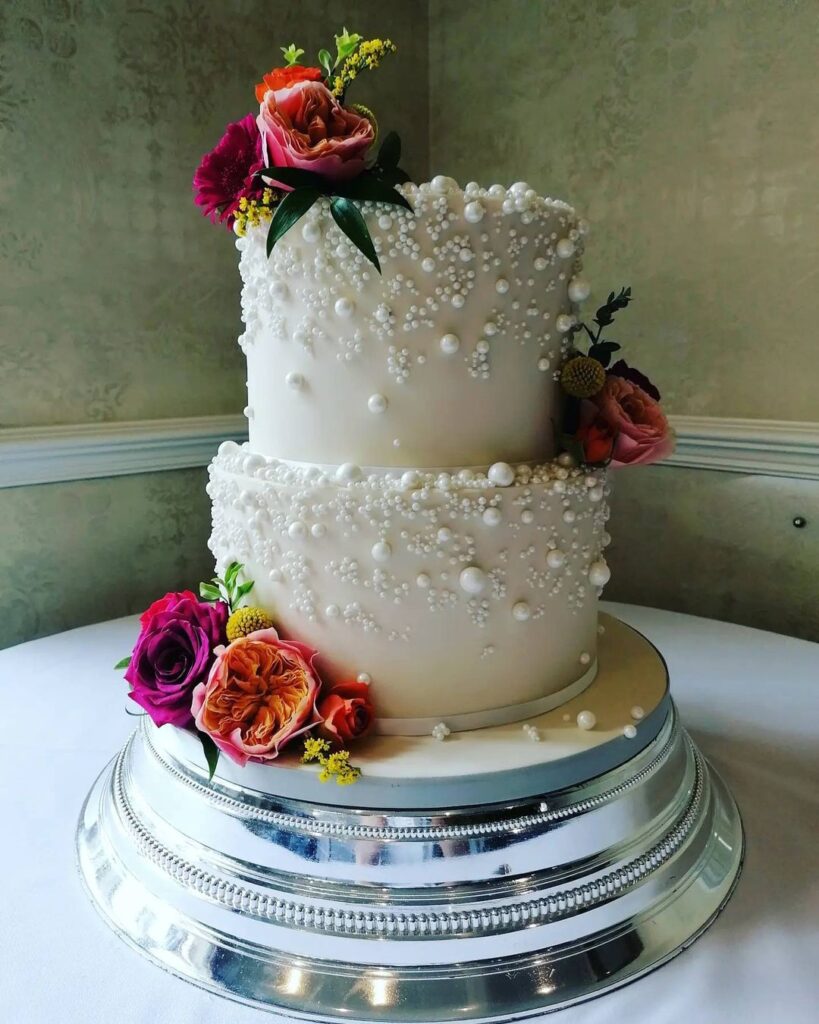 Courtesy: @raceycakes
You know what adds to the vibrancy of your white wedding cake – some fresh blooms just in line with the theme of your wedding. The next pearl wedding cake was obviously meant for a fall celebration given the warm colors of the flowers. If you're having a summer celebration, consider vivid colors like yellow or purple for the fresh florets. 
#9 Embrace The Modern Look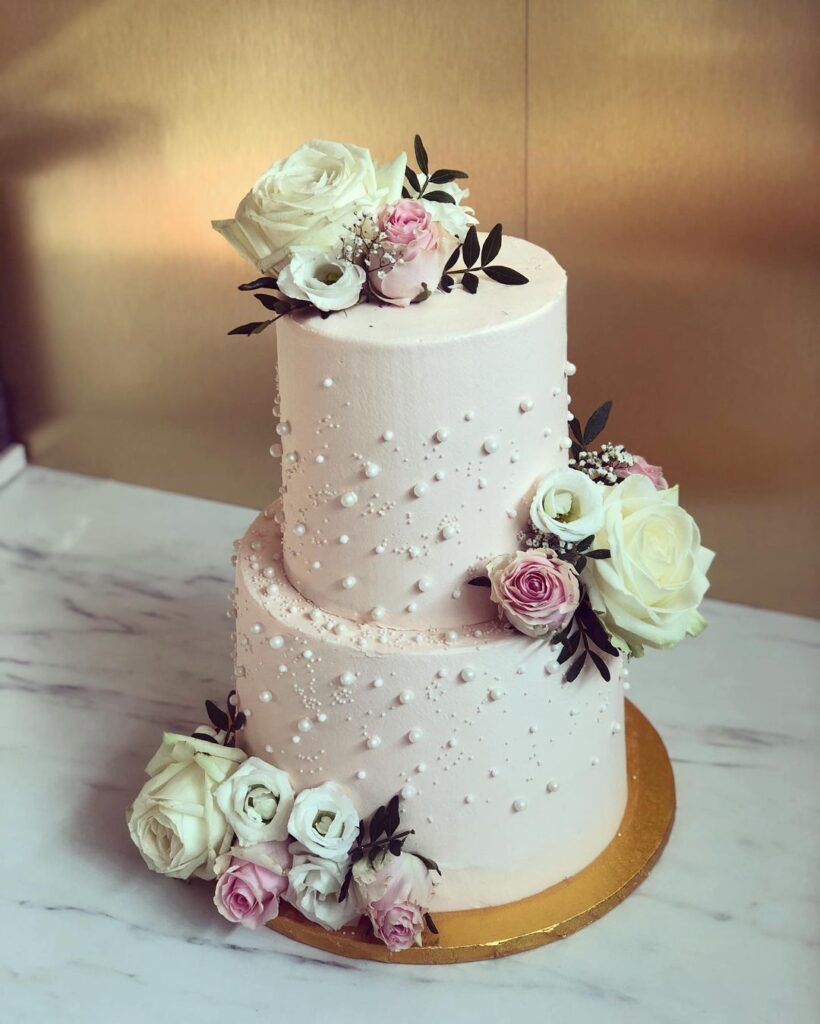 Courtesy: @aswian_patisserie
Besides the pearls bedecking both the layers of this blush-pink wedding cake, an arrangement of fresh blooms and leaves is also put in to enhance the beauty of the dessert further! If you're still fixated on a white cake though, this design will work amazingly with white color as well as it does with pink. 
#10 The Pristine White Pearl Wedding Cake!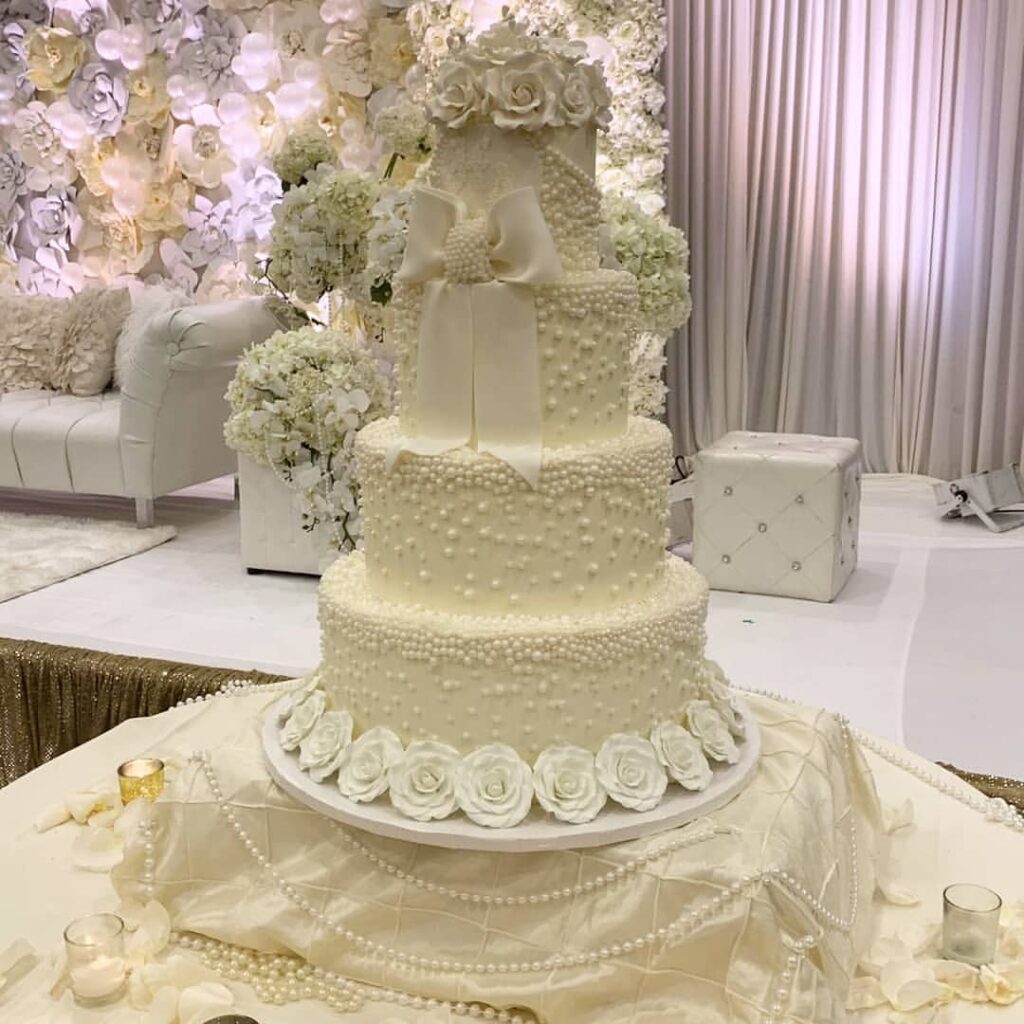 Courtesy: @cakesconfectionsandmore
This gorgeous 4-decker cake decorated with pearls is created using all things white and perfect! With white blooms decorating the rim of the lower base and arranged beautifully on the upper tier, the main dessert also carried a majestic floral charm making it the center of attention at the reception party! 
#11 A Stunning Pearl Wedding Cake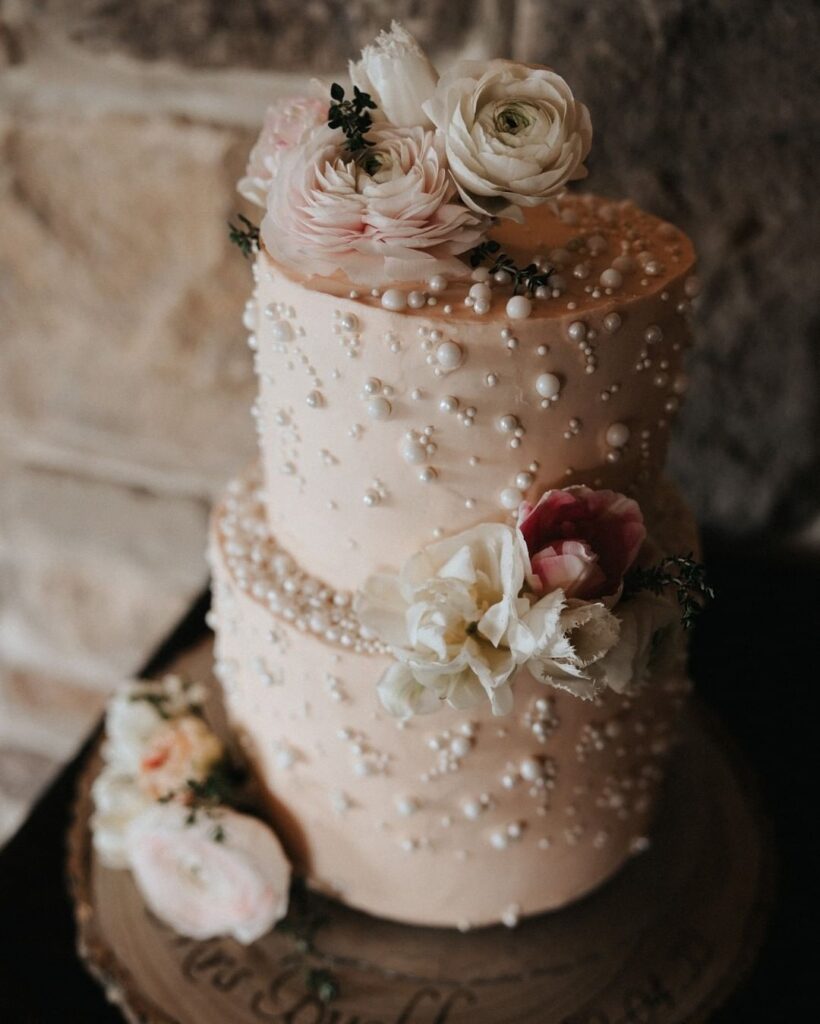 Courtesy: @whimsicalwonderlandweddings
When you notice closely, you will realize why this cake looks so visually appealing. The pearls are smartly arranged with smaller ones surrounding a bigger stone and we think it's details like these which often give an aesthetic look to any creative effort, including a wedding cake. 
#12 Grandeur & Opulence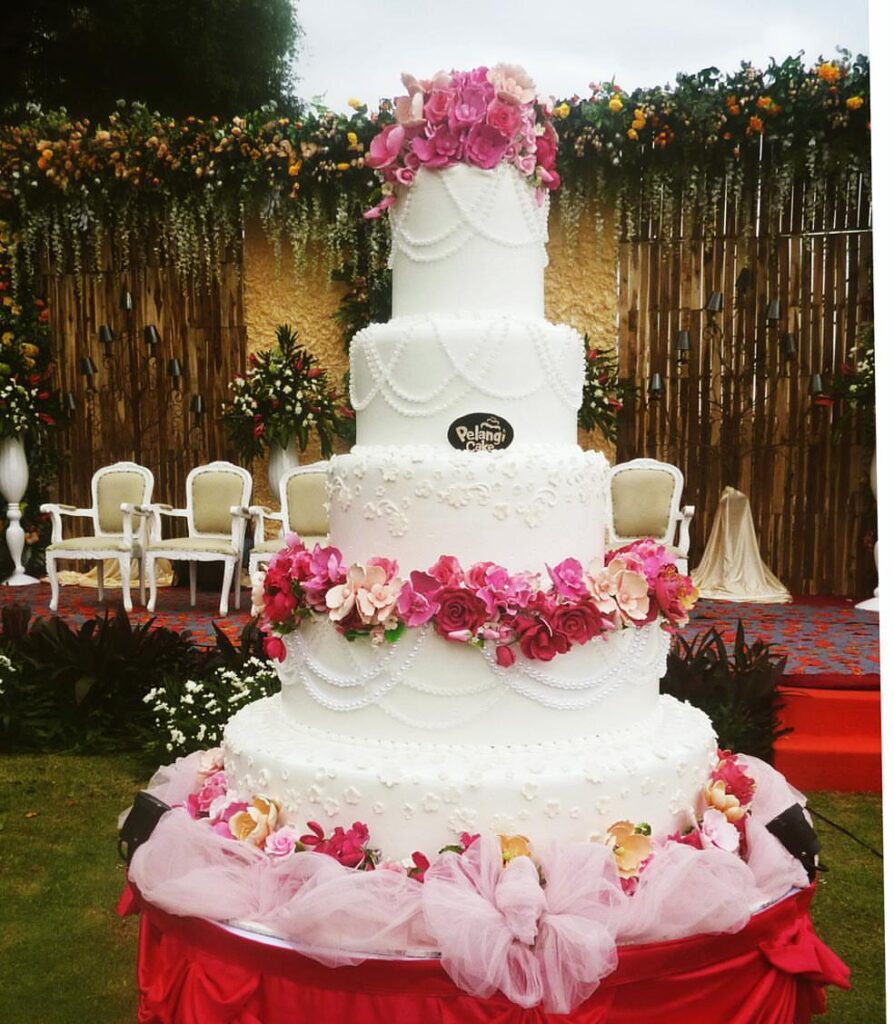 Courtesy: @pelangiwedding
If an opulent and sumptuous cake is on your mind, here's an inspiration to bookmark! This pearl ribbon wedding cake uses pink flowers to break the monotony of white and will surely turn heads with its grandeur and style.  
#13 One Can Never Go Wrong With Blooms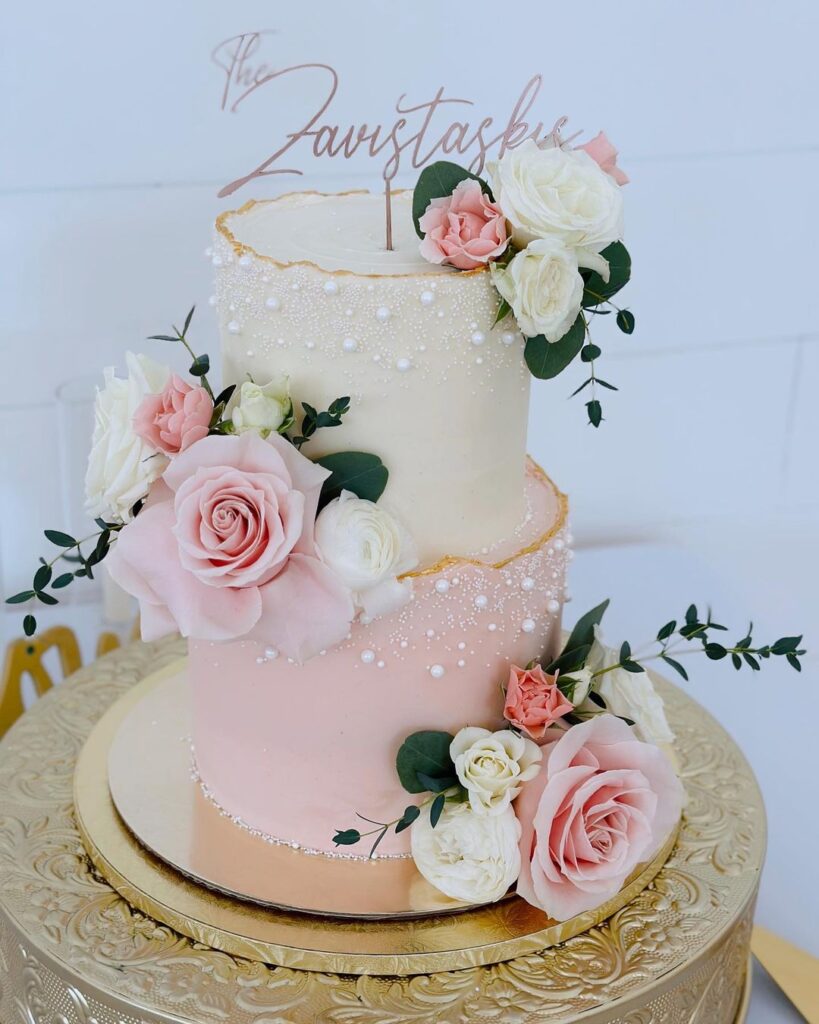 Courtesy: Anna Harris
Clusters of floral arrangements on each tier of the wedding cake make this design attractive and charming. You can choose any florals to recreate this dessert for your much-awaited celebration. 
#14 Chunky Pearls For The Win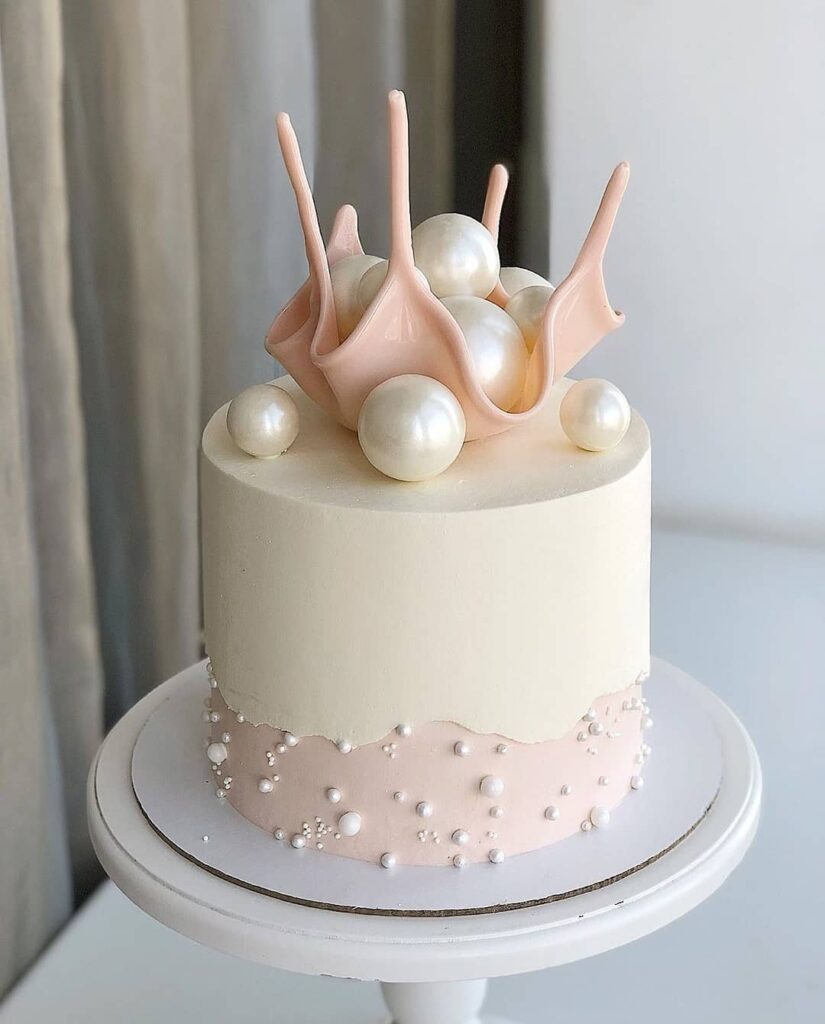 Courtesy: @kasadelika
We love how this wedding cake artist took the concept of chunky pearls seriously and put a few of them just on the top of this cake. You can recreate the design for a tiered pearl wedding cake for your special occasion! 
#15 Be Romantic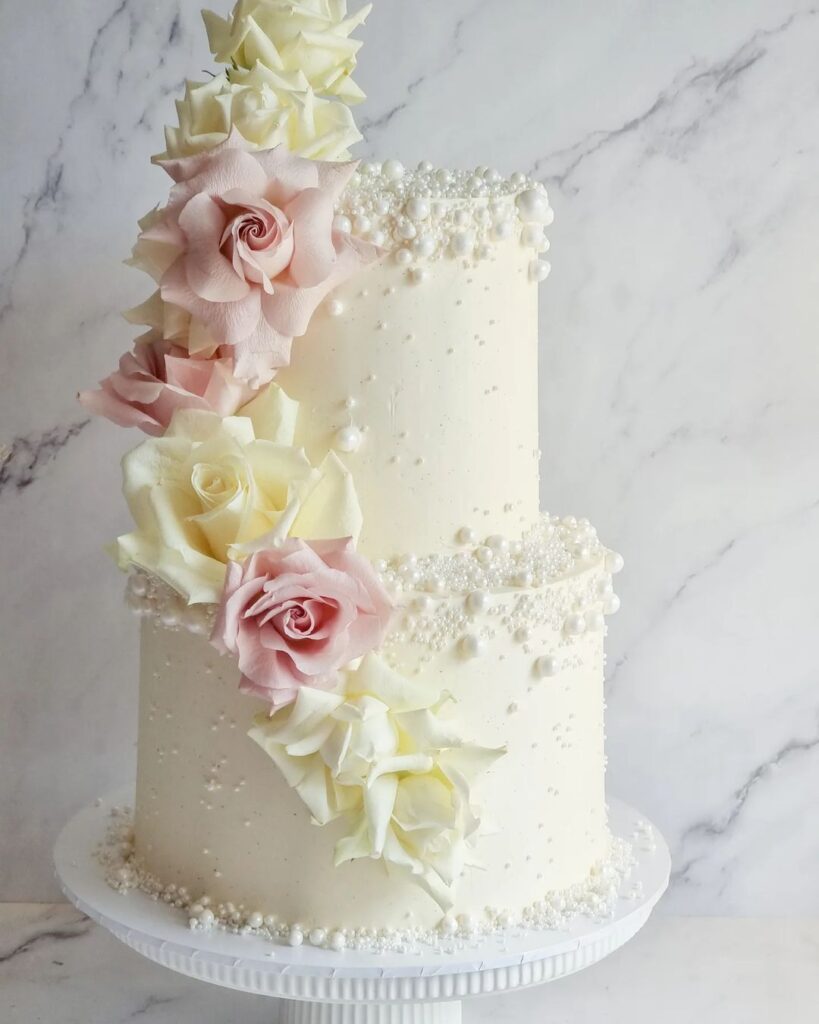 Courtesy: @thedesserthausmlb
Romance is just oozing out of this wedding cake design and isn't that just what you want your wedding elements to radiate? Opt for edible pearl wedding cake and mesmerize guests with the beauty of it. 
#16 There Can Never Be Enough Pearls!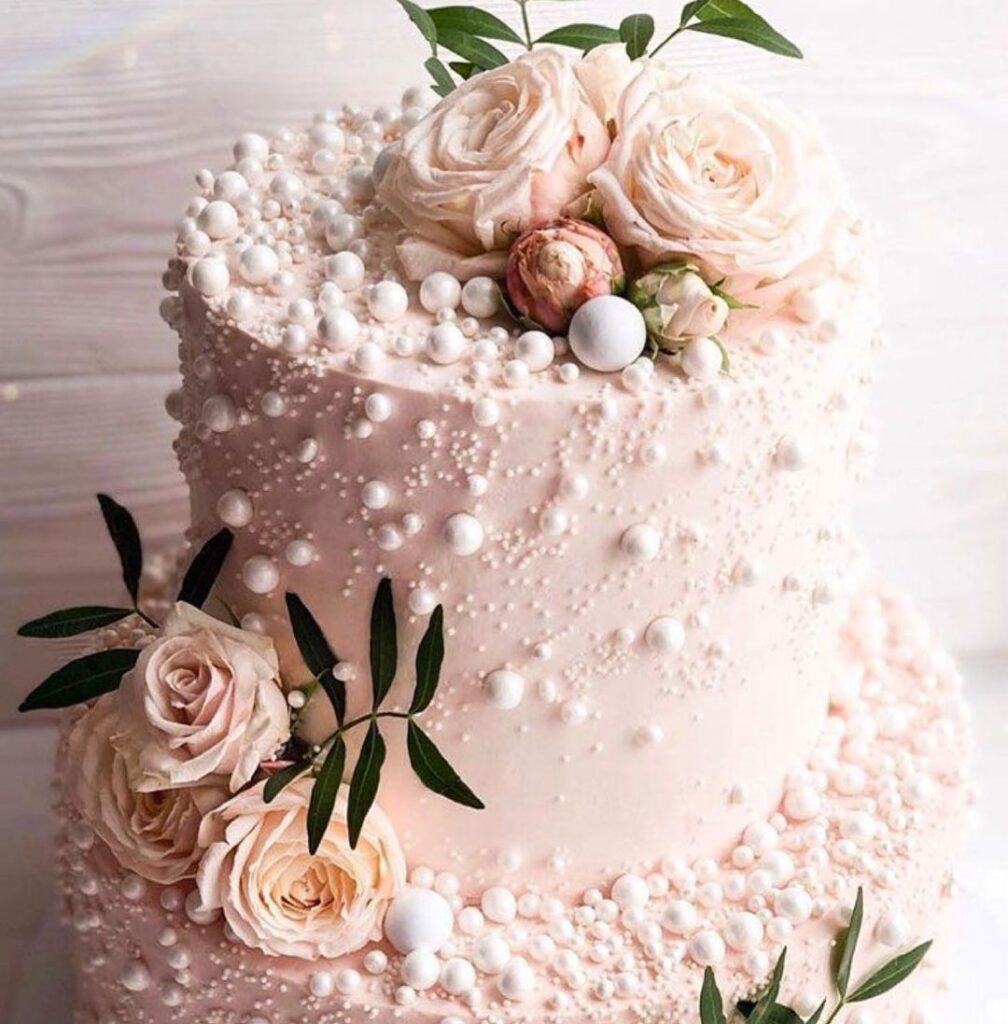 Courtesy: @thebridalbox
Ain't that, right? You can never go wrong with pearl decoration on the cake. They can be done minimally by just lining the rims or they can be distributed all over the cake. No matter what you choose, you can be assured that a pearl wedding cake will always look good. 
#17 Pink & White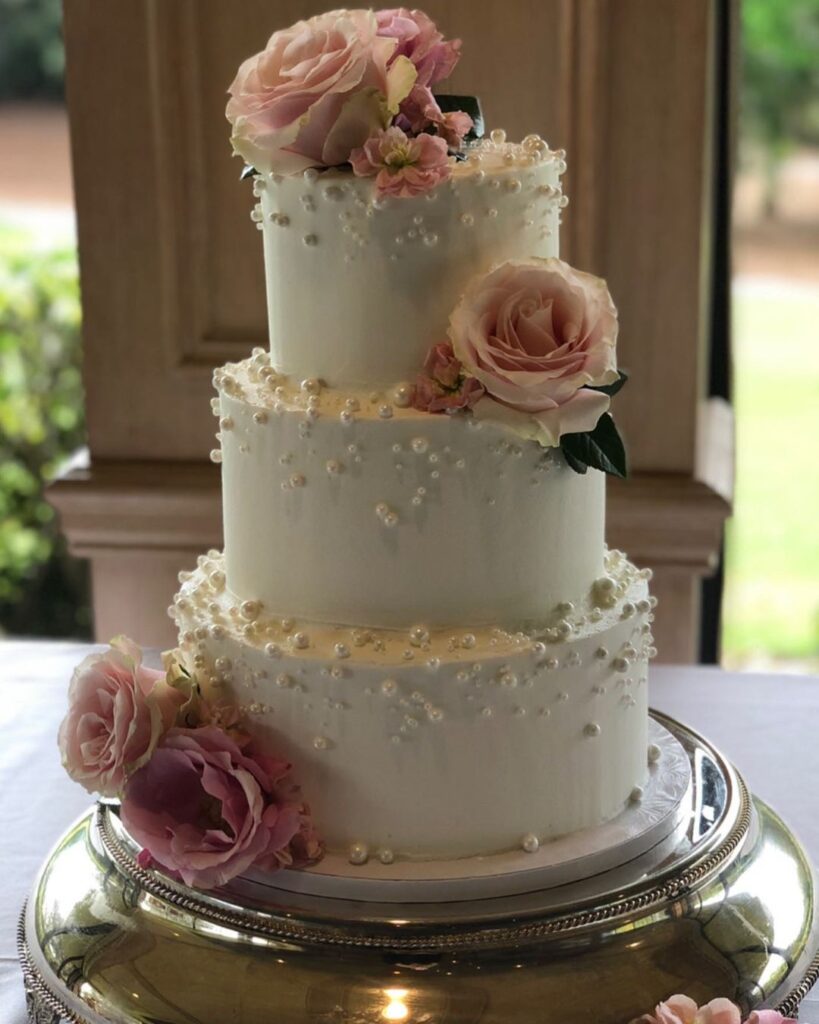 Courtesy: @frostingverobeach
Pearls on the rims and blossoming florals make this cake with pearls undeniably romantic and feminine. Needless to say, this enduring design can with any wedding theme you have chosen!
#18 A Pop Of Purple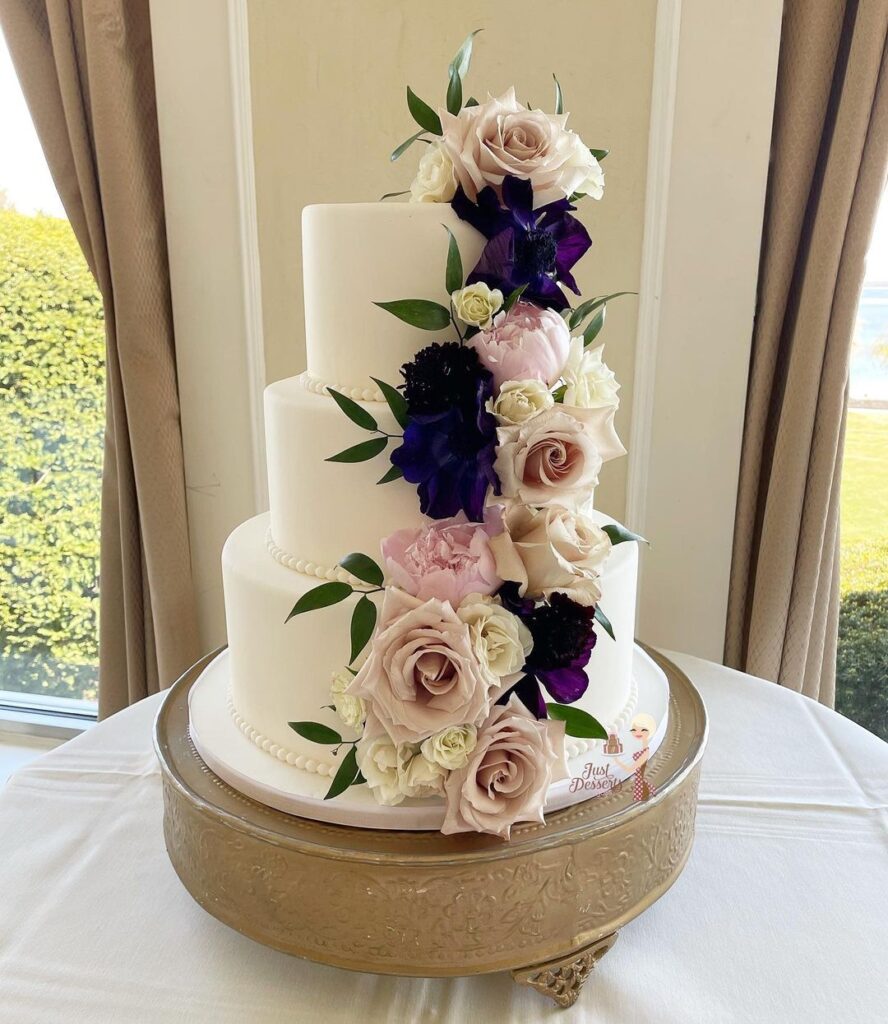 Courtesy: Just Desserts by Jess
Who said an elegant wedding cake has to be all white? You make the rules for your wedding and certainly, a pop of color can be just as sophisticated as an all-white cake. Here, the purple does the trick but you go ahead and choose your favorite color for the cascading floral decor. 
#19 Minimalistic Charm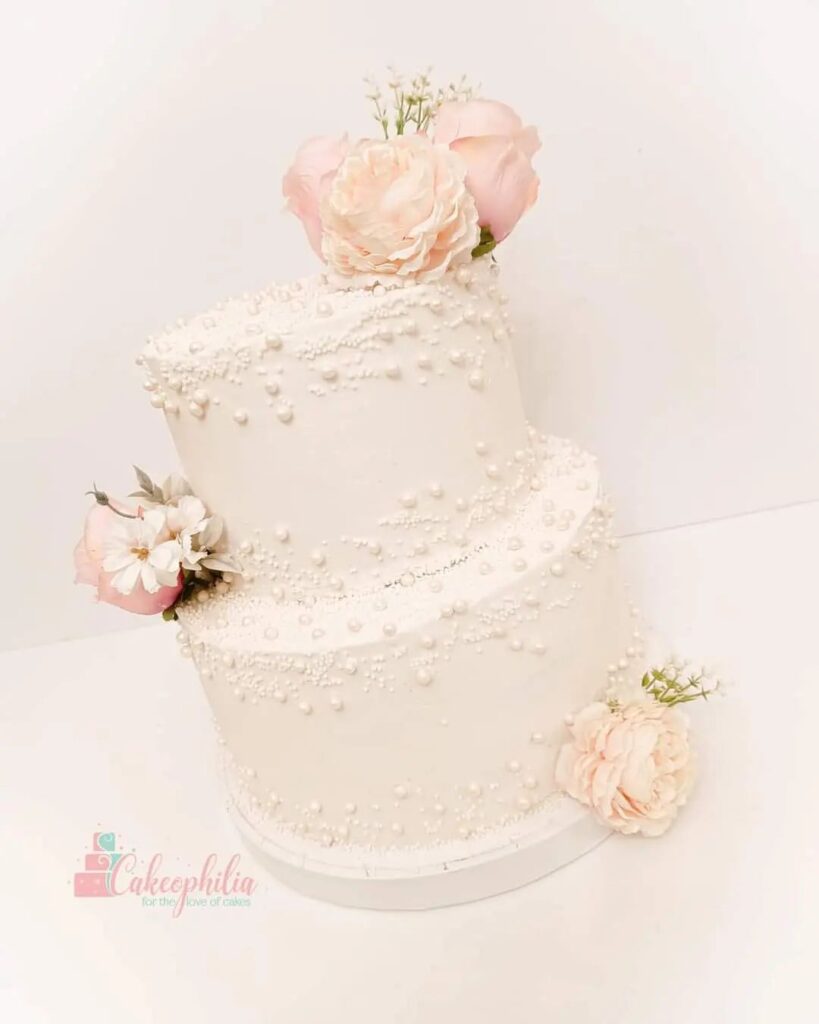 Courtesy: @cakeophillia_eg
Choosing a minimalistic design is just the way to go for couples who want a timeless cake but don't want to put too much effort zeroing in on the design. The next one is just a simple pearl wedding cake which will not cost a bomb but will still manage to wow your guests. 
#20 Blooms Never Disappoint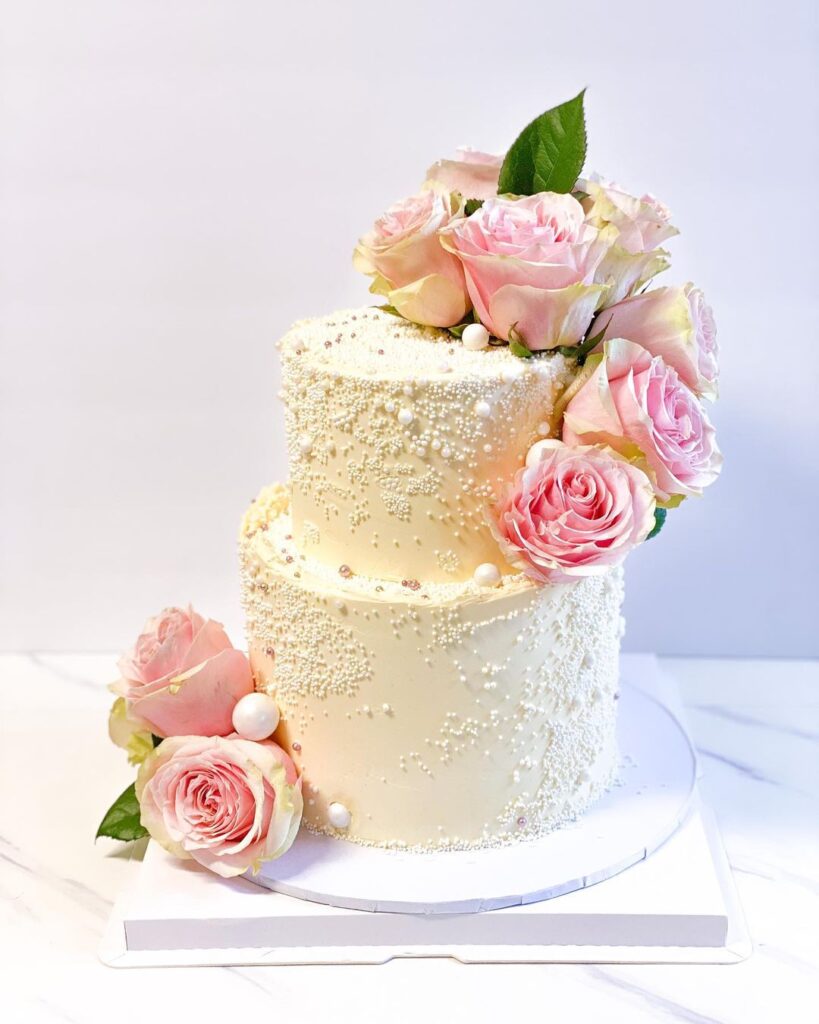 Courtesy: Jazzy Cakes
These pretty pink blooms just amp up the white palette of this simple pearl cake. While for weddings, this subtle color will suffice, you can resort to other vivid shades of florets for any other celebration. 
#21 Flakes & Pearls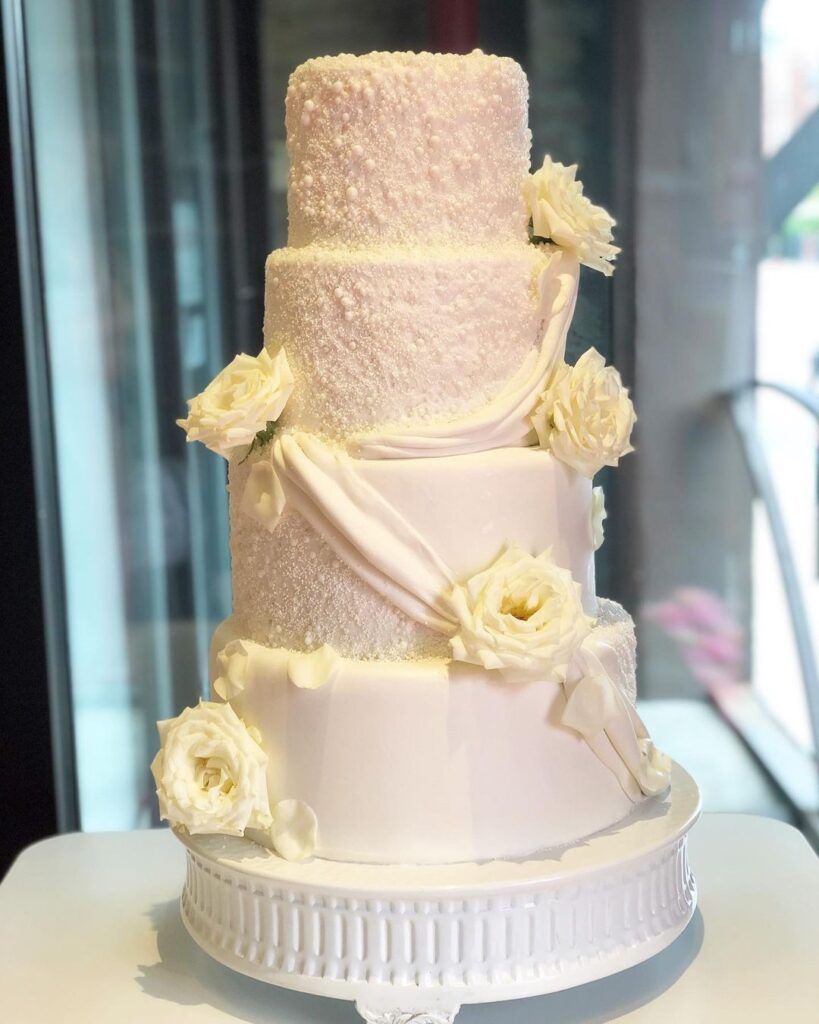 Courtesy: @bjorncakes
With the expertise of cake artists reaching a new height every day, almost anything you can imagine can be out on your wedding cake in an edible form, even a ribbon! This pearl and lace wedding cake is decorated with flakes of white chocolate on the top and a seamless exterior further for a beautiful look. 
#22 An Eye-Catching Pearl Wedding Cake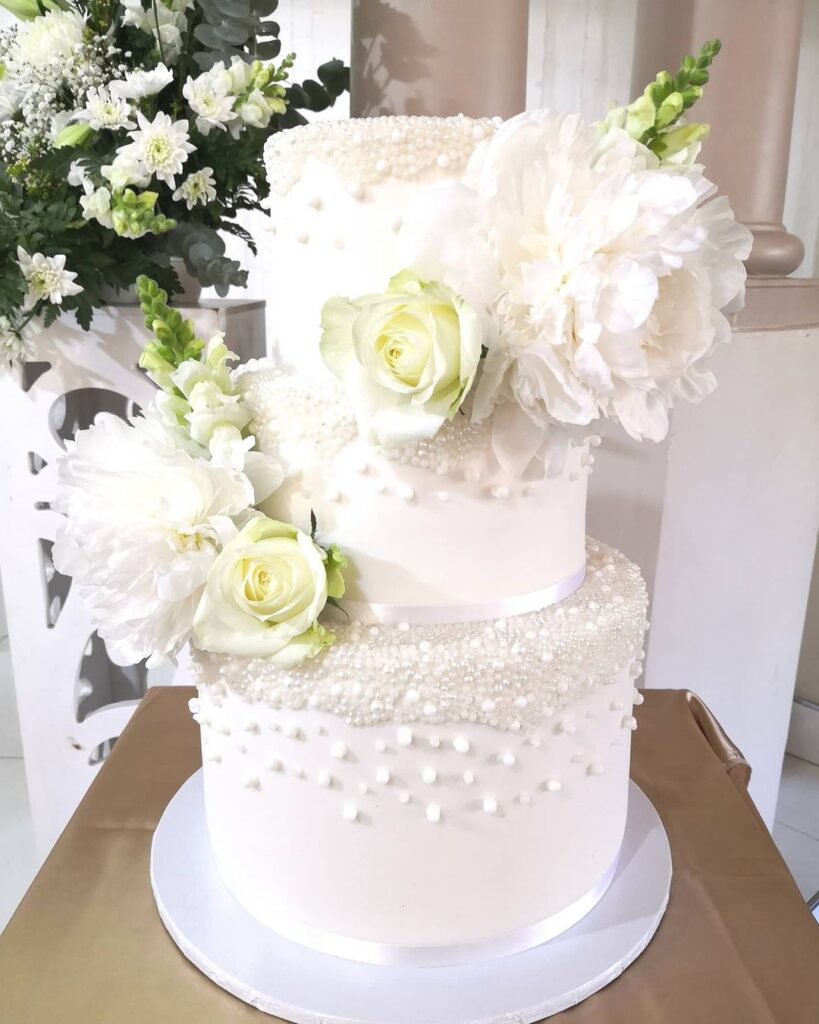 Courtesy: Najia Davids
If you're looking for white flower ideas for your wedding cake, consider white peonies as an option, especially if you're looking to cover a major chunk of your tiered cake with the blooms. Peonies are an elegant addition, though, keep in mind that they are more expensive than roses and aren't an economical choice for cake blooms. 
#23 Pearls Supremacy
Courtesy: Foreverness Bridal Boutique
This cake is just completely replete with pearls and we can't complain! With just an added arrangement of florals on the sides, this cake is just perfect for a barn wedding or a forest wedding and can be paired with almost any kind of dessert. 
#24 An Incredible Pearl Wedding Cake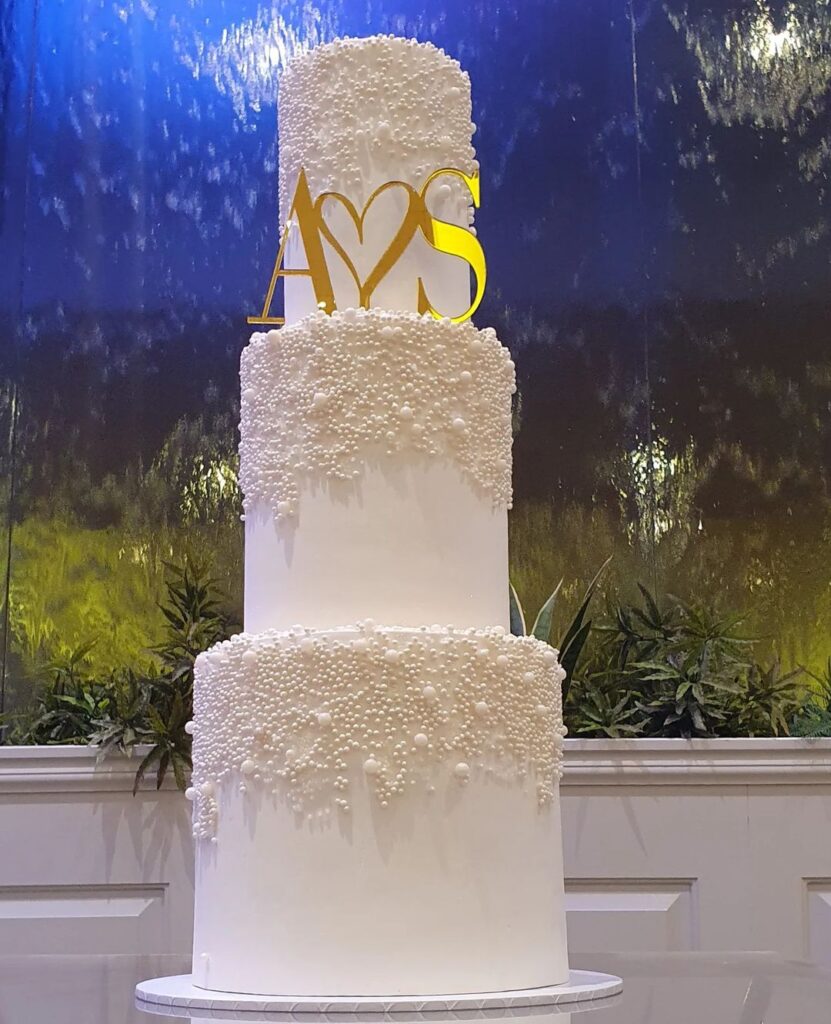 Courtesy: La Reem Cakes
The grandeur of this pearl wedding cake is unmissable! It only uses pearls on the upper portion of the rim with the initials used as a topper for the cake. When you opt for a taller cake like this, it's always a good idea to put your cake topper on the lower side so everyone is able to see it! 
#25 White Blooms On White Cake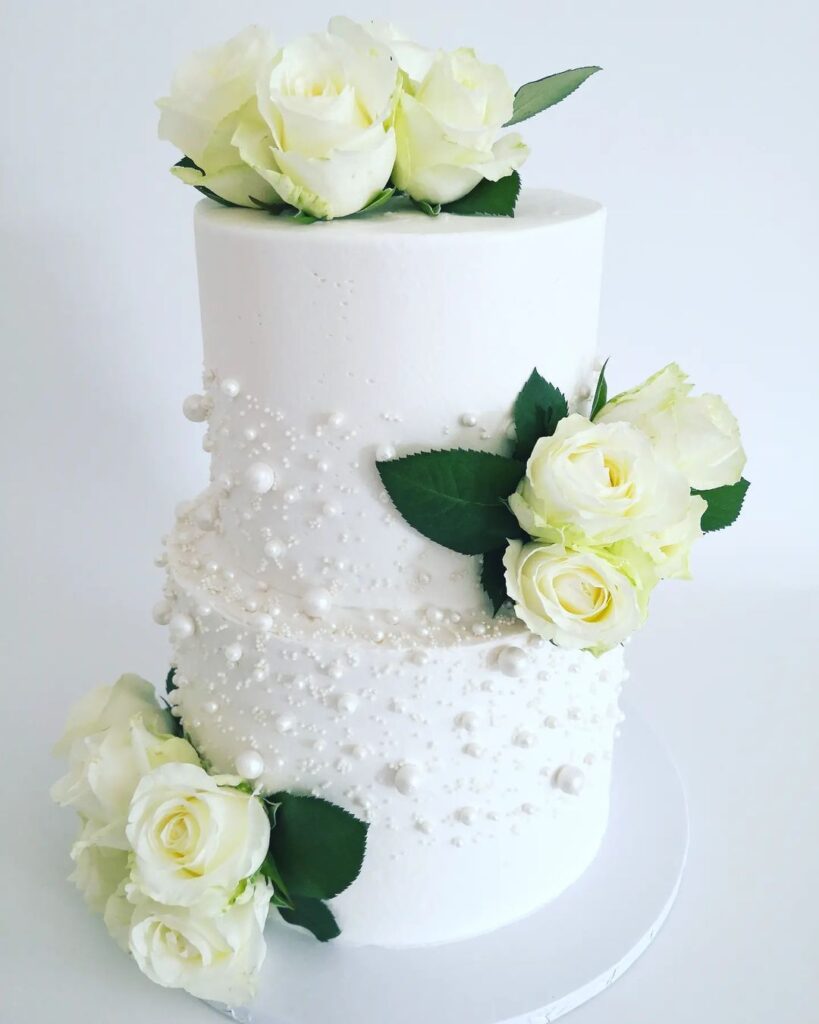 Courtesy: Najia Davids
We absolutely love how this pearl wedding cake is adorned with white florals which are subtly green so as to nod to the lush foliage without compromising the white palette of the design. 
#26 A Splendid Pearl & Lace Wedding Cake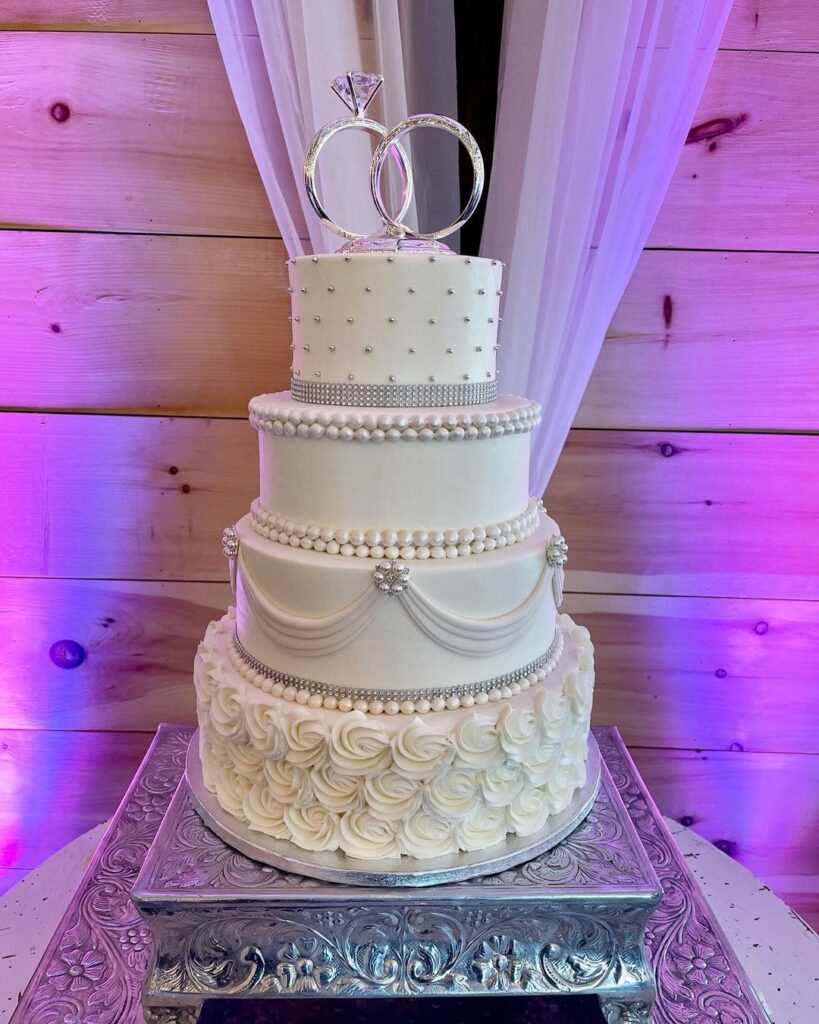 Courtesy: @acunacustomcakes
With such neatly-done decorations, you'd definitely need to trust an expert baker who is immaculate with her creations to recreate this gem of a wedding cake design. This pearl wedding cake can be customized for a 30th wedding anniversary celebration as well. 
#27 Floral Love!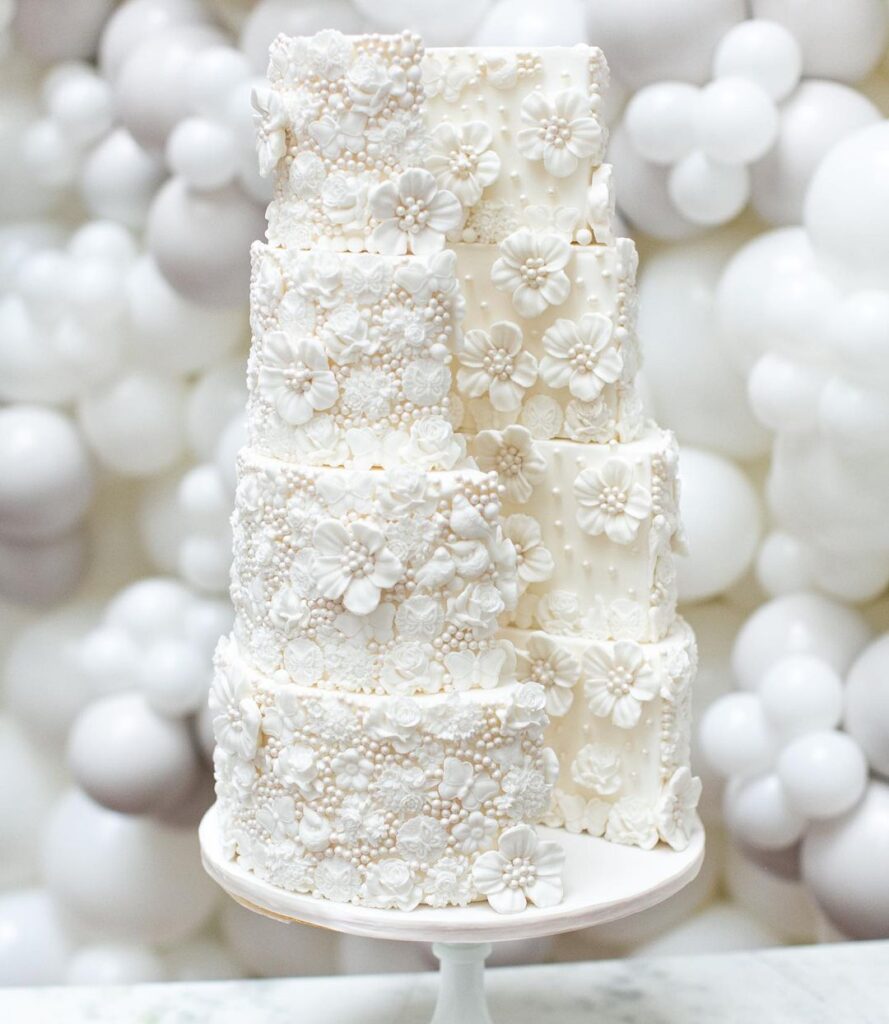 Courtesy: @elizabethscakeemporium
Our love for florals is never-ending and if that's you as well, then we'd recommend you consider this cake design for your wedding day! Just know that florals created using edible piping require more intricacy and work and a wedding cake created with them will be charged higher than the ones done with fresh flowers. 
#28 A Pearl Wedding Cake With Flowers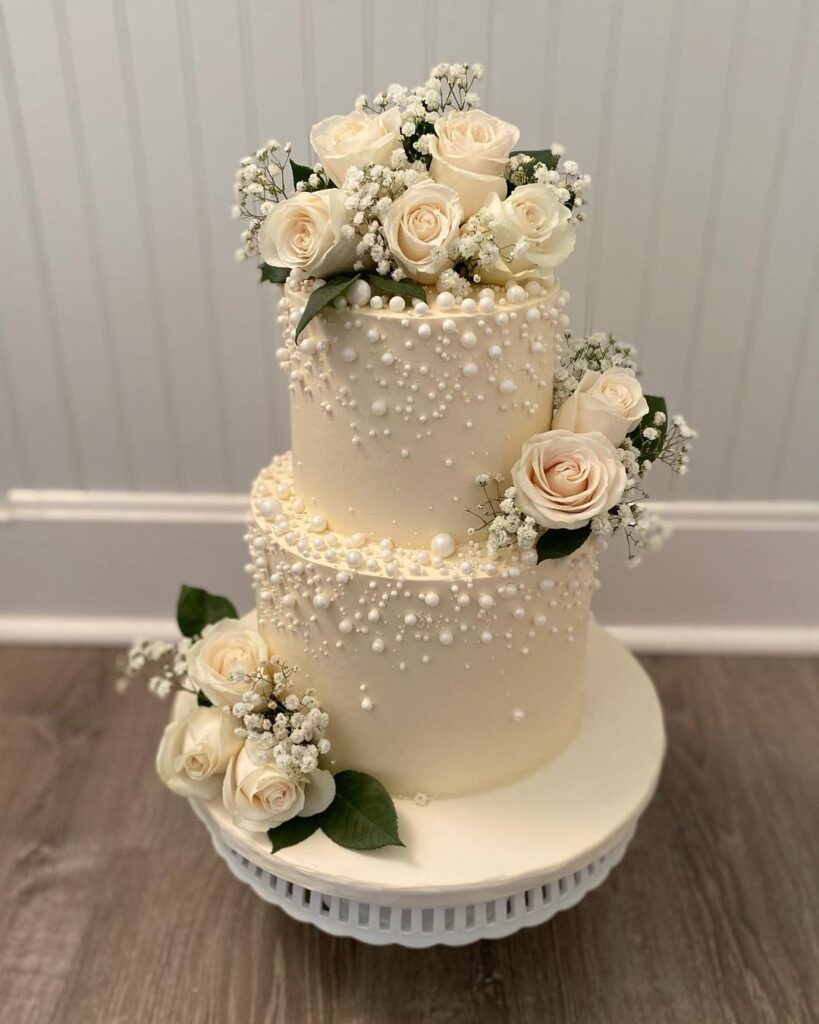 Courtesy: Brown Butter Bakeshoppe
Fresh, blossoming florals adorn the top tier of the cake, rendering a cake topper a futile addition, but also makes its way to the bottom tiers in a subtle manner. Edible pearls for wedding cakes are also smartly arranged for a visually-appealing design that will look just stunning when it enters the reception venue. 
#29 Just A Touch Of Red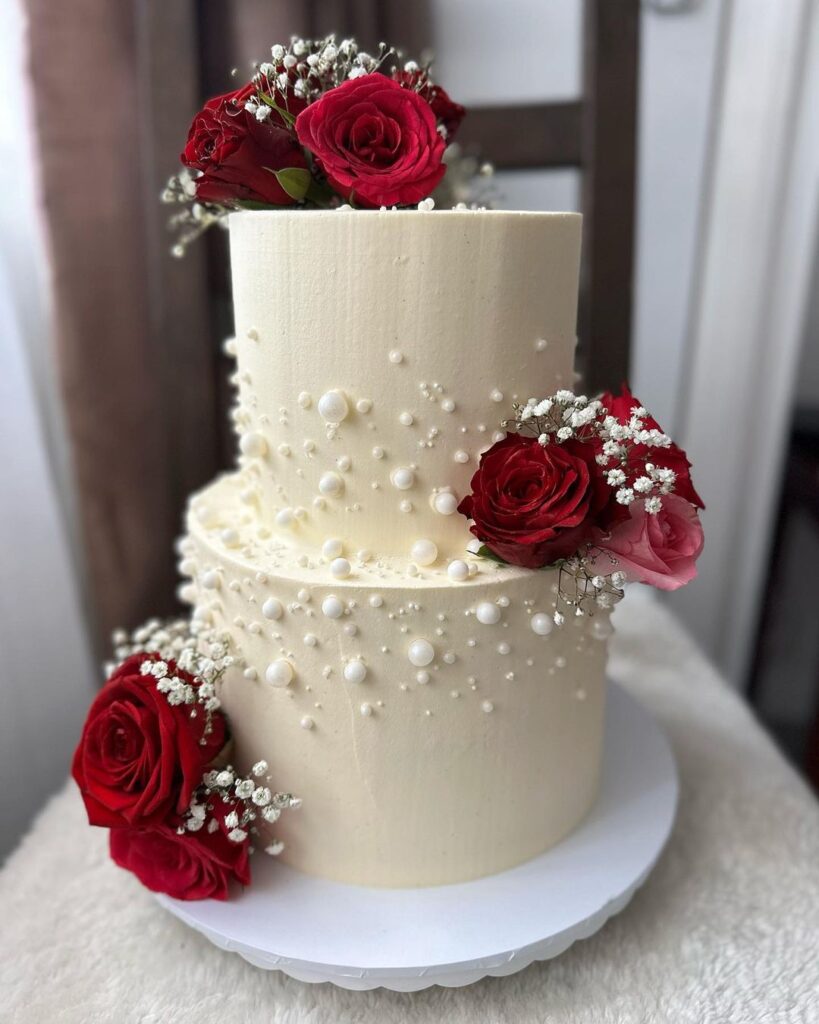 Courtesy: Cotton & Creme
It just seems right to include red roses on the most romantic and memorable day of your life. Red roses are a symbol of love since time immemorial and there's nothing that would add romance to your celebration as much as red roses used to elevate the look of any of the wedding reception elements, including the cake. 
#30 All Pearls, Everything!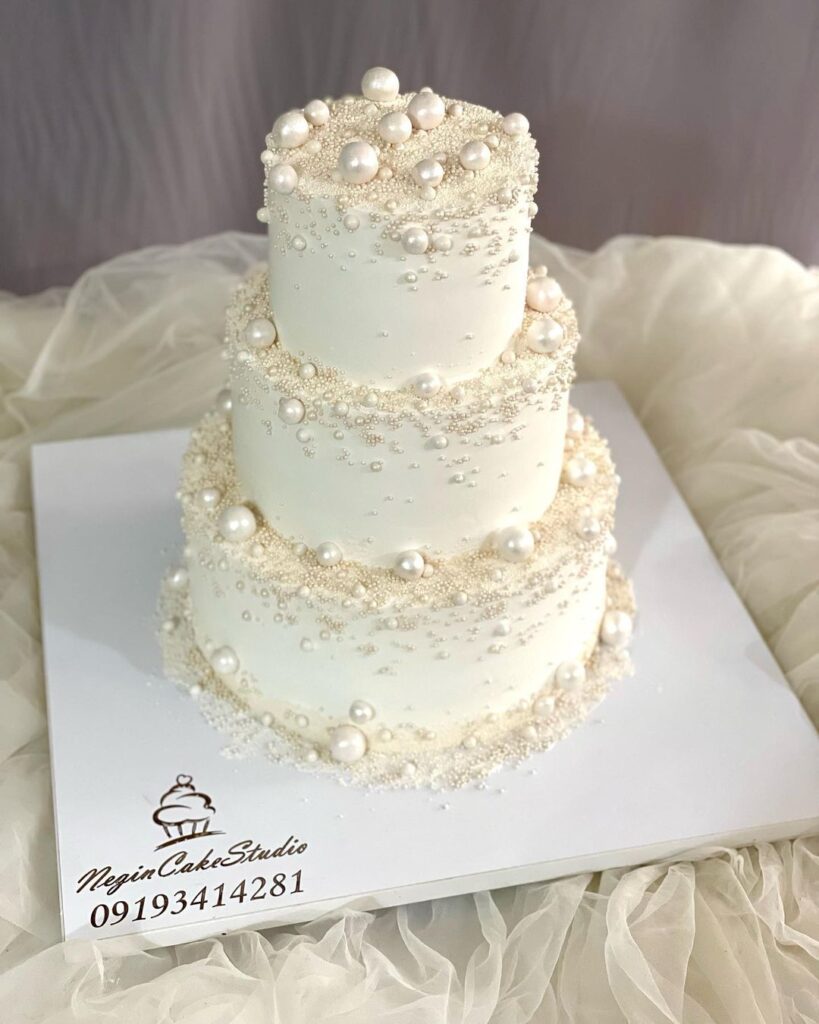 Courtesy: @negin_cake_studio
There's no such thing as too many pearls and this cake stands as proof of it. We love how varying sizes of pearls just bedecks the rims of all tiers and also sit on the top to give us an ingenious design as inspiration. 
#31 Three-Tiered Goodness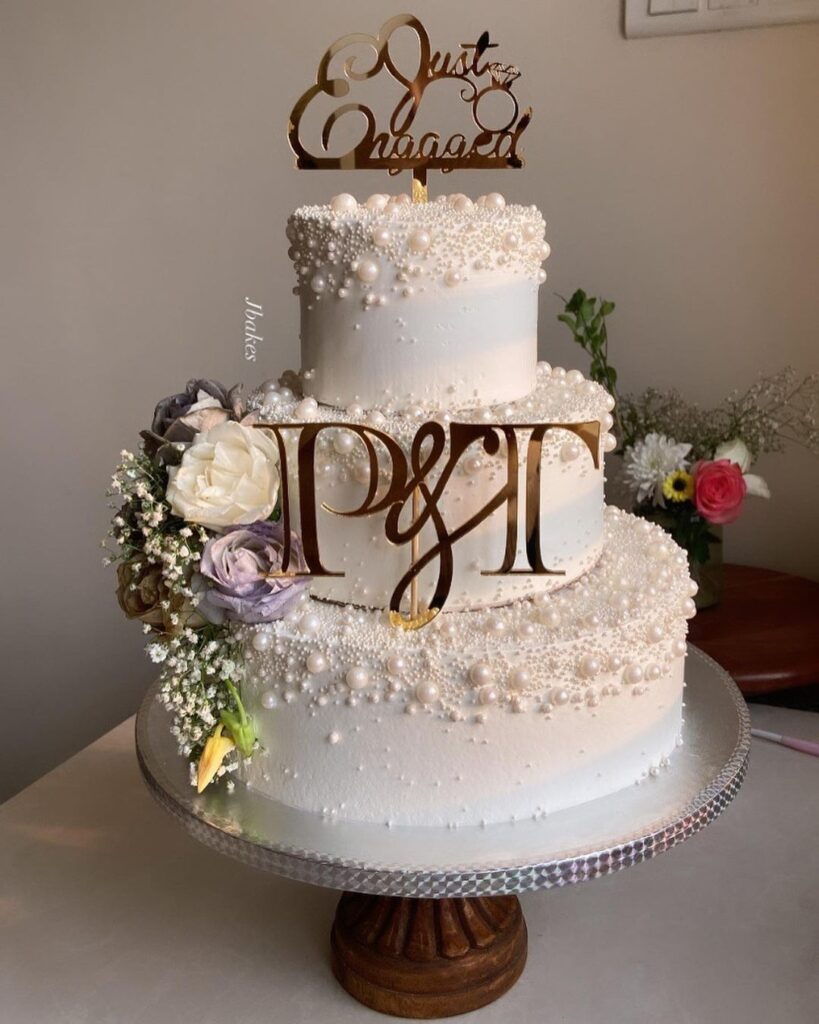 Courtesy: @jbakes_j
This three-tiered goodness is for an engagement, but you can totally make some variations to make it a pearl wedding cake. The colorful florals and greenery add some vibrancy, but you can choose only white blooms if a pristine cake is on your mind. 
#32 Such A Gorgeous Wedding Cake With Pearls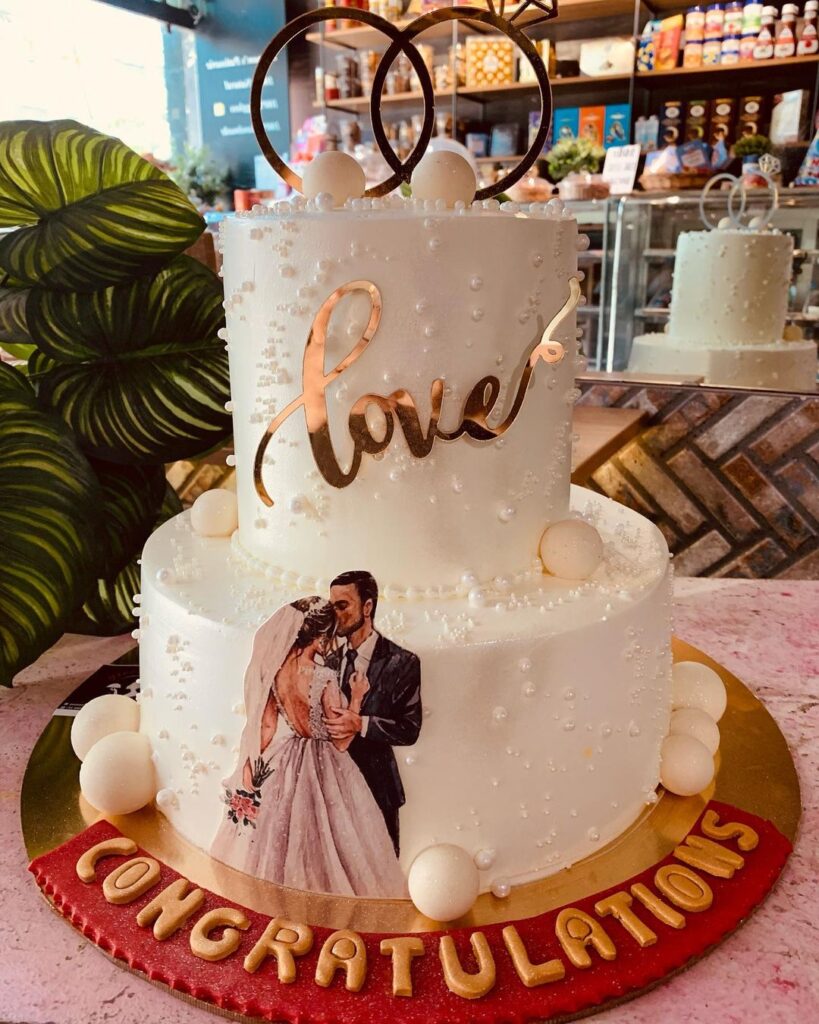 Courtesy: Poonam's Patisserie
To play with the adornments and make your cake look much more majestic, you can add a cut-out of an animated wedding image to it! But to personalize, you can also add an engagement shoot picture to the cake and of course, embellish it with pearls for a complete look. 
#33 Cascading Flowers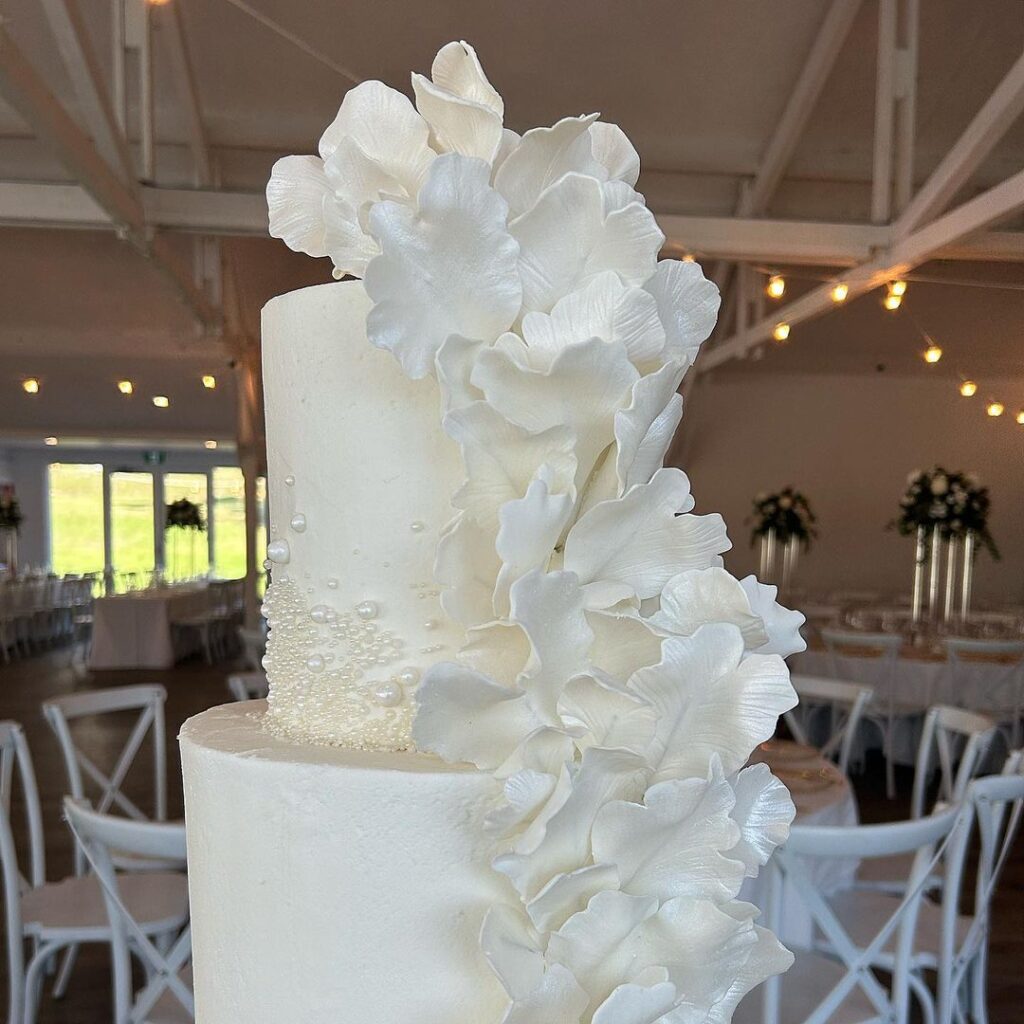 Courtesy: @cakesoncollins
Cascading flowers on a wedding cake but make them sugary! These artificial florals are eye-pleasing – sure! – but they can also cost more than the fresh blooms because of the extra work they require. Just be mindful this isn't for someone who is looking to budget their financials by saving on the cake! 
#34 Rustic Pink Blooms For A Rustic Celebration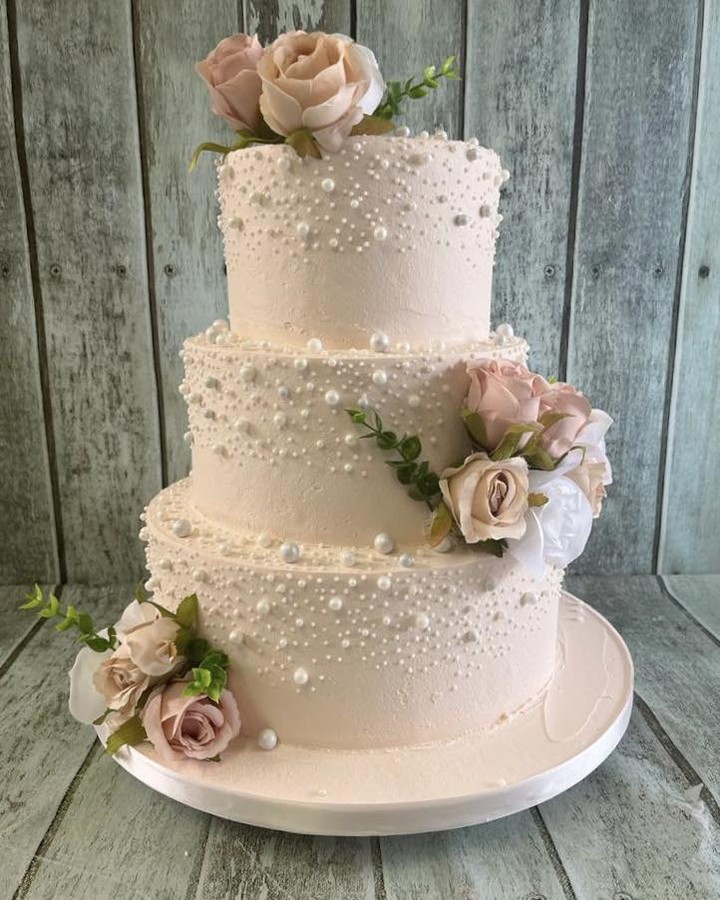 Courtesy: Amazing Cakes
If the cozy, casual vibes of a rustic wedding have impressed you, then you should know that a rustic celebration needs everything themed around the setting to evoke the same vibes. We're leaving with the inspiration for the cake below and you can see more rustic wedding ideas on the linked blog. 
#35 Blush Pink All The Way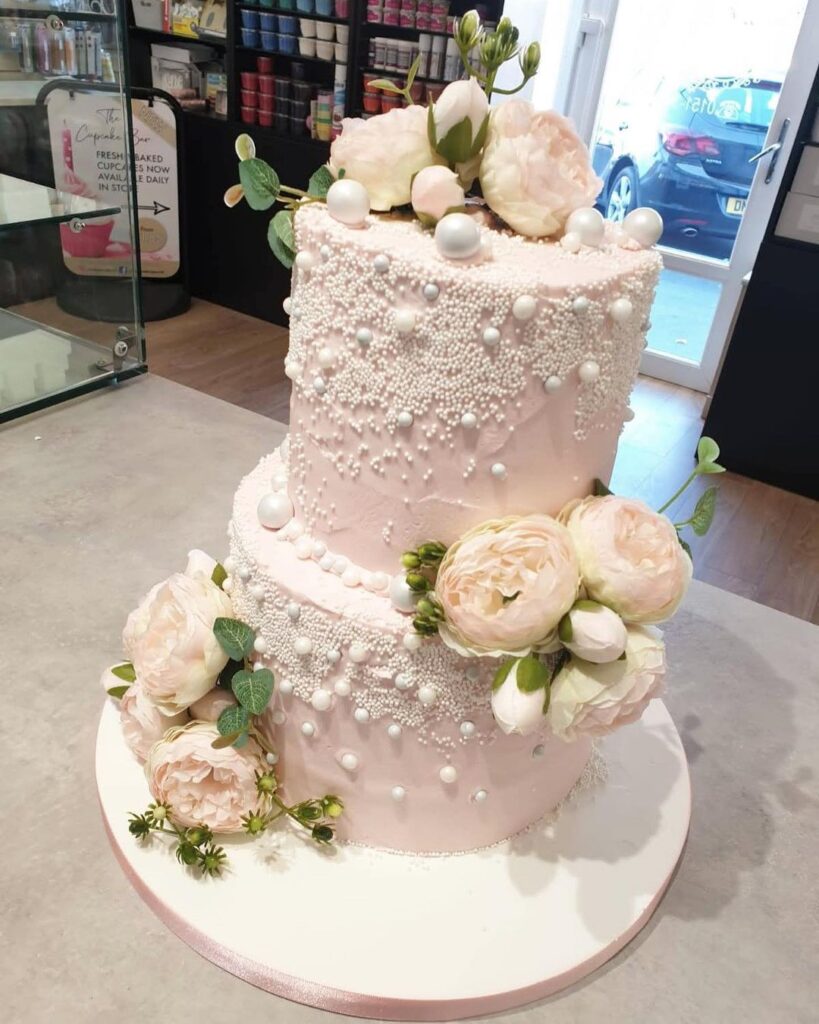 Courtesy: @createcake10
With a blush pink exterior and pearls adorning in clusters, we love how this cake doesn't shy away when using these gorgeous embellishments and still manages to make a statement. 
#36 A Textured Pearl Wedding Cake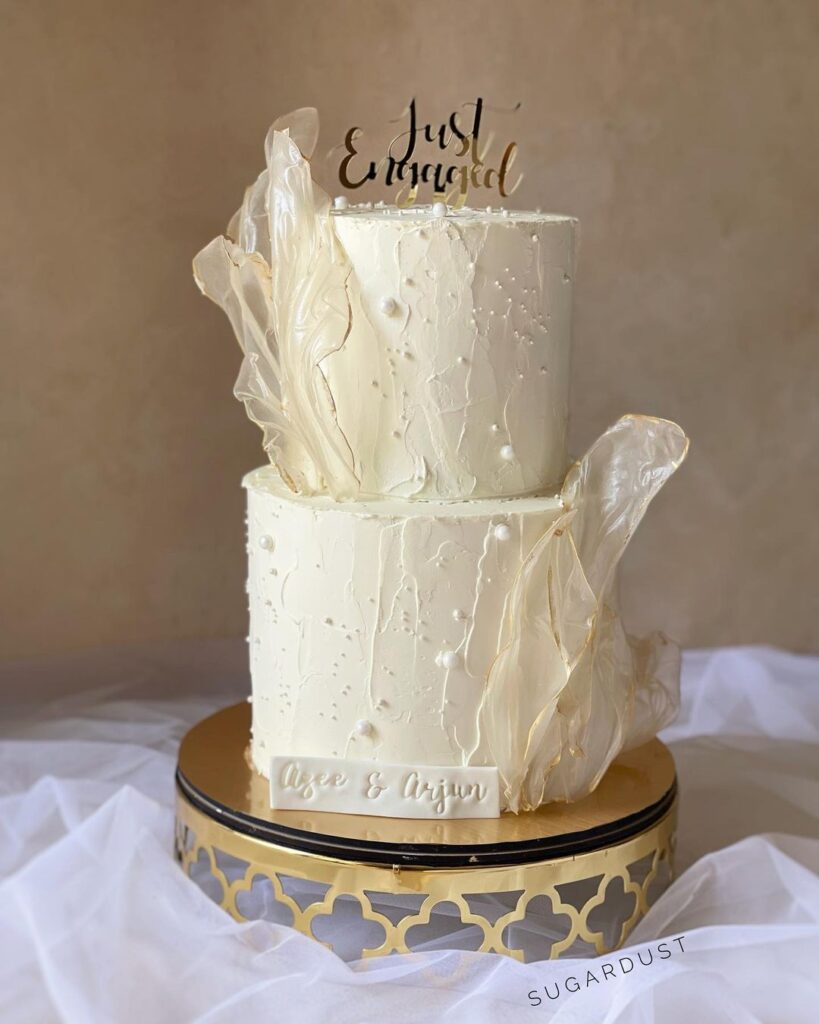 Courtesy: @sugardust.cupcakes
Textured wedding cakes are the "It" trend for wedding season 2023 and can make your pearl wedding cake stand out too! You can add textures with icing and it can be done many forms like lace, grid, or ridges – as shown in the picture below. 
#37 Hints Of Brown!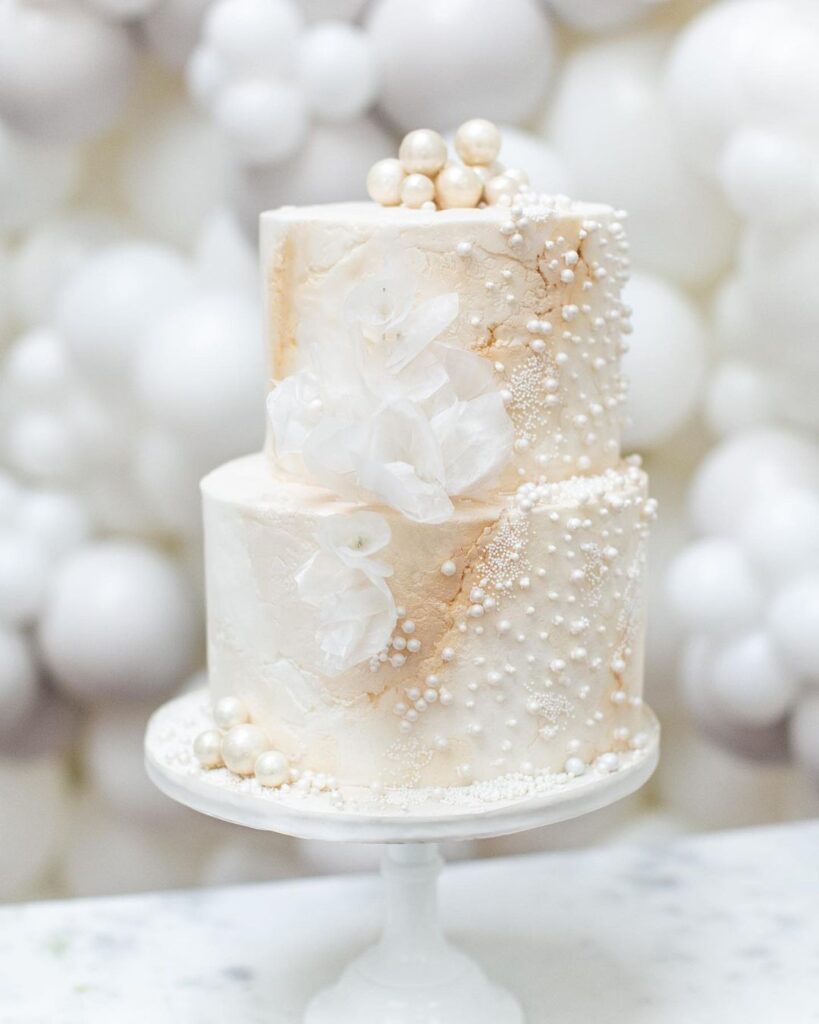 Courtesy: @elizabethscakeemporium
Brown might not seem like an obvious choice for accents on your cake, but here's a visual display of how graceful and aesthetic it can look. Not to forget, it's an unusual choice and will certainly make your cake the talk of the town after its debut. 
#38 Tall & Gorgeous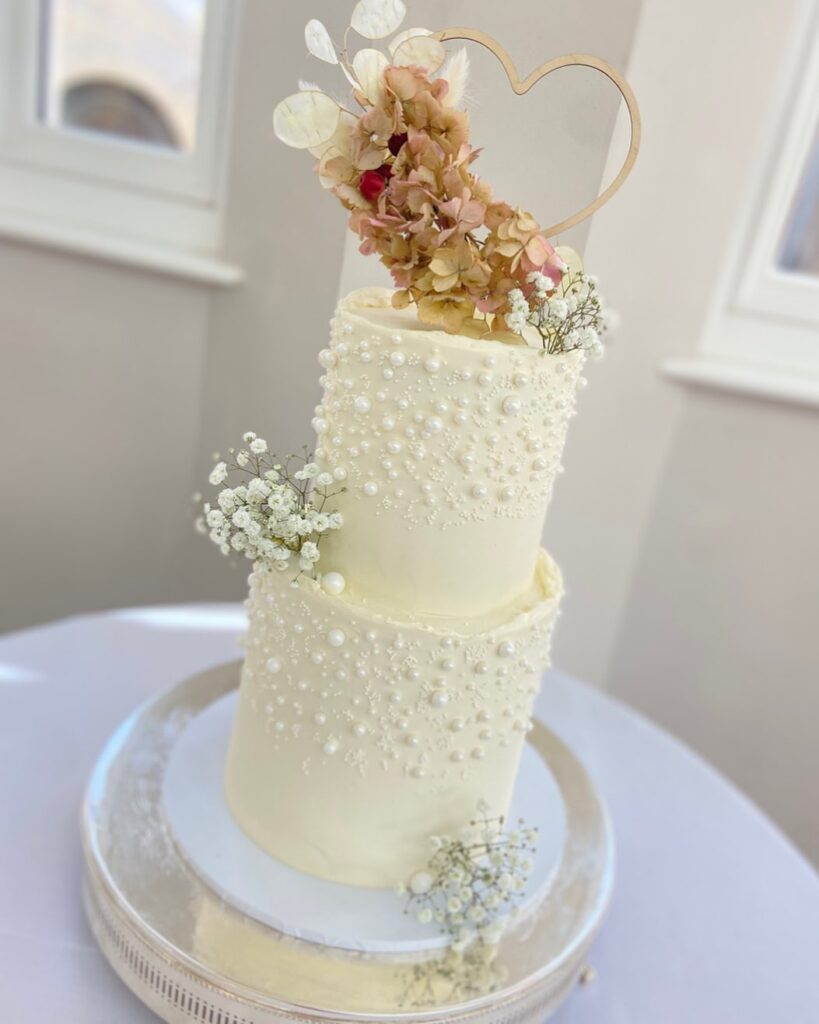 Courtesy: @loobys_kitchen
Skipping the blooming flowers completely, this cake uses baby's breath and artificial florals to adorn the cake and we love how it turned out! They also switched the topper for a heart but if a monogram or personalized topper is on your mind, a circular one can completely cut for the job here. 
#39 Wedding Cake With Edible Pearls & Personalized Topper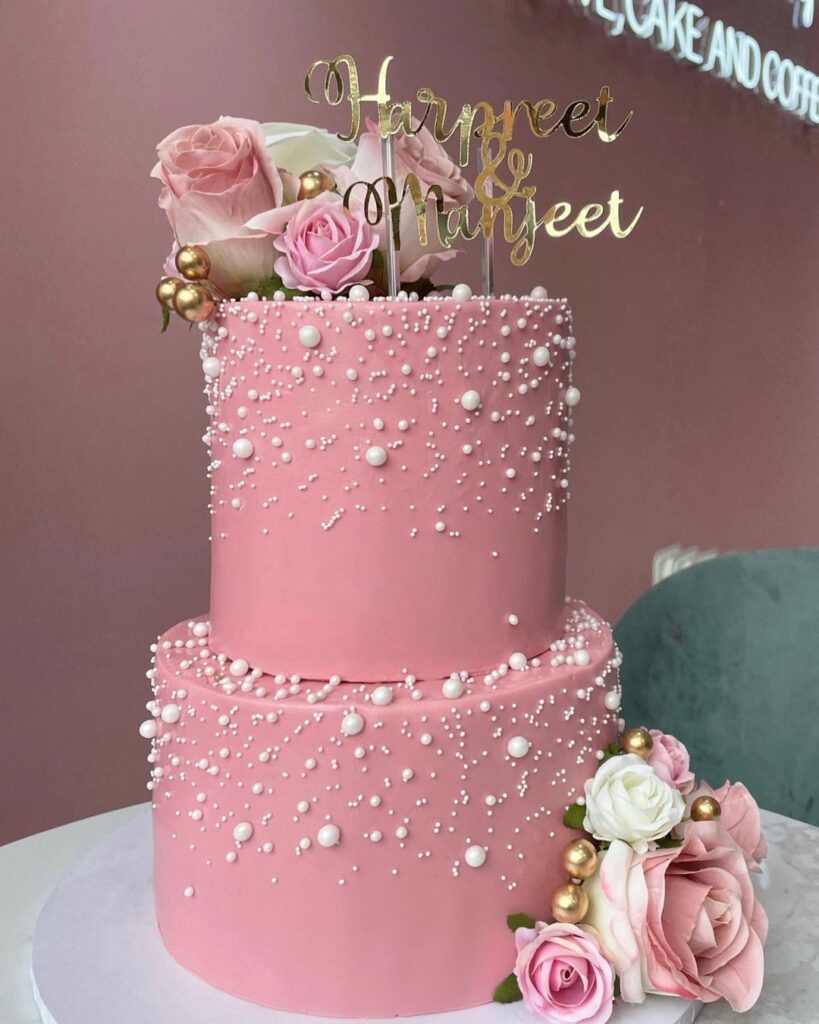 Courtesy: @littlebakersglasgow
We love how this couple went in completely pink with their cake and decorated it with pearls for a beautiful contrasting color combination. This idea can also serve well for those looking for pearl 30th wedding anniversary cakes. 
#40 Channel Romance & Elegance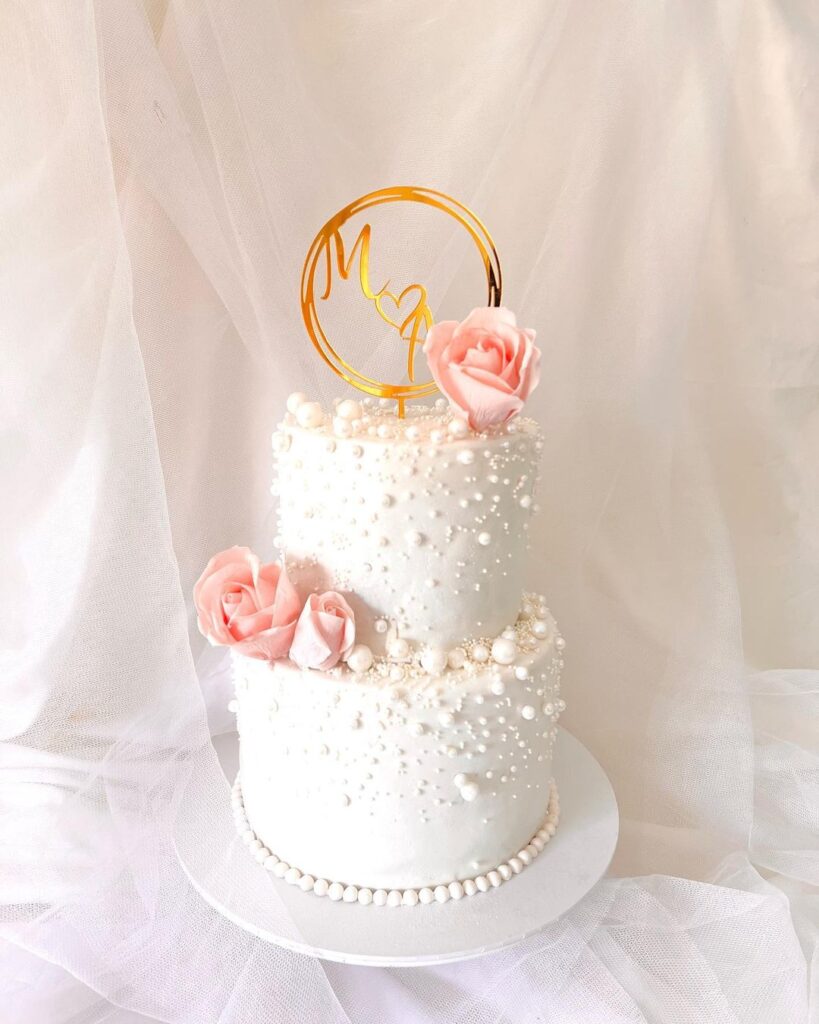 Courtesy: Zameela Rauf
With edible pearls for wedding cake lining the base and varying sizes beautifying the entire exterior, we love how the cake turned out to be all elegant and romantic. We especially love the roses and the golden monogram added as a topper.  
#41 A Stunning Pearl & Lace Wedding Cake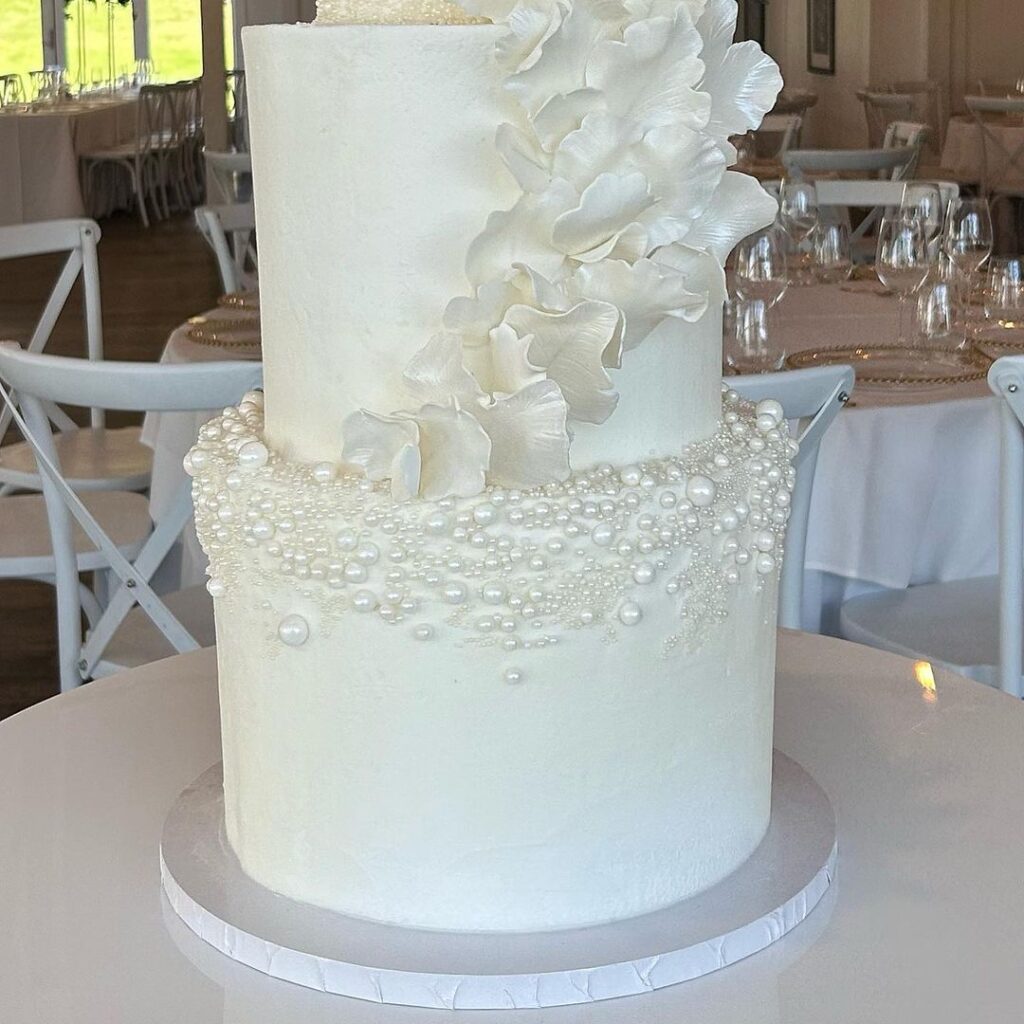 Courtesy: Cakes on Collins
Keep things classic and elegant with sugar flowers and pearls on the rim for a graceful yet eye-pleasing look. Inside, you can opt for any cake flavor suitable for your guests, and goes with the ongoing season. 
#42 Sumptuous Yet Elegant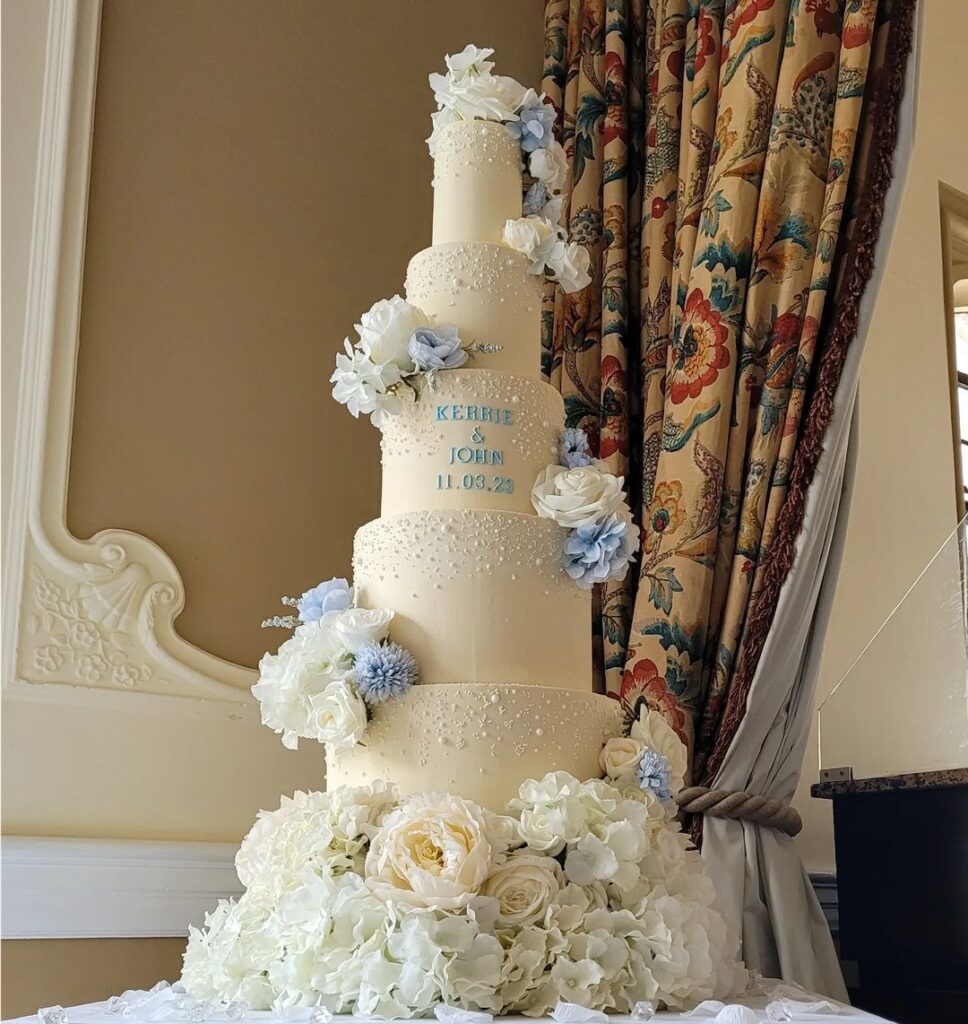 Courtesy: R & R Cakes Birmingham
Add your "something blue" to the wedding cake itself by opting for such beautiful blue accents in the form of florals and writing. You can totally create a smaller version of this dessert if an opulent one doesn't match the theme of your special day. 
#43 Blooms Enhancing A Simple Pearl Cake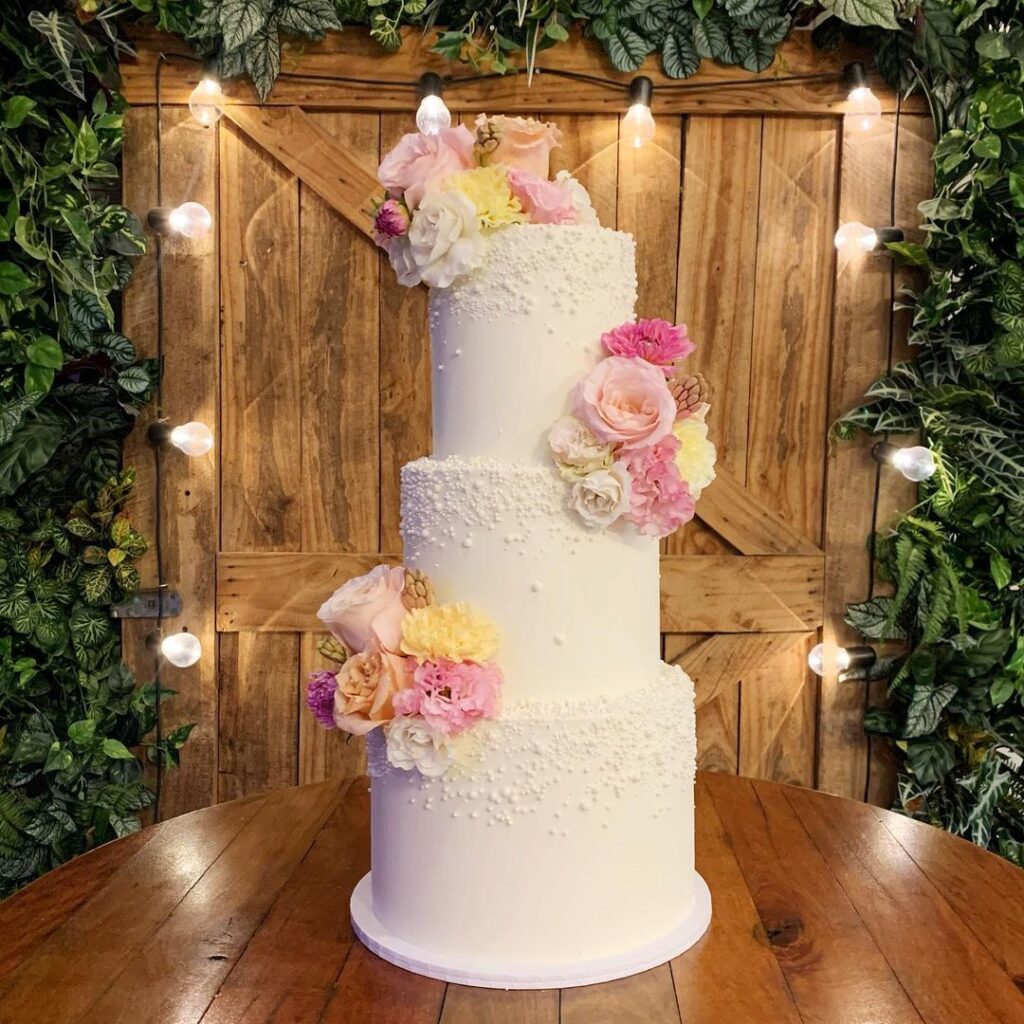 Courtesy: @twolittlebakers
Haven't we found just the perfect wedding cake for your rustic-themed celebration? The cake has tall, wide tiers and is decorated with fresh flowers and pearls just on the rims. We love how neatly it is done so as to not compromise with the visual appeal of the main dessert.   
#44 Minimalistic Elegance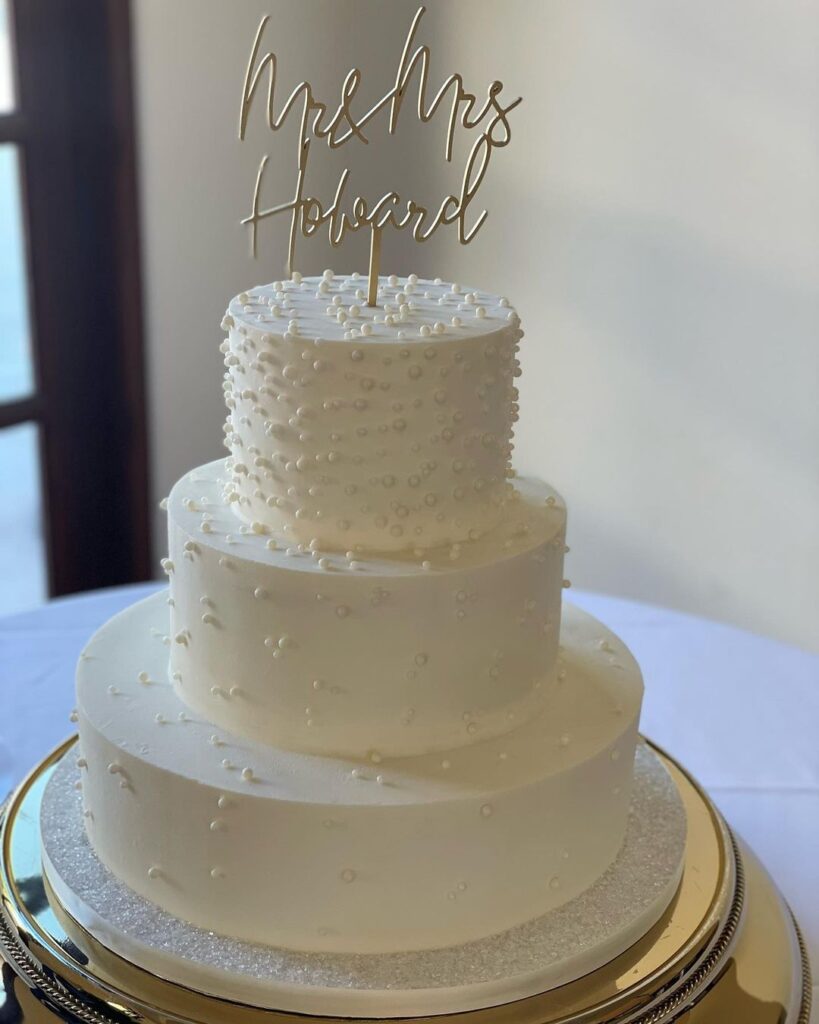 Courtesy: @pieceofcakeaz
There's another reason why pearls are a smart choice to adorn your cake. They are cheaper and don't require much work. So even if you plan to DIY the wedding cake, you can simply buy edible pearls and use them to decorate the cake. 
#45 Just Pearls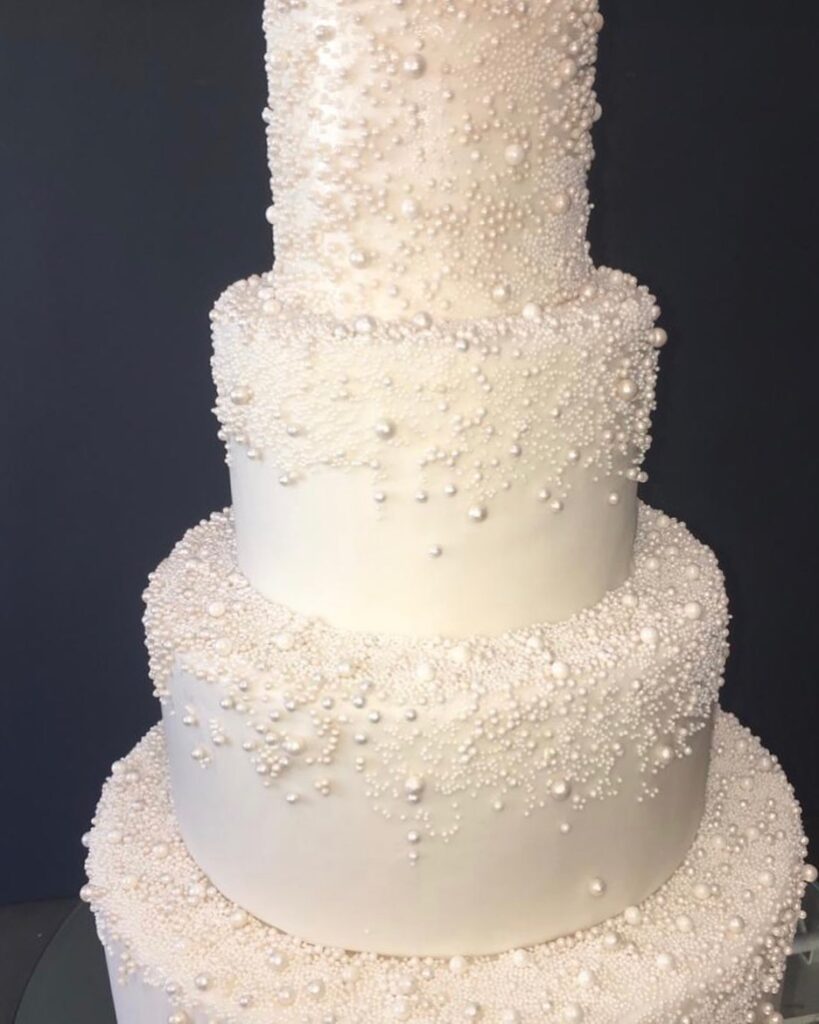 Courtesy: @cabocakery
If you've been convinced with pearls are the best of the best embellishments for your wedding cake and want to go all in, surely go for the next design on the list. It's laden with pearls and makes for a jaw-dropping statement in all-white! 
#46 The Goodness Of Gold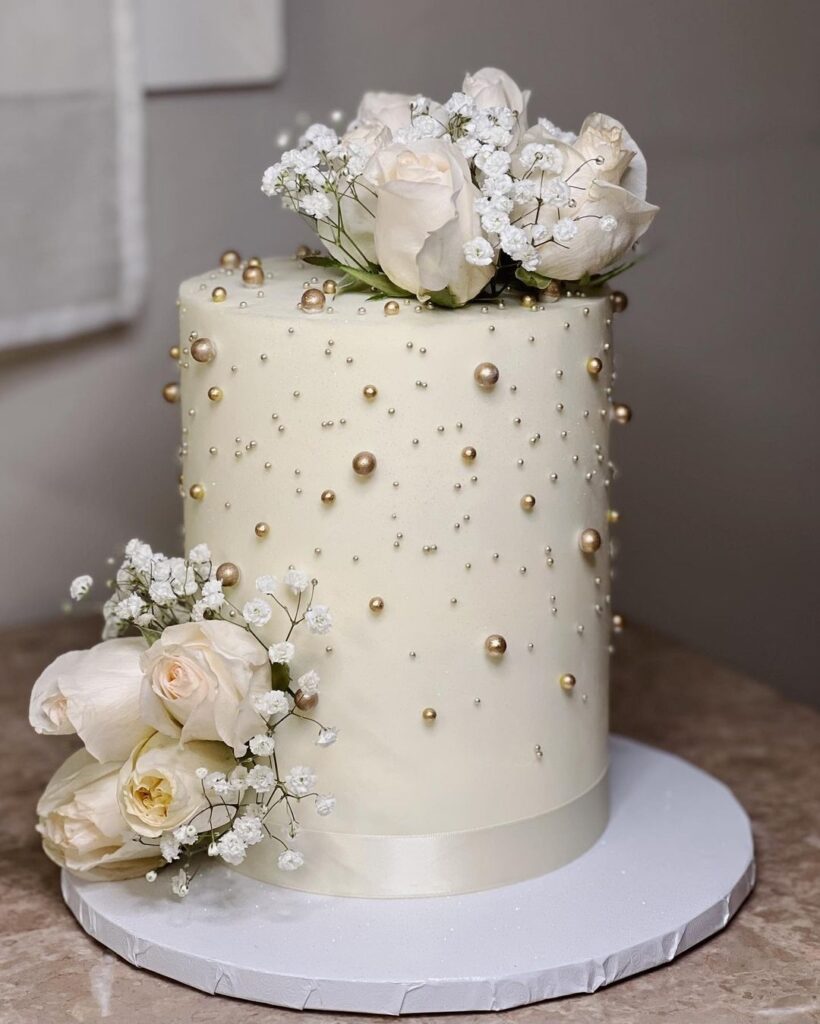 Courtesy: @dinasdelights
Why opt for only white pearls when you also have the option of golden? A single-tiered cake is ideal for a small wedding and couples who'd want to serve other desserts besides the cake to their guests! It's also an economical option for budget-savvy brides. 
#47 White With Gold Accents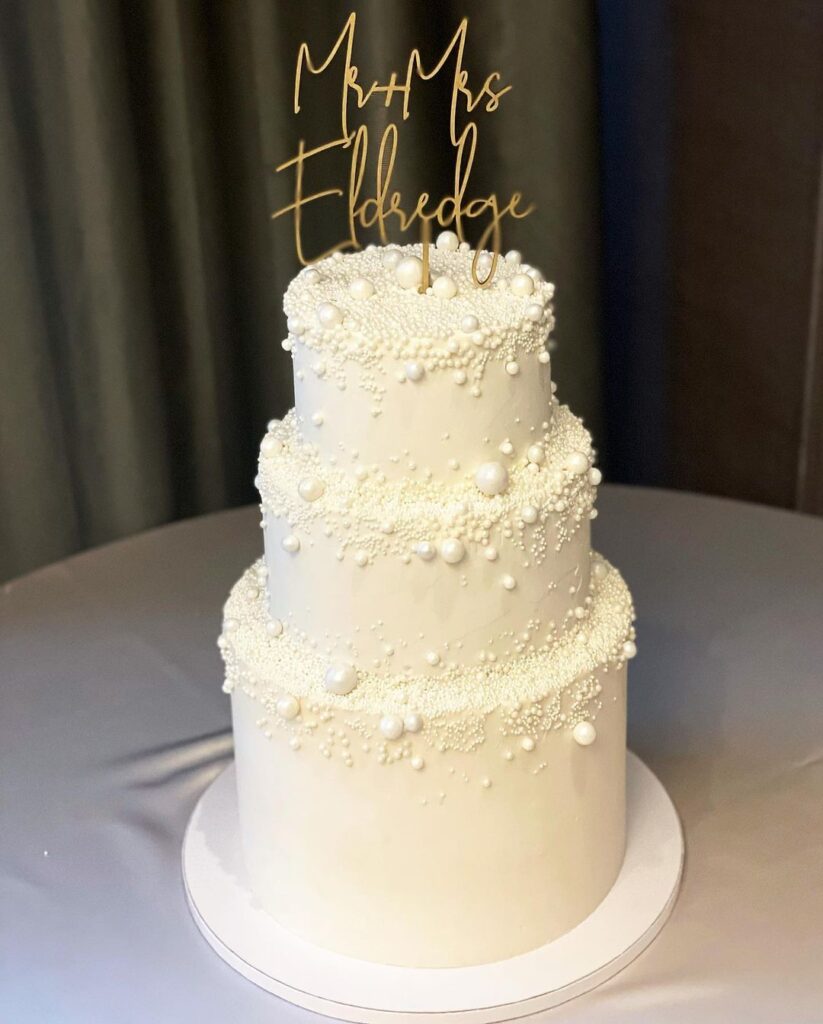 Courtesy: Paints & Pans
There's nothing like a pristine white wedding cake making an appearance at your reception with just a golden topper to give it some personalization. This is just an amazing idea for those who need a simple wedding pearl cake with minimal adornments. 
#48 Towering High With Fresh Blooms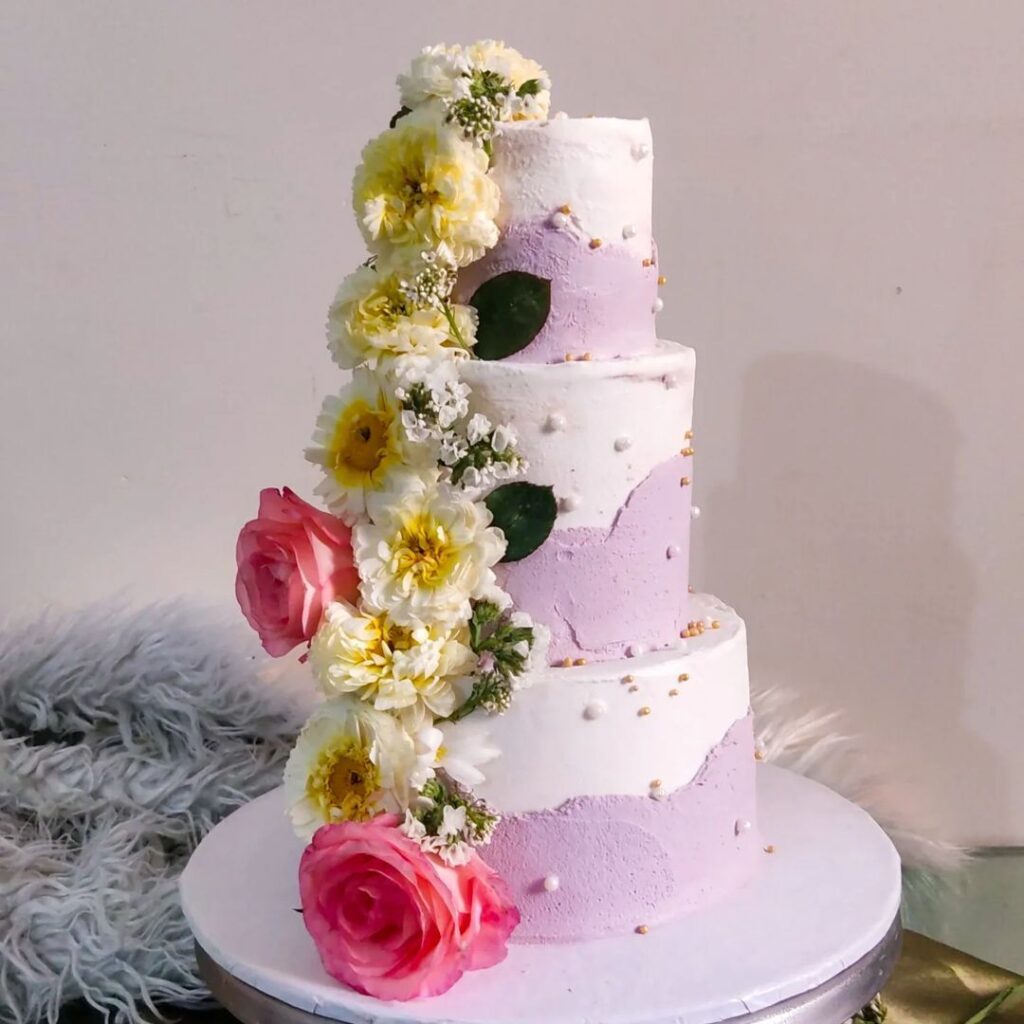 Courtesy: Bakes N Drips
Don't be afraid to try colors in your pearl wedding cake, especially if you're tying the knot in spring and having a scenic outdoor wedding! This pretty dessert lies with a lavender-white hue on the exterior and is further adorned by fresh flowers and greenery for a stunning display. 
#49 Decorated With Pearls On The Rims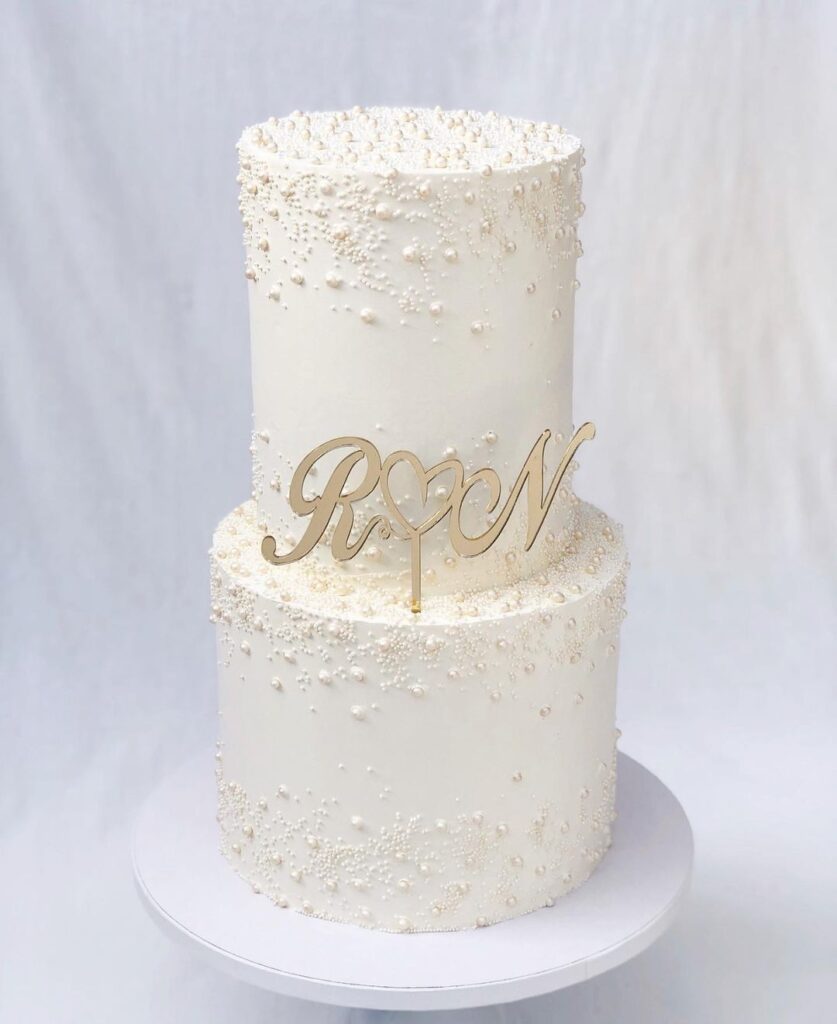 Courtesy: Cakes by Karin
One way to tie the elements of your wedding together is to match your cake to your dress. So if your wedding dress has pearl embellishments, it's a good idea to also elevate your cake's exterior with pearls. You can also include pearl decor in the area for further harmony in your entire celebration. 
#50 Cream Colored Cake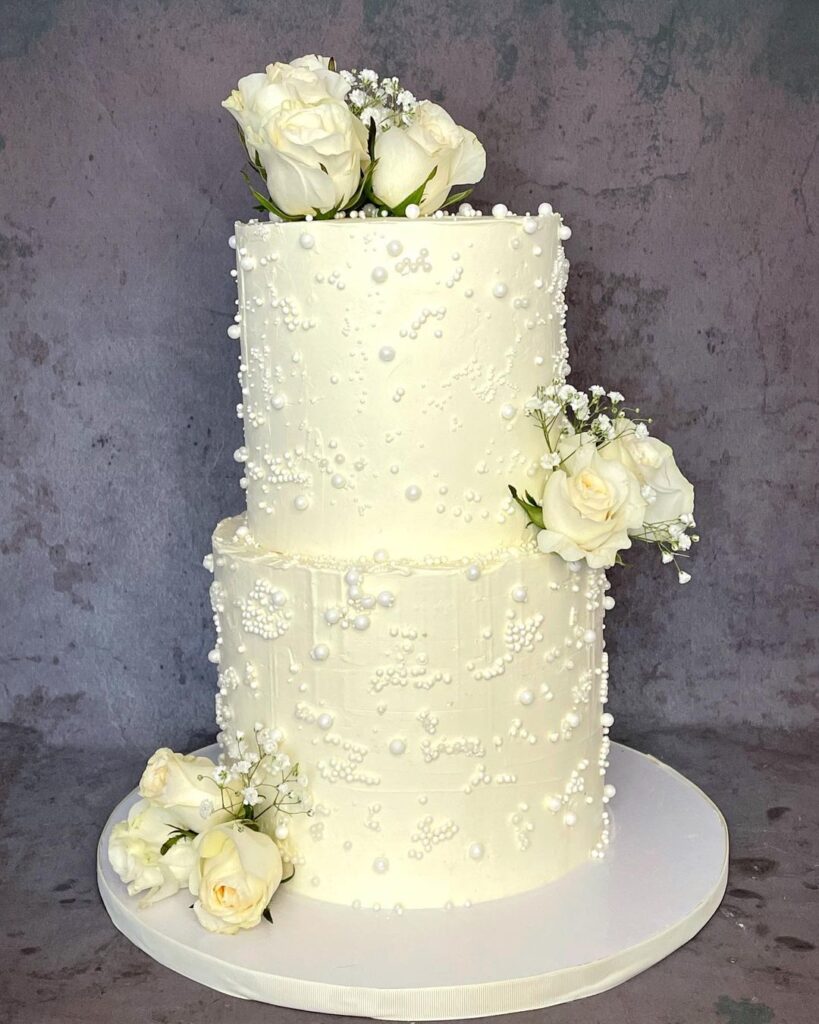 Courtesy: @bostonartcakes
Besides white, cream is also a traditional wedding cake color and is often present in a tinted form in many royal wedding cakes like that of Prince William & Kate Middleton. If you want to experiment with the color and the pearl embellishments, here's an idea to draw inspiration from! 
#51 Perfect For 30th Pearl Wedding Anniversary Cake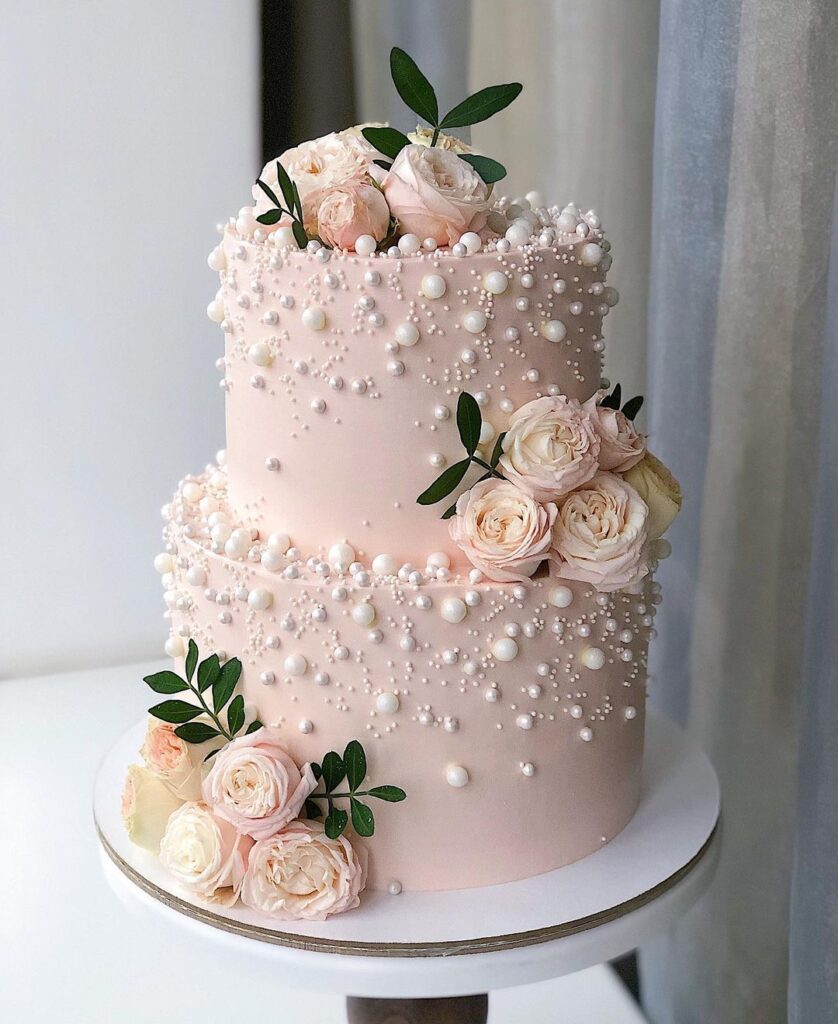 Courtesy: @kasadelika
Make your blush wedding cake more interesting by adding tons of pearls in different sizes across the rim of the tiers and leaving the middle portion almost bare. Further bedecked with pink flowers and just a hint of greenery, this 30th pearl wedding cake design will automatically become the center of attention at any event. 
#53 Muted Colors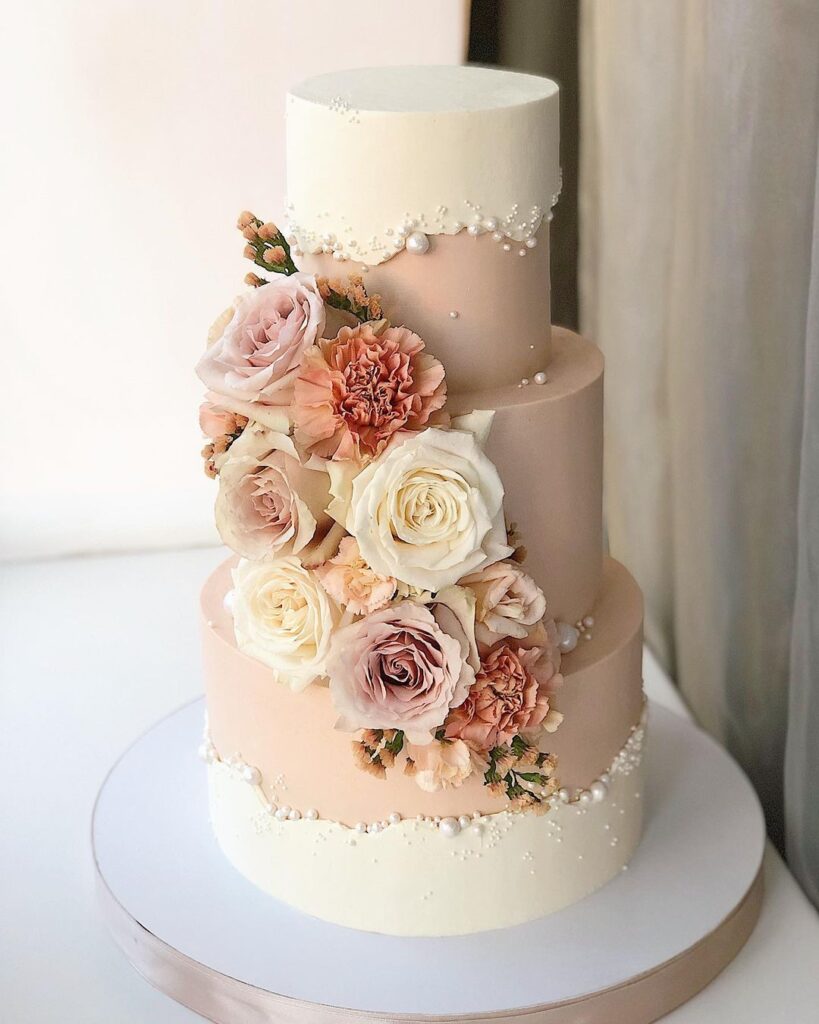 Courtesy: @kasadelika
Cascading florals in muted colors and rustic pink in the middle with white on the ends make this cake utterly gorgeous to stare at! Pearls form the disorderly line which separates the color and are also distributed randomly but minimalistically for a fancy look. 
#54 Hints Of Pink Pearl Wedding Cake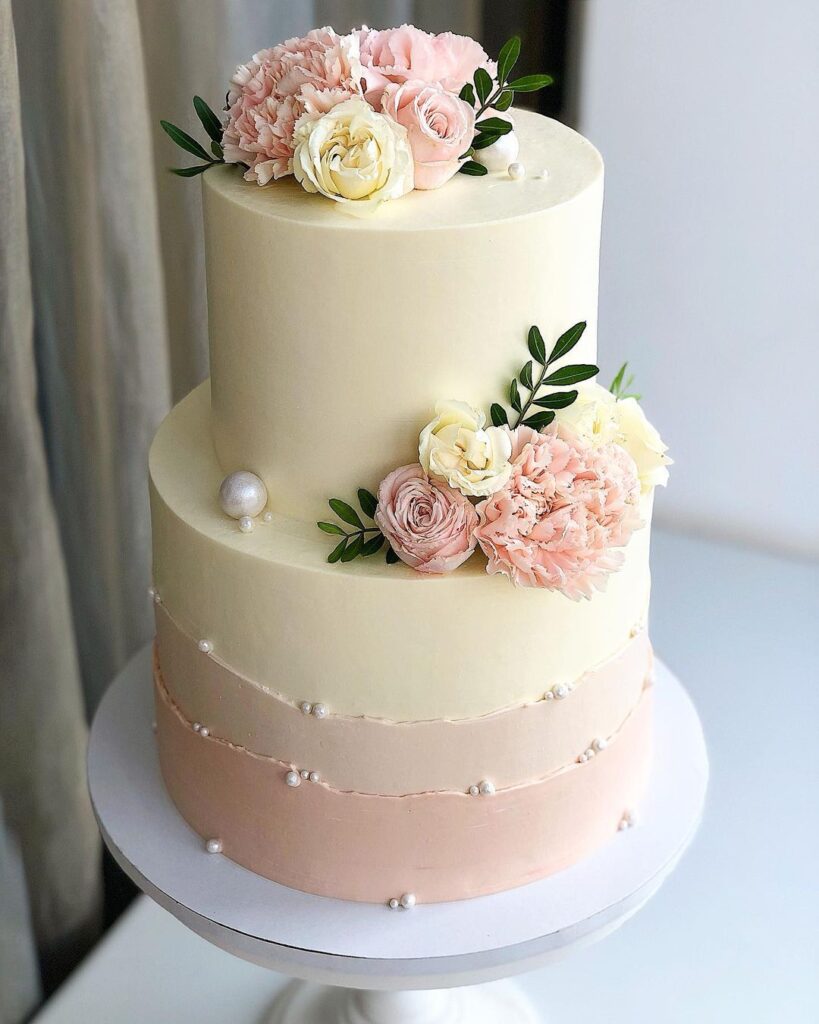 Courtesy: @kasadelika
When you're looking to add color to your cake with pearls, pink seems like the best and the most popular option. Why? Because the color screams romance and also complements the white hue well without overpowering it. Here, the pearl wedding cake is done in different shades of pink for a romantic look. 
#55 A Simple Pearl Cake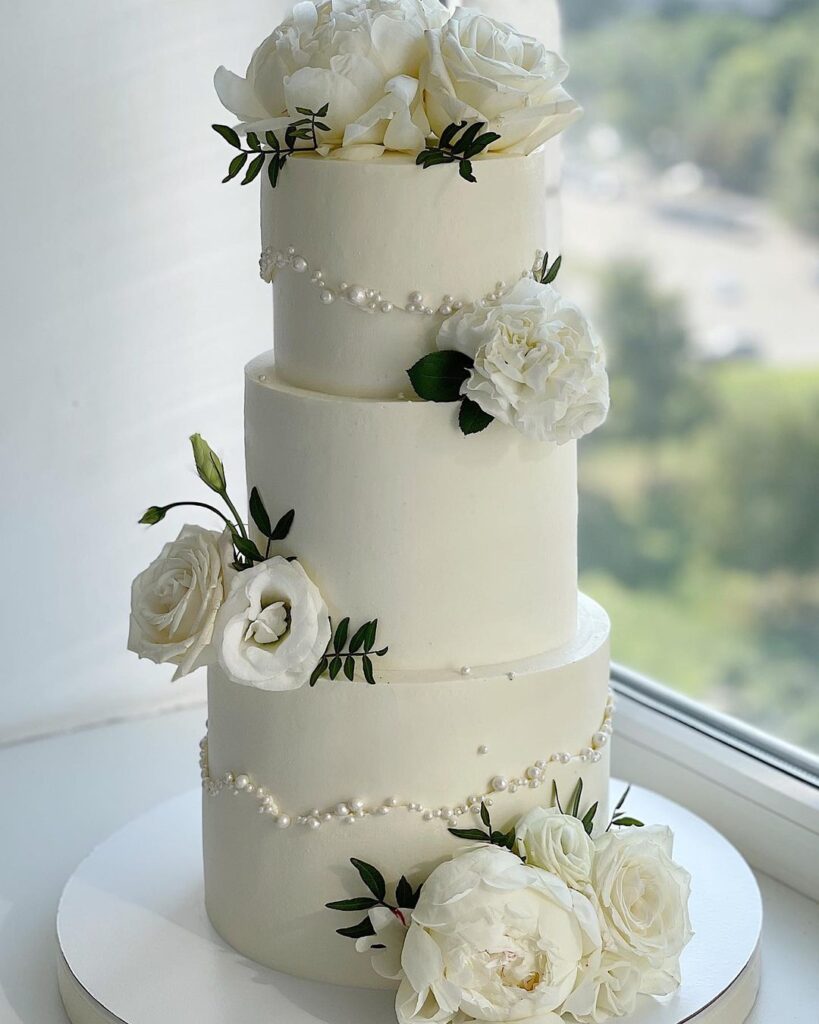 Courtesy: @kasadelika
For an edgier, simple cake, use pearls just as a line to decorate the tiers of the cake and let the rest of it be bare. Adding white flowers and greenery helps to enhance the dessert's beauty without going overboard with the decorations.
Wedding Cakes FAQs 
How Much Does A Wedding Cake Cost?
An average wedding cake in the US costs around $350. On the lower end, couples spend around $150, and on the higher end, couples spend as much as $1000 on their wedding cake. Here are some of the factors which can affect the pricing of your wedding cake. 
#1 Size Of The Cake:
The size of the cake, mainly the circumference and the number of tiers, is a significant determinant of the cost of the cake. The larger the cake, the more the number of ingredients, the more time required, and the more care it will require throughout the process driving up the cost. 
#2 Ingredients:
The choice & quality of the ingredients can affect the cost as well. If you choose readily-available ingredients and flavors like buttercream or vanilla, then the cost might be lower, but if you want specific ingredients like fresh exotic fruits or chocolate from a particular location, then the cost can quickly increase. Dietary requirements like vegan or gluten-free cakes can also impact the cost. 
#3 Design:
If you choose an intricate design with complex decorations, it may increase the price too. Fondant coverings, intricate sugar work, edible gold or silver accents, or hand-painted details require additional time and expertise, but simple floral work doesn't require much work and can reduce the overall price of your wedding cake. 
#4 Frosting:
The type of frosting you choose also adds to the cost of your wedding cake. If you choose a larger cake, then the frosting cost automatically goes up. Other factors which affect the frosting's cost are the ingredients used. That's why many bakers recommend buttercream frosting instead of fondant as the latter often costs more.  
#5 Season & Location:
Wedding cake costs can also be influenced by the time of the year as some ingredients become scarce during particular seasons. For example, if you want fresh berries flavor during winter, then the cost may be higher. Higher demand during peak wedding season or in metropolitan areas also affects the costs. 
#6 Expertise:
When you're paying for wedding cakes or any other creative vendor for your wedding, you're actually paying for the expertise of the vendor rather than the time it takes for them to make the cake. The more creative, influential, and better-rated vendor you'll choose, the more you will have to pay for the wedding cake. 
#7 Delivery & Setup:
If the cake needs to be delivered to the location and also needs to be set up, you will have to pay extra for transportation, time, and labor. Plus, if you have also added a customized cake topper, then it can contribute to the overall cost as well. 
How To Put Pearls On A Wedding Cake?
To put edible pearls on a wedding cake, here are the steps to follow:
Prepare The Cake:

Ensure the cake is done and all the tiers are assembled. It's easier to work with chilled cakes so you can refrigerate the tiers before assembling them and start working on the design immediately after taking them out of the freezer. 

Gather The Supplies:

Before you start applying pearls, you'd need a pair of tweezers and edible adhesive as well. Adhesives are important since pearls are small and need to stay in place so the design of the cake remains intact. 

Be Very Careful:

Using the brush or food-safe tweezers, carefully pick up a pearl and gently press it onto the cake where you applied the adhesive. Hold it in place for a few seconds to ensure it adheres properly. If you're using royal icing, prepare a small batch and use a fine piping tip or a small offset spatula to apply a small dot of icing where you want the pearl to be placed.

Create Patterns As Planned:

If you're using pearls for a specific design, it's likely that you'd have already planned the patterns. You can mark the placement of the pearls lightly with a toothpick before applying them.

Check For Consistency:

When you're applying the pearls, take a few breaks to check the pattern from a distance to see if everything is coming together like you wanted. Examine your cake from different angles to ensure the pearls are evenly spaced and aligned. Adjust as necessary.

Allow Some Time To Set:

Once all the pearls are in place, allow the cake to sit undisturbed for a little while to allow the adhesive to dry and set. This will help prevent any pearls from shifting or falling off.
Are The Pearls On A Wedding Cake Edible?
Yes! Pearls on all types of cakes are edible. Since they're tiny spheres that can potentially even go into the layers without being noticed, bakers don't take the risk of including artificial pearls on the cake. Edible pearls are often made in-house or can even be purchased online or from an offline vendor. These decorative elements are made of sugar or tapioca starch, which are both edible and can be safely eaten with servings.
Buy Edible Pearls For Wedding Cake Here. 
Which Flavor Of Cake Is Best For The Wedding? 
It totally depends upon you! With a white frosting on the outside, you can choose almost any wedding cake flavor for the bread and filling. The flavor can be a popular one like lemon, vanilla buttercream, chocolate, or red velvet, or it can be a traditional fruit cake. You can also choose flavor depending on the season. So, for example, a few great fall wedding cake flavors can be carrots with cream cheese, salted caramel, or chai tea. Similarly, summer cake flavors can be something refreshing like berries or fruit sangria and for winters, you can opt for chocolate matcha or gingerbread and eggnog. 
How To Cut Wedding Cake Costs? 
Here are some ways to cut down wedding cake costs:
#1 Simplify The Design
Any cake design that uses intricate and elaborate will have a higher cost than those with simpler lines and minimal decorations. Similarly, fresh floral details will be more cost-effective than sugar flowers and can still have a stunning visual impact. Ensure that the flowers are non-toxic and safe for food contact, and work with your florist to coordinate the floral arrangements. 
#2 Explore New Bakers In Town
The already-established bakers can charge a higher amount because of their popularity and customer satisfaction. But if you try a little harder, we're sure you can find a talented home baker who is just starting out and can offer competitive prices as compared to the larger establishments. 
#3 Choose Local Ingredients 
Local, fresh ingredients are always cheaper than those that have to be sourced from elsewhere. Sourcing from another country also adds to the import fees, which can further drive up the cost. And many expensive cakes are priced higher only because of this reason. For example, Prince Harry & Meghan Markle's lemon cake cost a whopping $70,000 USD because they imported 200 best of the best lemons from the Amalfi coast to create the cake flavoring. 
#4 Pick Simple Flavors  
Exotic or specialty flavors like authentic Belgian chocolate, hazelnut Chai, etc. can cost more than simpler ones that are local and seasonal like buttercream, lemon, vanilla, or carrot cheese cream (economical only in fall and winter). If you're confused so as to what cheaper flavors to choose, ask your vendor to guide you with the same.  
#5 DIY or Partial DIY The Cake
If you have some baking skills or have a friend who bakes yummy cakes, then DIY your wedding cake yourself. You don't have to do the frosting and decorations yourself though! You can choose to have a professional do the intricate design on the exterior. This will significantly cut the cost as you won't have to pay for the filling and the bread, just the frosting and the design.