As the leaves begin to change and the air turns crisp, autumn seems like the perfect time of the year to get married. And there are so many ways to incorporate the beautiful elements of fall into your wedding, like designing a cake infused with fall's unique flavors. Think pumpkin spices, your comforting cup of coffee on a cold autumn night, or a rustic cake bedecked in fall elements. The options are many, and we have included the best fall wedding cake flavors on the list to make your job looking for them easier. Be sure to pick a flavor that goes with your theme, preference, and style. Go forth, a delicious list awaits you. 
#1 Carrot Cake With Creamcheese Frosting
Carrot cake is one of the popular American desserts. The cake originated during a time when sugar and other sweeteners were scarce, and carrots were used as a sweetener. It became popular in the 1980s because of the supposed health benefits of adding some vegetables to the highly caloric and unhealthy baked goods. Today, it's moist, delicious nature with the addition of warm spices has made it a desirable sweet treat, especially on chilly autumn nights, and would definitely make a great addition to your autumn wedding too! The carrot cake is typically made with grated carrots, which add moisture and sweetness to the batter, along with warm spices like cinnamon, nutmeg, and ginger. The cake can also be enriched with the addition of chopped nuts, such as walnuts or pecans, and raisins or dried fruit.
One of the best pairings for carrot cake is a cream cheese frosting, which adds a tangy and creamy element that complements the warm flavors of the cake. The frosting can also be enhanced with the addition of lemon zest or orange zest, which adds a refreshing citrus note that brightens the cake's flavor. The best part of having this fall wedding cake flavor idea is that it gives the traditional white look to your main dessert whilst giving it a unique flavoring. 
#2 Rustic Naked Cake With Berries & Figs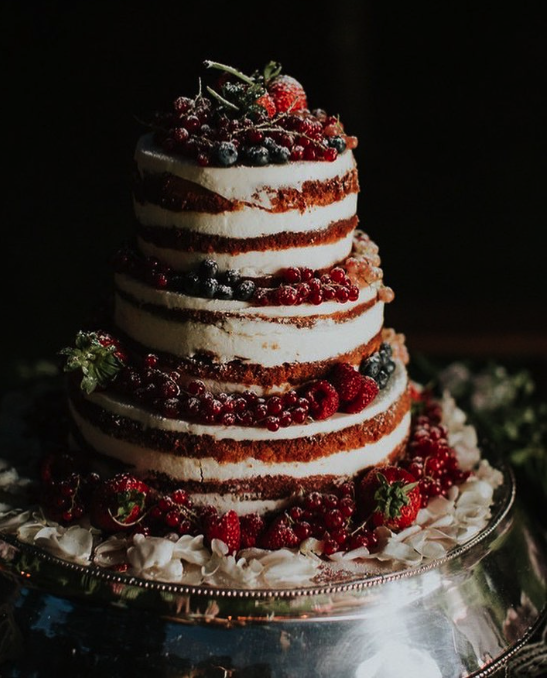 Fall weddings are often in a rustic theme, and to have a dessert that matches the theme of your wedding, opt for one of the wedding cake flavors that screams a fall wedding – a naked cake. Just like the name suggests, this type of wedding cake doesn't include any frosting on the outside so that layers of the bread are clearly visible. Some couples opt for a semi-naked wedding cake, where the baker uses some frosting to cover the cake so the layers are still peeking through! The visual appeal of the rustic cake itself suggests fall so you can take the liberty of getting any flavoring for the bread as you wish. 
One of the reasons why naked cakes are so popular and make for the best wedding cake flavors for fall is because they give a clear canvas to decorate the cake. Adorning it with berries and figs deems fit as the soothing, warm colors of them invoke autumnal feelings as well. You can use your creativity to further deck up the cake. Think elements like a chocolate drip or a salted caramel glaze or lush leaves around for a dessert that's aesthetically appealing and lip-smackingly delicious! 
#3 Spiced Chocolate 
A chocolate cake is one of the most versatile cake options and one of the popular fall wedding cake flavors. But what would flawlessly make this flavor fall-specific is by adding warm spices such as cinnamon, nutmeg, and allspice, to create a cozy and comforting flavor that is perfect for the season? It will have the same taste as your spiced hot chocolate and will be such a hit among your guests! When trying this unique fall wedding cake flavor though, it's important that you keep it simple and not include any other flavors other than chocolate. It's also important that the chocolate cake is spongey and gooey so the spices blend in the flavor well. 
One of the ways to create this fall cake flavor for wedding is having a rich and creamy buttercream frosting flavored with warm spices, such as cinnamon or cardamom. The frosting can be piped into decorative designs, or the cake can be decorated with edible flowers, berries, or other seasonal ingredients. Another option is to add a layer of spiced ganache between the cake layers for an extra burst of flavor. This can be made by melting chocolate and combining it with heavy creams and warm spices, such as ginger or cloves. Overall, a spiced chocolate wedding cake is a delicious and indulgent dessert that is sure to impress and delight wedding guests. 
#4 Ginger 
Ginger is a warm, chilly, and fiery spice that gives an unmistakable and comforting kick as the first nip of air appears in fall. When it comes to your fall wedding cake flavors, it can add the same attributes to your main dessert. And there are so many ways to add this spice to it. You can add some to your traditional vanilla bean wedding cake or you can experiment with the wedding cake flavor and elevate the taste with ginger. Some options include carrot cake, chai tea, or chocolate. You can also flavor the frosting (preferably cream cheese) with ginger for a surprising and comforting taste. 
Ginger can be used in a variety of forms in a wedding cake, including fresh ginger, ground ginger, or crystallized ginger. Fresh ginger has a strong and spicy flavor that can be used to add subtle heat to the cake, while ground ginger is milder and can be used to add a warm and comforting spice. Crystallized ginger is a candied form of ginger that adds a sweet and chewy texture to the cake. You can work with your baker and decide which type of ginger will work with the type of flavoring and frosting you have chosen! 
#5 Salted Caramel
Salted Caramel: yet another fall classic! We all love salted caramel – no matter if you're a sweet tooth or a savory tooth, the decadent flavor caters to everyone. Think vanilla-bean-browned butter cake, a salted caramel filling frosting, and a whipped cream frosting on the outside. Drool! Well, this is one way how you can use this rich, gooey, and oh-so-yummy fall flavoring, but the list is actually endless and you can work with your baker on how to incorporate it into your wedding's main dessert. 
One of the most popular options they will suggest is a vanilla cake covered in salted caramel buttercream. Vanilla cake (traditional) with salted caramel drip or infused as flavors in the middle while the outer of the cake is covered in buttercream. The former version doesn't cater to all types of couples as it has a laid-back approach and for someone who wants a formal, elegant vibe from their wedding cake, the drip might not be a suitable option. For them, a cake with a moist vanilla sponge cake layers that are filled and frosted with creamy and luscious salted caramel buttercream can be a good option. 
#6 Coffee Cream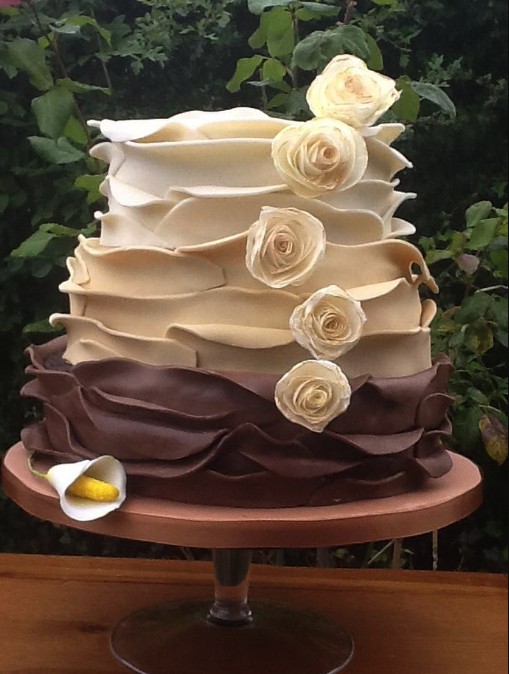 Evoking the same feelings as cozying up on a warm autumn night with your cup of joe, a coffee cream cake is one of the most popular fall wedding cake flavors. It involves infusing smooth coffee flavors into the bread or adding them to the frosting. The key is to use a coffee brew rather than coffee powder for a delicious addition to the dessert. One of the favored combinations is the chocolate bread covered with a decadent coffee cream frosting made with cream cheese or whipped white chocolate. However, the other way around works too! Think  coffee cake with the finest chocolate buttercream frosting in iterations.
What we love so much about this autumn wedding cake flavor is how it can be customized to your favorite type of coffee. If you also love coffee from a specific region, you can incorporate the grounds from that place into the dessert. If you're having a destination wedding, you can also choose to incorporate local coffee grounds from the area. The rich and bold coffee flavor pairs perfectly with the sweetness of the cake, creating a dessert that is both sophisticated and indulgent. 
#7 Pumpkin Spice
Nothing says fall quite like pumpkin spice. Thanks to Starbucks' marketing, the seasonal drink and flavor have skyrocketed and pumpkin spice sales have increased by 47% in the last five years, as reported by Guardian. Clearly, this couldn't have happened if the people also didn't love the flavor. Pumpkin spice is basically a blend of spices – nutmeg, ginger, cinnamon, and allspice, and the spice itself doesn't have any pumpkin flavor in it. However, this blend of spices was added to pumpkin pie and that's how the name originated. The Starbucks drink contains a pumpkin flavor though with a mix of cinnamon, nutmeg, and clove. 
Owing to the popularity and love for pumpkin spice, it seems just right to consider it as your fall wedding cake flavors. You do need to find someone specializing in this flavor though! Because it's tricky to make pumpkin spices blend with the sweetness of the cake people are expecting. Fresh pumpkin is the key to making this cake taste and look delicious. You can add a bit of espresso powder to make the cake even more unique yet flavorful. Even though it's a popular flavor for autumn, some people might not be a fan. It's a good idea to include other wedding desserts with different flavors to make sure everyone has something sweet to devour on your special day. 
#8 Buttered Rum Cake
This adults-only dessert is a warm, rich, and moist flavor option for your fall wedding. This cake is typically made by using a buttery cake recipe that is flavored with rum and spices, such as nutmeg and cinnamon. The cake is then soaked in a buttered rum glaze, which is made by melting butter, sugar, and rum together and pouring it over the warm cake. The glaze soaks into the cake, adding an extra layer of sweetness and rum flavor. The cake can be decorated in a number of ways to suit a number of themes. For a rustic wedding, you can add some berries and powdered sugar, but for an elegant celebration, fresh blooms and lush leaves will do the trick. 
P.S.: A buttered rum cake can't be offered to kids. Even though the process of baking reduces the percentage of alcohol as it gets diluted and evaporated during the process, it still does contain alcohol and is unsafe for kids. The presence of rum isn't enough to make adults intoxicated though unless you consume it in very large quantities. For your little guests, you'd have to arrange for some other dessert and also make guests aware of the fall wedding cake flavor so the kids don't mistakenly try the cake too! 
#9 Gingerbread 
Gingerbread can make for one of the best wedding cake flavor combinations for fall. It's a traditional dessert that's flavored with ginger, cloves, nutmeg, and cinnamon. You can make this gingerbread cake in the shape of gingerbread and serve it at your reception, or you can just infuse gingerbread flavors into the main dessert. You can then decorate it with a variety of toppings, such as cream cheese frosting or a simple vanilla glaze, and can be decorated with a variety of adornments, such as fresh fruit or edible flowers. The spicy, warm relishments will surely give you a cozy and warm feeling for your guests. 
This cake can be decorated in a variety of ways to suit any wedding theme, from simple and rustic to elegant and modern. For a rustic wedding, the cake can be decorated with fresh fruits, such as figs or pears, and a dusting of powdered sugar. For an elegant wedding, the cake can be frosted with a smooth cream cheese frosting and adorned with delicate sugar flowers or fresh greenery. The gingerbread cake can also be layered with a cinnamon cream cheese frosting, which adds an extra layer of flavor to the already delicious cake.
#10 Cinnamon Roll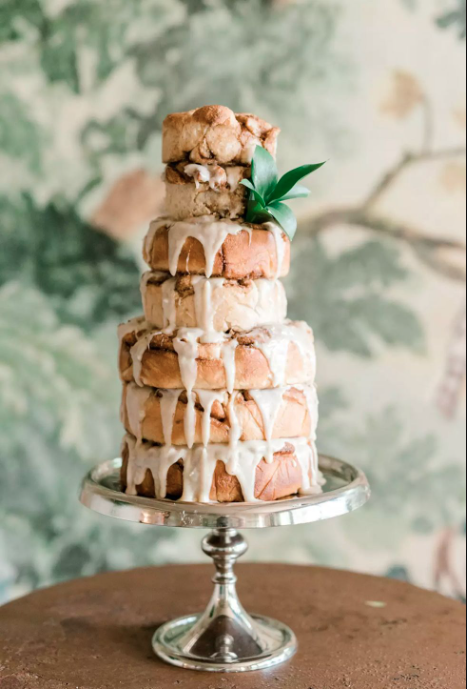 Cinnamon rolls are so popular that they actually have a day dedicated to them. October 4 is the National Cinnamon Bun Day, and these mouth-watering desserts glazed with cream cheese make for a comforting dessert for autumn and can also be incorporated into your wedding cake by making cinnamon rolls in decreasing diameters. The number depends on how many tiers you want for your wedding cake. You can also tweak the decoration as per your preferences. While the image only has one succulent, you can also use leaves and warm-colored flowers like dahlias or chrysanthemums to bedeck the main dessert. 
Know that cinnamon roll cakes might not be a traditional wedding cake, and they can't be cut as swiftly as a traditional cake too! So if that's on your mind, it's best to stray away from this quirky cake idea and instead serve cinnamon rolls on the dessert table. Overall, a cinnamon roll cake is a unique and delicious choice for a wedding cake that is sure to impress guests. With its warm and comforting flavors and versatile decoration options, the cinnamon roll cake is a perfect choice for any fall or winter wedding or for couples looking for a dessert that is both delicious and memorable. 
#11 Buttercream
Okay, we know buttercream is not a unique fall wedding cake flavor, but it's a traditional one to include in your wedding. It's versatile and can be used for any season. Buttercream frosting on cakes is also one of the most popular and for all the good reasons. First, it gives that pristine white aesthetic to your main dessert and gives a very smooth look. Second, ti fits almost any wedding theme and season, no matter if you're opting for a rustic wedding or a vintage garden setup, a buttercream frosting cake never fails. Lastly, buttercream wedding cakes are incredibly versatile. You can include any flavor in the bread you want and the white canvas paves way for many decoration ideas on the outside. 
Now that we have given you enough reasons to consider buttercream frosting as your fall wedding cake flavor idea, here are some ways to make it fall-specific. Add a caramel apple drip, blend some spices into the bread, decorate with fall-inspired elements like succulents, leaves, etc., or include fall colors like orange, yellow, or brown in the buttercream frosting. Just be creative and experiment with different ingredients until you find the perfect combination for your taste and aesthetic!
#12 Pistachio
Pistachio is one of the best wedding cake flavors to consider! The nutty, earthy, and piney taste of the pistachios can go with many flavorings – from chocolate to vanilla to carrot to citrus flavors like lemon and orange. Pistachios wedding cakes are also a distinctive flavoring and can be a good surprise for your guests. The pistachio fall wedding cake flavors and fillings can be done in the bread or they can be done in the frosting of the cake to give the frosting a nutty flavor. When done in the frosting, you can opt for the number of pistachios to be added as more of them will add color to the frosting. If a gorgeous green hue is on your mind, then pistachios can be a great addition to the frosting. 
Chocolate truffle cake with pistachio filling in the middle can also be a great idea for fall-themed wedding cakes. Imagine how aesthetic and unique would it look as the fall wedding cake flavors at your autumnal nuptials when you cut the cake and it reveals a stunning combination of dark brown and green. It will surely become the highlight of your wedding and you wouldn't stop hearing compliments for the look as well as the flavor. 
#13 Peppermint & Double Chocolate
Peppermint and double chocolate can be one of the best wedding cake flavors for fall. As the weather gets a bit warm, people love to sip on their peppermint hot chocolate for a warm, refreshing drink on a cozy fall night. You can bring this snug feeling of their favorite drink to your wedding by incorporating a cake that invokes the same pleasant vibes. The chocolate cake layers can be made with high-quality cocoa powder or melted chocolate to give the cake a rich, moist texture. For the peppermint flavor, you can add peppermint extract or crushed peppermint candies to the frosting or cake batter. To add additional texture and flavor, you can sprinkle crushed peppermint candy or chocolate chips between the layers of the cake.
For decoration, you can use a simple buttercream frosting with a light dusting of cocoa powder or powdered sugar on top of the cake, or you can opt for a more intricate design with chocolate shavings or fresh peppermint leaves. A peppermint and double chocolate wedding cake is an excellent choice for couples who want to offer their guests a unique and indulgent dessert that is sure to be a crowd-pleaser. 
#14 Chai Tea Cake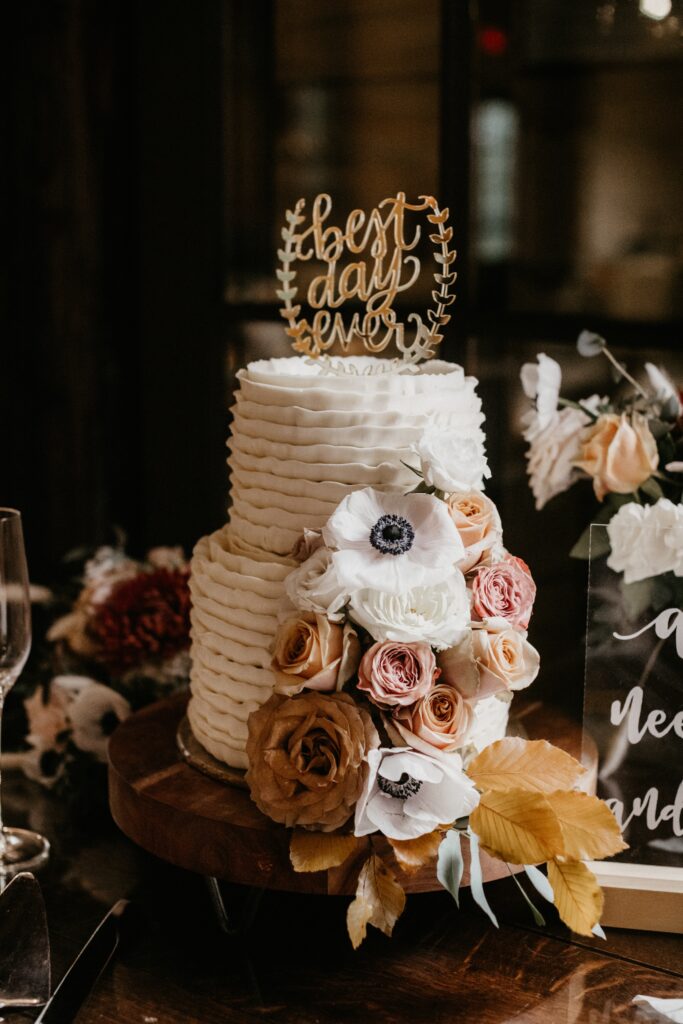 Chai tea is another popular beverage in the fall wedding cake flavor and fillings and can be comfortably added to the bread or the frosting. Chai is actually tea in Hindi and chai tea is the traditional tea in India made using brewed black tea leaves with many spices like ginger, cardamom, cloves, and cinnamon. It became popular all over the world with Starbucks' popular Chai tea latte and the flavors impressed many across the continents. Many bakers, in fact, introduced the flavor into their desserts and it was just a matter of time before we saw wedding cakes infused with chai tea flavors too!  
Some of the benefits of infusing chai tea into the cake are the surprising element it infuses into the dessert while also adding a sweet and spicy relishing with the spices. The flavor can be added to the bread by infusing cake layers with brewed chai tea or the chai spices can be used to create a delicious buttercream frosting. When it comes to this unique autumn wedding cake flavor, you do have to be conscious of what other flavors you're introducing with this one. Popular options are vanilla and chocolate. But you can also add it with ginger or carrot cakes. 
#15 Hazelnut 
A hazelnut cake can be a good wedding cake flavor for the fall season. Hazelnuts add a musty and sweet flavor to the cake and can be added to the cake in a variety of ways. You can use them as a filling or you can add ground hazelnuts to the batter for a nutty addition to your main dessert. For the batter, you can also add the flavoring by substituting regular flour with hazelnut flour. Or, you can let the inside of the cake be and add the hazelnuts to the frosting instead. Hazelnuts go amazingly with a chocolate-flavored cake and can be added to your buttercream or whipped cream frosting. 
Further, you can also opt for hazelnut praline to add some crunch and texture to the cake. If you don't know, a praline is a type of confection made from nuts and sugar. In its syrup form, the praline can be used as a drip on the cake or can be added between the layers for a crunchy flavor. You can also add hazelnut bits as decoration if you wish. The combination of hazelnut and chocolate is particularly popular for wedding cakes and can be used to create an indulgent and rich dessert that guests will love. Overall, a hazelnut wedding cake is a great choice for couples looking for a unique and delicious dessert that is sure to be a memorable part of their special day.
#16 Vanilla
Vanilla isn't just one of the fall wedding cake flavors, but it's one of the most popular wedding cake flavors. It's a classic and timeless option for any couple. The versatility of the flavor and its ability to be incorporated with many flavors and fillings is one of the main reasons behind its popularity. It's also one of the flavors that can be expertly curated by any baker, so you don't need to work hard towards finding a baker that can create your dream wedding cake, just a hard-working one with some expertise and good reviews can become your vendor. 
To make your vanilla cake specific for your fall nuptials, there are many ways – from subtle to grand – to do so! One of the ways is to use lush greenery and warm-colored flowers to decorate the frosting of the cake. But if you're someone who'd want to incorporate fall wedding cake flavors into the taste, then add some spices into the bread or the filling or the frosting for a nice, warm flavor. But if you want to keep your vanilla wedding cake all pristine and white, then serve your vanilla fall wedding cake with sides that are popular in the fall season, such as spiced apple cider or warm mulled wine, to enhance the overall fall theme.
#17 Apple Cider Donuts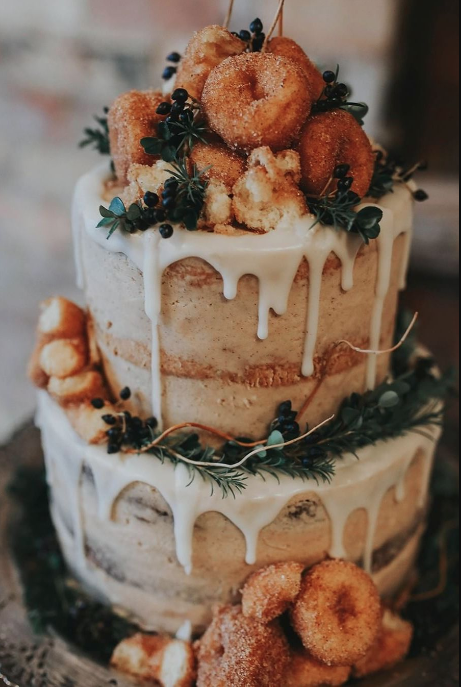 Apple Cider Donuts are a fall staple so we had to include them in our fall wedding cake flavors list. We also have a picture to convince you why these apple cider donuts will make for an aesthetic combination for your fall wedding. The warm color and topping on your naked cake are just the perfect pairing. But if you don't want a naked cake, this topping with donuts will look equally good with buttercream frosted cake – both in taste and in the visual sense. This apple cider donuts cake looks best with rustic or forest-themed celebrations, and if you're going for an elegant-themed wedding, you might need to add more changes to the frosting and the decoration. 
Overall, an apple cider donut wedding cake can be a creative and delicious choice for a wedding cake flavor for fall. Just make sure to consider the style, toppings, decorations (greenery and succulents work best), serving options, and baker (someone who has designed unique cakes is a good option) to ensure that you get the best cake for your special day.