Wedding planning is a stressful time for couples, research suggests. But it includes some fun aspects as well like your first dance practice or picking your wedding cake flavors when you get to taste some sweet treats with your beau and have a good time relishing the new dessert ideas in the market. But if you're someone who wants to be a little prepared before hopping on to plan this fun part, here are some of the popular, traditional, and unique wedding cake flavors and wedding cake flavors combinations in 2022. 
Popular Wedding Cake Flavors & Traditional Wedding Cake Flavors
#1 Vanilla/ Buttercream Cake (Traditional Wedding Cake Flavor)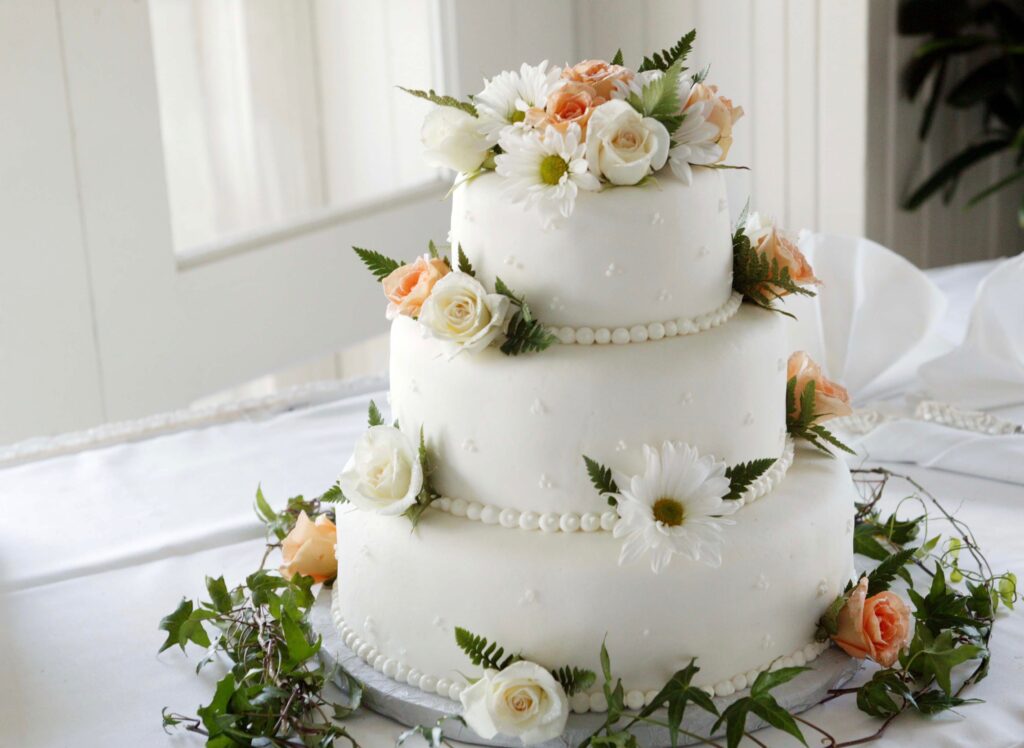 One of the most popular, most common, and most traditional wedding cake flavor is the vanilla buttercream wedding cake. It has consistently been one of the most popular wedding cake flavors for decades and it's a guaranteed crowd-pleaser. Vanilla cakes are often paired with buttercream frosting on the outside, but you can pick any other flavor you'd like. 
The best part about this combination is that it gives us an option to choose nearly any type of frosting or filling. This makes it an easy choice for couples who don't want to give much thought to their wedding cake and just want to make it a classic affair. You can also leave the decorations to a trusted cake artist so this is one less thing to worry about for the wedding planning. 
#2 Chocolate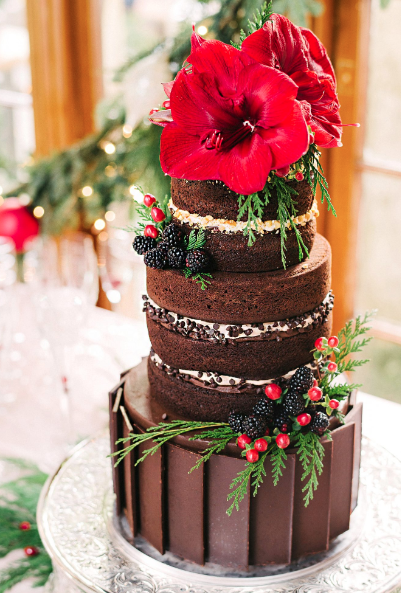 Chocolate is yet another crowd-pleaser and one of the popular wedding cake flavors to add to your nuptials. It can be combined with many frosting flavors and the chocolate itself can come in many forms – you can opt for darker chocolate, peppermint chocolate, or hazelnut chocolate, or make things spicy by picking Mexican chocolate. There are so many iterations that you can cater your chocolate wedding cake to any celebration theme you're considering. 
Also, there's just something so romantic about the chocolate-flavored desserts. We're sure they're making a debut on your dessert table anyhow, whether in the form of cupcakes, pudding, or a delicious tart. Chocolate is also something easier to accommodate into any part of your wedding cake and goes with a number of combinations, from frosting to ganache to the bread itself. The visual appeal of the dark-brown color is undeniable no matter howsoever you include it in the main dessert of your reception. 
#3 Red Velvet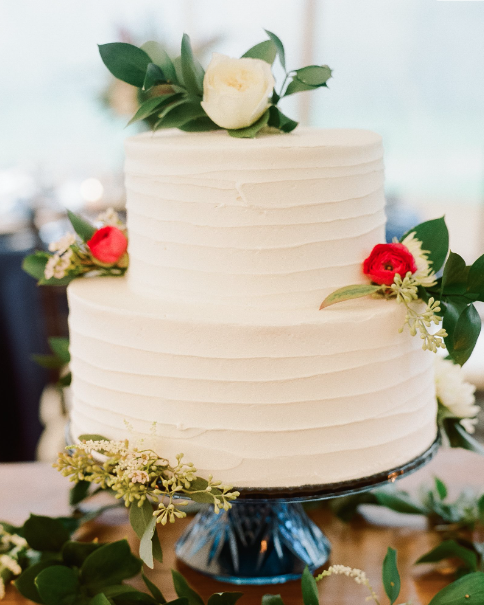 Over the years, red velvet cake has grown in popularity and so has become a favored flavor for wedding cakes by couples. Besides the mouth-watering flavor, what's more, romantic than the color red? In recent decades, red velvet desserts have become popular in both US and Europe, especially around the time during Christmas and Valentine's Day. The main difference between red velvet and chocolate cake besides the color scarlet is the presence of less cocoa in the former and the use of additional ingredients like buttermilk, vinegar, and cream cheese for a smooth and velvety texture. 
You can use any flavor of frosting on top of the cake to give it the desired color. Many people prefer cream cheese to add to the richness of the palate. You can also create a gorgeous gradient effect on your bread by adding the red coloring ingredients in different quantities to create lighter-to-darker colors. Since red velvet is basically chocolate cake, it pairs amazingly with berries which can be added as a whole on the exterior for decorations. 
#4 Lemon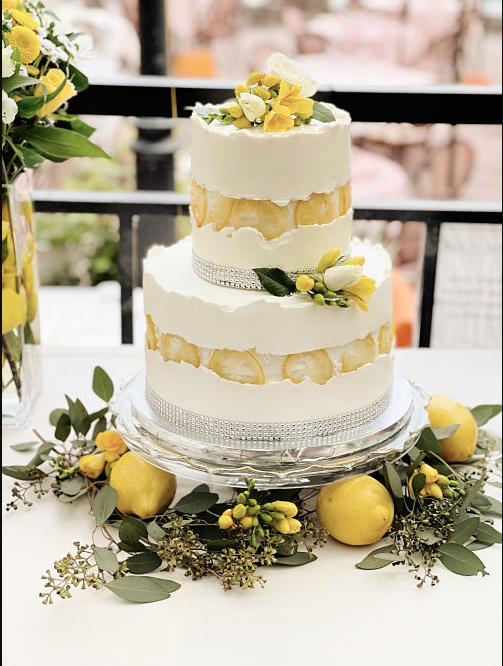 Looking for a tangy and sweet wedding cake flavor for summer? There's nothing better than a lemon cake to welcome the summer's refreshing and fresh elements to your big day! In fact, lemon and elderflower were the chosen flavor combination for Prince Harry & Meghan Markle's royal wedding in spring. 
Light, fluffy, and deliciously tangy, lemon cake stands delicious on itself and the frosting can be Swiss meringue buttercream for a stunning addition on top. You can also choose to add lemon zest to the frosting so the outer part of the dessert has a light yellow color – and your guests aren't left guessing the flavor. 
#5 Carrot Cake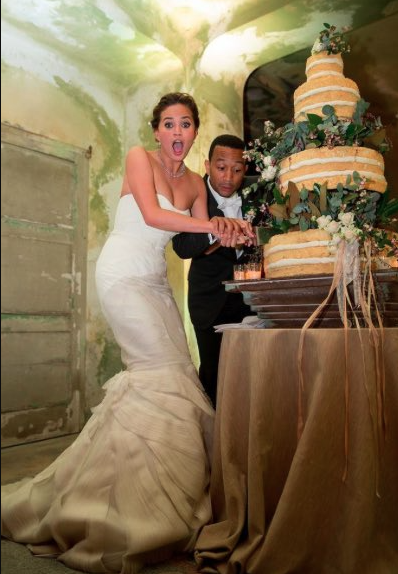 Carrot cake is the perfect match for the cozy, chilly autumn event. It is moist because of the addition of raw carrots and is sweet but not overwhelmingly sweet. It has become a favorite among couples who want a unique but well-loved wedding cake flavor for their wedding day. The dessert has its origins dating back to the 16th century but was popularised in Europe in the 19th century and America thereafter. It comes in several combinations and is a favorite among children and adults alike. 
While carrot cake can have many combinations, if you're opting for 3-tier wedding cake flavors, choose a different carrot pairing in each tier. Since carrot cakes make for an amazing fall wedding cake flavor, you can give the combination a fall-inspired twist. Make it spicy in one of them by adding cinnamon, nutmeg, ginger, etc, other one of them can be nutty with pecans and walnuts, and the last one can be fruity with crushed pineapple in the mix. The outer frosting can be cream cheese (a popular one for this flavor!) to lend a smooth and moist palate to the dessert. 
#6 Fruit Cake (Traditional Wedding Cake Flavor)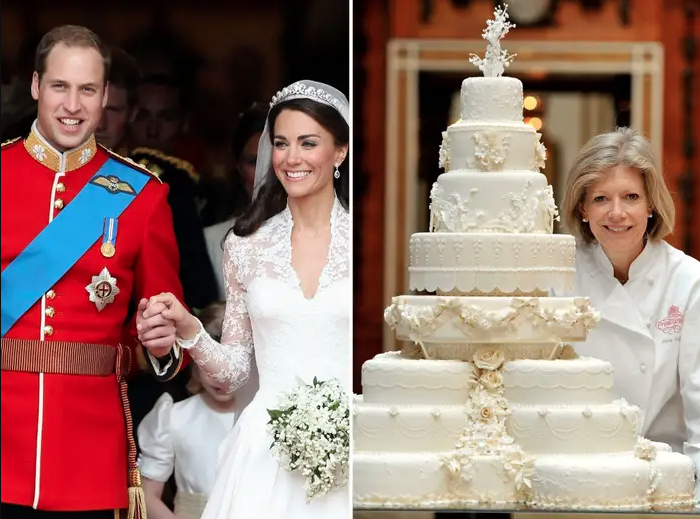 Fruit cake is the traditional wedding cake flavor and has been chosen for many royal monarch weddings. Queen Victoria served a plum cake at her wedding, and both Queen Elizabeth and Prince William had the traditional fruitcake for their respective weddings. Wedding cakes in UK and America have traditionally been fruitcakes and some origins also trace back this wedding cake flavor to the Middle Ages. today, fruit cakes have become less common, but for those deeply rooted in traditions, there's nothing better you can choose than a traditional fruit cake. 
For fruit cake, fresh fruits are used and unlike for other wedding cakes, it has to be baked in a day's advance at most to keep the fruits fresh and tasting in their ripest form. With a white exterior, they give the advantage of decorating the outside of the dessert any way you like. Fresh flowers, figs, greenery, cut fruits, etc. can all be used to bedeck the main dessert just the way you'd like it to look. 
#7 Raspberry Burst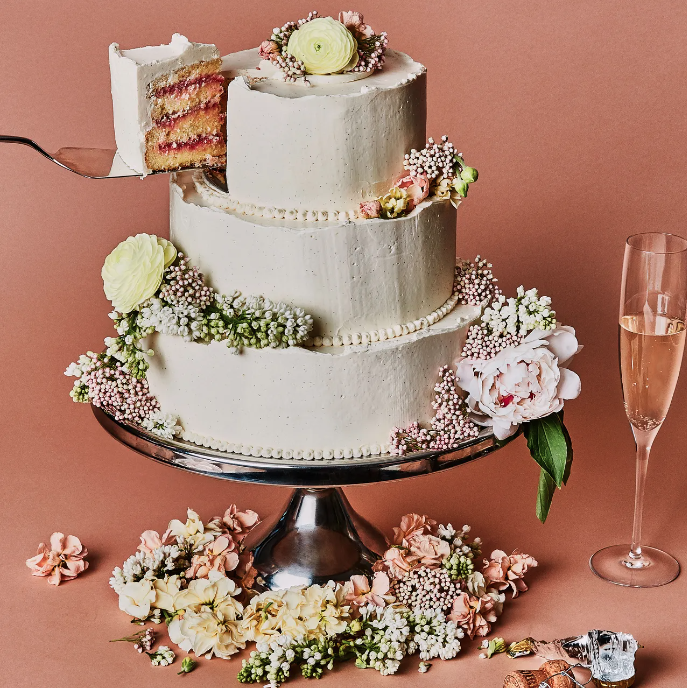 Courtesy: Bon Appetit
There's nothing better than the fresh, crunchy, and floral taste of raspberries, making it a popular wedding cake flavor to try on your special day. Raspberries can be added to the top of your wedding cake along with other berries for a refreshing flavor to your vanilla or lemon cake. They can be added in the syrup form to the batter itself. When choosing raspberry syrup, ask the baker if they will be using fresh raspberries to create their own syrup, as that's only when the original, stunning flavor of the fruit is maintained. 
Another amazing way to include raspberry cake flavor in your wedding is to pair it with chocolate. Imagine cutting a buttercream frosted cake on your wedding and inside there's a beautiful layering of chocolate followed by pink raspberries and white cream cheese. Your guests will be amazed at the aesthetics and the flavor. 
#8 Strawberry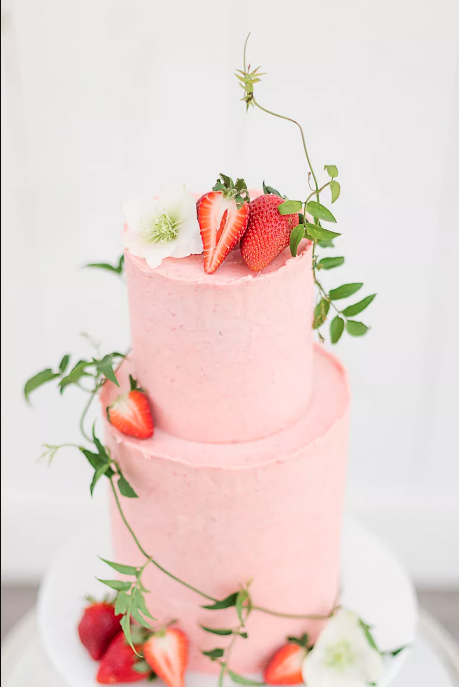 Strawberries are a flavorsome fruit and add a delightful taste to the wedding cake. A strawberry wedding cake is wholesome and makes a perfect choice for any season or celebration. When opting for the naked wedding cake trend, strawberries are often included in the layers in perfect pieces, or a glaze of strawberry syrup is added from the top. Strawberries go well with many other palates as well, like vanilla, chocolate, lemon, banana, citrus, and white chocolate. 
Strawberries themselves can be incorporated in a variety of forms in the dessert. You can choose to mash the fruit in the batter, include fresh fruit in the layers, use it in the frosting for a beautiful pink color on the exterior, or opt for a strawberry jam filling instead. No matter how you choose, this luscious fruit can make for an amazing addition to the cake, or any other dessert as well like cupcakes, puddings, or cake pops. 
#9 Pumpkin Spice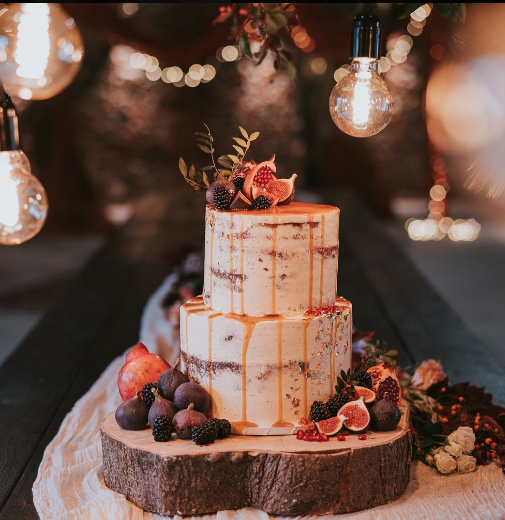 You can't read or hear the name pumpkin spice and not think of the warm, cozy feeling of fall, the holiday season, or the popular Starbucks drink. According to NY Post, Americans spend about $500 million on pumpkin spice-flavored products every year making it one of the most popular wedding cake flavors on the list. They also reported the reason behind our obsession with the flavor. Our brains associate pumpkin spice with warm feelings of fall which reminds us of home, and family, and we love to be reminded of these comfortable and nostalgic feelings. Bring these wholesome vibes to your wedding with a cake that's flavored pumpkin spice and everything nice. 
A pumpkin spice wedding cake can be a pleasant surprise for your guests. You can make the pumpkin spice spicier by adding cinnamon, nutmeg, and ginger to the batter. To elevate the flavor, go for smoother flavors like caramel, cream cheese, pecans, maple syrup, and sour cream instead of stronger ones like dark chocolate which can create a weird crossover. 
#10 Caramel Apple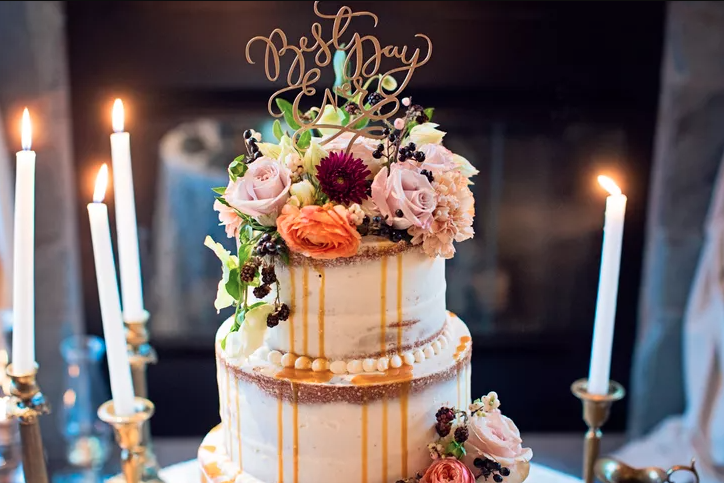 Courtesy: Simply Sweet by Jessica
Yet another one of the wedding cake flavors for fall weddings is the caramel apple. Caramel apples have become increasingly popular on Halloween where they're decorated with nuts or sprinkles. The recipe is simple. You just take an apple on a stick and dip it in hot caramel. The optional step is covering them in nuts or other small savories before letting them cool down. Elevating the sweet treats into the cake form with warm spices like cinnamon or nutmeg is the caramel apple cake which tastes sweet, spicy, and woody at the same time. 
Whilst meant for the fall season, the flavor can be used for other seasons as well by removing the spices and letting the fruit & caramel add sweetness and unique flavor to the dessert. This cake can taste best on its own or can be paired with buttercream to give an aesthetic white appearance to the main centerpiece of your reception. 
#11 White Chocolate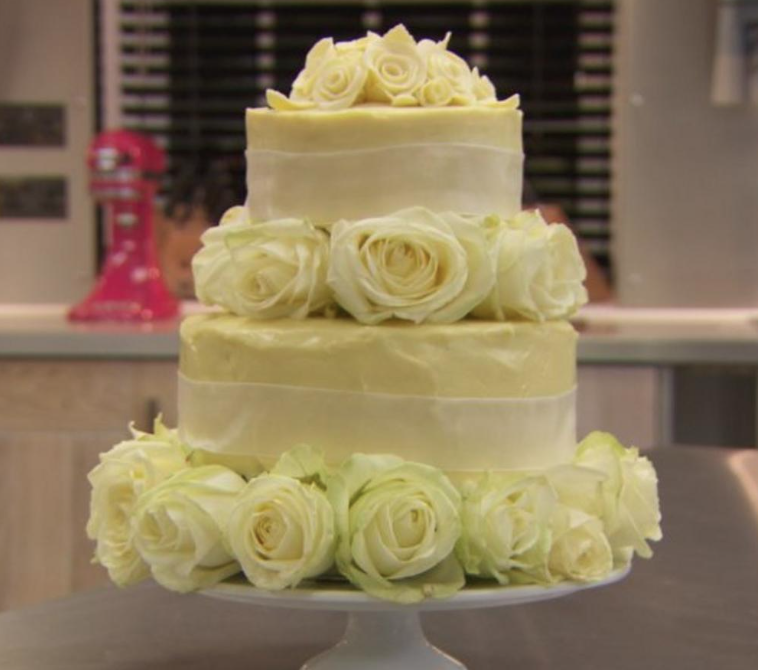 Courtesy: BBC
Nothing says tradition quite like a pristine white wedding cake. And a white chocolate flavor, whether inside or outside can give you the immaculate white cake of your dreams. Technically, white chocolate isn't even chocolate because it doesn't contain cocoa powder at all. But it's still named chocolate because it's made with cocoa butter, one of the derivatives of the root of all chocolate desserts. The cocoa butter is mixed with milk, sugar, and other flavorings like vanilla to create a palatable taste in the chocolate. 
Your baker can source pure white chocolate and melt it into the batter or whip it with softened butter for the icing. The result is a delicious amalgamation of tradition and taste. The white chocolate flavor can be combined with many flavors – but the traditional vanilla cake and fruit cake taste best with the frosting. 
Unique Wedding Cake Flavors
#12 Pistachio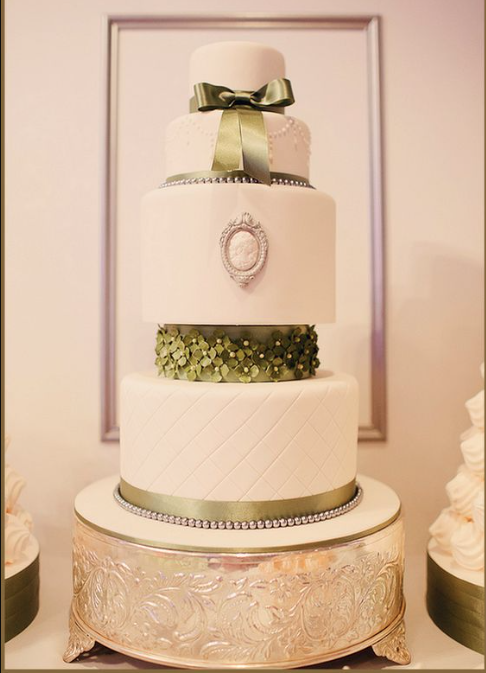 Courtesy: marabous.com.au
Looking for a wedding cake flavor for a rustic wedding? Opt for pistachio – a nutty, savory, and piney treat pairing well with many flavors like vanilla buttercream, chocolate – both dark and white, nuts like almonds, citrus fruits like lemon and orange, and many other accents like elderflower syrup, sweet caramel, or balsamic-soaked strawberries. If you're convinced of this flavor, rope in a cake artist who'd opt for the real deal when incorporating this nutty flavor and not syrups. Only real pistachios can add a fresh, salty flavor that will be subtle but noticeable. 
What's so special about pistachios is their lesser-known popularity on the wedding dessert table and their ability to serve as a pleasant surprise for guests. If you're looking for 3-tier wedding cake flavors, make one of their pistachio and others in flavors like chocolate or lemon, or almonds. Or, you can also add a green layer of pistachio cake between the tiers for a gorgeous green look ideal for a formal ballroom affair as well. Even if you opt-out for pistachio touch being the star at the wedding dessert table, include it in other selections like macaroons, cheesecake pies, or accompanying ice cream. 
#13 Confetti (Funfetti) Cake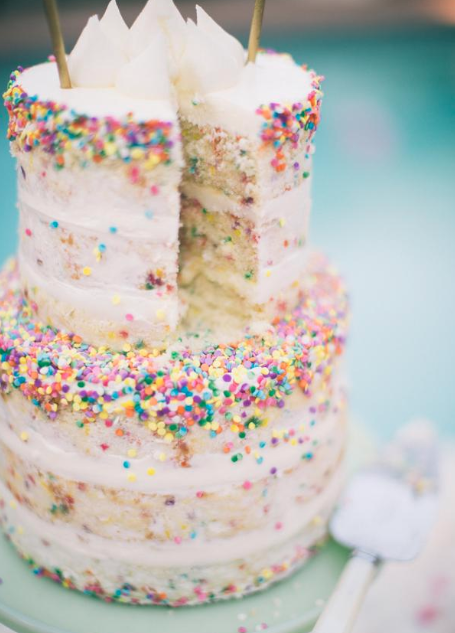 Courtesy: Kelsea Holder Photography
One of our fondest childhood memories has been the cake doused in colorful sprinkles served at birthday parties and devoured by all kids alike. Bring those precious memories into your wedding by opting for the funfetti cake on your special day. Sure to bring the same eclectic excitement in your guest's eyes as it did in the kids' eyes during their childhood, a funfetti cake comes in many variations. The most popular is when the confetti is mixed with the batter so the rainbow sprinkles melt into dots and gives a colorful look similar to confetti. The confetti cake is often referred to as the Funfetti cake, but the term 'Funfetti' is trademarked by Pillsbury who introduced and marketed the idea of funfetti cake in 1989. 
Traditionally, the confetti cake has colored bread but a white-colored frosting on the outside so the colors only become visible when you cut the cake. Couples, however, have tried many manifestations of this vibrant trend. That includes letting the colors be visible to create what's called a naked wedding cake or its subpart – a semi-naked wedding cake. Some cake artists cover the bread entirely in white frosting and use the sprinkles to decorate the outside by covering the entire cake, only one side, or covering only the rims to create a beautiful 3-tier wedding cake flavor. Besides the wedding cake, you can hop on the nostalgic and yummy funfetti trend by including it in other wedding elements like sprinkled cupcakes, a sprinkled rim on cocktail glasses, or having a donut bar serving donut holes topped with sprinkles. 
#14 Coffee Cream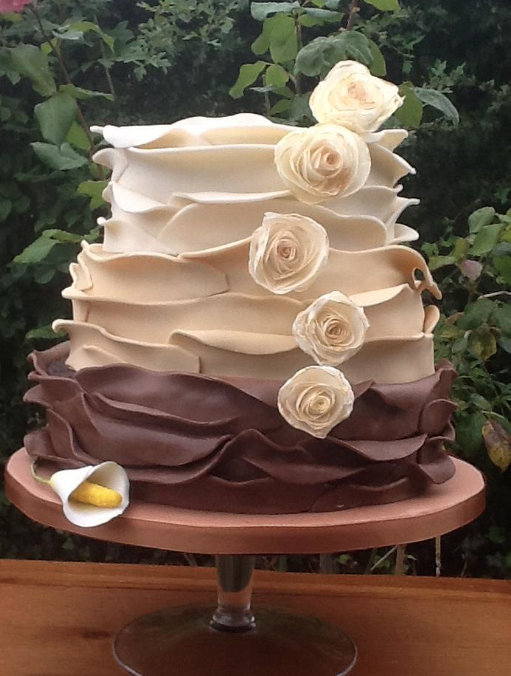 Courtesy: cakesdecor.com
One of the best wedding favors for the fall or winter wedding season is coffee cream. Evoking the same feeling as cozying up in your favorite cafe and sipping your go-to coffee order, the coffee cream cake involves layering the coffee buttercream on top of the chocolate bread or using it as the cream ganache in between the layers whilst keeping the exterior icing white and traditional. For a truly indulgent wedding cake, try mocha cake made with coffee and the finest chocolate in iterations of mocha ganache and chocolate buttercream frosting chosen as you'd like. To decorate a coffee cream cake, you can opt for coffee powder or beans on the outside to reveal the surprise to your wedding guests beforehand. 
One of our favorite parts of the coffee cream cake is how you can customize it to your favorite coffee flavor. We've already described how mocha makes for an ideal option, and you can also opt for hazelnut or cinnamon. Incorporate hazelnut mousse as an accent on the coffee meringue buttercream or include hazelnut-cinnamon spices into the bread to recreate your favorite memories of a spiced hazelnut latte with every bite of the cake. 
#15 Cheesecake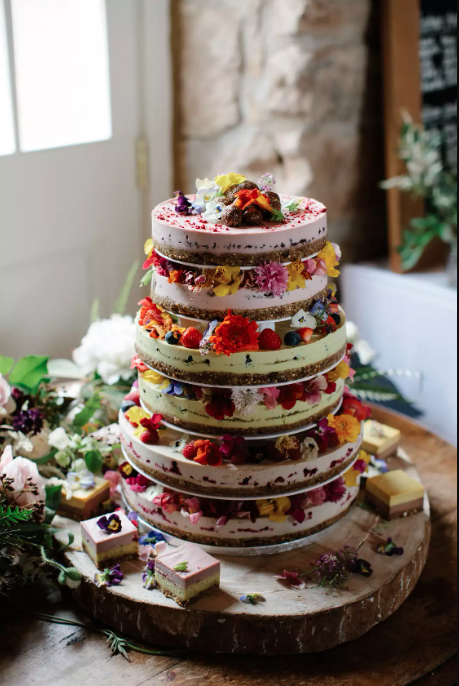 Courtesy: Caro Weiss
There are plenty of couples who don't want traditional wedding cake flavors for their wedding, but also don't want to go too overboard and opt for something farther from conservation like pies or doughnuts stacked to look like a wedding cake. When you just can't let go of the moment of cutting a traditional cake whilst keeping it unconventional at the same time, opt for a cheesecake. Understand though – stacking a cheesecake for a cake tower requires planning ahead of time. You also need to play with the kind of cheeses to use for the different stacks – opting for harder cheeses for the bases and softer ones like triple creme brie or herbed chevre. Do consider how the flavors of these cheeses merge though as it can affect the overall flavor of your wedding cake. 
What's even more exciting about the cheesecake wedding cake flavor is you can decorate them any way you want! Having a formal affair? Decorate them with white flowers with hints of pink or red. A rustic wedding celebration? Opt for berries and figs to dress up the tiered cake. Similarly, a garden festivity calls for greenery and flowers in bright colors. To see some inspiration for wedding cheesecakes, see this blog here. 
#16 Coconut Cake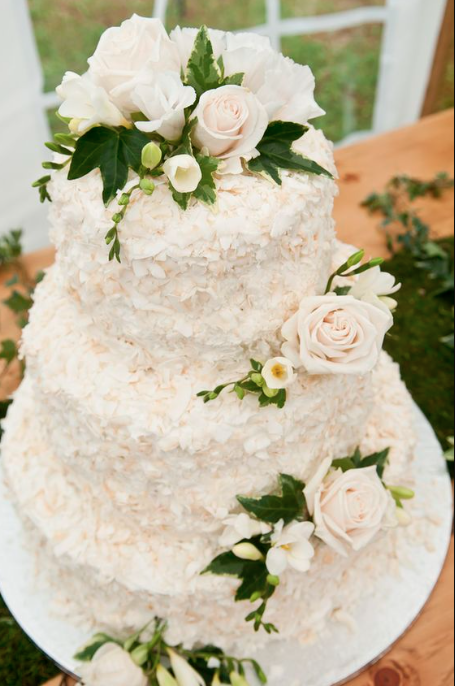 Courtesy: Koru Wedding
Tropical and summer-y, fresh and fragrant, tasty and tangy, coconut is one of the unique wedding cake flavors. Traditionally, a coconut cake is made of buttercream frosting with shredded coconuts used to cover the entire cake. Now, however, the coconut – either in the form of coconut milk or shreddings is added to the base itself. Coconut cakes can be paired with many other cake flavors for weddings like chocolates, almonds, pineapple, carrots, oranges, and the most popular of them all – lemon. The coconut filling is paired with lemon curd in alternate layers to give you a cake that's not just surprisingly delicious but also gives an aesthetic display when you cut the cake. 
 Coconut cakes are predominantly associated with the Southern region of America where they make the cake with shreddings or red velvet flavor instead. There, the coconut is considered to be one of the traditional wedding cake flavors and fillings. If you're having a tiered wedding cake at your wedding, you can combine the coconut flavor with others in every tier like chocolate in one, lemon in another, etc. Your guests will love the unusual flavor as well because coconut isn't a popular wedding cake flavor, but one that can add a delectable taste to any dessert. 
#17 Chai Tea Wedding Cakes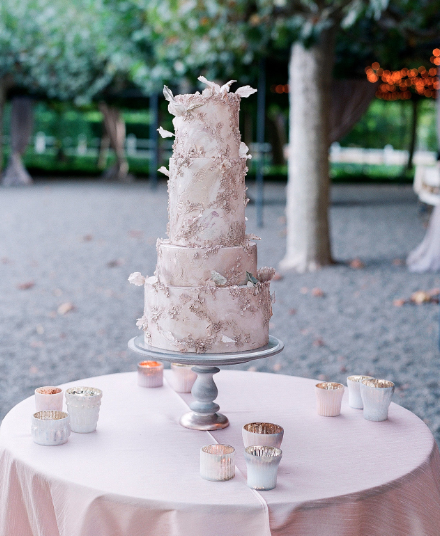 Courtesy: Jose Villa
One of the most popular wedding cake flavors in 2022 has been the chai tea wedding cake – which is either mixed in the bread part of the cake or the icing to add a spicy flavor to the cake. The Chai tea palate is one of the popular wedding cake flavors for winter as it reminds the guests of the warmth of a smooth cup of tea in the chilly season. You can add more warm, fragrant spices into the cake – that are a common part of chai tea as well – like cinnamon, nutmeg, etc. to further the cozy feeling. The spices also give the cake a speckled look that is beautiful when you cut that first slice of your main dessert.  
Other benefits of infusing tea flavor into your wedding cake are the surprising element it adds and how smooth yet spicy it makes the sweet course. The chai tea flavor is often also combined with ingredients like honey, white chocolate, buttercream, etc. to keep the sweet and spicy flavor alive. Besides chai tea, other forms of tea like Earl Grey, matcha, and green tea is also used in wedding cakes for buttercream frosting or ganache, or icing. 
#18 Mexican Hot Chocolate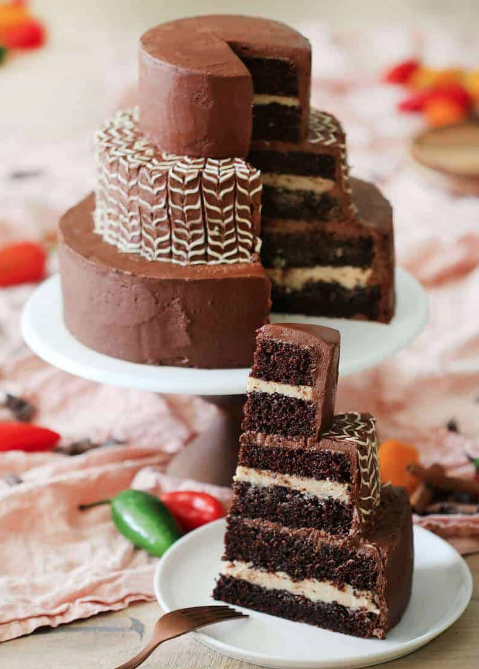 Courtesy: Preppy Kitchen
The difference between Mexican hot chocolate and regular hot chocolate is that the former is grainier and includes cinnamon in the mix as well. Other spices like nutmeg and cayenne pepper are also added to the mix. Although, authentic Mexican hot chocolate consisted of chocolate, vanilla beans, and cinnamon to create a perfect mix of sweet and spicy. Mexican hot chocolate is the ideal winter wedding cake flavor as it combines the warmth of the spices with the cozy feeling of chocolate. This one of the flavors is not for the traditionalist but for someone who'd love to have something unique for their guests – which they can't stop talking about for years down the line. 
We won't recommend trying wedding flavor cake combinations with Mexican hot chocolate. Although, if you want your wedding cake to look white on the outside, choose white icing flavors like vanilla buttercream, swiss meringue, or cream cheese. Adding hints of lemon icing between the main bread layers can also give a delicious twist to the flavor. It's a winsome combination that will surprise your guests and make for their new favorite wintry treat. 
#19 Peanut Butter Cup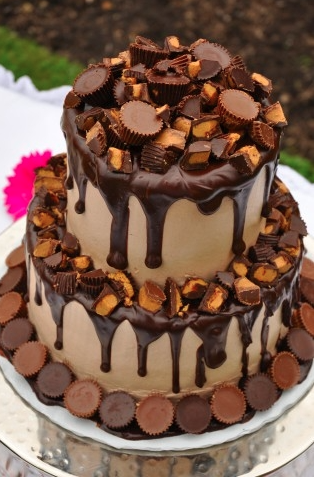 One of the less popular wedding cake flavors, the peanut butter cup is nutty, sweet, and salty and makes for an excellent decadent delight for you & your wedding guests. Peanut butter became known in the modern world by John Harvey Kellogg, the doctor, nutritionist, and cereal pioneer who endorsed it as a replacement for meat-based protein. Peanut butter is considered one of the best sources of vegan protein today and is also the reason why it's added to cakes today – to replace the butter, add a vegan protein source to your diet, and a good amount of fats. Obviously, the nutty, unique flavor is another reason why peanut butter is preferred in desserts. 
Peanut butter can be included in your wedding cake in a number of ways. It can make a part of the bread, adding a moist and savory flavor to the sweet treat. Alternatively, you can add it to the icing and ganache layers and combine it with a chocolate-flavored base. Some salted caramel drip on the outside can also add mouth-watering flavors to your cake whilst also adding a visual touch. Chocolate is one of the best wedding cake flavors to combine with a peanut butter cup, so opt for that when you're wondering what to pair with this unique flavoring for cakes. 
Best Wedding Cake Flavors Combination
#20 Chocolate & Vanilla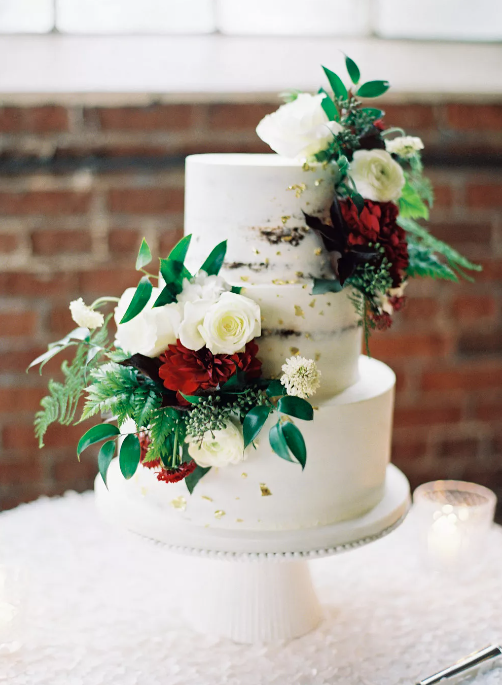 Courtesy: Wildflower Cakes
Chocolate and vanilla frosting are considered to be the best wedding cake flavors combination. It's a classic that never fails to disappoint. Timeless, as well. If you're planning to follow the tradition of preserving your wedding cake or for your child's first christening, then the combination of chocolate and vanilla flavor will still be relevant. Preserving your wedding cake is a long-honored tradition where the couple eat the preserve tier on their first anniversary for good luck. It seems gross, but experts say that cake can be stored for one year without any food safety issues. Though, it's the flavor you have to worry about – which might be unpalatable due to freezing. 
This one of the common wedding cake flavor combinations can be arranged in a variety of ways. You can go for chocolate bread with vanilla fillings in the middle and the outside for a classic white wedding cake look. You can also opt for the chocolate frosting on the outside for a decadent appearance. Or, you can skip the frosting entirely to give it a naked or semi-naked wedding cake style. There are certainly many variations to try for this classic combination. No matter what type of celebration you choose, it's versatility will help you create a dessert just perfect for your theme. 
#21 Chocolate & Raspberry/ Strawberry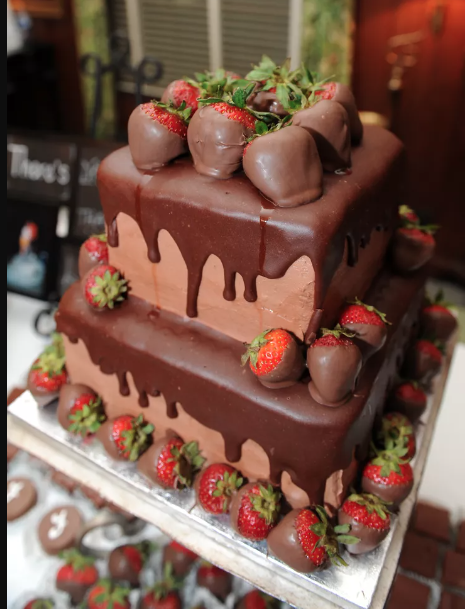 Courtesy: Gambinos
A decadent chocolate cake is a favorite among all! To give your chocolate cake a more sensual flavor, combine it with luscious berries and you've got a dessert that's scintillating to the senses and sure to elevate any mood. The tried-and-tested combination can make your guests look forward to eating the cake and make your desire to ensure everyone loves the food a hit. For something more scintillating to the sense and for winter weddings, you can also add some champagne to the mix as the fizziness of the champagne also makes the cake very soft, fluffy, and light. Although, in that case, do inform the guests about the alcohol element, so the kids don't eat the cake and devour some other dessert instead. Or, for 3-tier wedding cake flavors, make one of the tiers non-alcoholic, and the rest alcoholic so people of all age groups can enjoy your main dessert. 
The berries can be incorporated into your cake with chocolate in a number of ways. They can be in syrup form (handmade, of course) and used in the layering frosting, they can be used to decorate the layers in between in their whole form, or they can be added to the batter itself. The berries also make for a great decorating element for the cake's exterior layers. Depending on your theme, pick any variation you'd like and it will still make for a mouth-watering and visually appealing cake flavor combination.
#22 Salted Caramel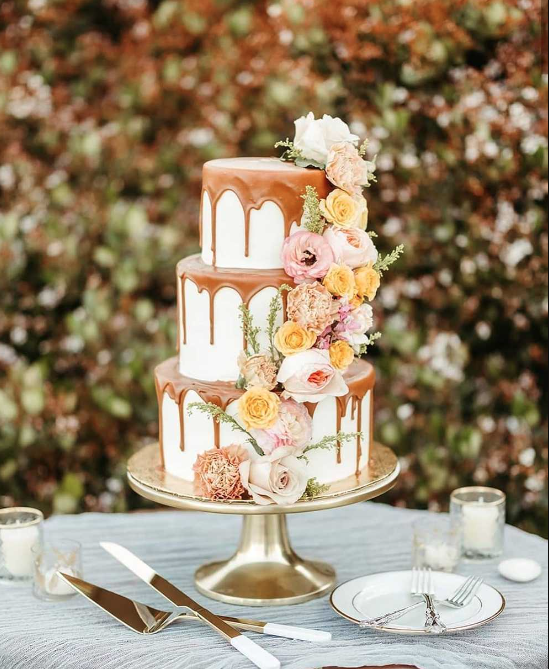 Courtesy: Frosted Cakery
One of the popular wedding cake flavors in 2022 is salted caramel. The caramel sauce goes with a variety of delish palates. From chocolate to buttercream to carrot, banana, strawberry, and spice cakes like pear, chai tea, etc. If you want to be creative with the flavor of your wedding cake, there's nothing better than going for salted caramel and opting for the many combinations this savory sauce goes with. The caramel is often done as an outer drip, but can also be incorporated into the ganache if you don't like the drip wedding cakes appearance. 
When you go for this one of the most popular wedding cake flavors, you're literally sending your guests into a sugar high. Salted caramel has replaced pumpkin spice as the most popular flavor, easily turning into one of the best fall wedding cake flavors to choose from. There's scientific evidence as well. Because of the popularity of salted caramel and why we were seeing it practically everywhere – cookies, popcorn, donut, coffee, pie – scientists at the University of Florida conducted a study on the after-effects of having salted caramel on 150 participants. They found that the combination of salty, sweet, and fat found in salted caramel releases an intense rush of morphine-like endogenous opioids – or endorphins – in the brain craving you to ask for more. So, if the guests are your wedding devour the cake to the last bite, don't be shocked, they really can't help it! 
#23 Banana Cake With Dulce De Leche & Buttercream Frosting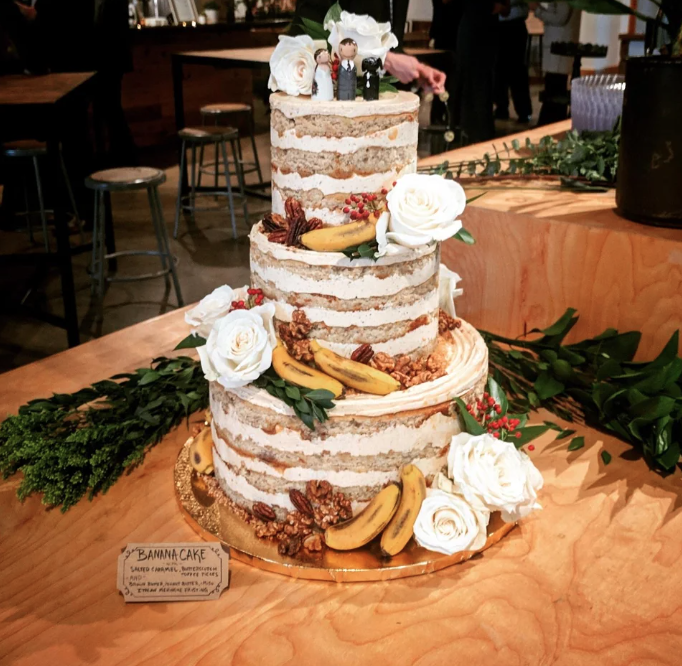 Courtesy: Reddit
When people were stuck in their homes during the pandemic, it seemed like everyone was baking banana bread to cope with the tough times without forgetting to let everyone know on social media that they did bake banana bread. Banana cakes have become hugely popular because of their warm, moist taste that adds a sweet-savory palate to any dessert. If sources are to be believed, Prince Harry & Meghan Markle wanted a banana flavor for their wedding cake before settling on lemon & elderberry flavor later. Bananas surely are a beautiful flavor to try for your main dessert. They are delicious and can be paired with any other flavoring elements, dulce de leche and buttercream being the favorites. 
Dulce de leche looks just like caramel but has milk in it while the latter only has water and sugar. It's also silkier, and softer brown, making it a great indulgent alternative to caramel. Combining it with your banana cake gives it a visually appealing look whilst imparting a luscious flavor. As the icing, there's nothing better than vanilla buttercream to give your cake a traditional white shade on the outside and give it room to decorate as well. 
#24 Peppermint & Double Chocolate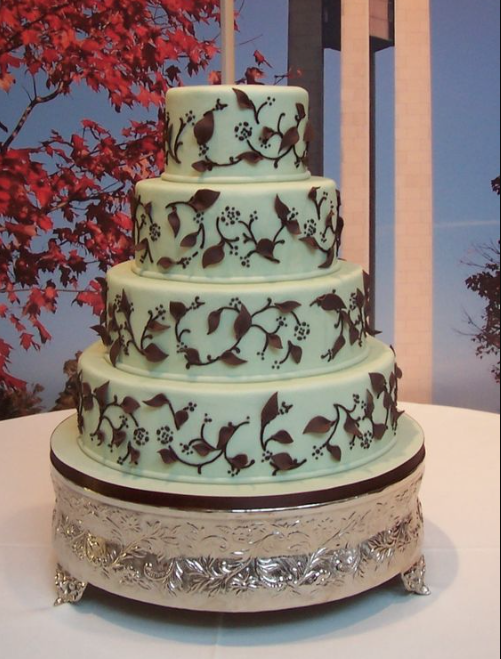 Peppermint and double chocolate can be one of the best wedding cake flavor combinations to serve in winter or an outdoor fall wedding. As the weather gets colder, people love to savor their peppermint hot cocoa and you can bring this cozy feeling into your wedding day. After all, having rich, indulgent desserts is what a winter wedding is all about! Plus, there's just something about the cool peppermint that just makes it feel like the holidays. Although it might seem like having peppermint means you need to make your cake look green, natural peppermint is colorless and doesn't impart any color to your food. But if the green layers between the cake are what you're looking for, the food gel coloring is what you need. 
There are many ways to incorporate this winter wedding cake flavor. Add peppermint to fluffy white chocolate buttercream and then layer it between a rich, dark chocolate cake, further adding the white chocolate frosting on the outside. Alternatively, layer rich chocolate fudge cake, peppermint chocolate mousse, and meringue buttercream for a beautiful and mouth-watering combination. For a more colorful approach, you can also make the peppermint buttercream pink so the guests will think it's strawberry-flavored only to be surprised with an unexpected twist later. 
#25 Lemon & Elderflower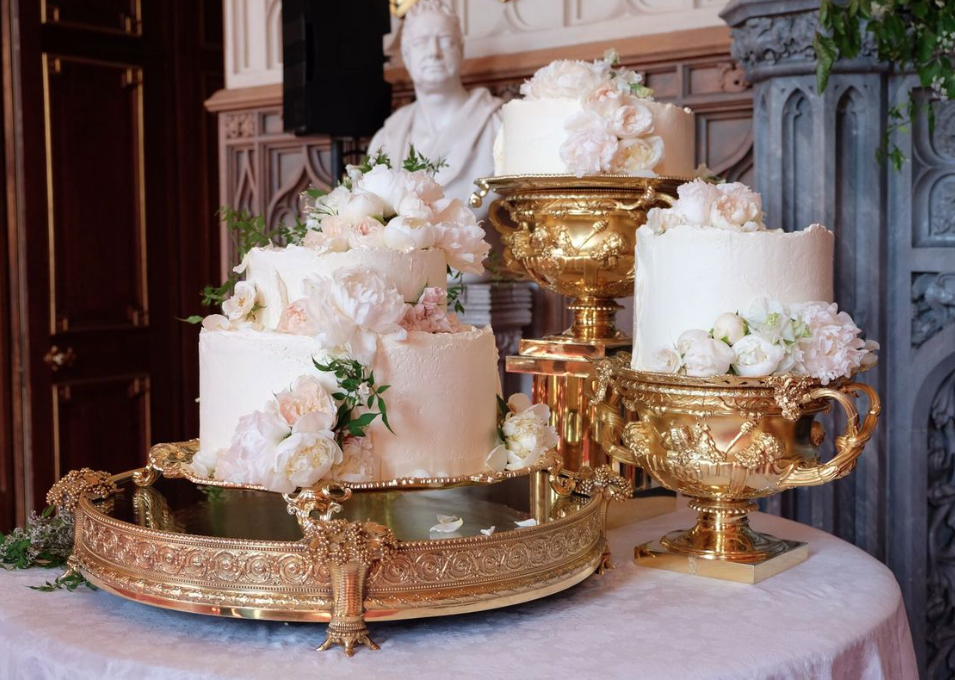 The lemon-elderflower is the royal wedding cake flavor served at Prince Harry & Meghan Markle's nuptials in March 2018. The couple took a break from the traditional wedding cake flavors being fruitcake and opted for a sweet and tarty combination of lemon and elderflowers instead – which is the perfect wedding cake flavor for spring weddings. The 200 lemons were imported from the Amalfi coast, Italy, and 10 bottles of elderflower cordial came from the elderflowers growing at the Queen's Sandringham Estate. It was then decorated with 150 fresh flowers – all British and seasonal, including roses and peonies. The cake was not stacked on top of each other – another departure from the royal tradition – but arranged separately on different golden bowls. 
After this wedding cake flavor recipe debuted, it became one of the most popular wedding cake flavors and is chosen by couples to date. Because the elderflower is native to Northern Africa & Europe, elderflower relishing is popular for wedding cake flavors in UK and wedding cake flavors in South Africa. The lemon elderflower combination tastes fresh, fruit, and slightly floral – a striking combination to have on your special day. To add further surprise, add some white chocolate drip on top of the combination for a sweeter taste to the mix. 
Wedding Cake Flavors & Wedding Cakes FAQs
What is a wedding cake flavor?
A wedding cake flavor is what your wedding cake will taste like when merging together the palate for bread, ganache, and frosting. The most popular wedding cake flavors are vanilla buttercream, red velvet, chocolate, strawberry & cream, pistachio, marble, and lemon. 
What flavor is traditional wedding cake?
Some of the most traditional wedding cake flavors are vanilla, buttercream, and fruit cake. Vanilla cake with vanilla buttercream frosting has remained classic for years. The tradition can also vary from region to region. The traditional wedding cake flavor in the UK is a fruitcake and has been a part of many royal weddings, especially for those who are closer to the line of succession. The traditional wedding cake flavor in Australia and New Zealand is the vanilla cake, in South Africa, the preferred cake flavor is vanilla with lemon curd, and in the US, the most popular cake flavor for weddings is also the classic vanilla in a three-tiered setting. 
What are some fall wedding cake flavors?
The most popular fall wedding cake flavors are carrot, dark chocolate, pumpkin spice, and berry-flavored cakes. Maple icing glazes and salted caramel drips are also popular in fall to impart the golden glow aligning with the fall's aesthetic.  
What are the popular wedding cake flavors for winter?
For the winter wedding, something indulgent, rich, and warm is often preferred. Double chocolate is one popular winter wedding cake flavors. For a spicy twist, Mexican chocolate with cinnamon and nutmeg is also popular. Other unique flavors include peppermint and chocolate, spicy carrot cake with cream cheese frosting, and salted caramel on an indulgent pumpkin spice base. 
What types of cakes are best for weddings?
Vanilla cake and buttercream frosting are crowd-pleasers at weddings. Other sought-after flavors include chocolate, berries, carrot cake, lemon, and caramel. The popular cake flavors for weddings also change depending on the season with summers seeing more colors in the form of fresh fruits and edible flowers, and fall and winter seeing more cozy and warm flavors like dark chocolate, carrot, and pistachio. 
What are some new wedding cake flavors in 2022? 
Some of the newest wedding cake flavors are chai tea, peanut butter cup, mango mousse, tropical coconut guava, matcha green tea with white chocolate, and strawberry champagne.