The best part about Christmas is getting to enjoy all the festive-themed shenanigans. From ugly sweaters to gingerbread cookies, decking the home with lights, sipping on eggnog, and getting to enjoy a manicure that's all about Christmas. Whether you want to go all in with themed motifs or just want to enjoy a simple manicure in shades of red and green, we have got 75 varied Christmas nails designs on this list to help you find your perfect holiday mani to take some inspiration from! 
#1 The green of Christmas can be found everywhere – wreaths, trees, lights, or themed desserts. Bring the dark fir green into your manicure with this gorgeous Christmas nail art done on almond-shaped nails. If you're wondering how to do Christmas nails at home, here's an easy one to pick the challenge. Start by shaping your nails and paint them green leaving the ring finger and pinky finger. Paint the pinky in white and to create the perfect sectioning on the ring nail, you can use a nail art tool or use tape to section the lines. This is a beginner-level Christmas nail art and perfect for those who don't have time or want to save some bucks from a professional mani.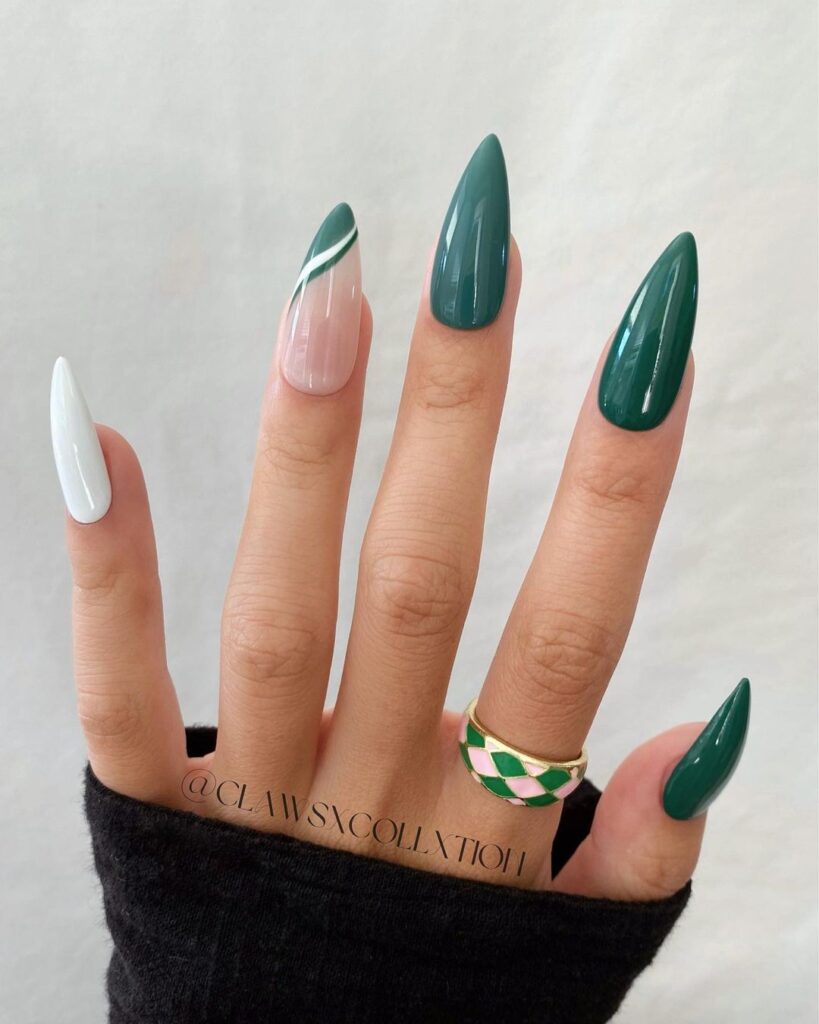 Courtesy: Apres Nails Official
#2 These short Christmas nails are gorgeous and practical. Long nails are not every women's cup of tea. Especially for those who have to do housework on a regular basis or have small kids. Another reason why women are ditching longer nails is because of their unhygienic nature. Longer nails can harbor 32 different bacteria and 28 different fungi, according to a report published by USA Today. The study further established the presence of MRSA, methicillin-resistant Staph Aureus, in almost half of the fingernail samples. If you have a small kid to take care of, it makes sense to stray away from longer nails for a while. This, and many other small Christmas nail art, on this list, will help you don a glamorous mani this 2022 holiday season and get into the cheery festive spirit.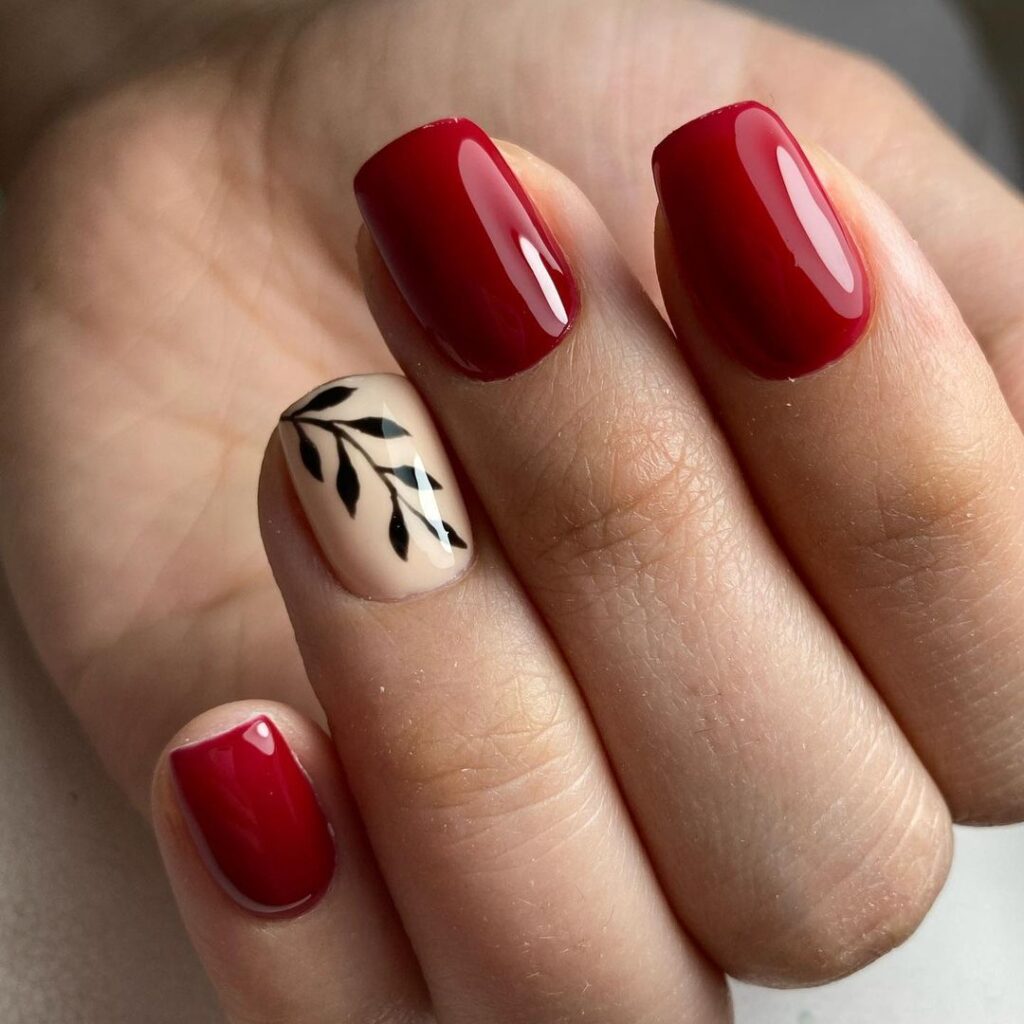 Courtesy: @unique_naiil
#3 One of the best parts about Christmas is the gifts. Bringing this joyful Christmas activity to your nails is this gift-wrap-inspired nail art done in a pristine white color as a base and red accents on top. In this stunning set, four nails get diagonal red lines atop a snowy-white background and one accent nail sets the manicure apart with a wrapping knot motif done neatly and flawlessly. We love how it's snapped in front of the gift paper itself to give a not-so-subtle nod to the tradition it's referring to! 
Courtesy: Abby Aastrup
#4 The understated clumsiness of this nail art is exactly what makes this endearing, and is a perfect inspiration for women who'd want to do a Christmas nail design at home but wondering if it will come out as good as the Pinterest picture they have saved. Turns out, it doesn't matter at all! The slight disuniformity only makes it more cute and merry. Try the next mani on our list with gifts, desserts, and tree motifs all catered to the festivities. It's done in matte colors, and we'd suggest taking the same route as it makes the motifs pop out more.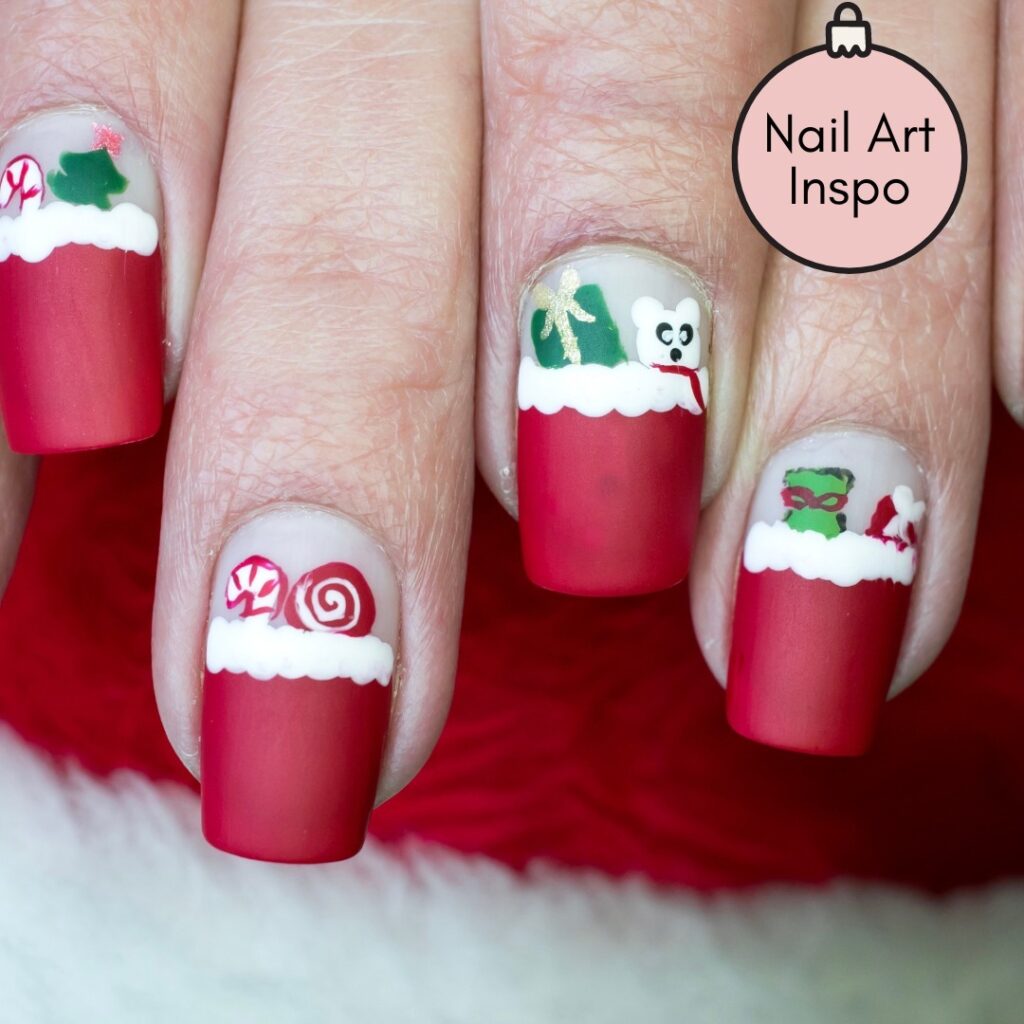 Courtesy: @esthetician_gifts
#5 Almond nails are favored by women whether they are going for short nails or long nails because of their ability to make your fingers look longer and add a feminine touch to the manicure. Opt for this nail shape if you want the same attributes in your manicure. This beautiful set is done in gloss red nails and bedecked in snowflake art. Snowflakes are popular on nails during the winter season, and this one is relevant to not just Christmas but the cozy weather as well.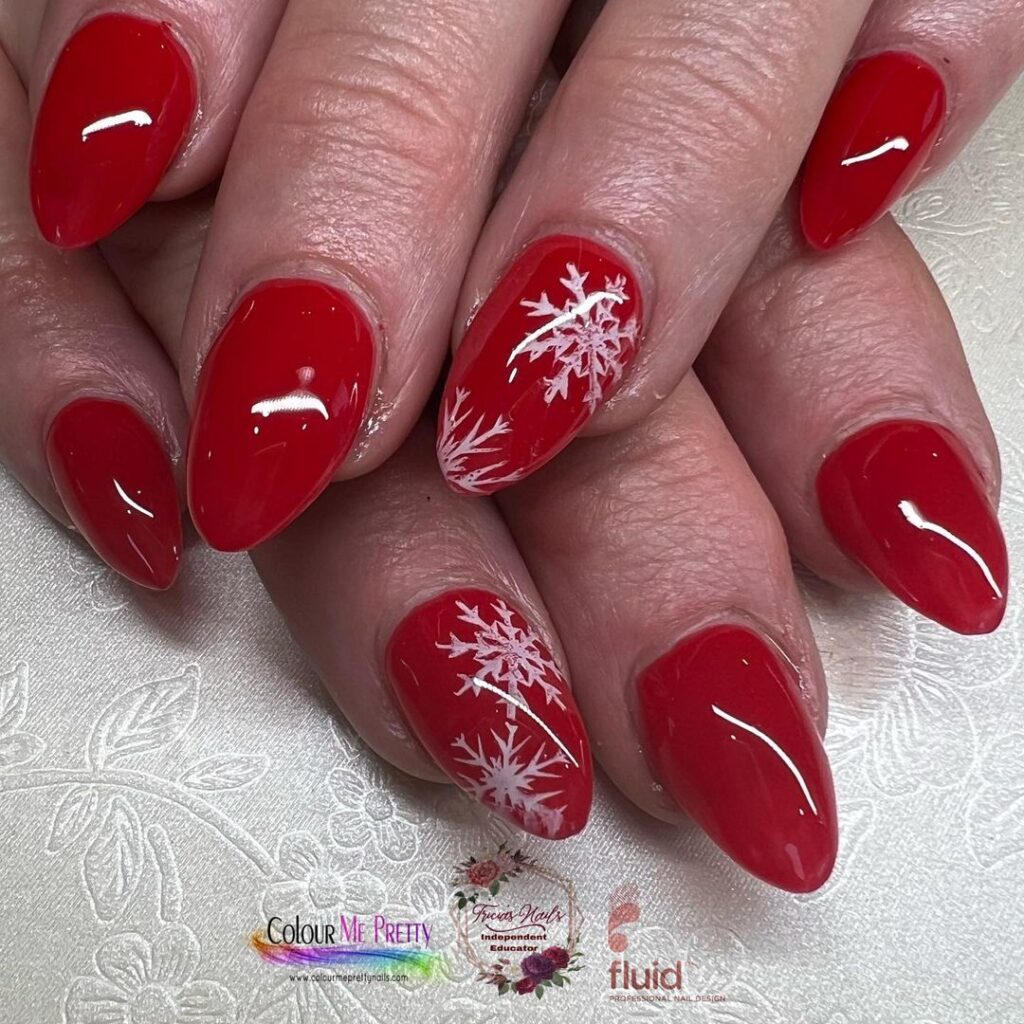 Courtesy: @triciasnails
#6 Studs, glitter, long nails – this is the ideal Christmas nail idea for those looking to go bold with their manicure this holiday season. Curated by Stockholm-based nail technician @beautiful_in_light, the stunning design is a work of art and a nod to the artist's true passion for her work. With more than 100k followers and 700+ posts, you can find many other such glamorous Christmas nails 2022 on her Instagram. Certainly, a striking manicure like this is all you need when you want that extra push to get into the holiday spirit.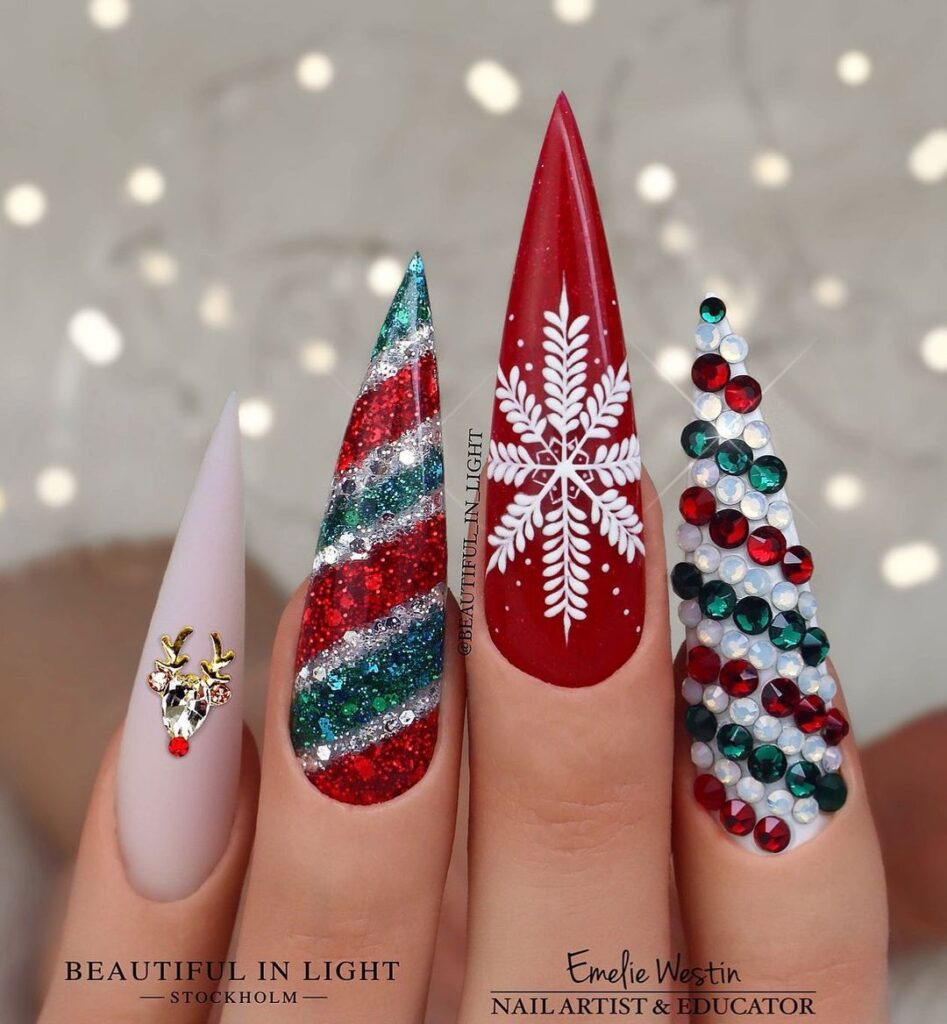 #7 You don't always have to have red or green in everything festive-themed. People who want to do things differently are, in fact, also decorating their Christmas trees entirely in white and silver embellishments, ditching the colors completely, and using a neutral palette to create the snug and pleasant feeling of Christmas. You can bring the same theme into your manicure by painting them in transparent gloss and elevating them with charcoal grey accents covered in glitter reminiscent of the starry winter night sky. Take the mani up a notch by wearing some statement rings and you won't be able to stop staring at your hands at every chance you get.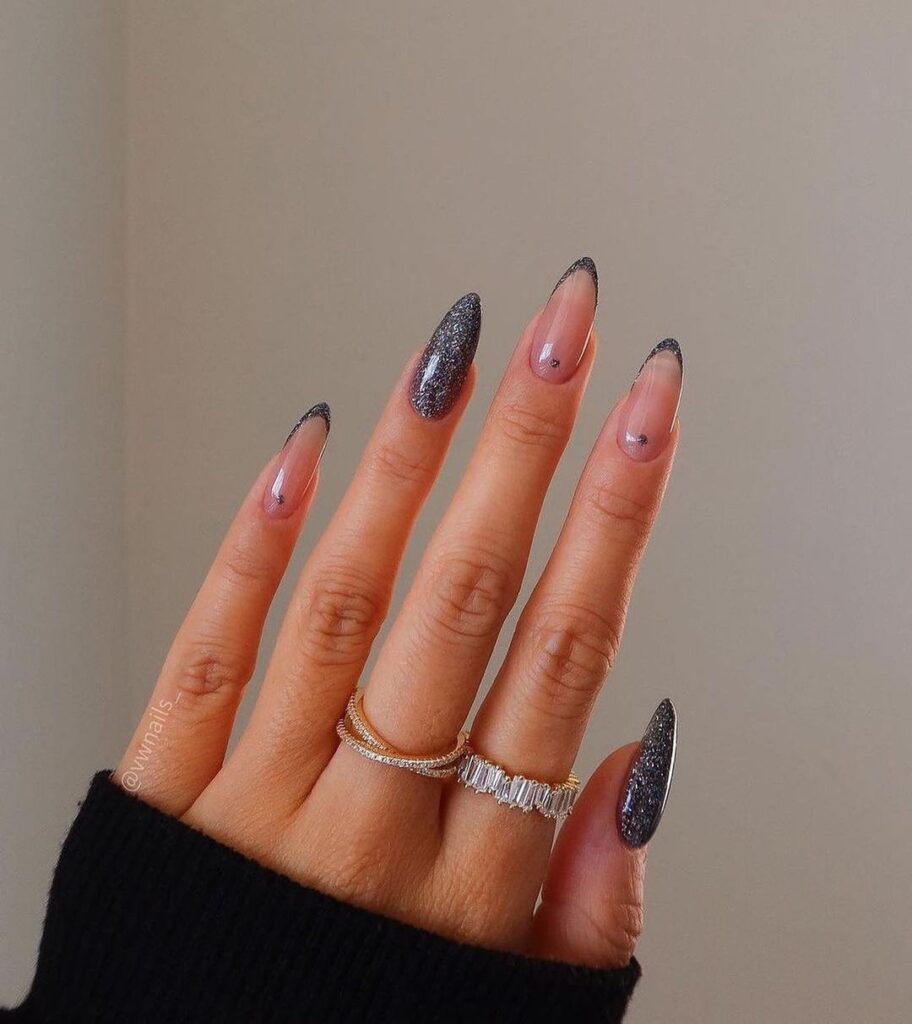 Courtesy: Vivian W
#8 We see Santa, reindeer, and trees as Christmas motifs on nails all the time. Seldom do we see Christmas lights drawn on manicures though! That's what makes these Christmas acrylic nails stand out. The art in both hands matches some nails and differs on others for a beautiful complementary design. While the lights and Santa motifs stay the same, one hand has a tree motif and a red nail with a golden accent, the other one has a reindeer and a black nail with a golden accent. Because of the easy drawings, they can be done at home by someone with a medium level of creativity in nail designs.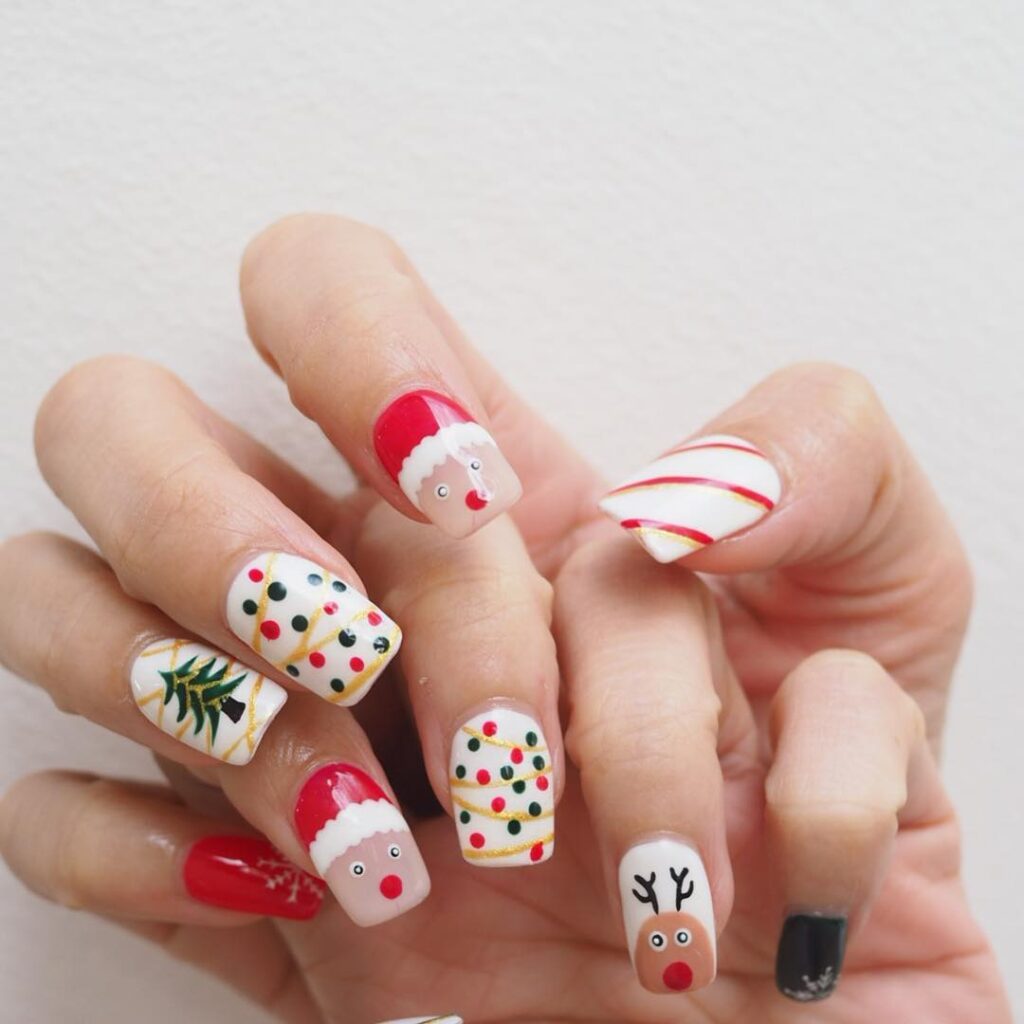 Courtesy: @hugsxkissesnailbar
#9 Ditching the usual red & green Christmas nail colors again, this design only features a glitter polish done on small nails for an elegant yet easy Christmas manicure. Some people do consider glitter nails tacky and out-of-style. The former can be somewhat of a personal preference but the latter is certainly not true. Glitter nails are the ideal way to add some definition and detail to your manicure without doing much. It can be all glitter or some accents – it doesn't matter. Some sparkle in any form can make your nails look festive without doing much.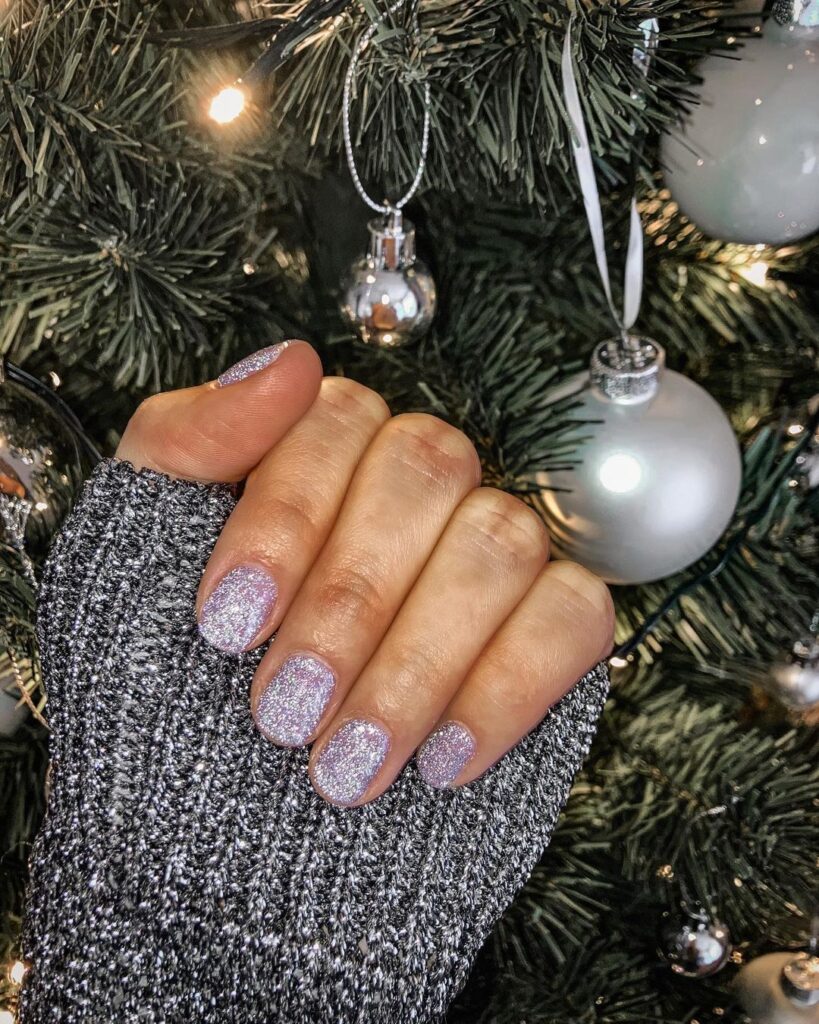 Courtesy: @doriczegledi
#10 Gingerbread houses and gingerbread cookies are possibly one of the most Christmas-y traditions you can indulge in during the holidays. The tradition can be traced back to ancient homes but the earliest documented accounts of the modern tradition of figure-shaped gingerbread are traced to Elizabeth I's reign when she got them made as per the likeness of her guests. Today, they can be seen baked in many households and bakeries around the time of Christmas, so naturally when you want to give a festive feel to your nails, painting them in gingerbread motifs seems like an obvious thing. Take the next design as an inspiration for the same.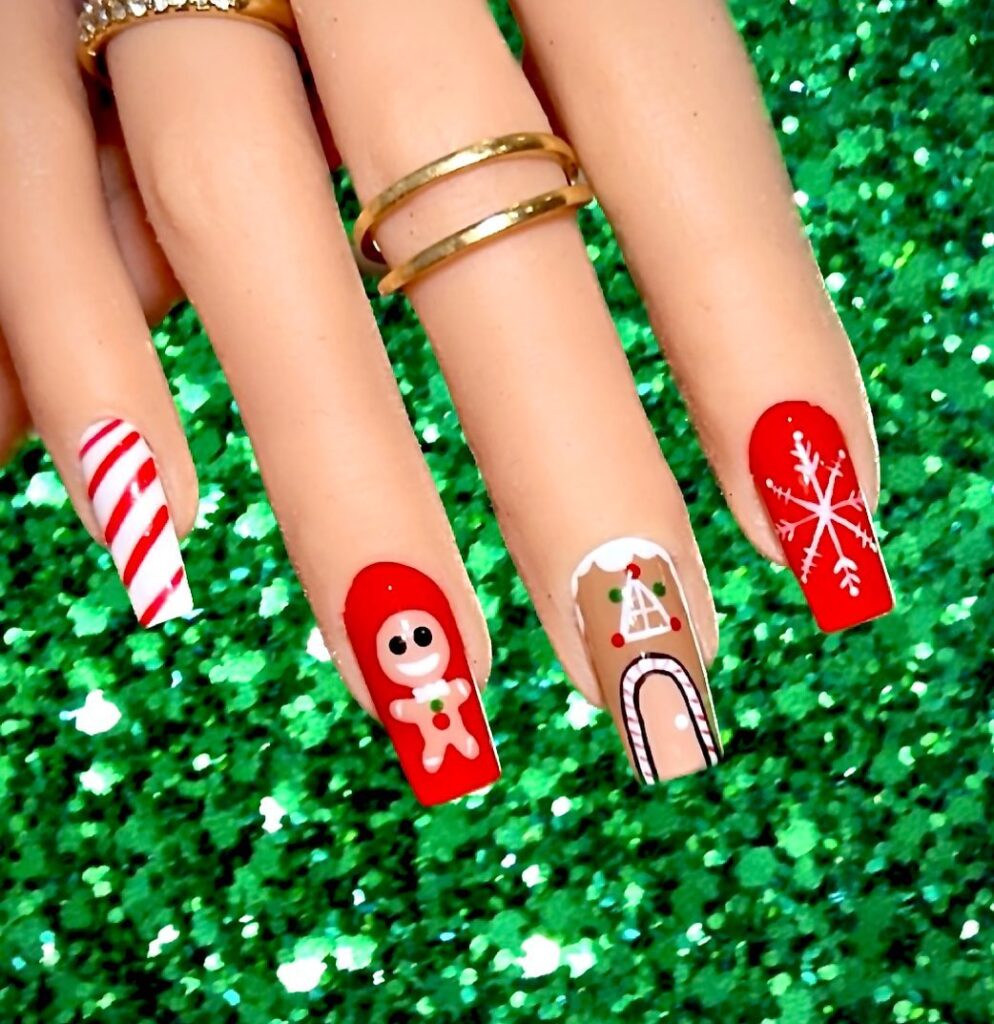 Courtesy: @sparkle.with.cm.nails
#11 The eye-catching color combination of red and white can be found everywhere around the holidays. It's aesthetic, it's elegant, and it's timeless – being employed for ages in everything festive-themed. You certainly can't go wrong with this color combination for your Christmas nail art. The nails alternatively have a base of red and white with geometric patterns in the other color. Only the ring finger has a white base with blue dots to give the look of cookie-style nail polishes. The thumb is done in complete red polish without any patterns or motifs to balance the drama of the rest of the design.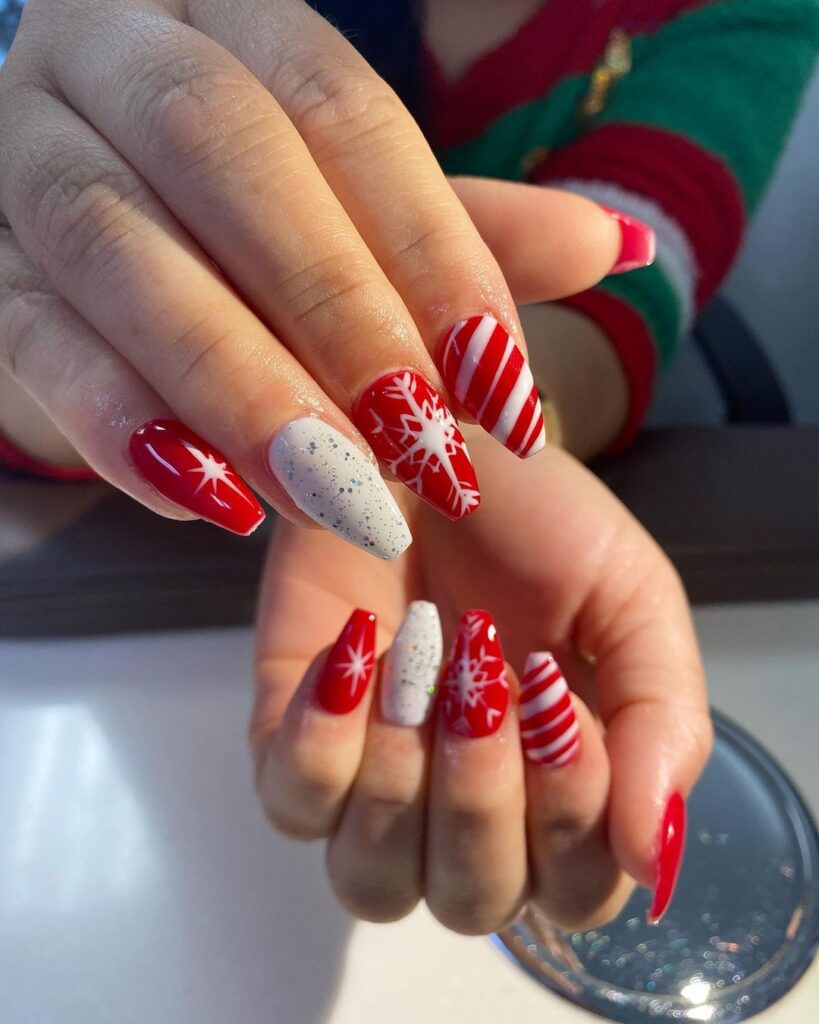 Courtesy: LauraCNails
#12 These short Christmas nails are captivating and exquisitely done! They are done on a red glitter base for a bewitching background and decorated using silver glitter and white polish patterns. The square nail shape adds minimalism and elegance to this design. Not just the patterns, but the nail shape is easy to do at home as well. Square nails are trending in 2022, as per an article published by The Zoe Report. They also give an impression of a wider nail bed and are less resistant to impact, making your manicure last longer. If you're opting out of both gels and acrylics this holiday season and want a nail type to last longer, go for square nails.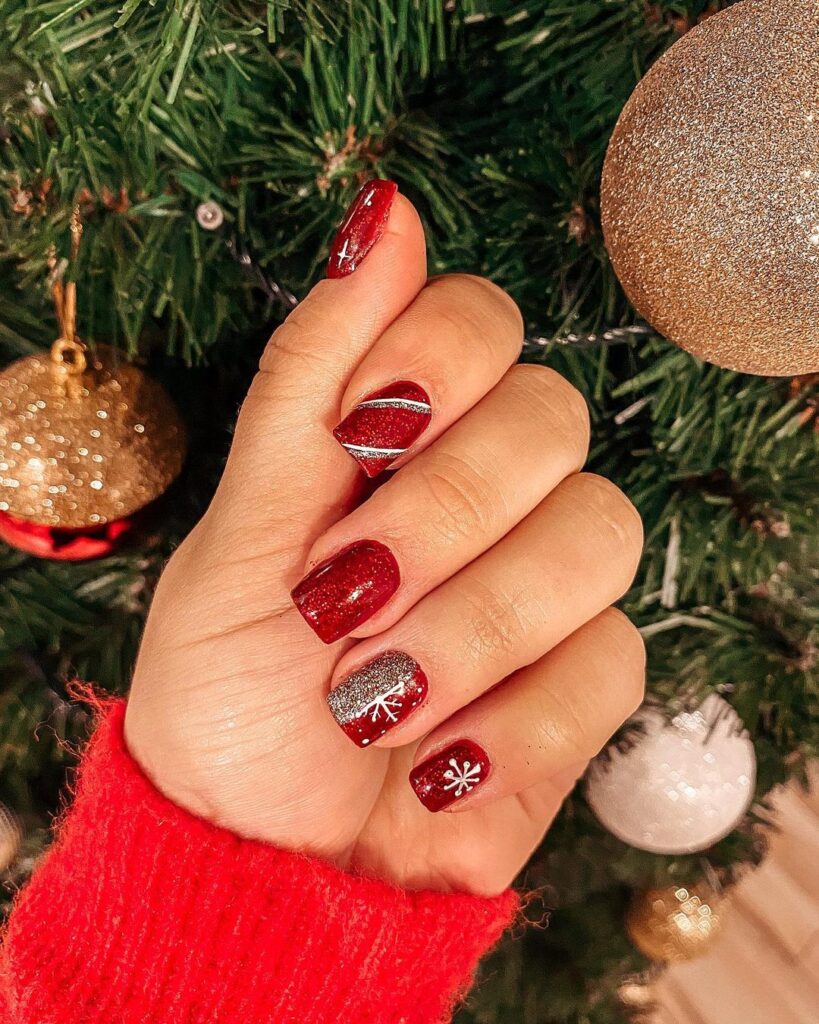 Courtesy: @lifeby_hanna
#13 Playing with a different shade of red to enhance the usual red-white Christmas combo is a simple yet creative option. The thumb is painted in an entire red polish with the pinky and index finger done in red base and white vertical and criss-cross lines respectively. The ring finger is done in the winter-specific cable knit sweater art and the middle finger stands out in a merlot red base embellished by a snowflake pattern. If you're doing this design at home, you can skip the sweater pattern and just paint the ring finger in white for an easy and doable version of this one of the Christmas nail designs.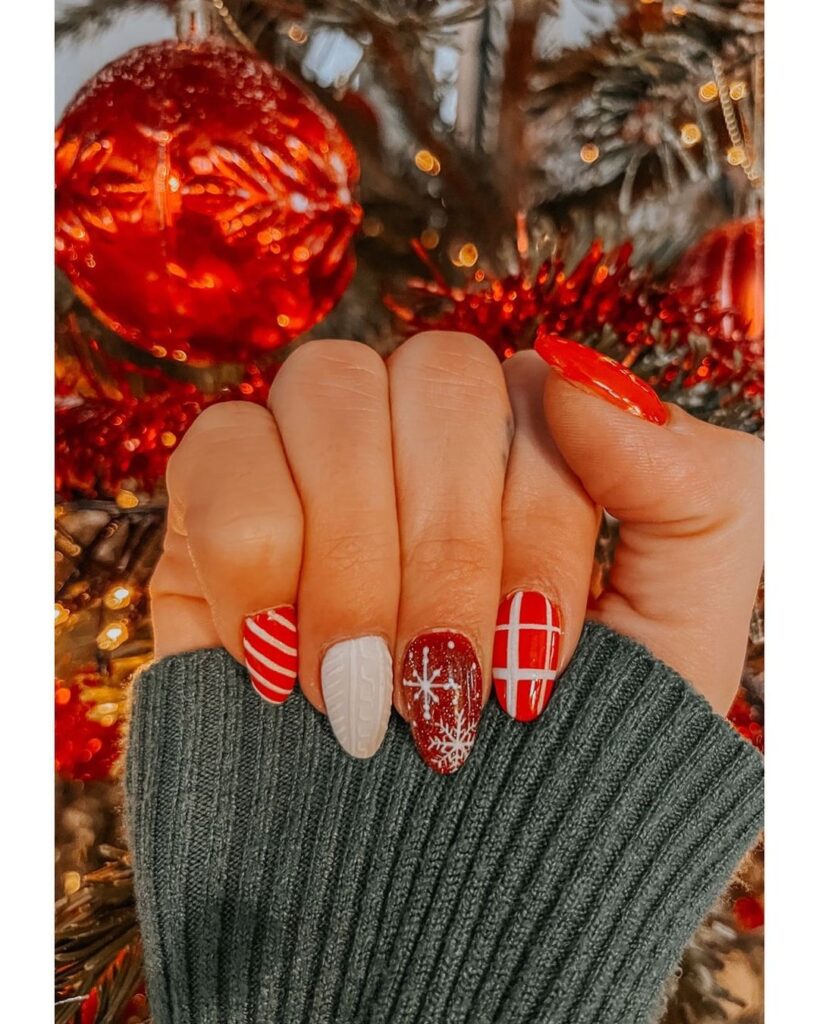 Courtesy: Fanny
#14 These Christmas acrylic nails are teeming with motifs and geometric patterns on a transparent base with just one nail covered in glitter red nail. Done by California-based @usanailsandspa805, the design is both elegant and bewitching. There's really no wrong way of doing Christmas nail art. Just pick the one that resonates with you more. This one, for example, is the perfect option for someone who wants long nails yet simple motifs to bedeck them creating a good balance of glam and subtlety. Don't you think?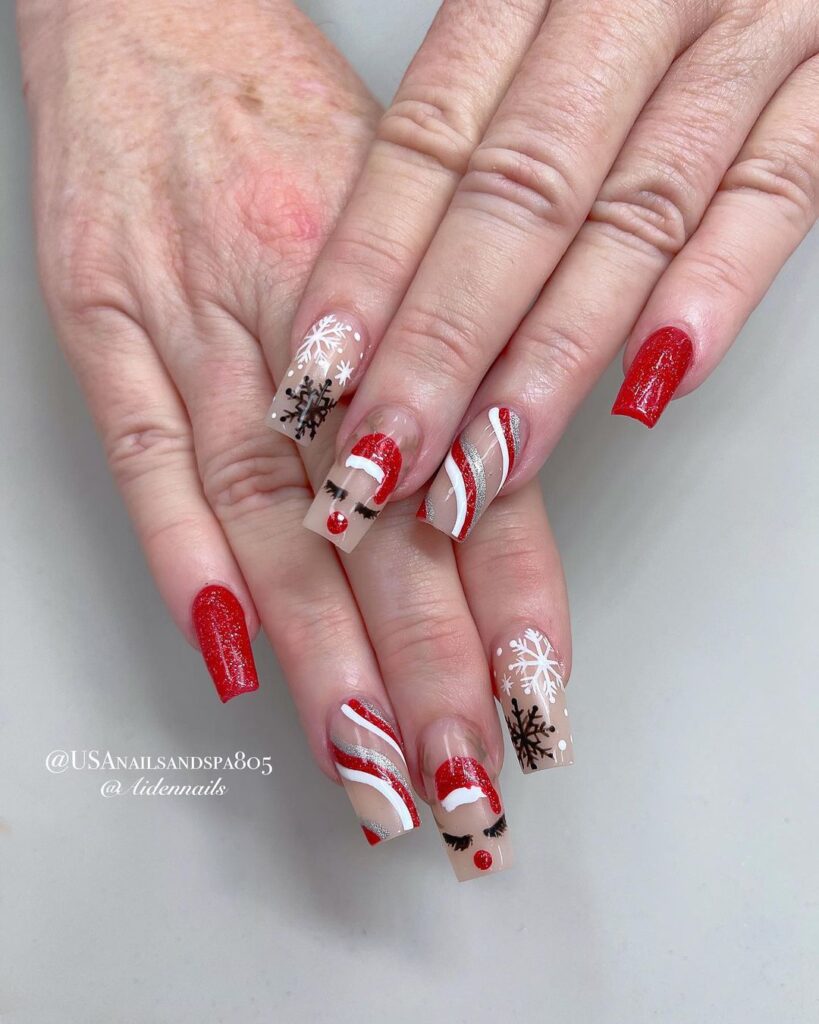 #15 Done in a neutral pink base with an ombre pattern on two nails and a soft blue glitter on one, this nail design is a good example of holiday nail art without the use of bold colors. Sparkle is anyways everywhere during Christmas. From the twinkling lights to the decorating balls and sequinned dresses, glimmer is an ideal way to enjoy the holiday season vibes without doing much. If you're thinking of bringing this holiday sparkle to your manicure, here's a gorgeous example of how you can do so with creativity and charm. 
Courtesy: @christmaswithhayley
#16 Ah! The sweater-weather calls for some cable-knit sweater patterns on your nails too. With the buzzing creativity of nail technicians, there's really nothing you love that can't be physically manifested into your manicure. Be it your favorite animated character to your beloved festival motif, they can do it all! Here, the short almond nails are doused in a light gray shade with an accent nail in golden glitter. The middle nail is done in a sweater pattern to give a nod to the season while the ring finger has a reindeer to give a nod to the holidays. While the thumb isn't shown, you can use your creativity to either add another motif to the grey base or cover it in golden glitter polish as well.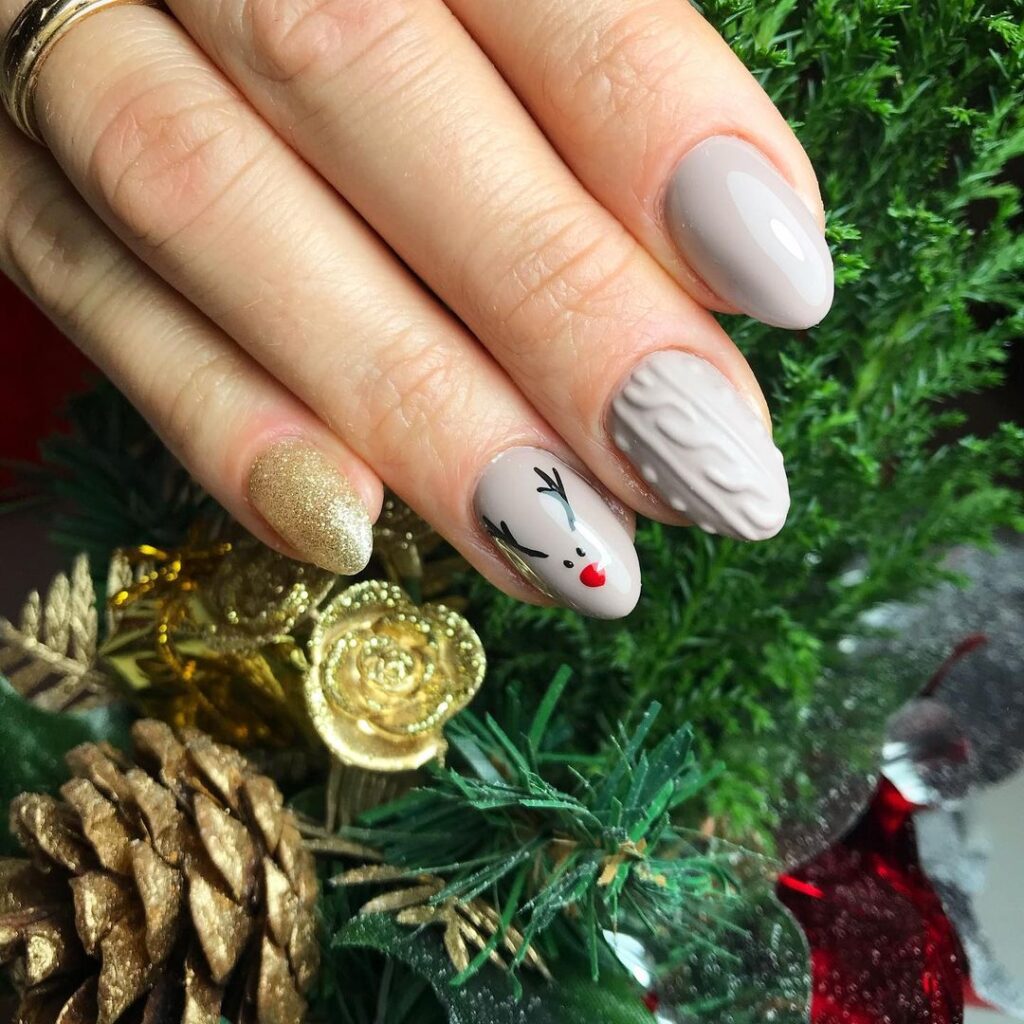 Courtesy: @kejtimejti
#17 Cold weather is beloved by many. The shorter days and longer nights give you more time to relax and cozy up at your home. It's also the time of holidays when people get some time off and spend the festivals with their families after a long year of hard work and running around. The quiet weather also gives people some time to relax, break the humdrum of routine, and find peace again. To give a nod to your favorite season, make your Christmas nails all about the winters by depicting snowflakes, winter dogs, and snow-covered mountain peaks on your manicure.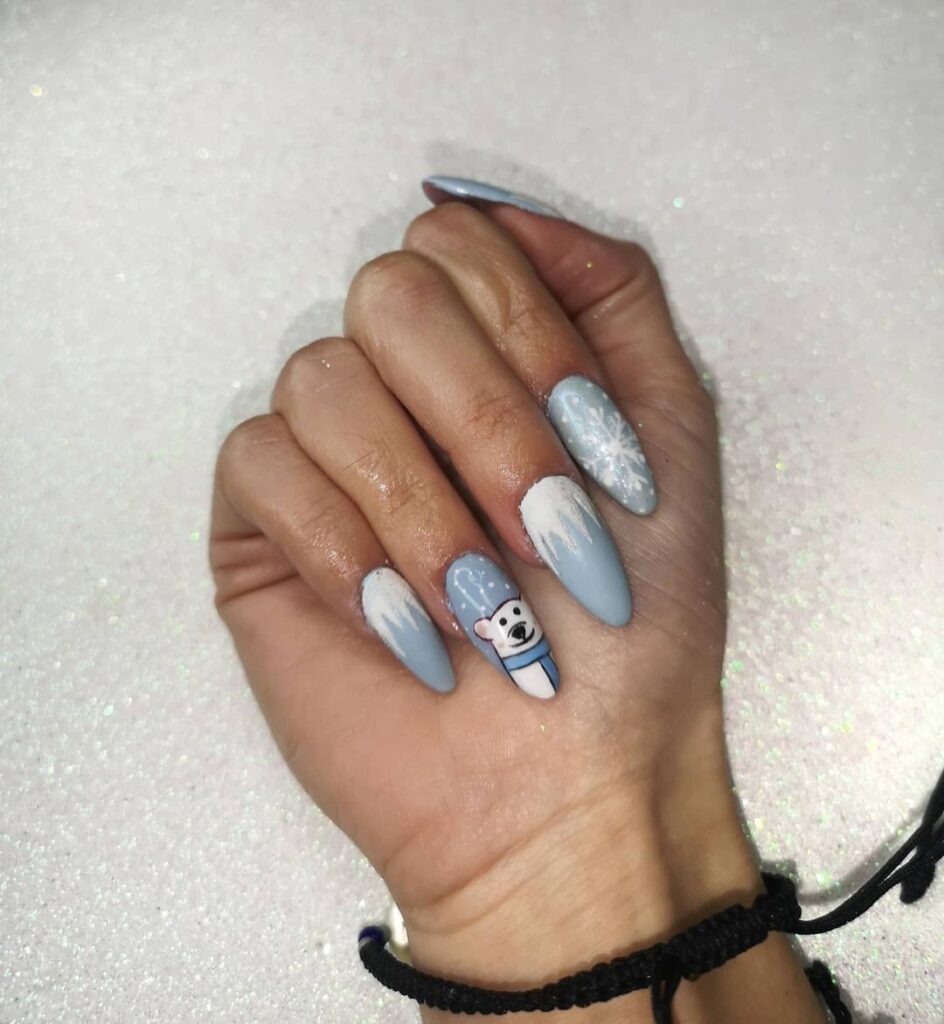 Courtesy: @alessia_blondie
#18 Santa Claus is one of the most beloved figures across the world and is a legendary character that filled our childhood dreams. When you want to relive those innocent childhood tales, there's nothing better than depicting the Santa motifs on your manicure. From his giant tummy to his happy, grandpa face, this Christmas nail art design portrays them all. Not just elders, but if you have a small kid in your home who wants a manicure to celebrate the Christmas spirit, get her this enduring set of nails as the easy outline and filling can be easily done at home as well.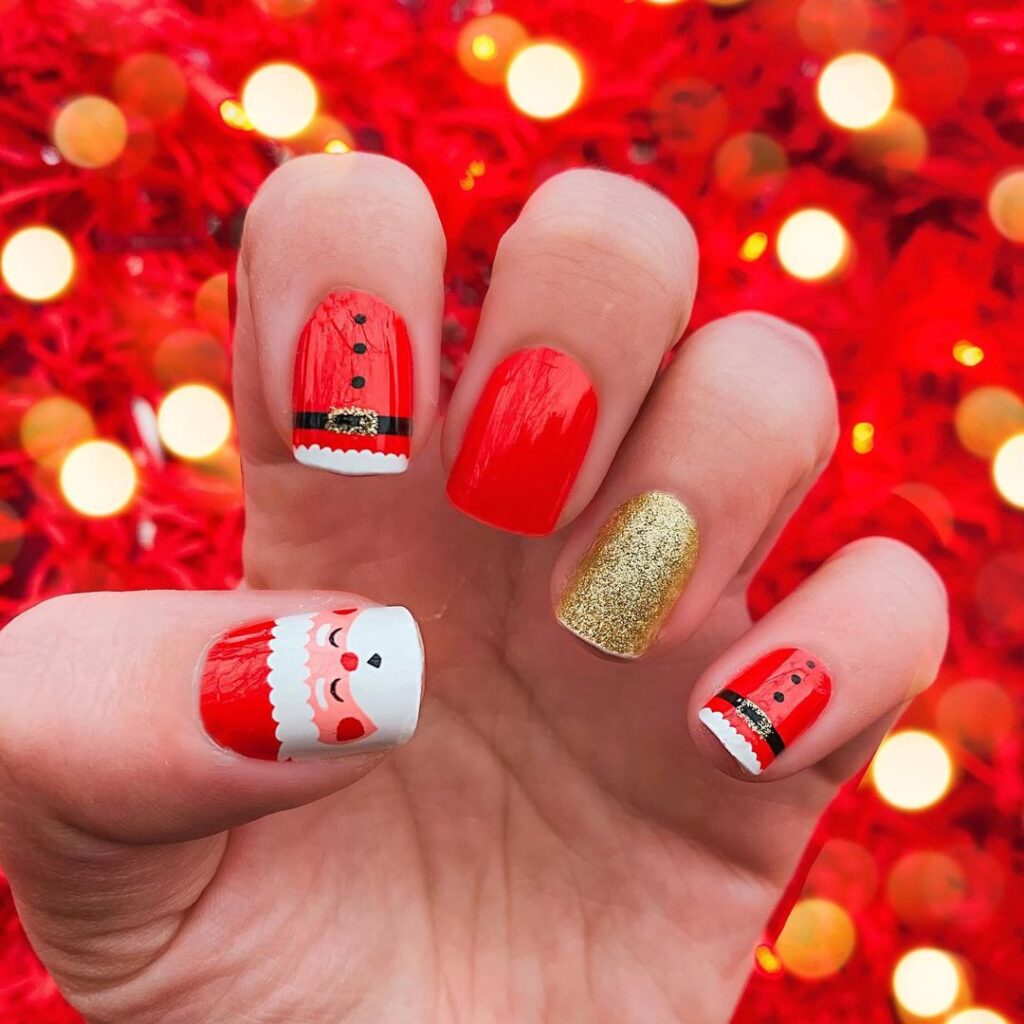 Courtesy: @emma_averill
#19 The Christmas French tip nails are popular and are often searched around the holiday time. Women who prefer simplicity, minimalism, and elegance in their nails, there's nothing better than picking these Christmas nails in French tip design for the holiday season. They can be done in both acrylics and gel so you enjoy them for 2 to 3 weeks without any wearing off. But they can also be done at home, although do make sure they're done with neatness as a French manicure is all about those flawless tips. To create that white line accent, first, paint the tips white and then section the red part instead of going the other way around.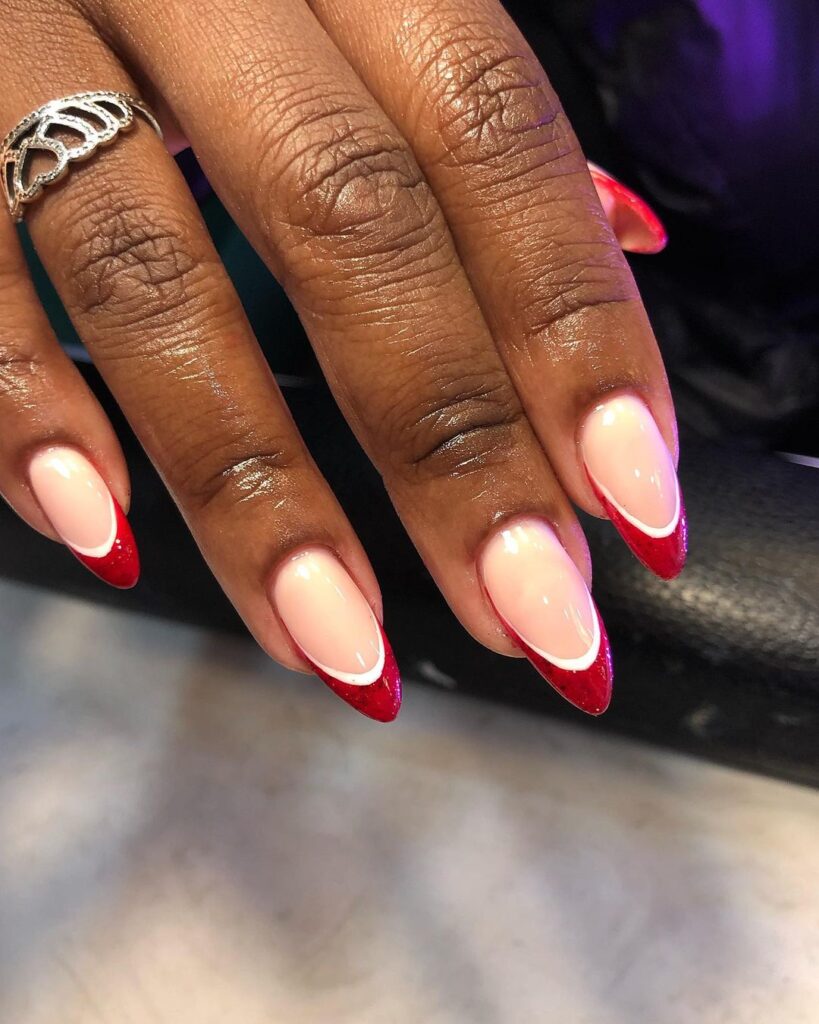 Courtesy: @mynails_official
#20 Ditching the usual forest green for the Christmas nails, this gorgeous set uses a lighter green background in glitter with gingerbread, leaf, and a twinkling star motif on each nail. To enhance the design, the middle nail is done in horizontal lines of red, silver glitter, and white for a unique touch. Even though longer nails can give you more area for creative expression, shorter nails can also be used to demonstrate your artistic streak, when done strategically. The next one of the Christmas nail designs surely makes the case for ingenuity and creativity in short Christmas nails.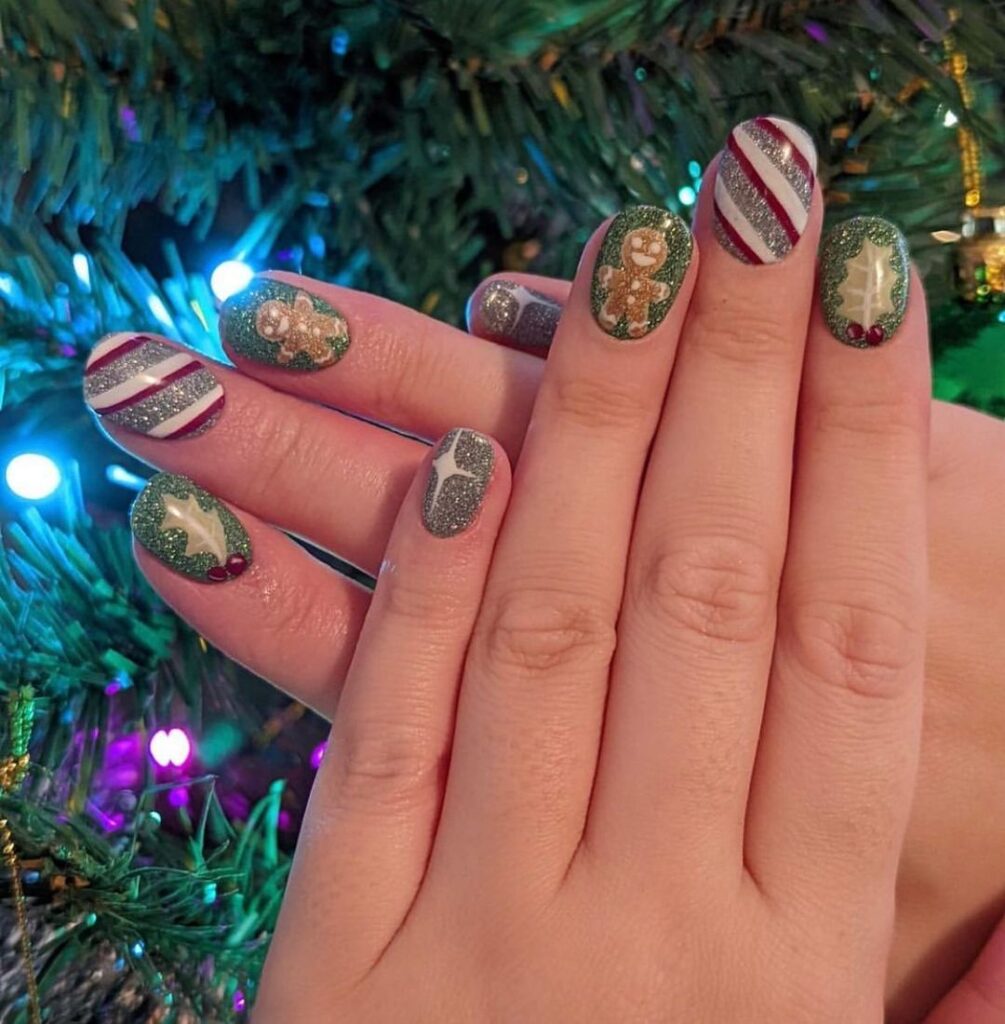 Courtesy: @smiley.nail.art
#21 These coffin Christmas nails are minimalistic and elegant and give off the perfect festive vibes with their subtle shimmer and snowflake art. Coffin nail shape has become one of the most emerging trends in nail art. A favorite among celebrities like the Kardashians & Jenner, Nicki Minaj, and Rihanna, the nails are tapered at the ends and squared off just like in the shape of a coffin. If you're wanting to give your nails a modish twist, opting for a coffin nail shape can do the trick in itself. They can be both long or short, depending on your personal preference.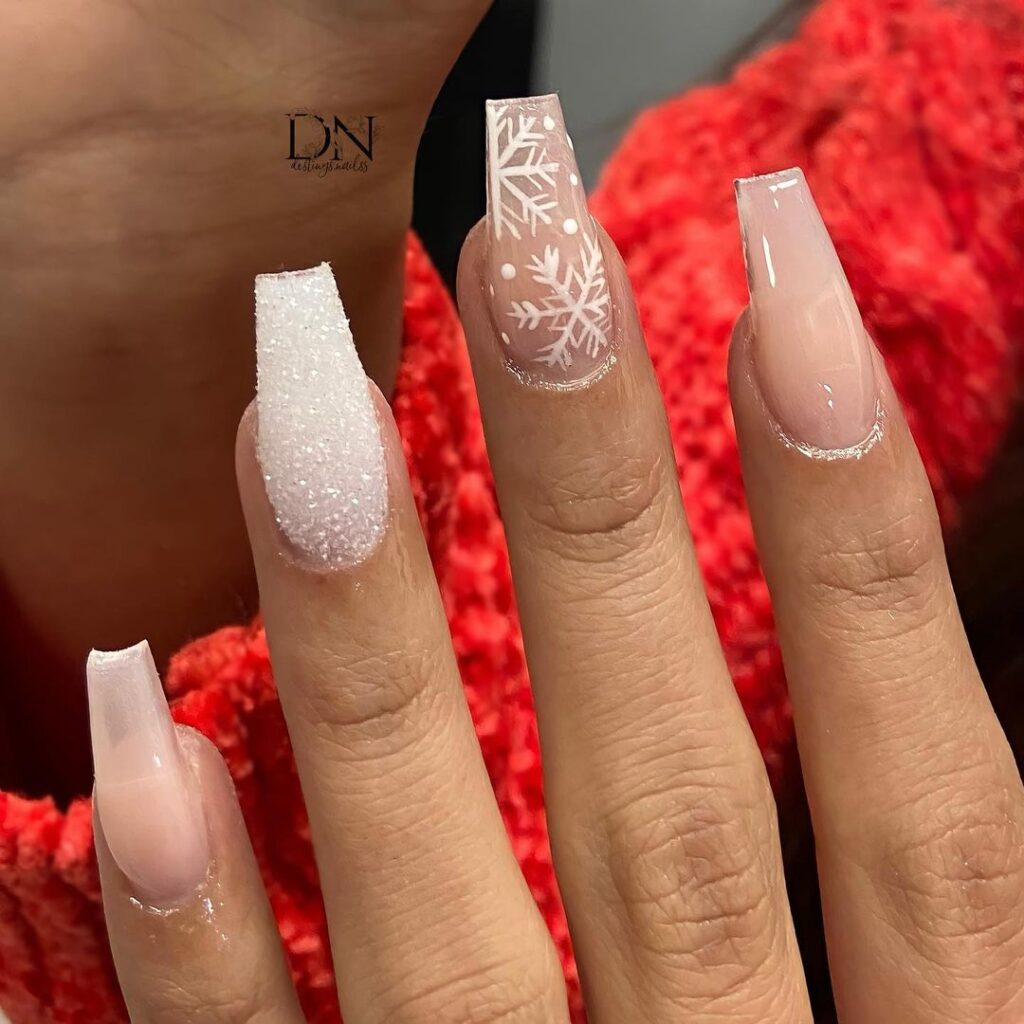 Courtesy: @destinys.nailss
#22 When you don't have time to get the holiday nails from an expert or just want to go simple & minimal this holiday season, the next one of the Christmas nail art is just what you need for inspiration. It's done in the usual red-green shade of Christmas colors combined with pink & white. While these are done on short nails, you can paint them on any nail length or shape as per your preferences. You can also do another variation of this colorful mani by using two shades of red – preferably merlot and bright red – and paint one nail white for an accent.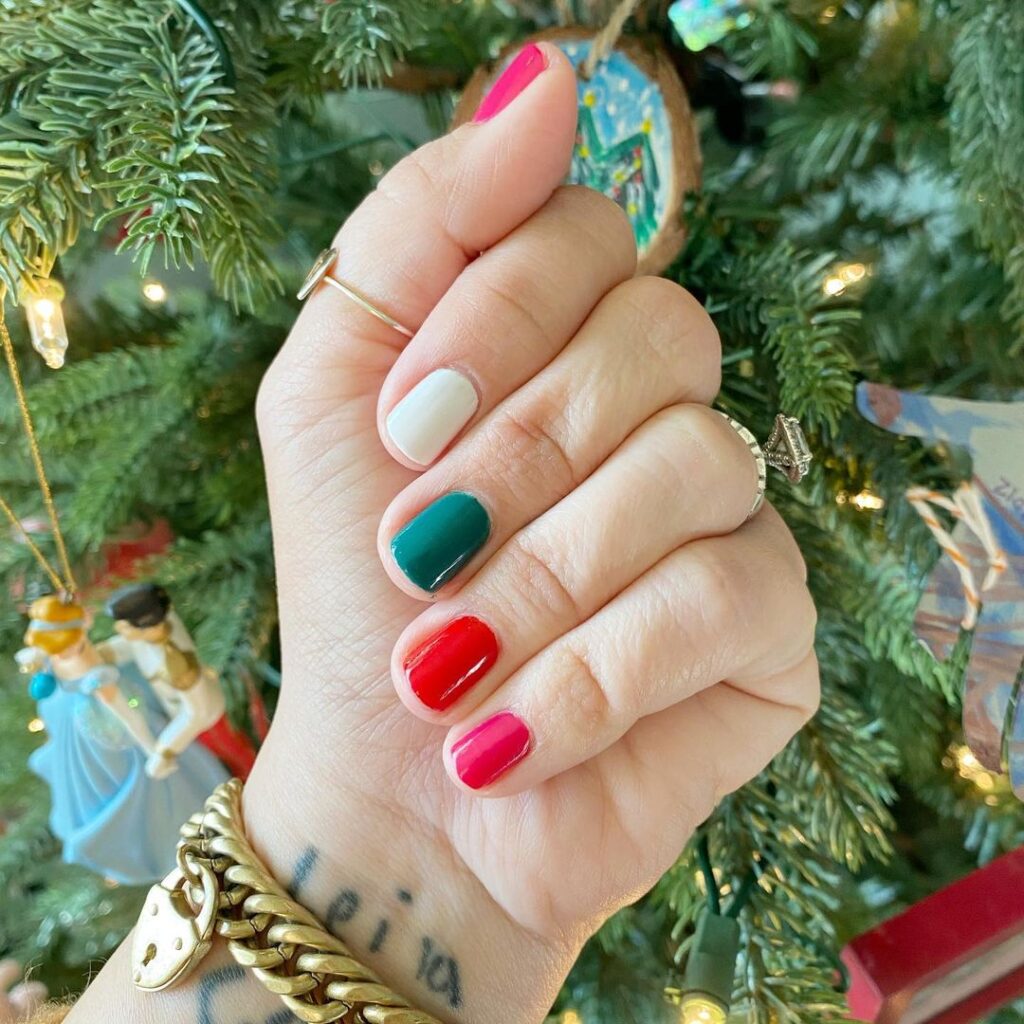 Courtesy: @heathergiustino
#23 These long coffin nails are gorgeous, glamorous, and absolutely stunning! Longer nails are preferred by women because of their femininity, eye-catchiness, and ample space for creative expression. This nail length was earlier a sign of higher social status as it was believed these women could afford to maintain them and also has lesser housework which can cause damage to them. Longer nails surely are a commitment, but if you think you can manage them, here's a gorgeous design for this nail length to try for Christmas nails 2022. Needless to say, trust an expert to get this design as acrylics or gel makes the longer set last better.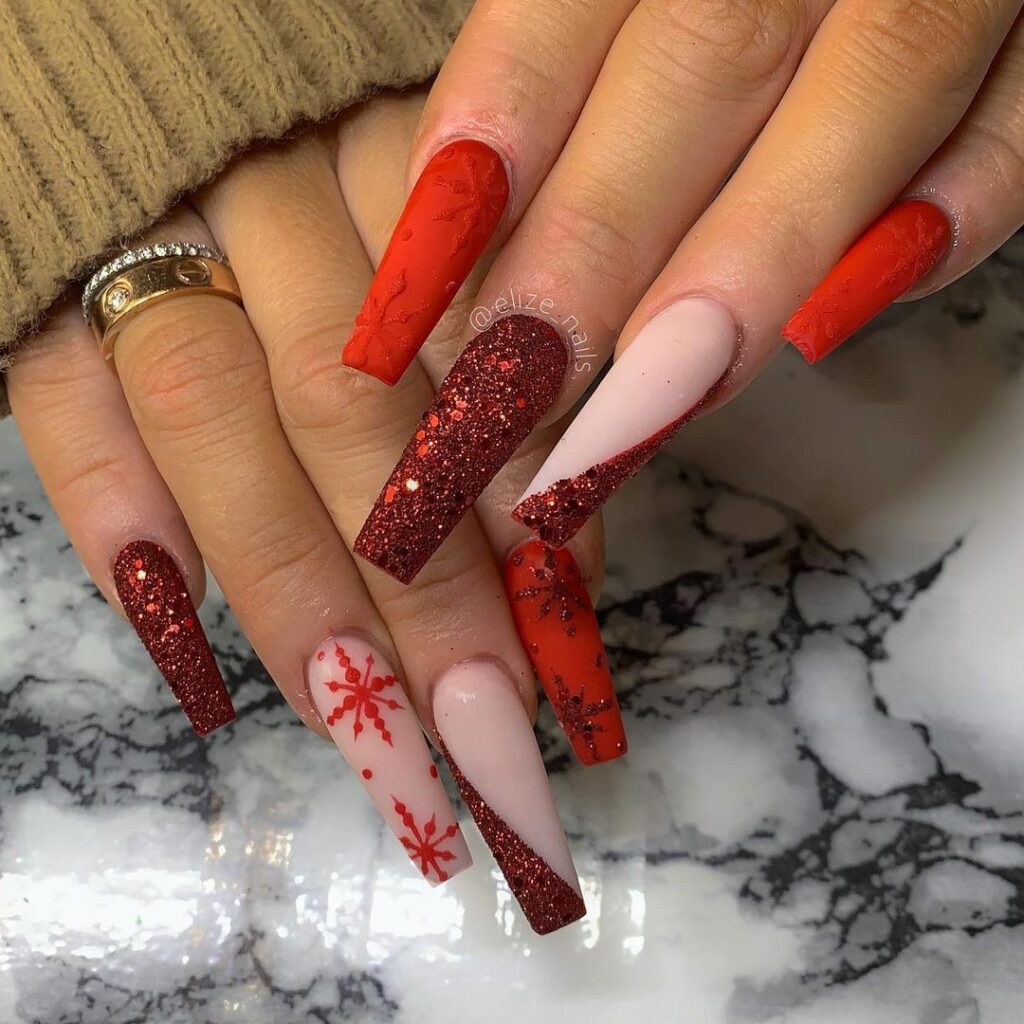 Courtesy: @elize_nails
#24 These peach nails are absolutely stunning! This one of the Christmas nail designs employs polka dots, stripes, glitter, and white accents, and brings them all together for alluring nail art. If you're looking for a color other than red & green to grace your manicure for these holidays, peach can be an ideal color. It's soft yet vibrant, calm yet makes a statement, and playful yet has an intense energy. Not just for winters, it makes for an epic hue for summer nails or spring nail designs as well.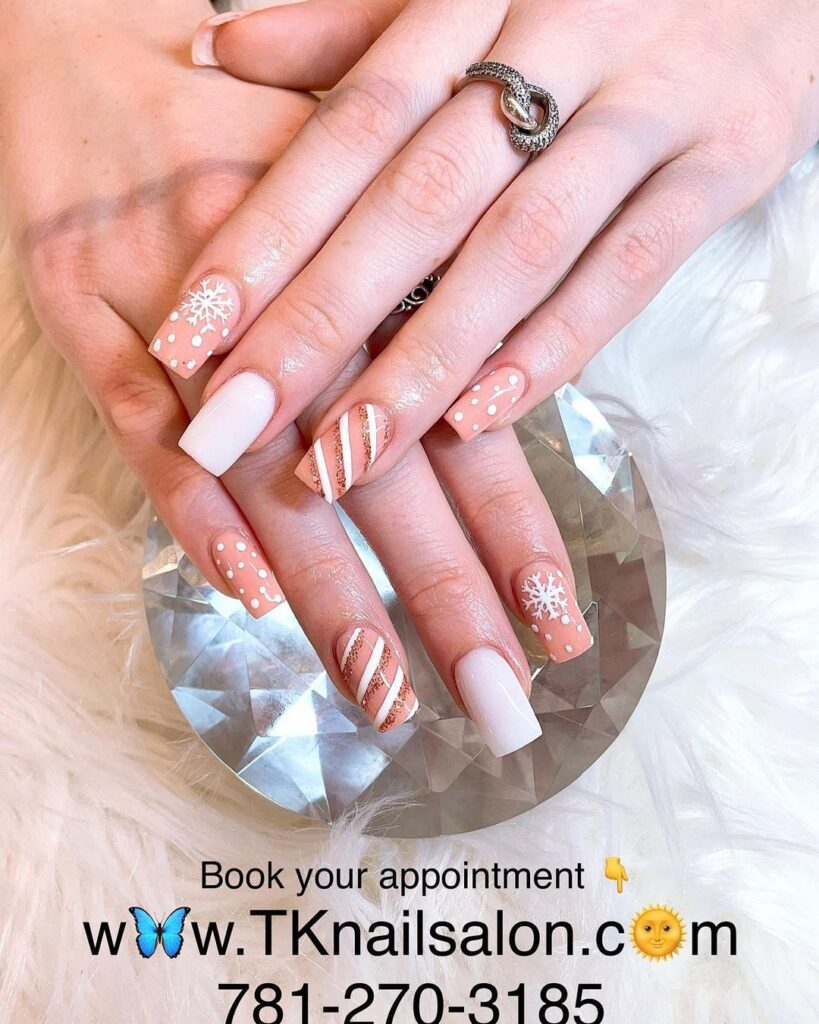 Courtesy: T&K Nail Design
#25 The power of pink can never be denied, no matter the season, the occasion, or the festival. If you've ever wondered why girls love pink and have preferred the hue, there are biological reasons for our inherent favoritism. It's believed that in historic times women whose main role was food gathering developed a vision to spot pink or other bright colors so they could find ripe fruits in the forest. Biologically, it's believed that women favor pink to support their role as a caretaker for their kids. Since the face changes color to pink when a kid is crying or angry or blushing, they can spot these emotions instantly and react accordingly. Now that you know your preference for pink isn't baseless, here's a pink nail art to help you express your love for the color in the upcoming festive season.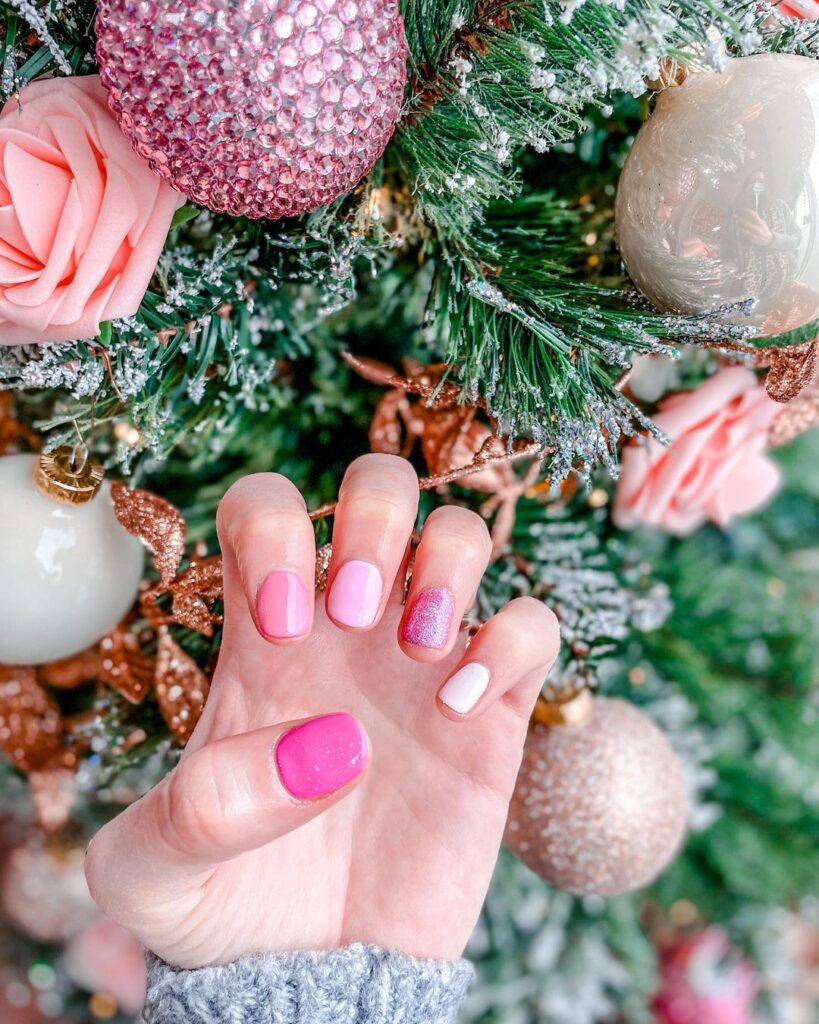 Courtesy: Jessica
#26 When you're opting for a more neutral color tone for your Christmas decor, why not opt for the same palette in your manicure as well? Atop a beautiful beige base, there's an endearing reindeer motif and a geometric horizontal pattern for subtle creativity into the mani. We also love how the manicure is snapped against a twinkling Christmas tree and a candy cane in hand to flaunt the beautiful setting on social media and keep them saved for memories.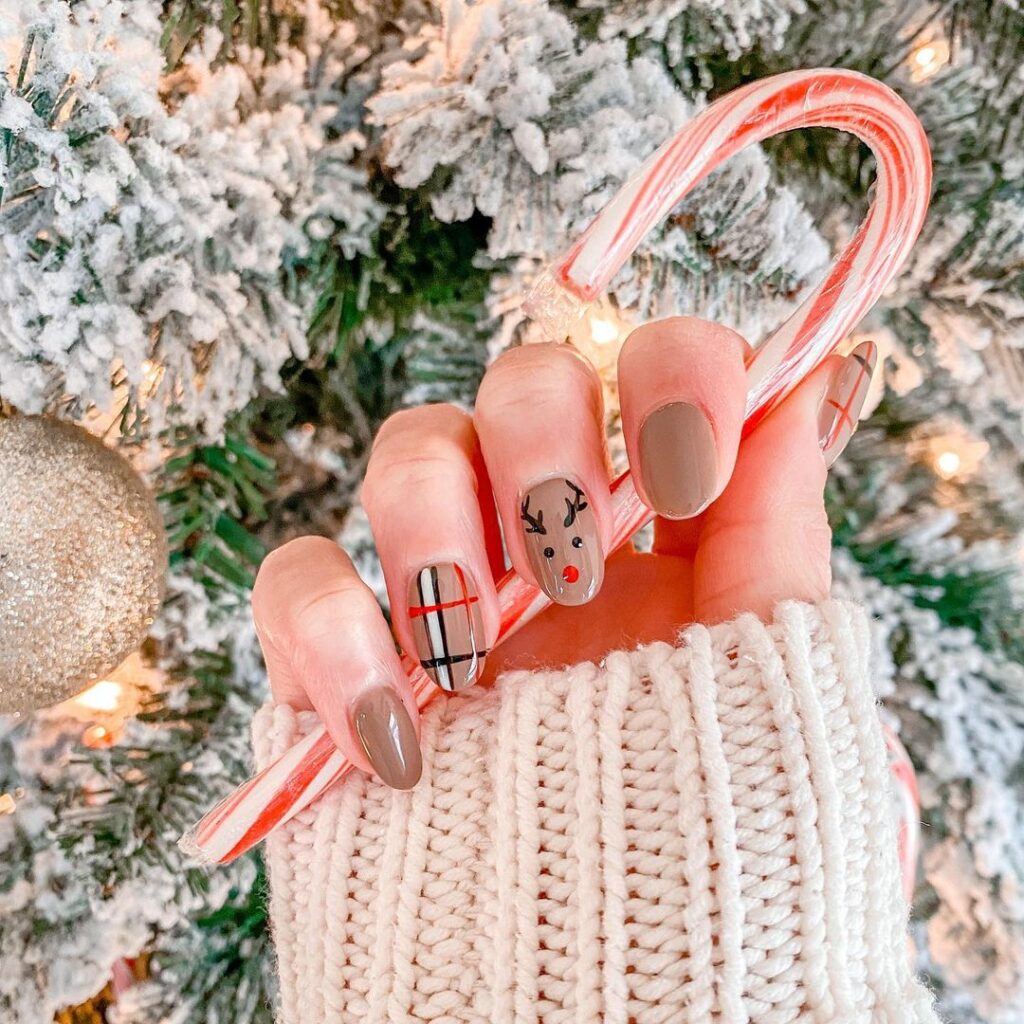 Courtesy: @hanginwithhope
#27 These starry nails on a cream base and red & golden glitter shade exude festival spirit whilst keeping it classic at the same time. Stars are particularly clearly visible in winter when the nights are darker and days are shorter. Spotting stars has always been symbolically significant as they represent forever, hope, destiny, and freedom. Donning them on your manicure gives you a little nudge on their significance every time you look at them and it's a beautiful feeling, isn't it?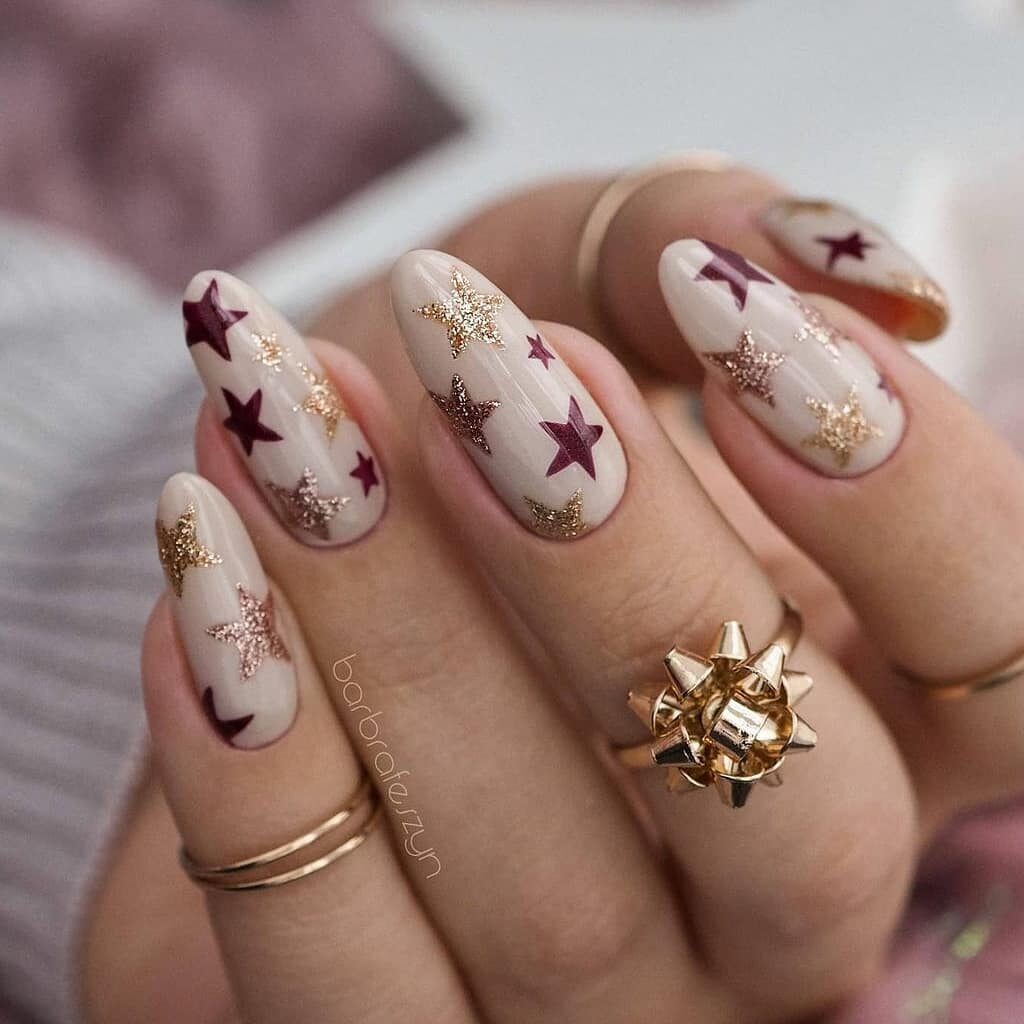 Courtesy: Basia Goral
#28 Almond nail shape is always appealing and striking – no matter if you opt for a shorter nail length or a bigger one. They are a good pick for anyone who wants to give a narrower appearance to their nail bed and a longer appearance to their fingers. To elevate this nail shape further, here's a design bedecked in studs, glitter, and winter-specific motifs to try.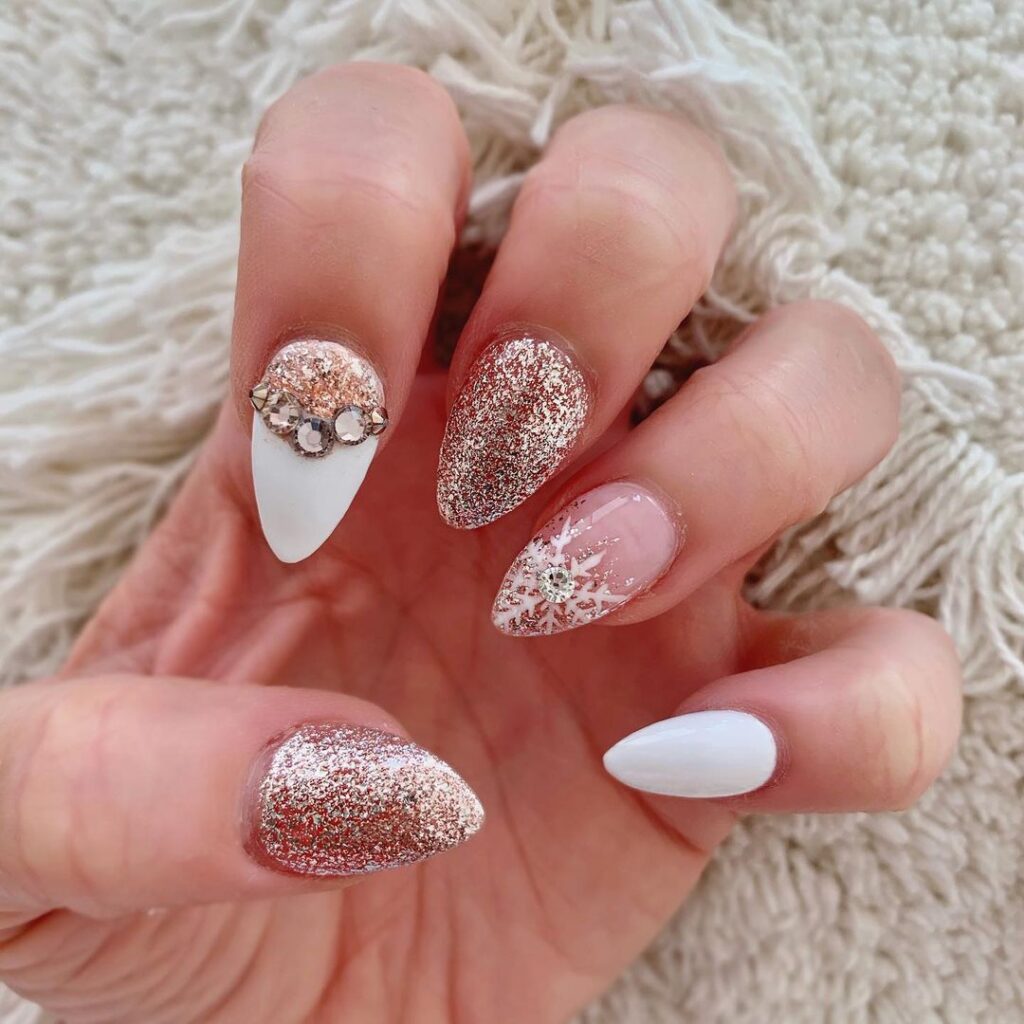 Courtesy: @christie_vienna
#29 What an eye-catching twist to the usual Christmas French nails by giving the index and ring fingers a candy-cane pattern! The nail base also reflects a very soft pink color for a wonderful visual effect. To recreate at home, start by applying a baby pink color on the base and letting it dry completely. Now section the tips carefully using a dotting tool ensuring each nail has the same width in the tips. Cover the top section in red polish and let them dry fully. Now, section the white parts and start painting them. You can take bigger sections out if you aren't confident to create so many sections. Let them be or cover them all in a gloss top coat for a shimmering effect.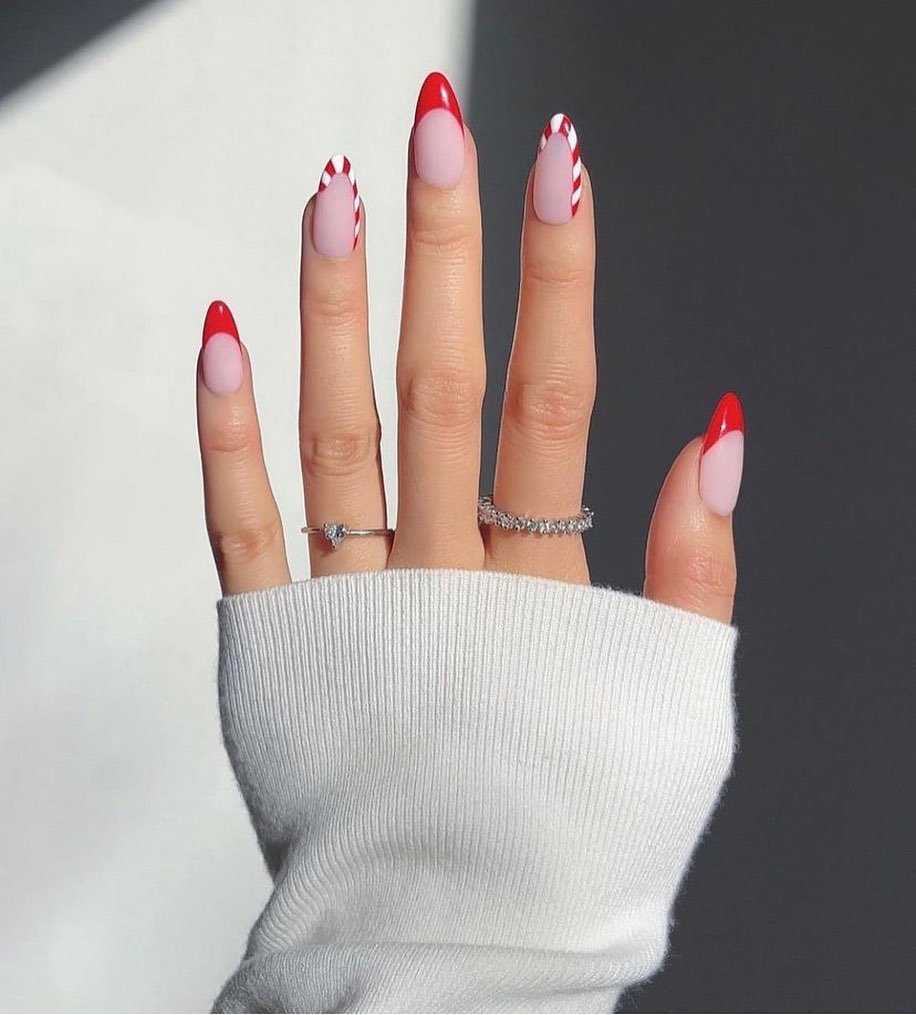 Courtesy: Sugar + Style
#30 Yes, that's right. Christmas nails don't necessarily have to be red & green always. We have given you plenty of options on this list in other colors and here's more! Navy blue, off-white, and gorgeous grey color. As you can see, it looks amazing with the Christmas' aesthetic and there's certainly not a reason not to try it for those looking for a different palette for their holiday manicure.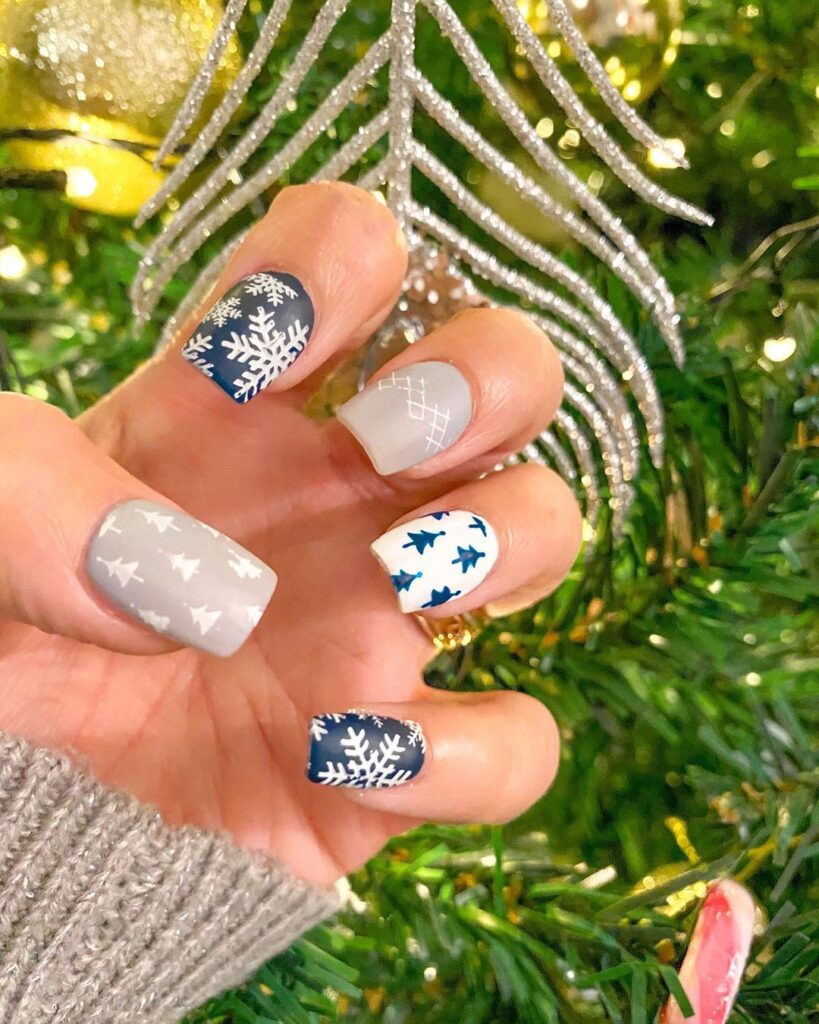 Courtesy: Amber
#31 Yet another starry affair to remember! The nude nails are elevated by the stars & glitter design on the middle and ring finger. To recreate them at home, you can use star stickers on the top of the glitter nail instead of using the dotting tool. Cover them in a gloss-top coating for the same glass finish as shown in the picture. The best part about these nails is they can work well with any nail shape of your choice and are a great pick for DIY Christmas nail ideas at the last minute.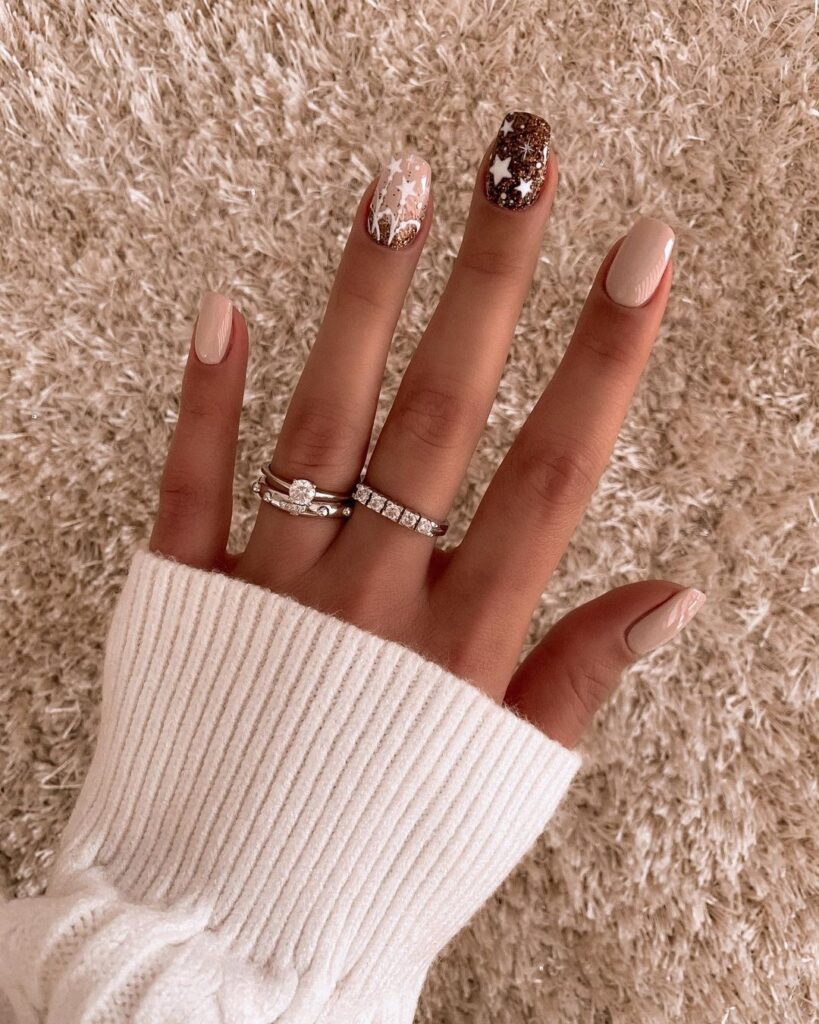 Courtesy: @elly_voice
#32 While pastel colors are generally preferred for spring rather than winter, there's no rule that you can't sport them if those hues are what get you into the festive spirit. Enhanced by 3-D motifs of heart and polka dots alongside snowflake motifs, we absolutely love these fresh Christmas nails that can transfer you back to the beauty of spring whilst you're enjoying the joyous season of Christmas & New Year.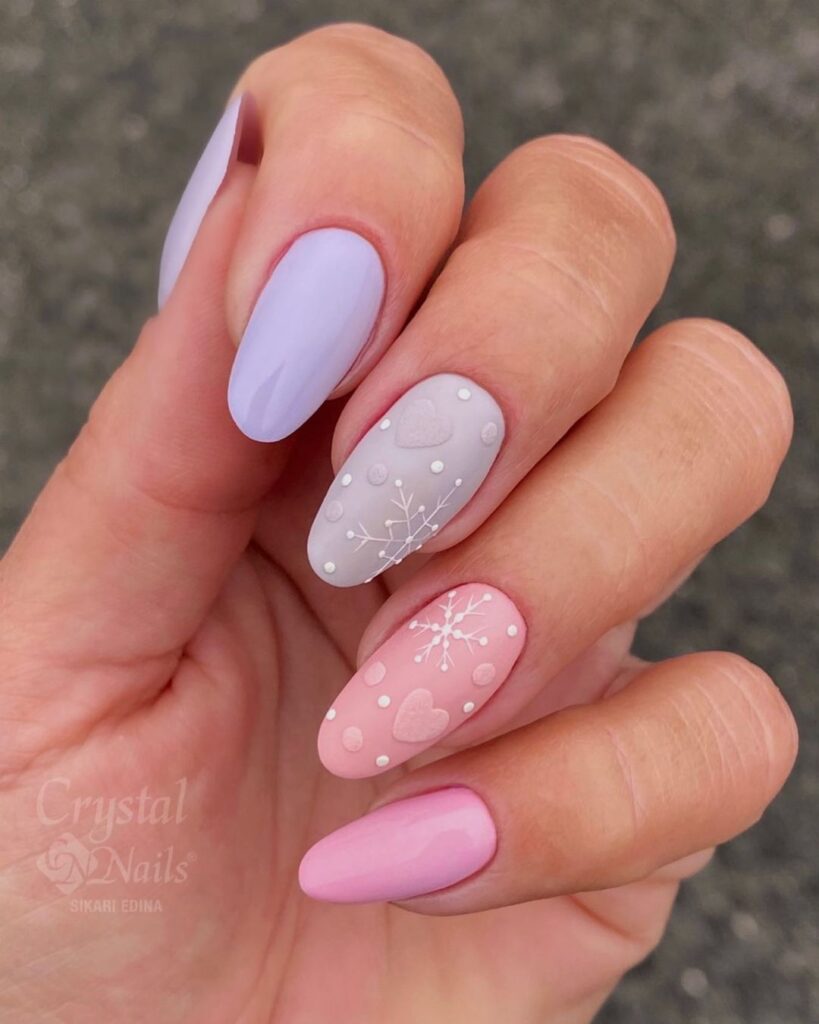 Courtesy: @sikari.nail.academy
#33 We had our hearts on these white nails at the first look. White is preferred for winters as they match the pristine attribute of the snow. On top of that, you draw a Christmas tree and snowdrop falling and you have made your manicure both Christmas-themed and season-themed. These nails will look great in the winter Sun, but also in the Christmas lights at night. A versatile design that will go with all outfits you're planning to wear this festive season!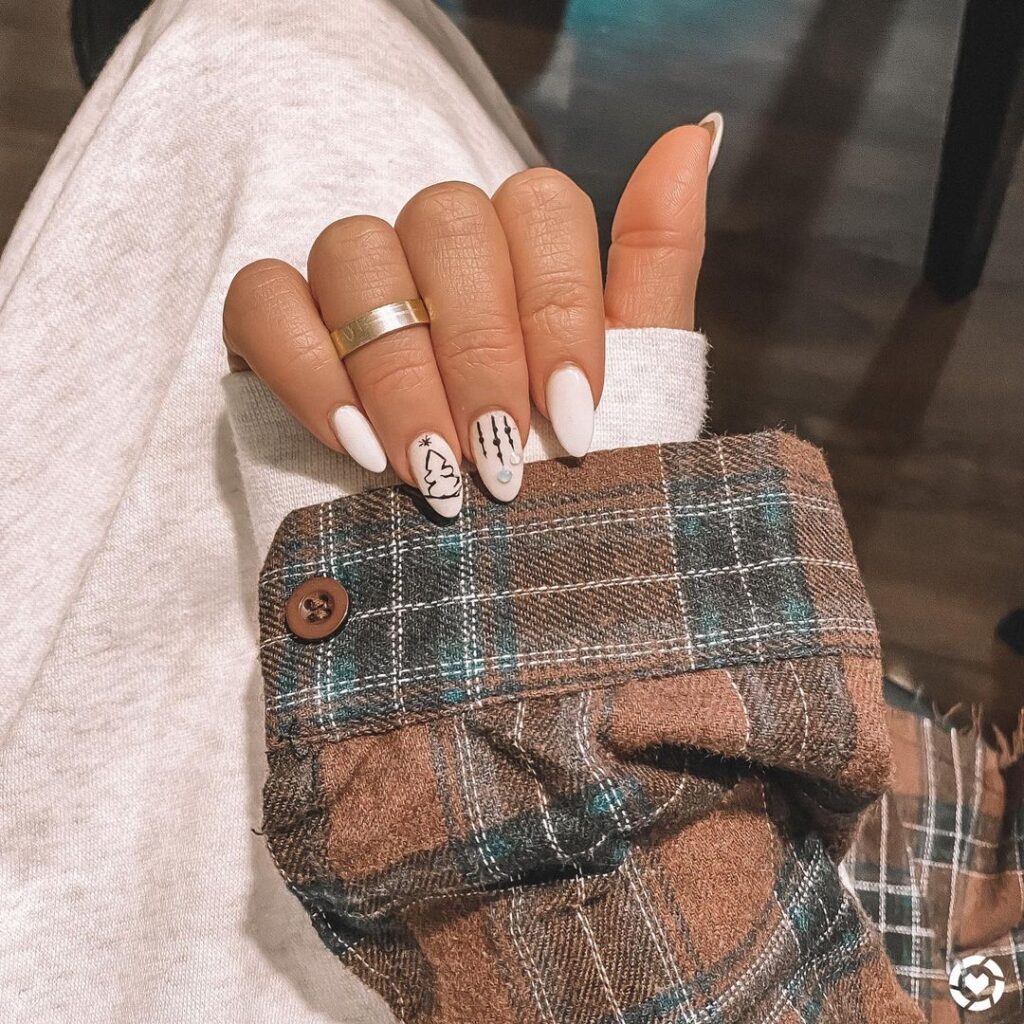 Courtesy: Katie Burke
#34 These long coffin Christmas nails are glamorous and gorgeous at the same time. It's also proof that long nails can exude simplicity as well and at the same time get you into the holiday spirit. A combination of pale pink with gray emphasized by 3-D art and minimal studs is fresh, modern, and picturesque to wear during the Christmas season. The subtle colors also ensure you make a statement without any vibrant shades.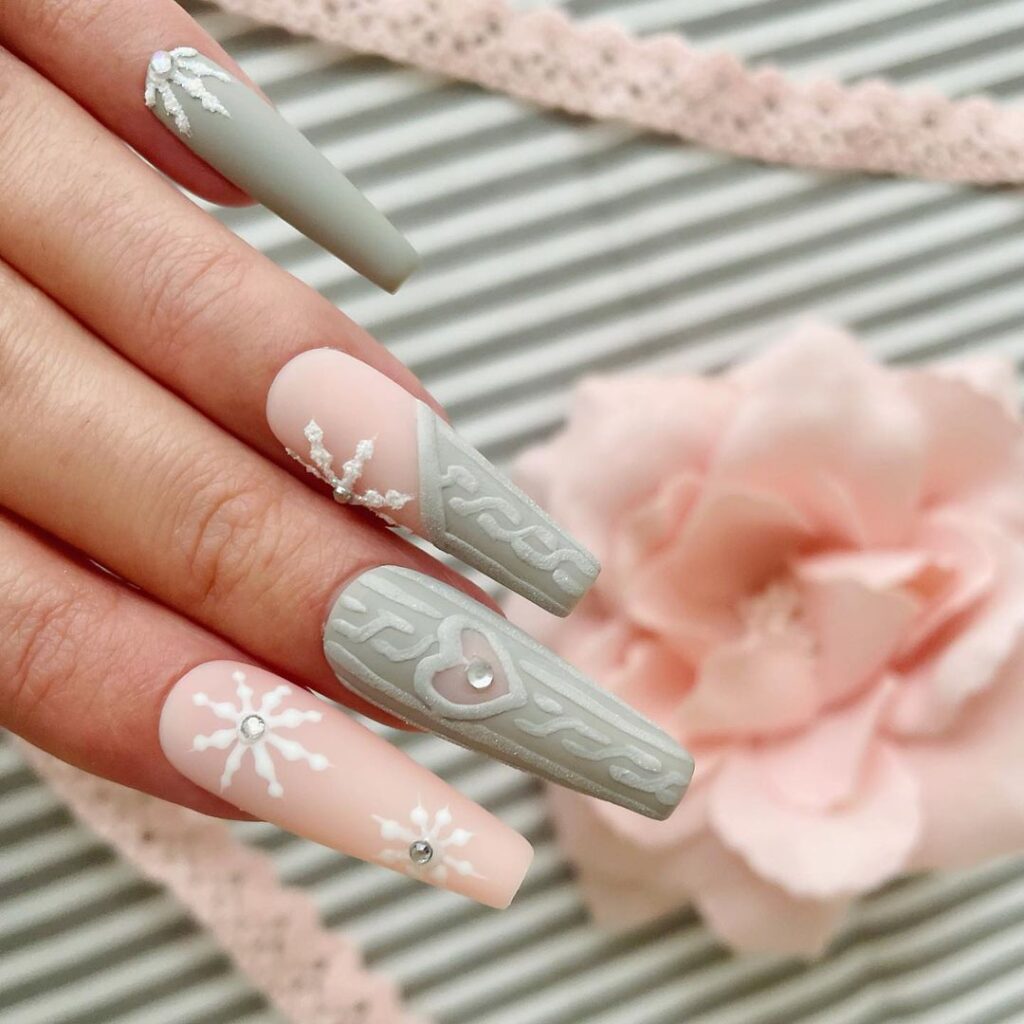 Courtesy: @rossy_nailart
#35 Brown glitter nails with some done in French tips pattern and others done on complete nails is stylish and stunning. It's the ring finger though that takes the attention with a white drip pattern embellished further by a cheery & leaf motif. Not just brown, you can use other shades of your favorite glitter as well like Christmas-themed forest green and bright red or grey or even navy blue can work for the same design.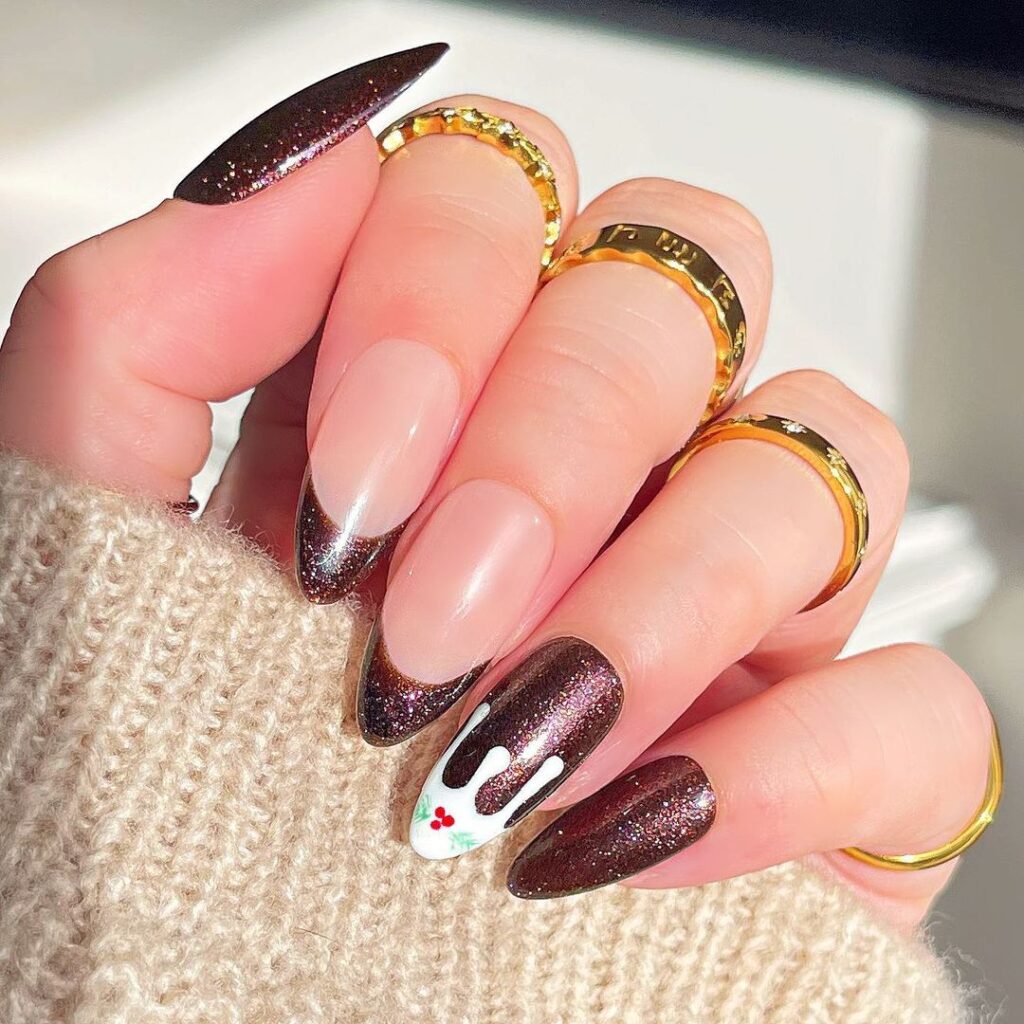 Courtesy: The Holy Nail
#36 It takes immense creativity to curate a set of nails that are different than each other and yet complement perfectly. Here, the combination of blue and gray are employed to denote the scenic winter sky teeming with twinkling stars. The ring finger also has the night sky art in full throttle with a snowflake motif. The middle finger is bedecked in beads while the index finger is decorated with a heart and dotted boundary for a complete look.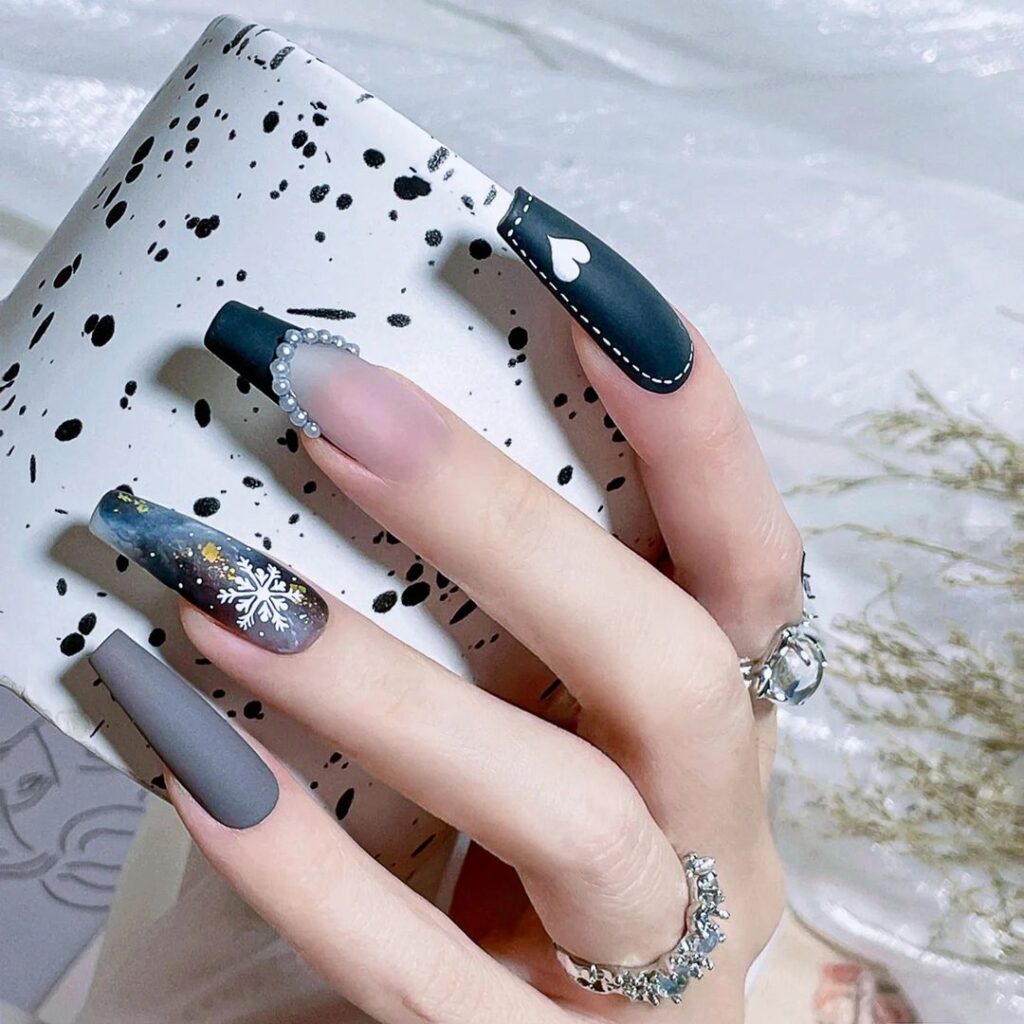 Courtesy: Tenteu
#37 Done on a beige base, this Christmas nail art gets you into the festival spirit with the inclusion of a reindeer motif on the middle nail, a snowflake on the ring finger, and glitter nail designs on the other nails. The subtle color is ideal for women who want an understated shade for their Christmas manicure and the design just gets you into the festive spirit, doesn't it?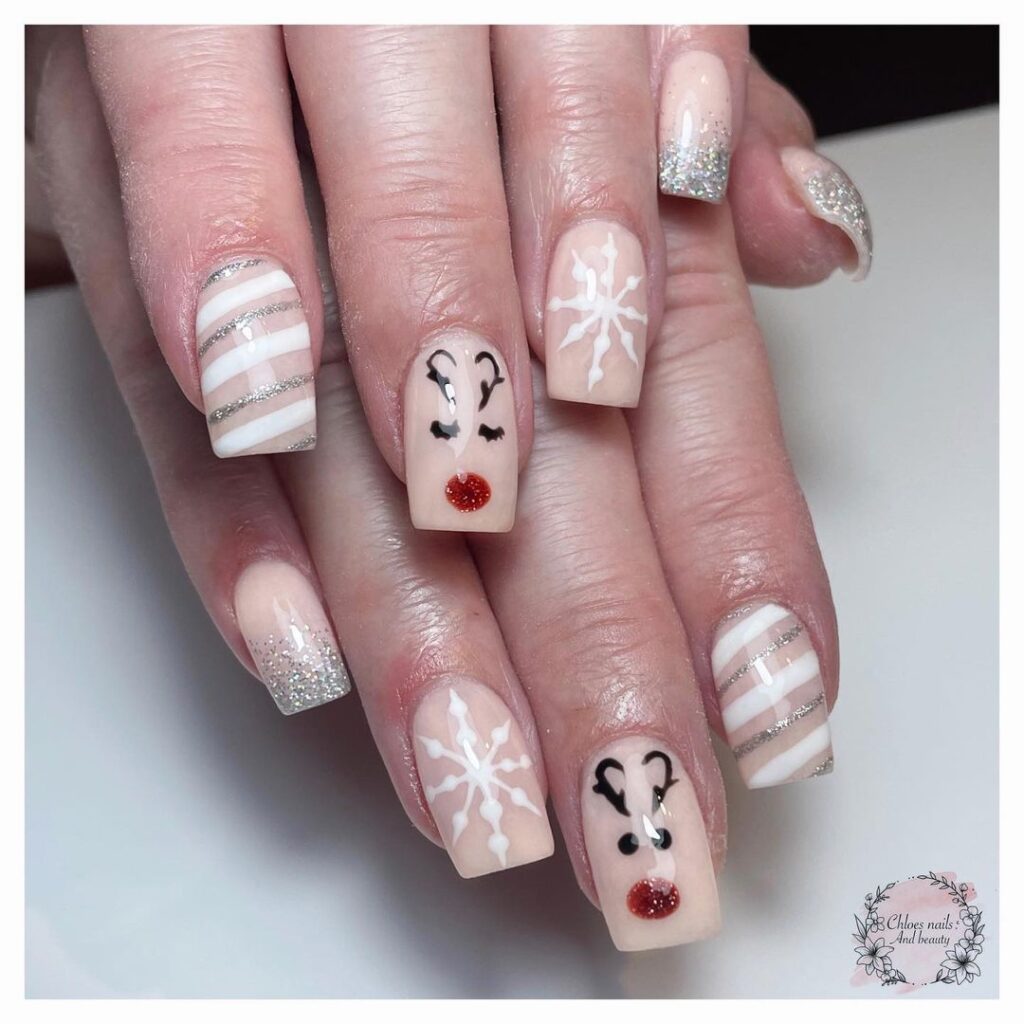 Courtesy: Chloes Nails & Beauty
#38 While red French tip Christmas nails are popular for the festive season, you can amp it up a notch by including holiday-themed motifs into the mani as well. French tips are also one of the easiest Christmas nails to try at home and when it comes to motifs, you can easily opt for a Christmas nail press-on that sticks these stamps onto your art. Many of these stampers last as long as your manicure. Just make sure you put enough glue and cover it in gloss to really make it last.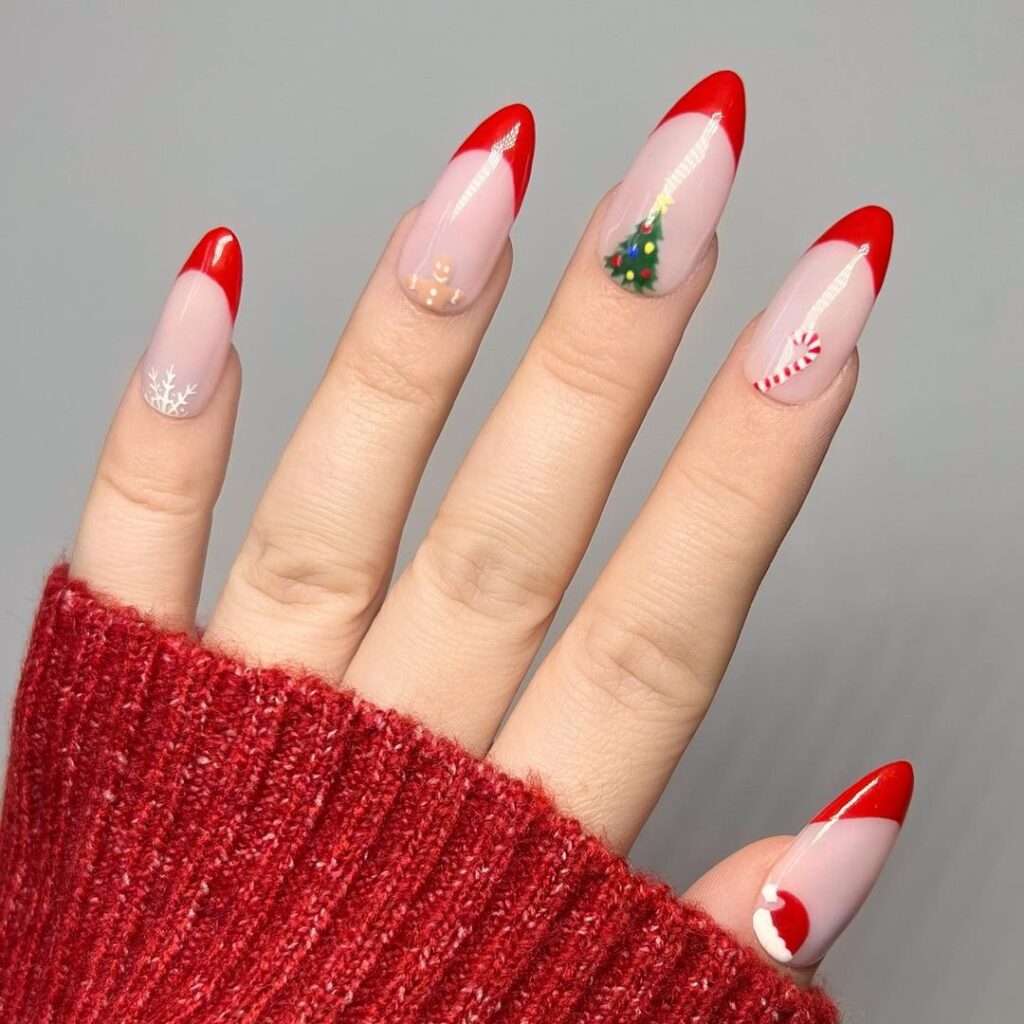 Courtesy: @stephie_nails
#39 There's so much to admire about these nails. It's a combination of aesthetic white & pink and designed in 3-D art, reindeer, and geometric patterns for a striking visual appeal. You can also swap pink with red and it will still have the same allure as this nail design.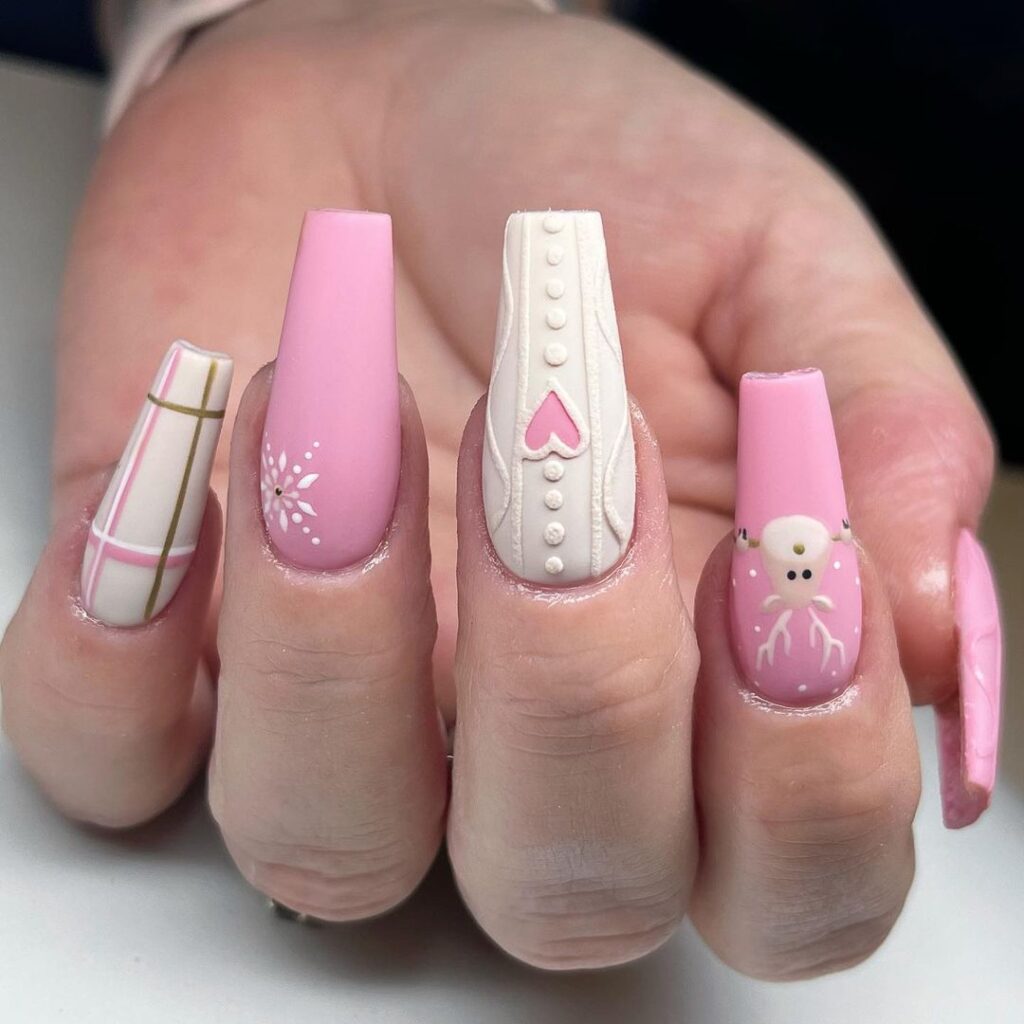 Courtesy: Natalie Walker
#40 Enough with the long nails, this Christmas short nails are the perfect example of how you can have creative and festive-themed nail art without sporting longer nails. Shorter nails – whether they're professionally done or DIY-ed – also last for more days than longer nails. So for those who want to get their nails all ready a while before Christmas, these artistic and stunning designs can be a superb option to get inspired by!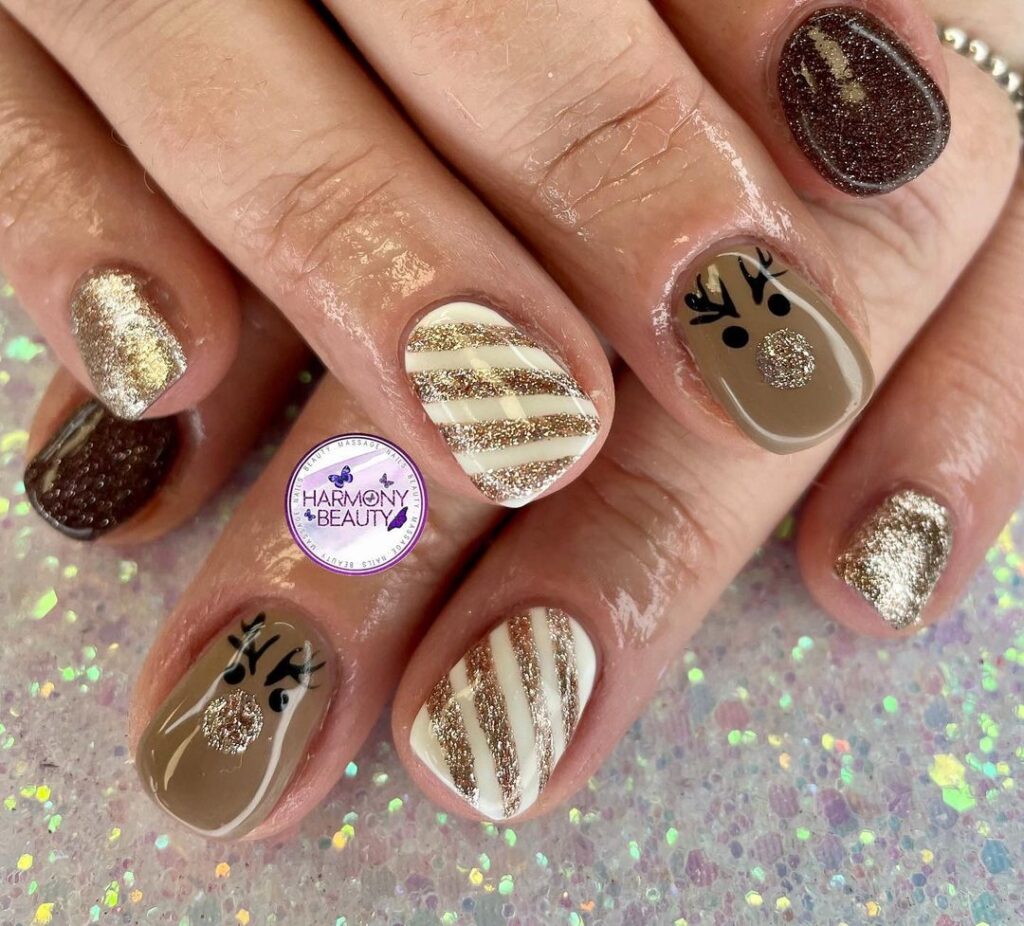 Courtesy: @harmony_beauty_holistics
#41 The brilliance of these nails is hidden in the unusual choice of Christmas colors and extraordinary design. The icy blue covers the middle nail while others are just elevated by the shade as a transparent nail base serves as the backdrop for the art. The polka dots and horizontal lines are a usual geometric pattern on the nails, the ring finger's ingenuous art speaks for itself and sets these Christmas nails from the rest.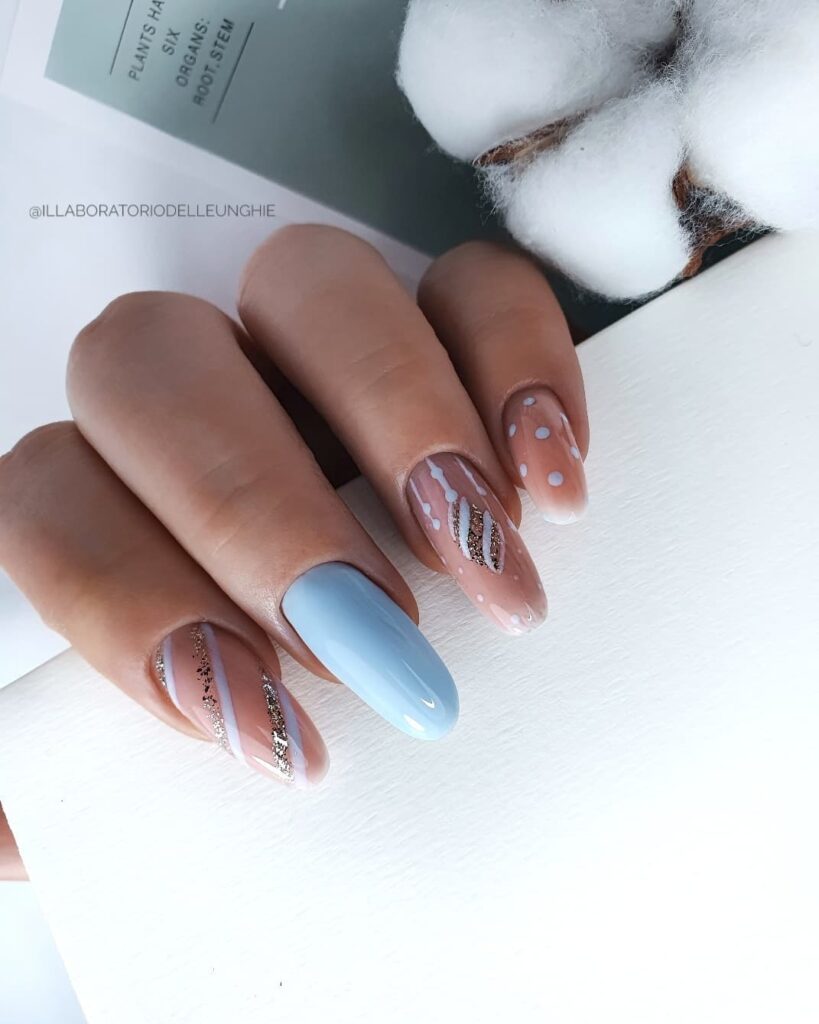 Courtesy: @illaboratoriodelleunghie
#42 Set against the pristine backdrop of the Christmas tree is this gorgeous Christmas nail design on rounded nails with a pointy edge done in pink & white and oodles of creativity. If you don't want all your nails to have some kind of design, only opt for some to create a balance between minimalism and art. Here, only the ring finger and middle finger are bedecked in gorgeous design while the rest only have a soft pink shade polish for a beautiful look.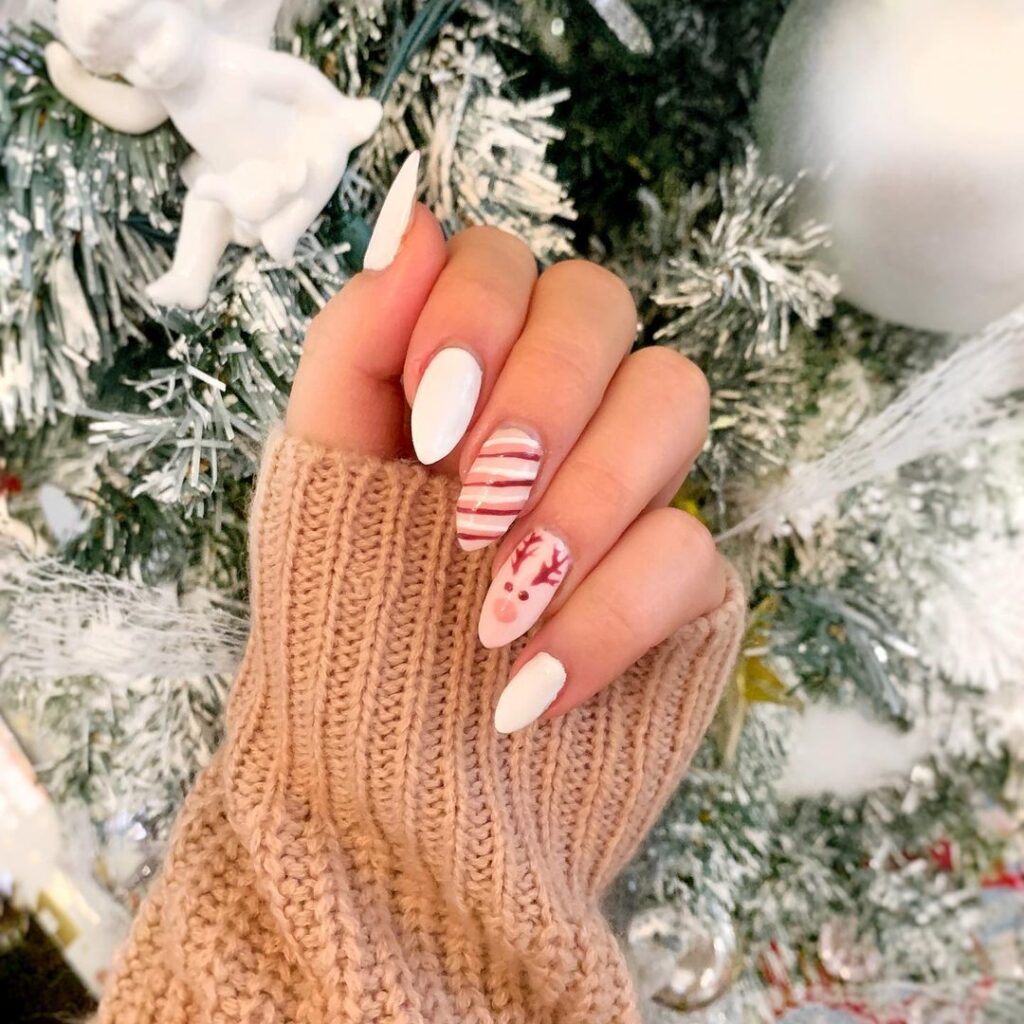 Courtesy: @monika.boch
#43 One of the many joys of Christmas is the delicious desserts we get to enjoy at the festivals. Gingerbread cookies, trifles, and traditional pudding are some of the most popular of them all. The Christmas pudding is one of the oldest dated desserts served as part of Christmas dinner. Originating in Britain, the traditional dessert was transferred to many countries during colonization. If you're someone who loves (& lives) for Christmas pudding, bring your love for the dessert to your Christmas nail idea and bedeck some of the nails with a motif of this delectable dessert.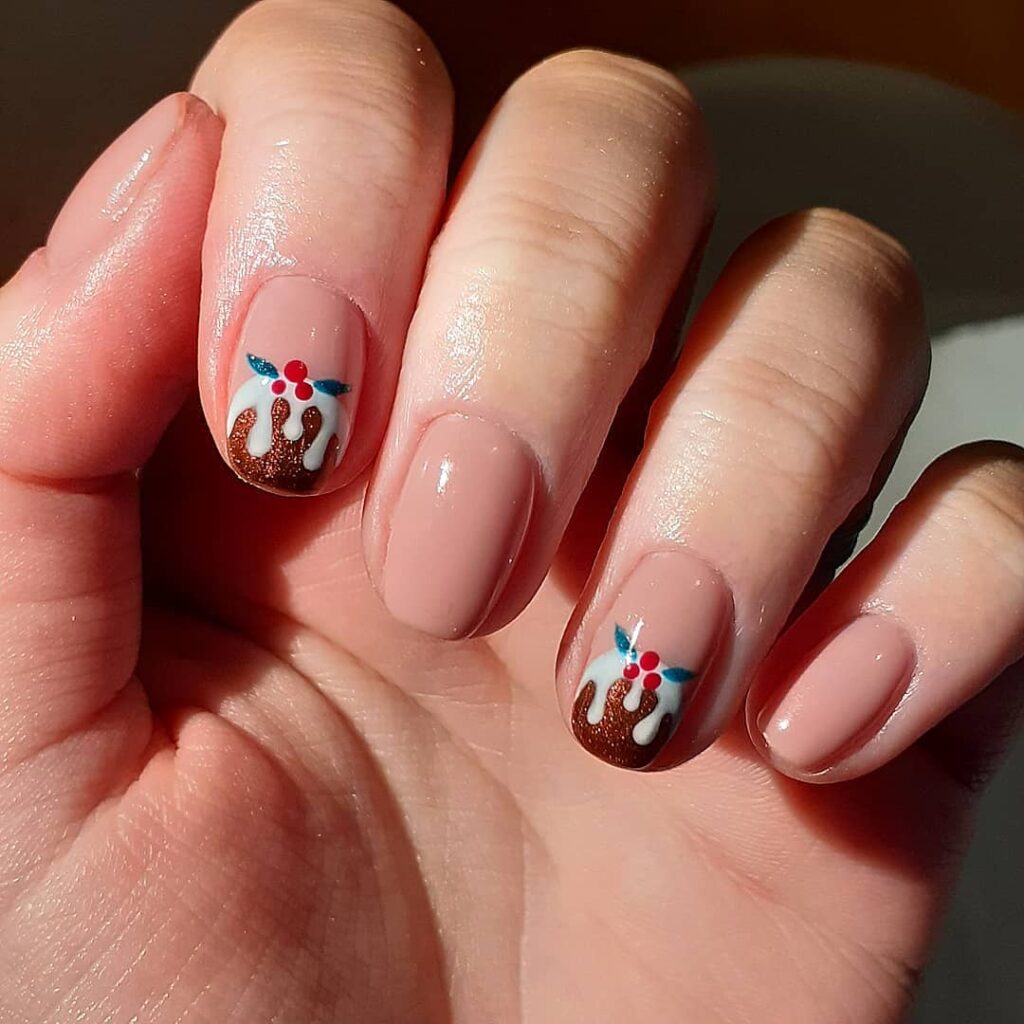 Courtesy: @_beauty_bymeg
#44 Keep it simple, stylish and Christmas-relevant with these short Christmas nails in black. You can DIY them as well. Start by shaping your nails in your favorite shape. Paint them all in black polish leaving the ring finger or any other nail you'd want to serve as an accent. Paint the accent nail in silver glitter and let it dry. Now, use a dotting tool to carefully draw the gift knot on the top. Let it dry and you're done!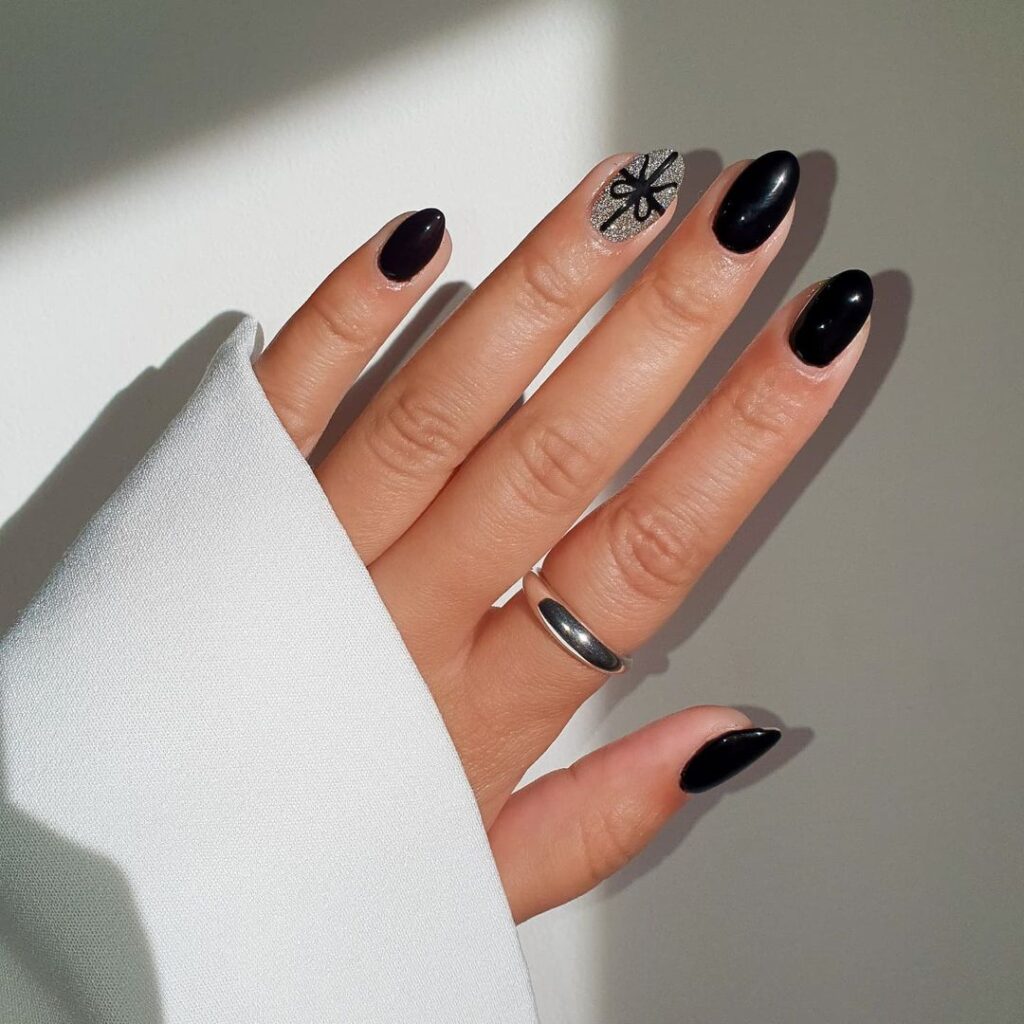 Courtesy: Nails by Ravi
#45 Yet another example of how short nails can serve as the backdrop of your creative expression as well – no matter the occasion. These cute nails are done in pink & white with a snowflake and reindeer motif to nod to the festival theme. Absolutely adoring the big lashes of the reindeer – such a playful and eye-catching touch! The rest of the nails are painted in a normal white shade and polka dots print for beautifully balanced art. Don't you think?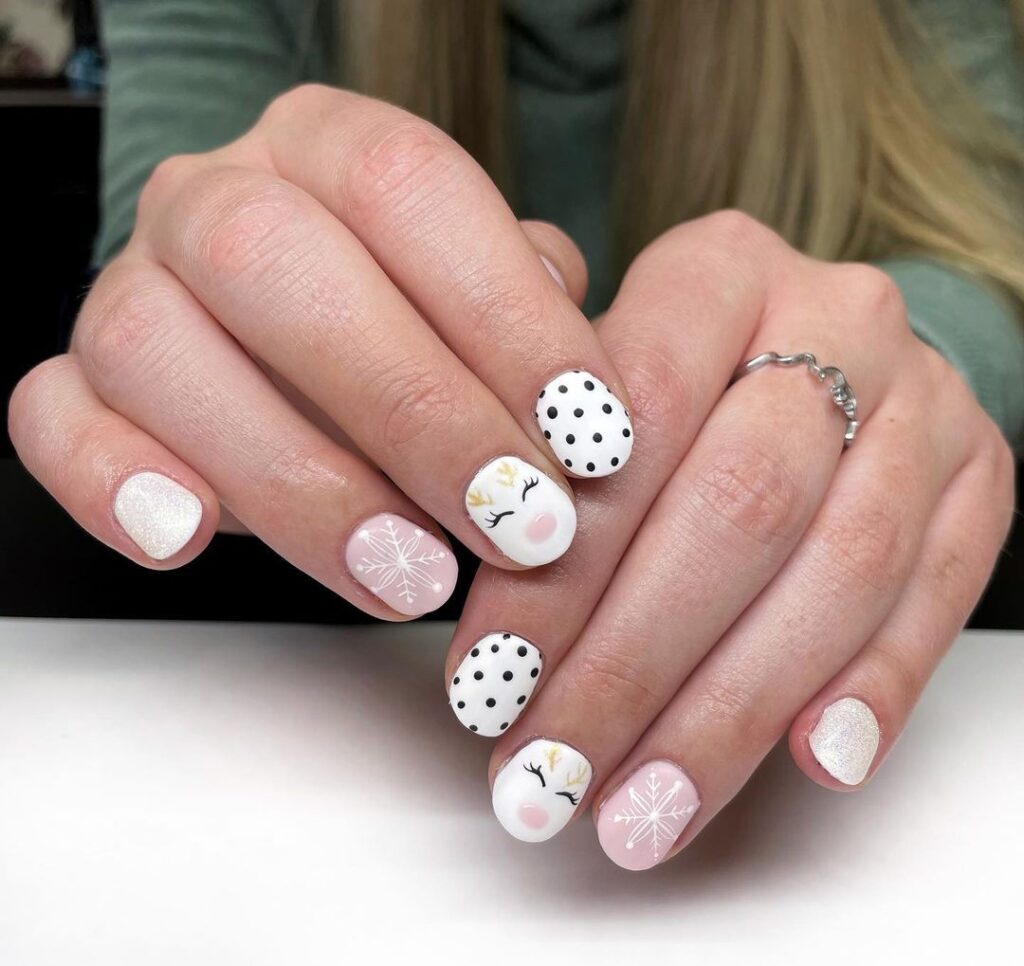 Courtesy: Delaney De Graw
#46 These red Christmas nails are just drop-dead gorgeous! Not only are they looking stunning in natural lighting, but they'd look amazing in indoor Christmas lights as well. We love the "Joy" written on those nails that can be easily included in your favorite Christmas manicure and serve as the perfect mood lifter for when you need that extra push to perk up your spirits this holiday season!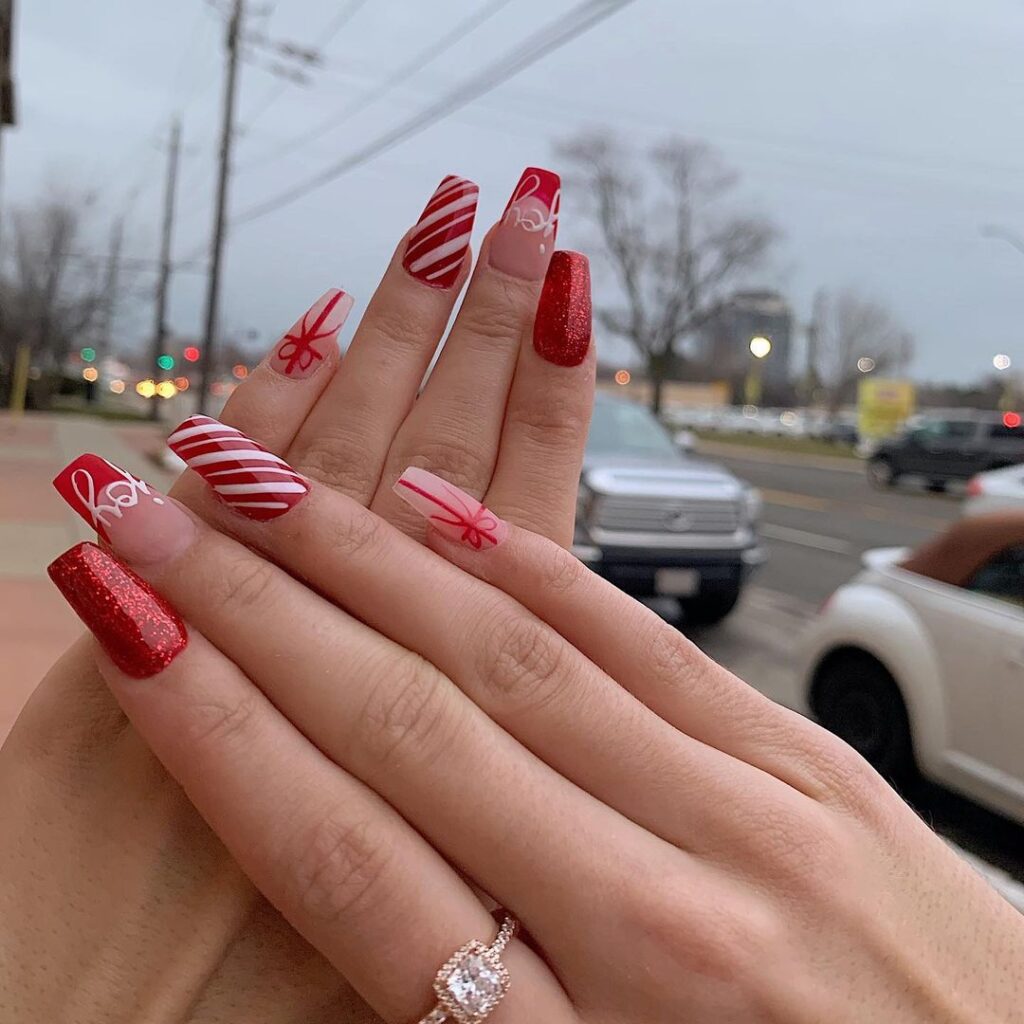 Courtesy: @nailexpertsandspa
#47 For those perfectly Instagrammable nails or delighting in the joy of enjoying an aesthetic manicure as you wrap your fingers around a hot cup of cocoa, the next design on the list will serve you well. The perfect holiday red combines with white, cream, and golden to give you a visually appealing design – creative yet also doable at home! You can use stickers for the floral motif and the rest can be easily achieved using common nail art tools.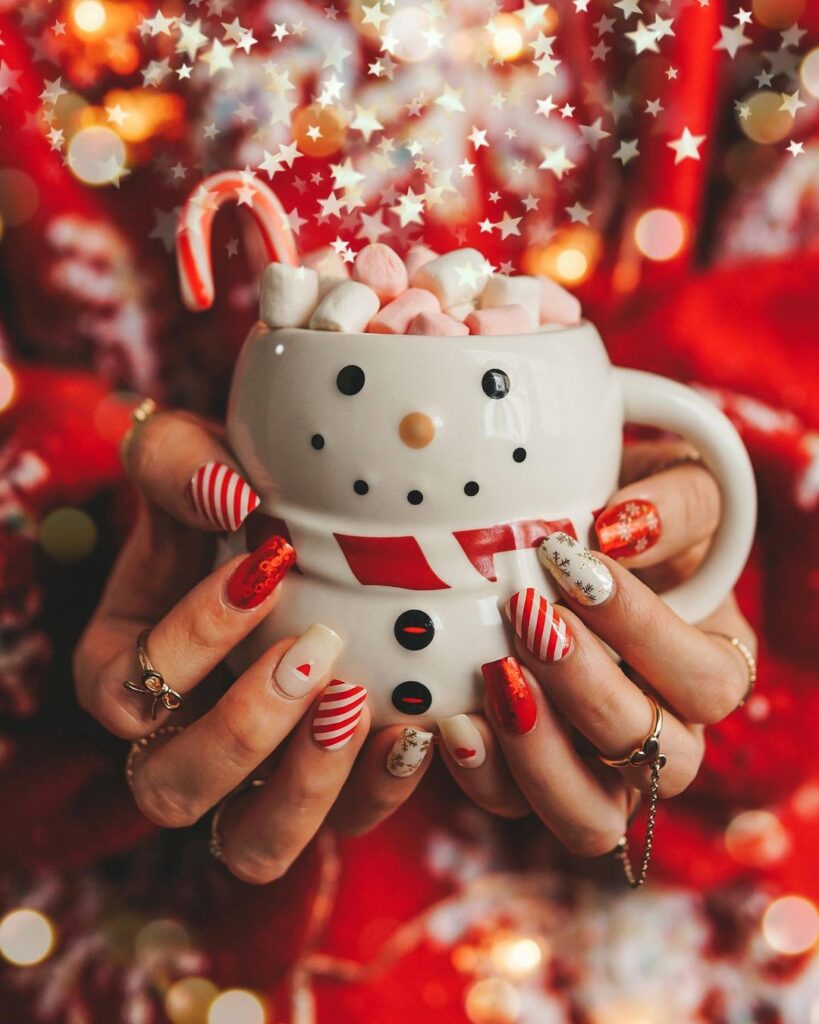 Courtesy: @megoosta
#48 Sweater nails, but make them French! That's right! You can mimic the design of your favorite rib knit winterwear to your nails and express your love for the cozy garment with the art. You can choose to opt for the art all over your nails or just the upper half to give them a French manicure look. Opt for your favorite color instead of white to create Christmas nails that represent your style and preference the best!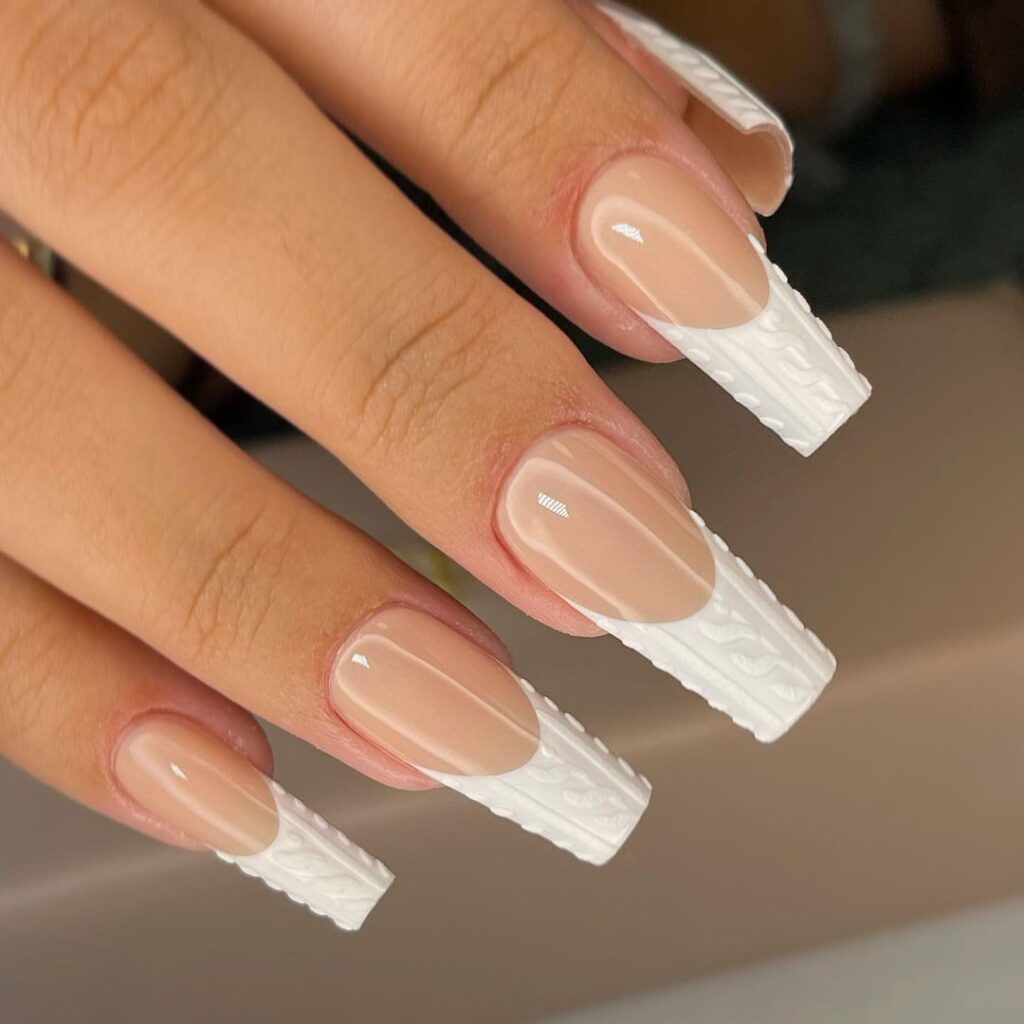 Courtesy: @thanailbarmia
#49 These French-tip Christmas nails are the definition of minimalism mixed with elegance. They are subtly done and yet give a nod to the holiday season by mixing the red & white color and drawing a Santa cap motif on one hand. They are all simple outlines and you can do them at home using a dotting tool. Just make sure you've steady hands or have someone who has experience doing nail art recreate this for you!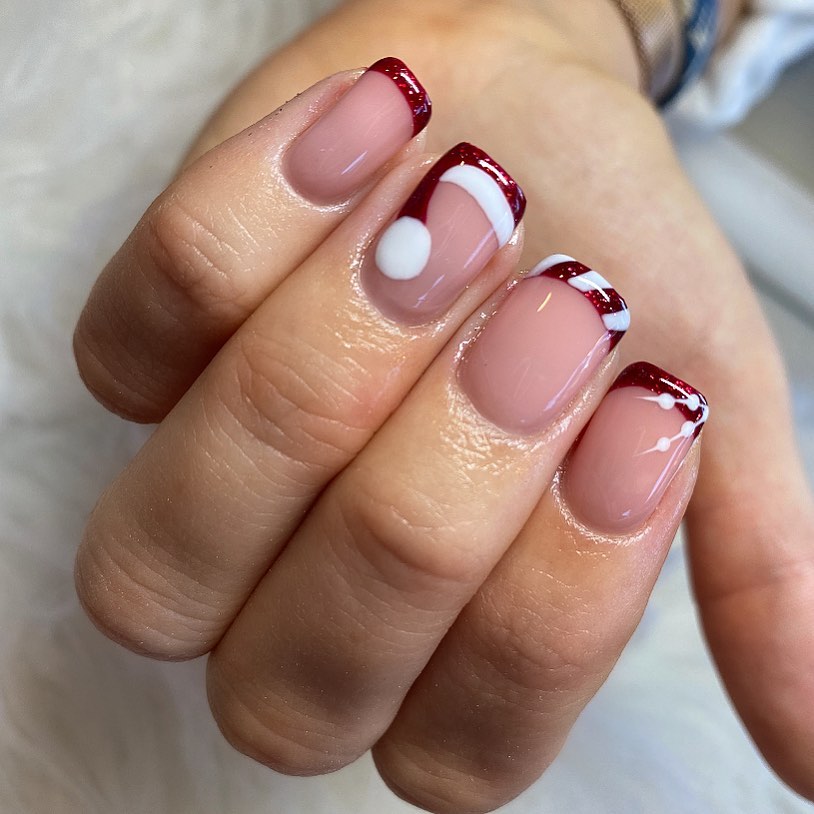 Courtesy: @bashsbeauty
#50 We had to include this beautiful navy blue manicure on the list. Even though it's not very Christmas-y, it's a timeless and chic nail art to try in winter, or any other season for that matter. The color and the design will go with many occasions and that's the beauty of this Christmas nail idea. There's versatility in it and a certain undeniable charm that's hard to ignore.
Courtesy: @polishedpinkiespro
#51 One of the biggest trends of the season is ombre nails. They can be done in many ways and patterns, but if you're looking for a stylish twist that you can easily DIY, here's an idea we found whilst searching for Christmas nails on Pinterest. It involves a small oval shape of light purple on the bottom followed by a darker shade of purple on the top. It's all covered with glitter for a glimmering take on the manicure. 
#52 Reminiscent of the beautiful winter sky on the Christmas festival, these Christmas gel nails feature the sky and stars against a beautiful blue background followed by other festive motifs like baubles and stockings. It's a gorgeous mani that includes motifs of both the festival and season, expressing your love for both in one stunning design.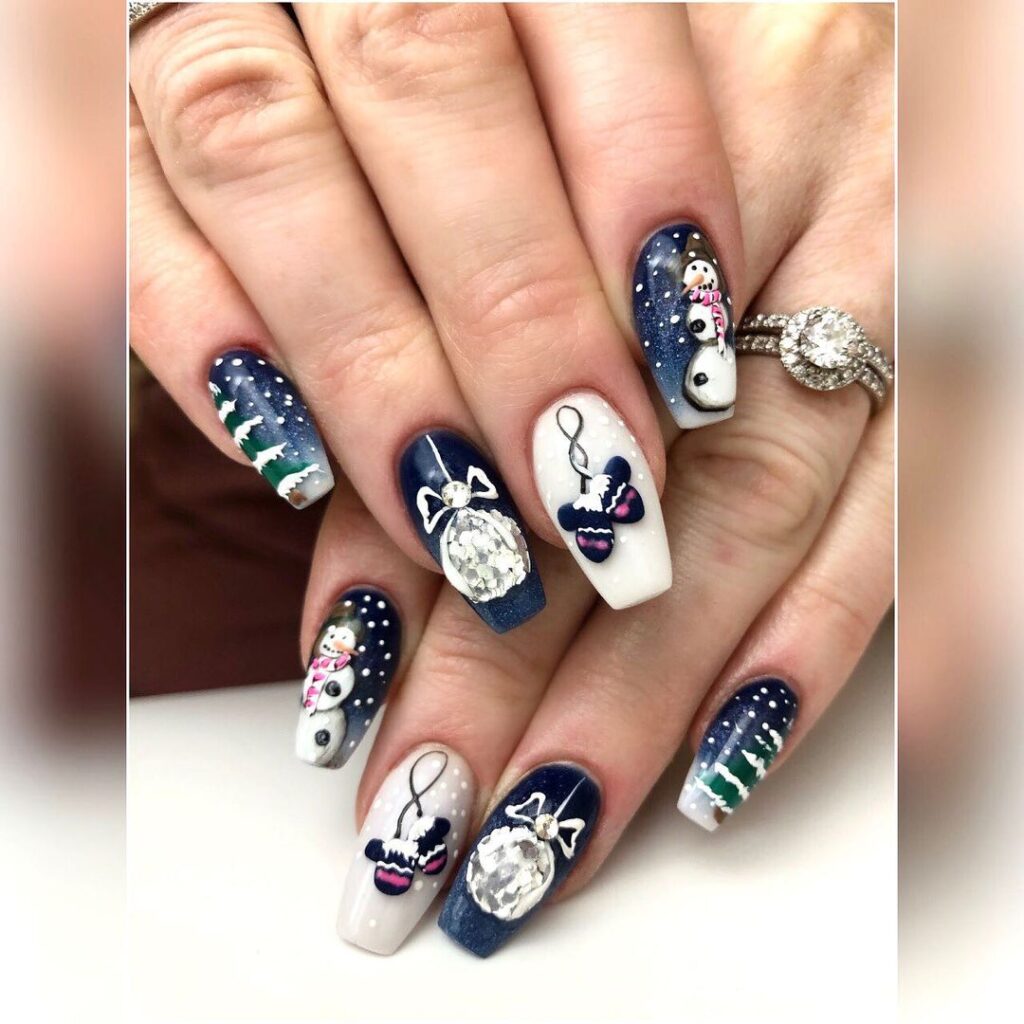 #53 Sometimes to make your nail art stand out, you just need to make sure you choose a distinctive color palette that hasn't been seen anywhere. Like here, the manicurist plays with shades of blue and green with accents of white & black for a unique yet festive Christmas nail design. When DIYing this manicure, use the Christmas motifs stickers for the trees to make your task of recreating them easier.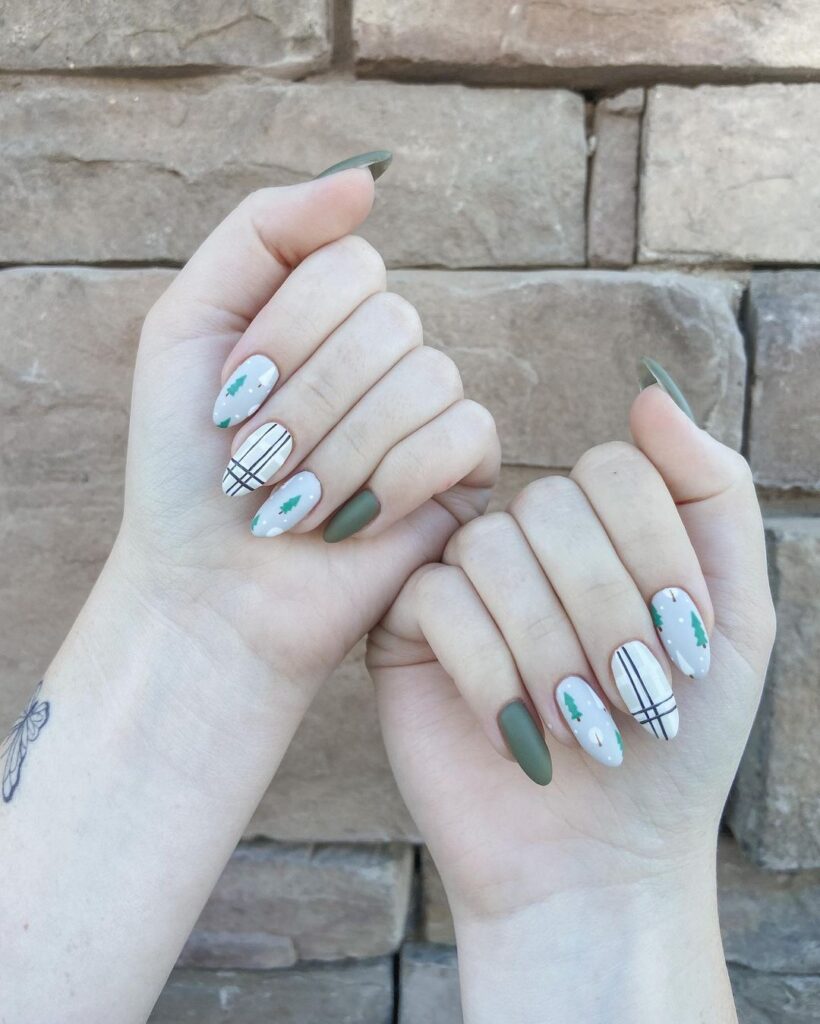 #54 Light pink is one of the classic nail colors and for good reason. It's feminine, and chic, without being too Barbie. The color also exudes elegance and is versatile enough to go with any outfit of your choice. So, no matter if you're attending Christmas parties or choosing to cozy up at home, this Christmas nail idea can work for both. Make it festive by adding some snowflake art and deck your hands with some rings for a complete look.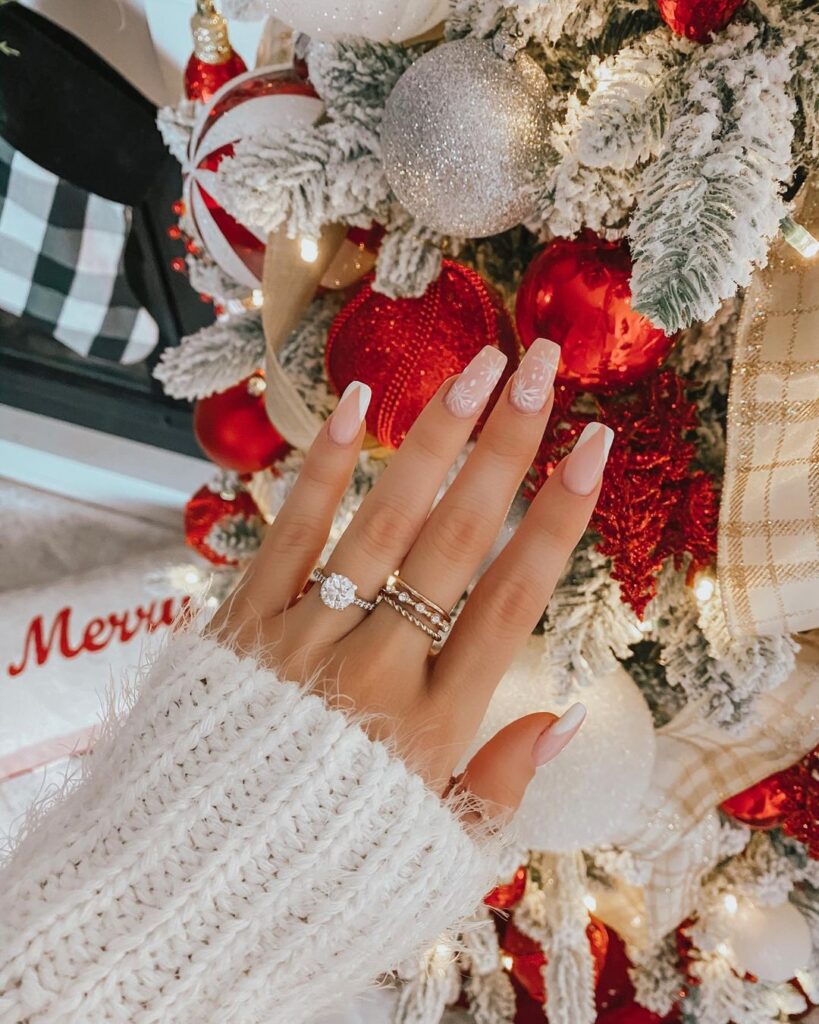 #55 French tip Christmas nails but make them glitter! Their pretty pink nails receive a makeover by adding silver glitter on the French tips giving them a timeless yet glamorous look. This is yet another one of the Christmas nails 2022 that are versatile and can be easily DIY-ed at home. Due to the popularity, you can also get Christmas nails press-on in the same art online as well.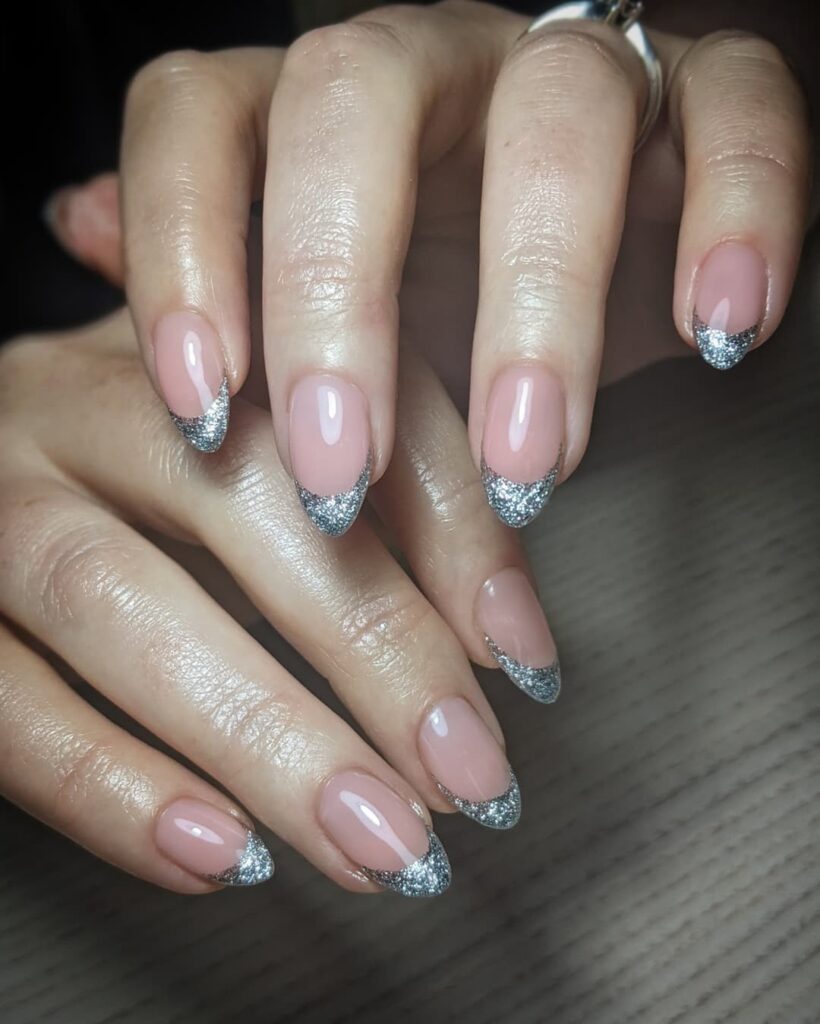 #56 These magenta-pink nails with a touch of midnight blue on the ring and pinky finger are different and exquisite. This is the kind of Christmas nails you need when you want a distinctive design that catches your attention every time you look at it and will also garner tons of compliments. Plus, if you need a different vibrant shade other than red, magenta pink is a beautiful color to pick.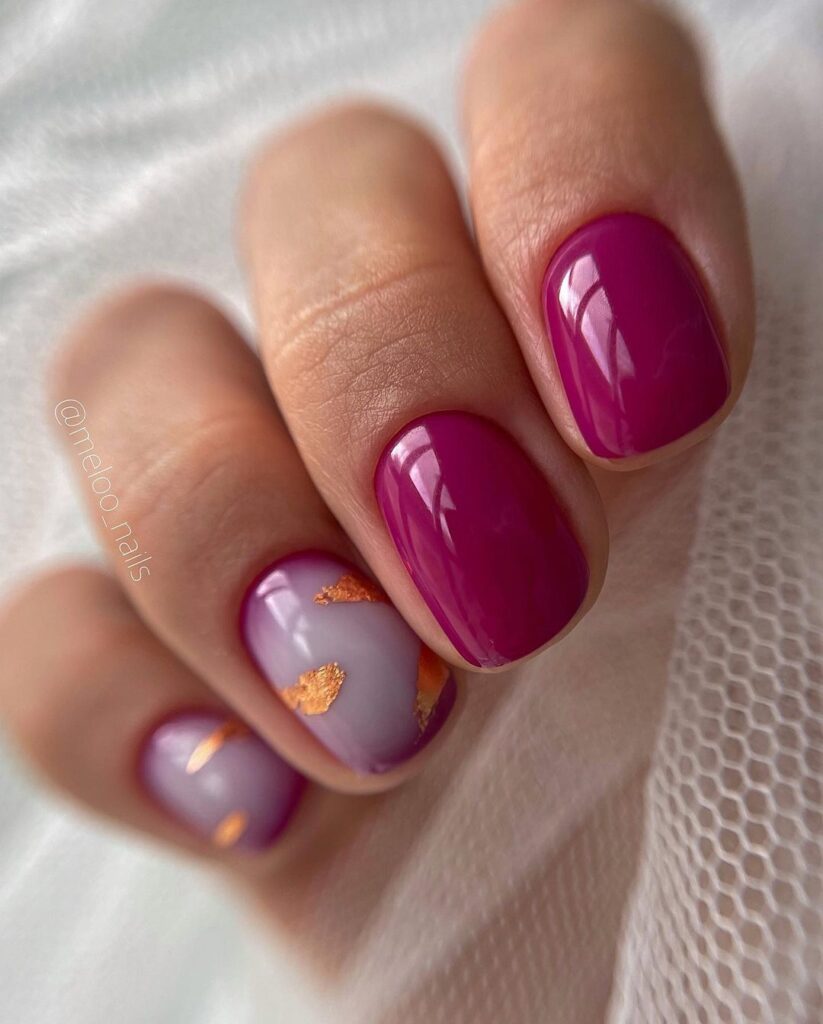 #57 When you just can't let go of the cozy fall palette and your obsession with sipping a pumpkin spice latte on a cold winter night, we think the obsession needs a physical manifestation on your nails. Doused in fall orange and lavender and elevated by glitter, these simple Christmas nails are minimal and loved at first sight.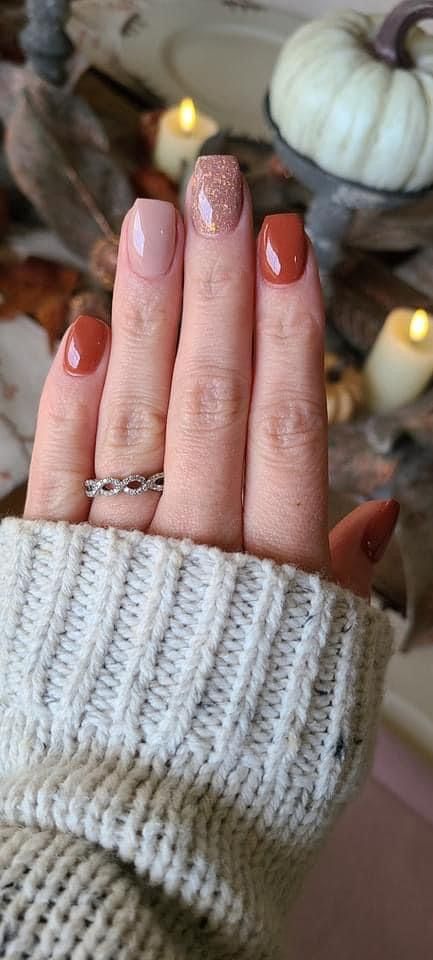 #58 Black and golden are one of the most elegant color combinations to exist. They can be included anywhere – whether home decor or fashion picks – and there's one thing they will surely excuse – extravagance mixed with class. If that's your motto this Christmas season, you'd love to sport this combination on your short Christmas nails without any qualms. Even if you opt for a non-glitter golden shade, you can still mimic the same sophistication as shown in the picture.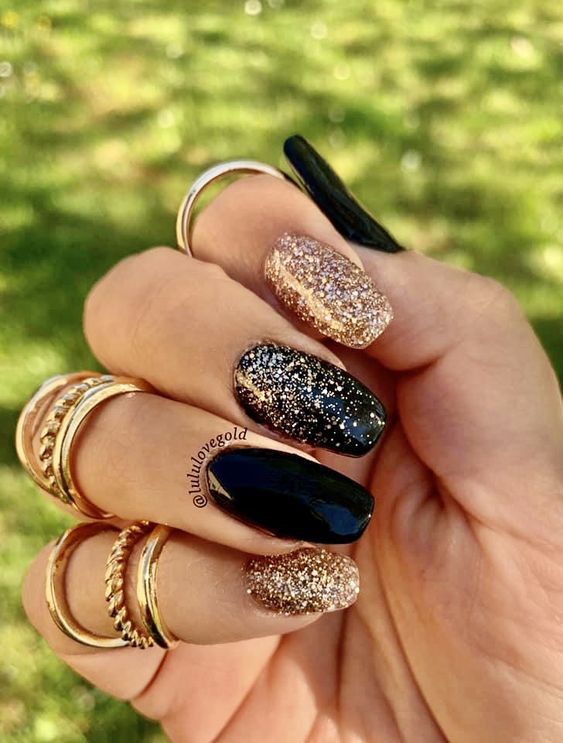 #59 Besides red, green is one of the most popular shades found in the Christmas palette. It's believed that green symbolism stands for Christ's life and eternal nature. During pagan times, the color signified that nature keeps flourishing even during the cold times. Including green, through your nails or otherwise, can symbolize money, good luck, and health.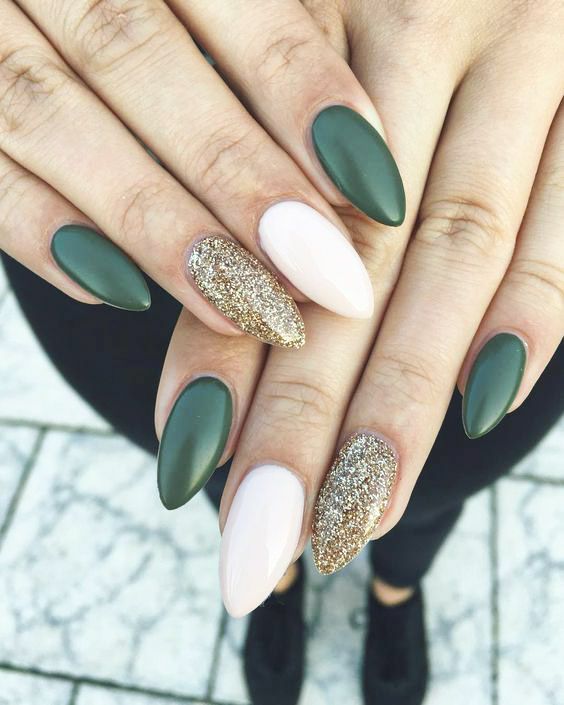 #60 The evergreen combination of red and pink designed into nail art so beautifully with an accent glitter nail is everything. This is the kind of Christmas nail design you can easily DIY but if you want your holiday mani to last longer, consider it as the cheap and simple Christmas acrylic nail designs from the lot.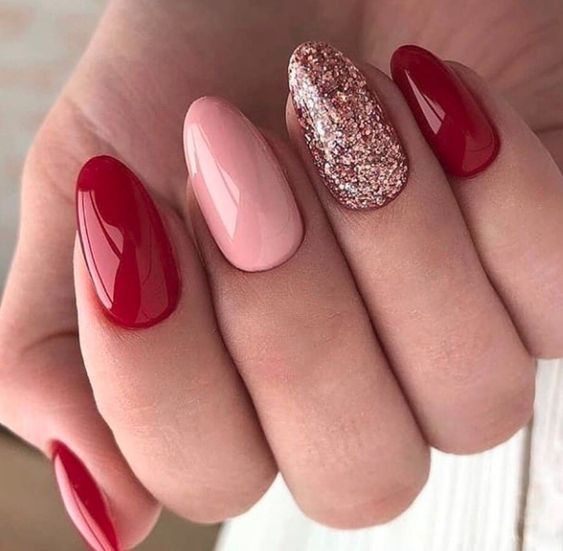 #61 Matte nails are highly popular in winter months because of their flat, frosted finish. Matte nails also offer a chic and feminine look. If you're wanting to go the non-gloss route this festive season, here are matte Christmas nails just perfect for inspiration. They feature the sweater design and snowflake for motifs and a classic red nail for an elegant touch. FYI: Matte nails last for a shorter time than gloss, so if that's what you're looking for then gloss nails are a better to pick for you.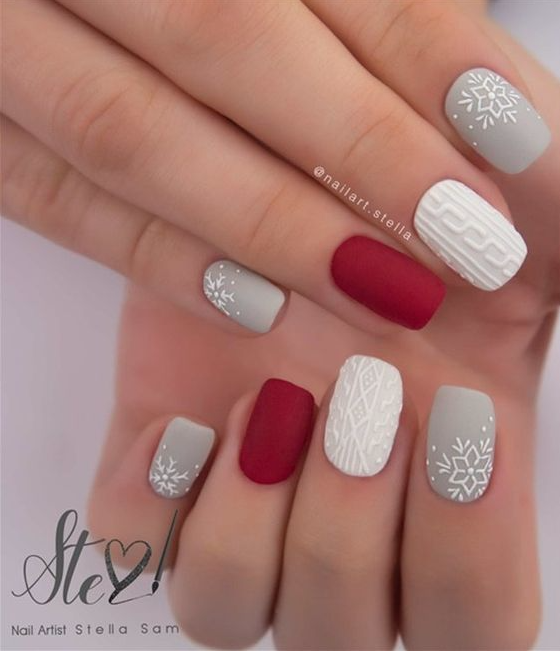 #62 Green and golden are yet another Christmas nail color combination for those who want to stray away from red Christmas nails. They can be easily DIY-ed at home and the gloss coating on top also ensures they last for the entire holiday season without any chipping.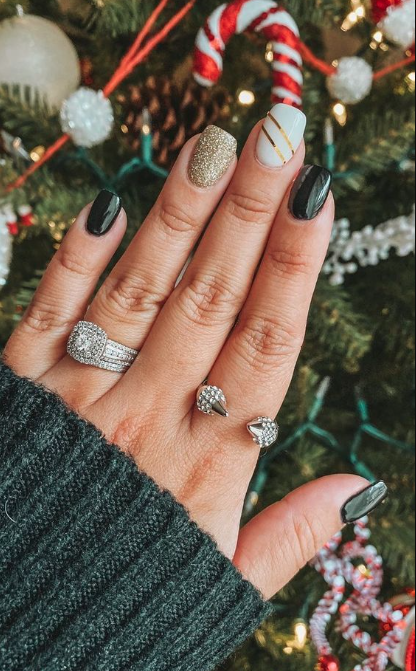 #63 These Christmas acrylic nails are long and striking. Whilst being bedecked in simple Christmas motifs, it's the gingerbread man motif on the ring finger that sets the creative style of the nail design apart. If you want to be more stylish with your mani, opt for a coffin nail shape instead of this basic nail shape for a more fashionable take on your Christmas manicure.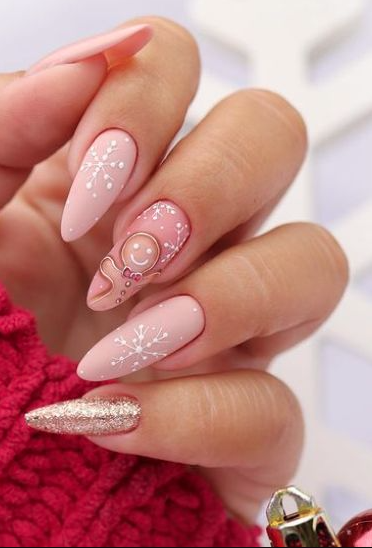 #64 Such stunning yet simple Christmas nails in forest green to match the glam of the season whilst keeping it festive-themed. It's one of those nail art designs you can easily create at home and for the little stars, use the stick-on motifs instead for a much-easier approach.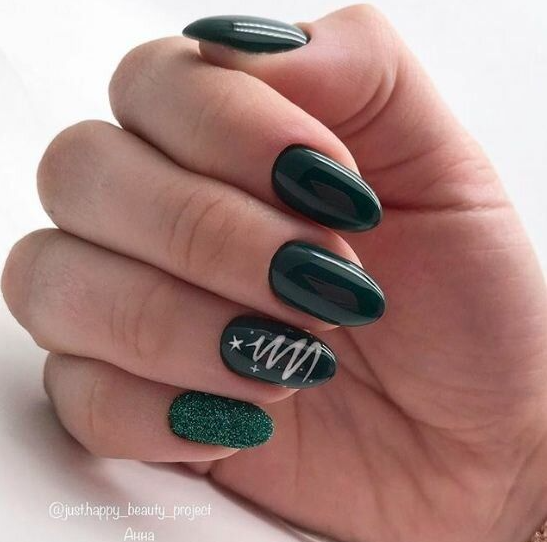 #65 If you're someone who loves French manicures, but want to give them a festive twist for the holiday season, here's the inspiration art you need to save right away.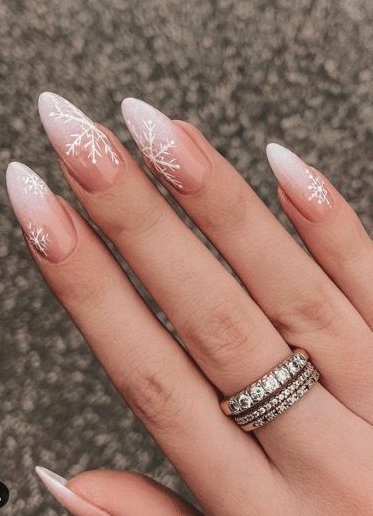 #66 Mesmerised, aren't you? Because we sure are! The different patterns on each nail are just gorgeous and the minimal addition of glitter just brings it all together.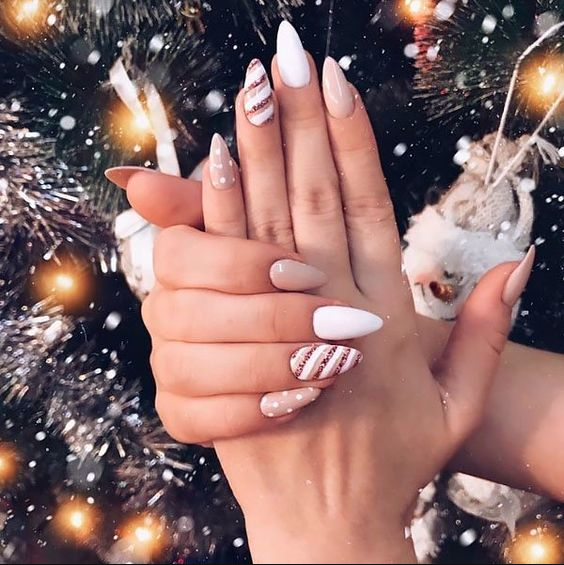 #67 Red & white is popular for holiday nail art, and it's also one of the most aesthetic combinations. Seeing this, and many other red and white holiday acrylic nails on the list will have you agree with the visual appeal of this design.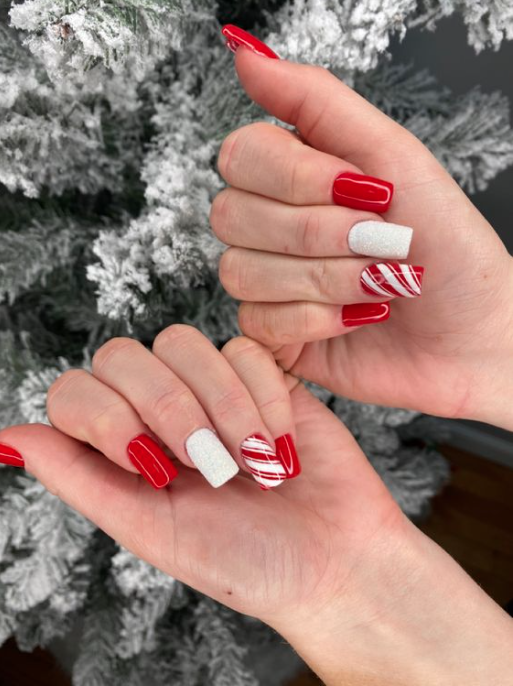 #68 These short and simple holiday nails have silver glitter creatively placed on a white base for exquisite nail art. The star pattern on the pinky nail looks specifically impressive.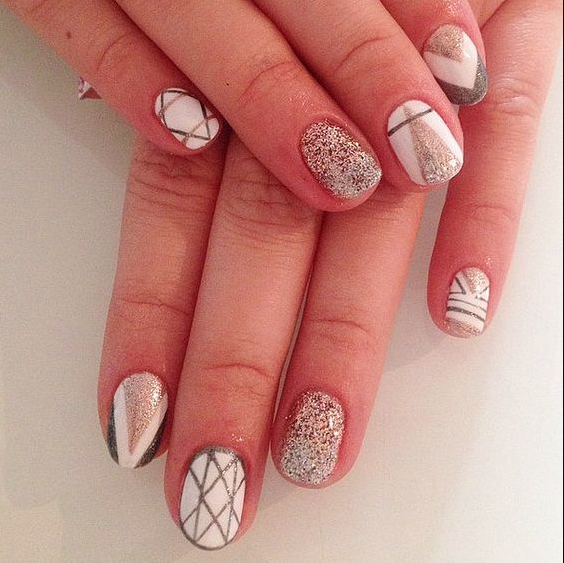 #69 Sweater nails are popular and we'd suggest you get them in acrylics so they stay through the holiday season.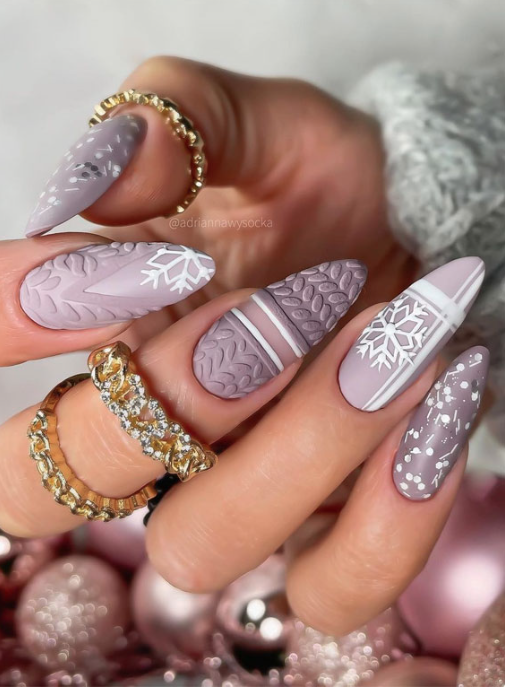 #70 For women who love the gloss, glitter, and glitz in their holiday nail design, you will love the next addition to this list. The usual holiday nail colors are elevated by Christmas tree drawing for an artistic appeal.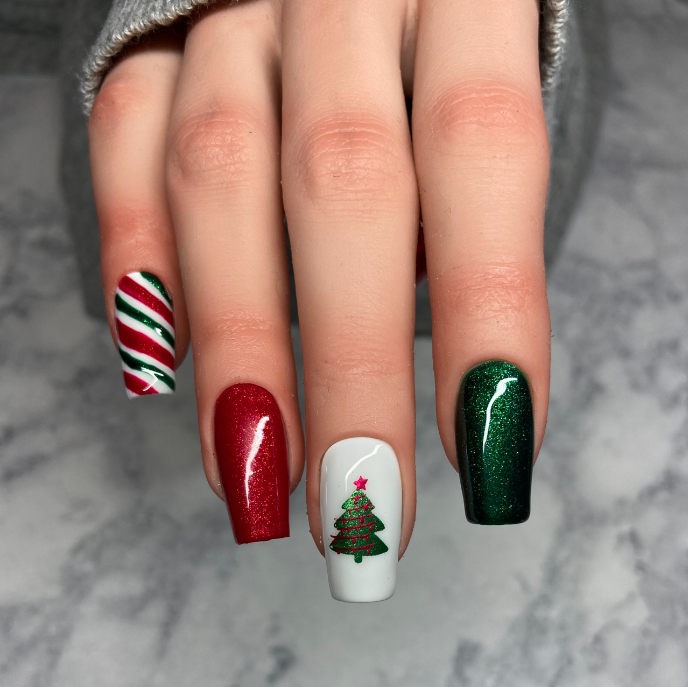 #71 The green and golden holiday nail colors aren't a common pick, but they surely are arresting. Opt for this combo for a manicure palette that's unique yet gives a nod to the festive colors.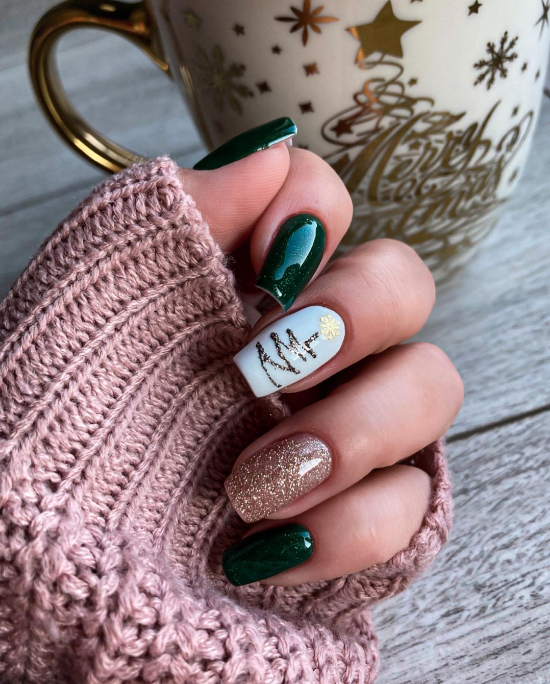 #72 We hardly have any words for this stunning Christmas nail design. It's painted in a calming pink with creative patterns for an appealing look with a creative twist.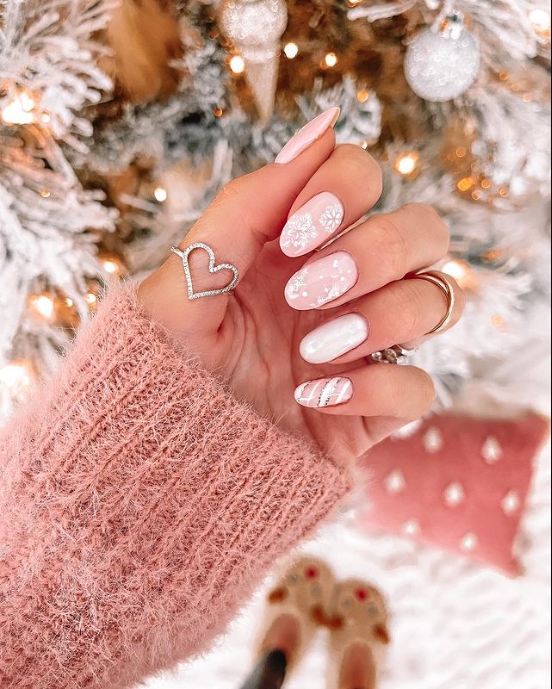 #73 From Selena Gomez to Jennifer Lopez and Cardi B, the celebrity world is rife with neon nails so who are we to question this trend? Explore the dazzle of neon with these gorgeous ombre nail trends in orange and pink.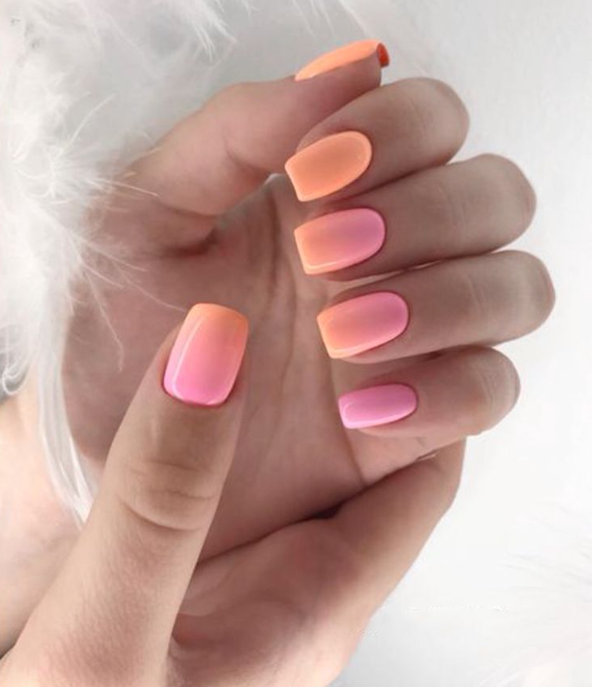 #74 If you want to do these aesthetic Christmas nail art at home but are worried about pulling off the motifs, then opt for Christmas stickers for nails instead. Use them strategically to place on your nail art and cover them all in a gloss coat for a glimmering finish that also helps your manicure last longer.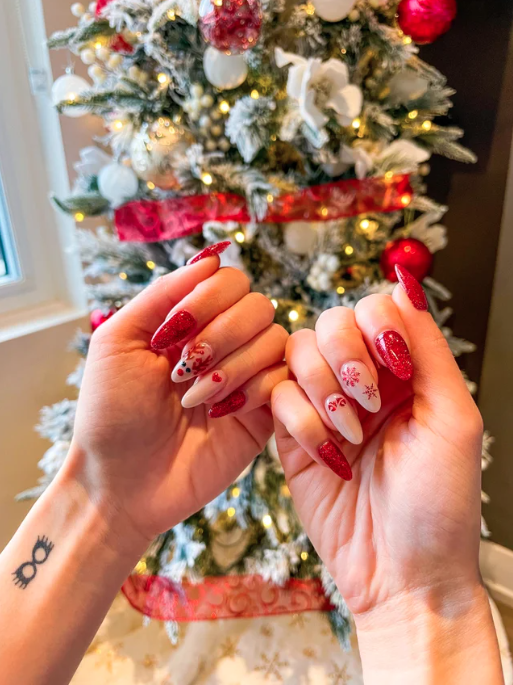 #75 Saving the best holiday nail inspo for the last. The thumb and pinky finger are etched in a normal design while the ring finger is done in hearts, a reindeer motif on the middle finger, and the snowflake motif on the index finger for an appealing and artistic holiday nail idea.