I am someone who loves holidays! And everything that's themed around it to get you into the holiday feels. From Santa-themed PJs to gingerbread cookies and fun lights to holiday nails, I partake in them all. You can go all in by painting reindeer and 3-D snowflakes to go all in with your Christmas nails or keep it simple with a bit of sparkle and simple motifs. No matter where you lie in this spectrum, there's a holiday nail design waiting to woo you on this list. Scroll to see some of the best holiday nail inspo on this list:
#1 Starting with these cute holiday nails acrylics done in pink and white with gold foil accents on motifs and pinky nails for a shimmering effect. The long nails are perfectly cut in a square shape before the design starts to give a beautiful base to the creative aspects of nail art. The first three nails are kept completely matte white, while only the last two nails cover the holiday theme of these cute nails. The reindeer has an easy outline, so if you're DIY-ing these nails, the motif can be easily recreated. Just be careful with the filling to retain the allure of the sketch.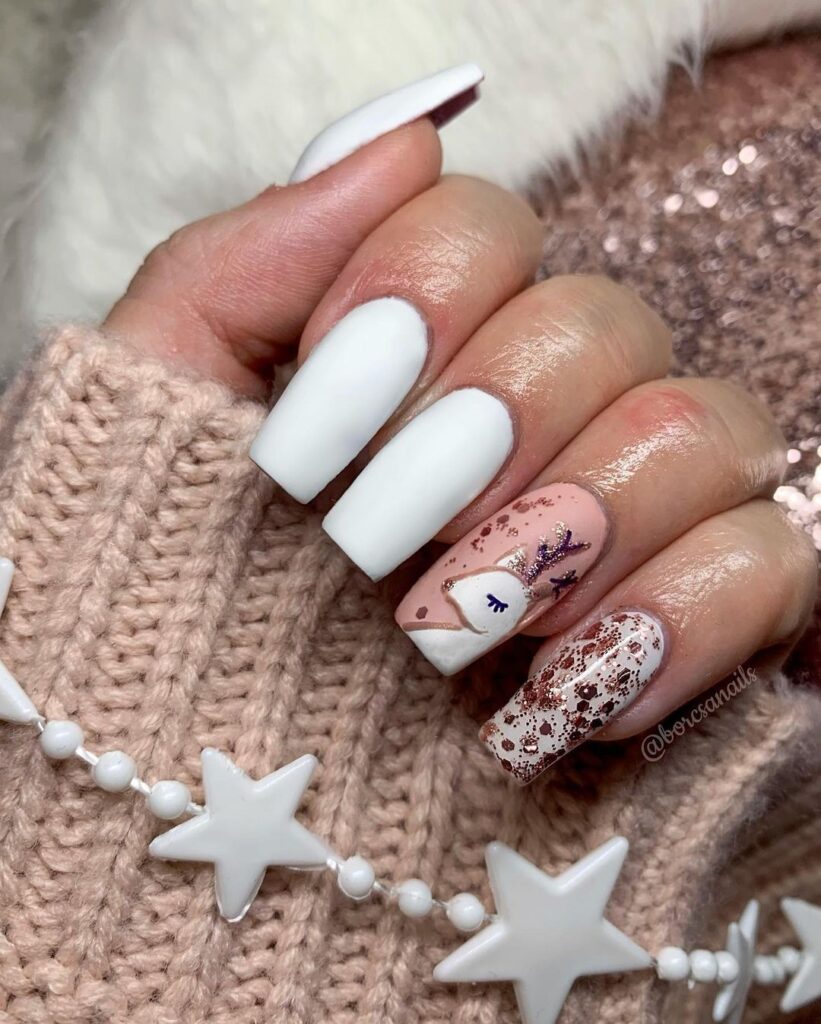 Courtesy: @borcsanails
#2 Yet another cute Christmas nails design with reindeer winning the heart all over. The white background elevates the brown color of the reindeer's art and gives it an edge over other creative patterns. The ring finger has a beautiful pink color portraying a frozen snowflake and the index finger is done in complete red. It's the pinky nail that adds further appeal to the nail art by depicting a horizontal pattern in red & white. While the thumb isn't shown, you can choose to paint it white to add to the balance of simplicity and creativity in this holiday acrylic nails.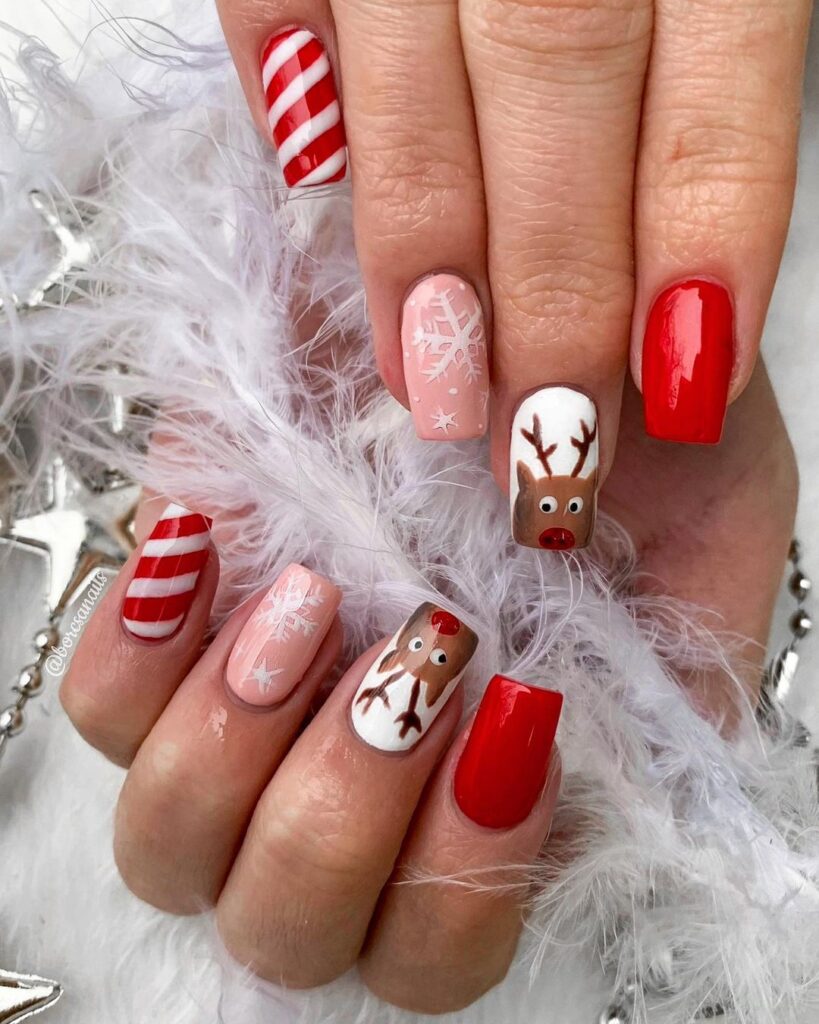 Courtesy: @borcsanails
#3 If you're someone who loves pink in their nail art, you will absolutely love the next winter-themed nail design on our list. It's done in lighter and darker shades of pink with blue & silver accents added minimally to the nails covered in irregularly dotted circles. The best part about these nails is it's not just Christmas-themed, so you can get them somewhere around December and they will stay relevant for the entire holiday season and beyond! Not to mention that pink goes amazingly well with winter fashion which mainly consists of darker or lighter palettes and seldom includes bright colors that can clash with the holiday nail colors.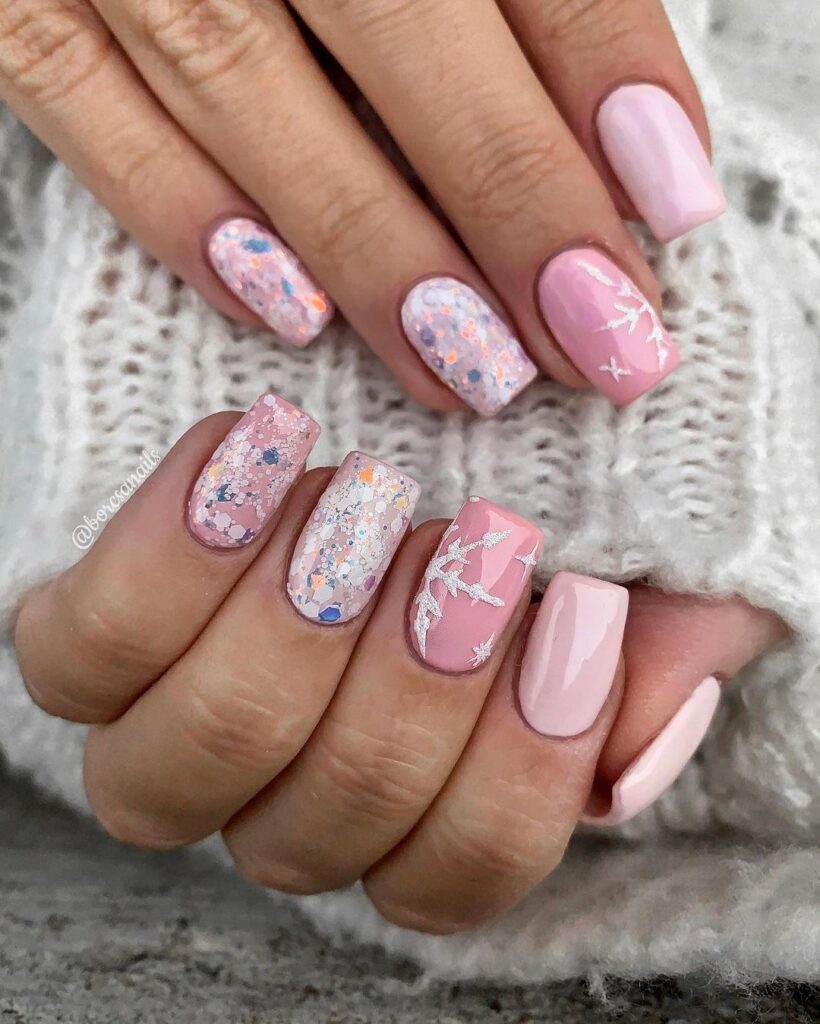 Courtesy: @borcsanails
#4 There's nothing that says Christmas-themed nails quite like these Ho-Ho-Ho sayings on the ring finger. We adore how it's written rather shabbily so it looks quite real and can be done at home without any qualms. The snowflake nail art is common in winter nail design and looks simple but requires a ton of intricacy. If you're doing them at home, we'd recommend trying a smaller version than this! The pinky nail is done in a noticeable golden design while the rest nails are done in simple red with a glitter coating for a glistening effect.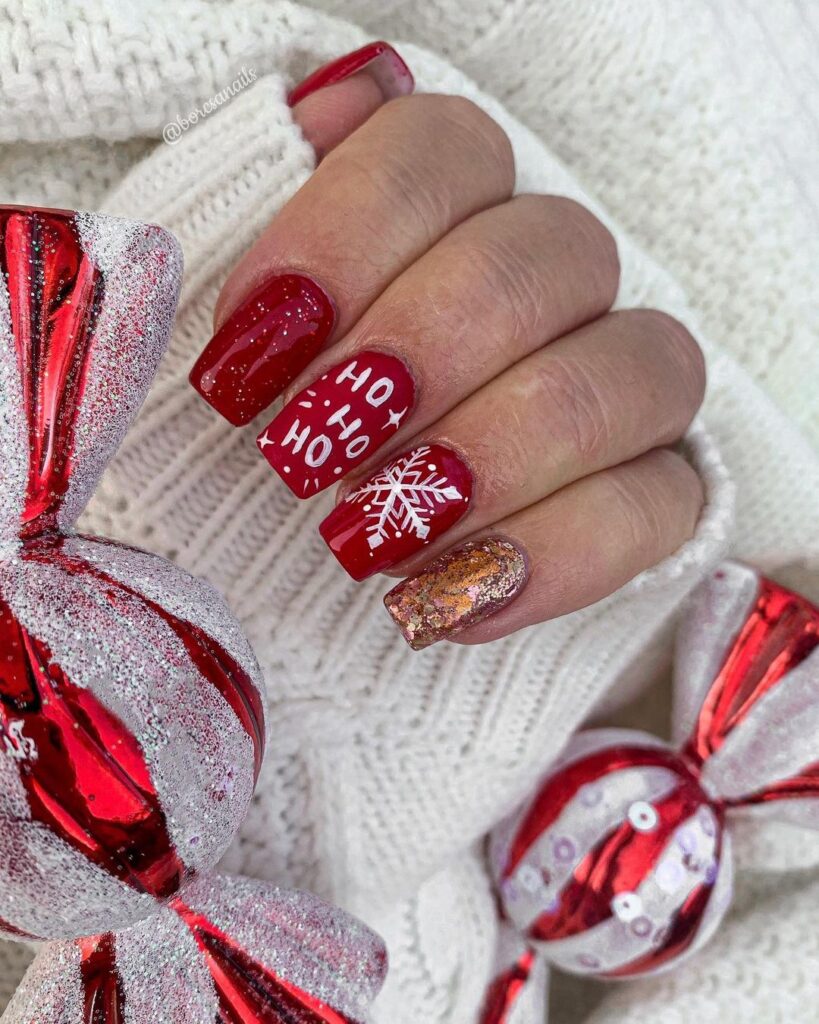 Courtesy: @borcsanails
#5 These statement holiday nails are painted in the usual white and red combination with silver glitter used as a distinctive touch to the usual Christmas nail colors. The pink nail is done in complete white and a subtle gloss coating and the middle nail is elevated by studs while the ring finger has the endearing motifs of reindeer and Christmas trees. If you struggle with attaching nail studs to your manicure, place the stone and hold it with a tool for 2 to 3 minutes. Let it dry for 5 more minutes and then further place some additional glue on the base for maximum strength.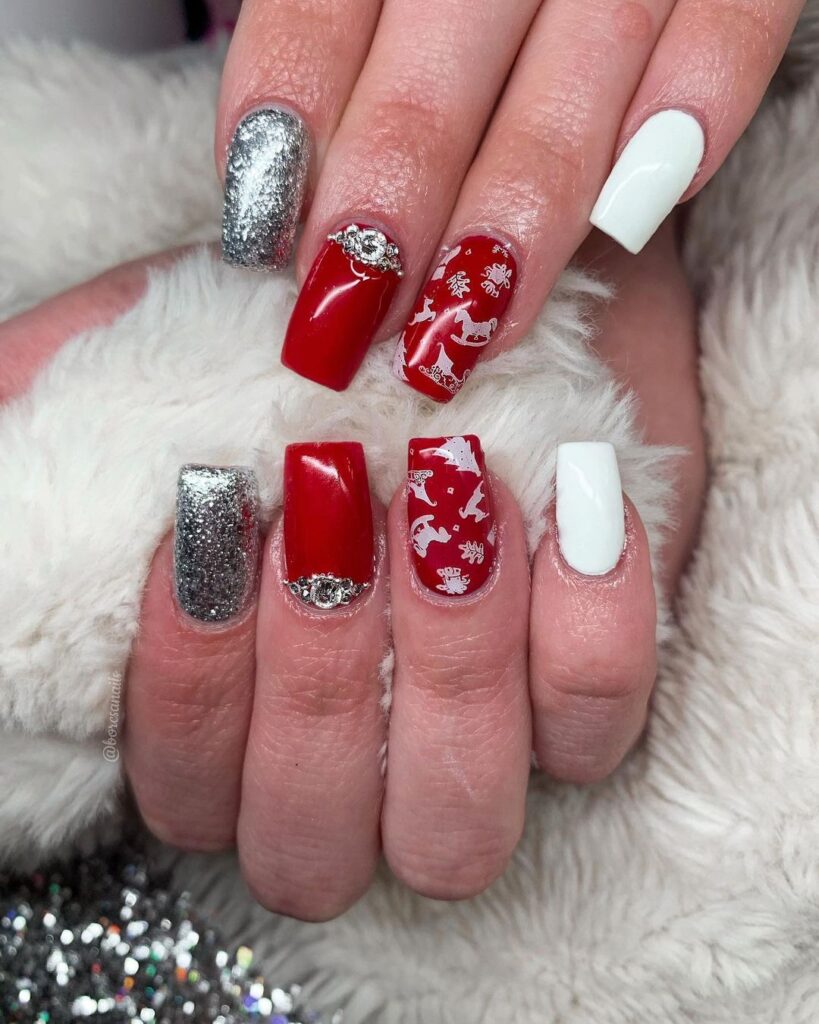 Courtesy: @borcsanails
#6 Holiday nails that only pay respect to the season by incorporating the usual red tone signifying the Christmas color matched with pink and white in artistic patterns. The pinky nail and index finger are done in neat geometrical patterns. The ring finger is done with lightning patterns on a transparent base and the ring finger is one that draws attention with adorable hearts drawn with eyes. With bright colors, ingenious patterns, and a pointy nail shape – this manicure is perfect to get into the holiday spirit.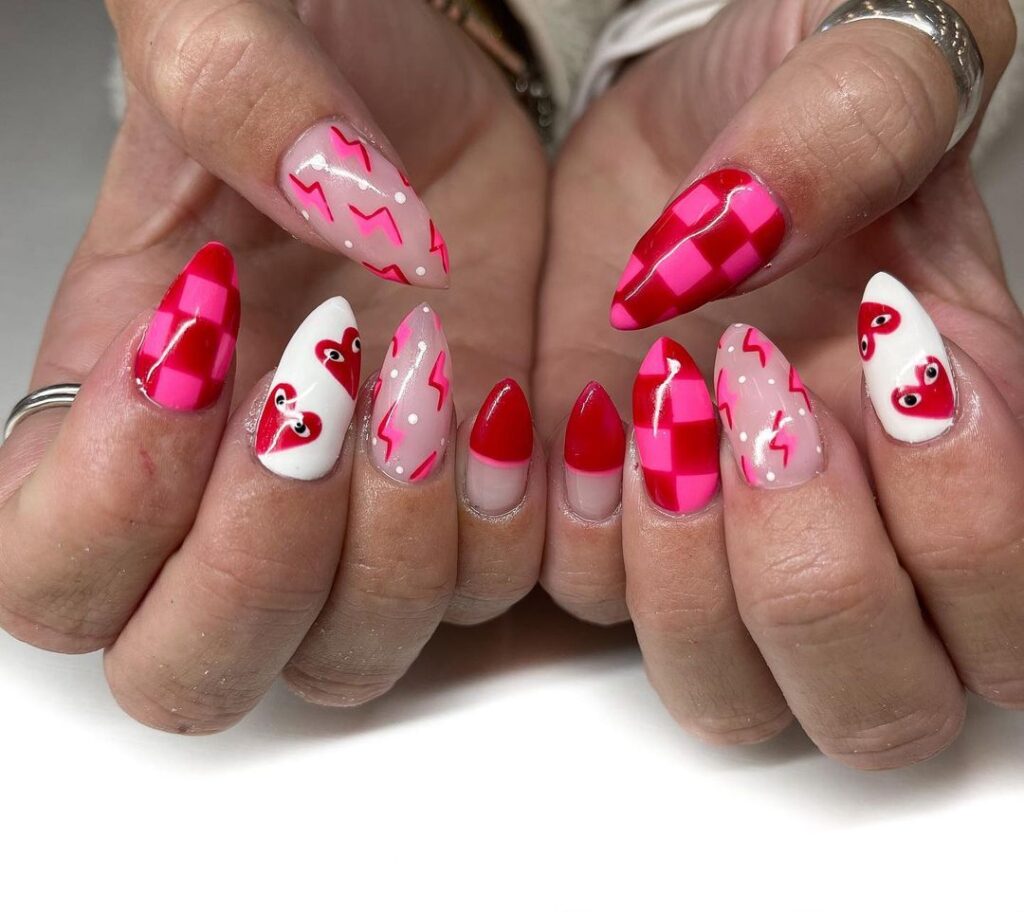 Courtesy: Hailey Lloyd
#7 Looking for some easy holiday nails DIY? Then, there's a French manicure-styled Christmas nail done in red with small polka dots on the top of the coating. To start, shape your nails in your preferred shape – from the square, and ballerina to oval and coffin, these holiday nail ideas work for every type of nail shape. Once done, section the part of the nail you'd want to color red and carefully paint the tips with the color. Let it dry and cover them all with a gloss coat. When the coating dries completely, use a dotting tool to draw a few polka dots on the top. Once dried, don't forget to click a picture in front of your glistening Christmas tree to flaunt it on your social media and keep it for memory for years down the line.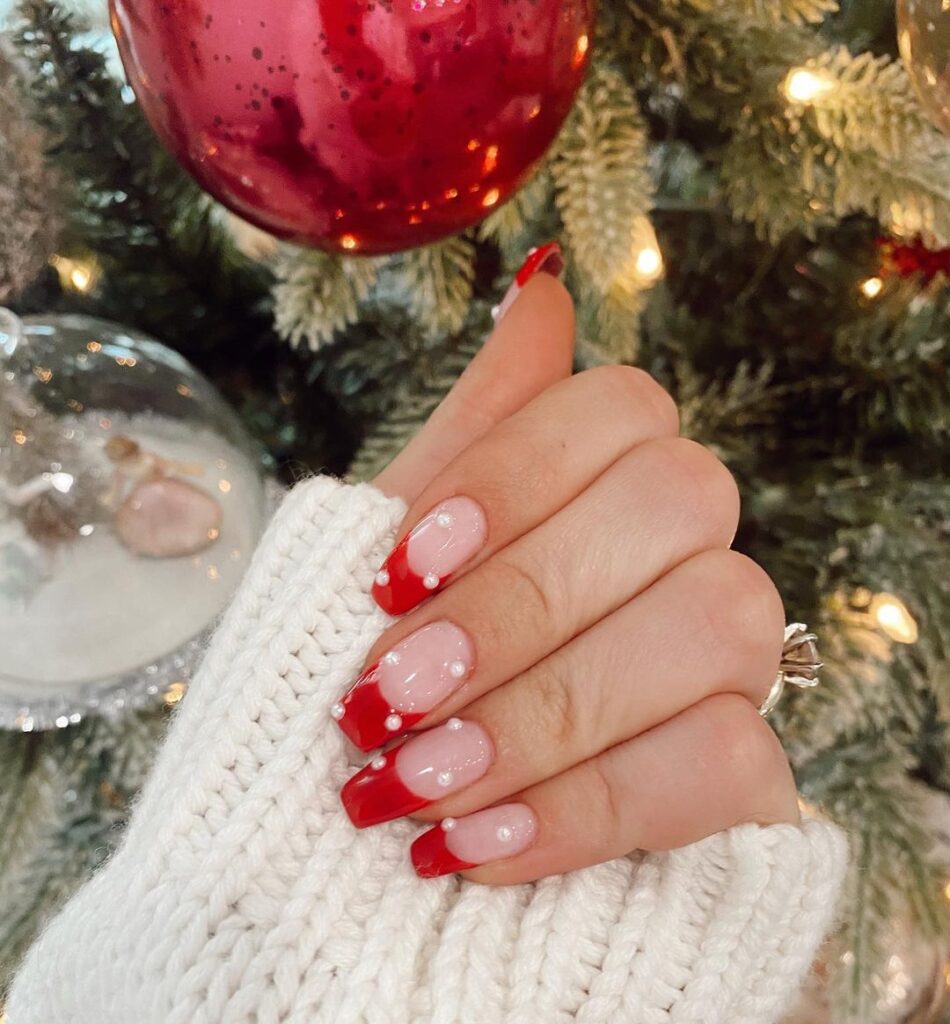 Courtesy: Hailey Lloyd
#8 We often think of holiday nails and Christmas nails as painted in green or red, but you can surely use some other colors as well. Like the winter-relevant dark brown painted in gorgeous snowflakes and glitter coating on one nail. Besides dark brown, you can also try dark green, dark grey, or dark blue for the same visual appeal as this design. Because the snowflakes on the fingers are small and intricate, you do need to pay a lot of attention whilst recreating this design at home. But if you're trusting a professional, there isn't anything to worry about!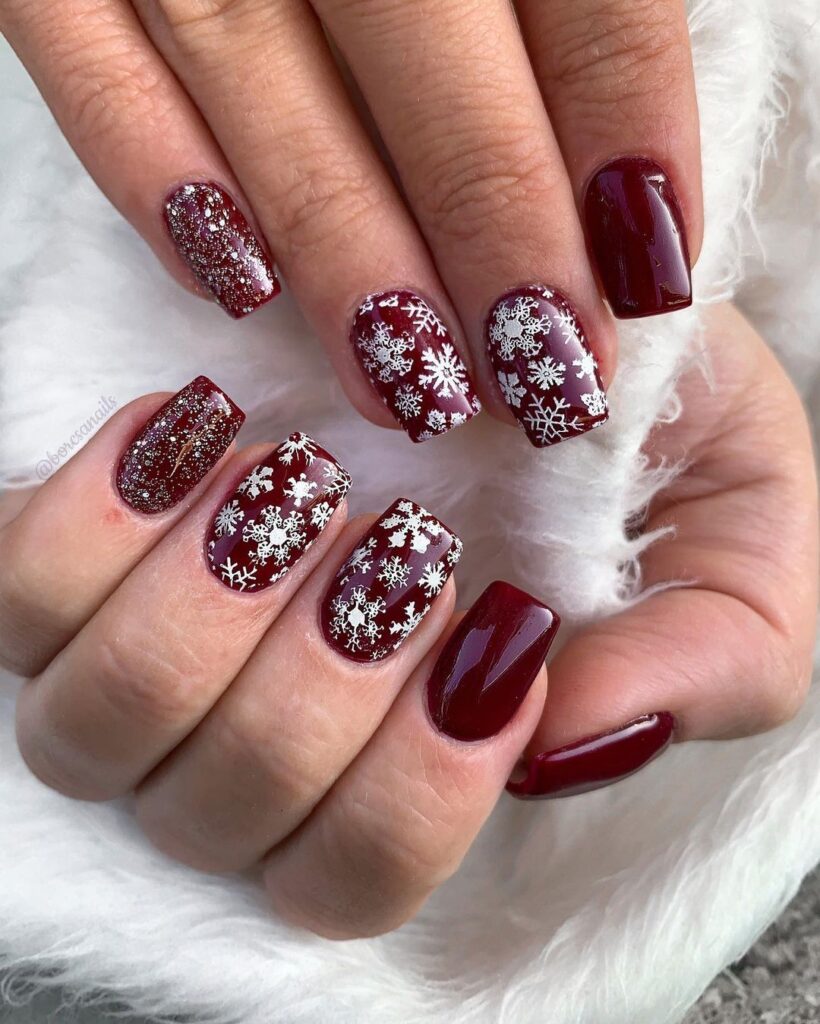 Courtesy: @borcsanails
#9 All the nails done in different patterns are all over social media, but they do need a bit of thinking and planning so the nails complement each other despite being different in pattern. This holiday nail art consists of a snowflake motif, sweater motif, hearts, reindeer, and Christmas tree motifs, done on different fingers on each hand. These short holiday nails are simple and basic and perfect for those who don't prefer bigger nails or don't have the option like new moms. Although, if you're looking to recreate these nails on a longer nail shape, then this design surely works for it as well.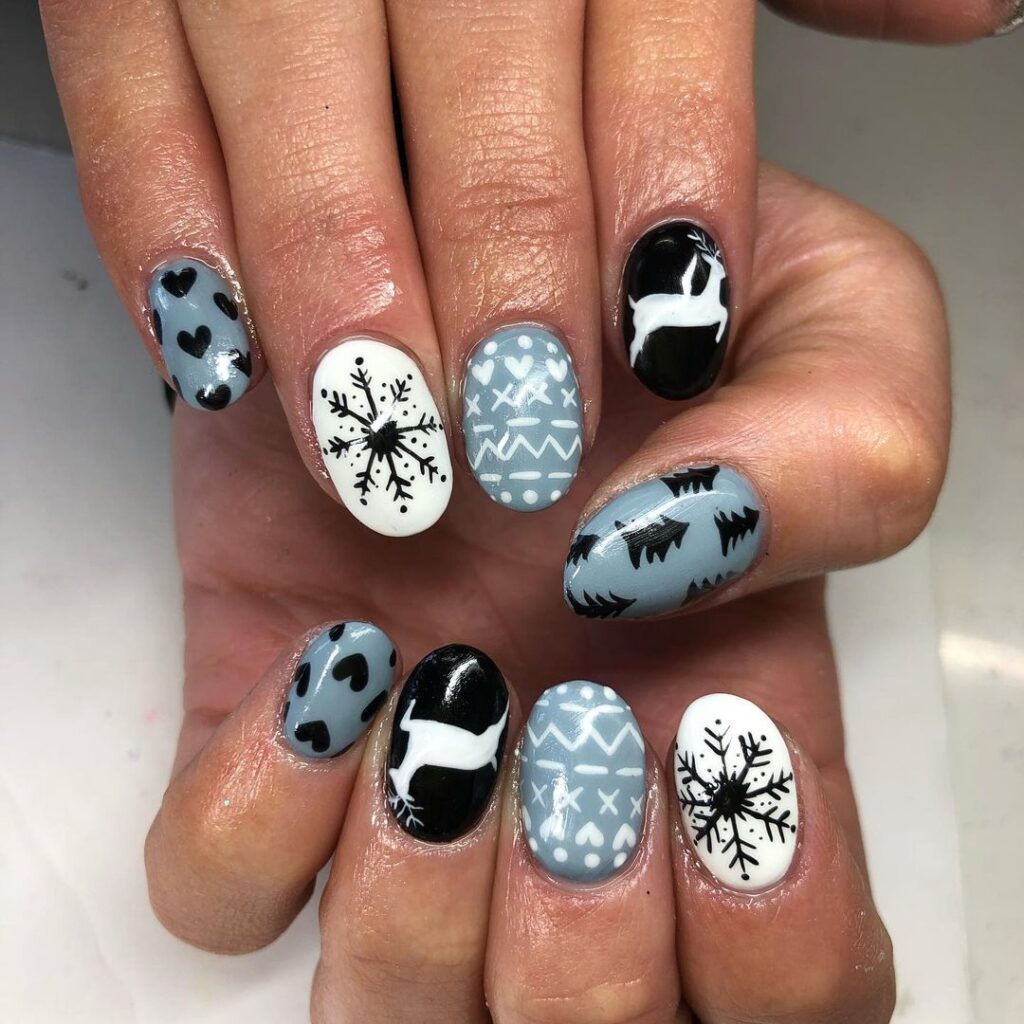 Courtesy: Hailey Lloyd
#10 This isn't the only Christmas nail design that will incorporate the print of your winter clothes into the nail art. There will be many on this list. The next one integrates sweater checks on the ring finger and the beloved beanie on the middle finger. Certainly, the sharp lines and elaborate outline are the work of a true professional and should be left to them when thinking of recreating this design. The glitter coating on the rest of the nails adds a perfect shimmer to shine this holiday season in 2022.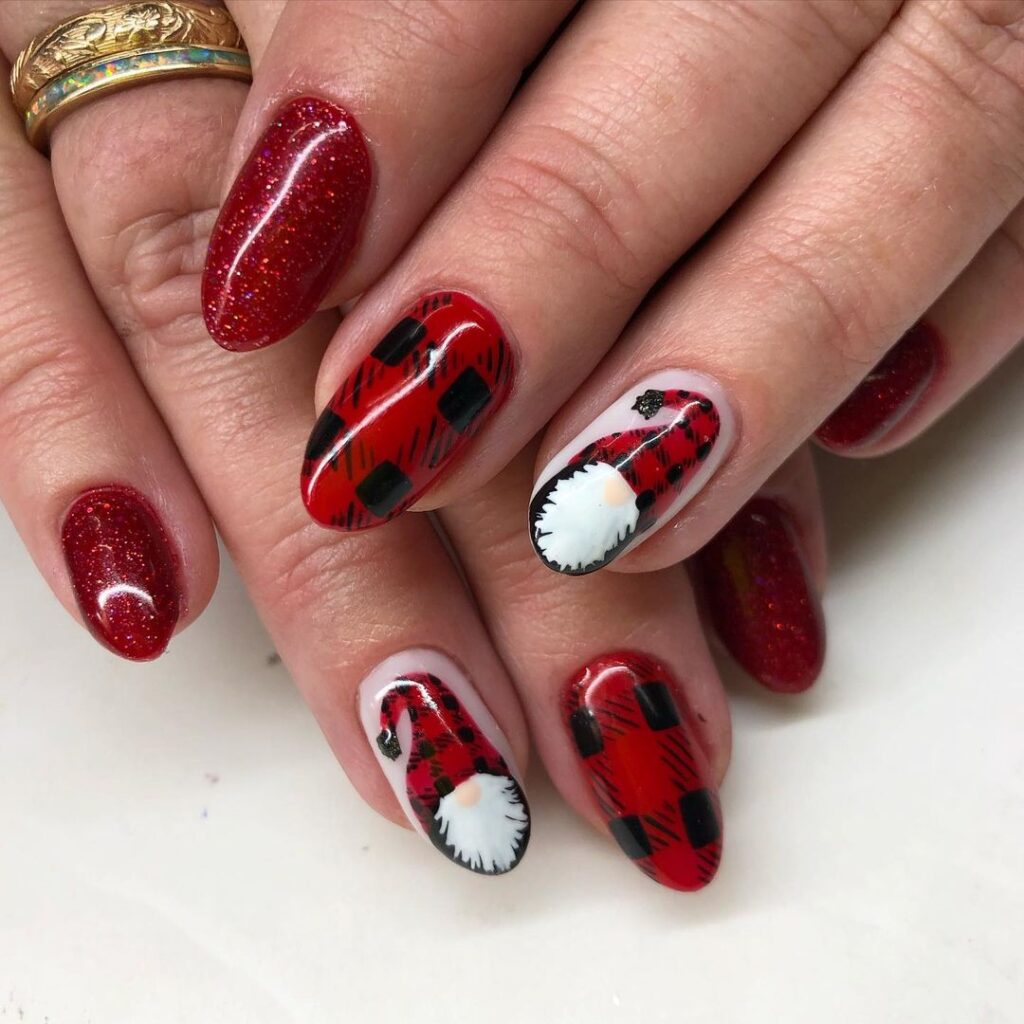 Courtesy: Hailey Lloyd
#11 Almond nails are generally preferred by women who want a smaller nail shape but want to give an illusion of longer nails. Almond nail shape also gives an illusion of slenderize fingers and wider nail beds. Nail art on this nail shape also provides a bigger area for a better drawing of any design you might like. For example, the nail design here consists of simple horizontal patterns and polka dots but the pointier shape gave them a stylish and contemporary look. The nude pink shade also adds to the chic & fashionable touch of these simple holiday nails.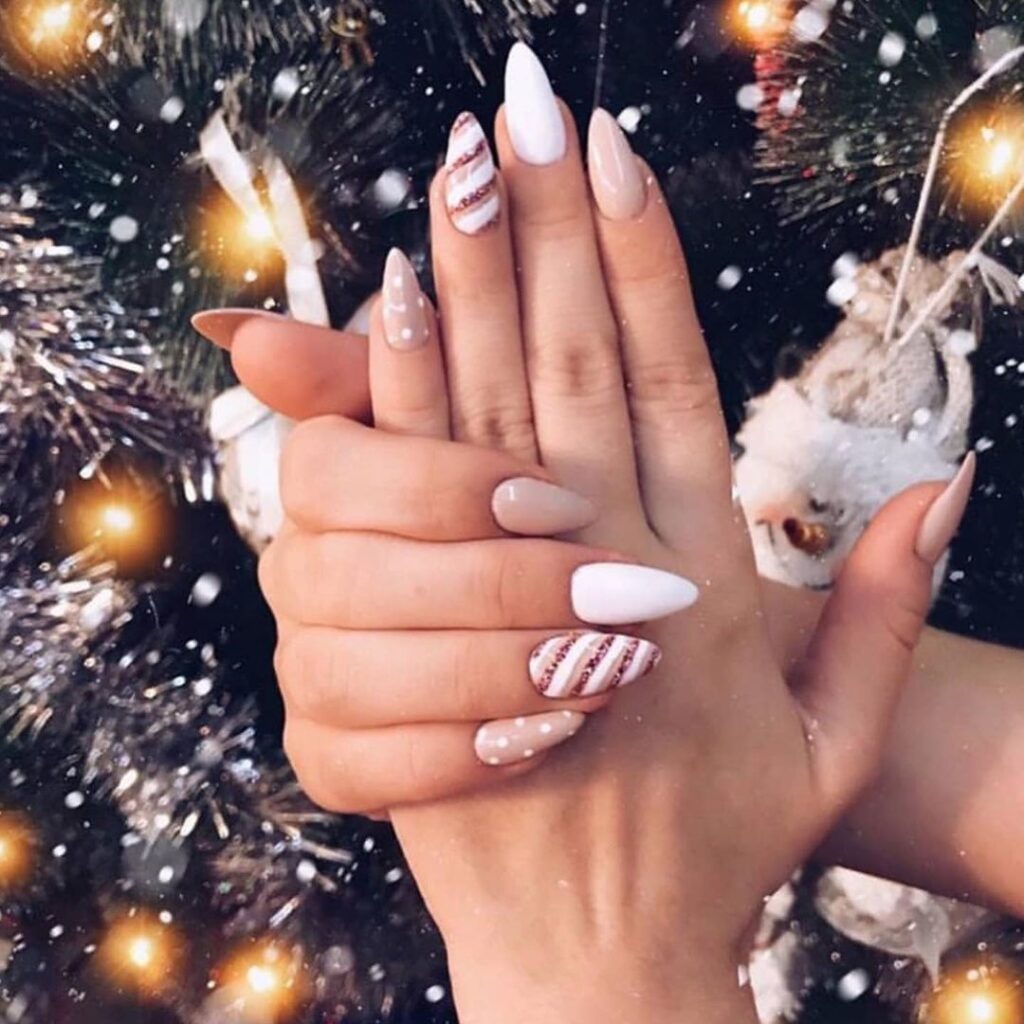 Courtesy: @nail_idea3
#12 The simple holiday nails inspo doesn't get any better than this! We absolutely love the round nail shape of this manicure which gives it an instant edge over others without overdoing the creativity aspect at all. The three nails are bedecked minimally in studs and the outer nails (pinky and thumb) are done in all glitter to add the glamorous element to the manicure. These nails can be done easily at home but you can go to the salon to get them done if you want your mani to last longer. Since they aren't that typical, any normal nail technician can do them and you don't have to worry about looking for the best of the best in the market.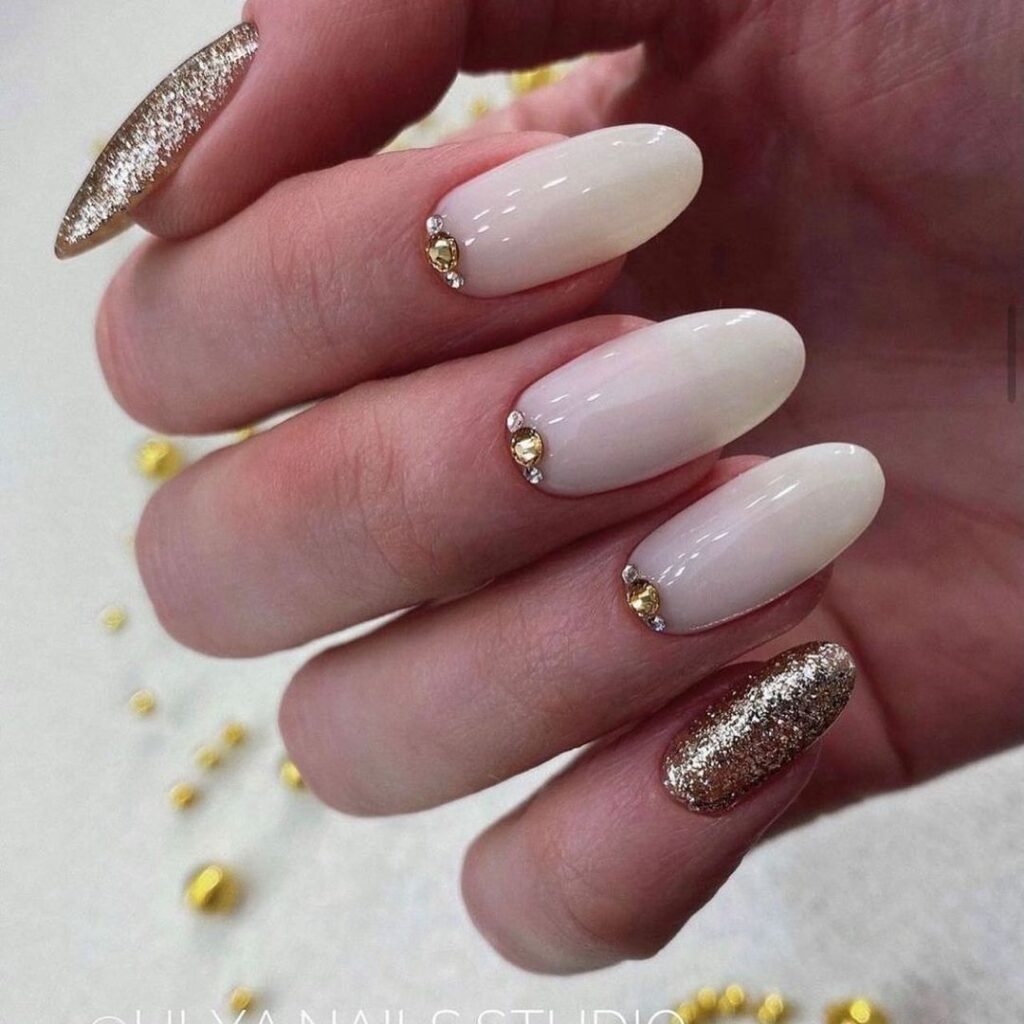 Courtesy: @nail_idea3
#13 These short holiday nails are minimal and gorgeous in every way. They are done in the usual red color with motifs done in white. If you're wondering why red is the color of Christmas, there are many reasons why red is associated with the festival. Religiously, the color represents the blood of Jesus Christ, the person whose birth the holiday celebrates. The color red for Christmas also became popular because of a marketing ad by Coca-Cola wherein Santa was represented as the larger-than-life, grandfatherly figure wearing the classic red costume (the same red used in Cola's branding) – hence popularising the color red for the festival. Of course, its brightness and merriment are other reasons why red has become "the Christmas Color". Now you also know the significance of red so sport it generously this holiday season.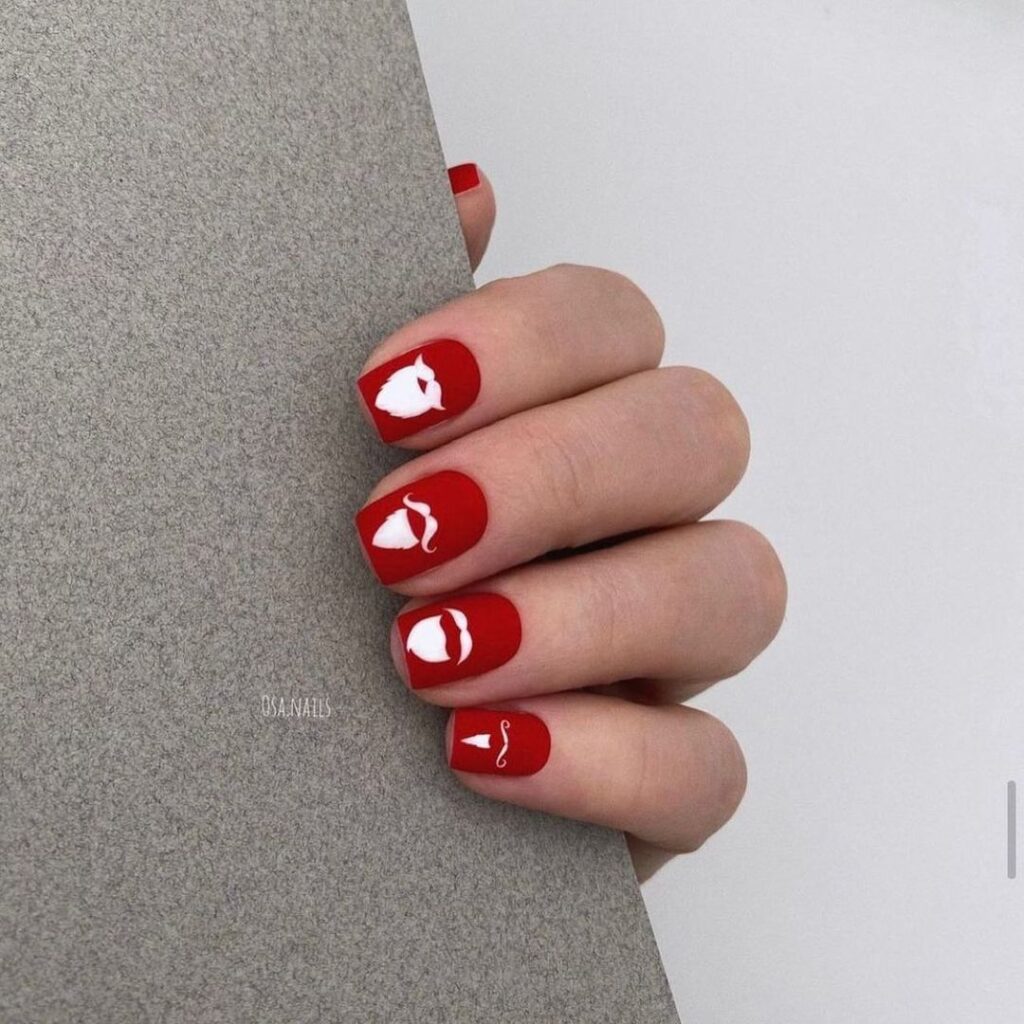 Courtesy: @osa.nails
#14 Stand out from the crowd by choosing a summer holiday nails design that's every bit as vivid and classic as it can be! The blue nails are a gorgeous color and can be easily DIY-ed at home. To extend the length of your manicure, use a base nail paint that enhances the length of the nail paint, and use a top coat to finish the mani. While this uses an ink-blue holiday nail color, you can use your favorite nail color to recreate this design. Choosing a bright color like this does get you into a festive feeling instantly, but if you're someone who loves minimalism, nude pink or light lavender are great trending shades for your manicure.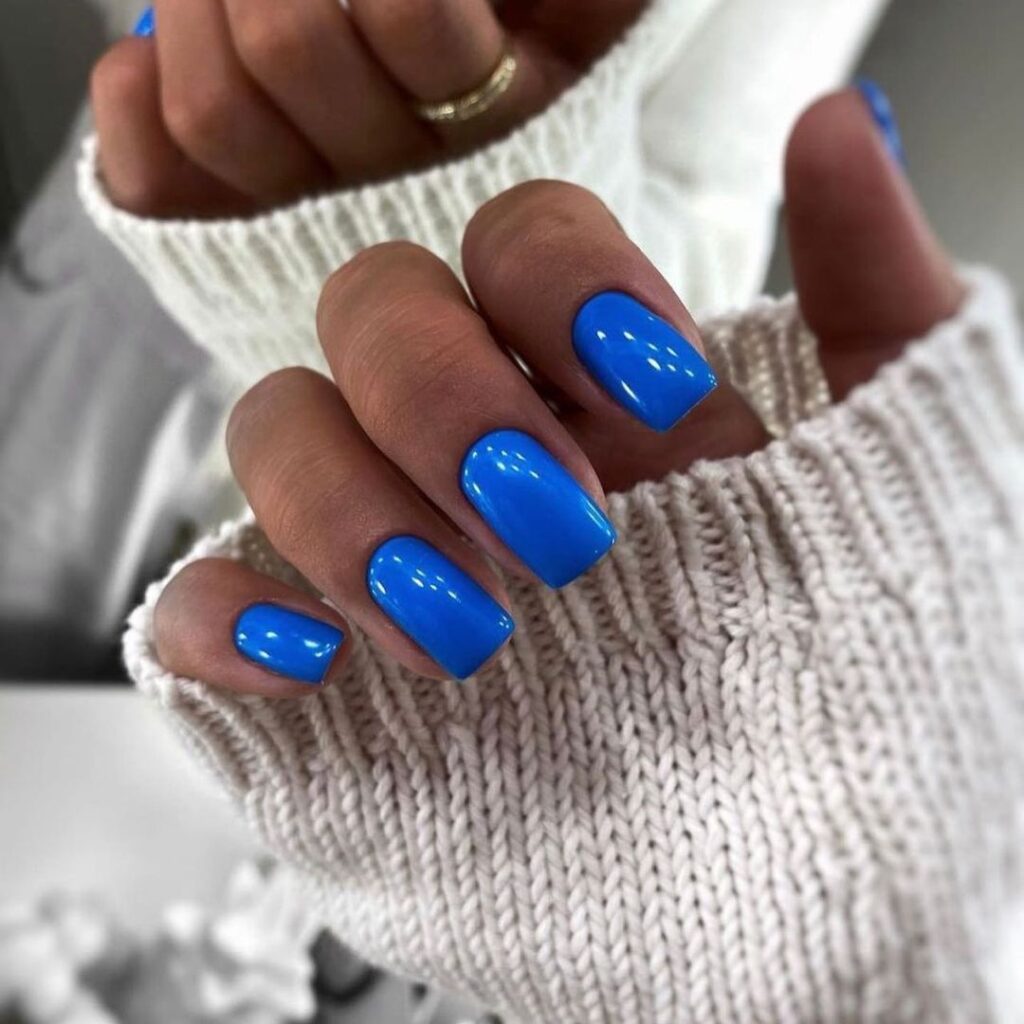 Courtesy: Pinterest
#15 These black nails with small line patterns are just lovely. It's a great manifestation of galaxy nails and abstract designs amalgamated into one. This looks easy to do but does require a sort of intricacy and the strategic placement of patterns is necessary, even though it looks quite random. Only DIY if you get the placement, otherwise go to a nail artist for these gorgeous holiday nails in acrylic so they last longer and give you an elegant look. Besides black, you can try this nail art in dark blue and dark grey colors as well.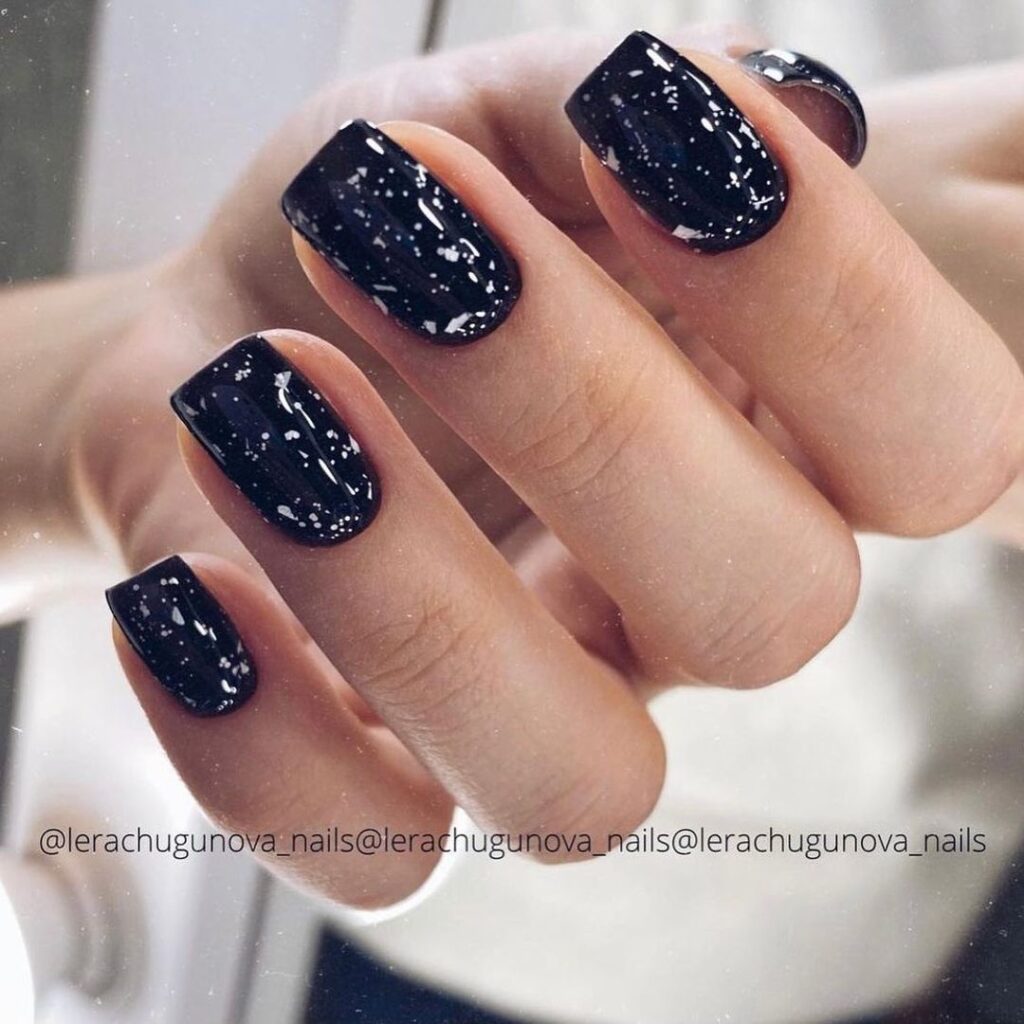 Courtesy: @lerachugunova_nails
#16 When it comes to trying unique nail art ideas, you don't always have to be extra creative with the pattern, motifs, or design. Sometimes, a distinctive color combination is all you need to stand out from the crowd. This fusion of dusty pink and grey is gorgeous, extraordinary, and aesthetic. The amalgamation is already popular in home decor for its soothing effect and now you can transfer it into your holiday nails inspo as well. These glossy nails are done in simple colors with accents of glitter on some nails for a dazzling touch. 
Courtesy: Instagram
#17 We just couldn't give you a stunning holiday nail color combination and leave you with just one design. So, here's another one to manifest this bewitching blend of colors on your nails. As they are a part of the category of simple holiday nails, you can completely do them at home as well. You just need these colors and of course, you should know how to do a gradient (we're including a tutorial below). Although, even if you don't know how to do the gradient, just do a simple half-half nail and this design will still look as amazing as the picture.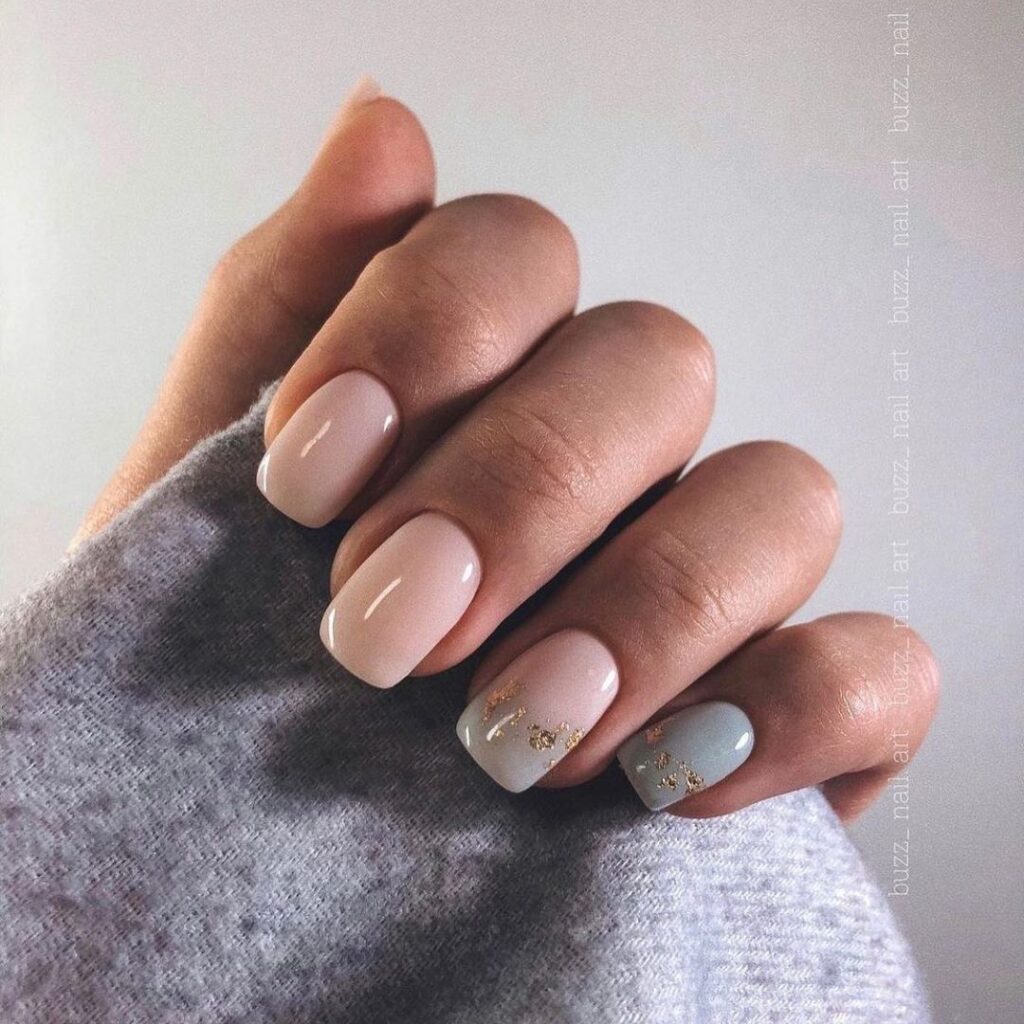 Courtesy: @buzz_nail_art
#18 Yet another beautiful combination of colors to try this holiday season 2022 is cornflower blue and white done in an abundance of glitter & shimmer. Choose any nail shape you like – it really doesn't matter – these gorgeous colors will go with all nail shapes. Now, you do need perfect colors to achieve this manicure. We completely understand you wouldn't want to buy this specific blue glitter only for this nail art, so getting the mani done professionally can help in this case. They would also be able to achieve the perfect coating on the rest of the nails for the same flawless visual appeal.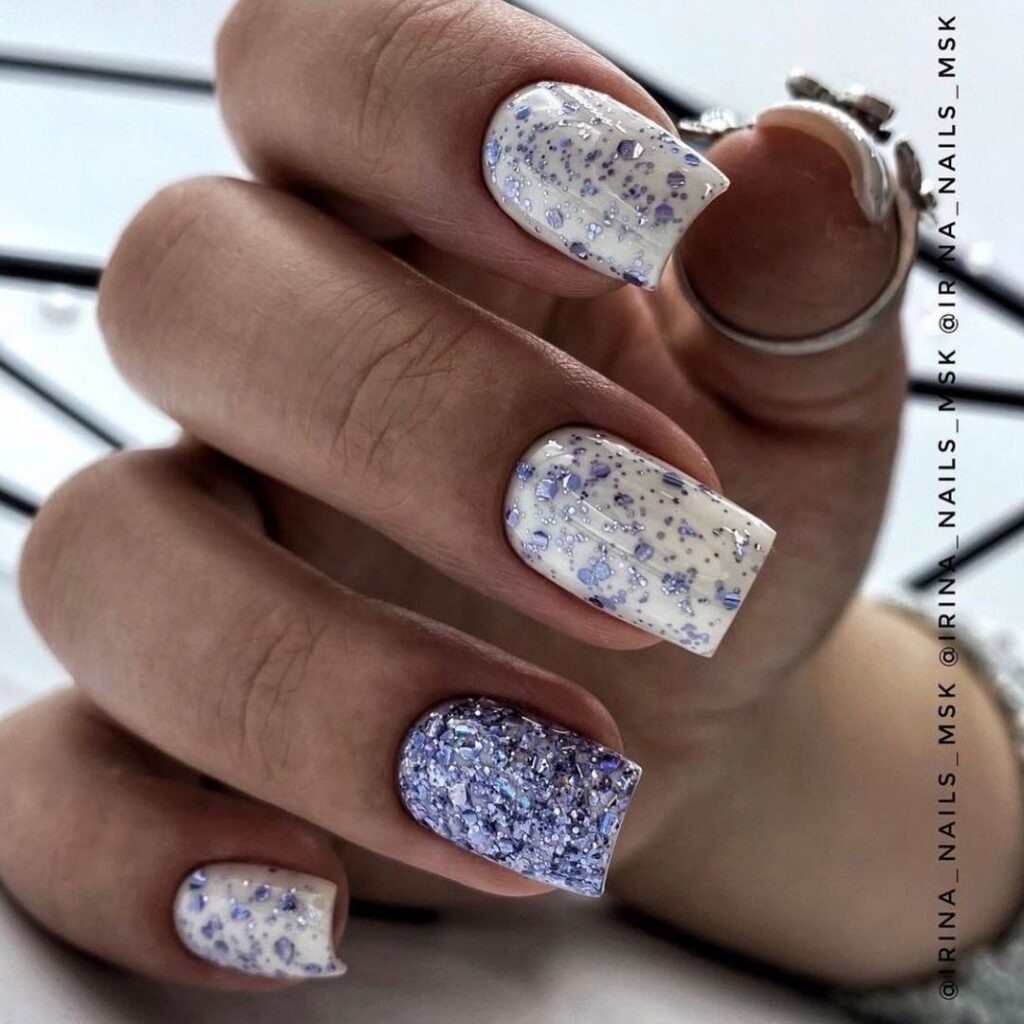 Courtesy: @irina_nails
#19 If you're looking for holiday nails for toe inspo, here's one that captures the essence of the happy season. You really don't have to get toes done professionally because toe polishes last longer than hand manicures anyways. That's because we use our hands much more and they're also in water for a longer time. For toenails, you can try this combination of dark blue and glitter, or go ahead and use holiday nail colors red and green for a festive feel. No matter what holiday nails for toes you pick, you can be assured of getting into the jovial vibes with the right color.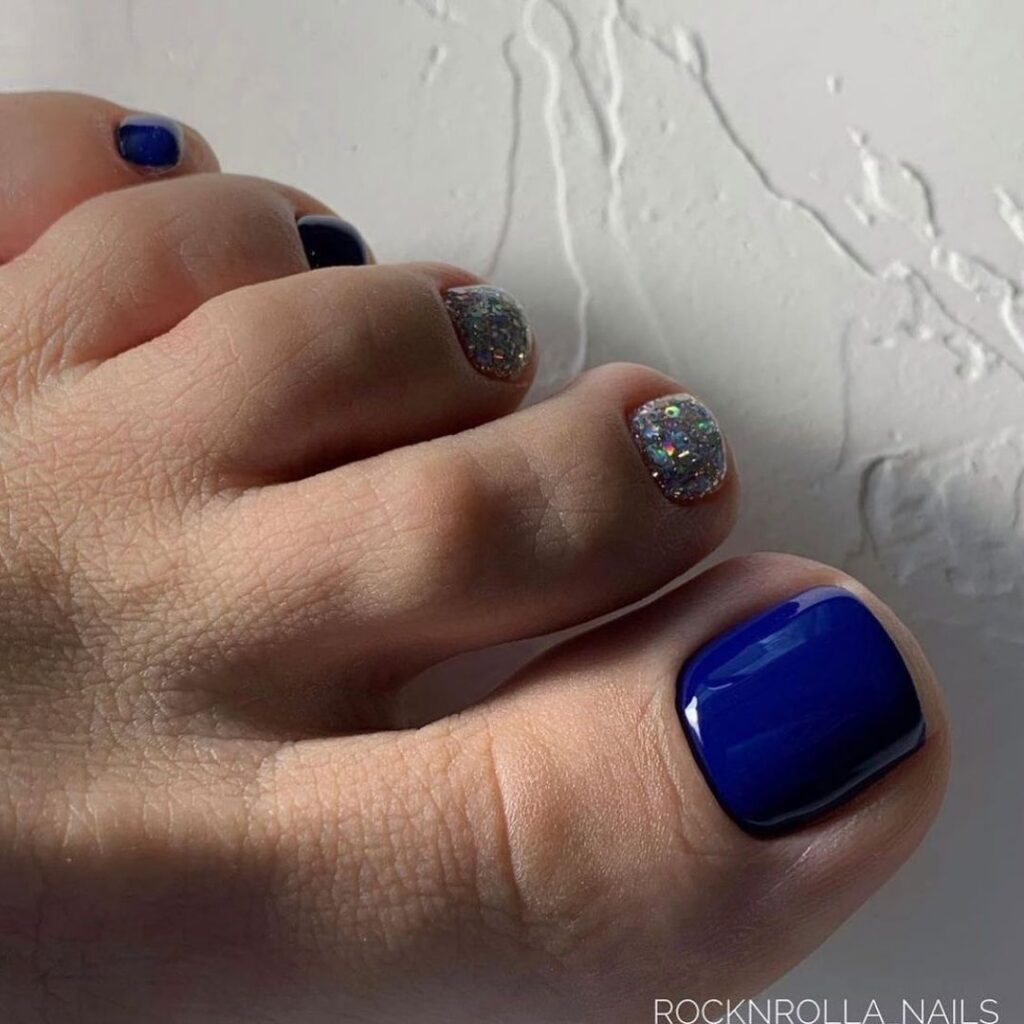 Courtesy: @rocknrolla_nails
#20 Gray is a beautiful color. It has become a favored choice in many verticals ranging from home decor to fashion picks. Gray is a hue that symbolizes solitude, calmness, and strength – qualities people are seeking after the tough time of the pandemic. Including it in your holiday nails will represent ease, minimalism, and happy vibes all in one. You also don't have to be very fancy while including this hue. A flawless nail shape and application will do the trick. A subtle accent of glitter is just what you need to add that festive touch.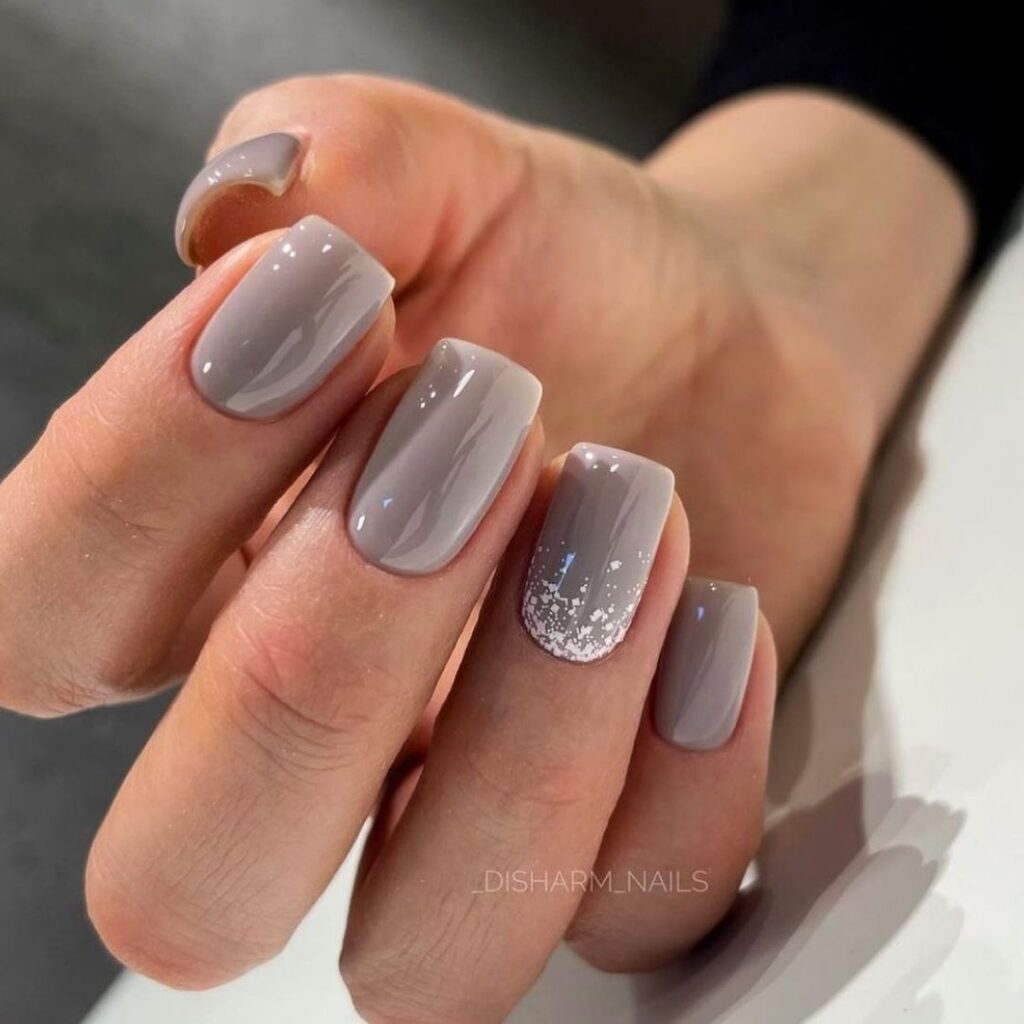 Courtesy: @_disharm_nails
#21 Explore other nail art motifs this Christmas season and stand out with a manicure that's truly you. Atop a pretty grey base bedecked in white geometric dotted patterns are the tiger motifs with each part of him drawn on a different nail. It's a unique idea and one that will draw attention and tons of compliments for your manicure. Besides the tiger, you can recreate this holiday acrylic nails for any other of your favorite animals like a panda or a dog.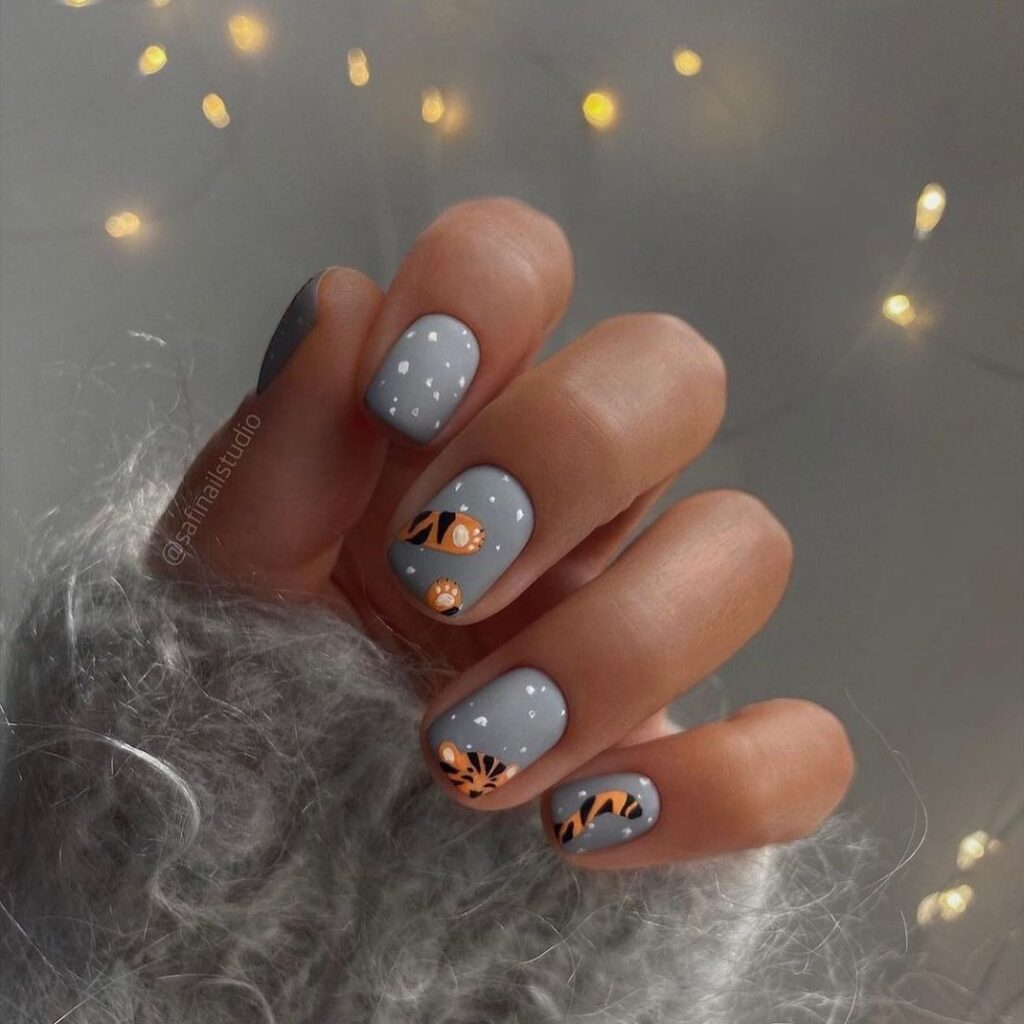 Courtesy: @nail_idea3
#22 Longer nails are a great way to manifest your creativity into your nails. Apart from giving you more area for creative expression, longer nail benefits include a feminine look and lending appearance of longer fingers, which can be an attractive feature to both men & women. This holiday season explores the longer nails style with these gorgeous ombre grey nails decorated in studs and glitter for a glamorous effect. You can also try the design in dark blue and forest green colors for a beautiful visual appeal. For studs, make sure your nail artists have applied enough glue on the sides so none of the embellishments come off through the entirety of the professional nail stay period.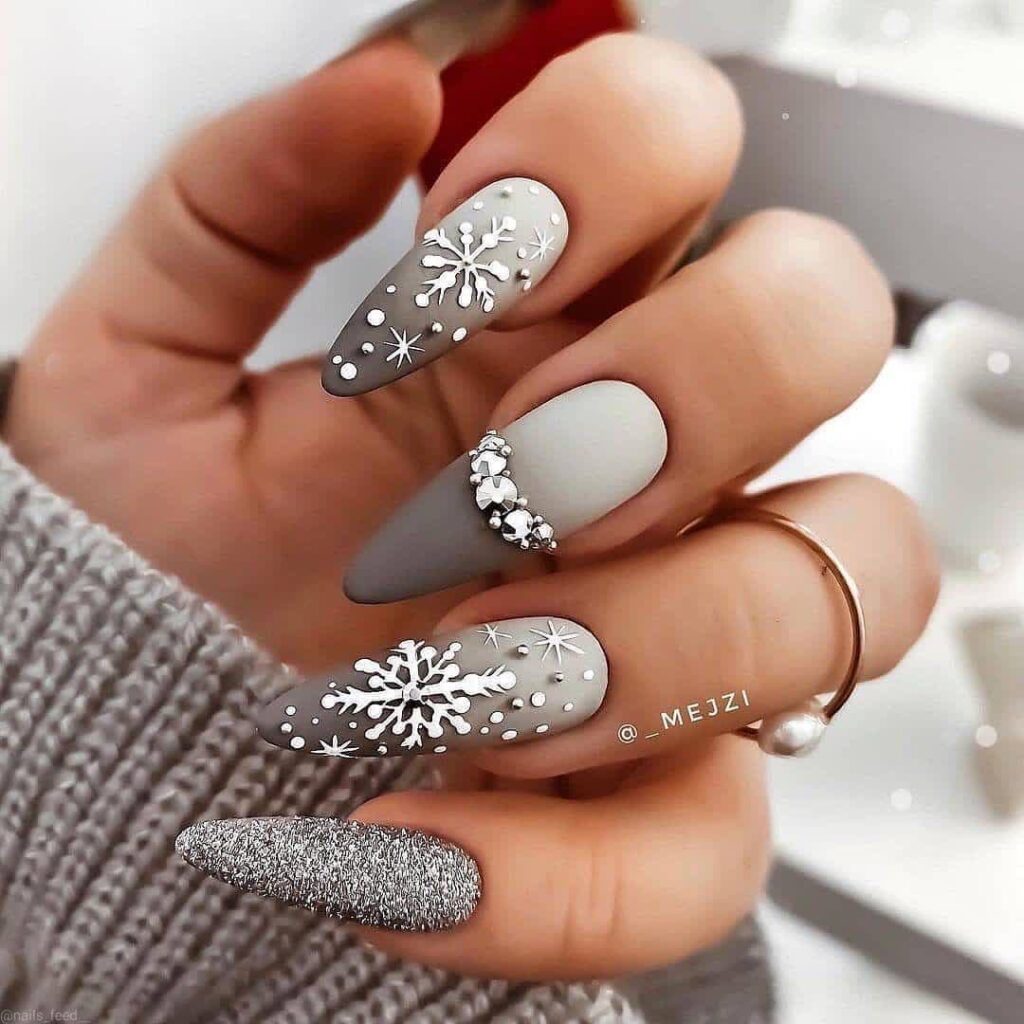 Courtesy: @_mejzi
#23 Talk about cute holiday nails and you somehow can't look over these pink nails adorned in glitter and matte polishes. The pinky and index fingers are covered in glitter nail polishes, while the middle two have matter polish with gorgeous illustrations drawn on them. The ring finger has a cute heart covered in glitter, but it's the middle finger that takes away the attention. It has an endearing reindeer motif with ears graced in decorative balls used for Christmas trees and a nose covered in glitter. Trusting a creative artist for your holiday nail designs always surprises you with the most exquisite design, doesn't it?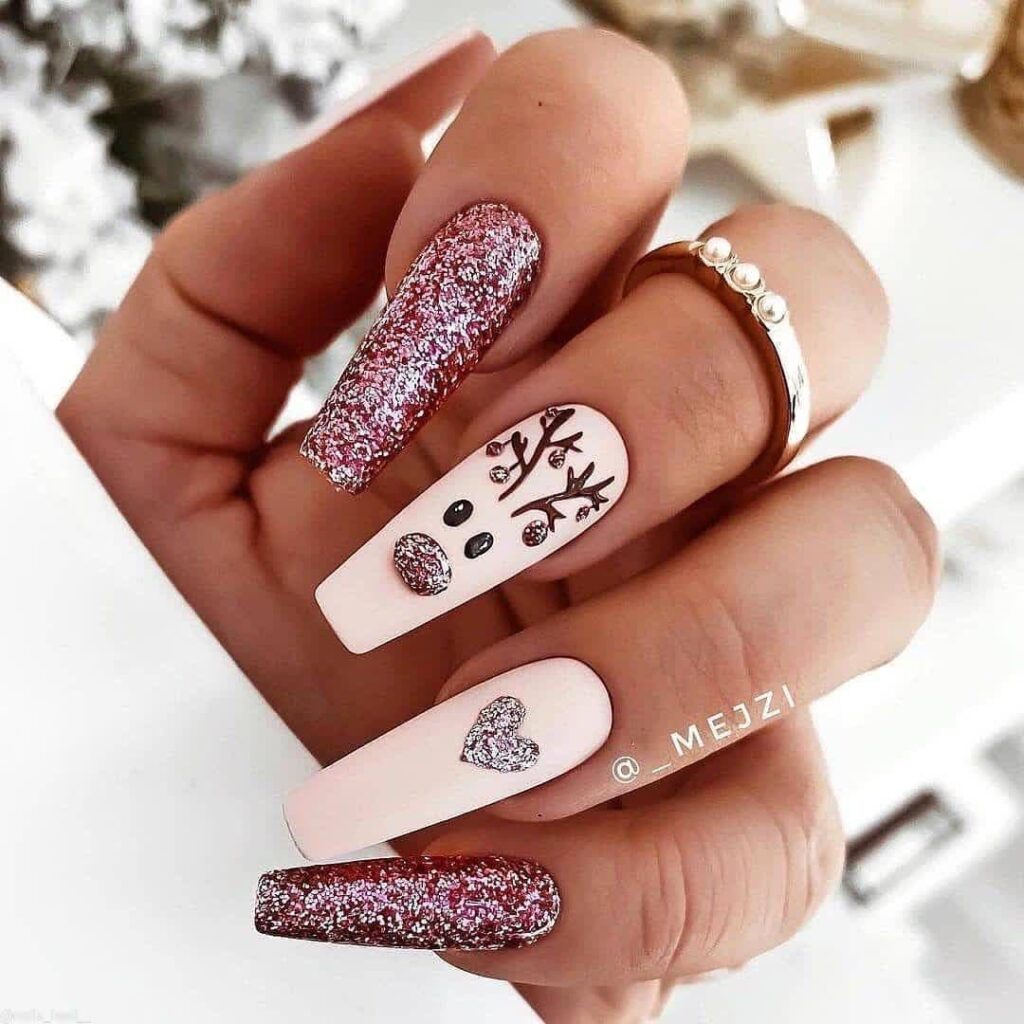 Courtesy: @_mejzi
#24 Nothing says Christmas like the color red! If you're wondering why red is such a popular shade for Christmas – there are two main reasons why. One is religious and spiritual. This deep hue represents the blood of Jesus Christ, the person whose birth the holiday celebrates. The other reason is a marketing campaign by Coca-Cola where the artist Haddon Sundbloom painted Santa as we know him today – fat, jolly, old, and in a red costume. Since then red is seen in almost all things Christmas-themed, including holiday nail art. The next one is just perfect to get you into the holiday spirit.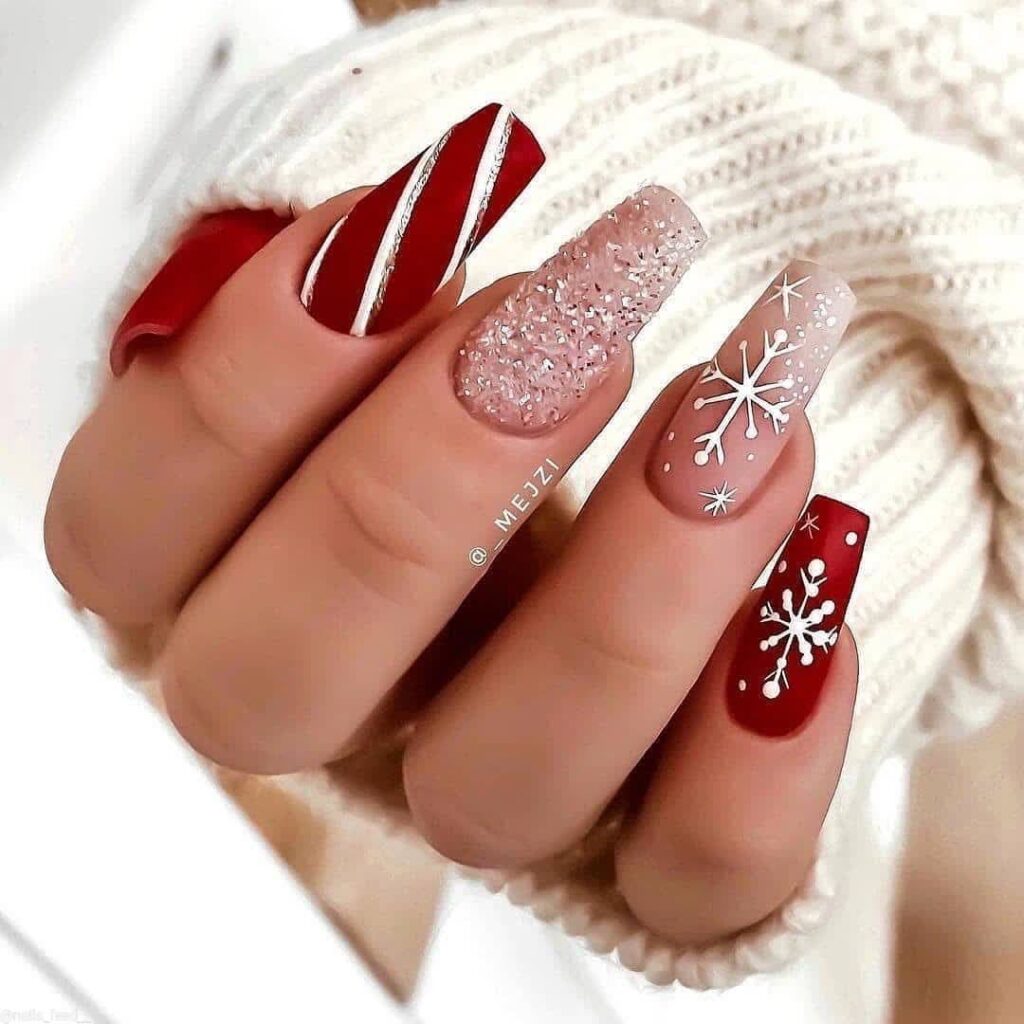 Courtesy: @_mejzi
#25 Red nails for Christmas, but make them less fancy with this unique geometric and modest holiday nail inspo. With the farthest of the two nails painted in red gloss, the middle two nails have a lovely geometric pattern done on the above portion of the nails. You can DIY these nails at home if you have a steady hand to outline the swirly patterns. If you don't have the purple color to add to the pattern, you can use the red there as well. Remember to cover it all with a gloss coat for a smooth finish.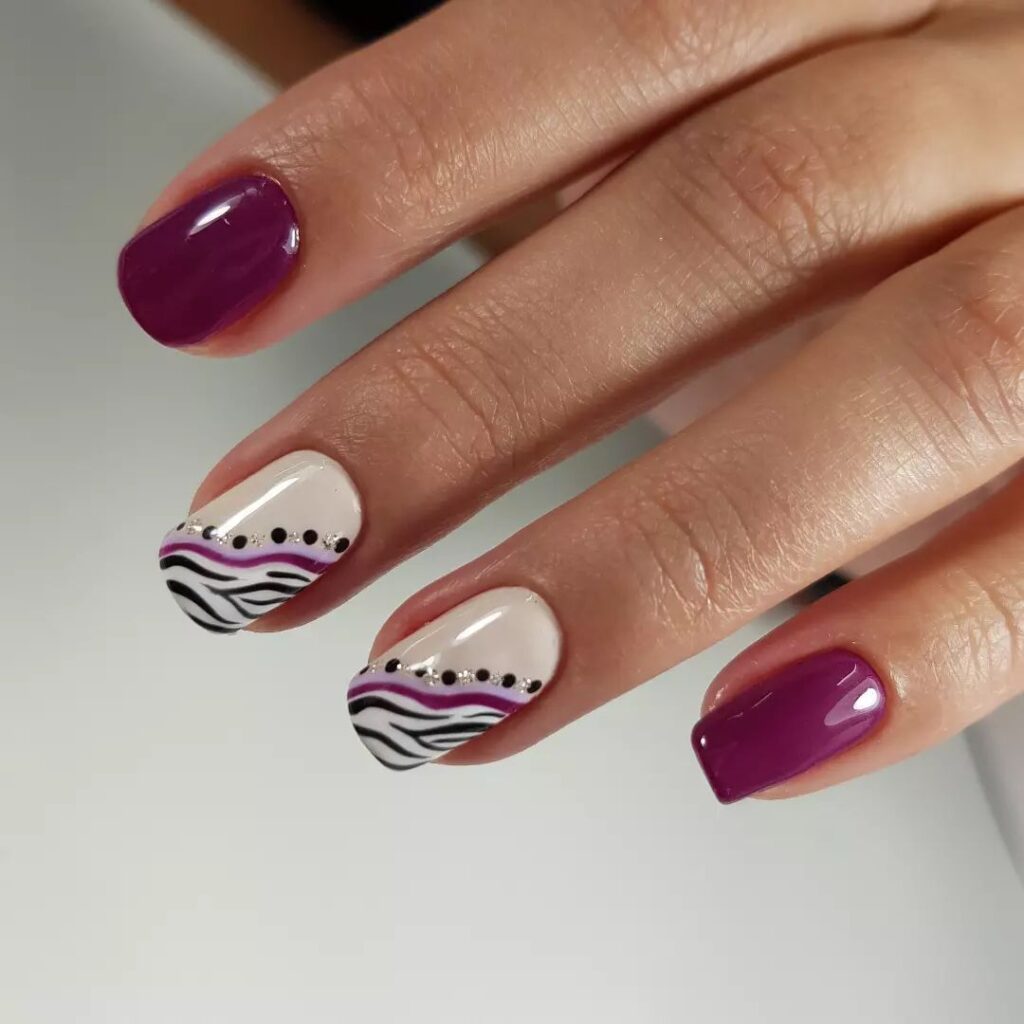 Courtesy: @coolunitas1
#26 Try these summer holiday nails with a splash of colors for a beautiful manicure design. They are surely a work of a professional and should be left to them for recreation. The combination of different colors in abstract patterns looks random yet appealing. In the warm and dark color palette of the winter season, opt for this bright one and bring the illumination of the summer season to these holidays.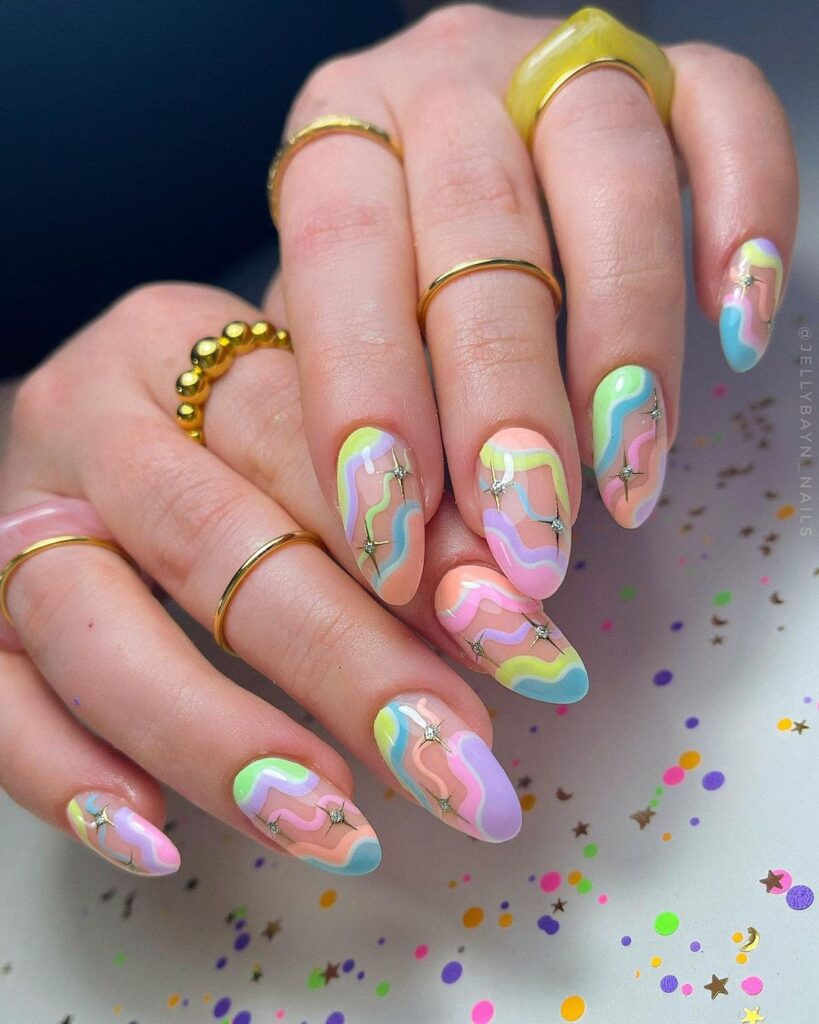 Courtesy: @jellybayn_nails
#27 When in doubt, go classic. French nail designs just never seem to disappoint, no matter the season. From spring to summer to winter and occasions like weddings or Christmas, they can work for all! Plus, they go with every style of outfit you want to don during the cozy season. You can get acrylics or gels if you want this design to last longer, or choose to do them at home instead. Don't forget to accent the manicure with a glitter line for a perfect finishing touch.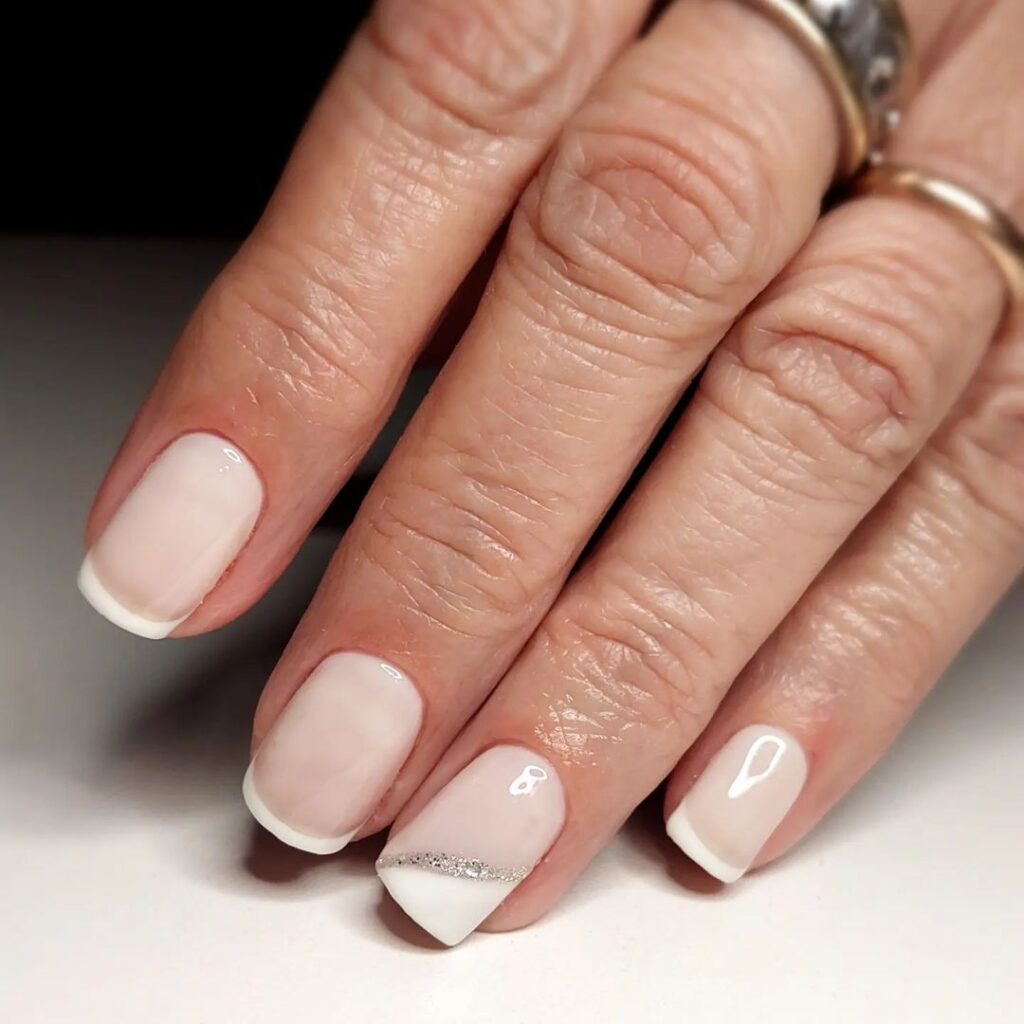 Courtesy: @marifer.estetica
#28 This holiday season 2022 play with colors and let the vibrant side of you stay alive when you opt for these gorgeous holiday summer nails. They're also a great representation of how opting for different nail art on both hands can work great – you just have to make sure they complement each other even when they contrast.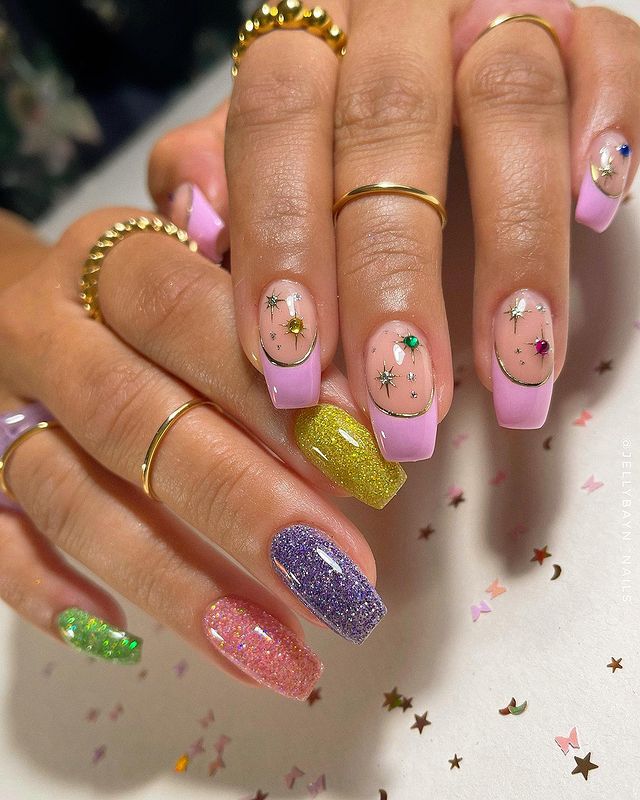 Courtesy: @jellybayn_nails
#29 Yet another representation of beautiful summer hues to create holiday summer nails that are every bit festive, vibrant, and glamorous. Such mixing of colors is a work of art and should only be trusted to be created by a professional. The manicure consists of many different designs and patterns like polka dots, lines, glitter, and zebra for an exquisite visual appeal without appearing overdone. Our favorite is the asymmetrical polka dots pattern which can stand alone as an accent nail on itself even when you ditch the other patterns for DIY nail art.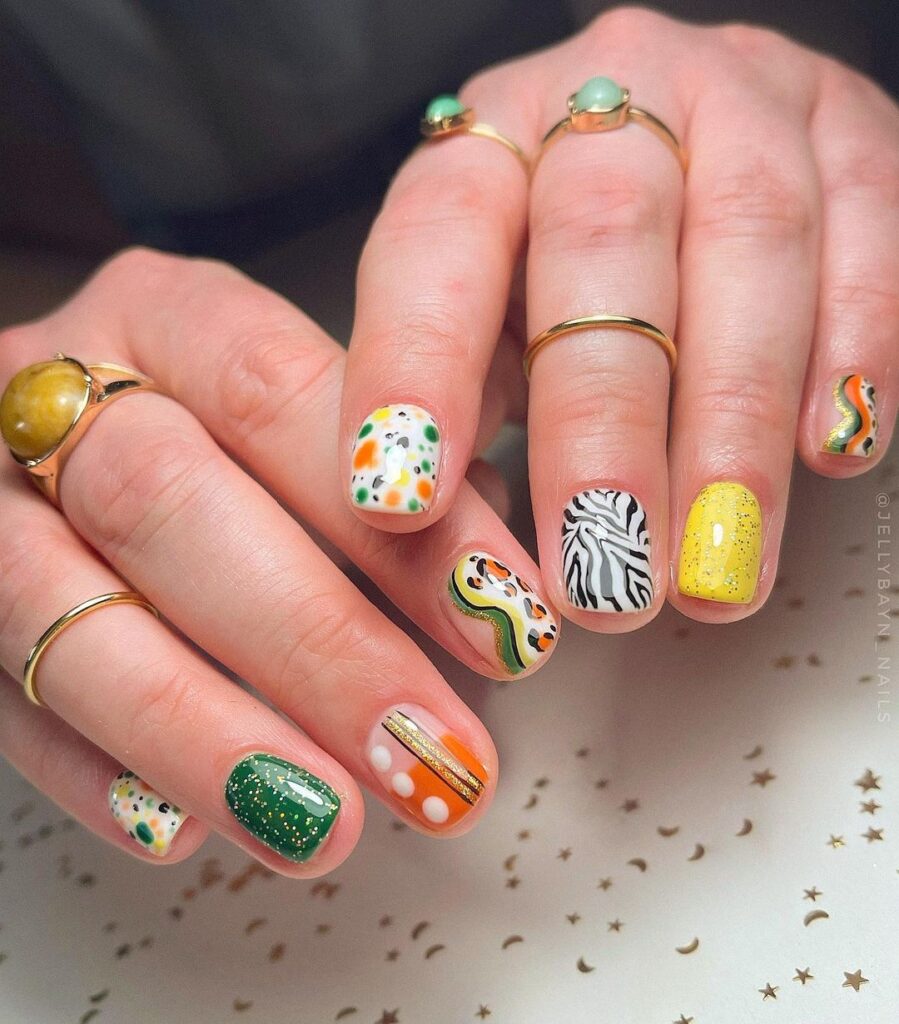 Courtesy: @jellybayn_nails
#30 You can explore the colors and motifs of spring or summer these winters by donning a manicure like the one represented below. Sure, you will turn some eyes to the distinctive choice of the color palette but that shouldn't stop you from opting for your favorite fashion choices. Plus, the mani also has the color red which is also a signature color for Christmas festivities.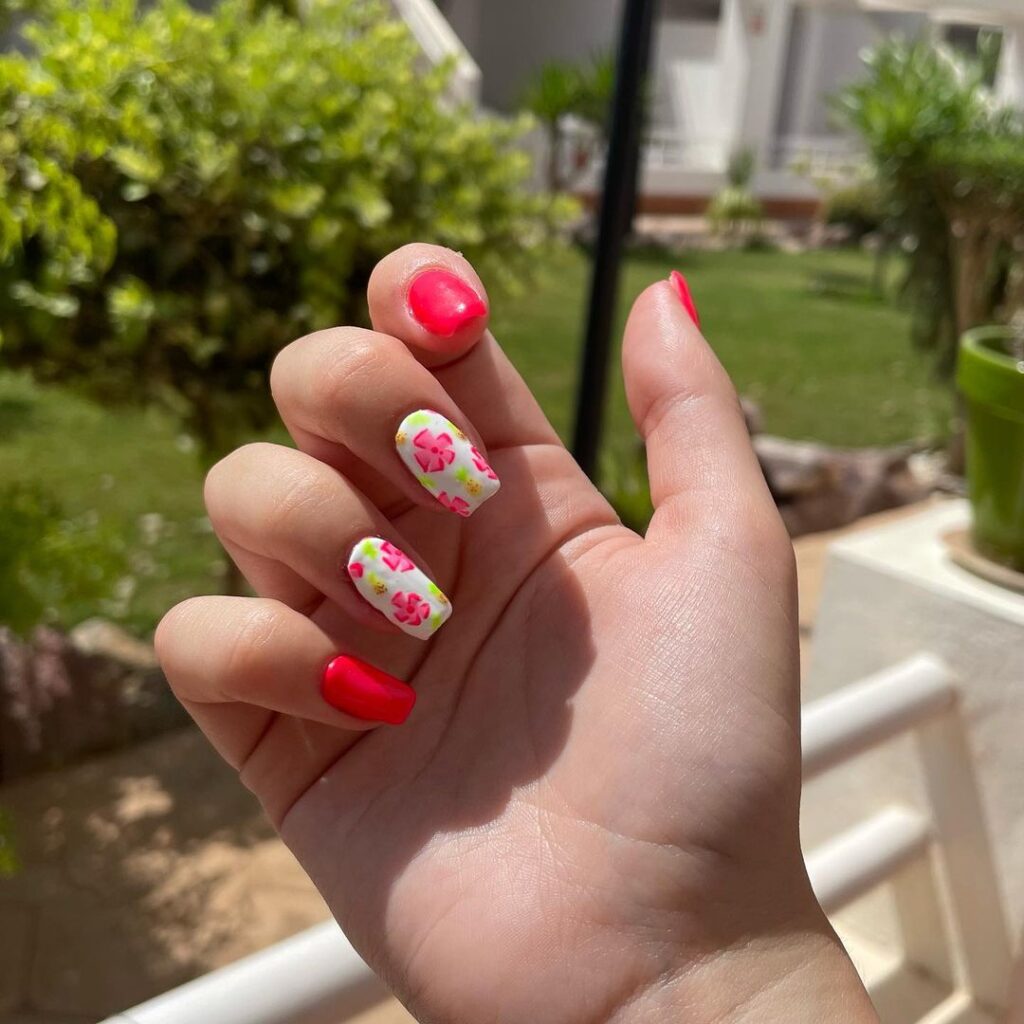 Courtesy: Caitlin Whitmore
#31 Reindeers, Christmas trees, and snowflakes are usual motifs in Christmas nail designs. But if you're looking for a different motif to add to your holiday nails, then opt for these present drawings instead. You can DIY them at home as the present lines are pretty straightforward, but if you're wondering how long do acrylic nails last on holiday? They will last for 2 to 3 weeks easily, so you can also get this manicure done in acrylics.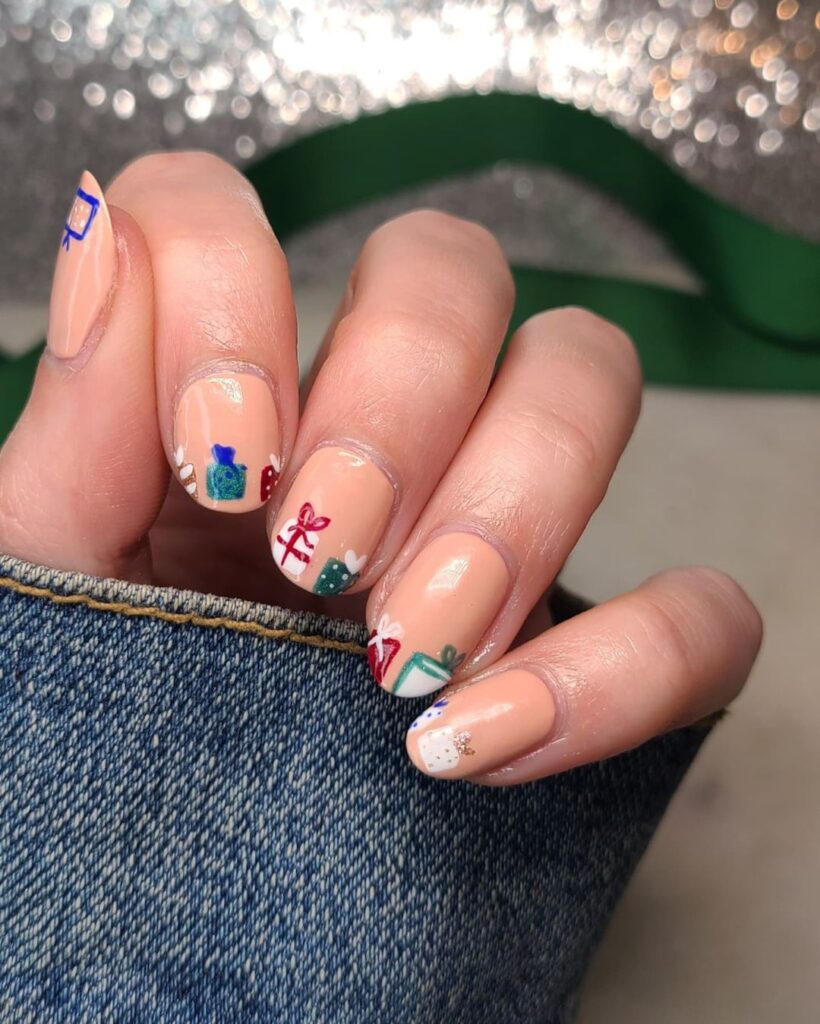 Courtesy: @jsknails
#32 These coffin holiday nails are gorgeous and minimal in every sense. The only glam added is the length of the nails and subtle glitter while the design is kept simple and subtle. You can recreate the version at home. If the snowflake art is too difficult for you, then skip it and the manicure will still look gorgeous. You can also create other variations by making the ring finger nail glitter and letting the rest of the nails matte for a striking holiday nail idea.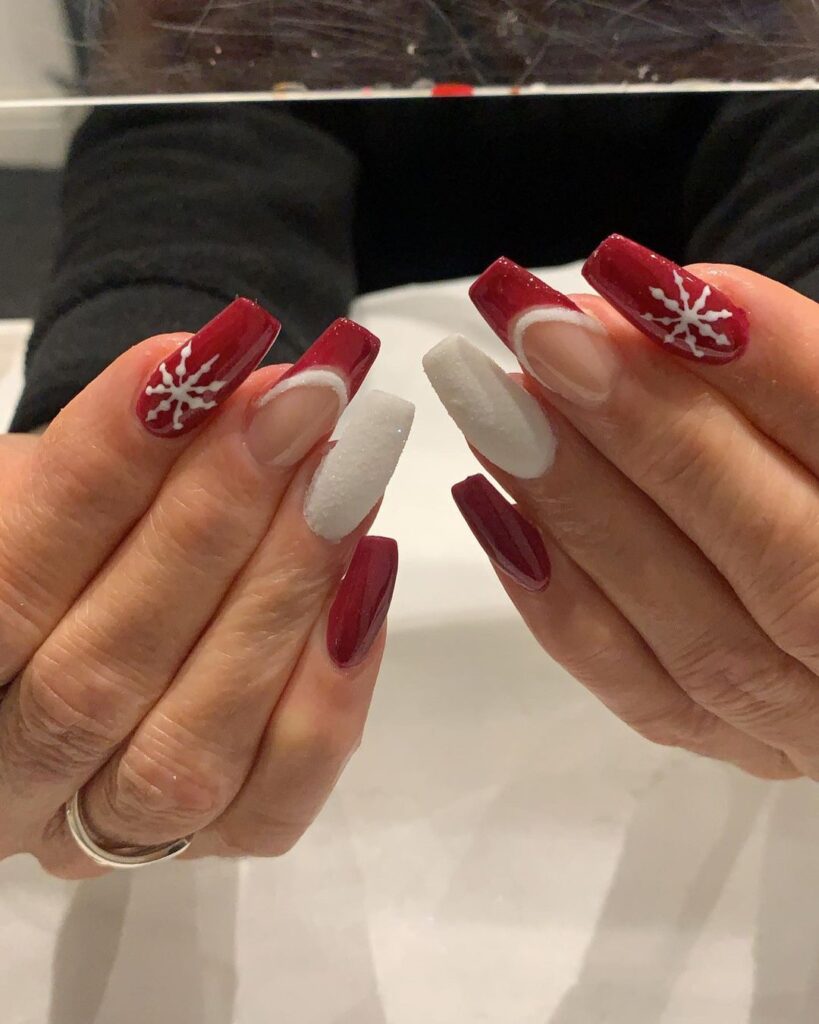 Courtesy: Blush Beauty Salon
#33 Lavender is the trending color and will gain further momentum next year. Its variation has been named as the Pantone color and you will see it everywhere from home decor to fashion choices in the coming year. For someone who wants to stay upbeat with the trend, opting for a lavender manicure is a wise choice. Elevate it with floral motifs and you'll have lovely short holiday nails.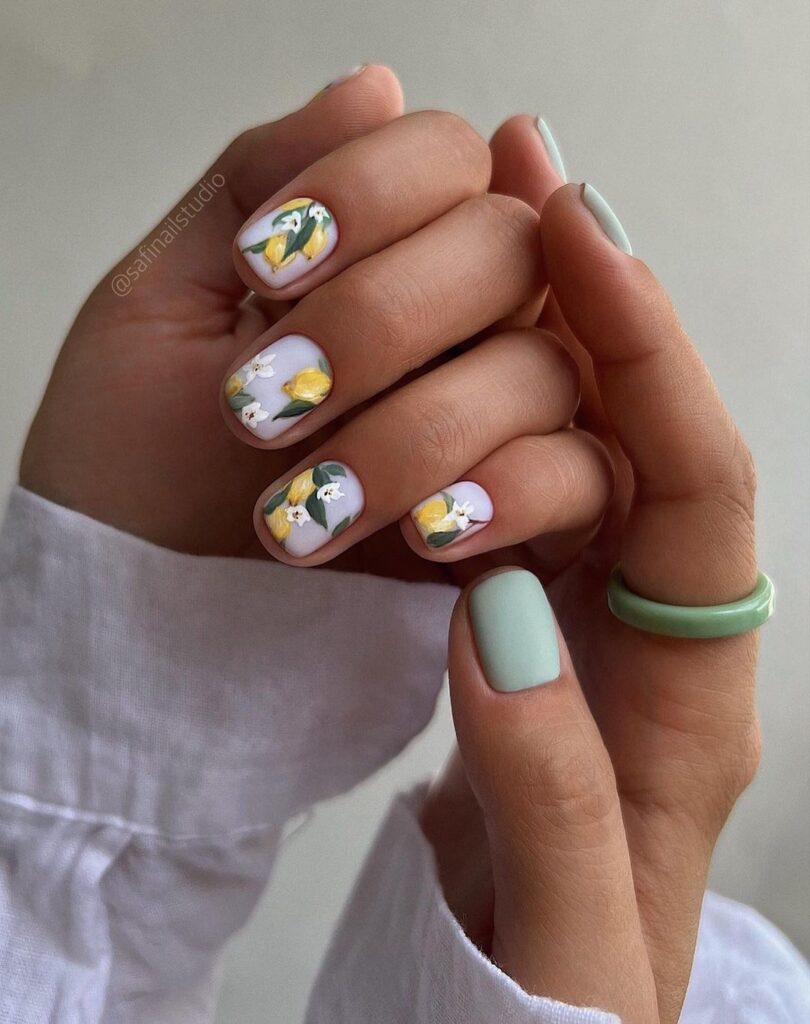 Courtesy: Studio by Elvira Safina
#34 There's so much beauty in these simple holiday nails. They're done in half-half patterns and elevated sky night motifs. Start with perfectly buffed nails and use a tool to draw a line that separates the nail bed. You can use tape to section out the lower part as you paint the nails in blue-gray polish for an easier take on segmenting the nail. Once done, cover them all in gloss and use a dotting tool to create stars and a moon on the top. Let it dry and voila, you have a gorgeous holiday nail manicure ready!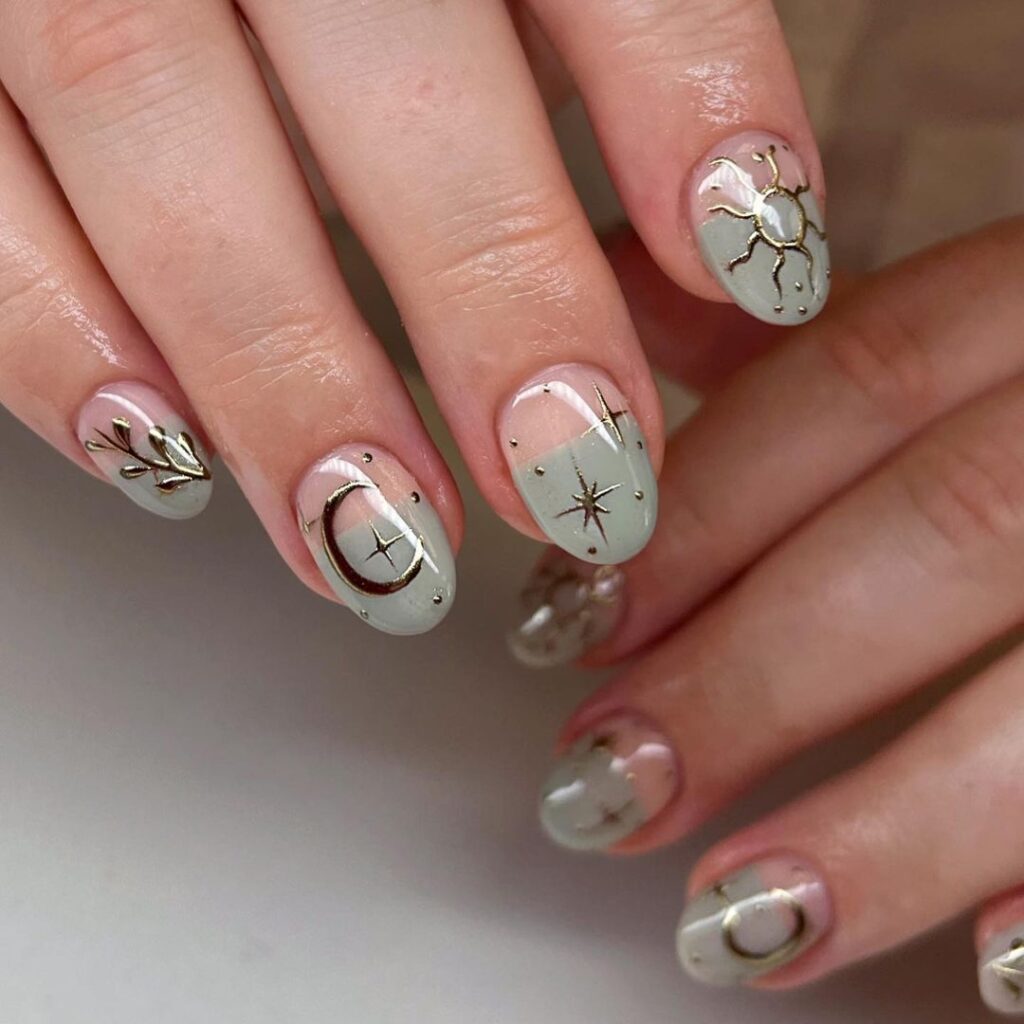 Courtesy: Natalie Walker
#35 For these holidays, let vibrancy and dazzle shine through your manicure by opting for such vivid colors. While the pinky and ring finger are covered in sky blue polish, it's the middle and index finger that takes the attention for creativity. The former is doused in leaves & colorful accents while the latter has vivid lines in the middle for an arresting element in these summer holiday nails.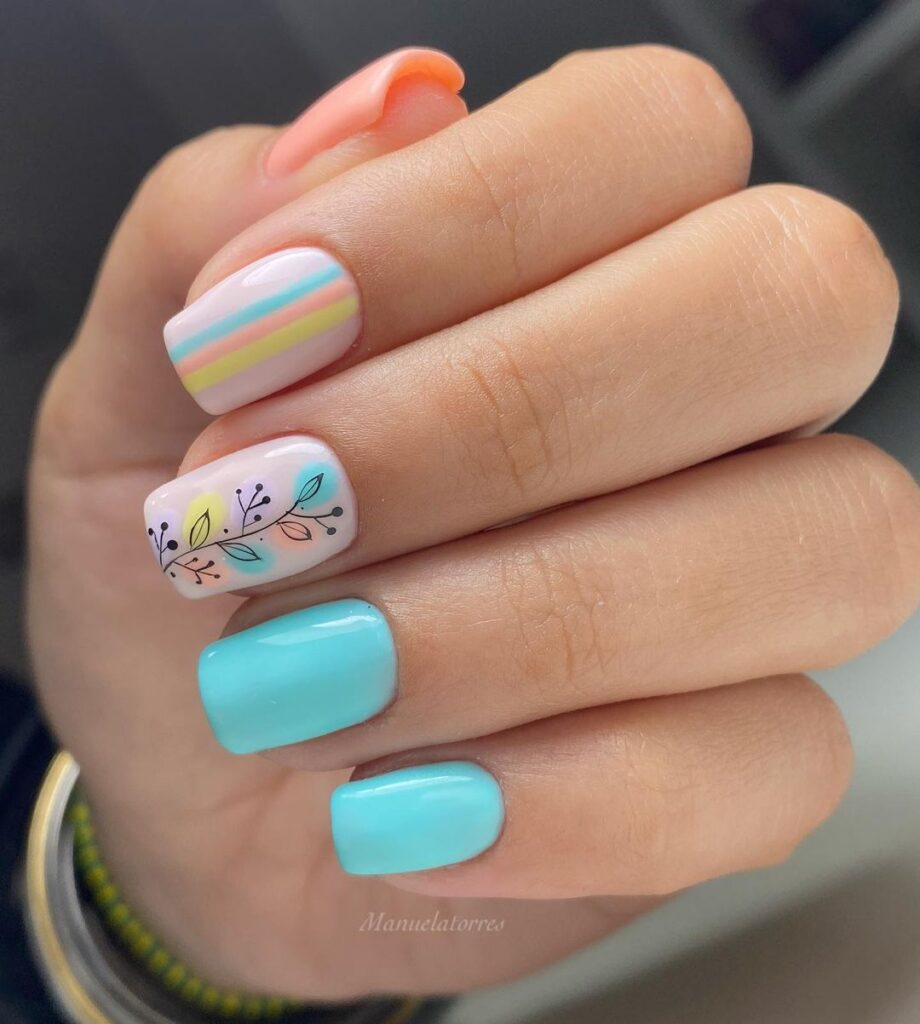 Courtesy: Manuela Torres
#36 Many variations of French manicures are available online. French manis are classic and you can never go wrong donning them – whatever the occasion. This holiday season, try this timeless mani idea with a color palette that's interesting yet complimentary. Go ahead and choose your own palette for a distinctive look. Don't forget to add that curve to the outline for a noteworthy visual appeal.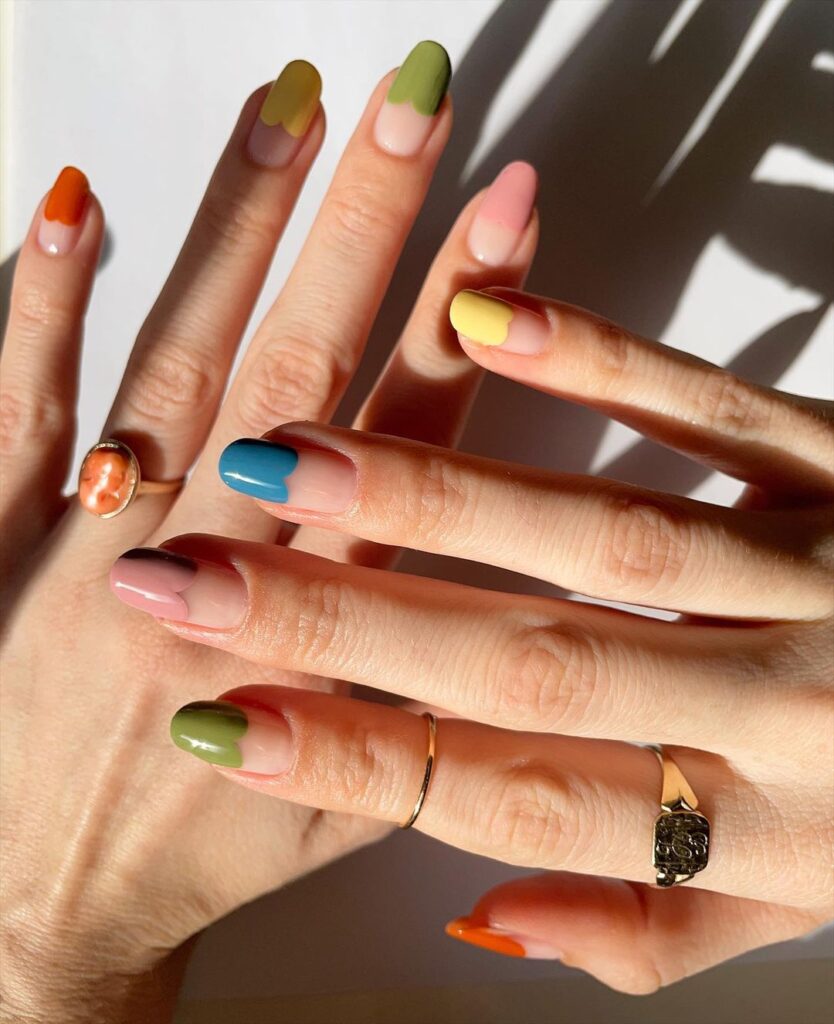 Courtesy: @nail.betch
#37 Keep it simple and subtle with this gray manicure done in lighter and darker shades of the same palette. Go and pick your favorite color if gray isn't interesting enough for you. Although, gray can look elegant and pretty with many of your outfits. Plus, it has a very calm, cool, and stable vibe – and if that's what you're looking for in your life, go ahead and rock this color. Elevate it using some minimalistic rings for a complete look.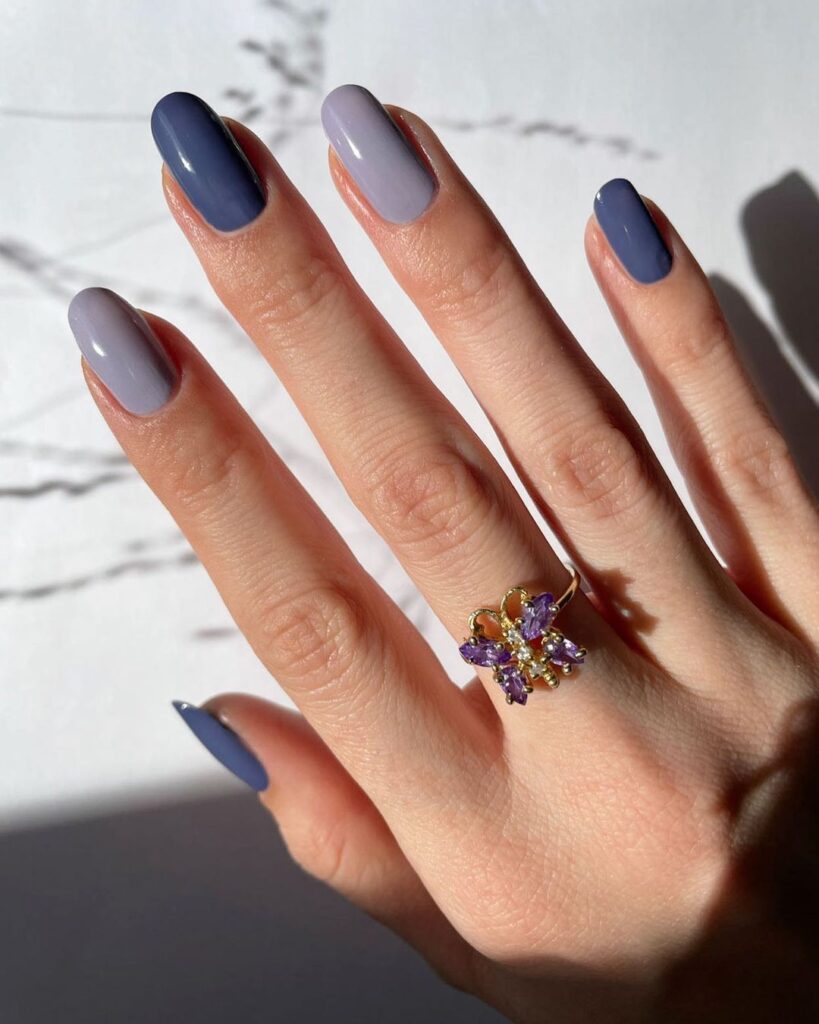 Courtesy: @nail.betch
#38 You just can't get a holiday manicure and not get a picture clicked of it with a Christmas tree in the background. The photograph becomes more special if you've been engaged recently and want to make an announcement on social media. The next manicure is all things shimmering and blingy – from the nails to the ring to the Christmas tree lighting on the back.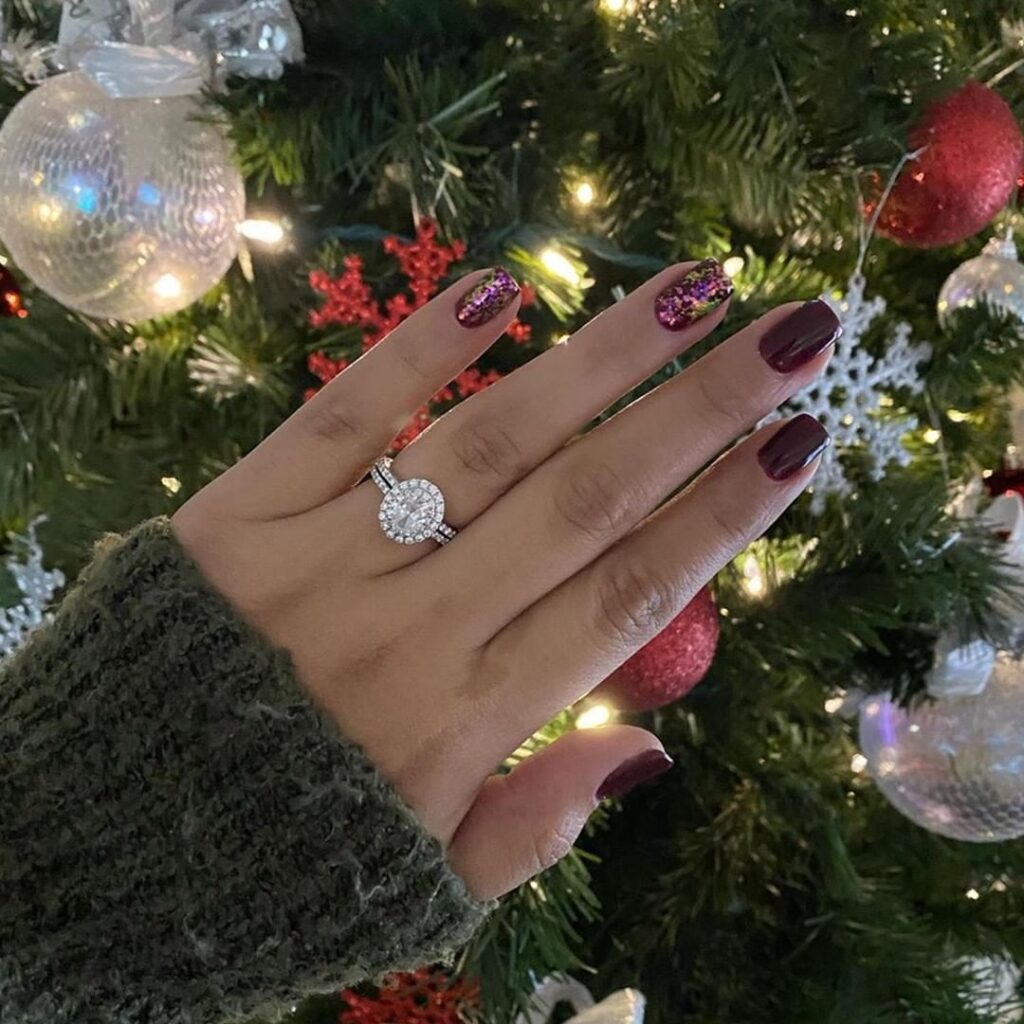 Courtesy: @neillane
#39 Yet another holiday nail art to inspire your engagement nails whilst keeping it holiday-themed. Start by choosing your favorite color of red and paint your nails with them. To make the polish last longer, apply a base coat that protects the nail bed and enhances the length of the manicure. Once dried, apply a shimmering coat and concentrate it more on the accent nail. Let it dry and apply a top coat to finish it all!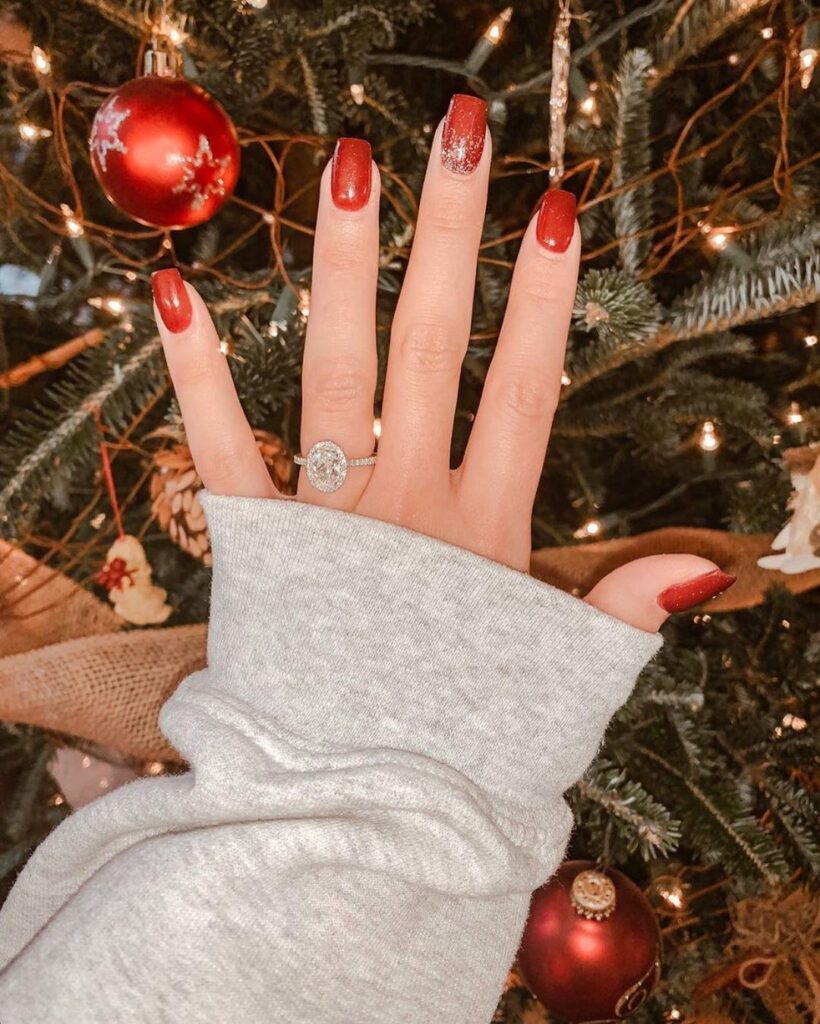 Courtesy: @attorneycamjo
#40 People love owning/ doing things that are representations of their personalities. And if you're someone who identifies themselves as a nature-lover, bring your passion to your nails with this spectacular manicure that depicts lush forests and an azure lake beautifully. Needless to say, only trust an expert manicurist to recreate the art for you. Let them know before booking an appointment what you're wanting to create and if they're comfortable with the same.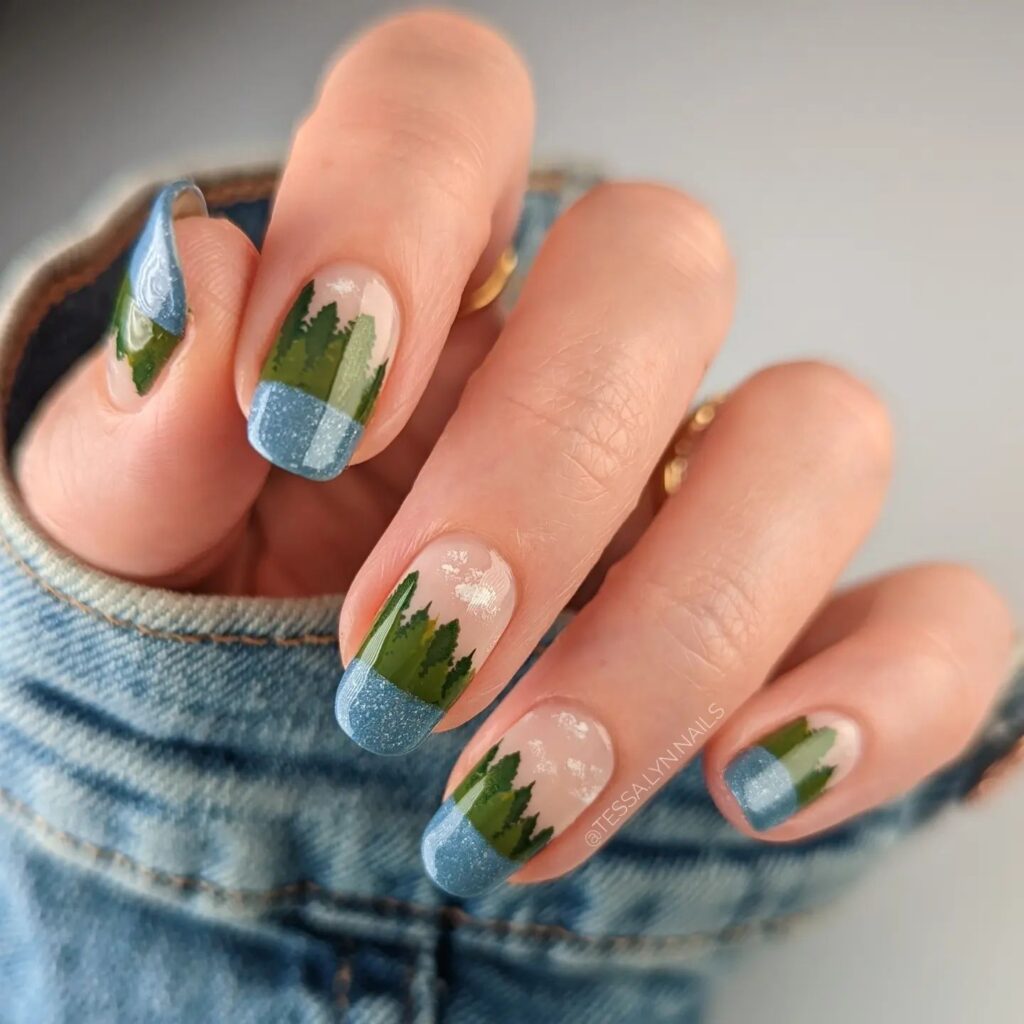 Courtesy: Tessa Lyn Nails
#41 A combination of red & green is a favorite in Christmas-themed festivities, including the manicure. Wondering why? There are many theories that take us back to the combination of red & green for Christmas. One links to the Celtic people decorating their homes in holly plants to promote Earth's bounty in the dead of winter. Another link to the combination of red & green used on religious screens in medieval churches. For centuries, the color combination has been used in Christmas-themed decorations for both religious and symbolic influences. Bring the stunning combination to your nails by painting them in a design that's equal parts glam and gorgeous.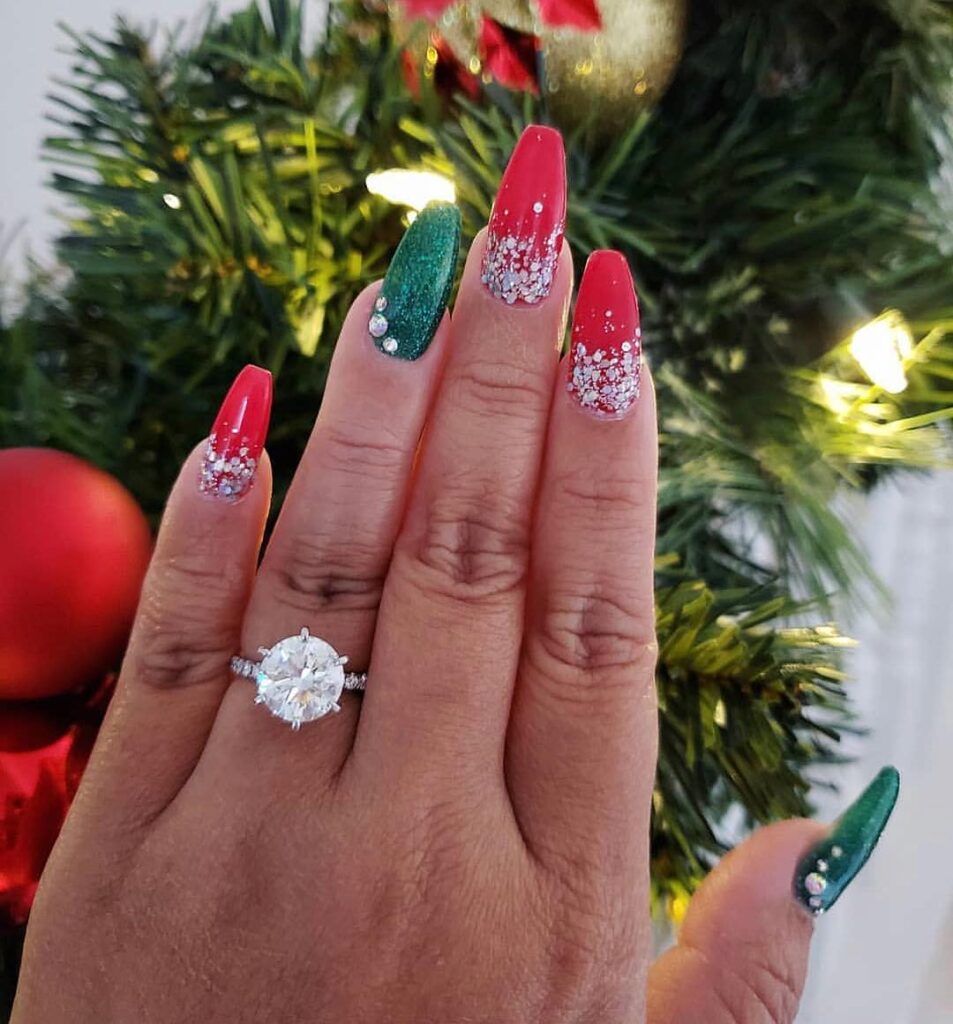 Courtesy: @luxe__princess
#42 For those who love minimalism with a side of glam in their holiday manicure, try this alluring combination of nude & glitter this season. Done on curved almond nails of medium length, we love how these nails are practical and captivating at the same time. To DIY, make sure you have a fine glitter polish on hand so you can recreate the same minimalistic magic as depicted here.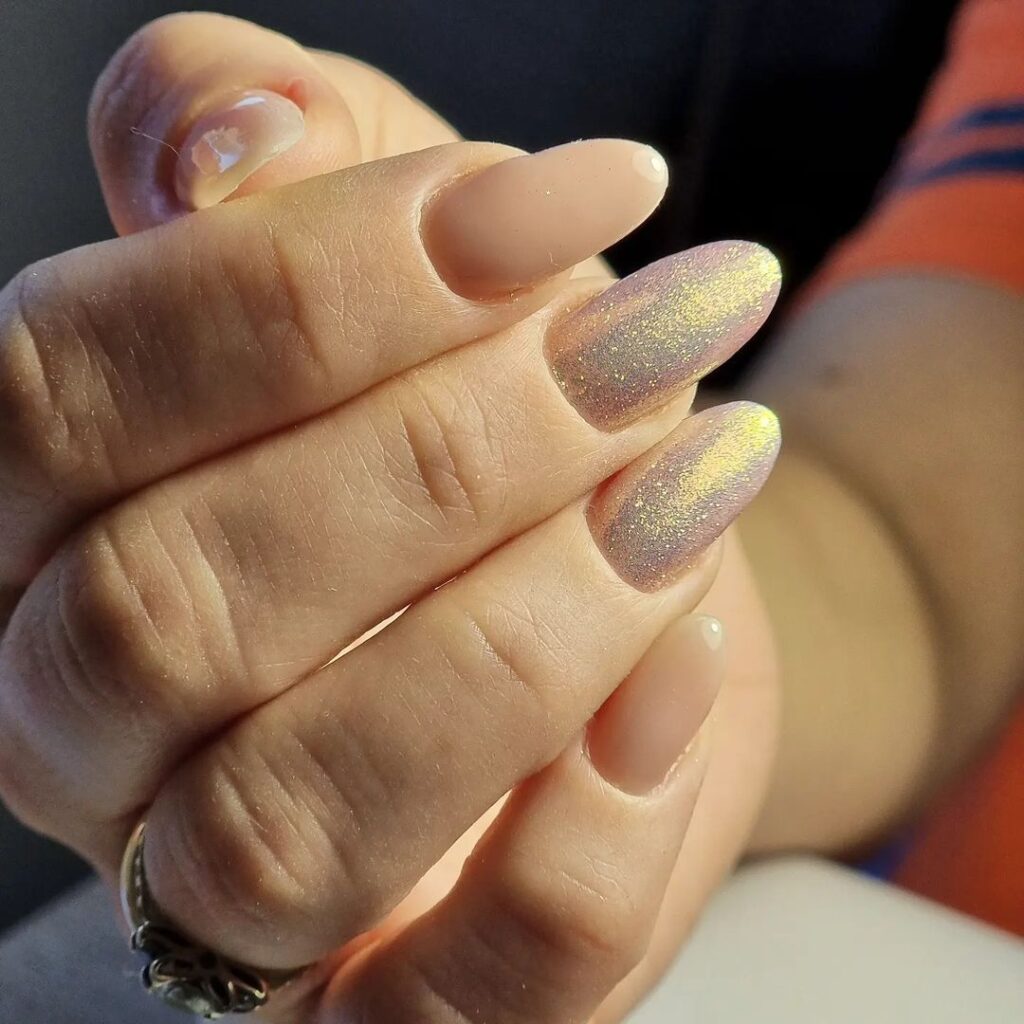 Courtesy: Victoria Vynn
#43 A combination of French nails and a warm winter palette – does it get any better than this? We hardly think so! The deep brown gives a cozy appearance, but so can other colors on the winter palette like forest green, sapphire, or dove grey. The ring finger with a heart serves as the perfect accent nail, more so if you're recently engaged. The gloss finish makes it all neat and exquisite.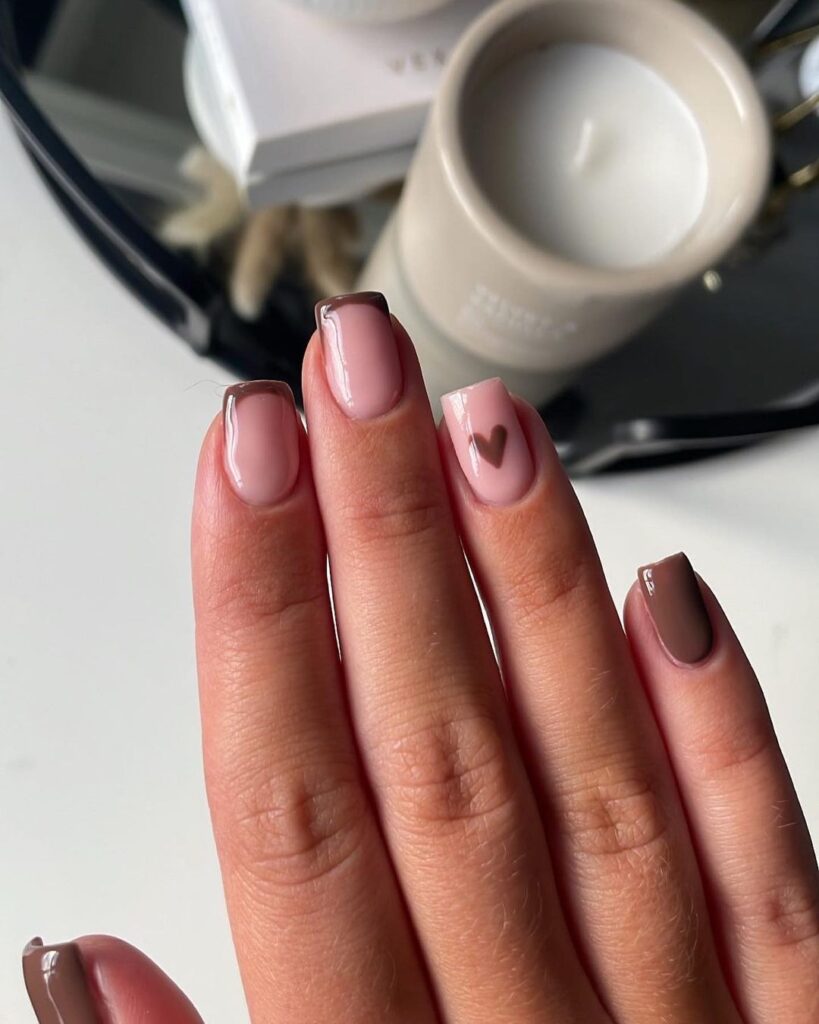 Courtesy: @cmnailsx
#44 A fun twist to your classic French manicure is the ombre French manicure. In this manicure style, you still stick to the subtle shades of pink, nudes, and white, but instead of a clear demarcation, it has a gradient element instead. Clearly, this playful and chic style makes for an ideal holiday nails and toes inspiration and makes it chicer with a bold star motif on the side.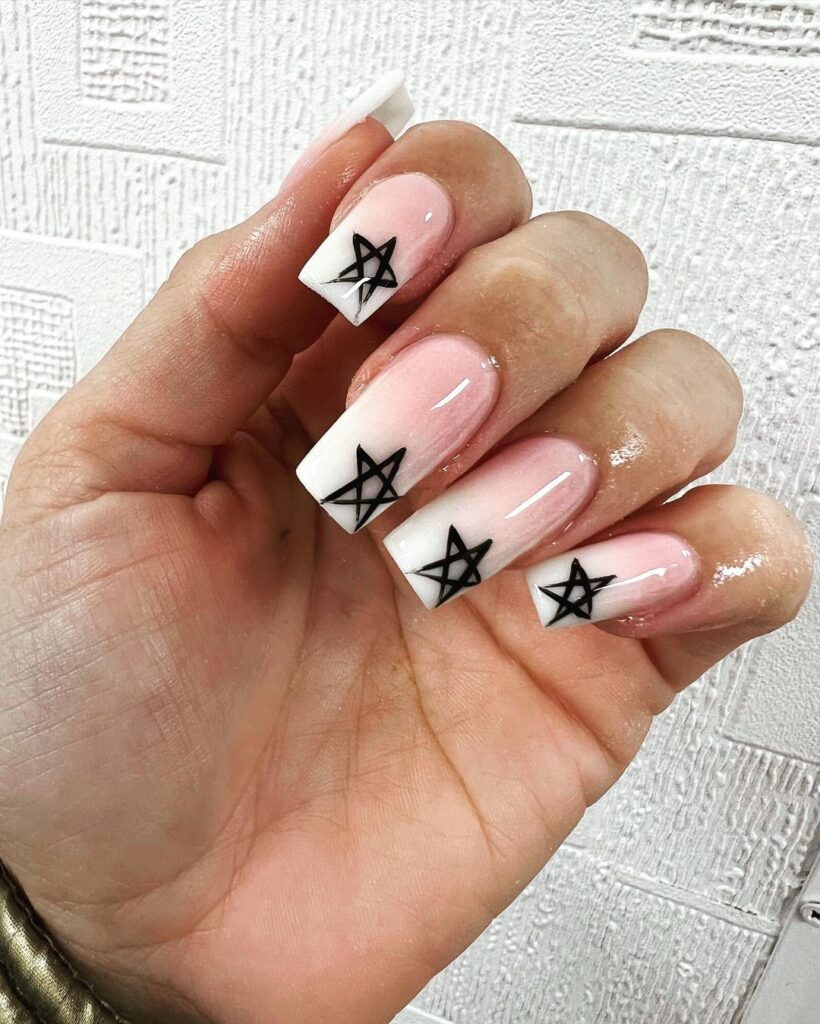 Courtesy: Leanne Ranby
#45 The nail technician took Christmas-themed adorable motifs to another level by adding both Santa and reindeer to the manicure alongside glitter-coated red & green nail paint. Because of the simple outlines of the motifs, these can be done at home by someone who has a bit of a creative streak in them.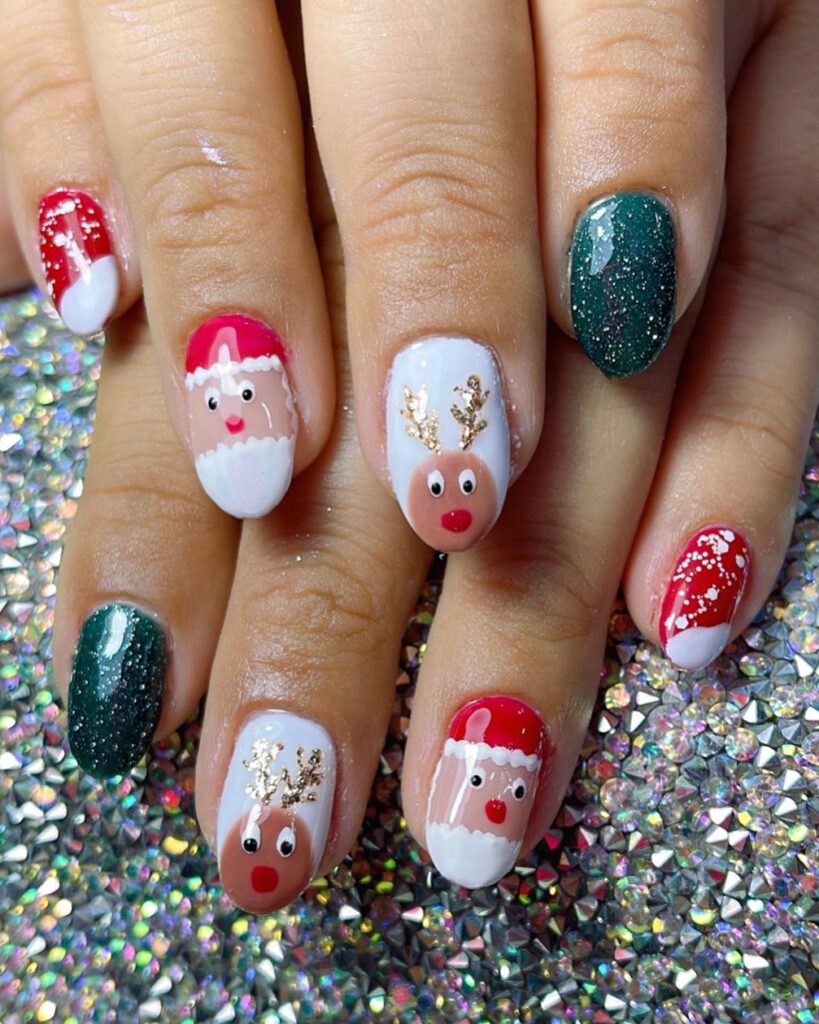 Courtesy: Sarah Nails
#46 You don't have to draw characters to get into the festive spirit with your manicure. Sometimes, it's all about the right use of shades and geometric patterns. A physical manifestation of our idea is depicted right below.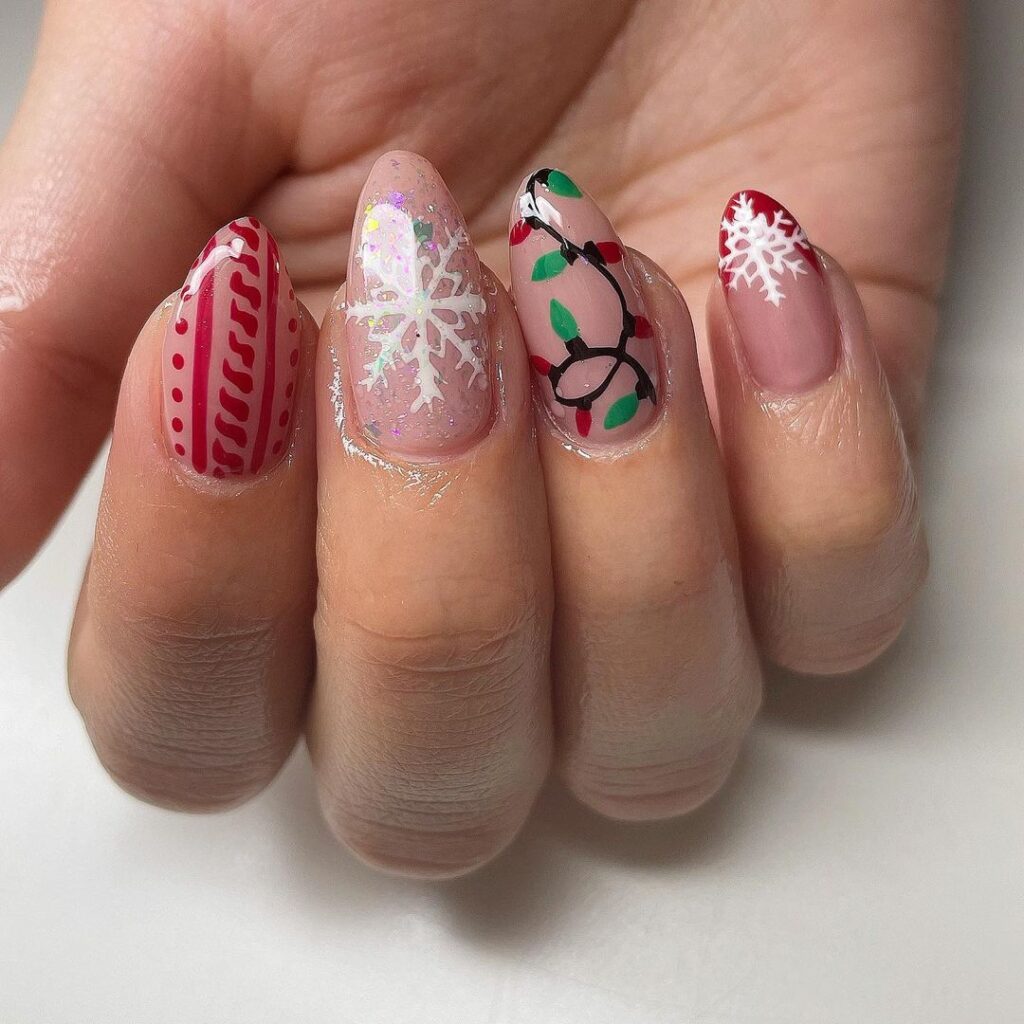 Courtesy: Jurnee
#47 Ah! How we love how the Santas and reindeer are drawn in a such unique manner that they make us scream "Aw" in every picture. Paired with some glitz & glam using the classic Christmas palette, these small holiday nails are just stunning!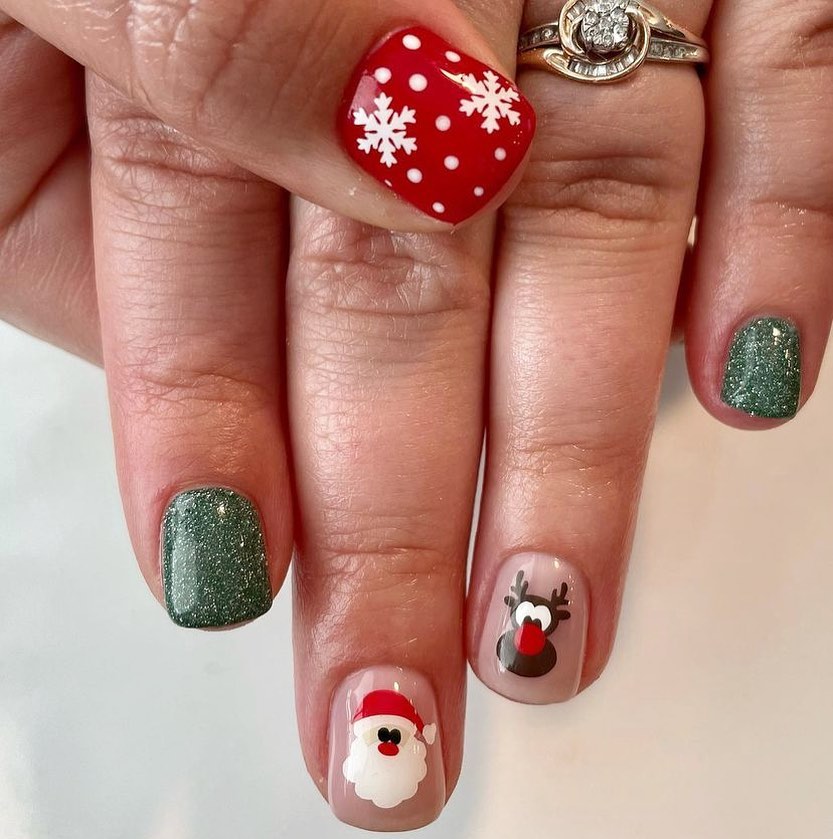 Courtesy: Ashley Kealamakia
#48 How pretty & creative is this? Douse your nails in red glitter and let the two nails become festive-themed by bedecking them with Santa hat tips. Elevate your hands with some rings before clicking a picture of your gorgeous hands.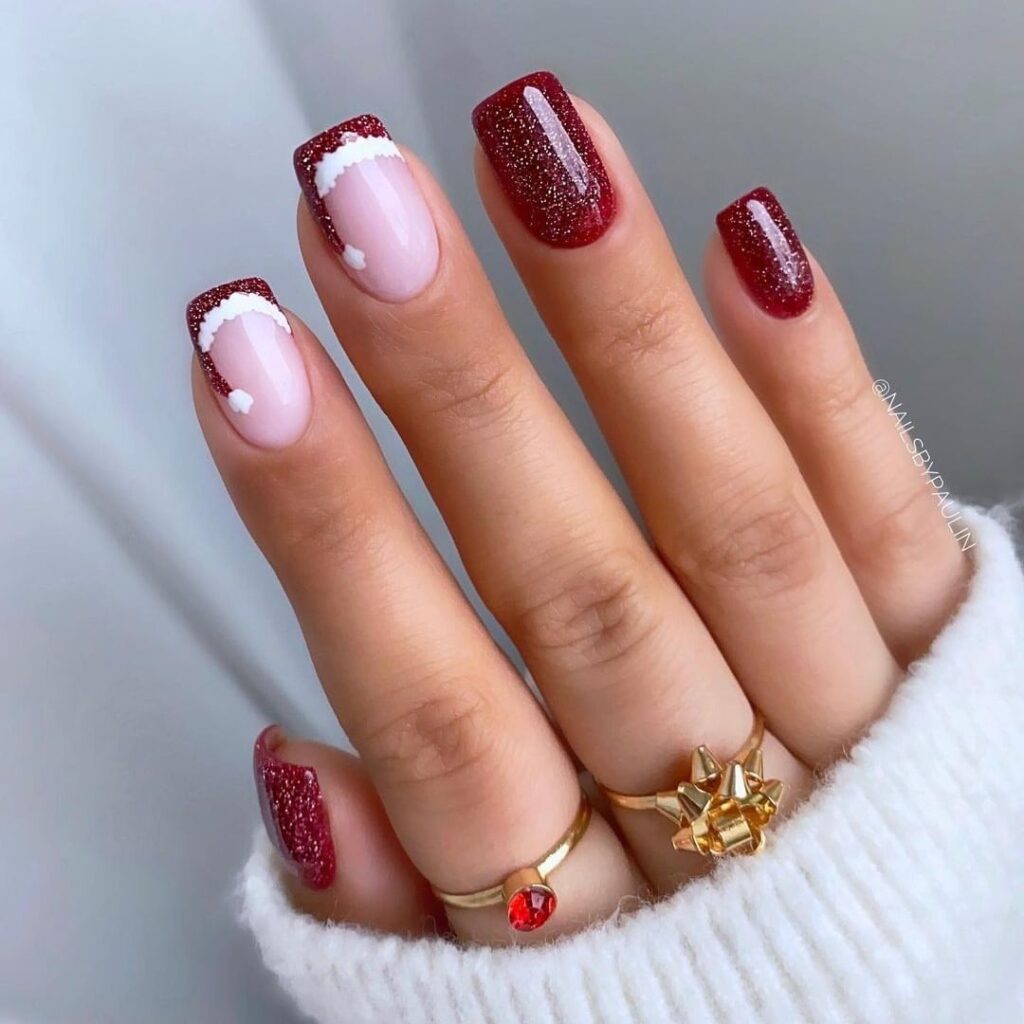 Courtesy: @nailsbypaulin
#49 In the realm of nail art, you will always come across a new nail trend to woo you. One of them is the sweater nails reminiscent of your favorite cable-knit sweaters in winter. Try them out this holiday season and combine them with red to bring the festive spirit into your manicure.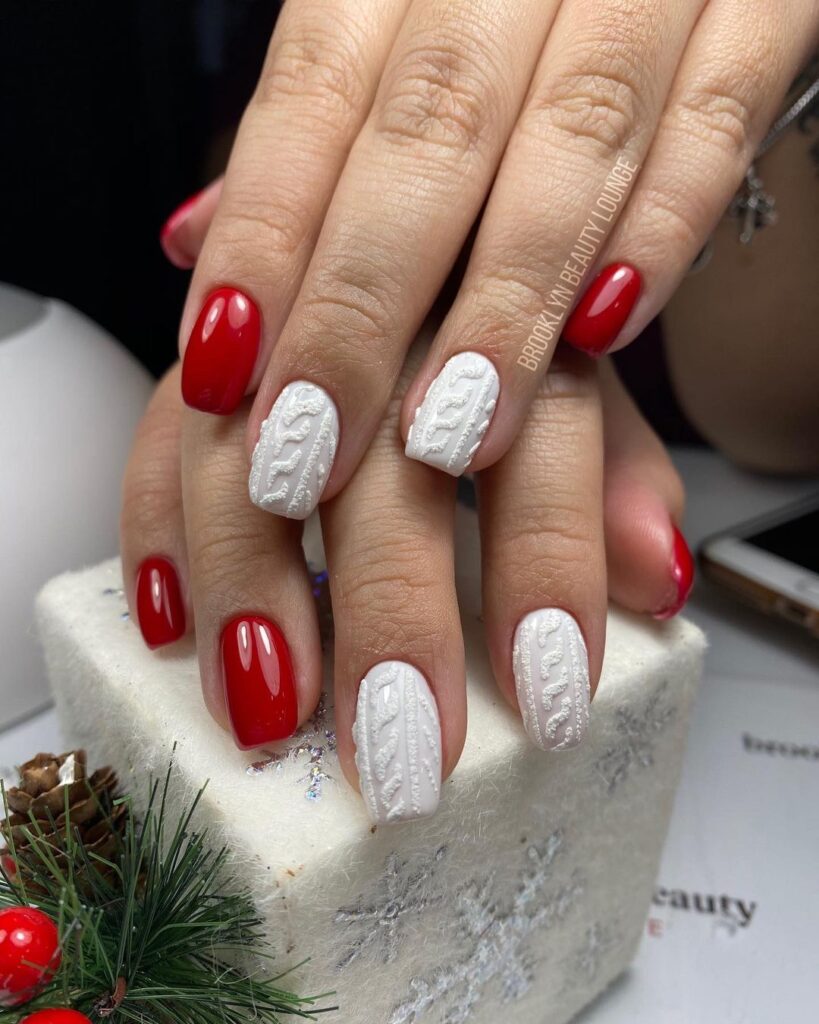 Courtesy: @brooklynbeautylounge
#50 These green almond nails studded minimally in colorful embellishments are super gorgeous to try as your holiday nails in 2022! Don't you think?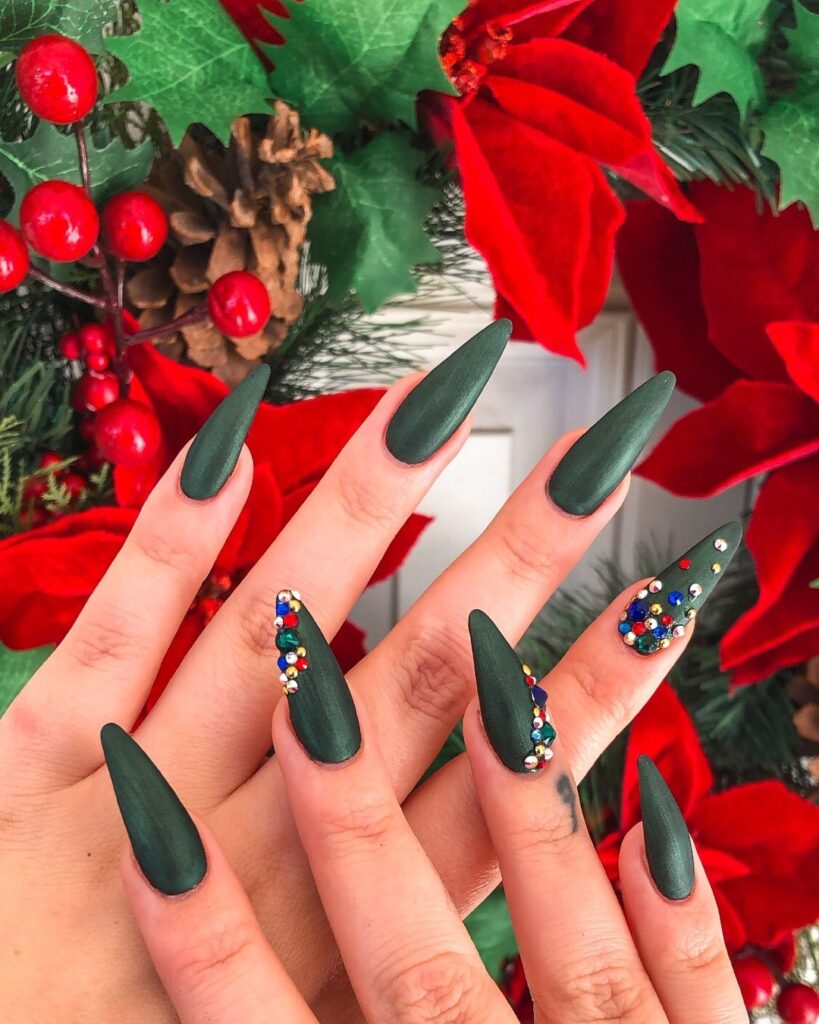 Courtesy: @blessedbythenailgods
#51 You don't always have to go for big nails to radiate femininity and fashionability. Sometimes short nails can do it all, and more. These blood-red nails with glitter gold on the sides are just one such example.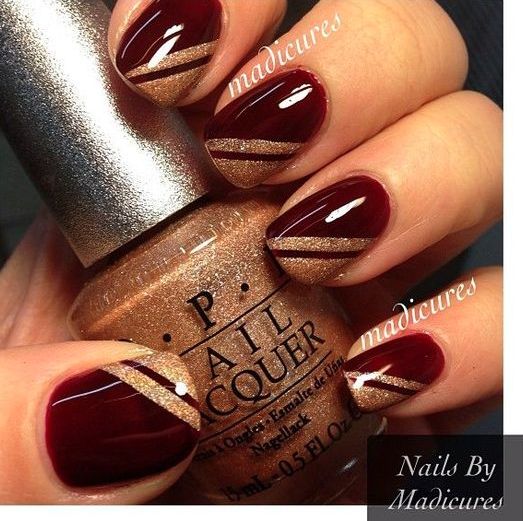 Courtesy: @madicures
#52 Bring your favorite wrapping paper design to your nails with this golden polka dots pattern on a pristine white background. If you don't want to have the patience to draw polka dots using a tool, then go for nail art stickers that will stay on for a week at least!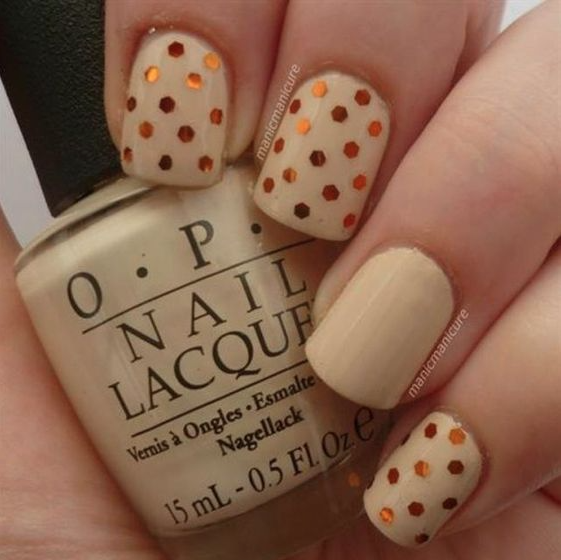 Courtesy:
#53 Simplicity can be adorable too! If you're a fan of Olaf and winter's beauty, in general, go for all-white nails and etch an endearing snowman on the accent nail for the perfect season-themed touch.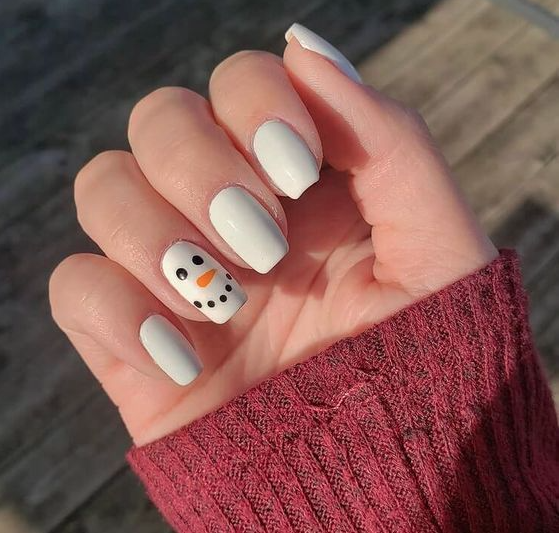 Courtesy: Pinterest
#54 Or, just let those white nails shine on their own. White nails are a classic and versatile choice as they radiate fashion, elegance, and perfection. So when you're confused, white nails are the best option!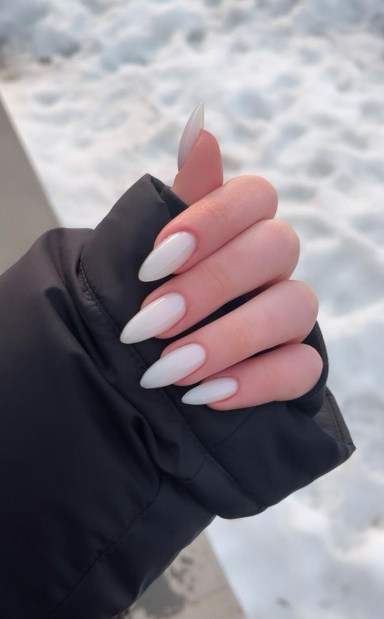 Courtesy: Pinterest
#55 There's just something so pretty about solid nail colors done on an impeccable nail shape. An example of the same is portrayed below. Just pick your favorite color and you're good to go!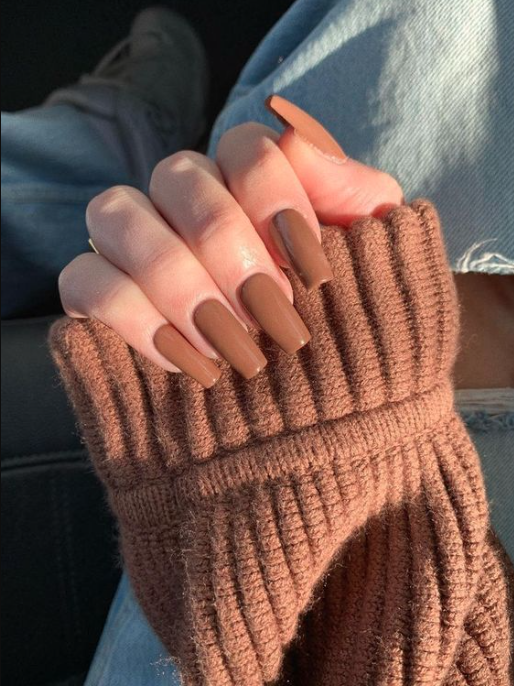 Courtesy: Pinterest
#56 There's a new trend of decorating your Christmas tree in grey & white colors and if you're all up for the monochromatic trend, then bring it to your nails as well. Geometric patterns, trees, and snowflakes make for an extraordinary holiday nail inspo. 
Courtesy: Pinterest
#57 Yet another variation of the monochromatic holiday nails is the next manicure on the list with tree motifs, snowflakes, and geometric patterns. Though the motifs are easy, they do need intricacy so make sure you trust someone with expert-level drawing skills to recreate this.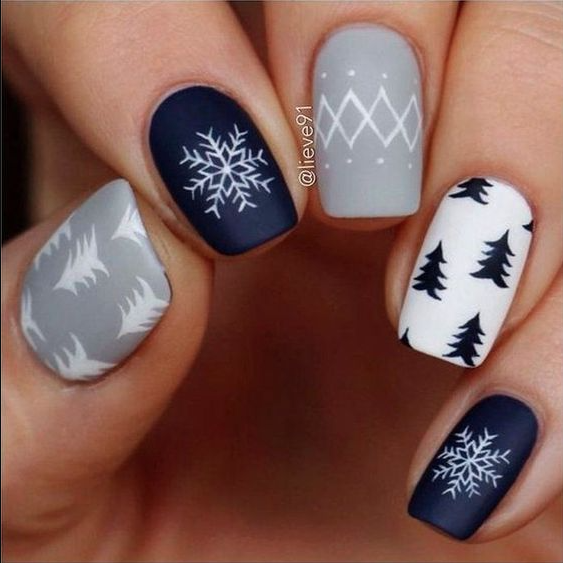 Courtesy: @lieve91
#58 These swirly nail patterns are absolutely splendid! And if you're looking to add some modish streak to your manicure, there's no better pattern to try than swirls which are a sweet balance between subtle and stylish.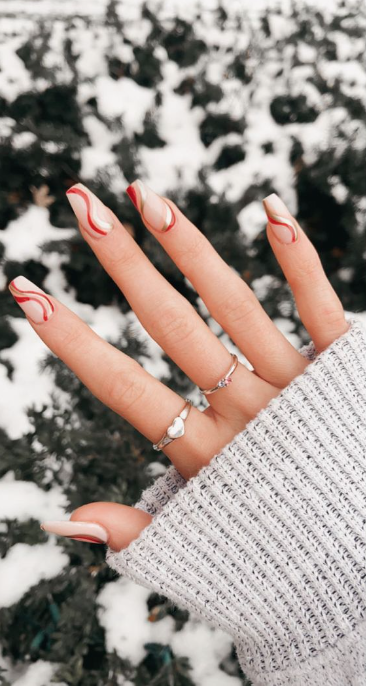 Courtesy: Pinterest
#60 Add a festive streak to your all-white nails by painting horizontal lines of red on the accent nail. Having accents of red on your manicure is the perfect way to add holiday spirit to your nails – no matter what pattern you opt for!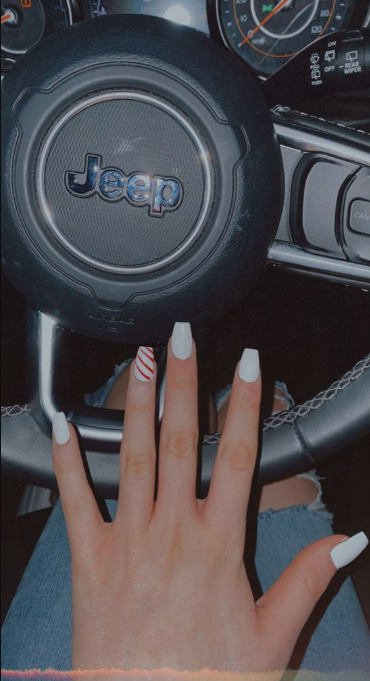 Courtesy: Pinterest
#61 A nude & white combination is just the ideal one for a minimalist. You can choose any nail shape you like and start by painting them alternately, leaving the accent nail to be painted in polka dots. Let it all dry and cover it in gloss for a shimmering effect.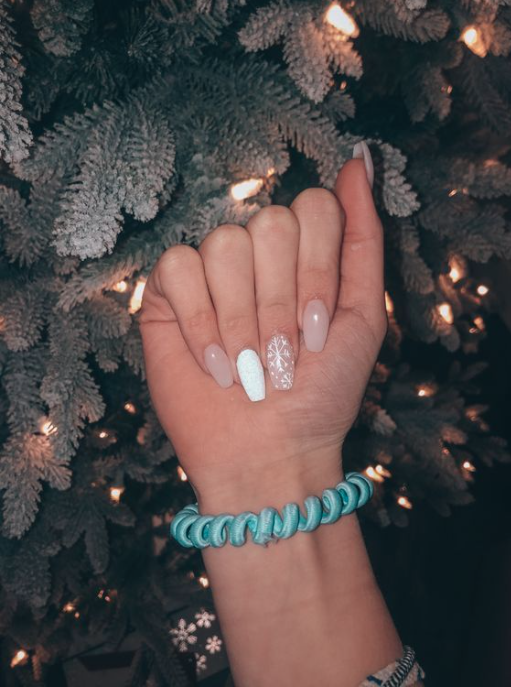 Courtesy: Pinterest
#62 Pink nails are always in trend – no matter the season. While the outer two nails are doused in dusty pink, the middle ones radiate art with geometrical patterns and color coordination. An art that will work on your favorite nail shape beautifully. 
Courtesy: Pinterest
#63 If you're wondering whether gel nails are good for holidays? They most certainly are! They will last for about 3 weeks so both your Christmas and New Year time can be conveniently covered. So, pick your favorite holiday nail design from the list and visit your nearby salon to get a comfortable manicure session done!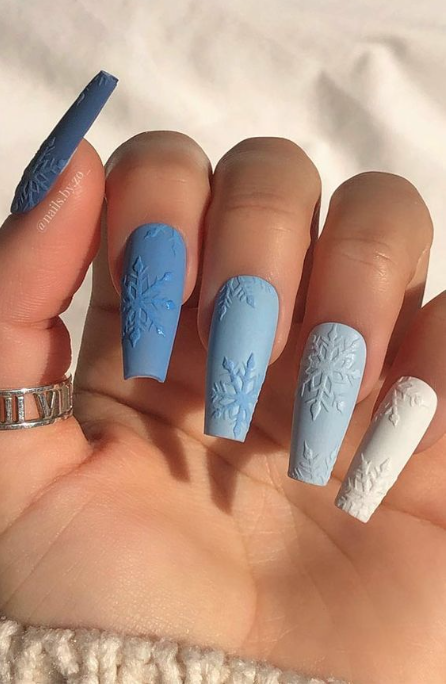 Courtesy: Zoe Adams
#64 These summer holiday nails are gorgeous to the tee! They are painted in a green palette on the tips for a playful twist to your French manicure. Just use your favorite color to recreate this and you're good to go!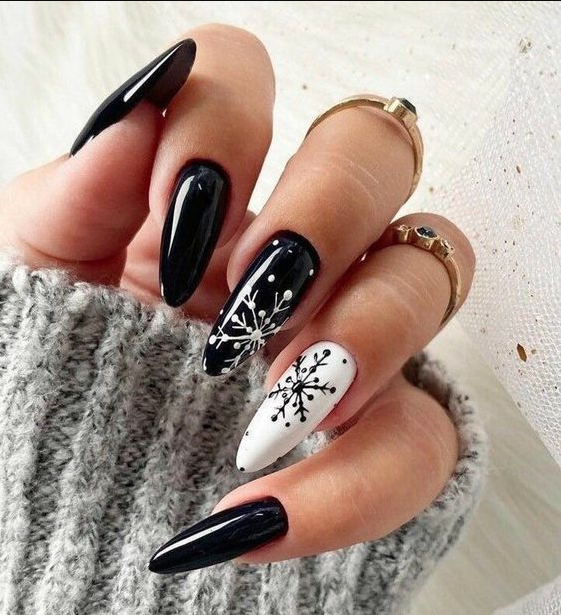 Courtesy: Pinterest
#65 Add a seasonal twist to your French ombre nails by adding a snowflake motif on all fingers. The result will be alluring and your picture of the manicure will look aesthetic with all backgrounds – from Christmas trees to pathways or festive lights.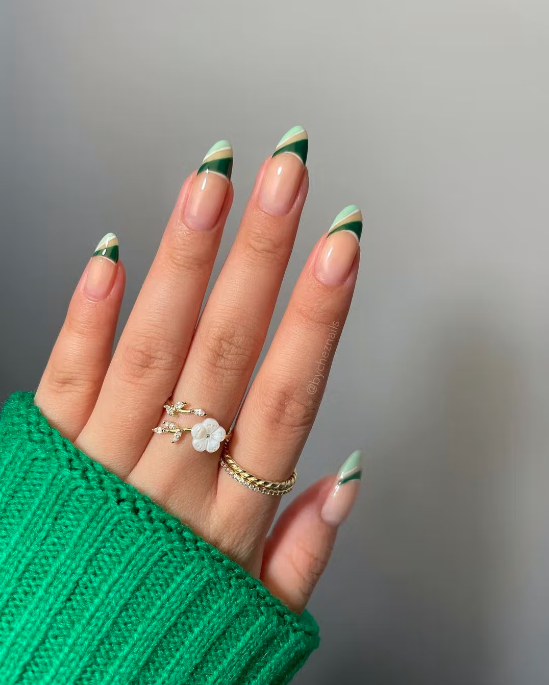 Courtesy: Pinterest