Life is sweet, but it's even better with a cake. Wedding cakes, smeared with buttercream, inside and out, are a huge part of a couple's nuptials and have created a small world of their own in the realm of wedding planning. They have their own unique trends and styles. And one ongoing, bursting fad is a naked wedding cake, also called a dirty wedding cake or an exposed wedding cake. 
What is a Naked Wedding Cake?
As the name suggests, a naked cake is one where the frosting on the exterior of the cake is almost completely eliminated. The layers are stacked with tonnes of filling, but the external icing is not done. The naked cake is one of the biggest wedding trends of the 2010s and still going upwards. There are more than 2.5 million photos on Instagram using the hashtag #nakedcake and over 80 million (!!!) search results on Google! And its formal version, a semi-naked cake, isn't far behind too. A semi-naked wedding cake involves some frosting on the exterior with layers peeking through. 
In the celebrity world, three popular couples opted for the naked cake trend:
Angeline Jolie & Brad Pitt,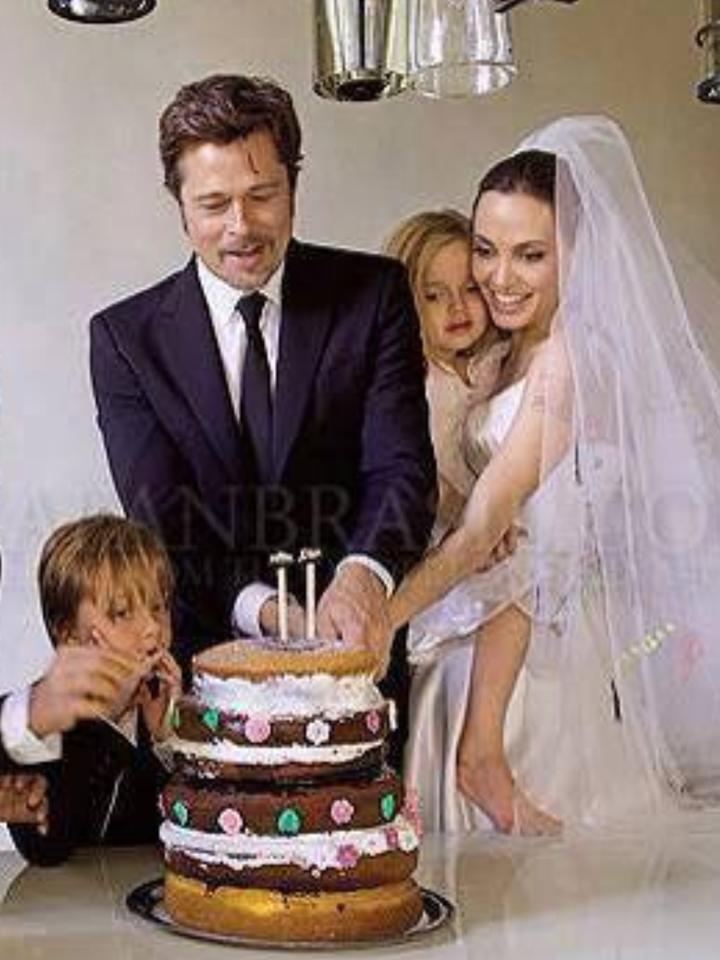 Hillary Duff & Mike Comrie,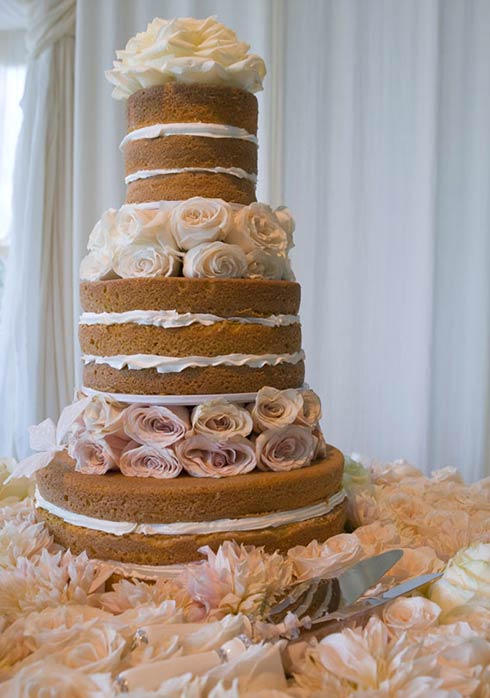 and Chrissy Teigen & John Legend.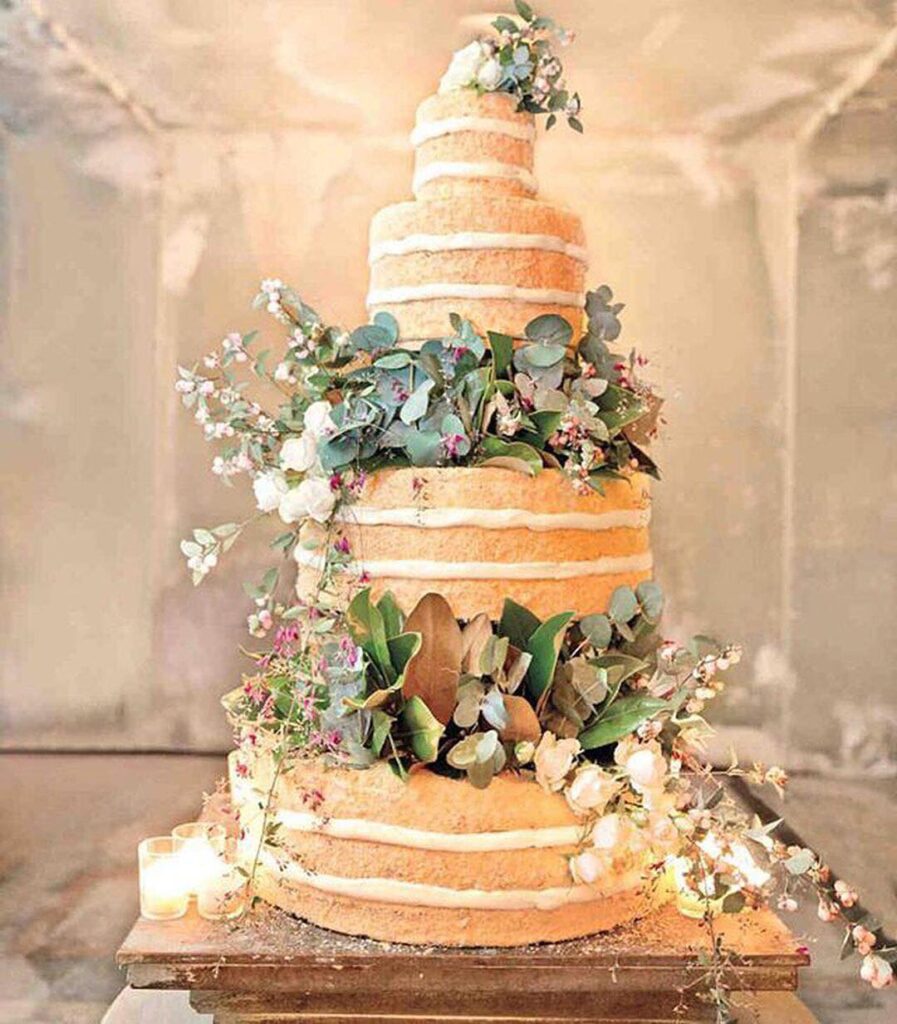 Earlier, the cake was considered to be a fitting part of rustic, outdoor vineyards, or forest wedding celebrations! (Still is.) Now, the creative bakers have made them versatile for any kind of wedding theme. Think of a semi-frosted naked cake with white flowers, quaint olive leaves, and a golden palette topper for a black-tie affair. Or an unfrosted one decorated using rosy blooms and figs for an outdoor, chic theme. The bare canvas gives plenty of space to experiment and design as per the couple's needs. Another amazing advantage is since naked cakes get dry fast (due to limited frosting), they are generally baked a day or two before. This results in a fresh, yummy dessert for you and your guests. 
Best Naked Wedding Cakes We Found! 
Take a look at 41 naked cakes we loved and that fit into your dream day celebrations beautifully. 
#1 Elegant & Bright Semi-Naked Cake With Flowers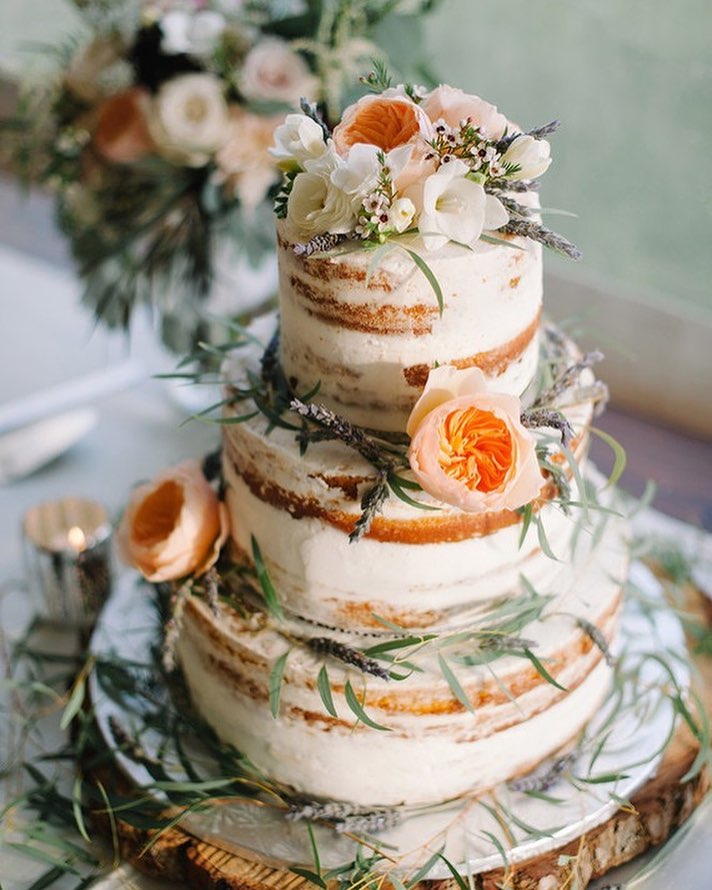 Courtesy: Blue Rose Pictures
This three-tier gorgeousness makes such a statement. Being topped with pretty blooms and quaint twigs, the cake exudes a fresh, delicious feel that's perfect for casual or outdoor celebrations. It's amazing how strategically placing foliage on a wedding cake can make such a huge difference. 
#2 Naked Cake With Sumptuous Berries & Full Blooms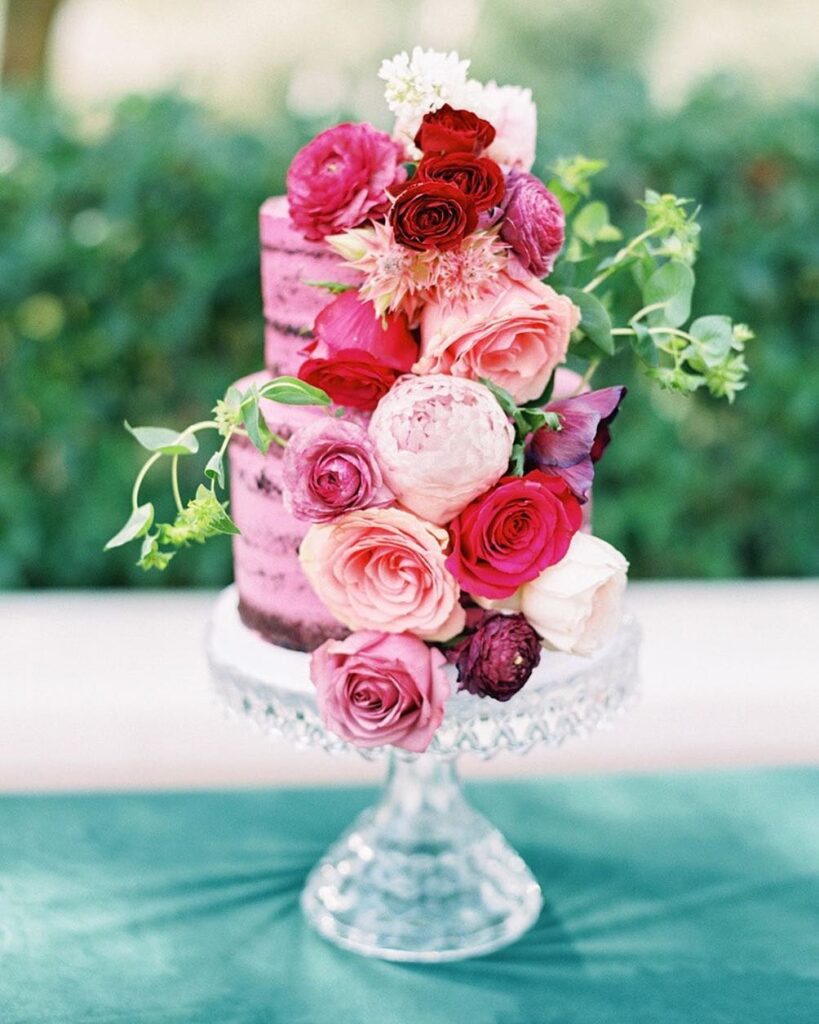 Courtesy: A Bake Shop
A chocolate naked wedding cake covered with strawberry frosting adds such a delicious appeal to this picture. Bedecked using lavish blooms that look like being plucked straight from the garden, this cake is truly oozing with picturesque colors. 
#3 All-White Naked Cake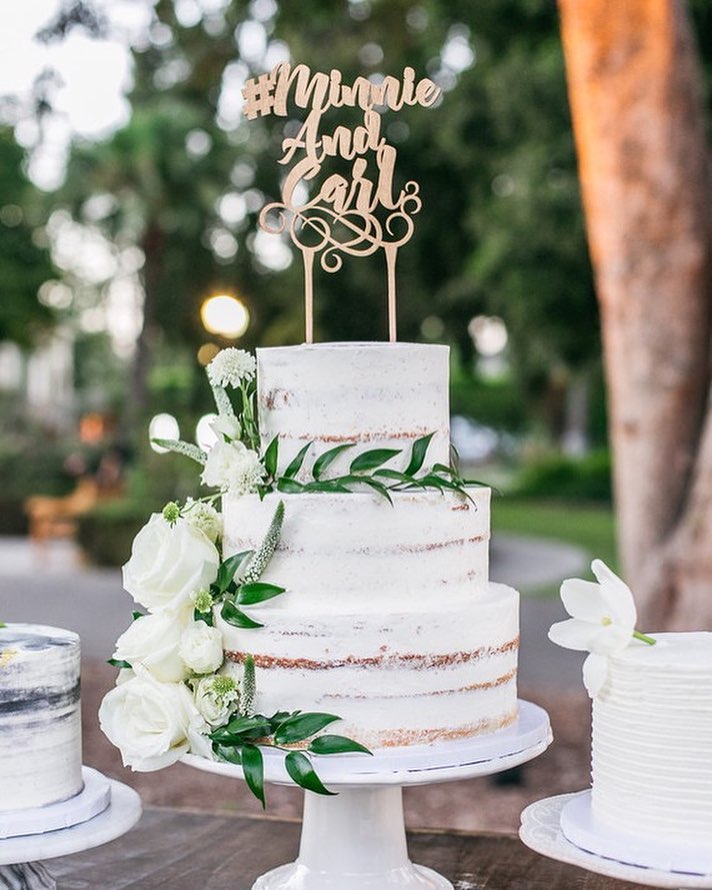 Courtesy: Vivian Lin
A naked cake can be as fitting for a formal wedding theme as it is for rustic, forest celebrations, here's proof. Not fully frosted nor quite naked, the buttercream frosting gives a peek through the delicious interiors while keeping a few parts covered. The white roses on one side and a prominent wedding cake topper on the top act as the perfect finishing accents. 
#4 Semi-Naked Cake With Flowers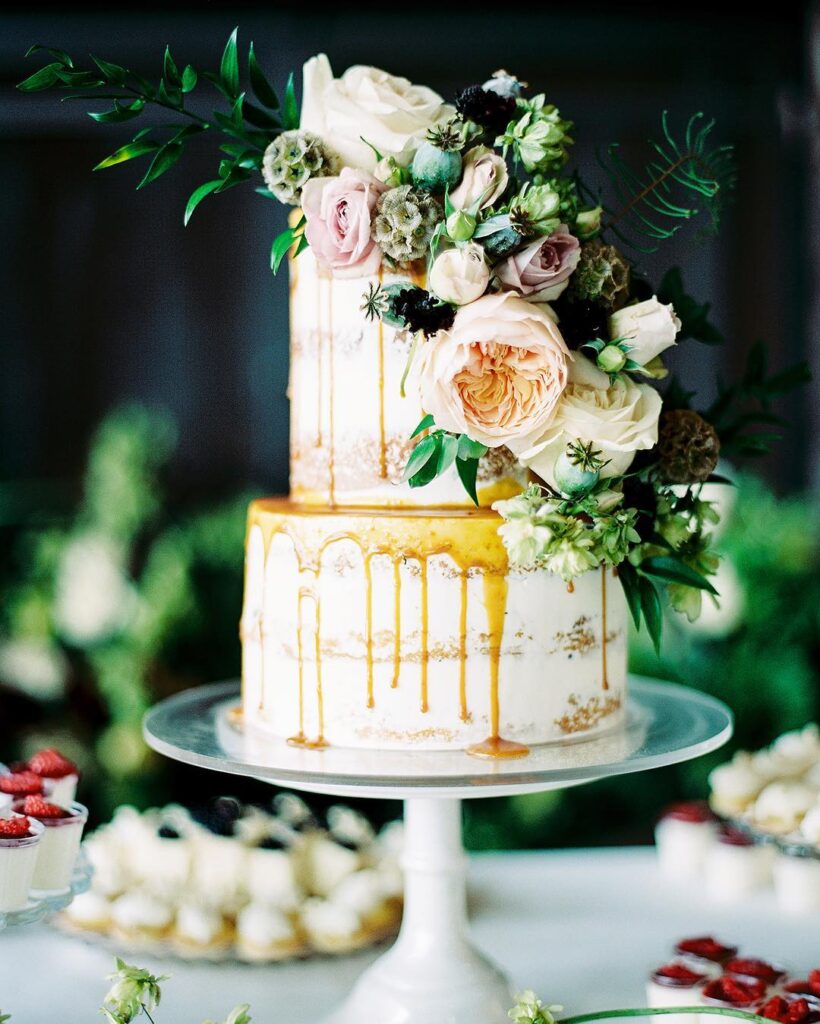 Courtesy: Foxtail Bakeshop
Wedding cakes with subtle drips always catch our attention. This naked dessert is glazed with honey on the sides to create a romantic effect. On the other hand, the stunning cascade of florals can't be missed! You don't always have to go for bright bold colors to stand out. Sometimes the majestic pastel palette can do it. 
#5 Simple Naked Wedding Cakes For An Intimate Affair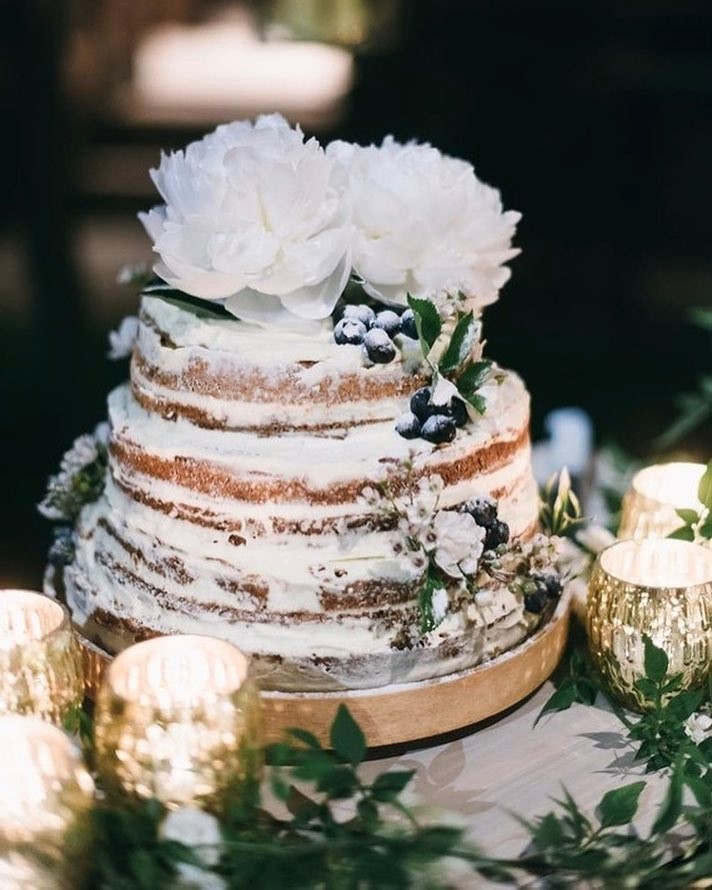 Courtesy: Luxury Weddings by Italy
Are you having a warm, private forest wedding soon? Then, we think we have found a perfect half-dressed wedding cake for your celebrations. The blooming peonies on the top add an ethereal charm to the earthy tones of the desert. We love how the imperfect yet gorgeously done frosting gives us a peek through into the interiors, almost exuding an illusion of painted tree bark. 
#6 Best Of Both Worlds!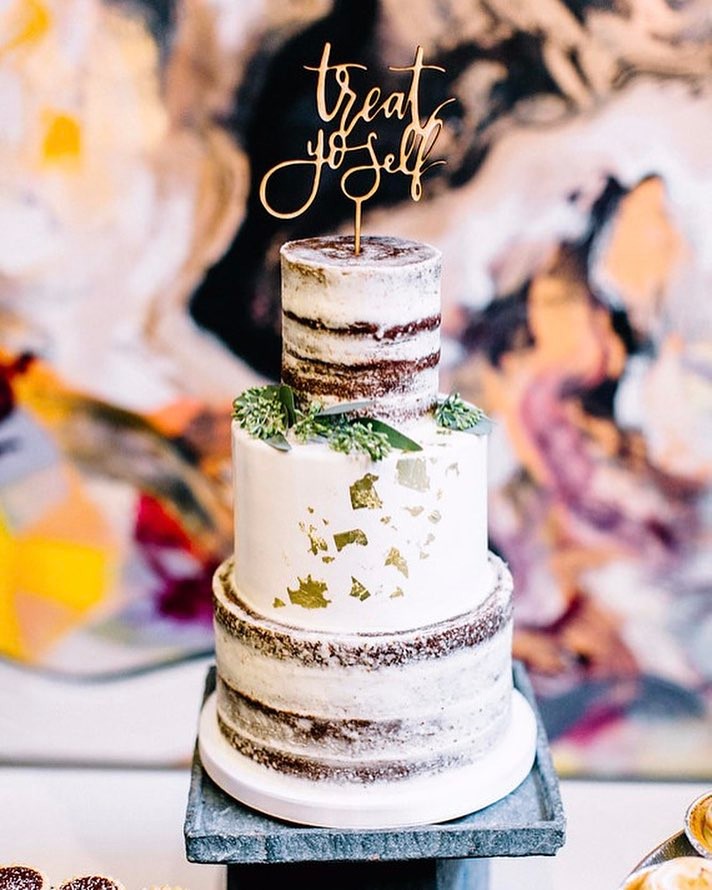 Courtesy: Celestial Cakery
Can't decide between a naked cake or a frosted one? This one pictured below proves you can have the best of both worlds. The homemade look of this barely decorated cake is enhanced with a sweet golden topper, which is such a unique drift from the usual couple sayings wedding cake toppers. Minimal golden flakes and leafy adornments offer a sharp contrast for whimsical celebrations. 
#7 Sumptuous Exposed Wedding Cake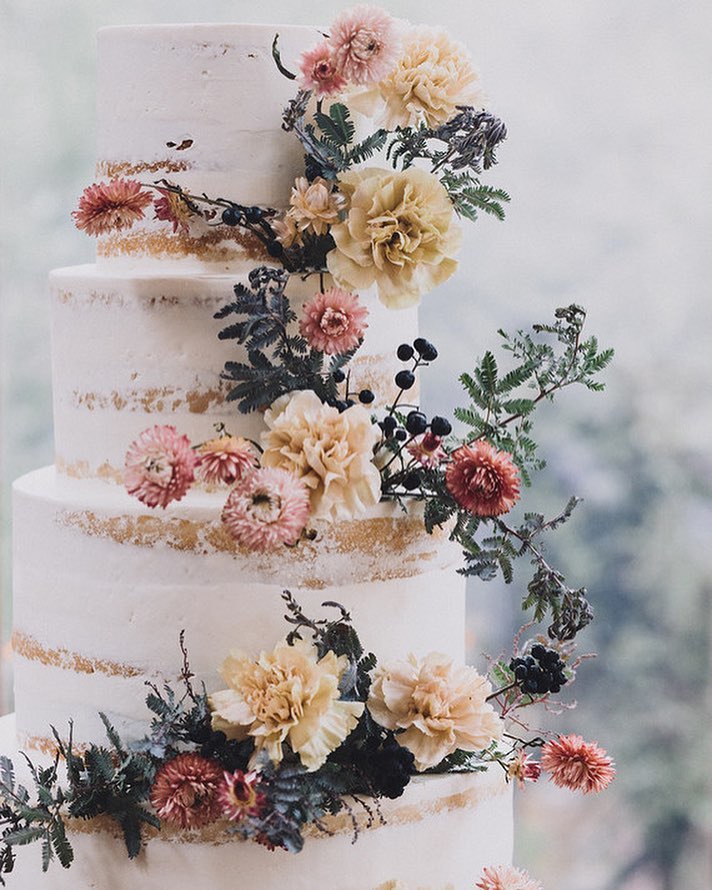 Courtesy: Sweet & Saucy Shop
If you prefer a lighter, moodier palette, here's a naked cake you'll love and bookmark immediately. We are obsessed with how strategically California-based Sweet & Saucy Shop frosted this nearly-exposed cake to perfection. A scattering of lush blooms paired alongside what-looks-like freshly plucked twigs screams European elegance, ideal for a winter wedding or formal garden affair. 
#8 Buttercream Naked Wedding Cake For A Formal Themed Affair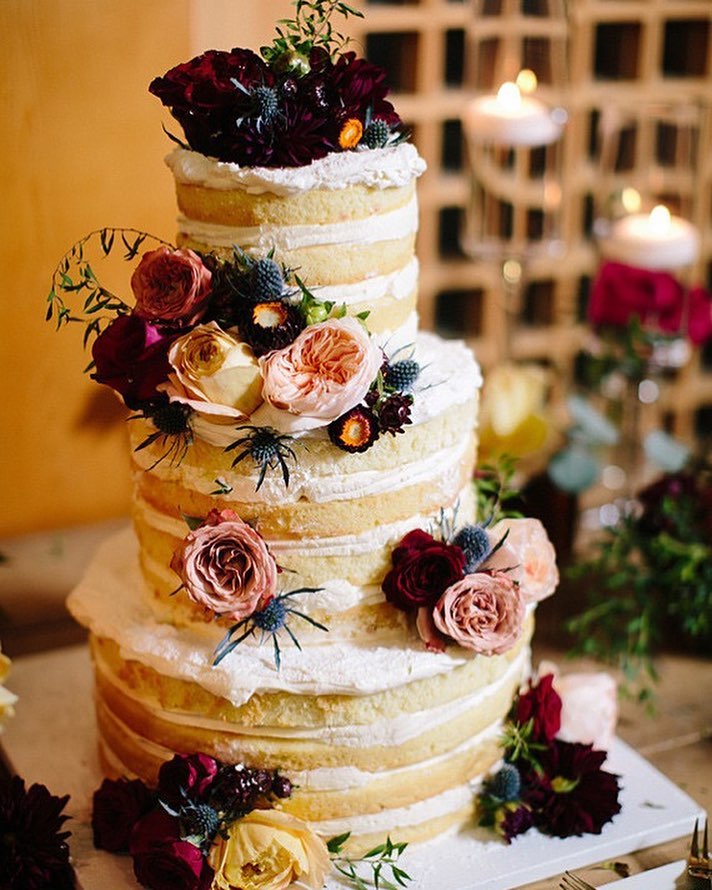 Courtesy: @cake_sandiego
A naked cake so decadently layered with buttercream frosting makes us want to swipe a finger and lick it from the picture. (smiley) A strong asset of a dirty cake is it gives plenty of opportunities to bedeck the tiers with florals and San-Diego-based Fab Cakes took full advantage of the same. The clusters of fresh florets and foliage complete the look of the confectionery and adds a wonderful celestial charm. 
#9 Rustic Naked Cake With Chocolate Drip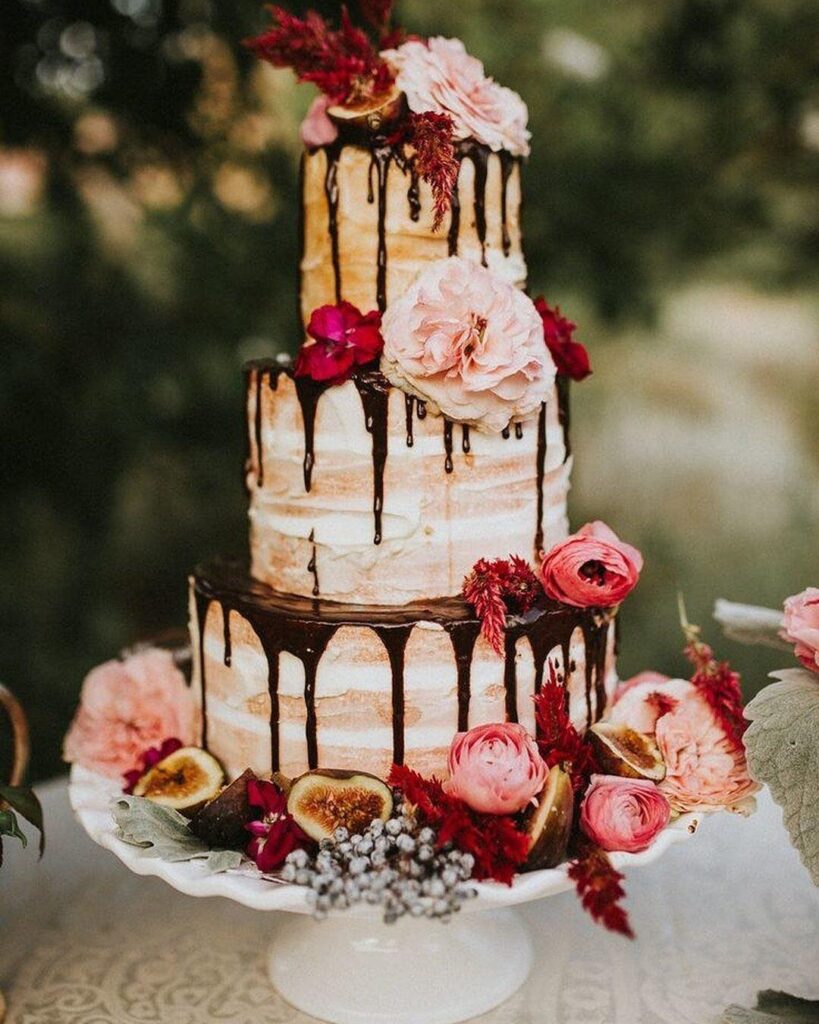 Courtesy: Lila & Sage
Nothing says a forest rustic wedding then this decadent chocolate drip cake. Lush flowers in a pink palette and itty-bitty figs further push the noteworthy aesthetic. It would be such a superb addition to a fall wedding. A must-have pin-worthy inspiration for couples wanting an extraordinary wedding cake for their glorious union. 
#10 Berry-Licious!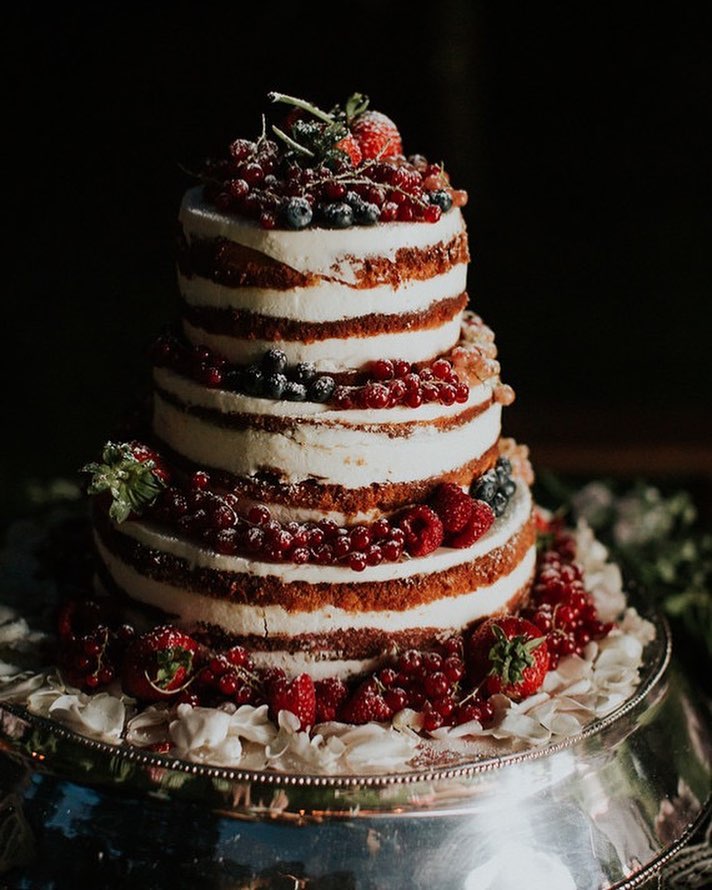 Courtesy: @elvirakalviste
Substituting fresh fruits for flowers is a great idea for any seasonal wedding experience. The berries add such a fresh take to the main dessert and lend a colorful, outstanding appeal. We also love the extra-large buttercream layers looking so delish nestled between the cake bread. Served with rose petals on the side, this naked wedding cake is up for a beautiful display catching the eyes of the attendees with a first look for sure! 
#11 Summer-Perfect Chocolate Naked Cake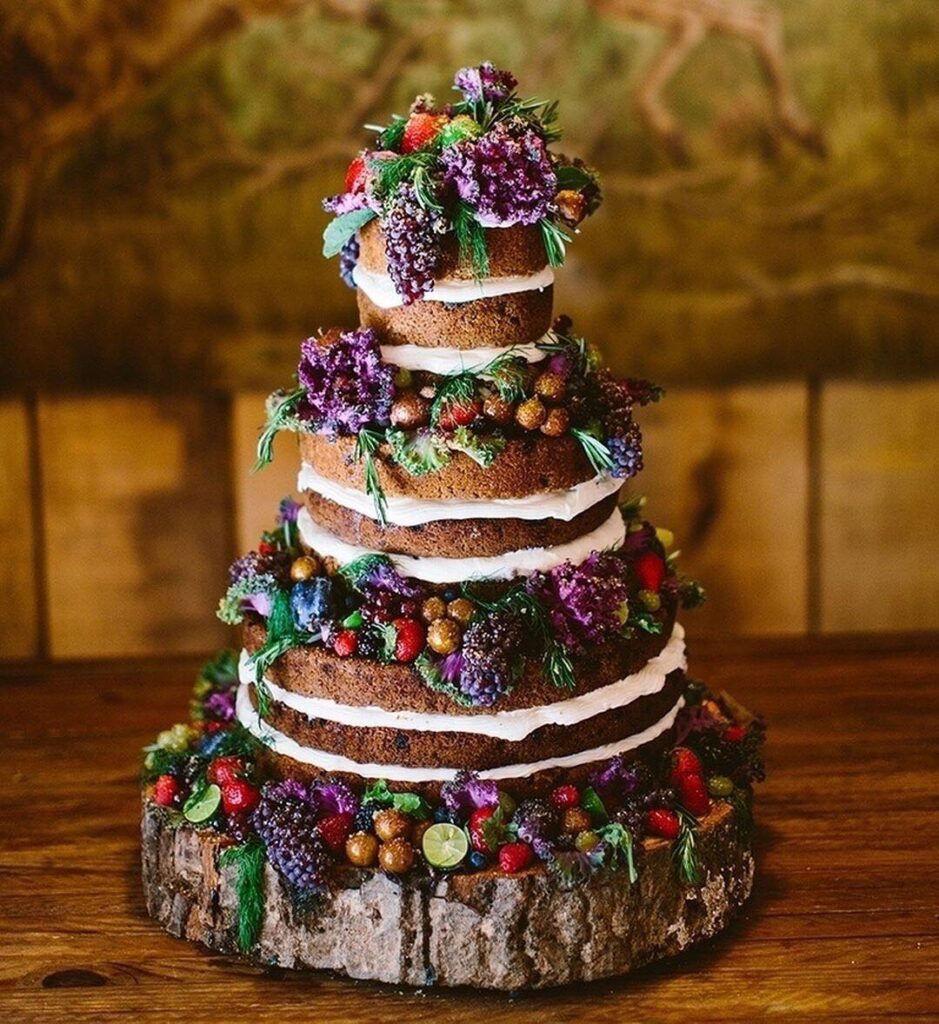 Courtesy: Red Field Photo
A chocolate naked cake layered with slightly dripping buttercream makes for a unique combo to please the crowd. And while the flavor is tempting enough, it's the overflowing fruits decor that truly makes for a beautiful statement. 
#12 A Formal Naked Wedding Cake
Courtesy: Wichita Wedding Photographer
Always dreamt of an all-white wedding cake? Here's your dream come true! Draped in semi-nude frosting with a gorgeous drip effect on all four tiers – this cake's creativity will catch everyone's attention in no time. The delicate rose accents bring a dash of romance, while the bride & groom figurine alongside a golden topper complete the look. 
#13 Drip Semi-Dressed Cake With Sugary Donuts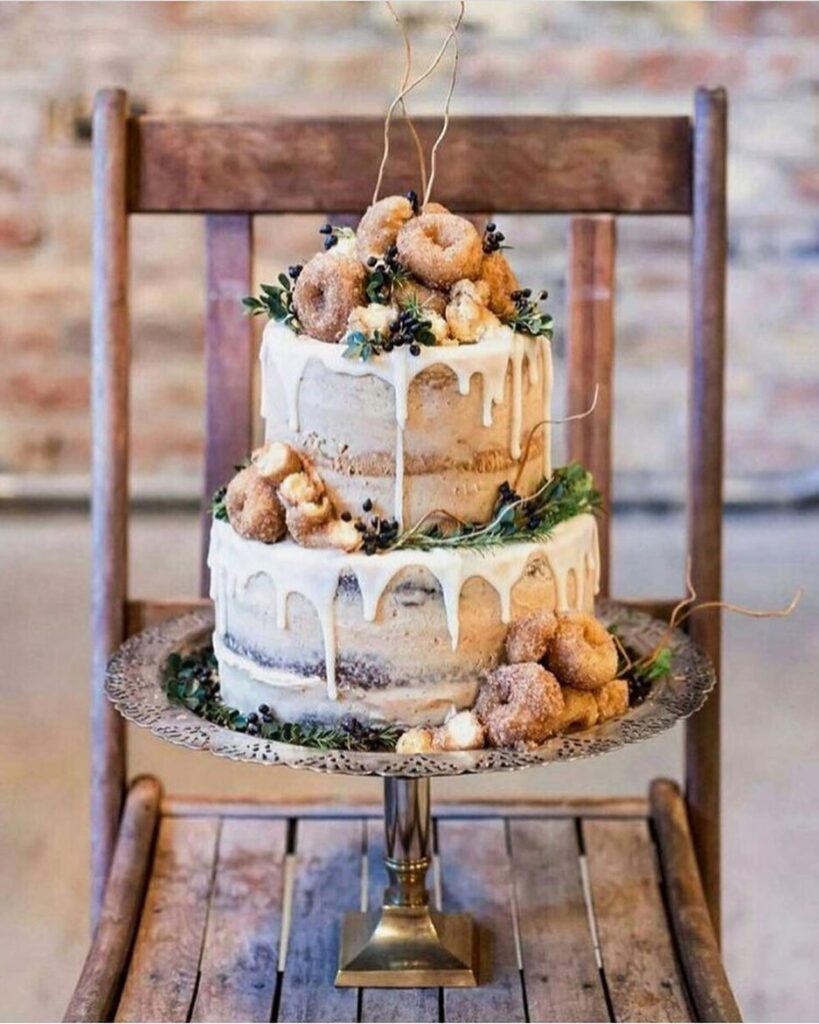 Courtesy: Summer Taylor Photography
For a minimalist alternative to the one showcased on the top, here's a beautiful naked wedding cake design. And oh, aren't we admiring and obsessing over the yummy donuts used as the cake accents? Pair them with a bit of greenery and a fancy drip for a decadent look. 
#14 Blueberries And Cream Naked Cake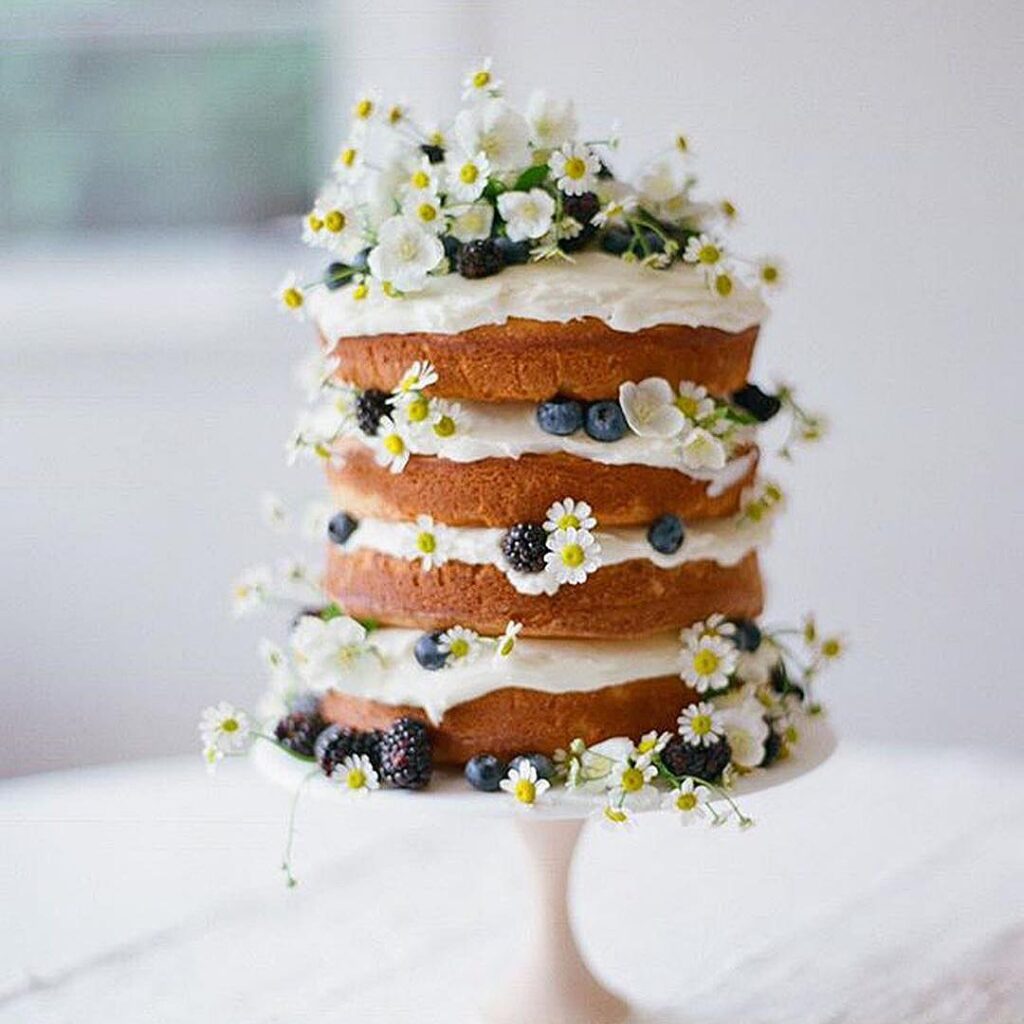 Courtesy: Annie Campbell
In the event of a pandemic, things have gotten smaller and intimate. From guest lists to items in the menu: even wedding cakes have shrunk in size, but in terms of beauty, they've only been breaking ceilings. Chiffon cake layers alternated with rich buttercream frosting and further embellished with berries and white blooms is an impressive creation and compete with the allure of any large cake featured on the list.  
#15 Decked In Sugar-Coated Berries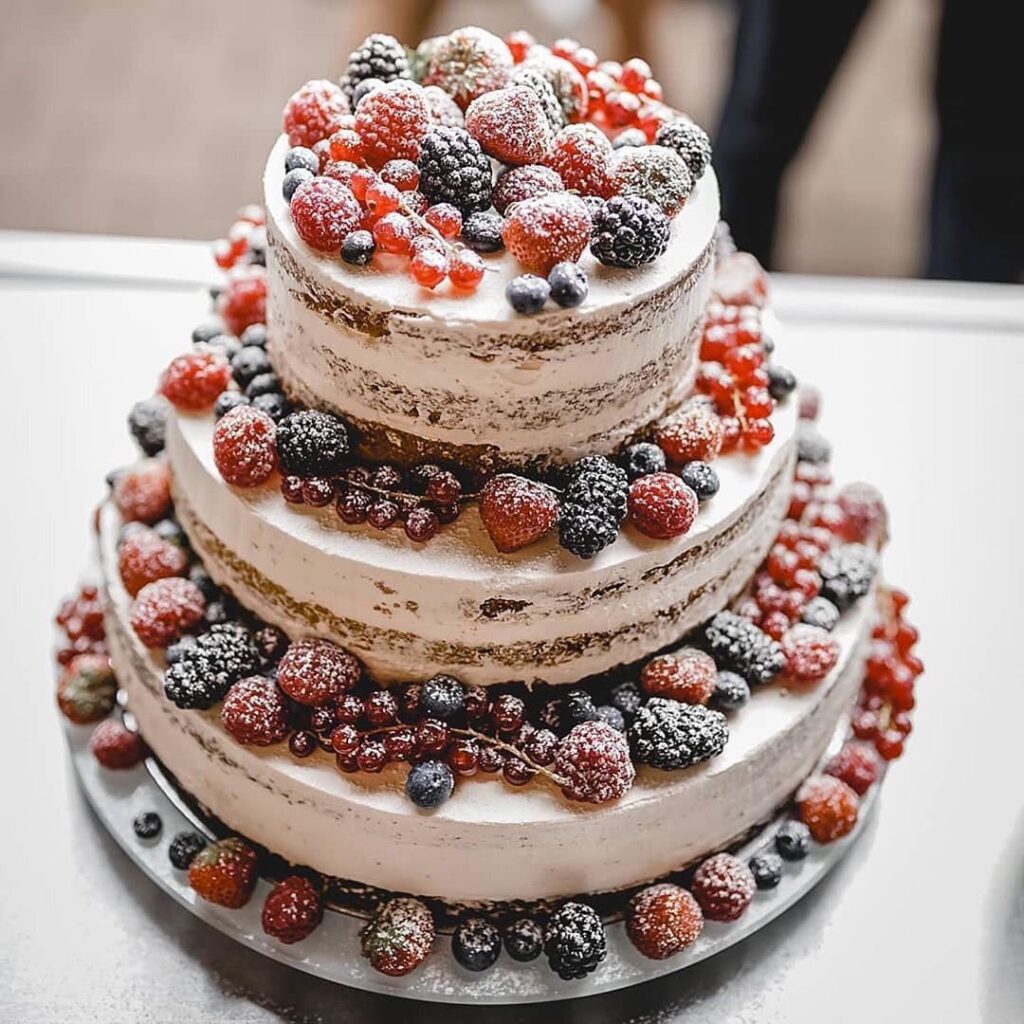 Courtesy: @vonbrautzubraut
Cake or artwork? This lavish 3-tier masterpiece is thinly iced and decorated with strawberries before being coated with dry sugar all over. You can incorporate this stunner into a vineyard wedding or an outdoor rustic-themed celebration. 
#16 Churro Naked Cake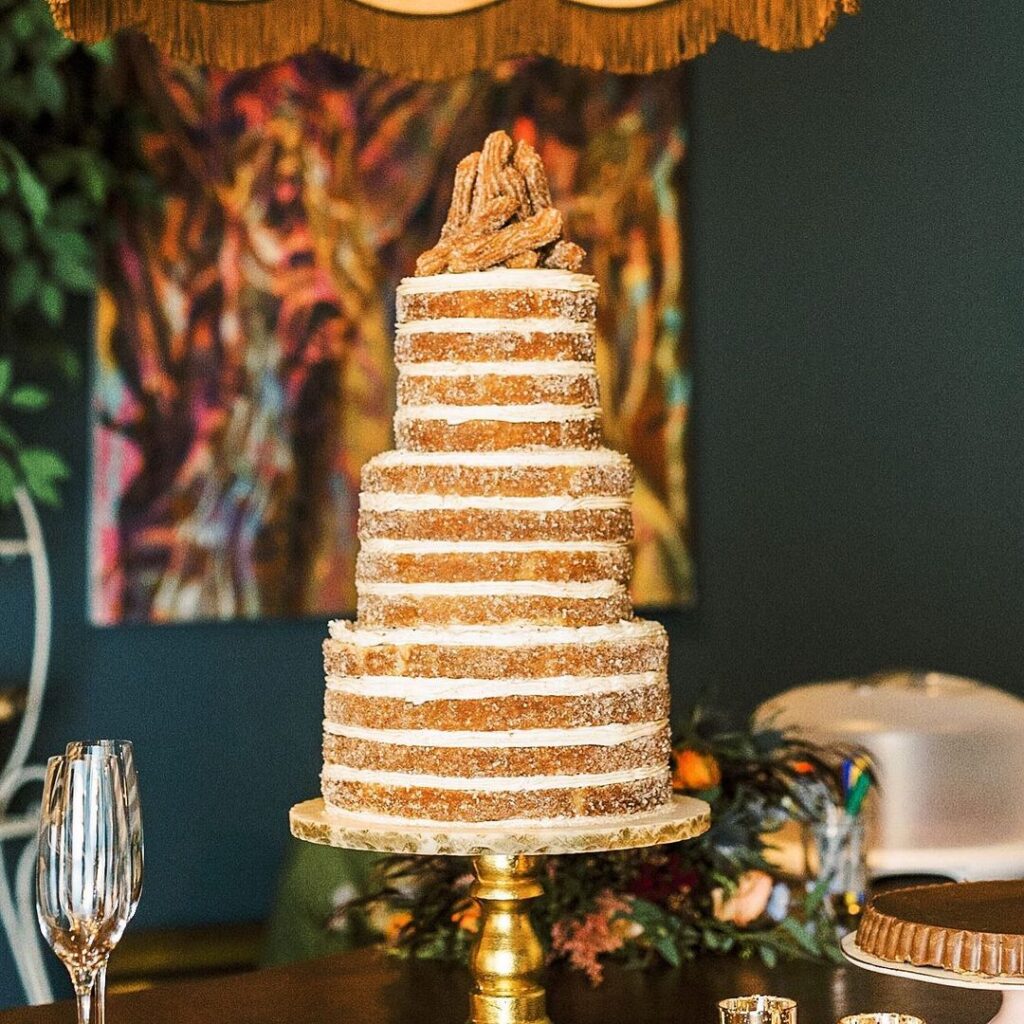 Courtesy: Vintage Soul Cakes
Are you and your beau a lover of churro? Then, behold the most beautiful and mouthwatering wedding cake we've ever come across: The Churro Cake. What makes this genius wedding idea even more perfect is the neat and precise layering of all tiers! Hiring a professional and talented cake designer will definitely pay off, here's proof. 
#17 A Semi-Naked Wedding Cake With Flowers & Foliage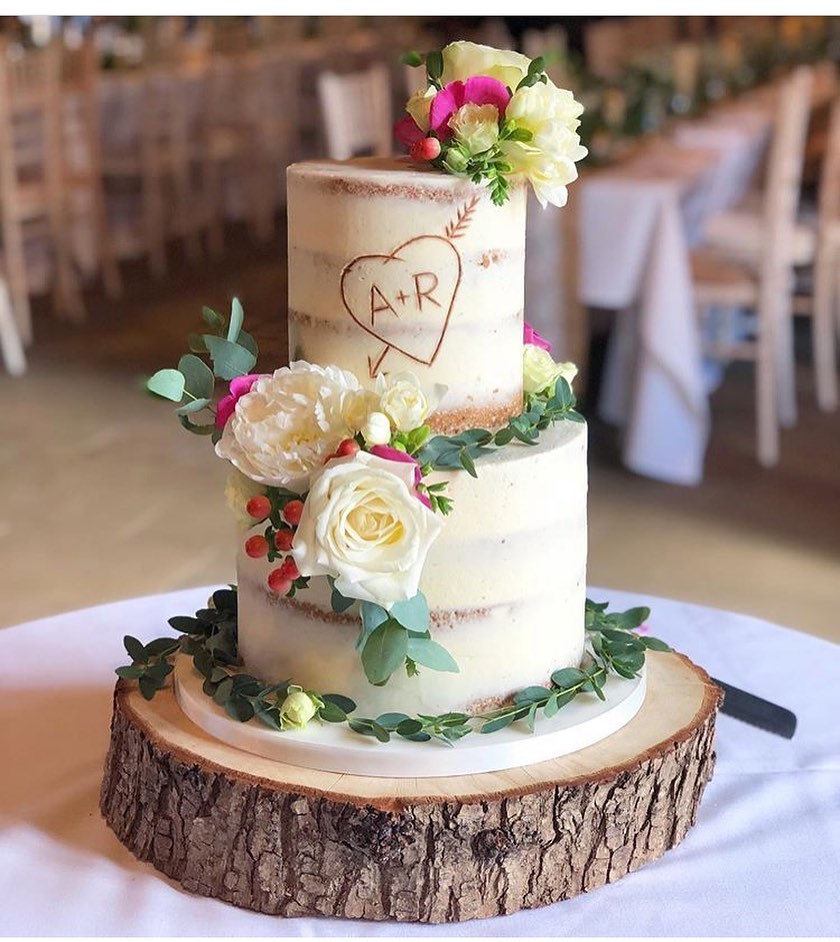 Courtesy: Panache Cake Design
Take a step ahead with your partial frosting on a naked wedding cake and detail it with your & your partner's initials. With a smattering of pretty flowers and fresh greenery, this main dessert is totally dreamy! 
#18 Three-Tiered Naked Wedding Cake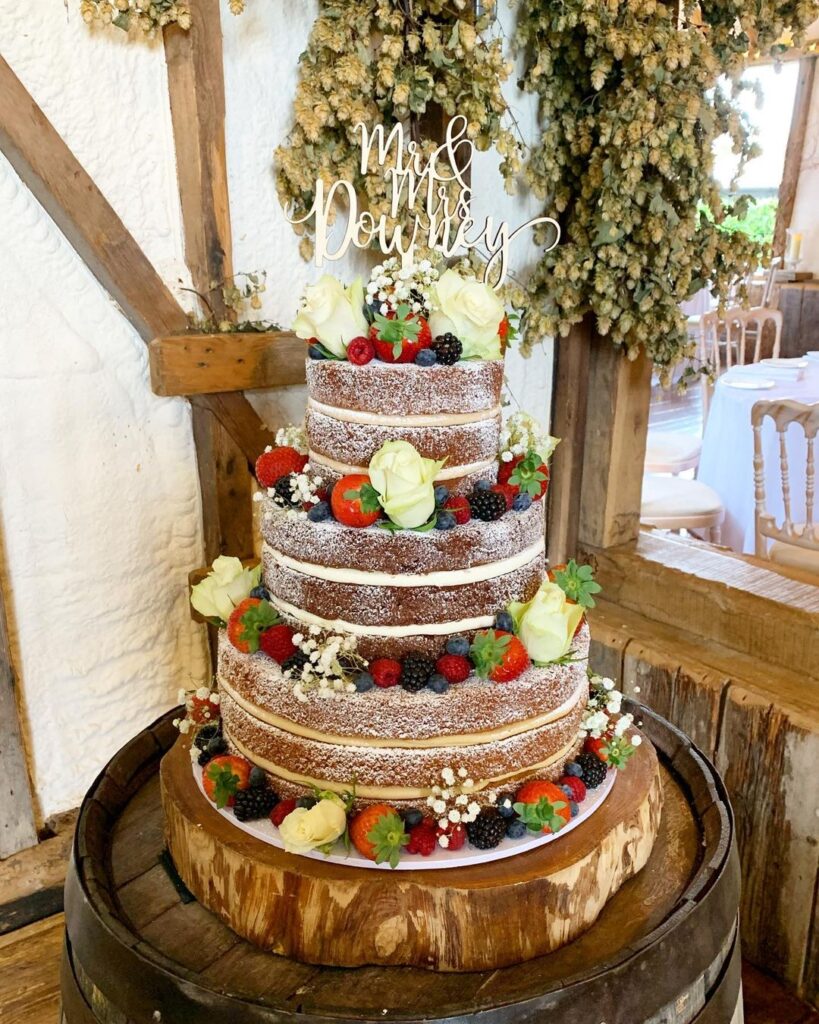 Courtesy: Winters Barns
The chunky layers of this naked wedding cake give it a very delicious appeal. Skipping the cream frosting completely, the cake is only covered with dry fine sugar and decorated with berries and blossoms. Topping it off is the personalized, laser-cut cake topper displaying the newly-gained status of newlyweds. 
#19 Caramel Drip & Vivid Florets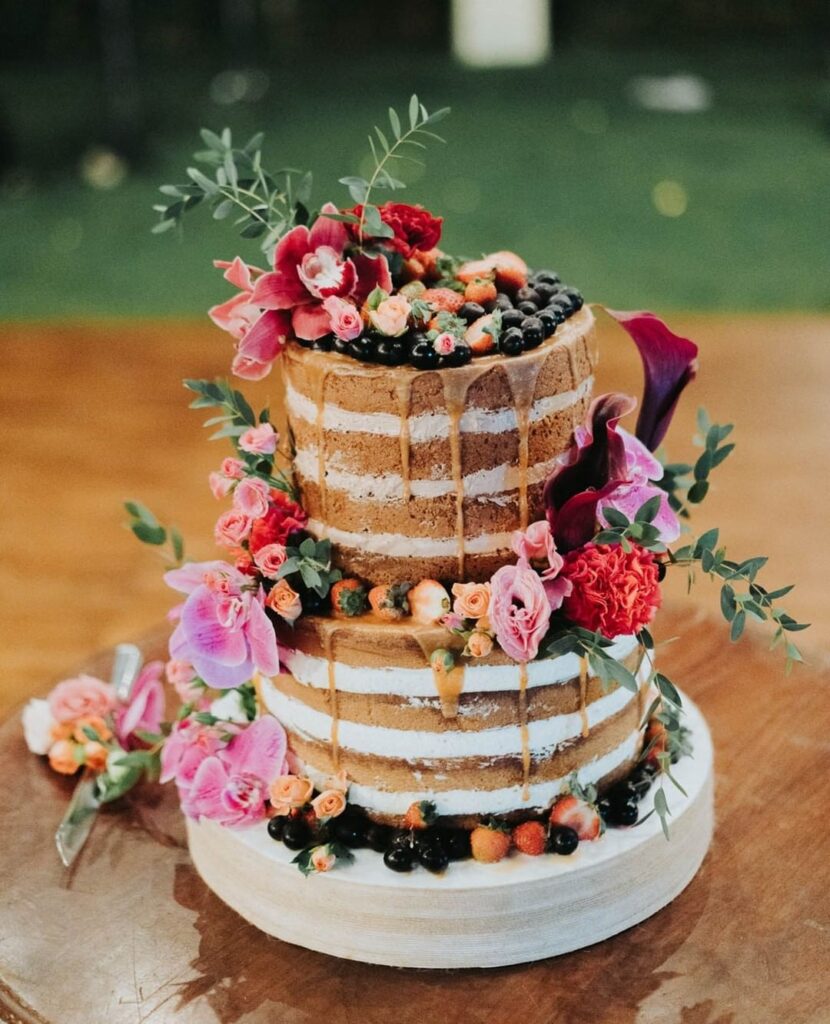 Courtesy: Ixora Cakes Bali
This cake has literally everything – from the naked goodness, berry fun, to vivid blooms and a mouth-watering caramel drip. Absolutely swooning over how all the elements come together to create an unexpected confectionery for this couple's big day! 
#20 An Amazingly Designed Naked Wedding Cake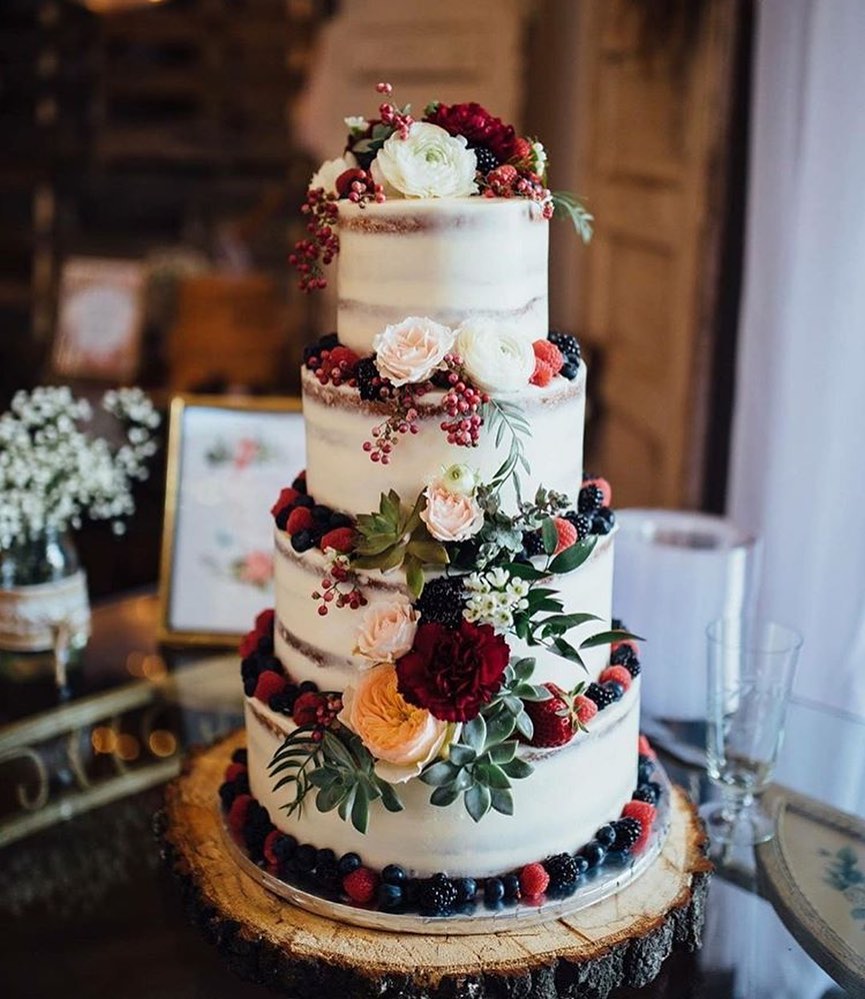 Courtesy: Rustic Wedding Chic
The berries on each tier are a common occurrence on a naked wedding cake. But what sets this one apart is the succulents and radiant blooms smartly arranged to exude a whimsical appearance. Sometimes more is just gorgeous. 
#21 What A Stunning Display!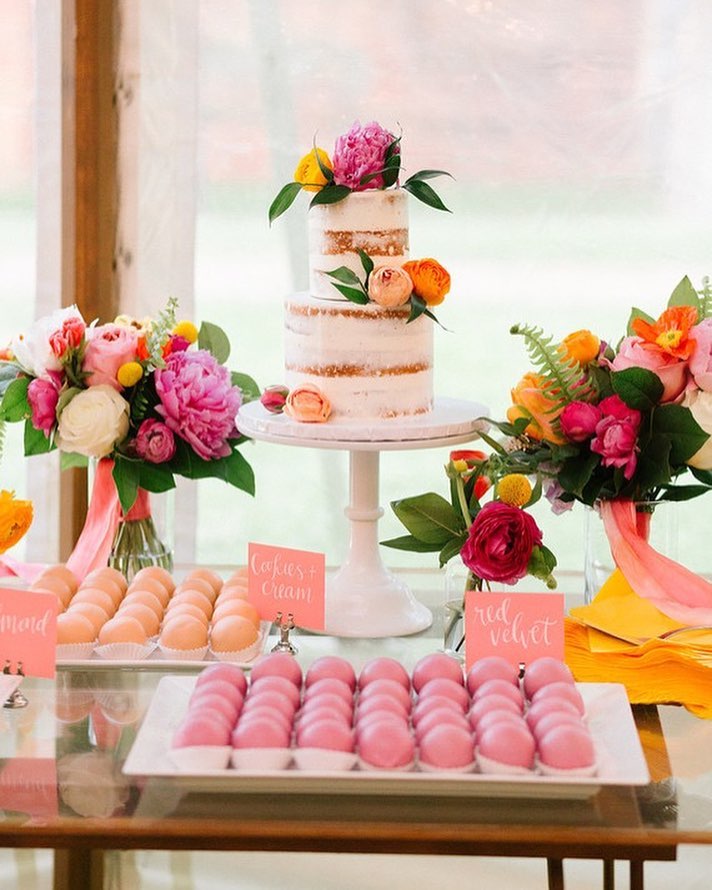 Courtesy: Candy Valley Cake
We love this sweet & small confectionery decorated with vivid blooms for an intimate, romantic affair. But how this cake is displayed is really what pulls the whole look together. Surrounded by brightly-colored dessert pops, this naked wedding cake is all ready for a spring wedding – and Instagram!
#22 Elegant Naked Cake With Berries & Florals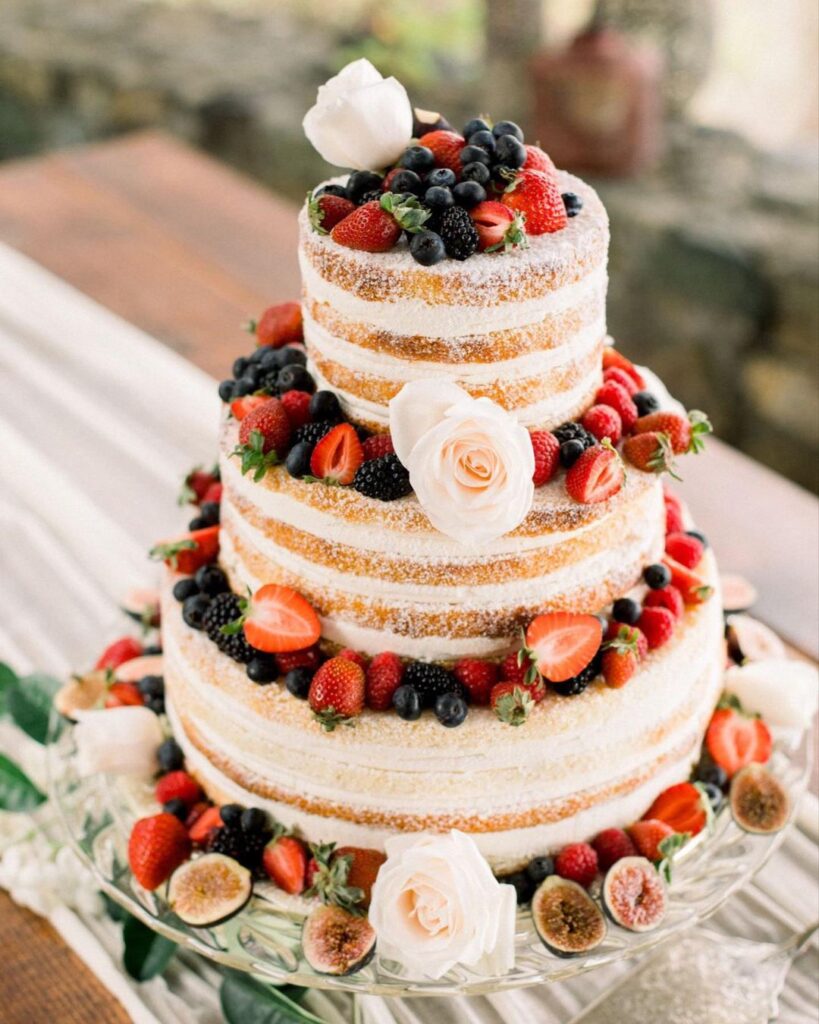 Courtesy: Parker-Lusseau Pastries
A naked wedding cake for an outdoor reception party doesn't get better than this! The berries and figs on this three-tiered confectionery look freshly chopped and tucked onto the layers. And a casual placement of white rose makes the entire design truly pop! 
#23 A Pretty Drip On A Nearly-Frosted Wedding Cake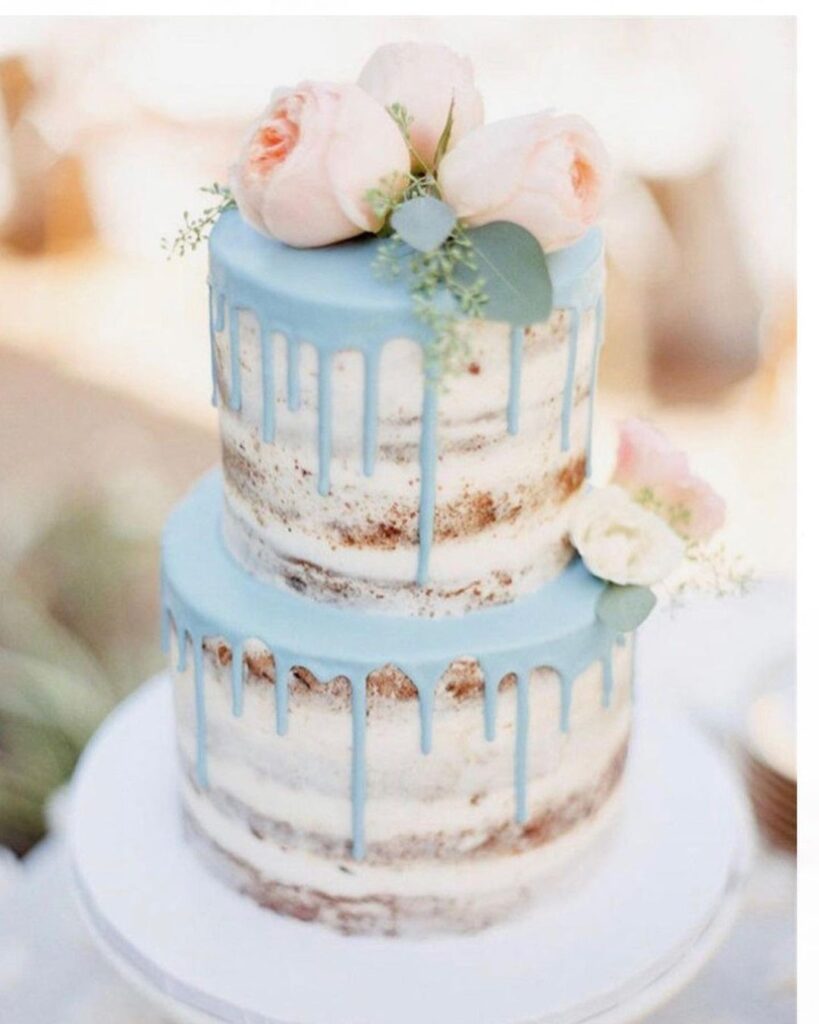 Courtesy: Rustic Wedding Chic
If your wedding decor consists of blue accents, then add the same hue on the wedding cake for a wonderful alignment of all elements. We love the beautiful pairing of colors on this though! The pastel blue drip coordinates with the pastel pink flowers, which further joins forces with the chocolate bread peeking through the subtle frosting. A few pale leaves complete the soft palette look on the cake design amazingly. 
#24 Simple Yet So Aesthetic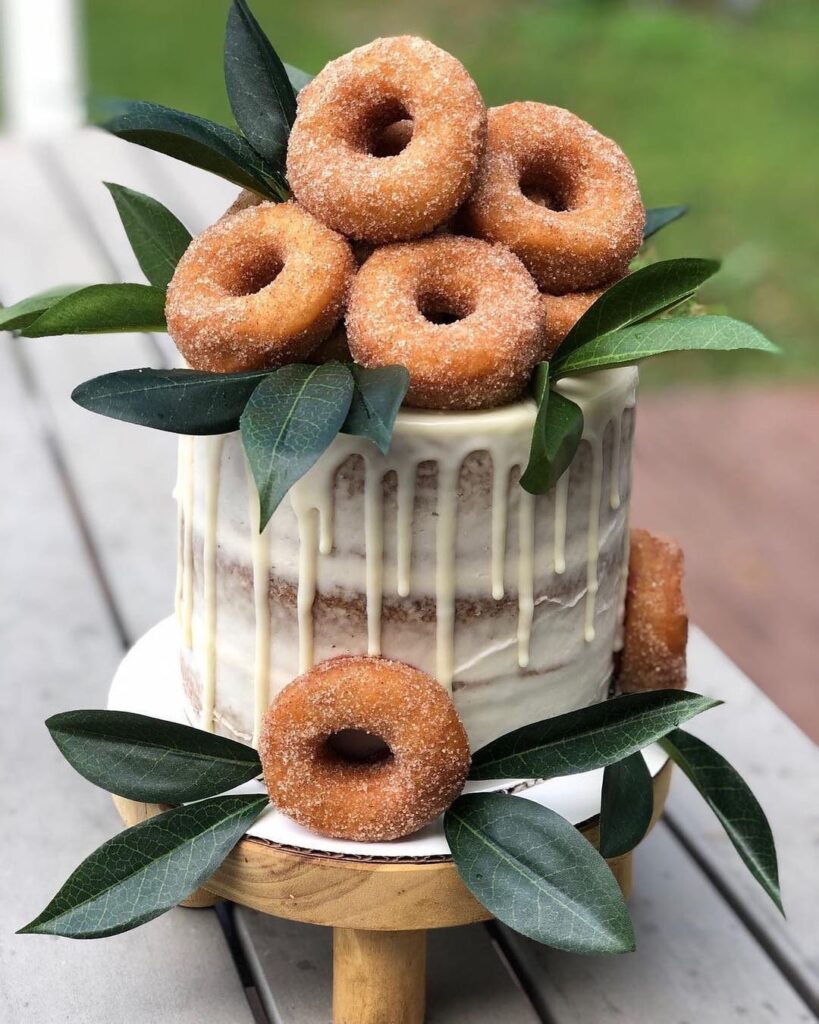 Courtesy: Eleventh Flour
Nothing says a fall wedding like doughnuts and lush greenery on the star of the event – the wedding cake! Also, a visual proof that you don't always need blooms to make your main dessert reception-ready. The icing dripping from the top on all sides adds a touch of whimsy! 
#25 Minimally Decorated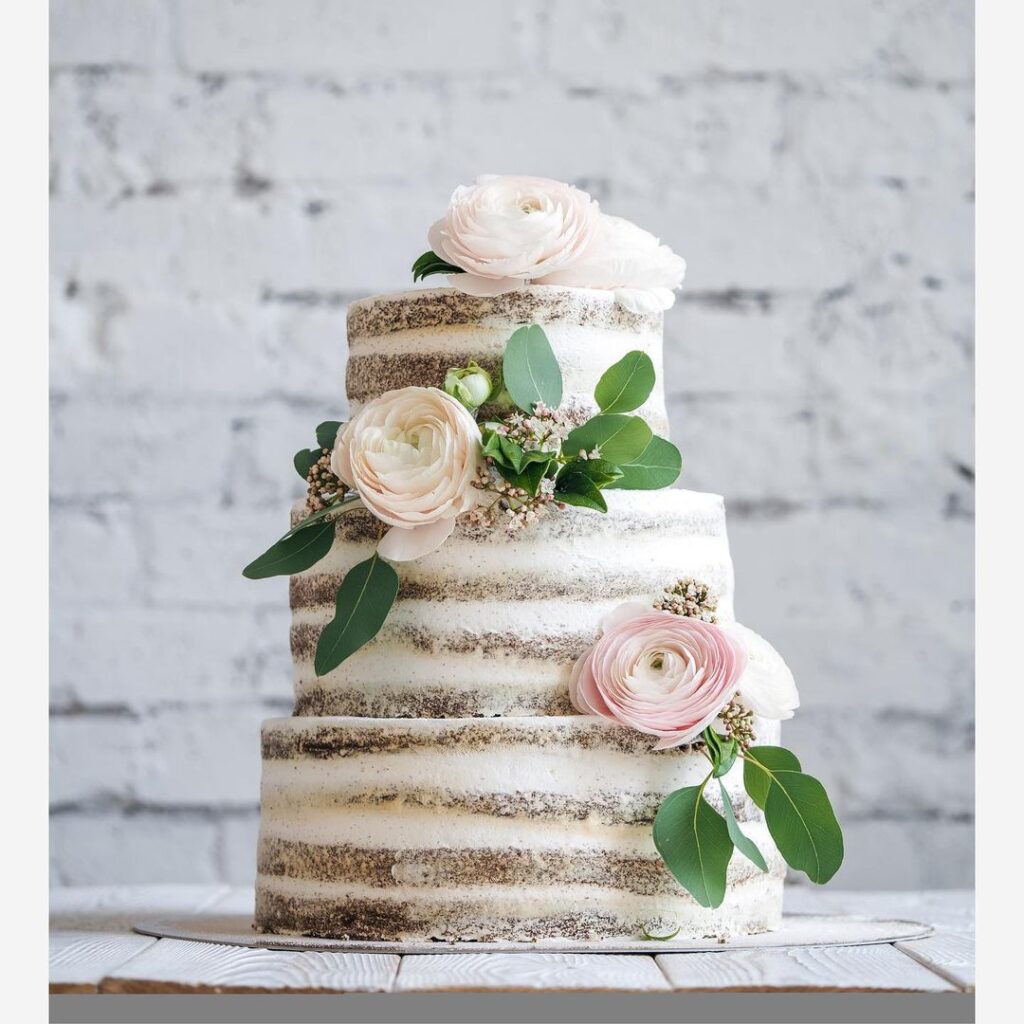 Courtesy: Rustic Wedding Chic
If simplicity and elegance have been your mantra during wedding planning, here's a cake that fits your main essence well. The delectable chocolate layers of this three-tier dessert make an appearance through the partial frosting covered with powdered sugar. And the cluster of pink & white flowers paired with a handful of leaves completes the look. 
#26 Neutral Half-Dressed One With A Pink Glazed Drip!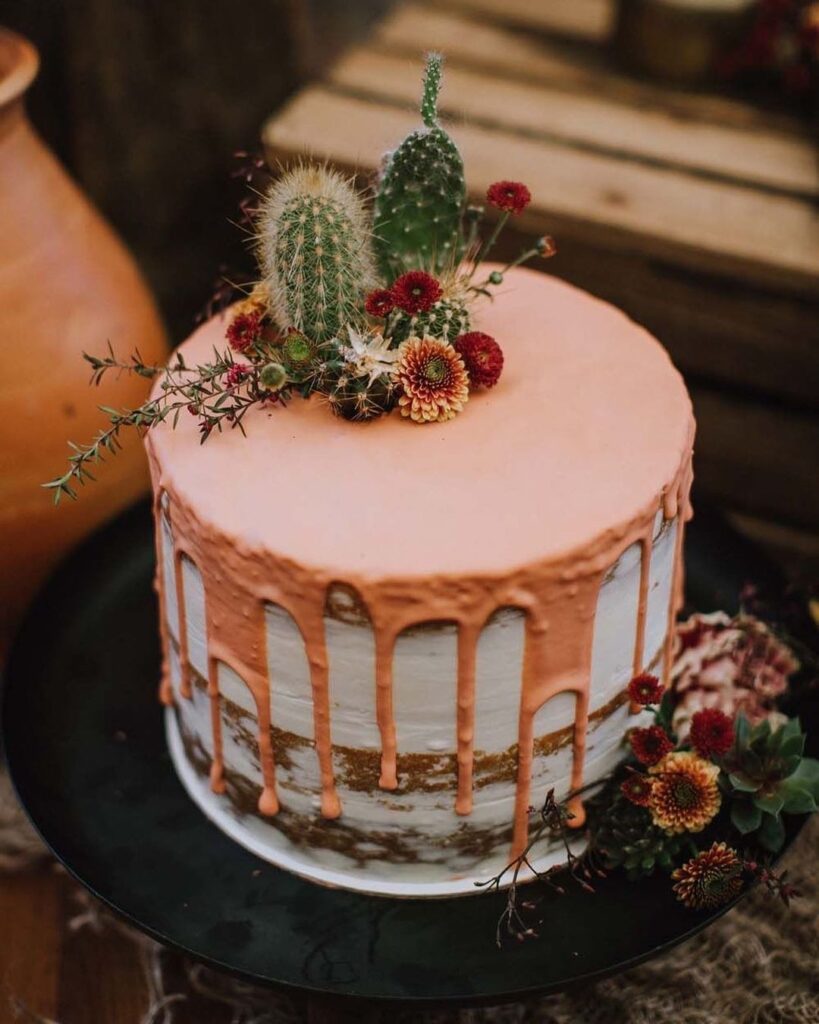 Courtesy: Allison
You must have guessed by now – We love and stan drip cakes. They're a gorgeous accent to almost any themed wedding cake and when done right, can add an aesthetic appeal to them. Here's a pink glaze on a neutral cake topped with cacti and rustic palette blooms perfect for a forest, chic, or country wedding ceremony. 
#27 An Elegant One For A Garden Wedding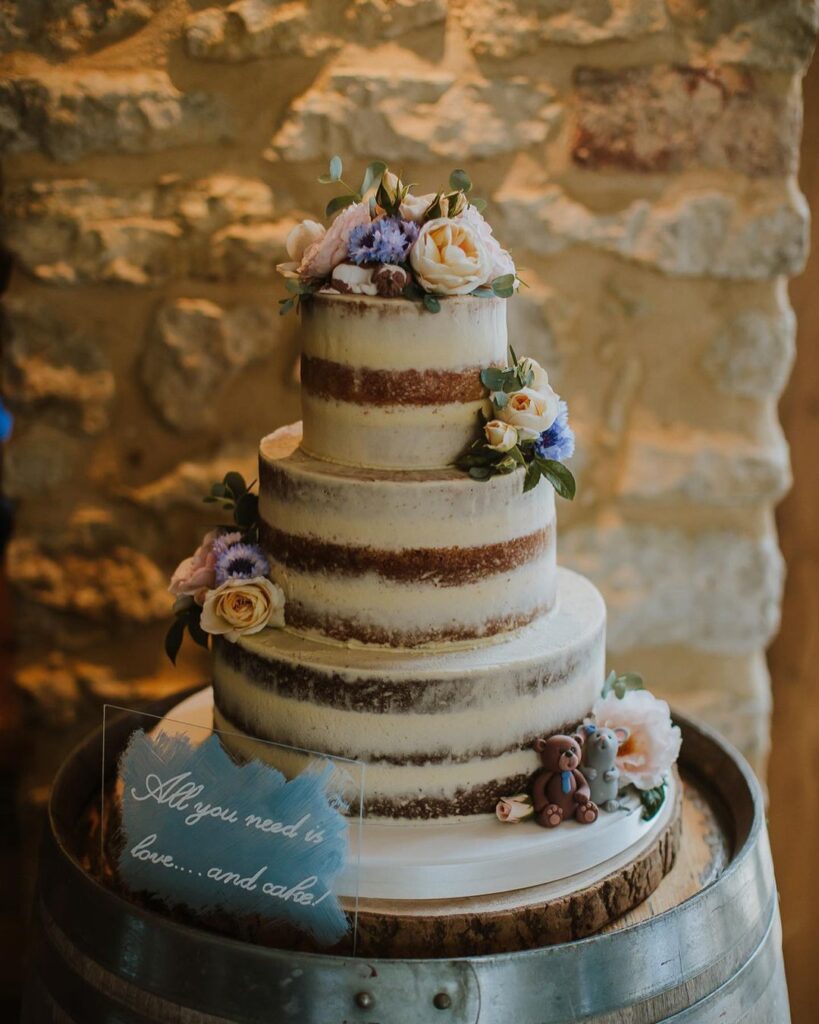 Courtesy: Bake My Cake
This towering semi-naked cake is topped with clusters of blooms and foliage. And also those cute animal toys on the base layer. Further, notice how the couple skipped the cake topper completely and instead opted for an endearing saying on a mirror and kept it right next to the cake? You'll love this idea if you aren't a fan of wedding cake toppers too, or just want to decorate the top layer of the cake with other elements. 
#28 Fall Naked Wedding Cake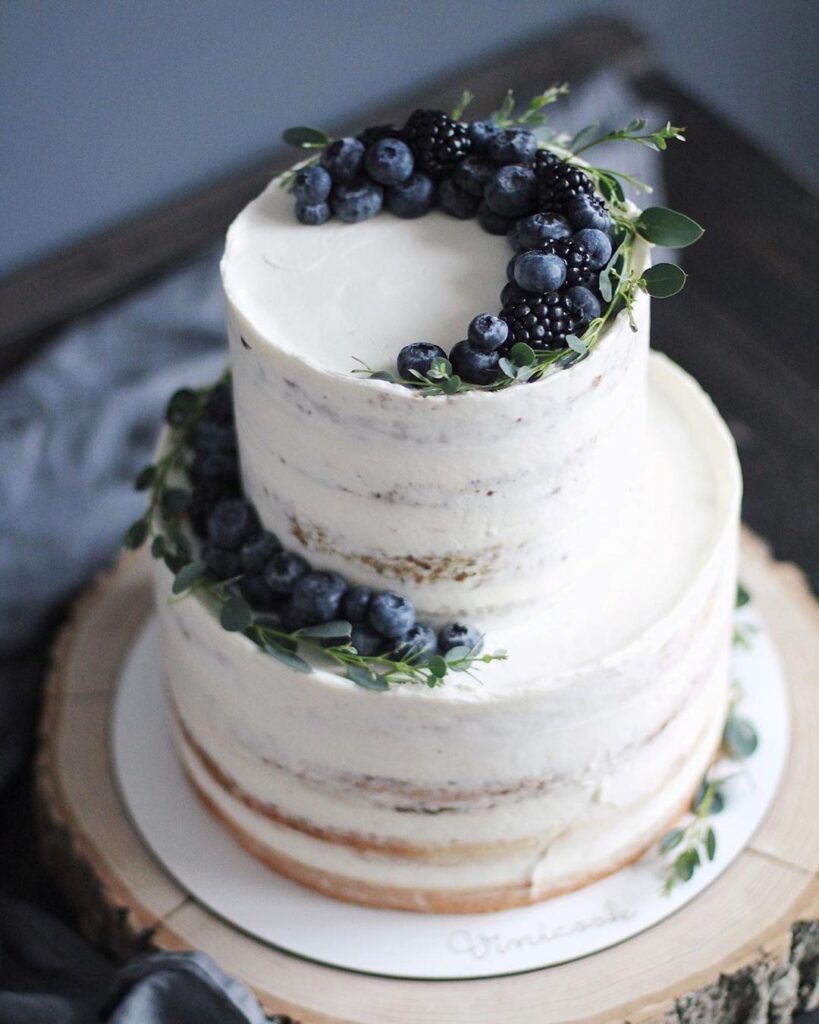 Courtesy: @vinicook
Sometimes darker berries and a few twigs are all you need to decorate your semi-naked wedding cake. Love how the adornments are not casually placed, but arranged systematically in a semi-circle on both tiers to give a neat, formal look. For couples who planned elaborate celebrations, here's a cake to match your wedding theme. 
#29 Rustic-Themed With An Initials Wedding Cake Topper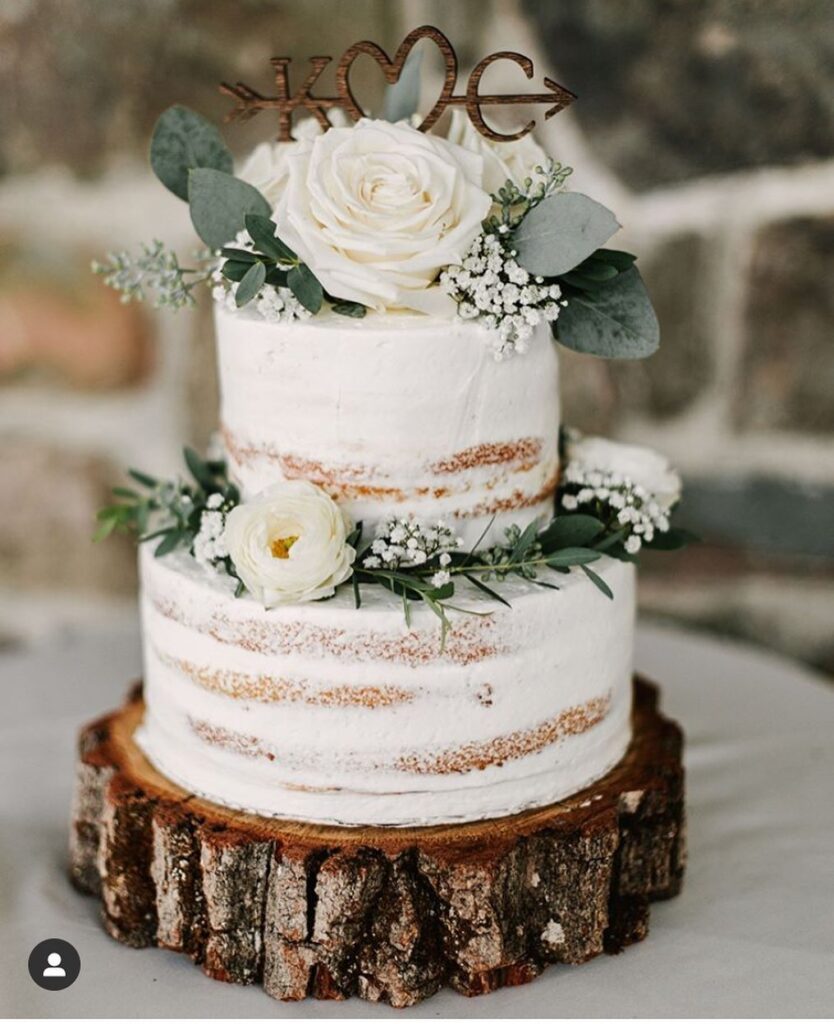 Courtesy: The Fox & The Hare
Always pictured an all-white wedding cake for your magical day? But also planning a rustic celebration? Here's a cake that fits into the idea of both. Displayed on bark and topped off with wooden initials cake topper is a perfect way to align with the theme of rustic celebrations. Gorgeously decorated with white roses, baby's breath, and foliage makes this confection aesthetically pleasing and utterly irresistible.  
#30 Those Cascade Of Blooms Is Ethereal!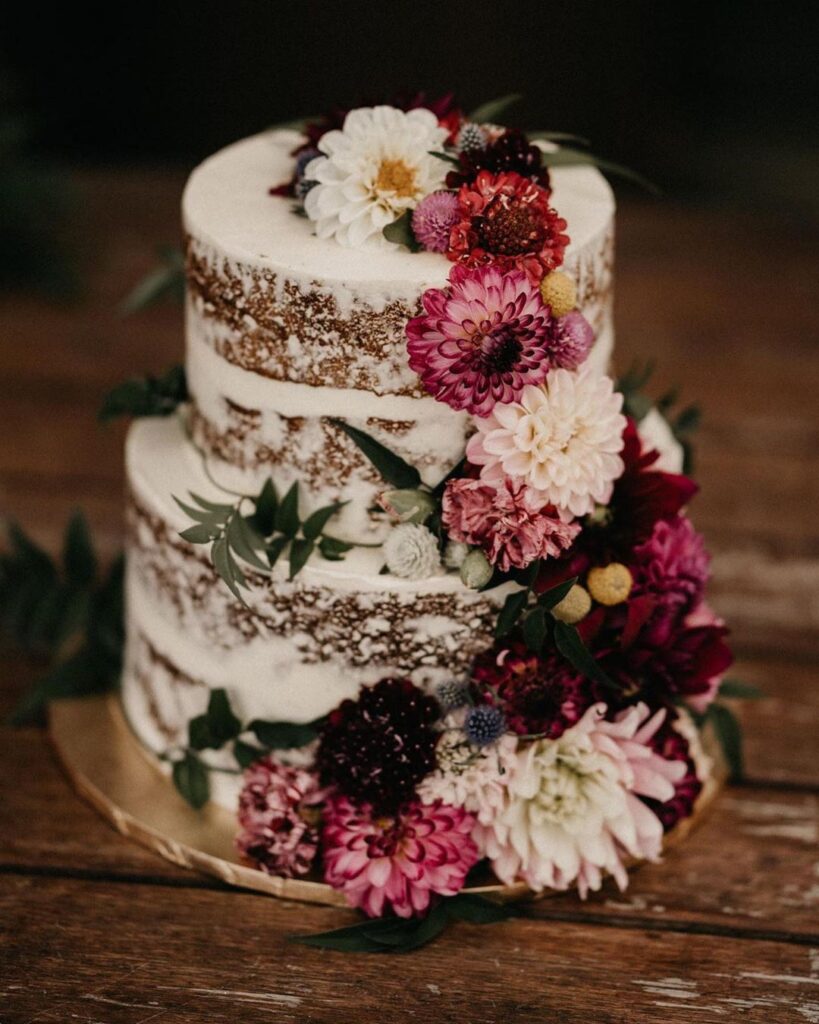 Courtesy: Nita Meyer Weddings
Speaking of a statement dessert, just look at this sweet treat. The pristine partial frosting creates for a perfect canvas for the cascade of blooms that wraps a side of the desert completely. This naked chocolate cake is like a hint of welcomed freshness. 
#31 Caramel Glazed Naked Cake Topped With Fresh Fruits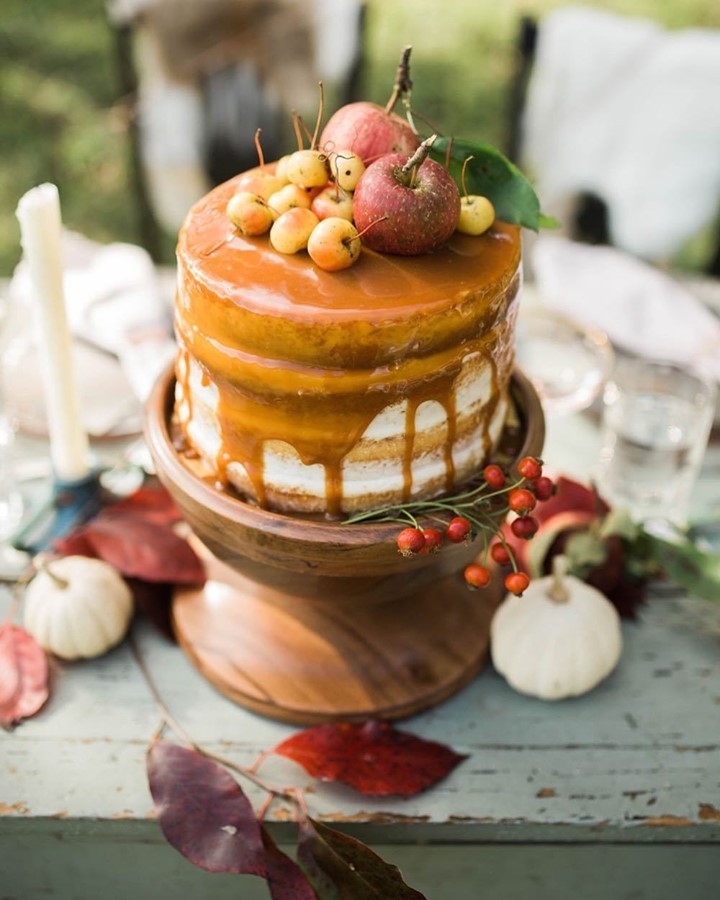 Courtesy: Jenna Powers
A naked wedding cake that fits the bills, sets a statement and is perfect for the intimate weddings happening today. After the layers were stacked with buttercream, the baker added a caramel glaze on top and completed the look with fresh apples and cherries. Set on the display with fall leaves and pumpkin miniatures, this cake is undeniably stunning. 
#32 Leafy Goodness & A Statement Cake Topper!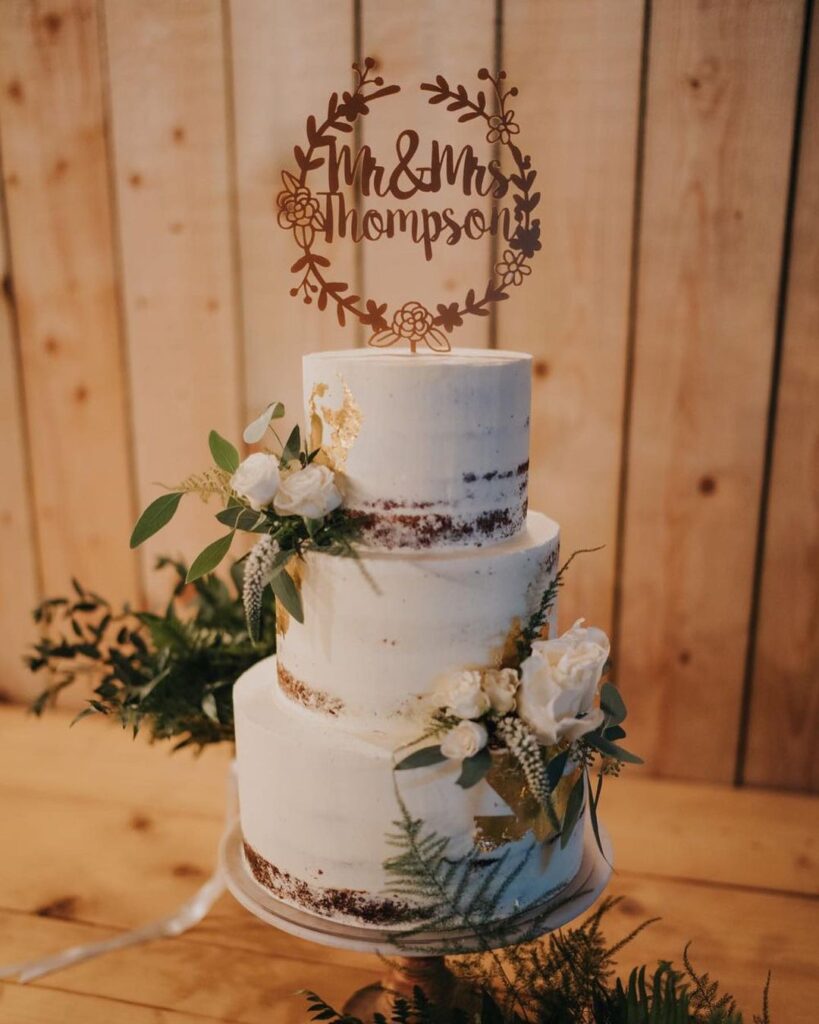 Courtesy: Blooms Weddings UK
Adorned minimally with white roses, twigs, and shrubs, and topped using a prominent golden cake topper, this naked cake is all set for a charming display.  
#33 The Perfect Celebratory Cake!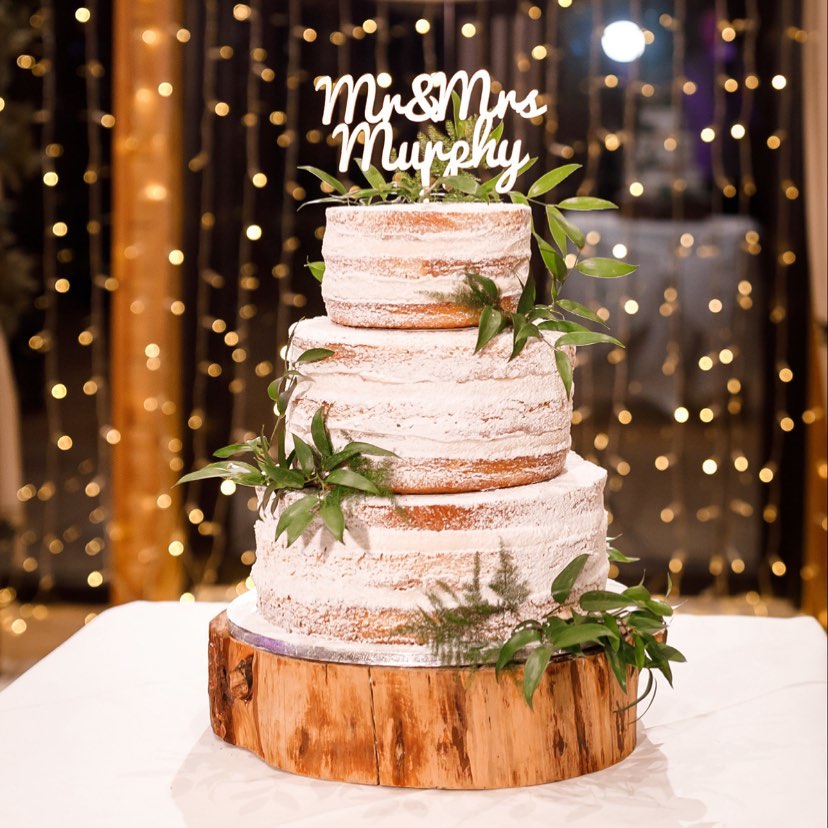 Courtesy: Shane Webber Photography
This cake is all set to partayyy! Are you? Served on a wooden bark and bedecked using a few twigs here & there, this partially frosted dessert screams elegance and delishness at the same time. The vintage-style topper adds a personalized touch and creates a photo-worthy moment for the couple's big day! 
#34 Chocolate Naked Cake Draped In Foliage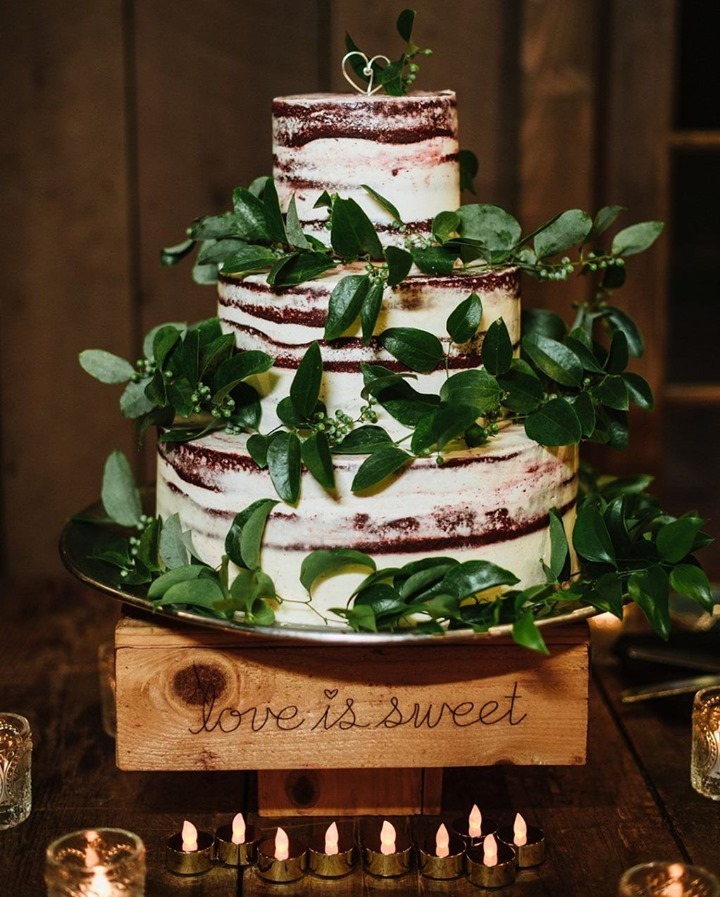 Courtesy: Fox & Hare Photo
Admiring and obsessing over how this cake designer went all out with blooms and all in with foliage to decorate his stunning creation. The leaf drapes on a semi-naked cake give a unique charm and the chocolate layers peeking through exalts the dessert to perfection! Obviously, can't ignore the wooden graving lying right below the cake. Wouldn't this stunner look amazing in a vineyard wedding or a forest wedding? 
#35 5-Tiered Nake Cake With Delish, Precisely-Done Layers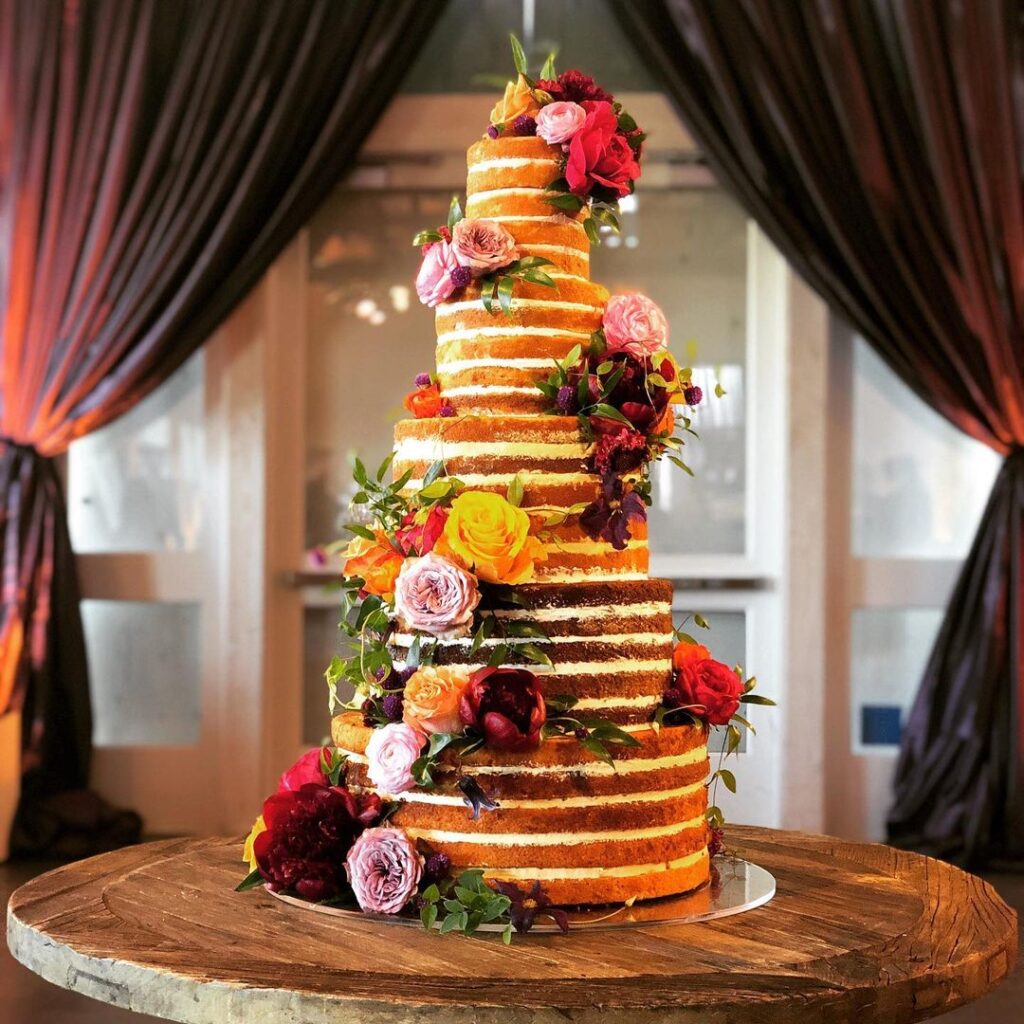 Courtesy: Flour & Bloom Cakes
While naked cakes have a reputation for being messy and that's why they are omitted out of formal weddings, here's one that nullifies that image well. Layered in alternating vanilla bread and buttercream with a common thickness maintained overall and left completely unfrosted to show the majestic intricacy. A bunch of beautiful blooms scattered across the 5-tiers adds a romantic, whimsical touch to the towering confection. 
#36 Simple Naked Wedding Cake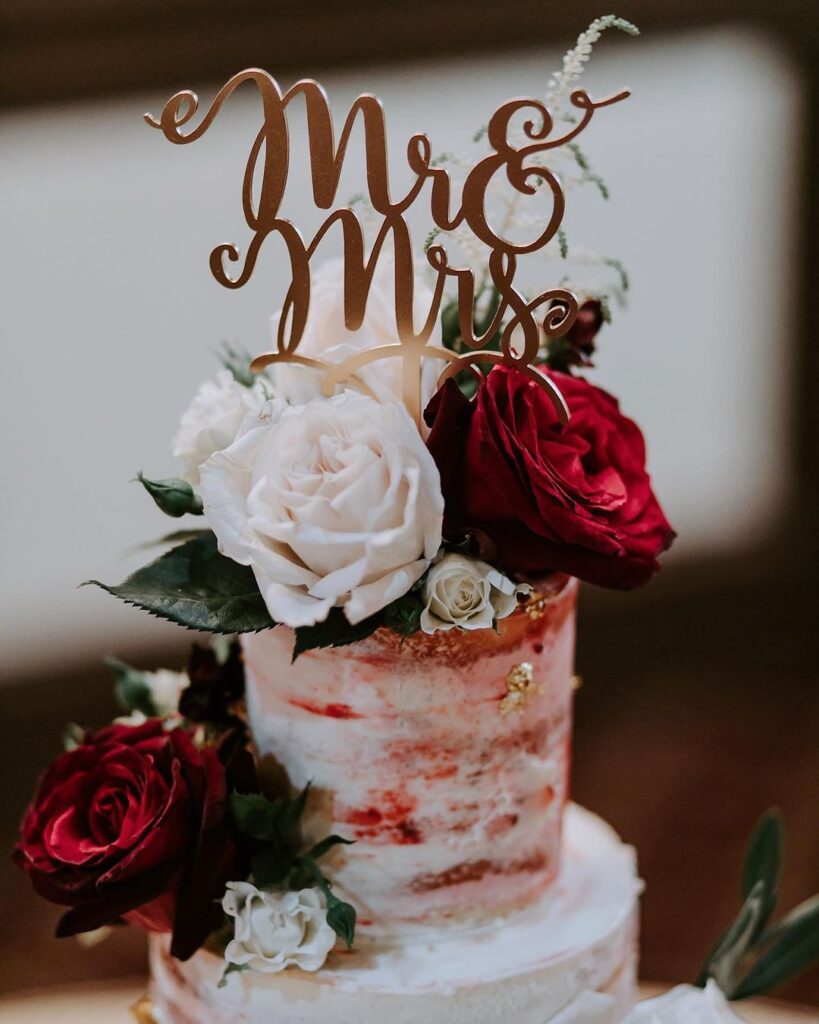 Courtesy: North Meets South
Add a little color to your naked wedding cake by opting for strawberry-hued bread and partially frosting it with white buttercream. The result is an amazingly soft and fresh pink shaded cake. The tall tiers are adorned with full blooms and a golden topper for an utterly dreamy display. 
#37 Lots of Doughnuts!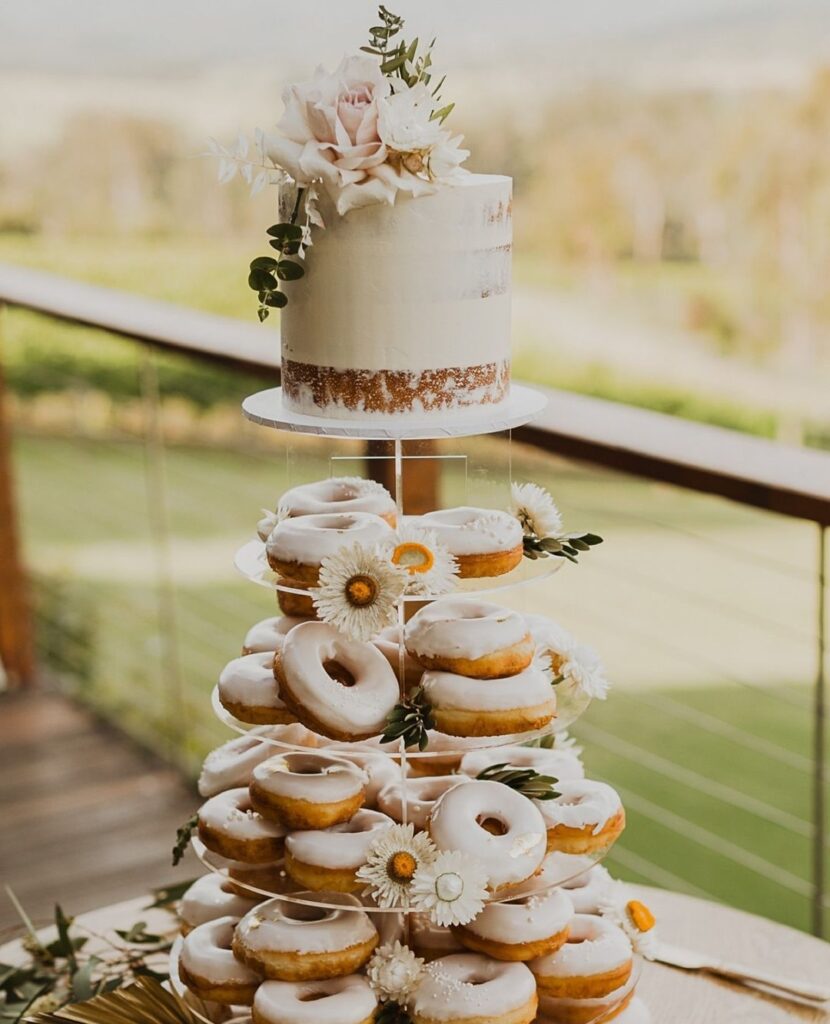 Courtesy: Blue & Ruby Cake Art
Have your cake and eat donuts too! The mini-cake lying above tonnes of donuts with white frosting is a unique, trending wedding idea and is easier on the pockets as well. The best part of naked cakes is that they can look good with or without tiers. 
#38 Chocolate Naked Cake With Unique Floral Placement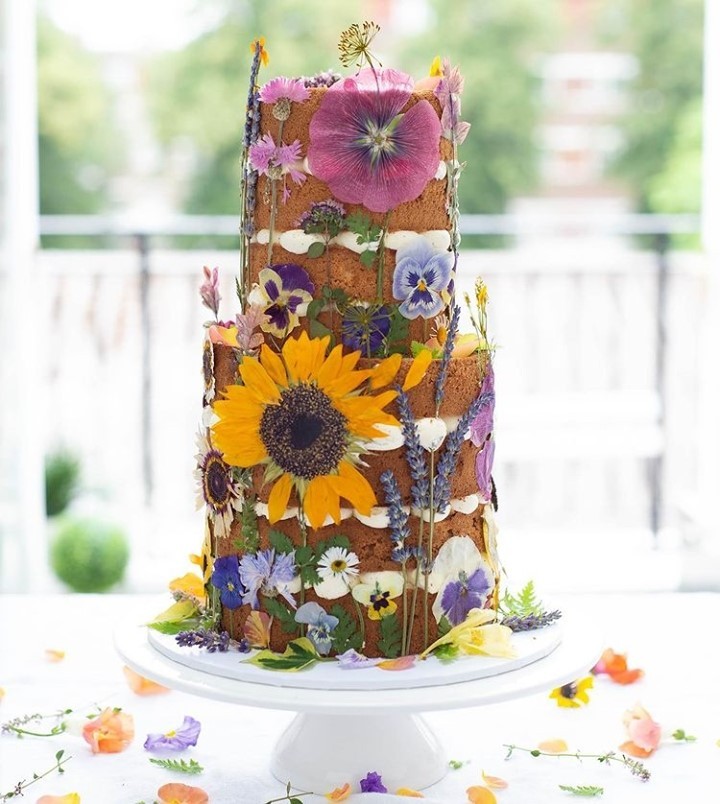 Courtesy: Blushing Cook
Creating a standalone dessert for your wedding day is as easy as sticking the flowers & foliage to the cake layers rather than placing them down for display. This completely naked chocolate cake will make anyone think twice before cutting it (we suggest you do though!). 
#39 Semi-Naked Cake With Flowers & Foliage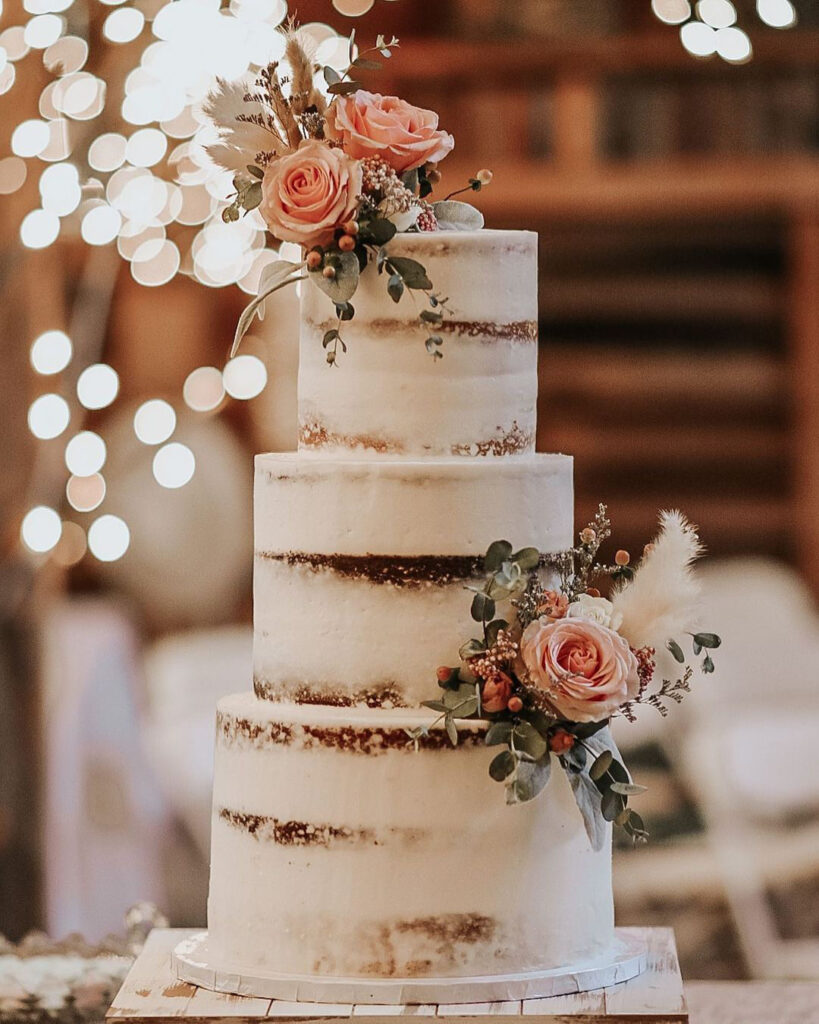 Courtesy: Denise Steward
This confection stands tall in the most unique way. Chocolate bread covered with smooth buttercream on the outside and minimally adorned with blooming clusters catches instant attention. What a timeless setting, really! 
#40 Fully Exposed Cake With Pretty Blooms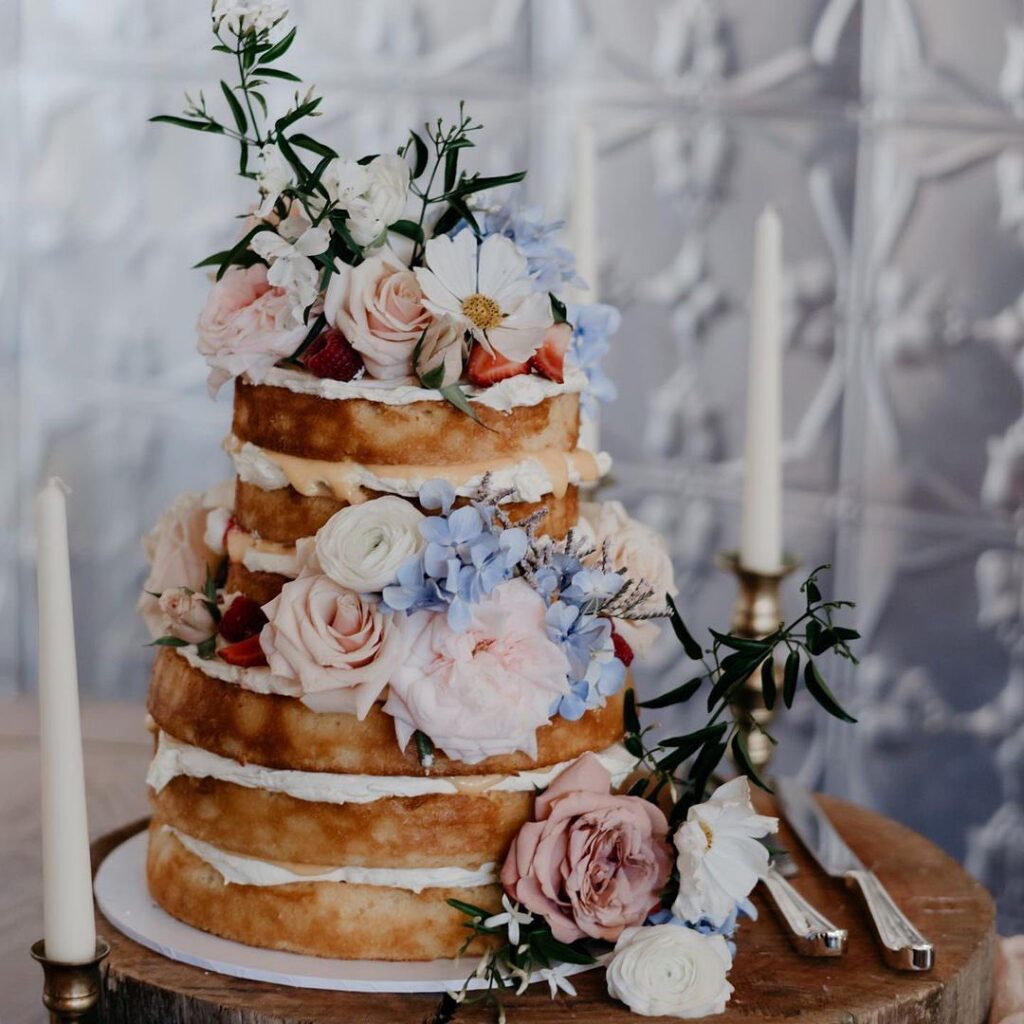 Courtesy: Stacy Brewer
Naked wedding cakes give plenty of opportunities to decorate as per the theme. For instance, this one's replete with pastel blooms to match the same accents in decor. Embodied with thick layers and perfectly piped buttercream, this delicious-looking confection looks absolutely flawless. 
#41 Strawberry Naked Cake!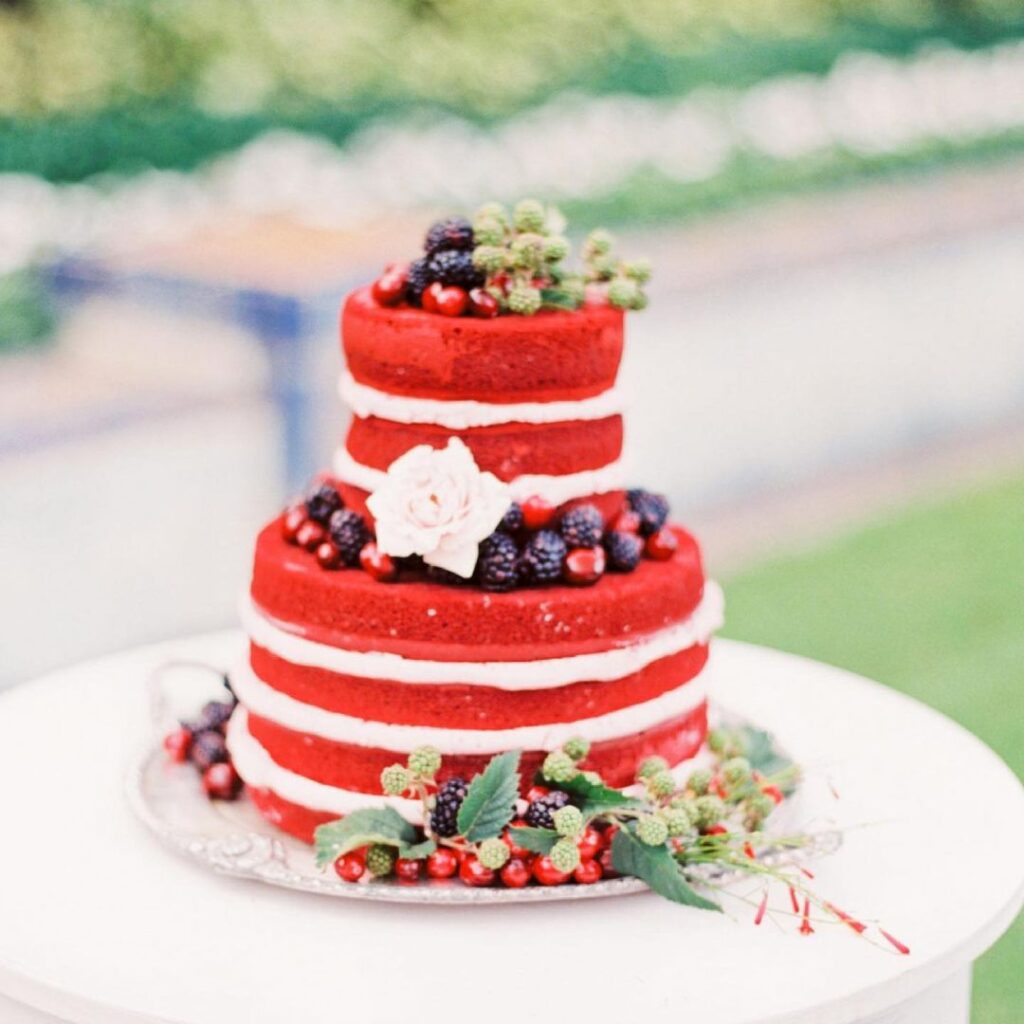 Courtesy: Michelle March
Ending this aesthetic list with a visually beaming strawberry cake! Nothing says a summer wedding like this naked gorgeousness (no dirty meaning intended). Paired with berries and greens, the completed look is absolutely gorgeous and all ready to catch the attention of guests on your big day! 
#42 Multi-Flavored Naked Wedding Cake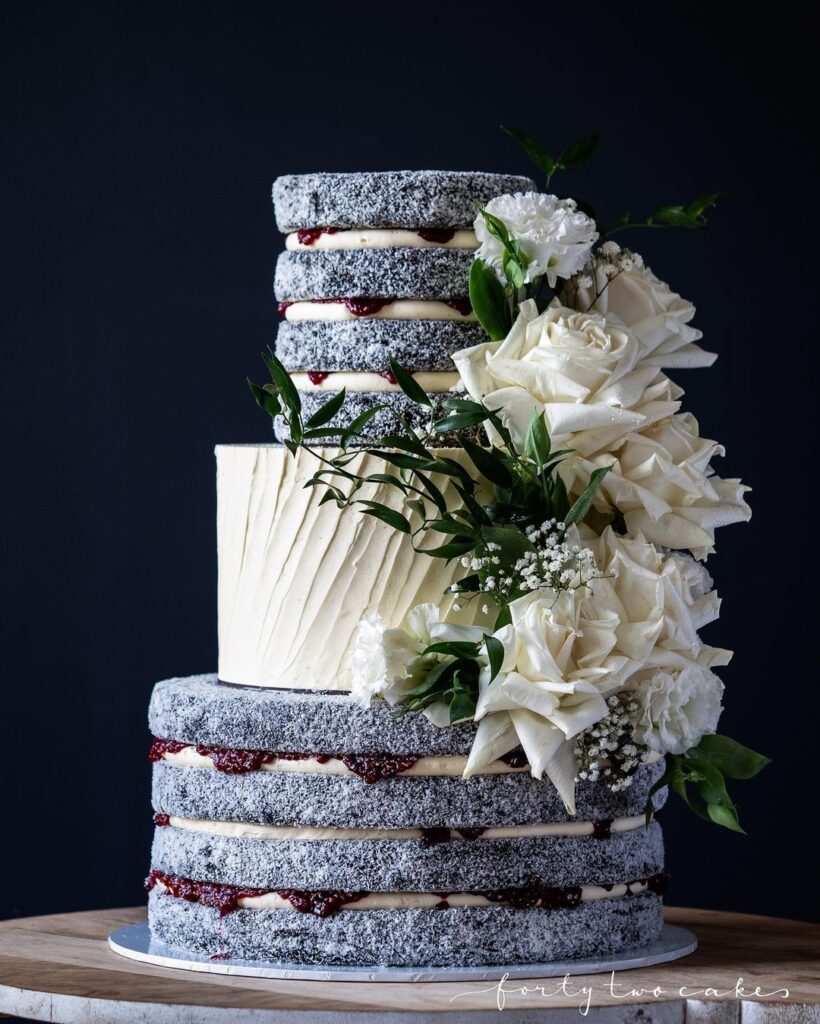 Courtesy: @fortytwocakes
This three-tier naked wedding cake idea merges the best of both worlds by having the middle tier completely covered in Swiss meringue buttercream frosting whilst leaving the top and bottom layers bare. The middle layer further has raspberry jam and salted caramel for a differentiating flavor. The bottom and top naked cake layers are made in lamington vanilla cake that's dipped in chocolate glaze and covered in desiccated coconut. Truly a remarkable option for couples who want an exciting flavor combination in their main dessert. 
#43 Subtle Semi-Naked Caked For Formal Affair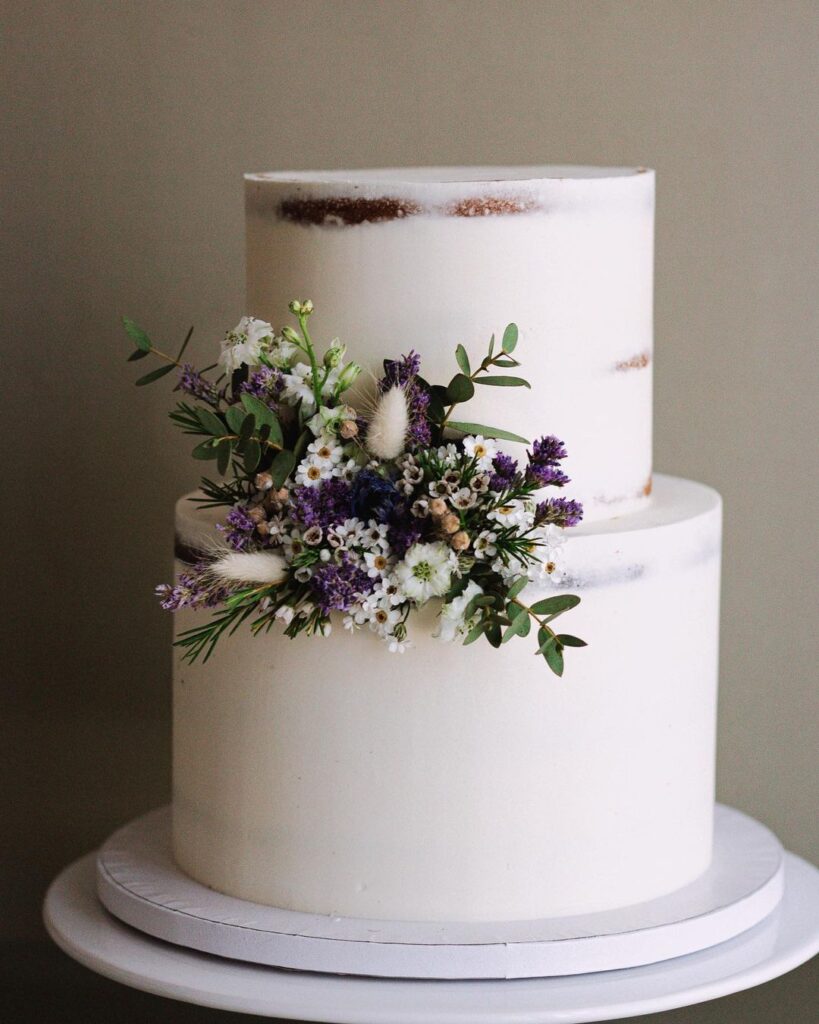 Courtesy: @stufni_tortamuhely
Who said naked cakes can't be catered towards a formal celebration? Whether you're hosting a ballroom event or a garden reception, a pristine white cake with minimal decorations on top can make for a fitting choice. We love the simplicity and elegance of the look that will stay inspirational for years down the line. 
#44 Towering Chocolate Naked Cake For Wedding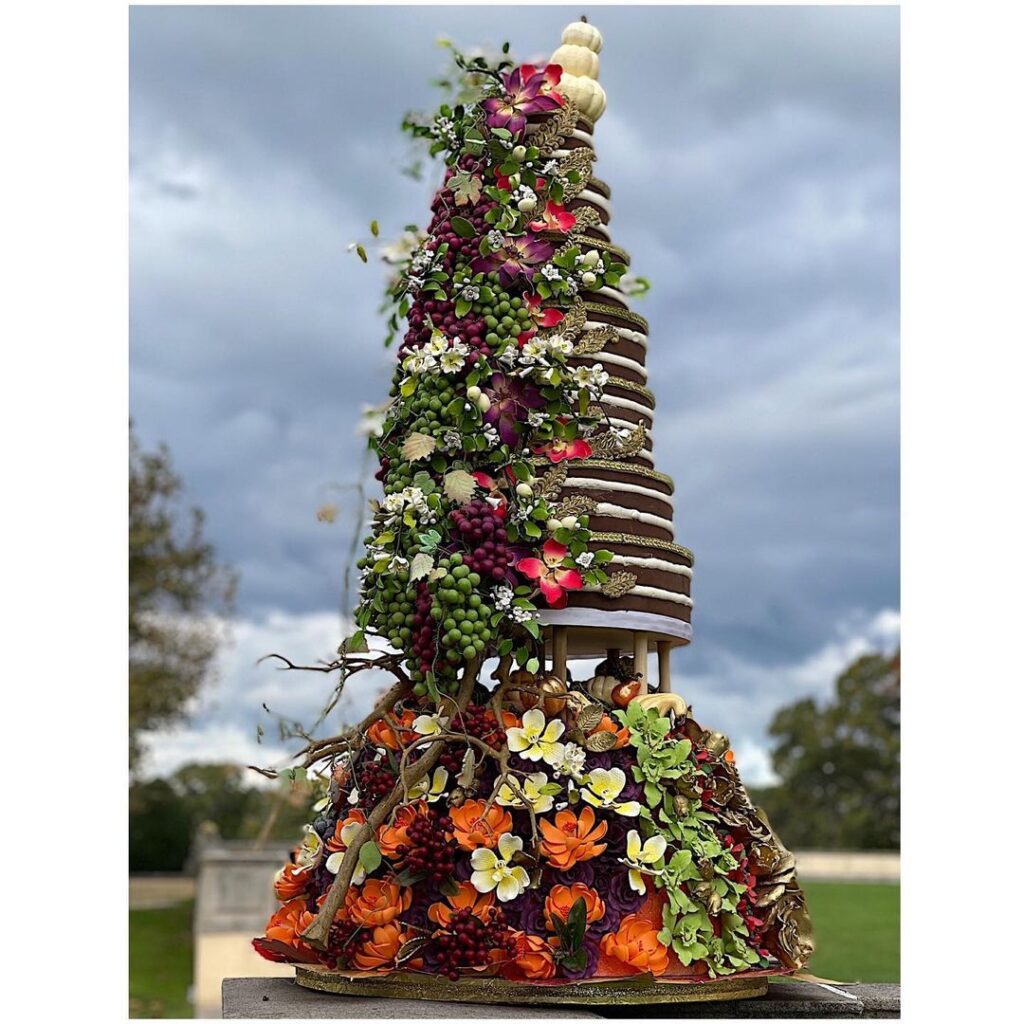 Courtesy: Daniel Andreotti
If your idea of a wedding cake is all kinds of magnanimous, look no further to inspiration than this towering naked chocolate cake for your wedding day. The cake overflows with autumn's bounty making it ideal for fall celebrations. It has lush greens, acorns, berries, and a variety of flowers all made from sugar. You can easily get a smaller version of this made and it will still look as stunning as this one. 
#45 Berry & Floral Naked Cake Idea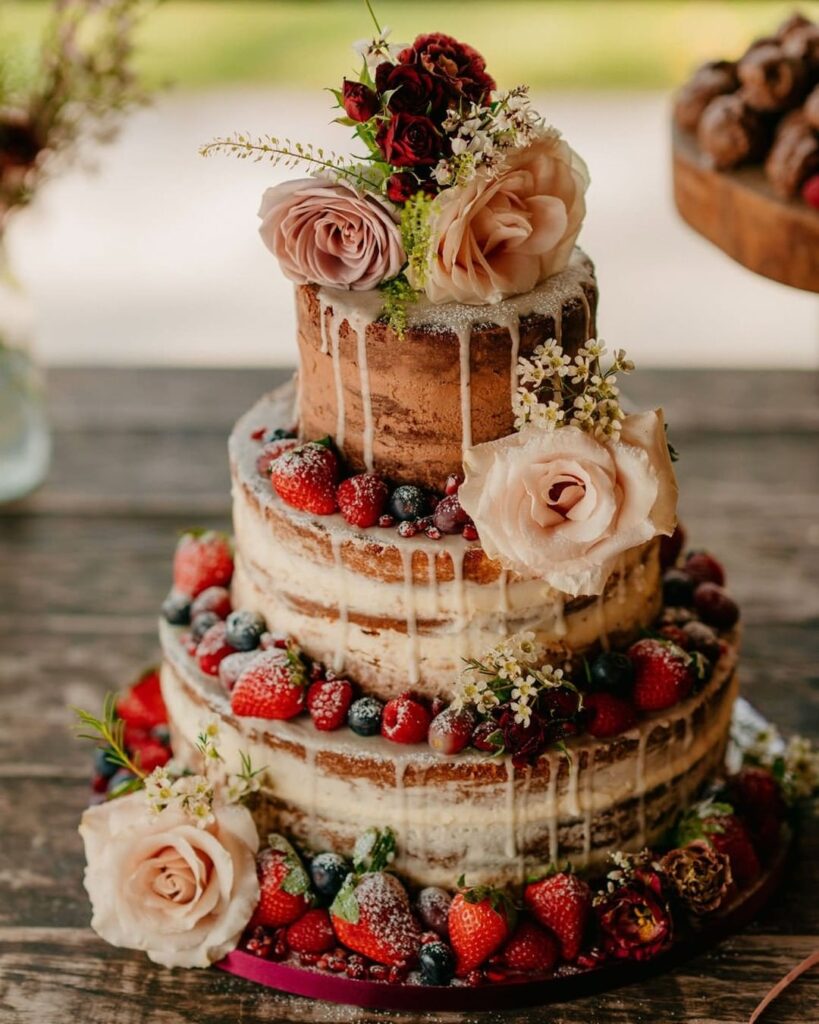 Courtesy: @whimsicalwonderlandweddings
A dripping cake is the latest trend in the wedding world and is perfect for couples looking to add a stylish touch to their main dessert. It incorporates berries lined on the outside and blooming flowers to add an extra touch of a notable element. It would make a fitting addition for a summer or spring wedding for anyone looking to add something outstanding to their wedding reception.
Something that you should probably know before opting for a naked wedding cake is they dry out quickly. Obviously, because they don't have any frosting. There are ways to prevent the same. Like brushing them with simple sugar syrup or liquor. Or incorporating moisture into the filling. A skilled and experienced baker knows these tricks and prevents any sort of damage to your wedding cake. Hiring a connoisseur is important for a naked cake. It looks simple but takes a tonne of effort in maintenance and decoration. When not done right, I mean even the slightest of mistakes, the cake can look like it was baked by your 6-year old niece (which is endearing, except that you aren't paying them thousands of dollars). Get on board someone who has pretty good knowledge in the dirty wedding cake area and you don't have to worry a bit about getting picture-perfect dessert for your big day!
How much does a naked wedding cake cost? 
An average wedding cake can cost around $350 or Rs.20,000/-. An elaborate version with multiple tiers and personalised details can go till Rs.60,000/- or $1000. Naked wedding cakes can cost less than the average price because they omit the detailed frosting and buttercream layers on the confection completely or partially. And since most of them are supposed to look a little informal, they don't require as much precision. Although, experience is required, otherwise the aesthetic can be completely lost. 
Related: 10+ Larger-Than-Life Wedding Cakes
If you loved this blog, tap that *bookmark now* button to use it as an inspiration. Once tapped, you can find it in the *your bookmarks* section on our website. No need to login. Just a simple tap and your wedding planning become a bit easier.