Summers are a wonderful time to explore many different kinds of nail art designs, shapes, and colors. Summer nail designs give you the opportunity to try bright colors and refreshing ideas. Included below is a scroll-through gallery of 101 summer nail designs for 2023:
#1 One of the classic colors to explore in the summer weather is yellow. But instead of painting all your nails in the same color, you can opt to experiment with the middle two nails so as to lend a subtle uniqueness to these short summer nails. The cute unfinished florals further grab the attention and honor the beauty of blooming flowers of the season.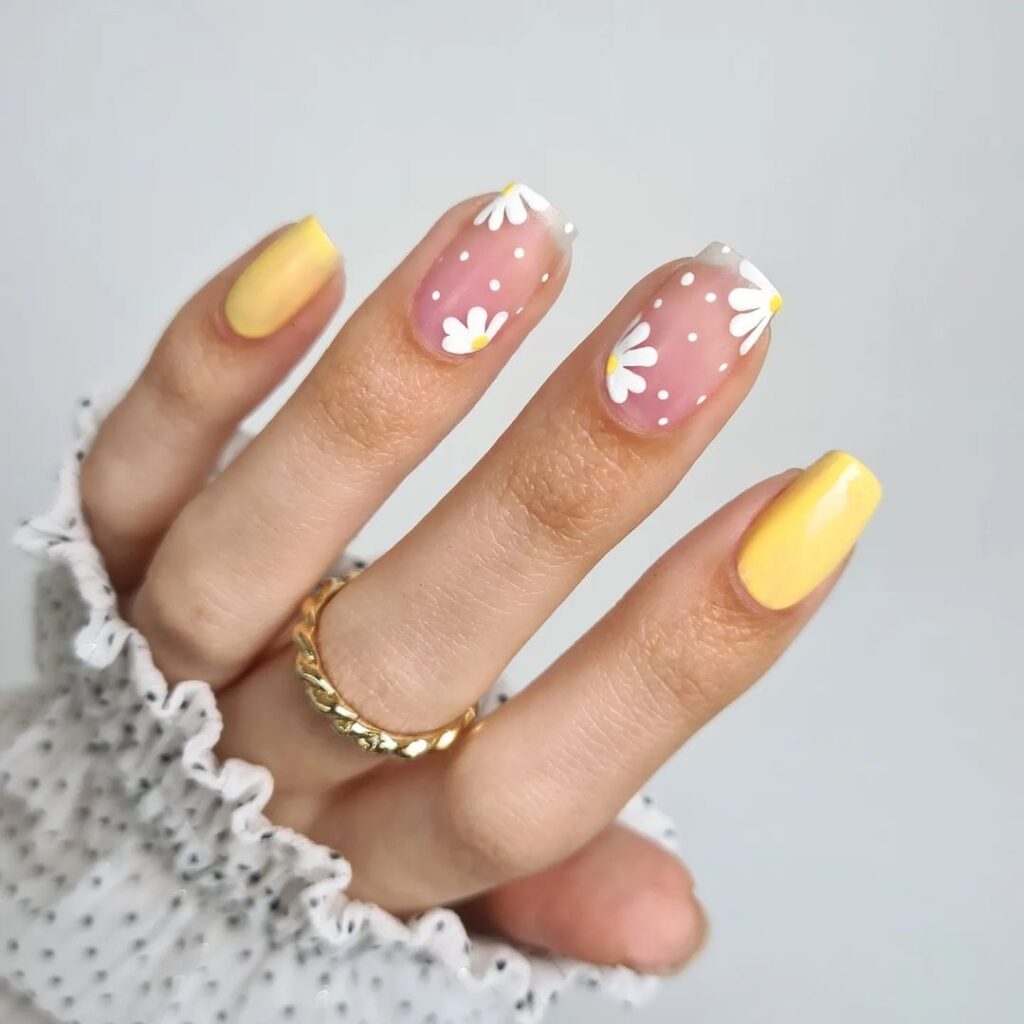 Courtesy: Pippy Polish
#2 Pink summer nail designs, but with a burst of neon and other designs. There's the checked pattern, beautiful hearts, flowers in different shapes, and hearts going in the concentric pattern. This bright style goes well with the bold colors and will look amazing on a sunny day on a beach.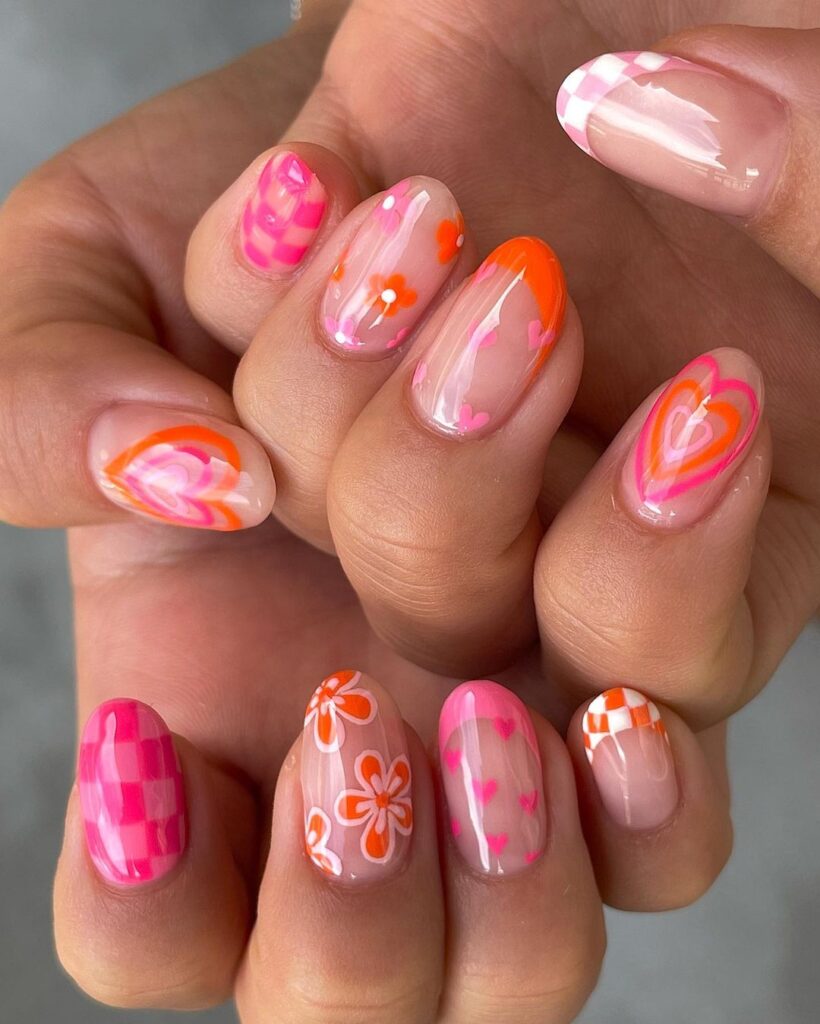 Courtesy: Noyelle Fuyu
#3 For an understated vibe, French summer nails are always in trend. Though, you can add some twist to the classic nail art by adding some patchwork to it so they look like they are done for the season without compromising your simple & elegant style. The shape is also square, which is a time-honored cut for French nails.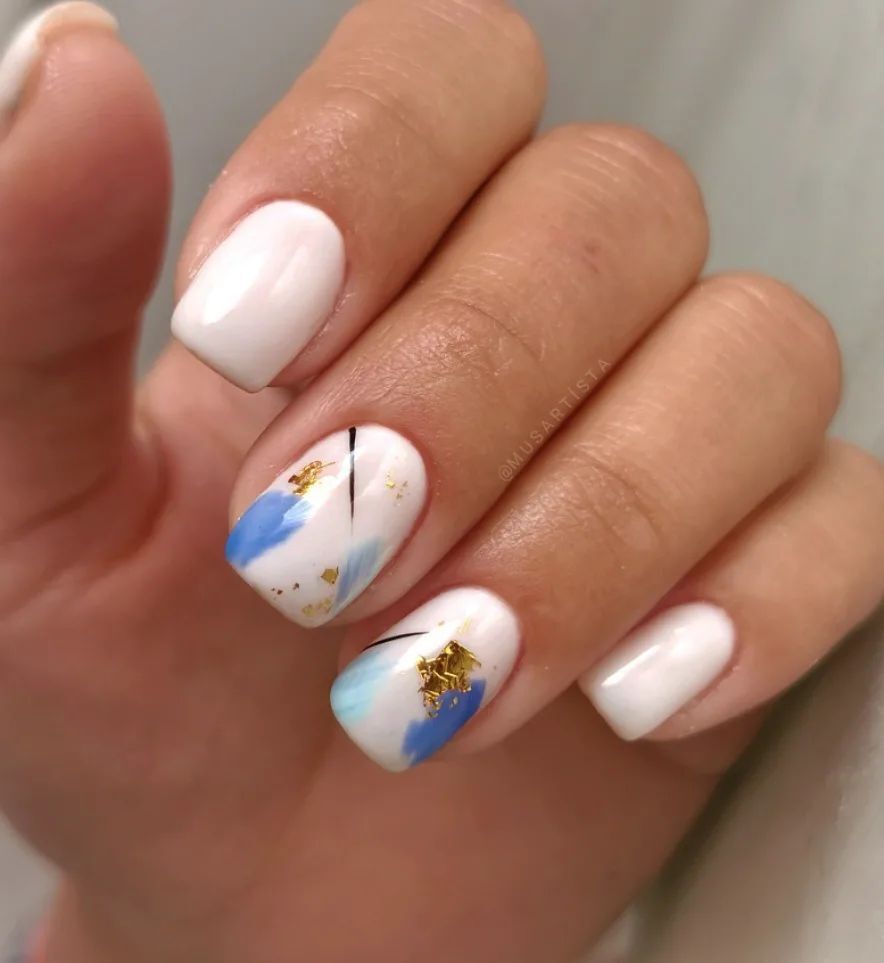 Courtesy: @musartista
#4 Here's another elegant, minimal, and unique summer nails 2023 design. Done in a clear gloss finish on a nude pink base, the style consists of parts of butterflies done on every nail for a quirky and eye-catching effect. Don't think you need bright summer nails for the season, pastels and nudes work too. You just need the design them artistically so as to make them attractive and unique.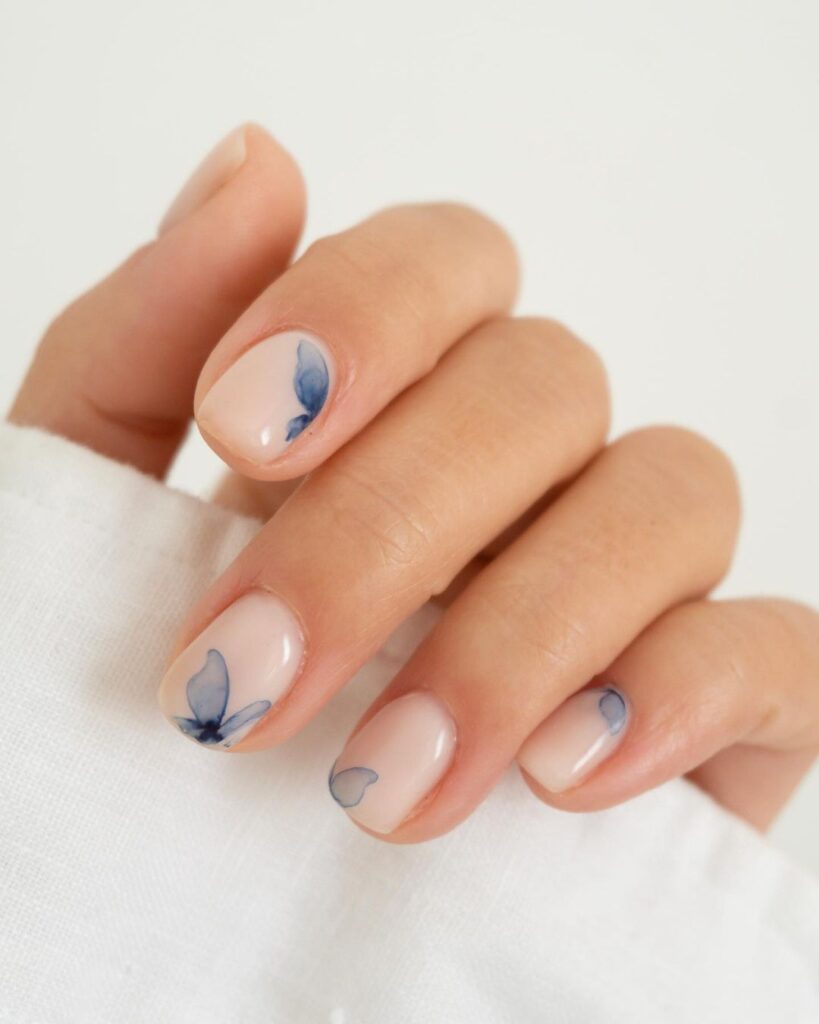 Courtesy: Andrea
#5 Ombre summer nails or ombre nails, in general, are quite an in trend, no matter the season. Ombre nails, as the name suggests, are when the shades of the same hue are painted in a light to dark manner. These nails are timeless and have been around for the longest. No matter the season or purpose, an ombre nail design exists to woo you. If you're looking for summer ombre nails though, right below is one that will inspire you.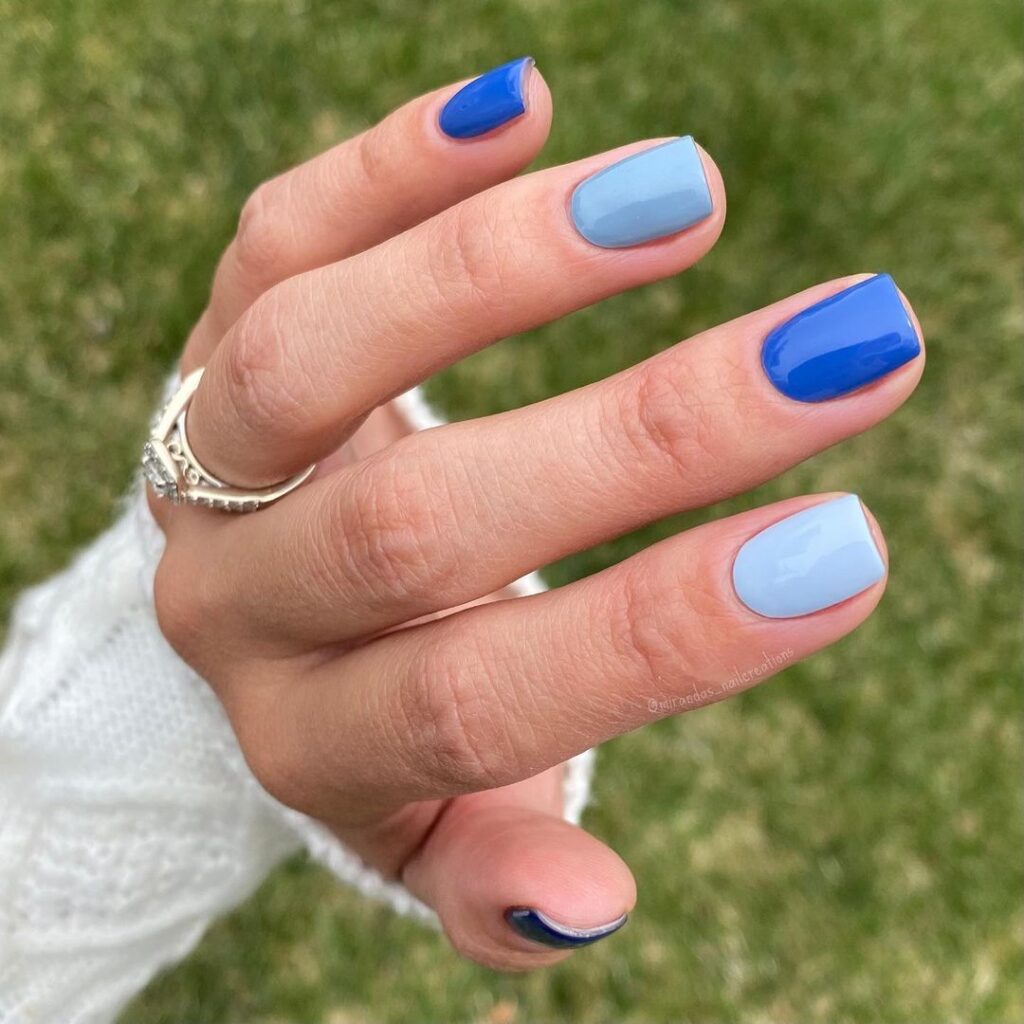 Courtesy: Mirandas NailCreations
#6 Pastels are just gorgeous anytime around. Although, there's just something about pastels in summers that just makes the hue even more appealing. Combine them in different colors on different nails for a striking effect. When using different colors on different nails, we'd advise you to pick the shades smartly. Complementing in a contrasting manner isn't easy, so trust an inspiration summer nail art or your own artistic instinct to do the trick.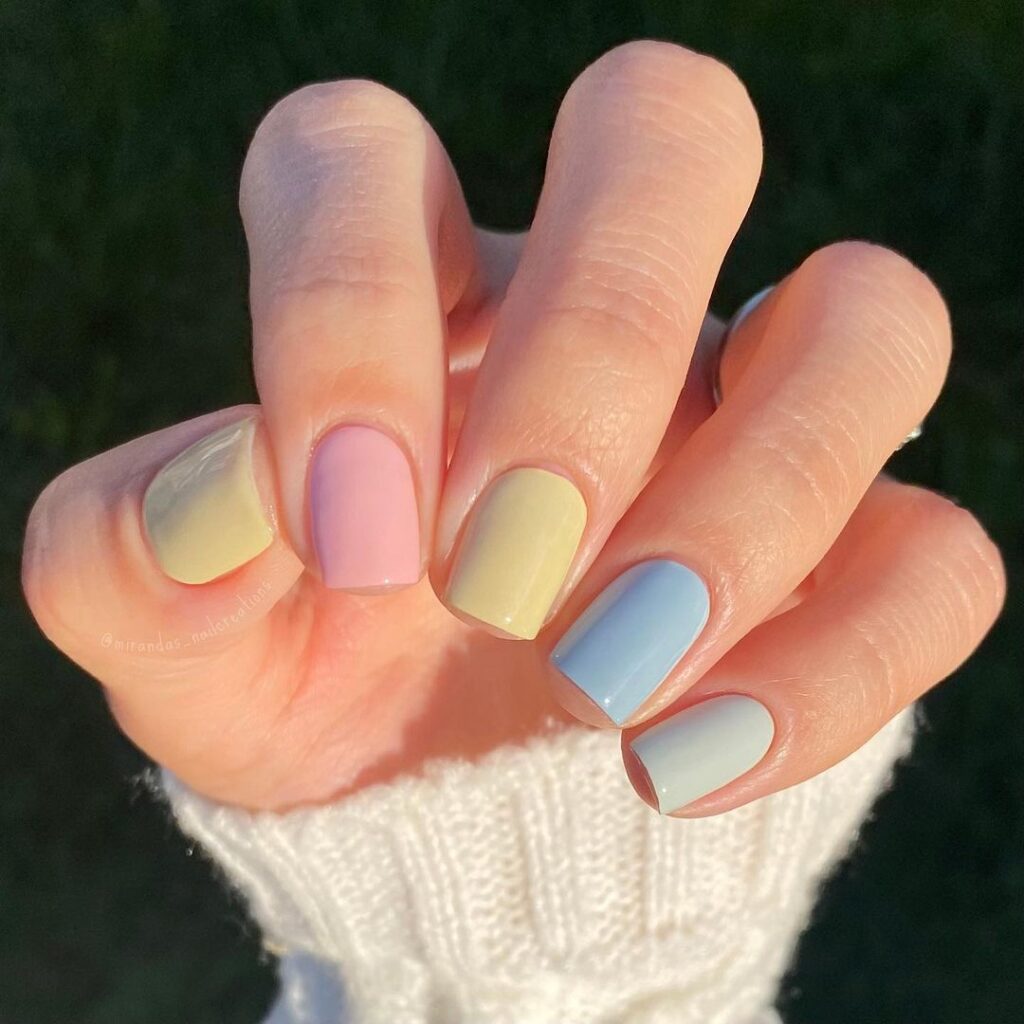 Courtesy: Mirandas NailCreations
#7 This is the season to experiment with as many bright & unique colors as you can! Summer nail designs are often packed with distinct shades – not necessarily loud, but striking. This mint green color is just another example. This is a unique and flattering color and will go well with any kind of outfit you're planning to wear. The addition of little hearts and geometric patterns adds a bit more playfulness to this summer nail idea.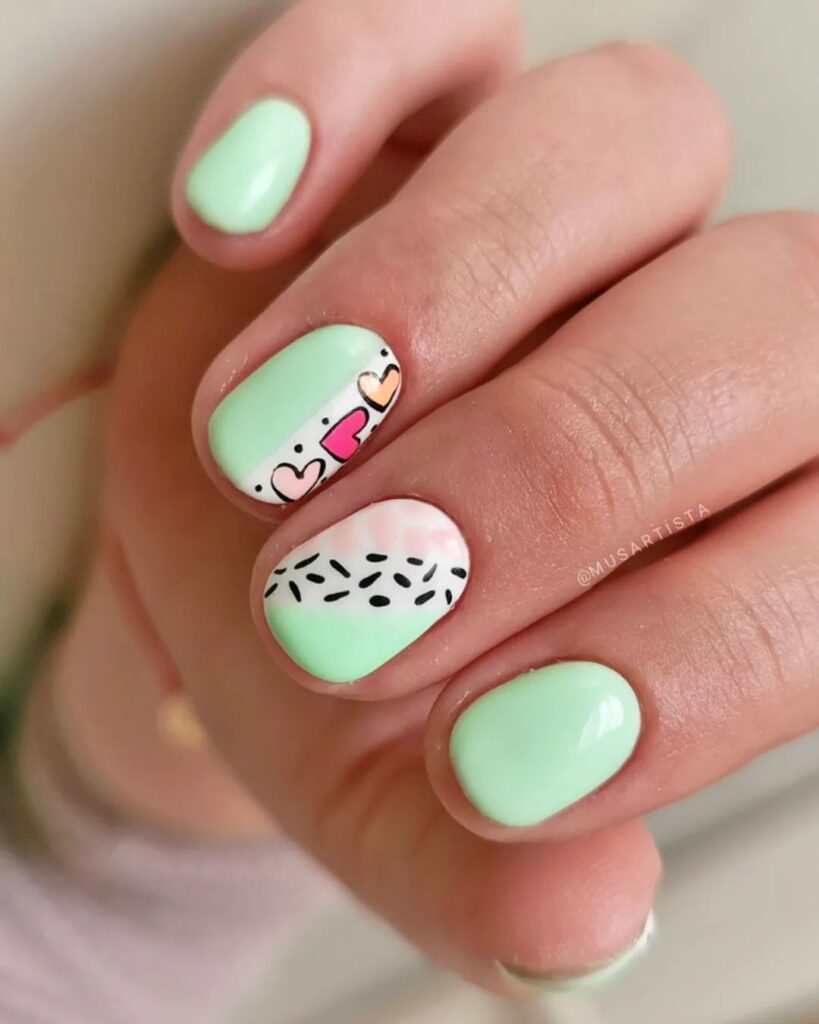 Courtesy: @musartista
#8 Purple, especially pastel purple, has been the raging trend in nail art designs for all seasons. From fall to spring and winters, purple in varied shades is experimented with for an alluring look. This hue also suits every skin tone and can be complemented with many colors. Here, the shade is complemented by yellow and white used to draw flowers customary to the summer season.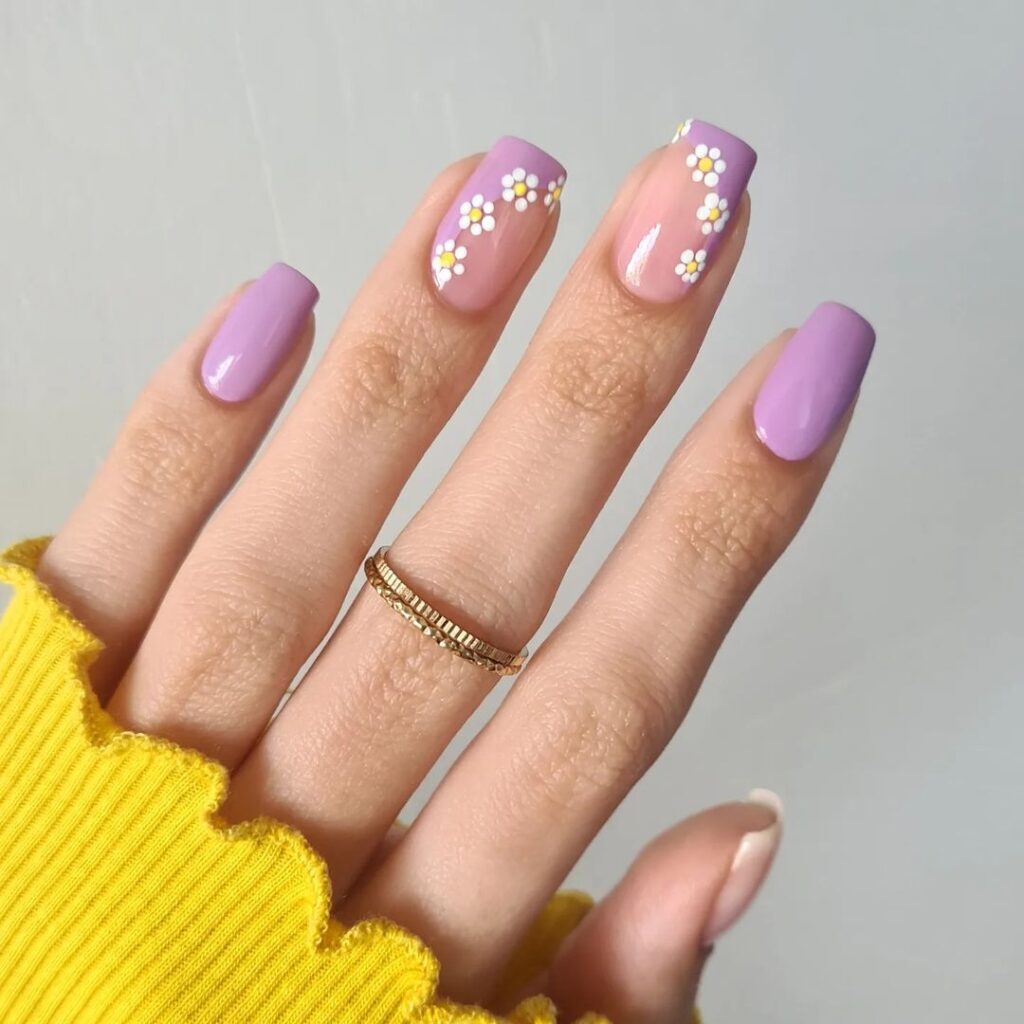 Courtesy: @pippypolish
#9 Flower patterns are the number one summer nail trend in 2023. They are elegant, gracious, and look appealing to the eye. There are many ways to include floral patterns in your nail art. You can draw a bit on the side of the nails or you can cover the entire nails with small flowers or you can draw a half flower on each nail so they look full when combined. Since this one of the summer nail designs uses a simple floral patterns and French nails, they can also be done as a home DIY.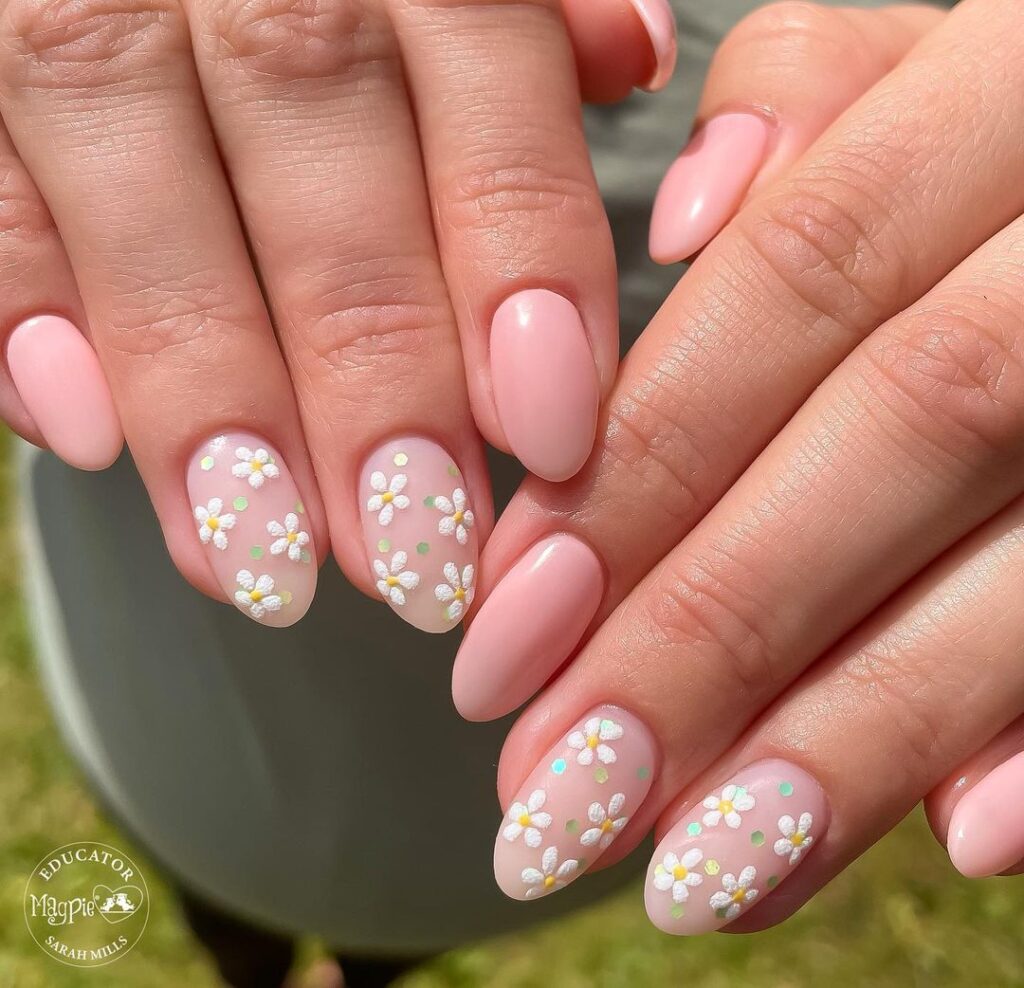 Courtesy: @bysarahnailartist
#10 Besides flowers, lush leaves are yet another characteristic feature of this season that can be included in your nail art. Love the gorgeous color combination in this art, which instantly caught out eye. These bright summer nails don't look flashy and yet use vivid colors to curate an artistic design. The leaves on some nails while leaving the other simple balanced the creativity quite well.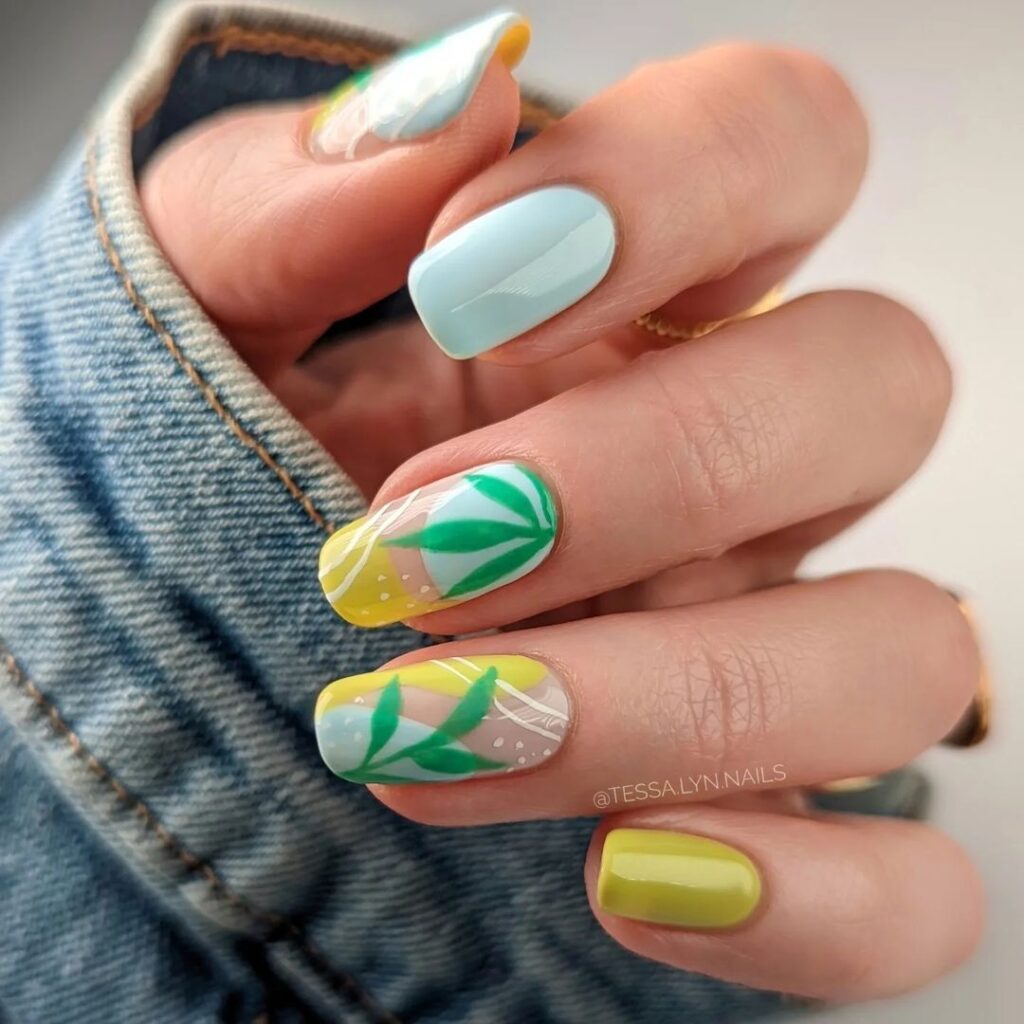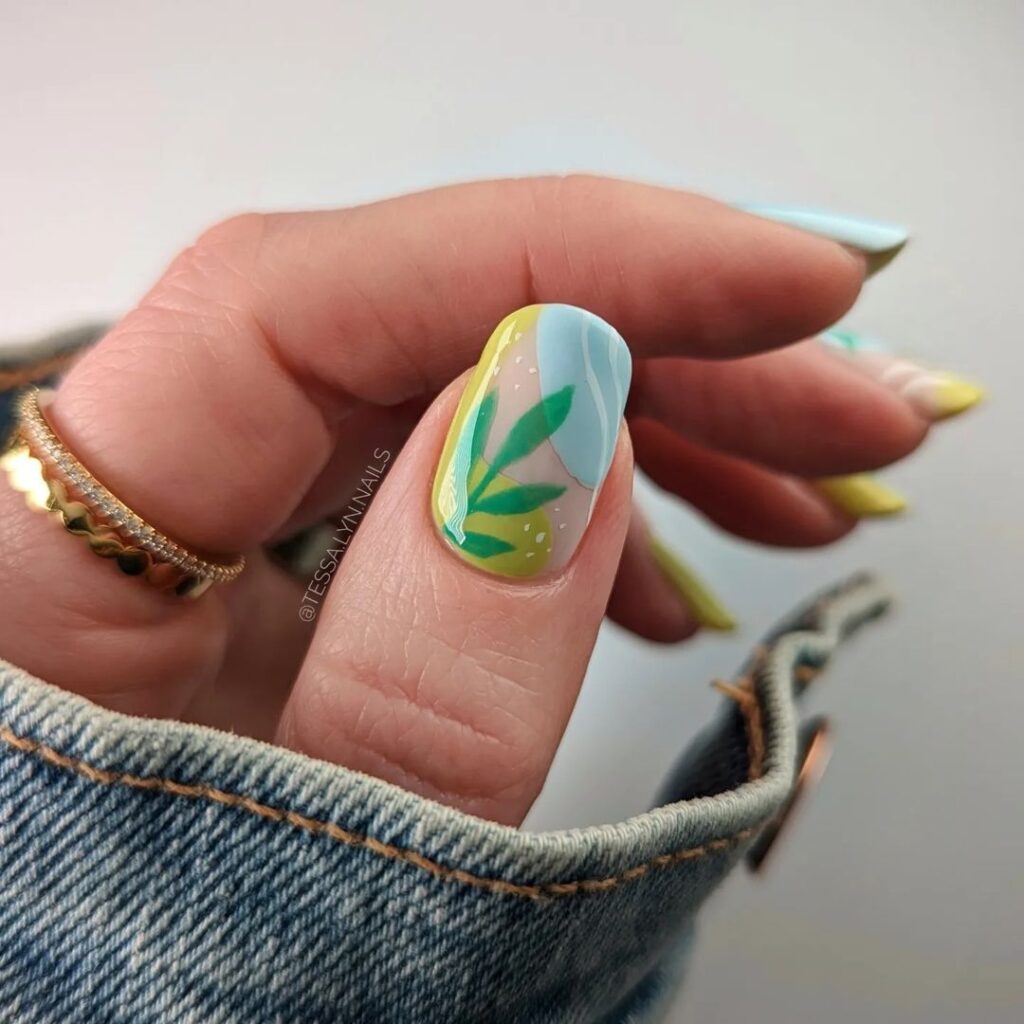 Courtesy: Tessa Lyn Nails
#11 If you're bored of the full florals on the nails, then try this artistic nail art with flowers done halfway so they match when taken together. The mustard yellow perfectly matches the white of the blooms and accentuates the entire design well. A point to note is that the yellow used is not mellow yellow or pastel, but a mustard color with a tinge of orange. Sometimes, you just need a different/ not-so-unique color to make your nail art stand out.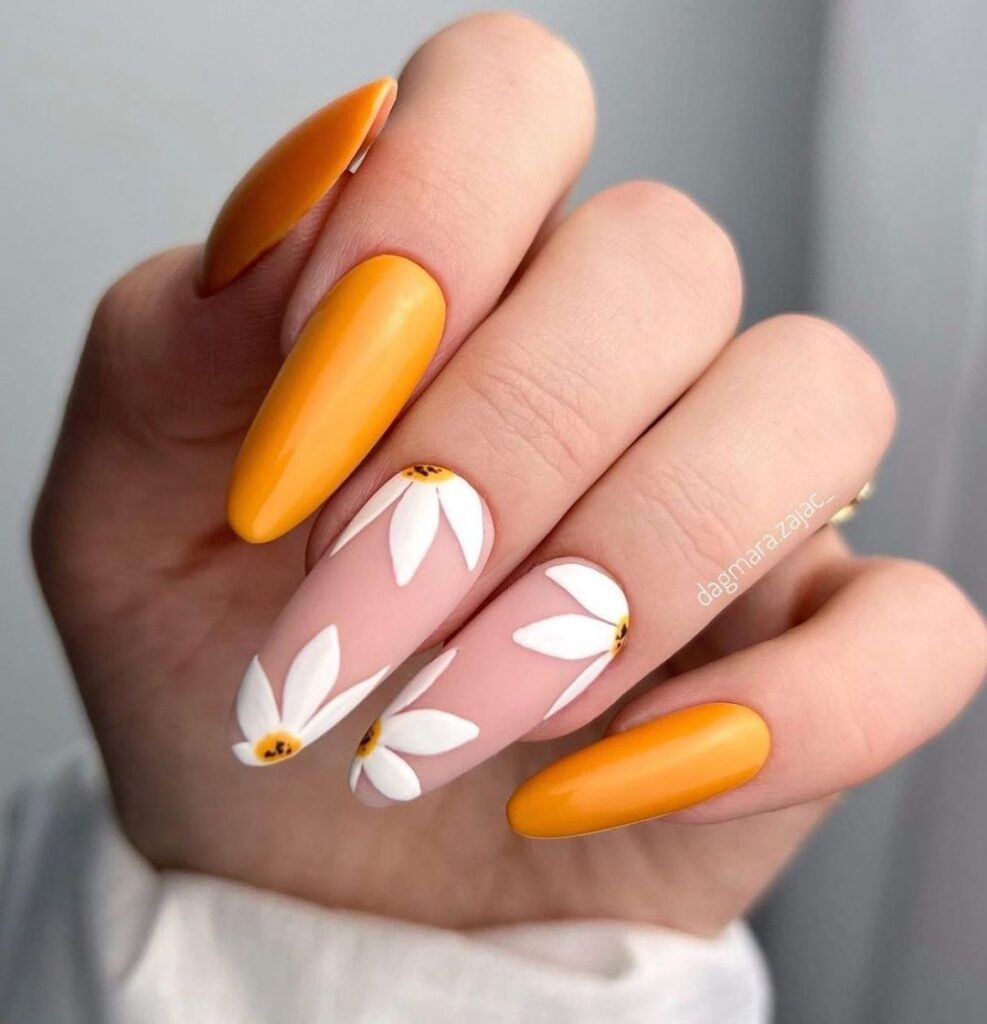 Courtesy: @dagmara.zajac_
#12 The subtle combination of yellow and blue done on an almost transparent nail bed ingeniously is just plain stunning. The whole design is covered with a gloss finish for an attractive look. It's a softer style for those who want to explore the bright summer nails without compromising on the subtleness or giving out flashy vibes.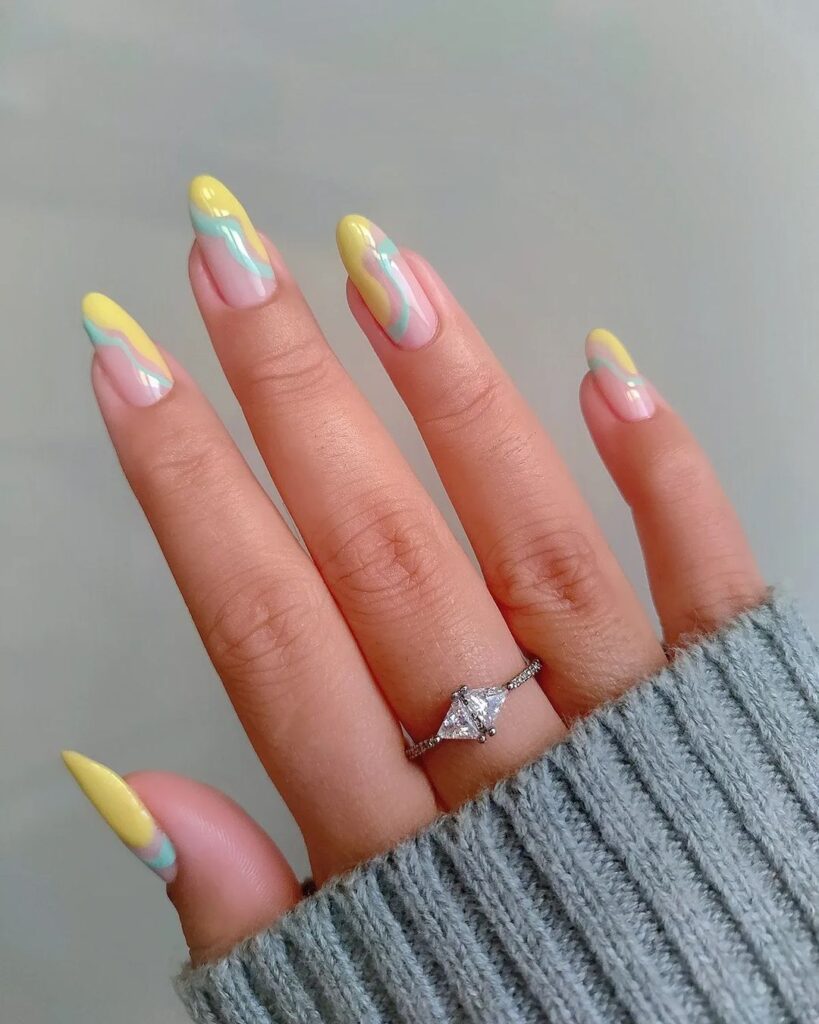 Courtesy: Ingrid Raiana
#13 Summers bring in pretty florals and lush leaves, but they also bring in parched shrubs and cactus plants. Honoring this element of the summer weather are these wonderfully eccentric pink & blue summer nails. When you get your nails done professionally, look for an artist who's naturally artistic and passionate about nails so they can give you unmatched & appealing designs like this.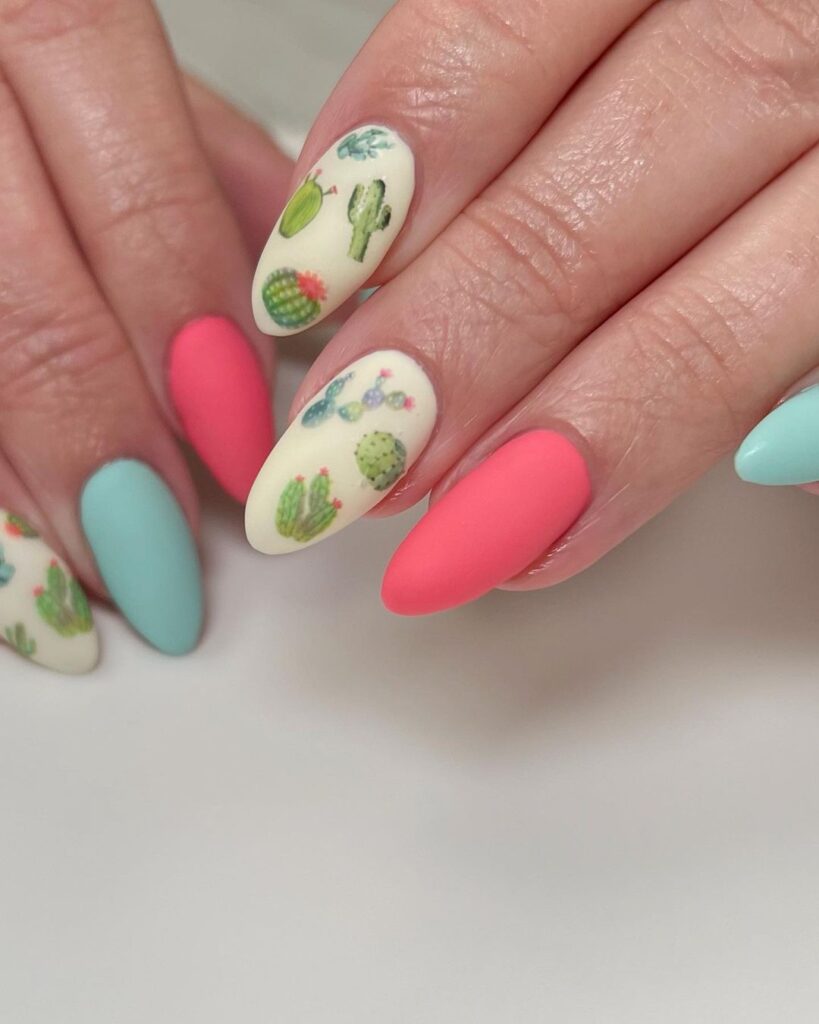 Courtesy: Melissa
#14 Long almond nails are the preferred nail designs for women who want to give an impression of longer nails, wider nail beds, and slimmer fingers. Long or short though, almond nails are glamorous and unique in their own right. We admire how the allure of these nails is defined well with a creative summer nail art that combines the usual florals but in a beautiful color combination.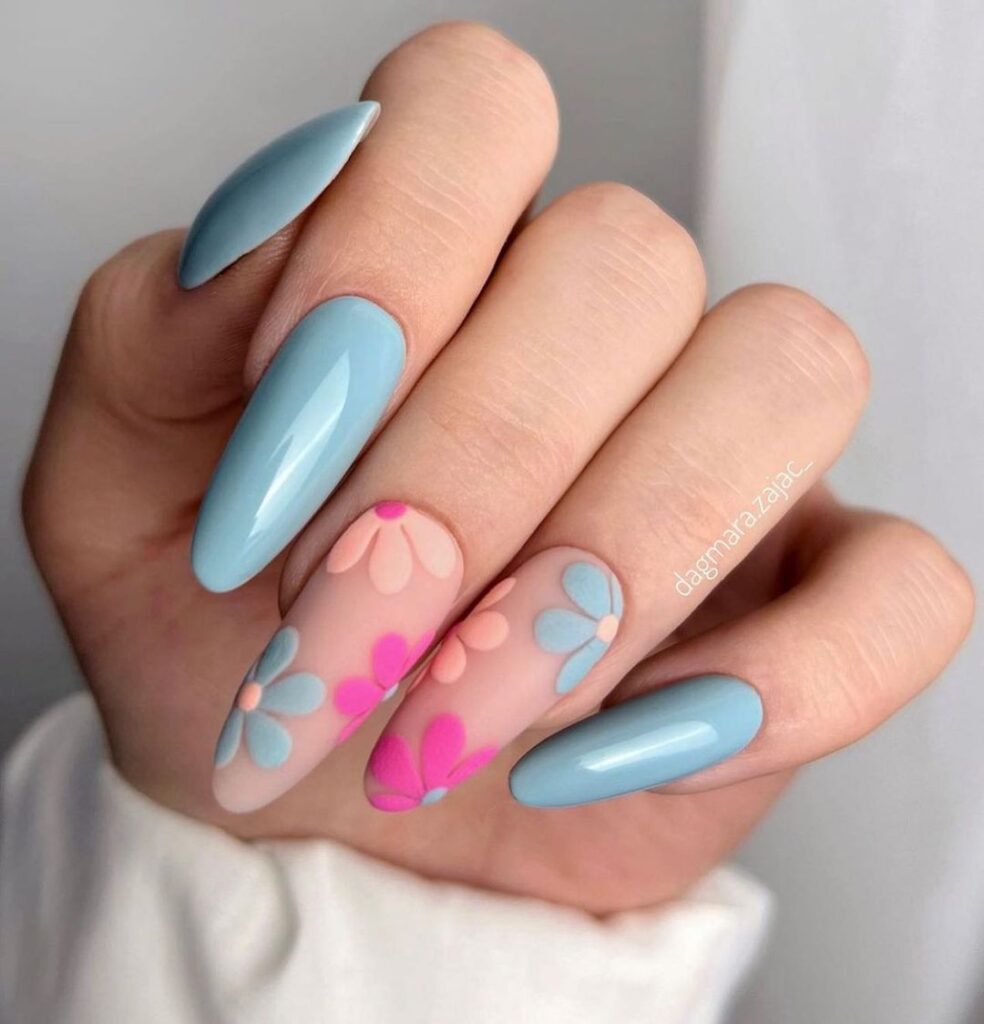 Courtesy: @dagmara.zajac_
#15 Have fun with your summer nail designs by infusing in their drawings that we usually use to depict the vivid aura and picturesque nature of the summer season. Not all nails are drawn on though so as to create a balance, and the thumb and pink finger are covered in a bright red color. The middle of three nails portrays flora in different shades and the graphic details look mesmerizing, to say the least.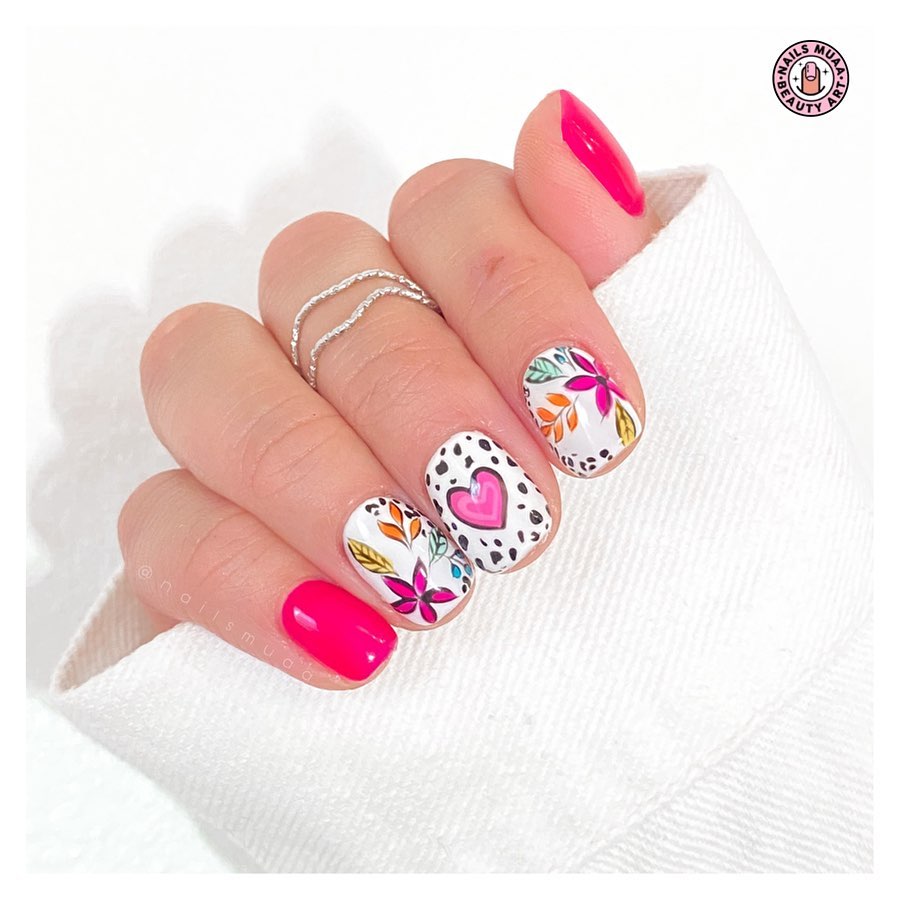 Courtesy: @nailsmuaa
#16 Rainbows, clouds, florals, and rich colors – tell me this one of the summer nail designs screams the season's name without even trying. It's such a captivating mix of colors, that the sketches draw their appeal from the impressive hues. To curate such an art, we'd recommend trusting only a practiced and experienced nail artist because such intricacy can only be achieved by them.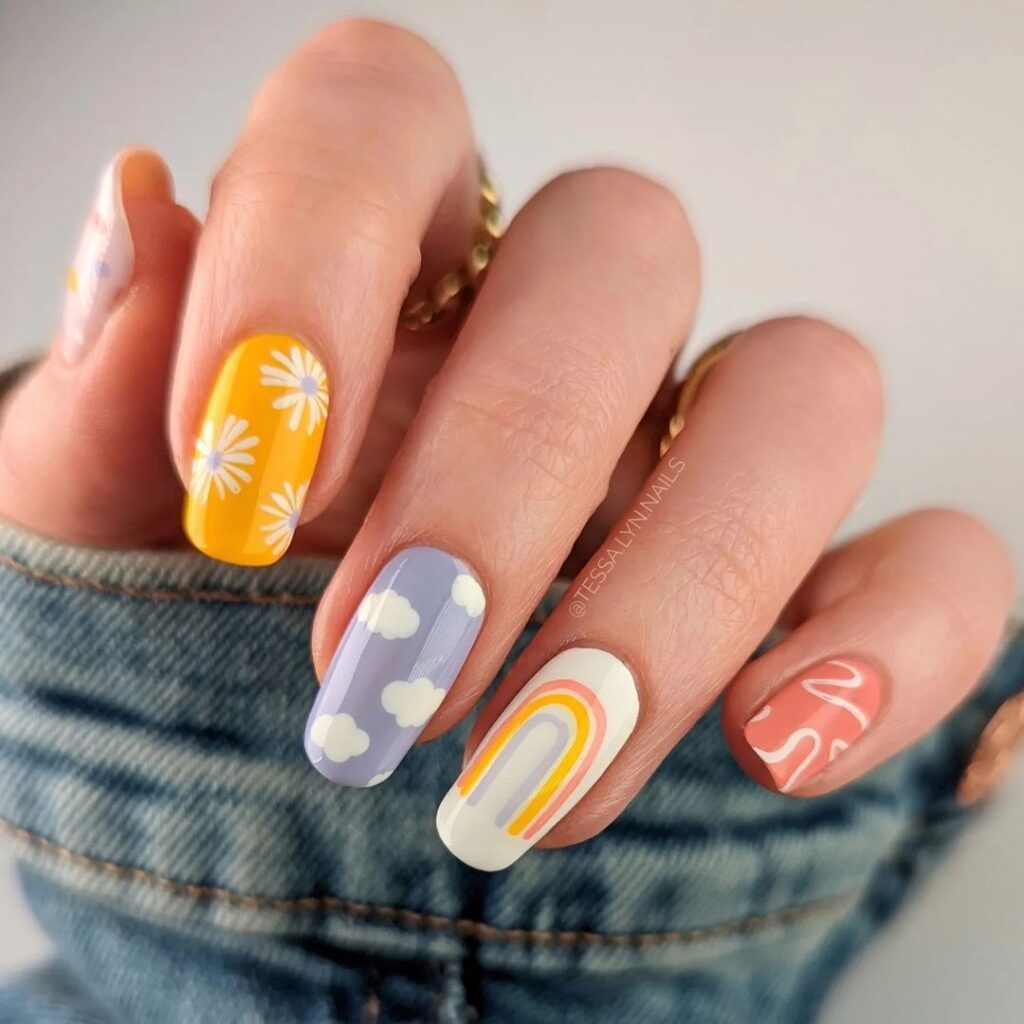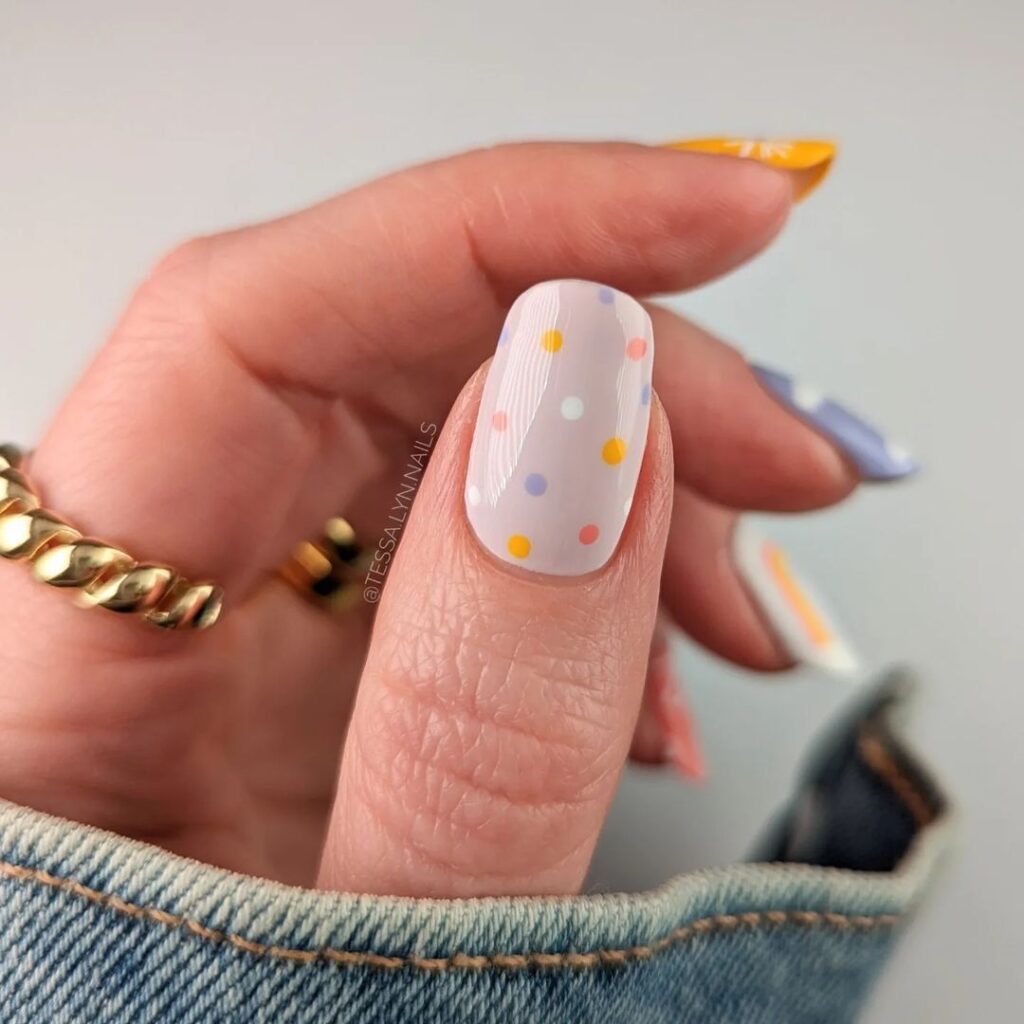 Courtesy: Tessa Lyn Nails
#17 Make your usual French glitter nails summery by adding blooming flowers and lush leaves to the mix. These summer nails on dark skin look incredible and minimal. They're ideal for someone who'd having a summer wedding or attending a summer wedding. The nails complement any dress color or type perfectly and look flawlessly elegant.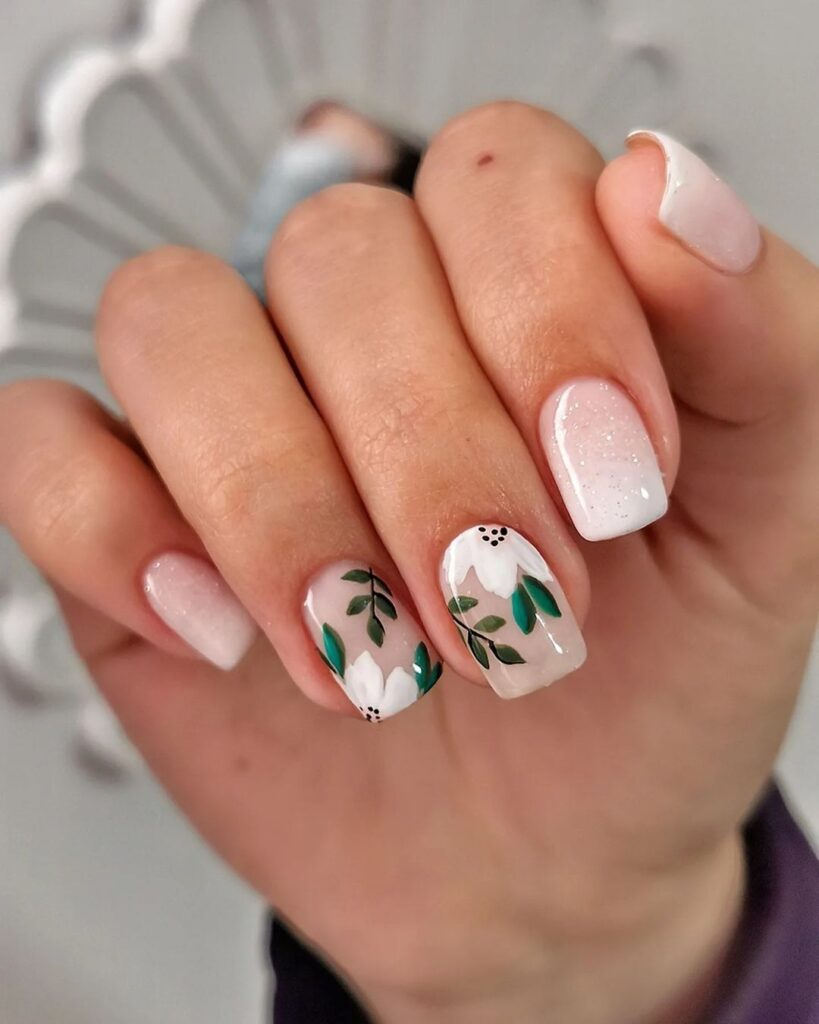 Courtesy: @musartista
#18 Yet another gorgeous mix of two colors to curate wonderful summer matte nails. Matte nails are the number one trend in nail art. They're sleek, gorgeous, and look modish. Besides gloss, matte nails are often picked quite often when you want to radiate these three elements with your nails. The lovely painting of florals enhances the beauty of this nail art beautifully. 
Courtesy: @dagmara.zajac_
#19 A combination of light and dark colors is ideal when you want to play with both colors and as you can see, they look delightful together. Enhancing the playful mix of colors are the cherry blossoms on the middle nail and the geometric lines on the index finger which enhance the artistic element of this one of the summer nail designs. And mixing dark & light colors of the same shade also gives an illusion of summer ombre nails.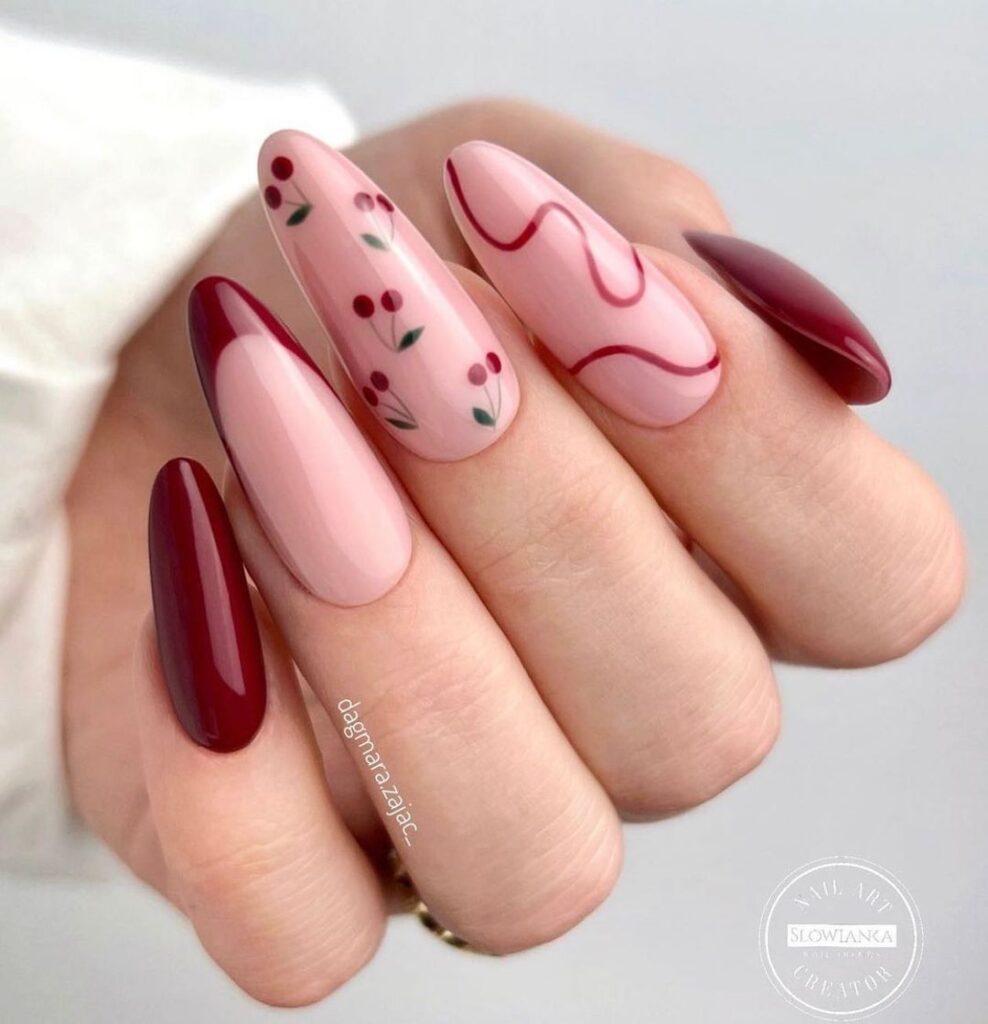 Courtesy: @dagmara.zajac_
#20 The purple matter nails are alluring in themselves, but what's more alluring are the neon lines infused into the ring and the index finger. Certainly, a great way to amp up your usual matte nails and melt the dazzling colors of summer into your summer nail art.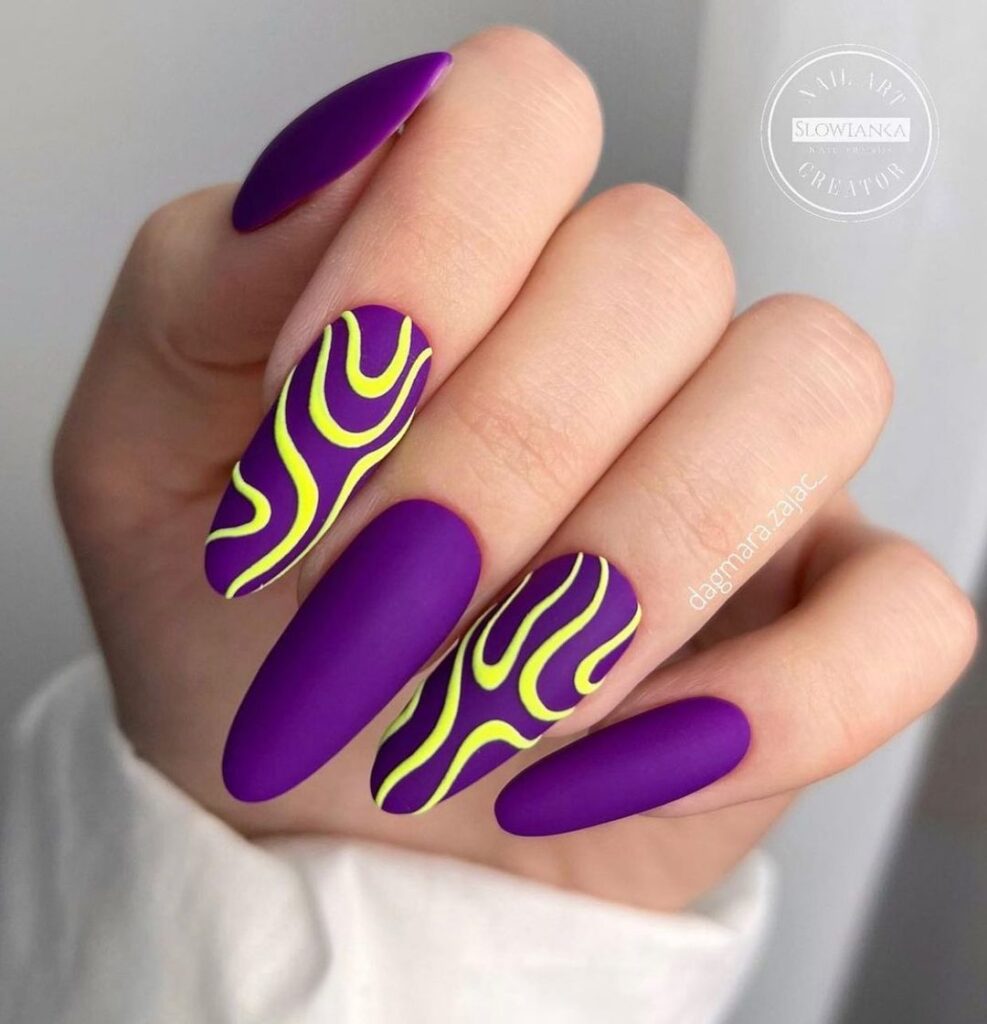 Courtesy: @dagmara.zajac_
#21 When it comes to choosing the right summer nail designs in bright shades, it's important to pick the right color which suits your skin type and individuality. The zebra pattern on the first two nails gives an eccentric yet stunning vibe though. Not to mention, this nail art is completely Instagram-worthy and will look great when you post it on social media.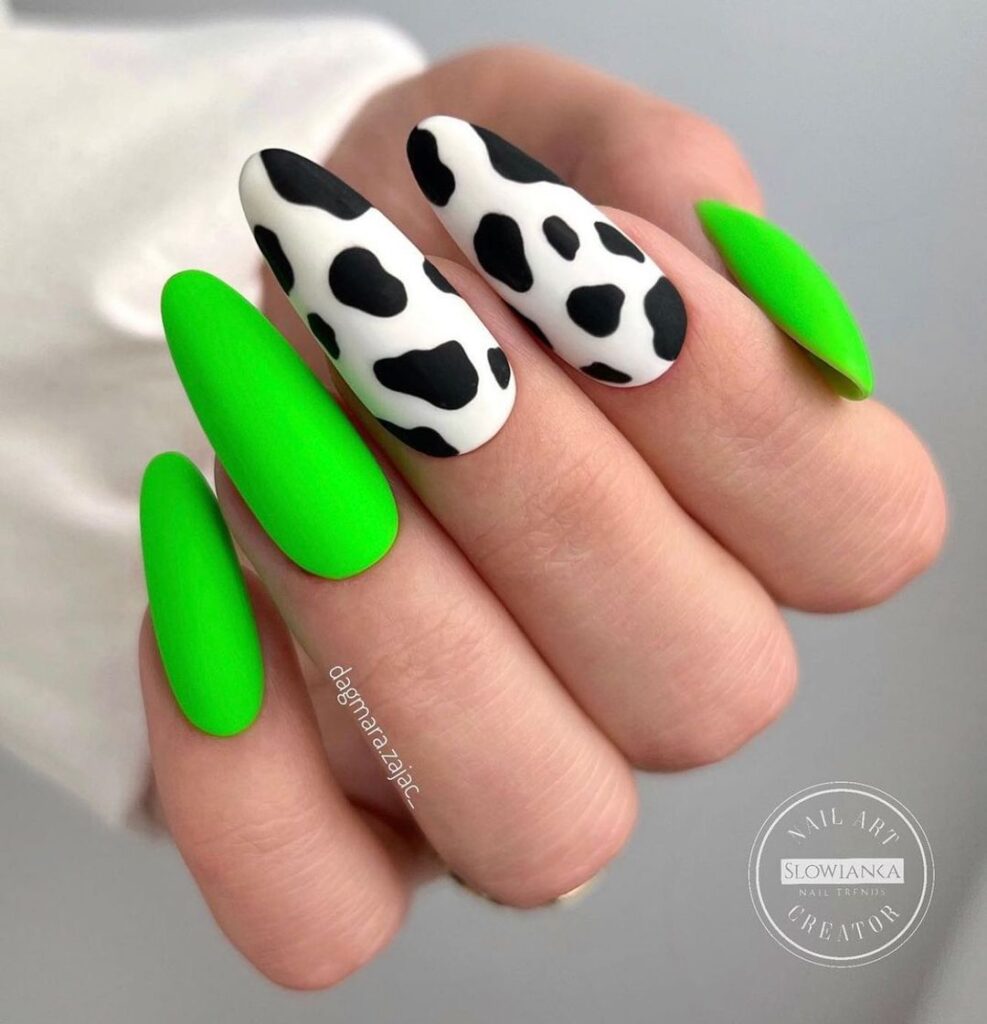 Courtesy: @dagmara.zajac_
#22 It's safe to say that we all need as many smiles in our life as possible. And there are some things which are completely out of control, there are small things we can do to make you smile & feel peaceful. One of the ways is by putting these cute smiley faces on the nails to bring an instant grin to your face. Not to mention this type of summer nail designs is also a huge trend in 2023.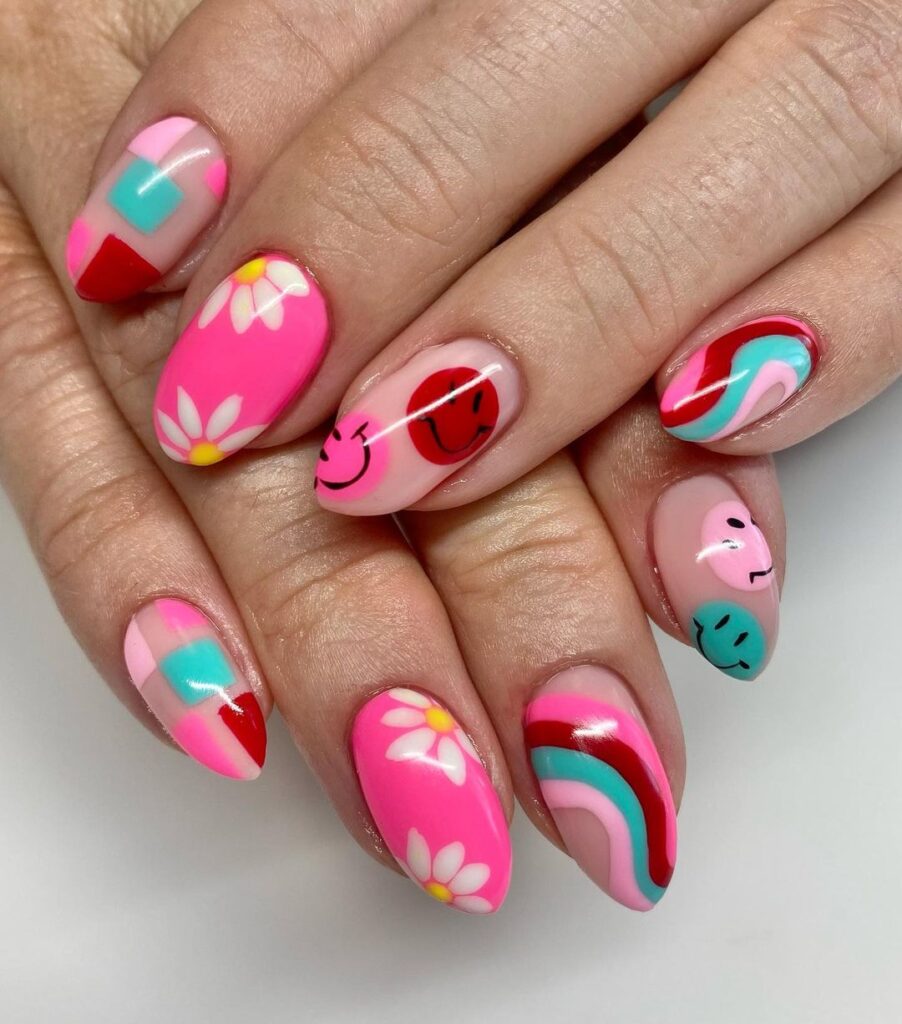 Courtesy: @nailartbyamyblair
#23 Blue summer nails and pink summer nails are some of the most searched summer nail colors this season. Given their versatility and winsomeness, it's a given that they are used plenty of times in nail art. We also love how this design portrays that you don't always need longer nails to beautify your nail art, short nails will do too. The geometric pattern on the first two nails is an ideal way to elevate the ingenious attribute of any shade you pick for your summer nail art.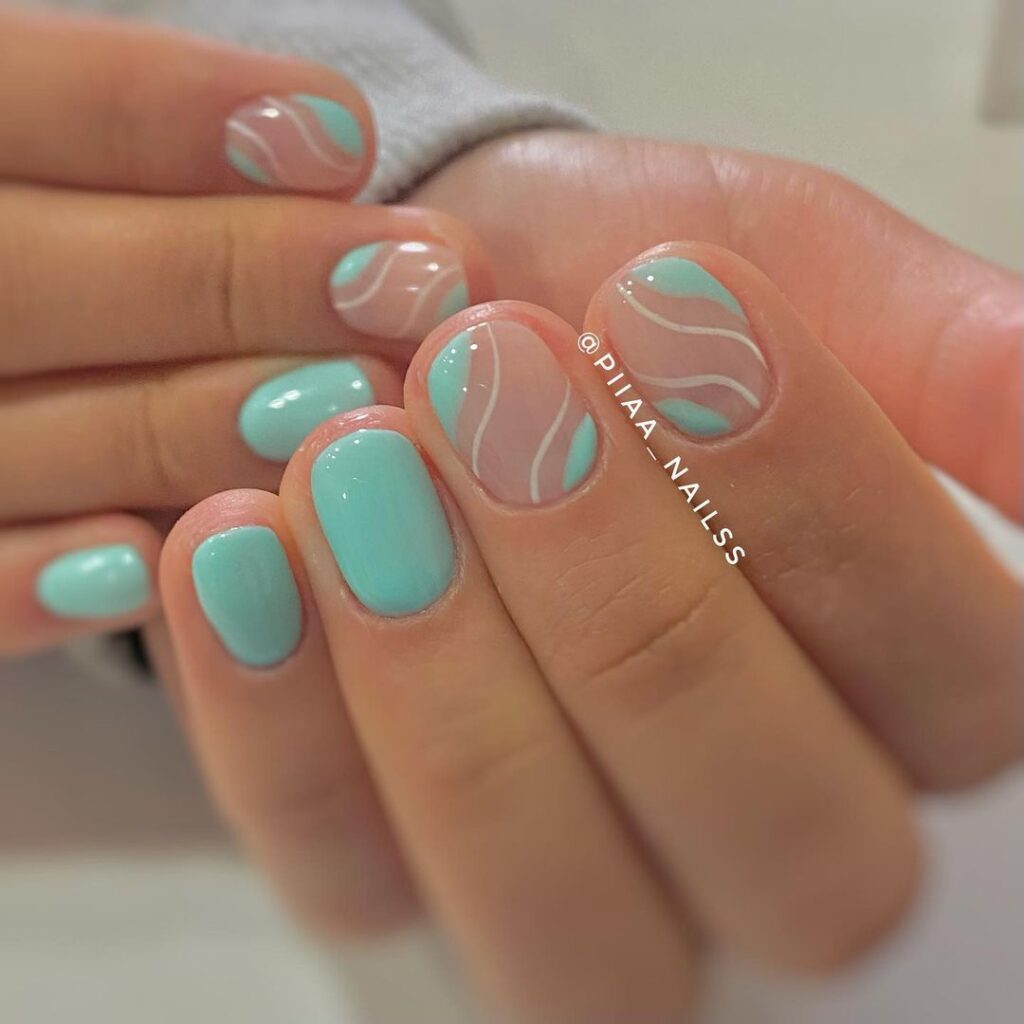 Courtesy: @piiaa_nailss
#24 Yet another of the blue summer nail designs with geometric pattern in two nails and the other one's done in a sleek, simple pattern. This is a beautiful color – a light blue shade mixed with a few accents of white. Certainly, a Pinterest-worthy summer nail art that has the potential of making your Pin go viral. Make sure the lighting is ideal though so the beauty of the design comes off superbly. 
Courtesy: @heluviee
#25 Black summer nails in a combination of nude are an evergreen shade for not just the summer season, but any time of the year. If you're a fan of such classic and elegant colors, then this nail art design is the ideal summer nail inspo for you.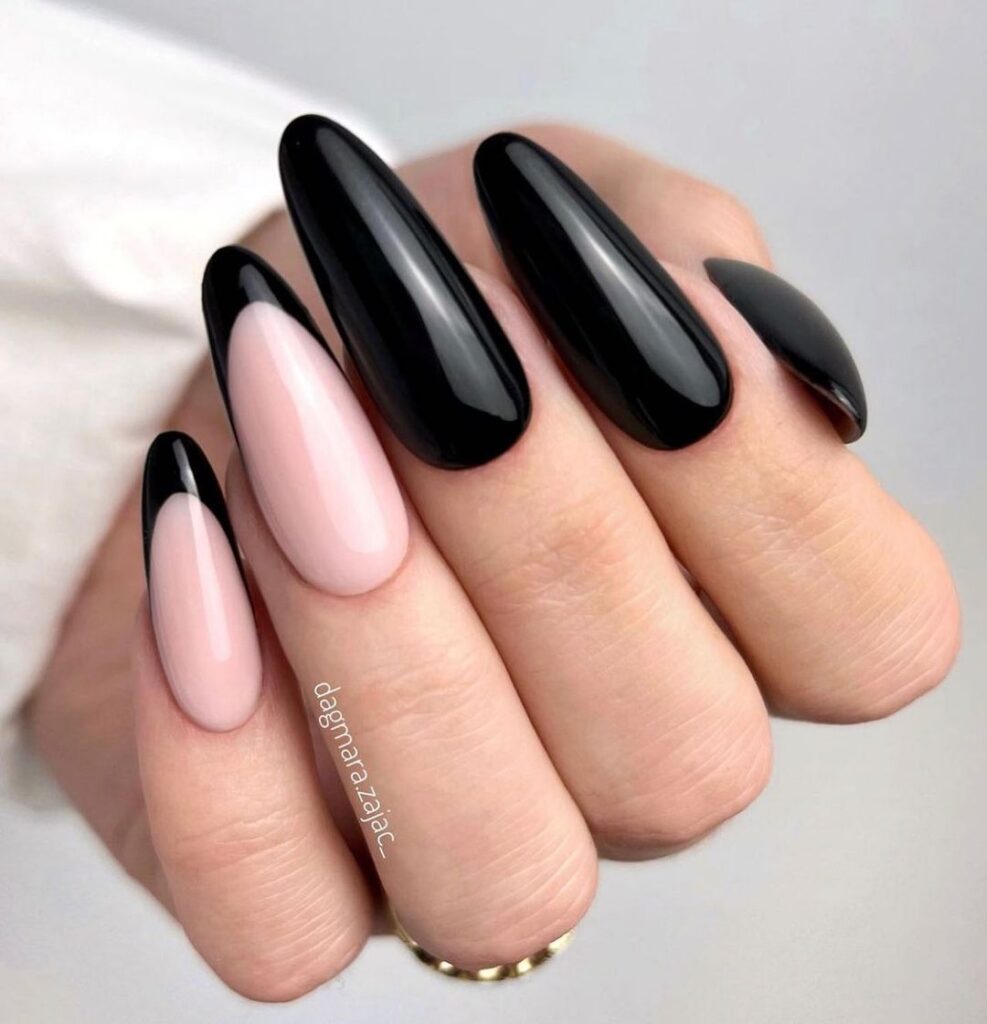 Courtesy: @dagmara.zajac_
#26 A combination of olive green & nude pink? Sounds a little skeptical, but looks quite great, as you can see below. If you don't love the customary bright summer nail designs, then these muted and matte colors will be your best friend for the season. To honor the season though, white floral patterns do the job amazingly well and give the beautiful colors a creative aspect.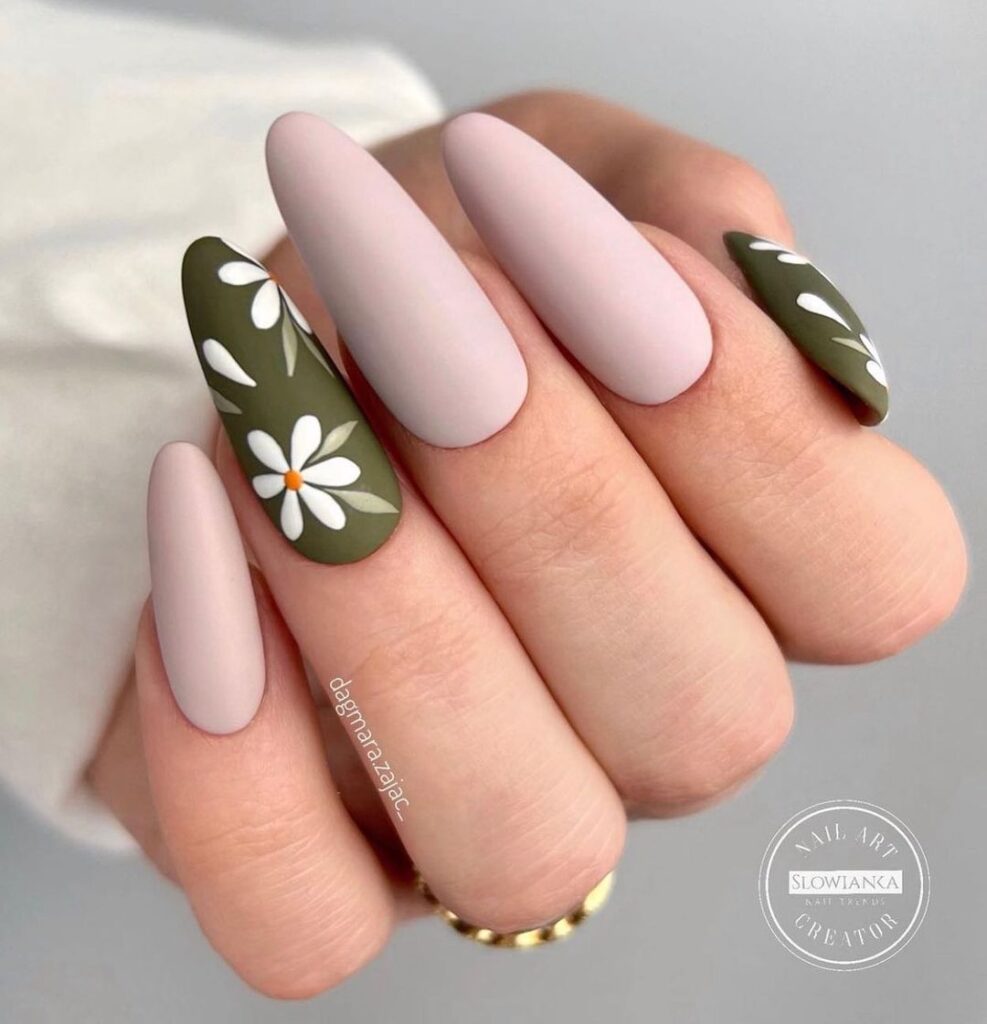 #27 We absolutely love these gloss short summer nails in square cut. Square nails are elegant, classic, and suit all types of nail sizes. For those who have a shorter nail width, this style of nail type is preferable as it gives the illusion of a broader nail bed. This one out-of-the-summer nail designs will look pretty on both long and short nails. Moreover, you can try it with any other of your favorite color as well.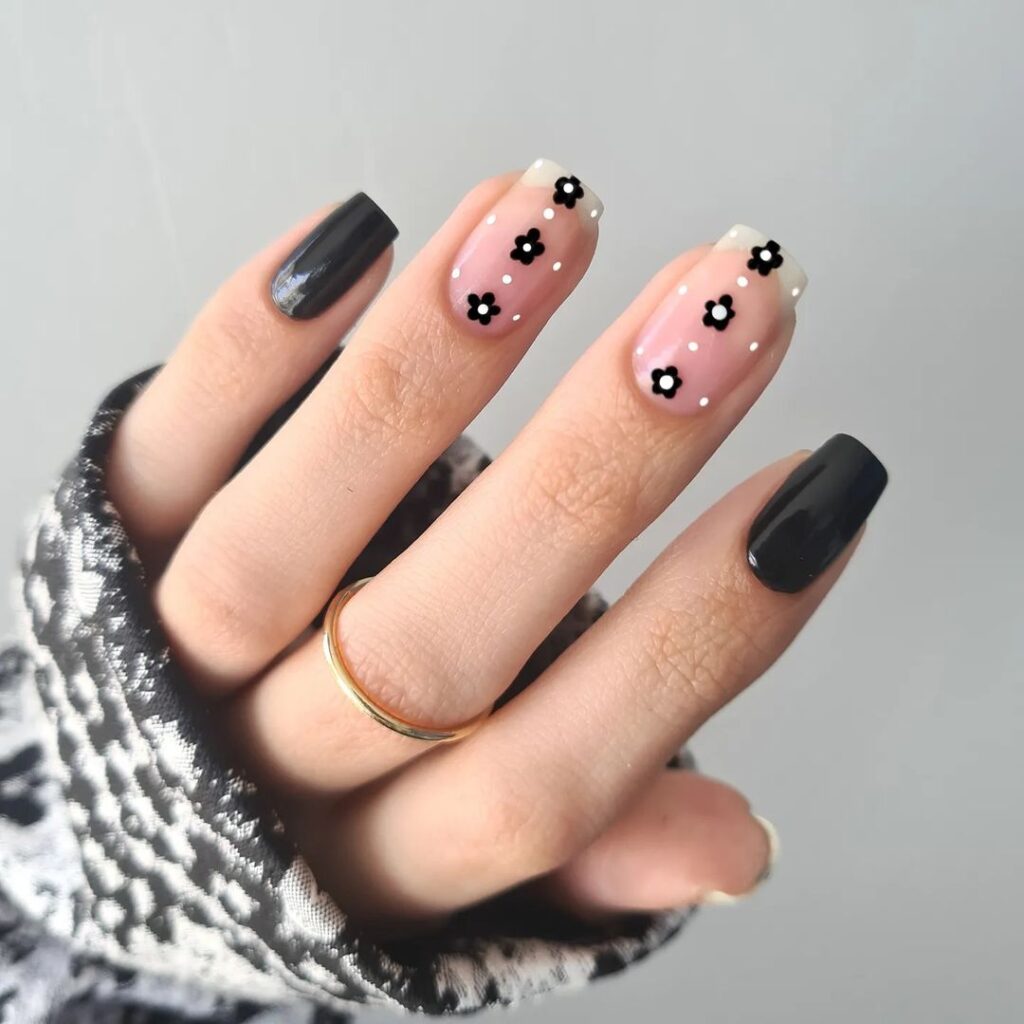 #29 Such visually appealing colors combined to give us such exquisite nail art. As you can see, the longer version of almond nails is quite popular, but another popular nail shape in 2023 is the summer coffin nails which are the signature nail shape of Kylie Jenner. You can also try some other colors to create such a ravishing art. Although, we'd recommend keeping the colors as vivid as this so it radiates the same effect.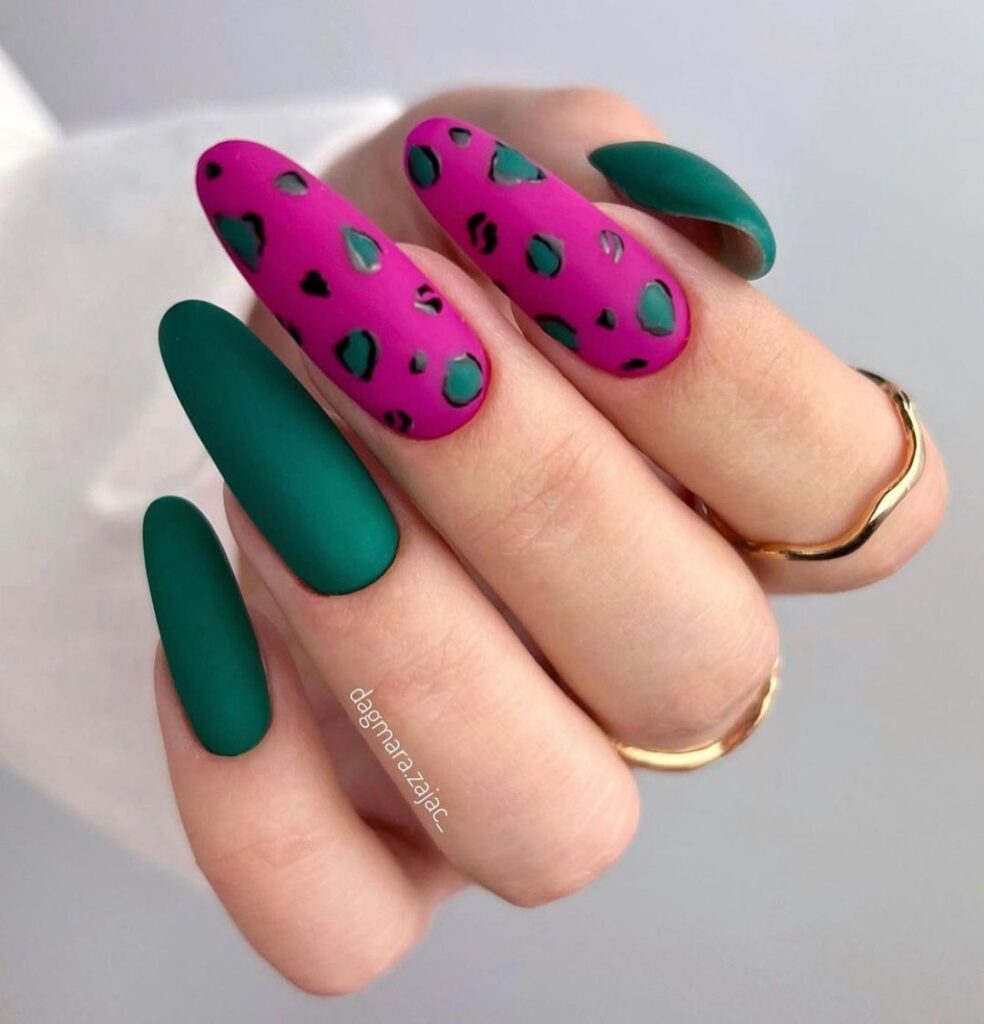 #30 Pastels are a raging trend for the past few years in fashion. From clothes to summer nails 2023, you will find it everywhere. These shades are fresh, timeless, and elegant. They are also soothing to the eyes and create a positive atmosphere. The hues also draw a perfect balance between bright and light colors. Here's one of the pastel summer nail designs on this list. It's accentuated with florals for a winsome effect.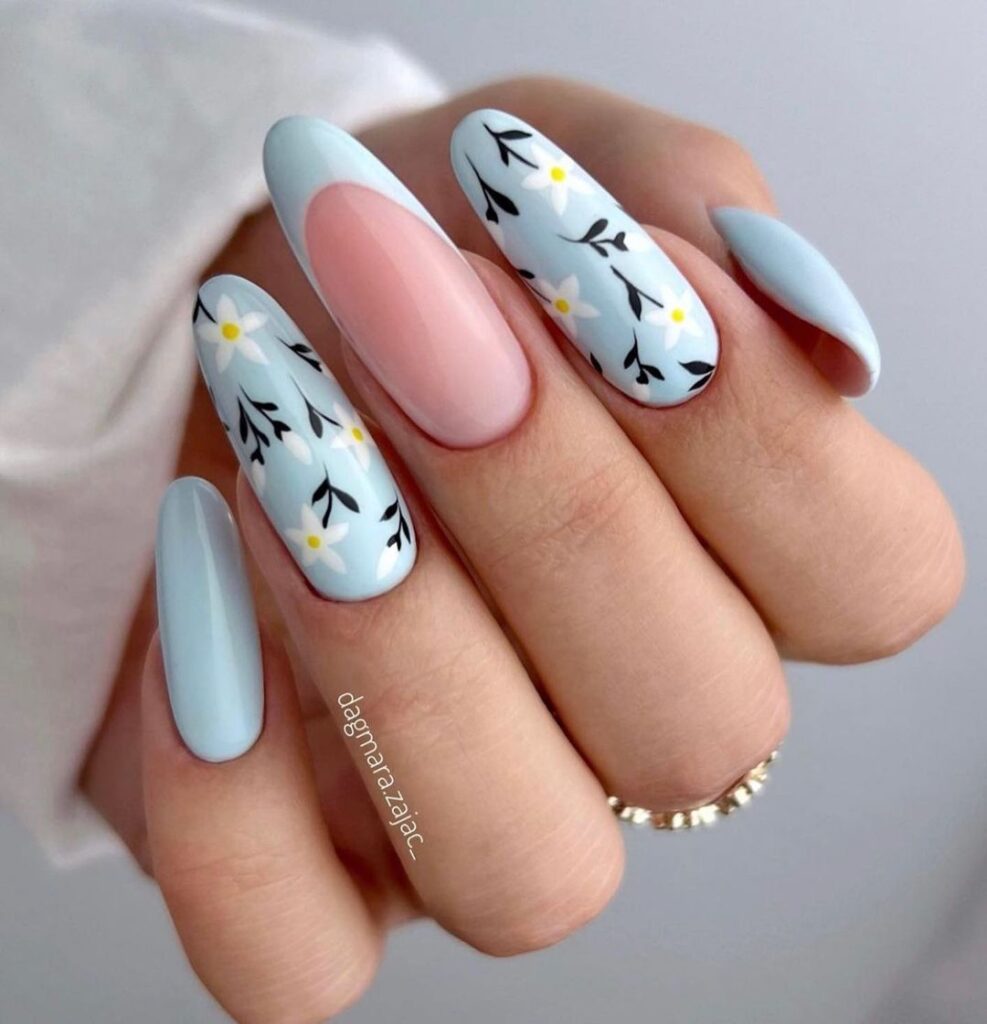 #31 These nails will certainly cause a stir on social media. Bookmark them for your next nail session because they're peppy for the season and will look great on every occasion. The mix of orange and pink is done so well that it almost seems like more colors are involved when it's just these two. The creativity in these pink summer nails is definitely admirable.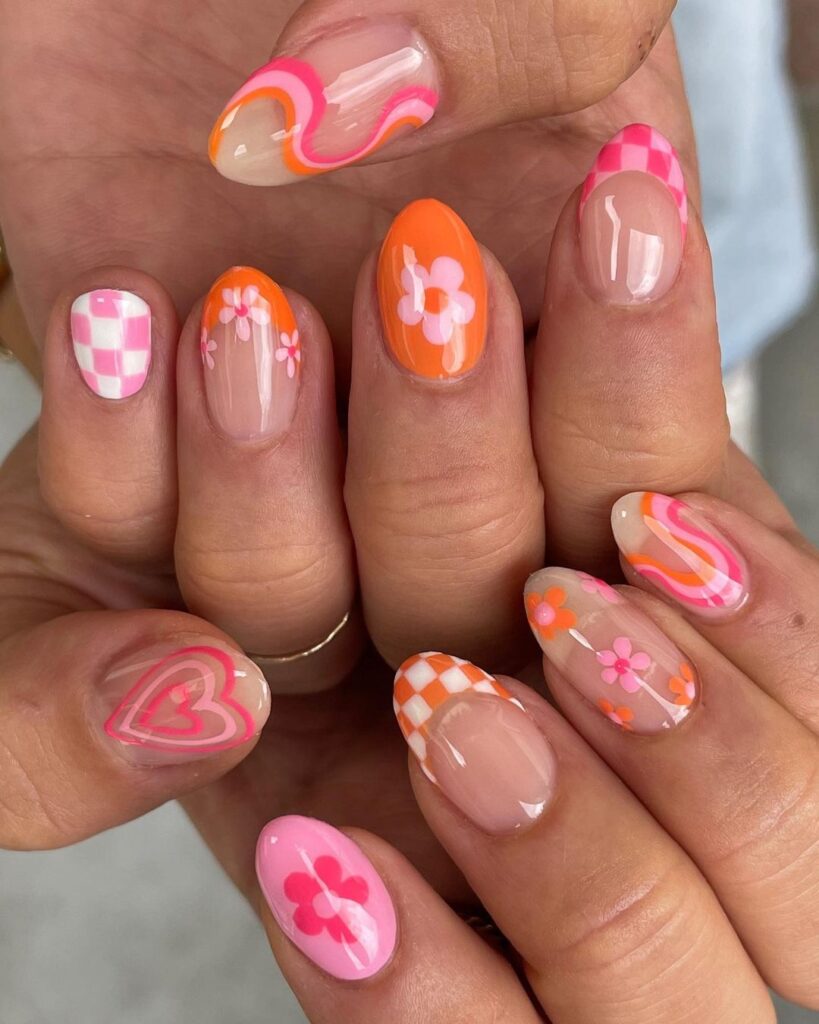 #32 Smileys are surely another one of the summer nail trends and look endearing on the nails. Not to forget that they do bring a smile to your face when you see them, just making staying positive a bit easier than before. While just one nail has the smiley, others have different patterns on them. The cute hearts, florals, and checks all come together to create a truly aesthetic design that will look as good in reality as it looks in pictures.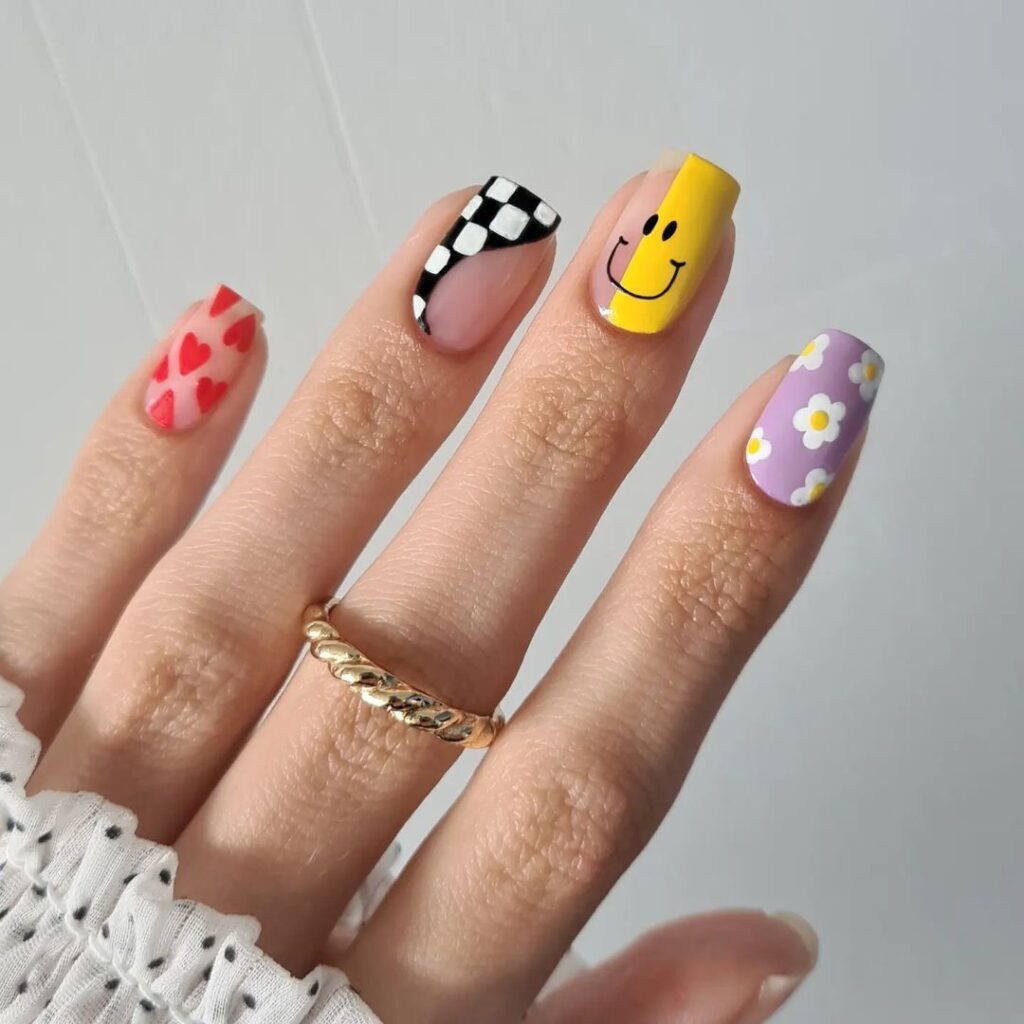 #33 French nails with a twist. Did you know that French nails were actually invented in America? It was invented so the actresses didn't have to change their nail color for every scene. This timeless, flesh-toned seamlessly complimented all the wardrobes and looked absolutely wonderful. Many reiterations of the French nails have come forth since their invention in the 1940s, and here's one of them looking gorgeous and stunning in every way.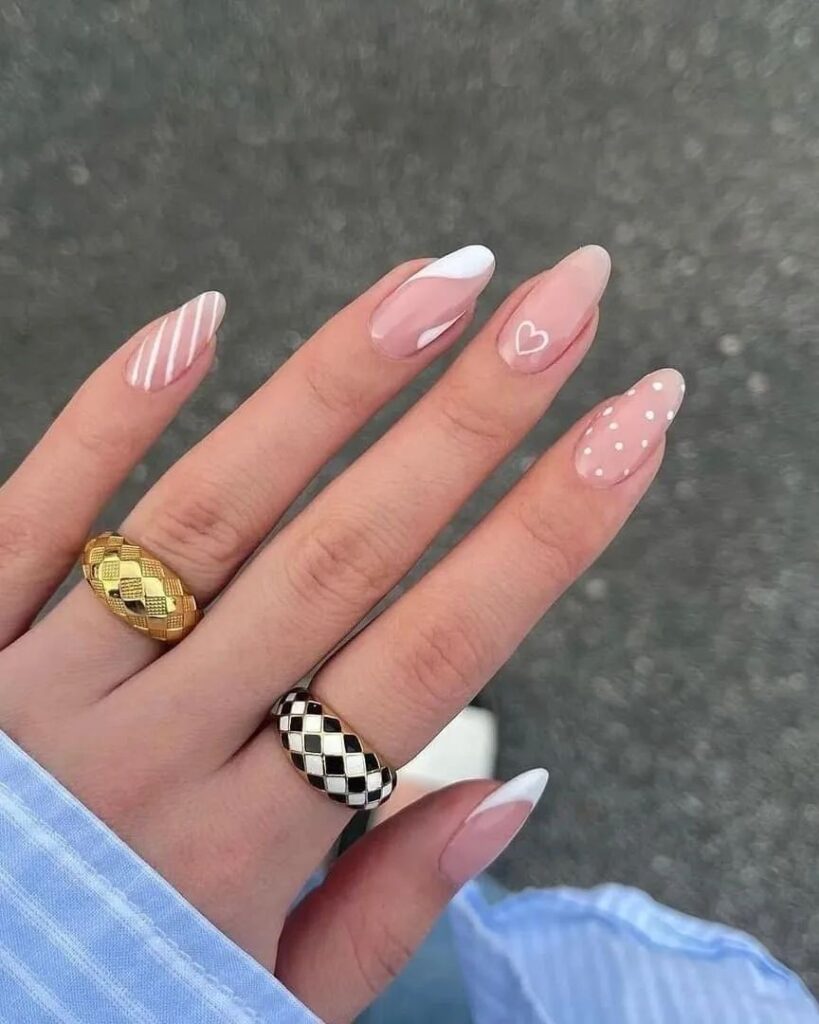 #34 Coffin summer nails are easily one of the most searched trends for nails in 2023. The signature Kylie Jenner nails, who hasn't worn any other nail shape for the past 5 years, this nail shape is also known as the ballerina's nails. They are called so because the shape resembles both a coffin and the ballerina's shoes at the same time. If you're looking to dive into the trend and wear this nail design, here's a summer coffin nail art that's minimal and elegant, and will look fabulous in the summer season.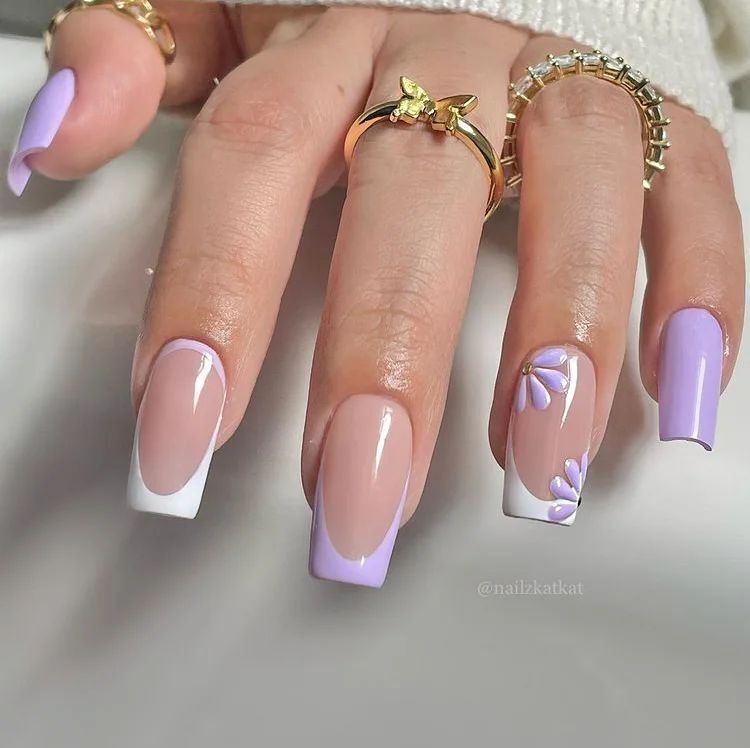 #35 Here's yet another summer coffin nail idea which is done in the French style with a few accents here & there. While this art looks easy to do (it's easy to copy, but not to create), it takes a lot of creative thinking so as to not compromise with the minimalism while making all the geometric patterns. It's easily one of our favorite summer nail designs on the list.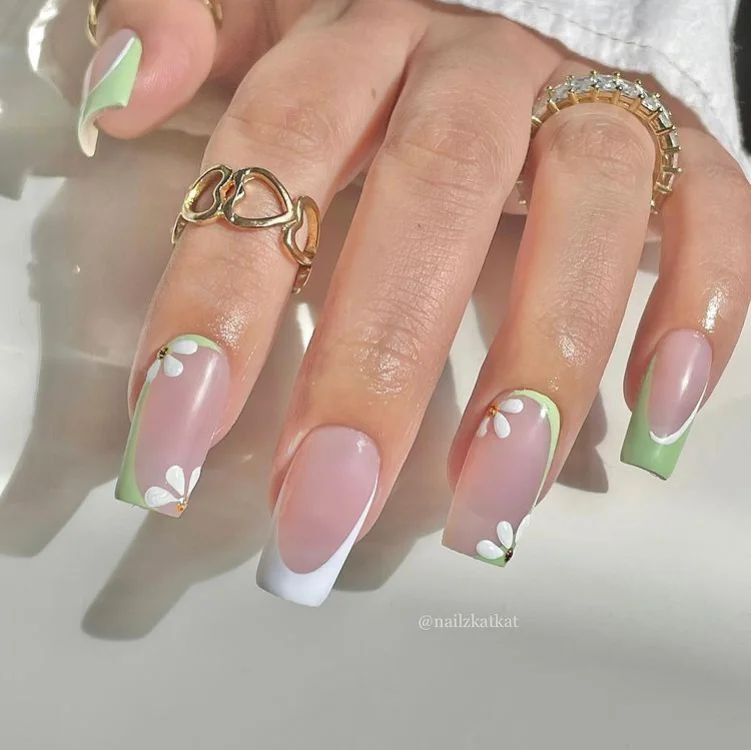 #36 Here's another one of the summer coffin nail ideas in the same minimalistic style. This one features long coffin nails and paints the pattern on the majority of the nail bed instead of only a small section. Since it's neutral and pastel colors, the design still looks minimal and stylish.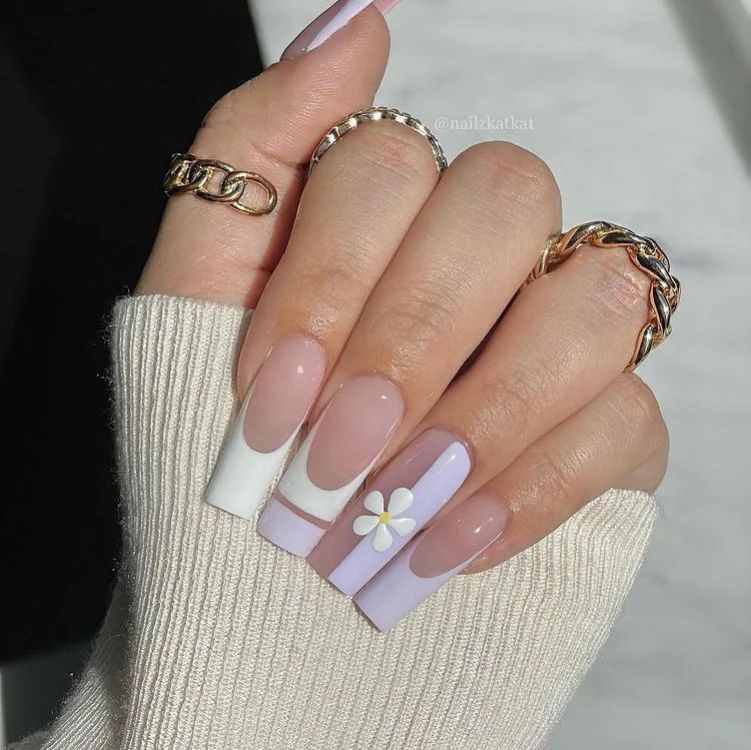 #37 And this is the last one from our summer coffin nails inspiration. This one again uses just the slightest accent of color to enhance the design.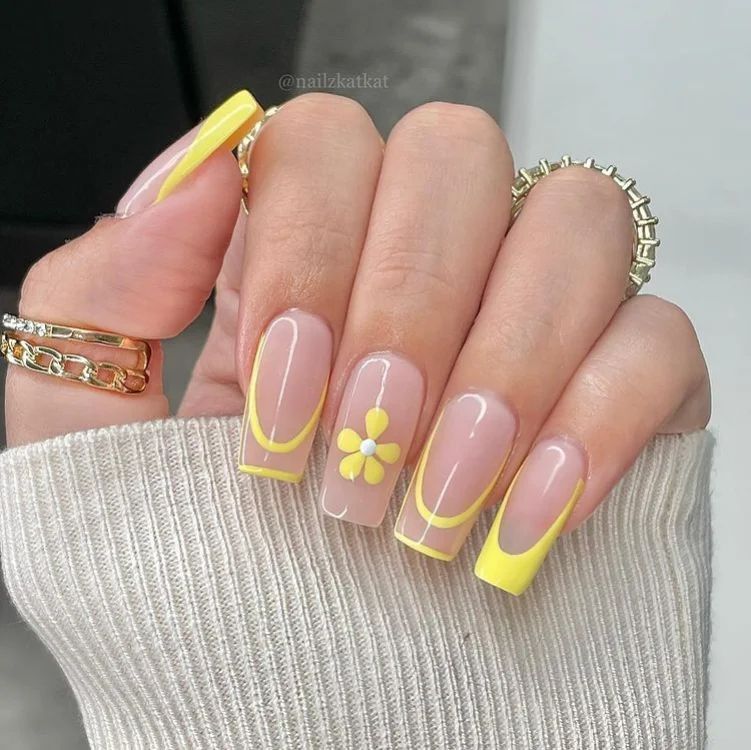 #38 Short summer nail designs can look appealing too. You don't always have to rely on large nails to create stunning nail designs. This one takes the fun approach to French nails by adding summer colors: blue, purple, sky blue, and orange into the nail. If you want you can also add a couple of daisies to the art.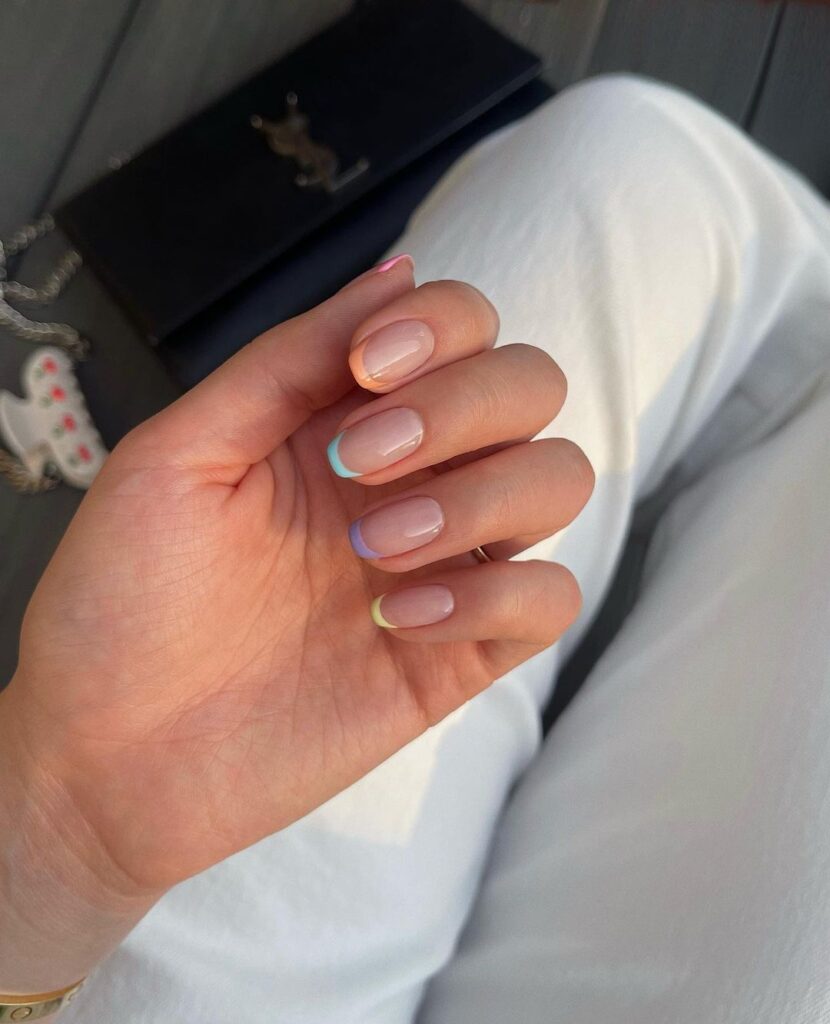 #39 Love these ombre summer nails where the design just takes different shades of purple on every nail, with just one to two of them bedecked with the artistic pattern. But it's the pattern though which makes this design unique and eye-catching. While this pattern looks amazing on a square nail shape, it might not look as appealing on the coffin or almond nails. We would suggest sticking to this nail shape to maintain the allure of this summer nail idea.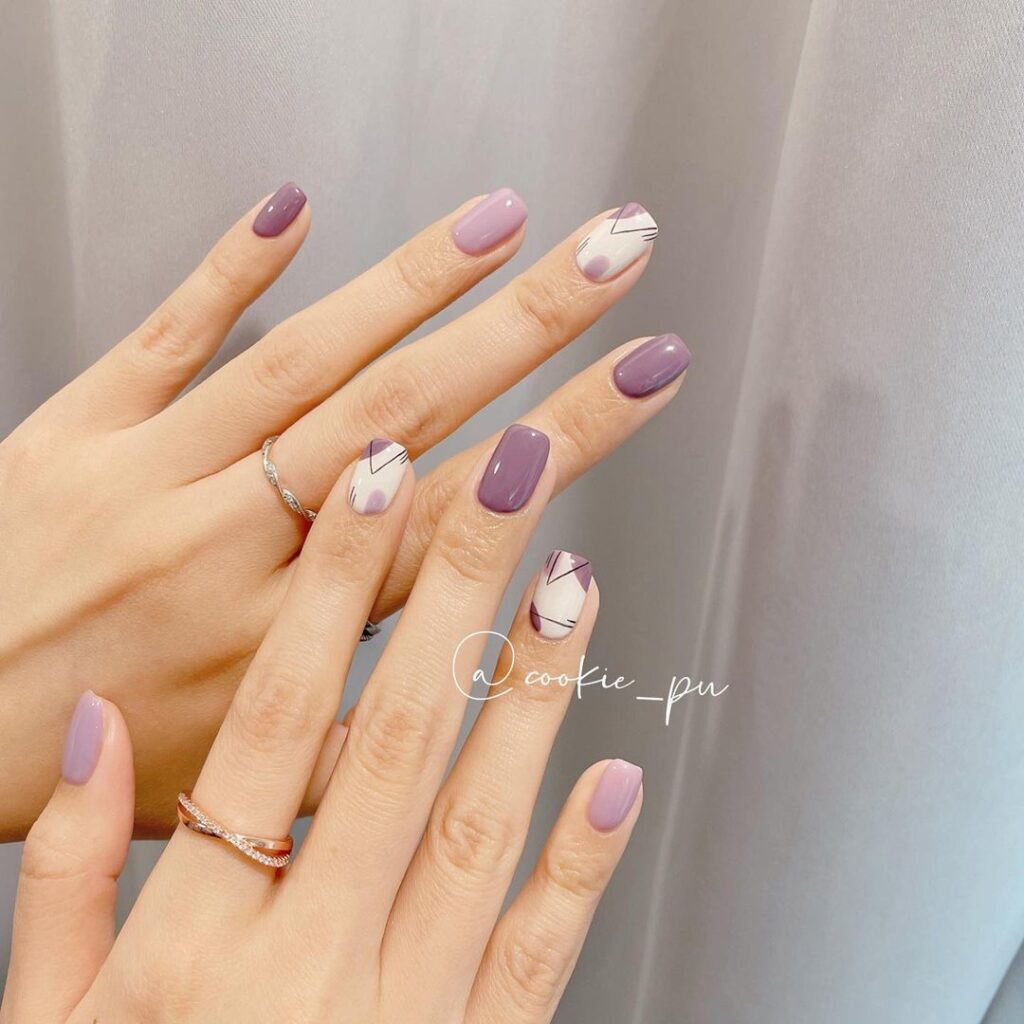 #40 Yet another summer nails inspiration in ombre and subtle glitter for a whimsical effect. Glitter nails are glamorous and elegant at the same time. When glitter is done subtly, it enhances the charming appeal of the design without looking tacky. We love how the ring finger is done differently than others, so for newly-engaged women, this can be an ideal way to give special love to their engagement ring.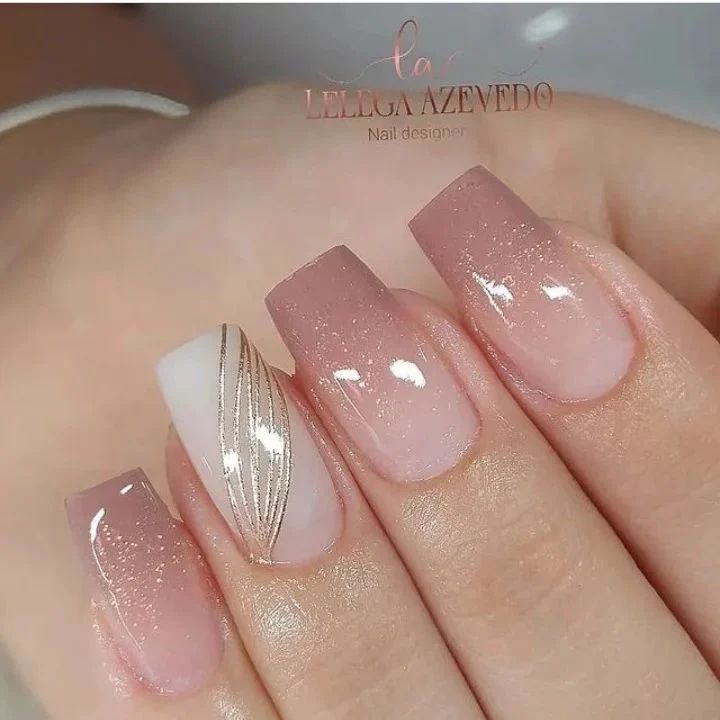 #41 Quirky and gorgeous! Some summer nail designs can infuse such creativity into their art, it mesmerizes you instantly. The fun play of colors is one thing, but the geometric patterns to create the stunning effect just enhance the ingenuity of the design. Again, this is a work of a professional and might not work as an ideal DIY summer design. But if you're spending $$$ on your nails, then surely consider one like this which looks artistic and eye-catching in the first look.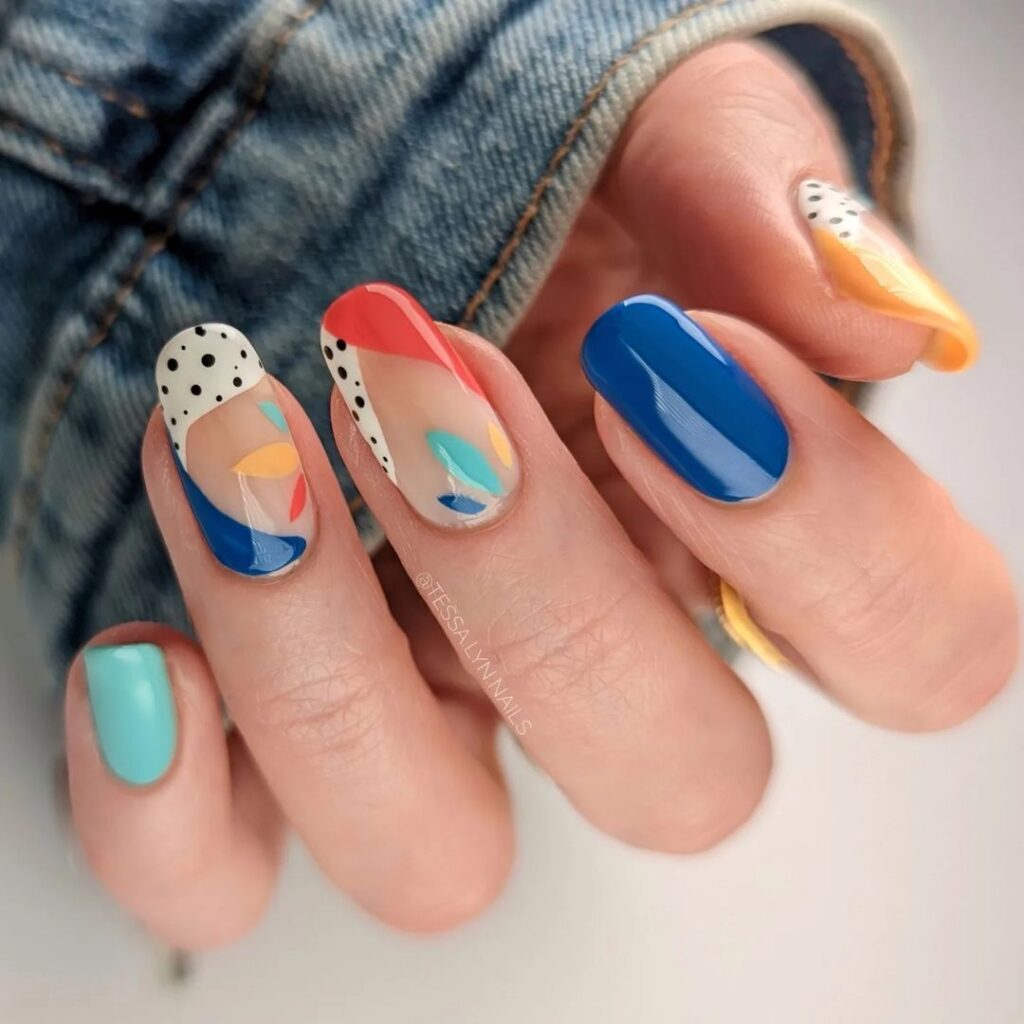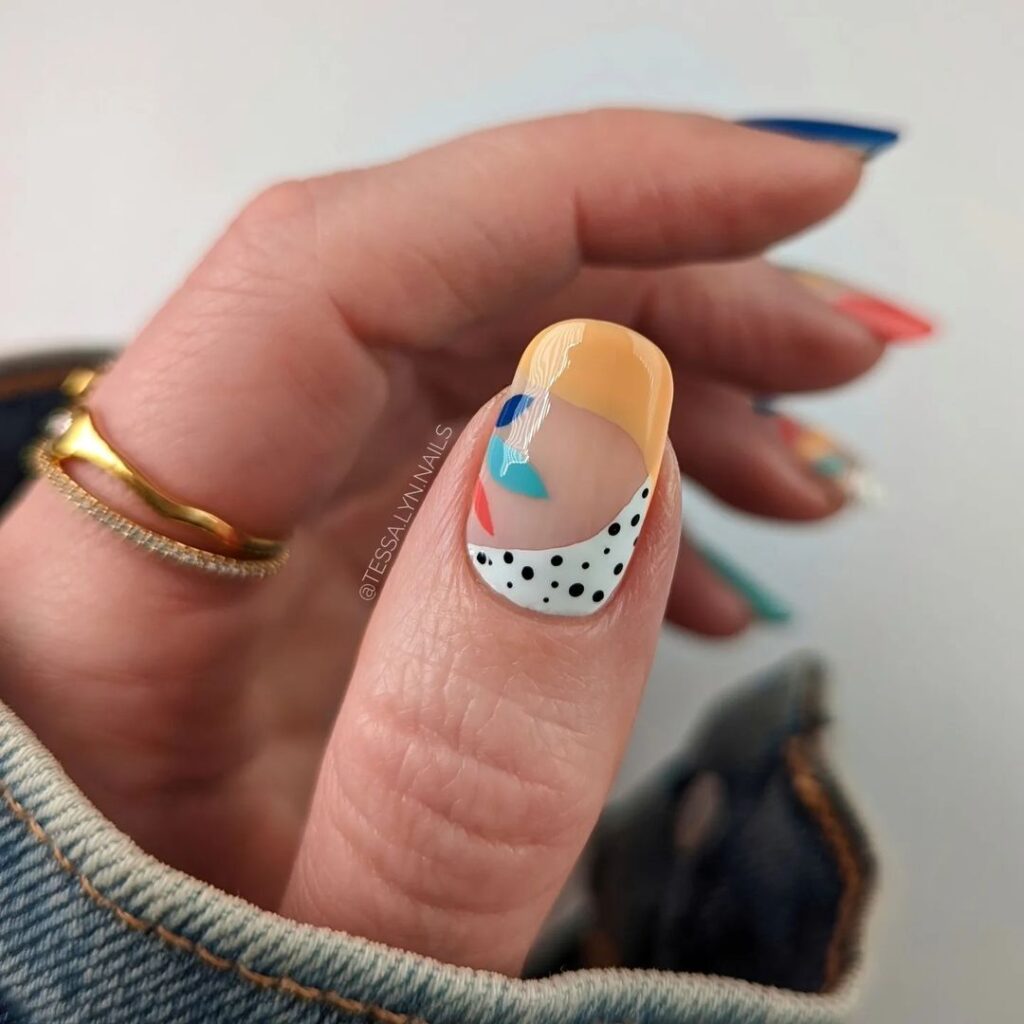 #42 Nothing says summer more than these little painted flowers in full bloom! These short summer nails look dainty and incredible and will suit any occasion. They are also a comfortable shade to wear with any outfit. Besides blue, you can choose any other of your favorite colors to create this subtle ombre summer nail pattern. Add some gloss on the top and you're done!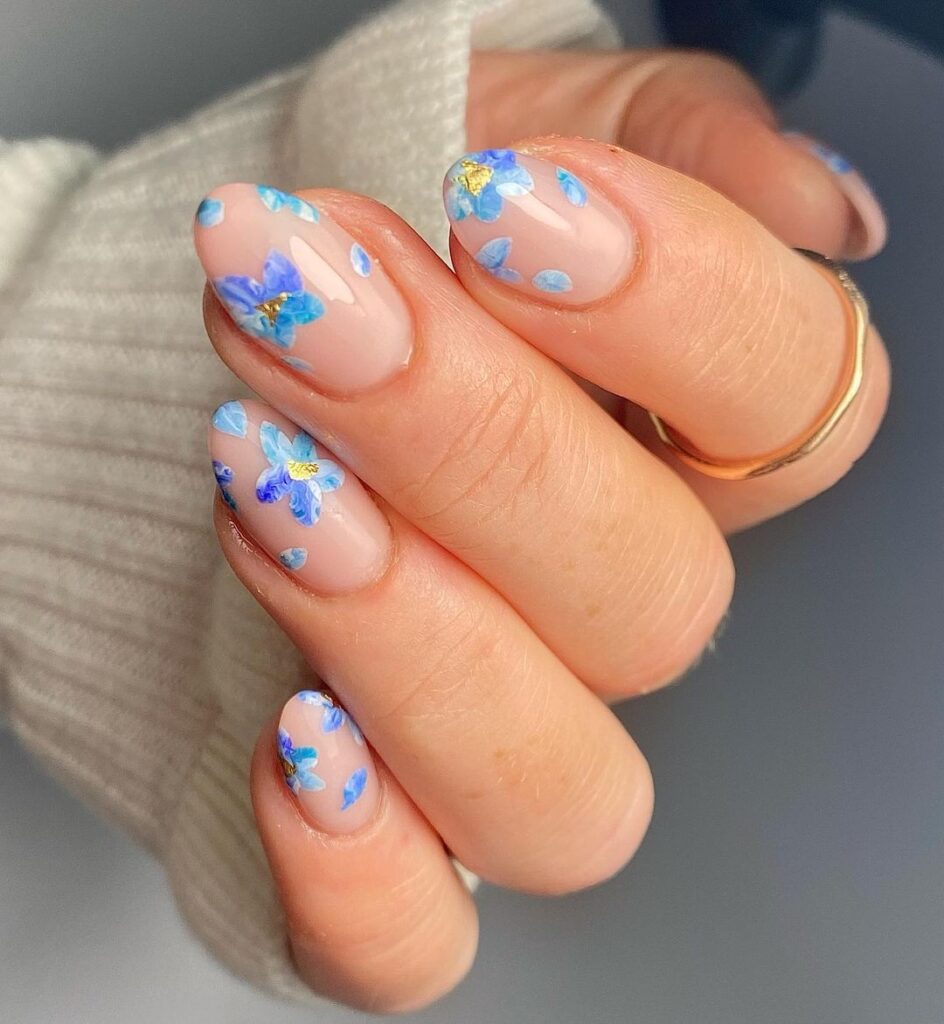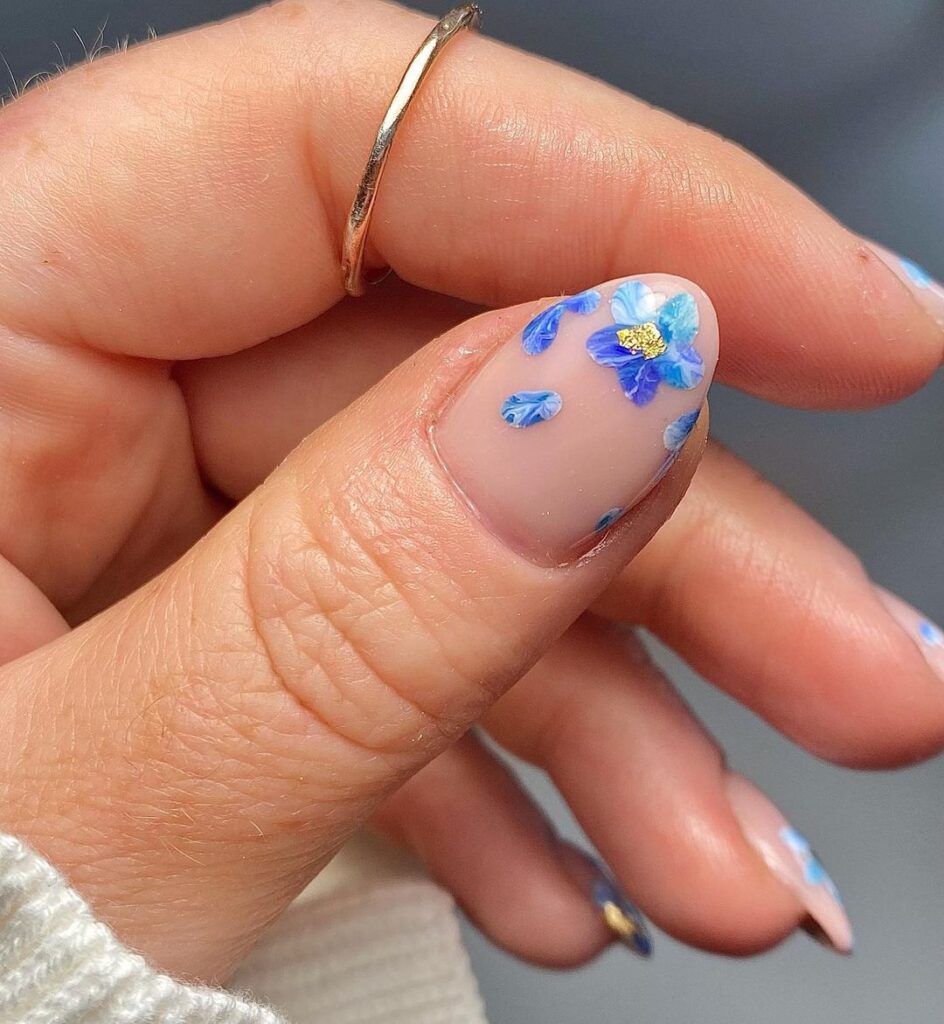 #43 For those who don't want to indulge in summer colors in their nail art, this French nail pattern will be the ideal summer nail inspiration. Needless to say, you will need long nails to recreate this one. Both long almond nails and coffin nails will do so the flowers on the ends are clearly visible.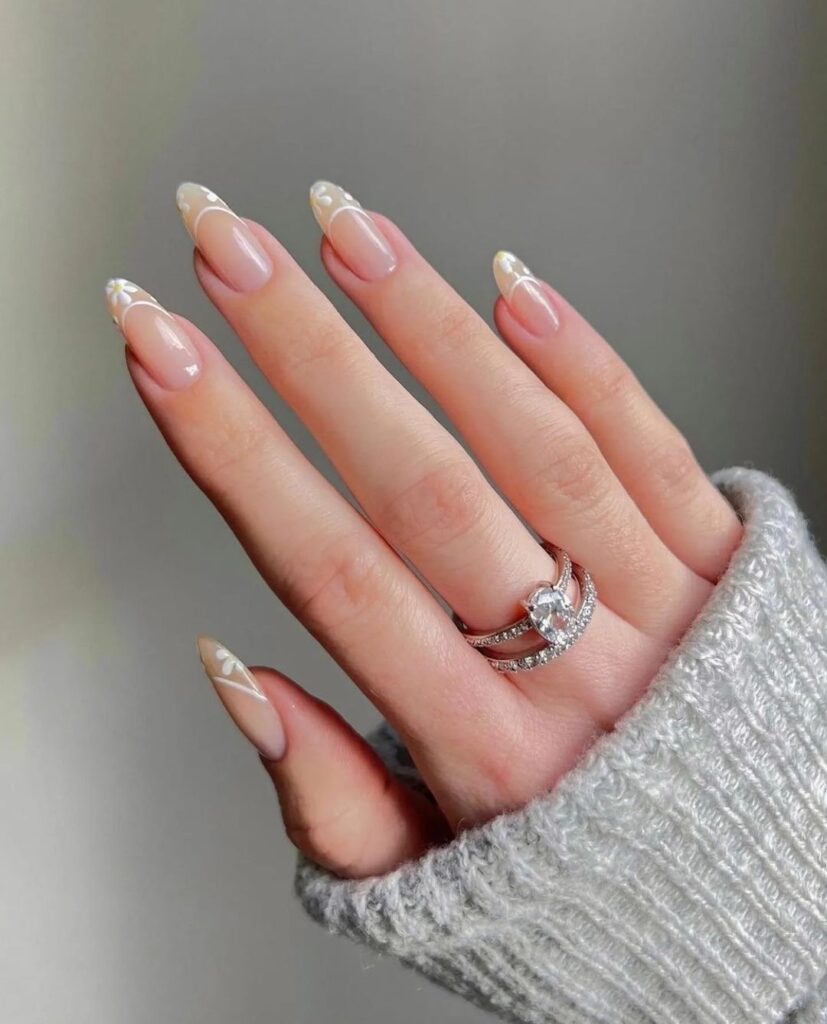 #44 If short square nails are your thing, then consider this dainty yet aesthetic one of the summer nail designs to get done. Glitter foil work conjures up the images of the tacky element, rather than an elegant one. Although, when you do it smartly, this design can look quite stylish – as you can see.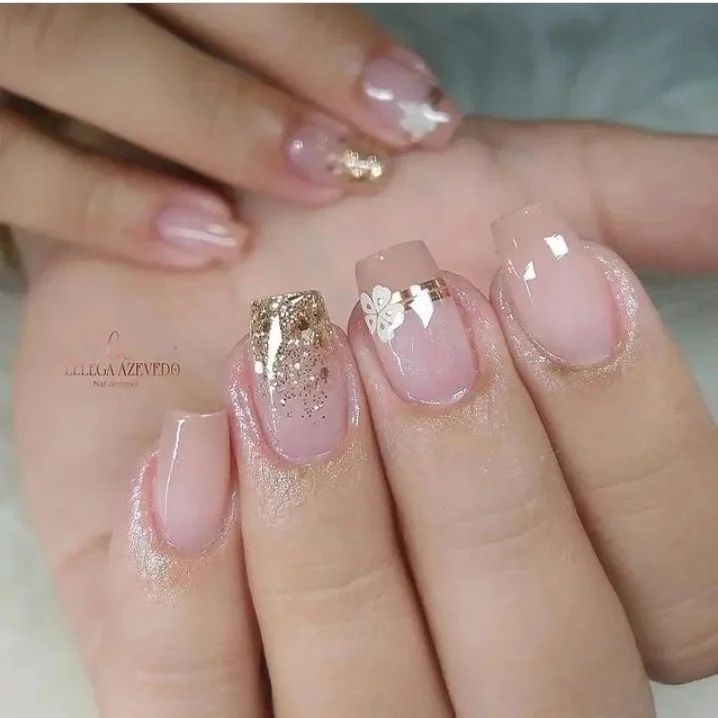 #45 The next few designs on our list are simple and suave. You can easily pull them at home and choose your favorite nail polish hue for recreation. This nail paint features a winsome pastel mint green color done in full on some nails while being painted vertically on just the other nails. Just make sure your hands are steady when doing these diagonal lines so it's as neat and intricate as this one.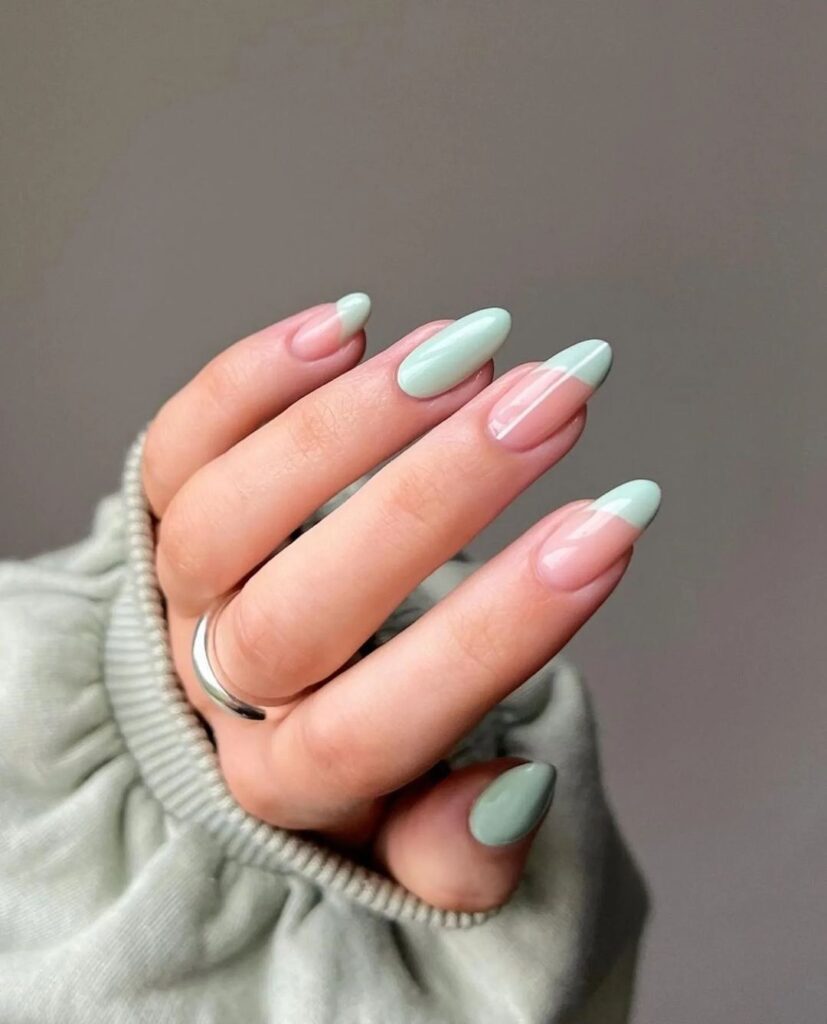 #46 The reiterations of French nails are just incredible to see! And there are far too many to love and try on for yourself. This one's surely one of them. If you're wanting to try this one of the summer nail designs at home, then do make sure you create an almost equal section on the end of the nails. An easier way to do this is to first create the white line and then fill the length with black paint. Redo the white line again after you're done and cover it all with a gloss coating at the end.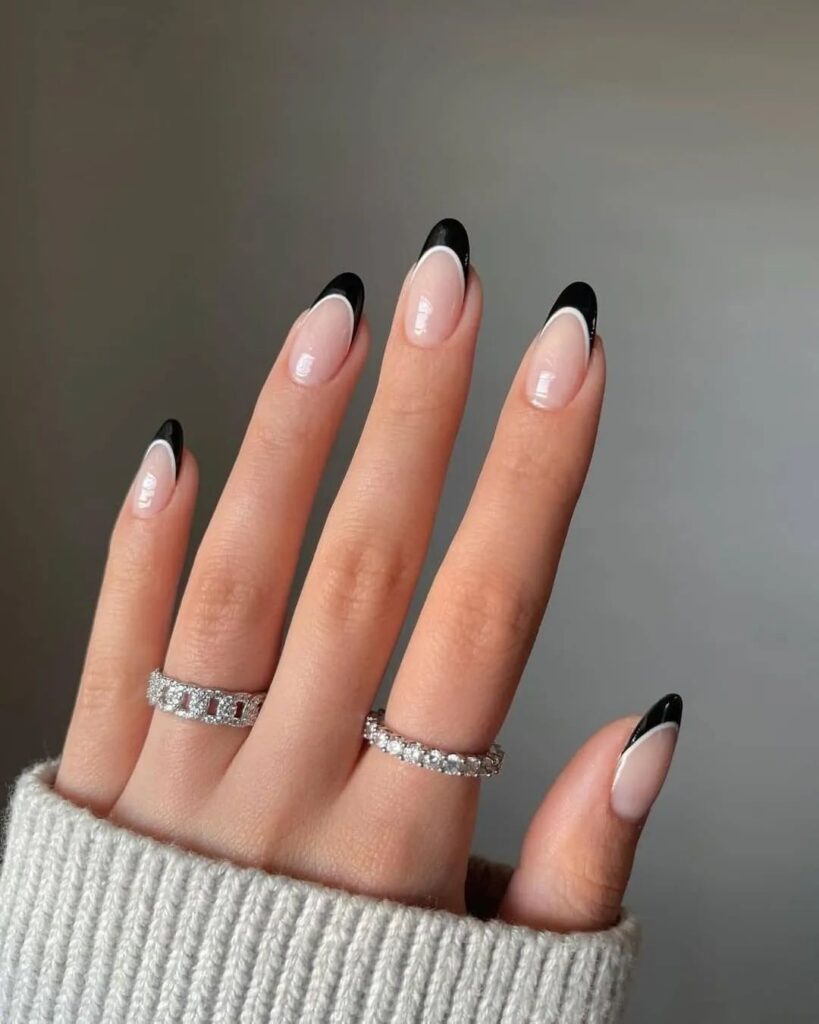 #47 If you're confident enough to do lines on the tips of the nails, then try this gorgeous mix of pastel colors on your nails. While these blue summer nails are a charming combination, you can surely use any other colors as you please for the recreation of this summer nail idea.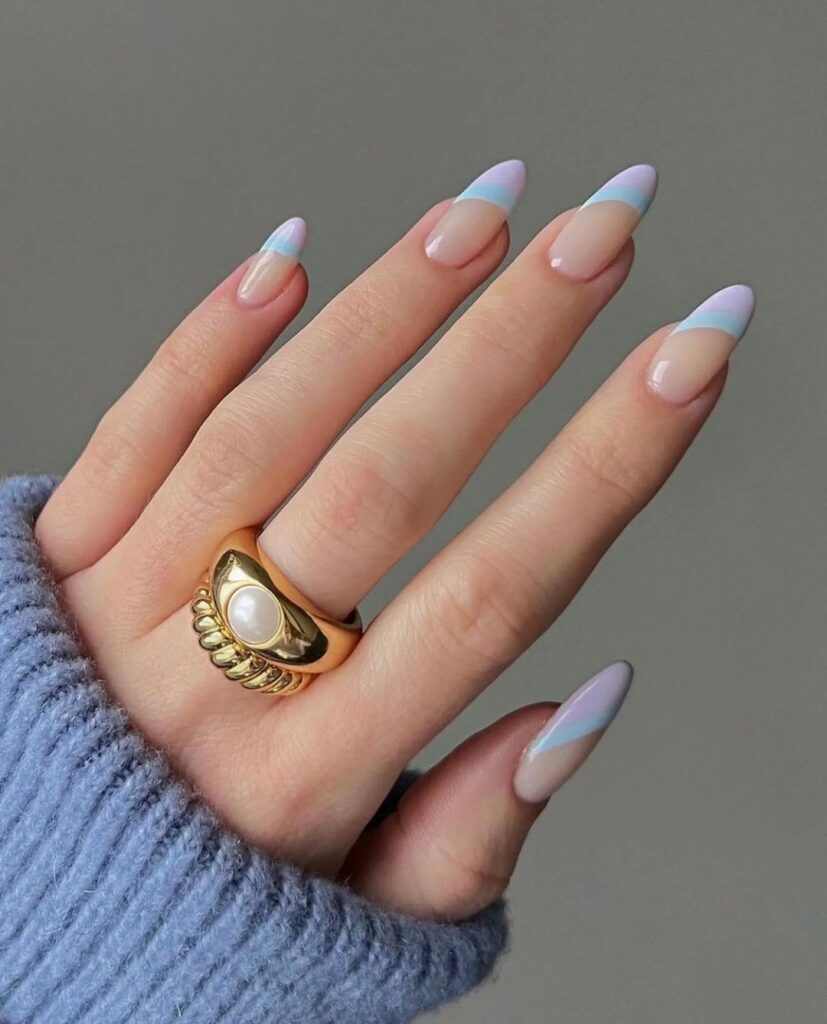 #48 Glitter in nail paints just looks absolutely stunning. Plus, there are many ways to include this effect. You can use subtle glitter coating, use glitter nail paint, create a design with glitter geometric lines, or paint just one nail with glitter and leave the rest matte or gloss. Here, a subtle glitter coating is done on the classic French nails for a subtle charm. The gold foil on the middle finger further enhances the magnificence of the art.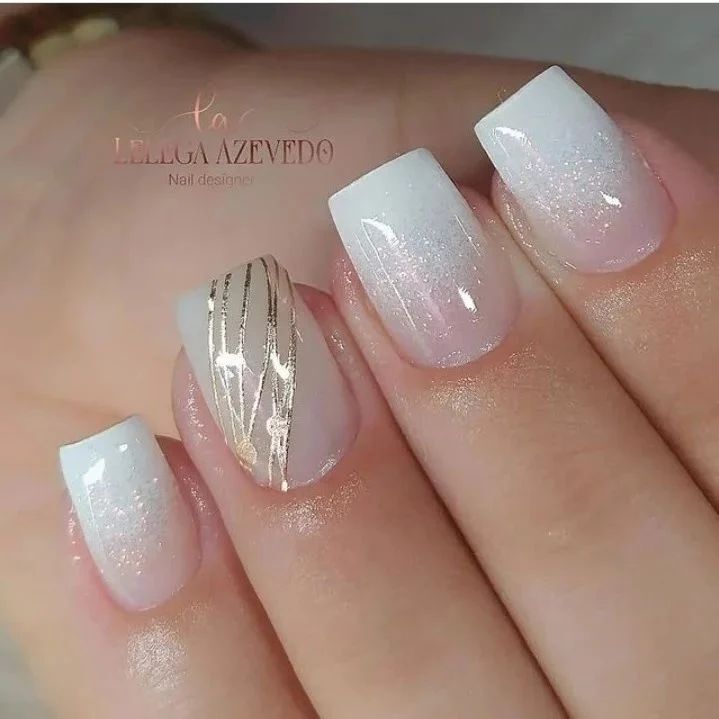 #49 Neon pink as a summer nail color is popular. Use it daintily and you have an exquisite and minimal design all ready to rock everywhere you go. The neon pink is done in French style on the thumb and index finger, and in full on the pinky finger. On the middle two nails, swirls are created in combination with other neon colors, and the effect is totally unique!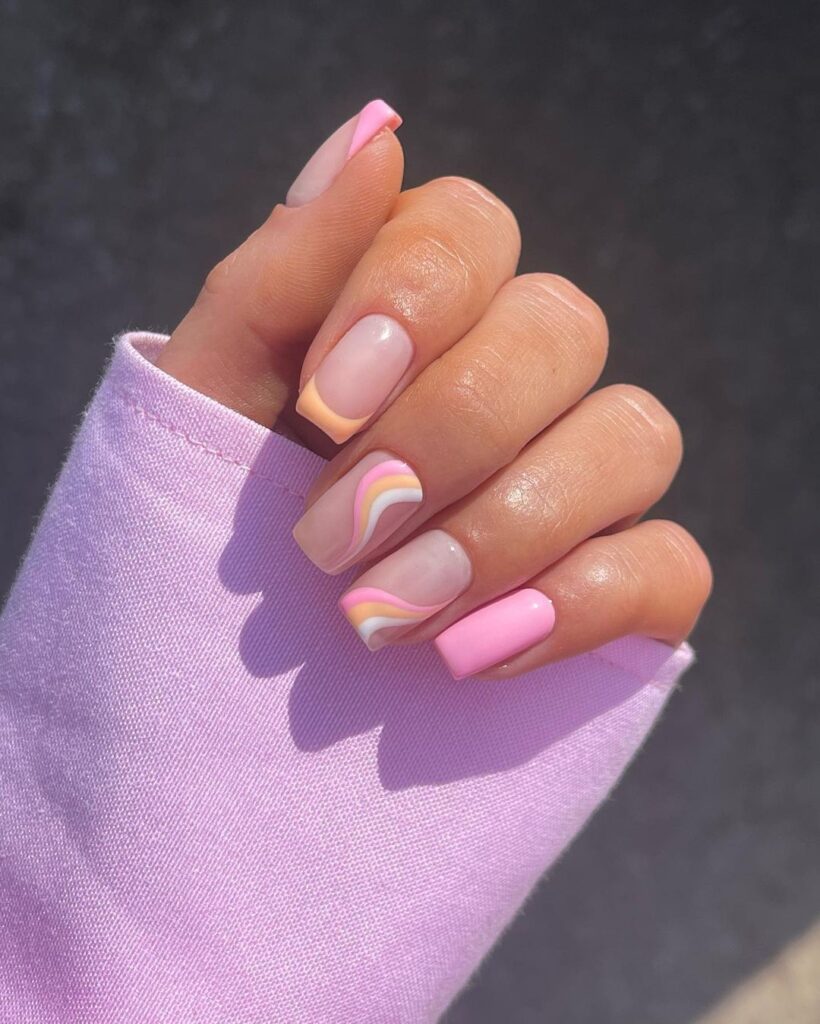 #50 Use many shades on your summer nail design and make use of the brightness of the summer colors in one go! Don't want to make it too much? Try this idea of just single-line swirls on each finger to do the trick. A fun design to sport for any event.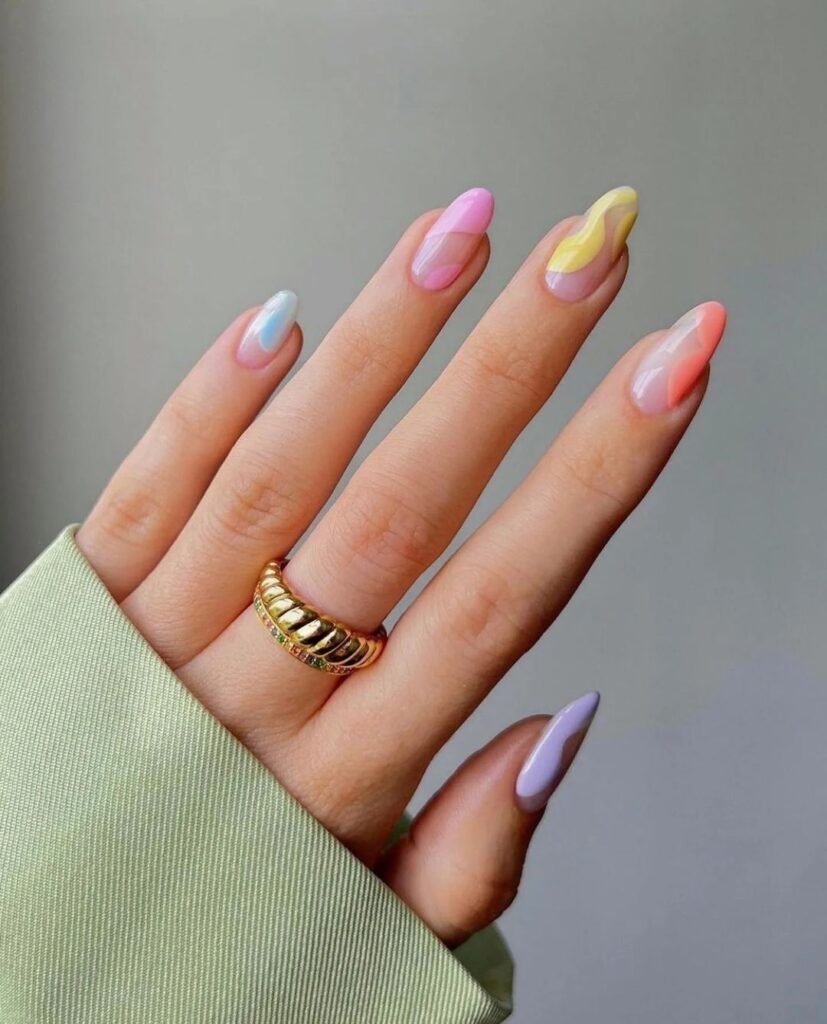 #51 Here's another way to include the summer nail colors. Paint them on your nail length in the French style and see how wonderful it looks. You can use any other nail colors besides these. Or try a combination of two colors instead, like neon pink & orange, for your very own nail design.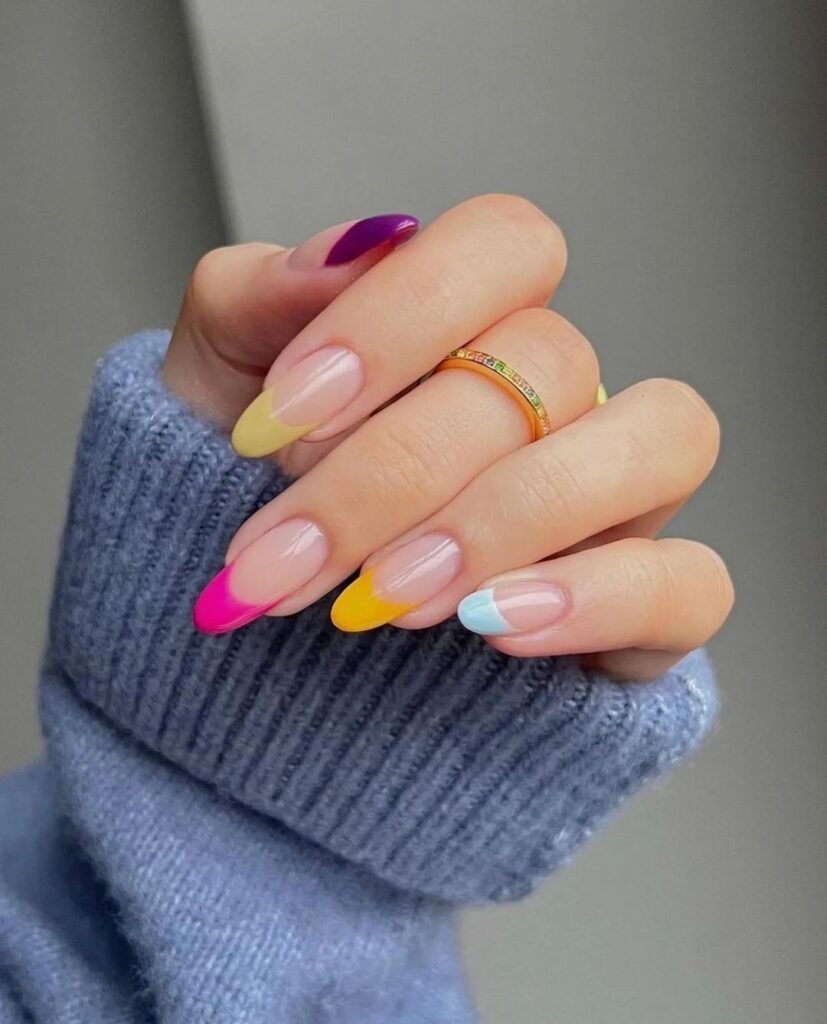 #52 Painted just daintily on the transparent nails, this design portrays lush leaves and florals in full bloom. They are done in a minimal style though so as to honor the summer season without going extra. For the simple & elegant trend going on, these summer nails 2023 are a perfect idea.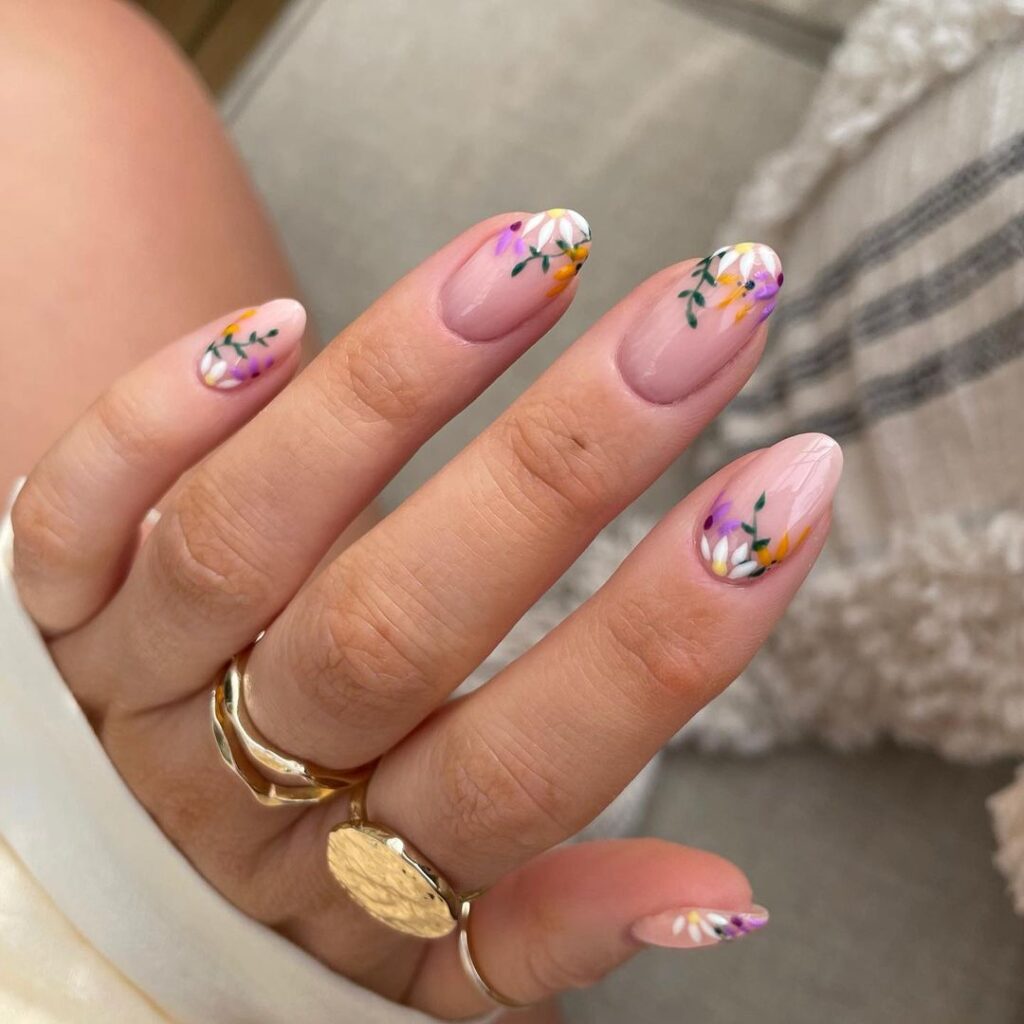 #53 One of my favorite bright summer nail colors is neon in every tone. Here, the hue is used in orange, pink, and green shade, with the majority occupied by the first two and the green only used as accents.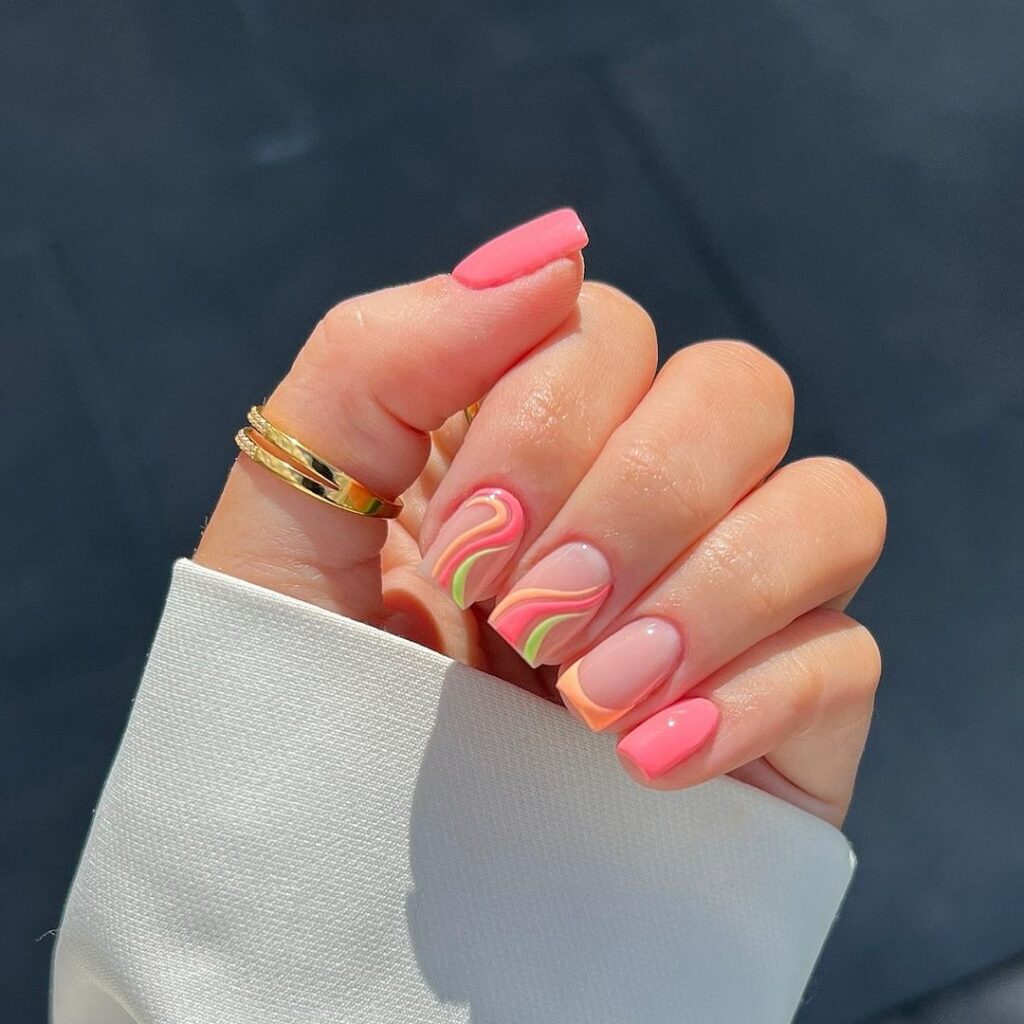 #54 If you want simple, everyday summer nails where the colors or the design don't look loud, then try these French silver nails. They look amazing in the summer sun and will look gorgeous with any clothing style and occasion. Plus, since they use only a modest base so there are chances of these summer nail designs lasting longer than the fancy ones.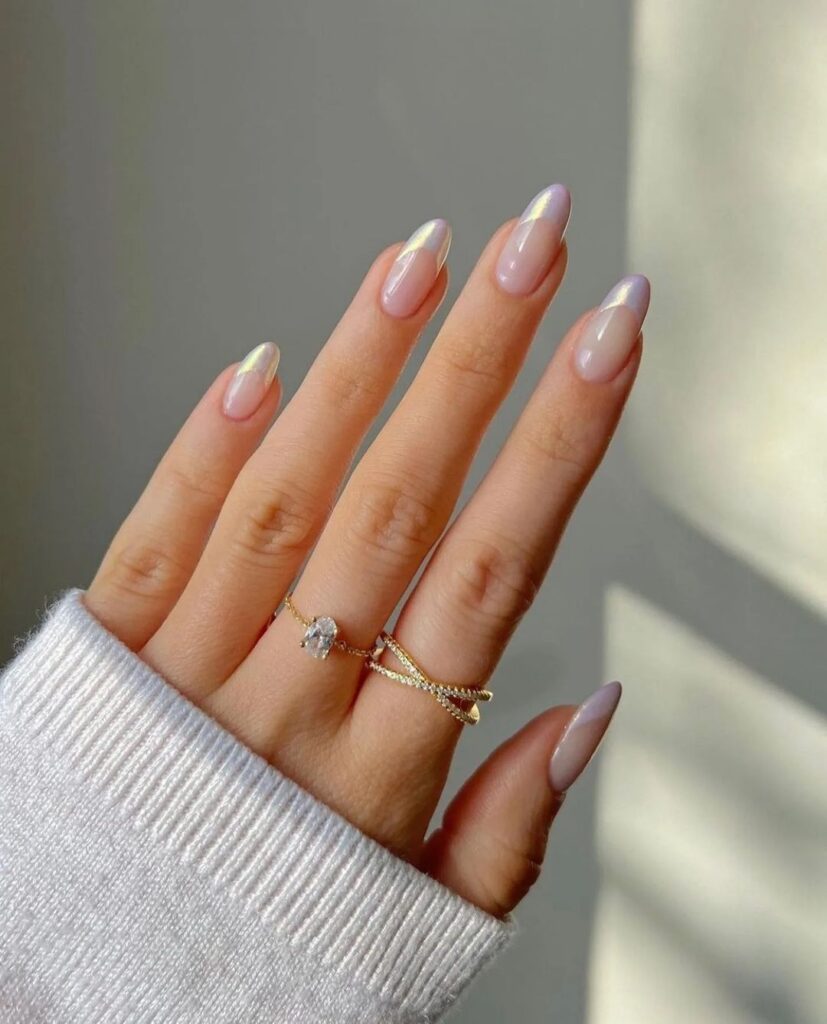 #55 Summers are all about vivid and brilliant colors. When fused well so they complement each other without looking tacky, they look absolutely incredible. Here's how pink & blue summer nail colors are combined with purple and yellow for an appealing effect. The little stars accent the design flawlessly.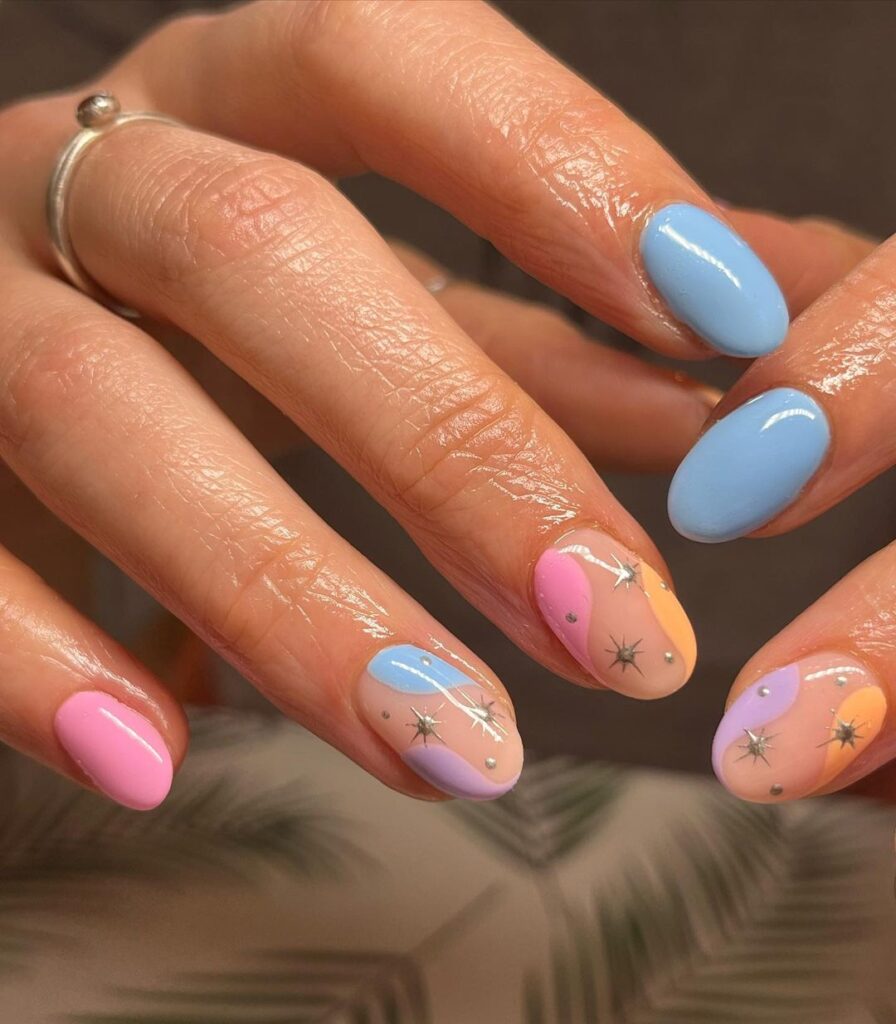 #56 As you'd have guessed pink and blue are common colors in many summer nail designs. Combine them and you have an eye-pleasing art that looks visually appealing in pictures and in real life. Add some glitter accents to elevate the glamor of the design further.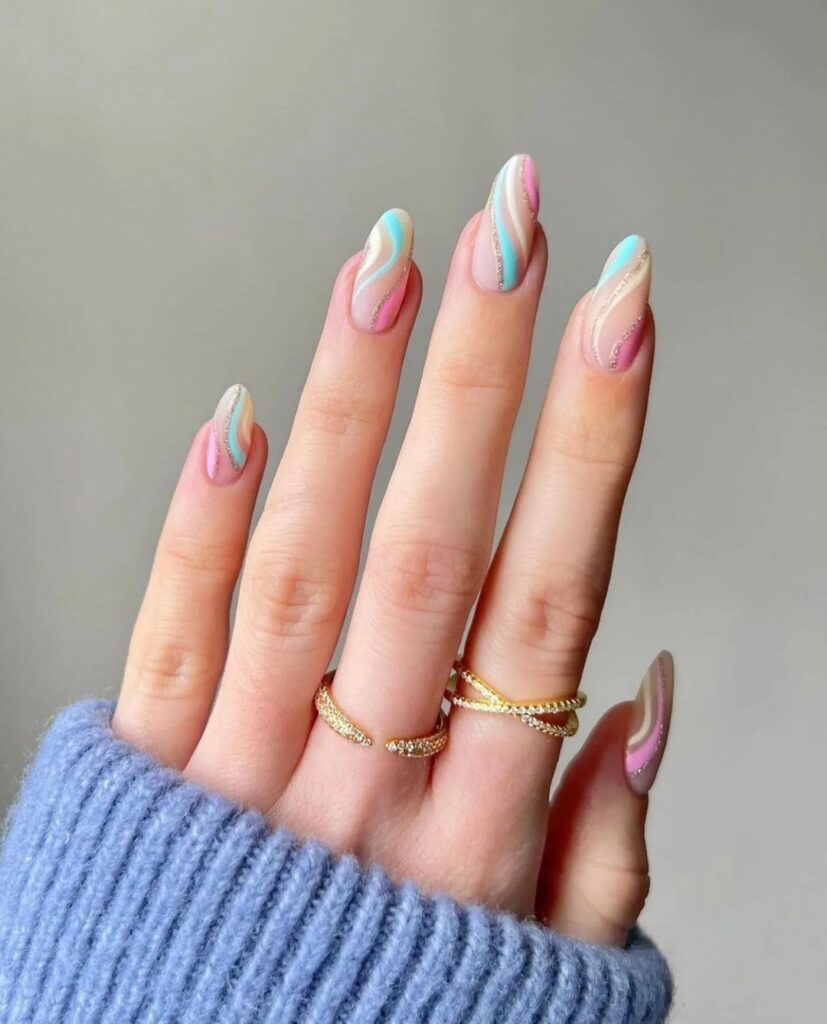 #57 Muted colors might seem like a thing for fall nail art, but they can easily make way into summer nail designs in 2023. Muted colors symbolize a sense of peace, and calm, and give away a subtle vibe of regality. Infuse these elements into your nails by trying a design like this.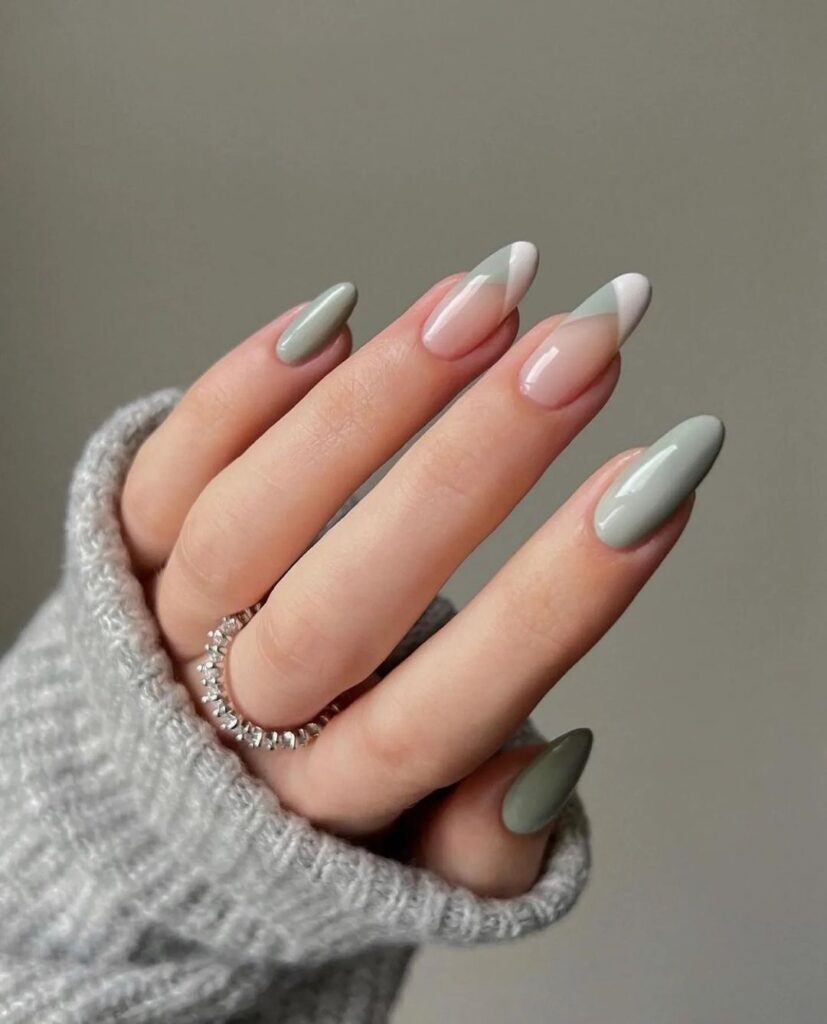 #58 Pastel green graces the fingers of three nails, while the middle two fingers are bedecked with an artistic nail pattern. This is a usual style in many summer nail ideas and it definitely adds a glamorous and modish touch to the simple one-color nails. The swirls in white and golden look harmonize well with the pastel green to give an aesthetic charm to the design.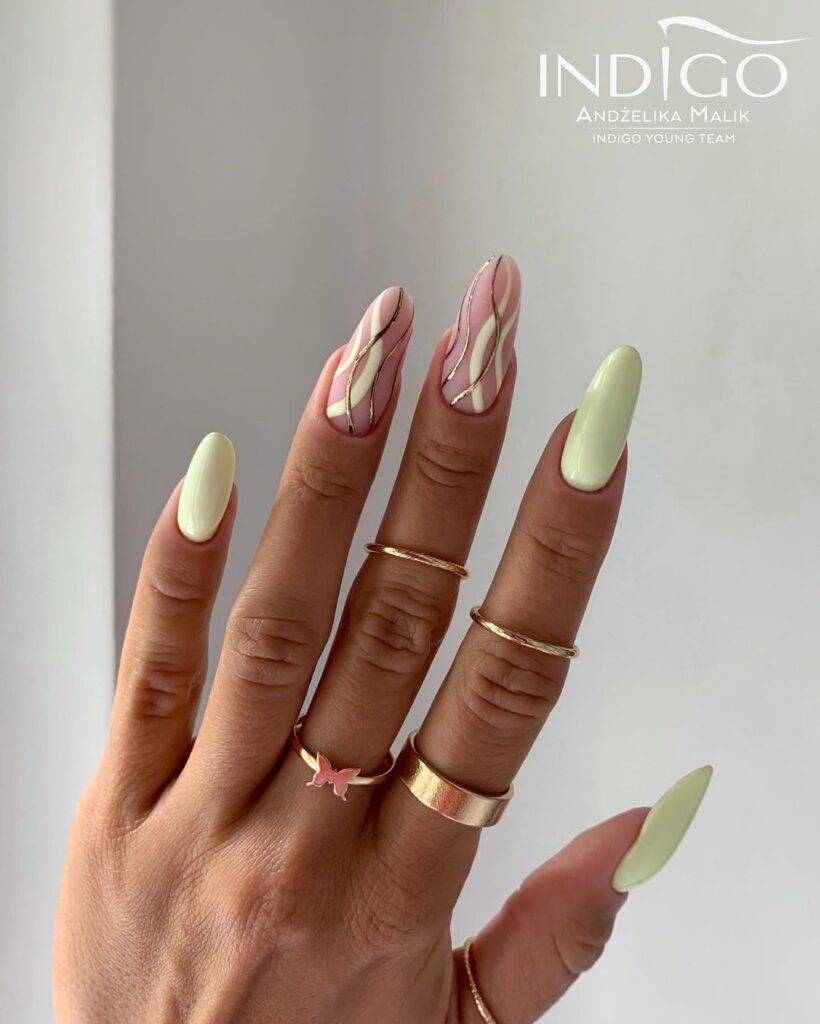 #59 While this isn't exactly summer nail inspo, it's surely a timeless nail design to explore any time of the year. The combination of silver and white with a hint of glitter is classic and never fails you, no matter how you choose to design it.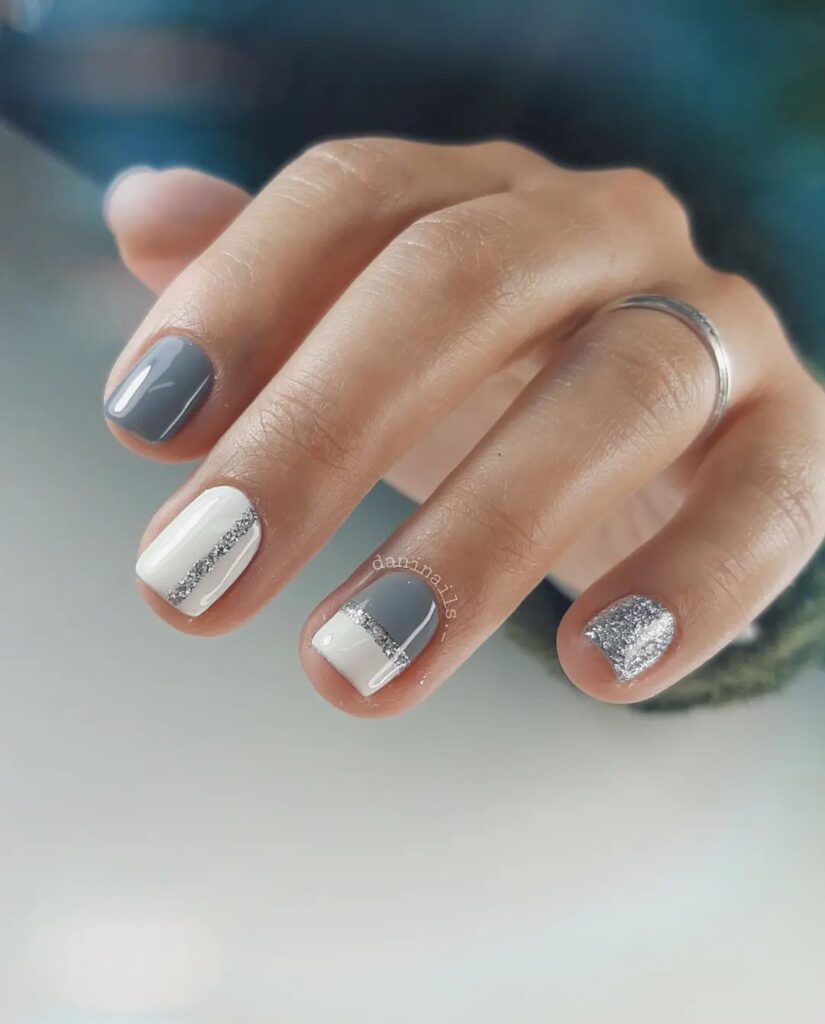 #60 Ah! The cookie nail polish. No, we aren't kidding. The nail paint with little crumble pieces like that of chocolate crumbs in the cookie is called the cookie nail polish. It's the latest fad in nail paints and here's how you can sport it in summer. Sketch a butterfly in one of the nails, choose a picturesque color, and you're done!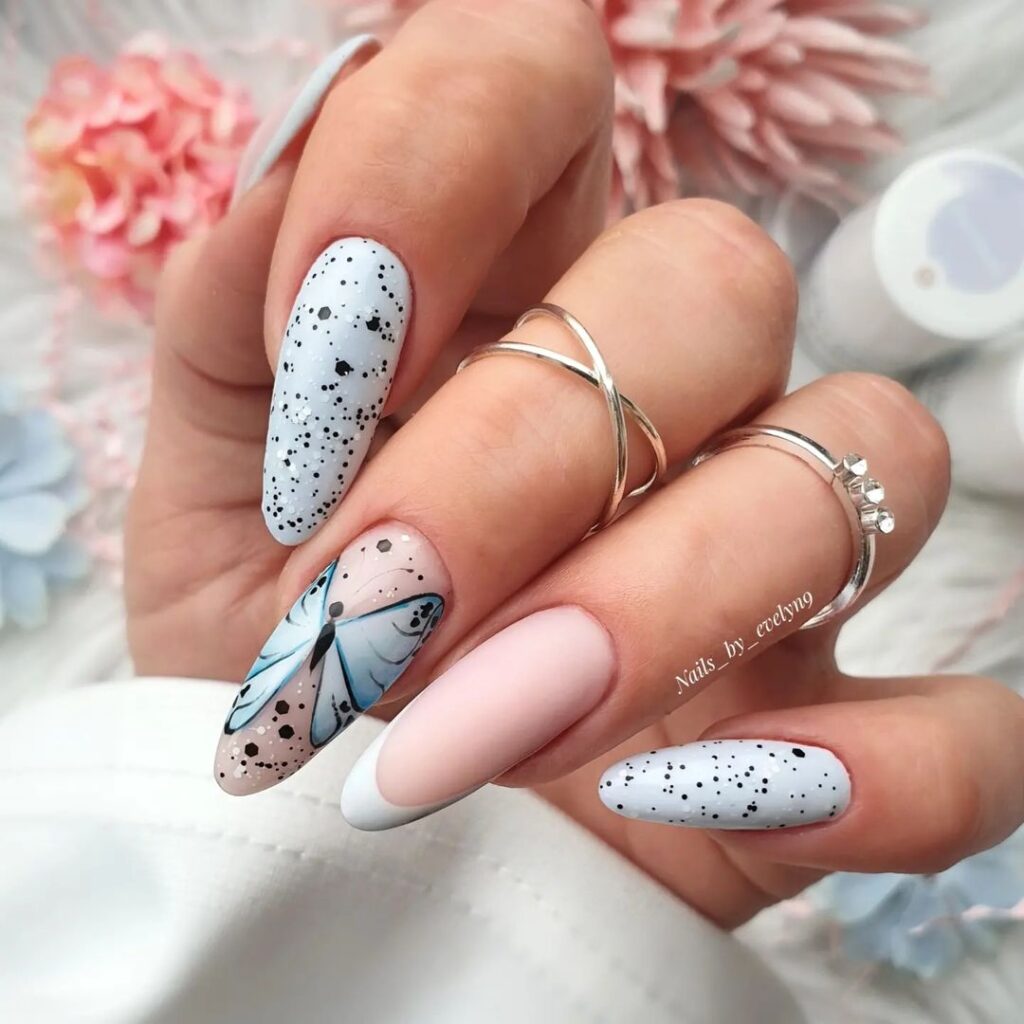 #61 Blue summer nail designs often consist of sky blue signifying the clear and beautiful blue skies of the summer season. The thumb and pinky finger are painted in blue while the index and ring finger incorporate the shade in the french way. What's interesting is how the middle finger is done. The French-style blue is painted beneath the nail bed for a unique touch.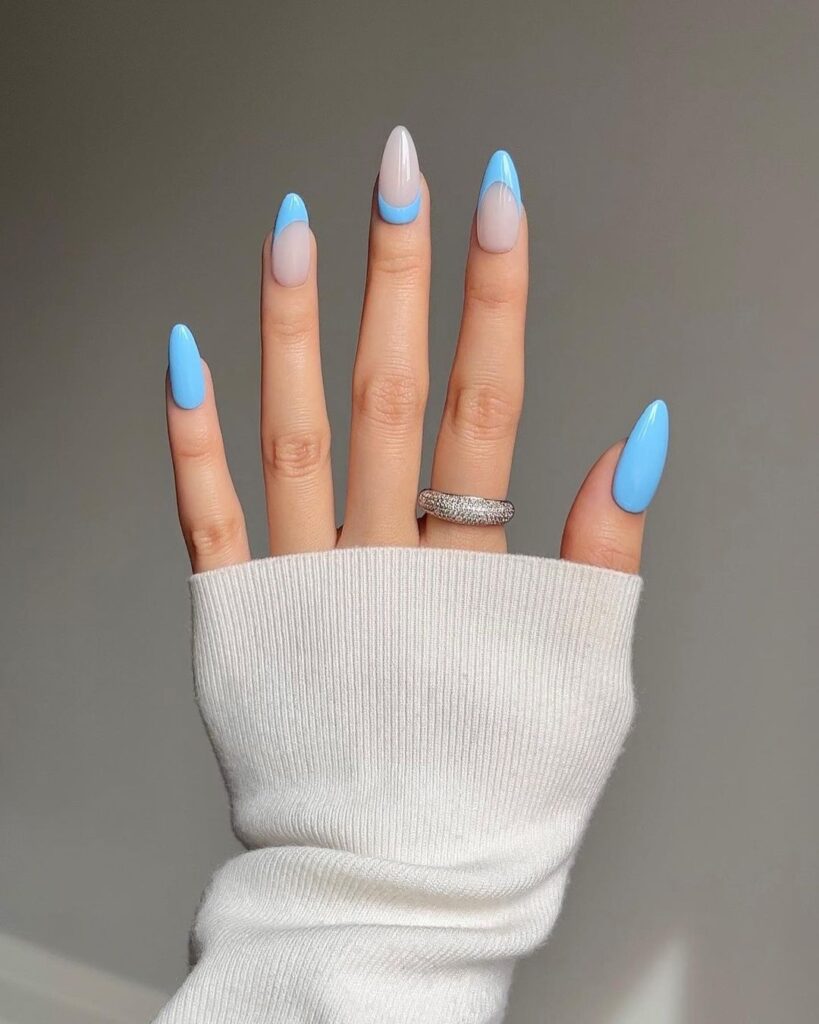 #62 Nail art beads a.k.a. the bullion beads are a trend that gained quite a momentum in the 2000s. Although the fad is dimmed, their uniqueness and versatility still make them common in many nail designs. Here, the clear nail paint is elevated by using beads and white nail paint. Overall, a great look to sport in summer, or any time of the season for that matter.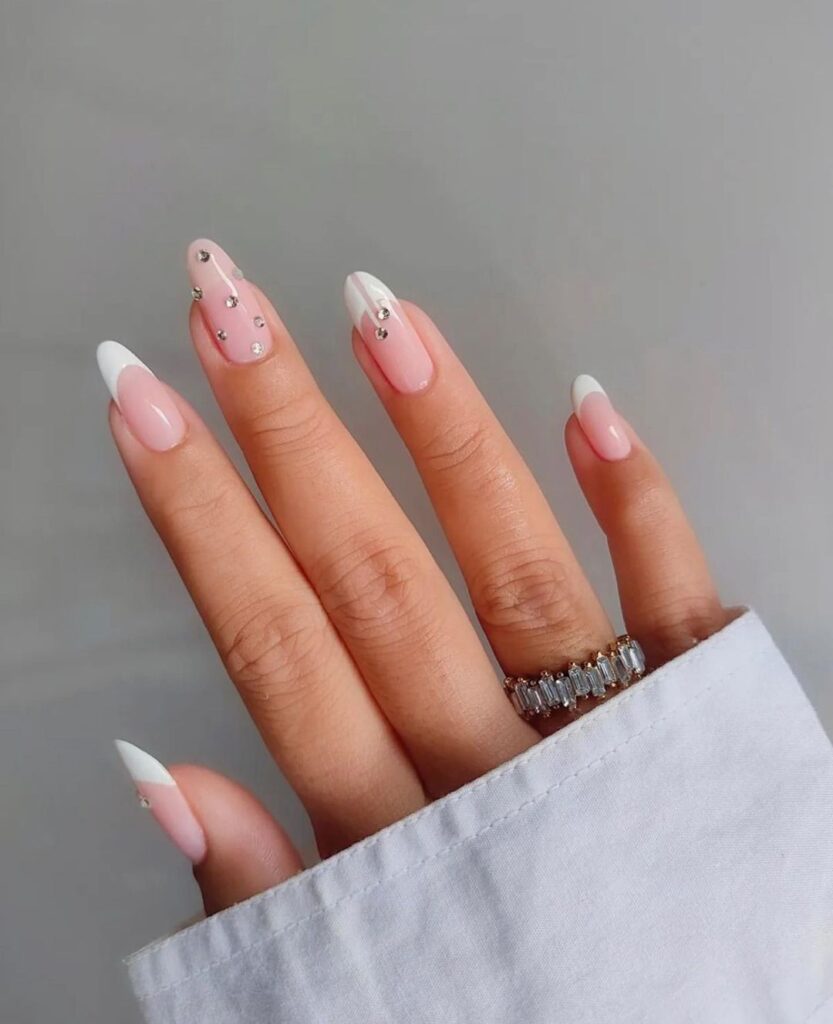 #63 Those little hearts have our hearts. We are swooning over the easy yet distinctive creativity of this summer nail idea. The little hearts are easy to do and can be quickly done with a nail art utensil. Pick any two colors for a stunning combination.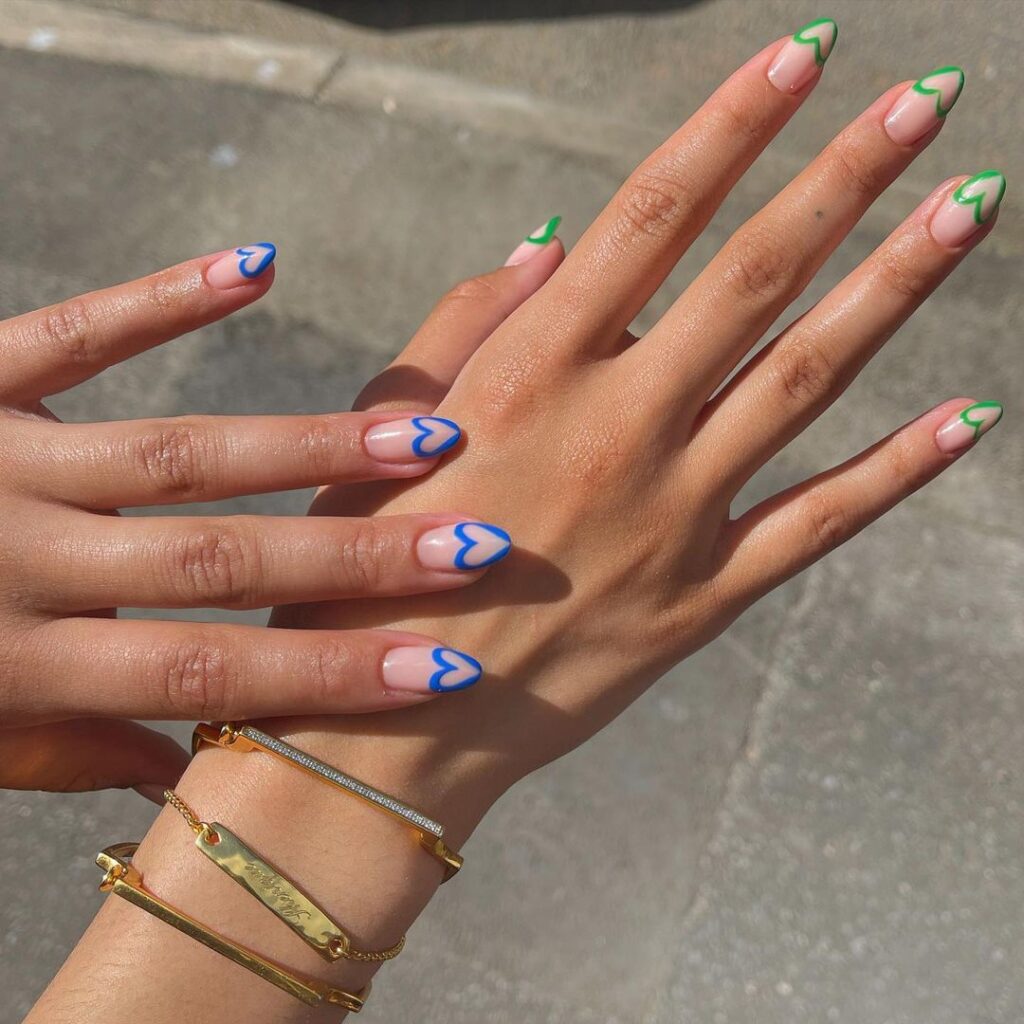 #64 What a summery twist to the usual ombre French nails by adding an interlaced leaves pattern to the ring finger. It gives a unique effect in a very subtle manner.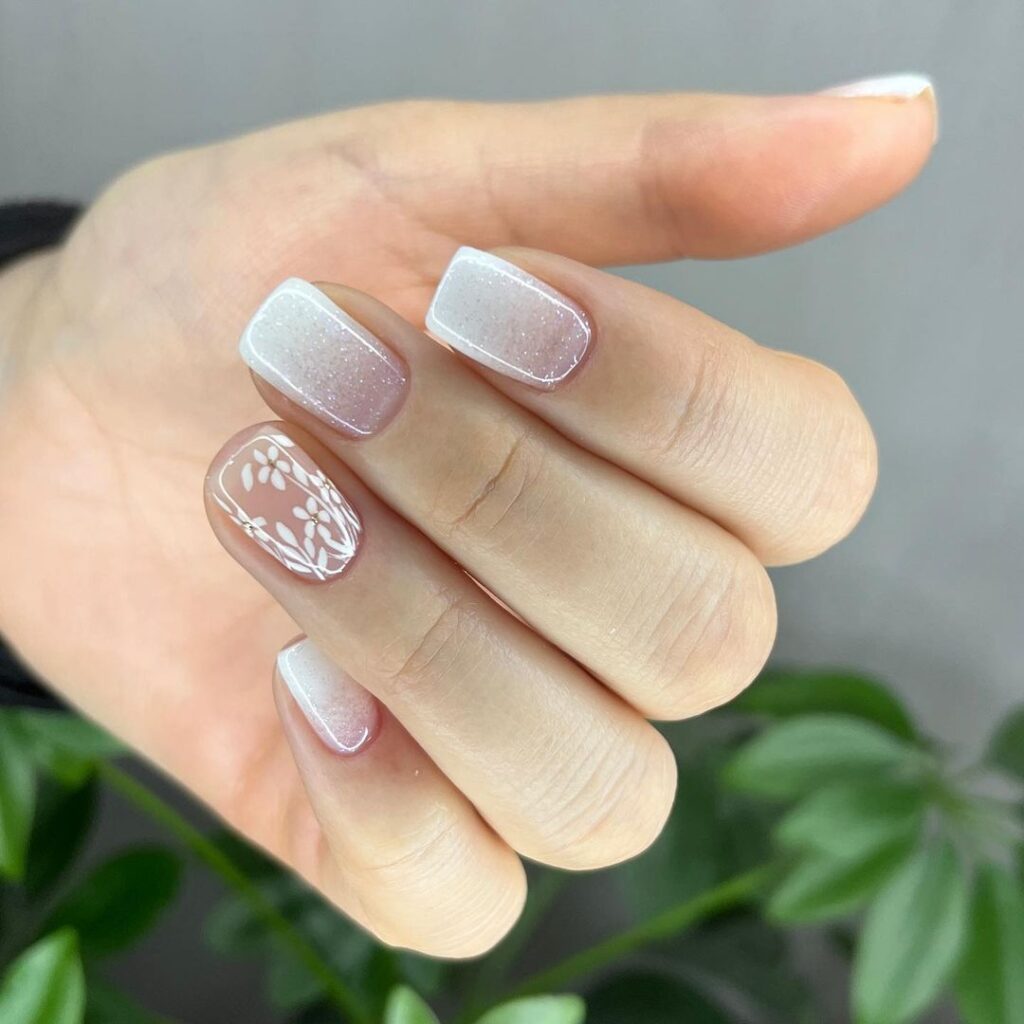 #65 Acrylic summer nails are a huge trend. Acrylics are the fastest to add length and strength to your nails. They create a large, evenly shaped canvas to create neat nail designs. Here, the acrylics create a subtle French nail with a hint of glitter for minimalist elegance.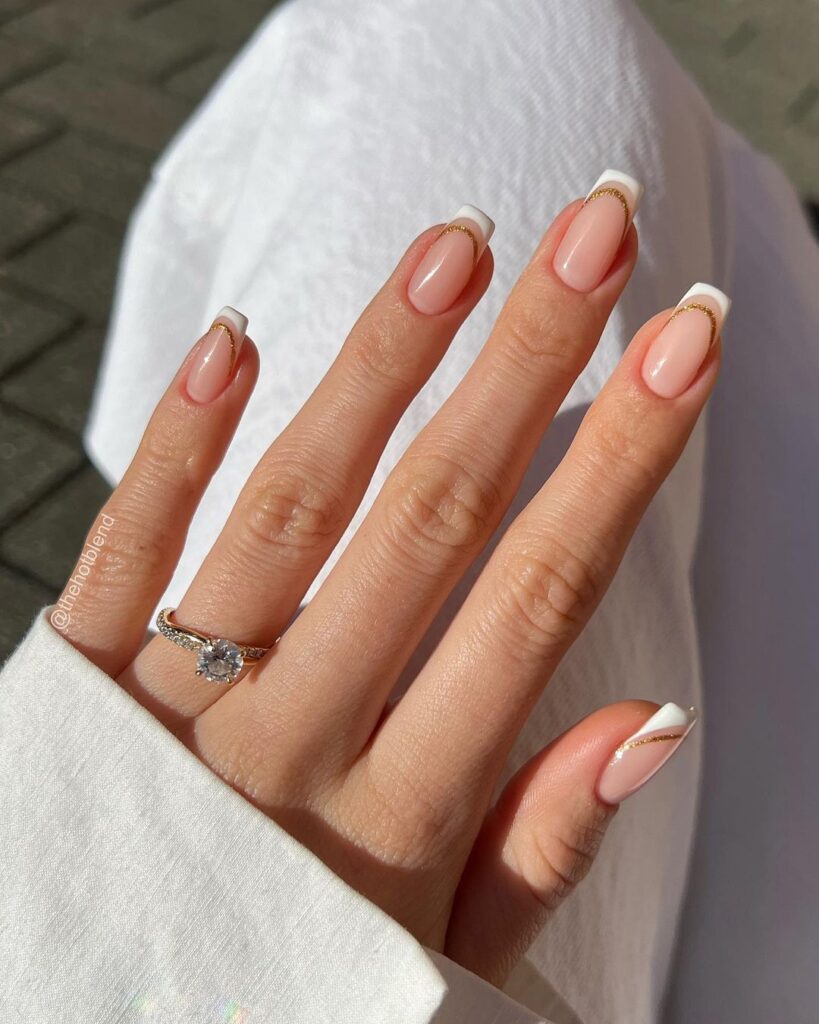 #66 The classic clean red nails are lovely on their own. But add to the glitter and summer elements of leaves and colors, and they are the perfect companion for your summer outfits and style.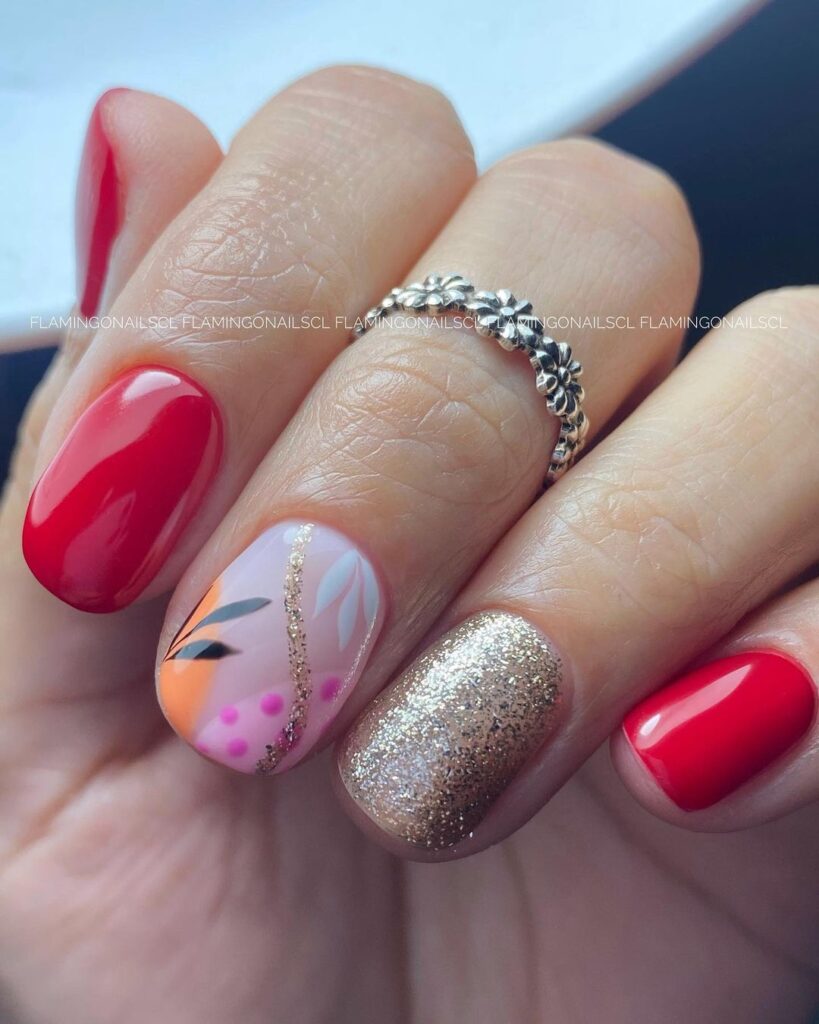 #67 Cookie nails but make them colorful. Not only do these nails use beautiful colors to complement each other, but there's also another quirky aspect of these summer nails 2023. The dripping effect on every nail adds such a fun and playful attribute to this lovely nail art. 
#68 These ombre pink summer nails are charming for many reasons. The lovely blend of pink colors and the sketch of cherries on each finger is exquisite. While the trend is to change the nail designs on every finger, you certainly can do a trending nail design without doing that.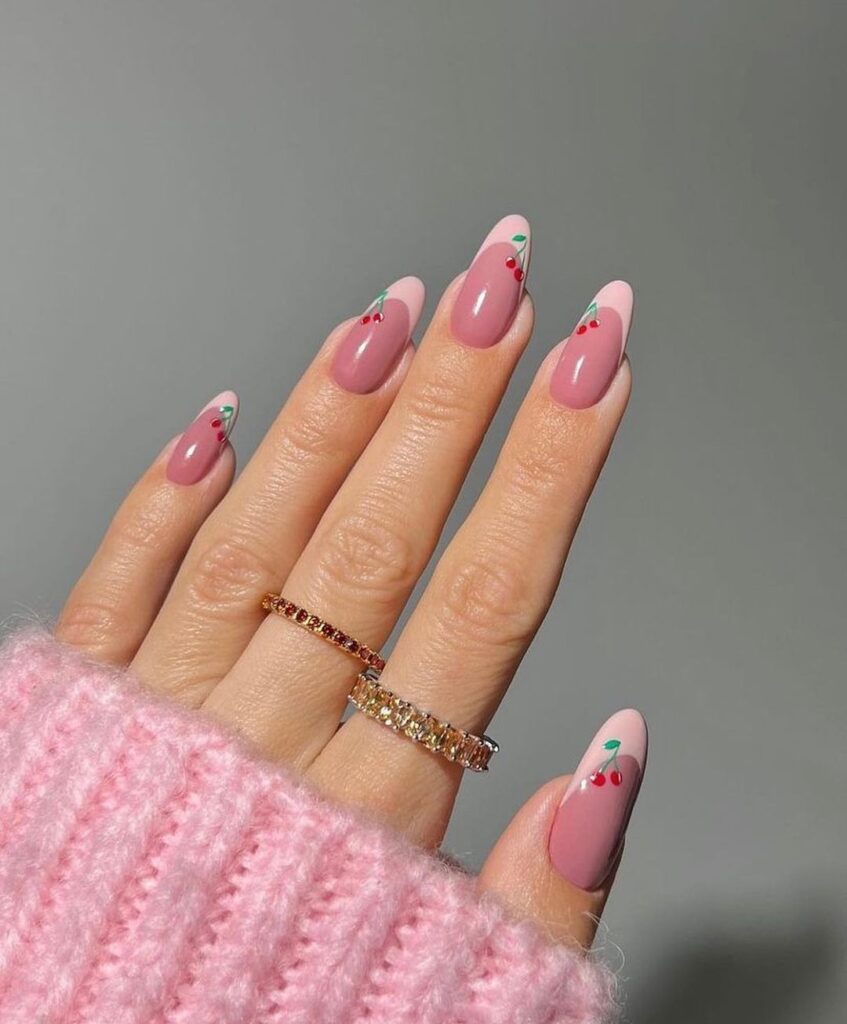 #69 The summer coffin nails in blue look magnificent and eye-catching in the first look. If you live somewhere near the beach or going on a tropical vacation, this is a superb design to sport on beach days.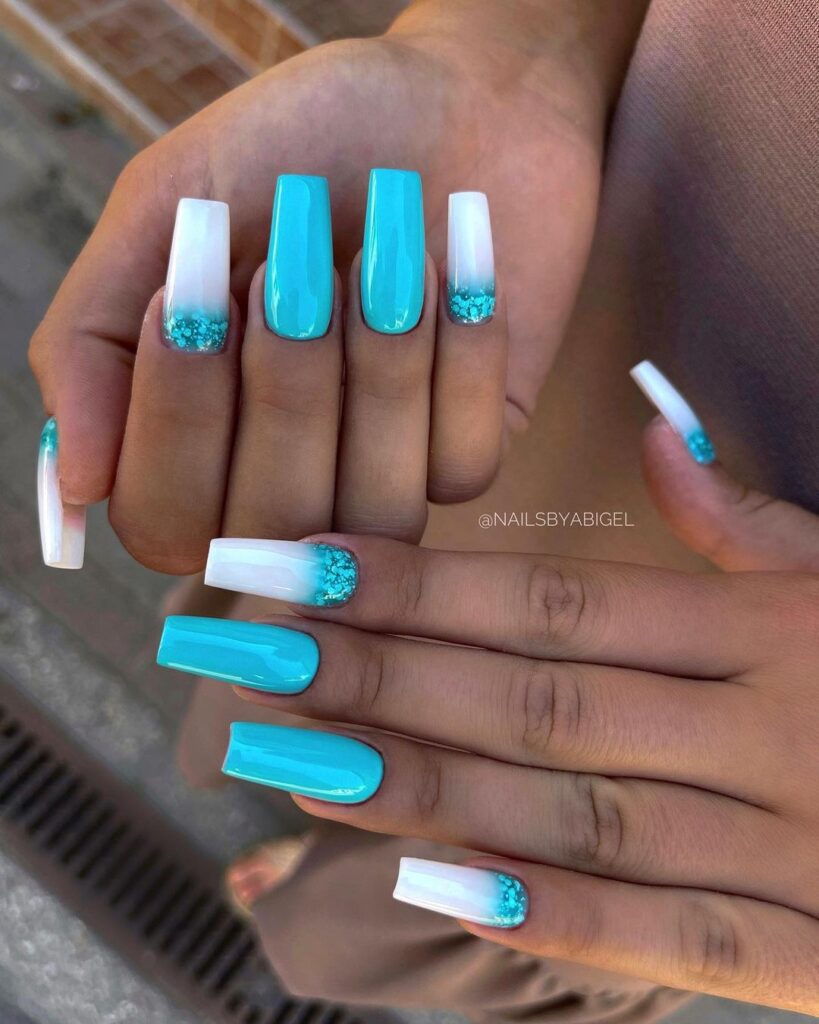 #70 One of the lesser-experimented nail shapes is the mountain peak. In this nail shape, you do need to have nails of a good length so the shape can form beautifully. As a result, you can draw many good patterns on the nails because of the space, like the florals, checks, clouds, and smileys drawn here.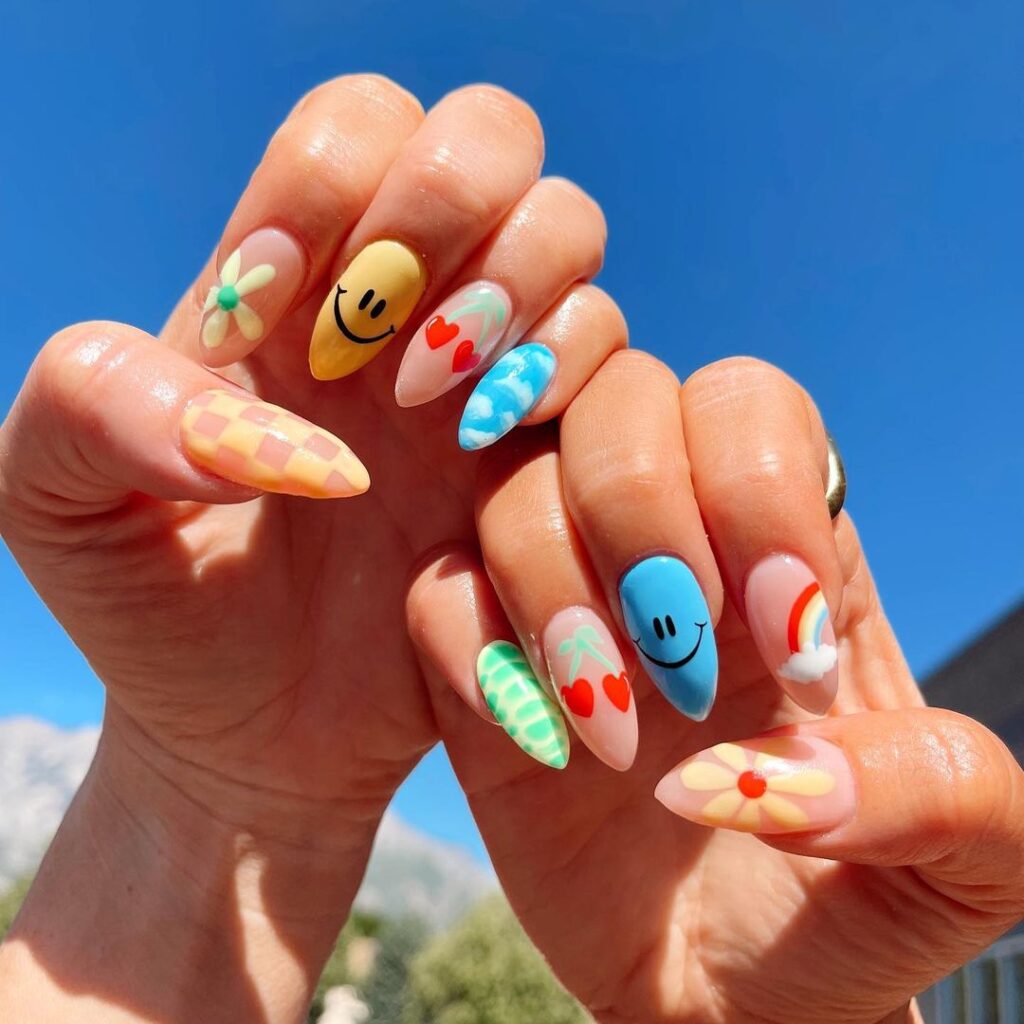 #71 These summer gel nails are just top-notch in creativity and visual appeal. Gel nails are softer and more natural than acrylic nails. They are also more comfortable to wear. You can opt for them if you aren't a big fan of acrylics.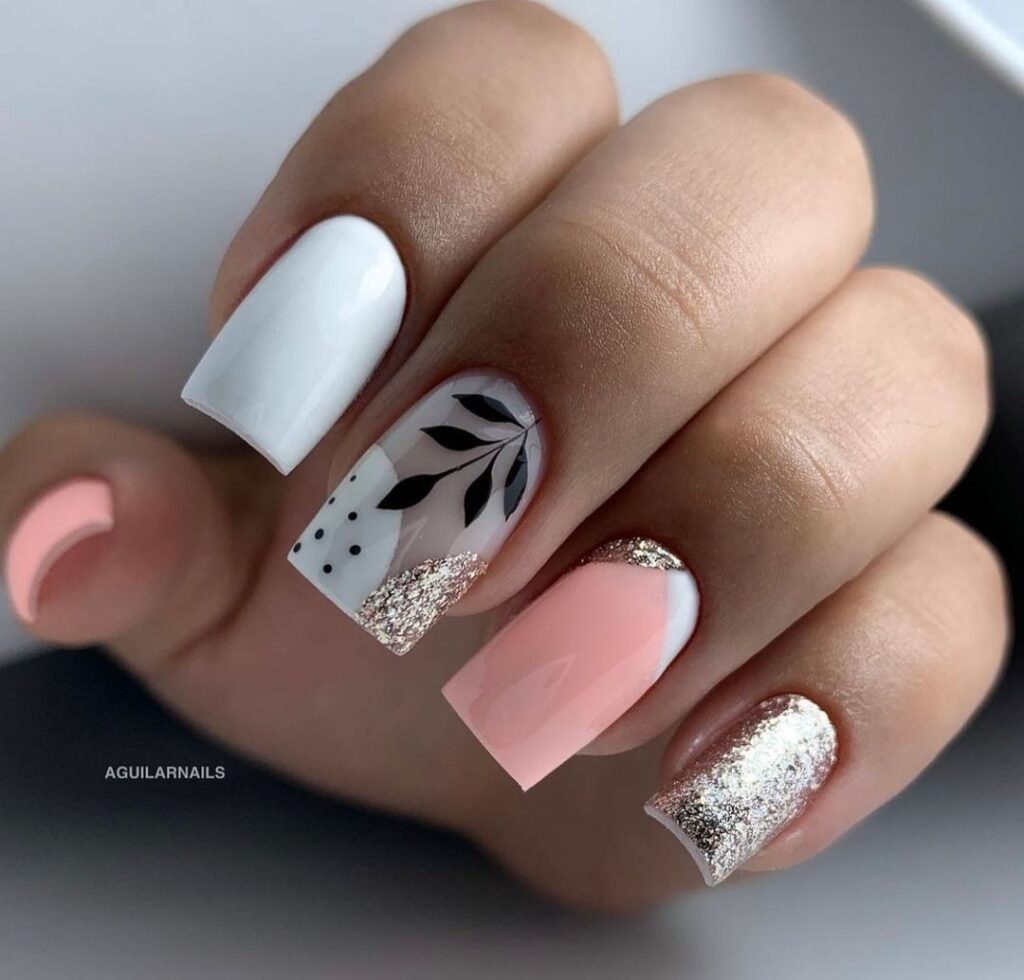 #72 Coffin nails are generally long, but you can definitely wear them short and still enjoy the allure of this nail shape. Moreover, the glossy finish looks fabulous in the warm summer sun. So why not try them with a favorite color of yours?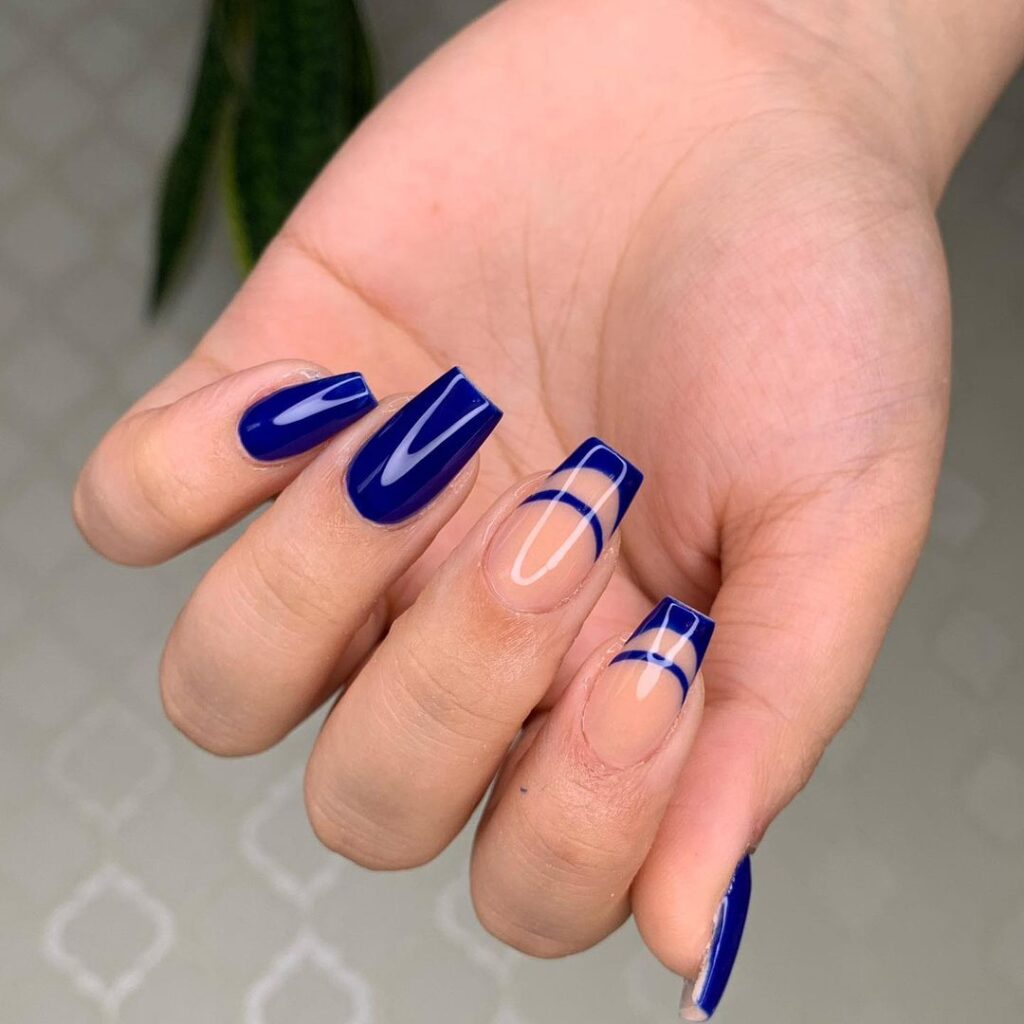 #73 We are in absolute awe of the summer nail designs. Each of them looks so fresh, unique, and pristine. Take for example this floral one on a nude base that's further accented with vibrant colors. It's such a rich and picturesque nail idea for summers.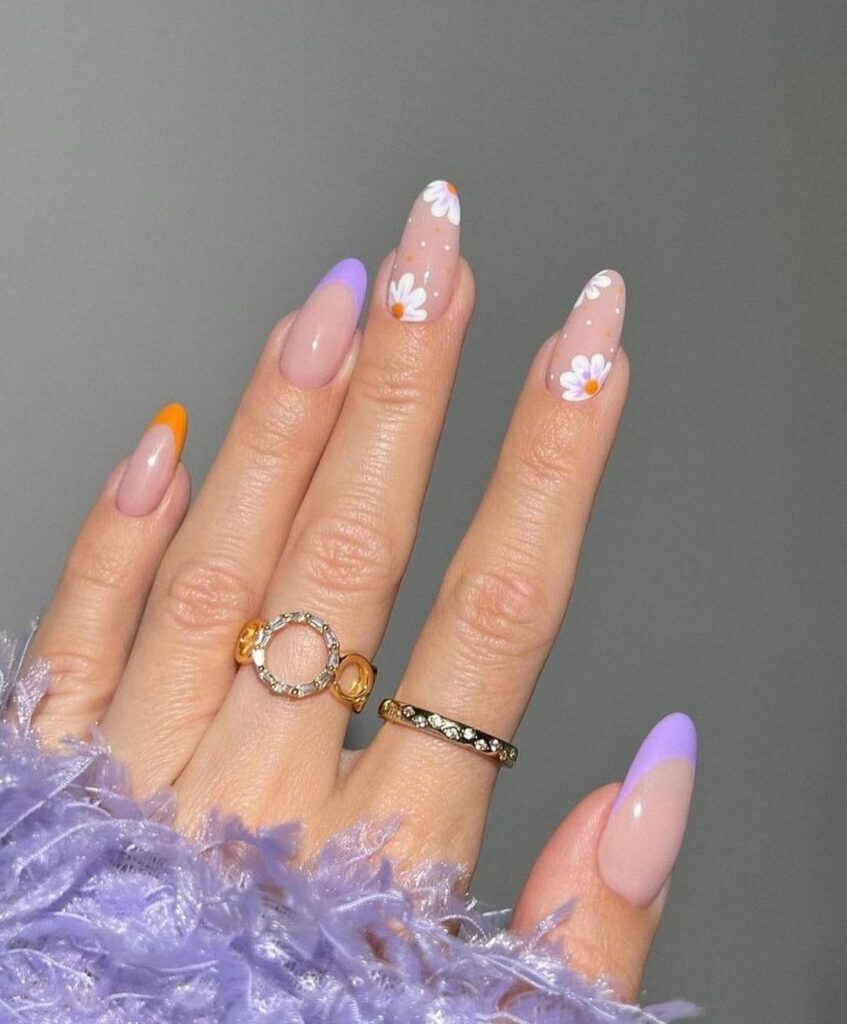 #74 Ink blue in nail art might not seem like a good option, but paint them matte and you will love this hue. Add more winsome effects to the unique color by adding cute hearts on the ring & middle finger.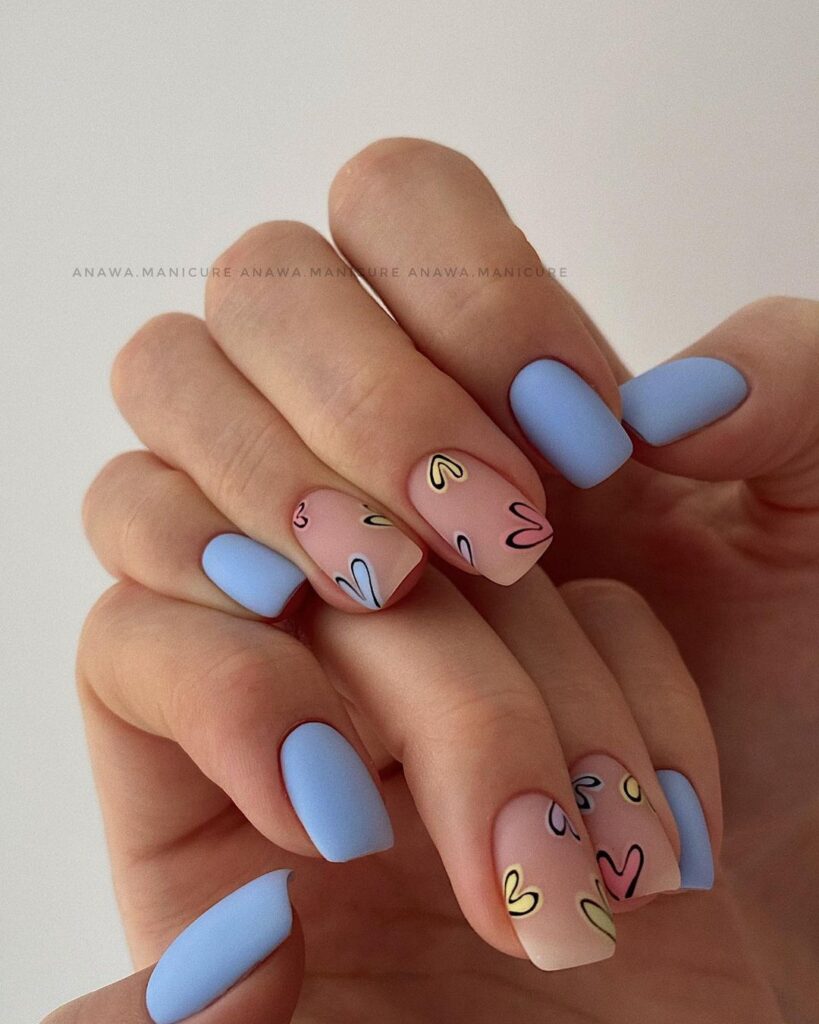 #75 For short summer nails, you can opt for this design. It's simple, unique, and yet gives off glamorous vibes because of the addition of glitter. This is a superb summer nail idea on dark skin.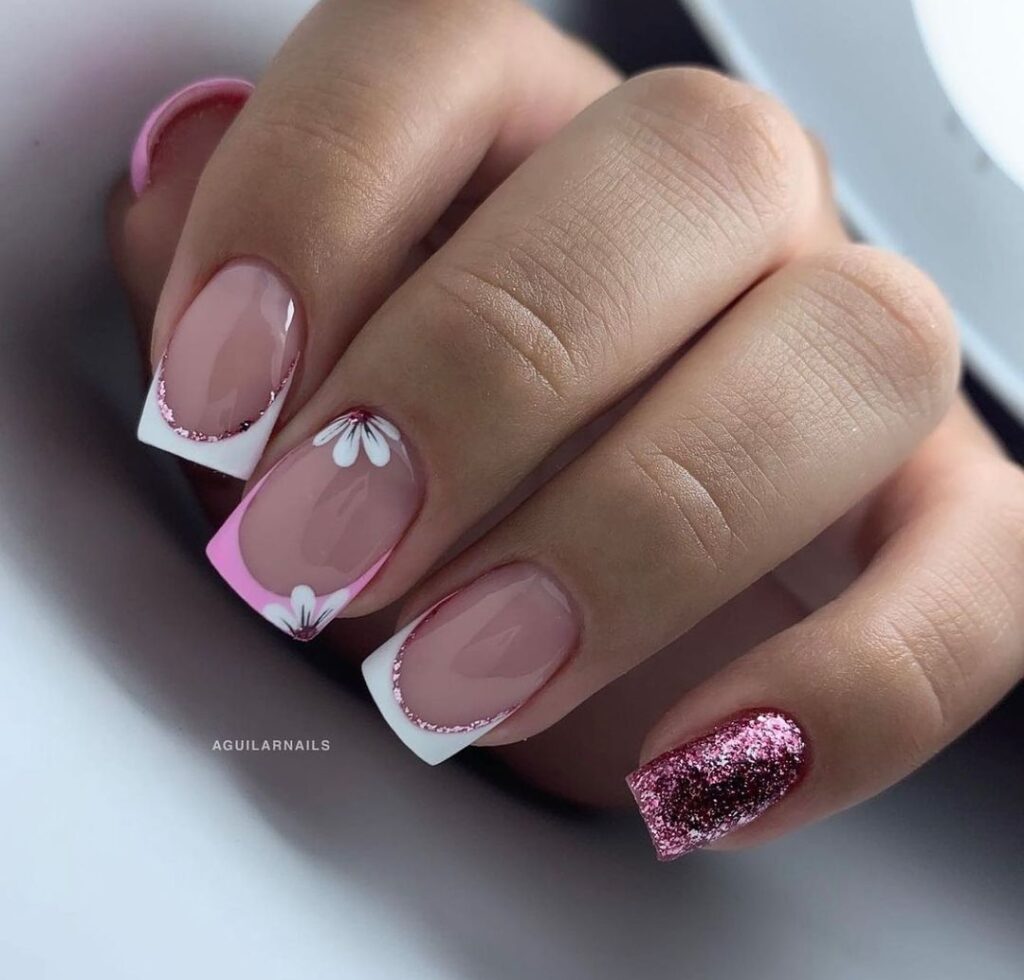 #76 Just like the flowers are drawn on the nails halfway, the butterflies, which are also symbolic of the summer season can be drawn in the same way as well. The combination of blue and yellow further enhances the beauty of this nail design.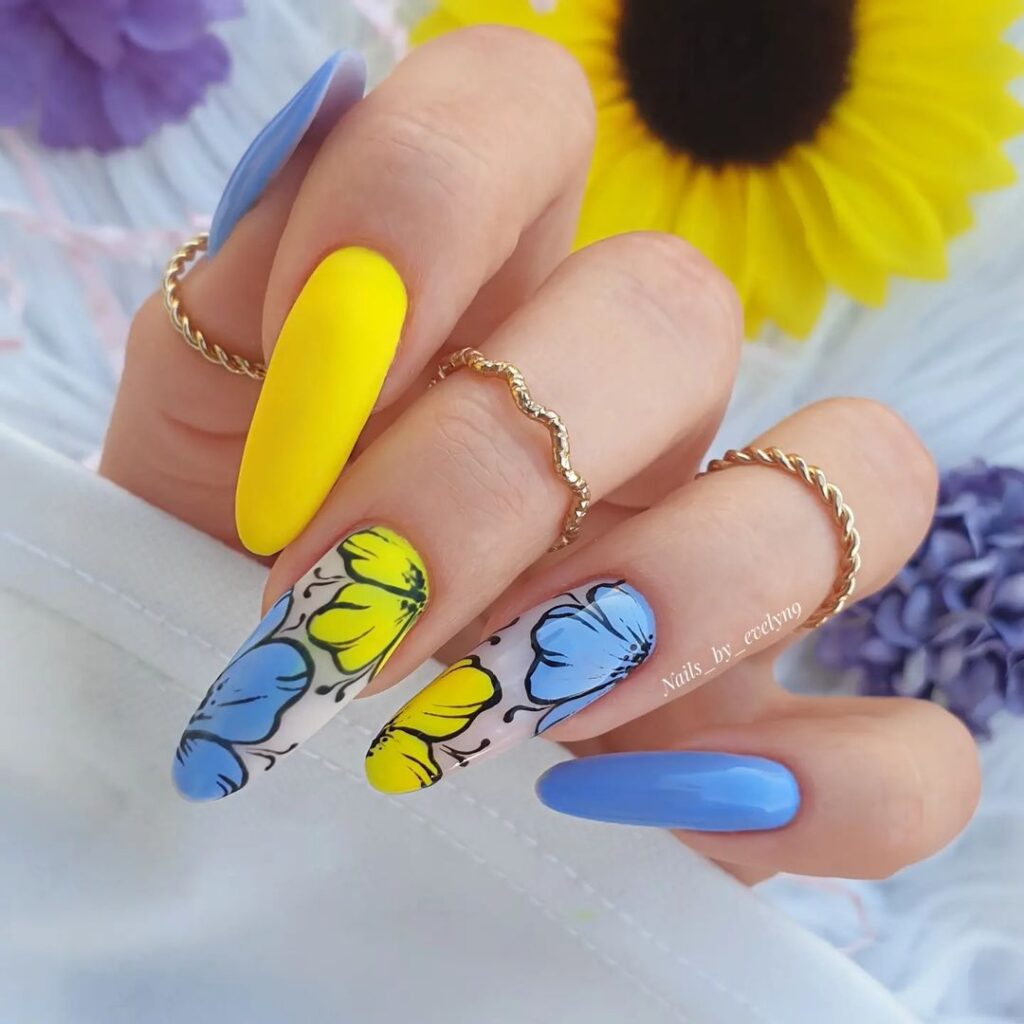 #77 Pink and blue are the most common colors for summer nail designs in 2023, and you certainly can't go wrong with the combination. So, here's another idea to combine these colors in an artistic and notable manner.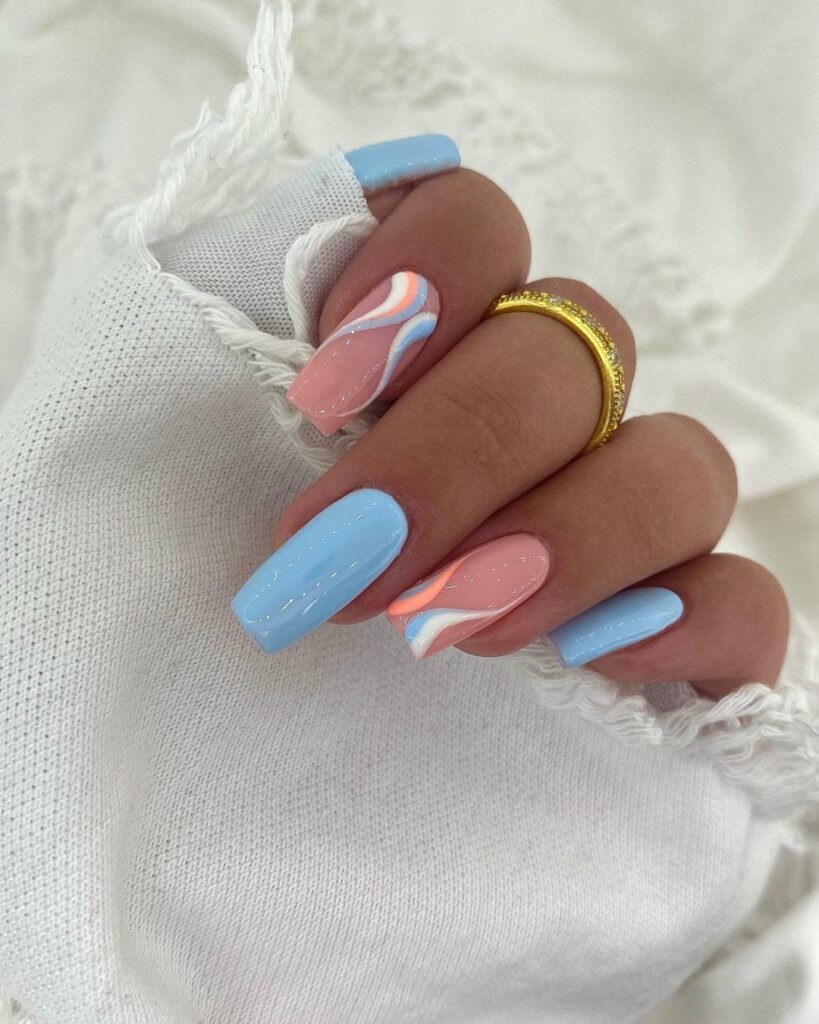 #78 If you love neon, but don't want it to take center stage in your nail art, use the hue to create artistic patterns and make a mellow color as the base. Incorporate glitter on any one nail for a fun take on this idea.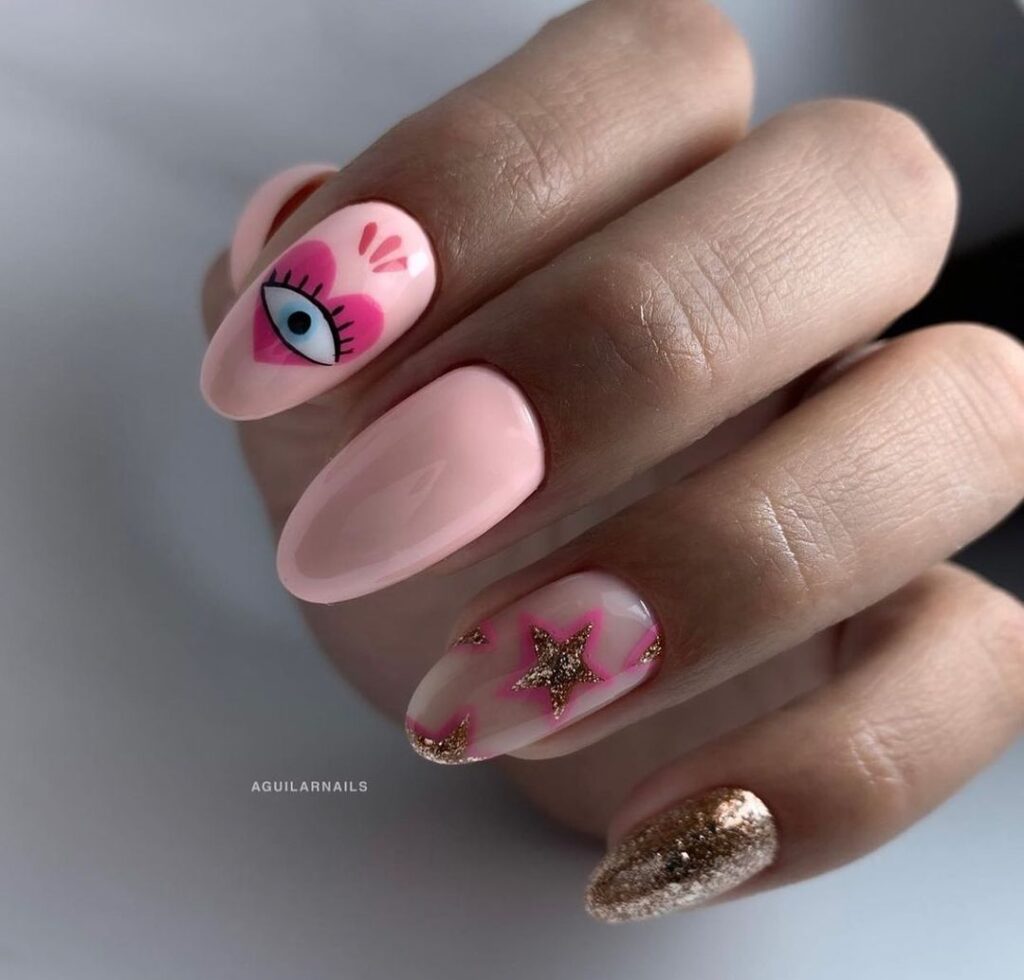 #79 Now, this is an easy DIY nail art for summers. All you have to do is paint with a transparent and create dots that resemble flowers. Just ensure the dots are all at the same distance so the intricacy of these summer nails is maintained.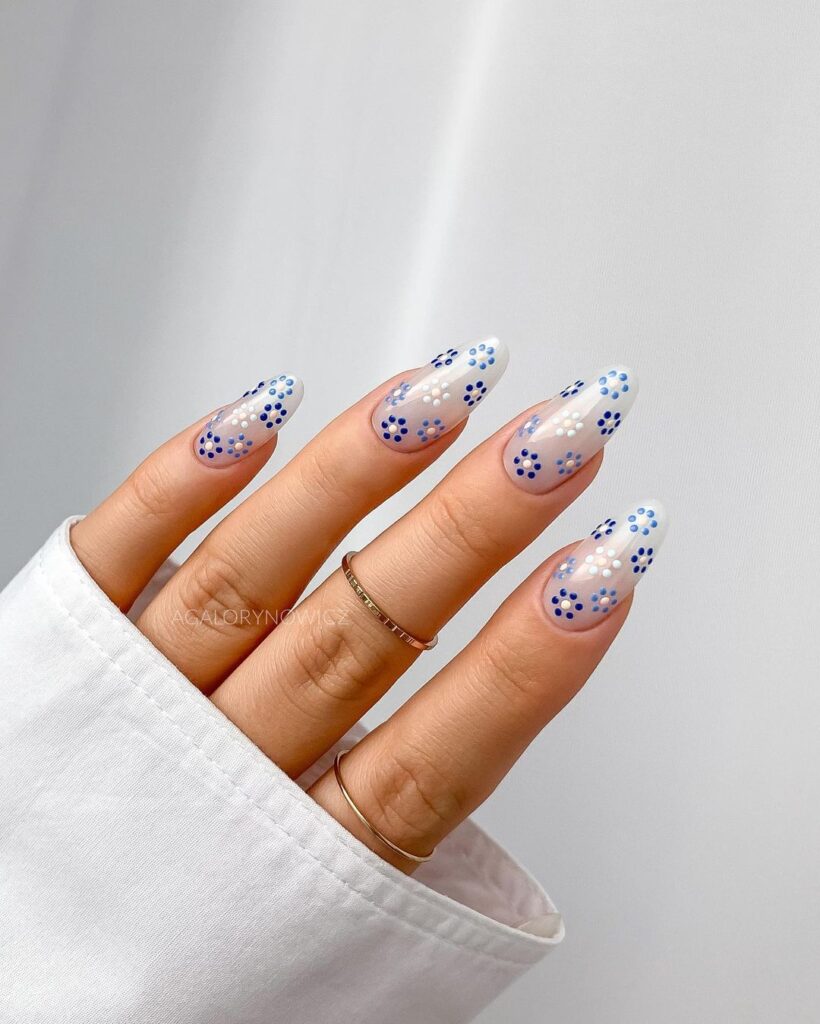 #80 When summer is in the air, pastel colors have to come to run the day. Combine two pastel shades for an adorable art. Further paint on them smileys and florals to amp up their artistic appeal.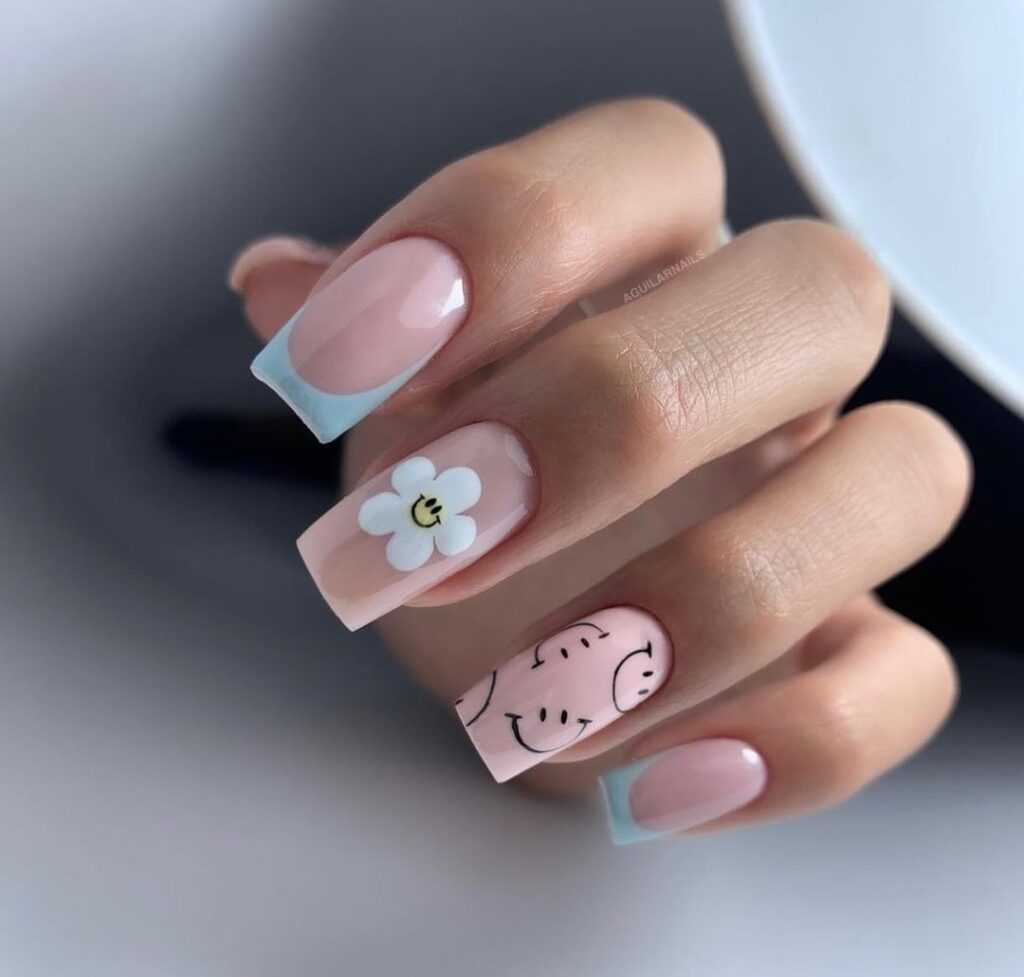 #81 If you're in the market for cute summer nails, look no further than these summer gel nails with adorable designs and patterns. These types of summer nail designs do take time to create because of the intricacy and neatness of each nail. So, make sure you have a good amount of time on hand when you get a design like this done.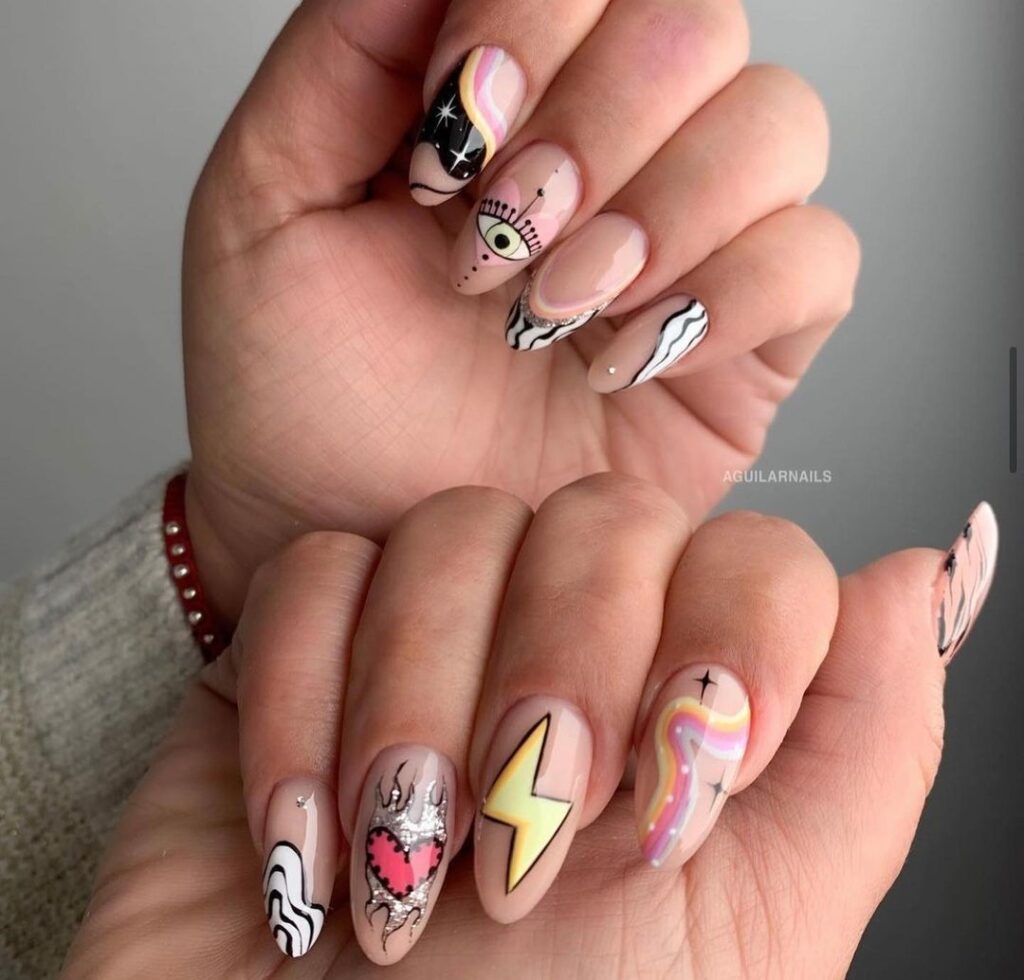 #82 Summer is the perfect time to experiment with colors, and it's also the perfect season to experiment with designs. Here's a combination of pink & light green done on the tips of nails for a unique look.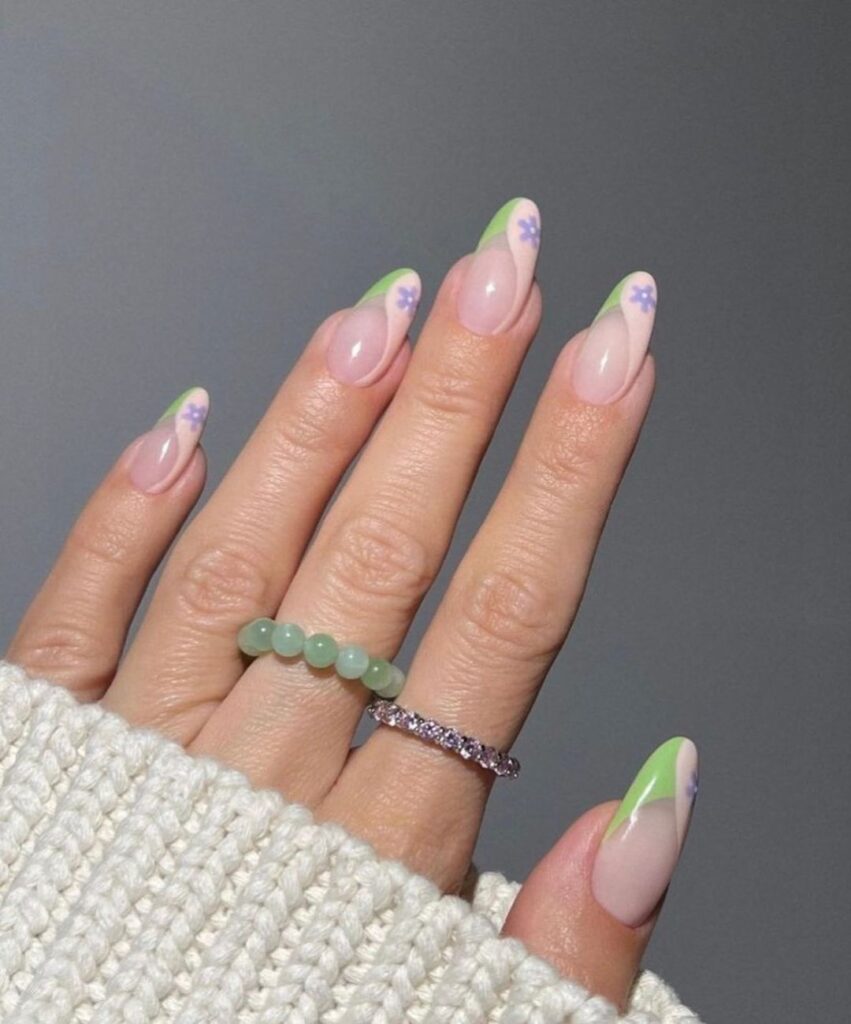 #83 Incorporating pink on just the outline of the length of the nails creates an aesthetic summer nail design.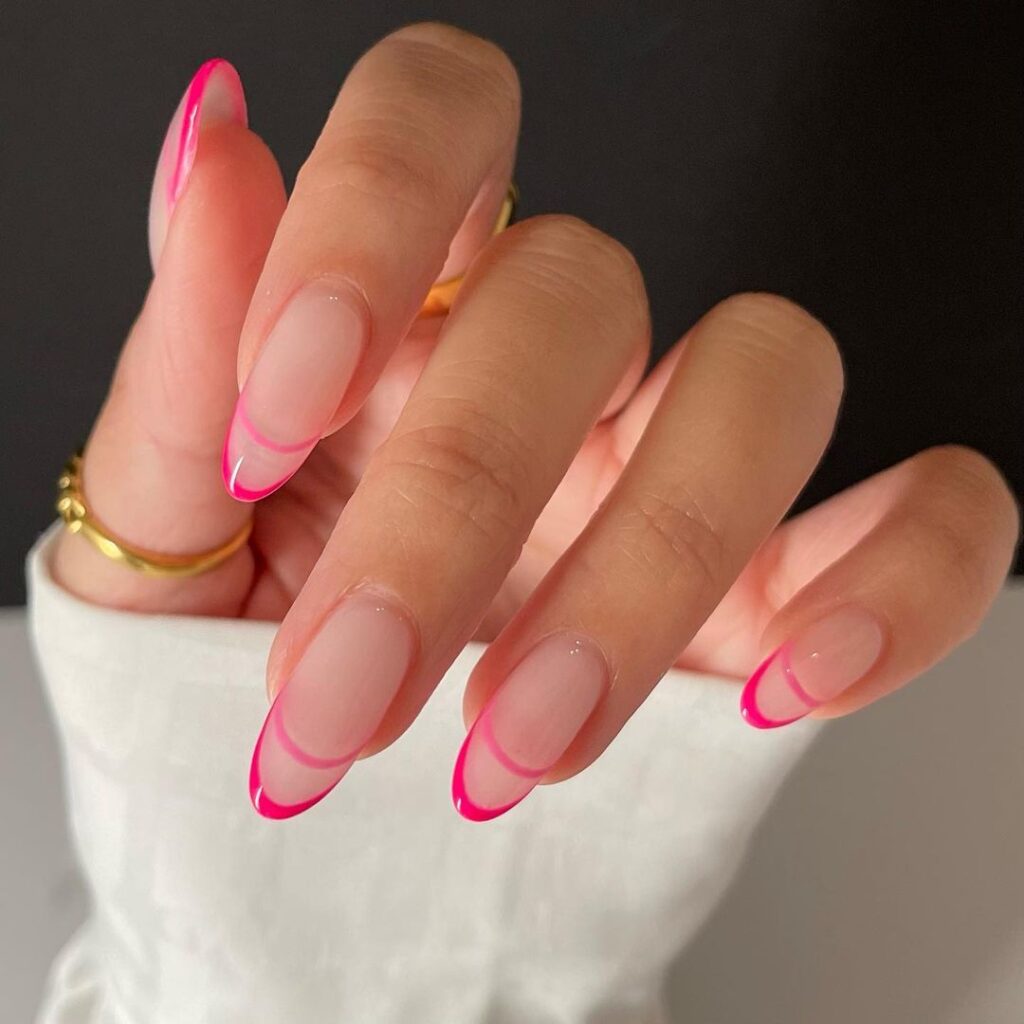 #84 Ombre summer nails in neon orange with lush palm trees are ideal for a tropical vacation and setting a strong fashion statement.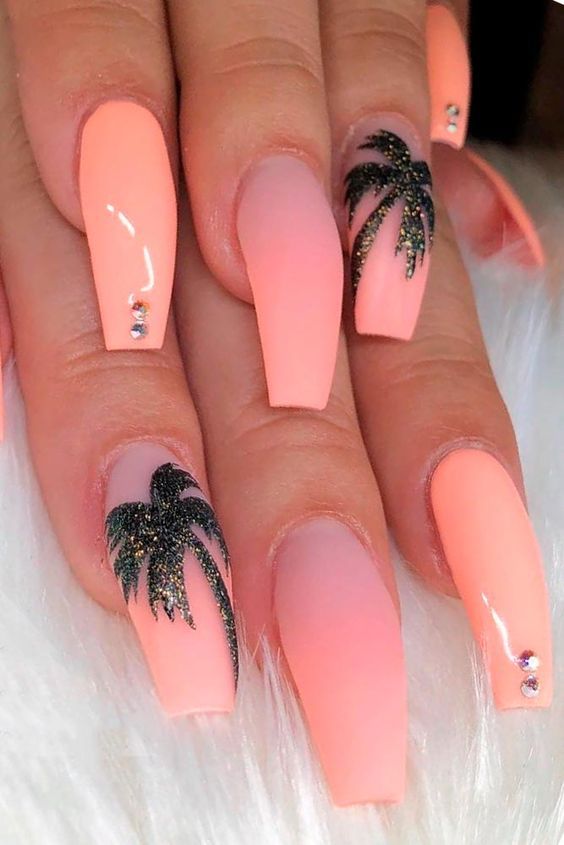 #85 Summer nail colors are bright and playful. If you can't choose one, incorporate all of them and put a gloss on them for a super shiny effect.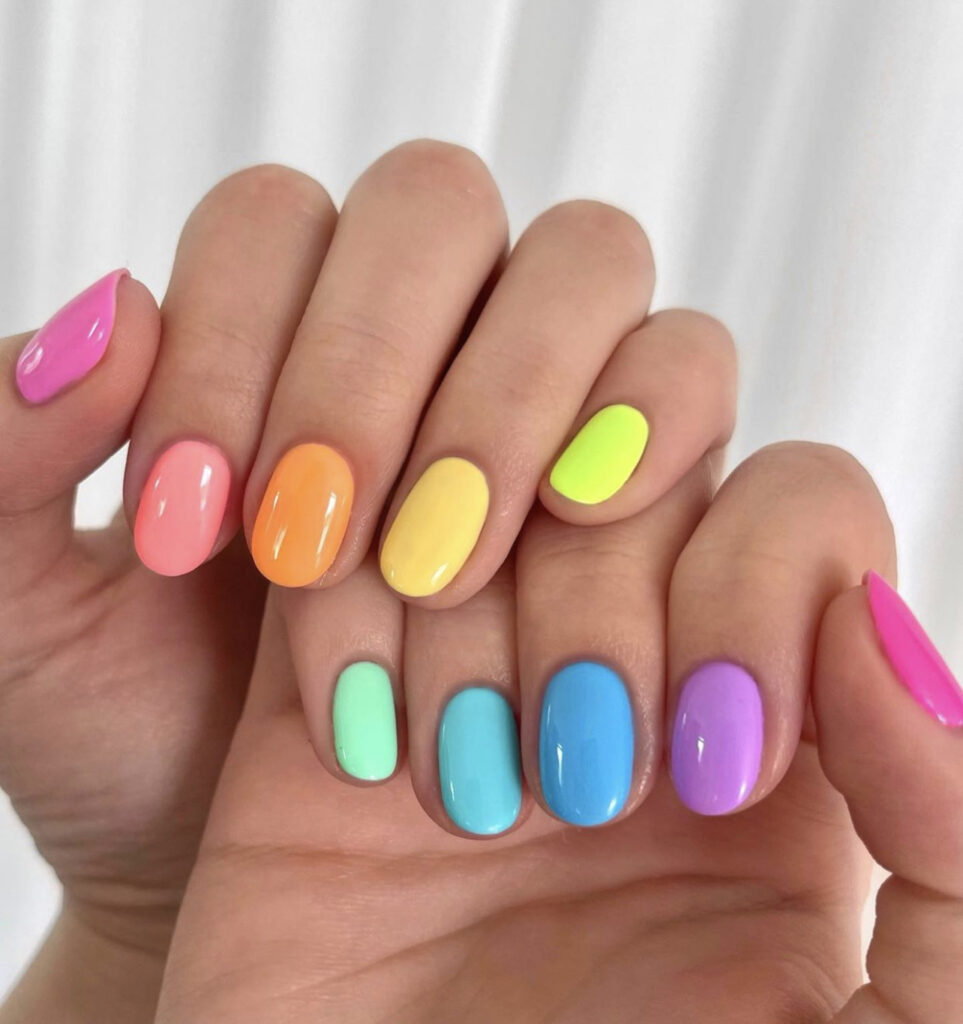 #86 How creative and gorgeous to include lemon into the summer nail design. Perfect combination!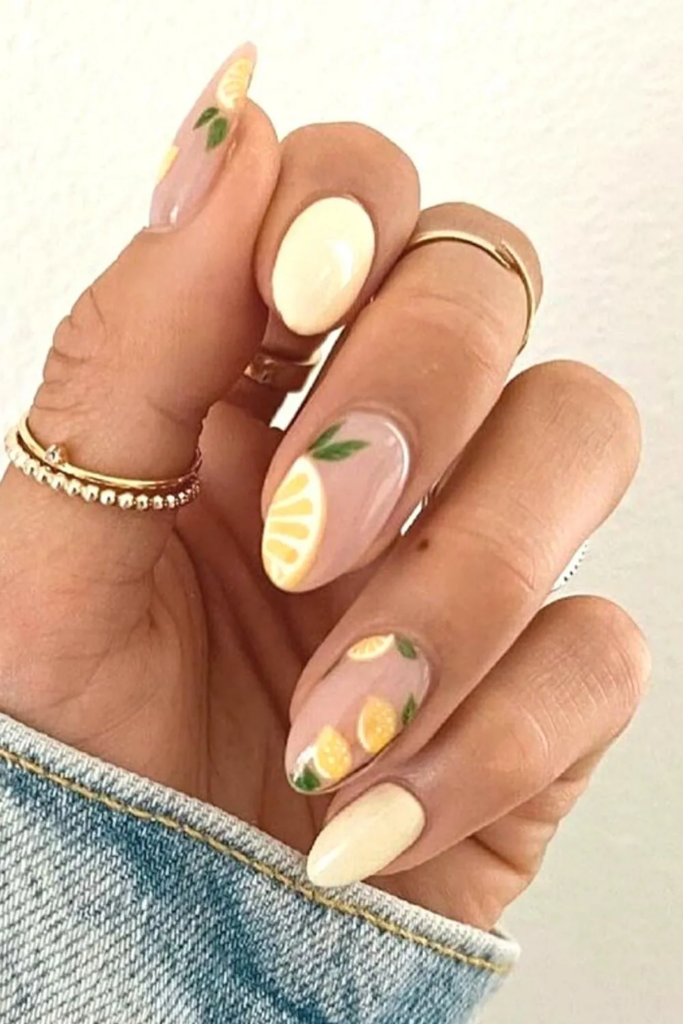 #87 For those who want to incorporate bright summer colors only minimally, opt for a neutral base and use the vivid colors for simple art on the base.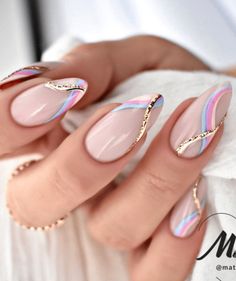 #88 Besides florals, butterflies are another unique art form common in summer nail designs. Incorporate them through a cute summer nail idea like this.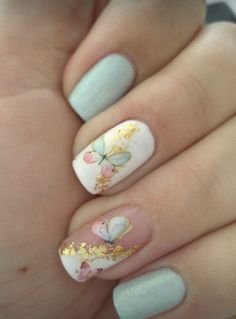 #89 Pink is the color of the season. There's just something about pink's femininity and elegance that it's hard to ignore the hue. It makes its way into any woman's articles and fashion elements, including nails. The 3D art on the middle two nails is only to be trusted to be done by a professional though! It's done using a particular technique that only nail technicians can do flawlessly.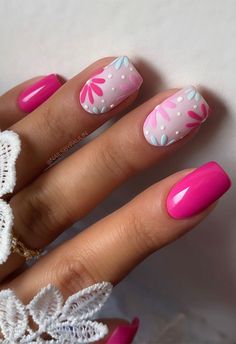 #90 Amp up your basic blue summer nails with lilies done strategically on all the fingers.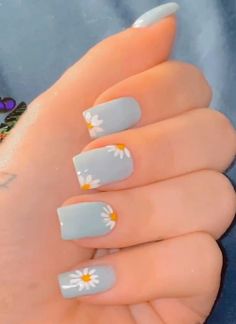 #91 When you're doing ombre summer nails, you don't necessarily have to stick to one color. Try different colors and different fingers and see how well they complement each other. 
#92 This is an incredibly beautiful summer nail 2023 which you can do at home. Take any shade of blue nail art, and draw small clouds using a brush. Fill them up and see the endearing end result it creates.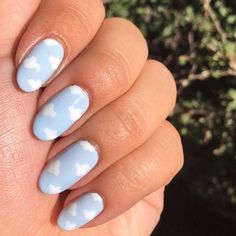 #93 Express your love for the beach with these artistic blue summer nails that include a 3D seashell art on the ring finger which is oh-so-pretty! Do take a picture like this though – it's both Instagram and memory worthy.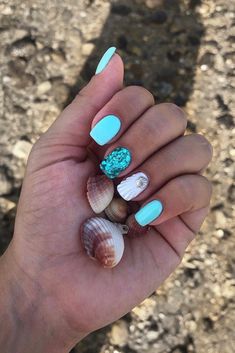 #94 Professional nail artists really outdo themselves with very basic patterns mingled artistically. Love the blend of colors in this nail idea for summers.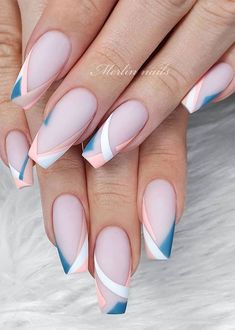 #95 Talk about neon giving us the brightest summer nail inspiration. Not all people love bold colors on their nails, but we'd definitely recommend getting them at least once just to see what the fad is all about!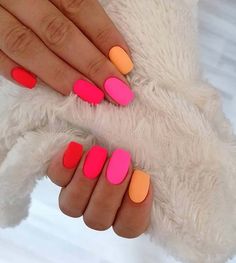 #96 Purple ombre summer nails where the transition is so subtle and unique. We absolutely love it!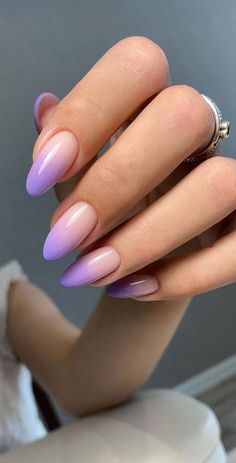 #97 Foil print is a beautiful alternative to glitter nails. Glitter is also bad for the environment, so you can switch to other equally glamorous alternatives like foil in nails. Play with the art to create a truly magical combination.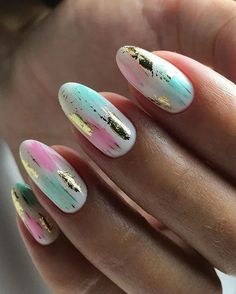 #98 Neon nails but combine it with a rainbow to turn into a gorgeously whimsical design.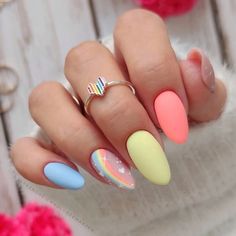 #100 These are basic summer nail ideas that you can easily do at home. The butterfly is also easy to draw so you don't miss any aspect of this wonderful design.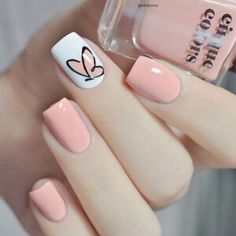 #101 Bidding goodbye with this minimal one of the summer nail designs bedecked with gorgeous lilies.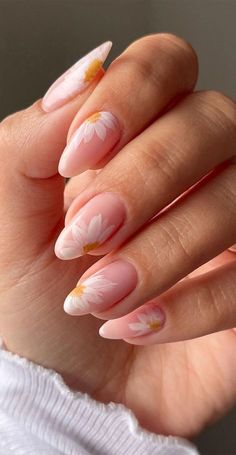 FAQ's
What Are The Best Summer Nail Colors?
There are many great summer nail colors to choose from, and the best one for you will depend on your personal style and preferences. Some popular summer nail colors include:
Coral: Coral is a bright, warm color that is perfect for summer. It is a versatile shade that can be worn with a variety of different outfits.
Turquoise: Turquoise is a bright, playful color that is perfect for summer. It is a great color for beach vacations and pool parties.
Lavender: Lavender is a soft, feminine color that is perfect for summer. It is a great color for romantic date nights or special occasions.
Neon: Neon colors are bright, bold, and perfect for summer. They are great for making a statement and adding some fun to your summer wardrobe.
Pastel: Pastel colors are soft, muted shades that are perfect for summer. They are great for a more subtle, understated look.
How To Choose The Best Summer Nails Design For You?
When choosing summer nail colors, there are a few things you might want to consider:
Your skin tone: Certain colors may look better on certain skin tones. For example, warm skin tones tend to look good with warm colors like coral, while cool skin tones tend to look good with cool colors like lavender.
Your outfit: Consider the colors and styles of the clothes you'll be wearing. You may want to choose nail colors that complement your outfits or add a pop of color to an otherwise neutral look.
The occasion: If you're going to a special event or occasion, you may want to choose a more formal or sophisticated nail color. On the other hand, if you're just hanging out at the beach or pool, you might want to choose a more fun and playful color.
Your personal style: Choose a nail color that reflects your personal style and makes you feel confident and comfortable. Don't be afraid to experiment with different shades and find the ones that work best for you!